ASUS ROG Maximus XI Hero Wi-Fi Z390 Motherboard Review
Introduction
The Hero series has arguably been the go-to board for many each generation to get all the ROG Maximus goodies without the flagship prices of something like the Formula or Extreme boards. ROG only features like dedicated water cooling headers, pre-mounted I/O Shield, multi-zone Aura-Sync lighting with addressable headers, and one-click Ai-powered overclocking gives you everything an enthusiast gamer could need at a price that feels a little more mainstream. Let's go see how it performs!
Pro Clockers would like to thank ASUS for sending over the ROG Maximus XI Hero Wi-Fi for us to check out!
ASUS's take on the ROG Maximus XI Hero Wi-Fi:
THE HERO
ROG Maximus XI Hero is the perfect introduction to the Republic of Gamers. It's a Z390 gaming motherboard that packs substantial power, smart cooling and faster memory support under a stealthy skin. Loaded with renowned ROG features, from one-click overclocking and cooling to attention-grabbing Aura Sync illumination, Maximus XI Hero is ready to perform and crafted for customization.
Intel Z390 ATX Gaming motherboard with M.2 heatsink, Aura Sync RGB LED, DDR4 4400MHz, 802.11ac Wi-Fi, dual M.2, SATA 6Gb/s, and USB 3.1 Gen 2
LGA1151 socket for 9th/8th -gen Intel® Core™ desktop processors
Synchronized RGB lighting technology works with a vast portfolio of Aura Sync-capable PC gear and includes support for addressable light strips and Phillip Hue
Perfected cooling with dedicated water header zones, M.2 heatsink and various fan control
Gaming connectivity: Intel Gigabit Ethernet, LANGaurd, dual M.2, USB 3.1 Gen 2, Wi-Fi with MU-MI-MO 802.11
5-way Optimization: Automated system-wide tuning, providing AI Overclocking and cooling profiles tailor-made for your rig
Gaming Audio: SupremeFX and Sonic Studio III – High fidelity audio that draws you deeper into the action
Gaming durability: ASUS SafeSlot and premium components for maximum durability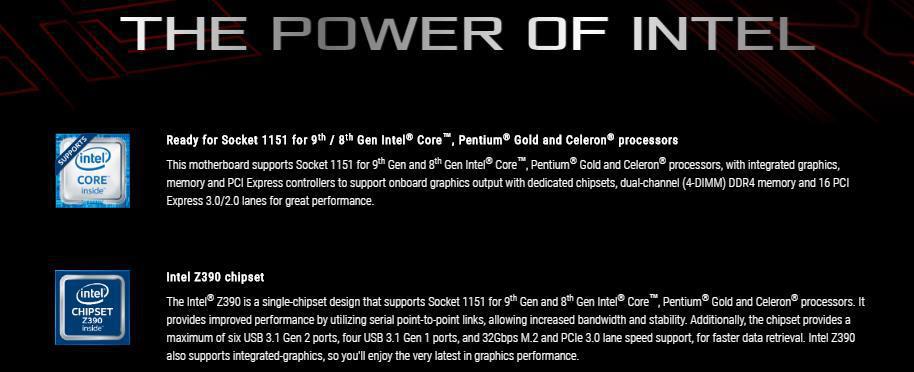 Features & Specifications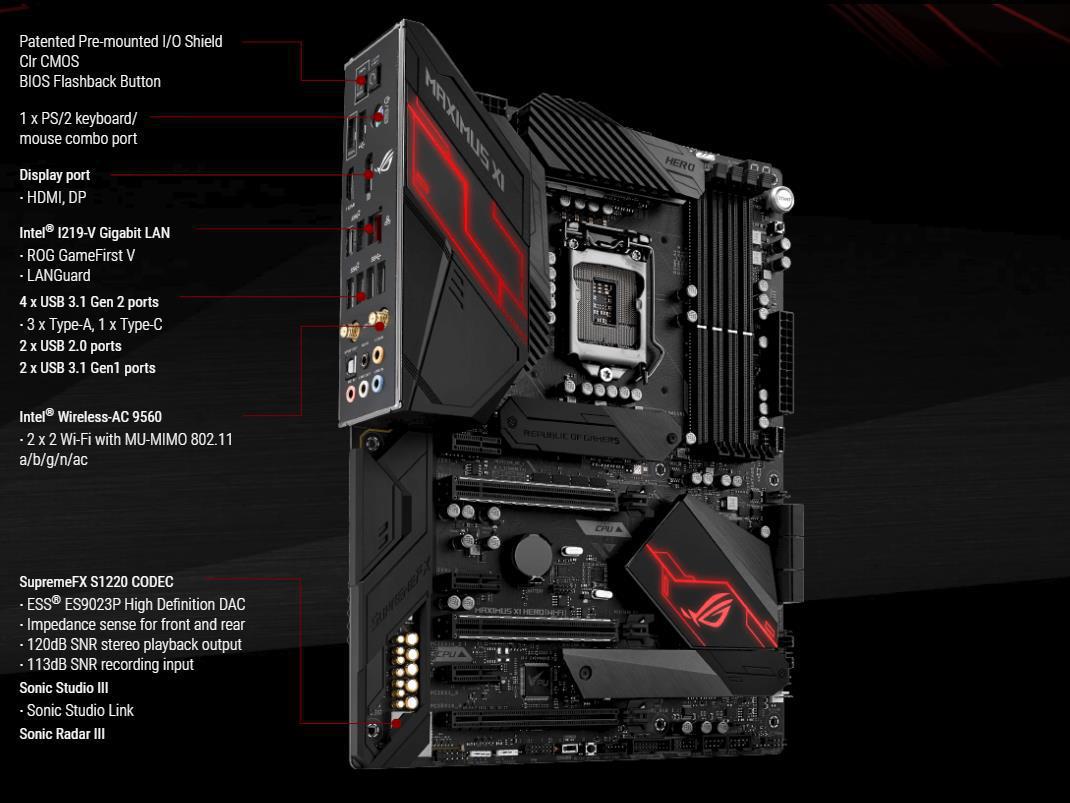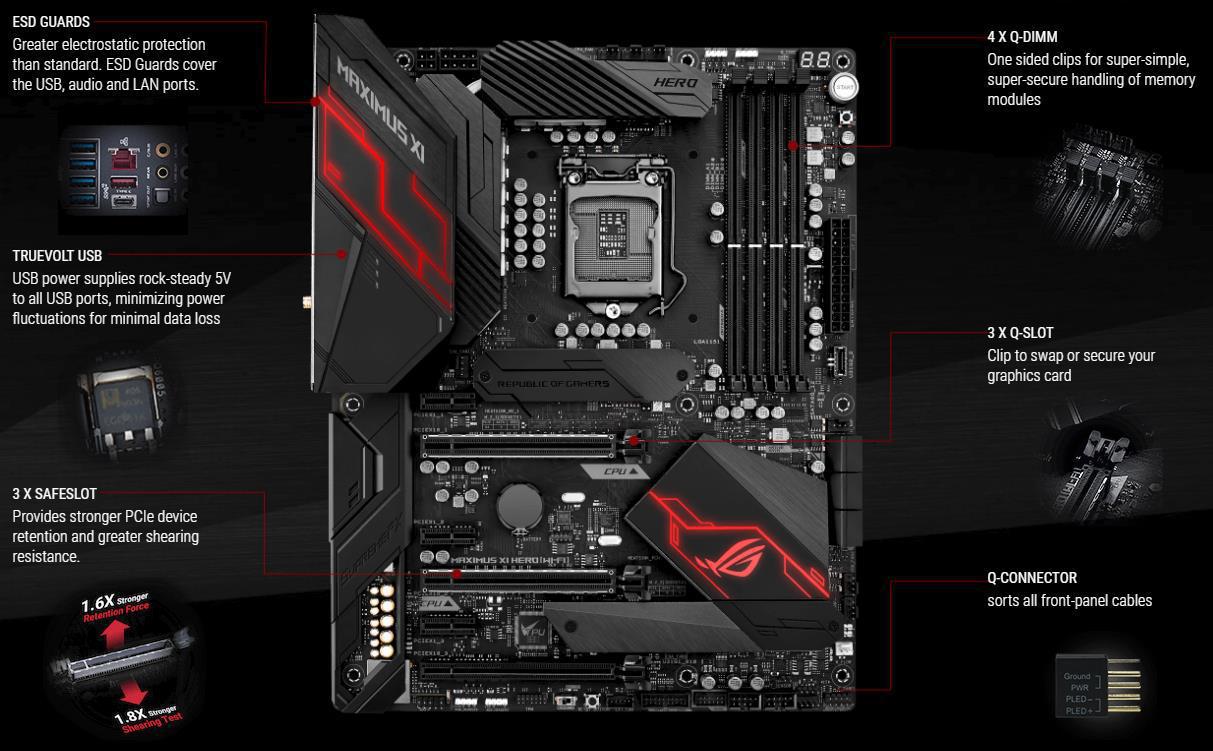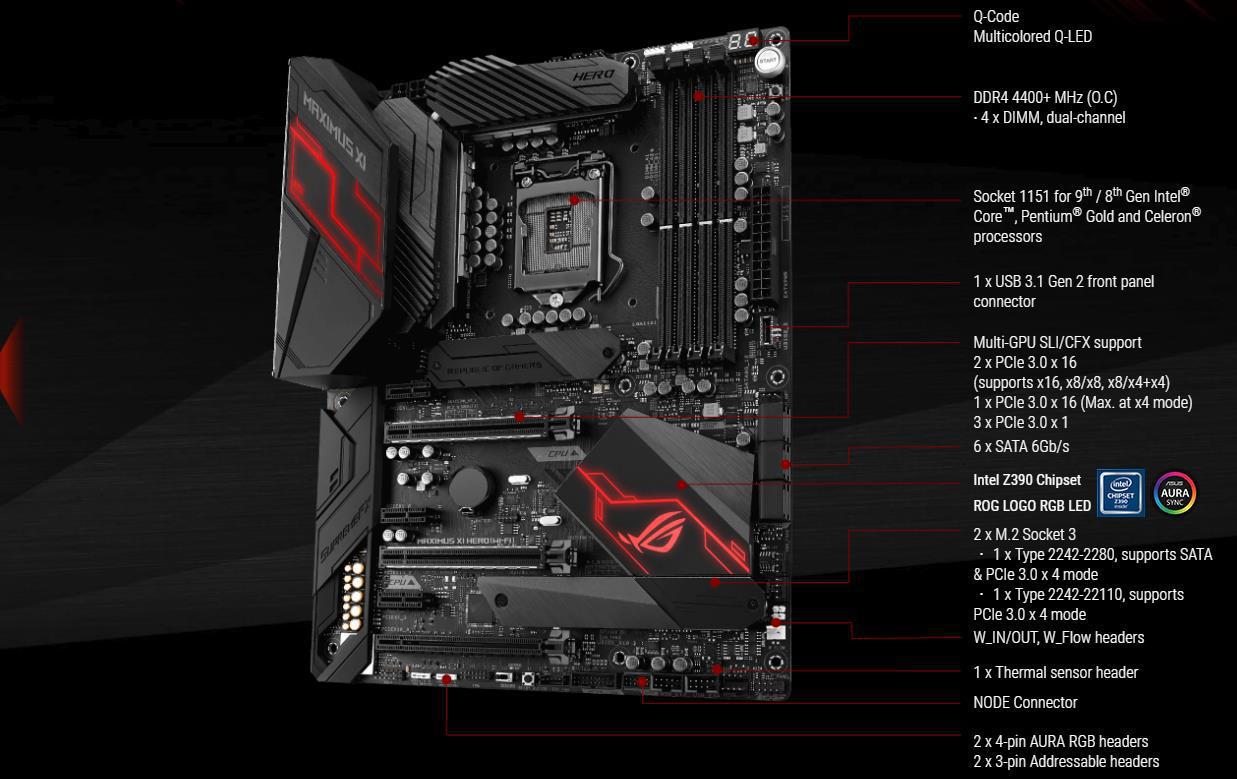 THRILLING PERFORMANCE
With a dedicated onboard clock generator, support for the latest high-performance memory, and cooling options to keep thermals under tight control, Hero provides a potent foundation for your next gaming build.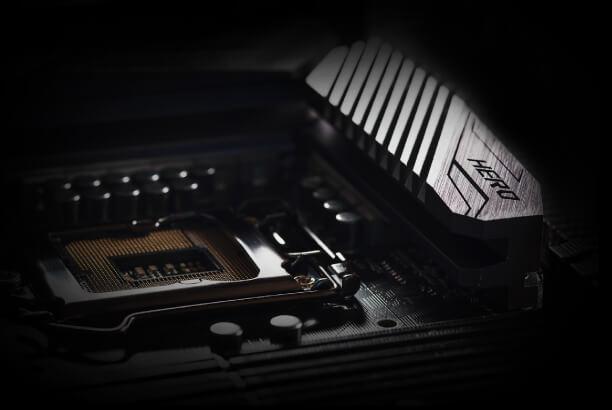 BUILT FOR OVERCLOCKING
By default, all of Coffee Lake's major bus frequencies are derived from the same reference clock, limiting the control and flexibility needed to harness the full overclocking potential of the platform. ROG Maximus XI Hero features a dedicated onboard clock generator that supplies dynamic reference clocks to the CPU cores and major subdomains, giving you the freedom to coax every MHz of headroom from the system.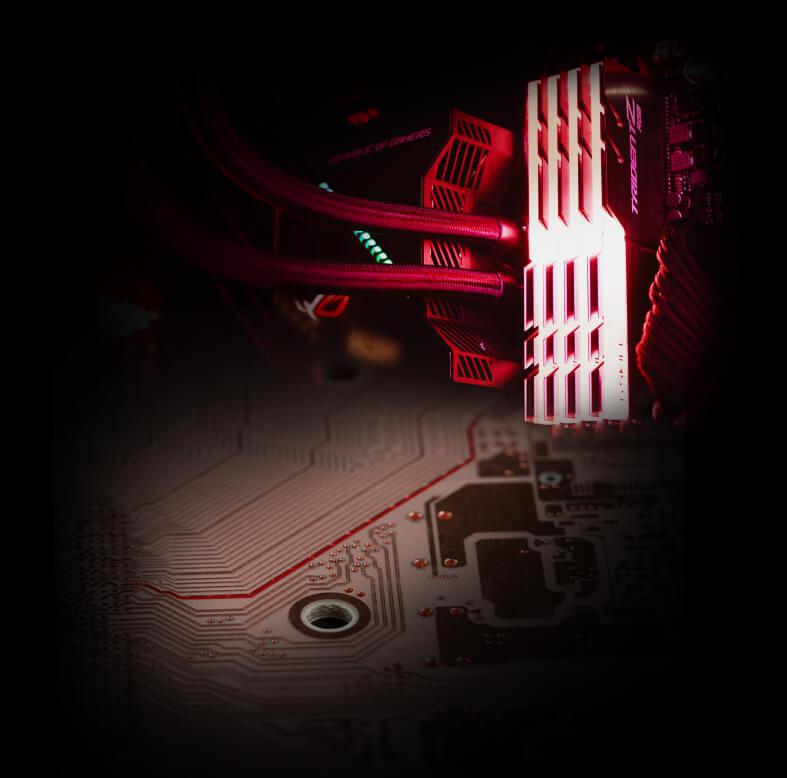 DDR4 4400MHZ+
Whether you're gunning for high memory frequencies or tuning timings for the lowest latency, ROG Maximus XI Hero provides the tools you need to exploit the Coffee Lake architecture's full potential: carefully optimized trace pathways maintain signal integrity, and the acclaimed ROG firmware offers the necessary tweaks to ensure stability while maximizing memory performance. Load up with a high-density memory kit for heavy multitasking, or run a focused setup that delivers the bandwidth your favorite games and applications need. Any way you stack it, the Hero has you covered.
OPTIMEM II
To provide Intel's latest CPUs unfettered access to memory bandwidth, we've reimagined motherboard trace routing from the ground up. Our OptiMem II tech carefully maps memory signal pathways across different PCB layers to reduce vias and also adds shielding zones that significantly reduce crosstalk. And to further enhance overclocking headroom for fully stacked memory configurations, we've employed a highly customized T-Topology layout that delivers time-aligned signaling.
COMPREHENSIVE COOLING ZONE
ROG Maximus XI Hero features the most comprehensive cooling controls ever, configurable via Fan Xpert 4 or the UEFI BIOS.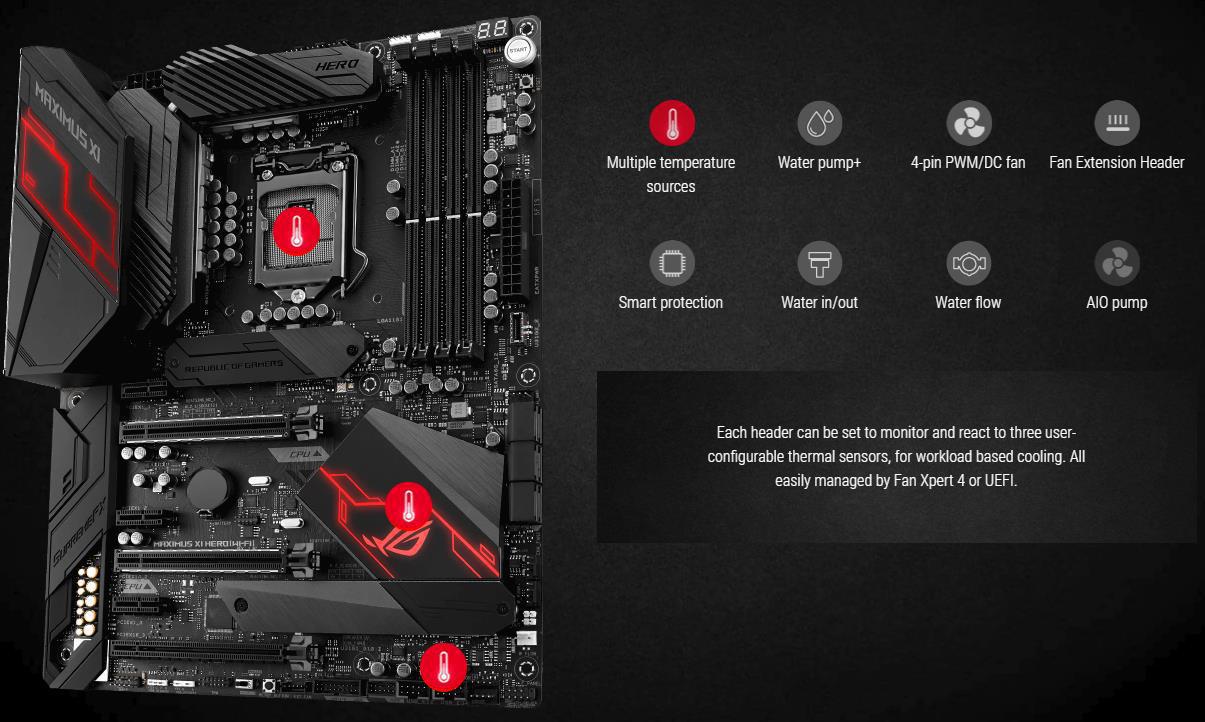 CONTROL YOUR RIG
Fast, intuitive control is vital for effective command of your rig, so we've loaded ROG Maximus XI Hero with simple, flexible tools that let you tweak almost every system aspect. Enjoy intelligent automated tuning with 5-Way Optimization technology, or dive deep into the revered ROG UEFI BIOS to take full manual control. Hero also makes short work of fine-tuning everything from audio to storage, so it's easy to get every part of your system up to speed.
AI OVERCLOCKING
ASUS AI Overclocking makes automatic tuning faster and smarter than ever before. Available in Windows or directly through the UEFI, it profiles the CPU and cooling to predict the optimal configuration for each individual system.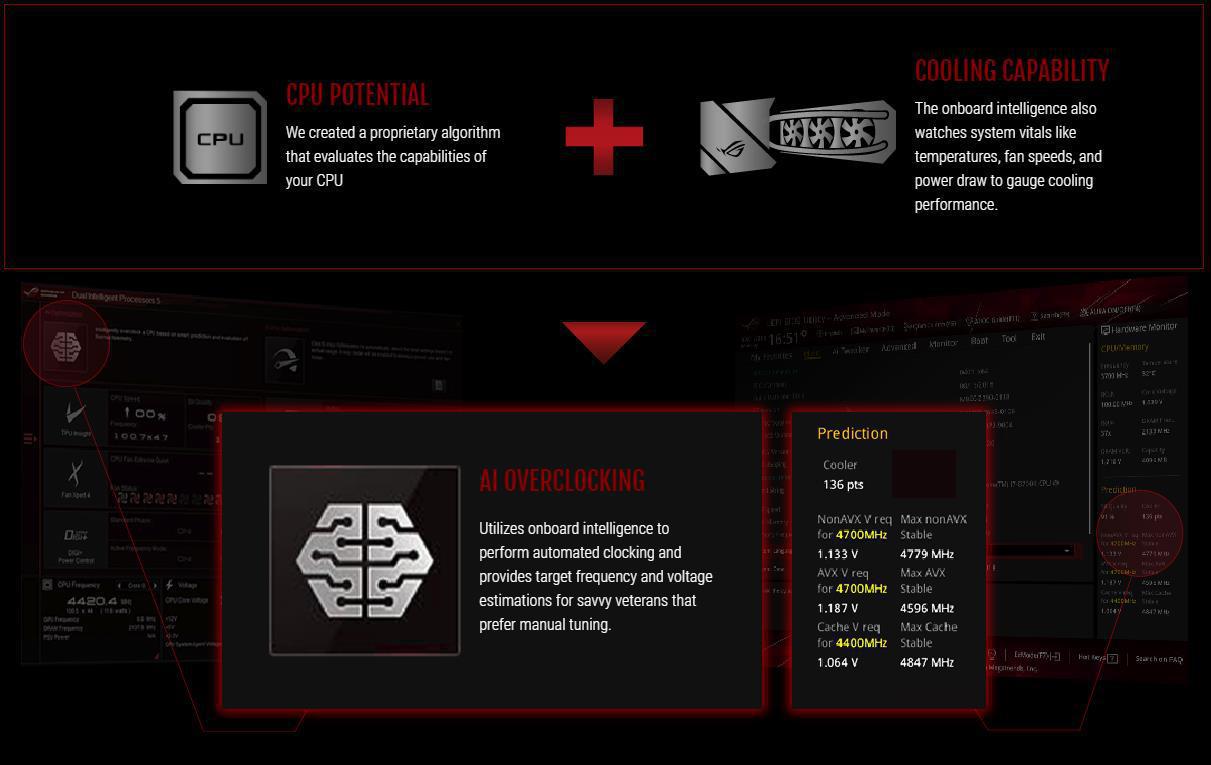 5-WAY OPTIMIZATION
Take care of complex tuning with just one click. ASUS 5-Way Optimization is a system-wide tuning utility that overclocks the processor and tunes fan speeds to ensure the best balance between cooling and acoustics. The automated CPU tuning feature of 5-Way Optimization leverages the same onboard intelligence as AI Overclocking but goes further by running a Prime95 based stress test to deliver a result that's well-tuned from the get-go.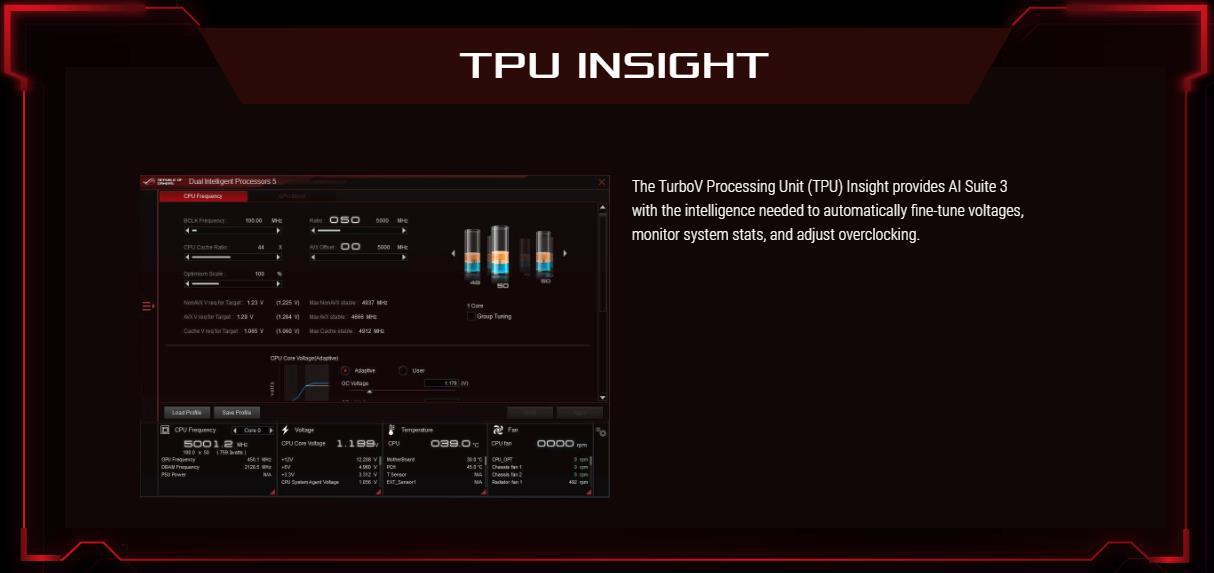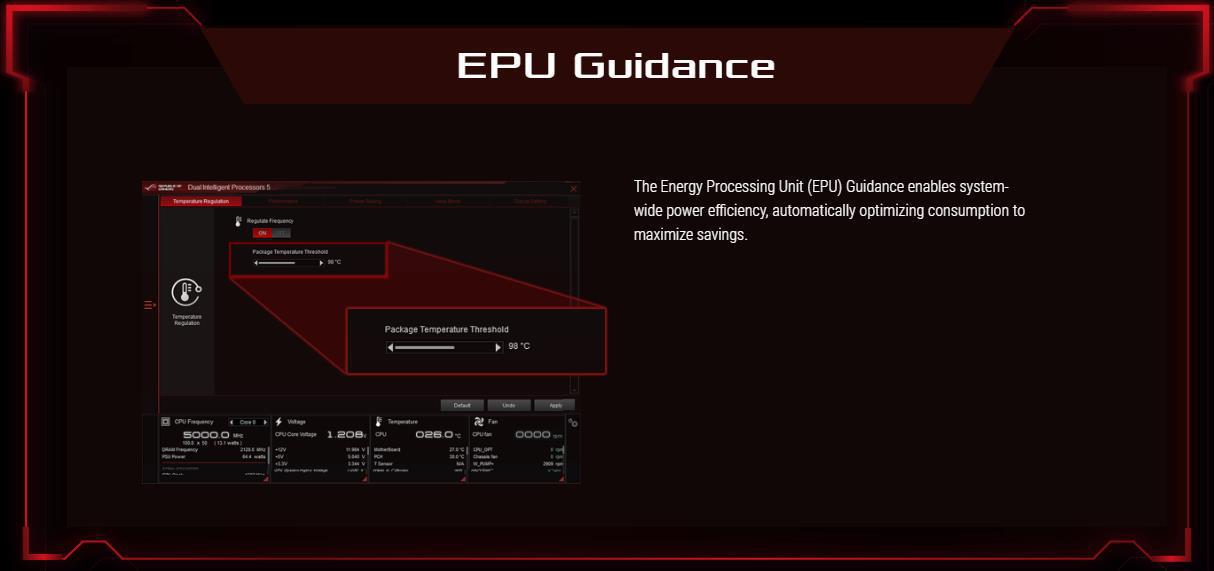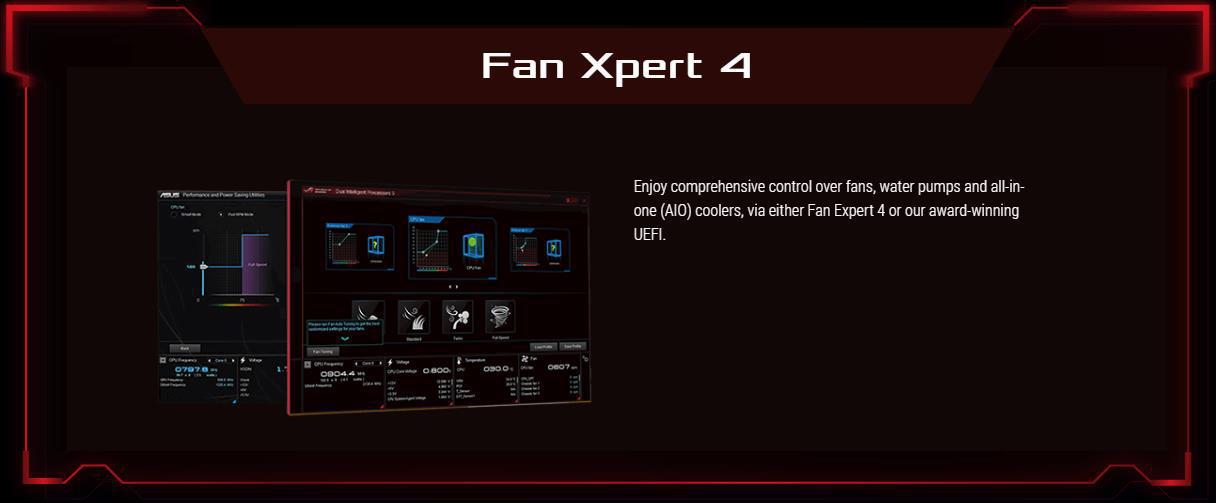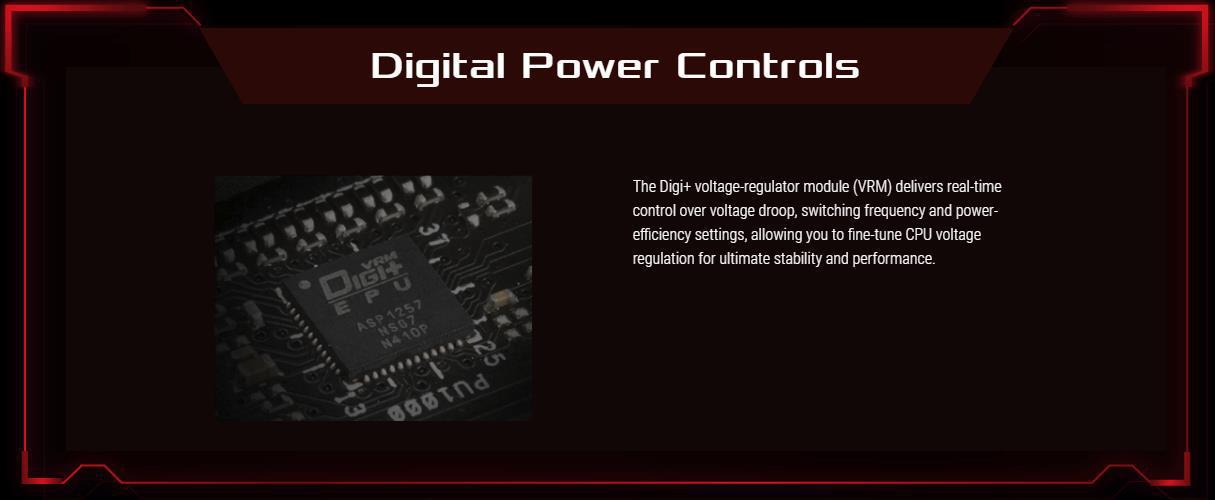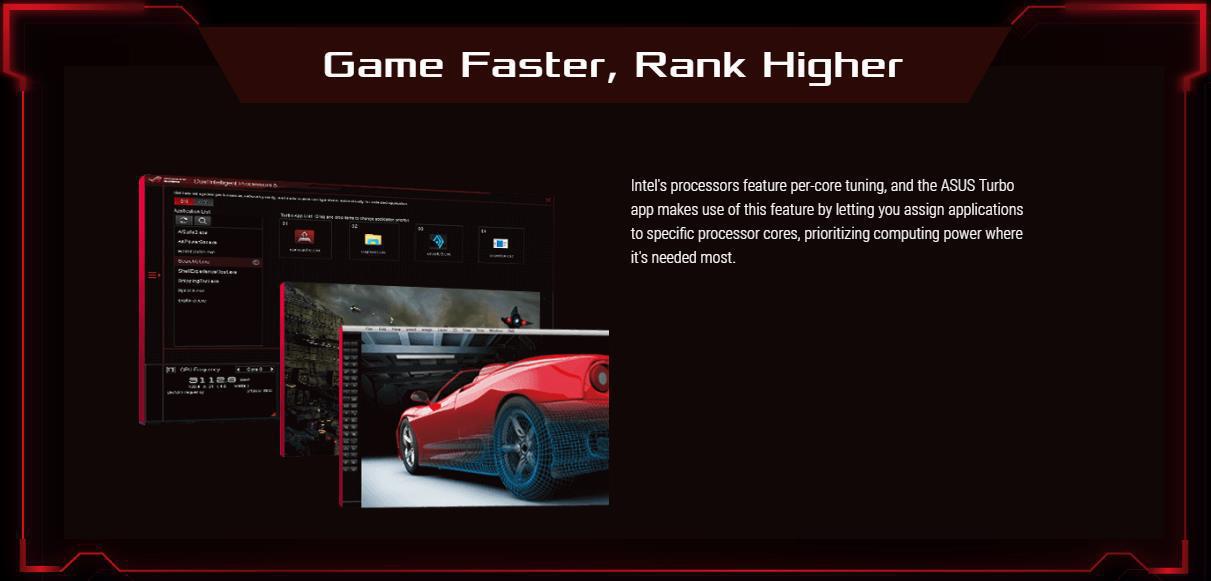 UEFI BIOS
The renowned ROG UEFI (BIOS) provides everything you need to configure, tweak, and tune your rig. It offers intelligently simplified options for newcomers to PC DIY, as well as comprehensive features for seasoned veterans.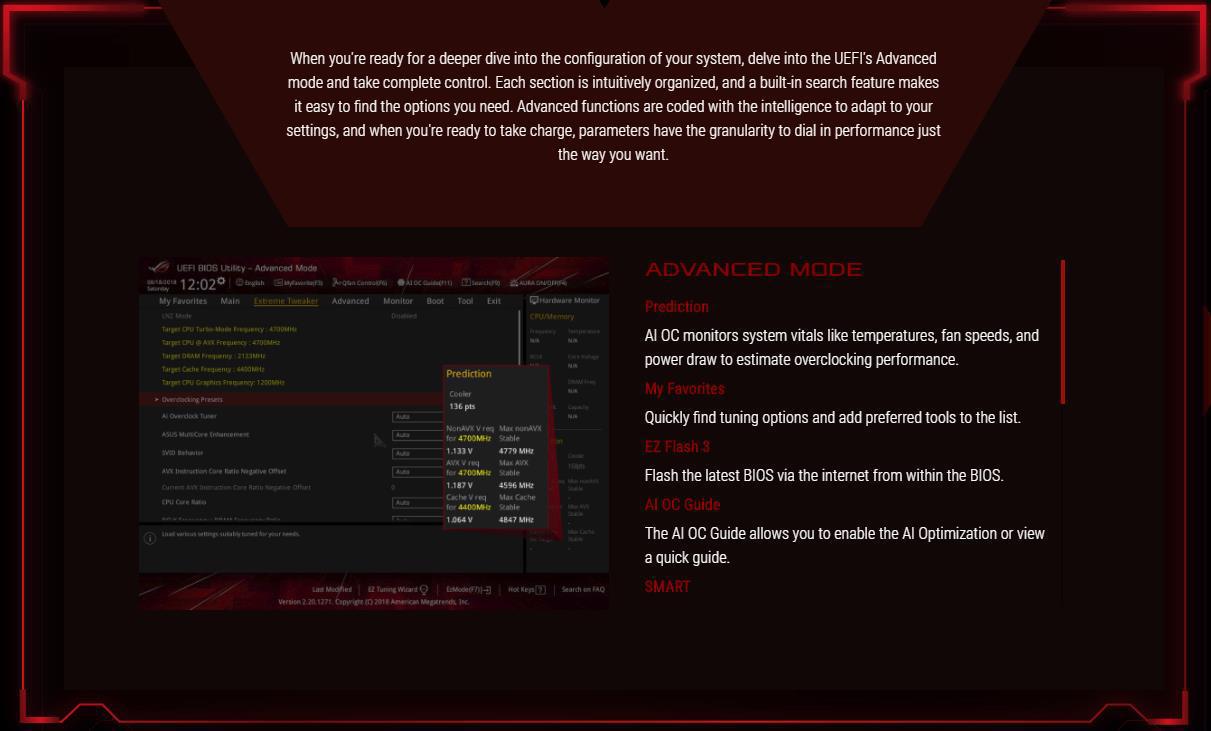 PERSONALIZED FOR YOU
With Aura Sync to unleash synchronized effects that extend from motherboard to a vast ecosystem of compatible components, ROG Maximus XI Hero is primed for endless personalization.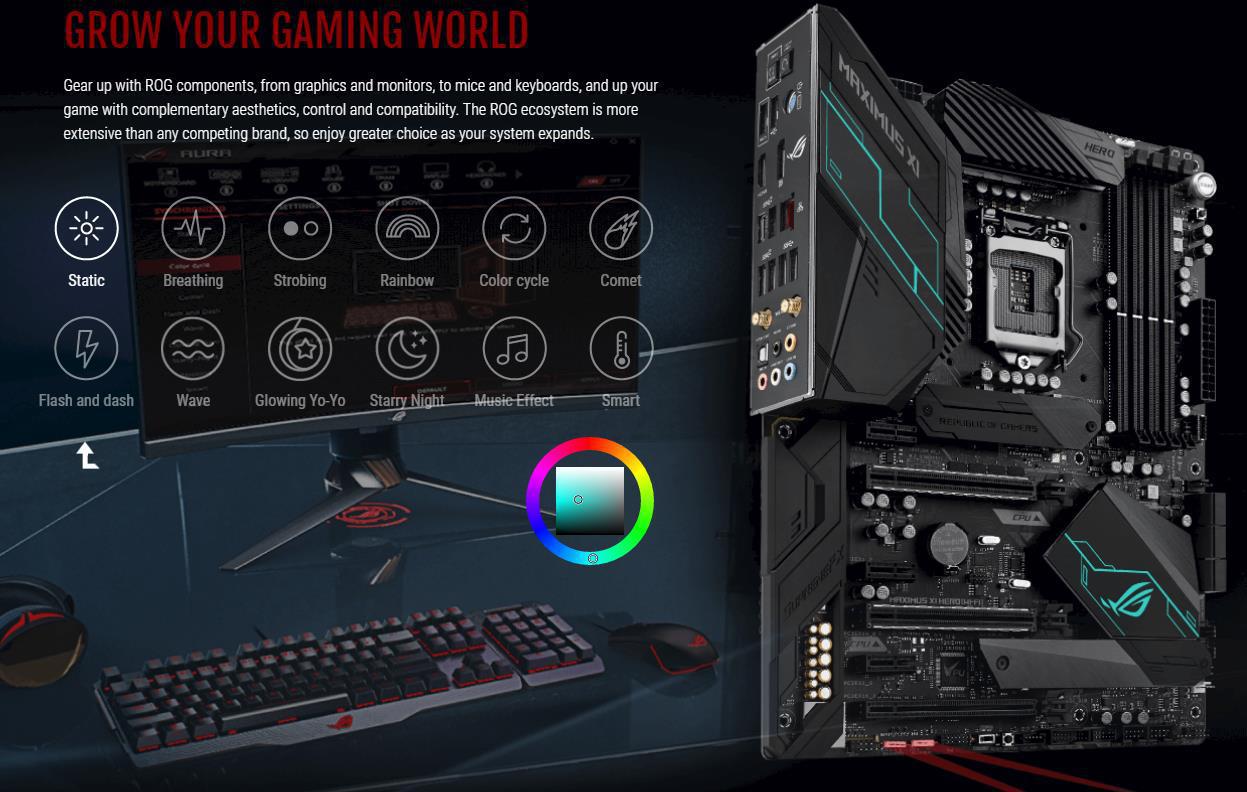 Specification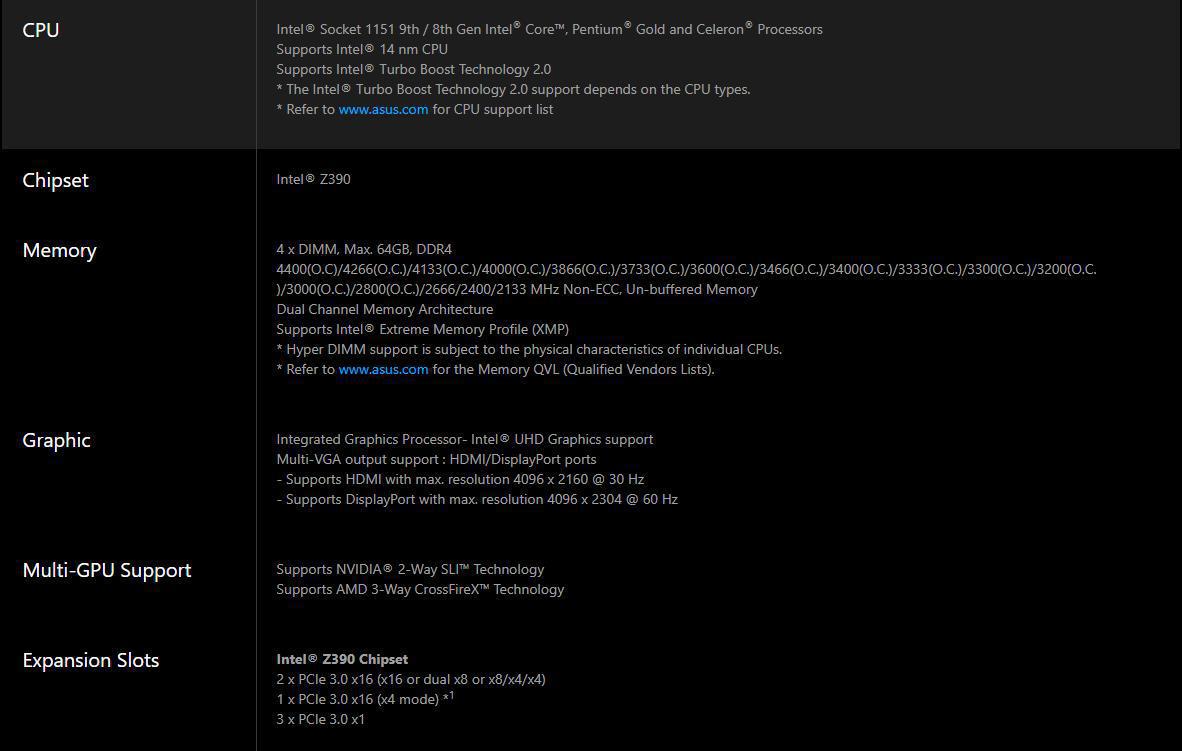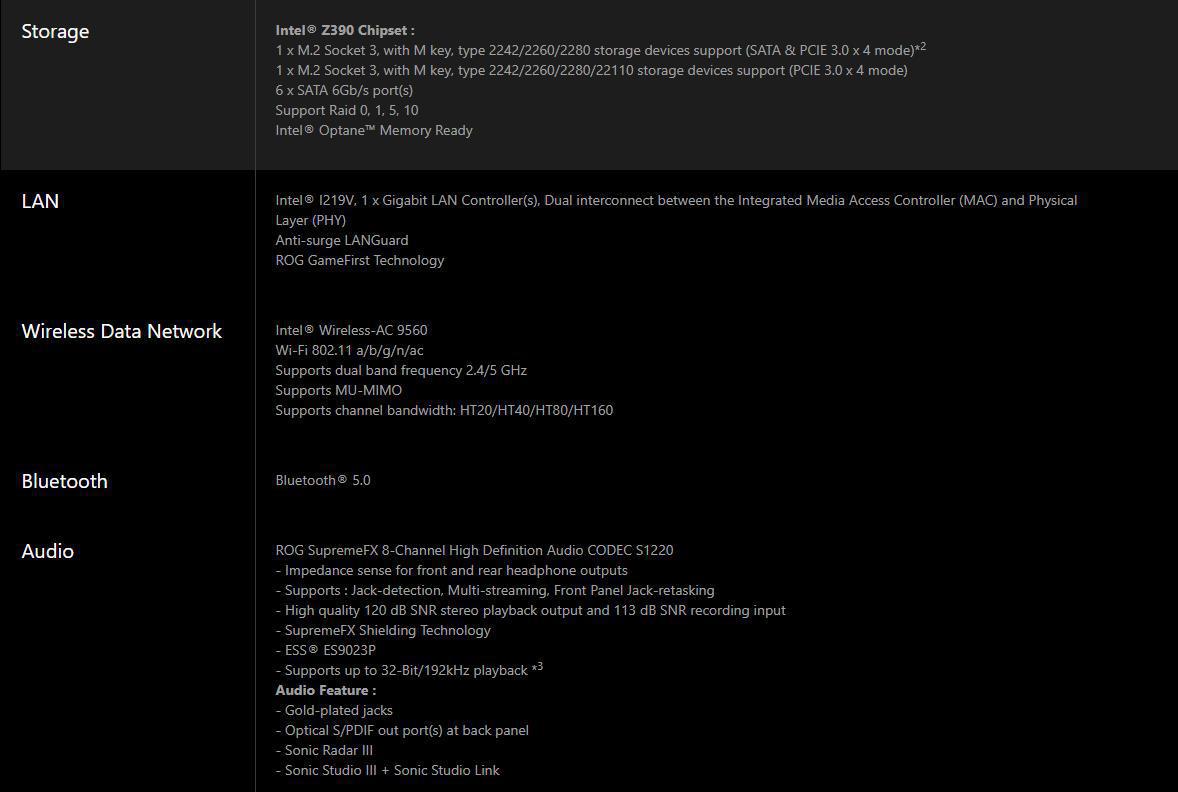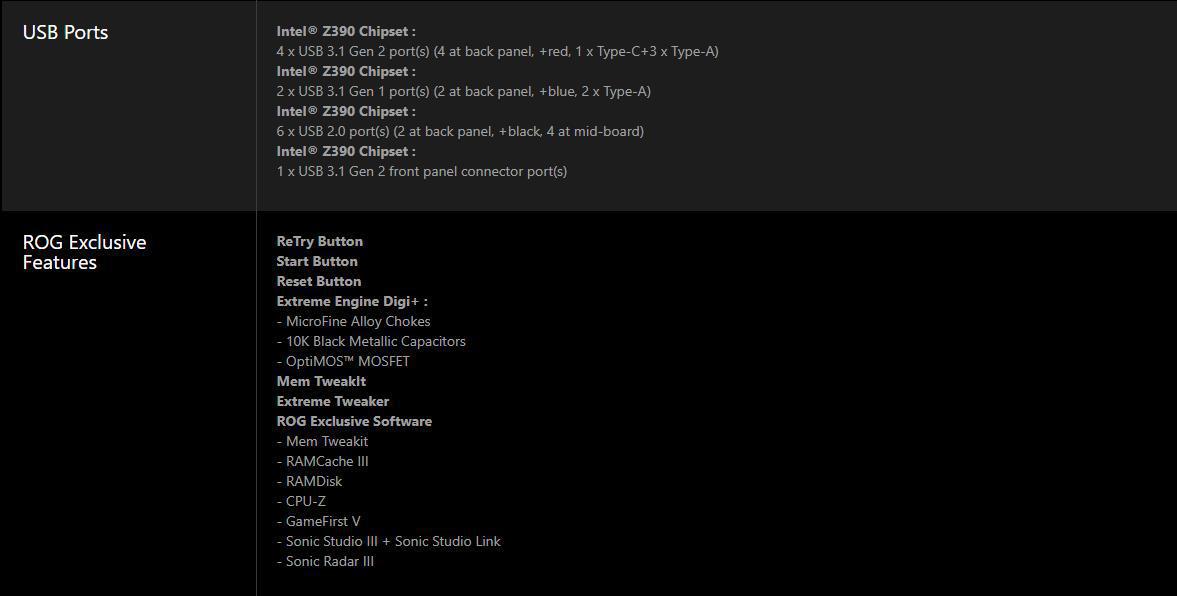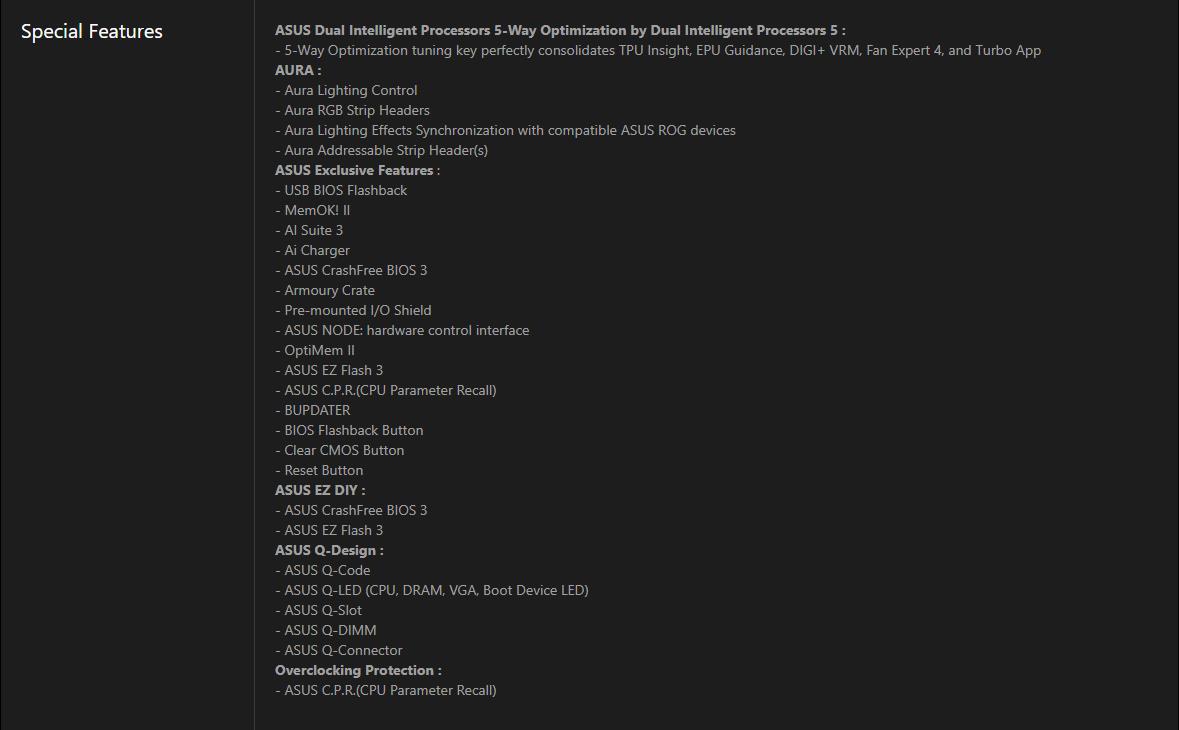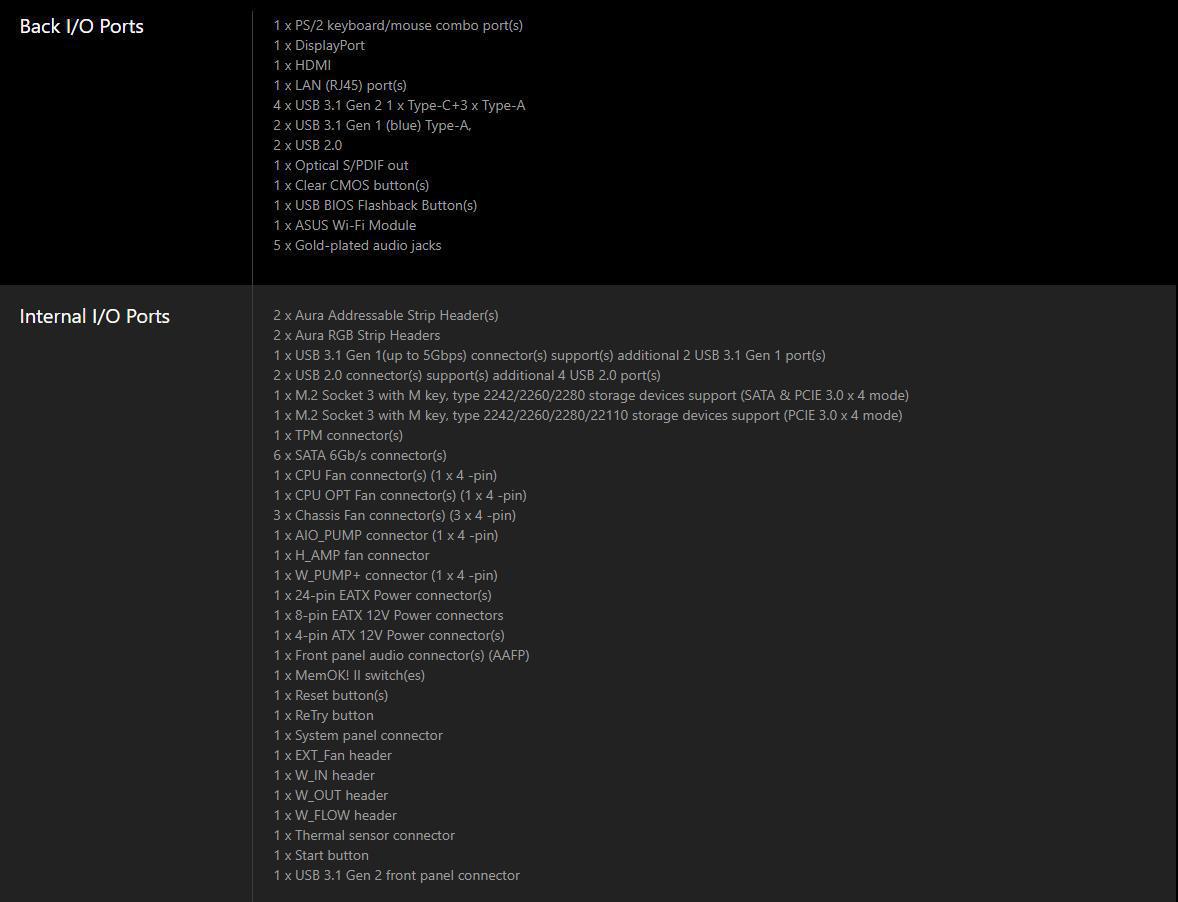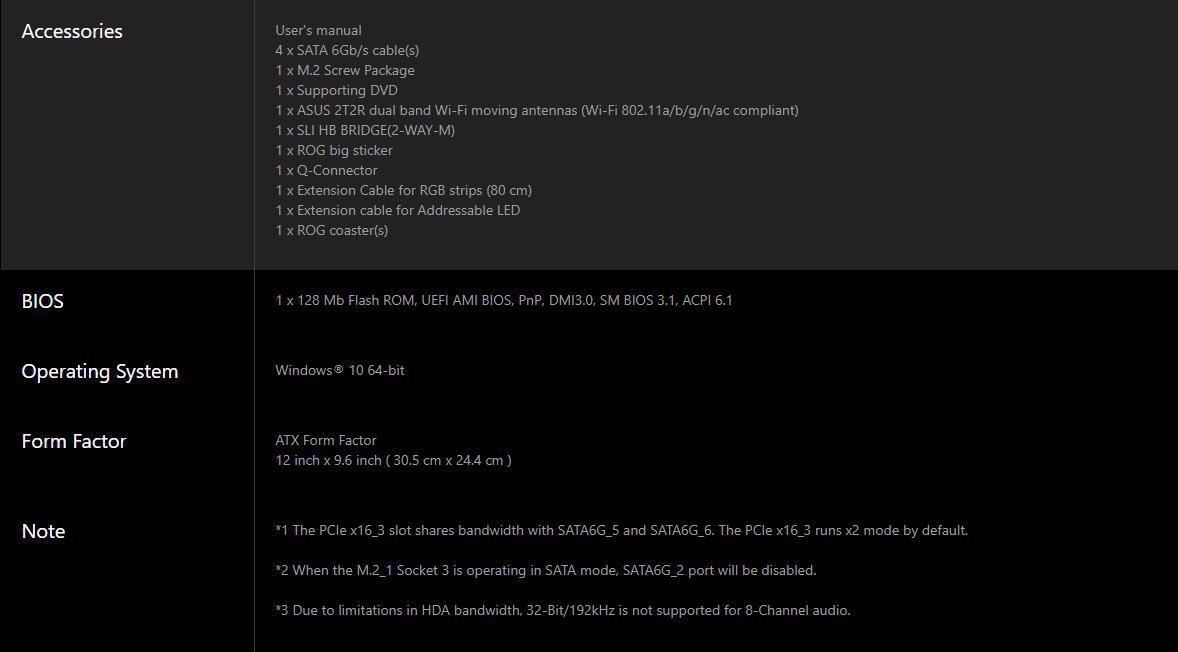 Packaging & Unboxing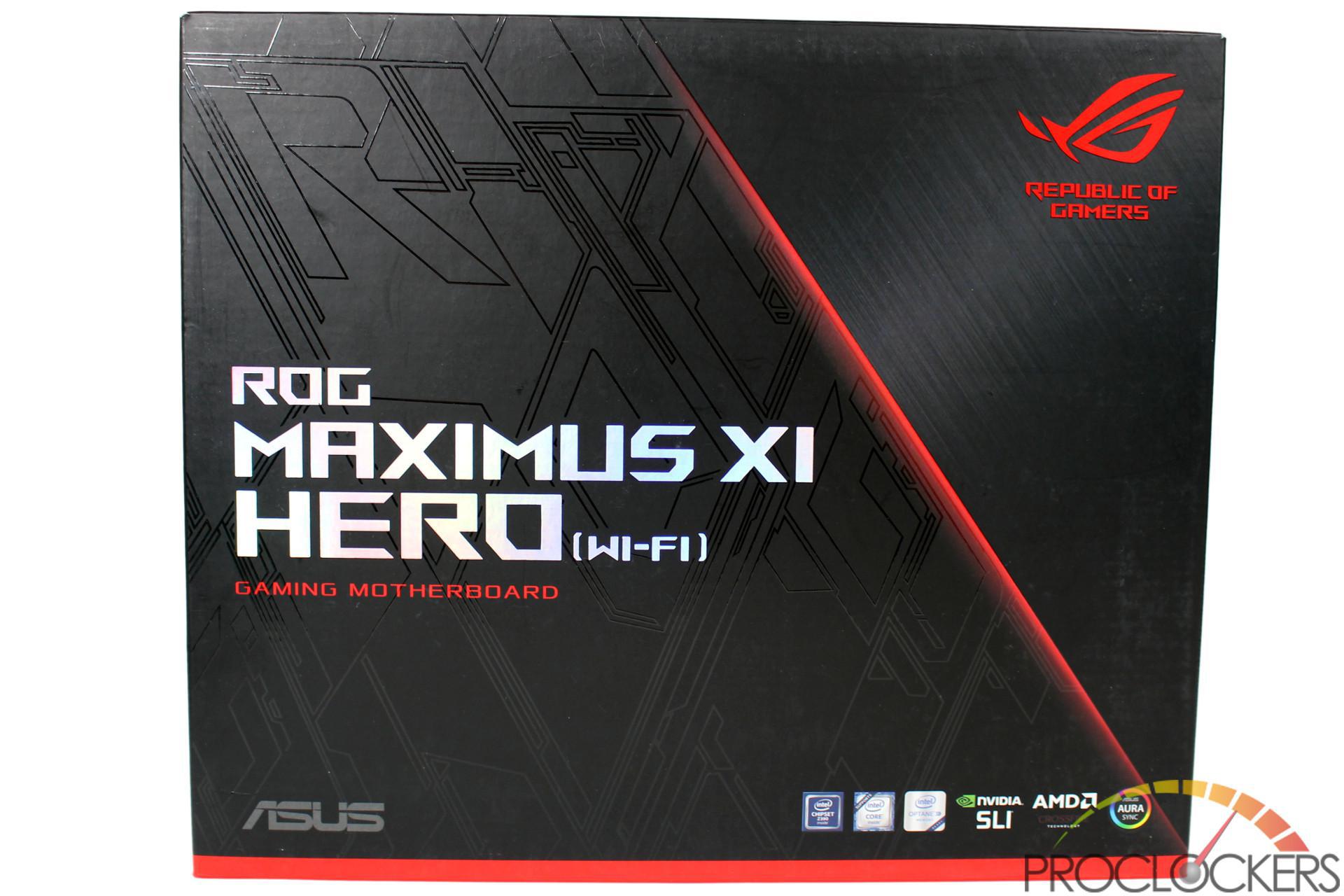 If you've seen one flagship ASUS ROG product box in the last few years, you've seen a red box with black accents. The Maximus XI Hero Wi-Fi flips the table and is mostly black with some red accents with lots of subtle details.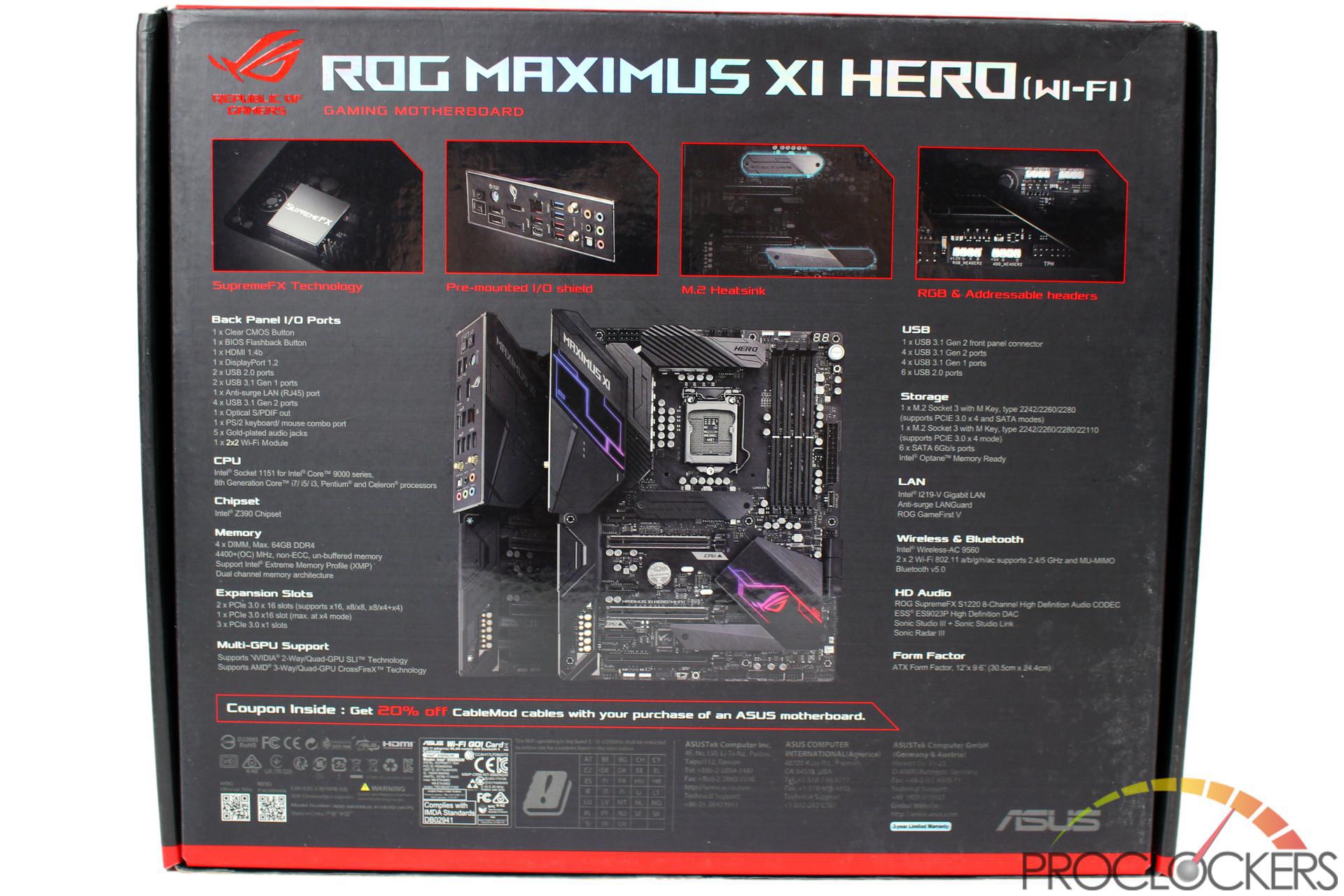 The rear of the box has a picture of the board in the center, all lit up, with specs and features surrounding it.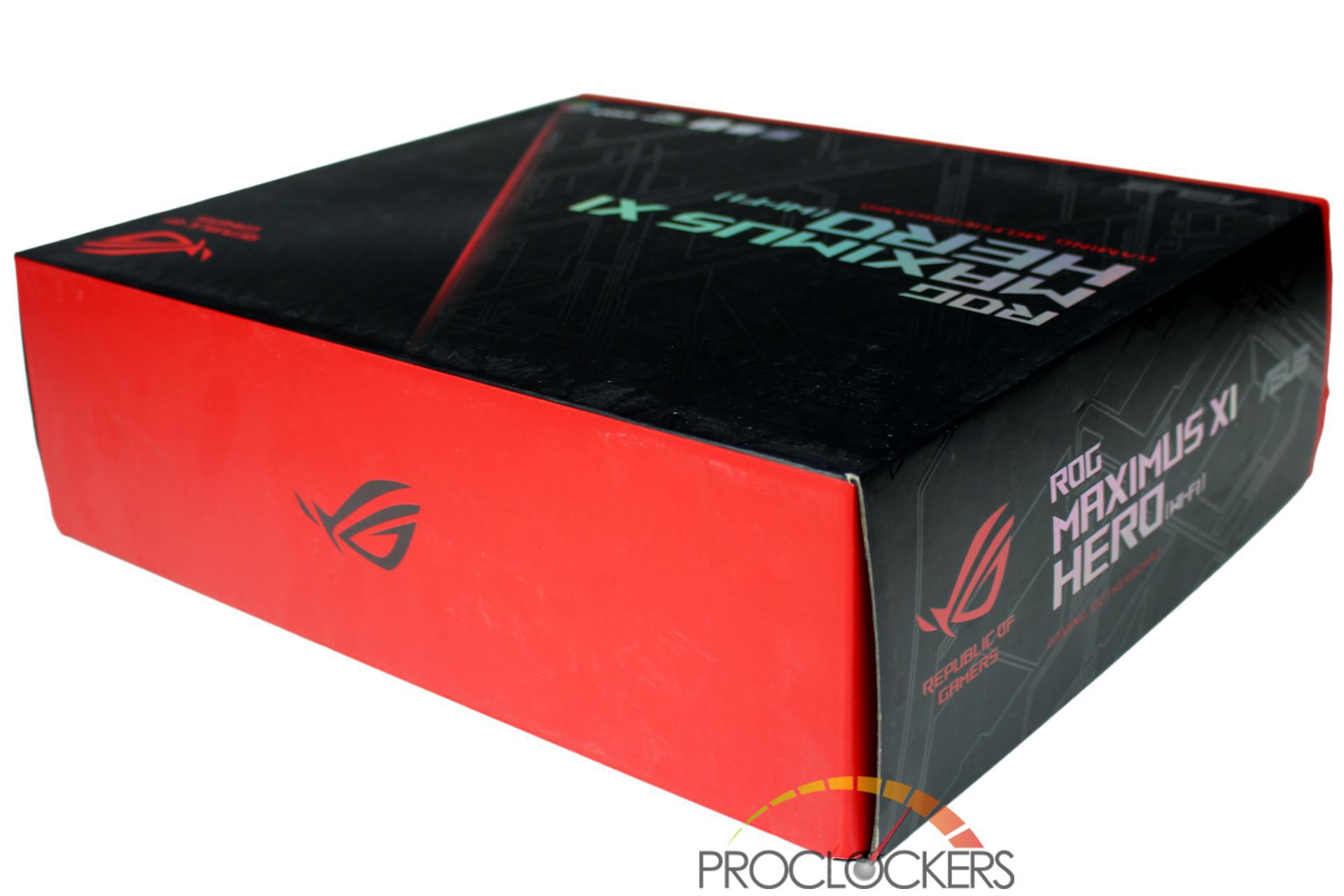 The ends of the box have the model in the color shifting font and the ROG and ASUS logos.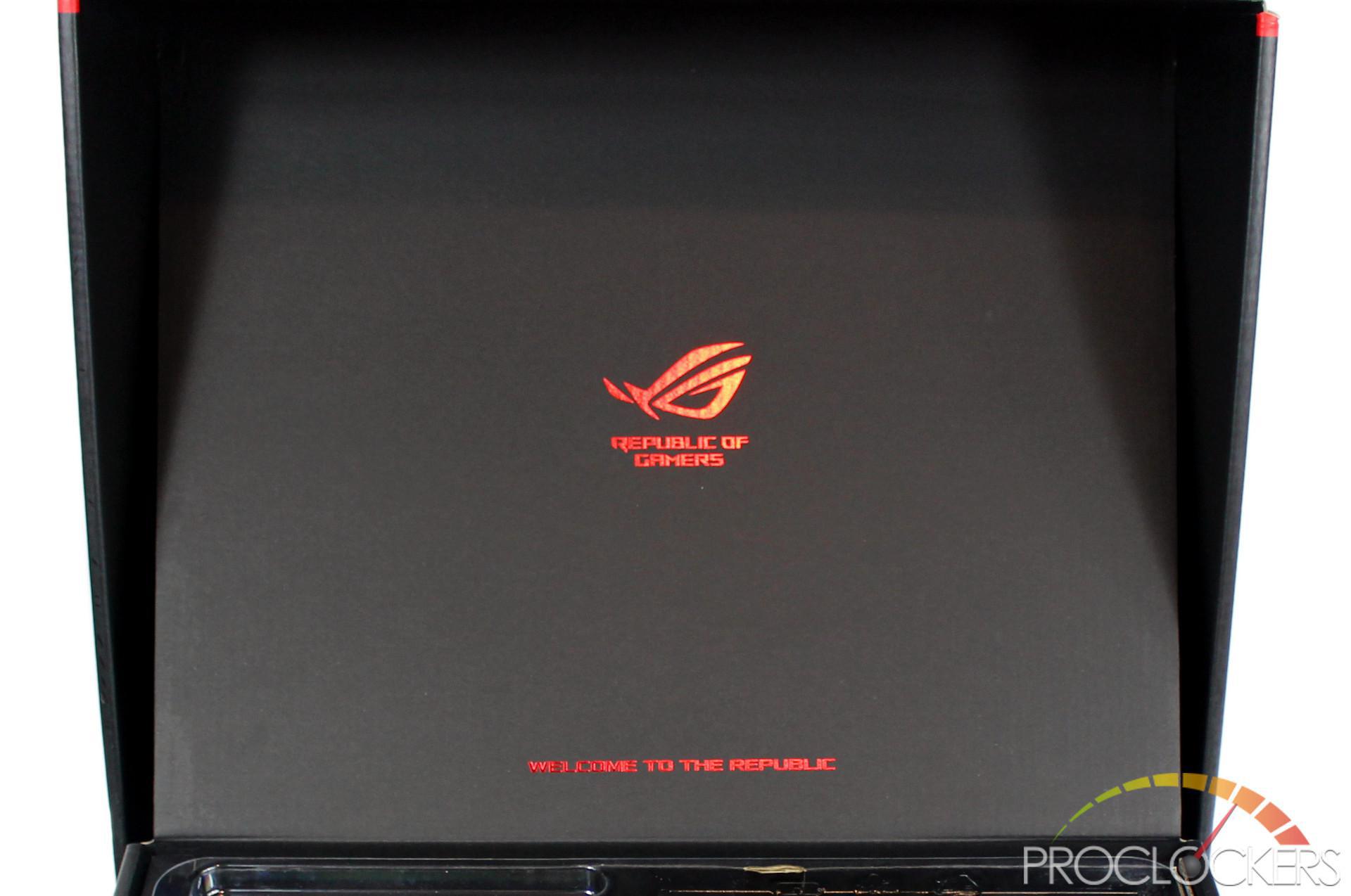 Opening the box up, We are greeted with a large red ROG eye and the message 'Welcome to the Republic'.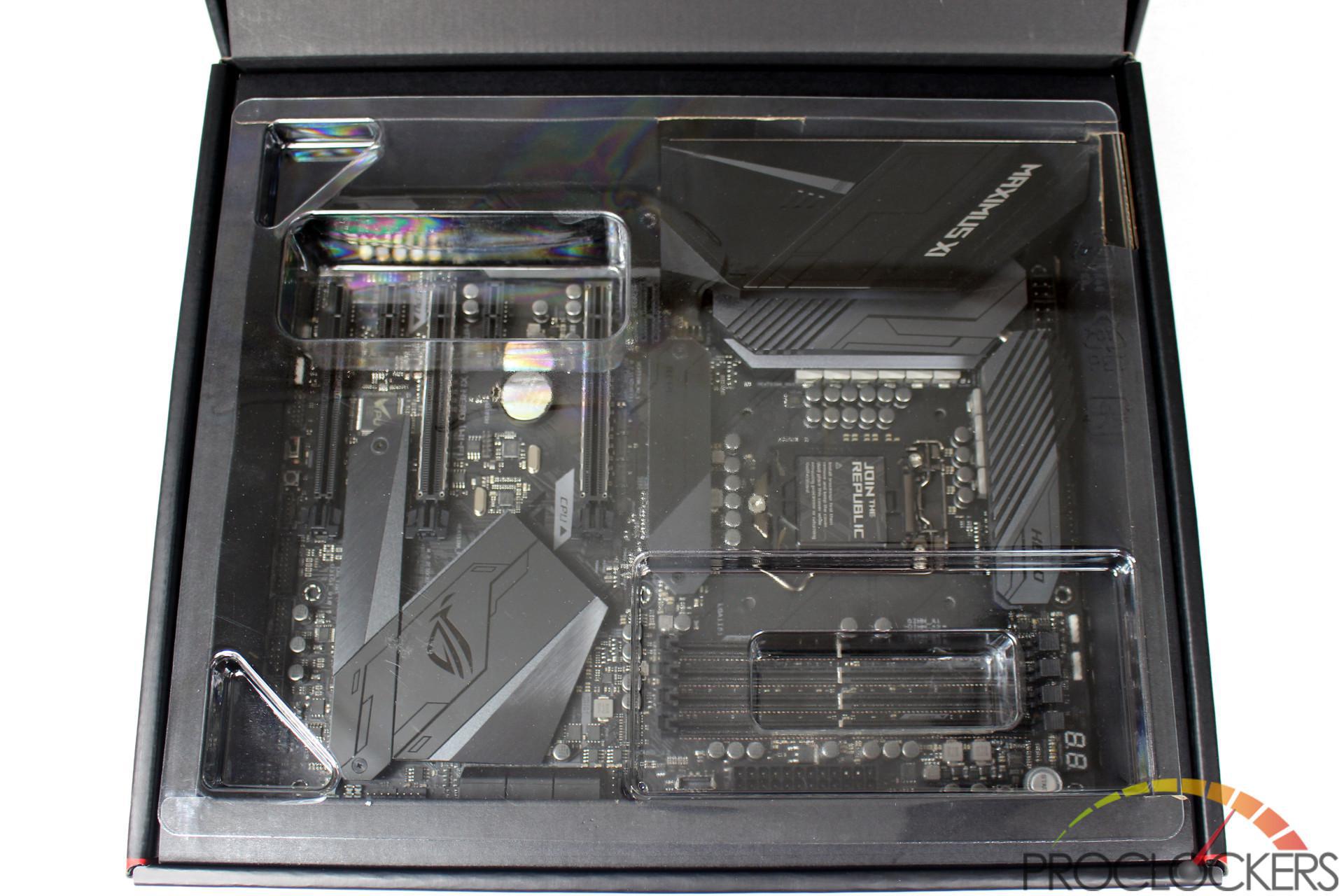 The Maximus XI Hero Wi-Fi is fully visible under the clear protective cover in its own tray.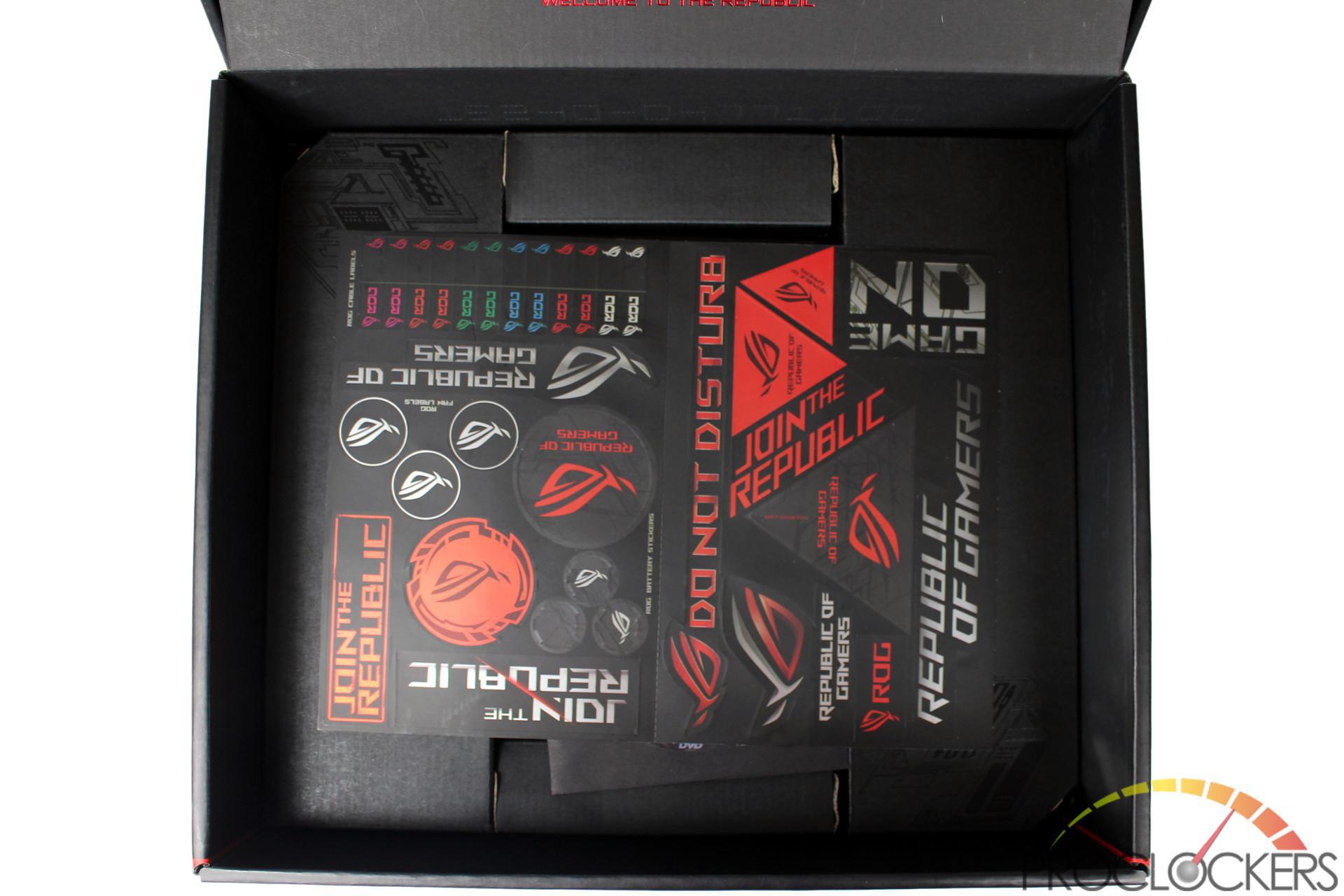 Under the motherboard tray, the famous sheet of ROG stickers.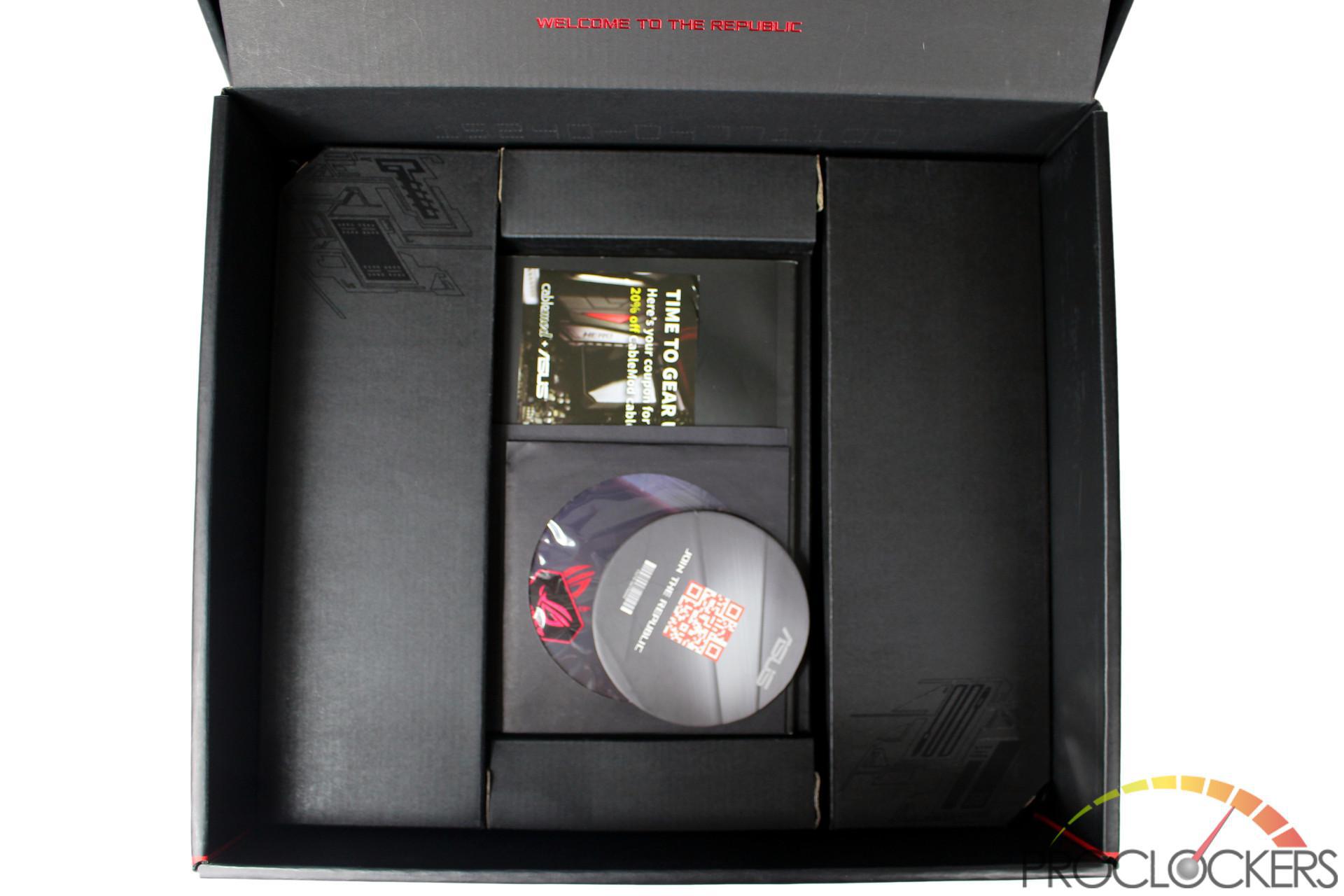 Under this is the three compartments hide all of the included extras and accessories under embossed flaps.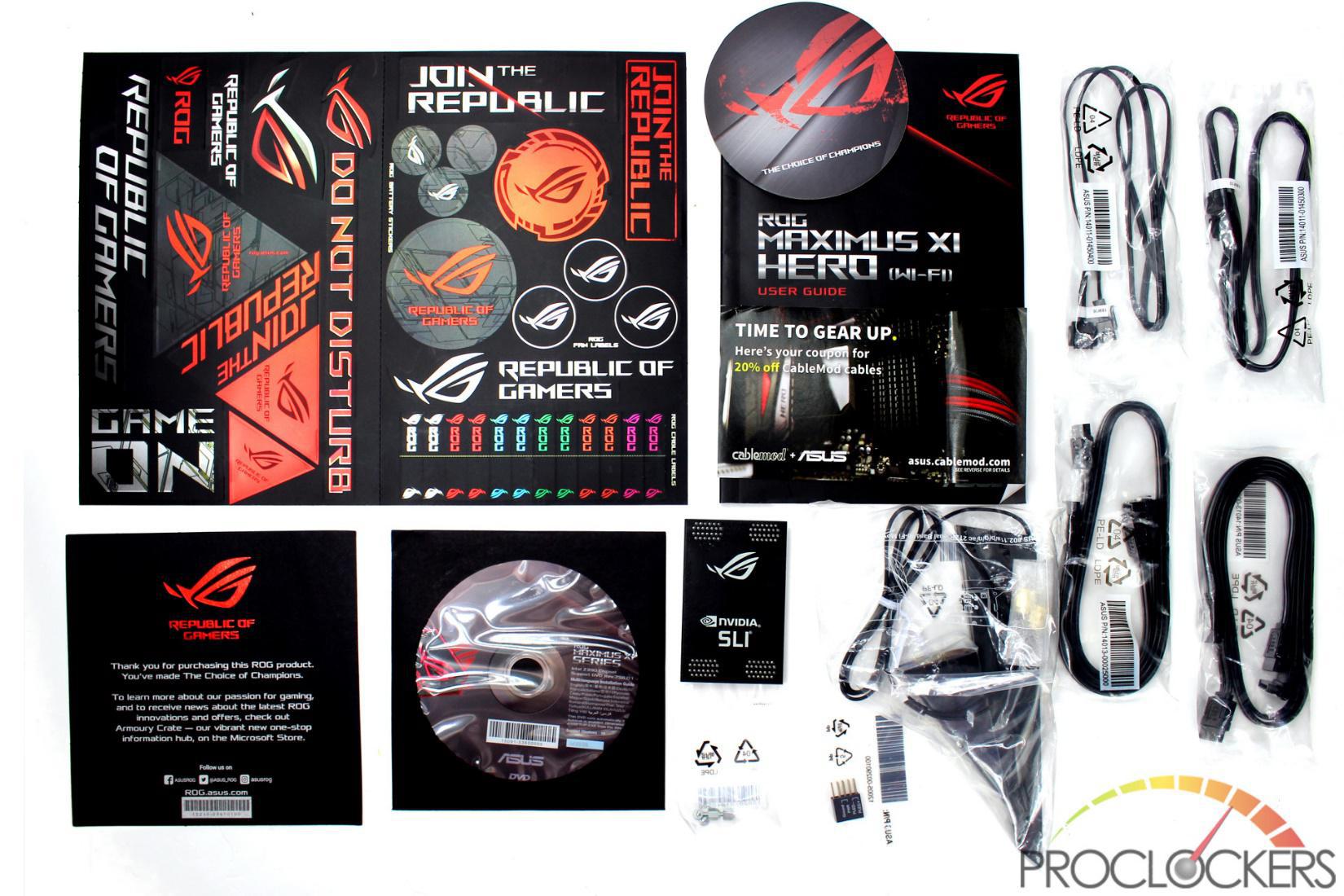 Like most ROG boards, the pile of accessories is pretty immense. You get the user manual, a coaster, and a 20% coupon to CableMod.com good for a slick set of cables or extensions customized to your particular power supply and tastes. The typical SATA cables are here, but you also get all the little bits like M.2 screws, ASUS's Q-connector, and some RGB extension cables, The Wi-Fi antenna, an HB SLI Bridge, and a ROG case badge inside the drive disk sleeve.
A Closer Look

Unlike the ROG Maximus XI Extreme that we checked out recently, the Maximus XI hero stays within the standard ATX footprint but still offers four memory sockets, twin armored PCIe x16 slots for GPU's and dual M.2 sockets with integrated heatsinks.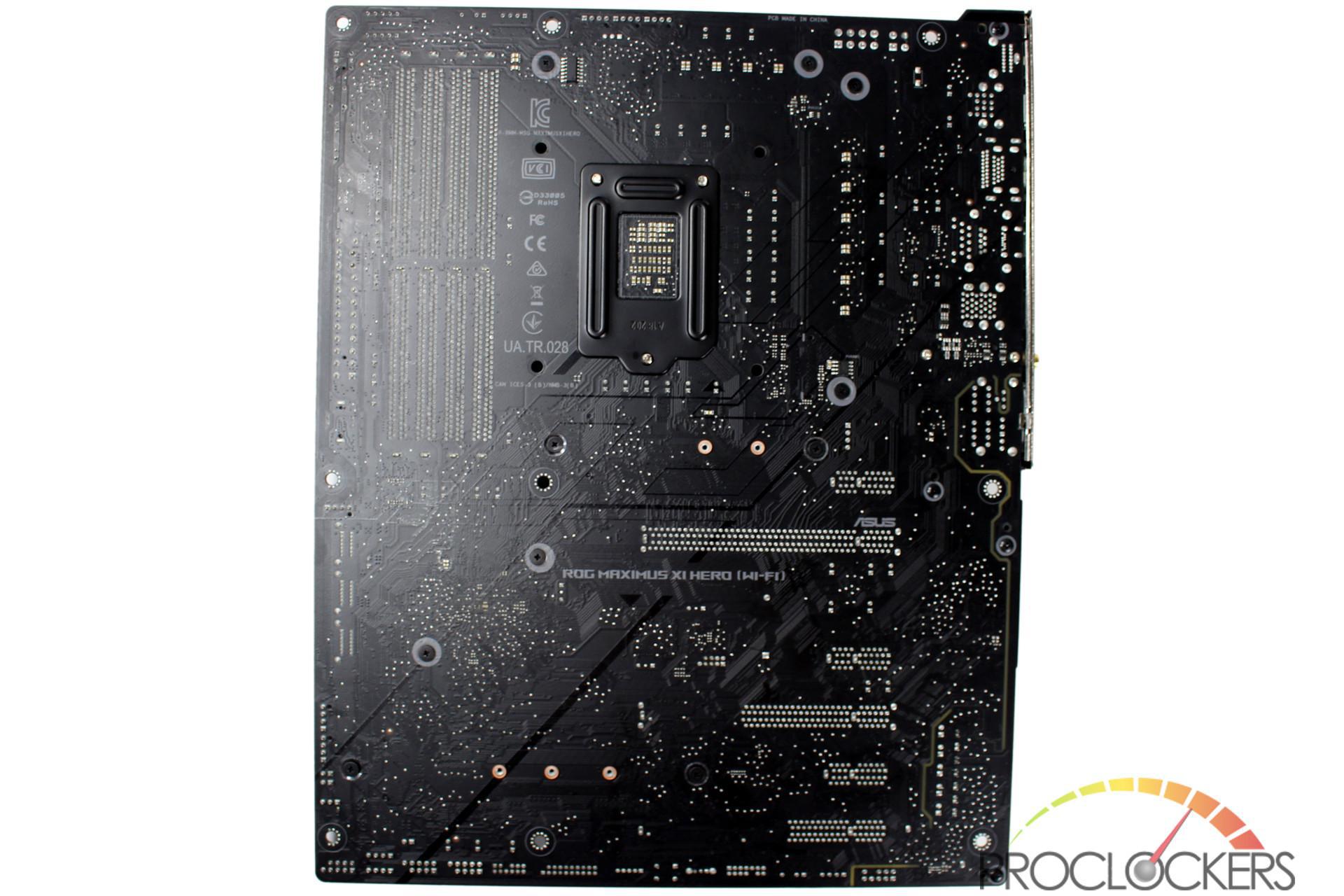 The rear of the board is pretty clean with nothing really to see.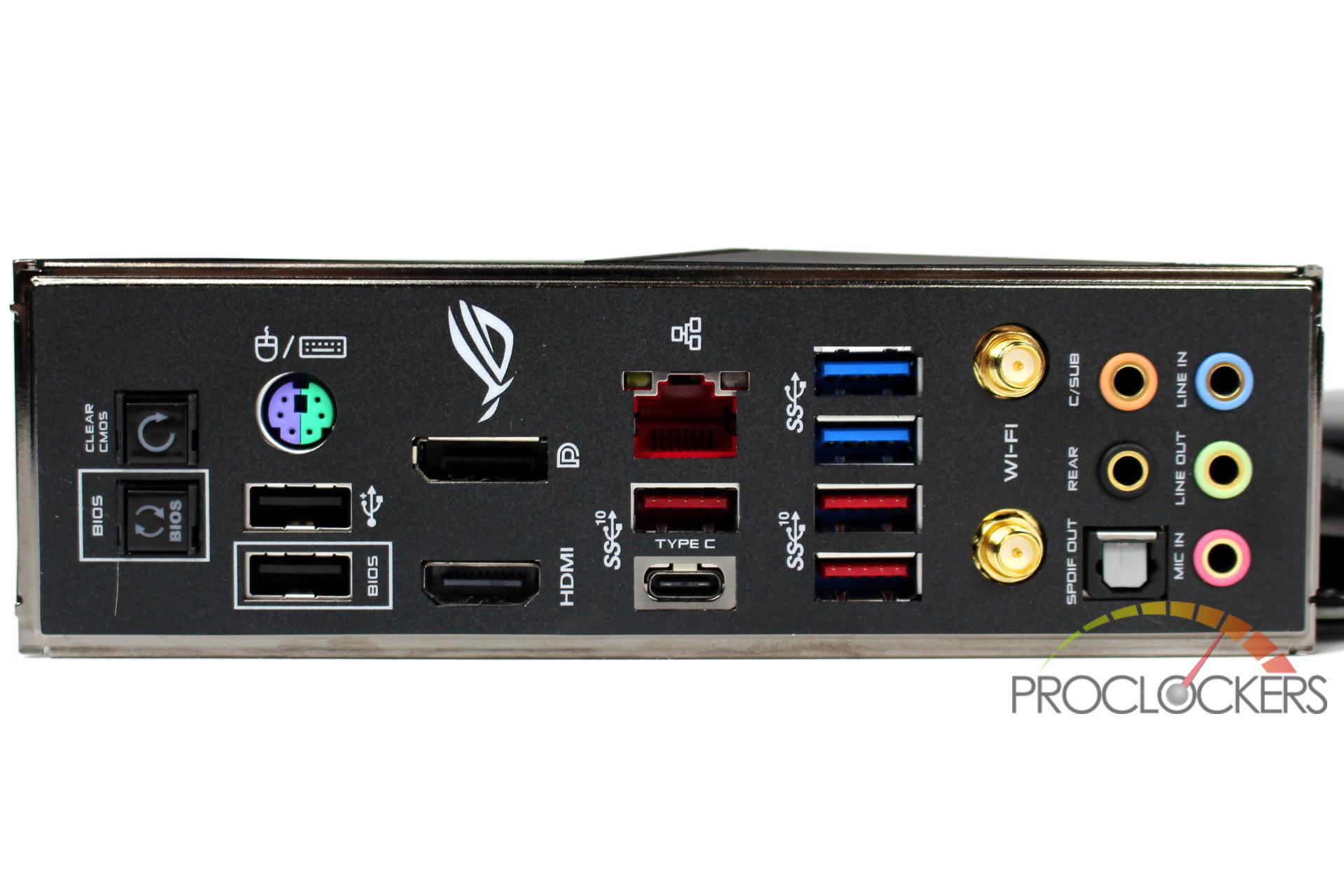 As with most ROG boards, rear I/O is quite extensive. The typical ROG Clear CMOS and USB BIOS Flashback buttons are here, two USB 2.0 ports, one labeled for the BIOS flashback feature, a split PS/2 port for keyboards and/or mice, and Intel Gigabit Ethernet. Display from the iGPU is handled with a Display Port and an HDMI port. Two USB 3.1 gen 1 ports in blue and four USB 3.1 gen 2 ports are in red along with the Type-C connection. Intel Wifi is here with a 2×2 config supporting MU-MIMO plus standard SupremeFX powered gold audio ports and optical output.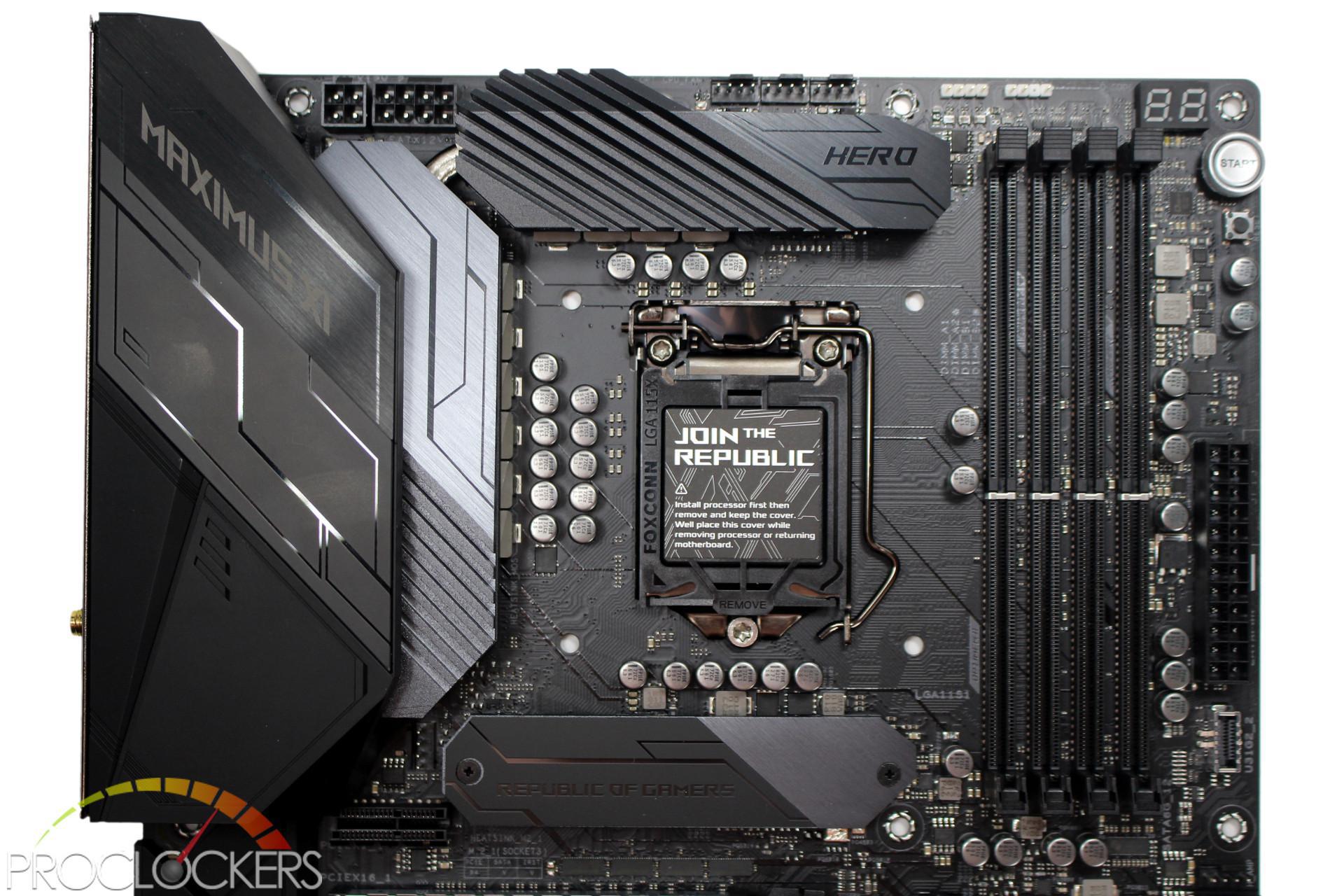 Along the top, we have Intel's LGA 1151 socket front and center with a nice ROG socket cap, four DDR4 DIMM slots to the front/right and a 10-phase VRM surrounding the top and left sides of the socket. An M.2 socket hides under the heatsink just under the socket and a 4-pin fan header sits next to it.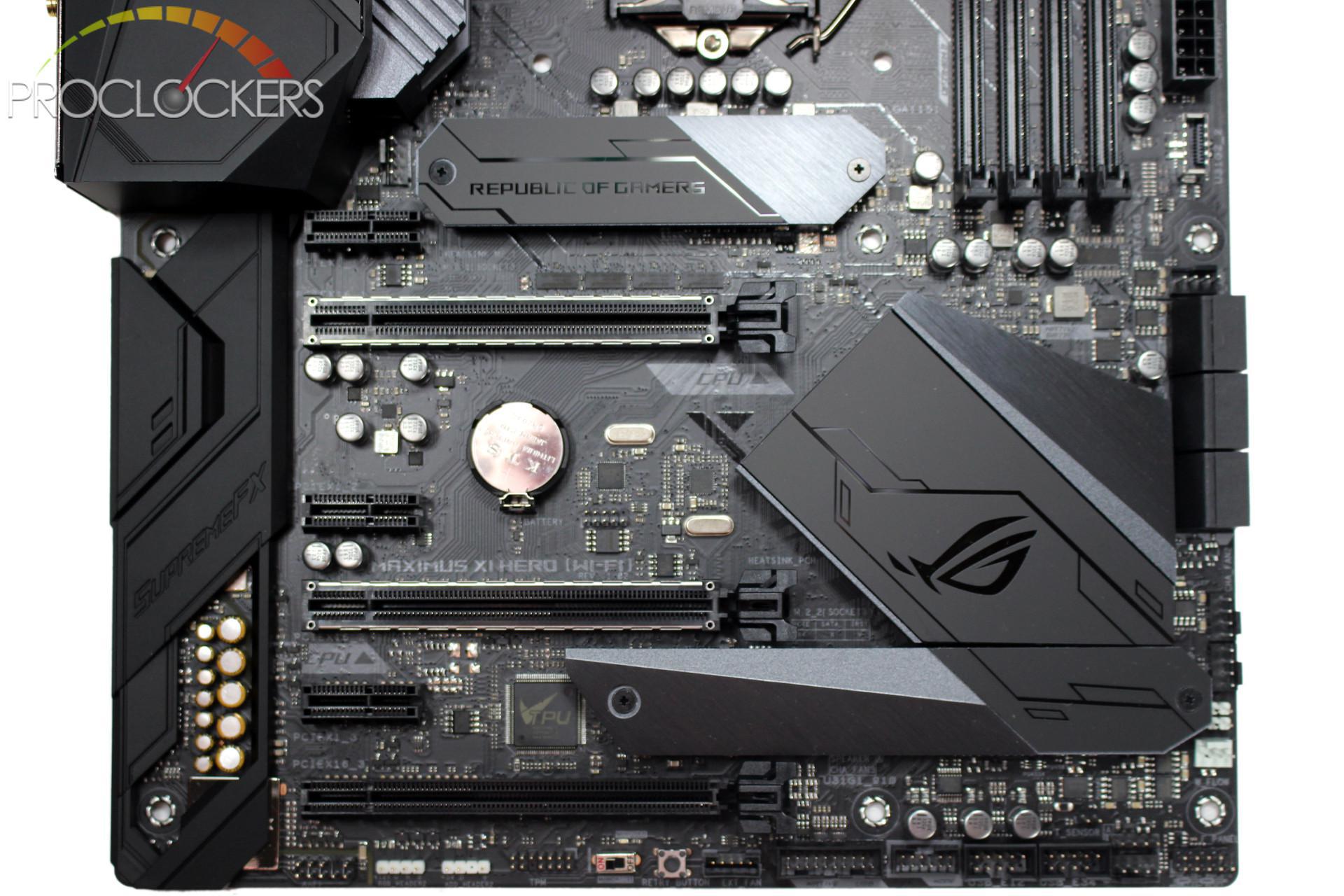 The bottom half of the board is covered partially by the SupremeFX Audio covering and the Chipset heatsink that blends into the second M.2 slot heatsink. Two PCIe x16 slots are armored and can operate at x16/x0 or x8/x8 from the CPU. the lower x16 slot is x4 electrical from the PCH as well as the three open-ended PCIe x1 slots.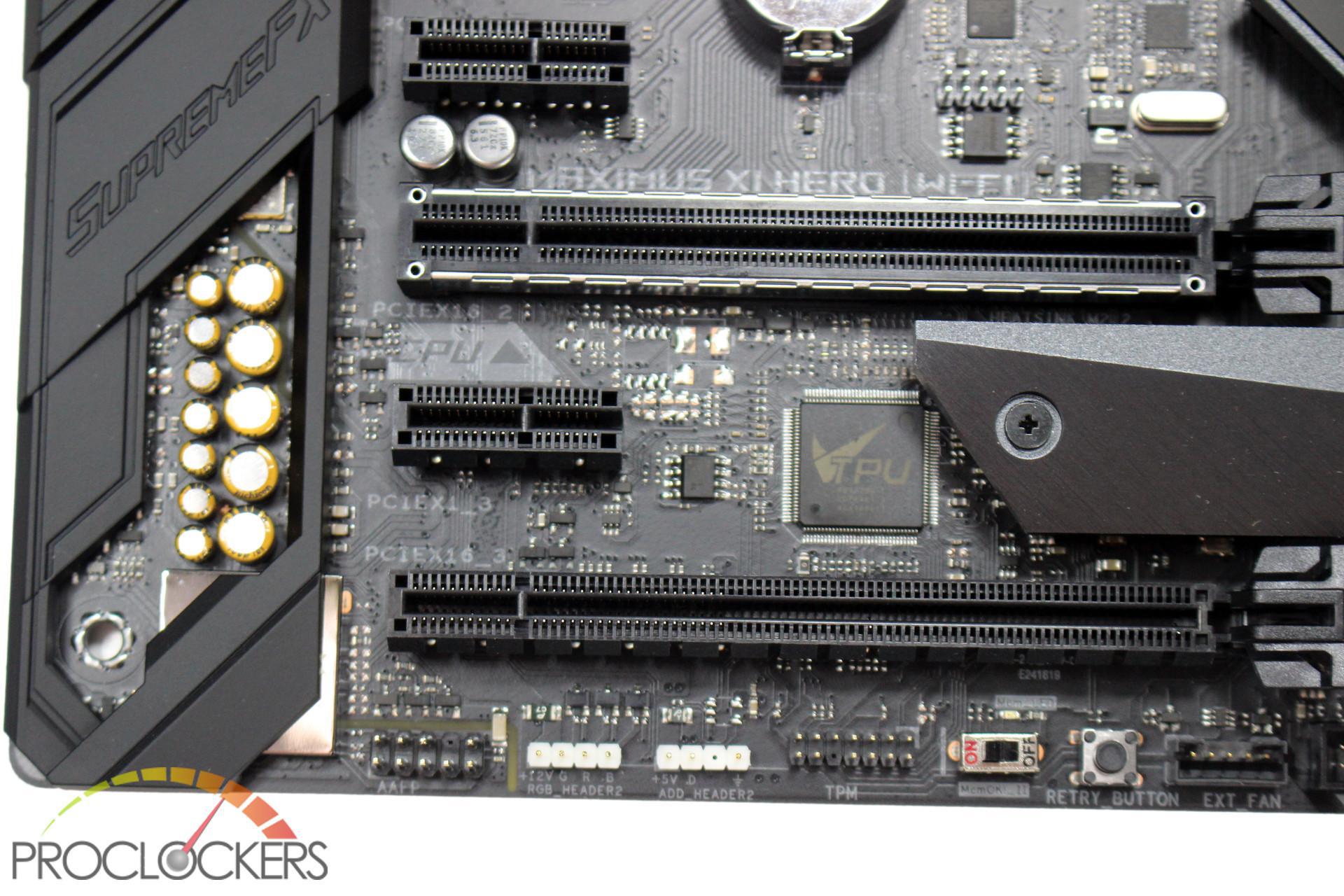 Connections on the board are extensive so let's start in the lower left corner and go around. We get the typical front panel audio header, two RGB headers, a TPM header, a MemOK switch, a Retry Button and the connection to the External Fan controller board (not included).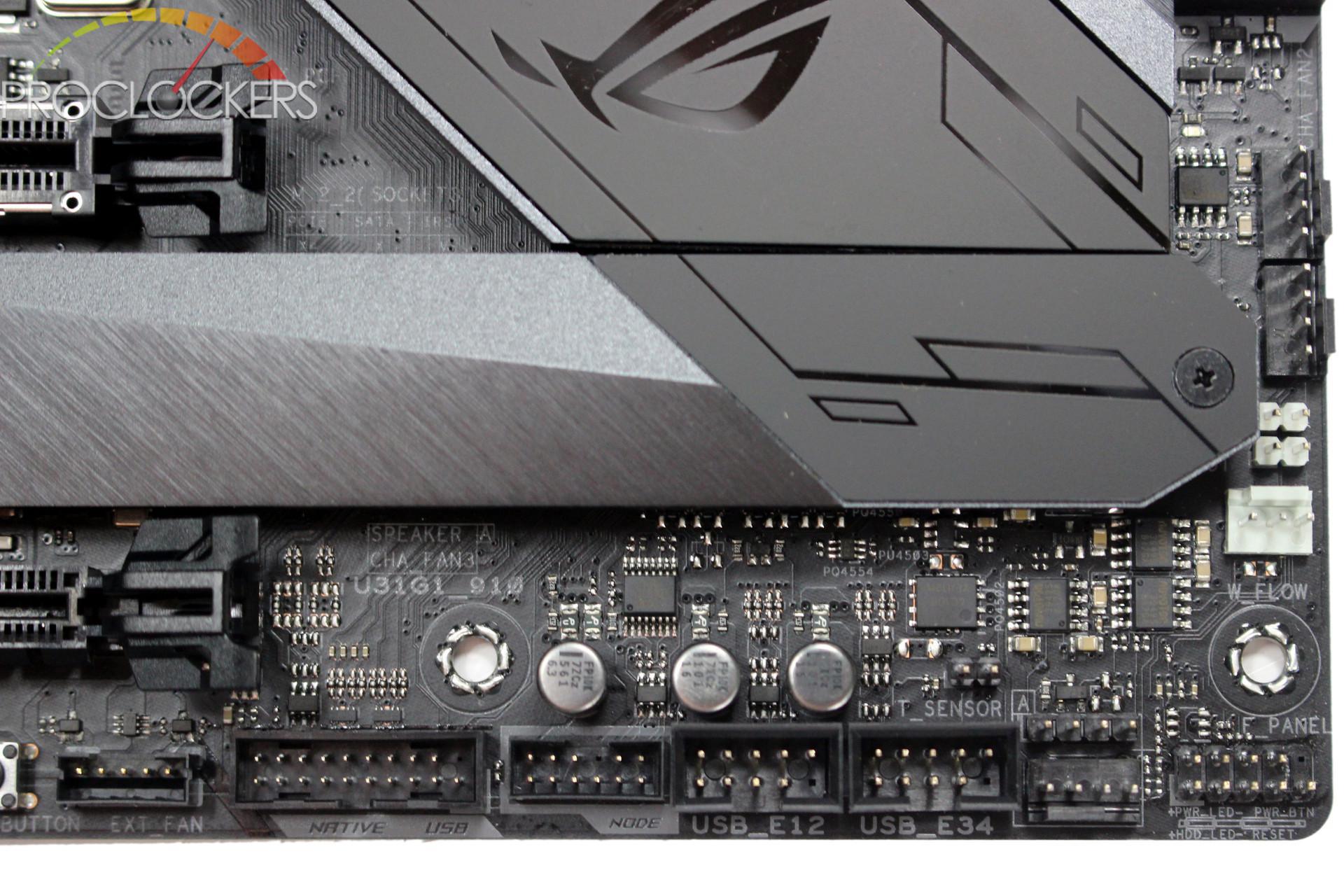 Going forward we have a USB 3.1 gen 1 header, the new NODE connection, two USB 2.0 headers with a temp probe header above them, a 4-pin fan header, and front panel I/O including a dedicated speaker header. Going up the front we have a water flow meter connection as well as two more temp probe headers for your loop and two more 4-pin fan headers.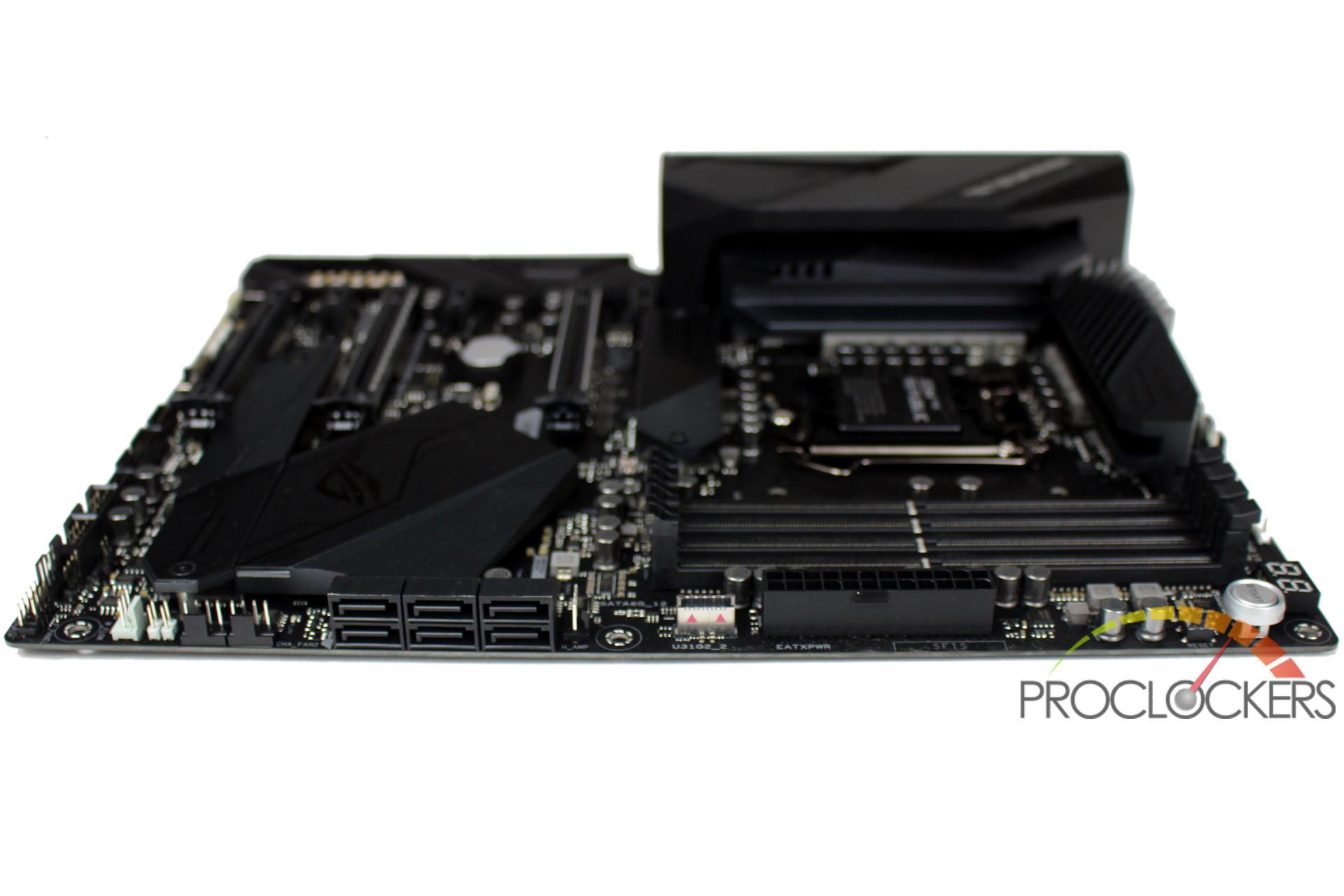 You get six SATA ports, another fan header, a USB 3.1 Type-C header, and main 24-pin power connection.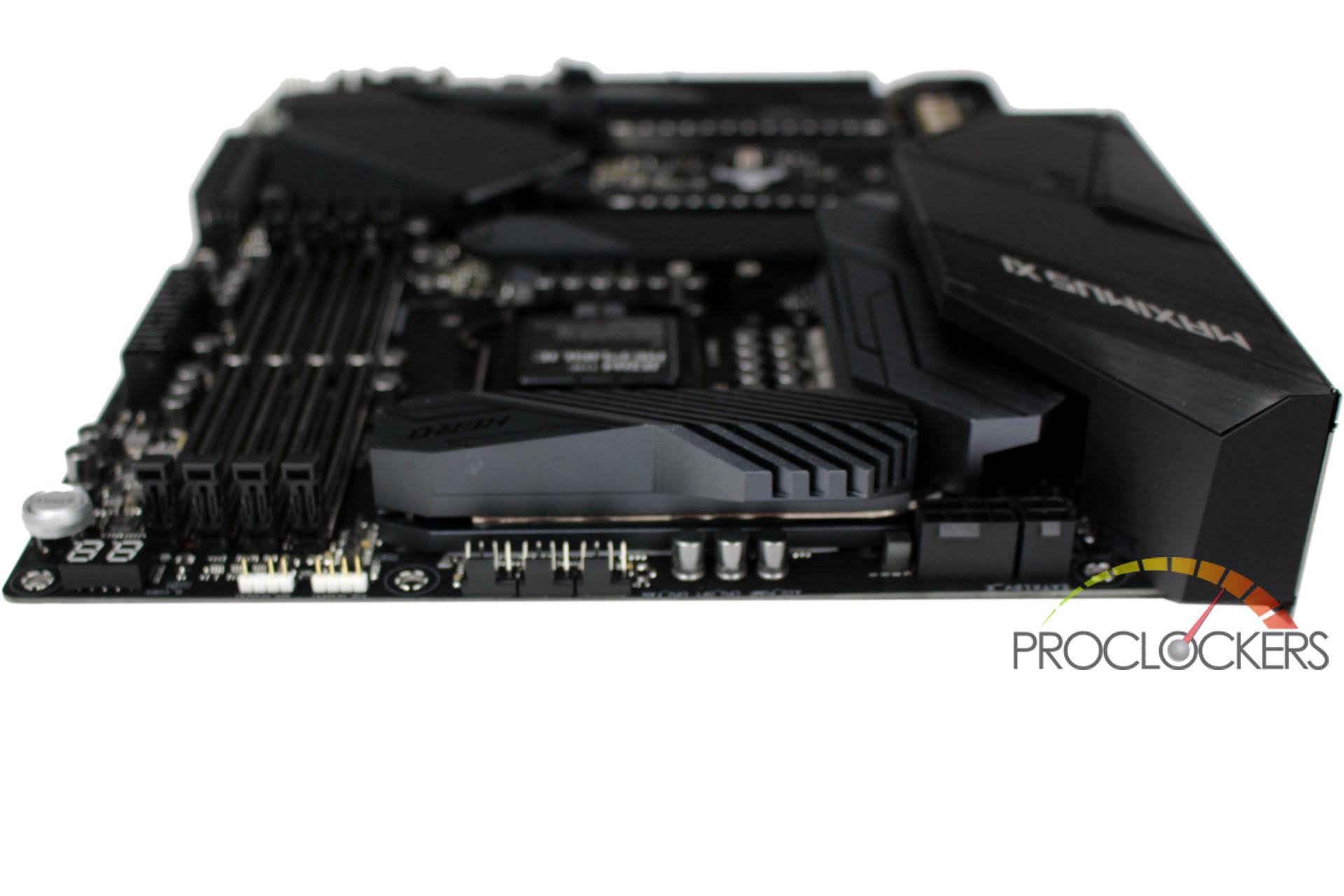 Above the main power connection, you get a power and reset button, plus the Q-code display. Along the top, you have two more RGB headers, three 4-pin fan headers and CPU power inputs comprised of an 8-pin EPS connection and aux 4-pin.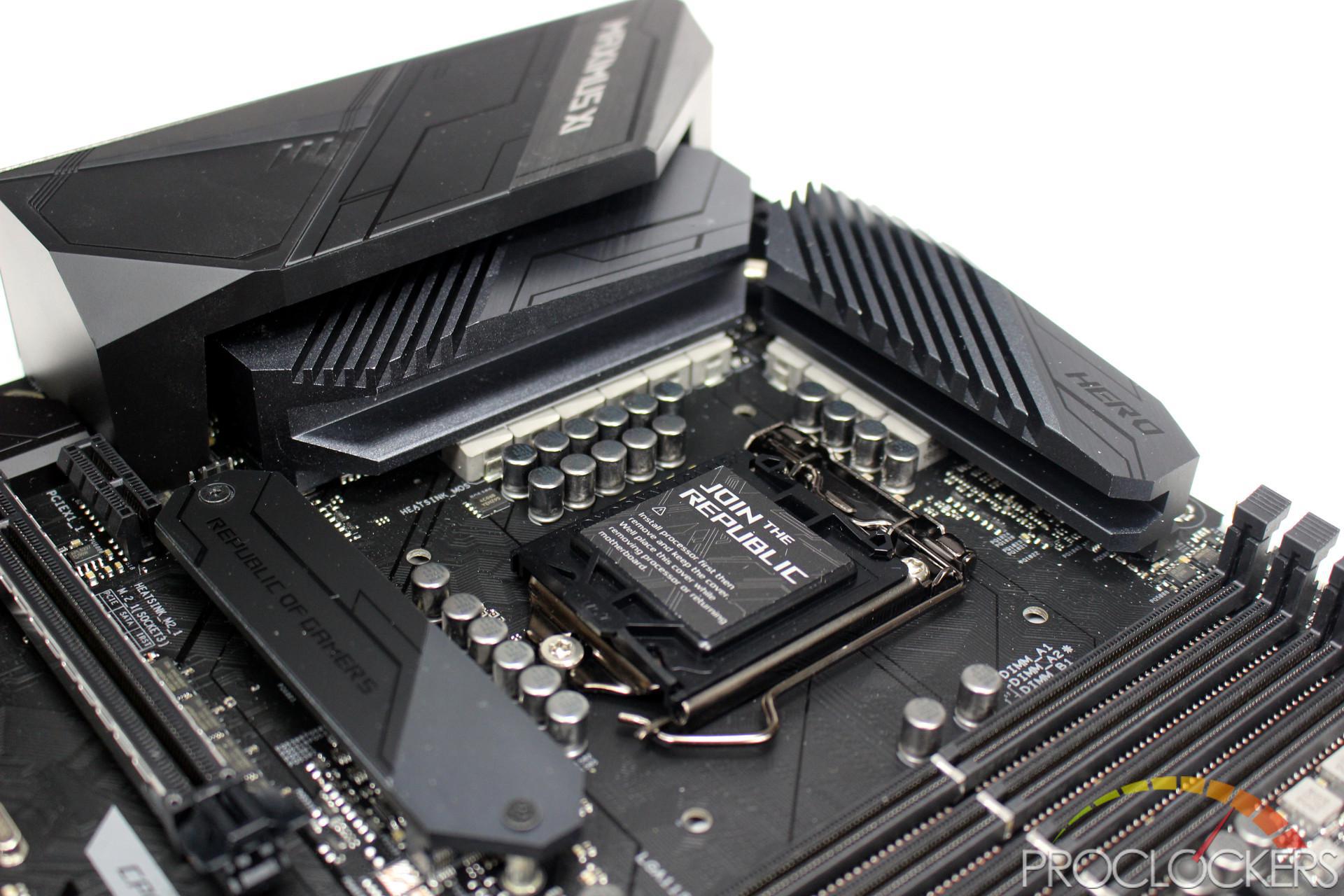 Power is delivered to the CPU by a 10-phase VRM with a large heatsink that is partially tucked under the rear-I/O cover.
Both M.2 slots have heatsinks with pre-applied thermal pads. The bottom slot supports up to 22110 sized drives.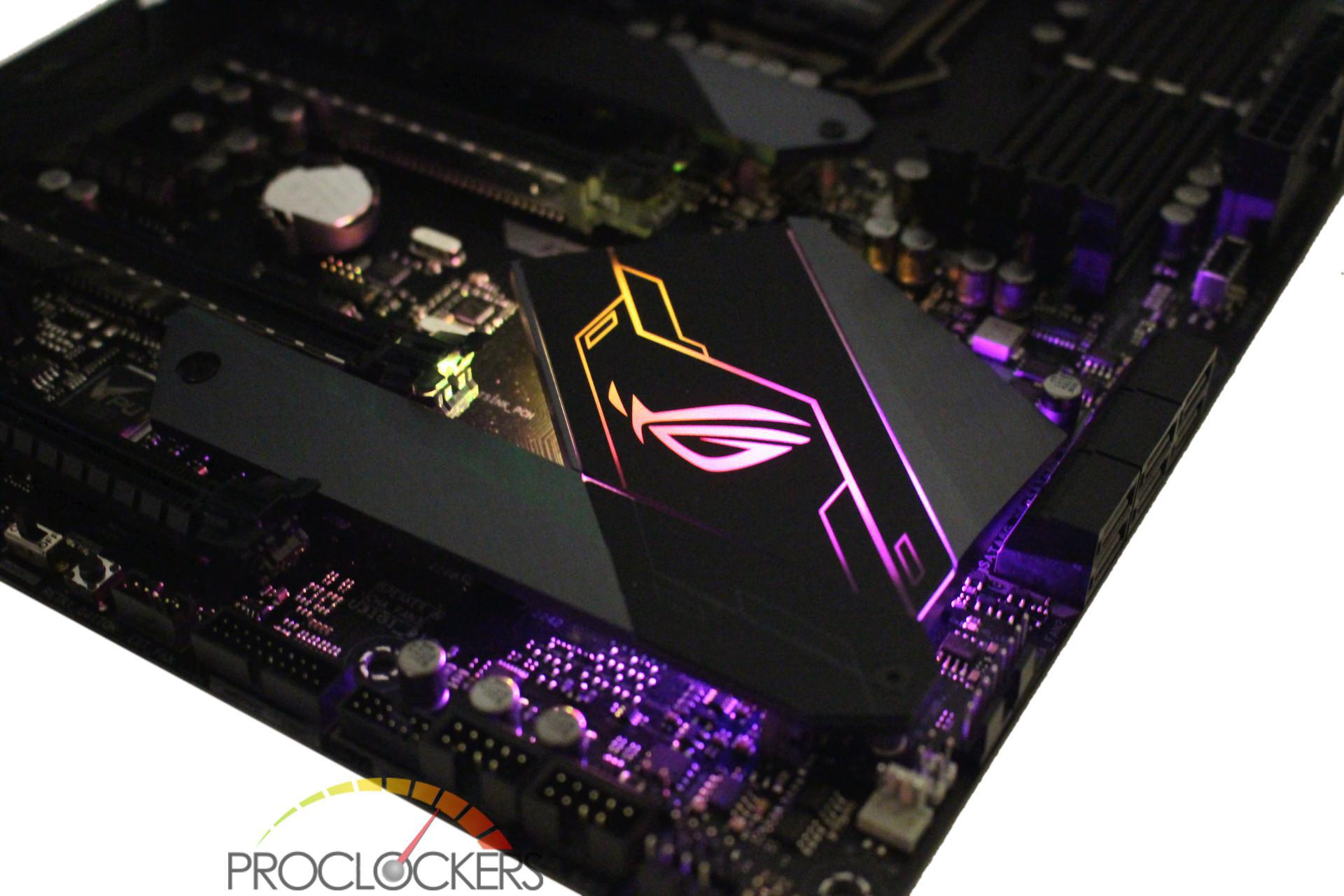 The chipset heatsink glows with Aura-Sync enabled RGB.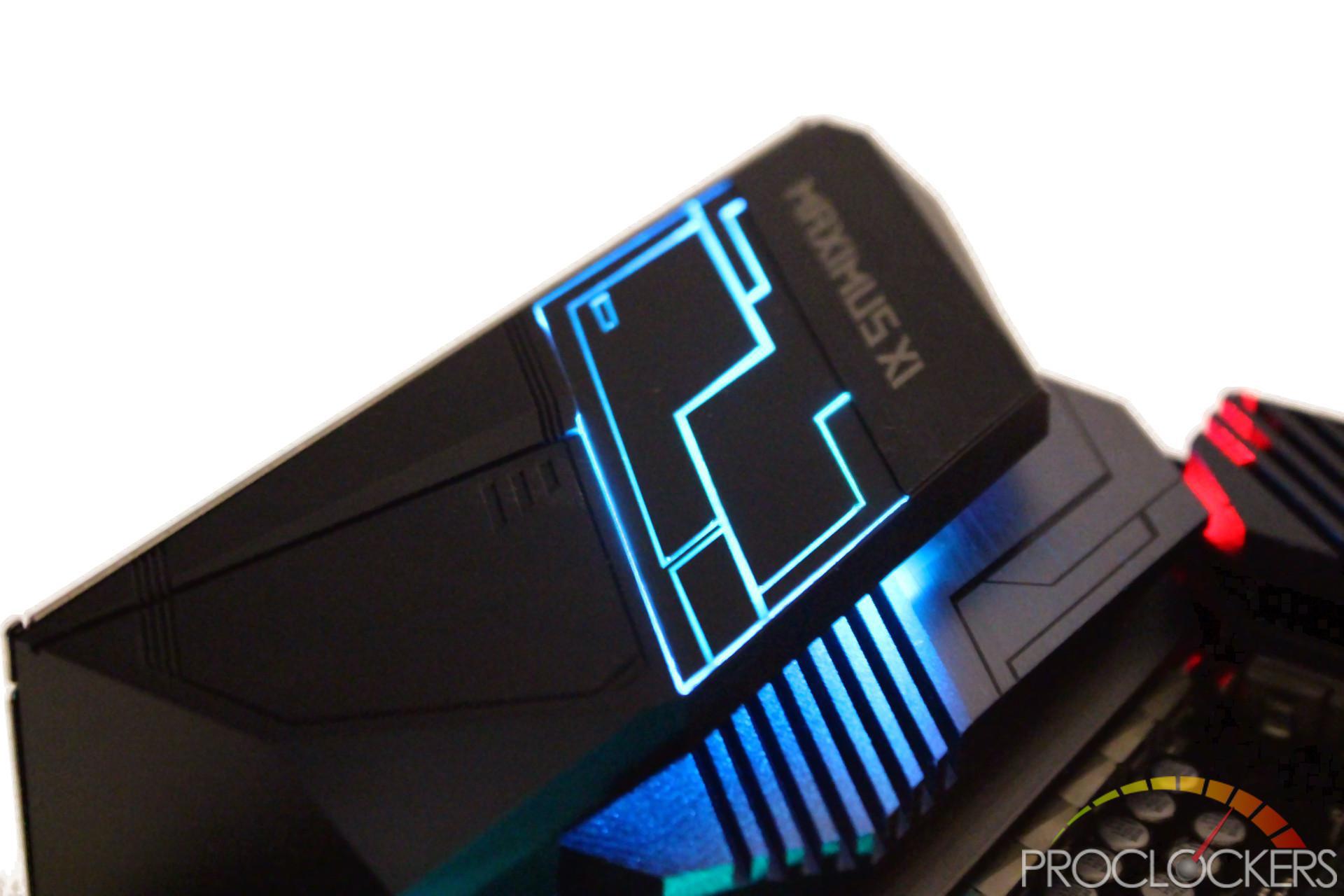 …as does the decorative part of the rear I/O cover.
System Configuration & BIOS
CPU: Intel Core i9-9900k
Motherboard: ASUS ROG Maximus XI Hero Wi-Fi
RAM: 16GB G.Skill TridentZ RGB 3200MHz
GPU: Nvidia RTX 2080 Founders Edition
SSD: Toshiba RD400 512GB
OS: Windows 10 Professional X64 1803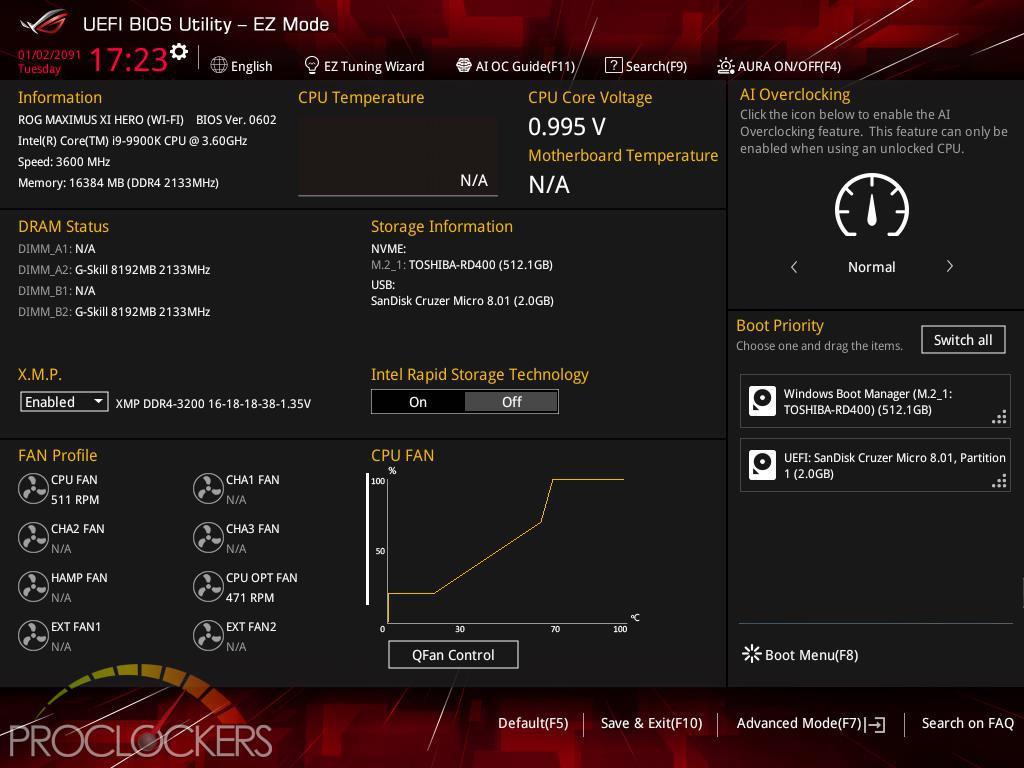 ASUS's EZ Mode gives you everything you need on one page to get going quickly. Important settings such as boot device and XMP memory overclocking are all available here.

Hitting F7 brings you to the Advanced Mode where things really get fun. The Main page just gives a quick rundown of the system and allows you to change the language and date/time settings.

Extreme Tweaker is the section you want to hit if you want to do some overclocking. You'll want to at least set your ram to its XMP overclocked speeds at least.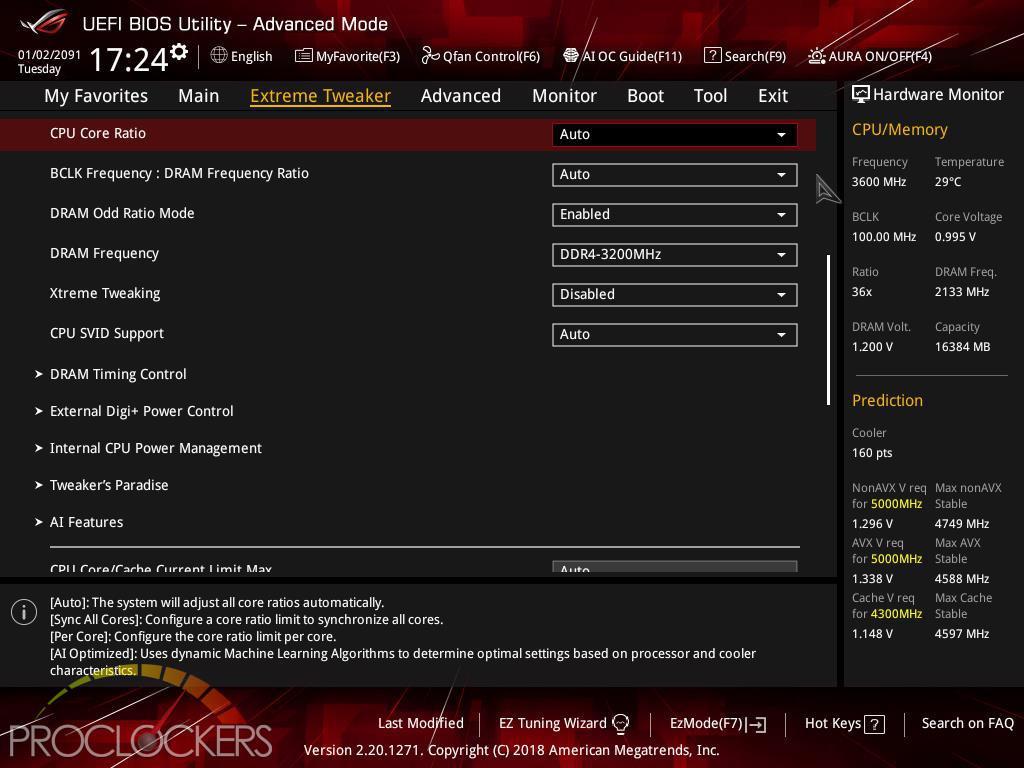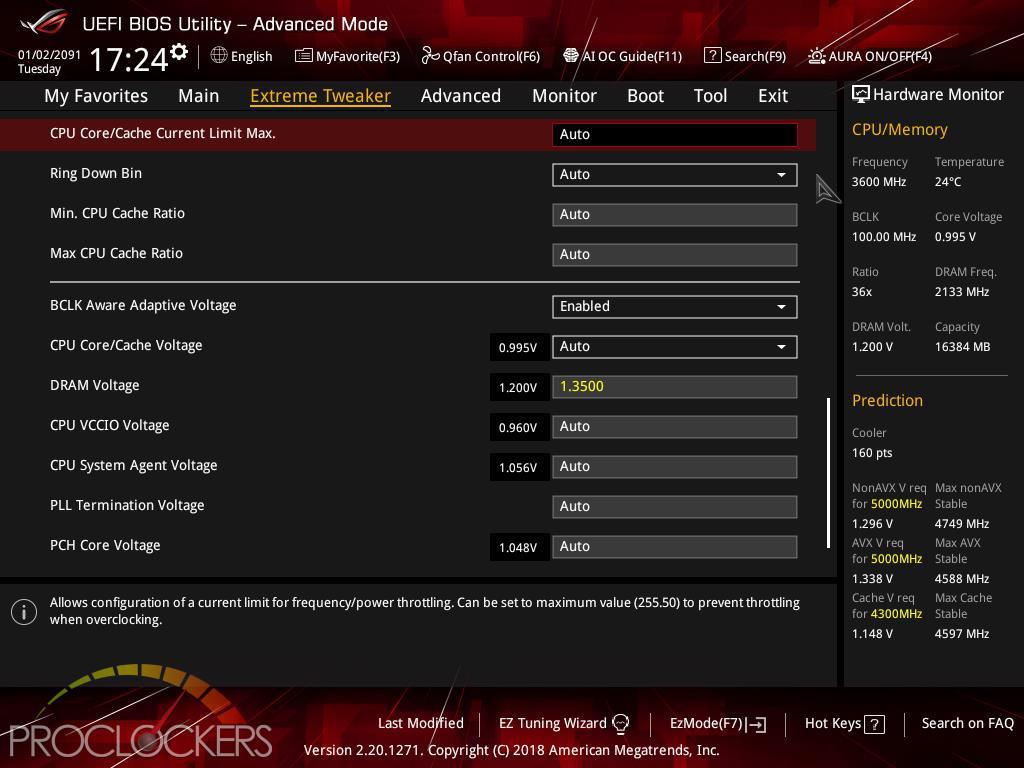 There are tons and tons more settings on further down including several specific sub-menus.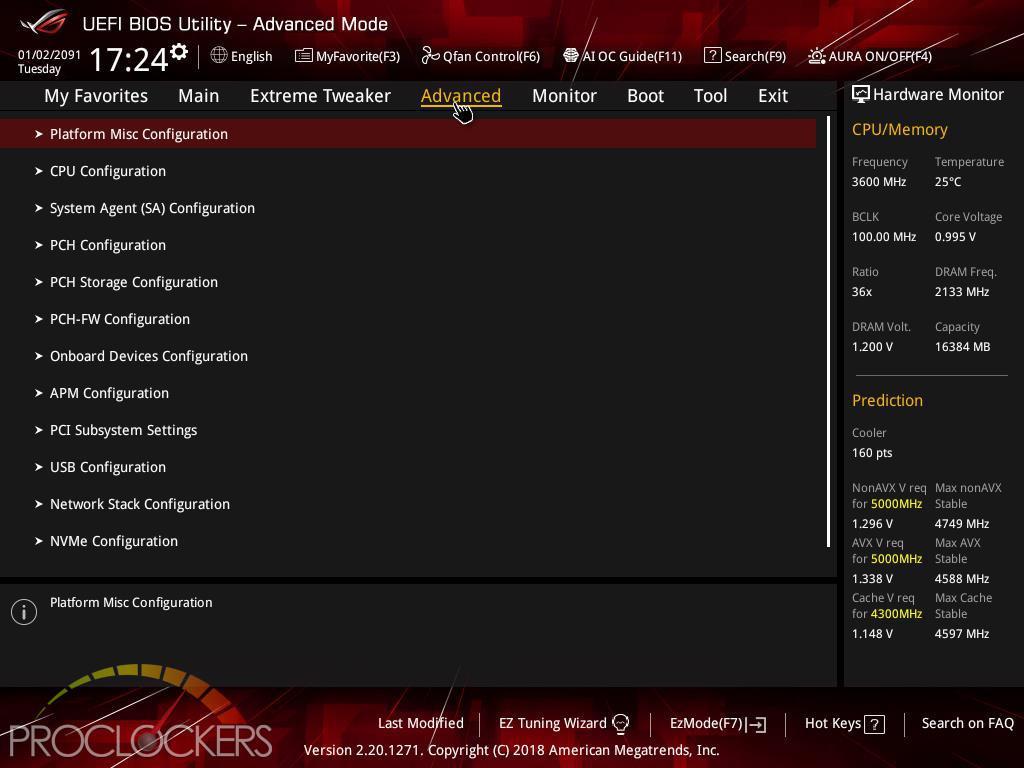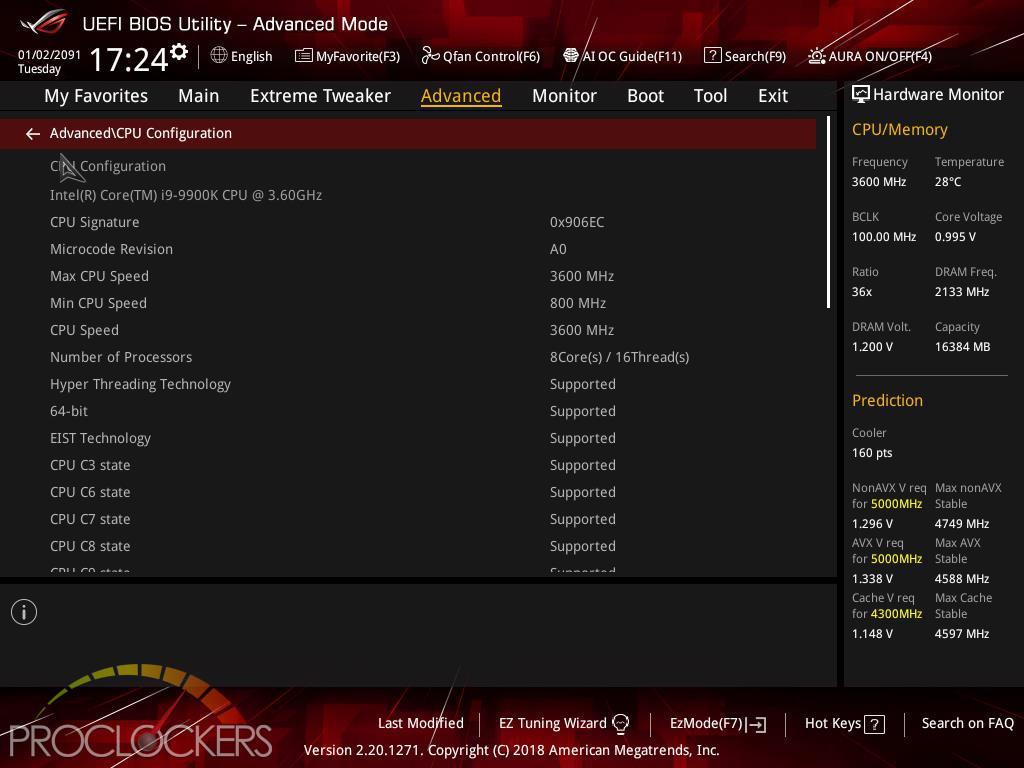 The Advanced tab has another veritable mountain of settings.


The Monitor tab gives you live readings of all voltage rails, fan and pump speeds, even temperature and flow rates if you have compatible hardware connected. You can also access Q-fan from the bottom of this page as well.

The boot section is pretty cut and dry, you won't spend much time here unless you have multiple bootable drives installed at the same time.

The Tools section is our first stop to access ASUS's EZ Flash 3 utility to load the very latest BIOS.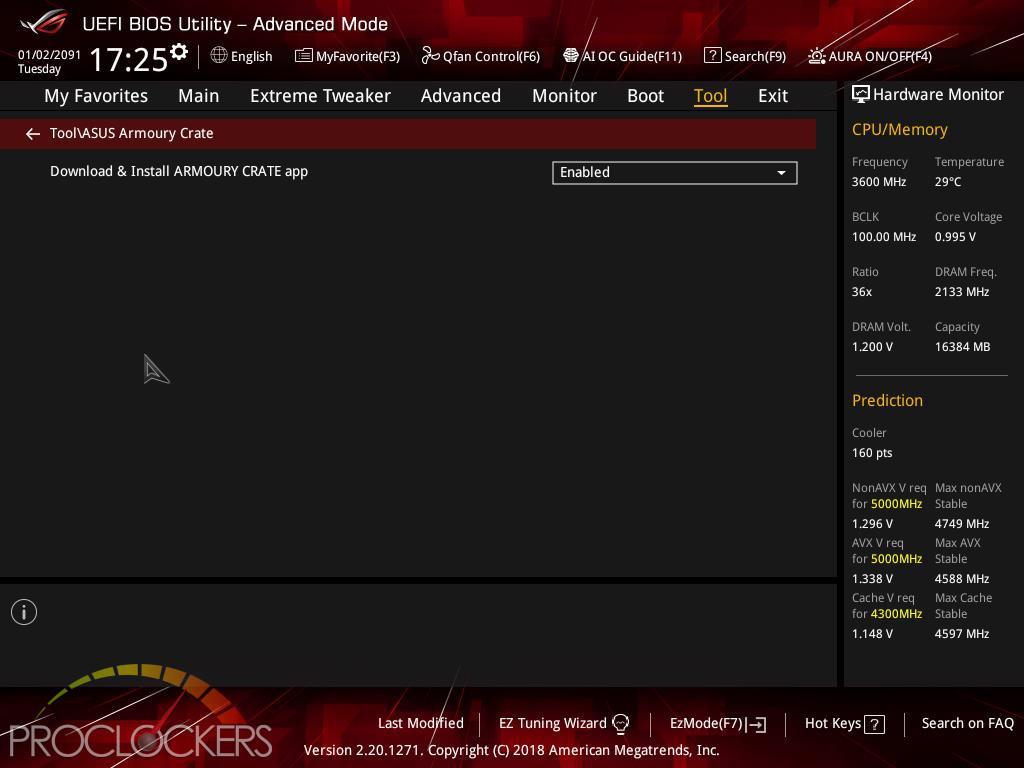 Armoury Crate is a new entry in the tools list that will install LAN drivers as soon as you hit windows and then ask to install a new piece of software to get everything up and running for you.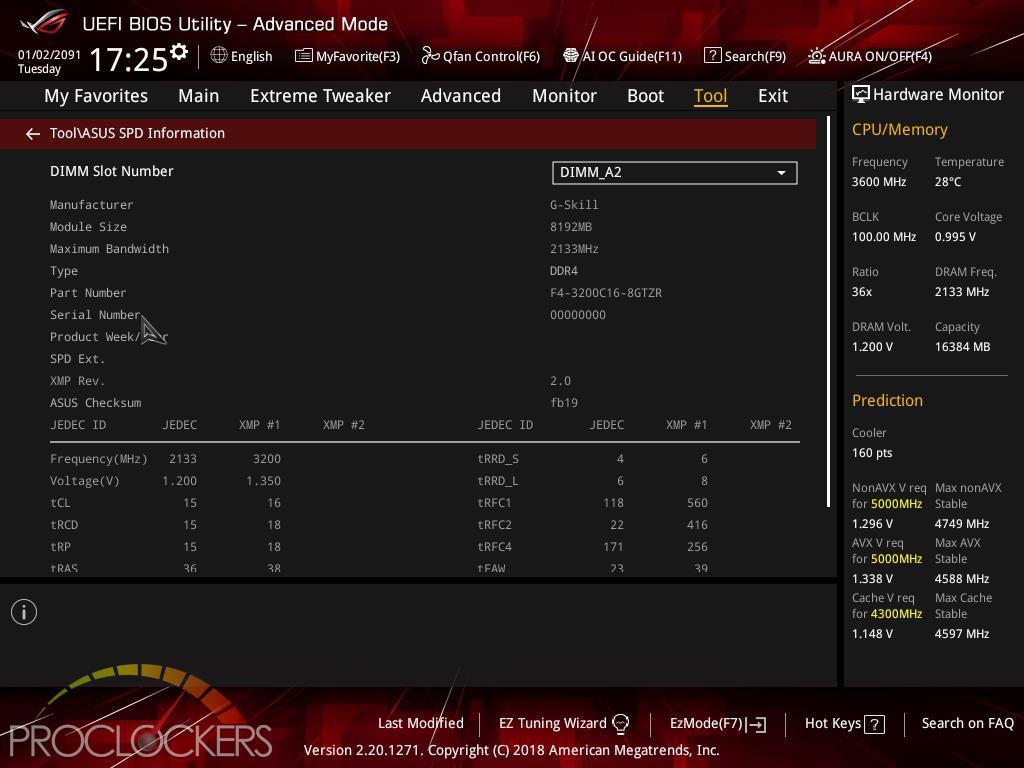 The SPD tool is nice for looking a little deeper at memory and timing settings.

Q-fan can be accessed from the monitor tab, or directly at any time by pressing F6.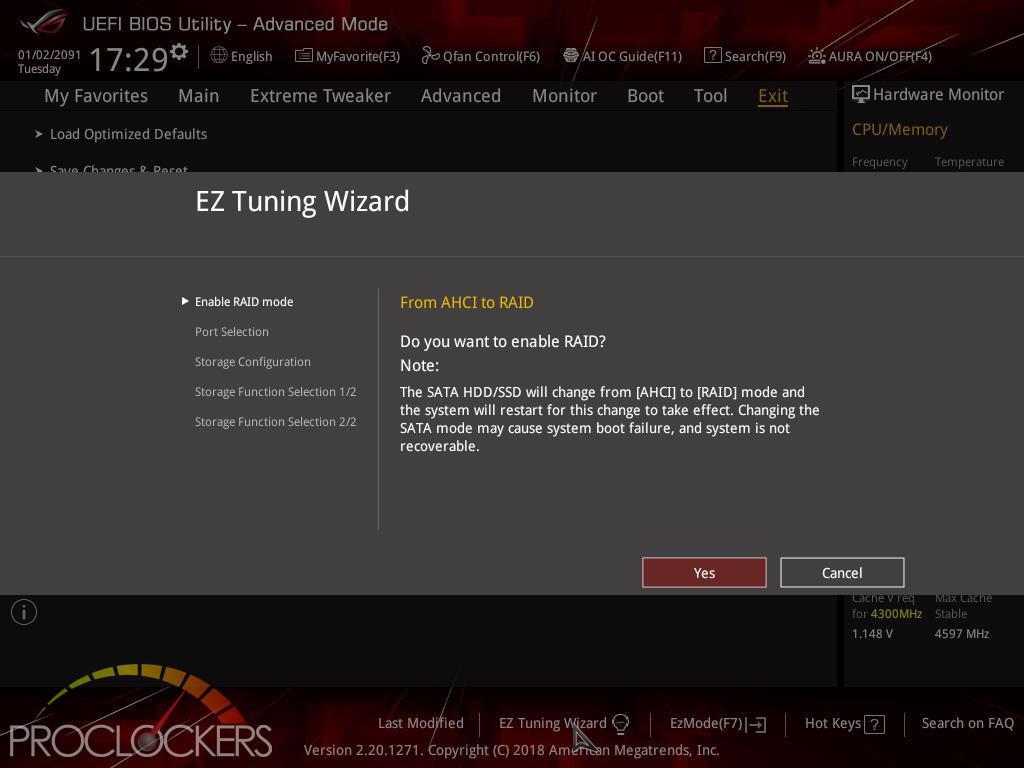 The old EZ Tuning Wizard is still around for setting up more advanced storage solutions like running multiple NVMe SSD's in RAID.
Software
ARMOURY CRATE
The brand-new Armoury Crate portal keeps you updated with the latest drivers and BIOS releases. Its easy-to-use UI can be configured to show a variety of information, including security updates, bug patches, the latest ROG news, gaming events, and special offers.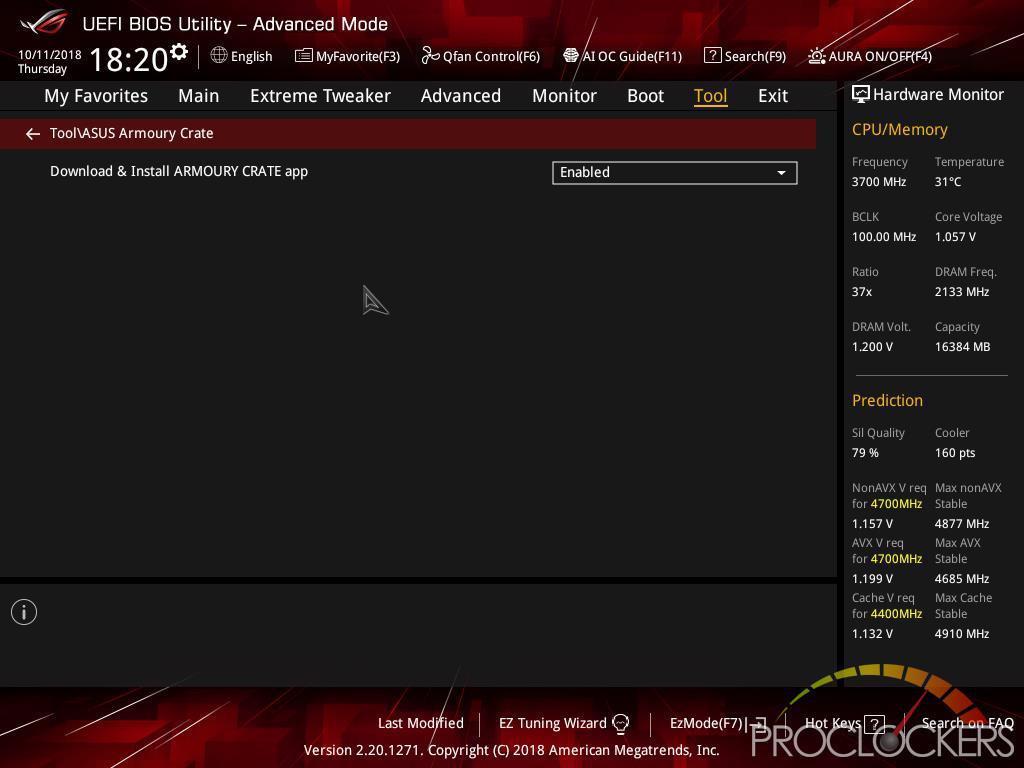 Armoury Crate needs to first be enabled in BIOS but is on by default.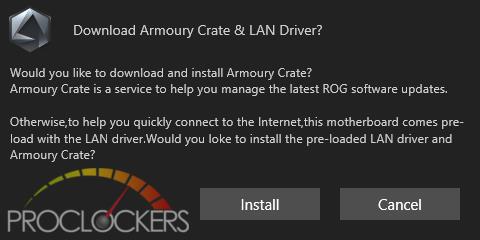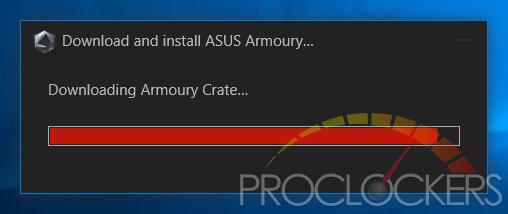 The first time you hit Windows, you get the following message. It's a bit all or nothing, but it does install LAN drivers almost instantly when you click Install and as soon as it establishes a network connection, starts downloading Armoury Crate. We wish you could install JUST the LAN drivers.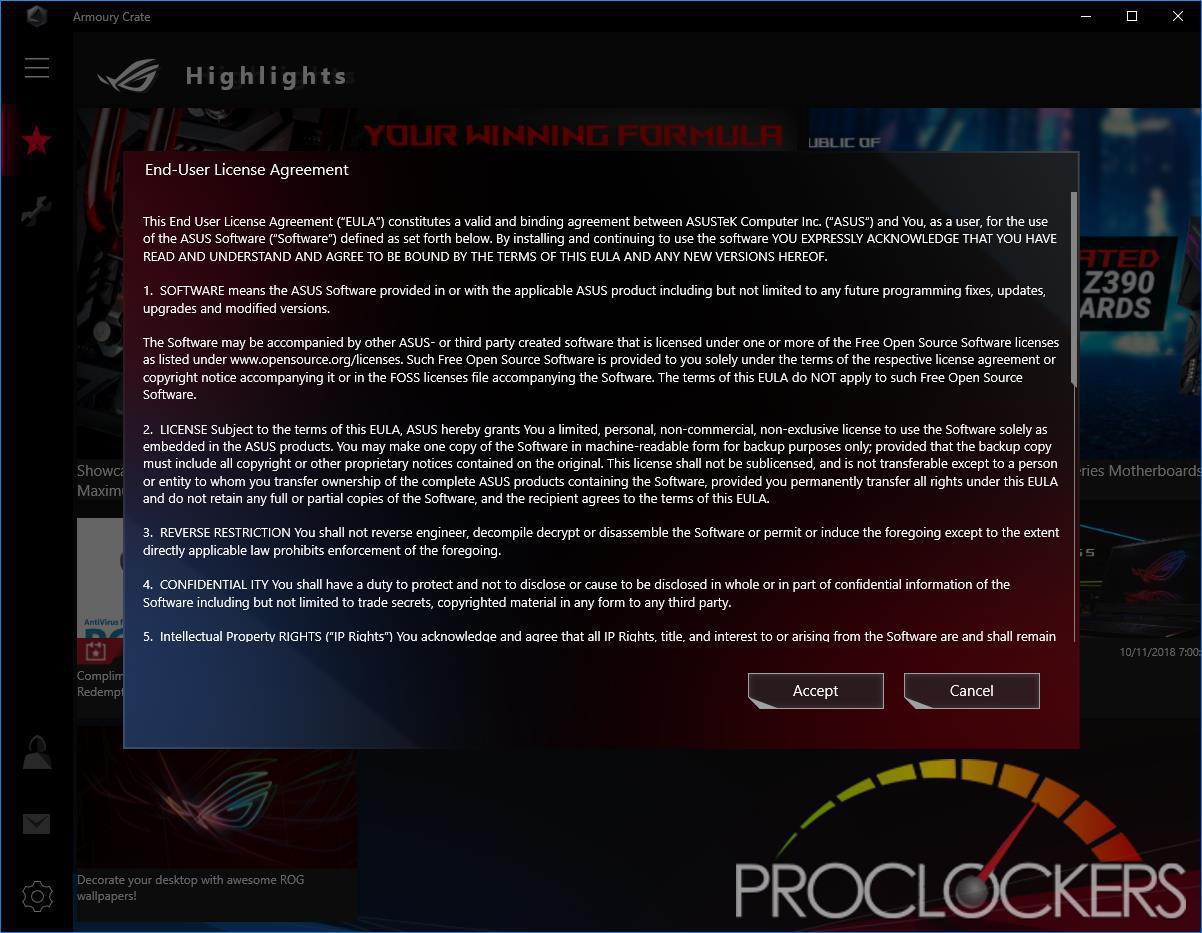 Once the installation is done, you are greeted with the usual EULA.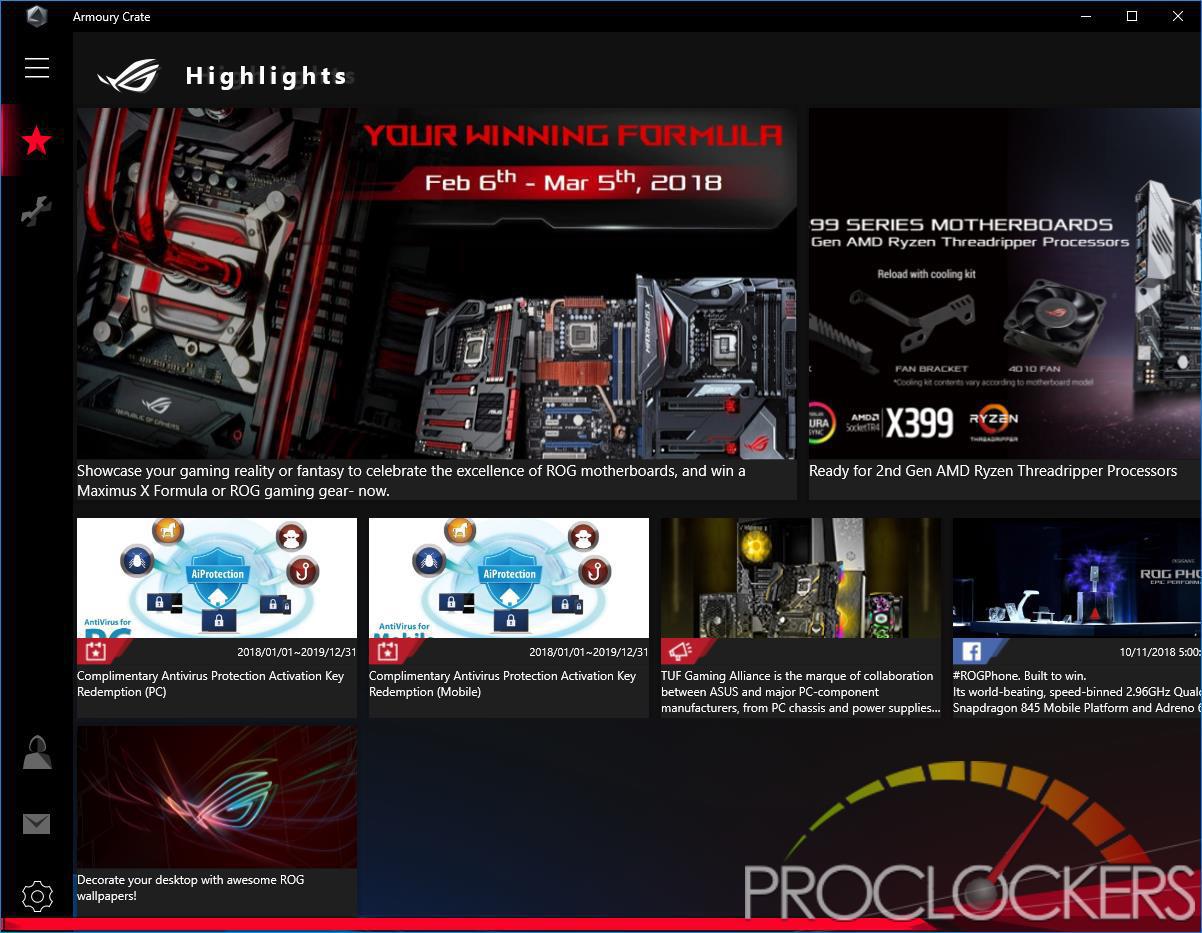 The landing page gives you ROG news and lots of other information.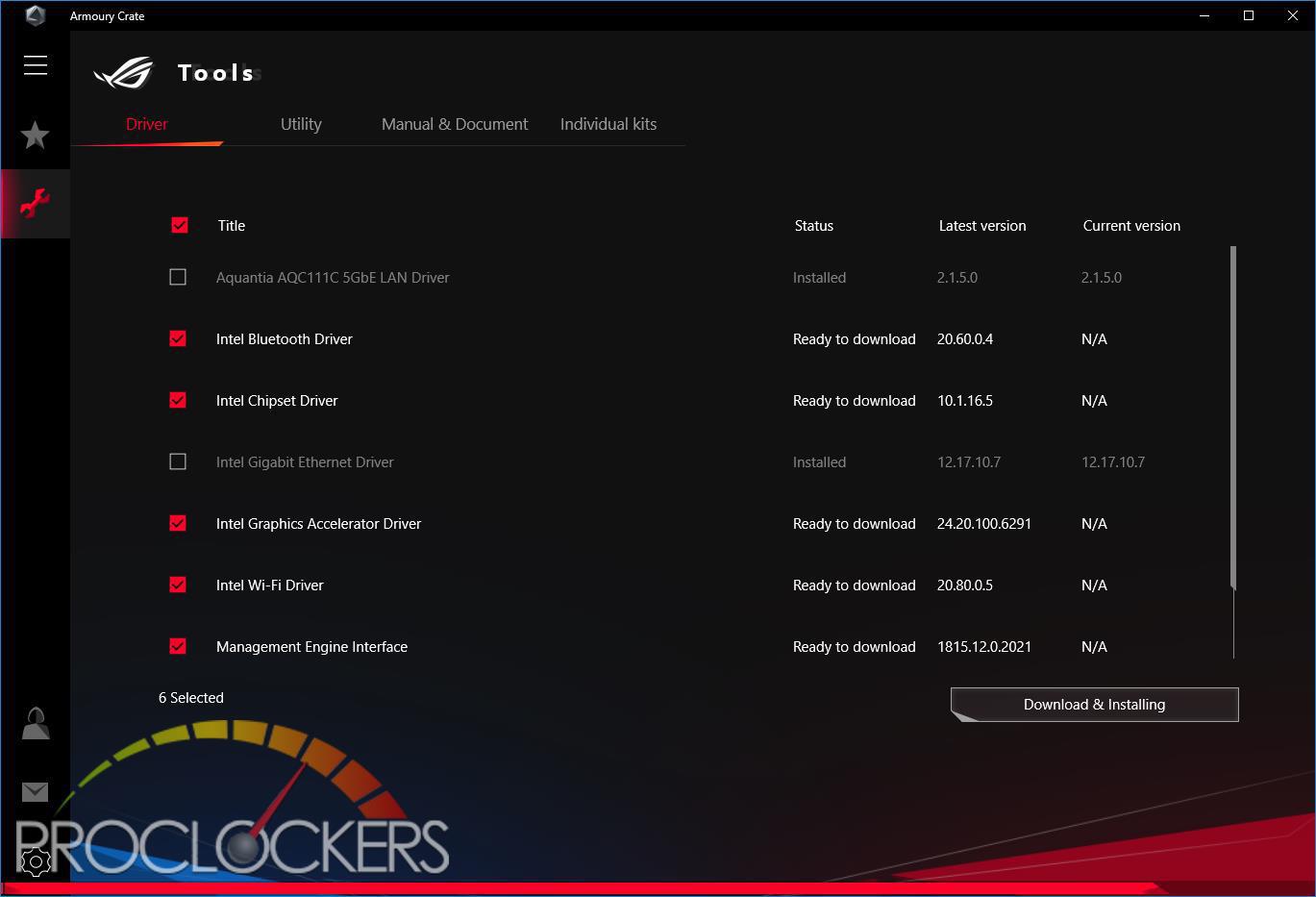 Hitting the wrench icon lets you install all missing drivers and utilities.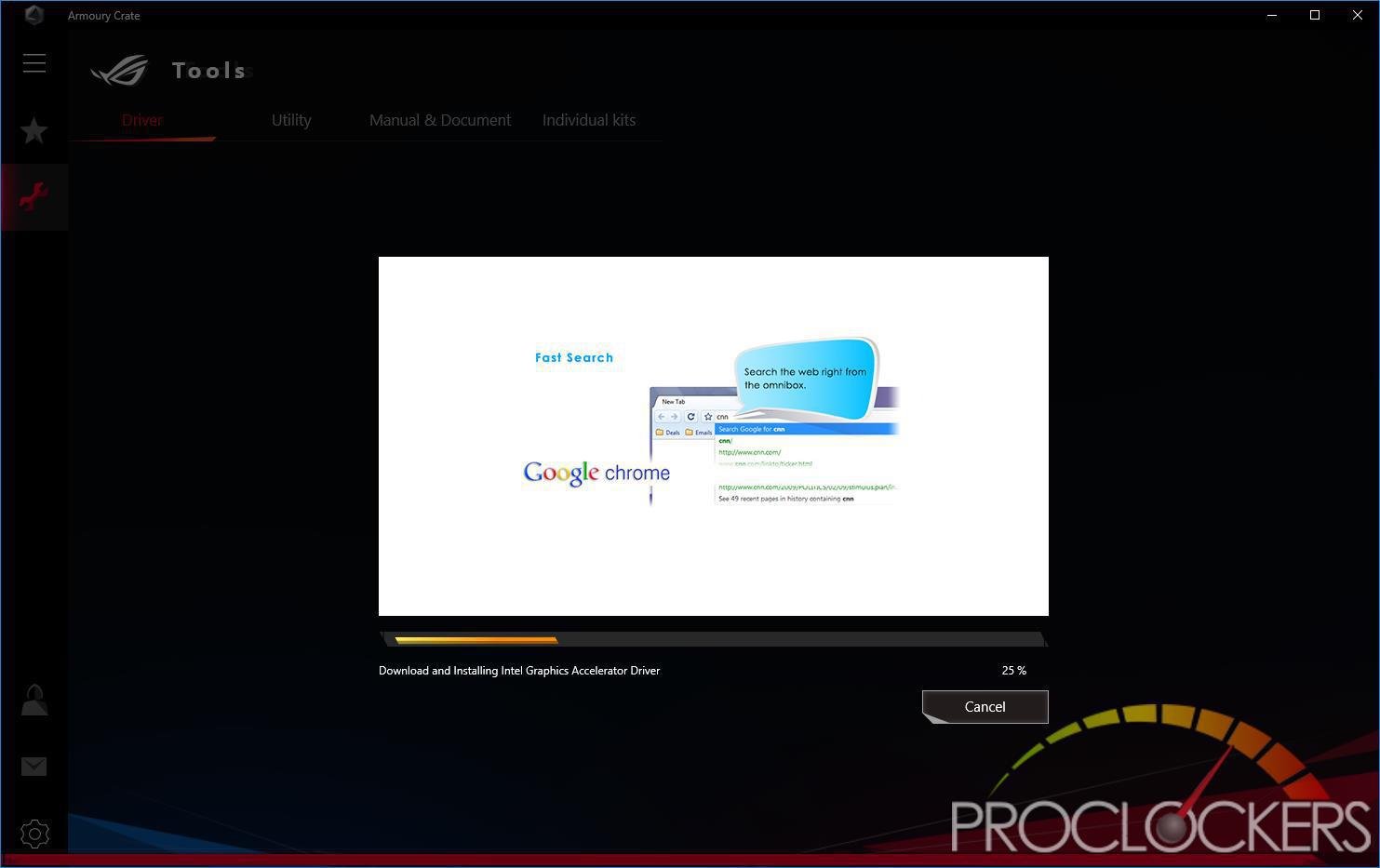 This part is just a waiting game for everything to download and install. But that's it, you get a fully set up and ready to run the system in a few clicks.
ASUS AURA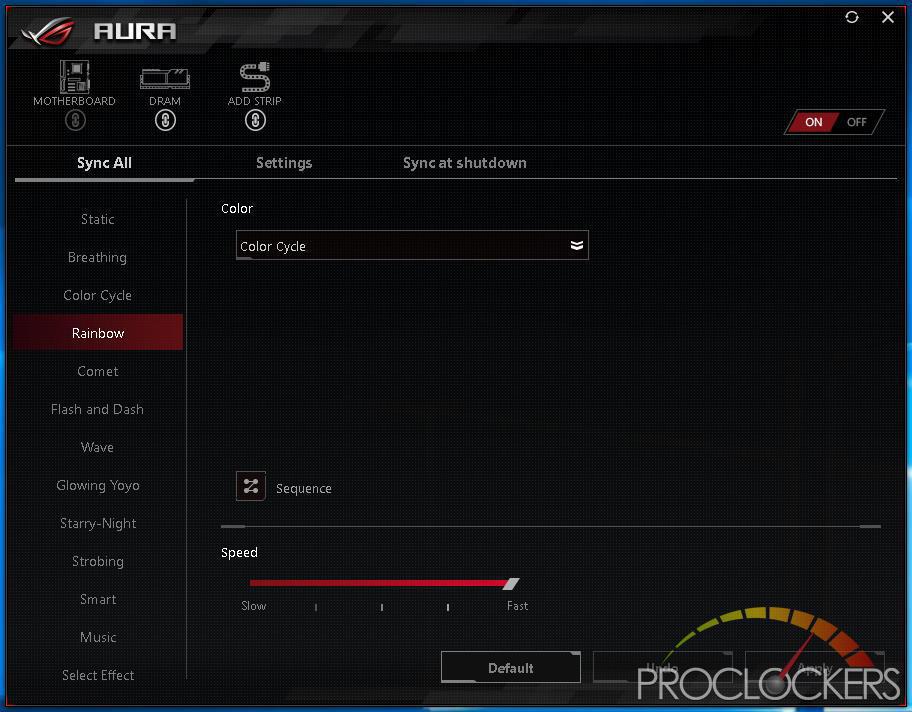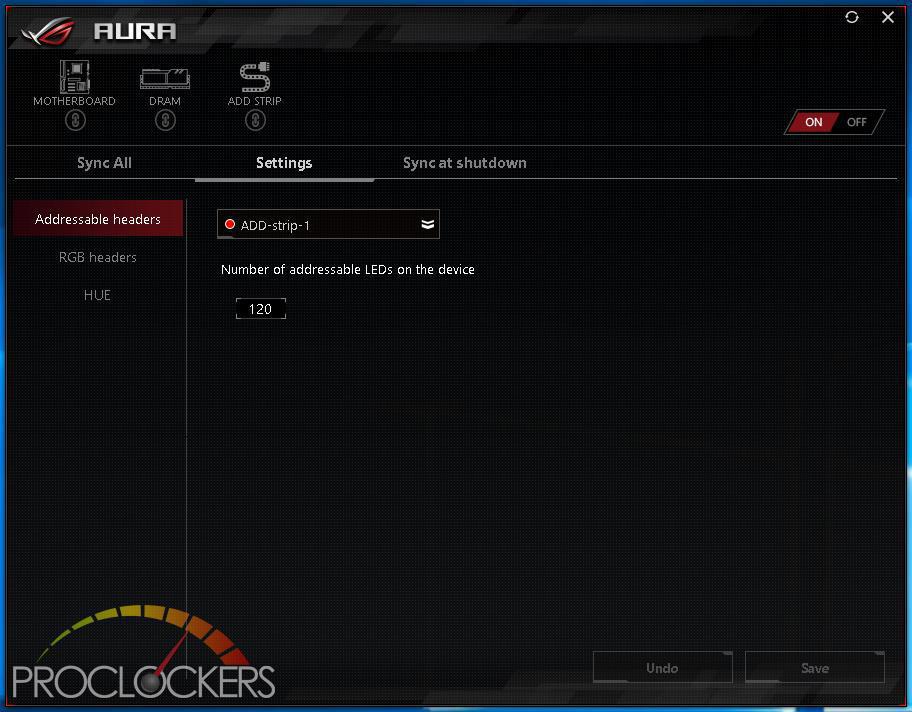 The Rear I/O Area lighting, as well as all analog RGB and Digital RGB headers, are controlled by ASUS's AURA software on the Extreme. There are quite a few effects to choose from, both static and dynamic, but our favorite was the Flash and Dance, as well as the Temperature mode.
Game First V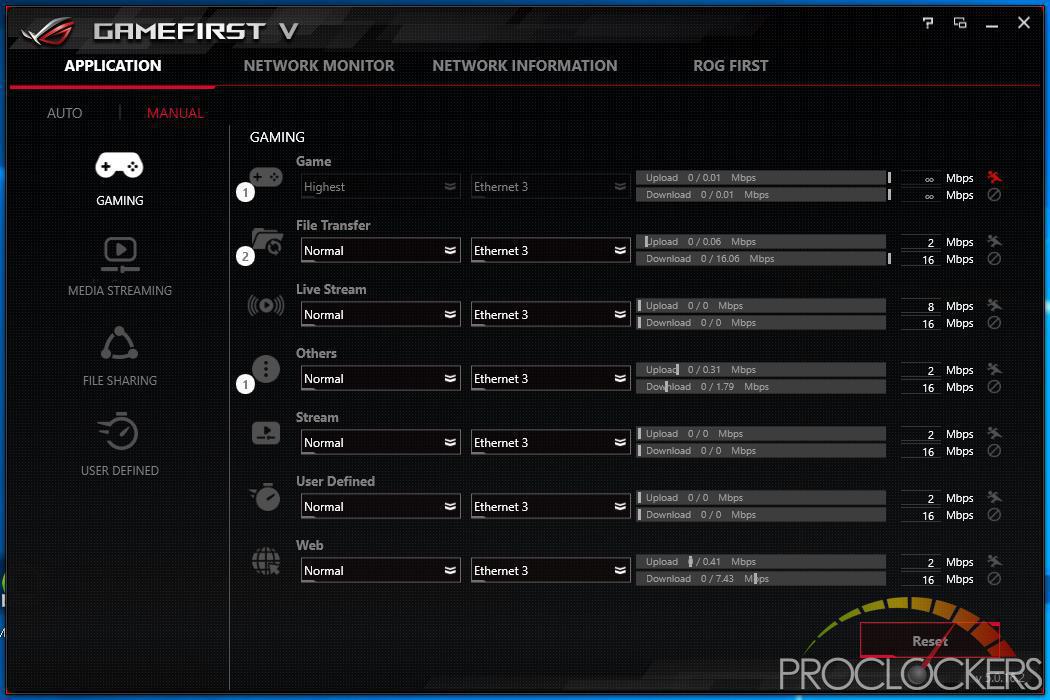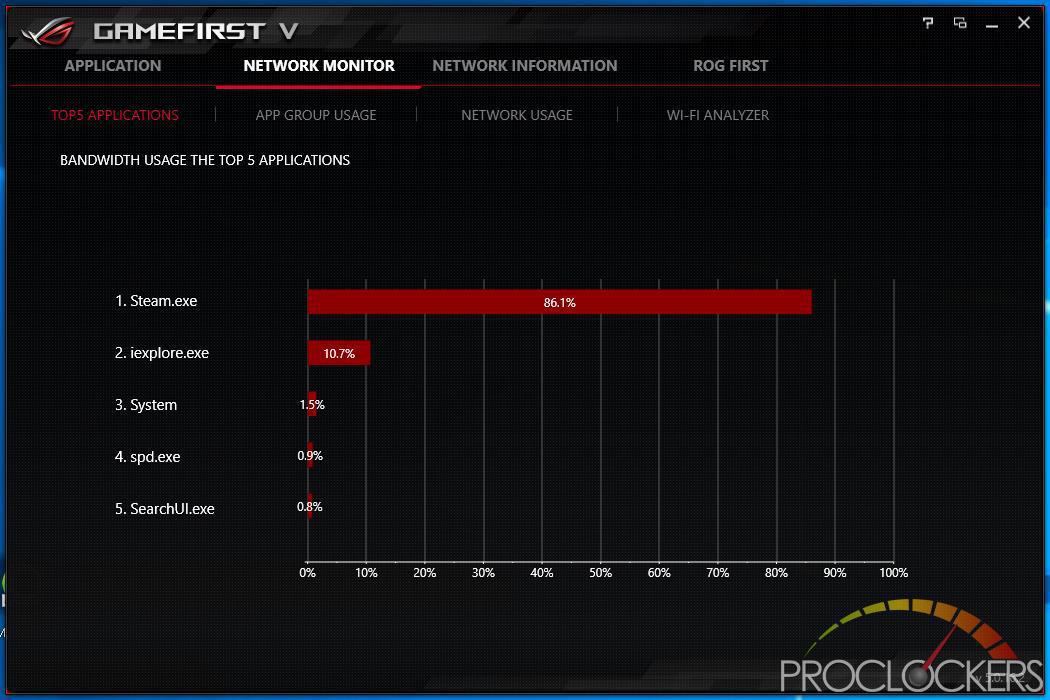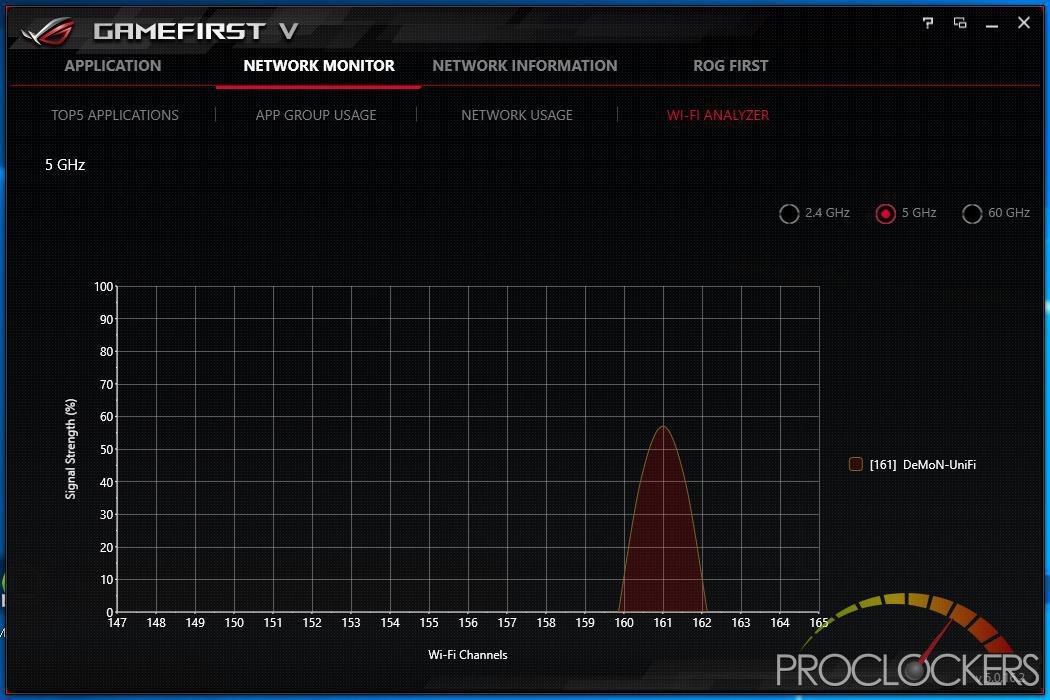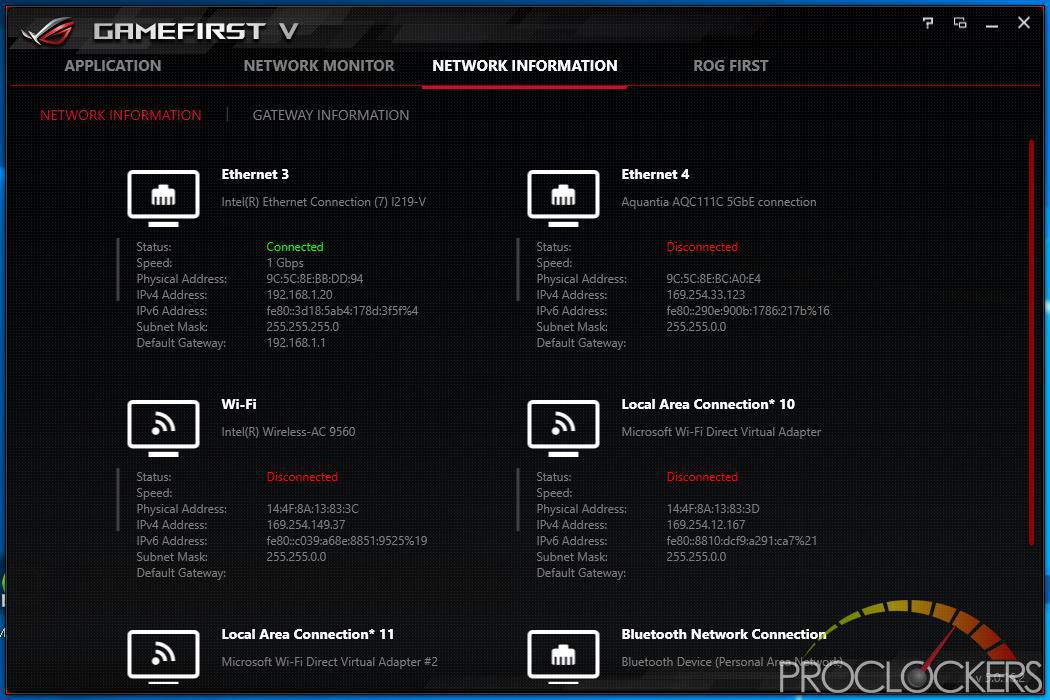 The GameFirst IV Application allows you to Monitor and control all traffic over all three LAN connections, as well as see statistics and vital information. By Default, the application runs in intelligent mode and will prioritize Traffic based on its purpose, but you can switch to Manual mode and take over full control. You can see here while browsing the web and installing games on Steam for benchmarking where most of the bandwidth is being used. You can also see what wireless networks are on each frequency so you can avoid them.
Dual Intelligent Processors 5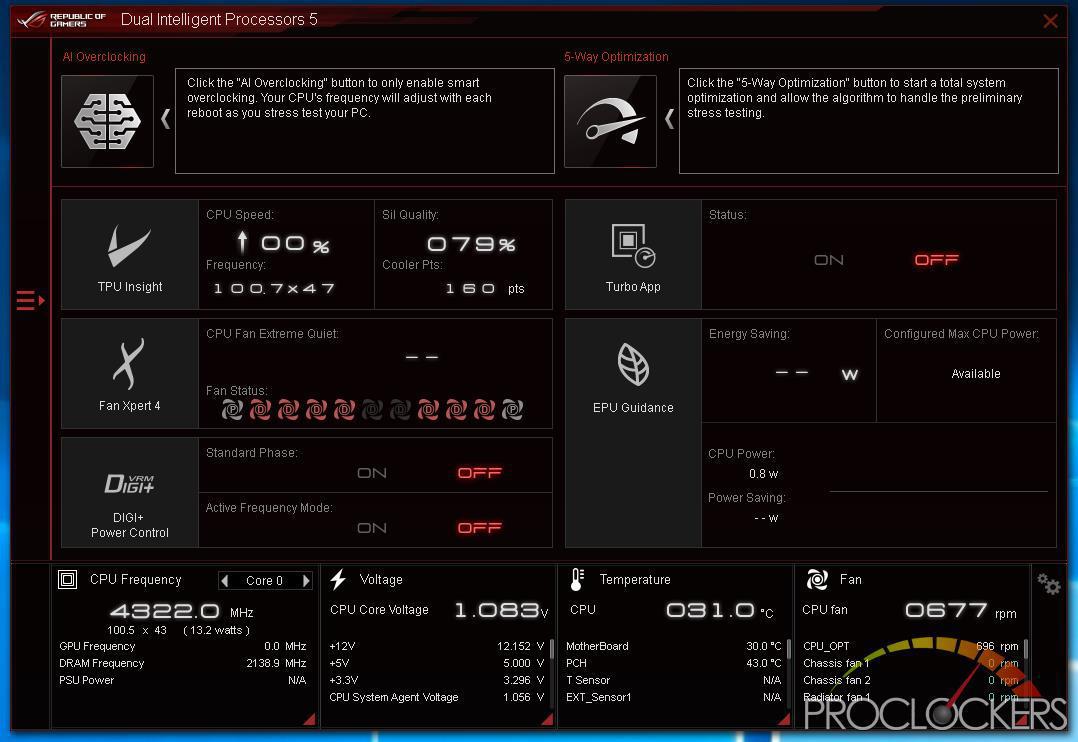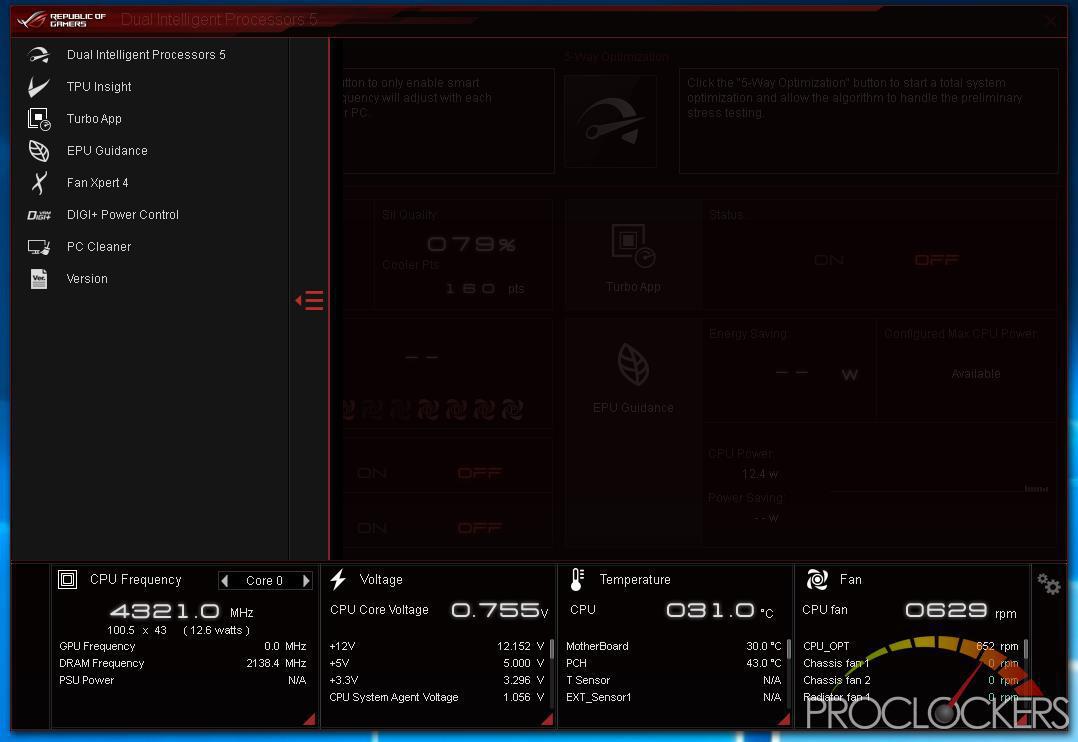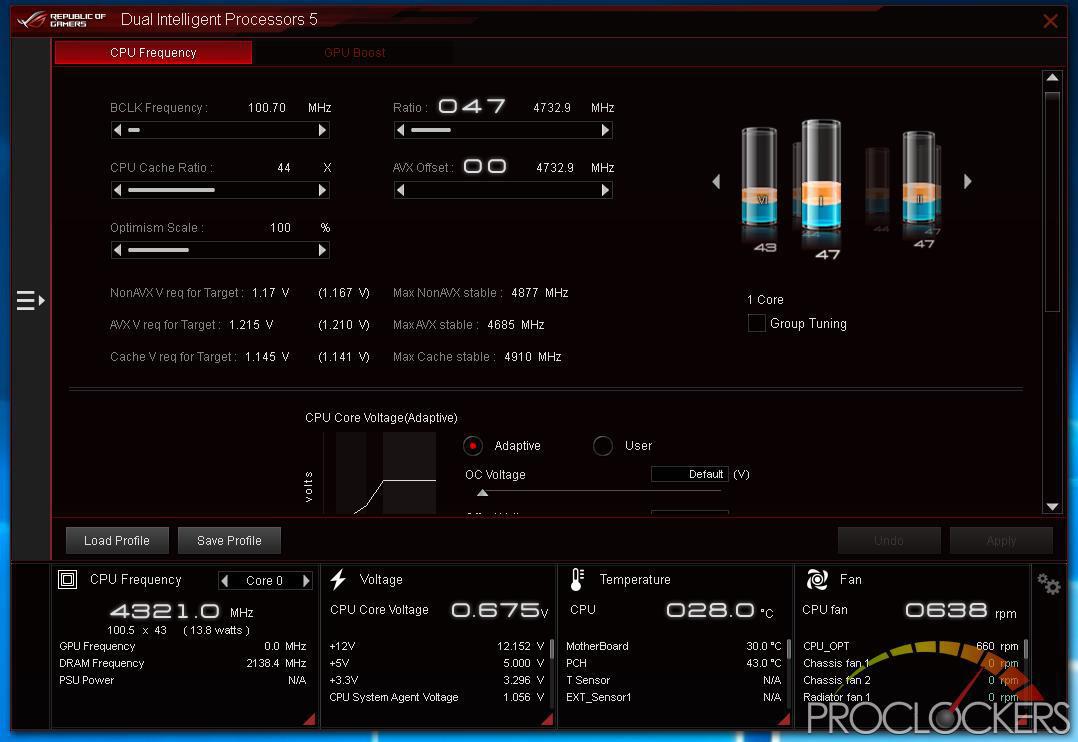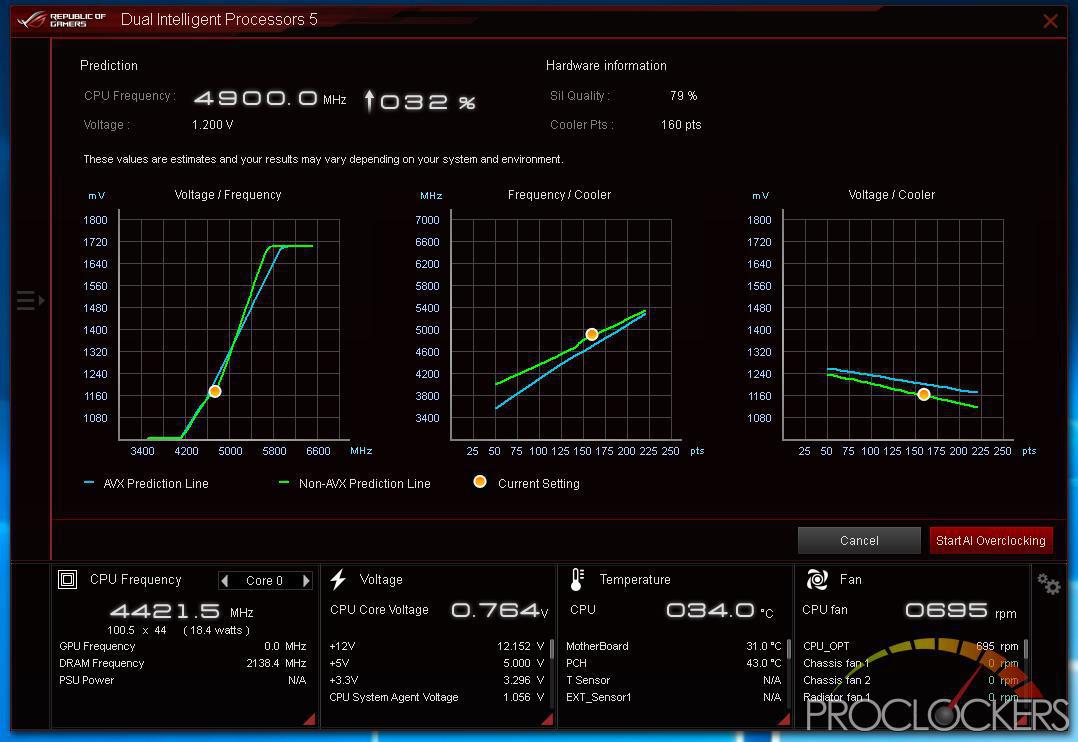 ASUS's Dual Intelligent Processors 5 application is a powerhouse and one you don't want to miss. Anything related to optimizing performance can be found here, from switching profiles to Auto overclocking to manual overclocking and change voltages and fan settings are here. You can even clean out temp and other unneeded files in a few clicks all from one application.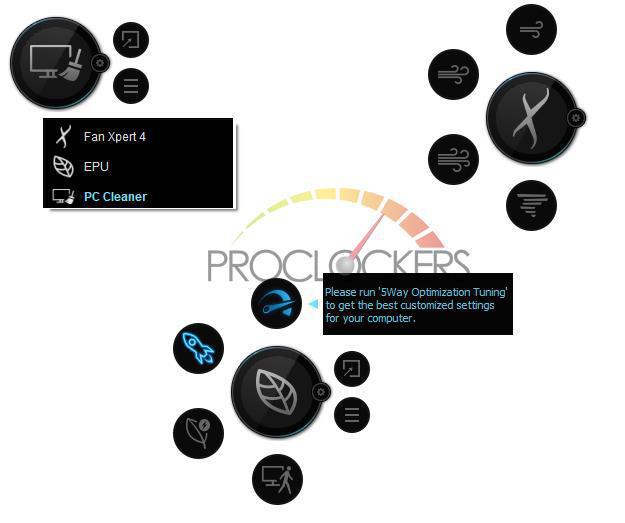 This application also runs similar to a desktop widget, gives you quick access to cooling, performance profiles and PC Cleaner without opening the full application.
Ram Cache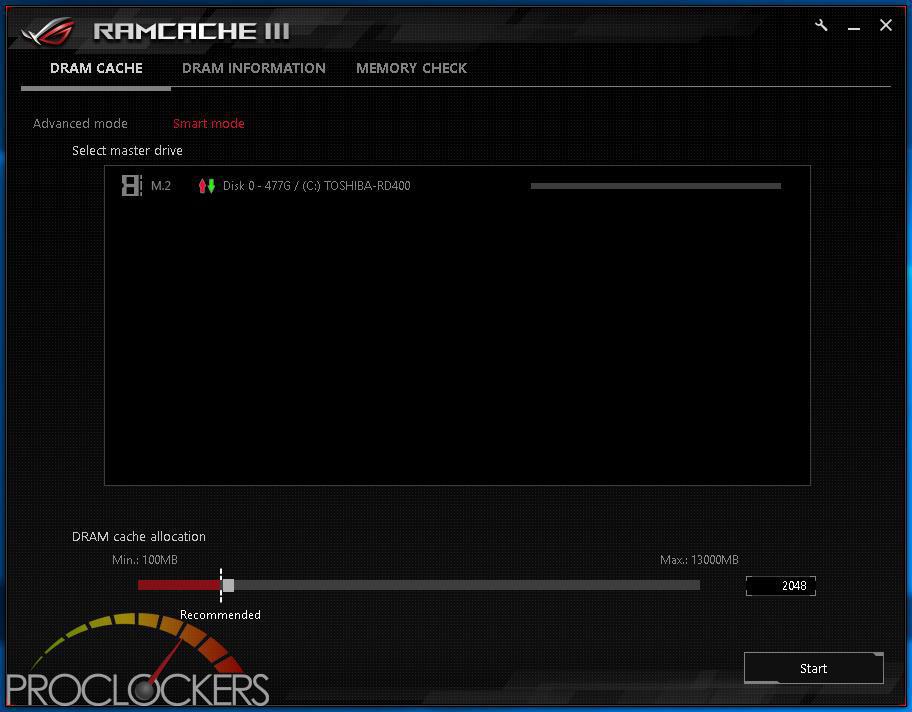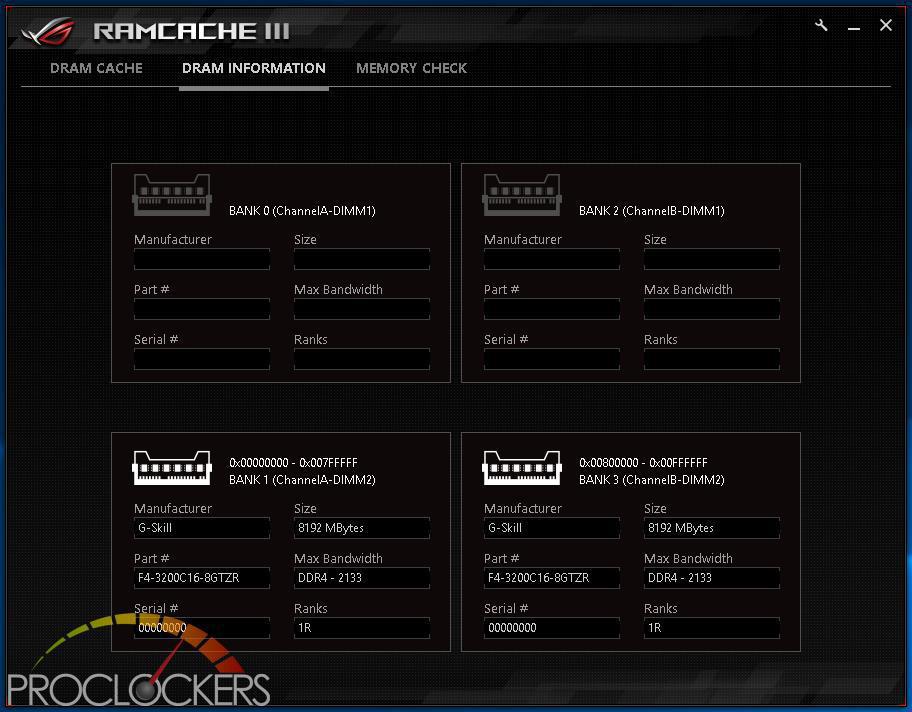 ASUS's RAMCACHE II carves off a user selectable portion of system memory to speed up Disk transfers. Even if you have the fastest NVMe drive out there, using your ram as a cache can speed it up significantly.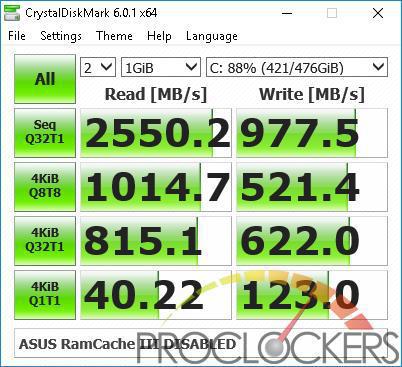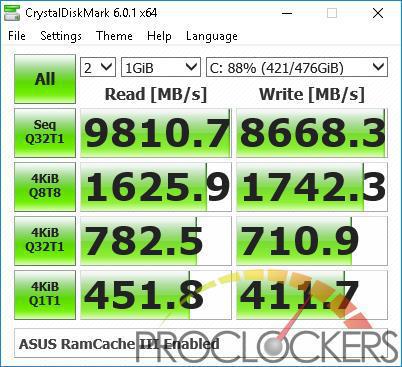 As you can see, it makes a significant difference in speed and performance at the cost of a few gigabytes of otherwise unused ram.
Mem TweakIt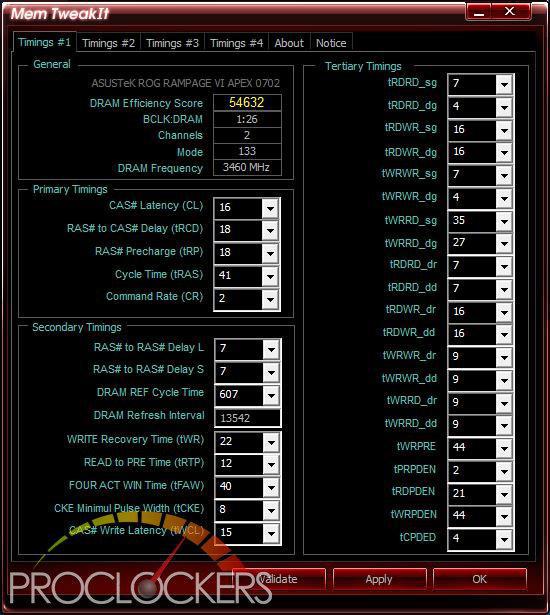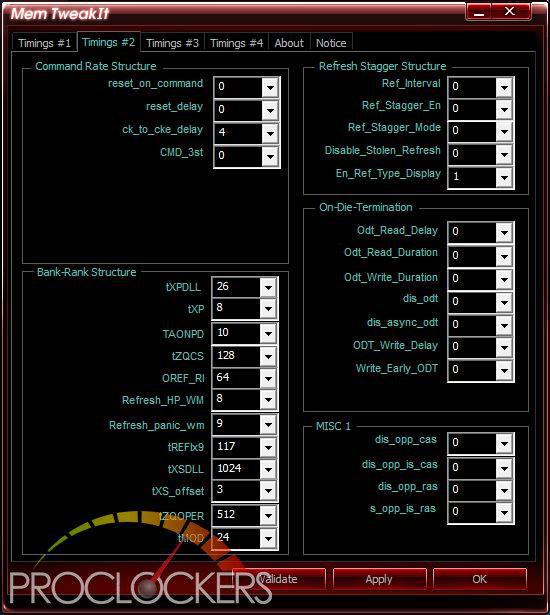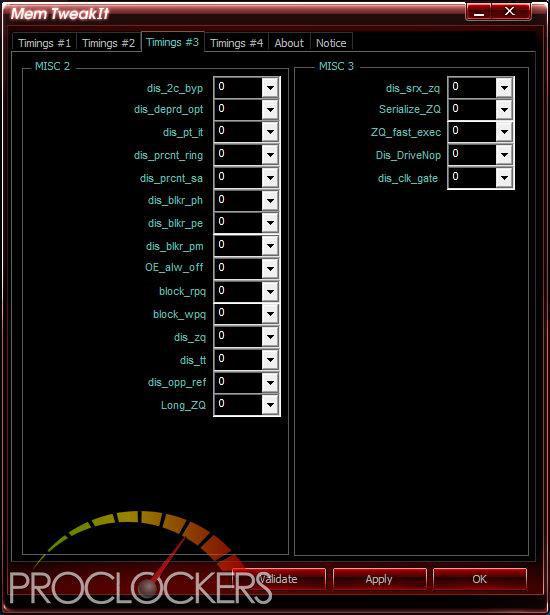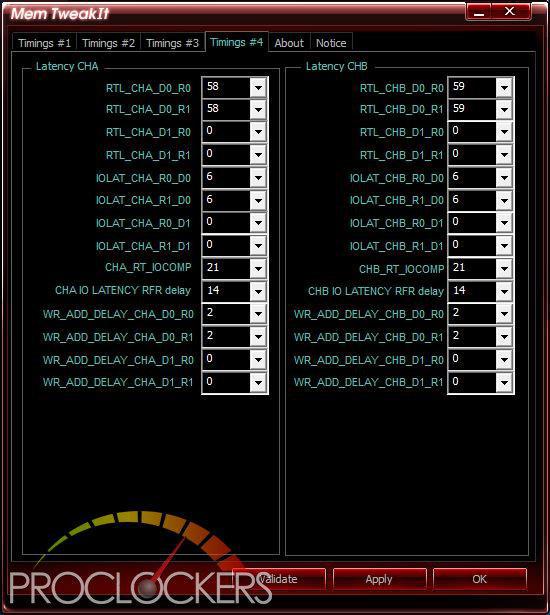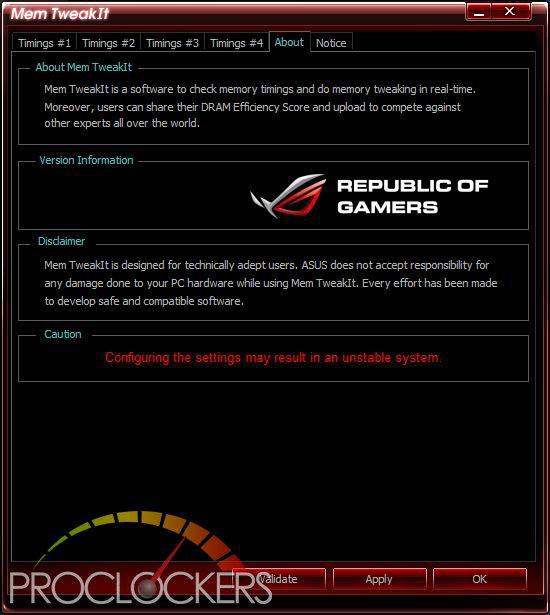 One Thing in the overclocking world that is a pain is overclocking your memory. For the most part, any change requires a reboot to BIOS. With ASUS's MEM TweakIT, that isn't the case. Almost everything can be adjusted live right from your desktop.
Overwolf
Overwolf is a clever, unobtrusive overlay that keeps you in the game and allows you to browse the Web, email, IM, stream or record while you play. The overlay features color-matched ROG skins that show you're part of an elite pack. Grab it now from the Overwolf Appstore!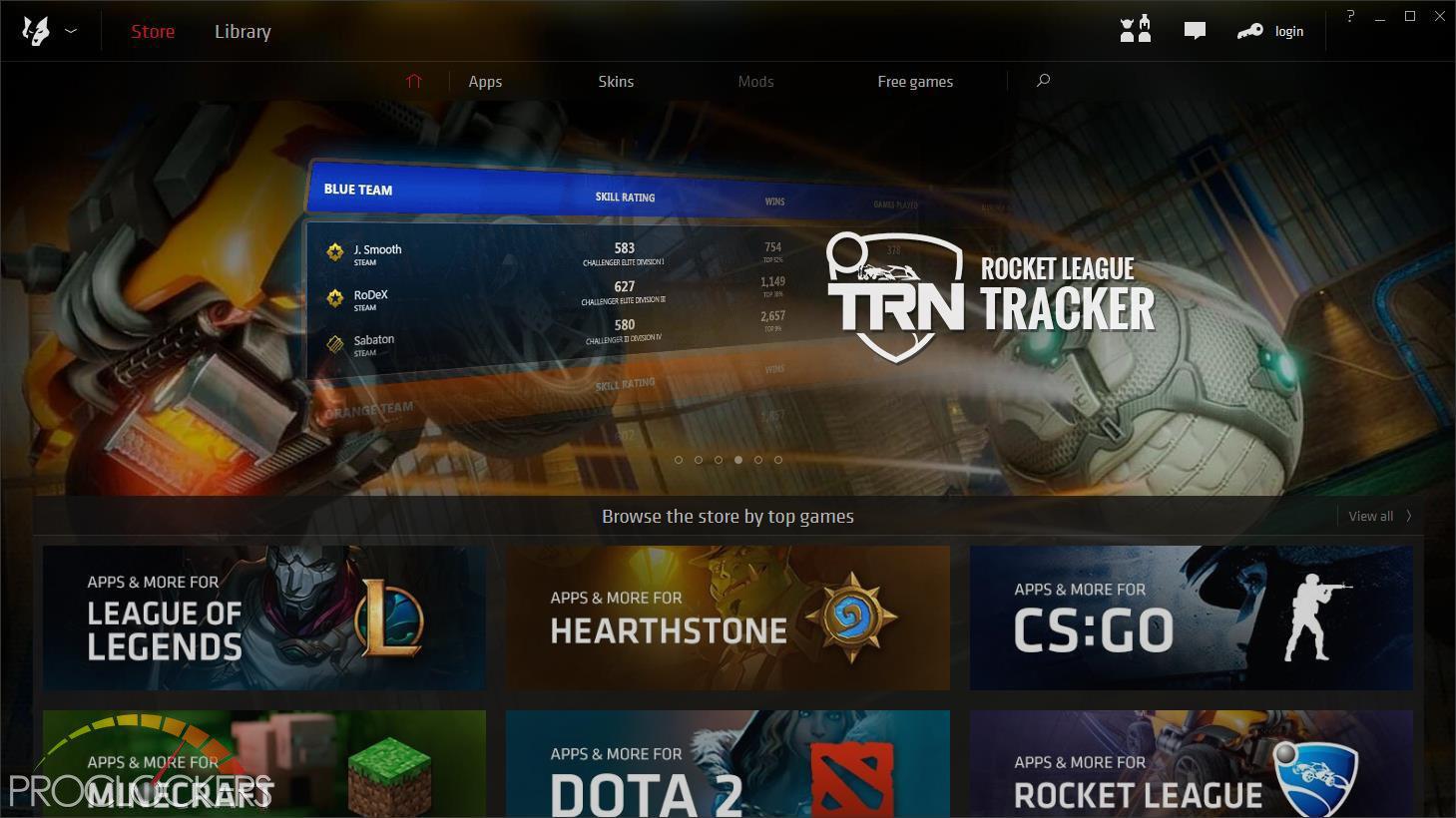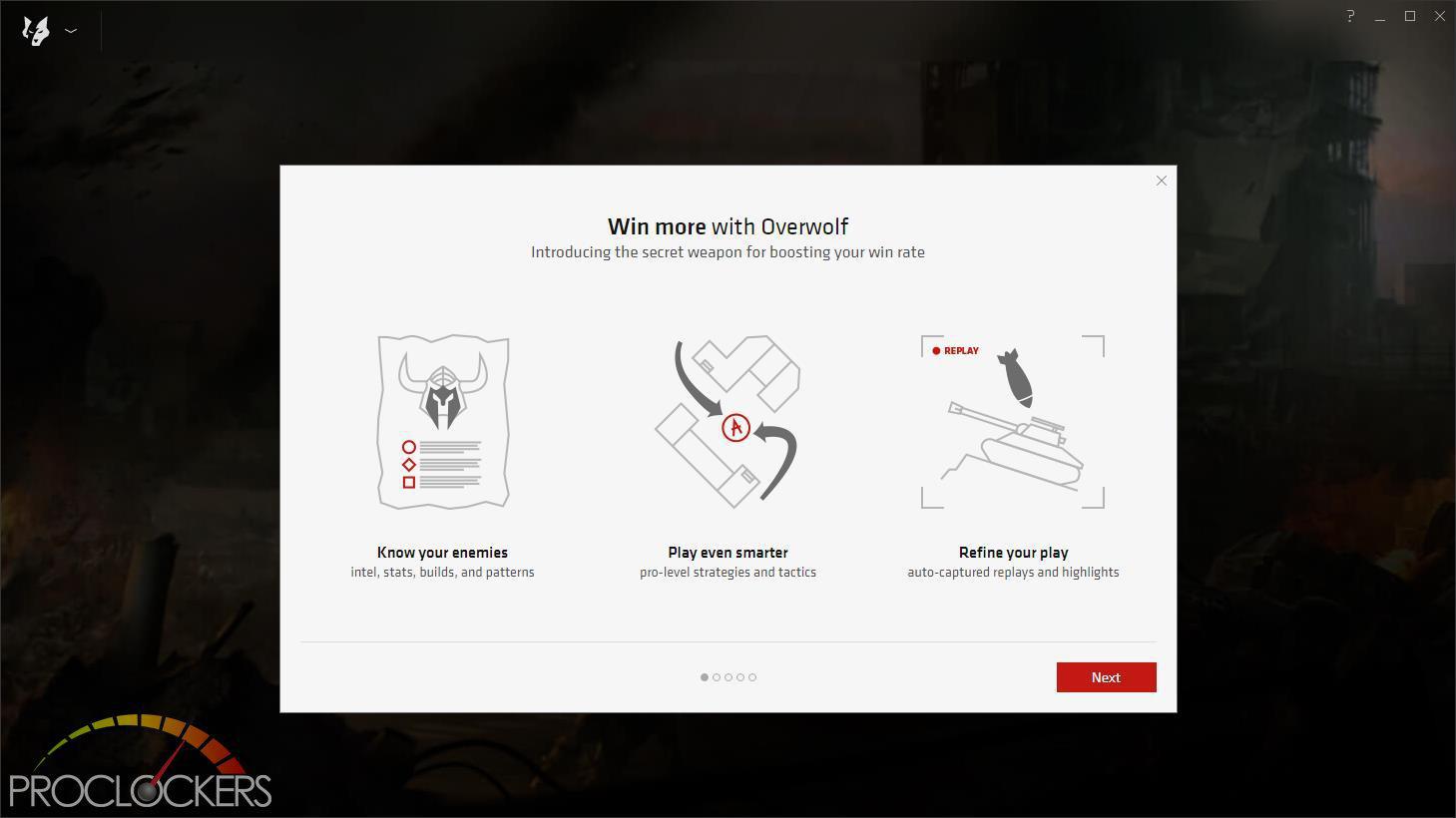 Overwolf provides access to lots of tools for many popular games, as well as some handy utilities for streaming and online play.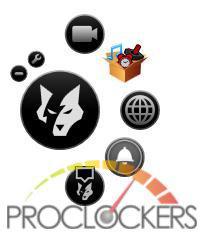 Overwolf also comes with a small desktop widget similar to Dual Intelligent Processors 5.
Sonic Radar
Sonic Radar is an onscreen overlay that visually represents sound activities according to their positional location. It is designed as a gaming aid for pro/am gamers, those hard of hearing or unable to use in-game audio clearly. It does not interfere with game files, nor does it represent anything more than the game engine produces.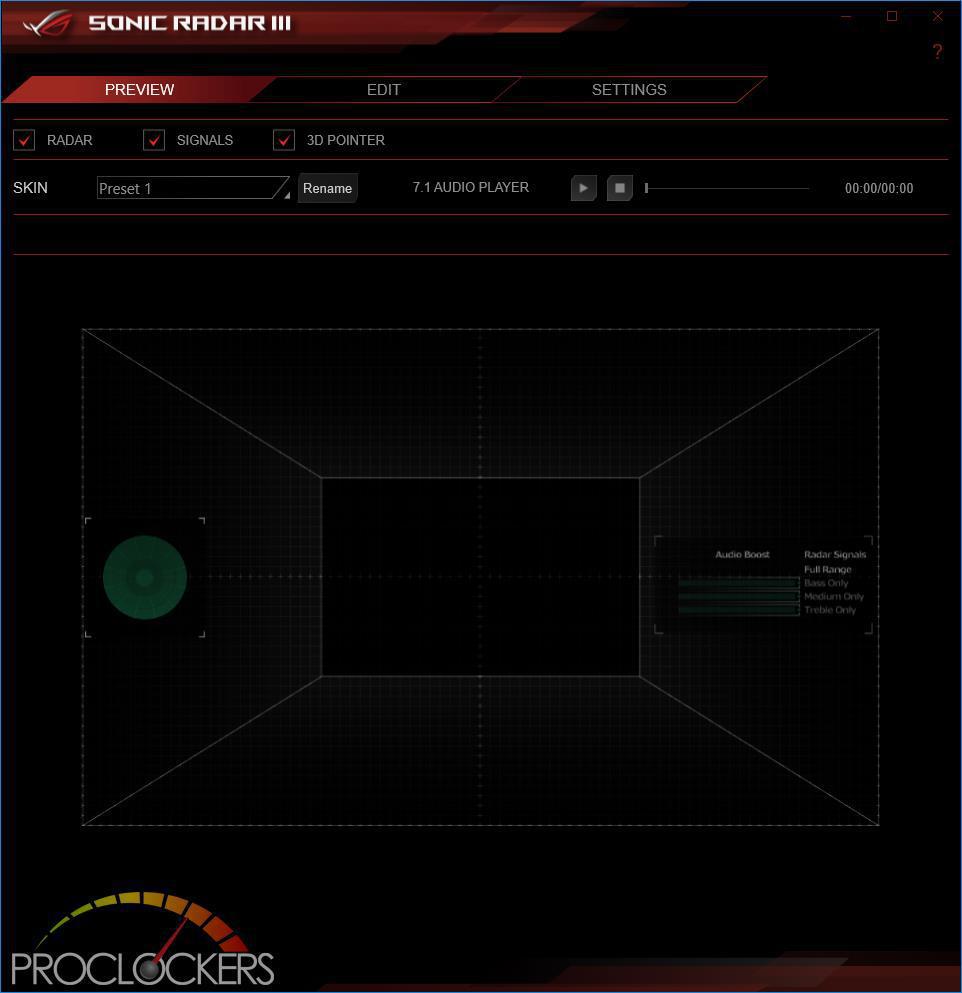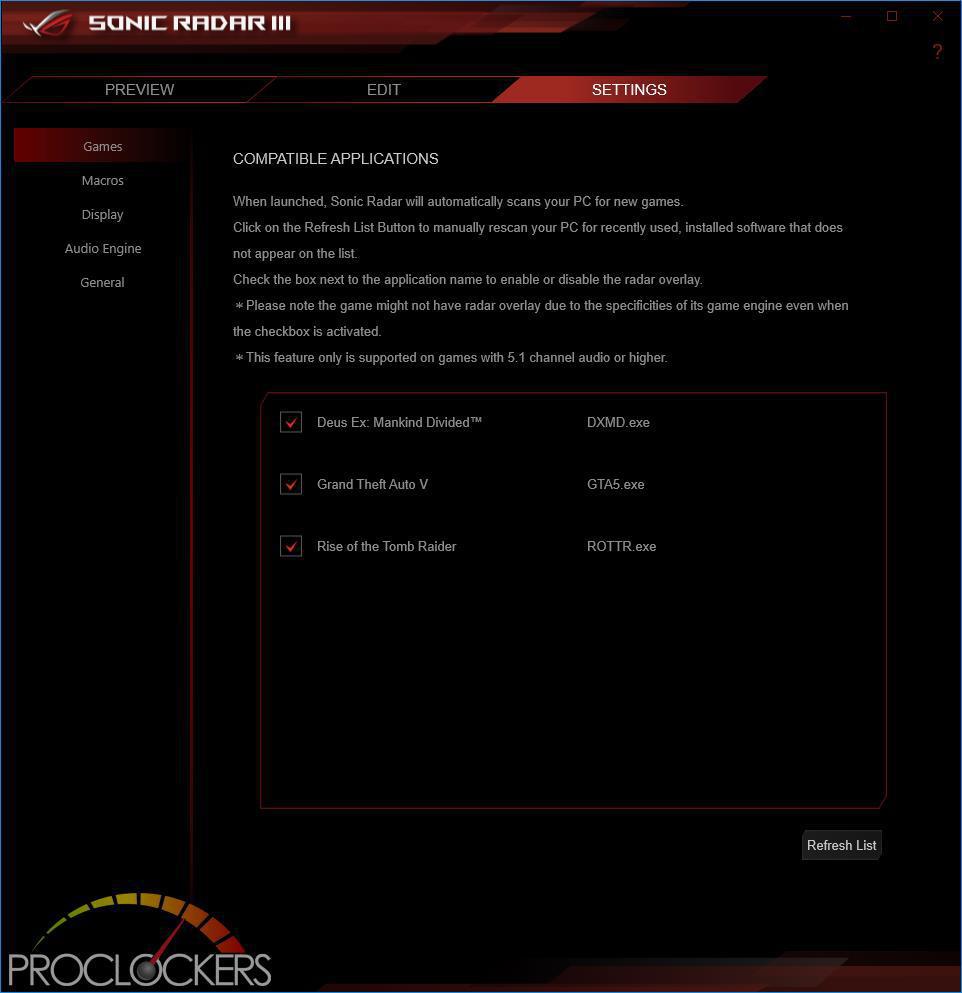 Sonic Studio III
The latest feature in Sonic Studio III is the Ultimate Control Center for dorm room audio. The mapping of different audio streams to different output allows audio to be effectively compartmentalized so that it's easy to share with friends or keep to yourself.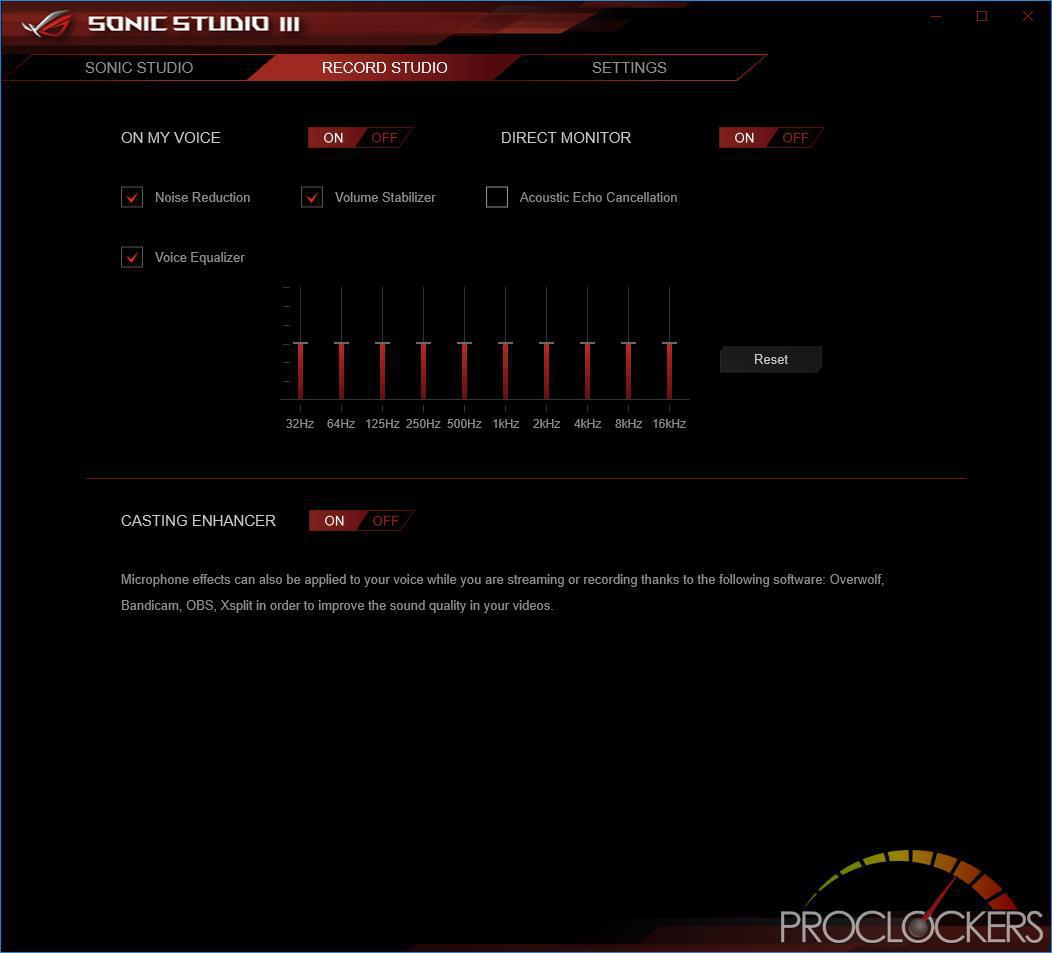 Performance Testing
General Performance Testing
All performance testing was done with an i9-9900K and RTX 2080 at default clock speed. CPU was left with Speed Step and Turbo Boost enabled. The only setting changed was enabling XMP II (stock, not ASUS-optimized) memory settings in the BIOS. Games were run at a resolution of 1920 x 1080 and higher settings enabled as noted to place the load on the CPU and motherboard rather than the GPU. ASUS's MCE was disabled.
PCMark 10
PCMark 10 is the complete benchmark for the modern office. It is the ideal test for organizations that are evaluating PCs for a workforce with a range of performance needs. The tests in this benchmark cover a wide range of activities from everyday productivity tasks to demanding work with digital media content.
PCMark 10 uses a modular approach to build relevant benchmark tests around common end-user scenarios. A Test Group is a collection of workloads that share a common theme or purpose. There are four test groups in PCMark 10, we use three of them.
Essentials: covers the common, everyday ways that people use a PC. The workloads include Web Browsing, Video Conferencing, and App Start-up time.
Productivity: measures system performance with everyday office applications. This test group includes the Spreadsheets and Writing workloads.
Digital Content Creation: This test group's workload reflects the demands of working with digital content and media. The tests include Photo Editing, Video Editing, and Rendering and Visualization.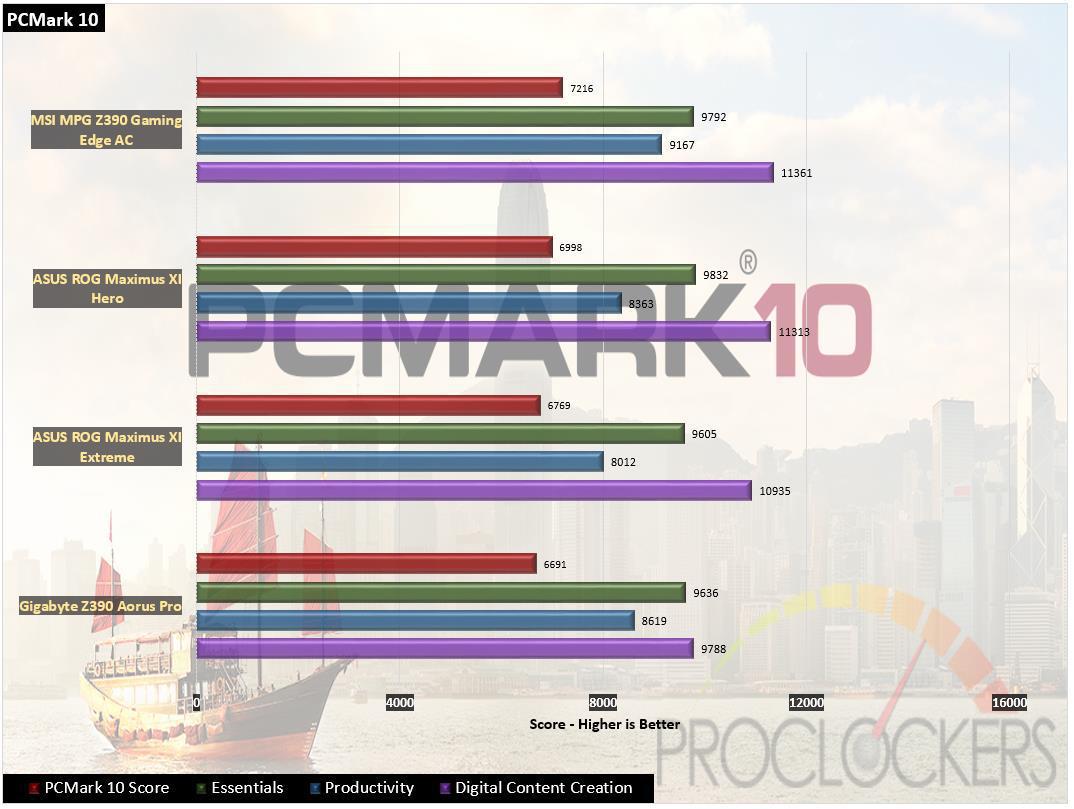 While ASUS's ROG Maximus XI Hero WiFi takes 2nd place in overall score, it is the fastest in essentials.
WebXPRT 2015
WebXPRT 2013 uses scenarios created to mirror the tasks you do every day to compare the performance of almost any Web-enabled device. It contains four HTML5- and JavaScript-based workloads: Photo Effects, Face Detect, Stocks Dashboard, and Offline Notes. WebXPRT is run with the latest stable release version of Google Chrome browser, in this case, Version 61.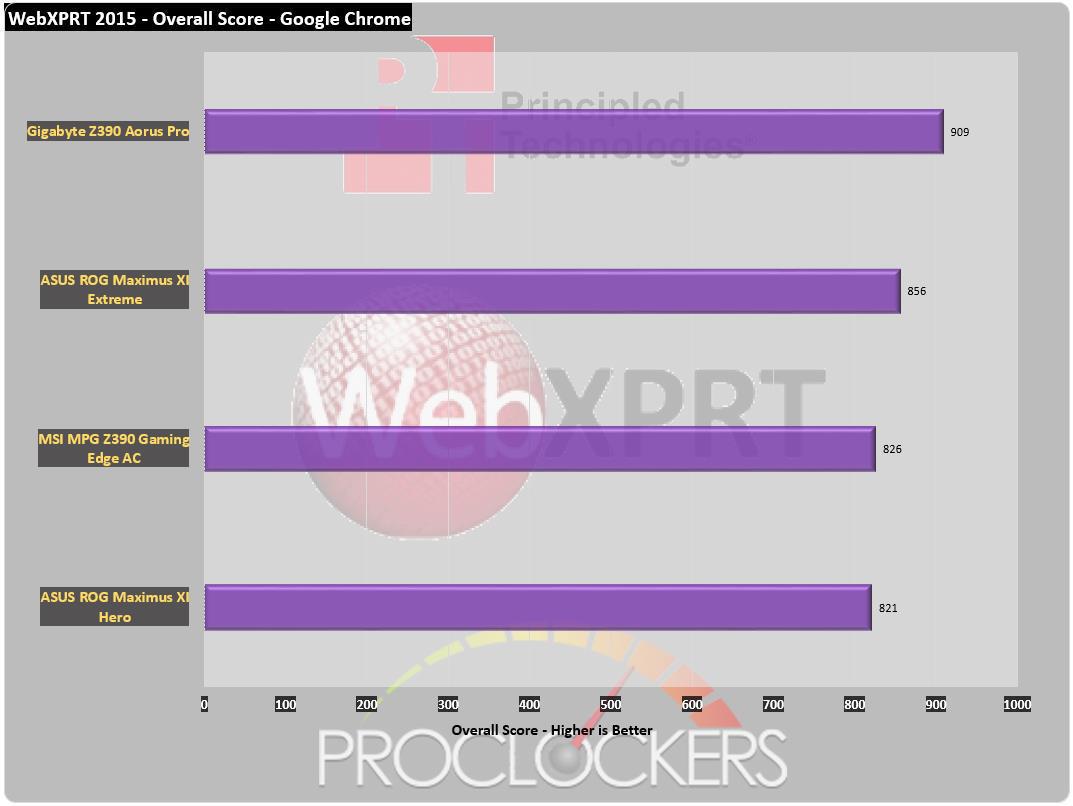 821 +/- 11 is a really good score in right in line with what we expect. While not the highest overall score we've gotten, it is the lowest +/- deviation at 11.
PassMark PerformanceTest 9
Fast, easy to use, PC speed testing and benchmarking. PassMark PerformanceTest allows you to objectively benchmark a PC using a variety of different speed tests and compare the results to other computers.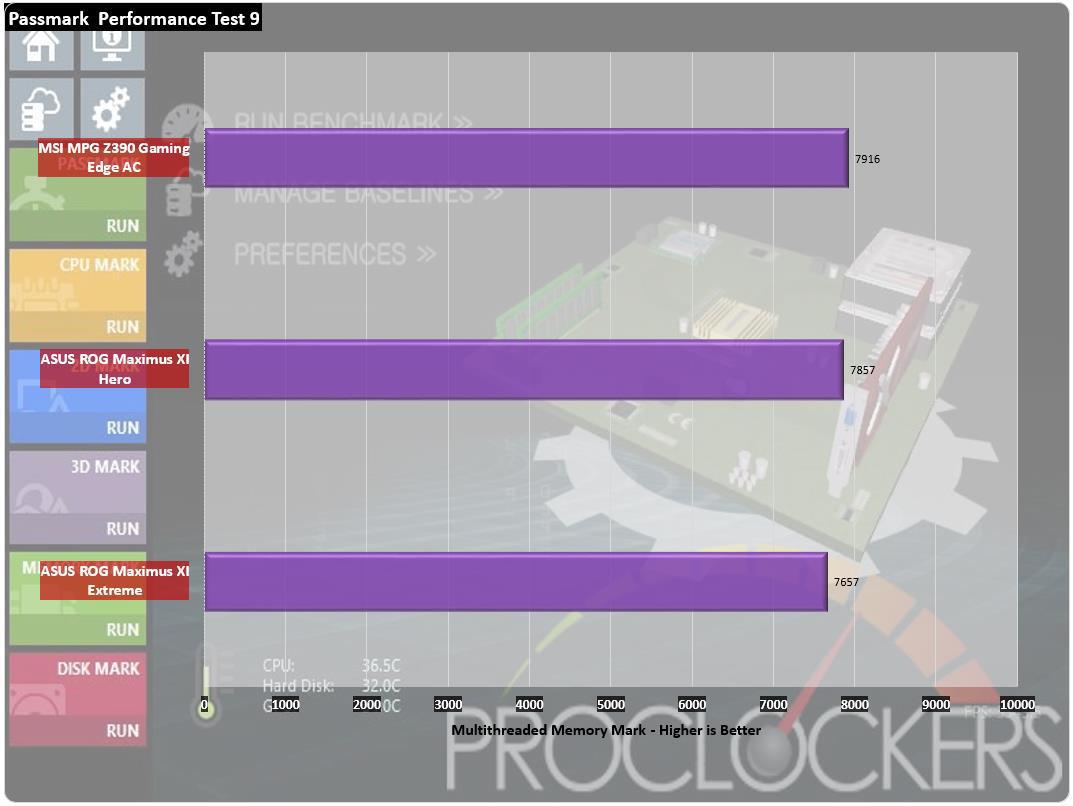 The Hero comes in second place but a very small margin with a score of 7857.
CPU Performance Testing
Super PI Modded 1.5
"In August 1995, the calculation of pi up to 4,294,960,000 decimal digits was succeeded by using a supercomputer at the University of Tokyo. The program was written by D.Takahashi in collaboration with Dr.Y.Kanada at the computer center. This record should be the current world record. (Details are shown in the windows help.) This record-breaking program was ported to personal computer environments such as Windows NT and Windows 95. In order to calculate 33.55 million digits, it takes 3 days with a Pentium 90 MHz, 40 MB main memory and 340 MB available storage."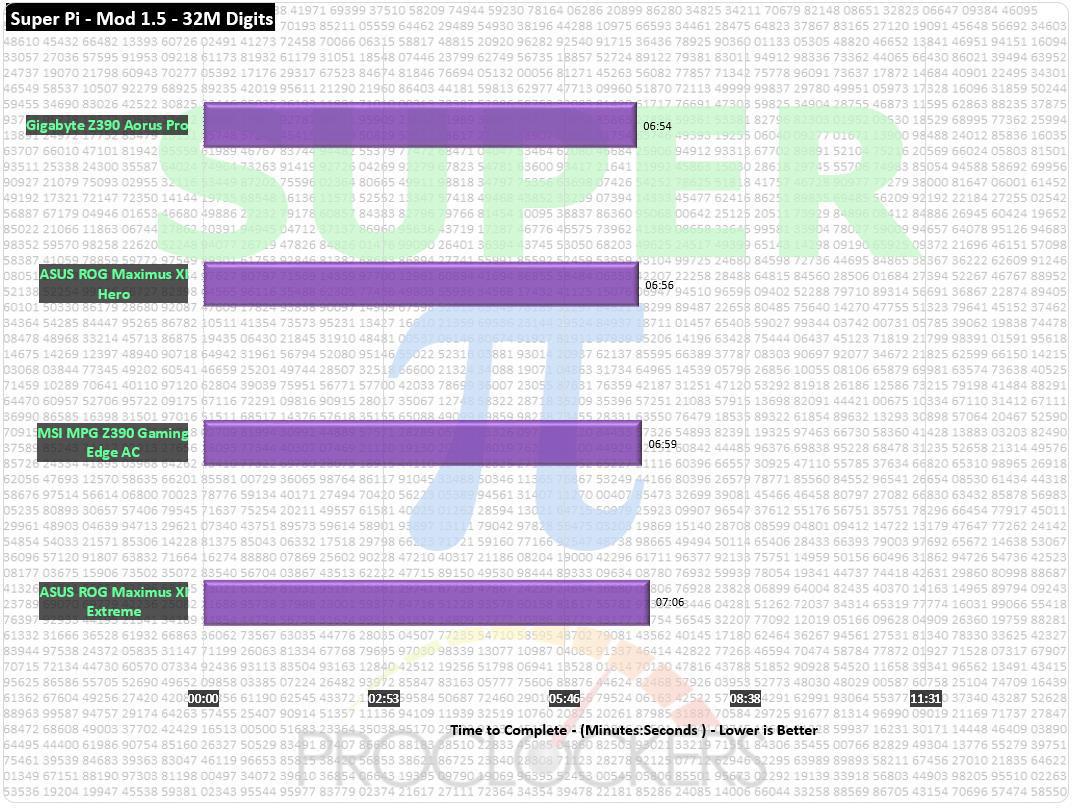 6 minutes and 56 seconds is one of the fastest 'stock' scores we've ever gotten and it's faster than most overclocked systems of a year or two ago.
CINEBENCH R15
"CINEBENCH is a real-world cross platform test suite that evaluates your computer's performance capabilities. CINEBENCH is based on MAXON's award-winning animation software CINEMA 4D, which is used extensively by studios and production houses worldwide for 3D content creation. MAXON software has been used in blockbuster movies such as Iron Man 3, Oblivion, Life of Pi or Prometheus and much more.
CINEBENCH is the perfect tool to compare CPU and graphics performance across various systems and platforms (Windows and OS X). And best of all: It's completely free."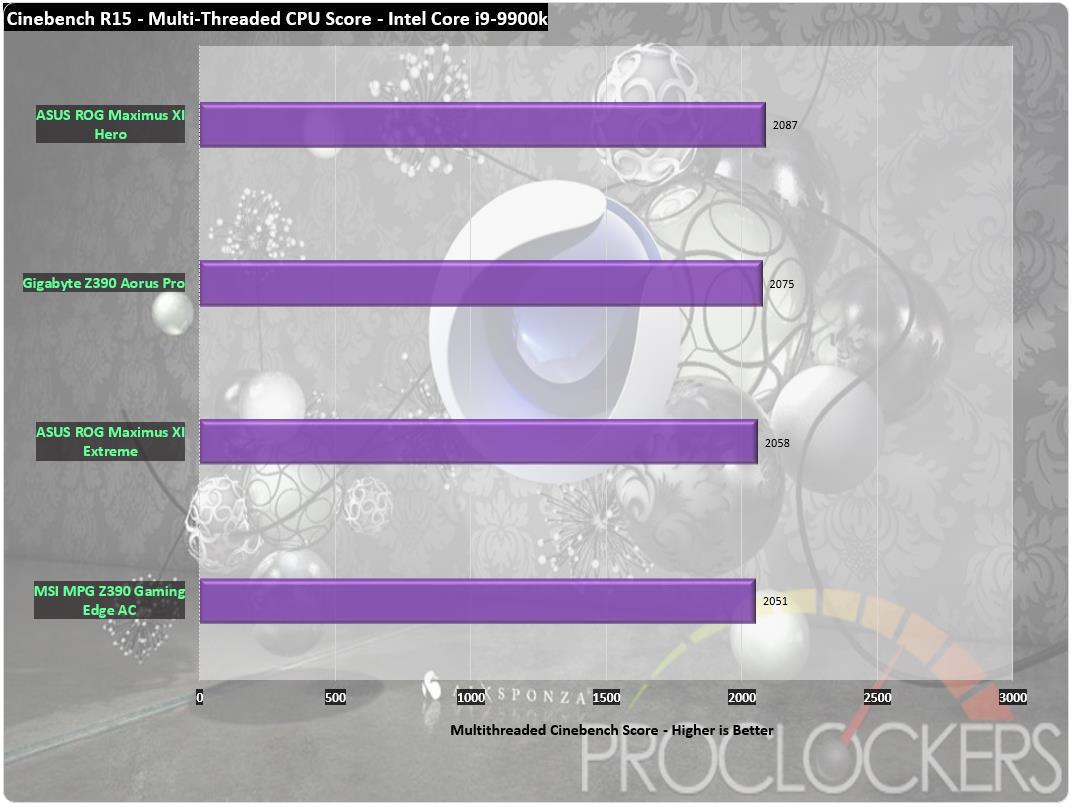 2087 points is the highest stock score we've gotten without vendor enhancements like ASUS's own MCE (Multi-Core Enhancement) lending a hand.
7-Zip
The benchmark shows a rating of MIPS (million instructions per second). The rating value is calculated from the measured speed, and it is normalized with results of Intel Core 2 CPU with multi-threading option switched off. So if you have modern CPU from Intel or AMD, rating values in single-thread mode must be close to real CPU frequency. There are two tests, compression with LZMA method and decompression with LZMA method. Once the total passes reach 20 or more, the score is taken.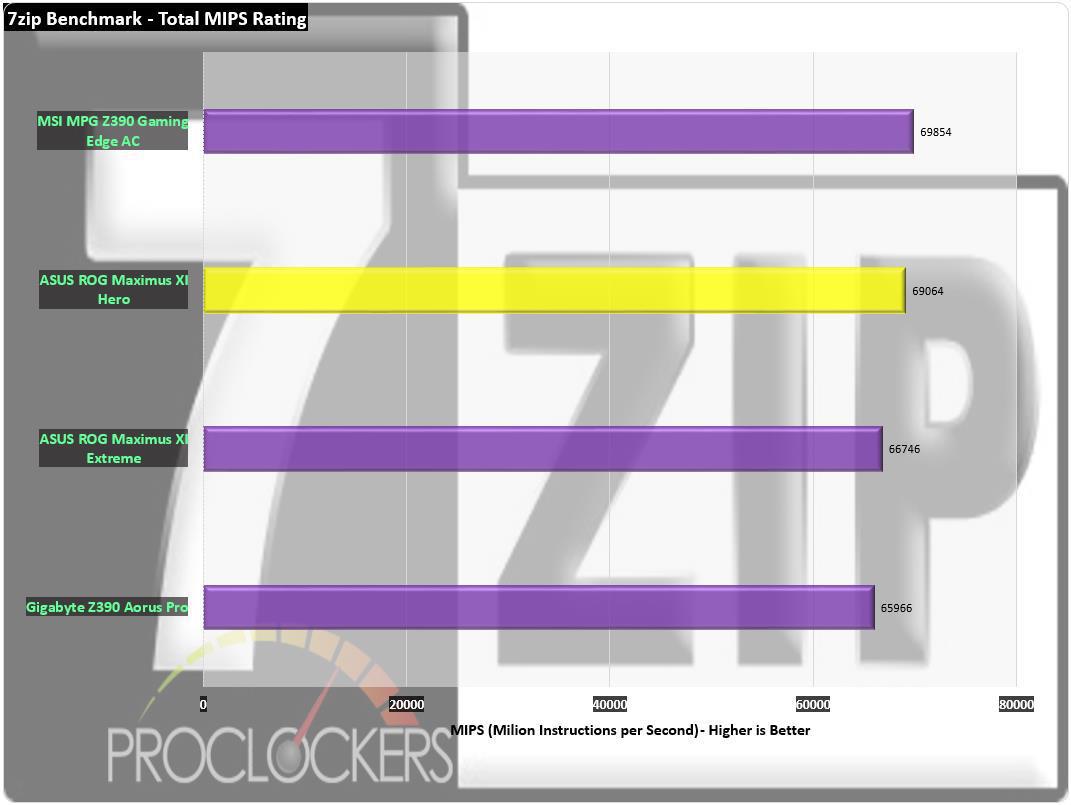 A total score of 69,064 is about 20k higher than our former average from the i7-8700K and places the Hero squarely in second place in our list of Z390 boards.
Memory Performance Testing
AIDA64 Engineer Edition
"FinalWire Ltd. today announced the immediate availability of AIDA64 Extreme Edition 1.50 software, a streamlined diagnostic and benchmarking tool for home users; and the immediate availability of AIDA64 Business Edition 1.50 software, an essential network management solution for small and medium scale enterprises. The new AIDA64 update implements AVX-optimized benchmarks for the upcoming Intel Sandy Bridge processors, adds a brand-new video encoding benchmark, and supports the latest AMD and NVIDIA graphics processors."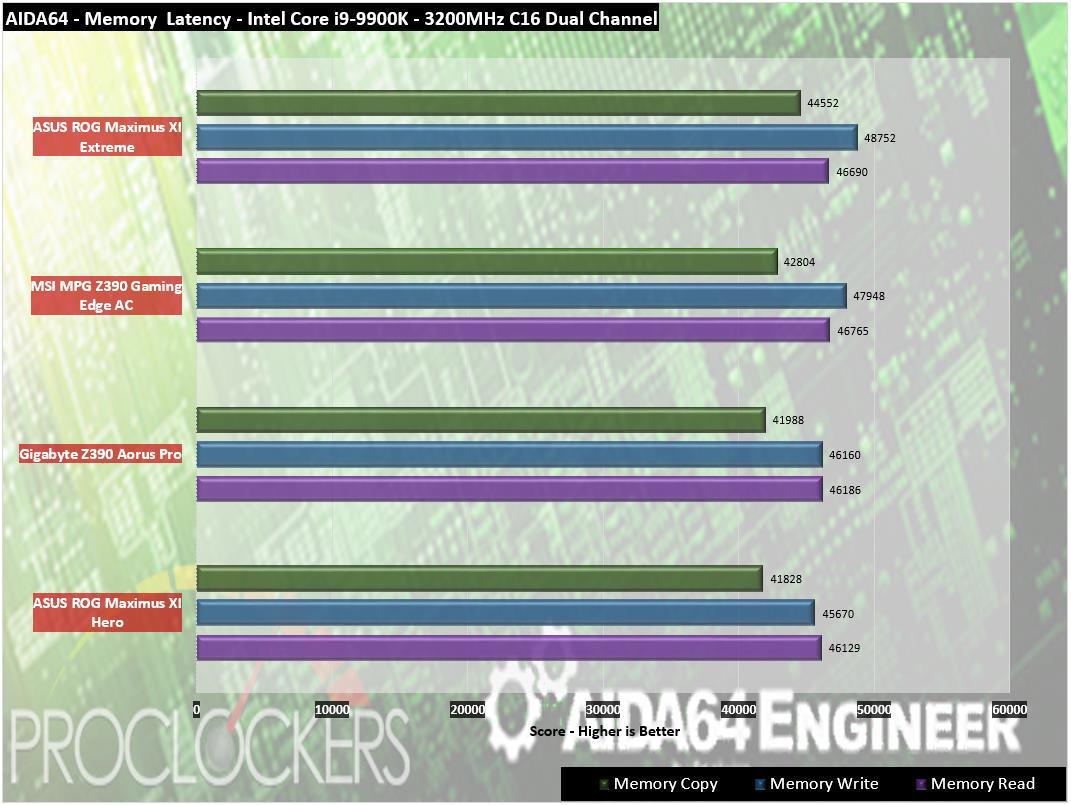 Using the same memory kit we always use, we see a little lower overall write bandwidth shown in Aida64 on the Maximus XI Hero Wi-Fi but right on target for reads.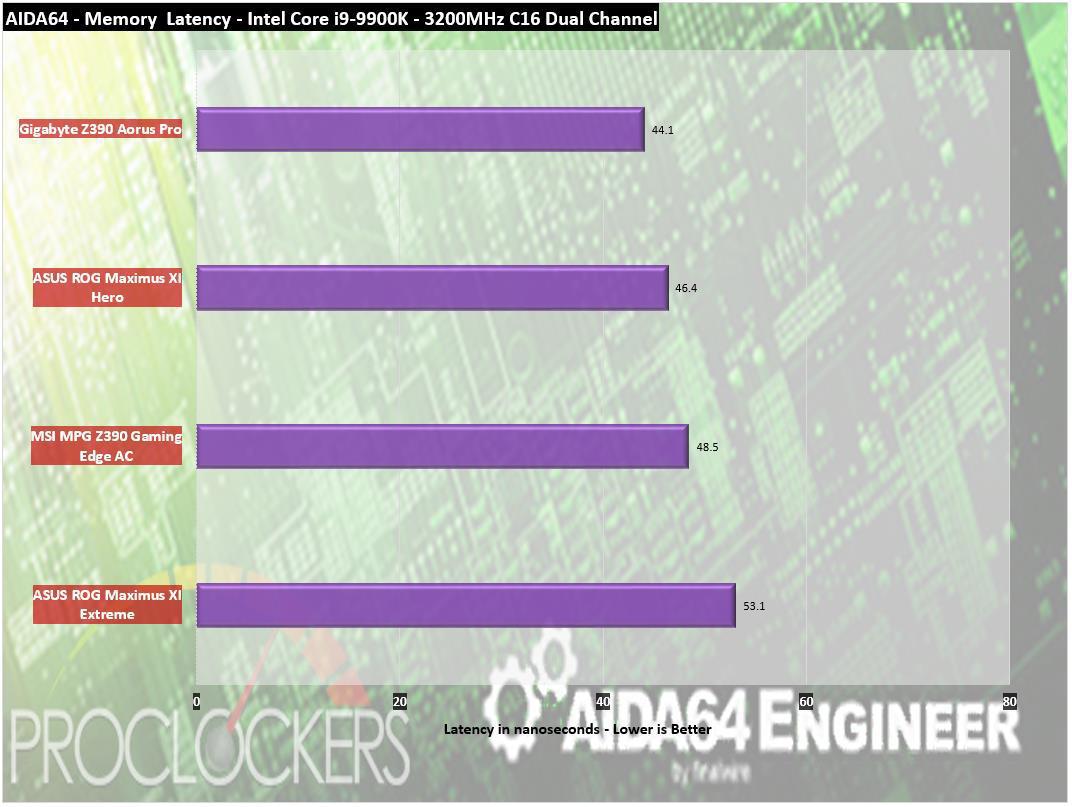 Latency comes in a 46.4ns, one of best yet.
Passmark Performance Test – Memory Mark – Threaded
"Fast, easy to use, PC speed testing and benchmarking. PassMark Performance Test ™ allows you to objectively benchmark a PC using a variety of different speed tests and compare the results to other computers."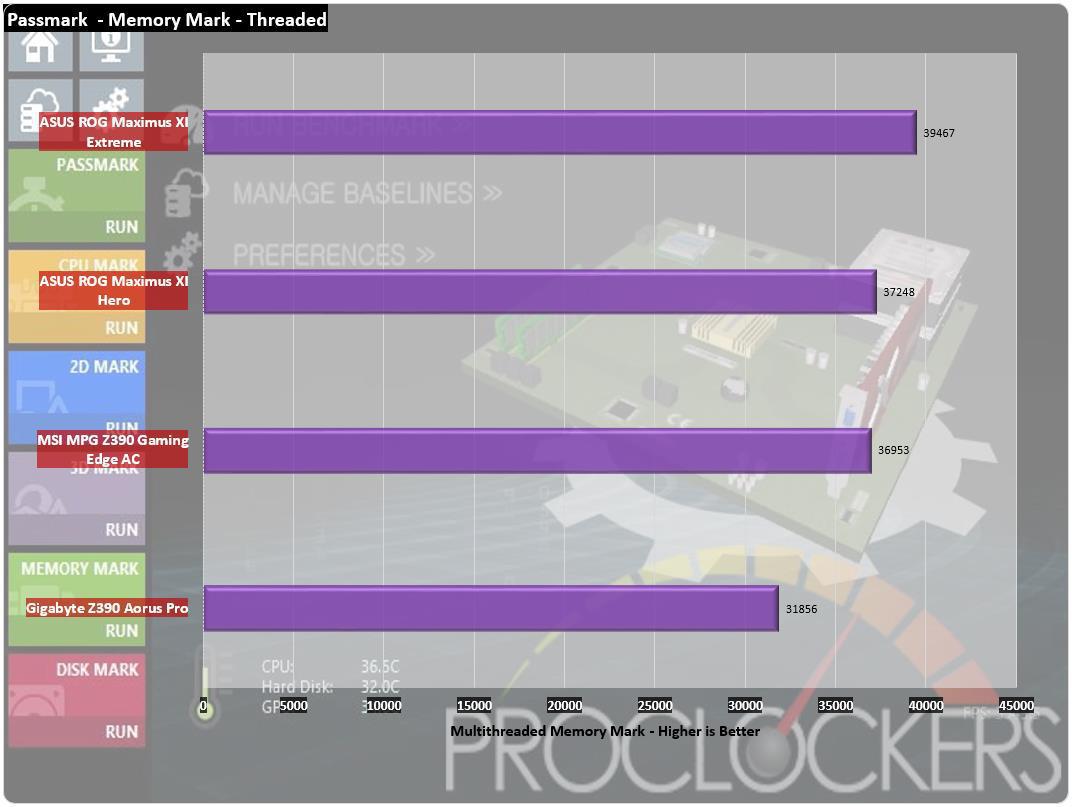 Our threaded Memory Mark score comes in just over 37 thousand, right around what we would expect but a shade less than the Maximus XI Extreme.
SiSoft Sandra
"SiSoftware Sandra provides a robust package of diagnostic tools for testing your system and teasing out its problems–or potential headaches."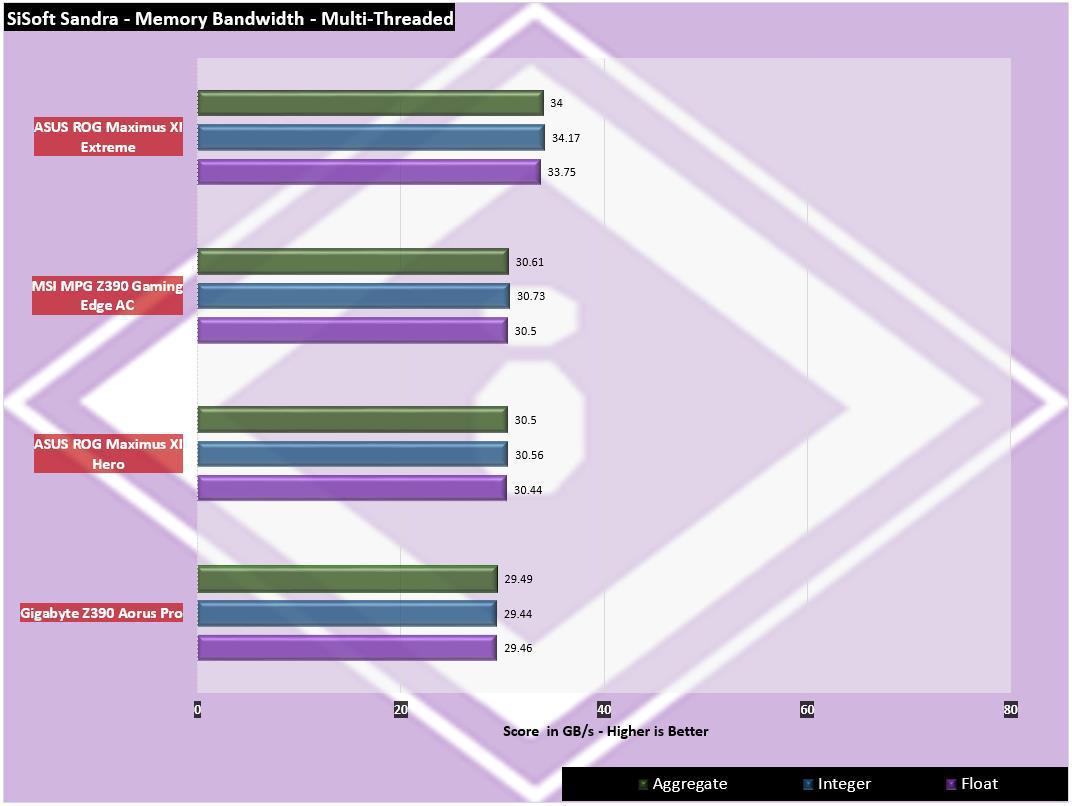 SiSoft shows around 30.5GB/s worth of bandwidth on average.
Storage Testing
ATTO Disk Benchmark
"As the industry's leading provider of high-performance storage & network connectivity products, ATTO has created a widely-accepted Disk Benchmark freeware utility to help measure storage system performance. As one of the top tools utilized in the industry, Disk Benchmark identifies performance in hard drives, solid state drives, RAID arrays as well as connections to storage. Top drive manufacturers, like Hitachi, build and test every drive using the ATTO Disk Benchmark"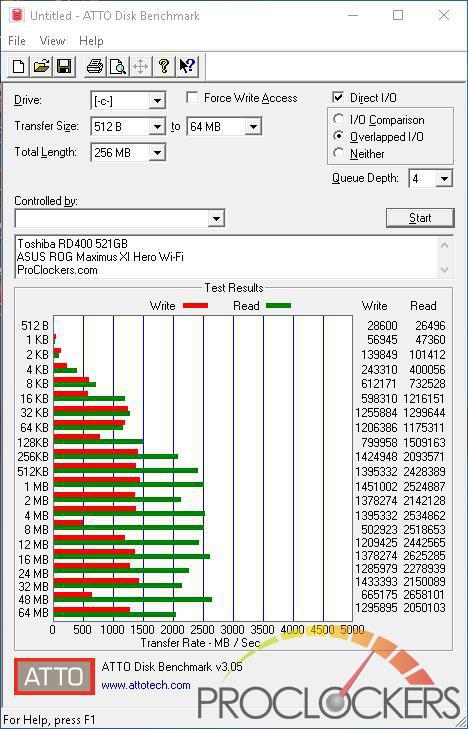 Our drive is getting quite full so speeds are a little erratic, but they do land around the rated speeds.
CrystalDiskMark 6.0
"CrystalDiskMark is designed to quickly test the performance of your hard drives. Currently, the program allows measuring sequential and random read/write speeds."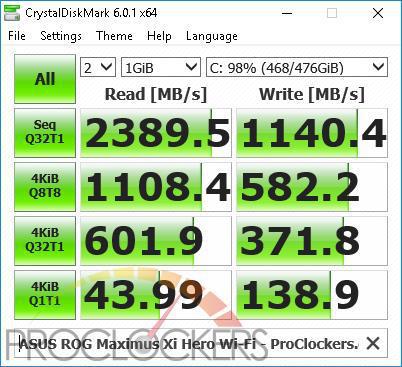 You can see our drive is very full, but still manages to land close to its rated speeds.
AS SSD
The AS SSD benchmark determines the performance of Solid State Drives (SSD). The tool contains six synthetic and three copy tests.
The synthetic tests determine the sequential and random read and write performance of the SSD. These tests are performed without using the operating system cache. In the sequential test, the program measures how long it takes to read and write a 1 GB file. In the 4K test, read and write performance is determined for randomly selected 4K blocks. The 4K-64 Third test is equivalent to the 4K procedure, except that the read and write operations are distributed to 64 threads. This test should show differences between the IDE operating mode where NCQ is not supported and the AHCI mode for SSDs with Native Command Queuing (NCQ). The additional compression test can measure the performance of the SSD as a function of the compressibility of the data. This is especially important for the controllers that are used to increase the performance and life of the cell compression.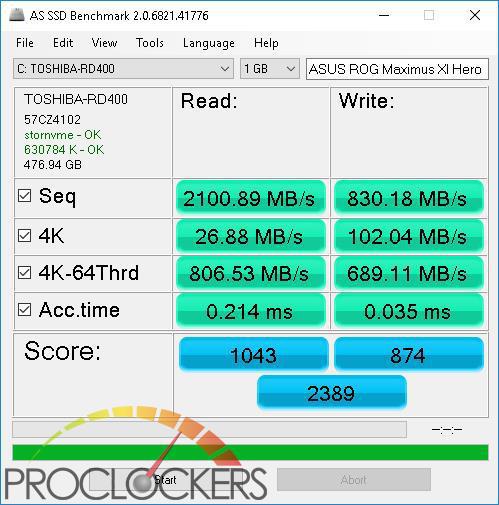 AS SSD usually comes in a bit lower than the other two tests, but we still get a good score. It's obvious at this point we don't have any issue with M.2 bandwidth or storage performance.
Game Testing
3DMark – Fire Strike
"Fire Strike is a showcase DirectX 11 benchmark designed for today's high-performance gaming PCs. It is our most ambitious and technical benchmark ever, featuring real-time graphics rendered with detail and complexity far beyond what is found in other benchmarks and games today"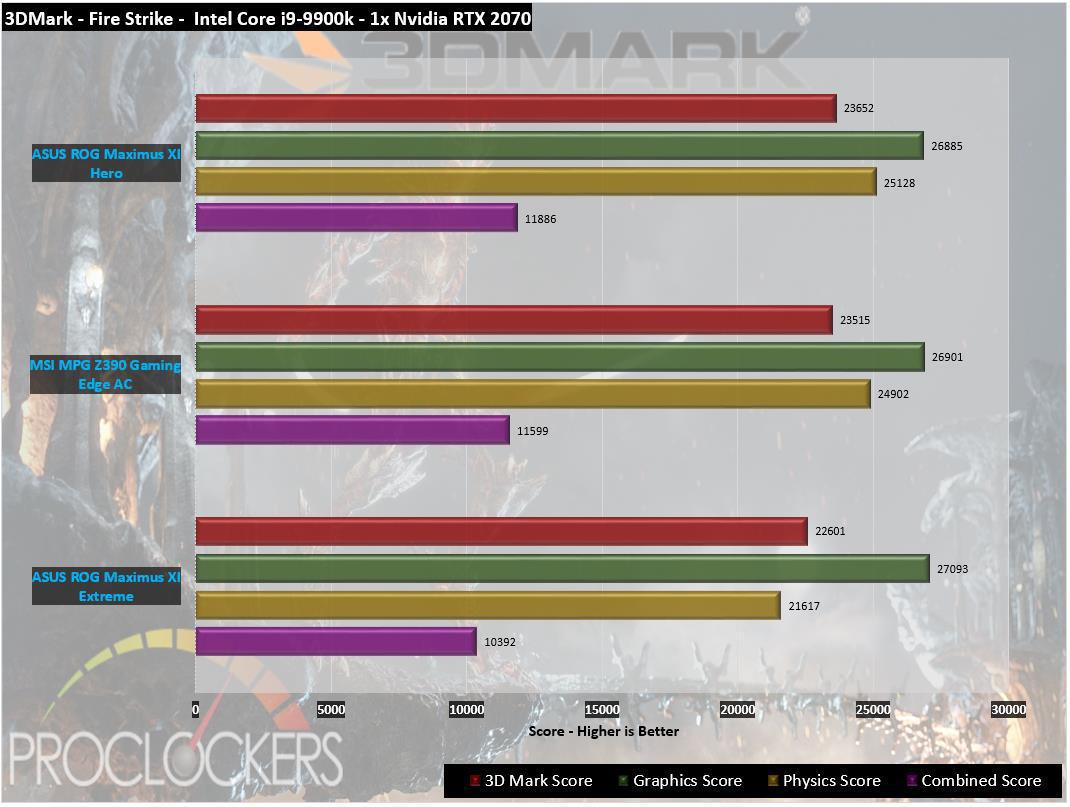 Asus lets the 9900K and RTX 2080 power through and gives us a great score, the best overall of our Z390 boards.
3DMark – Time Spy
"3Dmark Time Spy is a new DirectX 12 benchmark test for Windows 10 gaming PCs. Time Spay is one of the first DirectX 12 apps to be built "the right way" from the ground up to fully realize the performance gains that the new API offers. With DirectX 12 engine, which supports new API features like asynchronous compute, explicit multi-adapter, and multi-threading, Time Spy is the ideal test for benchmarking the latest graphics cards."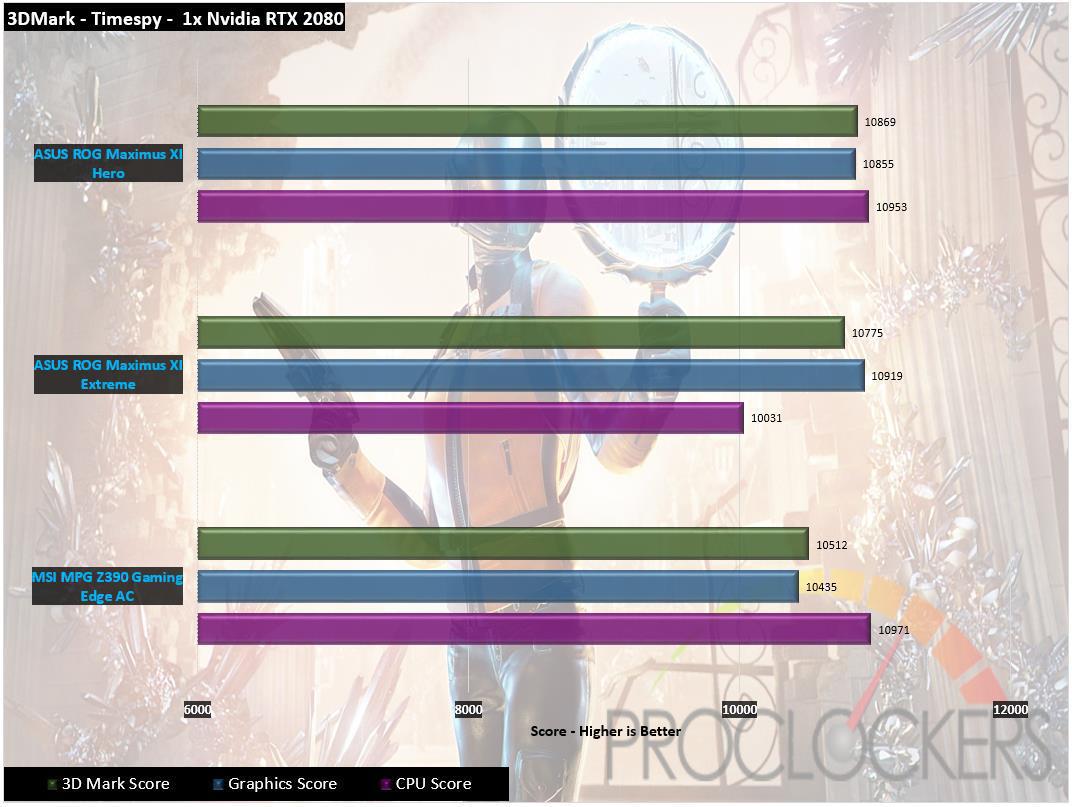 This is one of our best Timespy scores we've gotten out of our 9900K and RTX 2080 yet.
Grand Theft Auto: V
"When a young street hustler, a retired bank robber, and a terrifying psychopath find themselves entangled with some of the most frightening and deranged elements of the criminal underworld, the U.S. government and the entertainment industry, they must pull off a series of dangerous heists to survive in a ruthless city in which they can trust nobody, least of all each other."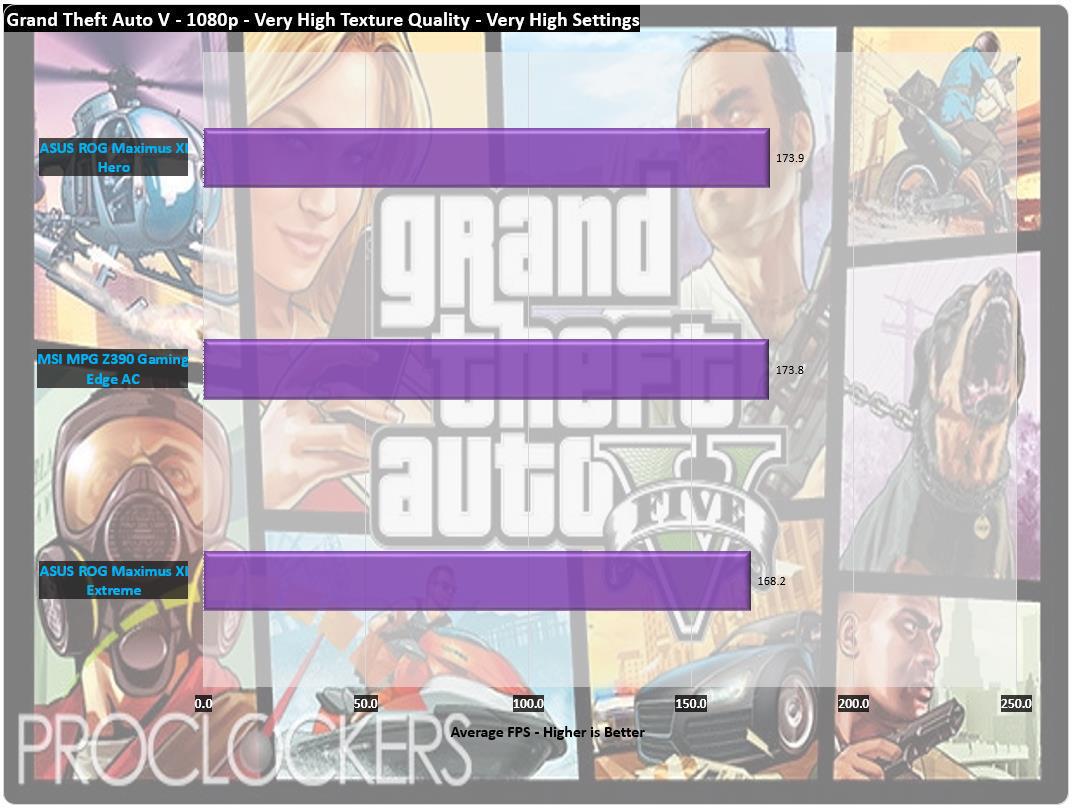 The Maximus Xi hero is holding its own in our gaming tests so far and our first real game is the legendary GTA: V which comes in at 173.9 FPS at our settings.
Rise of the Tomb Raider
Rise of the Tomb Raider is an action-adventure video game developed by Crystal Dynamics and published by Square Enix. It is the sequel to the 2013 video game Tomb Raider, a reboot of the Tomb Raider franchise. It was released on Xbox One and Xbox 360 in November 2015 and for Microsoft Windows in January 2016. It is set to release for PlayStation 4 in the second half of 2016.
Rise of the Tomb Raider was officially announced in June 2014. The game's storyline follows Lara Croft as she ventures into Siberia in search of the legendary city of Kitezh, whilst battling a paramilitary organization that intends on beating her to the city's promise of immortality. Presented from a third-person perspective, the game primarily focuses on survival and combat, while the player may also explore its landscape and various optional tombs. Camilla Luddington returns to voice and performs her role as Lara.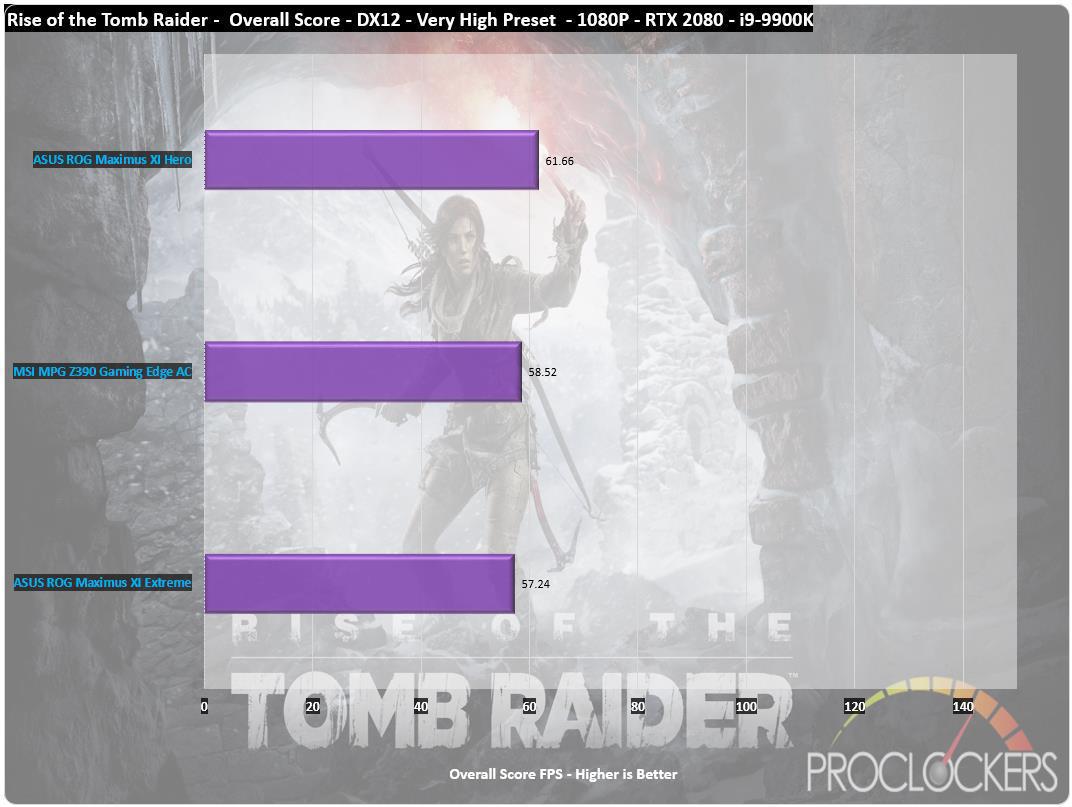 Rise of the Tomb Raider slides in with an overall score of 61.66FPS, the best of our Z390 boards yet.
Overclocking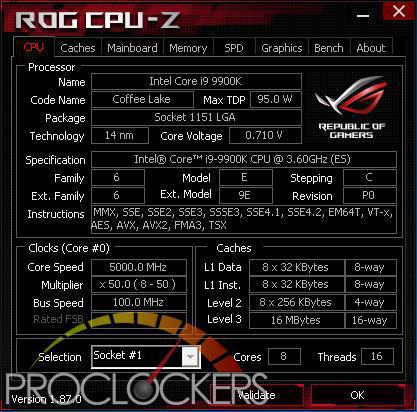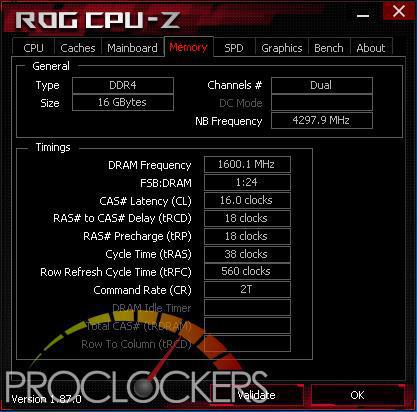 Starting out stock, we see the 9900K bouncing around between 4.3GHz and 5.0GHz as windows does its own internal tasks behind the scenes.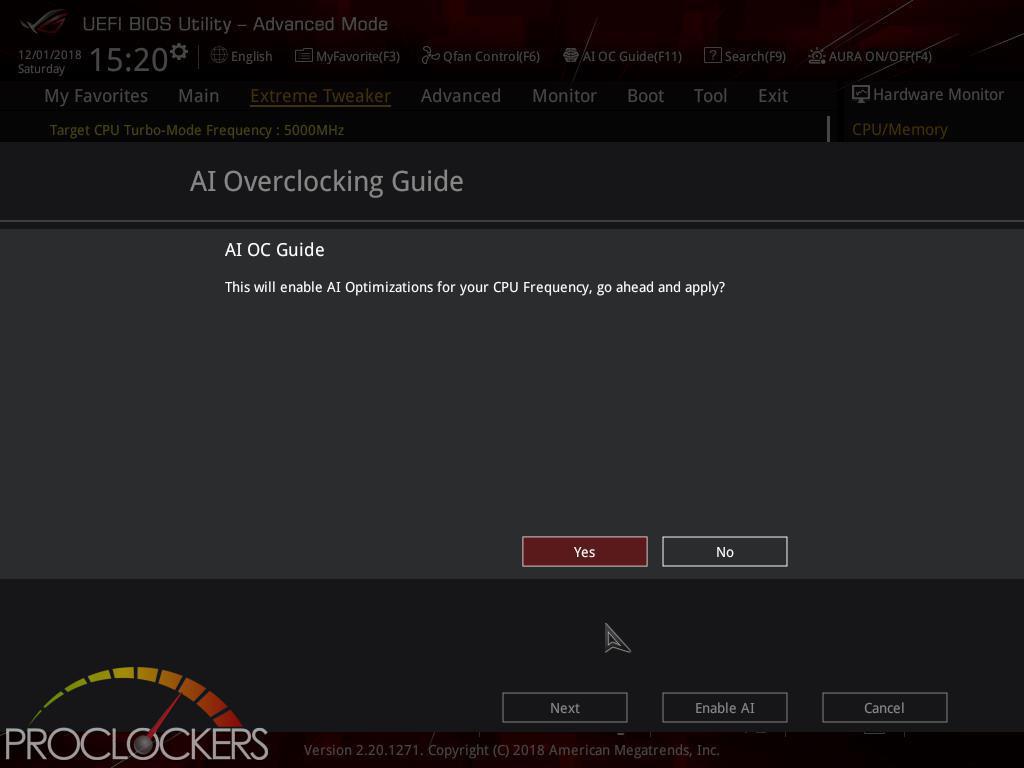 We want to try the new AI Overclock tool, so we'll try it first.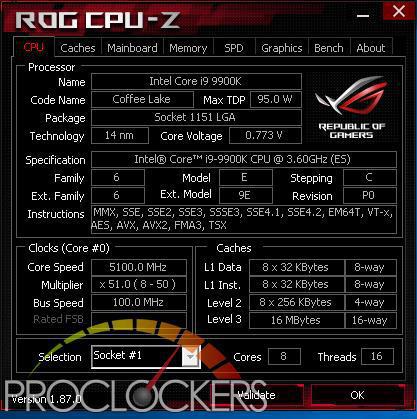 We turn on the AI OC which gives us an all-core speed of 5.1GHz.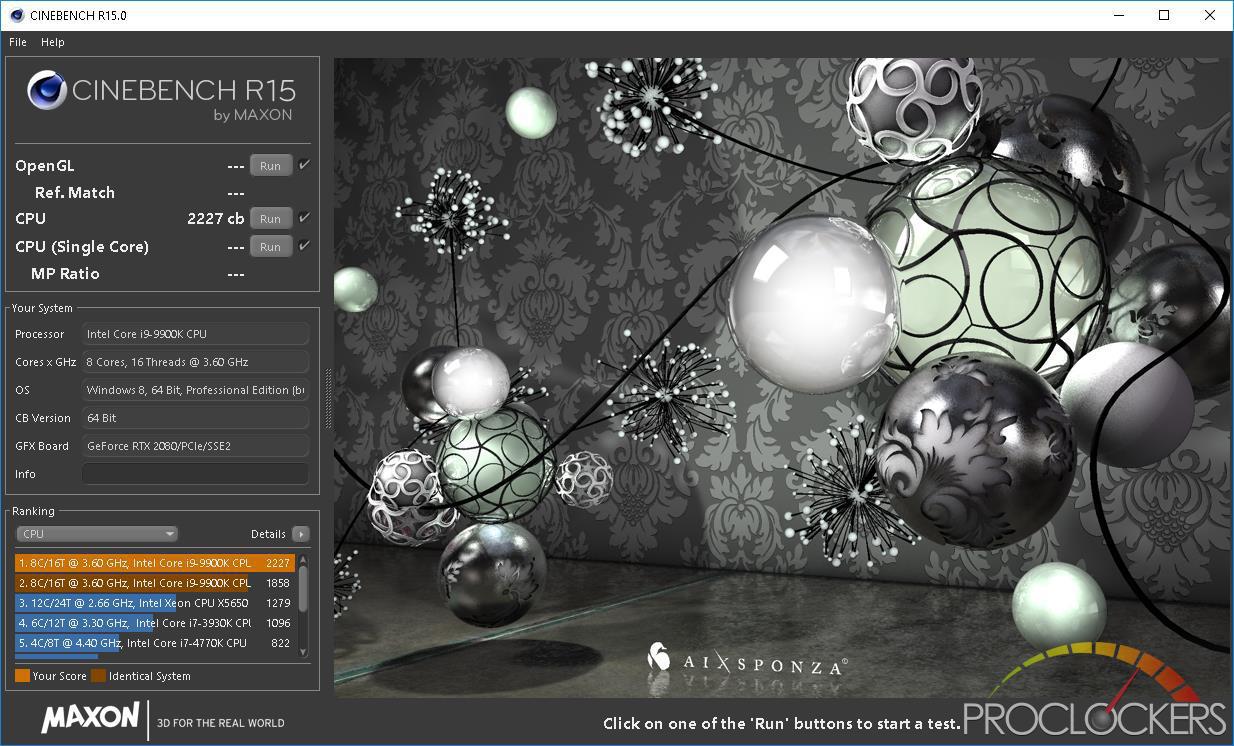 This gives us about 150 points more in Cinebench over stock.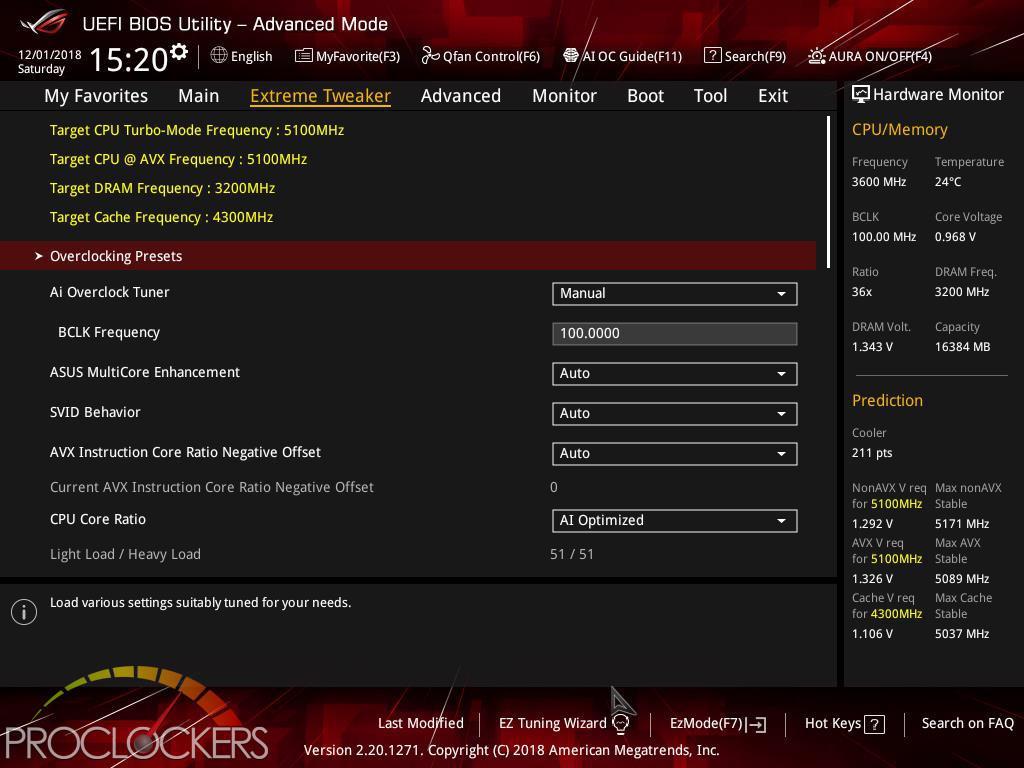 Next, we'll flip over to manual mode and try to get a little more.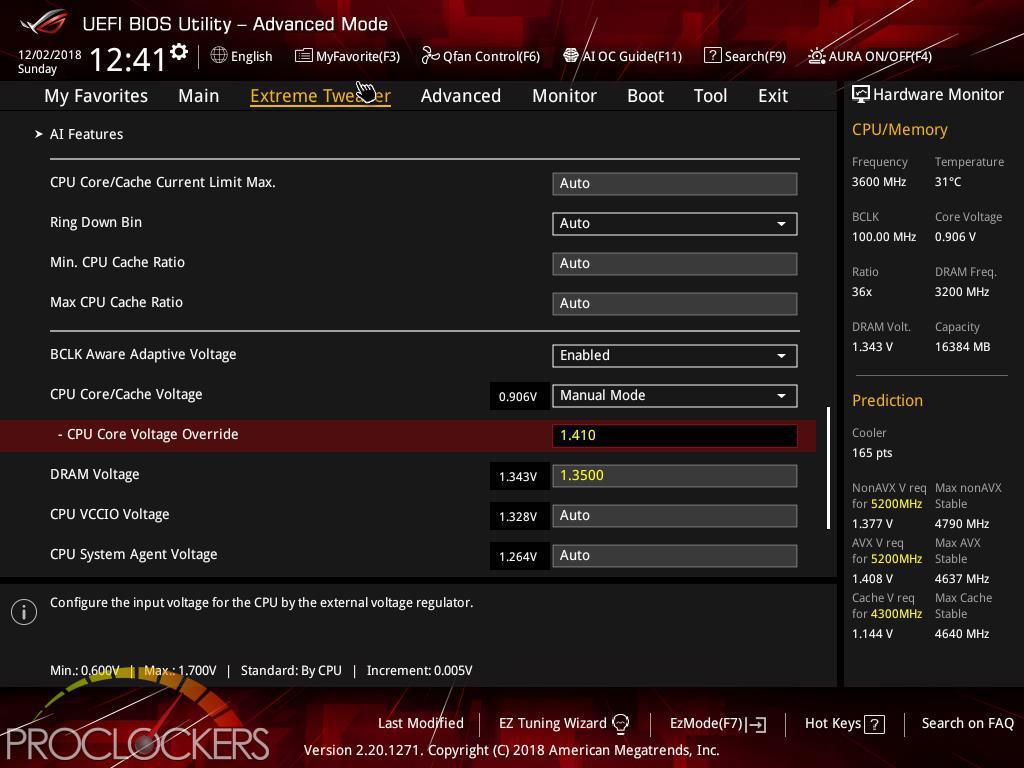 We just couldn't quite get 5.2GHz stable, even closely matching ASUS's Ai prediction settings. If we hit it a little harder with voltage, the temps climbed over our self-imposed limit of ~90C. 5.1GHz on eight cores isn't bad so.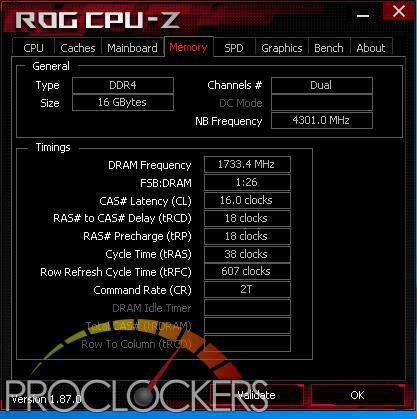 We pushed the memory speed up to 3466 MHz with no changes to voltage or timings.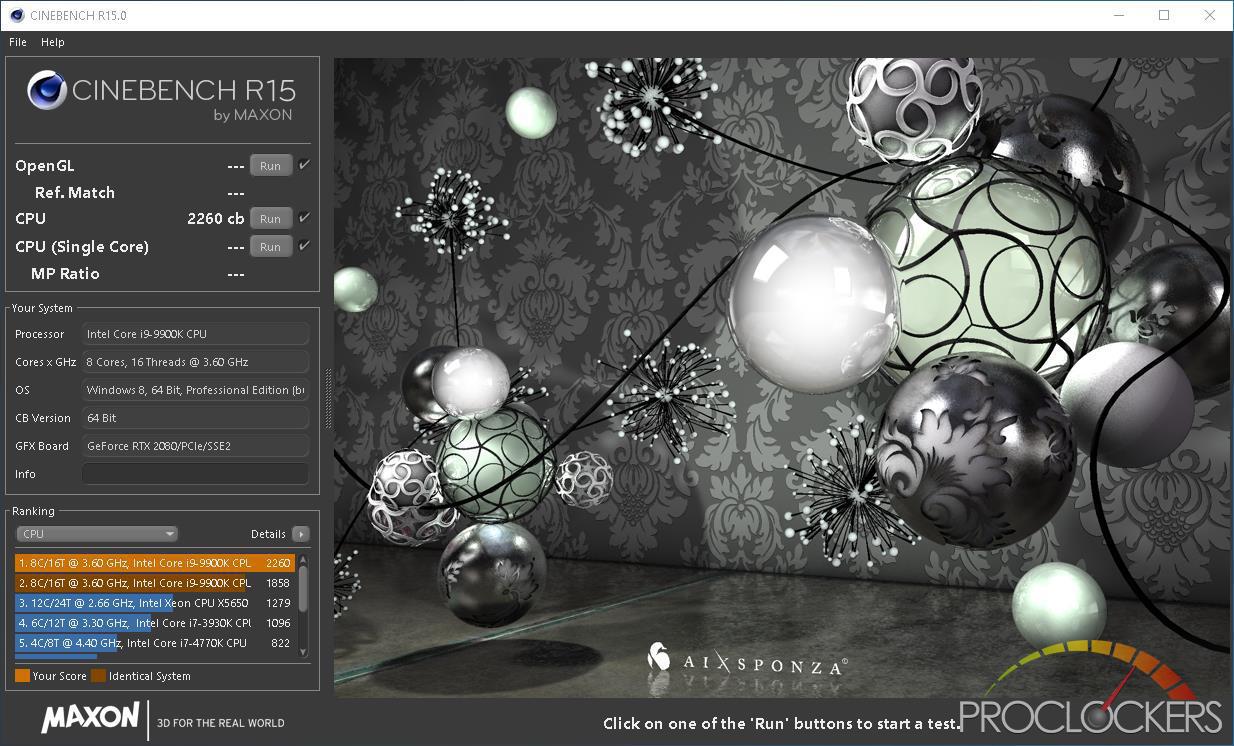 This gets us a tiny bit more score, about 30 points. But we feel this is a good everyday speed.
Final Thoughts & Conclusion

ASUS proves once again why the Hero is the staple of it's stable of ROG goodness. A street price of about $280, it certainly isn't the cheapest Z390 board out there, but it is the cheapest of the ROG Maximus family currently and provides enough features and connectivity for even the most avid enthusiast.

Performance is great right out of the box, even with all of ASUS's tweaks purposely turned off for the review. If you build your system, go in and just turn on Ai Overclocking, you can pretty well walk away with a mountain of a free performance for a couple of mouse clicks worth of work, it really doesn't get any easier than that. ASUS's software is extensive and covers all of your needs easily. We really like the new Armor Crate as it makes getting up and going on first boot a snap without having to worry about drivers and such.

Great Job ASUS!

<![CDATA[ */ var zbjs = {"ajaxurl":"https:\/\/gaminggorilla.com\/wp-admin\/admin-ajax.php","md5":"d8e8b24d2fa18d2999e0fddcdd418586","tags":[],"categories":["Hardware"]}; /* ]]>