Cooler Master MasterBox Pro 5 RGB Mid-Tower Review, Affordable RGB
Cooler Master MasterBox Pro 5 RGB Mid-Tower
Offering both value and quality Cooler Master is known for exceptional hardware at a more than fair price. We are taking a look at one of their Mid-Tower chassis today, the MasterBox Pro 5 RGB with 3 RGB fans preinstalled; Cooler Master went with the 3 fans behind the black mirrored front to stash the fans behind.
The front is easily removable and this puppy is so versatile you can go any build direction you want. It will take a 120mm, 240mm, 280mm, and 360mm radiator water cooling setup you can gaze at through a 4mm tempered glass side. Wiring this thing has more well-planned pigeonholes than we even care to count. We would run a wire to the area where it needed to be and exactly at that spot was a pigeonhole that perfectly fit the connector we needed to run.
With a sleek look and mirrored front panel and Tempered glass panel with those three gorgeous RGB fans up front, Cooler Master will be lucky to break even on this modestly priced offering appearing at your local E-tailers for a mere $74.99. There are RGB fan kits out there that cost more than this entire chassis does and it has 3 beautiful RGB fans tossed in the deal!
Features & Specifications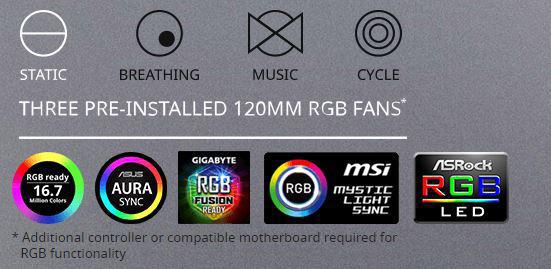 The 3 included RGB fans will sync with ASUS Aura, GIGA RGB Fusion, MSI Mystic Light, and ASRock RGB.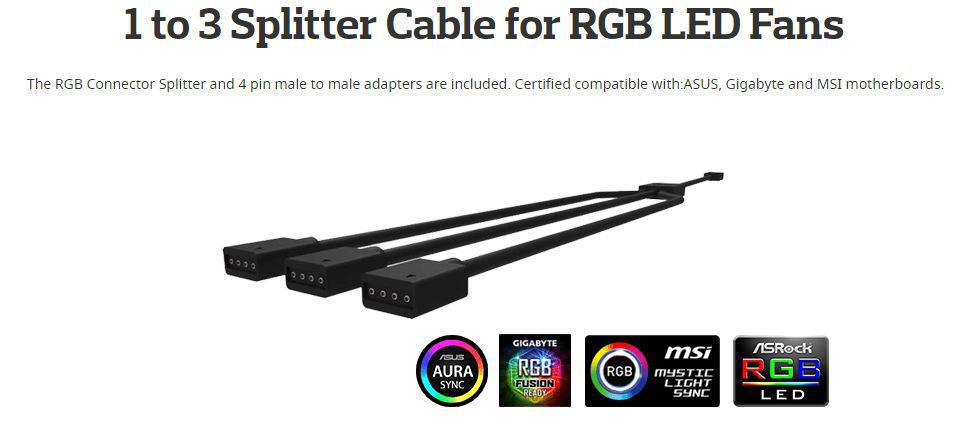 CM includes a one RGB connector to 3 RGB controller cable making it easy to wire and sync all your RGB.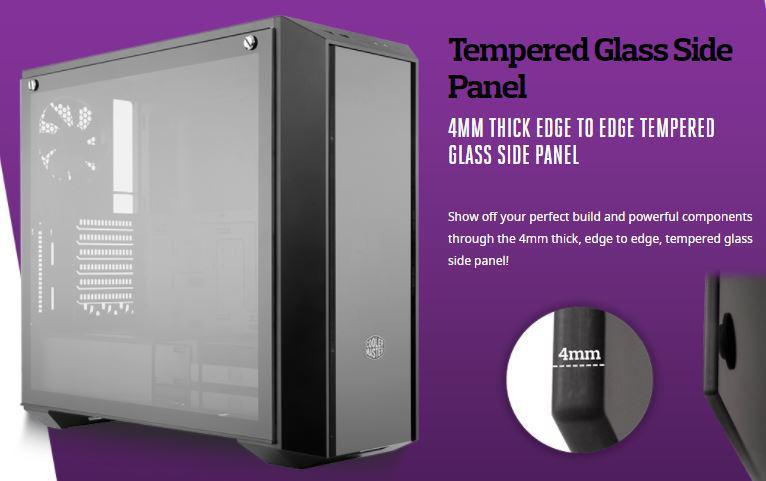 The 4mm thick tempered glass window on the side is both beautiful and durable but you may want to keep some lens cleaners around for the errant fingerprint.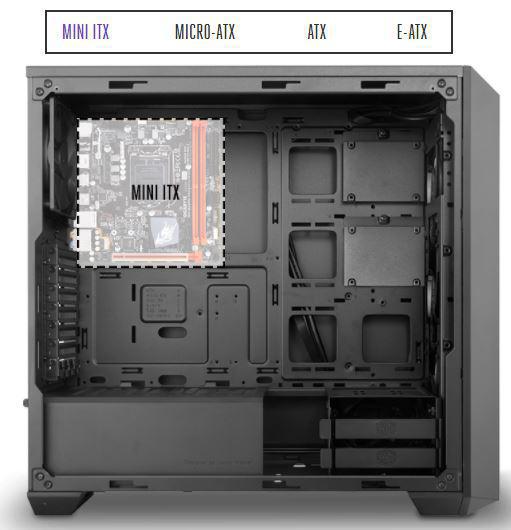 From Mini ITX to EATX this chassis will fit from the smallest to Extended ATX and the CPU backplate hole is perfectly positioned to allow easy CPU cooler swaps without having to remove the motherboard a true luxury.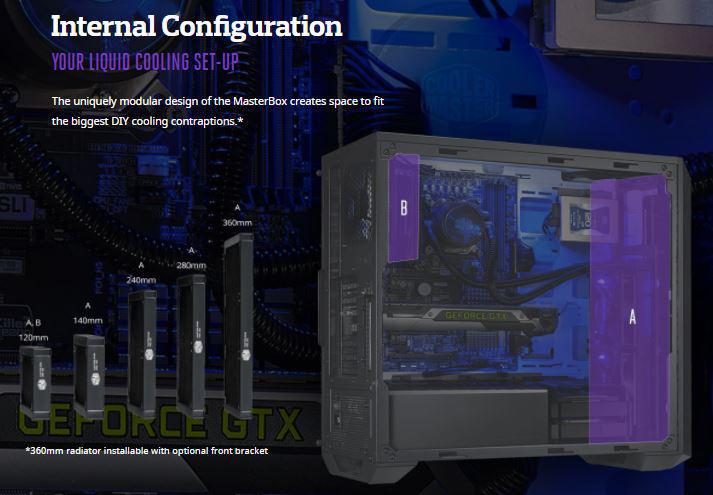 As mentioned earlier this beauty will accommodate from a 120mm to 360mm including the highly effective 280mm.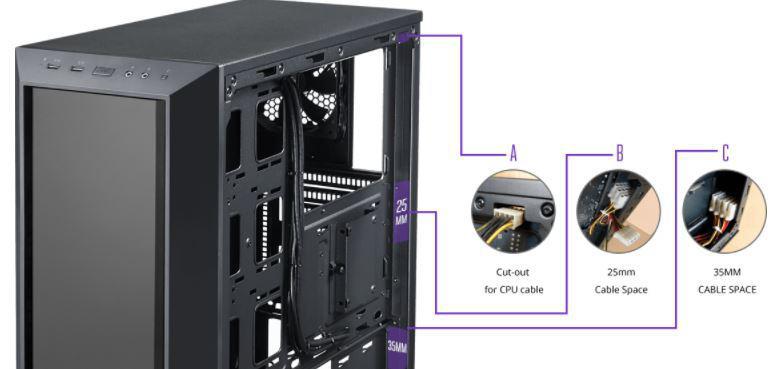 The back of the chassis provides a 35mm wide space for cables and believe us we put a ton of cables back there and with perfectly places pigeon holes and tie down accommodations the build went fast and smooth.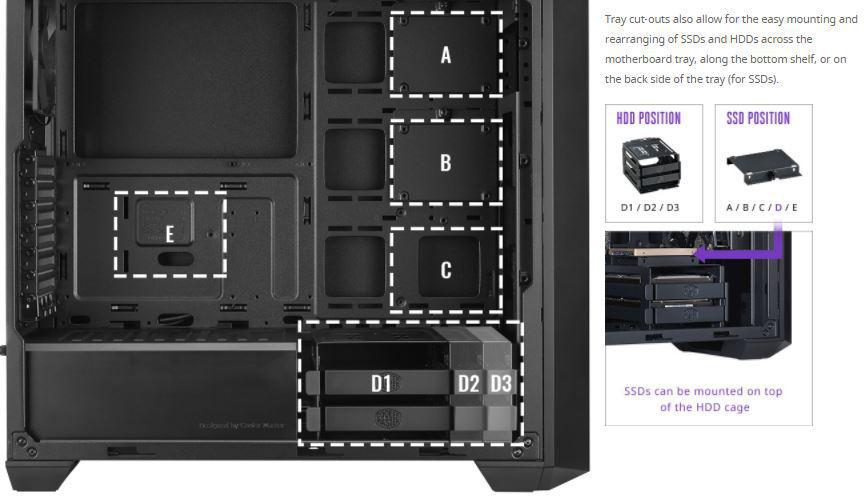 Drive space how about 2 full sized HD's and 4 SSD's perfectly positioned to stay out of sight and keep your build neat and clean.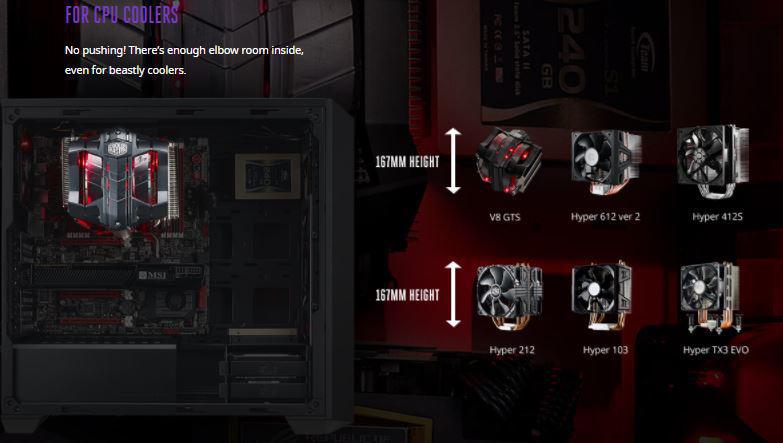 Even with AIO water coolers being all the rage Cooler Master left 167mm for monster sized air coolers!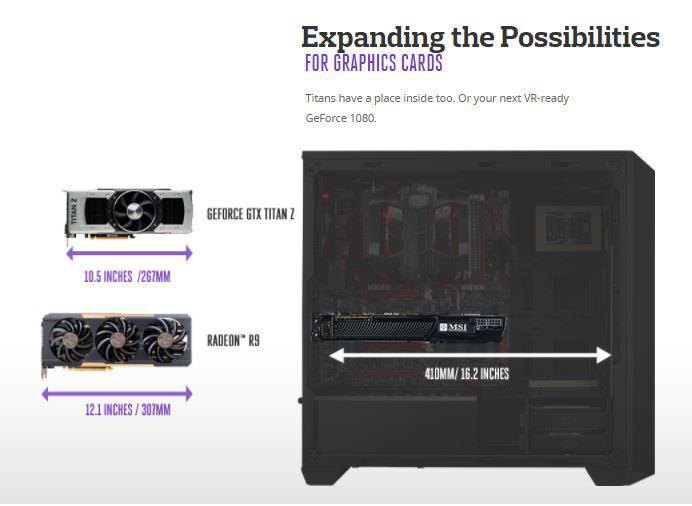 Graphics cards, if you use one and not the built into the CPU graphics you can fit a 410mm/16.2 inch beast in the chassis.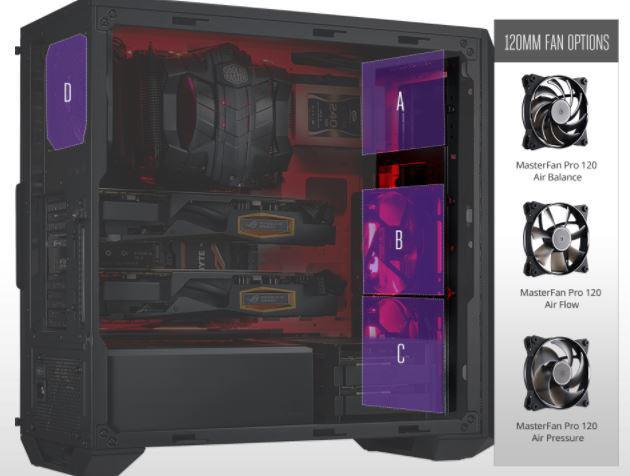 You have the option for 4 fans in the MasterBox and the front 3 are RGB leaving us wondering why not make it a clean sweep and have a 4th in the rear (D) fan slot.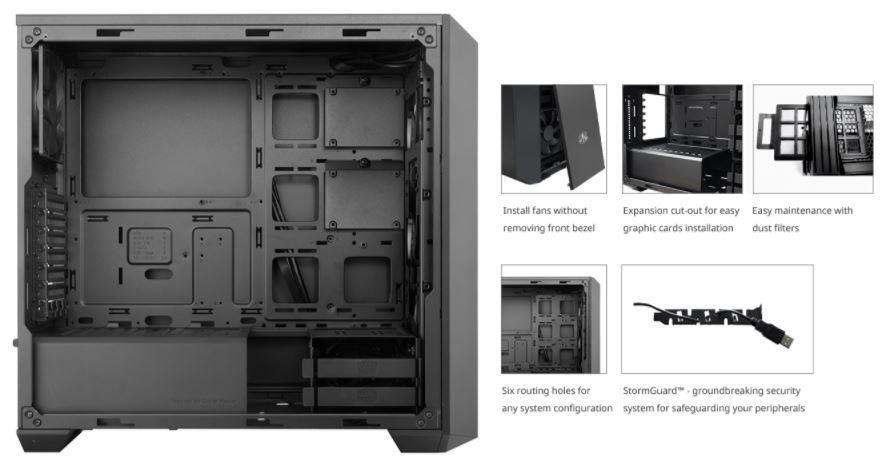 Cooler Master knows that some chassis end up at Lan parties so they included their StormGuard of keyboard and mouse cables securing them tightly to your chassis. They include a PSU chamber to hide those pesky wires, a filter for your PSU, six cable routing holes and you can install fans without removing the front panel. We removed the front panel and it wasn't a problem coming off or going on.
Specifications Table
Product Name
MasterBox Pro 5 RGB
Model number
MCY-B5P2-KWGN-01
Available Color(s)
Black
Materials
Steel body, Plastic mesh bezel, Tempered Glass
Dimensions (WxHxD)
223(W) x 475(H) x 500(D) mm
Weight
10.4kg
M/B Type
E-ATX, ATX, Micro-ATX, Mini-ITX
5.25″ Drive Bays
Cages are sold separately
3.5″ Drive Bays
2
2.5″ Drive Bays
2
I/O Panel
2x USB 3.0
1x Audio In & Out
Expansion Slots
7
Air Cooling Compatibility
Front:
3x 120mm or 2x 140mm
Rear:
1x 120mm
Water Cooling Compatibility
Front:
240/280/360mm radiator
Rear:
120mm radiator
Included Fans
Front:
3x 120mm RGB fan (Additional controller or compatible motherboard required for RGB functionality)
Rear:
1x 120mm
Dust Filters
Front / Bottom
Power Supply Type
Bottom Mount
Standard ATX PS2 / EPS 12V
Maximum CPU Cooler Height
167mm
Maximum GPU/PCI Card Length
410mm
Warranty
2 Years
EAN Code
4719512063941
UPC Code
884102036613
Packaging & Unboxing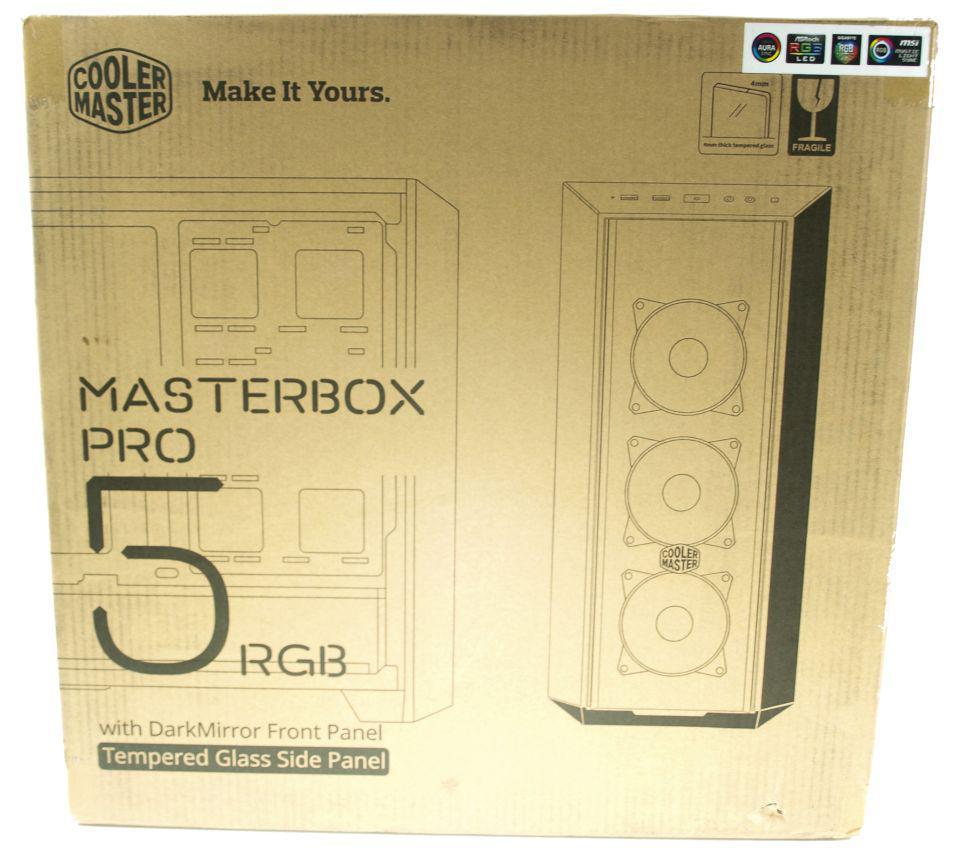 CM went with an armor like approach to the MasterBox and while delivery people hate huge boxes like these it arrived with minimal handler damage.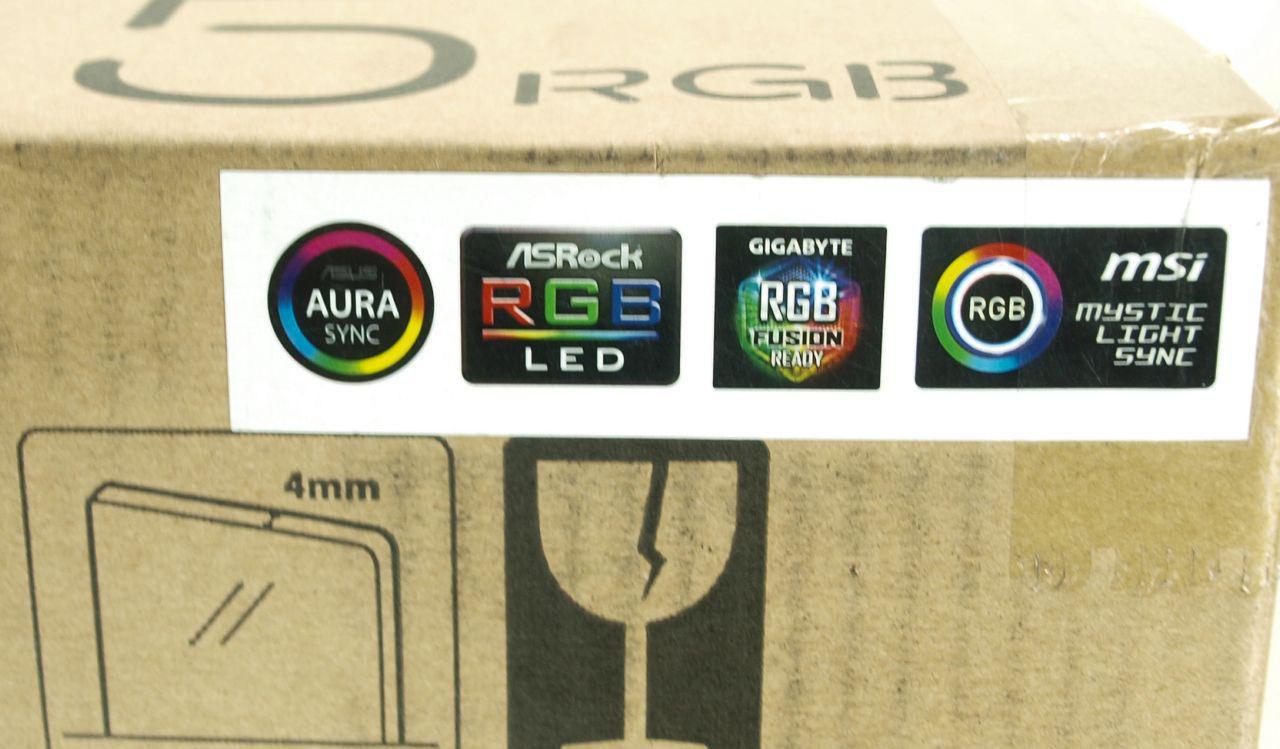 As noted earlier this chassis offers sync with every major motherboard manufacturer.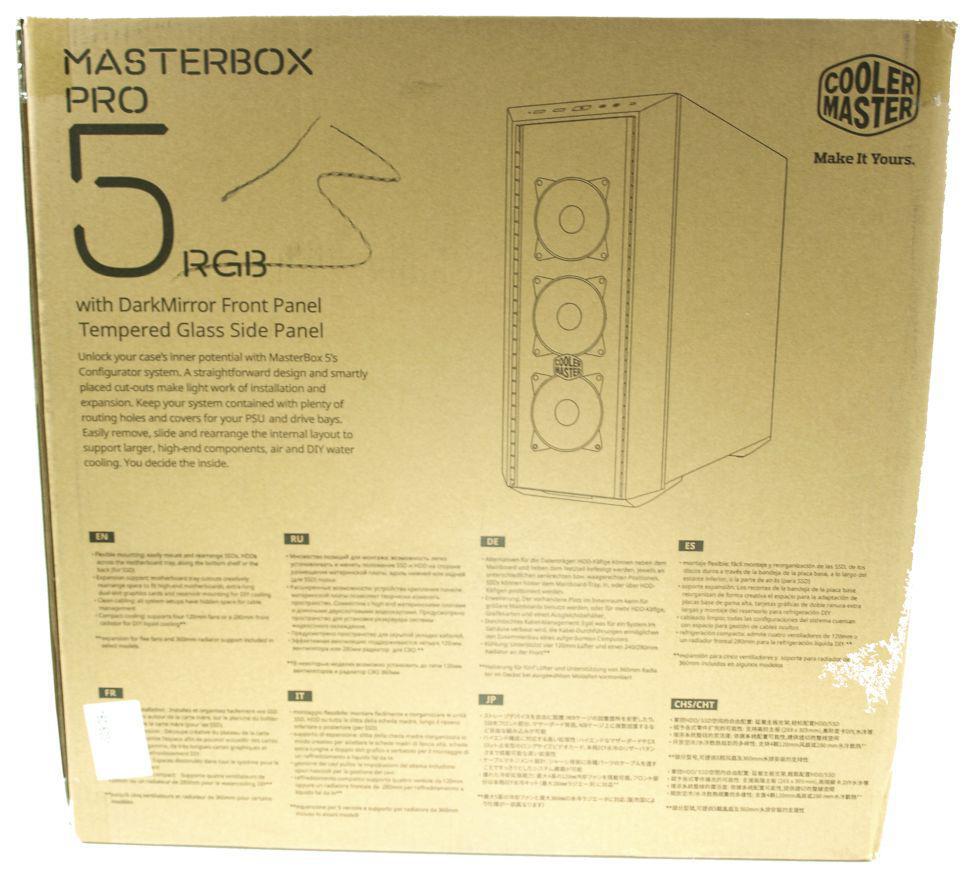 Here on the back you can see some of the shipping damage but no worries our chassis cane in unscathed.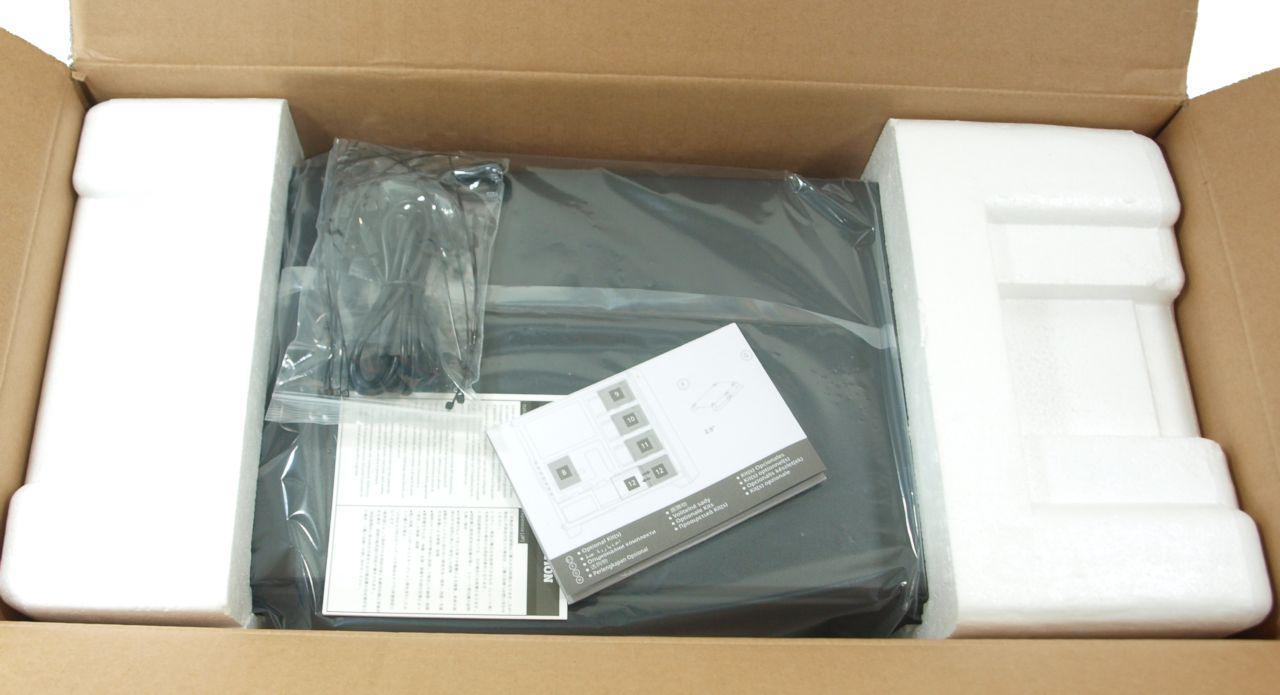 Inside we find the chassis well protected by Styrofoam and a plastic bag with a couple of manuals up top.
A Closer Look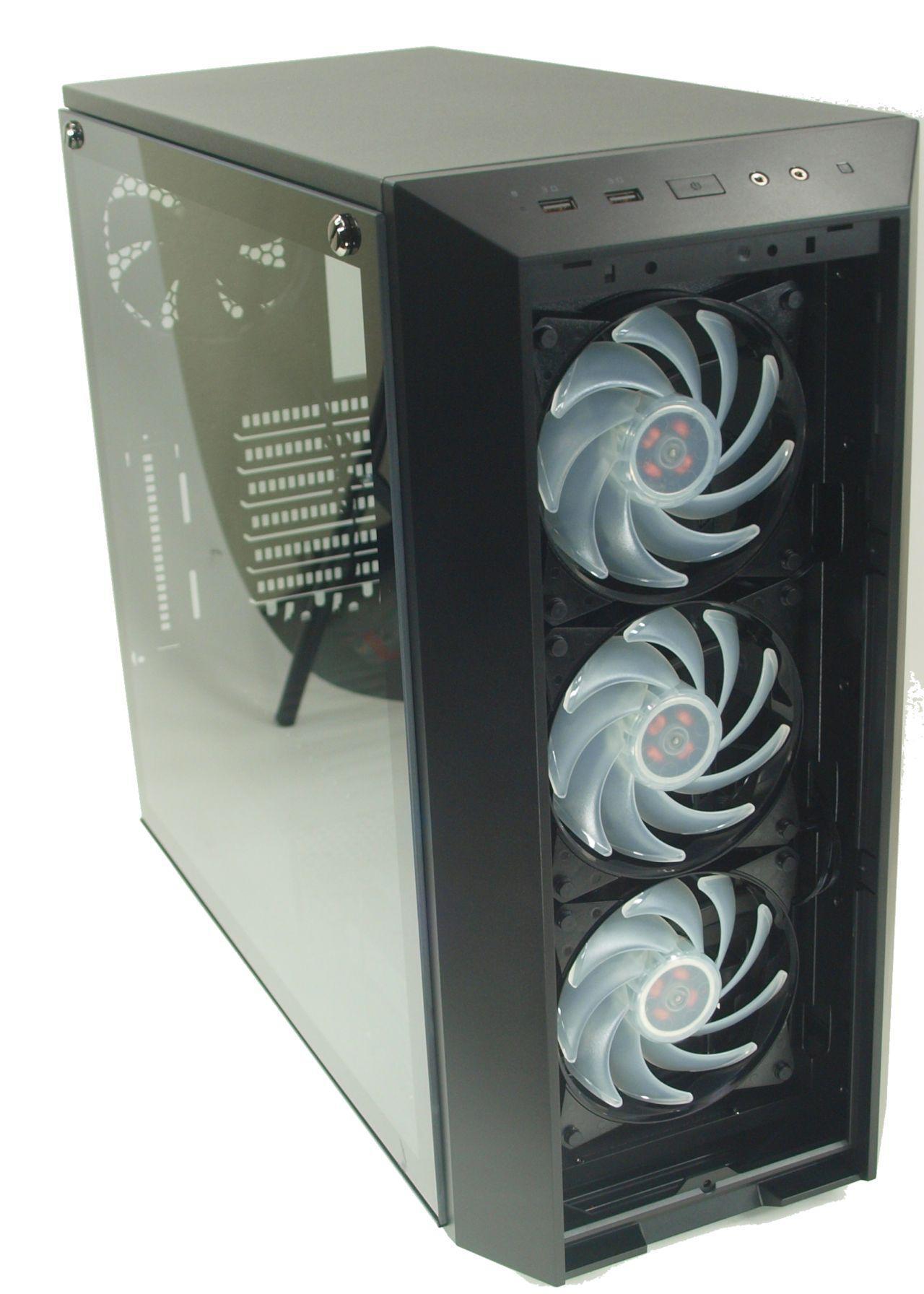 We pulled off the mirrored front to get a look at those pretty RGB fans up front because we couldn't wait to get a glimpse of that RGB goodness.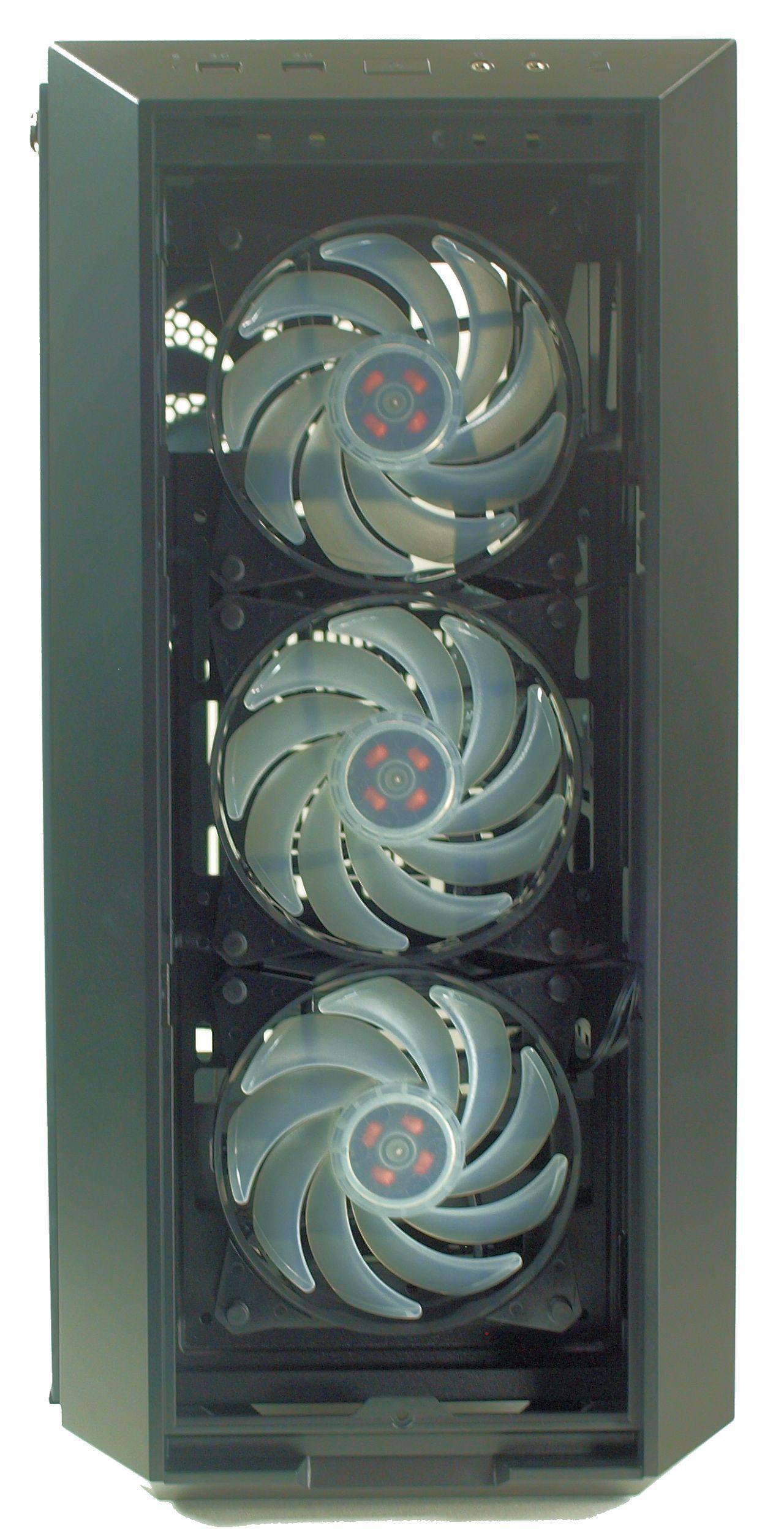 Still with the front cover off you can easily see how ant radiator up to 360mm will easily fit into this chassis and bonus you can use the RGB fans to bling up the water cooling if you like.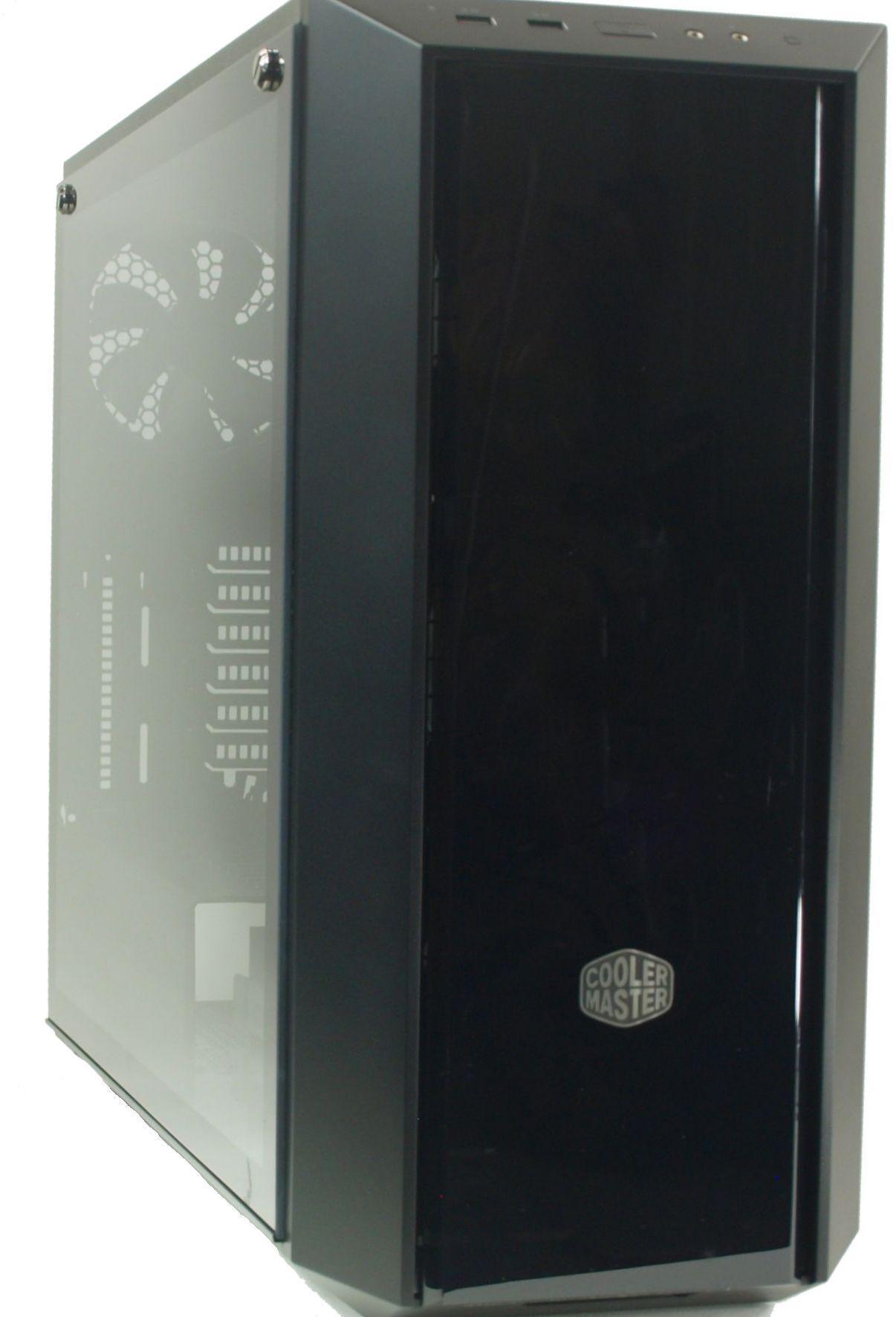 Now finally with the mirrored plastic on front, you get the overall effect of the chassis and can begin to imagine how it's going to look with all those toys displayed inside.

Now up top CM didn't fool with USB 2.0 but went with a couple of USB 3.0, start button, audio jacks and a reset button. Clean simple functionality but giving you more than you expect for a chassis in this price range.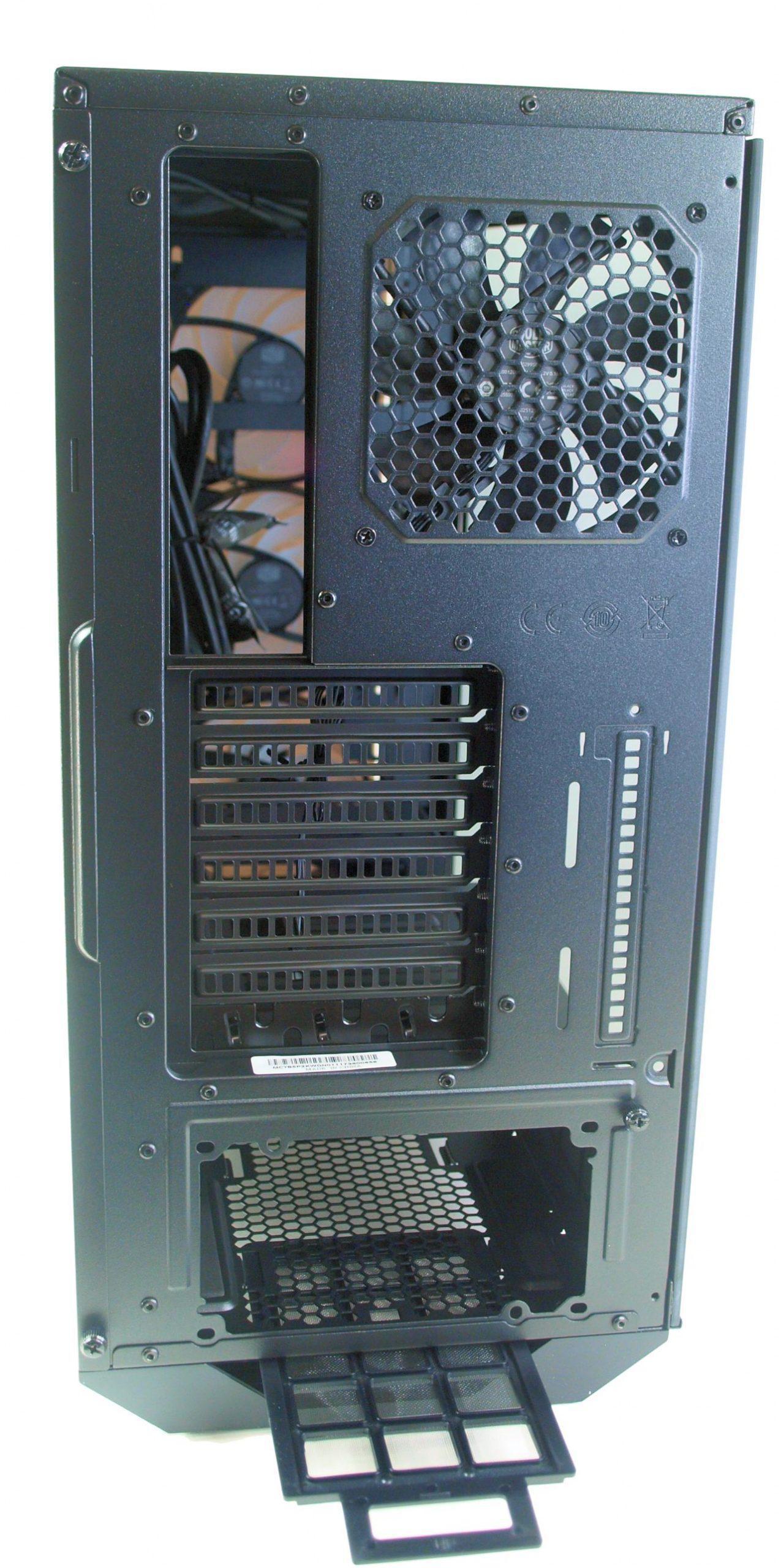 Now we like to cover chassis front to back so here's the back with the PSU filter extended and you can see plenty of room to pull in cool air and lots of air holes to keep your valuable components cool.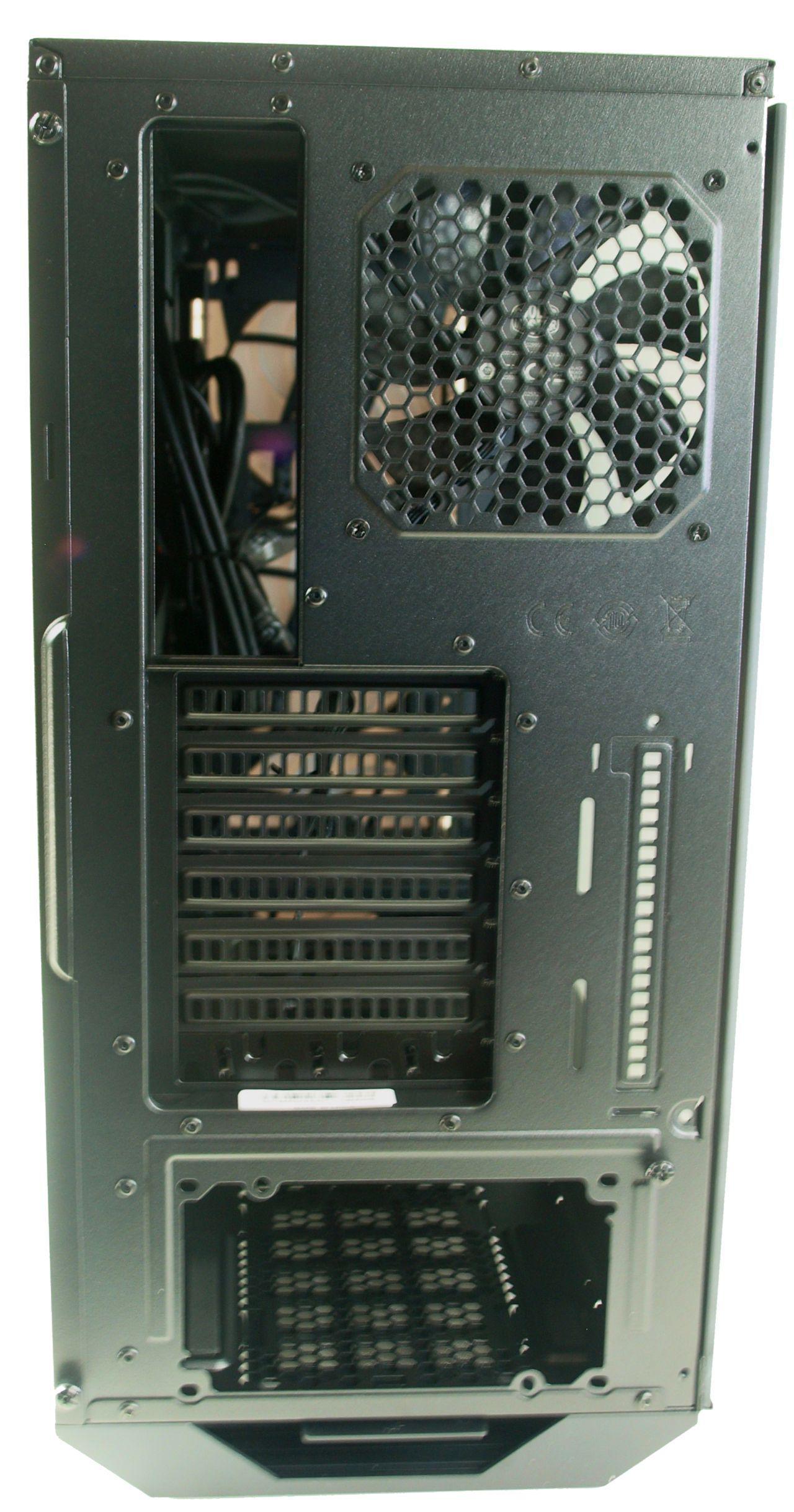 We slid the filter back in so you can get a clean look at the back of the chassis.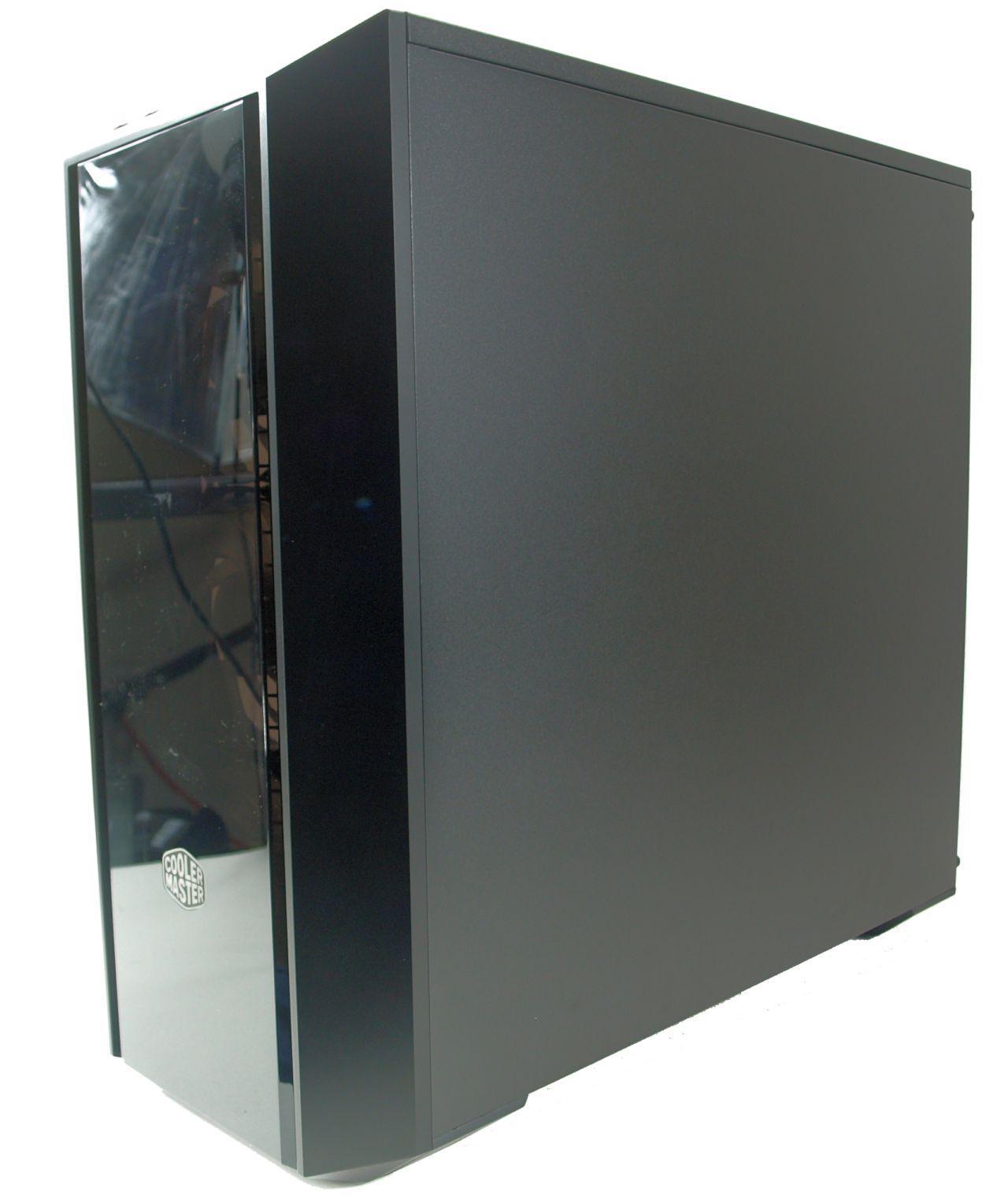 Now here's the backside of the chassis and it's nothing to write home about but it does have 35mm of space to wires behind that panel.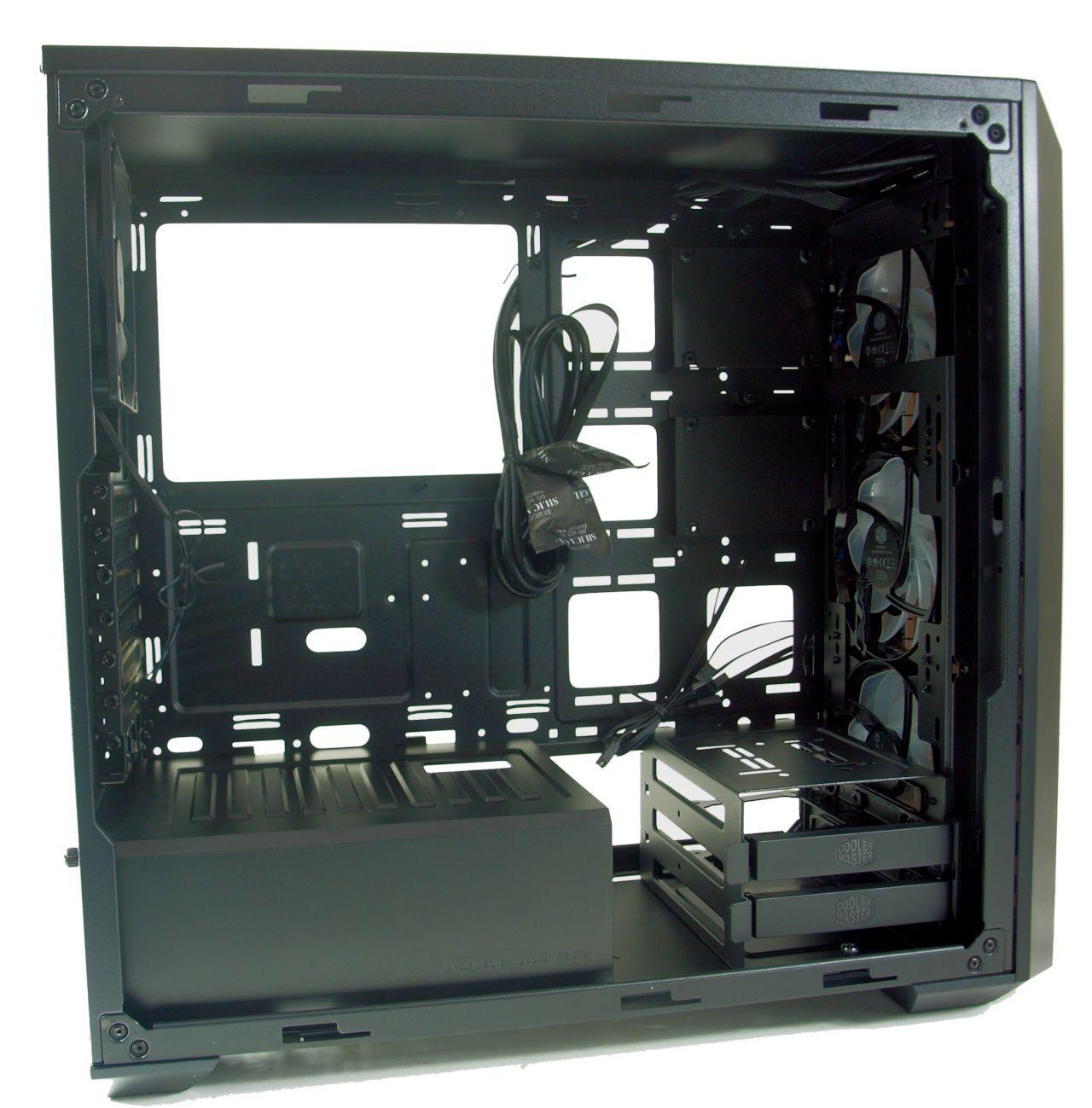 One of our favorite shots of this gem front and back panels removed and just look at all those pigeon holes to run wires. Look at that big beautiful CPU backplate opening and PSU cover. We would have spent a few bucks more to get rubber grommets in the wiring holes but at $74.99 (NewEgg) you only get so much luxury and with RGB included this monster is way above the bank for buck curve. You can't really call it an entry level offering but it fits somewhere between entry level and top end but hard to place because of all the amenities.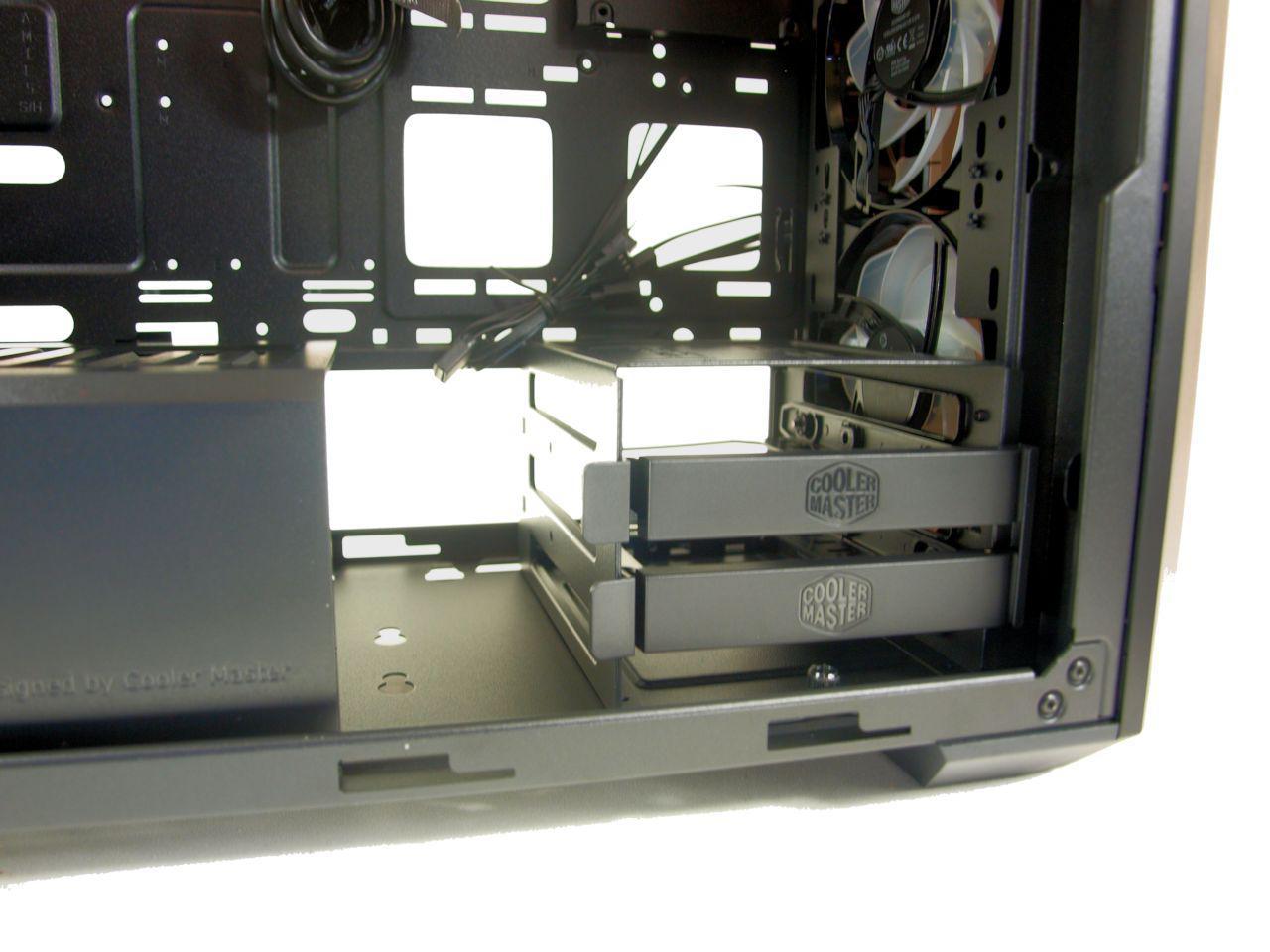 Getting to the drive cage it's tool-less and can be removed for say a honking big pump/res combo.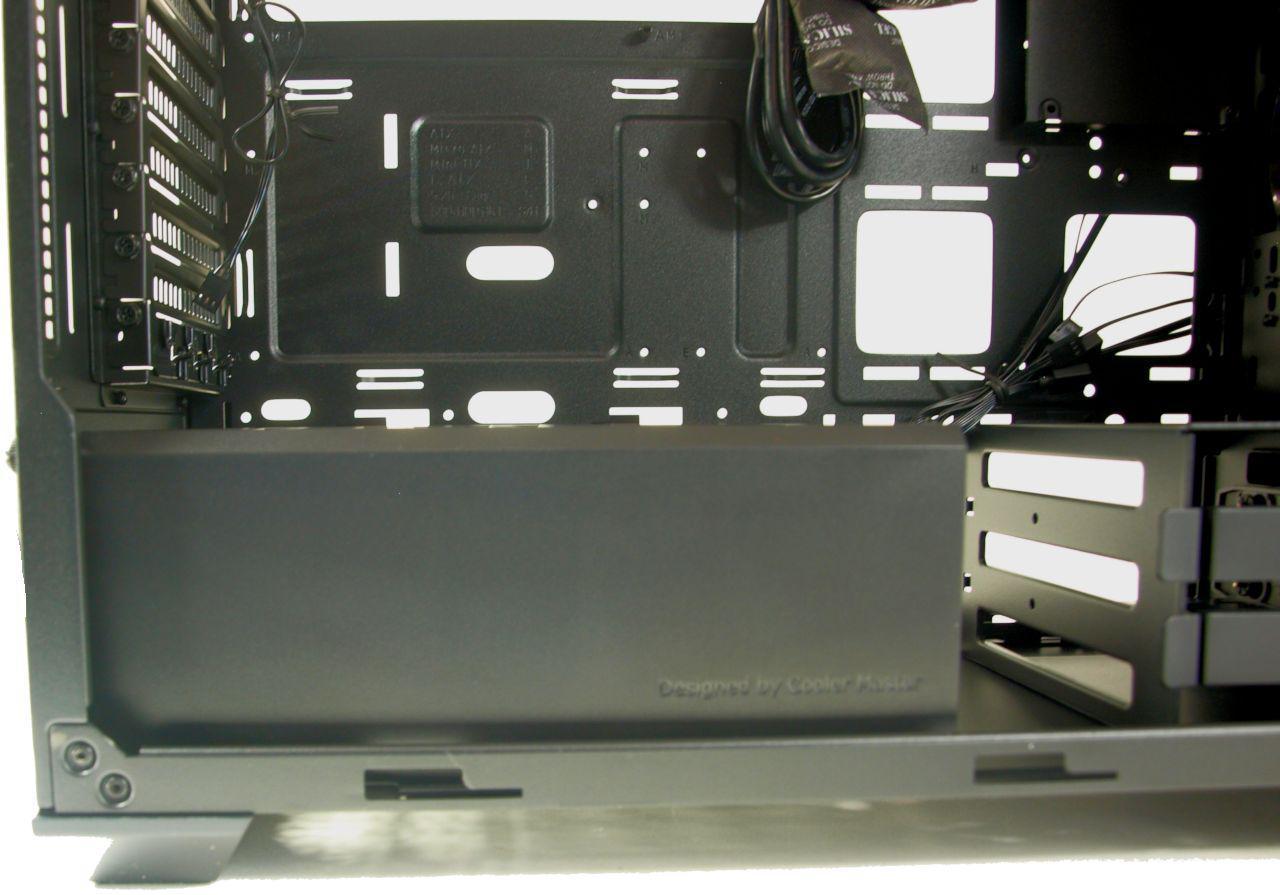 The PSU cover slides into two notches and then backward to lock in place and is secured by a thumb screw thus hiding any tell tale wires that end up trailing from the PSU.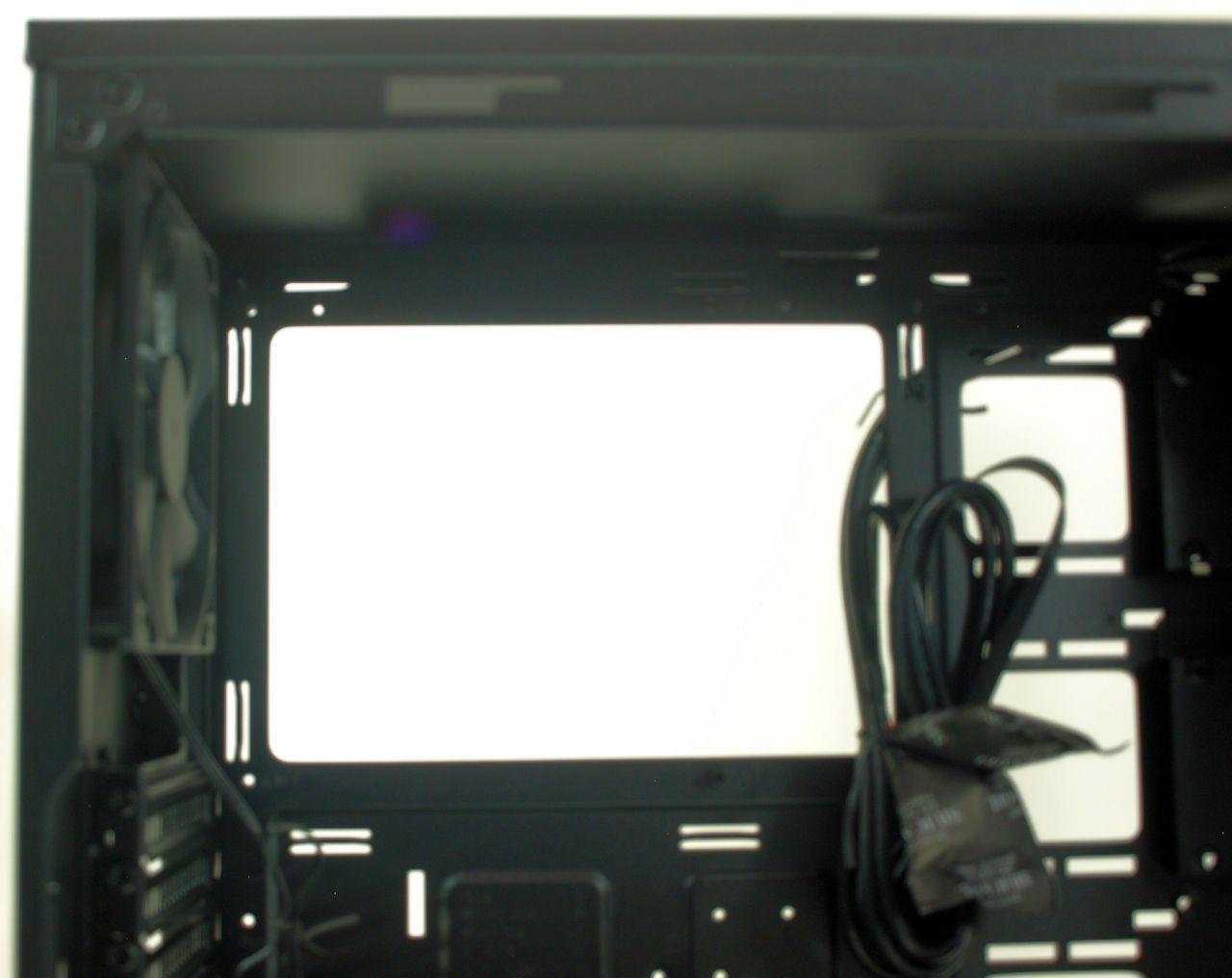 We know it might not be a big issue for an end user but most of us end up having several motherboard changes per chassis and often swap parts for better performance. That back plate hole lines up perfectly for swapping in and out coolers and provides a massive area for flat wire PSU's if you need to run a wire under the mobo (doubtful you need to).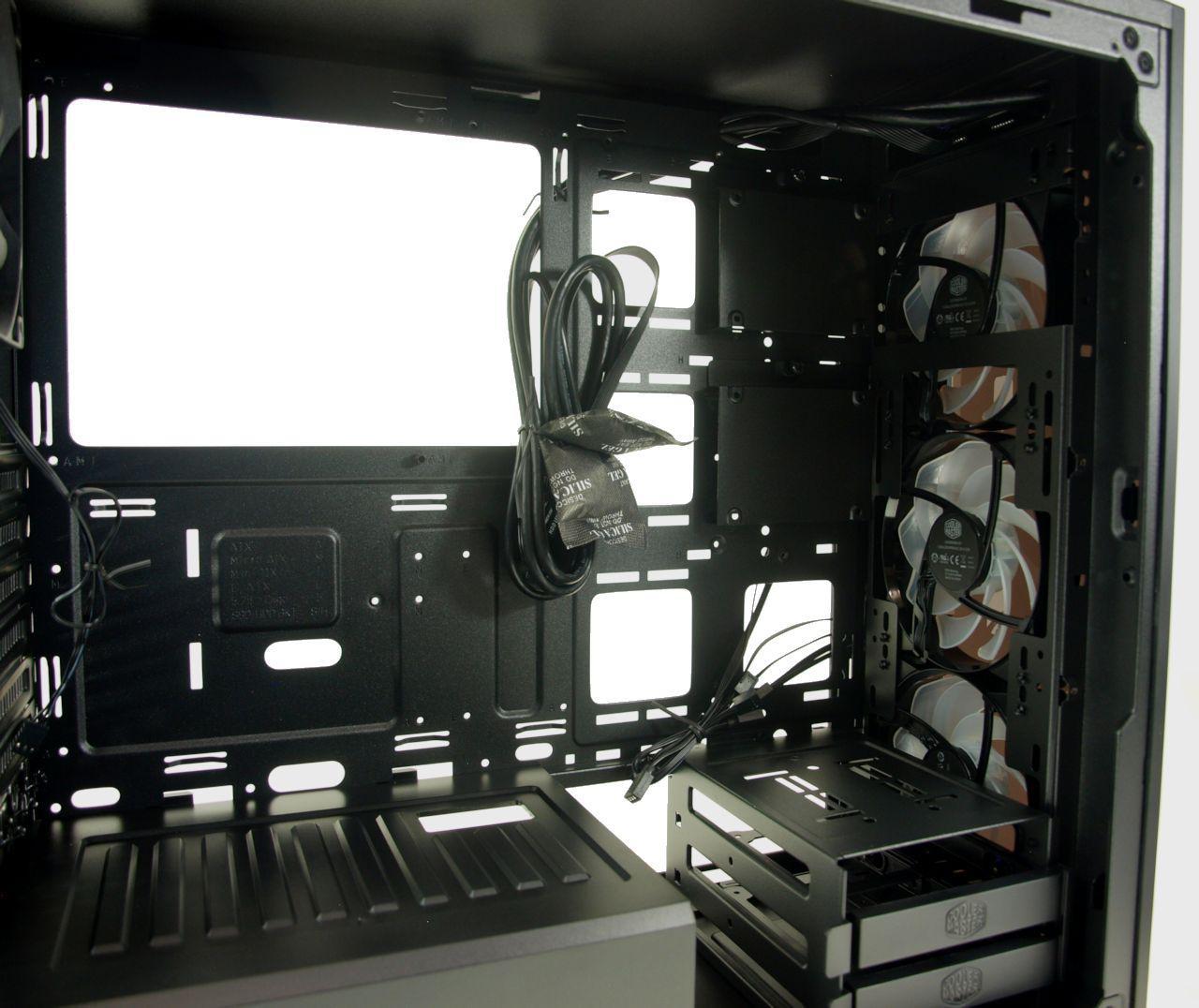 Pushing from the back to the front you see how clean this chassis is and unless you happen to be blind there's just no way to wire this baby in a sloppy manner. Maybe for a loose fit dry run but those pigeon holes just call out for wires to be run in the right place.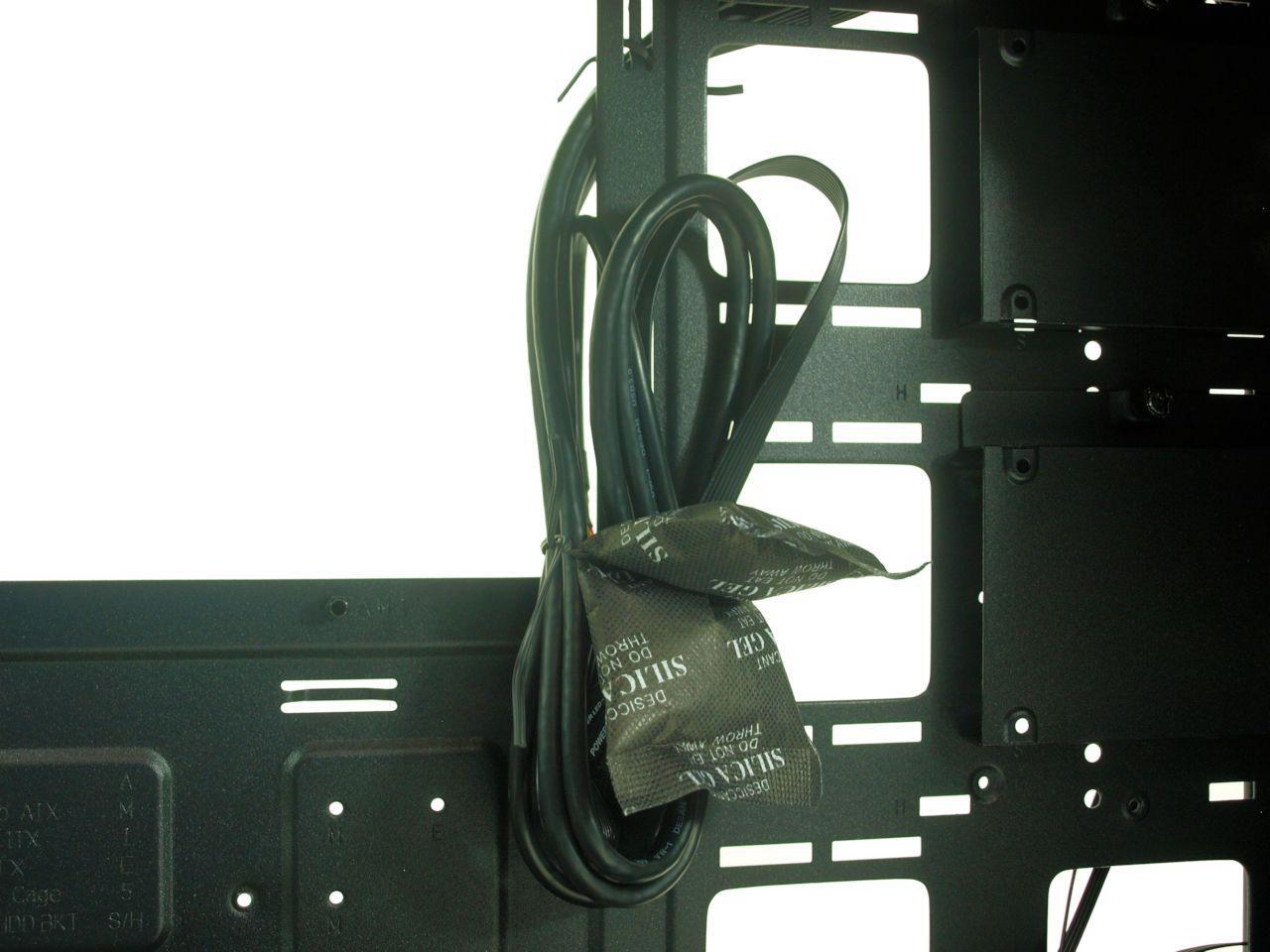 CM includes well sheathed front panel wires in thick plastic for the USB and the front panel wires are flat ribbon and frankly one of the best wire setups we've seen.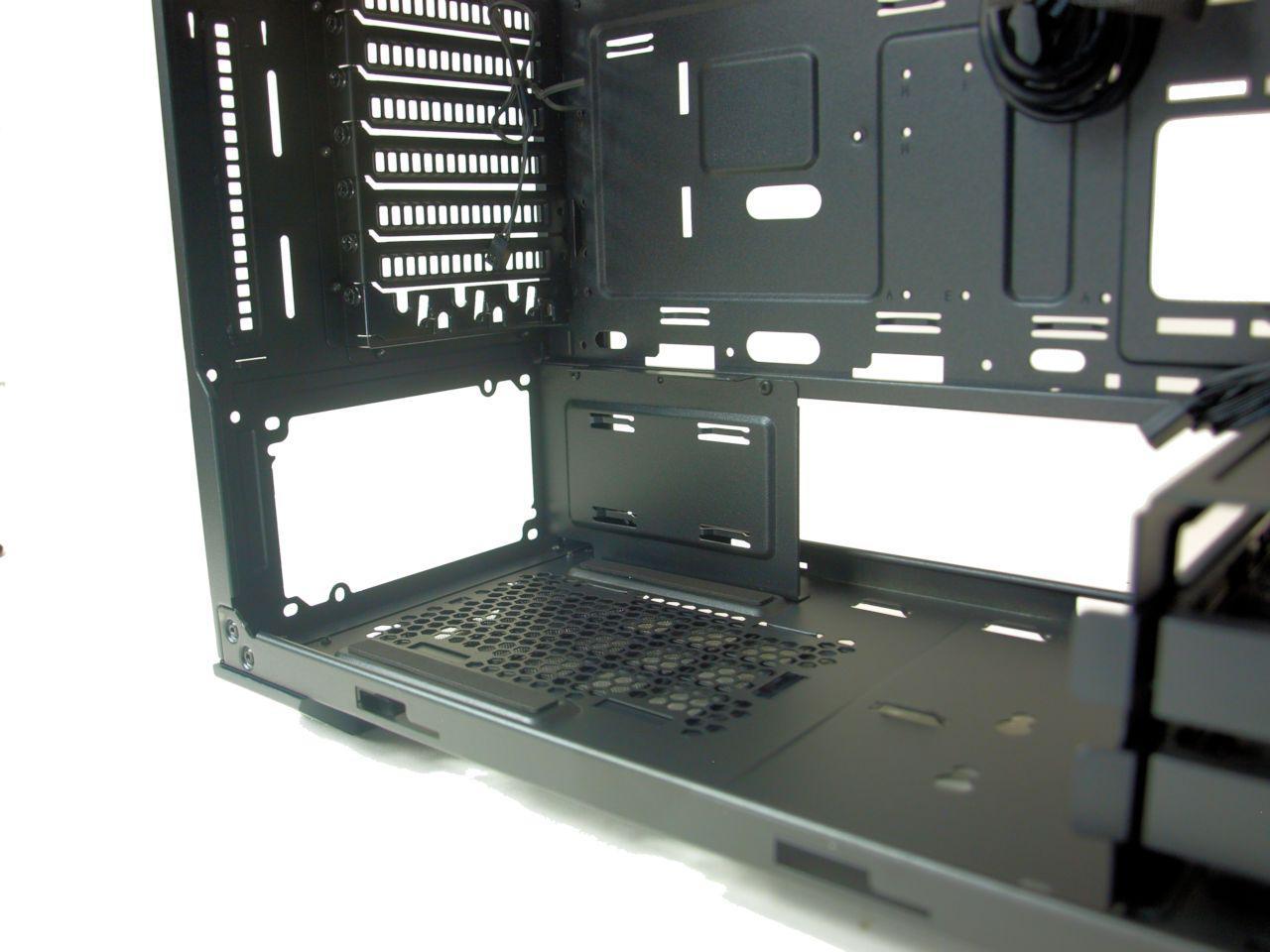 With the PSU chamber removed you get a good look at the filter area and the PSU mount, now the PSU mount isn't removable but the guides made it a snap to get the 750W Cooler Master PSU in place without scratching it. Just a little spoiler we also used a Cooler Master RGB 120mm rear mounted AIO water cooler for maximum RGB goodness.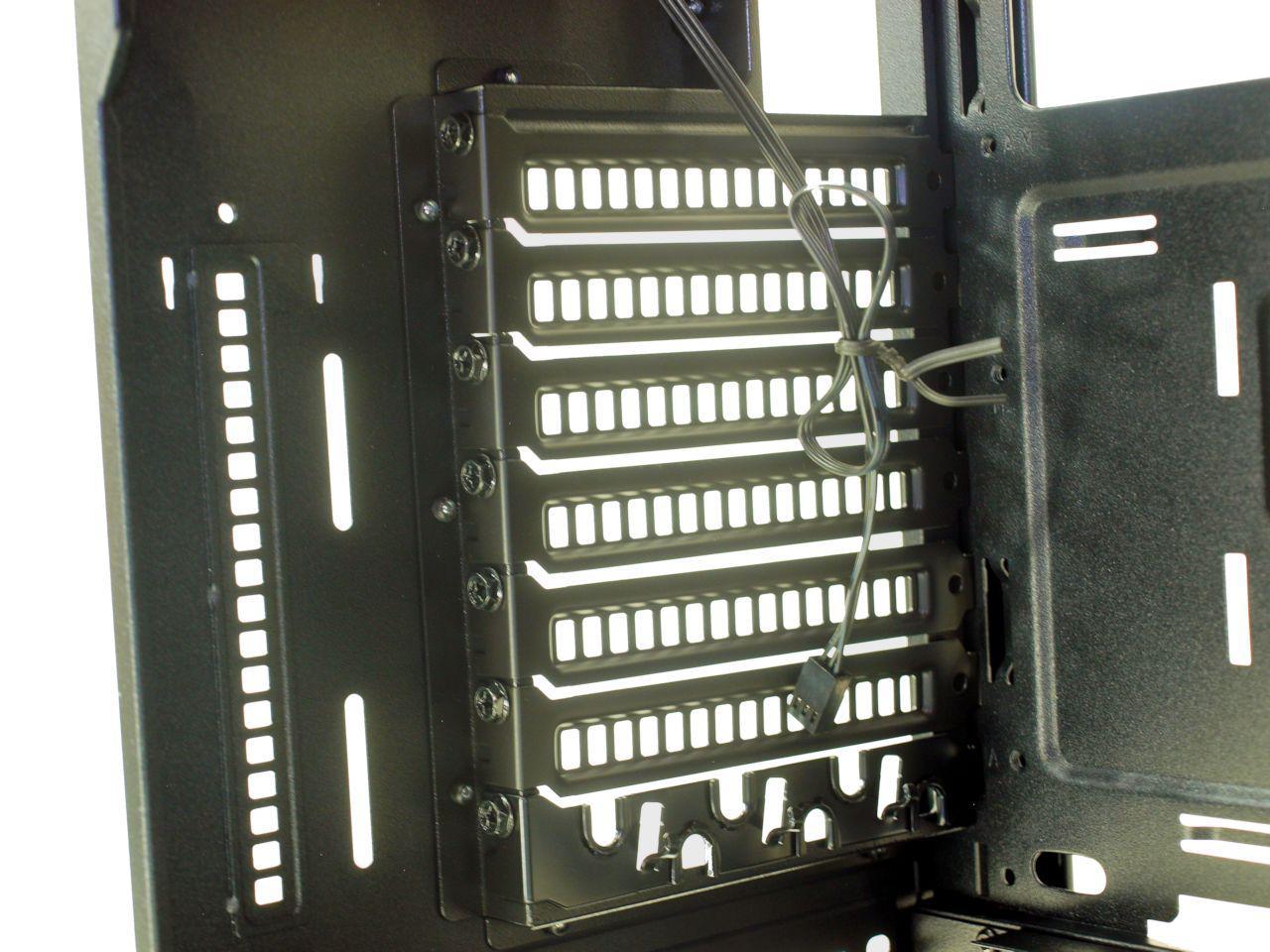 Expansion port openings you get 8 including the StormGuard mouse and keyboard security device.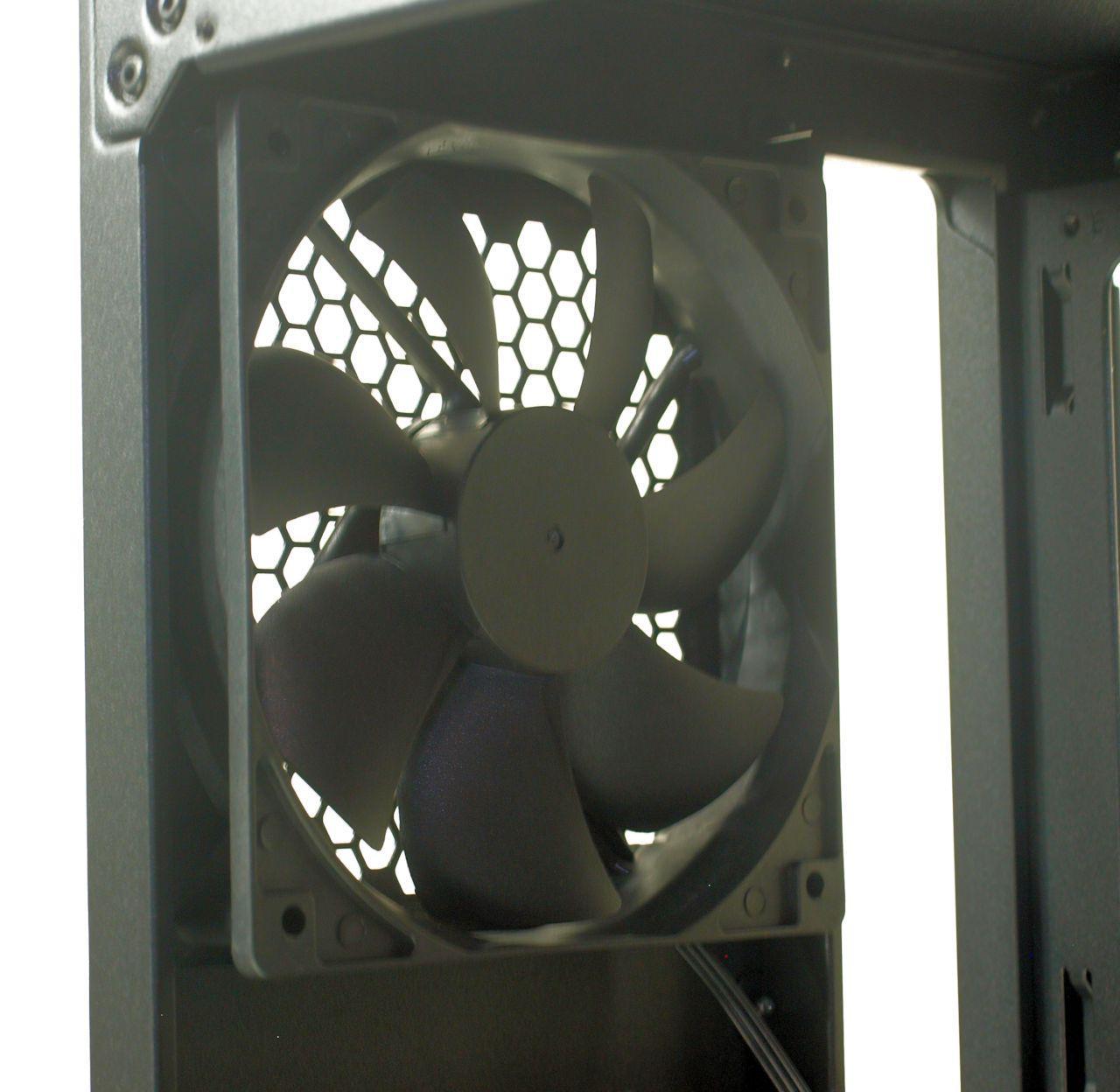 Here's the rear exhaust fan and I/O plate area and as mentioned the rear fan isn't RGB.
Testing Environment
Testing Hardware
CPU: Intel Core i7-8700K
Motherboard: ASRock Killer SLI
Cooler Master Masterbox Pro 5 RGB
RAM: 16GB Corsair 3733MHz
GPU: EVGA GTX 1080 Ti SC2 ICX
GPU: EVGA GTX 1080 Ti FTW3 ICX
SSD: Kingston KC1000 480GB
PSU: SilverStone SST-ST1500-GS
Fans 3x Corsair ML120 Pro
Cooling: EVGA CLC Cooling 240mm
OS: Windows 10 Professional X64
Testing on chassis is pretty simple to take a bunch of photos and make well seasoned observations about it then build a machine in it which is exactly what we did.
The Build
We took a series of shots with different colors but as you can see the build is neat clean and you can barely notice any wires now let's talk RGB. Everything synched right up and we set the color scheme on cycle and snapped some beauty shots. We are using the built in Intel APU to show the cleanness of the build.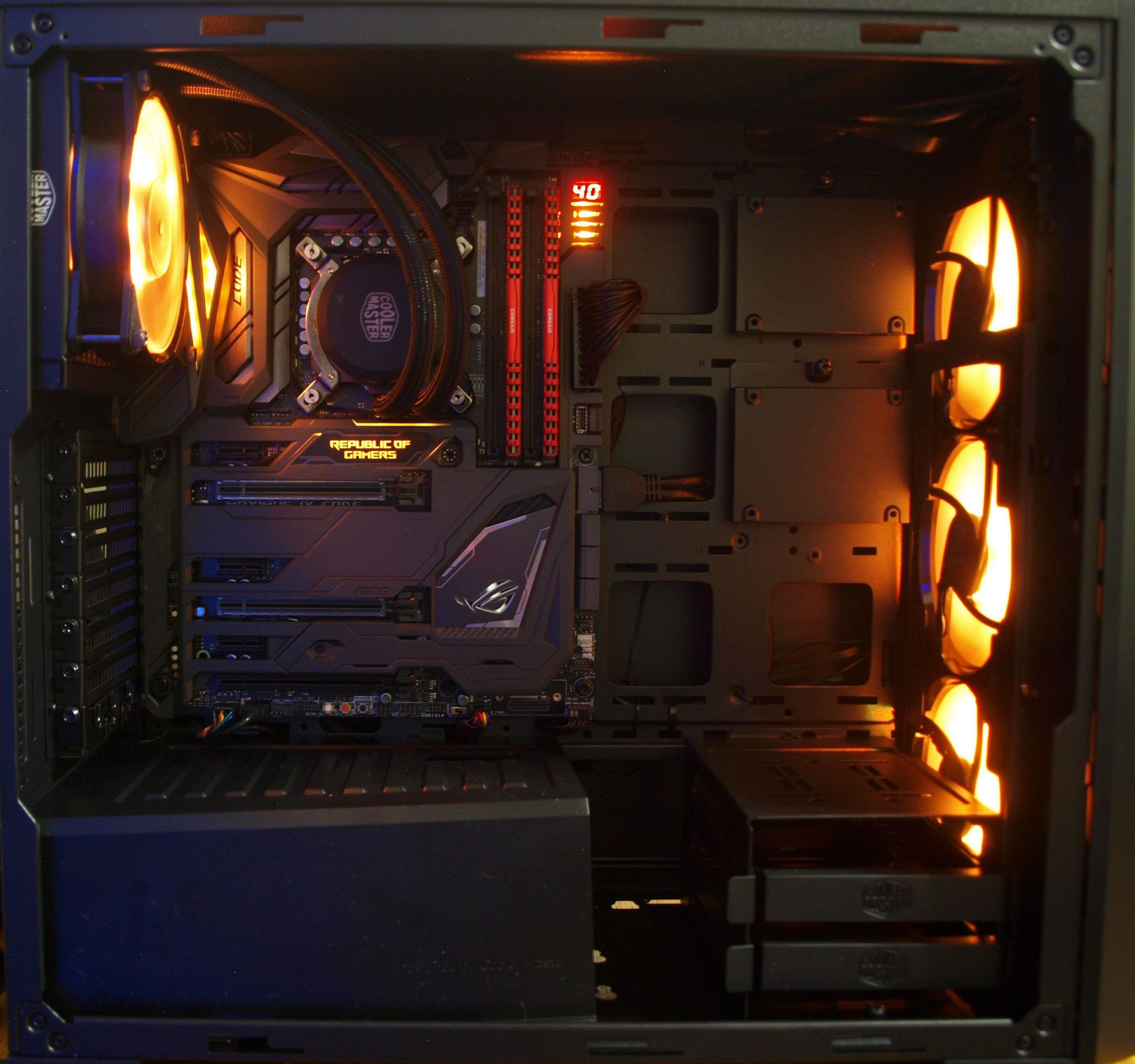 Here we are in a Burnt Orange color.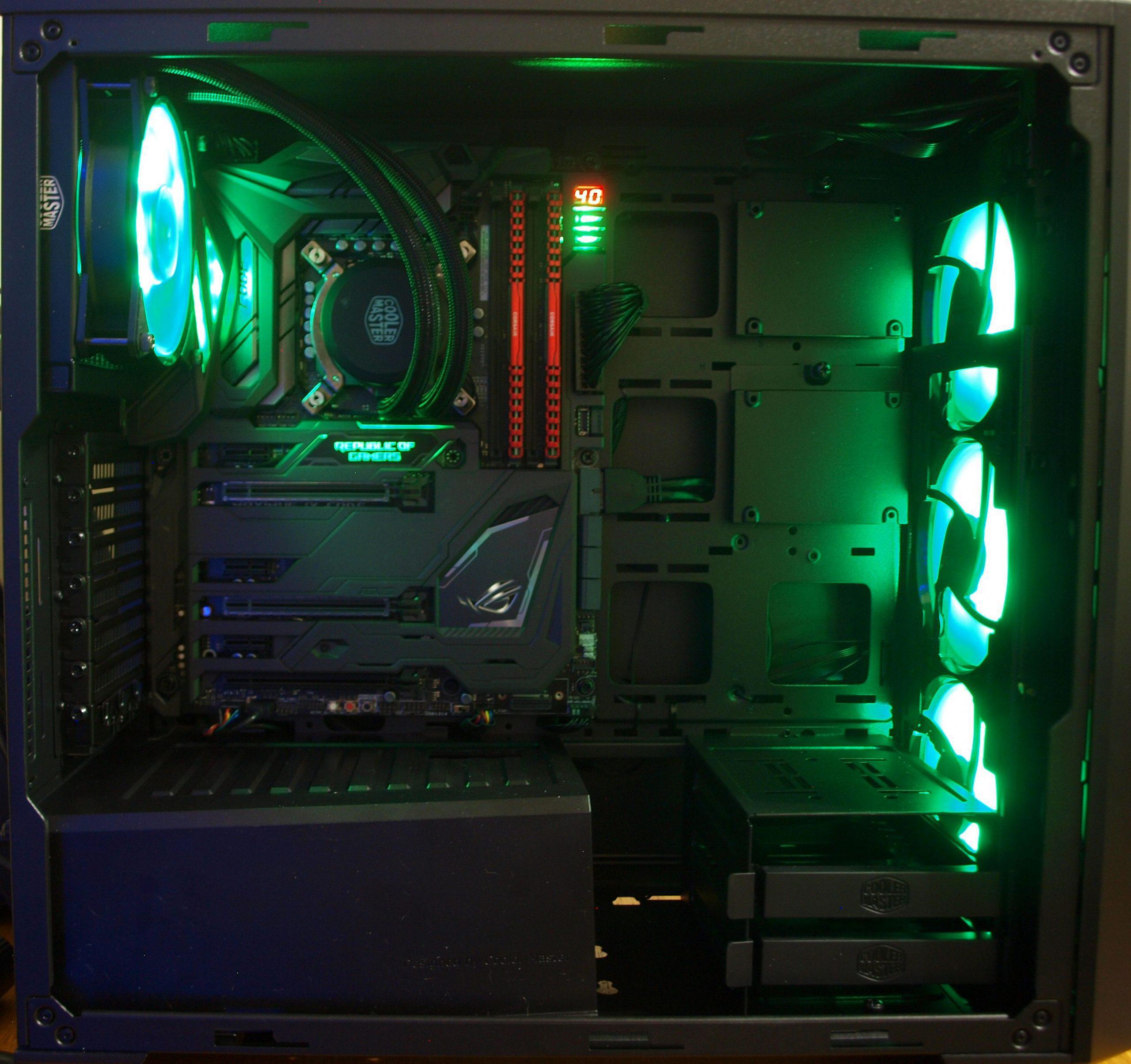 Zombie green seems to be a killer color.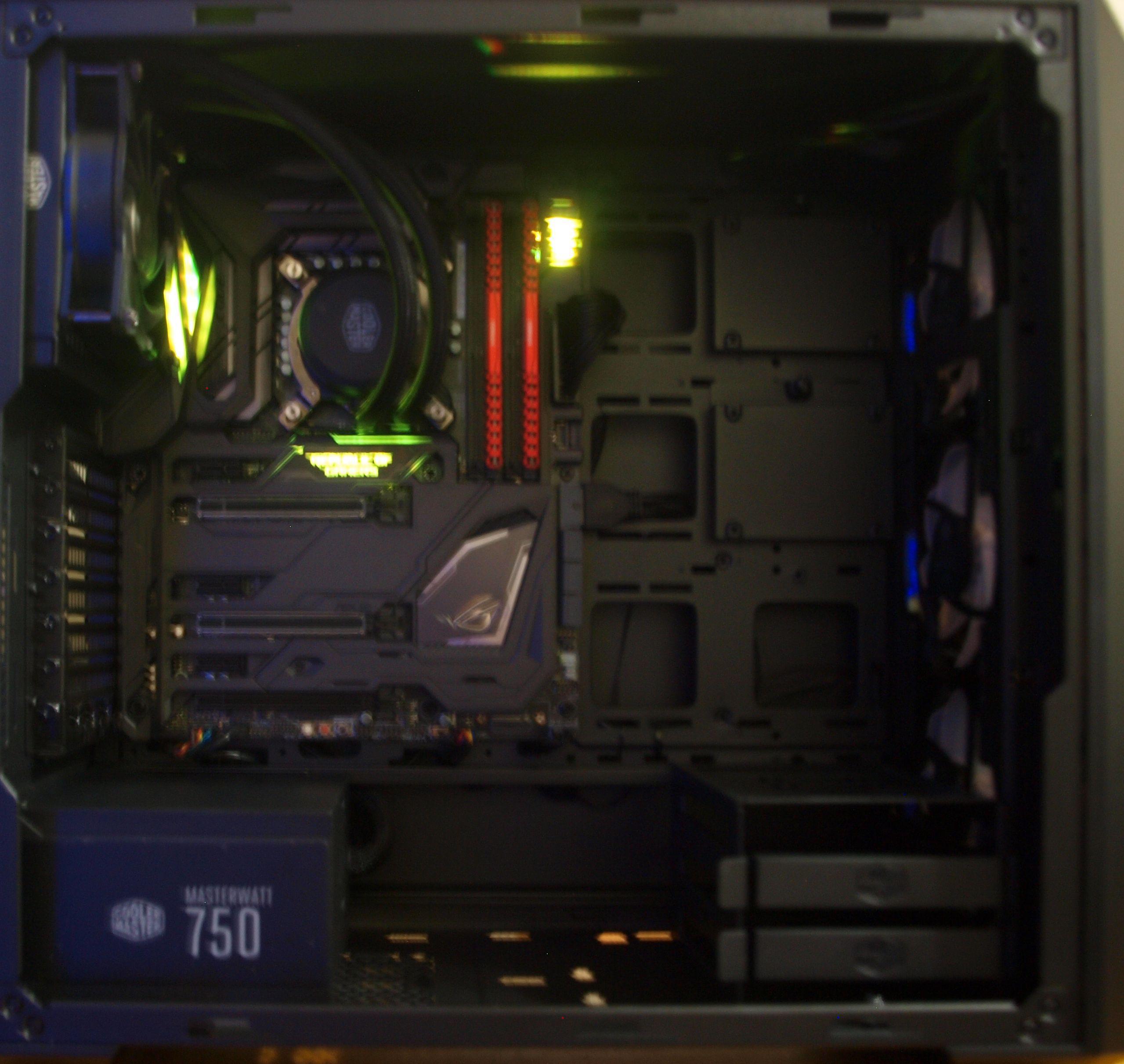 Here's a comparison shot with nothing but the default Mobo lights quite the difference once you have experienced RGB.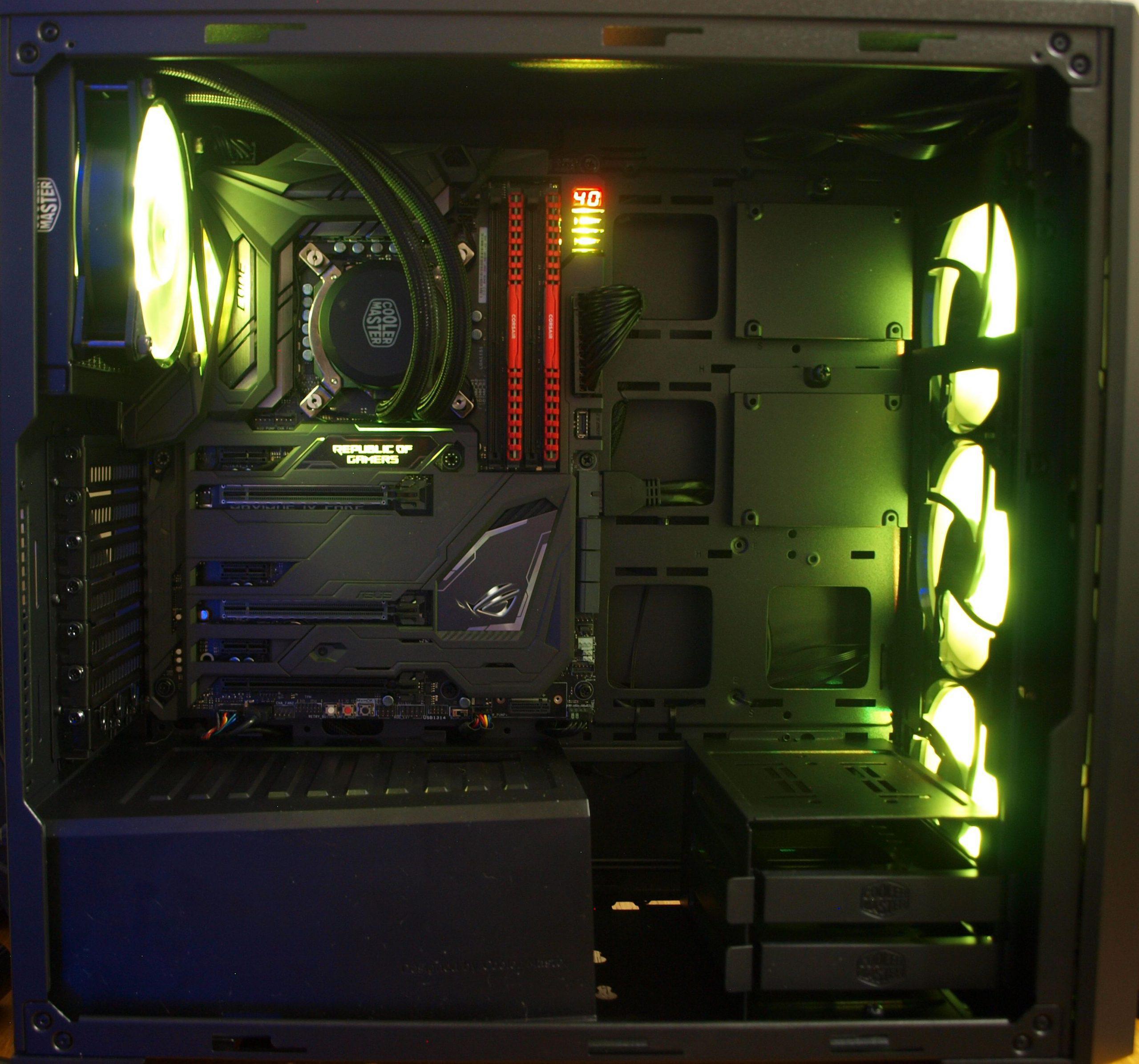 Pea Green color bordering on yellow isn't our favorite, not our cup of tea, but available to those who like it for a chassis color.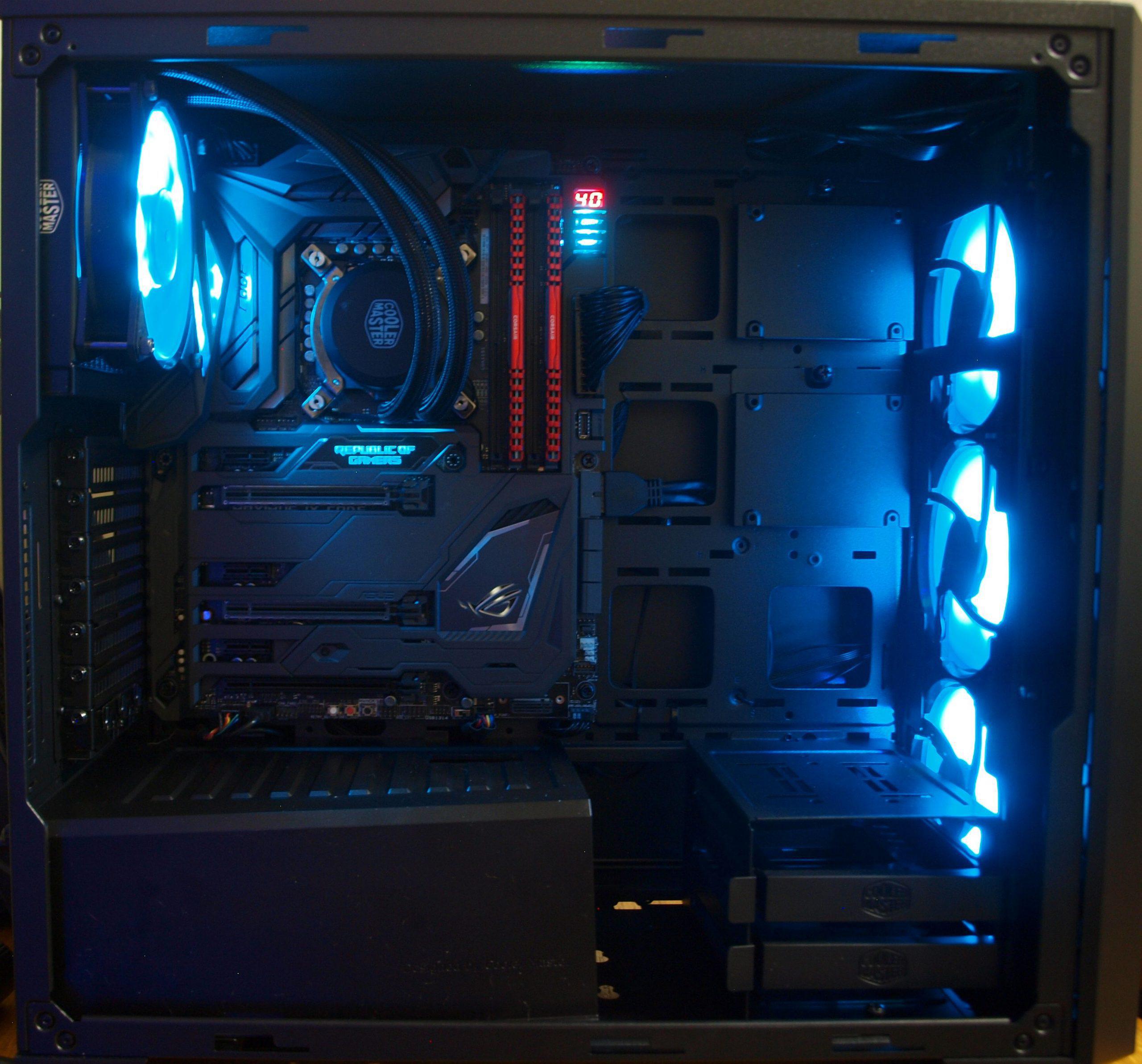 We reserved this one for last and like to call it blazing blue.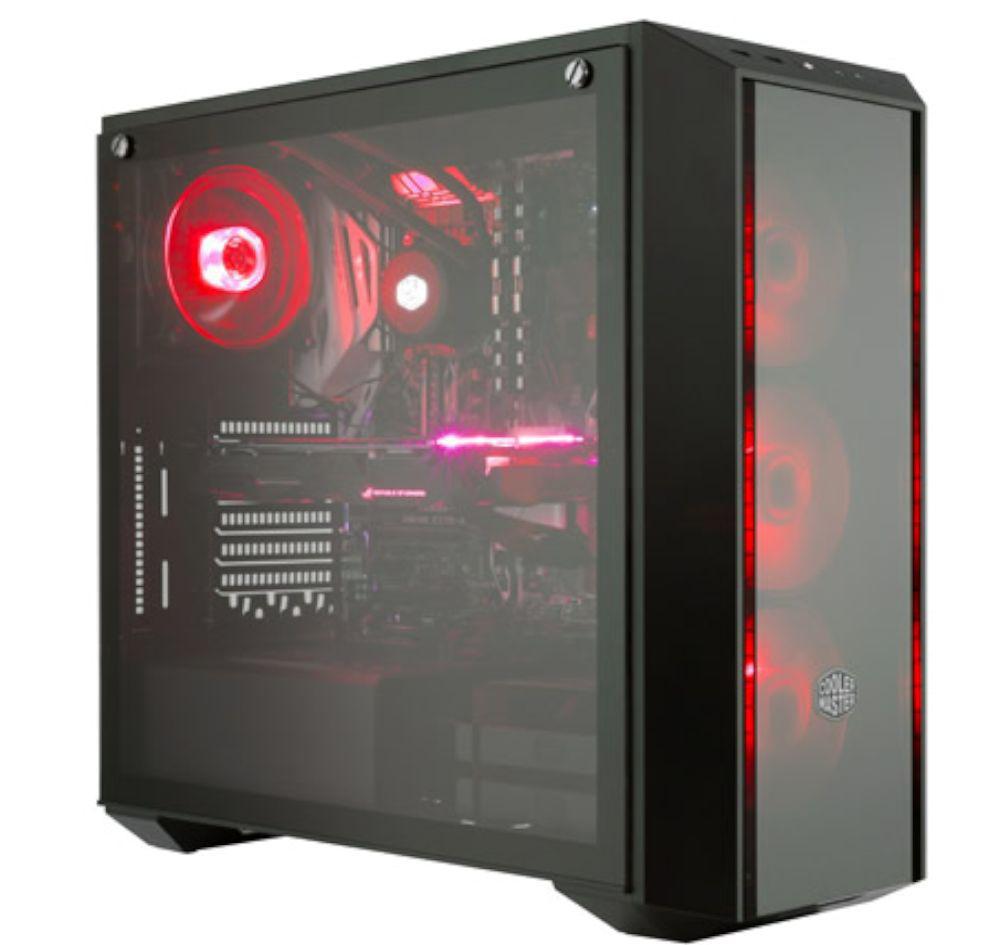 Now how can you not love that red and if you notice they went with the same 120mm RGB cooler we used.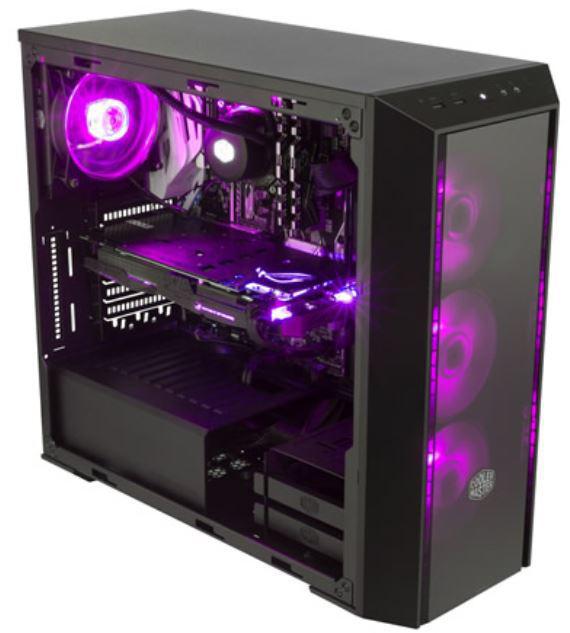 This eye popping purple won't hurt your feelings any.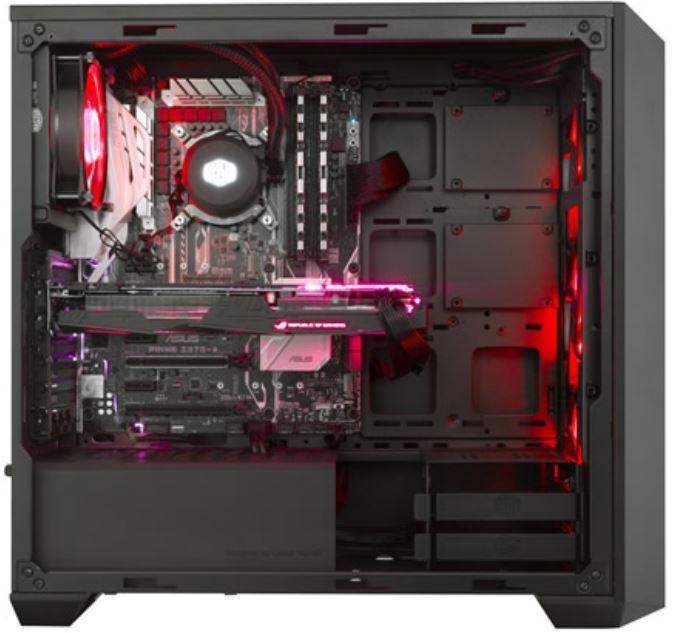 Then to round it up an accent color shot but if you ask us our build was a little cleaner (joke).
Final Thoughts & Conclusion
Well we spent quite a bit of time with the Cooler Master MasterBox Pro 5 RGB and it was a pleasure to build into and the ease of the build was just insanely easy. Now we did spend a couple of hours running wires and burning zip ties but you can expect that in any tight build.
Every time we needed a pigeon hole to connect a CPU power connector or USB 3.0 connector the holes was precisely where we needed it making it a snap to wire for professionals or armatures alike.
The ability to take anything from Mini ITX it EATX and 120mm Radiators to 360mm radiators in a Mid-Tower chassis is a rare thing indeed. The PSU chamber is a nice touch and the 4mm tempered glass side on the chassis is simply eye-popping. The mirrored front is an unusual but welcome surprise and the inclusion of 3 RGB fans at the $74.99 makes this chassis the deal of the year.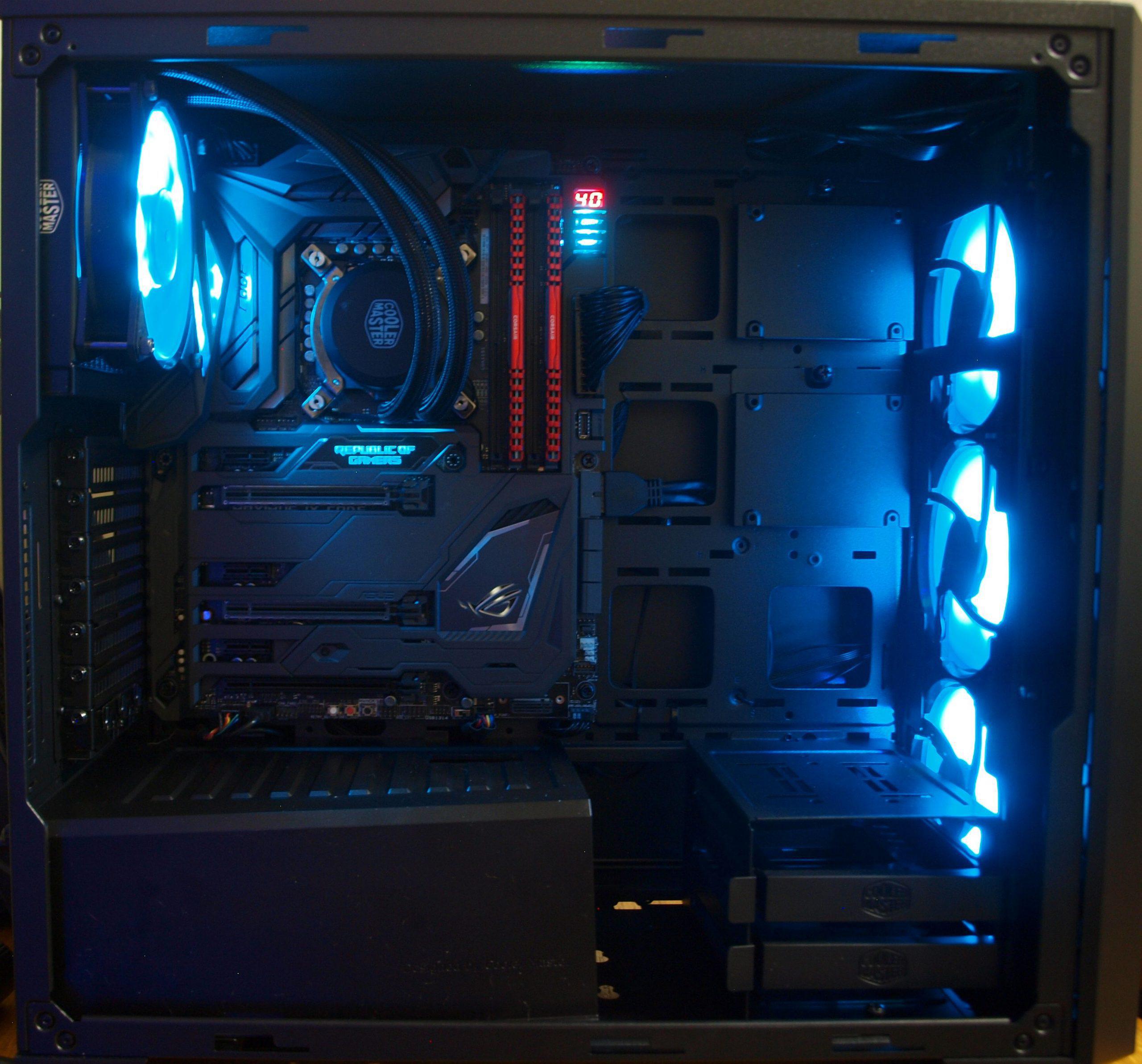 Finding this under your Xmas tree this year will bring joy to many nerds who can make it their own gaming shrine without busting the budget. If you build and swap parts a lot this is the case for you and if you just want that roaring good RGB you found the beast to give it to you at a good price!

<![CDATA[ */ var zbjs = {"ajaxurl":"https:\/\/gaminggorilla.com\/wp-admin\/admin-ajax.php","md5":"d8e8b24d2fa18d2999e0fddcdd418586","tags":[],"categories":["Hardware"]}; /* ]]>