Free RPG Games (MMORPGs and More)
Whether it is a MMORPG or a casual browser game, RPGs they are very popular for good reason. The only problem is that most RPG games tend to require a purchase. What if we told you that there are some free RPG games that you can enjoy without spending any money?
Last Updated: February 2022
We've compiled a comprehensive list of RPG games that you can enjoy for free across different platforms. Free trials and limited offers, such as those from Epic Games, are not included in the list. We're only talking about games that are always free to play that you can get any time!

Free MMORPG Games
Most MMORPGs have shifted from a pay-to-play into a free-to-play business model as they seek to retain a larger player base. Microtransactions have also been a part of how MMORPGs operate. Nevertheless, these free RPG games can keep you busy for weeks, months, or even years due to their constantly updated content.
The best part about MMORPGs is that they have frequent updates. Every few months, you can expect something new to come back to. As a new player, that is a definite bonus as you get to have more content to play later on.
Just note that we did not include games like World of Warcraft, Final Fantasy XIV, and Guild Wars 2 on this list as they are not completely Free-to-Play, although you could try those out if you don't mind playing through a limited free trial.
A List Free MMORPG Games 
Path of Exile
Phantasy Star Online 2
Tree of Savior
Maplestory
Path of Exile – Diablo-esque games are a lot of fun, but they tend to be expensive for some players. However, Path of Exile offers the same, if not better, premium dungeon-crawling gameplay. Path of Exile frequently updates the game with large expansions, all for free! Developers also introduce new mechanics, equipment, and balance patches every few months to spice up your gameplay.
The RPG elements of Path of Exile involve heavy customization of player builds, from skill trees to equipment and socketed gems. There are limitless possibilities to build the game, although some builds may be more efficient than others. Meme builds are a thing as well, but there are many ways to make them work.
Phantasy Star Online 2 (PSO2) – PSO2 features its wide array of customizable outfits and timed events called "Emergency Quests" to keep players engaged. The combination of a main class and a subclass to acquire combinations of active and passive skills allows you to personalize your character. Weapon skills are also different from job skills, so players have greater room for trying out different builds.
Although its main strength as an RPG is its gameplay, PSO2 still features an expansive storyline that is on par with other MMORPGs. Characters are interesting and help build the setting for the story. Even for a free RPG, PSO2 does not hold back in providing plot twists and detailed stories.
Other noteworthy mentions:
Tree of Savior – The game is considered as the spiritual successor to the famous Ragnarok Online. While the graphics and setting are completely different, the game still features highly customizable skill builds similar to Ragnarok Online. It is also one of the few free RPG games that features a mix of 2D and 3D graphics to create engaging stages.
Maplestory – Maplestory can already be considered as a classic MMORPG as it has lasted so many years since it first launched. Lots of players still play the game not only because of its mechanics but also its fun story.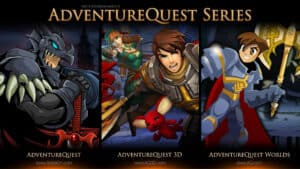 Free RPG Games Maker
RPGMaker is known for having mass-produced games that lack design, story, and content, but there are some that have surprisingly good gameplay. The best part is that the Switch can also run RPGMaker games for free.
Some Vtubers have played these games during their live streams, which helps make these types of RPG games more popular.
The two best Free RPG Maker Games that we know of are "Ao Oni" and "Too Fast, Too RPG!".
Ao Oni – The game features a mix of horror and storytelling to build a compelling narrative for players. Just beware that a big blue monster will try to chase you as you progress through the story, kind of like Slenderman.
Too Fast, Too RPG! – The game is a satire of  JRPG-type games, but it is surprisingly enjoying to play. As its name suggests, the game is short but fun.
Free RPG Browser Games
Browser games are convenient as you can play them on almost any device. Some sites have also been able to track achievements, which adds more challenge for players.
While Flash may have stopped working, some sites have found ways to preserve their Flash-based games.
Adventure Quest and Adventure Quest Worlds – Adventure Quest, and its MMO counterpart Adventure Quest Worlds, focuses a lot on storytelling and events to attract players. The gameplay may seem simple at first, but each encounter requires planning and strategy to be successful.
Elona Shooter – Kongregate is a website known for collating hundreds of browser games, and one of their hidden gems is Elona Shooter. The game is a mix of RPG elements, tower defense, and resource management.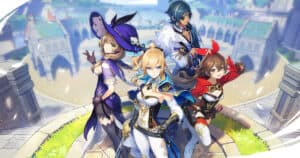 Free RPG Games on Mobile
RPGs have made their way into mobile phones for everyone to enjoy. While most of these games may have in-game purchases attached, they remain to be free-to-play for players.
Genshin Impact – Genshin Impact is one of the hottest RPG games that has captured the attention of millions of players. While the game has some of its characters locked via the gacha system, players can still choose to enjoy the whole story of the game and future expansions without spending money.
Postknight – Simplicity is what best describes Postknight. Mechanics are simple as you either choose to use Charge or Shield skills as they progress through the level.

Conclusion
Different platforms and consoles have free RPG games to offer. We've come up with a list that contains some of our tried-and-tested favorites, but there are plenty of hidden gems that you can find.

<![CDATA[ */ var zbjs = {"ajaxurl":"https:\/\/gaminggorilla.com\/wp-admin\/admin-ajax.php","md5":"d8e8b24d2fa18d2999e0fddcdd418586","tags":[],"categories":["Guides"]}; /* ]]>