MSI MPG Z390 Gaming Edge AC Motherboard Review
Introduction
If you've been following MSI awhile, you'll know awhile back they broke their motherboard line up into the Enthusiast, Professional and Arsenal series with each serving a distinct segment of the market. Starting with Intel's latest chipset revamp, the Z390, MSI has reduced this mouthful down to a TLA, or Three Letter Acronym. The new lines are MEG for MSI Enthusiast Gaming, MAG for MSI Arsenal gaming and MPG for MSI Professional Gaming, the segment we'll be looking at today. With a feature set that strikes a perfect balance between appearance and performance, MSI's new MPG Z390 Gaming Edge AC strikes fear into your digital enemies, but not your wallet.
Pro Clockers would like to thank MSI for sending over the MPG Z390 Gaming Edge AC for us to check out!
MSI's take on the MPG Z390 Gaming Edge AC:
As a new motherboard coming to customers' eyes, the design of MPG Z390 GAMING EDGE AC is full of sharp and salient lines reflecting gorgeous colors in different angles, which presents a cutting-edge look & feel that shows the stereoscopic effect with forceful uniqueness.
Full of sharp and salient lines reflecting gorgeous colors design, perfect balance between appearance and performance with Extended Heatsink Design, Core boost, Twin Turbo M.2, Front USB 3.1 Gen2 connector, and Mystic Light
Supports 9th / 8th Gen Intel® Core™ / Pentium® Gold / Celeron® processors for LGA 1151 socket
Supports DDR4 Memory, up to 4400(OC) MHz
Lightning Fast Game experience: 2x TURBO M.2, Intel Optane Memory Ready. Turbo USB 3.1 GEN2
Set Core Power Free: Extended Heatsink Design, Core Boost, 8+4 pin CPU power connector, Game Boost, DDR4 Boost
MYSTIC LIGHT: 16.8 million colors / 29 effects controlled in one click. MYSTIC LIGHT EXTENSION supports both RGB and RAINBOW LED strip.
AUDIO BOOST 4 with NAHIMIC 3: Reward your ears with studio-grade sound quality for the most immersive gaming experience
Dragon Center: A brand new software which integrates all MSI tools like GAME MODE, VOICE BOOST, LIVE UPDATE with the user-friendly user interface.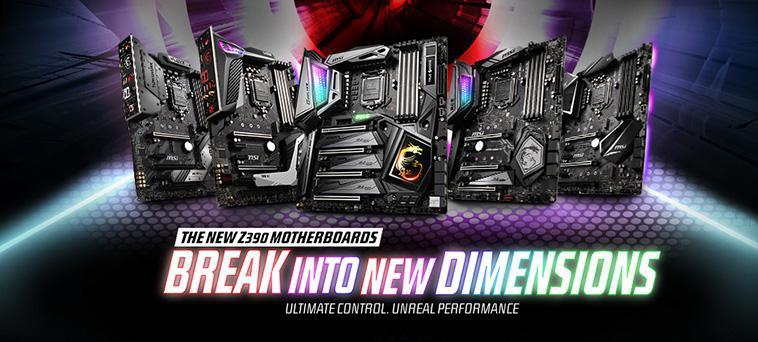 Features & Specifications

DisplayPort
Intel Turbo USB 3.1 Gen2
Intel LAN
Intel wireless / Bluetooth
Golden audio jacks
Extended Heatsink Design
Leading heatsink design, extended for maximum cooling and performance
Front USB3.1 Gen2 Type-C
Reversible connector, easy to access
DDR4 Boost
Optimized traces and isolated memory circuitry
Twin Turbo M.2
NVMe support, up to 32 Gb/s using PCI-Express Gen3 x4, ready for Intel® Optane™ memory
PCI-E Steel Armor
Protecting VGA cards against bending and EMI
Audio Boost 4 with amplifier
Optimized gaming audio using best components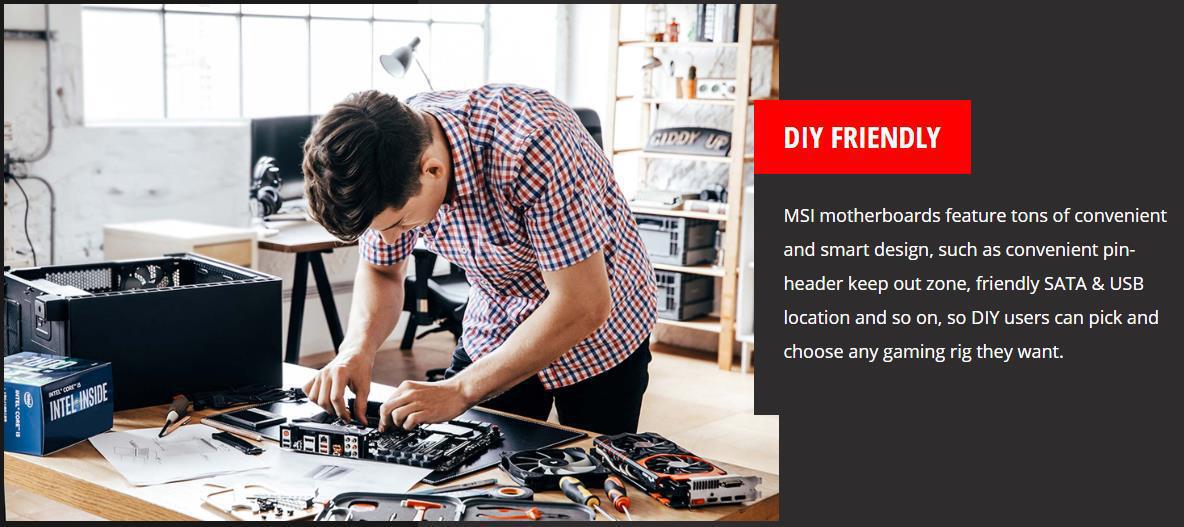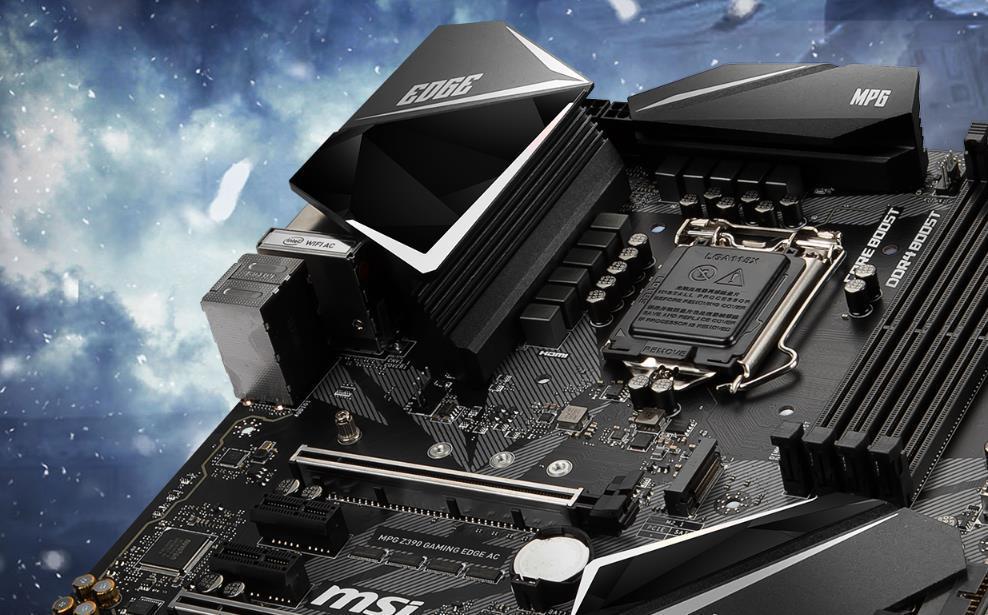 STAY COOL FOR ULTIMATE GAMING PERFORMANCE
Cooling your PC is essential for reliable performance. MSI motherboards feature excellent power design with the solid and heavy heatsink. We've made sure to include enough fan headers with full control to allow you to cool your system any way you want.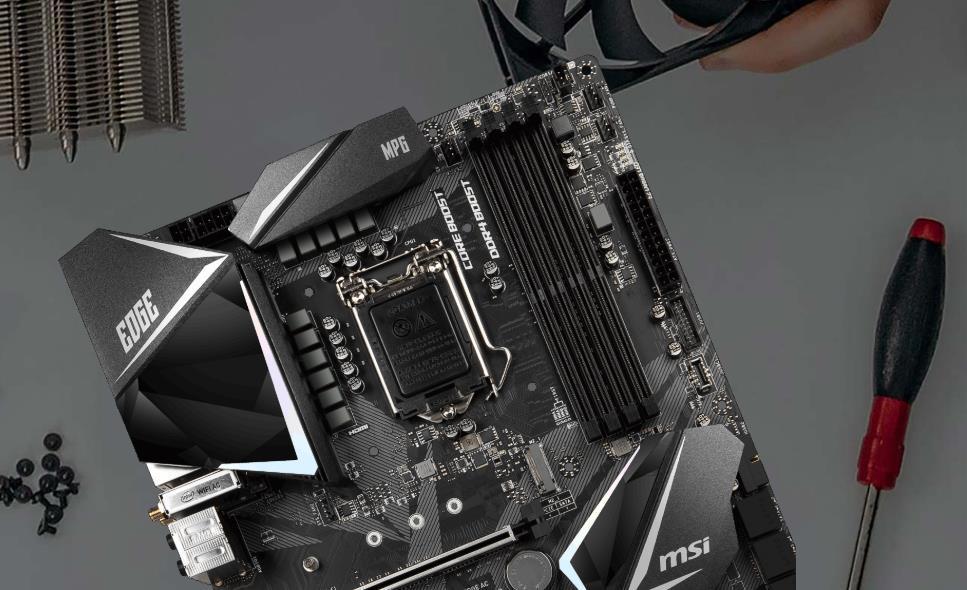 USER-FRIENDLY DESIGN
MSI motherboards feature tons of convenient and smart design for DIY users, countless system tuning and troubleshooting tools are at your disposal to push your system to new heights and satisfy even the most demanding tweaker. Makes it so easy to install your own motherboard and gaming rig without any issue.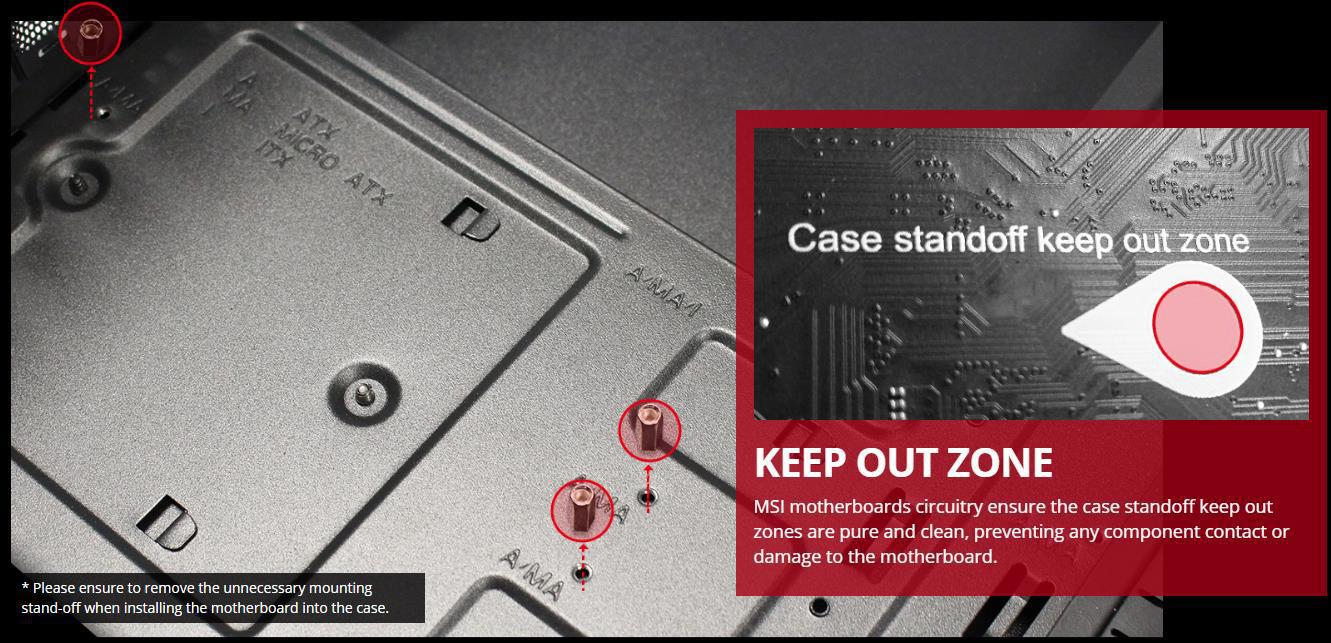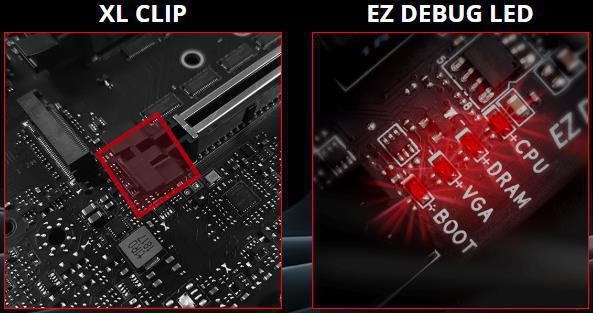 XL Clip – The enlarged PCI-E clip helps you swap or remove your devices easier. Keep the PCI-E slot stronger and safer.
EZ Debug LED – Run into trouble? Onboard LEDs for key components will indicate the source of the problem so you know exactly where to look to get up and running again.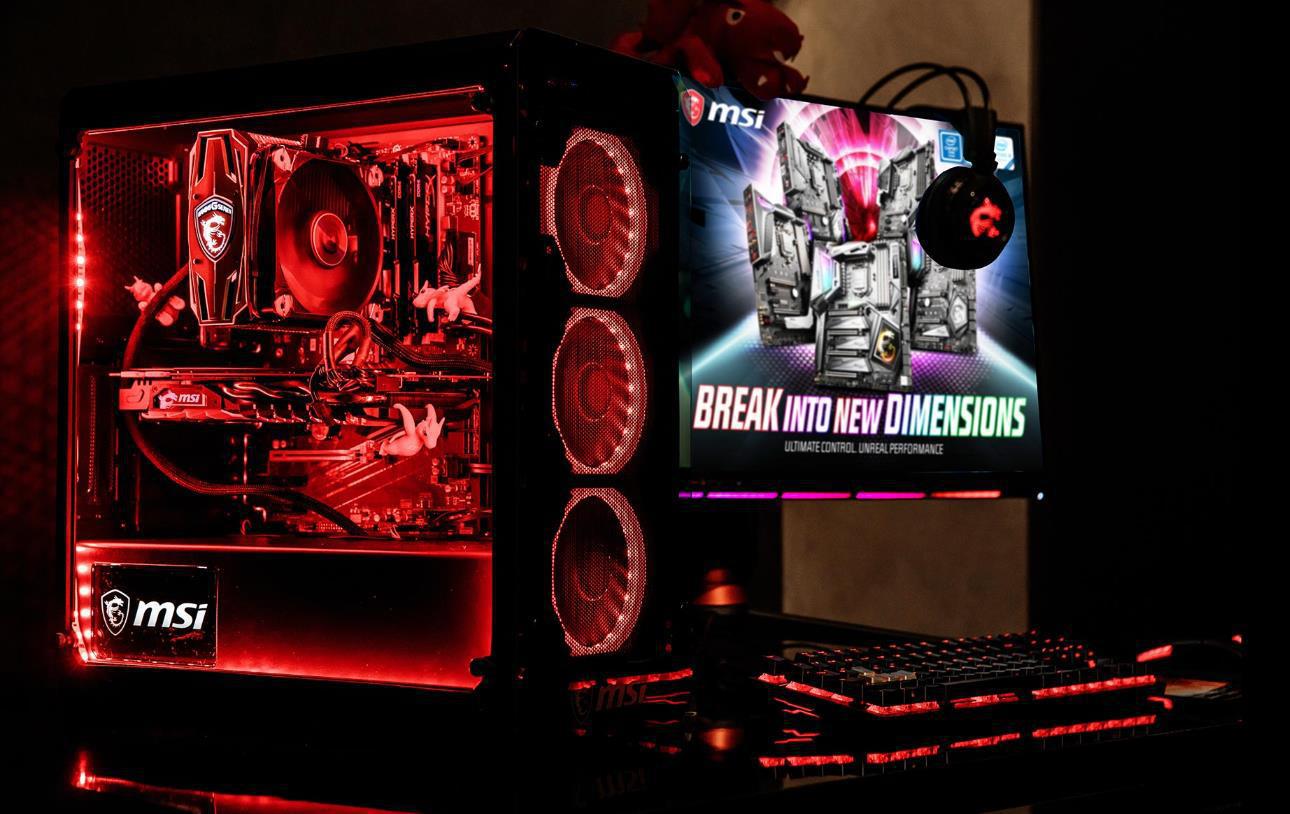 MAXIMUM COMPATIBILITY
Every MSI motherboards are certified by a strict mechanic that feature convenient pin-header keep out zone, friendly SATA & USB location for compatibility with the widest range of components and devices, so DIY user can pick and choose the components they want. More than that, we offer a dedicated Qualified Vendor List (QVL) for the most critical part – memory. Combining with MSI DDR4 Boost technology, we provide the maximum compatibility even overclocking, so you confirm and choose any gaming rig as you want.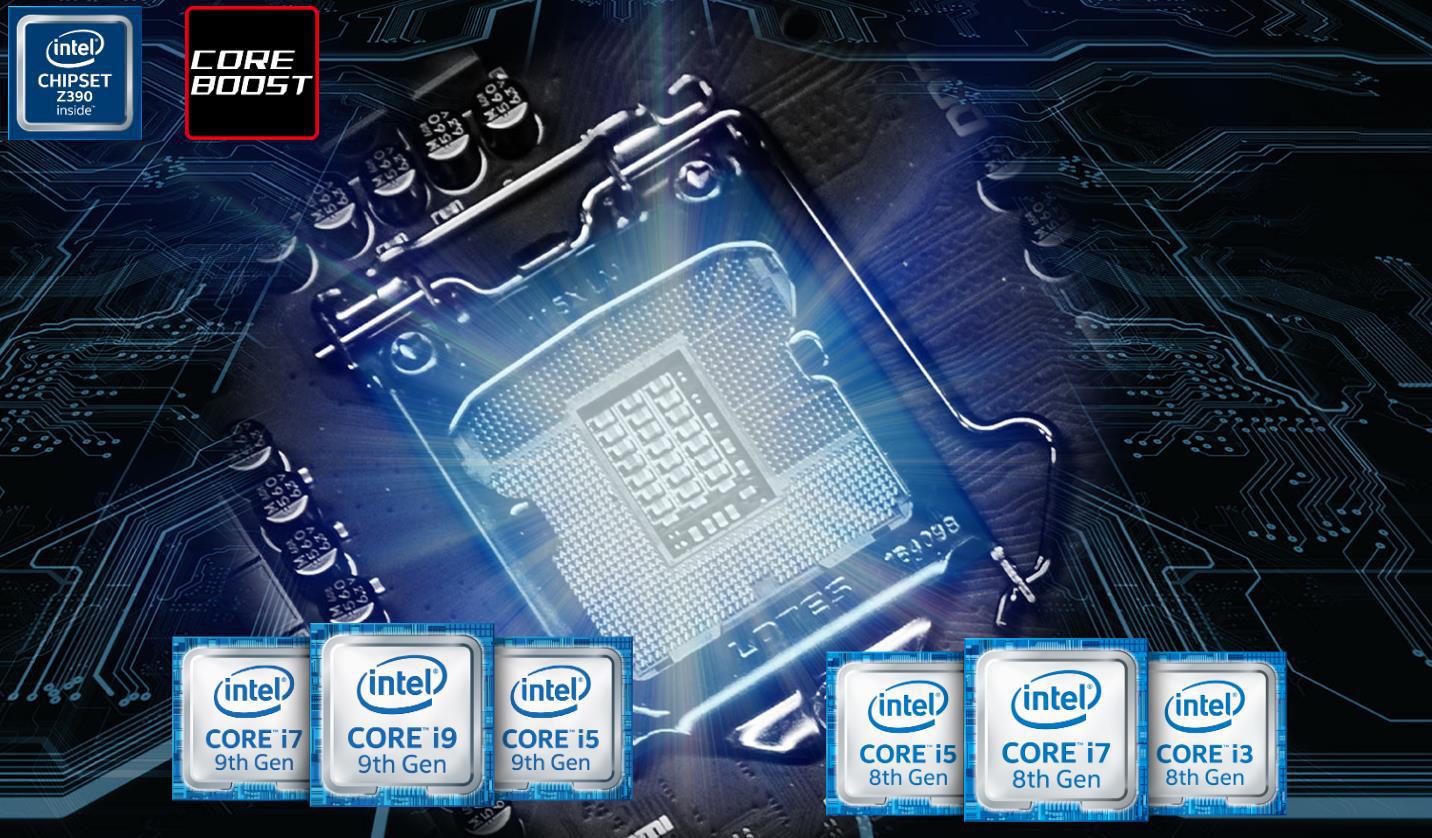 9TH AND 8TH PROCESSORS SUPPORT
MSI Z390 motherboards perfectly support Intel® 9th and 8th processors, so you can still enjoy the latest MSI motherboard technology if you use 8th processors. Combining MSI Core Boost, you can release maximum performance no matter what CPU you use.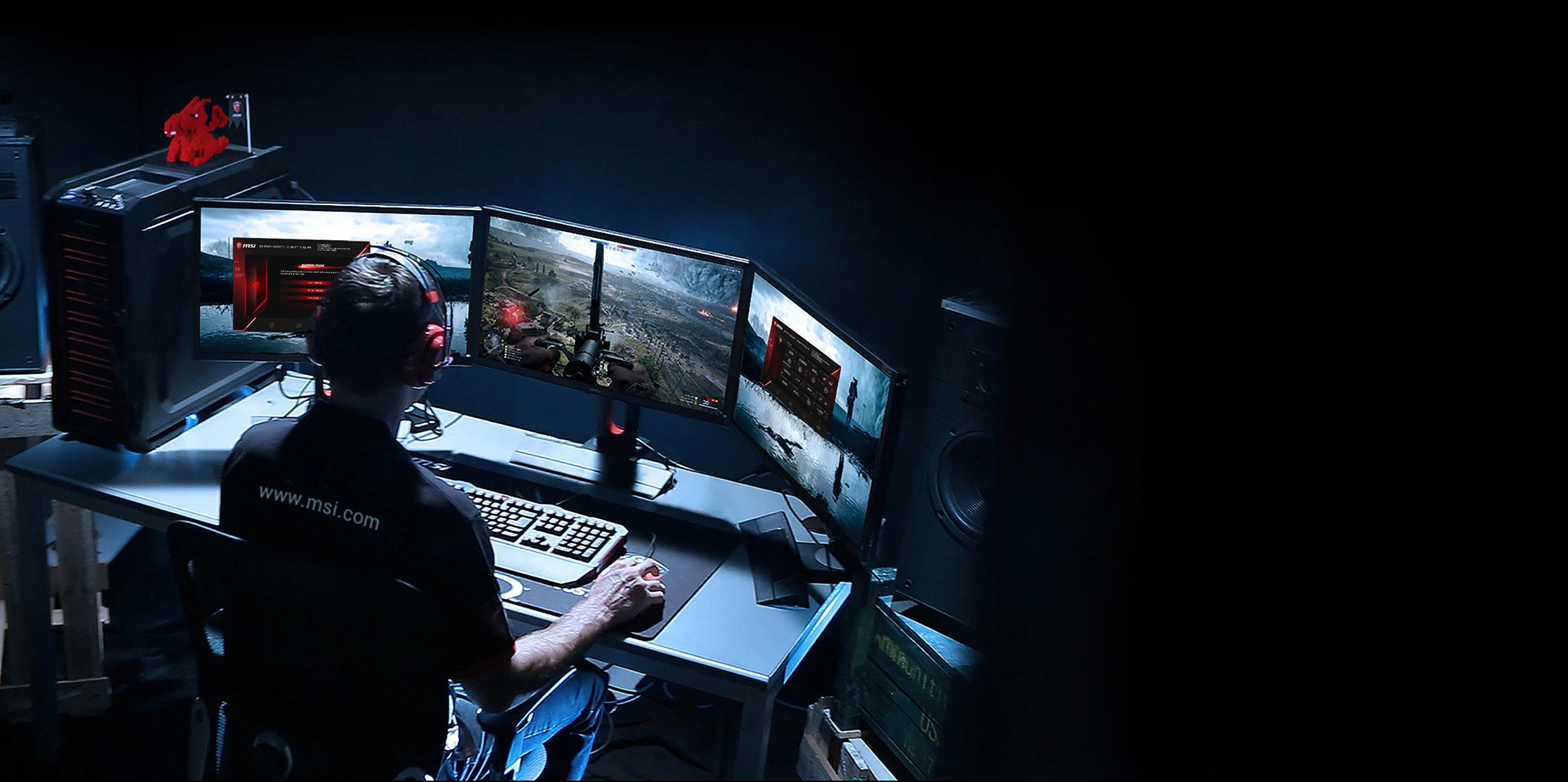 APPS TO GREATLY IMPROVE EFFICIENCY
With years of experience in creating performance enhancing tools that are easy to use, only the highest quality applications are at your disposal. Use these tools to get the most out of your motherboard and achieve victory when gaming. Moreover, we made sure our BIOS contains all the latest options and is easy to use for everyone. The extensive features let you fine-tune your system to deliver reliable maximum performance when gaming.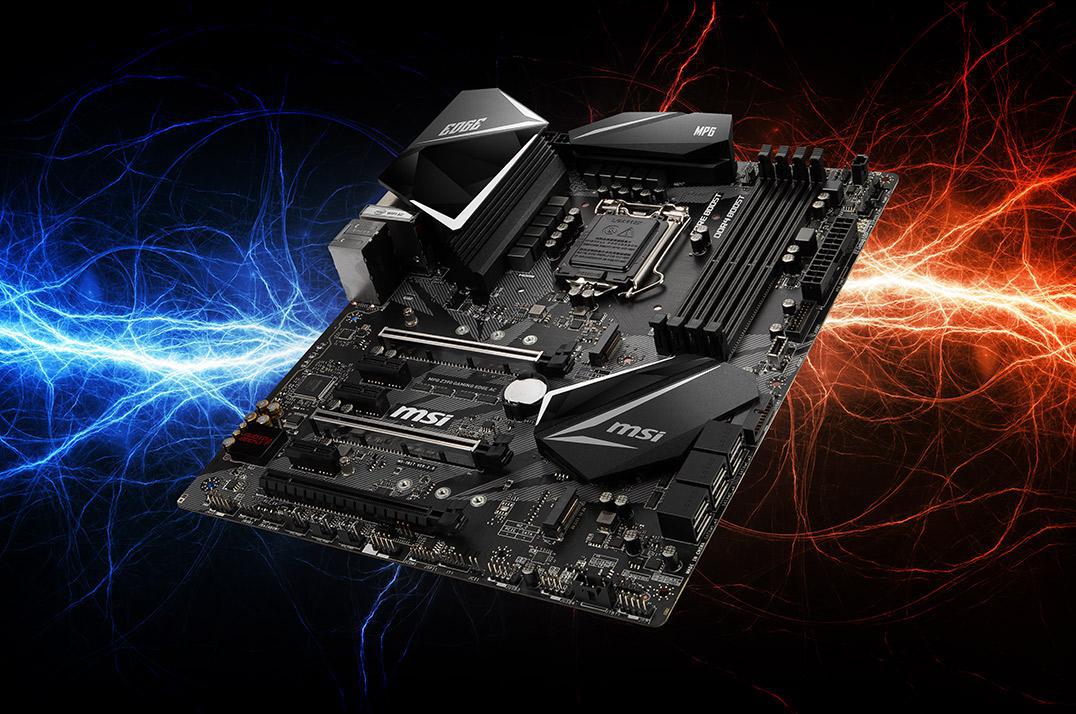 ENHANCED PERFORMANCE
MSI motherboards featured all the latest solution for enthusiast gamers and prosumers. CPU and memory enhancement and fast storage and USB transfer speed are ready to be on the battlefield.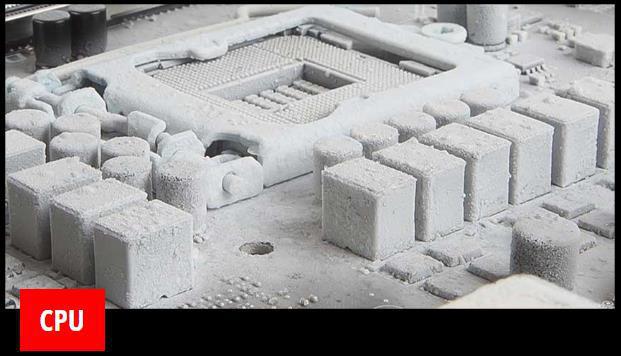 LOOKING COOL WHILE KEEPING COOL
High-quality materials and smart fan optimizations contribute to cooling all essential components, which is key to making sure your system runs stable and delivers the best performance at all times.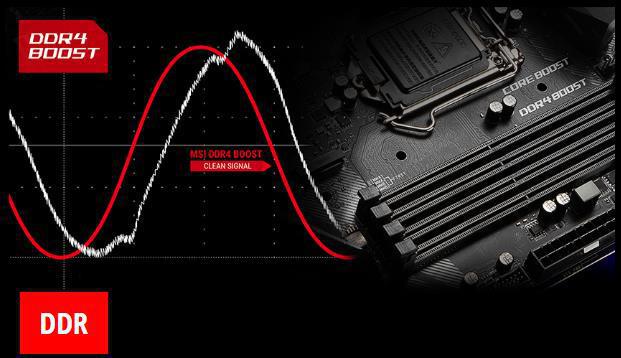 UNMATCHED MEMORY PERFORMANCE
Optimized layout design and a fully isolated memory circuitry ensures perfect stability and performance. you never have to worry about your system crashing during games with MSI DDR4 BOOST.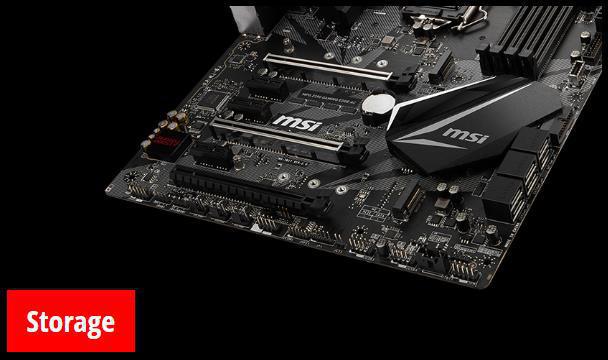 FAST AND FUTURE-READY STORAGE
MSI motherboards support all the latest storage standards, which allows users to connect any ultra-fast storage device. Start games faster, load levels faster and have a real advantage over your enemies.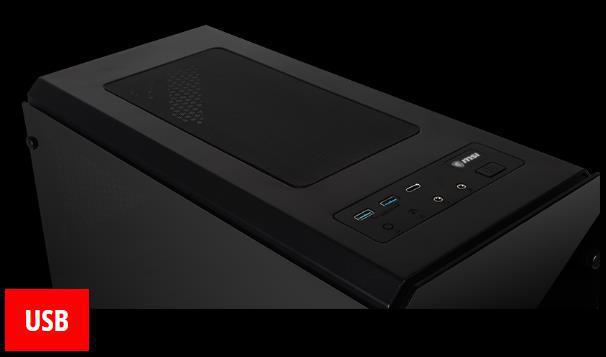 MAXIMIZE YOUR USB DEVICE PERFORMANCE
Read and write your files over USB faster than ever. MSI offers a wide variety of options to connect and boost your USB devices, delivering lightning-fast transfer speeds up to 10Gb/s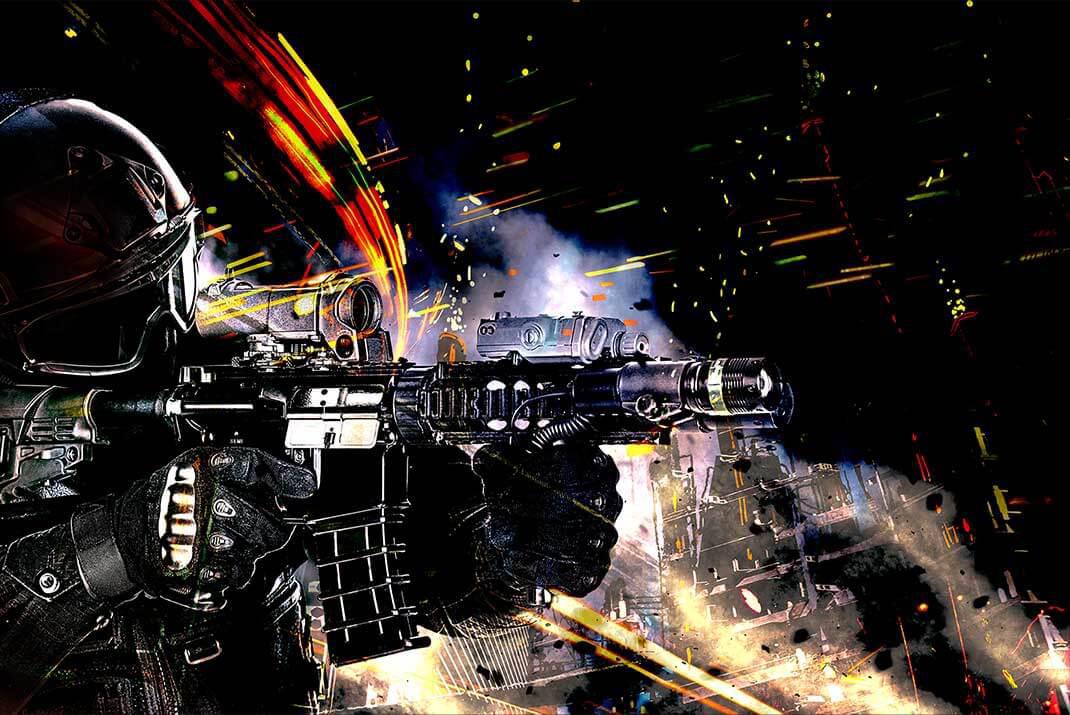 IN-GAME ADVANTAGE
MSI motherboards provide the most fascinating in-game advantages, allowing gamers to dominate any game anytime. Elevate your listening experience and network connection with MSI Audio & LAN. Enjoy extreme sound quality and uninterrupted online gameplay.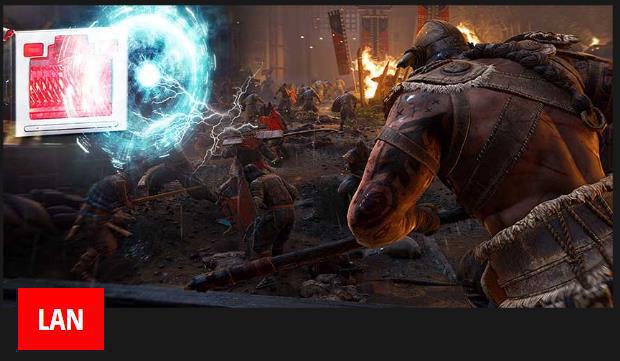 DOMINATE THE GAME WITH THE LOWEST LATENCY
Get ready to crush your enemies on the battlefield with MSI GAMING LAN. Featuring the highest quality components tuned to deliver the best online gaming experience without lag.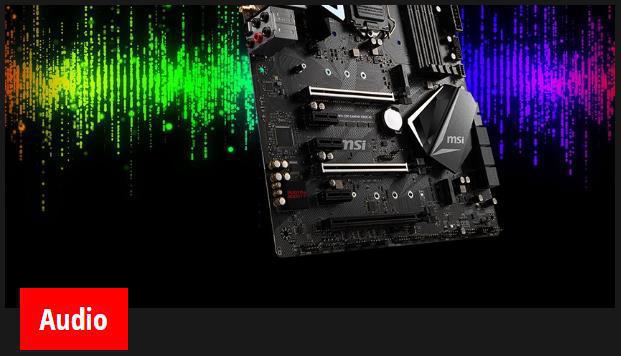 SOUND THAT PULLS YOU INTO THE GAME
Deliver the highest sound quality through the use of premium quality audio components and get the most immersive sound experience when gaming. MSI motherboards let you enjoy the breathtaking, gaming-changing sound.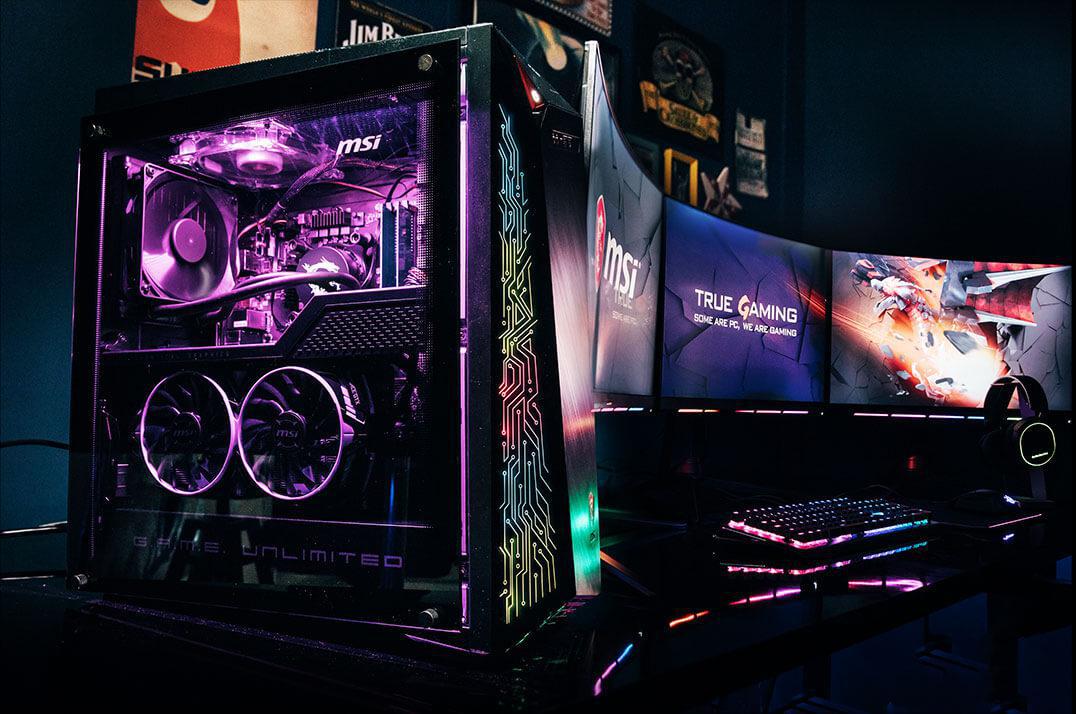 EXHILARATING AND INSPIRING
Each MSI motherboard is built based on the specific topic in order to match different tastes and favors. Furthermore, MSI also adopts the modern style to design the heatsink through huge surface and sleek but simple cuts in order to make the heatsink and appearance looks ripped and powerful. Combined with neutral colors, such as black, grey and silver, as the main background, MSI motherboard can perfect fit different RGB LED effects and strongly shows the gamers tunes.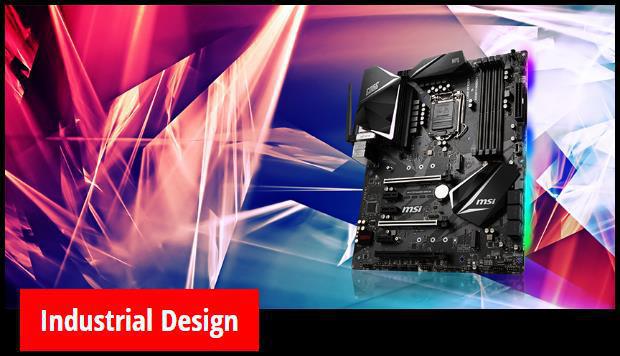 GAME IN STYLE
As a new motherboard coming to customers' eyes, the design of MPG Z390 GAMING EDGE is full of sharp and salient lines reflecting gorgeous colors in different angles, which presents a cutting-edge look & feel that shows the stereoscopic effect with forceful uniqueness.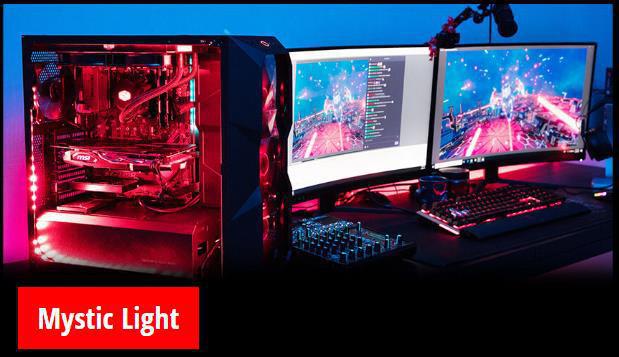 MYSTIC LIGHT
MSI Mystic Light provides a complete function to control the RGB light all around the ecosystem. Select the available colors from the palette to match your favorite and mood.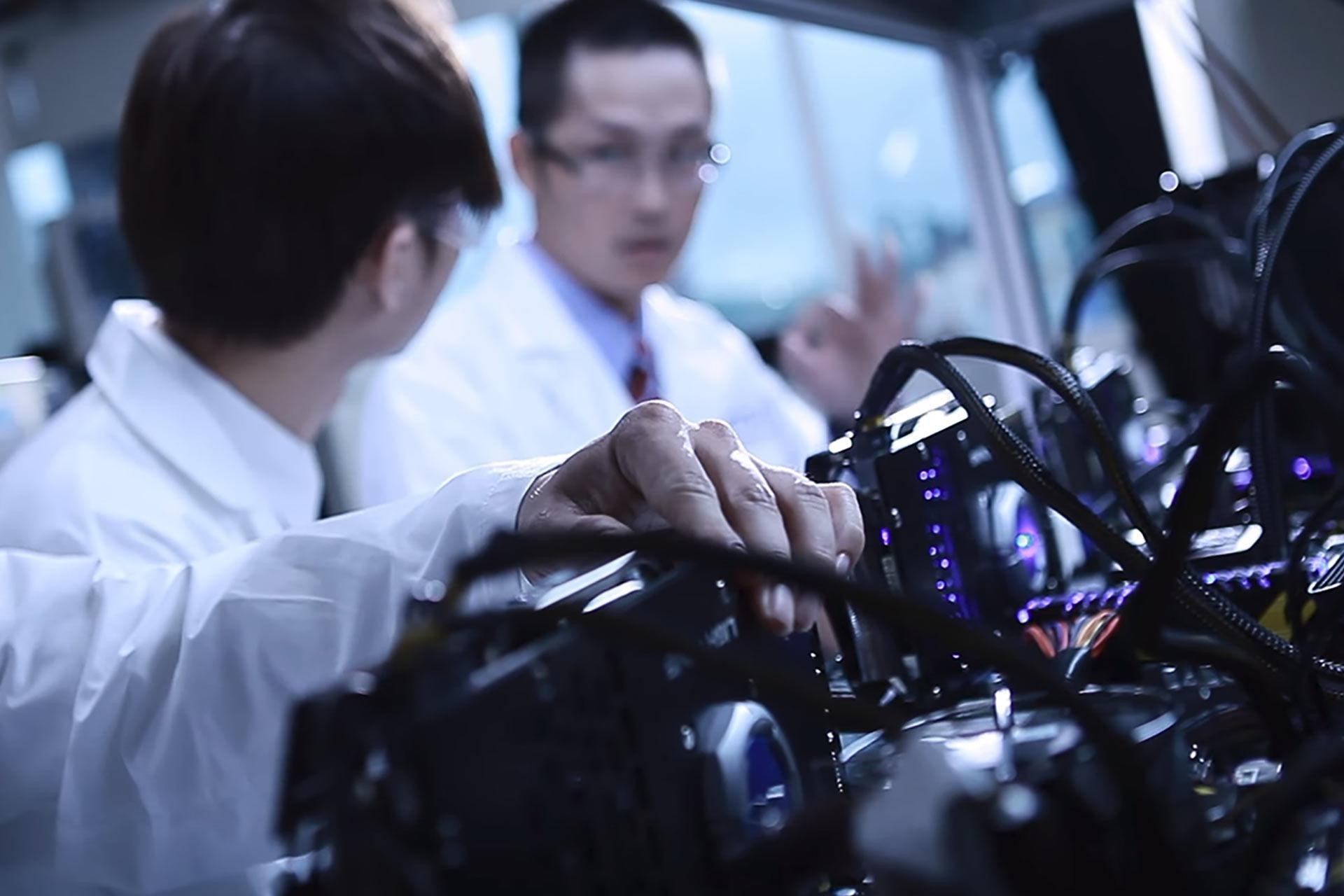 LOYAL COMRADE
MSI has developed the motherboard market for many years. With rich R&D experience and a long history, the company continuously creates the best performance and humanized motherboard to help users meet the pursuit of high-quality components and the stable, reliable and long-lasting system performance.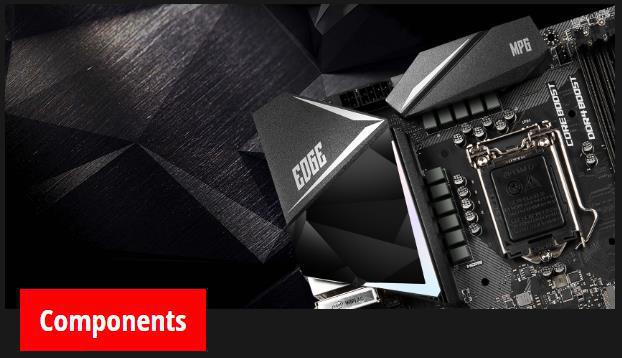 BUILT ON EVERLASTING QUALITY
Using only the finest quality components and integrating the latest technological innovations delivers the best possible professional experience. Rigorous quality testing under the most extreme conditions ensures a super reliable, long-lasting and high-performance motherboard.
Specification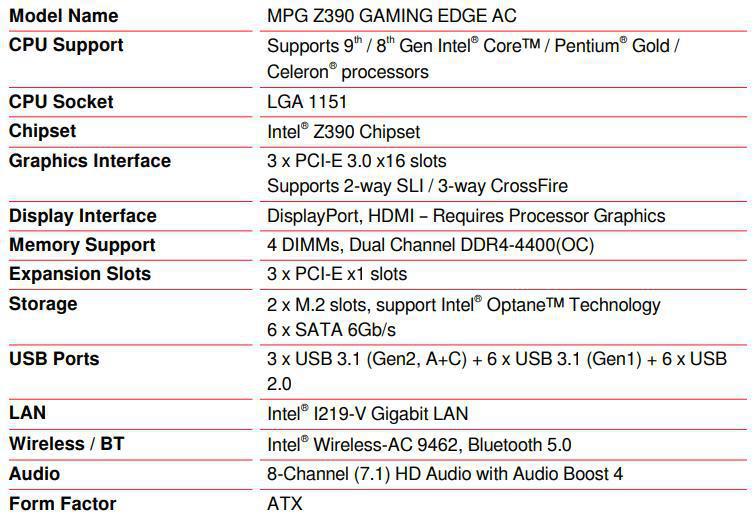 Packaging & Unboxing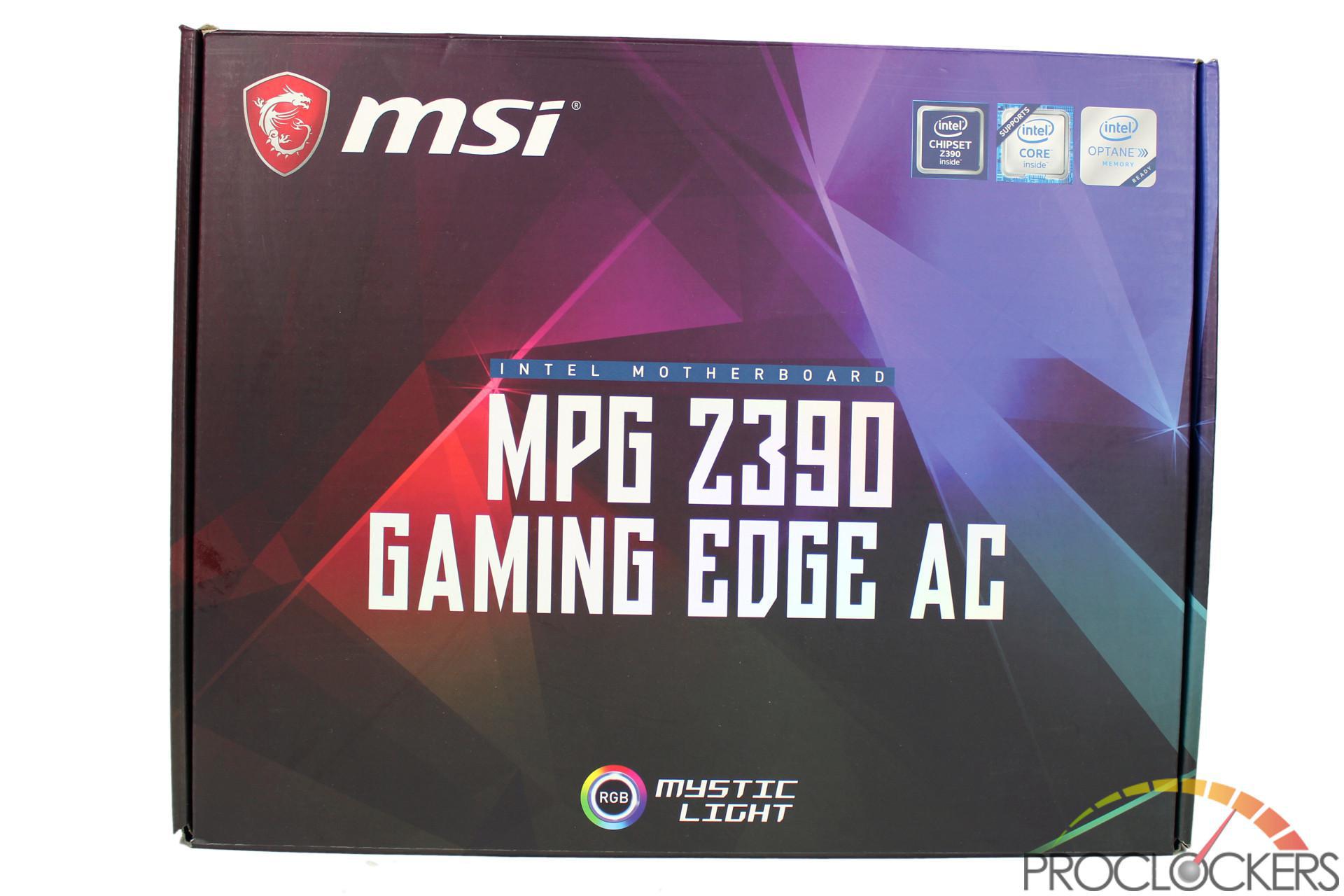 MSI's MPG Z390 Gaming Edge AC comes in a very colorful box with the model front and center. A blue ribbon just above this states this is an 'Intel Motherboard". We find this simple statement to be really helpful for the average consumer since AMD and Intel both are plunking down chipset after chipset so close together in the naming scheme that even the most avid enthusiast has to double check which is for what.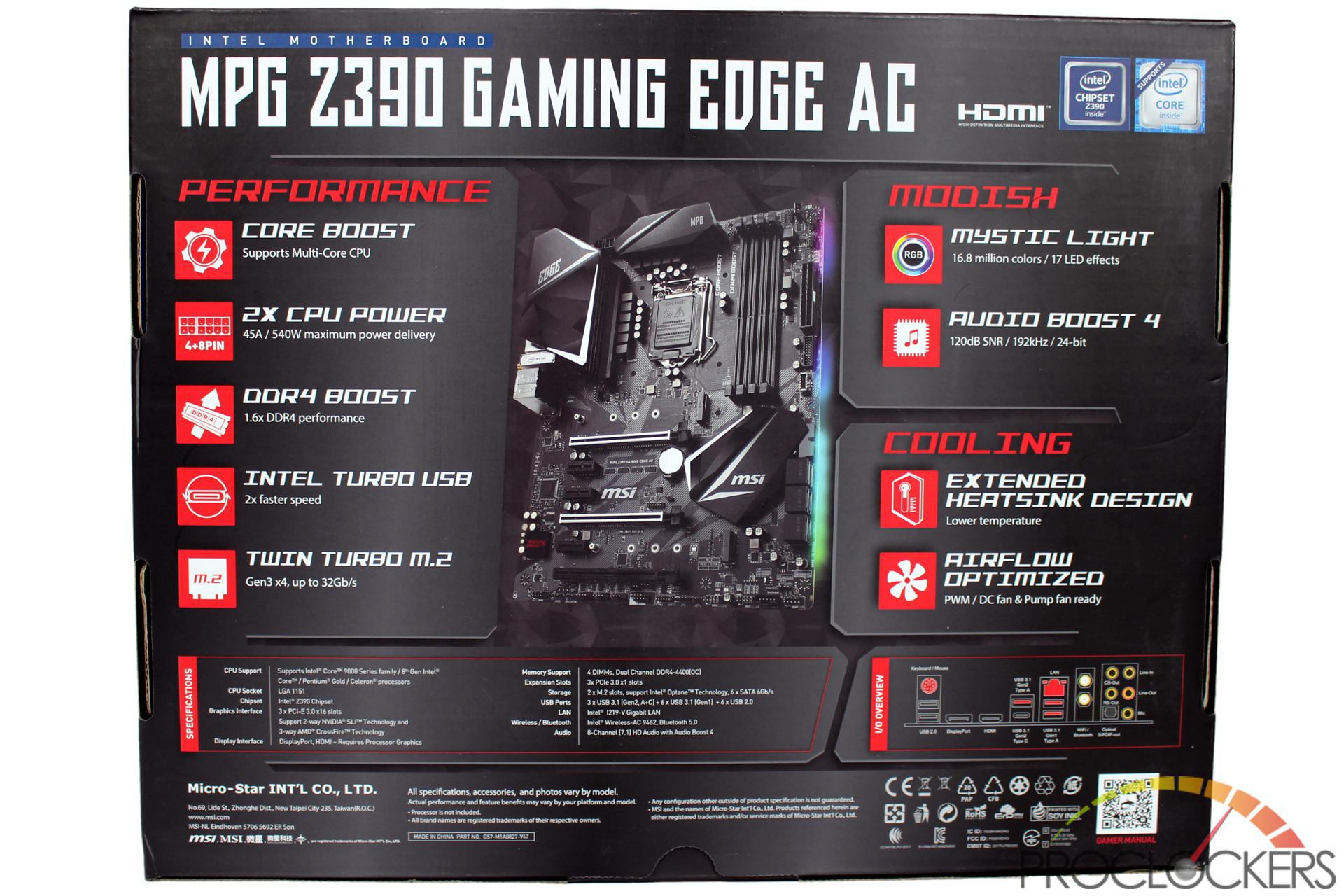 The rear of the box has a picture of the board in the center with most of the box taken up with features. A thing banner along the bottom spells out most of the specs as well as shows the Rear I/O Connections.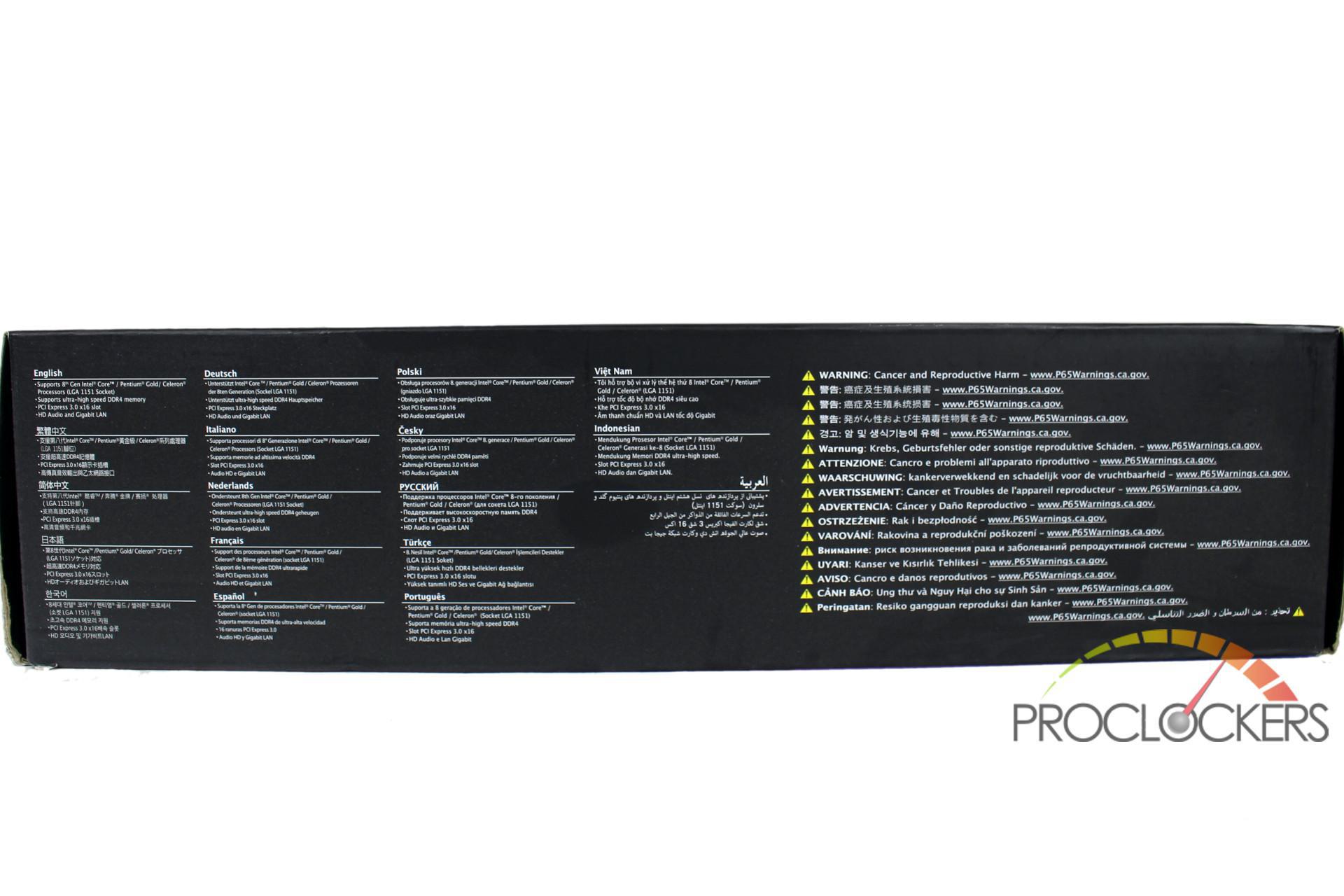 One end of the box shows some basic specs in multiple languages.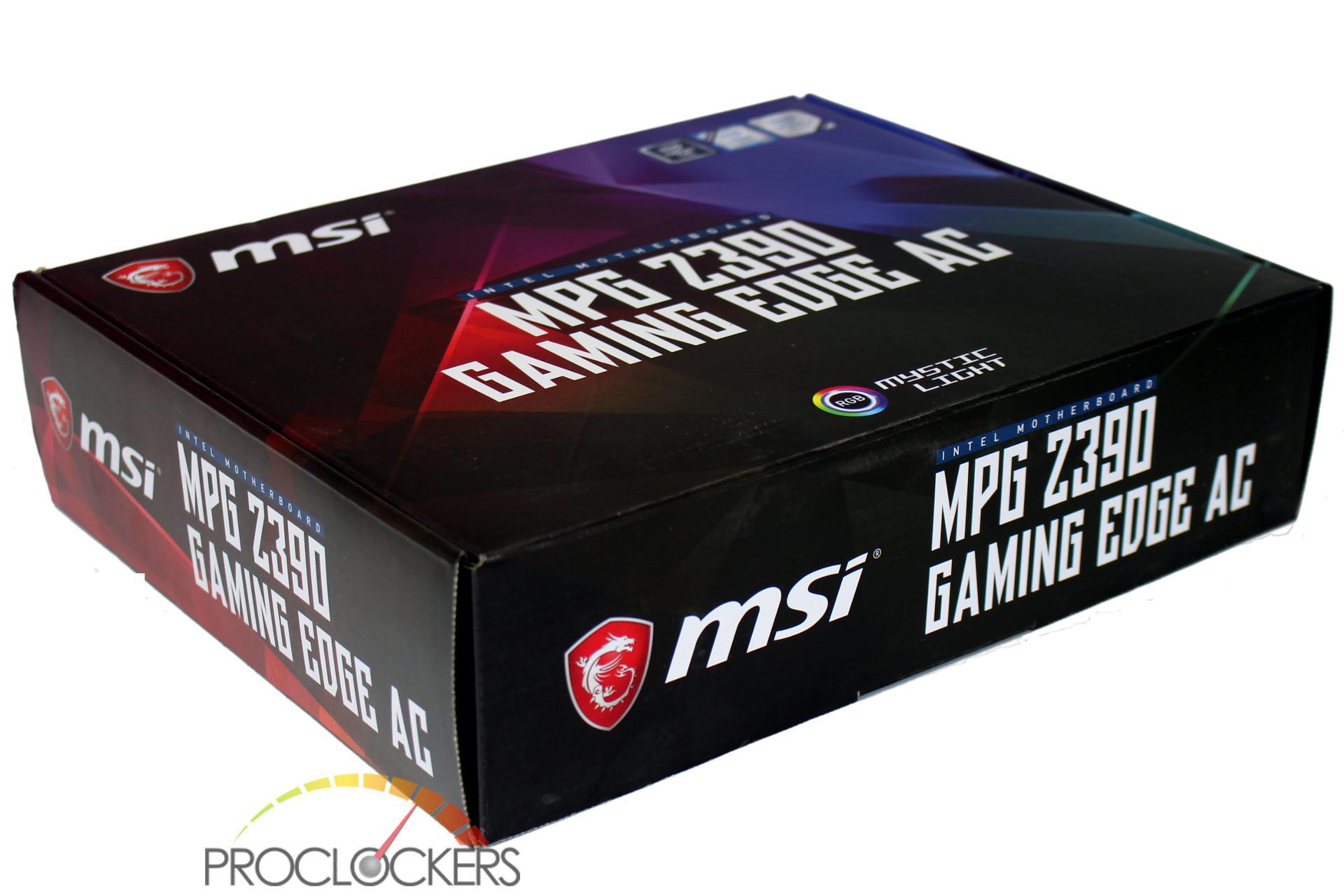 The other edges of the box have the MSI logo and board model.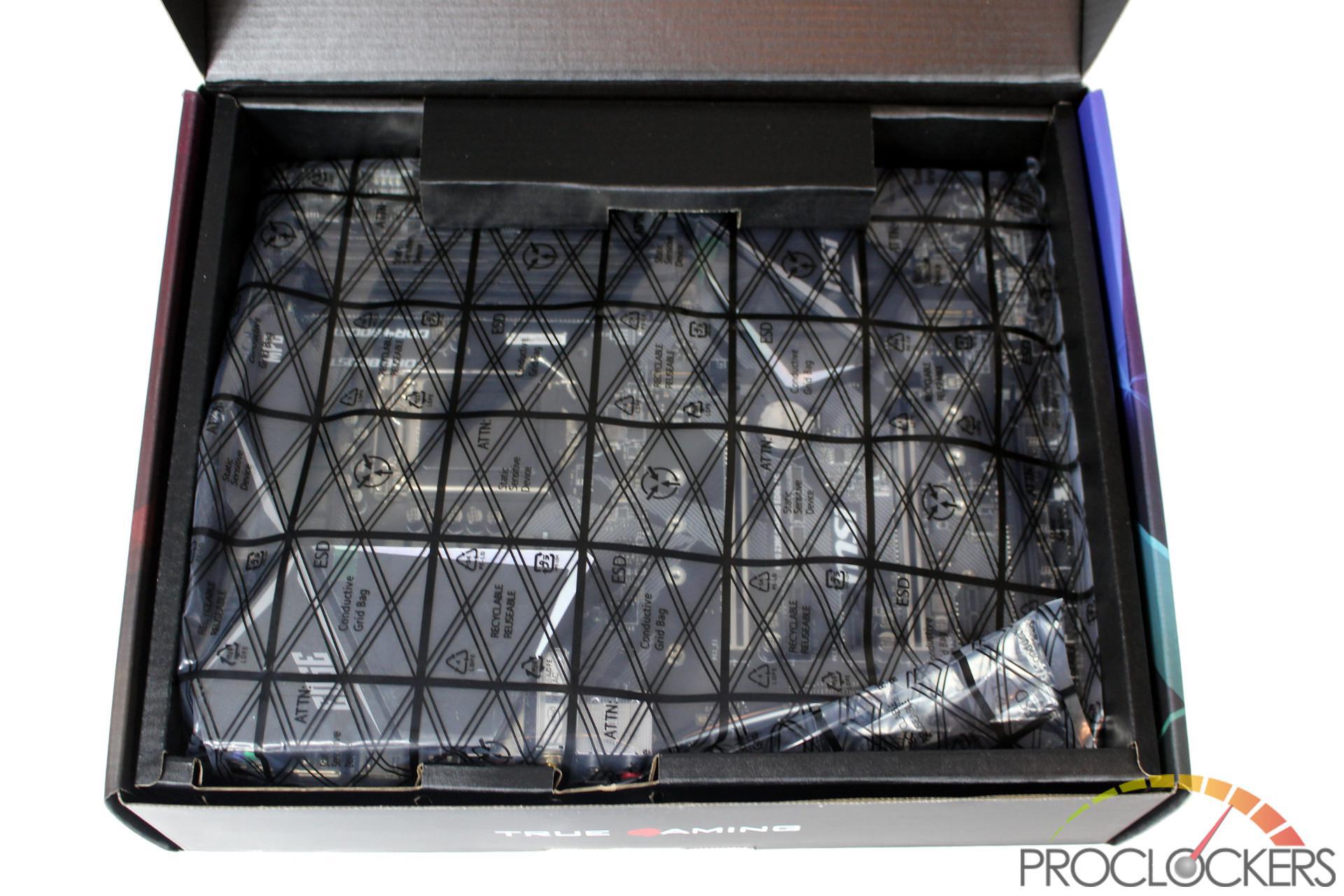 Inside the box, we find the board in an upper cardboard tray wrapped in an ESD safe bag.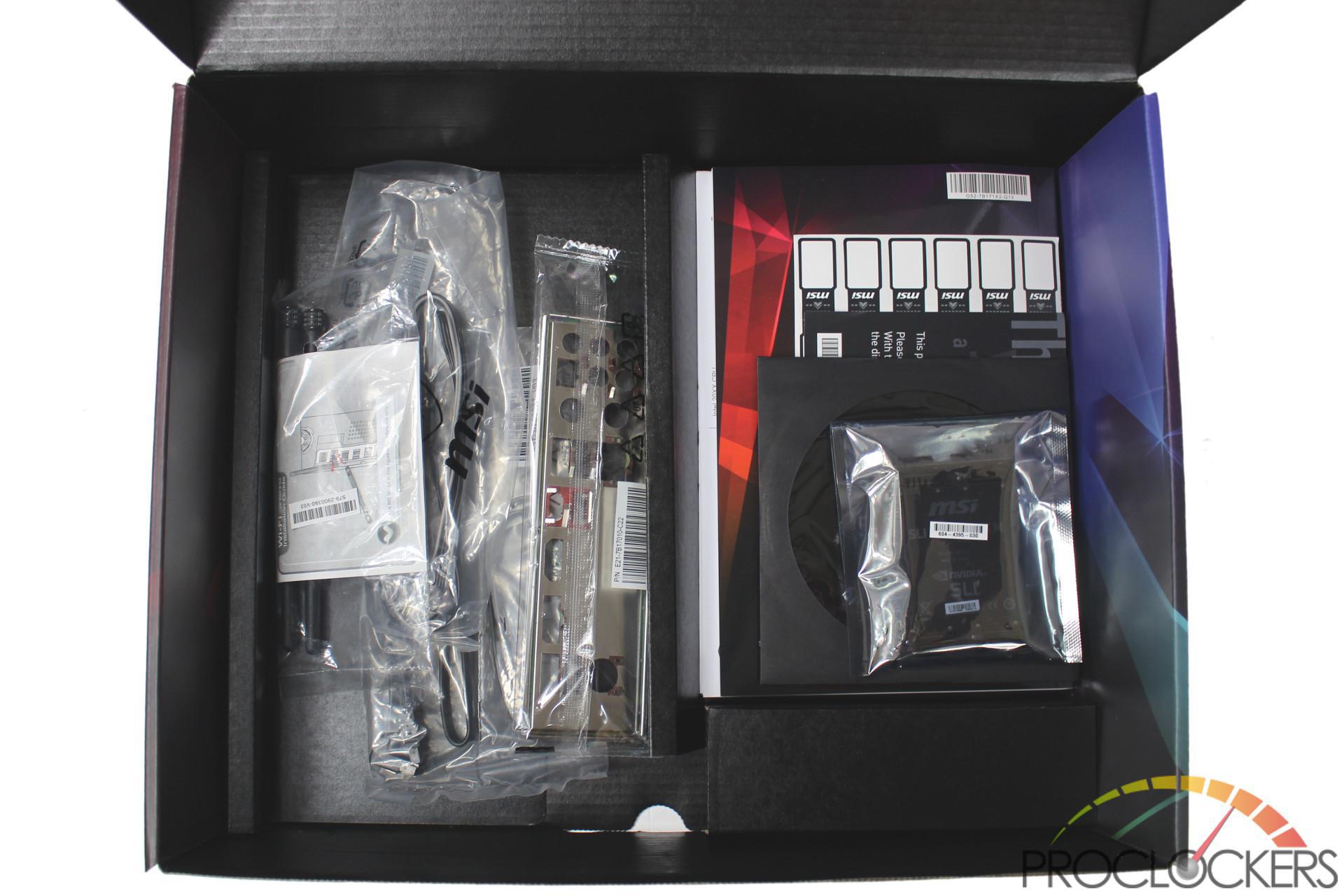 Under it is another tray that holds all of the included extras.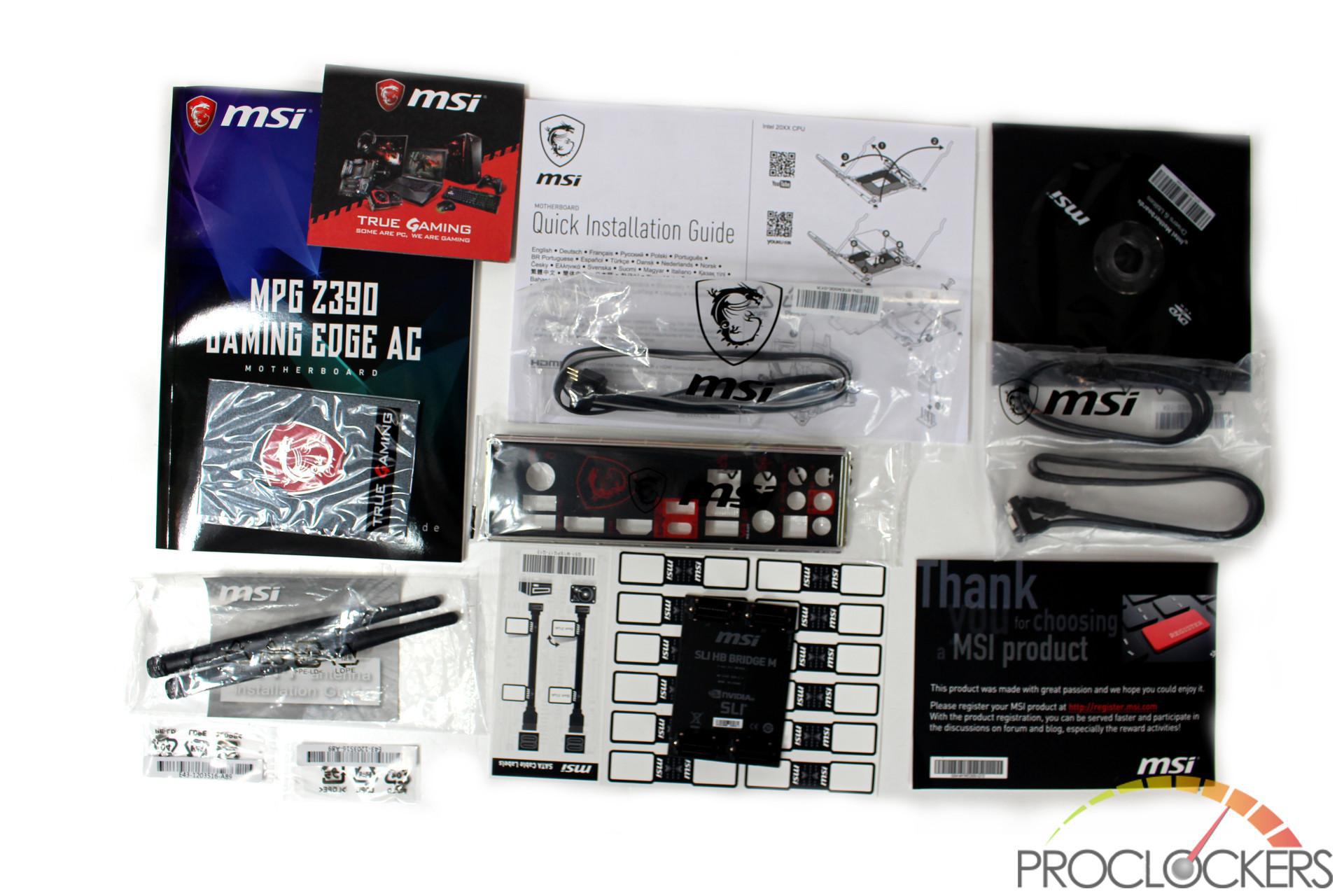 You get the typical manual, rear I/O shield, driver disk, and SATA cables, as well as a quick install guide, RGB extension cable, MSI case badge, WiFi antennas, HB SLI Bridge, M.2 hardware and a sheet of cable labels. MSI also throws in a thank you note as well as a little booklet showing you a selection of other MSI products that may interest you.
A Closer Look

MSI's MPG Z390 Gaming Edge AC is a standard ATX form factor board that features Intel's LGA1151 socket, two metal reinforced PCIe x16 slots, four DDR4 DIMM slots, and a cohesive heatsink and board silk-screening theme that all flows together.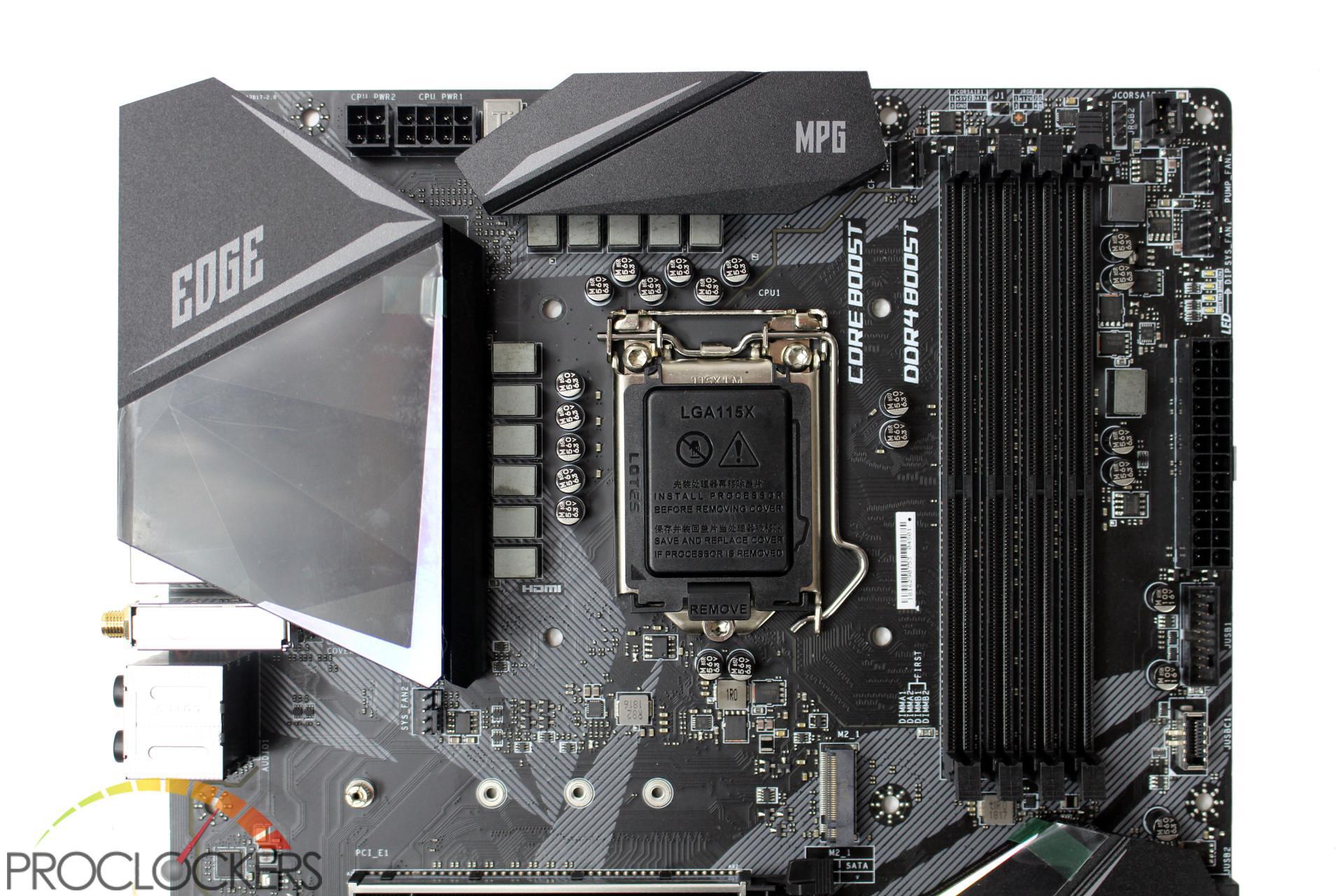 Intel's LGA1151 socket sits near the center as usual, and is flanked by four DDR4 slots on the right with the 11-phase VRM above and left of it. An M.2 slot supporting up to 110mm drives sits between the CPU and the top PCIe slot.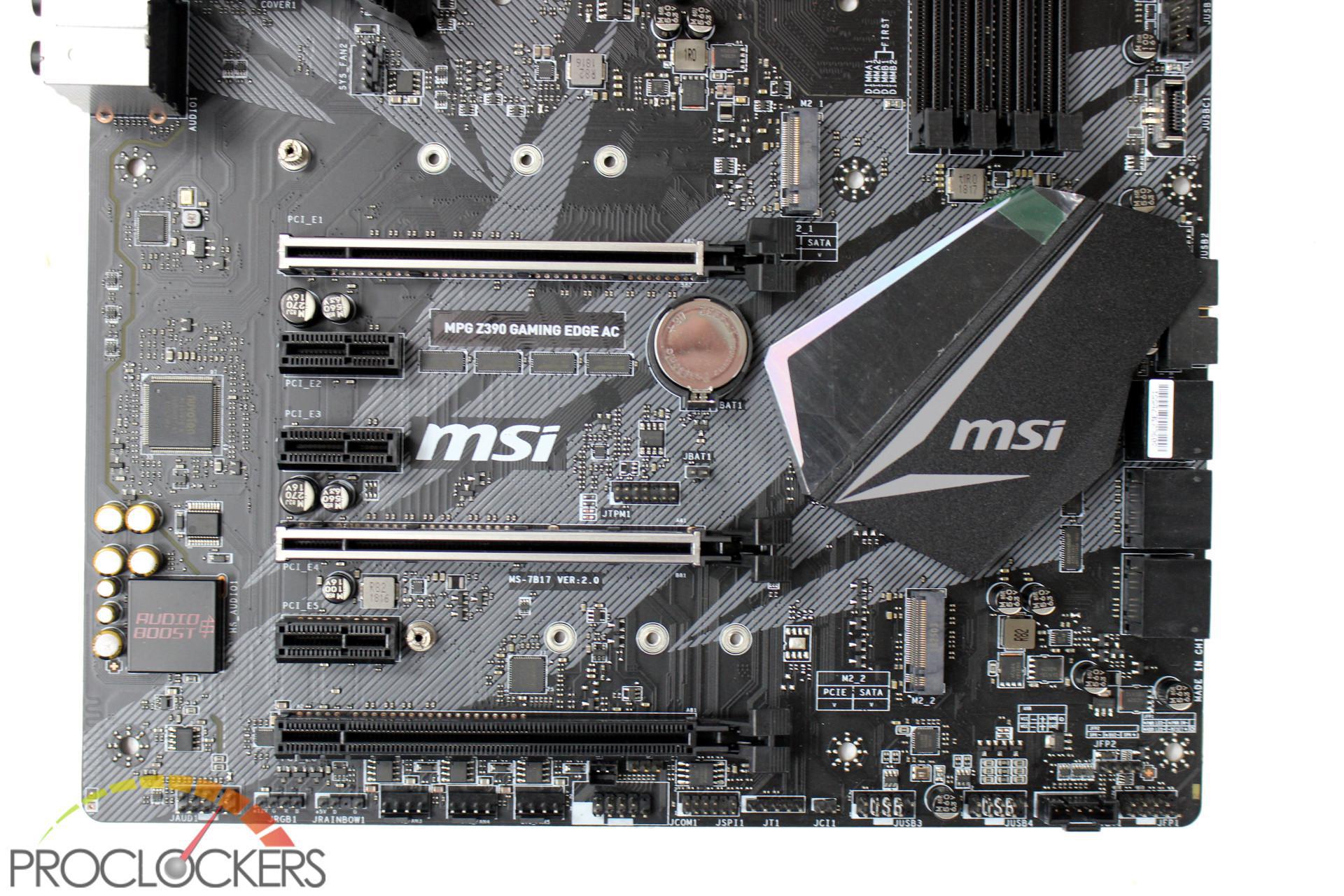 Two metal clad PCIe x16 slots support x16/x0 or x8/x8 mode from the CPU. The lower PCIe x16 is connected to the Chipset along with the trio of PCIe x1 slots. Another M.2 slot sits near the bottom of the board.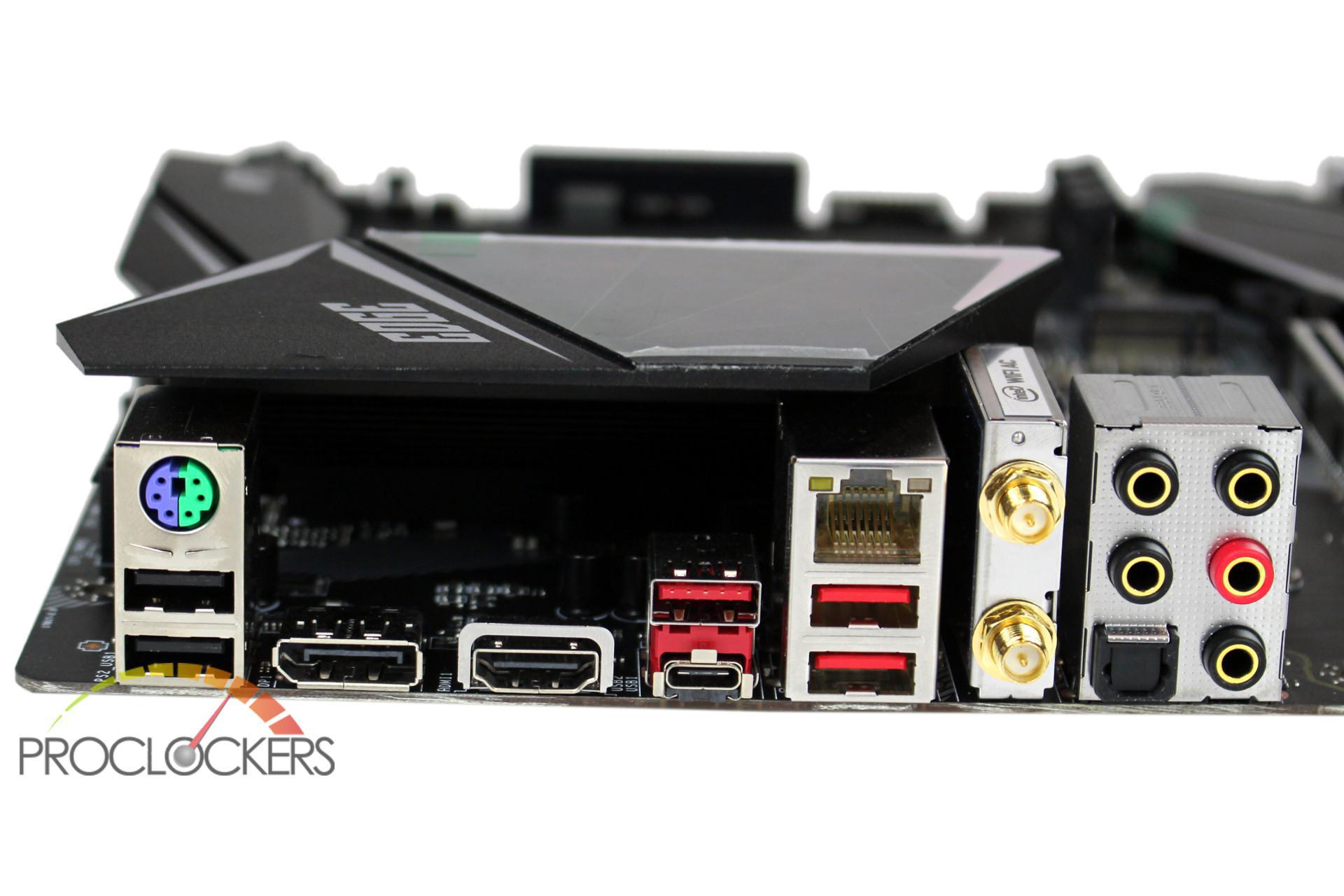 Rear I/O is comprised of two USB 2.0 ports with a split PS/2 port. A Display Port and HDMI handle display duties from the CPU's internal graphics solution if equipped. Four more USB ports are of the high speed 3.1 type and one is Type-C. A single Intel gigabit Ethernet ports accompany an Intel 802.11AC 2×2 solution for connectivity. The standard layout of gold-plated audio ports joins an optical output to round out the list.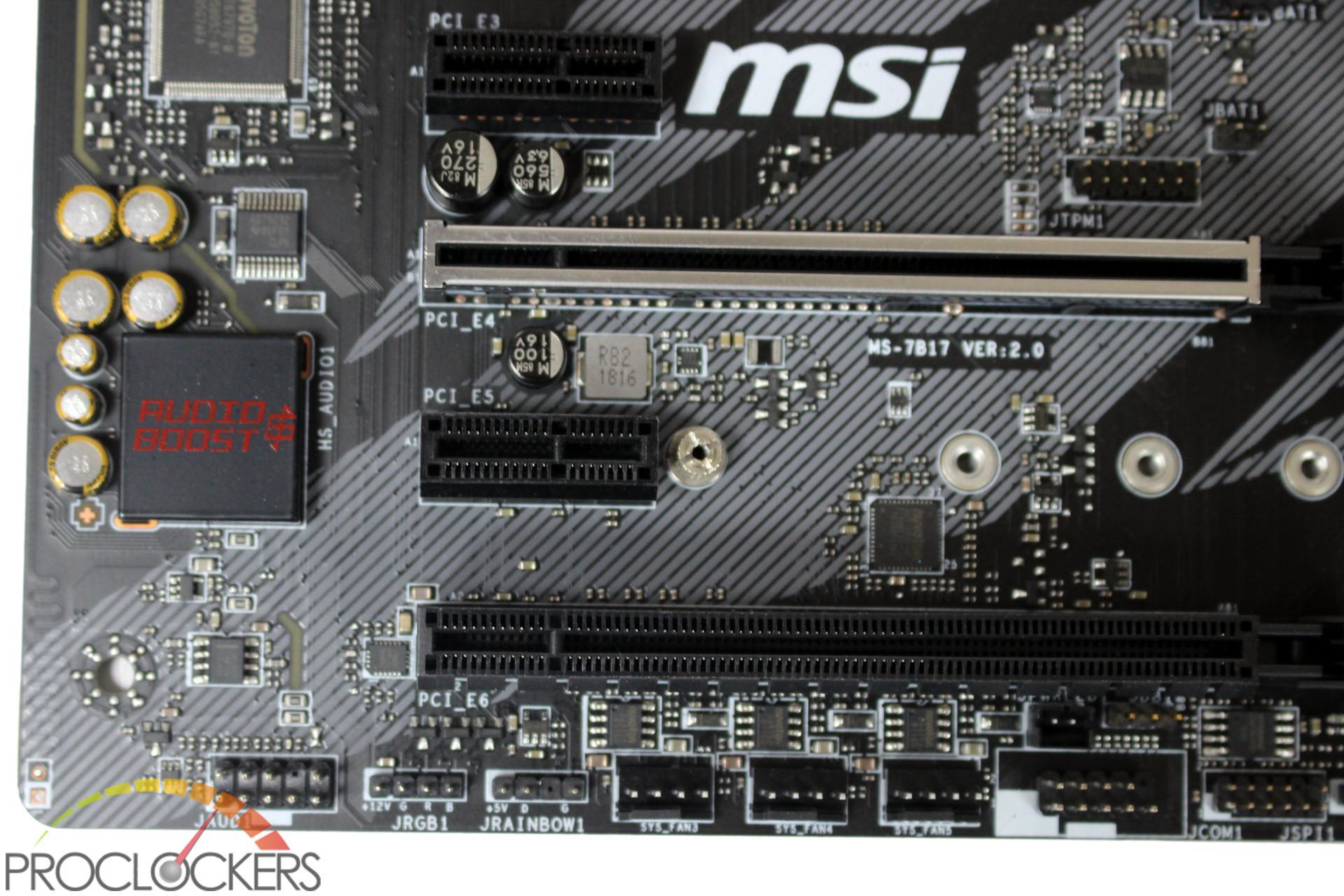 Connectivity on the board is pretty extensive so we'll go around the edge. A front panel audio header is followed with two RGB headers, three 4-pin fan headers, and a hardware UART based COM port.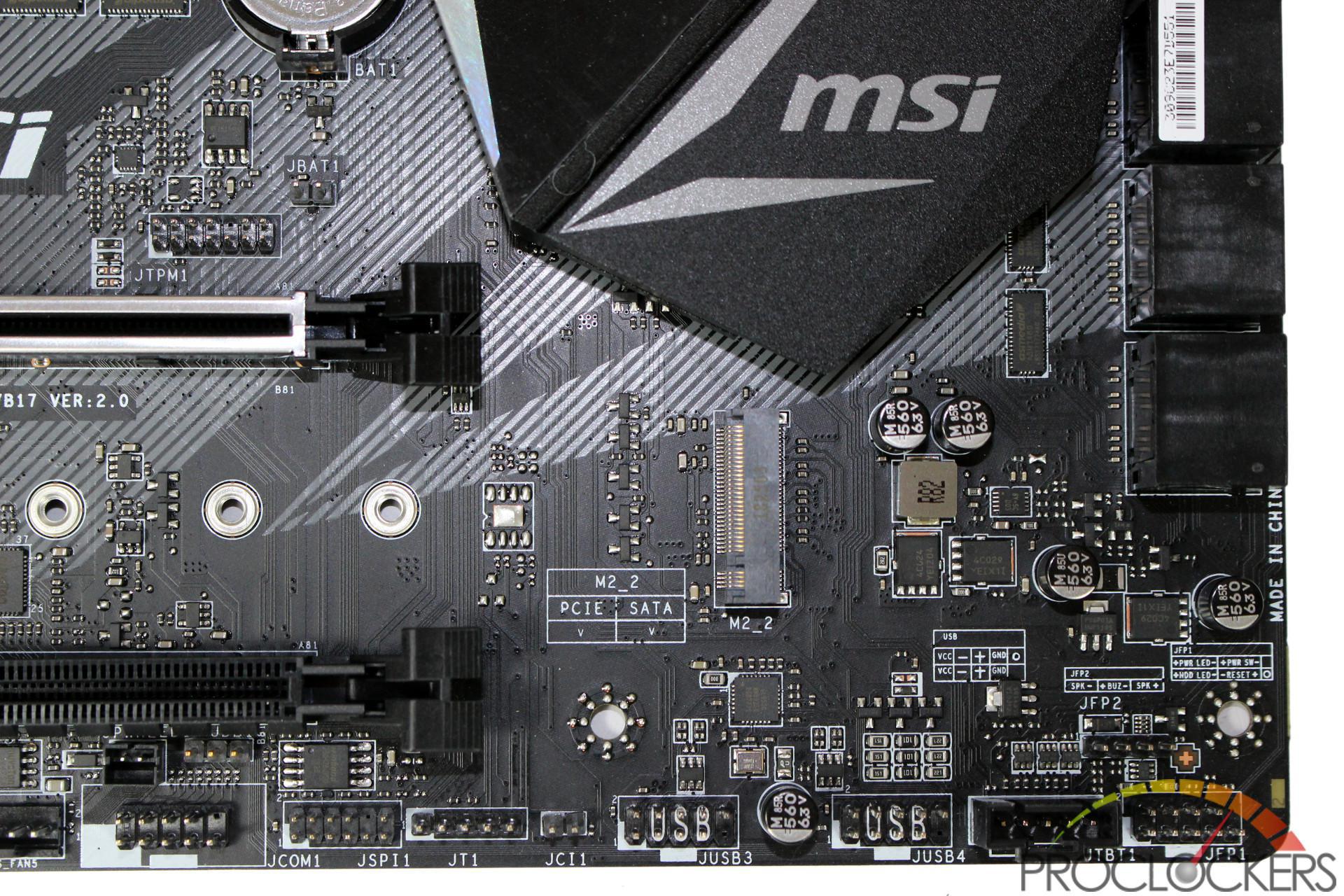 Two USB 2.0 headers sit towards the front of the board next to the Thunderbolt controller header and front panel audio connections.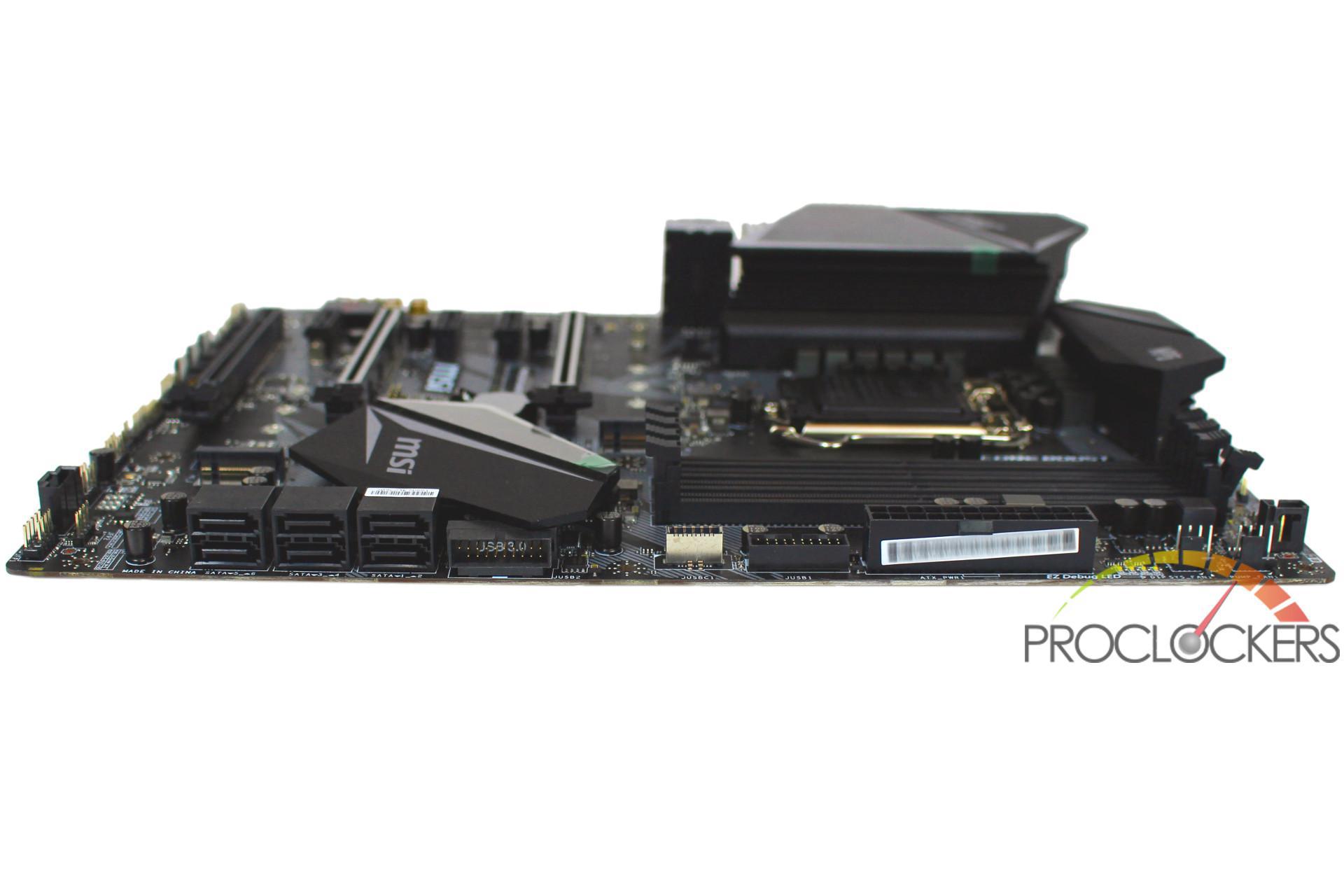 Going up the front edge are six SATA ports, a right angle USB 3.0 header, a USB 3.1 header along with another USB 3.0 header and the main 24-pin power connection. The upper edge has a series of diagnostic LED's and a pair of 4-pin fan headers.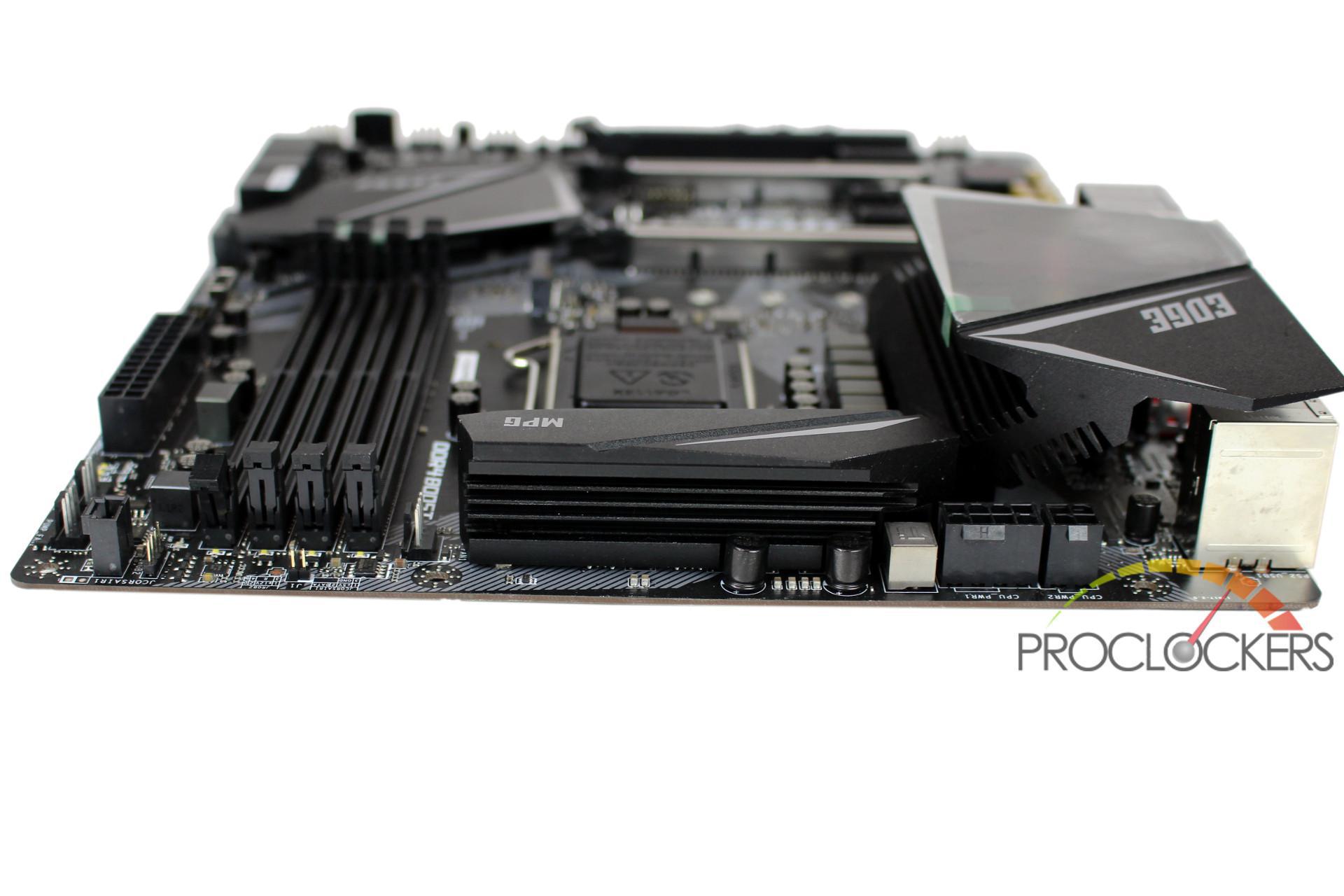 The top corner has two RGB connectors, one of which is made to interface with Corsair's addressable systems. Another 4-pin fan header sits next to the heatsink. The CPU power 8-pin and extra 4-pin are towards the rear.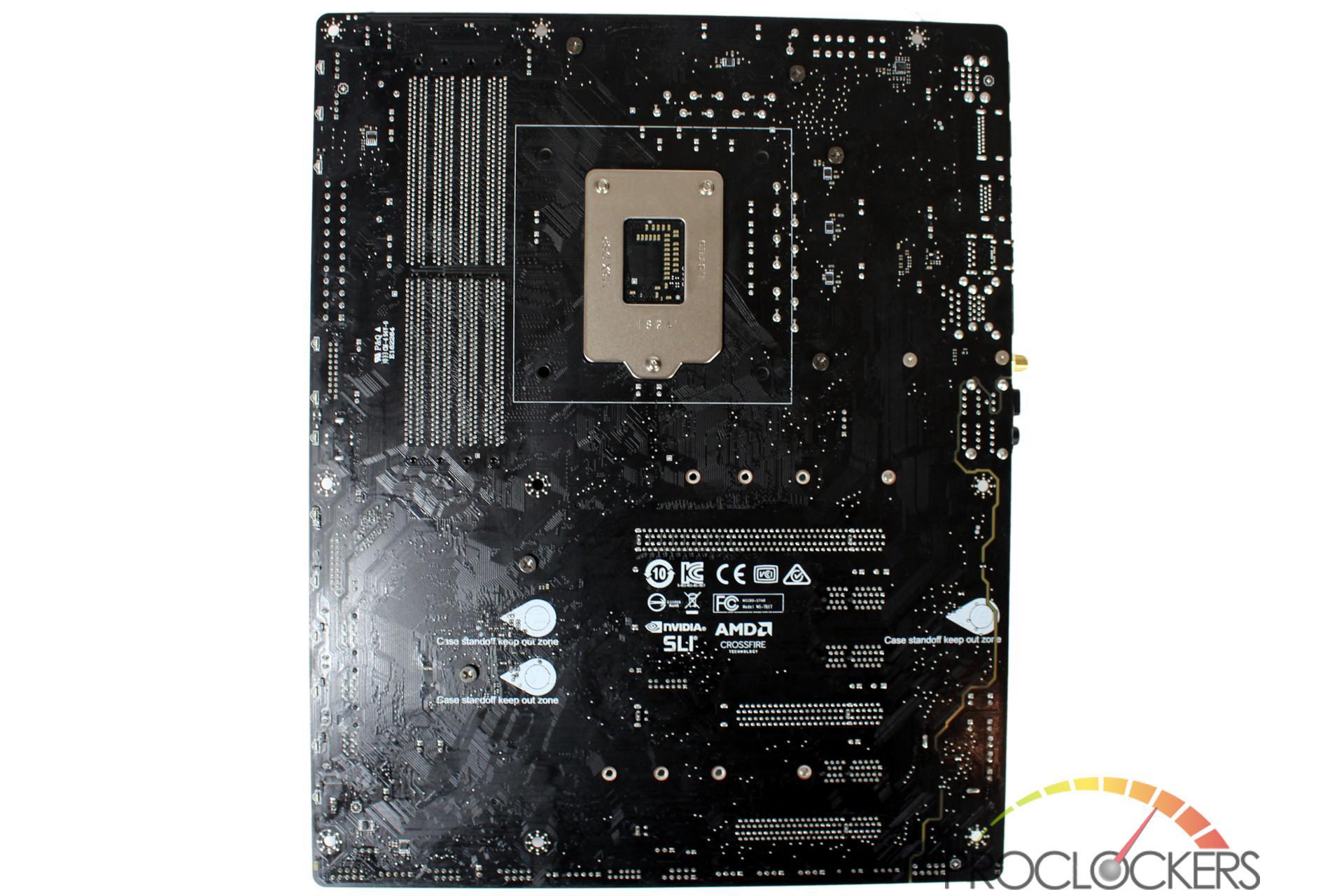 The rear of the board doesn't have too much on it really. Along the front edge is a series of RGB LED's that can be controlled by Mystic Light.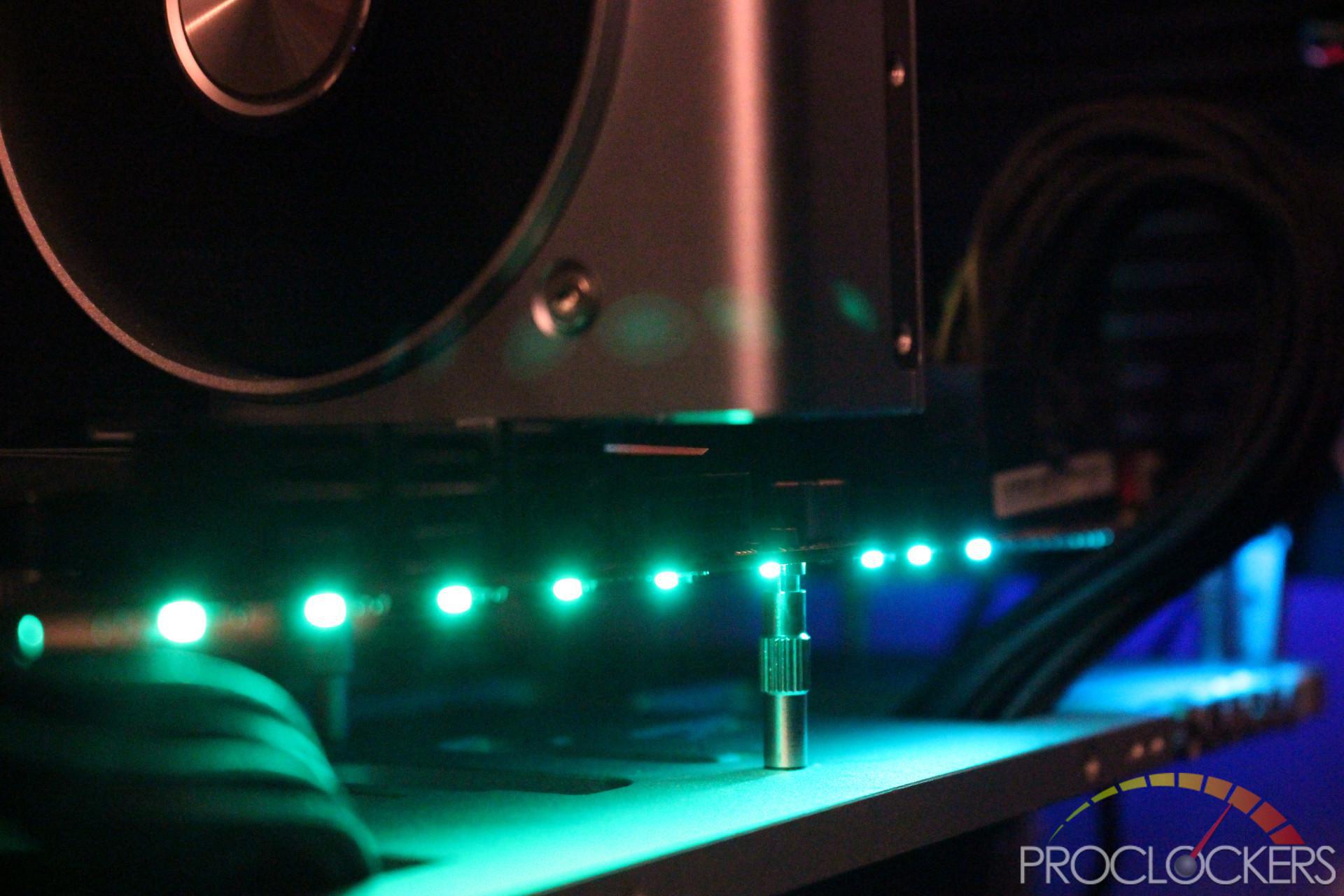 System Configuration & BIOS
CPU: Intel Core i9-9900k
Motherboard: MPG Z390 Gaming Edge AC
RAM: 16GB G.Skill TridentZ RGB 3200MHz
GPU: Nvidia RTX 2080 Founders Edition
SSD: Toshiba RD400 512GB
OS: Windows 10 Professional X64 1803
MSI's Click BIOS 5 is subjectively one of the easiest UEFI's to navigate. You first enter into the EZ Mode where you can view basic information and make basic changes such as enabling XMP or turning on Game Boost.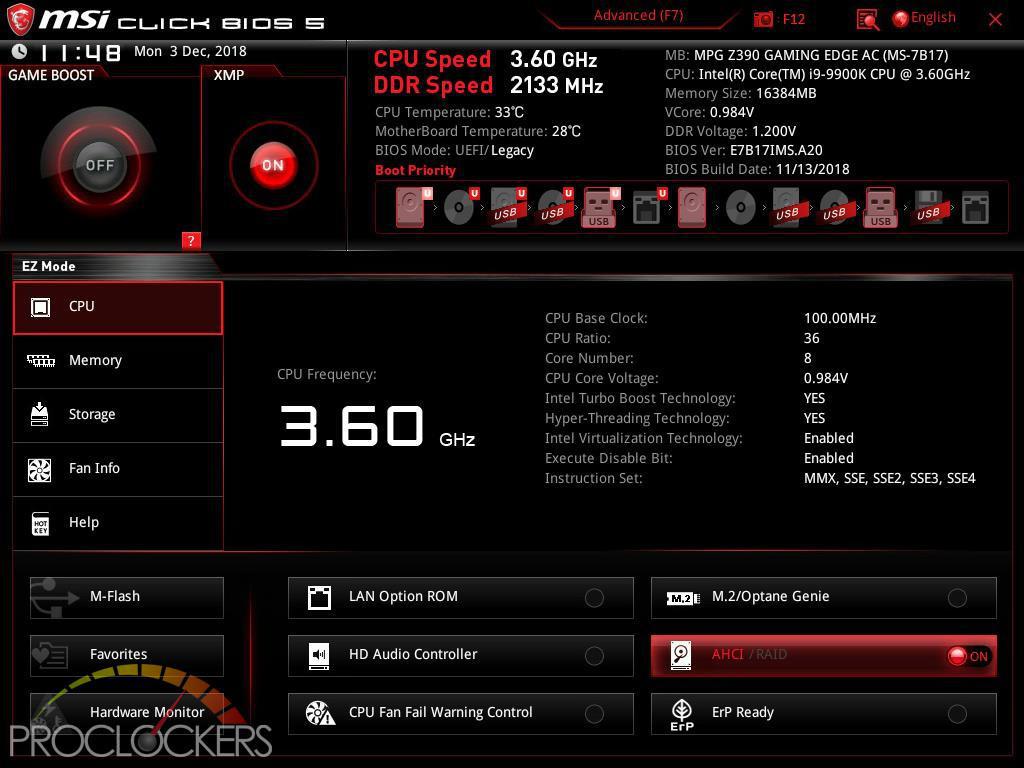 Enabling XMP is as easy as clicking the button on the top. It turns red when enabled.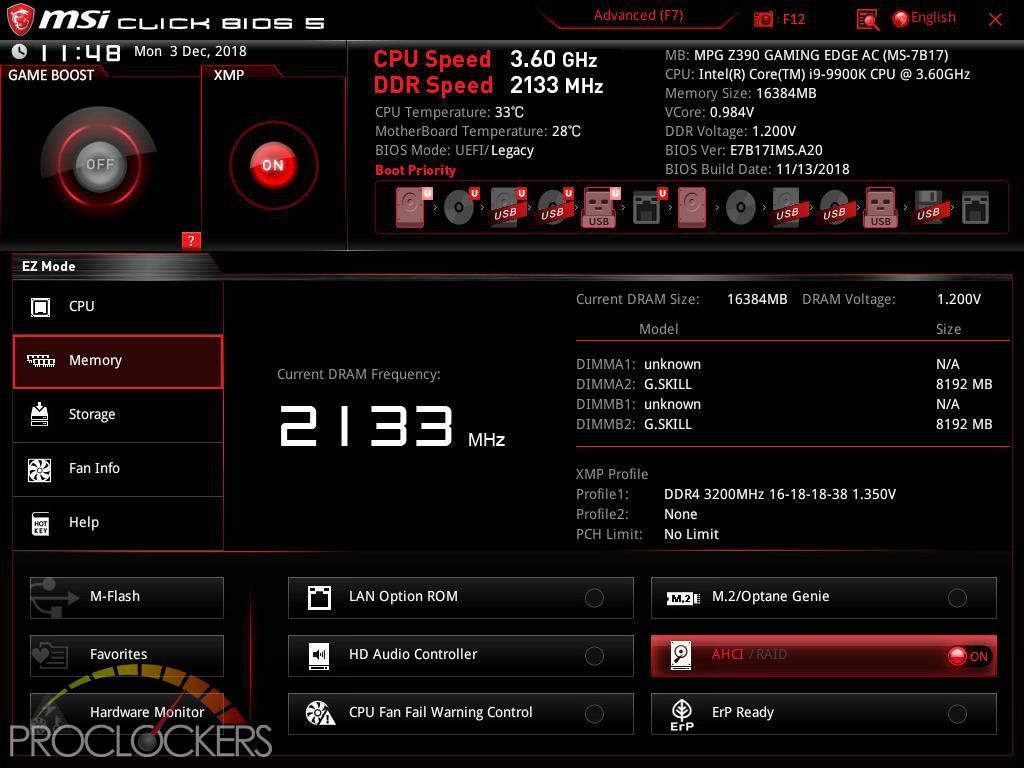 Each tab along the left shows basic information about that system component.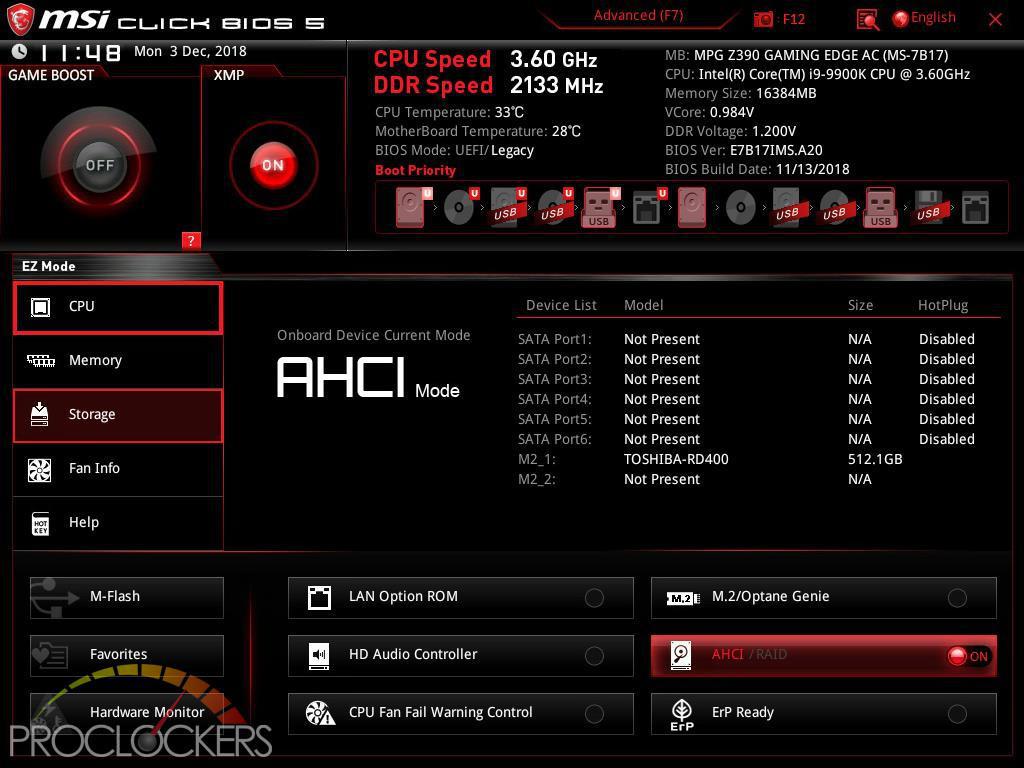 Here you can see our drive is connected to M.2 port #1.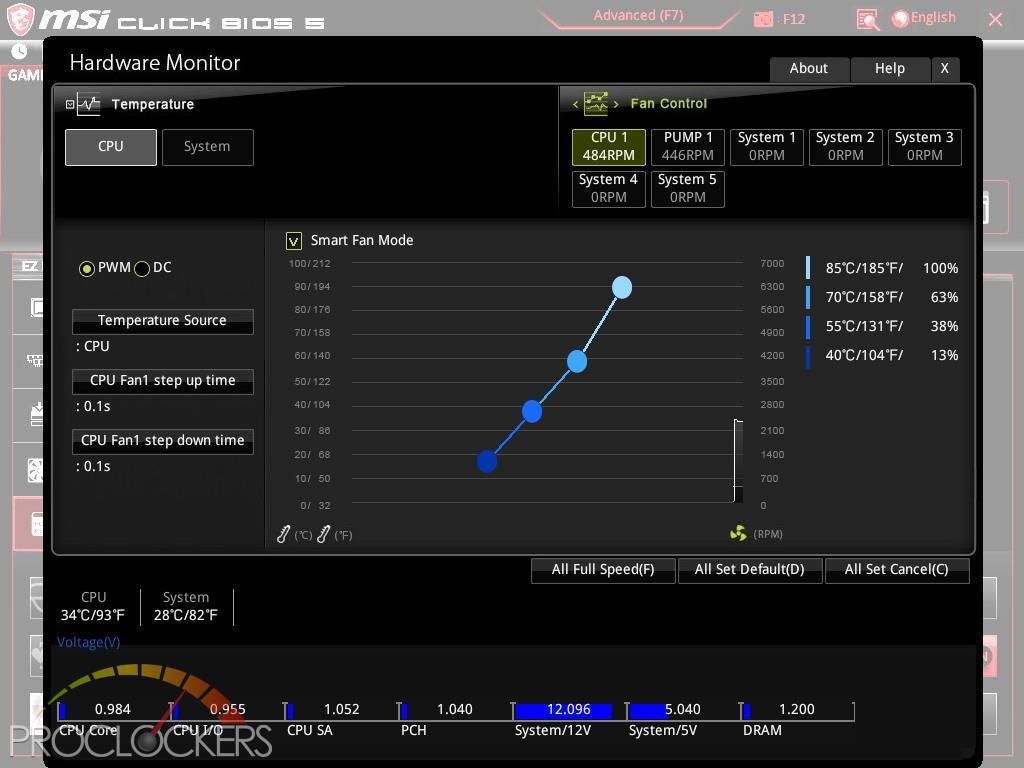 Clicking the hardware monitor button in the lower left corner brings up this screen. You can program each fan's curve and set points quite easily.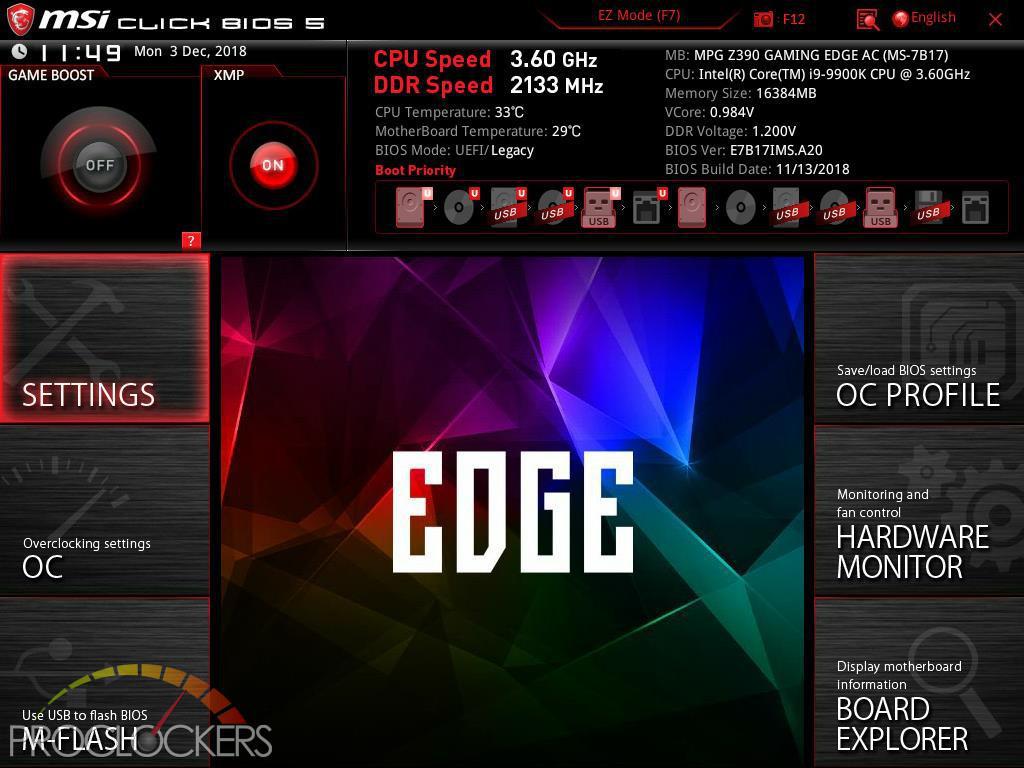 If you need to dig in deeper, hitting F7 will bring you to the advanced mode area.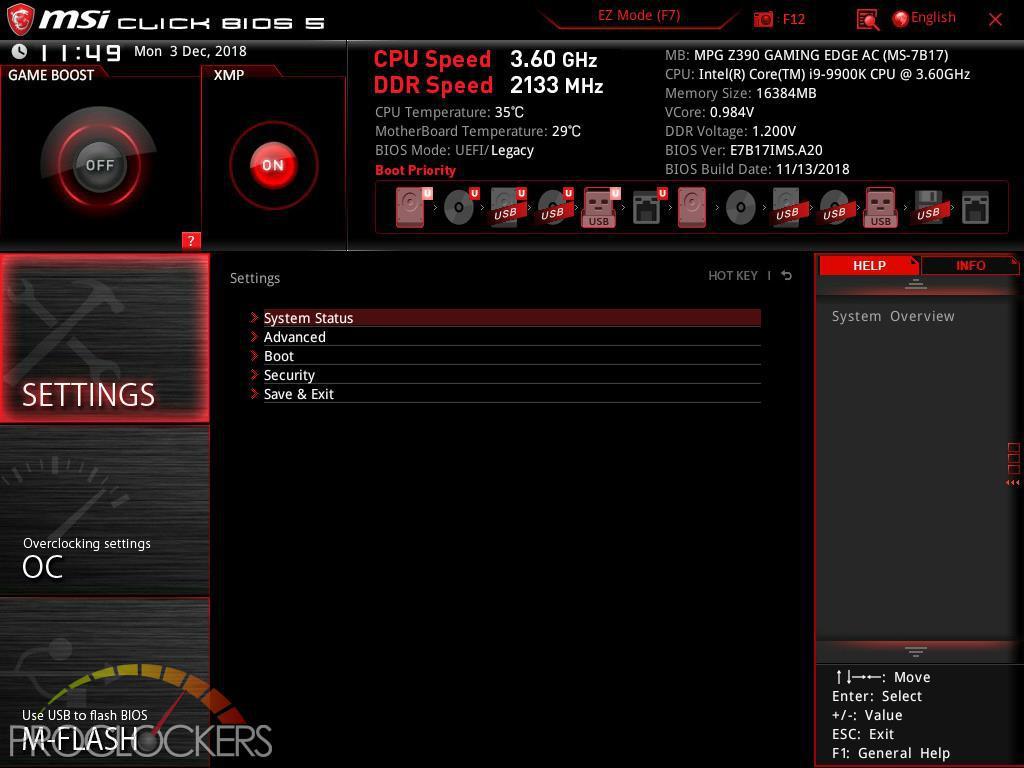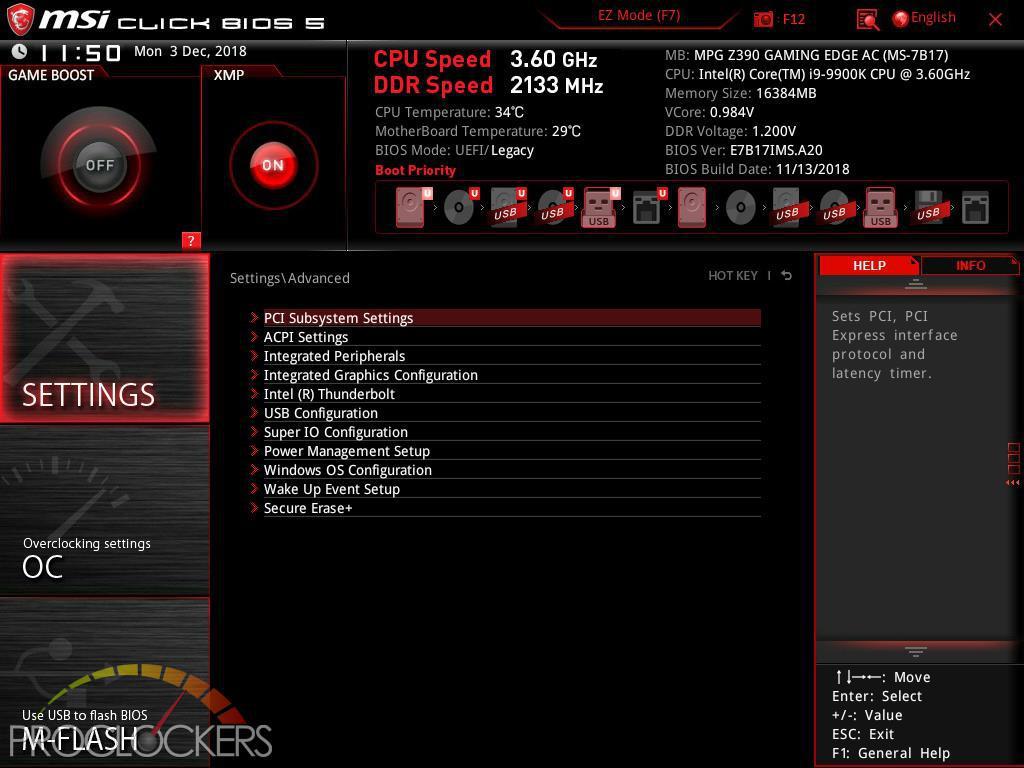 Most of your advanced settings are found under the first button.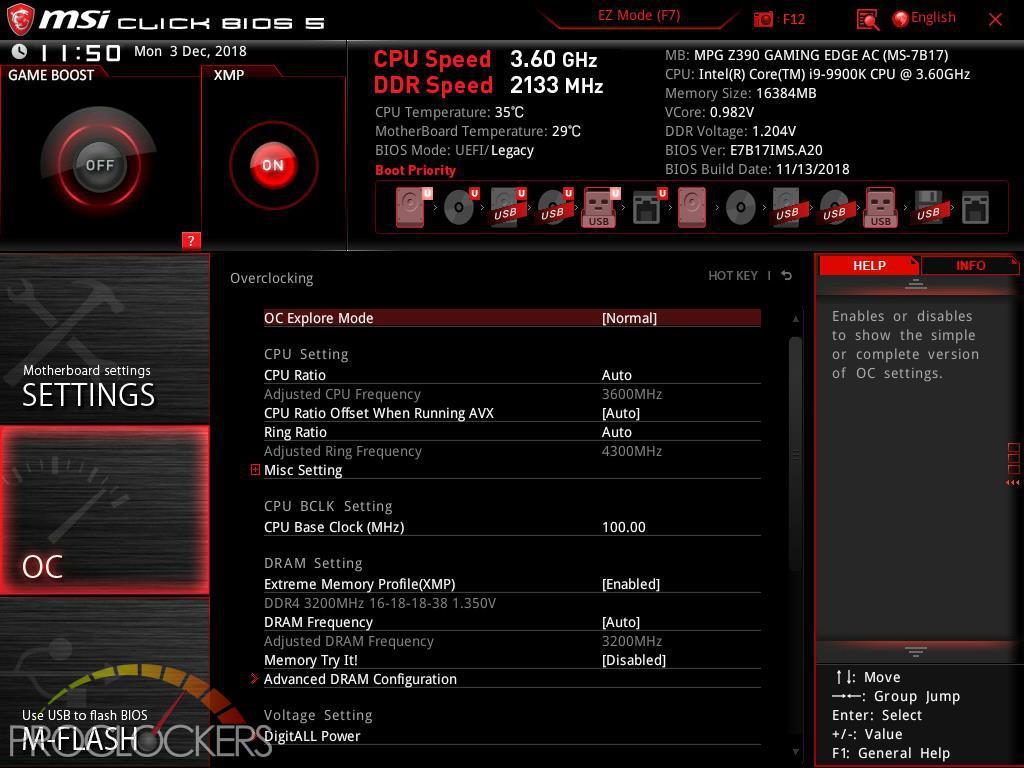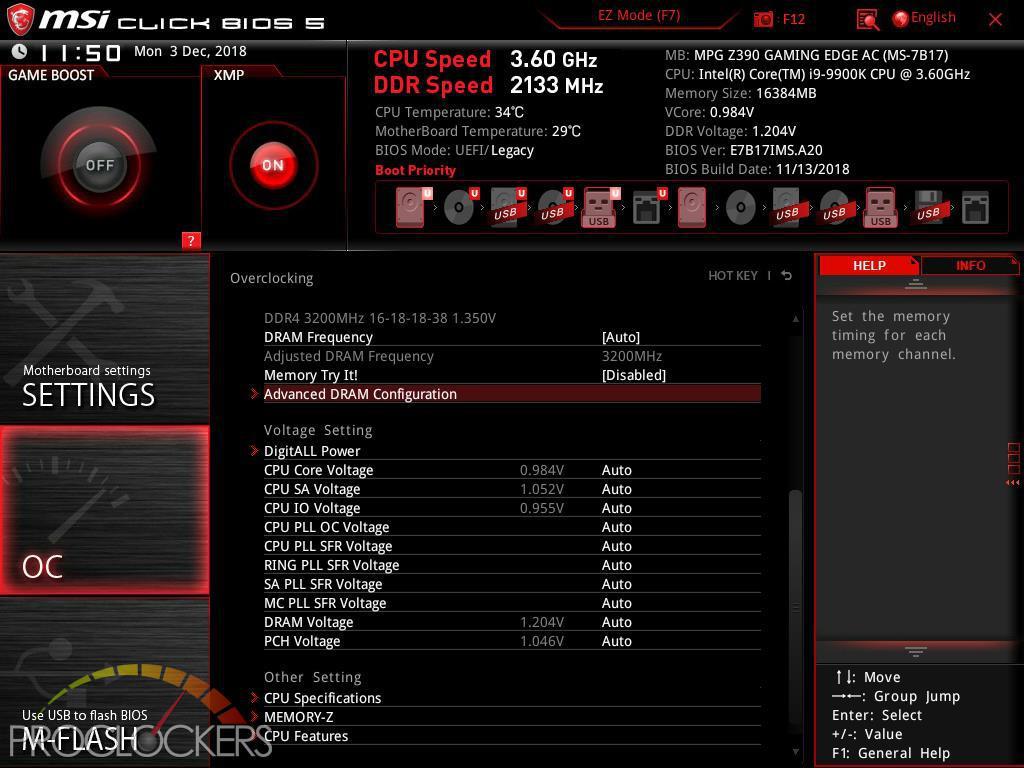 Overclocking beyond XMP and Game Boost is found under the OC tab and its sub-menus.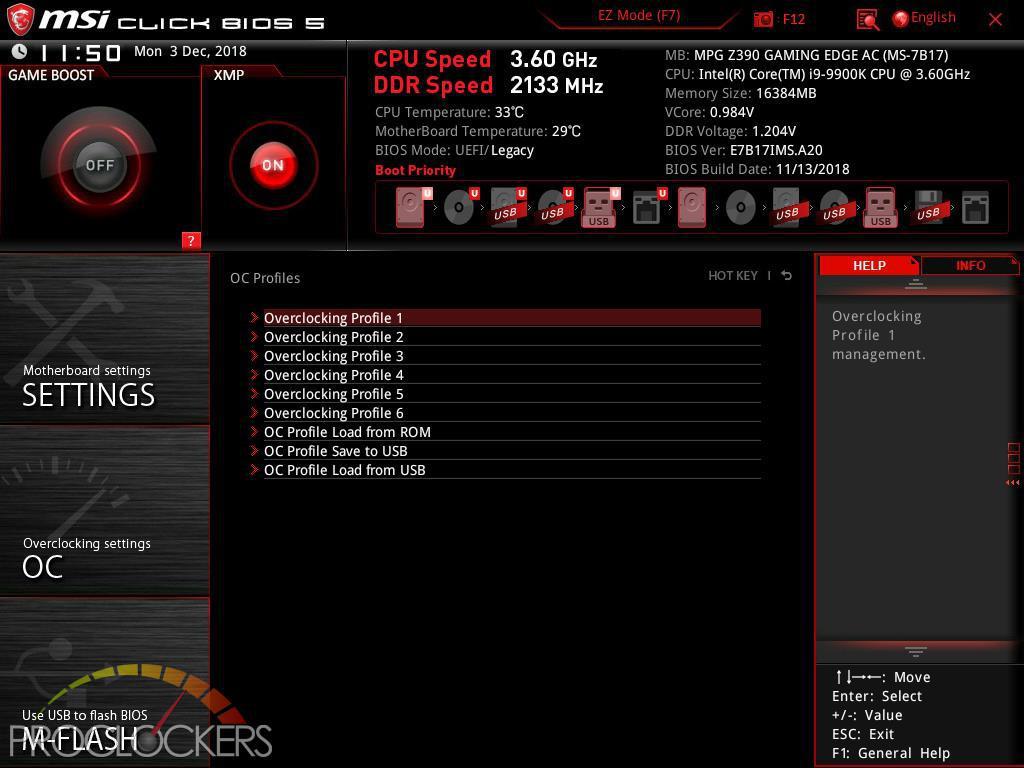 The OC Profile button lets you quickly save and load up to 6 different profiles right from here with the ability to backup and restore from a USB stick.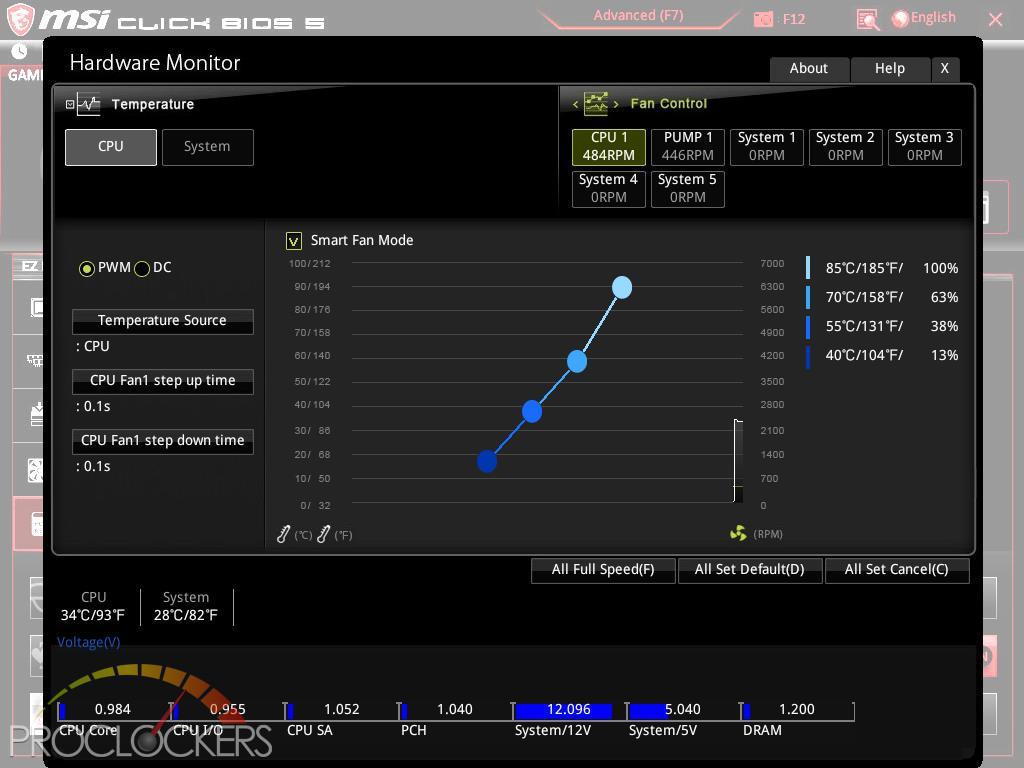 Hardware monitor brings up the same screen here that it does in EZ Mode, and M-flash will reboot you into BIOS flashing mode.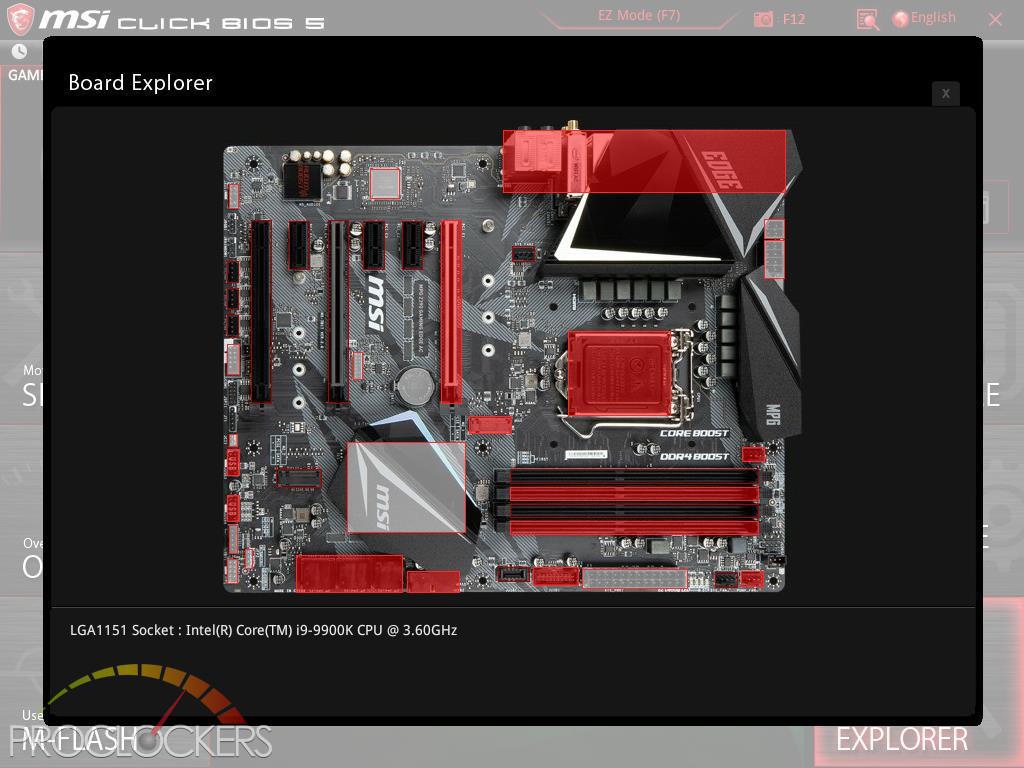 The last area you want to check out is the Board Explorer. A picture of the board will show up and any device highlighted in red has something connected to it. Hovering over that red area will bring up more details about that device. Here we are hovering over the CPU socket, and you can see we have an i9-9900K installed at the moment.
Software

One of the most annoying parts of a new build can be tracking down all the drivers and software you need. MSI makes this incredibly easy on all of their boards with the MSI App Manager. Simply load this up, and let it download and install everything else.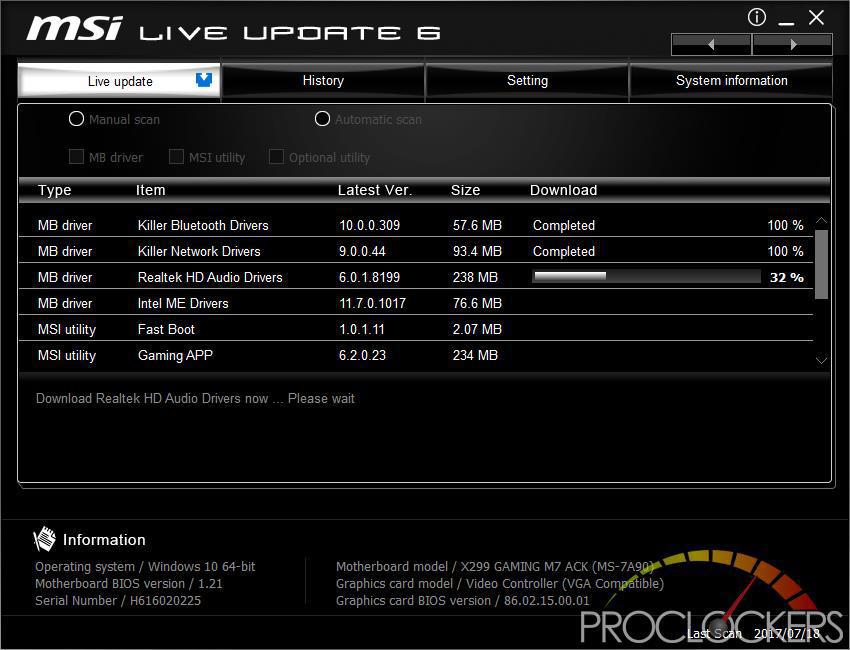 Once you let App Manager install Live Update 6, you can turn around and use it to install all of the missing drivers, as well as update the ones Windows managed to find on its own. Simply click the 'Total Install' button and get everything all in one clean sweep. We are using a picture from another review here; this board was not yet released when reviewed so nothing showed up here, we couldn't just show you an empty screen! If you have used any MSI boards from the last several years, this will look quite familiar though, nothing has changed in a while.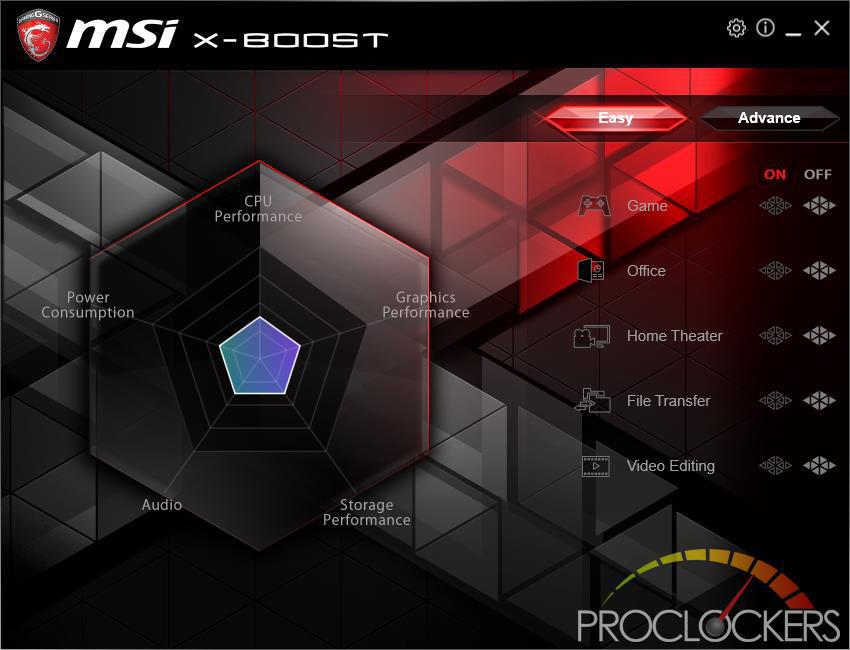 Another great piece of software is MSI's X-Boost. This software package allows you to select different performance profiles for your machine depending on what you are doing.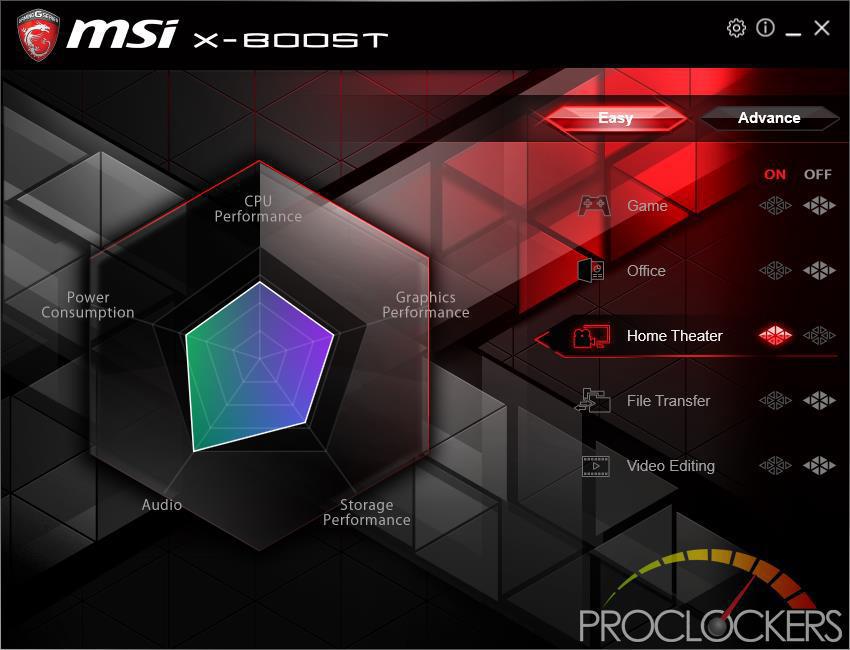 Home Theater, for example, maxes out your Audio performance and gives slight boosts to CPU, GPU, and storage performance. By proxy, this also increases power consumption a bit which is also indicated.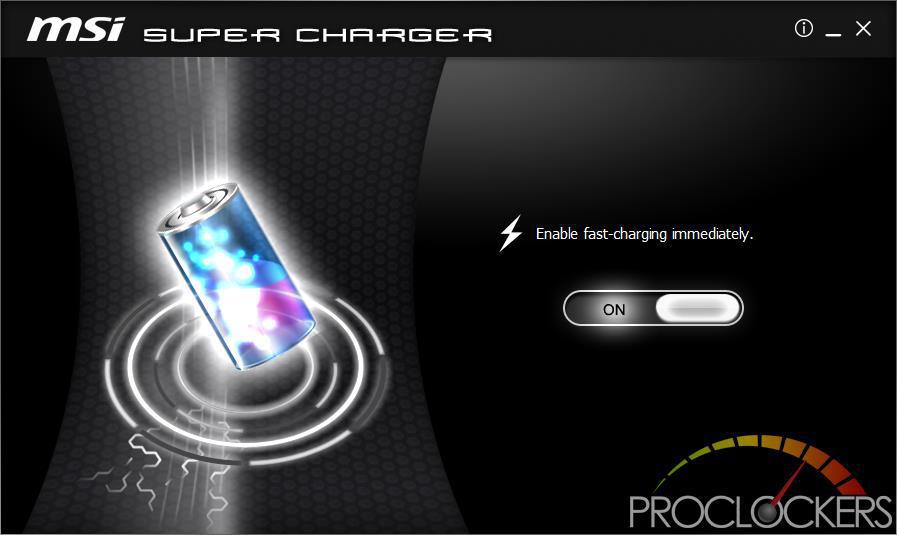 If you frequently use your computer as a power source for charging your phone or tablet, MSI's Super Charger app will kick a few specific USB ports on your machine into high gear for fast charging your devices.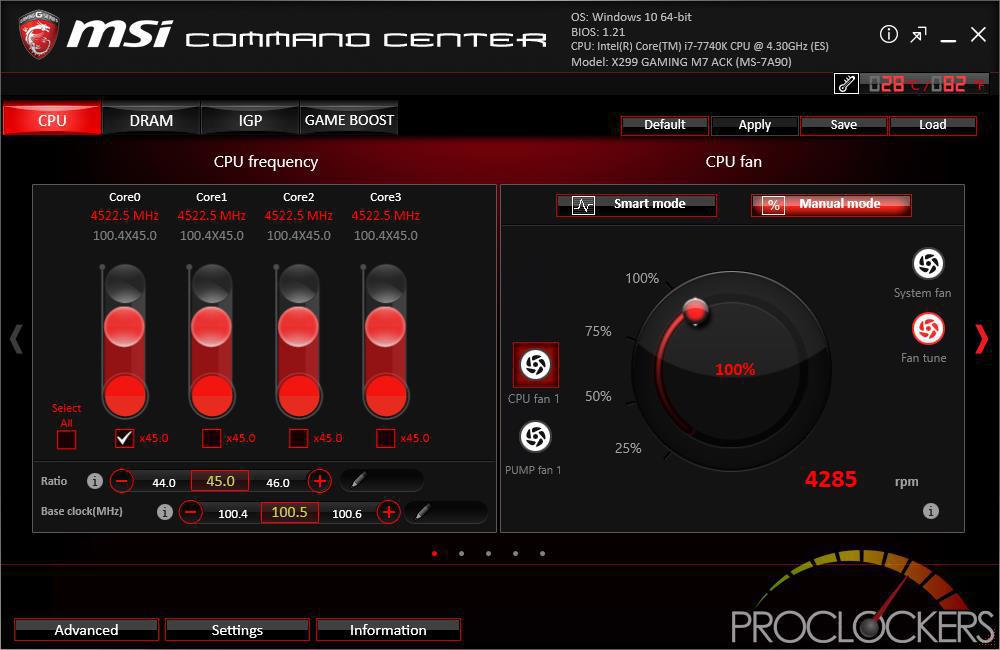 The last important piece of software we'll cover is the Command Center. This brings most of the important overclocking features from the BIOS right into Windows with you from clock speeds to voltages to fan control.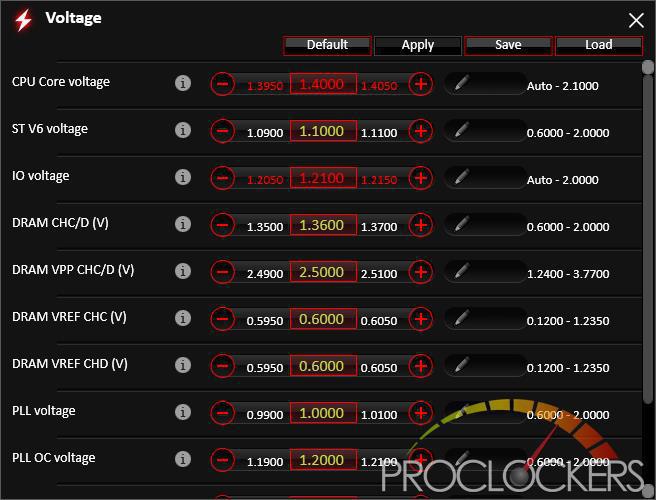 Nearly every important voltage can be tweaked from the Command Center as well, here was during an overclocking run so a few voltages are elevated above normal. This is another one we had to borrow pictures for, the latest version at the time of review did not support the i7-8700K. This will at least give you an idea of what to expect.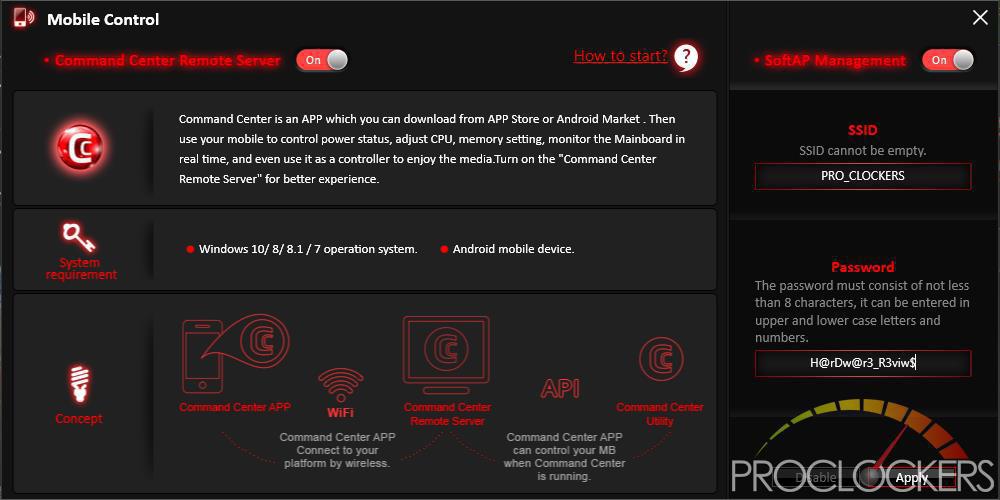 If you are part of the Android crowd, you can run the mobile version of the Command Center from your Android device and adjust your computer's clocks on the fly, even while in game.
Performance Testing
General Performance Testing
All performance testing was done with an i9-9900K and RTX 2080 at default clock speed. CPU was left with Speed Step and Turbo Boost enabled. The only setting changed was enabling XMP memory settings in the BIOS. Games were run at a resolution of 1920 x 1080 and higher settings enabled as noted to place the load on the CPU and motherboard rather than the GPU. MSI's GameBoost was left disabled.
PCMark 10
PCMark 10 is the complete benchmark for the modern office. It is the ideal test for organizations that are evaluating PCs for a workforce with a range of performance needs. The tests in this benchmark cover a wide range of activities from everyday productivity tasks to demanding work with digital media content.
PCMark 10 uses a modular approach to build relevant benchmark tests around common end-user scenarios. A Test Group is a collection of workloads that share a common theme or purpose. There are four test groups in PCMark 10, we use three of them.
Essentials: covers the common, everyday ways that people use a PC. The workloads include Web Browsing, Video Conferencing, and App Start-up time.
Productivity: measures system performance with everyday office applications. This test group includes the Spreadsheets and Writing workloads.
Digital Content Creation: This test group's workload reflects the demands of working with digital content and media. The tests include Photo Editing, Video Editing, and Rendering and Visualization.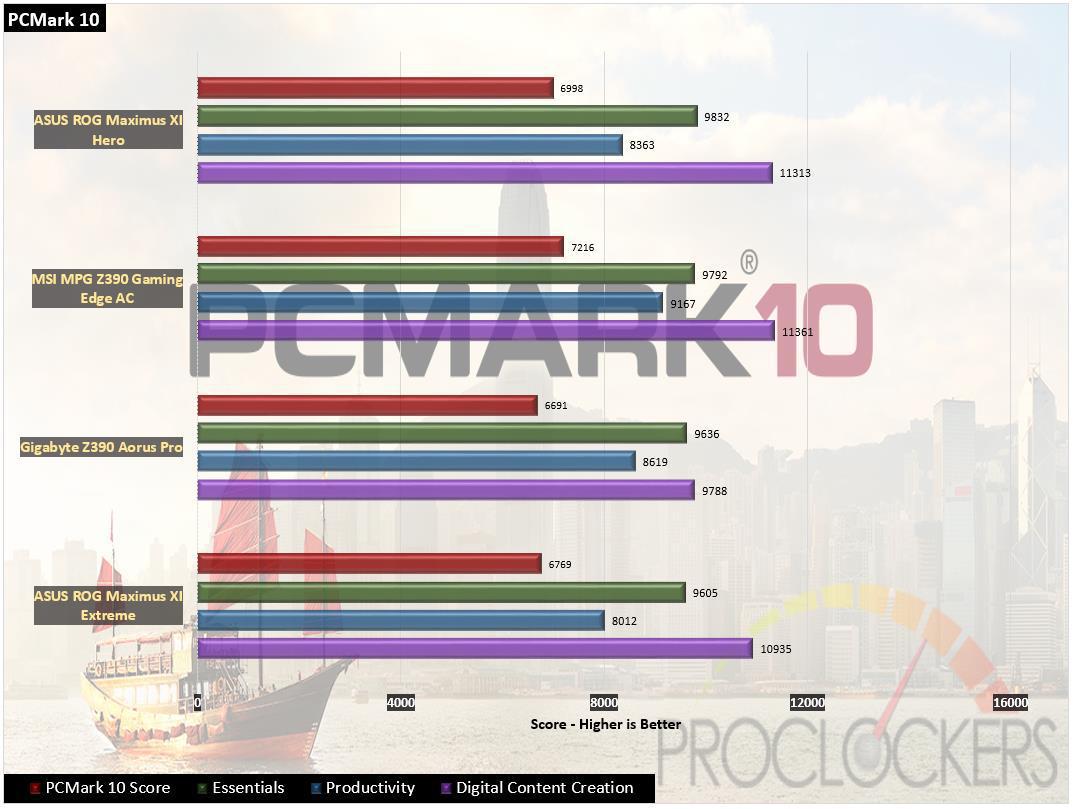 MSI's MPG Z390 Gaming Edge AC comes out of the gate strong, offering up the highest overall PCMark 10 score we've gotten from a Z390 board yet.
WebXPRT 2015
WebXPRT 2013 uses scenarios created to mirror the tasks you do every day to compare the performance of almost any Web-enabled device. It contains four HTML5- and JavaScript-based workloads: Photo Effects, Face Detect, Stocks Dashboard, and Offline Notes. WebXPRT is run with the latest stable release version of Google Chrome browser, in this case, Version 61.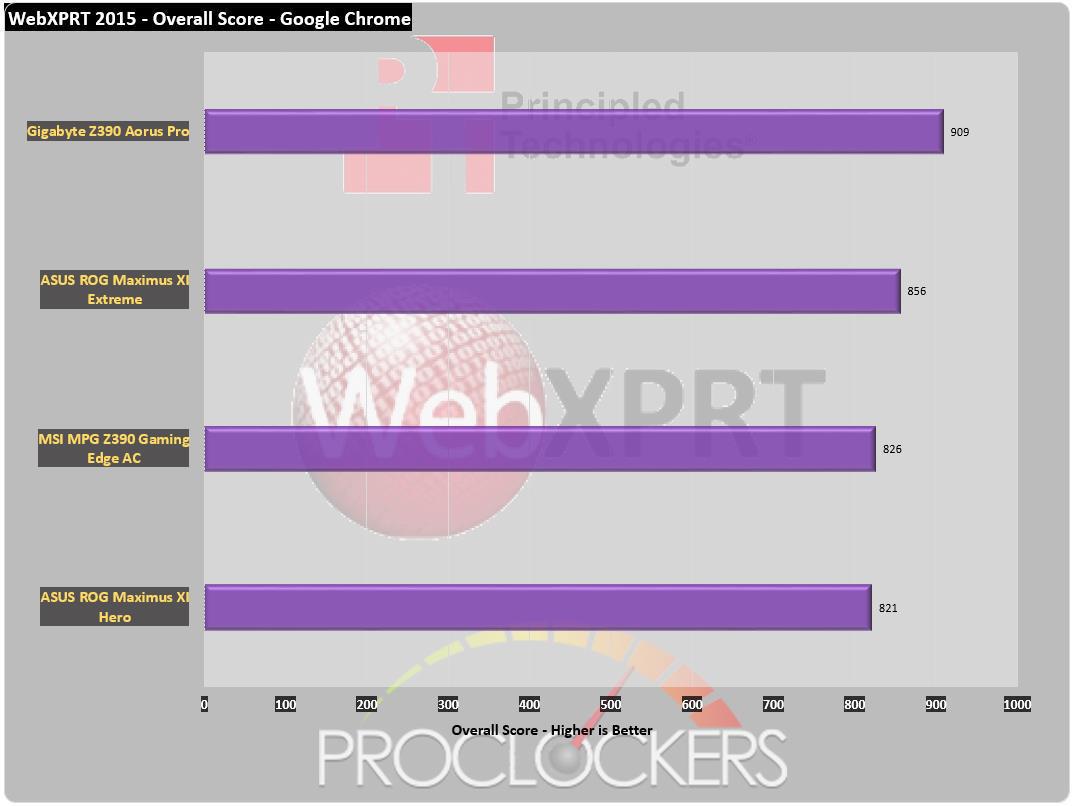 The Edge board wraps up its WebXPRT 2015 run with a score of 826 +/- 16 which is pretty decent.
PassMark PerformanceTest 9
Fast, easy to use, PC speed testing and benchmarking. PassMark PerformanceTest allows you to objectively benchmark a PC using a variety of different speed tests and compare the results to other computers.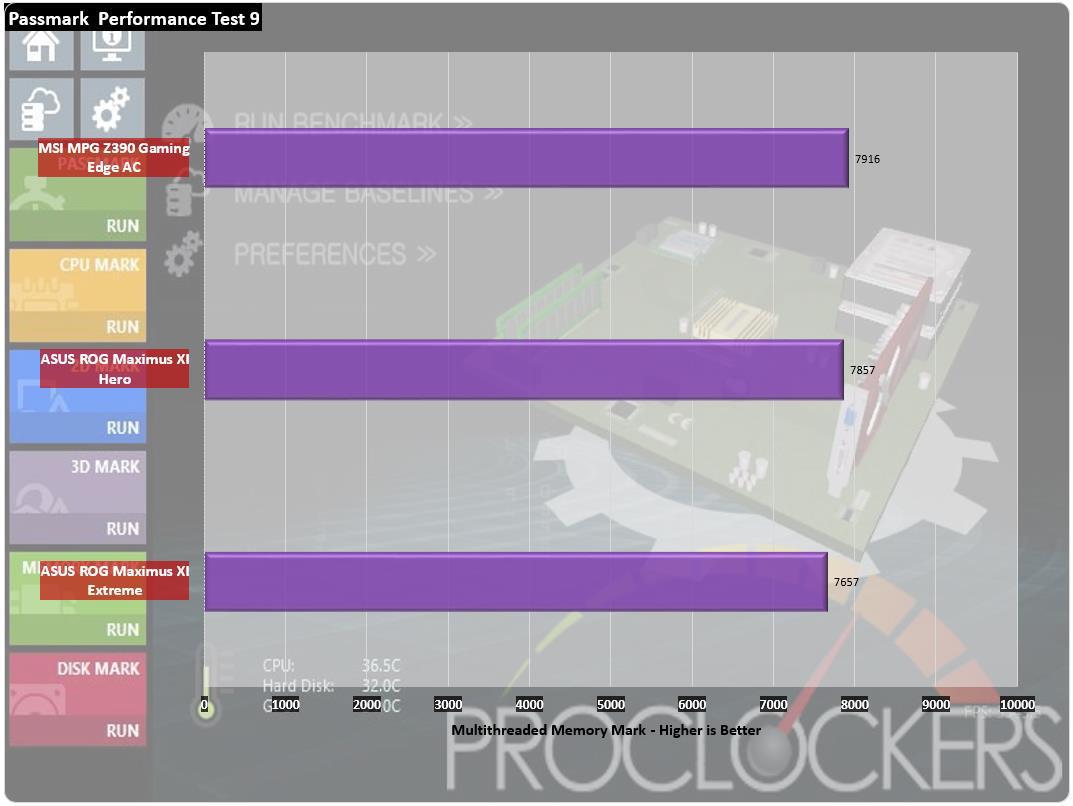 Passmark Performance Test 9 brings the Edge back to 1st place with a score of just over 7900 points.
CPU Performance Testing
Super PI Modded 1.5
"In August 1995, the calculation of pi up to 4,294,960,000 decimal digits was succeeded by using a supercomputer at the University of Tokyo. The program was written by D.Takahashi in collaboration with Dr.Y.Kanada at the computer center. This record should be the current world record. (Details are shown in the windows help.) This record-breaking program was ported to personal computer environments such as Windows NT and Windows 95. In order to calculate 33.55 million digits, it takes 3 days with a Pentium 90 MHz, 40 MB main memory and 340 MB available storage."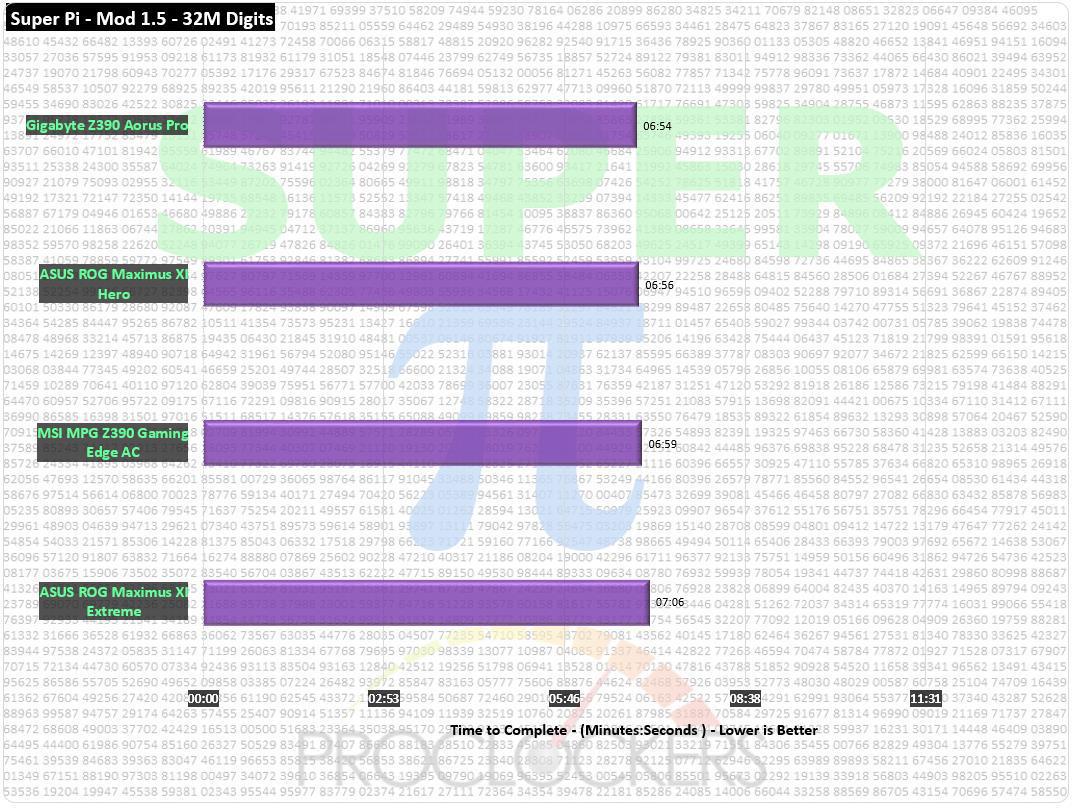 Super Pi gives us a time of 6 minutes at 59.2 seconds for 32M digits.
CINEBENCH R15
"CINEBENCH is a real-world cross platform test suite that evaluates your computer's performance capabilities. CINEBENCH is based on MAXON's award-winning animation software CINEMA 4D, which is used extensively by studios and production houses worldwide for 3D content creation. MAXON software has been used in blockbuster movies such as Iron Man 3, Oblivion, Life of Pi or Prometheus and much more.
CINEBENCH is the perfect tool to compare CPU and graphics performance across various systems and platforms (Windows and OS X). And best of all: It's completely free."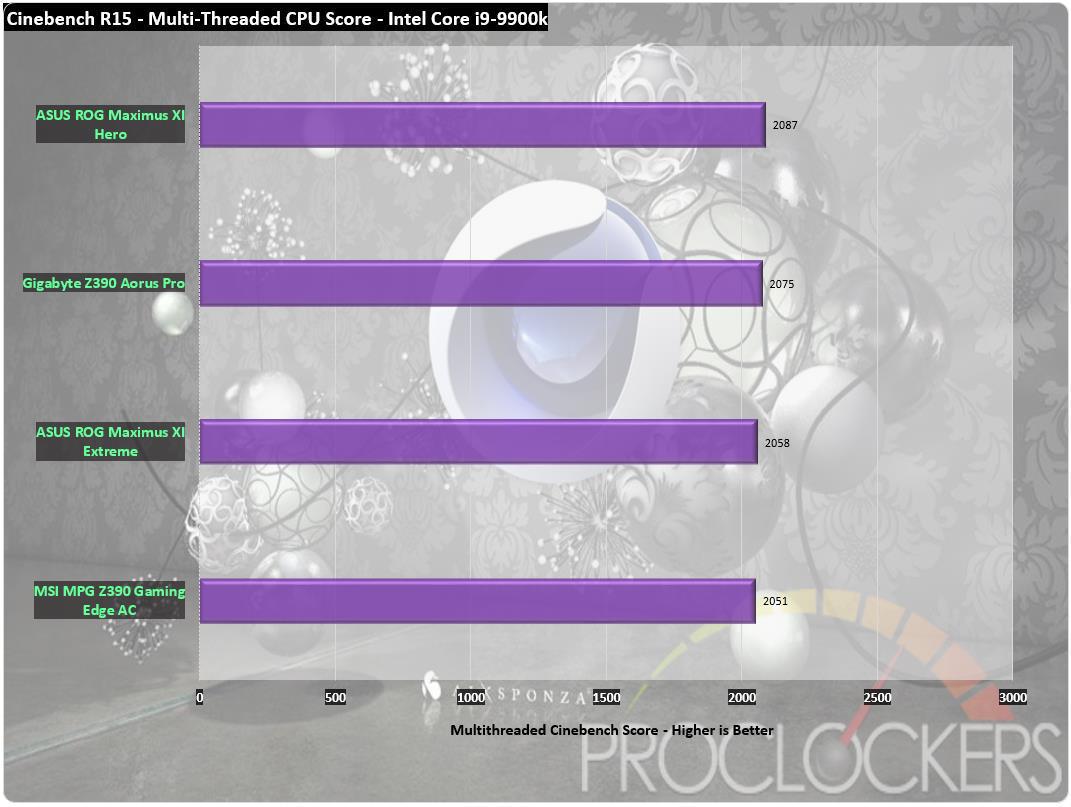 All of our scores are pretty close with a spread barely spanning 30 points, so a score of 2051 points is pretty well right in line.
7-Zip
The benchmark shows a rating of MIPS (million instructions per second). The rating value is calculated from the measured speed, and it is normalized with results of Intel Core 2 CPU with multi-threading option switched off. So if you have modern CPU from Intel or AMD, rating values in single-thread mode must be close to real CPU frequency. There are two tests, compression with LZMA method and decompression with LZMA method. Once the total passes reach 20 or more, the score is taken.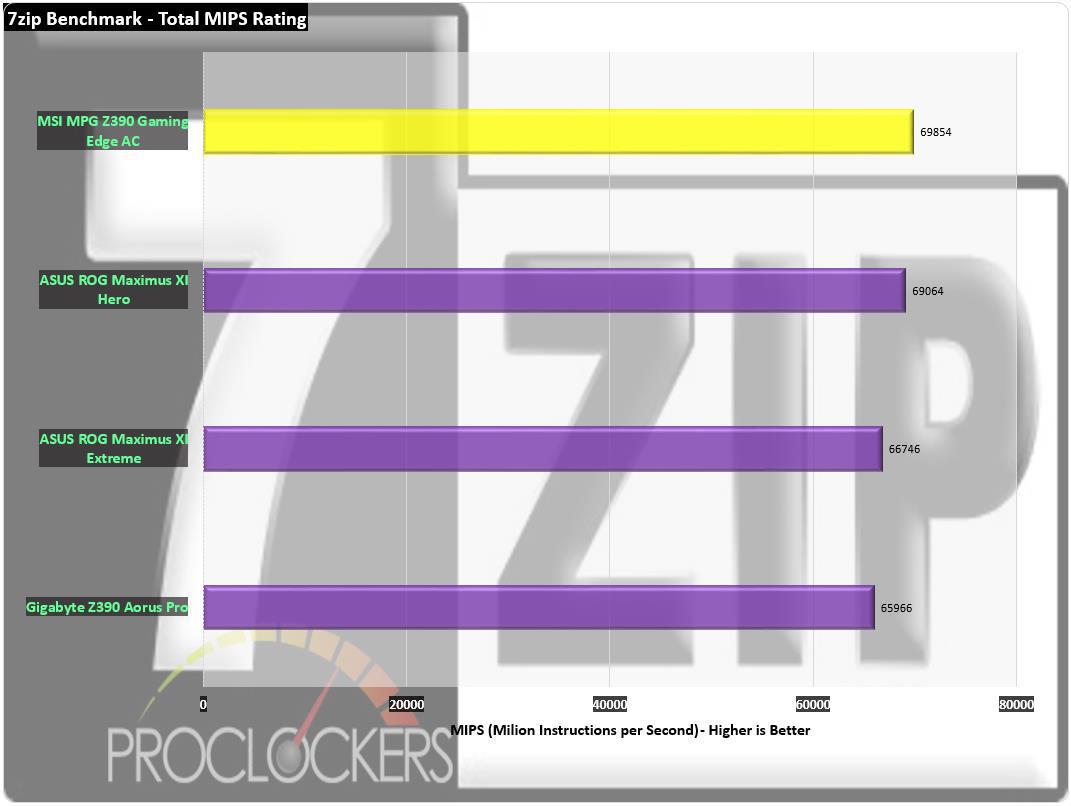 In 7-Zip's built-in benchmark, the MPG board squeezes almost 800 more points of the same CPU as the next close CPU.
Memory Performance Testing
AIDA64 Engineer Edition
"FinalWire Ltd. today announced the immediate availability of AIDA64 Extreme Edition 1.50 software, a streamlined diagnostic and benchmarking tool for home users; and the immediate availability of AIDA64 Business Edition 1.50 software, an essential network management solution for small and medium scale enterprises. The new AIDA64 update implements AVX-optimized benchmarks for the upcoming Intel Sandy Bridge processors, adds a brand-new video encoding benchmark, and supports the latest AMD and NVIDIA graphics processors."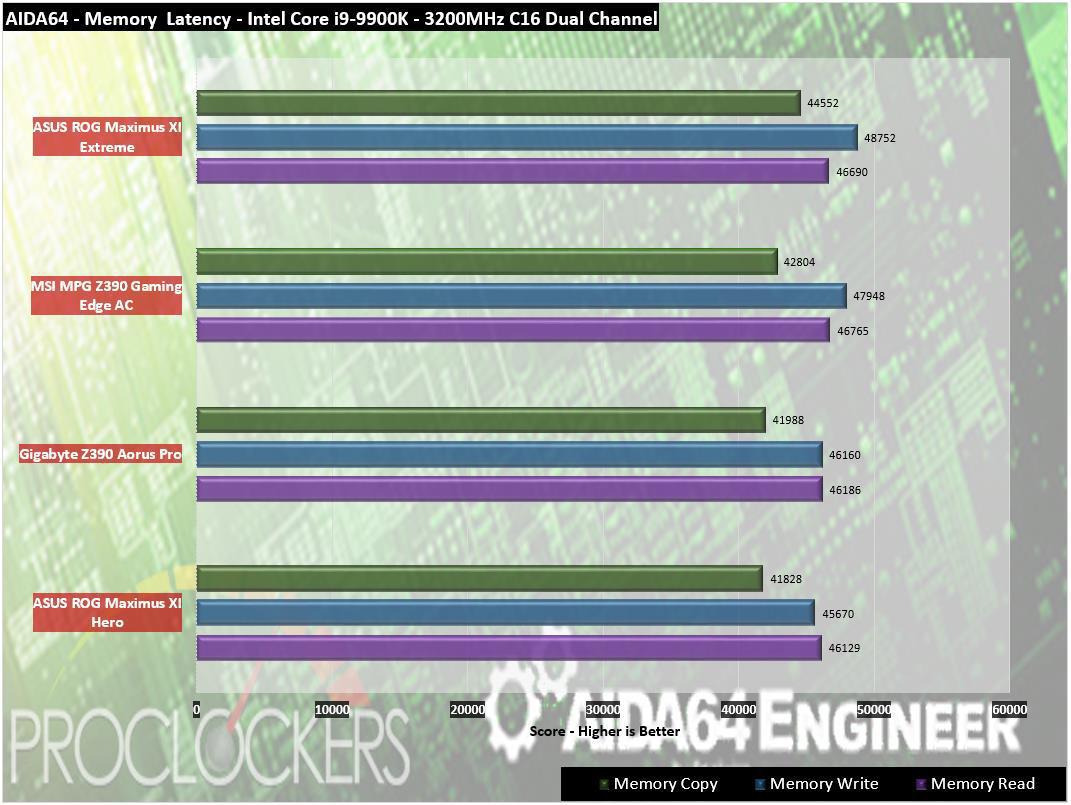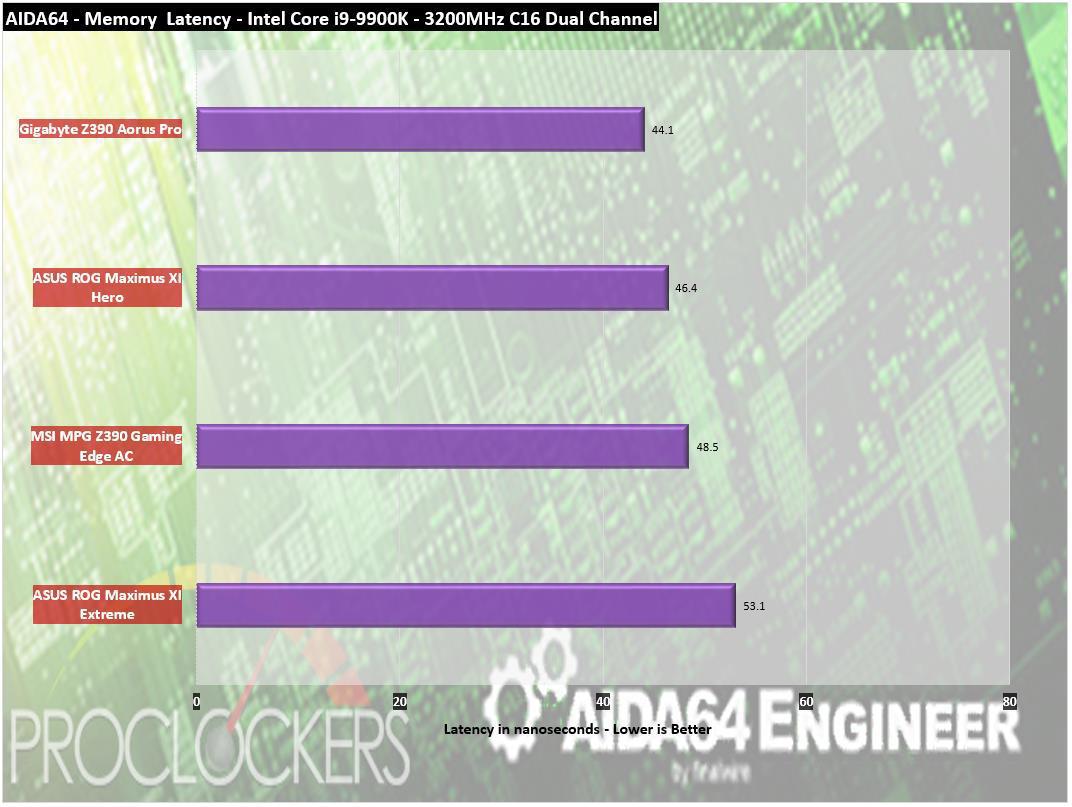 We've always experienced high memory performance with MSI boards and the MPG Z390 Gaming Edge AC doesn't disappoint.
Passmark Performance Test – Memory Mark – Threaded
"Fast, easy to use, PC speed testing and benchmarking. PassMark Performance Test ™ allows you to objectively benchmark a PC using a variety of different speed tests and compare the results to other computers."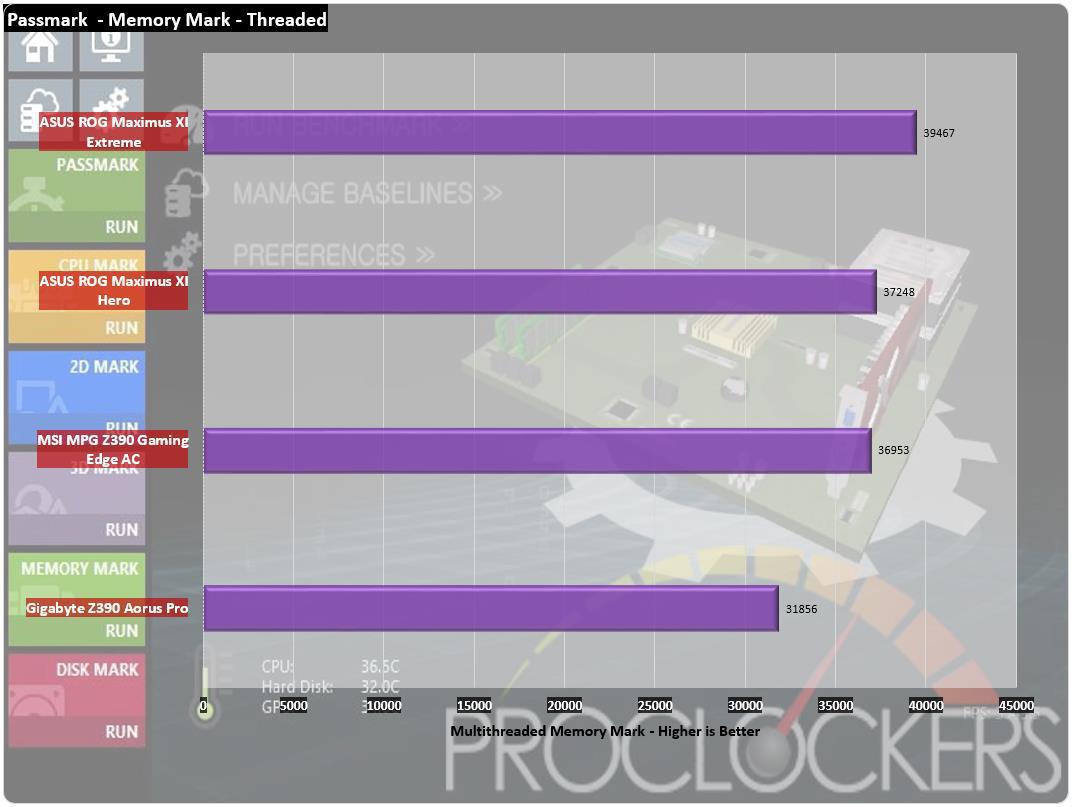 Performance is a little closer to the middle of the pack in Passmark's Threaded Memory Mark test.
SiSoft Sandra
"SiSoftware Sandra provides a robust package of diagnostic tools for testing your system and teasing out its problems–or potential headaches."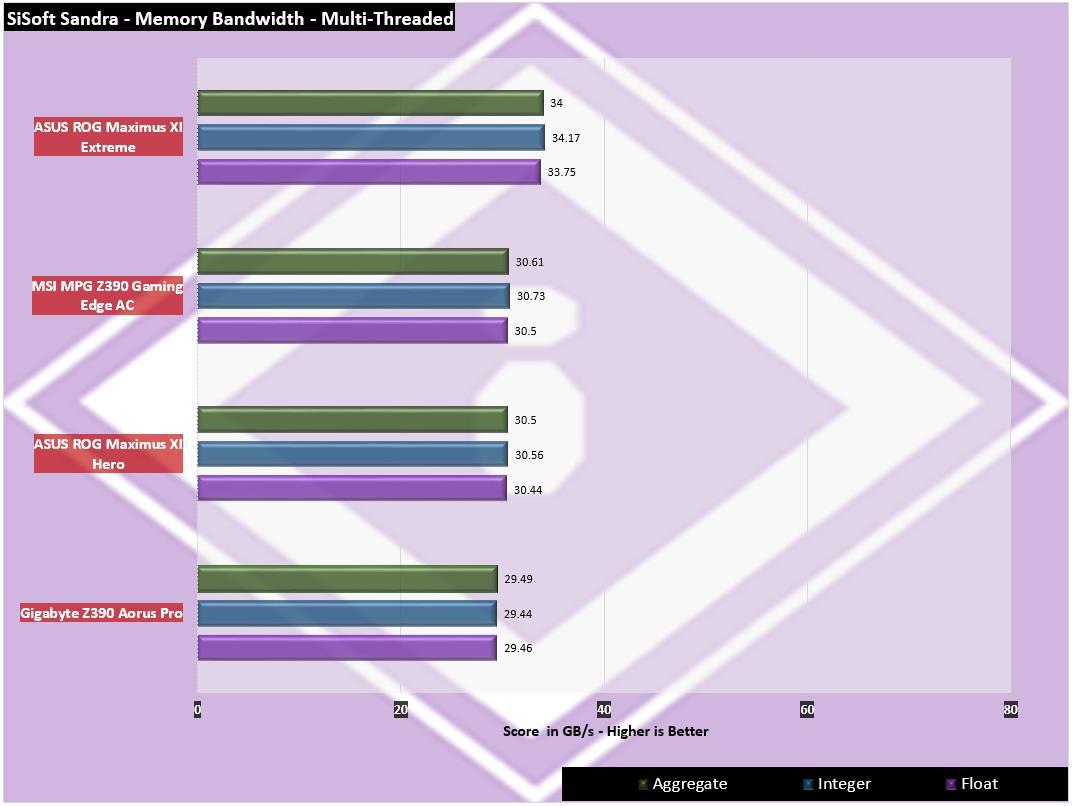 The MPG board comes in second in Sisoft.
Storage Testing
ATTO Disk Benchmark
"As the industry's leading provider of high-performance storage & network connectivity products, ATTO has created a widely-accepted Disk Benchmark freeware utility to help measure storage system performance. As one of the top tools utilized in the industry, Disk Benchmark identifies performance in hard drives, solid state drives, RAID arrays as well as connections to storage. Top drive manufacturers, like Hitachi, build and test every drive using the ATTO Disk Benchmark"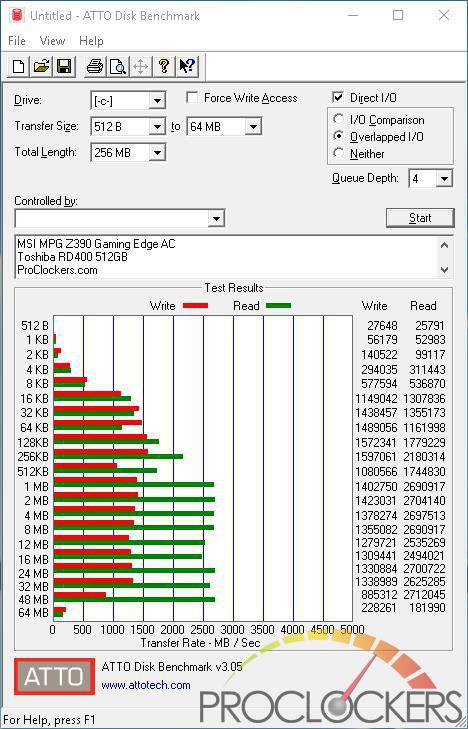 As our drive is getting pretty full, performance is a little all over the place, but we don't see any bottlenecks here related to the board.
CrystalDiskMark 6.0
"CrystalDiskMark is designed to quickly test the performance of your hard drives. Currently, the program allows measuring sequential and random read/write speeds."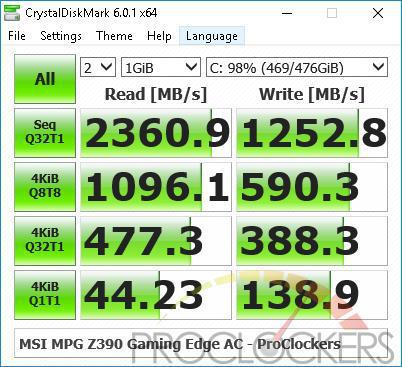 Same song and dance in CrystalDiskMark, right where it should be.
AS SSD
The AS SSD benchmark determines the performance of Solid State Drives (SSD). The tool contains six synthetic and three copy tests.
The synthetic tests determine the sequential and random read and write performance of the SSD. These tests are performed without using the operating system cache. In the sequential test, the program measures how long it takes to read and write a 1 GB file. In the 4K test, read and write performance is determined for randomly selected 4K blocks. The 4K-64 Third test is equivalent to the 4K procedure, except that the read and write operations are distributed to 64 threads. This test should show differences between the IDE operating mode where NCQ is not supported and the AHCI mode for SSDs with Native Command Queuing (NCQ). The additional compression test can measure the performance of the SSD as a function of the compressibility of the data. This is especially important for the controllers that are used to increase the performance and life of the cell compression.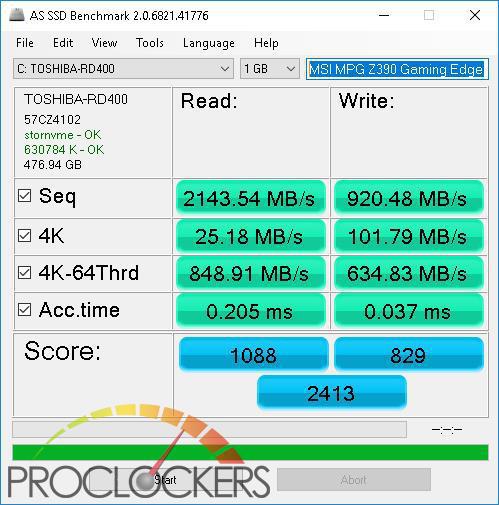 AS SSD comes in a bit slow on the write, but again that's most likely due to our fill level.
Game Testing
3DMark – Fire Strike
"Fire Strike is a showcase DirectX 11 benchmark designed for today's high-performance gaming PCs. It is our most ambitious and technical benchmark ever, featuring real-time graphics rendered with detail and complexity far beyond what is found in other benchmarks and games today"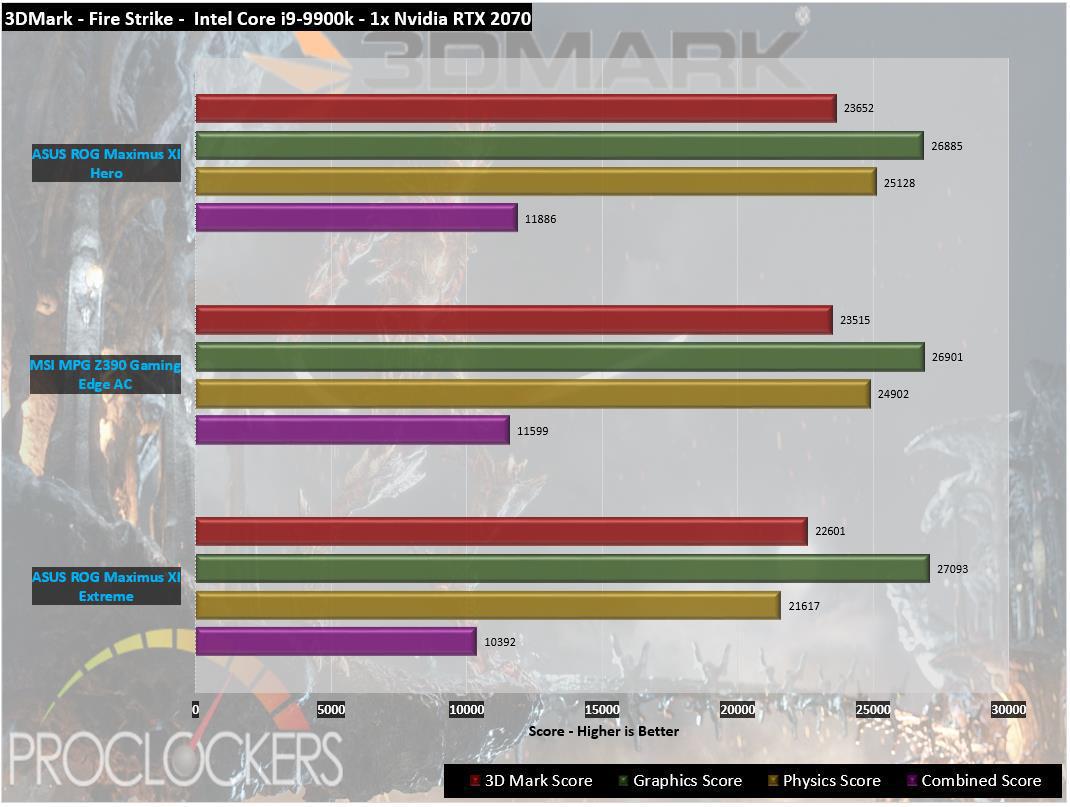 Synthetic gaming performance comes out of the gate strong, only about 100 points from being first place.
3DMark – Time Spy
"3Dmark Time Spy is a new DirectX 12 benchmark test for Windows 10 gaming PCs. Time Spay is one of the first DirectX 12 apps to be built "the right way" from the ground up to fully realize the performance gains that the new API offers. With DirectX 12 engine, which supports new API features like asynchronous compute, explicit multi-adapter, and multi-threading, Time Spy is the ideal test for benchmarking the latest graphics cards."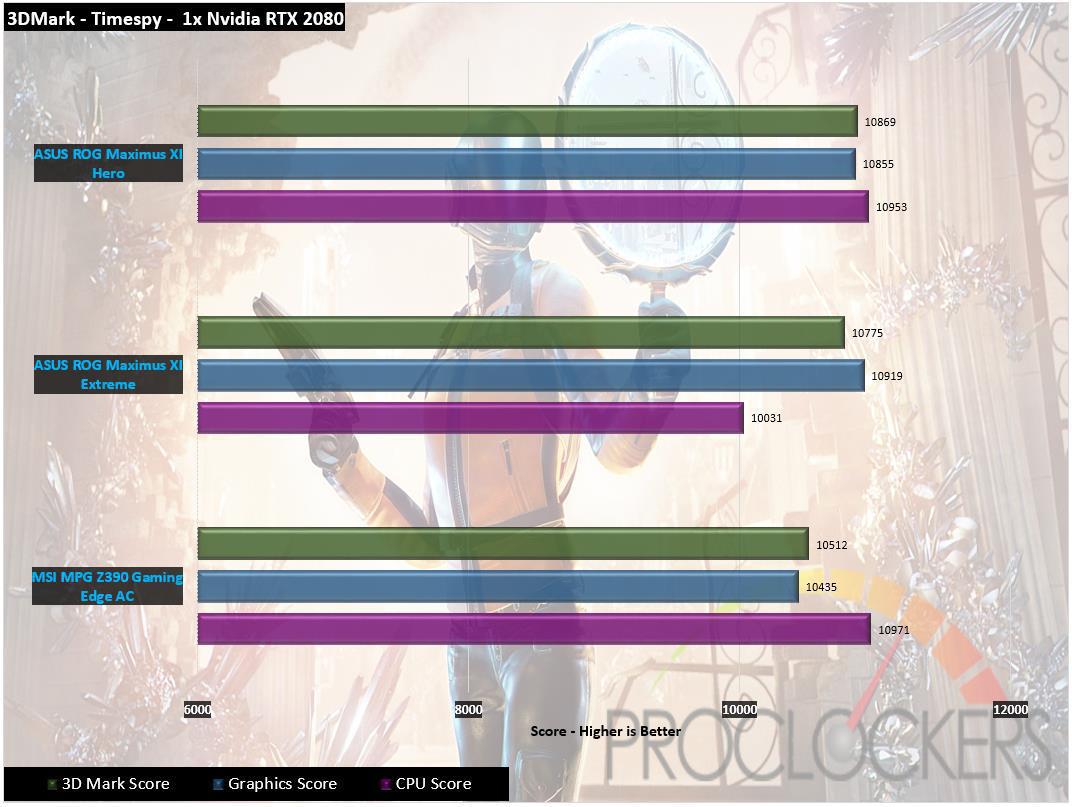 Timespy shows just a touch lower overall score but knocks out a win for the CPU physics test.
Grand Theft Auto: V
"When a young street hustler, a retired bank robber, and a terrifying psychopath find themselves entangled with some of the most frightening and deranged elements of the criminal underworld, the U.S. government and the entertainment industry, they must pull off a series of dangerous heists to survive in a ruthless city in which they can trust nobody, least of all each other."
Talk about splitting hairs, 0.1FPS difference from a first place here.
Rise of the Tomb Raider
Rise of the Tomb Raider is an action-adventure video game developed by Crystal Dynamics and published by Square Enix. It is the sequel to the 2013 video game Tomb Raider, a reboot of the Tomb Raider franchise. It was released on Xbox One and Xbox 360 in November 2015 and for Microsoft Windows in January 2016. It is set to release for PlayStation 4 in the second half of 2016.
Rise of the Tomb Raider was officially announced in June 2014. The game's storyline follows Lara Croft as she ventures into Siberia in search of the legendary city of Kitezh, whilst battling a paramilitary organization that intends on beating her to the city's promise of immortality. Presented from a third-person perspective, the game primarily focuses on survival and combat, while the player may also explore its landscape and various optional tombs. Camilla Luddington returns to voice and performs her role as Lara.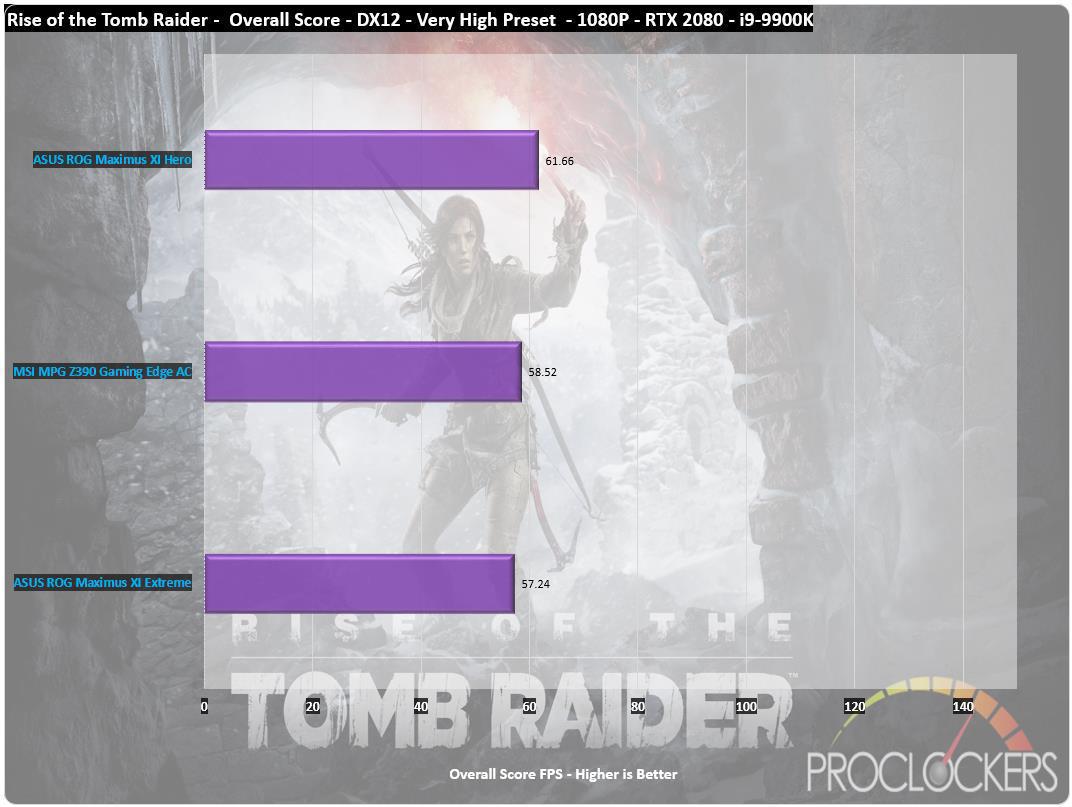 Rise of the Tomb Raider comes in at 58.52 FPS overall, right in the middle of the pack.
Overclocking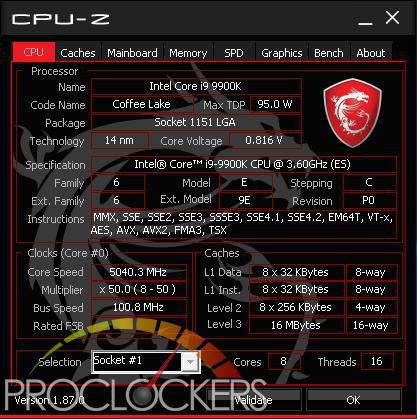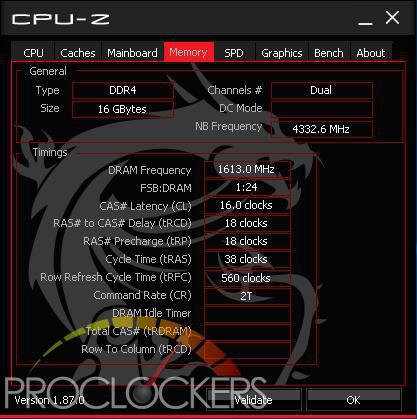 Starting out stock, we see the 9900K bouncing around between 4.33GHz and 5.04GHz as MSI seems to have the base clock bumped up to 100.8MHz even at 'stock'.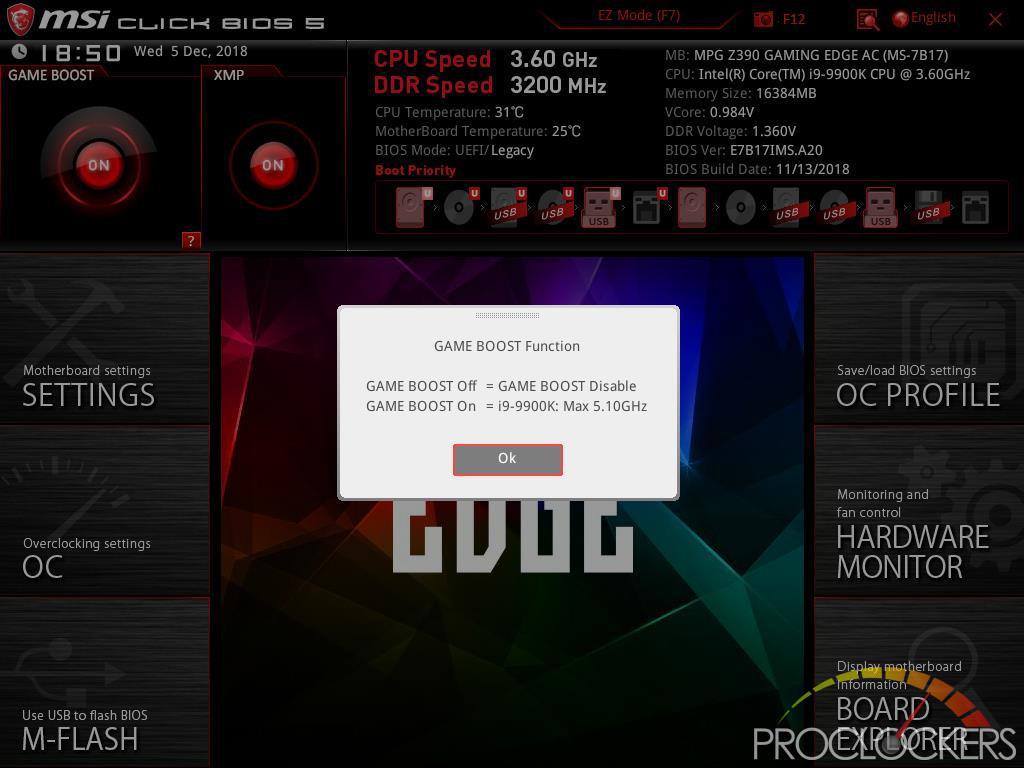 We'll start out testing MSI's Game Boost Function.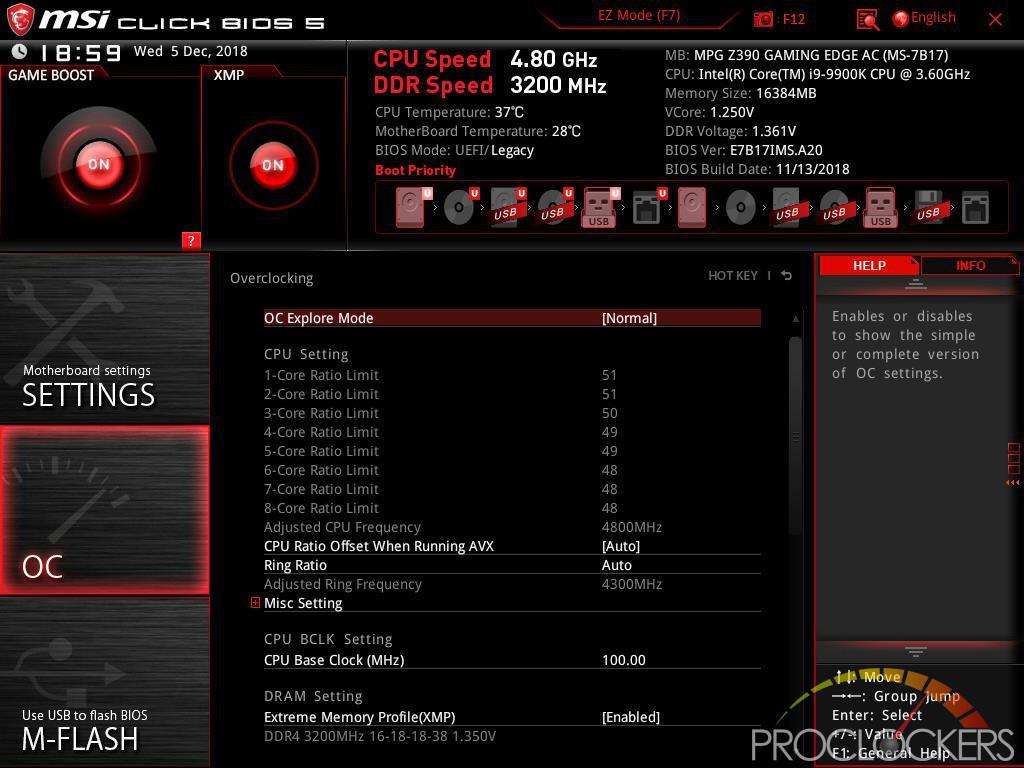 We see in the OC section that this does indeed give us a max of 5.1GHz with 2 cores active and scaling down to 4.8Ghz with all cores active.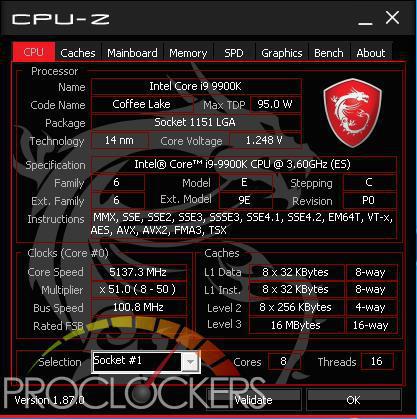 Interestingly, MSI still holds on to that little extra on the base clock even under Game Boost.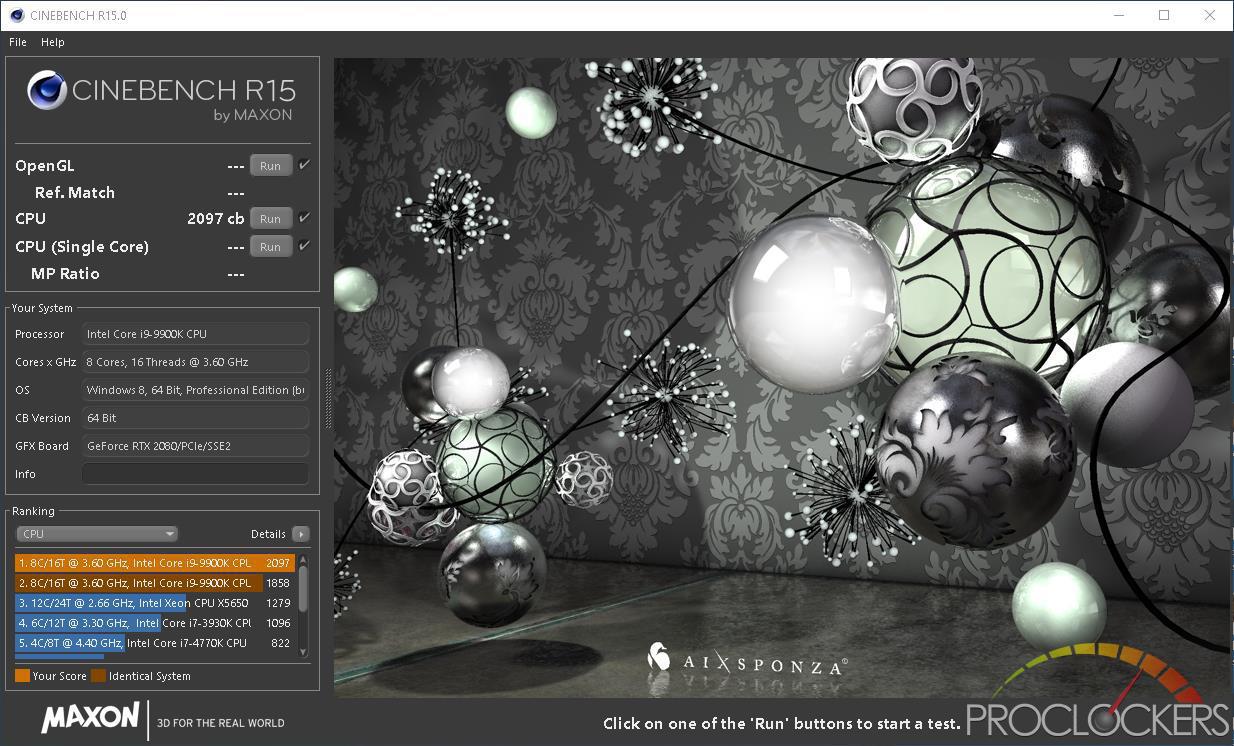 This only gets us about 50 more points in Cinebench over stock.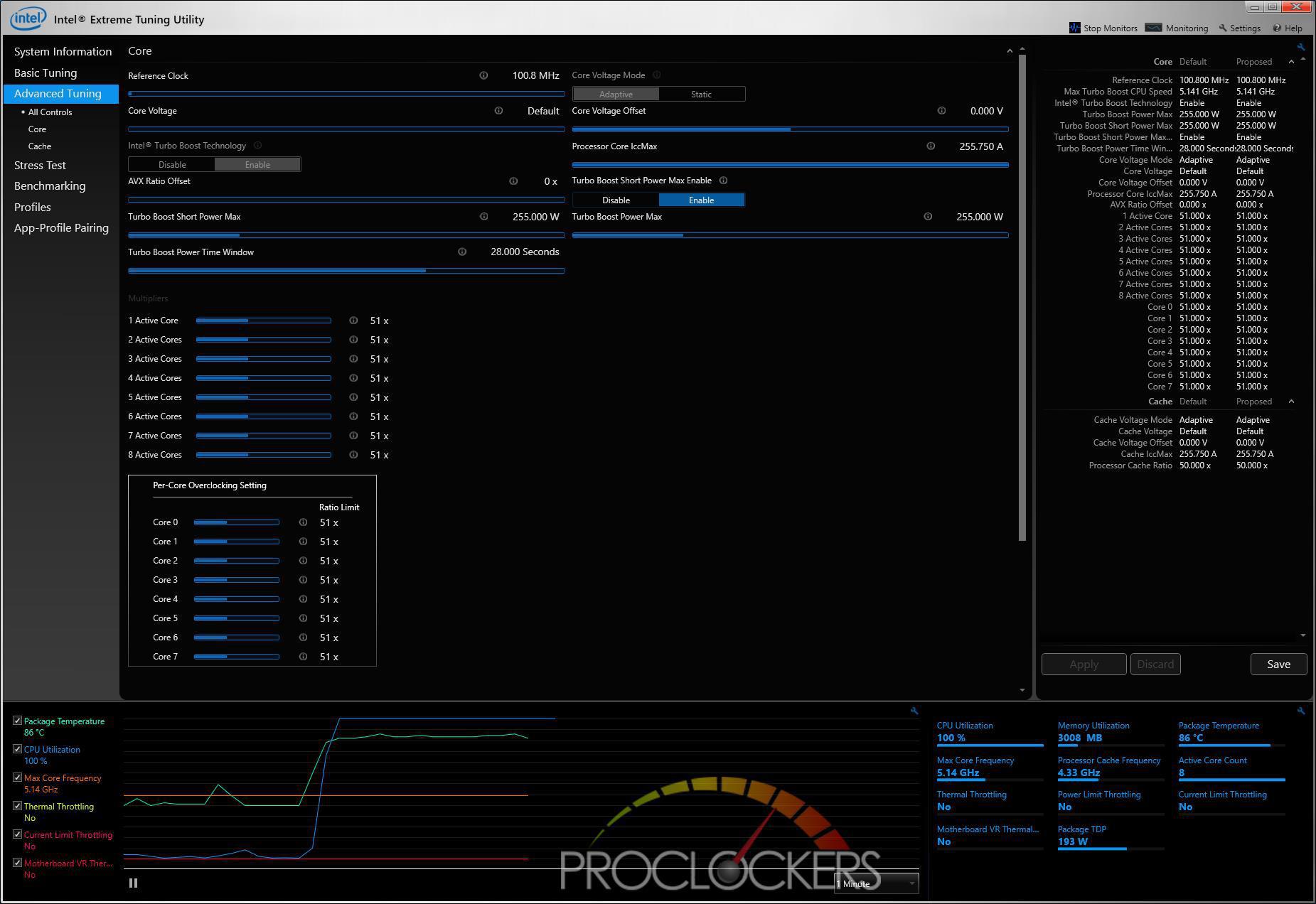 Next, we'll push all cores to 5.1Ghz. This puts us very close to our self-imposed limit of 90C max temps, so we'll go no further.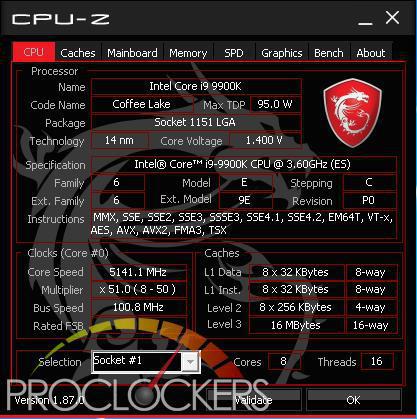 And yes, we still have that little extra from the base clock giving us a final clock speed of 5.141.1MHz.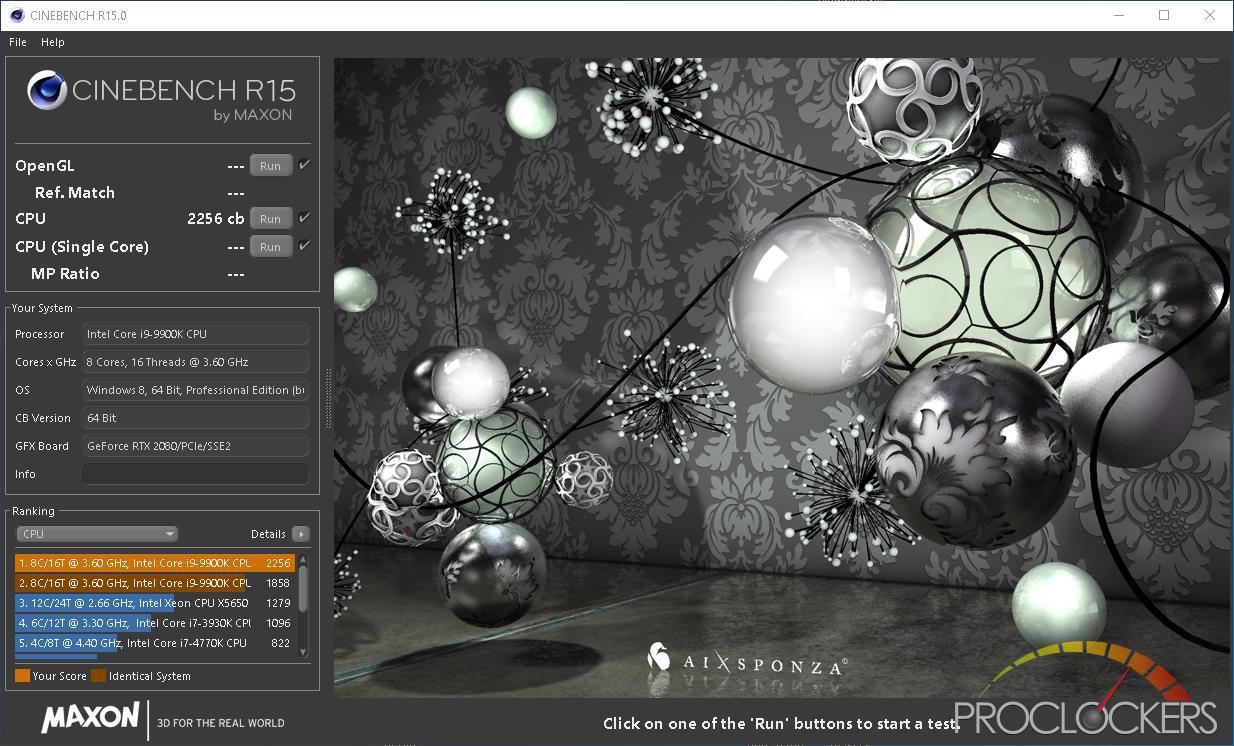 Doing this gives us a pretty significant jump in our Cinebench score, almost 10% to be exact.
Final Thoughts & Conclusion

Once again, MSI works its magic and brings high performance to a midrange price point without giving anything up. MSI really seems to like that extra little bit on the base clock and the only way to really go fully 'stock' per Intel specifications is to go fully manual and lock the base clock to 100.0MHz. The average user won't really notice anything beyond a good level of performance with no real negatives, but more savvy over-clockers will need to keep this in mind.

As far as features go, there really isn't anything left to want here. Lots of USB ports, Dual M.2 slots, Intel Ethernet and Wi-Fi, tons of fan headers, tons of RGB headers that includes one specifically compatible with Corsair addressable accessories and on-board Mystic Light RGB pretty well checks all the boxes for any gamer. If you want all of the above without the second mortgage, look no further.

Great Job MSI!

<![CDATA[ */ var zbjs = {"ajaxurl":"https:\/\/gaminggorilla.com\/wp-admin\/admin-ajax.php","md5":"d8e8b24d2fa18d2999e0fddcdd418586","tags":[],"categories":["Hardware"]}; /* ]]>