MSI MPG Z390 Motherboard Review
Should you go for the MSI MPG Z390 Gaming Pro Carbon or choose a new Z490 motherboard?
The MSI MPG Z390 Gaming Pro Carbon brings power to overclock your chipset, but should you look for a newer one now that we're in Q2 2020? Remember that the Z490 motherboard was launched last month, coming with a new LGA 1200 socket and an increase from DDR4 2666 to DDR4 2933.
When the Core I9-9900K CPU got launched in 2018, gamers that wanted the best processor would want to grab this baby and put them on their gaming rig. The Core I9-9900KS that was launched in late 2019 was definitely an upgrade, but costed double. What really was important was that the best motherboard for the Core I9-9900K chipset was the MPG Z390 Gaming Pro Carbon by MSI.
Not only it did a great job at keeping cool, it helped the CPU push the limit in terms of performance, and it was also bringing the RGB trend on board. Let's take a closer look and talk about the technical specs, performance and features in our MSI MPG Z390 Motherboard Review.
MSI MPG Z390 Gaming Pro Carbon: Pros and Cons
+ Pros: good results for CPU overclocking, good voltage regulator, good price
– Cons: not as many I/O ports as its predecessor had, memory overclocking is mediocre
The MSI MPG Z390 Gaming Pro Carbon is what you'd look for if you want to have a balance between performance, features and price. Only a little more expensive than its predecessor and much cheaper than this year's Z490, the Z390 from MSI is a promising board for those that haven't upgraded their rig. For those building a new one, new generations of motherboards are usually the better option as they allow users a longer upgrade path.
MSI MPG Z390 Gaming Pro Carbon Technical Specifications
Socket: LGA 1151
Chipset: Intel Z390
Form factor: ATX
Voltage Regulator: 11 Phases
CPU Support: 9th/ 8th Gen Intel Core / Pentium Gold / Celeron processor
Memory support: Dual-channel, four slots DDR4 2666, max 128GB
Sound: Eight-channel Realtek ALC 1220, HD Audio with Audio Boost 4
Networking: 1 x Intel Gigabit Ethernet, 802.11ac Wi-Fi, Bluetooth 5.0
Ports: 2 x M.2 (PCIe 3.0 x4 32Gbps/SATA 6Gbps up to 22110), 6 x SATA 6Gbps, 3 x USB 3.1 Type-A, 1 x USB 3.1 Type-C, 1 x USB 3.1 header, 4 x USB 3.0 (via headers), 6 x USB 2.0 (4 via headers), 1 x LAN, audio out, line in, mic, Optical S/PDIF out
Dimensions (mm):305 x 244
Extras: Wi-Fi aerials, RGB LED extension cable, M.2 heatsink
MPG stands for MSI Performance Gaming, and since it's aimed at gamers, you also get some RGB with it. The strong voltage regulator does a good job at handling the Core i9-9900K heftier power requirement. The MPG Z390 has five doubled phases for its CPU core and one for the iGPU since most users don't need to use the CPU's integrated GPU. For the Wi-Fi version, the MSI MPG Z390 Gaming Pro Carbon-AC will cost around $20 more than the board with no Wi-Fi module.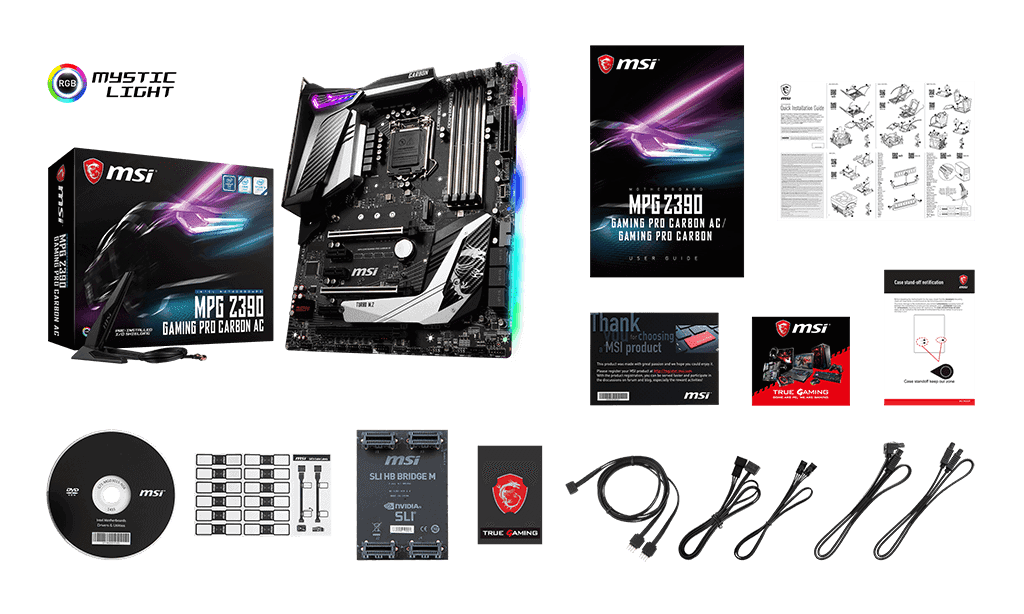 MSI MPG Z390 Gaming Pro Carbon
Software and Performance
The motherboard comes with an installation disk that includes MSI Mystic Light to help you tweak that sweet RGB. The MSI Dragon Center is where you can find overclocking controls, monitoring, display gamma control, and network optimization, as well as save profiles with your custom O/C settings.
In terms of performance, the MSI MPG Z390 Gaming Pro Carbon has seen the same results as other Z390 motherboards (take Gygabyte Z390 Aorus Master, for instance). It clearly won in the power efficiency test, as it used slightly lower voltage under high loads.
MSI MPG Z390 Gaming Pro Carbon: Conclusion
If you are overclocking a Core i9-9900K, the Z390 Gaming Pro Carbon is the motherboard to look for since it can easily power those extra cores, also having enough room for overclocking. Aside from the small selection of rear USB ports, and the extra fan headers, the Gigabyte Z390 Aorus Pro takes the crown. However, the MPG Z390 has plenty of great features that we've talked about above, including more USB future-proofing and the Wi-Fi module in the same range price as the Z390 Aorus Pro.
But what about the MSI MPG Z390 Gaming Pro Carbon versus the Z490 motherboards? The prices are nearly the same, and then again, the Z490 boards were release a month ago. The cheapest Z490 starts at $199 (Asus TUF Gaming Z49-Plus (Wi-Fi), Gigabyte Z490 Vision G (Gaming SLI)) and the most expensive one goes up to $1,299 (Gigabyte Z490 AORUS Xtreme Waterforce).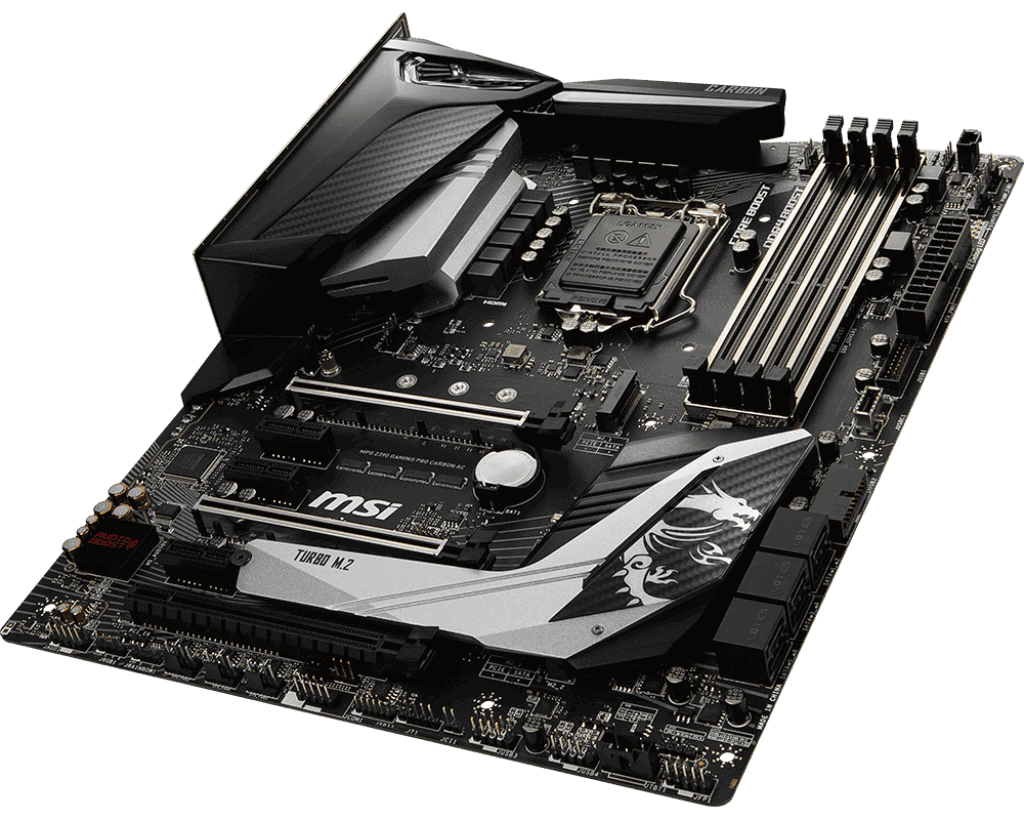 Looking at the MSI MPG Z390 Gaming Pro Carbon, we see it sells for around $125-$160, meaning that you still get a bargain for a gaming motherboard that is not that old and can still be relevant in 2020. However, if you want to get the best from your new CPU or upgrade it in the future, we recommend to check out the Z490 motherboards and see which model is a much higher upgrade over the MSI MPG Z390 Gaming Pro Carbon.

<![CDATA[ */ var zbjs = {"ajaxurl":"https:\/\/gaminggorilla.com\/wp-admin\/admin-ajax.php","md5":"d8e8b24d2fa18d2999e0fddcdd418586","tags":[],"categories":["Hardware"]}; /* ]]>