NZXT E850 850W Modular Digital Power Supply Review
Introduction
NZXT is no stranger to power supplies, having several models launch over the years, the last of which was nearly two years ago, but it is not really what they are known for. You probably think of cases and RGB fans when you think of NZXT, but with the help of power supply juggernaut Seasonic, NZXT is jumping back in the power supply world with a big hammer, or three of them to be precise. Available in 500W, 650W and 850W capacities, the new E-series power supplies feature a fully modular cable system, digital DSP monitoring, and control through its CAM utility, 80+ Gold certification, and 105C rated Japanese capacitors all under a 10-year warranty.
ProClockers would like to thank NZXT for sending the E850 power supply over to check out!
NZXT's take on the E850:
850 Watts Power Supply with 80 PLUS Gold Efficiency Powered by CAM
The new E Series ATX power supplies from NZXT feature digital voltage and temperature monitoring so you get precise, real-time information about your PSU, including uptime, wattage by rail, and temperature. Store and track key data over time using CAM so you'll always have an accurate picture of your PSU's health. Manufactured with top-quality components and backed by a 10-year warranty, the E850 delivers both peace of mind and up to 850 watts of clean, reliable power to your multi-GPU gaming system.
Power indicators monitored and tracked through CAM software
Delivers precise & stable voltage while ensuring optimal efficiency under load
Silent operation with 0 RPM fan when operating under 100 watts
All the essentials delivered by a modern PSU: complete protection and a fully modular design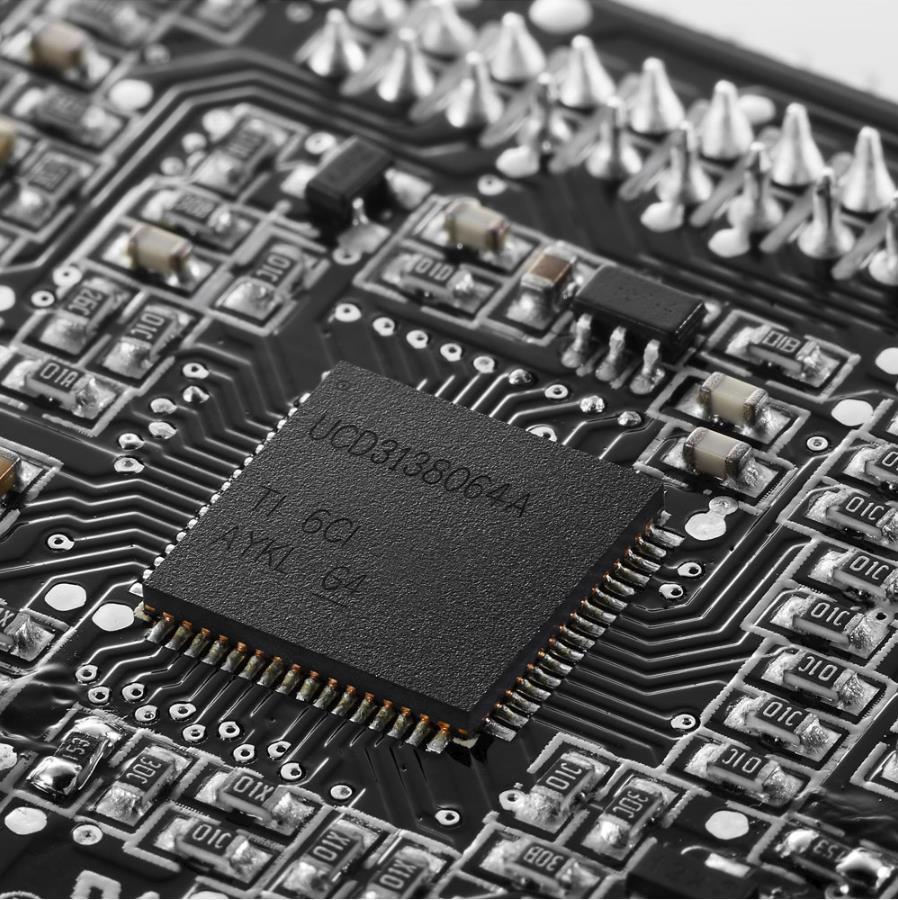 Features & Specifications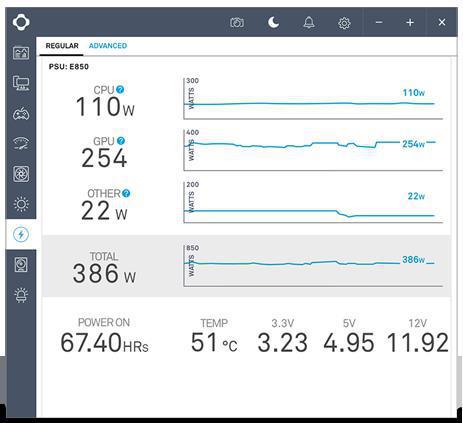 MONITOR YOUR PERFORMANCE
The E Series uses a powerful digital signal processor (DSP) providing real-time wattage indicators for the three 12V rails, along with total uptime and internal temperature. Compare CPU and GPU power draw to their rated TDP and track historical data using CAM.
SAFER POWER
In addition to providing high-precision monitoring, the onboard DSP lets you enable independent over-current protection (OCP) for the 12V output to the motherboard, CPU, and GPU, providing even better protection for your expensive components.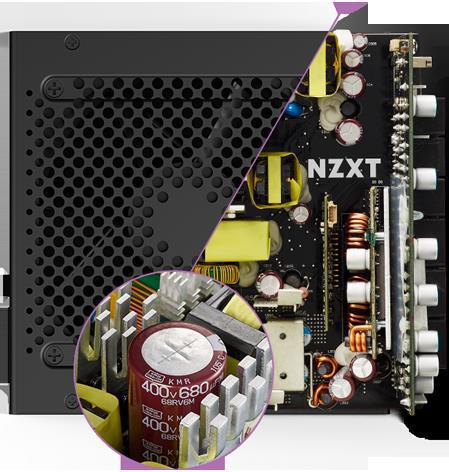 RELIABLE AND EFFICIENT
All 80 Plus Gold certified E Series PSUs are built using Japanese capacitors, rated to 105° C, providing long-term durability and reliability, and are backed by a 10-year limited warranty.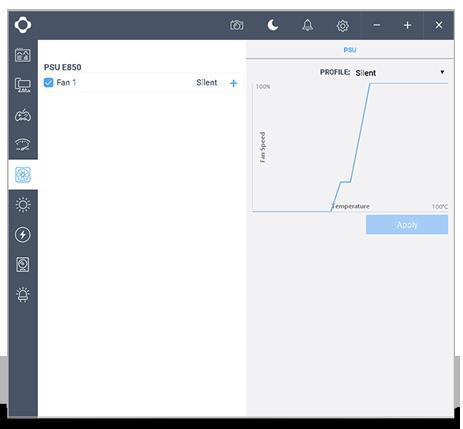 RUN SILENT
When powering loads under 100W total, the 0dB Mode provides fully silent operation. Using CAM, you can optimize your own fan curve to suit your system or choose between the Silent, Performance, or Fixed preset modes.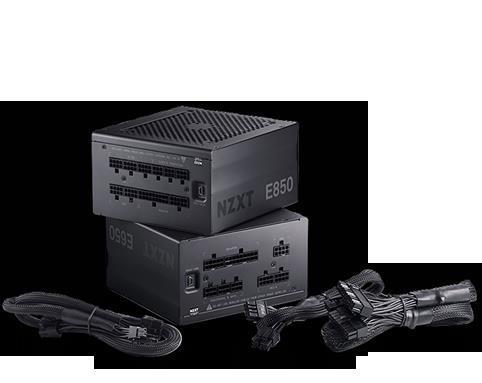 ALL THE ESSENTIAL
The E Series PSU supports single-GPU or multi-GPU builds and the fully modular design means you use just the connections you need for your build, reducing cable clutter and simplifying system building and expansion.
SYSTEM REQUIREMENTS
Some features require the use of CAM software, which is free to download and use. CAM software requires Microsoft Windows® 10 operating system. An internet connection is needed to download CAM, and some CAM-powered features require internet access, a valid email address, and acceptance of our current Terms of Service.
Dimensions

150 x 150 x 86 mm

Material(s)

Steel, PCB, and plastic

Compliance Standard

ATX12V v2.4 / EPS12V v2.92

PF Correction

Active@0.99

AC Input Rating

100-240Vac, 12-6A, 50-60Hz

DC Output Rating

Fan Specs

Dimensions: 120 x 120 x 25mm
Speed: 0-1,800 + 180 RPM
Airflow: 73.9 CFM
Noise: 32.3 dBA
Bearing: FDB (Fluid Dynamic Bearing)

Hazardous Materials

RoHS & China RoHS

Energy Efficiency

80 Plus Gold 20% loading: 87%, 50% loading: 90%, 100% loading: 87% @115Vac

Operation Temperature

0 to 50°C

Regulations & Certifications (EMC & Safety)

CB / CE / FCC / TUV / cTUV-SUDus / China CCC / Taiwan BSMI / Australia RCM / EAC

MTBF

100,000 hours

Output Connector(s)

1 x 24-pin ATX power
2 x 4+4-pin CPU power
6 x PCIe (6+2 pin)
8 x SATA
6 x Peripherals
1 x Mini-USB

Included Cables

1 x 24-pin ATX power (length: 610 mm, Nylon sleeving)
2 x 4+4-pin CPU power (length: 650 mm, Nylon sleeving)
3 x PCIe (6+2 pin) (length: 675 +75 mm, Nylon sleeving)
2 x SATA (length: 500 + 100 +100 +100 mm)
2 x Peripherals (length: 500 + 100 +100 mm)
1 x Mini-USB (length: 600mm)

Warranty

10 years

Model Number

NP-1PM-E850A

EAN

5060301693733

UPC

815671013415
Packaging & Unboxing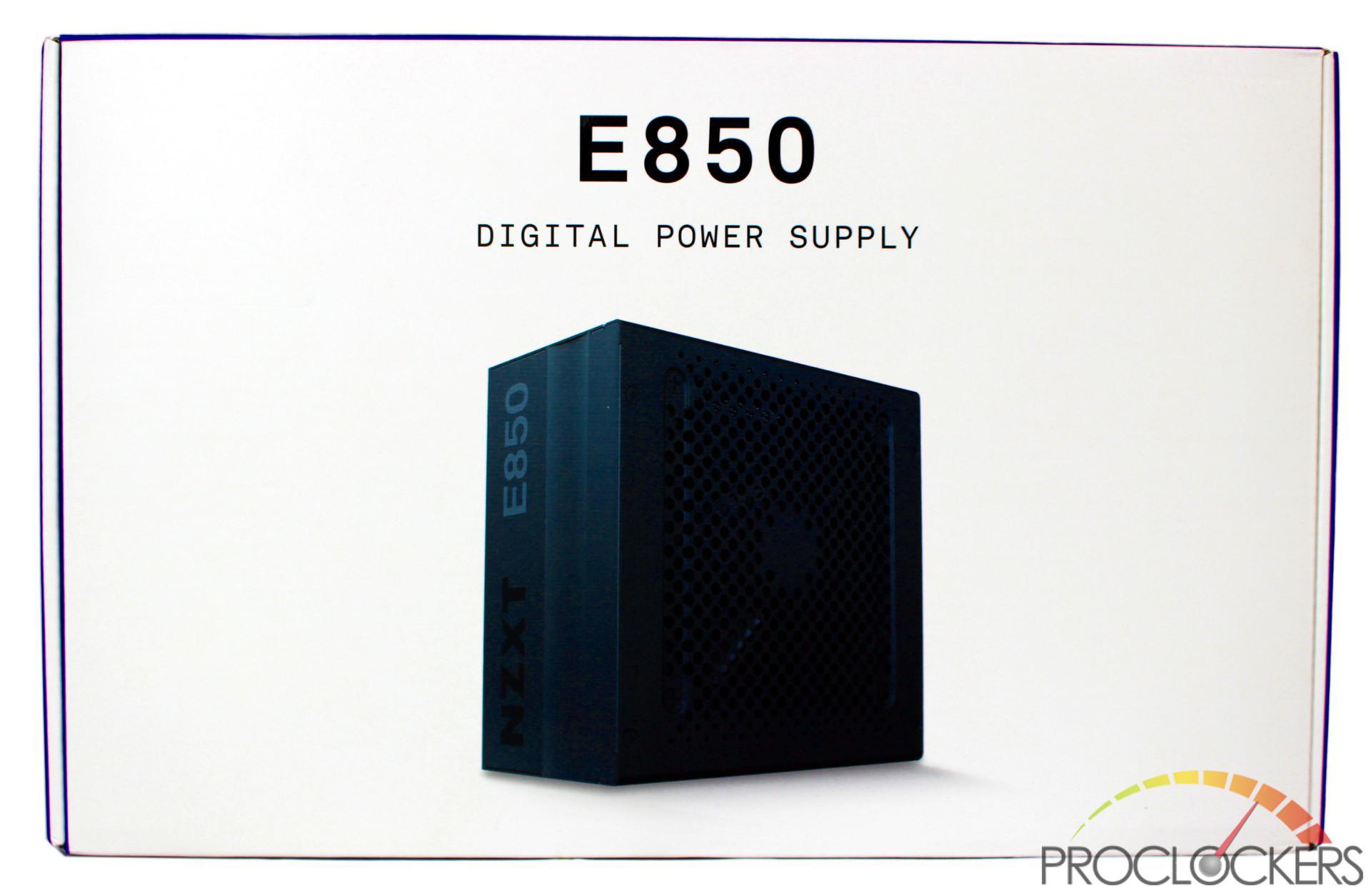 Like most of NZXT's products, the E850 comes in the signature purple trimmed white box. A picture of the power supply is on the front with the model.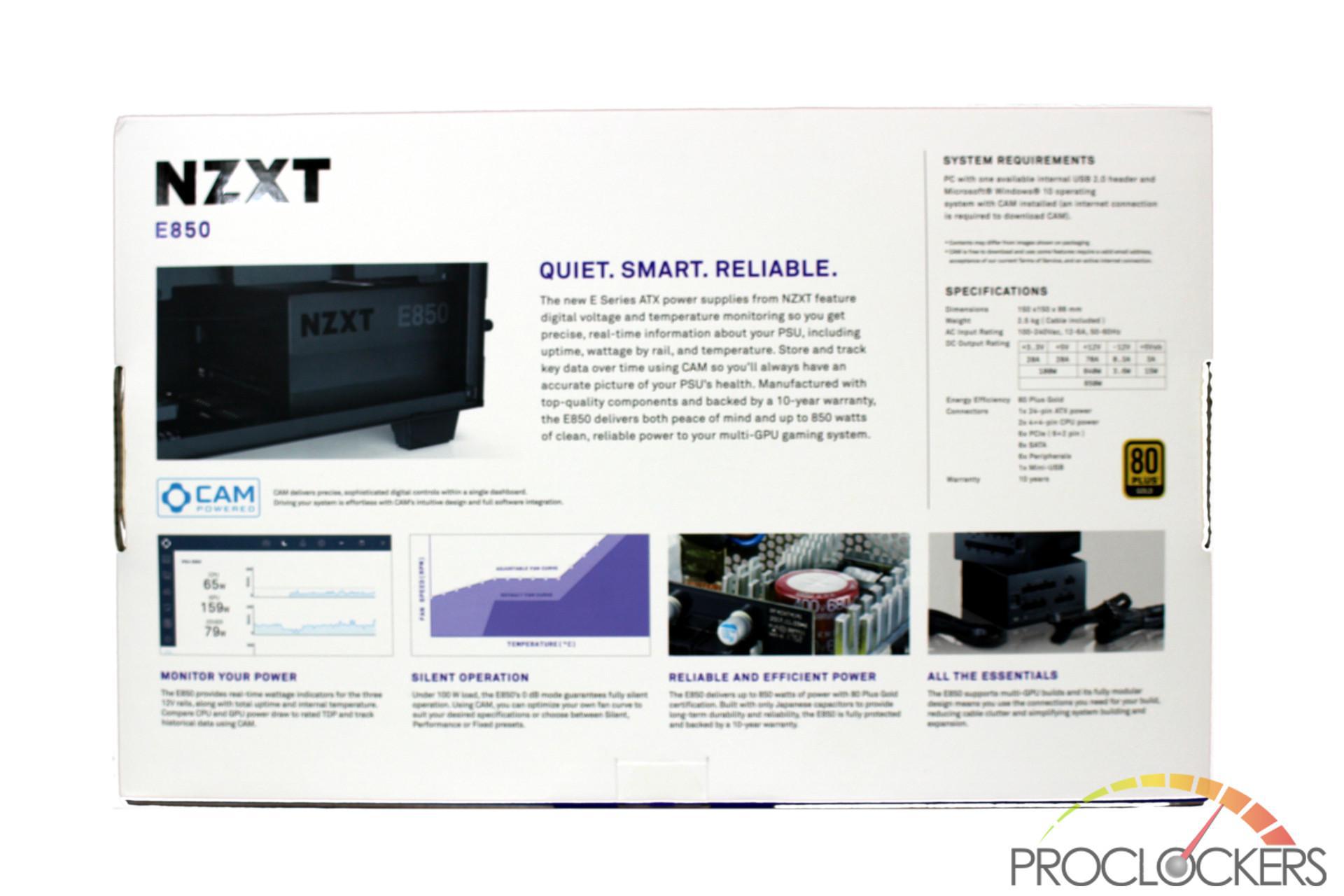 The rear has a description of the E850, some features highlighted along the bottom and basic specifications and system requirements on the right edge.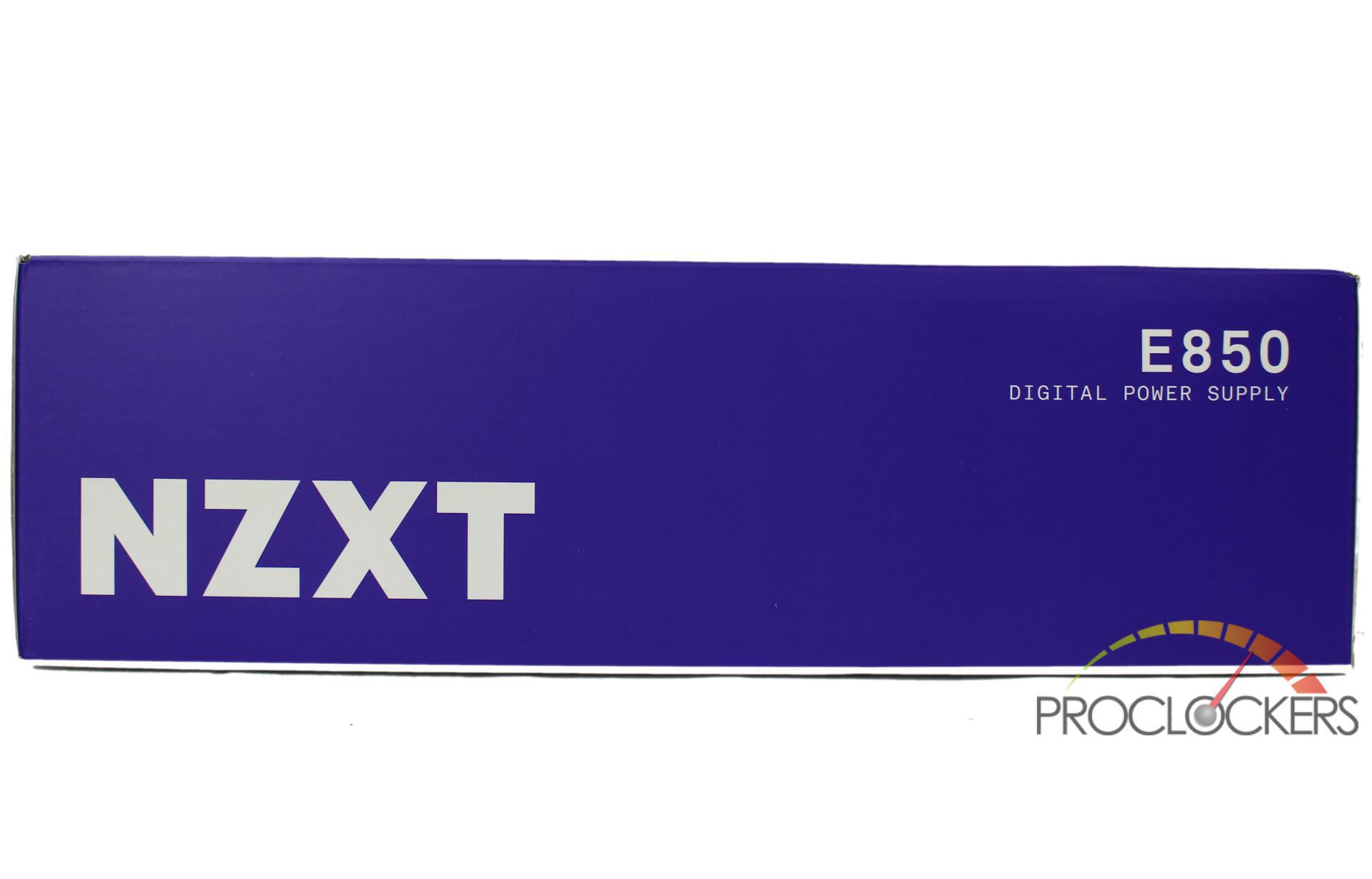 The top and bottom of the box are NZXT purple with the model and NZXT logo only.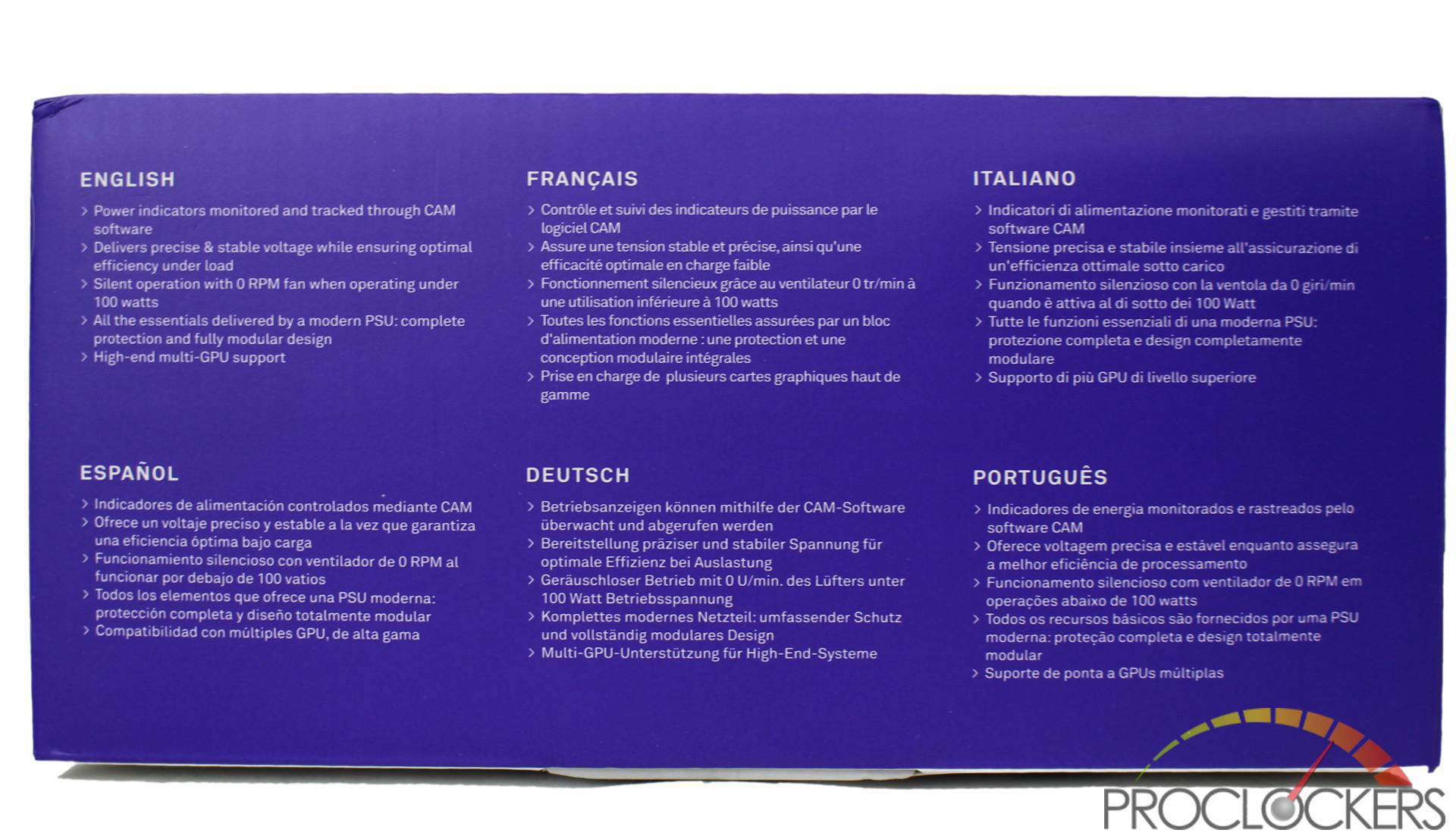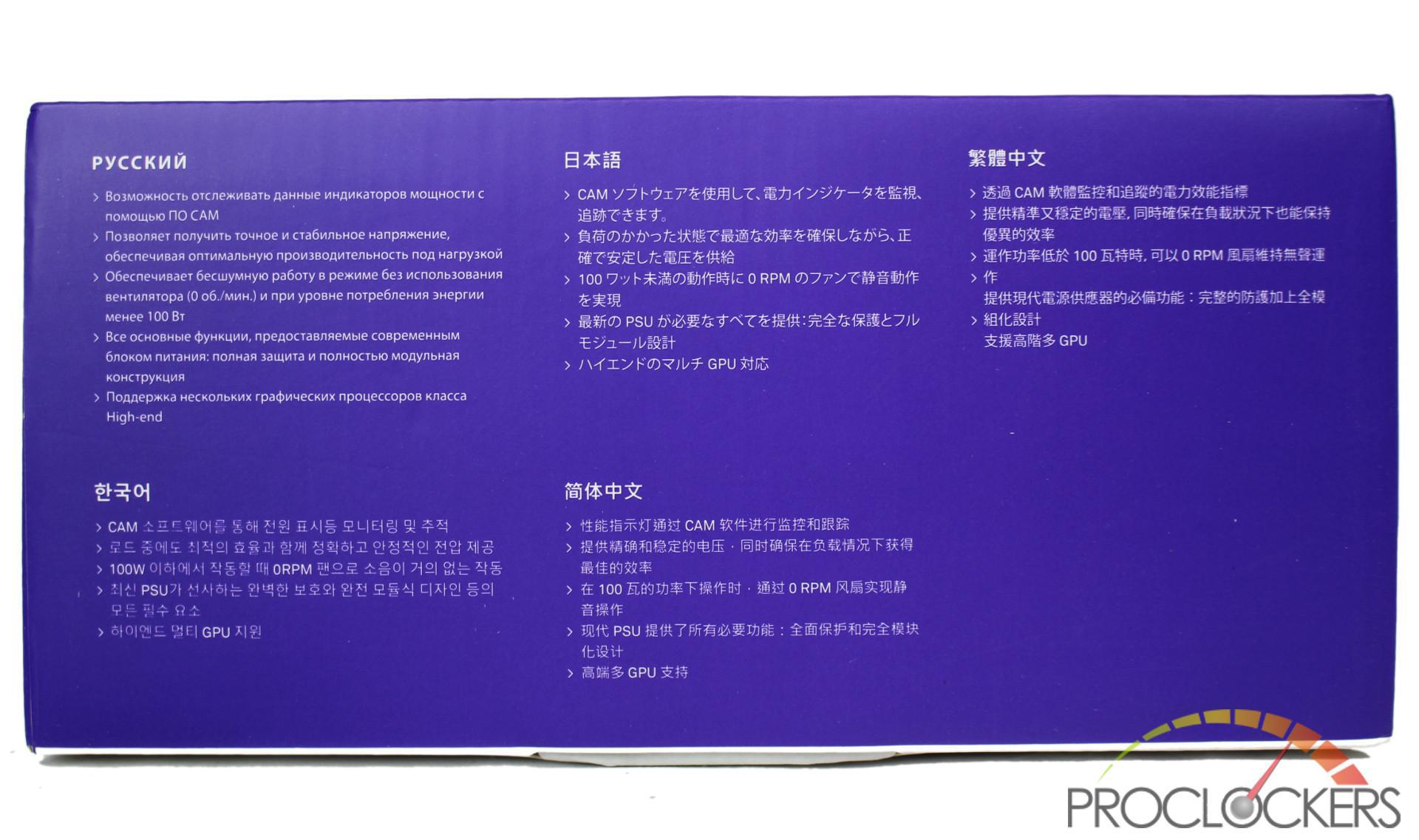 The two sides of the box have a few features highlighted in multiple languages.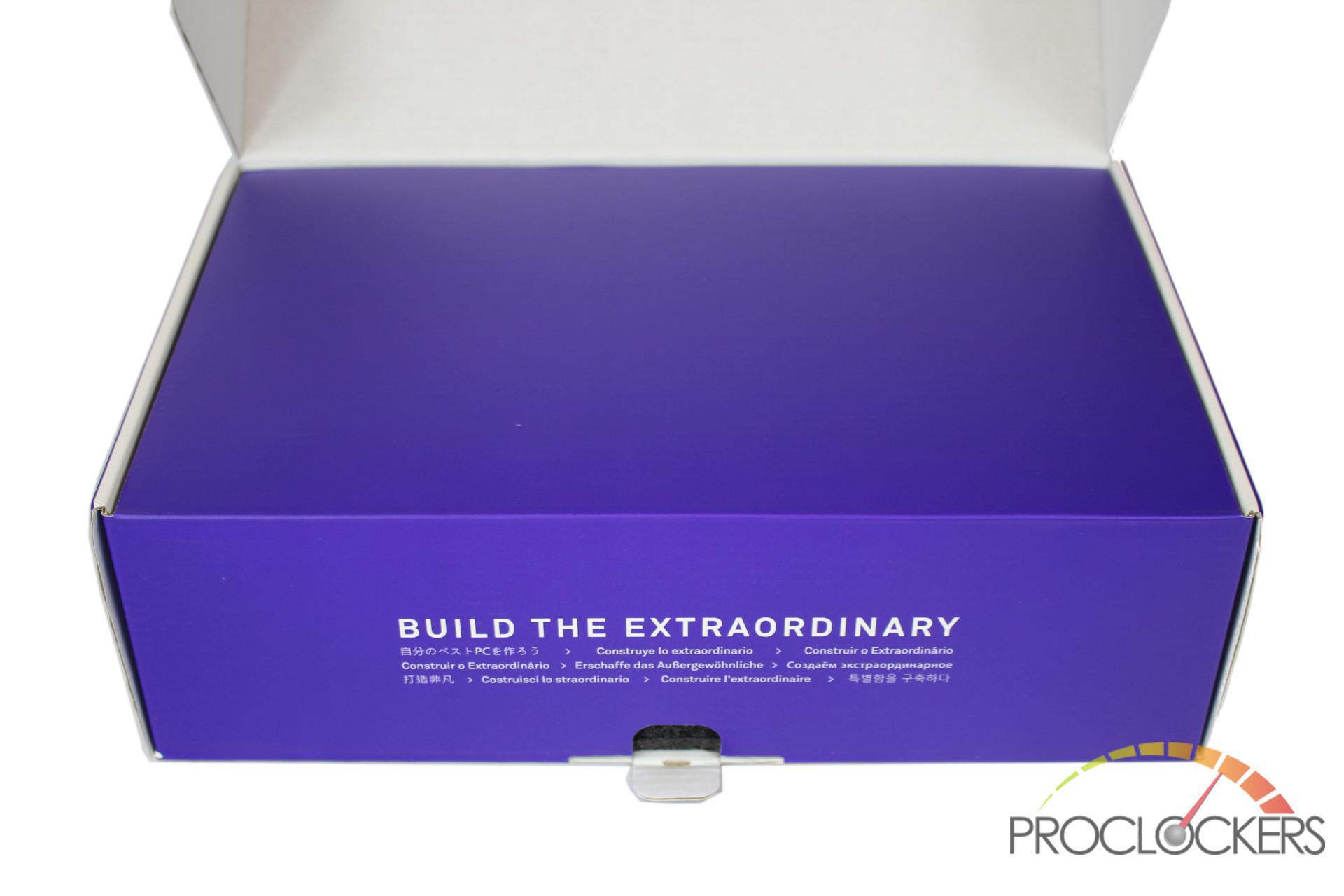 The first thing you see when you open the box is 'BUILD THE EXTRAORDINARY'.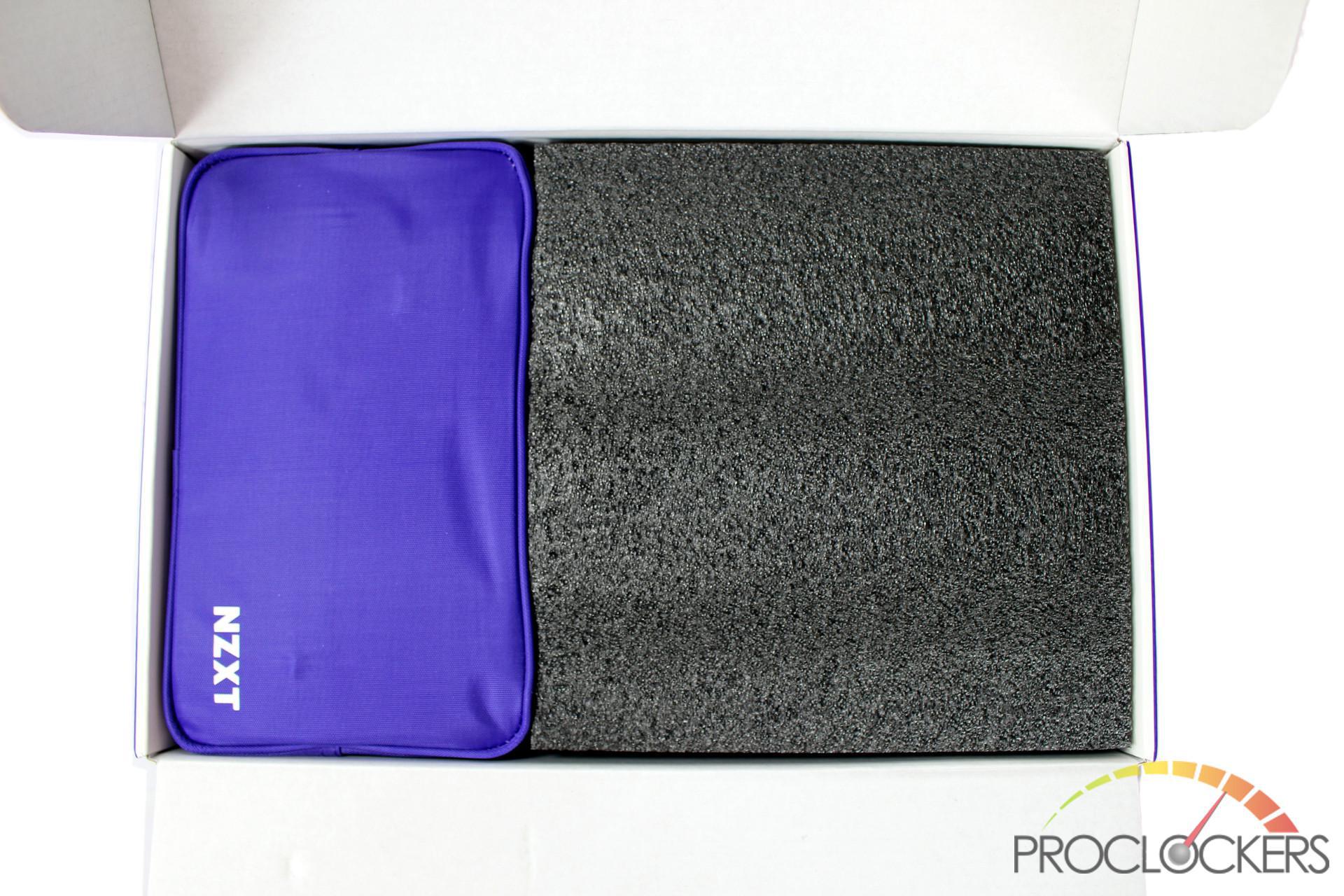 Inside the box is a black block of foam, and an NZXT purple zipper bag.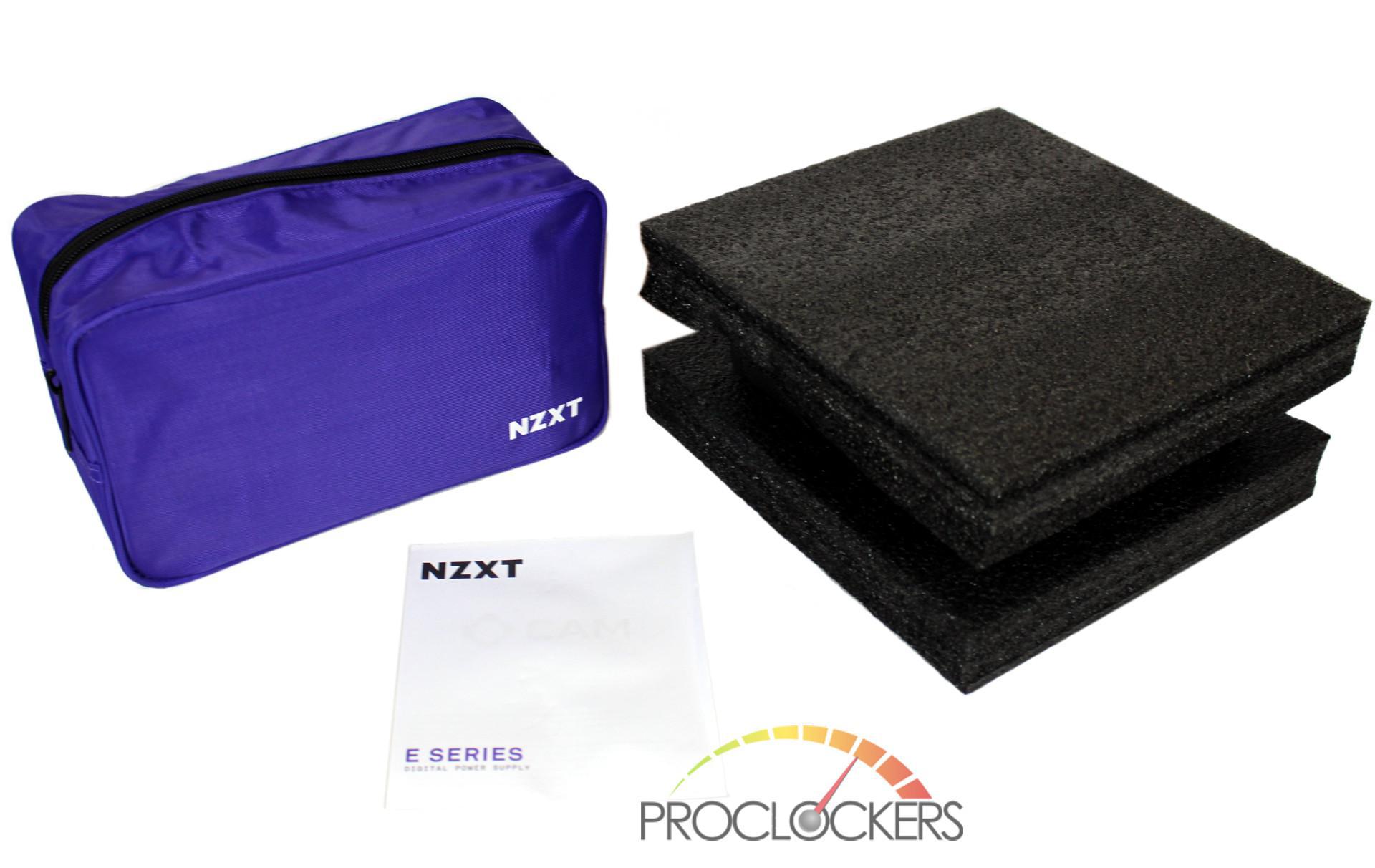 The block of foam almost completely encloses the PSU. There is also a manual under everything.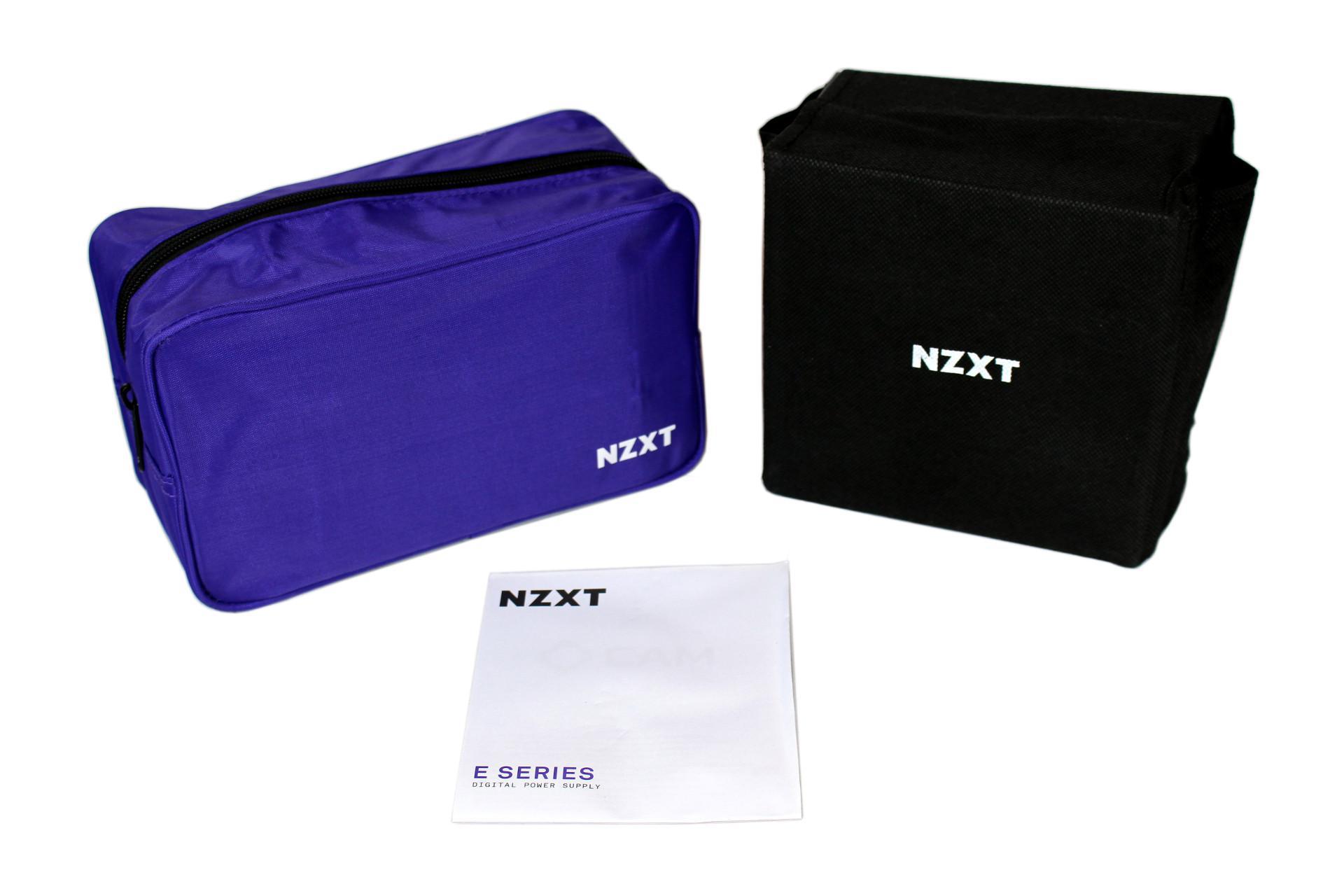 The power supply is also inside its own cloth bag.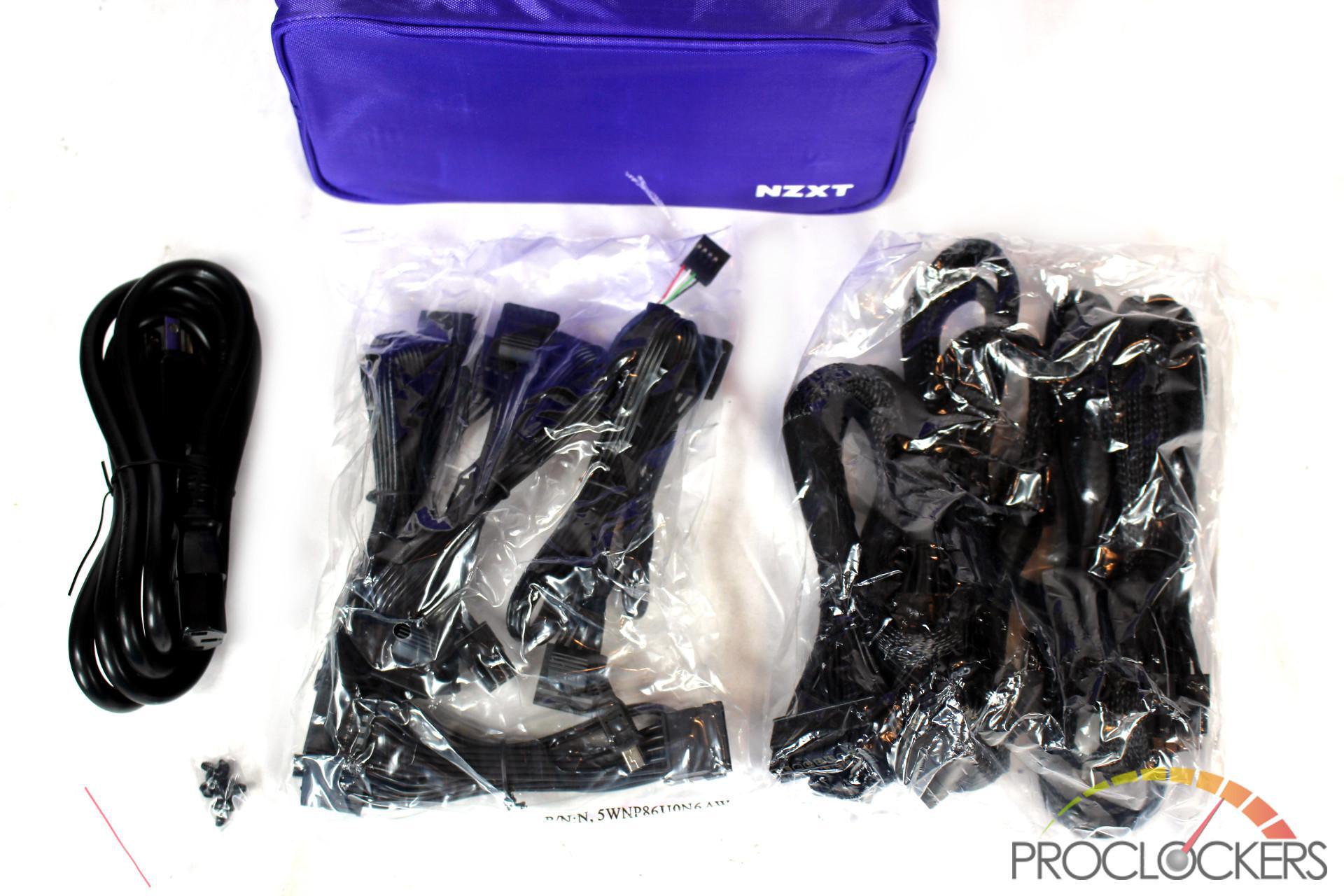 Inside the purple zipper bag is all of the cables.
A Closer Look

NZXT's E 850 has a simplistic grill comprised of a circle pattern that tapers off to smaller holes at the front and back.

The opposite side of the fan intake has the main label.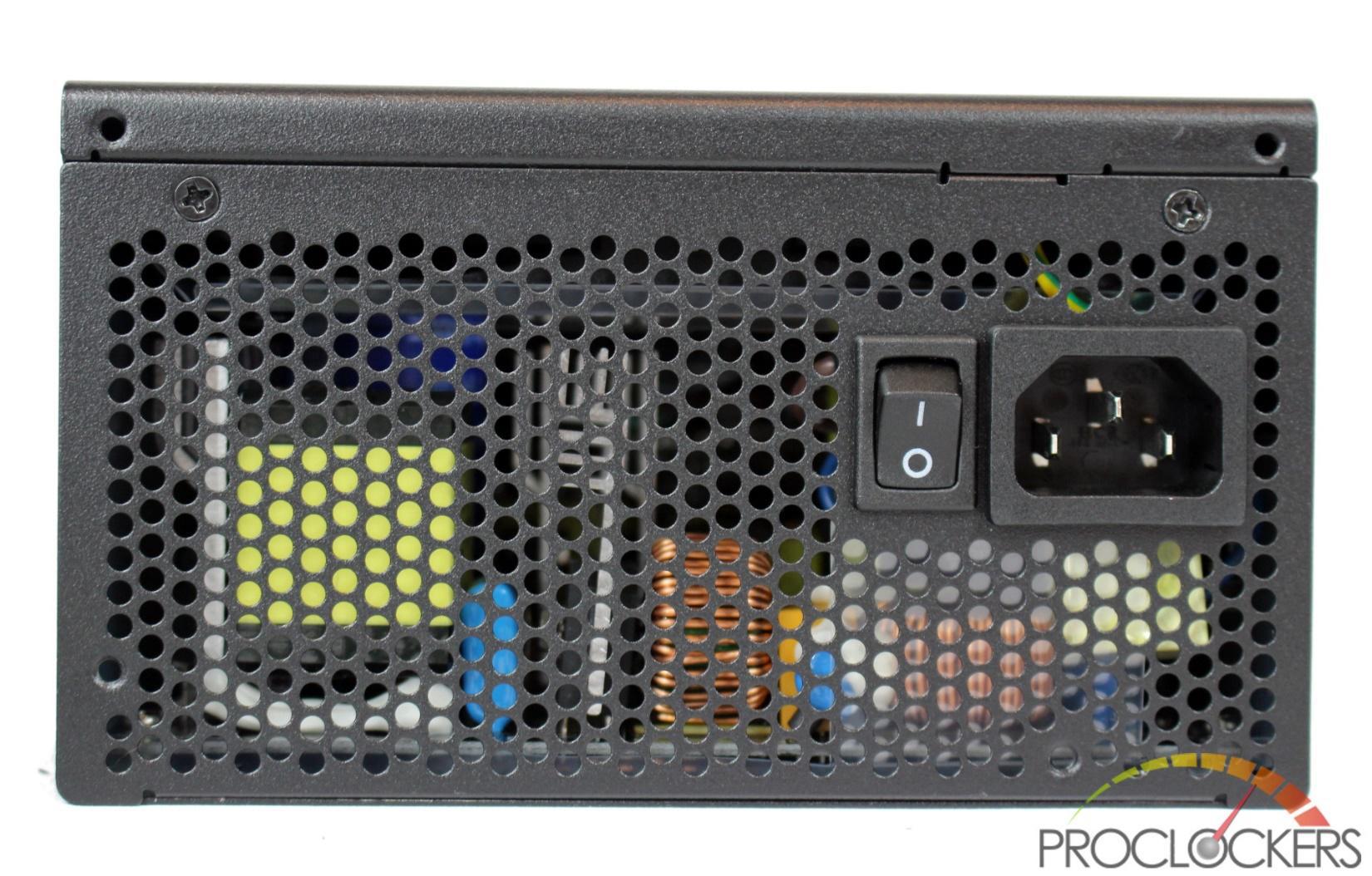 The rear grill only has the IEC C14 socket and a power switch. There is no fan profile switches like have become common on many lines or anything else.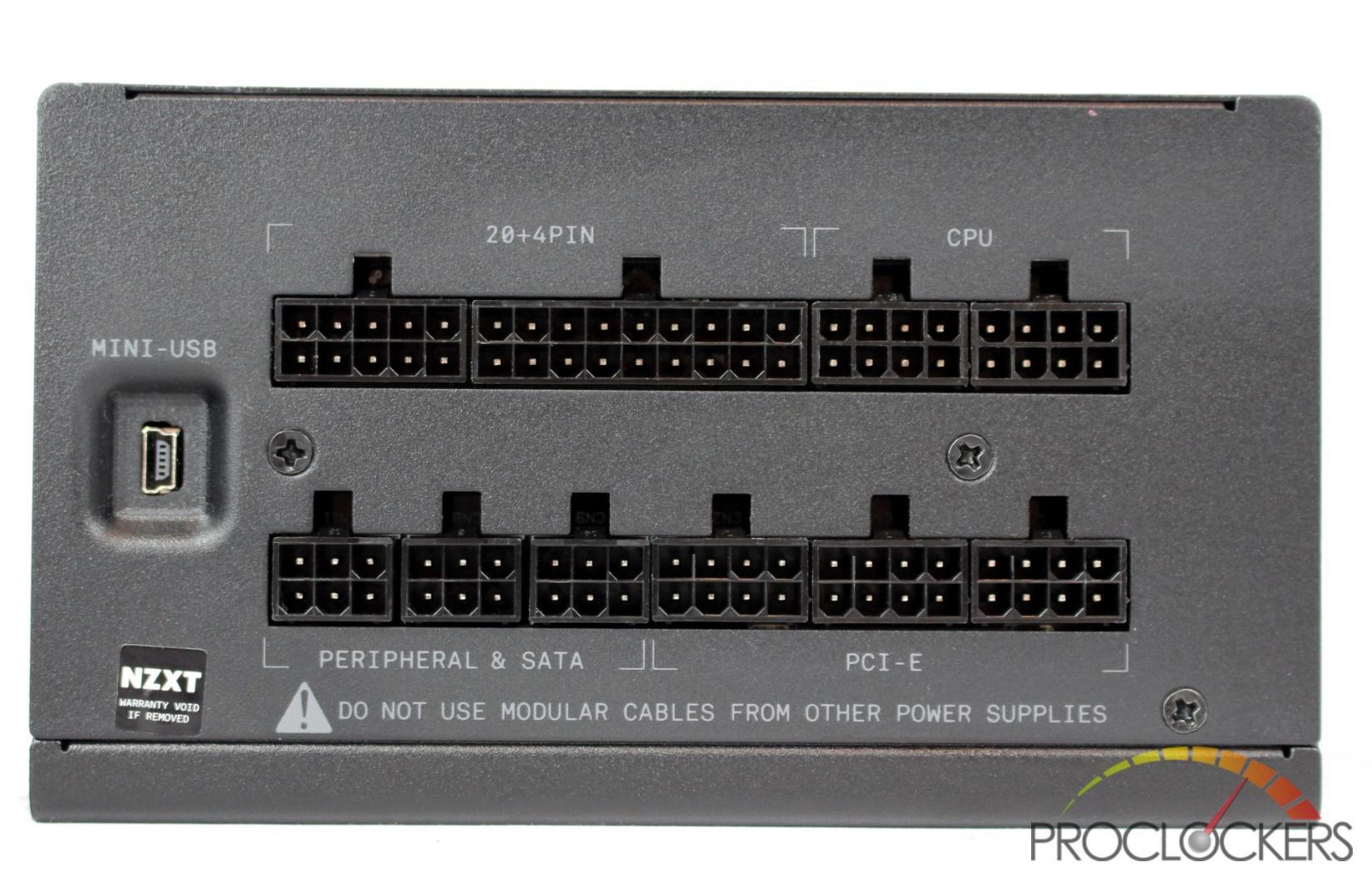 Modular power sockets come in the form of two for the 24-pin, two for the CPU cables, three for PCIe power to your graphics, and three more for SATA and PATA cables. You also get a mini-USB plug for CAM connection.
The sides are very sleek with a darker black NZXT logo and a simple grey 'E850' for the model.

Cables included cover all of the bases, but no extras. You get the USB cable for HUE integration, 24-pin, twin 8-pin EPS in 4+4 configuration, two 'Molex' with 3 connectors each, two SATA with four connectors each, and three GPU cables with twin 6+2 connectors each. It would have been nice to have a couple of GPU cables with only one connection to keep single GPU systems looking clean without extra cables to deal with.

Motherboard and CPU cables should be long enough for all but the tallest cases.

Even if you have a case with a top mounted PSU configuration, there should be enough GPU cable to reach comfortably.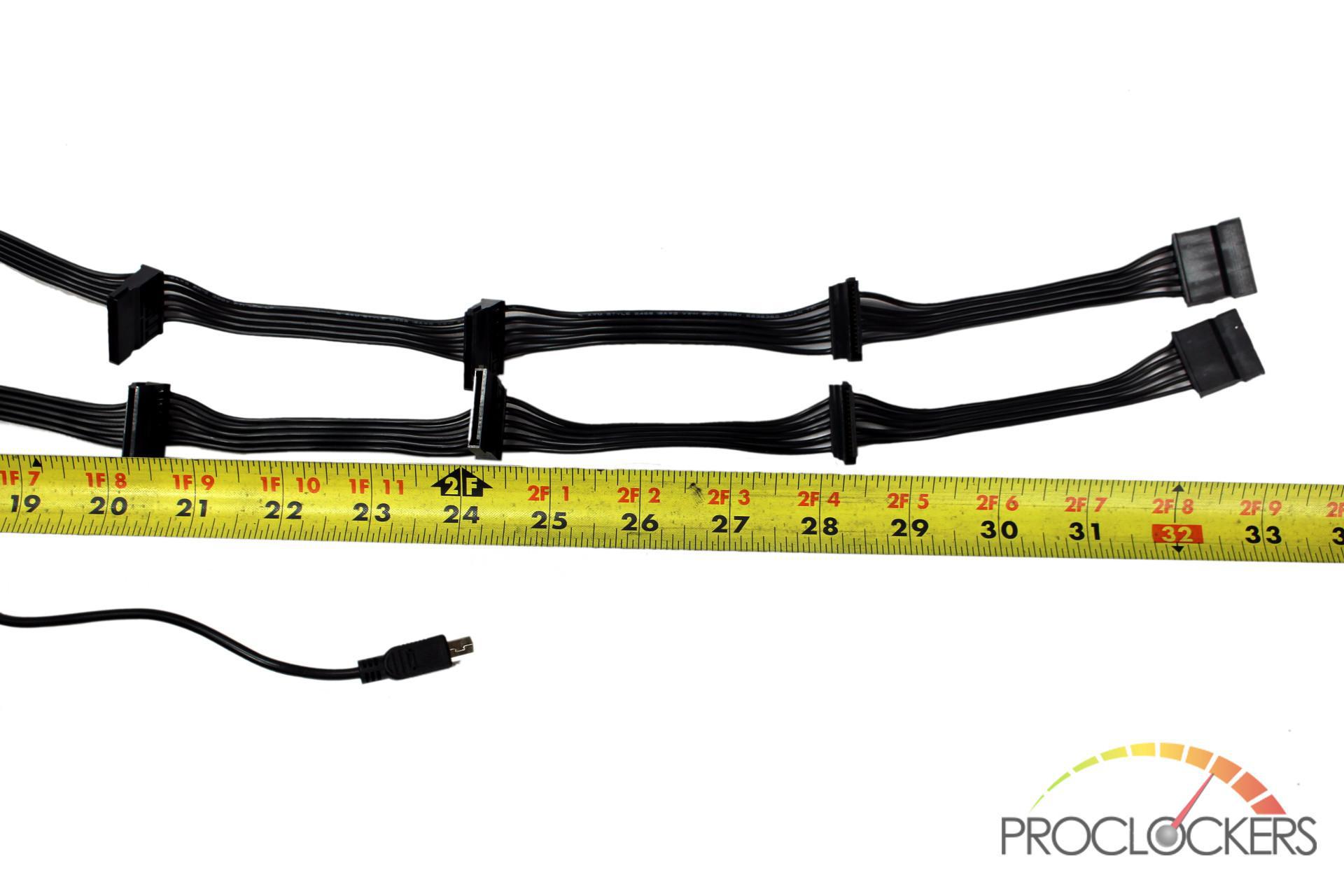 There is plenty of SATA connections for a pile of drives as well as all that little stuff that adds up like lighting and fan controllers.

NZXT doesn't use the fan at all and enables 0dB mode when under 100W of load, but the fan is capable of 2200 RPM for some serious cooling if needed.

NZXT has a really beefy EMI filter in place with X and Y caps, plus a small IC to clamp inrush current and discharge capacitors when power is removed.

The modular connections have quite a bit of secondary filtering scattered around the board.

The rear of the board has quite a bit going on. The four main +12V MOSFET's are found back here but don't include a thermal pad to move heat into the PSU casing. The soldering looks excellent.

It seems most major power components have their own heatsink.

The Texas Instruments DSP Processor that provides the front end to NZXT's CAM utility for monitoring and control hides on its own daughter board.

The internals are quite compact but are arranged well to allow airflow over the numerous heat sinks and daughter boards.
Software
NZXT CAM
CAM is a free PC monitoring software created by NZXT for PC enthusiasts and gamers. In years past, users needed multiple apps to keep track of key components' temperatures, overclock GPUs, and display FPS in game. CAM has now consolidated all those functions into one easy-to-use utility for beginners and advanced users alike.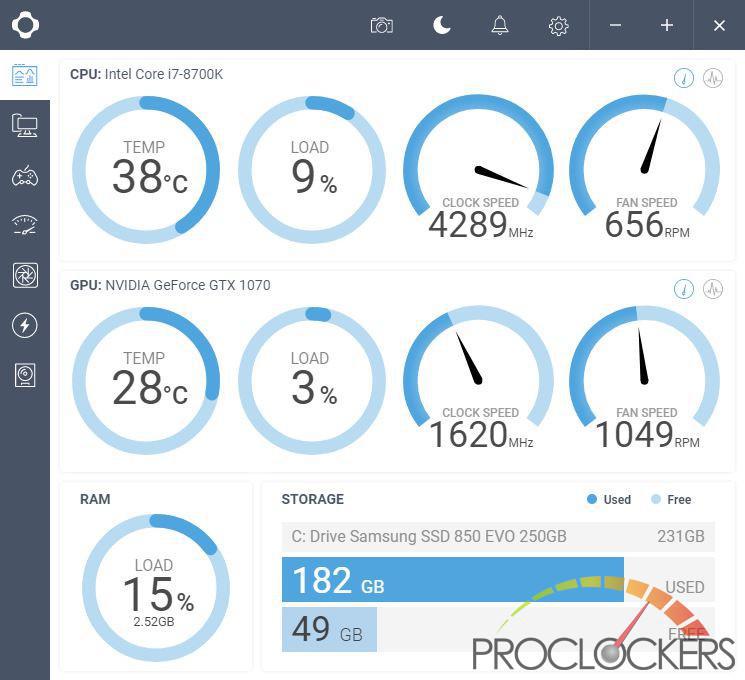 CAM starts out on a landing page giving quite overall system status as well as a few important fan speeds.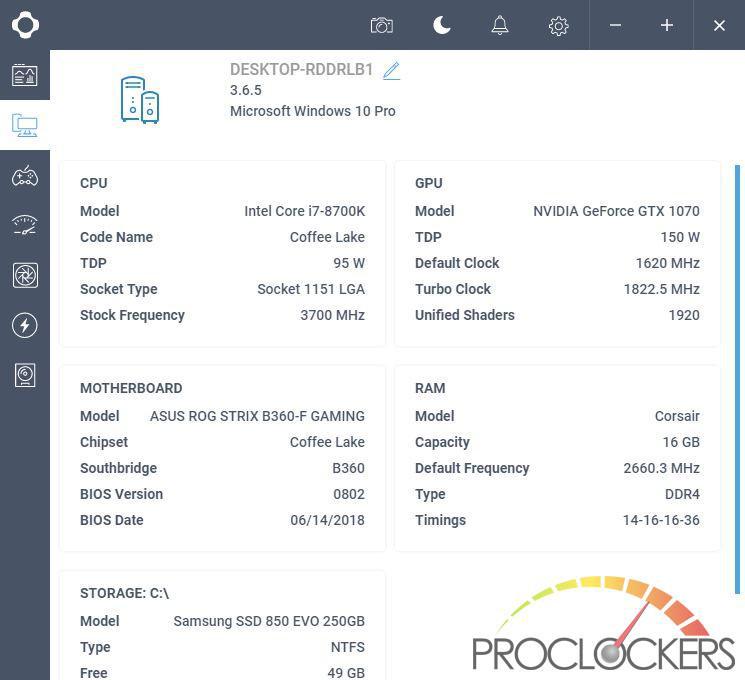 The next tab down is a more detailed list of what is in the PC.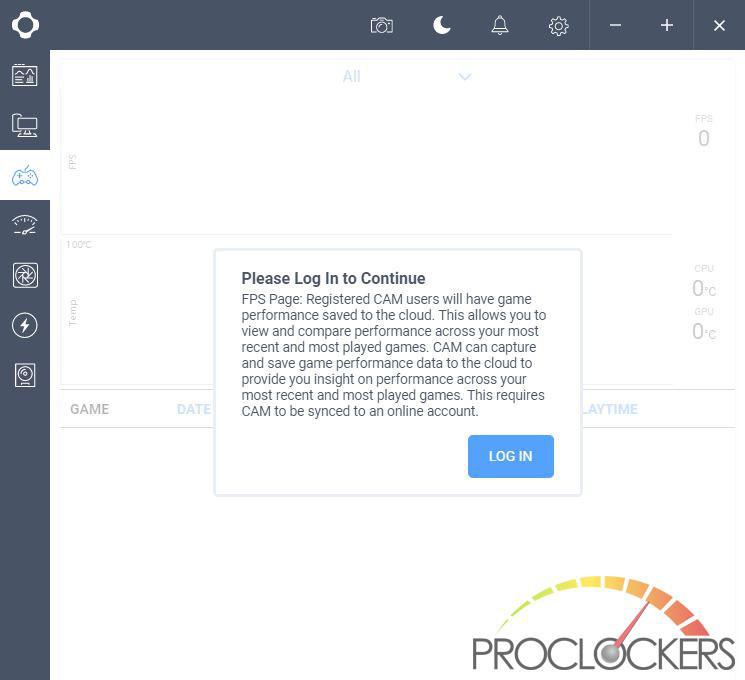 The 3rd tab covers game performance including FPS for recently played games, but you must be logged in to see it.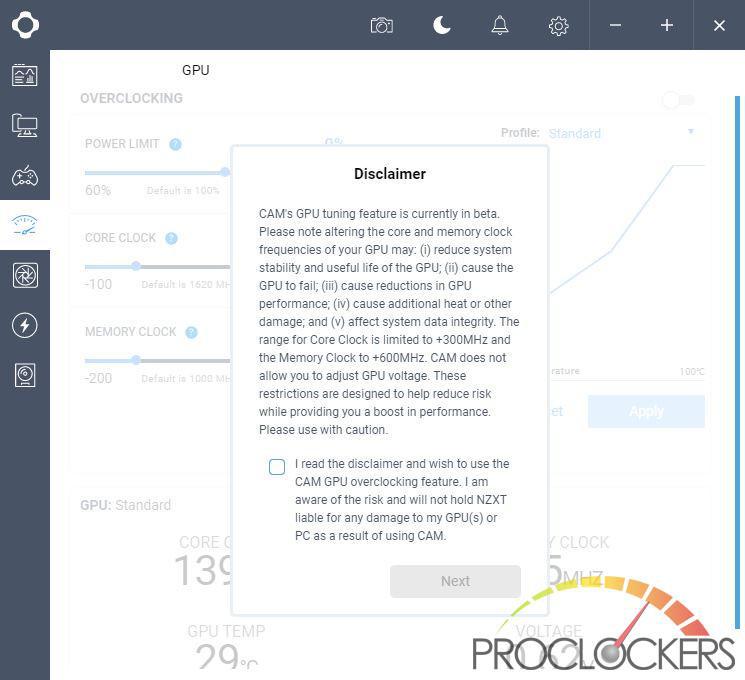 One step down you get the overclocking tab. You have to read and acknowledge the disclaimer above to proceed.
As we tested on a platform that really doesn't support overclocking, most of the options are greyed out.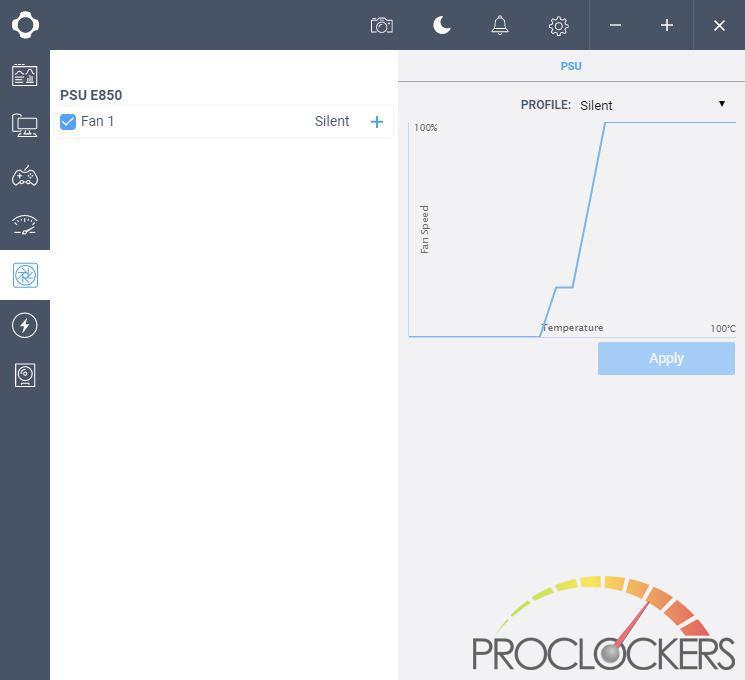 Fan speeds can be controlled from here, including the fan inside out E850 power supply.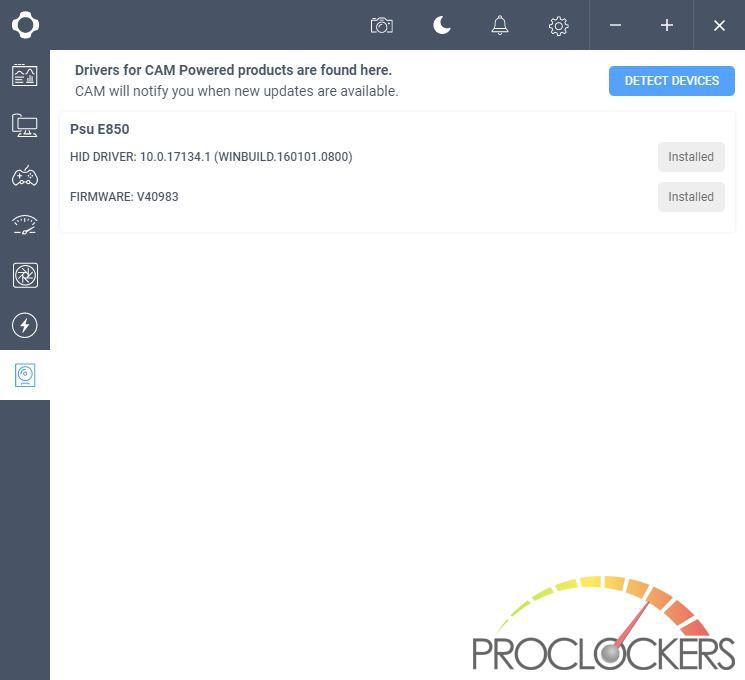 We'll skip one step and show you the last page where you can check for updates and see firmware revisions. If an NZXT device isn't working, you can stop by here to figure out why.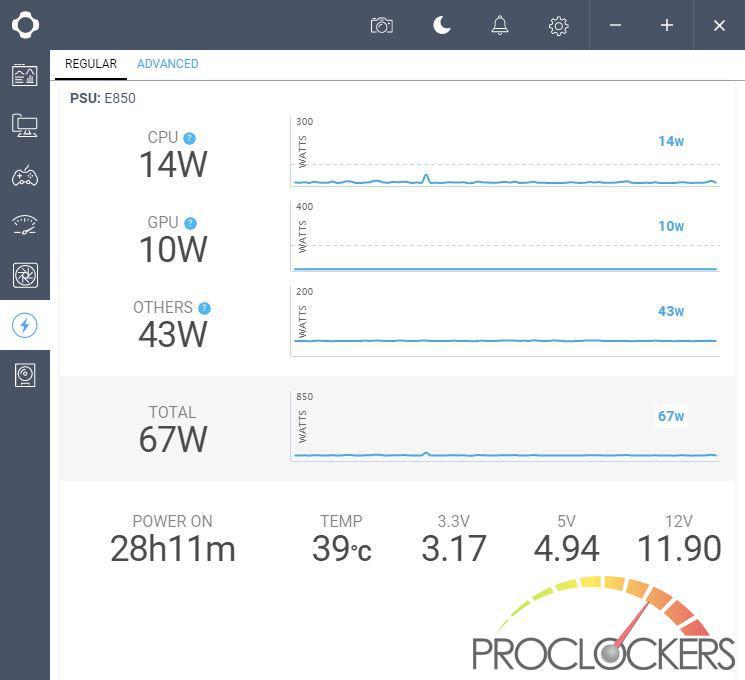 And finally, the new power section. This is all about the E series power supply and shows some quick statuses on the 'regular' page such as rail voltages (which line up closely with what our O-Scope tests showed) as well as power drawn from the CPU, GPU and rest of the system independently.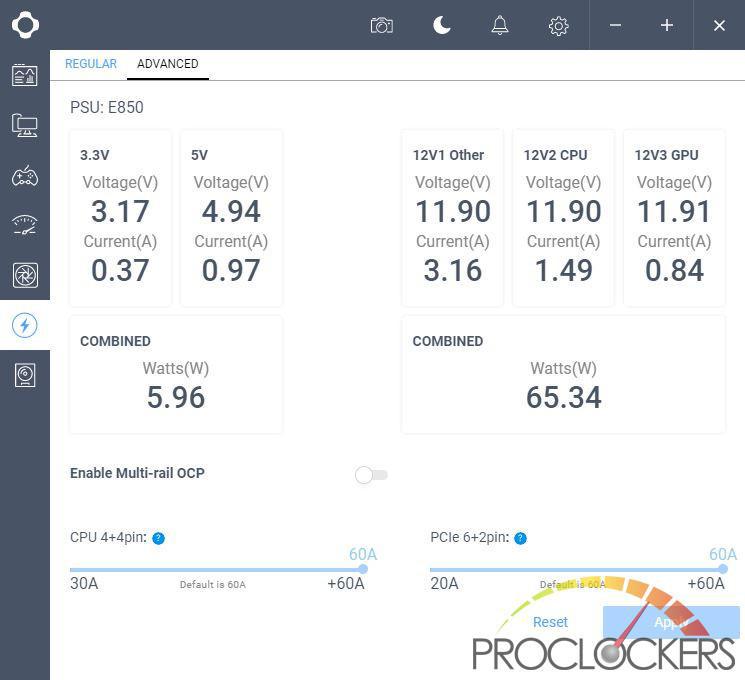 The advanced tab gives us a little closer look at how the power is being used over the multiple rails, as well as gives you control of over-current protection or 'OCP'.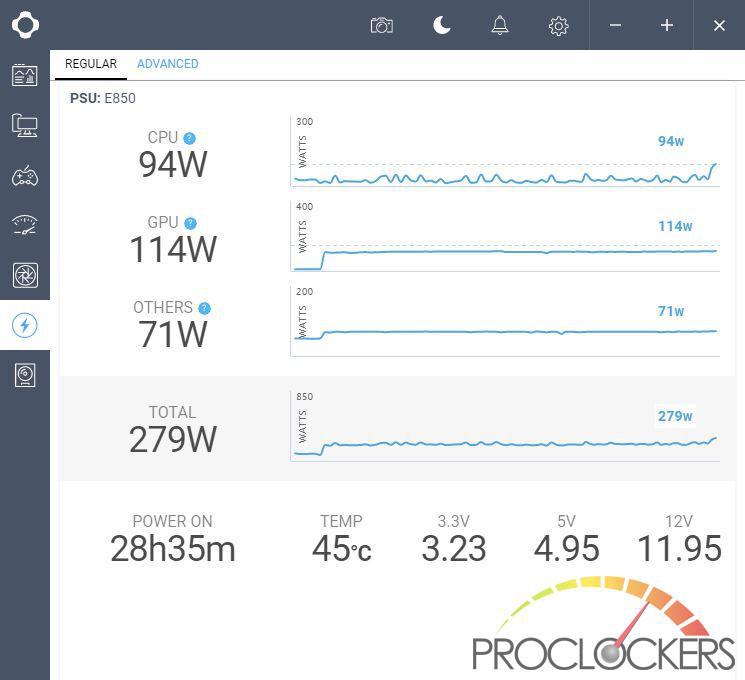 It's fun to fire up a simple benchmark and see what happens to power draw, here we are running Unigine Heaven at lower settings.
Testing
CPU: Intel Core i7-8700k
Motherboard: ASUS ROG B360-F Gaming
RAM: 32GB Corsair Dominator Platinum 3200Mhz
GPU: Galax GTX 1070 HOF
SSD: Samsung 960 PRO 2TB
OS: Windows 10 Professional X64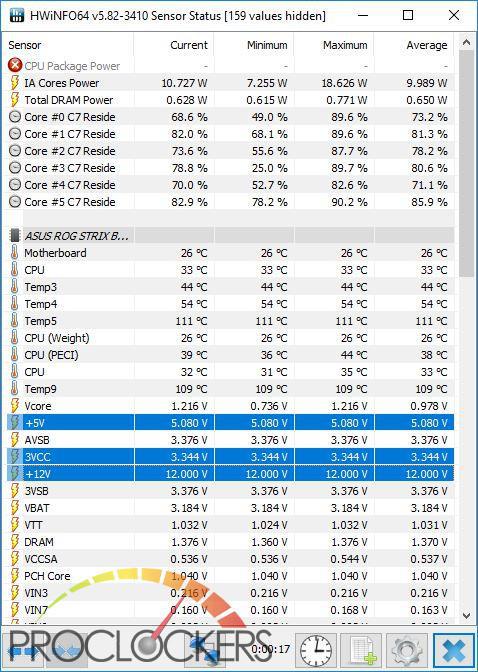 We'll start out saying we aren't equipped to do extremely detailed electrical analysis required to pick apart a modern power supply. It takes laboratory grade dedicated equipment so we'll have to make do with some less precise testing.
While we normally use a good Fluke Digital Multi-meter, we've found the onboard monitoring solutions in modern motherboards to be quite accurate and able to be easily logged with utilities like HWiNFO. We'll have to see if our Oscilloscope comes up with valid numbers since the readings here are not changing and we can't use these numbers.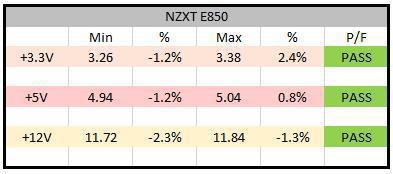 We try to stay within +/- 3% regulation and based on a run of Futuremark 3DMark Timespy system stability test, we got the above as measured by HWiNFO. You can see the +12V rail runs a little low but still is well within ATX specs
Next, we'll look at ripple in the rails with our Owon VDS-1022/I Digital USB Oscilloscope. We'll set the probe to x10 to get a little closer look at ripple.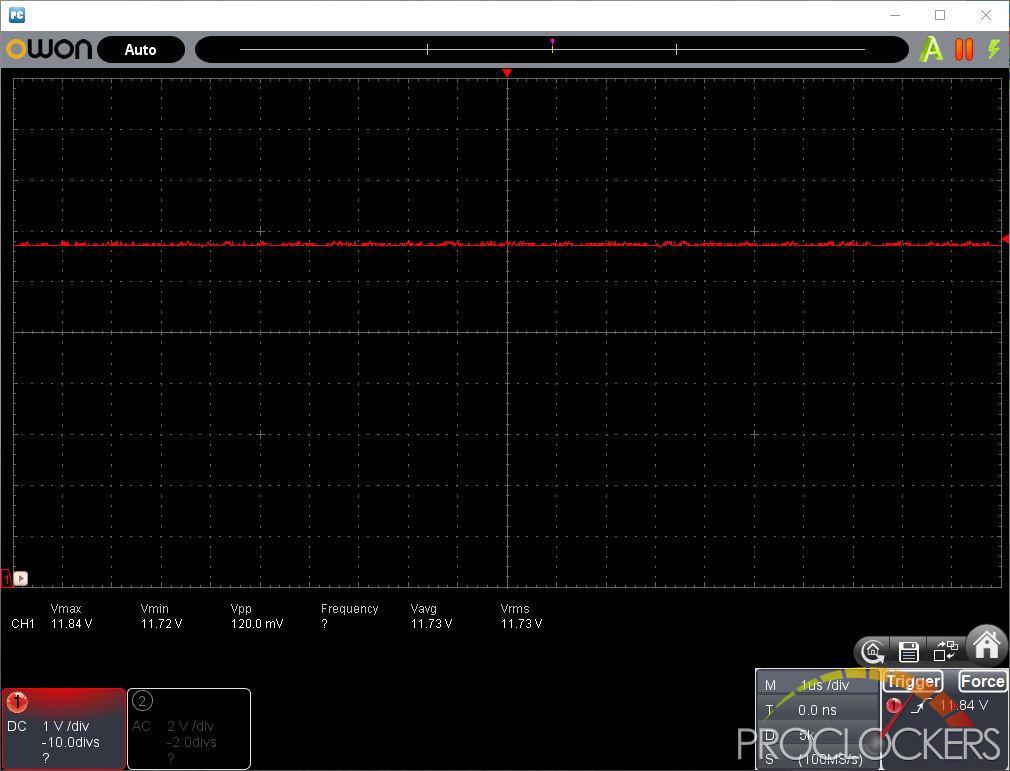 The +12V rail under a stress test load registers a peak of 12mV peak to peak. Voltage runs just a hair low, averaging around 11.73V. Under load, it really doesn't change much.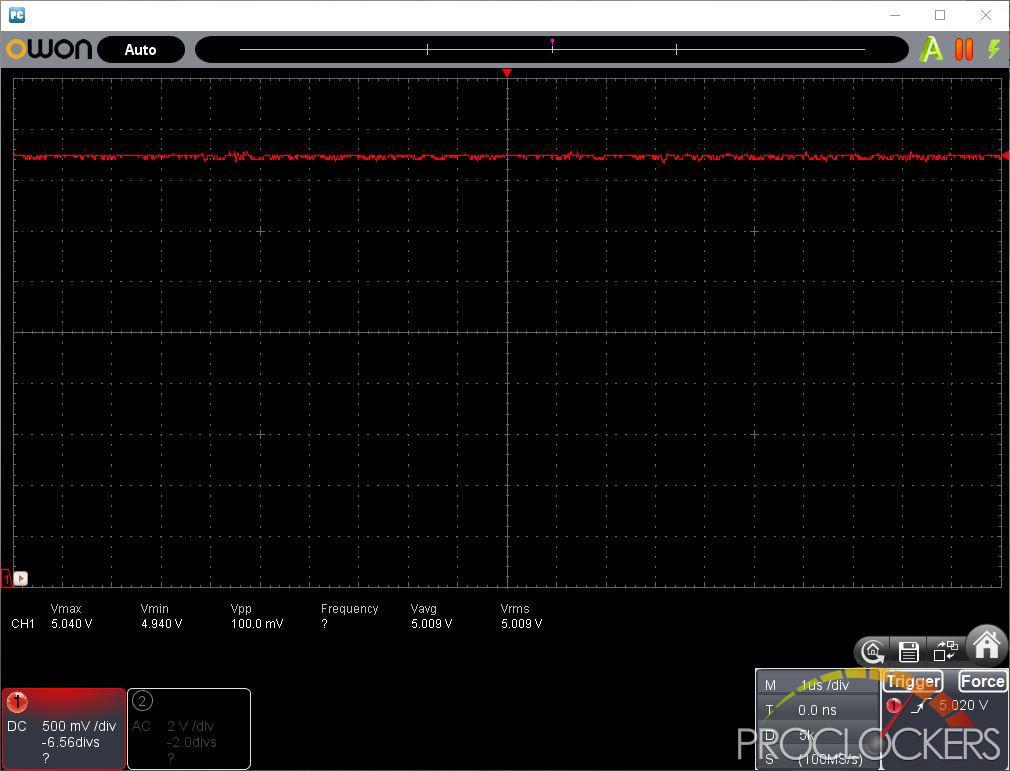 The 5-volt rails fairs slightly better at around 10mV of ripple and hugs the 5.0V mark closely.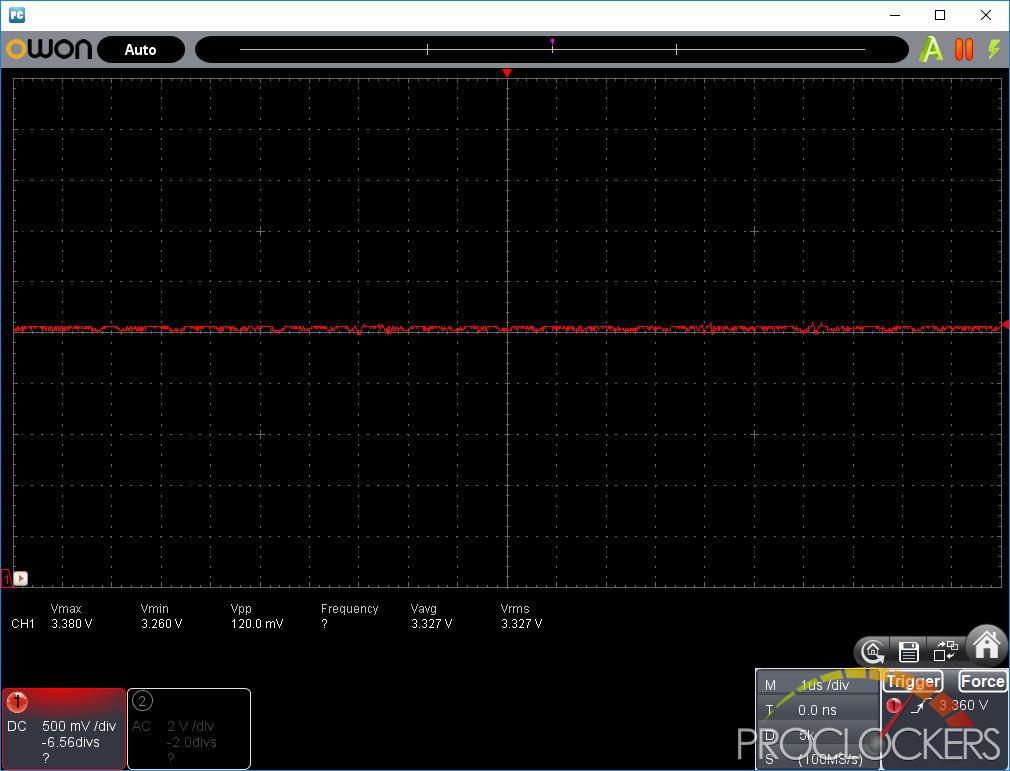 The 3.3V rail does fair with 12mV of ripple and maintains good regulation right around the 3.33V mark.
Final Thoughts & Conclusion

NZXT has jumped back into the power supply ring with three new contenders and is intent on coming out on top. CAM integration really sets this series apart and is an awesome feature. NZXT has pushed to make CAM the 'one and done' platform for system monitoring and control of lights, fans and now your power supply. We like the feature enough we will probably leave this power supply on our test bench for the foreseeable future to make checking CPU and GPU power consumption a breeze.
The performance was great for us, regulation and ripple were tight, but we did find the 12V rail to be just a hair lower than we liked. It's still well within ATX specifications, but still. While most of your system draws its power from the 12V rail, it runs through its own VRM to step down to a final lower voltage first so the slightly lower ~11.9 V really isn't a huge issue. What IS important here is stability and the NZXT E850 handles that beyond the limits of what we can test.

With a $150 street price for 850W, the E850 comes in on the more expensive side of the 850W Gold-rated supplies, but the monitoring and control from CAM just might make up for it along with a 10-year warranty.

Great job NXZT!

<![CDATA[ */ var zbjs = {"ajaxurl":"https:\/\/gaminggorilla.com\/wp-admin\/admin-ajax.php","md5":"d8e8b24d2fa18d2999e0fddcdd418586","tags":[],"categories":["Hardware"]}; /* ]]>