Phantom RGB 104 Keyboard Review
Tecware has launched a brand new keyboard called the Phantom RGB Keyboard. It has two variations, the 104 key, and the 87 key. One of them has a Numpad (the one we will discuss today) and the other is lightweight and is missing the keypad. We already did a review of this keyboard so if you want to read that one, click here. Both keyboards function similarly and are designed to be under the same brand name of Phantom. This means you won't find too many differences between the two rather than just personal preferences.
Modular Switches make it easier to take the keys off and clean the keyboard.

SMD LED and Fiberglass PCB for a longer-lasting product

Doubleshot Keycaps meaning your caps won't fade

50 million reliable keystrokes

Available in 3 switch variants

Outemu Blue – 60g tactile clicky

Outemu Brown – 55g tactile bump

Outemu Red – 50g linear

Multiple Lighting Effects

Braided 1.8 USB Cable

Weight:

1.14kg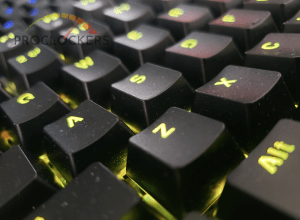 What To Expect From The Package
The Phantom 104 key keyboard is packaged very similarly to the 87 key keyboards. It comes in a standard keyboard box with different infographics on the back of the box to tell you what you need to know about the keyboard. Upon opening the box you will first be met with the keyboard itself. The keyboard is a bit heavier than the 87 keyboards at 1.14kg. This extra weight is due to the addition of the keypad and the larger keyboard size in general. At the top of the package, you will find two compartments for the braided cable and 4 spare keys provided from Tecware which is a nice touch. This gives a similar feeling to finding "batteries" included. Lastly, there will be a startup guide that you won't want to throw away immediately. The guide has some manual keystrokes in which you can change the RGB of your keyboard.
Of course, upon opening the box I found a braided cable which made me happy. I love braided cables. This is because they are so much more durable than regular wires and they don't tangle as easily. I'm glad the braided cable revolution is taking place in the PC hardware scene because I can't go back. After this, I compared the overall size and weight of the keyboard to the 87 key version. While this one is bulkier it does offer a more durable and substantial feel to it. Plus with the added keypad option this is definitely worth the size upgrade for people who need the Numpad.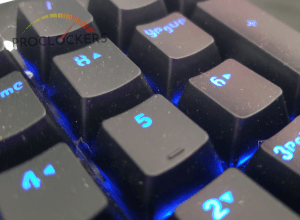 Phantom RGB 104 Keyboard Testing
I must admit the first of the two keyboards I hopped one was the 87-key version due to personal preference. However, I did equally test the 104 key version and while the keyboard did feel extremely similar to the other Phantom keyboard it does have some unique characteristics of its own. Plugging in the laptop greets you with a nice light show before it sets the RGB to default for you to play around with.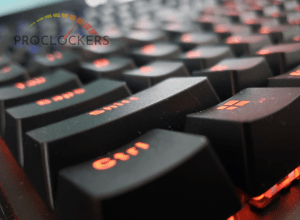 One of the first things you may notice is the quality of this keyboard. You may not think it from its price tag but the Phantom RGB keyboard packs a punch in the quality department. It feels very durable and with Tecware's many options to keep the lifespan up this keyboard feels like a bang for your buck. I put my Corsair keyboard in my closet and I haven't taken it out since I changed to Tecware's Phantom line of keyboards.
I find myself cycling back between both my 87 key and 104 key versions of the Tecware Phantom keyboards respectively. The Phantom keyboard is everything a mechanical keyboard can be and that includes the loud clicking sounds you can find with most mechanical keyboards. However, Tecware gives you a choice if you want this or not. This is through their Outemu designs of which there are three.
Blue switches:
– Tactile bump
– Audible click
Brown switches:
– Tactile bump
– Inaudible click
Red switches:
– No Tactile bump
– Inaudible click
That is a simple guide to the three you can choose from on Amazon or their storefront. For the 87 key, I was provided with the Brown Switches, but for the 104 key, I was provided with the Blue switches. I must say I prefer the inaudible clicking of the brown switches but if you want the traditional clicking sounds of a mechanical keyboard definitely go with the Blue switches.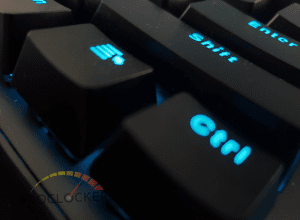 Software and RGB
Like most RGB keyboards the Phantom keyboards come with a downloadable software you can get off of Tecware's website. This software will allow you to customize your RGB lights, how they operate and even control key macros. The software is a bit more fleshed out than other keyboard software I have seen in the past because it gives you way more options to customize. There are so many different lighting modes, a few of which are:
Breathing – Cycle Color

Breathing – Fixed Color

Fixed Color

Horizontal Wave

Pulse Wave

Hurricane
(There are many more)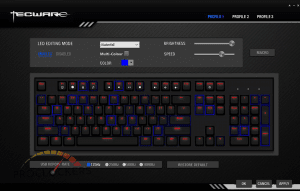 My favorite of which would be the Hurricane. These can all be customized in the software but it can also be customized manually. This is where Tecware's innovation comes into play. I haven't really seen a keyboard be able to customize your RGB to this level with just keystrokes on your keyboard. Remember that manual we talked about earlier. This will have all the different keystrokes you can use to change the RGB and lighting modes manually on the keyboard. This sounds like it would be a bit annoying to do but it doesn't take much to customize and is oftentimes faster than pulling up the software itself.
Overall
I am very impressed with Tecware's ability to innovate on the gaming keyboard genre and make a budget keyboard feel like you spent hundreds of dollars on it. I have no real complaints with this keyboard and at this price point, I feel it hard not to recommend the keyboard to everyone. However, more specifically I would recommend this keyboard to someone who is looking to buy a cheaper keyboard that still has the quality of a more expensive one. Possibly a first keyboard to a first PC build. The Tecware Phantom RGB keyboard impresses once again and I look forward to covering more of their products in the future!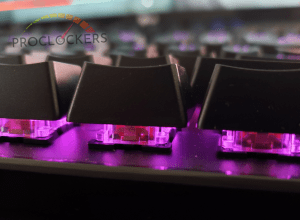 Watch the Phantom RGB 104 Keyboard Review here!
<![CDATA[ */ var zbjs = {"ajaxurl":"https:\/\/gaminggorilla.com\/wp-admin\/admin-ajax.php","md5":"d8e8b24d2fa18d2999e0fddcdd418586","tags":[],"categories":["Hardware"]}; /* ]]>