TeamGroup T-FORCE VULCAN TUF Gaming Alliance DDR4 Review
Introduction
When building a PC you're always concerned with the compatibility of your chosen components.
It can be quite the task to wade through the QVL of potential motherboards to verify that your ram will function correctly. Thankfully, if you choose to go with TUF-certified components, this will not be an issue because all TUF hardware is guaranteed to be compatible across all components. A new member of the TUF Alliance is TeamGroup's Vulcan TUF Gaming Alliance DDR4 Gaming Memory. This memory module is available in 2400/3000/3200/3600MHz frequencies and has a working voltage of 1.2 to 1.35v. Fitting with the TUF theme, it features a black and yellow military pattern on a full-coverage aluminum heat spreader which should complement your TUF build perfectly.
We would like to thank TeamGroup for providing us with the Vulcan TUF Gaming Alliance memory to review.
About TeamGroup
Team Group Inc. was founded in 1997 in Taiwan and is one of the leading memory storage manufacturers in the world. They provide a variety of products such as Memory, Solid State Drives, SD Cards, USB drives and mobile accessories. With their own professional research and development teams, it allows them to produce high-quality and innovative products. TeamGroup also well praised by the industry and customers for adhering to the corporate philosophy of "Integrity, Innovation, Professionalism, Efficiency, Discipline, and Simplicity."
TUF Gaming Alliance
TUF Gaming Alliance is the collaboration between ASUS and major PC-component manufacturers from brands such as Antec®, Apacer®, Ballistix, Cooler Master®, Corsair®, Deepcool, Enermax, G.Skill, GeIL®, In Win, Scythe, SilverStone, Team Group, and XPG. A TUF Gaming Alliance part guarantees aesthetic harmony as well as compatibility across all certified components. Hardware currently available under the TUF Gaming Alliance includes cases, motherboards, CPU coolers, DRAM, and power supplies.
Features & Specifications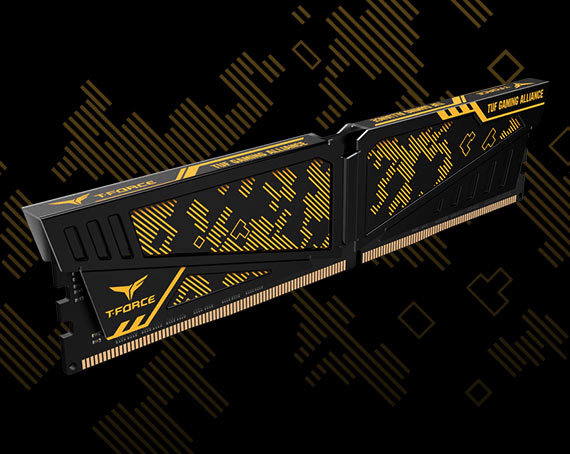 Notable Features:
TUF Gaming Alliance Certified
High quality aluminum forged heat spreader Hall-covered
Lifetime warranty
Technical Specifications:
Module Type: 288 Pin Unbuffered DIMM Non ECC
Capacity: 8GBx2
Frequency: 3200
Data Transfer: 25,600 MB/s
Bandwidth: (PC4 25600)
Latency : CL16-18-18-38
Voltage: 1.35V
Dimensions: 139.2(L) x 32(W) x 6.7(H)mm
Heat Spreader: Aluminum heat spreader
Warranty: Lifetime warranty
Packaging & Unboxing
The Vulcan TUF Gaming Alliance DDR4 Gaming Memory arrive in a hard-plastic shell with the TUF alliance emblem proudly shown on the left-hand side. In the lower left corner, you have a label denoting the frequency and timings of the memory included in the package. For our review sample we will be testing the 3200MHz model with CL16-18-18-38 timings which runs at 1.35v.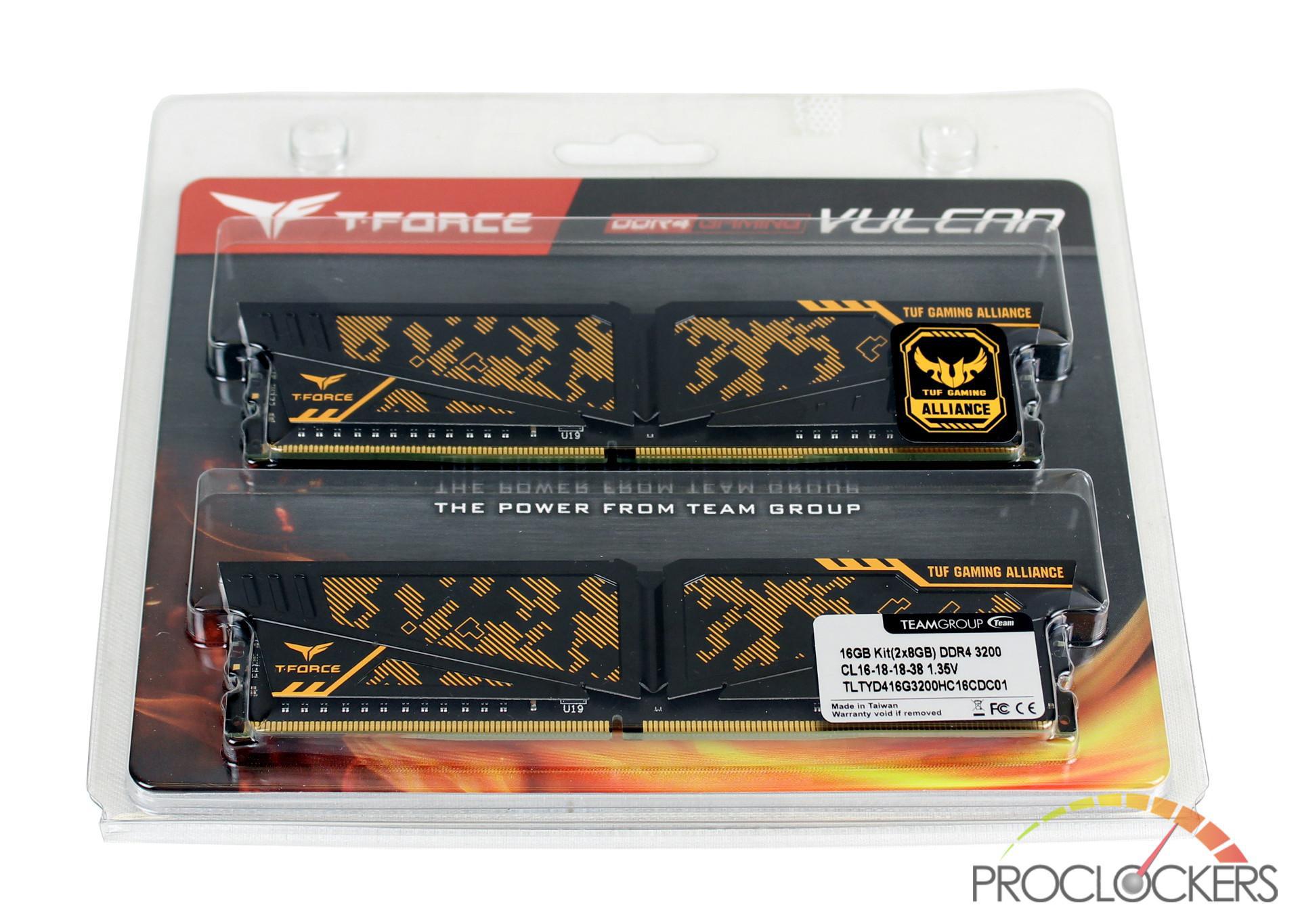 Flipping to the back of the packaging, you can find a description of T-Force as well as the notable features of the Vulcan TUF Gaming Memory. Also note that in the upper left-hand corner, it is stamped with a "Life Time Warranty". It is always nice to see a company stand behind their products.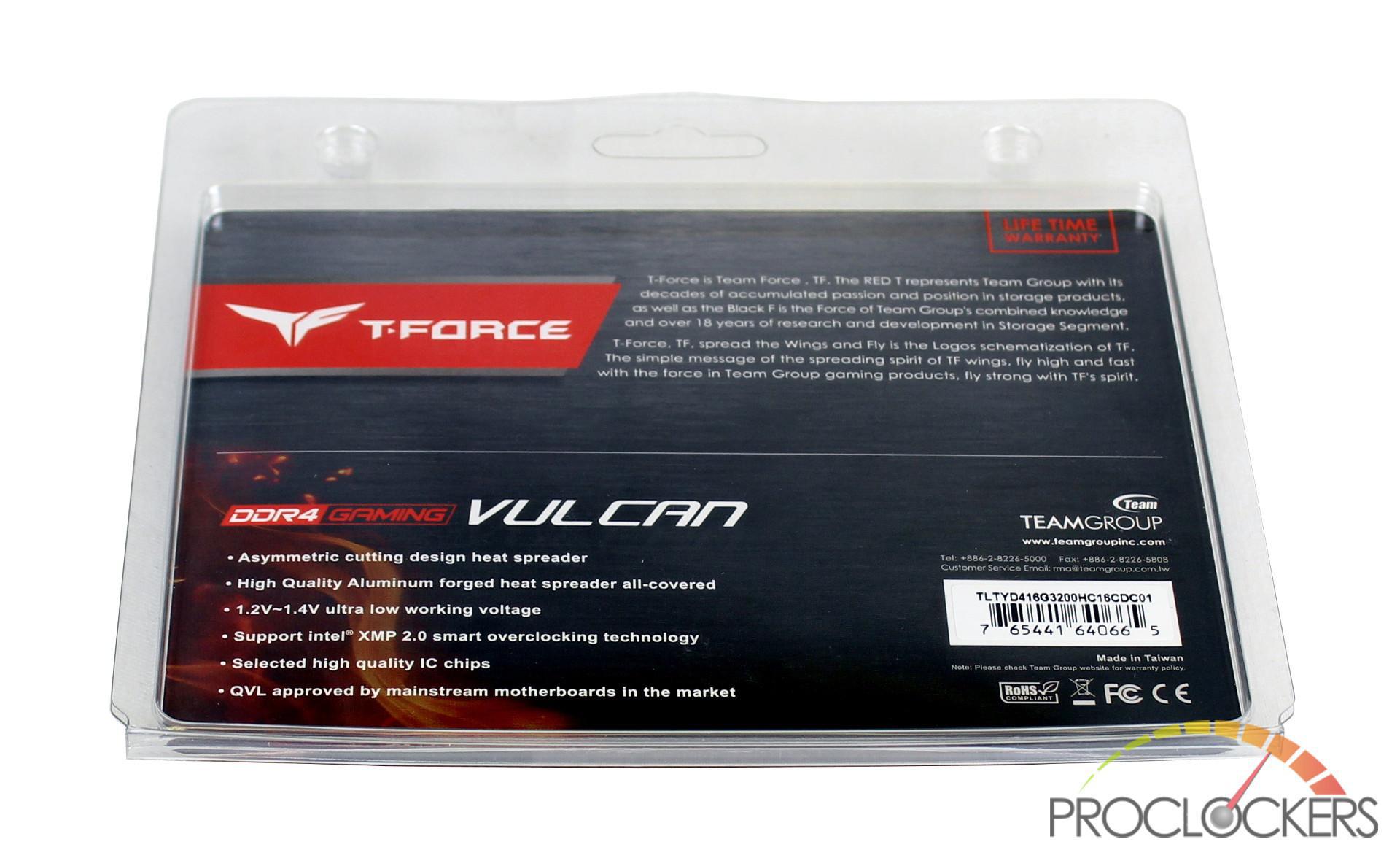 After removing the package, you get your first look of the Vulcan TUF Gaming Memory modules.

A Closer Look
The Vulcan TUF memory includes an aluminum forged heat spreader that extends the entire width of the module. It is decorated with a black and yellow military theme which matches the TUF brand perfectly. The memory stick is also branded with a yellow T-Force logo in the bottom right and also has "TUF GAMING ALLIANCE" written in the upper right.

Looking to the top of the ram it also includes the T-Force logo and "TUF GAMING ALLIANCE" text. This is on each half of the module and is flipped on each side so you can read it regardless of your motherboard's orientation.

On a side view of the memory, you can see how the heat spreader is attached to the module. It looks to be two pieces with one piece covering the top and side while the other covers the opposing side.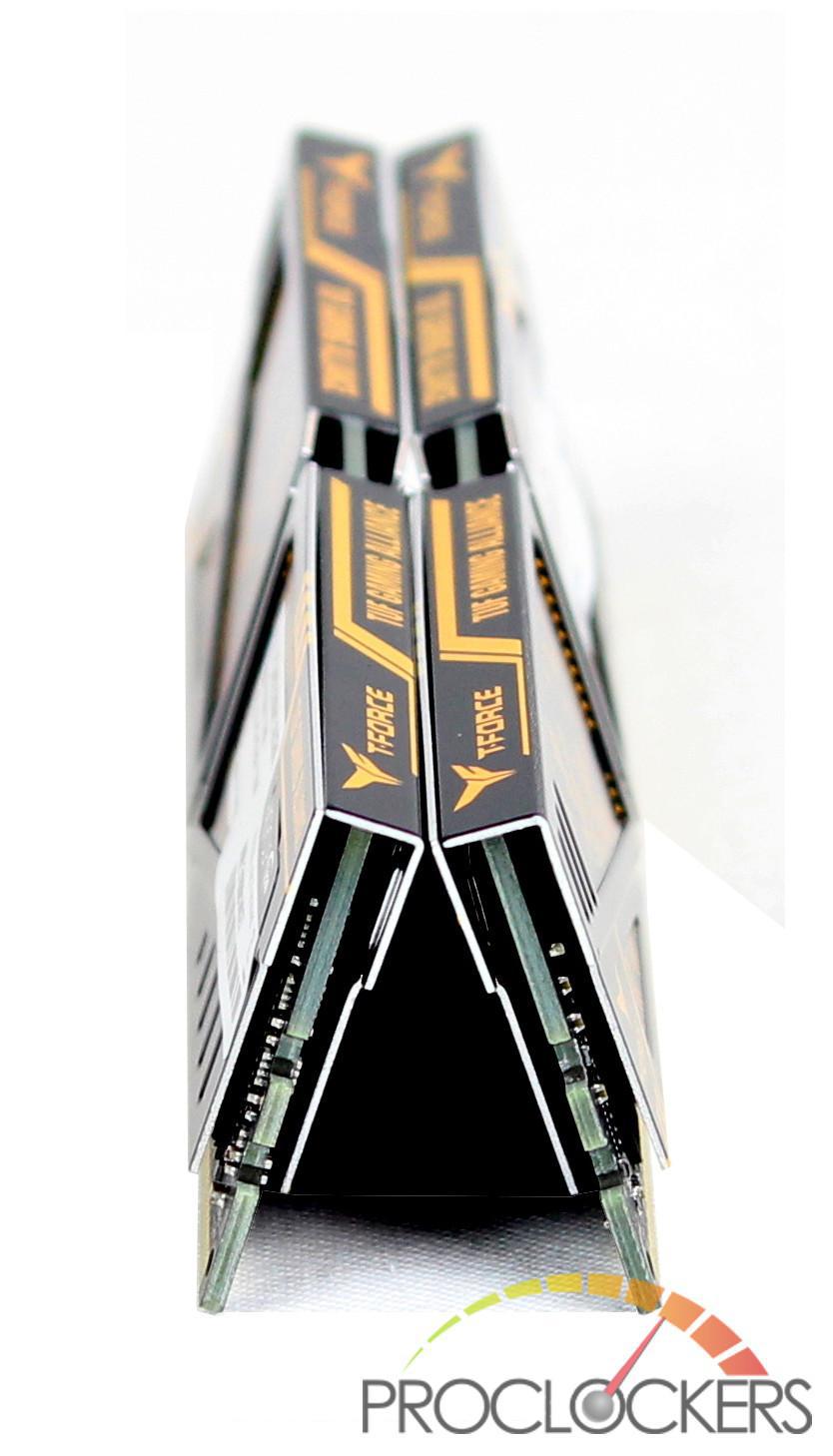 Overall, I think the memory kit looks great and I can appreciate the color contrast of the yellow and black.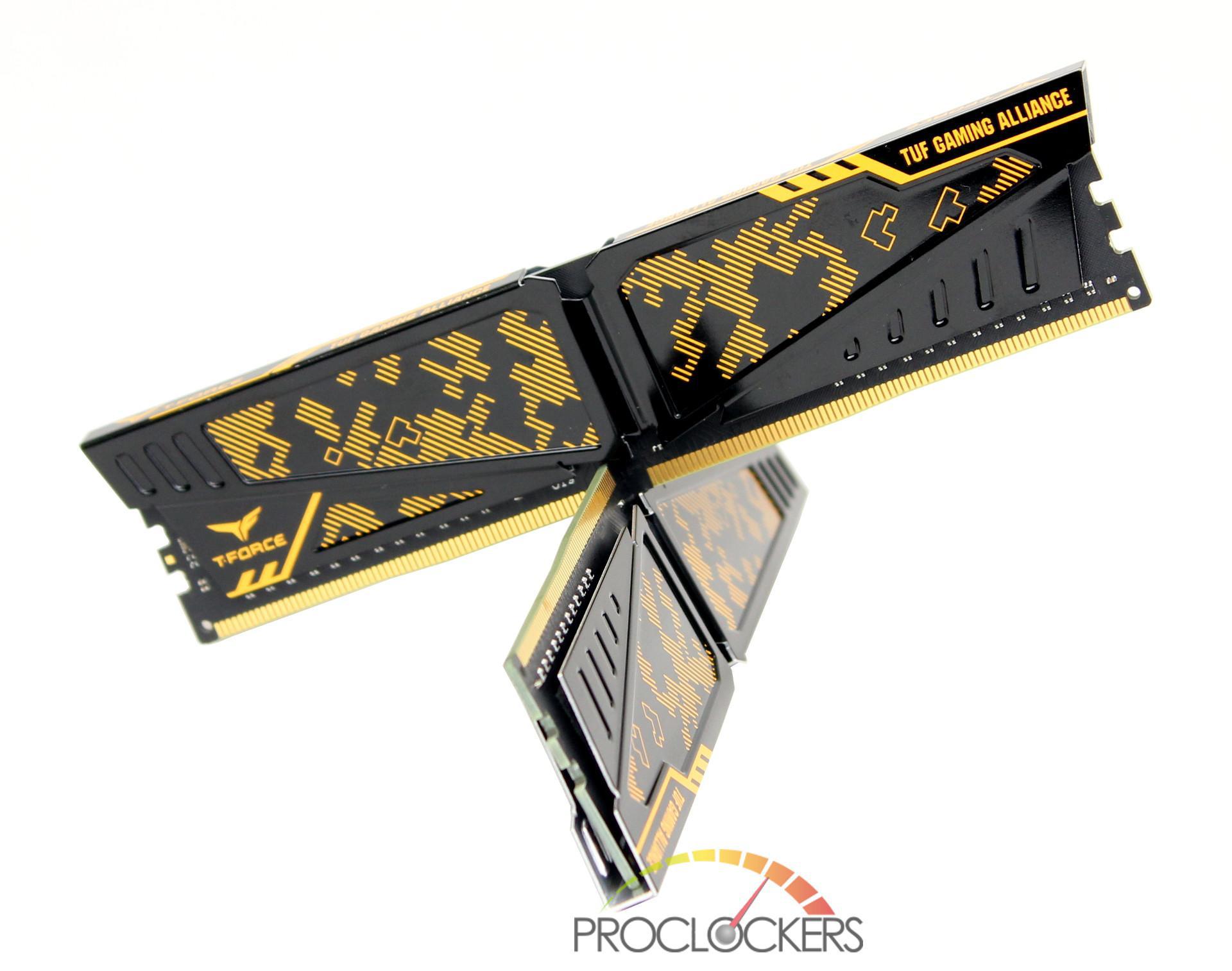 System Installation & Performance Testing
The test system we are using to benchmark our 2 x 8GB Vulcan TUF Gaming Alliance memory is:
Cooler Master MB530P
ASRock Z370 Tachi Motherboard
Intel 8700K Processor Overclocked to 4.6GHz
DeepCool GAMMAXX GT
EVGA 1070 FTW 8GB GPU
EVGA 750W P2 PSU
Microsoft Windows 10 Professional
Installing the Vulcan TUF DDR4 is just like installing any other ram module. Also since they are only 32mm tall, you should have no clearance issues with aftermarket coolers such as Cooler Master's Hyper 212 Evo or be quiet's Dark Rock Pro 4.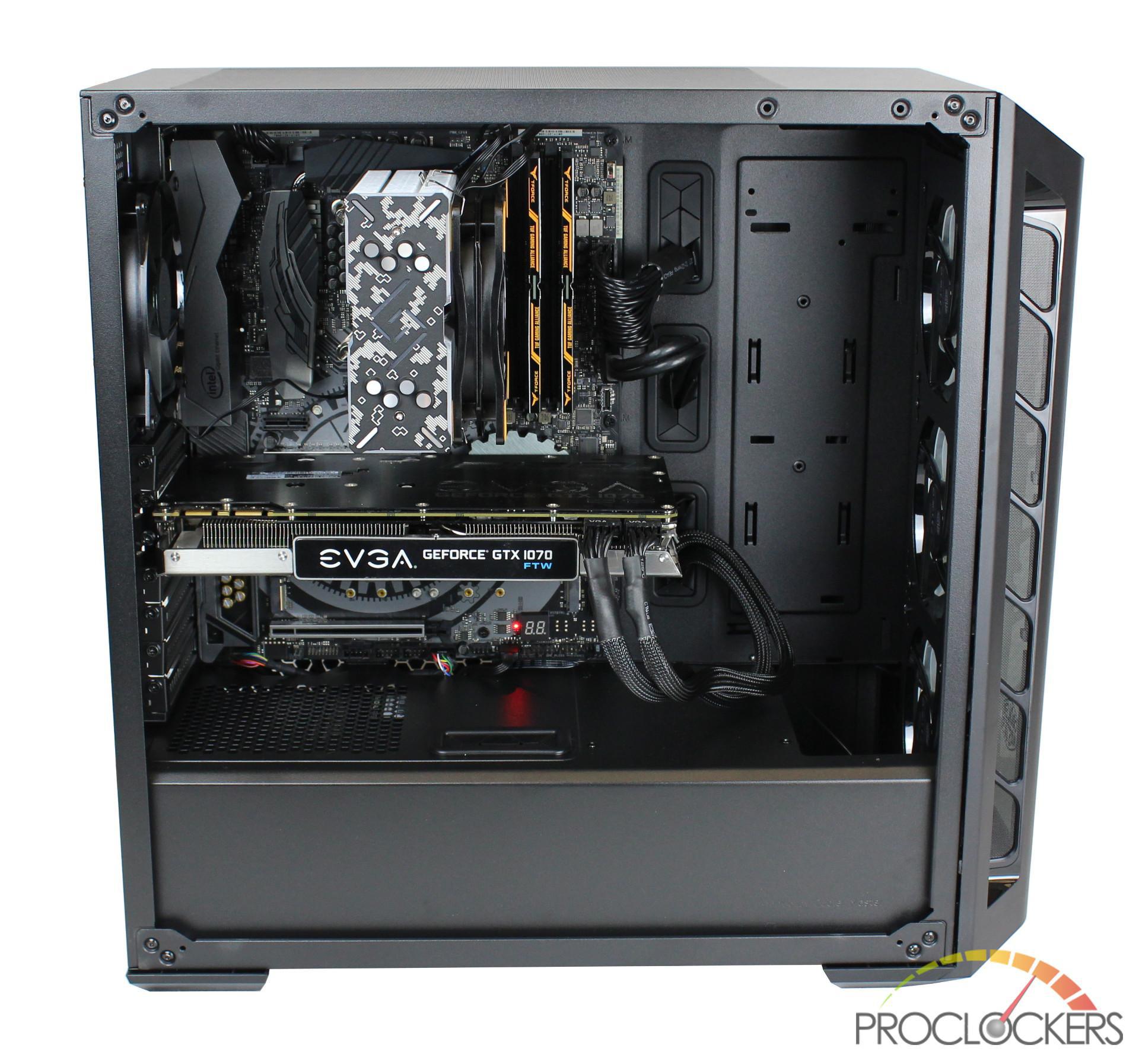 We paired the Vulcan TUFs with the DeepCool GAMMAXX GT CPU cooler to go with the TUF theme.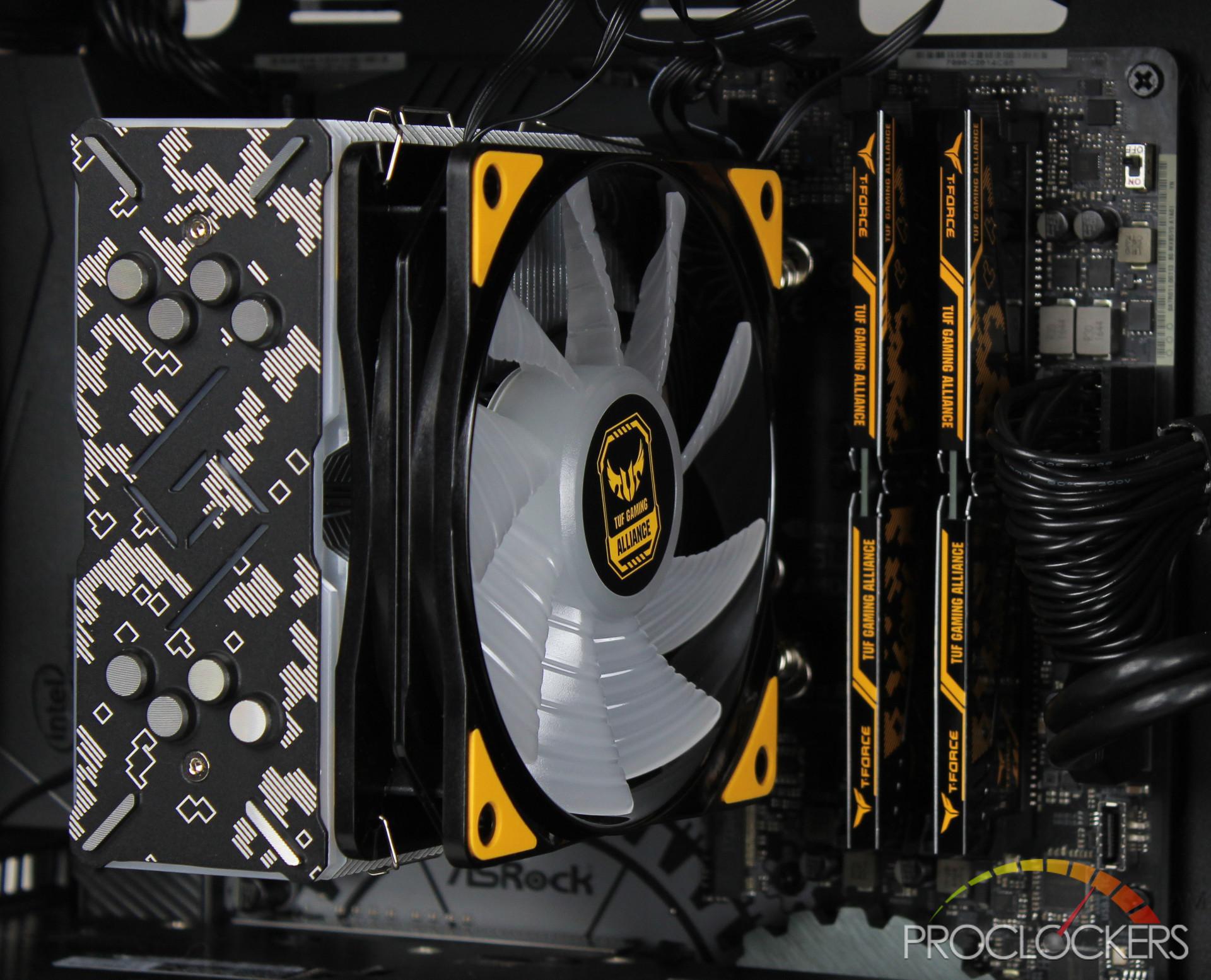 For testing, we benchmarked with the following pieces of software:
CPU-Z
AIDA64 Extreme Edition
Passmark Performance Test
SiSoft Sandra
7-Zip
Super Pi Modded 1.5
7-Zip
"This form allows you to measure the performance of your computer. The benchmark shows a rating of MIPS (million instructions per second). The rating value is calculated from the measured speed, and it is normalized with results of Intel Core 2 CPU with multi-threading option switched off. So if you have modern CPU from Intel or AMD, rating values in single-thread mode must be close to real CPU frequency. There are two tests: compression with LZMA method and decompression with LZMA method. Once the total passes reach 100, the score is taken."
In our 7-zip benchmark the Vulcan TUFs did great with a MIPS total of 40128 making it into the top 3 of ram we have tested.
AIDA64 Engineer Edition
"AIDA64 Engineer has a hardware detection engine unrivaled in its class. It provides detailed information about installed software and offers diagnostic functions and support for overclocking. As it is monitoring sensors in real time, it can gather accurate voltage, temperature and fan speed readings, while its diagnostic functions help detect and prevent hardware issues. It also offers a couple of benchmarks for measuring the performance of individual hardware components or the whole system. It is compatible with all 32-bit and 64-bit Windows editions, including Windows 10 and Windows Server 2016."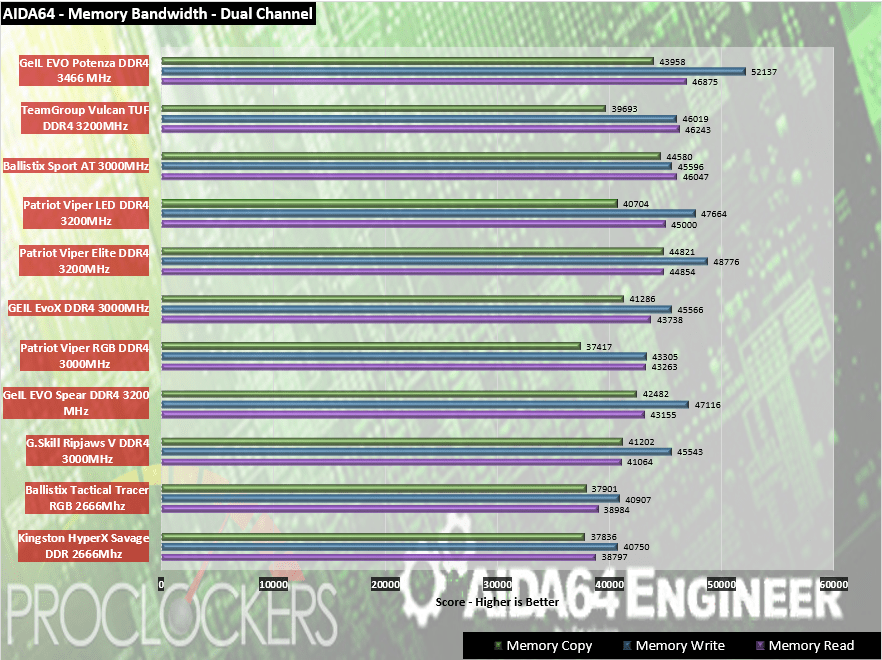 Memory bandwidth is highly tied to speed and we can see the Vulcan TUF ram is sitting with the other 3200MHz modules.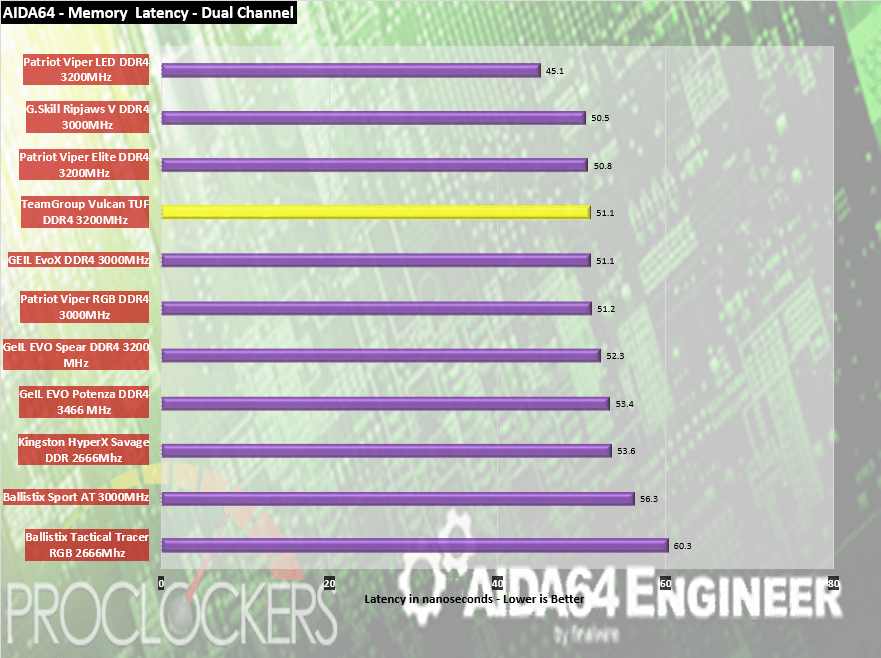 TeamGroup's Vulcan TUF ram scores an impressive latency score of 51.1ns, putting it in our top 4.
Passmark Performance Test – Memory Mark – Threaded
"Fast, easy to use, PC speed testing and benchmarking. PassMark PerformanceTest ™ allows you to objectively benchmark a PC using a variety of different speed tests and compare the results to other computers."
In the Passmark benchmark the Vulcan TUF Gaming Memory does extremely well capturing 2nd place with a score of 40519.
SiSoft Sandra – Memory Bandwidth – Multi Threaded
"SiSoftware Sandra provides a robust package of diagnostic tools for testing your system and teasing out its problems–or potential headaches."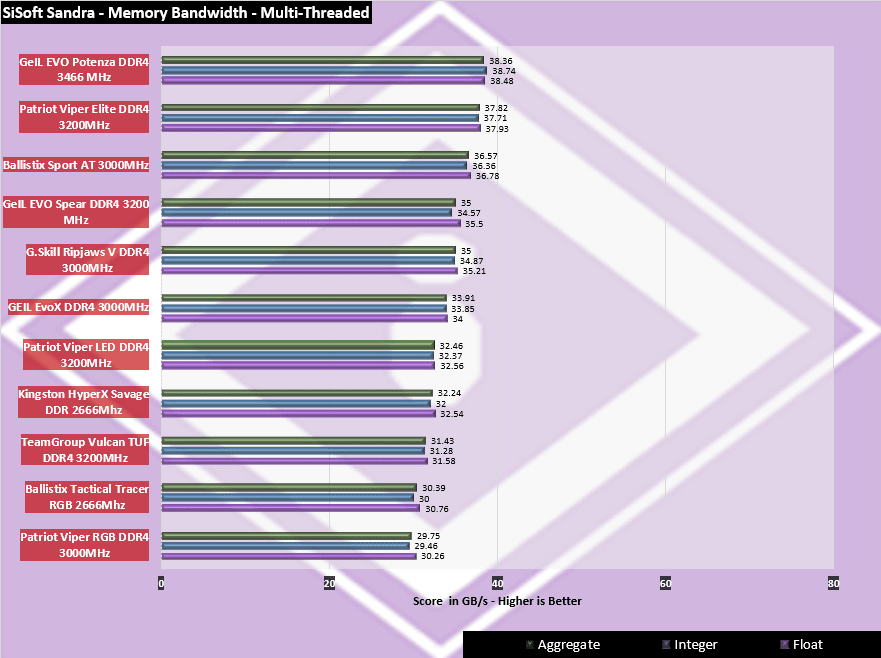 In SiSoft Sandra multi-treading memory bandwidth test they score a solid scores of 31.43/31.28/31.58.
Super Pi Modded 1.5
"In August 1995, the calculation of pi up to 4,294,960,000 decimal digits was succeeded by using a supercomputer at the University of Tokyo. The program was written by D.Takahashi in collaboration with Dr.Y.Kanada at the computer center. This record should be the current world record. (Details are shown in the windows help.) This record-breaking program was ported to personal computer environments such as Windows NT and Windows 95. In order to calculate 33.55 million digits, it takes 3 days with a Pentium 90 MHz, 40 MB main memory and 340 MB available storage."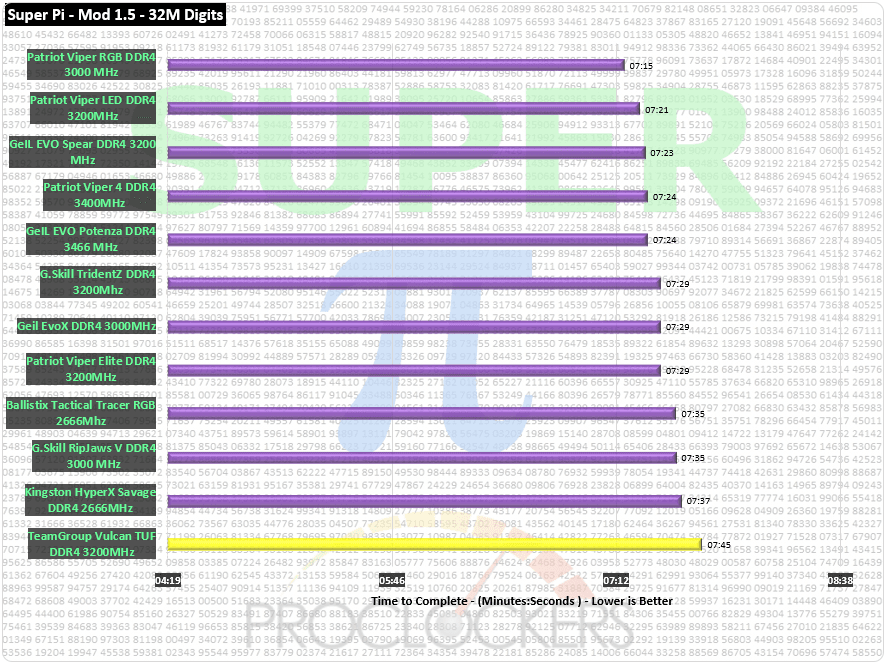 Though the Vulcan TUF come up last in our Super Pi test but still has a decent time for 7:45.
Overclocking
Now that we have got the benching out of the way, let's see how well we can overclock the Vulcan TUF Gaming Memory. As you can see with CPU-Z, the kit runs at 3200MHz with the timings of CL16-18-18-38 under XMP-3200.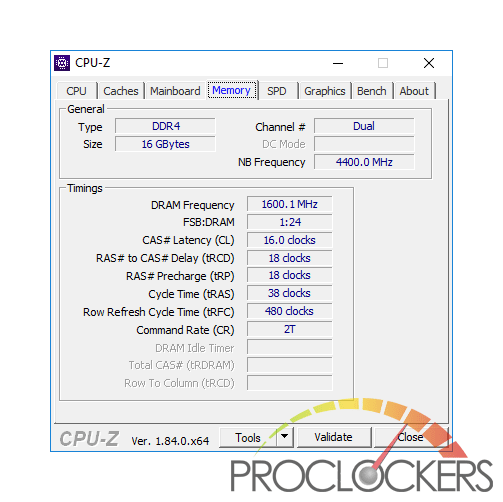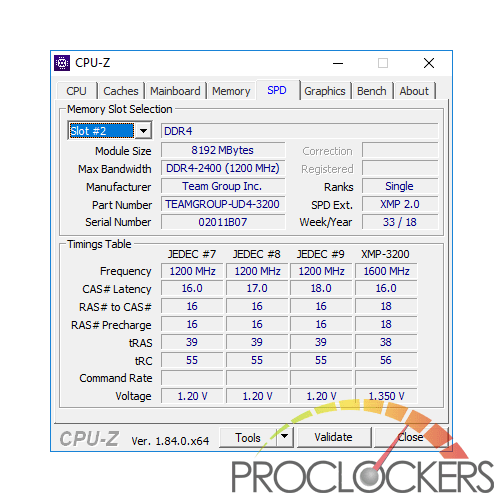 Leaving the default voltage of 1.35, I wanted to see how high the kit could overclock without needing any extra voltage. The Vulcan TUFs were able to successfully boot with 3600Mhz and ran 100% stable during a SuperPi 32M run. We attempted to boot at 3800MHz, but it failed and we had to manually set the voltage to 1.40v to get a successful boot. We did attempt to clock them at a higher frequency and tighten the timings but failed at both with any voltage thrown at it. Just to make sure we were running stable, I did another SuperPi run which completed without a hitch.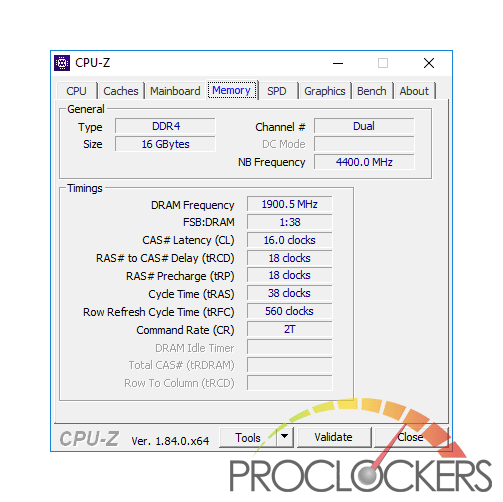 Now that we have a stable overclock, let's compare stock setting with our new clock of 3800MHz. As you can see, we have an increase in Read/Write/Copy of 15-19% as we went from 46.2/46.0/39.6 to 53.4/54.8/47.4 GB/s. We also had a latency of 51.1ns and moved to an extremely fast 46.8ns.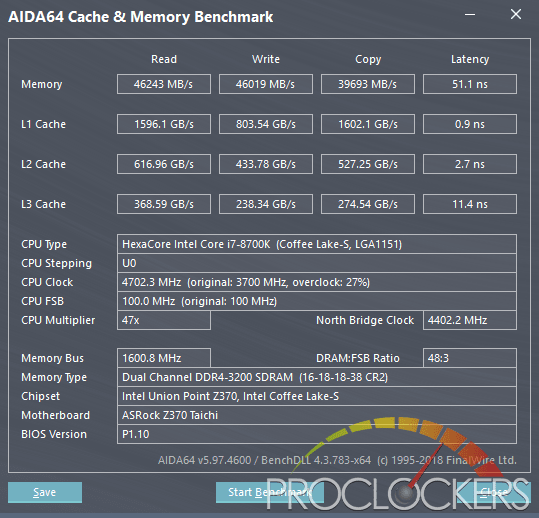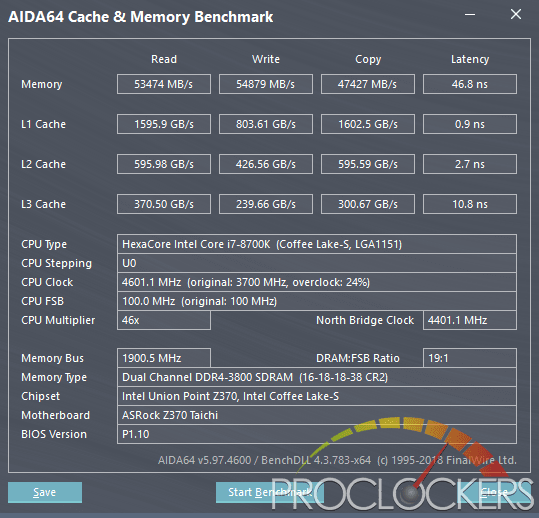 I was quite impressed with how well the Vulcan TUF Gaming Memory overclocked and it seems there's a lot of untapped potential even at the stock voltage.
Final Thoughts & Conclusion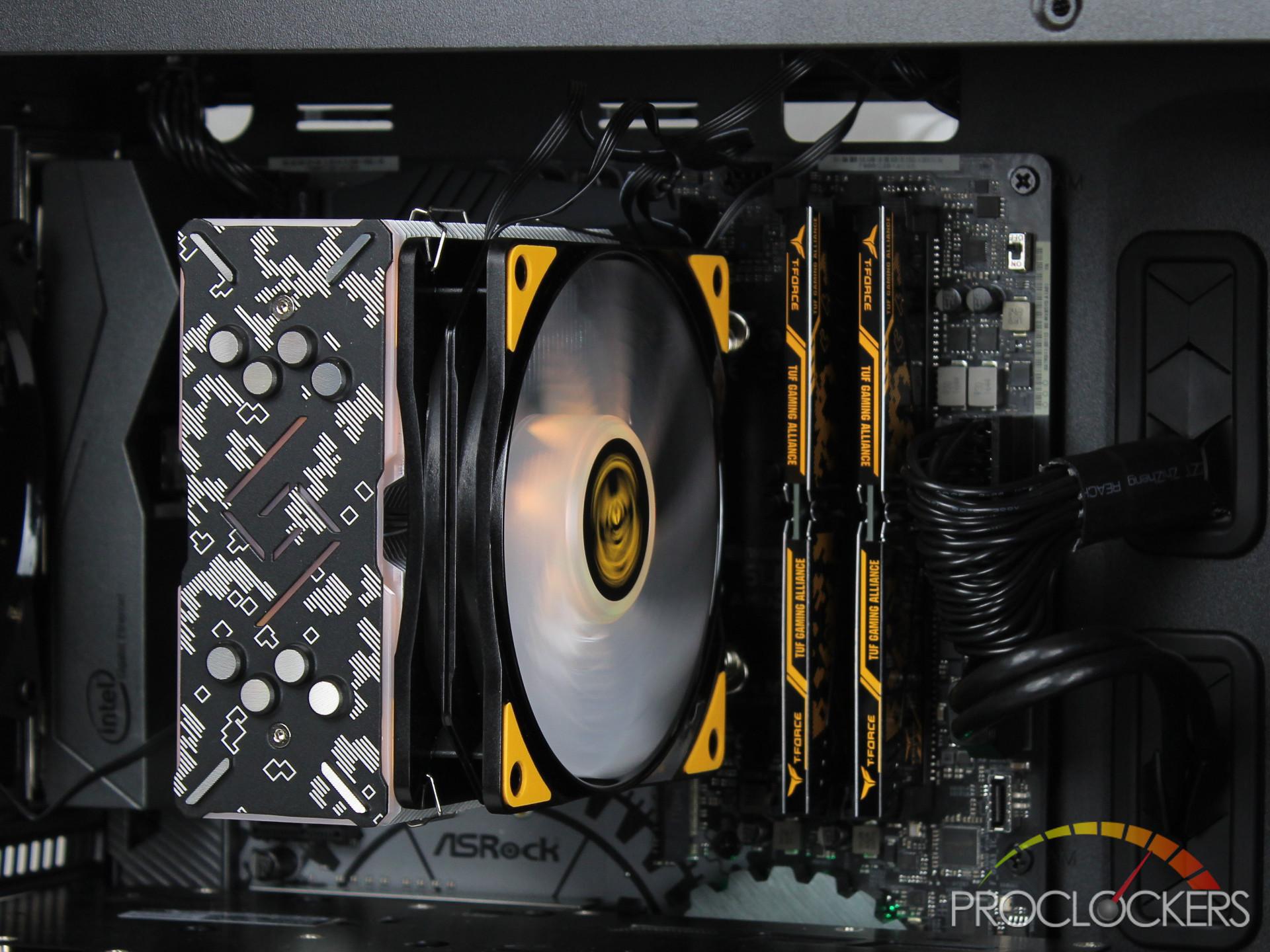 TeamGroup's Vulcan TUF Gaming Memory performed extremely well in most of our tests and I was thoroughly impressed with its overclocking ability. For anyone looking to overclock the Vulcan TUF Gaming Memory, it has plenty of hidden potential and I was able to achieve a clock of 3600MHz with no additional voltage and even a 3800MHz clock with just 0.05v more volts. This will match any TUF themed build with the Vulcan TUF's black/yellow colors and military pattern. If I had to change one thing about them, I wish the text "TUF GAMING ALLIANCE" was a little less prominent so they could also match a non-TUF build as they look great. I would recommend anyone looking to do a TUF based build to check out TeamGroup's Vulcan TUF Gaming Memory as they won't disappoint in looks and performance.

Great Job TeamGroup!

<![CDATA[ */ var zbjs = {"ajaxurl":"https:\/\/gaminggorilla.com\/wp-admin\/admin-ajax.php","md5":"d8e8b24d2fa18d2999e0fddcdd418586","tags":[],"categories":["Hardware"]}; /* ]]>