The 20 Best Online Games to Play With Friends
What are the Best Online Games to Play with Friends?
You may be looking for something to do to pass the time online with friends and have a little fun and we've got just the thing!
After looking through a bunch of different game genres, we came up with this list of the best online games that you might enjoy playing with friends.
The Best Online Games to Play With Friends
We focused on the multiplayer side of games, so you'll see that each game has a short review to help you decide what to play.
Most of the games we chose can be played by more than 2 players and up to well… an infinite number of players if you count in MMORPGs!
You'll notice that some games are free to play, while others require payment or monthly subscriptions.
We also made sure to include enough games that are available on various platforms, such as PS4, Xbox One, PC, Nintendo Switch, iOS, or Android.
All you'll need to do is make sure you have a proper internet connection.
So… sit down, text your friends, and press play!
Without further ado, here's our list of the best online games to play with friends:
Best FPS & Battle Royales
1. Borderlands 3
Platforms: Xbox One, PS4, PC, Stadia
This latest looter-shooter in the franchise offers so much content, compared to its predecessors.
Explore planers, try various classes, and when single-player mode feels a bit boring, bring a friend online to make missions more fun.
The loot system in this game enables players to have their own drops, which will ensure that you and your friends won't be fighting over any loot!
2. Call of Duty: Warzone
Platforms: Xbox One, PS4, PC
This free-to-play battle royale is set in the Modern Warfare universe.
150 players can join in a battle, so no matter how many friends you have, there's surely enough room for them in Call of Duty: Warzone.
Team up in trios and fight enemy squads in this exciting first-person shooter.
3. Tom Clancy's The Division 2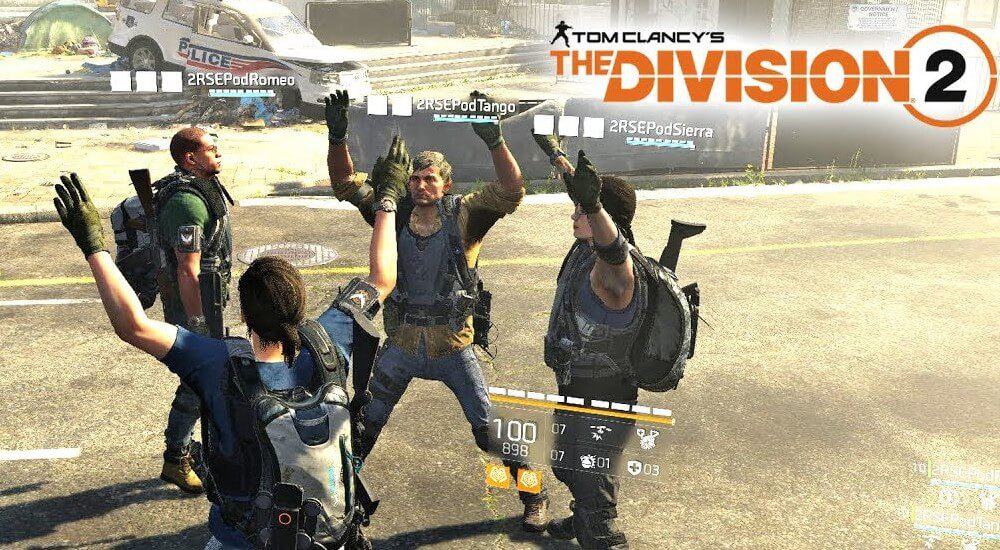 Platforms: Xbox One, PS4, PC, Stadia
Tom Clancy's The Division 2 is now available at under $10 and for that price tag, it's a must-have!
The shared-world shooter will let you and your friends play in campaign missions and side missions.
Fight other squads and fight by your friends' sides in this game where teamwork and cooperation are the keys to success.
Platforms: Xbox One, PS4, Switch PC
Blizzard introduced their popular shooter Overwatch in 2015.
We have to admit that playing with friends is a lot more fun than playing alone. You get to create the perfect team and communication is key to reveal your enemies' positions.
Protect objectives and you'll be victorious.
Overwatch must be purchased, but it's only $19,99.
If one friend bought the legendary edition ($39,99), all the other friends get to play that extra content, although they do have the base edition.
5. Fortnite
Platforms: Xbox One, PS4, Switch, PC, Android
Another free-to-play battle royale game is Fortnite. Already popular worldwide, Fortnite supports cross-play among all the platforms mentioned above.
It's the perfect game to play with friends, and there are always new events and content to keep players online.
Honorable Mentions:
PUBG
Counter-Strike: Global Offensive
Apex Legends
Rainbow Six Siege
Best Online Games to Play With Friends: MOBAs
6. League of Legends
Platforms: PC
This was the most popular game in the world, so it's clear League of Legends doesn't need an introduction.
Still the number 1 MOBA game, LoL is a great game for you and your friends. If you have four friends, you can play two 5v5 maps.
And if you're 10 people, then there's always the possibility to create custom games and try defeating each other's nexus.
7. DOTA 2
Platforms: PC
DOTA 2 is the successor of DOTA, the first popular MOBA.
This game is similar to League of Legends, allowing you to join a team of 5 players and push towards the enemy base.
Of course, DOTA 2 is a lot more fun if you play it with friends.
Honorable Mentions:
Best Online Games to Play With Friends: MMORPGs
8. Star Wars: The Old Republic
Platforms: PC
If you're surrounded by friends that love Star Wars and know a thing or two about MMORPGs, then you'll surely enjoy Star Wars: The Old Republic.
You can be a Jedi, a Sith, a smuggler, or a bounty hunter!
There are lightsabers, blasters, and aliens from the Star Wars universe, but also new weapons, pets, and constant updates with new stories since the game got launched.
9. Guild Wars 2
Platforms: PC
Guild Wars 2 is a popular MMO that doesn't try to copy World of Warcraft.
Instead, it has different ideas and directions that some gamers might like more.
Leveling and completing quests with your friends feels like less of a grind and more of an adventure.
10. World of Warcraft
Platforms: PC
We truly believe World of Warcraft is the best MMO ever.
That may be because we're already playing WoW for some years and now that Shadowlands is on its way, the hype is here.
WoW is always fun with friends, whether you're up for a dungeon, raid, or just want to level up and quest.
There is so much content in WoW that it could take you years to complete all the quests from every expansion – if you are crazy enough to do that.
There are a lot of classes and specializations that no matter how picky your friends are, they will surely find something fit for their playstyle.
Other similar games: Final Fantasy 14, The Elder Scrolls Online, EVE Online, Neverwinter, Runescape, Tera, Blade, and Soul.
Best Online Games to Play With Friends: RPGs and Hack-and-slashers
11. Divinity: Original Sin 2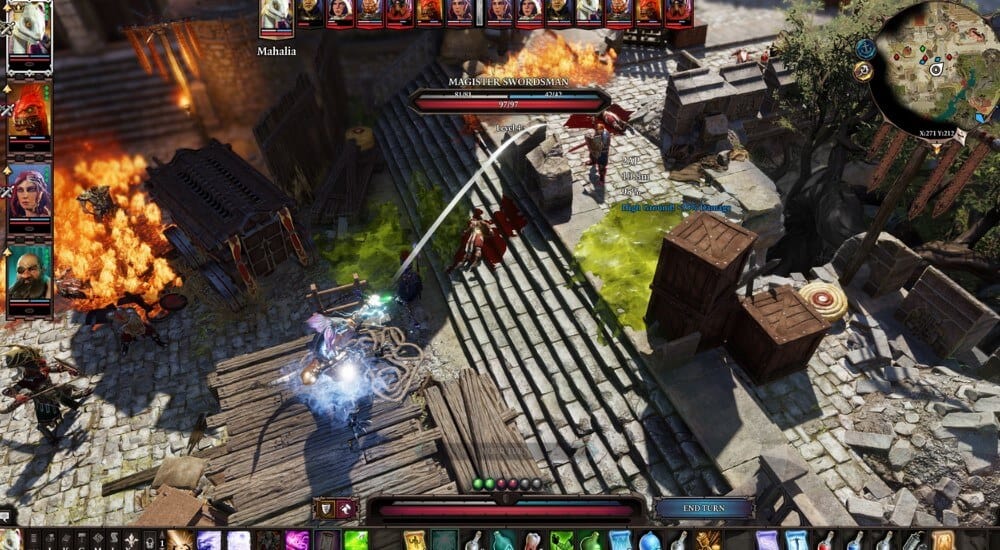 Platforms: PC, PS4, Xbox One
We love playing this game with our friends because first – Divinity: Original Sin 2 is the best RPG ever and second because the story is so great we could not stop playing even after hours of completing quests and defeating monsters in turn-based fights.
The combos are insane and you'll more than likely annoy one of your friends after electrocuting him "by mistake."
12. Diablo 3
Platforms: PC, Xbox One, PS4, Nintendo Switch
If you played Torchlight or Path of Exile, then you probably know how great the Diablo series is.
The oldest hack-and-slash game ever, the latest Diablo installment feels like it was released yesterday – although it's been eight years since it got launched.
The game is addictive enough in single-player, so imagine how awesome it is with a bunch of friends!
You get to choose from seven different classes and fight over legendary loot.
13. Minecraft Dungeons
Platforms: Xbox One, PS4, Switch, PC
Minecraft Dungeons is a great game to play with your friends, so as long as you're into hack-and-slash and you're also a Minecraft fan, then this game is definitely meant for you.
Even for those that haven't played this genre, Minecraft Dungeons is easy to understand.
The game also has the first DLC out.
Honorable Mentions:
Path of Exile
Warhammer: Chaosbane
Warhammer 40,000 Inquisitor – Martyr, Grim Dawn.
Best Online Games to Play With Friends: Other More Awesome Online Games
14. Among Us
Platforms: PC, iOS, Android
Playing Among Us with friends is always fun, and very easy to understand, even if you're not an experienced gamer.
Among Us has recently become very popular since it got streamed on Twitch.
From having around 100 players a day, it now has around 200,000 daily players.
Among Us can be played in 4 to 10 players and it's a deduction game. Players that get to be crewmembers must complete tasks – if you complete them all, you win.
However, there's at least one imposter "among you" that will try to sabotage and kill as many crewmembers as possible without being spotted.
15. Monster Hunter: World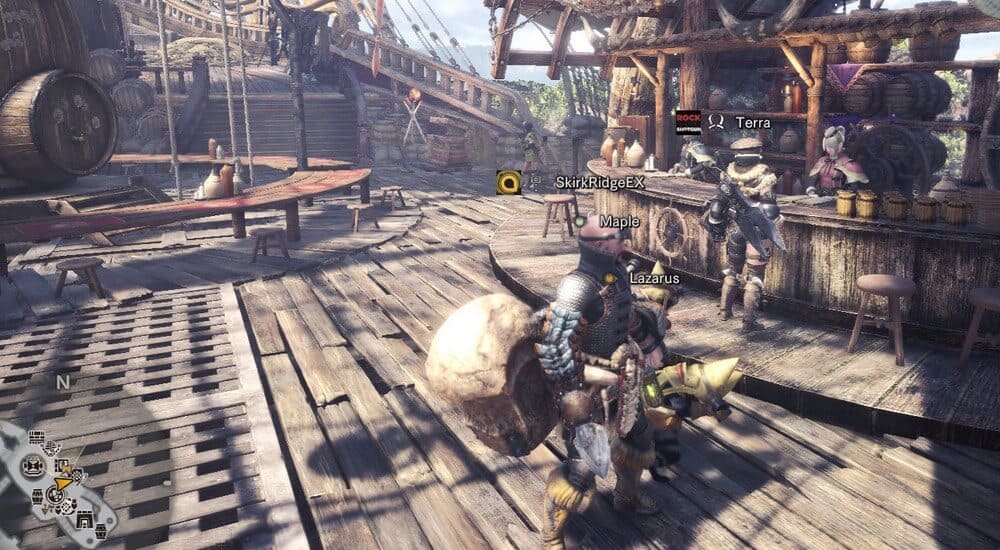 Platforms: PC, PS4, Xbox One
This is a game where you should expect a lot of grinding, but it's fun with friends and getting so much loot from monsters to upgrade your gear will definitely be addictive.
With the latest Iceborne expansion, there is a lot of content to go through, and with an Xbox Game Pass, Monster Hunter: World is free.
16. Minecraft
Platforms: Xbox One, PS4, PC, Switch, iOS, Android
What do we love about Minecraft?
Why, building stuff, of course. We gathered our friends and got to build a castle with an underground dungeon!
And thanks to the cross-play support, everyone can play Minecraft, no matter what device they use.
If you think you'll get easily bored in Minecraft, think again!
17. Sea of Thieves
Platforms: Xbox One, PC
This action-adventure game requires you to interact with other players to sail your boat and stand a chance when you face other ships.
You'll need to use a headset to chat with your friends and coordinate your moves.
Sea of Thieves is one of the best pirate games you can enjoy with your friends.
18. Forza Horizon 4
Platforms: Xbox One, PC
We thought racing car games would also be pretty fun to do with friends.
It's obvious why Forza Horizon 4 is a great game to play because you get to crash into your buddies and beat them in different races in all different locations.
What other reasons do you need?
Summary
Here's a quick recap of the best online games to play with friends:
Borderlands 3
Call of Duty: Warzone
Tom Clancy's: The Division 2
Overwatch
Fortnite
League of Legends
Dota 2
Star Wars: The Old Republic
Guild Wars 2
World of Warcraft
Divinity: Original Sin 2
Diablo 3
Minecraft Dungeons
Among Us
Monster Hunter: World
Minecraft
Sea of Thieves
Forza Horizon 4
We hope you've enjoyed exploring some of these great online games and that you get to try them out with friends.
Which of these multiplayer games is your favorite? Leave a comment below.
<![CDATA[ */ var zbjs = {"ajaxurl":"https:\/\/gaminggorilla.com\/wp-admin\/admin-ajax.php","md5":"d8e8b24d2fa18d2999e0fddcdd418586","tags":[],"categories":["Top Lists"]}; /* ]]>