The 5 Best Racing Wheel Stands for Gaming
Racing simulators need a few key setup requirements before you can really start immersing yourself in a great game-play experience. Aside from the wheel and the pedalboard, you'll need a good racing wheel stand. Some come with a seat, some are a bit more lightweight, others come with triple monitor support, and plenty of other features. But which ones are the best?
We rounded up the best five racing wheel stands that should please just about anyone – from premium stands, to stands with extra features, and even some budget picks, you'll be able to decide which is the best racing wheel stand for you.
Which Racing Wheel Stand is the Best for Gaming?
The best Racing Wheel Stand is the Openwheeler GEN2 due to its comfort, adjustable seating and cockpit-feel. However, you must also take into account cost, customization, and compatibility.
First, you're looking for a racing wheel stand that will last for years. Next, it's essential that the stand doesn't move when you push on the pedals because after all, a bad racing wheel stand will ruin your immersion experience.
In terms of customization, it's important to know whether the stand is easily adjustable to accommodate your frame – think of the seat, the distance from your hands to the wheel, from your feet to the pedals. Most stands are adjustable and let you choose different angles or positions for the pedals or the shifter.
Last but not least, some wheel stands, such as the Pro-Line wheel stands are compatible only with some wheels. It's always best to check if they're compatible with your rig before buying a wheel stand.
No matter what your preferences are in terms of portability or customization, one of these racing wheel stands in our list should be a good choice if you want to upgrade your racing gear.
1. Openwheeler GEN2
The Best Overall Racing Wheel Stand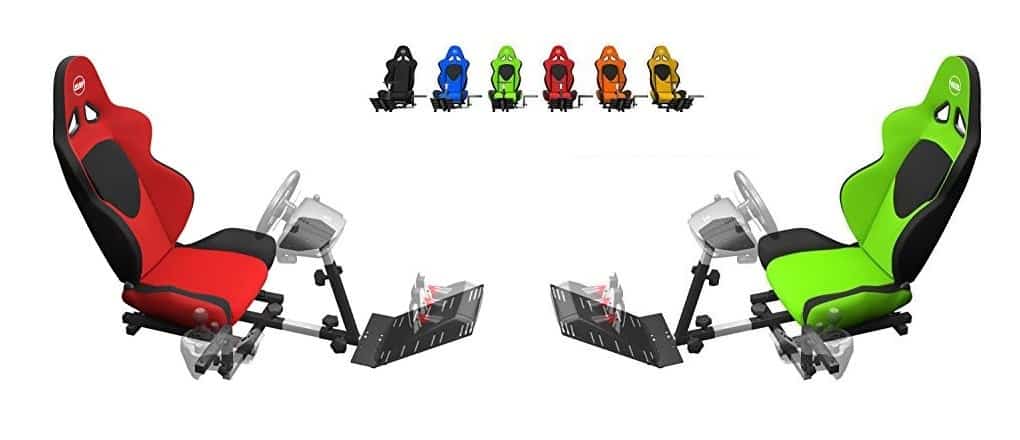 The best bang for your buck in a racing rig, the racing cockpit has a seat that quickly adjusts, can fit an adult and has a high quality build. The seat is comfortable and comes in various colors. Openwheeler GEN2 is easy to install and all the tools you need come with it.
The setup is highly adjustable and user friendly, as there are many positions for the mounted pedals, the wheel stand has various adjustable angles, and the shifter can be placed either on the left or the right.
Gaming with an Openwheeler GEN2 will let you immerse yourself in your racing simulation games like never before. All you need is the cash to throw at it (around $400) – compared to other stands, this one is a bit more expensive considering it comes with a seat.
If you're looking for something more affordable, we've got you covered with other racing wheel stands that don't break the bank.
2. Pro-Line Wheel Stand
Second-Best Racing Wheel Stand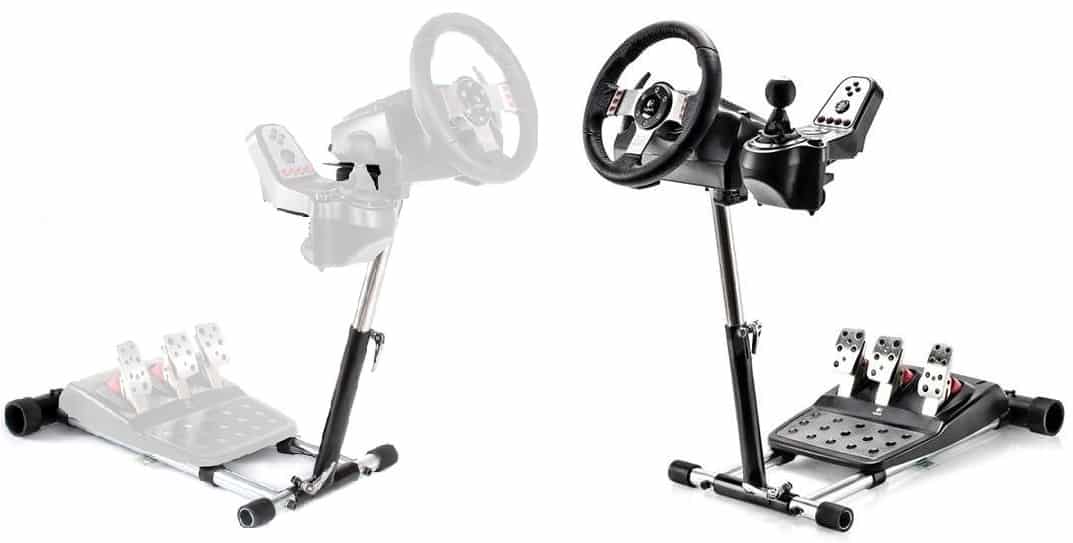 The affordable alternative to the previous stand, the Pro-Line wheel stand is in the $120 – $140 range (depending on the model). The stand has a sturdy build quality and lets you fully adjust inclines, pedal location, shifter position and more.
The Pro G wheel stand is made for Logitech G29/290, G27, and G25 wheels, while the Pro F458 wheel stand is made for F458, F458 Spider, T80, T100, RGT, Ferrari GT, and F430. The Pro TX Deluxe V2 is built for the T-GT, T500RS, T300RS (PS4), TX458 (Xbox One), TX Leather, T150, TMX, and TMX Pro. The Pro CSL GT2 is built for the Fanatec wheels, including the Fanatec CSL and CSL Elite, the Fanatec CSP, the Fanatec GT2/GT3RS Wheels, and the Fanatec CSR/CSR Elite.
As you can see, the stand works with various models, so make sure you know which one fits your racing wheel before buying a Pro wheel stand.
3. Next Level Racing Lite
Runner-up Racing Wheel Stand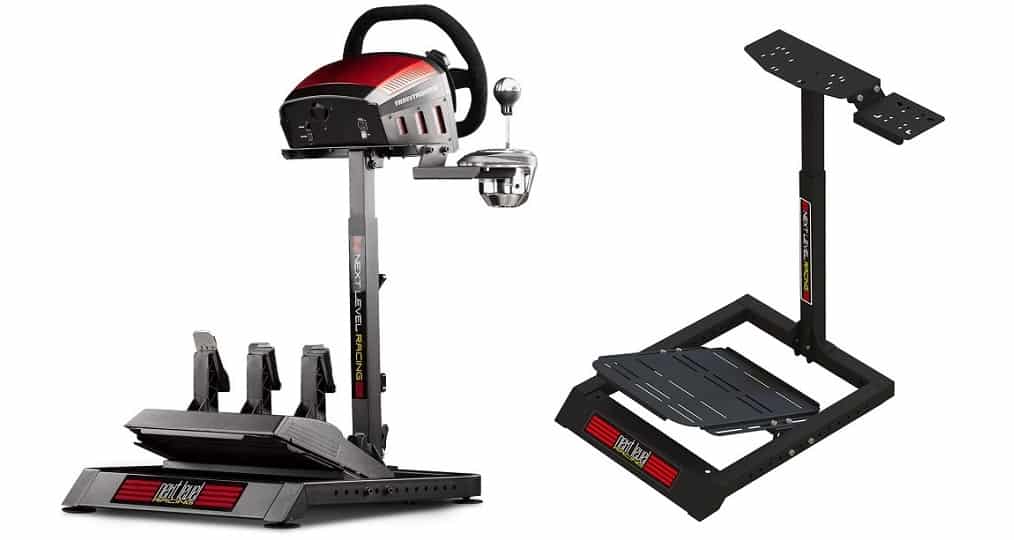 Another quality wheel stand is the Next Level Racing Lite, which offers plenty of adjustable positions and can be upgraded into a full cockpit in the future if you feel like throwing some more cash at your racing rig. The good thing about the Next Level Racing Lite compared to the Wheel Stand Pro Line is that it is compatible with any kind of wheels.
Another great thing about this wheel stand is that it can be folded and stored – in ten seconds, it can be setup or folded down! At around $130, the Next Level Racing Lite is versatile, has a great quality build and it's portable. Verdict: this stand will not fail you!
4. GTR Simulator GTA-F
The Triple-Monitor Racing Wheel Stand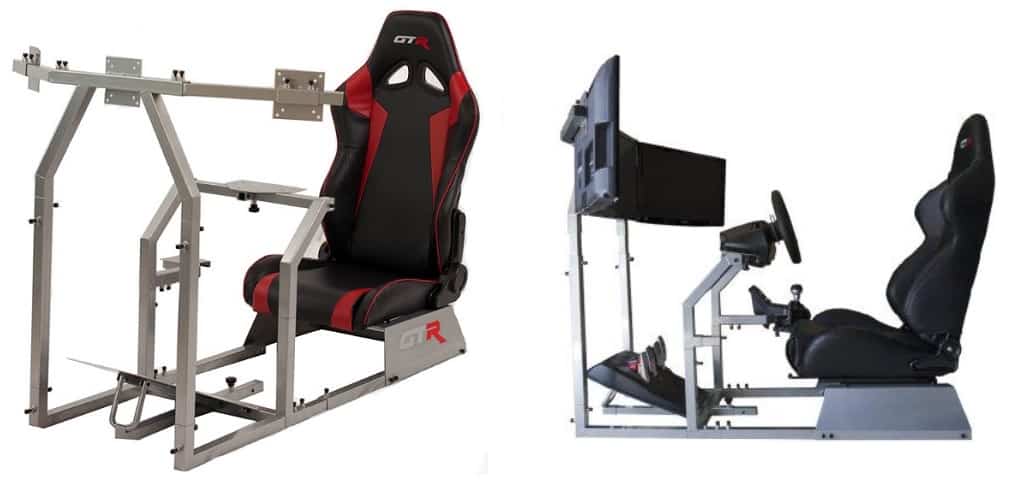 Full cockpit? Adjustable wheel and pedals stand? Triple monitor support? What else do you need (except for the gaming rig) to get a great gaming experience? The GTR Simulator GTA-F is the perfect solution if you're looking for an all-in-one solution.
Built from steel, with a comfy synthetic leather chair, this setup has a premium feel. The stand keeps everything steady, but make sure you really want to have this baby in the house and use it because it's not something you can fold and hide away. Well… who would hide this beauty that comes at an eye-watering price tag of $530?
5. ZIOSTAND Racing
The Budget Racing Wheel Stand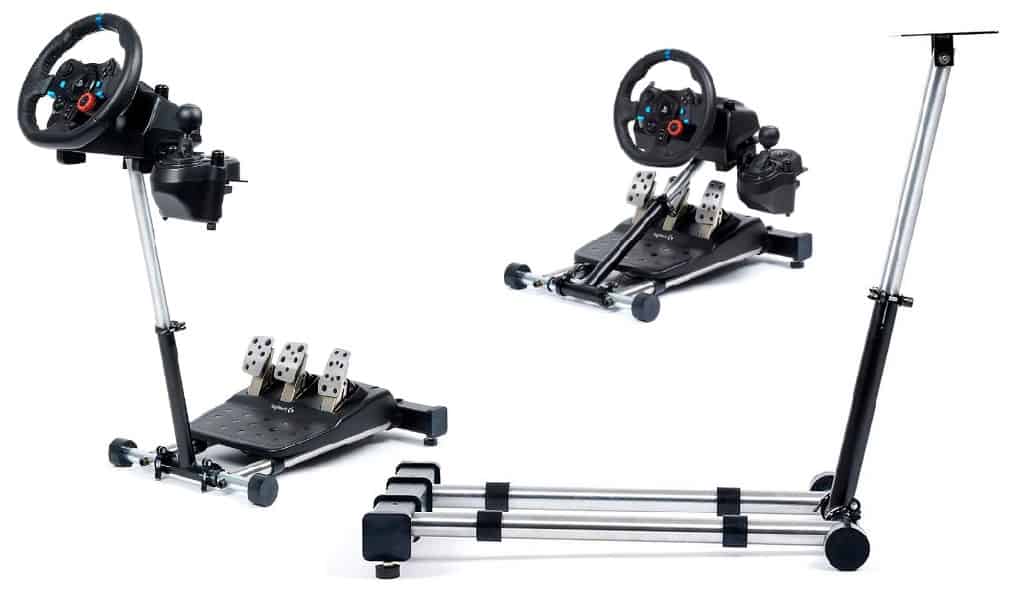 If you don't want to break the bank but still want to improve your gaming experience with a good wheel stand, ZIOSTAND Racing is a good choice. It's portable, pliable, adjustable and most importantly: stable. The ZIOSTAND Racing is around $130, and lets you adjust wheel tilt up to 360°, the height or distance of the wheel from the driver, and has customizable pedal and shifter location.

<![CDATA[ */ var zbjs = {"ajaxurl":"https:\/\/gaminggorilla.com\/wp-admin\/admin-ajax.php","md5":"d8e8b24d2fa18d2999e0fddcdd418586","tags":[],"categories":["Reviews"]}; /* ]]>