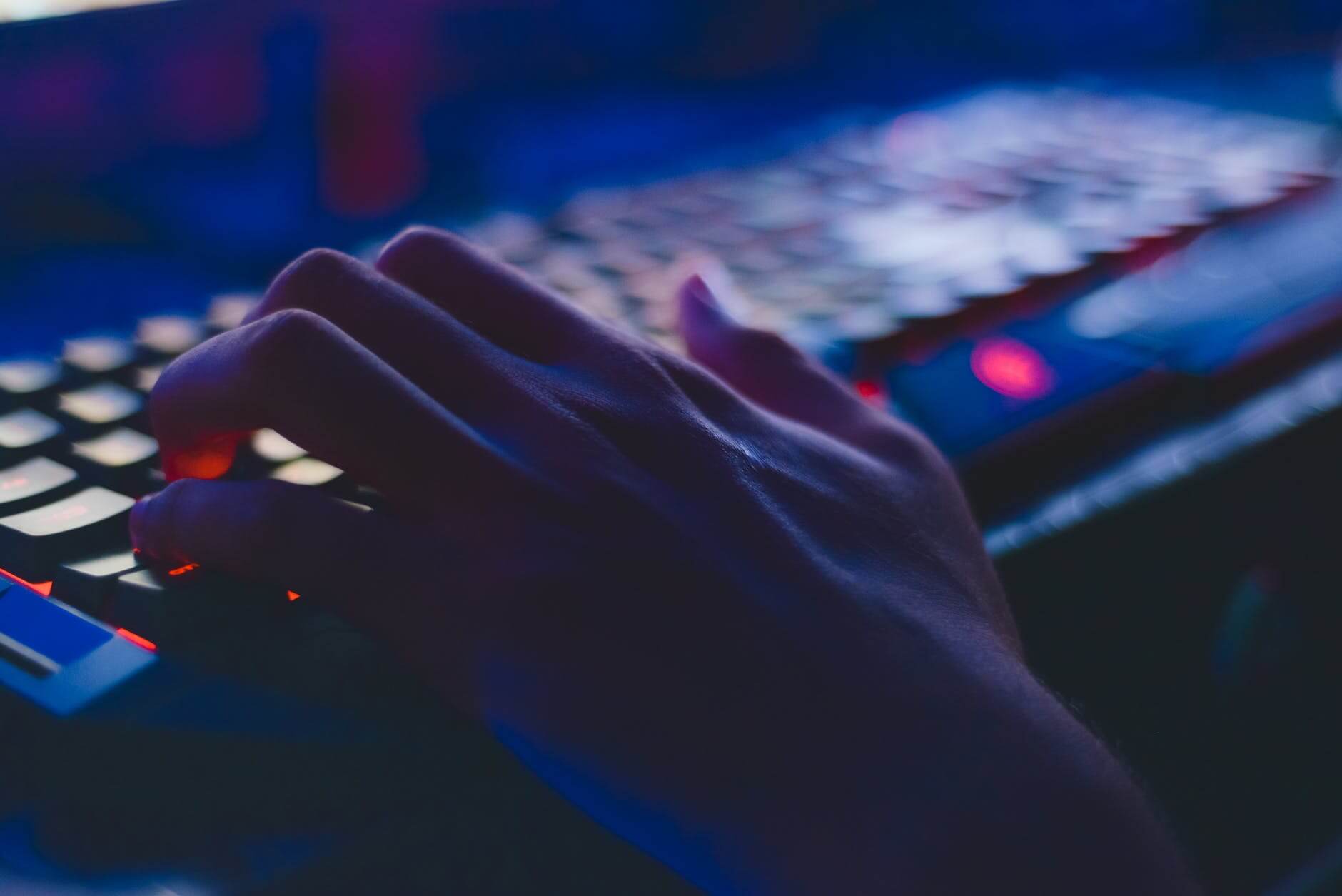 In this article, we are going to present to you, our picks for the best gaming sleeve out there in the market so that you can improve your performance while playing games.
The world of gaming is famous for being extremely competitive.  The reason for the competitiveness is that most games are a test of skill. You need to be at your peak performance to compete in the highest ranks. To help you get an edge, you should give a shot to Gaming Sleeves.
Gaming Sleeve: Benefits
[insert-ad]
The primary issue that results in someone needing a gaming sleeve is that you might be dealing with some friction between your arm and your desk/armrest. This can limit easy movement of your arm which moving your mouse. Think about it: when you are wearing a sweater, does your forearm ever stick to the flat surface? No, it's always a smooth motion. When your arm is bare, and it's a bit warm in your room or you're in a particularly intense battle, your perspiration can stop that smooth movement and interfere with smooth mouse mobility. A gaming sleeve would correct this issue.
Secondly, there is a theory that the compressive nature of the sleeve will increase blood flow, which should assist in managing any pain associated with your tendons. It should be noted that this would have a marginal benefit and would not solve the underlying reason for your pain.
There are different types of gaming sleeves out there, but we are going to give you the ones that we have tested, and believe have the highest value for money equilibrium.
Gaming Sleeve: List of the Best
1. Prosicion Gaming Arm Sleeve
2. CompressionZ Compression Arm Sleeves
3. Bucwild Sports Compression Arm Sleeve
4. ARMORAY Arm Sleeve
5. B-Driven Sports Pro-Fit
Let's get into some details:
1. Prosicion Gaming Arm Sleeve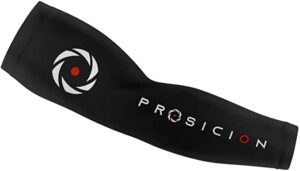 CHECK PRICE:
Ignoring the pun in the name, the Prosicion Gaming Arm Sleeve is the best gaming sleeve we have tried. It is extremely comfortable and you can really tell the difference. It supports your arm, keeping it steadier and firmer. It helps your hand move smoothly on the surface you are playing without restraining your movements. After a long gaming session, you can tell the difference. The position of the arm is more correct, giving the player the accuracy, he needs. Of all the sleeves we have used, this is the one that has the most noticeable impact.
Especially for FPS games like Apex Legends, which require a lot of crazy movements and precision, this is the best option available at the market.
2. CompressionZ Compression Arm Sleeves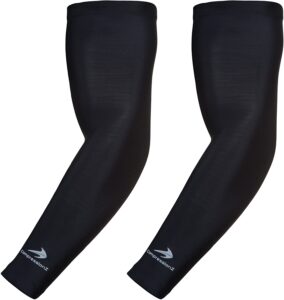 CHECK PRICE:
One of the highest quality arm Sleeves is the CompressionZ Compression Arm Sleeves. You can't go wrong with that. The way it was designed, allows it to let your arm breathe even if it's completely encapsulating it. It is created with 89% Polyester + 11% Spandex and is hypoallergic. It keeps the temperature of your arm regulated and at the same time allows the muscles to flex without any problem.
The good thing is that you have many sizes to choose from, so you can get the one that fits you the best for optimum comfort.
[insert-ad]
3. Bucwild Sports Compression Arm Sleeve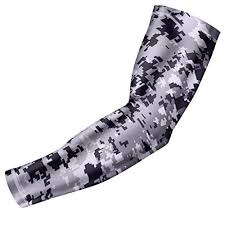 CHECK PRICE:
If what you are going for with an arm sleeve is style, then you have to go with the Bucwild Sports Compression Arm Sleeve. There are multiple patterns that you can choose from, so you can feel comfortable with your choice. Of course, looks aren't the only thing that this arm sleeve offers. While wearing it, it slightly compresses your muscles to increase blood circulation and to give your arm a more compact feeling. You can notice the difference in recovery time and responsiveness.
You can move more efficiently while wearing this arm sleeve, and be able to play at your peak performance for longer sessions.
4. ARMORAY Arm Sleeve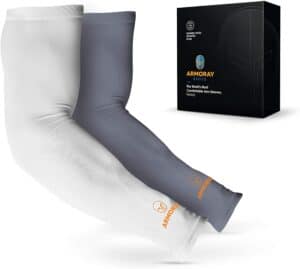 CHECK PRICE:
One of the most reliable gaming sleeves is the Armoray Arm Sleeve. They have been created in such a way, so they can fit the arm perfectly, without any problem of rubbing or slipping. From the tests we did, we realized that it felt more comfortable to play while wearing this arm sleeve, than without. It helps you improve your aim in FPS games, especially for the small micro-adjustments that are always required. It has no annoying stitching that would make it uncomfortable to wear, and it helps keep your muscles warm and ready all the time.
5. B-Driven Pro Fit Gaming Sleeve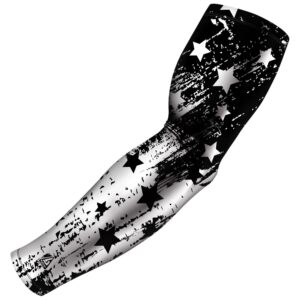 CHECK PRICE:
If you are looking for one gaming sleeve that is a perfect fit in your arm but at the same time stylish, you should look no further than the B-Driven Sports Pro-fit. It is designed with the special Pro-Fit material with compression of 10-15mmHG. This means that you can comfortably wear it for hours on end without any trouble. Actually, it helps keep your hand wet and dilutes the blood vessels which gives your hand better mobility. Its price is on the lower end for what it offers. It is the ideal addition to your accessories if you are looking for the best performance in gaming.
[insert-ad]
Final Thoughts
All of the sleeves in this list are great options. All of them will give you the value you are looking for, especially for the price you are paying. Keep in mind though that it is more important, is that you check for yourself how comfortable they are for you while you are playing. You need to get the correct size for your hand.

Also, you must give your hand a bit of time to get used to it. A common problem that some people face while using a gaming sleeve, is that at the beginning it might feel weird to play with it. After that, many people quit. But it's the same as changing the DPI setting in your mouse. In the beginning, it might feel weird, and you might play a bit worse, but in the end, it makes a huge difference.

You should look for yourself the gaming sleeves we are suggesting to make sure you have all the information you need. Keep in mind that these are the best available in the market at the moment.

<![CDATA[ */ var zbjs = {"ajaxurl":"https:\/\/gaminggorilla.com\/wp-admin\/admin-ajax.php","md5":"d8e8b24d2fa18d2999e0fddcdd418586","tags":[],"categories":["Top Lists"]}; /* ]]>