AMD Athlon 200GE AM4 CPU Review
Introduction
AMD's Zen architecture has been making waves for more than a year and a half now with a seemingly never-ending stream of high-performance CPU's that continually climb in core counts, All the way up to the staggering 32-core Ryzen Threadripper 2990WX. Today we'll be looking at its polar opposite, the very budget-friendly new AMD Athlon 200GE. Featuring twin Zen cores coupled to three Vega Graphics units and one of the lowest wattage ratings of any desktop Zen CPU, the Athlon 200GE might just be perfect for your next media or office PC. Being based on the versatile AM4 socket, you can even use it to get your foot in the door if you are looking to upgrade an older machine. Let's see how it does!
Pro Clockers would like to thank AMD for sending us the Athlon 200GE to check out. We've been looking for a perfect match for our fully passively cooled media setup!
AMD's Take on the Athlon 200GE:
The New AMD Athlon™ Processor with Radeon™ Vega Graphics
Advanced AMD Processing and Graphics Technologies for Everyday Users.
The most advanced entry-level processor AMD has ever created, for users who value fast responsiveness and built-in Radeon™ Vega Graphics, with the cutting-edge processor architecture you need to take advantage of graphics card upgrades.
Surf the internet smoothly, stream videos without a hiccup, and play the most popular eSports games in high-definition 720p.
4 processing threads
Advanced AMD Radeon™ Vega Graphics included for 720p E-sports gaming out-of-the-box
Cutting-edge 'Zen' processor architecture has the power you need to harness the power of graphics card upgrades for HD+ 1080p Gaming
Features & Specifications

Designed for Online Gaming
Integrated Radeon™ graphics can provide smooth eSports gaming at 720p HD without a graphics card. It's also compatible with FreeSync™ monitors to eliminate tearing.
Responsive, Reliable Performance
From game consoles to airplanes and Sony to HP, the world's top products and companies depend on advanced AMD computing solutions.
A Future-Ready Platform
The advanced socket AM4 platform is ready for Ryzen™ processors and designed for the demands of tomorrow.
Specifications – AMD Athlon™ 200GE Processor with Radeon™ Vega 3 Graphics
Graphics Model: Radeon™ Vega 3 Graphics
# of CPU Cores: 2
# of Threads: 4
# of GPU Cores: 3
Max Boost Clock: 3.2GHz
Base Clock: 3.2GHz
Default TDP / TDP: 35W
Graphics Frequency: 1000 MHz
Total L1 Cache: 192KB
Total L2 Cache: 1MB
Total L3 Cache: 4MB
Unlocked: No
CMOS Node: 14nm
Socket: AM4
Max Temp: 95°C
System Memory Spec: 2667 MHz
Memory Channels: 2
Supports DisplayPort: Yes
Supports HDMI: Yes
OS Support: Windows 10 – 64-Bit Edition, RHEL x86 64-Bit, Ubuntu x86 64-Bit
*Operating System (OS) support will vary by manufacturer.
Packaging & A Closer Look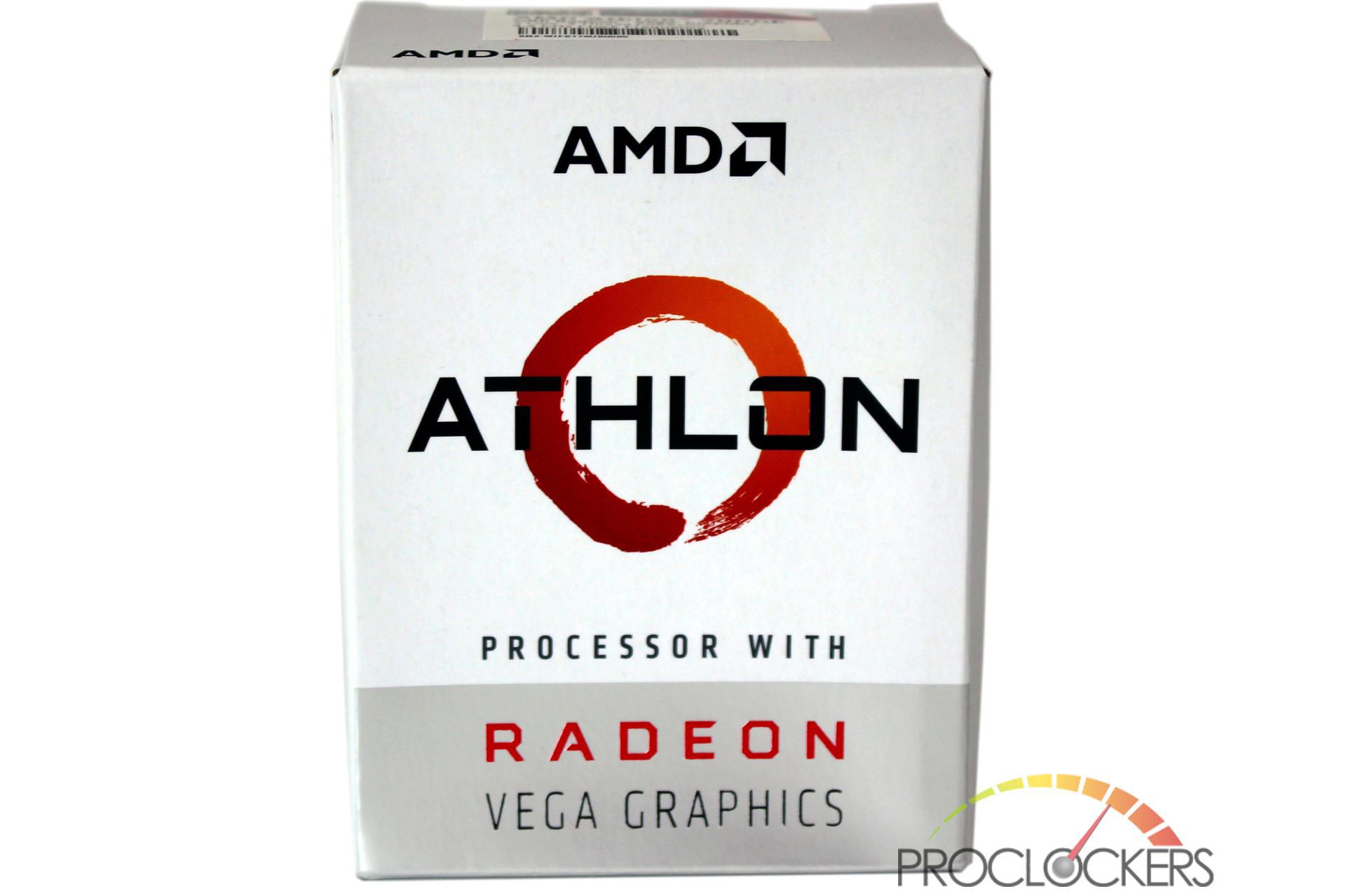 In contrast to other Raven-Ridge APU's like the 2200G, the Athlon 200GE comes in a white box with a silver stripe along the bottom indicating Vega Graphics.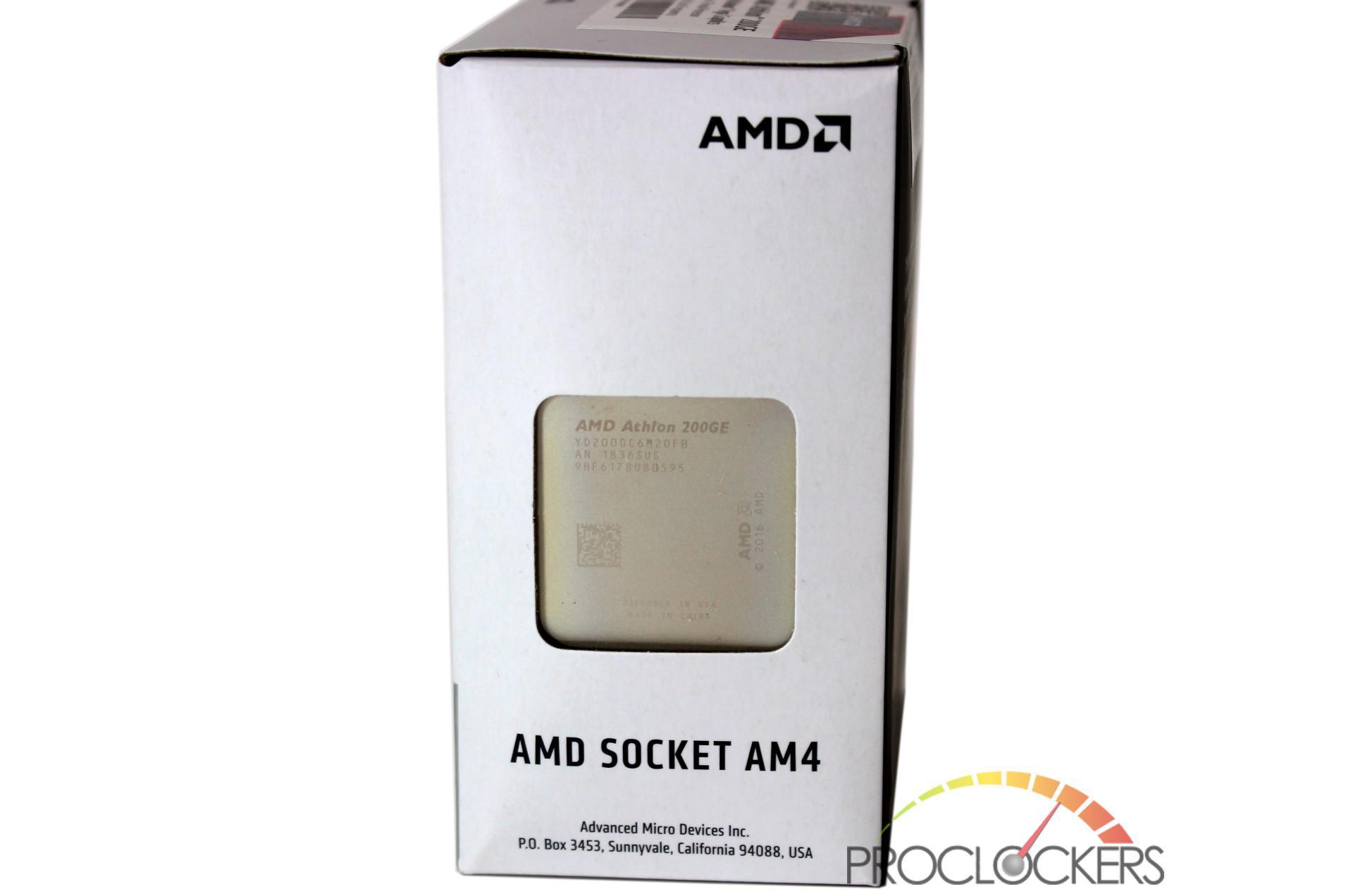 The side window remains and shows the CPU inside.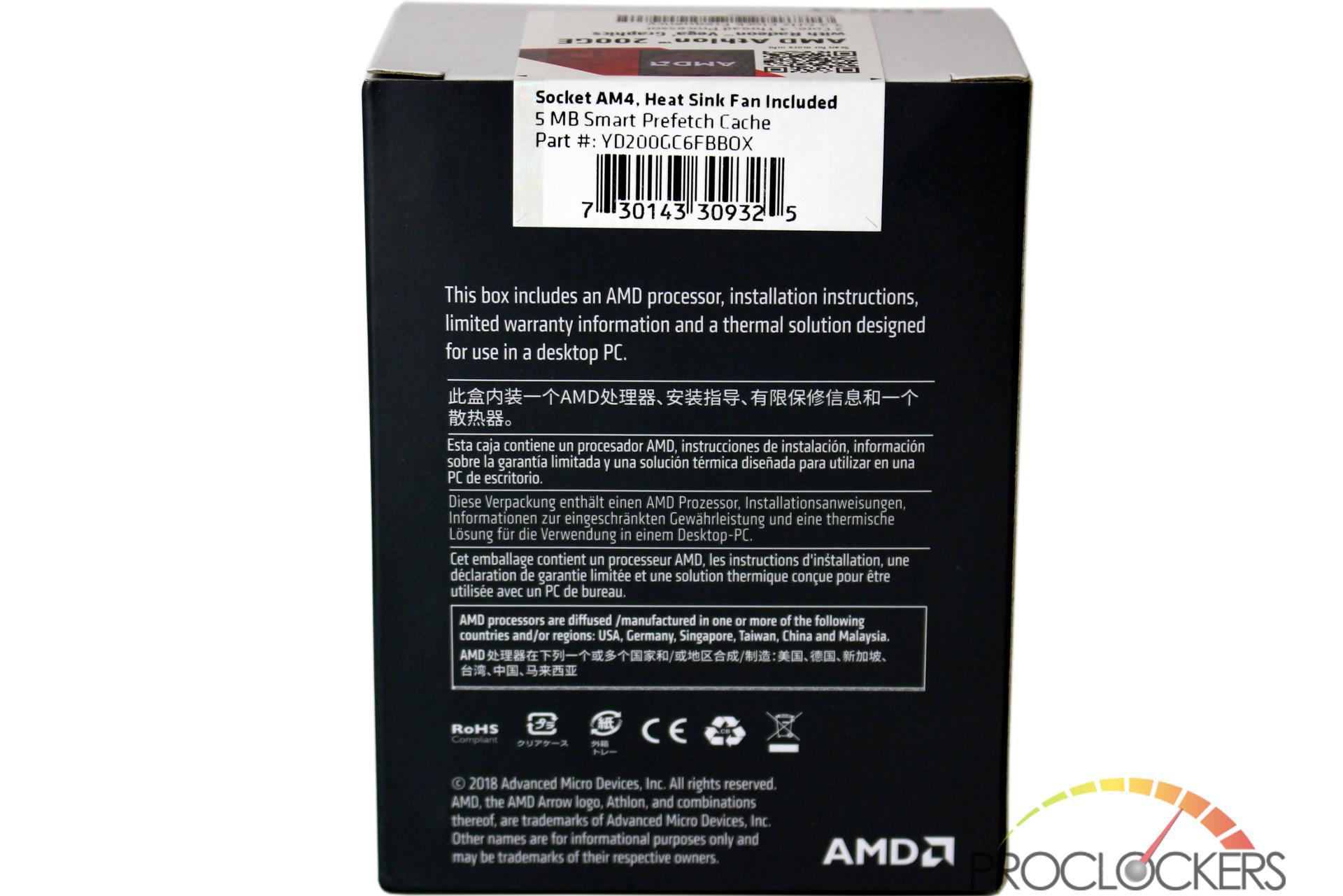 The rear of the box indicates a cooling solution (stock heatsink/fan assembly) is included as well as some documentation.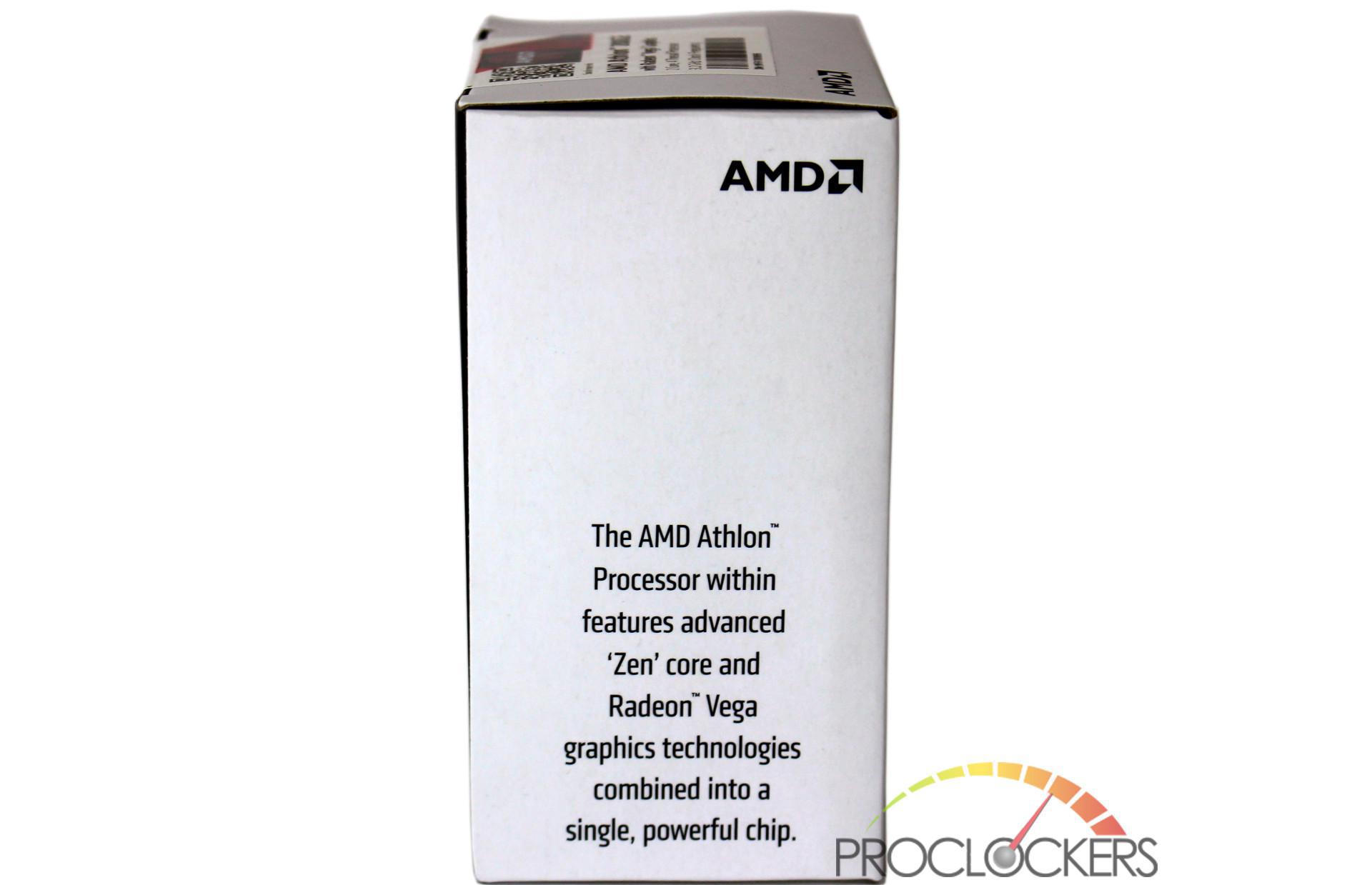 Opposite the window, there is a short blurb about the CPU.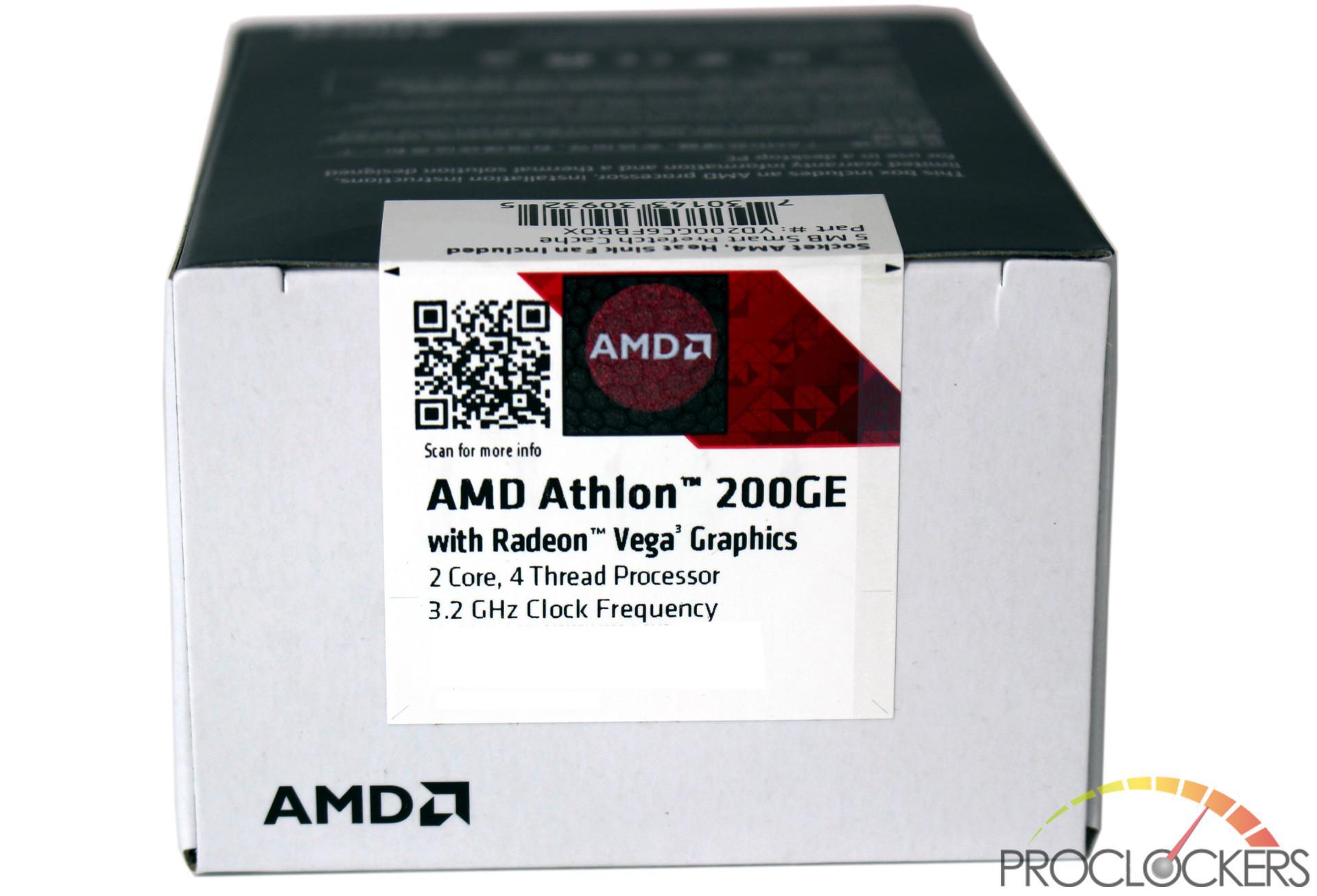 The top sticker acts as a security seal as well as a product label and UPC label.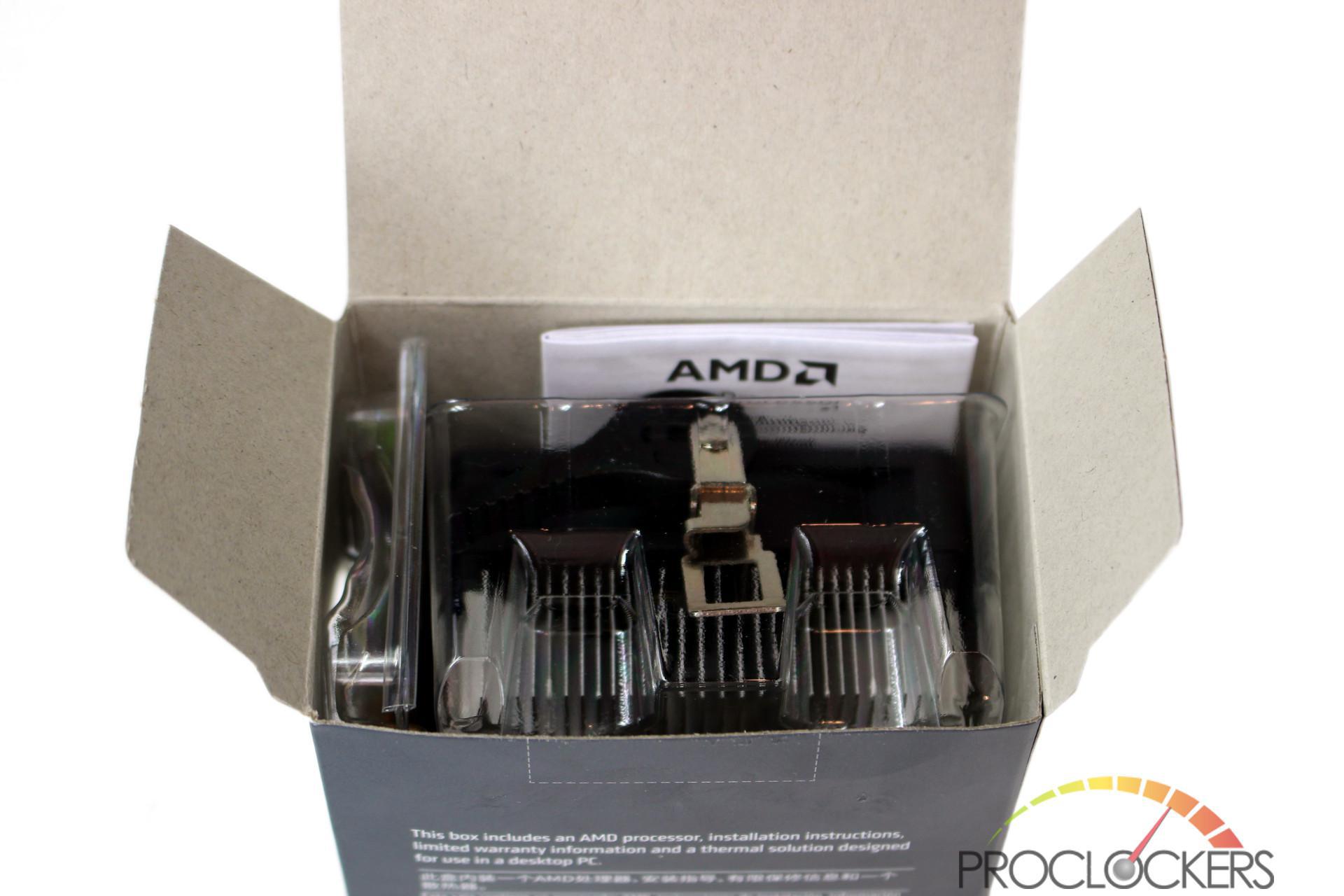 Opening the box up, you get two clear pieces of packaging with the documentation slid behind the fan.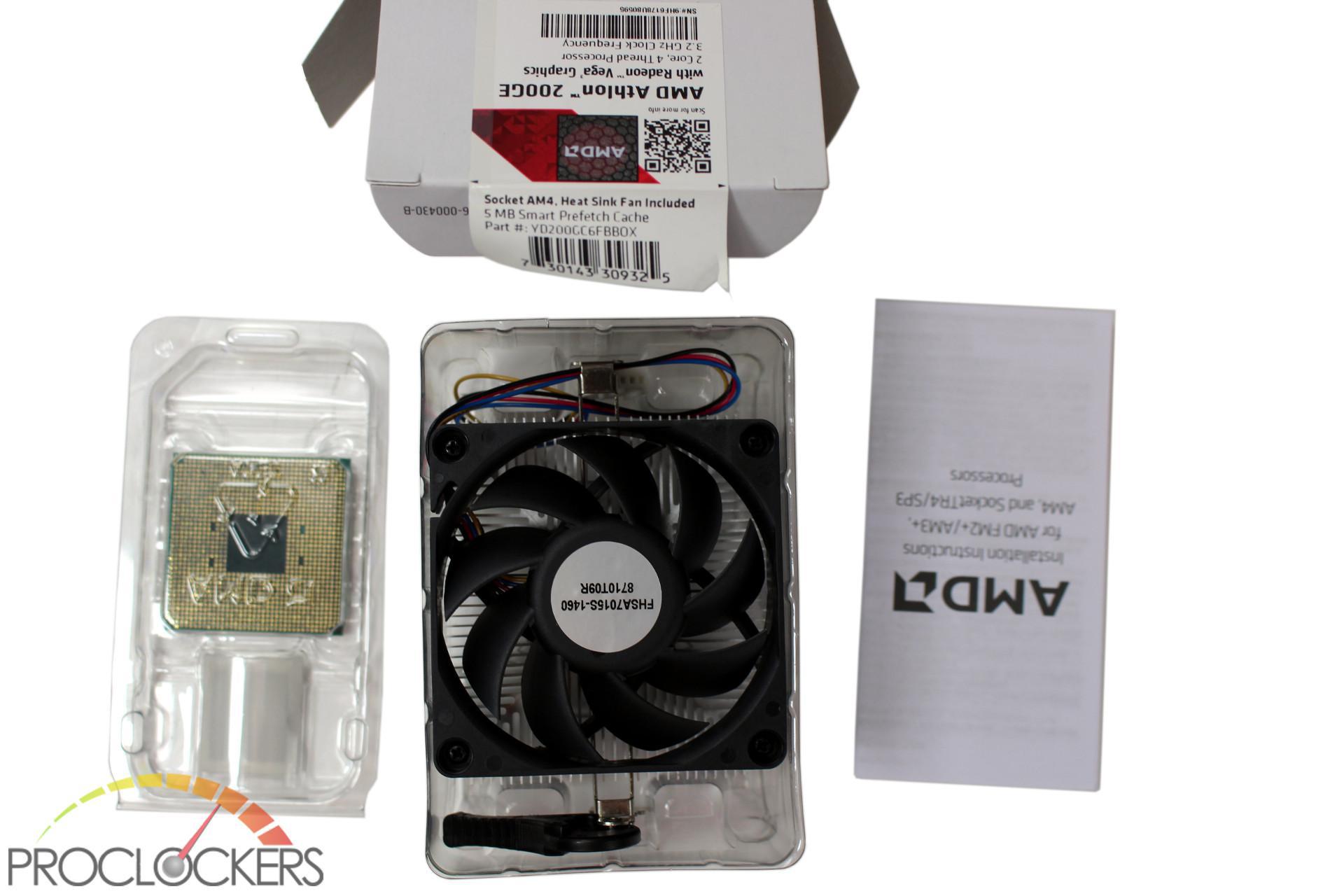 The CPU is protected in AMD's traditional clamshell while the cooler sits in a clear tray.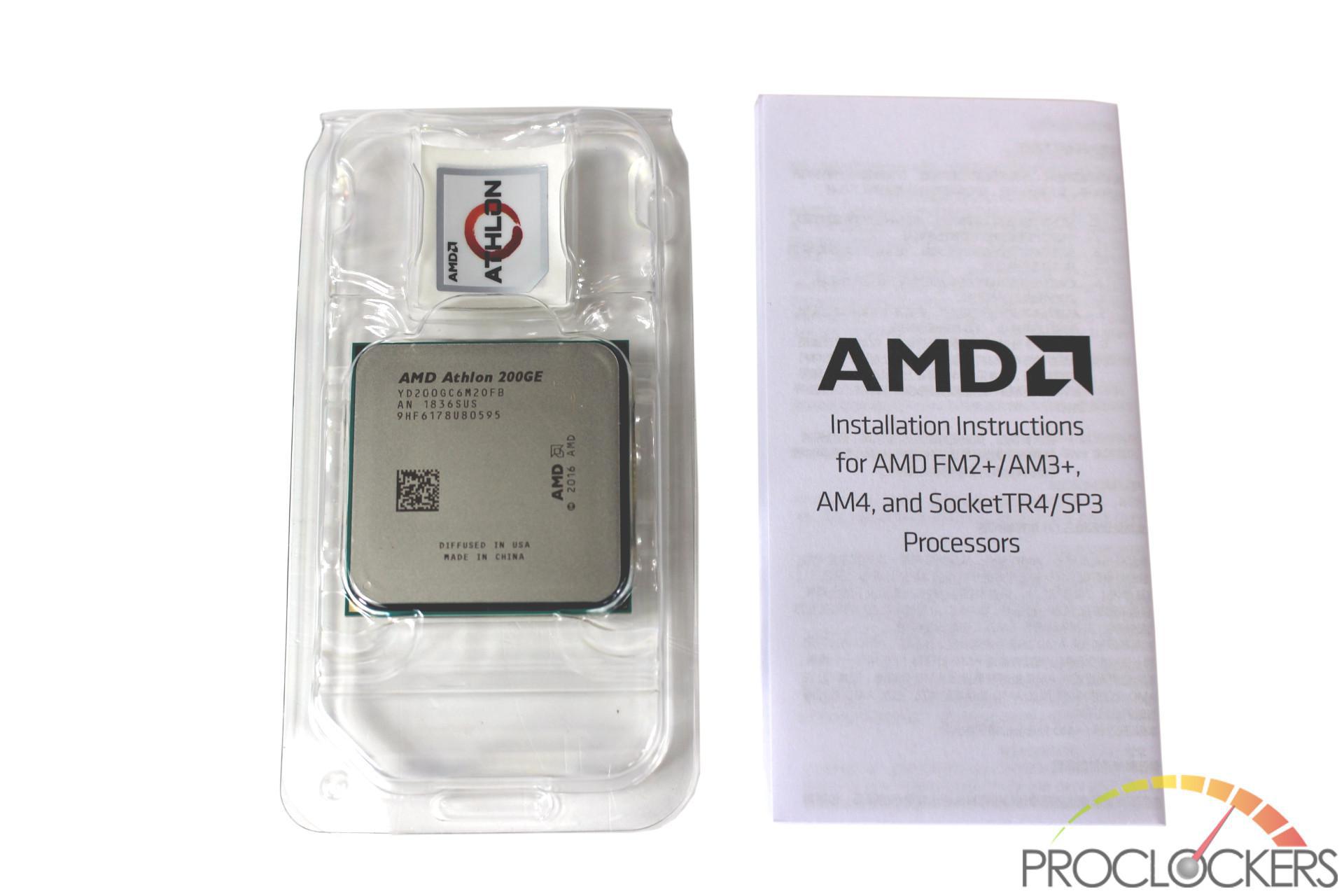 Besides the CPU, there is an Athlon case badge sticker in the clamshell. The installation instructions are about the same size.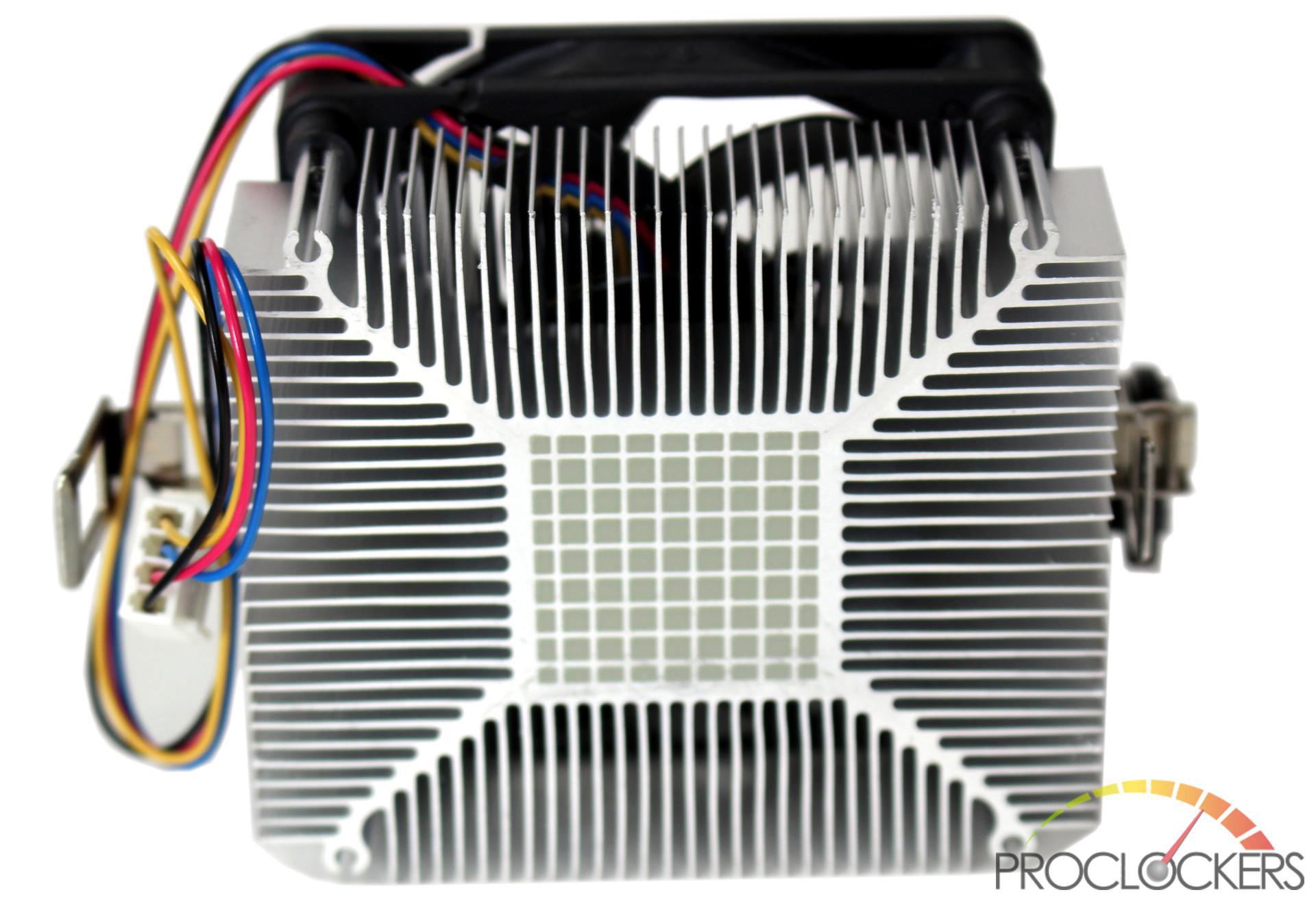 The stock cooler comes with thermal paste pre-applied, just install the CPU, install the cooler and go.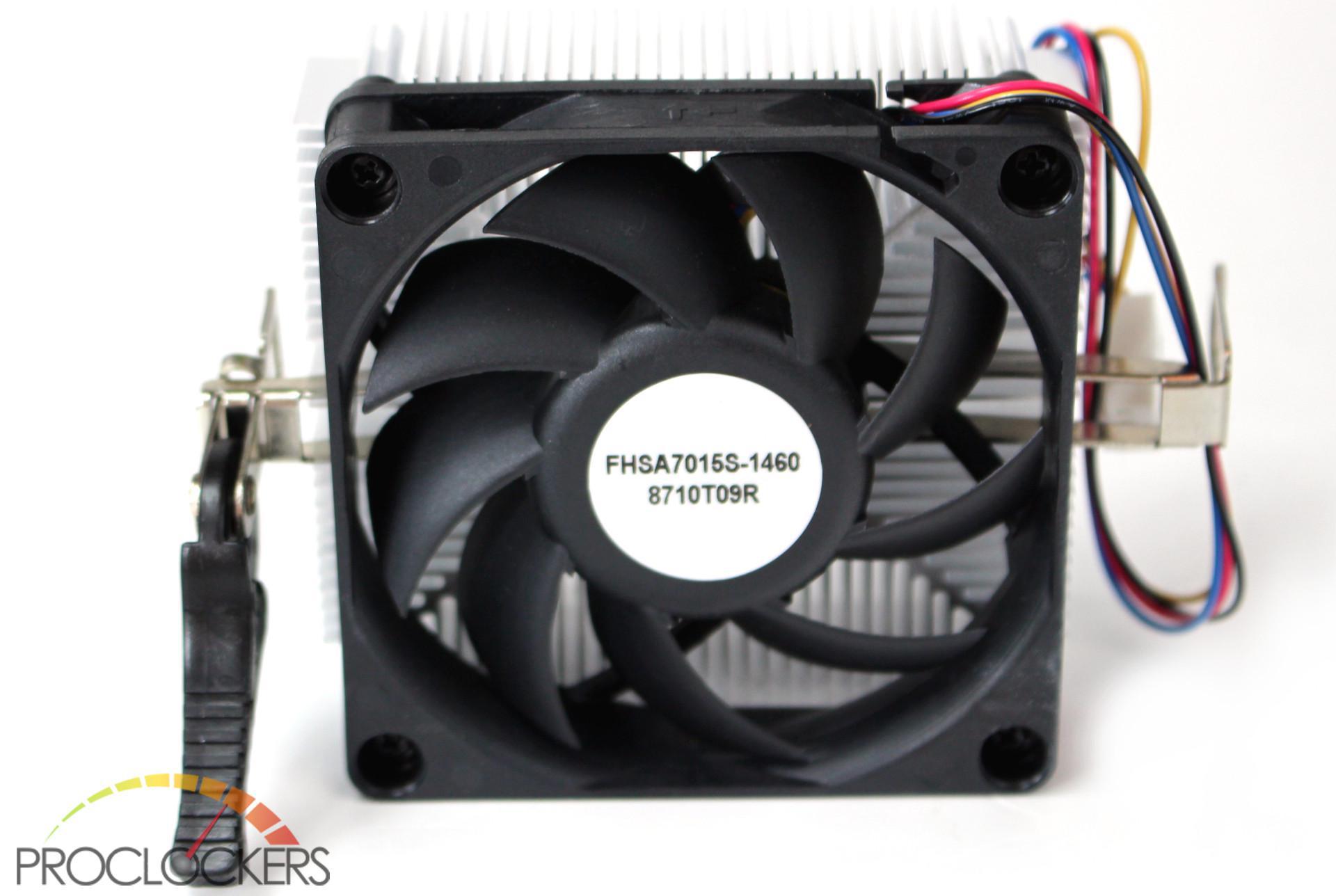 The cooler uses the two center clips with a locking lever on one end to tighten it down. The fan is a 4-pin PWM capable fan that will run quietly.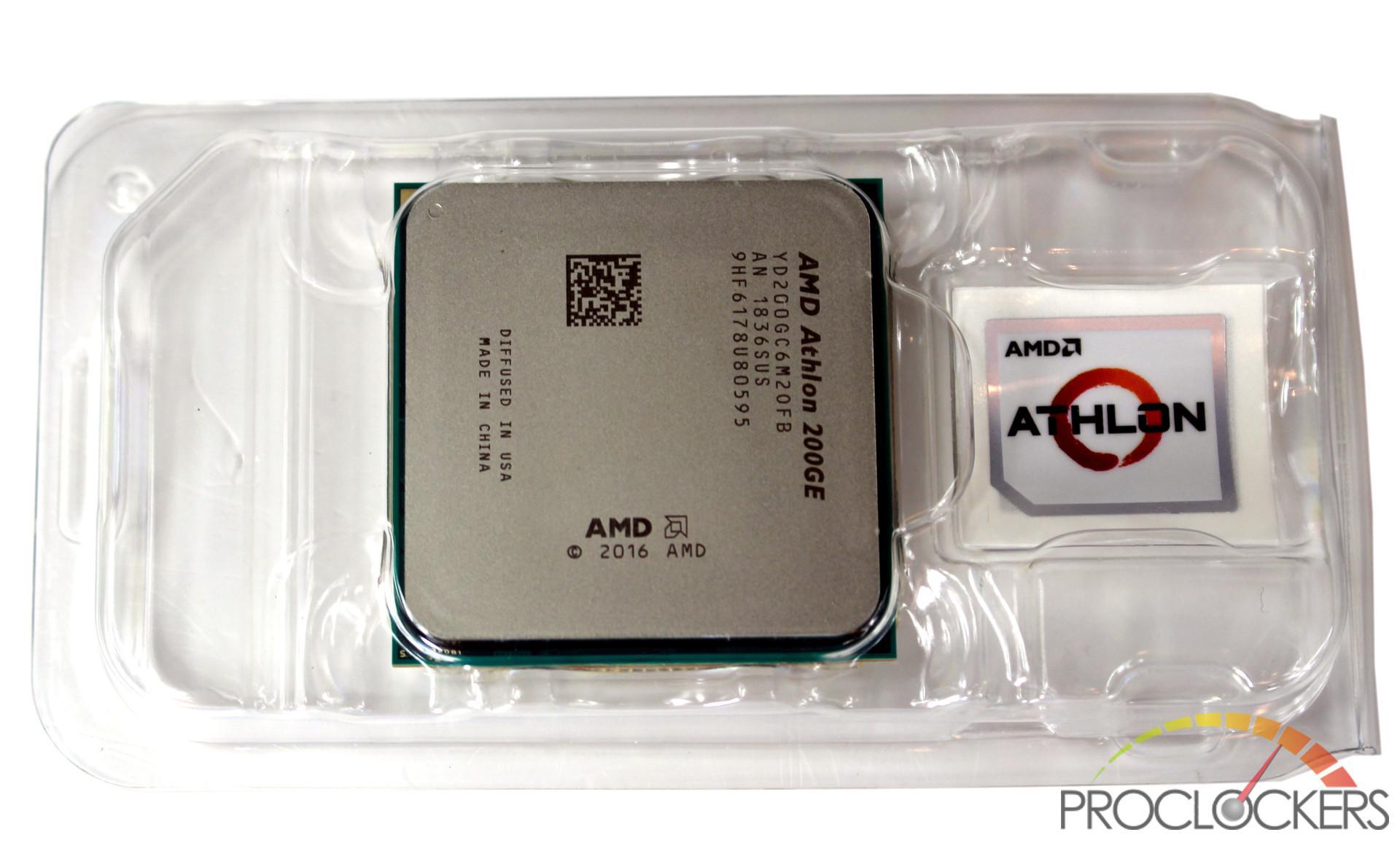 AMD's packaging is simple but effective. Of all of the AM# socket chip's we've gotten in this packaging, exactly zero have been damaged. With a little over 1300 pins sticking out the bottom, that's pretty important.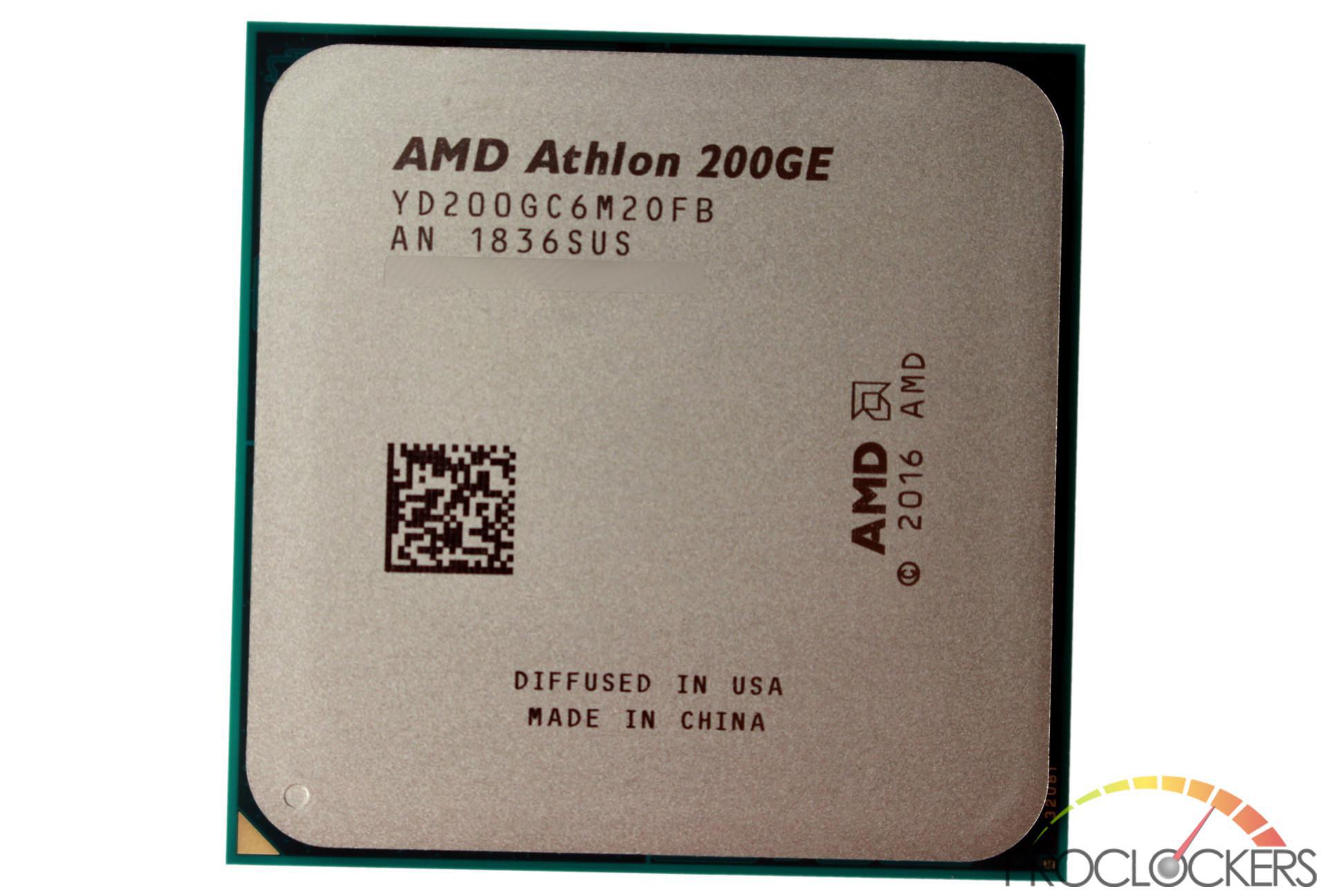 The CPU itself looks pretty familiar, the physical design hasn't changed in a long time. The model name and number are etched quite clearly, as is some other information like part numbers and serial numbers.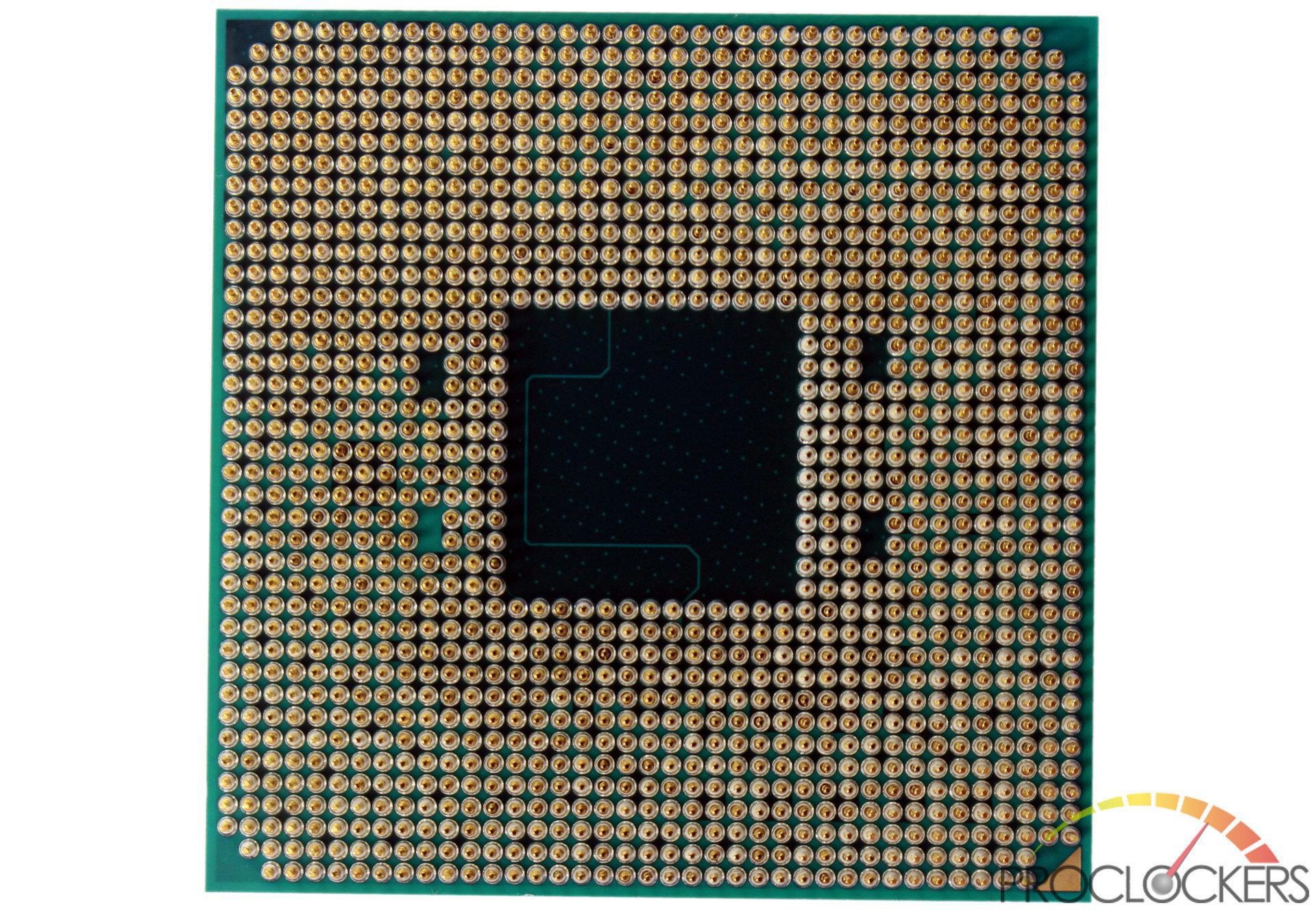 Outside of a ton of pins, there really isn't much to see on the rear of the CPU. The 'key' triangle is shown on this side too.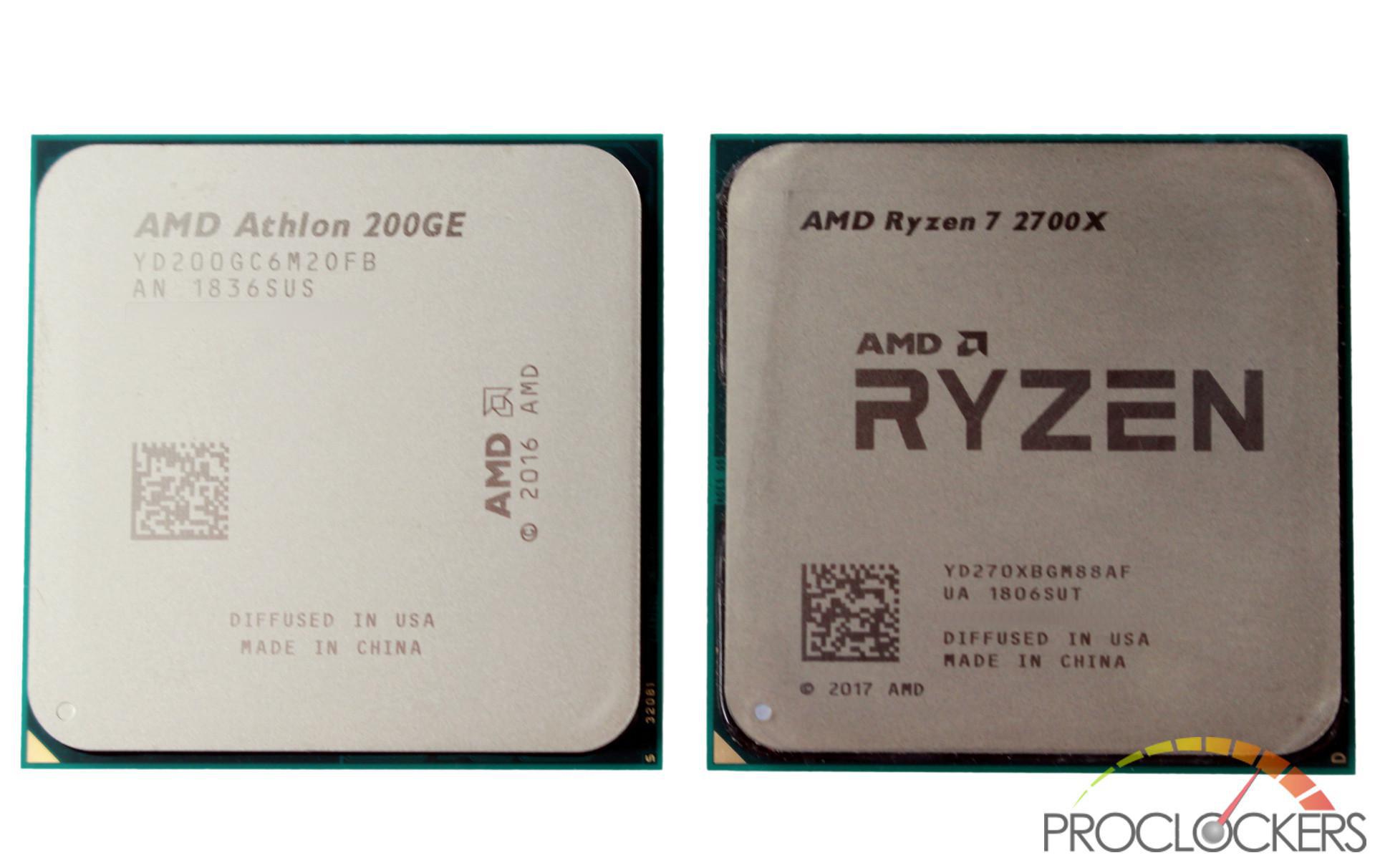 Side by side shot with the current AM4 socket champion, the Ryzen 2700X.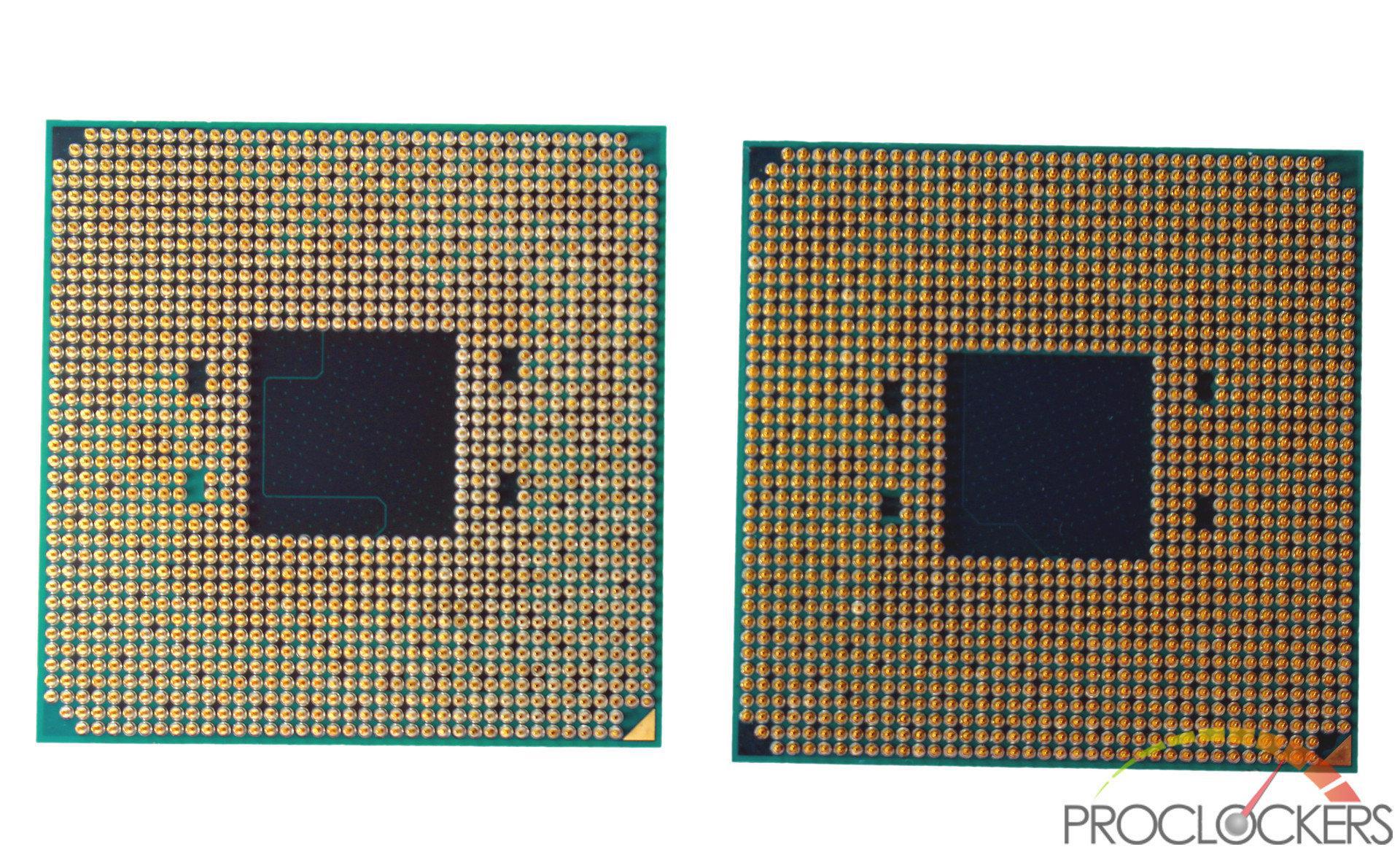 Again, it's hard to tell the difference on the rear.
System Configuration & Performance
CPU: AMD Athlon 200GE
Ram: 32GB Ballistix Sport AT 3000MHz
Mobo: ASUS TUF B350M-PLUS GAMING
SSD: Samsung 850 EVO
Case: Streacom FC9 Alpha
PSU: HDPlex 160W DC-ATX
Cooling: Passive – Fanless Chassis
Performance Testing
General Performance Testing
All performance testing was done with the i7-8700K and GTX 1070 at default clock speed. CPU was left with Speed Step and Turbo Boost enabled. Games where ran at a resolution of 1920 x 1080 and higher settings enabled as noted.
PCMark 10
PCMark 10 is the complete benchmark for the modern office. It is the ideal test for organizations that are evaluating PCs for a workforce with a range of performance needs. The tests in this benchmark cover a wide range of activities from everyday productivity tasks to demanding work with digital media content.
PCMark 10 uses a modular approach to build relevant benchmark tests around common end-user scenarios. A Test Group is a collection of workloads that share a common theme or purpose. There are four test groups in PCMark 10, we use three of them.
Essentials: covers the common, everyday ways that people use a PC. The workloads include Web Browsing, Video Conferencing, and App Start-up time.
Productivity: measures system performance with everyday office applications. This test group includes the Spreadsheets and Writing workloads.
Digital Content Creation: This test group's workload reflects the demands of working with digital content and media. The tests include Photo Editing, Video Editing, and Rendering and Visualization.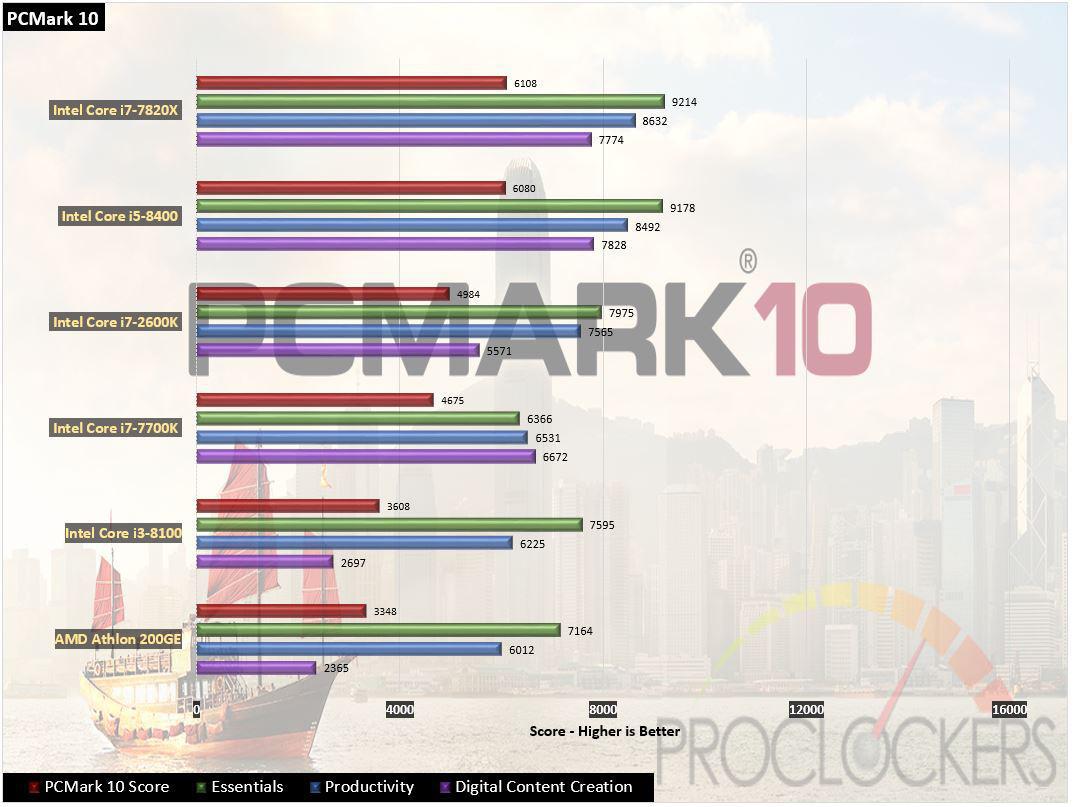 PCMark 10 shows that 'Essentials' and 'Productivity' such as office tasks, video conferencing and launching programs chug along nearly as well as processors that cost more than five times as much. Digital Content Creation slides in a little lower from overall lack of threads more than anything.
WebXPRT 2015
WebXPRT 2013 uses scenarios created to mirror the tasks you do every day to compare the performance of almost any Web-enabled device. It contains four HTML5- and JavaScript-based workloads: Photo Effects, Face Detect, Stocks Dashboard, and Offline Notes. WebXPRT is run with the latest stable release version of Google Chrome browser, in this case, Version 61.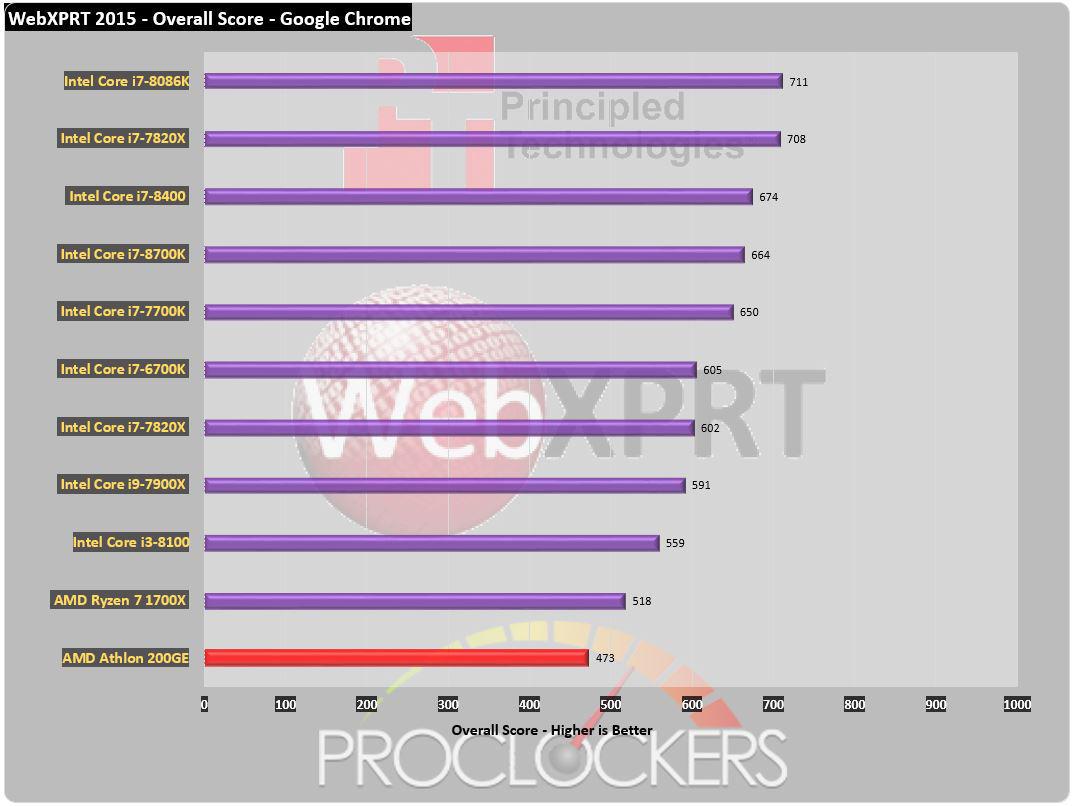 Rich media on the web is no problem for the Athlon 200GE.
CPU Performance Testing
Super PI Modded 1.5
"In August 1995, the calculation of pi up to 4,294,960,000 decimal digits was succeeded by using a supercomputer at the University of Tokyo. The program was written by D.Takahashi in collaboration with Dr.Y.Kanada at the computer center. This record should be the current world record. (Details are shown in the windows help.) This record-breaking program was ported to personal computer environments such as Windows NT and Windows 95. In order to calculate 33.55 million digits, it takes within 3 days with a Pentium 90 MHz, 40 MB main memory and 340 MB available storage."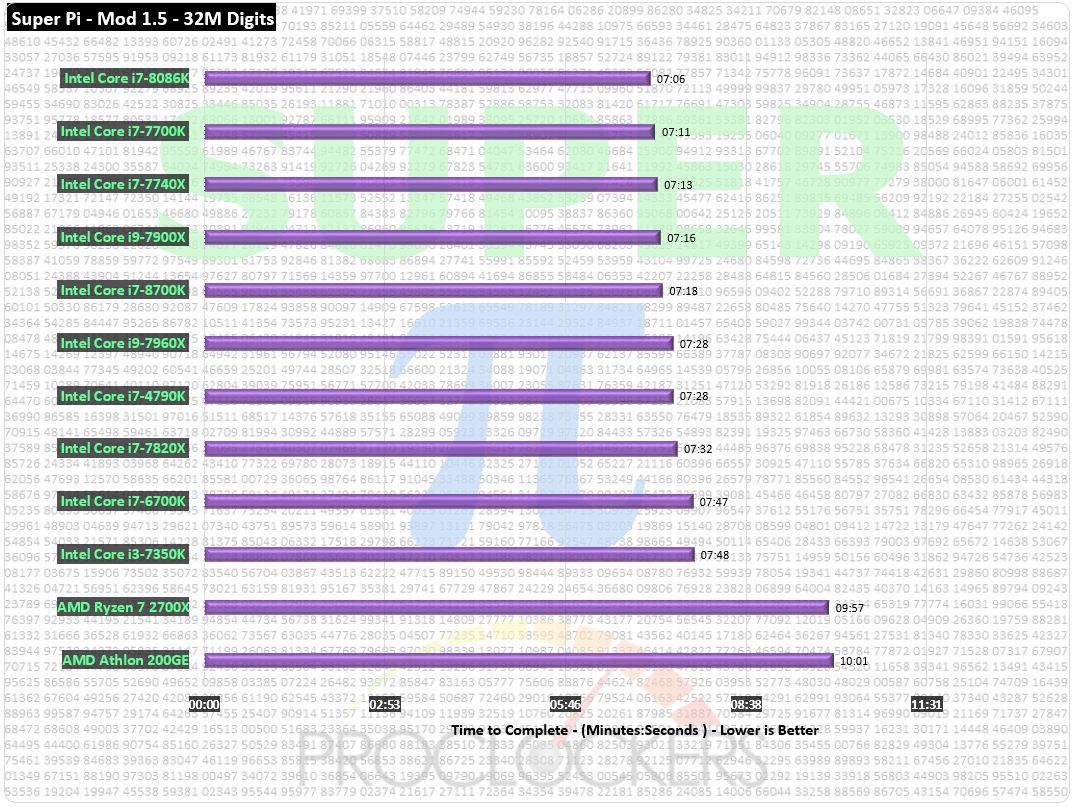 The 3.2 GHz clock speed doesn't win any records on the single-threaded 32M run of Super Pi, but it does swing in very close to out other 2nd gen Ryzen processors like our flagship Ryzen 2700X.
SiSoft Sandra – Cryptographic Bandwidth
"SiSoftware Sandra provides a robust package of diagnostic tools for testing your system and teasing out its problems–or potential headaches."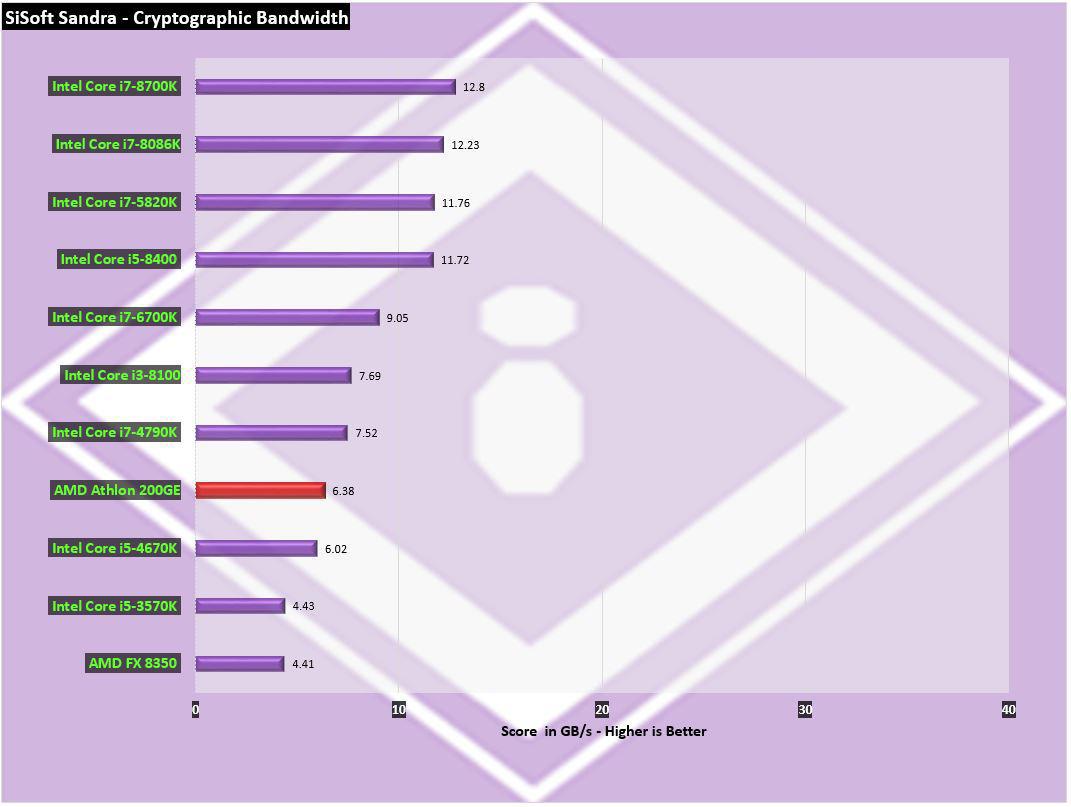 Putting both cores to use, the Athlon CPU gives us about 6.4GB/s in Sisoft's Cryptographic bandwidth test, not bad at all for only two cores.
CINEBENCH R15
"CINEBENCH is a real-world cross platform test suite that evaluates your computer's performance capabilities. CINEBENCH is based on MAXON's award-winning animation software CINEMA 4D, which is used extensively by studios and production houses worldwide for 3D content creation. MAXON software has been used in blockbuster movies such as Iron Man 3, Oblivion, Life of Pi or Prometheus and much more.
CINEBENCH is the perfect tool to compare CPU and graphics performance across various systems and platforms (Windows and OS X). And best of all: It's completely free."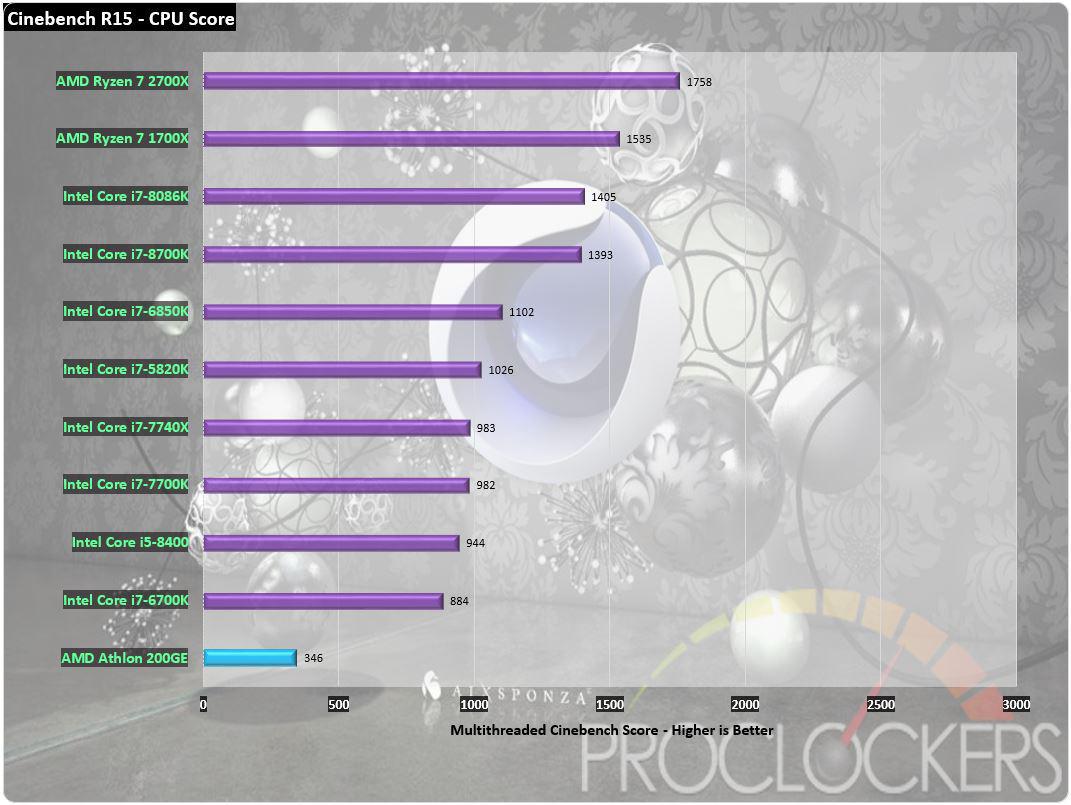 Cinebench comes in at 346 points on the Multi-threaded test, and about 125 on the single-threaded test.
7-Zip
The benchmark shows a rating in MIPS (million instructions per second). The rating value is calculated from the measured speed, and it is normalized with results of Intel Core 2 CPU with multi-threading option switched off. So if you have modern CPU from Intel or AMD, rating values in single-thread mode must be close to real CPU frequency. There are two tests, compression with LZMA method and decompression with LZMA method. Once the total passes reach 100, the score is taken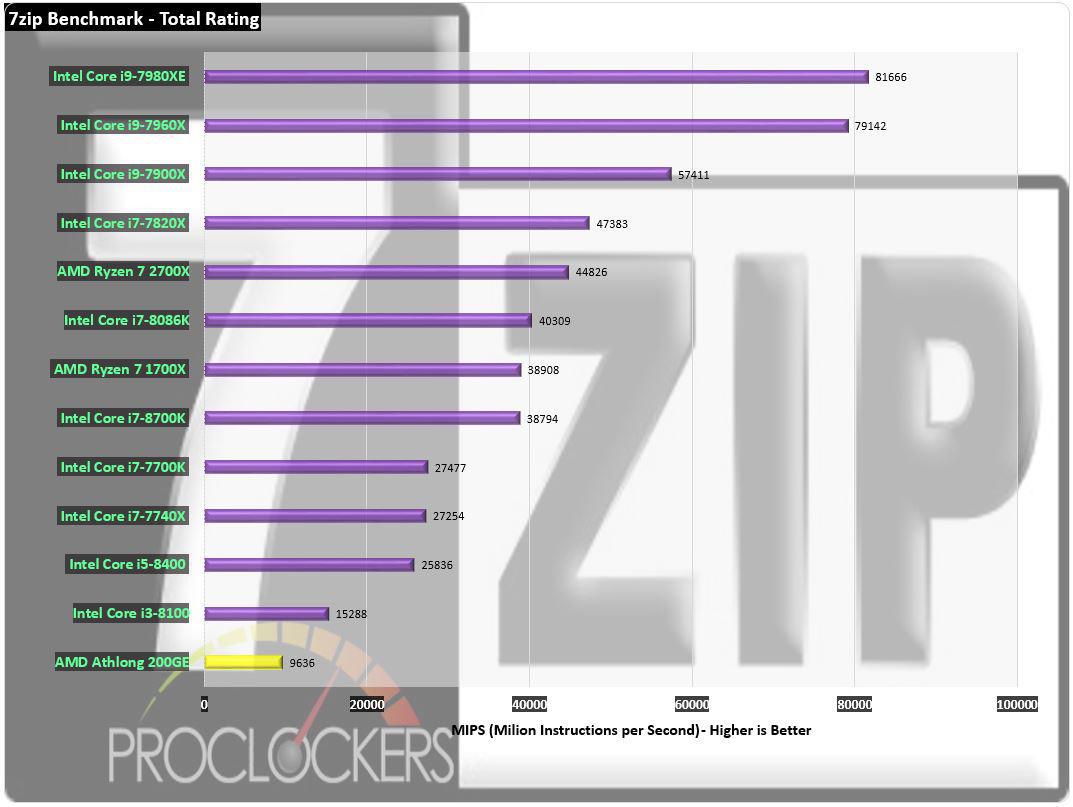 7Zip can really scale with core count so we can't complain about the 9,636 MIPS total rating.
Black Hole 4.2
Let the beast run and benchmark your system in three different tests (Multithreaded, Single-threaded & 4-Threaded) that will test your CPU to the very limit, and score you among hundreds of other systems that have tested.
Multithreaded will test your CPU's efficiency of running more than one thread without major system lag. The higher you score on this one, the more threads your CPU can handle with a comfortable speed. High multithreaded scores generally mean you can render things faster.
4-Threaded tests your CPU's performance in games since most games currently run on 4 threads.
Single-threaded evaluates how fast the CPU can handle a single, dedicated thread for processing.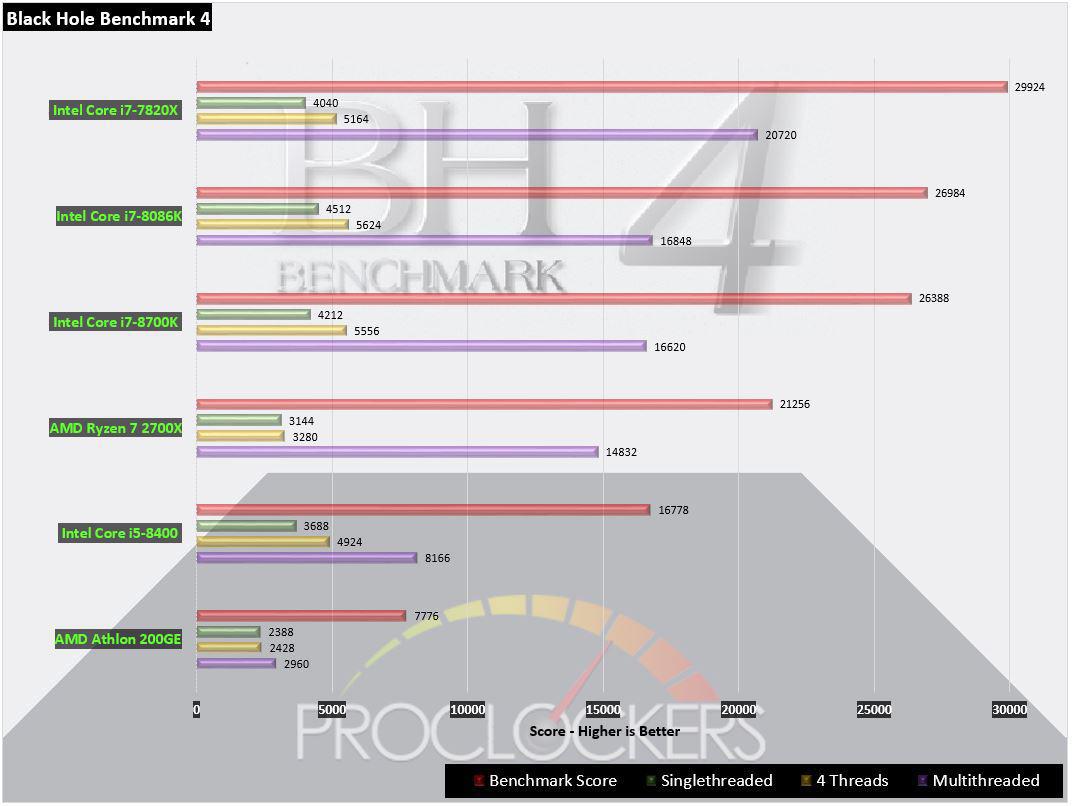 The Black Hole benchmark also scales heavily with core count. The overall score is the sum of the individual scores.
Memory Performance Testing
AIDA64 Engineer Edition
"FinalWire Ltd. today announced the immediate availability of AIDA64 Extreme Edition 1.50 software, a streamlined diagnostic and benchmarking tool for home users; and the immediate availability of AIDA64 Business Edition 1.50 software, an essential network management solution for small and medium scale enterprises. The new AIDA64 update implements AVX-optimized benchmarks for the upcoming Intel Sandy Bridge processors, adds a brand-new video encoding benchmark, and supports the latest AMD and NVIDIA graphics processors."
Memory performance is limited by the CPU's 2667MHz memory speed ceiling but doesn't appear too limited in any other way.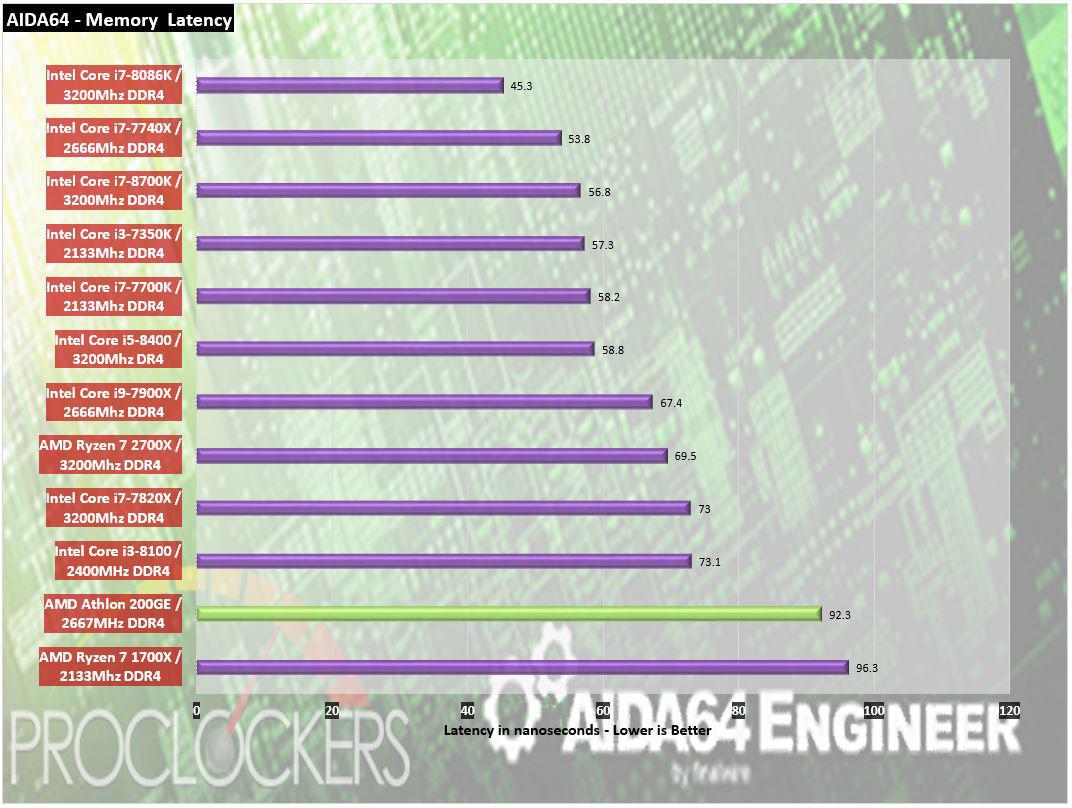 Our memory kit gets stuck at a rather unflattering CAS 18-19-19-38 timings at the 2667MHz ceiling which explains the 92.3ns latency when the exact same memory sticks come in at 69.5ns on the Ryzen 7 2700X which can run them at their XMP rated 3200 MHz @ C16 timings.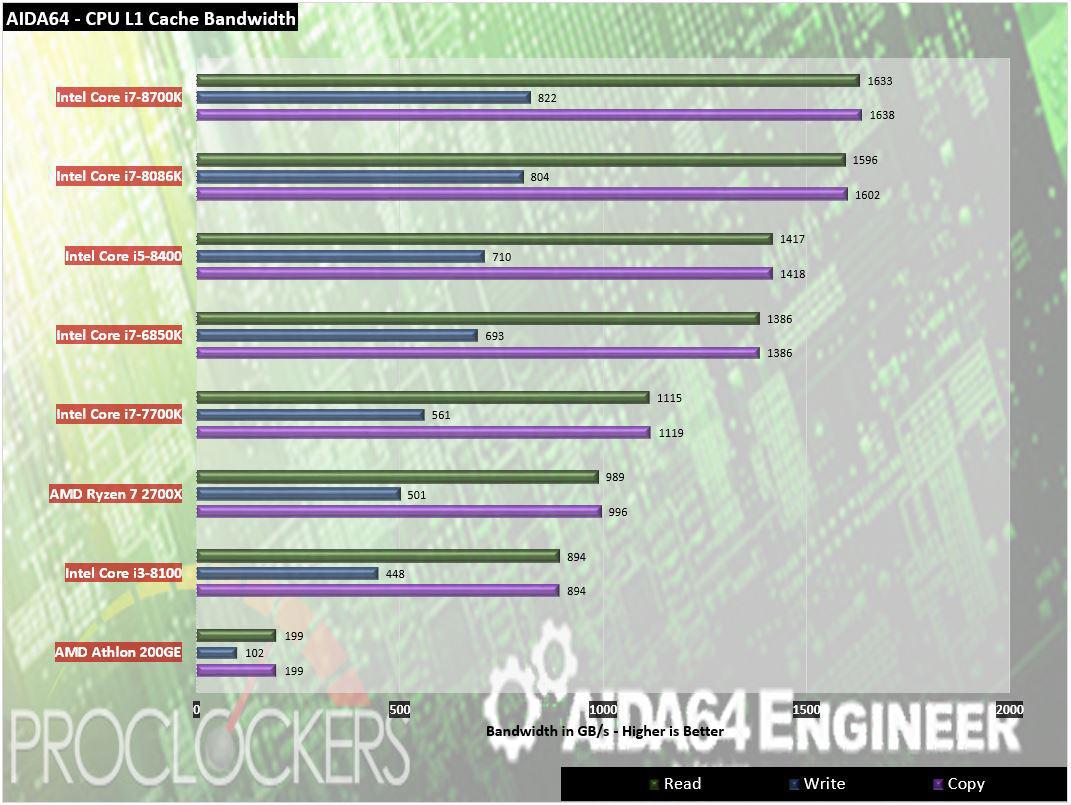 Internal L1 Cache bandwidth shows scaling as we expect with a peak of around 200GB/s.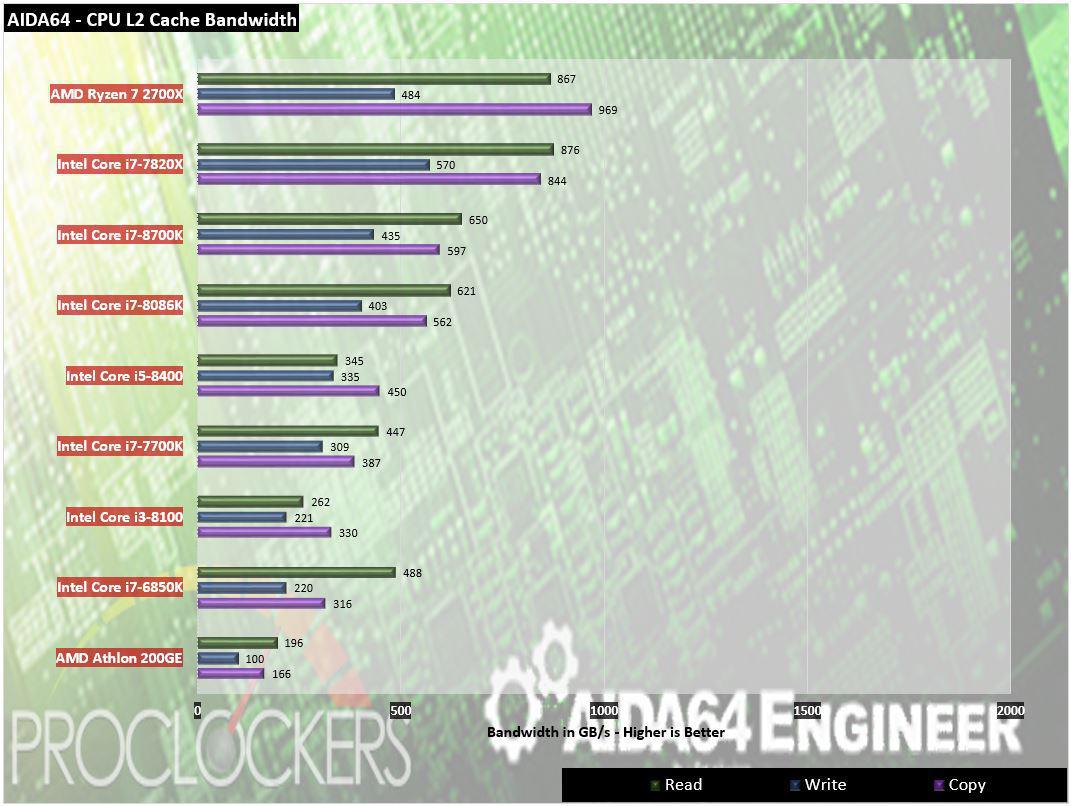 L2 Cache bandwidth shows nearly the same speeds.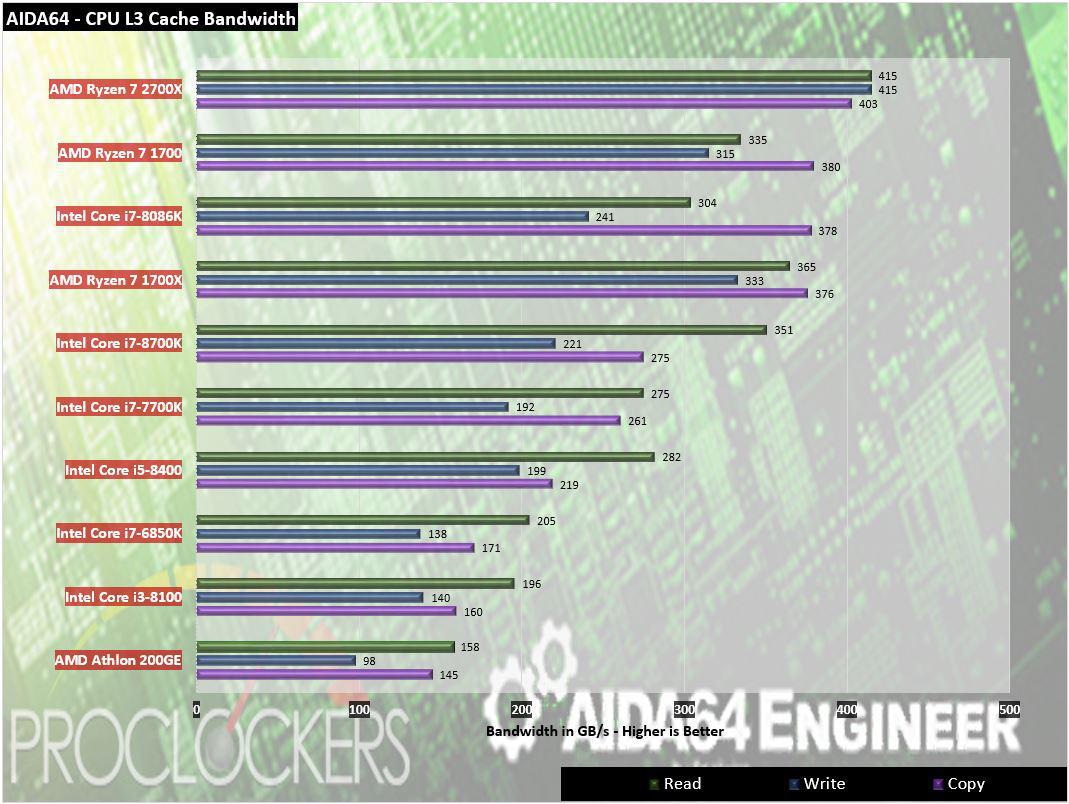 Level 3 Cache actually shows only a little slower, peaking around 160GB/s.
Passmark Performance Test – Memory Mark – Threaded
"Fast, easy to use, PC speed testing and benchmarking. PassMark Performance Test ™ allows you to objectively benchmark a PC using a variety of different speed tests and compare the results to other computers."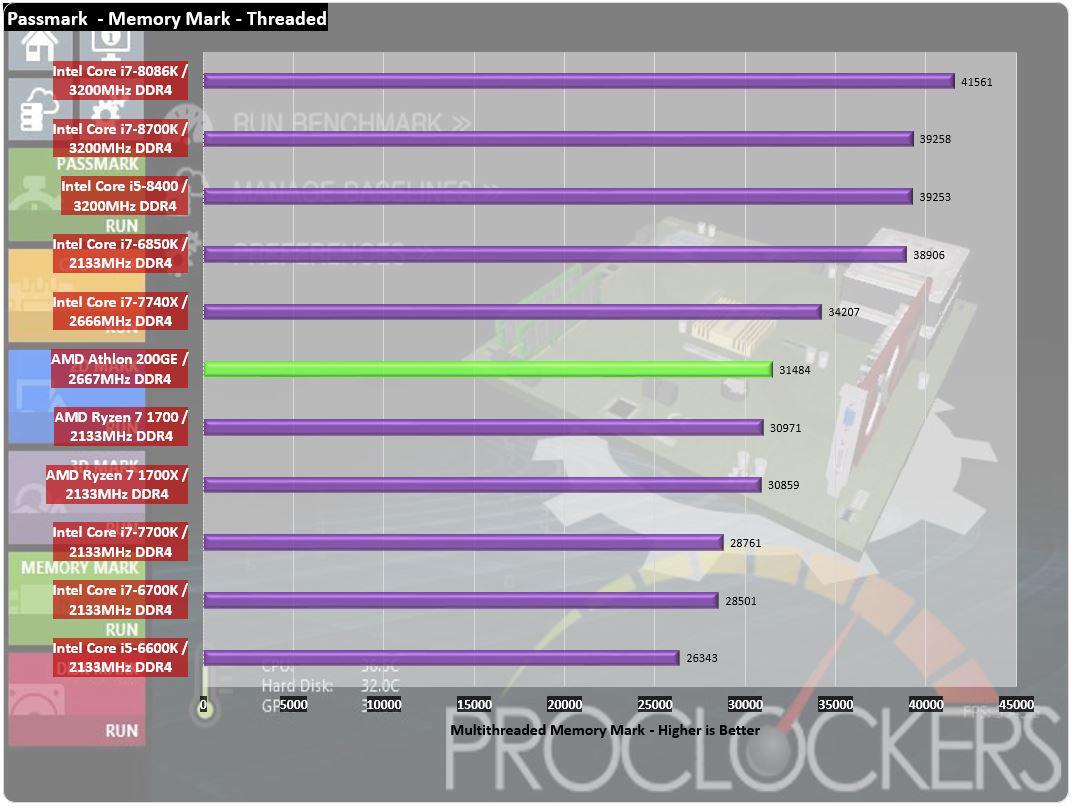 A score of over 31k is quite good and places the Athlon well up the chart.
SiSoft Sandra – Memory Bandwidth.
"SiSoftware Sandra provides a robust package of diagnostic tools for testing your system and teasing out its problems–or potential headaches."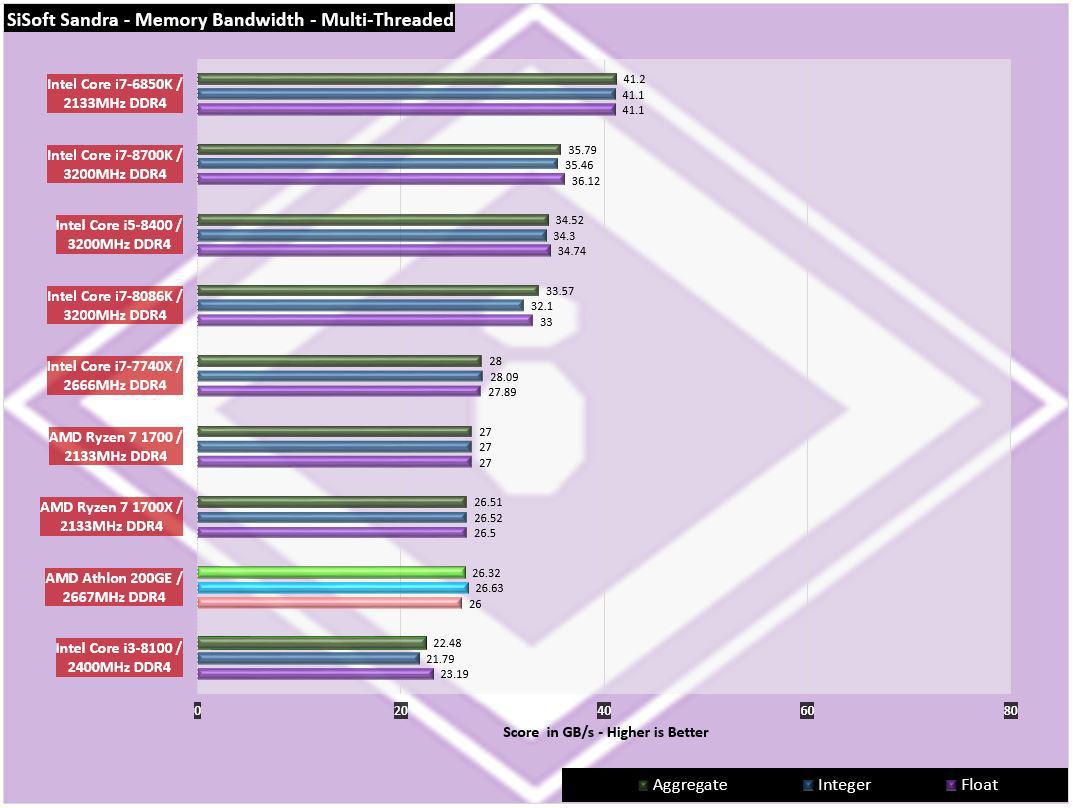 Our final memory test is SiSoft Sandra which comes in at just over 26GB/s in all three segments of the bandwidth test.
Game Testing – Integrated Graphics
3DMark – Sky Diver
"Sky Diver is a DirectX 11 benchmark test for gaming laptops and mid-range PCs. It's ideal for testing mainstream graphics cards, mobile GPUs, integrated graphics and other systems that cannot achieve double-digit frame rates in the more demanding Fire Strike test."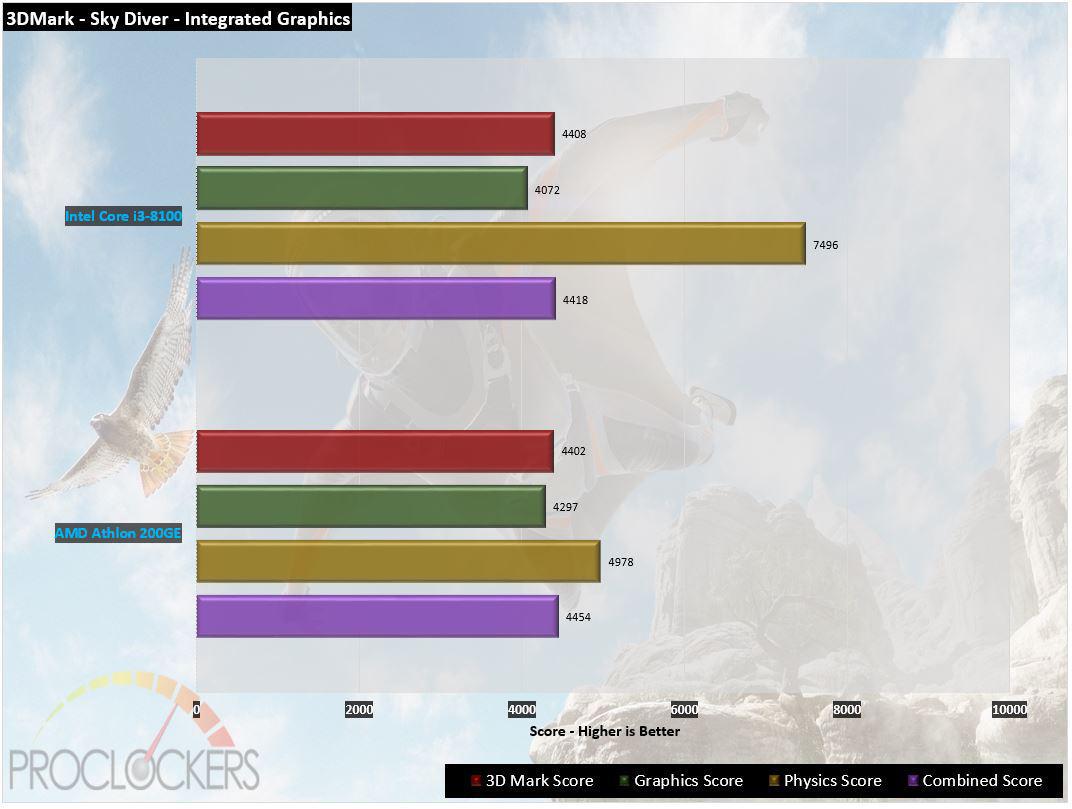 The Athlon 200GE and i3-8100 effectively tie in this DX11 benchmark. AMD holds a slight edge on the graphics side thanks to the VEGA cores, but the extra physical cores give Intel the CPU advantage.
3DMark – Night Raid
"3DMark Night Raid is a DirectX 12 benchmark for laptops, notebooks, tablets and other mobile computing devices with integrated graphics. 3DMark Night Raid uses a DirectX 12 graphics engine that is optimized for integrated graphics hardware. It includes two Graphics tests, a CPU test, and a Demo. The Graphics tests feature dynamic reflections, ambient occlusion, tessellation, complex particle systems, and post-processing effects. The CPU test features physics simulation, occlusion culling, and procedural generation."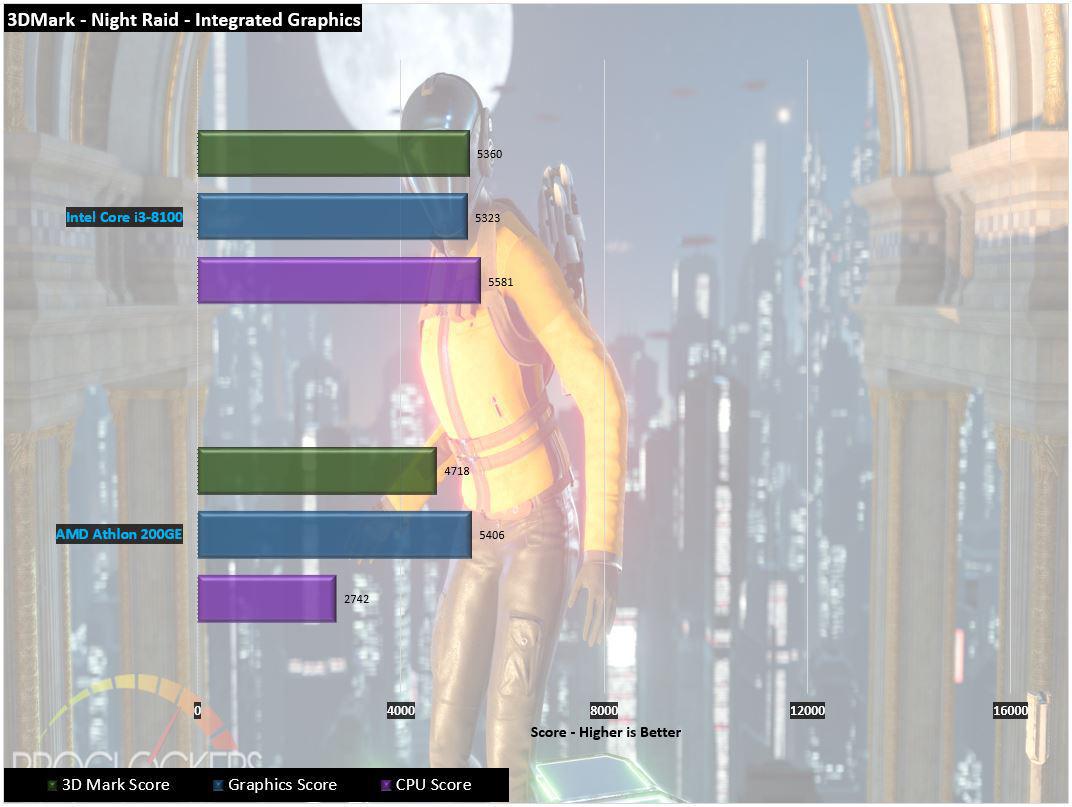 Even with only 3 Vega GPU Cores, the Athlon 200GE is easily able to best Team Blue in the graphics segments of the test, but it can't quite make up for half the core count in the CPU test.
Power & Thermals
Power Consumption – Ambient – 68F / 20C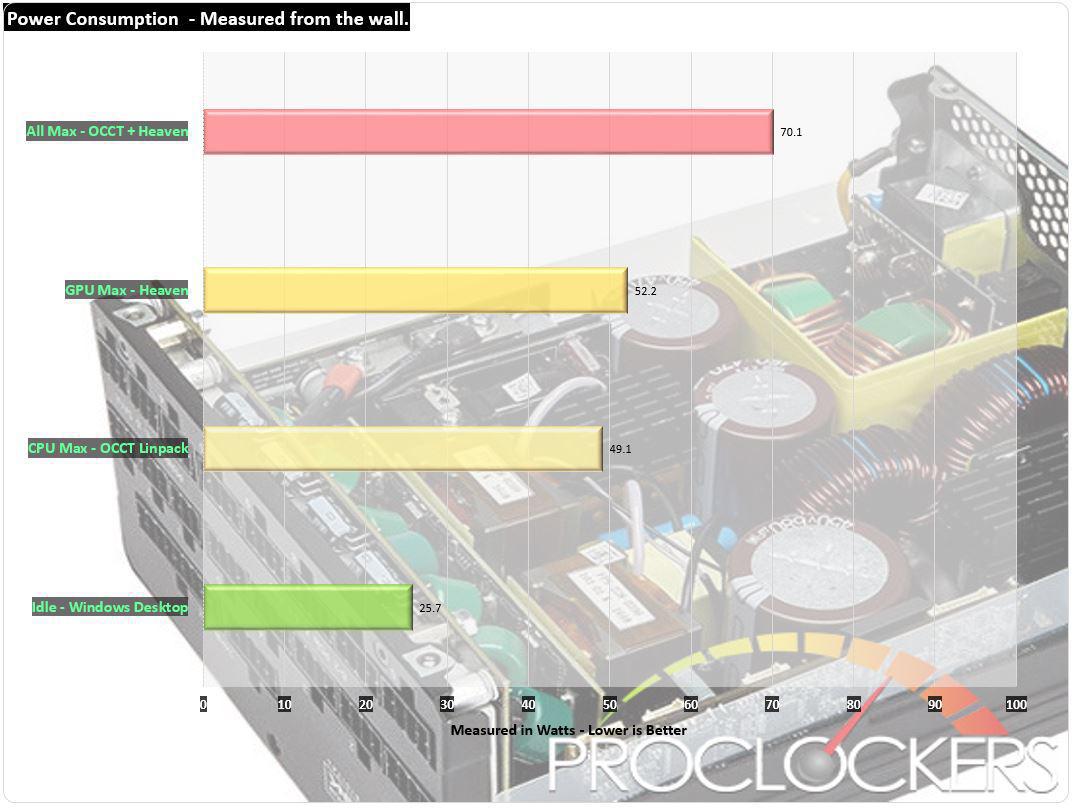 Power is certainly sipped with our all-out stress test hitting a measly 70W from the wall for the entire system while running OCCT Linpack and Unigine Heaven at the same time.
Thermals
Our Streamcom FC9 Alpha chassis specifies a recommended maximum TDP of 65W with an absolute maximum of 95W given appropriate environmental conditions. Our 35W TDP Athlon 200GE should be reasonably easy for this chassis to handle.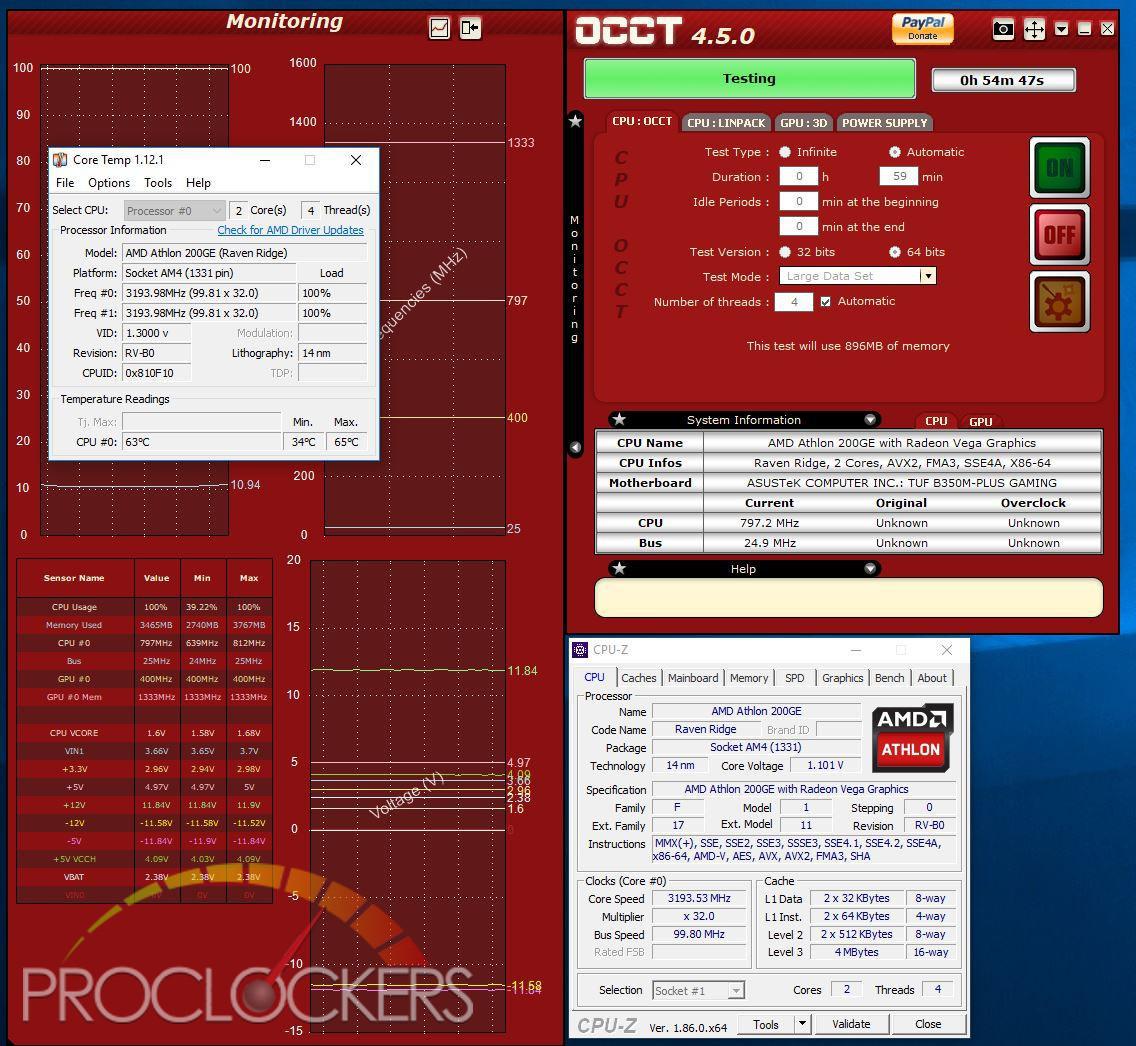 We'll start out with an hour long stress test of the CPU cores as well as the GPU cores to give the large aluminum case time to 'heat soak'. We see a peak temp of 65C with it hovering close to the low 60C range.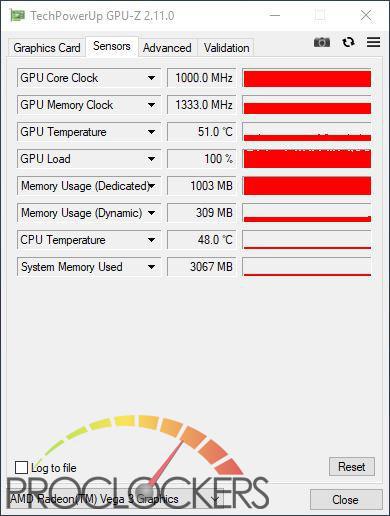 With a loop of Unigine Heaven running for 30 minutes on its own, we see a peak temp of 53C with it averaging 50C.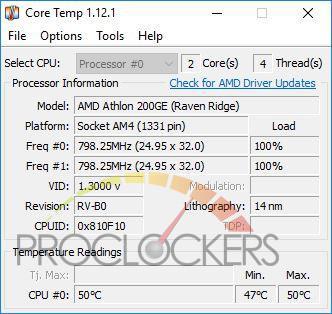 On the CPU only side of the world, we see a peak temp of 50C and it holds pretty steadily right there.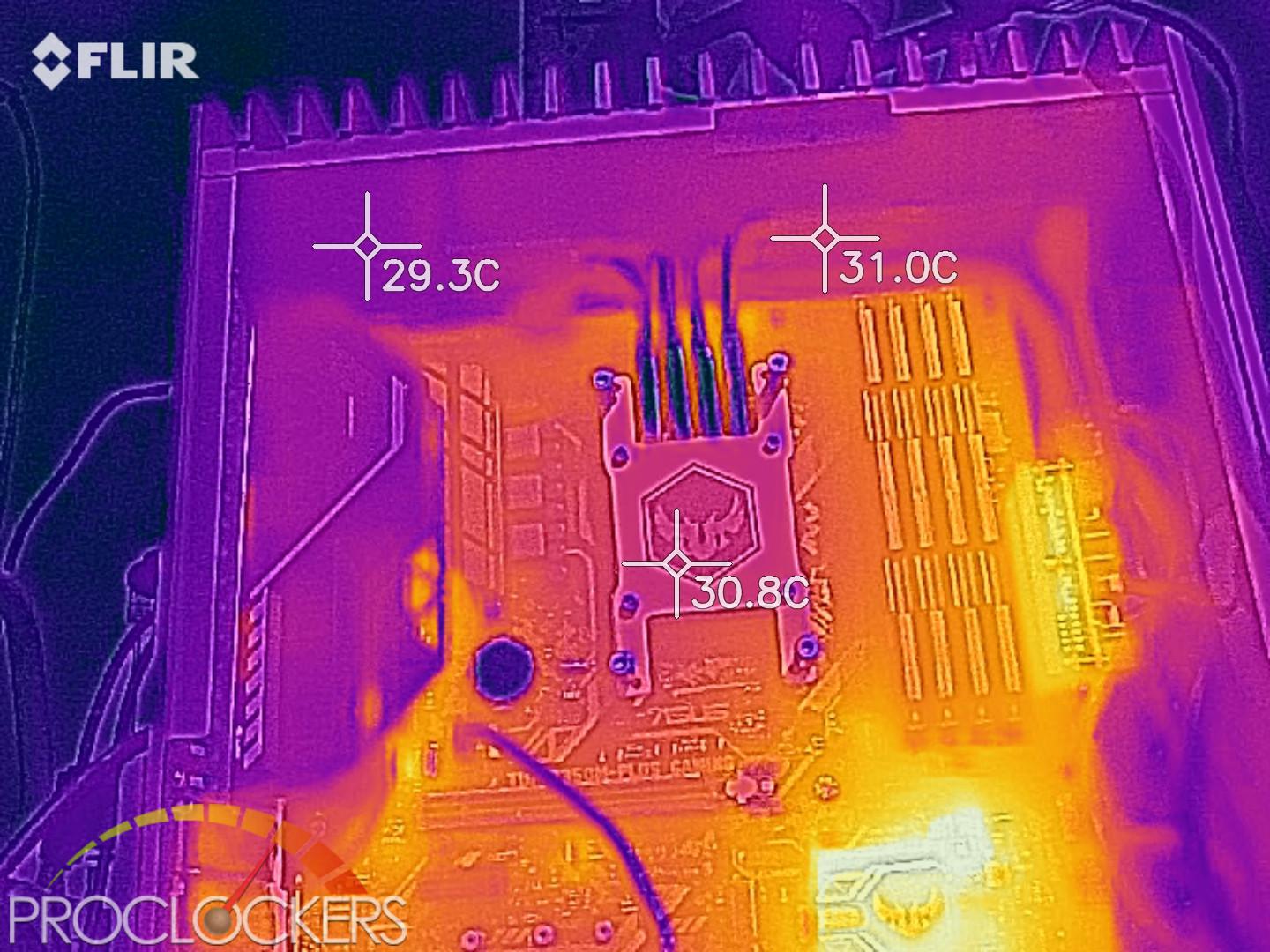 At idle, the case hovers around the 30C mark with the CPU about 32-34C.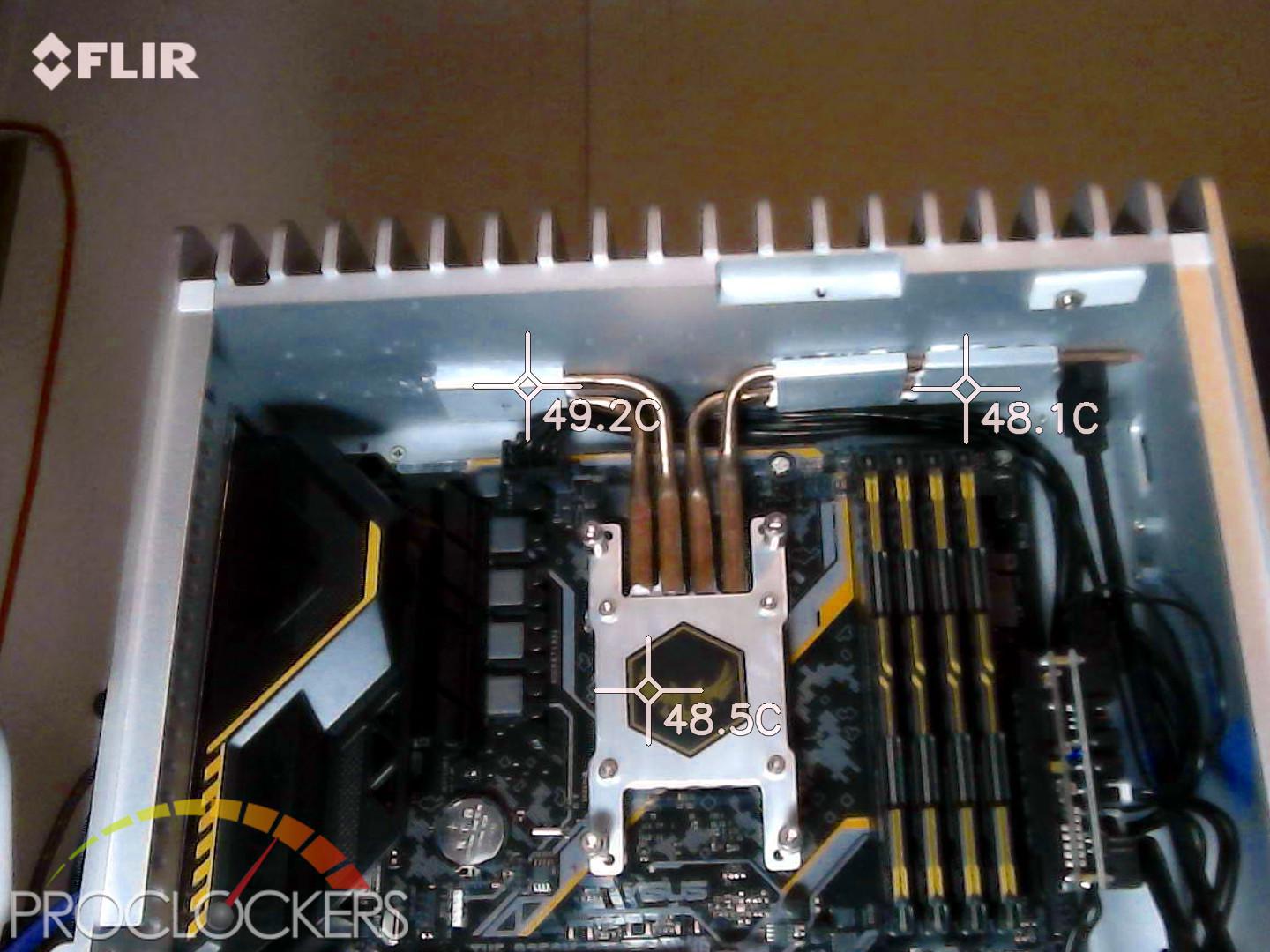 This case uses four heat pipes to move the heat to the case walls which are large aluminum heatsinks. No moving parts, no fans, no pumps.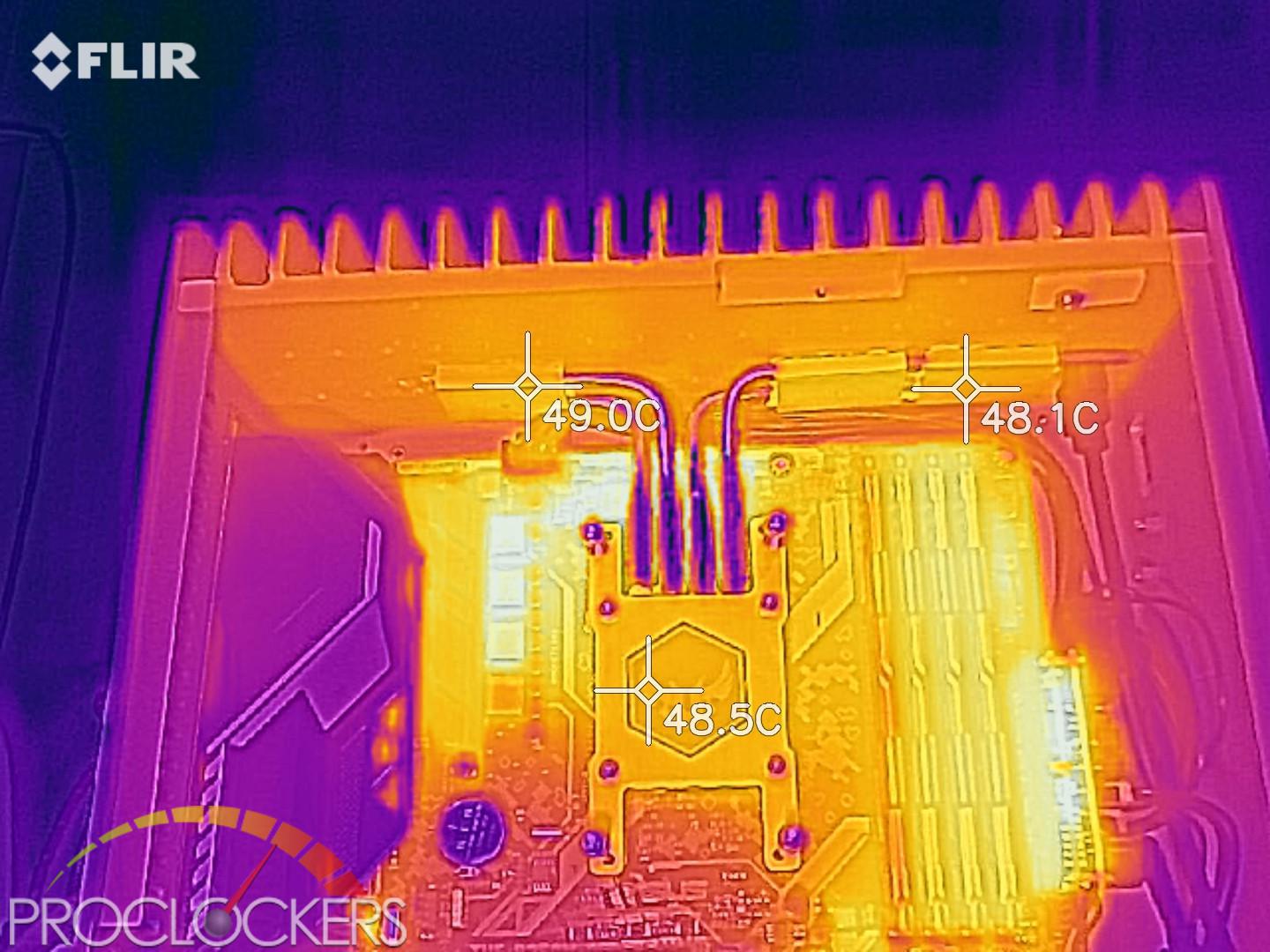 Under full load, we see the case climb to nearly 50C which is noticeably warm to the touch, but not really that hot. The CPU core stays around the same as case +/- about 2C indicating the passive cooling solution is working quite well.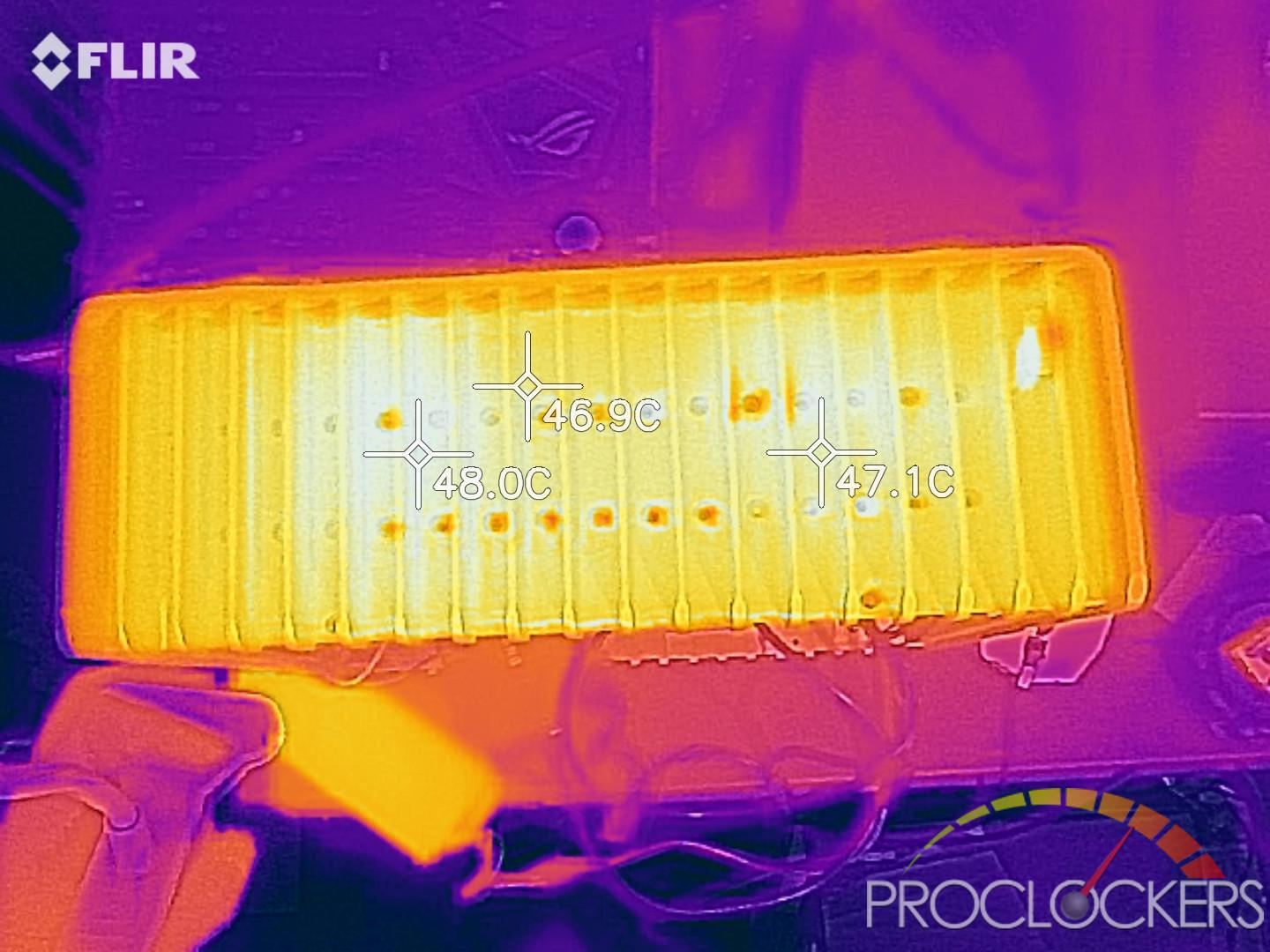 The outside of the case is slightly cooler as the fins are removing heat, but you can pretty clearly see where the contact blocks are on the inside with the 2-3C difference on our FLIR Thermal Camera.
Final Thoughts & Conclusion
AMD has a really strong contender for the low-power do-it-all field. Two Zen cores with a total of four threads easily handle daily business tasks such as word processing, spreadsheets, web surfing, emails and the like. The real power comes from the Vega cores. While you won't be plowing through the latest AAA titles at 4K, you can certainly attain playable to good frame rates in more mainstream games popular in the E-Sports community at more sensible resolutions. Support for AMD FreeSync means the experience will stay silky smooth if you have a compatible display.

For media purposes, it's hard to get much better. The $60 processor sips a tiny amount of power but thanks to Vega's built-in Video Core Next ASIC, the Athlon 200GE can chew through video decoding and playback tasks without breaking a sweat. It's nice to see hardware decode of VP9 supported finally since Netflix, Amazon, YouTube and other streaming services use it heavily. Sadly, it may be a bit behind the curve as AV1 is set to replace it in the near future which will put the compute load back on the Zen CPU cores. Older codecs are supported for hardware decode as well as H.264 and H.265 so playback of your own library will work great. The Vega cores also can do hardware encode or transcode of H.264 and H.265 so your video chat and streaming will work really well.

AMD has a really fun little CPU here. It's awesome to be able to easily have a 0dB system for home theater as well as be able to slide in some light duty gaming when you aren't working or surfing the web. The low price point lets you assemble a complete system for a very reasonable price, and it gives you the ability to upgrade around the highly flexible AM4 socket for years to come.

Great job AMD!

<![CDATA[ */ var zbjs = {"ajaxurl":"https:\/\/gaminggorilla.com\/wp-admin\/admin-ajax.php","md5":"d8e8b24d2fa18d2999e0fddcdd418586","tags":[],"categories":["Hardware"]}; /* ]]>