ASUS Phoenix GTX 1660 Ti OC Edition Review
Introduction
With Nvidia's recent launch of the GTX 1660 Ti last week, we've seen cards released anywhere from the base model MSRP of $279 up to flagship's like the ROG Phoenix GTX 1660Ti OC we checked out recently. Today we have a card from ASUS that is close to the MSRP and small enough for SFF and ITX builds, but with a factory overclock to give it an edge. Can this phoenix fly you to gaming bliss? Let's find out!
ProClockers would like to thank ASUS for sending the ASUS Phoenix GTX 1660 Ti OC Edition over to check out!
ASUS's take on the ASUS Phoenix GTX 1660 Ti OC Edition:
The ASUS Phoenix GeForce® GTX 1660 Ti crams high performance into just 2 slots. Our patented Wing-blade design is coupled with a dual-ball fan bearing to bring high performance and incredible durability. If that doesn't already convince you of the Phoenix's resilience, consider that each card is manufactured using Auto-Extreme Technology, an automated manufacturing process that sets a new standard of quality. If you're looking for a long-lasting companion to power you through years of games to come, look no further than the ASUS Phoenix.
ASUS Phoenix GeForce® GTX 1660 Ti OC edition 6GB GDDR6 rocks high refresh rates for an FPS advantage without breaking a sweat.
The GeForce® GTX 1660 Ti is built with the breakthrough graphics performance of the award-winning NVIDIA Turing™ architecture. With performance that rivals the GeForce GTX 1070, it's a blazing-fast supercharger for today's most popular games.
Broadcast your gameplay: Get amazing performance and image quality while live streaming to Twitch or YouTube. The GTX 1660 Ti's dedicated hardware encoder delivers 15% improved efficiency over prior generation graphics cards and is optimized for Open Broadcaster Software (OBS).
GeForce Experience: Capture and share videos, screenshots, and live streams with friends. Keep your drivers up to date and optimize your game settings. GeForce Experience lets you do it all, making it the essential companion to your GeForce graphics card.
Wing-blade fan design incorporates drooped tips on each blade to reduce drag.
Dual-ball fan bearing designs can last up to twice as long as a sleeve bearing design.
Auto-Extreme Technology uses automation to enhance reliability.
GPU Tweak II provides intuitive performance tweaking and thermal controls.
Features & Specifications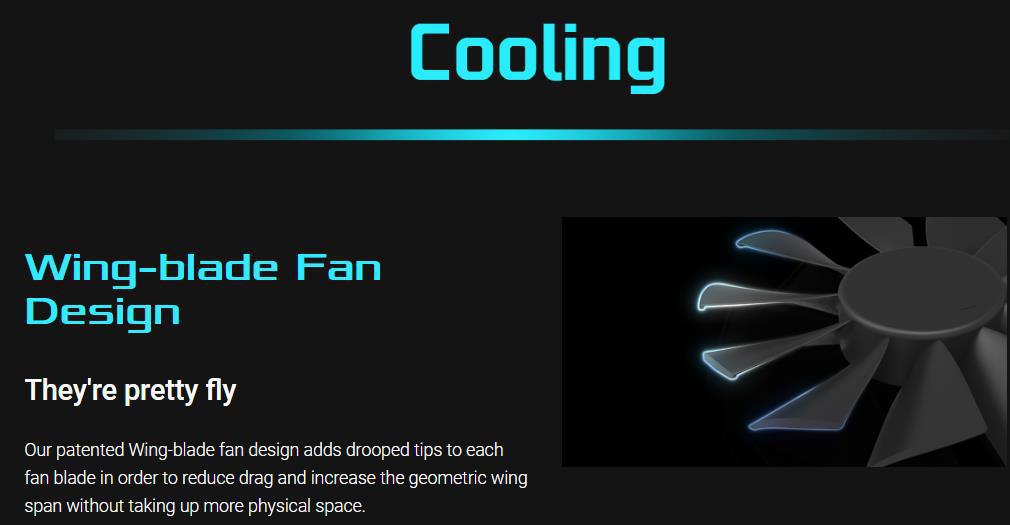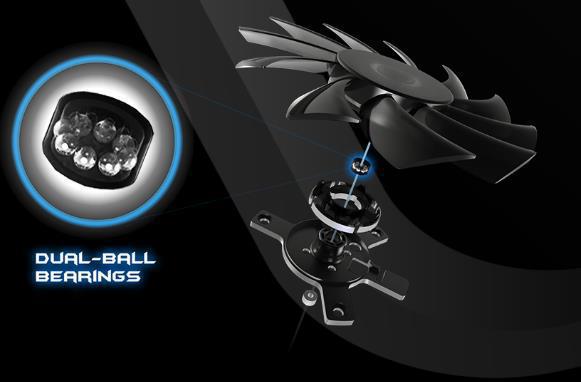 Dual-ball Fan Bearing – 2X longer lifespan
Different bearing types have unique pros and cons. Dual-ball bearings excel at durability and can last up to twice as long as sleeve-bearing designs.
Auto-Extreme Technology – Precision automated manufacturing
Auto-Extreme Technology is an automated manufacturing process that sets new standards in the industry by allowing all soldering to be completed in a single pass. This reduces thermal strain on components and avoids the use of harsh cleaning chemicals, resulting in less environmental impact, lower manufacturing power consumption, and a more reliable product overall.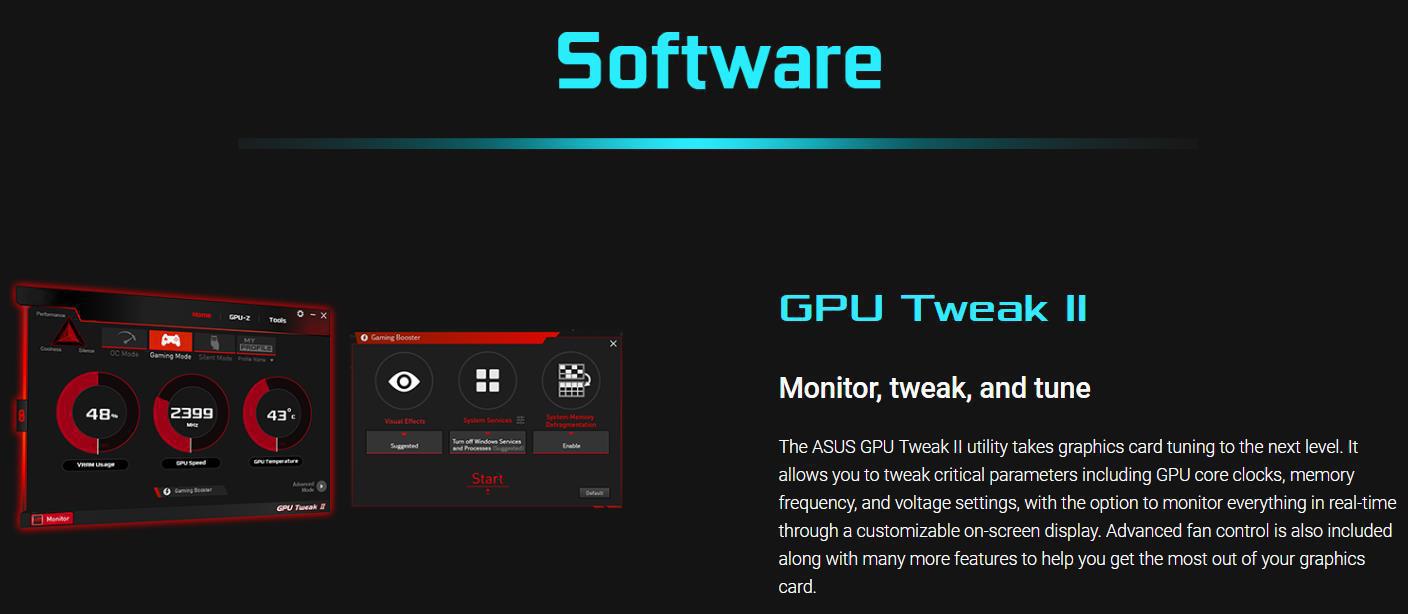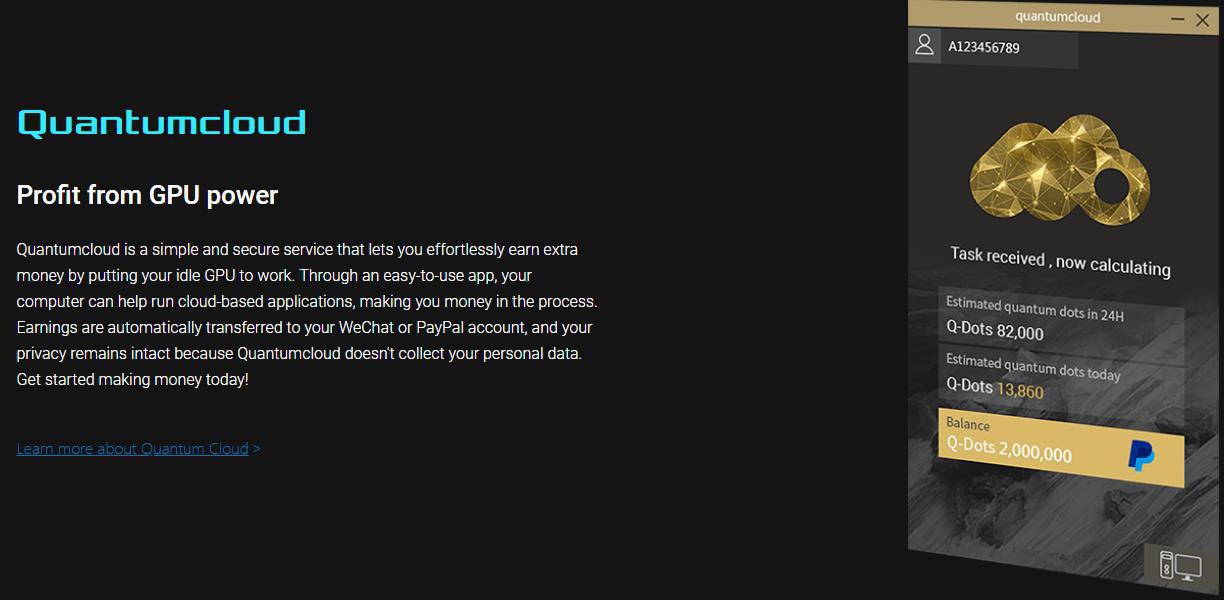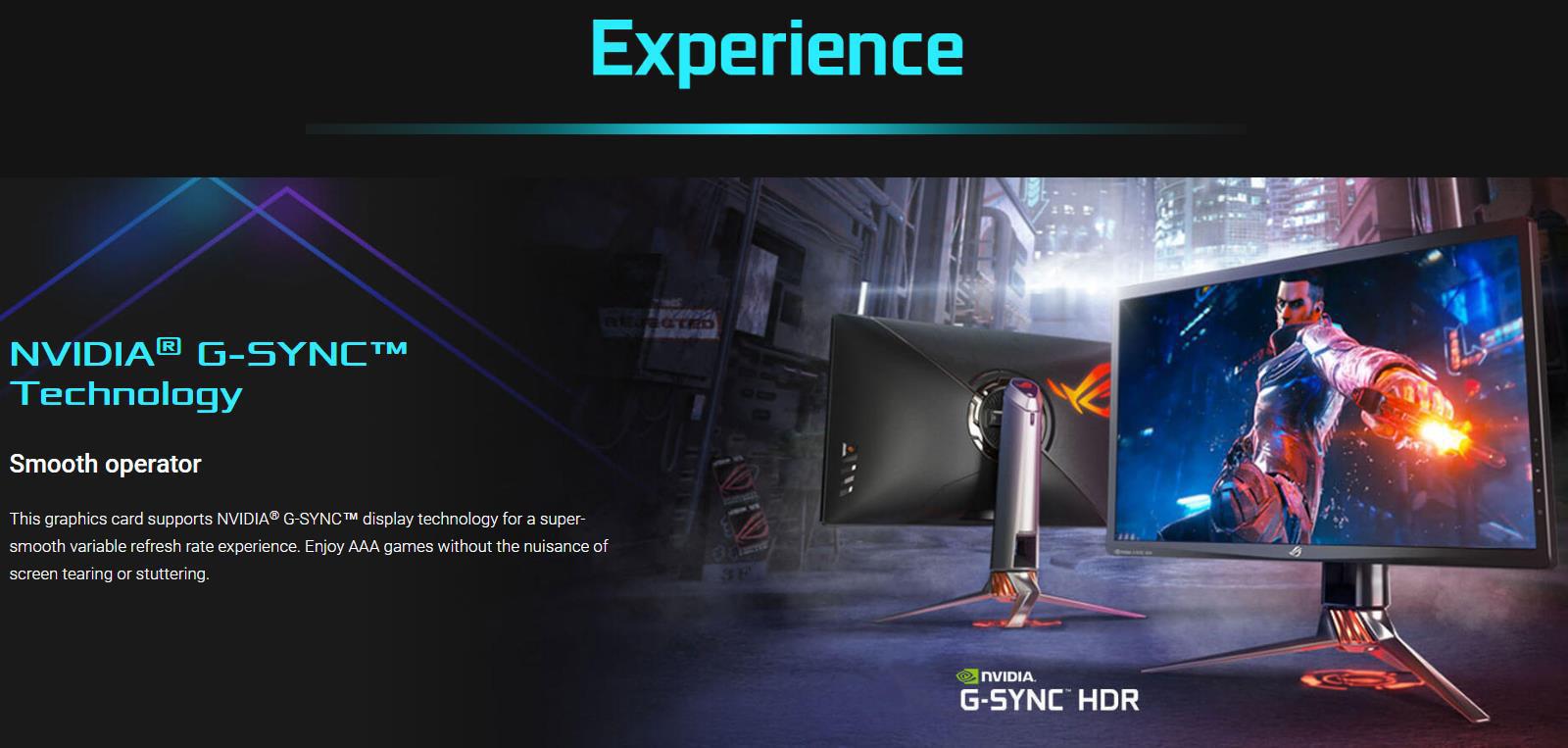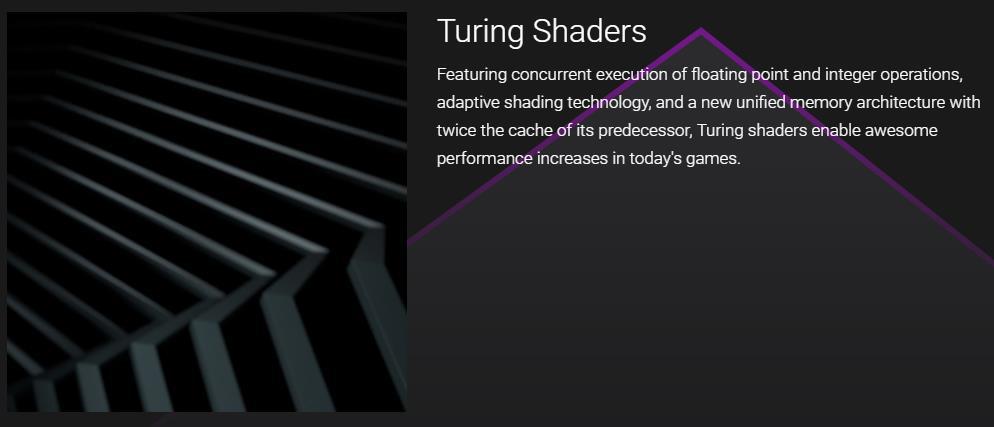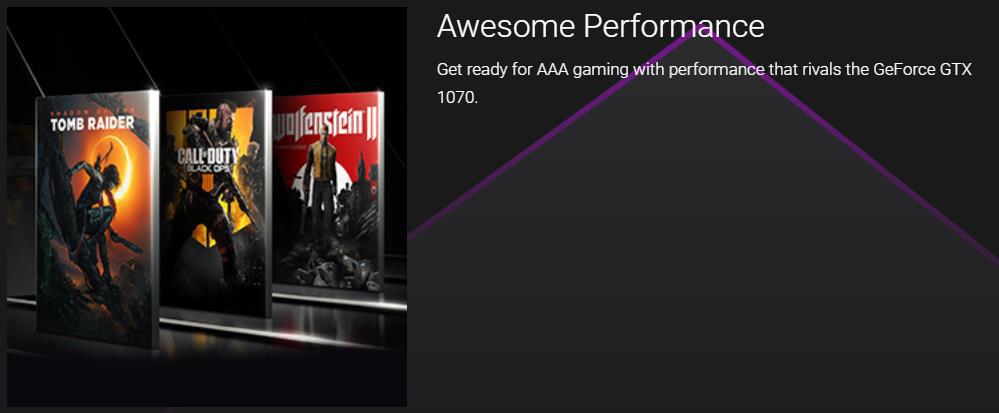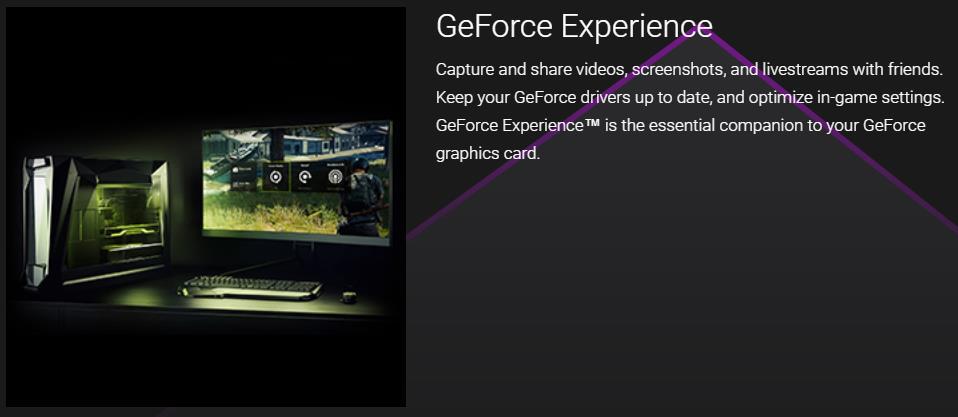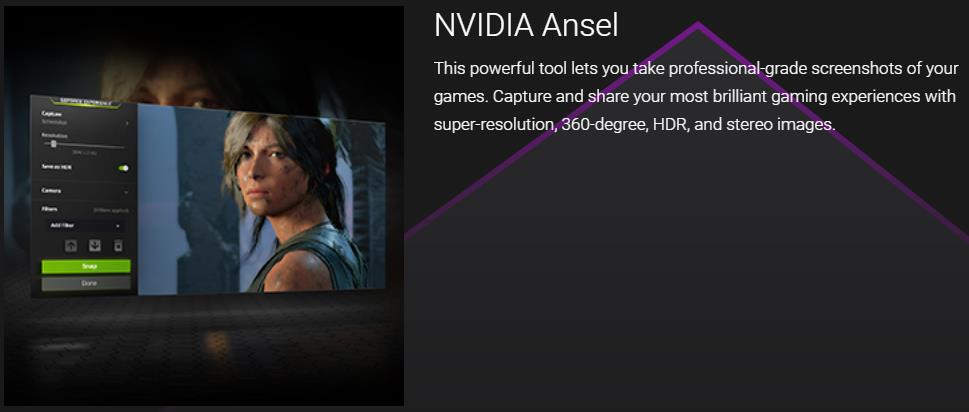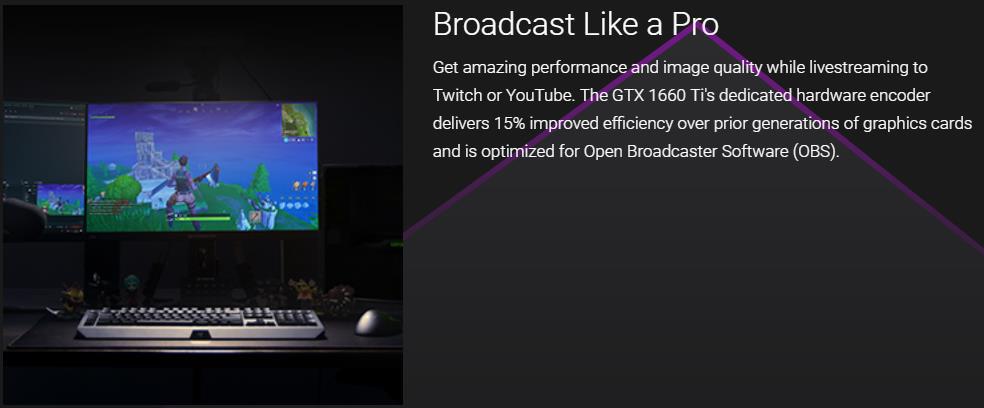 Specifications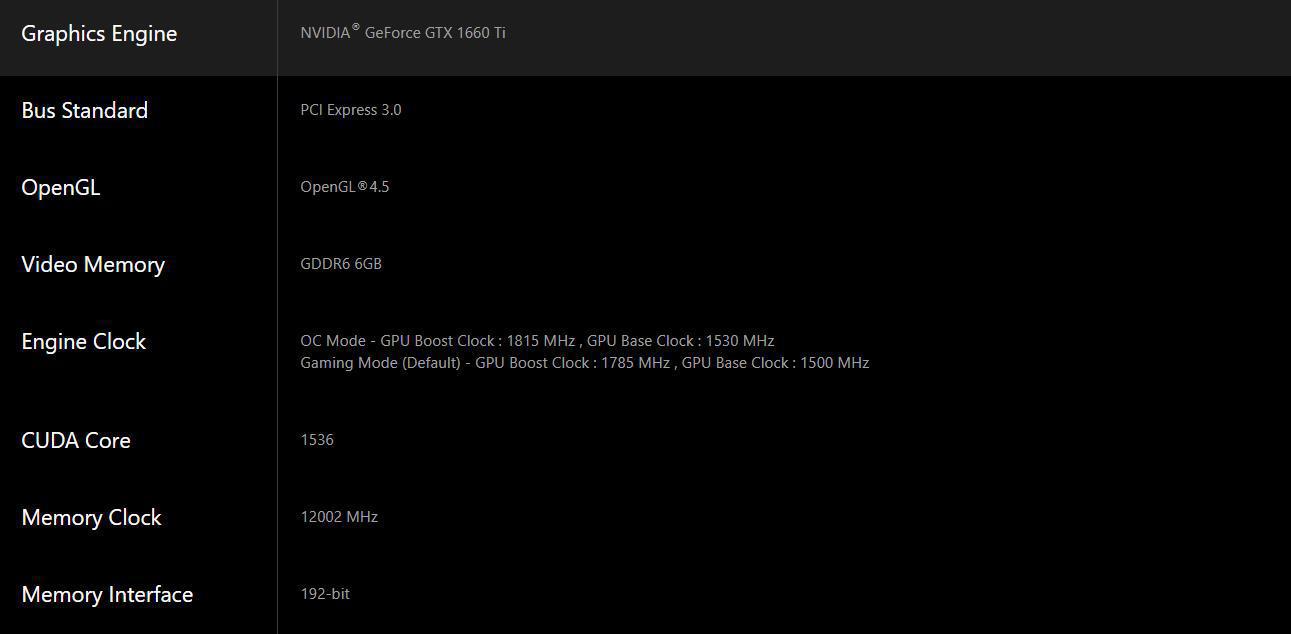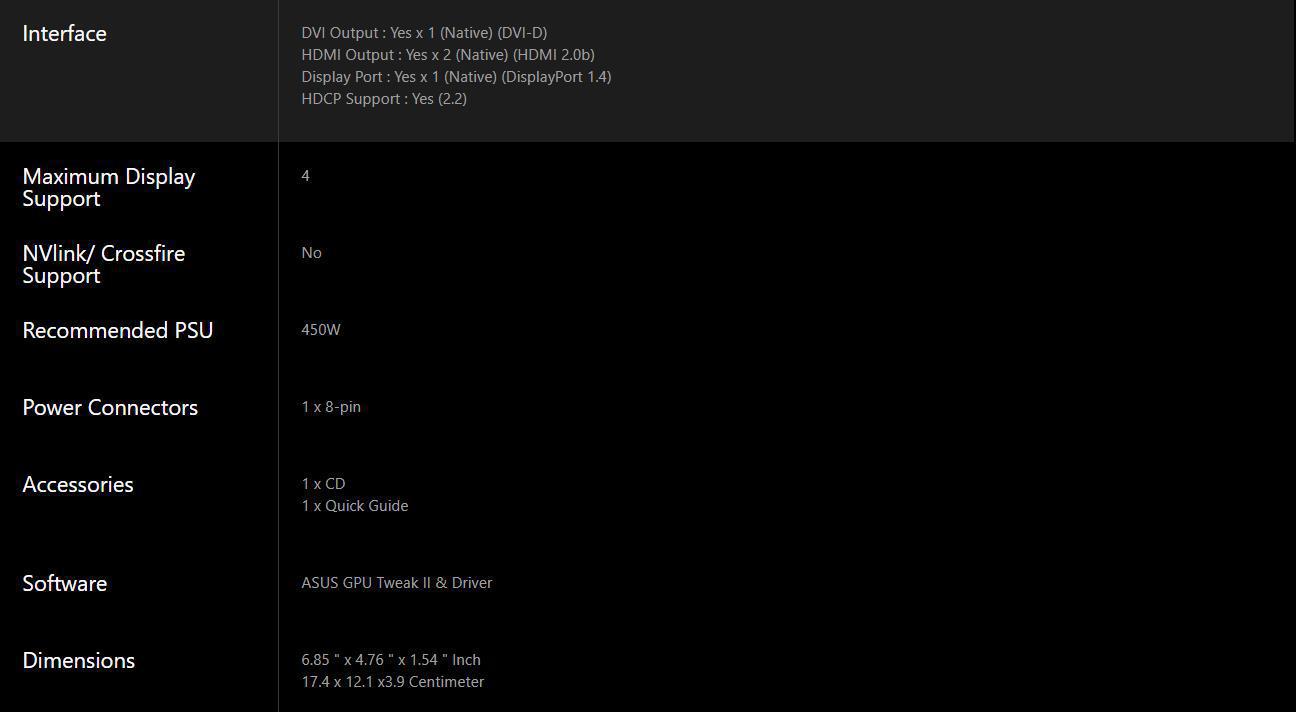 Packaging & Unboxing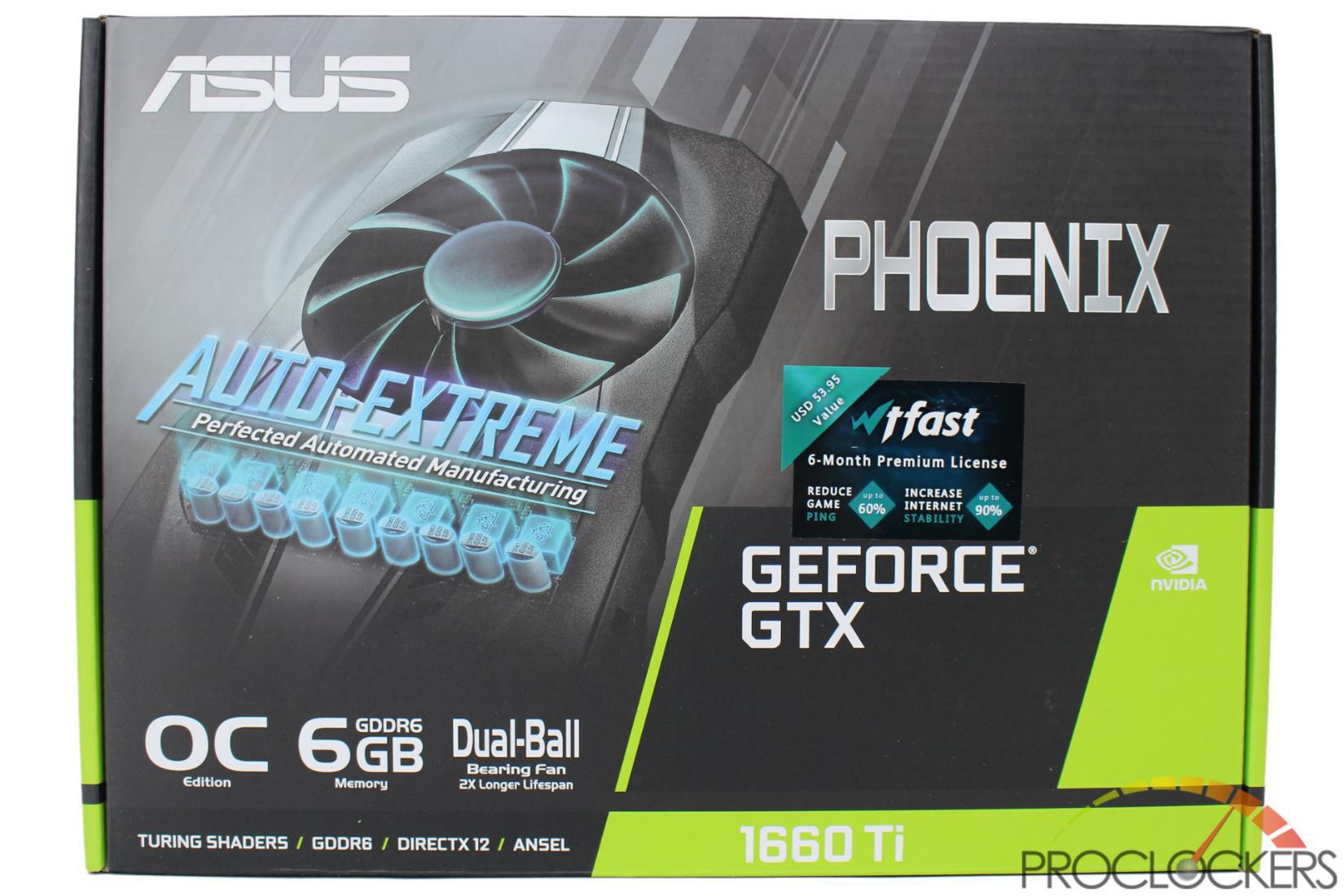 ASUS's Phoenix GTX 1660 Ti OC comes in a grey box with the typical Nvidia markings on the bottom right corner. The Phoenix model is top right and a picture of the card covers most of the left side.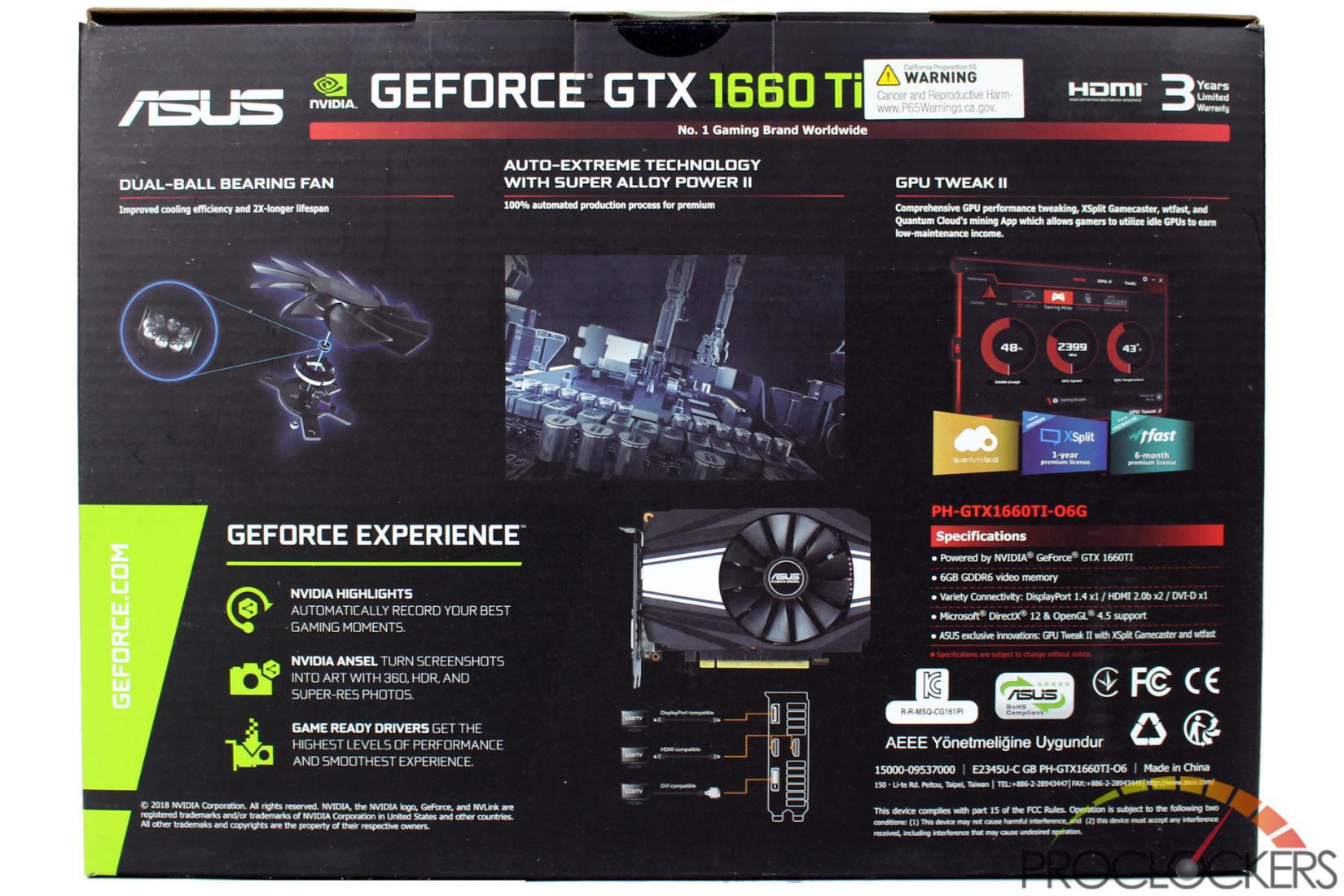 The rear of the box is almost entirely covered in features. The specifications are on the right side and a listing of the video outputs are bottom center.
The bottom edge of the box has minimum system requirements in multiple languages.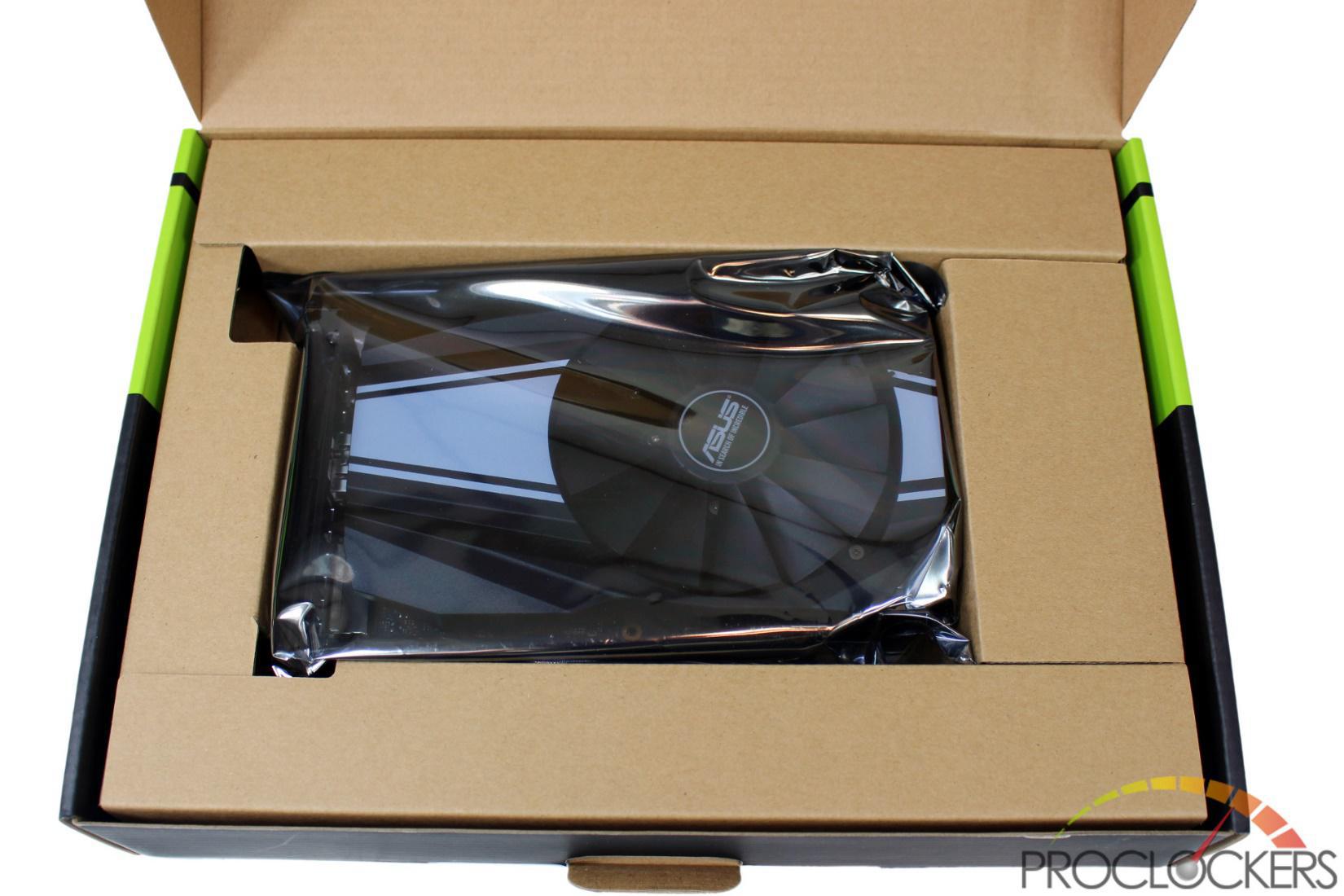 The card is wrapped in an ESD safe bag and cradled in a cardboard tray.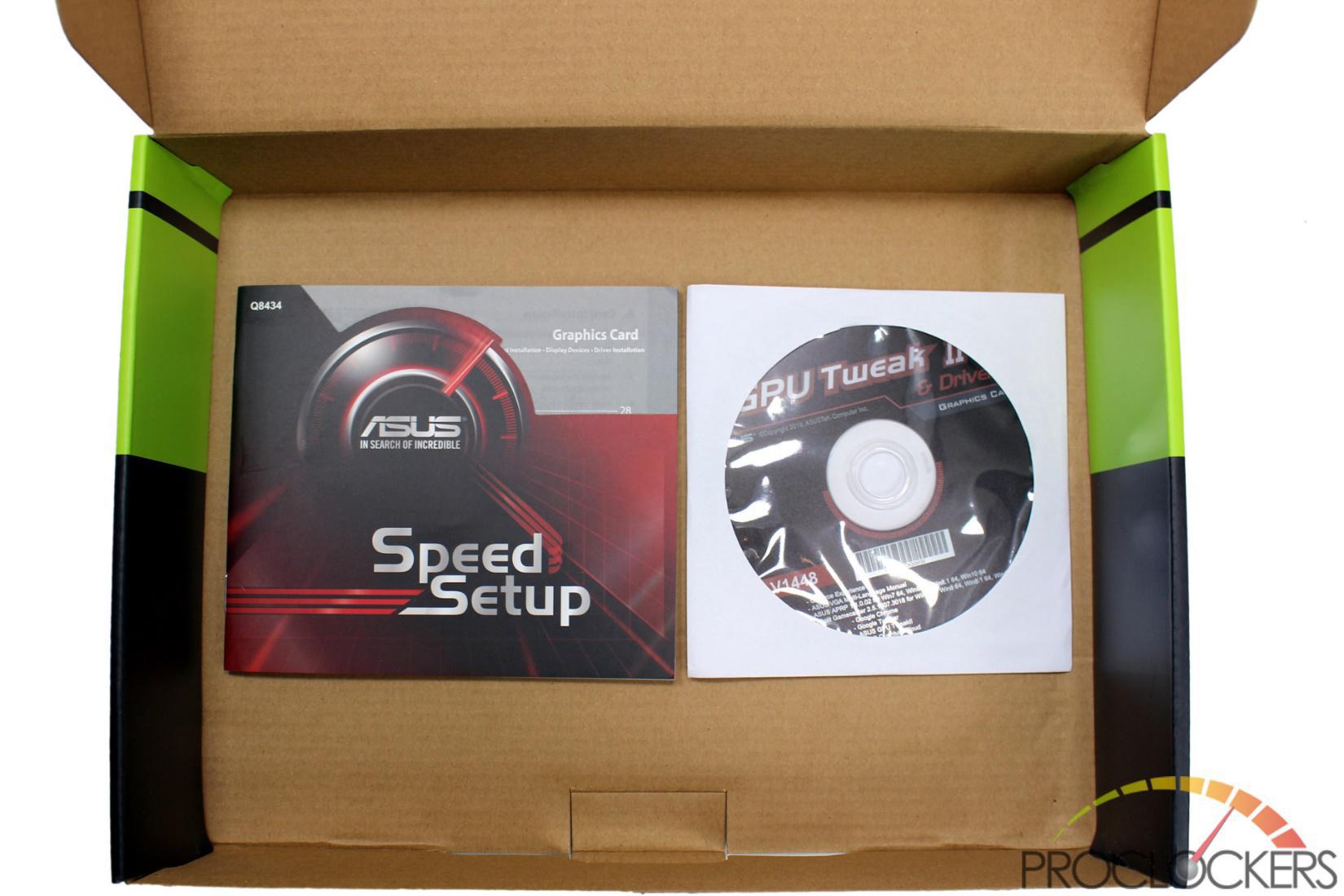 In the bottom of the box are a driver disk and a quick setup manual.
A Closer Look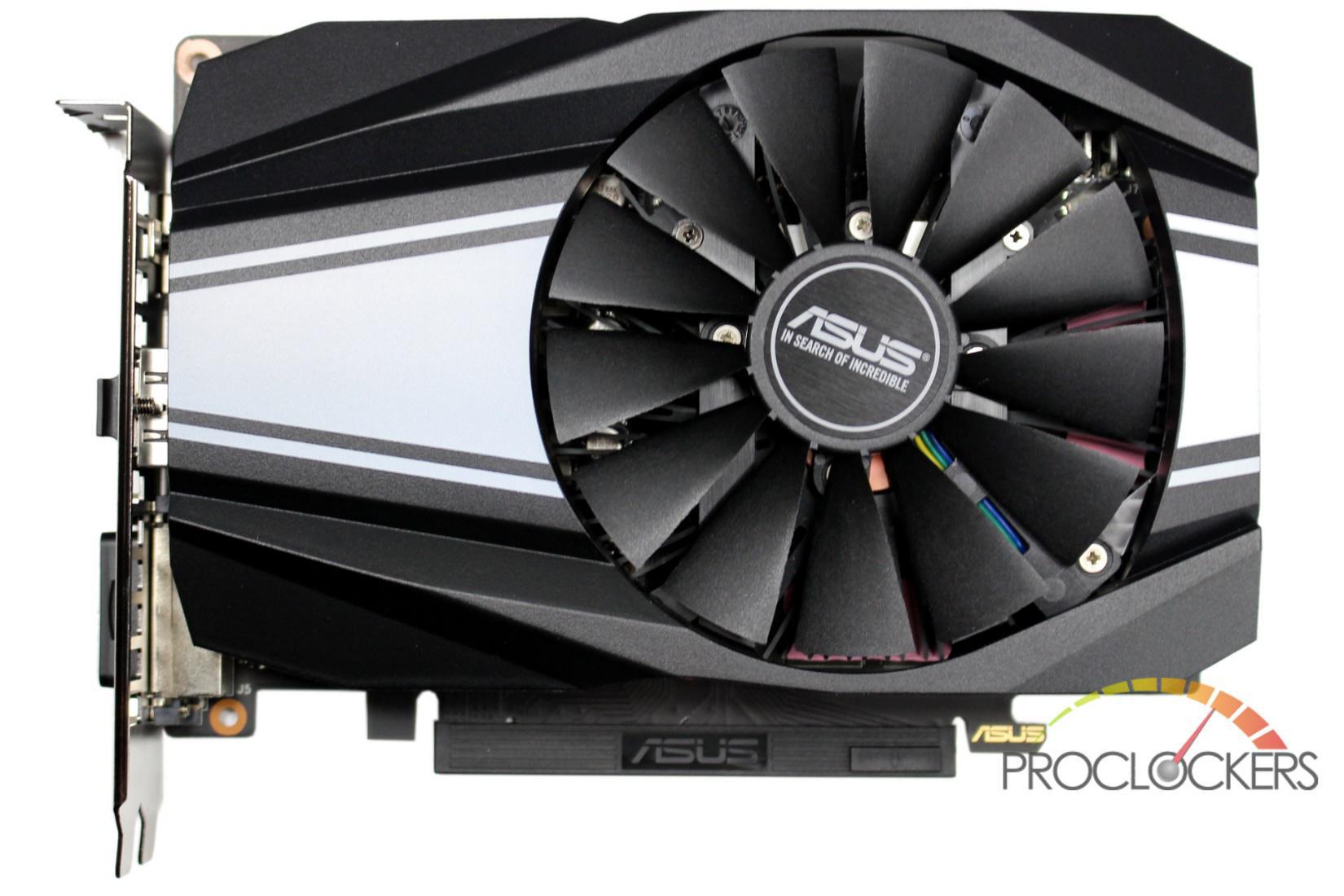 ASUS's Phoenix GTX 1660 Ti OC Edition is a very compact card that is less than 7 inches long. It is slightly wider than a standard card and a bit more than two slots thick, so be careful with very small systems but it should fit in most.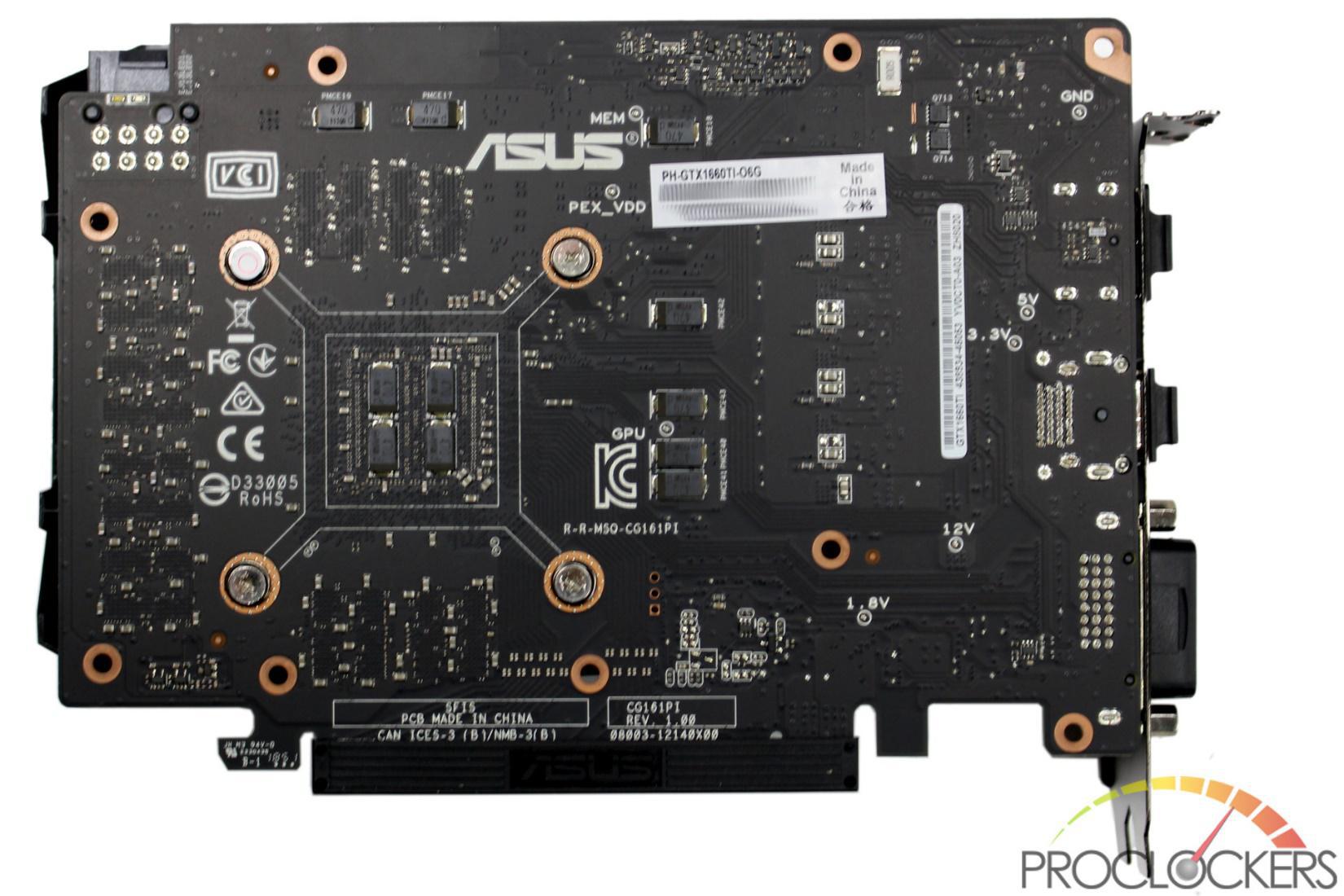 There is no backplate on the GPU to help keep the price down. There really isn't much to see on the rear of the card.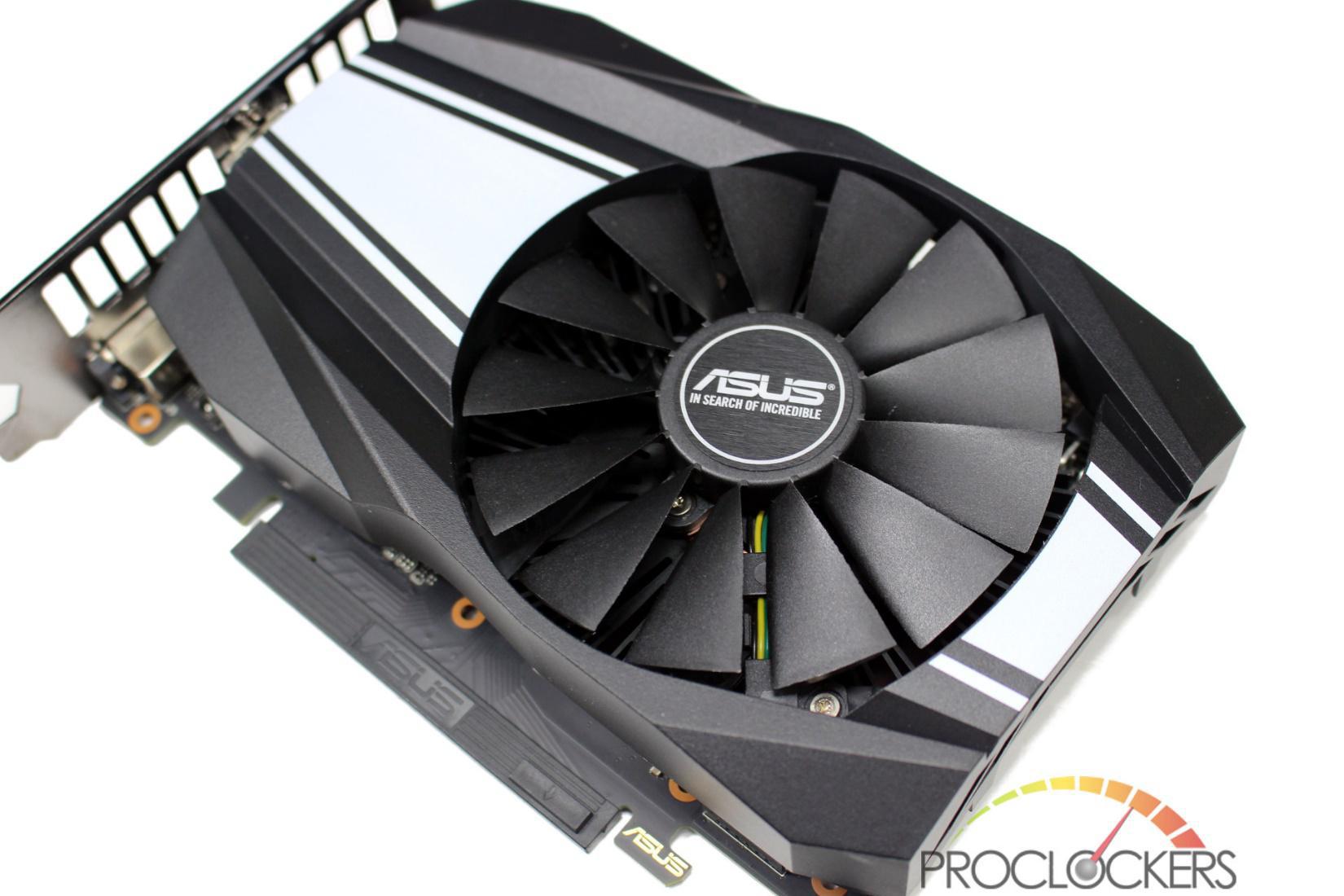 A single large fan cools the Phoenix and is nearly the size of the card.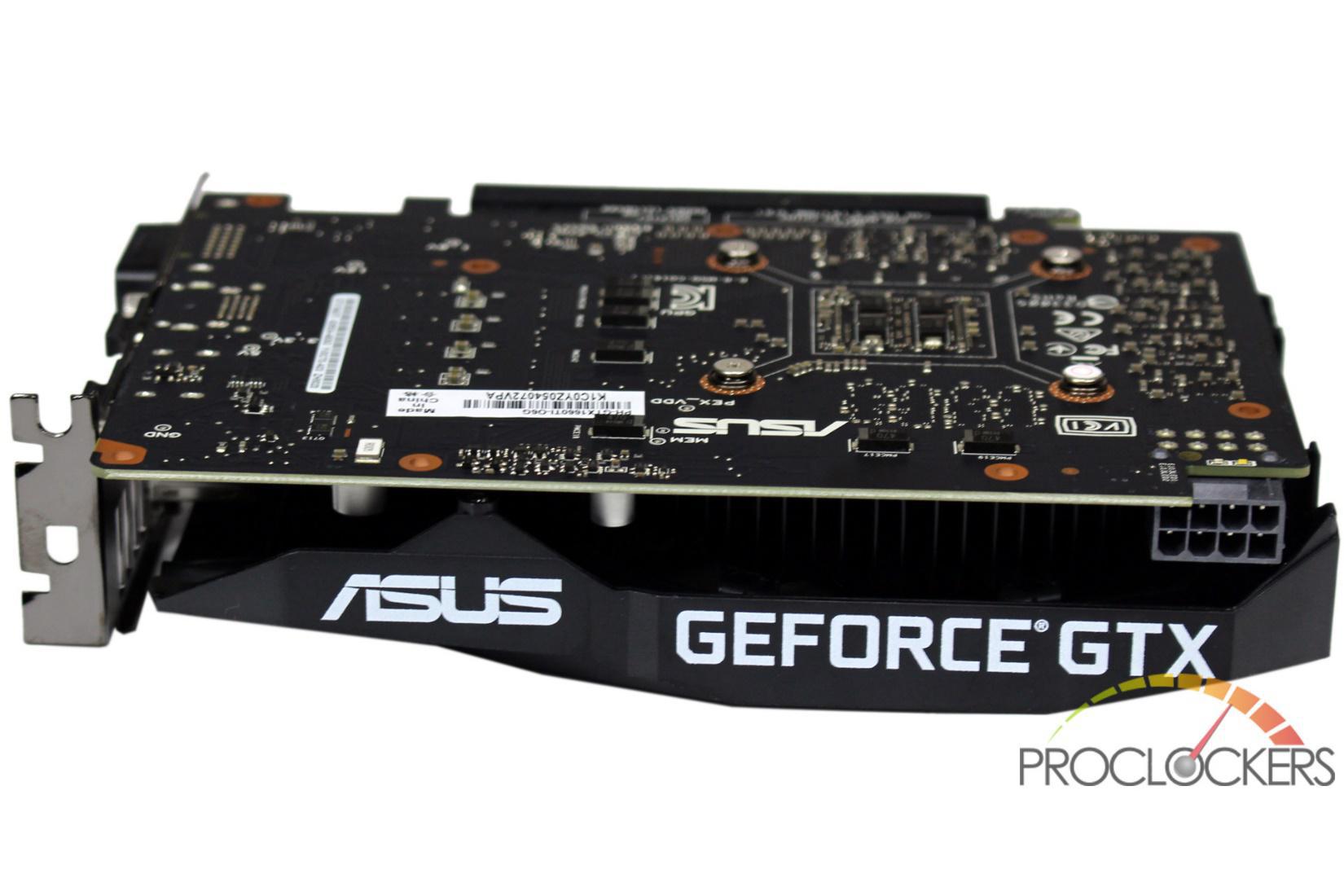 The Phoenix has the ASUS and GEFORCE GTX logos in white on the side of the card. Power is provided by a single 8-pin connector.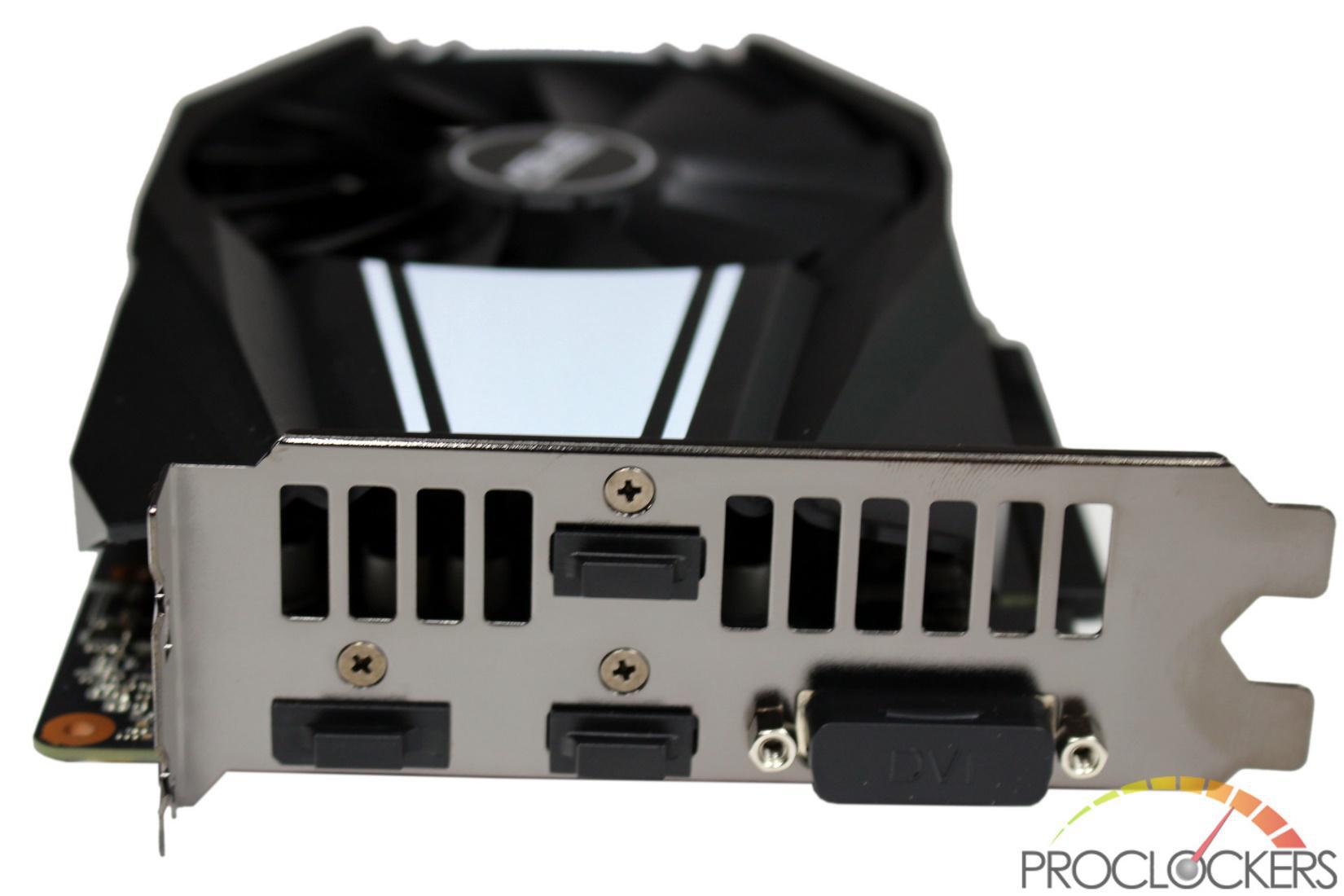 ASUS always covers all of the Video Outputs with rubber plugs, even on this entry price point model.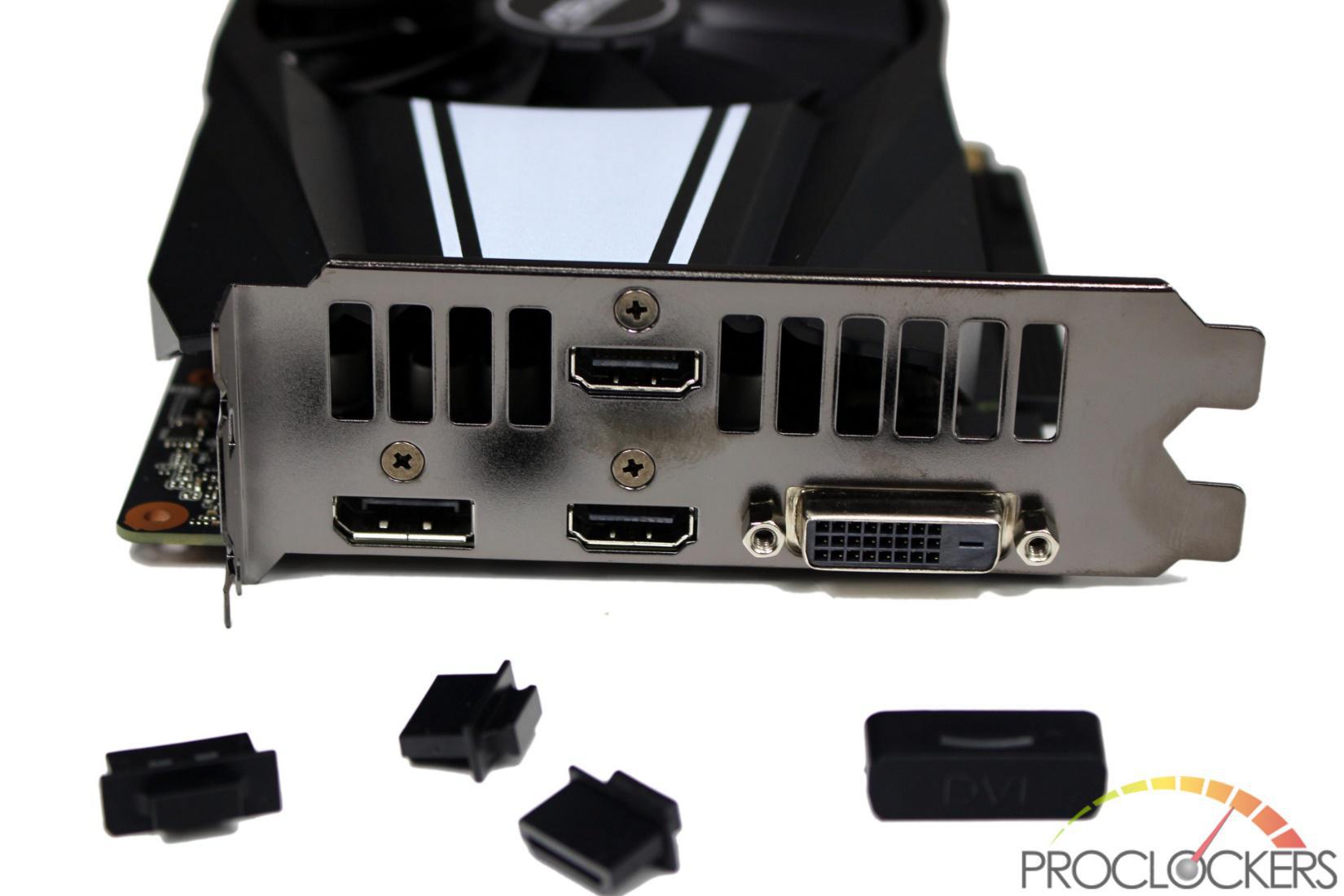 ASUS uses four video outputs still but unlike all other GTX 1660 Ti card's we've tested, ASUS has a single Display Port 1.4, two HDMI 2.0b ports and a single Dual-Link DVI-D.
System Configuration & Software
CPU: Intel Core i7-8700K
GPU: ASUS Phoenix GTX 1660 Ti OC Edition
Mobo: ASUS ROG Maximus X Apex
Ram: 16GB G.Skill Trident Z RGB 3200MHz C16
SSD: Toshiba OCZ RC400 480GB
Chassis: Streacom Open BenchTable
OS: Microsoft Windows 10 Professional
All testing was performed at stock settings with the exception of system memory that had its XMP profile enabled.
Nvidia's software consists of the Nvidia Control Panel and GeForce Experience.
The additional tested software is comprised of only TechPowerUp's GPUz. The new Nvidia Scanner isn't available as a standalone but is provided to board partners for integration into their own utilities. A pre-launch copy of EVGA's new X1 utility was provided for the purpose of this review.
ASUS GPU Tweak II
Do More with One Click Than You Ever Thought Possible
ASUS GPU Tweak II provides an intuitive interface to access serious functionalities, all right at your fingertips. And the best part is, you can access all that on-the-fly, even in-game ─ all with one click.
Enjoy your music and videos by clicking Silent Mode
Game for hours on with Gaming Mode as the default setting in ASUS graphics cards
Bench and play the most demanding games by clicking OC Mode to unlock maximum performance
Stream and record your gameplay on-the-fly with XSplit Gamecaster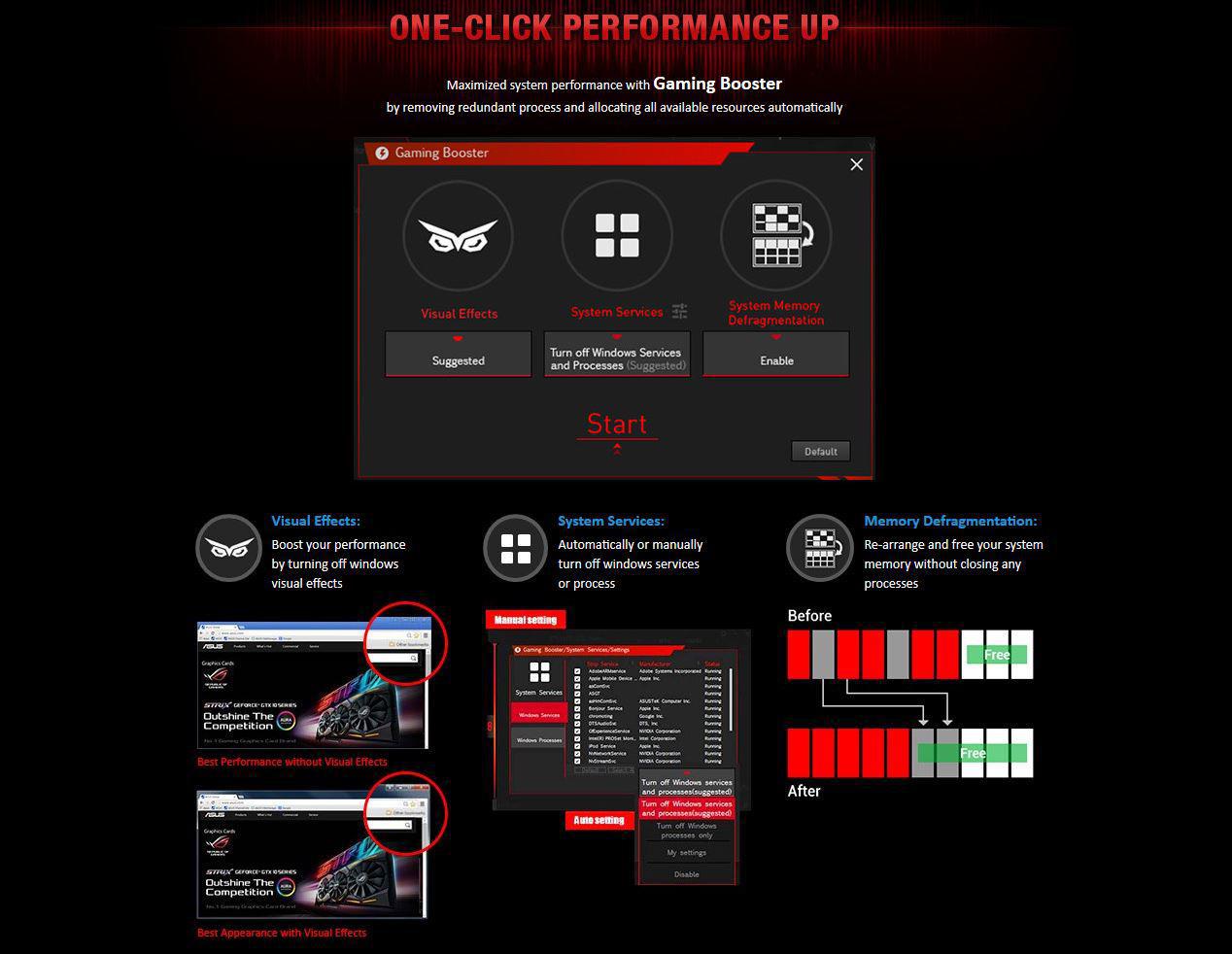 The Rog Phoenix GTX 1660TI OC Edition comes with 3 profiles:
Silent Mode: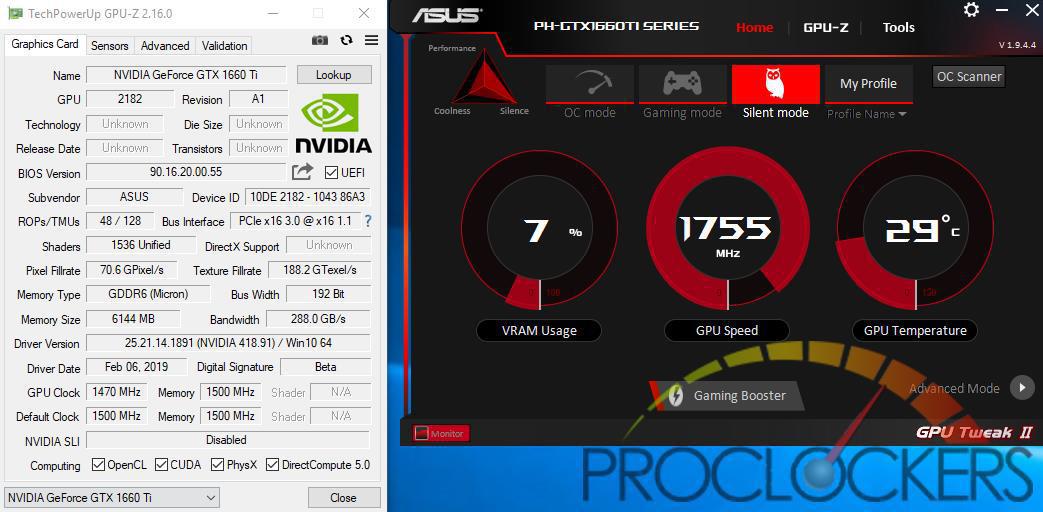 Featuring a clock speed of 1470 MHz and a boost of 1755 MHz.
Gaming Mode (default):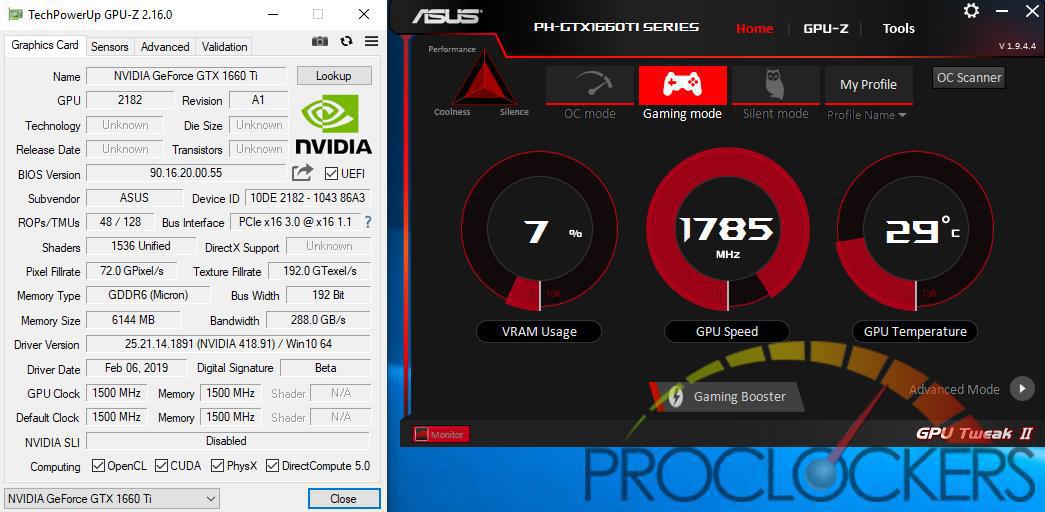 Featuring a clock speed of 1500 MHz with a boost of 1785 MHz.
And finally,
OC Mode: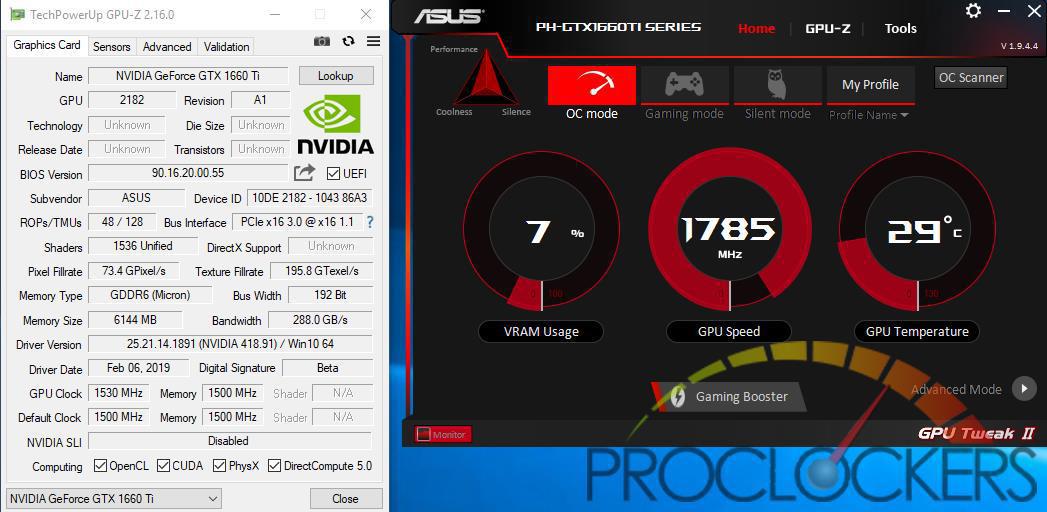 With the highest clock speed and performance, featuring a clock speed of 1530 MHz with the same boost of 1785 MHz.
ASUS Aura Sync (GPU)
ASUS Aura Sync takes RGB lighting beyond the checkbox, combining and controlling the LEDs of all your Aura-enabled products from a single application to achieve perfect, synchronized harmony. From motherboards and RGB strips to graphics cards and beyond, Aura Sync enables a veritable symphony of light for ultimate personalization.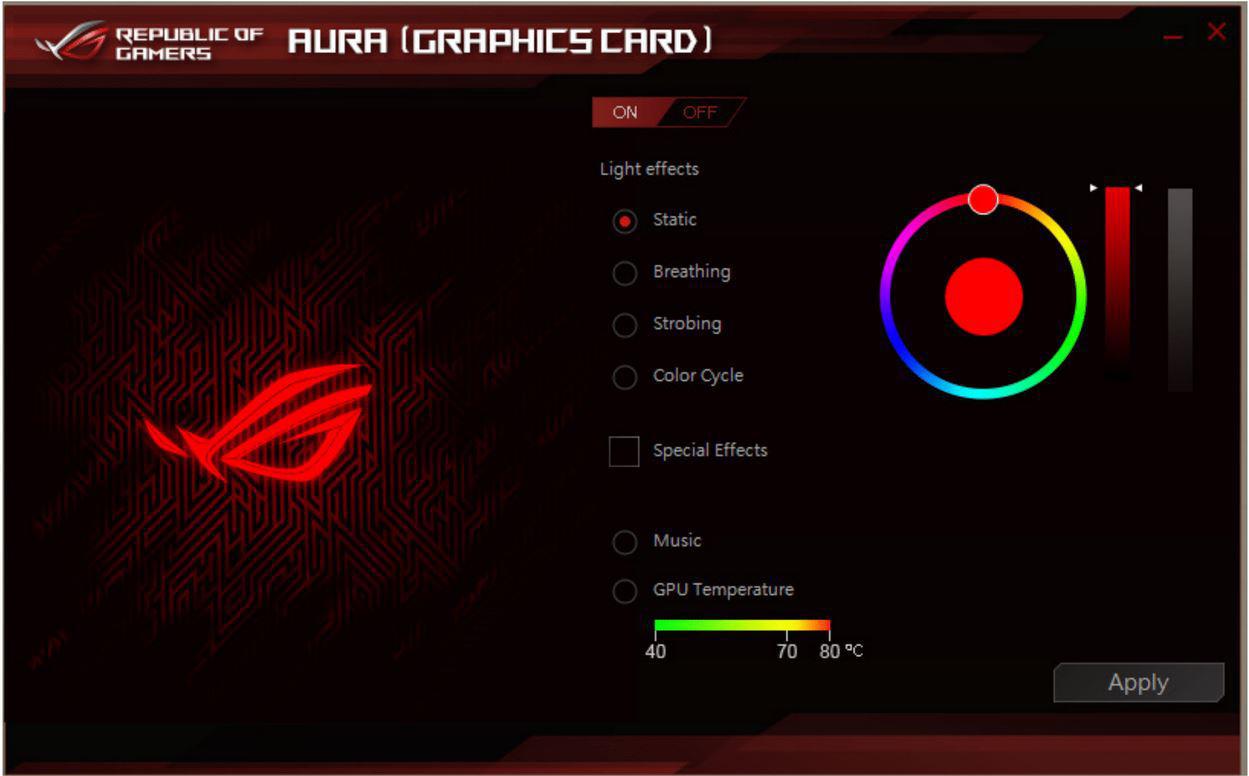 The front accents and RGB header on the rear can be controlled by the Aura software.
Synthetic Testing
Testing was performed at stock settings with the exception of system memory had its XMP profile applied. The ASUS Phoenix GTX 1660TI OC was left with its default 'Gaming Profile' enabled.
Futuremark 3DMark
3DMark includes everything you need to benchmark your PC and mobile devices in one app. Whether you're gaming on a smartphone, tablet, notebook, or a desktop gaming PC, 3DMark includes a benchmark designed specifically for your hardware.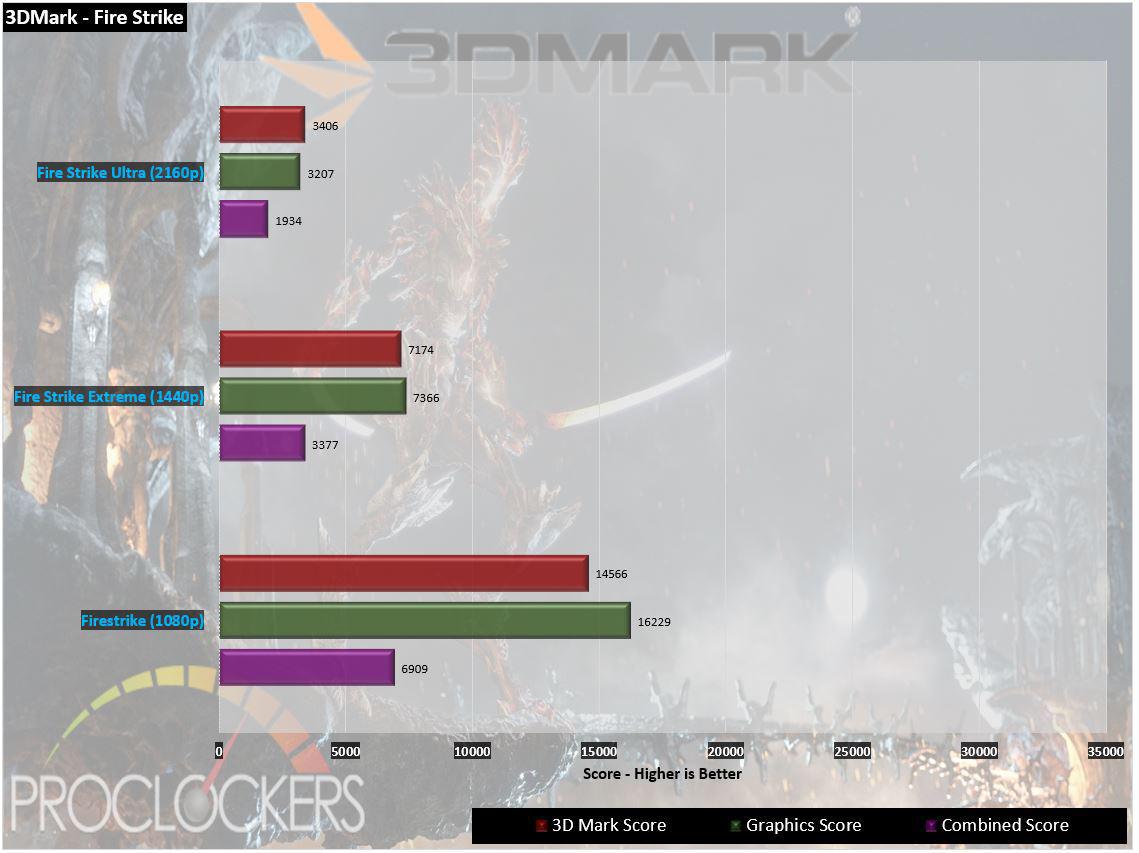 Firestrike shows the ASUS Phoneix GTX 1660Ti OC showing great performance out of the gate in the 1080p and even the 1440p 'Extreme' tests. 4K 'Ultra' was a bit choppy but that is to be expected.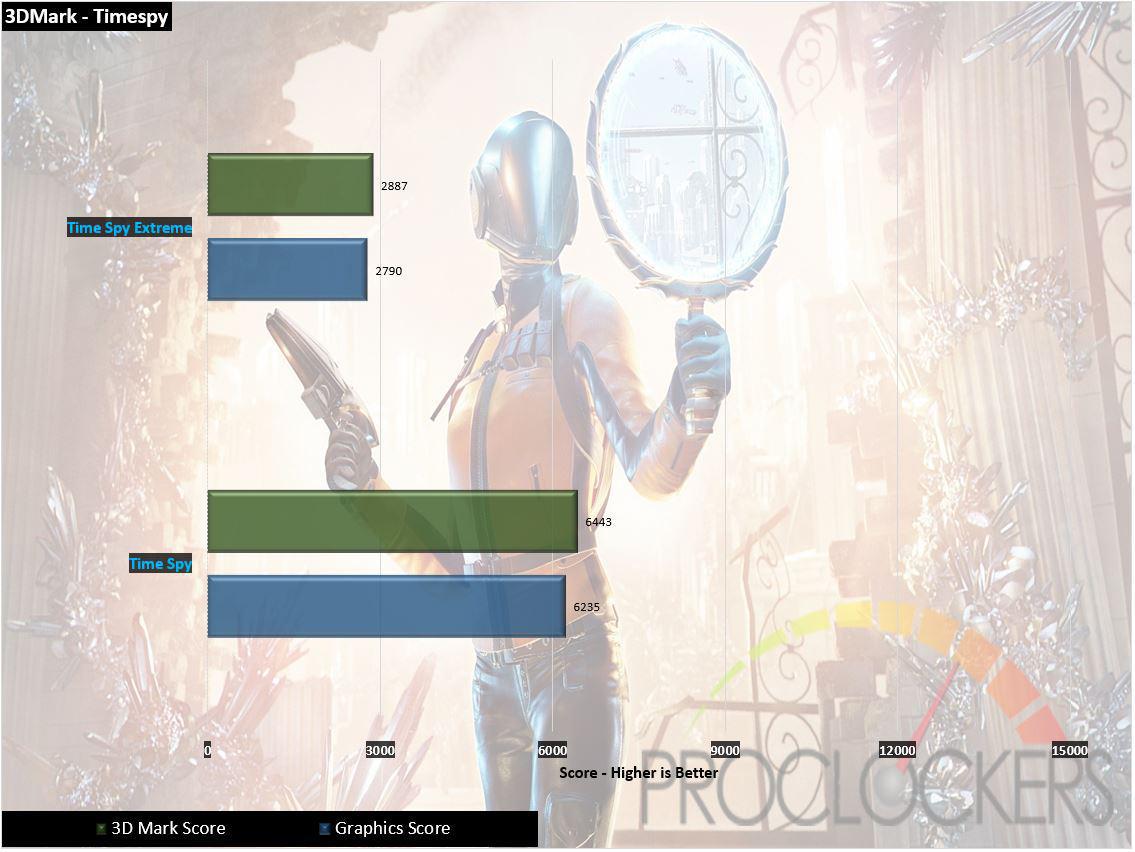 Timespy starts with a 1440p test and manages a playable ~40 FPS in the first test and slightly slower at 36 FPS in the second test., but again the 4K based Extreme test struggles at around 17 FPS. For a card targeted at the 1080p crowd, this really isn't bad at all.
Futuremark VRMark
The performance requirements for VR games are much higher than for typical PC games. So if you're thinking about buying an HTC Vive or an Oculus Rift, wouldn't you like to know that your PC is ready for VR?
VRMark includes three VR benchmark tests that run on your monitor, no headset required, or on a connected HMD. At the end of each test, you'll see whether your PC is VR ready, and if not, how far it falls short.
Orange Room Test – The Orange Room benchmark shows the impressive level of detail that can be achieved on a PC that meets the recommended hardware requirements for the HTC Vive and Oculus Rift. If your PC passes this test, it's ready for the two most popular VR systems available today.
Cyan Room Test – Cyan Room is a DirectX 12 benchmark. It features a large, complex scene and many eye-catching effects. Cyan Room shows how using an API with less overhead can help developers deliver impressive VR experiences even on modest PC systems.
Blue Room Test – The Blue Room is a much more demanding test. It's ideal for benchmarking the latest graphics cards. With its massive 5K rendering resolution and spectacular volumetric lighting effects, the Blue Room sets the bar for future hardware generations.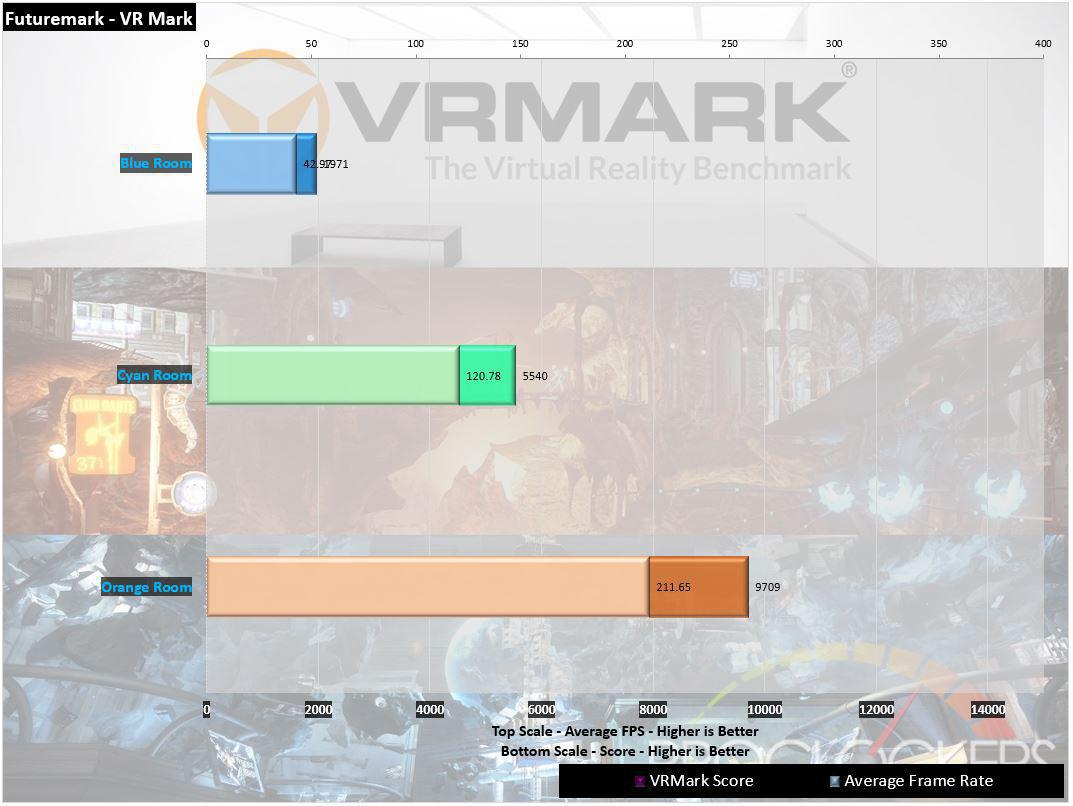 The Phoenix 1660Ti really shines in the Orange and Cyan tests, able to provide a great experience in VR in most systems. The Blue test takes its toll with an average of around 43FPS.
Unigine Heaven
Heaven Benchmark is a GPU-intensive benchmark that hammers graphics cards to the limits. This powerful tool can be effectively used to determine the stability of a GPU under extremely stressful conditions, as well as check the cooling system's potential for maximum heat output.
The benchmark immerses a user into a magical steampunk world of shiny brass, wood, and gears. Nested on flying islands, a tiny village with its cozy, sun-heated cobblestone streets, and a majestic dragon on the central square gives a true sense of adventure. An interactive experience with fly-by and walk-through modes allows for exploring all corners of this world powered by the cutting-edge UNIGINE Engine that leverages the most advanced capabilities of graphics APIs and turns this bench into a visual masterpiece.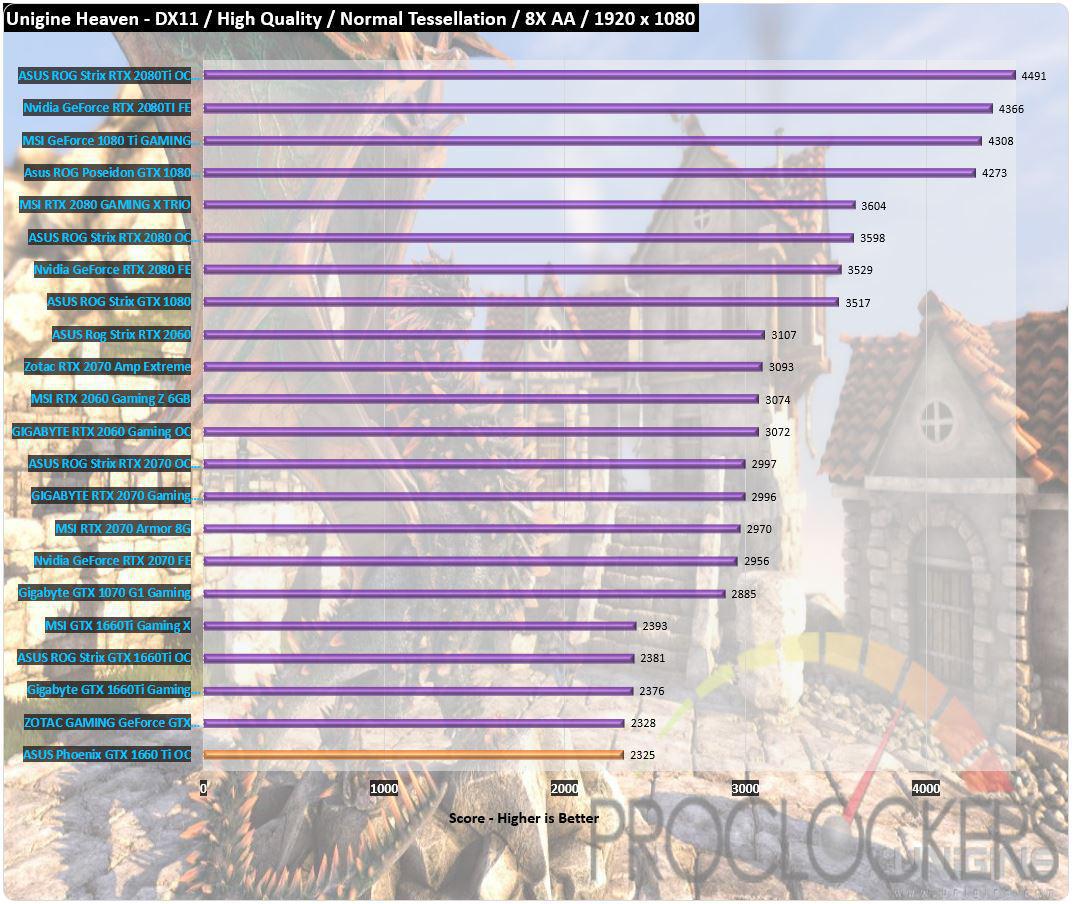 Our 1080P heaven run comes in at a solid 92.3 FPS.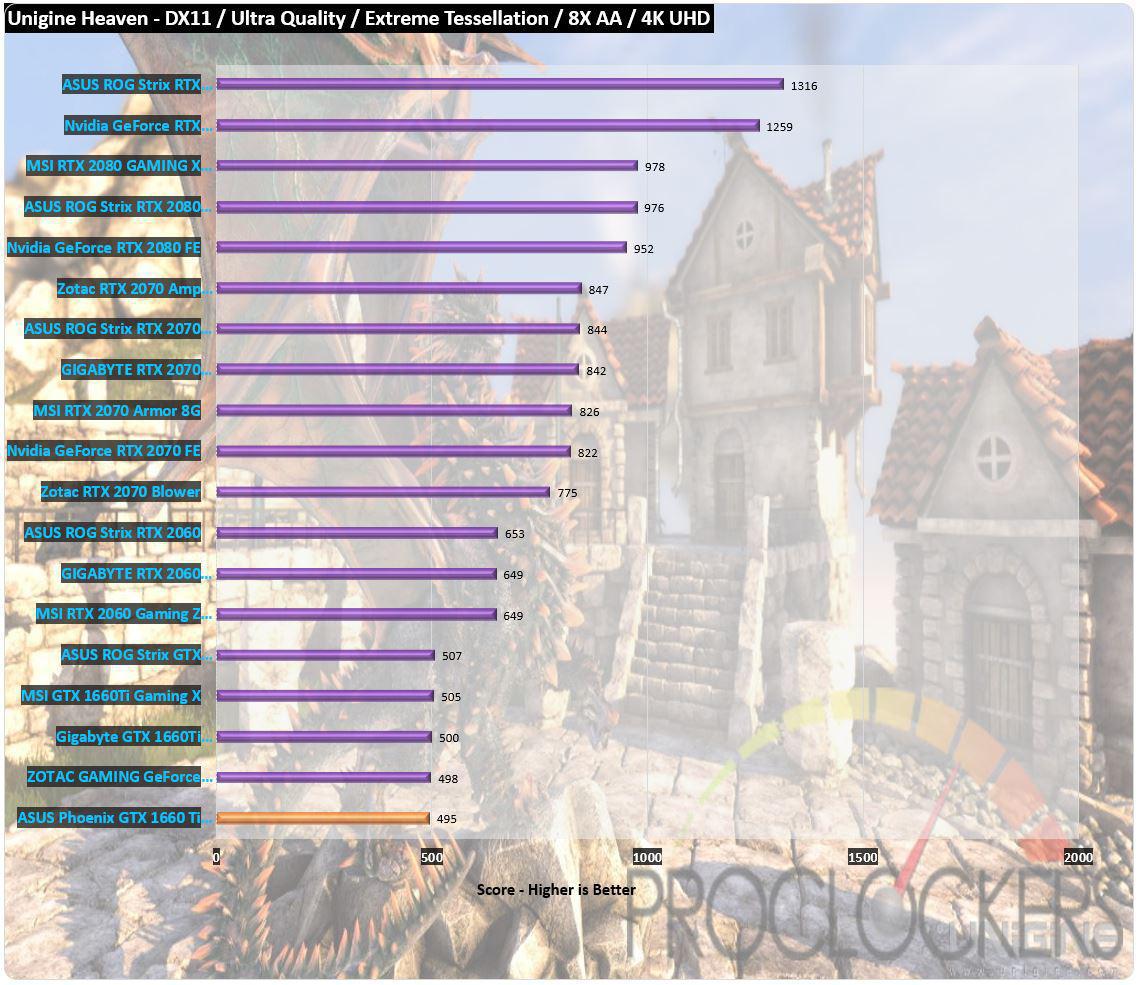 Maxing out the settings and moving up to 4K gives us a score of just under 500 points.
Unigine Superposition
Extreme performance and stability test for PC hardware: video card, power supply, cooling system. Check your rig in stock and overclocking modes with a real-life load! Also includes interactive experience in a beautiful, detailed environment.
A lone professor performs dangerous experiments in an abandoned classroom, day in and day out. Obsessed with inventions and discoveries beyond the wildest dreams, he strives to prove his ideas.
Once you come to this place in the early morning, you would not meet him there. The eerie thing is a loud bang from the laboratory heard a few moments ago. What was that? You have the only chance to cast some light upon this incident by going deeply into the matter of quantum theory: thorough visual inspection of professor's records and instruments will help to lift the veil on the mystery.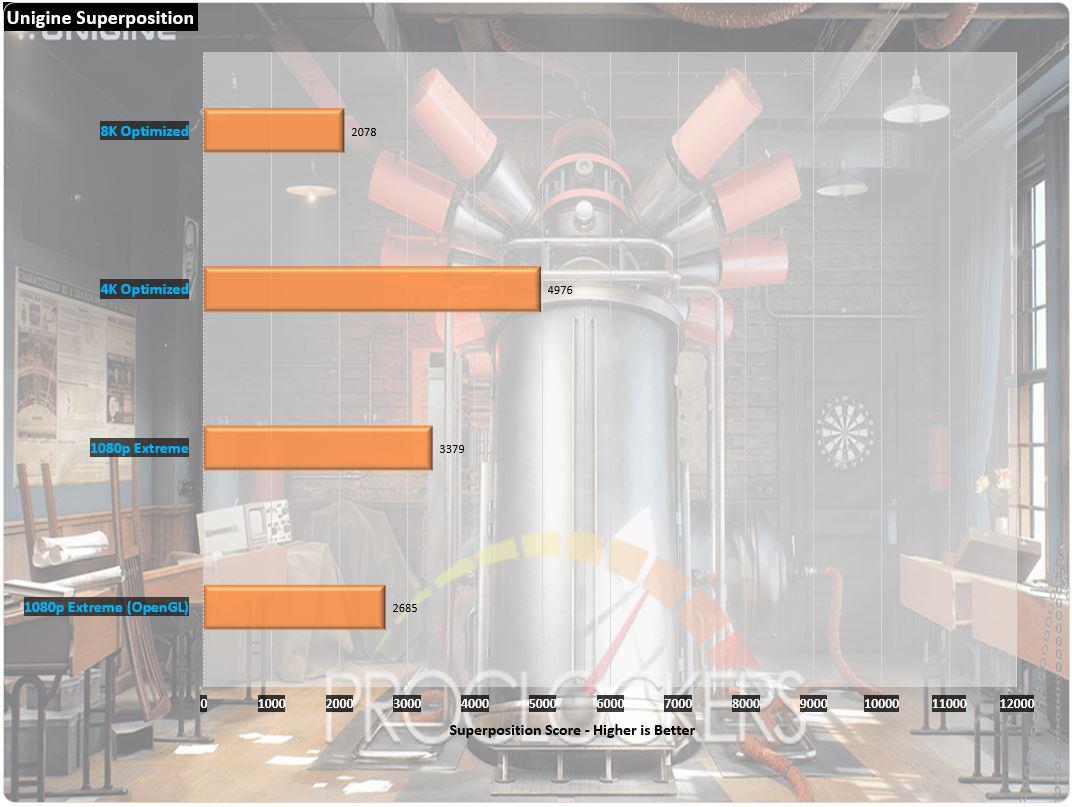 Superposition shops great performance in 1080p, even at maximum settings, 4K optimized even does well.
Game Testing
Ashes of the Singularity
Planet by planet, a war is raging across the galaxy. The technological singularity has given humanity the power to expand further than they ever have before. Now, they compete with each other and their sentient artificial intelligence adversaries for control of newfound worlds.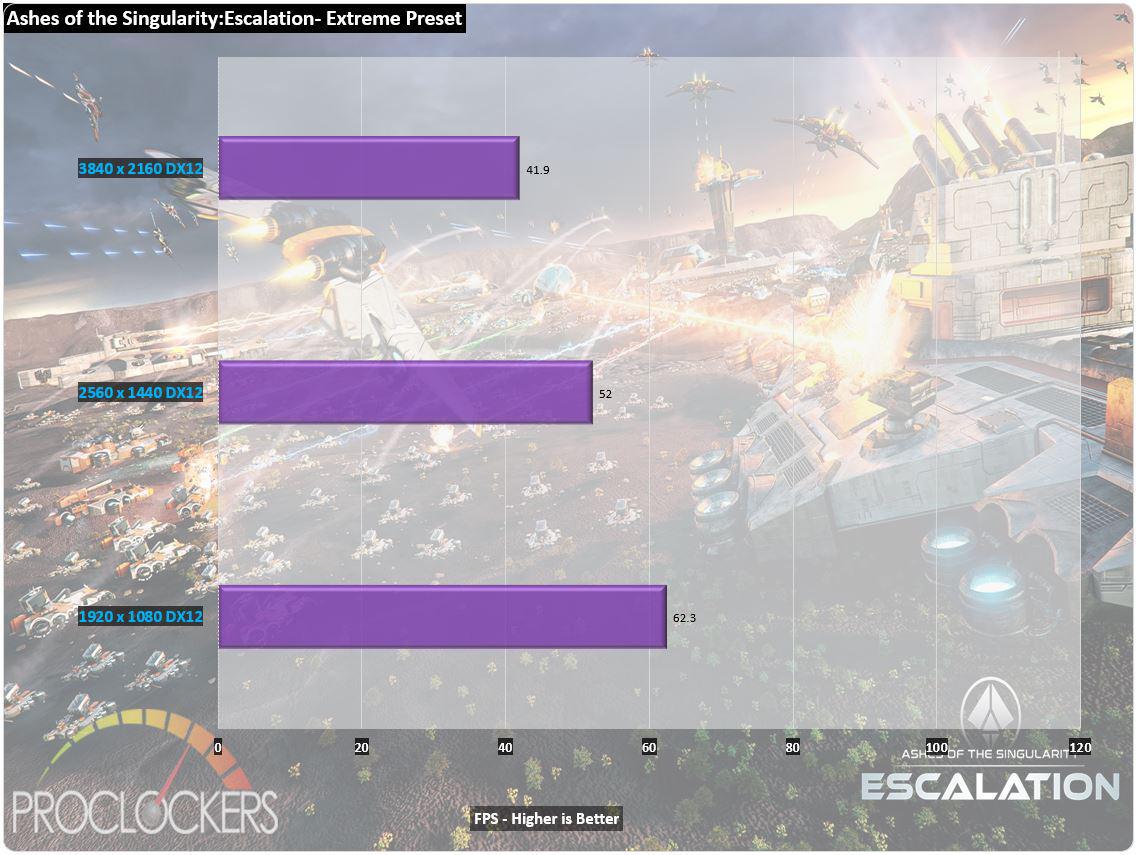 ASUS's Phoenix GTX 1660Ti OC provides very playable frame rates in Ashes of the Singularity, easily passing the 60 FPS mark in 1080p and still holding on to playable frame rates at 1440p and even does ~42 FPS in 4K.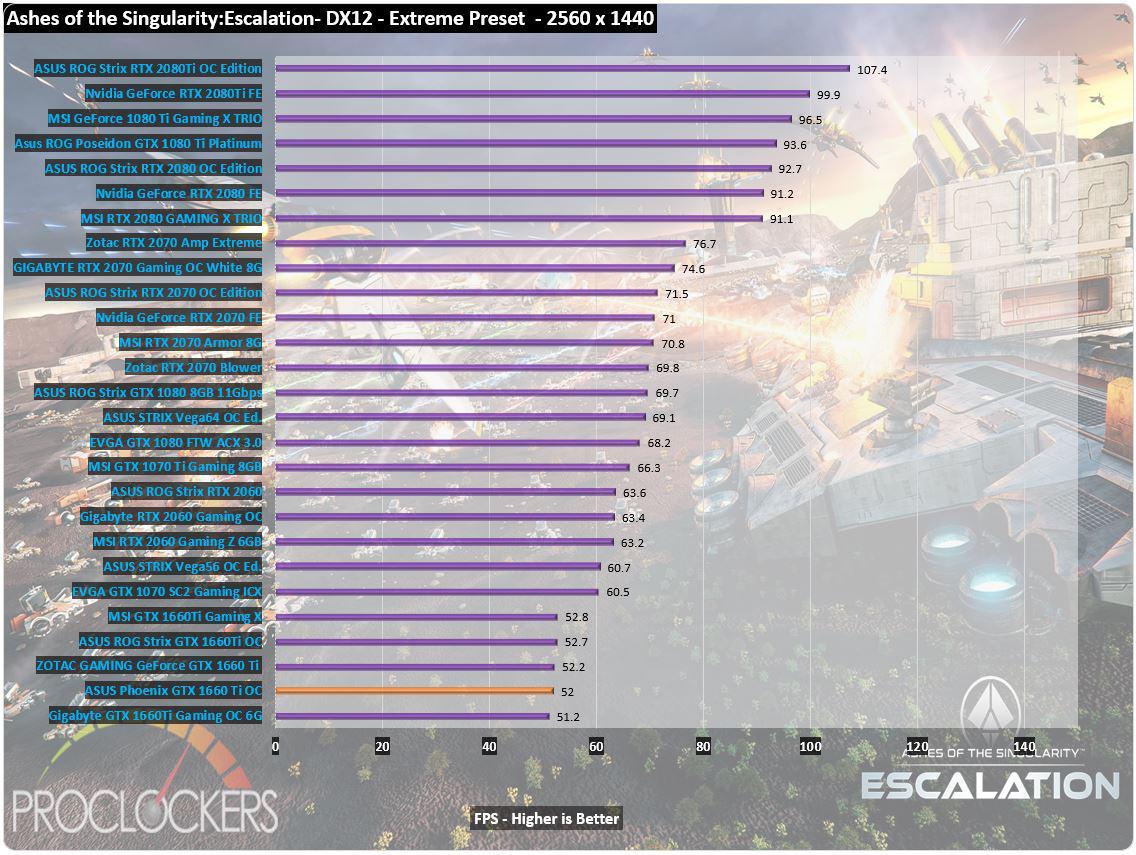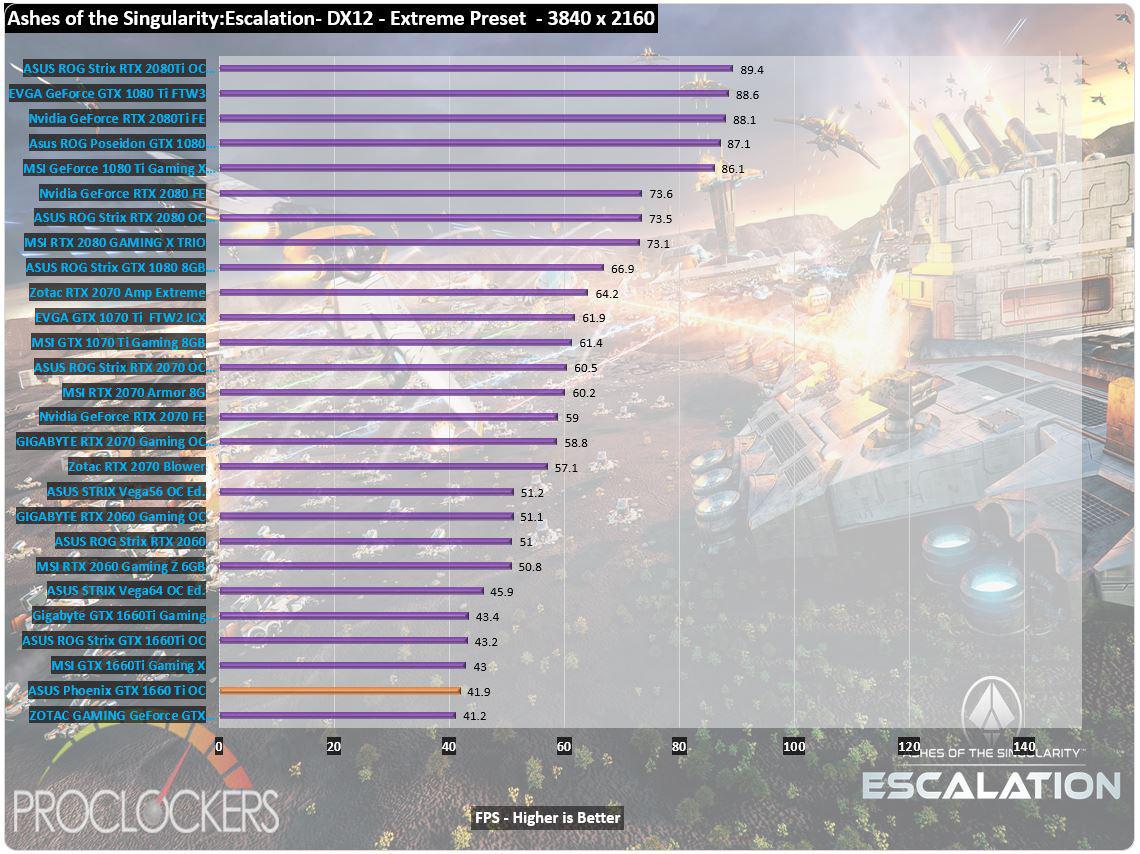 For a more affordable card, it provides great performance, only slightly under aftermarket models that carry a higher price tag.
Far Cry 5
Anything can happen. Everything will.
Welcome to Hope County, Montana, land of the free and the brave, but also home to a fanatical doomsday cult—known as The Project at Eden's Gate—that is threatening the community's freedom. Stand up to the cult's leaders, Joseph Seed, and the Heralds, as you spark the fires of resistance that will liberate the besieged community.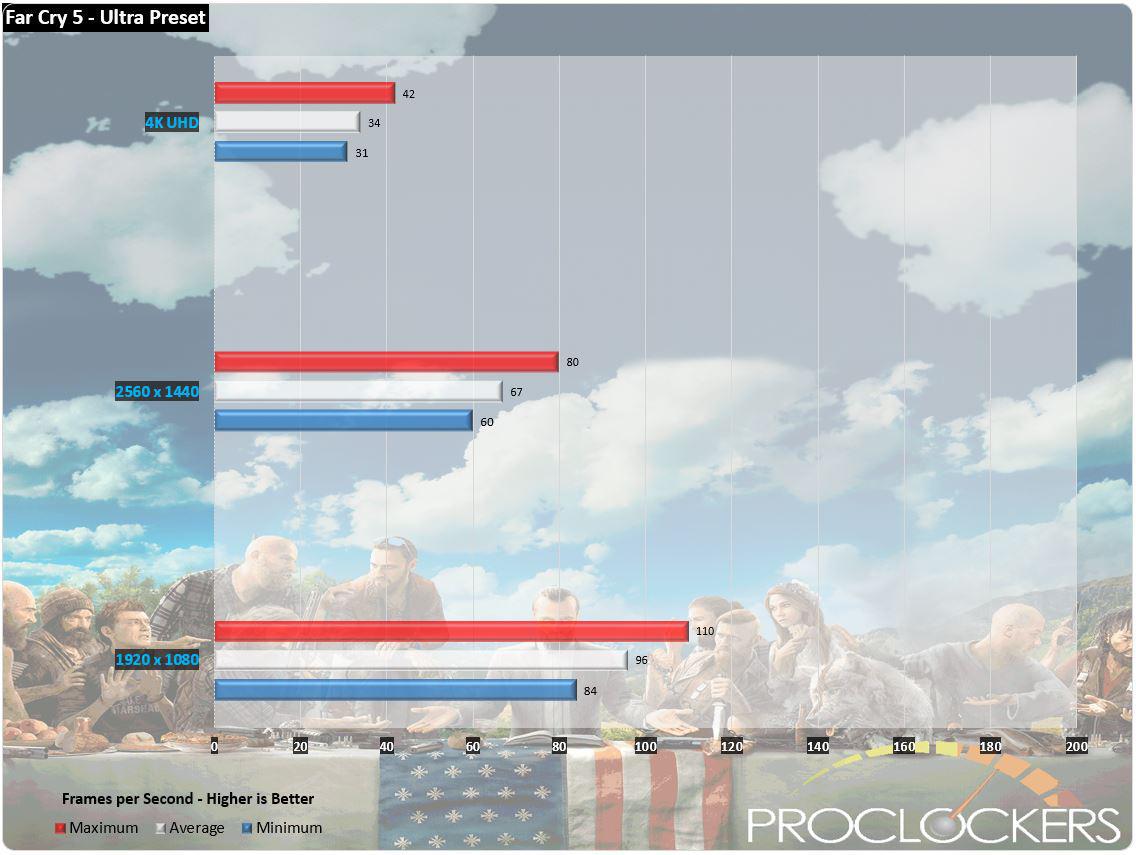 Far Cry 5 shows awesome performance, even up at the 1440p level with the Phoenix 1660Ti holding the minimums above 60 fps at max settings. You could even do 4K with the eye candy preset lowered a notch or two.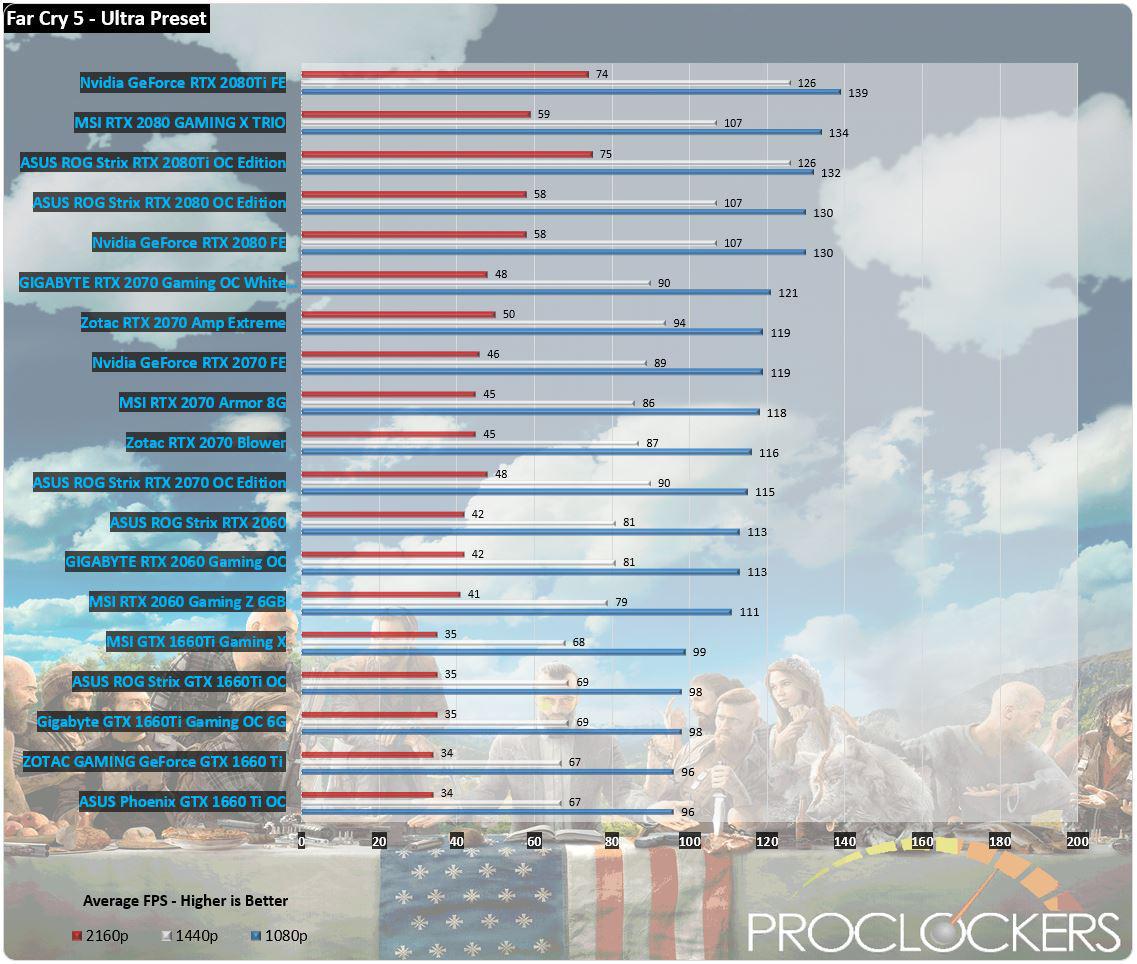 We again see the 1660Ti trailing the RTX 2060 only by a small amount.
Middle-Earth: Shadow of War
In the epic sequel to the award-winning Middle-earth: Shadow of Mordor, go behind enemy lines to forge an army, conquer Fortresses and dominate Mordor from within. Experience how the award-winning Nemesis System creates unique personal stories with every enemy and follower, and confront the full power of the Dark Lord Sauron and his Ringwraiths in this epic new story of Middle-earth.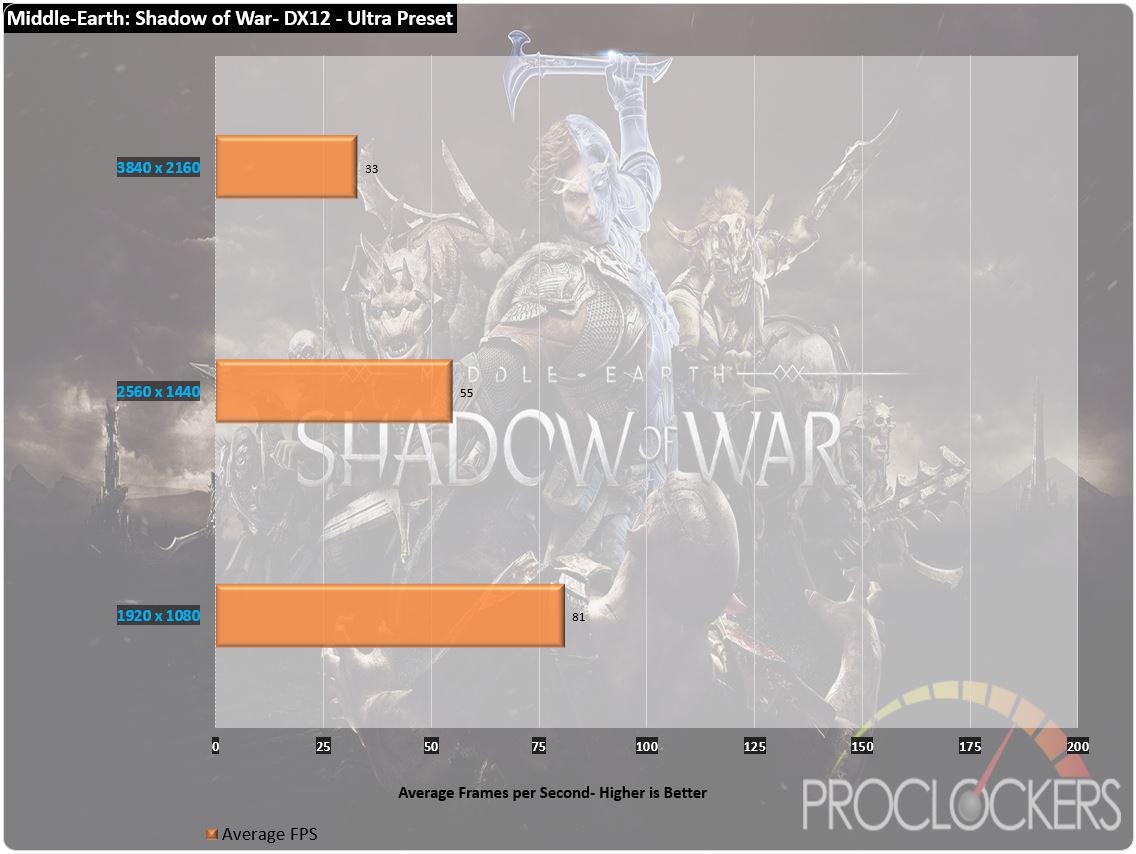 In Shadow of War, the Phoenix 1660Ti narrowly misses averaging 60 FPS at 1440p. 4K still stays above the 30 FPS mark which makes it playable.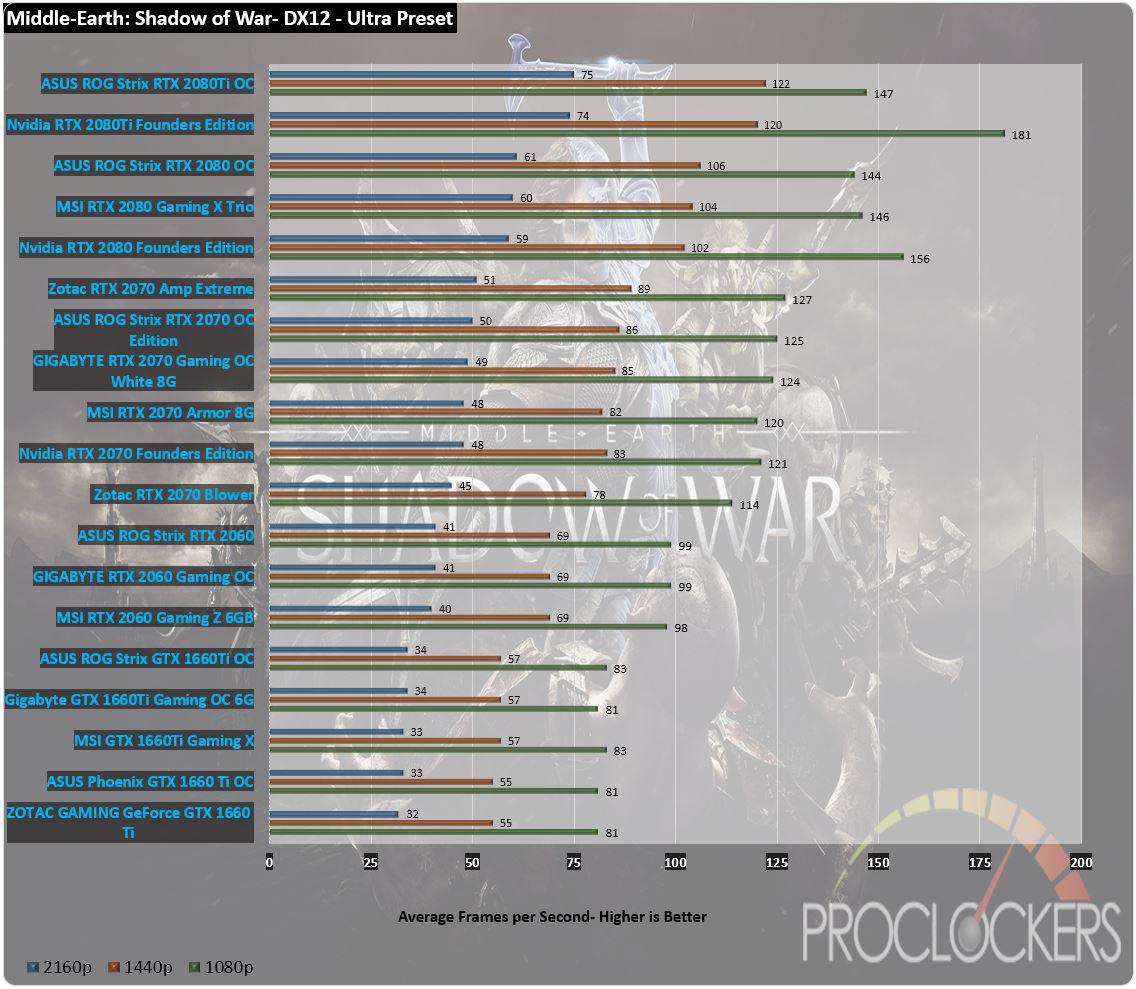 The Phoenix GTX 1660Ti slides into the charts right under the bigger RTX 2060 cards, only a hair slower out of the box than its bigger Strix cousin.
Shadow of the Tomb Raider
Experience Lara Croft's defining moment as she becomes the Tomb Raider. In Shadow of the Tomb Raider, Lara must master a deadly jungle, overcome terrifying tombs, and persevere through her darkest hour. As she races to save the world from a Maya apocalypse, Lara will ultimately be forged into the Tomb Raider she is destined to be.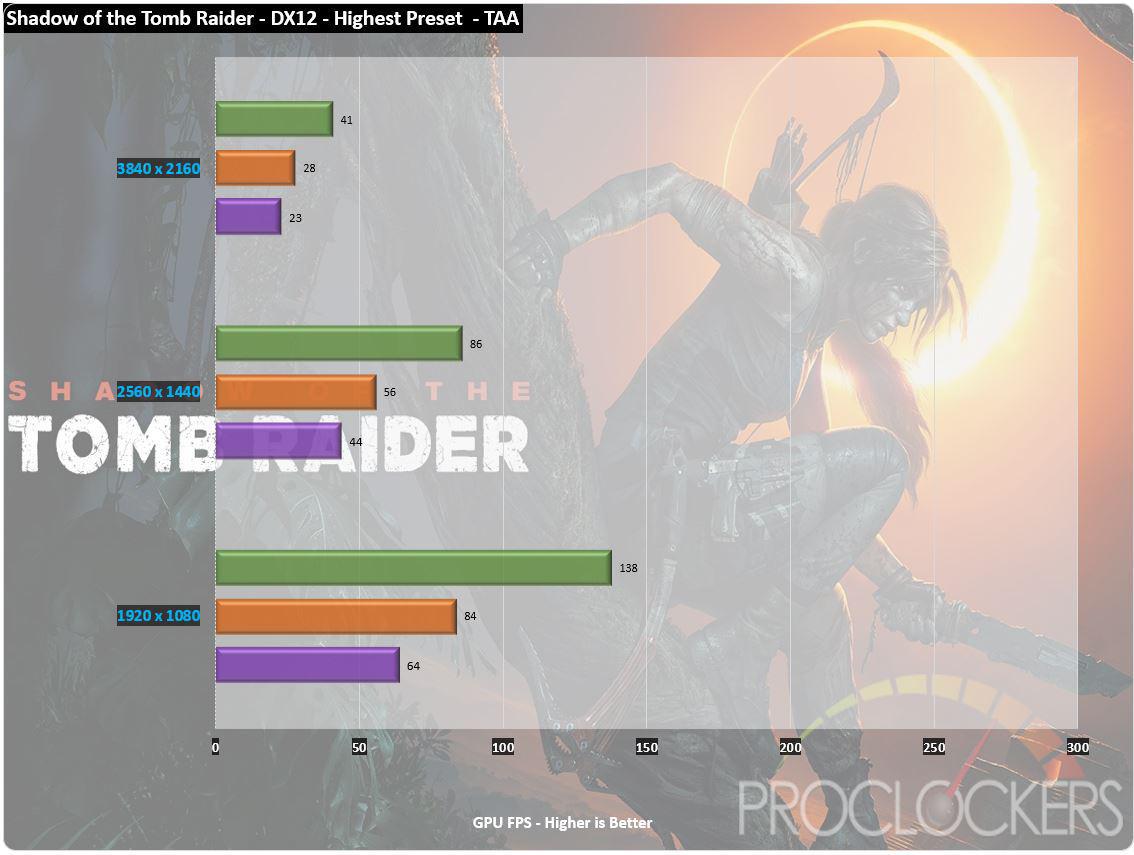 The latest installment in the Tomb Raider franchise runs quite well at max settings and the Phoenix 1660Ti is able to swing 1440p quite easily.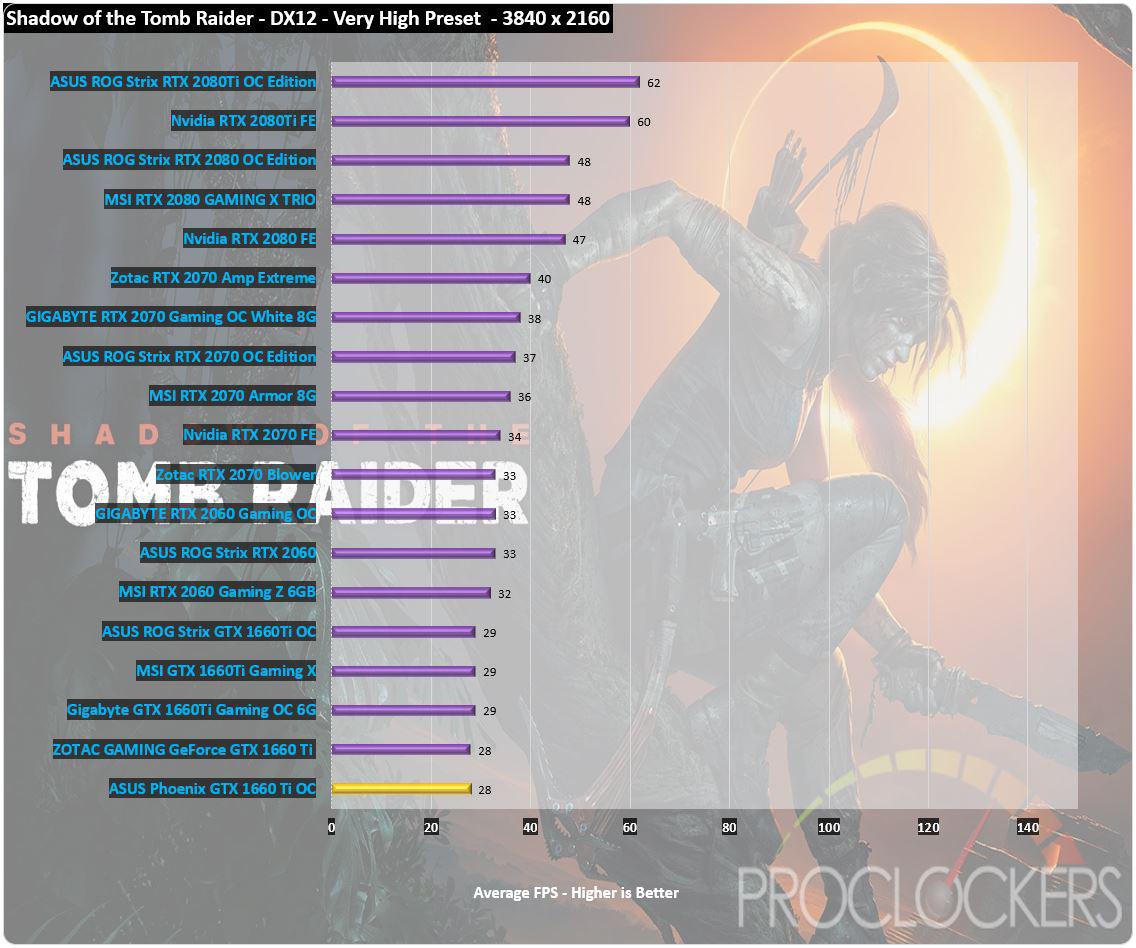 Again, we see the Phoenix trailing the bigger Strix by just a narrow margin.
Tom Clancy's The Division
We live in a complex world. The more advanced it gets, the more vulnerable it becomes. We've created a house of cards: remove just one, and everything falls apart.
Black Friday – a devastating pandemic sweeps through New York City, and one by one, basic services fail. In only days, without food or water, society collapses into chaos. The Division, an autonomous unit of tactical agents, is activated. Leading seemingly ordinary lives among us, these agents are trained to operate independently in order to save society.
When society falls, we rise.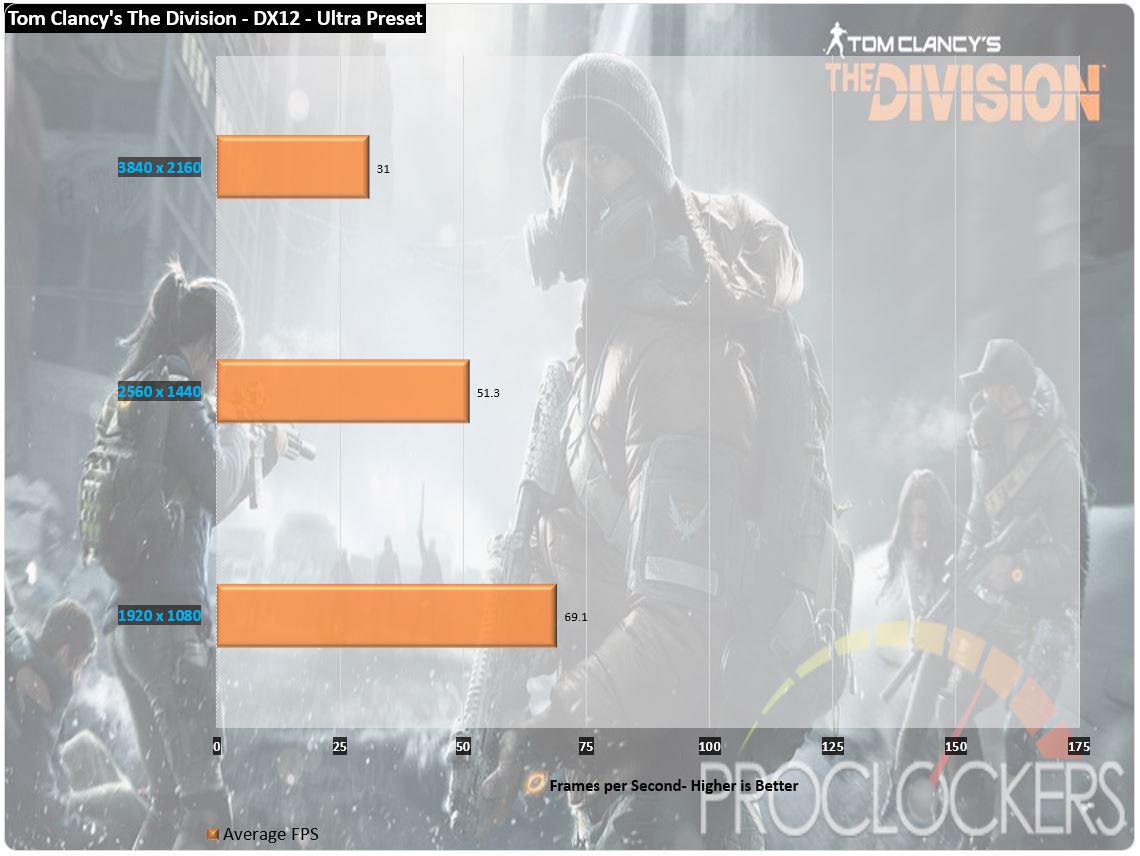 The Division is easily playable at max settings at 1080p and does a great job holding decent frame rates even at 1440p.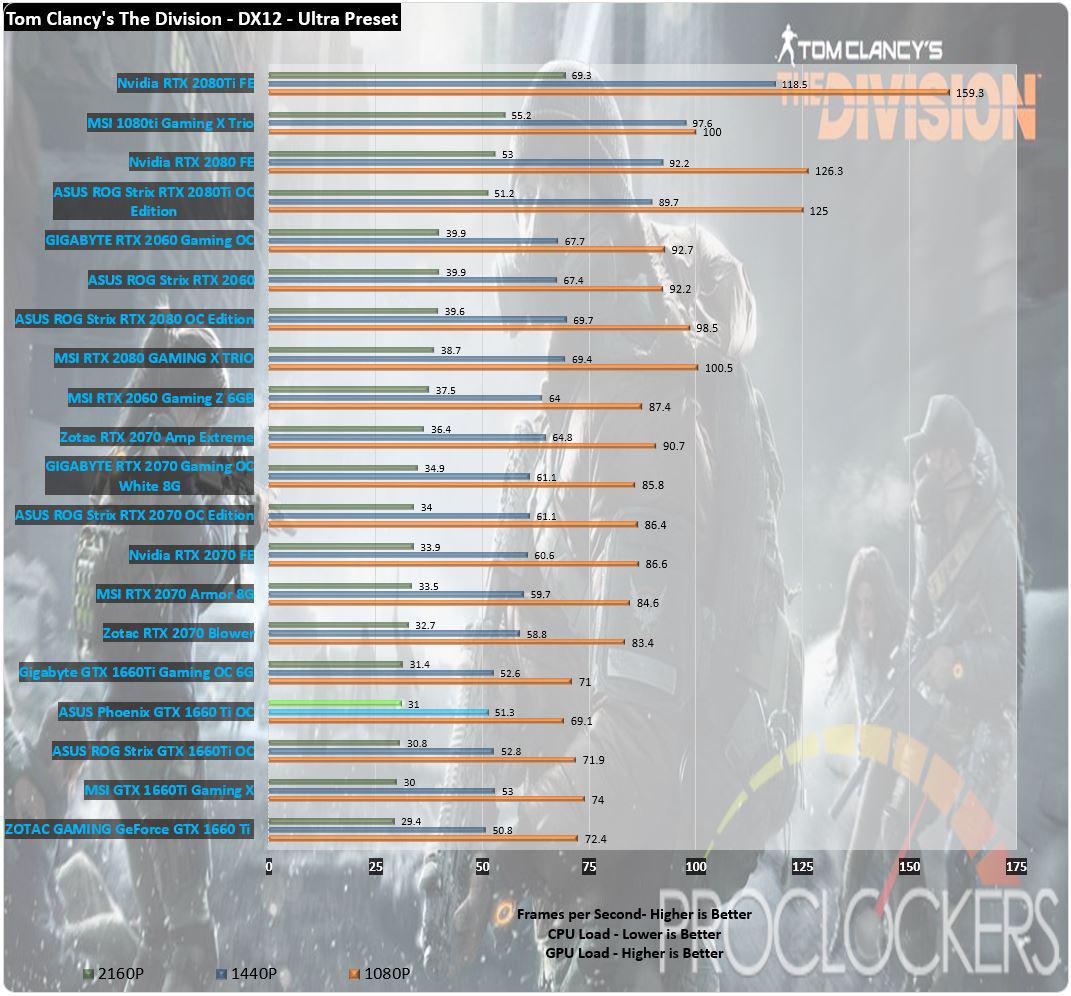 The GTX 1660Ti actually comes in just a little over its Strix cousin in 4K.
Overclocking
If previous Turing cards are any experience, power limits are the biggest limiter to performance. We'll start by maxing it out, which goes to 110%.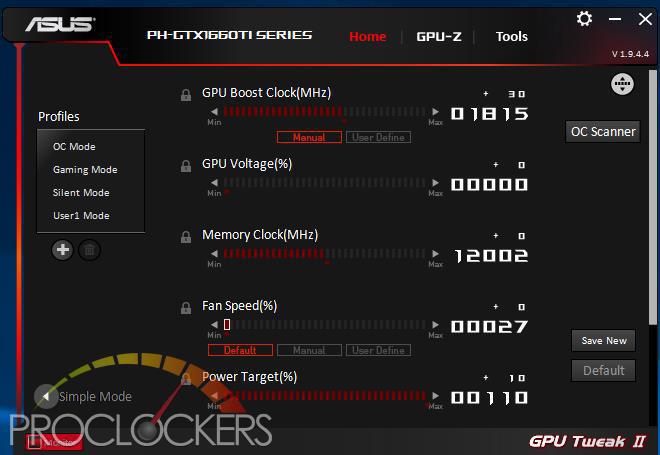 After that, we'll run the OC Scanner.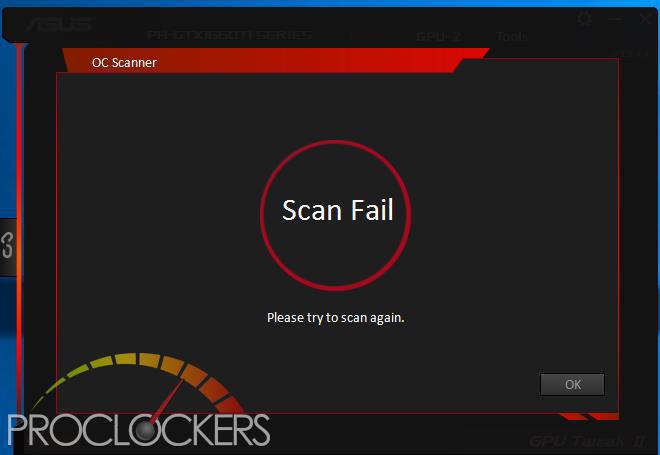 …or not. We tried repeatedly, rebooted, reinstalled, all the usual, we just couldn't get OC Scanner to run on the Phoenix.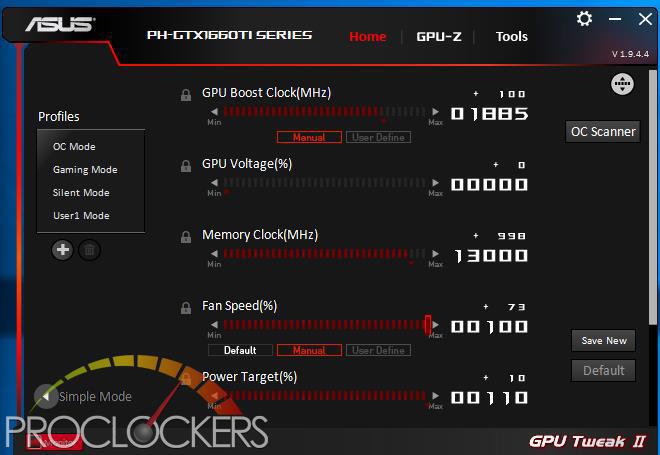 Let's go manually then. We'll start with a modest +100 to the core and bumping the ram up to 13GHz.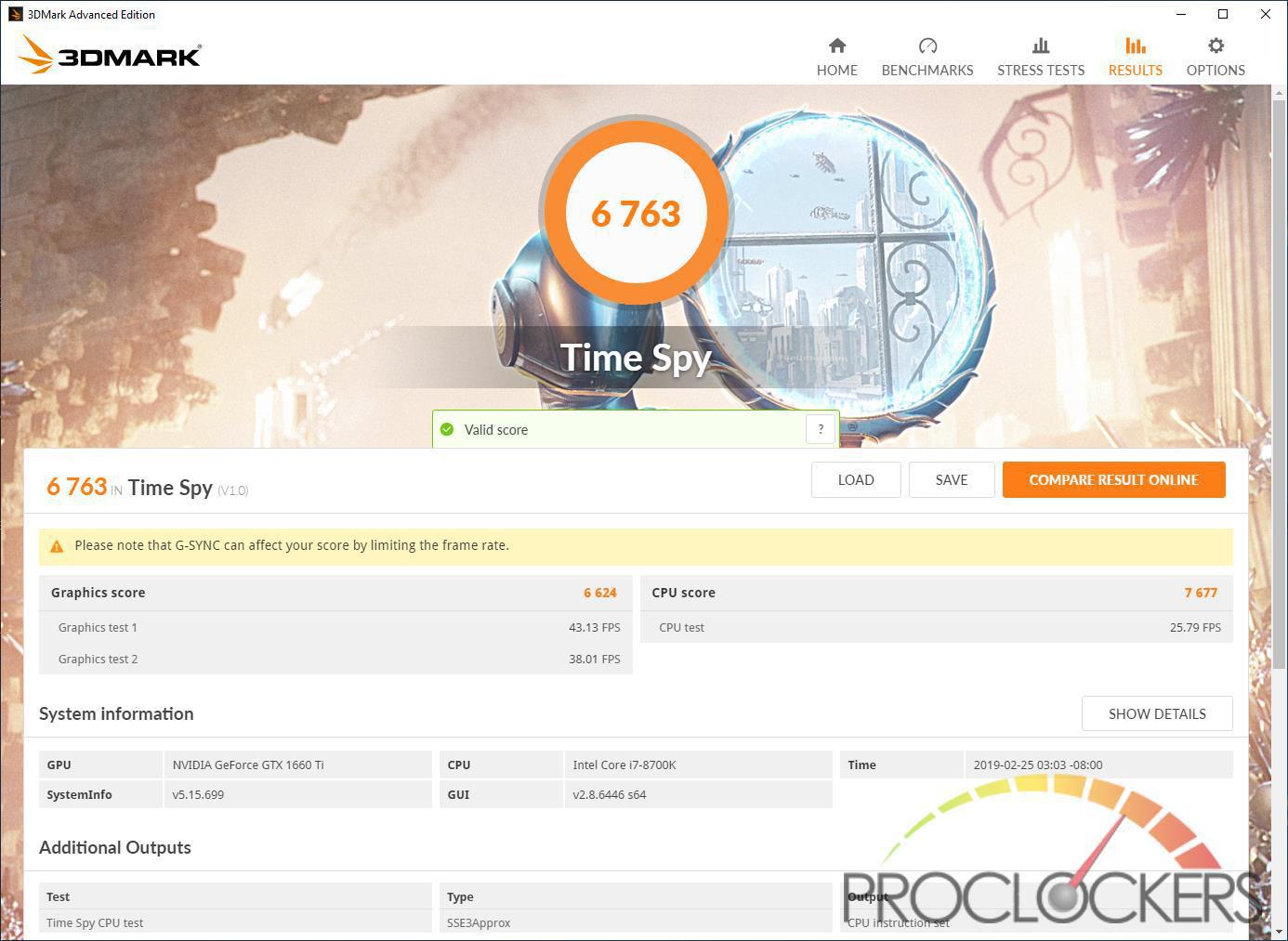 This is an instant 5% increase over the stock 6443 points.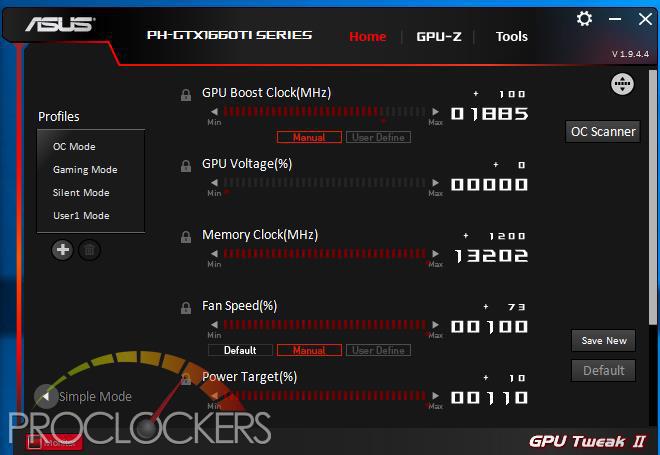 Most of our other non-reference GTX 1660Ti cards have gone further on memory, but we ran out of slider at +1200 MHz for an effective memory speed of 13.2GHz.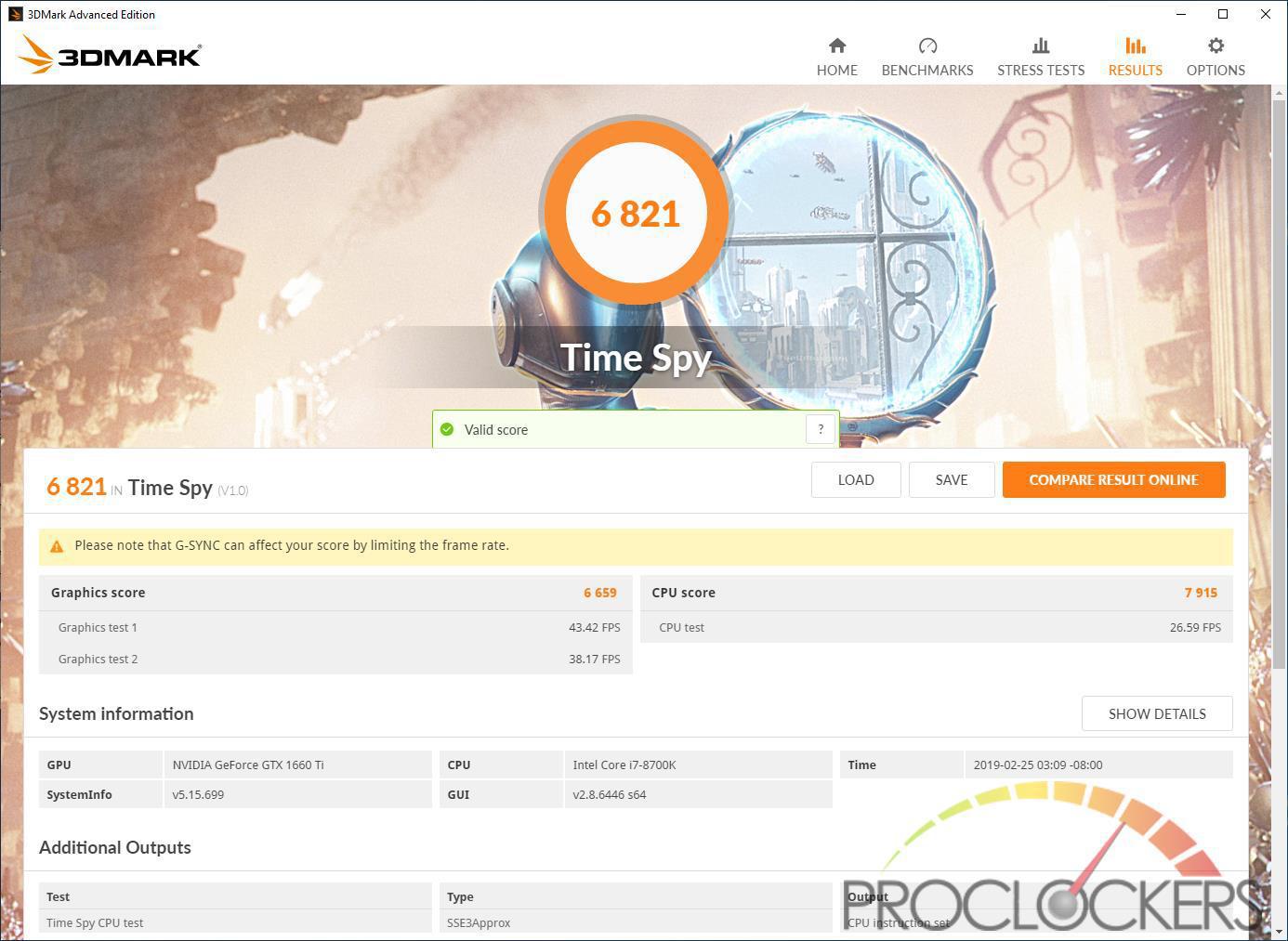 It's still another 60 points or so in Timespy.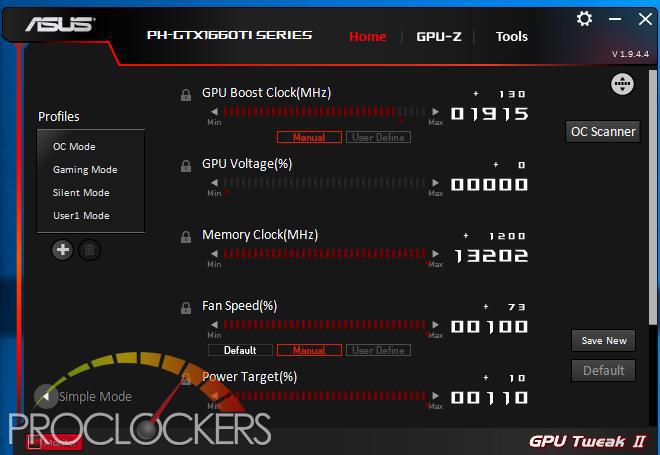 We were able to get the core up to +130 MHz, but this only stabilizes at around 2040MHz boost speed.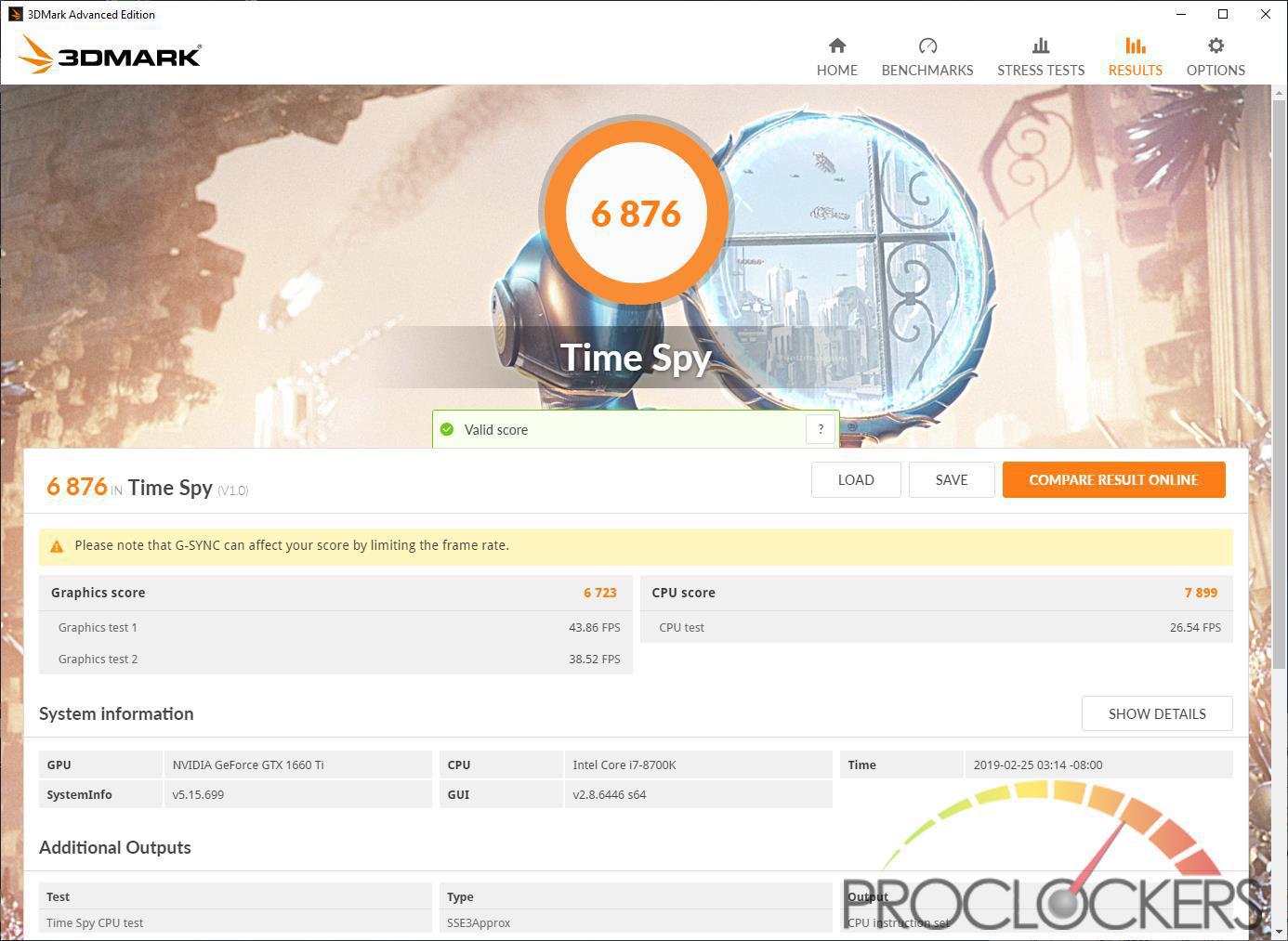 We just couldn't quite make it to the 6900 point mark, but it's still 6.7% over stock.
Final Thoughts & Conclusion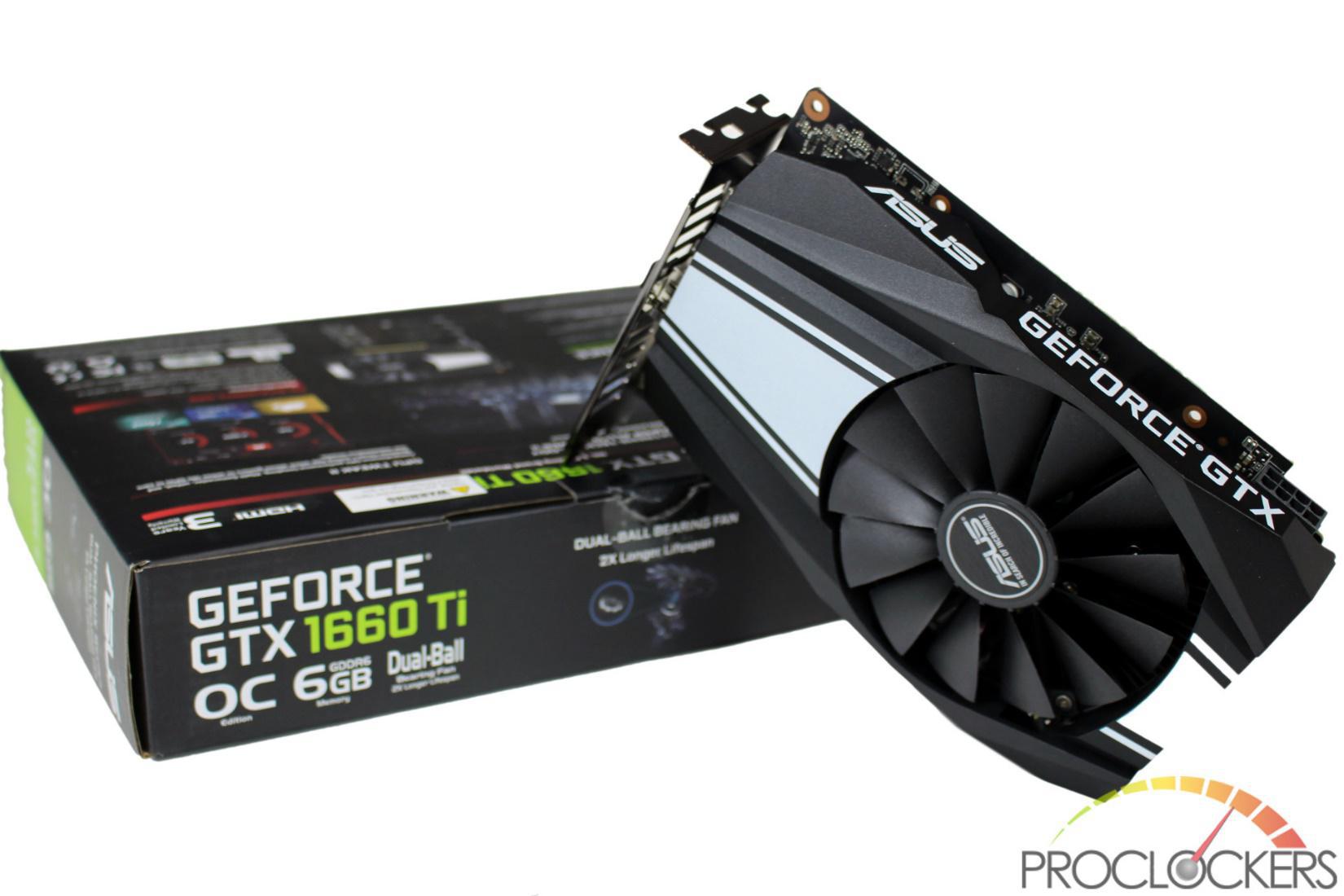 ASUS's Phoenix is the card based around the Nvidia reference model. Our particular one is the OC version that sports a very slight $5 price premium for a modest factory overclock. The 10% extra power budget gets you a decent amount of overclocking headroom but you have to keep an eye on thermals or be willing to manually force the fan to more audible levels with GPU Tweak. Even without overclocking, ASUS's Phoenix provides a great experience at 1440p and does 1080p and higher frame rates with ease. We honestly can't find anything to complain about, great performance at an affordable level in a small package, what's not to love?

Great job ASUS!

<![CDATA[ */ var zbjs = {"ajaxurl":"https:\/\/gaminggorilla.com\/wp-admin\/admin-ajax.php","md5":"d8e8b24d2fa18d2999e0fddcdd418586","tags":[],"categories":["Hardware"]}; /* ]]>