AMD Radeon RX 6800 XT vs NVidia RTX 3080

The old Team Red and Team Green dispute is back again this year!
The epic fight between AMD and Nvidia carries on, through the new video cards. We saw AMD release the RDNA2-based Radeon graphics cards – the RX 6000-series, and Nvidia taking their 2nd gen RTX architecture, the Ampere-powered RTX 30-series straight out of the oven.
While Nvidia had major stock issues with the RTX 30-series that were in greater demand than expected, AMD launched the RX 6800, RX 6800 XT and RX 6900 XT to match their rival.
When it comes to finding a GPU that offers the best performance per price ratio, two video cards come to mind: AMD Radeon RX 6800 XT and NVidia GeForce RTX 3080. But which model should you get and which one has an advantage?
Nvidia is known as the best performance GPU maker, but what if AMD is overthrowing that position with its Radeon RX 6800 XT? There's only one way we can find out, so let's compare these GPUs in terms of specs, benchmark test results, and pricing.
AMD Radeon RX 6800 XT vs NVidia RTX 3080 – Specs & Features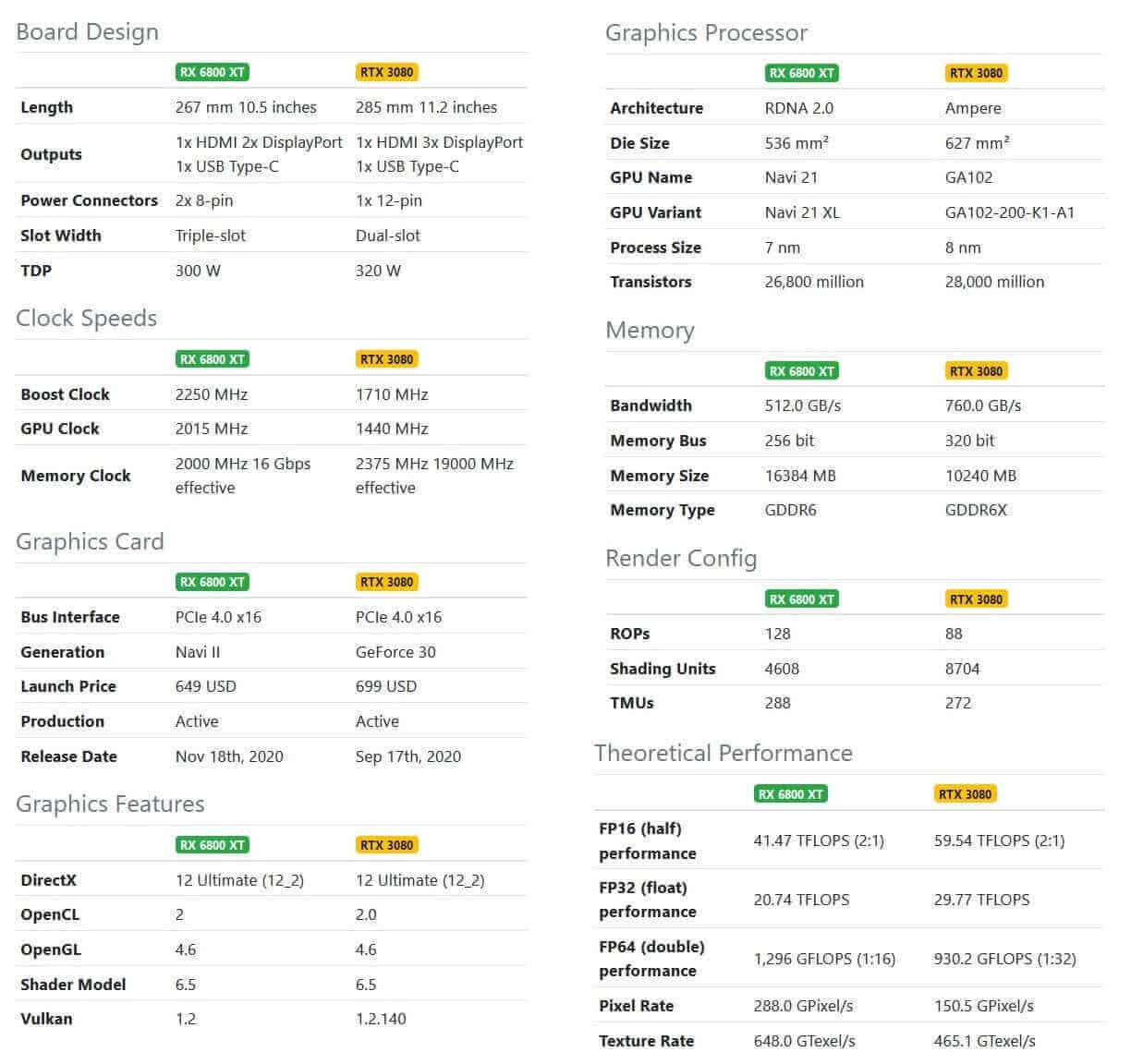 When it comes to memory, the two GPUs are not just different in terms of quantity, but also in terms of speeds. The AMD Radeon RX 6800 XT does come with 60% more VRAM than the GeForce RTX 3080, but the latter comes with a memory that has faster bandwidth speeds since it's a GDDR6X memory.
Right now, games do not need more than 10 GB of VRAM, but in the future, they will undoubtedly be more demanding, which is where the GeForce RTX 3080 may struggle to keep up with the competition. Adobe Premiere can also benefit from more VRAM, and this is where the Radeon RX 6800 XT wins.
Looking at the memory bus, we see that the Radeon RX 6800 XT is smaller than the GeForce RTX 3080. However, AMD's Infinity Cache adds an extra 128 MBs, closing the gap and even surpassing the competition.
Not even the GDDR6X VRAM type can save the GeForce RTX 3080 from this loss.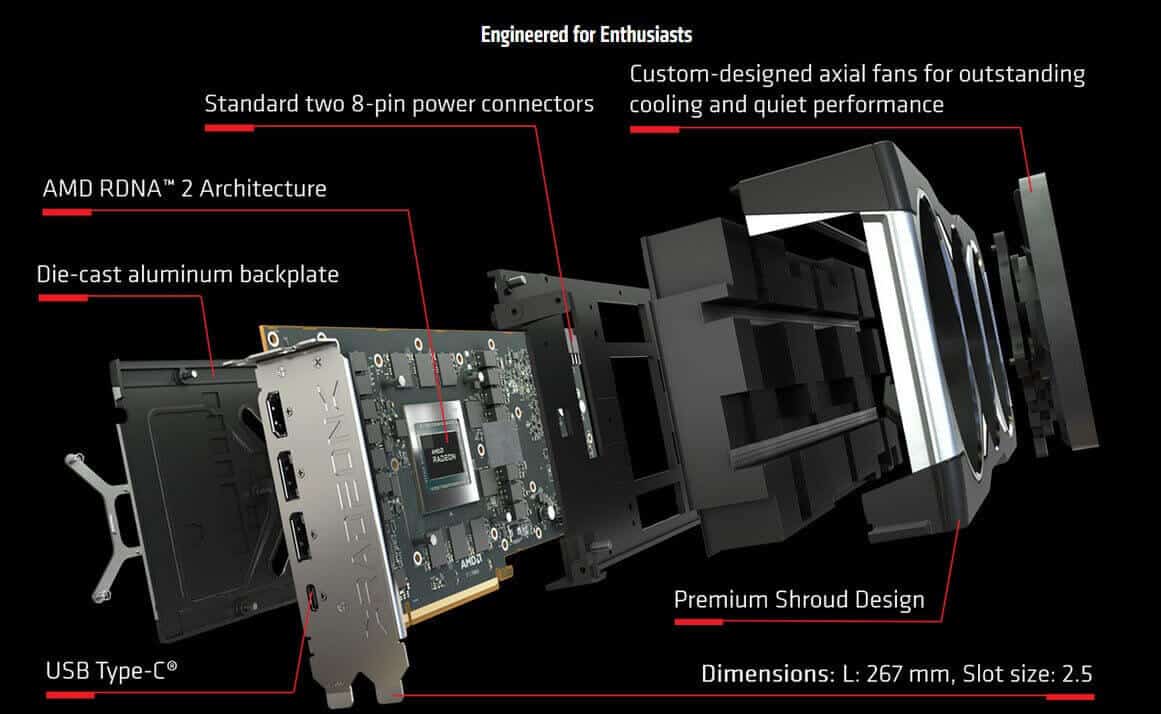 Looking at the shading units, cores and CUs, the Radeon RX 6800 XT is capable (in theory) of a performance of 41.47 TFLOPs, 20.74 TFLOPs, and 1.296 TFLOPs in FP16, FP32, and FP64 performance respectively, as seen in the spec sheet above.
Meanwhile, the GeForce RTX 3080 is equipped with 8,704 CUDA Cores, 272 TMUs, 96 ROPs, 68 RT cores, and 272 Tensor cores. This would yield a theoretical performance of 29.77 TFLOPs (FP16 and FP32) and 0.4651 TFLOPs (FP64).
We will talk about rendering power in the benchmark results and see how the two GPUs compare not just in theoretical scores, but also in tests.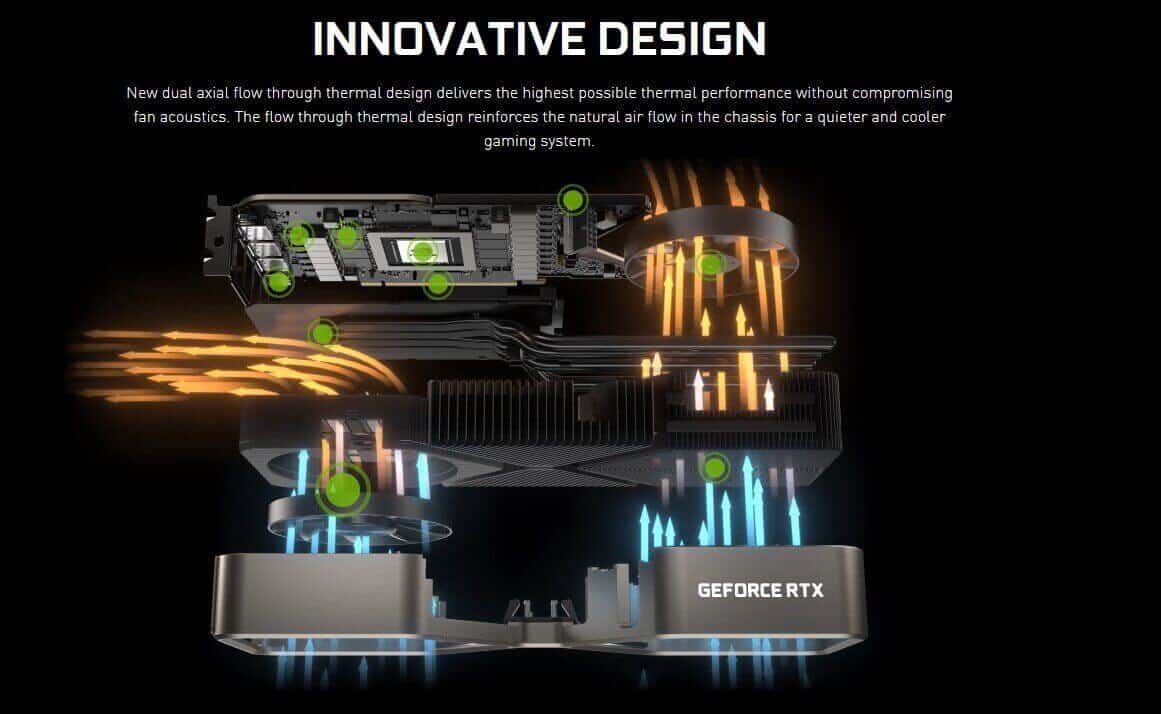 In terms of power consumption, the Radeon RX 6800 XT performance (as marketed by AMD) surpasses the GeForce RTX 3080, and it should need more power. However, it needs even less power than its rival, and this also means it runs cooler. So, once again, AMD wins in terms of power efficiency as seen on the spec sheet.

Of course, each GPU comes with its own features. We see the RDNA2 architecture on the Radeon RX 6800 XT, along with Infinity Cache, new Ray Accelerators and AMD Smart Access Memory.

Nvidia also brings a new architecture and new features, including a different thermal performance for "for a quieter and cooler gaming system." Then, there's DLSS AI Acceleration and Ray tracing.
Let's see how these GPUs perform in different tests.
AMD Radeon RX 6800 XT vs NVidia RTX 3080 – Benchmarks
Nvidia revealed the performance of the NVidia RTX 3080 against the RTX 2080 and the GTX 1080. With RTX ON (RT + DLSS), at 4K, highest game settings, the RTX 3080 reached almost 80 FPS in Control and Minecraft. Meanwhile, at the same settings, it was able to reach 60 FPS. It's safe to say that the RTX 3080 is a great upgrade over the RTX 2080, the latter offering nearly 50% less performance.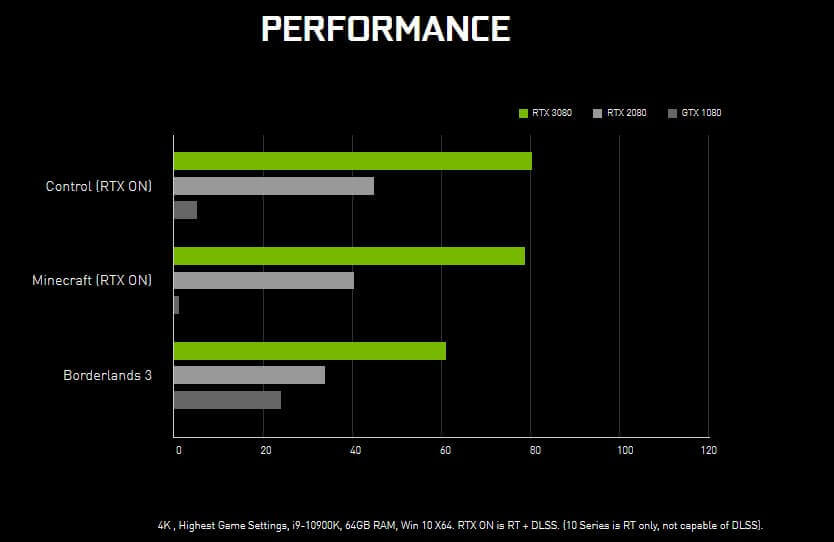 AMD also revealed benchmarks – more than what Nvidia shared so far about their GPUs. They put the RX 6800 XT against not only its predecessors but also against the competition. We chose the Borderlands benchmark from AMD to show you a comparison between the two tests.

We see the RX 6800 XT on the second spot, head to toe with the GeForce RTX 3090 and not with its direct competitor – the RTX 3080! Reaching nearly 66 FPS, the RX 6800 XT shames the GeForce RTX 3080, which can only reach around 58 FPS.
What we don't know from AMD is whether the GeForce RTX 3080 had RTX on and DLSS or not. If AMD were to use Ray Tracing in these tests, numbers would look totally different. But enough with tests from AMD and Nvidia. Let's see if what they're bragging about is true.
RX 6800 XT vs NVidia RTX 3080 (Core i0-10900K) – Ultra Settings, 1920×1080, 2560×1440, 3440×1440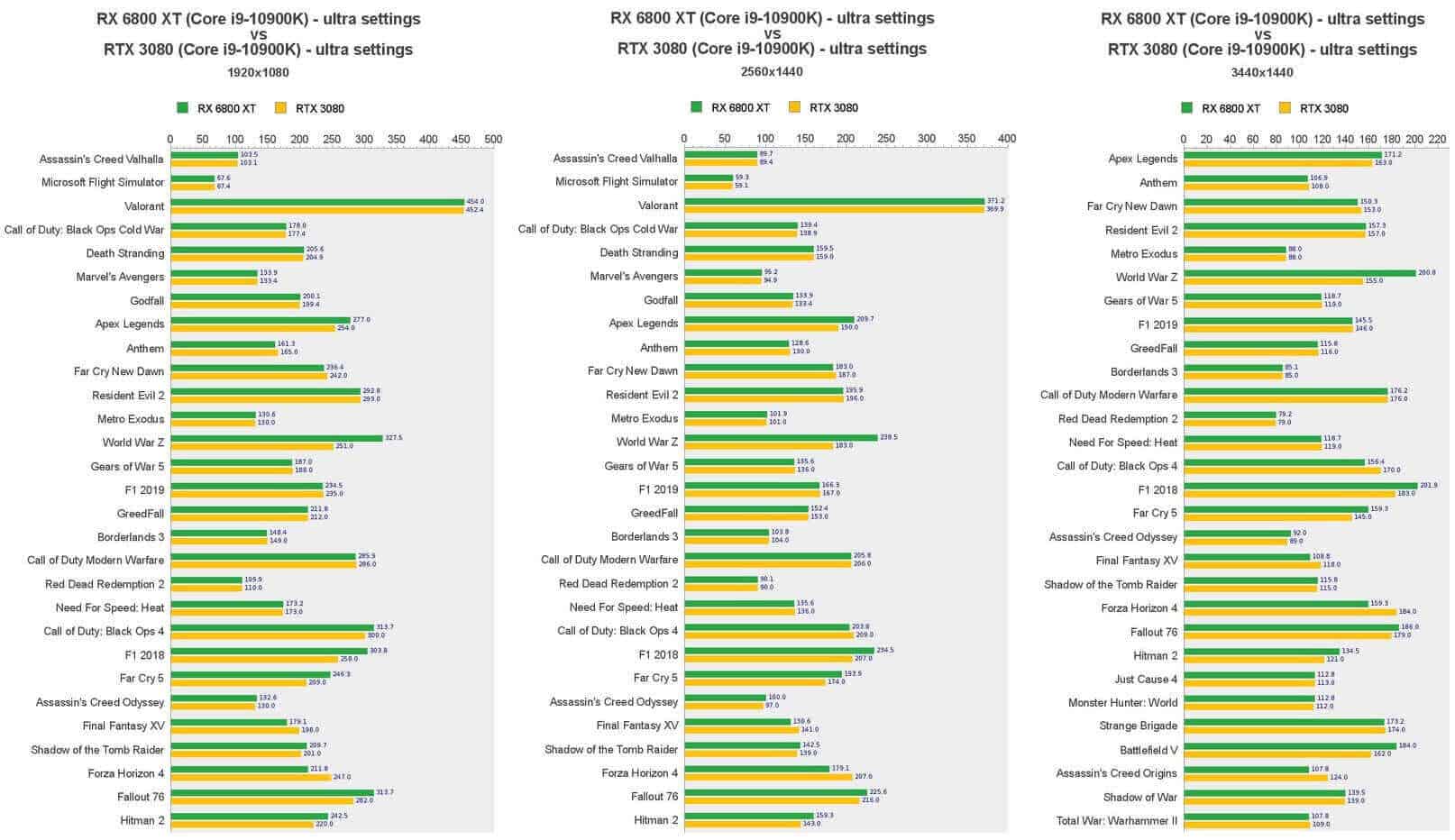 Looking at the test results in the list above, we see that both GPUs yield nearly the same results.
The RX 6800 XT delivers from 68 FPS to 131 FPS when playing Microsoft Flight Simulator, Assassin's Creed Valhalla, Cyberpunk 2077, Red Dead Redemption 2 and other games at 1080p Full HD. At 1440p Quad HD, we ran the same games and saw an average of 62 FPS.
The RTX 3080 delivers from 67 FPS to 130 FPS when running the same games at the same settings. At 1440p Quad HD, we ran these games and saw an average of 63 FPS.
However, these tests don't show us everything about what these GPUs can do.
For instance, AMD's Rage Mode is a significant boost, offering overclocking with one touch of a button. Along with Smart Access Memory, the RX 6800 XT becomes up to 13% better than the RTX 3080 – but only in specific games (such as Forza Horizon 4).
Let's not forget that Ray Tracing is also a sensitive subject when it comes to AMD's performances. In synthetic benchmarks, we see the RX 6800 XT losing against not only its opponent but also against the RTX 2080 Ti.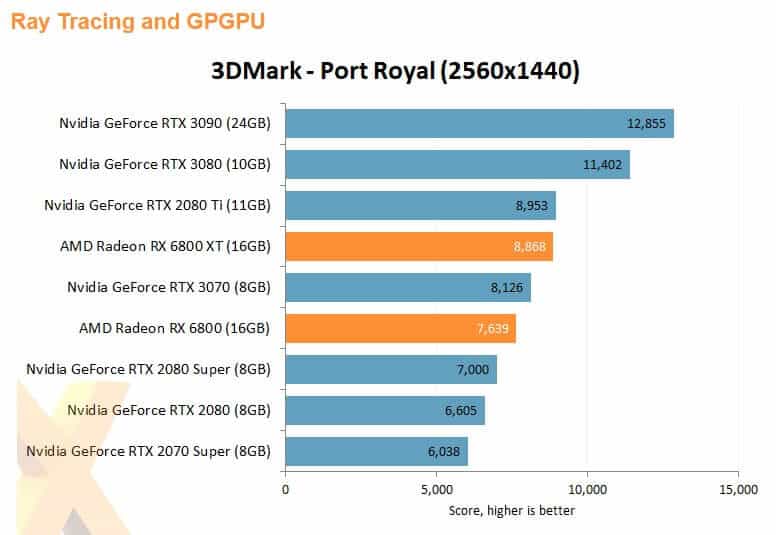 In terms of Ray Tracing, Nvidia's RTX 3080 has the upper hand when it comes to achieving better FPS, due to its dedicated RTX cores.
In addition, turning on DLSS will yield better performance at no cost to visual fidelity – sometimes even improving it. With DLSS turned on, the FPS grows by nearly 65% in some games.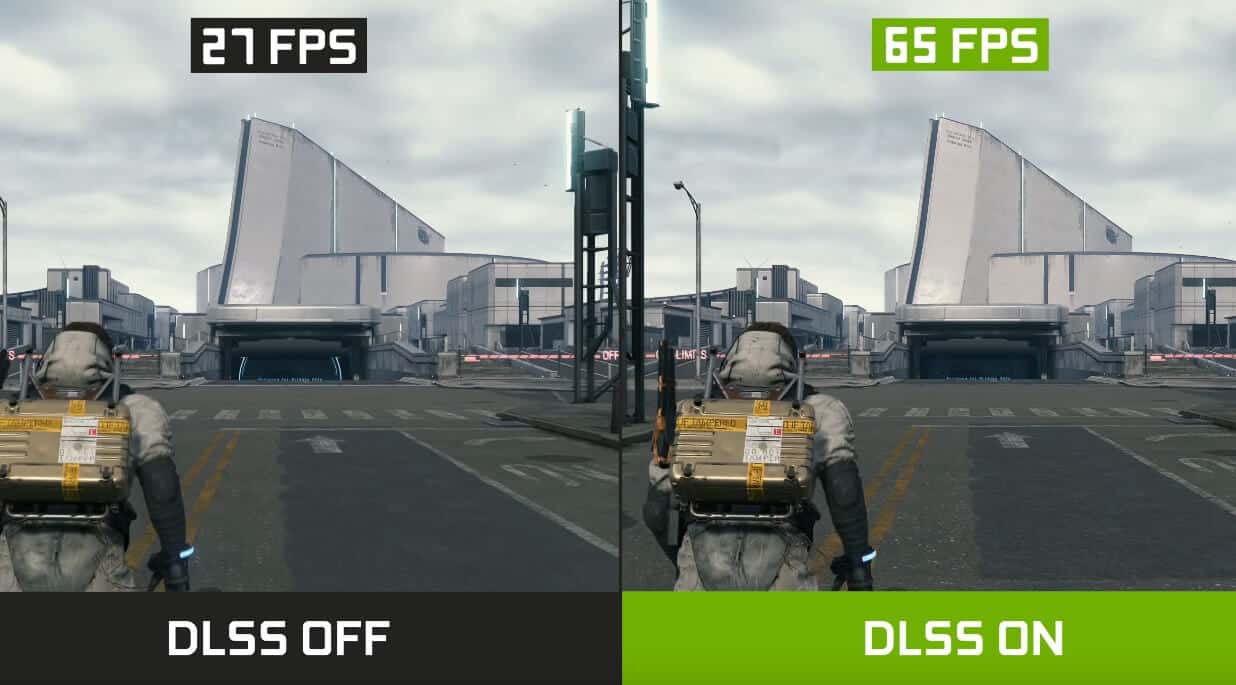 On paper, looking at the test results, and using the default settings for each GPU, there's no noticeable difference in terms of performance.
However, once you start using Nvidia's DLSS and Ray Tracing features, the performance and visuals of the RTX 3080 significantly improve. Even though AMD tries catching up with their Rage Mode and Smart Access Memory feature, it's still left behind. Moreover, Smart Access Memory will only work with AMD Ryzen 5000 CPUs.
We're still waiting for AMD to finish their work on FidelityFX, which will be AMD's answer to Nvidia's DLSS. On the other hand, Nvidia is also working on their own version of Smart Access Memory, which will work with any next-gen CPU.
AMD Radeon RX 6800 XT vs NVidia RTX 3080 – Price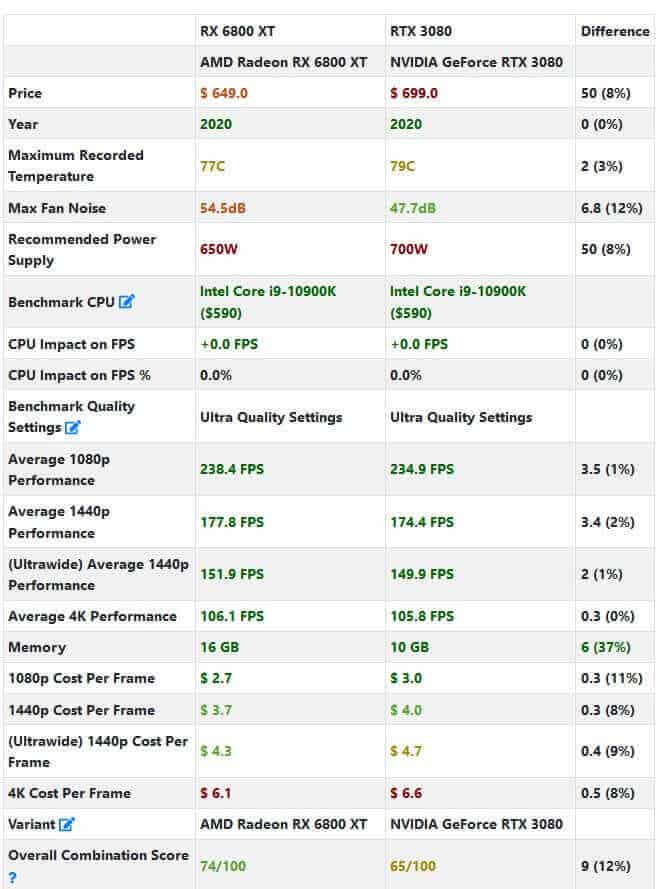 The RX 6800XT was launched at a $649 MSRP, while the GeForce RTX 3080 was launched at a $699 MSRP. For a $50 difference, Nvidia is the clear loser here if we were to look at the sheet provided by GPUcheck. The RX 6800XT has an overall score of 74/100, while the GeForce RTX 3080 has a score of 65/100.
AMD Radeon RX 6800 XT vs NVidia RTX 3080 – Verdict

Imagine being able to play Minecraft in 4K with ray tracing on and Nvidia DLSS at 93 FPS. Now use AMD's Radeon RX 6800 XT at the same settings and try playing at barely 30 FPS. Even though AMD tries to keep up with other options such as adaptive sharpening and varying-rate shading, it cannot offer the same option as DLSS (yet).
The verdict is that although the overall performance is the same, Nvidia's extra features are worth the extra cash. If we wanted to build a new gaming PC, we'd grab an NVidia RTX 3080 GPU without a second thought – but that's mostly because we'd play games that use DLSS and Ray Tracing. Unfortunately, it isn't easy to find an NVidia RTX 3080 on the market right now.
If you're looking to buy a powerful video card that plays standard rendered 4K resolution games, both the NVidia GeForce RTX 3080 and the AMD Radeon RX 6800 XT offer great performances. In the end, two factors will influence your choice: availability and price.