AMD Ryzen 7 3700X AM4 CPU Review
AMD's Ryzen 7 3700X is an interesting CPU to write about.
Until today, an 8-core, 16-thread processor on the mainstream desktop would be considered a flagship and would command a matching price tag.
The first consumer mainstream 8-core CPU, the Ryzen 7 1800X is a prime example of this with its launch price of $499 barely two years ago.
With the launch of the new Ryzen 9 segment, 3rd generation Ryzen CPUs will extend up to a core count of 16 which was previously only found in the High-End Desk Top or server space with a substantial four-digit price tag.
Today we'll be taking a look at the new Ryzen 7 3700X, a mainstream 8-core, 16-thread CPU that carries high-end features like PCIe 4.0 support, a massive 36MB GameCache, fully-unlocked overclocking potential, and a very mainstream and modest $329 price tag.
Is a flagship CPU at a mainstream price too good to be true?
Let's find out!
ProClockers would like to thank AMD for sending us the Ryzen 7 3700X to check out!
There are a few peculiarities about this motherboard, so make sure you also check out our article about the best motherboards for this CPU.
AMD's Take on the Ryzen 7 3700X: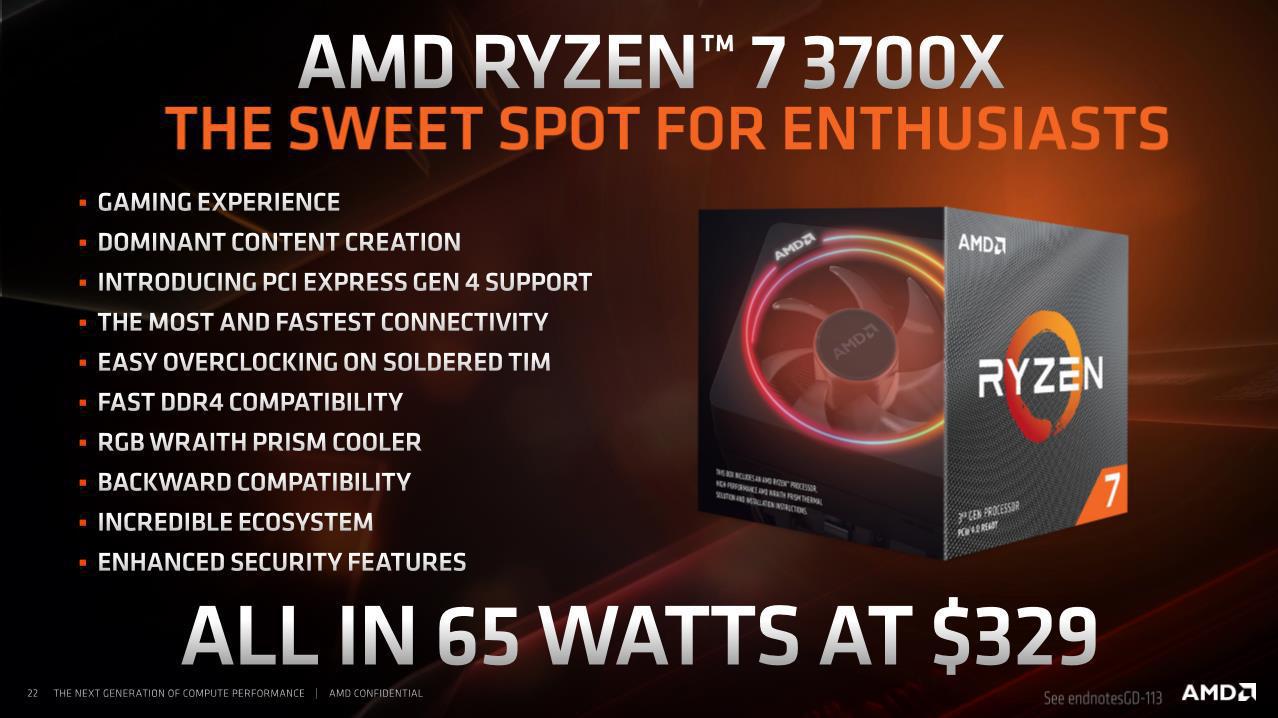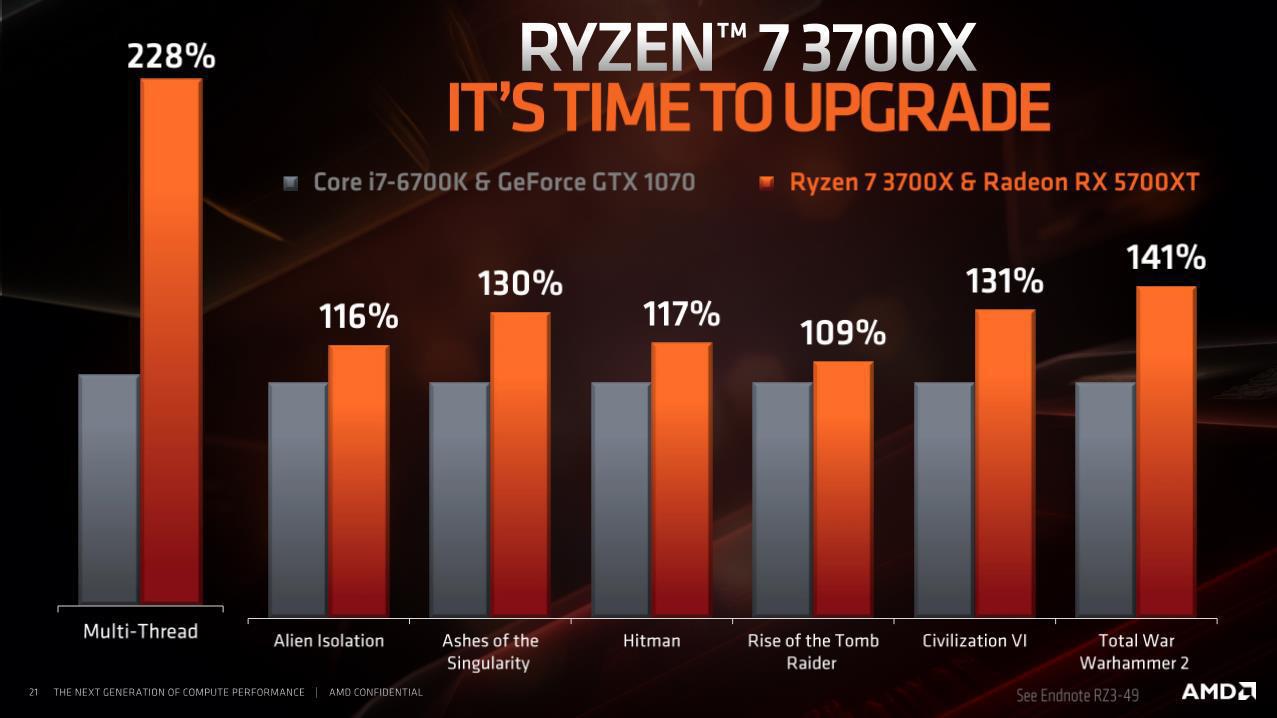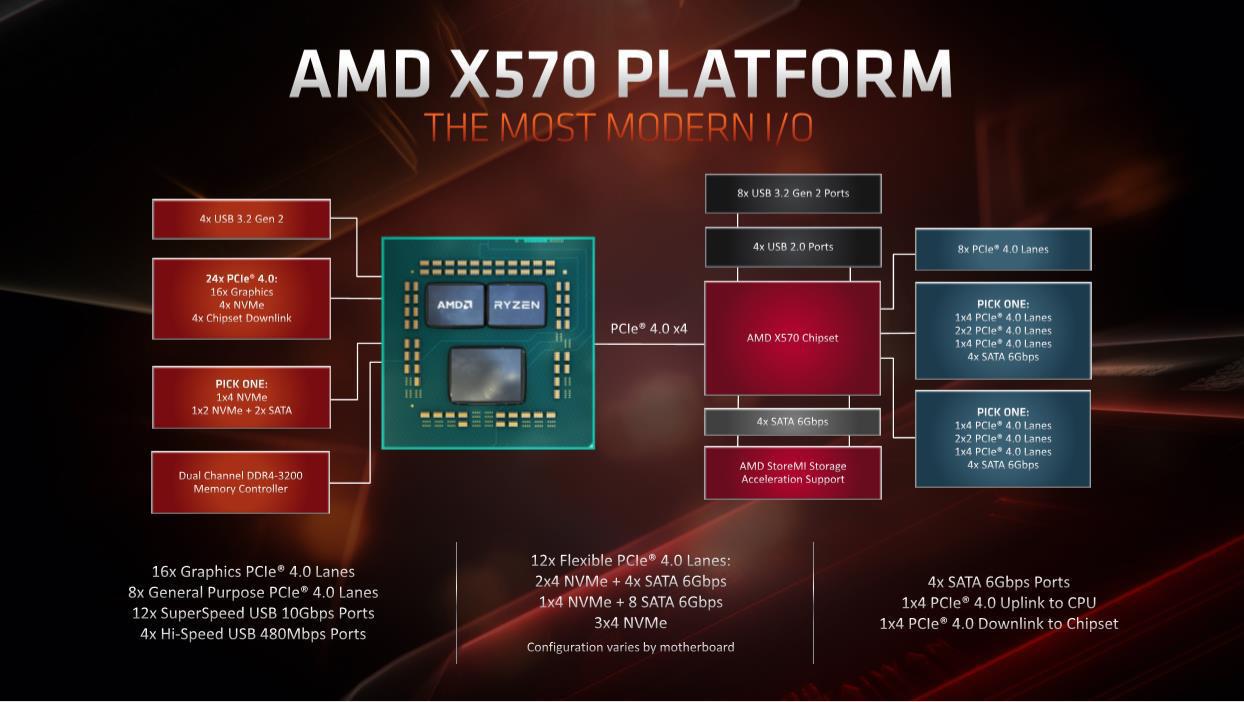 Features & Specifications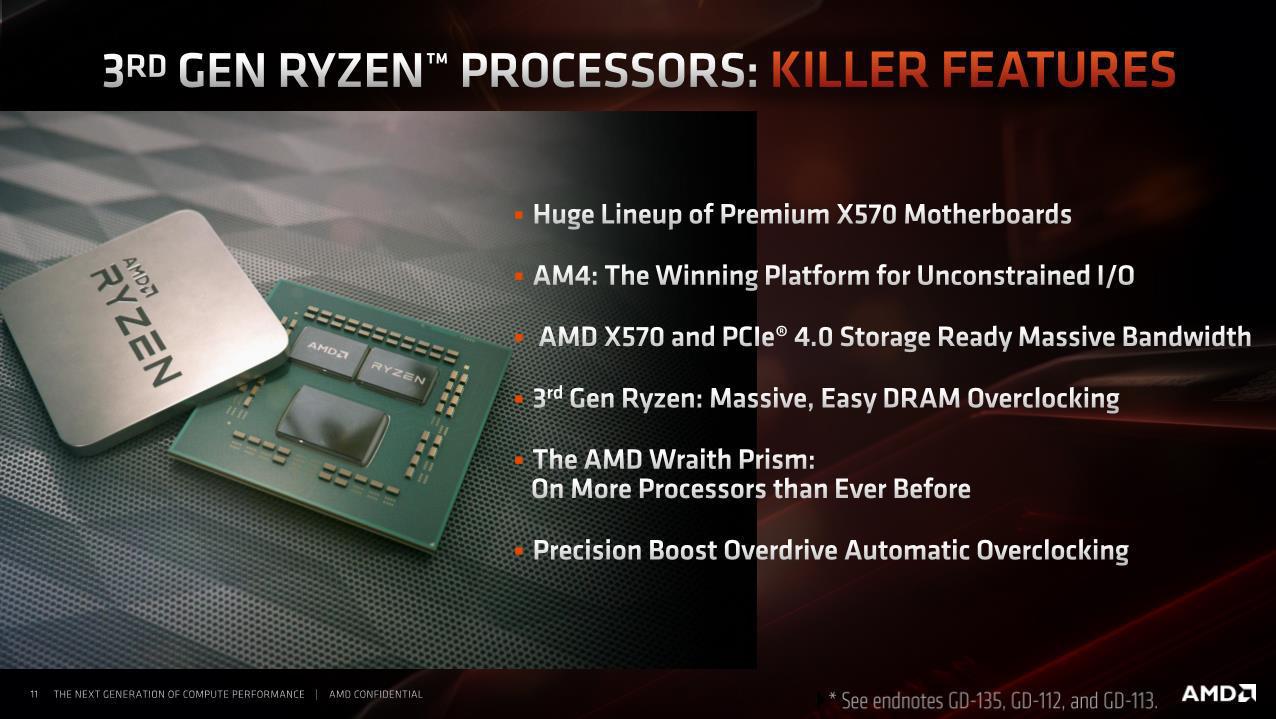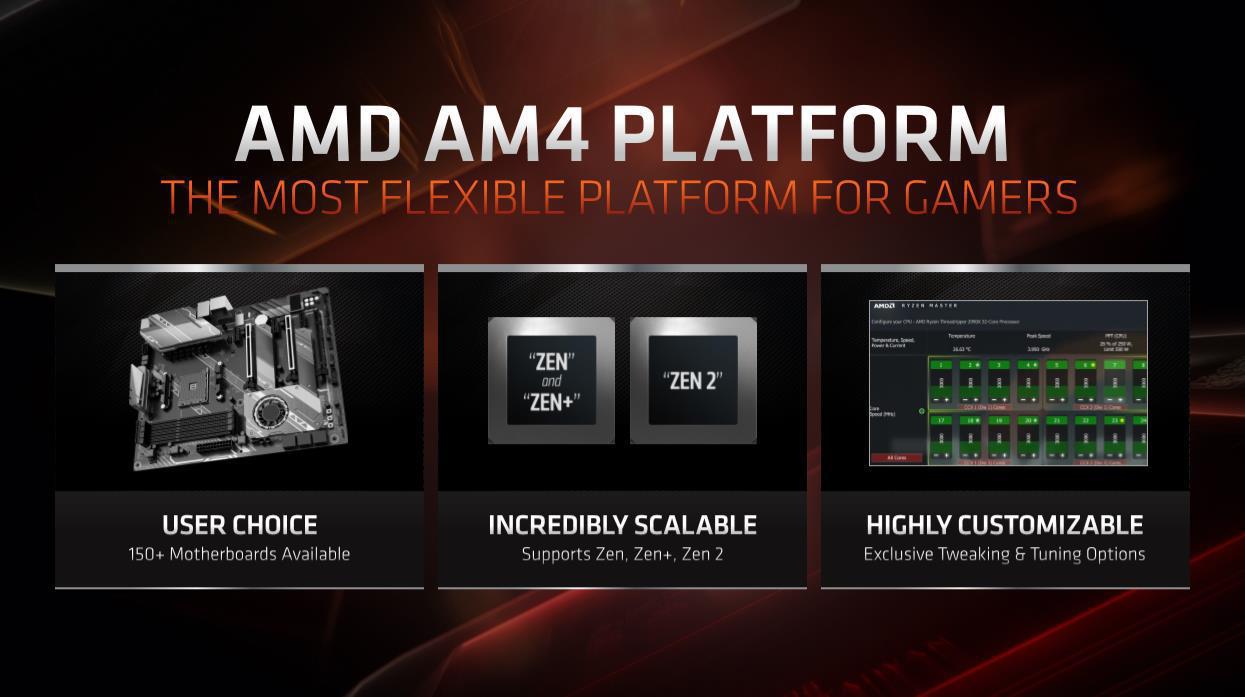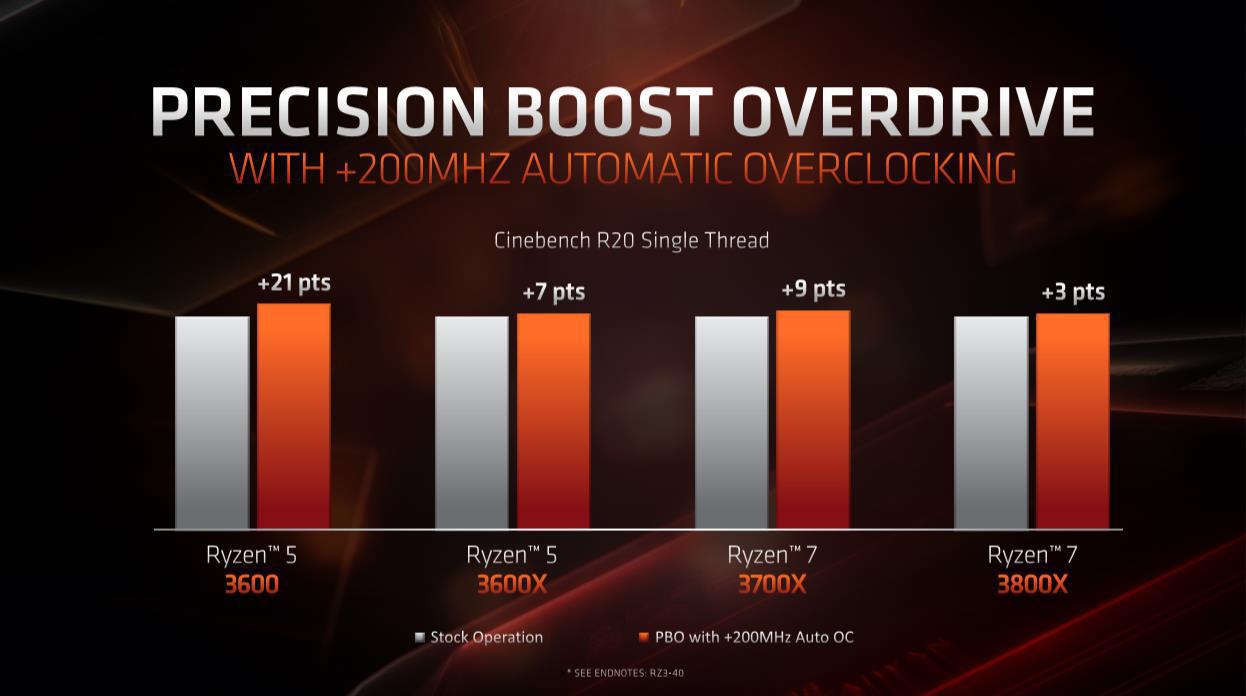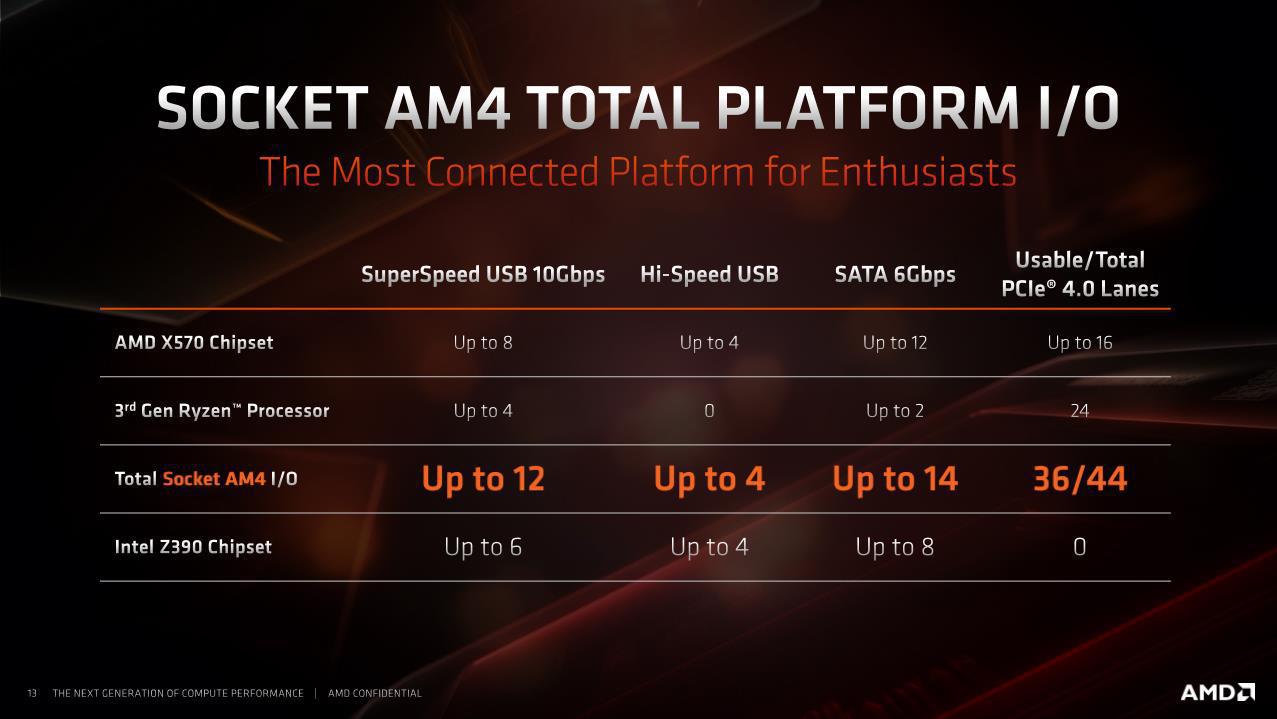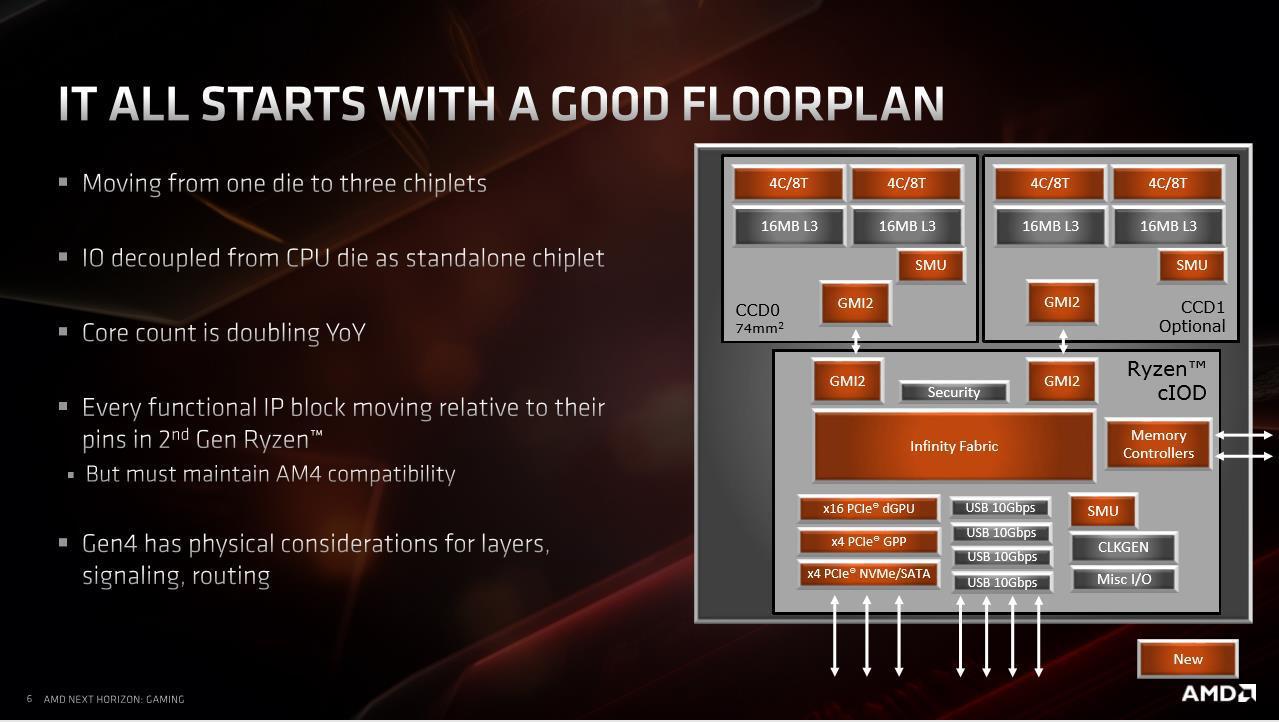 AMD Ryzen™ 7 3700X Specification
# of CPU Cores – 8
# of Threads – 16
Base Clock – 3.6GHz
Max Boost Clock – 4.4GHz
Total L1 Cache – 768KB
Total L2 Cache – 4MB
Total L3 Cache – 32MB
Unlocked – Yes
CMOS – TSMC 7nm FinFET
Package – AM4
PCI Express Version – PCIe 4.0 x16
Thermal Solution – Wraith Prism with RGB LED
Default TDP / TDP – 65W
Max Temps – 85°C
System Memory
Max System Memory Speed – 3200MHz
System Memory Type – DDR4
Memory Channels – 2
Key Features
AMD StoreMI Technology
AMD SenseMI Technology
AMD Ryzen™ Master Utility
Foundation
Product Family – AMD Ryzen™ Processors
Product Line – AMD Ryzen™ 7 Desktop Processors
Platform – Desktop
OPN PIB – 100-100000071
Launch Date – 07/7/2019
Codename – Matisse
Unboxing & A Closer Look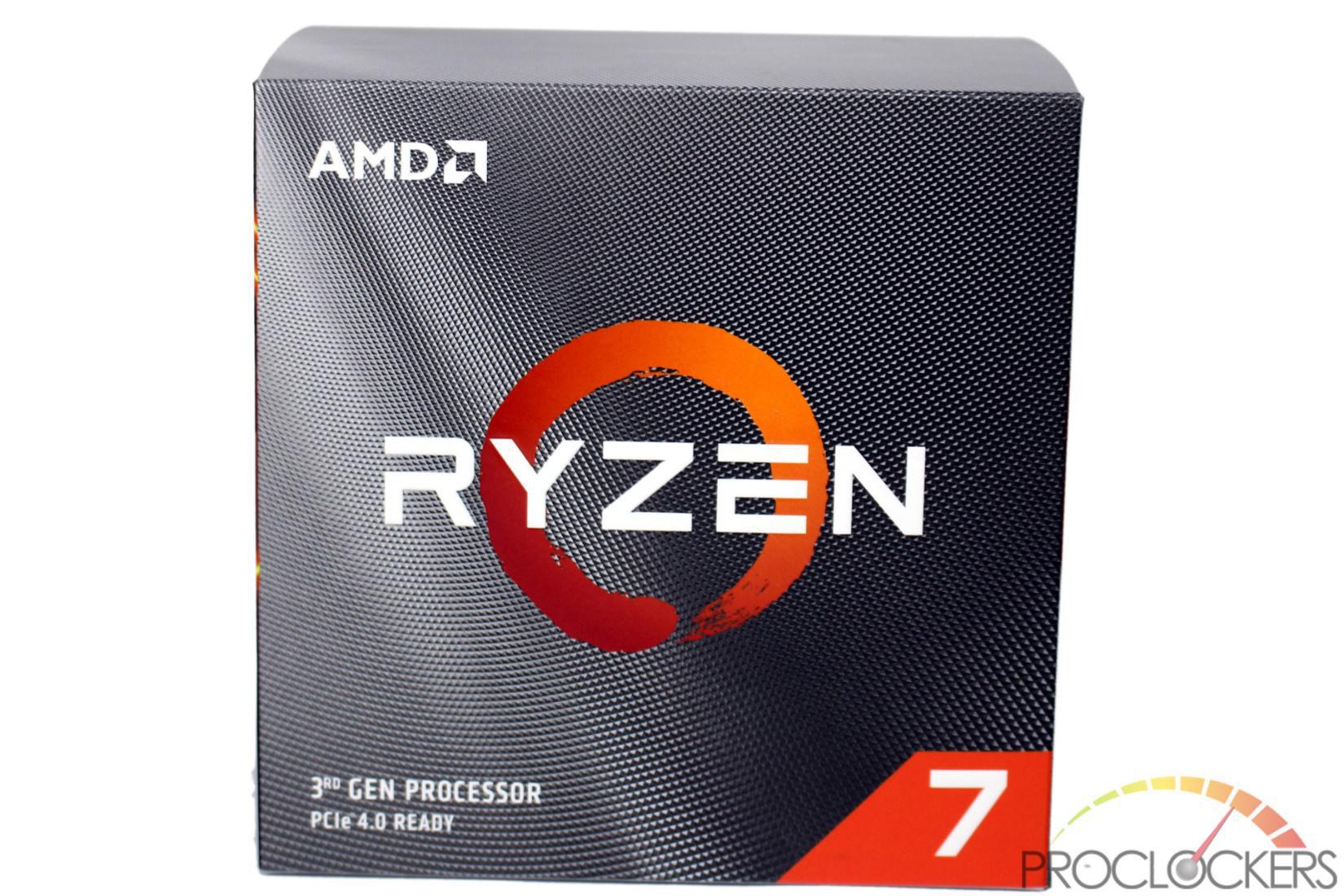 AMD's Ryzen 7 3700X comes in a box that looks very similar to previous generations but with a printed texture all over.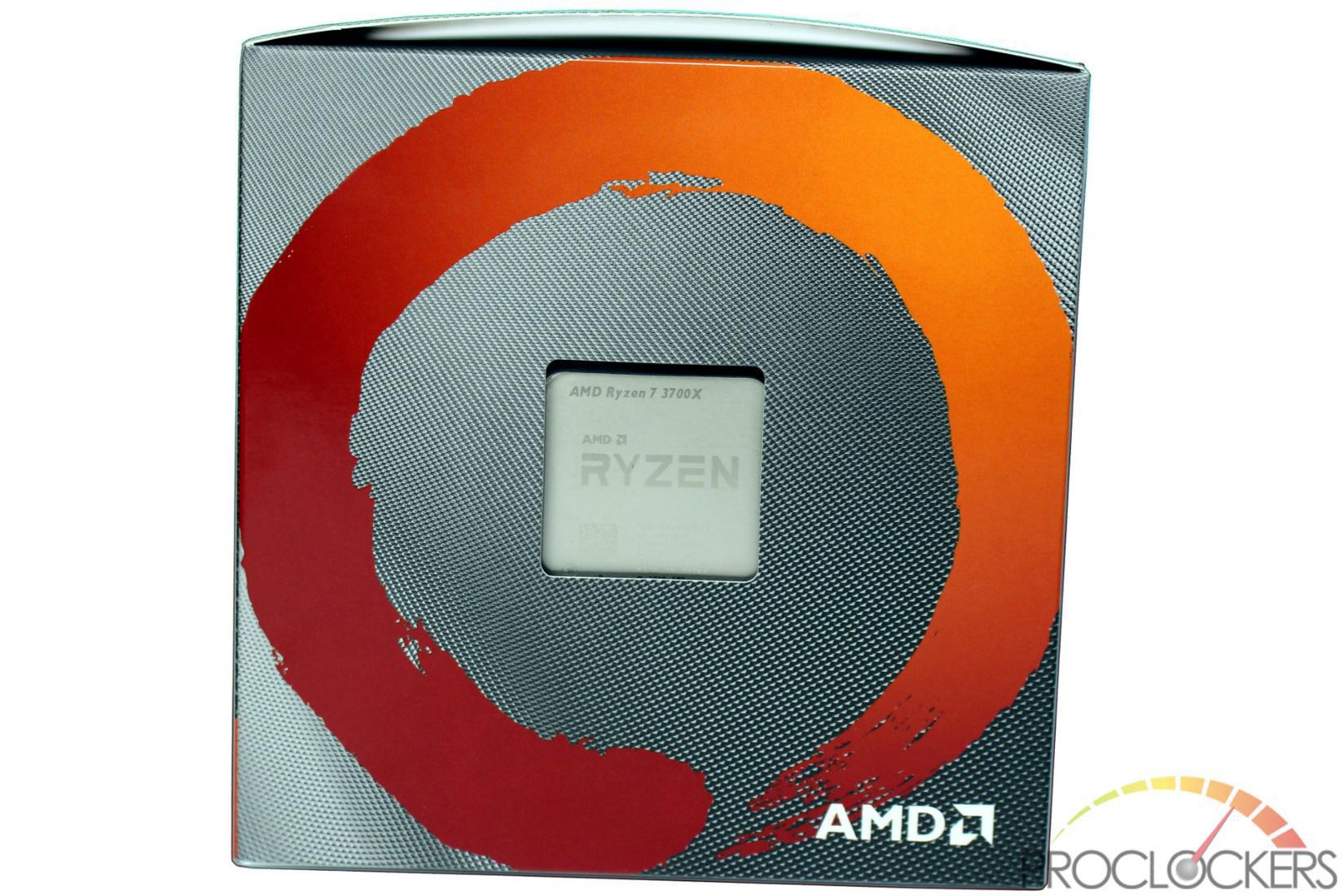 One side has a window to see the CPU inside.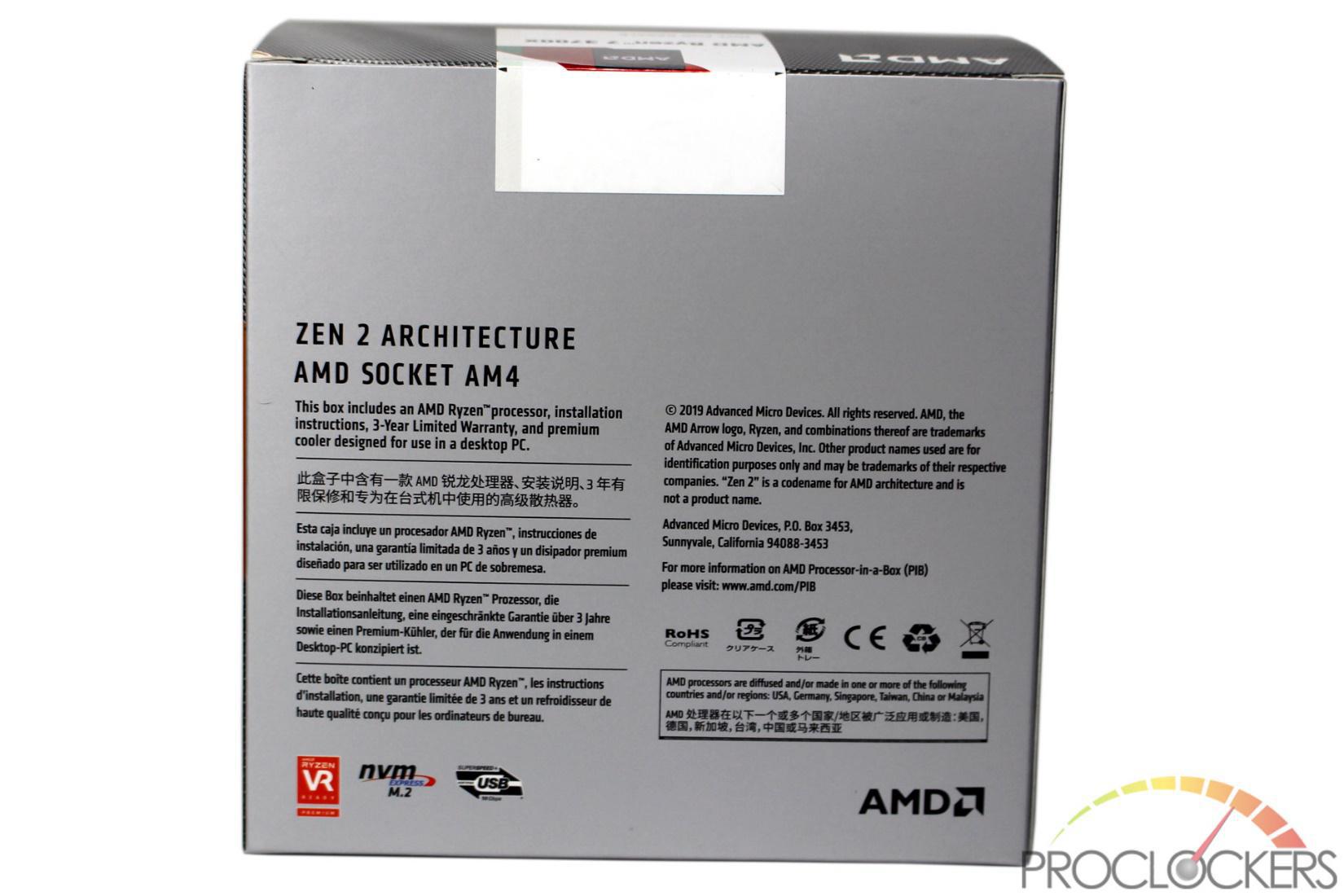 The back of the box has a security seal and shows what is included in several languages.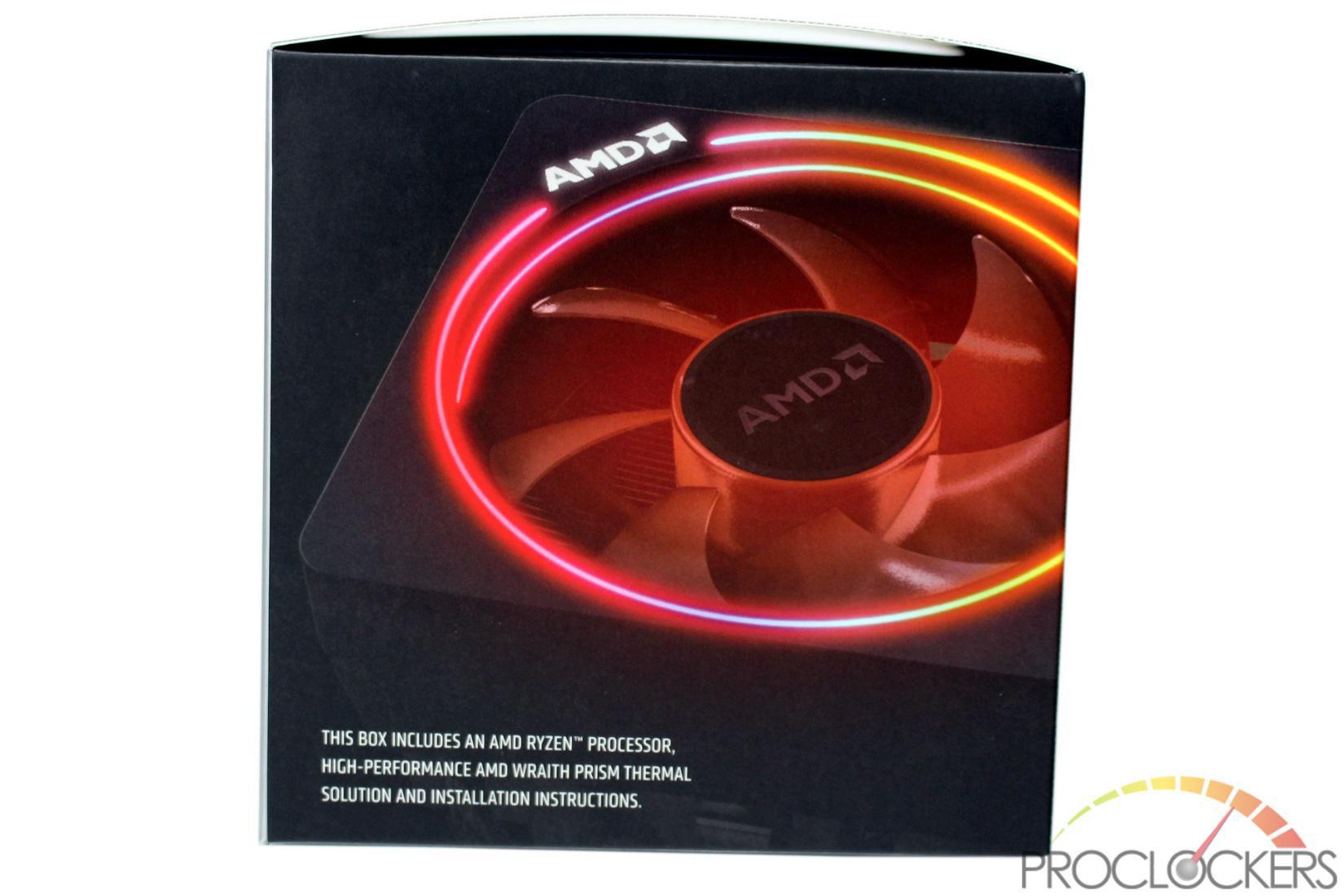 The left side shows the Wraith Prism Cooler.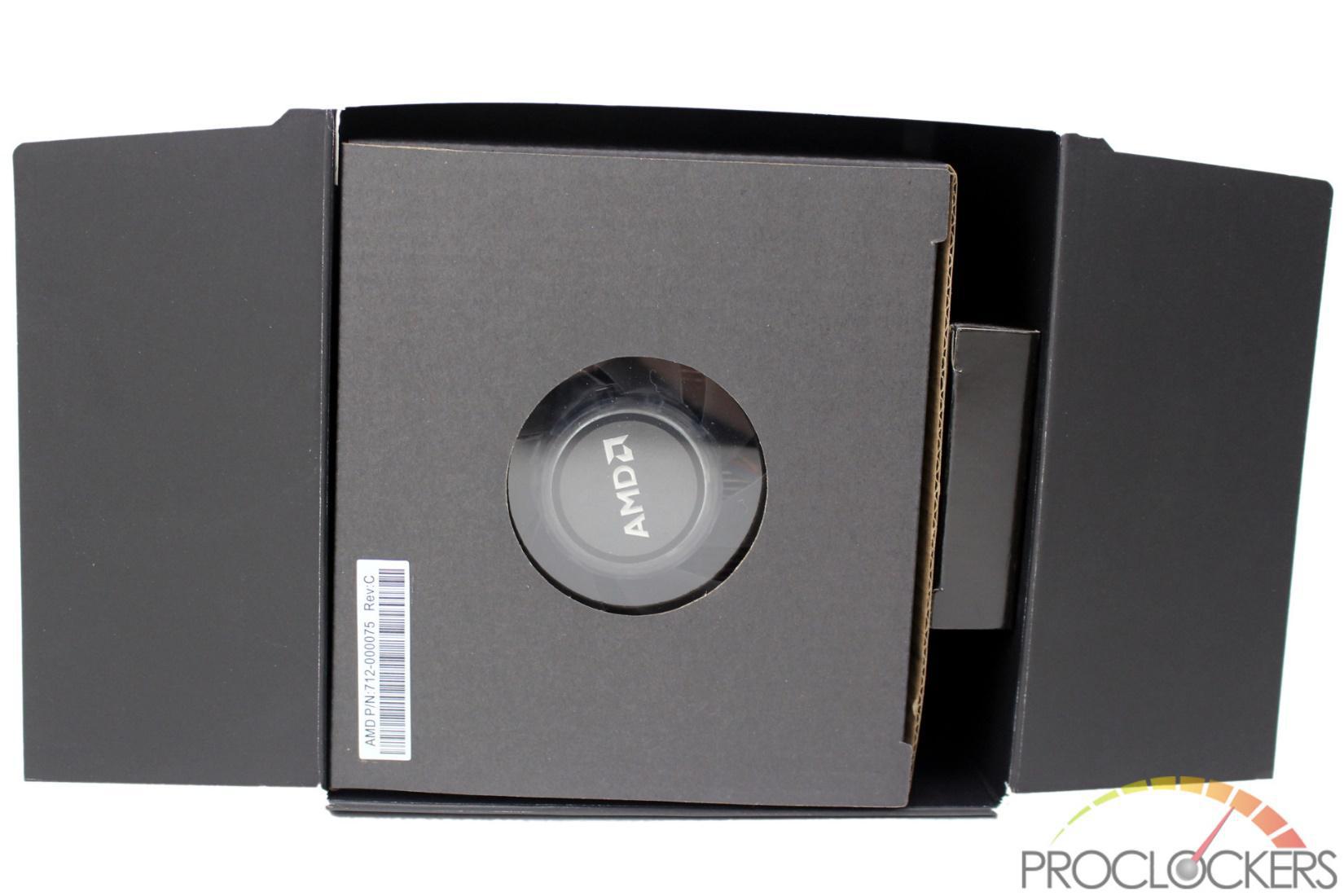 Opening the box up, you are greeted with two more boxes. One large one holds the Wraith Prism cooler, the smaller one contains the CPU.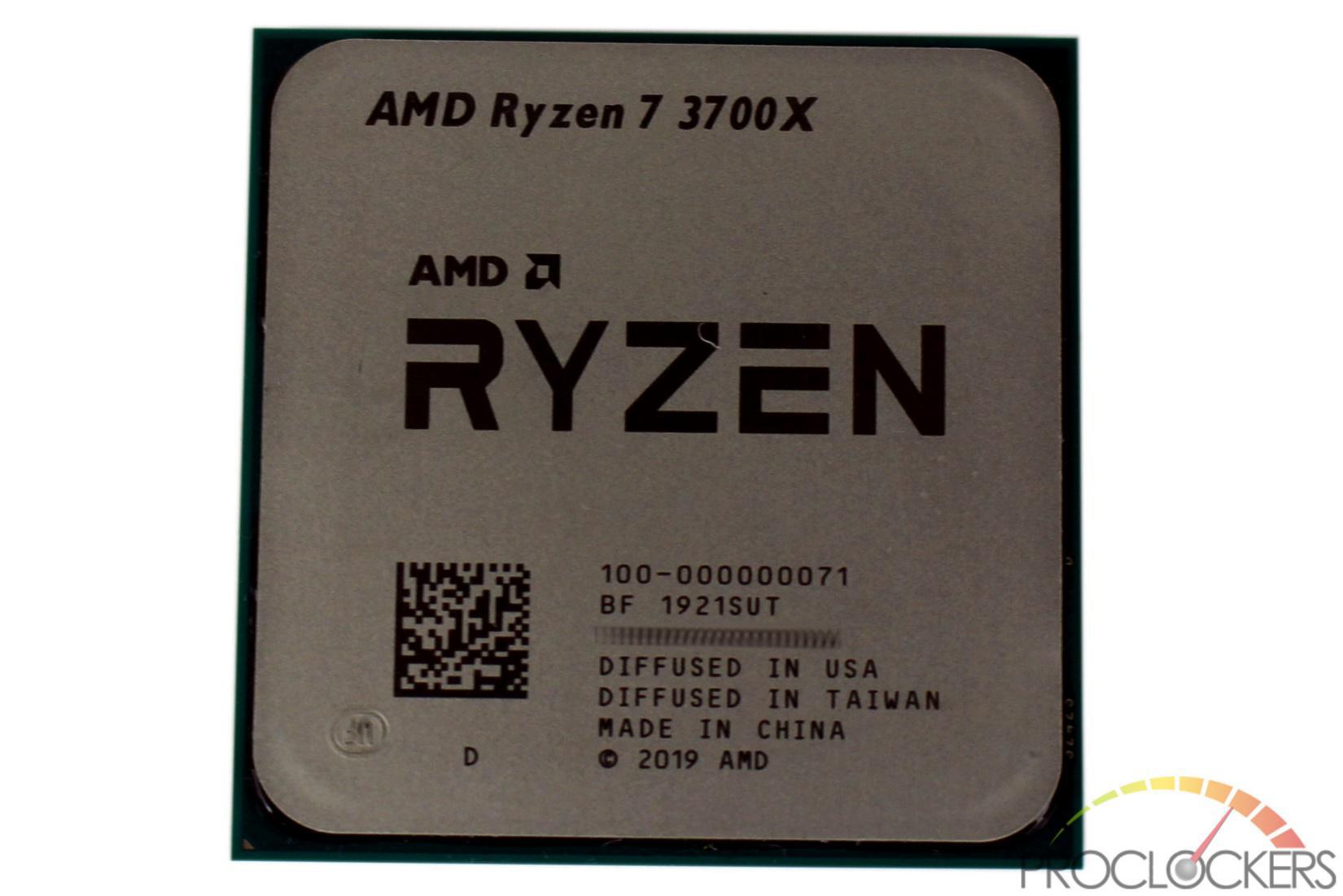 The CPU itself looks pretty normal. The model is clearly labeled on the heat spreader and that's something we always appreciate over the competition that has to be held at the right angle in the right light to see.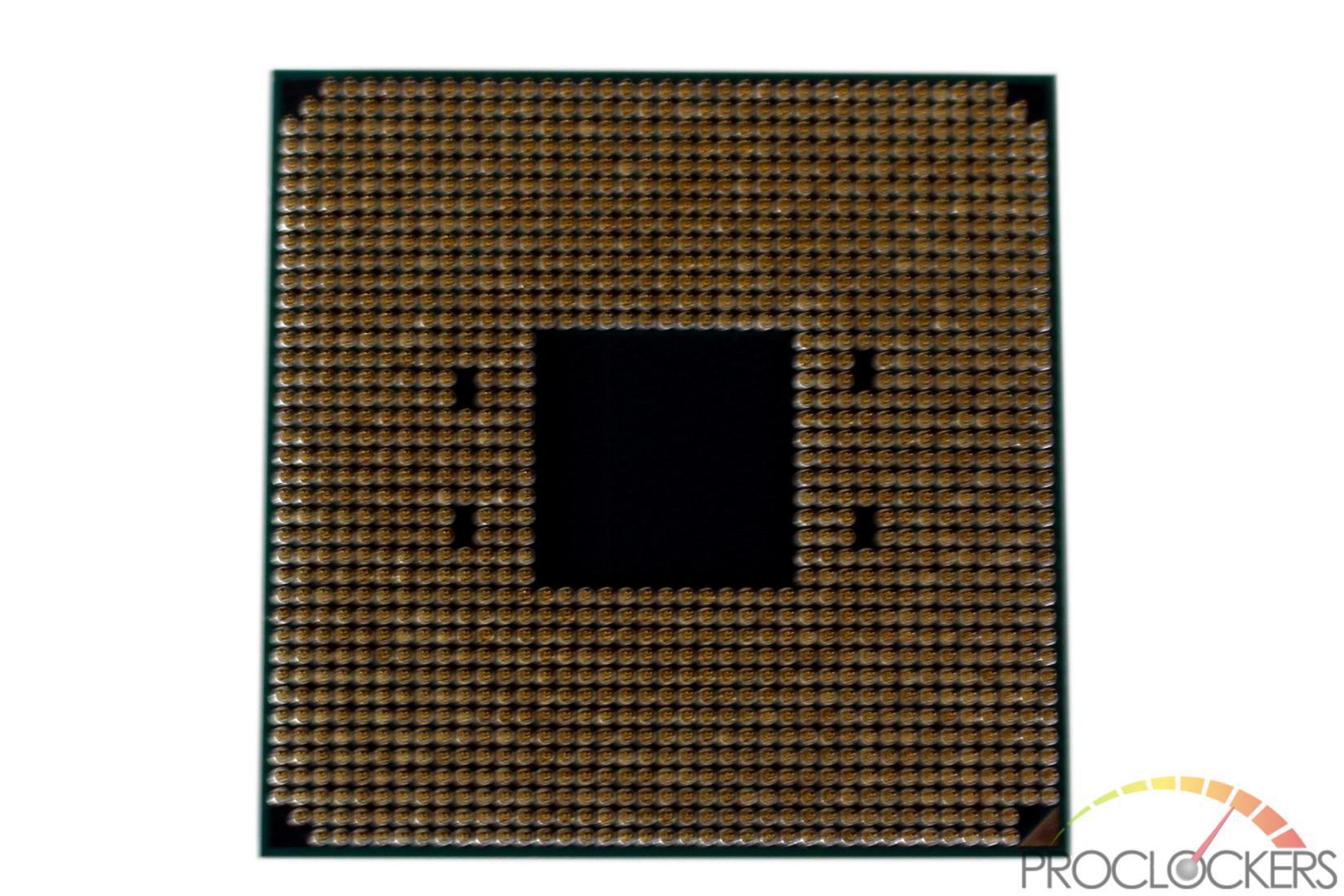 The Pin Grid Array of AMD's AM4 socket looks the same as previous generations.
Wraith Prism Cooler

The new AMD Wraith Prism Cooler
The AMD Wraith Prism represents AMD's ultimate cooling solution for air-cooled processors. The Wraith Prism goes where no stock cooler has gone before with per-RGB LED control around the illuminated light ring and transparent fan blades for movement and rainbow color effect control. But the Wraith Prism isn't just a pretty face; we've increased motherboard and RAM compatibility by minimizing the profile and added direct-contact heat pipes and fan overclocking control to increase thermal effectiveness, too. User-controlled RGB illumination relies on socket AM4 motherboards that support this feature, like the ASRock RGB LED, ASUS Aura sync, Biostar VIVID LED DJ, Gigabyte RGB Fusion, and MSI Mystic Light.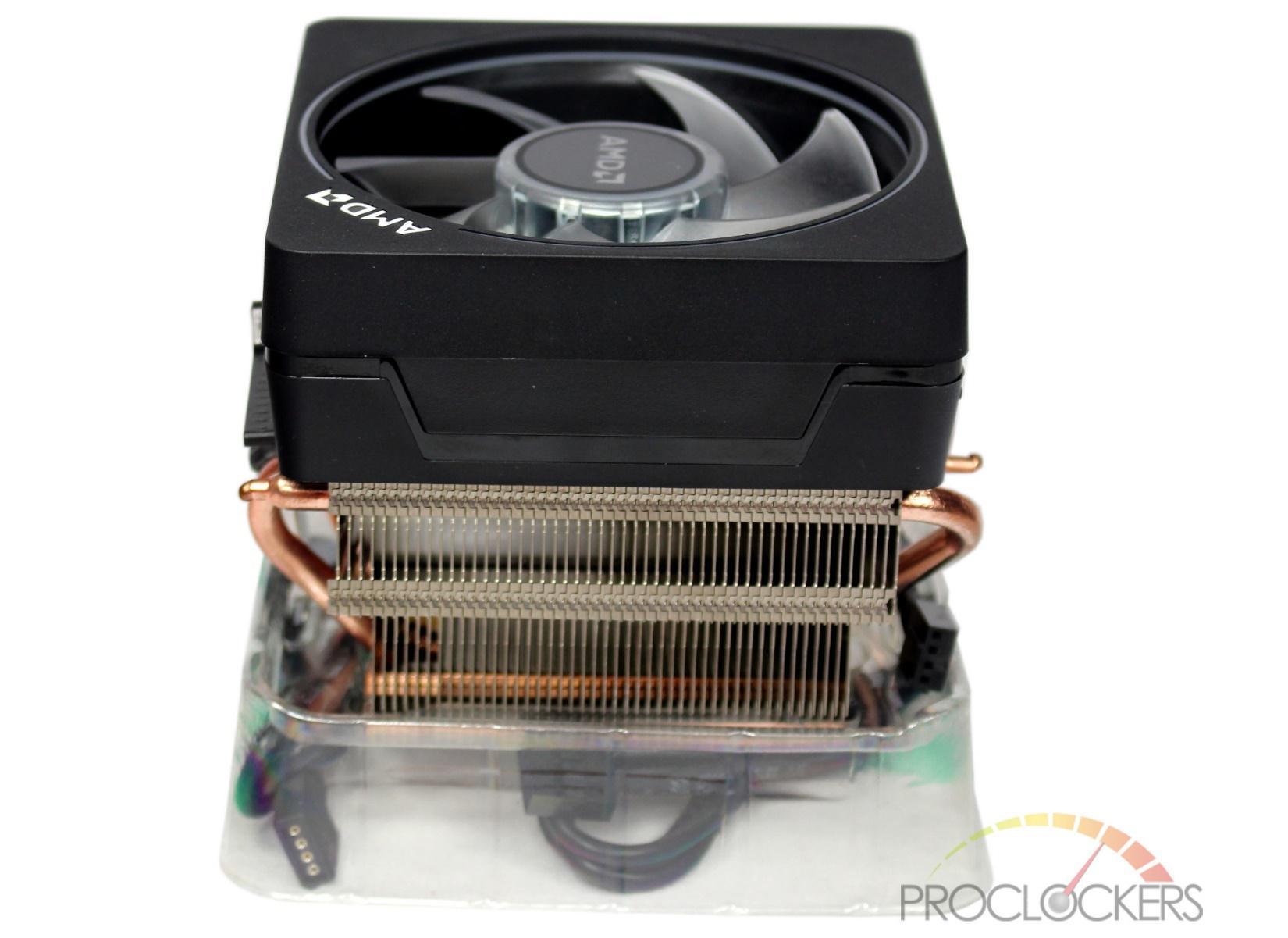 While the new PRISM cooler looks a lot like it's Wraith MAX sibling, it has a few new tricks up its sleeve.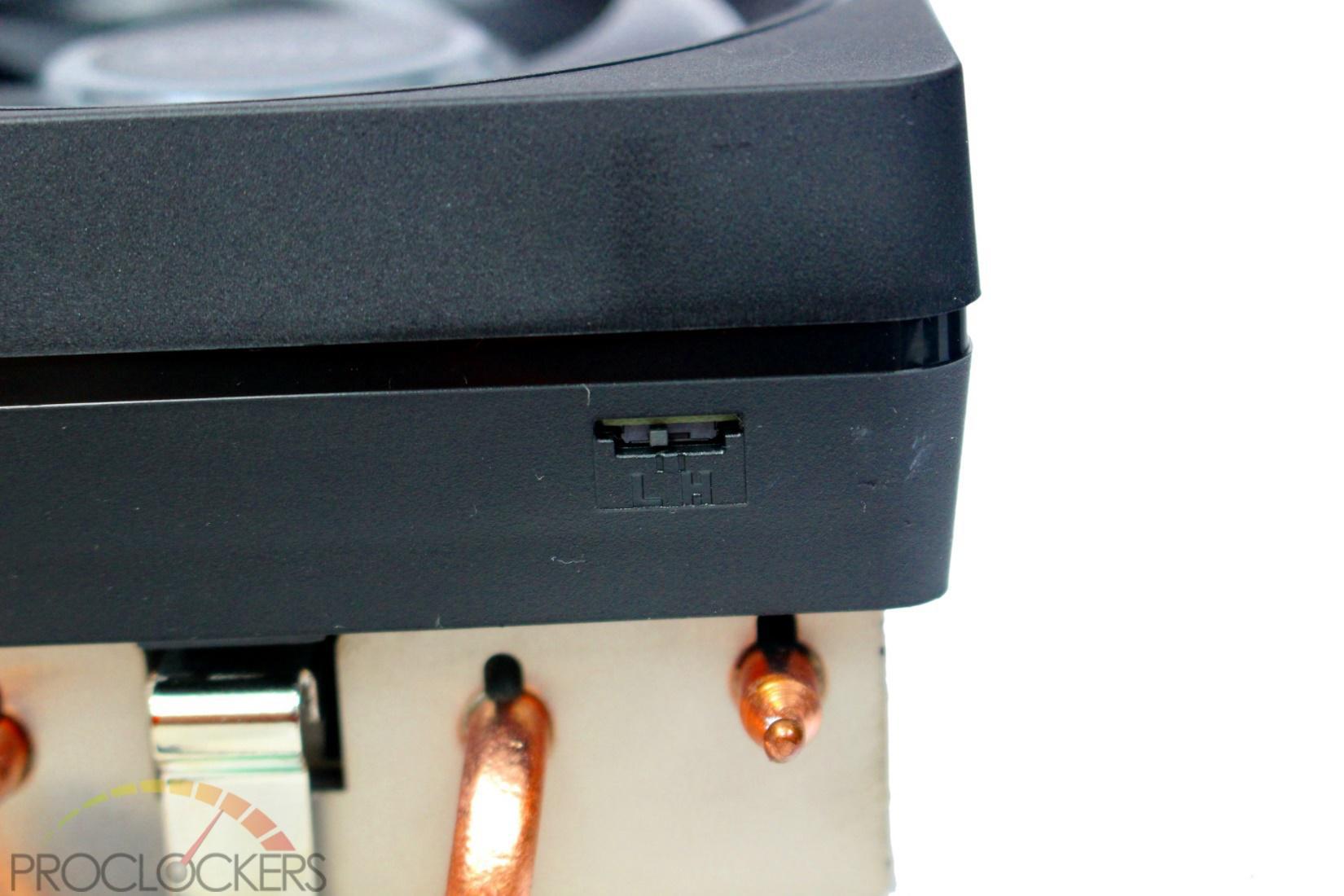 On one side you'll find a small switch that controls the performance, low or high maximum fan speed.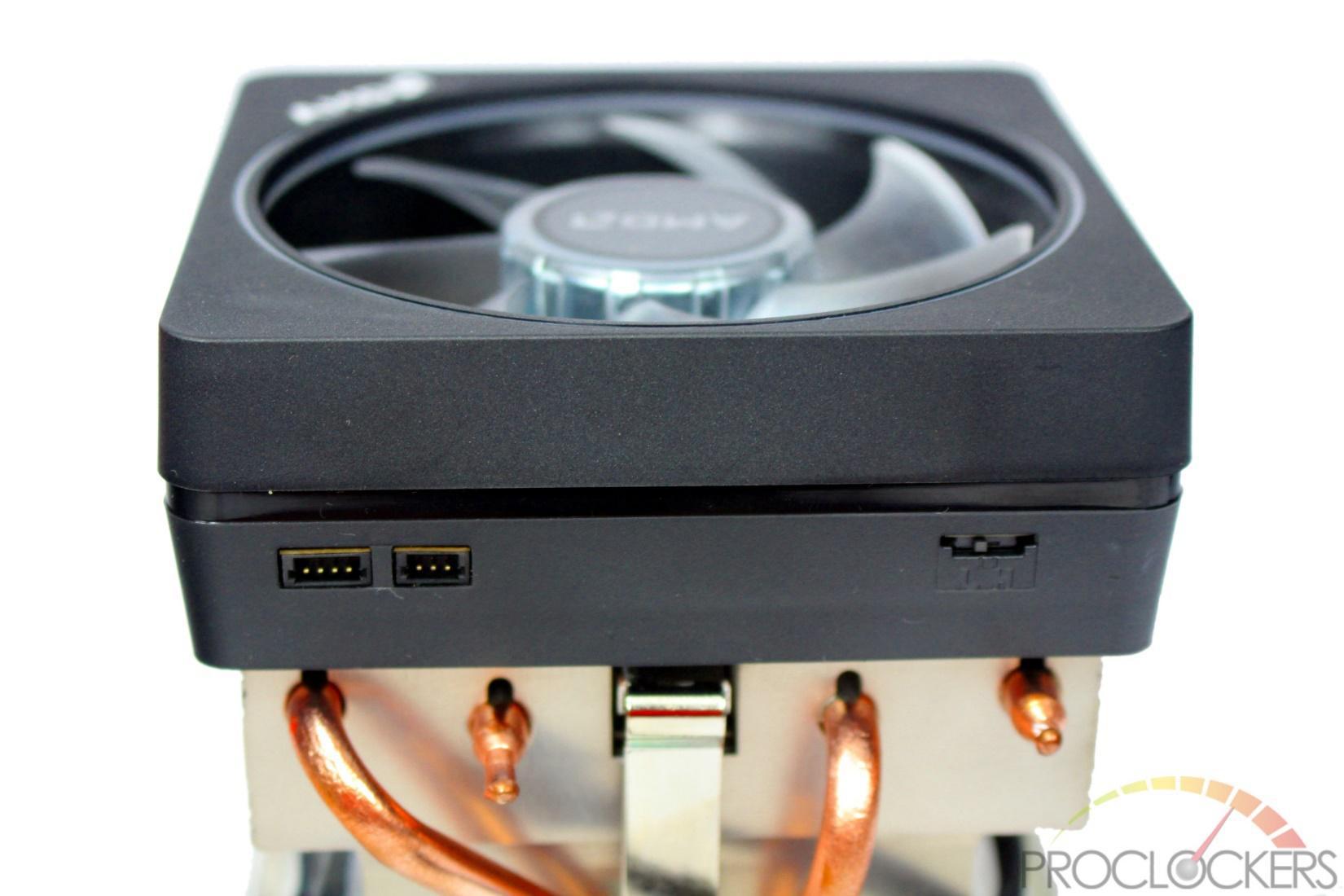 On the same side, there are two plugs. The 4-pin is for attaching the included RGB cable to any compatible RGB port on your board. The 3-pin is for the included USB cord for stand-alone programming and control of the lighting.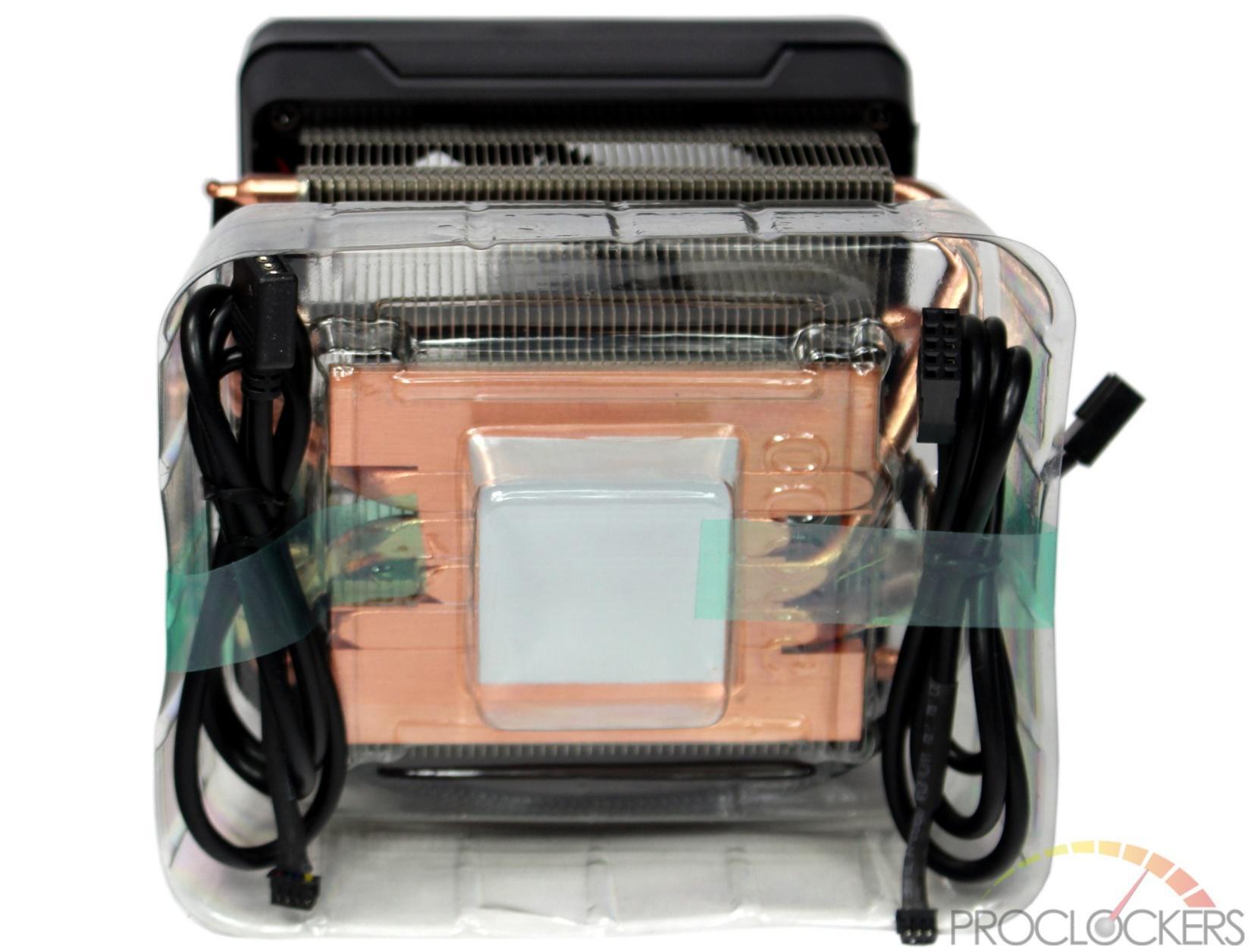 The cables are folded up under the protective tray when you pull the cooler out of the box.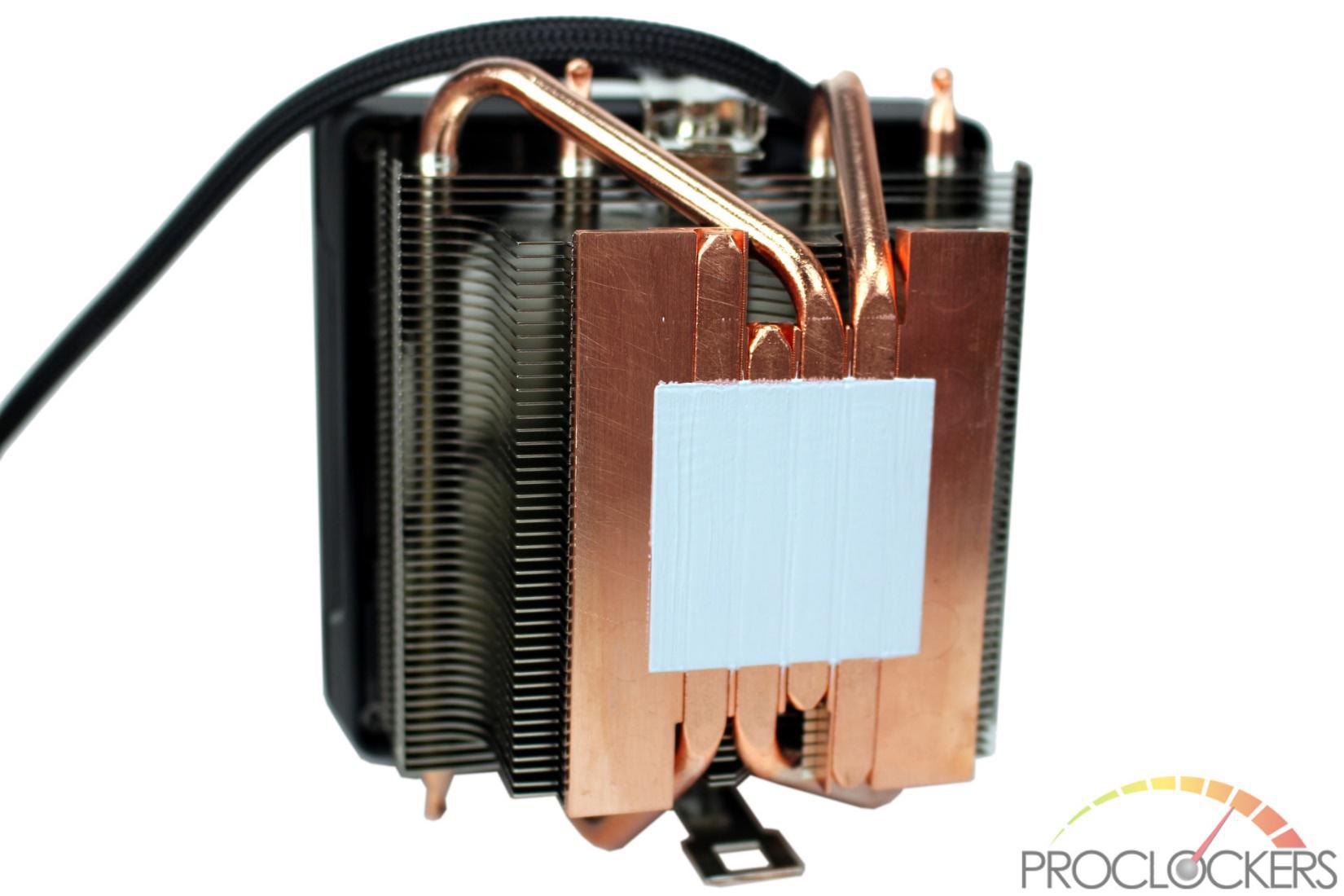 The cover protects the factory applied thermal compound. You can also see that all four heat-pipes make direct contact with the CPU for maximum performance.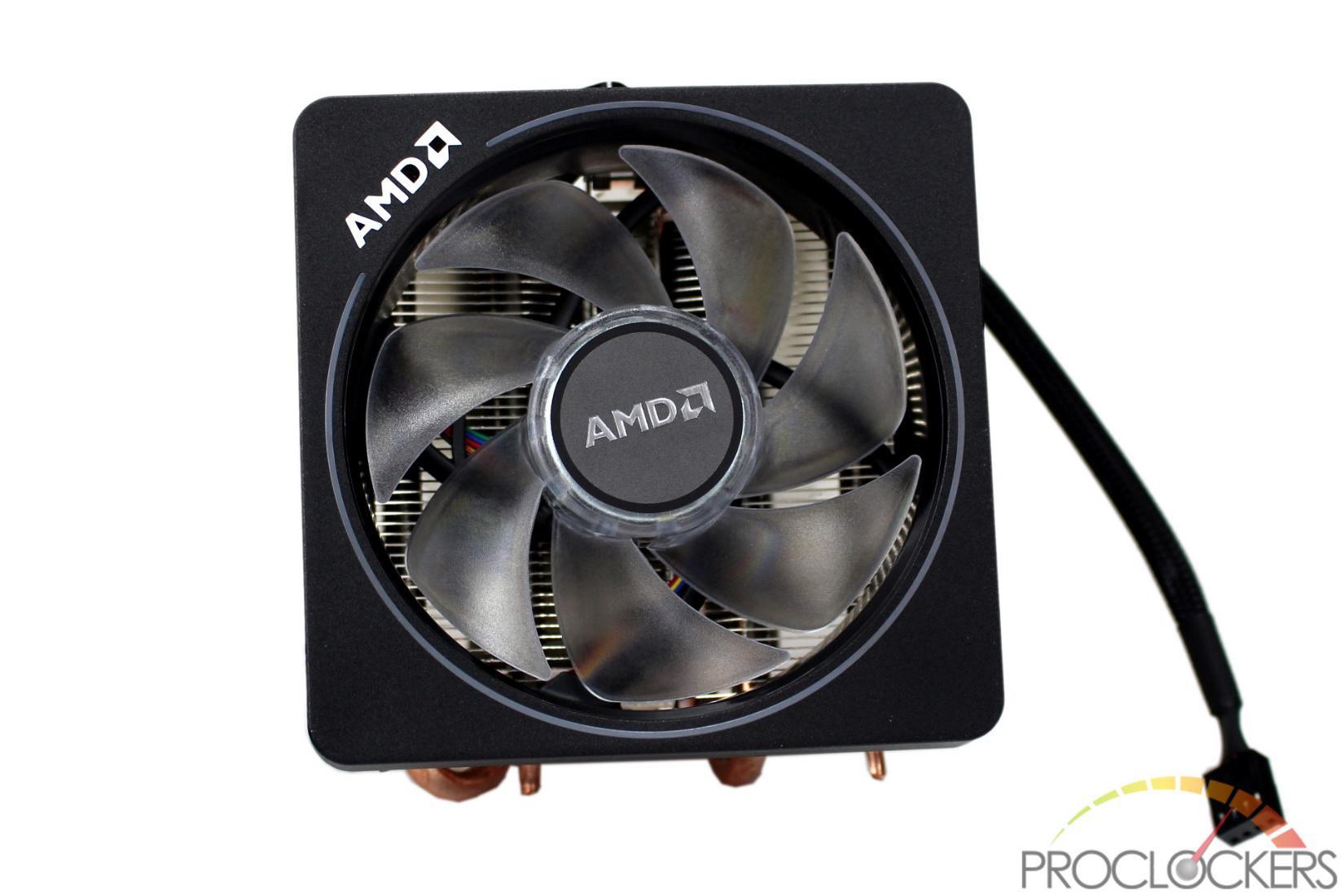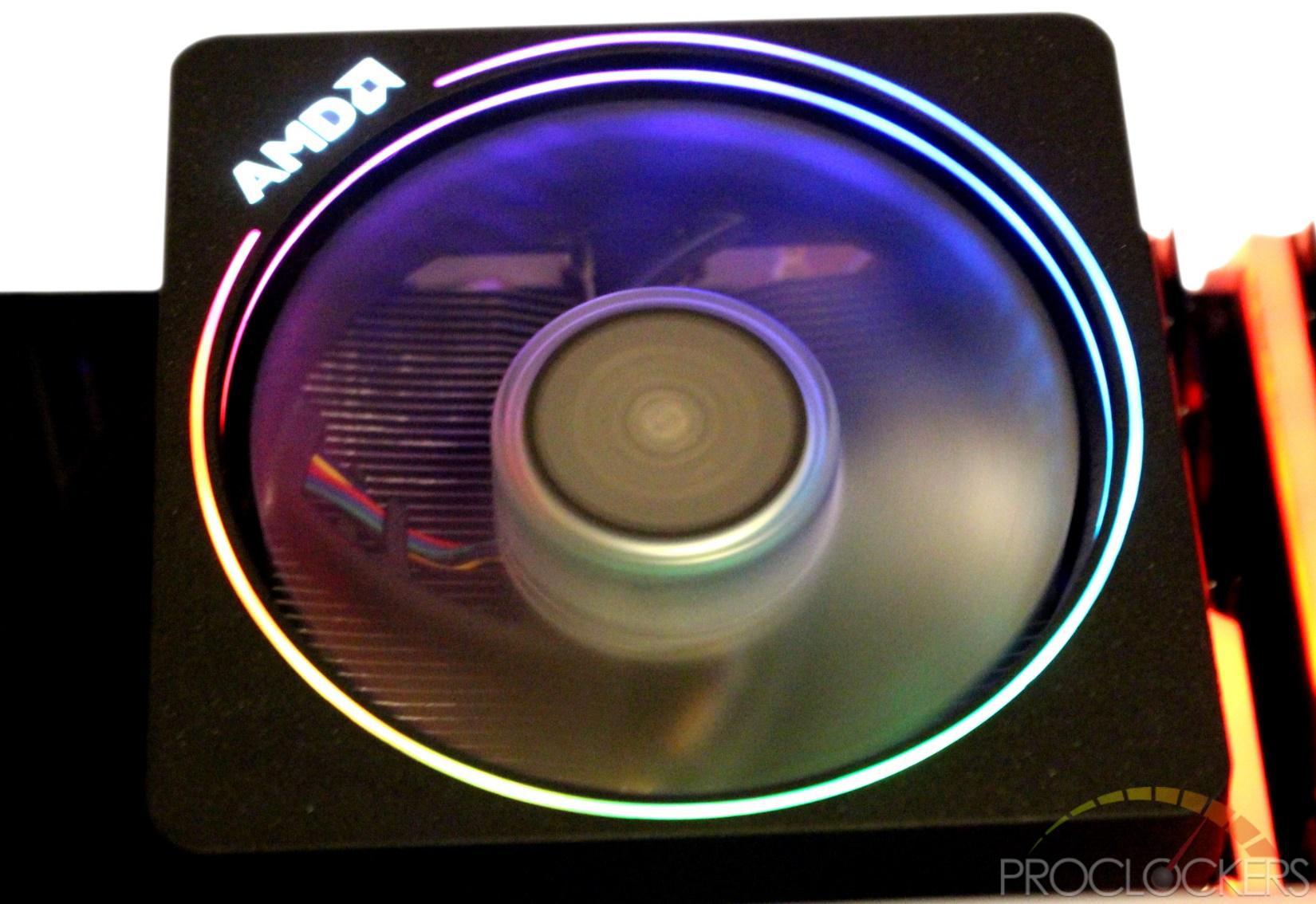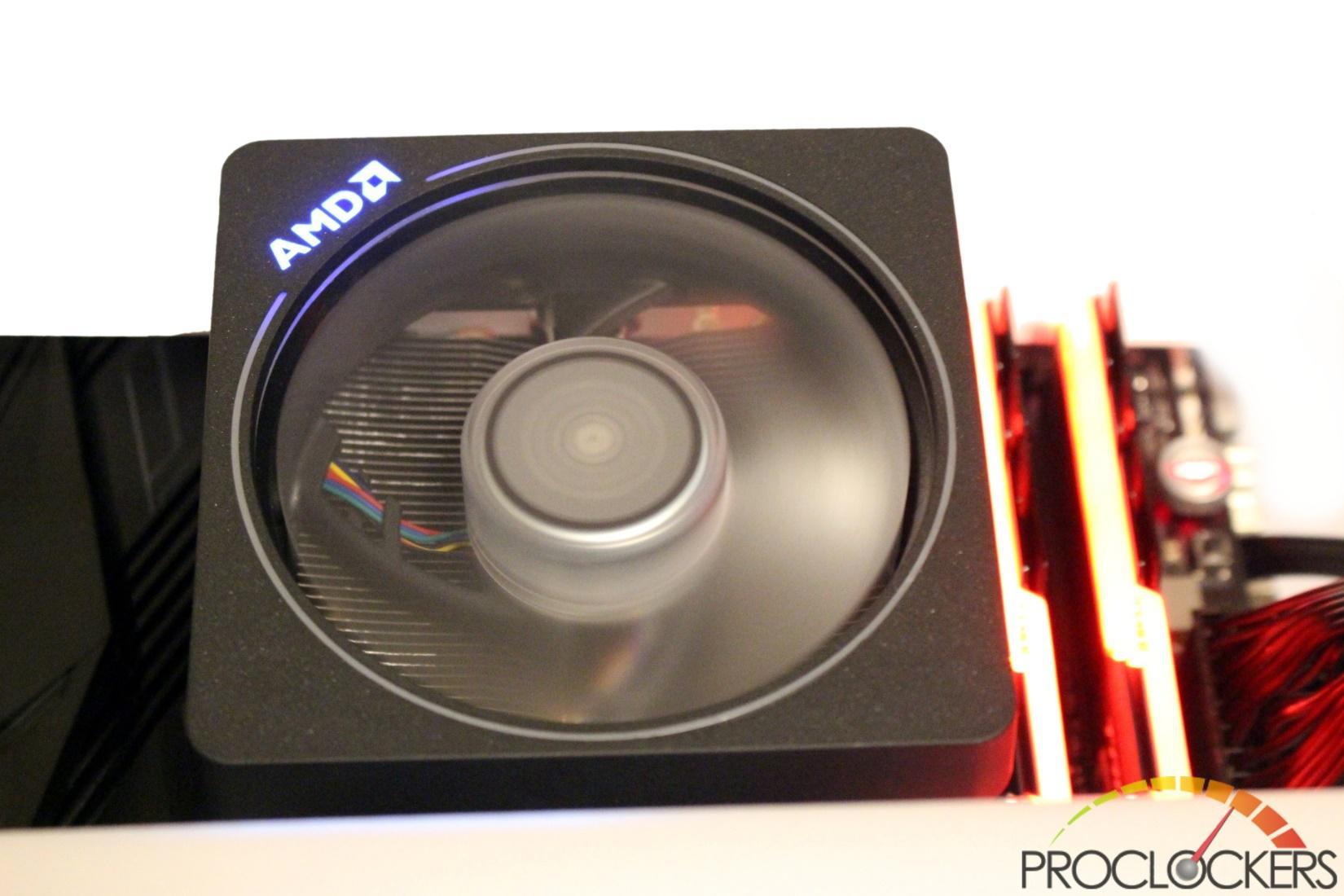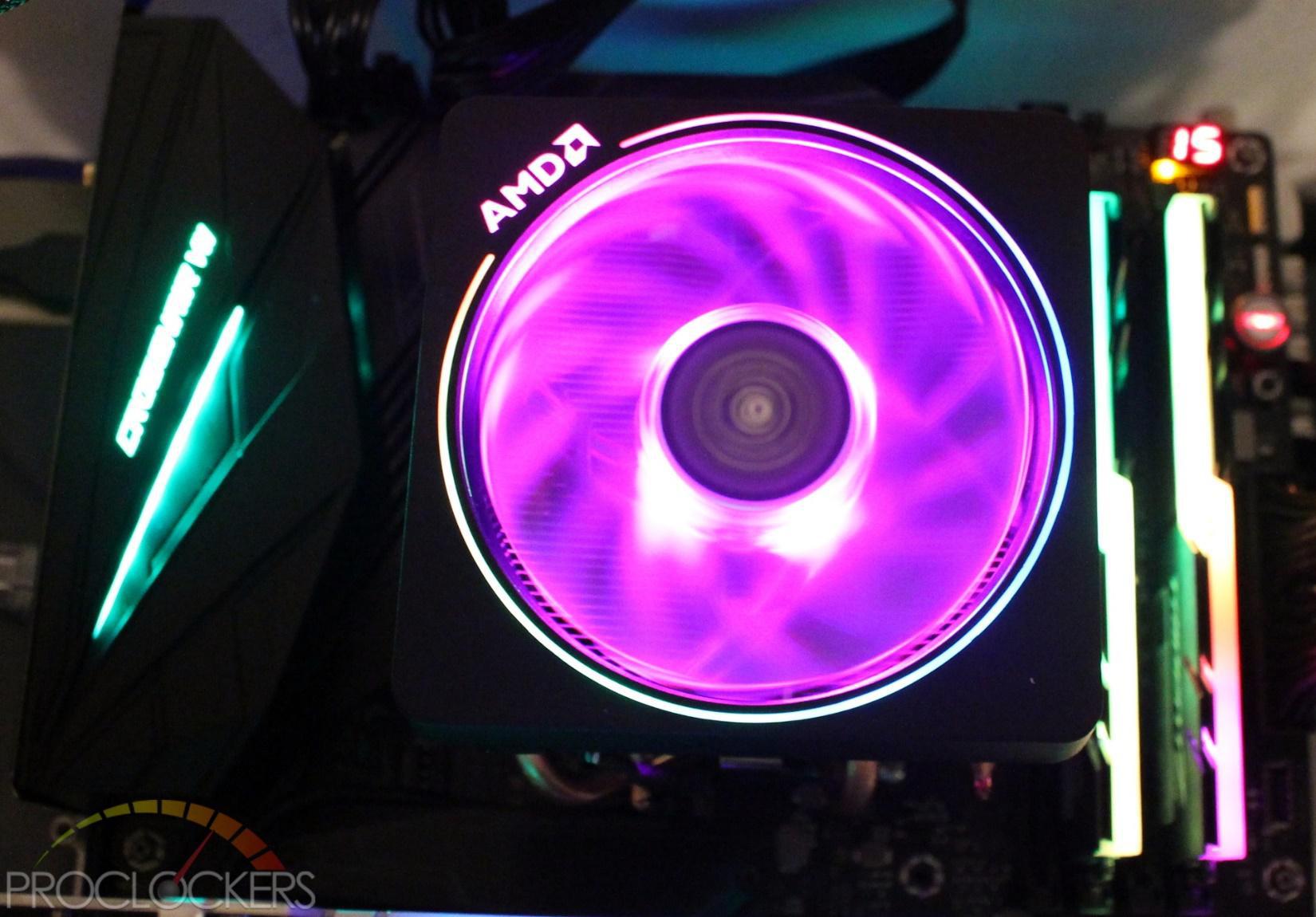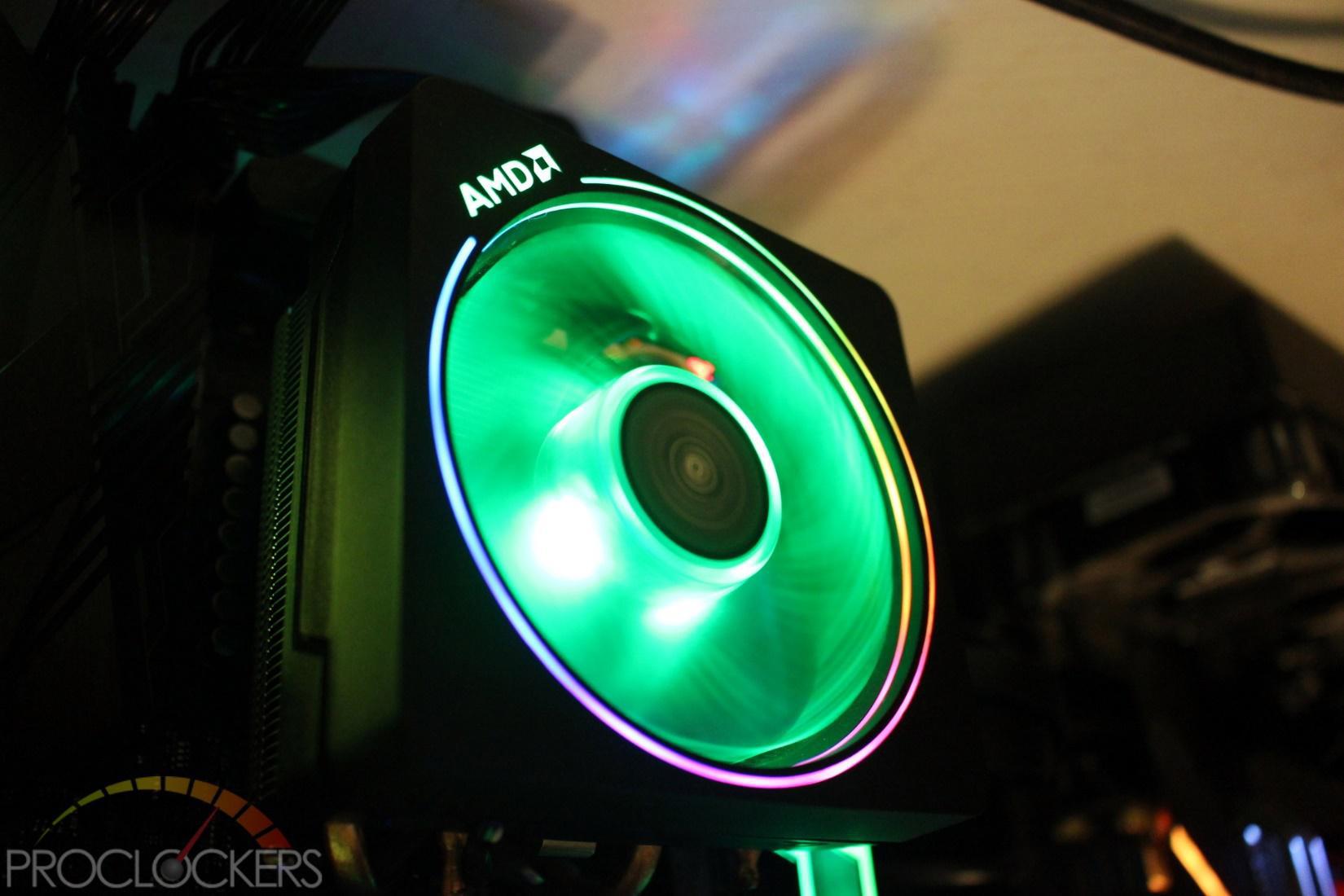 System Configuration & Testing
CPU: AMD Ryzen 7 3700X
Ram: 16GB G.skill TridentZ RGB 3200Mhz C16
GPU: Nvidia RTX 2080 FE
Mobo: ASUS ROG Crosshair VIII Hero AC
SSD: Corsair MP600 2000GB PCIe 4.0
Cooling: Wraith PRISM Stock cooler for stock testing. Overclocking was done on a custom 360mm loop, EK Velocity CPU block, EKWB PE 360mm radiator, Monsoon MMRS res, and EKWB D5 Pump. Cooled by three Corsair ML120 Pro fans.
Performance Testing
General Performance Testing
All performance testing was done with the i7-8700K and GTX 1070 at default clock speed. CPU was left with Speed Step and Turbo Boost enabled. Games were ran at a resolution of 1920 x 1080 and higher settings enabled as noted.
PCMark 10
PCMark 10 is the complete benchmark for the modern office. It is the ideal test for organizations that are evaluating PCs for a workforce with a range of performance needs. The tests in this benchmark cover a wide range of activities from everyday productivity tasks to demanding work with digital media content.
PCMark 10 uses a modular approach to build relevant benchmark tests around common end-user scenarios. A Test Group is a collection of workloads that share a common theme or purpose. There are four test groups in PCMark 10, we use three of them.
Essentials: covers the common, everyday ways that people use a PC. The workloads include Web Browsing, Video Conferencing, and App Start-up time.
Productivity: measures system performance with everyday office applications. This test group includes the Spreadsheets and Writing workloads.
Digital Content Creation: This test group's workload reflects the demands of working with digital content and media. The tests include Photo Editing, Video Editing, and Rendering and Visualization.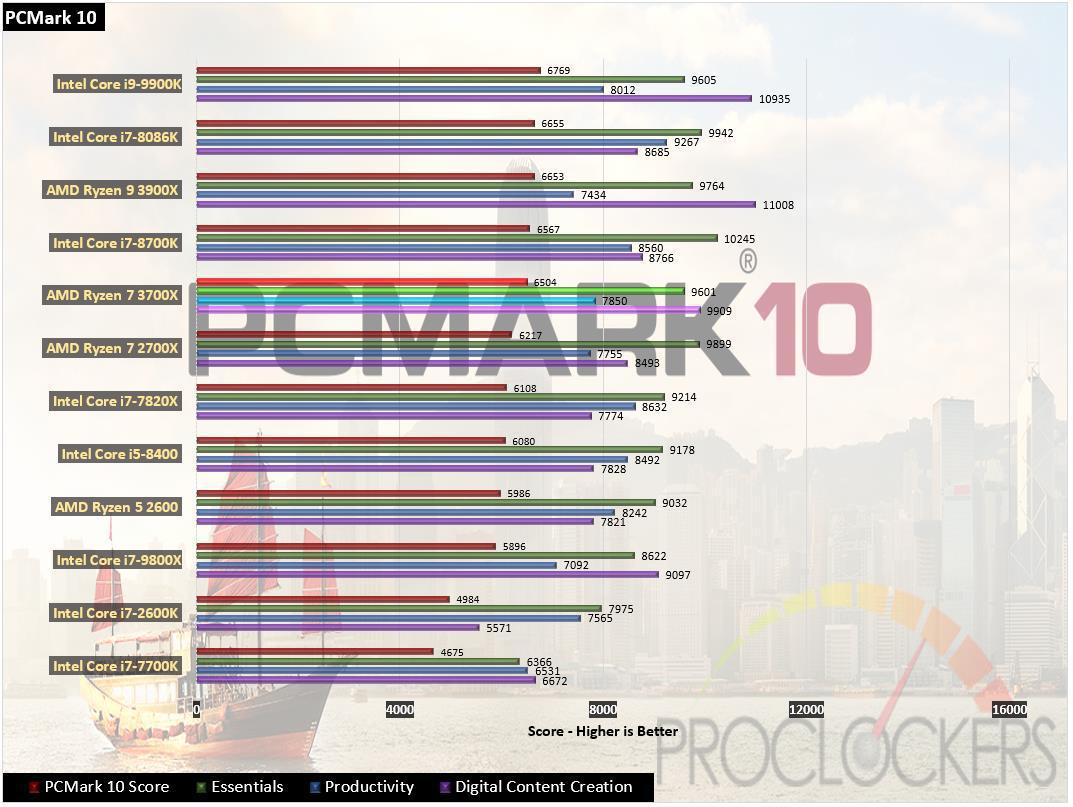 AMD's Ryzen 7 3700X is no slouch in the productivity market with great scores in PCMark 10. We see noticeable gains over the previous 2700X, especially in the Digital Content Creation segment.
WebXPRT 2015
WebXPRT 2013 uses scenarios created to mirror the tasks you do every day to compare the performance of almost any Web-enabled device. It contains four HTML5- and JavaScript-based workloads: Photo Effects, Face Detect, Stocks Dashboard, and Offline Notes. WebXPRT is run with the latest stable release version of Google Chrome browser, in this case, Version 75.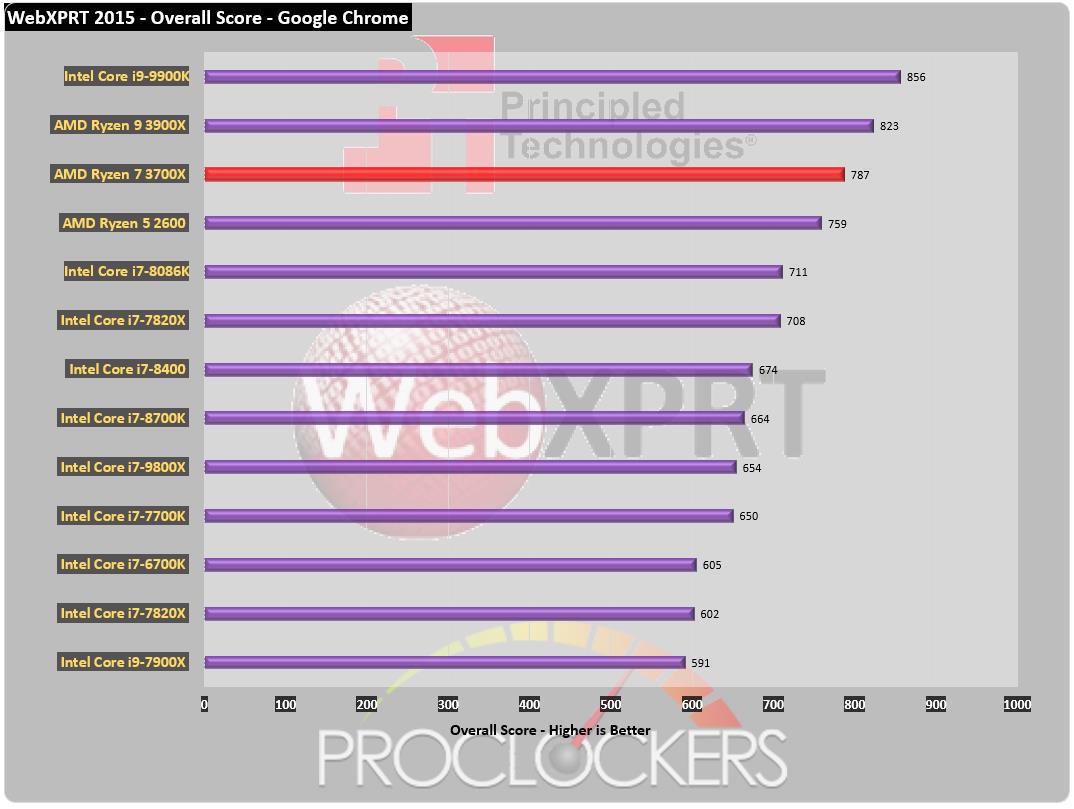 The 3900X even fares well in the browser-based WebXPRT 2015 test with a score of 787 +/- 14.
CPU Performance Testing
Super PI Modded 1.5
"In August 1995, the calculation of pi up to 4,294,960,000 decimal digits was succeeded by using a supercomputer at the University of Tokyo. The program was written by D.Takahashi in collaboration with Dr.Y.Kanada at the computer center. This record should be the current world record. (Details are shown in the windows help.) This record-breaking program was ported to personal computer environments such as Windows NT and Windows 95. In order to calculate 33.55 million digits, it takes within 3 days with a Pentium 90 MHz, 40 MB main memory and 340 MB available storage."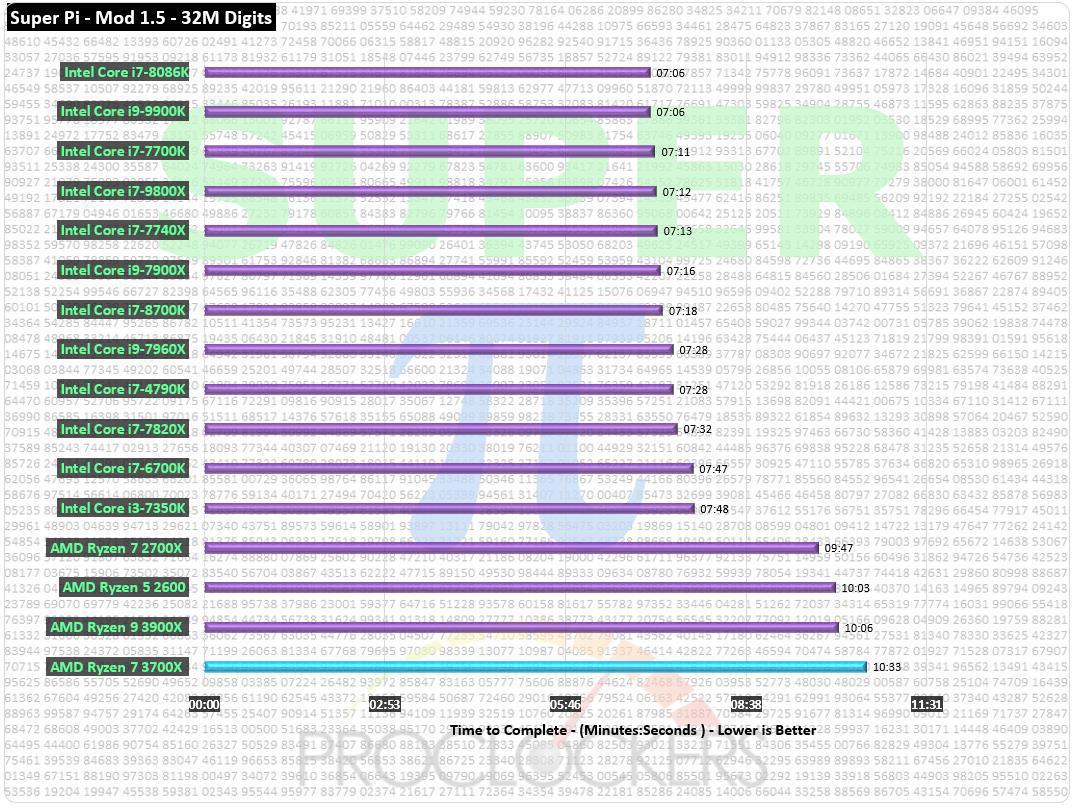 Intel still holds the lead in out of the box single core speeds and that shows here, but the 3700X does a great job in about 10 and a half minutes.
Y-Cruncher
Written by Alexander J. Lee "From a high-school project that went a little too far…" y-cruncher, (y for gamma) is a number-crunching program that can compute various mathematical constants.
It was originally a small program specialized for computing the Euler-Mascheroni Constant. (Which uses gamma as its symbol, hence the name). It has since gained the ability to compute other constants.
It is the first of its kind that is multi-threaded and scalable to multi-core systems. Ever since its launch in 2009, it has become a common benchmarking and stress-testing application for overclockers and hardware enthusiasts.
We tested using the built-in benchmarks to compute Pi to 1 Billion Digits in both single and multi-threaded mode and recorded the Total Computation time at the end of the run. Y-Cruncher is also able to take advantage of AVX512 instructions in compatible CPU's. Due to the thermal load of running Intense AVX workloads, Intel has implemented and AVX offset clock that may scale the CPU's clock speed back, even below stock speeds when running intense AVX loads. For this reason, we note the CPU's clock speed in both single and multi-threaded test modes.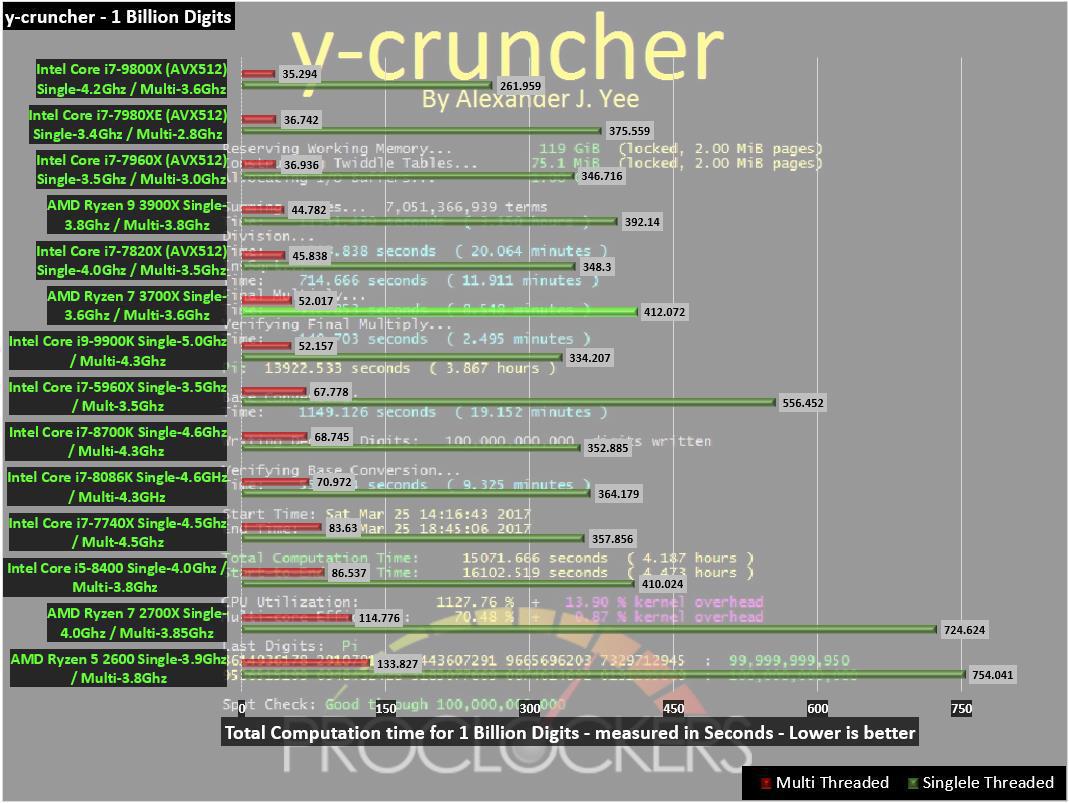 In AVX workloads, the new Ryzen 3000 series CPU's are the fastest chips we've tested to date without AVX-512 support with the 3700X only trailing it's bigger 3900X counterpart by a short amount.
SiSoft Sandra – Cryptographic Bandwidth
"SiSoftware Sandra provides a robust package of diagnostic tools for testing your system and teasing out its problems–or potential headaches."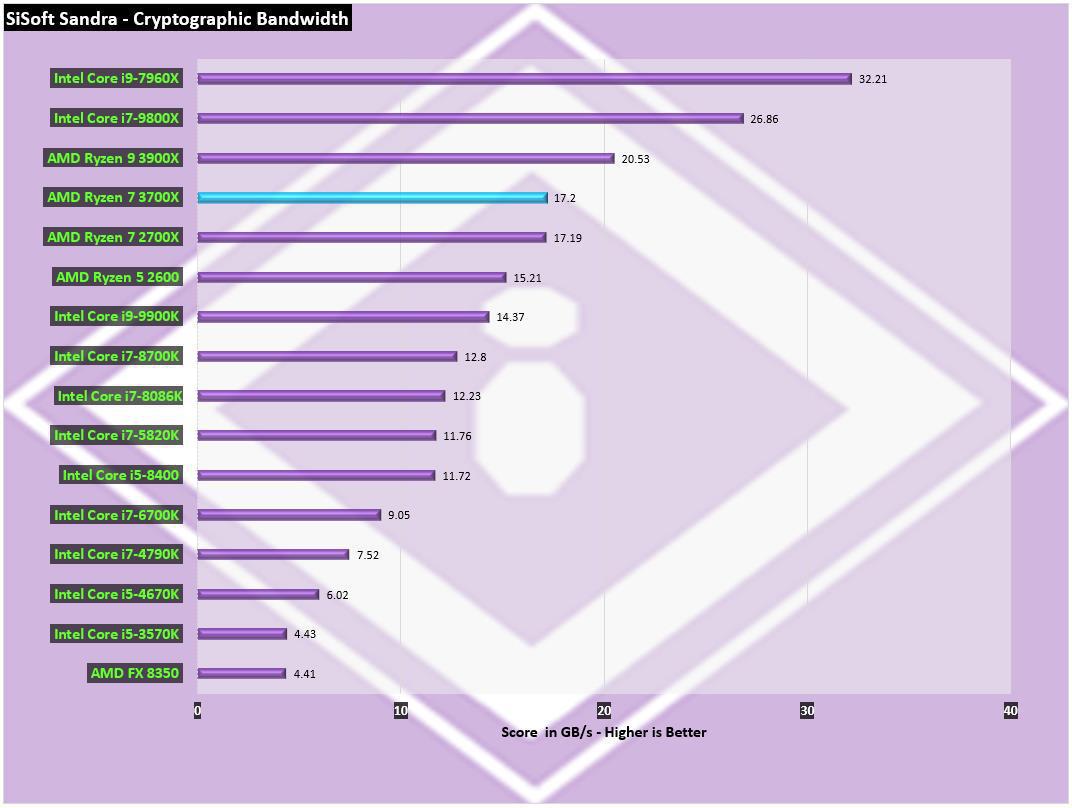 Cryptographic bandwidth comes in very close to but slightly over the previous Ryzen 7 2700X chip.
CINEBENCH R15
"CINEBENCH is a real-world cross platform test suite that evaluates your computer's performance capabilities. CINEBENCH is based on MAXON's award-winning animation software CINEMA 4D, which is used extensively by studios and production houses worldwide for 3D content creation. MAXON software has been used in blockbuster movies such as Iron Man 3, Oblivion, Life of Pi or Prometheus and much more.
CINEBENCH is the perfect tool to compare CPU and graphics performance across various systems and platforms (Windows and OS X). And best of all: It's completely free."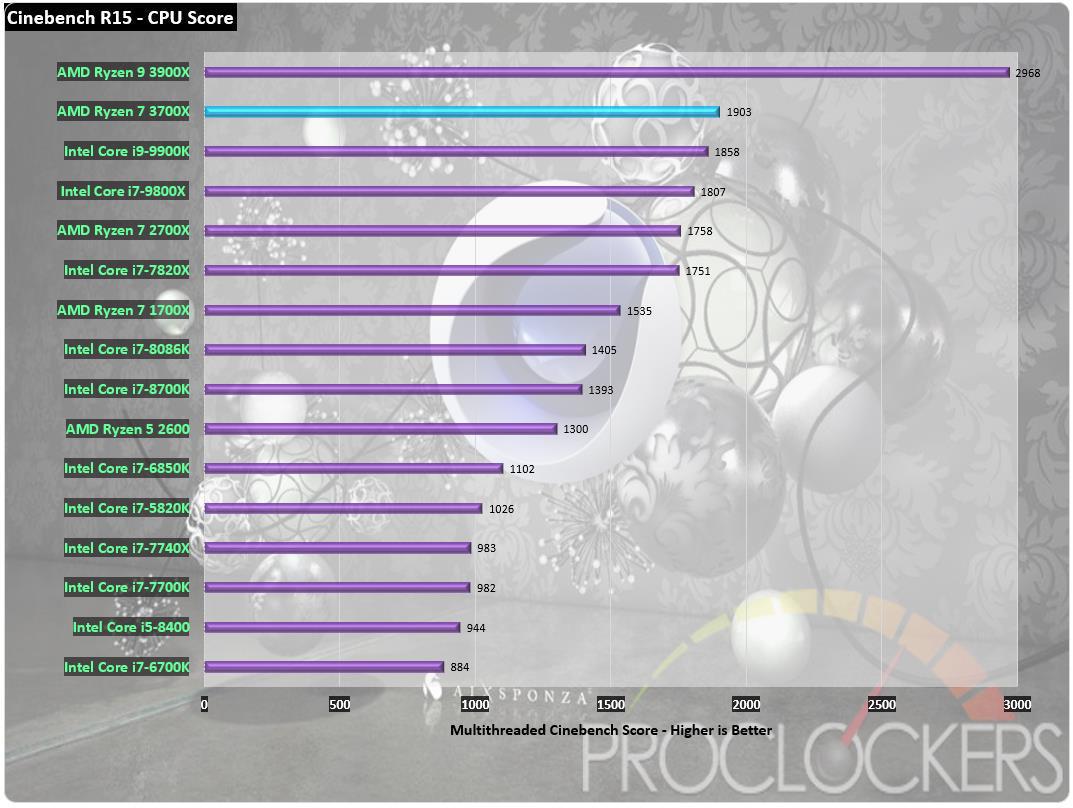 The sustained all-core performance here edges out every single other 8-core CPU in our list, including the competition.
CINEBENCH R20
Cinebench is a real-world cross-platform test suite that evaluates your computer's hardware capabilities. Improvements to Cinebench Release 20 reflect the overall advancements to CPU and rendering technology in recent years, providing a more accurate measurement of Cinema 4D's ability to take advantage of multiple CPU cores and modern processor features available to the average user. Best of all: It's free.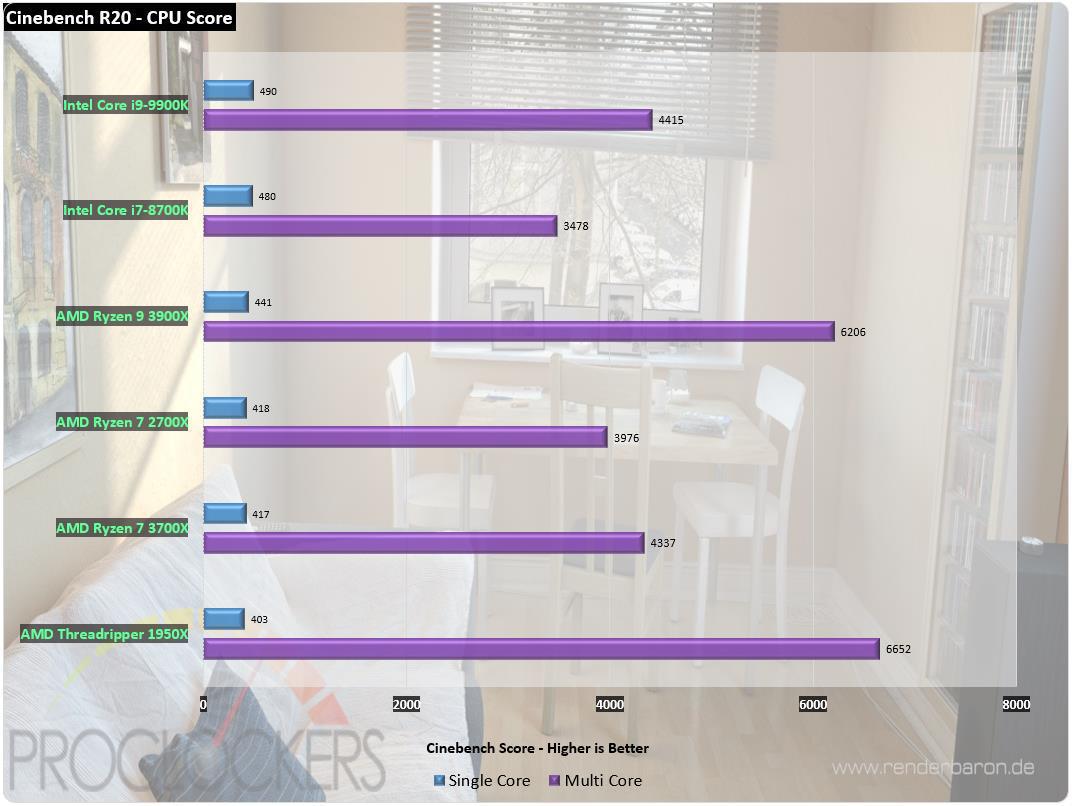 Single-core testing still favors team blue with its upper-end chips hitting the 5Ghz mark, but in multi-core testing, the 3700X is hot on the heels of blue's mainstream flagship, quite the jump from the 2700X of last year.
7-Zip
The benchmark shows a rating in MIPS (million instructions per second). The rating value is calculated from the measured speed, and it is normalized with results of Intel Core 2 CPU with multi-threading option switched off. So if you have modern CPU from Intel or AMD, rating values in single-thread mode must be close to real CPU frequency. There are two tests, compression with LZMA method and decompression with LZMA method. Once the total passes reach 100, the score is taken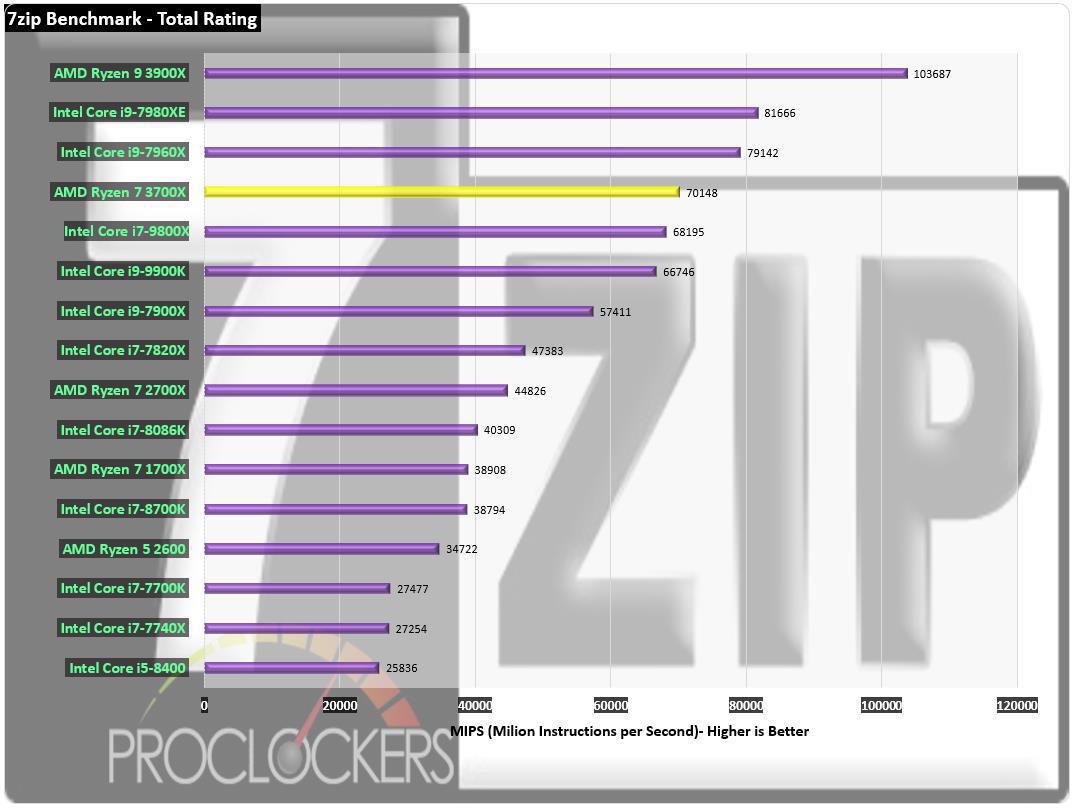 7zip really takes advantage of the new Zen2 architecture and spits out the highest 8-core score we've seen yet.
Black Hole 4.2
Let the beast run and benchmark your system in three different tests (Multithreaded, Single-threaded & 4-Threaded) that will test your CPU to the very limit, and score you among hundreds of other systems that have tested.
Multithreaded will test your CPU's efficiency of running more than one thread without major system lag. The higher you score on this one, the more threads your CPU can handle with a comfortable speed. High multithreaded scores generally mean you can render things faster.
4-Threaded tests your CPU's performance in games since most games currently run on 4 threads.
Single-threaded evaluates how fast the CPU can handle a single, dedicated thread for processing.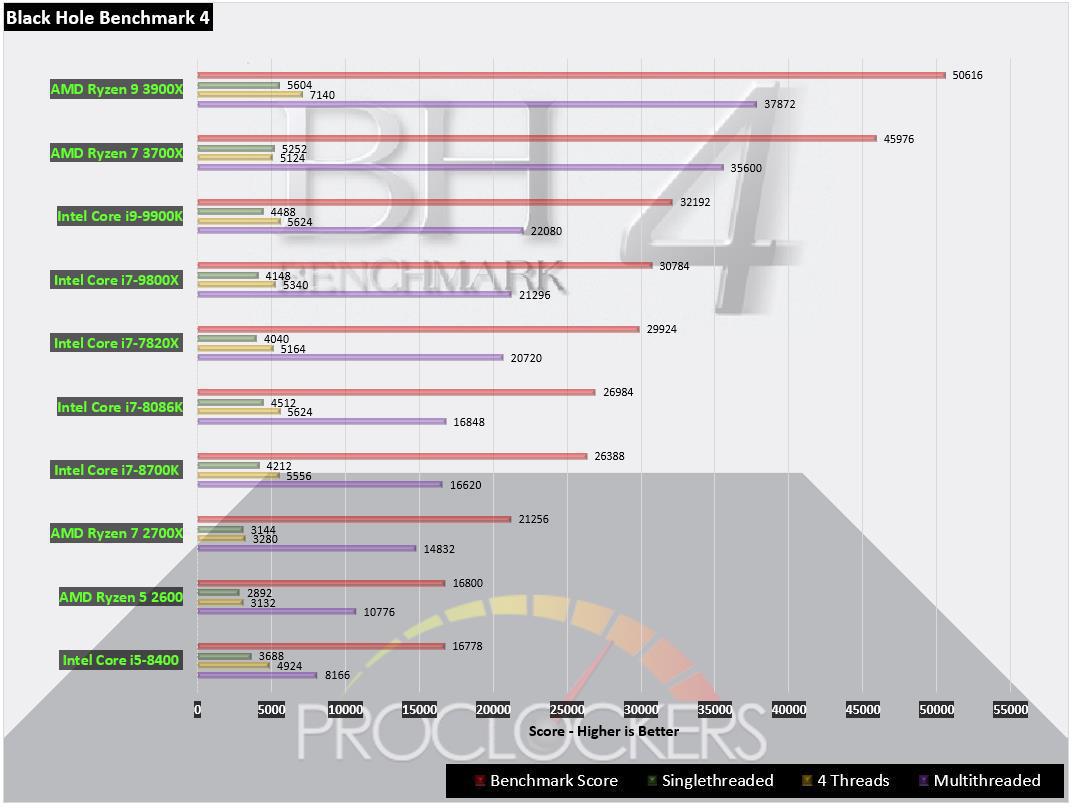 The 12-core 3900X is obviously going to lead here but it's great to see even the 8-core 3700X wallop every other 8-core CPU without even trying.
Memory Performance Testing
AIDA64 Engineer Edition
"FinalWire Ltd. today announced the immediate availability of AIDA64 Extreme Edition 1.50 software, a streamlined diagnostic and benchmarking tool for home users; and the immediate availability of AIDA64 Business Edition 1.50 software, an essential network management solution for small and medium scale enterprises. The new AIDA64 update implements AVX-optimized benchmarks for the upcoming Intel Sandy Bridge processors, adds a brand-new video encoding benchmark, and supports the latest AMD and NVIDIA graphics processors."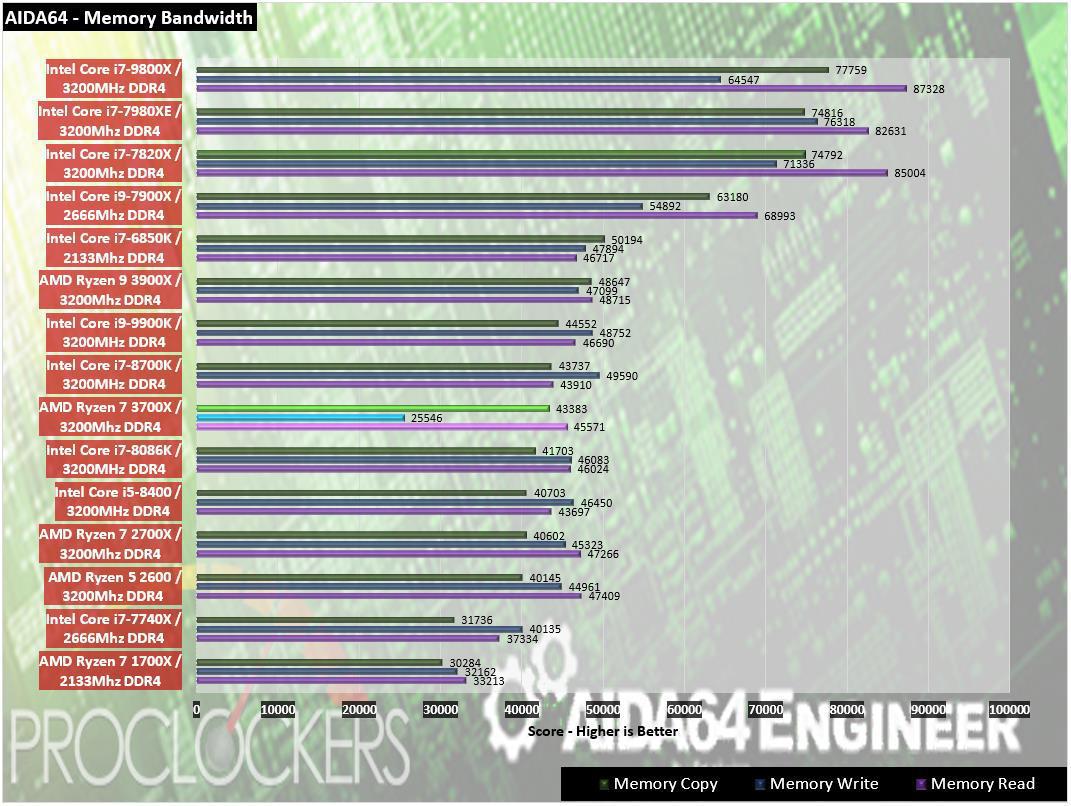 AMD increased the overall read bandwidth in the new architecture with a new memory controller, but we see an impact to write performance on the smaller chips. The memory copy function here is quite representative of real-world memory intensive programs, and that is unaffected.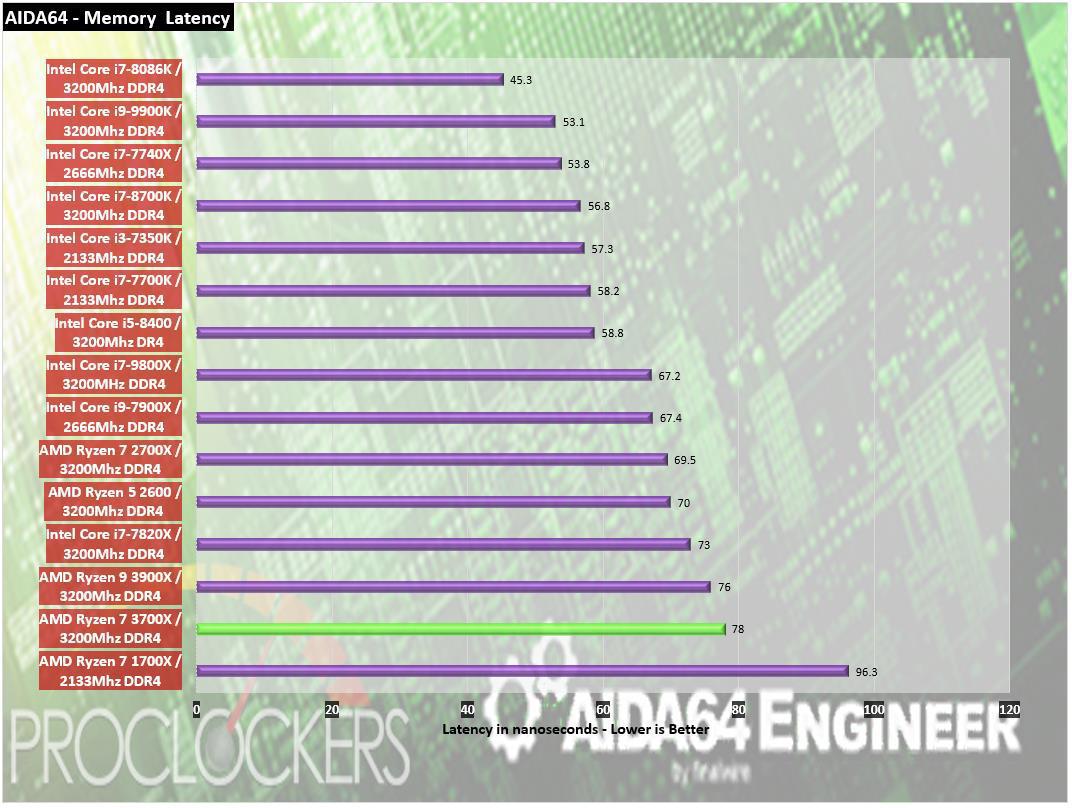 Memory system latency is not pretty decent with about a 30% drop from the first-generation Ryzen chips.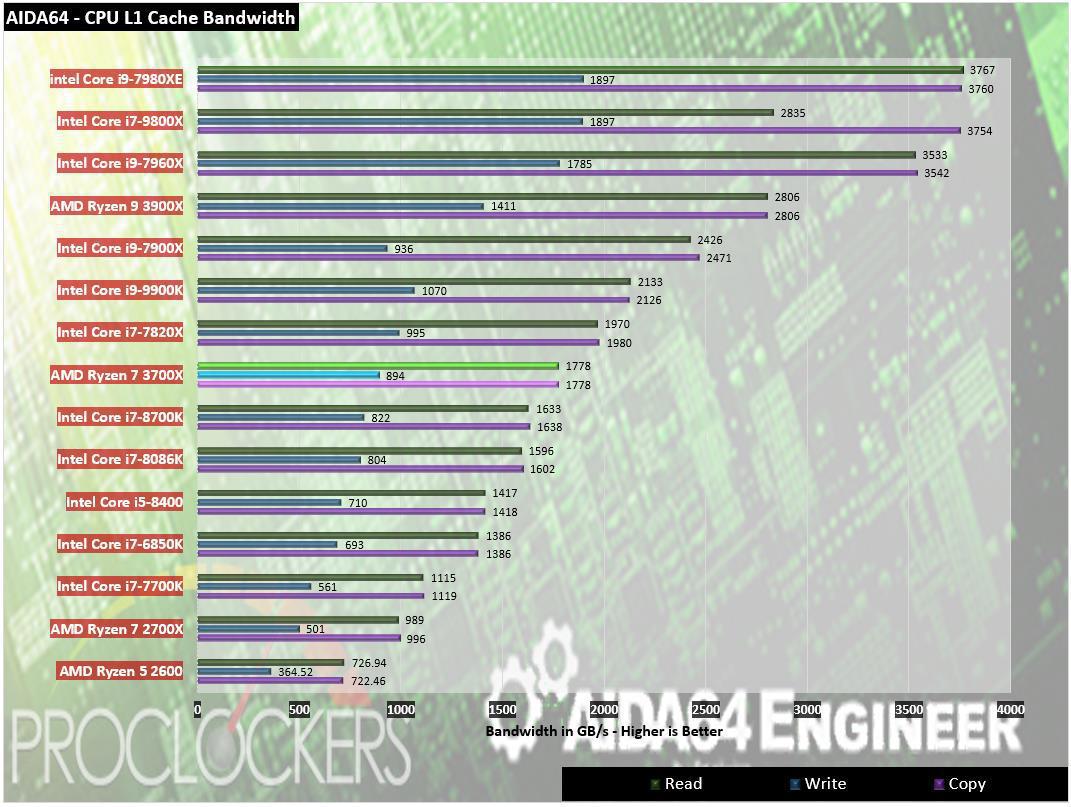 L1 cache read/copy bandwidth comes in at about 1.8GB/s with writes about half of that as usual.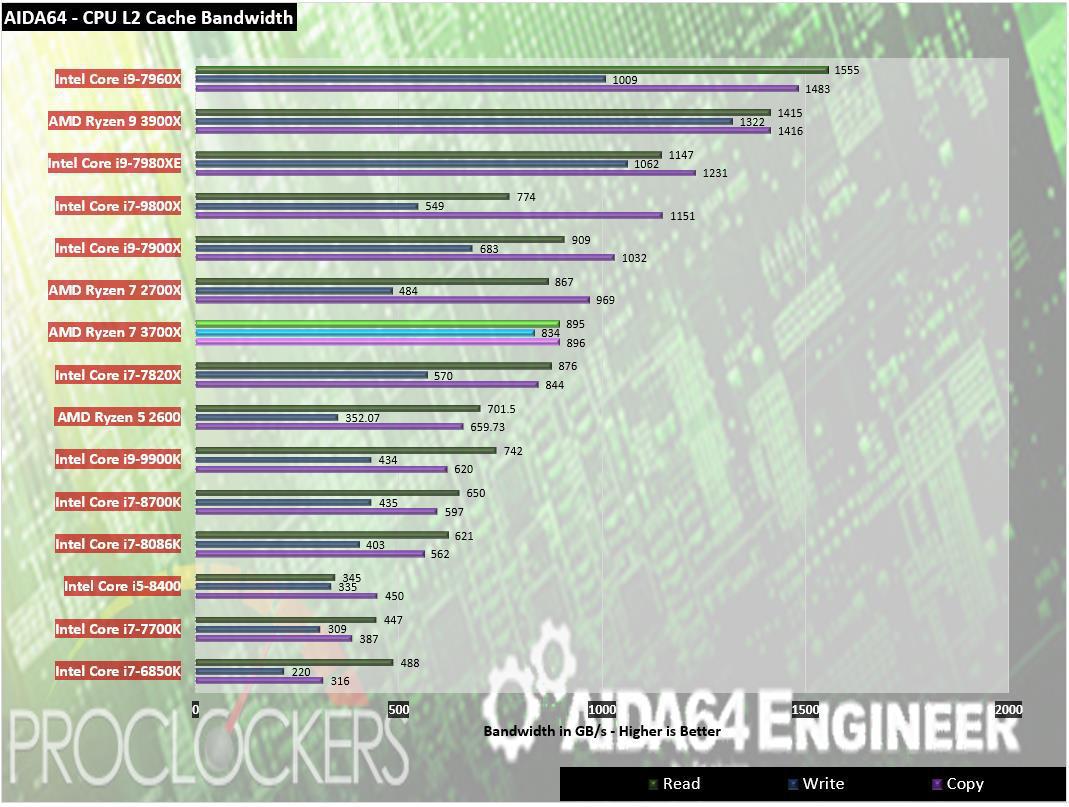 The new GameCache architecture seems to really boost write speeds on L2 cache.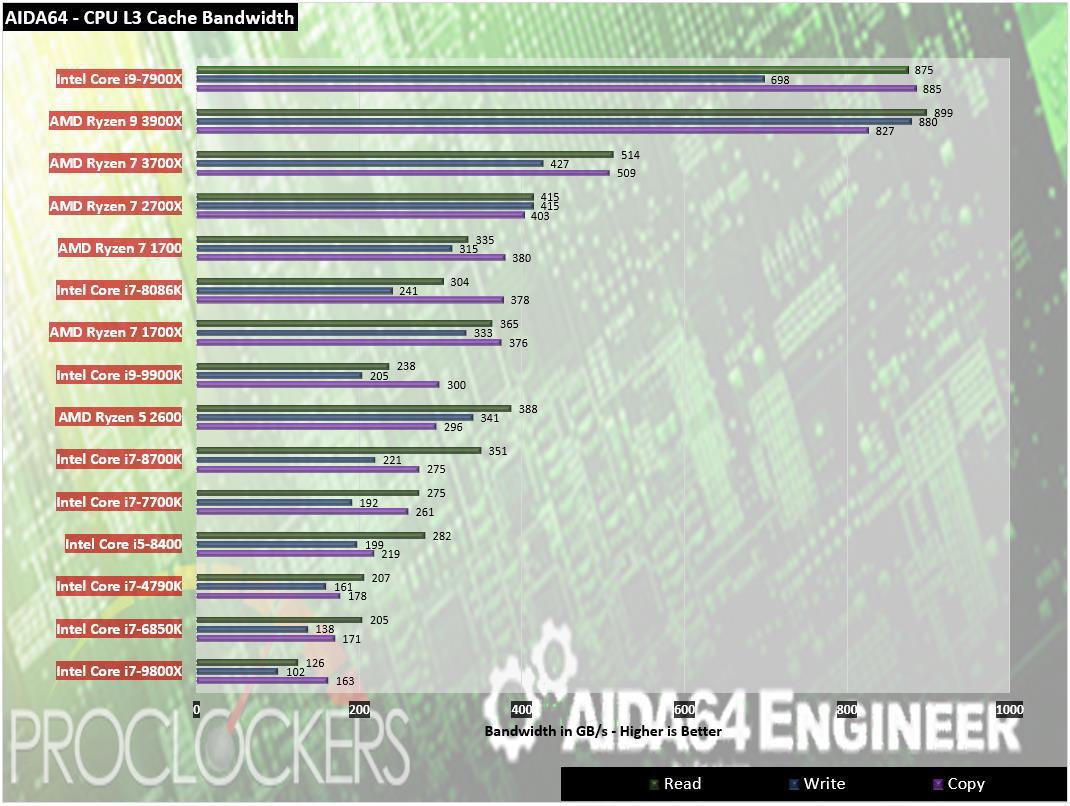 We see pretty similar results with the massive L3 cache as well.
Passmark Performance Test – Memory Mark – Threaded
"Fast, easy to use, PC speed testing and benchmarking. PassMark Performance Test ™ allows you to objectively benchmark a PC using a variety of different speed tests and compare the results to other computers."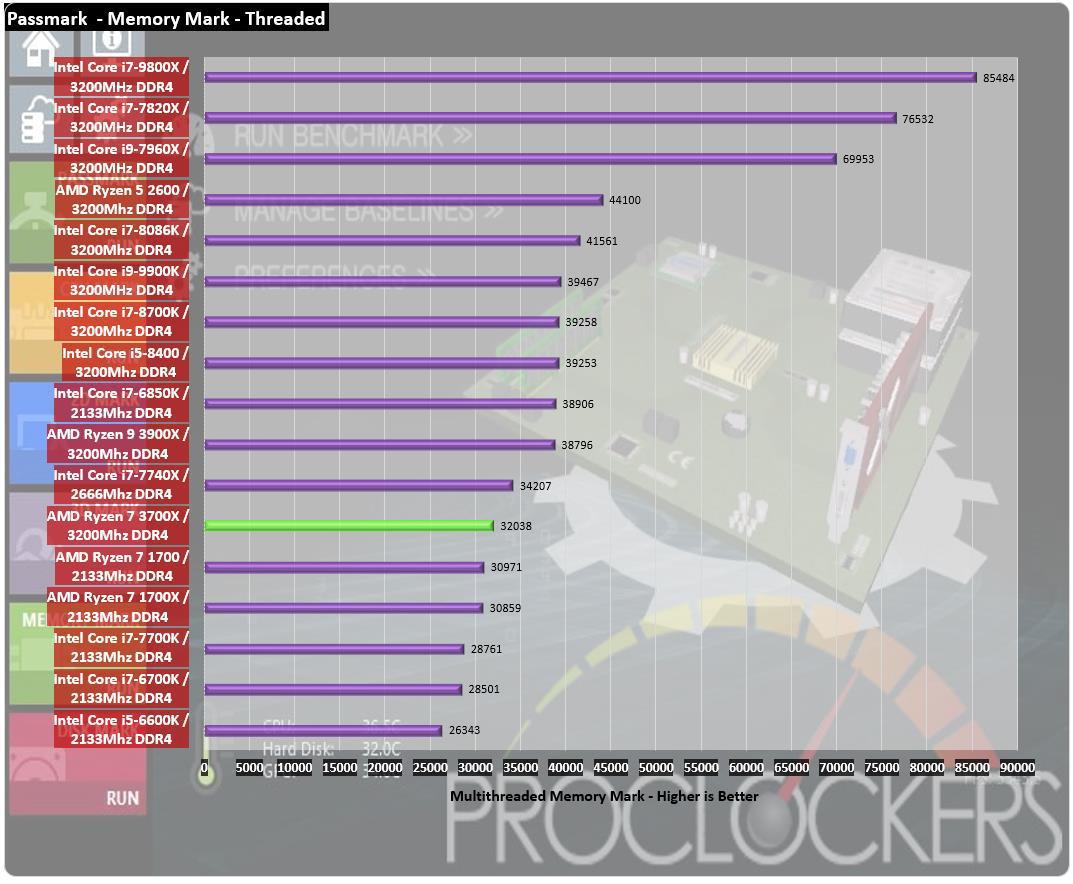 Passmark's test gives the 3700X a score of a little over 32,000 points
SiSoft Sandra – Memory Bandwidth.
"SiSoftware Sandra provides a robust package of diagnostic tools for testing your system and teasing out its problems–or potential headaches."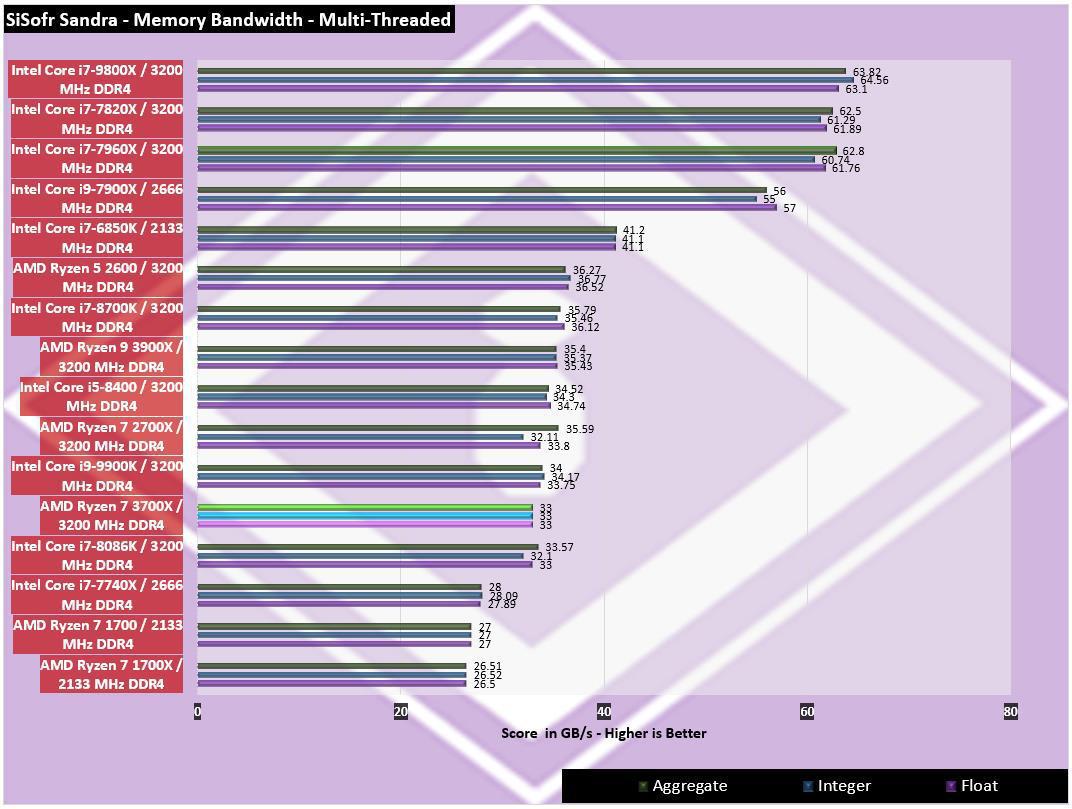 SiSoft comes in at 33GB/s, even on all three segments.
Game Testing
3DMark – Fire Strike
"Fire Strike is a showcase DirectX 11 benchmark designed for today's high-performance gaming PCs. It is our most ambitious and technical benchmark ever, featuring real-time graphics rendered with detail and complexity far beyond what is found in other benchmarks and games today"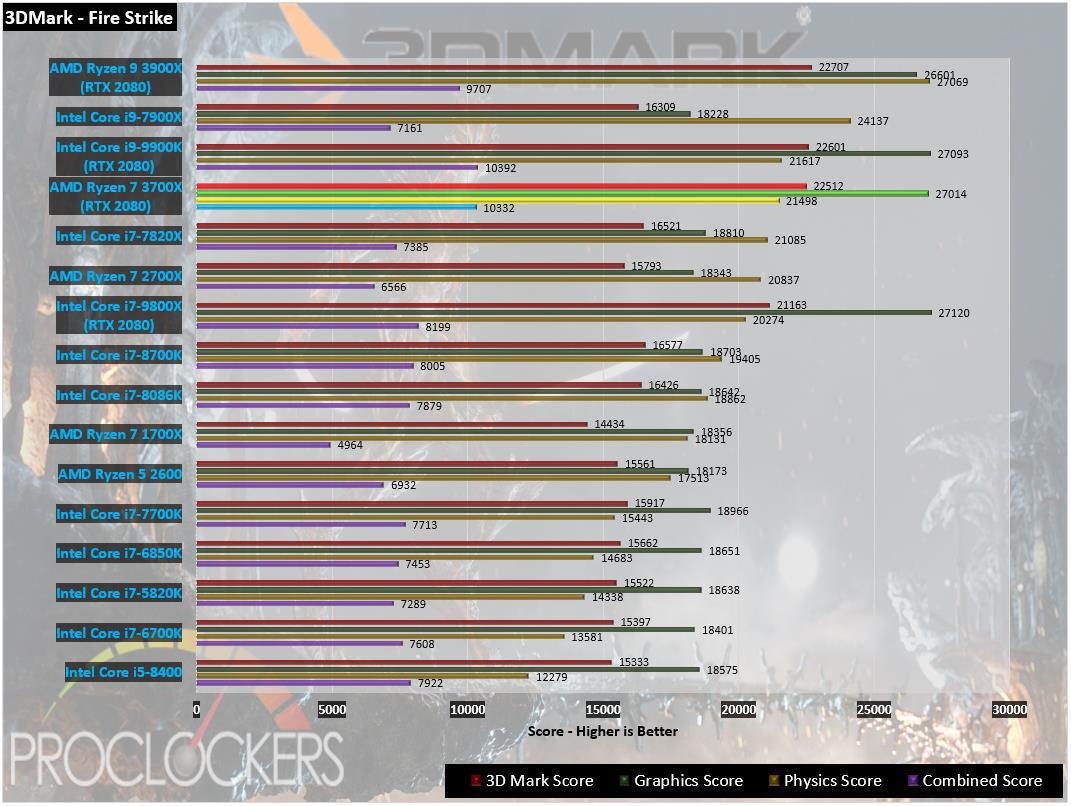 The 3700X and Intel 9900X score very close in the Physics test.
3DMark – Time Spy
"3Dmark Time Spy is a new DirectX 12 benchmark test for Windows 10 gaming PCs. Time Spay is one of the first DirectX 12 apps to be built "the right way" from the ground up to fully realize the performance gains that the new API offers. With DirectX 12 engine, which supports new API features like asynchronous compute, explicit multi-adapter, and multi-threading, Time Spy is the ideal test for benchmarking the latest graphics cards."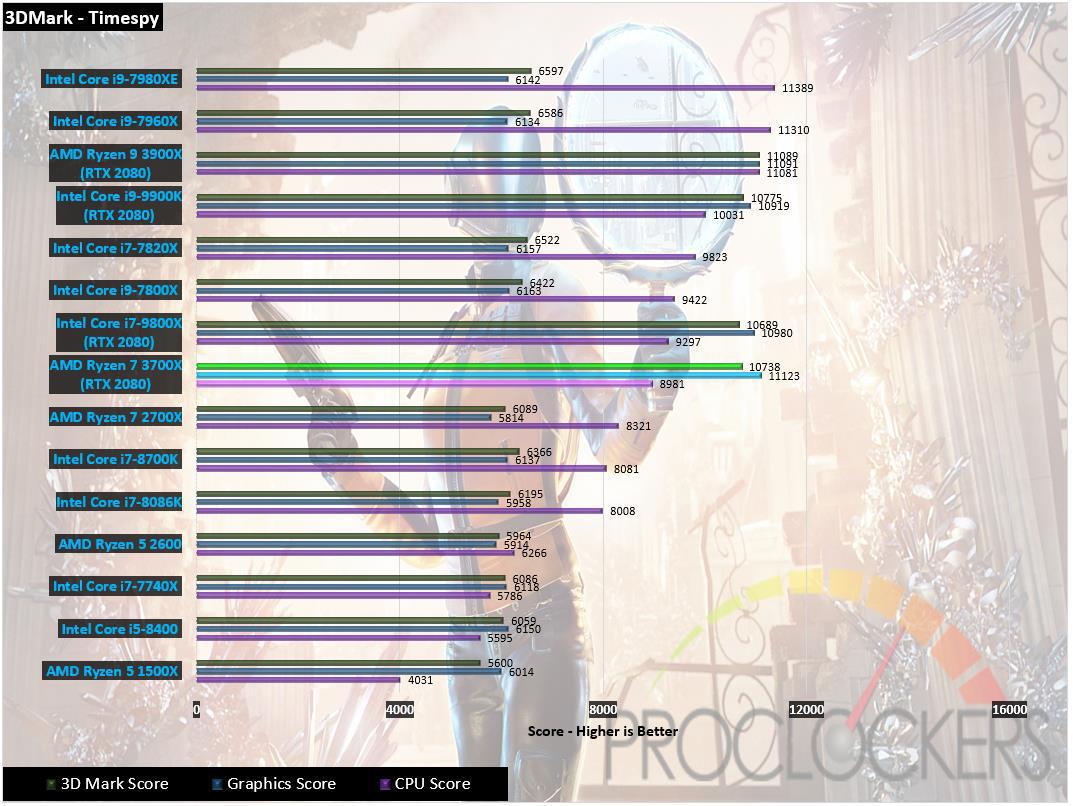 We see very impressive scores from the 3700X, proving it to be a competitive entry in the gaming market.
Far Cry 5
Anything can happen. Everything will.
Welcome to Hope County, Montana, land of the free and the brave, but also home to a fanatical doomsday cult—known as The Project at Eden's Gate—that is threatening the community's freedom. Stand up to the cult's leaders, Joseph Seed, and the Heralds, as you spark the fires of resistance that will liberate the besieged community.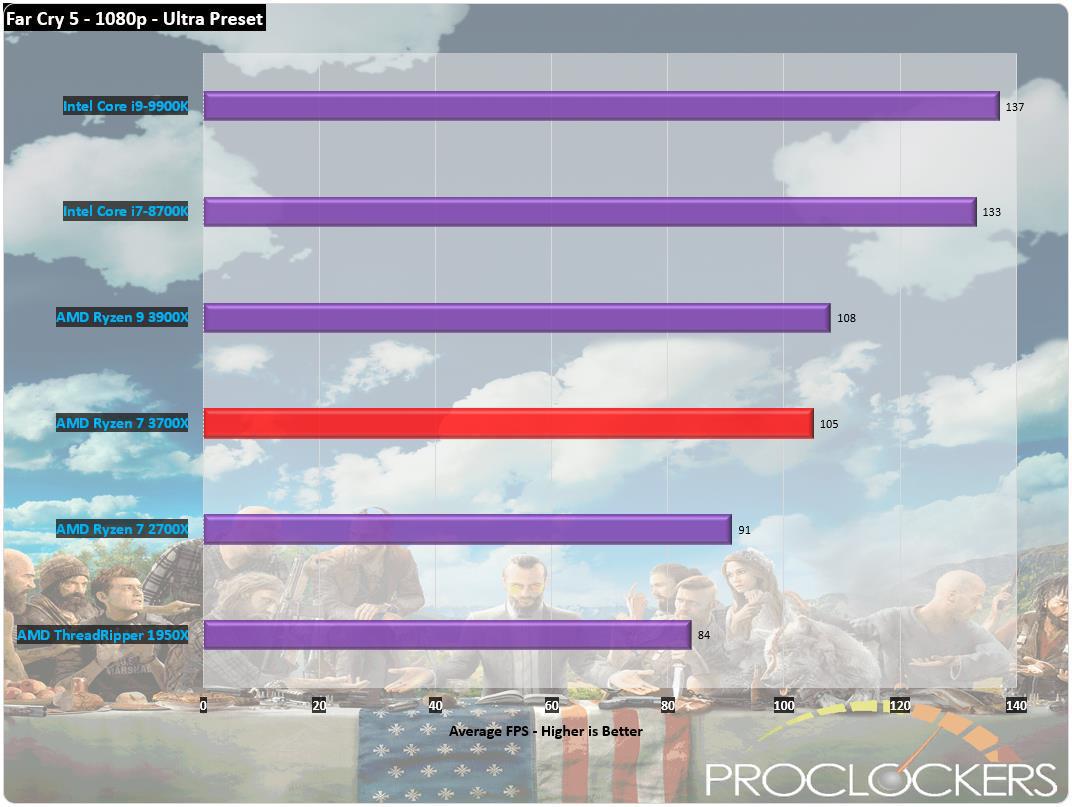 The 3700X shows a significant jump over the previous 2700X in Far Cry 5.
Ashes of the Singularity
Planet by planet, a war is raging across the galaxy. The technological singularity has given humanity the power to expand further than they ever have before. Now, they compete with each other and their sentient artificial intelligence adversaries for control of newfound worlds.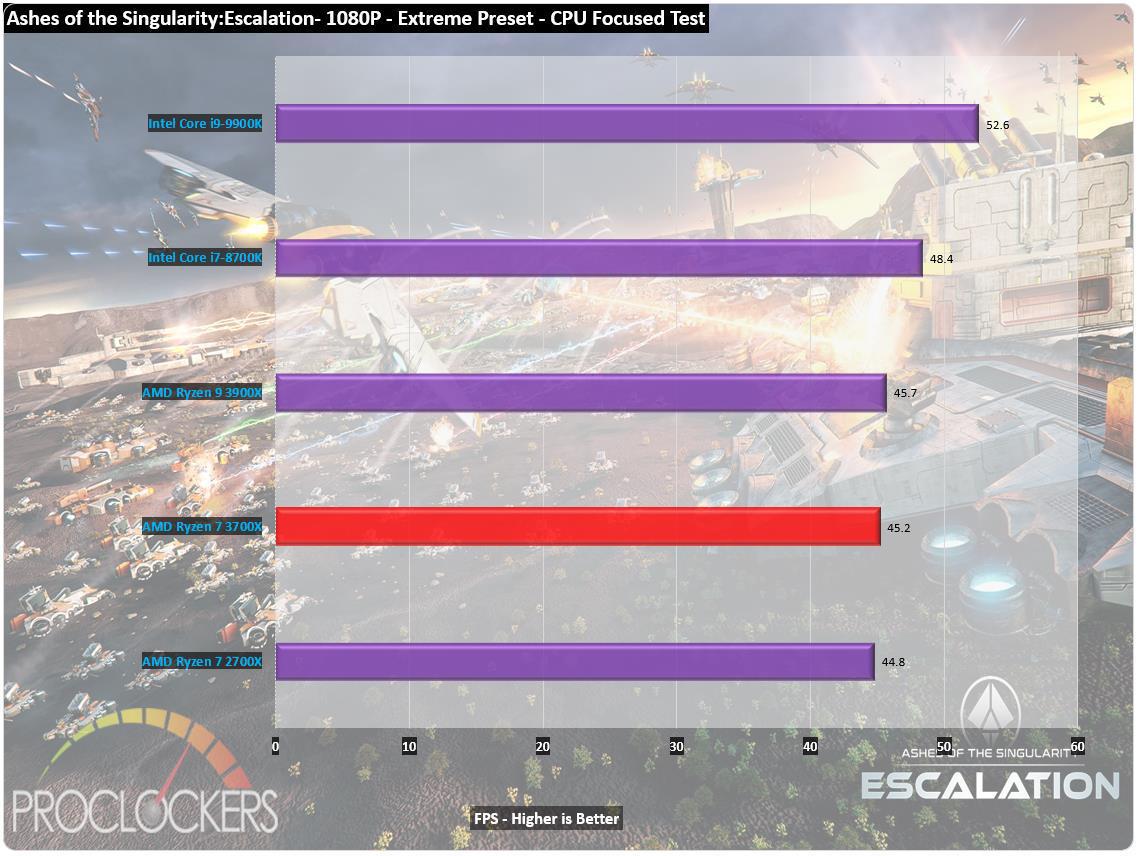 We similar results out of Ashes of the Singularity with a jump over the former generation but still not quite able to catch the blue juggernaut.
Shadow of the Tomb Raider
Experience Lara Croft's defining moment as she becomes the Tomb Raider. In Shadow of the Tomb Raider, Lara must master a deadly jungle, overcome terrifying tombs, and persevere through her darkest hour. As she races to save the world from a Maya apocalypse, Lara will ultimately be forged into the Tomb Raider she is destined to be.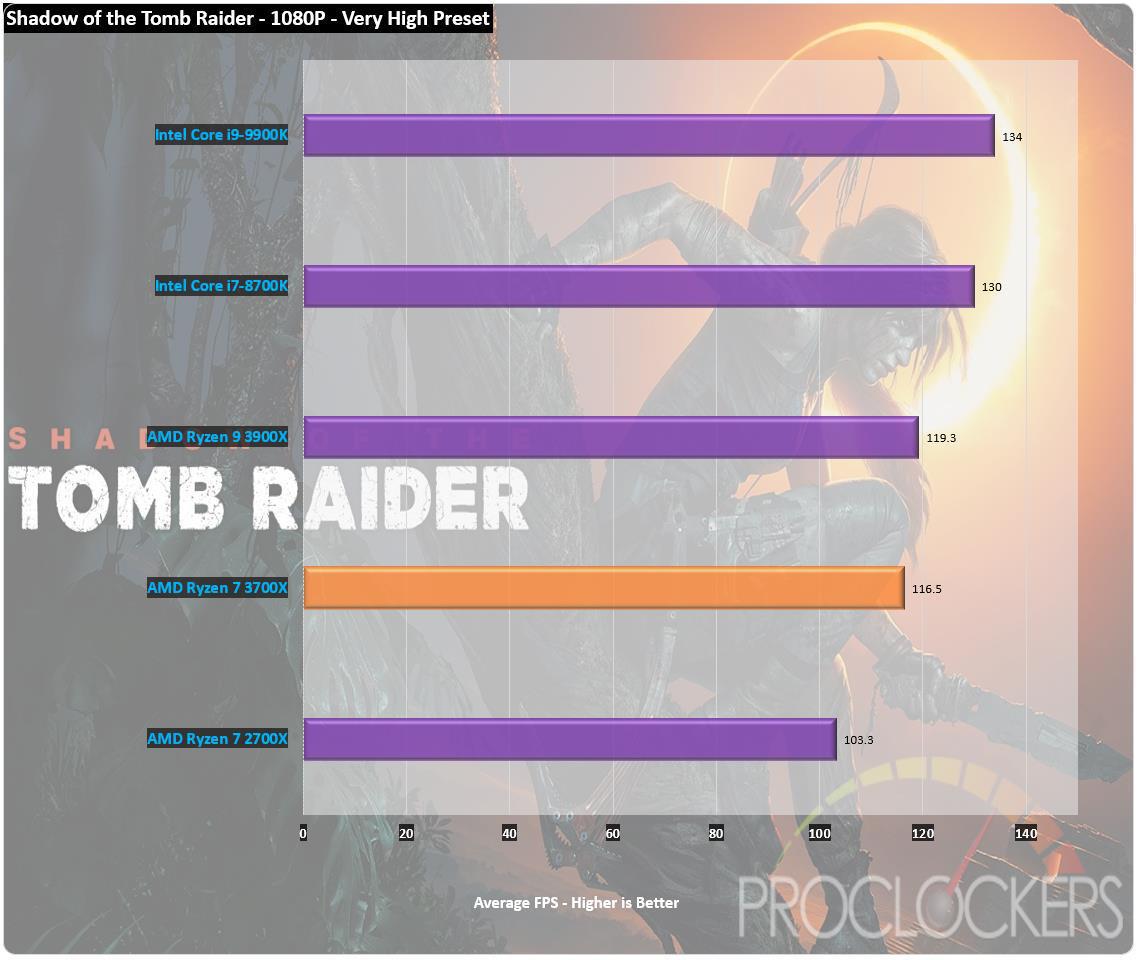 Shadow of the Tomb Raider also shows a wide gap over the previous generation.
Sid Meier's Civilization VI
Originally created by legendary game designer Sid Meier, Civilization is a turn-based strategy game in which you attempt to build an empire to stand the test of time. Become Ruler of the World by establishing and leading a civilization from the Stone Age to the Information Age. Wage war, conduct diplomacy, advance your culture, and go head-to-head with history's greatest leaders as you attempt to build the greatest civilization the world has ever known.
Civilization VI offers new ways to engage with your world: cities now physically expand across the map, active research in technology and culture unlocks new potential, and competing leaders will pursue their own agendas based on their historical traits as you race for one of five ways to achieve victory in the game.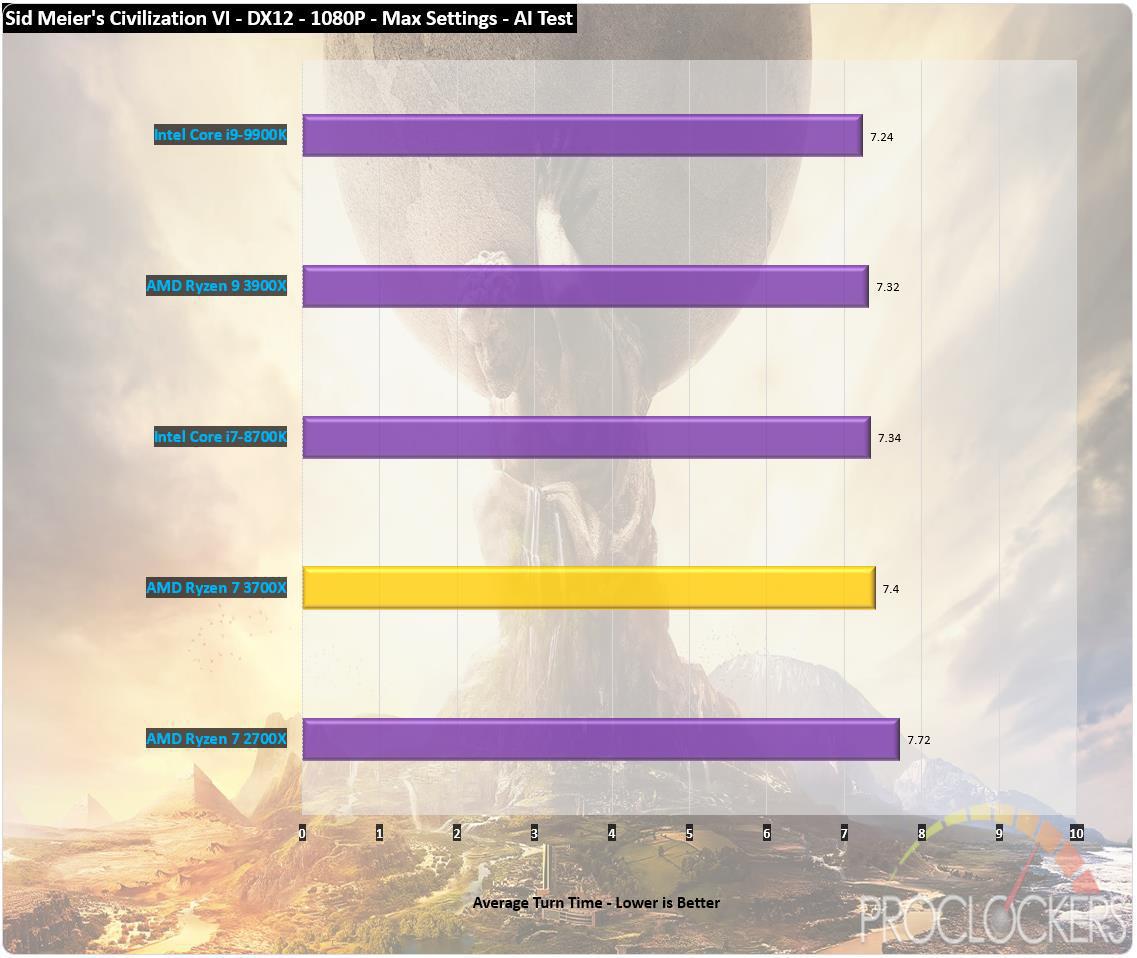 The chips are slugging it out here with very minor differences between them, but still a good leap over the previous 2700X.
Memory, Overclocking & Power Consumption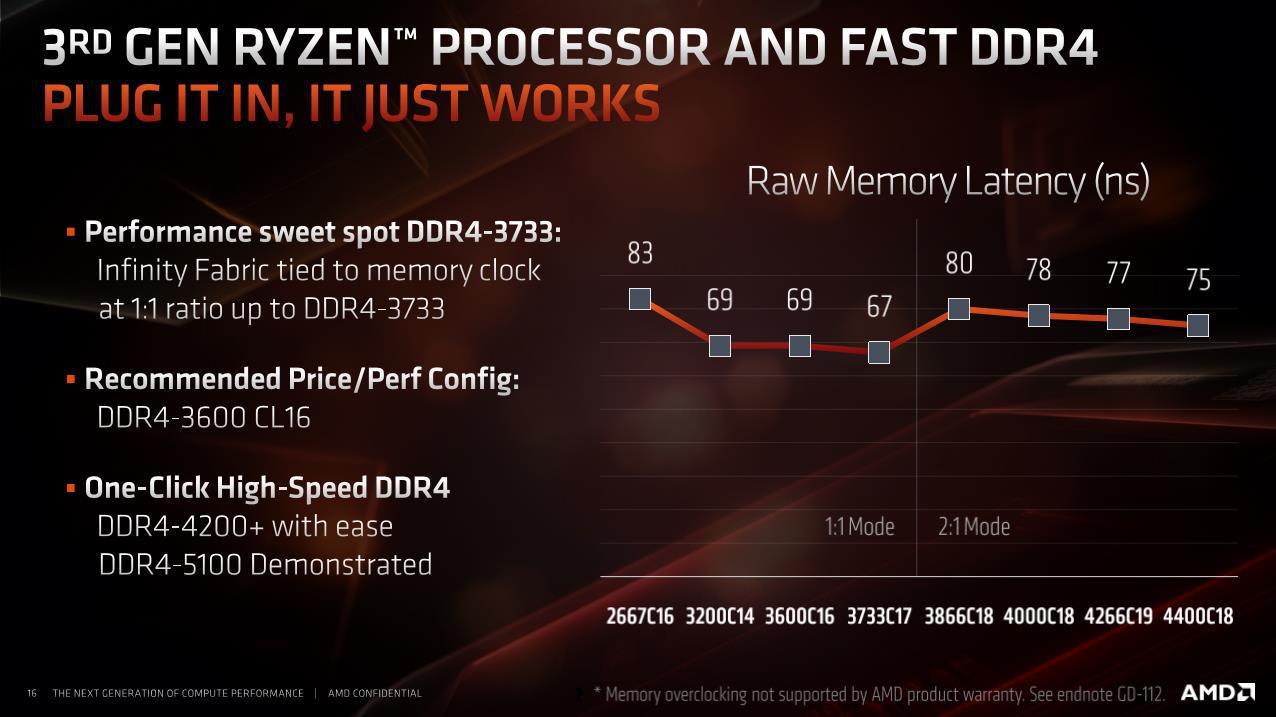 One of the biggest complaints with the previous generations of Ryzen processors was a lack of support for high-speed memory when every little bit higher than you could push the memory, the more overall performance you would see. AMD has used a new memory controller this generation to combat this and advertises fast memory is supported with ease. This comes with a small caveat though, anything over 3733 Mhz would shift gears and would drop the Infinity Fabric to Memory ration back to 2:1 instead of 1:1.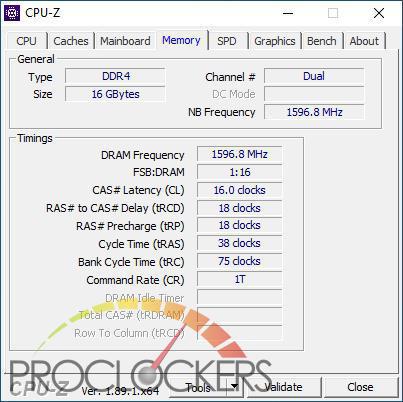 We did all of our testings with 3200MHz memory, something that itself was a struggle to achieve on the first generation.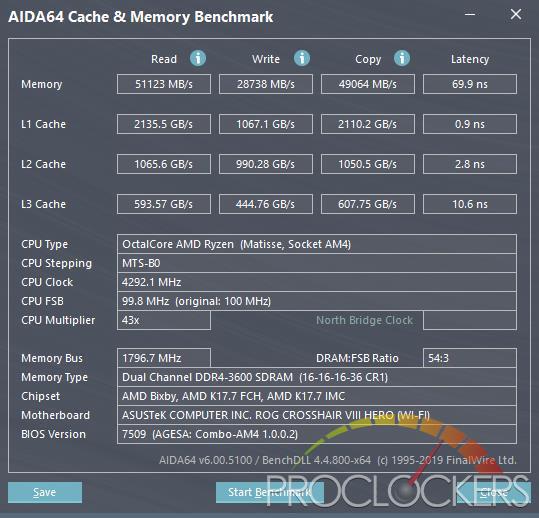 3600Mhz works well at 69.9 ns latency.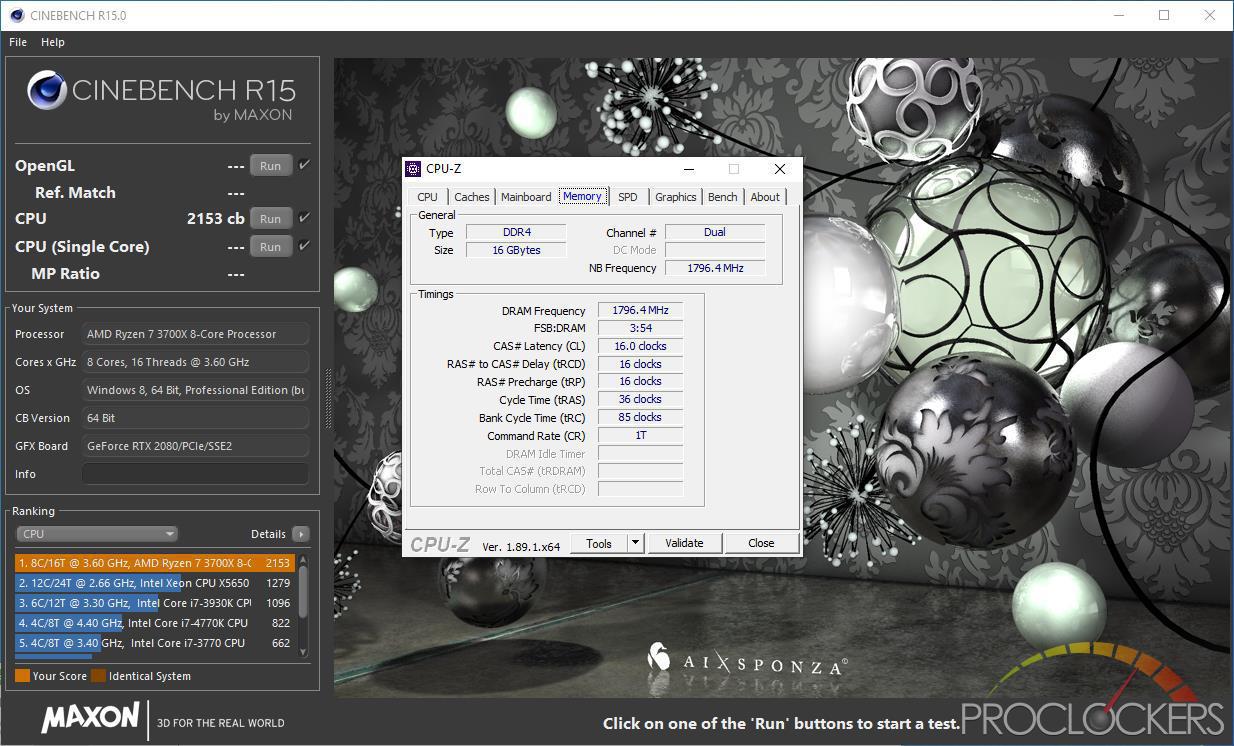 We see a good bump from the 3200Mhz 1903cb score.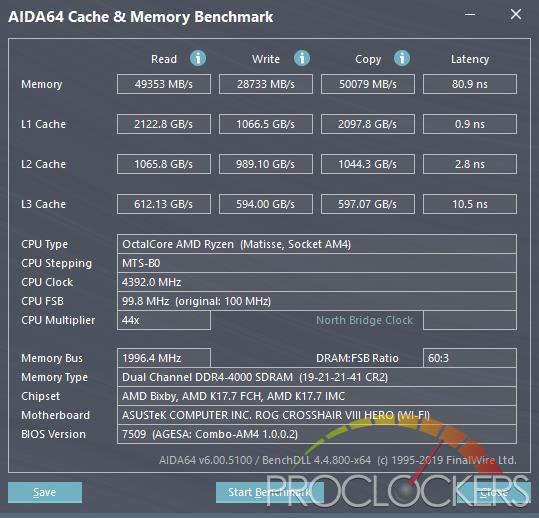 4000 MHz sees about the same overall bandwidth but jumps to 80.9 ns of latency.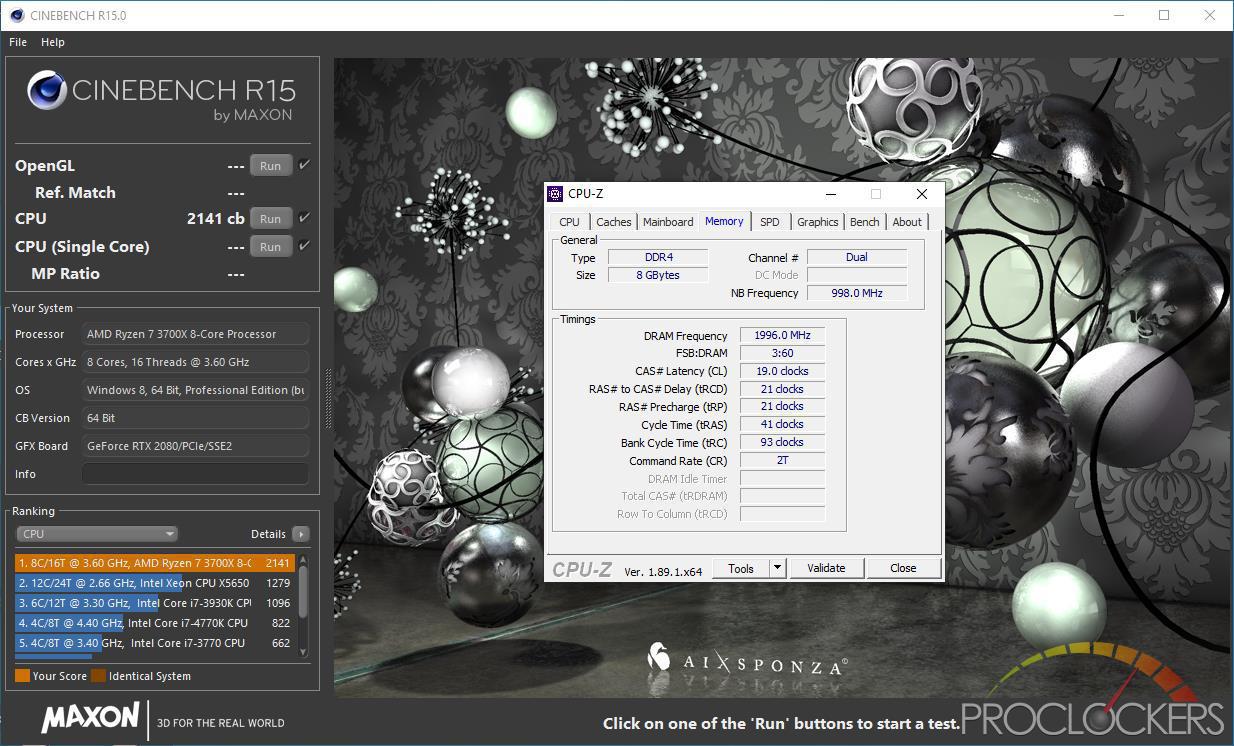 The jump to 4000 MHz actually drops the score slightly from the jump in latency.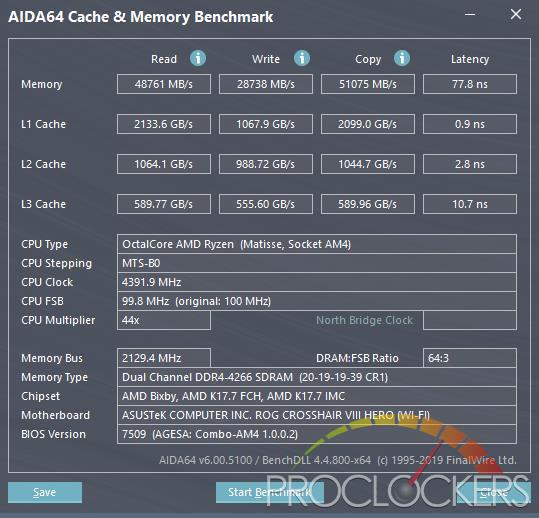 At 4266Mhz, we see the bandwidth largely unchanged, but the latency is starting to come back down at 77.8ns.
Moving the speed up a little more doesn't really change the score.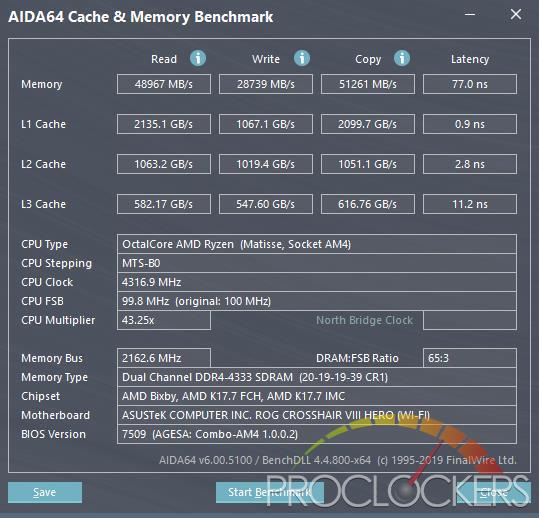 Even at 4333MHz, we still see roughly the same bandwidth, but the latency has dropped again to 77ns.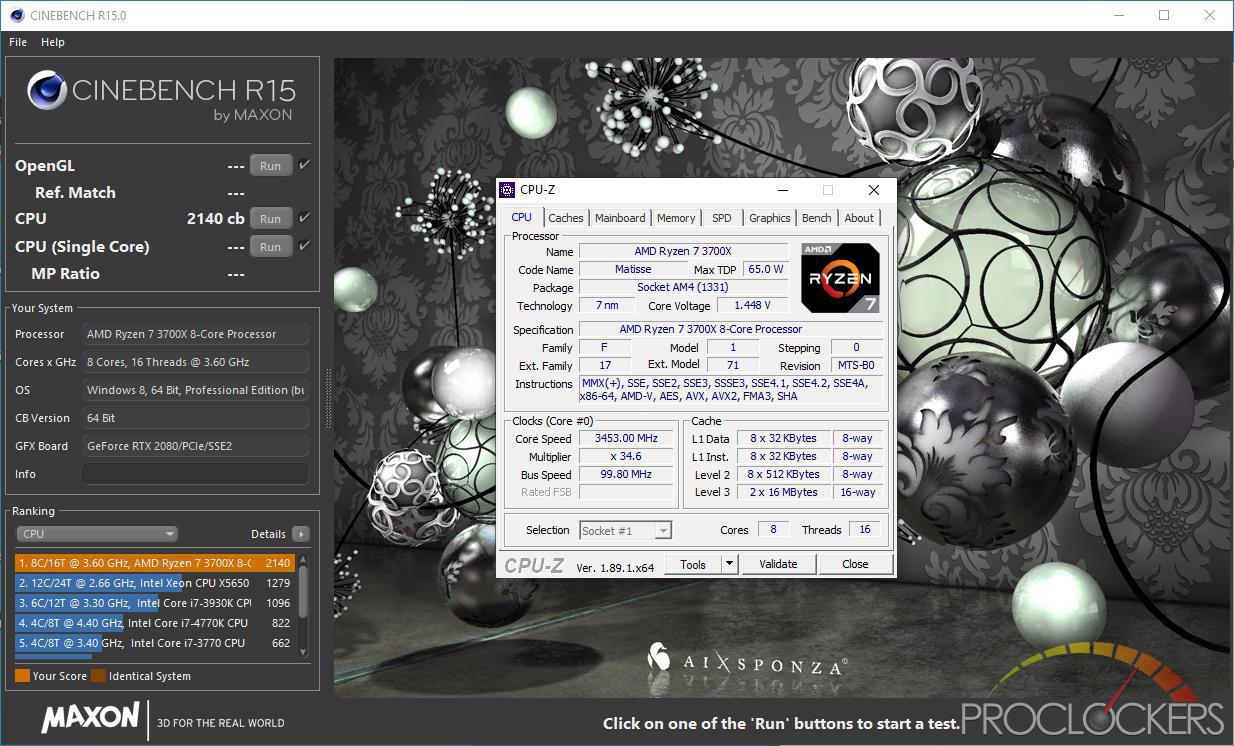 Even a little higher we see no real change in score.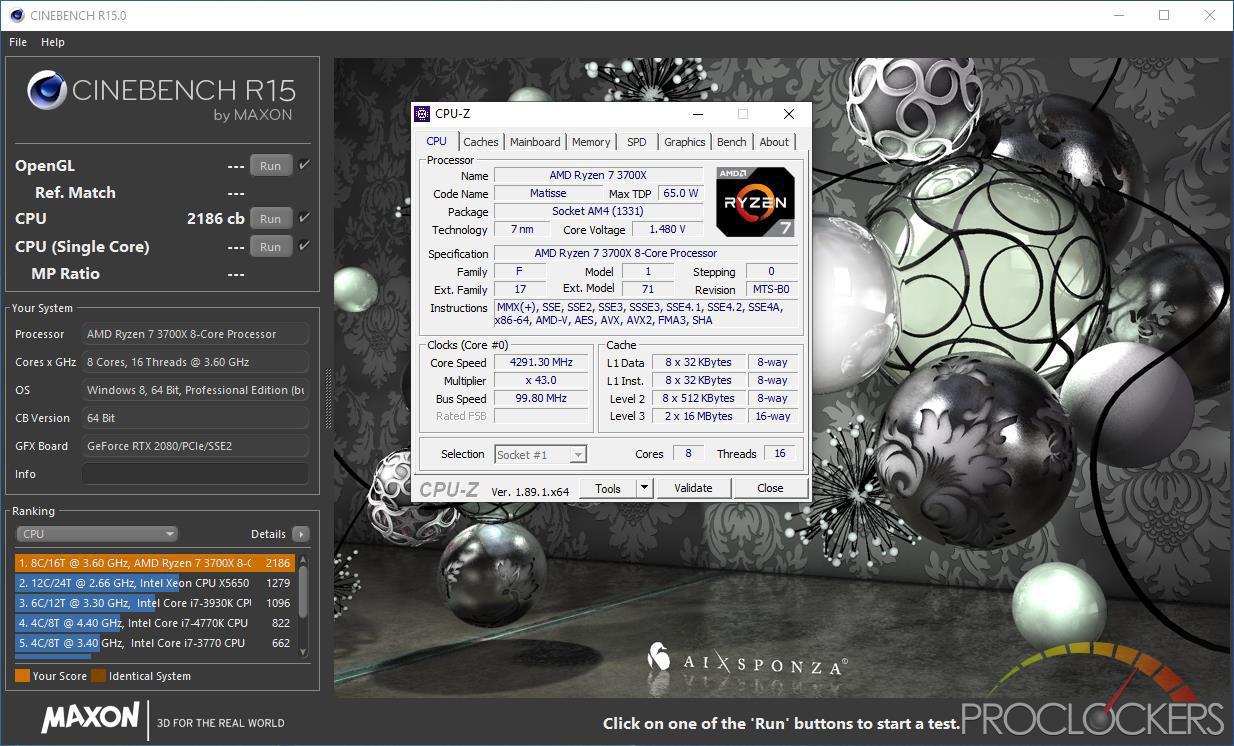 Next, we'll drop the memory back to 3200MHz and try opening up the Precision Boost Overdrive window up, letting it grab another 200MHz. this gets us a good jump in score over the 1903cb stock.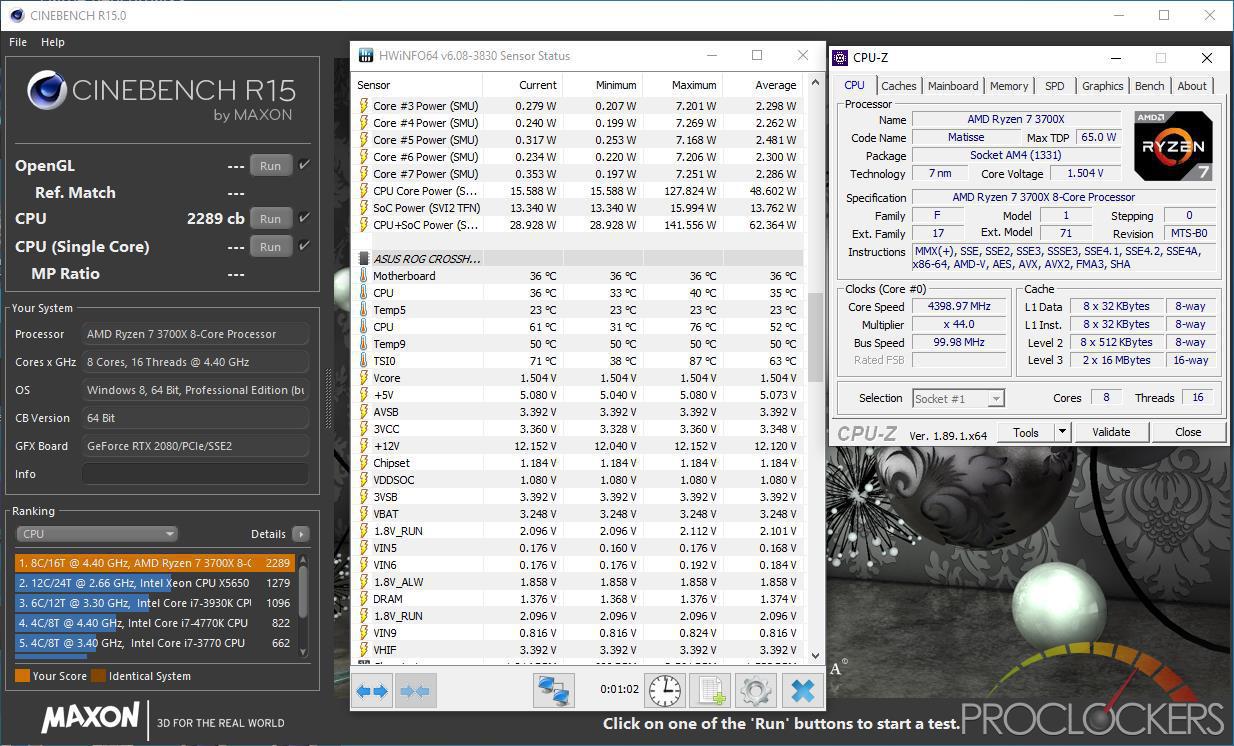 Manually overclocking, we were unable to get stable above 4.4GHz all cores, but this does give us another 100 points or so in Cinebench.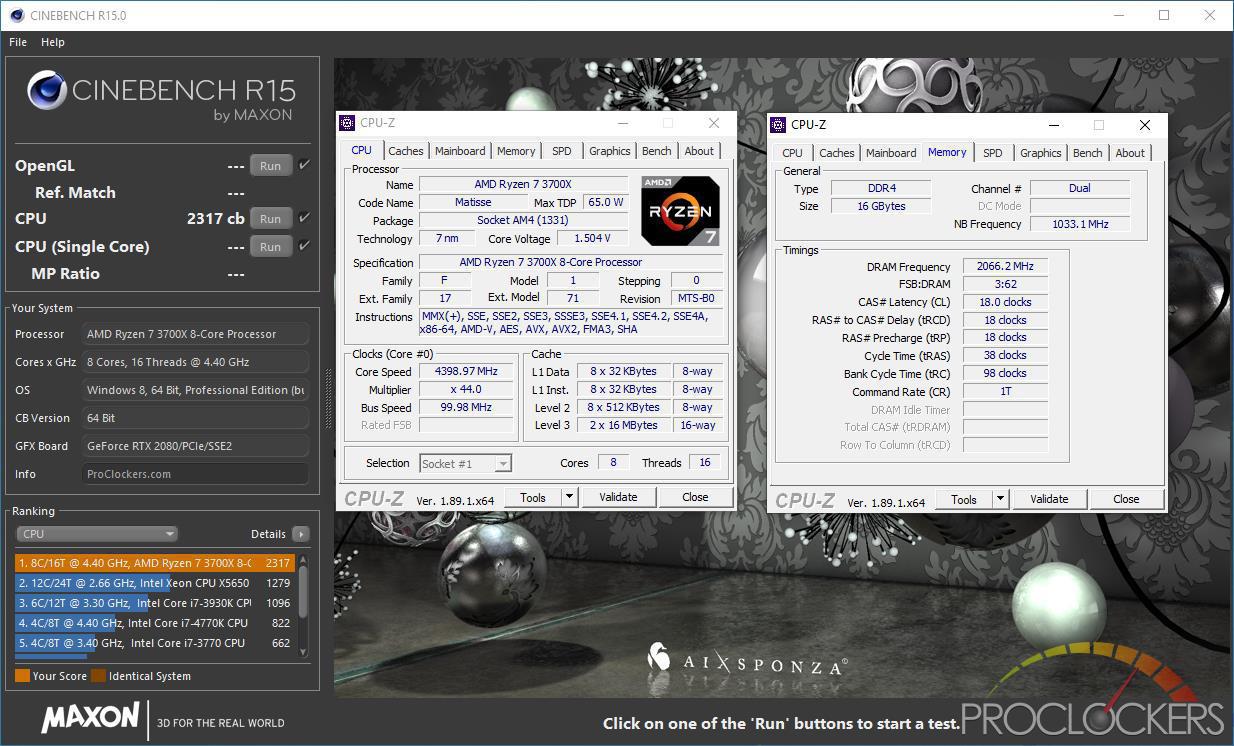 Pushing the memory up to 4133MHz at the same time gives us just the slightest increase in score.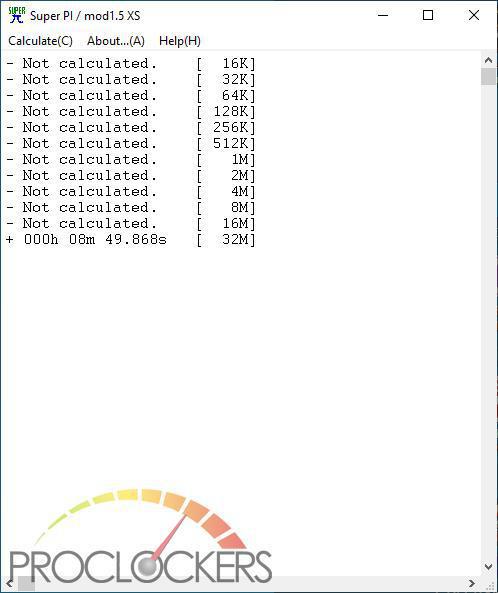 These settings give us a minute and a half faster 32M time in Super Pi as well.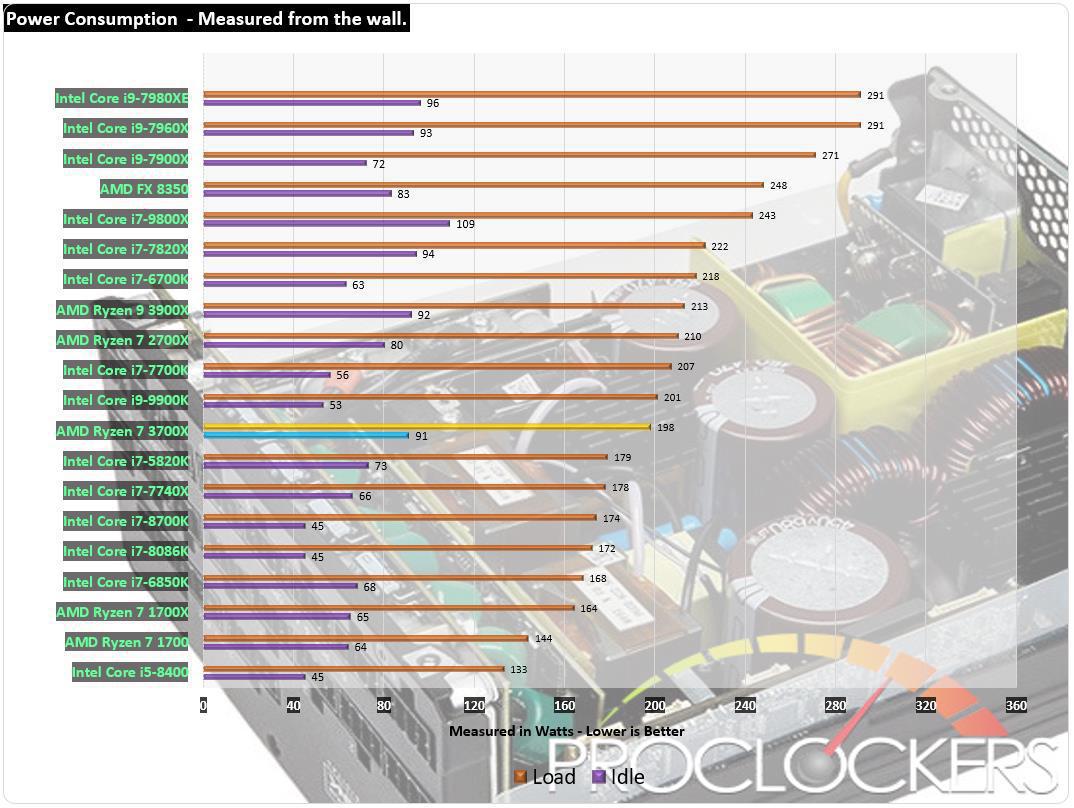 Power consumption looks great and we see a drop from the previous 2700X under load thanks to the 65W TDP.
Final Thoughts & Conclusion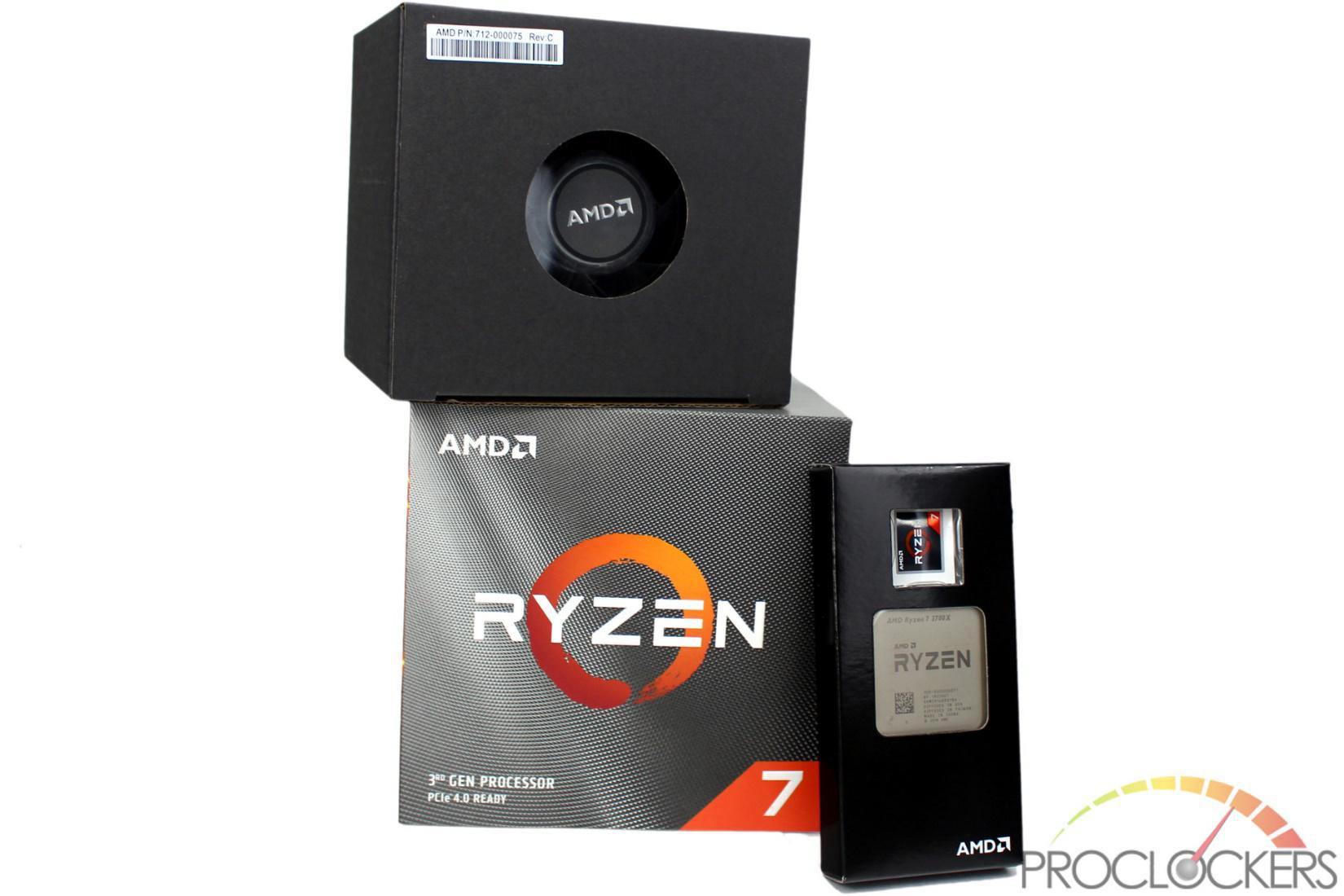 It would be easy to call the Ryzen 7 3700X an iterative update to the popular Ryzen 7 2700X of last year, but there is so much more going on under the hood.

The new memory controller provides a radical increase in memory speed support, and we were able to use a 4266MHz kit with its XMP settings without a single failure, and could even overclock upwards from there.

However, the super-high-frequency memory speeds just don't seem to provide much of a gain and optimal speeds seem to land around the 3600MHz mark with decent timings.

Overclocking the CPU itself yielded a ceiling of all cores at about 4.4GHz. we just couldn't get any stability above this speed.

Out of the box, you really don't need to overclock. XFR provides speeds reaching well into the mid 4 GHz range and performance is quite good.

On the gaming front, the 3700X does a great job and provides a decent jump over the 2700X it replaces and is quite close to it's 12-core counterpart, the Ryzen 9 3900X.

From a productivity standpoint, the $329 price tag provides great value, high performance, and a wallet-friendly price that's hard to beat, even with some blue competition.

Great Job AMD!

<![CDATA[ */ var zbjs = {"ajaxurl":"https:\/\/gaminggorilla.com\/wp-admin\/admin-ajax.php","md5":"d8e8b24d2fa18d2999e0fddcdd418586","tags":[],"categories":["Hardware"]}; /* ]]>