ASUS ROG STRIX X370-F Gaming AMD Motherboard Review
Introduction
ASUS's STRIX line of products has been a popular choice on other platforms for bringing strong gaming-oriented features and aesthetics to an affordable mid-range price point. Asus now brings that along to the AMD Ryzen ecosystem in the form of the ASUS ROG STRIX X370-F Motherboard. Packing AMD's X370 Enthusiast Class chipset, It supports Dual graphics cards, NVMe SSD's, Native USB 3.1 Gen 2 and all of AMD's fully unlocked AM4 Based Ryzen CPU's in an attractive, neutral, gray, and black color scheme. Should the STRIX X370-F anchor your next Ryzen gaming build? Lets check it out and find out!
ProClockers would like to thank ASUS for sending the STRIX X370-F to check out.
ASUS's Take on the STRIX X370-F
ROG STRIX X370-F Gaming motherboards continue the proud legacy of the Pro Gaming series with acclaimed ROG innovations. ROG STRIX X370-F Gaming motherboards combine bold aesthetics with premier performance and incredible audio to deliver unrivaled gaming experiences and style. Support for the latest AMD processors and technologies, plus exclusive ROG innovations, take performance to the next level to give you the edge against opponents. ROG STRIX X370-F Gaming charges every movement of every game with thrilling energy and equips you with epic speed and agility. Join the Republic with ROG STRIX X370-F Gaming and dominate your game!
Features & Specifications
Powered by AMD® Ryzen™ AM4 and 7th generation Athlon™ processors to maximize connectivity and speed with NVMe M.2, front-panel USB 3.1 and Gigabit LAN
5-Way Optimization with Auto-Tuning and Fan Xpert 4 automatically tailors overclocking profiles to your unique build for maximum OC performance and dynamic system cooling
Unmatched Personalization with ASUS exclusive AURA Sync RGB lighting, two additional RGB headers and a 3D-printing friendly design
Dual Patent-pending SafeSlot features an injection molding process that integrates metal framing for a stronger, firmly anchored PCIe slot built for heavyweight GPUs
Industry-leading 8-channel HD audio driven by Japanese capacitors features an onboard LED-illuminated design
Product Specifications

CPU
AMD AM4 Socket for AMD Ryzen™/7th Generation A-series/Athlon™ Processors
Supports AM4 Socket 14 nm CPU
Supports CPU up to 8 cores
* Refer to www.asus.com for CPU support list
Chipset
AMD X370
Memory
AMD Ryzen™ Processors
4 x DIMM, Max. 64GB, DDR4 3200(O.C.)/2666/2400/2133 MHz ECC and non-ECC, Un-buffered Memory *AMD 7th Generation A-series/Athlon™ Processors
4 x DIMM, Max. 64GB, DDR4 2400/2133 MHz Non-ECC, Un-buffered Memory *

Dual Channel Memory Architecture
** Refer to www.asus.com for the Memory QVL (Qualified Vendors Lists).

Multi-GPU Support
Supports NVIDIA® 2-Way SLI™ Technology
Supports AMD 3-Way CrossFireX™ Technology
Expansion Slots
AMD Ryzen™ Processors
2 x PCIe 3.0/2.0 x16 (x16 or dual x8)AMD 7th Generation A-series/Athlon™ Processors
1 x PCIe 3.0/2.0 x16 (x8 mode)

AMD X370 chipset
1 x PCIe 2.0 x16 (max at x4 mode) *1
3 x PCIe 2.0 x1

Storage
AMD Ryzen™ Processors
1 x M.2 Socket 3, with M key, type 2242/2260/2280/22110 storage devices support (SATA & PCIE 3.0 x 4 mode)AMD 7th Generation A-series/Athlon™ Processors
1 x M.2 Socket 3, with M key, type 2242/2260/2280/22110 storage devices support (SATA mode)

AMD X370 chipset
8 x SATA 6Gb/s port(s),
Support Raid 0, 1, 10

LAN
Intel® I211-AT, 1 x Gigabit LAN Controller(s)
Anti-surge LANGuard
ROG GameFirst Technology
Audio
AMD Ryzen™/7th Generation A-series/Athlon™ Processors
4 x USB 3.1 Gen 1 port(s) (4 at back panel, blue)AMD X370 chipset
1 x USB 3.1 Gen 2 front panel connector port(s)
6 x USB 3.1 Gen 1 port(s) (2 at back panel, blue, 4 at mid-board)
4 x USB 2.0 port(s) (2 at back panel, black, 2 at mid-board)

ASMedia® USB 3.1 Gen 2 controller
2 x USB 3.1 Gen 2 port(s) (2 at back panel, red, Type-A + USB Type-CTM)

ROG Exclusive Features
ROG RAMCache II
ROG CPU-Z
ROG CloneDrive
Overwolf
GameFirst IV
Special Features
5-Way Optimization by Dual Intelligent Processors 5
– Whole system optimization with a single click!
– 5-Way Optimization tuning key perfectly consolidates TPU, EPU, DIGI+ VRM, Fan Xpert 4, and Turbo App together.
– 5-Way Optimization provides better CPU performance, efficient power saving, precise digital power control, whole system cooling and even tailor your own app usages.TPU
– Auto Tuning, TurboV, GPU Boost
– Fan Xpert 4 featuring Fan Auto Tuning function and multiple thermistors

Gamer's Guardian
– ESD Guards on LAN, Audio, KBMS and USB3.0/2.0 ports
– DRAM Overcurrent Protection
– Stainless Steel Back I/O
– Highly Durable Components
– DIGI+ VRM
– SafeSlot

ASUS EPU
– EPU

AURA
– Aura Lighting Control

ASUS Exclusive Features
– AI Suite 3
– Ai Charger

ASUS EZ DIY
– ASUS CrashFree BIOS 3
– ASUS EZ Flash 3

ASUS Q-Design
– ASUS Q-Shield
– ASUS Q-LED (CPU, DRAM, Boot Device LED)
– ASUS Q-Slot
– ASUS Q-DIMM

Gaming Aesthetics
– 3D printing friendly
– AURA-RGB Lighting
– Digi+VRM

Back I/O Ports
1 x DisplayPort
1 x HDMI
1 x LAN (RJ45) port(s)
2 x USB 3.1 Gen 2 Type-A + USB Type-CTM
6 x USB 3.1 Gen 1
2 x USB 2.0
1 x Optical S/PDIF out
5 x Audio jack(s)
Internal I/O Ports
2 x RGB Header(s)
2 x USB 3.1 Gen 1 connector(s) support(s) additional 4 USB 3.1 Gen 1 port(s)
1 x USB 2.0 connector(s) support(s) additional 2 USB 2.0 port(s)
1 x M.2 Socket 3 with M key, type 2242/2260/2280/22110 storage devices support (SATA & PCIE 3.0 x 4 mode)
1 x TPM connector(s)
8 x SATA 6Gb/s connector(s)
1 x CPU Fan connector(s)
1 x CPU OPT Fan connector(s)
3 x Chassis Fan connector(s)
1 x AIO_PUMP connector
1 x W_PUMP+ connector
1 x 24-pin EATX Power connector(s)
1 x 8-pin ATX 12V Power connector(s)
1 x Front panel audio connector(s) (AAFP)
1 x Thermal sensor connector(s)
1 x Clear CMOS jumper(s)
1 x System panel connector
1 x USB 3.1 Gen 2 front panel connector
Accessories
User's manual
I/O Shield
4 x SATA 6Gb/s cable(s)
1 x M.2 Screw Package
1 x Supporting DVD
1 x SLI HB BRIDGE(2-WAY-M)
1 x ROG Strix stickers
1 x 10-in-1 ROG cable label
1 x Cable ties pack(s)
1 x Extension Cable for RGB strips (80 cm)
1 x 3D printing mount package
BIOS
128 Mb Flash ROM, UEFI AMI BIOS, PnP, WfM2.0, SM BIOS 3.0 ACPI 6.1, Multi-language BIOS,ASUS EZ Flash 3, CrashFree BIOS 3, F11 EZ Tuning Wizard, F6 Qfan Control, F3 My Favorites, Last Modified log, F12 PrintScreen, and ASUS DRAM SPD (Serial Presence Detect) memory information
Manageability
WfM 2.0, DMI 3.0, WOL by PME, PXE
Support Disc
Drivers
ASUS Utilities
Anti-virus software (OEM version)
Operating System
Windows® 10 64-bit
Form Factor
ATX Form Factor
12 inch x 9.6 inch ( 30.5 cm x 24.4 cm )
Note
*1 PCIEX16_3 Socket shares bandwidth witch PCIEX1_2 and PCIEX1_3
*2 Due to limitations in HDA bandwidth, 32-Bit/192kHz is not supported for 8-Channel audio.
*3 ROG GameFirst IV is only available for Windows® 10 64-bit.
Packaging & Unboxing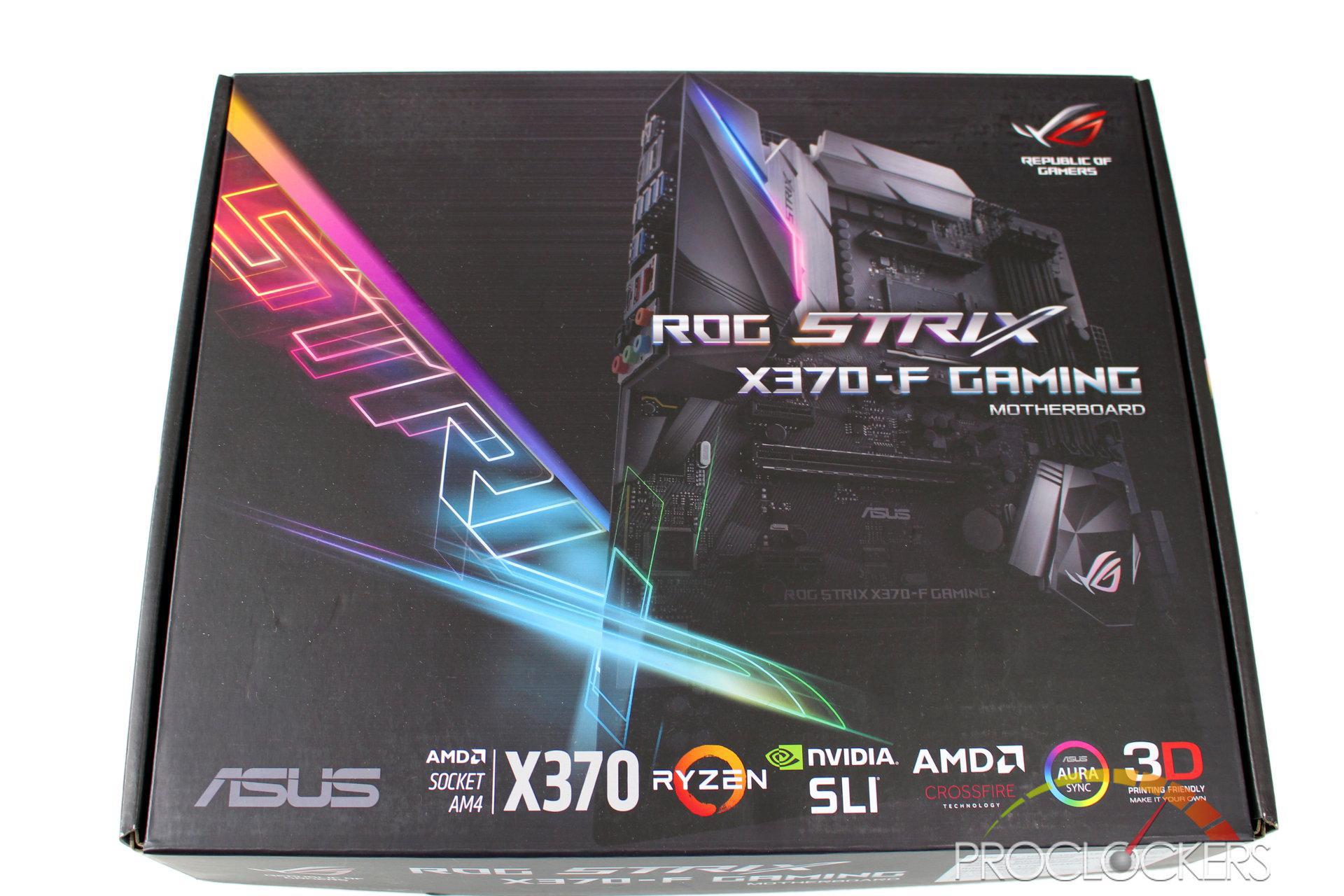 ASUS's STRIX packaging is always very colorful, and the X370-F is no exception here. A full color picture of the motherboard takes up 2/3rds of the front of the box with the STRIX logo splashed across most of the left side. The ROG logo holds down the top right corner while the bottom row is logos for nearly everything, Ryzen, Nvidia SLI, AMD Crossfire, ASUS AURA and so on.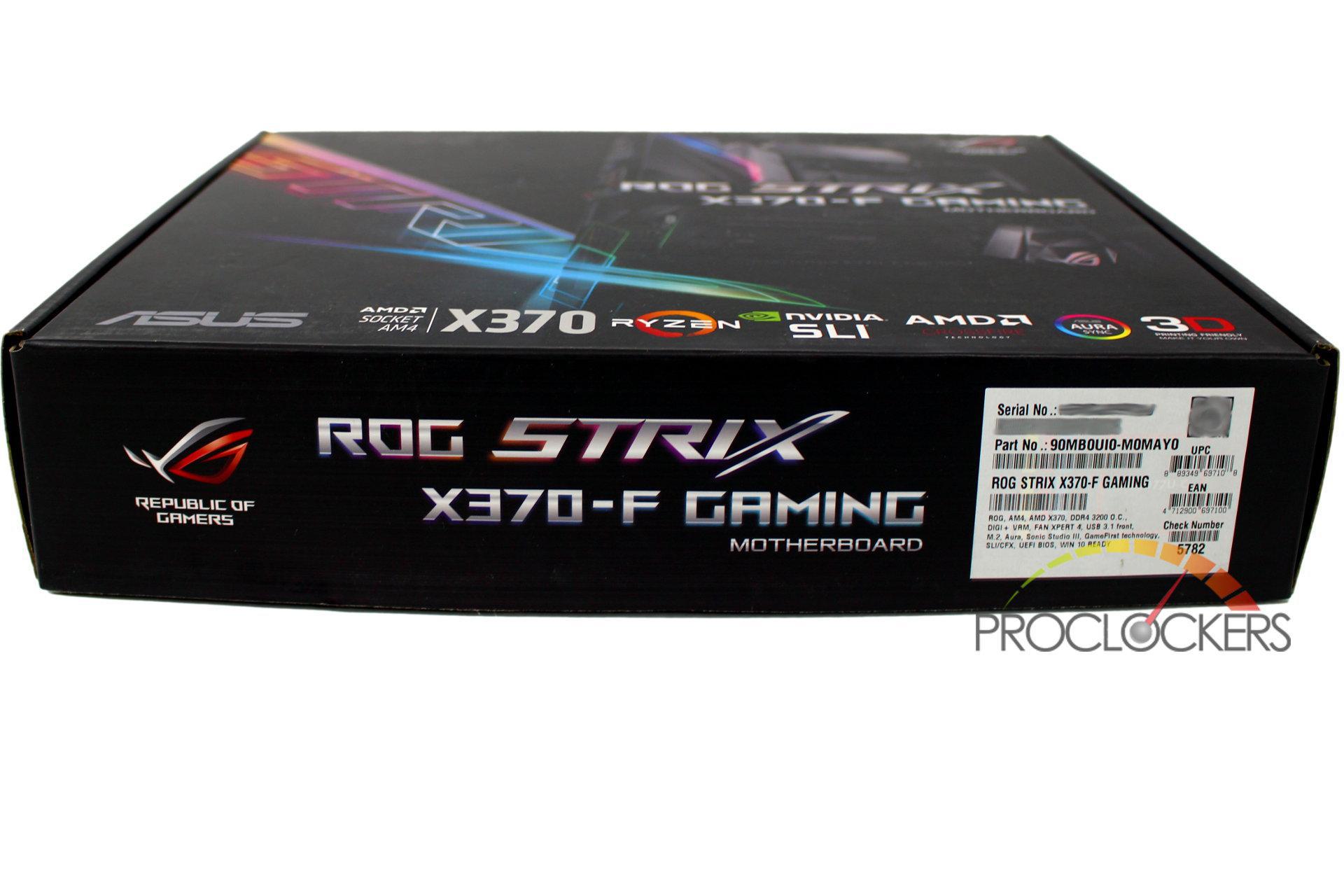 The sides are pretty mellow in comparison, the ROG STRIX and ROG logos are present, and the X370-F Gaming Motherboard text is right in the center. This end happens to have important information such as the SKU barcodes and Serial number.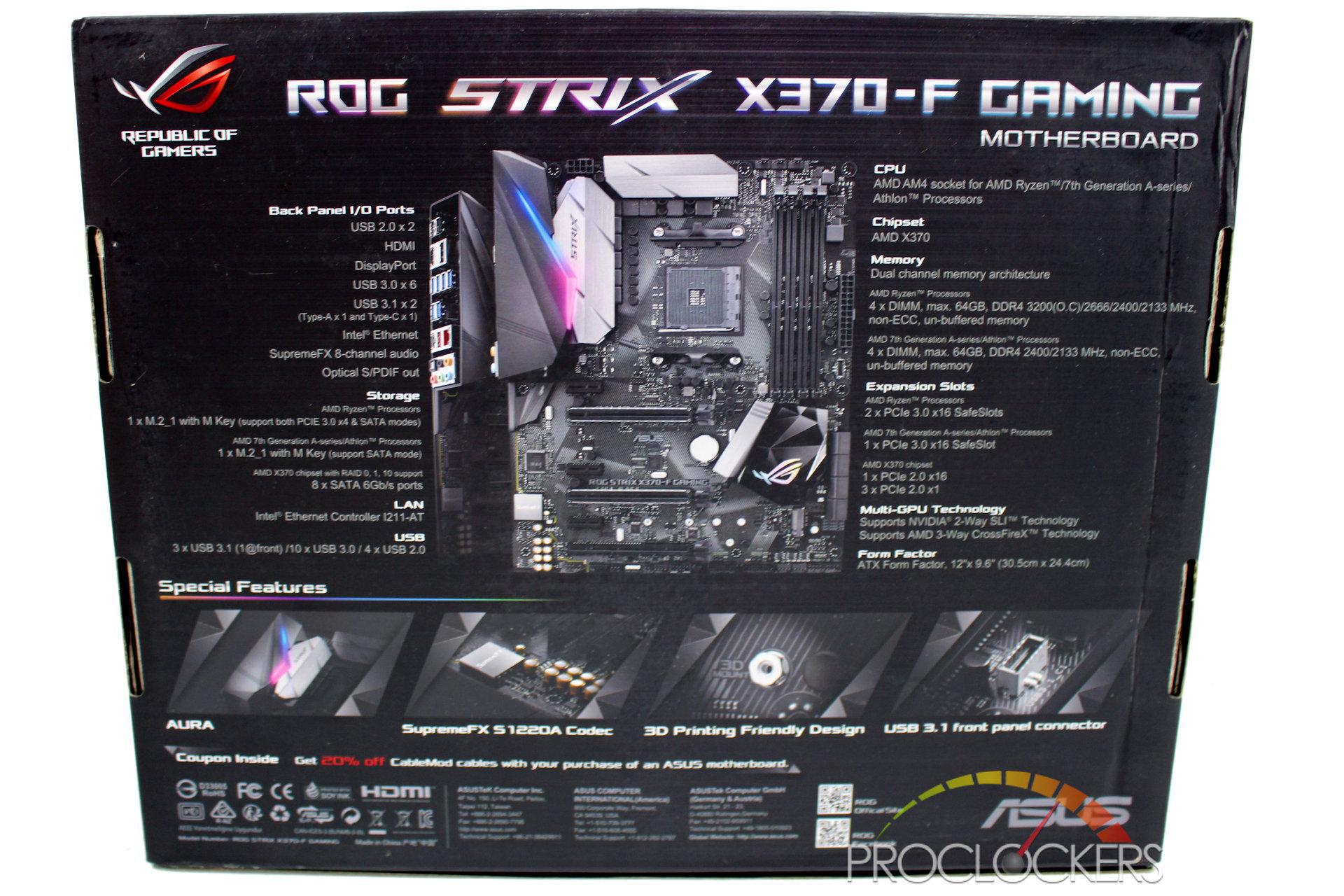 The rear of the box is also full color with the motherboard front and center. Surrounding it is a features list, with special features highlighted below on the bottom third of the box.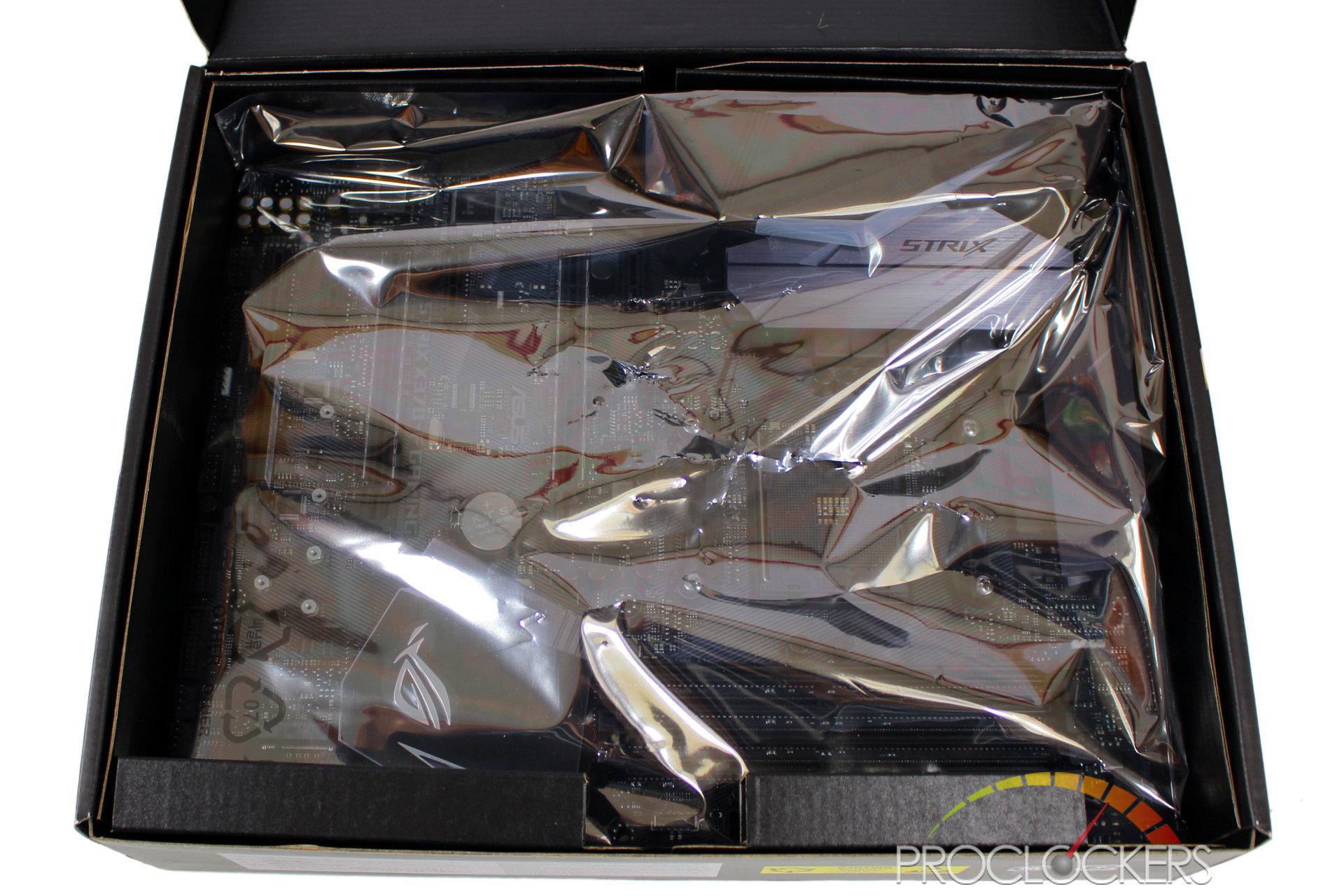 ASUS doesn't waste money on frivolous packaging, Opening the cover reveals the motherboard wrapped in an anti-static bag sitting in a cardboard tray. Under the tray is all off the included documentation and accessories.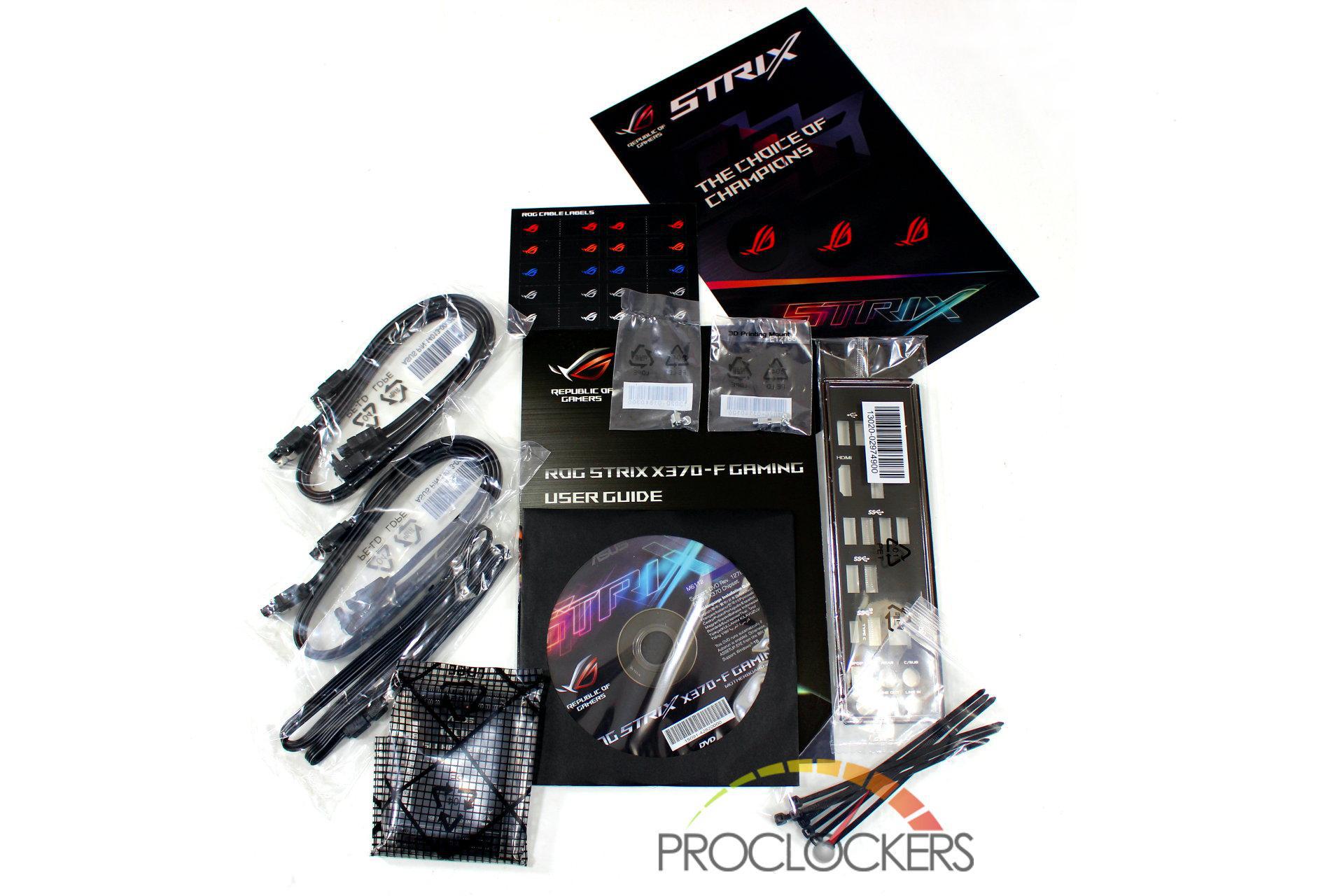 The accessories include the usual manual, driver CD, rear I/O Shield and SATA cables, as well as a High-Bandwidth SLI Bridge, the 3D printing mounting hardware, some zip ties, and the always welcome ROG Cable label sticker sheet. With the cost of small USB flash drives, and the majority of new builds lacking optical drives these days, I'm still a bit surprised manufactures haven't switched to providing a jump drive for the usual drivers and utilities included. The majority of builders will go grab the very latest drivers from ASUS's website, so the rare times the included drivers are used is simply to get connected to the internet to get the latest anyway.
A Closer Look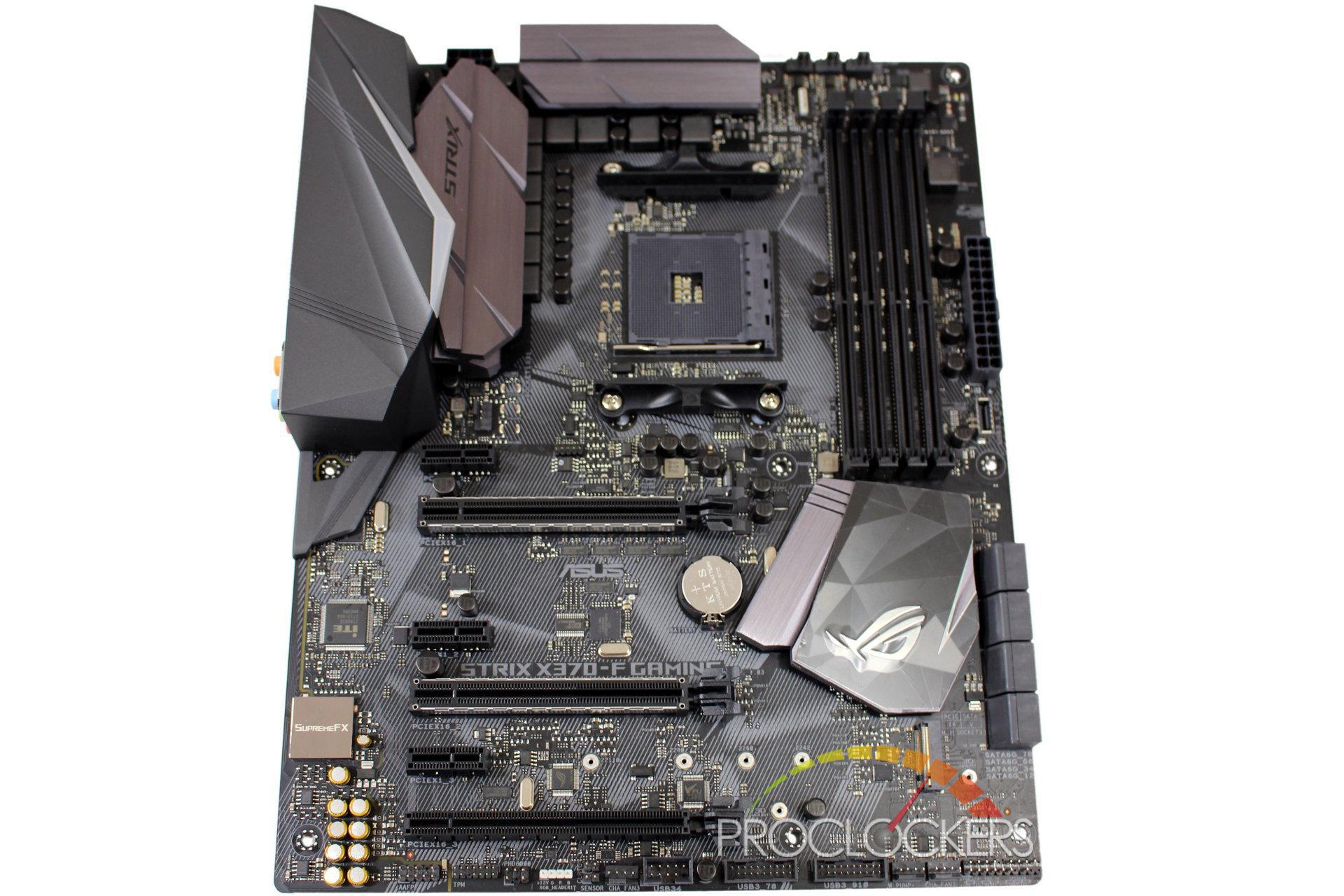 The ASUS ROG STRIX X370-F is a very sleek looking motherboard. Dressed in elegant grays and blacks, and sporting some angular accents and heatsink designs, the X370-F should go well with any build scheme. The X370-F follows the traditional ATX Layout that should be pretty familiar by now.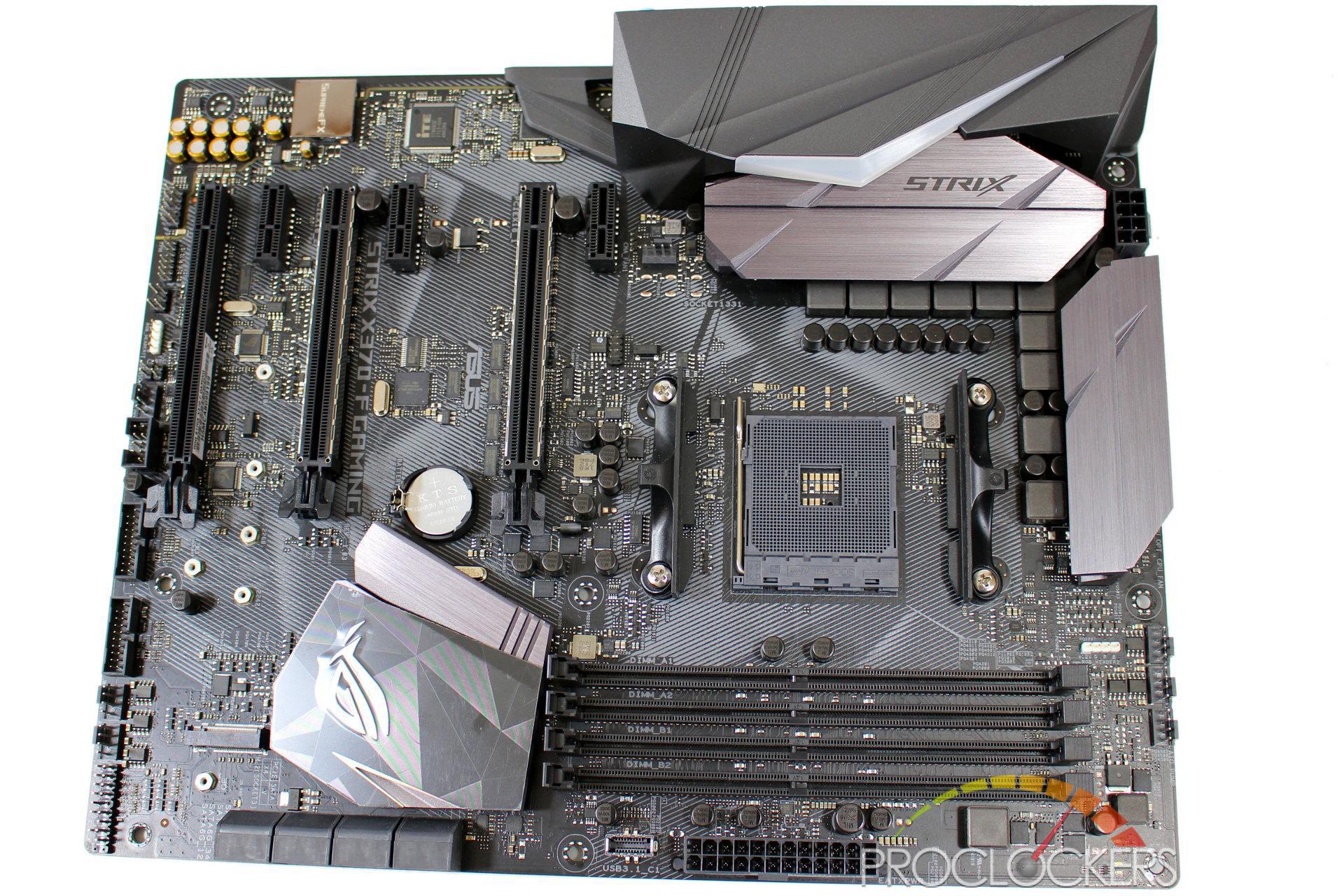 With the light at a different angle, you can really see the contrasting metallic angles on the chipset heatsink. The new USB 3.1 Gen 2 header is found right next to the 24-pin power cable and is a welcome addition to those with a compatible case and a strong dislike of the large and clunky Gen-1 headers we've lived with the last few years, and that doesn't include the blistering 10Gbps speeds its capable of.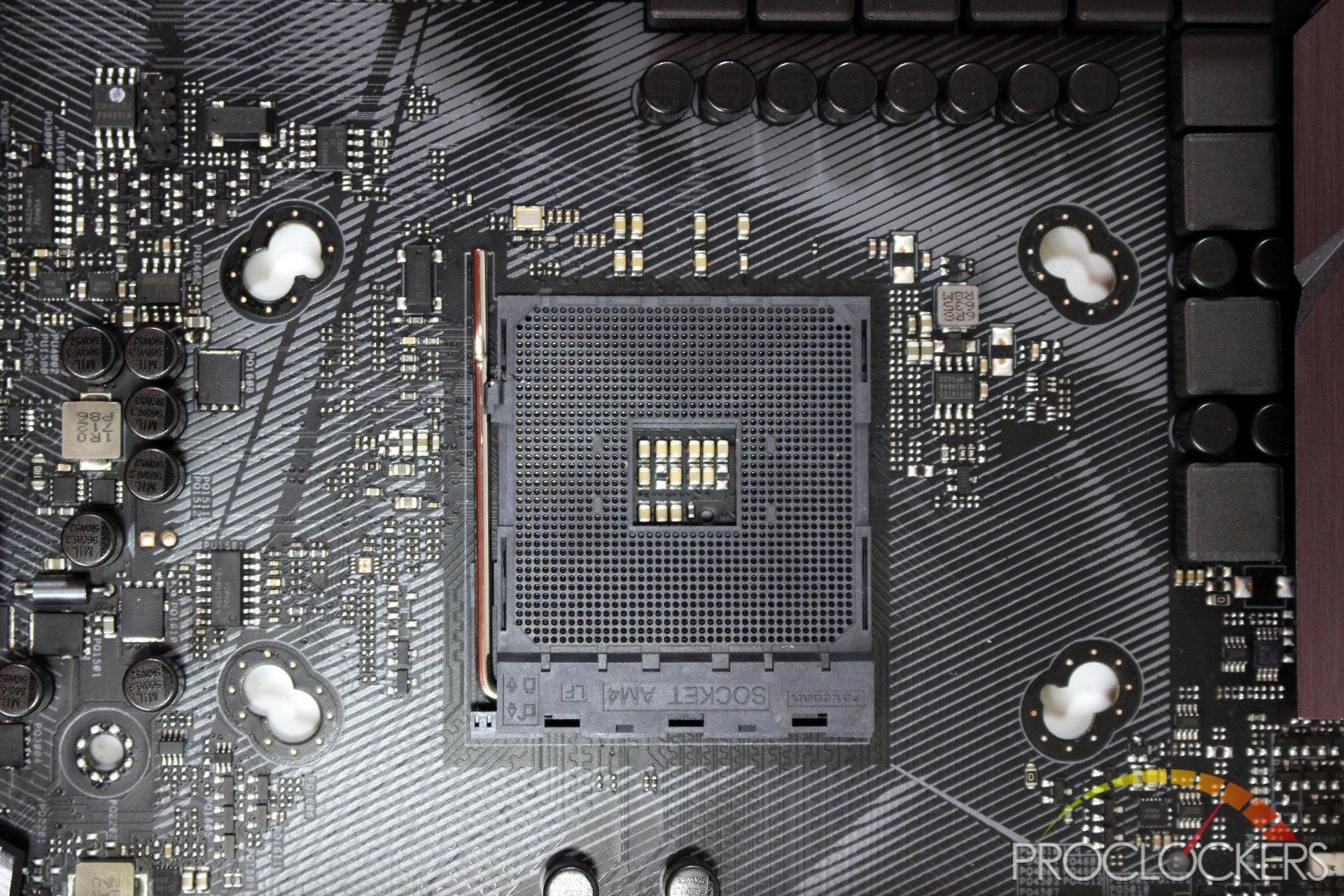 AMD's AM4 socket will look fairly familiar if you have seen and used any other Pin Grid Array ZIF Socket with a single locking lever.
We have removed the factory mounting clips here to show you a rather nifty feature ASUS used on this board. If you Look closely, You'll see there are actually 2 different mounting hole patterns cut in the board, one is the new AM4 Standard, the other allows you to use any AM1/2/3 or FM1/2 style cooler if you still have one you like. This opens up a nearly limitless amount of cooling options which is great for the end user.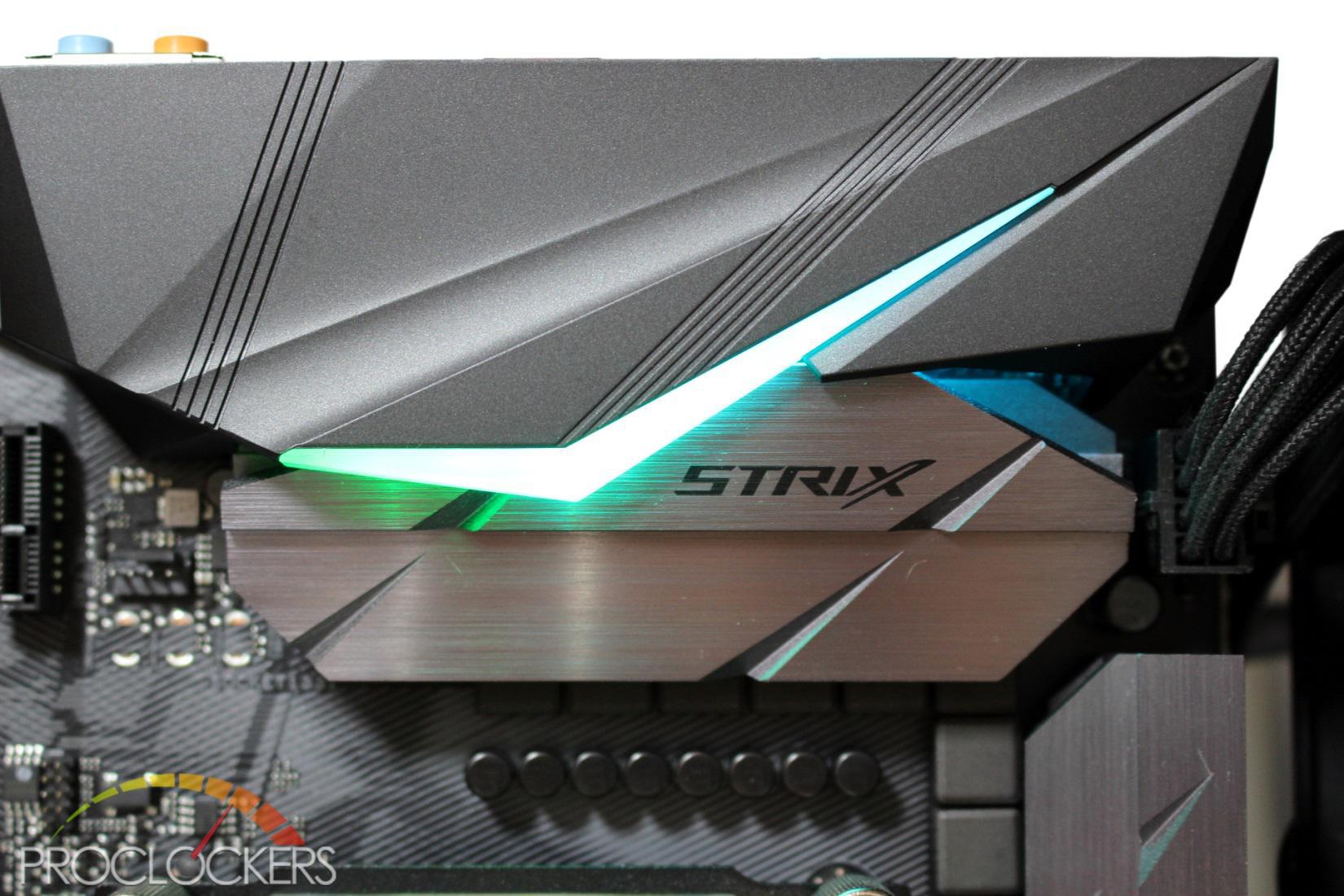 The rear I/O area is completely covered for aesthetics, and merges into a heatsink stamped with the STRIX logo. The milky white strip along the edge near the middle is a full digital RGB light system that can be controlled via ASUS AURA software which we will cover in just a bit. A 4-pin fan header is just above the first PCIe slot to handle your rear case fan.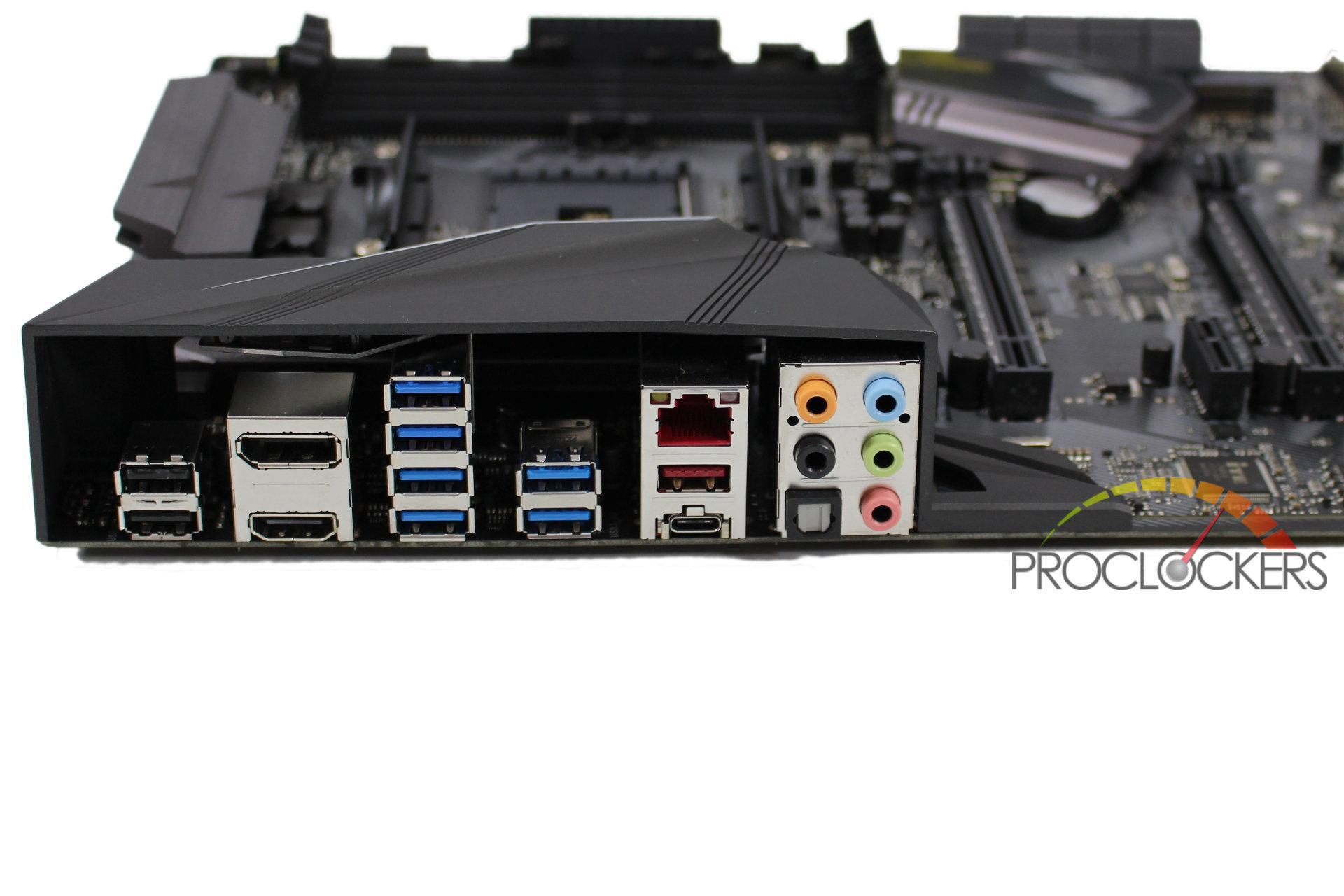 The Rear I/O is comprised of a huge pile of USB ports, 2x 2.0 ports, 6x 3.0 ports, and a pair of 3.1 gen 2 ports that include a type-A and a Type-C connector. The usual 8 channel Audio with optical output are found on the lower edge. The Display port and HDMI connector are non-functional with Ryzen CPU's that do not include an integrated video solution. Upcoming AM4 based APU's should output to these ports as needed.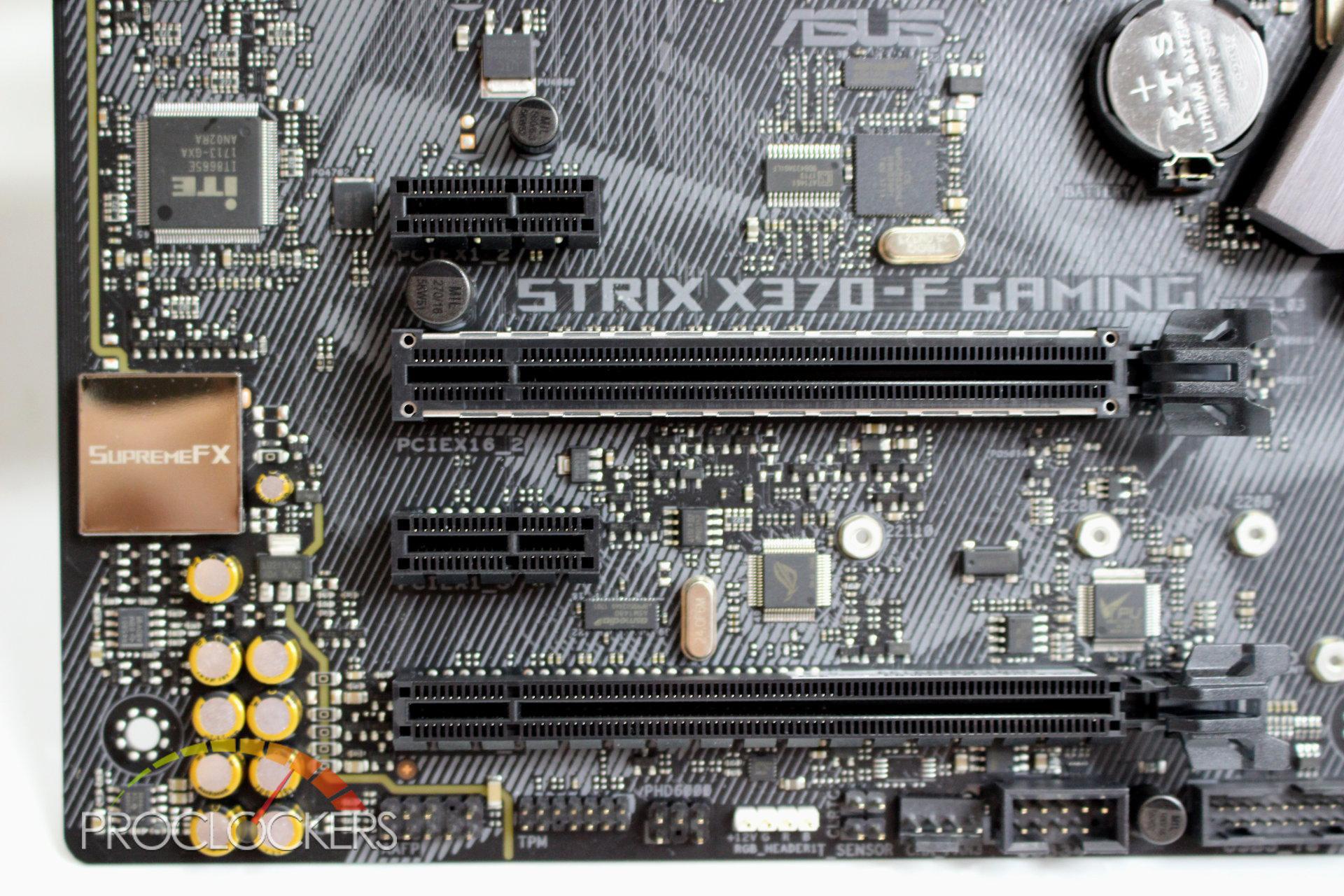 Moving down to the rear corner of the board we get a good look at the chrome SupremeFX Audio cover. You can also see the empty line around this corner that physically separates the circuitry for crystal clear audio. Along the Bottom edge you get your front panel audio header, a TPM Module header, one of the two RGB headers, another fan header, and some other pins for clearing the CMOS, and connecting a sensor.
Just below the rear I/O Cover is a PCie X1 and the main PCIe X16 slot. The center of the picture here is one of the Two PCIe X16 physical slots which are heavily reinforced to handle heavy GPU's, as well as improve signal transfer to your GPU's by shielding the entire connection. Two PCie X1 and another PCIe X16 slot round out the I/O slots.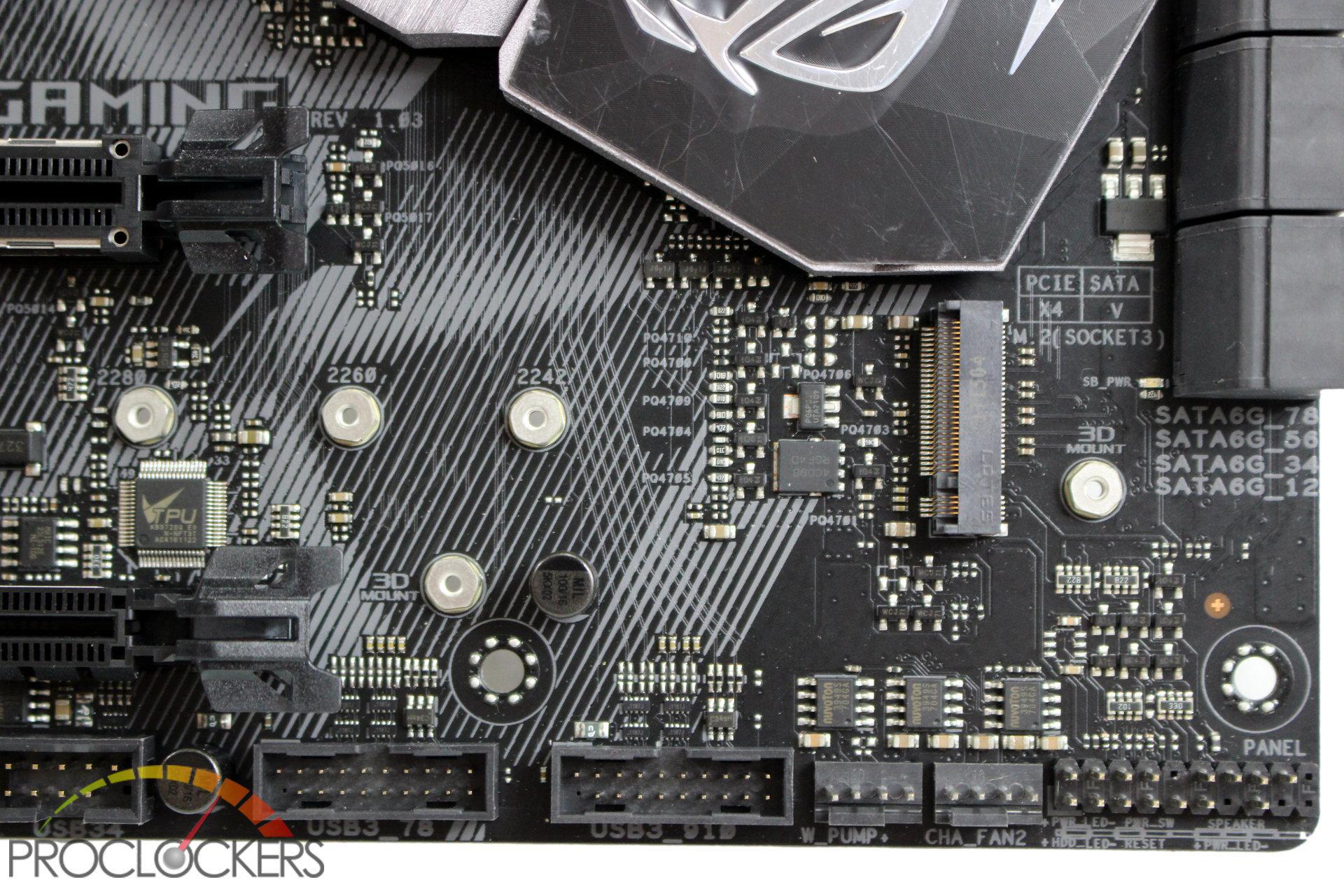 The front lower corner of the board is home to the single M.2 port. Capable of Full 32gbps speeds, as well as SATA 6.0Gbps on drives from 42 to 110mm in length, nearly any drive you can come up will work here with no compromises. Dual USB 3.1 Gen 1 headers, a USB 2.0 Header, as well as 2 4-pin headers for fans and power hungry pumps, as well as your front I/O connections can be found here. 8x SATA 6.0Gbps ports run up the front edge.
Note also the 3D Mount standoffs here. If you are an avid maker, or know someone with a 3D printer, you can download the file form ASUS and print a nice fan mount to cool you SSD, or go wild and make your own creation. 3D Mounting hardware is included with the board accessories.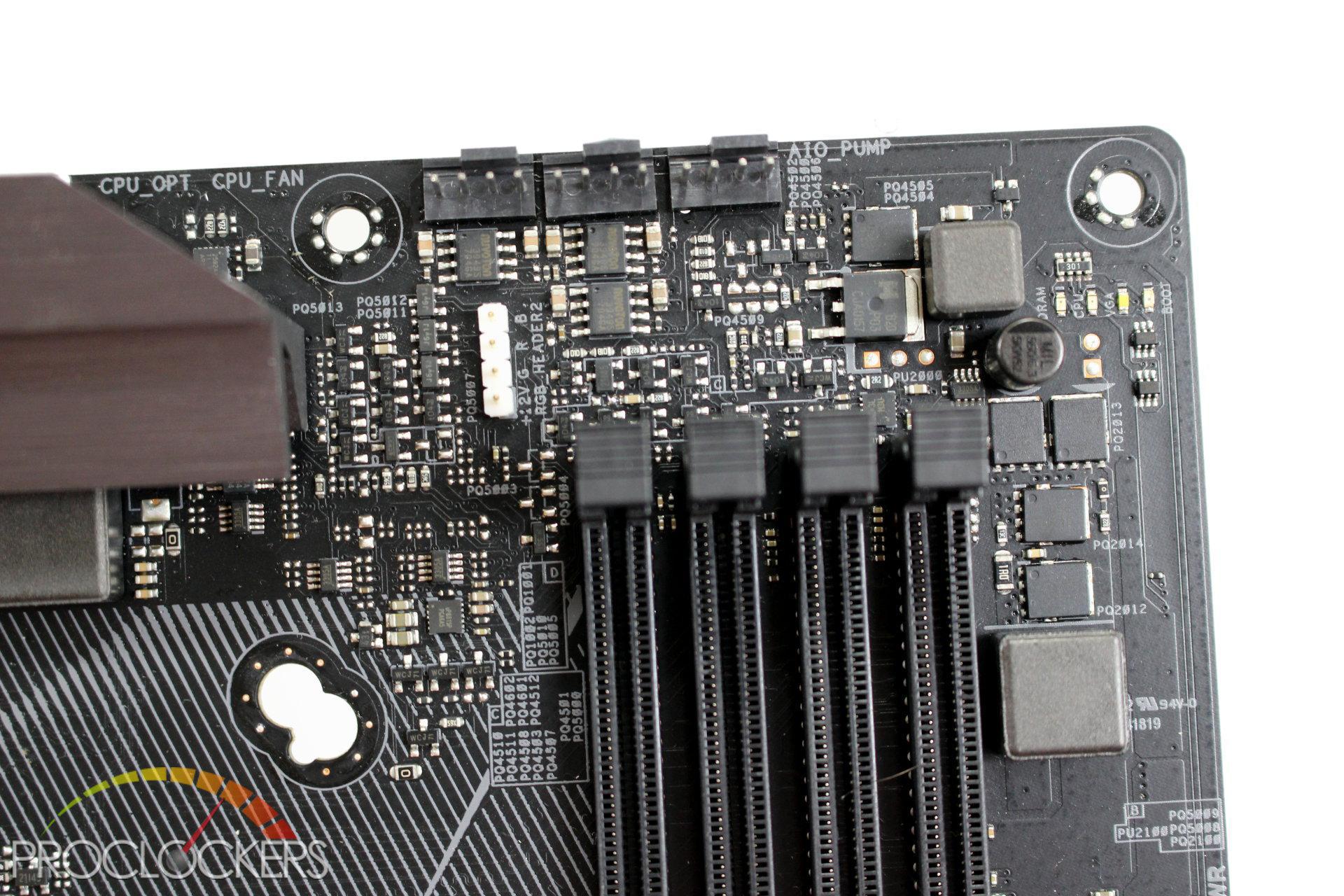 Our final stop on the tour is the top right corner. Home to the other of two RGB headers, 3 4-pin headers for fans and Pumps, as well as the 4x DDR4-3200Mhz+ Dimm slots. Not very apparent, there are 4 LED's in the top right corner that indicate what major component the system is working on booting. You won't see the two digit readout found on many boards, but the cryptic hex codes are impossible to interpret without help anyway. The color coded LED's will lead you right to issues with DRAM, CPU, and VGA. A final green BOOT led is akin to the old single beep that tells you everything is good to go. The normally flash for a few seconds during initial power on, but quickly disappear on a good boot, but one stuck on will indicate an issue with that sub-system so you can go investigate.
System Configuration & BIOS
CPU: AMD Ryzen 1500X
Motherboard: ASUS ROG STRIX X370-F
RAM: 16GB G.Skill TridentZ RGB 3200Mhz
GPU: Galax GTX 1070 HOF
SSDs: Corsair Force LX 256GB, 4x Corsair Force GT 240GB, Samsung 960 PRO 2TB
OS: Windows 10 Professional X64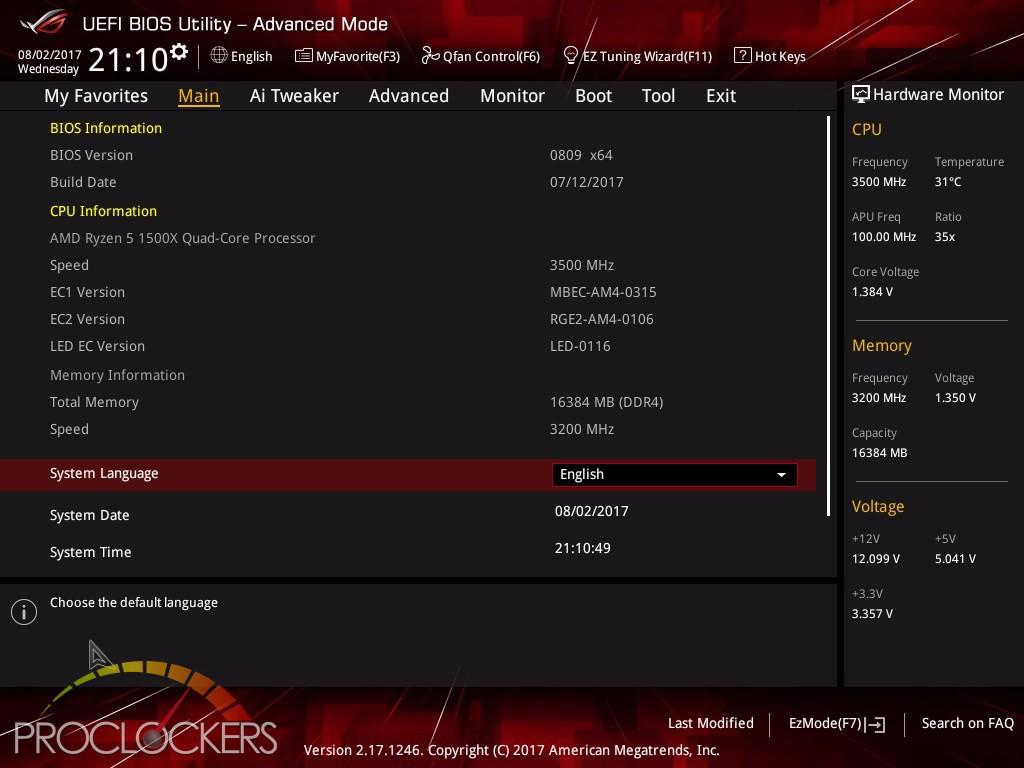 The main page of the BIOS includes basic information about the system as configured.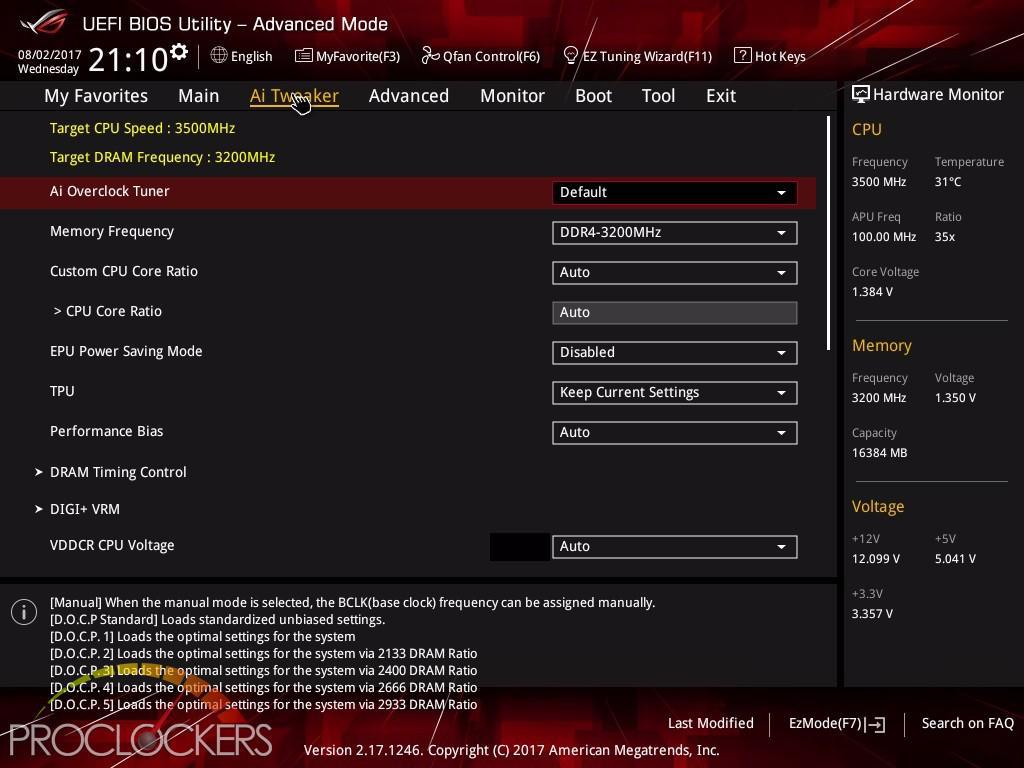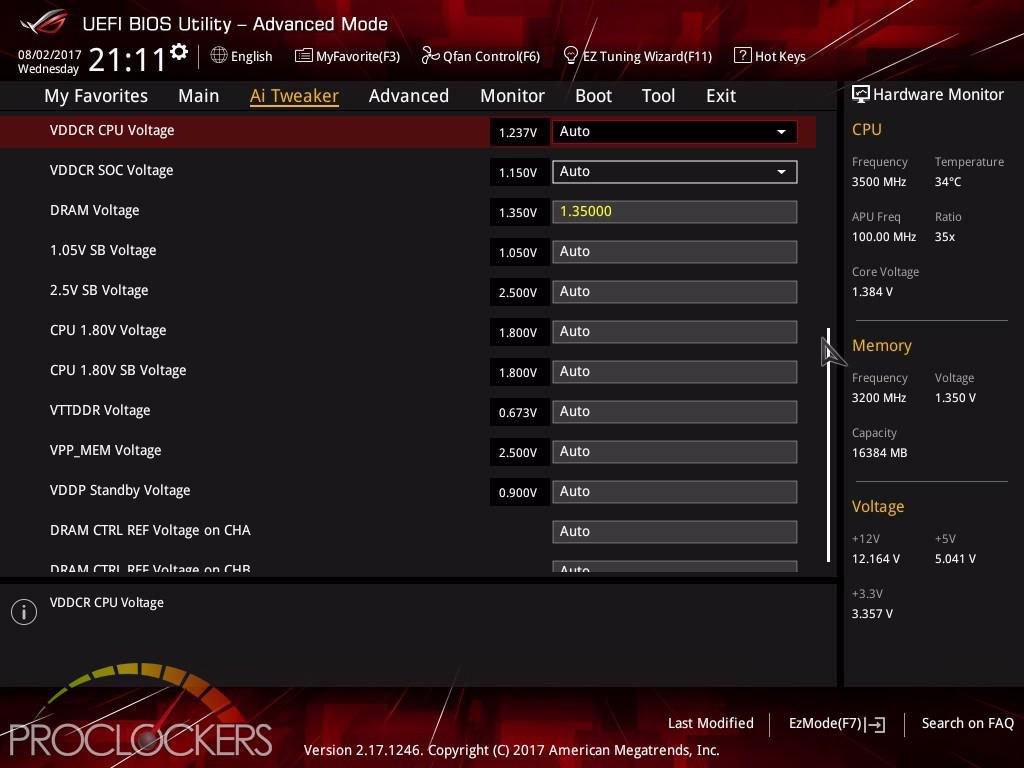 Overclockers will enjoy the Ai Tweaker Tab and its Overclock related settings.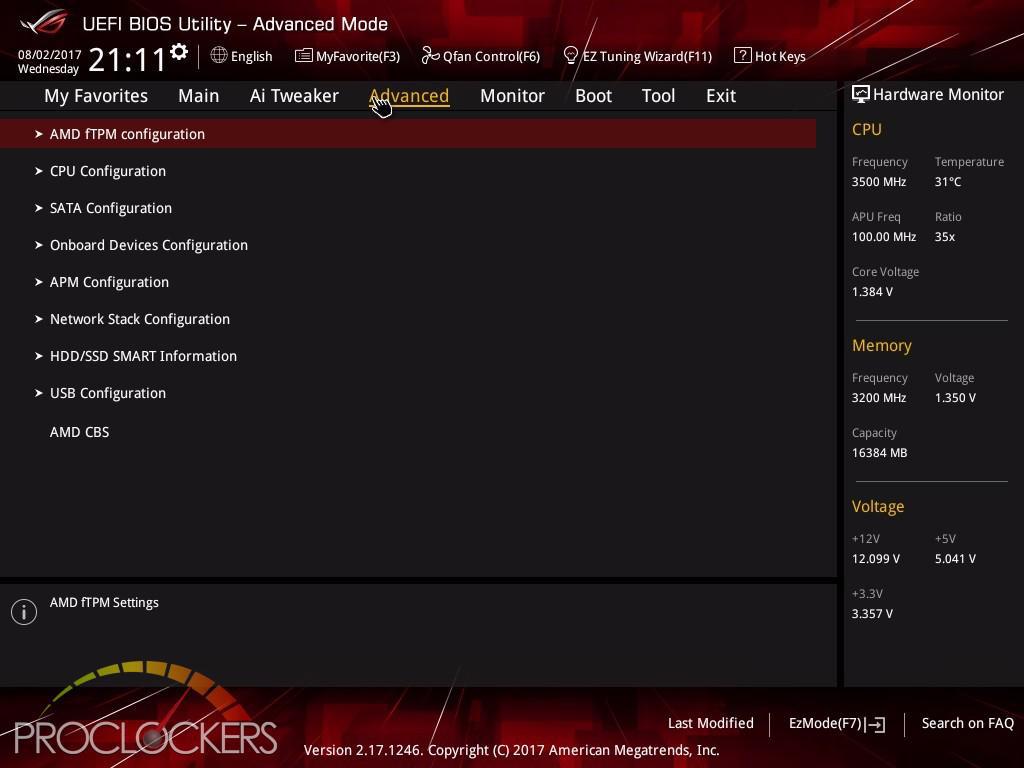 The advanced Tab lets you deep dive into system settings, from CPU and Drive configuration, to Network and drive settings.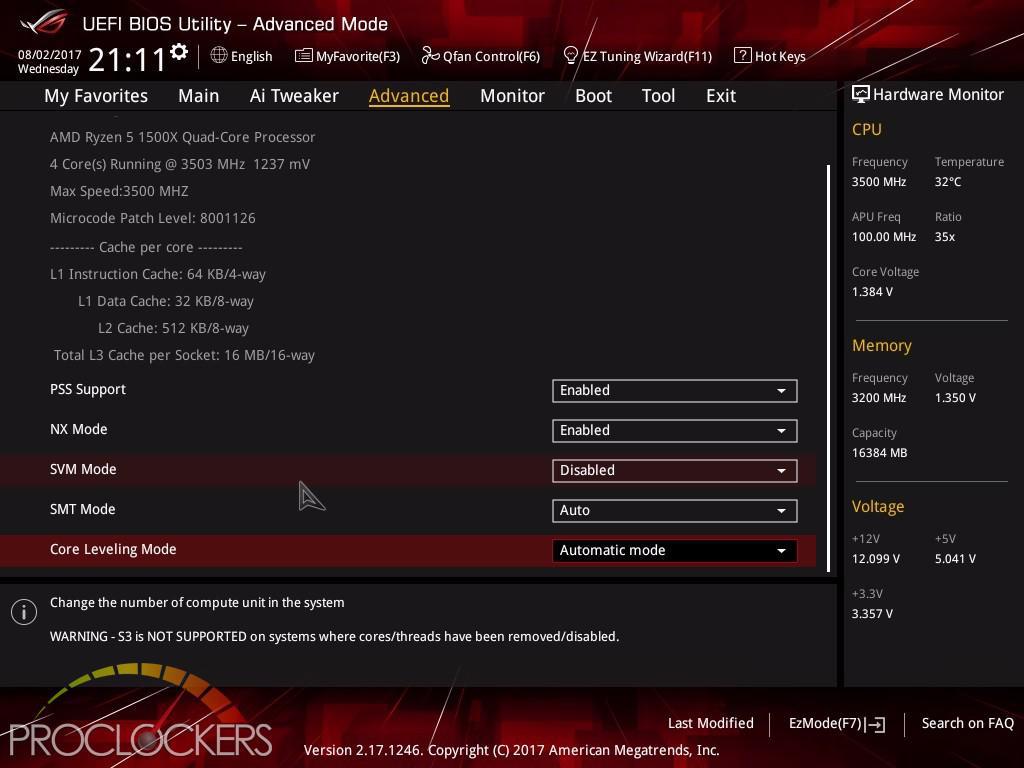 Some settings such as SMT multi-threading and disabling cores can only be found under the related sections of the advanced tab.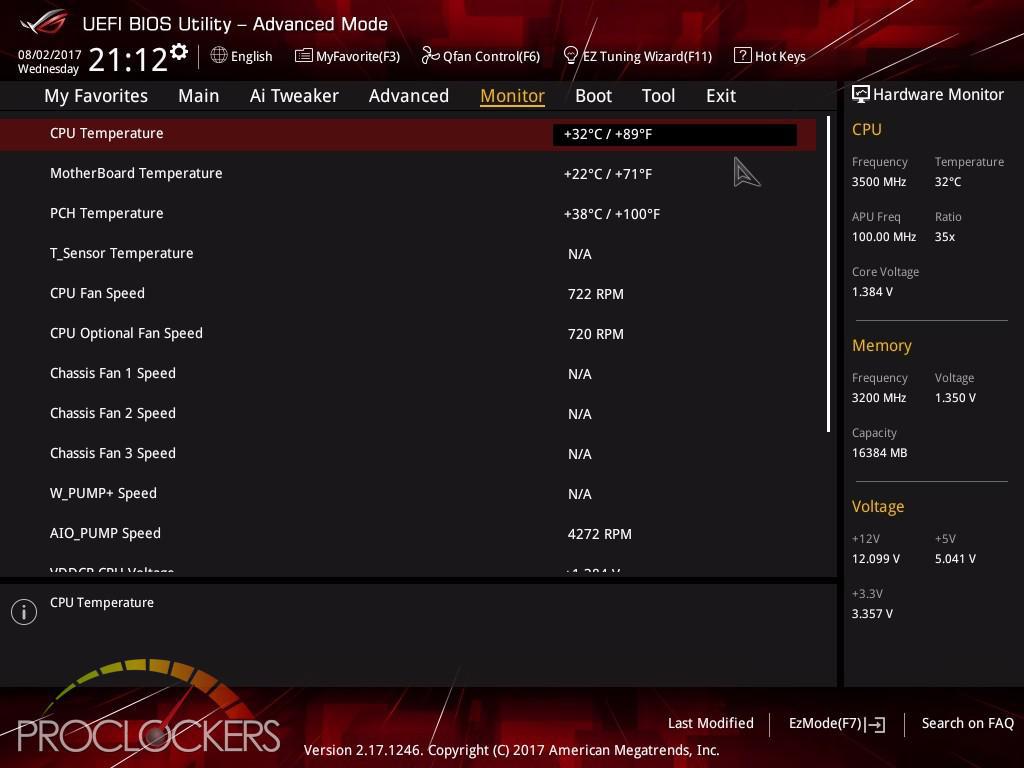 The monitor tab shows all relevant system voltages, temperatures, and RPM feedback from connected fans and pumps.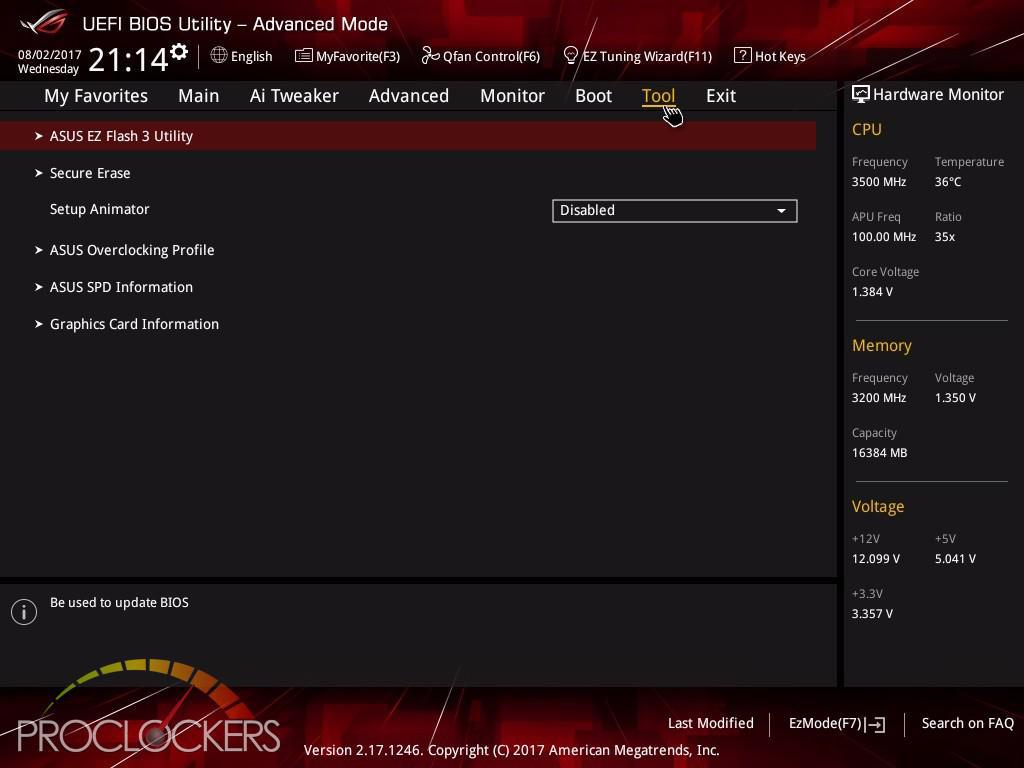 The Tools tab has some handy features. ASUS's EZ Flash 3 Utility should be your first stop for a new system to apply the latest BIOS updates for best system stability and performance. This was also our first step.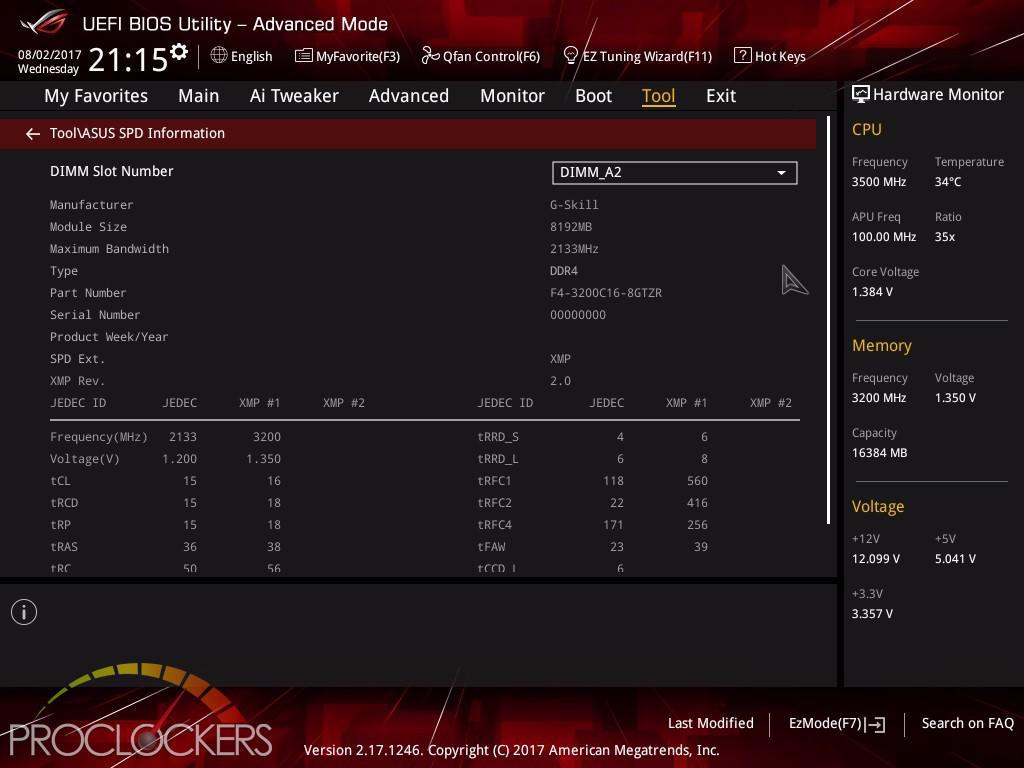 SPD information in the tools will give you all the ram timings that you need to monitor as well as basic information about each stick installed.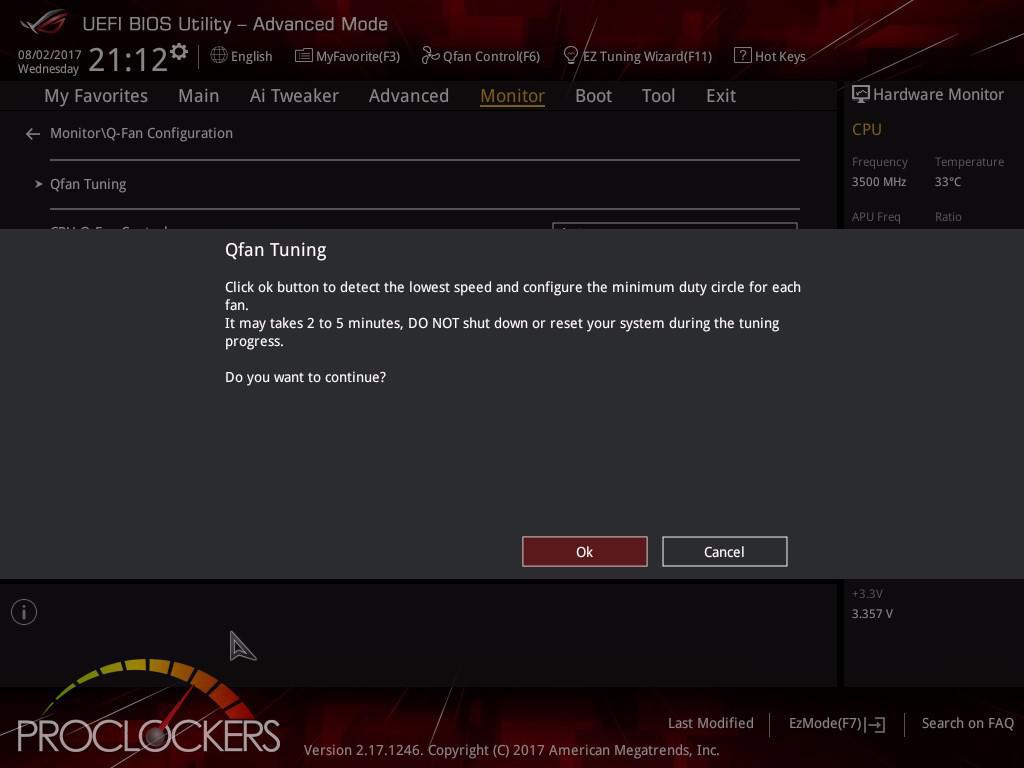 The Qfan Tuning utility here will ramp your fans up and down for a few moments to learn their respective performance characteristics and tune the minimum and maximum setpoints for you.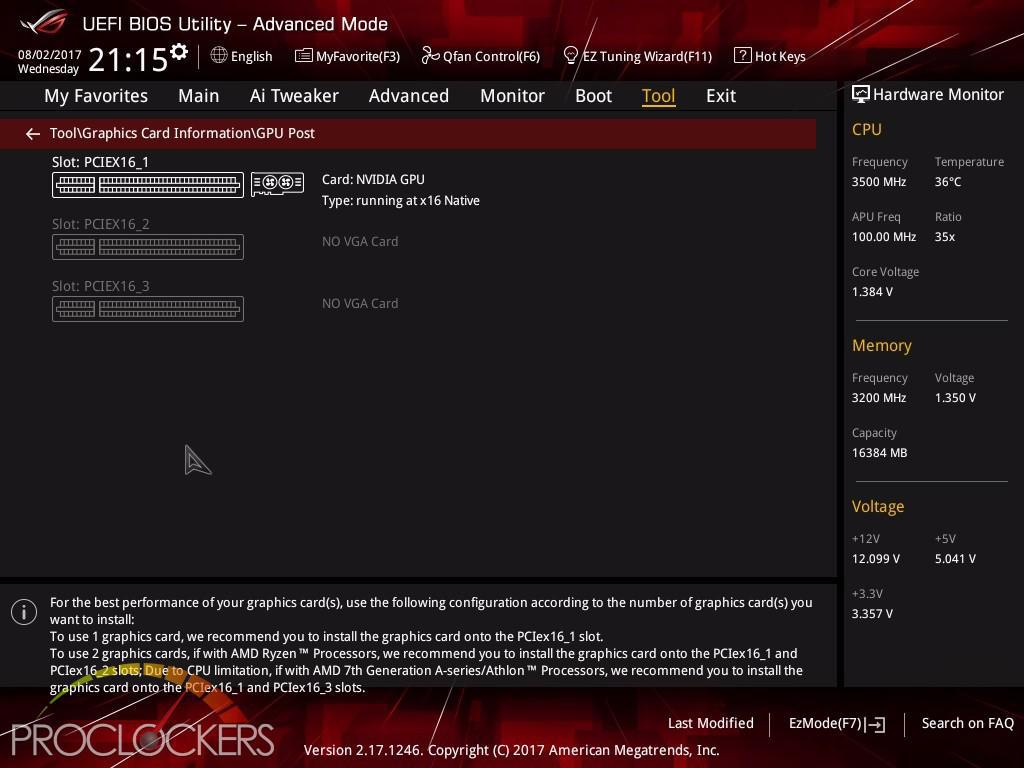 GPU POST will show not only GPU's, but any PCIe device installed in the three main PCIe X16 slots. Here we have a single GTX 1070 installed.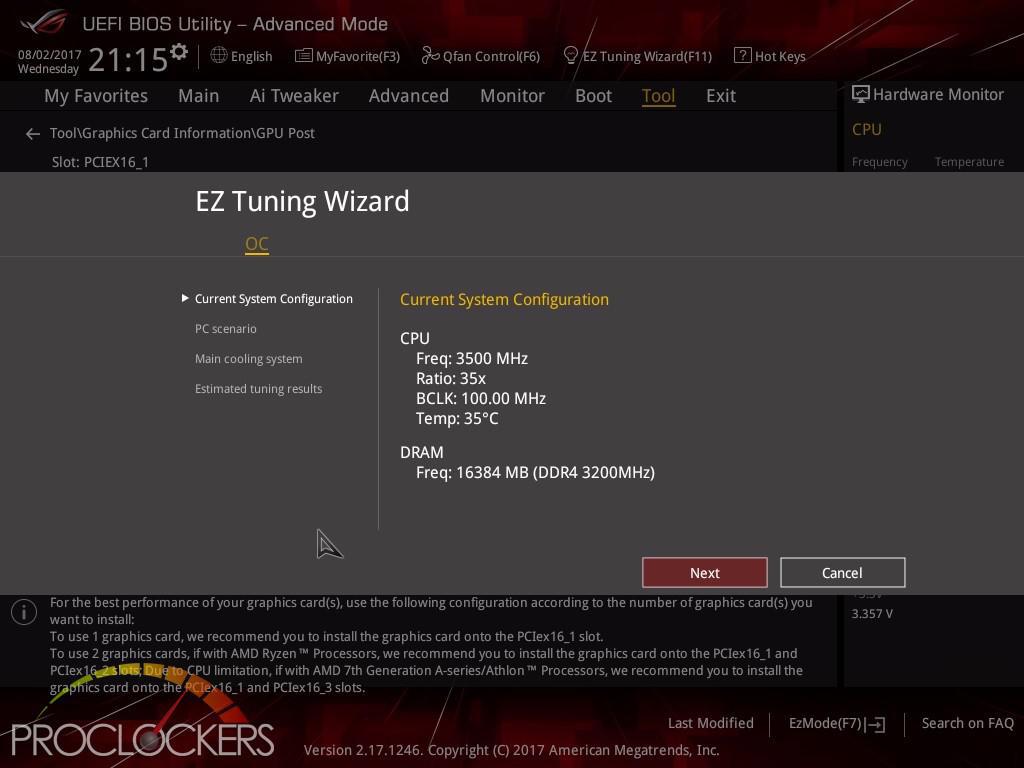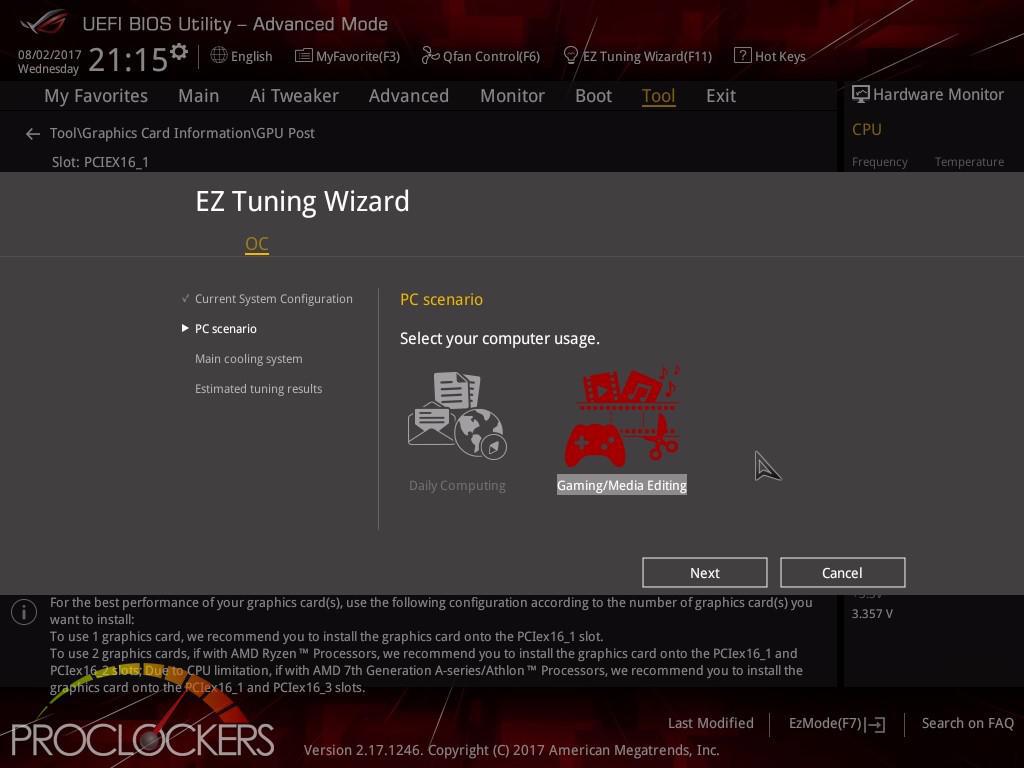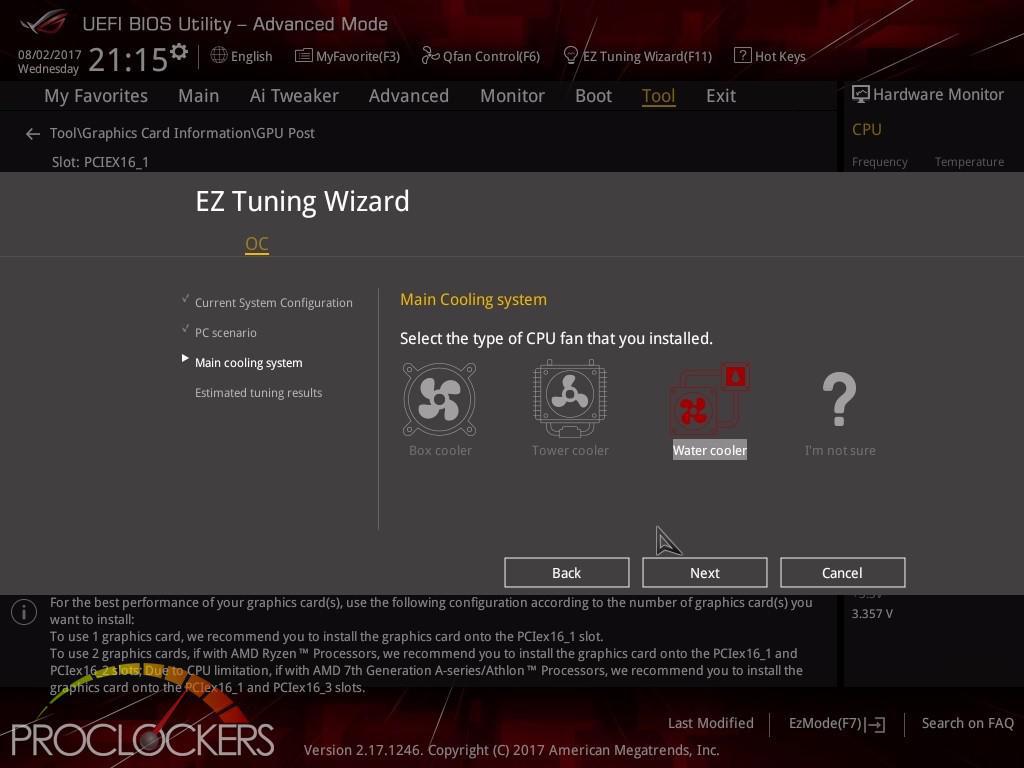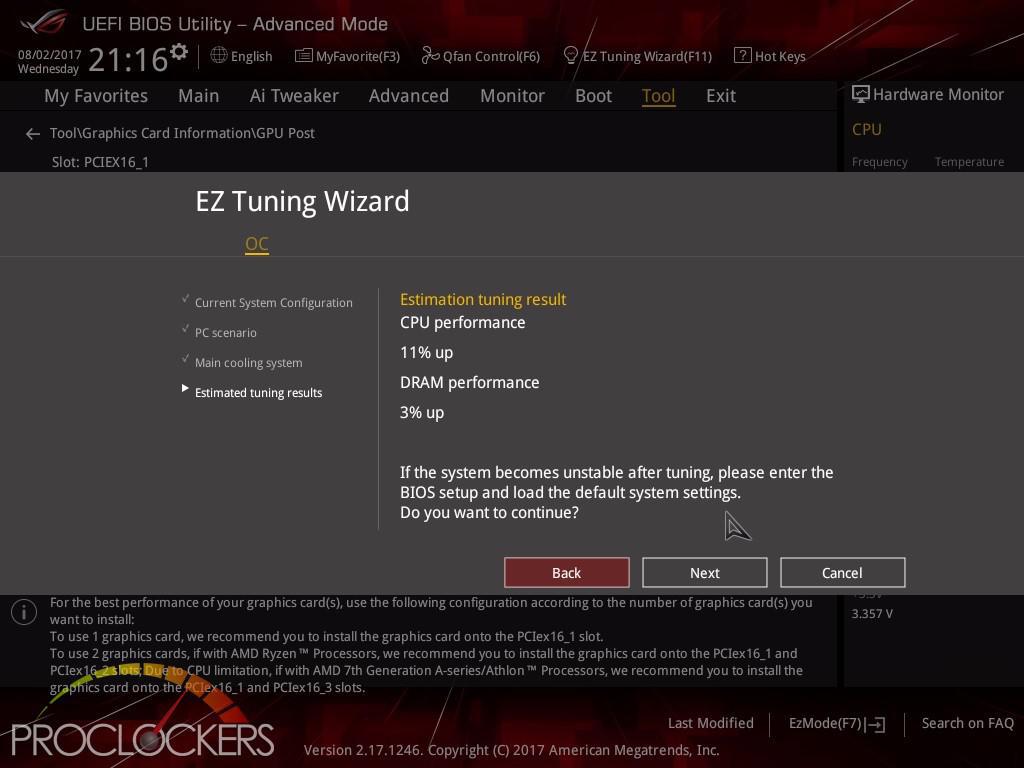 ASUS's EX Tuning Wizard will ask you some basic questions about your system and then proceeded to overclock and tune the system within reasonable limits for that configuration. If tinkering with voltages, clocks, multipliers and the other myriad of settings isn't your thing, but you still want to get the best performance you can get, you are quite literally a few mouse clicks away from a free performance upgrade here.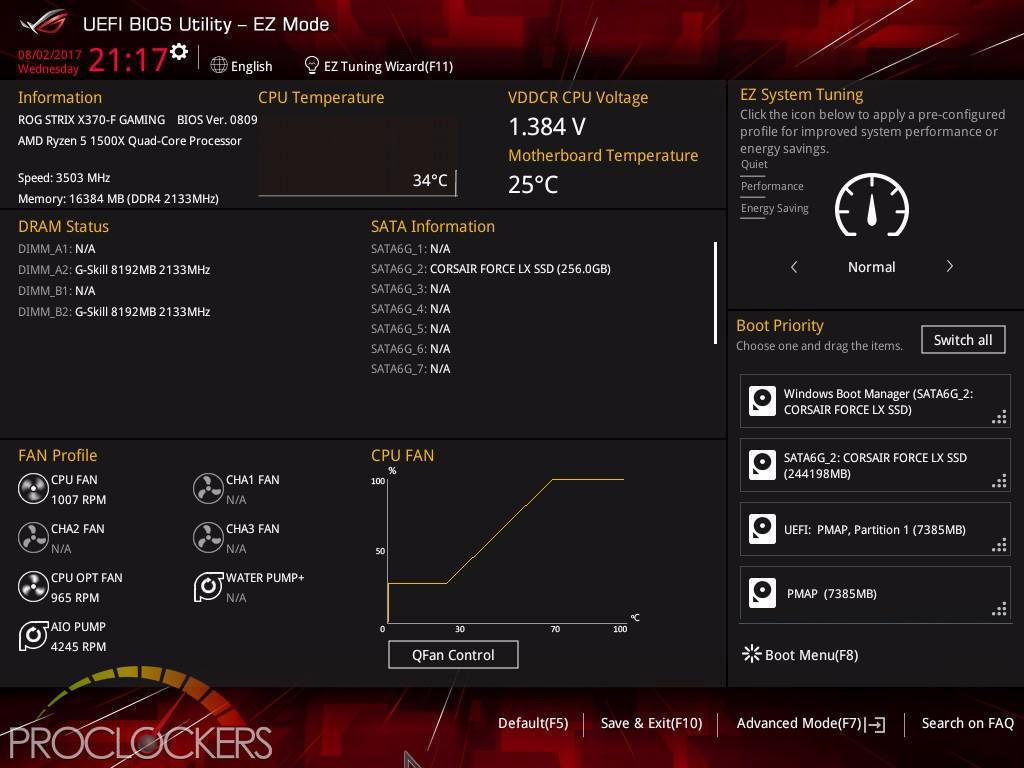 Last but not lease is the EZ Mode. If you just want to see basic information, and select a performance preset and/or boot device, you can do it all right here without digging through menus at all.
Software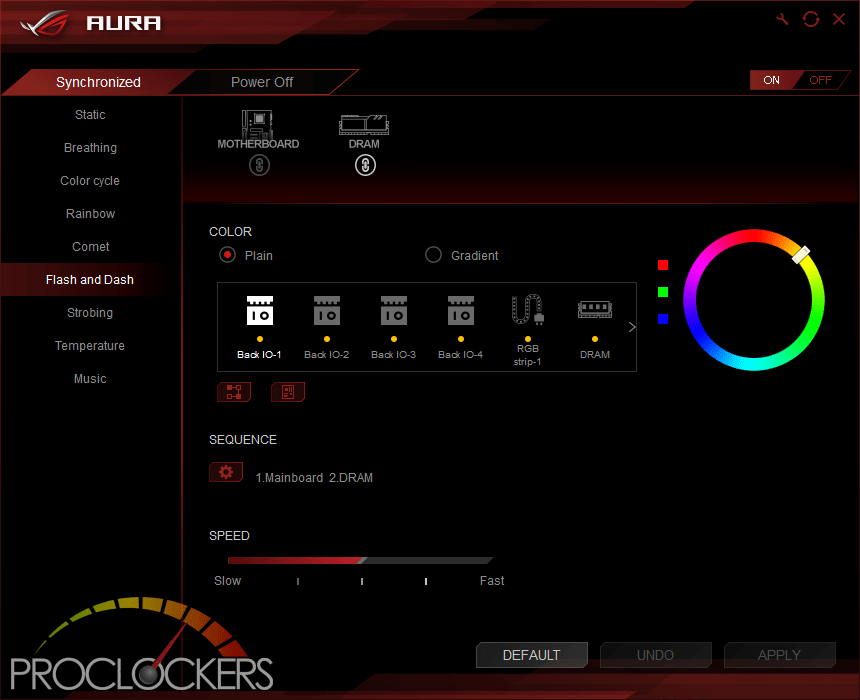 The Rear I/O Area lighting as well as both RGB headers are controlled by ASUS's AURA software on the X370-F. The Aura software also picked up and allowed us to take over the lighting on the G.Skill TridentZ RGB ram to make one seamless light show. There are quite a few effects to choose from, both static and dynamic, but our favorite was the Flash and Dance, as well as the Temperature mode.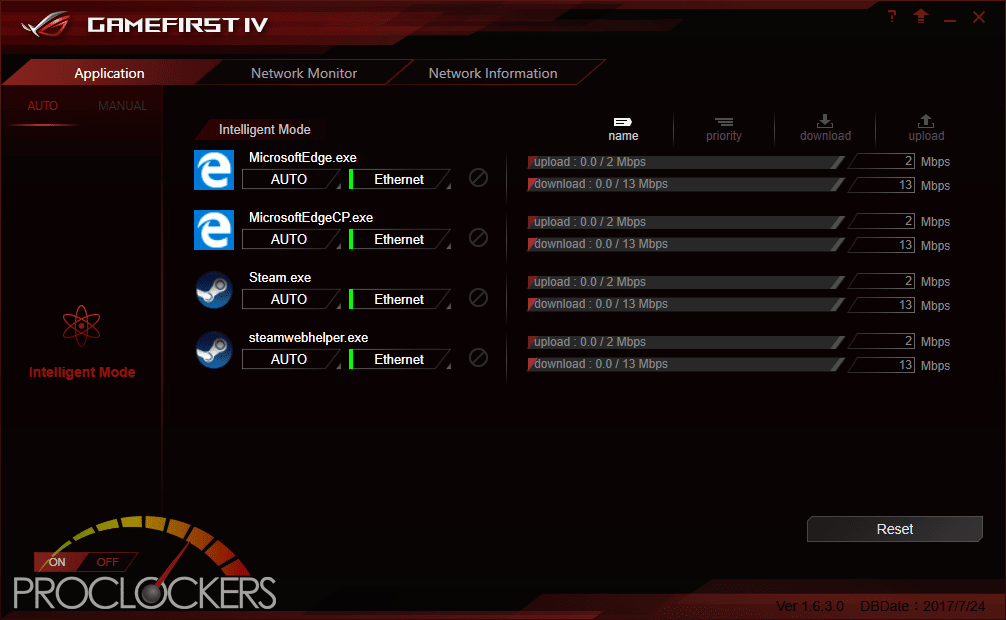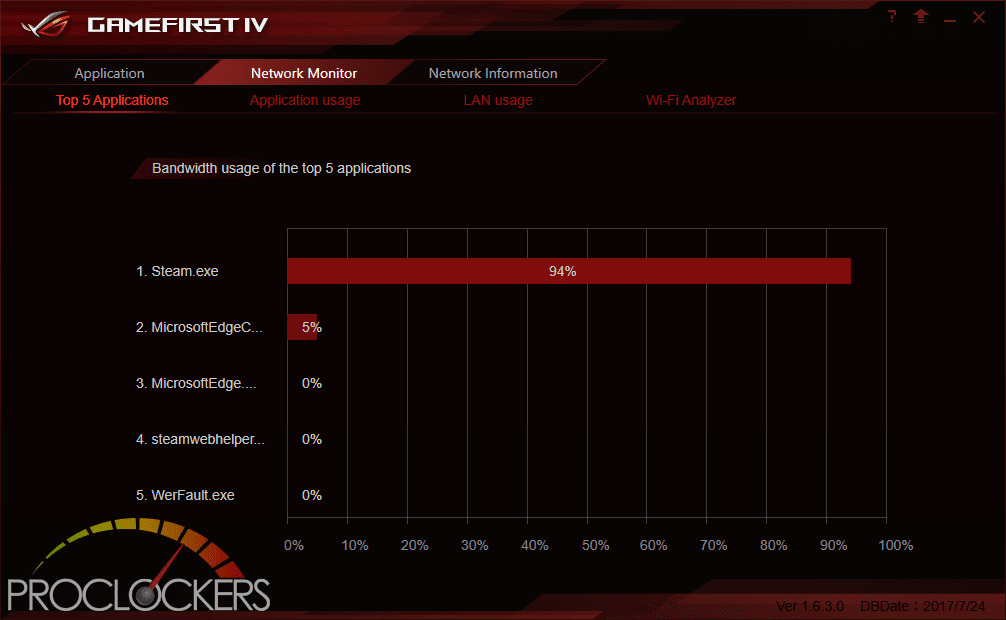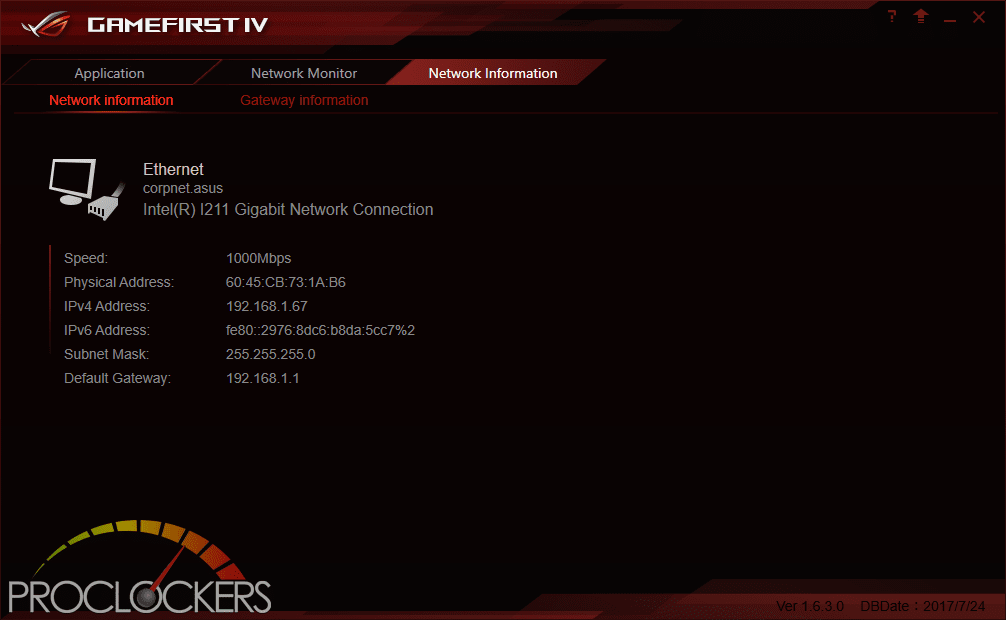 The GameFirst IV Application allows you to Monitor and control all traffic over the Intel Gigabit LAN connection, as well as see statistics and vital information. By Default, the application runs in intelligent mode, and will prioritize Traffic based on its purpose, but you can switch to Manual mode and take over full control. You can see here while browsing the web and installing games on Steam for benchmarking where most of the bandwidth is being used.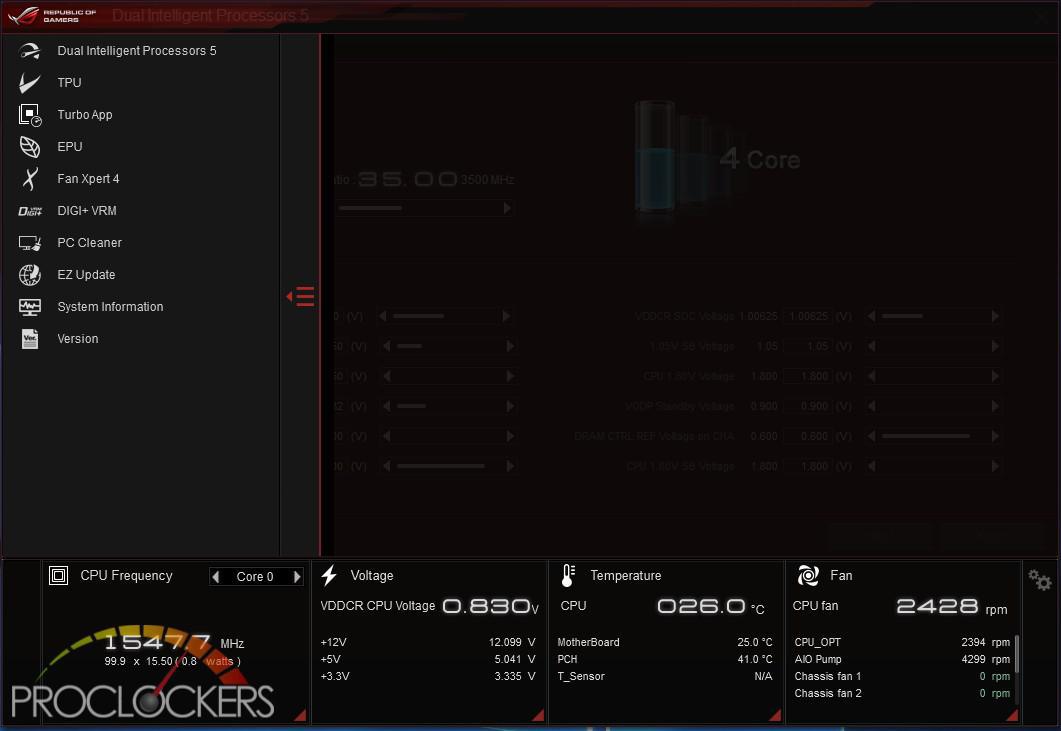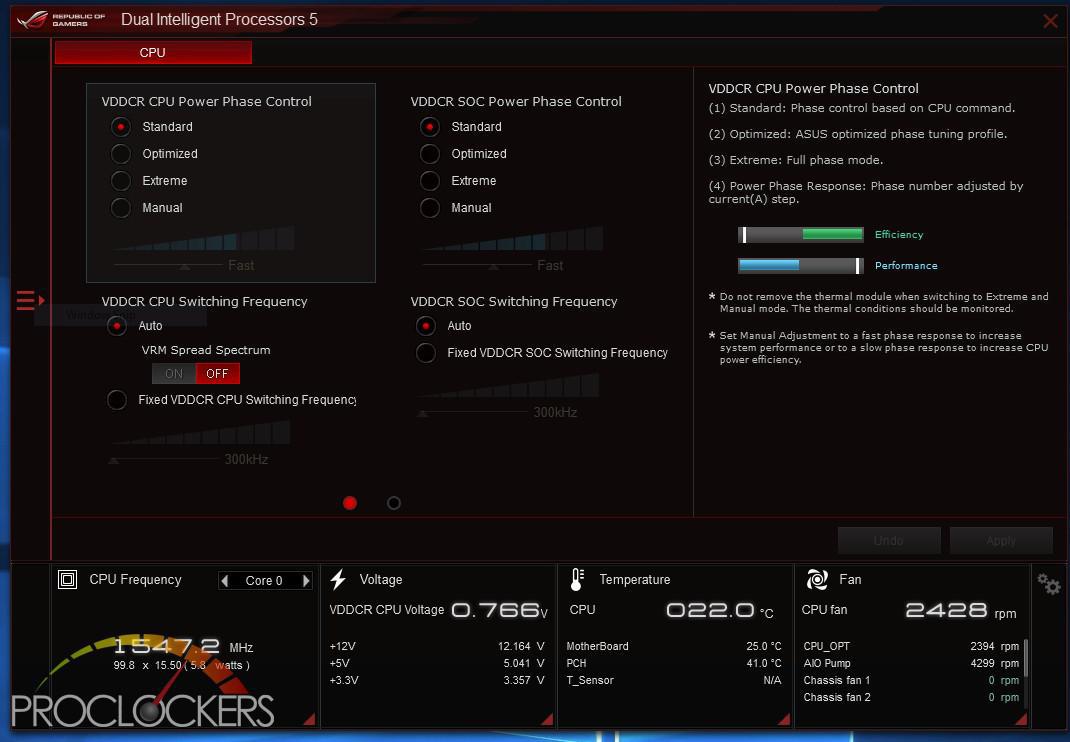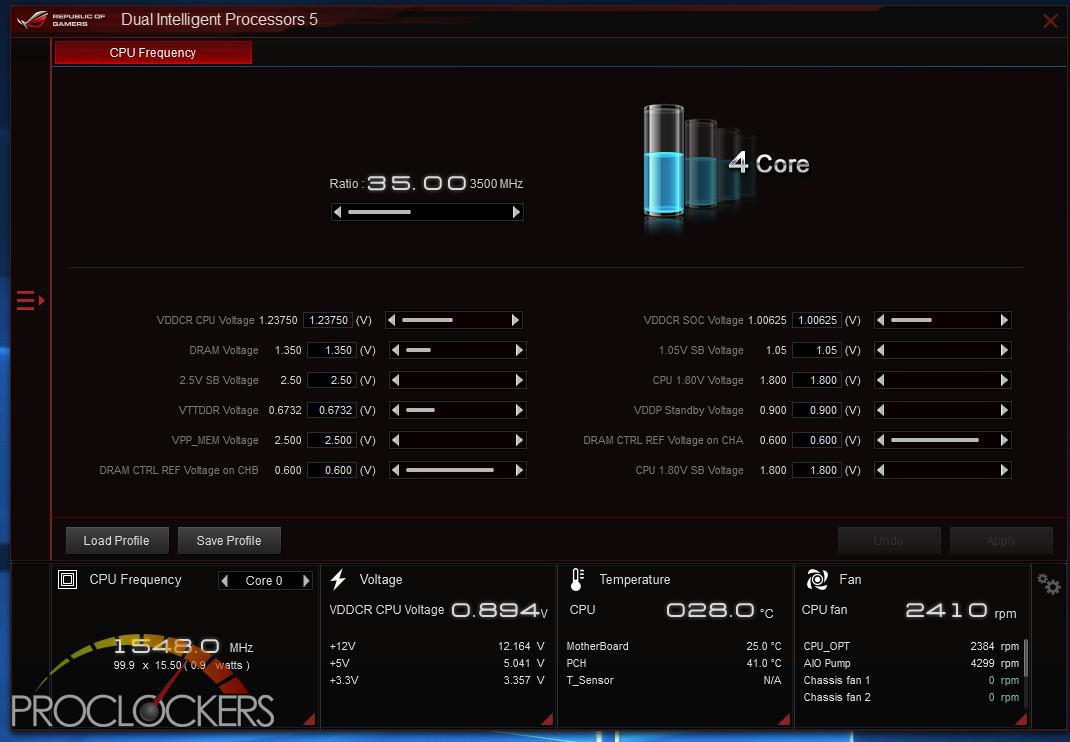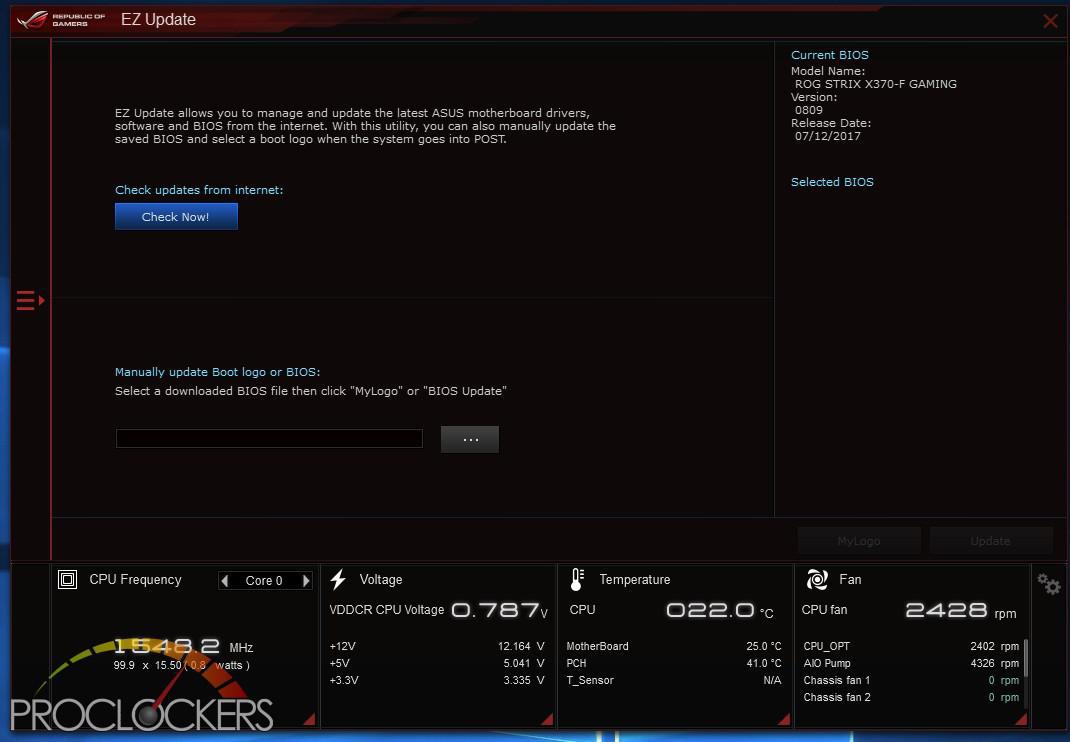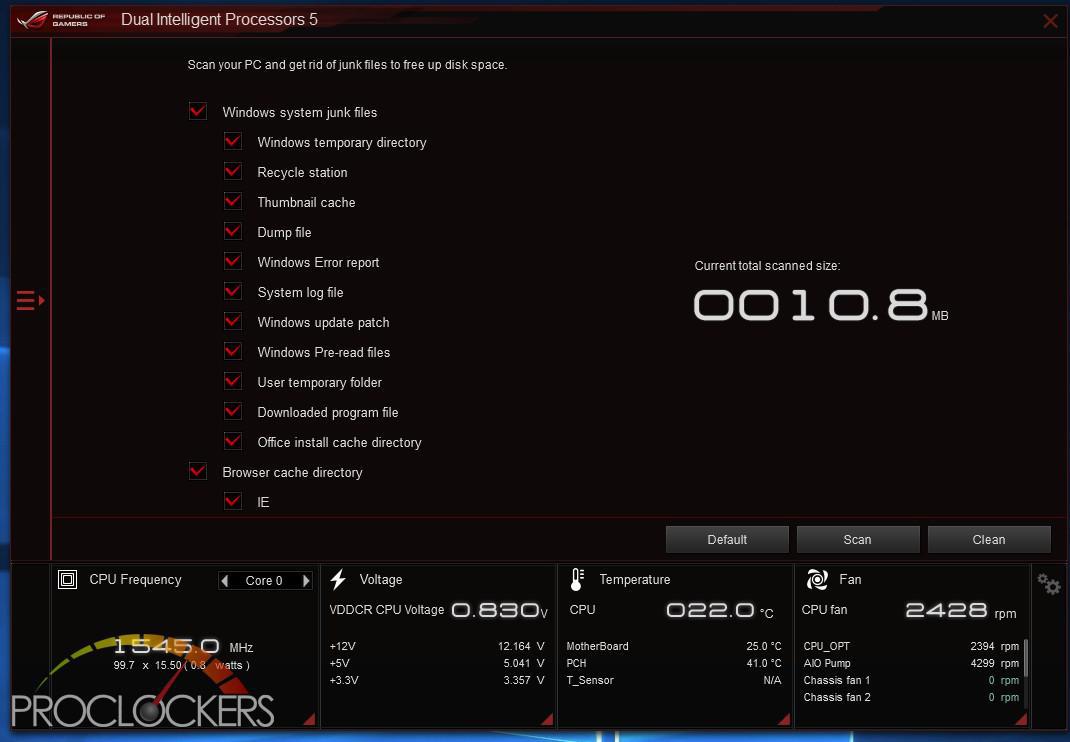 ASUS's Dual Intelligent Processors 5 application is a powerhouse and one you don't want to miss. Anything related to optimizing performance can be found here, from switching profiles, to Auto overclocking, to manual overclocking and changing voltages and fan settings is here. You can even clean out temp and other unneeded files in a few clicks all from one application.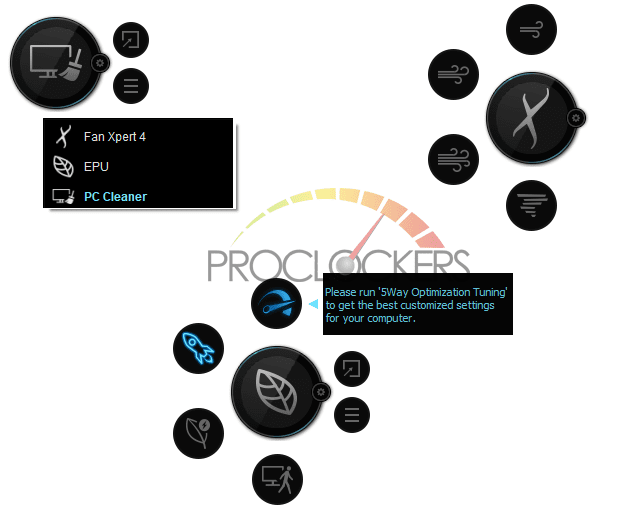 This application also runs similar to a desktop widget, gives you quick access to cooling, performance profiles and PC Cleaner without opening the full application.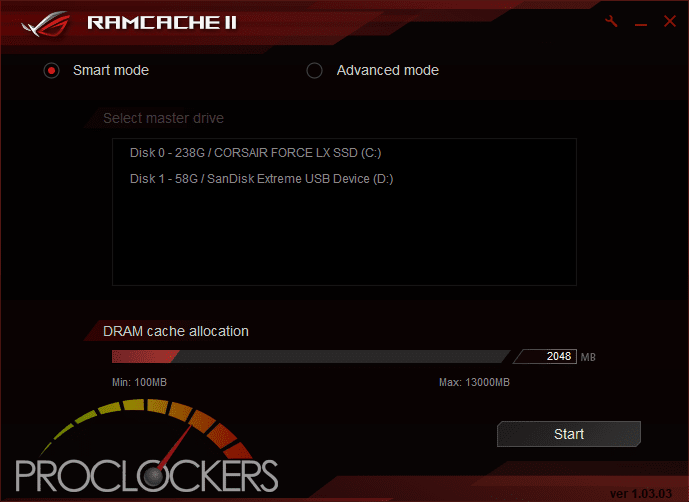 ASUS's RAMCACHE II carves off a user selectable portion of system memory to speed up Disk transfers. Even if you have the fastest NVMe drive out there, using your ram as a cache can speed it up significantly.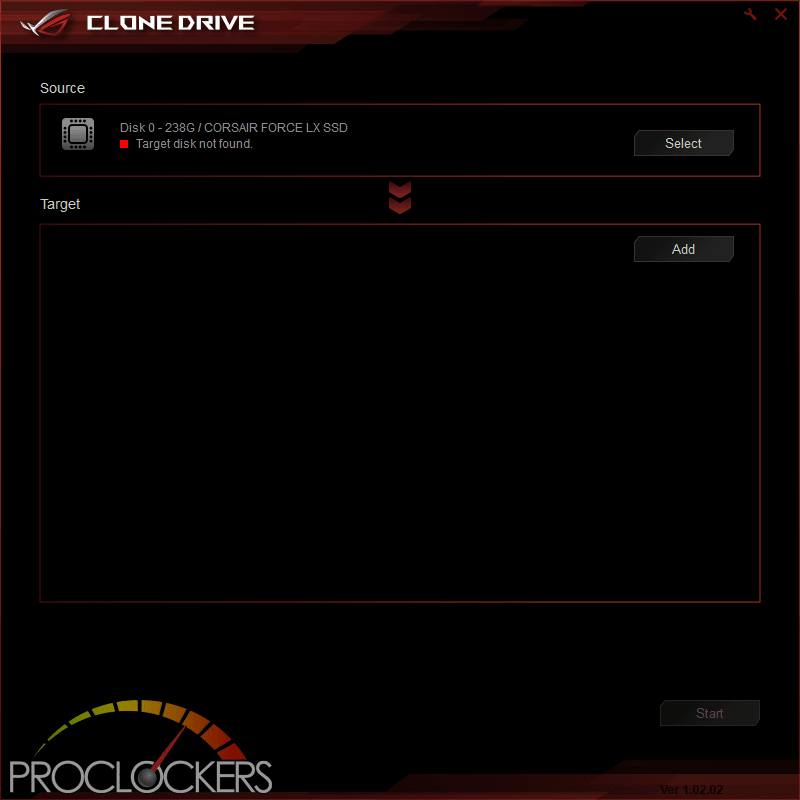 Clone Drive does exactly what the name implies. If you need to migrate to a new larger or faster SSD down the road, simply cone it over and away you go. It does work for data drives as well, not just your OS drive.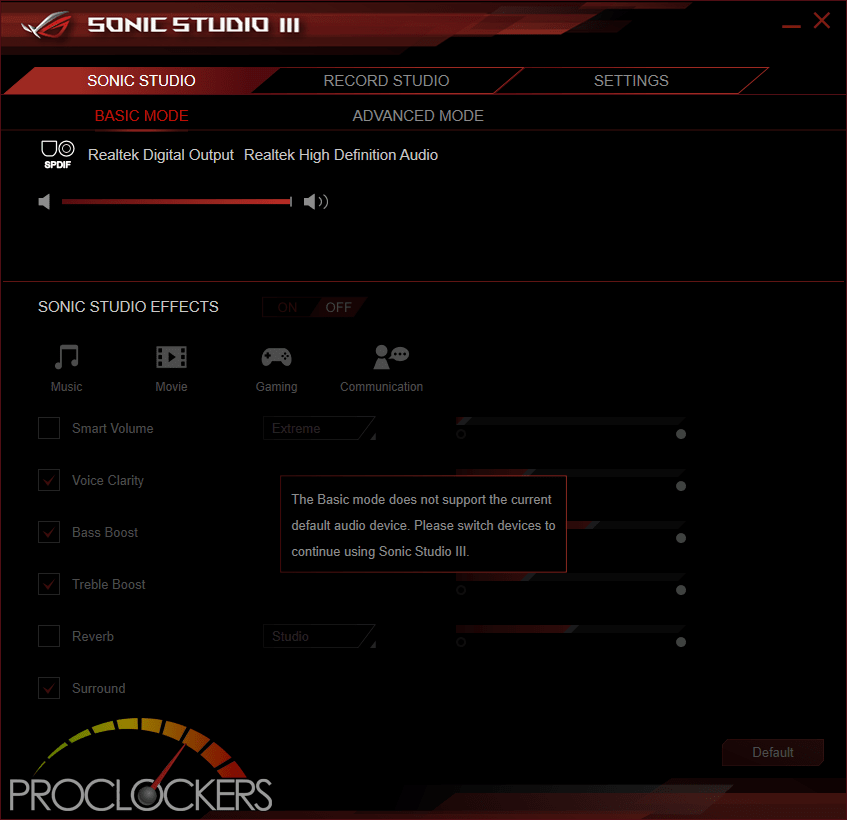 Sonic Studio lets you really flex the SupremeFX's audio muscles for the best and clearest sounds in all conditions, from movies, to music to intense gaming sessions.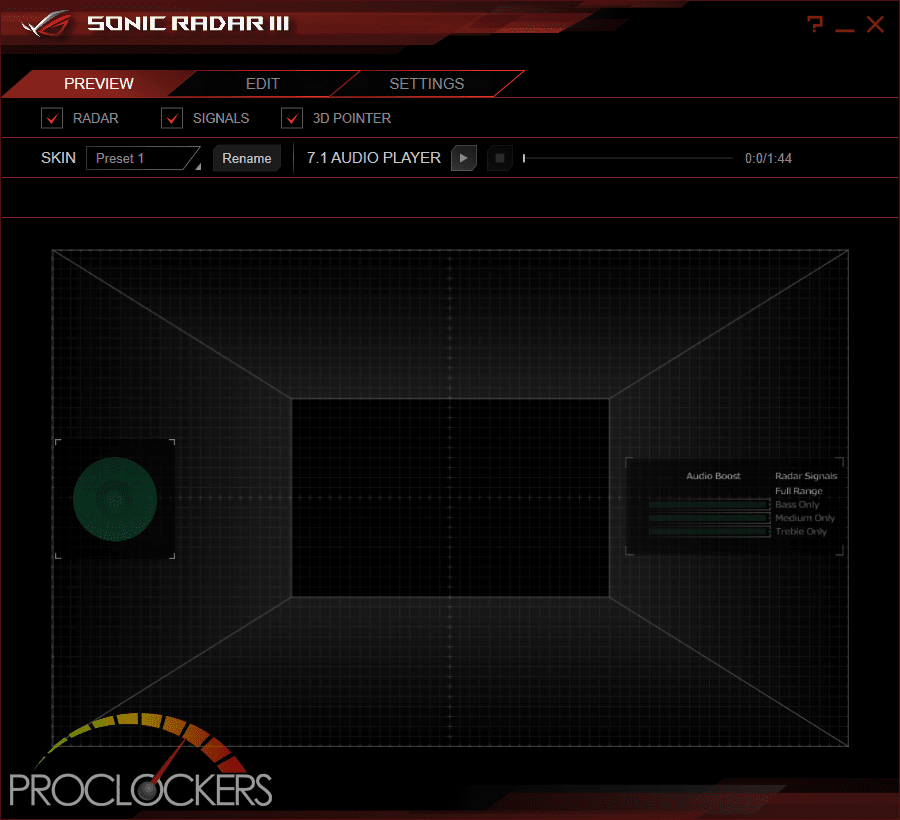 Speaking of Audio and Gaming, Sonic Radar III will grab audio cues from your favorite games and use them to provide accurate directional position of threats on an onscreen radar type overlay. It might not distinguish between friend or foe, but neither one of them will be sneaking up on you anymore.
Testing & Performance

General Performance Testing
All benchmarks are run using stock settings on the CPU, which leaves XFR enabled for some automatic boosting. We noticed it frequently running as high as 3.9Ghz under light to moderate loads, and 3.6-3.7Ghz under moderate to heavy loads. The ram was manually clocked to its XMP rating of 3200Mhz @ 16-16-16-39 Speeds.
Games where ran at a resolution of 1920 x 1080 and higher settings enabled.
PCMark 8
"Use the PCMark 8 Storage benchmark to test the performance of SSDs, HDDs and hybrid drives with traces recorded from Adobe Creative Suite, Microsoft Office and a selection of popular games. You can test the system drive or any other recognized storage device, including local external drives. Unlike synthetic storage tests, the PCMark 8 Storage benchmark highlights real-world performance differences between storage devices."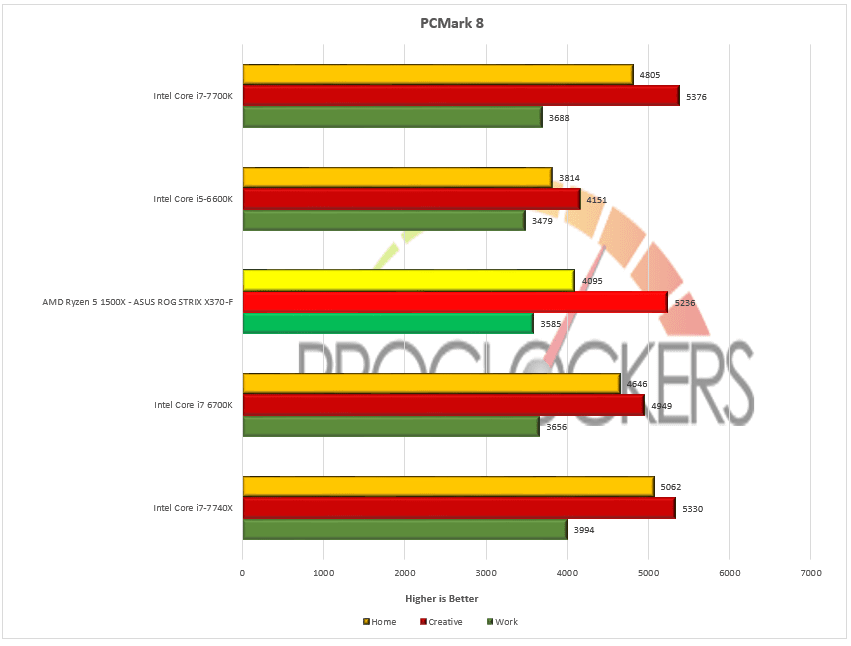 For General system performance, the ASUS STRIX X370-F paired with the Ryzen 1500X CPU makes a great machine that competes with quad core offerings from team blue for a fraction of the cost.
Super PI Modded 1.5
"In August 1995, the calculation of pi up to 4,294,960,000 decimal digits was succeeded by using a supercomputer at the University of Tokyo. The program was written by D.Takahashi in collaboration with Dr.Y.Kanada at the computer center. This record should be the current world record. (Details are shown in the windows help.) This record-breaking program was ported to personal computer environment such as Windows NT and Windows 95. In order to calculate 33.55 million digits, it takes within 3 days with a Pentium 90 MHz, 40 MB main memory and 340 MB available storage."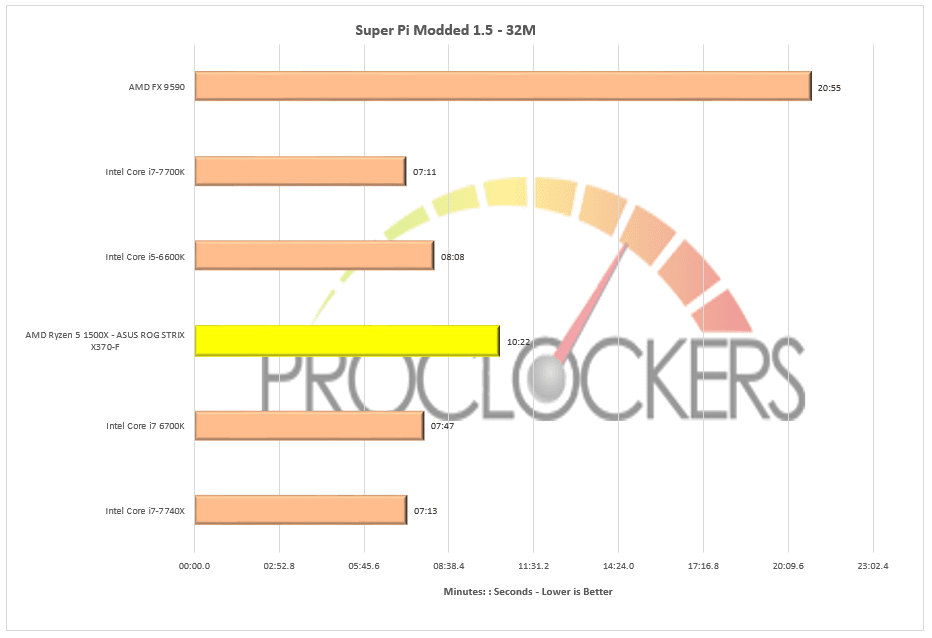 The lower clock speed compared to similar Intel Quad core chips results in a slower calculation time.
Fritz Chess
Fritz Chess is a benchmark in which a fictitious game of chess is played. As each move has to be calculated by the computer, it is an excellent test of CPU muscle.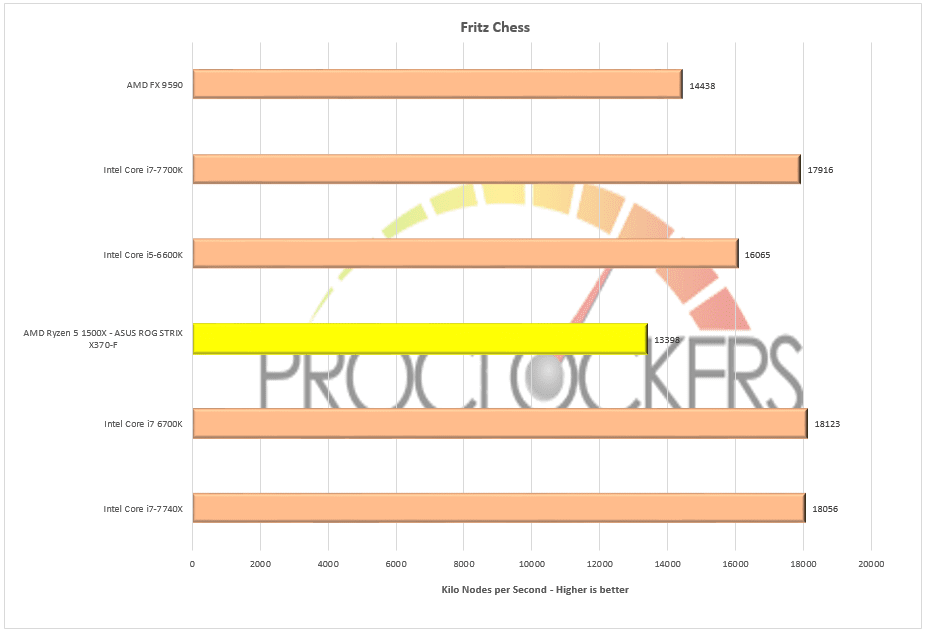 The STRIX X370-F helps the 1500X turn in a score here that is pretty close to AMD's older FX-9590 which sports twice the core count. Not bad at all!
CINEBENCH R15
"CINEBENCH is a real-world cross platform test suite that evaluates your computer's performance capabilities. CINEBENCH is based on MAXON's award-winning animation software CINEMA 4D, which is used extensively by studios and production houses worldwide for 3D content creation. MAXON software has been used in blockbuster movies such as Iron Man 3, Oblivion, Life of Pi or Prometheus and many more.
CINEBENCH is the perfect tool to compare CPU and graphics performance across various systems and platforms (Windows and OS X). And best of all: It's completely free."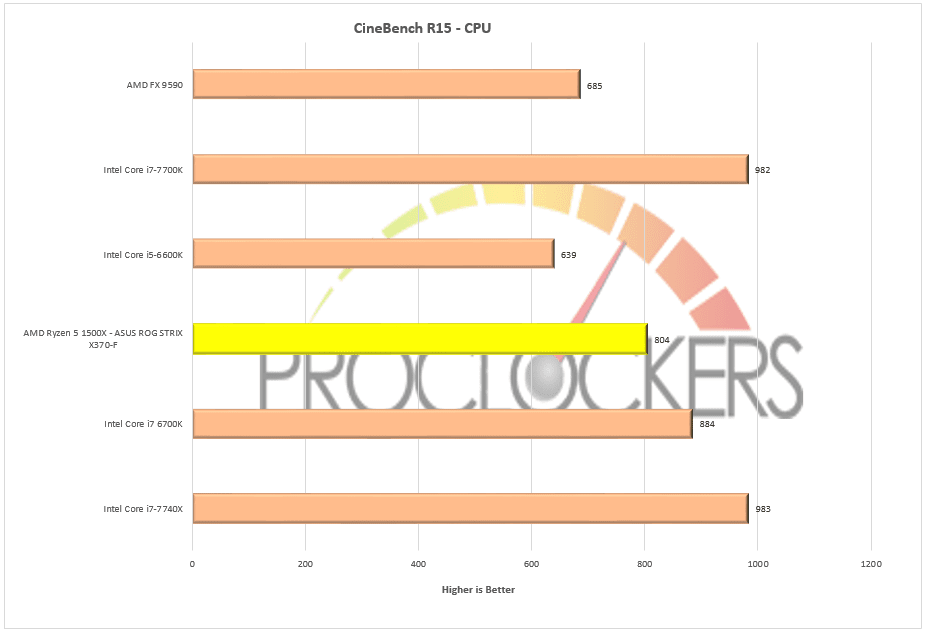 Here with see the system edge out the older 8 core, and even many of team blue's quad core offerings.
7-Zip
The benchmark shows a rating in MIPS (million instructions per second). The rating value is calculated from the measured speed, and it is normalized with results of Intel Core 2 CPU with multi-threading option switched off. So if you have modern CPU from Intel or AMD, rating values in single-thread mode must be close to real CPU frequency. There are two tests, compression with LZMA method and decompression with LZMA method. Once the total passes reaches 100, the score is taken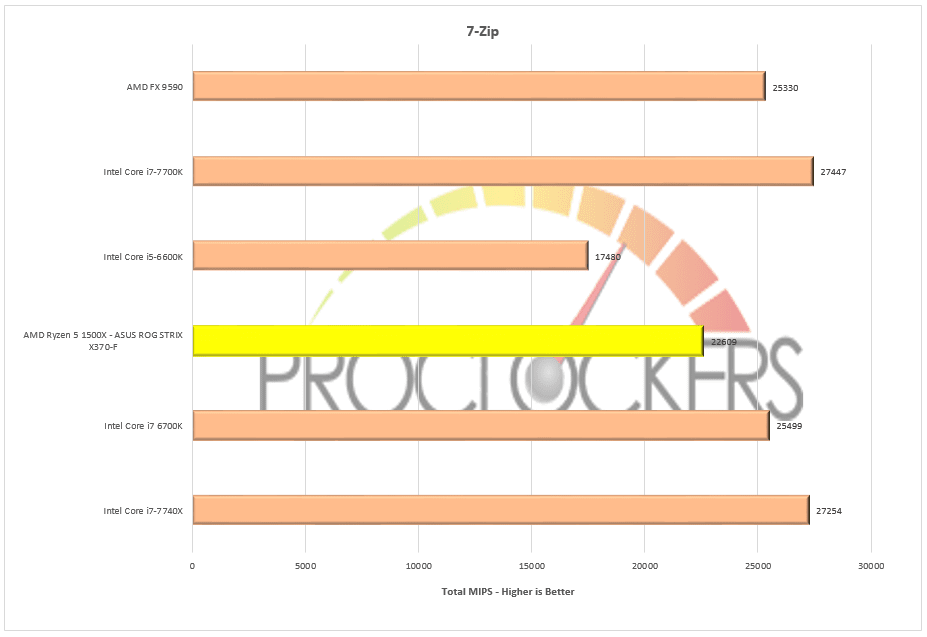 We similar results here from again from our 1500X equipped STRIX X370-F.
Memory Performance Testing
AIDA64 Engineer Edition
"FinalWire Ltd. today announced the immediate availability of AIDA64 Extreme Edition 1.50 software, a streamlined diagnostic and benchmarking tool for home users; and the immediate availability of AIDA64 Business Edition 1.50 software, an essential network management solution for small and medium scale enterprises. The new AIDA64 update implements AVX-optimized benchmarks for the upcoming Intel Sandy Bridge processors, adds a brand new video encoding benchmark, and supports the latest AMD and nVIDIA graphics processors."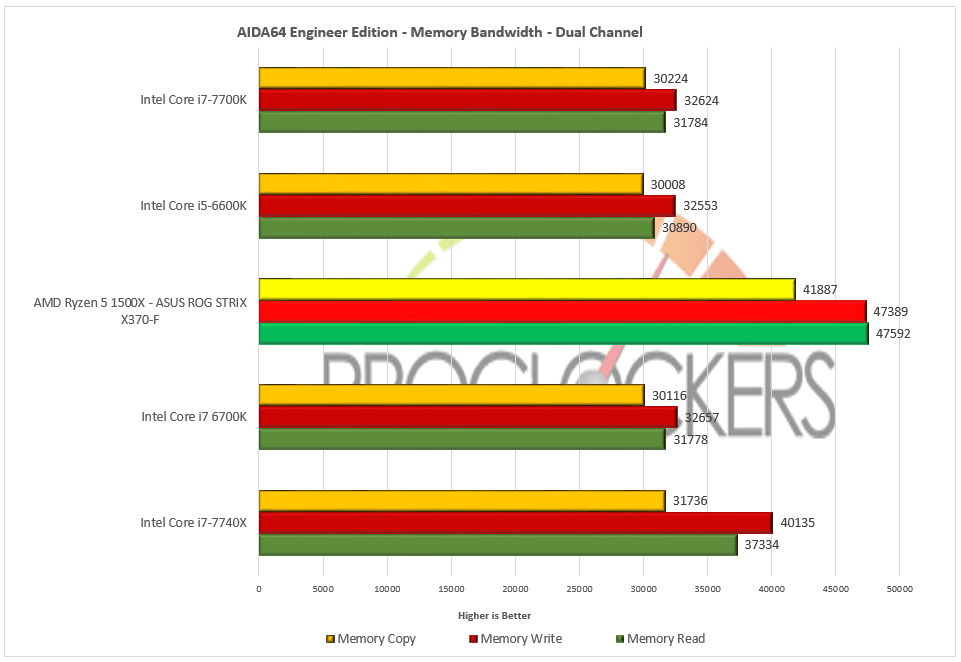 With The STRIX X370-F able to run our ram at its full 3200MHz, It turns in great memory bandwidth scores under AIDA64.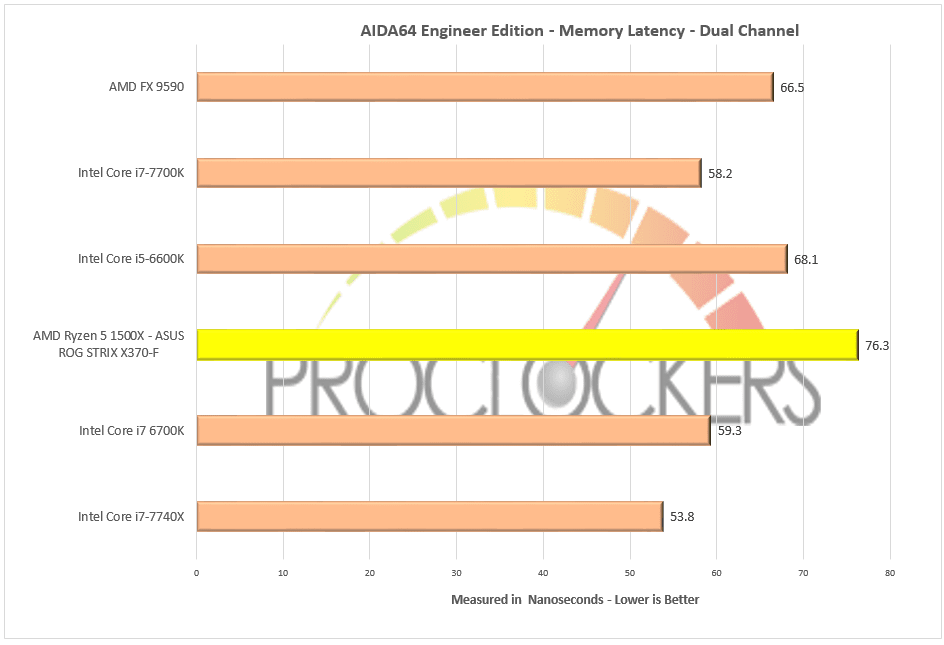 The higher CAS Latency of this setup brings us out near the bottom of the pack in latency testing, but that is no fault of the board and well expected with this ram kit.
Passmark Performance Test – Memory Mark – Threaded
"Fast, easy to use, PC speed testing and benchmarking. PassMark PerformanceTest ™ allows you to objectively benchmark a PC using a variety of different speed tests and compare the results to other computers."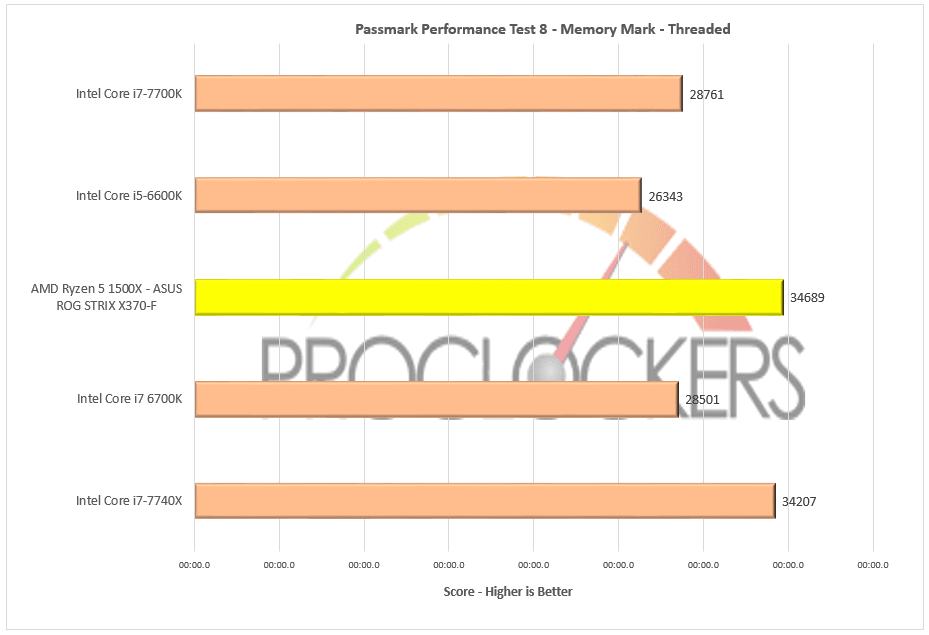 Passmark also shows strong performance thanks to the STRIX X370-F's ability to run DDR4 at full speeds.
SiSoft Sandra
"SiSoftware Sandra provides a robust package of diagnostic tools for testing your system and teasing out its problems–or potential headaches."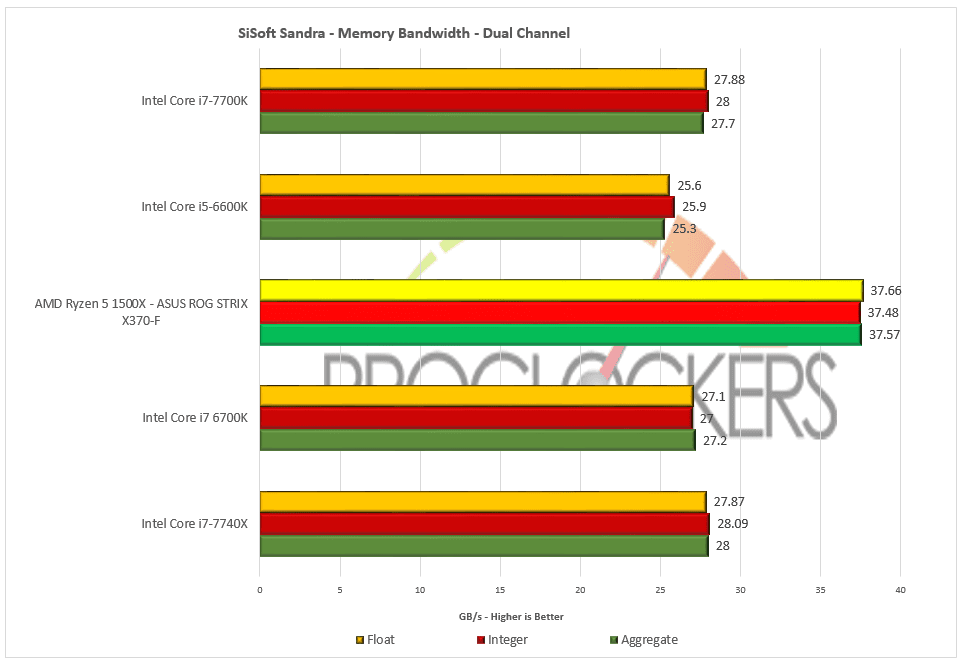 Again the same trend. AMD's Ryzen CPU's do great with high speed ram and the ASUS ROG STRIX X370-F gives you the ability to deliver that.
Storage Testing
ATTO Disk Benchmark
"As the industry's leading provider of high-performance storage & network connectivity products, ATTO has created a widely-accepted Disk Benchmark freeware utility to help measure storage system performance. As one of the top tools utilized in the industry, Disk Benchmark identifies performance in hard drives, solid state drives, RAID arrays as well as connections to storage. Top drive manufacturers, like Hitachi, build and test every drive using the ATTO Disk Benchmark"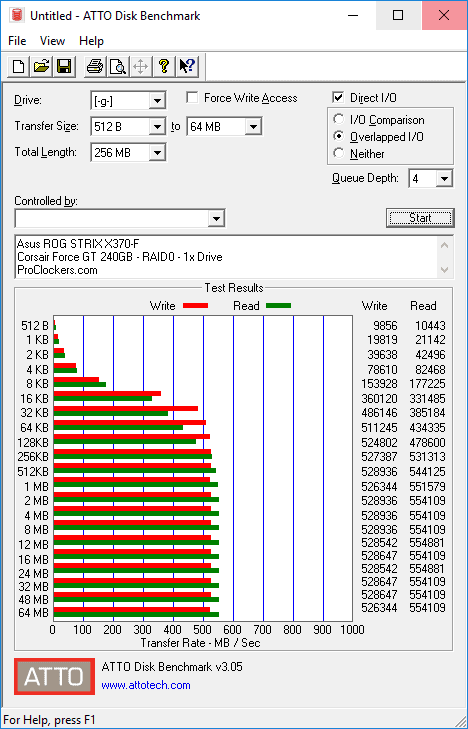 ATTO shows up that a single SATA Drive has no issues or bottle necks. We will go ahead and try to RAID multiple SSD's together and see if we can find any bottlenecks.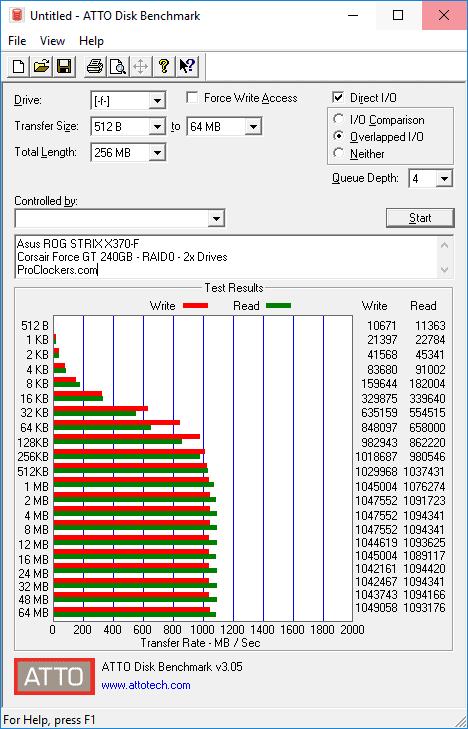 2x Drives – Good scaling so far.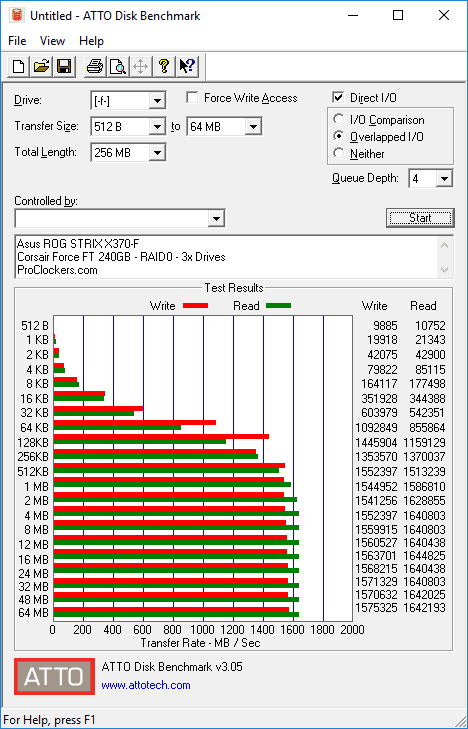 3x Drives – still perfect scaling.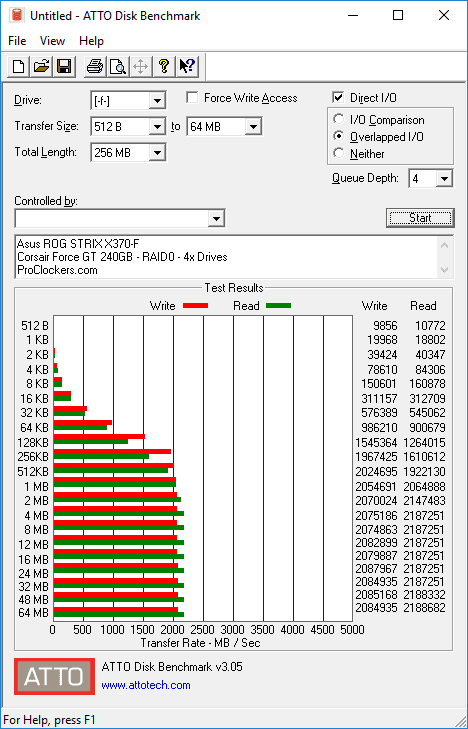 And 4x Drives. We still see perfect scaling here. Intel's latest 200 series chipsets can hit right at the 2GB/s mark with 4 drives which is indicating a bit of a bottleneck, the X370 Chipset on this STRIX X370-F exhibits perfect scaling on 4 drives with nearly 2.2GB/s.
CrystalDiskMark 3.0
"CrystalDiskMark is designed to quickly test the performance of your hard drives. Currently, the program allows to measure sequential and random read/write speeds."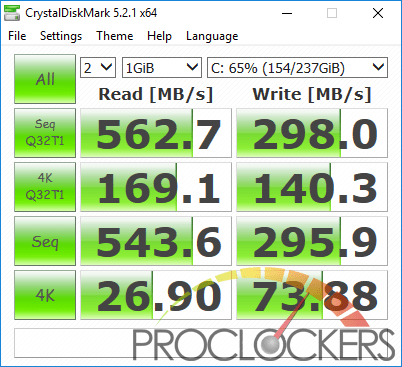 Measuring our OS Drive in AHCI mode, the Corsair Force LX we see exactly what the manufacturers specifications show it should be.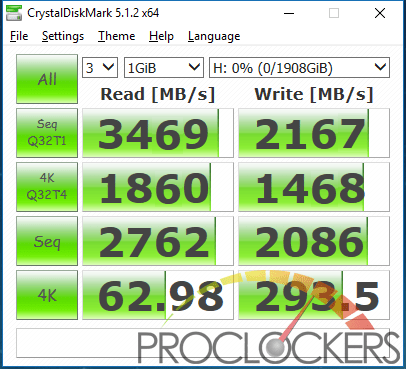 A Samsung 960 Pro 2TB M.2 SSD shows full performance in the STRIX X370-F's single M.2 port.
AS SSD
"Test the sequential or random read/write performance without using the cache. AS SSD Benchmark reads/writes a 1 GByte file as well as randomly chosen 4K blocks. Additionally, it performs the tests using 1 or 64 threads and it determines the SSD's access time.
Two extra benchmark tests examine the drive's behavior when (1) copying a few big files, a lot of small files and a mixture of file sizes by using cached copy functions of your OS as well as (2) reading/writing data depending on the data's compressibility."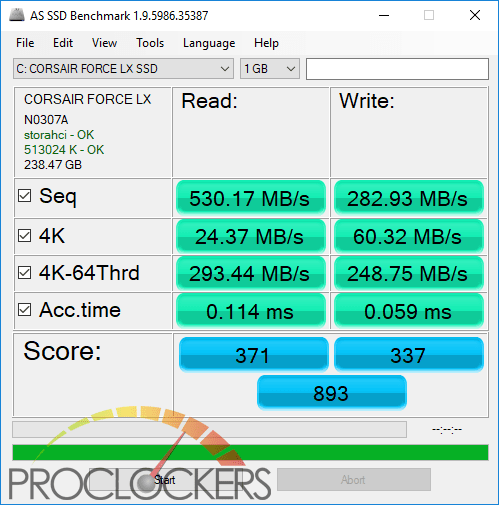 AS SSD shows the same as Crystal Disk Mark for our OS drive.
Game Testing
3DMark – Fire Strike
"Fire Strike is a showcase DirectX 11 benchmark designed for today's high-performance gaming PCs. It is our most ambitious and technical benchmark ever, featuring real-time graphics rendered with detail and complexity far beyond what is found in other benchmarks and games today"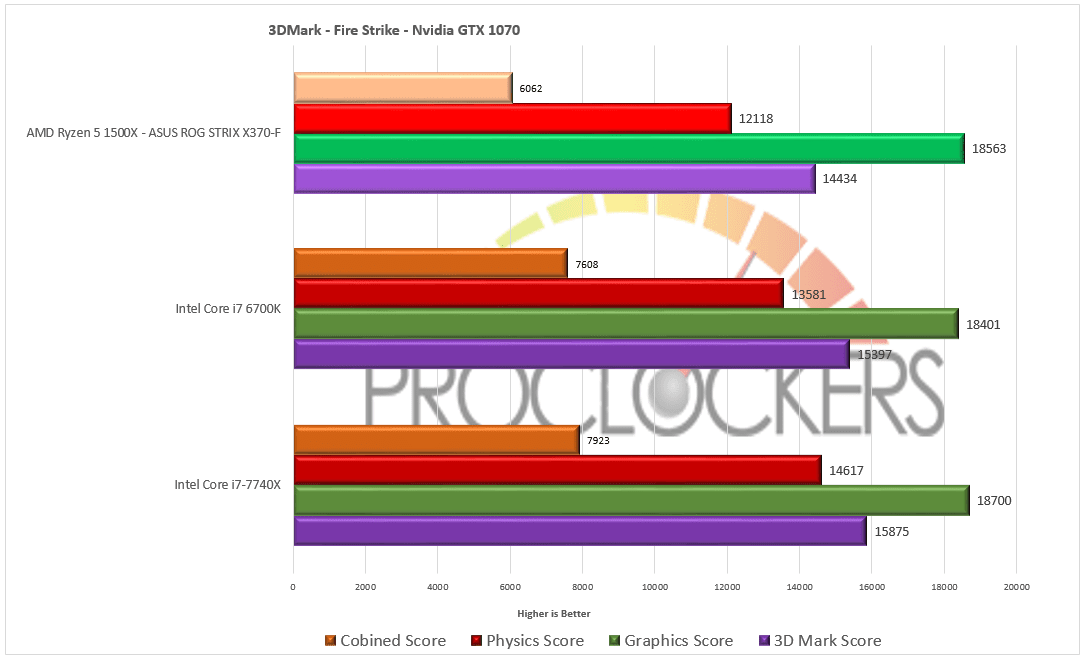 The raw clock speeds don't quite compare to Intel's offerings, but the STRIX X370-F's high speed DDR4 support helps even the gap, turning in strong performance even with a lower end chip that what it is capable of.
3DMark – Time Spy
"3Dmark Time Spy is a new DirectX 12 benchmark test for Windows 10 gaming PC's. Time Spay is one of the first DirectX 12 apps to be built "the right way" from the ground up to fully realize the performance gains that the new API offers. With DirectX 12 engine, which supports new API features like asynchronous compute, explicit multi-adapter, and multi-threading, Time Spy is the ideal test for benchmarking the latest graphics cards."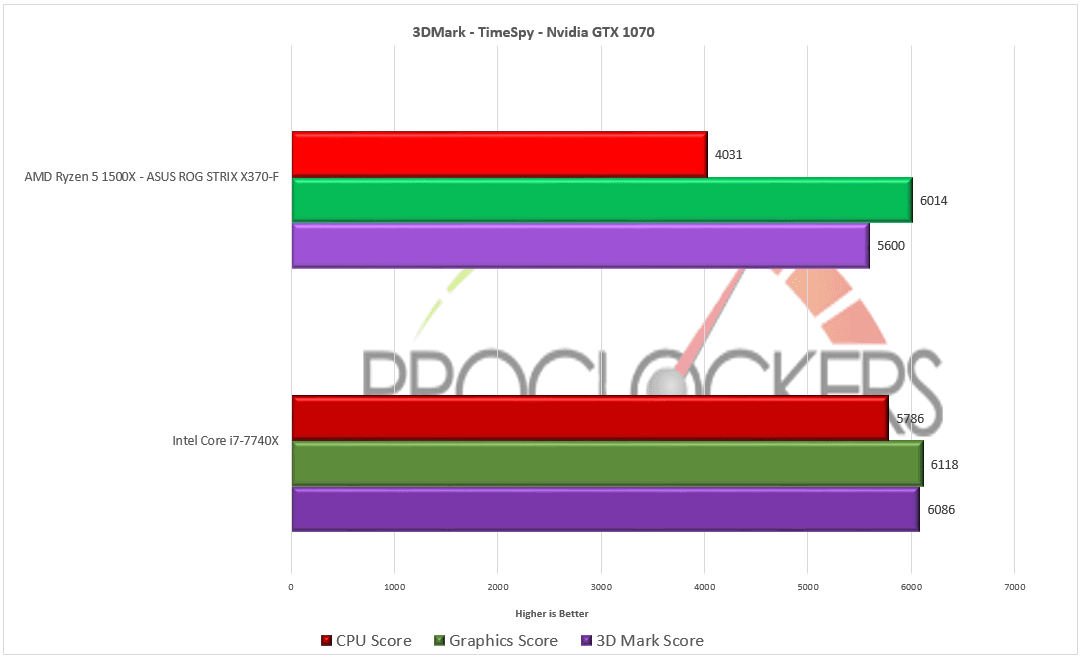 Again, CPU clockspeed makes a difference, but actual graphics and game scores are pretty solid here.
Grand Theft Auto: V
"When a young street hustler, a retired bank robber and a terrifying psychopath find themselves entangled with some of the most frightening and deranged elements of the criminal underworld, the U.S. government and the entertainment industry, they must pull off a series of dangerous heists to survive in a ruthless city in which they can trust nobody, least of all each other."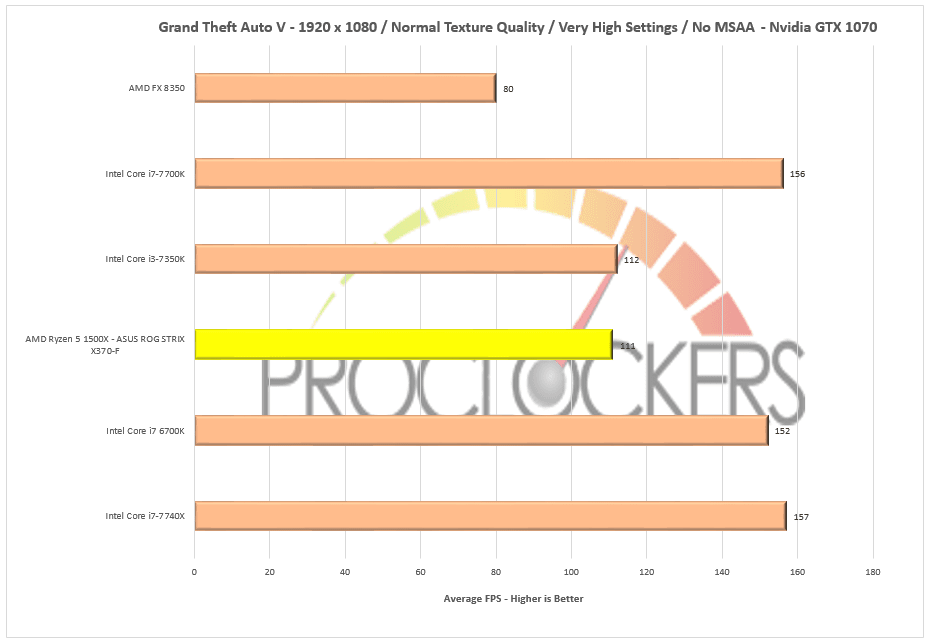 Grand Theft Auto V can be quite CPU intensive with the settings turned up, as well as the obvious increase in graphical loading. The STRIX X370-F does well here edging out some similar systems.
Metro: Last Light
"It Is the Year 2034. Beneath the ruins of post-apocalyptic Moscow, in the tunnels of the Metro, the remnants of mankind are besieged by deadly threats from outside – and within. Mutants stalk the catacombs beneath the desolate surface, and hunt a midst the poisoned skies above."
Developed by 4A games and published by Deepsilver, Metro: Last Light uses the 4A game engine. At its highest settings, the 4A game engine is capable of bringing all but the most extreme gaming systems to their knees.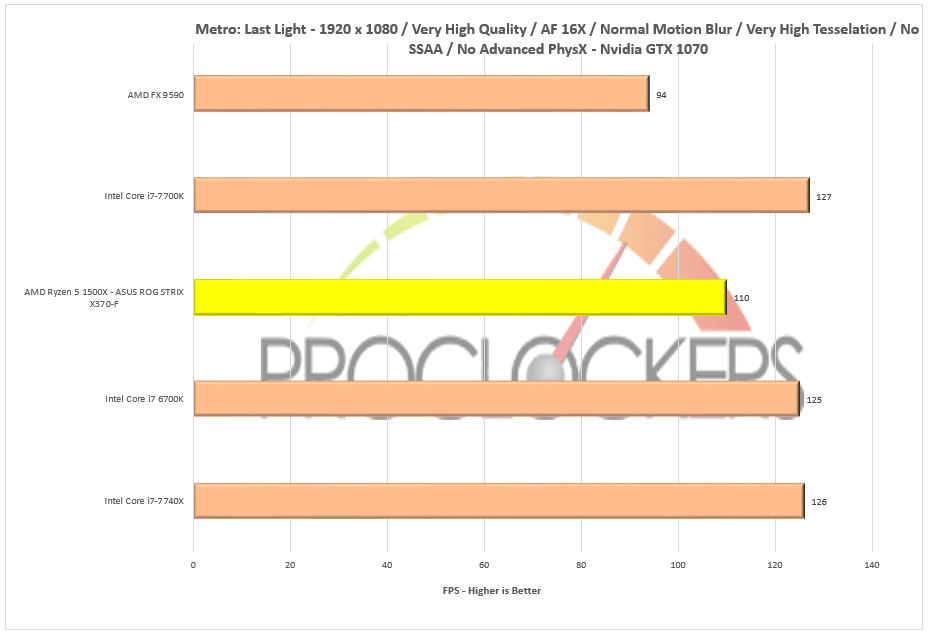 We see solid performance here in Metro: Last Night from the test system.
Overclocking
Coming from an already decent 3.5Ghz, we set out to see what the ASUS ROG STRIX X370-F would let us push our Ryzen 1500X to.

Using ASUS's automatic system optimization built into the Dual Intelligent Processors 5 suite required a few mouse clicks, and 2 reboots.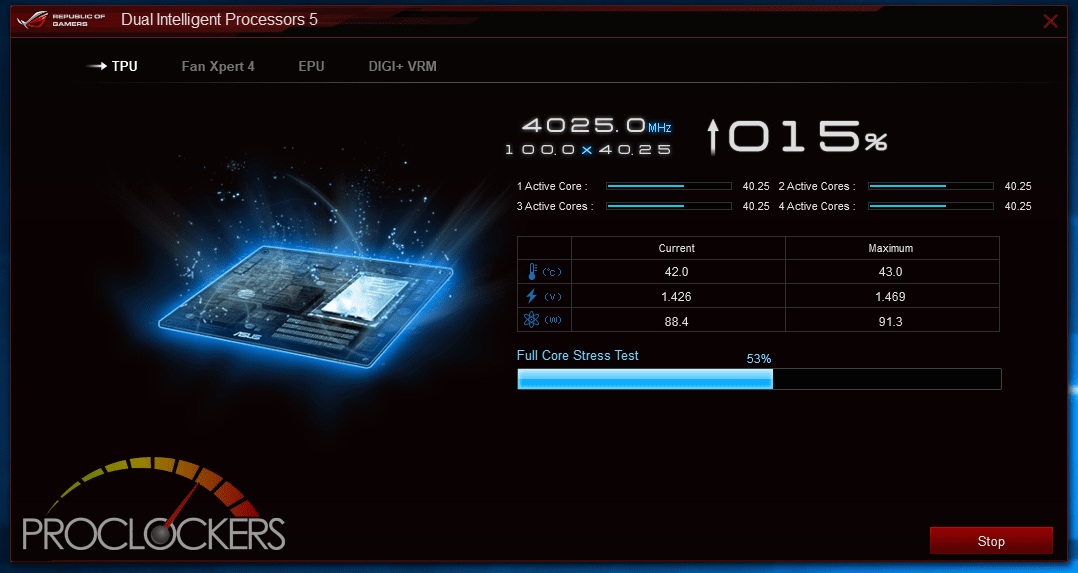 After a reboot, the system steps through frequency multipliers in 0.25X steps and runs some small stability tests before moving on. At one point, the system stopped responding and rebooted.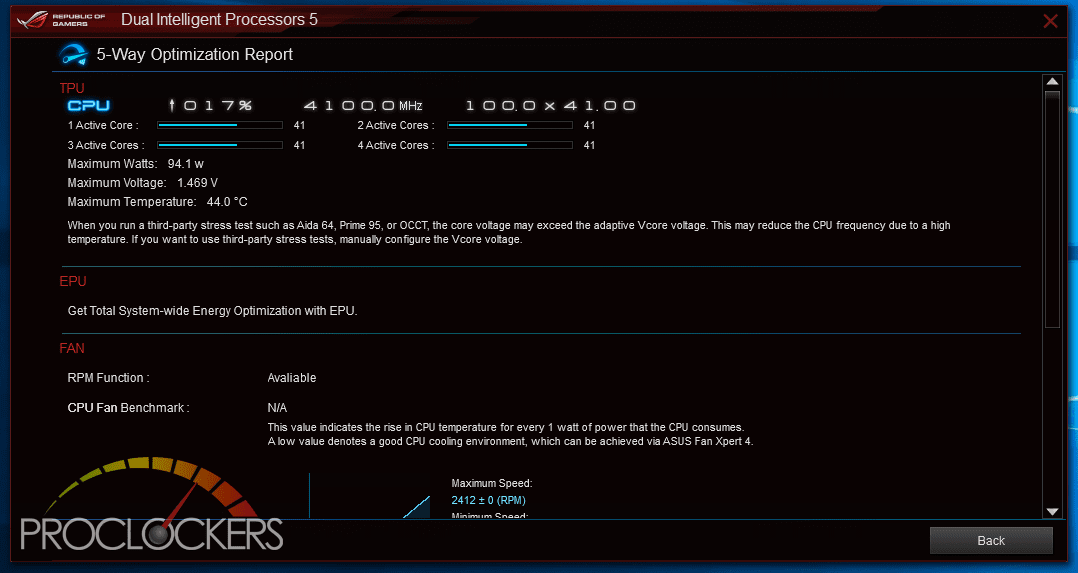 After it finished the last reboot after its run of about 3 minutes, we were given 4.10 Ghz across all 4 cores. This proved stable through several benchmarks.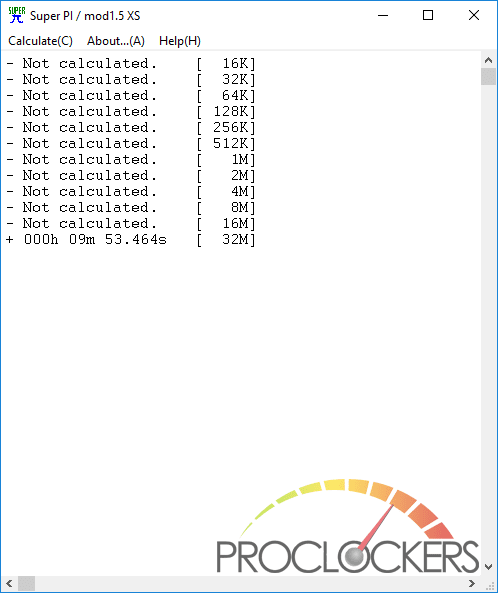 This new clock speed cut about 30 seconds off our Super Pi 32M test.
After this, we rebooted into the BIOS to try our luck by hand.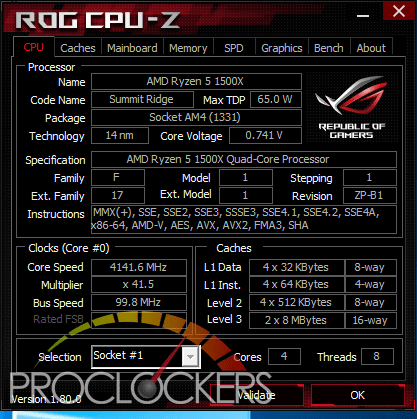 In the end, we were only able to add 50MHz more by hand for a final best overclock of ~4.15Ghz. This is a great overclock, but given the automatic overclocking prowess of ASUS's built in utilities, its much easier and faster for most users to just use the utility since they will get nearly the same clocks anyway.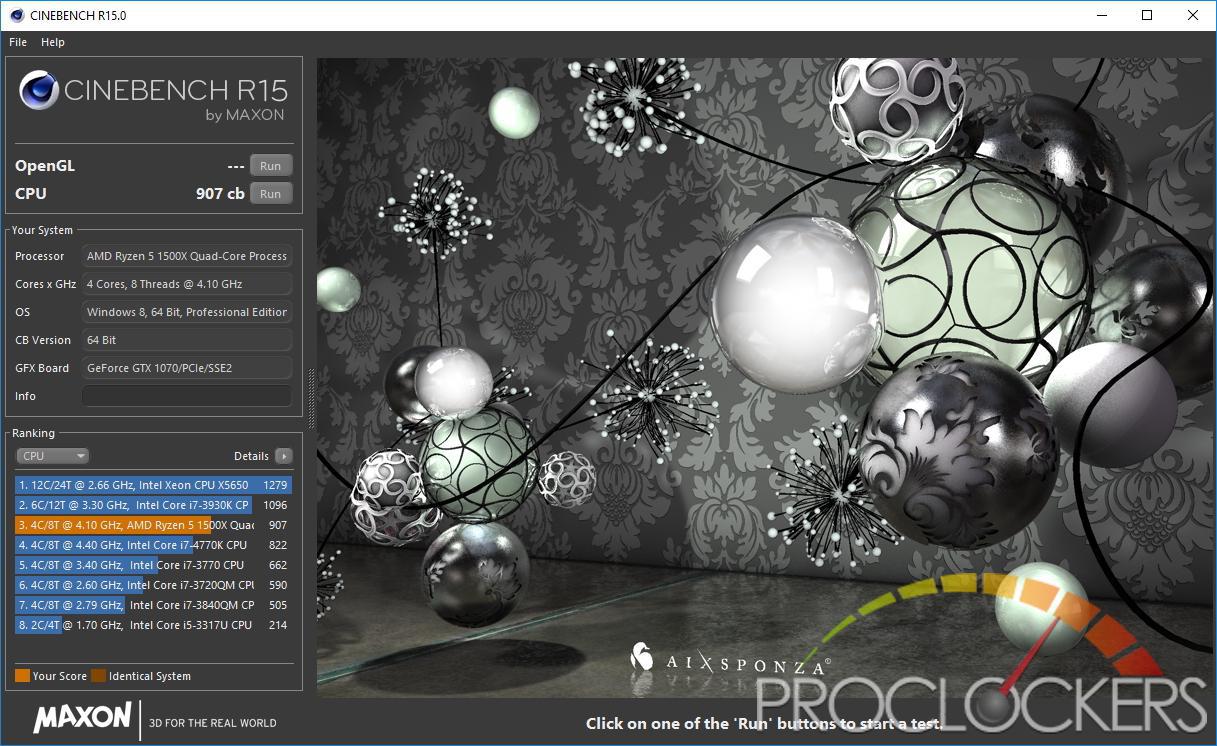 4.15Ghz gave us a Cinebench score increase from 804 by more than 100 points to 907. Not bad at all!
Final Thoughts & Conclusion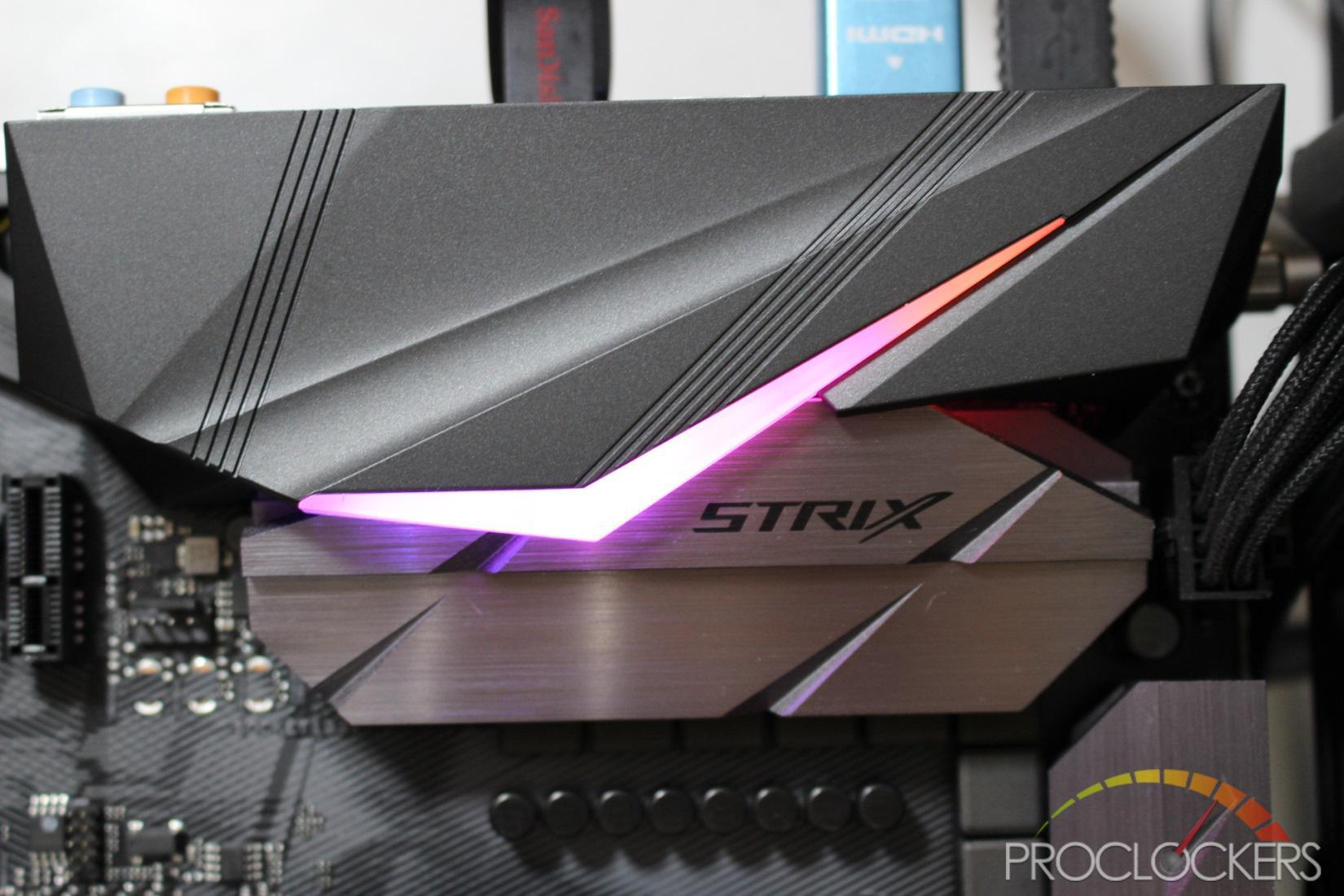 Overall we were quite impressed with ASUS's latest addition to the STRIX family. AMD might have had some early growing pains when the Ryzen platform launched, but ASUS has been working tirelessly to perfect it, and it shows readily on the STRIX X370-F. After updating to the latest BIOS right out of the gate, we were able to take our ram straight to its XMP rated 3200MHz speeds and never looked back. This particular kit doesn't overclock well to begin with, so we weren't too surprised when we couldn't get any more than the 3200Mhz out of it, but many boards out there struggle to even break the 3GHz mark.
The included Utilities and software are well refined and even someone who won't install a single 'extra program' will want to grab most of the suite. The RGB phase in the computer world is in full swing right now, and the STRIX X370-F delivers enough lights and headers to satisfy those with the hunger for color, but doesn't look gaudy and tacky like many boards (and every other computer part) are getting to be lately. AURA can quite happily take over the G.Skill TridentZ RGB ram kit, as well as our G.Skill RGB enabled keyboard and make one seamless experience for those who want it.
I was initially a little sad not to see the usual 2 digit POST code readout, but I found the fault lights to actually work quite nicely when I didn't get the 8-pin CPU power seated all the way (yes, on purpose). The large amount of fan headers and pump headers make any cooling solution a breeze to implement and control directly from the desktop. Plenty of ports and connectivity onboard and on the rear round out a feature set sufficient for all but the most hard core enthusiast.
With everything considered against the $170 street price, The ASUS ROG STRIX X370-F easily wins our Highly Recommended Award and should be on the short list for any gamer looking at a Ryzen build or upgrade. Great job as usual ASUS!

<![CDATA[ */ var zbjs = {"ajaxurl":"https:\/\/gaminggorilla.com\/wp-admin\/admin-ajax.php","md5":"d8e8b24d2fa18d2999e0fddcdd418586","tags":[],"categories":["Hardware"]}; /* ]]>