ASUS ROG STRIX X299-E Gaming Motherboard Review
Introduction
ASUS's STRIX branded product line has been a popular choice for gamers the last few generations due to its affordable price tag attached to a product good looks, great performance, and unbeatable ROG bloodlines. ASUS now brings this pedigree to Intel's new X299 platform in the form of the ROG STRIX X299-E Gaming. From the AURA Sync Lighting to the reinforced metal-reinforced SafeSlots, to the SupremeFX Audio, everything here is about serious gaming.
ProClockers would like to thank ASUS for sending the ROG STRIX X299-E Gaming over to check out!
ASUS's take on the ROG STRIX X299-E Gaming
ROG Strix X299-E Gaming is loaded with powerful tuning, overclocking, cooling and personalization innovations to make your next build as agile as your ambitions. We've channeled ROG engineering ingenuity into Strix X299-E Gaming to create a standout ATX motherboard that's tricked out with superior SupremeFX audio for deeper in-game immersion, Aura Sync lighting with an all-new addressable-RGB-strip header to unleash infinite illumination possibilities, and special mounts that make it easy to create your own 3D-printed upgrades. Infused with the essential gaming spirit that is ROG, Strix X299-E Gaming is hungry for high-performance Intel® Core™ X Series processors — and ready to satisfy your desire for X299.

Features & Specifications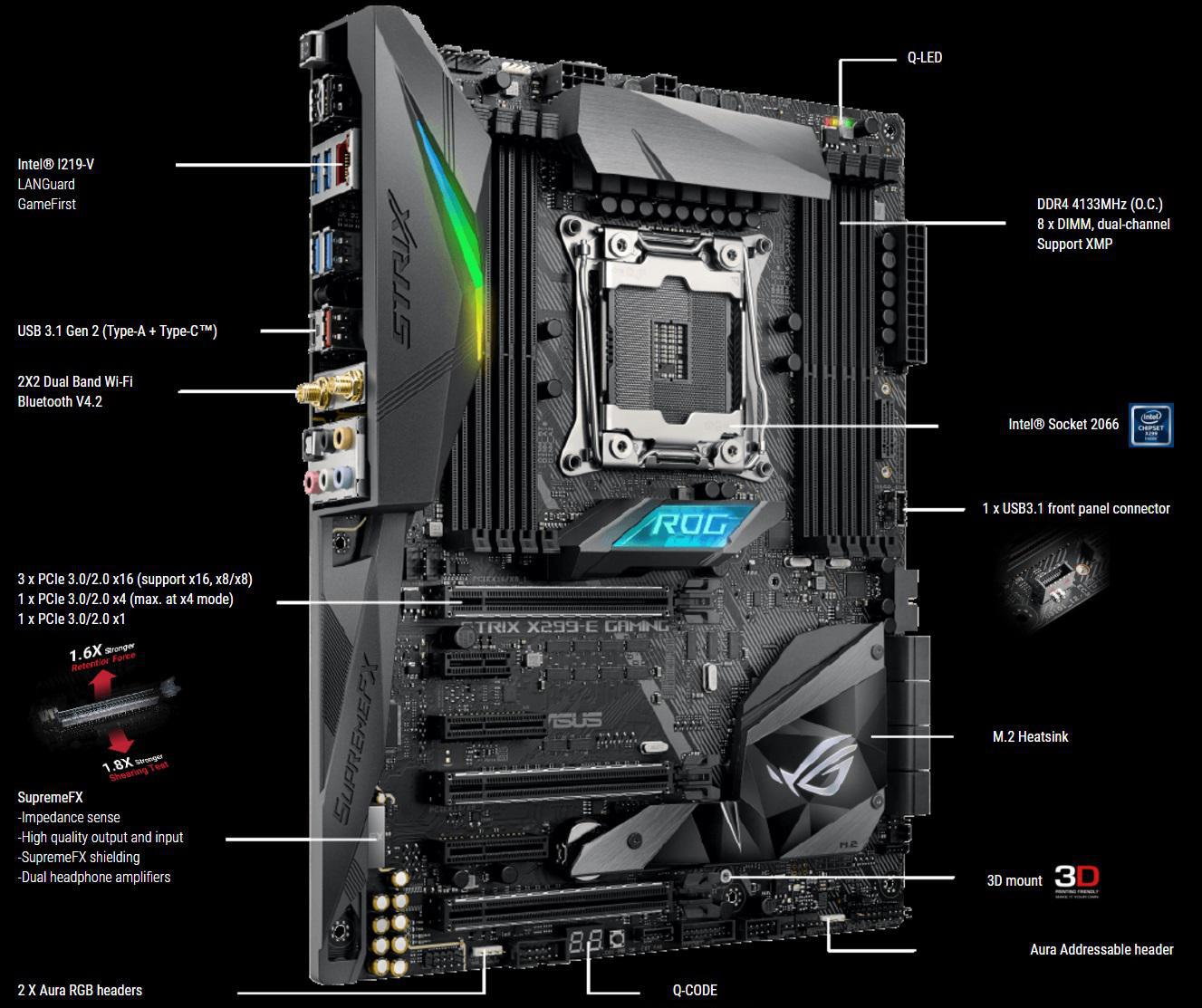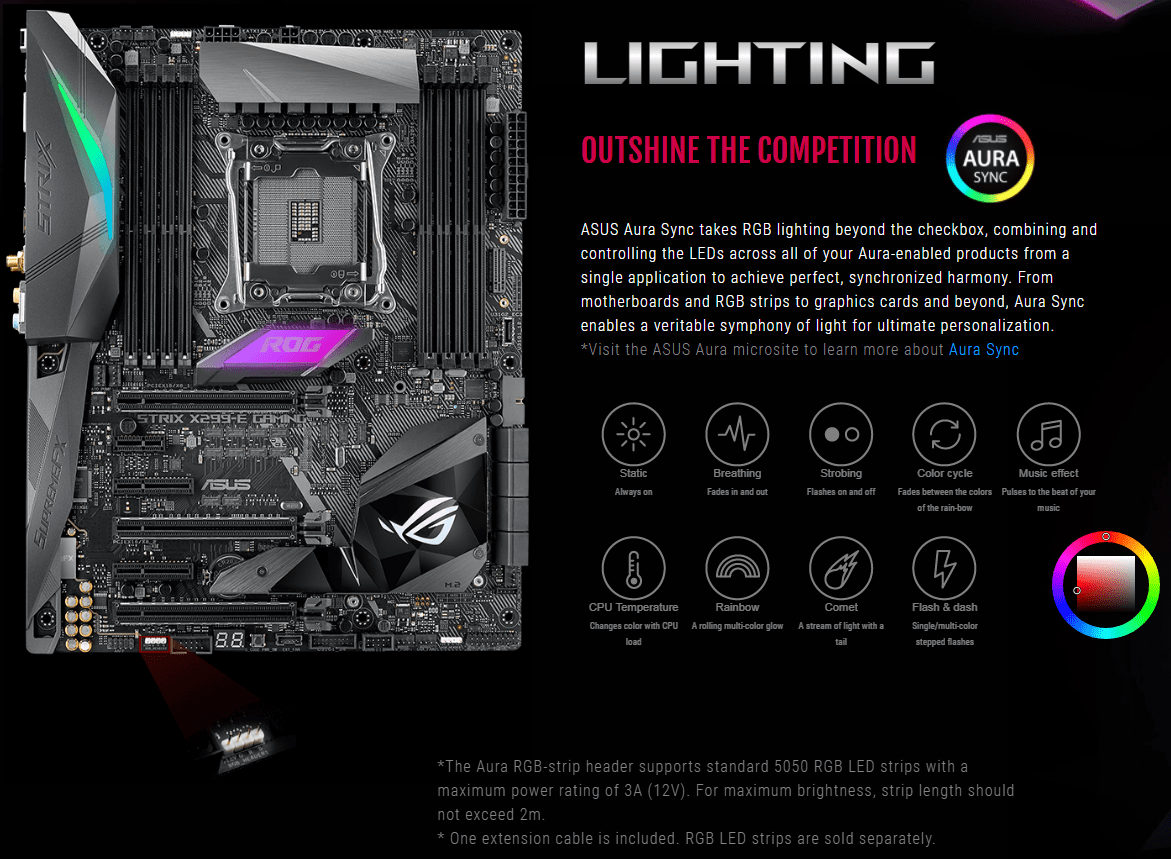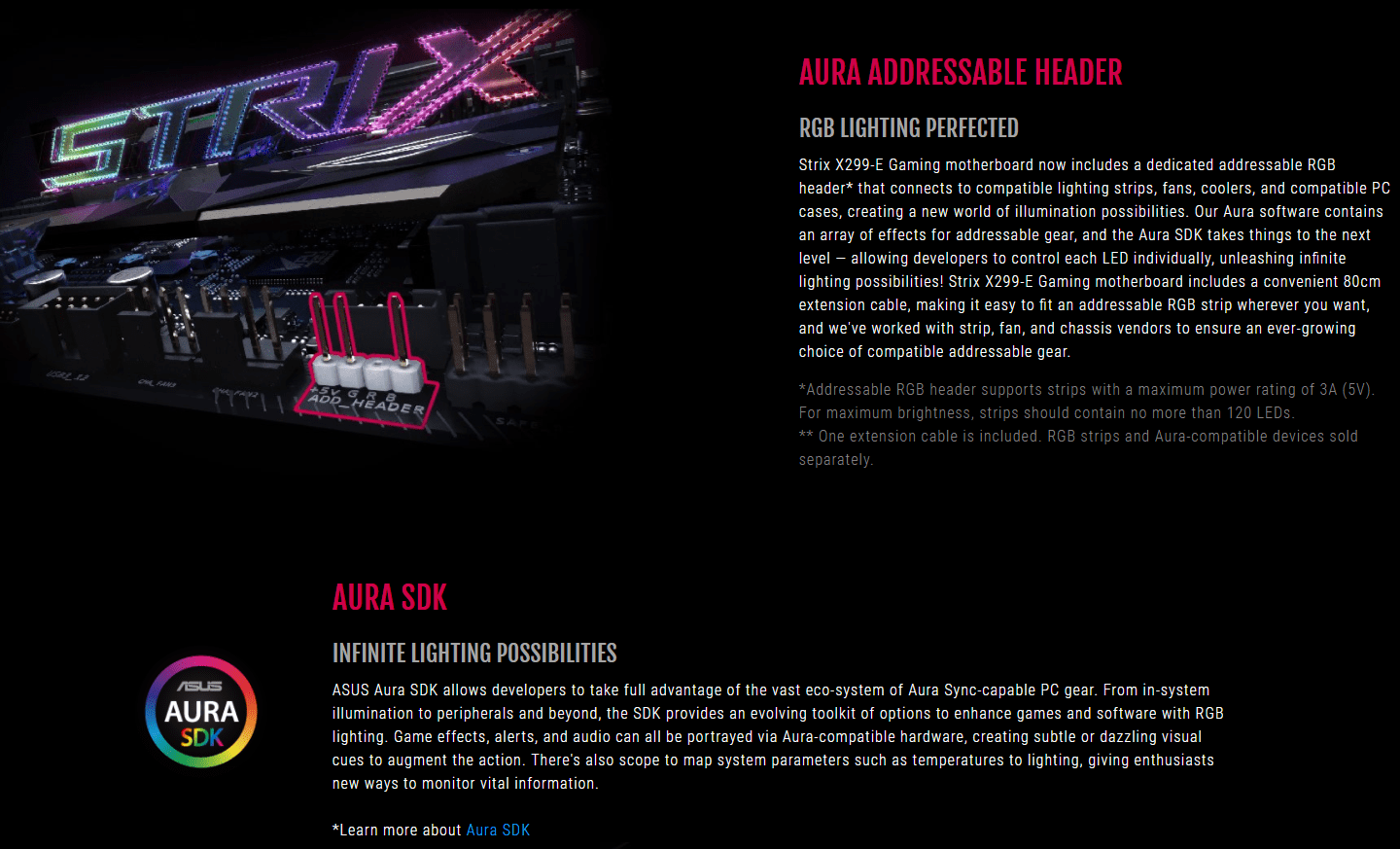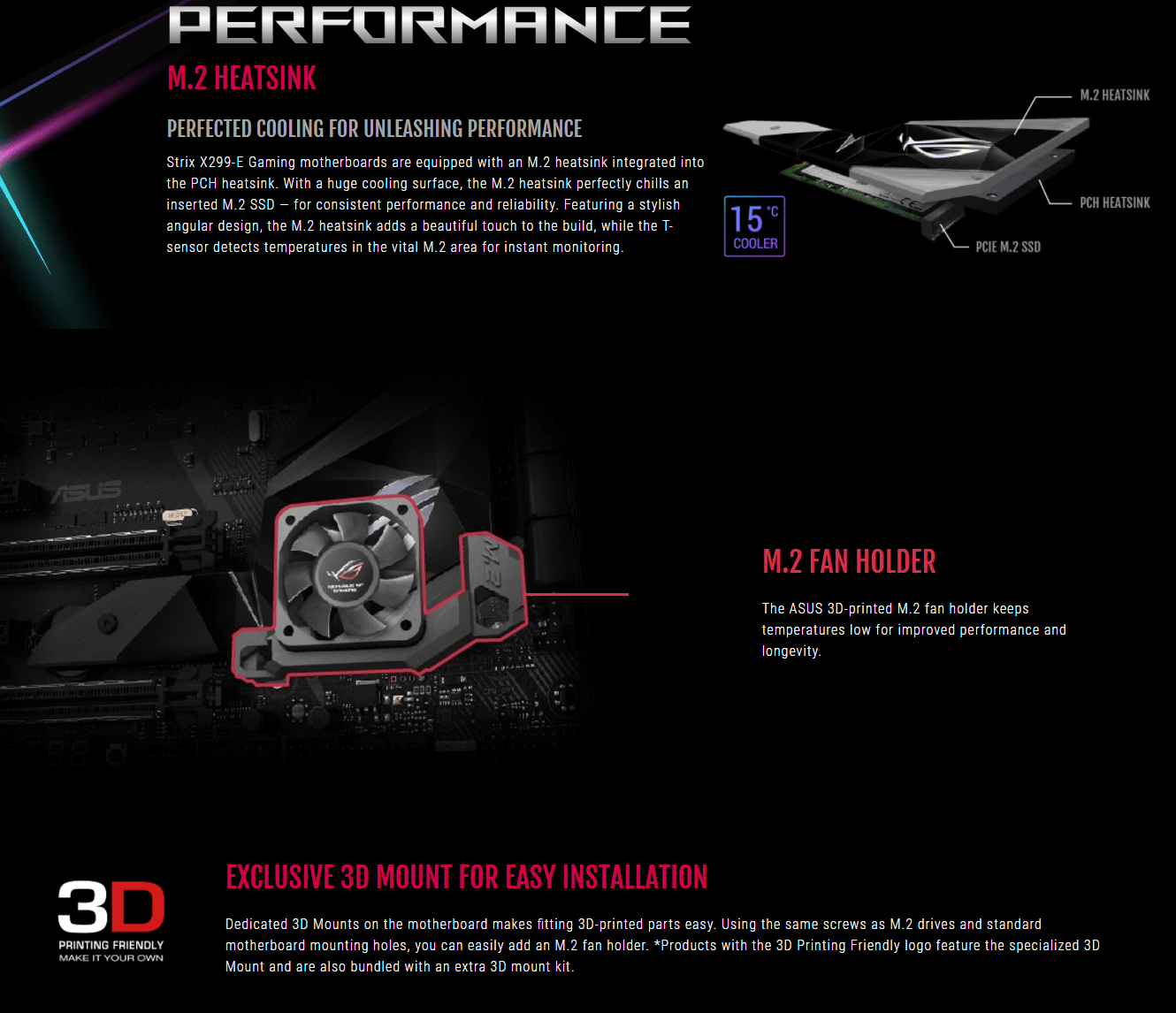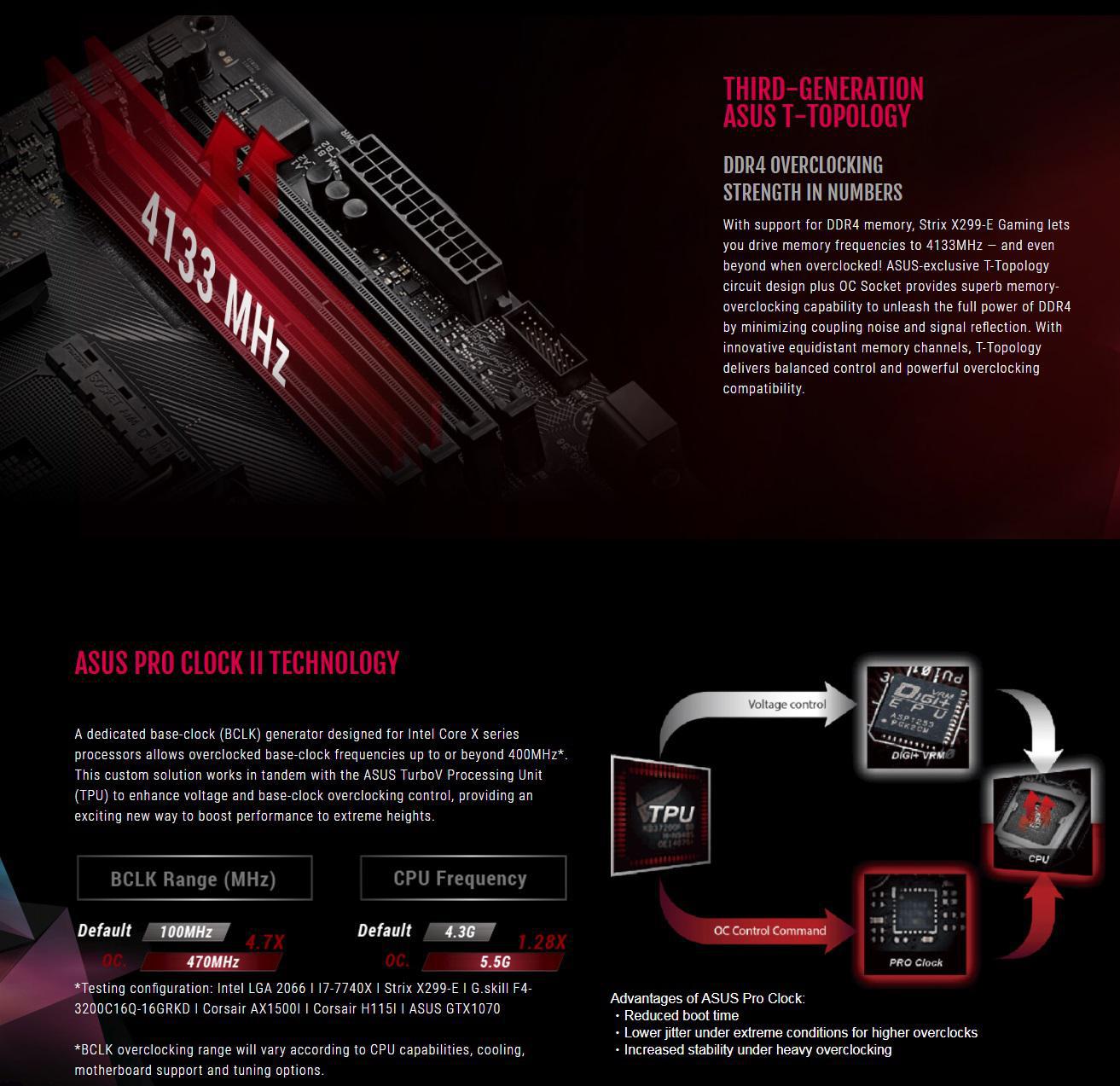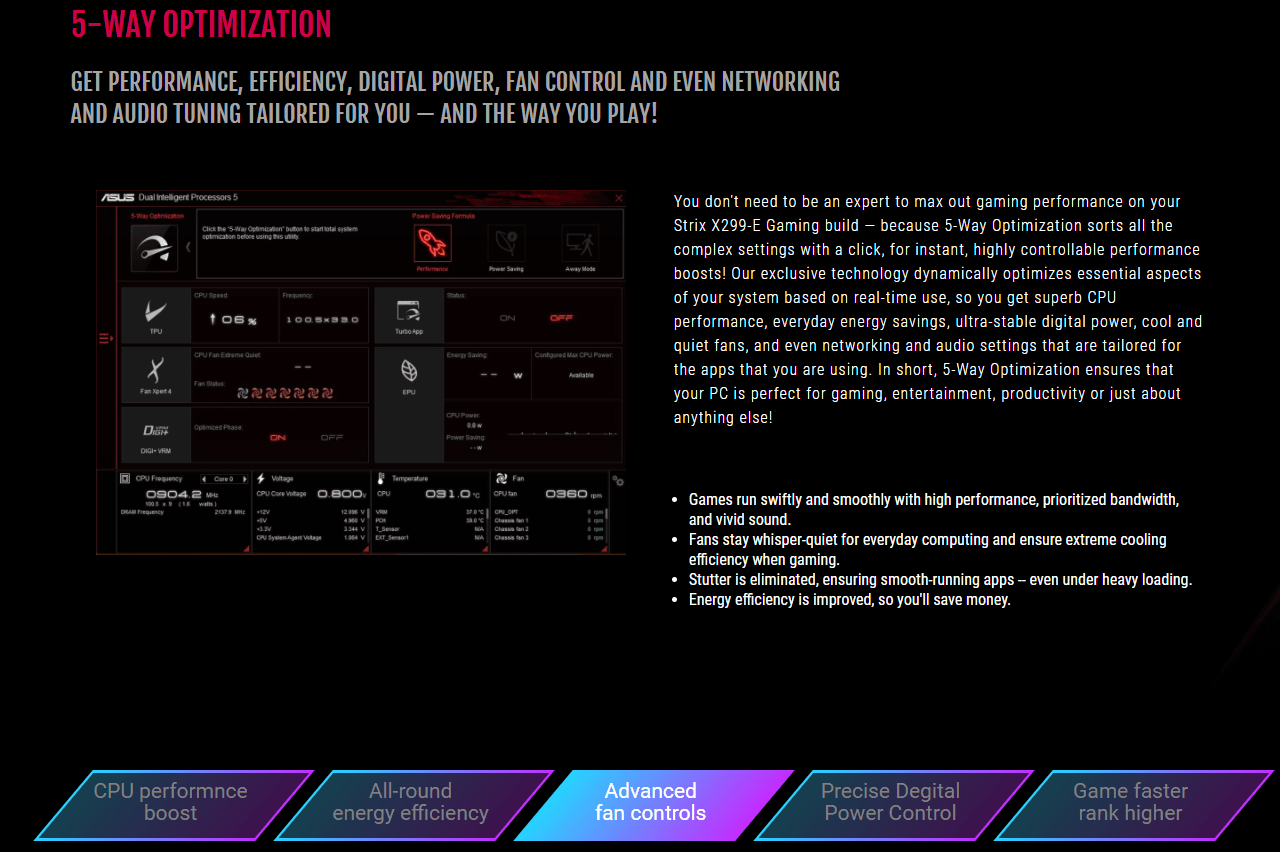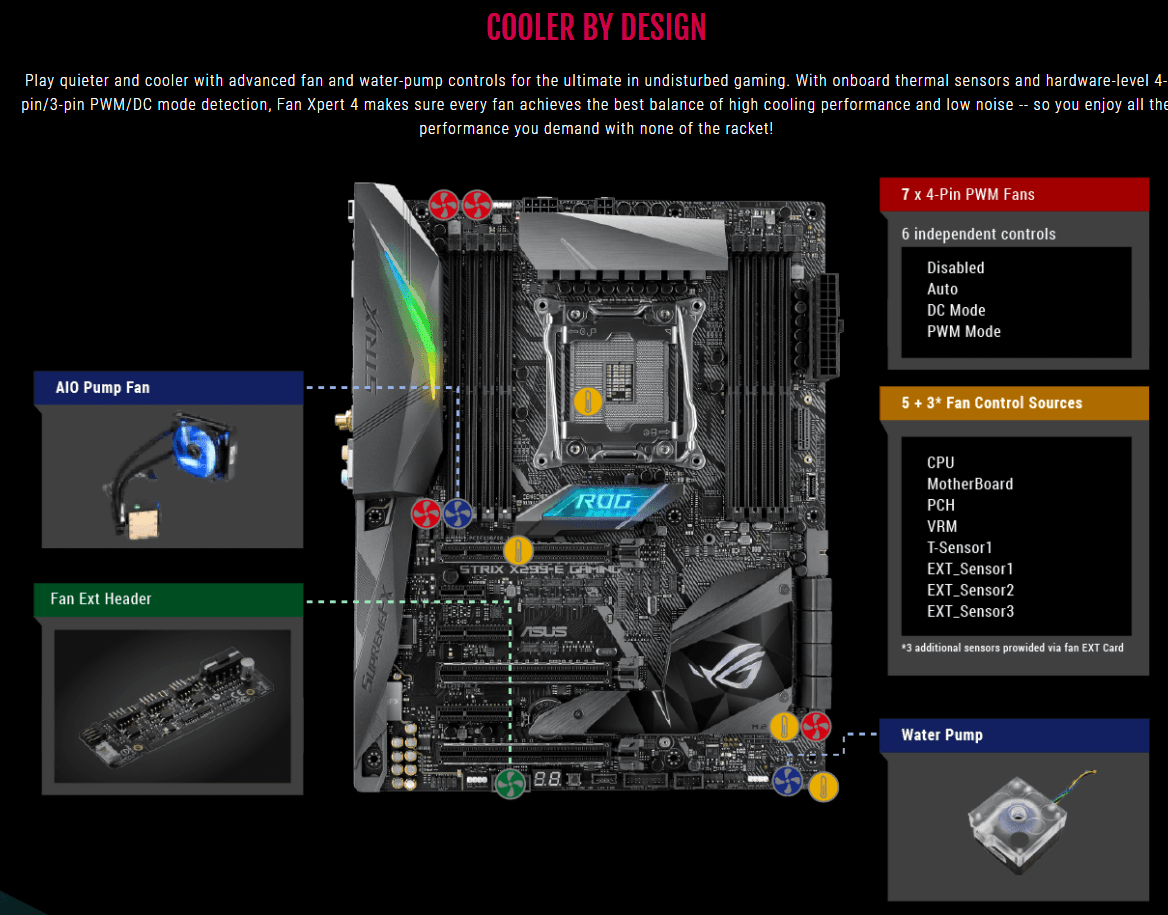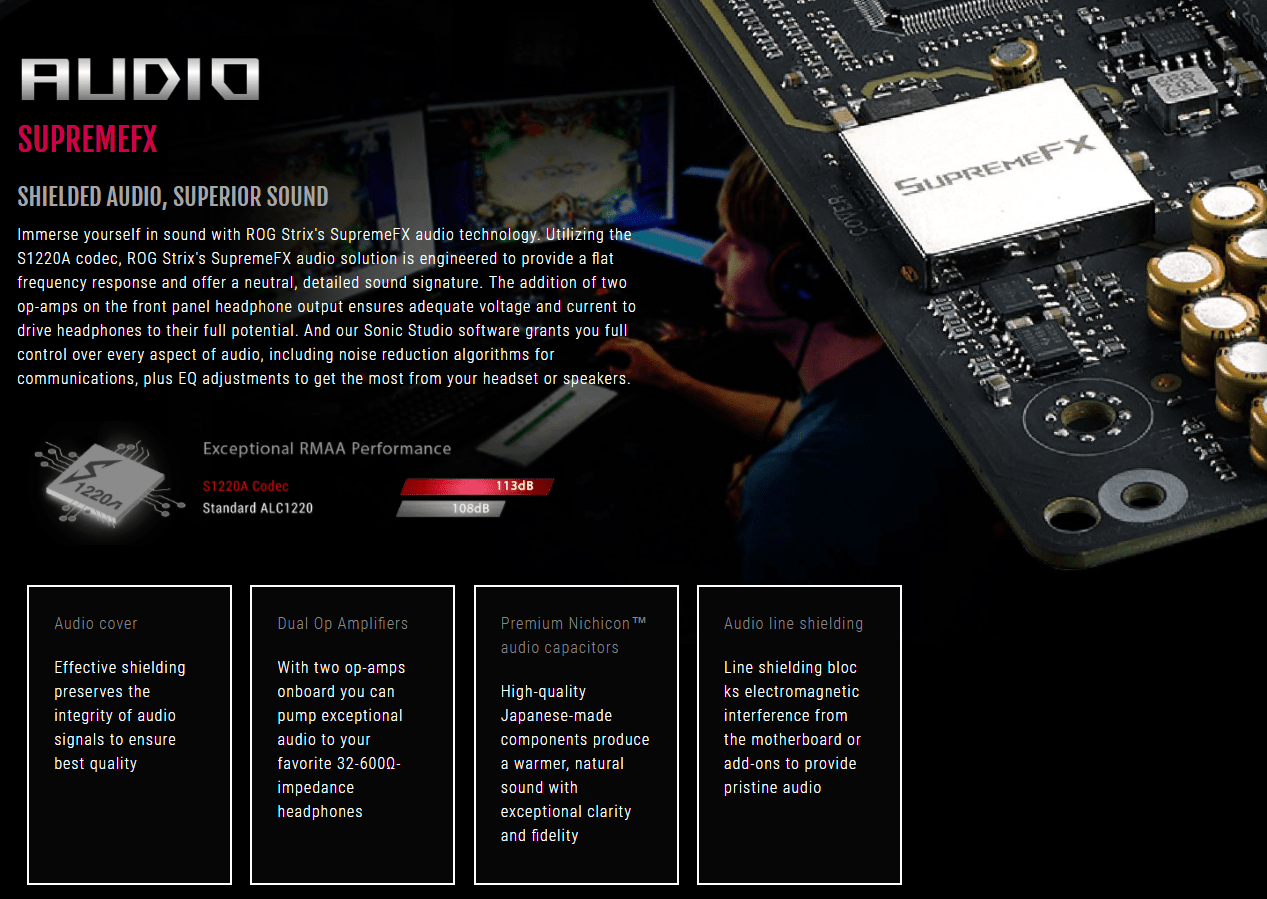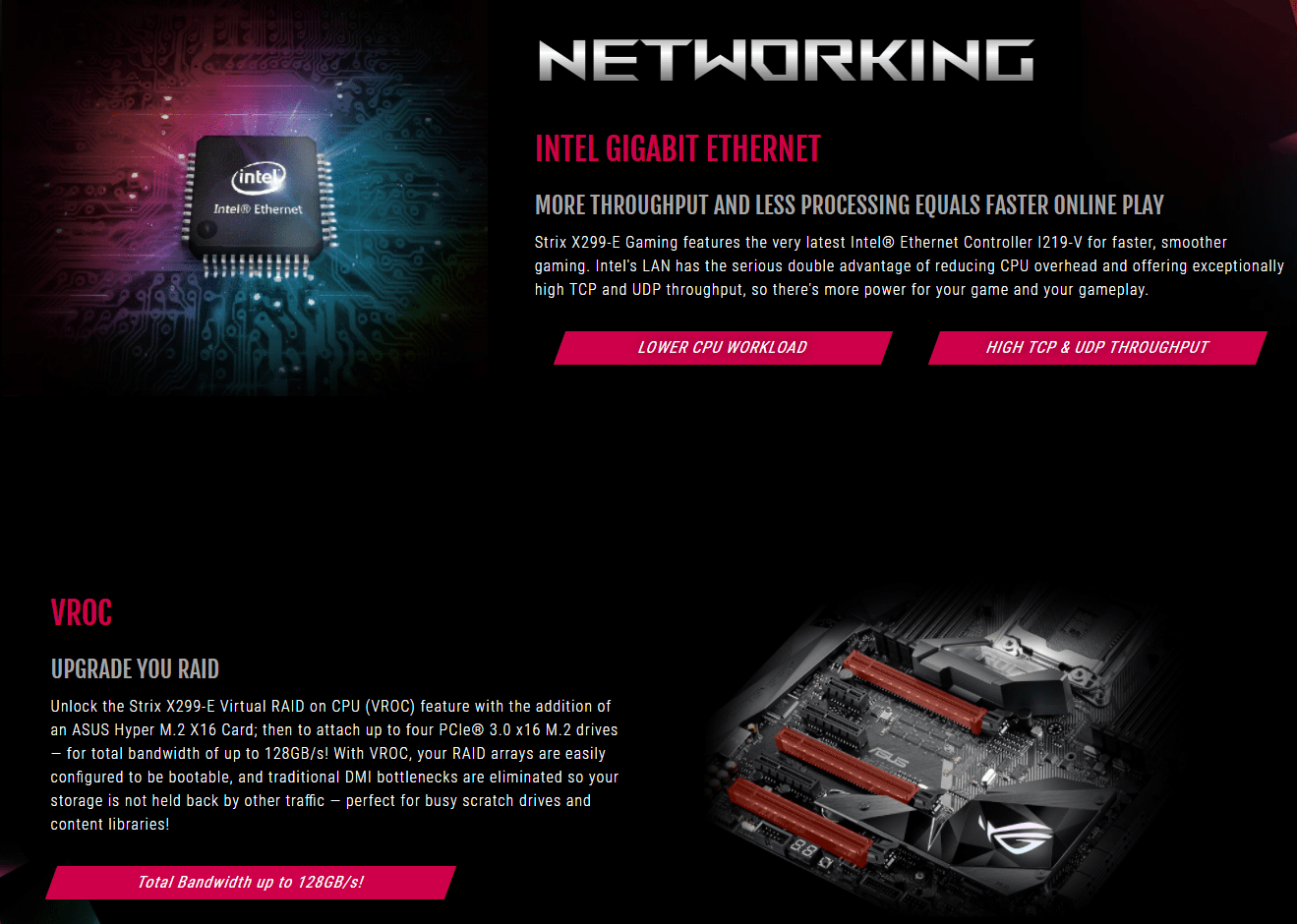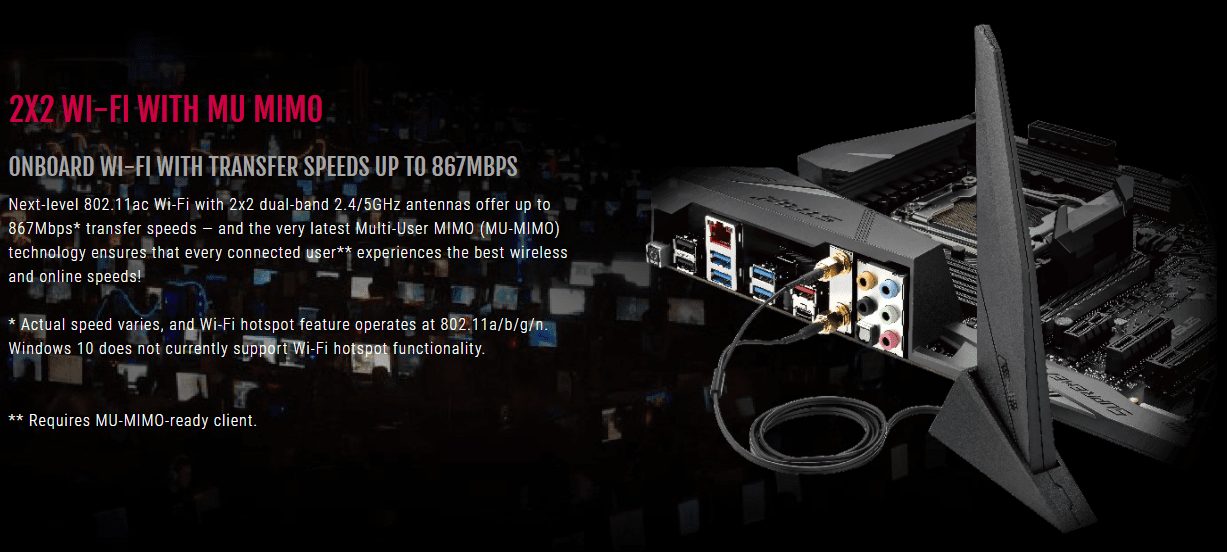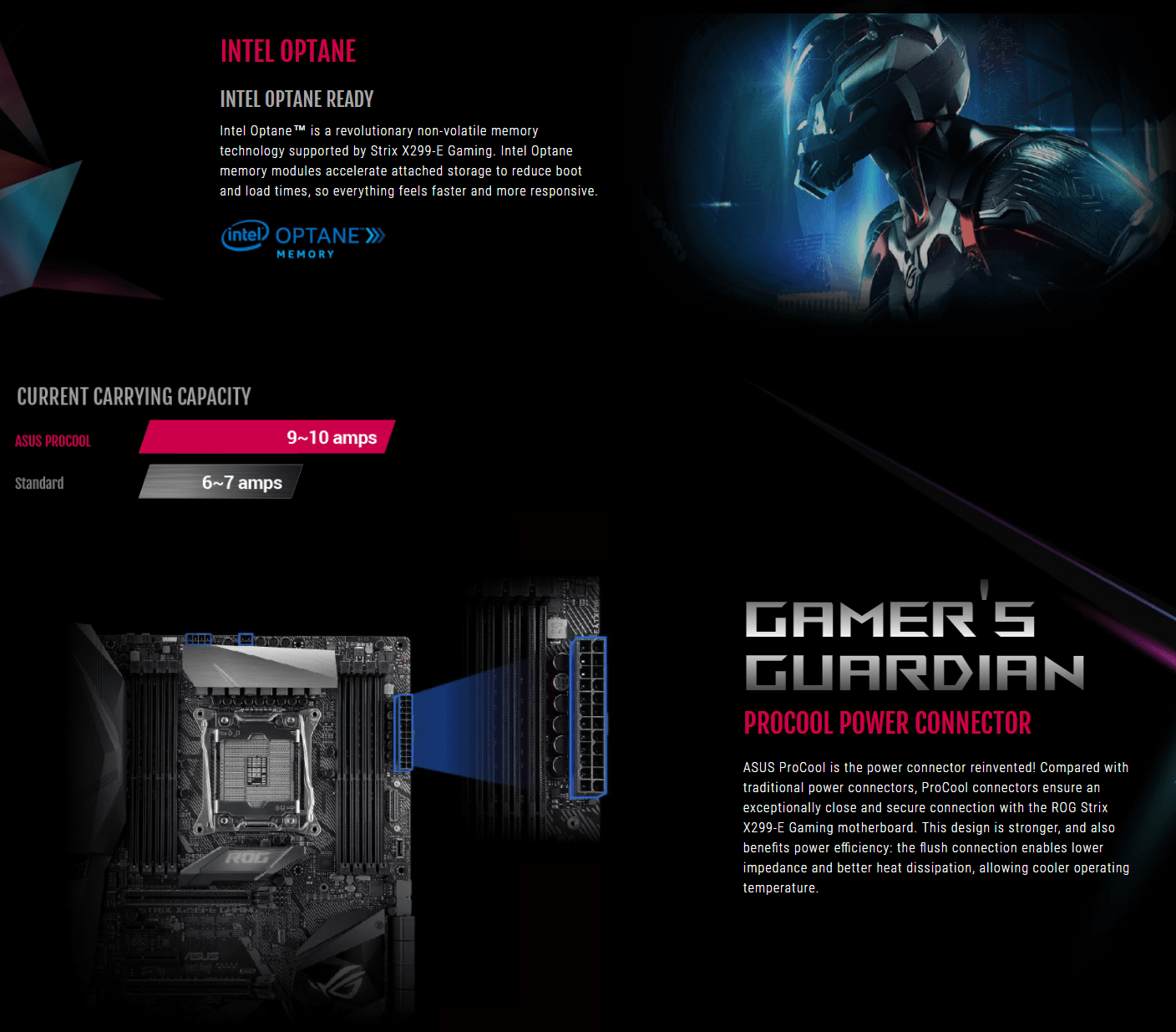 Specifications
CPU
Intel® Socket 2066 Core™ X-Series Processors
* Refer to www.asus.com for CPU support list
* The Intel® Turbo Boost Technology 3.0 Support Depends on the CPU types.
Chipset
Memory
Intel® Core™ X-series Processors (6-core above)
8 x DIMM, Max. 128GB, DDR4 4133(O.C.)/4000(O.C.)/3866(O.C.)/3733(O.C.)/3600(O.C.)/3466(O.C.)/3400(O.C.)/3333(O.C.)/3300(O.C.)/3200(O.C.)/2800(O.C.)/2666/2400/2133 MHz Non-ECC, Un-buffered Memory
Intel® Core™ X-series Processors (4-core)
4 x DIMM, Max. 64GB, DDR4 4133(O.C.)/4000(O.C.)/3866(O.C.)/3733(O.C.)/3600(O.C.)/3466(O.C.)/3400(O.C.)/3333(O.C.)/3300(O.C.)/3200(O.C.)/2800(O.C.)/2666/2400/2133 MHz Non-ECC, Un-buffered Memory
** Refer to www.asus.com for the Memory QVL (Qualified Vendors Lists).
* Hyper DIMM support is subject to the physical characteristics of individual CPUs.
Multi-GPU Support
Supports NVIDIA® Quad-GPU SLI™ Technology
Supports NVIDIA® 3-Way SLI™ Technology
Supports NVIDIA® 2-Way SLI™ Technology
Supports AMD Quad-GPU CrossFireX™ Technology
Supports AMD 3-Way CrossFireX™ Technology
Supports AMD 2-Way CrossFireX Technology
Expansion Slots
44-Lane CPU-
Intel® Core™ X-Series Processors Family
3 x PCIe 3.0/2.0 x16 (x16, x16/x16, x16/x16/x8)
2 x PCIe 3.0 x4 (max at x4 mode) *1
1 x PCIe 3.0/2.0 x1
28-Lane CPU-
Intel® Core™ X-Series Processors Family
3 x PCIe 3.0/2.0 x16 (x16, x16/x8, x16/x8/x1)
2 x PCIe 3.0 x4 (max at x4 mode) *1
1 x PCIe 3.0/2.0 x1
16-Lane CPU-
Intel® Core™ X-Series Processors Family
3 x PCIe 3.0/2.0 x16 (x16, x8/x8, x8/x8/x1)
2 x PCIe 3.0 x4 (max at x4 mode) *1
1 x PCIe 3.0/2.0 x1
Storage
Intel® Core™ X-Series Processors Family :
1 x M.2 Socket 3, with M key, type 2242/2260/2280 storage devices support (SATA & PCIE 3.0 x 4 mode)
1 x M.2 Socket 3, with M key, type 2242/2260/2280/22110 storage devices support (PCIE 3.0 x 4 mode)
8 x SATA 6Gb/s port(s)
Support Raid 0, 1, 5, 10
Supports Intel® Smart Response Technology, Intel Rapid Start Technology
Intel® Optane™ Memory Ready
LAN
Intel® I219V
Anti-surge LANGuard
ROG GameFirst IV
Wireless Data Network
Wi-Fi 802.11 a/b/g/n/ac
Bluetooth
Bluetooth V4.2
Audio
SupremeFX 8-Channel High Definition Audio CODEC S1220A

Dual Headphone Amplifiers
Impedance sense for front and rear headphone outputs
Supports: Jack-detection, Multi-streaming, Front Panel Jack-retasking
High quality 120 dB SNR stereo playback output and 113 dB SNR stereo playback input
SupremeFX Shielding Technology
Supports up to 32-Bit/192kHz playback *2
Audio Features:
SupremeFX Shielding™ Technology
Optical S/PDIF out port(s) at back panel
Dedicated audio PCB layers: Separate layers for left and right channels to guard the quality of the sensitive audio signals
Premium Japanese-made audio capacitors: Provide warm, natural and immersive sound with exceptional clarity and fidelity
Sonic Radar III
Sonic Studio III
USB Ports
ASMedia® USB 3.1 Gen 2 controller :
1 x USB 3.1 Gen 2 front panel connector port(s)
ASMedia® USB 3.1 Gen 2 controller :
2 x USB 3.1 Gen 2 port(s) (2 at back panel, , Type-A + USB Type-CTM)
Intel® X299 Chipset :
8 x USB 3.1 Gen 1 port(s) (4 at back panel, +blue, 4 at mid-board)
Intel® X299 Chipset :
4 x USB 2.0 port(s) (2 at back panel, , 2 at mid-board)
ROG Exclusive Features
ROG RAMCache II
ROG CPU-Z
ROG CloneDrive
Overwolf
GameFirst IV
ROG Aura

Aura Lighting Control
Aura RGB Strip Headers
Special Features
OC Design – ASUS PRO Clock II Technology
ASUS Dual Intelligent Processors 5-Way Optimization by Dual Intelligent Processors 5 :

5-Way Optimization tuning key perfectly consolidates TPU, EPU, DIGI+ VRM, Fan Xpert 4, and Turbo Core App
AURA:
Aura Lighting Control
Aura RGB Strip Headers
Aura Lighting Effects Synchronization with compatible ASUS ROG devices
Aura Addressable Strip Header(s)
ASUS Exclusive Features:
USB BIOS Flashback
AI Suite 3
Ai Charger
Onboard Button: Power
ASUS UEFI BIOS EZ Mode featuring friendly graphics user interface
ASUS EZ DIY:
ASUS EZ Flash 3
ASUS USB BIOS Flashback
ASUS UEFI BIOS EZ Mode
Multi-language BIOS
ASUS Q-Design:
ASUS Q-Shield
ASUS Q-Code
ASUS Q-LED (CPU, DRAM, VGA, Boot Device LED)
ASUS Q-Slot
ASUS Q-DIMM
ASUS Q-Connector
Gaming Aesthetics:
3D printing friendly
AURA-RGB Lighting
M.2 Onboard(The latest transfer technologies with up to 32Gb/s data transfer speeds)
Back I/O Ports
1 x LAN (RJ45) port(s)
2 x USB 3.1 Gen 2 Type-A + USB Type-CTM
4 x USB 3.1 Gen 1 (blue)
2 x USB 2.0 (one port can be switched to USB BIOS Flashback)
1 x Optical S/PDIF out
5 x Audio Jack(s)
1 x USB BIOS Flashback Button(s)
1 x ASUS Wi-Fi GO! module (Wi-Fi 802.11 a/b/g/n/ac and Bluetooth v4.0/3.0+HS)
Internal I/O Ports
1 x Aura Addressable Strip Header(s)
1 x AAFP connector
2 x Aura RGB Strip Headers
2 x USB 3.1 Gen 1 connector(s) support(s) additional 4 USB 3.1 Gen 1 port(s)
1 x USB 2.0 connector(s) support(s) additional 2 USB 2.0 port(s)
1 x M.2 Socket 3 with M key, type 2242/2260/2280 storage devices support (SATA & PCIe 3.0 x 4 mode)
1 x M.2 Socket 3 with M key, type 2242/2260/2280/22110 storage devices support (PCIe 3.0 x 4 mode)
1 x COM port(s) connector(s)
8 x SATA 6Gb/s connector(s)
1 x M.2_FAN connector
1 x VROC_HW_Key
1 x CPU Fan connector(s)
1 x CPU OPT Fan connector(s)
2 x Chassis Fan connector(s)
1 x AIO_PUMP connector
1 x W_PUMP+ connector
1 x 24-pin EATX Power connector(s)
1 x 8-pin ATX 12V Power connector(s)
1 x 4-pin ATX 12V Power connector(s)
1 x Front panel connector(s)
1 x System panel(s) (Q-Connector)
1 x 5-pin EXT_FAN(Extension Fan) connector
1 x Thermal sensor connector(s)
1 x Power-on button(s)
1 x Clear CMOS jumper(s)
1 x USB 3.1 Gen 2 front panel connector
1 x CPU_OV jumper
Accessories
User's manual
ASUS Q-Shield
1 x Vertical M.2 bracket set
4 x SATA 6Gb/s cable(s)
1 x M.2 Screw Package
1 x Supporting DVD
1 x ASUS 2T2R dual band Wi-Fi moving antennas (Wi-Fi 802.11a/b/g/n/ac compliant)
1 x SLI HB BRIDGE(2-WAY-M)
1 x Q-Connector
1 x 10-in-1 ROG cable label
1 x M.2 screw kit (long screw and mount)
1 x Thermal sensor cable pack(s)
1 x Cable ties pack(s)
ROG Fan Label
1 x ROG Door Hanger(s)
1 x Extension Cable for RGB strips (80 cm)
1 x Extension cable for Addressable LED
1 x 3D printing mount package
BIOS
128 Mb Flash ROM, UEFI AMI BIOS, PnP, DMI3.0, WfM2.0, SM BIOS 3.0, ACPI 6.0, Multi-language BIOS,
ASUS EZ Flash 3, CrashFree BIOS 3, F11 EZ Tuning Wizard, F6 Qfan Control, F3 My Favorites, Last Modified log, F12 PrintScreen and ASUS DRAM SPD (Serial Presence Detect) memory information
Manageability
WfM 2.0, DMI 3.0, WOL by PME, PXE
Support Disc
Drivers
ASUS Utilities
EZ Update
Anti-virus software (OEM version)
Operating System
Form Factor
ATX Form Factor
12 inch x 9.6 inch ( 30.5 cm x 24.4 cm )
Note
1. PCIEX4_1 max. at x1 mode
2. Due to limitations in HDA bandwidth, 32-bit/192kHz is not supported for 8-Channel audio
Packaging & Unboxing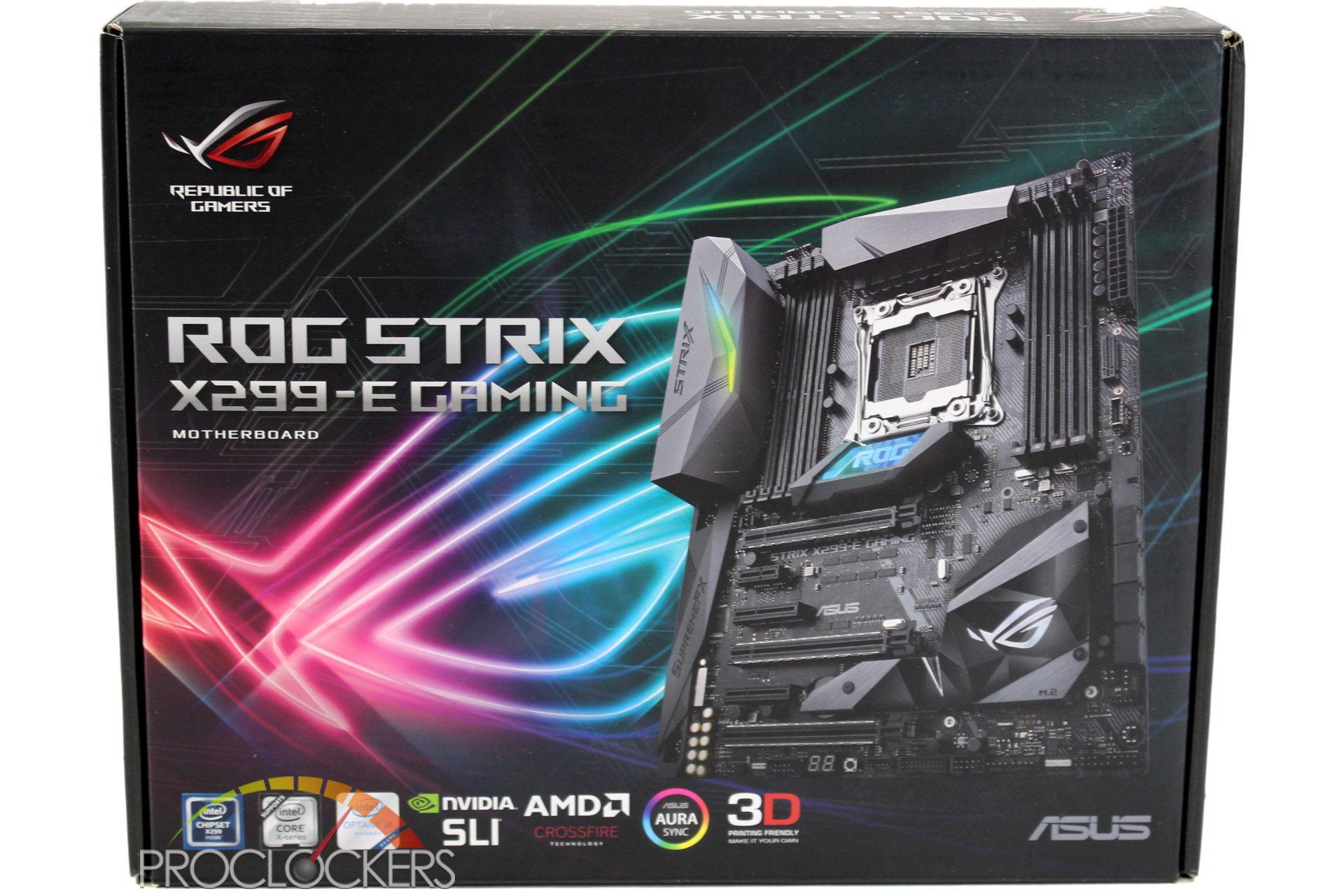 Like many of ASUS's other recent STRIX products, the X299-E Gaming comes in a colorful box, the actual motherboard taking up most of the front, with the neon colored ROG logo in the background. The Republic of Gamers logo anchors its usual top left corner, and plenty logos for all the supported features line up near the bottom.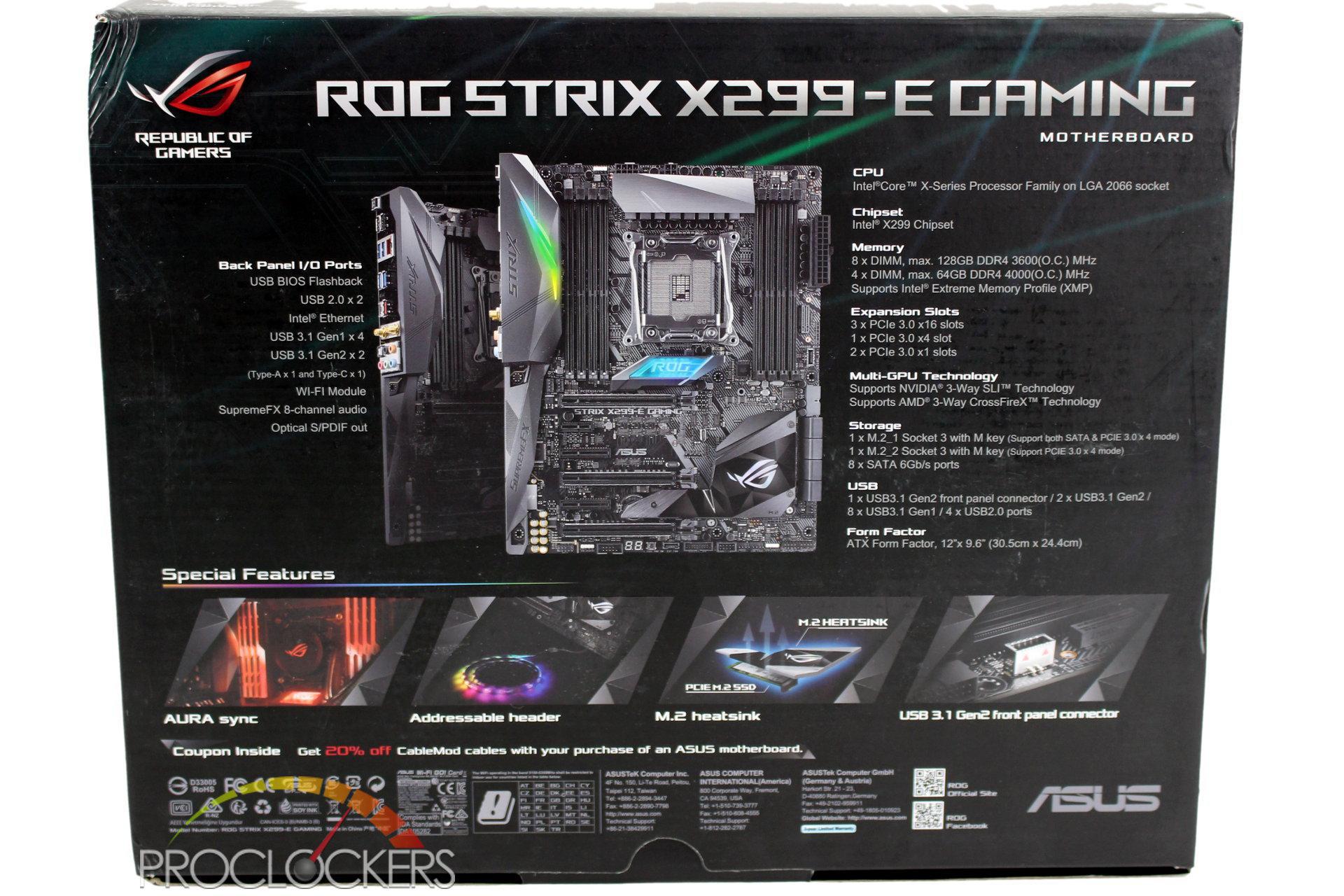 The rear of the box gives you highlights of board specific features along the bottom third, and the motherboard taking up the top two-thirds, listing its connectivity and supported hardware.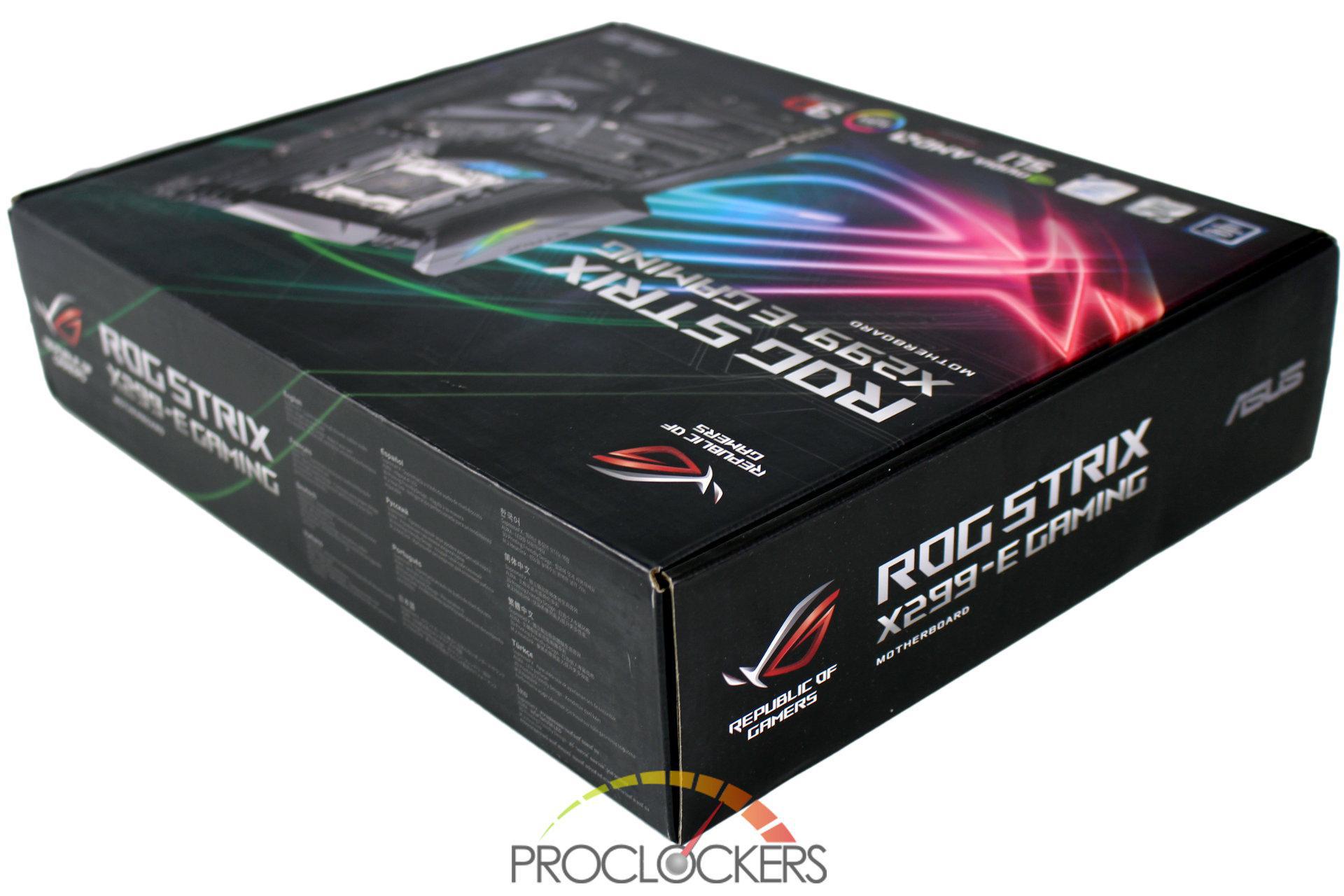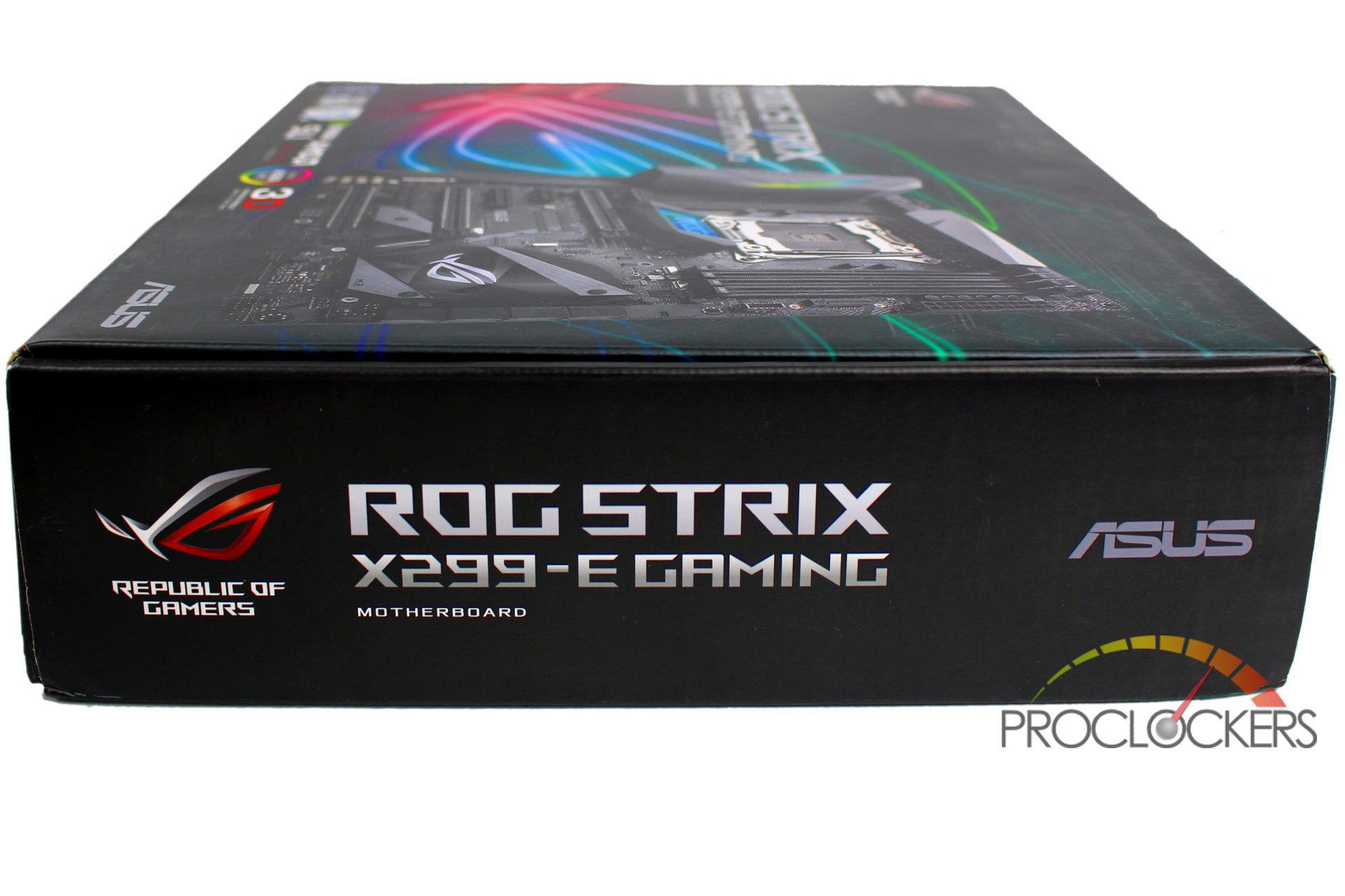 As you can see the two short sides only have the ASUS and ROG logos, in addition to the motherboard model.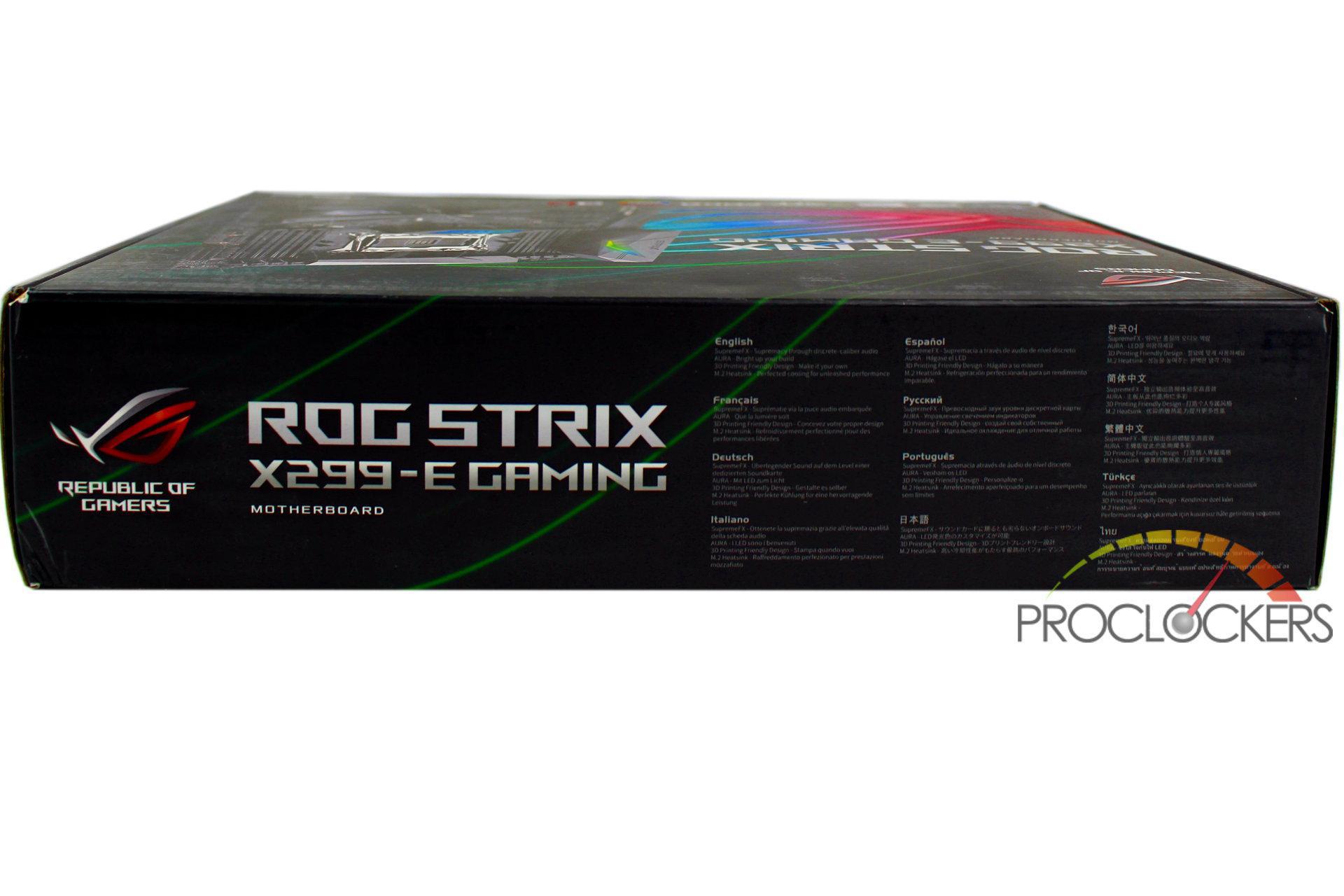 The top edge highlights a few features in a plethora of languages.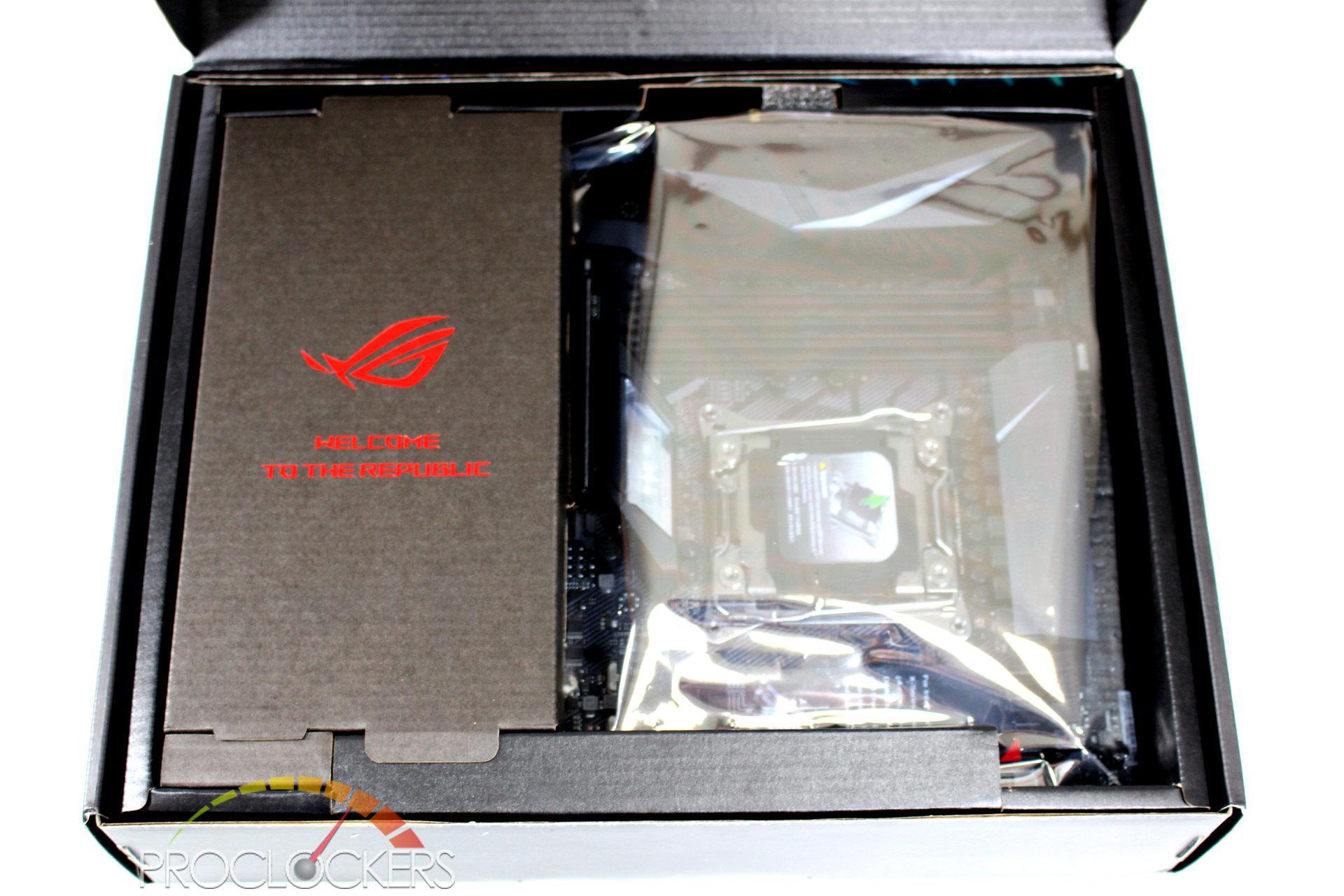 Opening the box up, we are greeted with a cardboard spacer block, and the motherboard peeks out from under through its anti-static bag.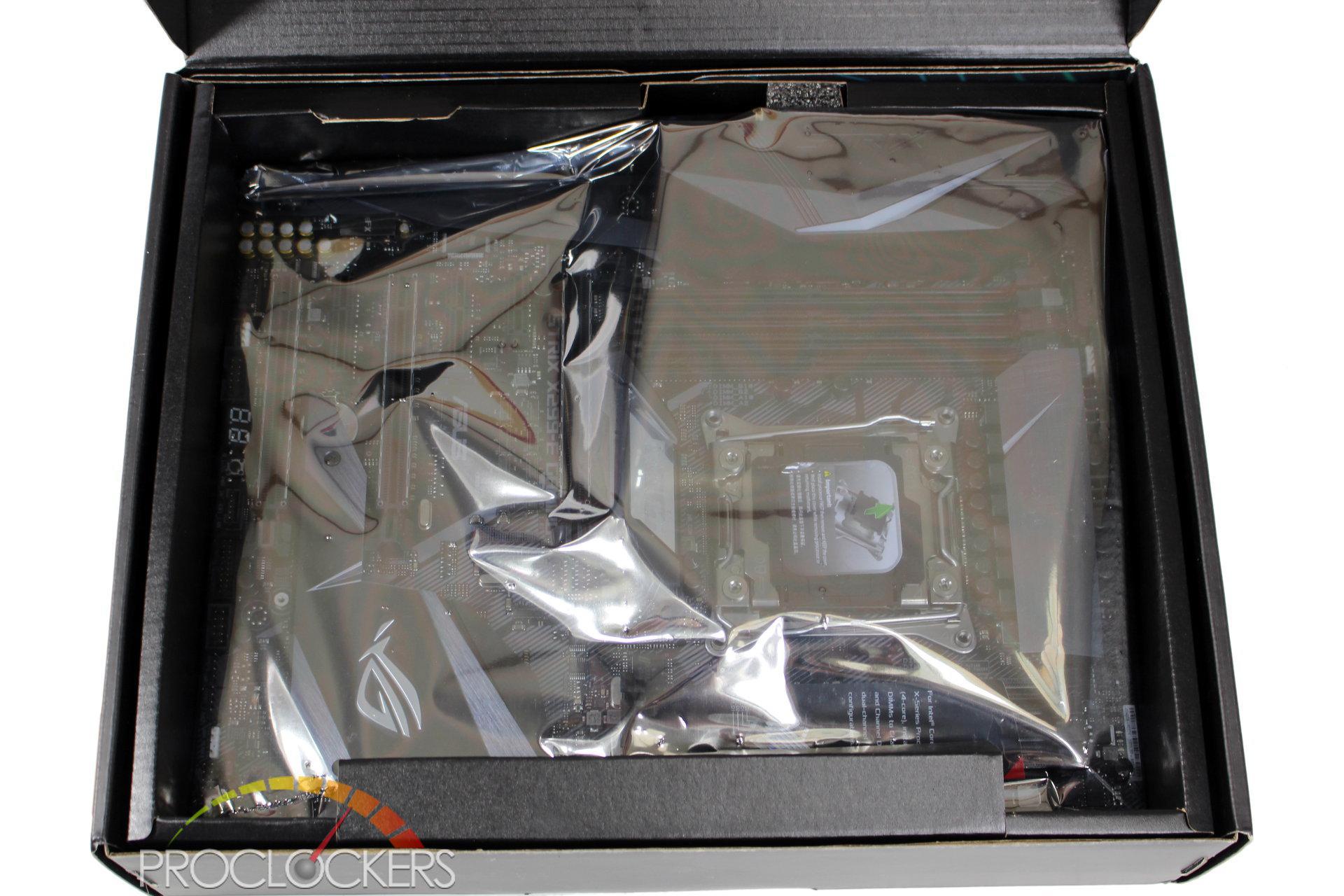 Lifting the spacer block out, we realize there is actually some goodies inside, we'll open that one up in a moment.
The motherboard is securely held in a cardboard tray with some strategically placed bits of foam padding.
After lifting the motherboard tray out, we find all of the 'goodies' in the bottom. A Game On/Game Off door hanger and the usual manuals are in the center. Two flaps open up to reveal all the good stuff.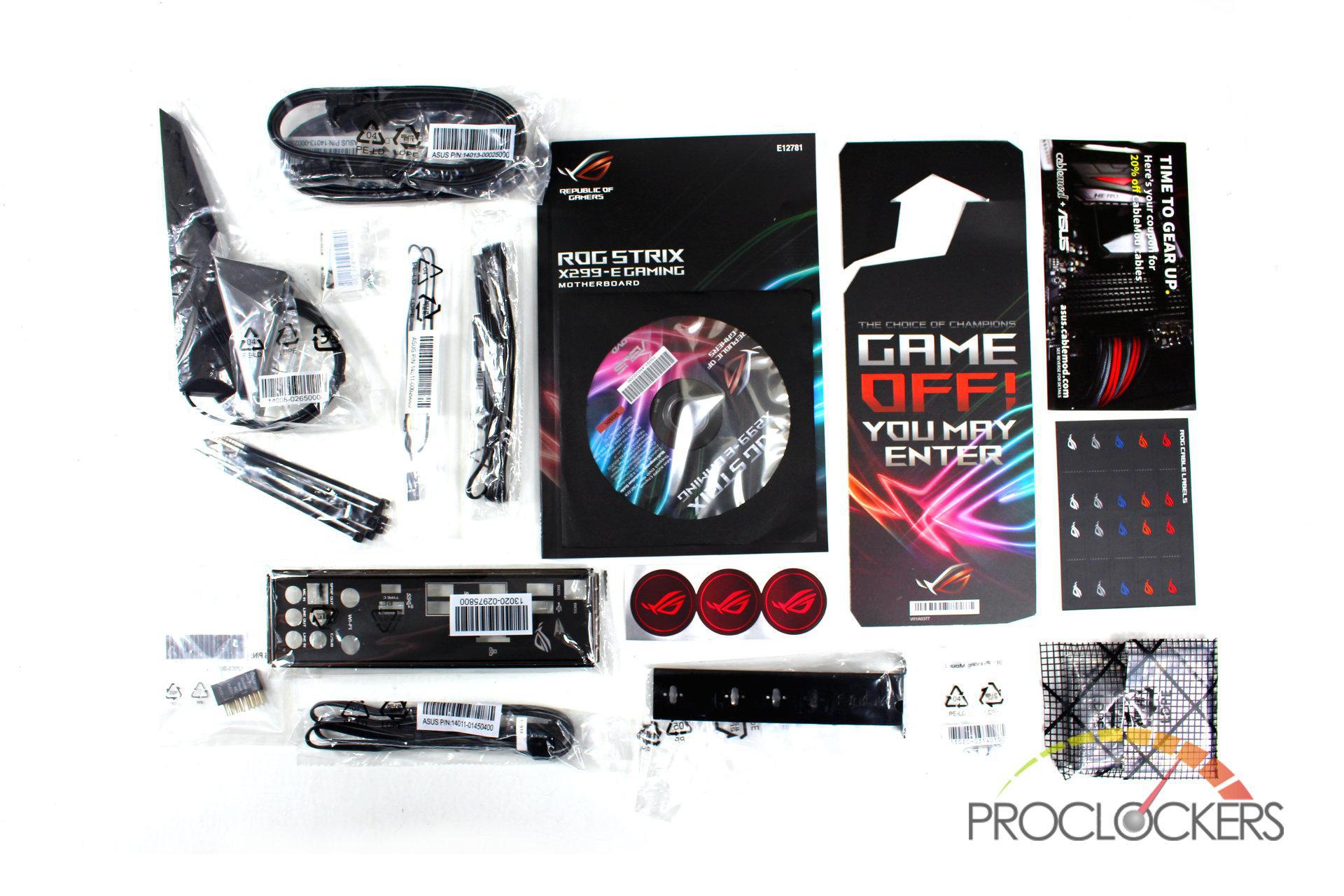 After a few moments spent extricating all of the included bits from the various cardboard compartments, here is the final score. Inside the top spacer block is the angular dual band WiFi antenna, pictured on the left. Under the motherboard manual was the driver disk, ROG cable stickers, ROG badges and a 20% coupon code to CableMod. The usual parts like SATA cables and rear I/O shield are also buried in the pile, but you get a few interesting extras. First are some RGB extension cables, The always nice front I/O adapter that lets you connect all your front panel cables like the power switch and HDD lights out where you can see them, and they plug the entire assembly into the motherboard in one fell swoop. Also included is the 3D Printing part mounting hardware, and the vertical M.2 Bracket. Finishing off the list is some zip ties and a thermal probe for measuring the temperature of anything you like.
ASUS's partnership with CableMod is pretty handy as you can pick up some sleeved cable extensions for your build, or even complete custom cables made specifically for your PSU, and 20% off puts you well on your way to a good looking cable management job. Check them out at Http://www.CableMod.com
A Closer Look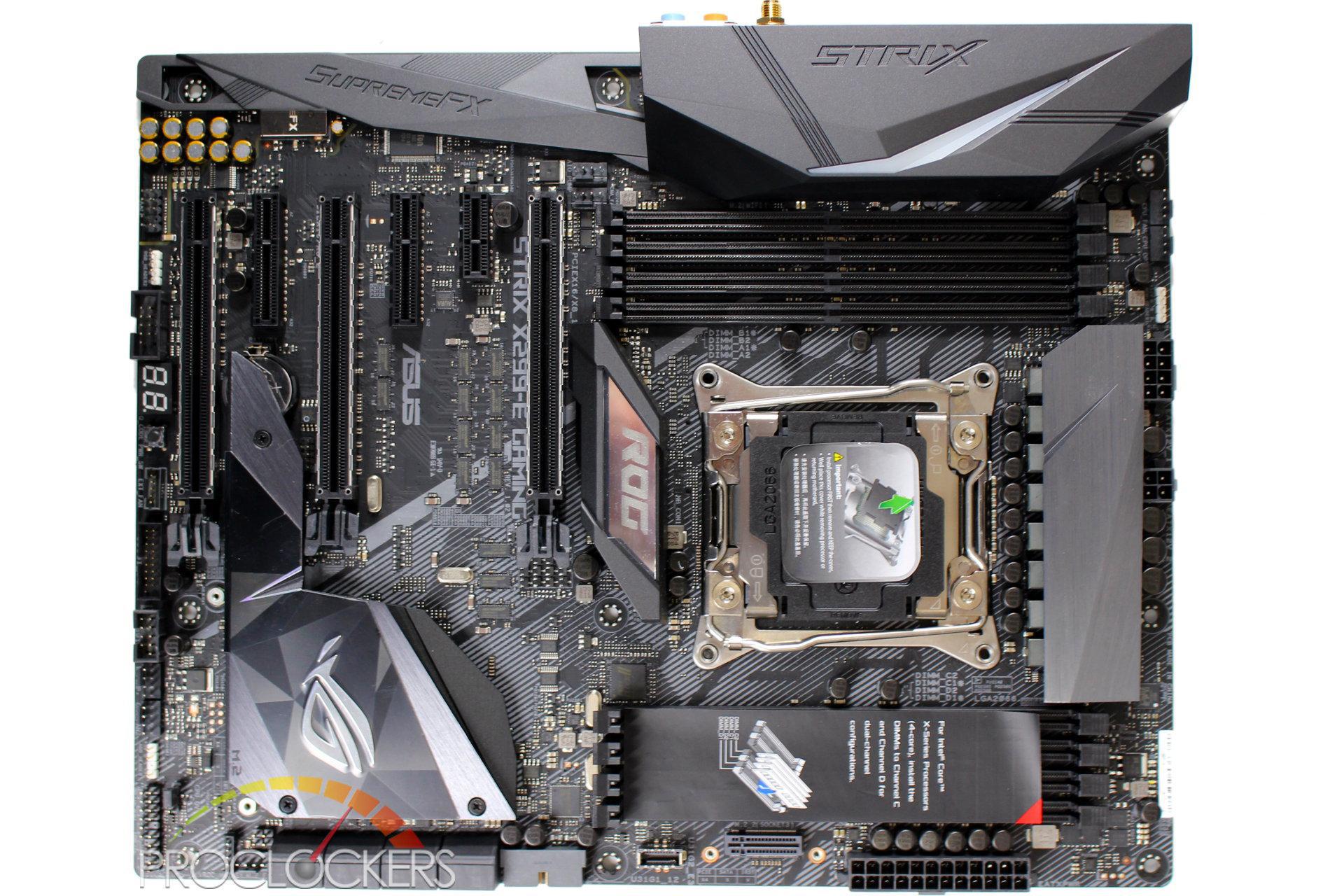 The long running ATX form factor probably won't change anytime soon. Along the top (right in this picture) is Intel's LGA2066 socket, flanked by 8 DDR4 sockets. The lower half of the board is dominated by three PCIe x16 slots, two PCIe x4 slots, and a single PCIe x1 slot.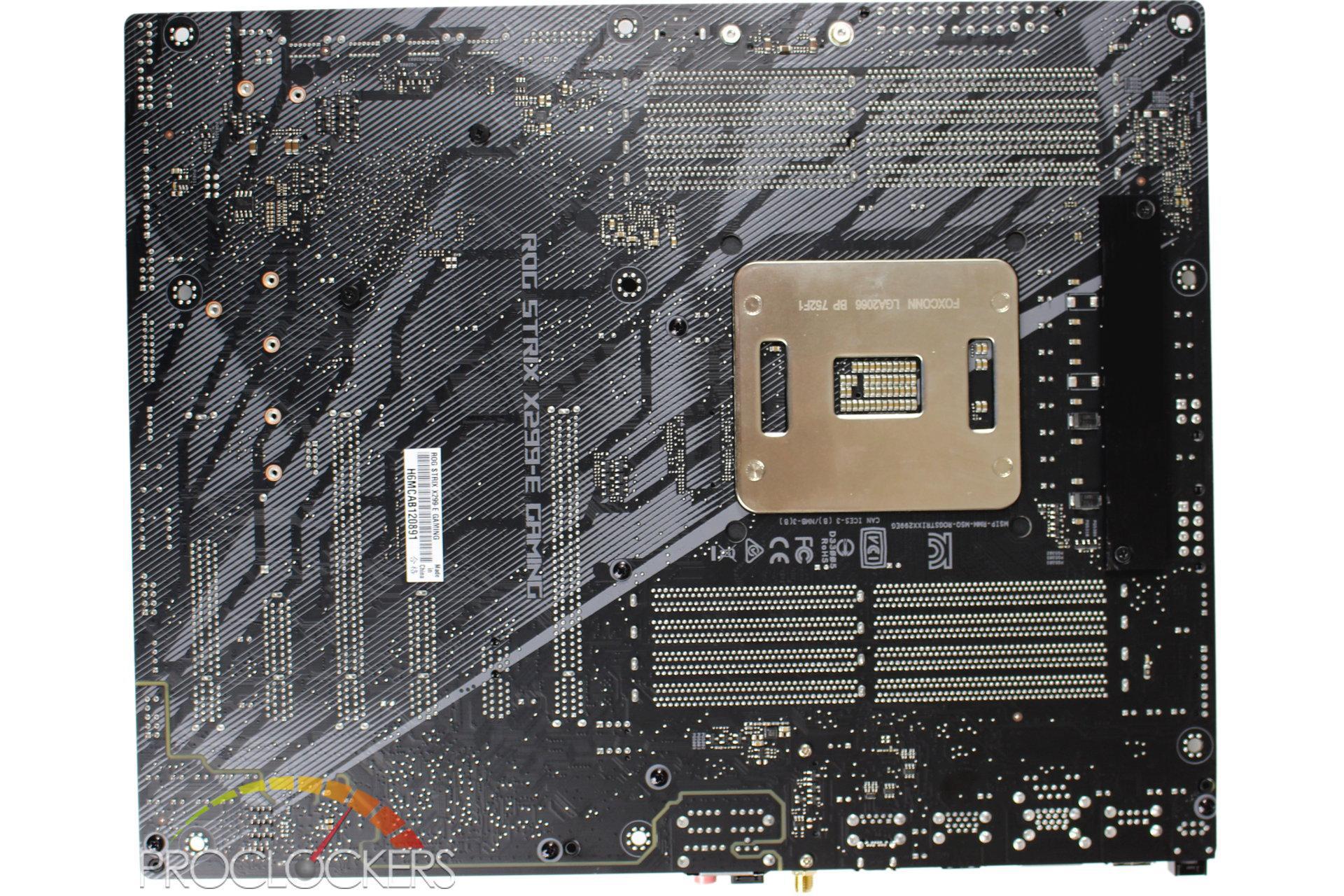 The rear of the board is pretty clean with very few minor components on this side. The board name is silk screened on the back along with a nice ROG themed design over most of the board.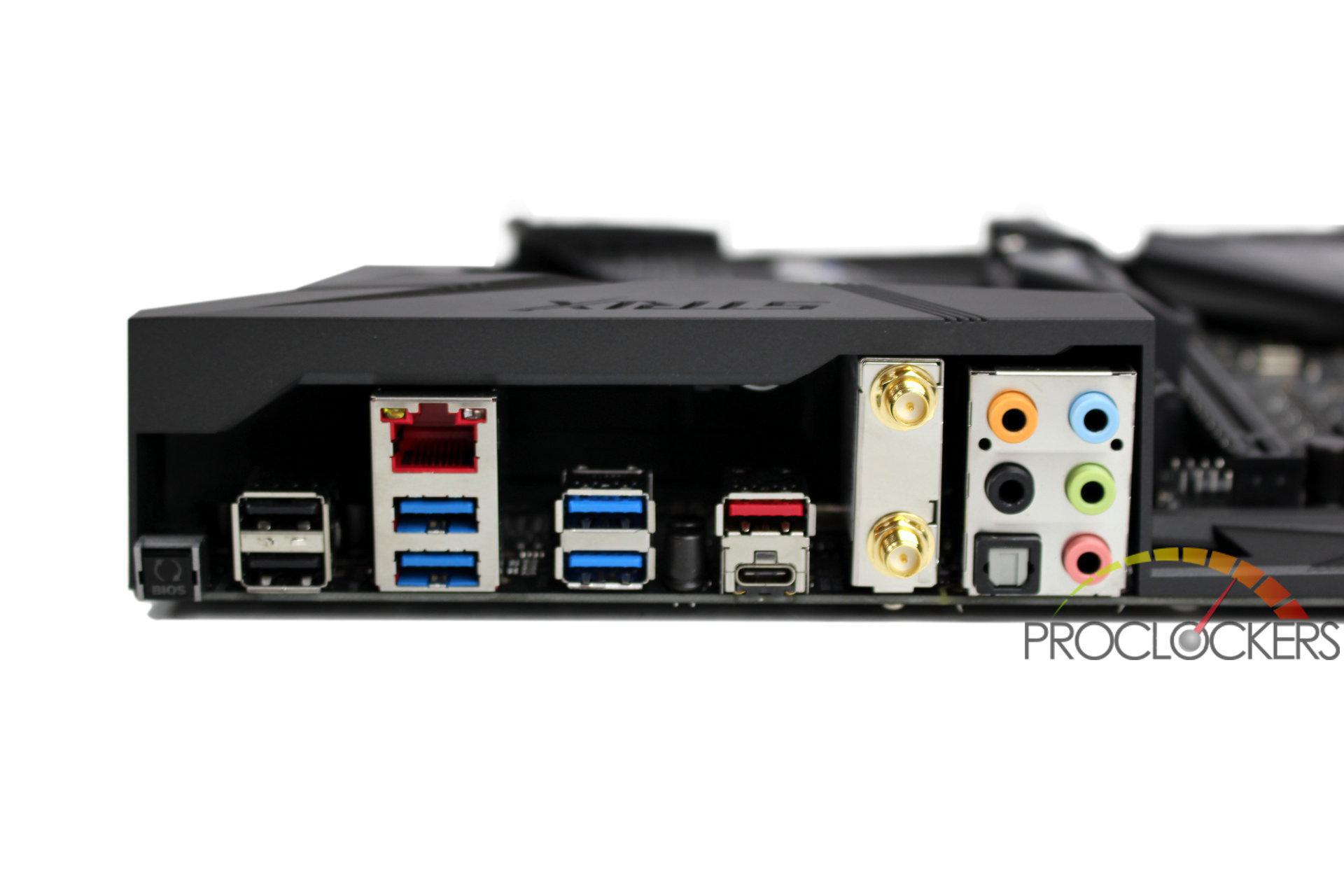 Rear I/O is composed of 2 USB 2.0 ports, one of which is used for USB BIOS Flashback by pressing the button to the left. Four USB 3.1 Gen 1 ports sit under a single Intel Gigabit LAN port. Two USB 3.1 Gen two ports are up next, one a Type-A and one a Type-C. Two antenna ports connected the onboard 802.11AC and Bluetooth 4.2 to the world via the included antenna. And towards the bottom are the 8 channel audio ports along with an optical audio output.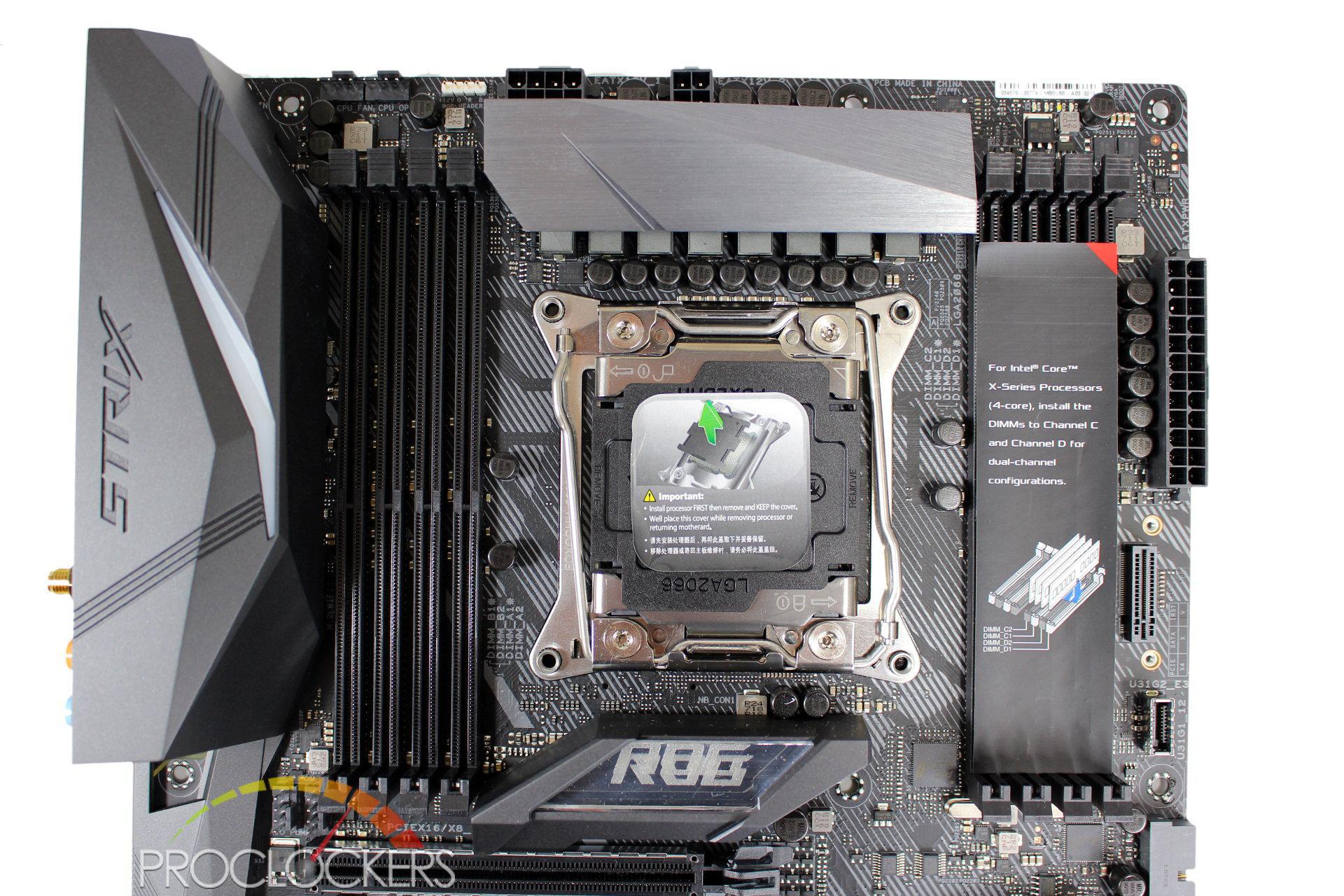 Half of the board is dominated by the CPU socket and 8x DDR4 memory slots. Above the CPU is the VRM heatsink, and the ROG logo below lights up in any color or pattern you choose. The cover over the rear I/O also has an RGB accent.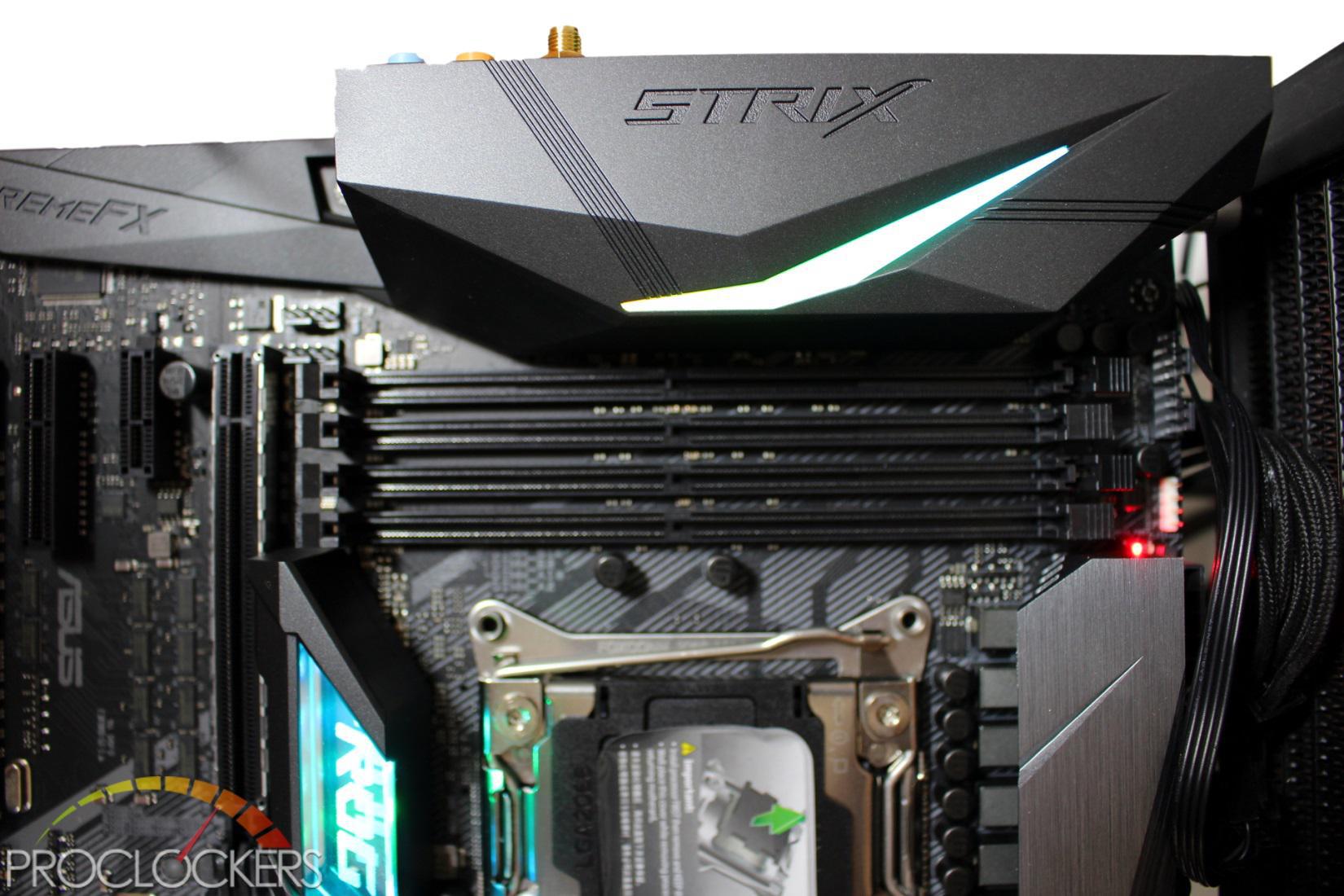 The light up accent on the rear I/O cover looks quite nice.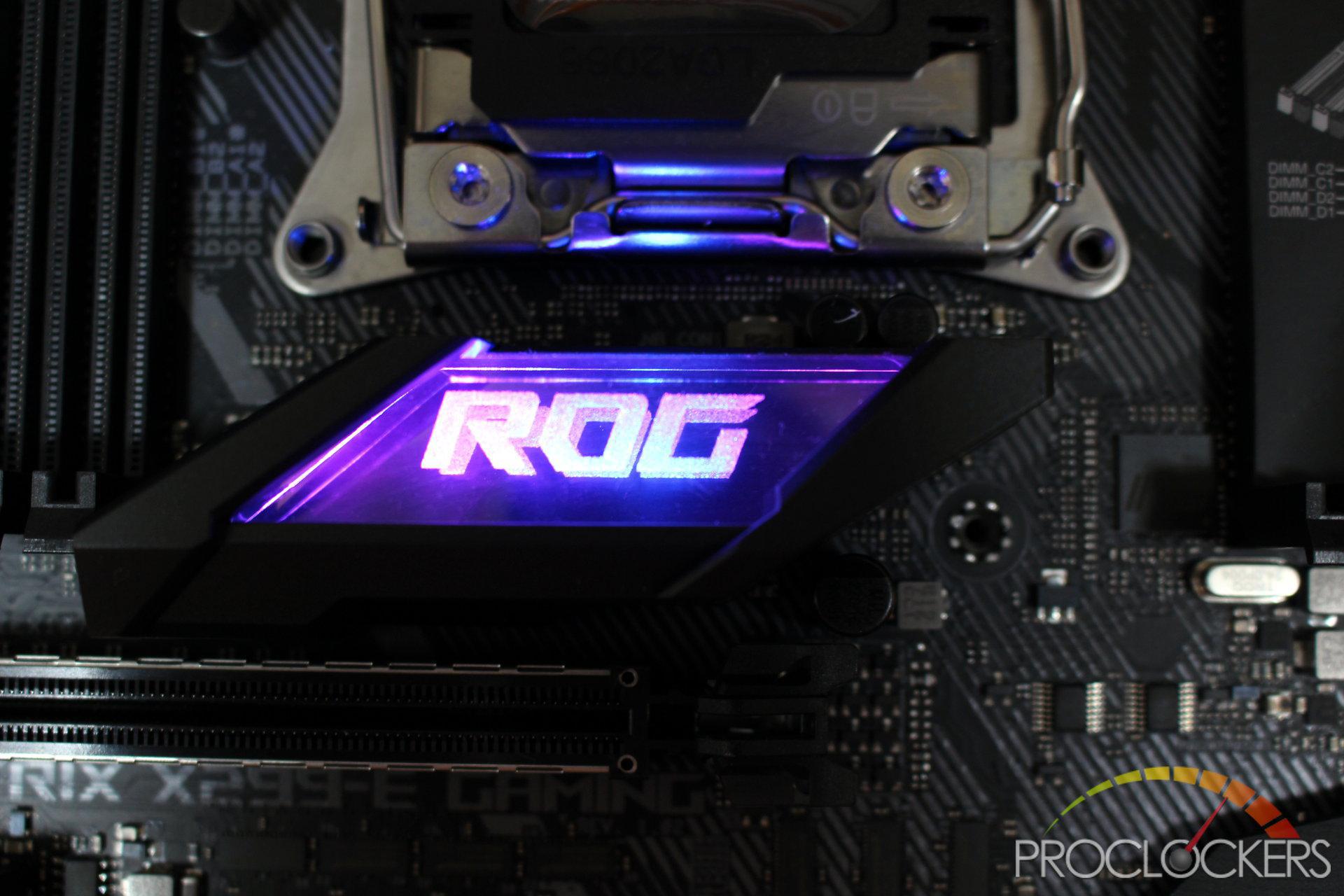 The center logo also lights up and gives a really unique hologram look.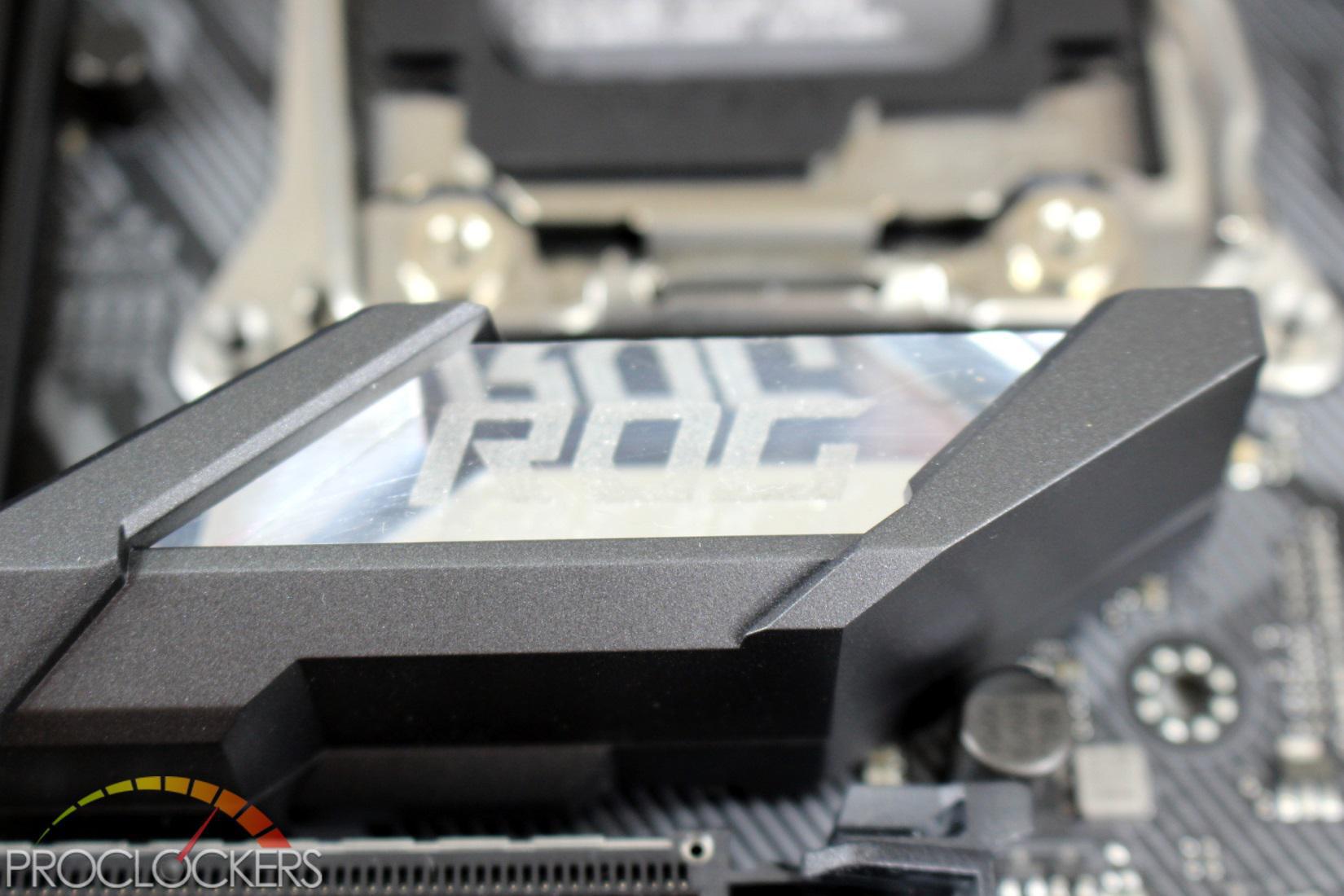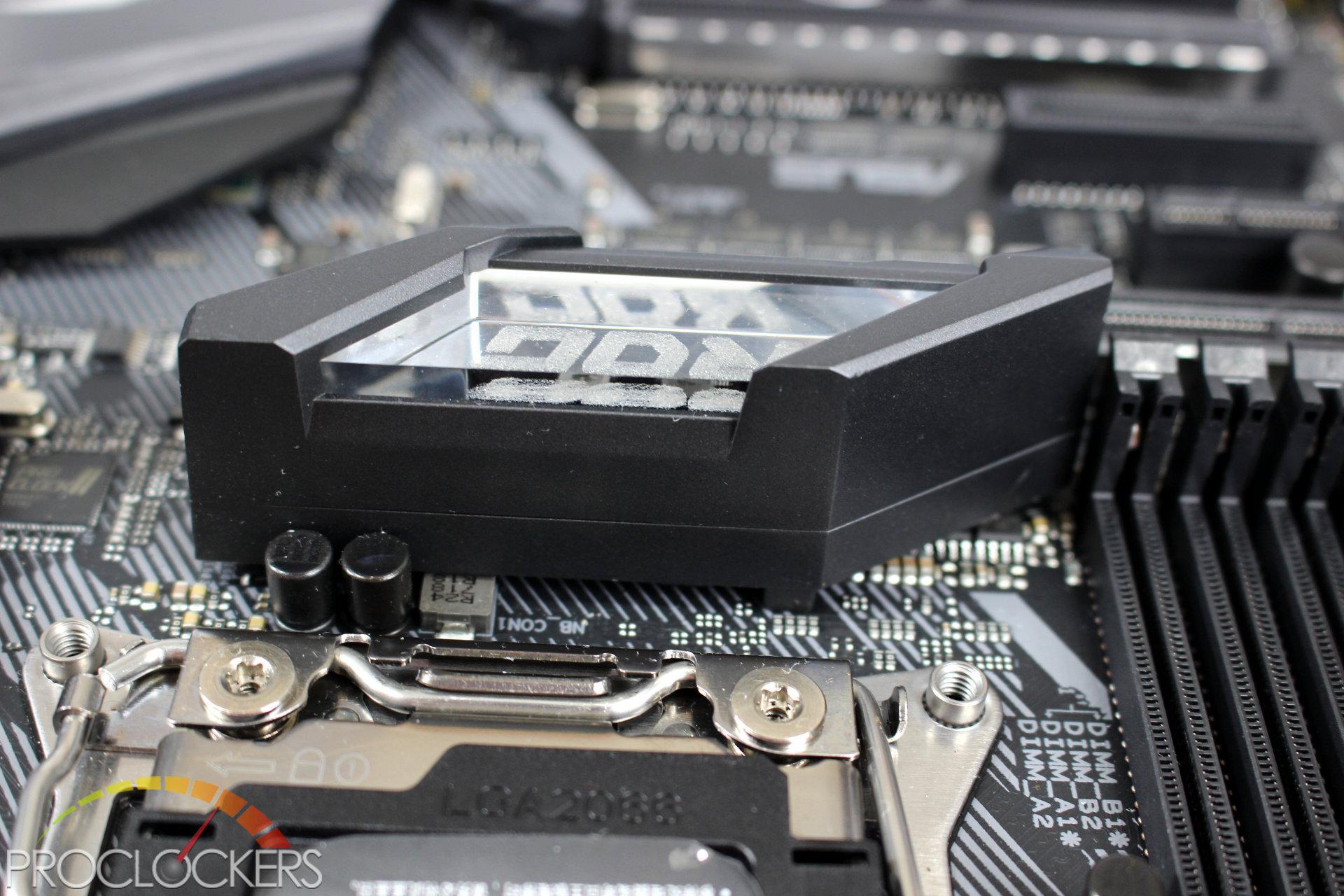 It can be a bit hard to see directly without the lights running, but the ROG logo is etched into a crystal to give that floating holographic effect.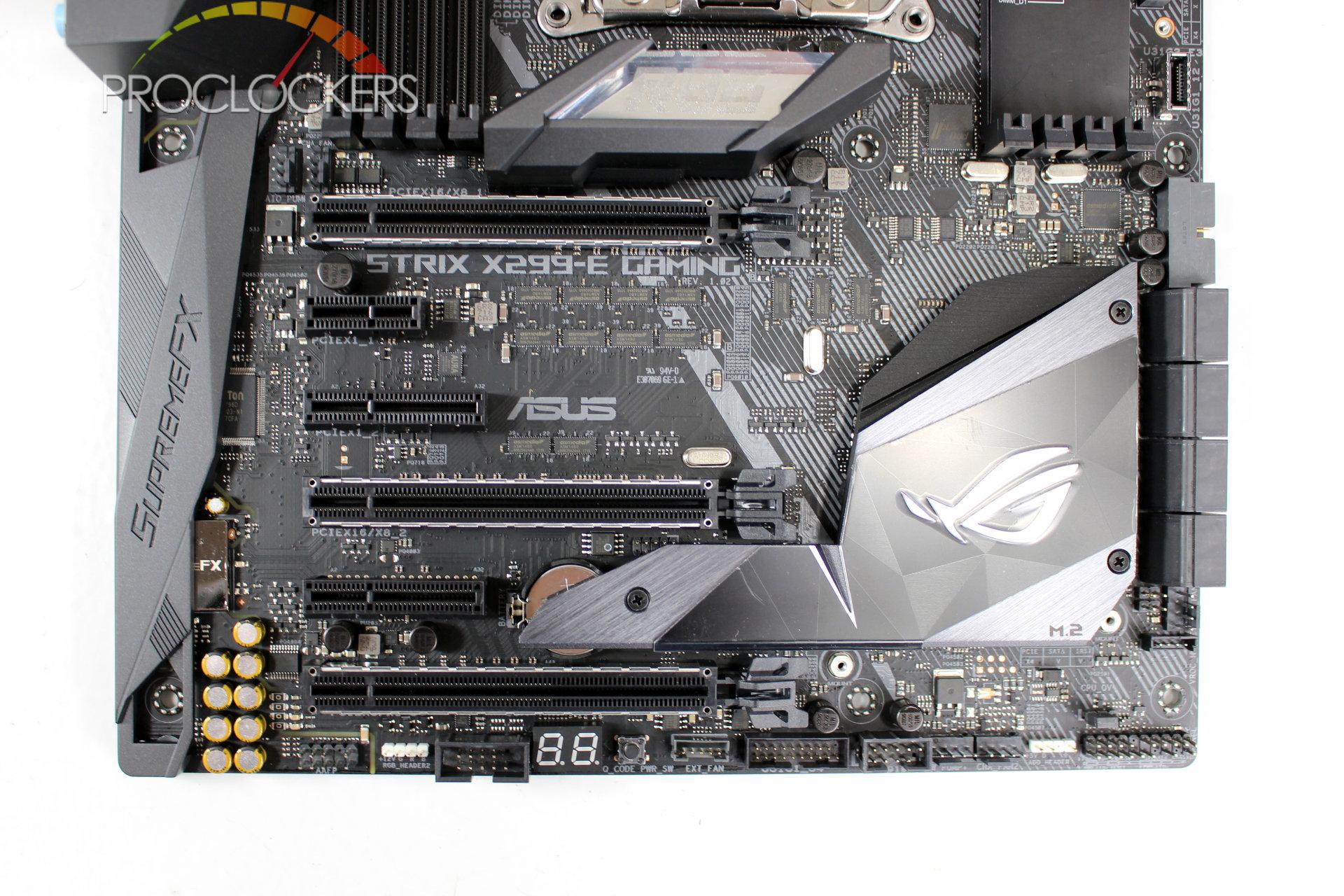 The lower half of the board is a huge pile of connectivity, 6x PCIe slots in various sizes dominate the area, next to the large Chipset and M.2 drive combo heatsink.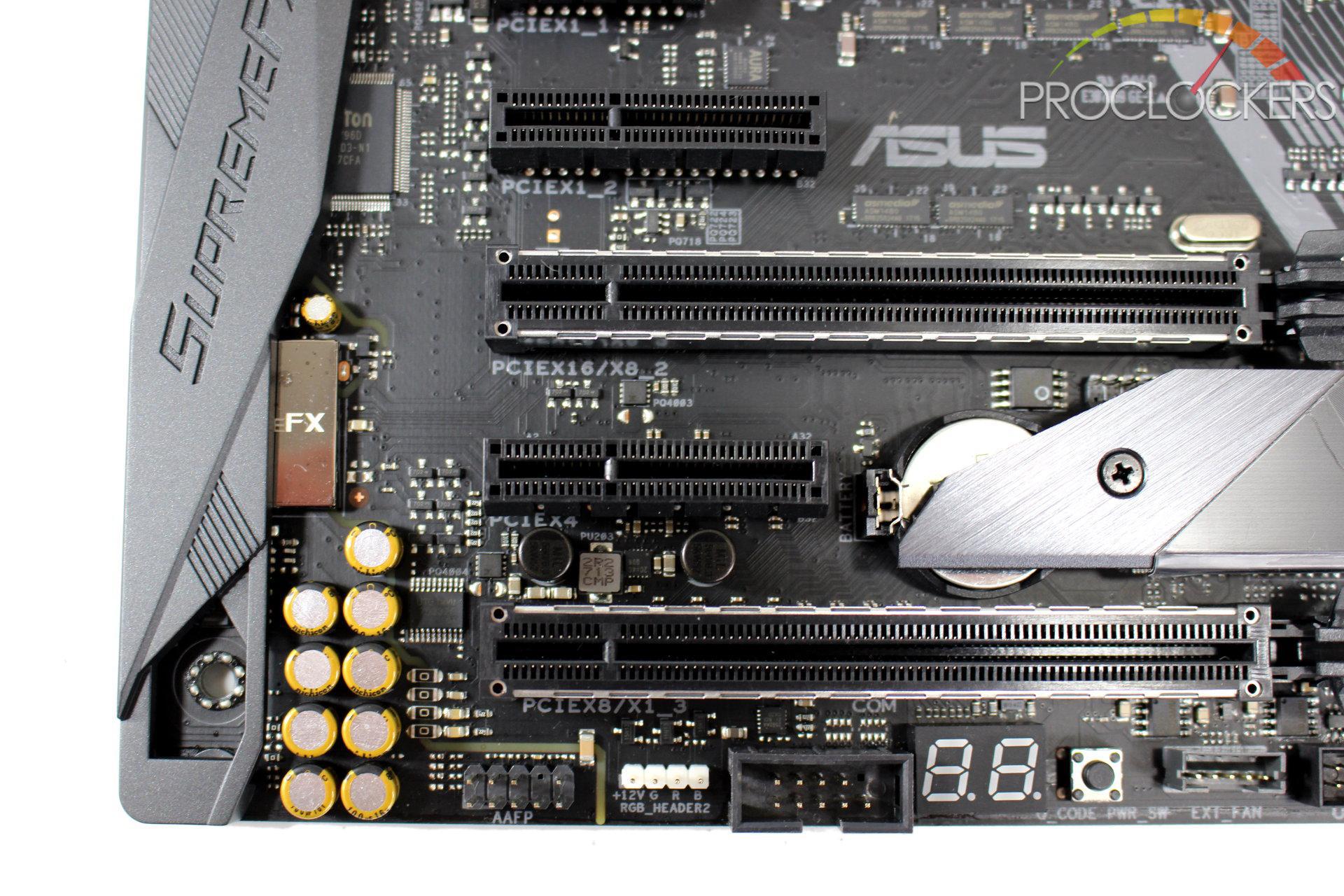 The lower left corner gives your front panel audio connections, an analog RGB lighting port, and a single COM port. You might thing serial connectivity is an odd choice this day and age, but with the maker-space bringing a huge up rise to IoT and small microcontrollers, this is a very handy port to have for programming and interfacing with them.
Next up is the POST code readout, and a single power switch. An external fan expansion header is also here.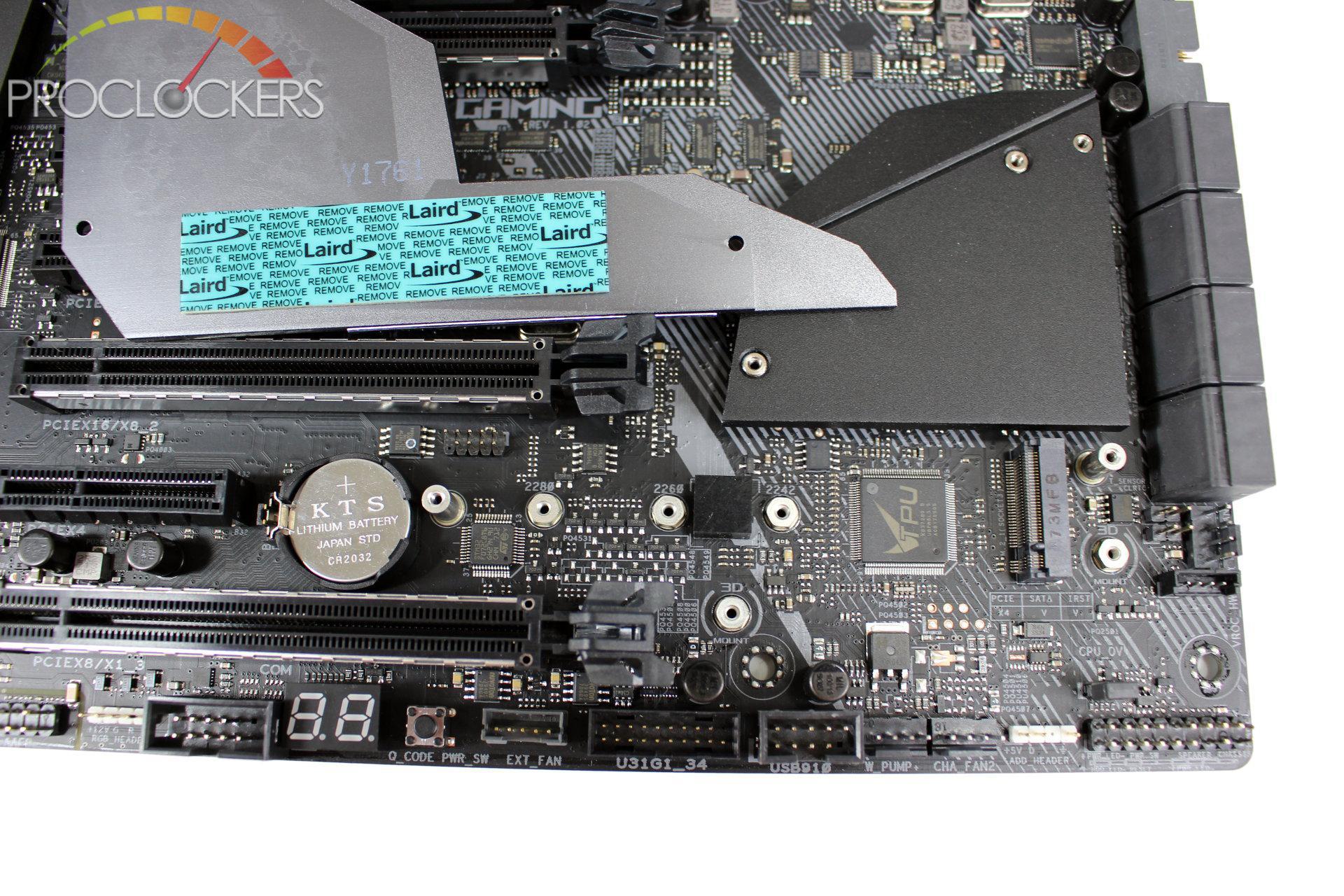 Closer to the front of the board we have a USB 3.1 gen one header, a USB 2.0 header, two 4-pin fan/water pump headers, the newer Digital RGB lighting controller port, and your front panel I/O connections.
Just above we've removed the M.2 heatsink cover to get a look at the 2nd M.2 port, as well as the pre-applied thermal pad to move heat from your M.2 drive to the heatsink.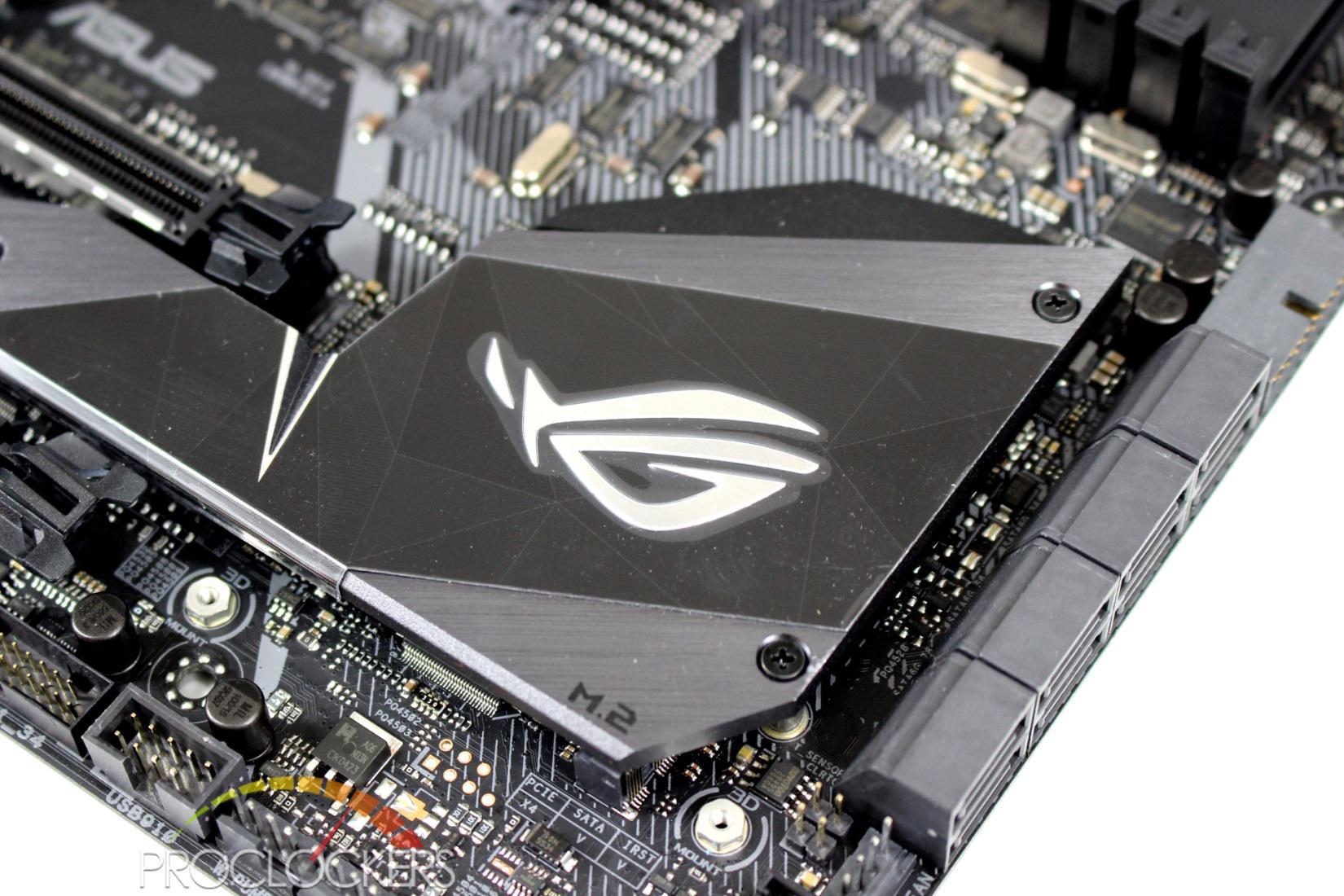 The actual heatsink itself is held in place by 3 small screws. They are not captive, so be careful not to misplace them while you install your M.2 drive.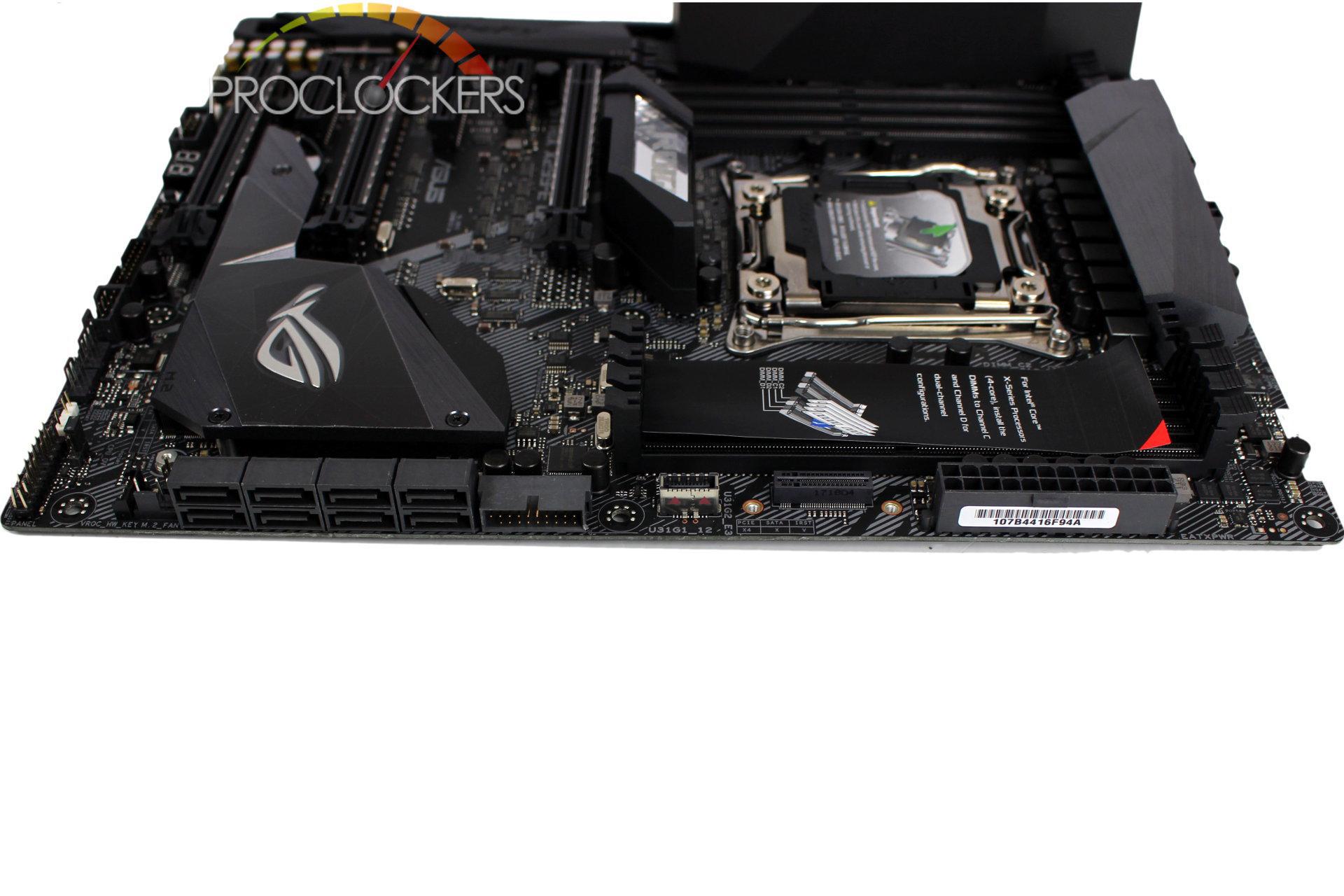 Going up the front edge of the board we have 8x SATA 6Gbps plugs, another USB 3.1 gen 1 header, and near the top is the usual 24-pin power connection.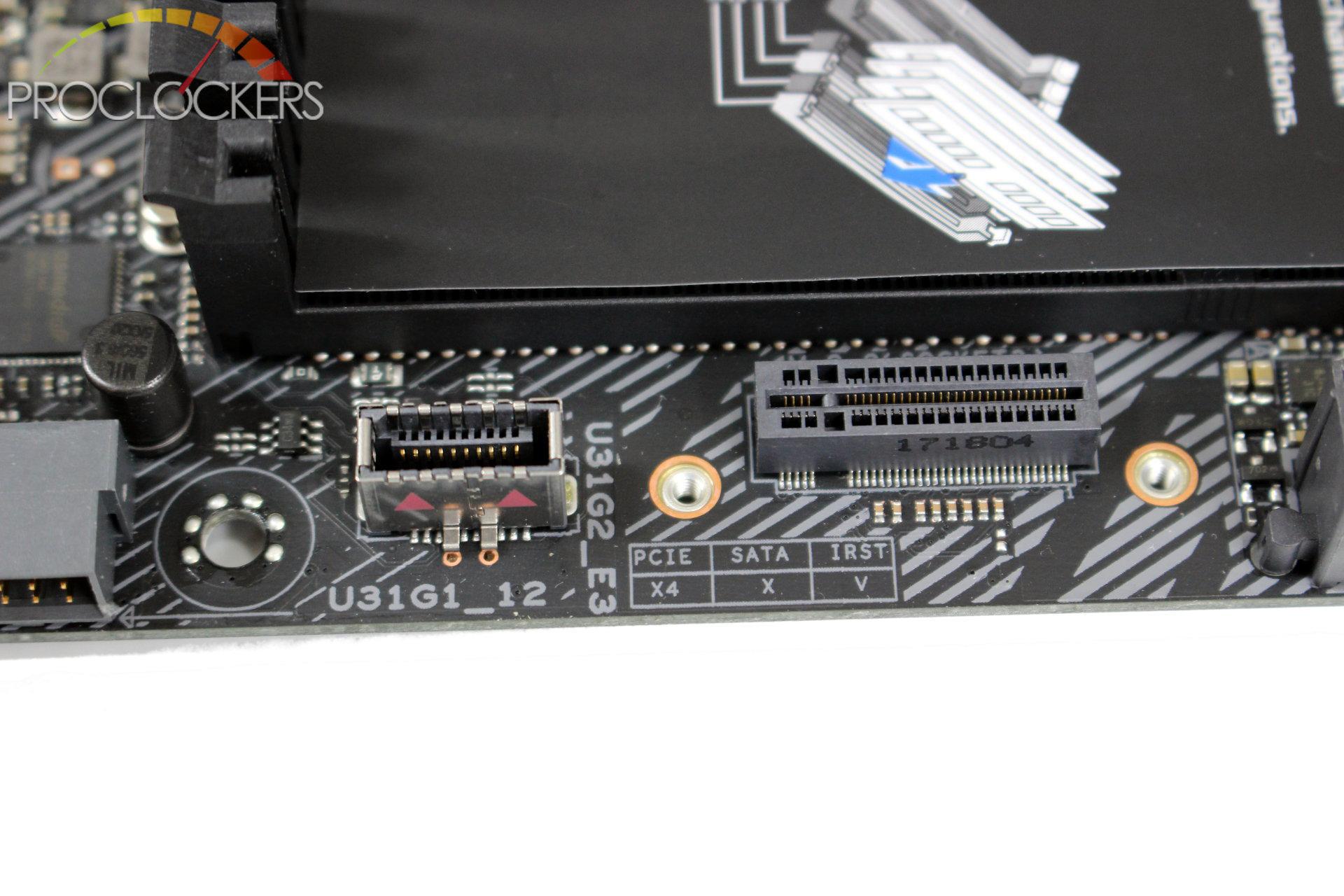 Also along the front edge is the new USB 3.1 Gen 3 header, and a vertical m.2 port.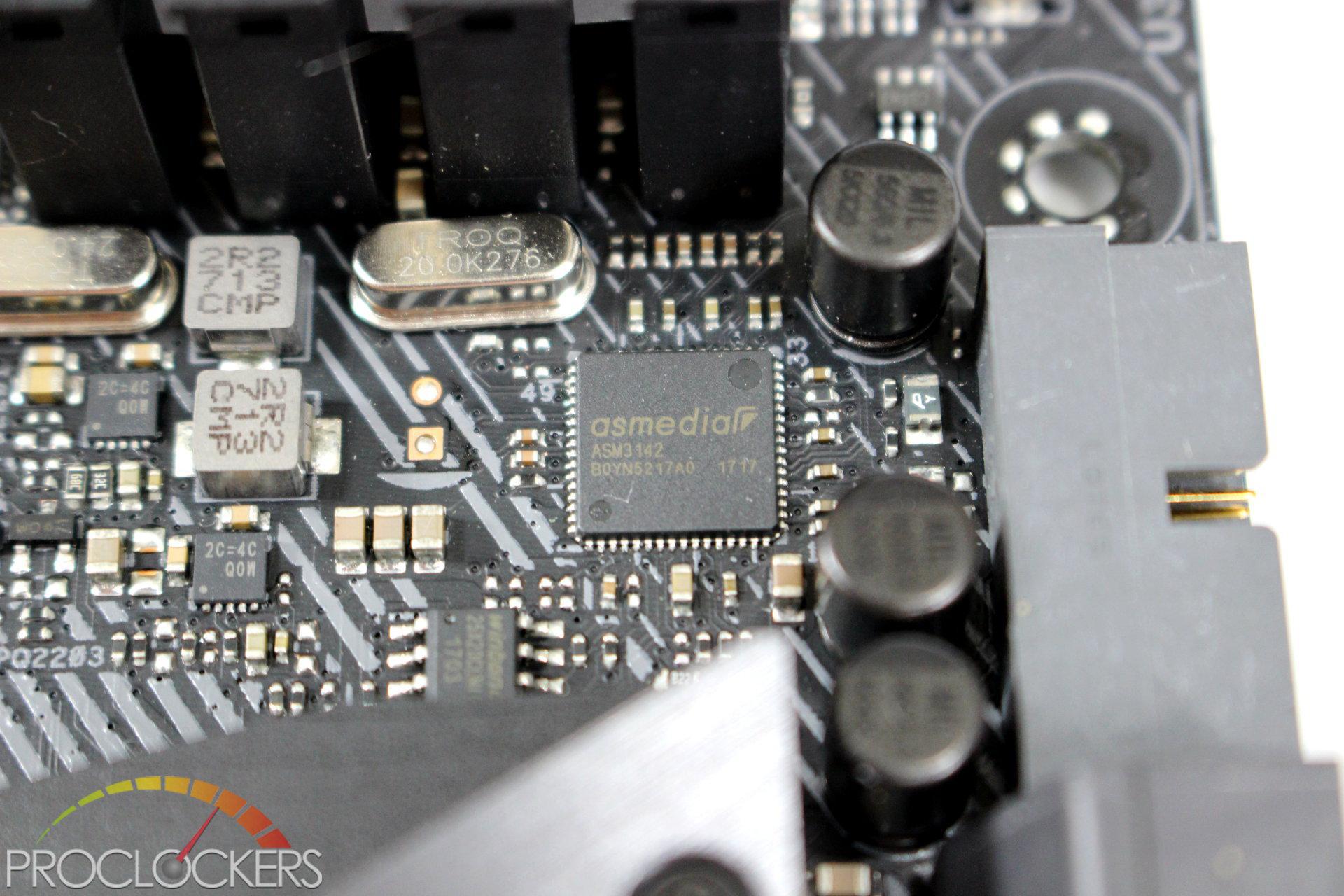 Just under the front most ram slots is the ASMedia ASM3142 controller for the front USB 3.1 Gen 2 ports, providing up to 16Gbps total speed for this header.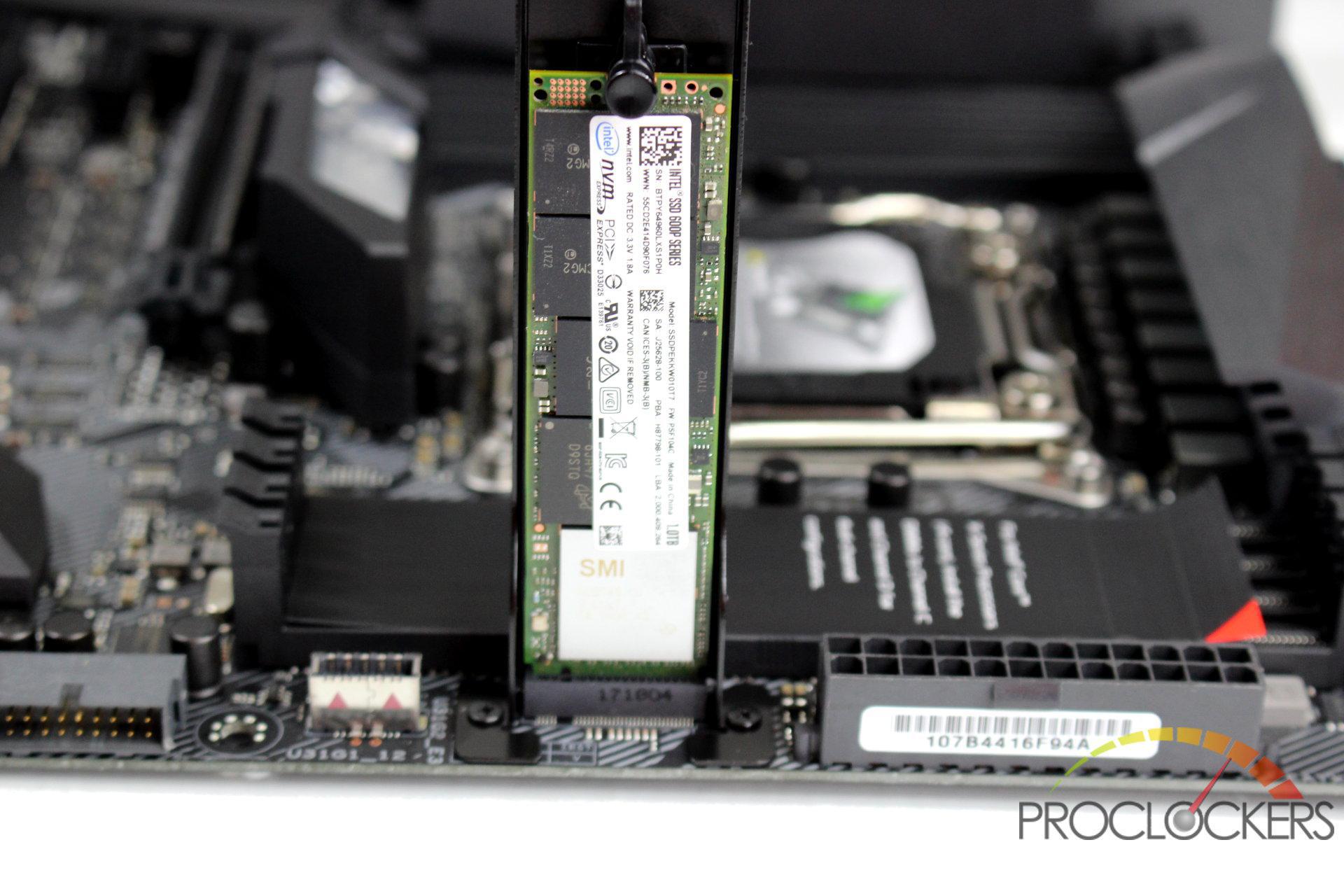 Included in the goodies pile are the mounting bracket and everything you need to use this m.2 header. We have an Intel 600p series drive installed here to see how the mounting works.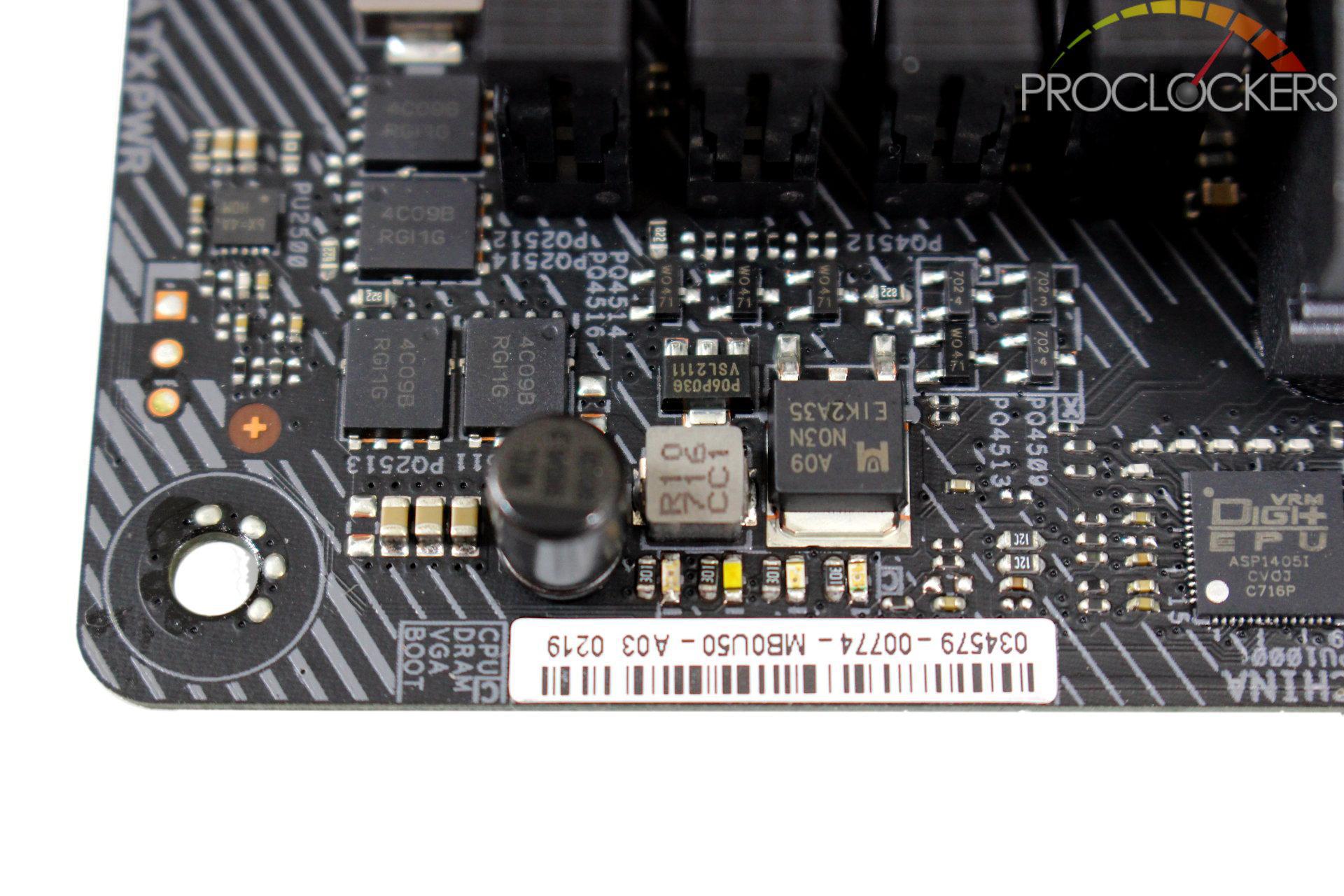 The top right corner has 4 LED's that you won't likely notice until they come on, pictured here just above the white label. The color coded LED's will lead you right to issues with CPU, RAM, and VGA. A final green BOOT led is akin to the old single beep that tells you everything is good to go. They normally flash for a few seconds during initial power on, but quickly disappear on a good boot, but one stuck on will indicate an issue with that sub-system so you can go investigate.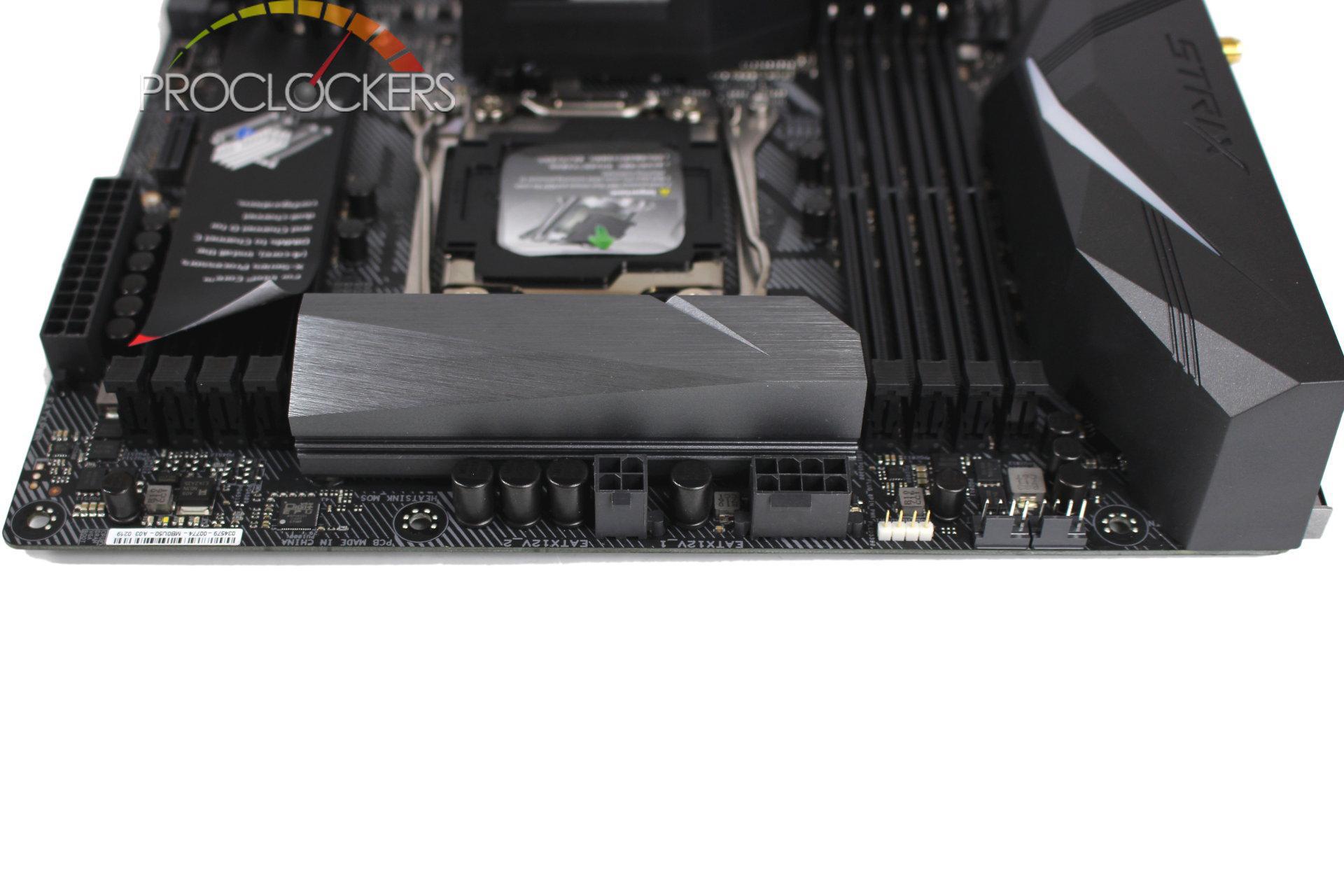 Along the top of the board are an 8pin EPS and 4 pin EPS power connection for the CPU. Near the rear is another analog RGB header, and 2 more four-pin fan plugs.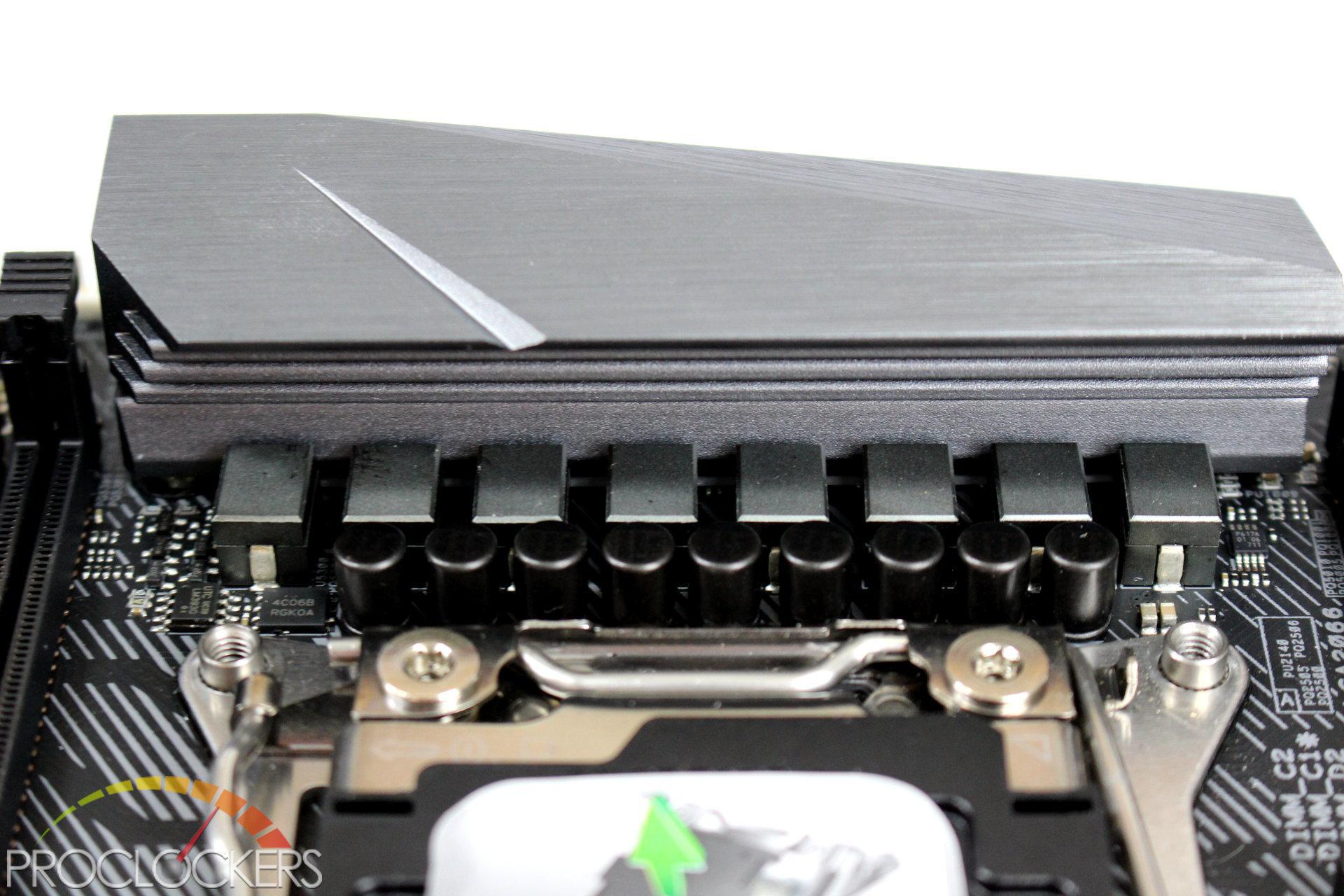 The VRM heatsink hides an 8 phase power delivery system for the CPU.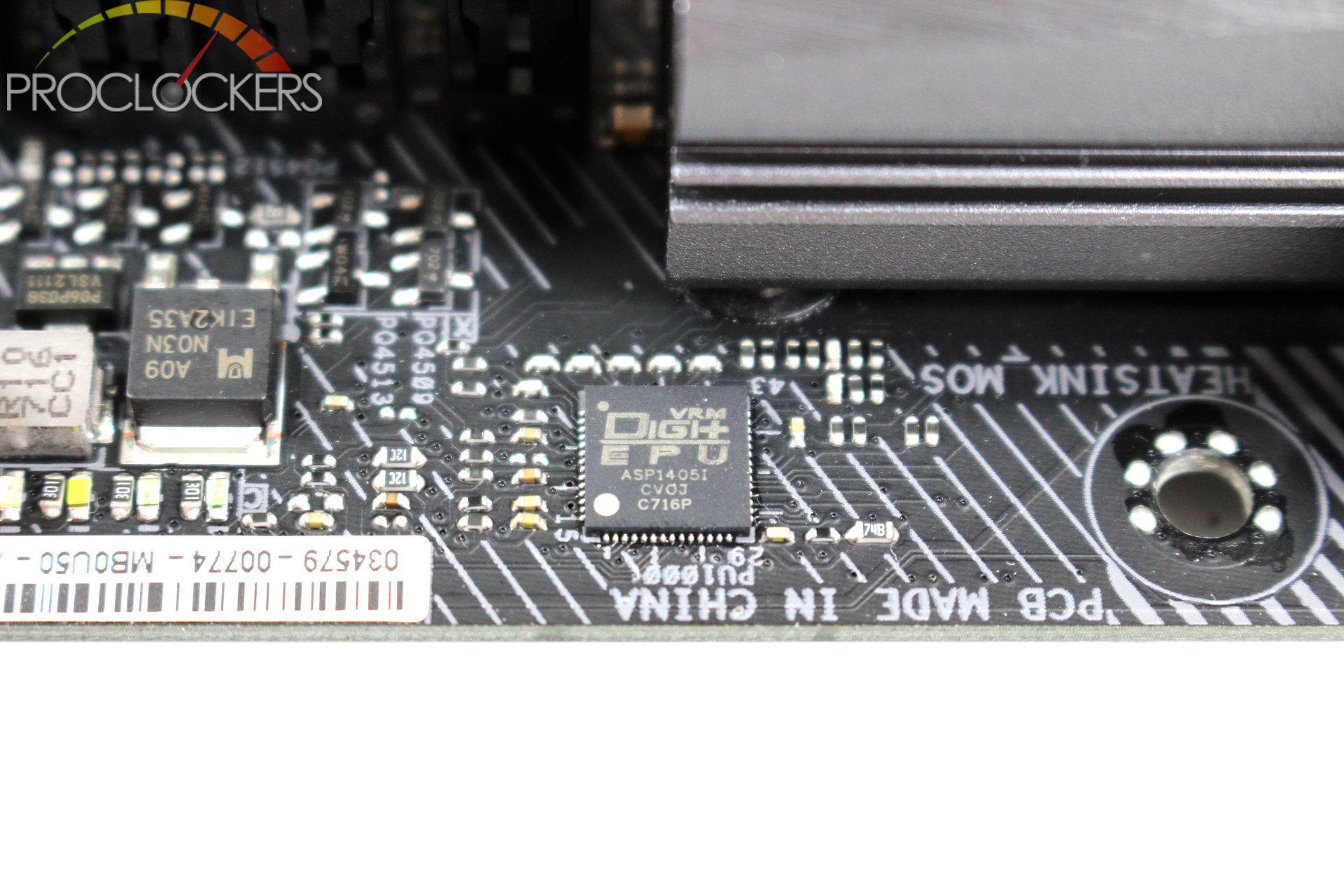 The VRM's are controlled by the Digi+ EPC IC for enhanced voltage control and overclocking stability.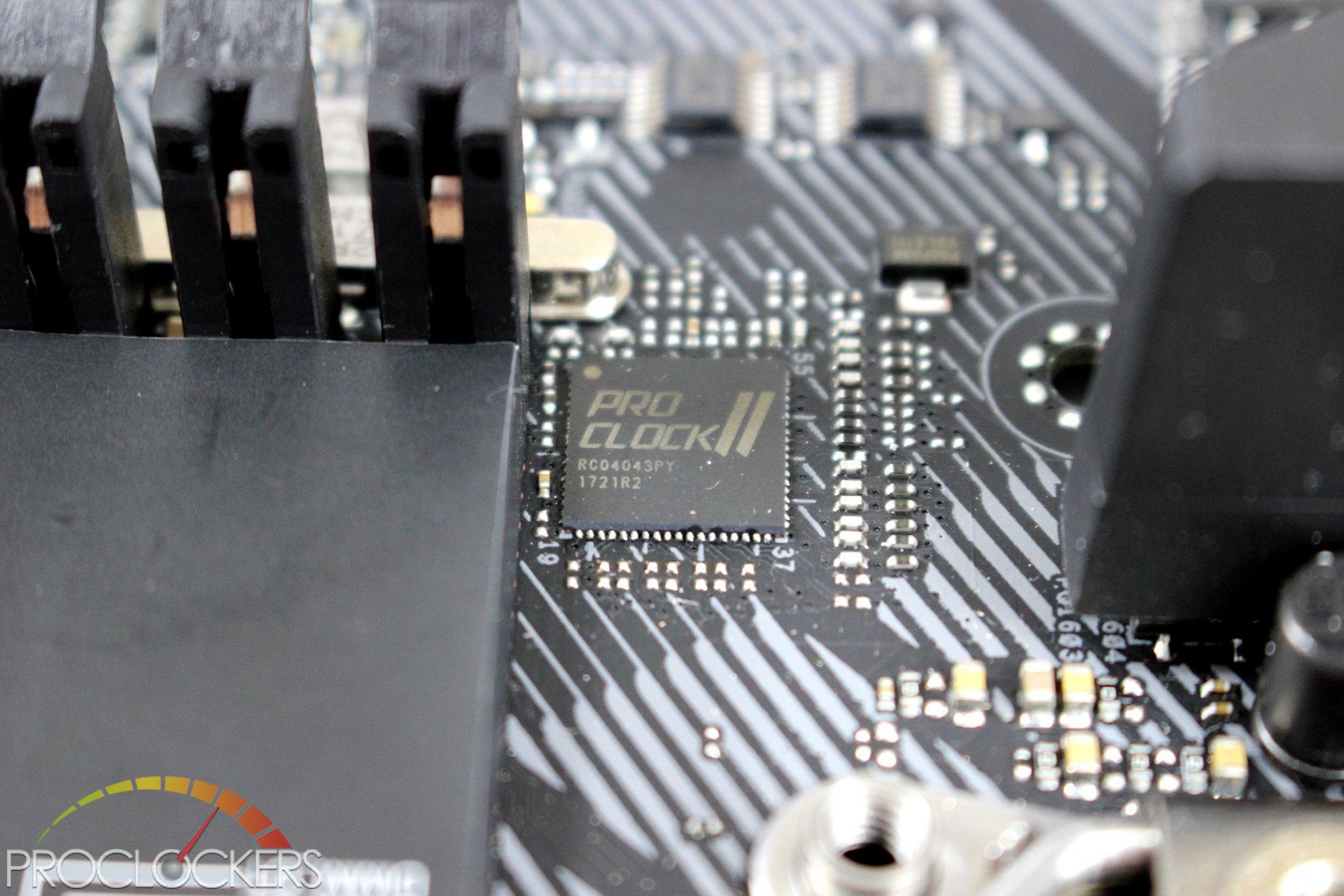 The Pro Clock 2 Base clock generator IC sits right next to the front ram sockets. Pro Clock works in tandem with the ASUS TPU which can control the CPU overclocking.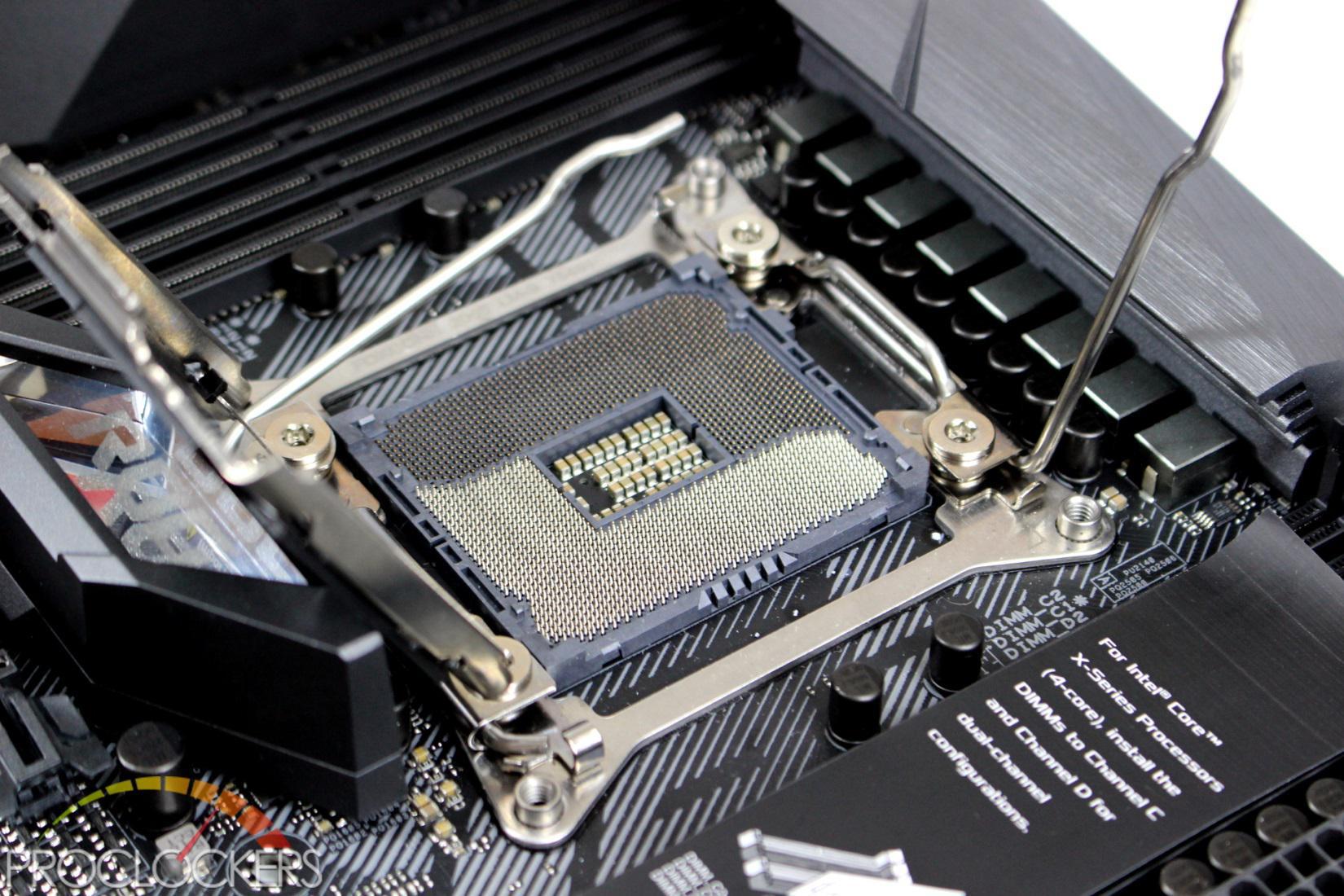 Both chips above work under control of ASUS's TPU (TurboV Processing Unit) to provide whatever you put in here, the best voltage and clock control possible for maximum stable overclocks.
System Configuration & BIOS
CPU: Intel Core i7-7820X & i7-7740X
Motherboard: ASUS ROG STRIX X299-E
RAM: 64GB Corsair Dominator Platinum SE 3200Mhz
GPU: Galax GTX 1070 HOF
SSDs: Corsair Force LX 256GB, 4x Corsair Force GT 240GB, Samsung 960 PRO 2TB
OS: Windows 10 Professional X64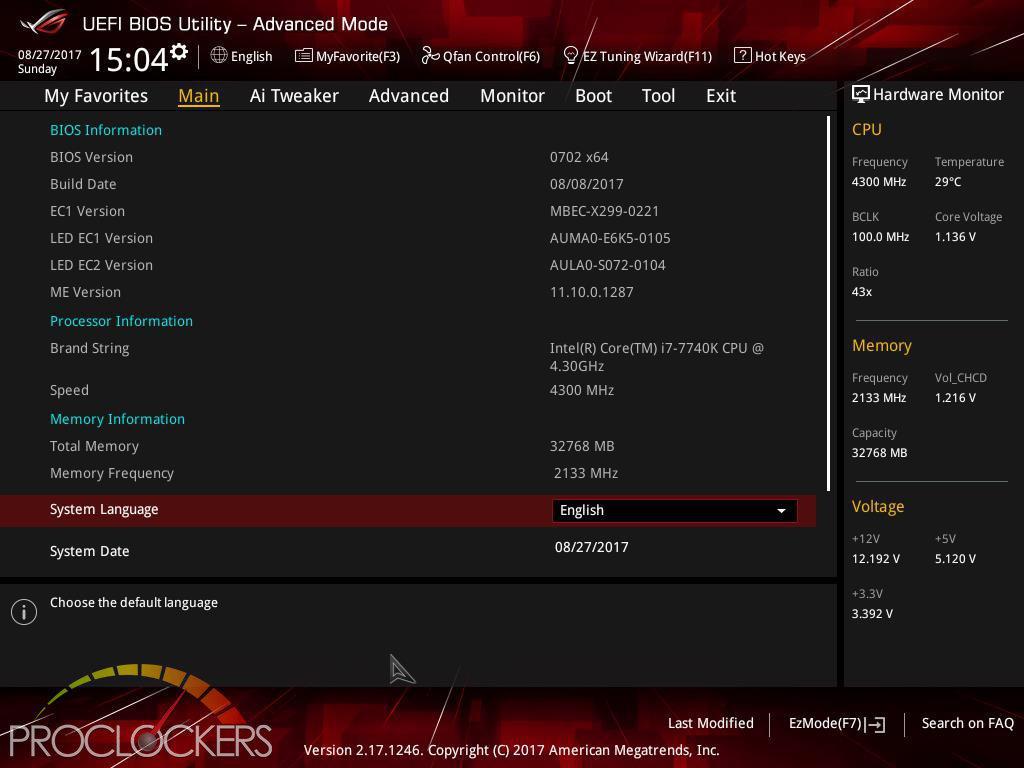 The main landing page shows basic system information.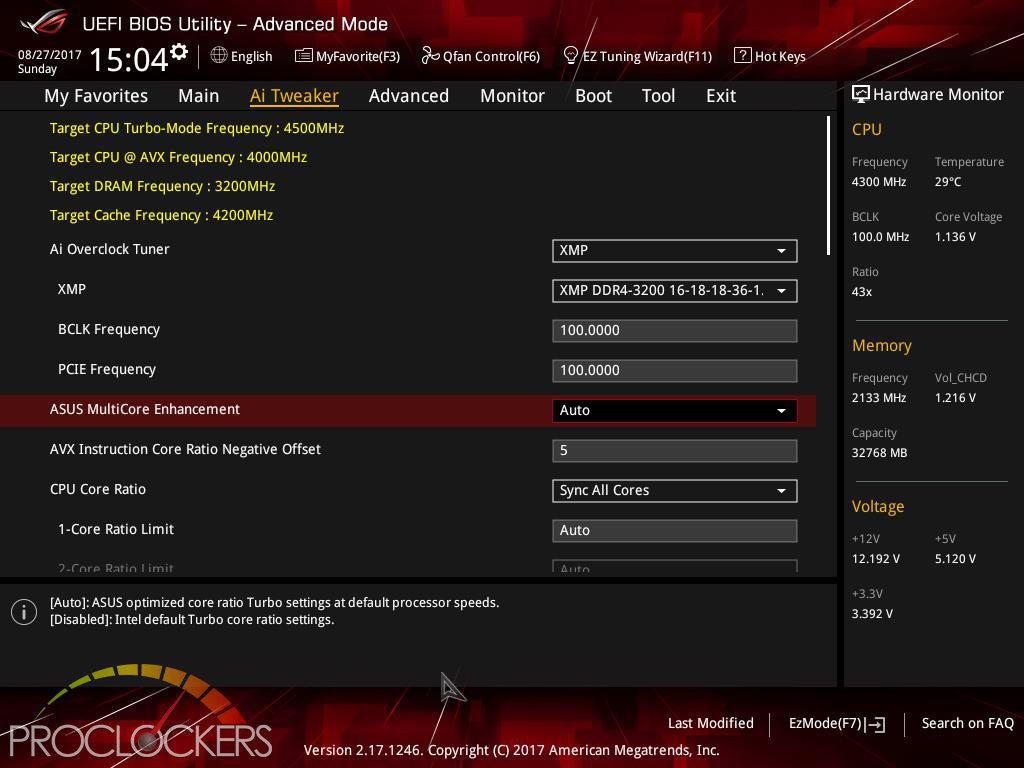 Ai Tweaker page gives you access to nearly everything overclocking. Here we set our memory to XMP speeds and got a bit of a CPU boost as well.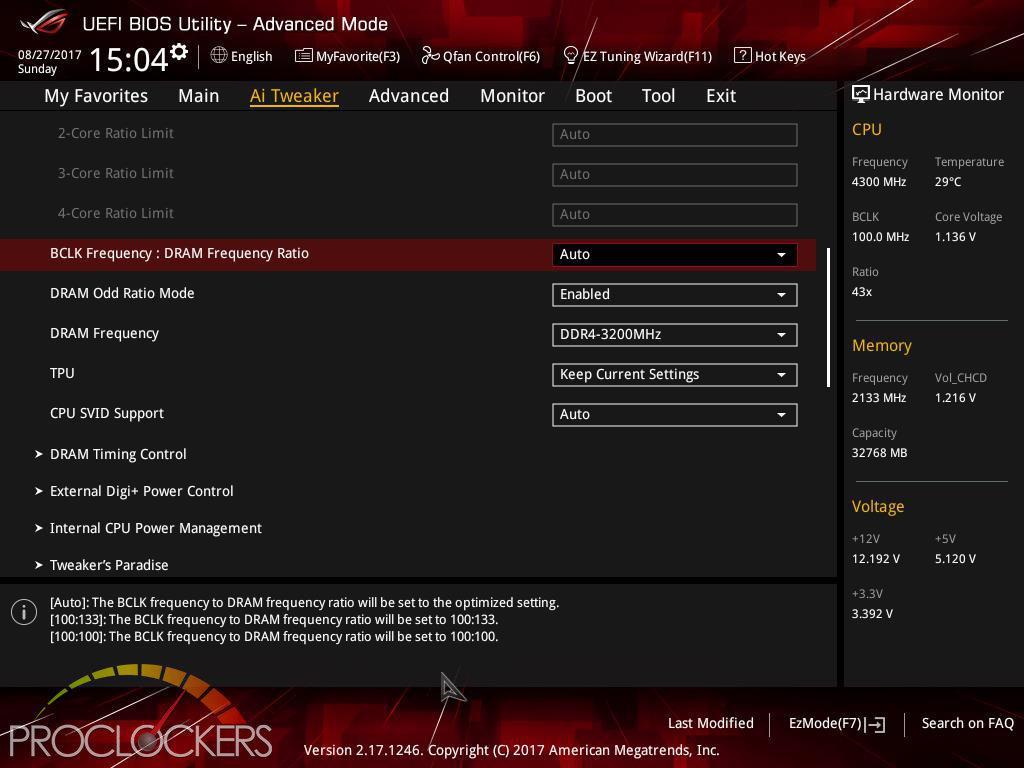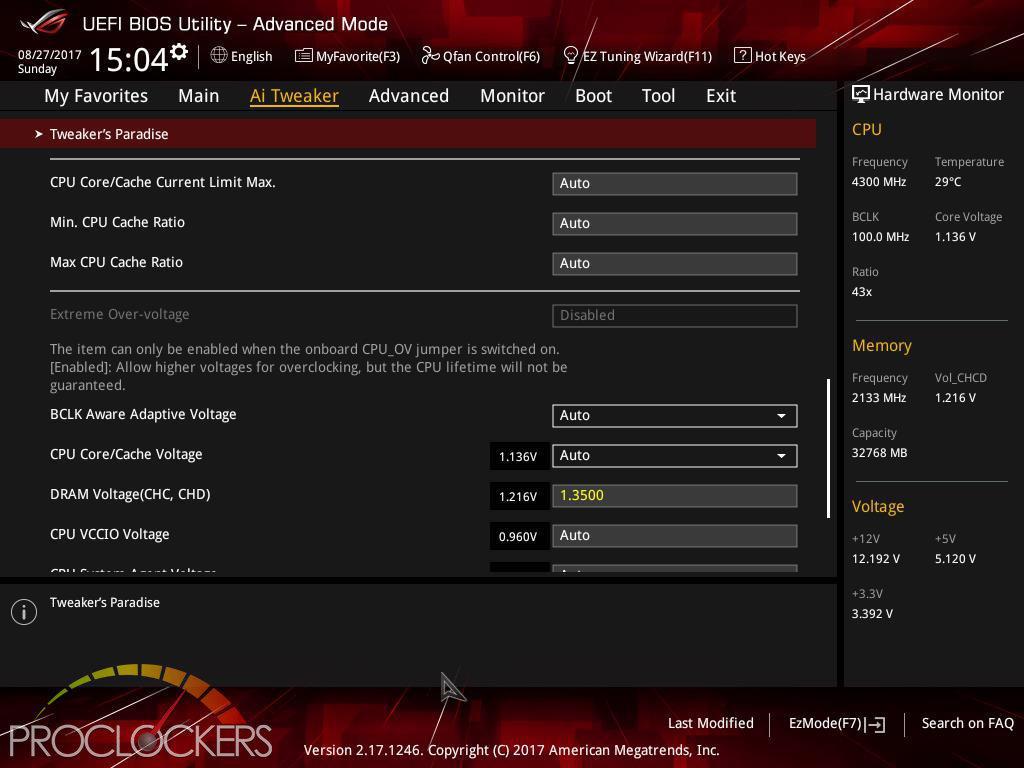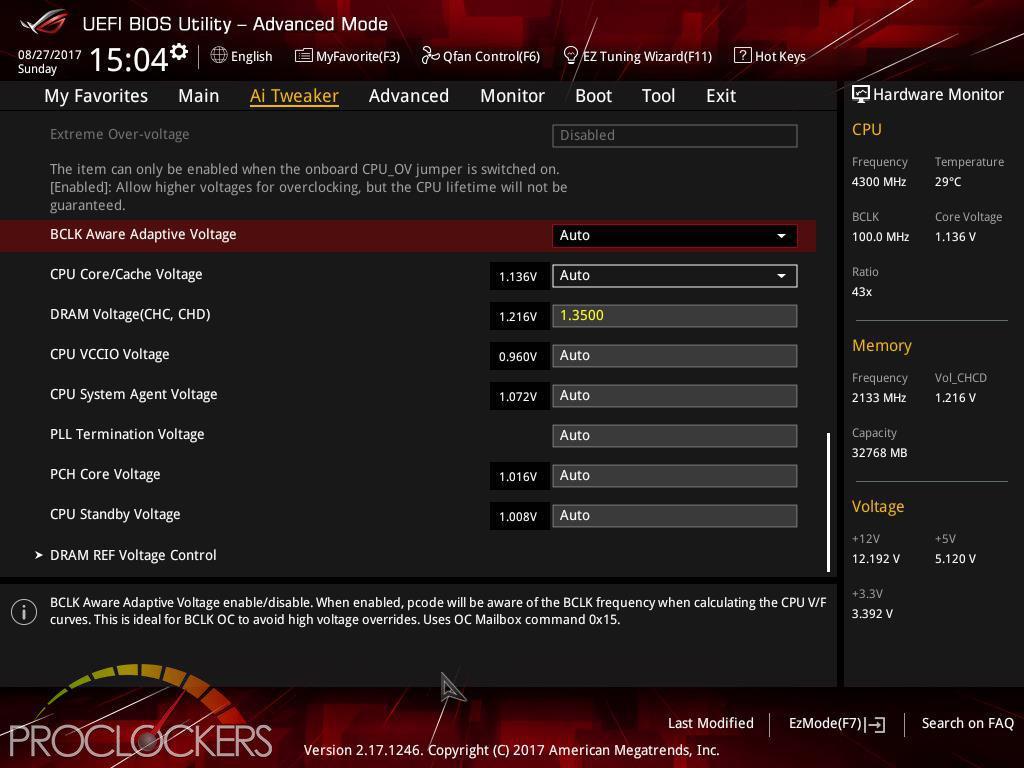 As you can see, there is a LOT of options in here for fine tuning your system.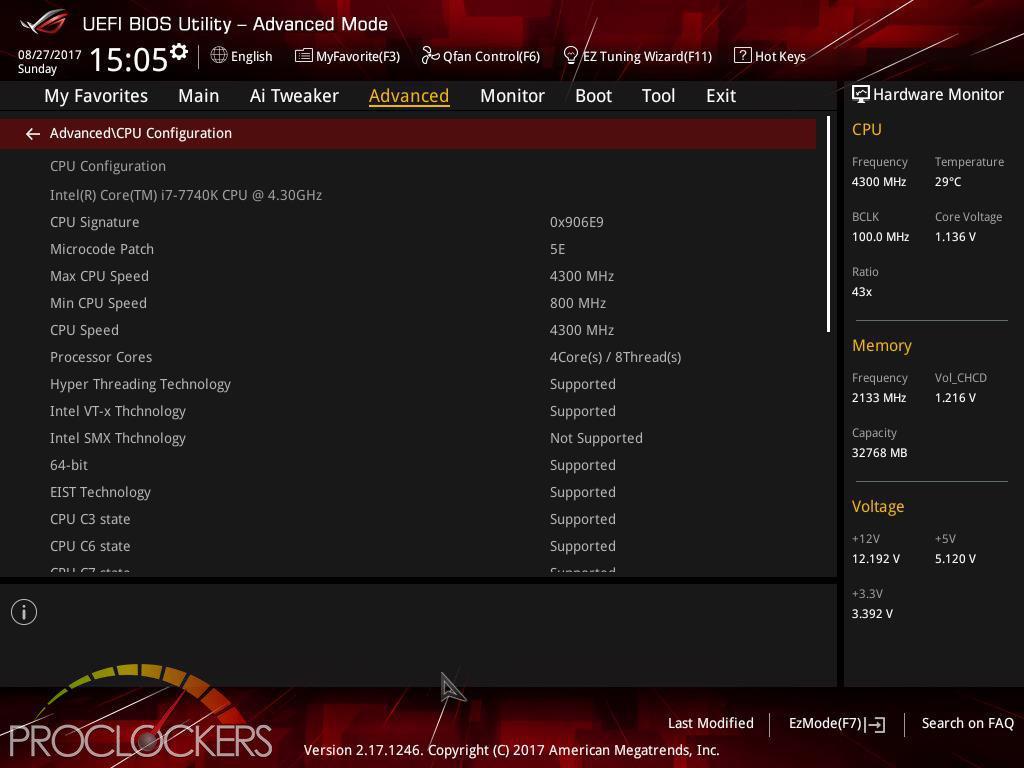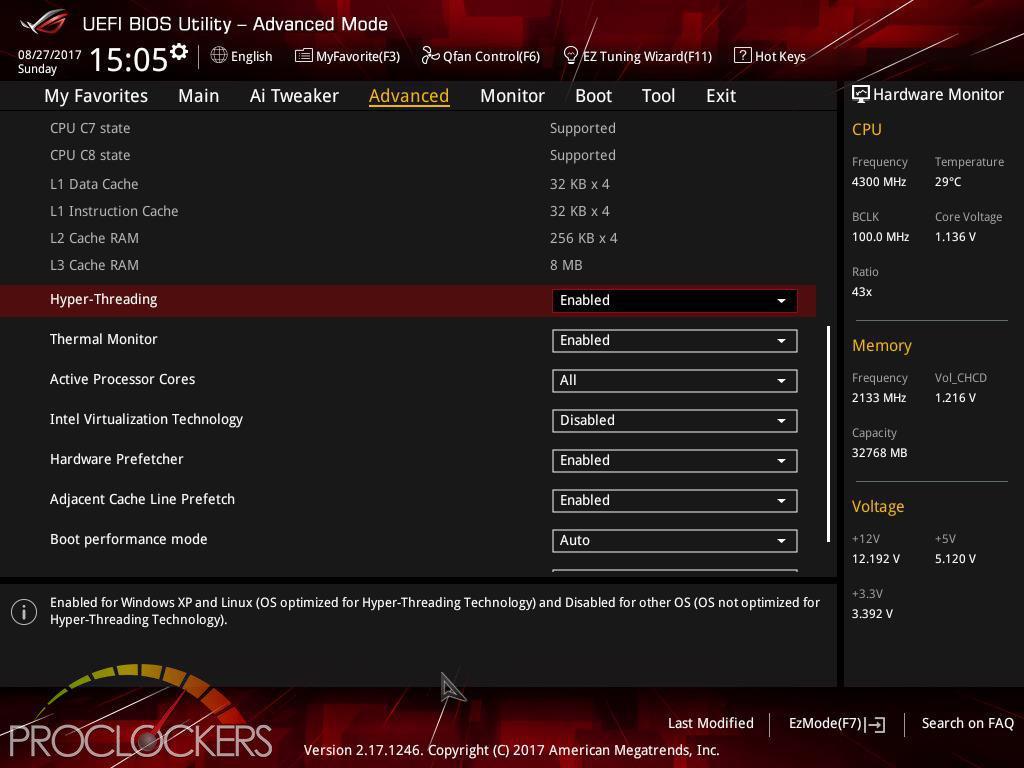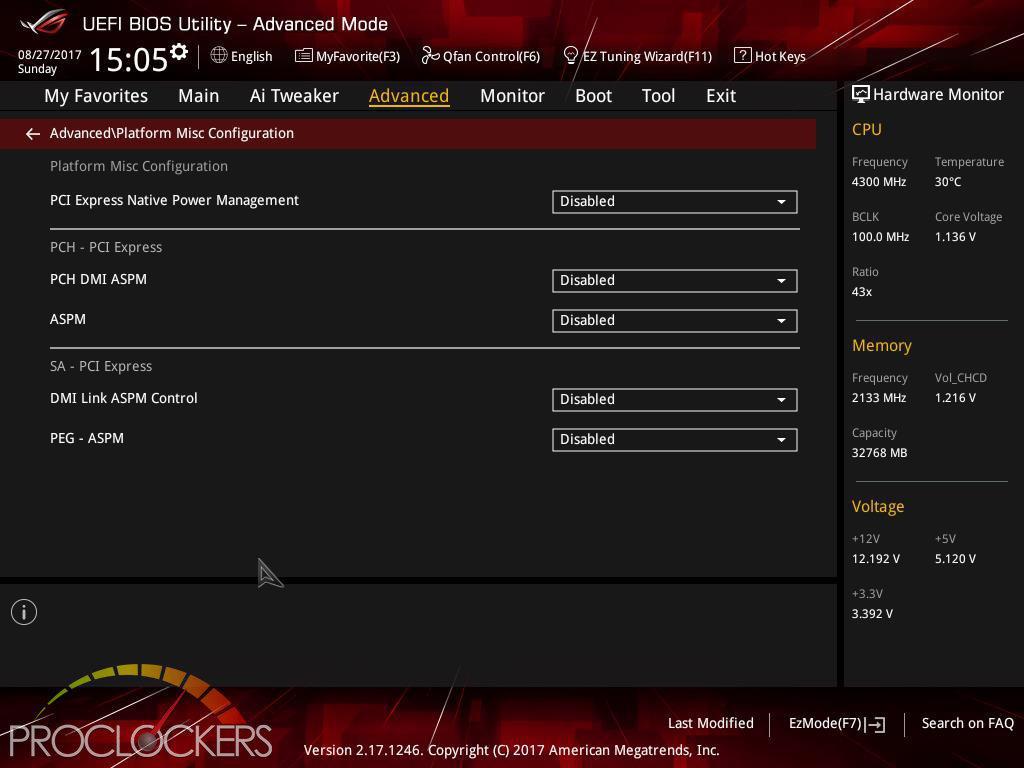 The advanced tab gives you access to everything else from shutting down CPU cores and Hyper-Threading to some of the less used settings like hardware prefetch, Chipset settings, and about anything else you can imagine.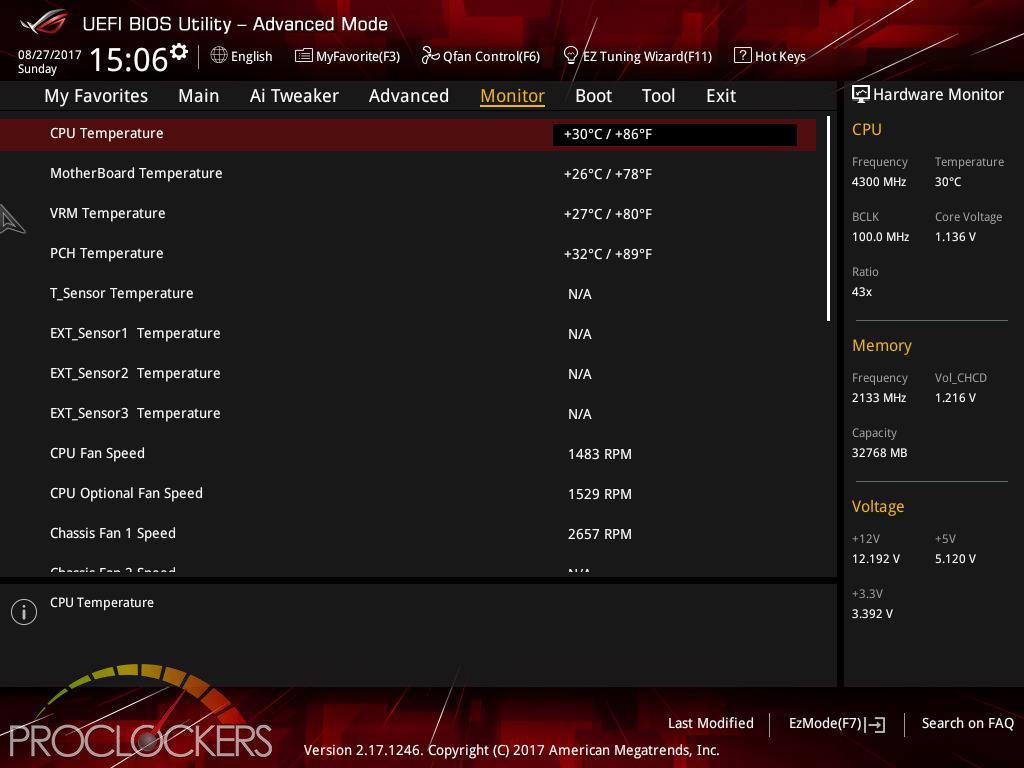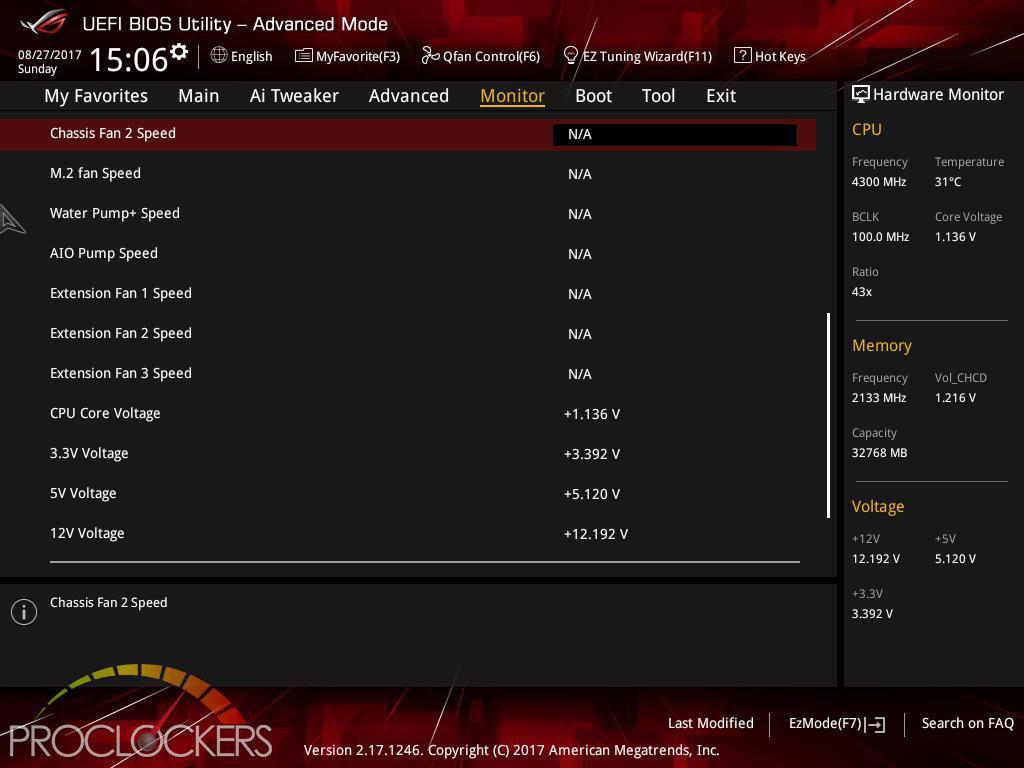 The monitor page shows information about your system. Things such as voltages, temperatures, and fan/pump speeds are shown here. You can also adjust fan and pump speeds as you see fit.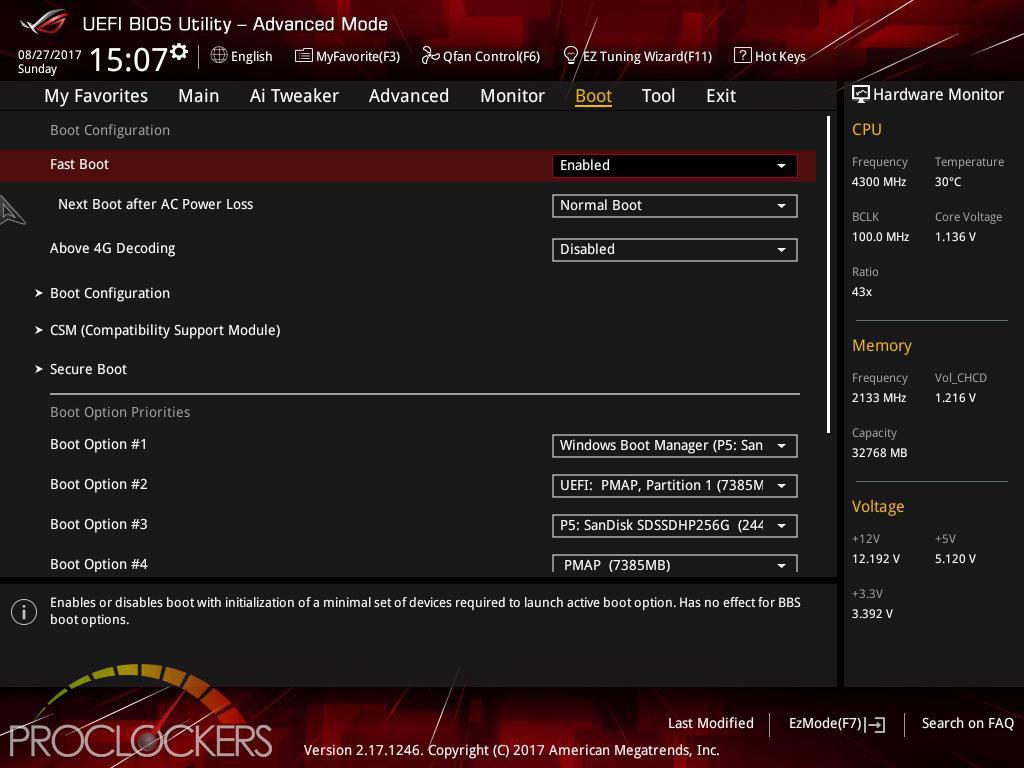 The Boot page is fairly self-explanatory, Boot order and configuration are adjusted here if needed.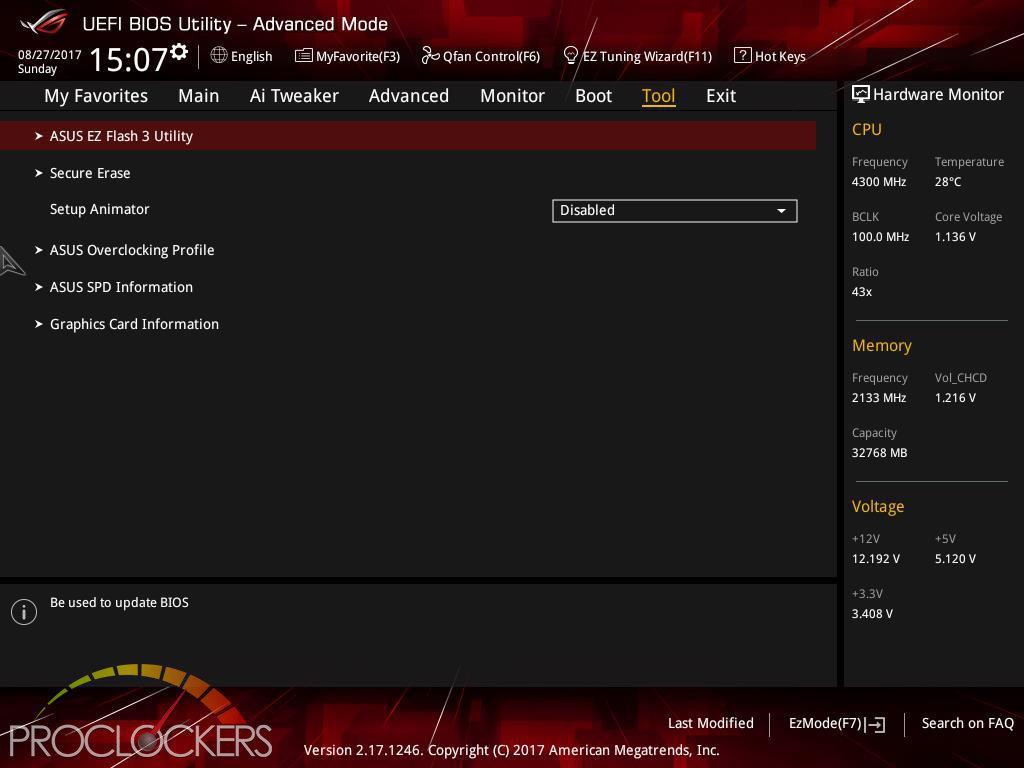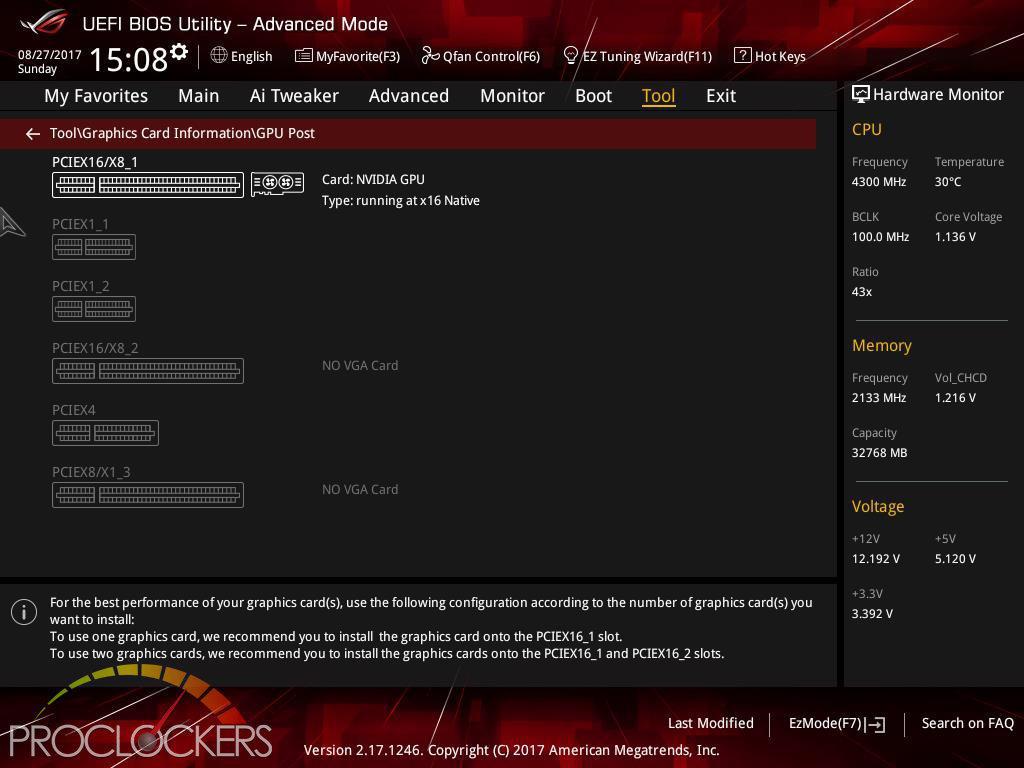 Tools are all found on this page. Bios updates, graphics information and ram information can be found here. Overclocking profiles can be saved and loaded here as well.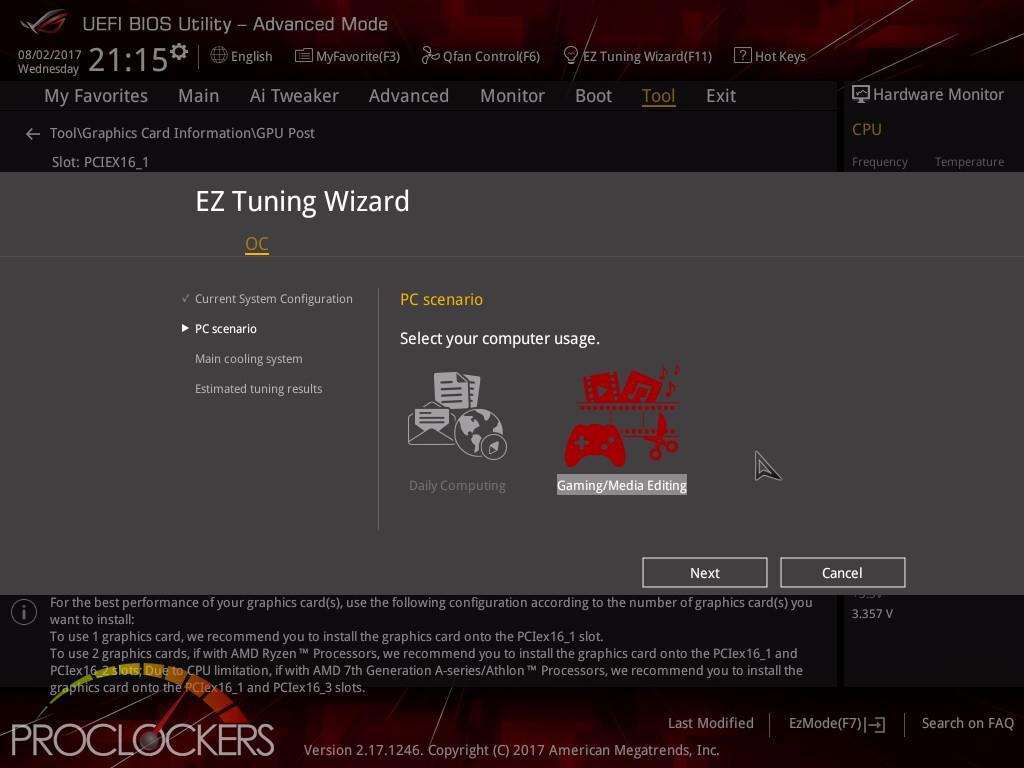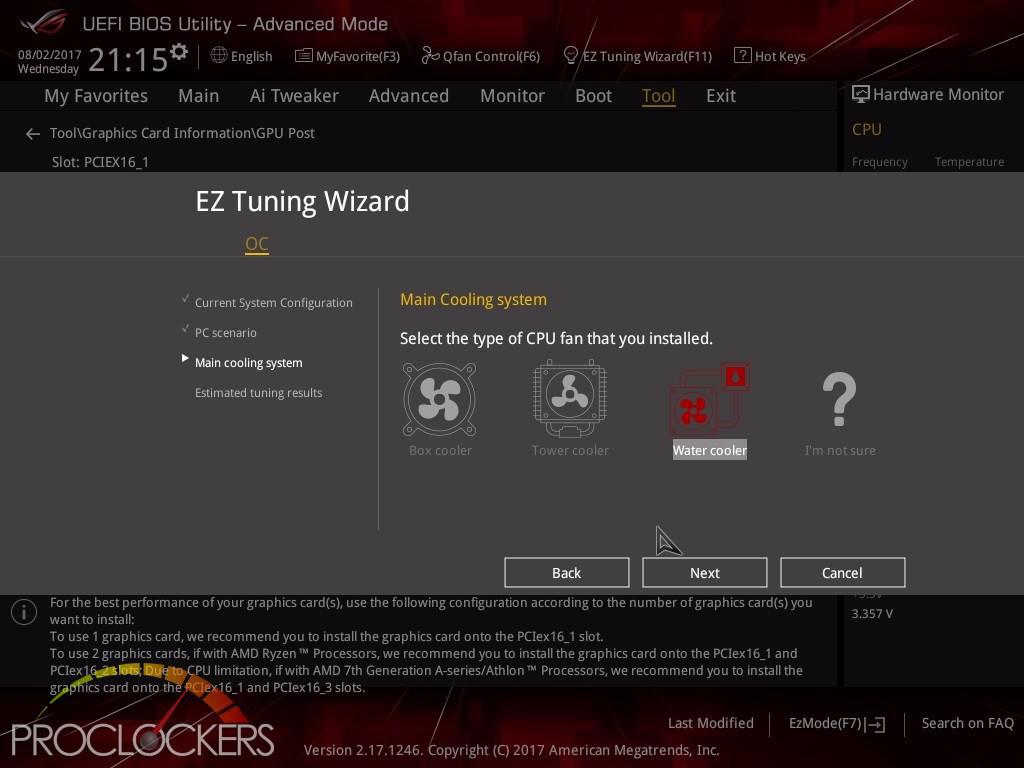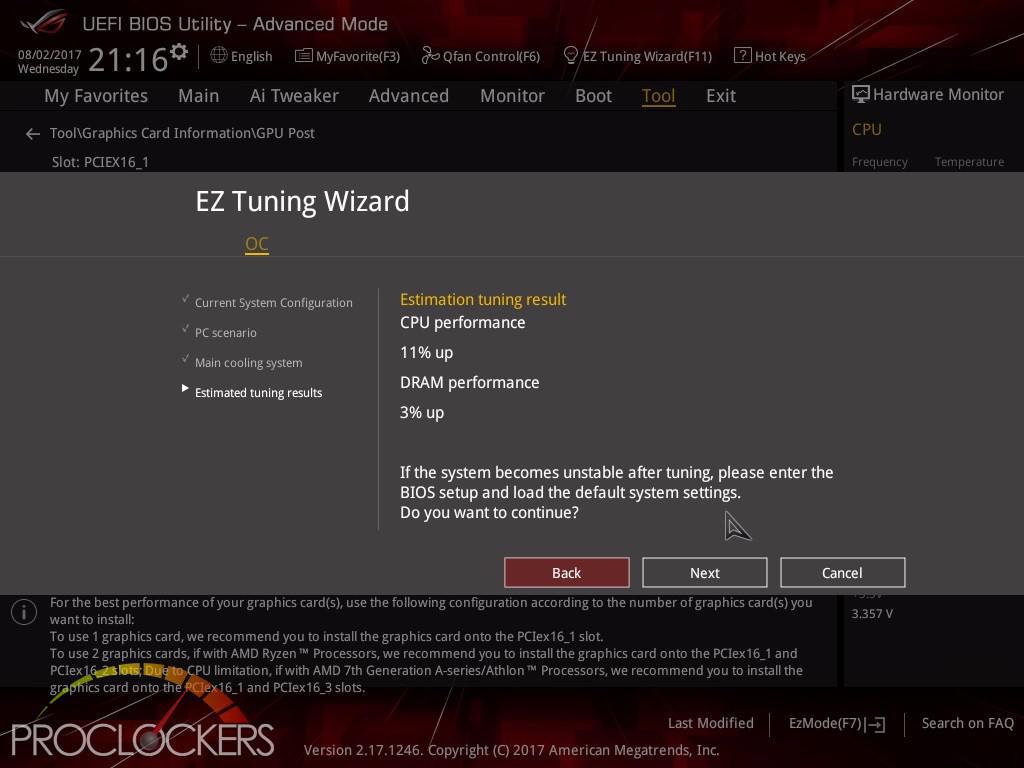 ASUS's EX Tuning Wizard will ask you some basic questions about your system and then proceeded to overclock and tune the system within reasonable limits for that configuration. If tinkering with voltages, clocks, multipliers and the other myriad of settings isn't your thing, but you still want to get the best performance you can get, you are quite literally a few mouse clicks away from a free performance upgrade here.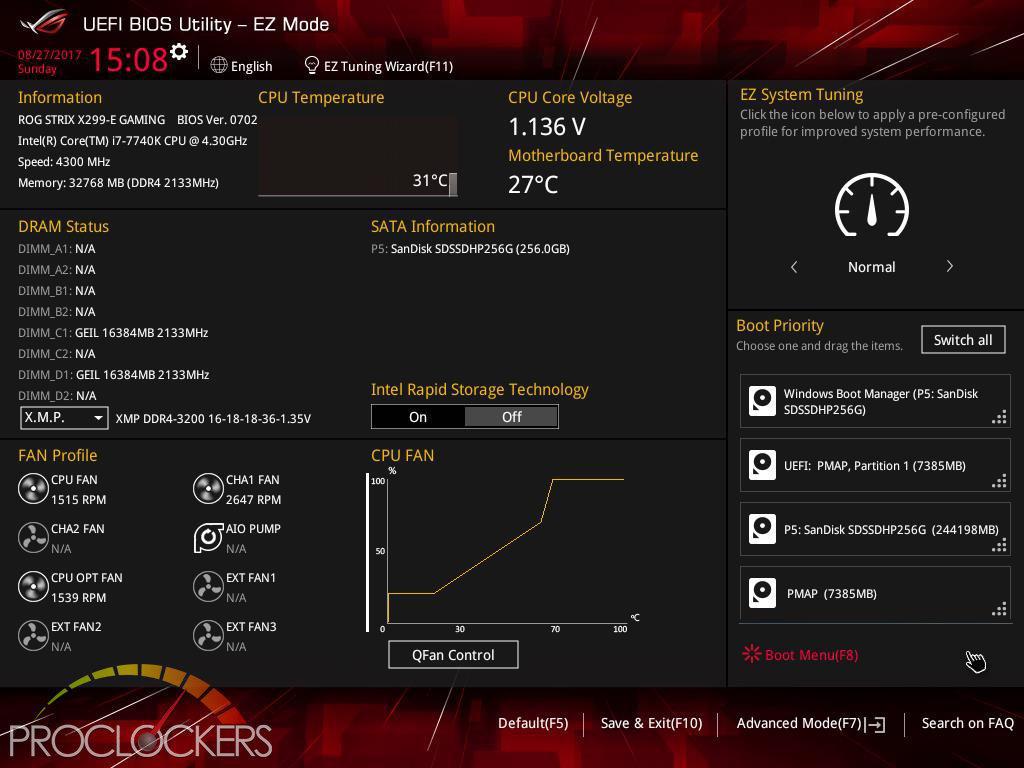 Last but certainly not least is EzMode. Pressing F7 will bring you to this single page that has everything you need unless you just really love to tinker with all the nuts and bolts behind the scenes.
Software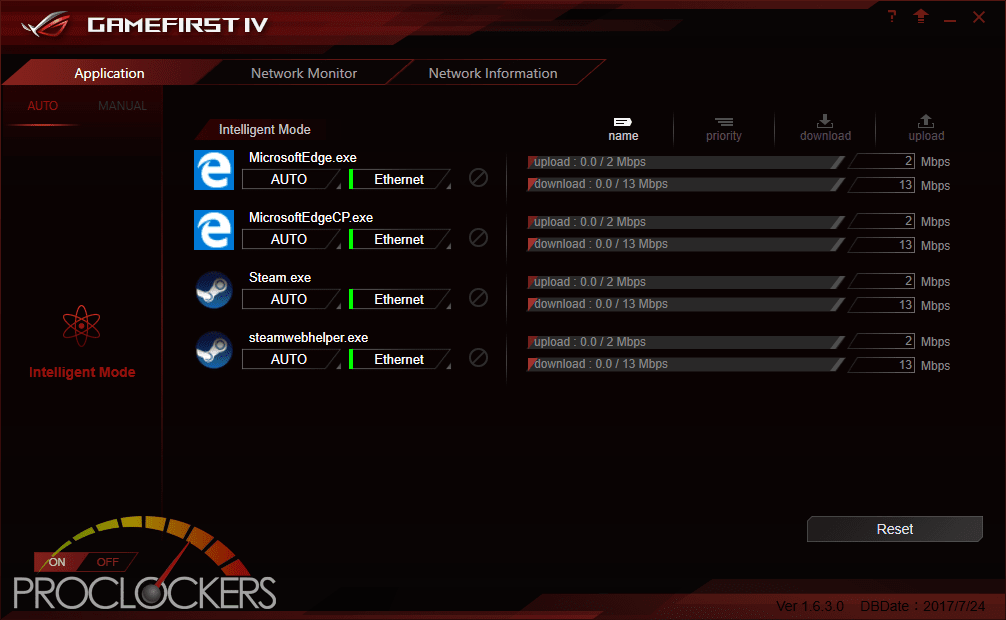 The Rear I/O Area lighting, the center ROG logo as well as both analog RGB, and Digital RGB headers are controlled by ASUS's AURA software on the X299-E. There are quite a few effects to choose from, both static and dynamic, but our favorite was the Flash and Dance, as well as the Temperature mode.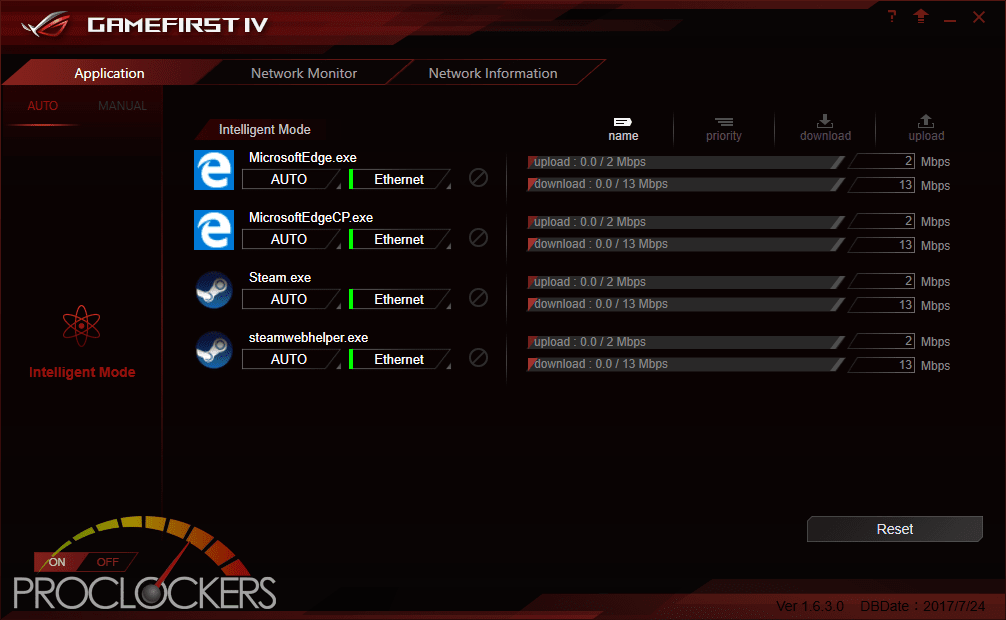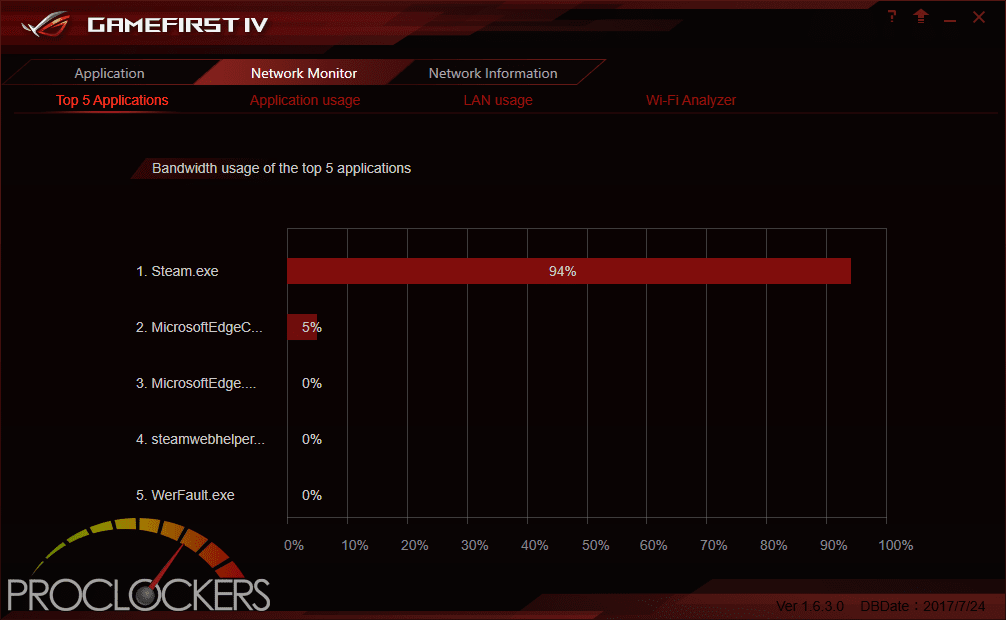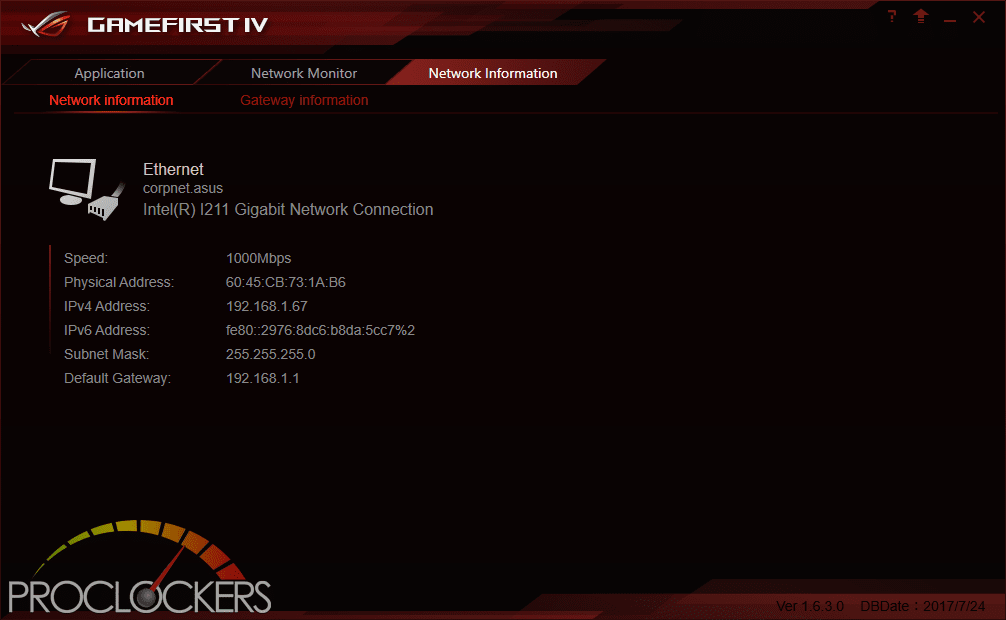 The GameFirst IV Application allows you to Monitor and control all traffic over the Intel Gigabit Lan connection, as well as see statistics and vital information. By Default, the application runs in intelligent mode and will prioritize Traffic based on its purpose, but you can switch to Manual mode and take over full control. You can see here while browsing the web and installing games on Steam for benchmarking where most of the bandwidth is being used.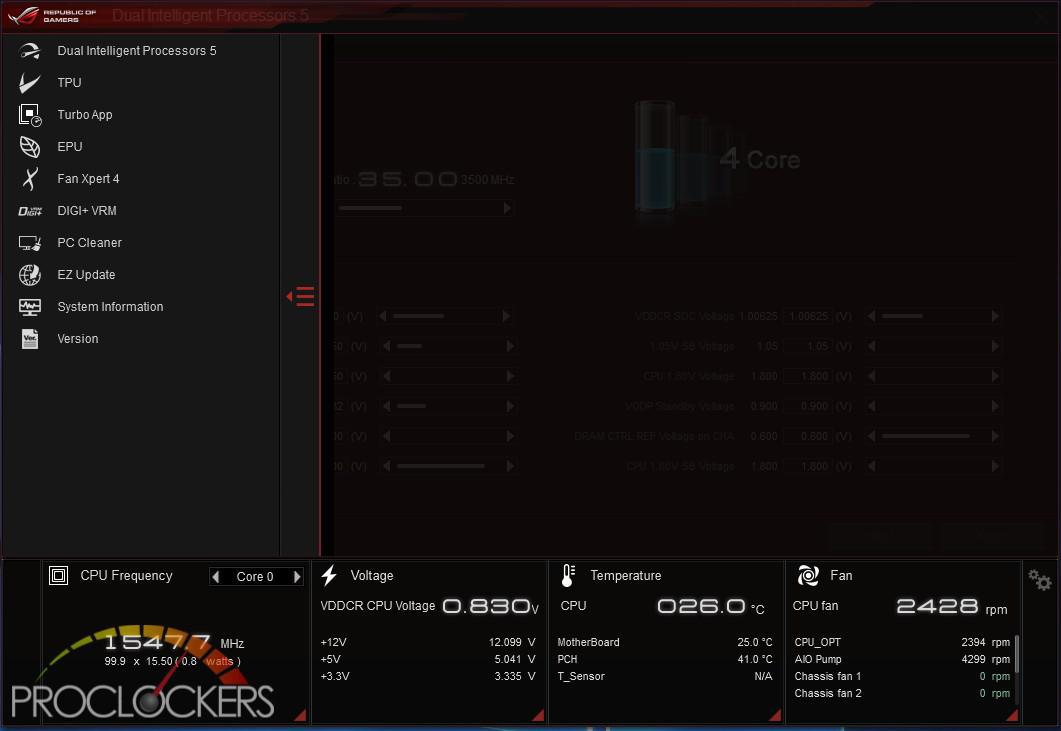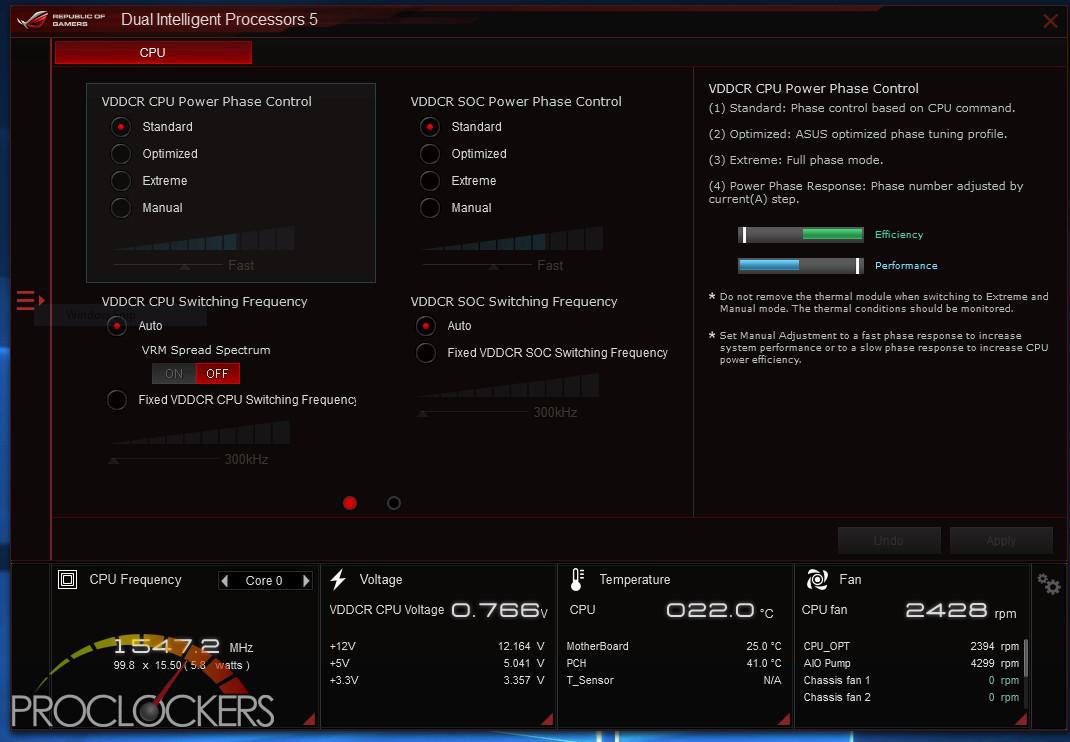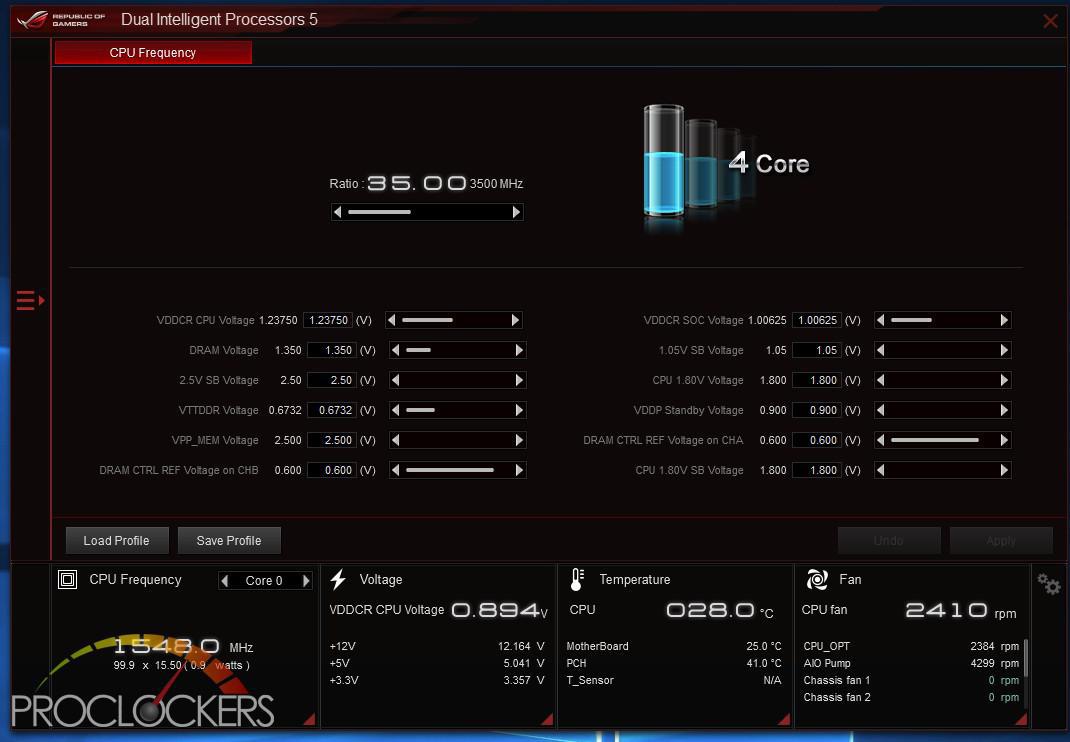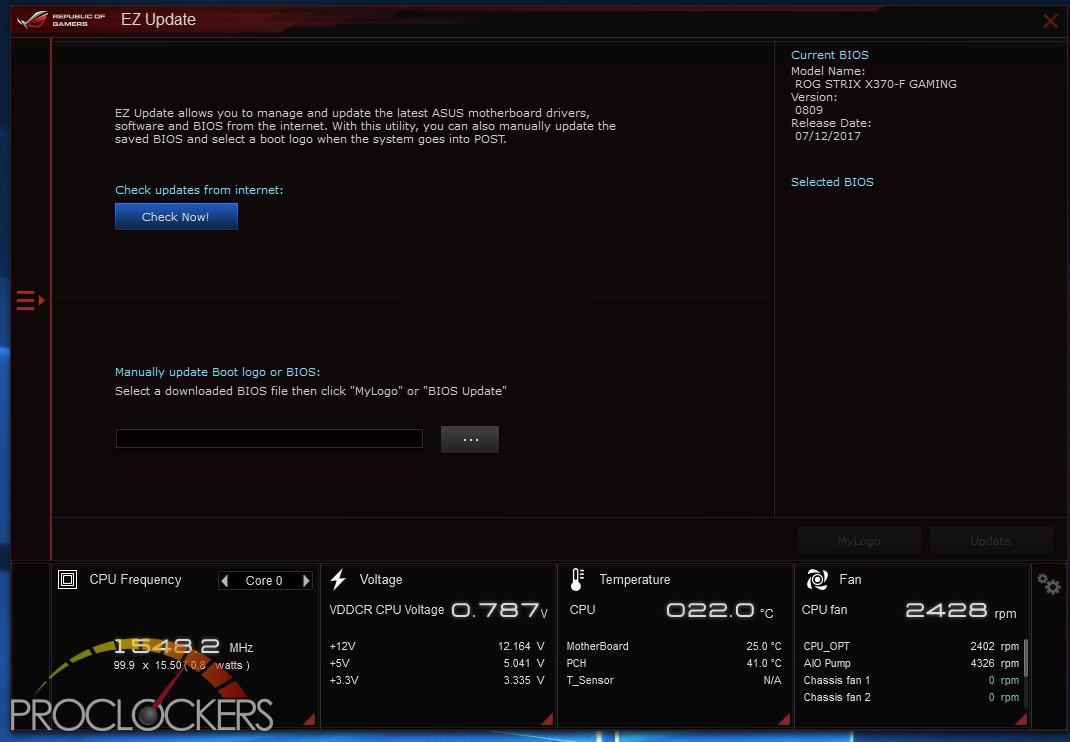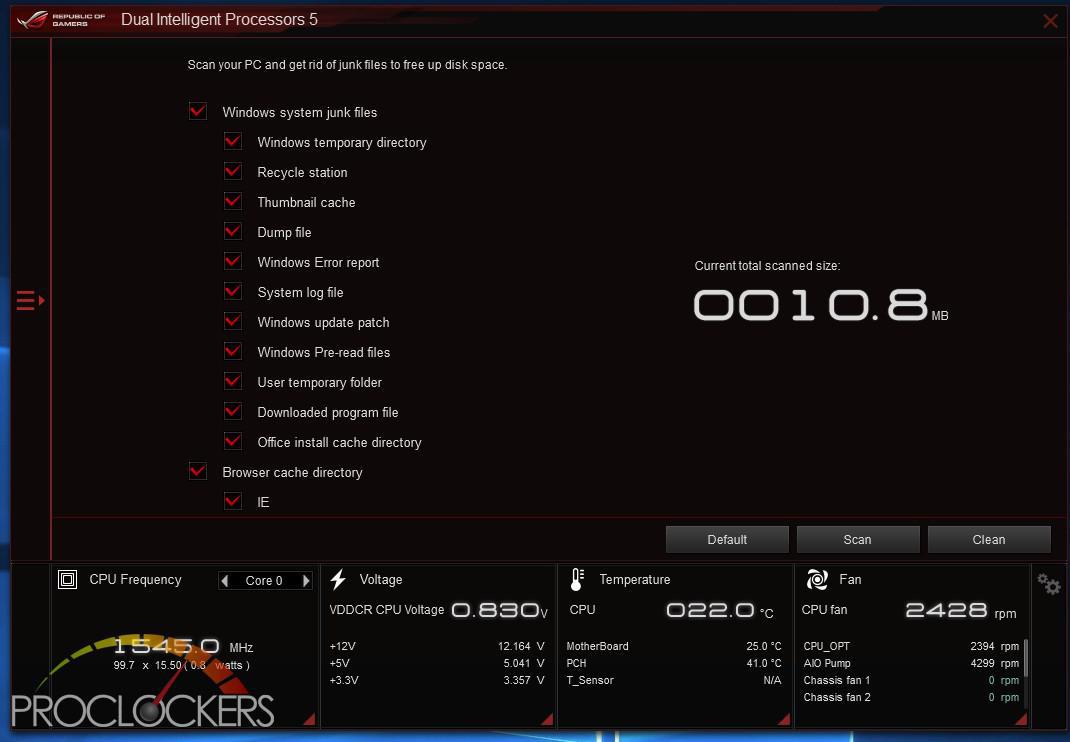 ASUS's Dual Intelligent Processors 5 application is a powerhouse and one you don't want to miss. Anything related to optimizing performance can be found here, from switching profiles to Auto overclocking to manual overclocking and changing voltages and fan settings is here. You can even clean out temp and other unneeded files in a few clicks all from one application.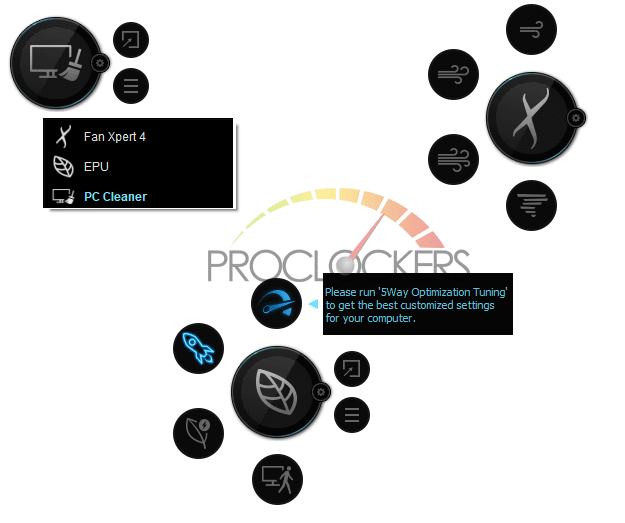 This application also runs similar to a desktop widget, gives you quick access to cooling, performance profiles and PC Cleaner without opening the full application.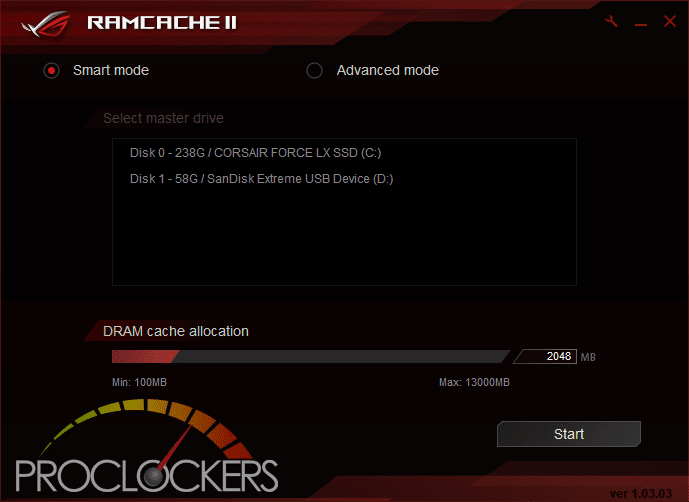 ASUS's RAMCACHE II carves off a user selectable portion of system memory to speed up Disk transfers. Even if you have the fastest NVMe drive out there, using your ram as a cache can speed it up significantly.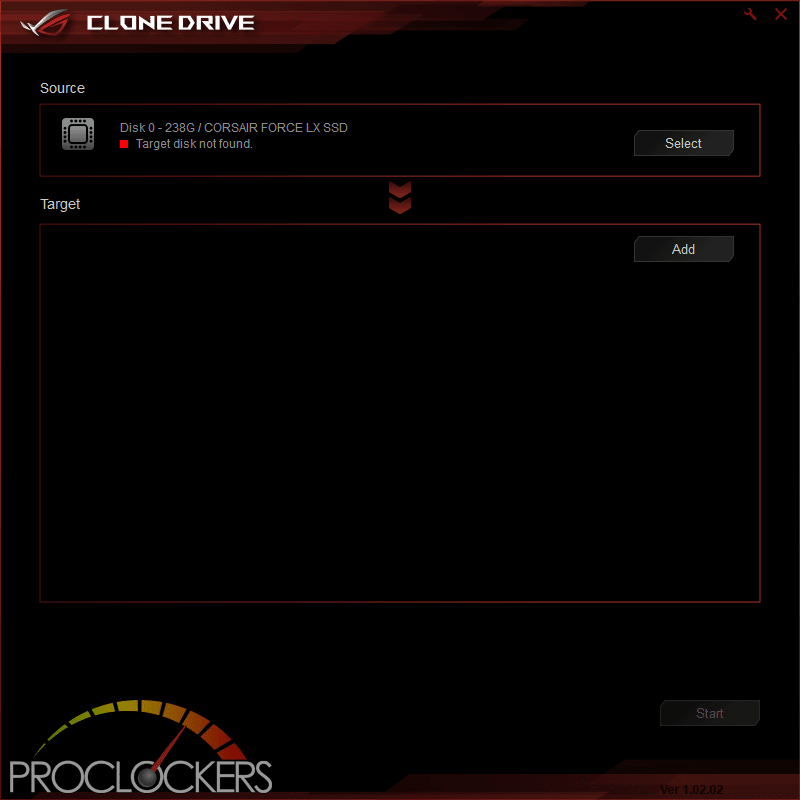 Clone Drive does exactly what the name implies. If you need to migrate to a new larger or faster SSD down the road, simply cone it over and away you go. It does work for data drives as well, not just your OS drive.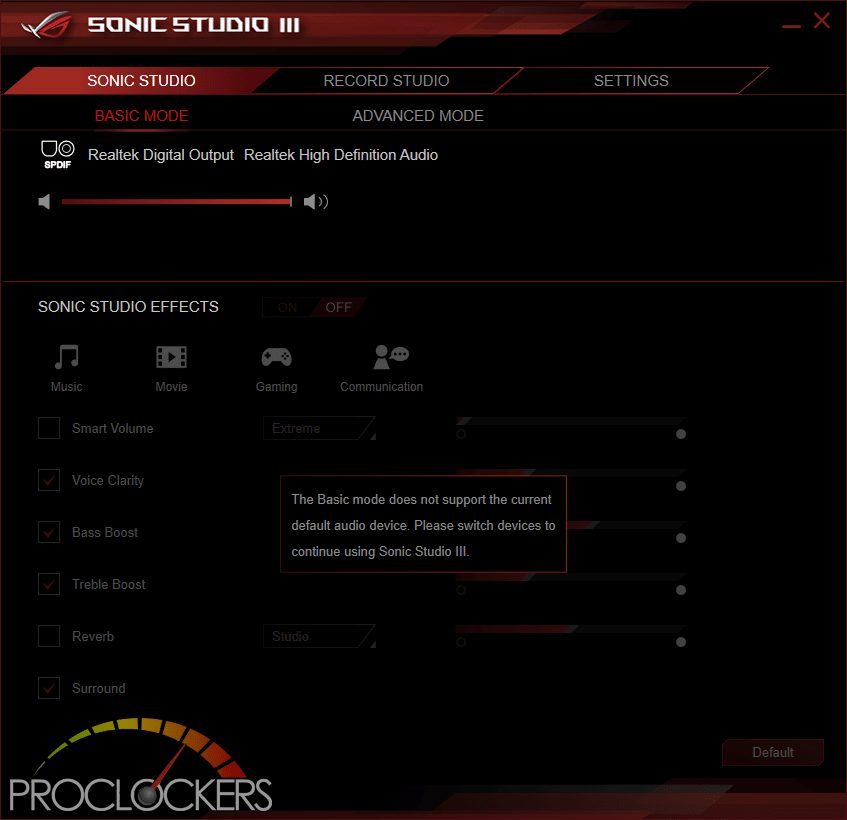 Sonic Studio lets you really flex the SupremeFX's audio muscles for the best and clearest sounds in all conditions, from movies to music to intense gaming sessions.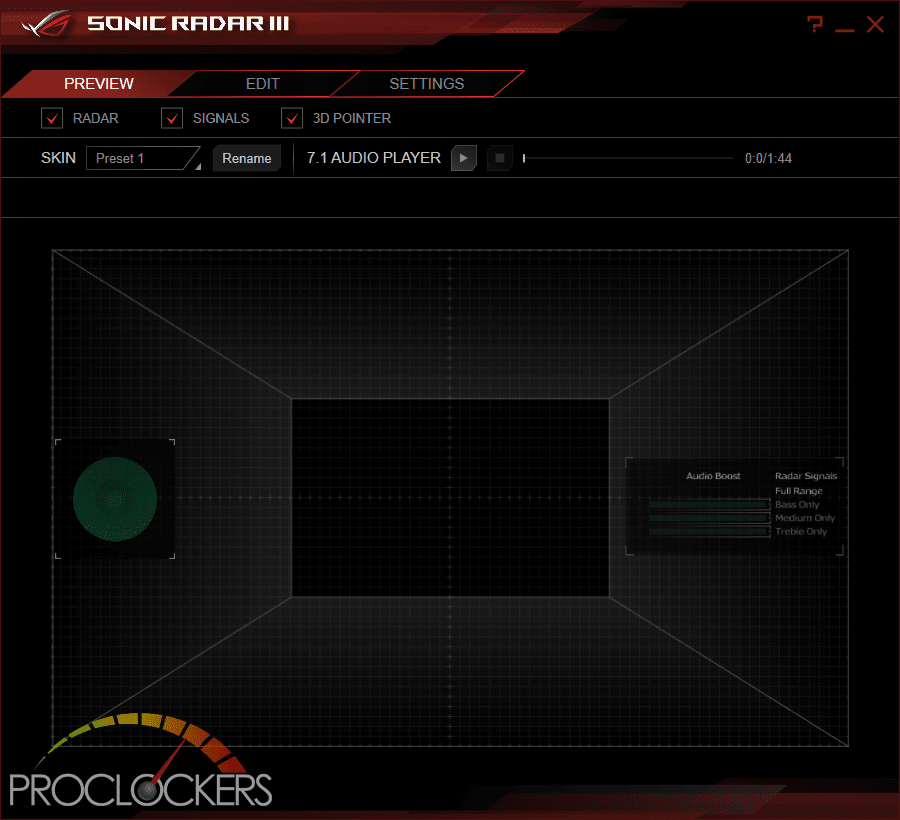 Speaking of audio and gaming, Sonic Radar III will grab audio cues from your favorite games and use them to provide an accurate directional position of threats on an onscreen radar type overlay. It might not distinguish between friend or foe, but neither one of them will be sneaking up on you anymore.
Performance Testing
General Performance Testing
All benchmarks are run using stock settings on the i7-7820X CPU, which leaves Turbo Boost 3.0 enabled for some automatic boosting. We noticed it frequently running as high as 4.3 GHz under light to moderate loads, and 3.8-4.0Ghz under moderate to heavy loads. The ram was manually clocked to its XMP rating of 3200 MHz @ 14-16-16-39 speeds to avoid applying any automatic overclocks.
Games where ran at a resolution of 1920 x 1080 and higher settings enabled.
PCMark 8
"Use the PCMark 8 Storage benchmark to test the performance of SSDs, HDDs and hybrid drives with traces recorded from Adobe Creative Suite, Microsoft Office and a selection of popular games. You can test the system drive or any other recognized storage device, including local external drives. Unlike synthetic storage tests, the PCMark 8 Storage benchmark highlights real-world performance differences between storage devices."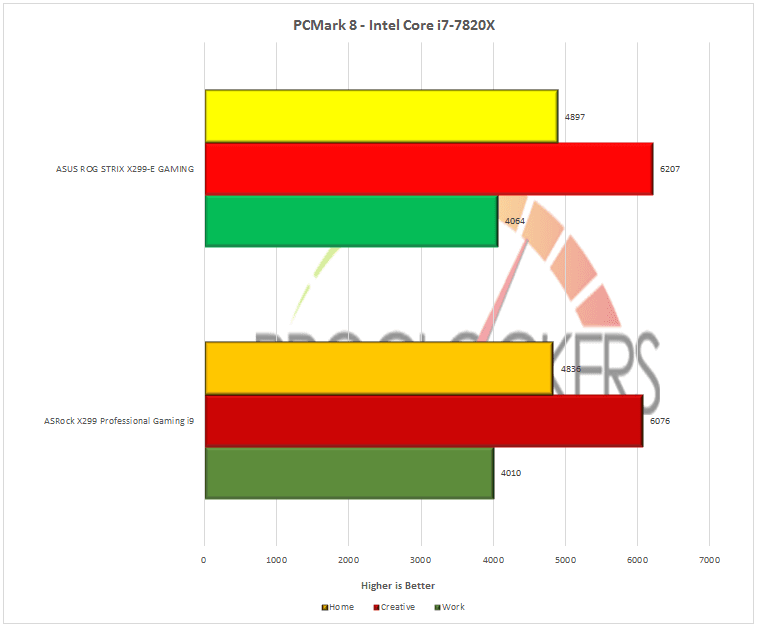 Paired with great hardware, we get great results. Here, the ROG STRIX X299-E just edges out an identically equipped machine
Super PI Modded 1.5
"In August 1995, the calculation of pi up to 4,294,960,000 decimal digits was succeeded by using a supercomputer at the University of Tokyo. The program was written by D.Takahashi in collaboration with Dr.Y.Kanada at the computer center. This record should be the current world record. (Details are shown in the windows help.) This record-breaking program was ported to personal computer environments such as Windows NT and Windows 95. In order to calculate 33.55 million digits, it takes within 3 days with a Pentium 90 MHz, 40 MB main memory and 340 MB available storage."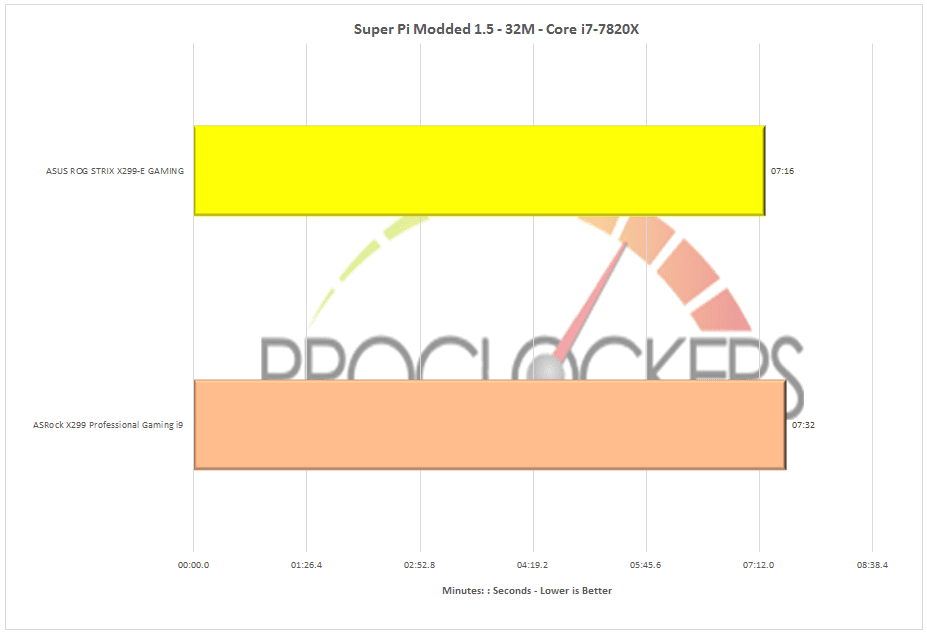 Here we see a notable decrease in benchmark time. Likely this stems from the BIOS and clock enhancements ASUS has done that keep our i7-7820X running a faster clock speed while under minimal load.
Fritz Chess
Fritz Chess is a benchmark in which a fictitious game of chess is played. As each move has to be calculated by the computer, it is an excellent test of CPU muscle.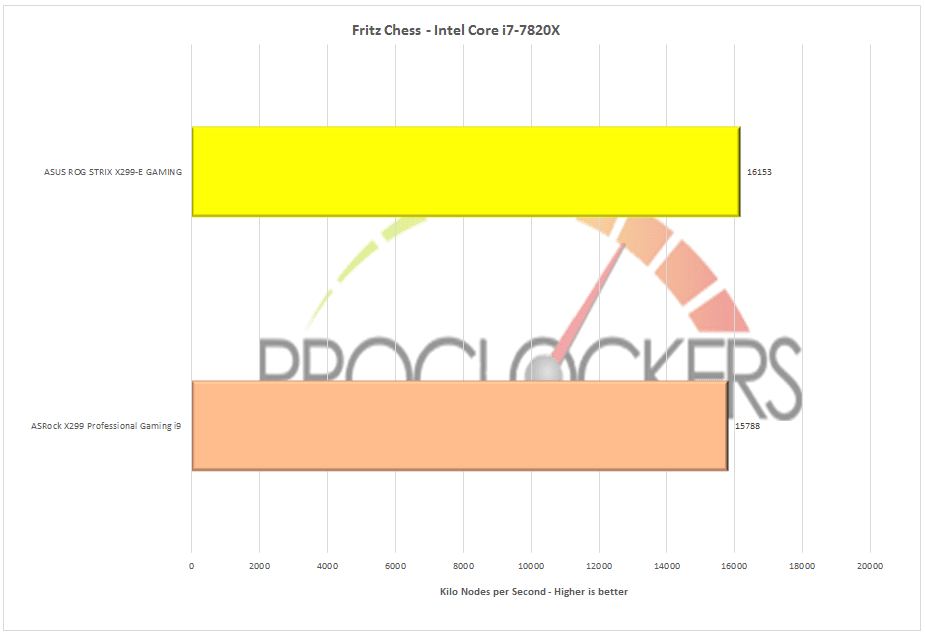 Again, slightly stronger performance out of the X299-E!
CINEBENCH R15
"CINEBENCH is a real-world cross platform test suite that evaluates your computer's performance capabilities. CINEBENCH is based on MAXON's award-winning animation software CINEMA 4D, which is used extensively by studios and production houses worldwide for 3D content creation. MAXON software has been used in blockbuster movies such as Iron Man 3, Oblivion, Life of Pi or Prometheus and much more.
CINEBENCH is the perfect tool to compare CPU and graphics performance across various systems and platforms (Windows and OS X). And best of all: It's completely free."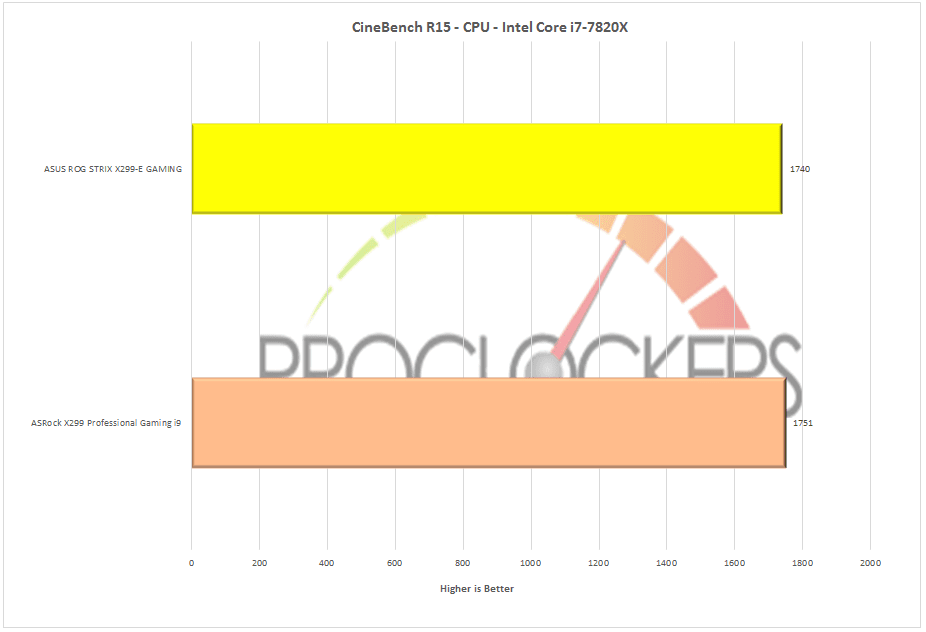 Another strong score, and within the margin of error of another similar system.
7-Zip
The benchmark shows a rating in MIPS (million instructions per second). The rating value is calculated from the measured speed, and it is normalized with results of Intel Core 2 CPU with multi-threading option switched off. So if you have modern CPU from Intel or AMD, rating values in single-thread mode must be close to real CPU frequency. There are two tests, compression with LZMA method and decompression with LZMA method. Once the total passes reaches 100, the score is taken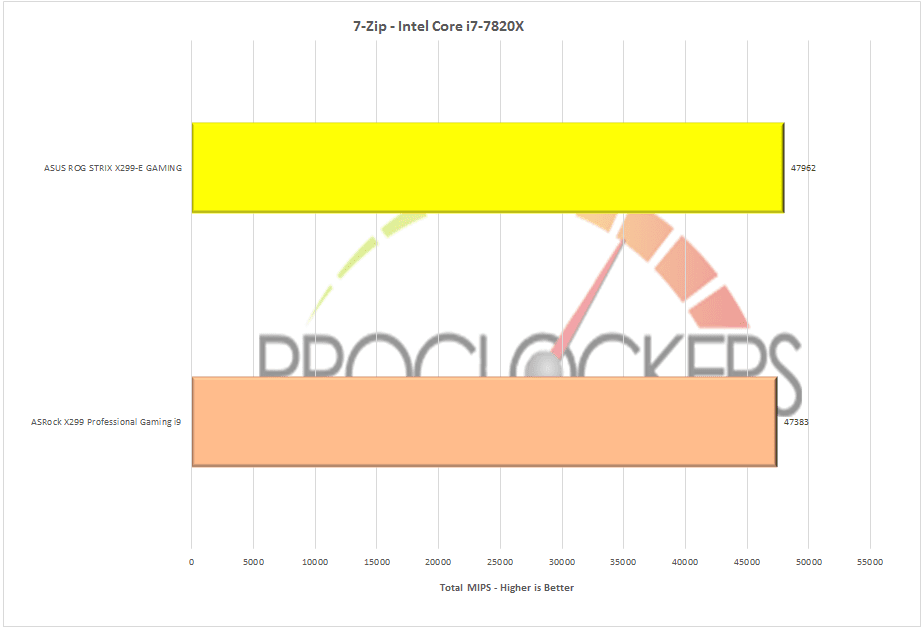 Roughly 600 MIPS more is nothing to sneeze at here.
Memory Performance Testing
AIDA64 Engineer Edition
"FinalWire Ltd. today announced the immediate availability of AIDA64 Extreme Edition 1.50 software, a streamlined diagnostic and benchmarking tool for home users; and the immediate availability of AIDA64 Business Edition 1.50 software, an essential network management solution for small and medium scale enterprises. The new AIDA64 update implements AVX-optimized benchmarks for the upcoming Intel Sandy Bridge processors, adds a brand new video encoding benchmark, and supports the latest AMD and nVIDIA graphics processors."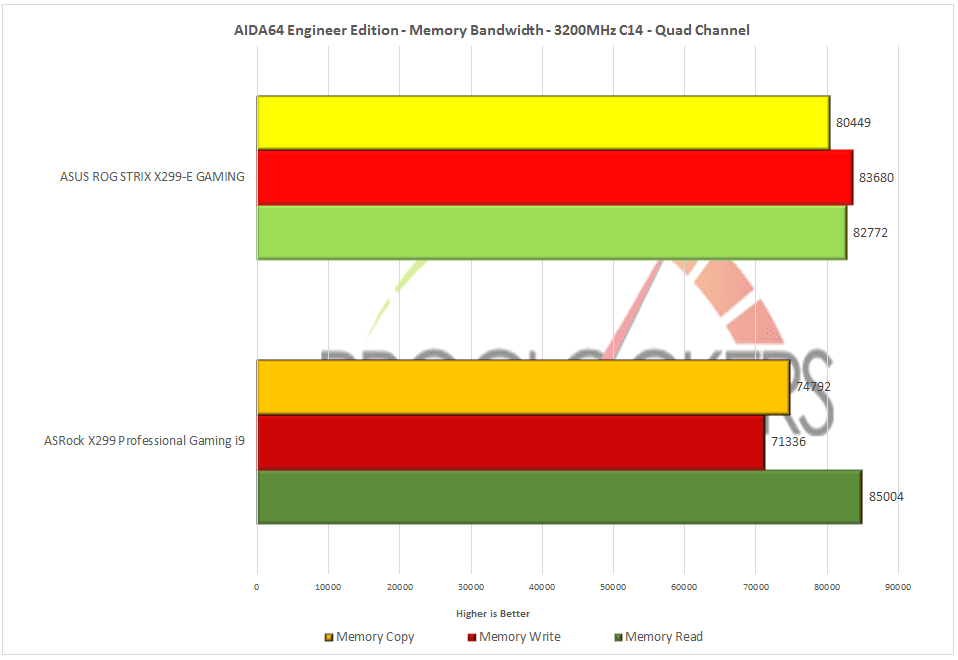 Compared to another nearly identical system, we see a slightly lower read bandwidth, but much-improved write and copy performance.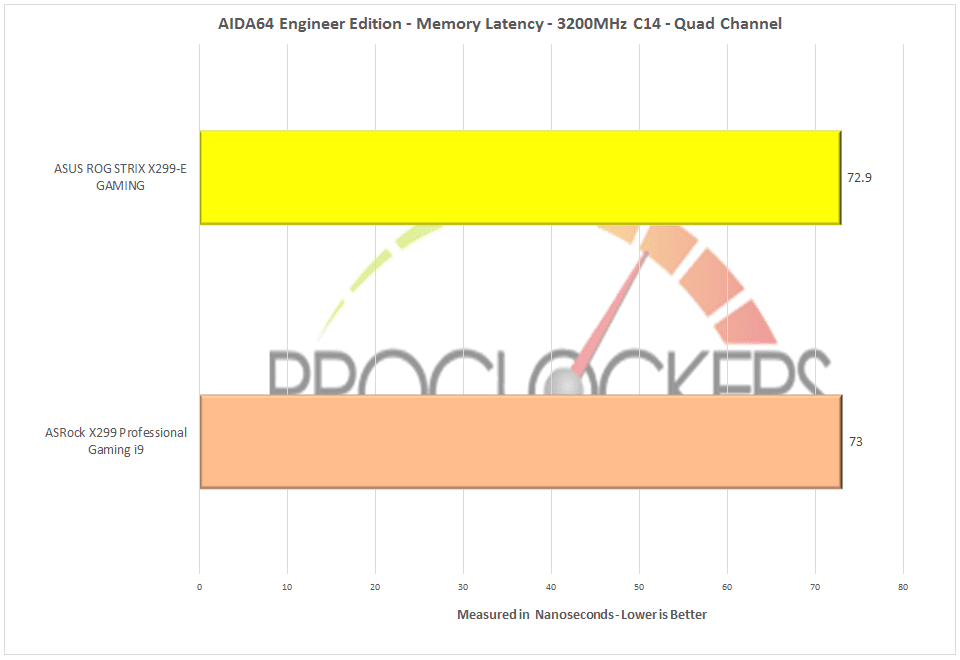 We also see a 0.1ns faster latency.
Passmark Performance Test – Memory Mark – Threaded
"Fast, easy to use, PC speed testing and benchmarking. PassMark PerformanceTest ™ allows you to objectively benchmark a PC using a variety of different speed tests and compare the results to other computers."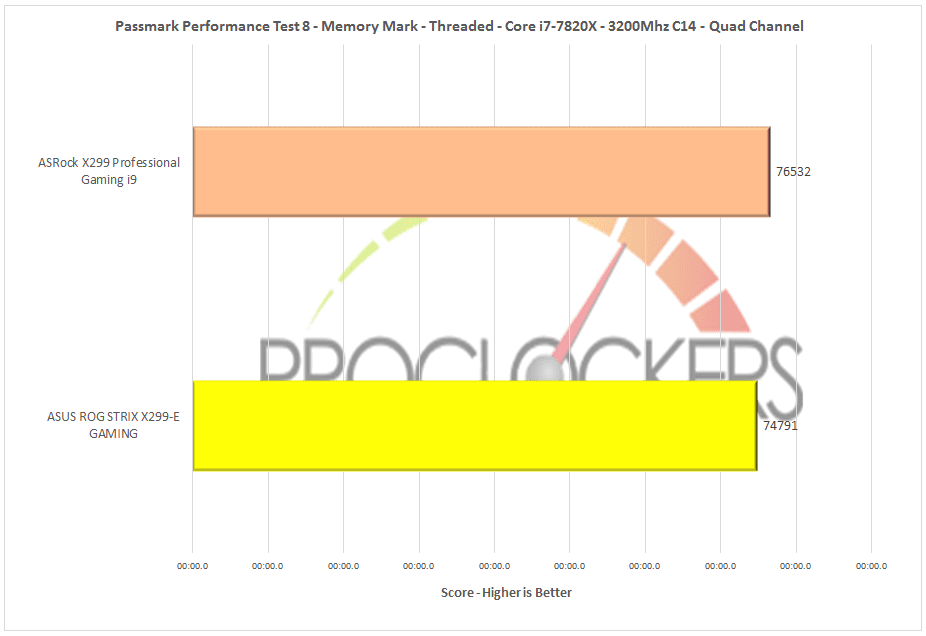 The STRIX X299-E didn't score quite as well in this memory benchmark but still turned in great results.
SiSoft Sandra
"SiSoftware Sandra provides a robust package of diagnostic tools for testing your system and teasing out its problems–or potential headaches."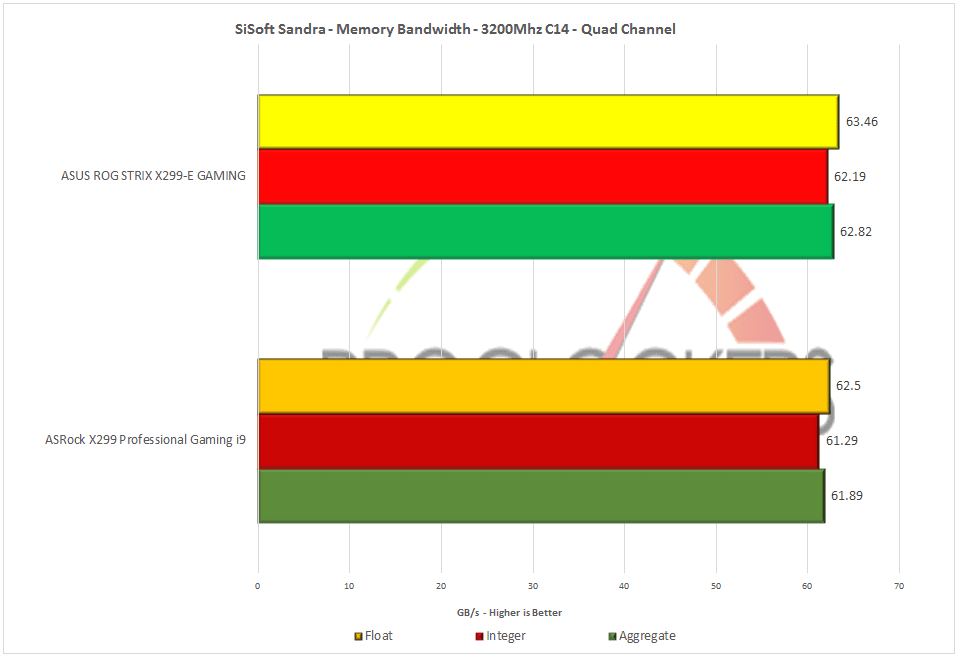 There we go, back to leading the pack again, leading the other system by about a full Gigabyte per second across the board
Storage Testing
ATTO Disk Benchmark
"As the industry's leading provider of high-performance storage & network connectivity products, ATTO has created a widely-accepted Disk Benchmark freeware utility to help measure storage system performance. As one of the top tools utilized in the industry, Disk Benchmark identifies performance in hard drives, solid state drives, RAID arrays as well as connections to storage. Top drive manufacturers, like Hitachi, build and test every drive using the ATTO Disk Benchmark"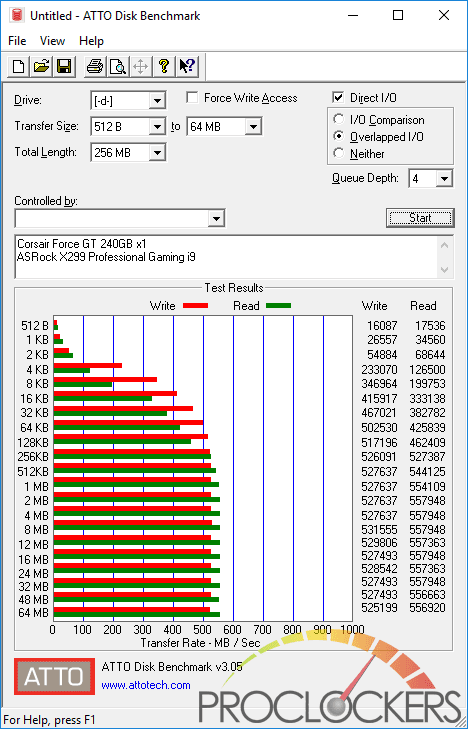 ATTO shows up that a single SATA Drive has no issues or bottle necks. We will go ahead and try to RAID multiple SSD's together and see if we can find any bottlenecks.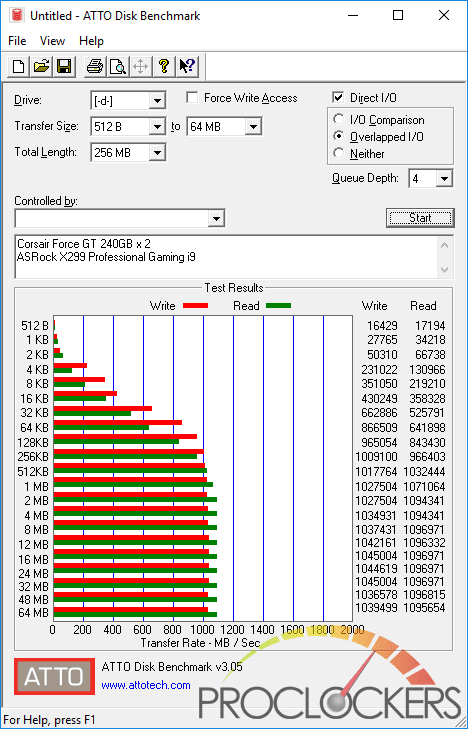 2x Drives – Good scaling so far.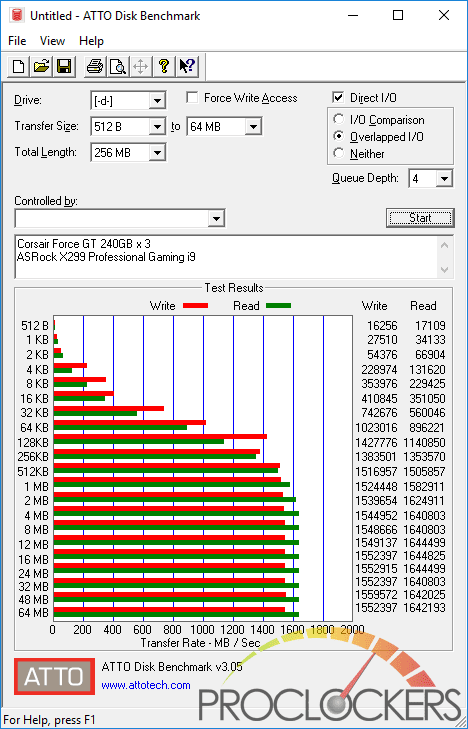 3x Drives – still perfect scaling.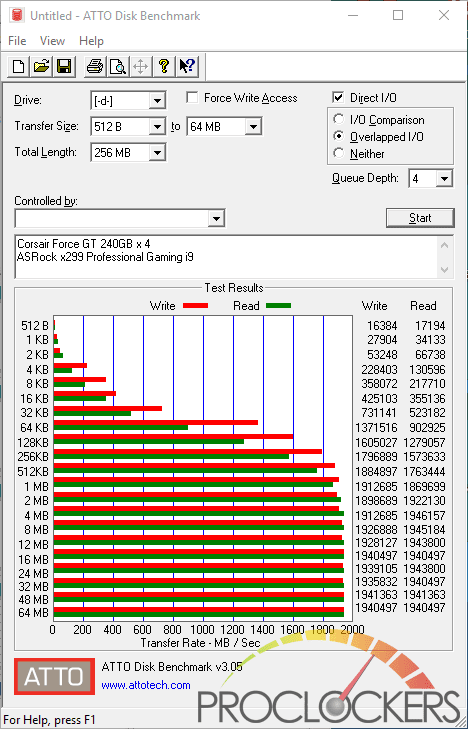 And 4x Drives. We still see perfect scaling here. Intel's latest 200 series chipsets can hit right at the 2GB/s mark with 4 drives which is indicating a bit of a bottleneck, the X370 Chipset on this STRIX X370-F exhibits perfect scaling on 4 drives with nearly 2.2GB/s.
CrystalDiskMark 3.0
"CrystalDiskMark is designed to quickly test the performance of your hard drives. Currently, the program allows measuring sequential and random read/write speeds."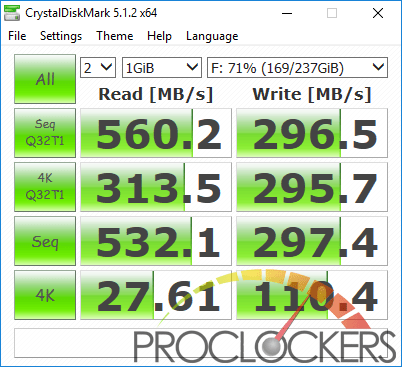 Measuring our OS Drive in AHCI mode, the Corsair Force LX we see exactly what the manufacturers' specifications show it should be.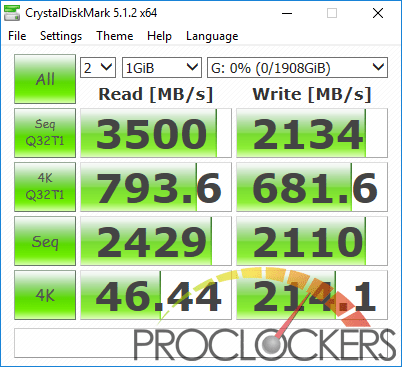 A Samsung 960 Pro 2TB M.2 SSD shows full performance in the STRIX X299's vertical M.2 port.
AS SSD
"Test the sequential or random read/write performance without using the cache. AS SSD Benchmark reads/writes a 1 GByte file as well as randomly chosen 4K blocks. Additionally, it performs the tests using 1 or 64 threads and it determines the SSD's access time.
Two extra benchmark tests examine the drive's behavior when (1) copying a few big files, a lot of small files and a mixture of file sizes by using cached copy functions of your OS as well as (2) reading/writing data depending on the data's compressibility."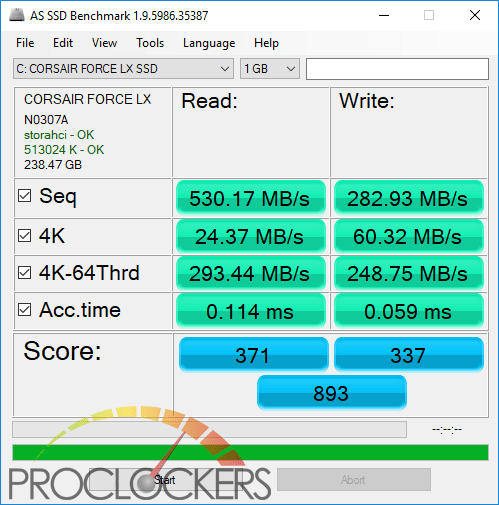 AS SSD shows the same as Crystal Disk Mark for our OS drive.
Game Testing
3DMark – Fire Strike
"Fire Strike is a showcase DirectX 11 benchmark designed for today's high-performance gaming PCs. It is our most ambitious and technical benchmark ever, featuring real-time graphics rendered with detail and complexity far beyond what is found in other benchmarks and games today"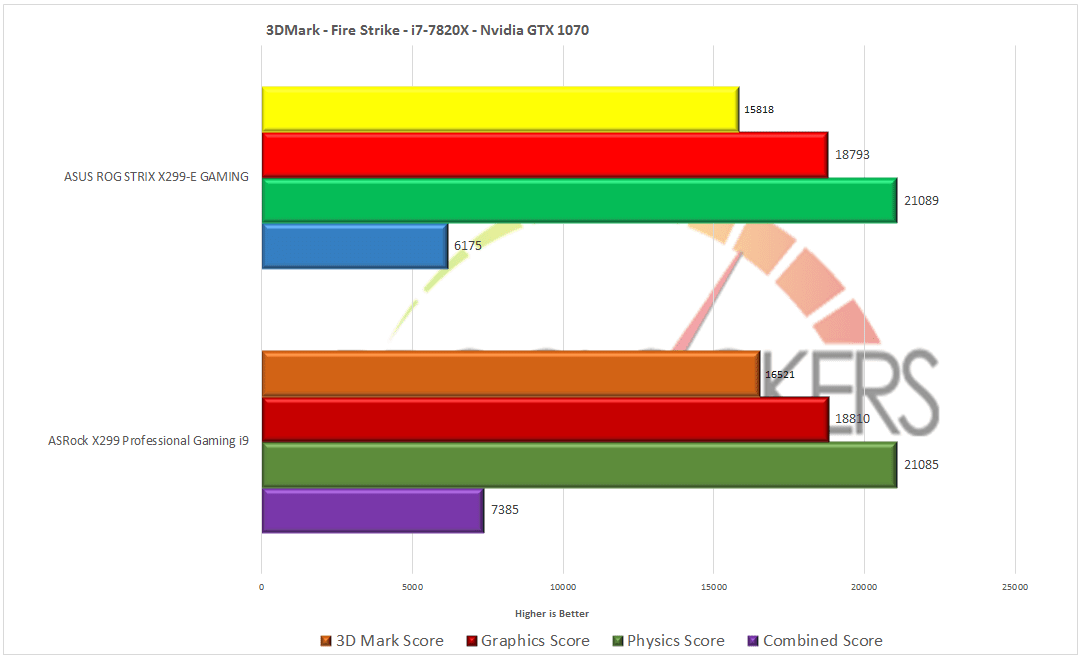 Strong gaming performance, but we see a slight hit to our combined score for some reason, which does show an impact to our overall score.
3DMark – Time Spy
"3Dmark Time Spy is a new DirectX 12 benchmark test for Windows 10 gaming PCs. Time Spay is one of the first DirectX 12 apps to be built "the right way" from the ground up to fully realize the performance gains that the new API offers. With DirectX 12 engine, which supports new API features like asynchronous compute, explicit multi-adapter, and multithreading, Time Spy is the ideal test for benchmarking the latest graphics cards."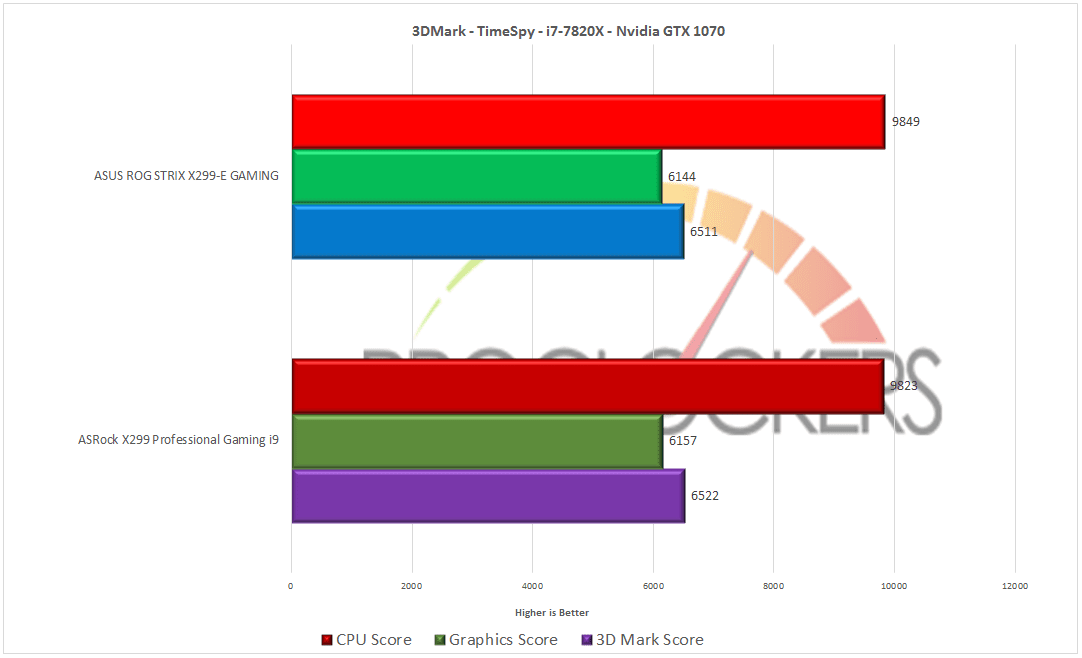 The scores nearly line up here.
Grand Theft Auto: V
"When a young street hustler, a retired bank robber, and a terrifying psychopath find themselves entangled with some of the most frightening and deranged elements of the criminal underworld, the U.S. government and the entertainment industry, they must pull off a series of dangerous heists to survive in a ruthless city in which they can trust nobody, least of all each other."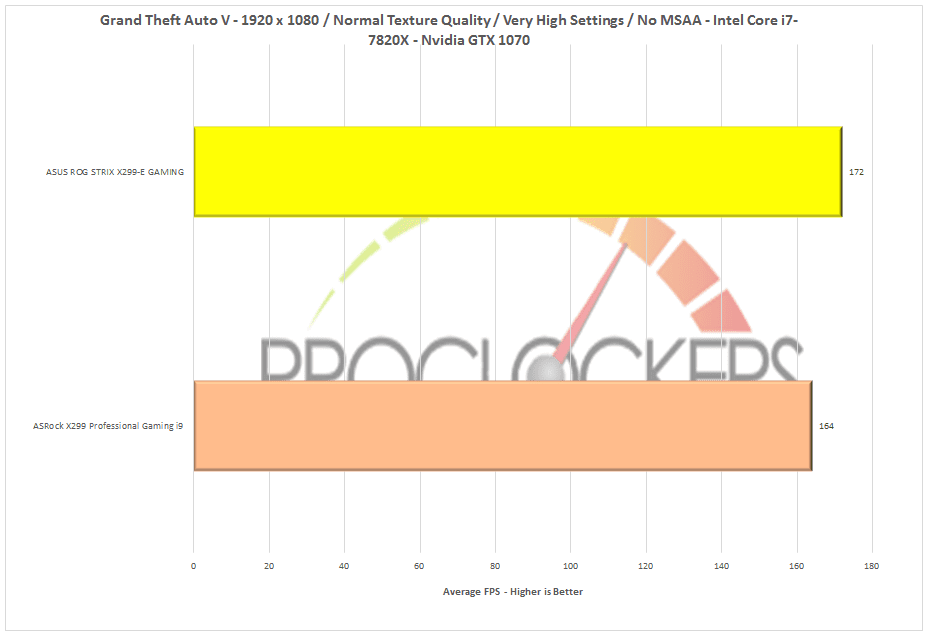 In simulated game play, we see a strong level of performance
Metro: Last Light
"It Is the Year 2034. Beneath the ruins of post-apocalyptic Moscow, in the tunnels of the Metro, the remnants of mankind are besieged by deadly threats from outside – and within. Mutants stalk the catacombs beneath the desolate surface, and hunt a midst the poisoned skies above."
Developed by 4A Games and published by Deepsilver, Metro: Last Light uses the 4A game engine. At its highest settings, the 4A game engine is capable of bringing all but the most extreme gaming systems to their knees.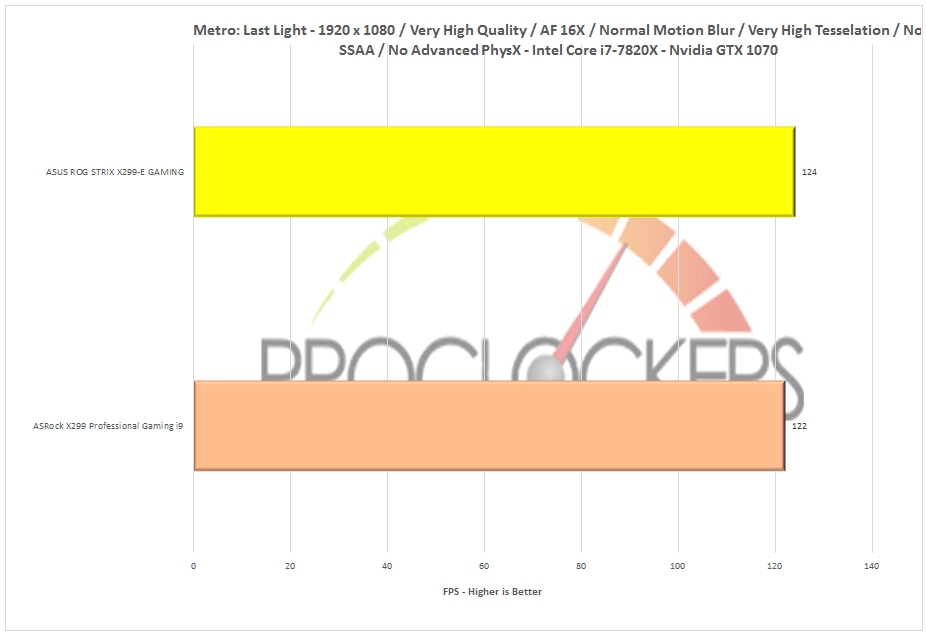 Another strong gaming score, this board seems to live up to its purpose in life.
Overclocking

Using ASUS's automatic system optimization built into the Dual Intelligent Processors 5 suite required a few mouse clicks, and 2 reboots.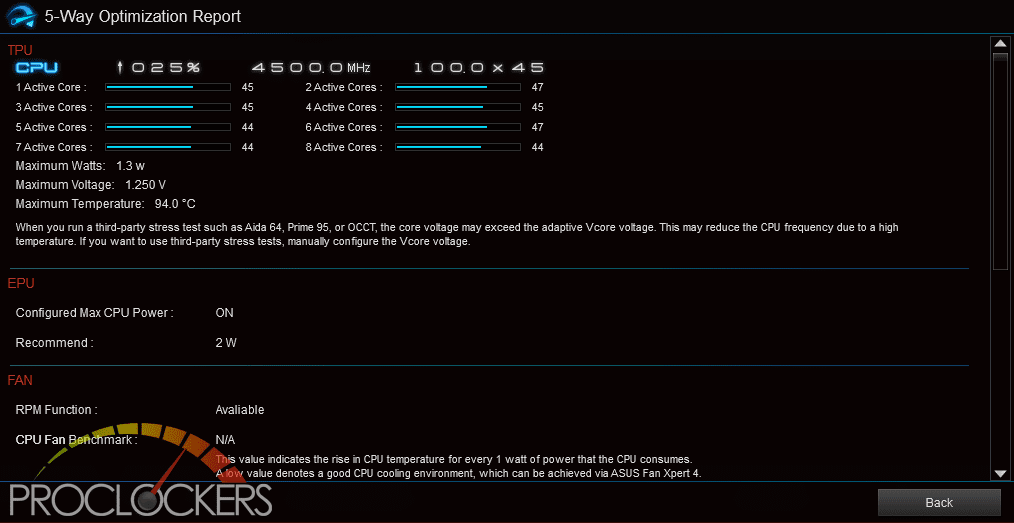 After a reboot, the system steps through frequency multipliers and runs some small stability tests before moving on. At one point, the system stopped responding and rebooted. After it finished the last reboot after its run of about 3 minutes, we were given up to 4.70 GHz with 2 cores active, and also oddly enough, also with 6 cores active. This proved stable through several benchmarks, but we found it strange it didn't come up with linear scaling like we expected. Apparently, ASUS's overclocking system knows what it's doing though.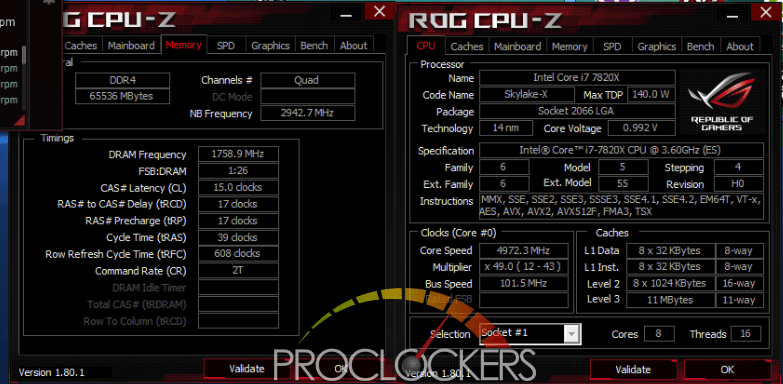 After getting into the bios and resetting everything to default, we manually overclocked our CPU. Several reboots and tests later, we settled on a spectacular 4.97 GHz across all 8 cores, at 1.38V. we also overclocked out 3200Mhz ram to a hair over 3500Mhz.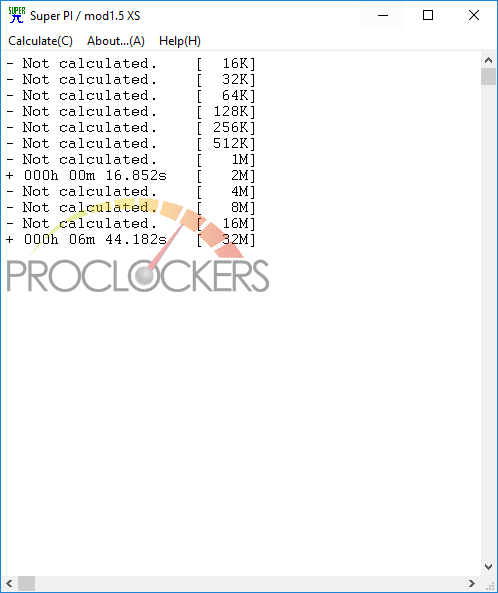 This speed took our SuperPi Mod1.5 time from 7 minutes, 16 seconds to 6 minutes, 44 seconds. Not bad at all!
Final Thoughts & Conclusion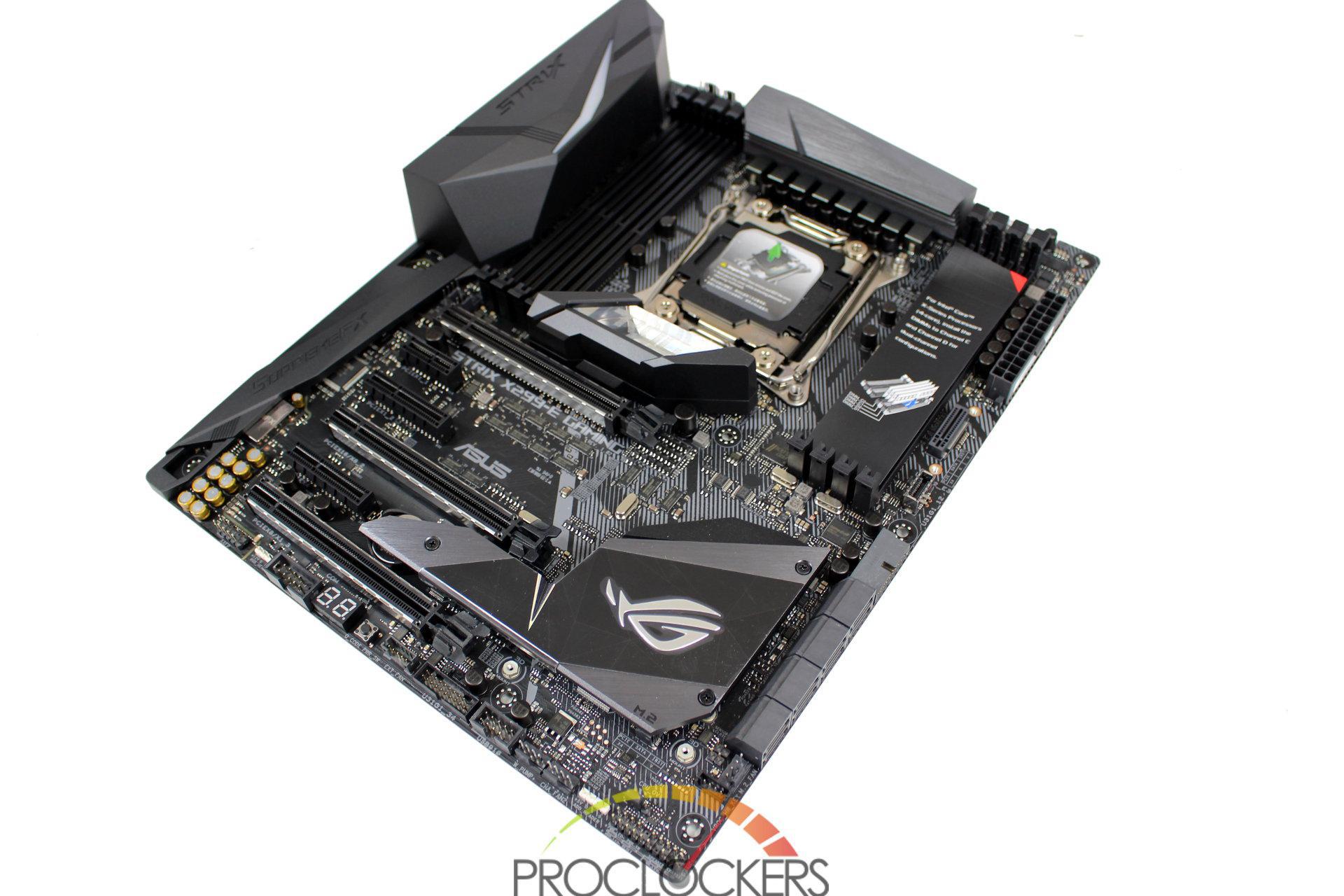 ASUS continues to deliver over and over with its STRIX line of products and the X299-E Gaming is no exception. When pitted against a nearly identical system, I pretty well held 1st place in all of our gaming benchmarks, and most of our system performance benchmarks as well. We were able to achieve the highest stable overclock we've gotten yet with our 8 core i7-7820X across all cores at a bit over 4.9Ghz. As most games are still lightly threaded, being able to push the clock speeds up can make a big difference in your performance, so ASUS is batting 1000 in that category.
Many Gamers also highly value aesthetics in their prized weapon of digital war, and again ASUS has everything covered. The STRIX products all tend to lean on the neutral gray and black color scheme which works for the majority of builds. Some nice onboard RGB accents will be plenty for some, but if you like lights, you can have lights. 2 regular RGB headers and a newer Digital RGB controller make sure you can have the best looking system in your clan.
Reviewing a board can be hard on it as we hammer it benchmark after benchmark, back to back for hours on end. The ROG STRIX X299-E Gaming never missed a beat through any of it, and even handled unstable overclocks like a champ, often letting the benchmark program crash, rather than the dreaded BSOD you get most of the time. With a street price of about $350, this is a hard choice to beat for your new Kaby Lake-X or even Sky Lake-X gaming build and comes highly recommended by us. Great job as usual ASUS!