ASUS Strix B360-F Gaming Intel Motherboard Review
Introduction
Intel's B360 platform is much more affordable than the Z370 flagship, but what are you compromising on for that smaller price tag? Actually, for most users, not much. B360 doesn't support overclocking, CPU or memory, but, and hardware enthusiasts might need to stop reading here, not that many people actually do this. You lose the ability to run more than 1 GPU from the CPU, but again, only a very small portion of the market is affected. What about storage? Well, a trio of M.2 drives are out, as are RAID functions, but everything that matters to the 99% is still there. ASUS is betting that they can still provide a premium experience known to the Strix family without the cost of all the stuff most people don't actually use anyway, are they right? We'll find out!
ProClockers would like to thank ASUS for sending the ROG STRIX B360-F Gaming over to check out!
ASUS's take on the ROG STRIX B360-F Gaming:
The distinctive sleek cuts across the ROG Strix heatsink are now accented with a futuristic cyber-text pattern, fusing multiple gaming cultures to create a unique identity for this generation. But it's not all about arresting looks: the all-new ROG Strix motherboards exude material excellence, with a high-quality metal heatsink that adds a premium touch.
Designed exclusively for 8th generation Intel® Core™ processors to maximize connectivity and speed with dual M.2 and Intel® Optane™ Memory compatibility
ASUS OptiMem improves memory stability and performance by improving trace isolation between PCB layers to maintain signal integrity even at higher frequencies
Fan Xpert 4 with GPU temperature sensing allows for dynamic fan calibration and optimized system cooling while gaming
Unmatched personalization with ASUS exclusive Aura Sync RGB lighting and a 3D-printing friendly mount
Pre-mounted I/O shield ensures streamlined installation and represents ROG's attention to detail and quality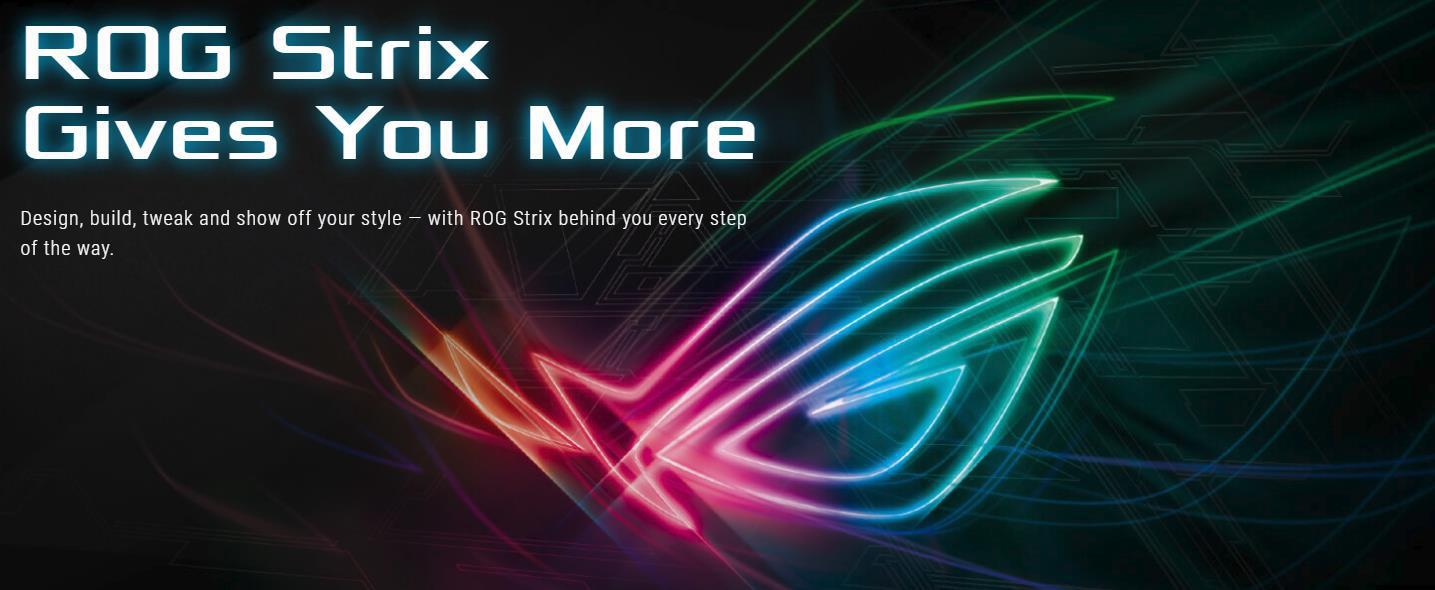 Features & Specifications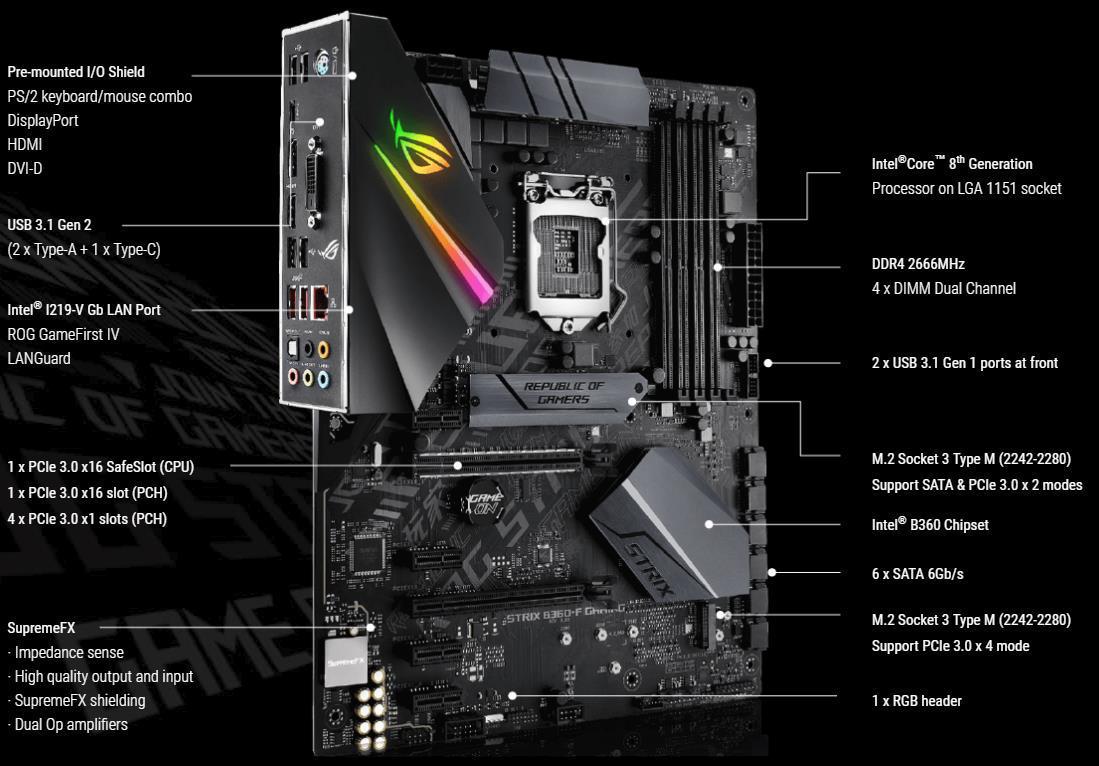 AESTHETIC
Up your aesthetic horizons with a new cyber-text design, 3D-printable parts from fan grills to cable combs, and Aura illumination — to create a personalized gaming with immersion that extends from the inside out.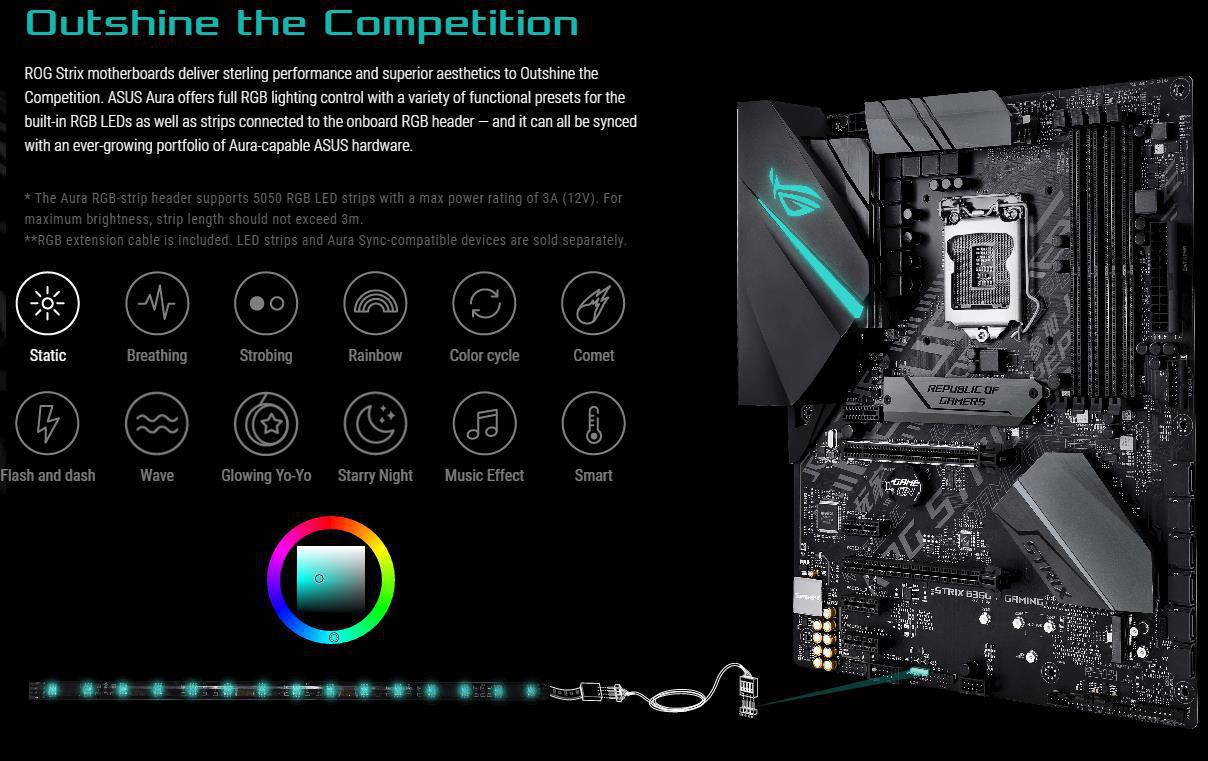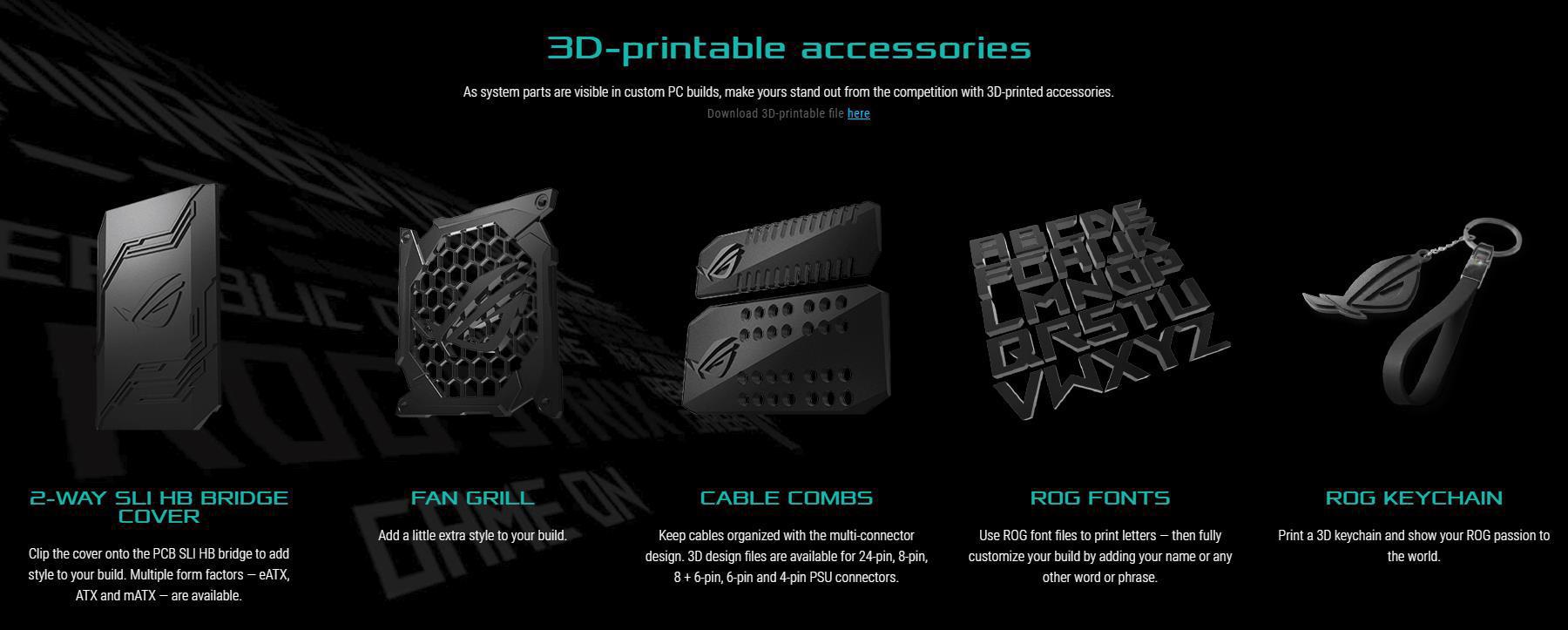 DIY FRIENDLY DESIGN
DIY-friendly design simplify your PC-building experience, so installation is easier, compatibility assured, and all-around protection to keep you and your rig safe.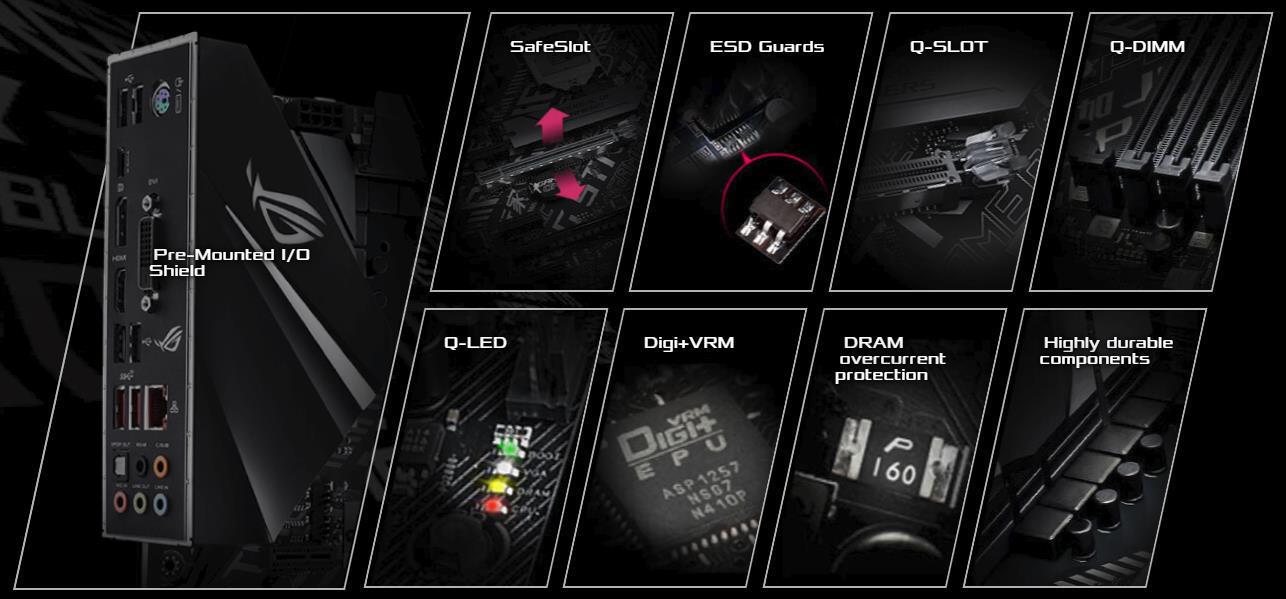 The ROG Strix Ecosystem Awaits – Gear up with ROG Strix components, from graphics cards and monitors to mice and keyboards, and up your game with complementary aesthetics, control, and compatibility. The Strix ecosystem is more extensive than any competing brand, so enjoy greater choice as your system expands.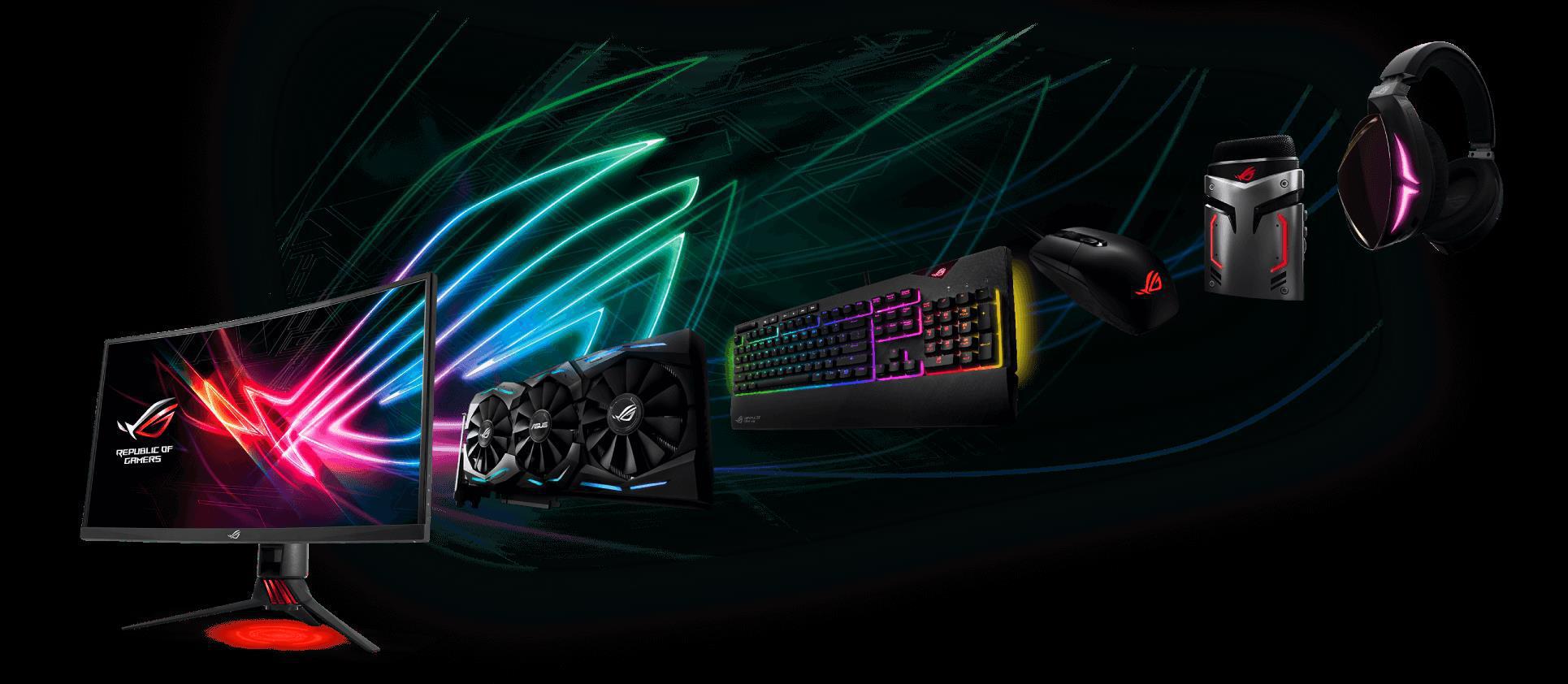 PERFORMANCE
Experience great performance through comprehensive cooling controls, fast storage, and exclusive technologies to enhance memory reliability and speed.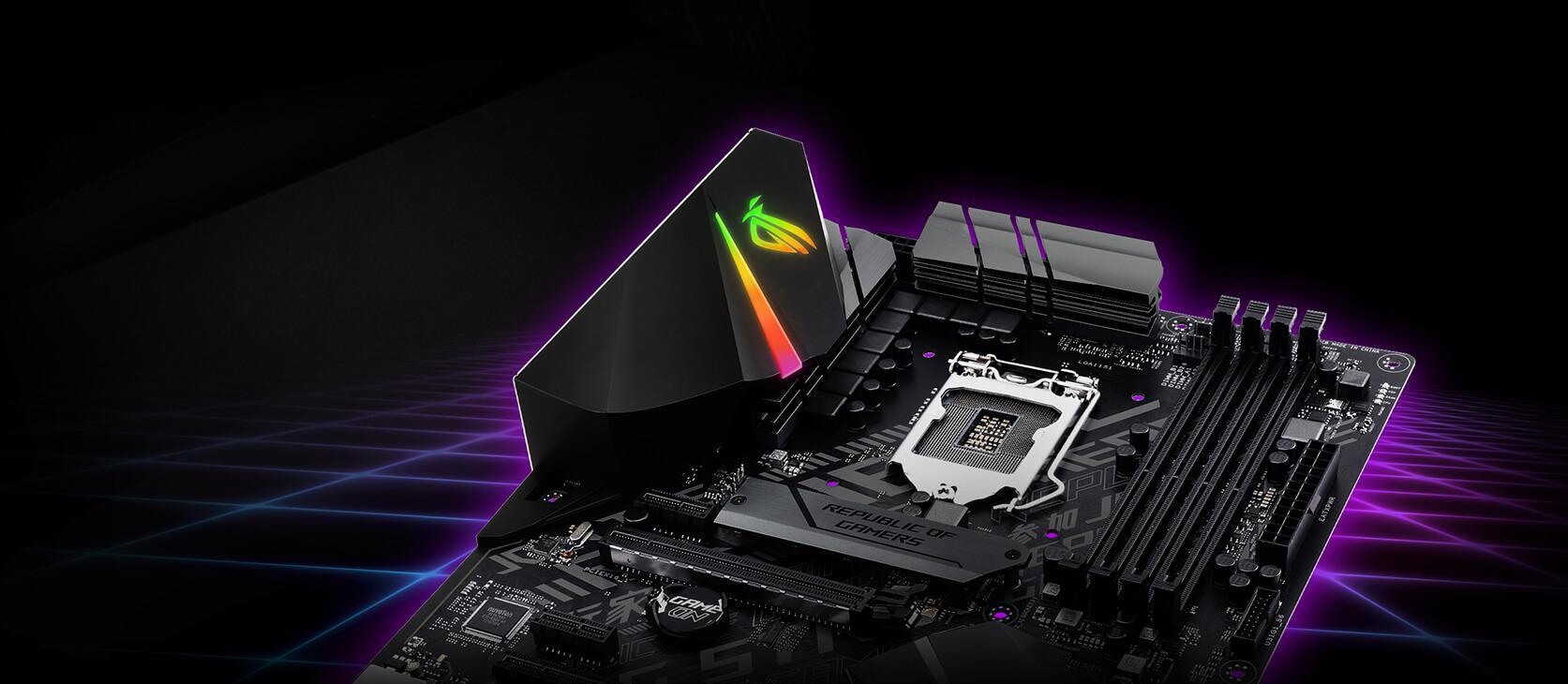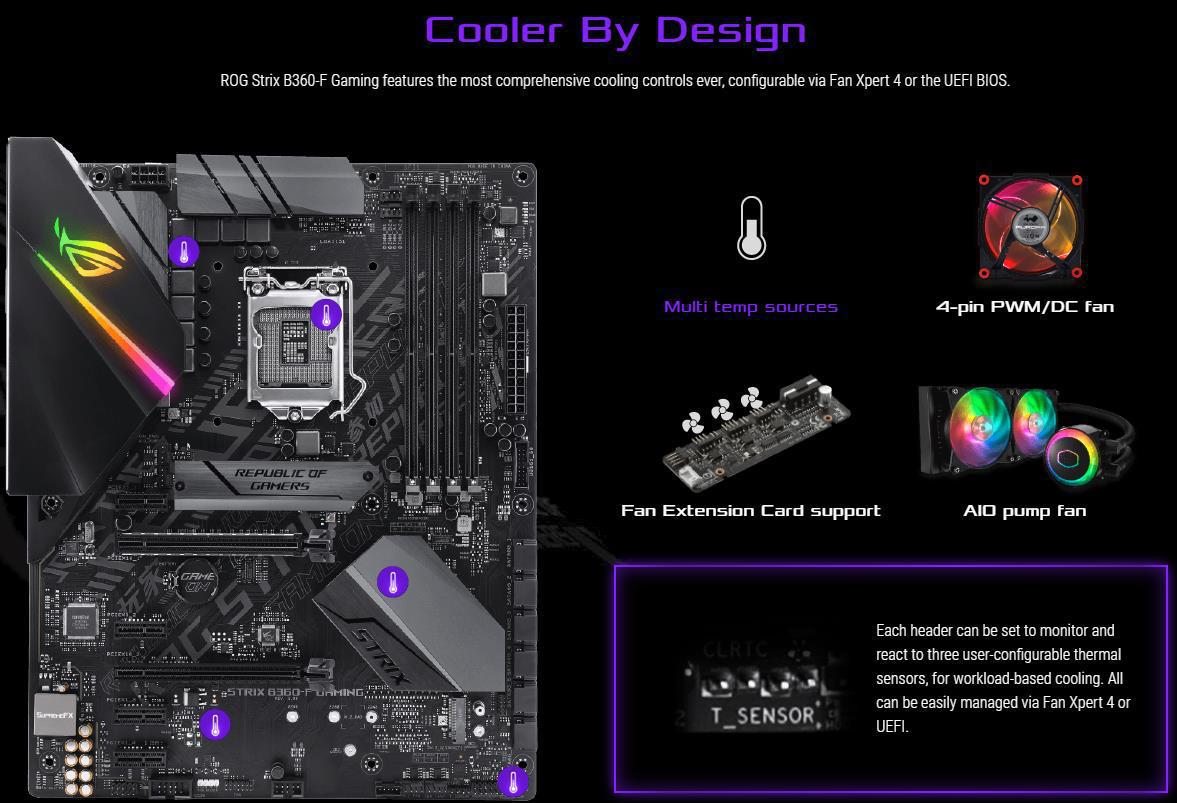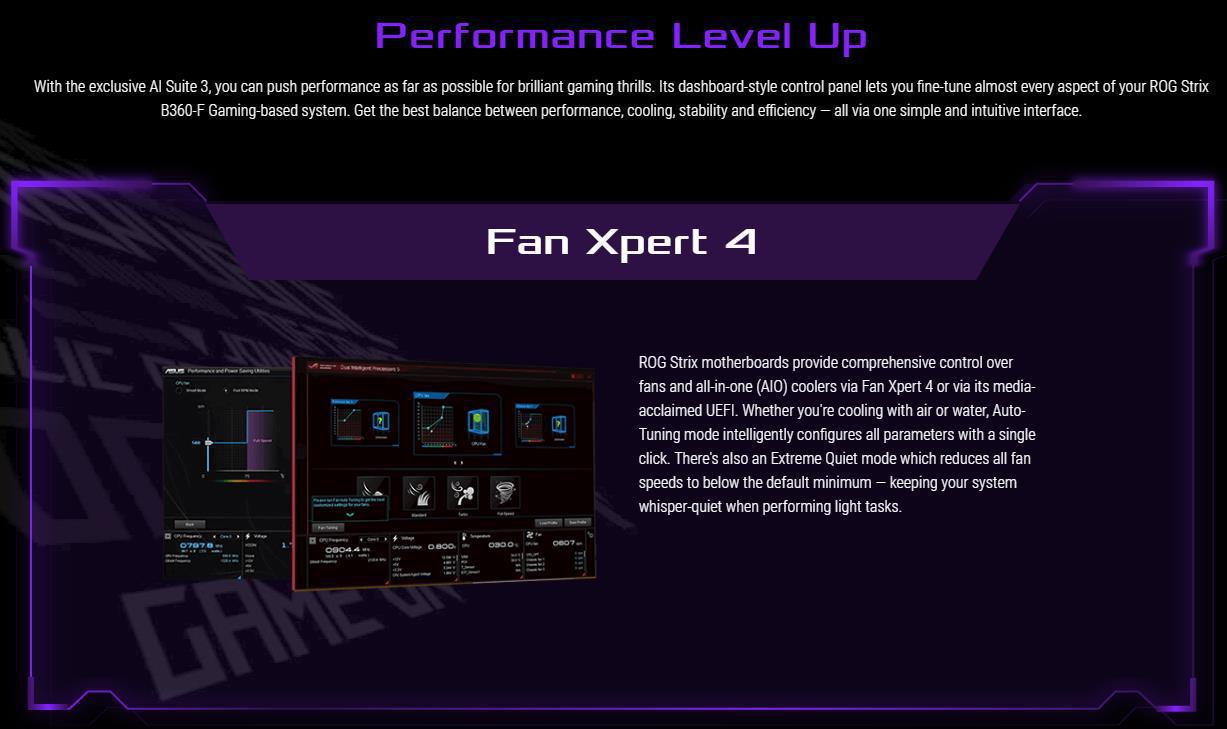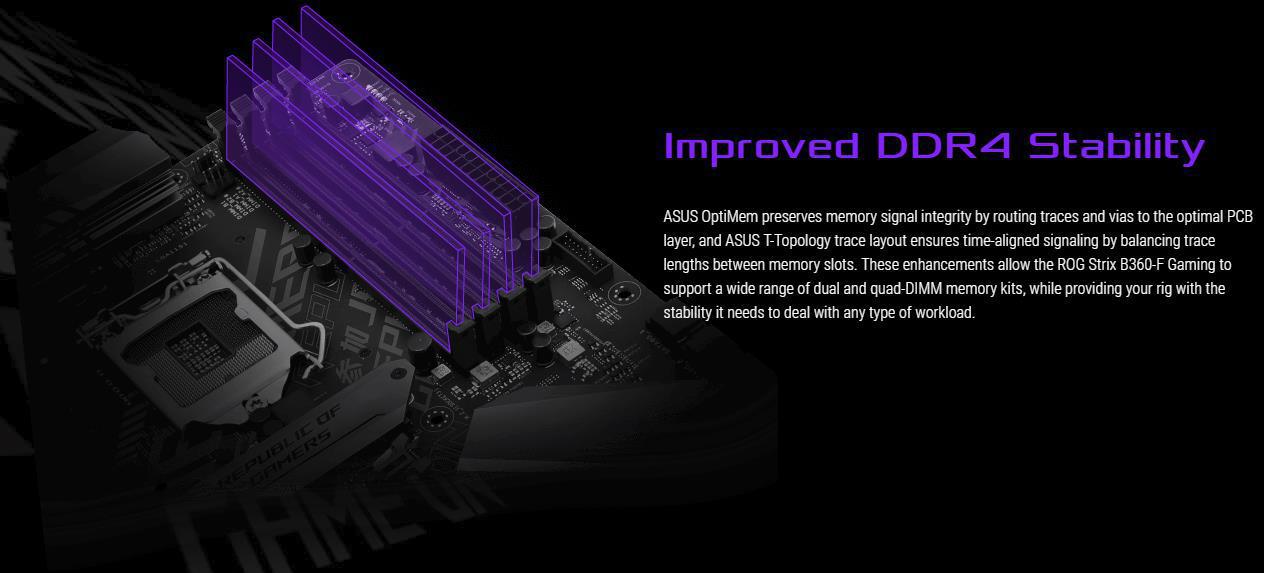 AUDIO
Proper gaming audio built in means you're ready to play, chat or stream or kick back with videos right out of the gate, with smart routing to direct different audio streams to different devices.

Sonic Studio III – Intuitive Audio-Tuning Suite
Sonic Studio supports HRTF-based (head-related transfer function*) virtual surround for VR headsets, casting an immersive aural landscape that draws you deeper into the action. The intuitive Sonic Studio interface also offers a range of EQ options and one-click presets, allowing you to tailor acoustics to suit personal preferences or the characteristics of your headset.
Sonic Radar III – Scan and Detect to Dominate
The new Sonic Radar III has an evolved audio engine to process sounds more accurately than ever, ensuring you're always aware of what's going on around you. It now also includes an on-screen arrow — to help you instantly pinpoint the enemy's position! See the origin of key in-game sounds and hone your enemy-pinpointing skills. Plus the new Audio Boost feature provides filters that let you hear even the faintest sounds, so you can become the hunter, not the hunted!
SupremeFX – Shielded audio, superior sound
Immerse yourself in sound with ROG Strix's SupremeFX audio technology. Utilizing the S1220A codec, SupremeFX is the integrated-audio solution that's engineered to provide a flat frequency response for a neutral, detailed sound signature. The addition of two op-amps on the front-panel headphone output ensures adequate voltage and current to drive headphones to their full potential.
NETWORKING
Loaded with the latest technologies, you'll benefit from connections as quick and simple to make as they are stable and speedy.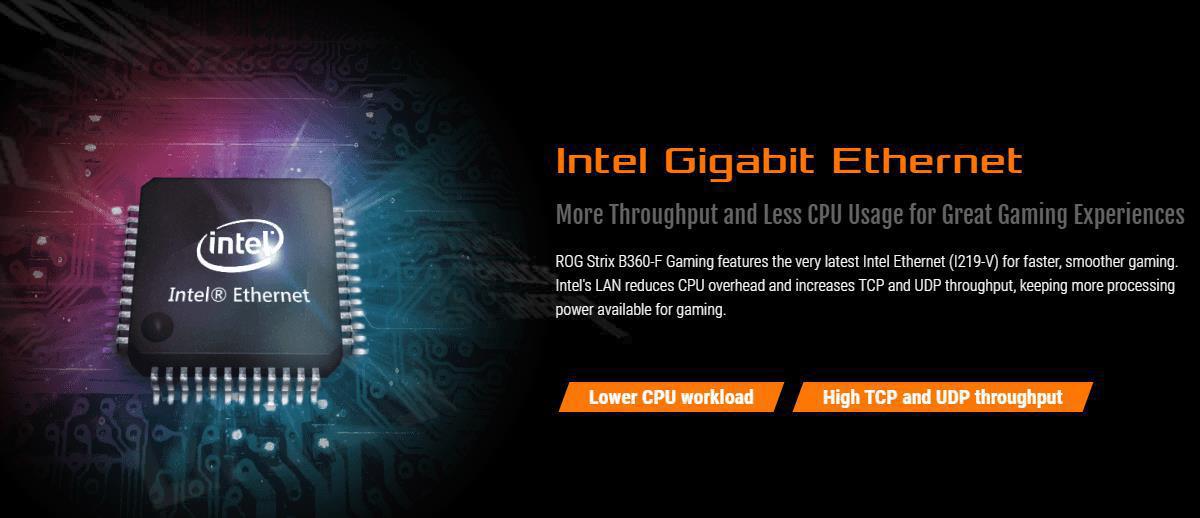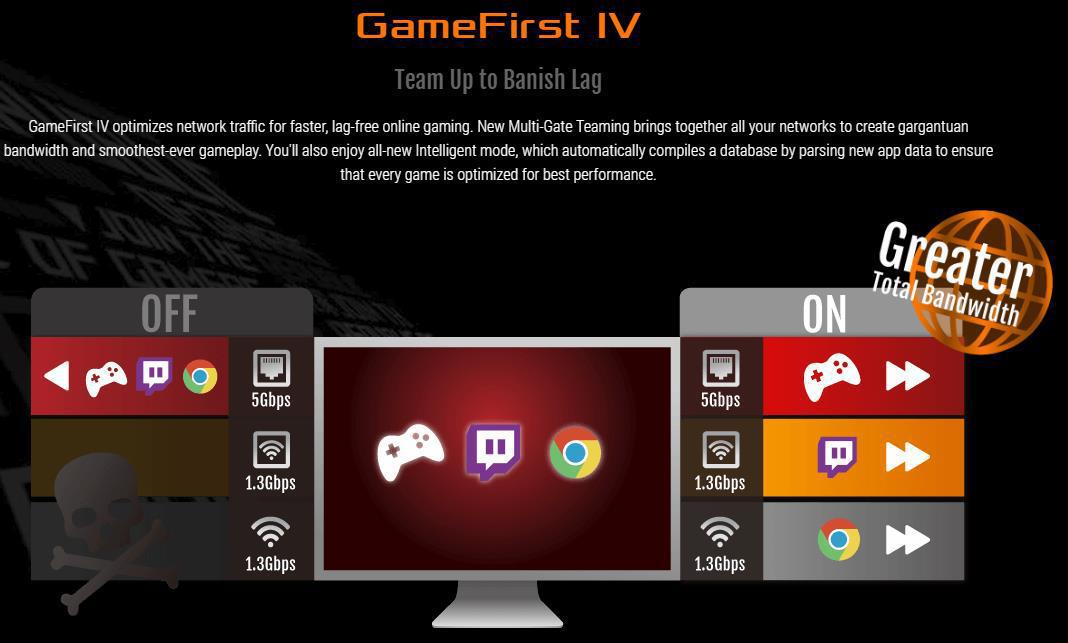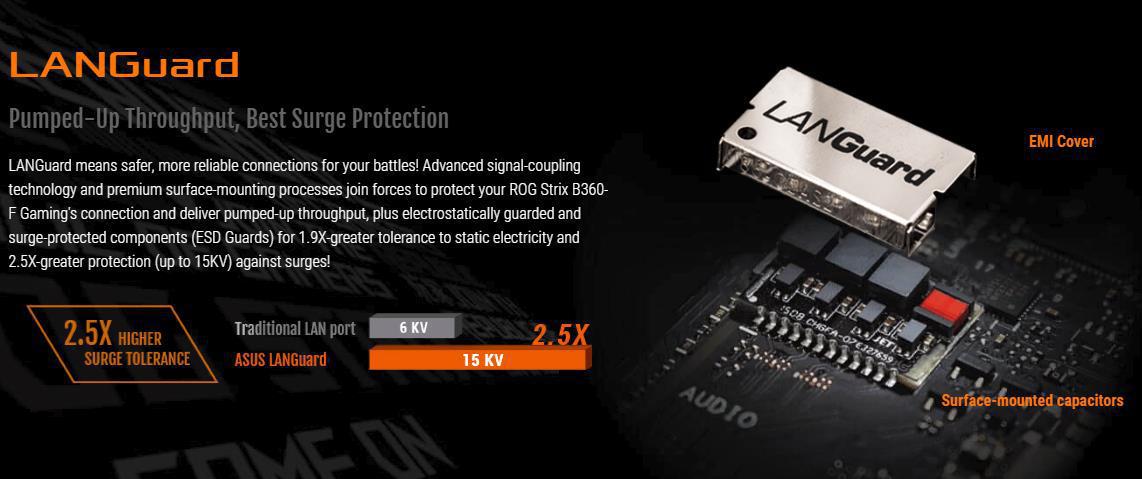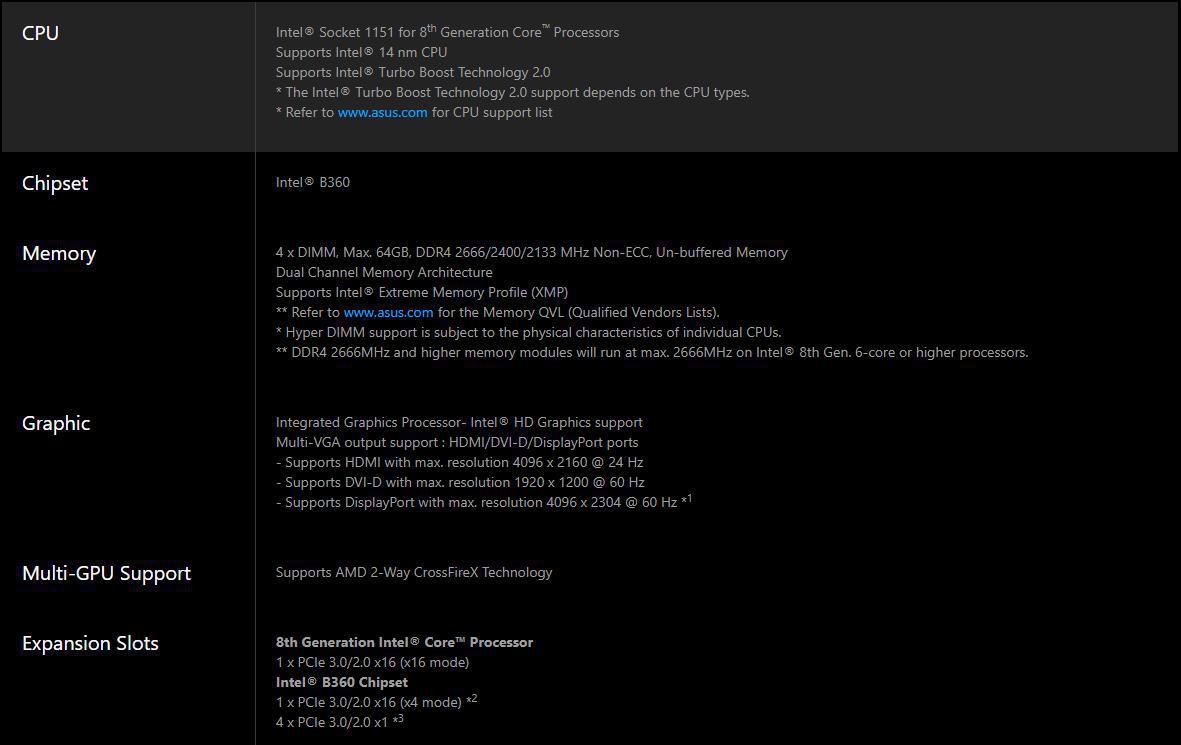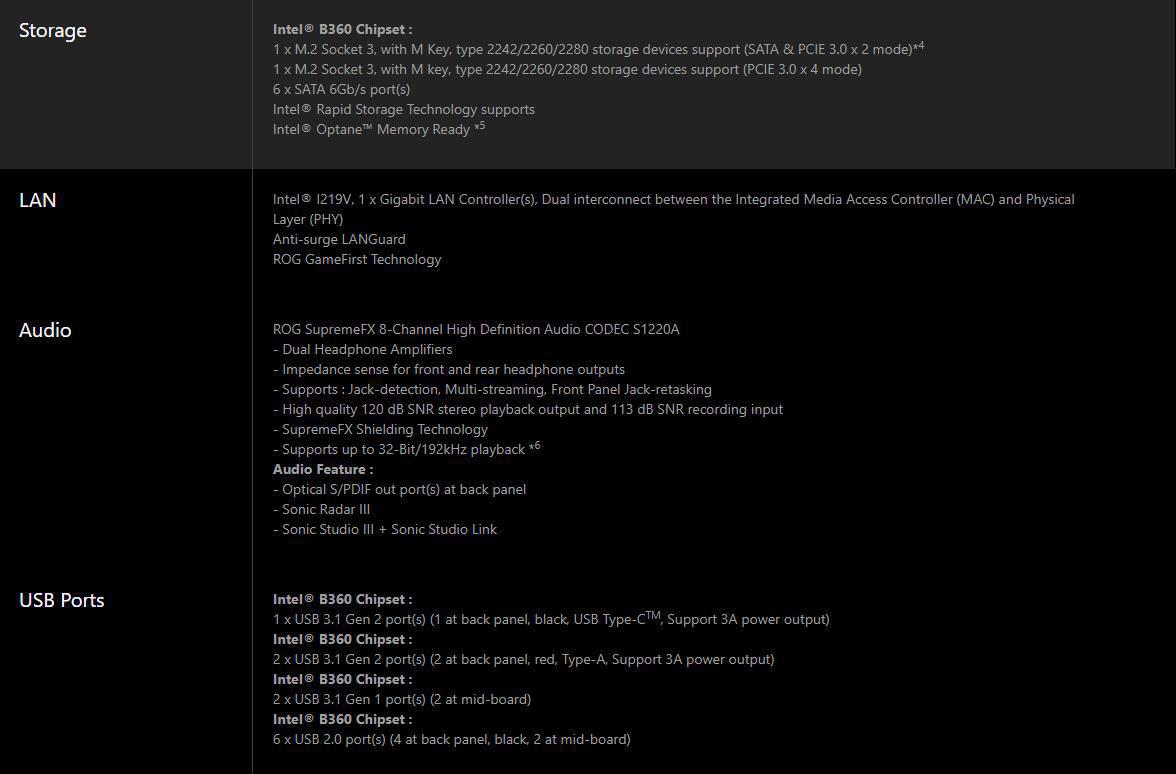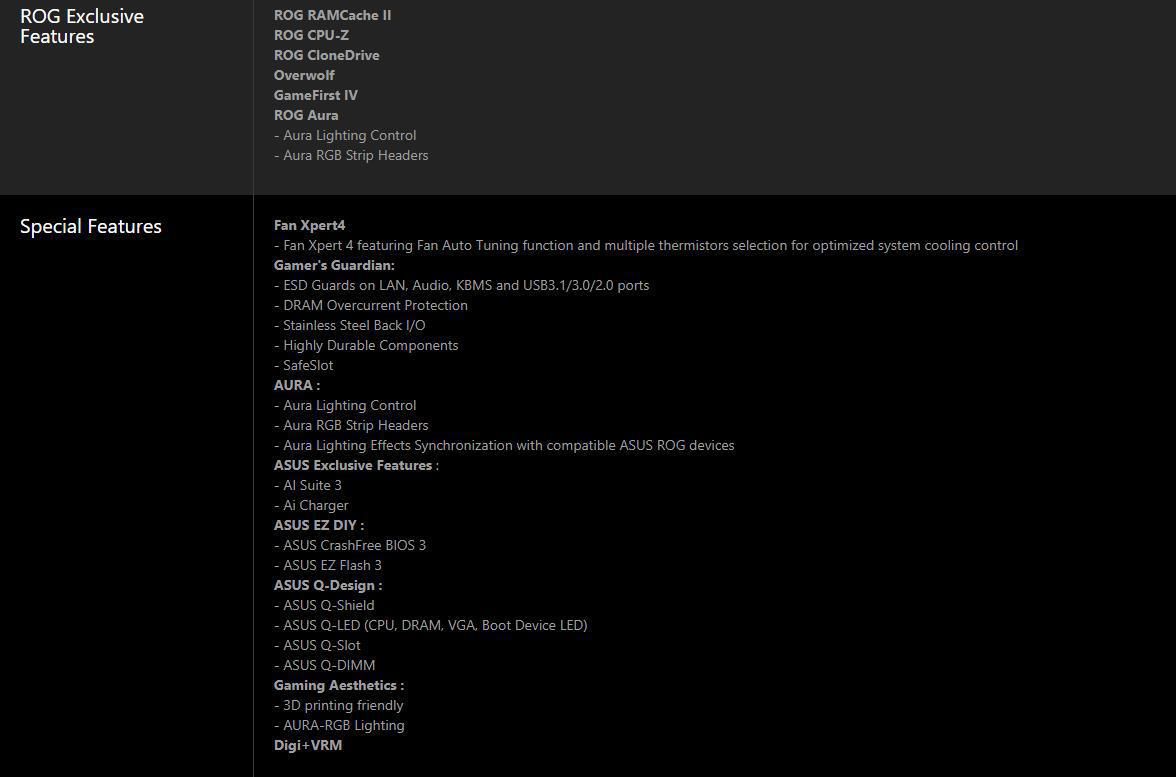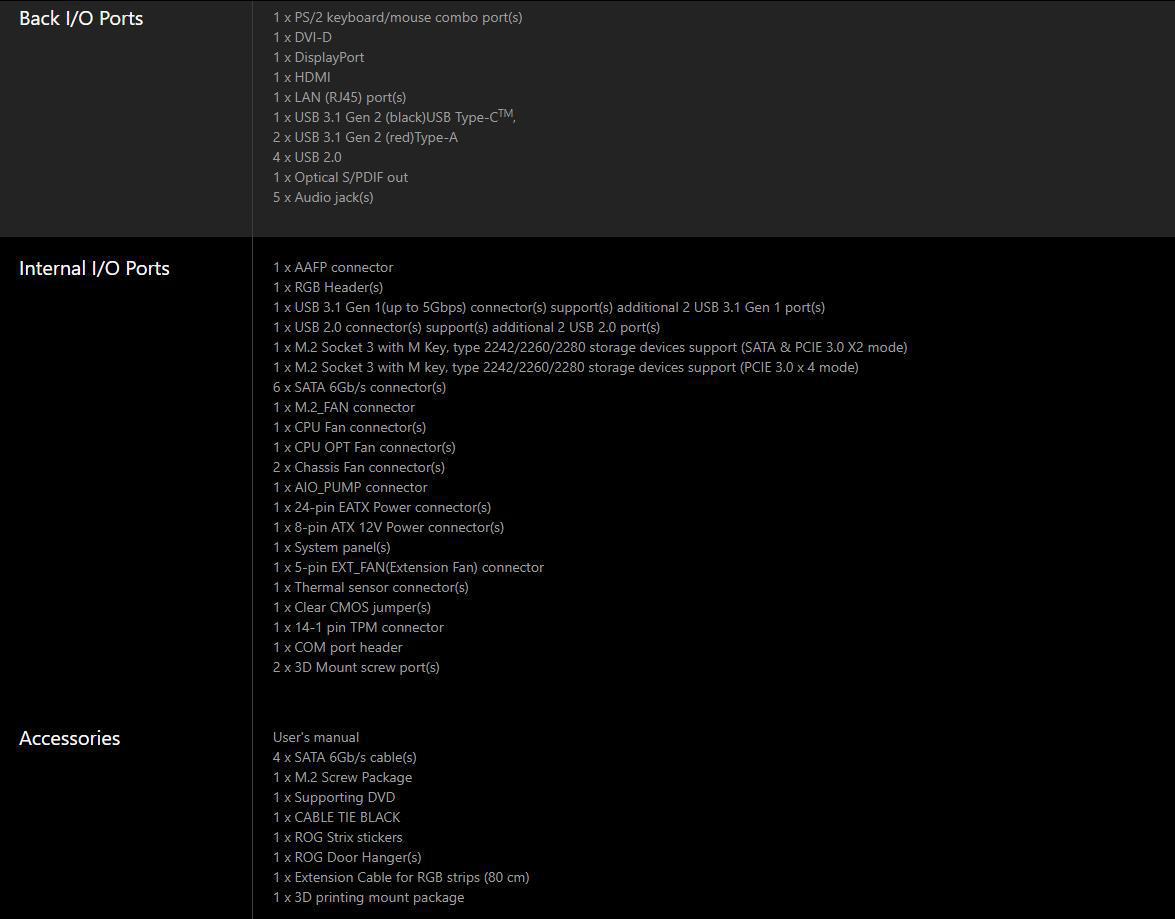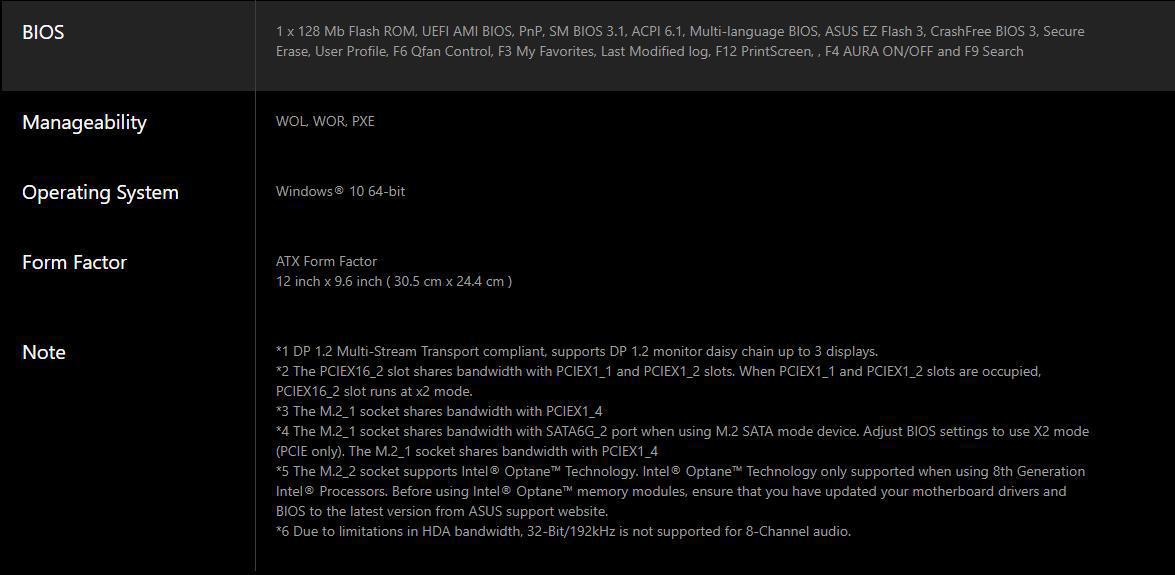 Packaging & Unboxing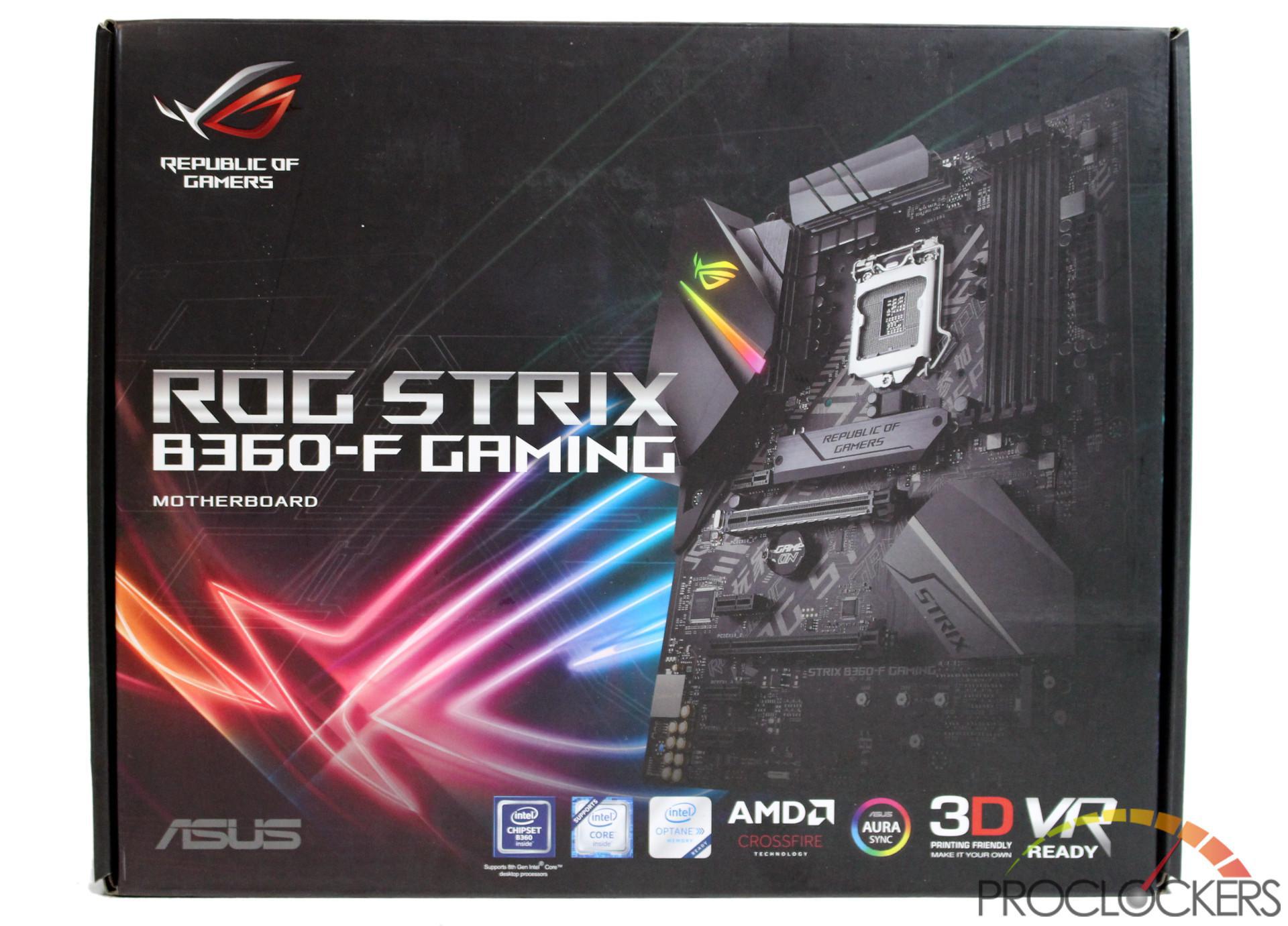 Like nearly every other board in the Strix lineup, the B360-F Gaming comes in a black box with a colorful ROG Eye logo in the background. A full-color picture of the board covers most of the front of the box with the model centered on the left and a few logos around the edges of the box.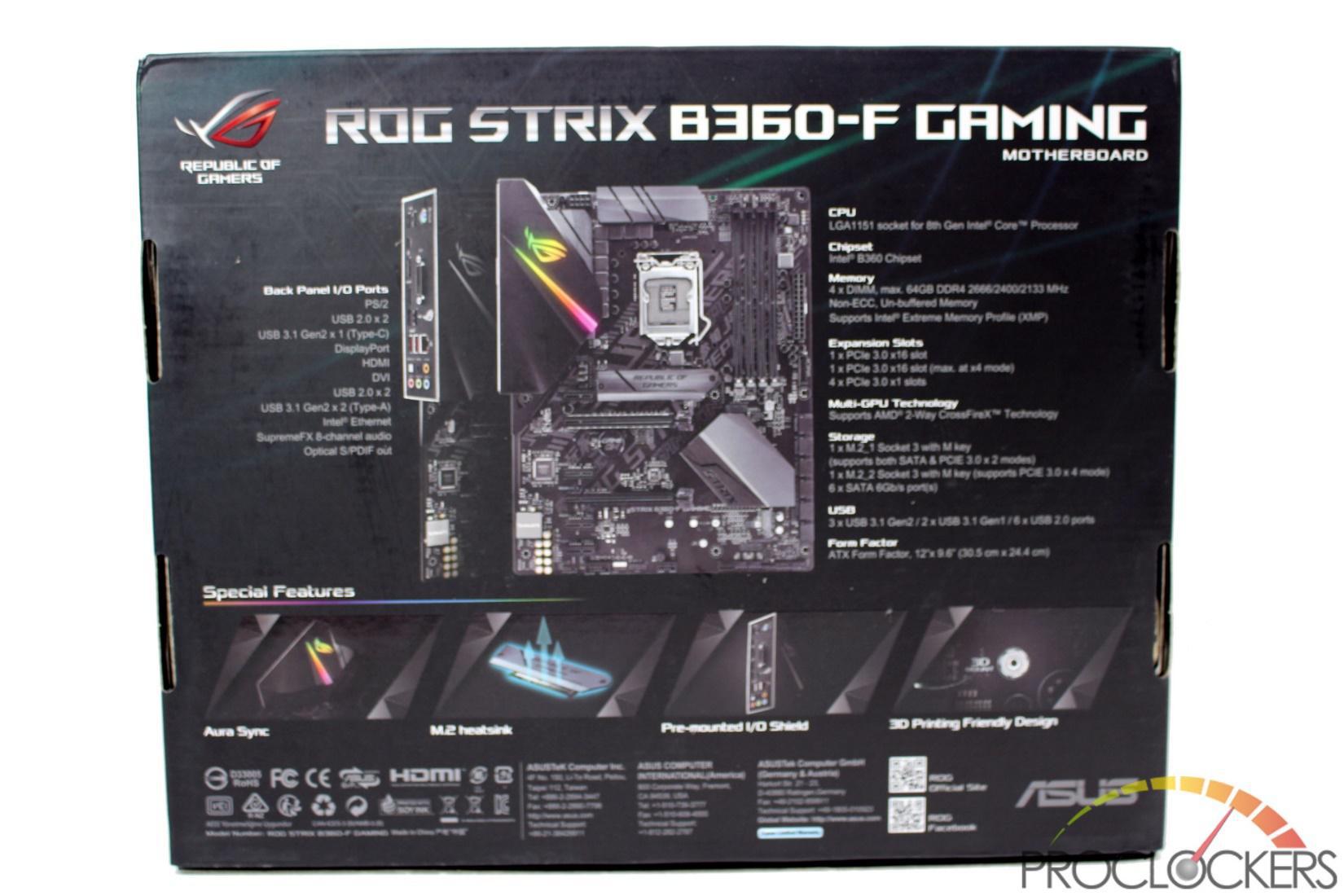 The rear of the box has a full-color picture of the board in the center with basic specs surrounding it, and some stand out features along the bottom of the box.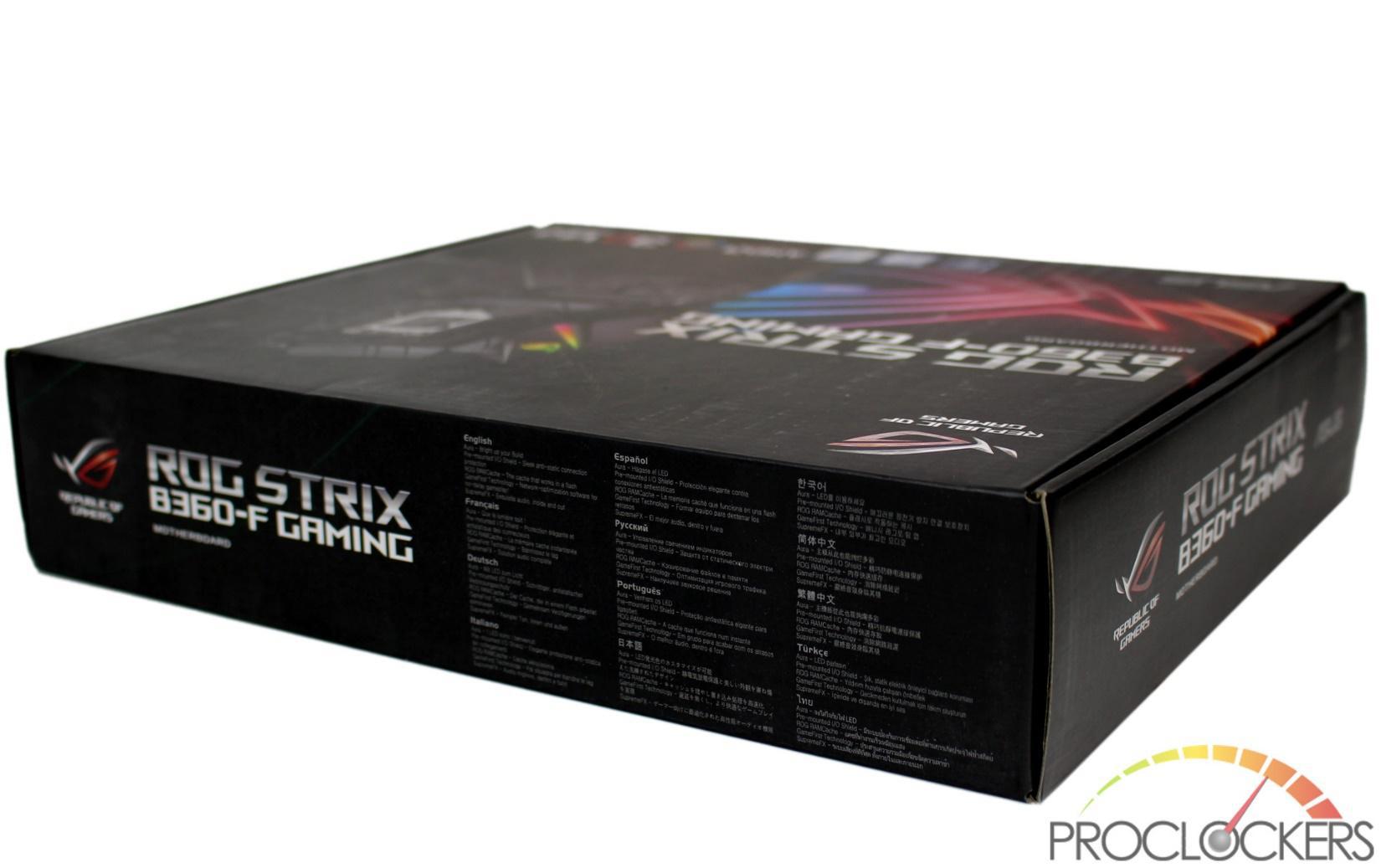 The top of the box has some basic features listed in several languages. The other three sides of the box are solid black with the model listed in the center and the ASUS and ROG logos flanking it.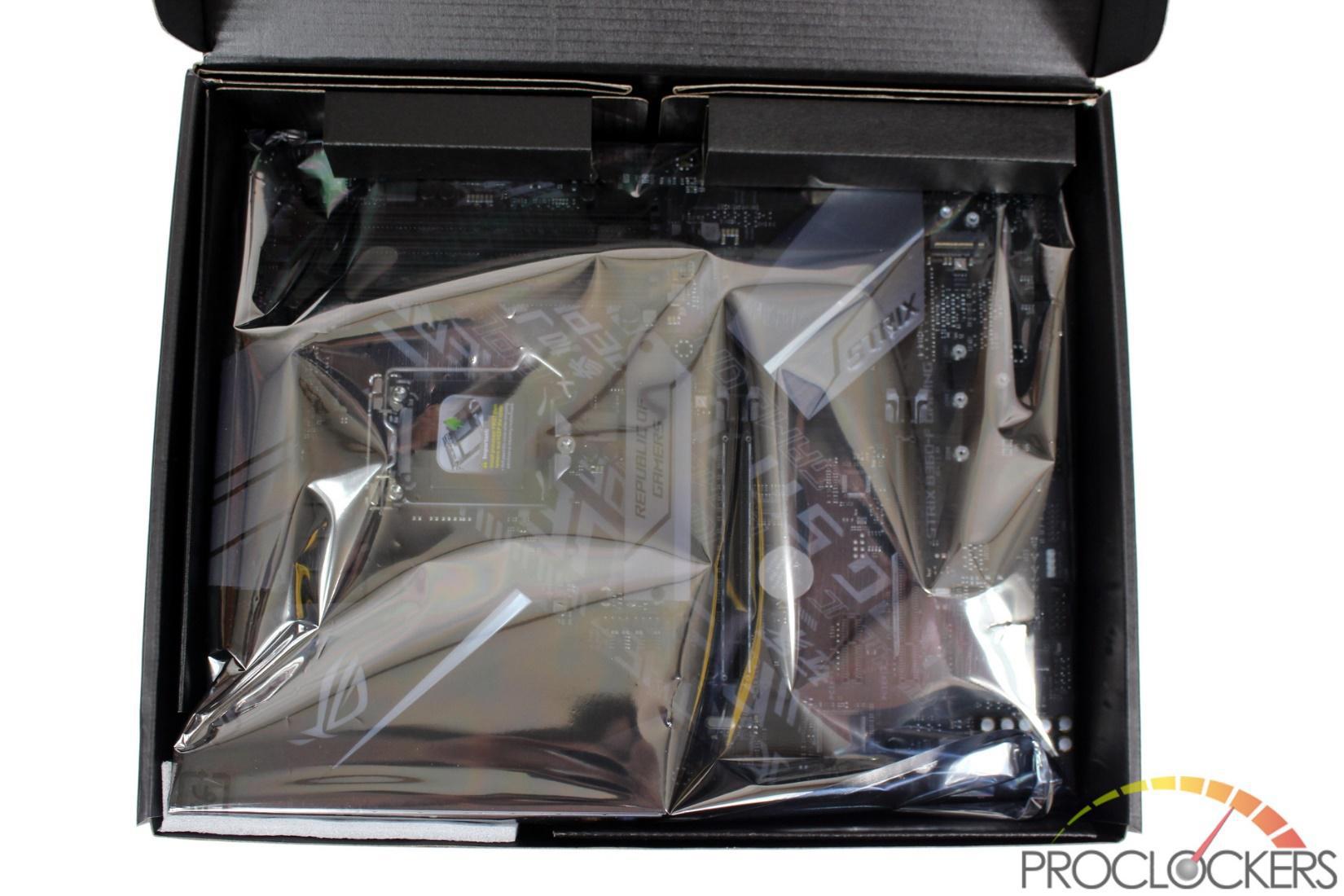 Opening the box up reveals the B360-F Gaming wrapped in a protective ESD bag.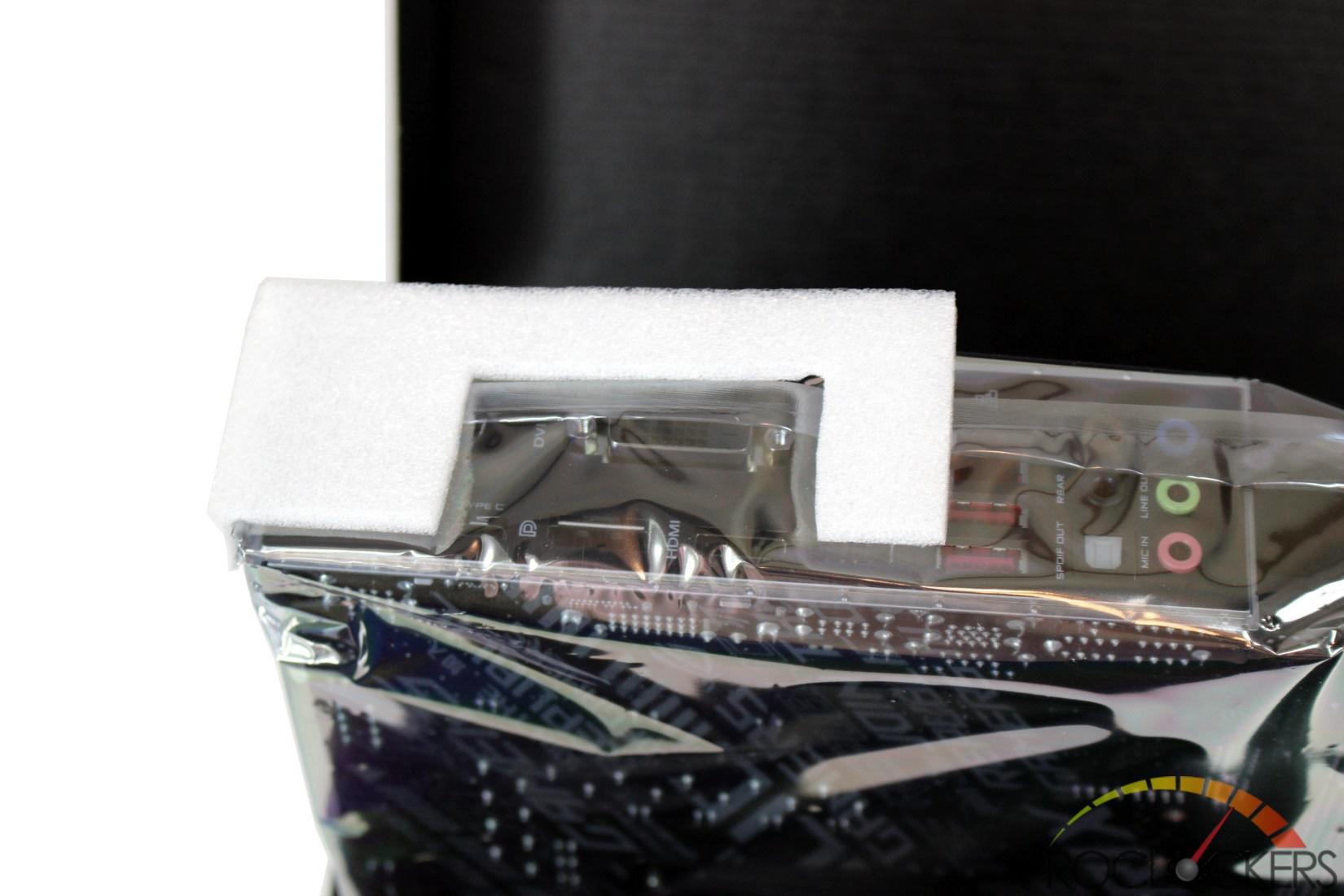 A foam block protects the pre-installed Rear-I/O shield during shipment.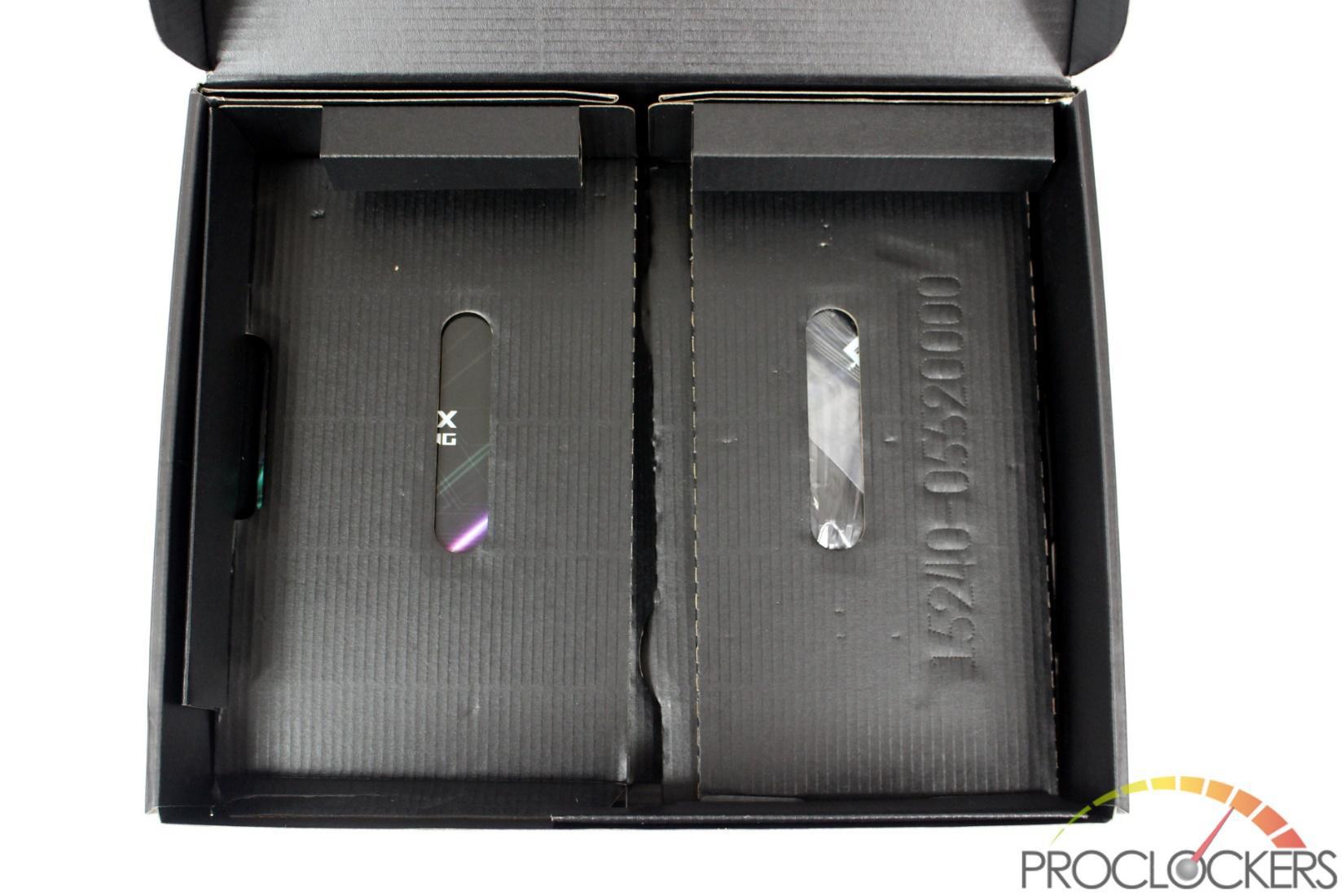 Under the motherboard tray is all of the included accessories.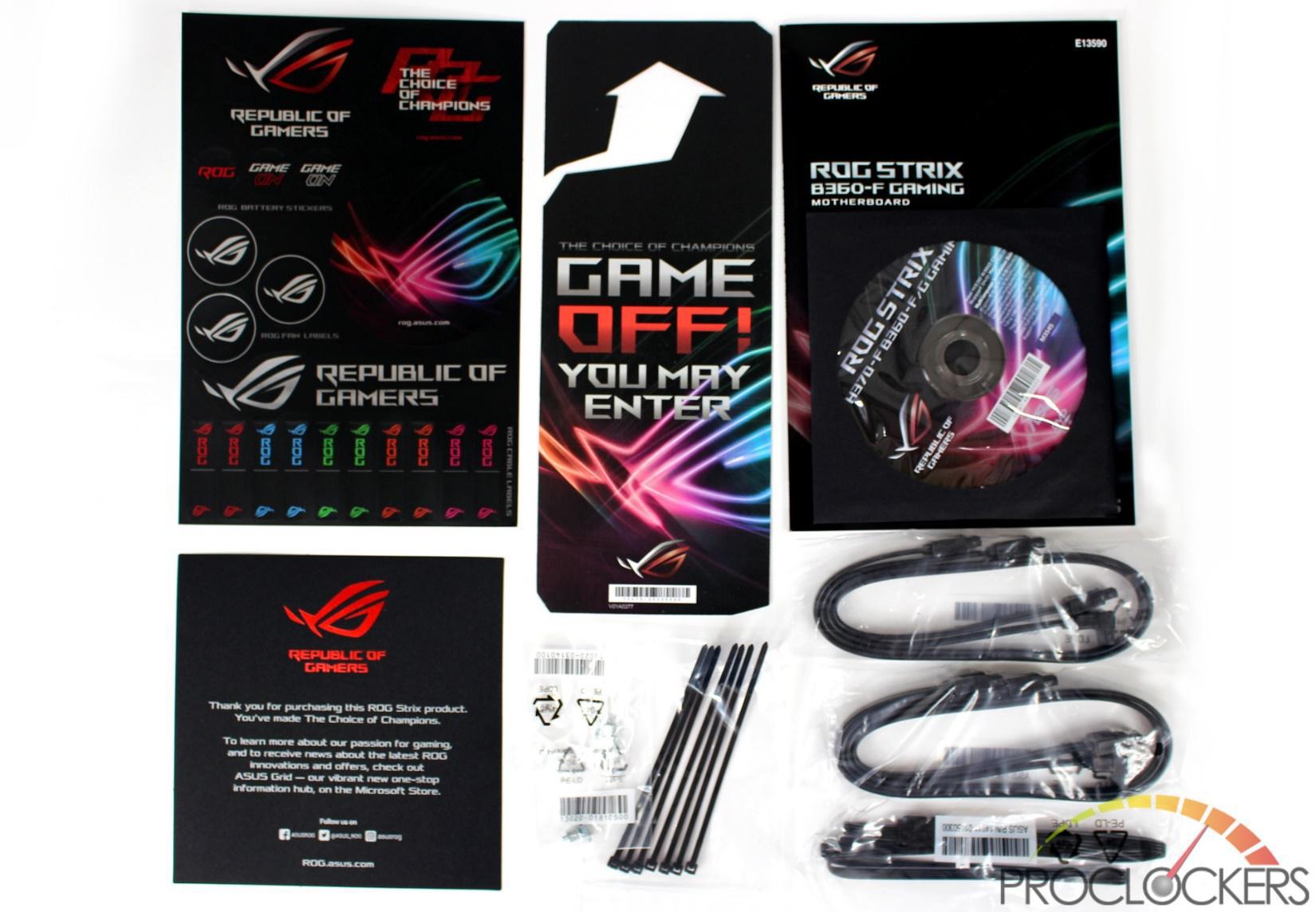 Being a mid-range board, the pile of goodies included is pretty small but complete. Beyond the typical Manual, Driver Disk (does anyone still use these?) and SATA cables, you get some M.2 mounting, an RGB extension cable, small sticker sheet with some color-coded cable labels and a small bag of zip ties for cable management. You also get a ROG door hanger and a thank you note from ASUS.
A Closer Look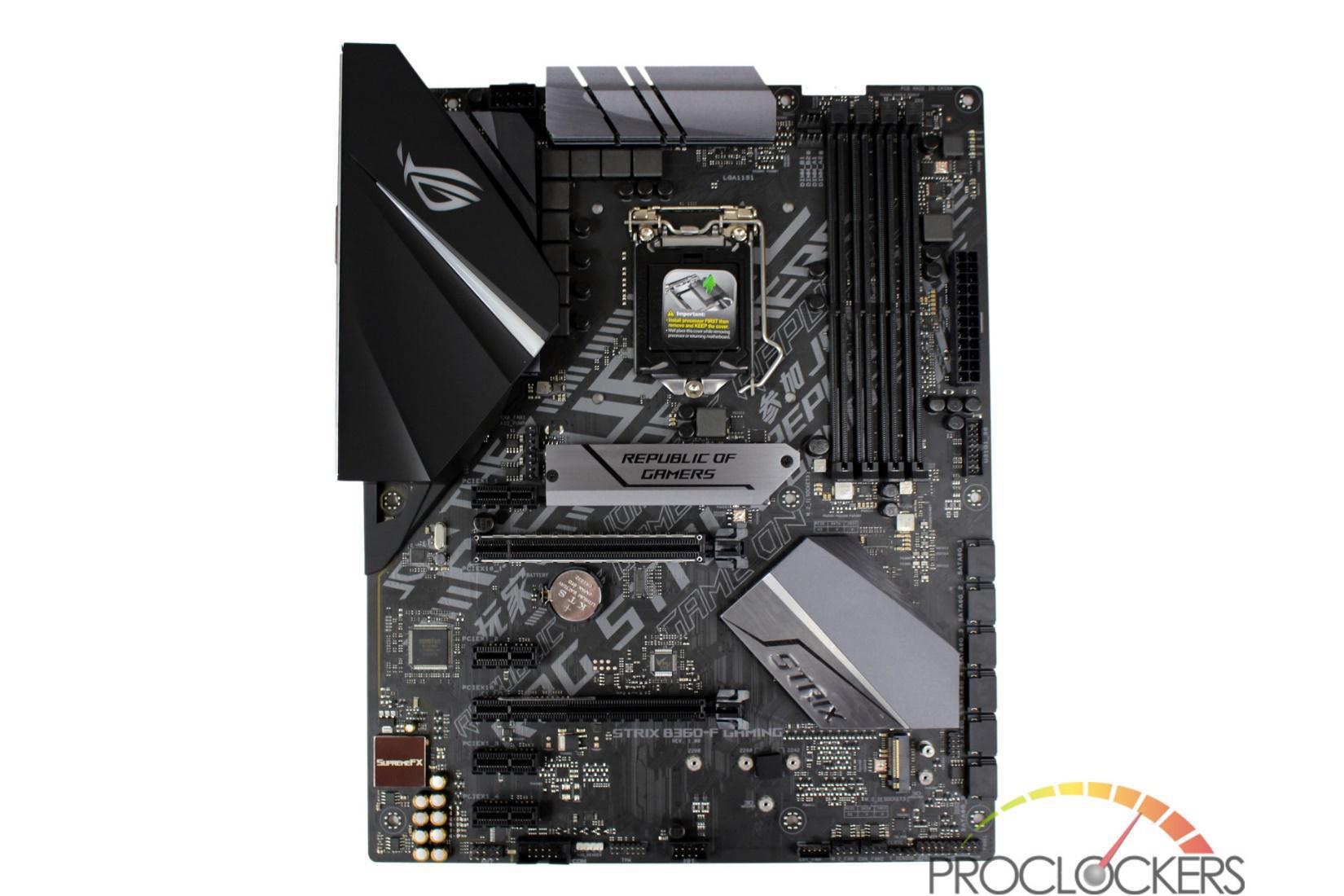 At first glance, it would be hard to tell the ROG Strix B360-F Gaming is based around a mid-range platform. The extensive heatsinks and markings on the board are very reminiscent of high-end offerings.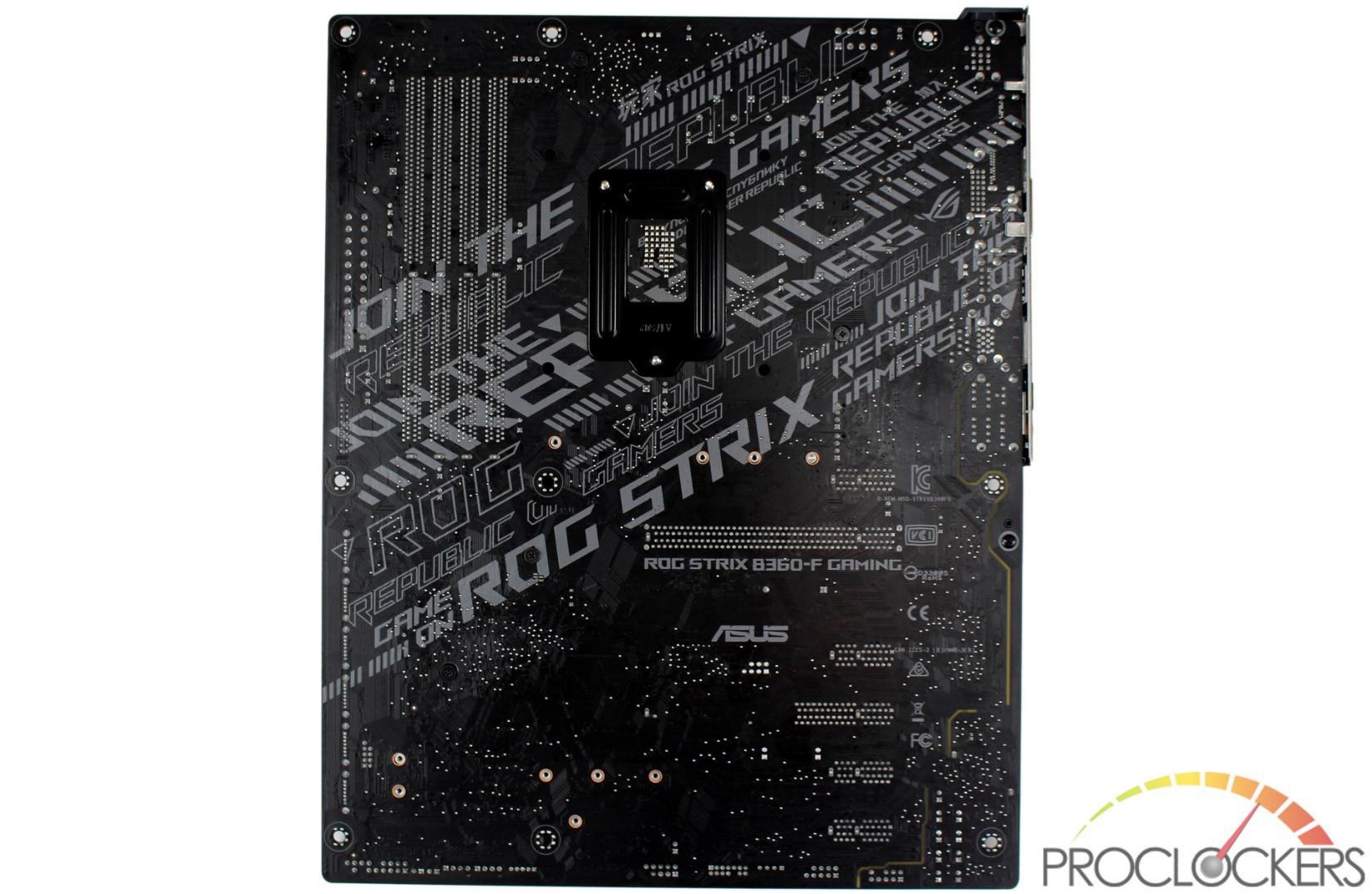 The back of the board has the same ROG wording inspired printing on the rear, but not much else of importance.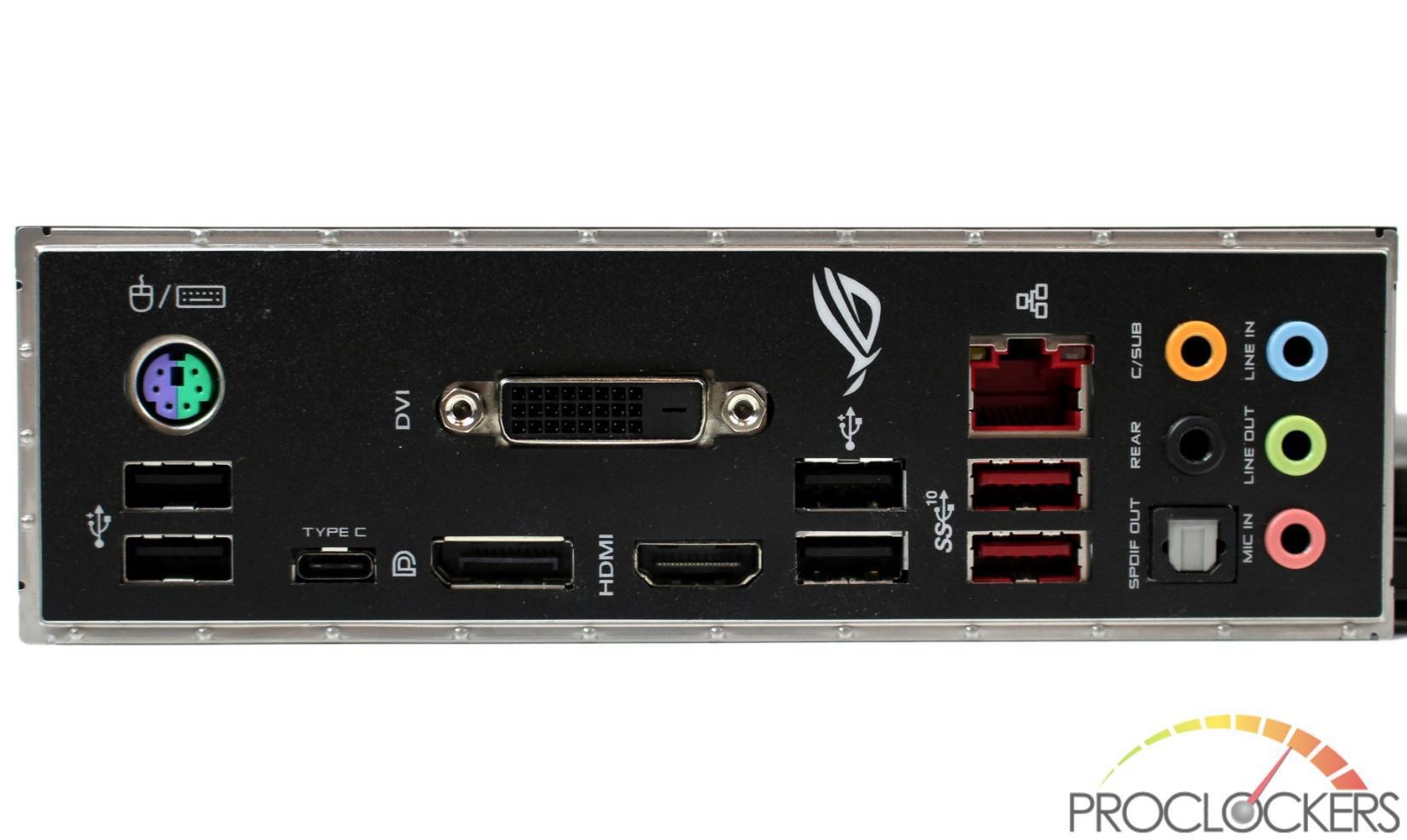 The rear I/O is pretty nice. Seeing the pre-mounted I/O shield trickle down into the lower tier offerings from the elite level boards is super awesome. You get a full complement of ports, triple video in the form of DVI, HDMI and Display Port, Triple USB 10gbps ports with two Type-A (in red that also support up to 3A power output) and a Type-C, four USB USB 2.0 ports in black, a dual personality PS/2 port, Intel Gigabit Ethernet and the standard Audio outputs.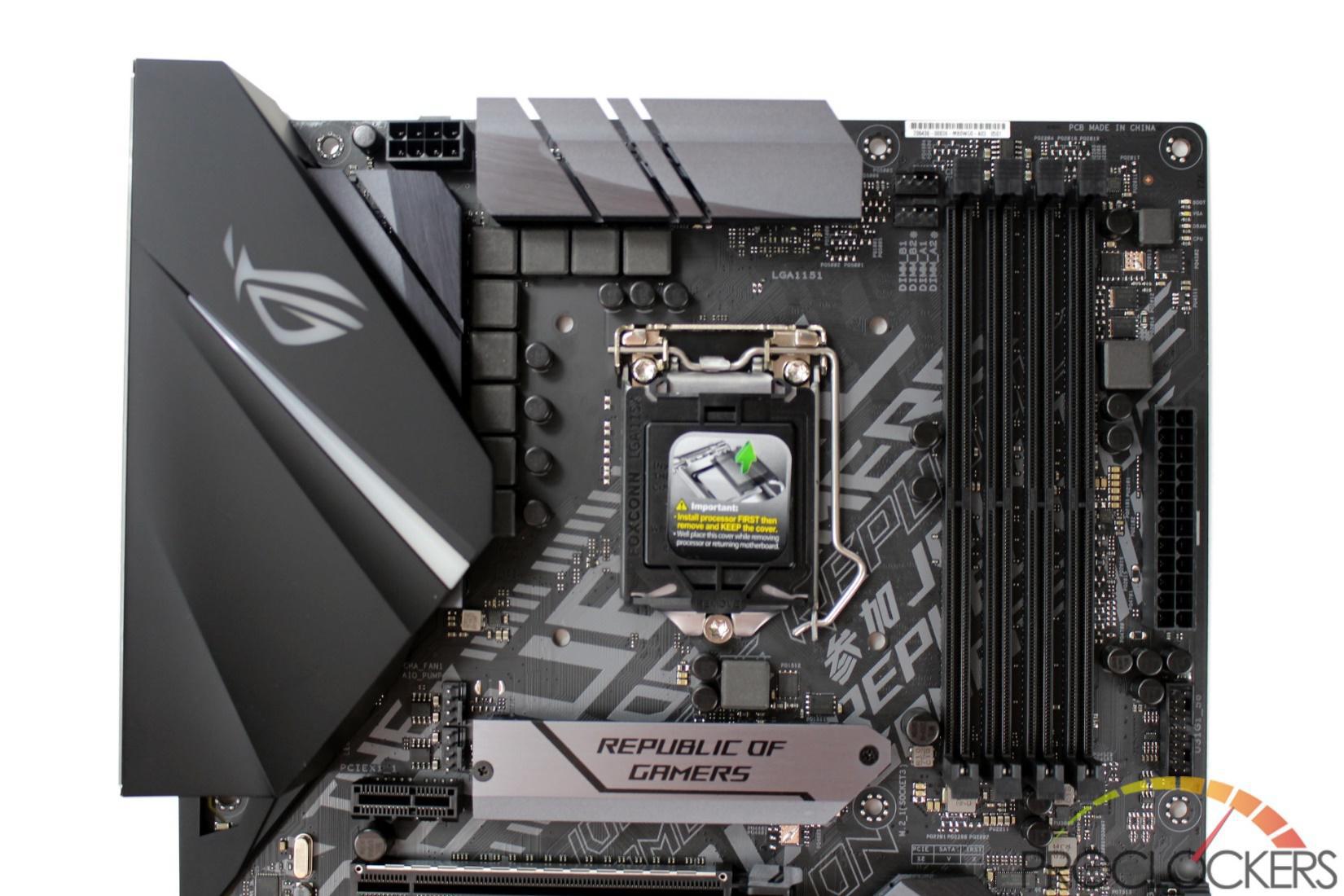 Intel's LGA 1151 socket sits in its usual location surrounded on two sides by the VRM, the right side by a quartet of DDR4 slots, and to the south an M.2 slot under a ROG heatsink. Two fan headers sit just left of the M.2 heatsink.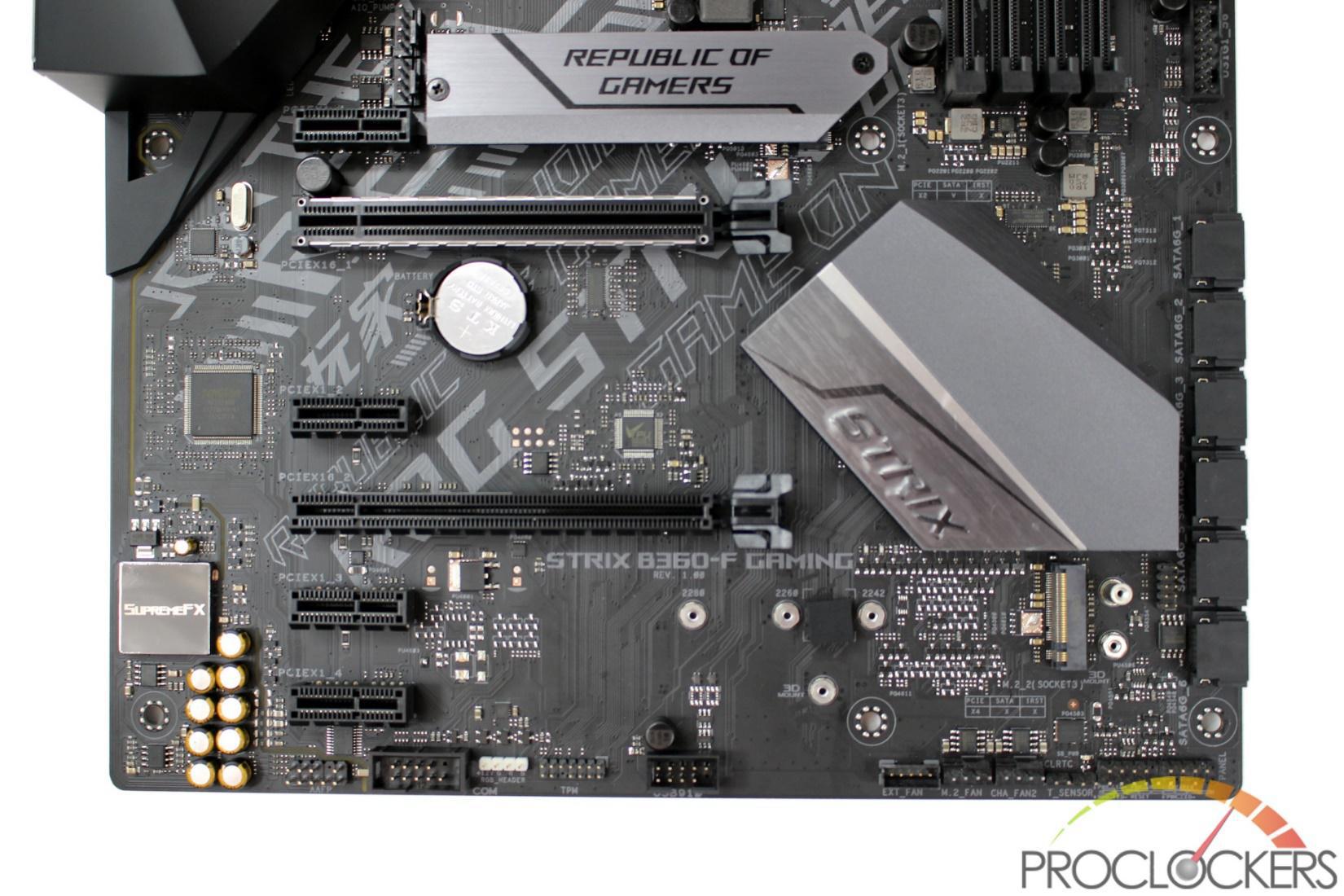 The bottom of the board has four PCIe x1 slots, two PCIe X16 slots in an x16 and X4 configuration and a second M.2 slot. The bottom edge of the board has front panel audio and COM port headers, an RGB header, TPM connection and USB 2.0 headers near the middle. The front edge has the ROG Ext Fan connector, a pair of Fan headers, two temp sensor connections and the Front panel I/O section.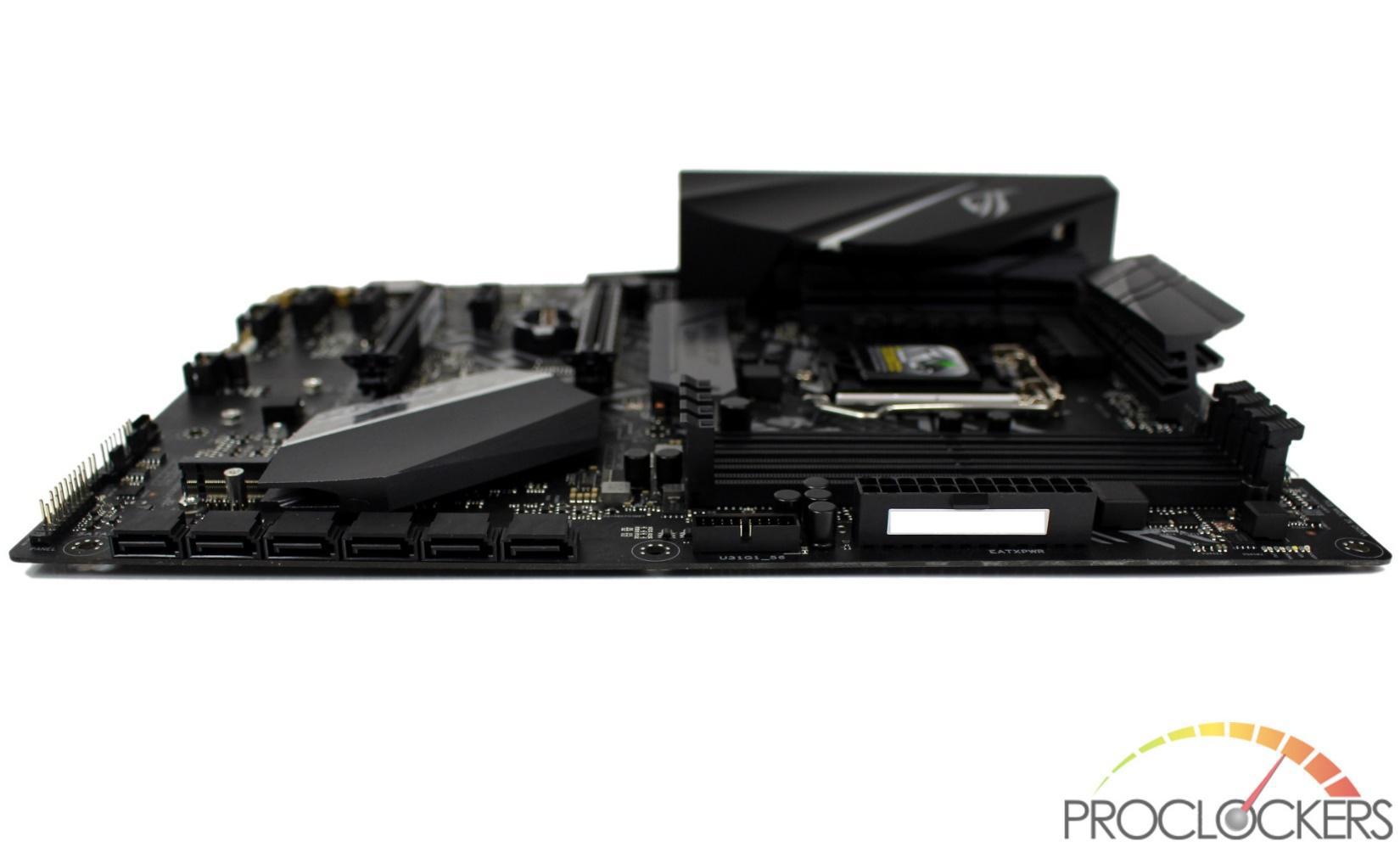 The front edge of the board has six SATA ports all one high and side by side, a Front USB 3.0 header, and Main 24pin power. The top corner of the board has ASUS's Q-LED diagnostic lights.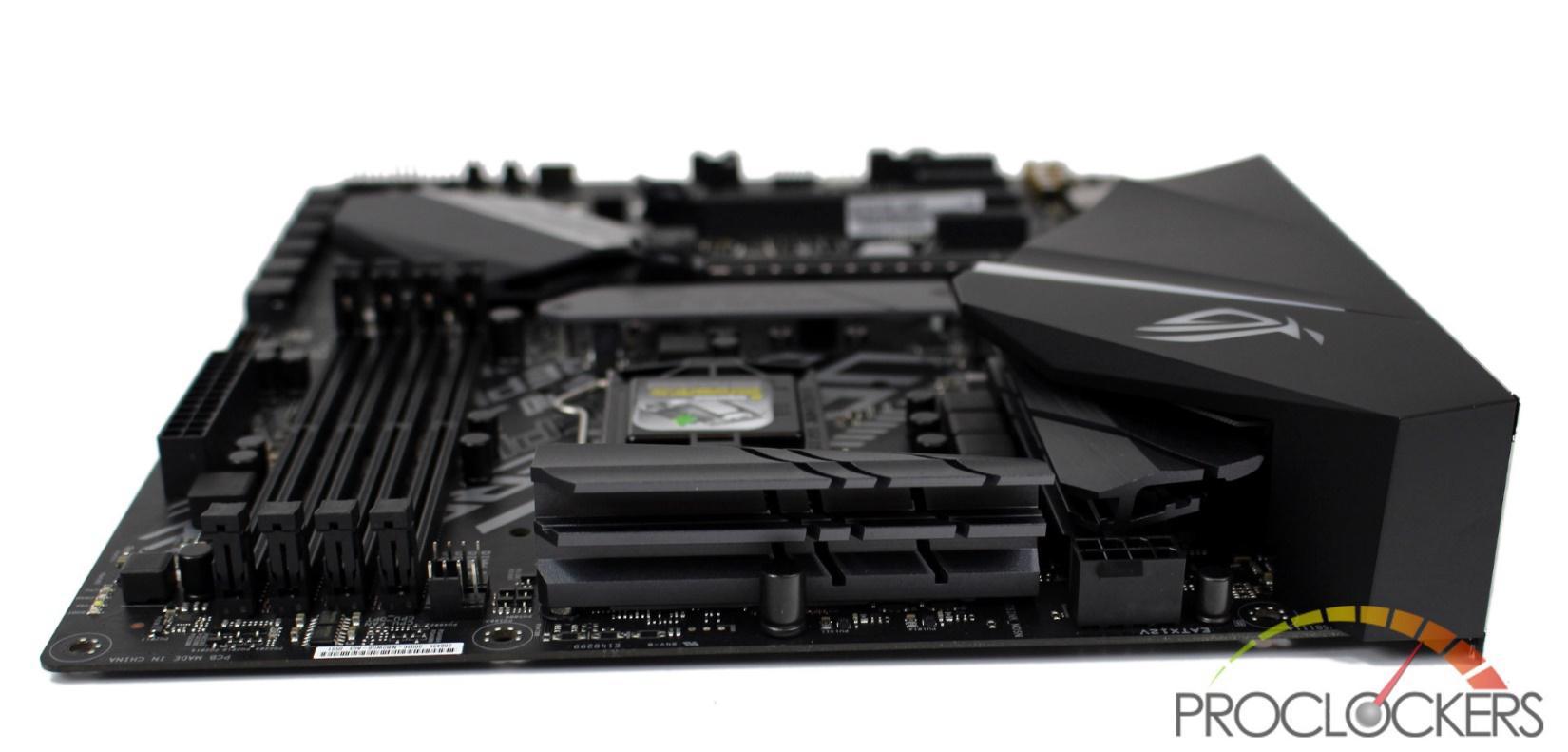 The top edge only has two Fan headers and the 8pin EPS connector for CPU power.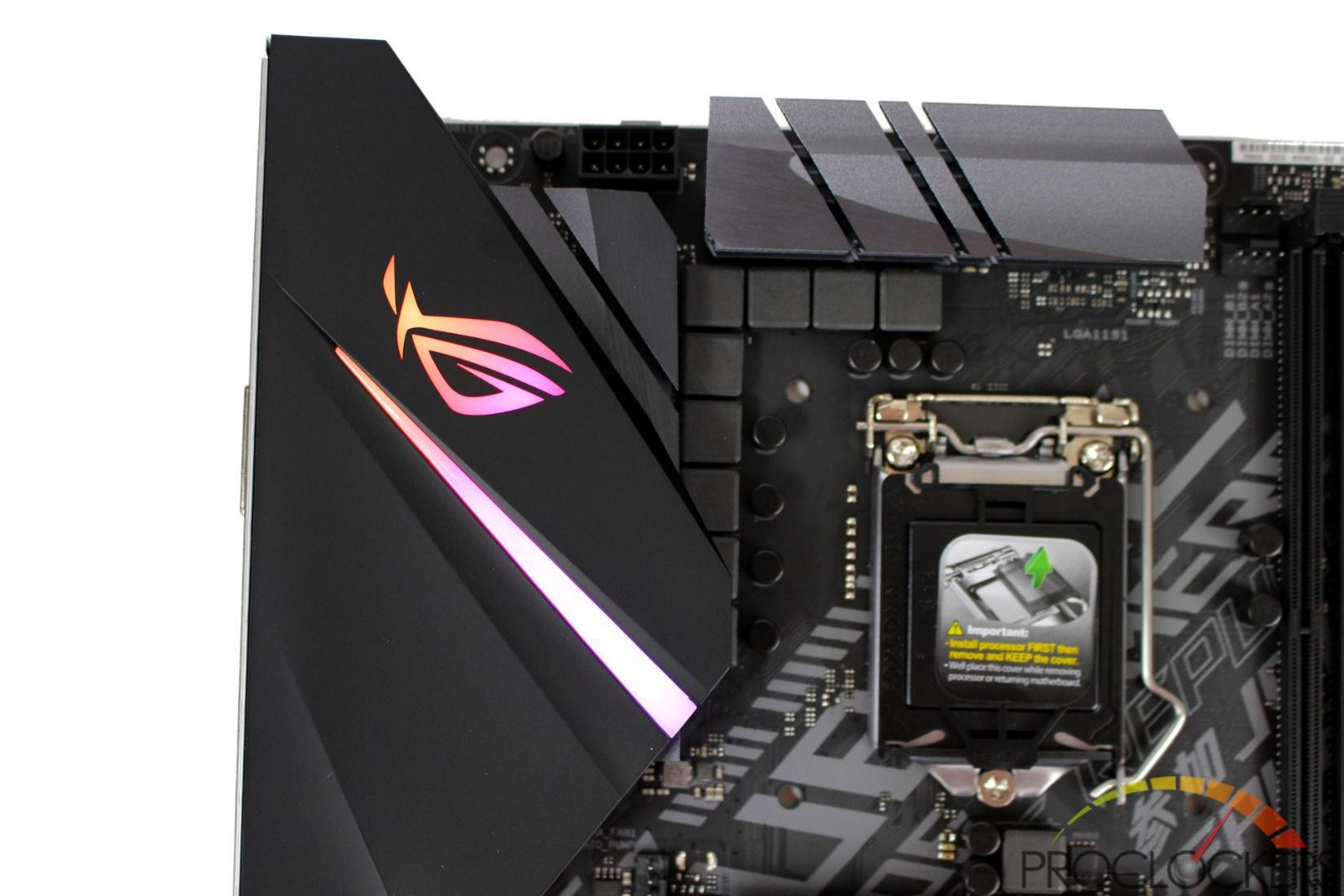 The Rear I/O Cover partially covers the VRM area and lights up the ROG eye and an accent stripe in digital RGB.
System Configuration & BIOS
CPU: Intel Core i7-8700k
Motherboard: ASUS ROG STRIX B360-F
RAM: 16GB G.Skill TridentZ RGB 3200Mhz (platform capped at 2666Mhz)
GPU: Galax GTX 1070 HOF
SSD: Samsung 960 Pro 2TB
OS: Windows 10 Professional X64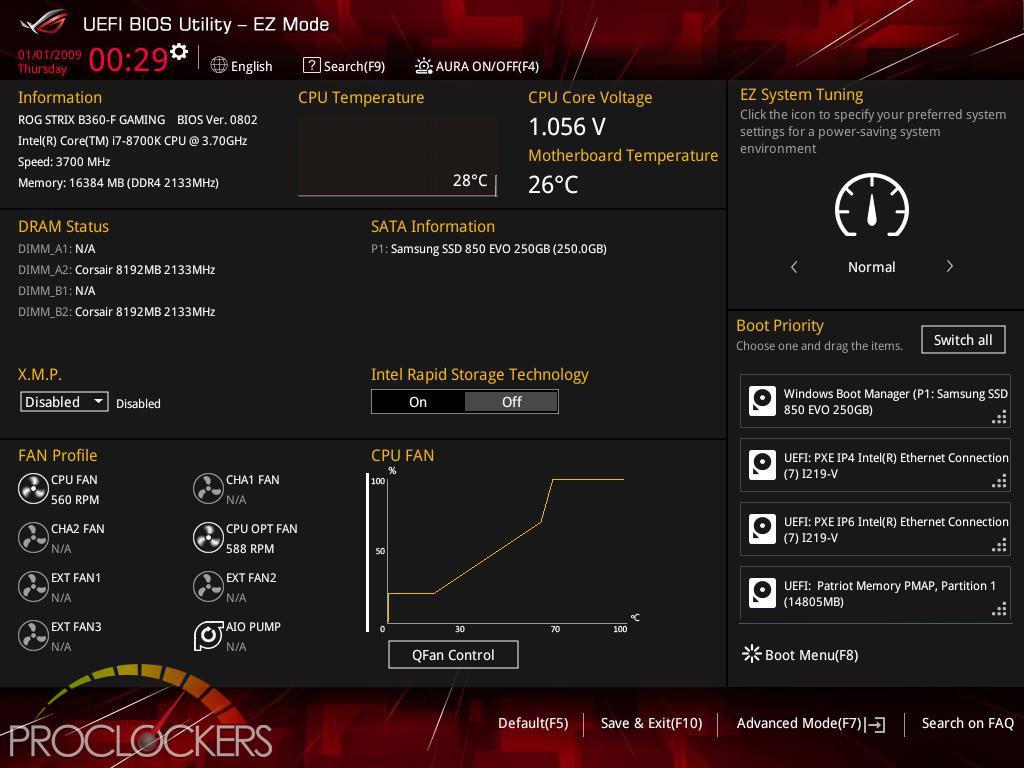 Like most of ASUS's boards, with the ROG Strix B360-F Gaming, you start out on a simplified landing page when entering the UEFI BIOS in EZ Mode.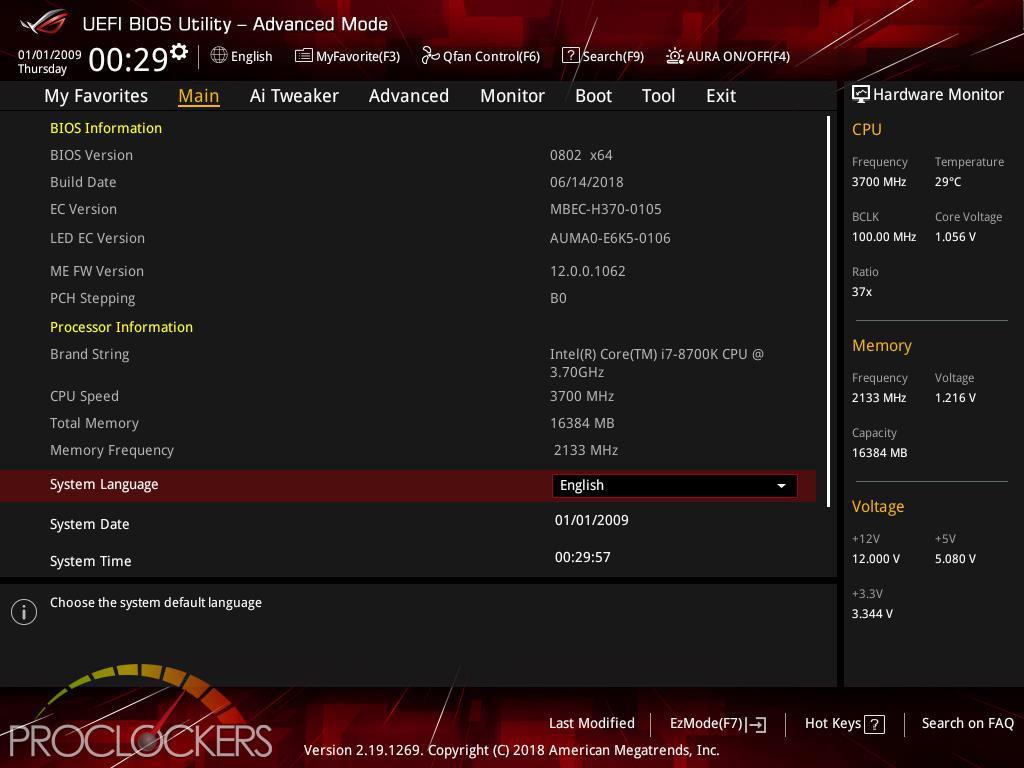 Hitting F7 brings you to the advanced part of the BIOS. This Main page gives a quick overview of your system.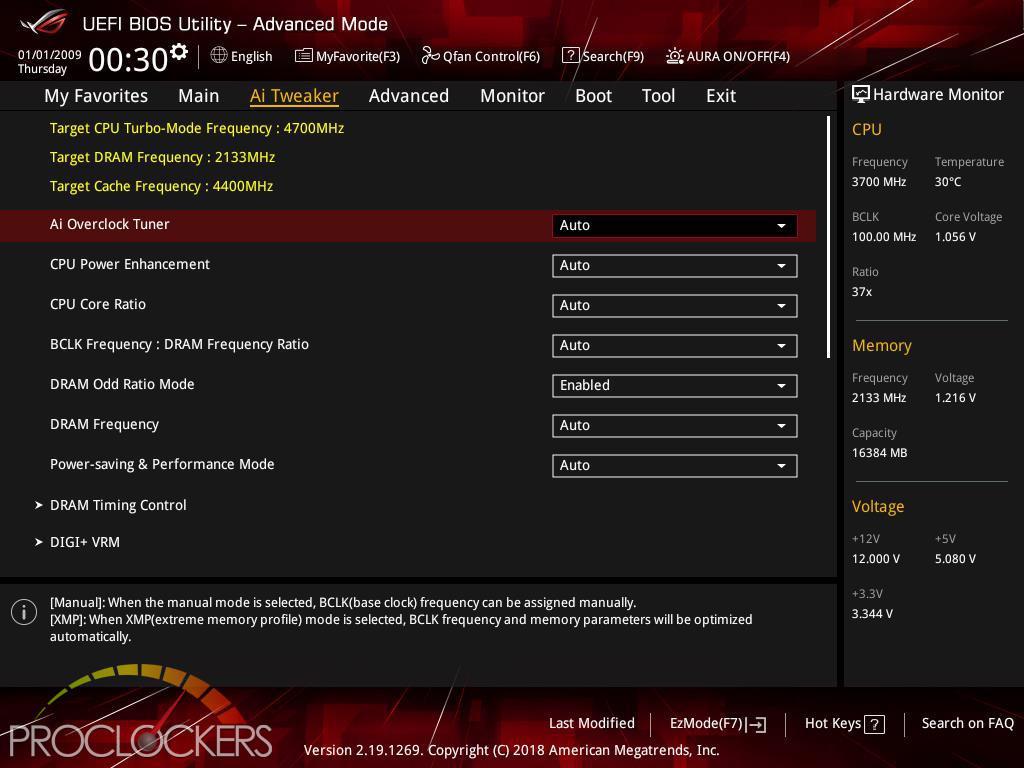 The Ai Tweaker page is where most would normally spend their time in the BIOS. We stopped by to kick XMP on and noticed it only goes up to 2666Mhz when we turn it on. The specifications list a maximum of 2666Mhz memory support, it looks like we may be capped here, but to be fair, this platform is not meant to support overclocking.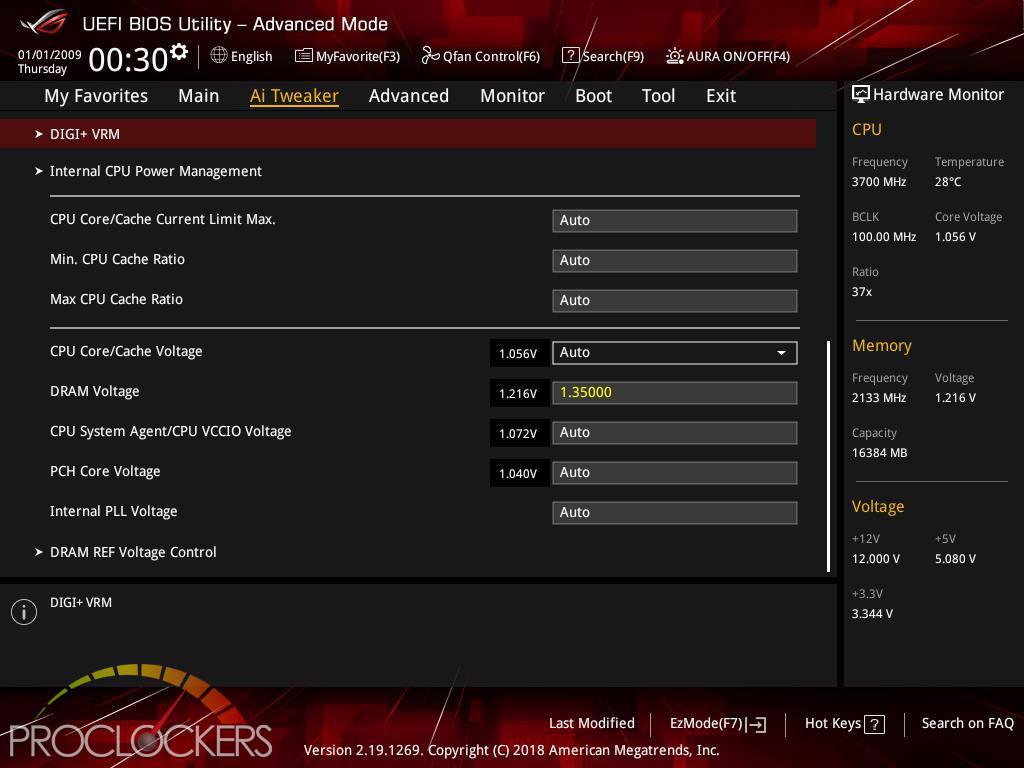 There are a few more settings on the page and under its various sub-menus but not to the extent we are used to seeing in the Z370 series boards.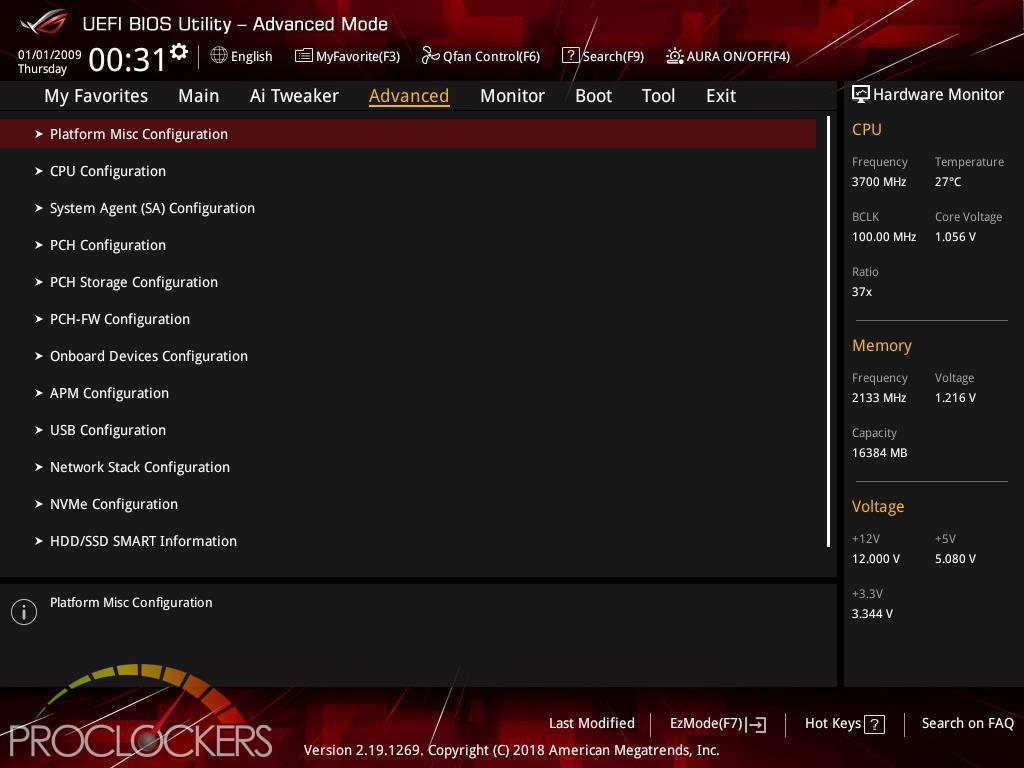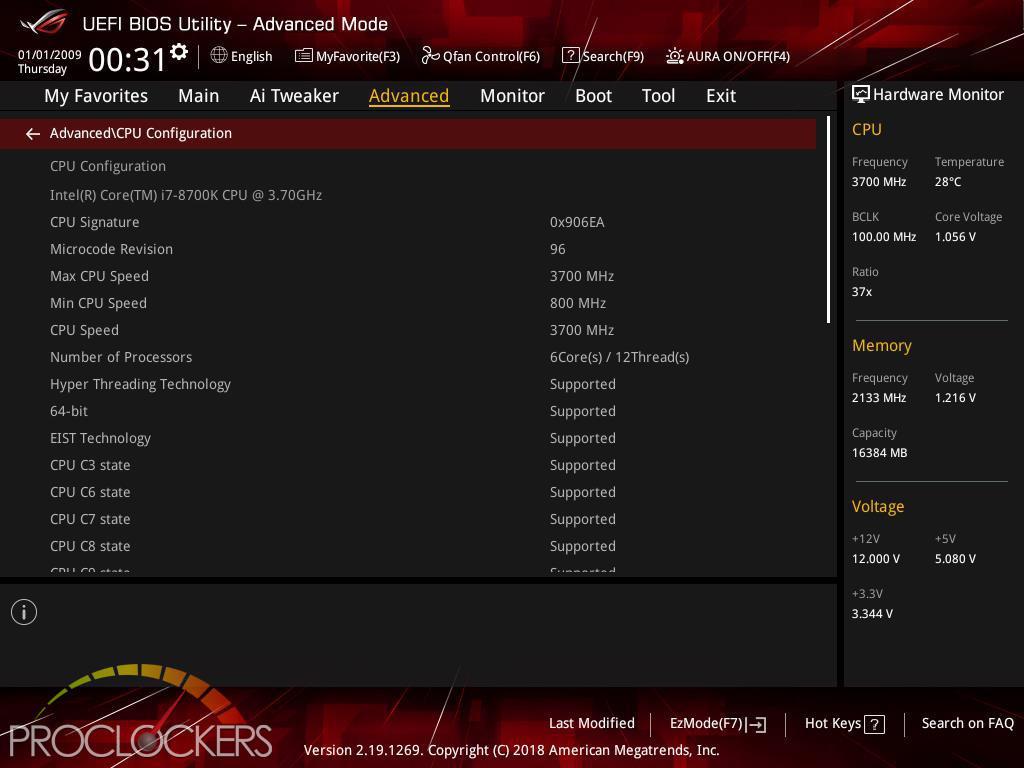 The advanced tab has several useful things if you need to dig deep into the guts of the system, but a few things are here such as PXE booting if you wanted to network boot this system for example.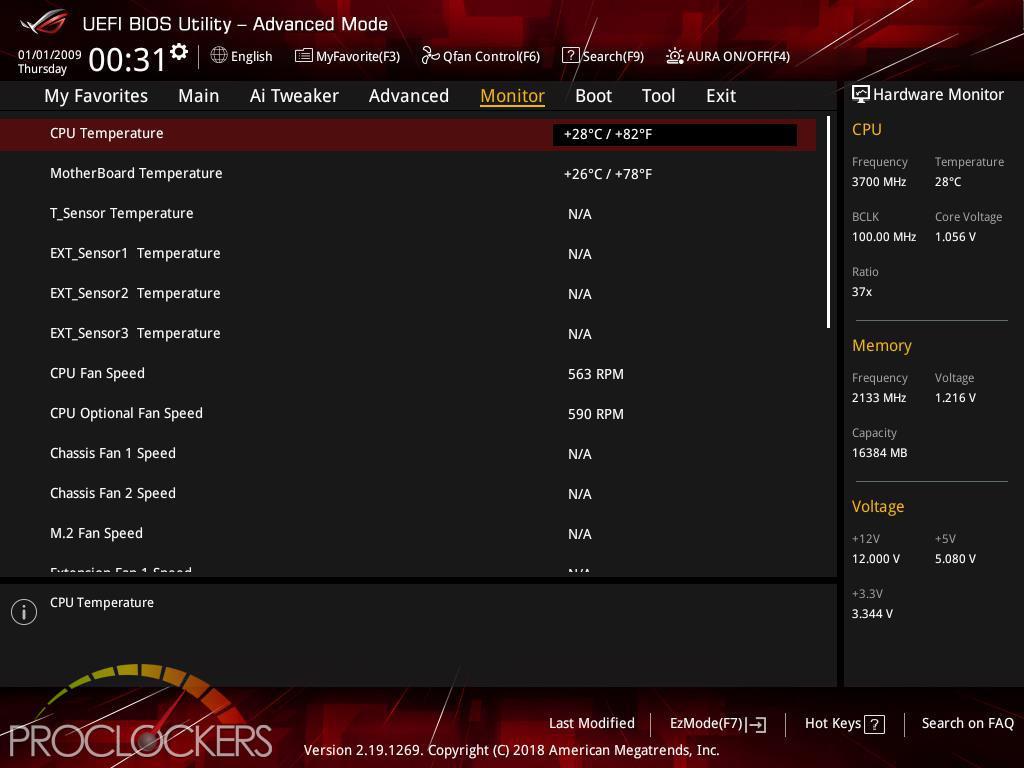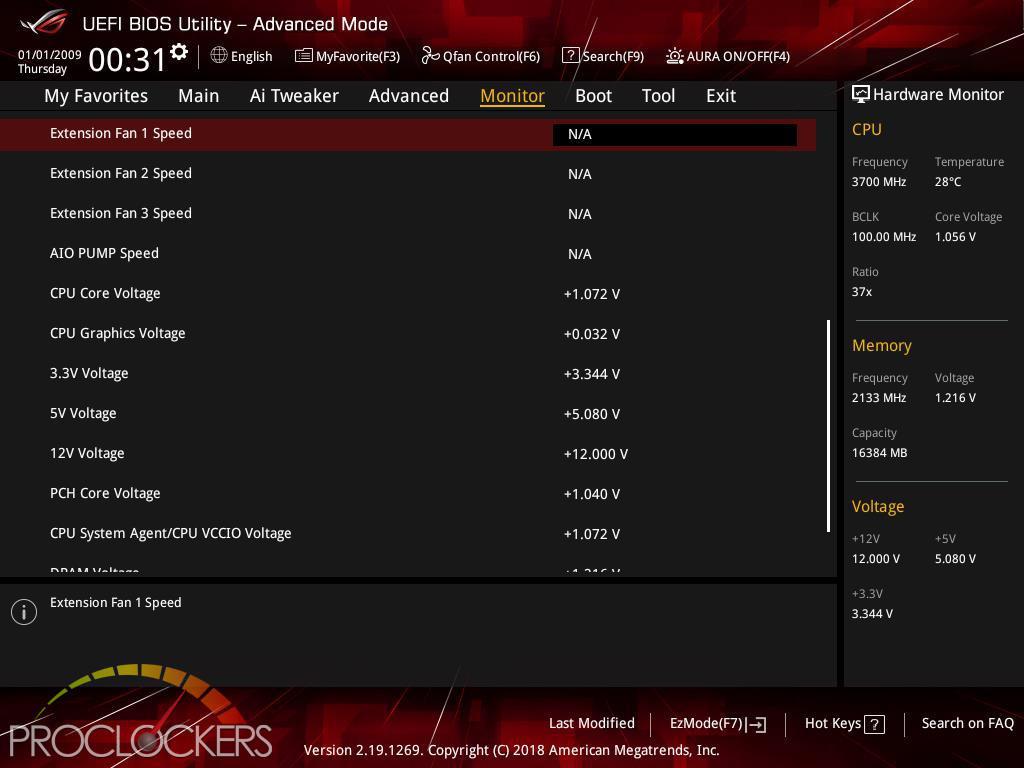 The Monitor tab has all of the speeds from your fan headers, system voltages, and a handful of temperatures to monitor besides the External expansion card (not included).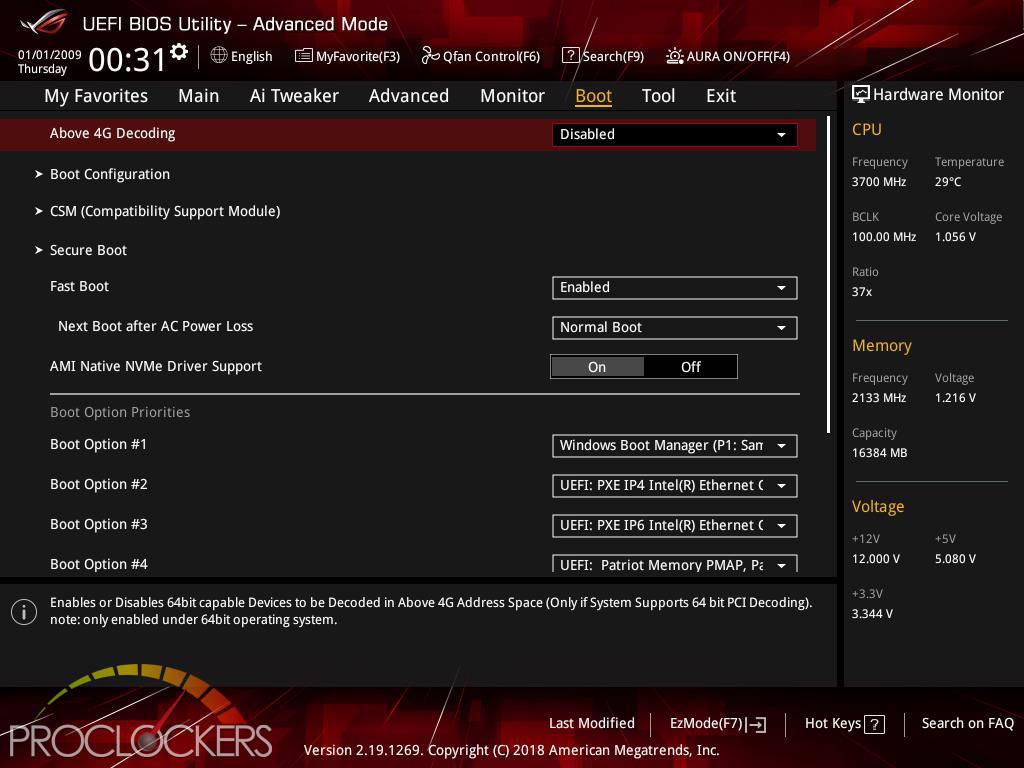 The Boot tab is pretty self-explanatory. In our experience, the need to visit this tab is pretty rare, most boards are pretty good about picking the right device and settings to get you to your chosen OS with little intervention.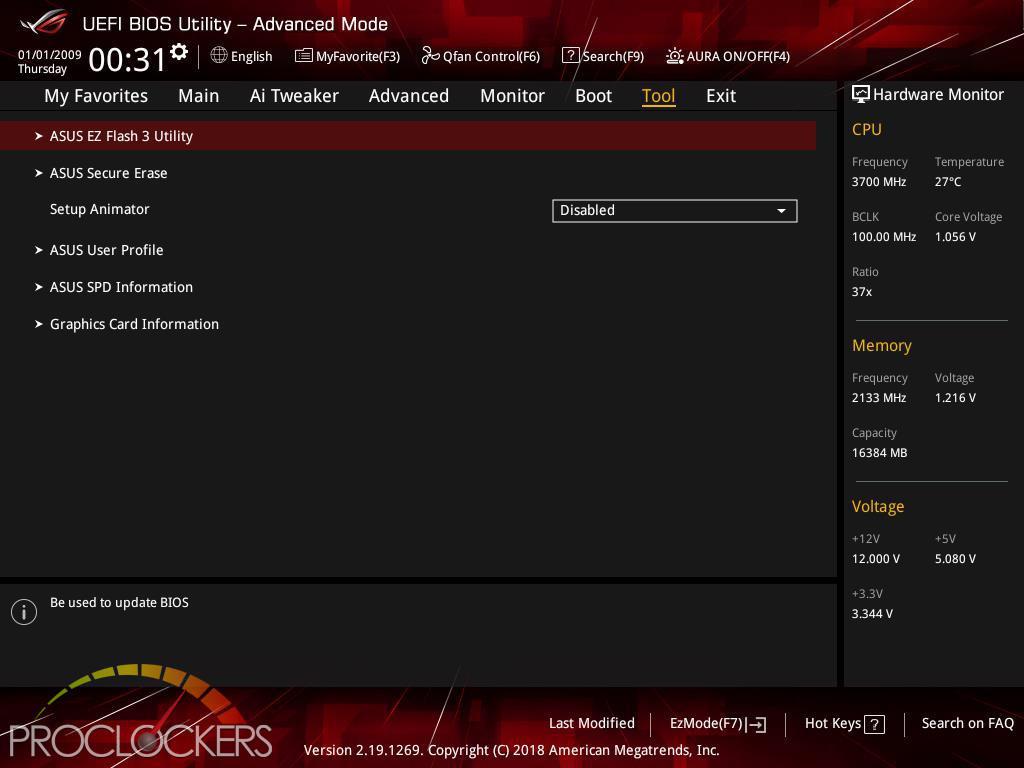 The Tools tab should be the first stop on any new build if for no other reason than to update the BIOS. As we are checking this out prior to launch, there aren't any new versions publicly available yet.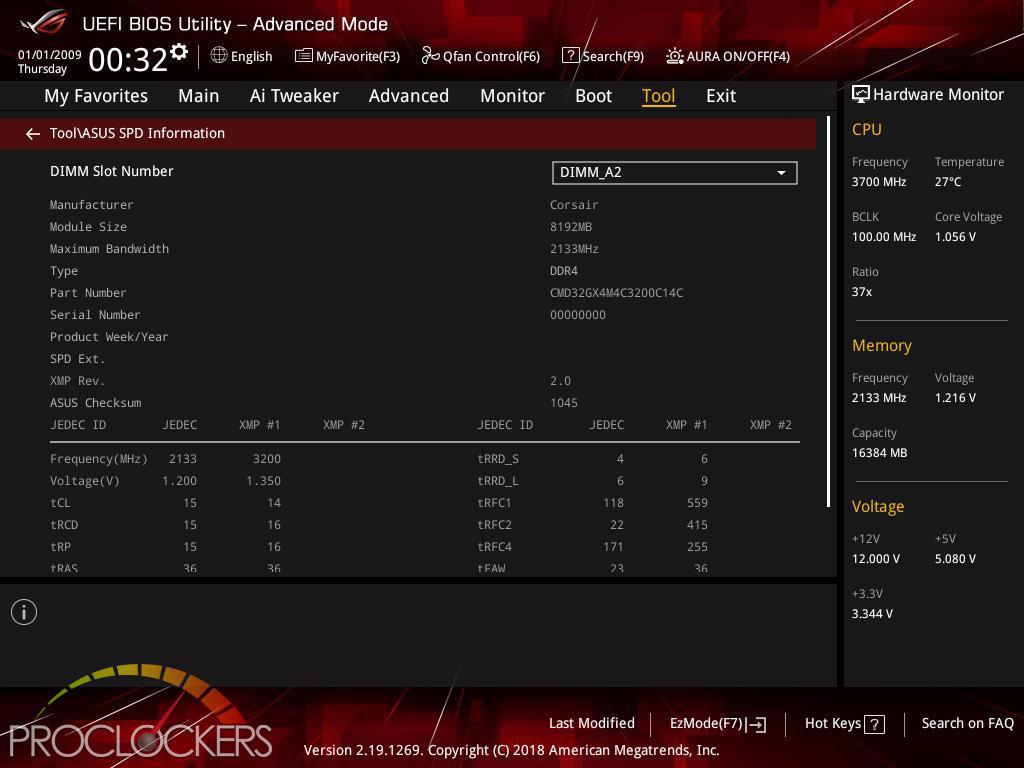 Another useful tool here is the SPD info page. This shows us our kit of memory is indeed rated for 3200Mhz operations.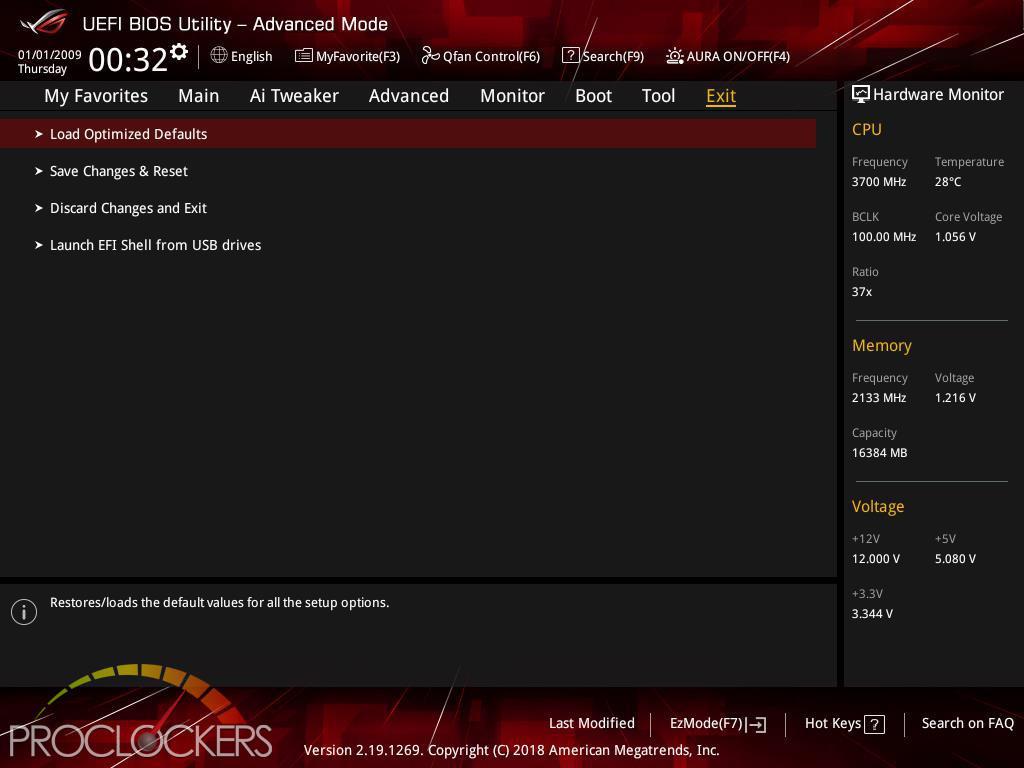 The exit page has some useful things, even if you are used to hitting F10 to save and exit, you may find the need to load defaults or even force load an EFI shell from USB such as the Windows installer.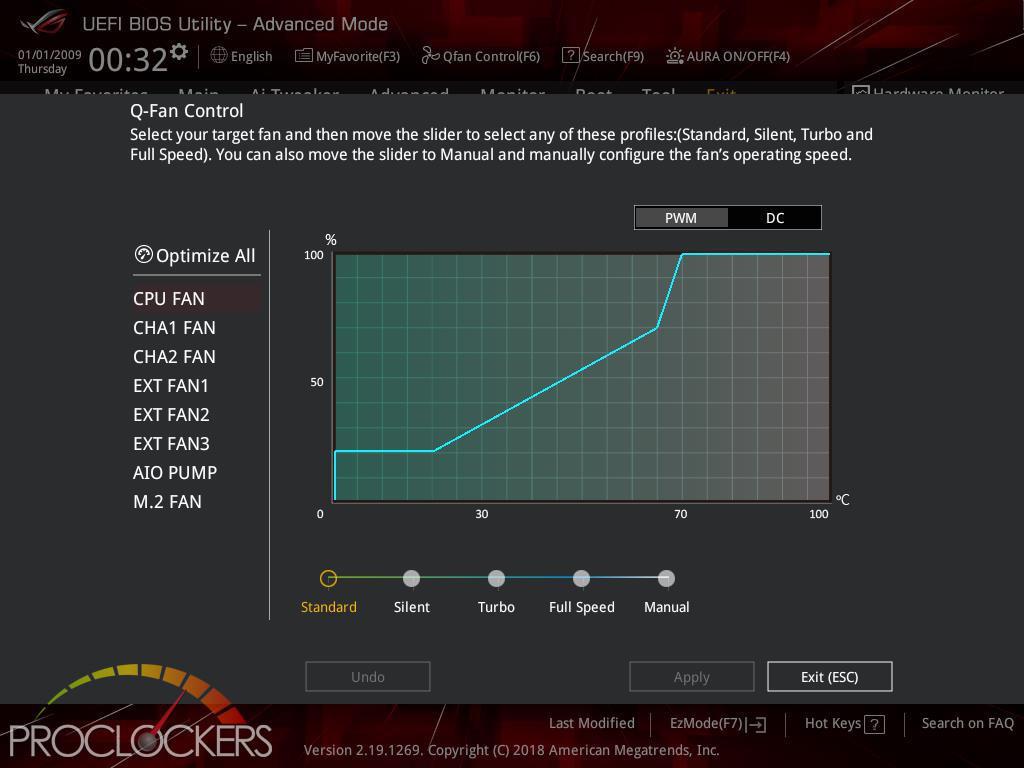 ASUS Q-fan can be accessed from the bottom of the Monitor tab, or at any time by hitting F6. The CPU and Chassis fans can be controlled from here as well as the external expansion connected fans.
Software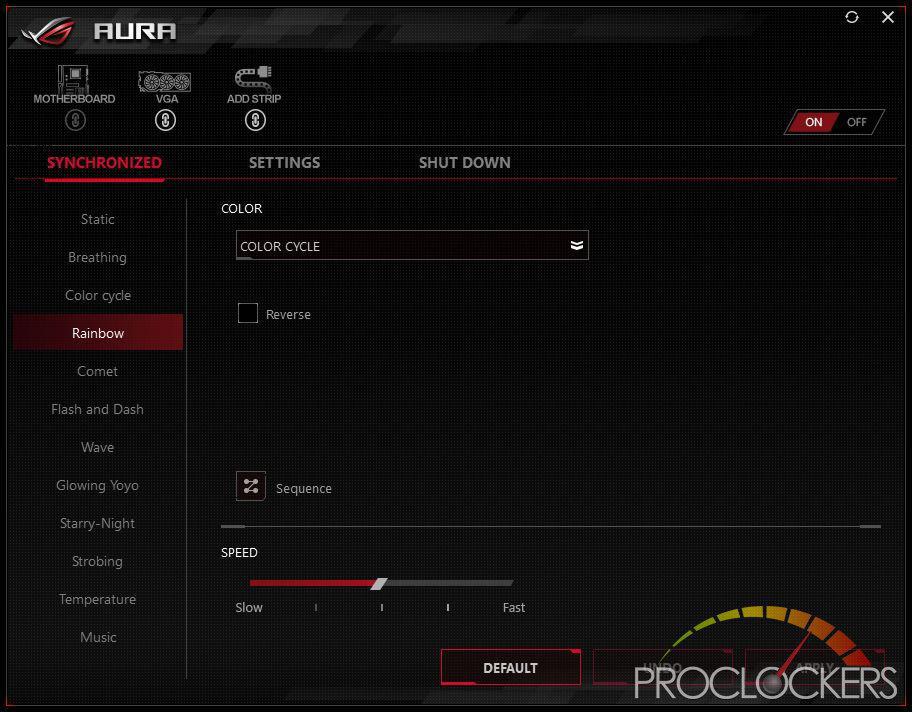 The front edge lighting, as well as the Digital RGB header, are controlled by ASUS's AURA software. There are quite a few effects to choose from, both static and dynamic, but our favorite was the Flash and Dance, as well as the Temperature mode. Other Aura compatible devices can be controlled from here as well.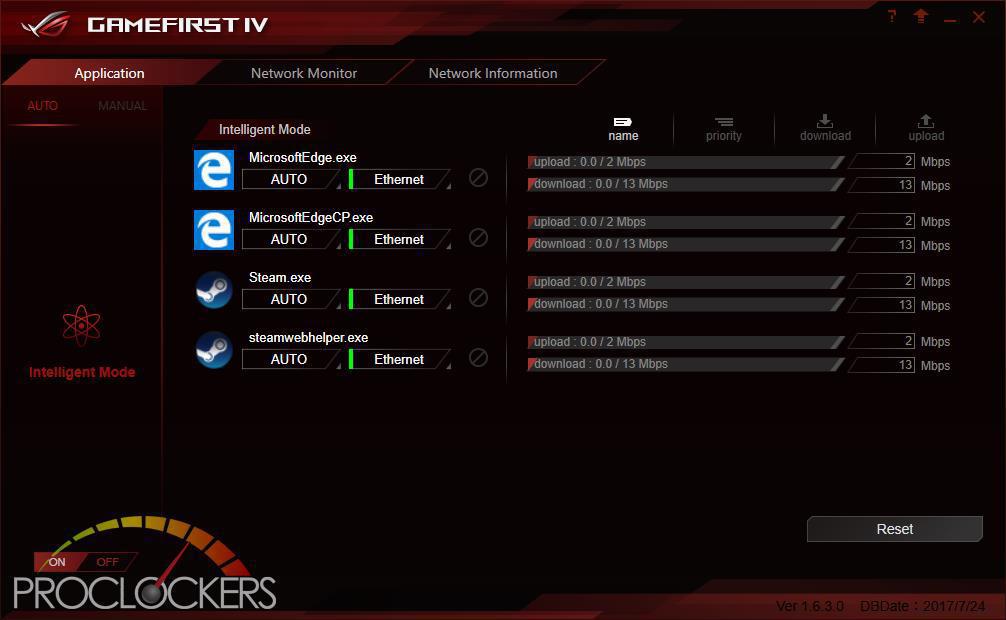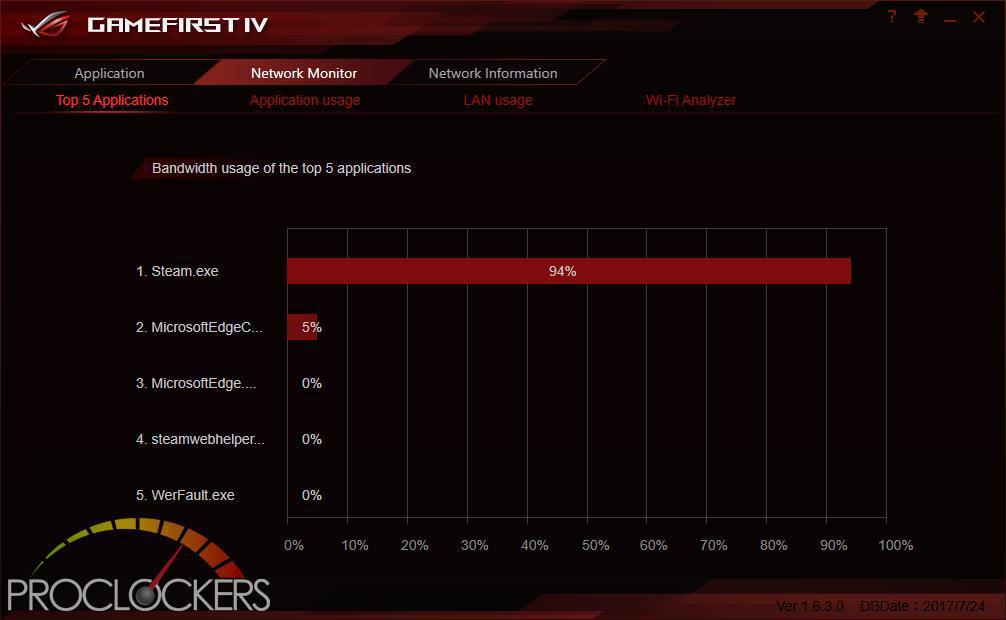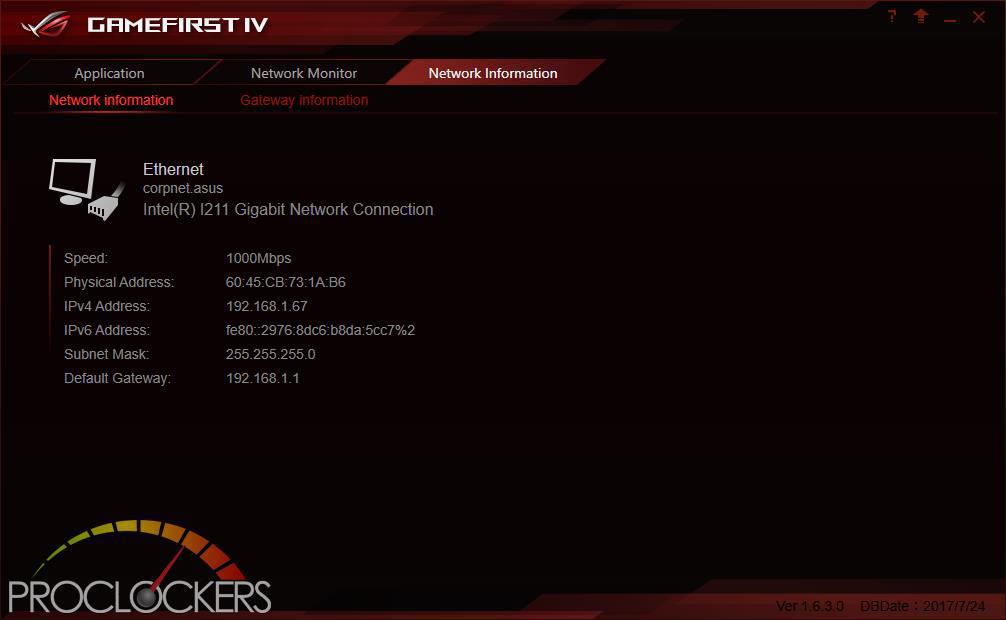 The GameFirst IV Application allows you to Monitor and control all traffic over the Intel Gigabit Lan connection, as well as see statistics and vital information. By Default, the application runs in intelligent mode and will prioritize Traffic based on its purpose, but you can switch to Manual mode and take over full control. You can see here while browsing the web and installing games on Steam for benchmarking where most of the bandwidth is being used.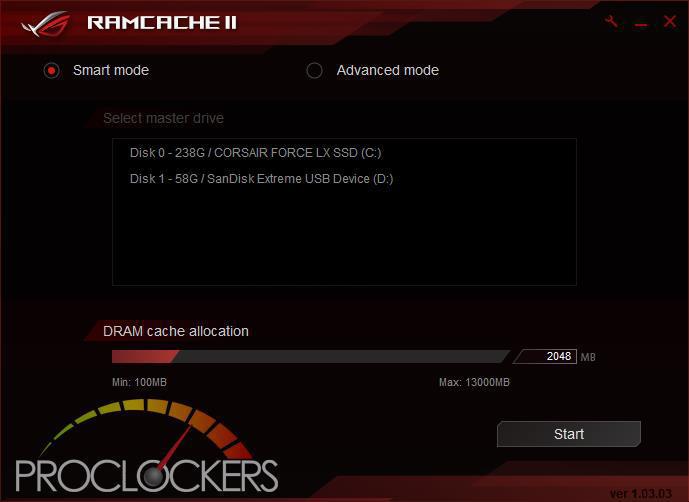 ASUS's RAMCACHE II carves off a user selectable portion of system memory to speed up Disk transfers. Even if you have the fastest NVMe drive out there, using your ram as a cache can speed it up significantly.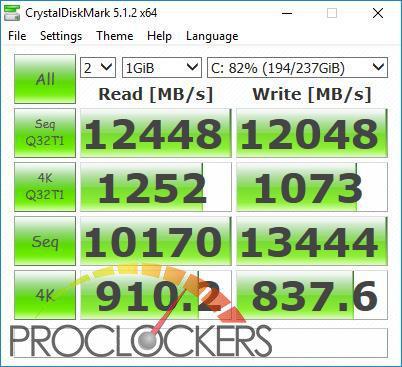 As you can see, this makes a standard SATA SSD into a Monster! More than 12GB/s from a drive rated for 500MB/s is pretty snappy and at the cost of a few unused GB's of ram.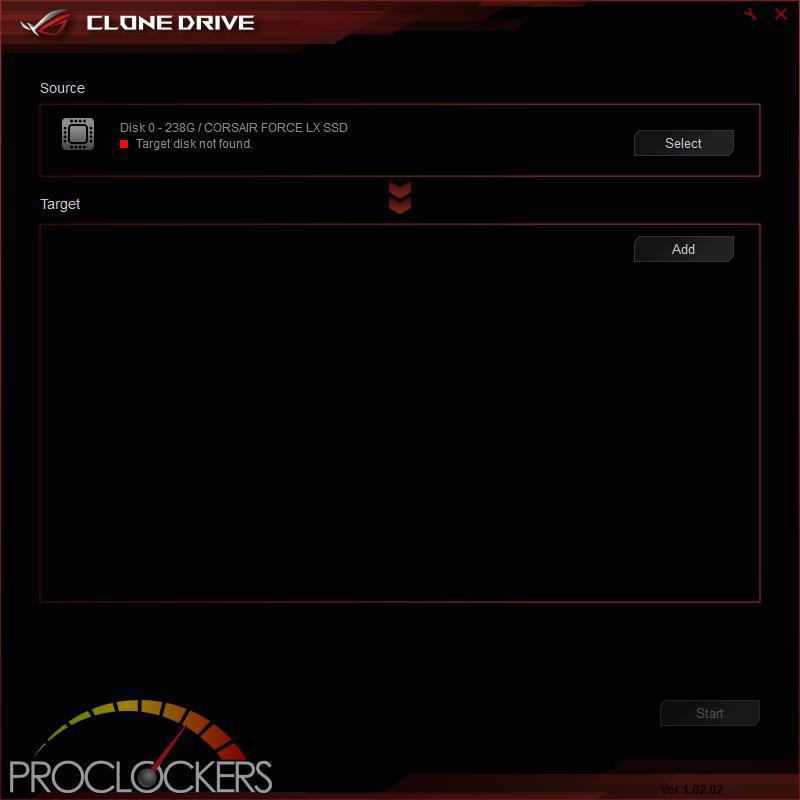 Clone Drive does exactly what the name implies. If you need to migrate to a new larger or faster SSD down the road, simply cone it over and away you go. It does work for data drives as well, not just your OS drive.
Overwolf
Overwolf is a clever, unobtrusive overlay that keeps you in the game and allows you to browse the Web, email, IM, stream or record while you play. The overlay features color-matched ROG skins that show you're part of an elite pack. Grab it now from the Overwolf Appstore!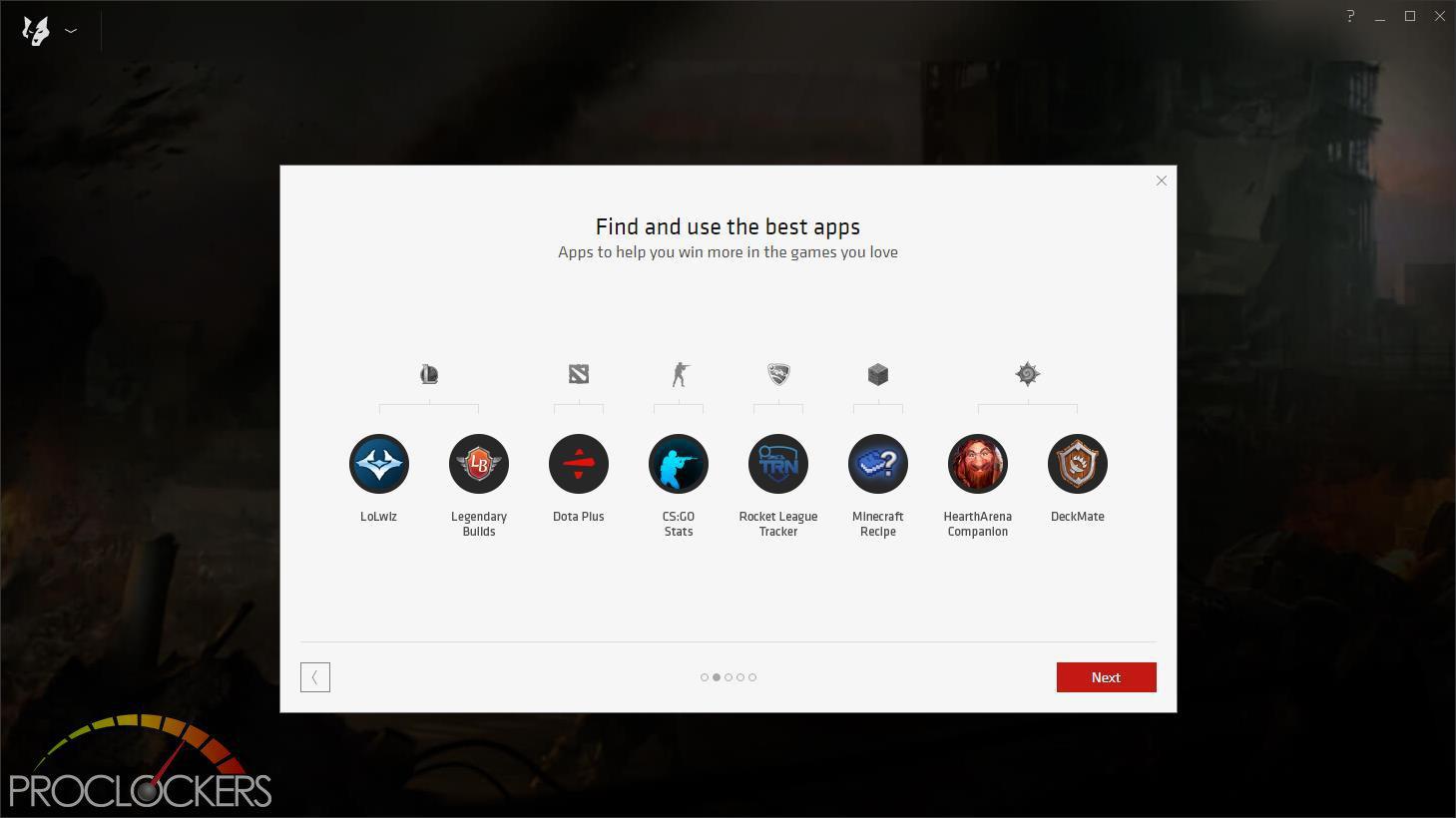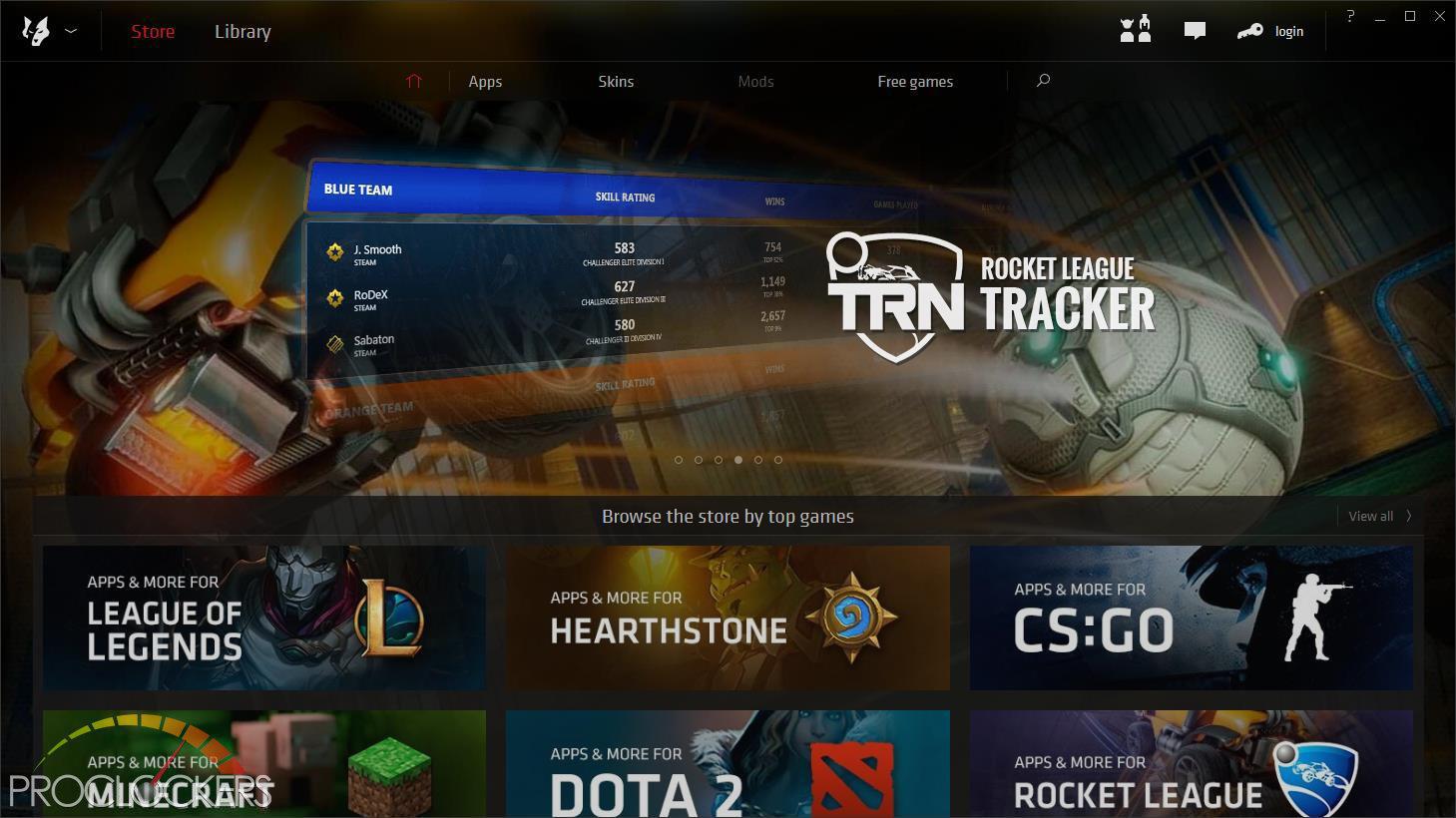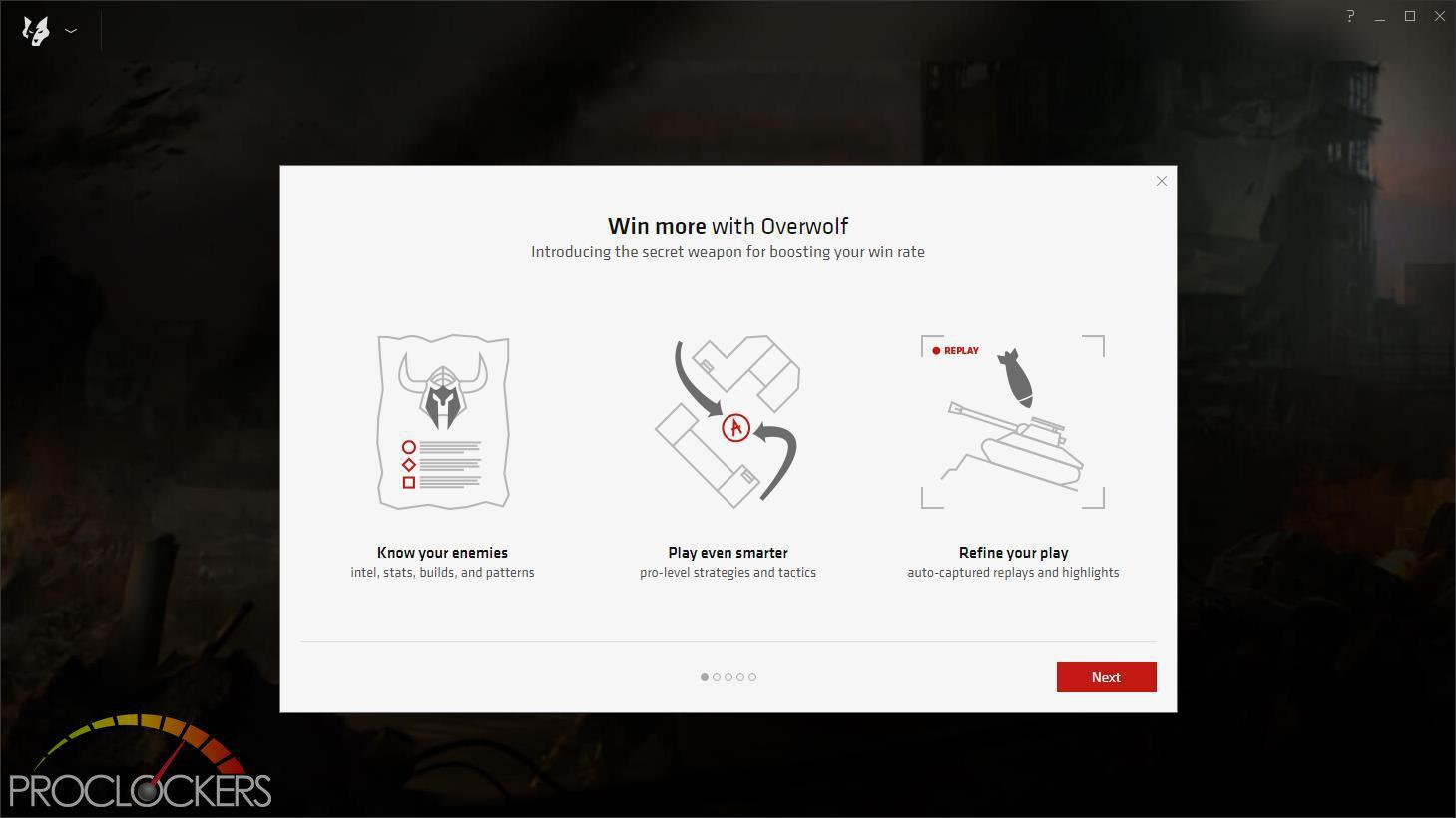 Overwolf provides access to lots of tools for many popular games, as well as some handy utilities for streaming and online play.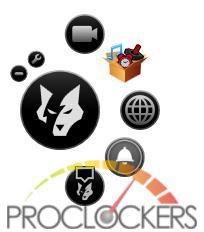 Overwolf also comes with a small desktop widget similar to Dual Intelligent Processors 5.
Performance & Testing
General Performance Testing
All performance testing was done with an i7-8700K and GTX 1070 at default clock speed. CPU was left with Speed Step and Turbo Boost enabled. The only setting changed was enabling XMP memory settings in the BIOS. Games where ran at a resolution of 1920 x 1080 and higher settings enabled as noted.
PCMark 8
"Use the PCMark 8 Storage benchmark to test the performance of SSDs, HDDs and hybrid drives with traces recorded from Adobe Creative Suite, Microsoft Office and a selection of popular games. You can test the system drive or any other recognized storage device, including local external drives. Unlike synthetic storage tests, the PCMark 8 Storage benchmark highlights real-world performance differences between storage devices."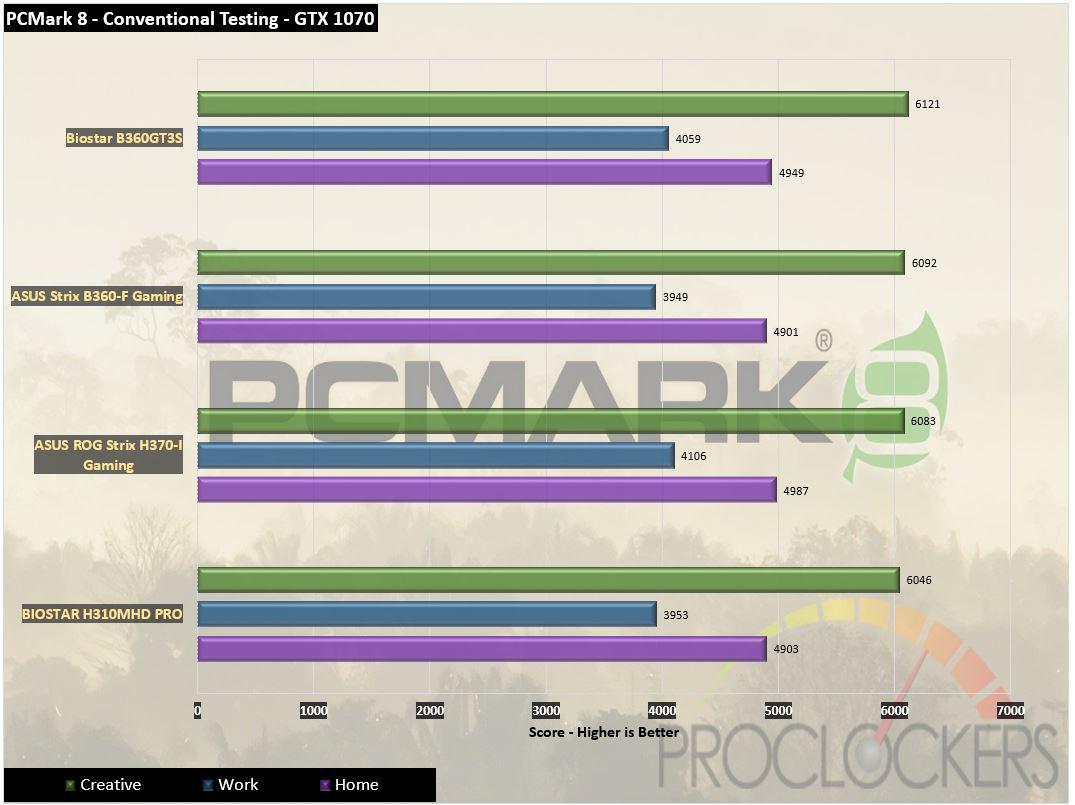 Futuremark's PCMark 8 gives us scores pretty close to other boards in this category. We get the best 'Home' testing score we've seen yet and the other scores are great as well.
PCMark 10
PCMark 10 is the complete benchmark for the modern office. It is the ideal test for organizations that are evaluating PCs for a workforce with a range of performance needs. The tests in this benchmark cover a wide range of activities from everyday productivity tasks to demanding work with digital media content.
PCMark 10 uses a modular approach to build relevant benchmark tests around common end-user scenarios. A Test Group is a collection of workloads that share a common theme or purpose. There are four test groups in PCMark 10, we use three of them.
Essentials: covers the common, everyday ways that people use a PC. The workloads include Web Browsing, Video Conferencing, and App Start-up time.
Productivity: measures system performance with everyday office applications. This test group includes the Spreadsheets and Writing workloads.
Digital Content Creation: This test group's workload reflects the demands of working with digital content and media. The tests include Photo Editing, Video Editing, and Rendering and Visualization.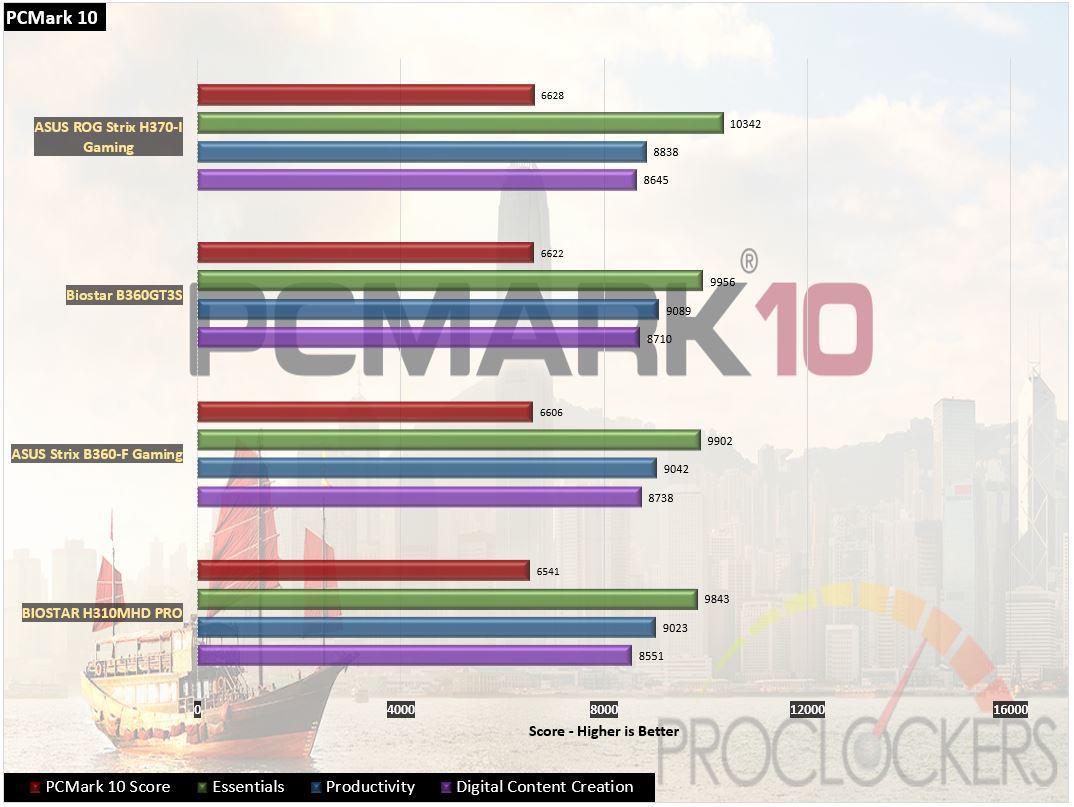 PCMark 10 gives the Strix B360-F Gaming 3rd place in overall score by a mere 22 points.
WebXPRT 2015
WebXPRT 2013 uses scenarios created to mirror the tasks you do every day to compare the performance of almost any Web-enabled device. It contains four HTML5- and JavaScript-based workloads: Photo Effects, Face Detect, Stocks Dashboard, and Offline Notes. WebXPRT is run with the latest stable release version of Google Chrome browser, in this case, Version 65.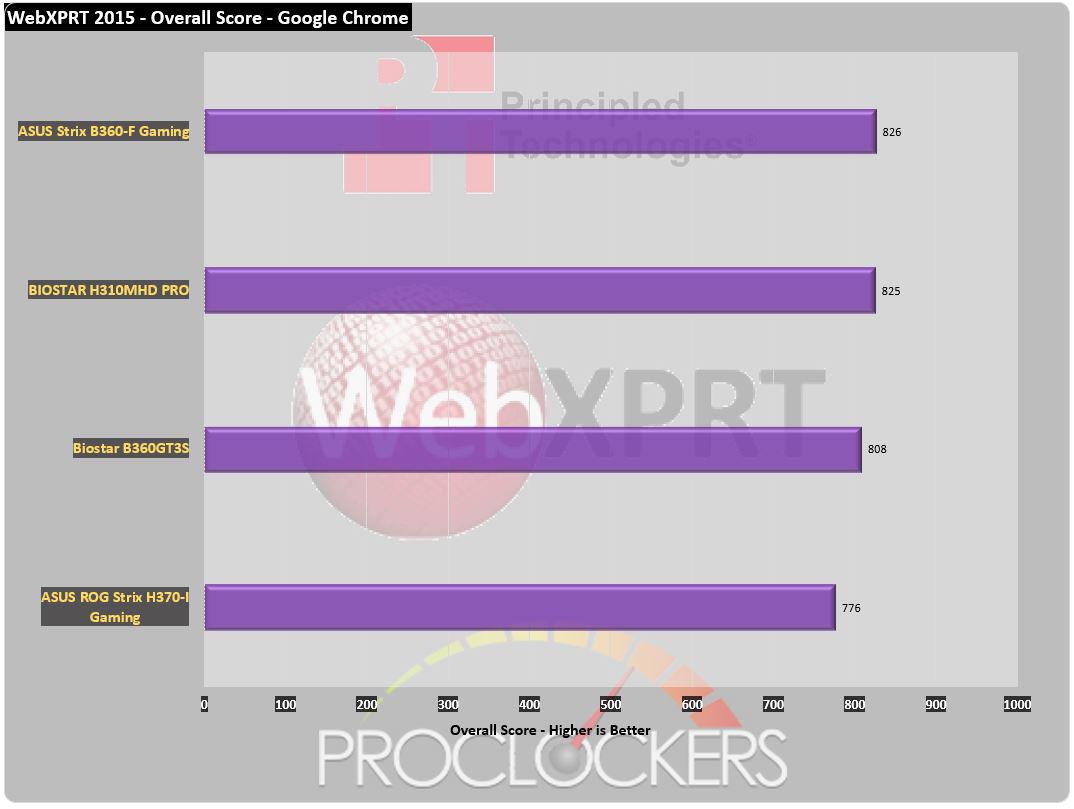 WebXPRT 2015 came in with a 1st place win with 826 points (+/- 9 points).
CPU Performance Testing
Super PI Modded 1.5
"In August 1995, the calculation of pi up to 4,294,960,000 decimal digits was succeeded by using a supercomputer at the University of Tokyo. The program was written by D.Takahashi in collaboration with Dr.Y.Kanada at the computer center. This record should be the current world record. (Details are shown in the windows help.) This record-breaking program was ported to personal computer environments such as Windows NT and Windows 95. In order to calculate 33.55 million digits, it takes 3 days with a Pentium 90 MHz, 40 MB main memory and 340 MB available storage."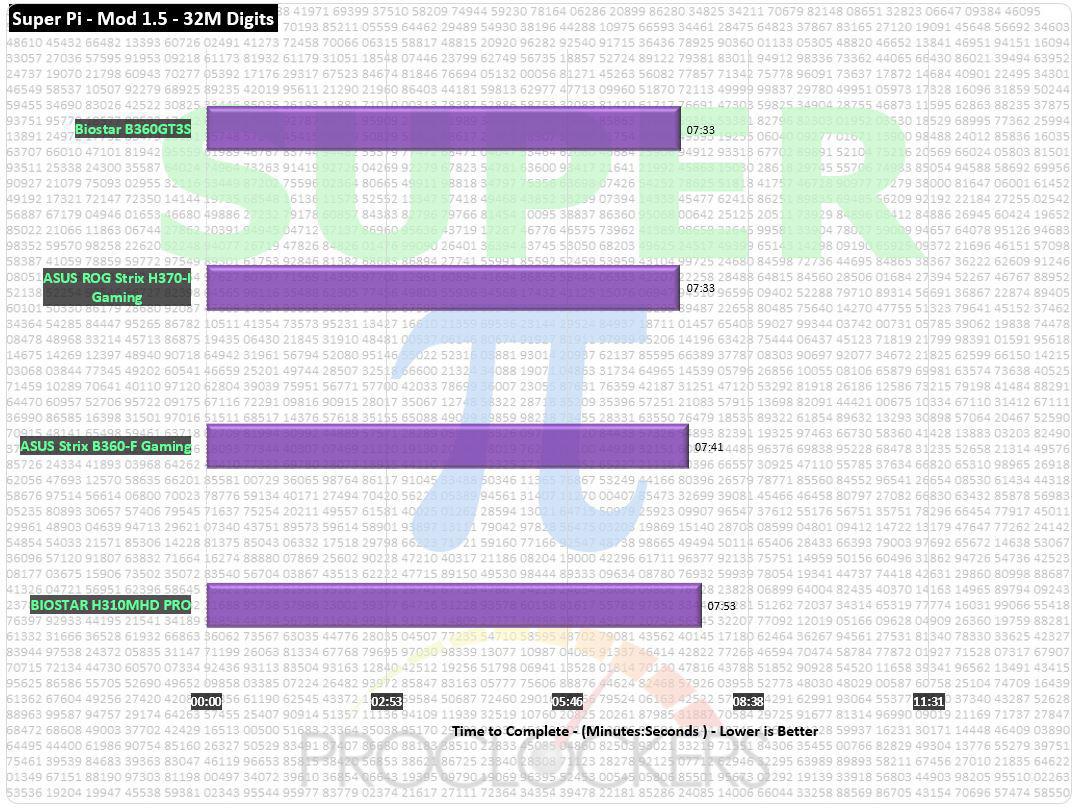 Super Pi comes in at a fair but not trendsetting 7 minutes and 41 seconds for 32M digits.
CINEBENCH R15
"CINEBENCH is a real-world cross platform test suite that evaluates your computer's performance capabilities. CINEBENCH is based on MAXON's award-winning animation software CINEMA 4D, which is used extensively by studios and production houses worldwide for 3D content creation. MAXON software has been used in blockbuster movies such as Iron Man 3, Oblivion, Life of Pi or Prometheus and much more.
CINEBENCH is the perfect tool to compare CPU and graphics performance across various systems and platforms (Windows and OS X). And best of all: It's completely free."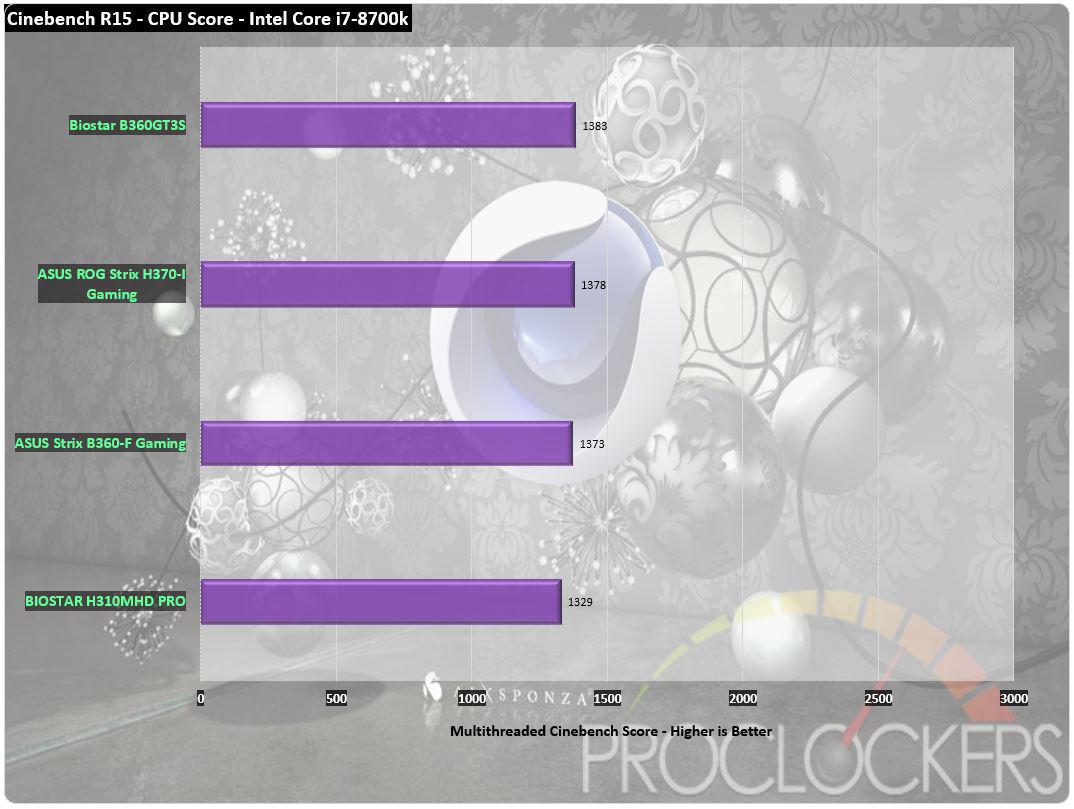 Cinebench redeems on multi-core with a score of 1378cb.
7-Zip
The benchmark shows a rating of MIPS (million instructions per second). The rating value is calculated from the measured speed, and it is normalized with results of Intel Core 2 CPU with multi-threading option switched off. So if you have modern CPU from Intel or AMD, rating values in single-thread mode must be close to real CPU frequency. There are two tests, compression with LZMA method and decompression with LZMA method. Once the total passes reach 100, the score is taken.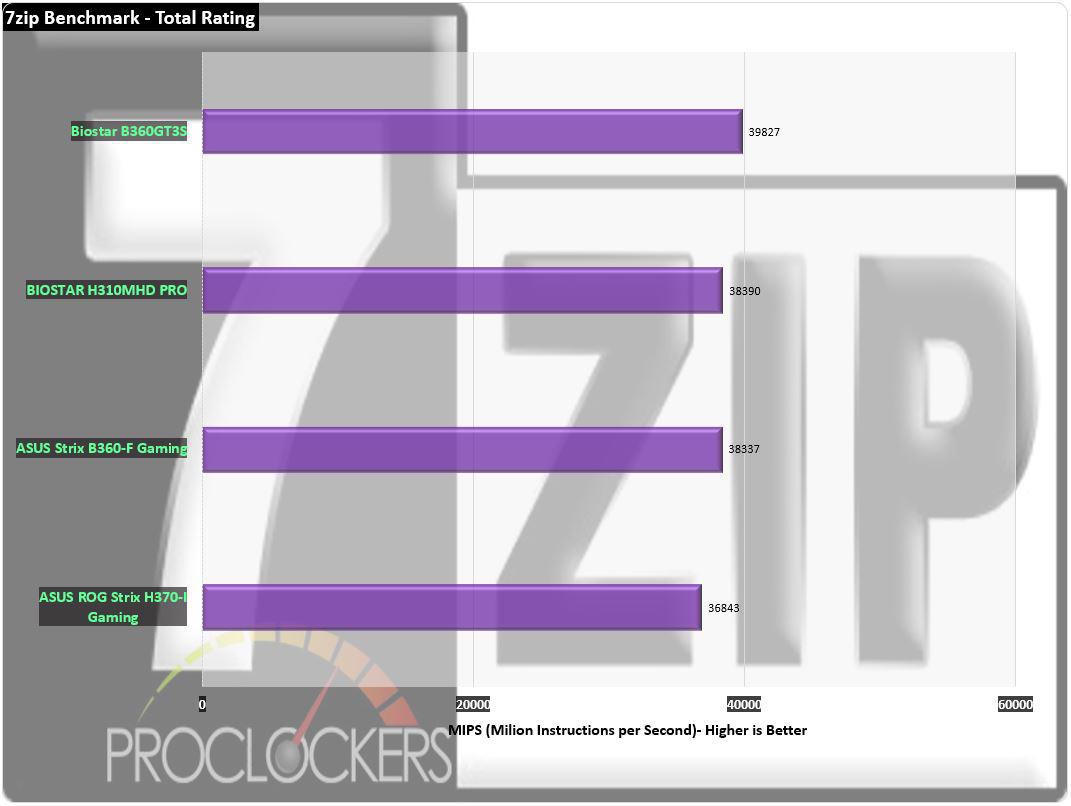 7Zip manages 38,337 points.
Memory Performance Testing
AIDA64 Engineer Edition
"FinalWire Ltd. today announced the immediate availability of AIDA64 Extreme Edition 1.50 software, a streamlined diagnostic and benchmarking tool for home users; and the immediate availability of AIDA64 Business Edition 1.50 software, an essential network management solution for small and medium scale enterprises. The new AIDA64 update implements AVX-optimized benchmarks for the upcoming Intel Sandy Bridge processors, adds a brand new video encoding benchmark, and supports the latest AMD and NVIDIA graphics processors."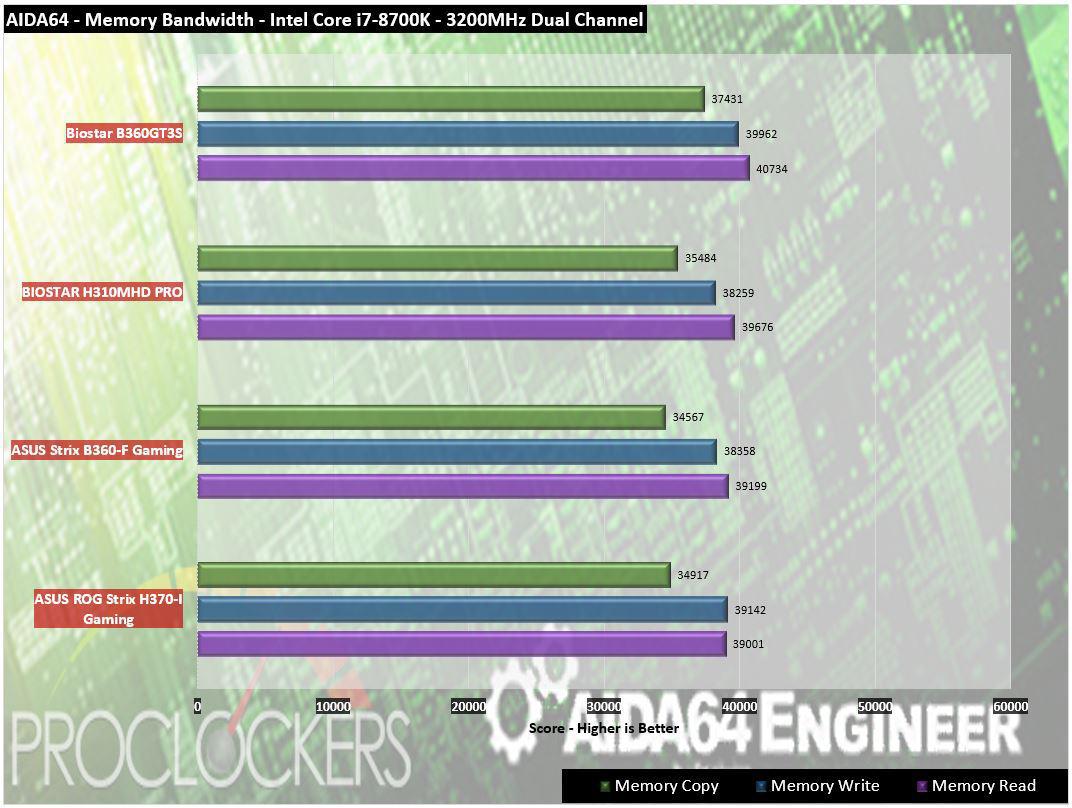 Memory bandwidth as measured by AIDA64 is right on par, hitting just over 39GB/s reads and 38GB/s writes.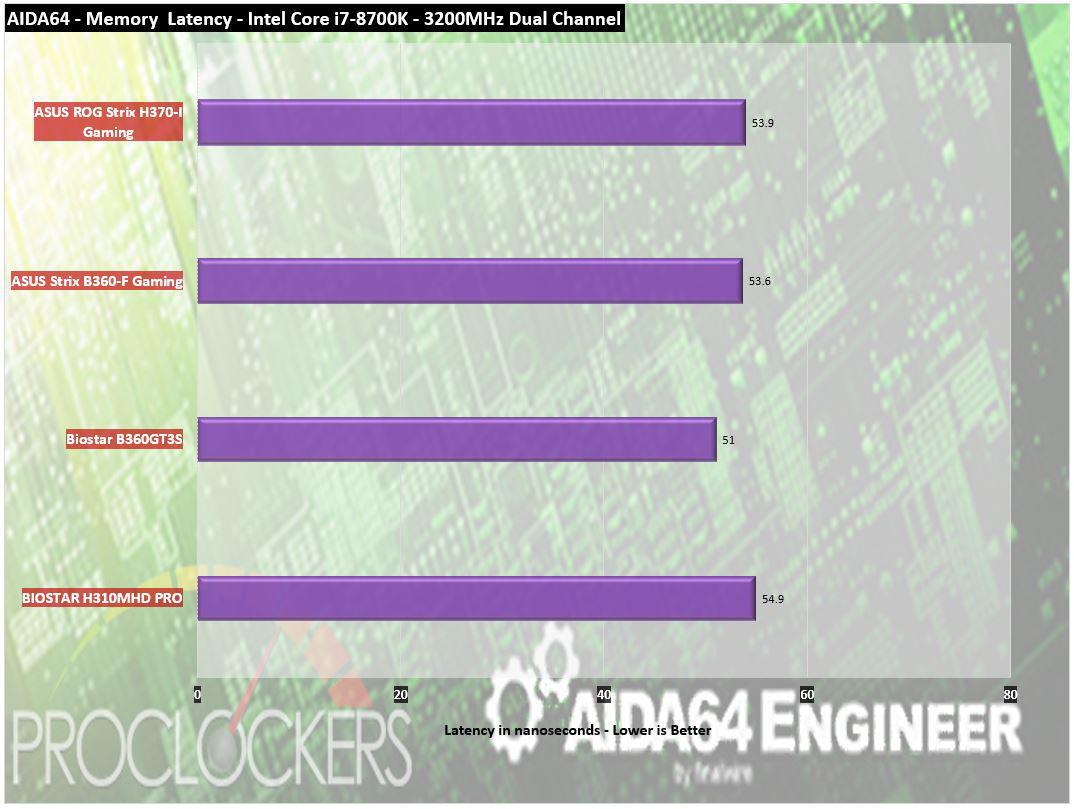 Latency comes in at a decent 53.6ns which puts it in second place in this segment.
Passmark Performance Test – Memory Mark – Threaded
"Fast, easy to use, PC speed testing and benchmarking. PassMark PerformanceTest ™ allows you to objectively benchmark a PC using a variety of different speed tests and compare the results to other computers."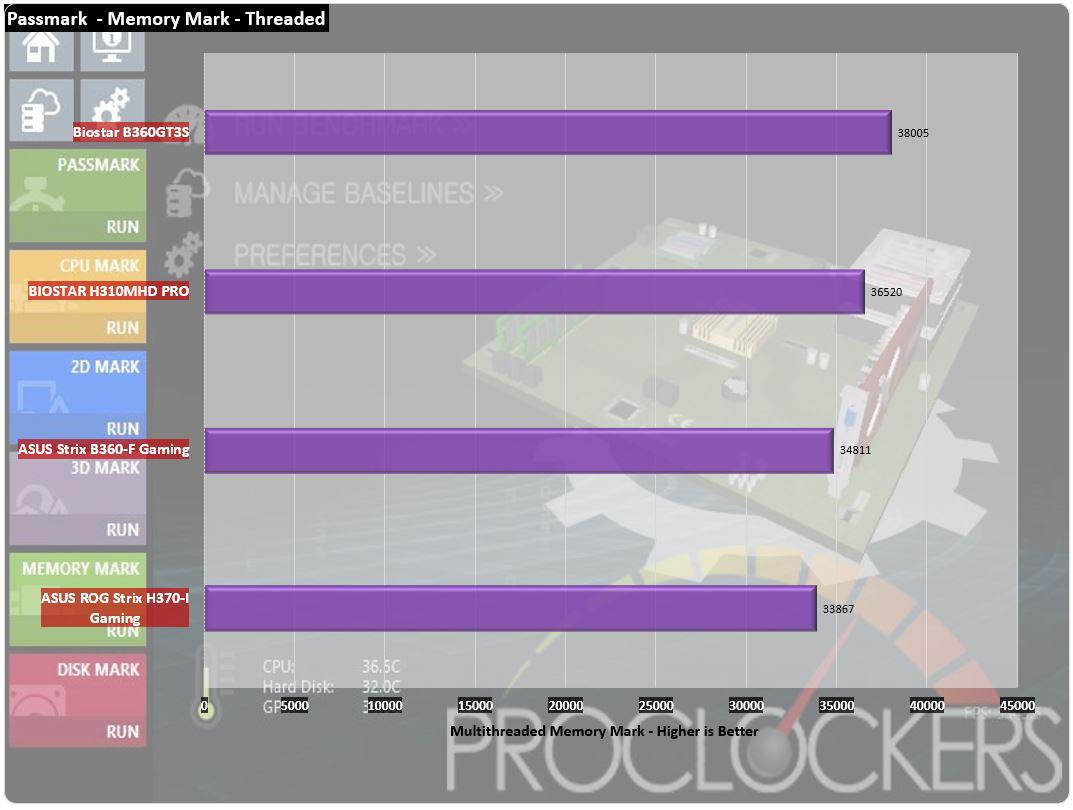 Passmark's Threaded Memory Mark manages a score of 34,811.
SiSoft Sandra
"SiSoftware Sandra provides a robust package of diagnostic tools for testing your system and teasing out its problems–or potential headaches."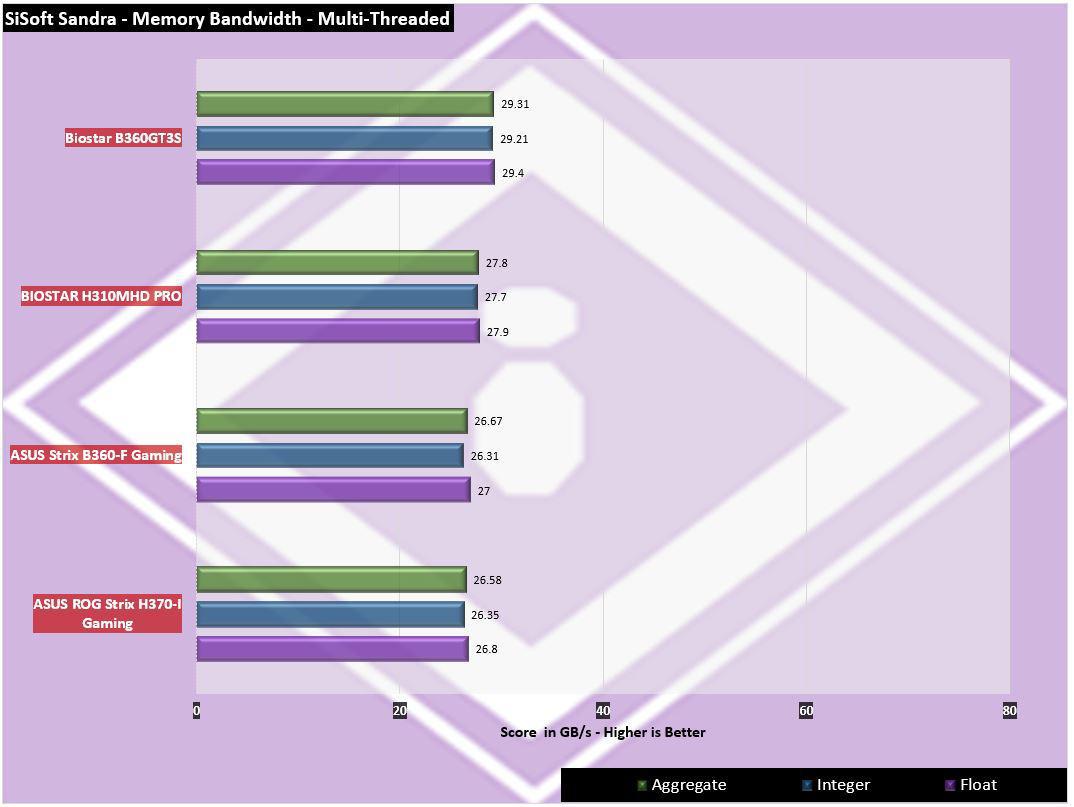 SiSoft gives us 27GB/s float performance and just under that for Integer and Aggregate.
Storage Testing
ATTO Disk Benchmark
"As the industry's leading provider of high-performance storage & network connectivity products, ATTO has created a widely-accepted Disk Benchmark freeware utility to help measure storage system performance. As one of the top tools utilized in the industry, Disk Benchmark identifies performance in hard drives, solid state drives, RAID arrays as well as connections to storage. Top drive manufacturers, like Hitachi, build and test every drive using the ATTO Disk Benchmark"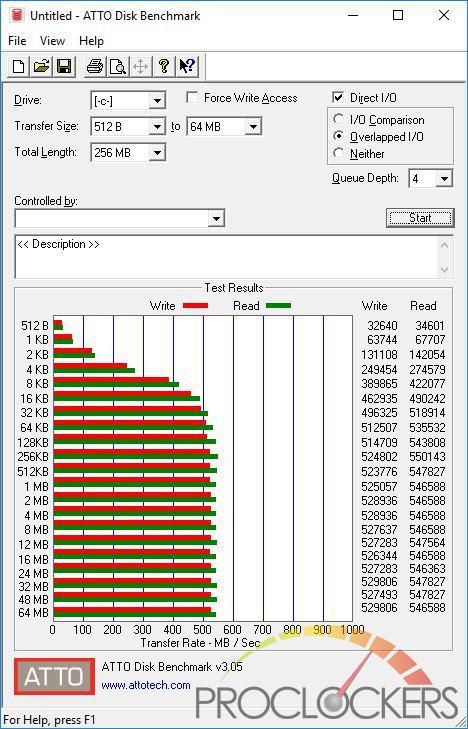 Our Samsung 850 EVO comes in very close to its rated speeds on reading and writing, no issues here.
CrystalDiskMark 6.0
"CrystalDiskMark is designed to quickly test the performance of your hard drives. Currently, the program allows measuring sequential and random read/write speeds."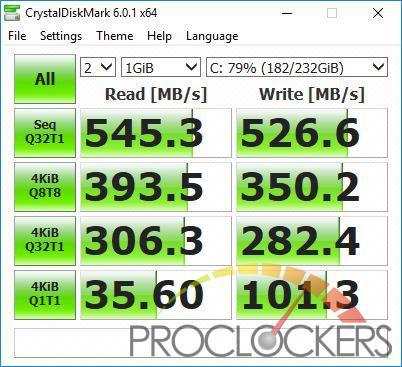 CrystalDiskMark also shows near the rated performance of our SATA drive.
AS SSD
The AS SSD benchmark determines the performance of Solid State Drives (SSD). The tool contains six synthetic and three copy tests.
The synthetic tests determine the sequential and random read and write performance of the SSD. These tests are performed without using the operating system cache. In the Seq test, the program measures how long it takes to read and write a 1 GB file. In the 4K test, read and write performance is determined for randomly selected 4K blocks. The 4K-64 Third test is equivalent to the 4K procedure, except that the read and write operations are distributed to 64 threads. This test should show differences between the IDE operating mode where NCQ is not supported and the AHCI mode for SSDs with Native Command Queuing (NCQ). The additional compression test can measure the performance of the SSD as a function of the compressibility of the data. This is especially important for the controllers that are used to increase the performance and life of the cell compression.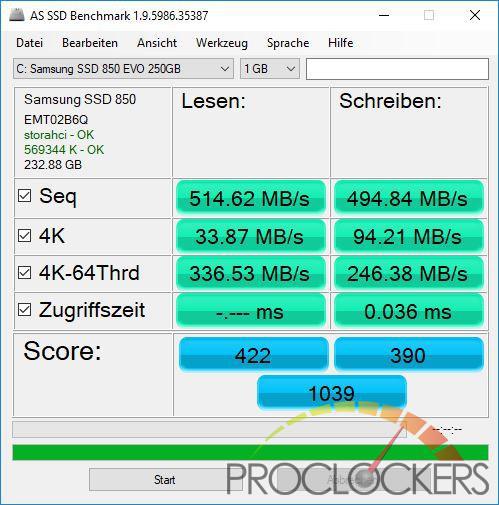 AS SSD has quite different testing methods and shows different scores, but these are pretty similar to what we were expecting. It's clear there are no bottlenecks here.
Game Testing
3DMark – Fire Strike
"Fire Strike is a showcase DirectX 11 benchmark designed for today's high-performance gaming PCs. It is our most ambitious and technical benchmark ever, featuring real-time graphics rendered with detail and complexity far beyond what is found in other benchmarks and games today"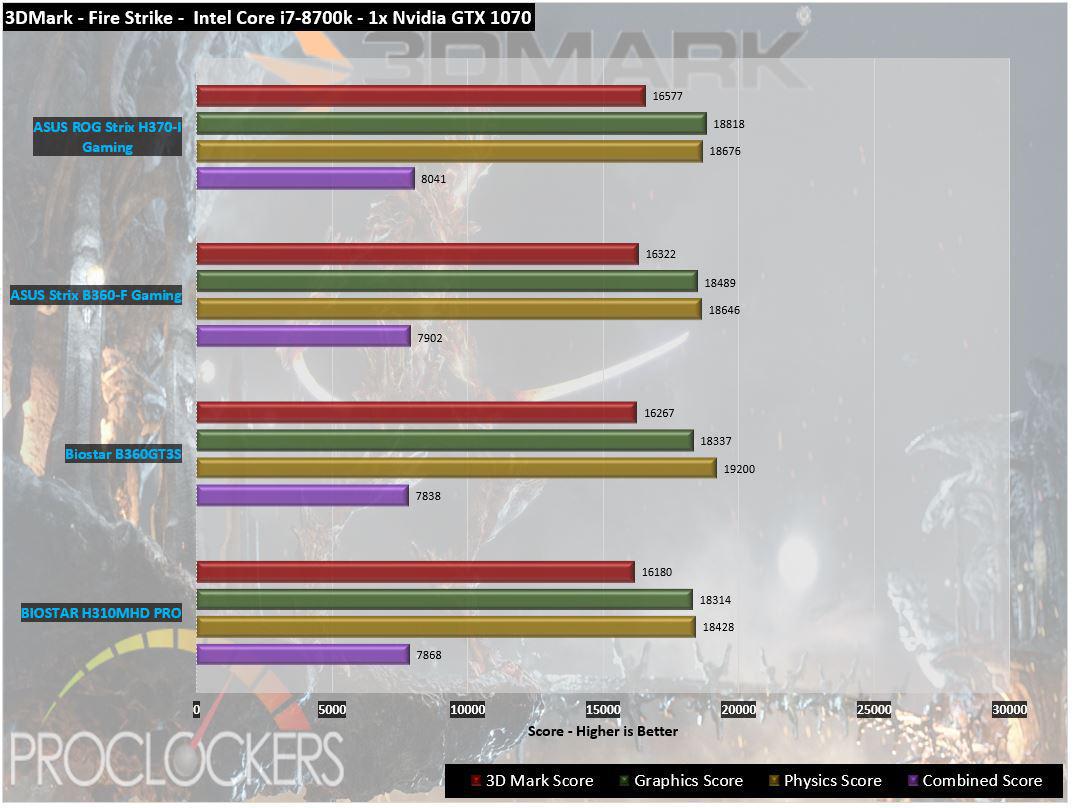 ASUS's boards all seem to have 'gaming' in the name and for good reason apparently, the B360-F gets our second highest overall score in Firestrike behind only its H370 cousin.
3DMark – Time Spy
"3Dmark Time Spy is a new DirectX 12 benchmark test for Windows 10 gaming PCs. Time Spay is one of the first DirectX 12 apps to be built "the right way" from the ground up to fully realize the performance gains that the new API offers. With DirectX 12 engine, which supports new API features like asynchronous compute, explicit multi-adapter, and multi-threading, Time Spy is the ideal test for benchmarking the latest graphics cards."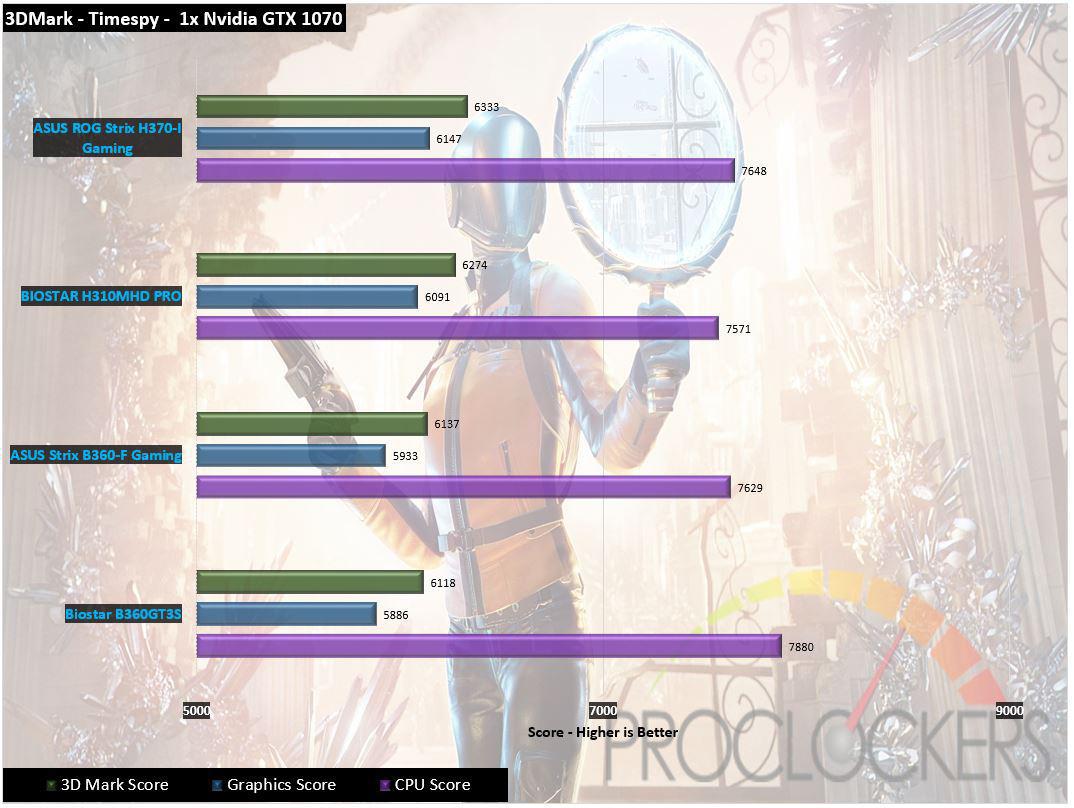 Timespy gives the B360 board 3rd place by just a hair.
Grand Theft Auto: V
"When a young street hustler, a retired bank robber, and a terrifying psychopath find themselves entangled with some of the most frightening and deranged elements of the criminal underworld, the U.S. government and the entertainment industry, they must pull off a series of dangerous heists to survive in a ruthless city in which they can trust nobody, least of all each other."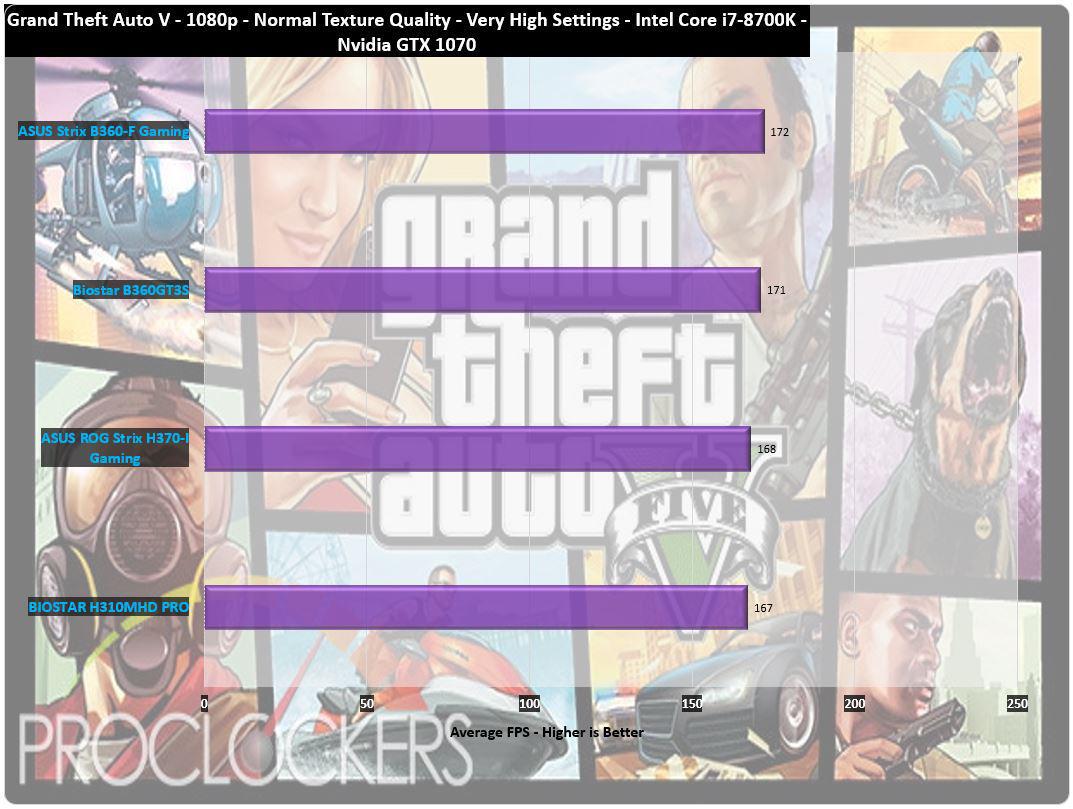 In real-world gaming testing, the B360-F comes in first place with a snappy 172 FPS.
Metro: Last Light
"It Is the Year 2034. Beneath the ruins of post-apocalyptic Moscow, in the tunnels of the Metro, the remnants of mankind are besieged by deadly threats from outside – and within. Mutants stalk the catacombs beneath the desolate surface, and hunt amidst the poisoned skies above."
Developed by 4A Games and published by Deepsilver, Metro: Last Light uses the 4A game engine. At its highest settings, the 4A game engine is capable of bringing all but the most extreme gaming systems to their knees.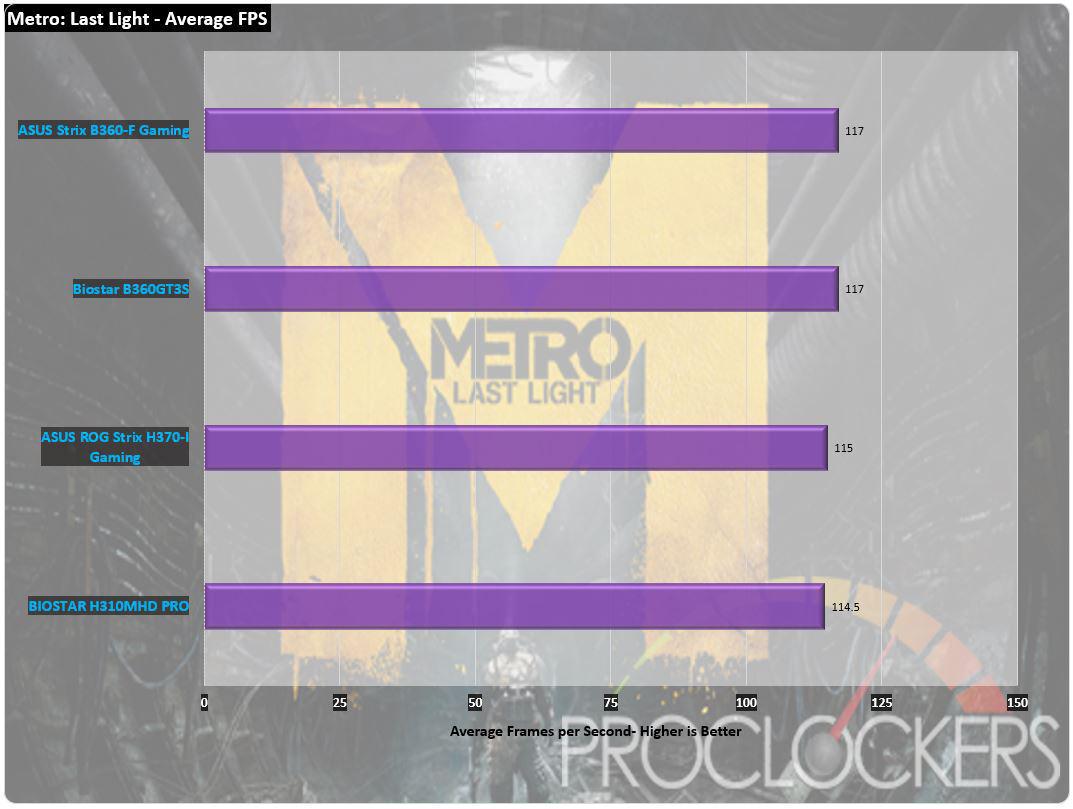 Metro shows 0.1FPS faster than our previous leader. It's not much of a gap, but a win is a win, right?
Thief
"Garrett, the Master Thief, steps out of the shadows into the City. In this treacherous place, where the Baron's Watch spreads a rising tide of fear and oppression, his skills are the only things he can trust. Even the most cautious citizens and their best-guarded possessions are not safe from his reach."
Thief was developed by Eidos-Montréal and published by SQUARE ENIX, Eidos Interactive. The newest game in our benchmark suite, Thief is also one of the most demanding and has the highest recommended system requirements. Those heavy requirements allow it to use the Unreal 3 game engine to great effect. It also features AMD's Mantle API, as well as Microsoft's common DirectX 11 API.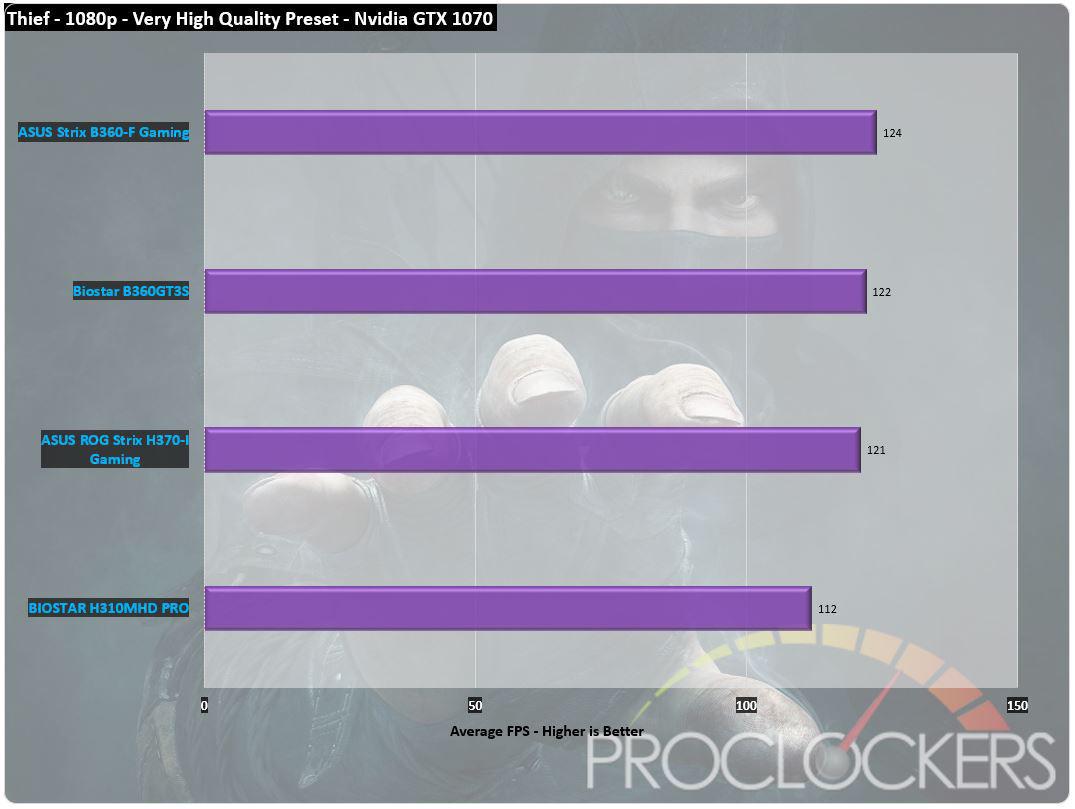 Thief comes in with another win.
Final Thoughts & Conclusion

Asus has managed to give a mainstream platform the true enthusiast feel on just about everything but the bank account. The looks are premium, the performance is exceptional, and unless you just HAVE to overclock things to the bleeding edge, the ROG Strix B360-F Gaming is poised to be a contender for your first pick of boards. Everything runs nice and cool and performance was near the top of the pack in most of our testing.
We enjoy the aesthetic choices ASUS has gone with, the elegant but neutral grey and black scheme will blend with most builds quite well. There is plenty of options for cooling from the multitude of fan headers to the expansion board support to even having thermal probe ports for water cooling. We couldn't find much we didn't like and at around $130 on the street, the value per dollar spent is very friendly.
Great Job ASUS!