Intel Core i7-9800X LGA2066 HEDT CPU Review
Introduction
Intel's High-End Desk Top (HEDT) brings workstation class performance together with enthusiast level features for a no-compromise machine ready for work and play. The first series of CPU's to hit the LGA 2066 socket came in two flavors, the lower end Kabylake-X starting at quad-core with dual-channel memory and Skylake-X continuing up to 18-cores with quad-channel memory and featuring either 16, 28 or 44 PCIe lanes. This made for a bit of a confusing mess and that's before discussing the pros and cons of Intel's choice of using paste as the thermal transfer medium, much to the outrage of extreme overclockers. Intel has taken the opportunity to make things right and refreshed the lineup with the new 9000 series additions to the Skylake-X family. Every single SKU features a full complement of 44 PCIe lanes, quad-channel memory and a soldered Heat spreader for maximum overclocking performance. Today we'll be checking out the Core i7-9800X, the lowest position in the new lineup but still packing 8 cores and a 165W TDP into the latest X299 boards.
ProClockers would like to thank Intel for sending the i7-9800X over to check out!
Intel's take on the Core i7-9800X
The Ultimate Creator PC Platform
Made to create, the latest Intel® Core™ X-series processor family is powered by up to 18 cores and 36 threads to address the simultaneous, compute-intensive demands of Creators. All SKUs enable system configuration flexibility for specific creator usages with access to 44 PCIe* lanes, quad channel memory, plus support for Thunderbolt™ technology and high-speed storage like Intel® Optane™ SSDs. Finally, these new processors are fully unlocked1 and feature solder thermal interface material (STIM) for extreme overclocking.2 Get the power and convenience of a full studio in your PC, helping accelerate your creative workflow from beginning to end.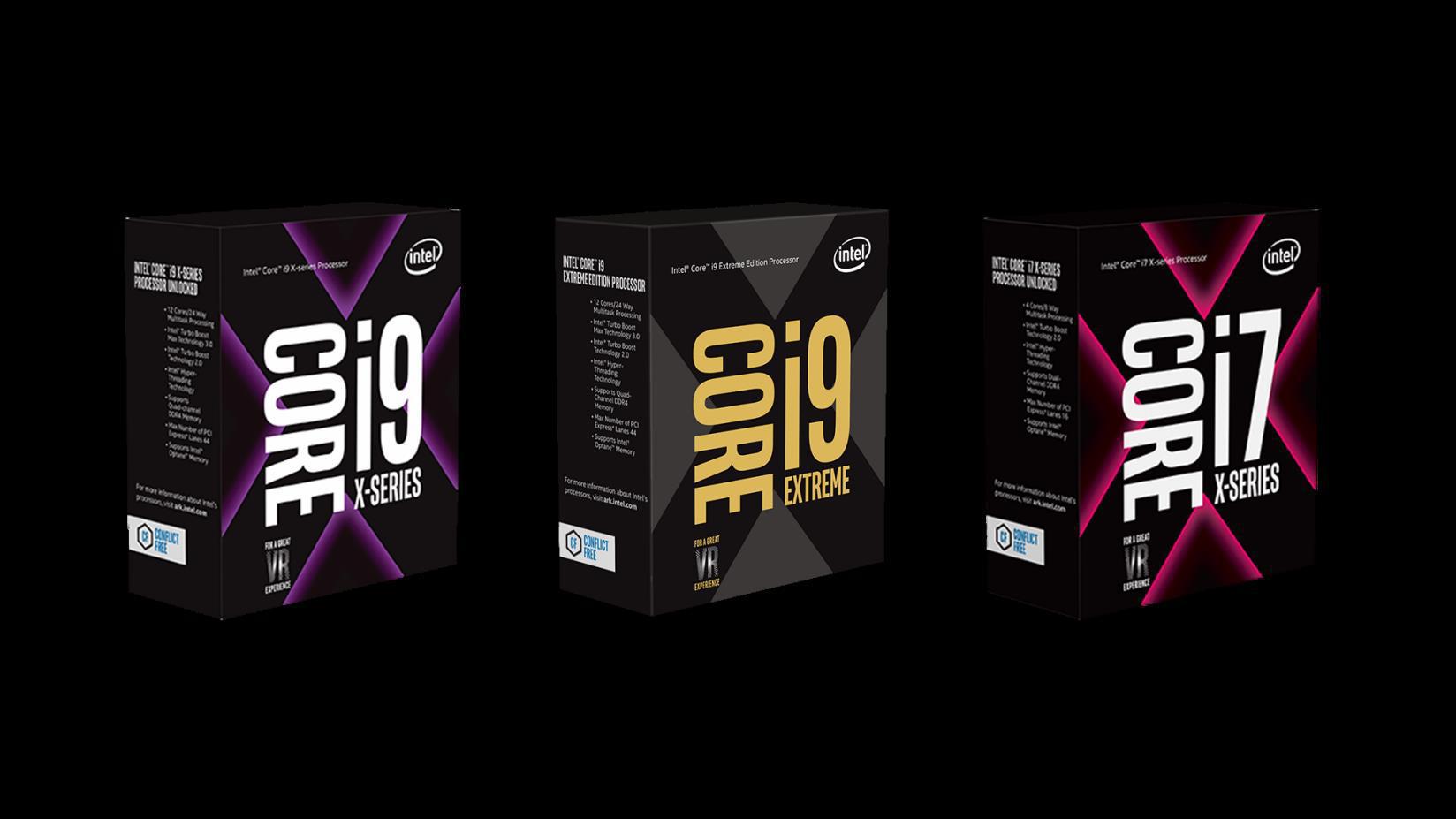 Features & Specifications
Intel® Core™ X-Series Processor Family
The X-series processor family is designed to scale to your performance needs by delivering options ranging from 8 to 18 cores for extreme performance, the latest technological advancements from Intel and headroom for the future. This platform comes with Intel® Turbo Boost Max Technology 3.0, which optimizes lightly-threaded performance by identifying your processor's fastest two cores and directing your most critical workloads to them.3 It also comes ready to install Intel® Optane™ memory and Intel® Optane™ SSDs for amazing system responsiveness. Support for immersive 4K visuals, four channel DDR4 2666 memory, Intel® Advanced Vector Extensions 512 (Intel® AVX-512), Thunderbolt™ 3 delivering a 40Gb/s bi-directional port for almost any peripheral you want to connect and up to 8 SATA ports for a RAID storage array makes this the ultimate desktop platform.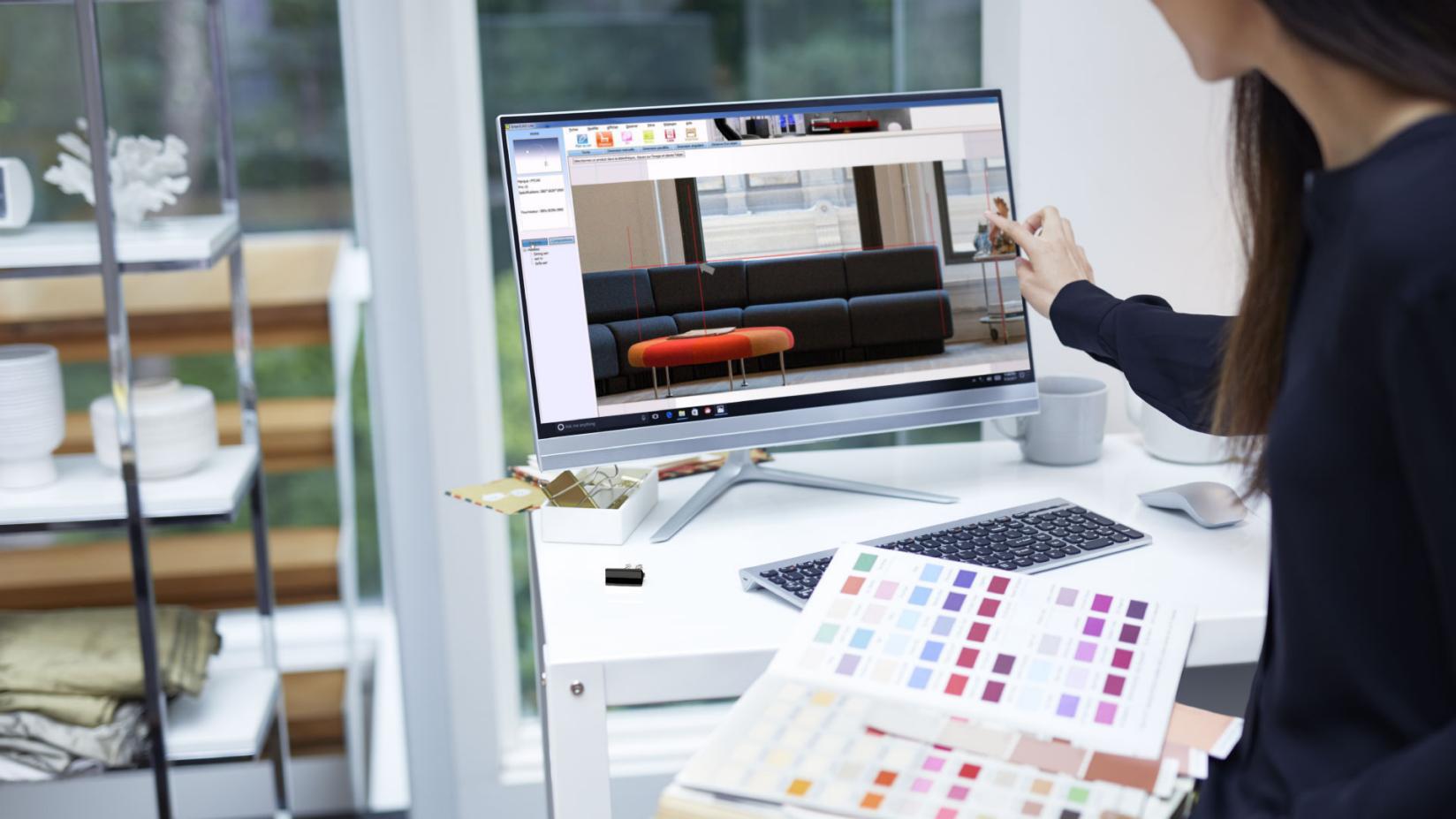 Your Fastest Path From Creativity To Productivity
Your creativity is limitless and once you are in the flow of ideas, you need a system that will keep up. The uncompromising performance in a PC powered by the Intel® Core™ X-series processor helps you to find your fastest path from creativity to productivity. The Intel® Core™ X-series processor family with core count options, including 10, 14 or even 18 cores, delivers amazing performance when multiple real-time workloads are stacked. Spend more time creating while your Intel® Core™ X-series processor powered system simultaneously handles uploading massive 4K files, rendering effects and other compute-intensive workloads in the background. And with the updated Intel® Turbo Boost Max Technology 3.0, you have the control to give priority to the apps that need the power of the two fastest cores.3 Quad channel memory also helps deliver improved responsiveness, decreased startup time and allows you to move fluidly between content creation applications when working with large files. With an Intel® Core™ X-series processor, you can take on more work and focus on creating with the confidence that your results will be as remarkable as you imagined.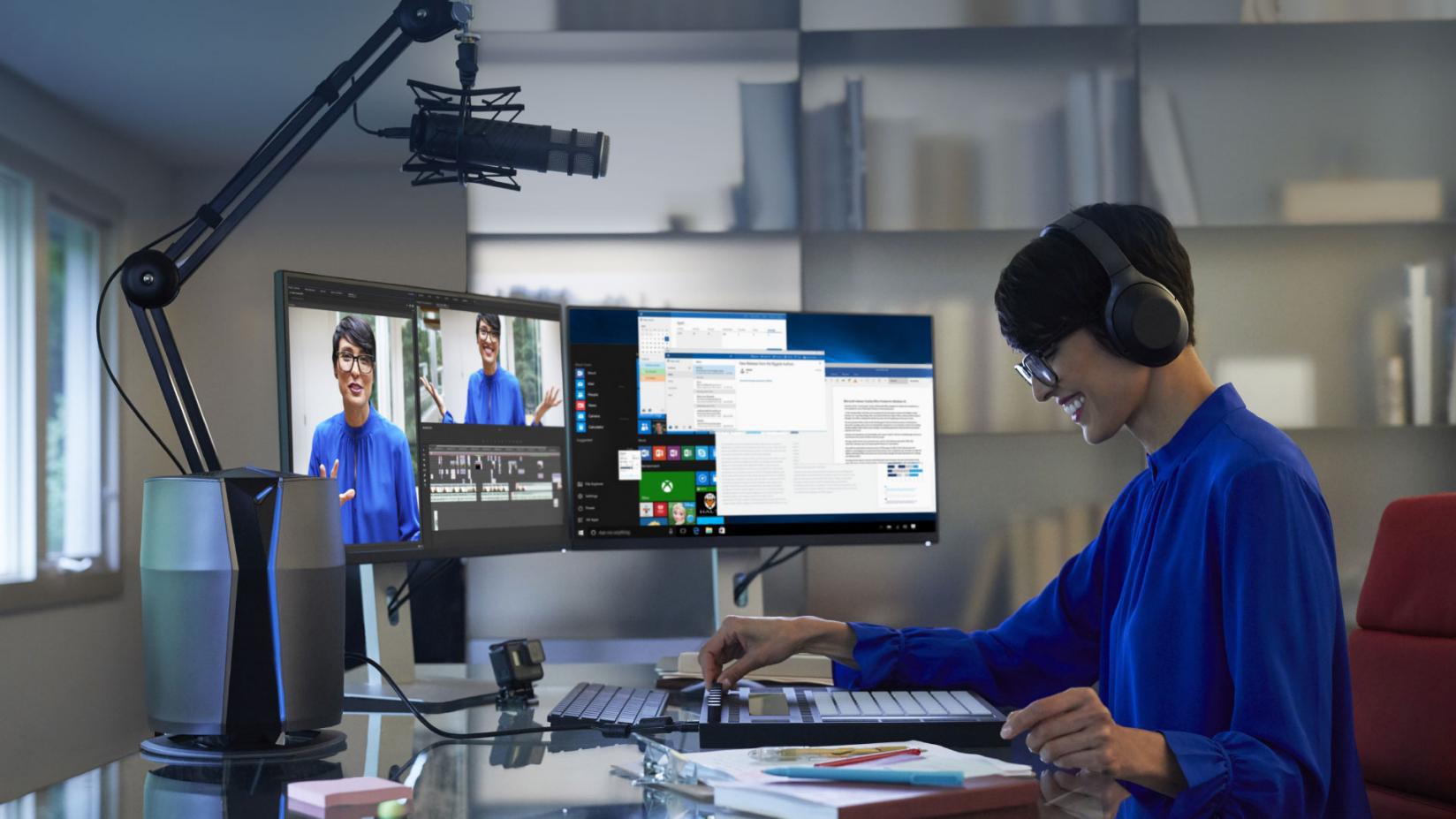 Need a break from developing the newest CG game character on your Intel® Core™ X-series processor-based PC? Fire up your gaming service and become immersed in the action of your favorite AAA game title or the latest virtual reality thriller. These unlocked processors deliver breakthrough performance for both gaming and content creation alike, so there is no need to worry about losing your gaming edge. In fact, you can maintain an amazing gaming experience, stream, record and share all while your game development project continues to render in the background.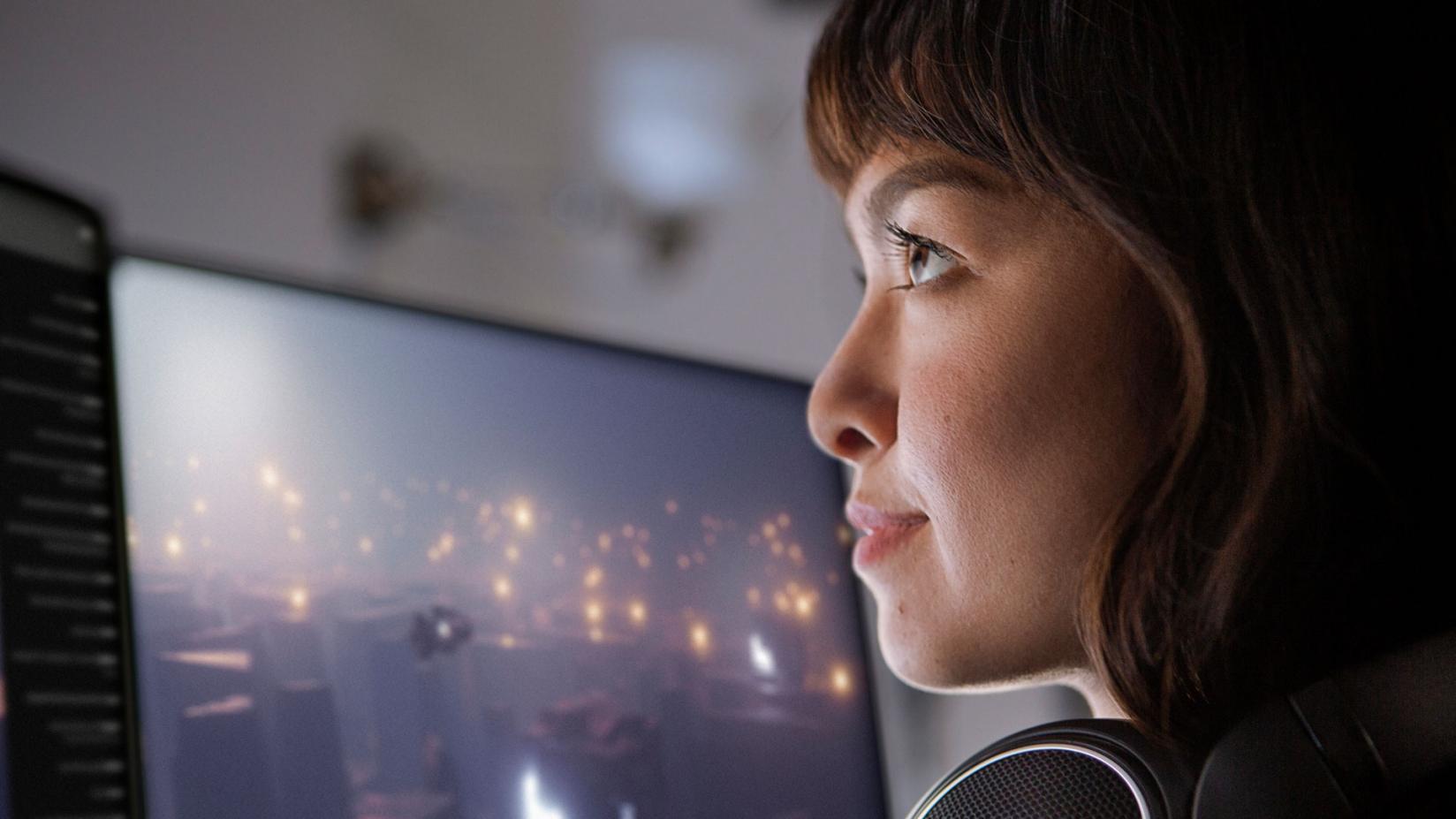 Game + Stream + Create
Need a break from developing the newest CG game character on your Intel® Core™ X-series processor-based PC? Fire up your gaming service and become immersed in the action of your favorite AAA game title or the latest virtual reality thriller. These unlocked processors deliver breakthrough performance for both gaming and content creation alike, so there is no need to worry about losing your gaming edge. In fact, you can maintain an amazing gaming experience, stream, record and share all while your game development project continues to render in the background.
Intel® X299 Chipset and Intel® Core™ X-Series Processor Family for the Ultimate Creator Platform
The Intel® X299 chipset paired with the Intel® Core™ X-series processors provide a world-class platform for content creation, gaming, and over-clocking.2 Whether it is responsiveness, expandability or performance you crave, this platform has you covered. Integrated USB 3.0 makes moving files to your tablet and smartphone blazing fast. The platform also provides RAID support on PCI Express* and Serial ATA storage devices, fast data transfers with support for PCIe* 3.0 storage devices and finally, Intel® Optane™ memory support. Want to push the envelope with overclocking? The Intel® X299 chipset and Intel® Core™ X-series processor family bring new unlocked base clock capabilities.2 Unlock your individual cores and memory frequencies to amazing levels while having the flexibility to keep other areas within specification. With support for Intel® Extreme Memory Profile (Intel® XMP), Intel® Extreme Tuning Utility (Intel® XTU), and the Intel® Performance Tuning Protection Package Plan the capabilities of the Intel® X299 chipset and the Intel® Core™ X-series processor family will challenge every overclocking world record.
Specifications:
Essentials
Product Collection – Intel Core X-Series Processors
Code Name – Products formerly SkyLake
Vertical Segment – Desktop
Processor Number – i7-9800X
Status – Launched
Launch Date – Q4'18
Lithography – 14 nm
Recommended Customer Price – $589.00 – $599.00
Performance
# of Cores – 8
# of Threads – 16
Processor Base Frequency – 3.80 GHz
Max Turbo Frequency – 4.40 GHz
Cache – 16.5 MB SmartCache
Bus Speed – 8 GT/s DMI3
# of QPI Links – 0
Intel Turbo Boost Max 3.0 Technology – 4.50 GHz
TDP – 165 W
Supplemental Information
Embedded Options Available – No
Datasheet – View now
Memory Specifications
Max Memory Size (dependent on memory type) – 128 GB
Memory Types – DDR4-2666
Max # of Memory Channels – 4
ECC Memory Supported – No
Expansion Options
Scalability – 1S Only
PCI Express Revision – 3.0
Max # of PCI Express Lanes – 44
Package Specifications
Sockets Supported – FCLGA2066
Max CPU Configuration – 1
Thermal Solution Specification – PCG 2017X
TJUNCTION – 95°C
Advanced Technologies
Intel® Optane™ Memory Supported – Yes
Intel® Turbo Boost Max Technology 3.0 – Yes
Intel® Turbo Boost Technology – 2.0
Intel® Hyper-Threading Technology – Yes
Intel® Virtualization Technology (VT-x) – Yes
Intel® Virtualization Technology for Directed I/O (VT-d) – Yes
Intel® 64 – Yes
Instruction Set – 64-bit
Instruction Set Extensions – Intel® SSE4.1, Intel® SSE4.2, Intel® AVX2, Intel® AVX-512
Enhanced Intel SpeedStep Technology – Yes
Security & Reliability
Intel® AES New Instructions – Yes
Execute Disable Bit – Yes
A Closer Look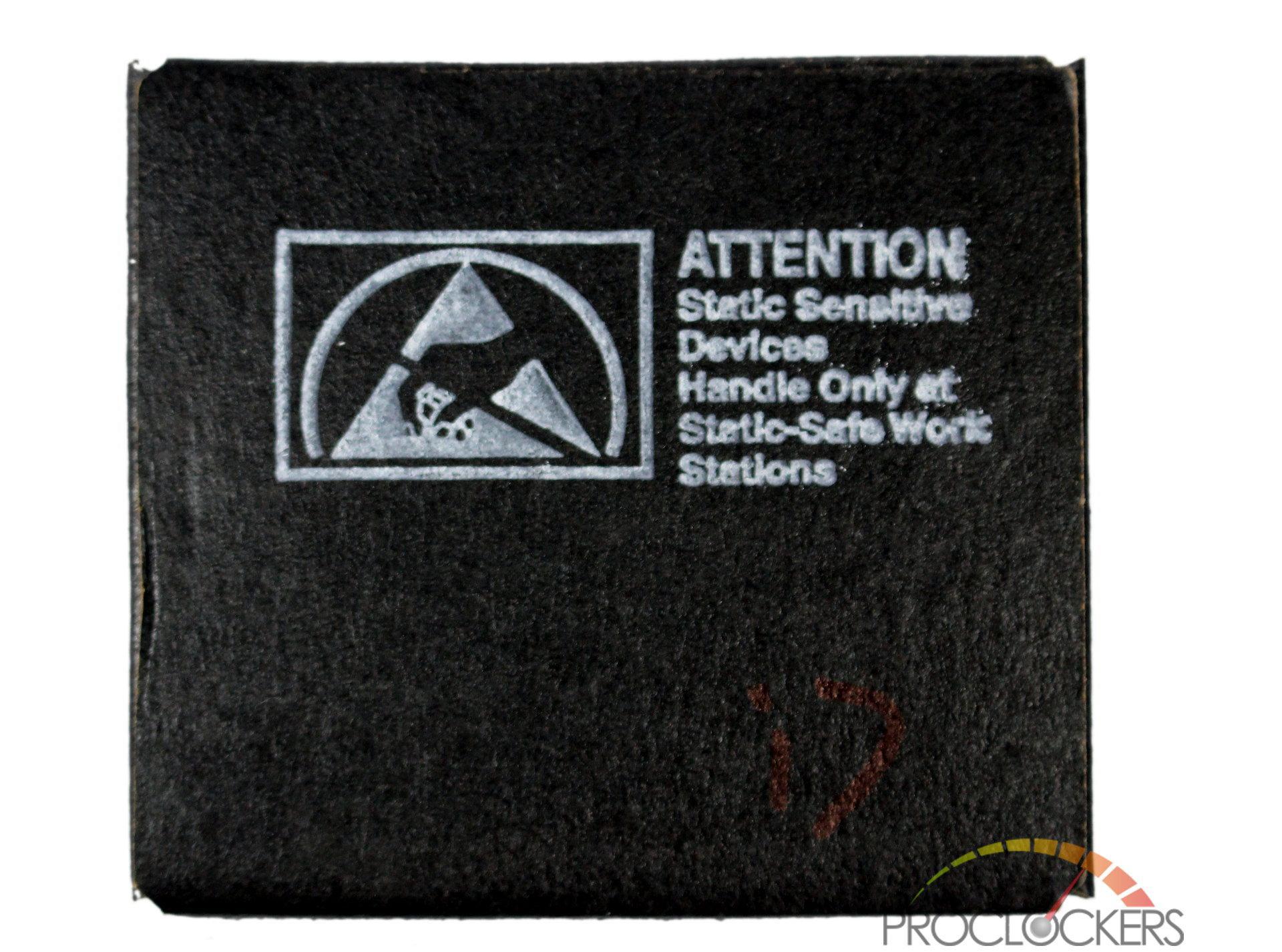 Reviewers are provided non-retail CPUs for the purpose of reviewing and they usually come in a non-descript black box like this.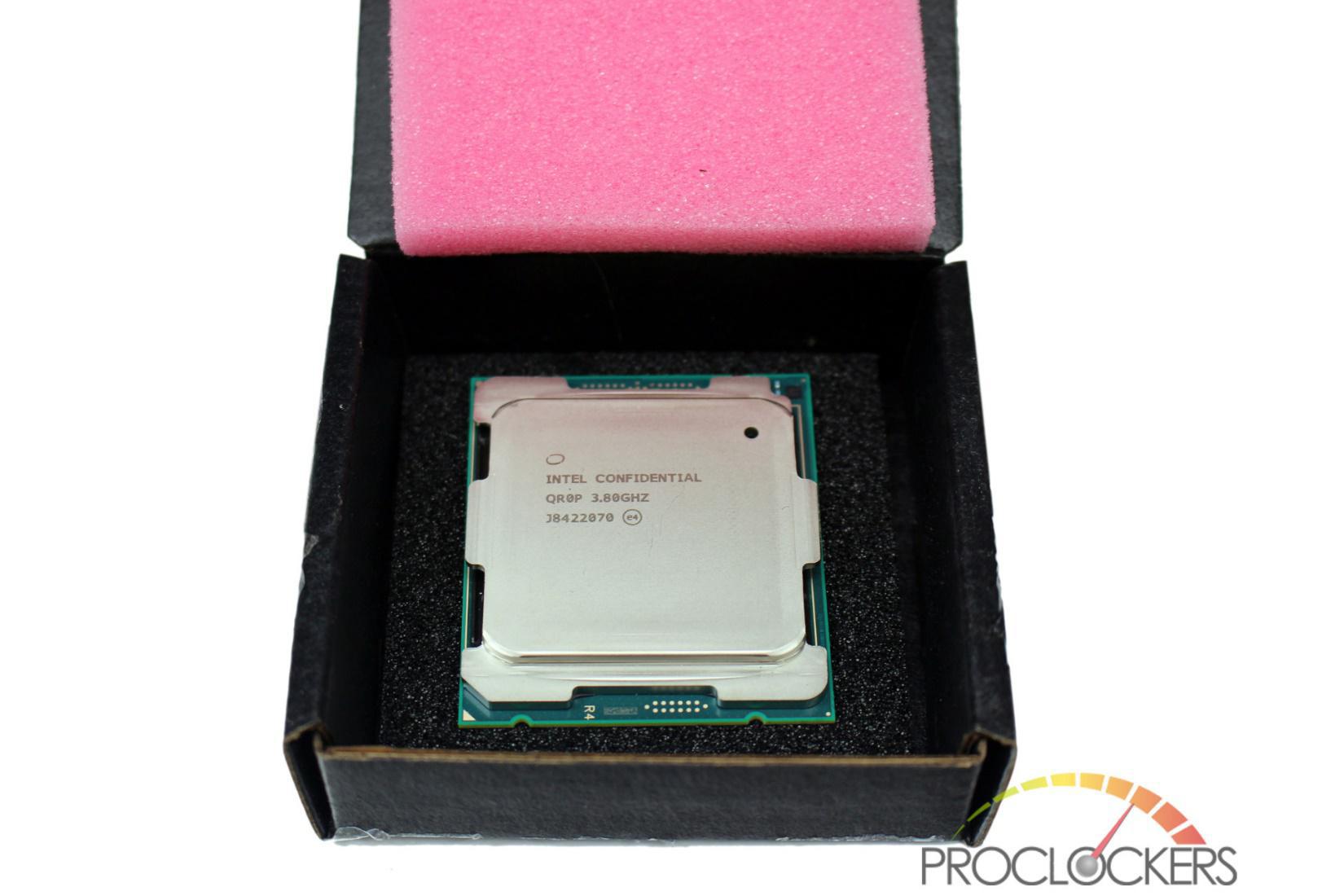 The CPU rests inside sandwiched between ESD safe foam.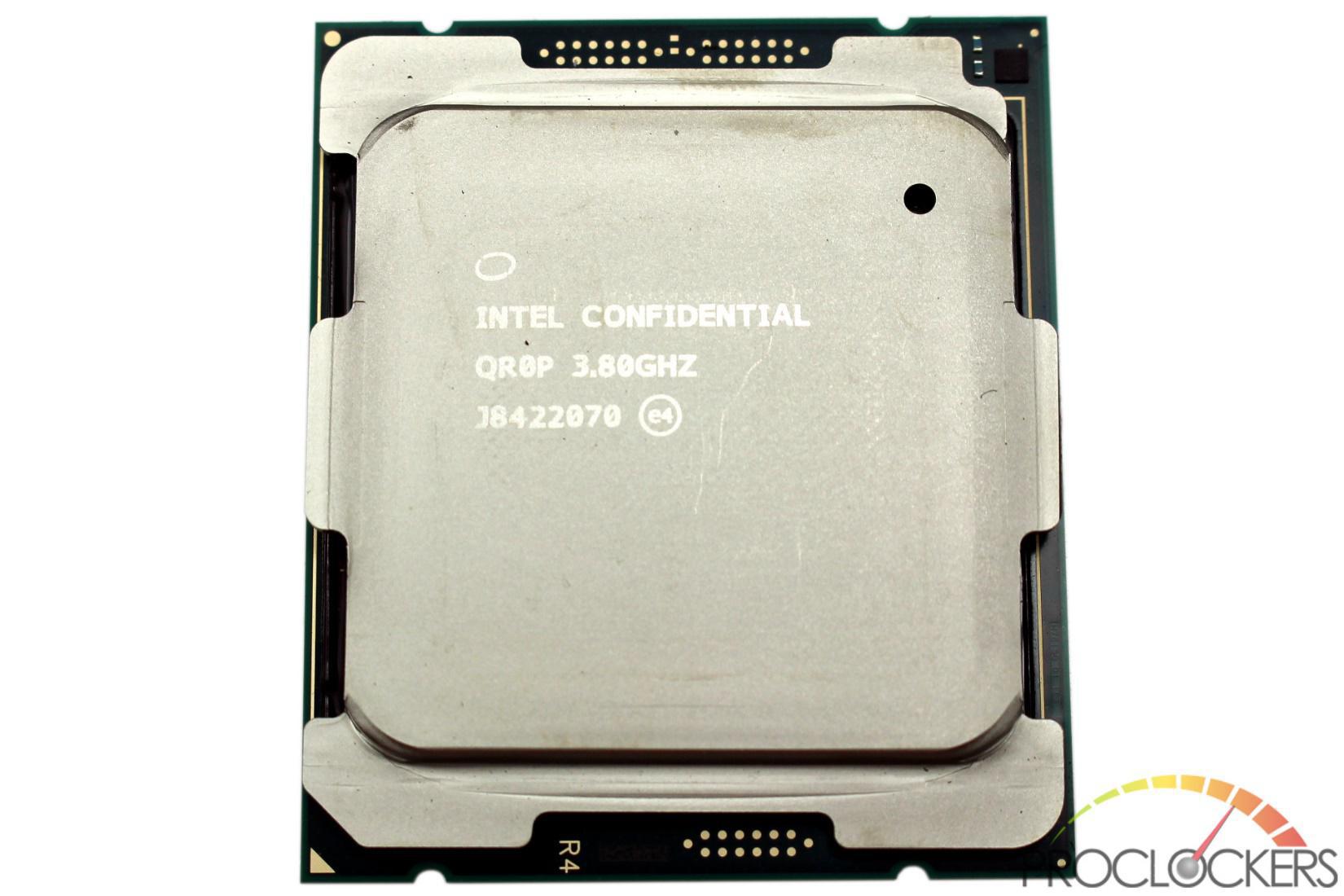 Intel's non-retail samples are always marked a bit cryptically. You always get "Intel Confidential". A 'Q-code' identifier and the base clock speed.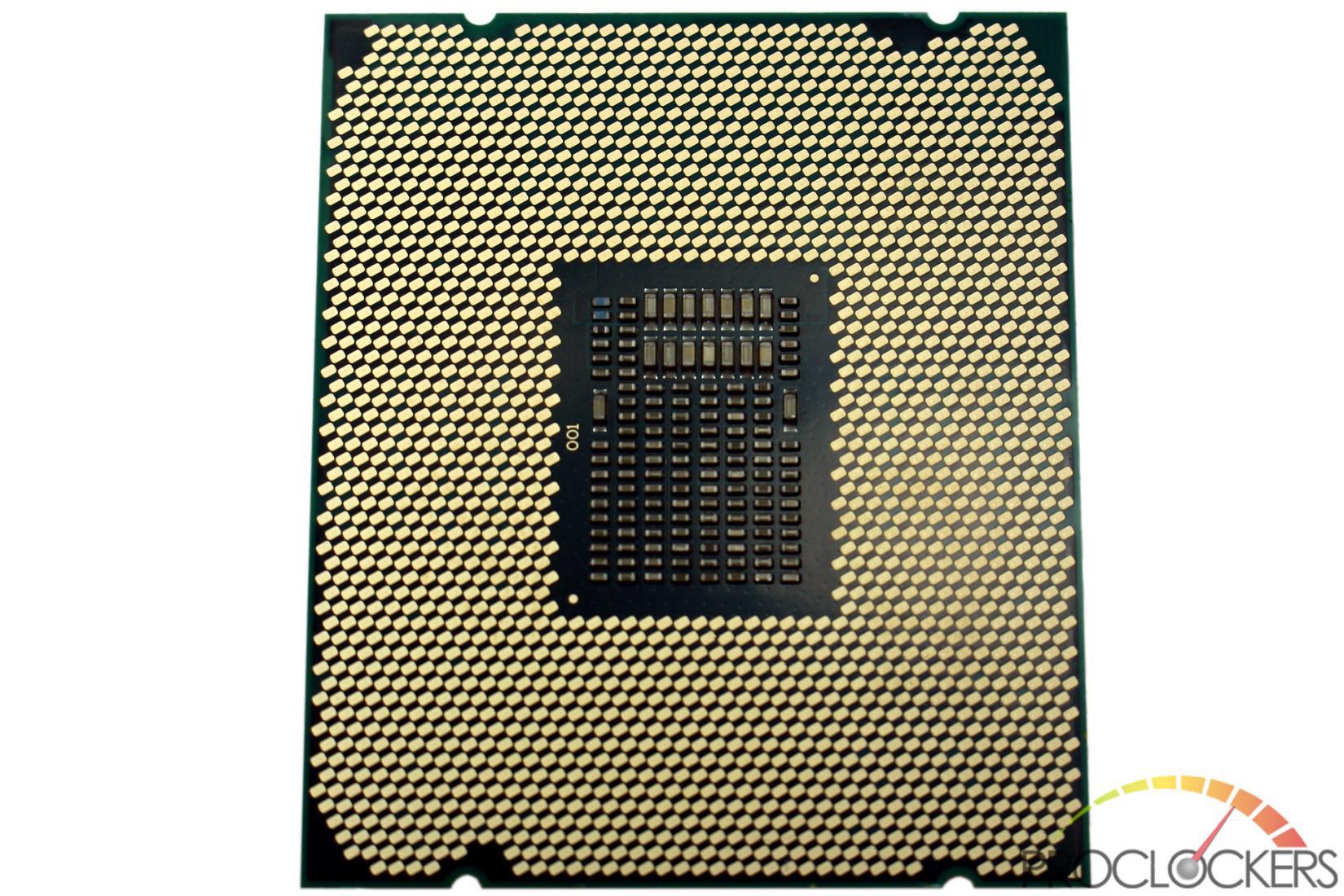 All of Intel's LGA2066 compatible chips look pretty identical from this side, the only difference is the arrangement of the micro surface mount components in the center.
System Configuration & Testing
CPU: Intel Core i7-9800X
Ram: 32GB Corsair Dominator Platinum (4x8GB) 3200Mhz C14
GPU: Nvidia GeForce RTX 2080 Founders Edition
Mobo: Asus ROG Rampage VI Extreme Omega
SSD: Toshiba OCZ RD400
Cooling: Custom 240mm loop, EKWB EK-Velocity CPU block, Alphacool, EKWB PE 240mm radiator cooled by two Corsair ML120 Pro fans.
Performance Testing
General Performance Testing
All performance testing was done with the i7-8700K and GTX 1070 at default clock speed. CPU was left with Speed Step and Turbo Boost enabled. Games where ran at a resolution of 1920 x 1080 and higher settings enabled as noted.
PCMark 10
PCMark 10 is the complete benchmark for the modern office. It is the ideal test for organizations that are evaluating PCs for a workforce with a range of performance needs. The tests in this benchmark cover a wide range of activities from everyday productivity tasks to demanding work with digital media content.
PCMark 10 uses a modular approach to build relevant benchmark tests around common end-user scenarios. A Test Group is a collection of workloads that share a common theme or purpose. There are four test groups in PCMark 10, we use three of them.
Essentials: covers the common, everyday ways that people use a PC. The workloads include Web Browsing, Video Conferencing, and App Start-up time.
Productivity: measures system performance with everyday office applications. This test group includes Spreadsheets and Writing workloads.
Digital Content Creation: This test group's workload reflects the demands of working with digital content and media. The tests include Photo Editing, Video Editing, and Rendering and Visualization.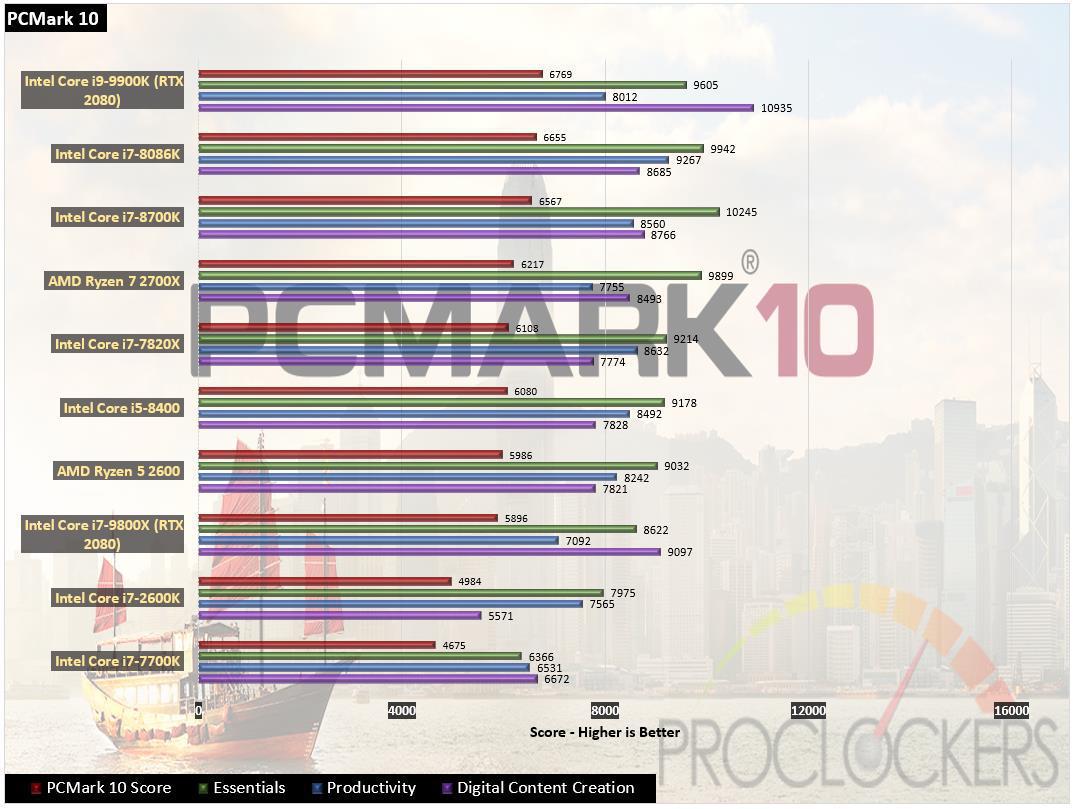 The comparatively lower clock speeds put the i7-9800X a little bit behind the mainstream-oriented i9-9900K, but that IS an i9 after all.
WebXPRT 2015
WebXPRT 2013 uses scenarios created to mirror the tasks you do every day to compare the performance of almost any Web-enabled device. It contains four HTML5- and JavaScript-based workloads: Photo Effects, Face Detect, Stocks Dashboard, and Offline Notes. WebXPRT is run with the latest stable release version of Google Chrome browser, in this case, Version 61.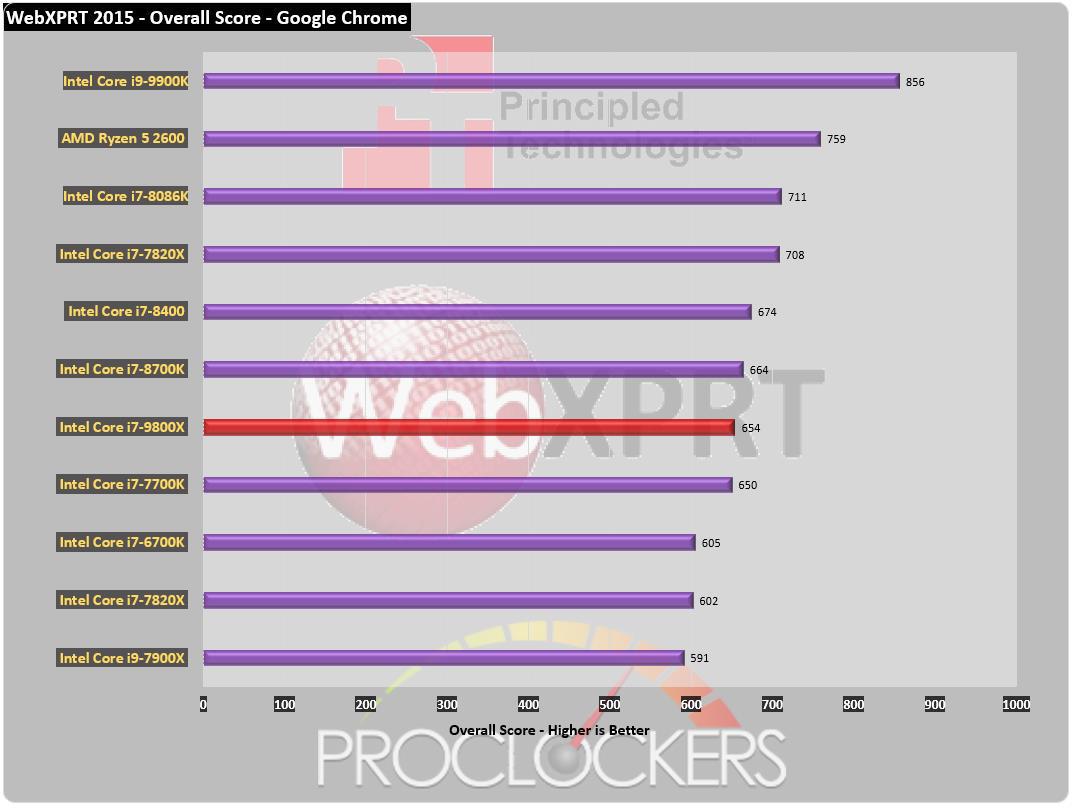 Performance here comes in ahead of all of our other SkyLake based CPUs with the exception of the i7-7820X which beats the 9800X by a decent amount.
CPU Performance Testing
Super PI Modded 1.5
"In August 1995, the calculation of pi up to 4,294,960,000 decimal digits was succeeded by using a supercomputer at the University of Tokyo. The program was written by D.Takahashi in collaboration with Dr.Y.Kanada at the computer center. This record should be the current world record. (Details are shown in the windows help.) This record-breaking program was ported to personal computer environments such as Windows NT and Windows 95. In order to calculate 33.55 million digits, it takes within 3 days with a Pentium 90 MHz, 40 MB main memory and 340 MB available storage."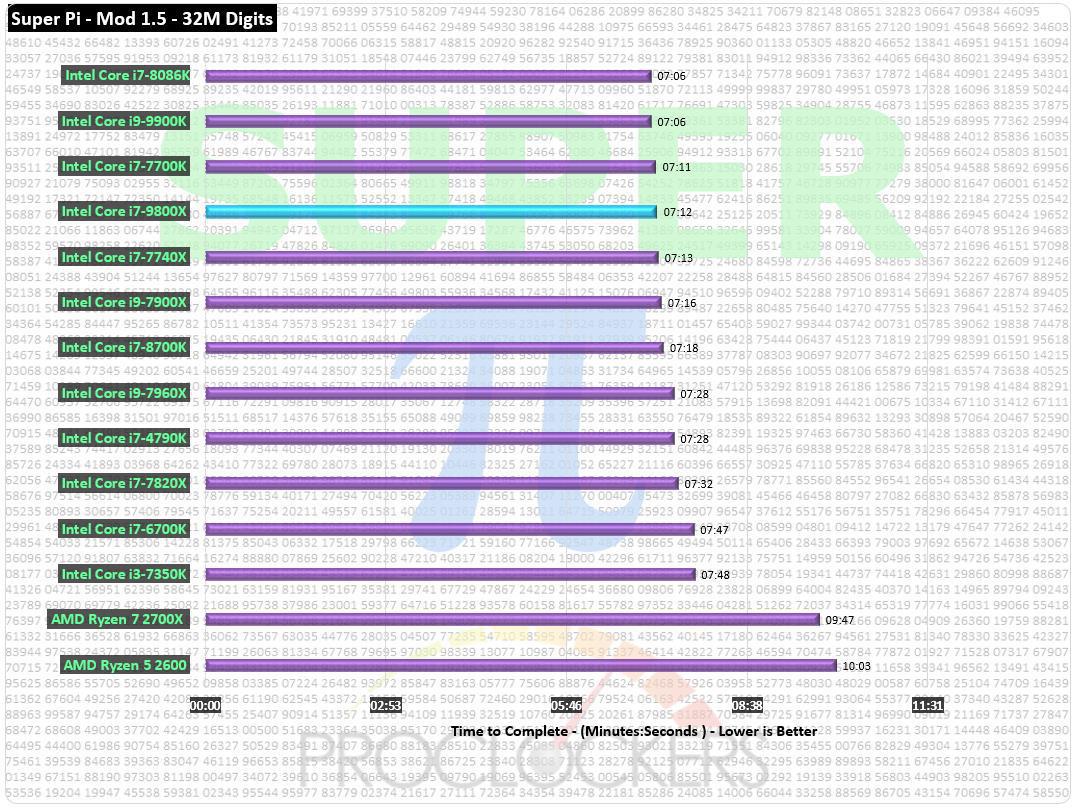 The abilities of Turbo Boost 3.0 here are quite apparent, the i7-9800X just flies with only one thread in use and scores just over 7 minutes and 12 seconds, one of our best times.
SiSoft Sandra – Cryptographic Bandwidth
"SiSoftware Sandra provides a robust package of diagnostic tools for testing your system and teasing out its problems–or potential headaches."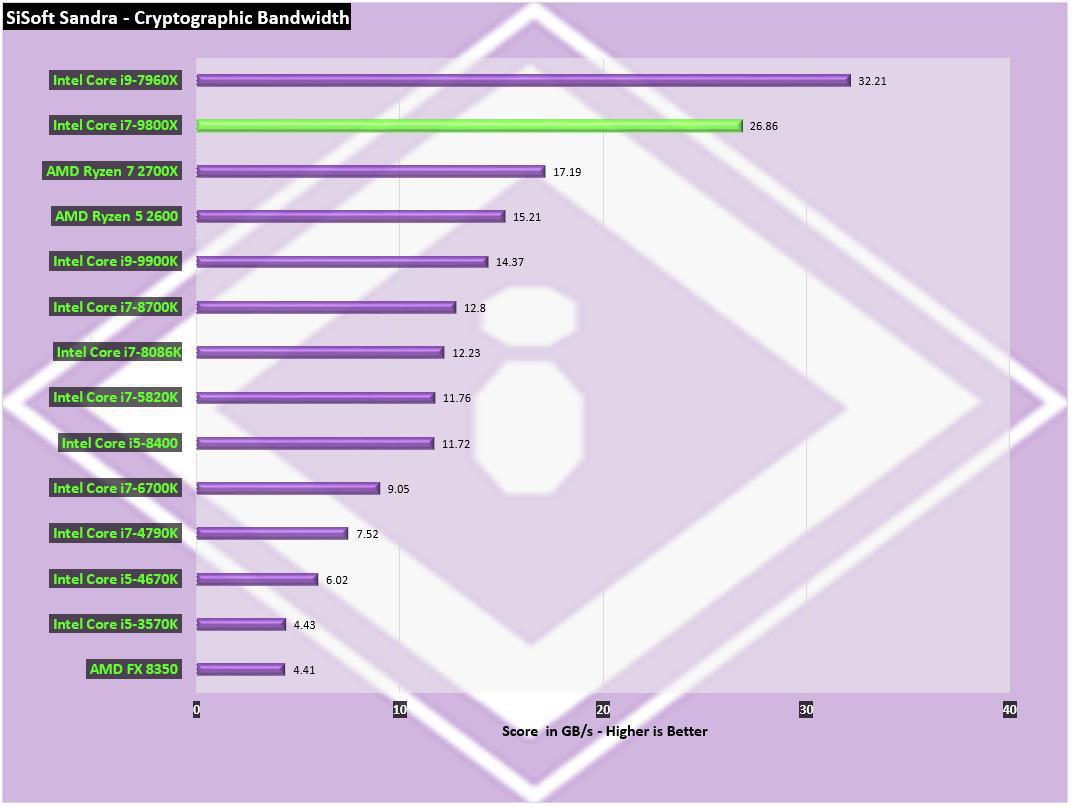 Interestingly, the i7-9800X does really great in this test, only falling to raw core count under the i9-7960X,
CINEBENCH R15
"CINEBENCH is a real-world cross platform test suite that evaluates your computer's performance capabilities. CINEBENCH is based on MAXON's award-winning animation software CINEMA 4D, which is used extensively by studios and production houses worldwide for 3D content creation. MAXON software has been used in blockbuster movies such as Iron Man 3, Oblivion, Life of Pi or Prometheus and much more.
CINEBENCH is the perfect tool to compare CPU and graphics performance across various systems and platforms (Windows and OS X). And best of all: It's completely free."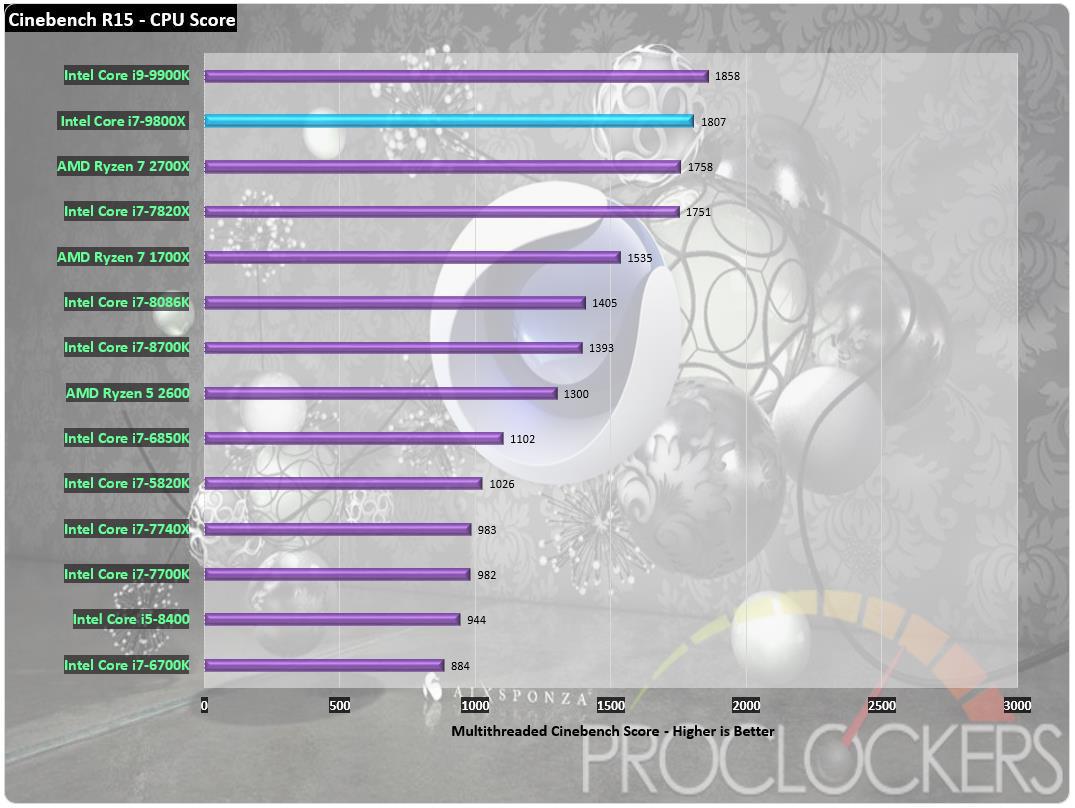 With all cores in play, the i7-9800X does great here, narrowly missing first place for our 8-core chips.
Y-Cruncher
Written by Alexander J. Lee "From a high-school project that went a little too far…" y-cruncher, (y for gamma) is a number-crunching program that can compute various mathematical constants.
It was originally a small program specialized for computing the Euler-Mascheroni Constant. (Which uses gamma as its symbol, hence the name). It has since gained the ability to compute other constants.
It is the first of its kind that is multi-threaded and scalable to multi-core systems. Ever since its launch in 2009, it has become a common benchmarking and stress-testing application for overclockers and hardware enthusiasts.
We tested using the built-in benchmarks to compute Pi to 1 Billion Digits in both single and multi-threaded mode and recorded the Total Computation time at the end of the run. Y-Cruncher is also able to take advantage of AVX512 instructions in compatible CPU's. Due to the thermal load of running Intense AVX workloads, Intel has implemented and AVX offset clock that may scale the CPU's clock speed back, even below stock speeds when running intense AVX loads. For this reason, we note the CPU's clock speed in both single and multi-threaded test modes.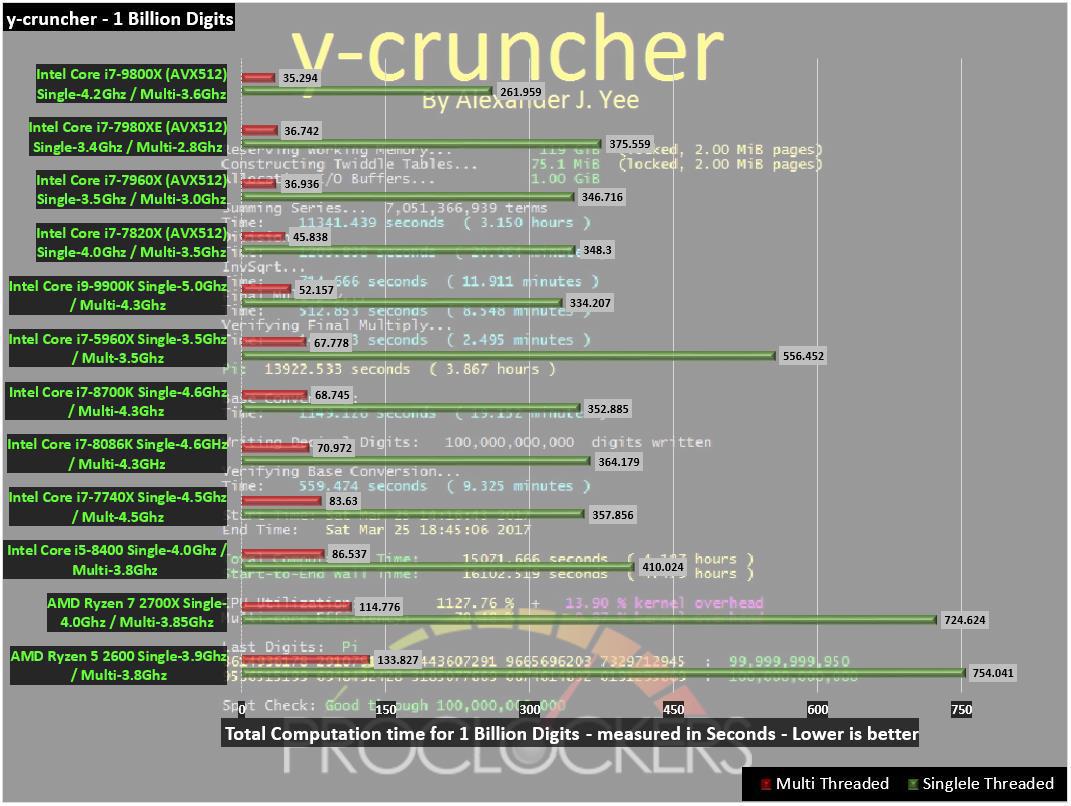 The ability of all Skylake-X chips to take advantage of AVX512 instructions and coupled with a respectable clock speed, the i7-9800X solves for 1 Billion digits of pie the fastest of all of our chips here in both single and multi-threaded modes.
7-Zip
The benchmark shows a rating in MIPS (million instructions per second). The rating value is calculated from the measured speed, and it is normalized with results of Intel Core 2 CPU with multi-threading option switched off. So if you have modern CPU from Intel or AMD, rating values in single-thread mode must be close to real CPU frequency. There are two tests, compression with LZMA method and decompression with LZMA method. Once the total passes reach 100, the score is taken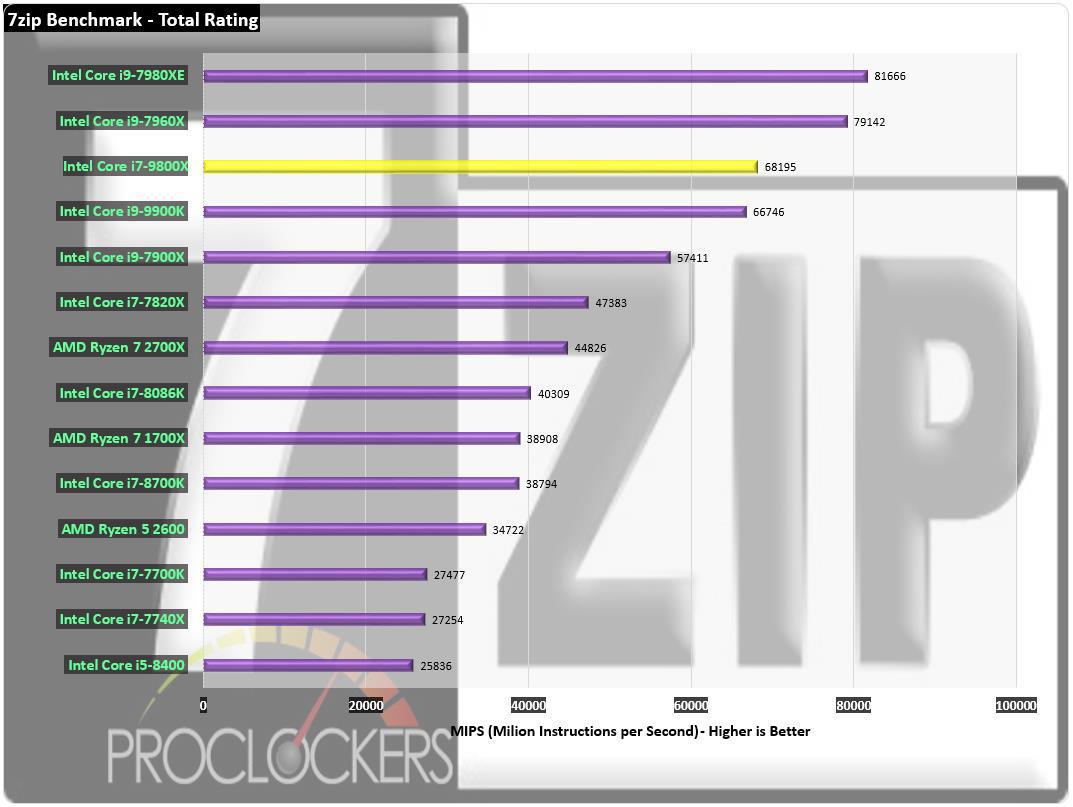 We see a very significant jump over older 8 and even 10-core CPU's and quad-channel memory even gives the 9800X an edge over the mainstream 9900K.
Black Hole 4.2
Let the beast run and benchmark your system in three different tests (Multithreaded, Single-threaded & 4-Threaded) that will test your CPU to the very limit, and score you among hundreds of other systems that have tested.
Multithreaded will test your CPU's efficiency of running more than one thread without major system lag. The higher you score on this one, the more threads your CPU can handle with a comfortable speed. High multithreaded scores generally mean you can render things faster.
4-Threaded tests your CPU's performance in games since most games currently run on 4 threads.
Single-threaded evaluates how fast the CPU can handle a single, dedicated thread for processing.
With everything equal here, the 9900K manages to just barely hold an edge over the 9800X thanks to its faster stock clock speeds.
Memory Performance Testing
AIDA64 Engineer Edition
"FinalWire Ltd. today announced the immediate availability of AIDA64 Extreme Edition 1.50 software, a streamlined diagnostic and benchmarking tool for home users; and the immediate availability of AIDA64 Business Edition 1.50 software, an essential network management solution for small and medium scale enterprises. The new AIDA64 update implements AVX-optimized benchmarks for the upcoming Intel Sandy Bridge processors, adds a brand new video encoding benchmark, and supports the latest AMD and NVIDIA graphics processors."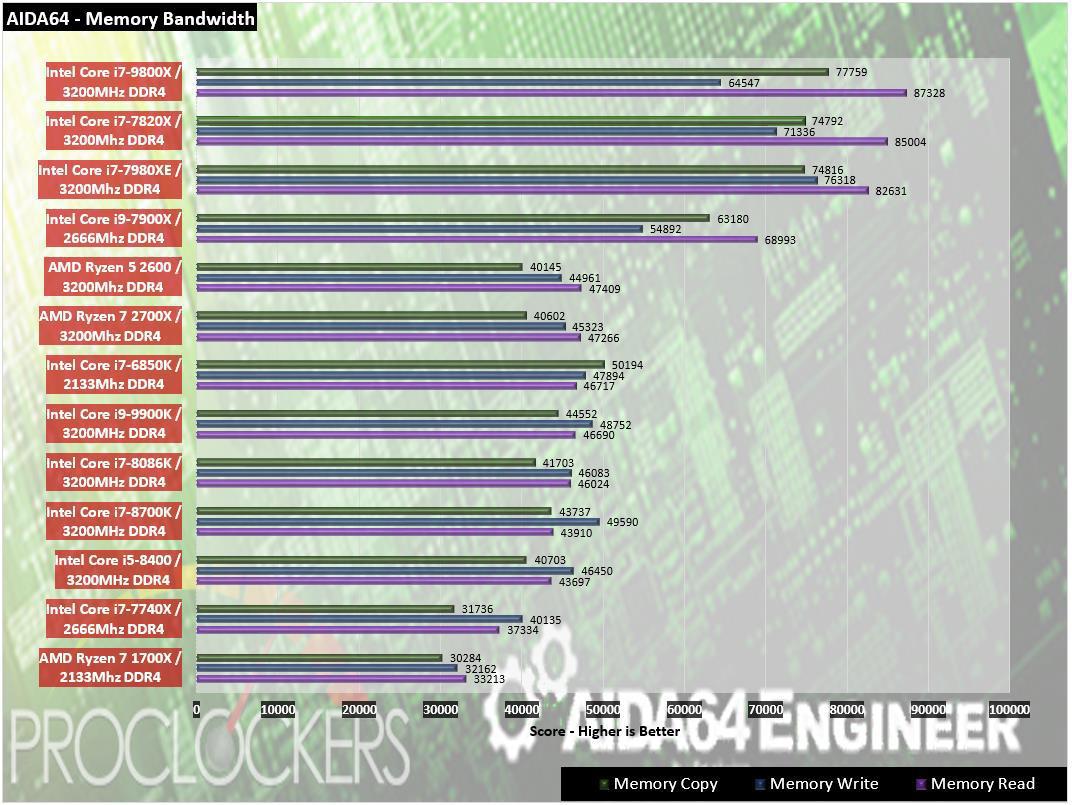 The i7-9800X manages over 87GB/s on reads with a bit underwhelming 64.5GB/s on writes but recovers on copy functions to a little under 78GB/s.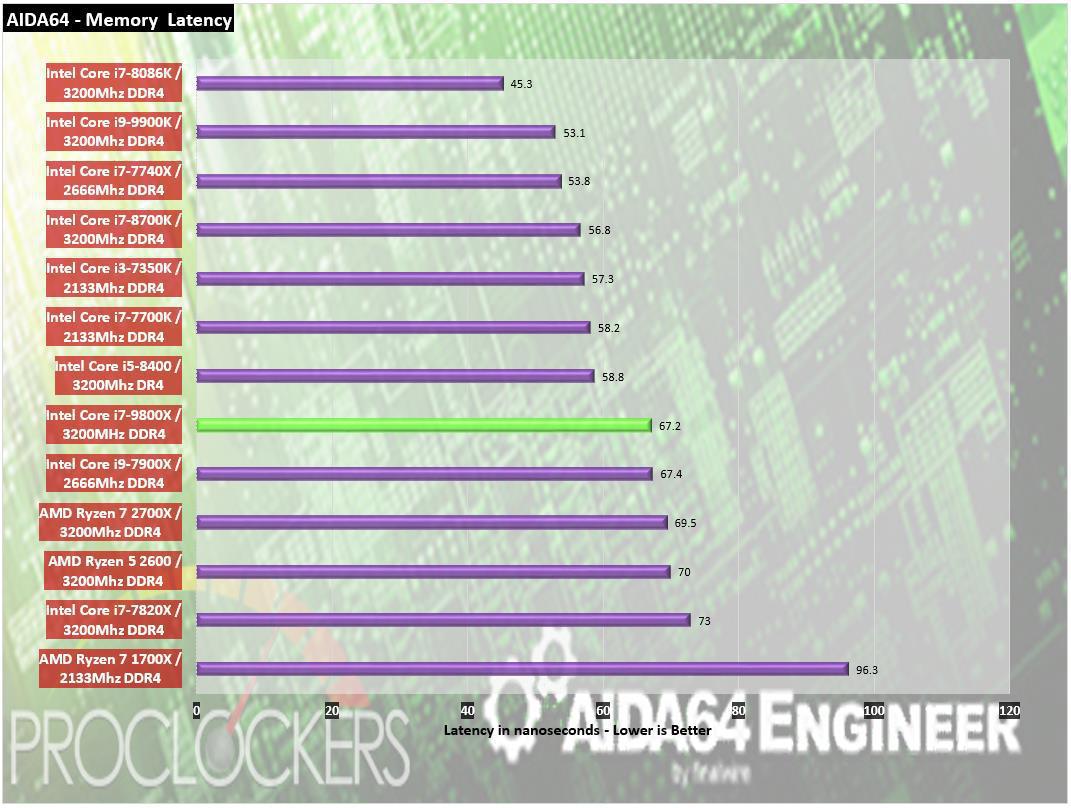 The 9800X is our lowest latency Skylake-X CPU tested so far with a latency of 67.2ns
No matter which category you sort by, the i7-9800X does well with significant L1 cache bandwidth.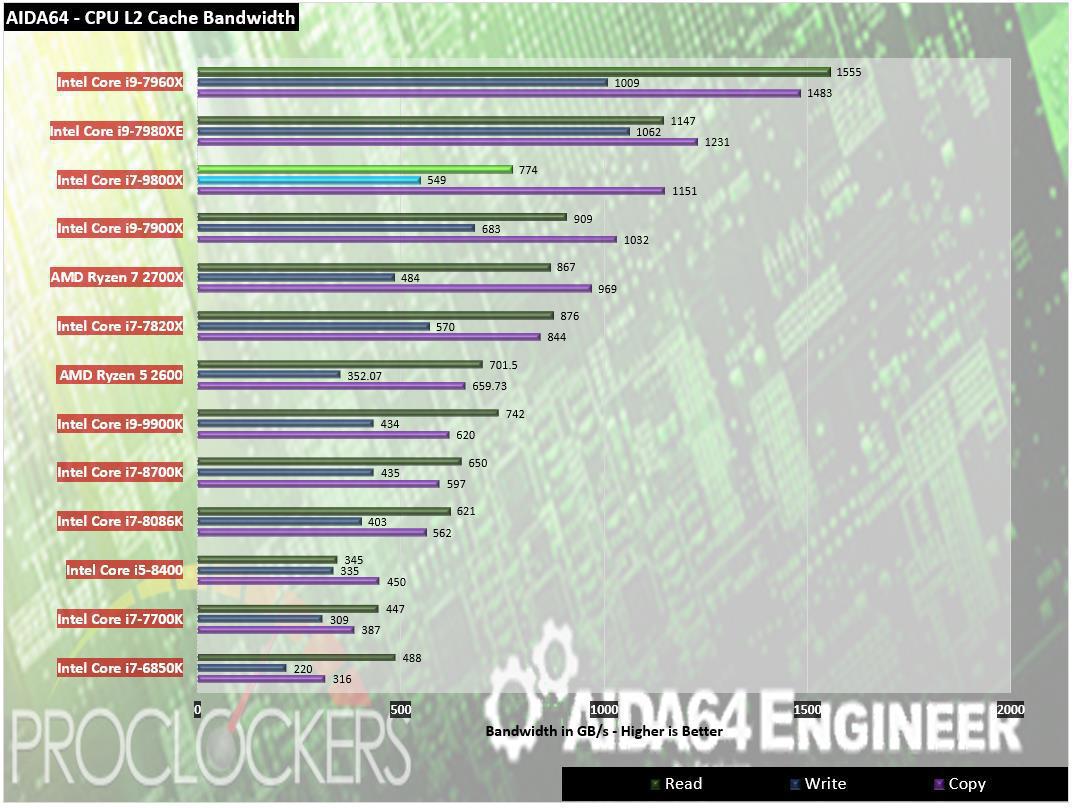 The 9800X has a little higher copy bandwidth for the L2 cache than the outgoing 7820X but read and writes are reasonably close.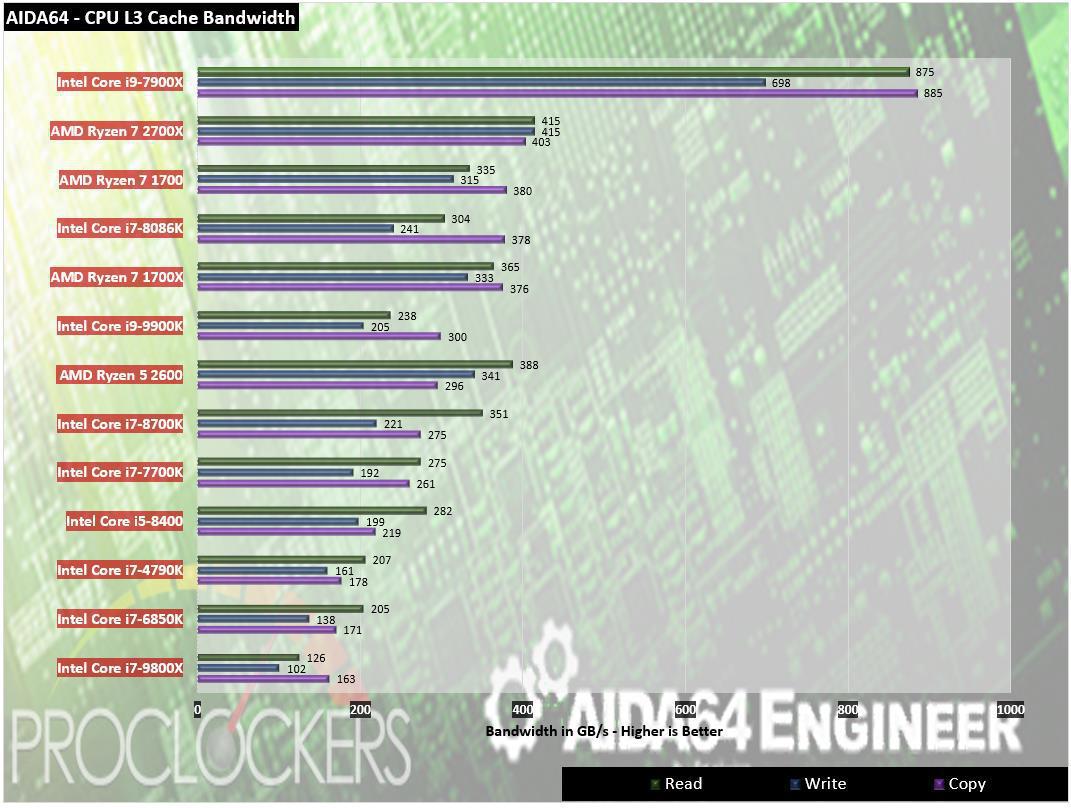 L3 cache bandwidth isn't quite as impressive, coming in at 126GB/s and 102GB/s for reads and writes respectively.
Passmark Performance Test – Memory Mark – Threaded
"Fast, easy to use, PC speed testing and benchmarking. PassMark PerformanceTest ™ allows you to objectively benchmark a PC using a variety of different speed tests and compare the results to other computers."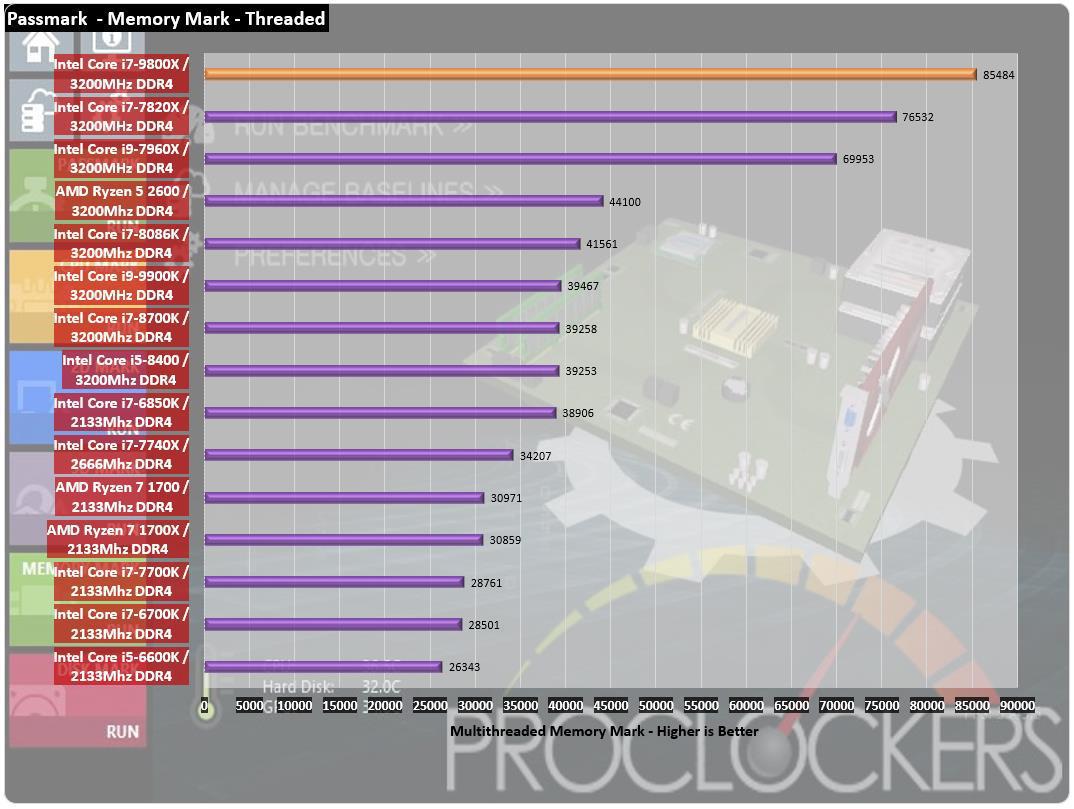 The i7-9800X isn't anything if it isn't strong in memory performance, and Passmark confirms this with our best score yet.
SiSoft Sandra – Memory Bandwidth.
"SiSoftware Sandra provides a robust package of diagnostic tools for testing your system and teasing out its problems–or potential headaches."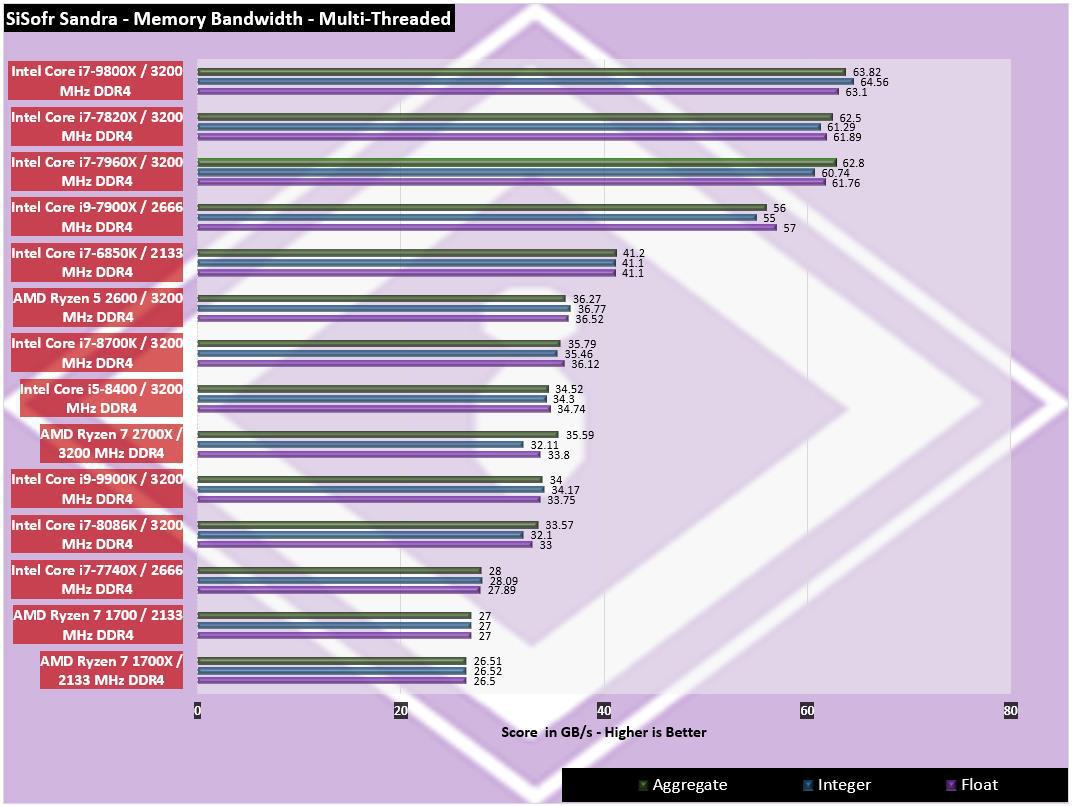 SiSoft shows very high memory bandwidth in its testing, easily clearing the 63GB/s mark in everything, our fastest yet.
Game Testing
3DMark – Fire Strike
"Fire Strike is a showcase DirectX 11 benchmark designed for today's high-performance gaming PCs. It is our most ambitious and technical benchmark ever, featuring real-time graphics rendered with detail and complexity far beyond what is found in other benchmarks and games today"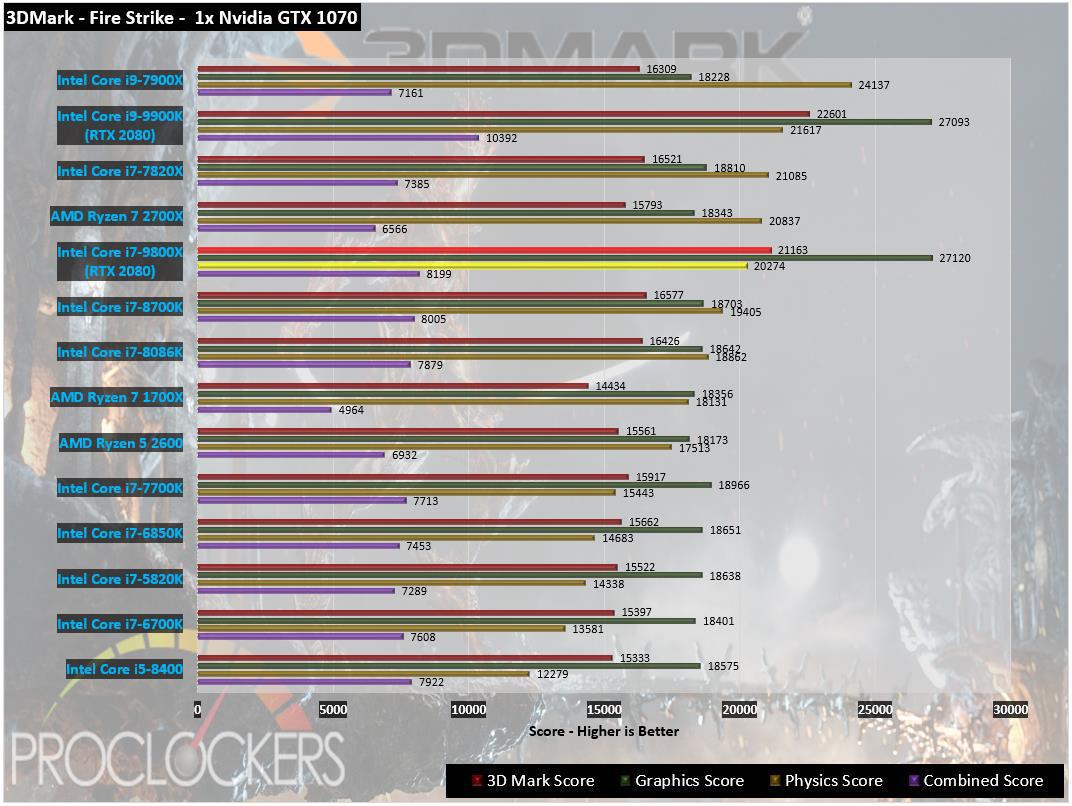 The 9800X provides solid gaming performance and manages 20,274 points in the CPU only Physics test.
3DMark – Time Spy
"3Dmark Time Spy is a new DirectX 12 benchmark test for Windows 10 gaming PCs. Time Spay is one of the first DirectX 12 apps to be built "the right way" from the ground up to fully realize the performance gains that the new API offers. With DirectX 12 engine, which supports new API features like asynchronous compute, explicit multi-adapter, and multi-threading, Time Spy is the ideal test for benchmarking the latest graphics cards."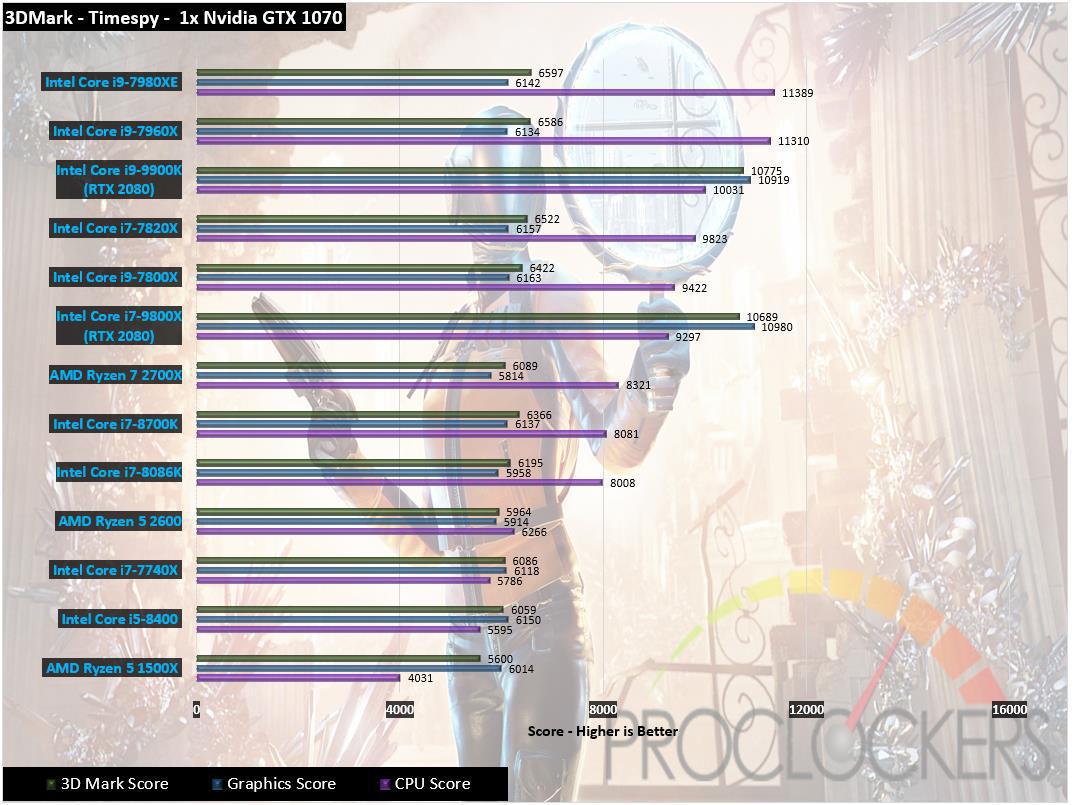 Timespy doesn't show a huge difference between CPU scores on all of our 8-core CPUs because, at 1440p in the base test, we are leaning most heavily on the GPU.
Grand Theft Auto: V
"When a young street hustler, a retired bank robber, and a terrifying psychopath find themselves entangled with some of the most frightening and deranged elements of the criminal underworld, the U.S. government and the entertainment industry, they must pull off a series of dangerous heists to survive in a ruthless city in which they can trust nobody, least of all each other."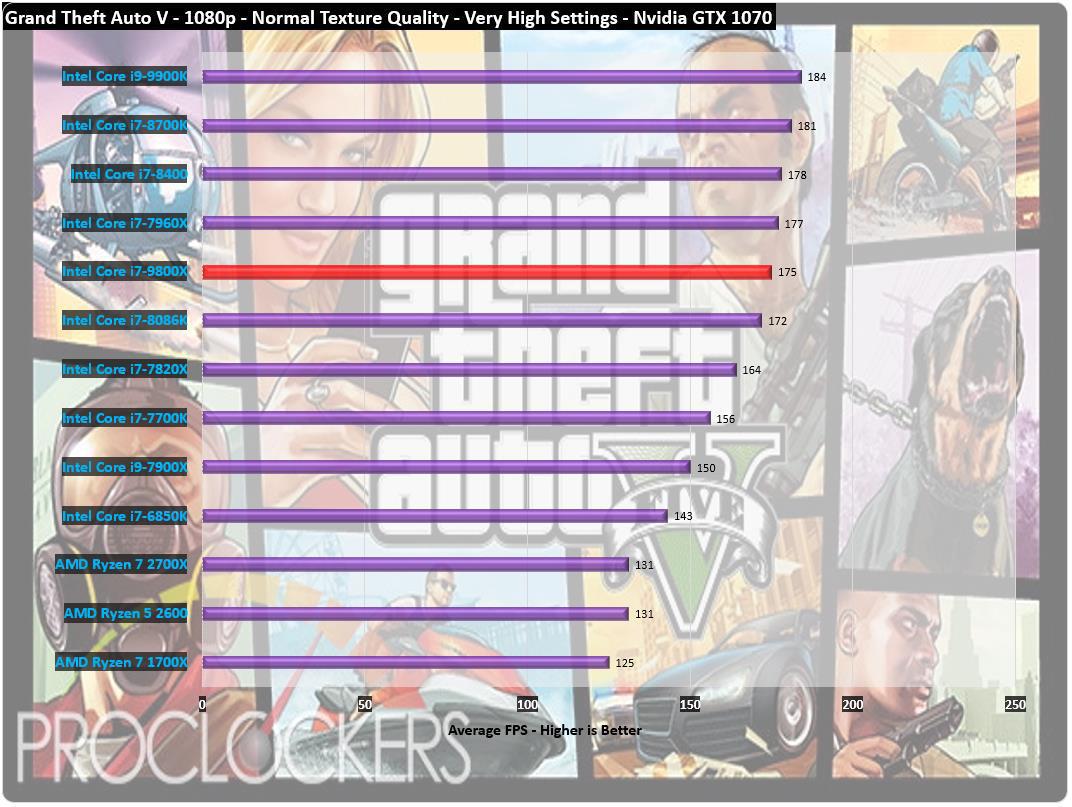 For ease of testing, we slotted in an older GTX 1070 for this testing to keep our comparison. This and the next game will be tested with this instead of our more recent standard RTX2080. At 1080P and less than maximum settings, this game is very CPU bound by the game engine. The 9800X slides in at 175FPS average.
Metro: Last Light
"It Is the Year 2034. Beneath the ruins of post-apocalyptic Moscow, in the tunnels of the Metro, the remnants of mankind are besieged by deadly threats from outside – and within. Mutants stalk the catacombs beneath the desolate surface, and hunt amidst the poisoned skies above."
Developed by 4A Games and published by Deepsilver, Metro: Last Light uses the 4A game engine. At its highest settings, the 4A game engine is capable of bringing all but the most extreme gaming systems to their knees.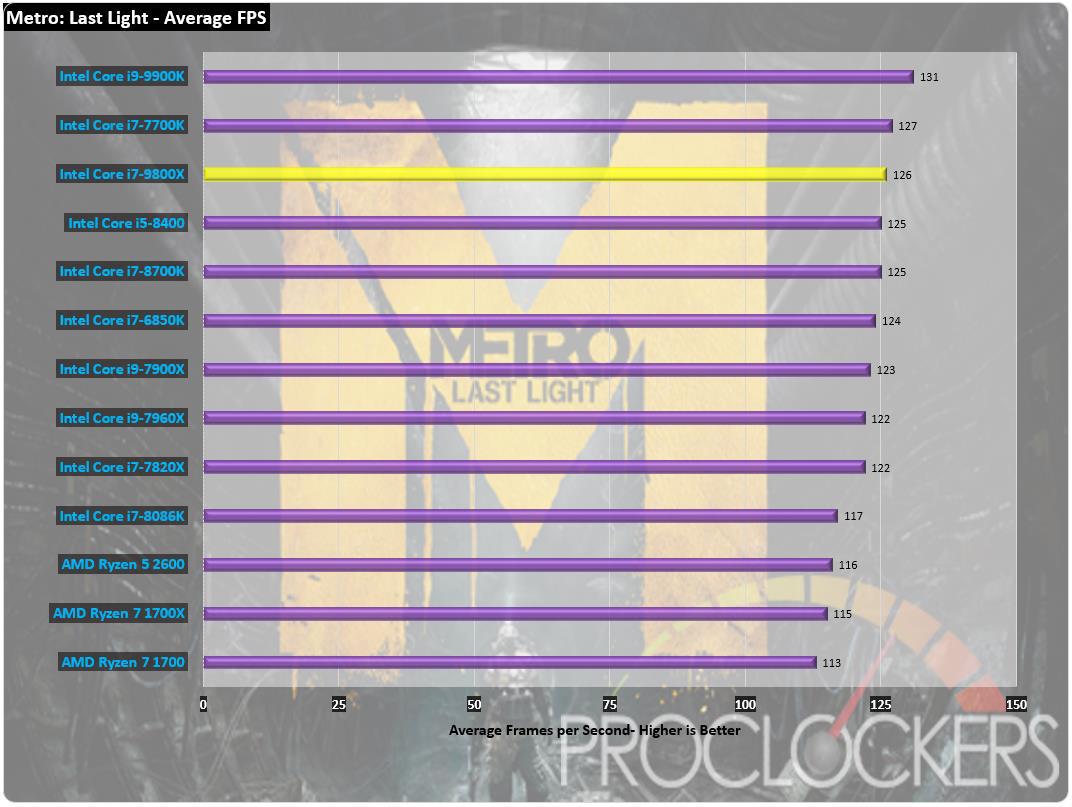 Metro fares pretty well with a slight increase over the older 7820X, but that's still not enough to catch the 9900K.
Overclocking & Power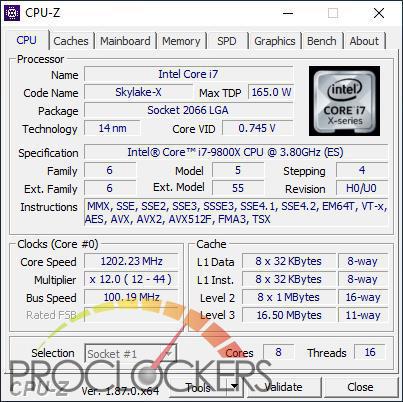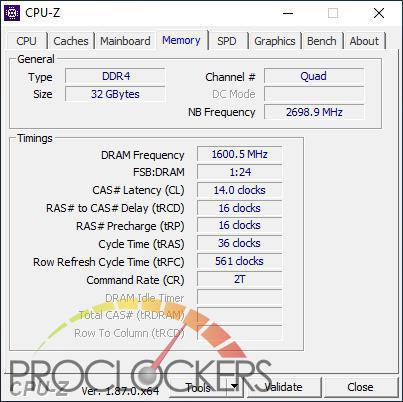 Intel's Core i7-9800X can easily reach the mid 4 GHz range at stock thanks to Turbo Boost, and it often spends its time in the low 4 GHz range out of the box.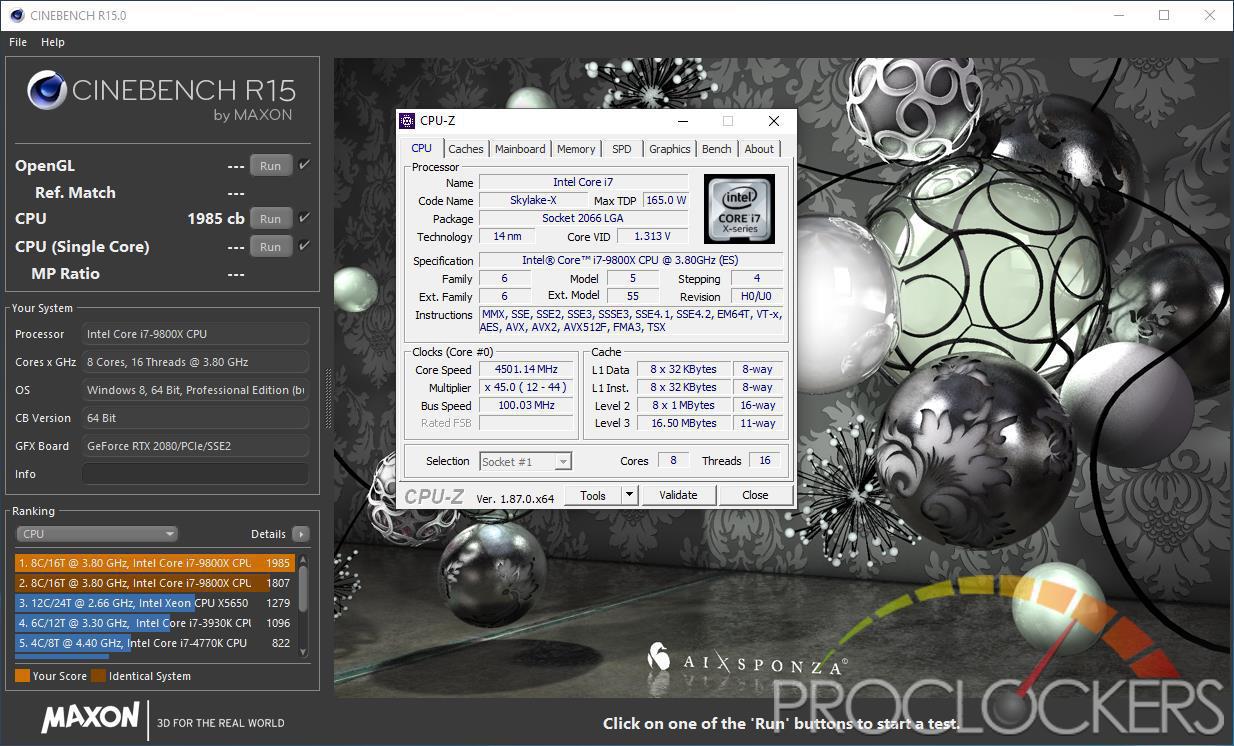 The CPU can reach 4.5GHz on one core out of the box so we'll start by pushing it to 4.5 GHz on all cores first. This gets us a pretty nice jump over the stock run of 1807 points in Cinebench.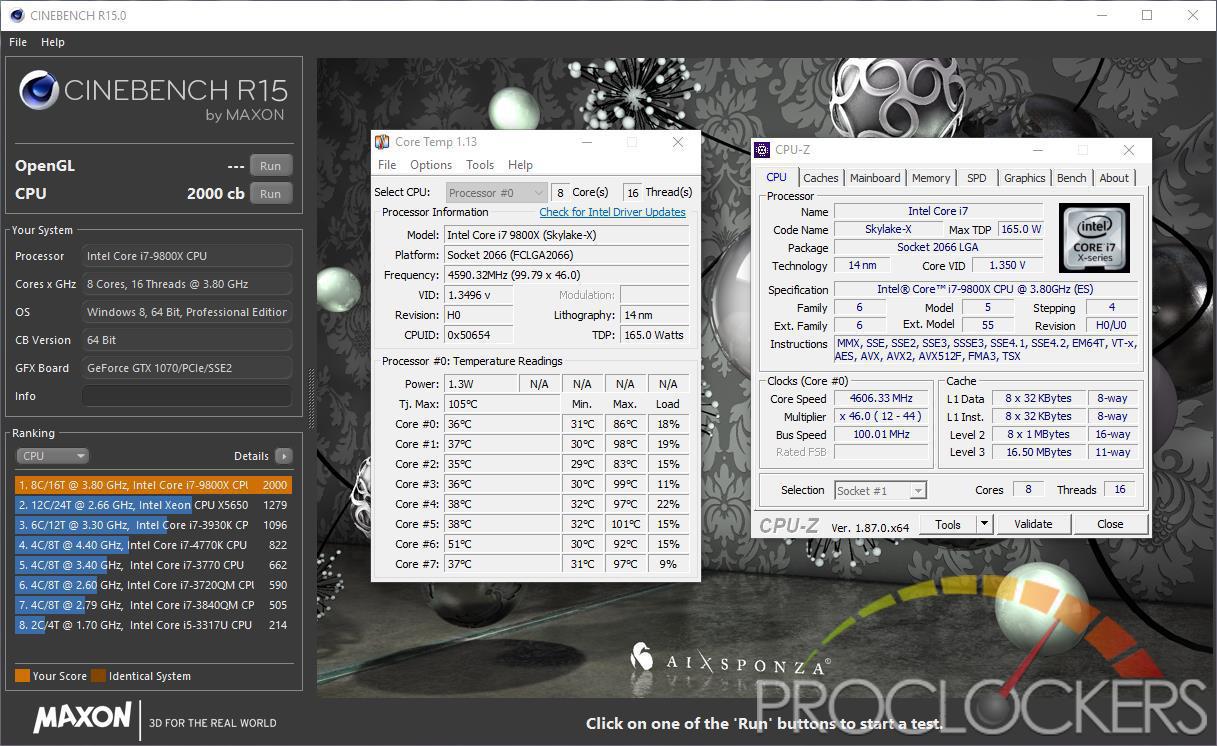 We pushed on to 4.6GHz, which gave us a few more points, but we had to push the voltage up from 1.31V to 1.35V and at this point, we are hitting the 100C mark on a few cores, while one core is at 83C and another is at 86C. We checked our cooler and ran this several times, and we always have a pretty big delta between the hottest and coldest core. It appears the new STIM (Solder Thermal Interface Material) might have some issues here, or perhaps we just got a poor-quality chip out of the 'Silicon Lottery'. Either way, Thermals are certainly a serious limit here, SkyLake-X has already proven to easily land in the upper 4 GHz range with better samples of Low Core Count chips able to hit 5GHz+ on all cores.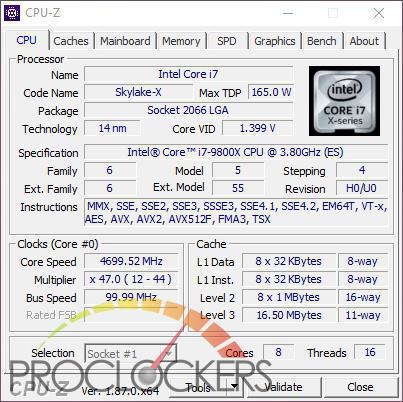 We were able to get 4.7GHz stable, but it took a painful 1.395V and temps were unmanageable, even on water.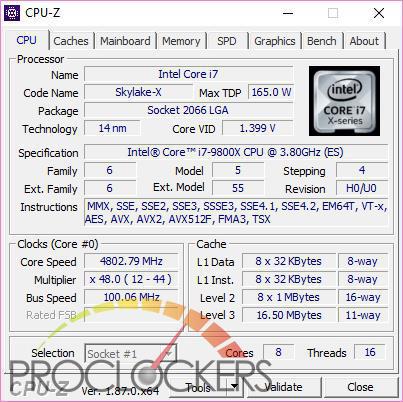 4.8GHz was unstable, no matter what we did. We could get to windows and do lite tasks, but no way this would even work for a daily driver, and no chance of going further.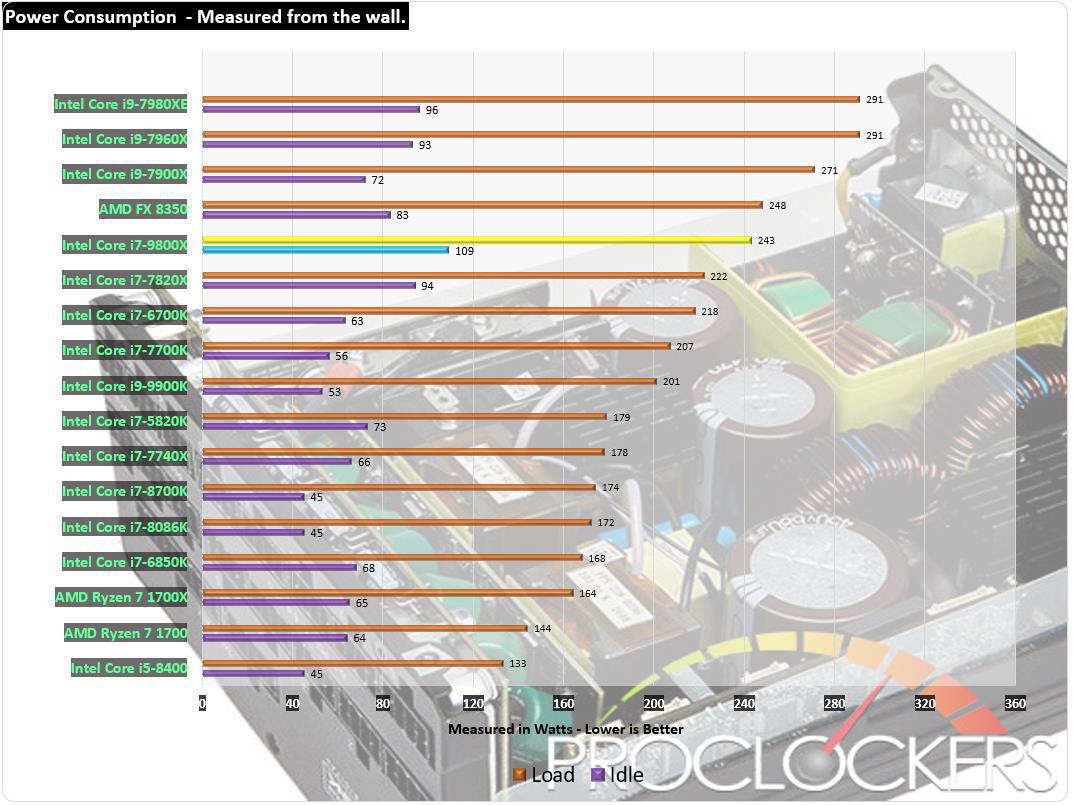 Given the 165W TDP, it's not much of a surprise to see slightly elevated power consumption over the older i7-7820X and more recent i9-9900K.
Final Thoughts & Conclusion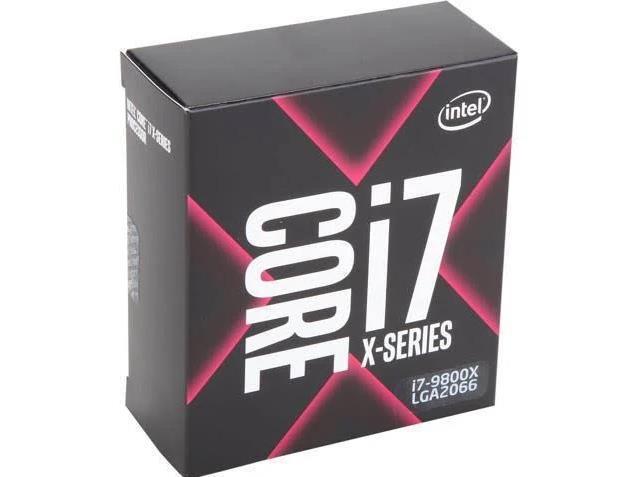 We were initially very excited about Intel's Core i7-9800X. The previous i7-7820X was one of our favorite CPUs of all time for its decent 8 core/16-thread delivery that included plenty of PCIe lanes for most builds, as well as quad channel memory for intensive computing workloads, coupled with enough breathing room on the platform for great overclocking. The i7-9800X comes in with a higher 165W TDP, already elevated clock speeds at both base and Turbo, a full complement of PCIe lanes and a soldered heat spreader to ice the cake. We expected this to be an over clocker's dream CPU.
What we got was a little underwhelming from an overclocking Enthusiast standpoint. Now keep in mind that every single piece of silicone is unique, and the i7-9800X we checked out may do better or worse than one you could grab off a store shelf near you. That being said, we noticed a very wide delta between CPU core temps at stock, and it got worse with overclocking. We're hoping this is a one-off issue and not representative of how all the new 9000 series CPU's with STIM will behave. The voltage required to get any given overclock we tried was MUCH higher than we are used to seeing from SkyLake-X, and this was a huge contributor to our lower than expected overclocks and higher than expected thermals. Obviously, your mileage may vary.
Now with the little bit of subjective 'bad' out of the way, on to the good! Out of the box, the i7-9800X is a really solid CPU and a nice upgrade over the former i7-7820X in almost every way. The higher clock speeds are noticeable and the memory performance pretty well topped the charts in every test. If you have a workstation build or something that needs a lot of bandwidth, it's also nice to see all 44 PCIe lanes available at the bottom of the SKU list now instead of only at the top end. This is a great way to get into Intel's HEDT platform, and you have room to upgrade all the way up to 18 cores at a whim if you need to.
Great Job Intel!