Ballistix Tactical Tracer RGB DDR4 Gaming Memory Review
Introduction
You can argue that Crucial pretty well started the lighted memory module craze more than a decade ago in the DDR(1) days and now the rebranded Ballistix has married that same spirit to the modern RGB craze with the Ballistix Tactical Tracer RGB. Designed for powerful performance for hardcore gamers, the Tactical series receives a brilliant and customizable facelift that image-conscious gamers will love.
ProClockers would like to thank Crucial for sending the Ballistix Tactical Tracer RGB memory kit over to check out!
Crucial's take on the Ballistix Tactical Tracer RGB:
New RGB LED modules to improve gameplay and performance while lighting up gaming rigs in style.
Technical Specs:
16 RGB LEDs in 8 zones on each module
Speeds up to 3000 MT/s
Module densities up to 16GB, kit densities up to 64GB
Three light bar options:

Included Ballistix-labeled light bar gives a diffused RGB look
Remove the light bar for maximum brightness
3D print a new light bar design for the ultimate customization

Monitor temperatures and control RGB LEDs with the Ballistix® M.O.D. Utility software
Limited lifetime warranty
Densities of 8GB and 16GB per module
Latency 16-18-18-38

Features & Specifications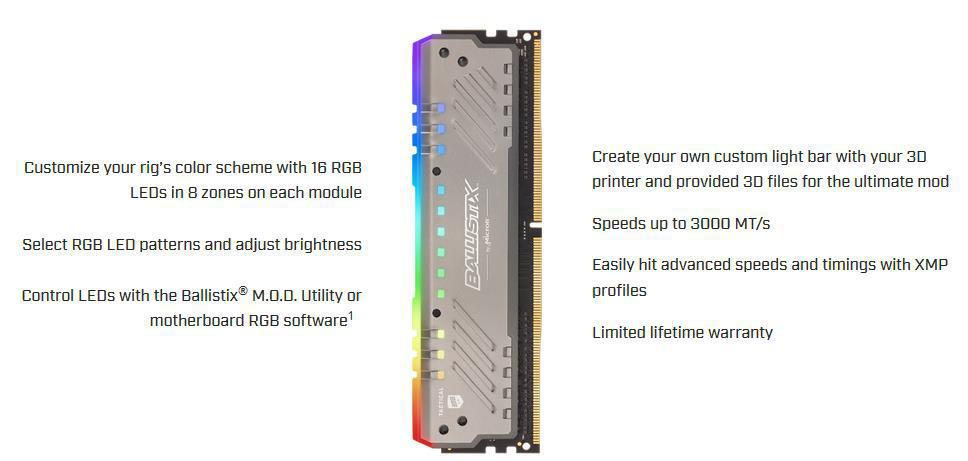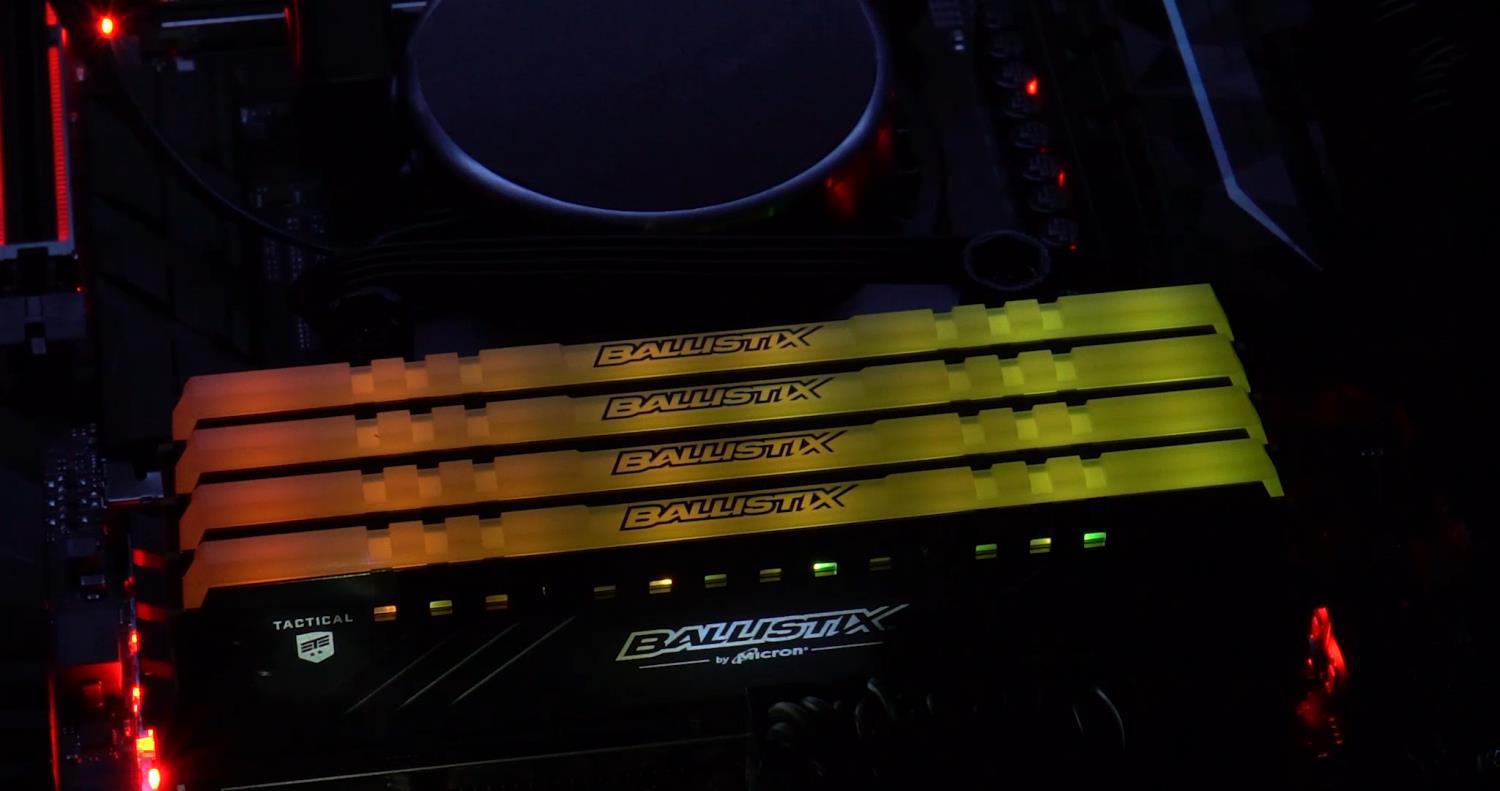 Customize your rig with prismatic LEDs
With 16 LEDs in 8 zones built into the top edge of every Tracer module's design, Tactical Tracer RGB DDR4 modules light up your rig's color scheme and other components. Adjust LED colors and brightness, turn them on and off, switch up display patterns on the fly, or sync your memory's lights with other components using your motherboard's provided software.
Modify your memory's look like never before
Take your system's look even further with different light bar options. The choice is yours!
Get a diffused look with the Ballistix-labeled light bar.
Remove the light bar for maximum brightness.
Or 3D print your own for the ultimate customization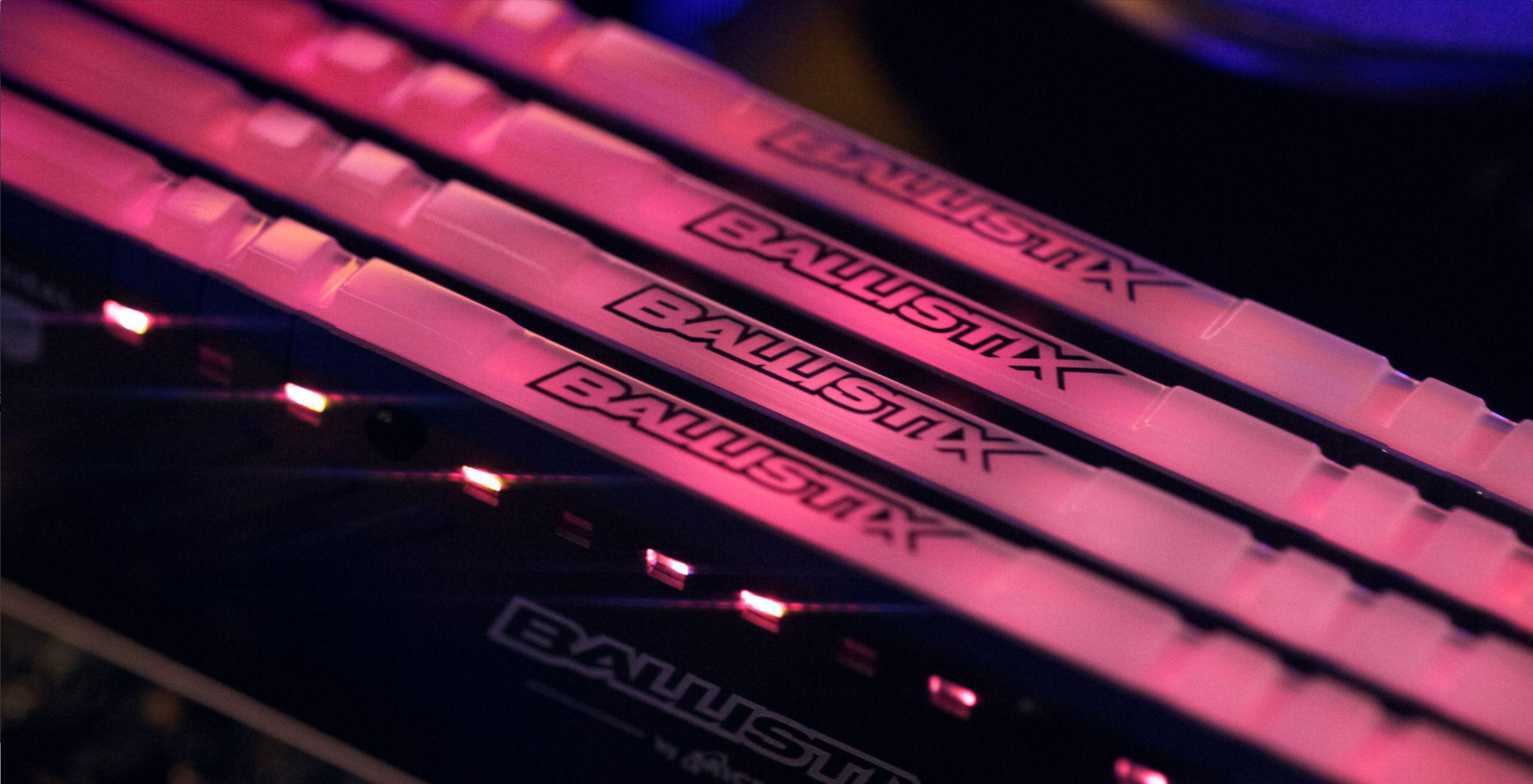 Command your memory with the Ballistix® M.O.D. Utility
See how your memory is running at any moment with the detailed system information that the Ballistix M.O.D. (Memory Overview Display) Utility provides. Designed exclusively for high-end Ballistix modules, the M.O.D. Utility is a free downloadable tool that works with Microsoft® Windows®-based systems. Play full throttle while gathering intel on memory speed and temperature via an integrated thermal sensor, then use this info to enhance your performance.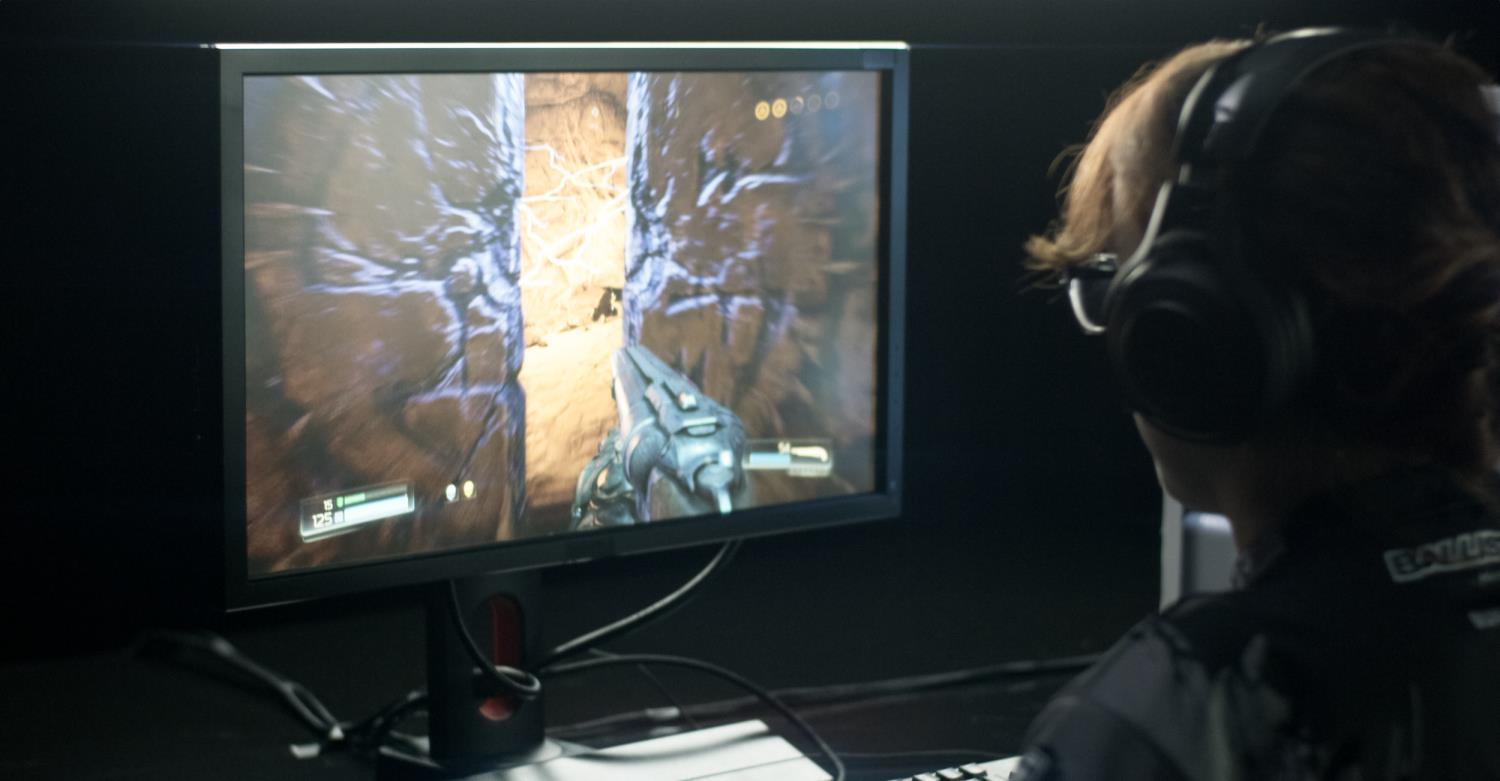 Accelerate your game in style
Get faster speeds and more aggression with speeds up to 3000 MT/s. Burst towards the top of leaderboards and knock out opponents with module densities up to 16GB and kit densities up to 64GB.

Lighting Patterns
Motion point
Shift
Water Wave
Flashing
Double Stack
Fill
Color Step
Breathing
Stack
Inside Out
Static
Gradient Shift
Packaging & Unboxing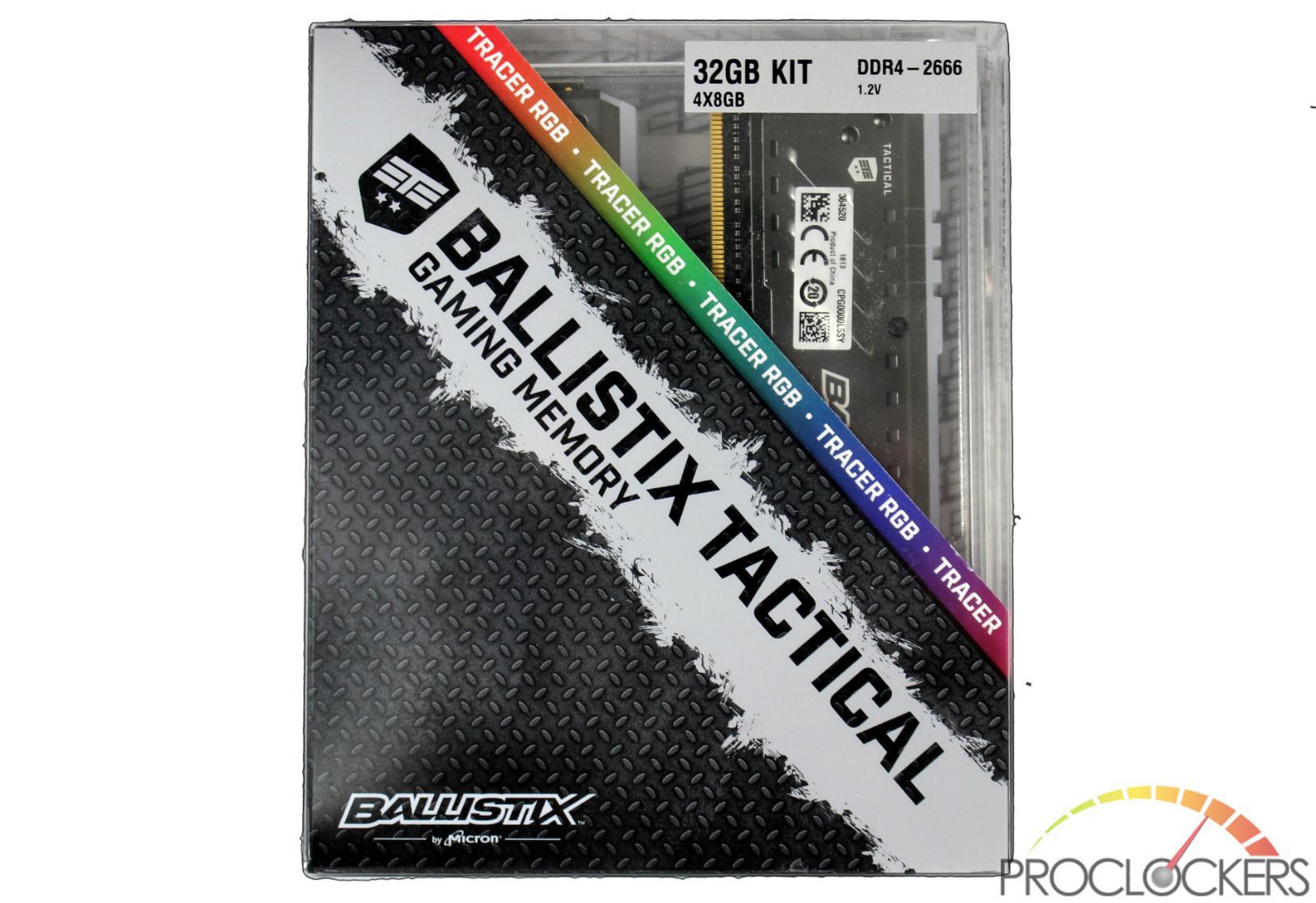 Ballistix's packaging is quite unique, and the tactical Tracer RGB looks very similar to our recently reviewed Ballistix Elite. This time though, the packaging is made of plastic and has an RGB stripe across the front indicating the contents.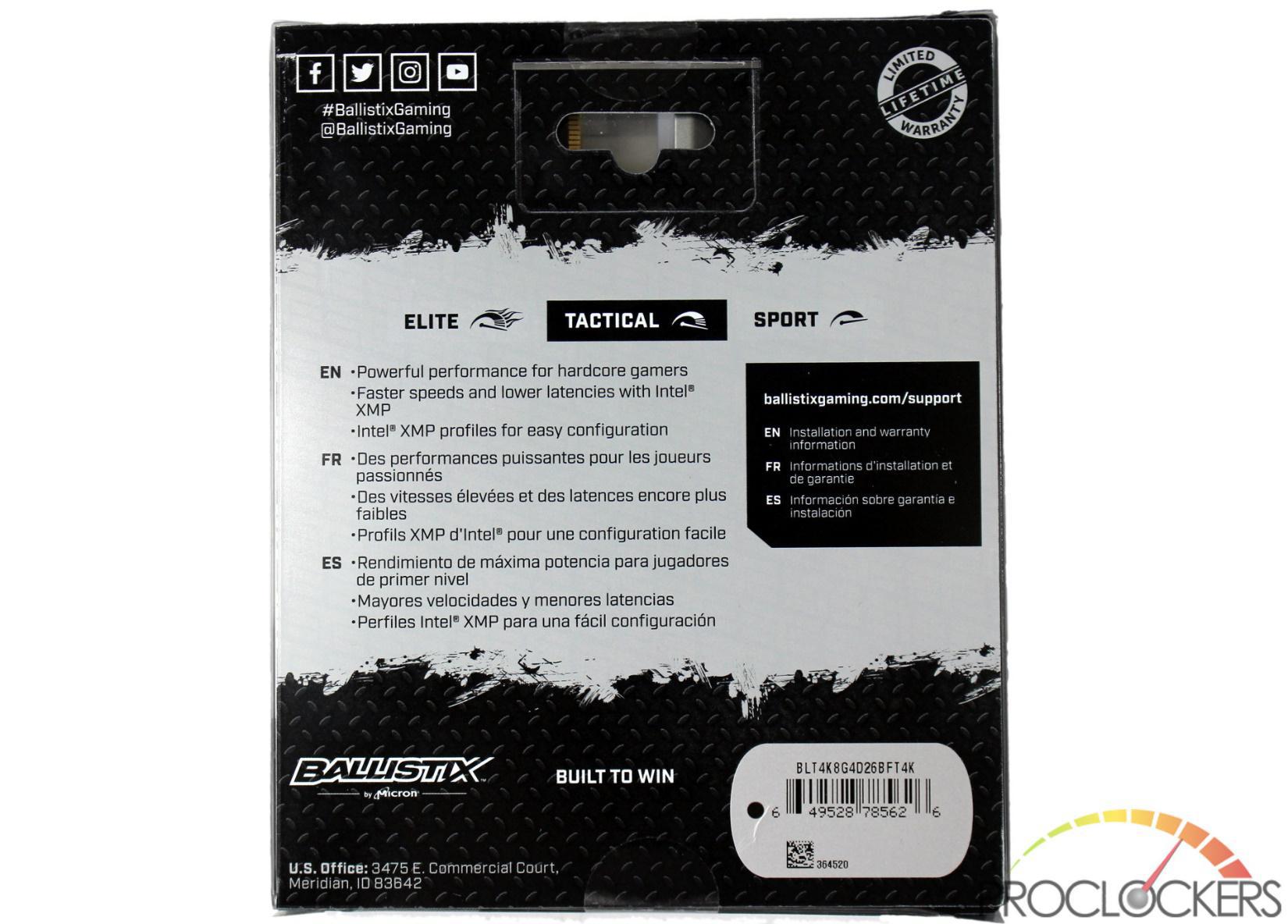 The rear of the packaging shows this kit is part of the Tactical product line.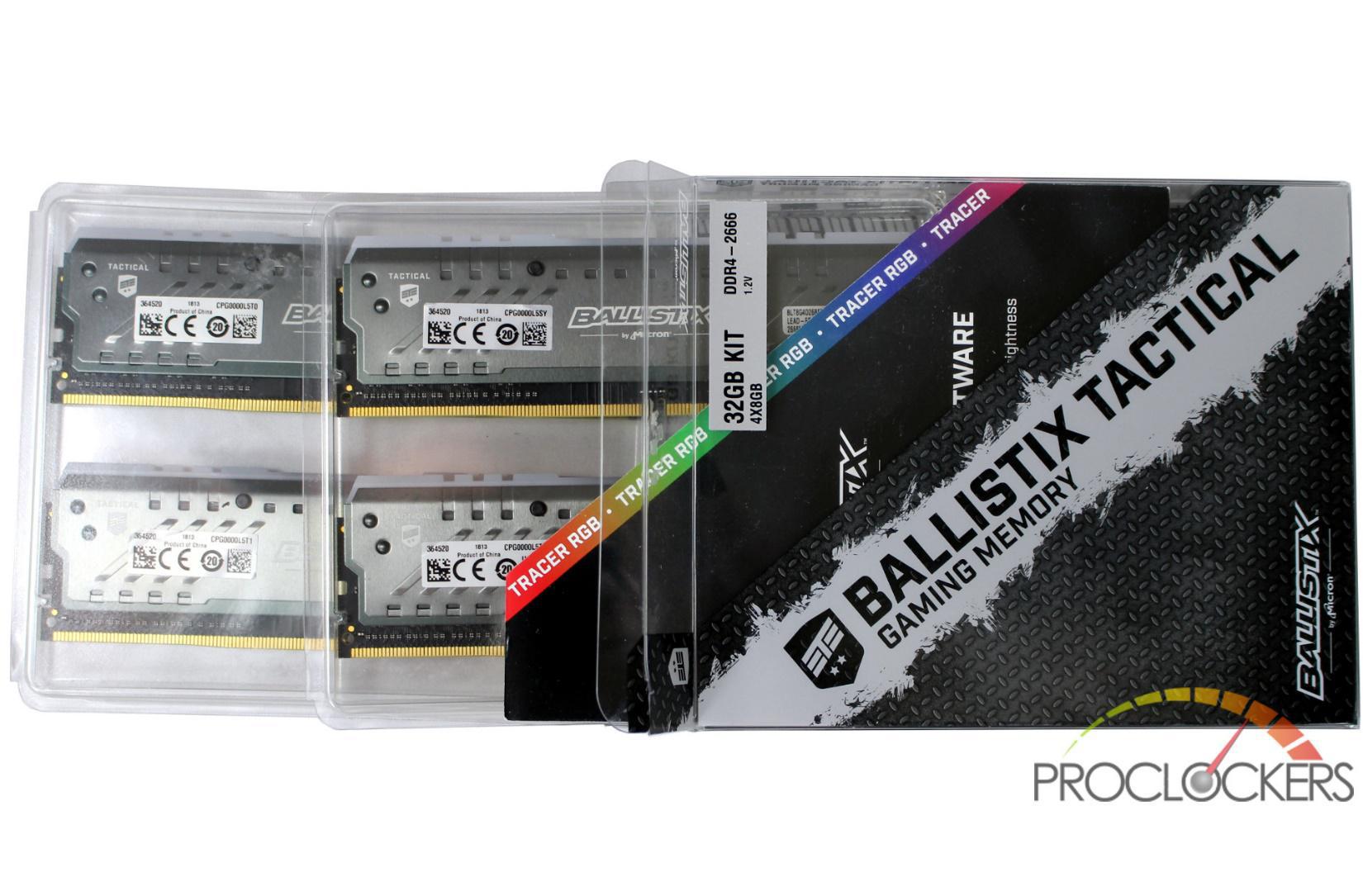 The top opens up and the modules come out in trays of two.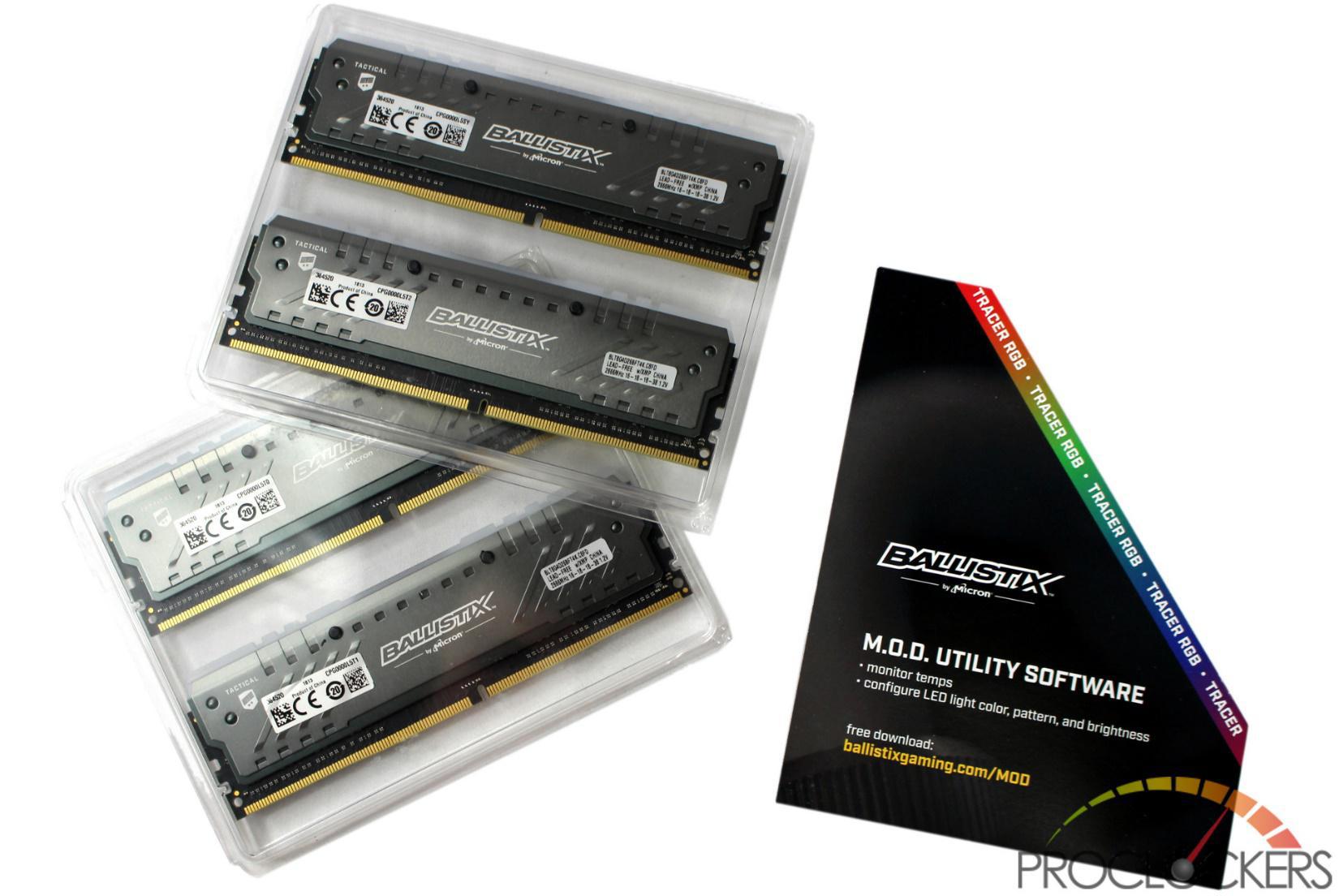 The RGB strip across the packaging is actually an insert that tells you about the M.O.D. Utility which we'll check out in a moment as well as a link to download.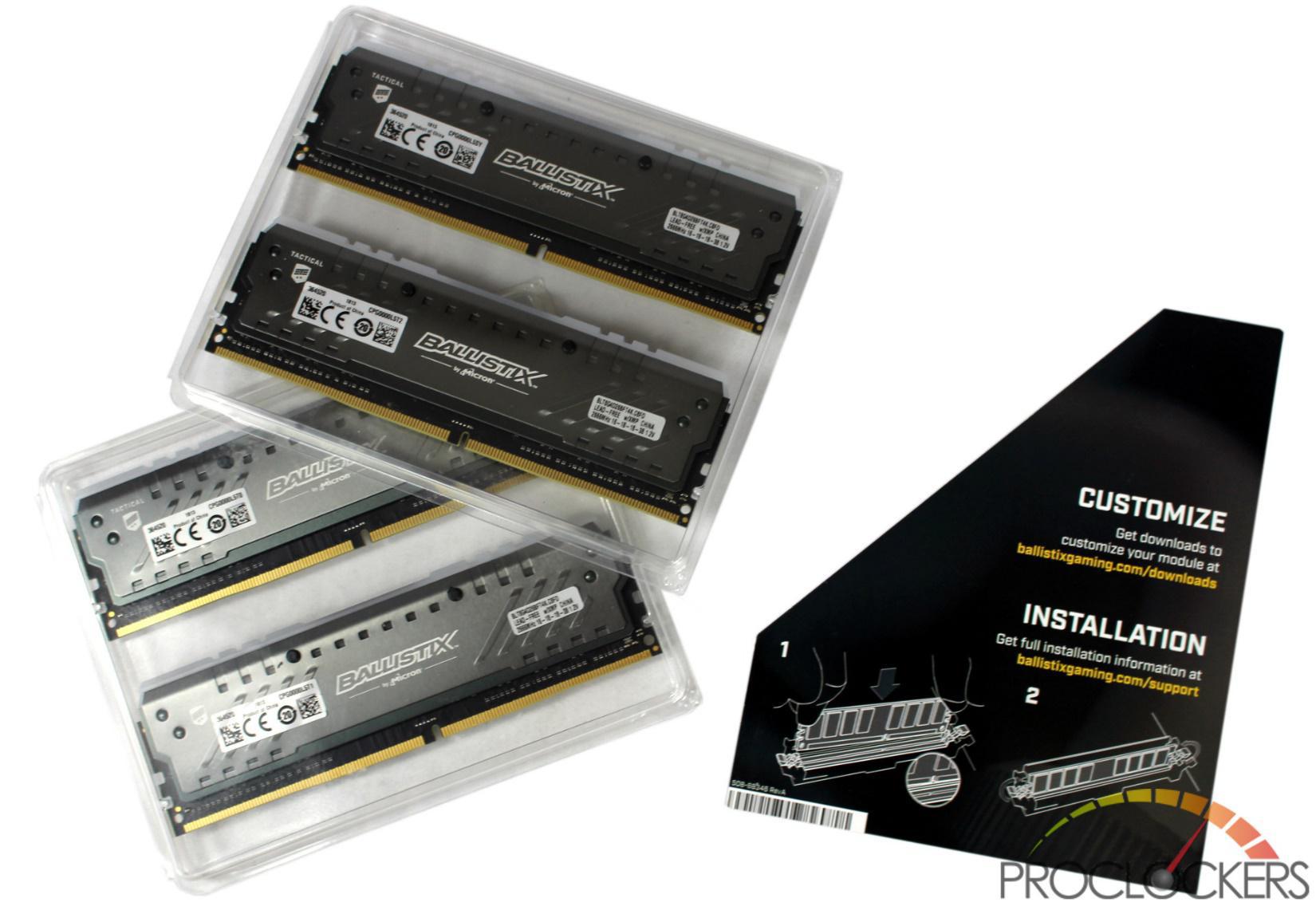 The reverse side shows you how to install the modules, as well as a link to the customization page where you can grab 3D models to print new light bars yourself.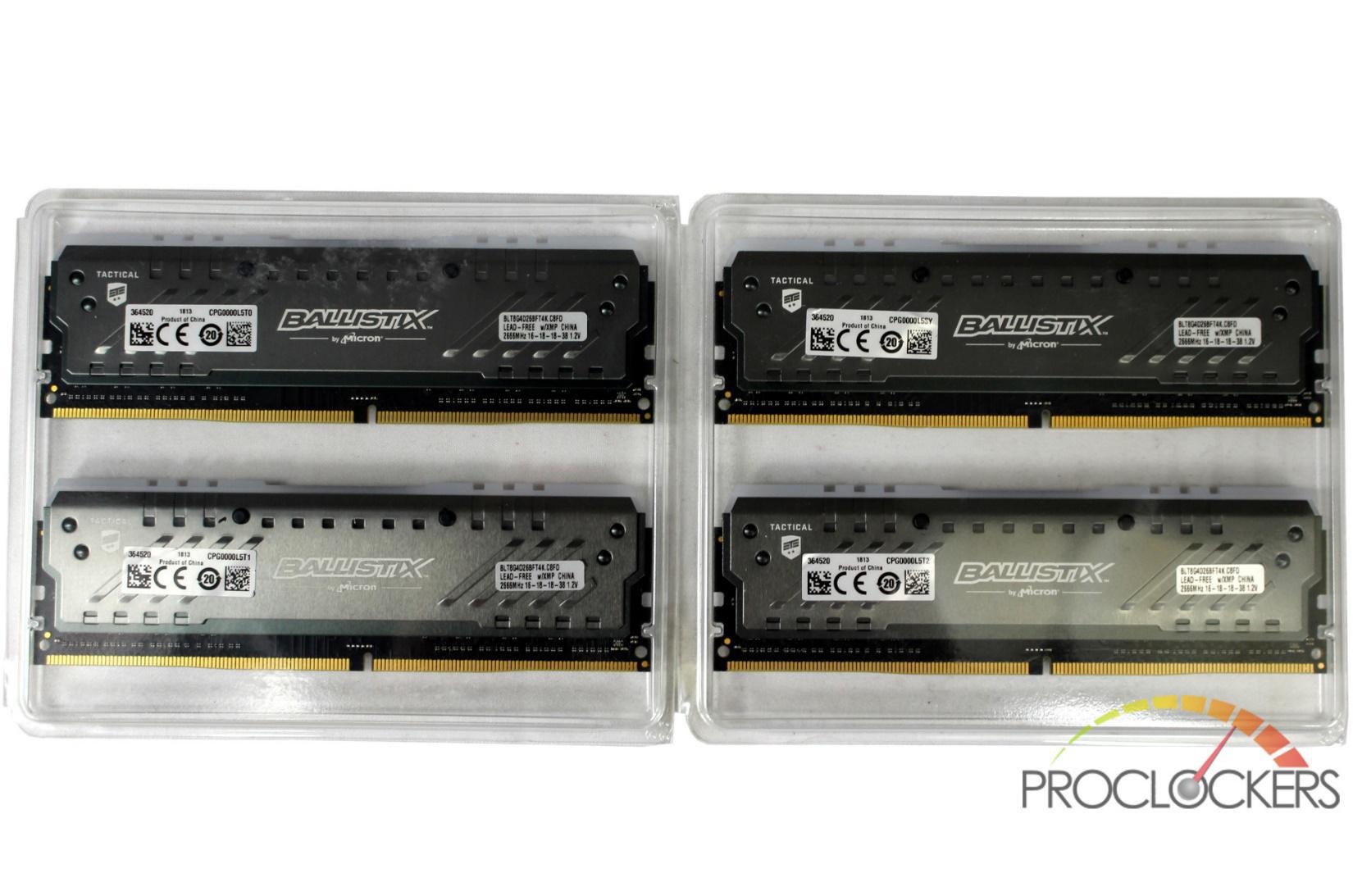 And the main event. Here are all four modules, ready to go.
A Closer Look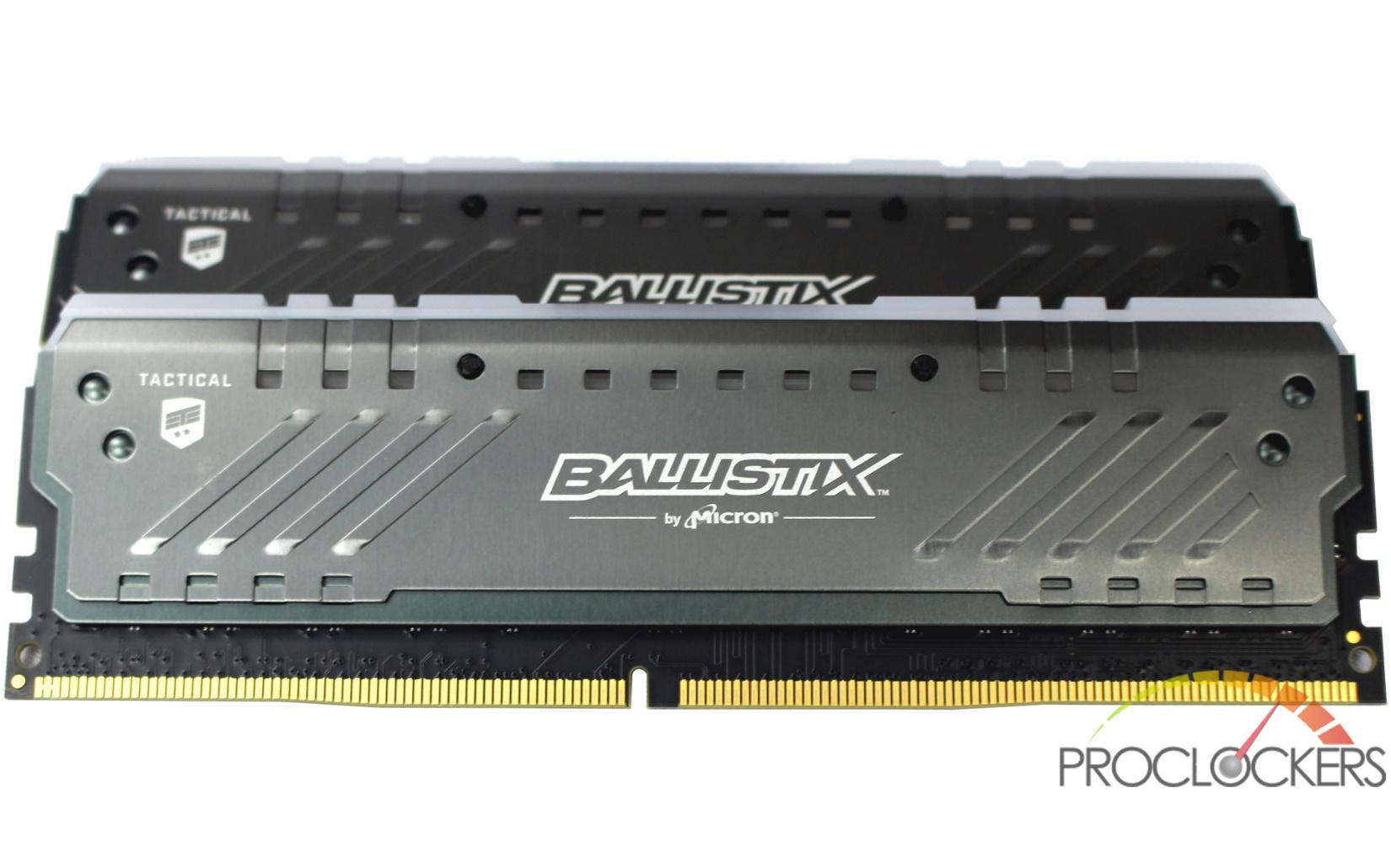 The Ballistix Tactical tracer RGB come in the signature gunmetal grey brushed aluminum heat spreaders over a matte black PCB. The Tactical logo adorns the top left corner.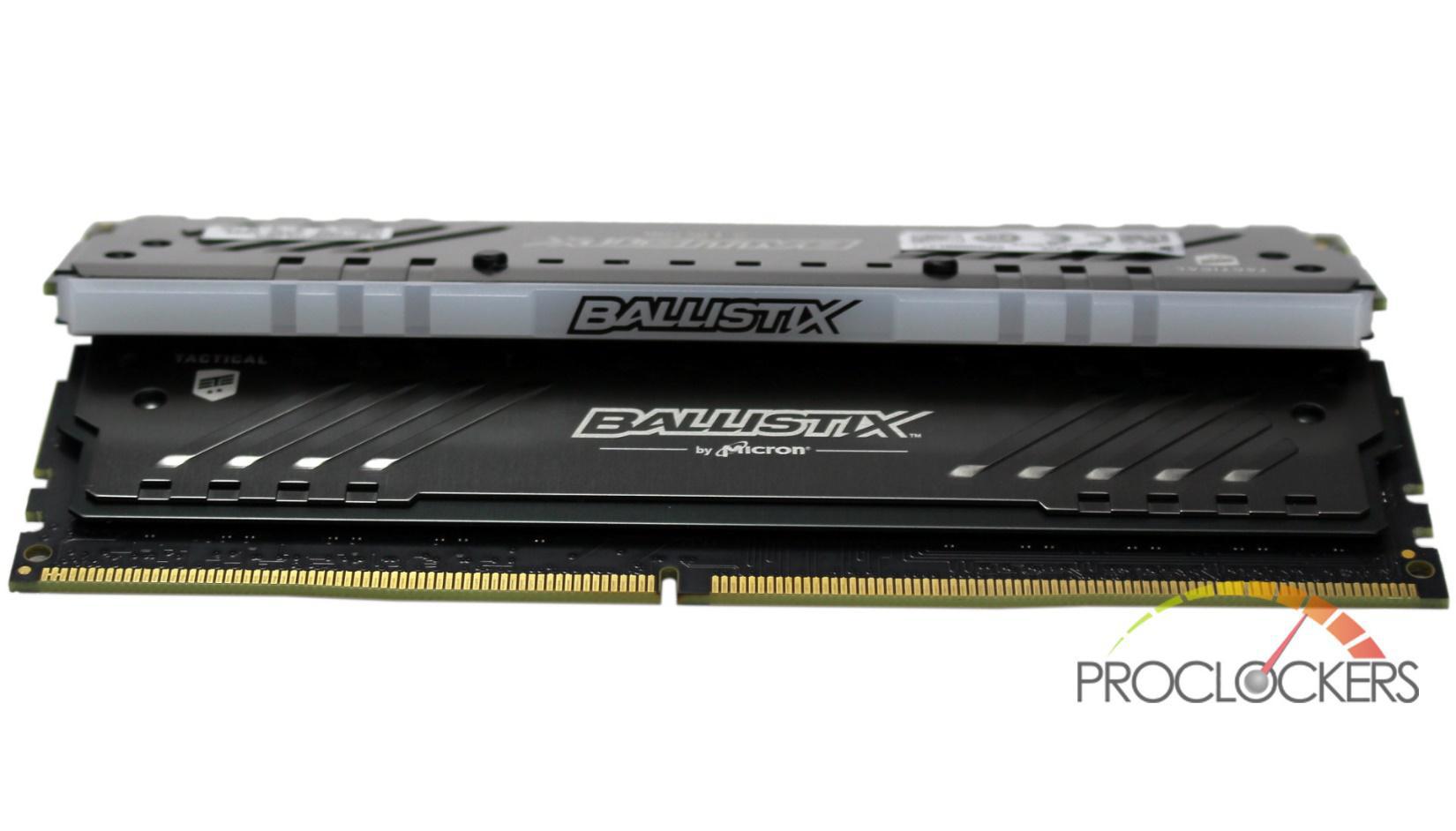 The top is a milky white but rather unassuming bar with the Ballistix logo right in the center.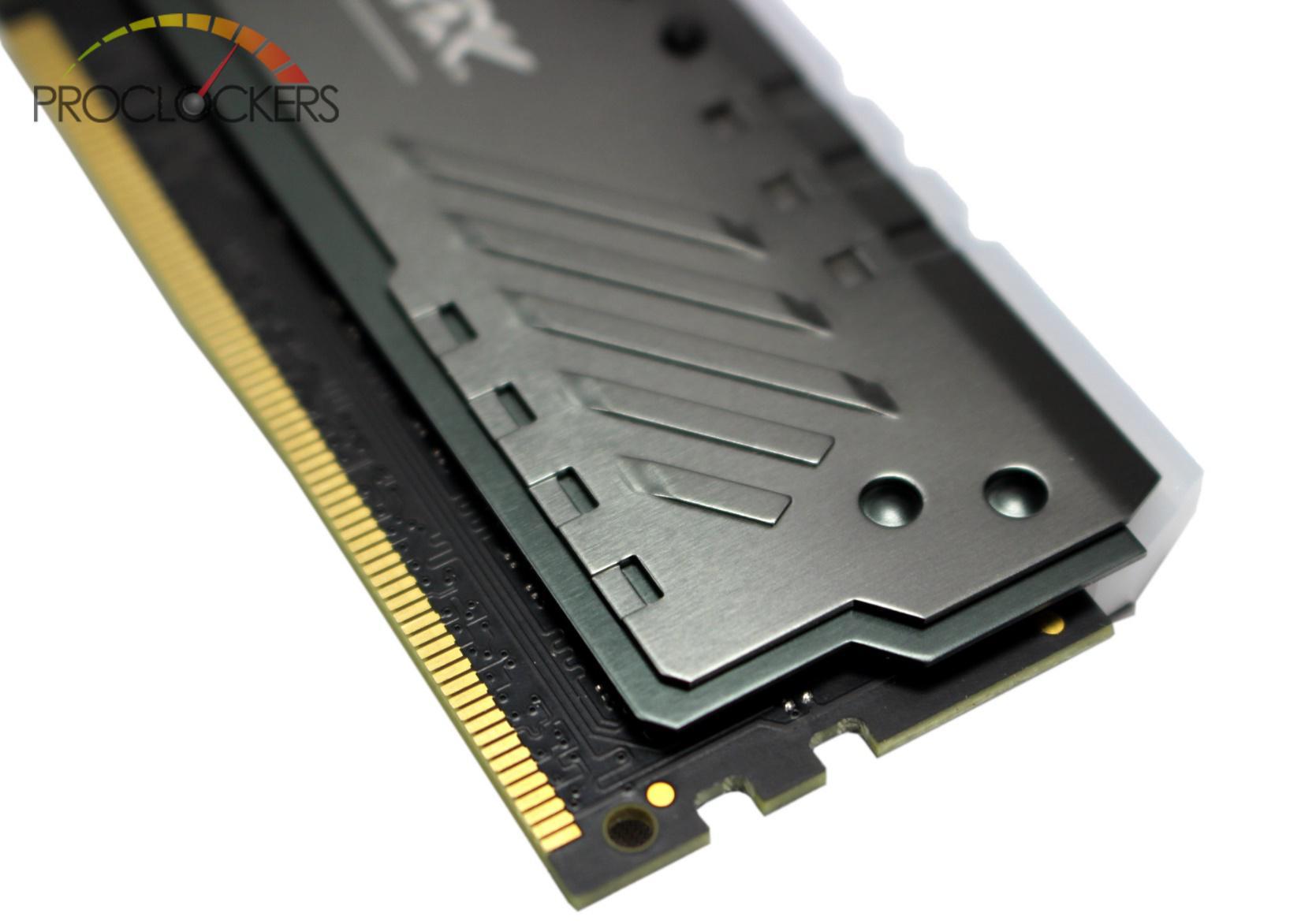 The ends of the heat spreaders have some 3D parts stamped into it to give a good grip on the module as well as a bit more surface area for heat removal. You can see here pretty well the two-tone grey and gunmetal layers that look so good.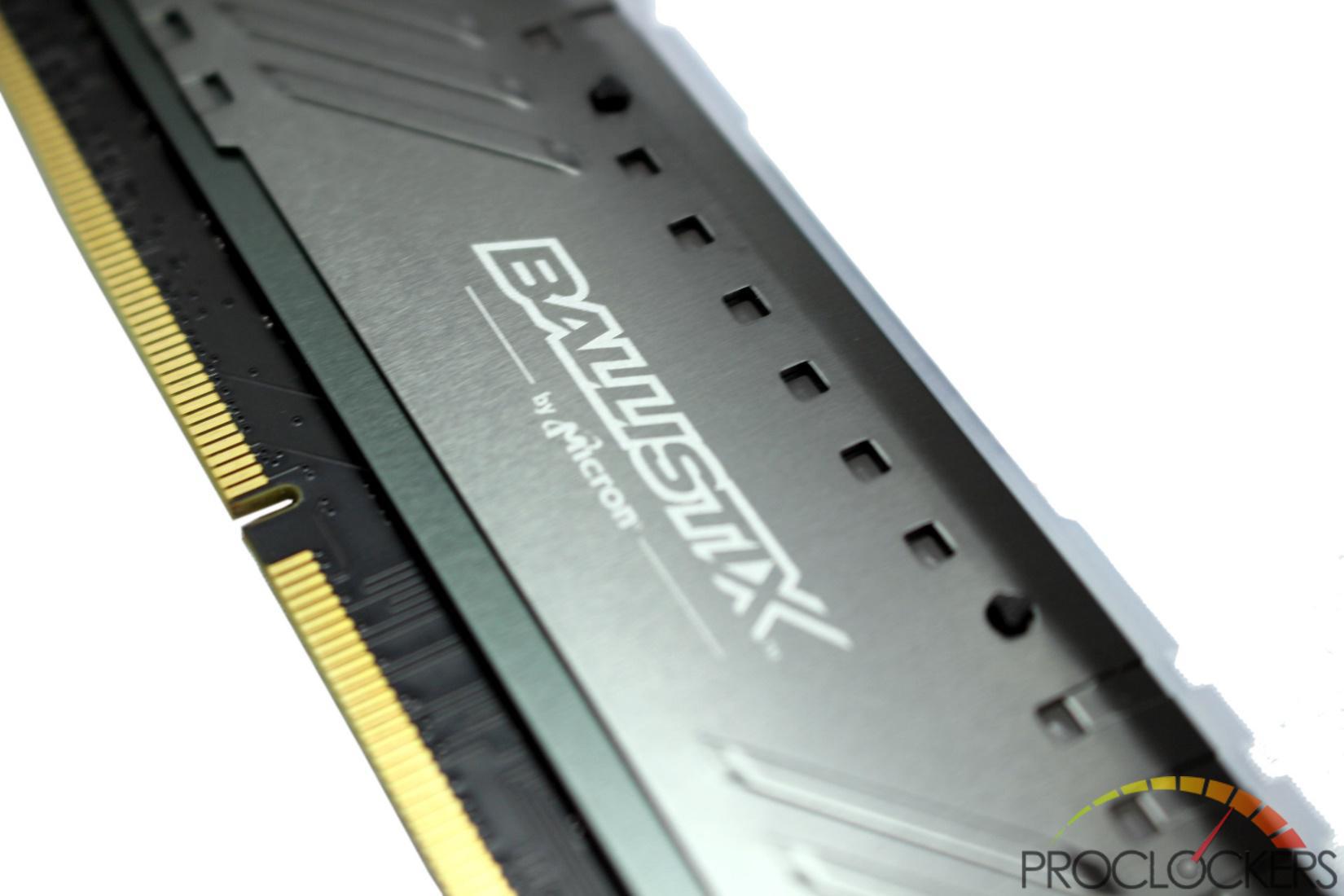 The center area of each module is pretty smooth with just the Ballistix logo.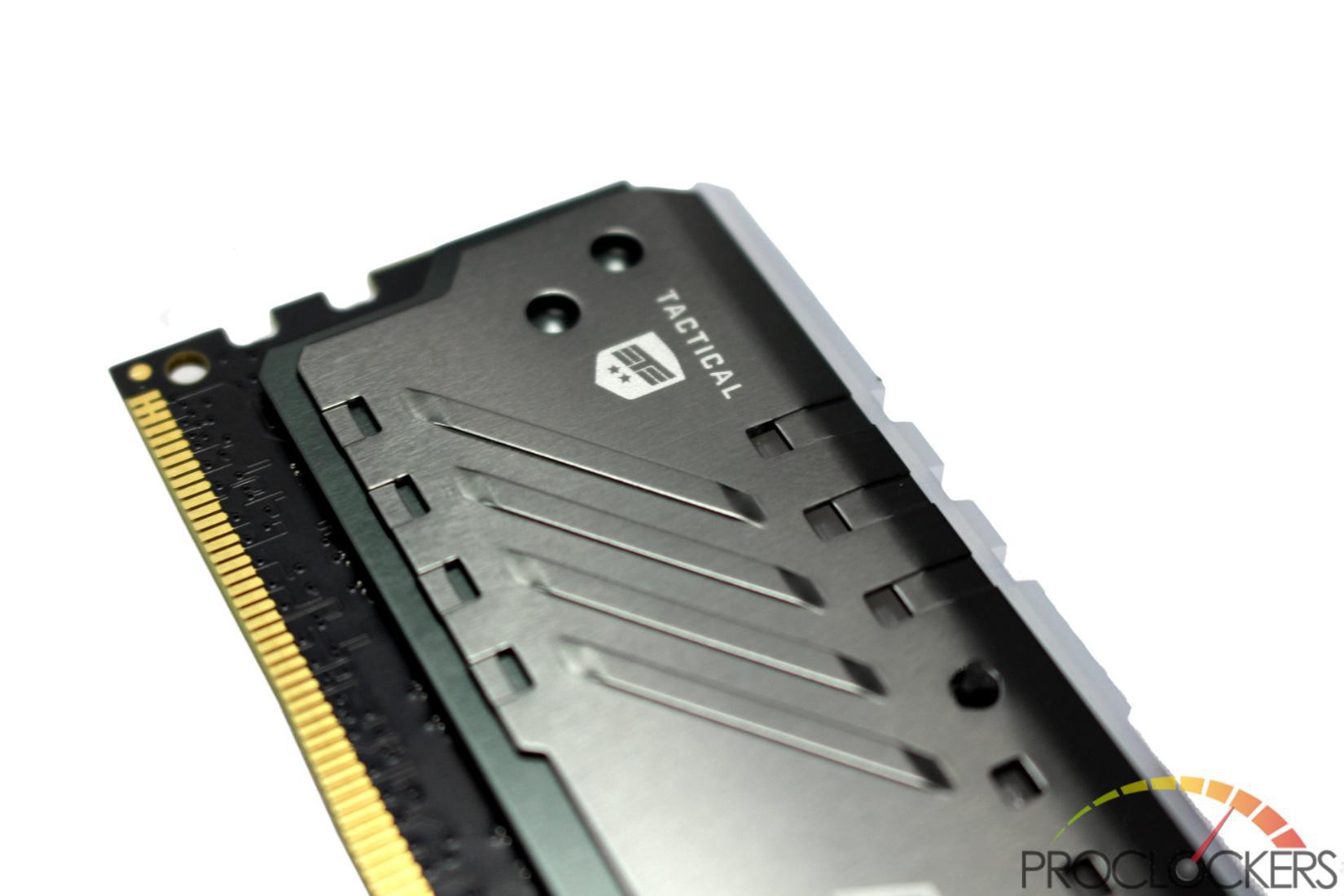 The left corner is similar to the right but only has the small tactical logo.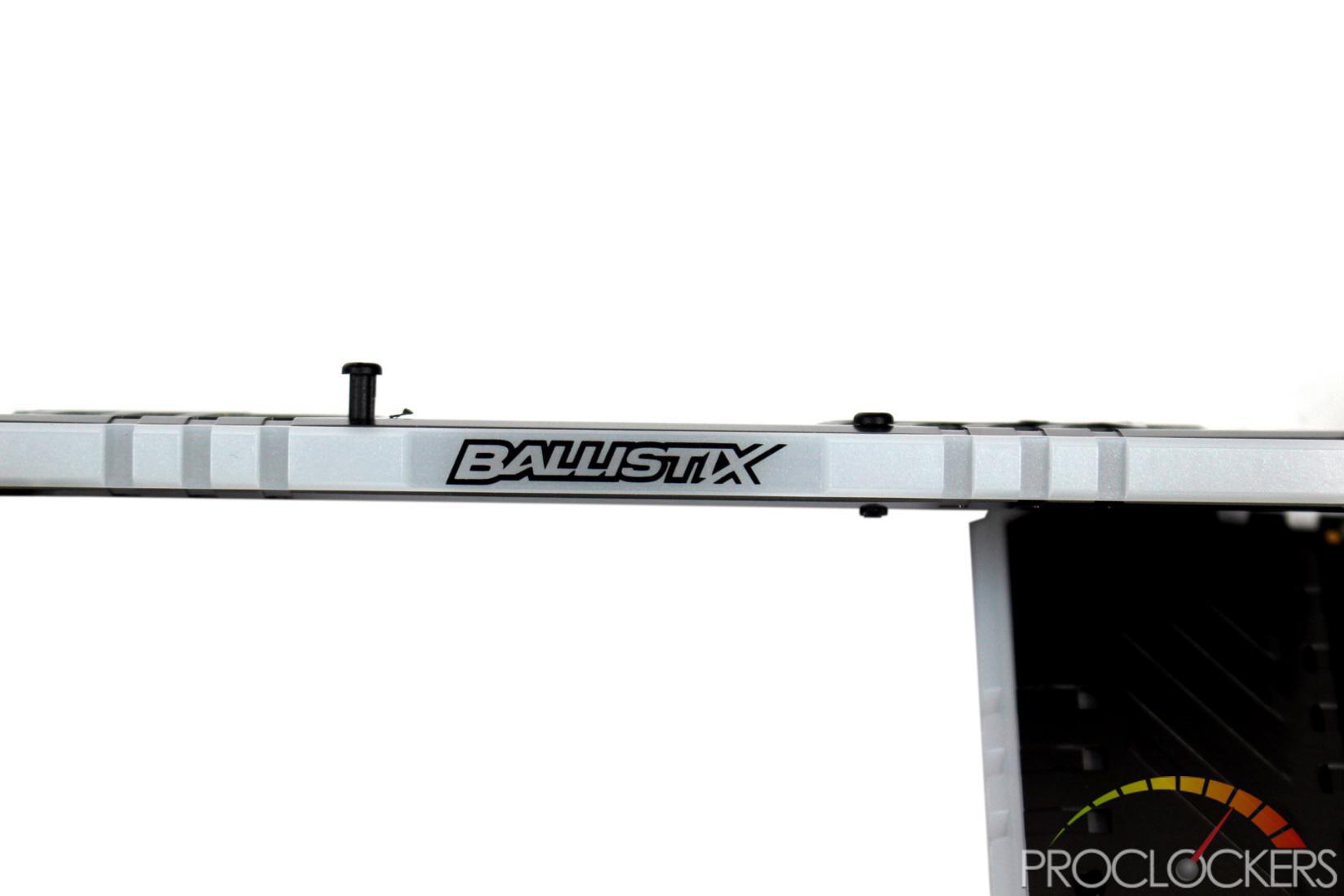 You'll notice there are two small push pins stuck through the module near the top. You can push them out a bit from one side and make it easier to pull out from the other side.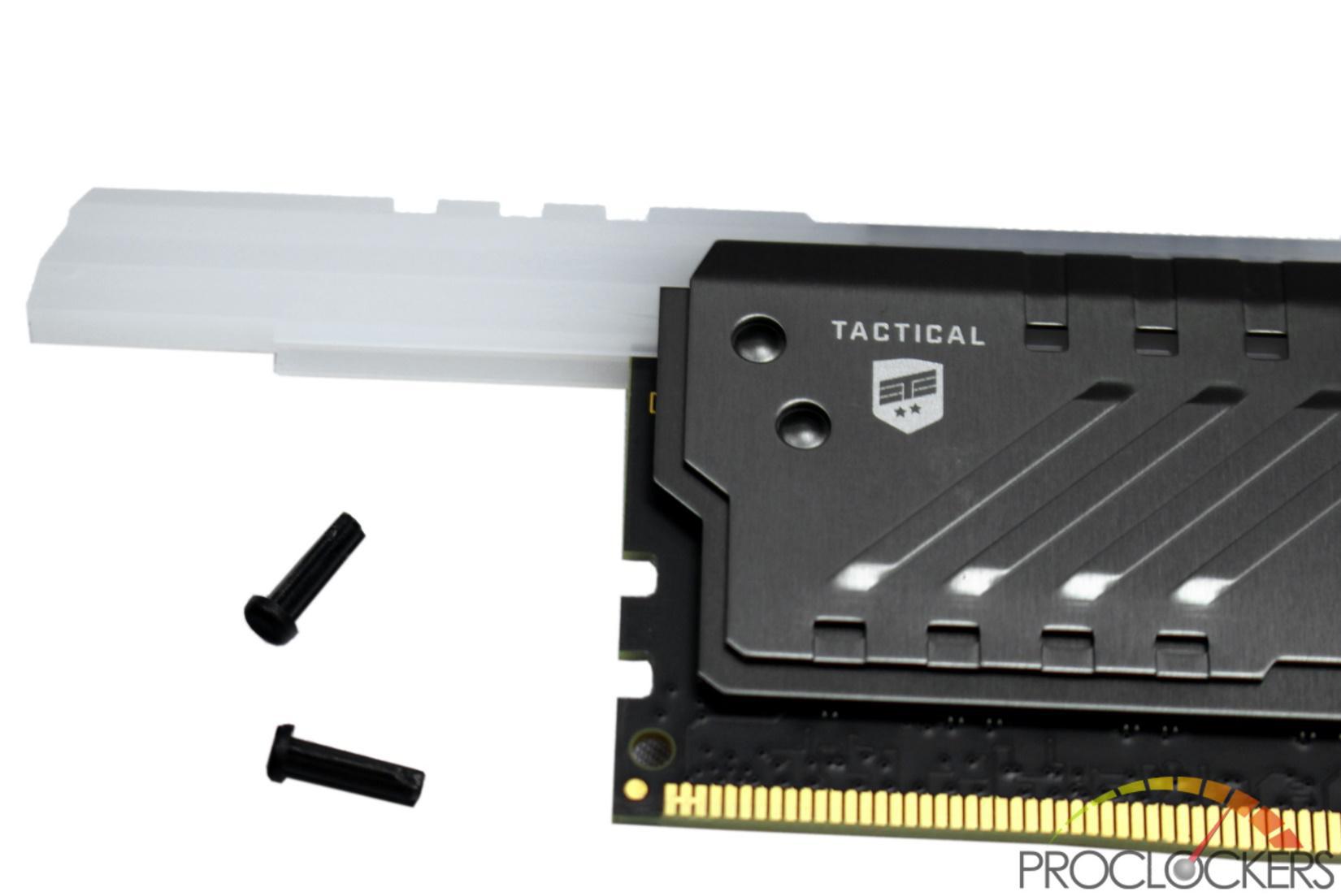 Once out, you can slide the entire light bar assembly either direction to remove it.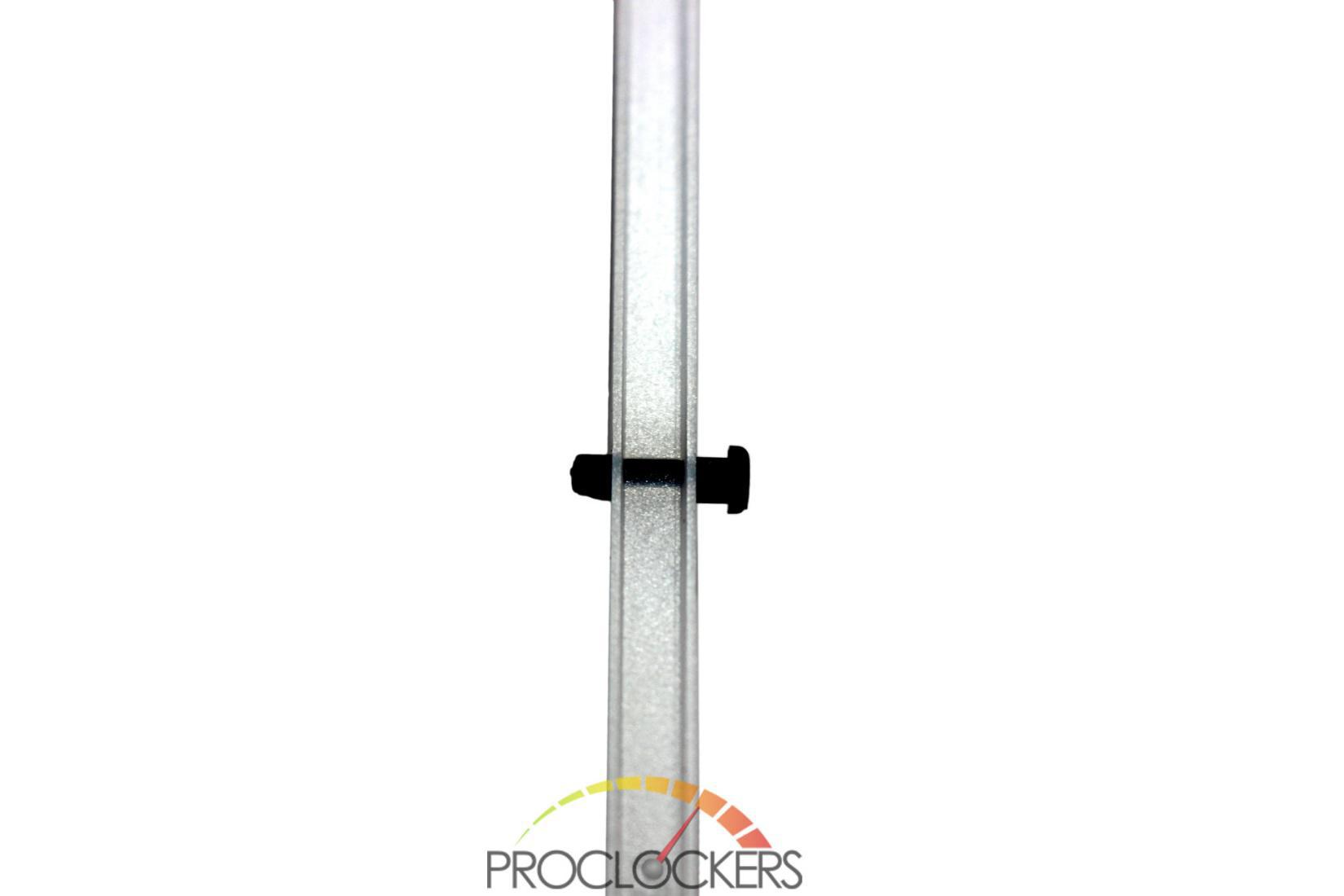 The push pins go through the very bottom edge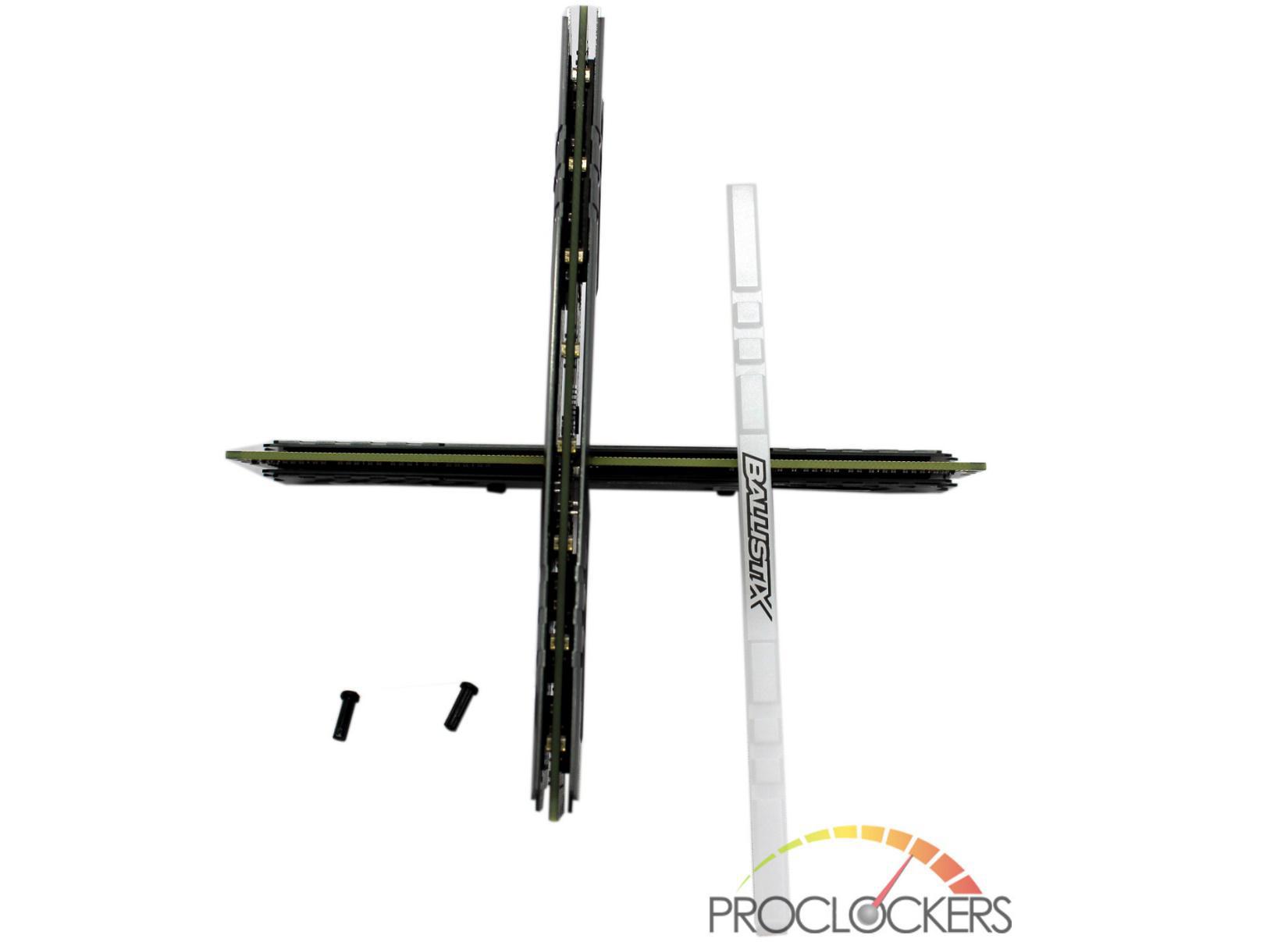 With the light bar removed, you can see the LED's inside the module itself.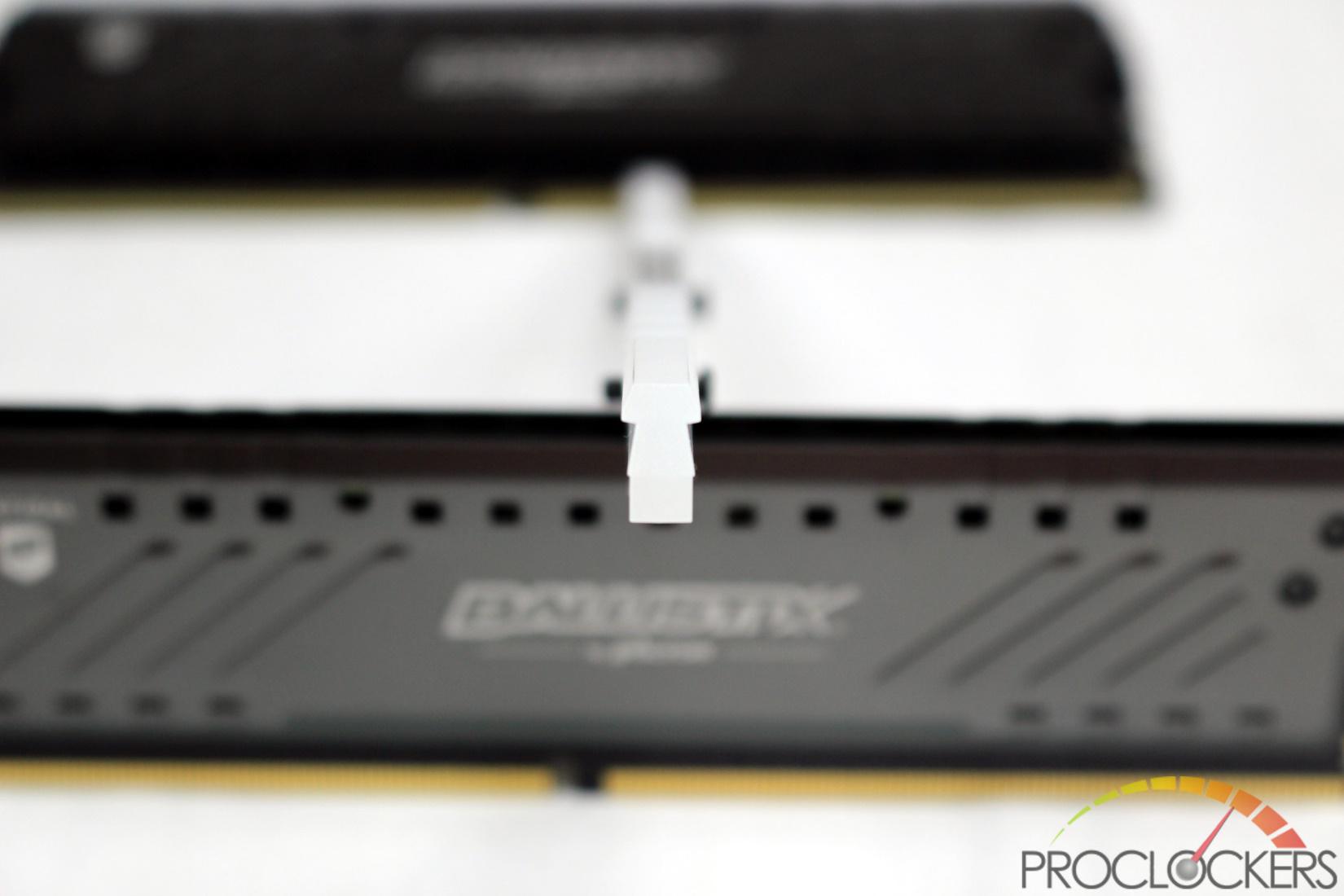 The light bar has a bit of a dovetail shape to keep it in place.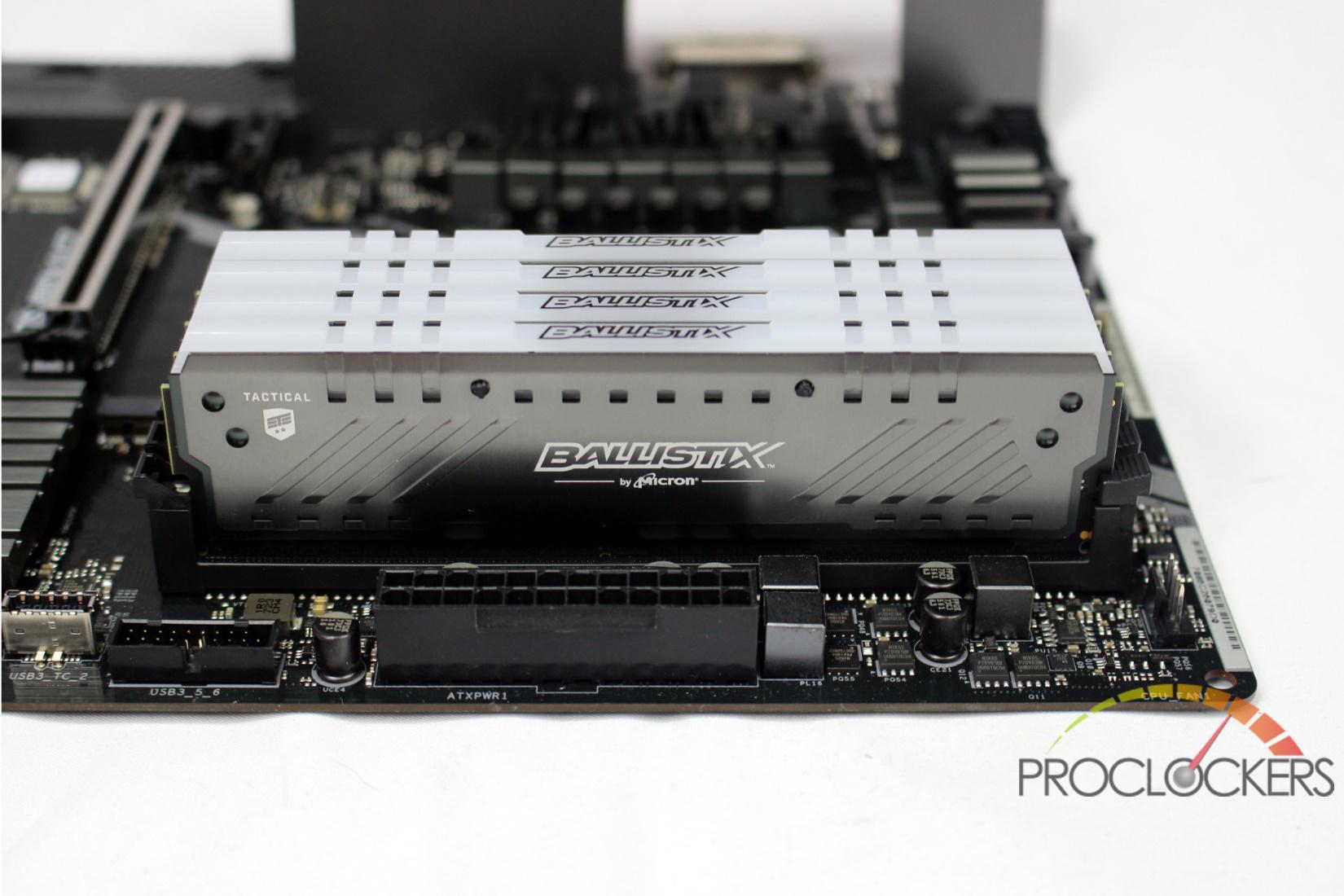 The modules look great installed!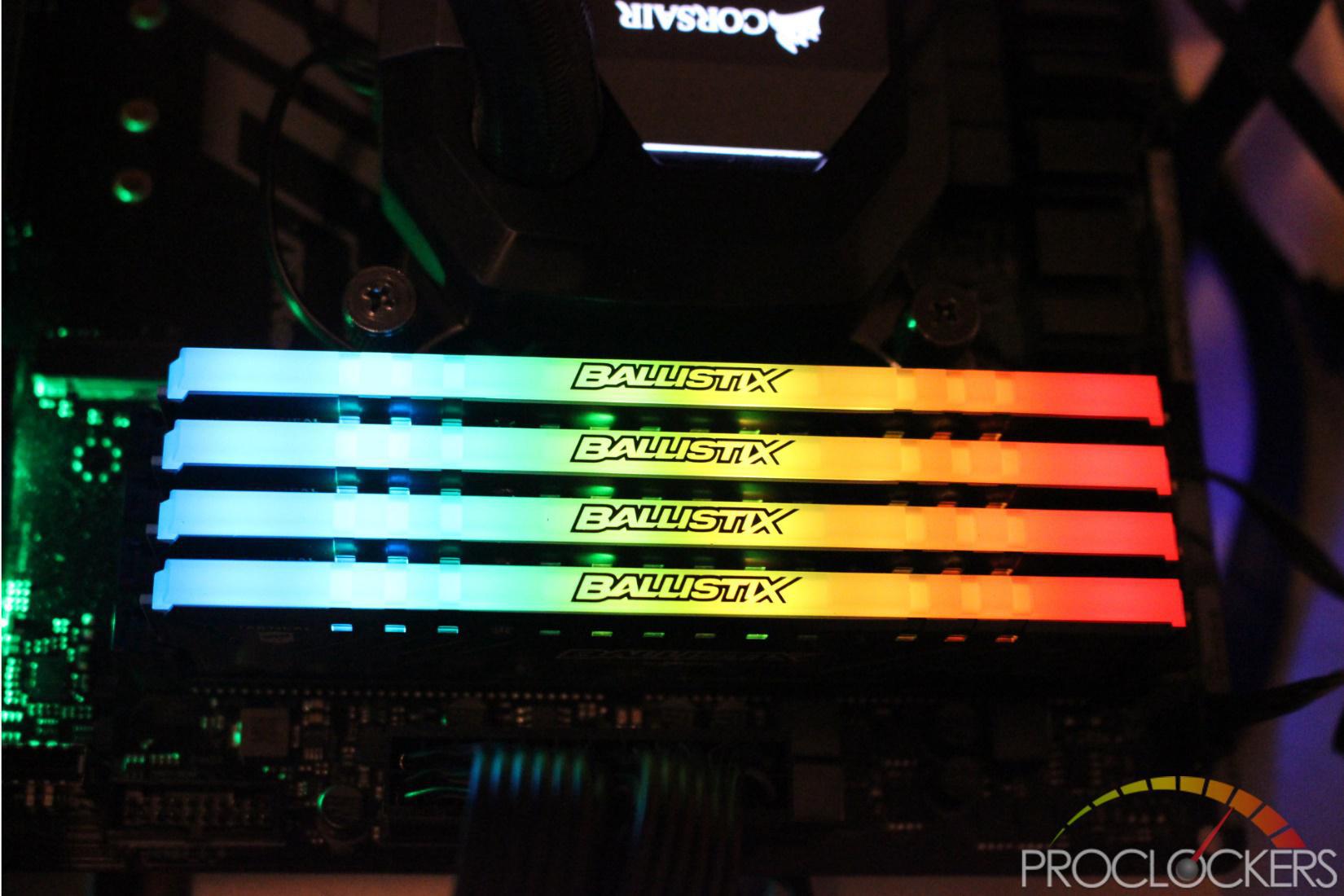 Lit up, the Tactical Tracer RGB modules are jaw-dropping. It's quite hard to convey in a picture but the lighting is gorgeous.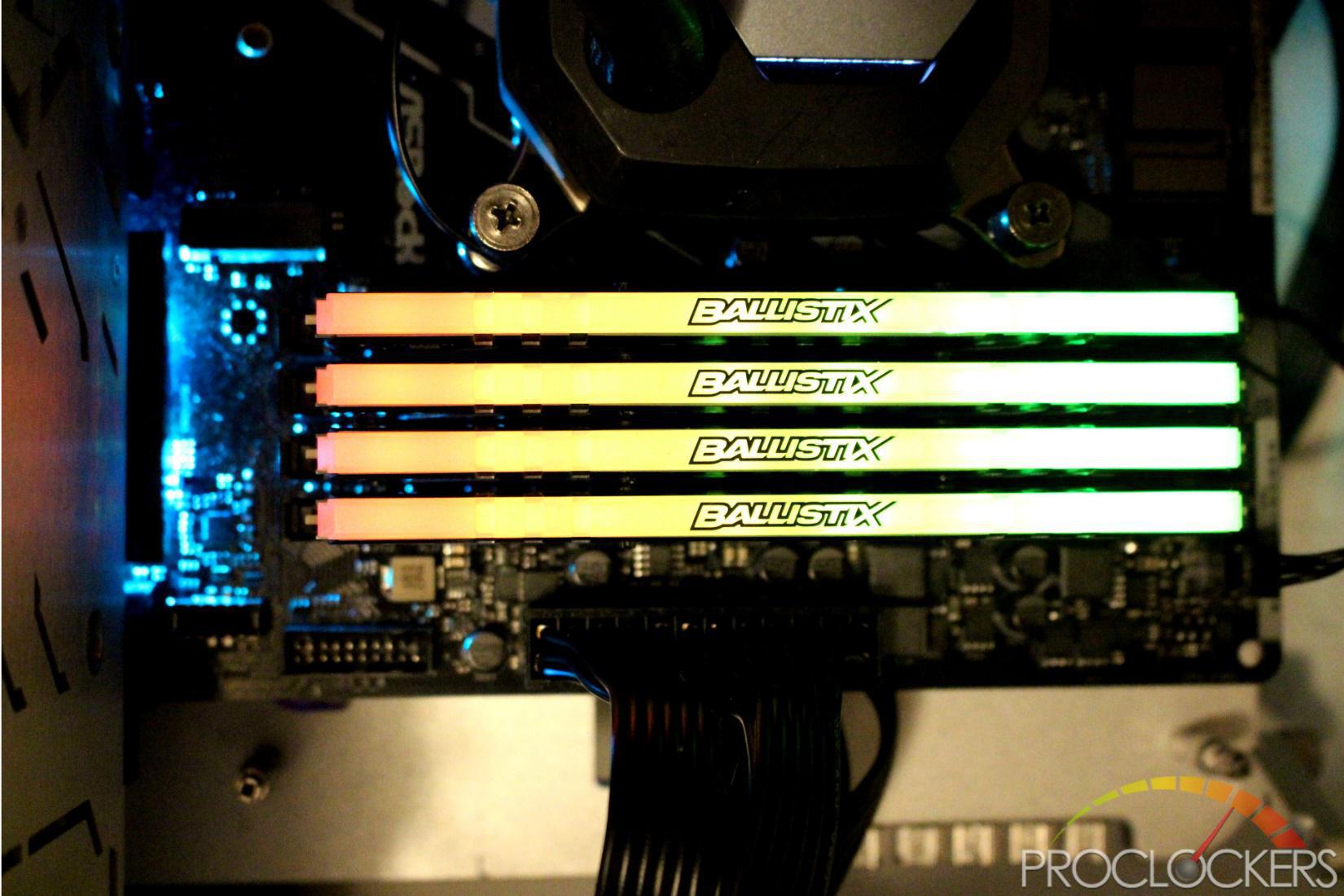 You'll spend several minutes playing with all of the colors and patterns the first time you get MOD loaded up.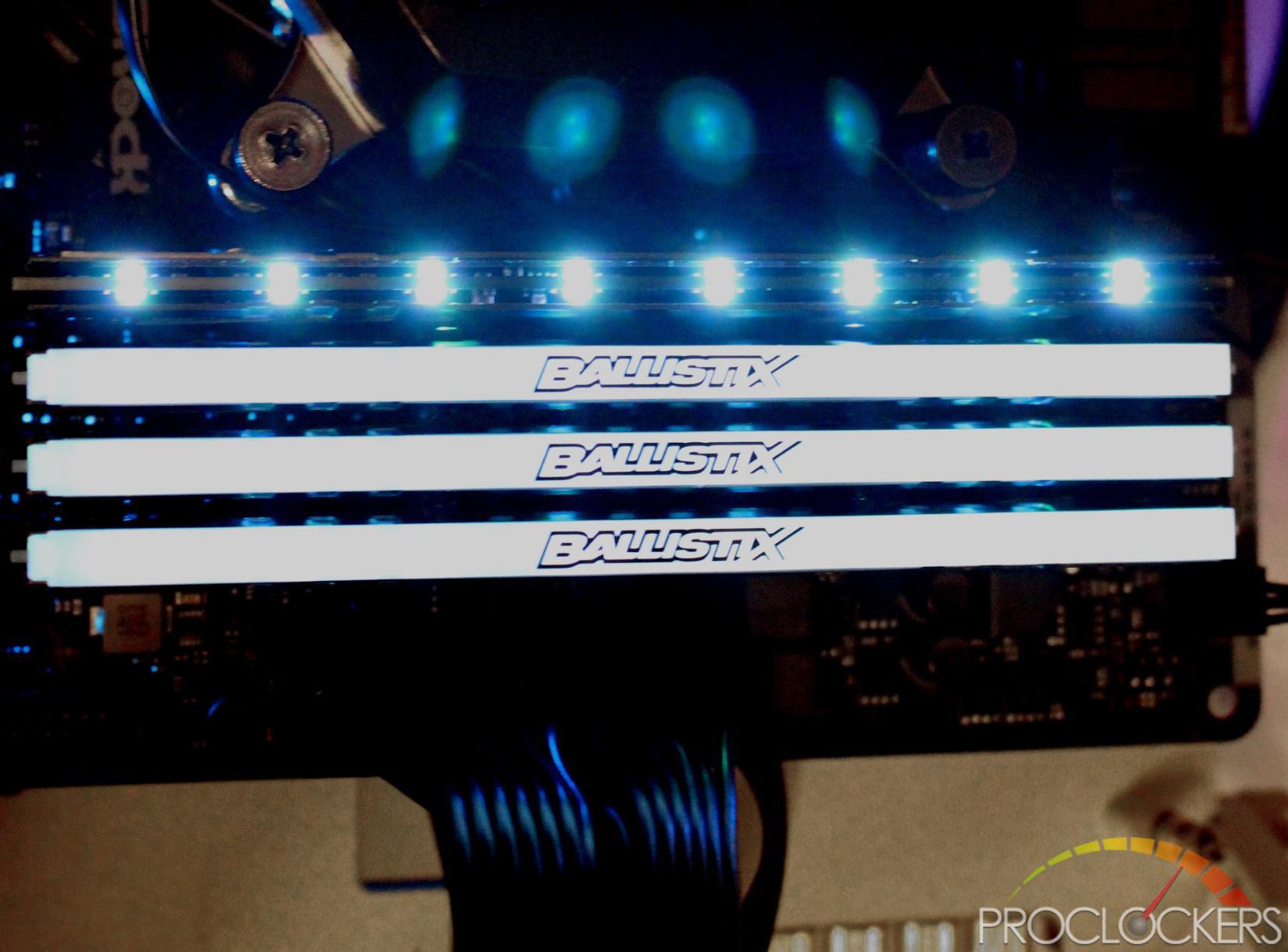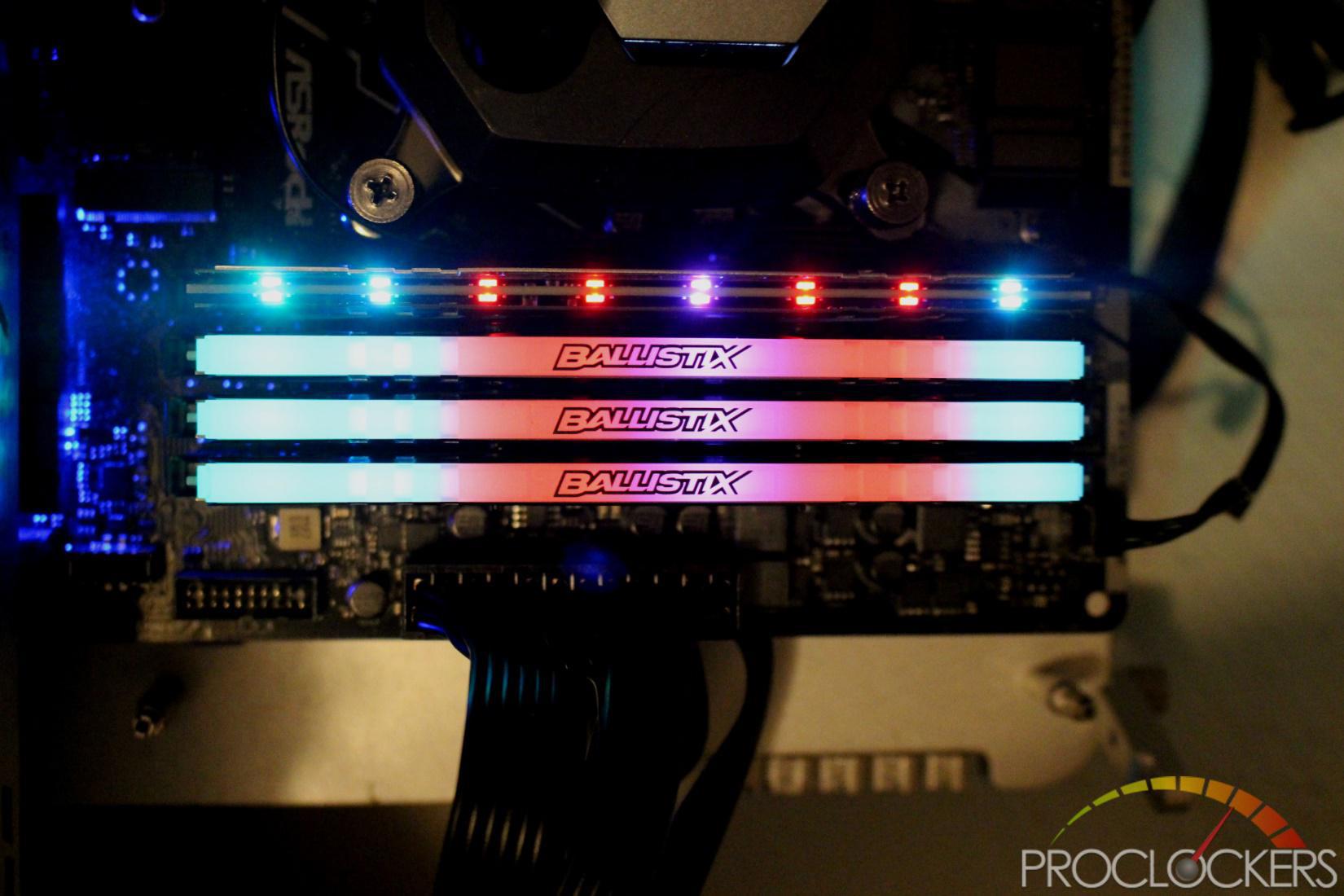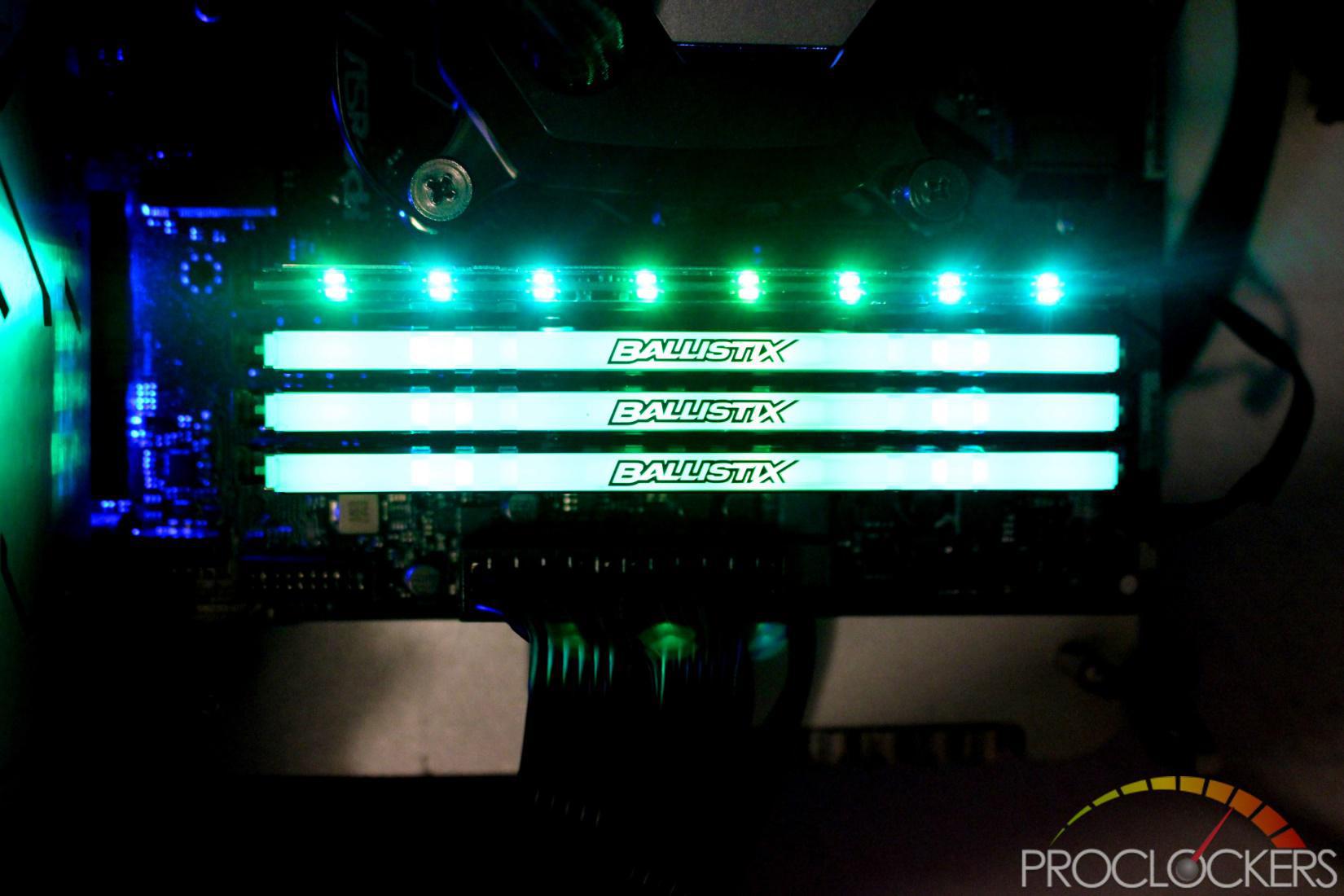 You can operate the modules without the factory diffuser if you prefer the sharper look of raw LED's.
Software
DDR4 Ballistix® MOD Utility
Your DDR4 gaming memory command center
Add a new level of customization and control to your game with the Ballistix® M.O.D. Utility! The M.O.D. (Memory Overview Display) is software that's designed to make your Ballistix experience even better. If you're running with DDR4 memory, download the M.O.D. Utility here!
Note: On Haswell-E / X99 motherboards, Tactical Tracer RGB modules will work, but the lights are not controllable with the DDR4 Ballistix M.O.D. Utility.
(note from Pro Clockers – software control of all ram modules requires SPD writes to be enabled. On Intel X99 platforms, this is often disabled by default. Check with your motherboard manufacturer on how to enable this setting in the BIOS of your board to allow software control on Intel X99 based platforms.)
The DDR4 version of the M.O.D. Utility works with:
Ballistix® Tactical Tracer RGB DDR4
Ballistix® Elite DDR4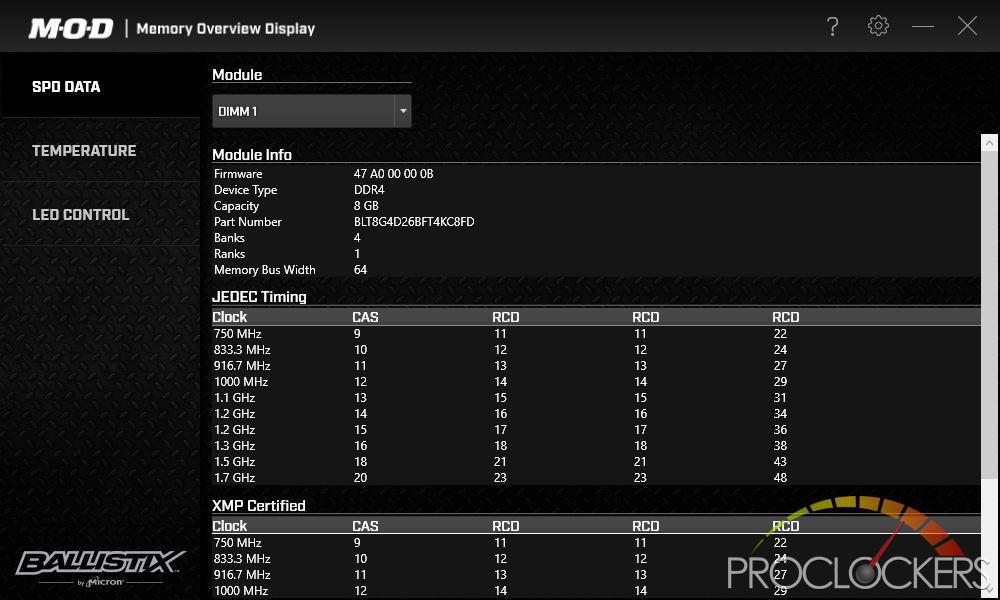 The first page you open is the SPD display page where you can see detailed timings at all speeds.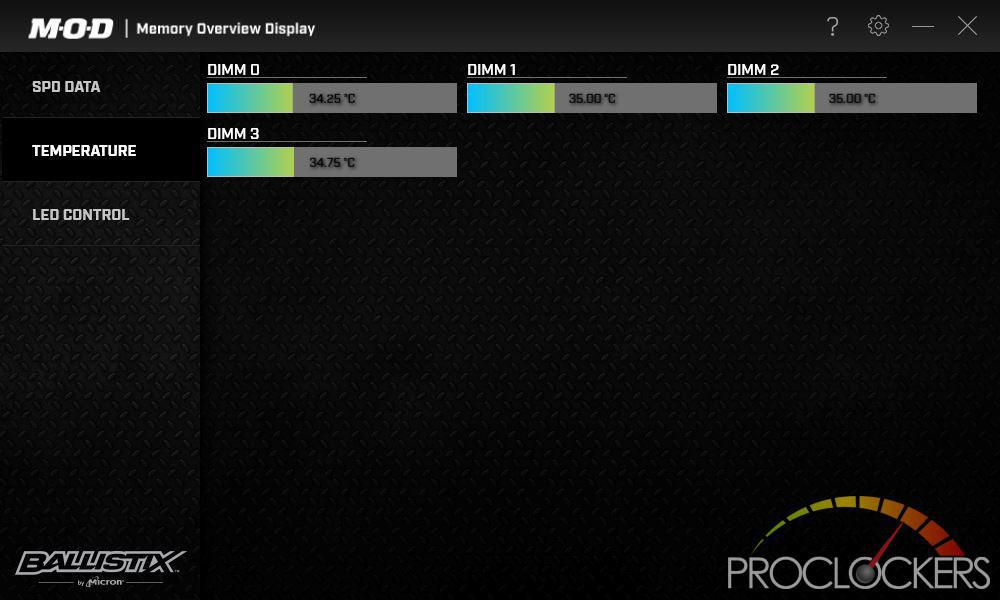 The next tab down shows temperatures of all installed modules. You can see our open-air test bench doesn't provide much air flow and the modules are much warmer than ambient after testing.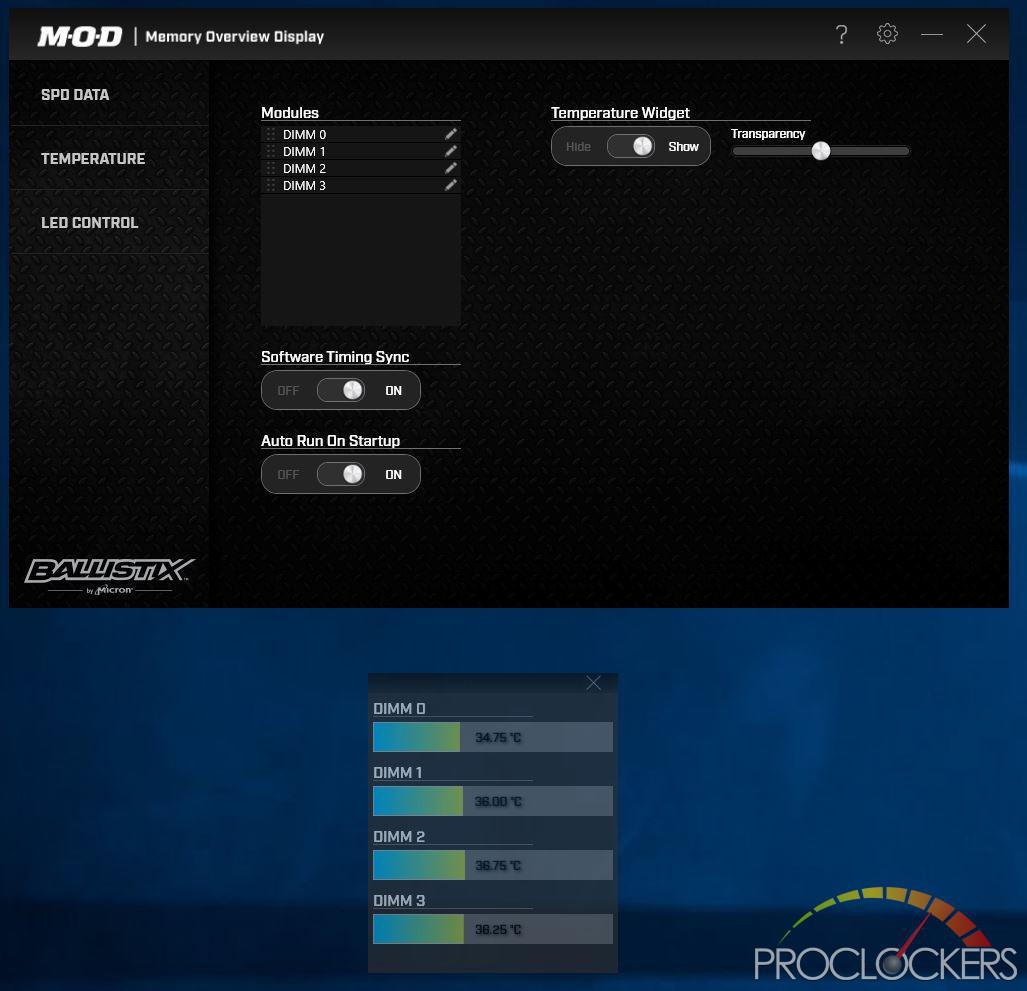 In the settings page, you can enable a floating desktop widget that displays ram temperatures without needing the full MOD window open.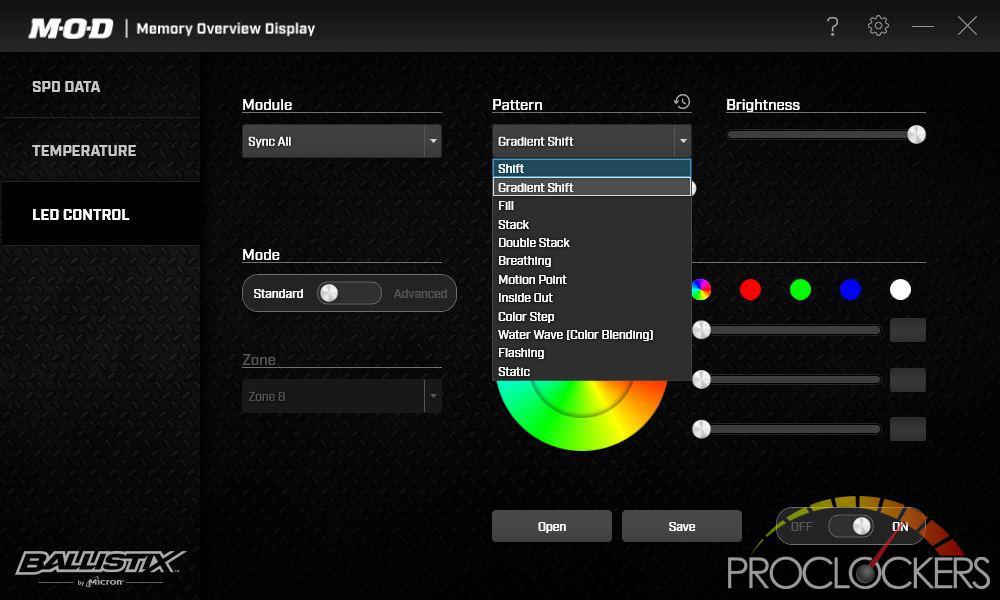 In the LED control page, you have the choice of a dozen lighting effects. Most of which you can customize with a few select colors via the bottom right corner, or select the little rainbow preset button and let it do its own thing.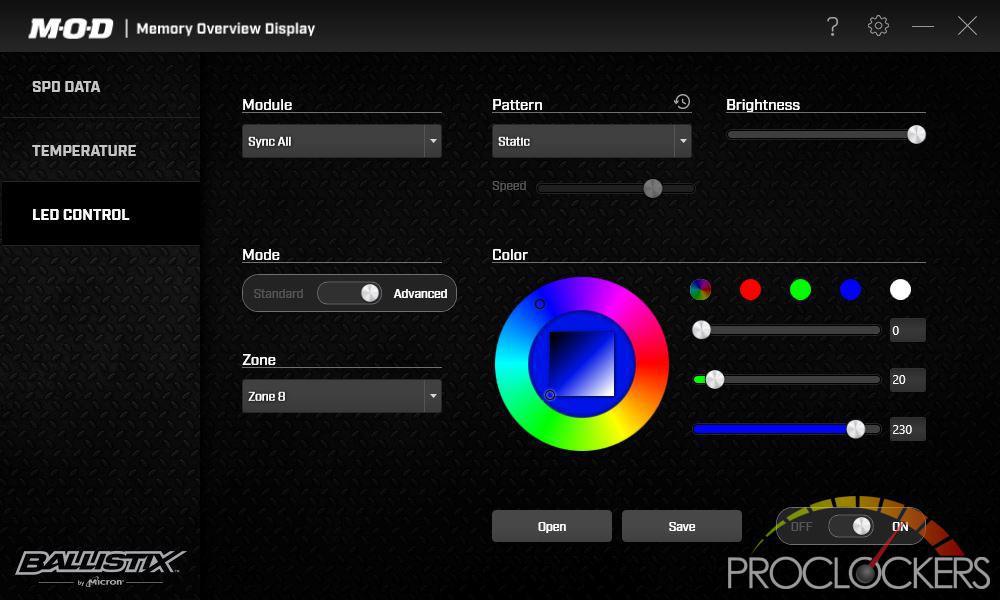 Kicking it over into advanced mode, you can customize each of the 8 lighting zones per module, and also each module on its own or all in sync.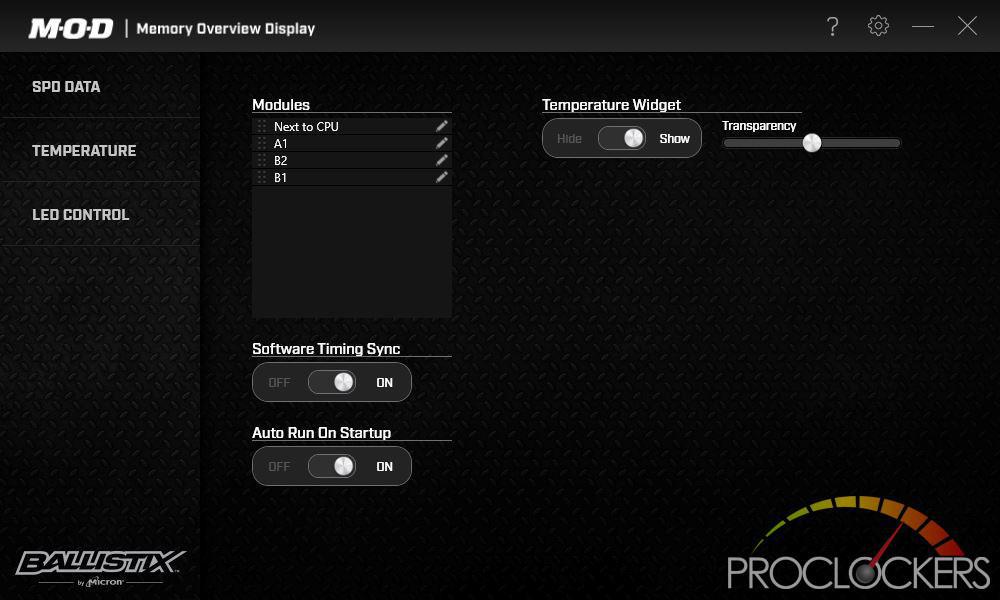 Back to the settings menu, you have the option to name each module anything you want. You can turn on AutoRun with windows startup as well. A very important feature here is to enable software timing sync. This requires the MOD software to be running at all times but will keep the modules in lock-step with each other.
we did notice that flipping through effects and colors and break sync on the modules but coming back here and turning it off and back on will tie them all back together. Shutting the software down will let the modules drift apart slowly on effect timing, so if this bothers you, you'll need to get in the habit of minimizing MOD instead of closing it. Don't worry, it doesn't consume much in the way of system resources.
System Configuration & Testing
Testing Hardware:
ASRock Z370 Killer SLI Motherboard
Intel Core i7-8700K Processor
Samsung 960 PRO SSD
Corsair H150i AIO Cooler
Open BenchTable Test Bench
Corsair RM1000 Power Supply
Galax GTX 1070 HOF Graphics Card
Testing Software:
Microsoft Windows 10 Professional
CPU-Z
AIDA64 Extreme Edition
Passmark Performance Test
SiSoft Sandra
7-Zip
Super Pi Modded 1.5
AIDA64 Engineer Edition
"AIDA64 Engineer has a hardware detection engine unrivaled in its class. It provides detailed information about installed software and offers diagnostic functions and support for overclocking. As it is monitoring sensors in real time, it can gather accurate voltage, temperature and fan speed readings, while its diagnostic functions help detect and prevent hardware issues. It also offers a couple of benchmarks for measuring the performance of individual hardware components or the whole system. It is compatible with all 32-bit and 64-bit Windows editions, including Windows 10 and Windows Server 2016."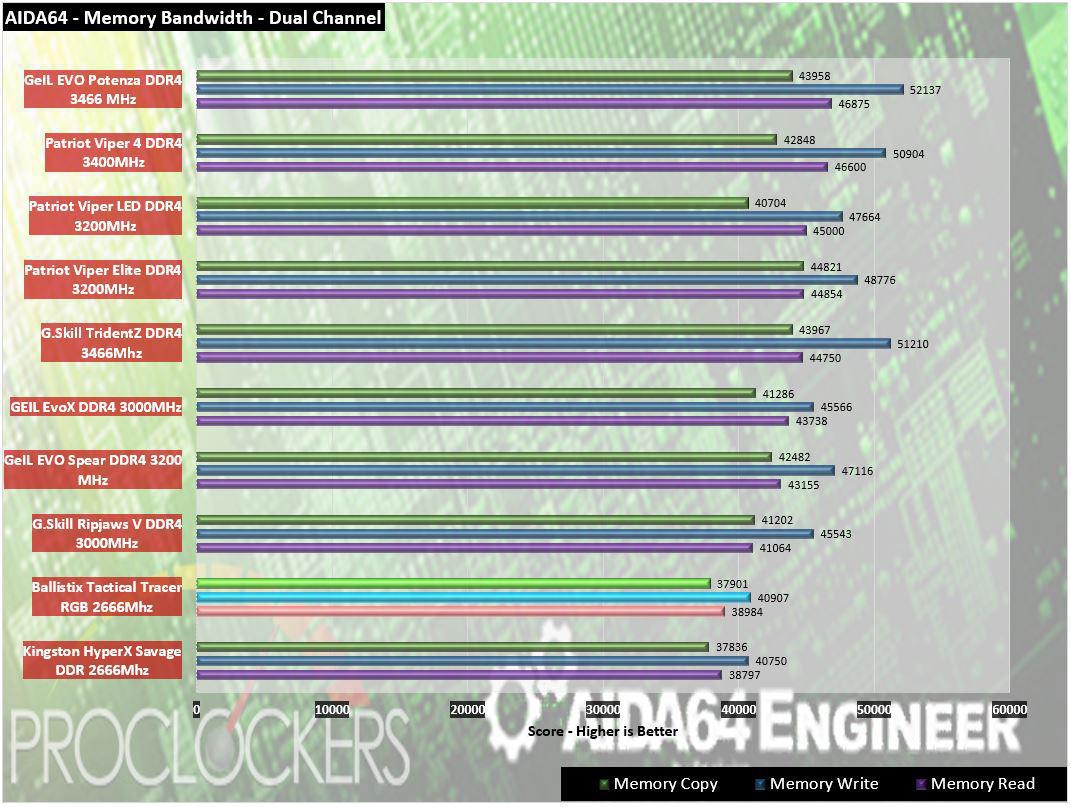 Memory bandwidth is pretty well directly related to speed, so the 2666Mhz rating places the Tactical Tracer RGB down mixed in with the rest of 2666 MHz kits.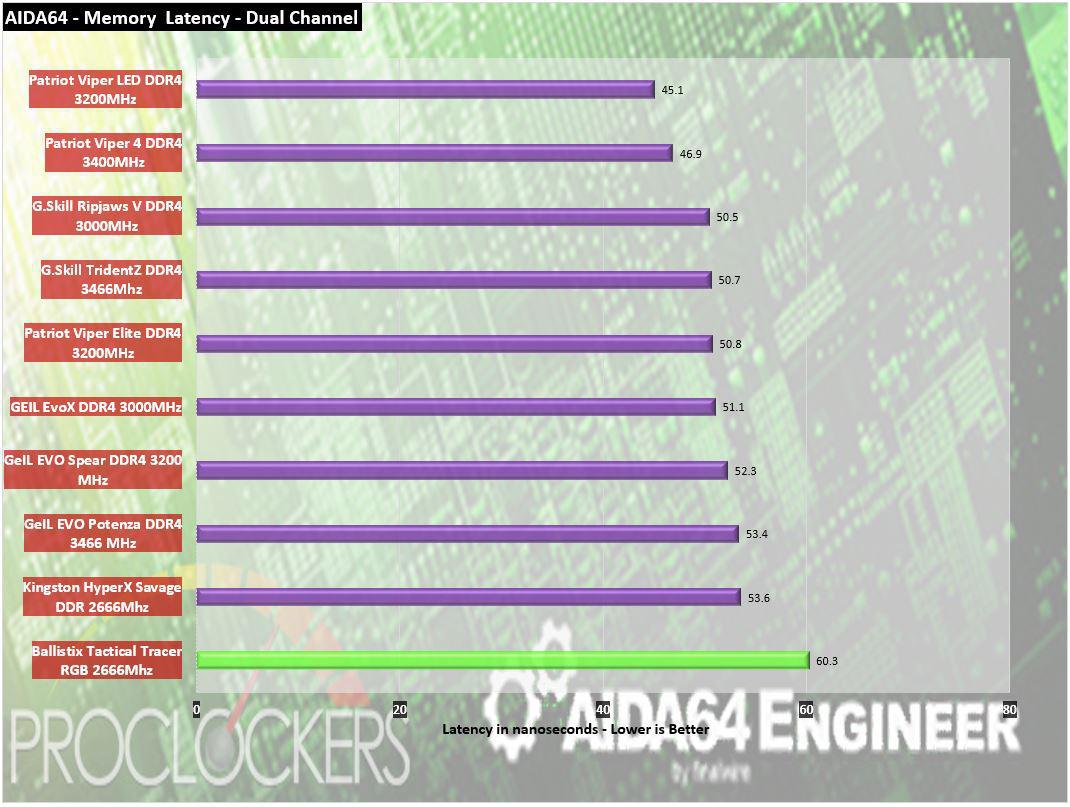 Without aggressive timings, latencies don't fare quite as well here.
Passmark Performance Test – Memory Mark – Threaded
"Fast, easy to use, PC speed testing and benchmarking. PassMark PerformanceTest ™ allows you to objectively benchmark a PC using a variety of different speed tests and compare the results to other computers."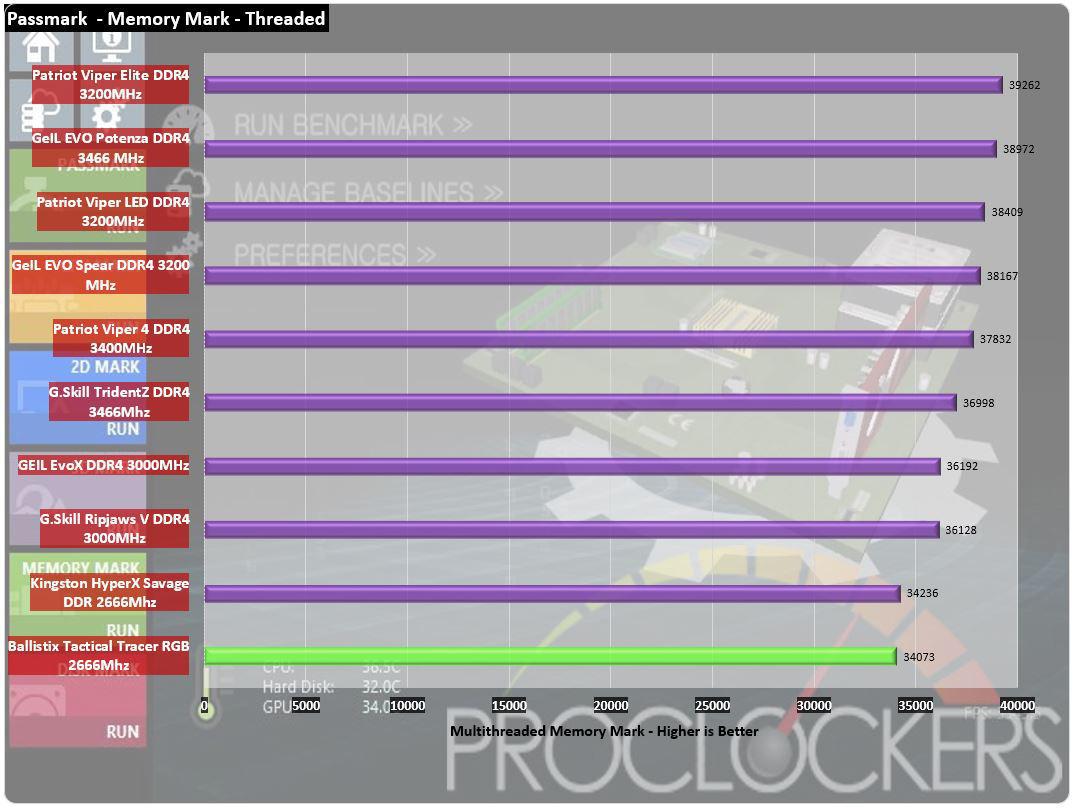 In Passmark's Memory Mark, the combination of speed and timings keeps the Ballistix Tactical Tracer RGB 2666Mhz kit down fighting around its own speed class.
SiSoft Sandra
"SiSoftware Sandra provides a robust package of diagnostic tools for testing your system and teasing out its problems–or potential headaches."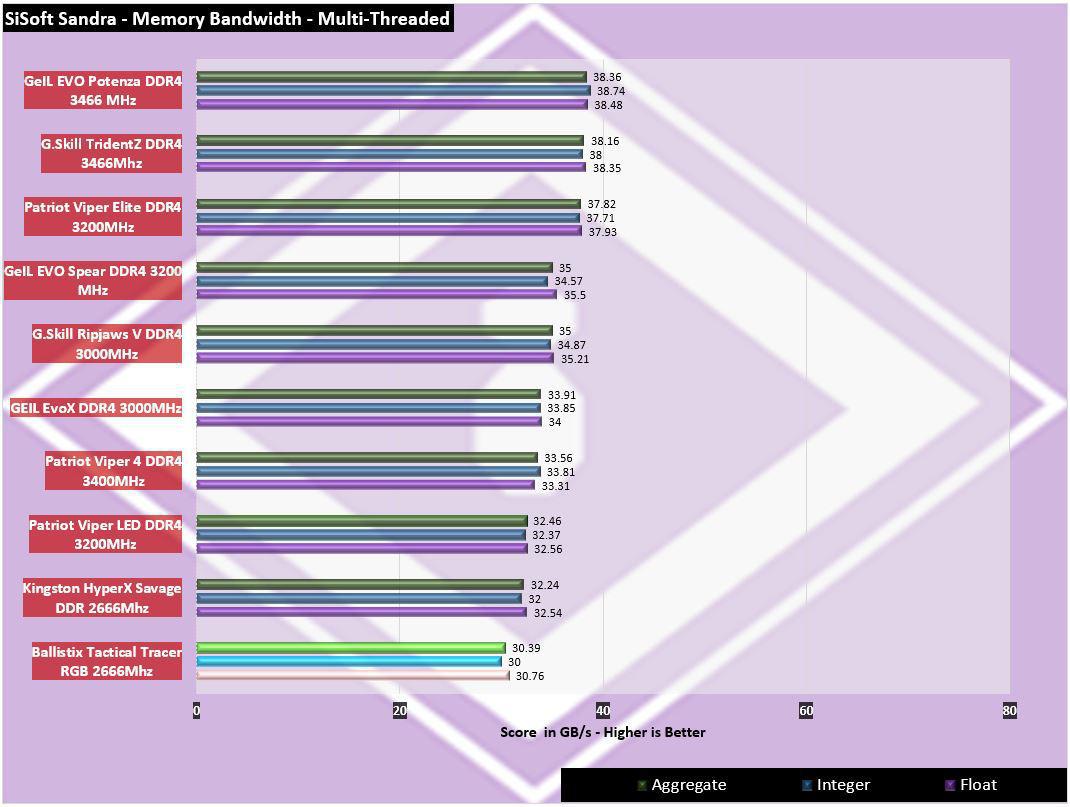 SiSoft Sandra has its own unique testing and the Tactical Tracer does decently pulling in just over 30GB/s in all test categories.
7-Zip
"This form allows you to measure the performance of your computer. The benchmark shows a rating of MIPS (million instructions per second). The rating value is calculated from the measured speed, and it is normalized with results of Intel Core 2 CPU with multi-threading option switched off. So if you have modern CPU from Intel or AMD, rating values in single-thread mode must be close to real CPU frequency. There are two tests, compression with LZMA method and decompression with LZMA method. Once the total passes reach 100, the score is taken."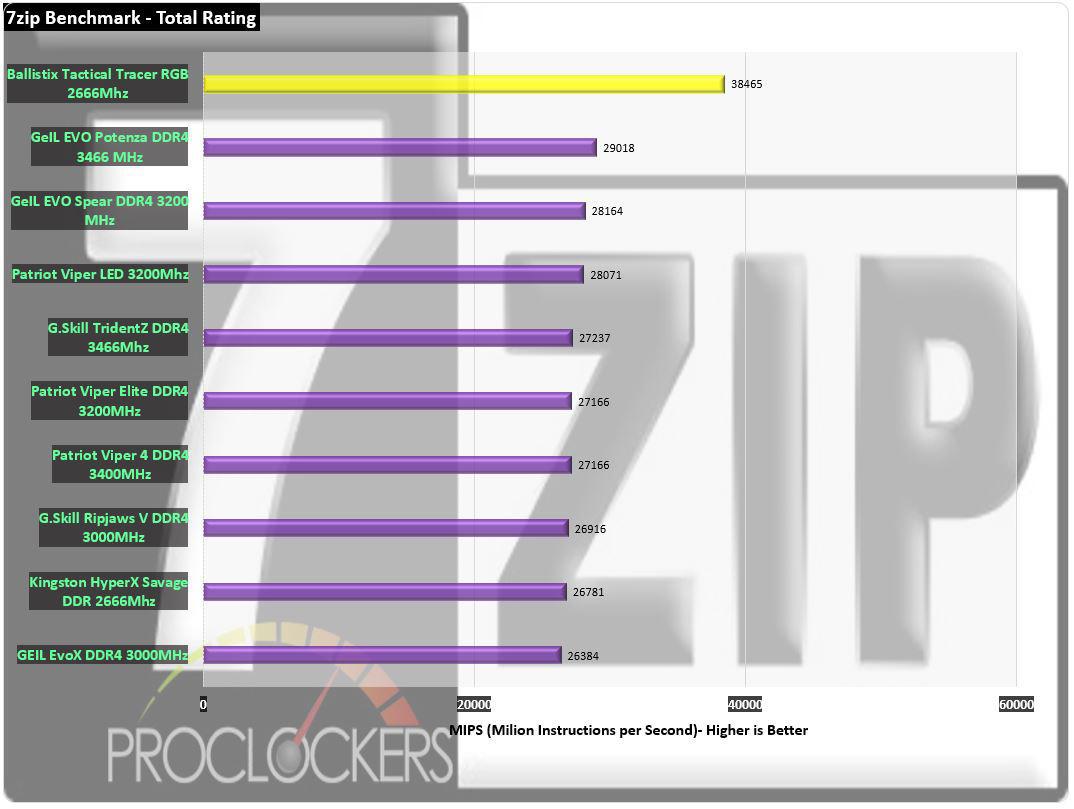 We're not sure what's going on here, we tested multiple times, rebooted a few times and we keep getting the same score. For whatever reason, 7zip loves the Tactical Tracer and just mows down everything else.
Super Pi Modded 1.5
"In August 1995, the calculation of pi up to 4,294,960,000 decimal digits was succeeded by using a supercomputer at the University of Tokyo. The program was written by D.Takahashi in collaboration with Dr.Y.Kanada at the computer center. This record should be the current world record. (Details are shown in the windows help.) This record-breaking program was ported to personal computer environments such as Windows NT and Windows 95. In order to calculate 33.55 million digits, it takes 3 days with a Pentium 90 MHz, 40 MB main memory and 340 MB available storage."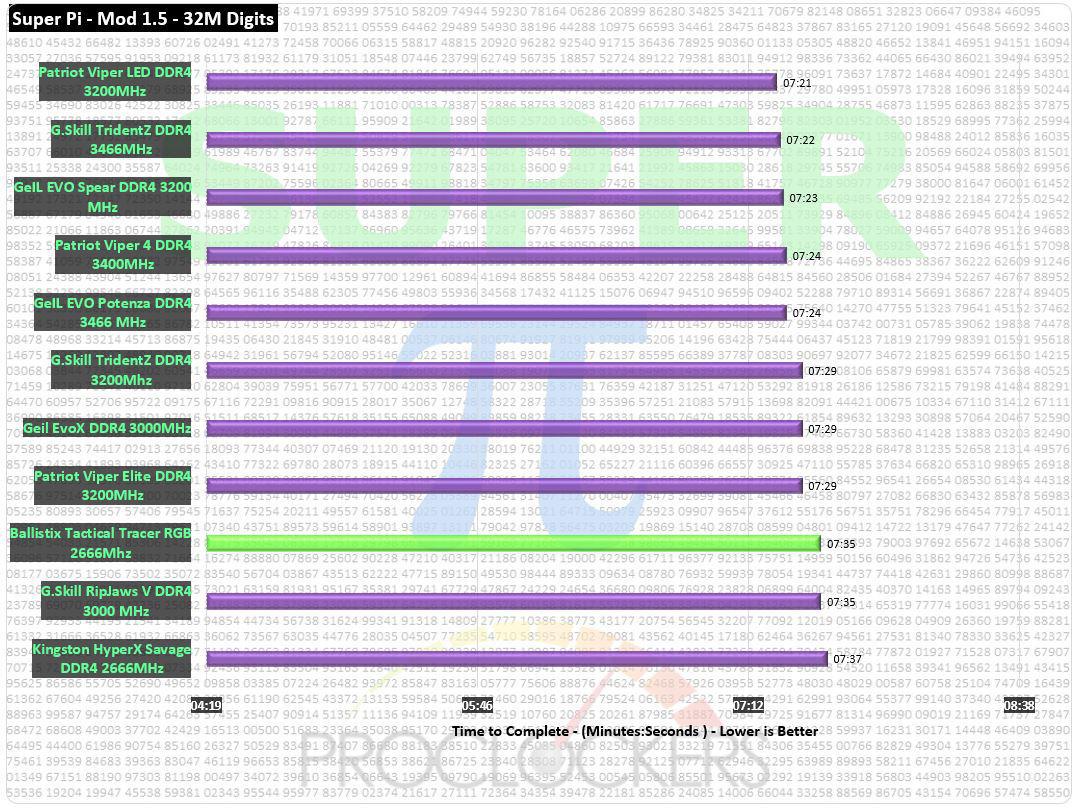 In Super Pi, the Tactical Tracer RGB does great, pulling in a time of 7 minutes and 35 seconds. While not the fastest time, it's fighting back at kits rated at 3000 MHz and more.
Overclocking
Ram overclocking is something almost everyone does, albeit unknowingly, when they apply XMP settings. While this kit does technically have XMP, it pretty much mirrors the JEDEC #8 settings for 2666 MHz at 1.2V at 16-18-18-38.
We'll see if we can push our kit beyond that.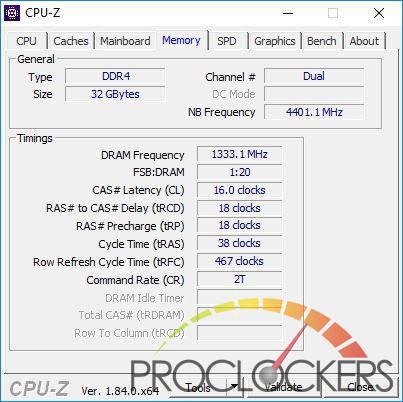 We set the kit at its XMP settings of 2666Mhz with the above timings, but it booted up at the same settings under JEDEC.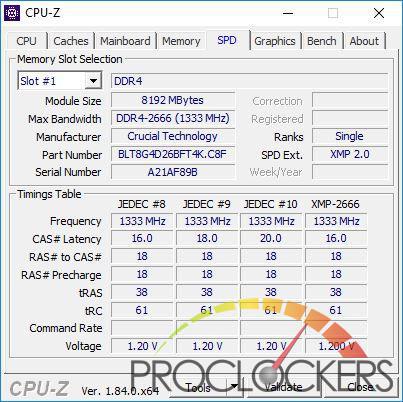 If you'll notice here, JEDEC #8 and XMP are pretty much the exact same… everything.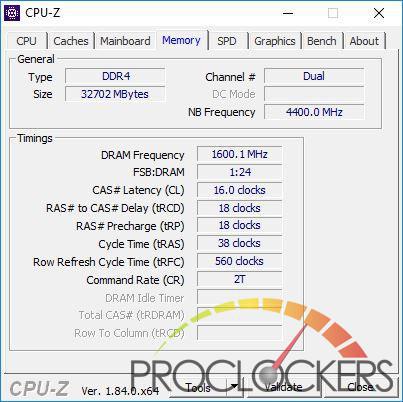 We'll start out bumping the voltage up to a more common 1.35V used with overclocked modules. At this voltage, we were able to get to 3200Mhz, but the system refused to boot any higher, even with more elevated voltage. This is with all four sticks installed. You may get better speeds with only two sticks, but that seems pointless with a 4-DIMM kit.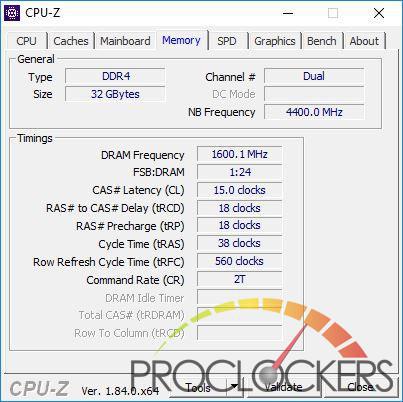 If we can't push the speeds, we'll try to tighten the timings. We got CAS down to 15 clocks, but again, any lower and the system failed to even boot. This really isn't terrible though, so let's see how it does.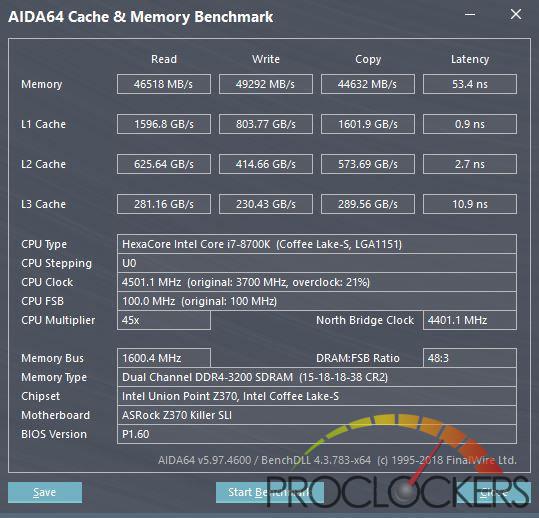 The above settings have made quite the difference. Bandwidth has gone up from 38.9/40.9/37.9 to 46.5/49.2/44.6 GB/s. latency has also dropped from 60.3 nanoseconds to a pretty snappy 53.4. Awesome!
Final Thoughts & Conclusion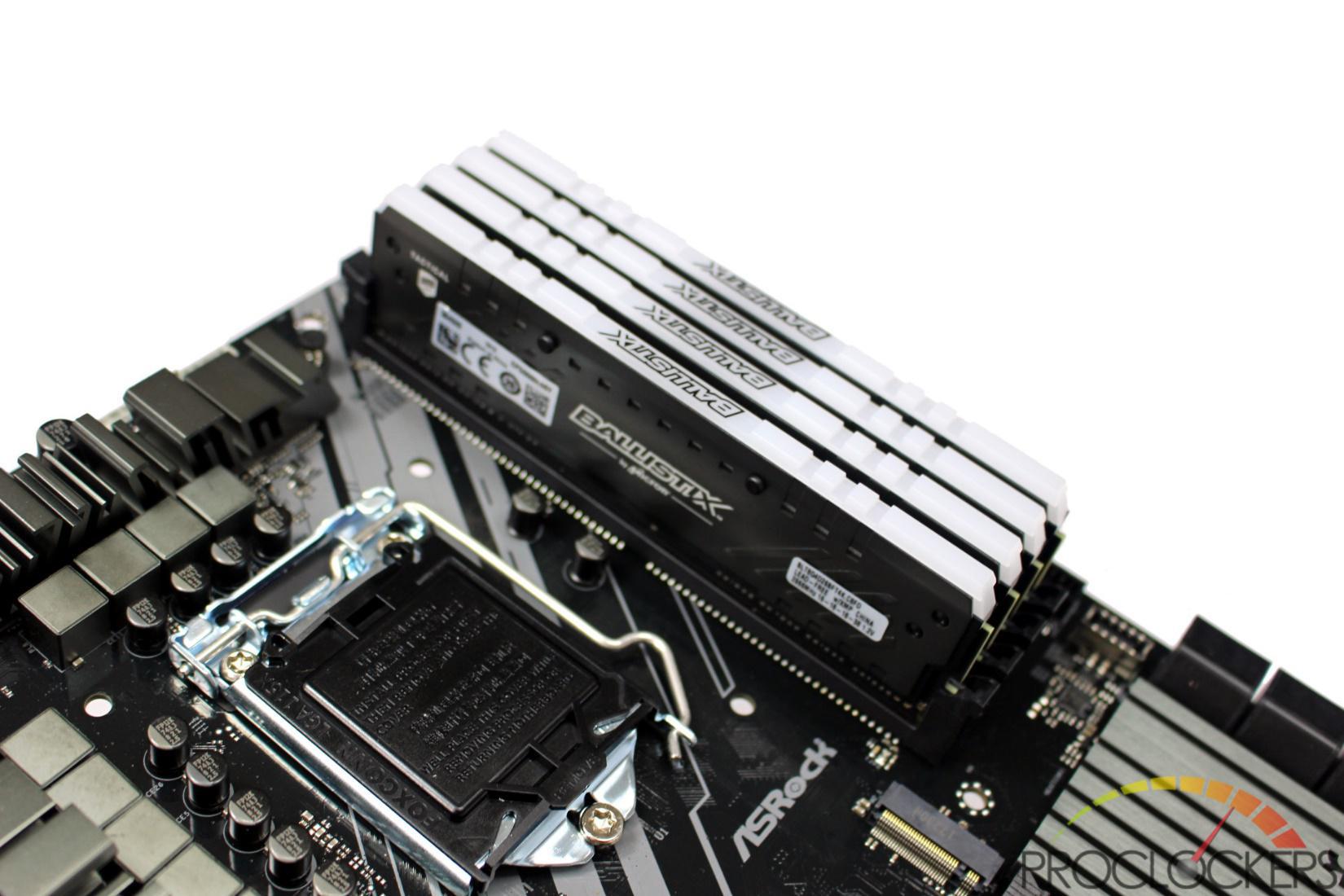 Ballistix has done it again with the Ballistix Tactical Tracer. Combining solid performance with unparalleled looks is the key to victory so look for these in the scoreboards. The aesthetics are beautiful and the grey color scheme will blend in well with almost any system. The lighting is on point and the extra RGB zones over most kits on the market really gives more granular control and a smoother lighting scheme. We really love that Ballistix has provided 3D files for making your own top bars as well as making them user-removable without all that warranty-voiding modding business.

performance wise, the Tactical Tracer landed about where we expected it to. For whatever reason, if you do a lot of compression work with 7zip, it's pretty clear what kit of memory you need. The stock settings should work well on any system, even ones that don't support overclocking, but there IS certainly some overclocking headroom if you wish to push the envelope.

Great job Ballistix!

<![CDATA[ */ var zbjs = {"ajaxurl":"https:\/\/gaminggorilla.com\/wp-admin\/admin-ajax.php","md5":"d8e8b24d2fa18d2999e0fddcdd418586","tags":[],"categories":["Hardware"]}; /* ]]>