Cooler Master Hyper 212 RGB Black Edition CPU Cooler Review
Introduction
The Hyper 212 line from Cooler Master has been a staple for PC builders for some time and during that time, its looks haven't changed all that much. With the new Hyper 212 RGB Black Edition, that is a thing of the past.
The Hyper 212 RGB features a nickel-plated jet-black finish which should look great in any build. Jumping on the RGB bandwagon, the Hyper 212 features an SP120R RGB fan and includes a controller if by chance your motherboard doesn't have an RGB header. Even with all these visual updates, the Hyper 212 RGB Black Edition still remains very affordable at an MSRP of $39.99.
We would like to thank Cooler Master for sending the Hyper 212 RGB Black Edition to review.
About Cooler Master
Back in 1992, when the internet was in its early stages and CPUs were measured in MHz rather than GHz, a company called ORYX was born. ORYX later became Cooler Master, which we know the company as today. Started by a rogue product manager who had no funding and no support except a single administrative secretary, he set out to create, innovate and improve products for the PC industry. Starting with its first product, a Socket 7 CPU heat sink in 1993, its product line has since grown to Cases, Peripherals, Fans, and much more.
Over the past 25+ years they brought many advancements and firsts to the PC industry (such as the first all copper heat sink) and today, they continue to innovate by bringing new and exciting products to market.
Features & Specifications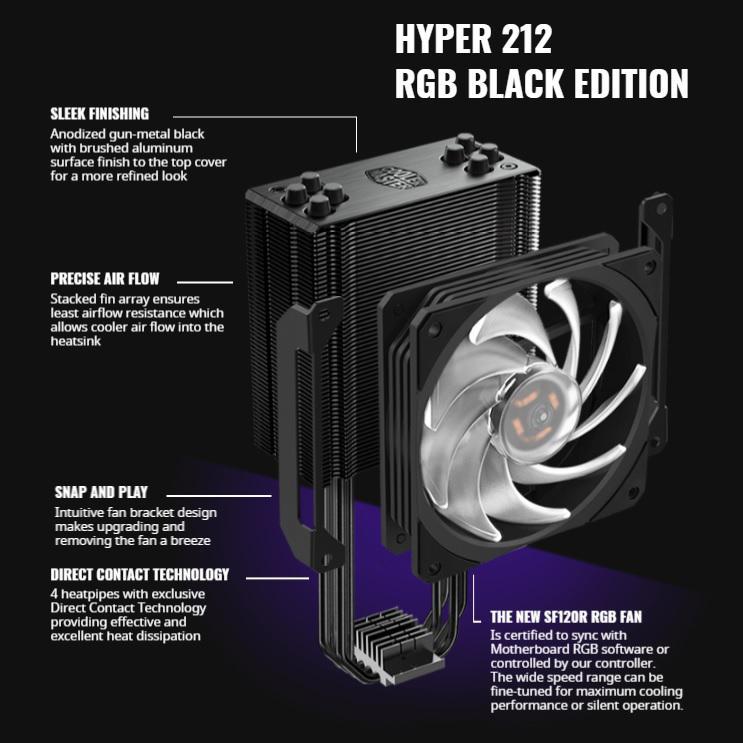 Notable features:
Nickel-plated jet-black finish
SP120R RGB fan with controller
Brushed anodized aluminum top
Technical specifications:
Product Name
Hyper 212 RGB Black Edition
Model number
RR-212S-20PC-R1
CPU Socket
Intel® LGA 2066 / 2011-v3 / 2011 / 1151 / 1150 / 1155 / 1156 / 1366

AMD® AM4 / AM3+ / AM3 / AM2+ / AM2 / FM2+ / FM2 / FM1

Dimensions
120(L) x 79.6(W) x 158.8(H) mm / 4.7(L) x 3.1(W) x 6.3(H) inch
Heat Sink Material
4 Heat Pipes / Aluminum Fins / Direct Contact
Fan Dimensions
120(L) x 120(W) x 25(H) mm / 4.7(L) x 4.7(W) x 1(H) inch
Fan Quantity
1 PC
Fan Speed
650-2,000 RPM (PWM) ± 10%
Fan Airflow
57.3 CFM (Max)
Fan Air Pressure
2.0 mmH2O
Fan MTTF
160,000 Hours
Fan Noise Level
8-30 dBA
Fan Power Connector
4-Pin (PWM)
Fan Rated Voltage
12 VDC
Fan Rated Current
0.16 A
Fan Safety Current
0.37 A
Fan Power Consumption
1.92 W
Warranty
2 years
EAN Code
4719512076170
UPC Code
884102048661
Packaging & Unboxing
The Hyper 212 RGB Black Edition arrived in a mostly black box with some royal purple accents. On the front of the box, there is a photo of the new Hyper 212 sporting its new all black finish as well as a purple lit SP120R RGB fan. In the upper right corner, you have the support RGB software that includes: Asus Aura, ASRock Polychrome Sync, Gigabyte Fusion and MSI Mystic Lighting Sync.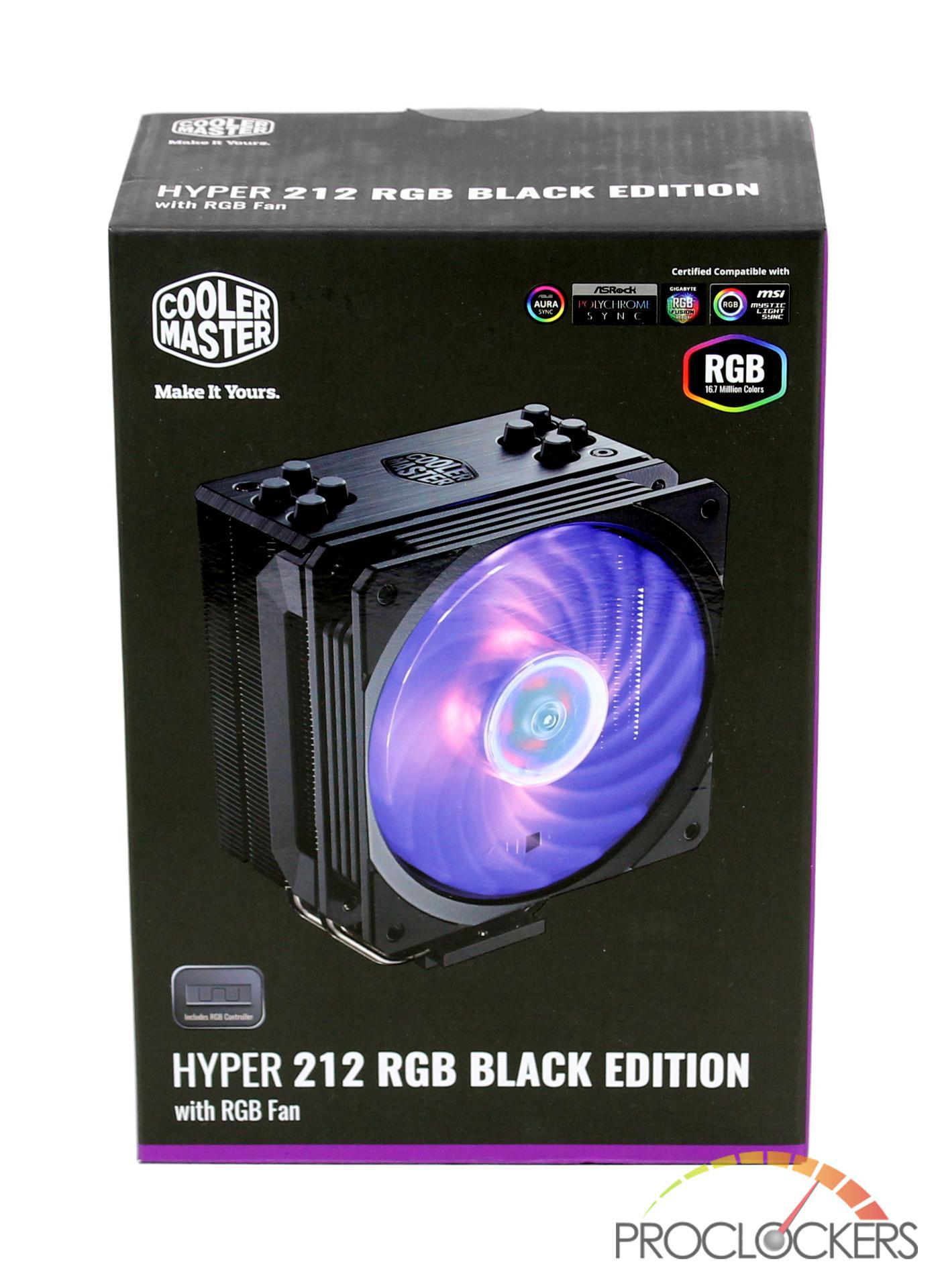 On the side of the box, it mentions some of the main features that include: direct contact technology, a precise combination of airflow and heatsink, and include RGB LED controller.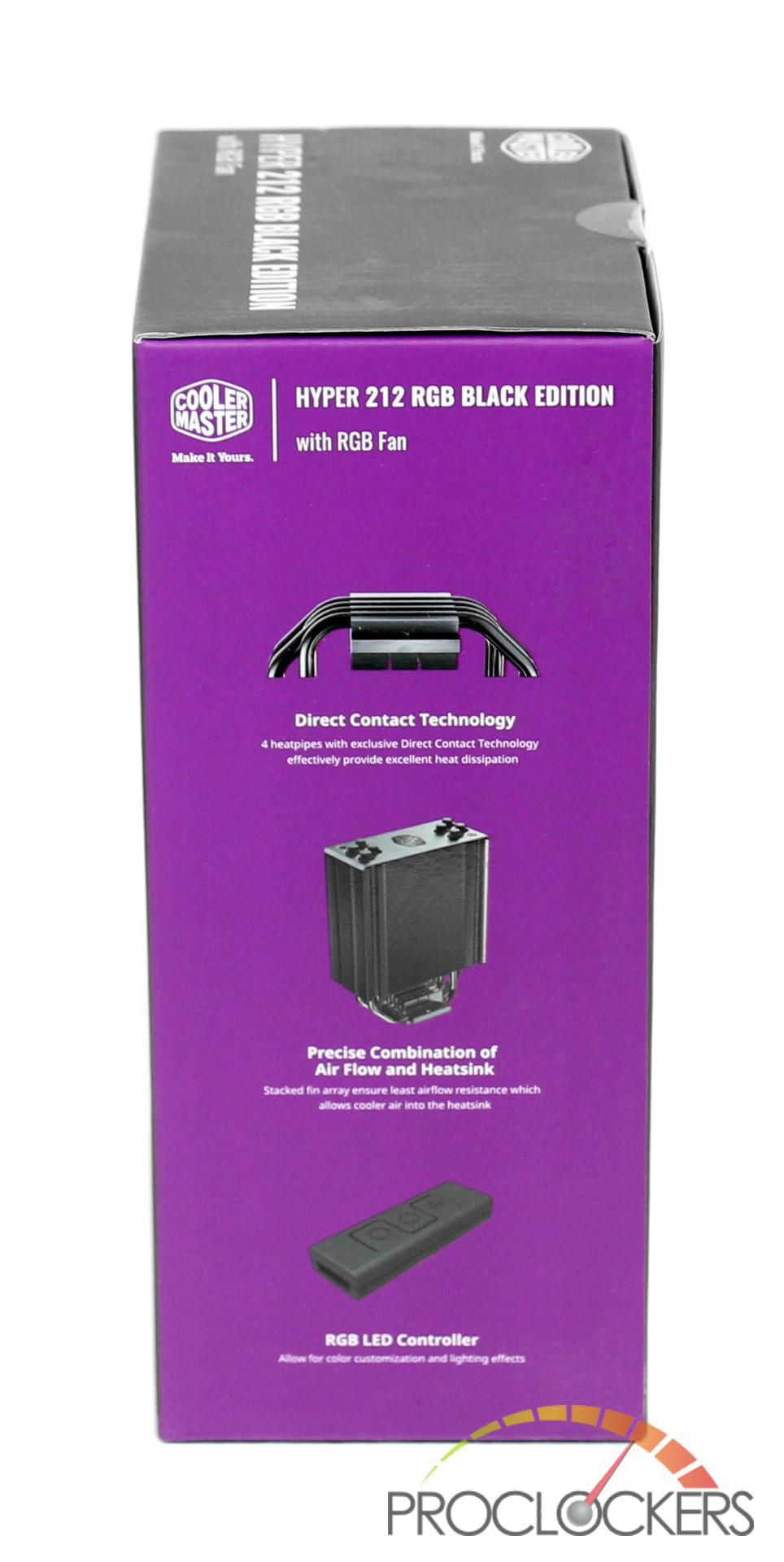 On the back, it highlights those features noted on the side of the box in 8 different languages. Looking toward the bottom of the box, there is a wireframe design of the cooler with some of its key dimensions.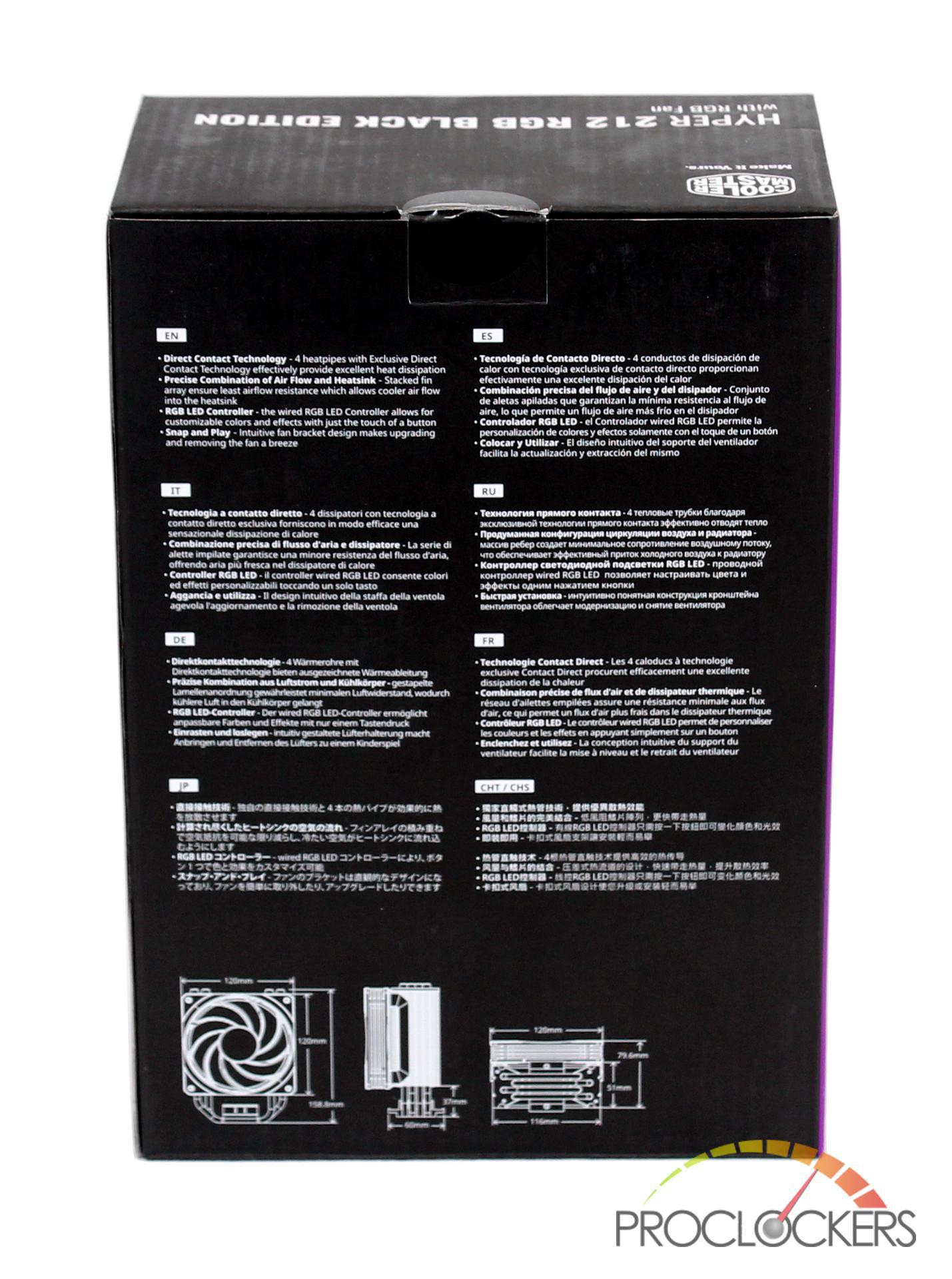 On the remaining side of the box you have a table listing Hyper 212 RGB's specifications.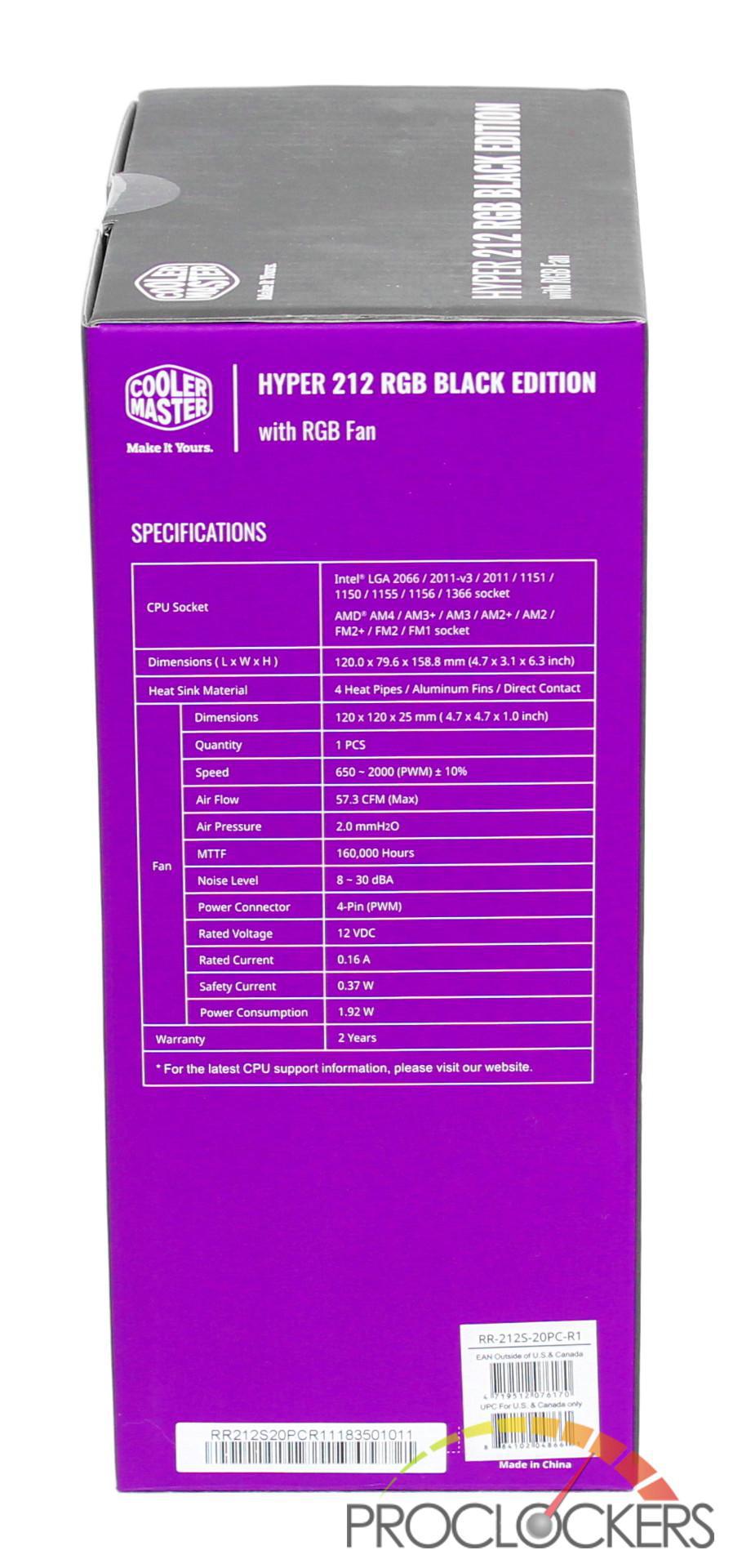 Upon opening the package, you're presented with a white accessories box that has a Cooler Master logo in the middle.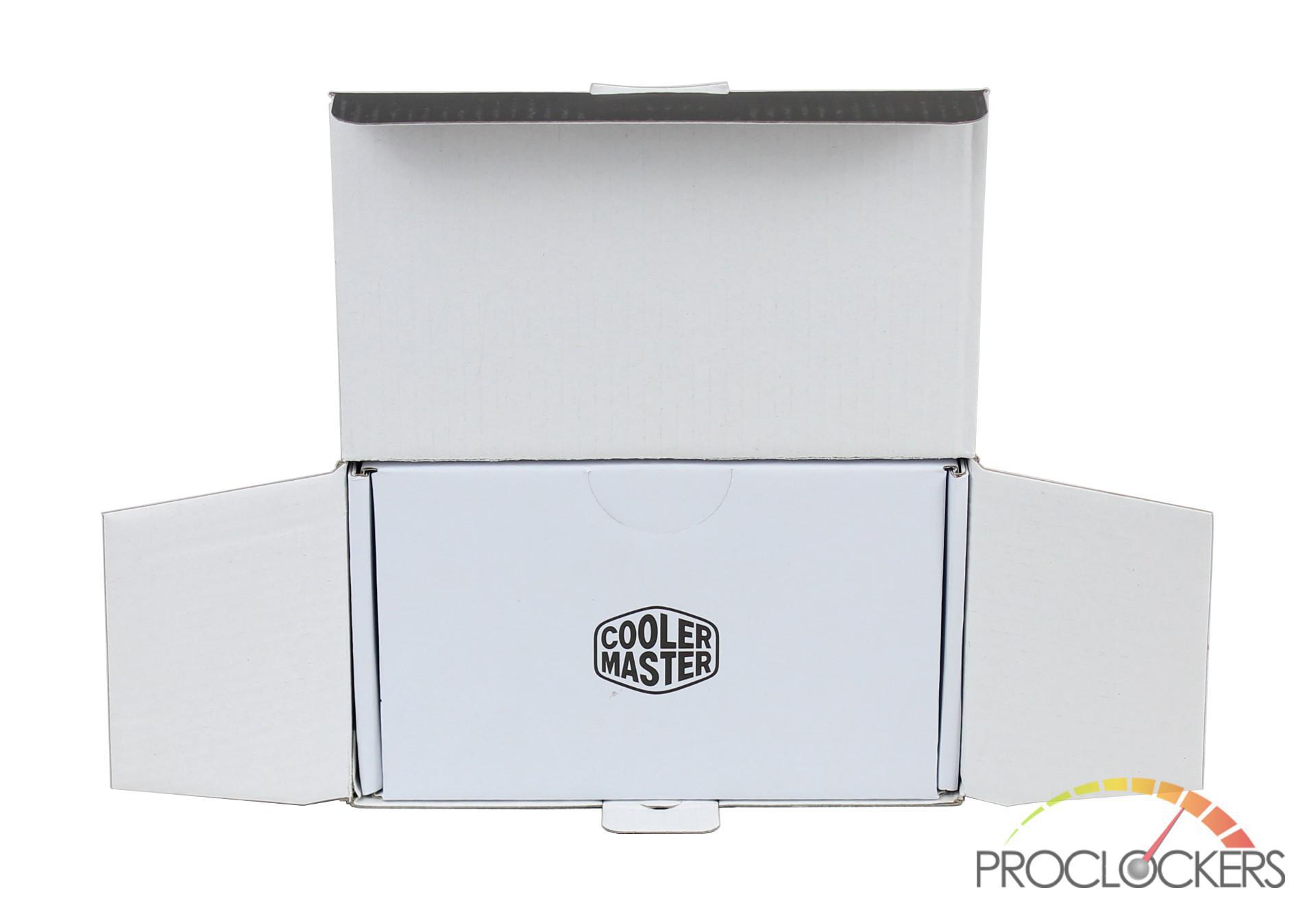 After removing the accessories box, it reveals the Hyper 212 RGB Black Edition cooler as well as an installation guide. Taking a quick look at the Hyper 212 it's nice to see that the RGB and fan wires are sleeved which just adds a little more of a premium feel to it.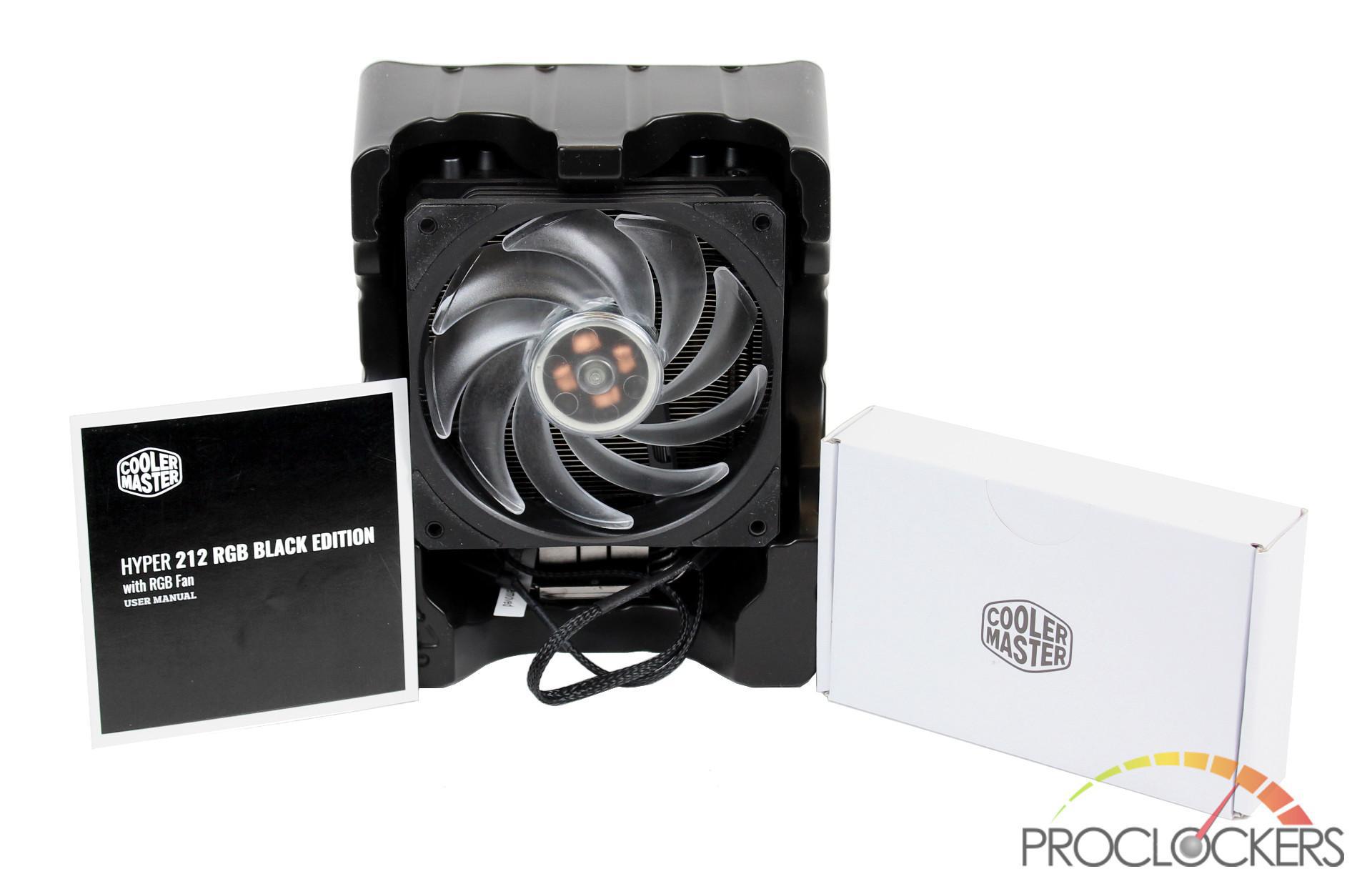 In the accessories box, Cooler Master has included mounting hardware, a fan splitter, an additional fan mount and an RGB controller with molex power cord.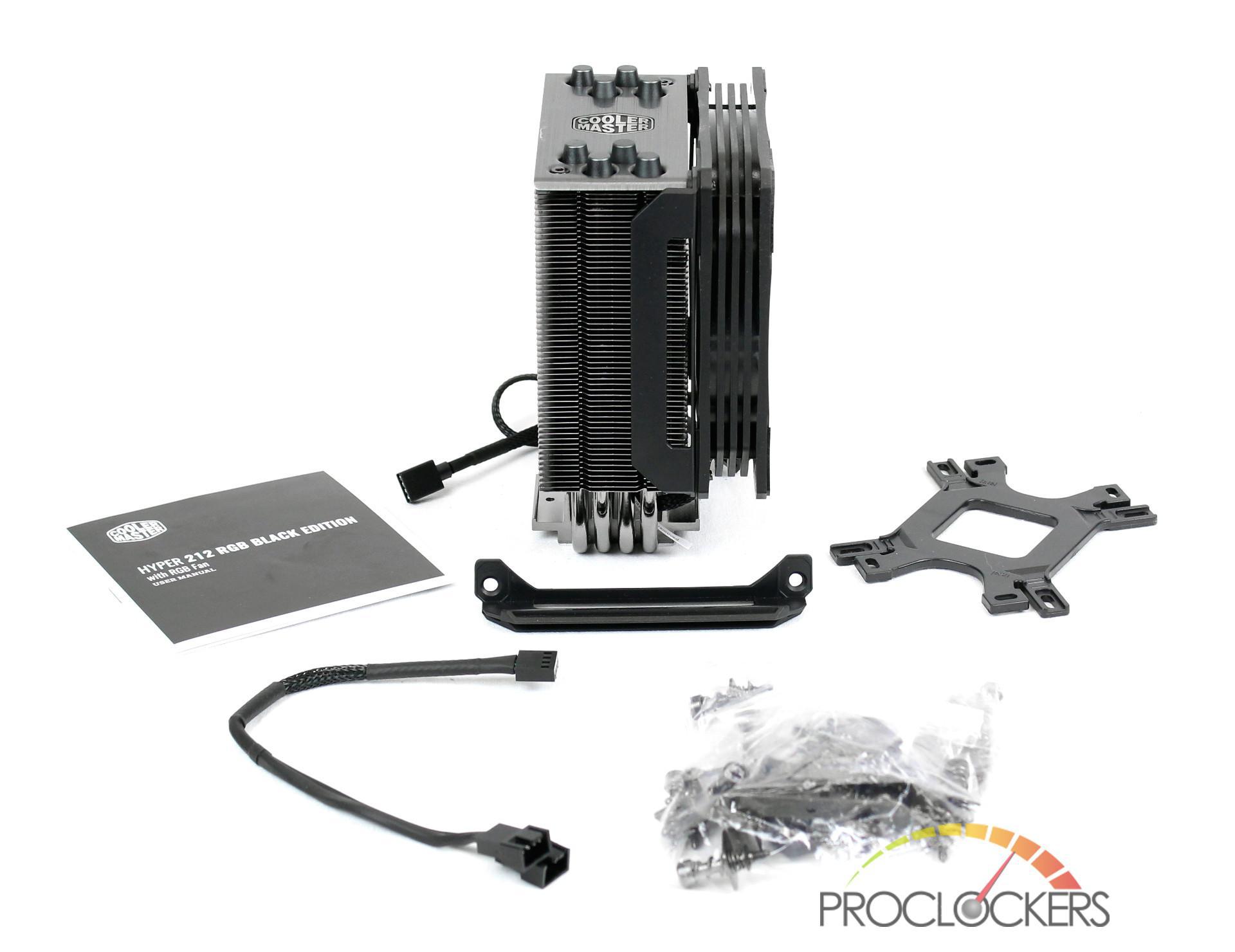 Taking the RGB controller from the bag, you can see it has a connector for 1 RGB fan and buttons to adjust speed, change brightness and cycle through pre-configured effects.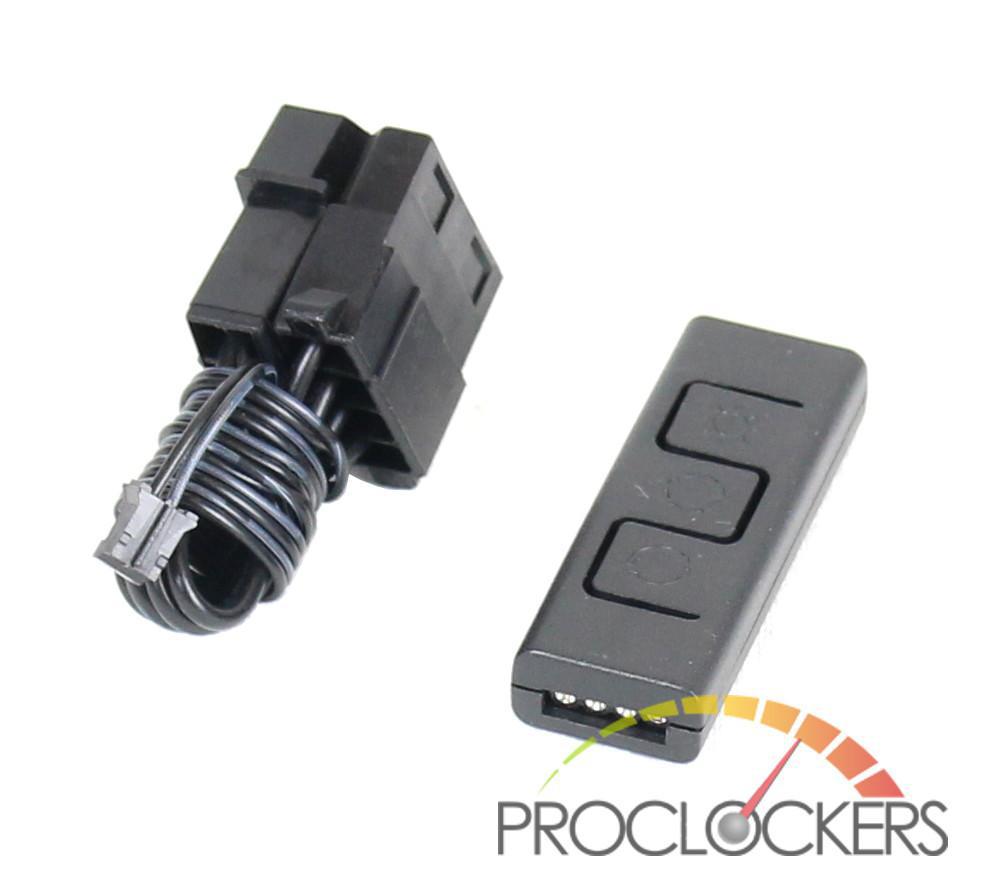 A Closer Look
Removing the new Hyper 212 RGB Black Edition from the packaging, the first thing that caught my eye was the nickel-plated jet-black finish; it's truly stunning. The top of the cooler has also been given the premium treatment when a brushed, anodized aluminum top that includes a Cooler Master logo in the center. Another nice addition is the caps over the tops of the heat pipes, which help keep it's all black look.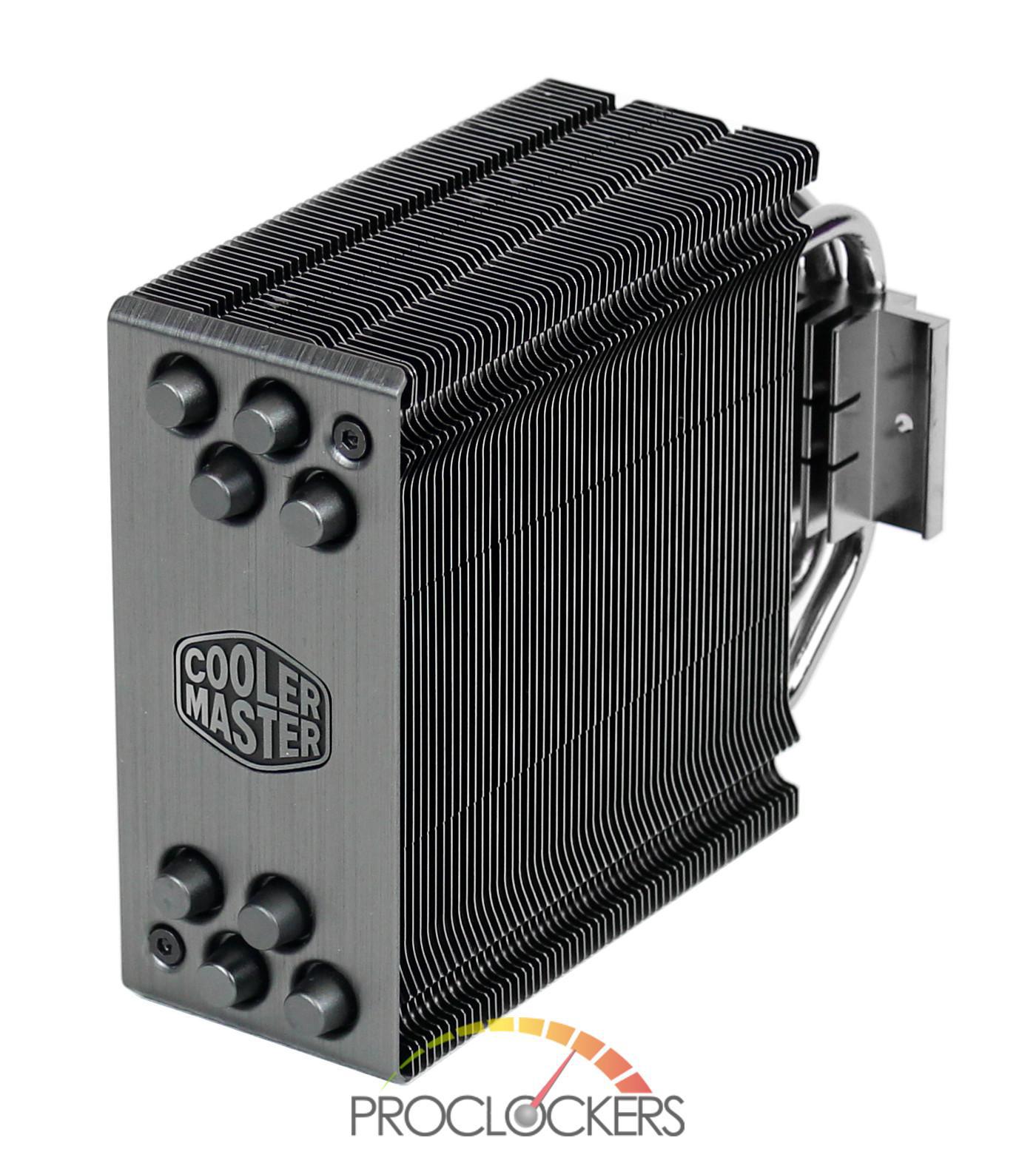 The Hyper 212 has a similar fin stack as its processor but has done away with that raw aluminum look for the new jet-black finish. That same finish has also extended to the heat pipes to better match the rest of the cooler's look. Taking a look at the bottom direct contact plate, they have also added top fins to their design. This should help dissipate a little more heat than the old solid block top.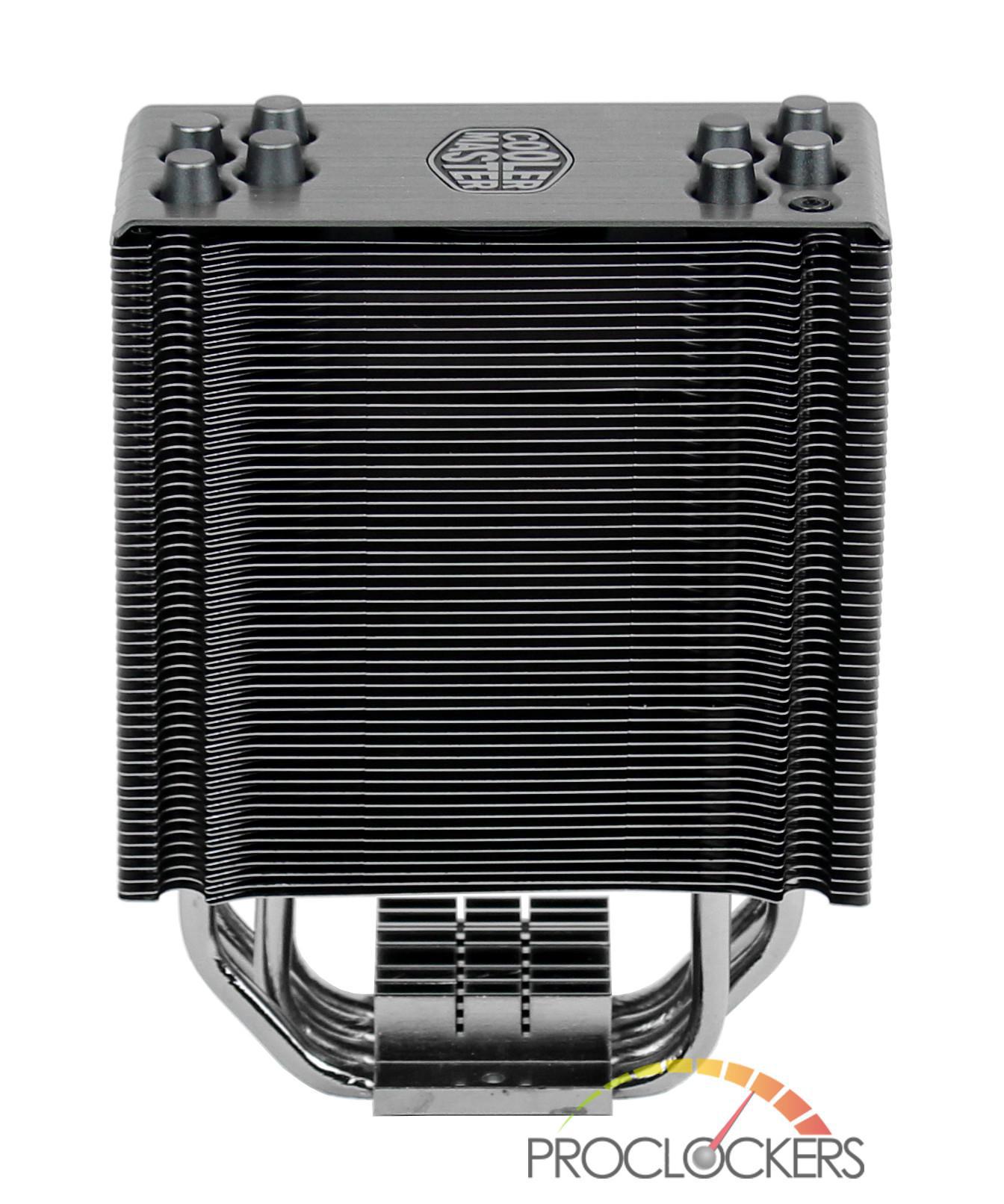 Not too much has changed with the bottom of the contact plate, that except there is now mounting points for you to attach the mounting hardware.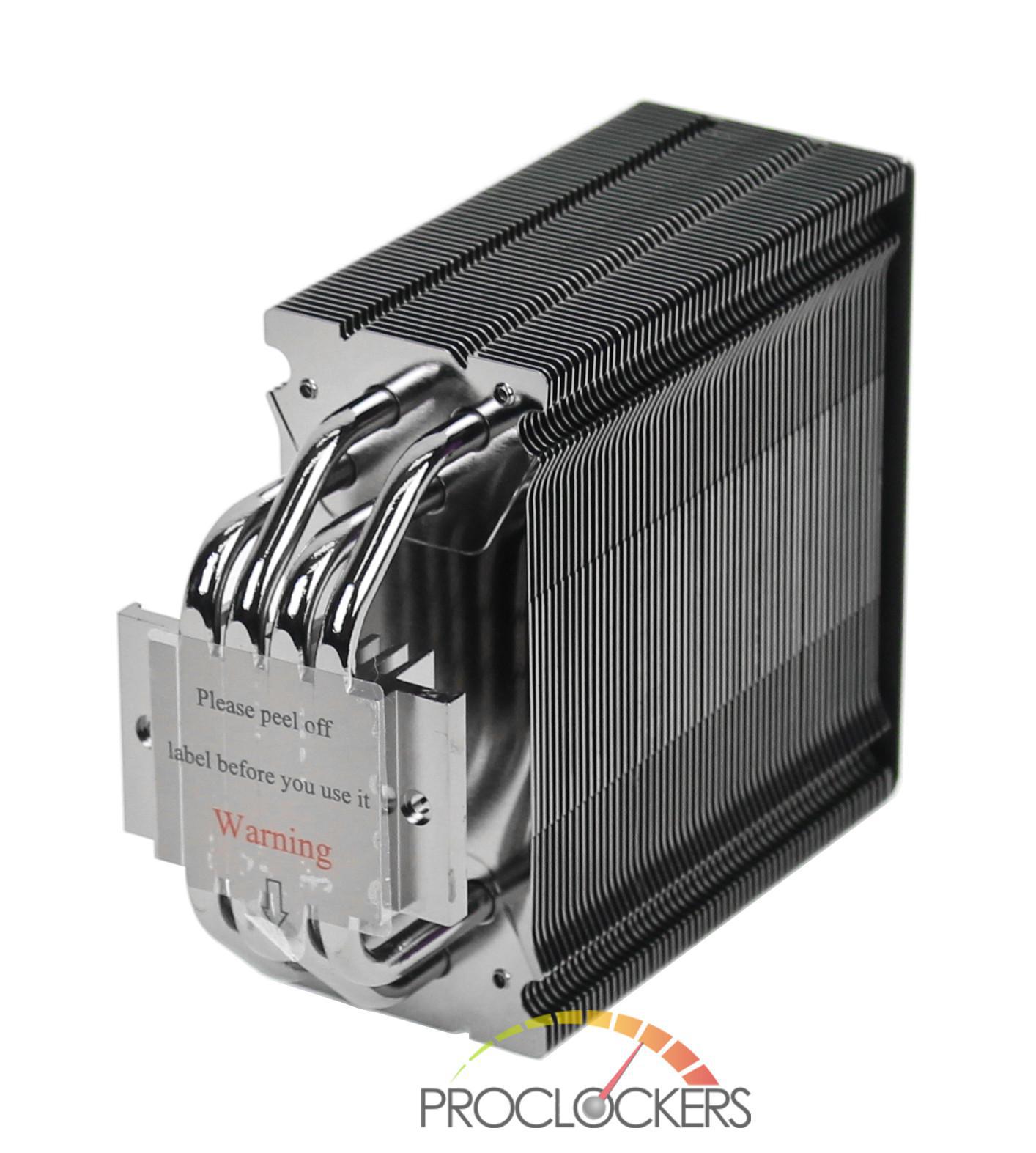 Hyper 212 RGB Black Edition includes a single SP120R RGB fan with plastic mounting hardware which just snaps on to the side of the cooler.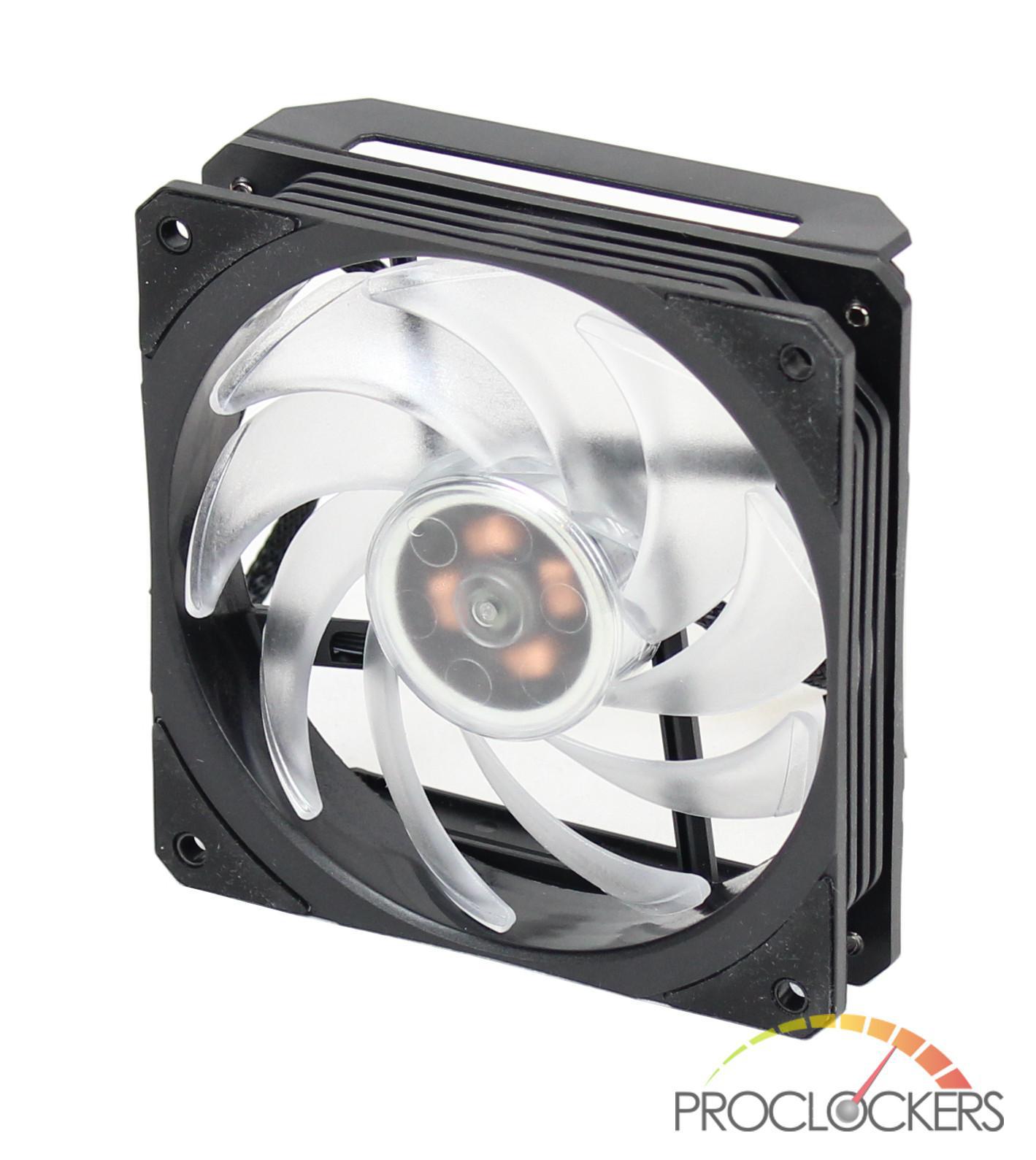 System Configuration & Installation
The test system we are using is:
Cooler Master MB530P
ASRock Z370 Tachi Motherboard
Intel 8700K Processor
4 x 4GB Team Group T-Force Delta RGB Ram
EVGA 1070 FTW 8GB
EVGA 750W P2 PSU
The installation of the Hyper 212 was an easy process and the instructions included were both illustrated and well written. You will also notice that the cooler and fan does not interfere with our tall RGB ram. This is a huge plus over the old Hyper 212 where you either had to install a slim fan or mount the fan at a higher point on the cooler. The fan was a tight fit so we did need to remove the first stick of ram to snap on the fan. But once the fan was installed on the cooler, we put the ram back into the motherboard without issue.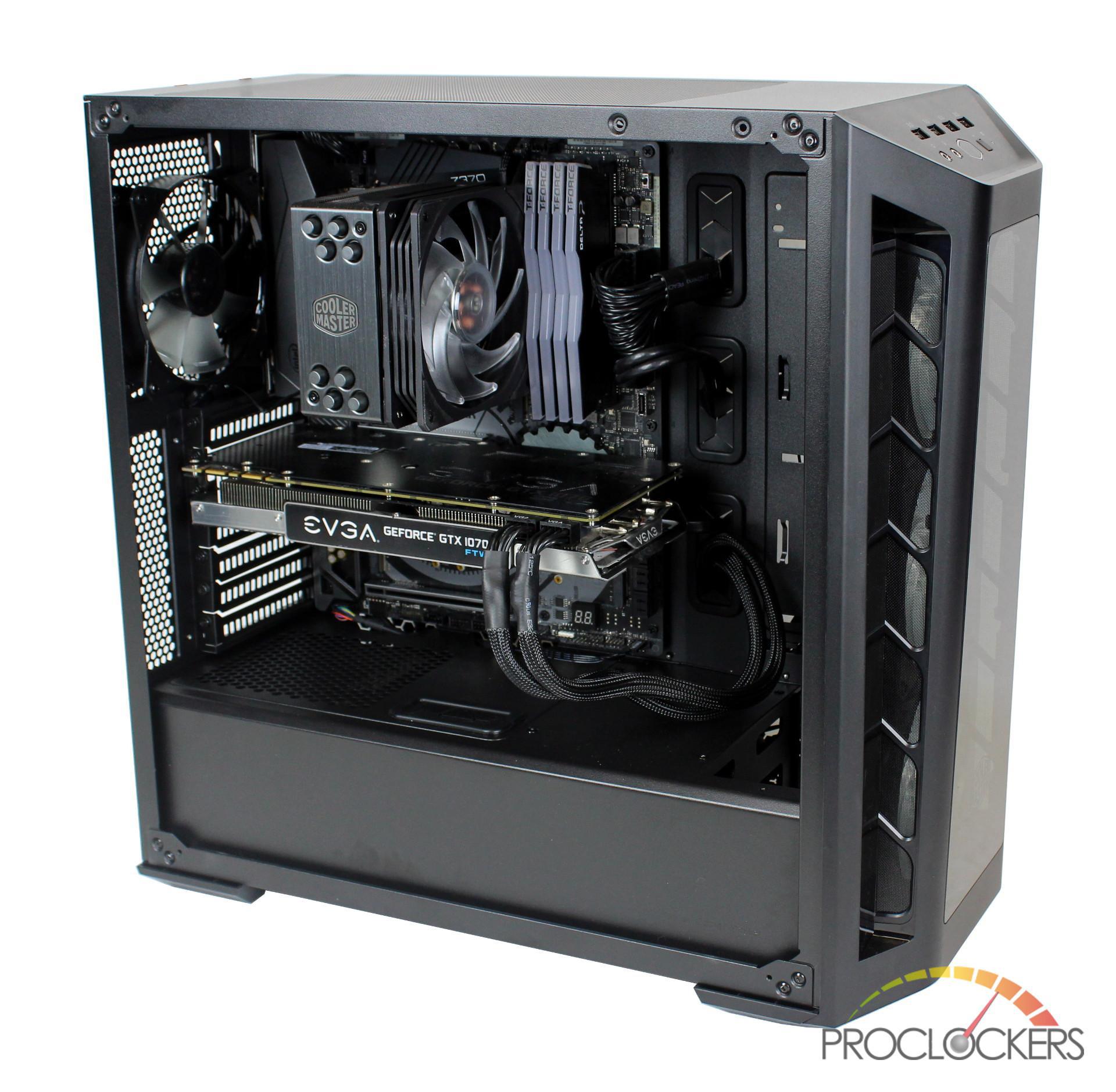 The Hyper 212 RGB Black Edition matches my build perfectly and the new brushed, anodized aluminum top just looks stellar.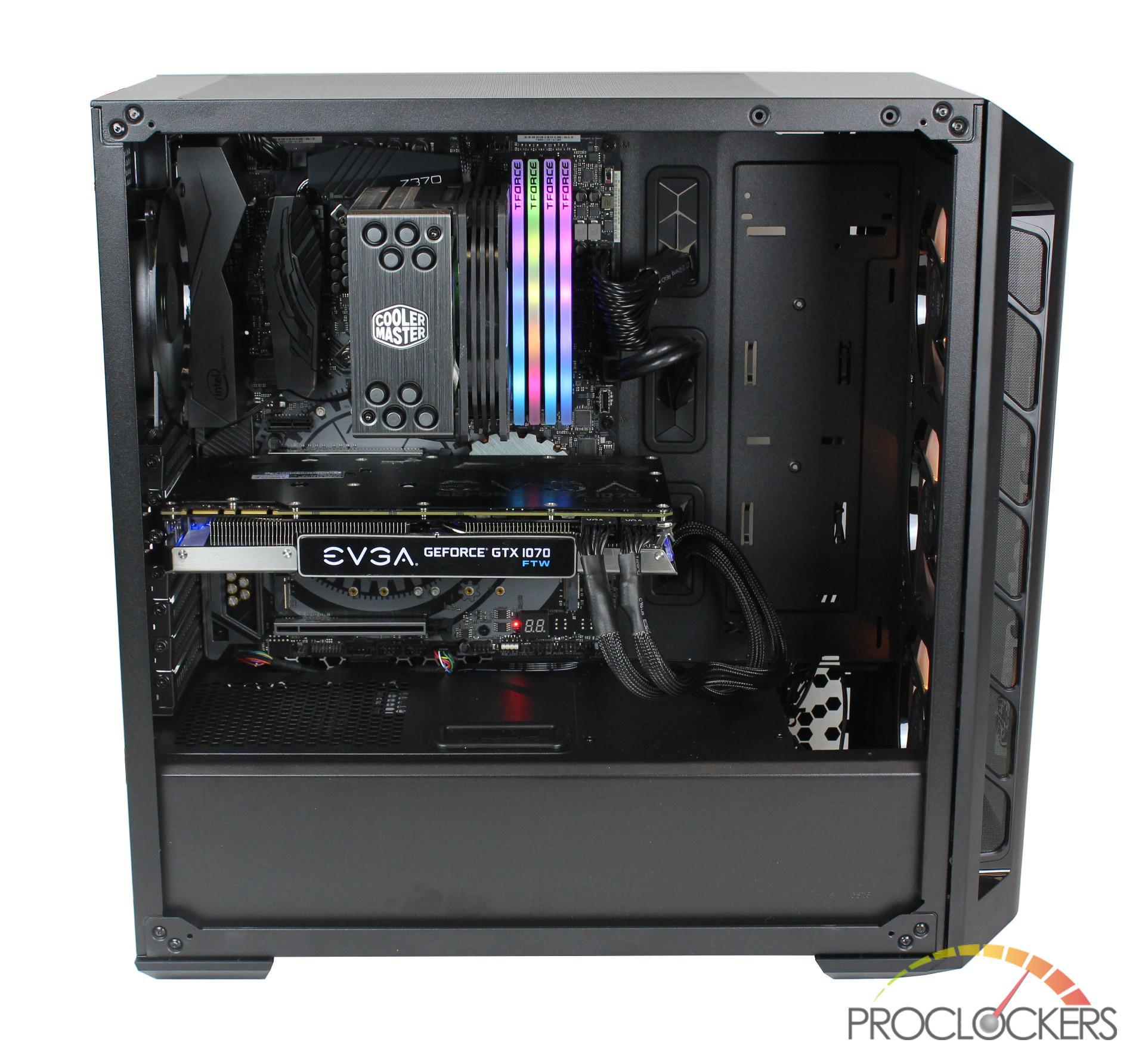 The fan itself also looks great with vivid colors and the clear fan blades which diffuse the light quite nicely.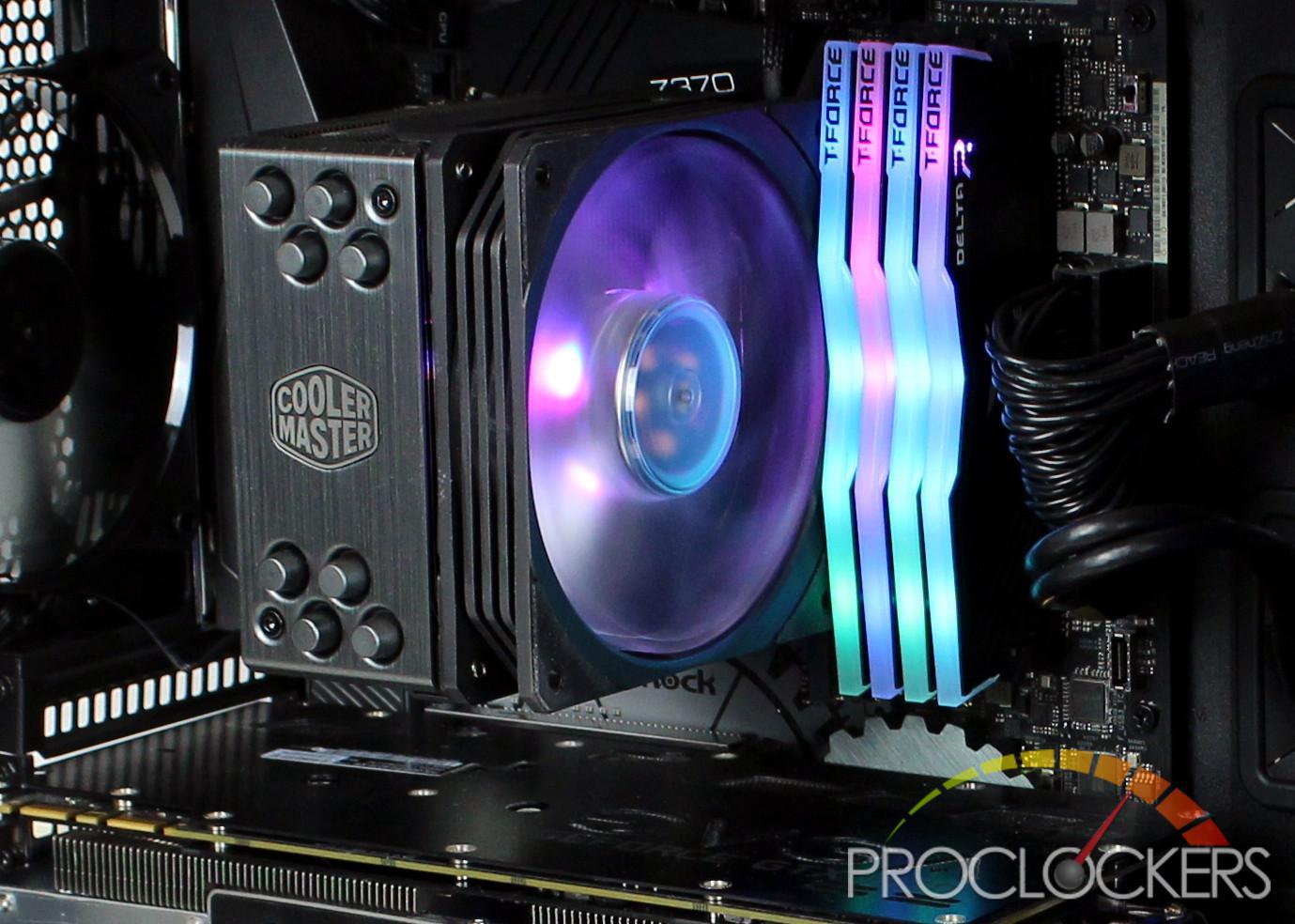 Performance Testing
For performance testing of the Hyper 212 RGB Black edition, I will run it through 2 different tests. The first test is designed to put tremendous workloads on the CPU to generate massive amounts of heat that the cooler must dissipate. The second test will simulate a more real-world type workload and produce temperatures you will more likely see in everyday use.
Our first test uses a well-known piece of software "Prime95" which is used to test CPU stability and in doing so puts intense workloads on the CPU. These extreme workloads will push the CPU to its limits and will hit much higher temperatures than day to day workloads. The second test we use: "Cinebench R15" which is using all the CPU cores/threads to render a predefined image. This will put a fairly normal workload on the processor giving you a temperature that should be similar to what you would see in real world use.
The test procedure starts with letting the computer idle for 5 minutes and recording the lowest achieved temperature. Once the idle temperature has been recorded, we reset the HWInfo timer and run Prime95 for 20 minutes. At the 20 minutes, we record both the max and average temperature of the CPU package and proceed to the second test. We then run the CPU benchmark in Cinebench 5 consecutive times and also record the max and average CPU package temperature. I repeated these tests at various frequencies until the cooler can no longer maintain a 90c or below max temperature in Prime95.
For our first set of tests, I ran my 8700K at stock settings which hits a clock of 4.3GHz on all core during Prime95 and Cinebench. This is due to the AVX offset of 3 that our motherboard is set to by default, which will reduce the clock during AVX workloads. The results for the Prime95 test are quite promising with a max temperature of 78c and an average of 66c. In Cinebench, we see these values decrease to a 66c max temperature and an average of 61c. Looks like we have lots of room for overclocking which is great to see. So we are going to jump right to 4.6GHz, which is the highest we have achieved on an air cooler while staying below 90c in Prime95.
Prime 95 – Stock (4.3GHz)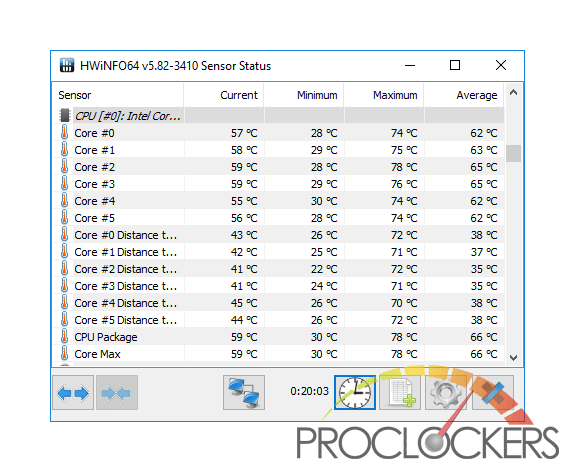 Cinebench – Stock (4.3)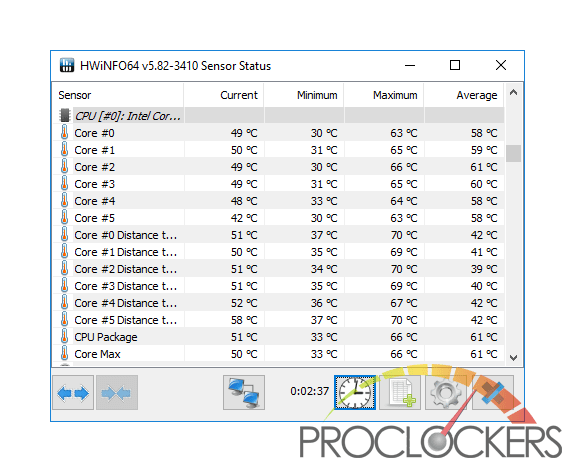 Running our 8700K at 4.6GHz, I know based on my previous testing that my chip requires 1.3v to maintain stability. We are extremely surprised with the results of both our Prime95 and Cinebench tests. In Prime95, we saw a max temperature of 83c with an average of 67c. For Cinebench we only hit a top temperature of 71c with the average settling it at 66c. Since we are well below our 90c max temp, let's see how much farther we can overclock the 8700K.
Prime95 – 4.6GHz @ 1.3v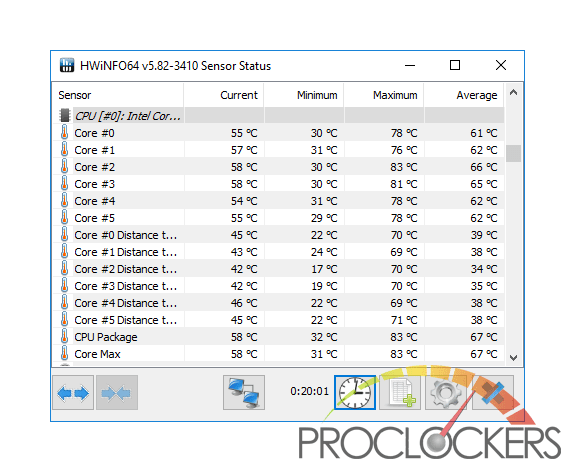 Cinebench – 4.6GHz @ 1.3v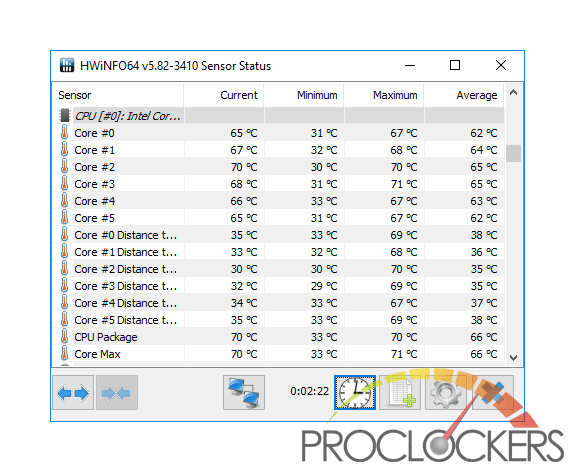 This is new territory for air cooler on our bench with our 8700K clock at 4.7GHz with 1.315v. I was pleasantly surprised to see a max temperature of 86c during Prime95 with an average temperature of 67c. Our Cinebench results were equally impressive with a max temperature of 73c and an average of 69c.
Prime95 – 4.7GHz @ 1.315v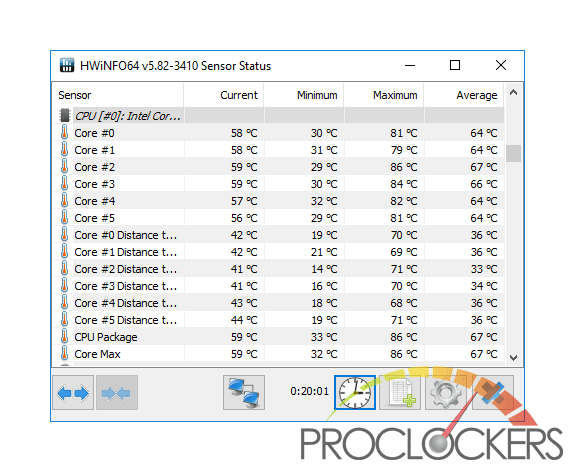 Cinebench – 4.7GHz @ 1.315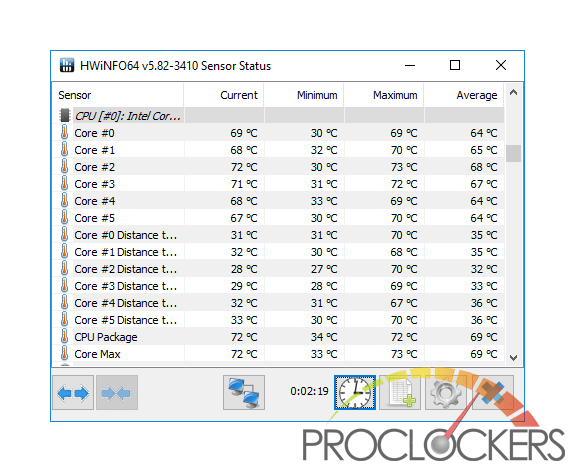 The Hyper 212 RGB Black Edition now takes top spot in the air coolers I have benched by hitting 4.7GHz while maintaining below 90c in Prime95. I did clock the 8700K to our 4.8GHz profile, but were seeing temperatures in the 92c range probably due to the fact that we require 1.355v to keep it stable. If you have a 8700K that requires lower voltage you should be able to run a 4.8GHz clock with no problems on this cooler.
Below are the graphs of the above results: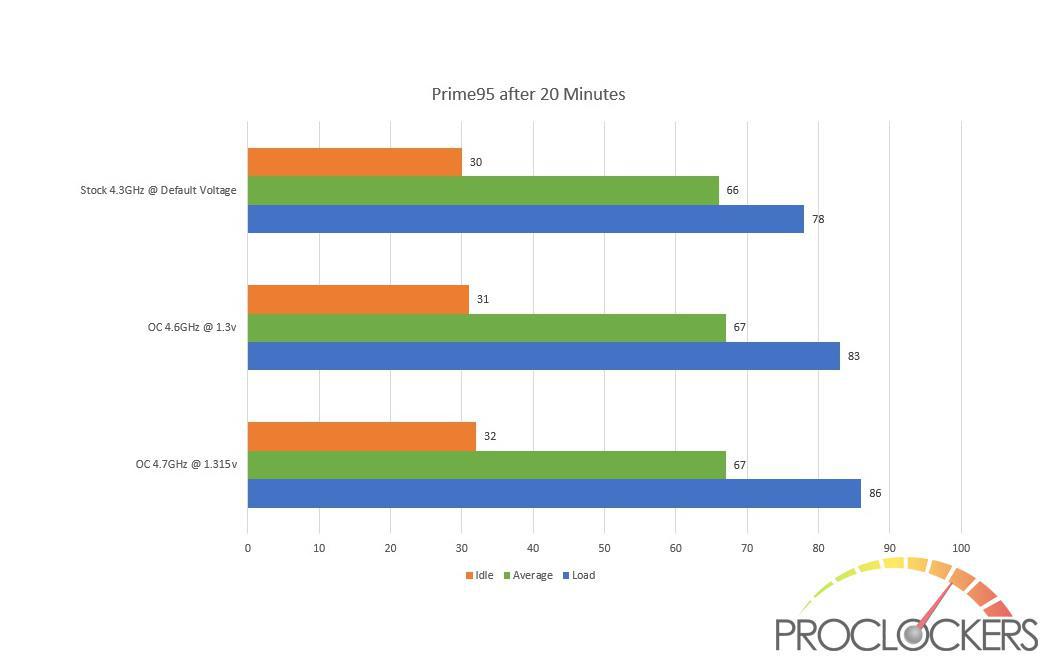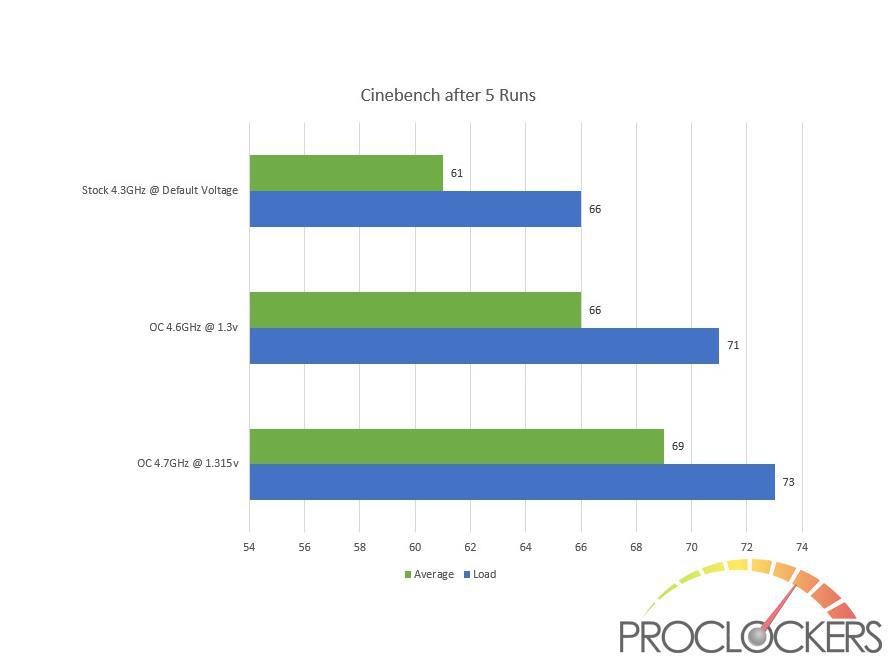 Final Thoughts & Conclusion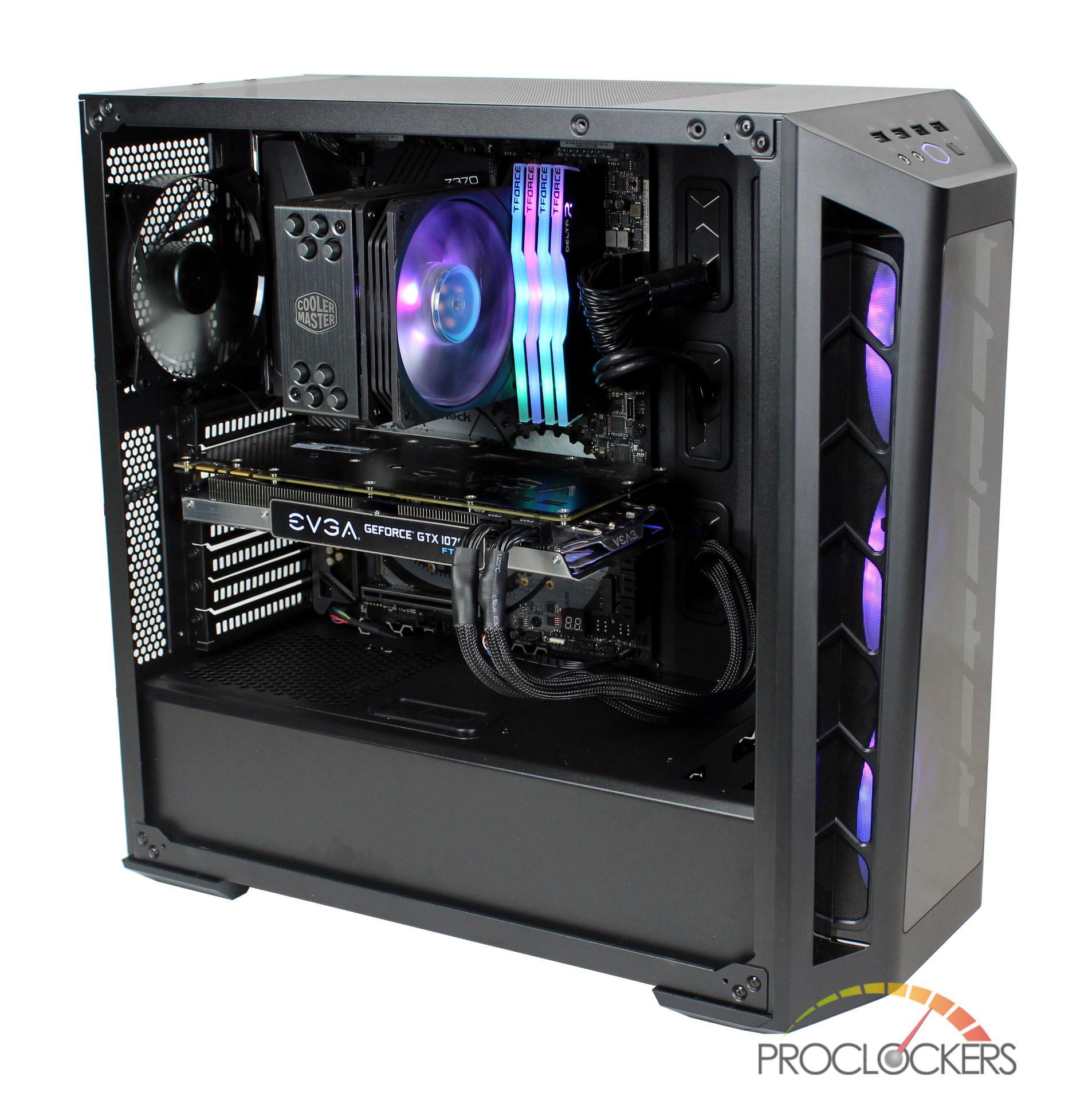 Cooler Master has topped my charts again in both looks and performance with their new CPU cooler, the Hyper 212 RGB Black Edition. I was able to achieve a 4.7GHz on my toasty 8700K and still stay under 90c during the Prime95 test. This is a feat that no other air cooler on my bench has been able to achieve and the only cooler to hit 4.6GHz has been its brother, the Hyper 212 Black Edition. Not only did the Hyper 212 perform exceptionally well, the new refreshed look just looks stunning. From the brushed, anodized aluminum top to the all nickel-plated jet-black finish it really gives the Hyper 212 a premium look that effortlessly matches my build. The addition of the SP120R RGB really completes the look and somehow it still manages to come in at an affordable MSRP of $39.99. Cooler Master's Hyper 212 RGB Black Edition is truly an epic cooler that has earned the ProClocker's Editor's Choice award.

Amazing job Cooler Master!

<![CDATA[ */ var zbjs = {"ajaxurl":"https:\/\/gaminggorilla.com\/wp-admin\/admin-ajax.php","md5":"d8e8b24d2fa18d2999e0fddcdd418586","tags":[],"categories":["Hardware"]}; /* ]]>