Corsair Dark Core RGB Pro Wireless Gaming Mouse Review
Introducing Corsair's Dark Core RGB Pro Wireless Gaming Mouse
I have always been a proponent of wired gaming mice, and admittedly I'm a little behind the curve on wireless gaming mice. It's honestly nothing personal, but you see, early versions of wireless gaming mice were simply horrible. They almost always ensured that you would lag at the wrong moment or would lose connectivity altogether mid-game. After talking to a colleague about this, he convinced me to give wireless gaming mice a second chance. So, I reached out to Corsair, and they sent me their Dark Core RGB Pro wireless gaming mouse to try out.
Dark Core RGB Pro Wireless Gaming Mouse Straight from the Manufacturer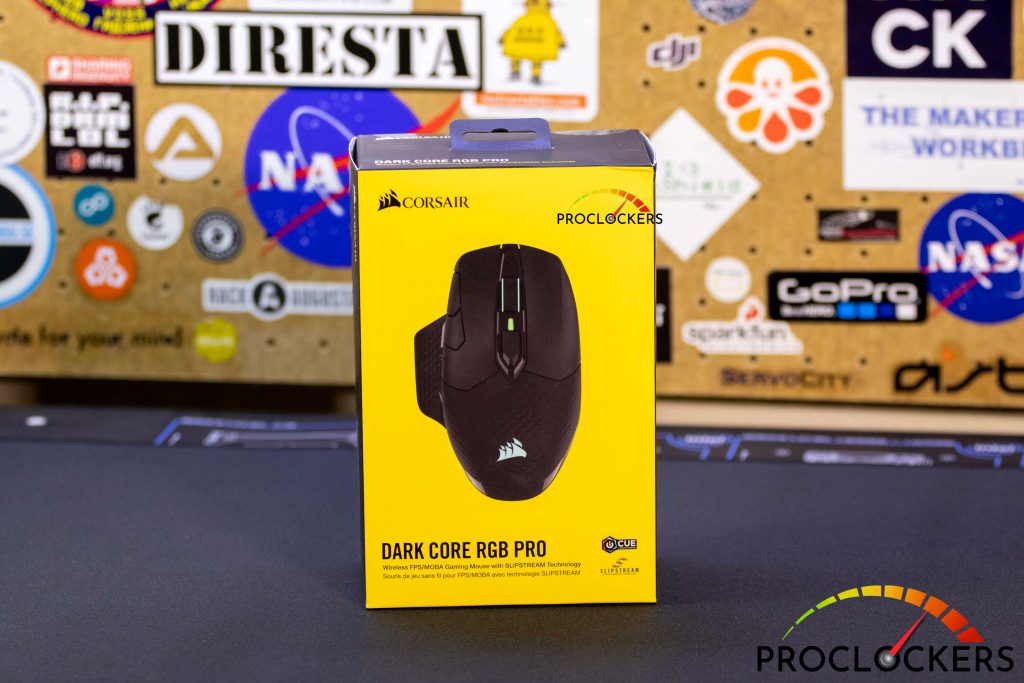 The Corsair Dark Core RGB Pro makes several key updates to the award-winning Dark Core RGB while retaining the same shape and comfort that has made it a fast-growing choice among gamers of all kinds. The Dark Core RGB Pro now features the ability to connect in three different ways: sub-1ms Slipstream Wireless, low-latency Bluetooth®, or USB wired. The optical sensor has also been upgraded to a custom PixArt PAW3392 optimized for wireless, with extremely low power consumption and a native 18,000 DPI resolution customizable in 1 DPI step. New hyper-polling technology from Corsair, debuting in the Dark Core RGB Pro, ensures blazingly fast response times by communicating with a PC at up to 2,000Hz – twice the speed of standard gaming mice and able to deliver the full performance benefits of Slipstream Wireless for better-than-wired latency.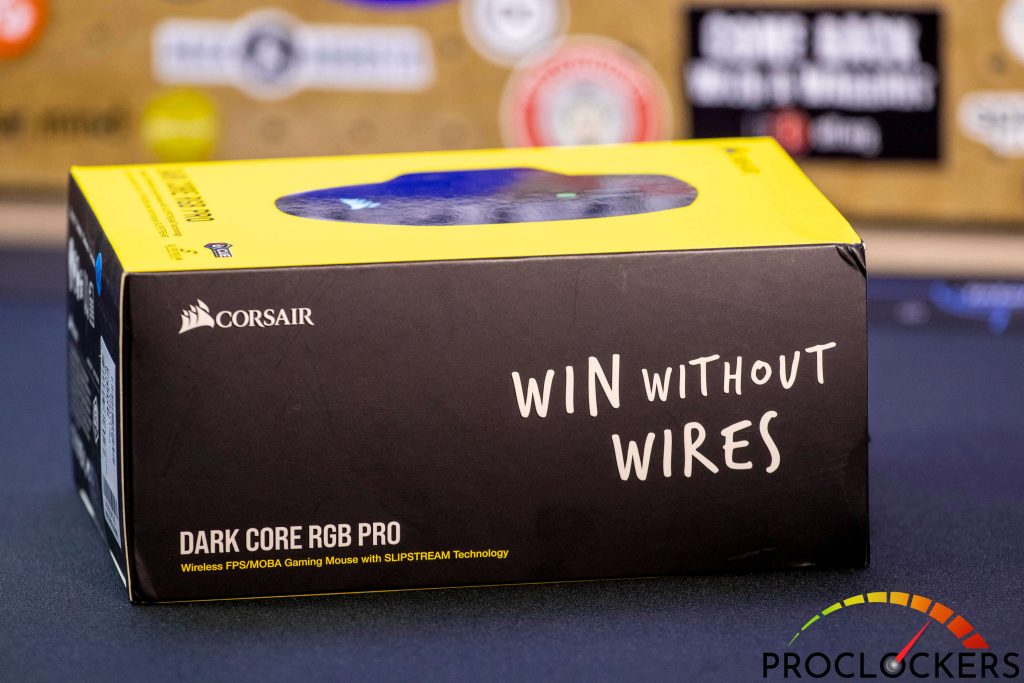 The Dark Core RGB Pro boasts nine RGB lighting zones, the most ever for a Corsair mouse, including an eye-catching integrated light bar with four individually addressable LEDs. Corsair iCUE software harnesses both the performance and the customization of Dark Core RGB Pro, with full RGB lighting customization and synchronization with other iCUE devices, as well as button remaps and advanced macro programming for the mouse's eight buttons.
Technical Specifications of the Dark Core RGB Pro Wireless Gaming Mouse
Mouse Warranty: Two years
Programmable Buttons: 8
Max DPI: 18,000 DPI
Sensor: PAW3392
Sensor Type: Optical
Mouse Backlighting: 9 Zone RGB
On-Board Memory: Yes
On-Board Memory Profiles: 3
Mouse Button Manufacturer: Omron
Mouse Button Durability: 50M L/R Click
Connectivity: Bluetooth 4.0, Slipstream Wireless, USB-C Wired
Grip Type: Palm
Weight Tuning: No
Weight: 133g (w/out cable and accessories)
Cable: 1.8m Braided Fiber
Polling Rate: Selectable 1000Hz/2000Hz
Battery Life:
– 2.4GHz SLIPSTREAM: Up to 16hrs with standard lighting or 36hrs with lighting off
– BLUETOOTH: Up to 18hrs with standard lighting or 50hrs with lighting off
Battery Type: Rechargeable Lithium-Polymer via USB-C Cable
Introduction and Initial Thoughts on Corsair's Dark Core RGB Pro Wireless Gaming Mouse
The Dark Core RGB Pro is part of Corsair's line of ergonomic gaming mice and is an update to the previously released Dark Core RGB. This updated model retains the original shape and size but features an all-new 18,000DPI PixArt PAW3392 sensor, three connectivity modes, and a polling rate of 2,000Hz. Corsair has also opted to only feature eight buttons on the Dark Core RGB Pro instead of the nine found on the previous model.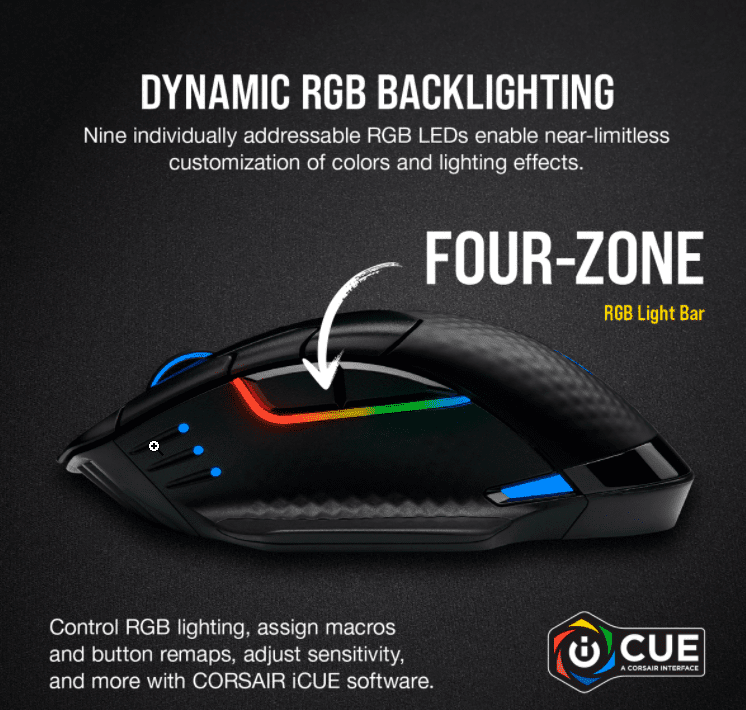 Additionally, the mouse has been given a complete RGB lighting makeover and now features a total of nine RGB zones, all of which are controllable from Corsair's ICU software. Fans of the Dark Core RGB will be happy to know that this new Pro model also retains the interchangeable thumb rest/wing, as well as the built-in pinky-finger rest/wing.
My initial impression was that the mouse felt great in my hand right out of the box, but it felt even better when I installed the larger thumb rest. The over-molded silicone grip pad across the palm area provided ample grip thanks to a raised diamond pattern that is carried over to the wings on the side of the mouse as well. The scroll-wheel features this same pattern and grip material and a very noticeable and firm detent when rolled lightly. When depressed, the scroll wheel has a very tactile click, and when pushed to the right, another very tactile click is felt. Likewise, all of the regular buttons feature a very tactile click when depressed.
The factory DPI settings felt pretty standard and definitely needed adjustment, but they were not terrible. The mouse was about two-thirds charged right out of the box and effortlessly paired with my laptop's Bluetooth. Likewise, the mouse connected to the Slipstream Wireless dongle as soon as I plugged it in and flipped the switch to Slipstream Wireless mode. I took a few minutes to "drive" the mouse around in both wireless modes, and it honestly felt like any other wireless mouse I might use with my laptop. That was expected, and I knew the true test come later that evening.
Connectivity of the Corsair Dark Core RGB Pro
The Corsair Dark Core RGB Pro features three ways to connect to your PC, including Bluetooth 4.0, Corsair's SlipStream 2.4GHz Wireless Technology, and a standard USB-C Wired connection. We all know what Bluetooth and Wired connections are, but let's take a moment to learn more about Corsair's Slipstream Wireless Technology.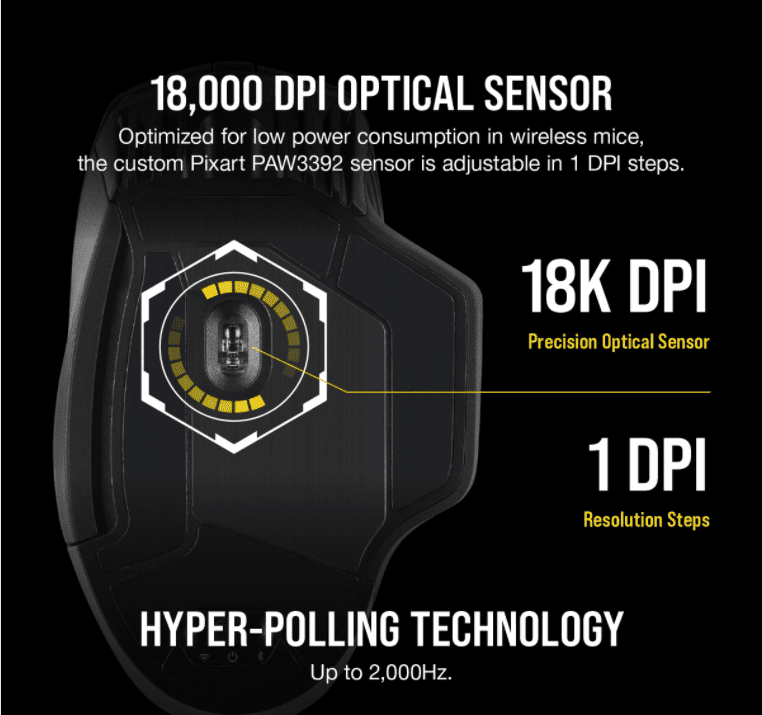 Slipstream Wireless
Slipstream Wireless delivers hyper-fast 2.4GHz gaming grade wireless speed, transmitting twice the packets of previous-generation wireless devices and ensuring your signal stays strong even in heavy wireless traffic with Intelligent Frequency Shift (IFS). Combining the confidence of tournament-ready wireless performance with a robust wireless range up to 33ft, Slipstream Wireless lets you play your way, whether from the desktop or the couch. Dark Core RGB Pro users can take advantage of a 2000Hz polling rate when utilizing this connectivity method as well.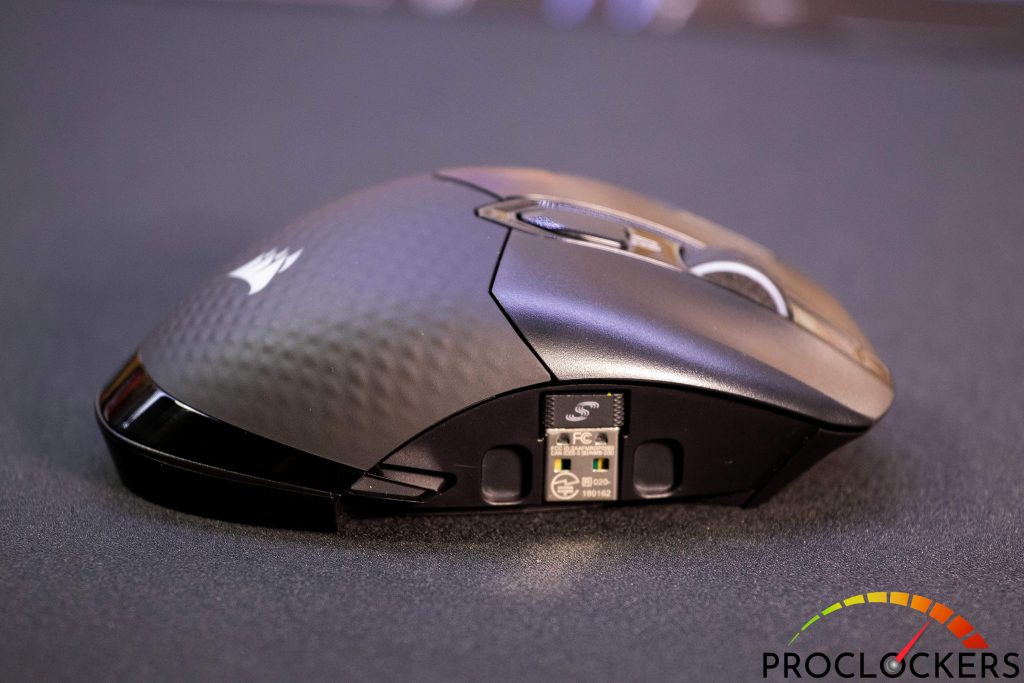 Slipstream Wireless was developed to improve the latency of Corsair's wireless gaming peripherals and combines existing 2.4GHz hardware with a proprietary protocol-layer that enables the mouse to deliver twice the number of packets than previous technologies. This allows for a more consistent and reliable connection from distances up to 65-feet away, allowing you to game from your PC or your couch.
It is important to note that I found it necessary to maintain a somewhat clear line of sight from the mouse to the Slipstream dongle to ensure a perfect connection during my testing. When I tried placing the dongle in the back of my PC, I experienced very frequent connectivity drops, to the point I thought the battery in the mouse was dying. Once the dongle was placed on the front of the PC, the connectivity issues went away completely.
Corsair Dark Core Pro Features Nine Independent RGB Zones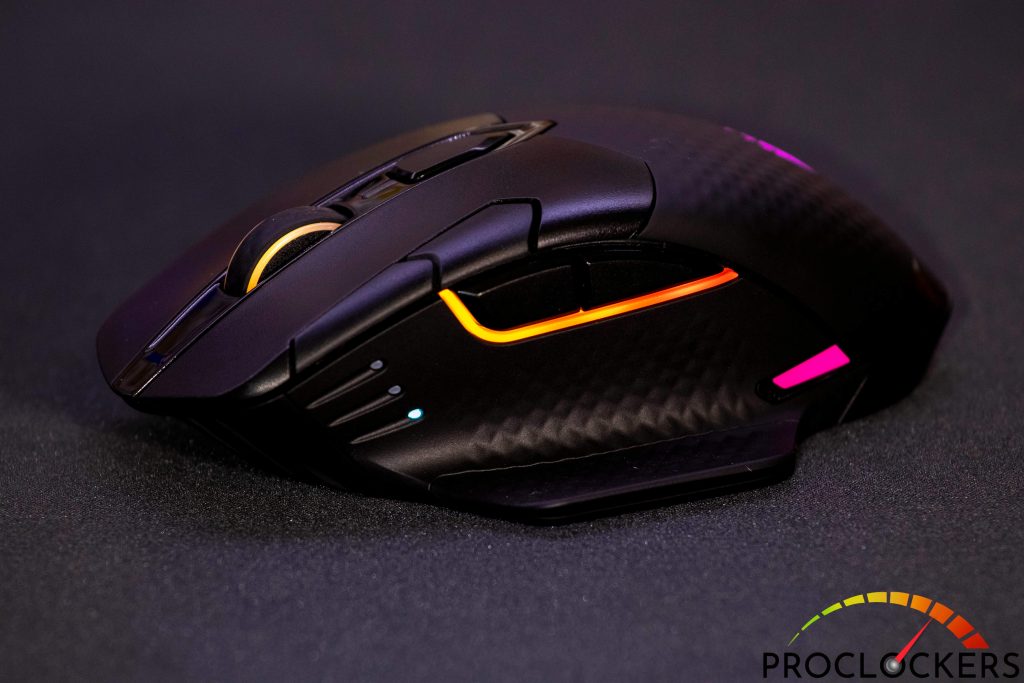 The Corsair Dark Core RGB Pro features nine independent RGB zones, the most of any Corsair gaming mouse to date, but what I really like about this mouse is how subtle these RGB accents are. Instead of blindingly bright light panels, corsair opted for thin lines, small dots, and a tastefully placed logo. In fact, when the RGB lighting is turned off, the mouse actually shows no sign of being RGB equipped at all, and it actually looks fairly inconspicuous.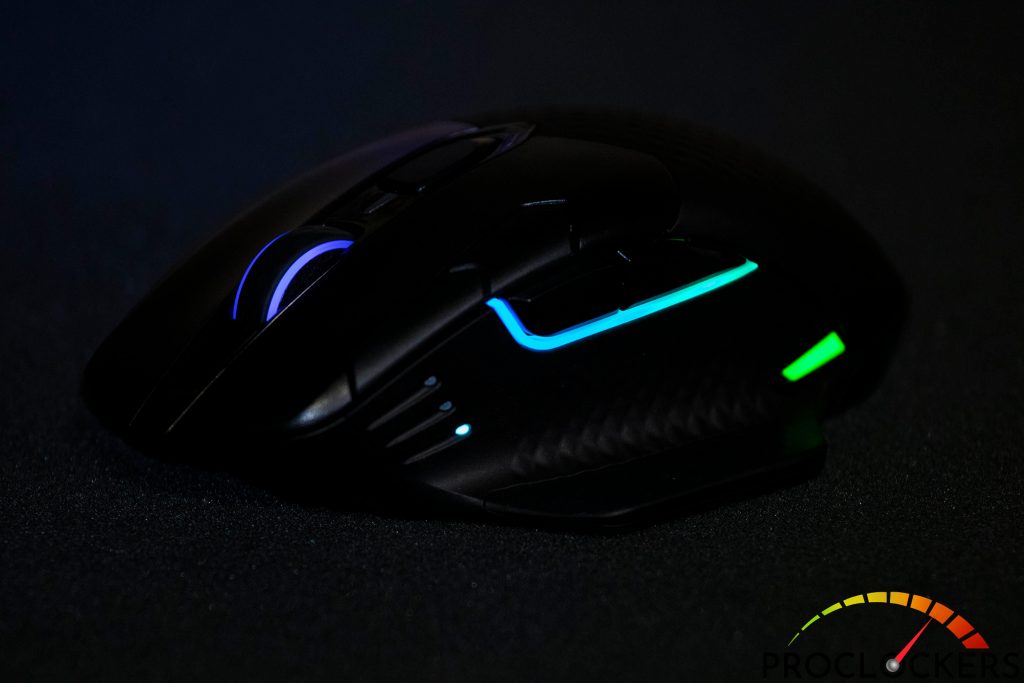 All of the RGB lightings can be changed independently in Corsair's iCUE software, with the only exception being the three tiny DPI indicator dots on the front left side of the mouse. While their color can be changed, they all will remain the same color and do not fade in and out with the effects that can be applied to the rest.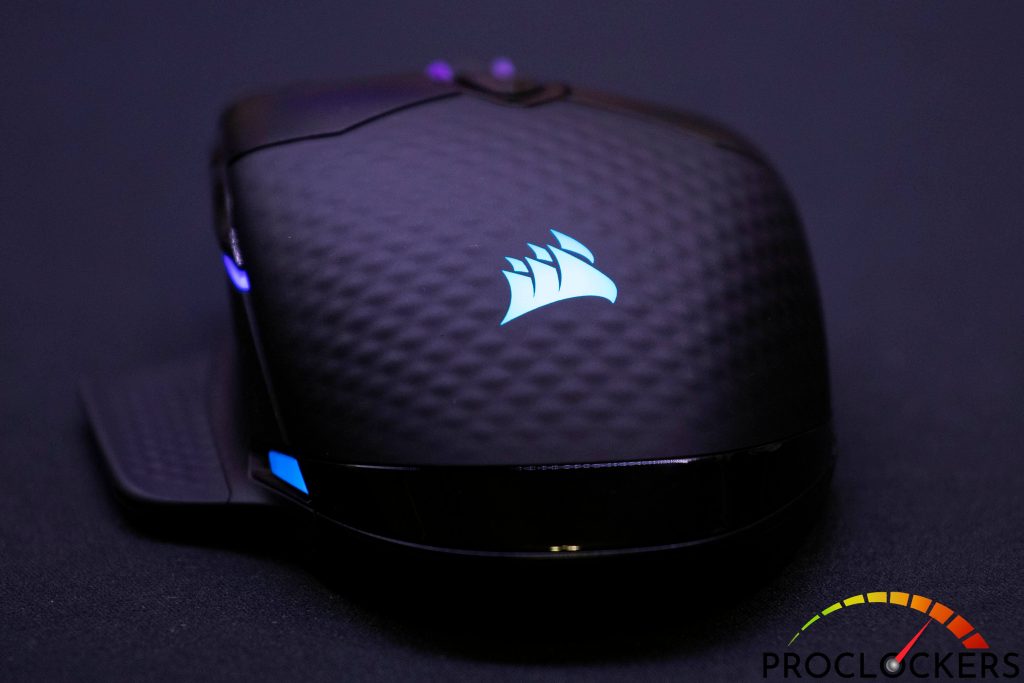 It's no secret that I like a flashy PC – my years modding PC's and sharing them with the public proves that – but I really like how toned down the RGB is on this mouse and how it's just used as accent and notification lighting and not attempting to overpower the sun.
Gaming with the Corsair Dark Core Pro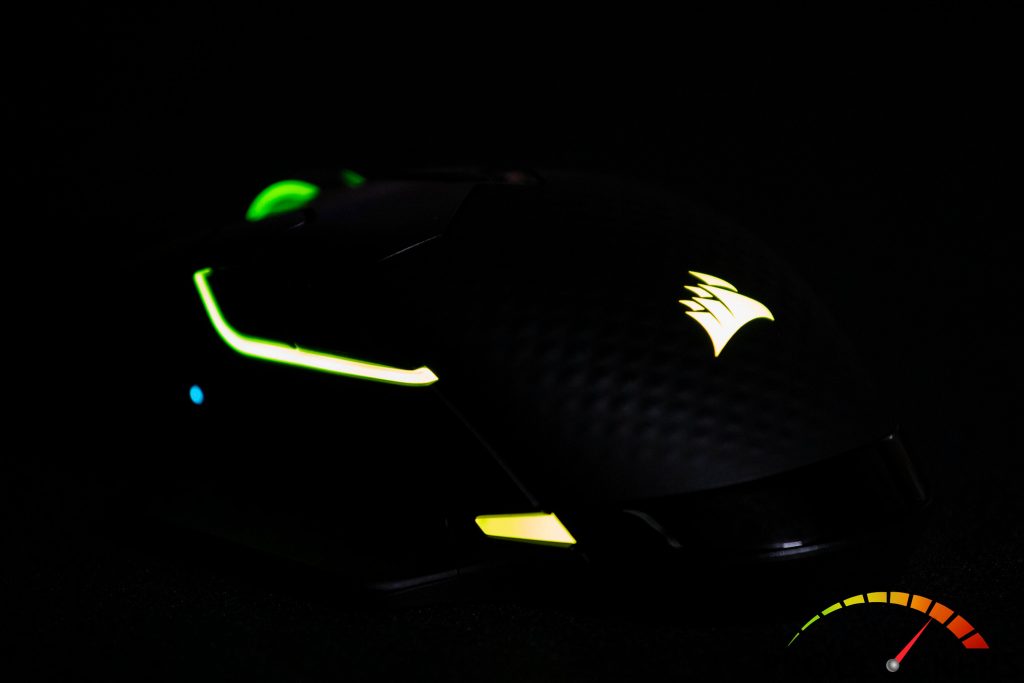 Over the last two months, I have used the Dark Core RGB Pro exclusively during my late-night gaming sessions on my main gaming rig and spent 90% of that time using the mouse in Slipstream Wireless mode. I did a test for a few hours with the mouse connected via the cable and roughly an hour using the mouse in Bluetooth mode with my Dell G7 gaming laptop.
I consider myself a fairly average gamer who mostly plays FPS and Survival games such as Call of Duty, Sea of Thieves, Rust, Day Z, Overwatch, Fortnite, and sometimes Battlefield. As such, I care the most about consistency and accuracy in my gaming and less about things such as macros. For example, I am a very "flicky" style player in Call of Duty and when PVPing in Rust and DayZ. For me, this equates to short, quick movements of the mouse during most of my playstyle, with my normal gameplay DPI set to about 1200 and my "Sniper DPI" settings at about 500.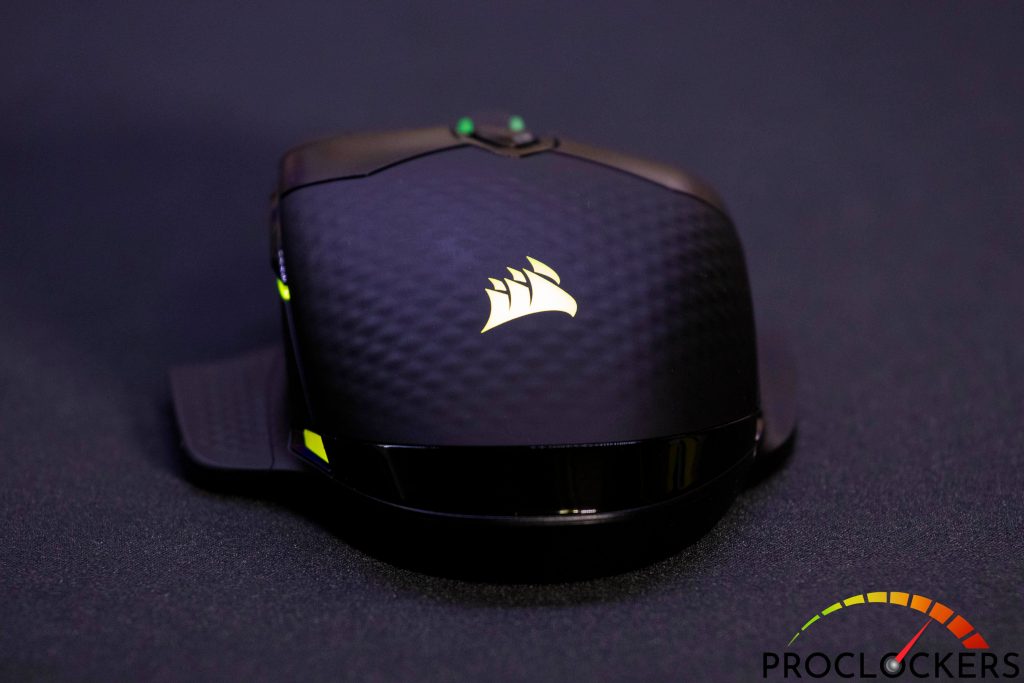 During this time, I managed to play 23 rounds of "Shoot the Ship" mode in Call of Duty Modern Warfare and 14 rounds of Warzone. I also spent a few hours in Rust and several hours in Fortnite to get a feel for the mouse. The overall results in each game was a Kill/Death ratio increase of about 2.3% in Call of Duty and no noticeable change to K/D in Rust or Fortnite. To be fair, the rise in K/D in Call of Duty is more likely due to increased screen time rather than the mouse improving my aim that much.
I did notice a significant increase in the accuracy in which I switch weapons or hot-bar items when using the scroll wheel on the Dark Core RGB Pro versus the previous two gaming mice I've used regularly this year. The mouse's tactile detent really helps prevent "over-scrolling," and they provide just enough resistance to not require a lot of focus when changing weapons.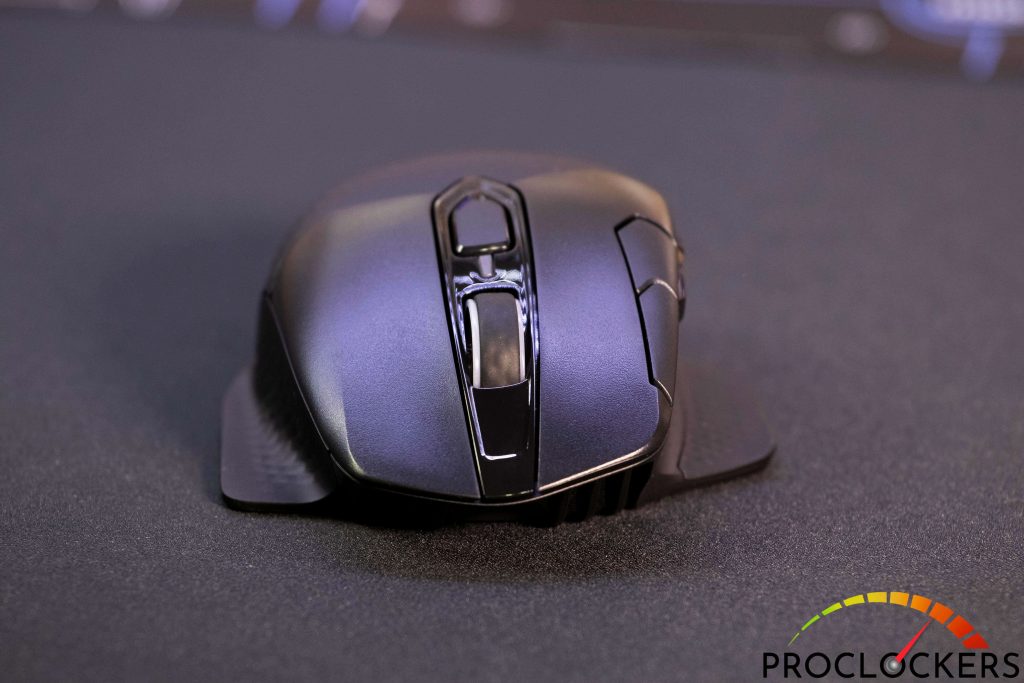 I found the larger footprint of the Dark Core RGB Pro, especially with the large pinky-finger rest attached, to be particularly advantageous when attempting super-long distance sniper shots in Call of Duty as well as Day Z. Placing my fingers off of the wings, and allowing my wrist to drag the mouse pad provided extremely precise sniper rifle control in Day Z when combined with a DPI of 400. The mouse picked up the most minutes of movement from my hand and really allowed me to stay on target for extended periods of time while I waited for the perfect shot.
I tested the mouse while playing Call of Duty Modern Warfare and Fortnite on my Dell G7 gaming laptop in both Slipstream and Bluetooth modes, and the results were as you might expect. While in Bluetooth mode, there was noticeable lag while playing Call of Duty during intense movement firefights, where I was moving the mouse around a lot.
Everyday Use of the Dark Core RGB Pro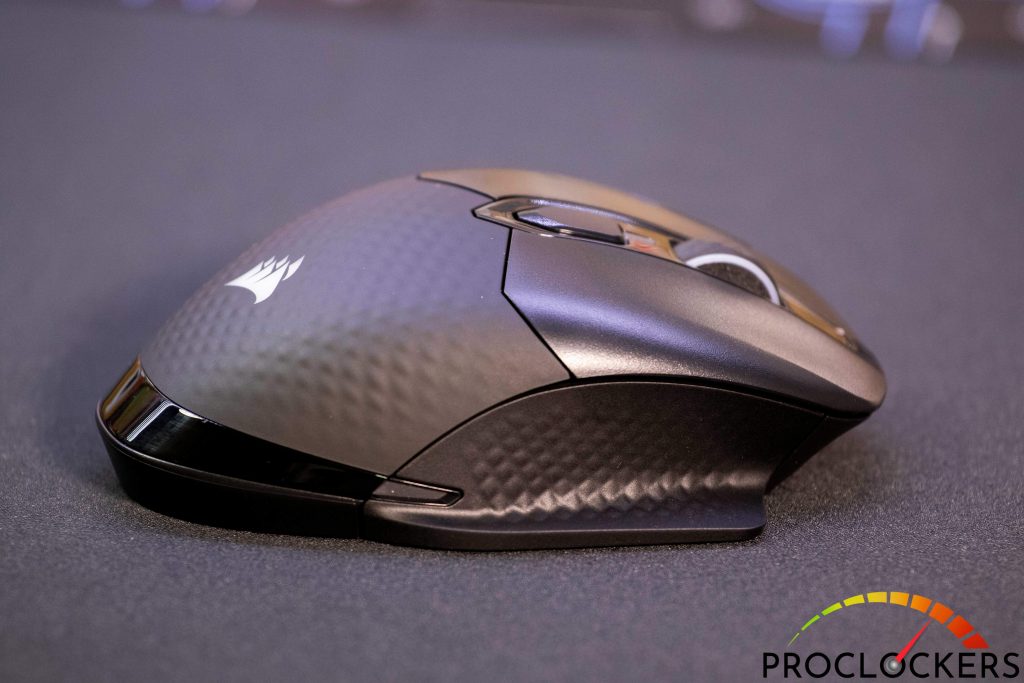 While it's hard to quantify an actual increase in performance when gaming with the Dark Core RGB Pro over another top-tier gaming mouse, what I can measure is fatigue; as a content creator, I spend an enormous amount of time at my computer, and I would say that the majority of that time is spent with the mouse firmly in my right hand. I find it hard to use smaller mice for extended periods of time without my hands beginning to hurt, and if the arch of the mouse is too steep, I develop a lot of finger and wrist joint pain. For these reasons, I prefer the larger-sized mice that feature a fairly mild hum across its back. The Dark Core RGB Pro checks all of these boxes for me, and then some.
When using a mouse-intense program such as Autodesk Fusion 360, I found that its large footprint and ergonomic finger rest/wings really allowed me to stay at the computer for extended periods of time without any noticeable hand fatigue, something my previous mouse was only able to accomplish for about an hour before a break was required. Likewise, when editing dozens of photos or hours of video, this mouse's comfortable design really let me dive deep into my work without distraction.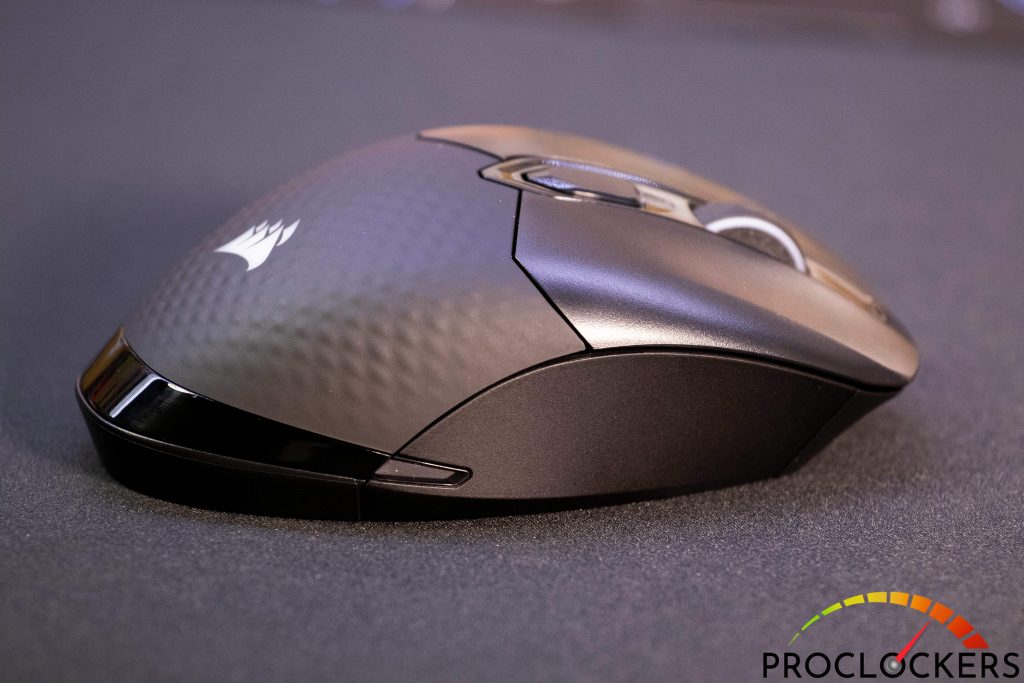 The only complaint I have is that it took me a few days to develop the muscle memory to not bump the large wings into things on my desktop, such as my keyboard or phone stand. This was only ever an issue during intense gaming sessions or when editing video and using the mouse to scrub through scenes. After a couple of days, this issue completely disappeared, so I hesitate to even bring it up.
Final Thoughts on Corsair's Dark Core RGB Pro Gaming Mouse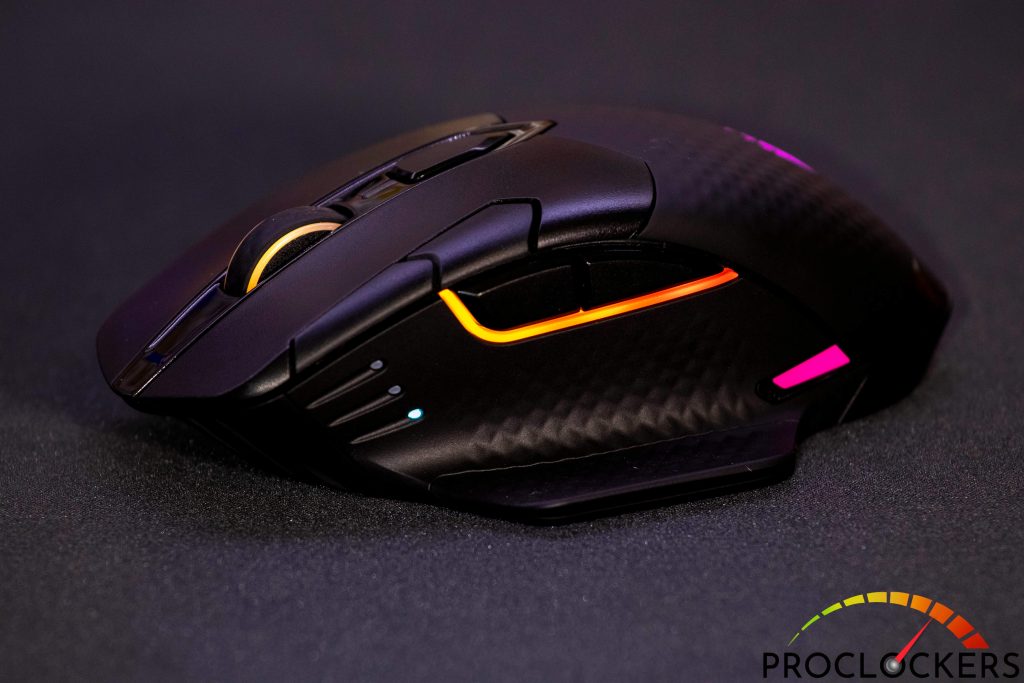 As I mentioned at the beginning of this review, I have always been a proponent of wired gaming mice. Call it PTSD from my first wireless mouse being a Microsoft Ergonomic Wireless Mouse circa 2003, or for the half-dozen or so wireless Logitech mice that I have owned that had horrible latency. But the simple fact is that I have never put much faith in wireless mice when it comes to gaming. The Corsair Dark Core RGB Pro has changed my mind. Throughout my usage, I only briefly experienced any connectivity issues whatsoever when using Slipstream Wireless, and as I mentioned a few paragraphs ago, those issues were my fault. The Bluetooth connectivity was a bit dodgy when it came to games that demanded super-low latency from its input devices. This issue completely went away when using Slipstream.
My previous every-day mouse used hematite sliders on its undercarriage to provide a nearly effortless gliding experience across the mouse mat's surface, and I was a bit worried that going back to PTFE might be an issue. Still, honestly, I cannot tell the difference between how the two slide. So, if there is a difference, it is too subtle for me to notice. The mouse's lift-off height is also quite exceptional, with the mouse losing motion input when lifted just a couple millimeters from the surface.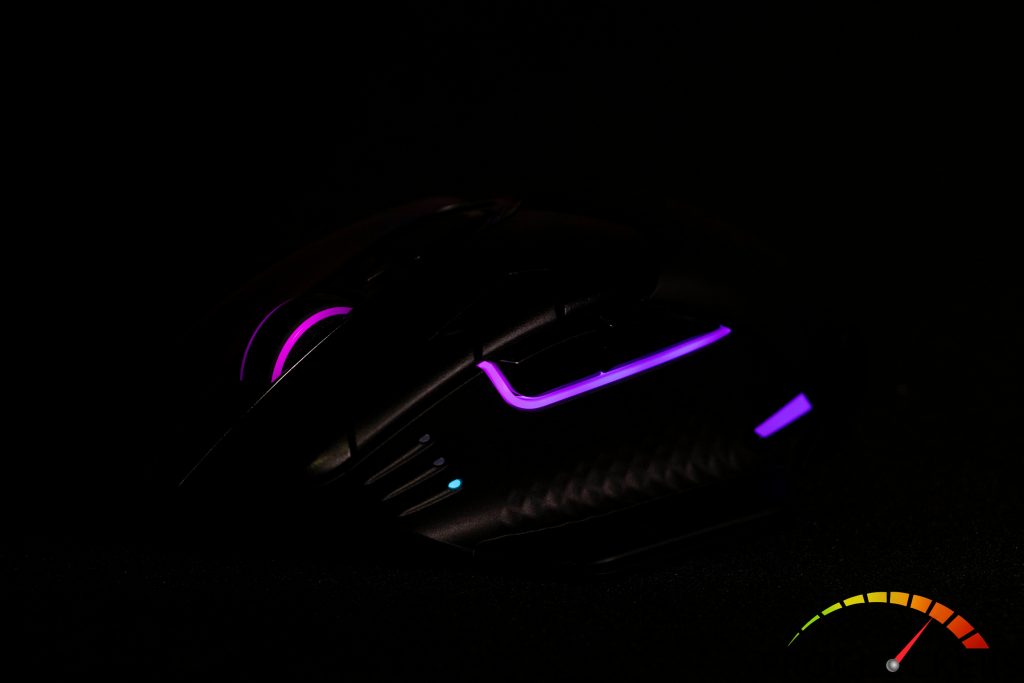 Finally, while some of the designs out there take their interpretations of RGB accents too far, Corsair has hit the proverbial nail on the head with the Dark Core RGB Pro. The RGB accents are clean, crisps, and not overly gaudy, with the largest accent being the Corsair logo, which is covered by your palm when in use anyway. The thin lines and dots are all placed perfectly to accent the mouse's curves and aid the user in various metrics such as battery life, connectivity, current profile, and current DPI setting.
So, where do I stand on the Corsair Dark Core RGB Pro? It's actually quite well thought out and features some seriously high-end components. I typically keep a mouse for about 4-5 years if they can last that long, and I have no doubt in my mind that this mouse will still be on my desk, seeing daily use 5 years from now. For that reason, I am proud to give the Corsair Dark Core RGB Pro my seal of approval. I would recommend it to anyone looking for a new wireless mouse that not only excels at productivity but is ideal for serious gaming as well.