Republic of Gamers Ryujin 360 AIO Review
Introducing the Republic of Gamers Ryujin 360 AIO
Asus has outdone themselves again! I know we're a little late to the game with this AIO being almost 3 years old, but we wanted to see if one of the best AIOs can stand up to Intel's "Extreme Space Heater" i9-10900k. The Ryujin is an amazing AIO for the most powerful of CPUs. This AIO sports 3 "Industrial PPC" fans from Noctua, Livedash 1.77, full-color OLED, a micro fan above the cooling plate for improved airflow, and it works with Aura Sync. Let's dig deeper into some of these features before we throw the 10900k at it.
ROG Ryujin 360 AIO Specifications and Box Contents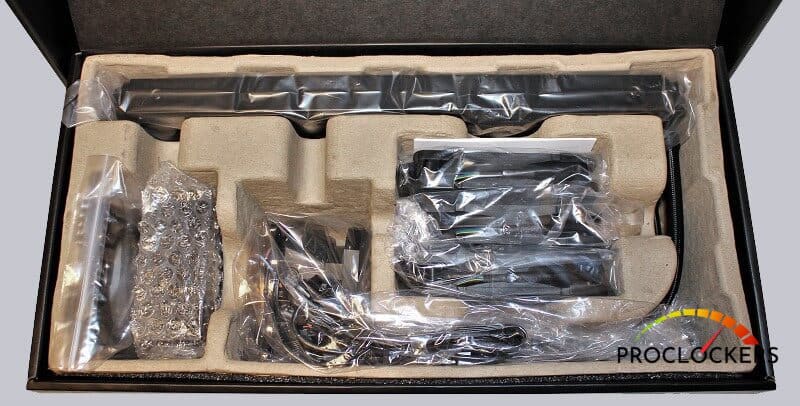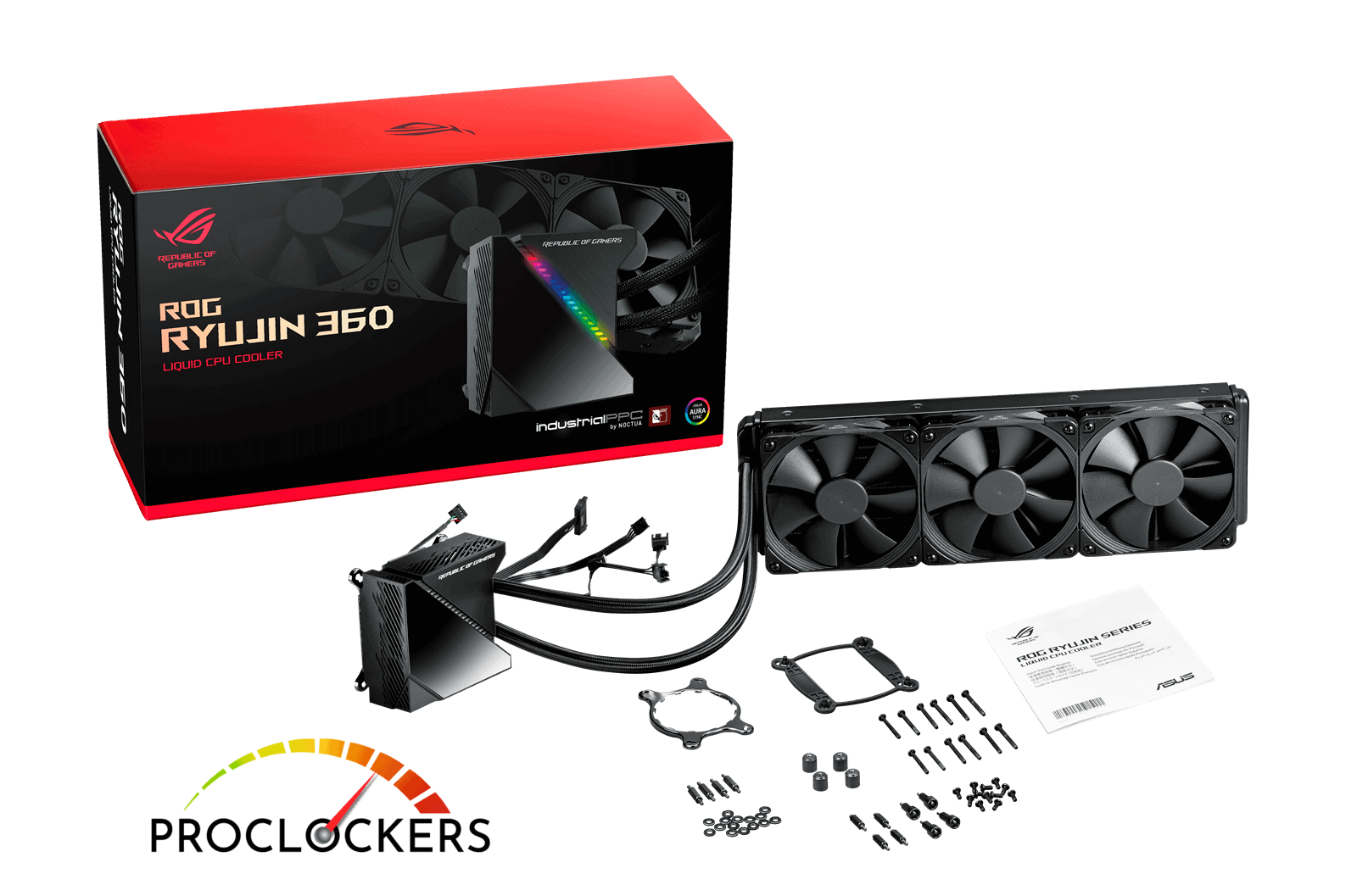 First of all, I have to say that everything was very neatly packed. Inside the box, you'll find the Ryujin AIO Cooler, Intel and AMD mounting brackets, the pumps' cover, 3 NOCTUA iPPC fans w/ 3-1 Fan extension, and an assortment of screws for Intel and AMD, and the thermal compound come pre-applied.
You also get a very nice 3-year warranty in case anything should break. Let's run through some key specs for those thinking of getting this 360 AIO: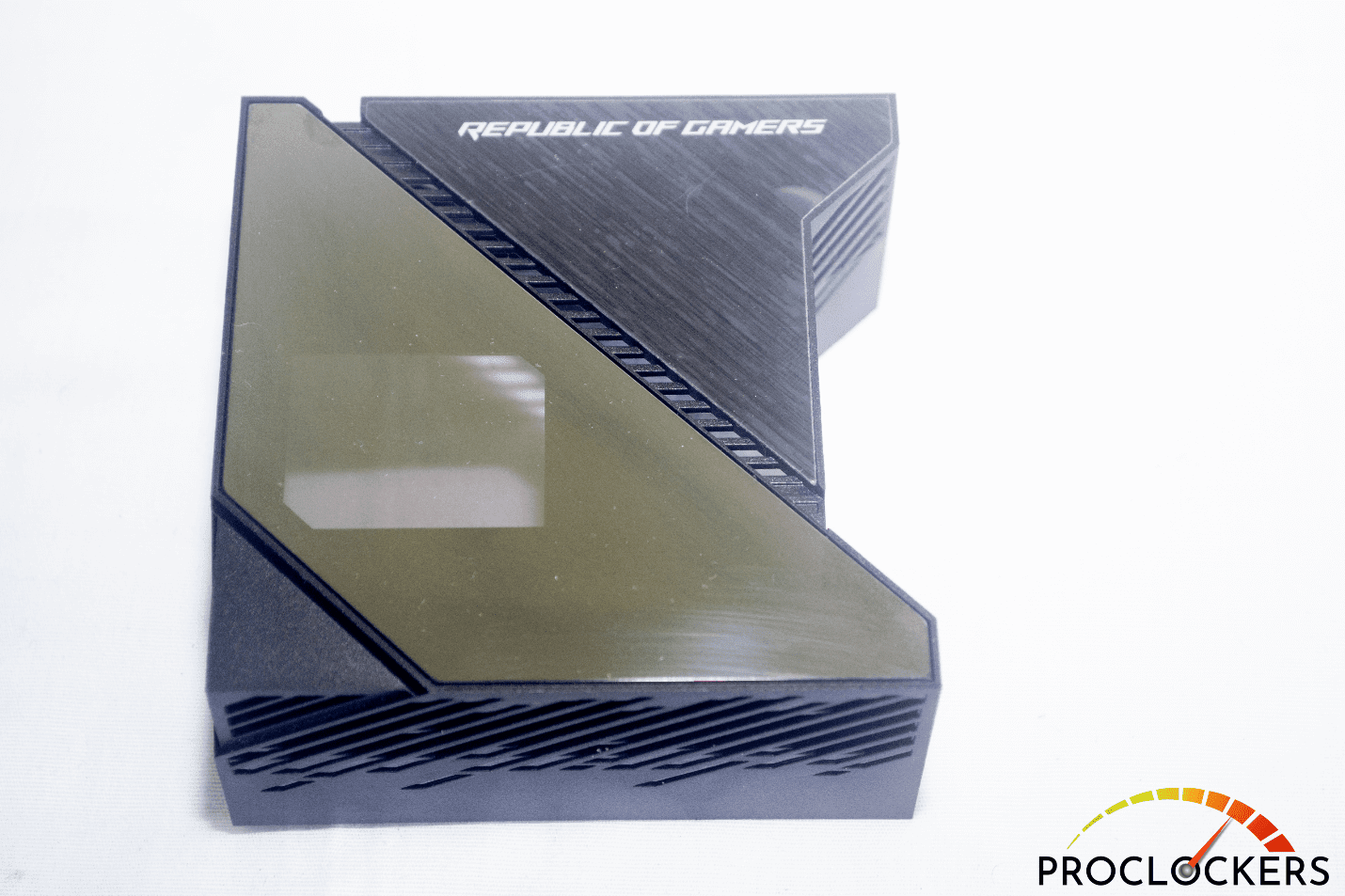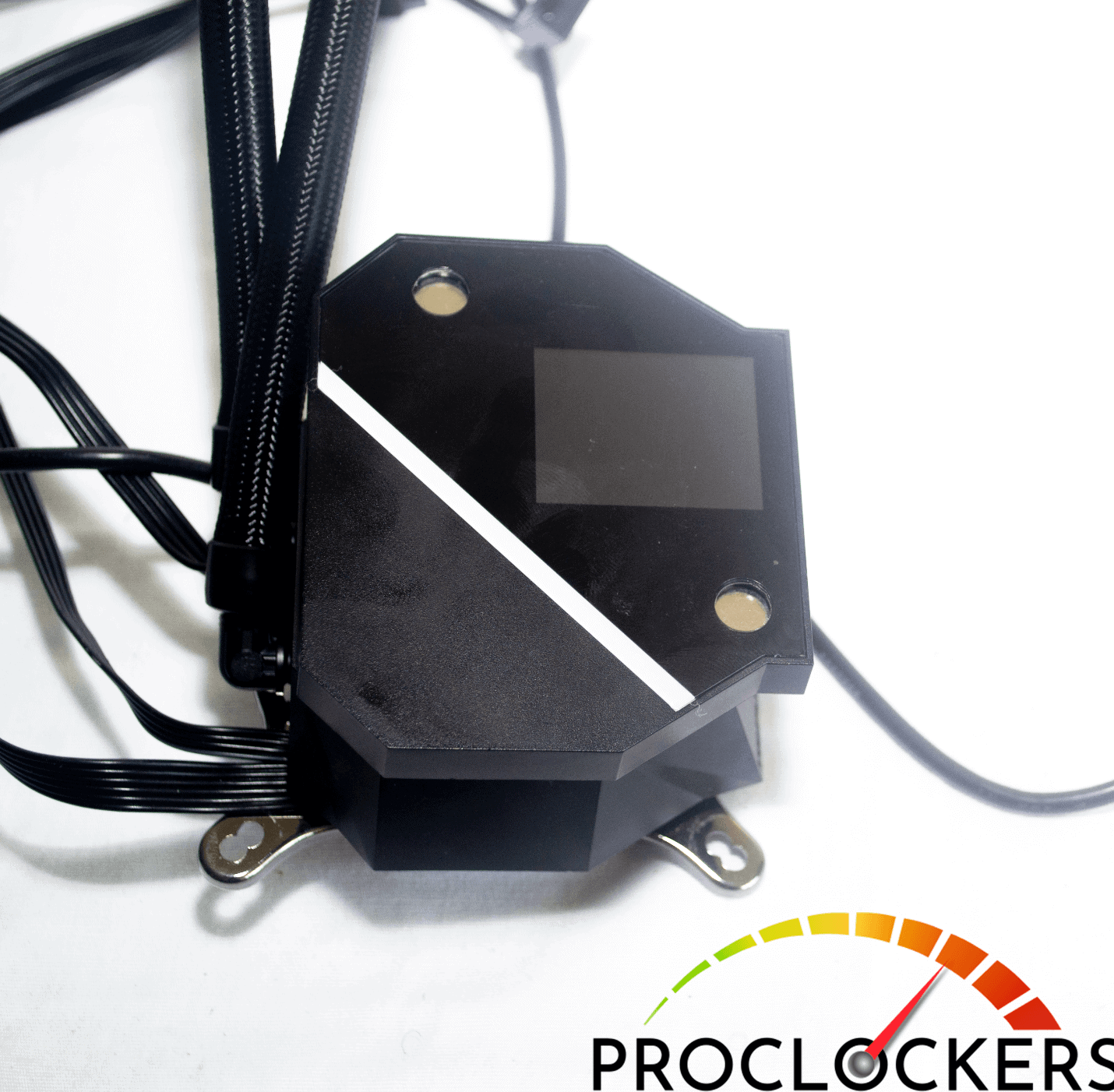 Key Specs:
Water Block Size: 100x100x70mm
Block Material: Copper
CPU Socket Support: AMD: AM4, TR4. (For TR4 there is a separate 360AIO dedicated to it that massive CPU) Intel: LGA 115x,1366,2011,2011-3, and 2066 (Non-listed Support for LGA1200/ 10thGen CPU)
Radiator Size: 394 x 121 x 27mm
Radiator Material: Aluminum
Tube: Sleeved Rubber Tube
Fan: 3 x Noctua NF-F12 Industrial PPC 2000 PWM
Fan Size: 120mm x120 x 25mm
Fan Speed: 450~2,000
Static Pressure: 3.94mmH2O
Fan Noise: 29.7 dB(A)
Control Mode: PWM/DC
OLED Display: 1.77" Full-Color Display
The Ryujin comes with something unique: an Embedded Fan. This fan sits above the pump housing to aid in airflow over your motherboard's heatsinks.
Fan Speed: 4,800 RPM
Static Pressure: 3.23 mmH20
Air Flow: 19.41 CFM
Fan Noise: 31 dB(A)
ROG Ryujin 360 AIO Installation
Installing the Ryujin is extremely easy. First, hopefully you made sure this was compatible with your case. Most modern ATX cases should be able to fit this just fine. The install is almost as easy as installing a regular air cooler since the radiator, tubes, fittings, pump and blocks all come pre-connected.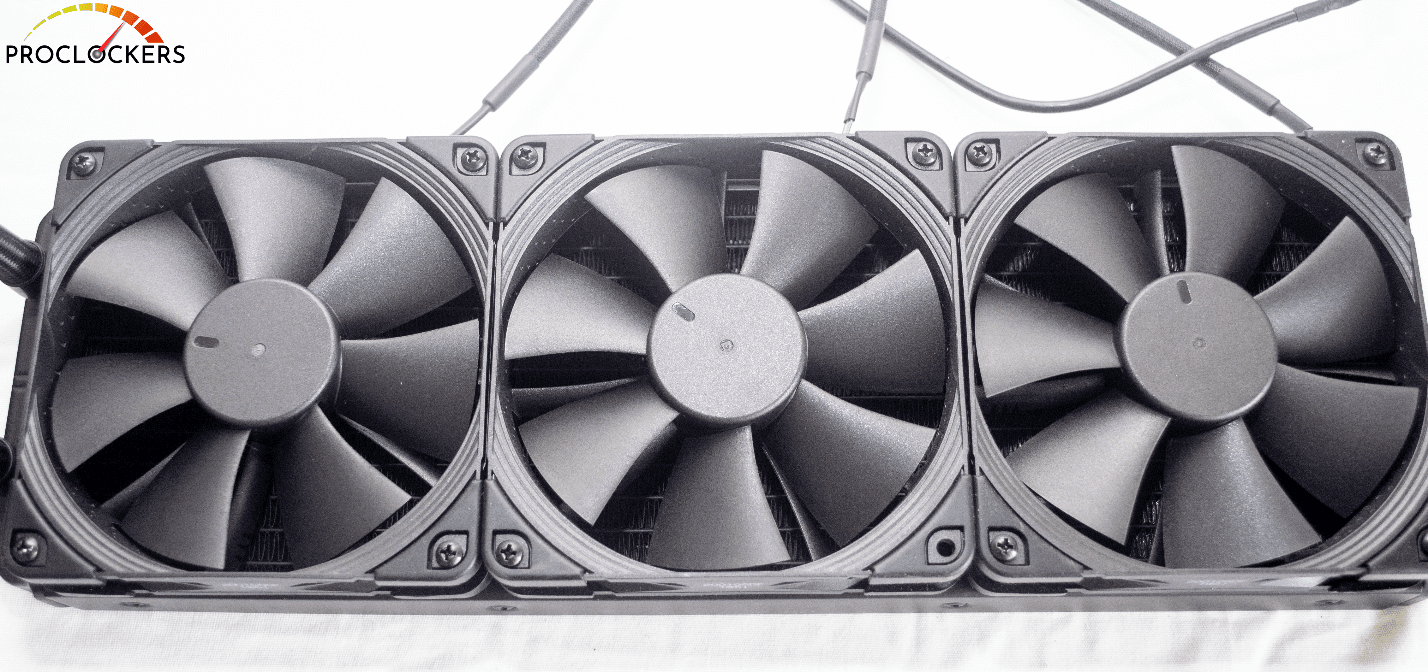 Installing really comes down to screwing the three fans on. Unless you happen to have 3 extra Noctua fans, I recommend placing them in a "push" airflow setup. Taking away any extra heat that would build up. If you have an Intel CPU, the mounting bracket will already come installed on the block. For those that have AMD, a quick switch, and you're set.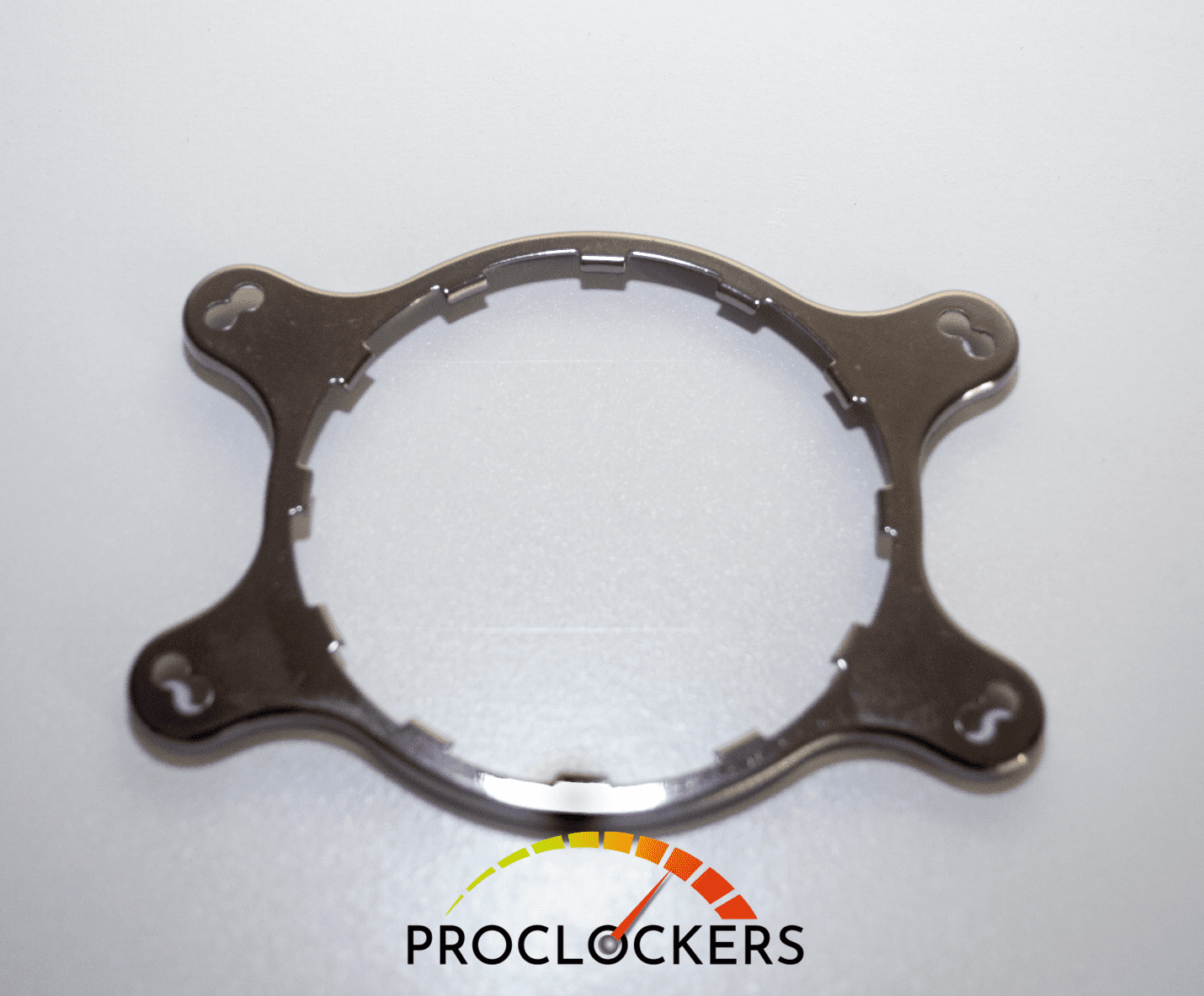 On your motherboard, you'll want to install the backplate and mounting screws.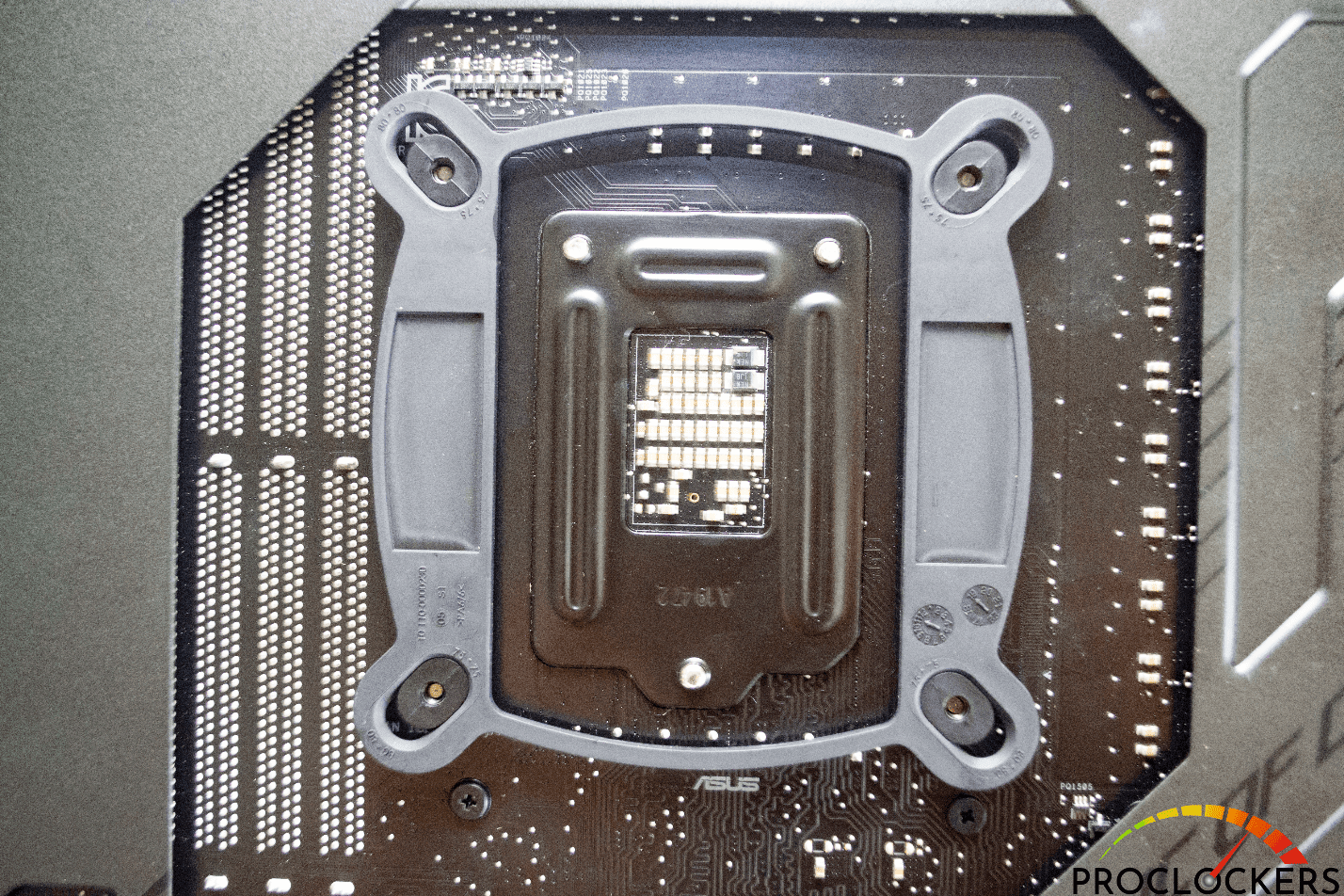 Make sure to pay close attention to which standoff screw you are using, as the Intel 2066 and Intel 115x screws are in the same bag. The main difference between the screw for the 2066 will be that it is significantly shorter on one side than the 115x. For AMD, you're going to want to remove the CPU holder from the motherboard. Then, the easiest step ever: line up the block to the CPU socket, making sure to thread the screws through the designated holes, then 4 thumbscrews followed by a few turns with a screwdriver, and you're set! Drive the screws in until tight, but do not over tighten, as you may break your thread and possibly your CPU!
Next, line the pump cover over the pump and it will snap on. This AIO is designed to be mounted to the top of the case, and the included shorter radiator screws are used here, if you have 3 more fans, then the longer screws work just the same. Once the AIO is installed, connect the 3-1 CPU extension to the CPU fan header and 3 fans. Connect the USB cable to any open motherboard pin port. Then finally, the SATA power cable. Power ON!
If it's anything like mine, you should hear mighty jet noises! It's a loud AIO when it's at full speed. The 10900k likes to run hot, but thanks to the embedded pump fan, I was able to tinker with it to find the perfect sweet spot for idle, heavy apps and overclocking. We'll get into that a little later.
ROG Ryujin 360 AIO Software Setup
If you have Asus Armory crate installed, the Ryujin will automatically be recognized once the driver installs. You can find the Armory Crate download on the ASUS site. Amory Crate is an app that allows you full control over lighting, fan controls, firmware downloads, game library and more.
Make sure to check for a firmware update because Asus is constantly improving their products and, currently at the time of this publishing, is still updating the Ryujin AIOs.
OLED
Up next, we can switch logos on the OLED. Asus offers their own mix of displays where you can monitor and control different stats on your pc, from Temp to Voltage and even water-flow.
You can customize them into a slideshow, displaying 5 different stats to fulfill your information needs.
Want something ROG but with a custom logo? Select Custom Banner, and you can type a message in. You can also add your own animation to the mix.
Lighting
Even though the Ryujin has a single tiny RGB strip, it's mighty bright and can even be seen during the daytime. The Ryujin comes with 6 separate effects, and AURA effects allow you to have 4 more effects on top of that. If you're feeling creative, you can use the Aura Creator and become light-room DJ, creating a different mix of effects into a cool lightshow.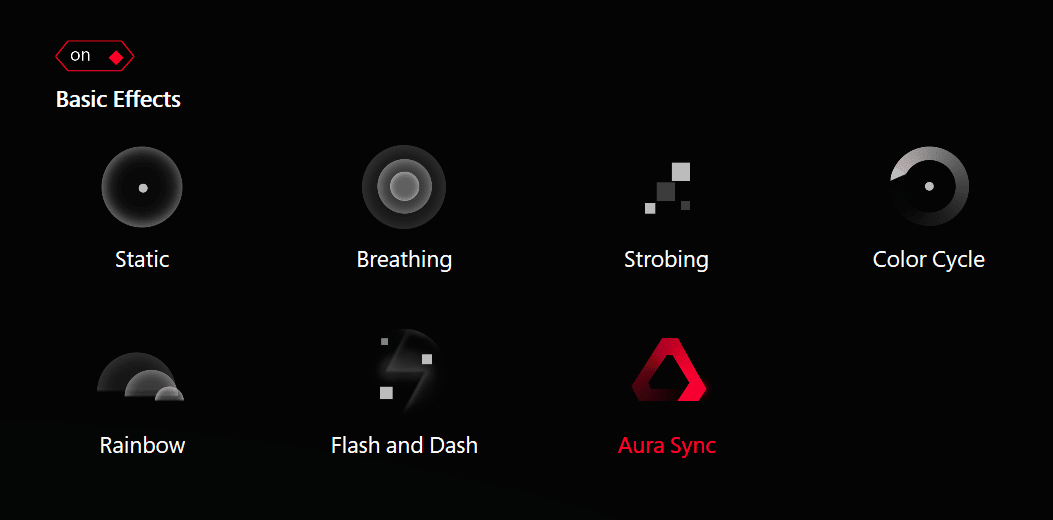 ROG Ryujin 360 AIO Testing and Fan Control
The Fans that come with the Ryujin are top-of-the-line Noctua NF-F12 2000RPMs PWM fans. These fans have countless awards for their performance and reliability.
These fans use a "Focused Flow" frame, which allows for straightening channels and focusing the airflow using various distances between the fan's stator guide vanes (more vanes generally equals better airflow through the fan). Noctua has gone an extra step by using the guides to create pressure pulses with the fan blades. This keeps overall fan noise down. If you'd like to know more about Noctuas NF-F12 Fans they have a whole page dedicated to information.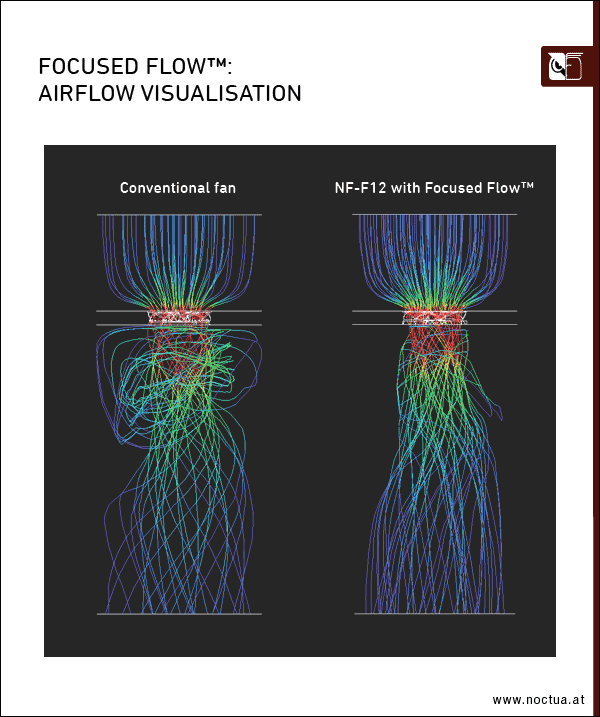 The Ryujin has 4 different fans pre-sets: Silent, standard, turbo, and full speed. What's extremely special about this AIO, is the embedded 60mm fan above the pump housing.
Silent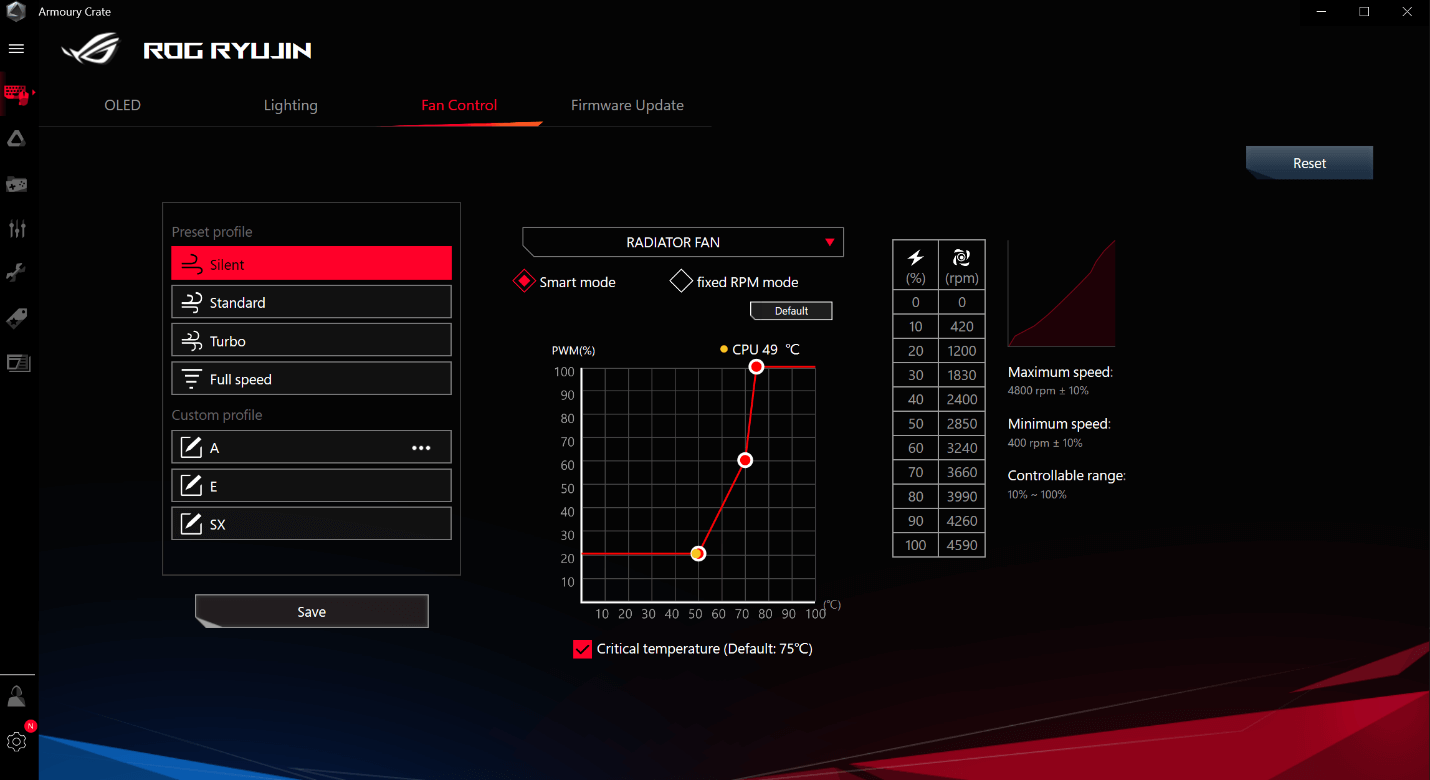 Standard
Turbo
Full Speed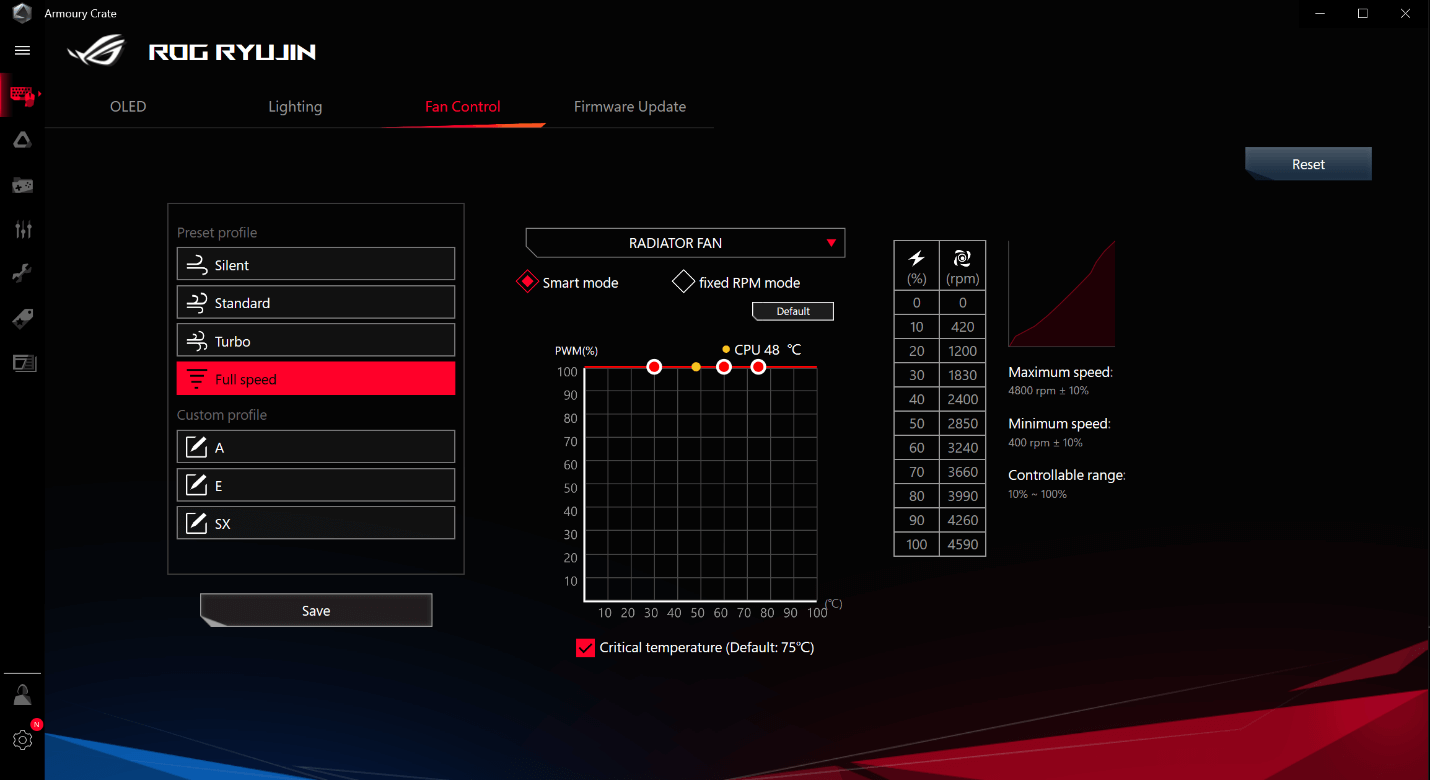 Custom Setting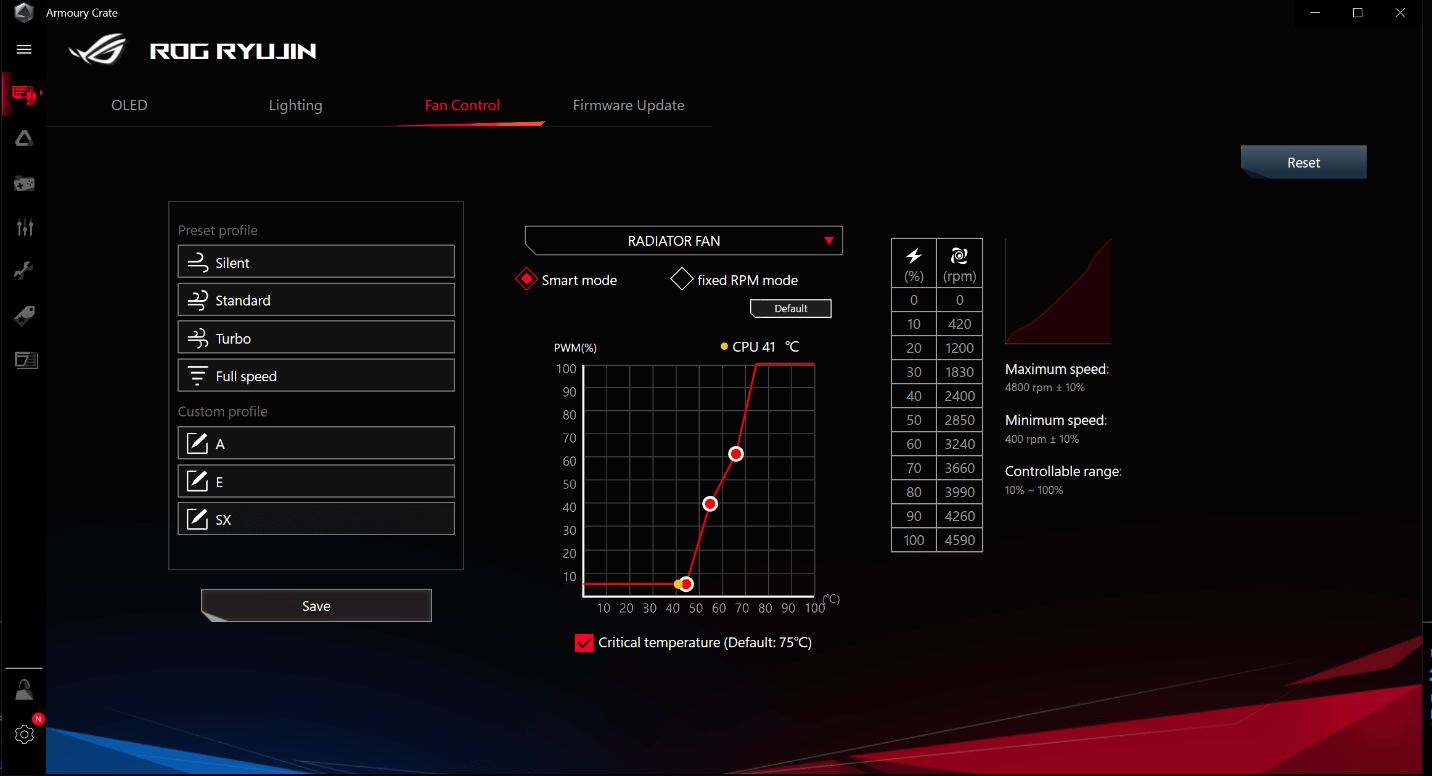 This fan acts as a lightweight VRM, M.2, and surrounding components, helping with stability and performance. Controlling these fans is simple. With these fans, you have the ability to change the radiator fan speed separate from the embedded fan speed. Smart mode will automatically adjust fan RPMs according to CPU temps. If you happen to have ASUS suite, this could be changed to monitor other temperatures, but CPU is the most important. Fixed Mode will allow your fans to run at a constant speed regardless of temperatures. Customizing the fans to have different settings for each fan simply requires creating your fan profile. Once set, the radiator fan and embedded fan can work independently of each other. Customizing your fan profile to perfect silence for when you are surfing or media watching, or Full Performance Cooling Turbo mode for those intense APPs that demand more power from your CPU, thus requiring more cooling power.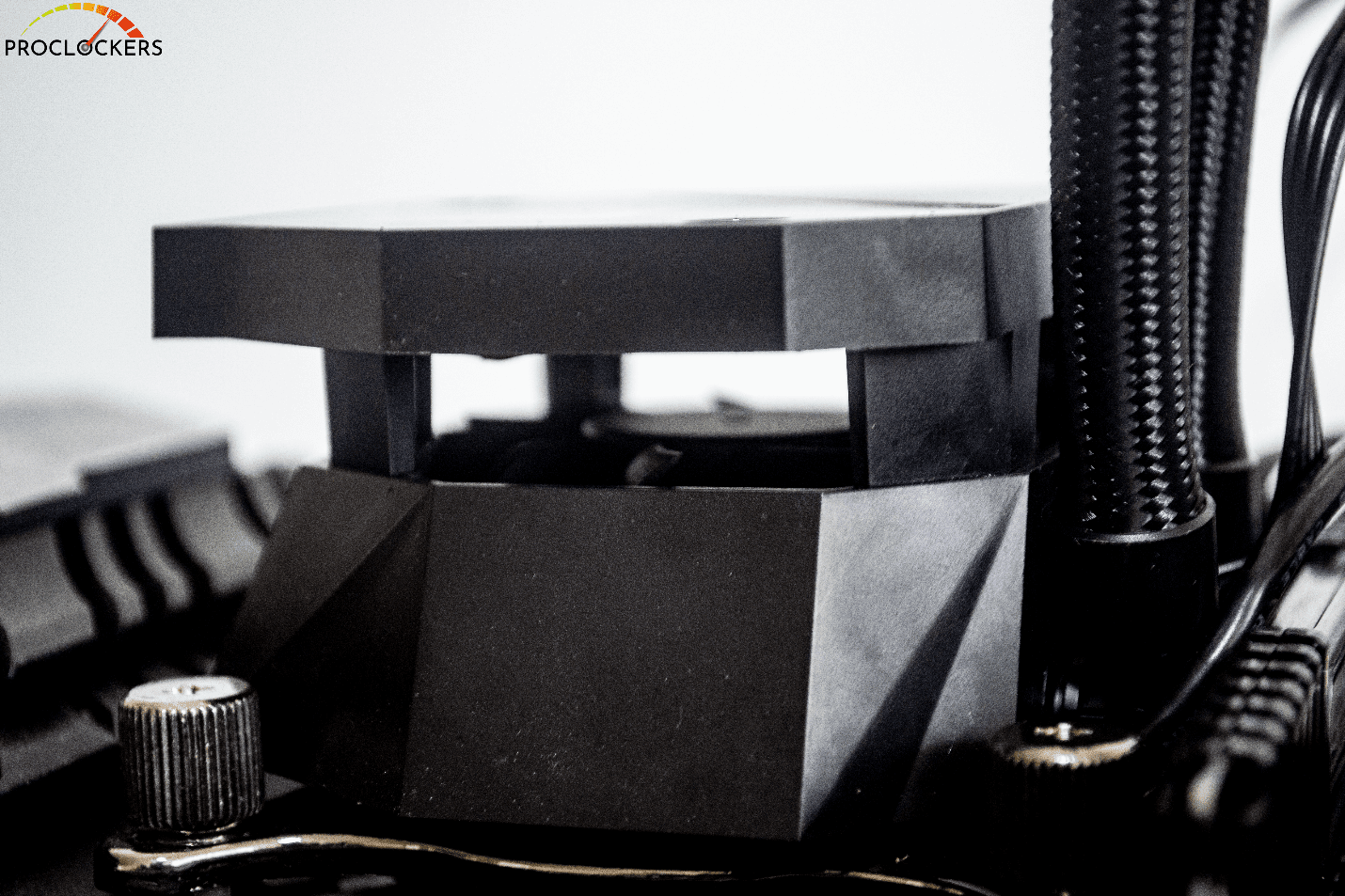 I found the perfect mix of silence and performance through testing different APPs and games and have found I able to keep peak performance while having ZERO fan movement from the radiator and only 600RPM from the embedded at 50C! At 600RPM, I've found that there is enough airflow to move the air around the CPU socket, keeping it at a very modest temp. This is great for when I want to watch movies as the noise is so low, I hear my monitor fan over my system. When gaming, I found at 50% speed, both the Embedded and Radiator fans keep the CPU at a cool 57-62C. Below, we will get into some testing with the pre-sets as well as figuring out just how loud the overall AIO is.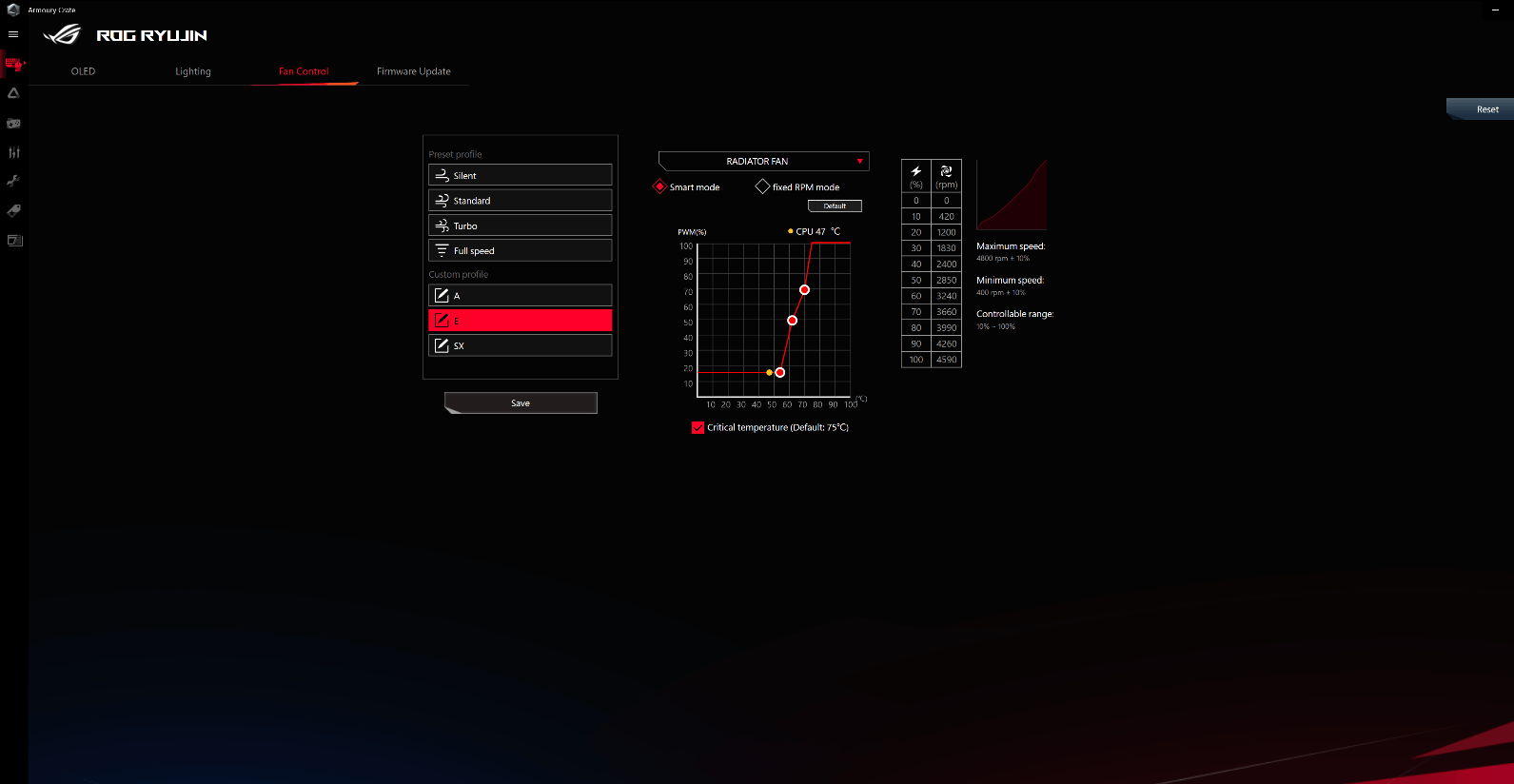 Our testing system, is an Asus ROG Maximus XII Extreme, Intel i9-10900k, 16GB Corsair 3200Mhz Ram, RTX 2080Ti, 1TB M.2, 4k 144Hz Monitor.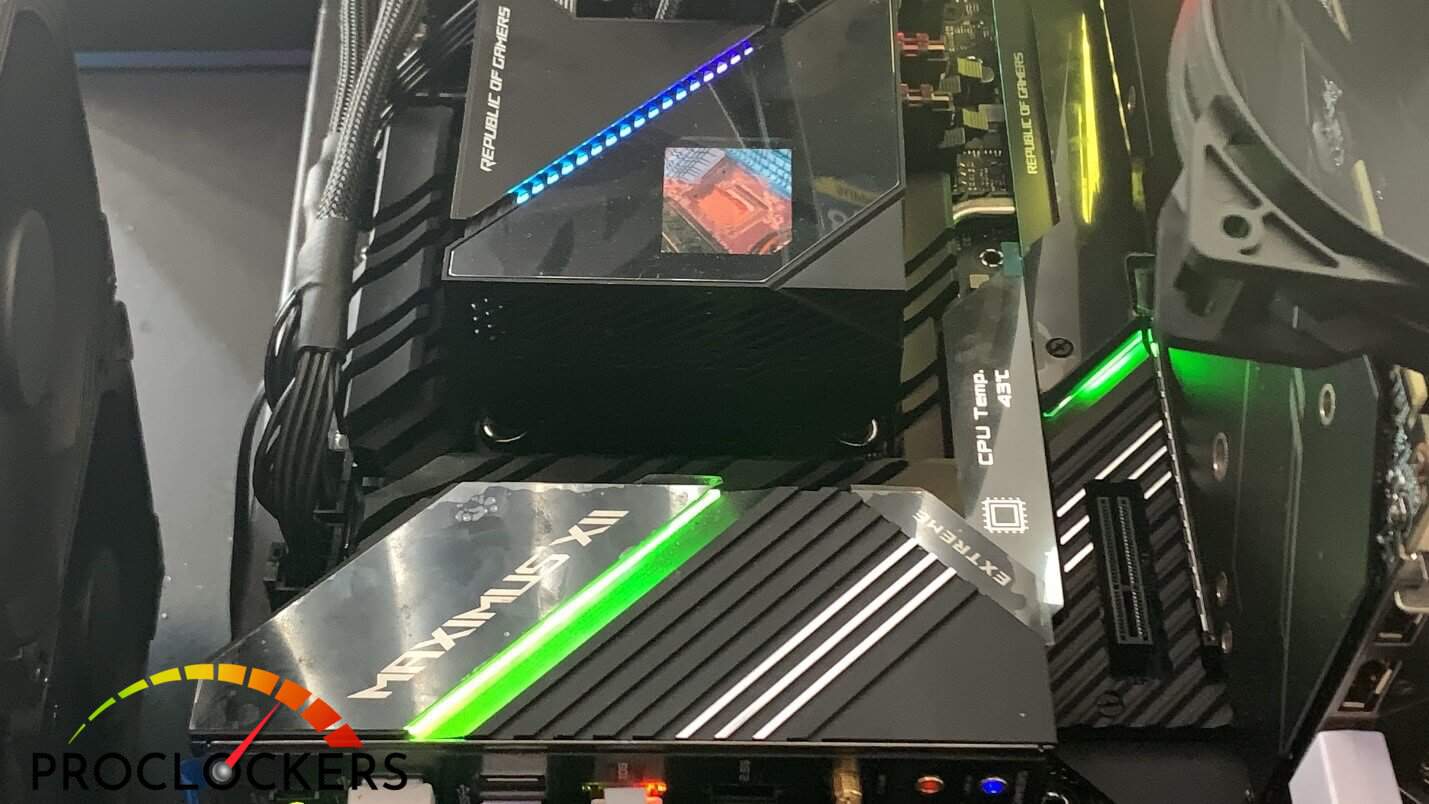 For testing, we'll be taking temps from the idle, load, and overclocking and we will compare them to our water-cooled rig, which consists of the exact same setup of just a custom water loop and Ek Water block. For our temp readouts, I'll be using Intels' Extreme Tuning Utility and HWMonitor. I've found that the two applications give me an accurate readout of temps as well XTU giving me the ability to monitor details such as thermal throttling and package TDP.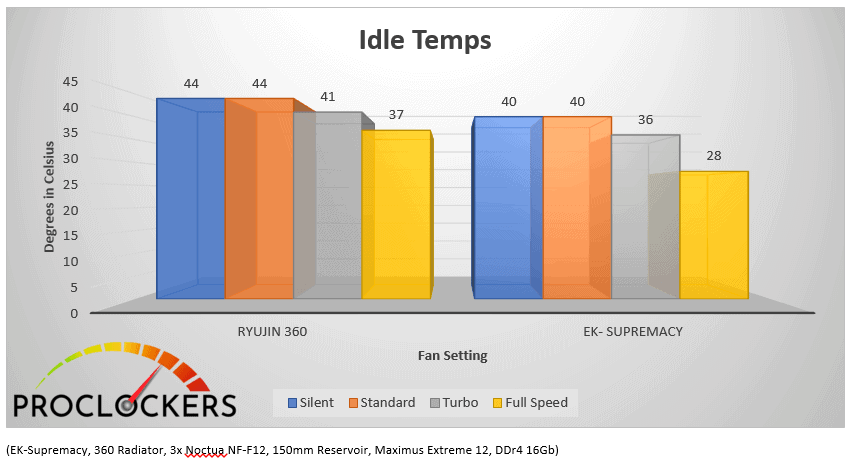 (EK-Supremacy, 360 Radiator, 3x Noctua NF-F12, 150mm Reservoir, Maximus Extreme 12, DDr4 16Gb).
Idle temps stayed in the sweet spot for the Ryujin, dipping into the high 30s at full speed. This could be used in a benchmarking test to get the CPU as cool as possible before starting the test to increase the startup score. In many cases, the fan never moved, even while having a video play for a set time. This is also customizable in the Armory Crate as well.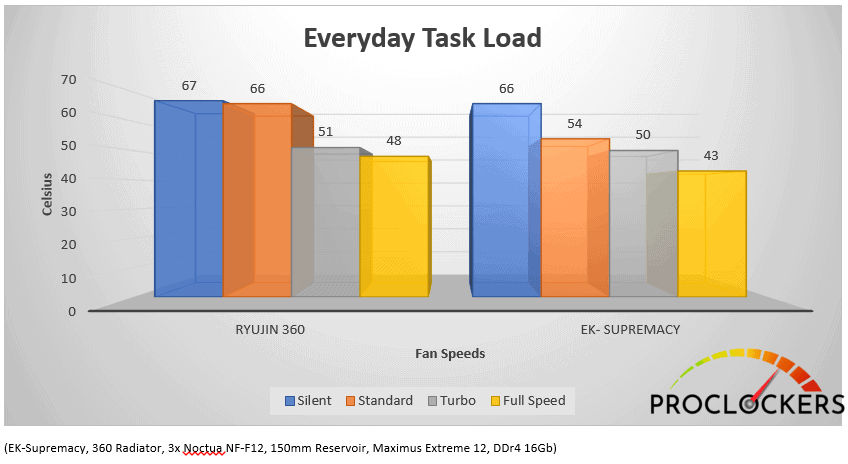 (EK-Supremacy, 360 Radiator, 3x Noctua NF-F12, 150mm Reservoir, Maximus Extreme 12, DDr4 16Gb)
Everyday tasks such as web browsing, running multiple apps, and gaming didn't make the 360 budge. Even games such as Call of Duty: Warzone only saw temps reach the mid-60s. Fan noise at each will be considered silent if you have the right case. An enclosed case may be able to dampen sound enough for settings like Turbo to become inaudible.
Overclocking the Ryujin 360 AIO
Even though this isn't a custom loop, with big-time reservoirs and a custom mild block, you'll still be able to overclock your CPU; just mind the jet noises. I did a control test on CinabenchR20 hitting a score of 6107, which was higher than the previous testing.
Using Xtreme Tuning Utility, we achieved 5.1GHz, which created some work for the Ryujin. Here we saw temps max out at 84C, and we received a cinabenchR20 score of 6219. Not too bad. Attempting to run all cores at 5.2Ghz gave me some problems, however. Mainly, it won't run at 5.2Ghz. It gets about halfway through Cinabench when temps begin to reach 100C, effectively thermal throttling my CPU and pulling 250+ Watts from the PSU, which forces Intel's Watchdog to restart my system. Further testing stayed true, 5.2GHz was just too hot. Although, we did have this same problem with even my custom water-cooled setup. Even with a thicker radiator, we had trouble hitting the magic 5.3Ghz mark. Keep in mind this is a 3-year-old AIO. I'm sure Asus will update to accommodate future heat-space CPUs down the road.
Concluding Thoughts on the Ryujin 360 AIO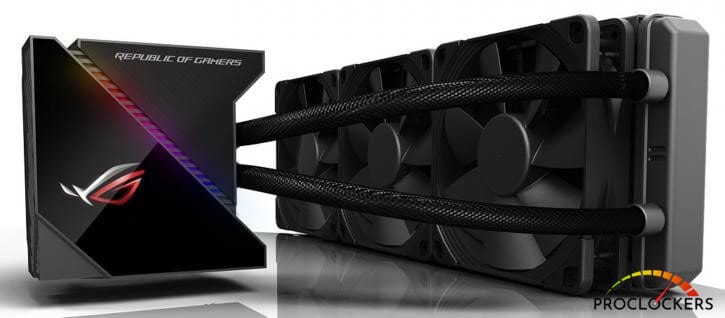 Three years later, this AIO still holds true. ASUS really has created and continues to create quality products. Although, I'm sure it's inevitable that in the years to come, this AIO will be considered "old-school" as the next generation of Intel CPUs are introduced. I personally have come to enjoy this AIO very much. Customizing the logos adds a fun way of showing off the PC, and there is just enough RGB to keep any user happy.

A thicker radiator would definitely make this AIO come to life (hint, hint ASUS). But for the slim size, it still effectively makes your CPU cooler, and even those that don't plan to overclock to the extreme can enjoy this AIO in the current generation.

Software integration is smooth, and it was easy to install and set up my fan curves. Even getting the GIF to show up took only a few seconds. Even though I did experience issues with temperature readings and flow charts showing up, I believe that was a bug with ASUS suite and Armory Crate reporting to different platforms.

The price on this bad boy is a little steep at $311.44, being that it's already 3 years old. However, it is an ASUS product which holds its quality and value. My only hope is that ASUS keeps this line going with future updates to size and features.

<![CDATA[ */ var zbjs = {"ajaxurl":"https:\/\/gaminggorilla.com\/wp-admin\/admin-ajax.php","md5":"d8e8b24d2fa18d2999e0fddcdd418586","tags":[],"categories":["Hardware"]}; /* ]]>