Corsair Hydro H150i PRO RGB 360mm Liquid Cooler Review
Introduction
Corsair entered the liquid cooling world with the HydroCool kit clear back in 2002, but their first 'AiO' or All-in-One liquid cooler was the Hydro H50 in 2009. Since then, the Hydro series coolers have gained in popularity with the DIY computer community as a simple way to just 'bolt-on' quiet, high-performance cooling without the hassles and headaches of piecing together a custom loop. With the explosion of high-powered and high core count CPU's last year, Corsair decided it was high time for some updates. Featuring their first 360mm radiator, Magnetic Levitation high-performance fans, and a new Zero RPM mode, the Hydro H150i PRO is ready to cool tomorrow systems today.
Of course, Corsair Link software lets you monitor and adjust pump speed, as well as individual fan speeds. The RGB accent lighting on the block can be changed from the default rainbow cycle to colors and patterns of your choice or even turned off completely if RGB isn't your thing. Corsair's ML series magnetic levitation PWM fans offer a wide RPM control range with high airflow up to 47.3 CFM and high static pressure up to 1.78 mmH20 for silent operation to hurricane force cooling and everything in between. Compatible will all recent Intel sockets including all variants of the 115X and 20XX, All AMD AM and FM sockets, and Corsair assures us AMD's TR4 platform support is coming soon to round out the compatibility list.
Pro Clockers would like to thank Corsair for sending the Hydro Series H150i PRO RGB Liquid cooler over to check out!
Corsair's take on the Hydro H150i Cooler:
BE SEEN, NOT HEARD
The CORSAIR Hydro Series H150i PRO is an all-in-one RGB liquid CPU cooler with a 360mm radiator built for low-noise cooling and bold styling with an RGB LED pump head.
Features & Specifications
Package contents
Hydro Series H150i PRO RGB 360mm Liquid CPU Cooler
Mounting kit for most modern CPU sockets
Three ML-Series PWM 120mm high-performance fans
USB cable for Corsair LINK™ Integration
Thermal compound (pre-applied)
Quick Start Guide
Compatibility
Intel LGA 1150, 1151, 1155, 1156, 1366, 2011, 2011-3 and 2066
AMD AM2, AM3, AM4, FM1, and FM2
AMD TR4 Platform support – coming soon
Technical Specifications
Coldplate material: Copper
Tubing material: Low permeation with black sleeving
Radiator Material: Aluminum
Radiator dimensions: 396mm x 120mm x 27mm
Fans included: 3x ML-Series 120mm PWM Fans
Fan max speed: 1600 RPM
Fan airflow: 47.3 CFM
Fan static pressure: 1.78 mm-H2O
Fan noise level: 25 dB(A)
Warranty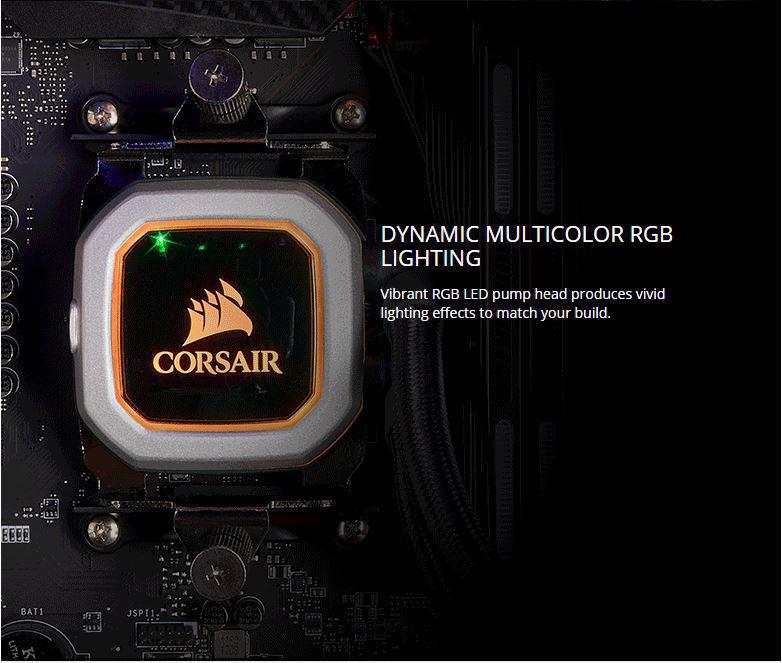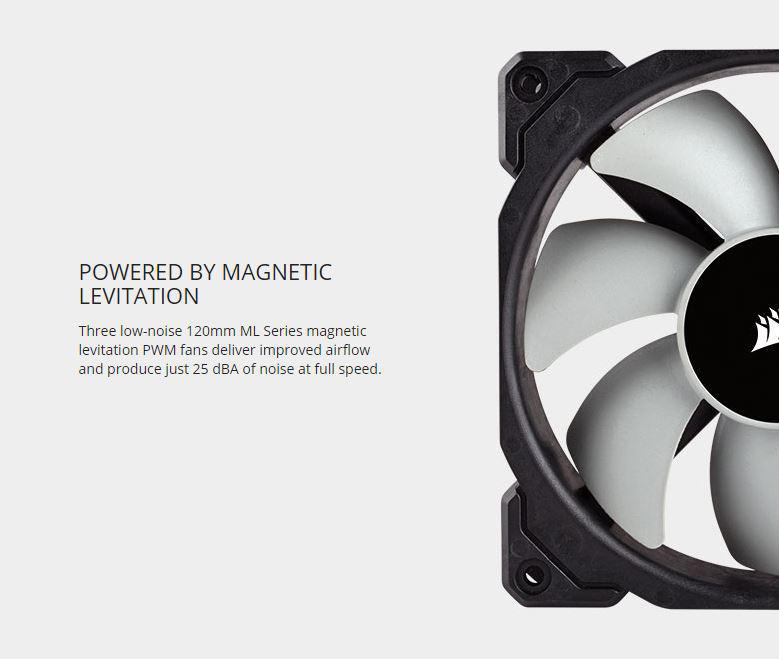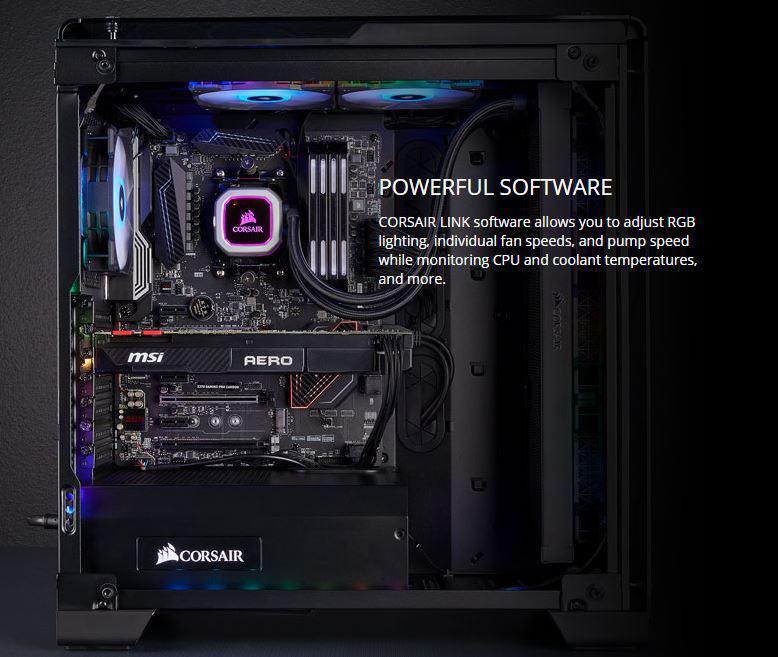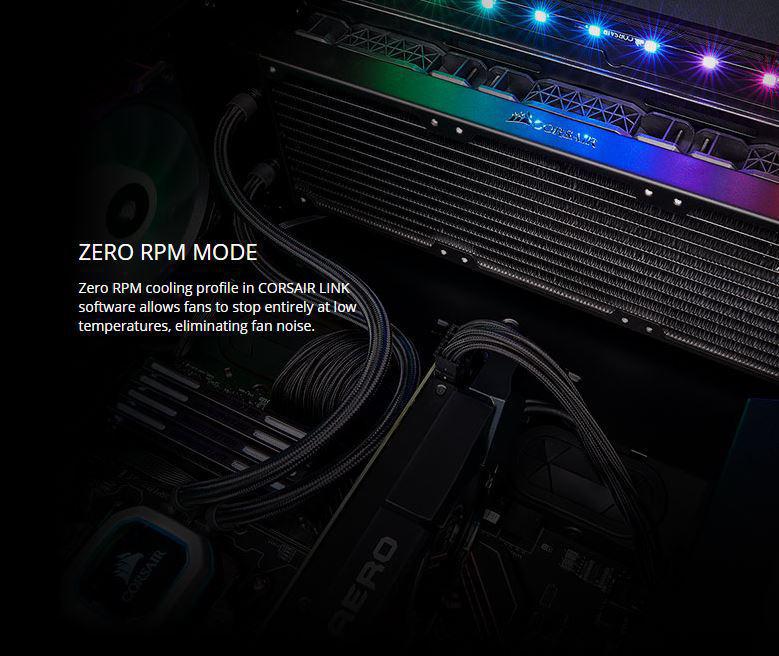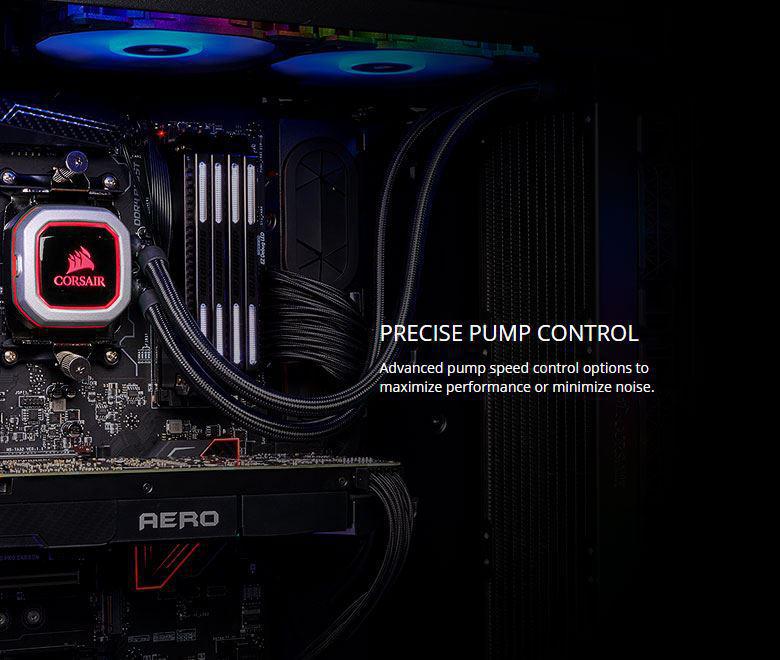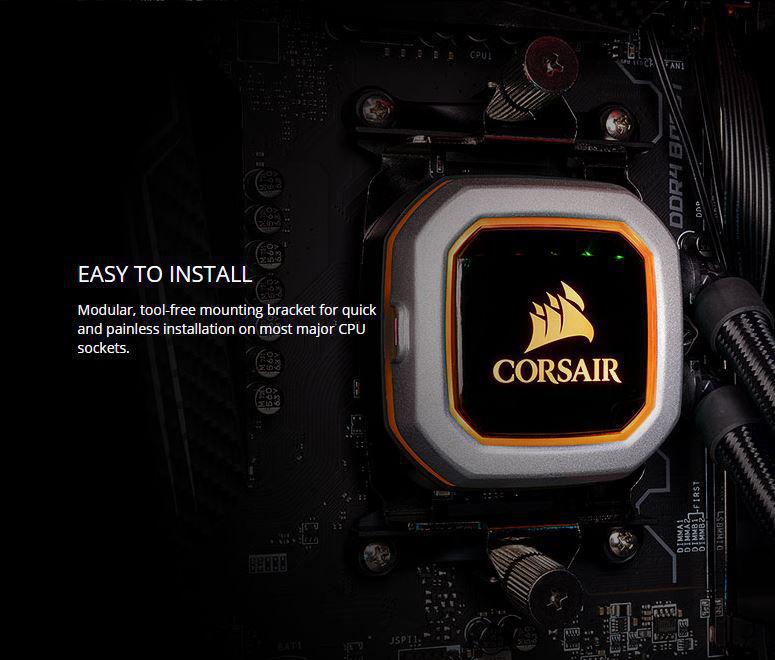 Packaging & Unboxing

Corsair's H150i PRO RGB comes in Corsair's traditional black box trimmed with yellow on the edges. The font has a full-color picture of the cooler inside, as well as some basic features listed in the lower left corner.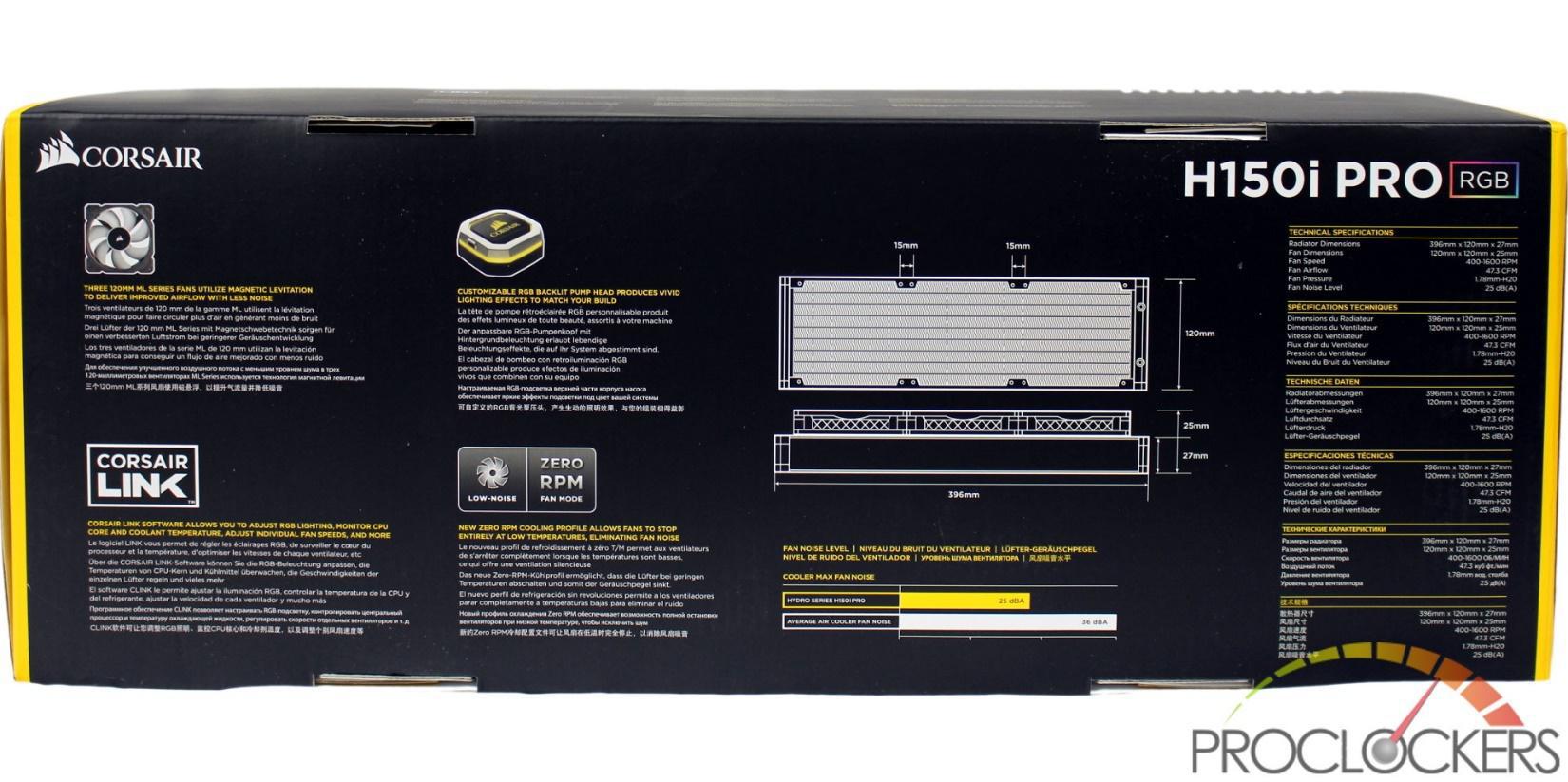 The Rear of the box is full of helpful items like a dimensional drawing of the rad, to see if it will fit in your case and specifications in a few languages. The left half holds more information about the Mag-Lev fans, the pump assembly, Corsair Link and the new Zero RPM Mode.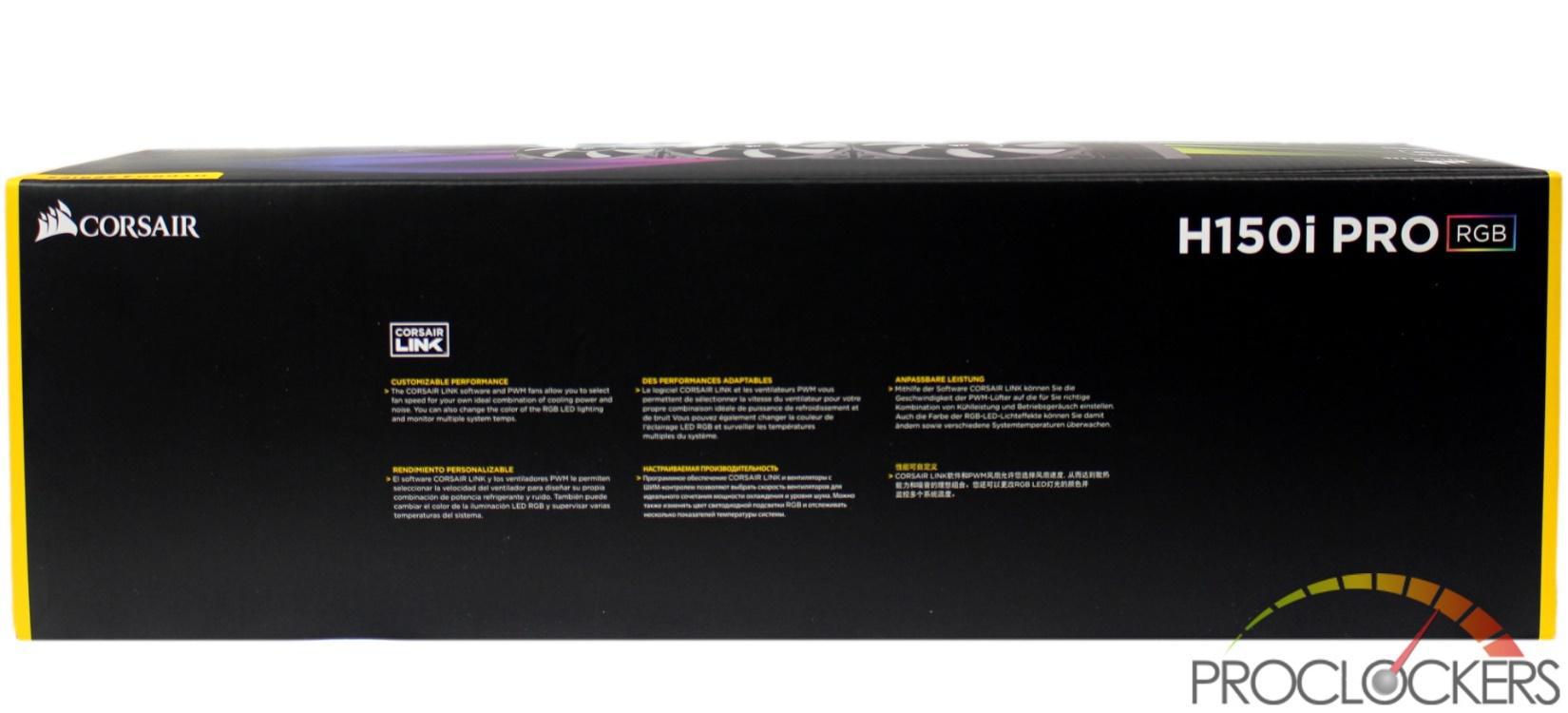 The top of the box is pretty boring, you only get a short blurb about Corsair Link in 6 languages.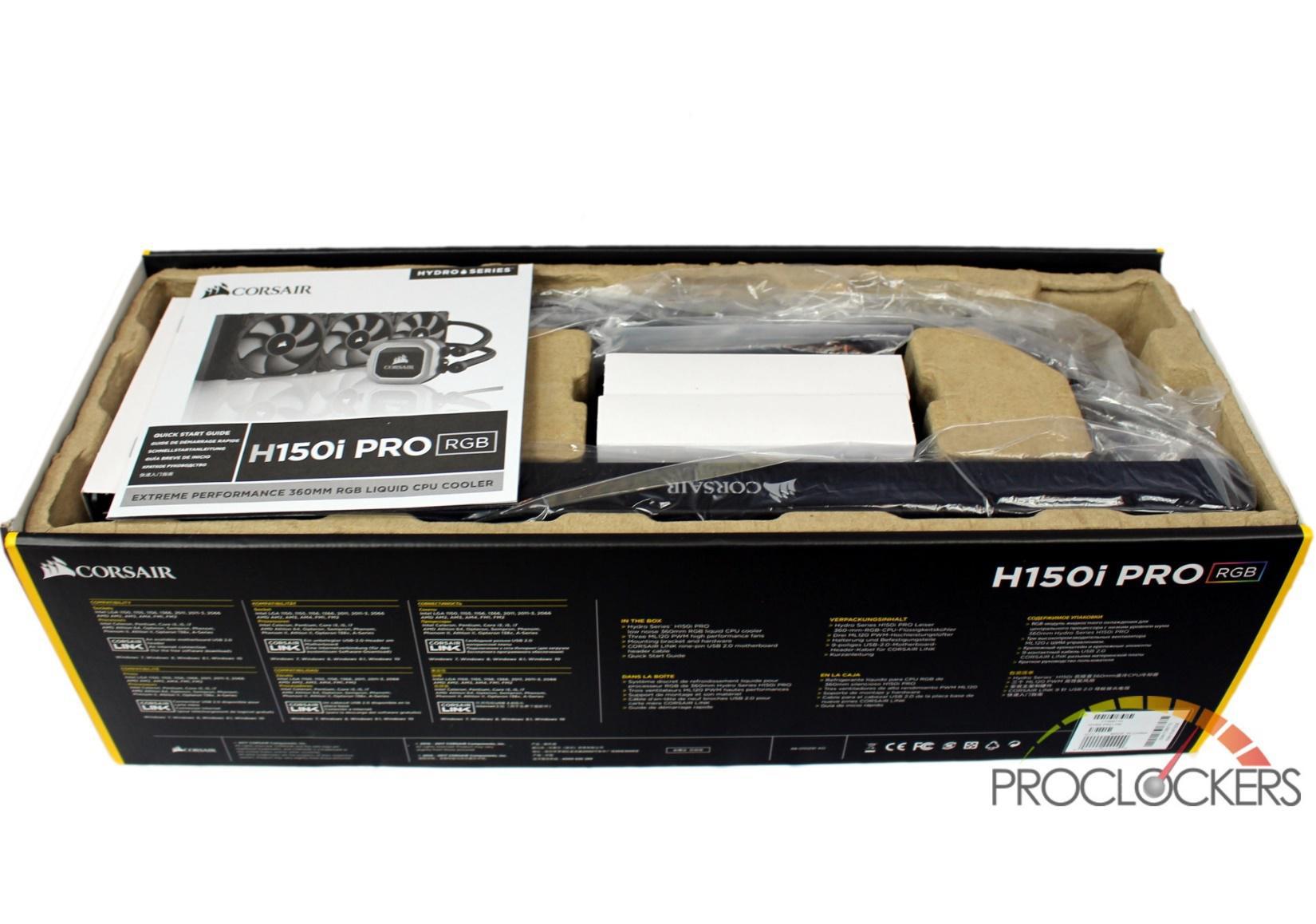 Opening the box up we are greeted with Corsair's normal AiO packaging with the rad held firm on one side, the accessories and hardware in the middle, and the pump on one end so that the hoses sweep up gracefully. The trio of fans is all individually packaged in plain white boxes in the free space.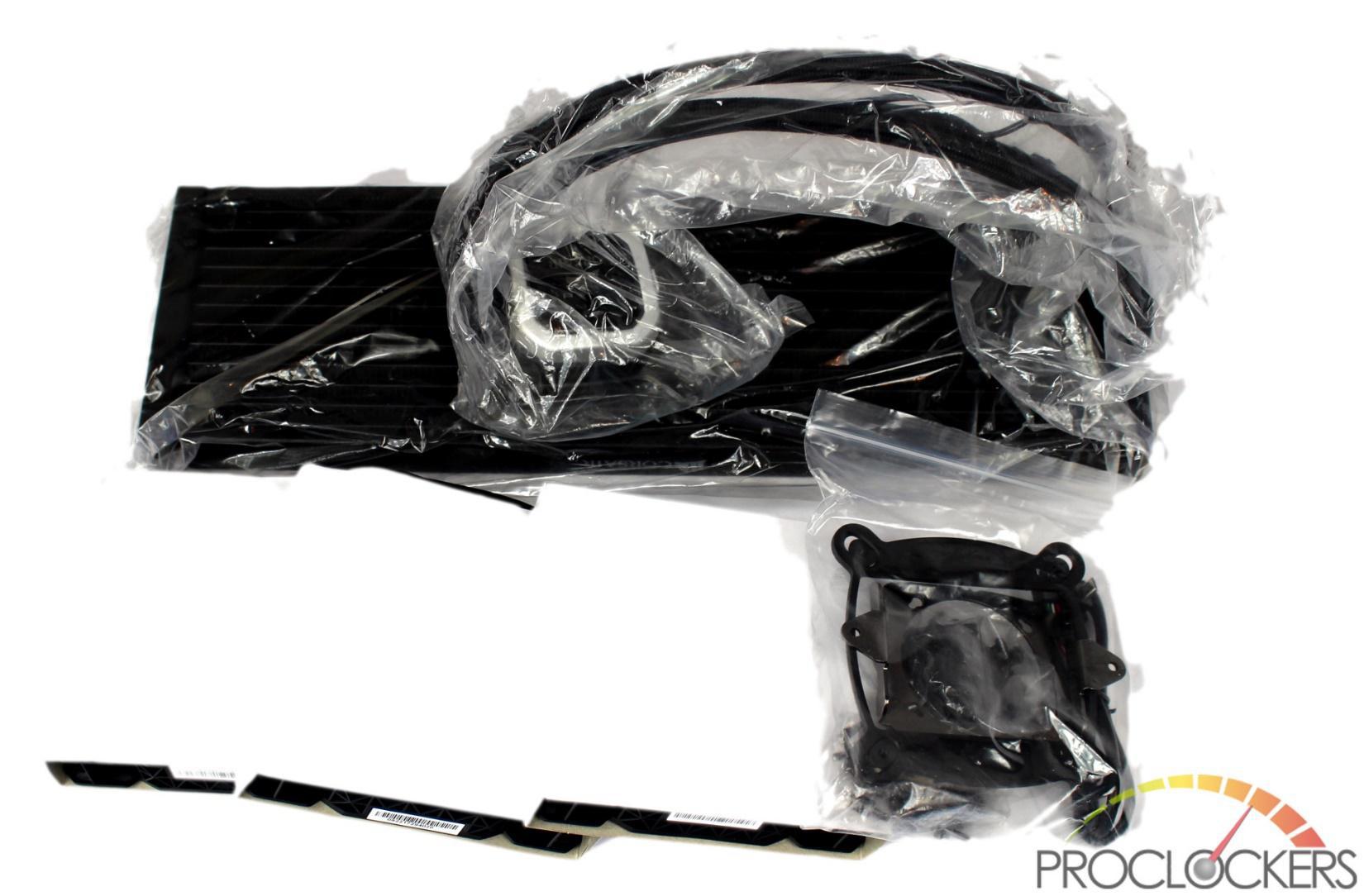 Every part of the cooler is wrapped in clear plastic to protect it except the manual and the fans in their white sleeves.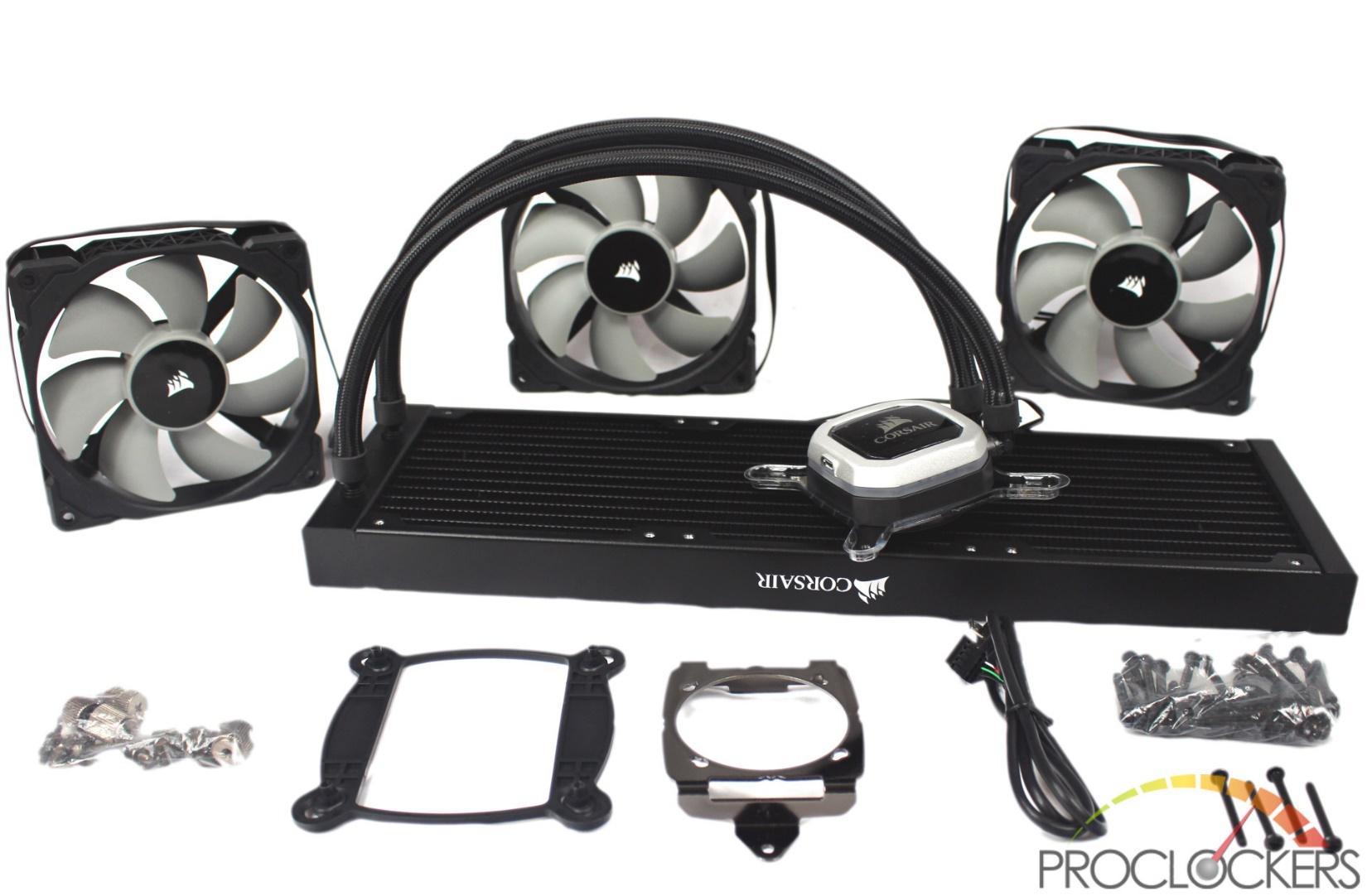 Inside the hardware bag, you get a newly redesigned AMD bracket, the usual Intel universal backplane, and the mounting posts for different sockets, the thumbscrews, and the AMD mounting screws. The Corsair Link USB cable is here, this time with a Micro-USB connector rather than the long-running Mini, a dozen short screws for mounting the rad directly to a case, and interestingly, 2 dozen long screws. Not only can you mount the 3 included fans to the radiator, but you can also mount the radiator over your own existing fans if you wish to do a push/pull configuration for ultimate performance. This is only a few cents worth of hardware, but it makes a big difference to the end user not having to try to find more screws the right length if you already have a few more fans. Also included are a pile of washers so your screws don't fall through over-sized slots or holes in your case.
A Closer Look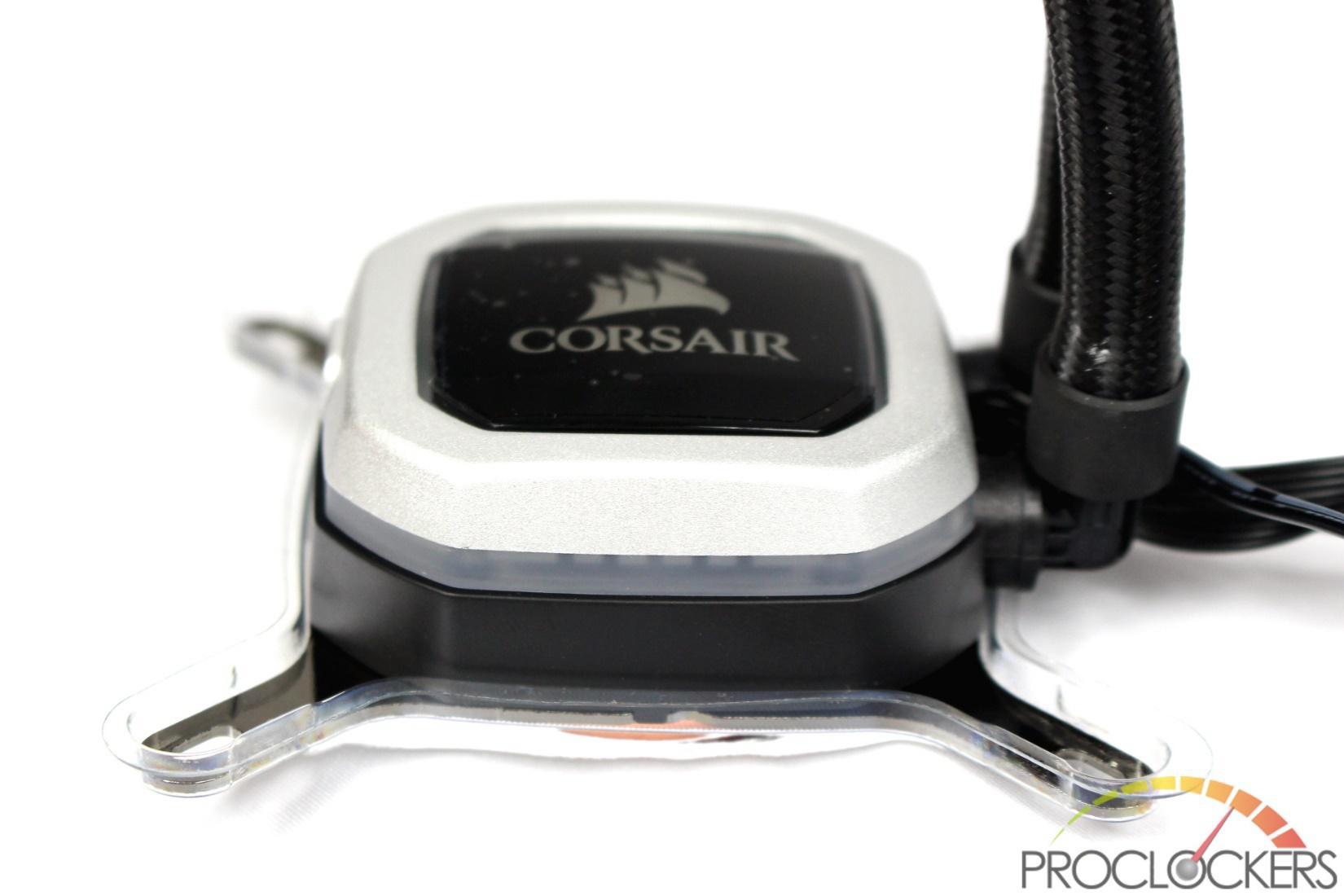 The top of the pump assembly is a large piece of glossy plastic with the Corsair Logo right in the center.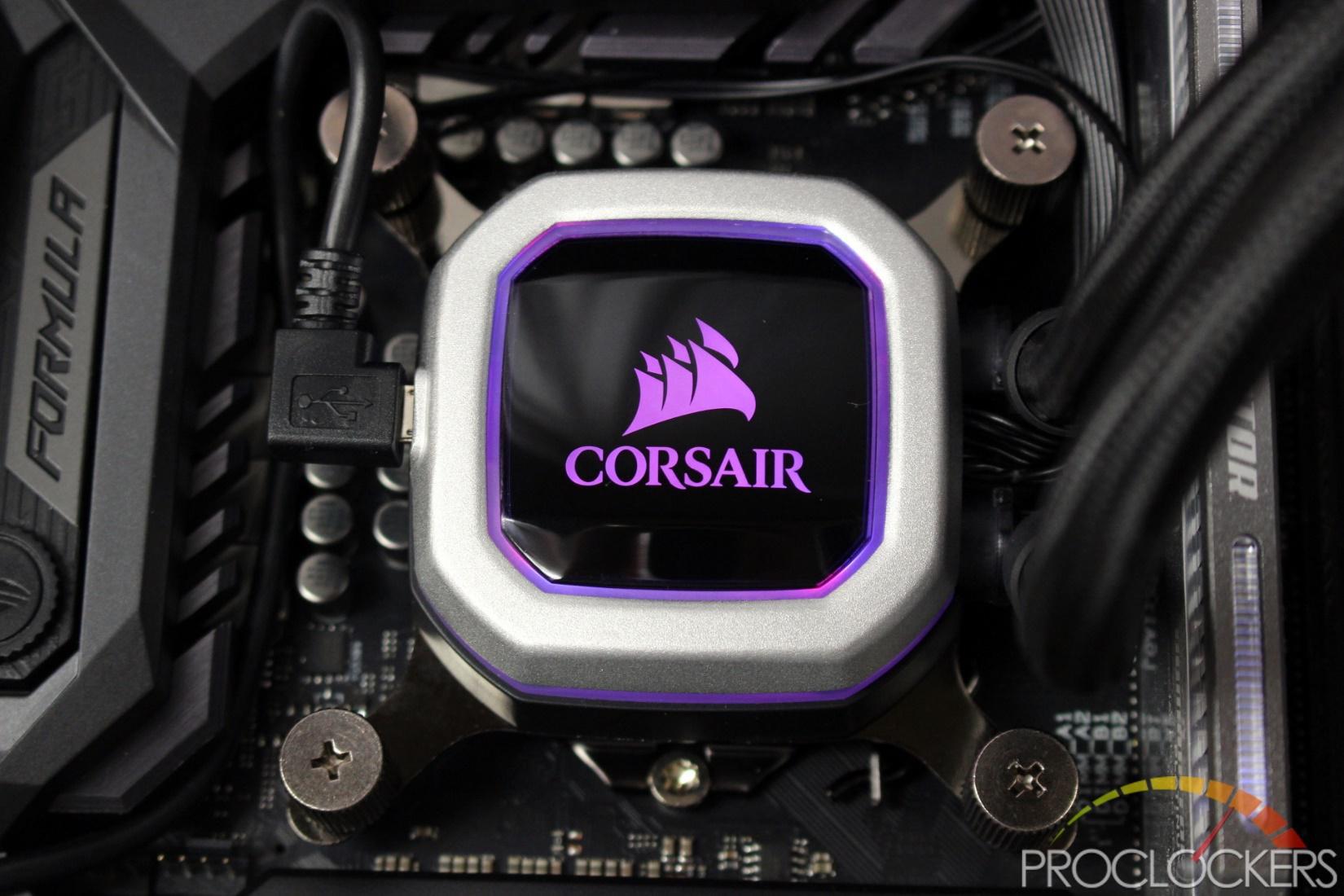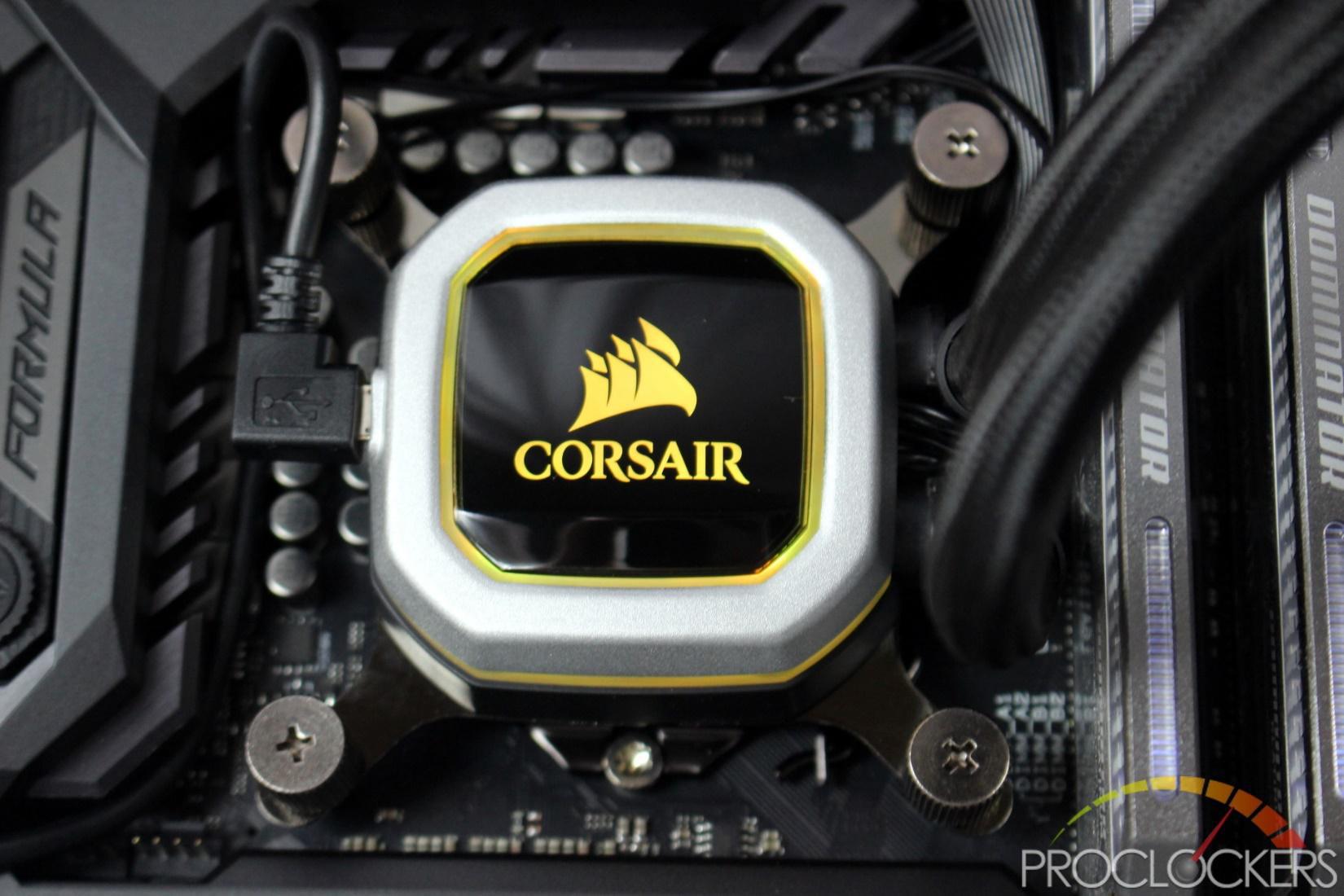 The logo itself and the edge between the black and silver parts light up, as does the outer edge of the silver ring and the black body of the pump.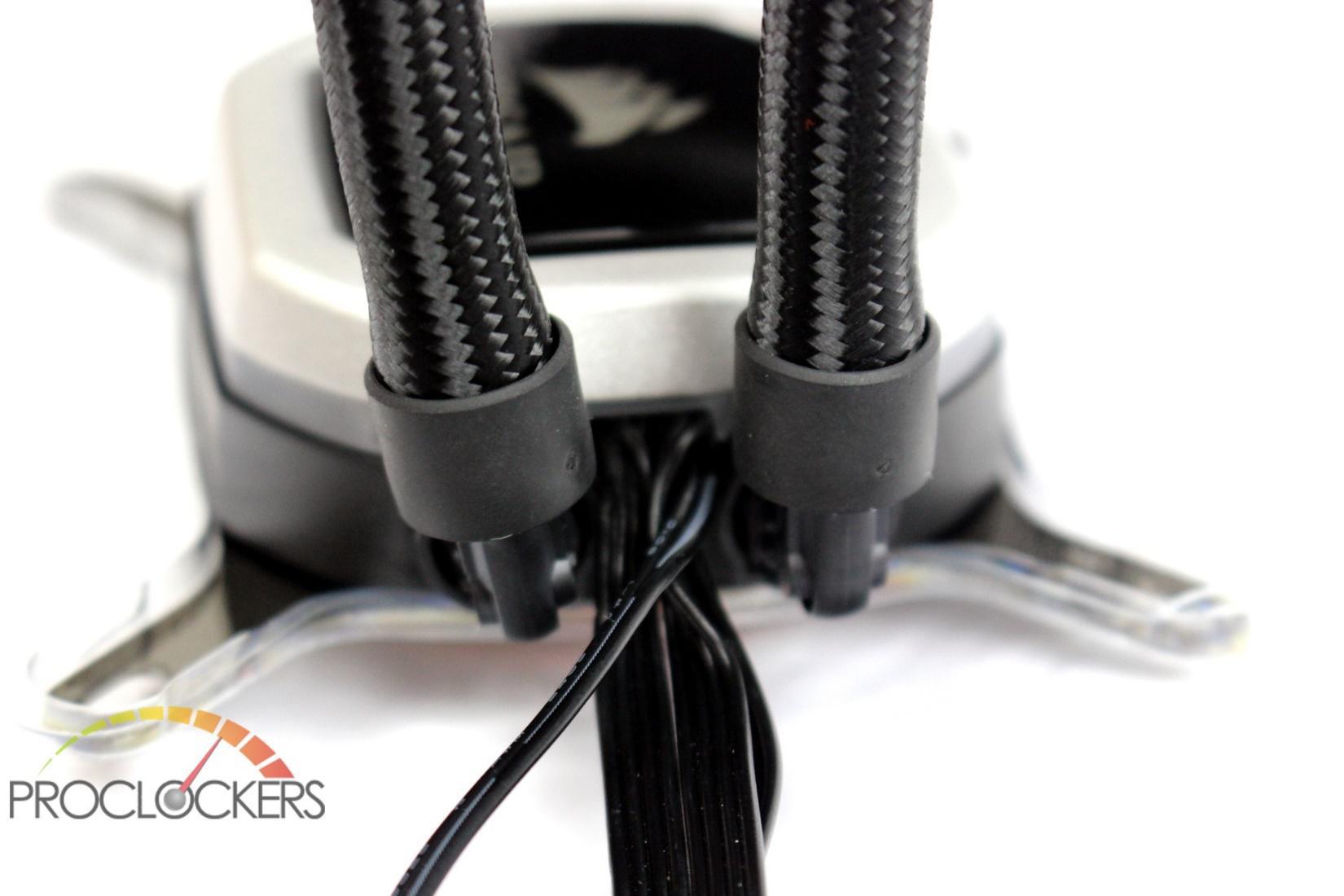 The tubing connects with rotary right-angle connections on what could be called the right side of the block, and the main wiring comes out between the tubes to make it fairly easy to hide.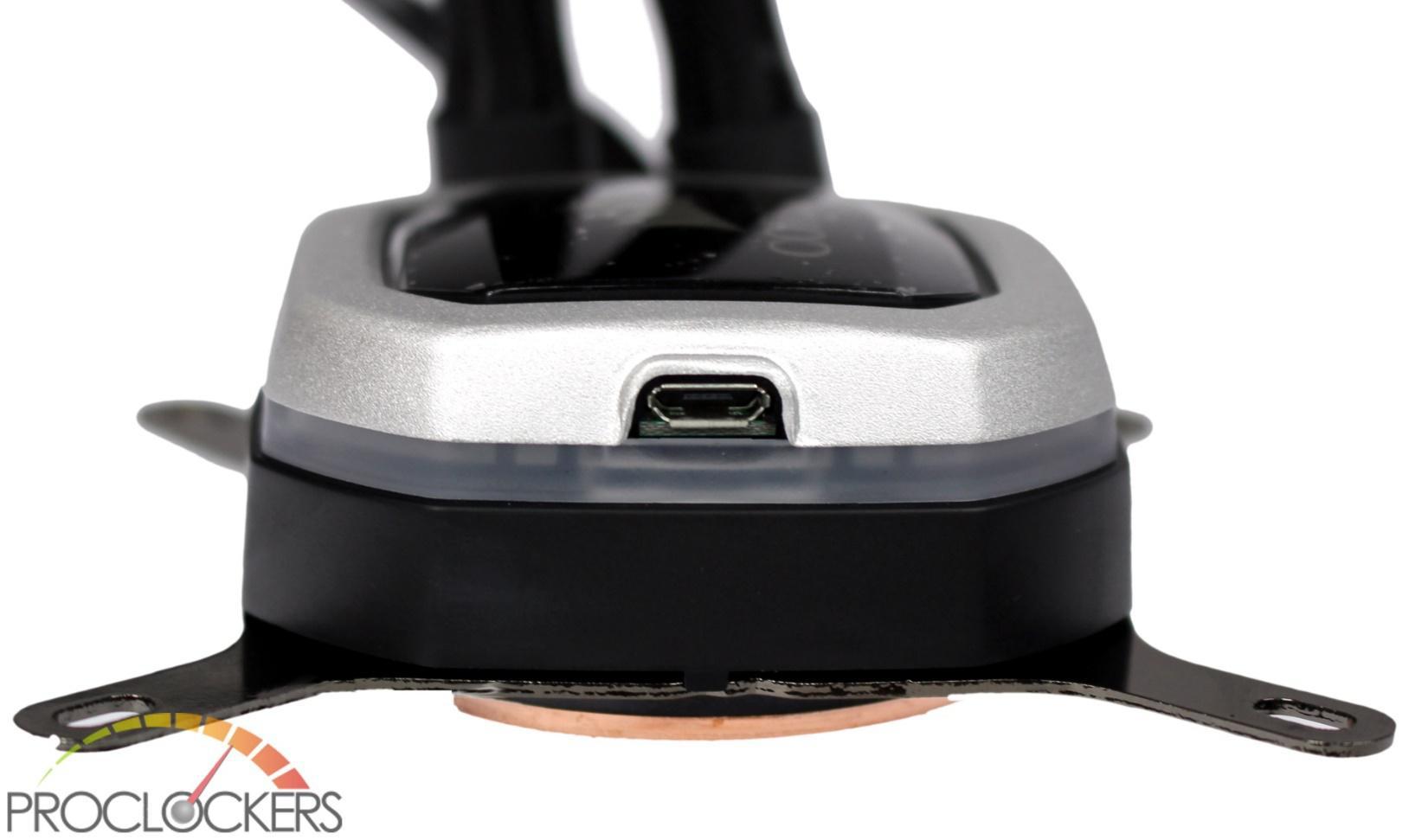 The Corsair Link USB port is on the left side and uses a Micro-USB plug.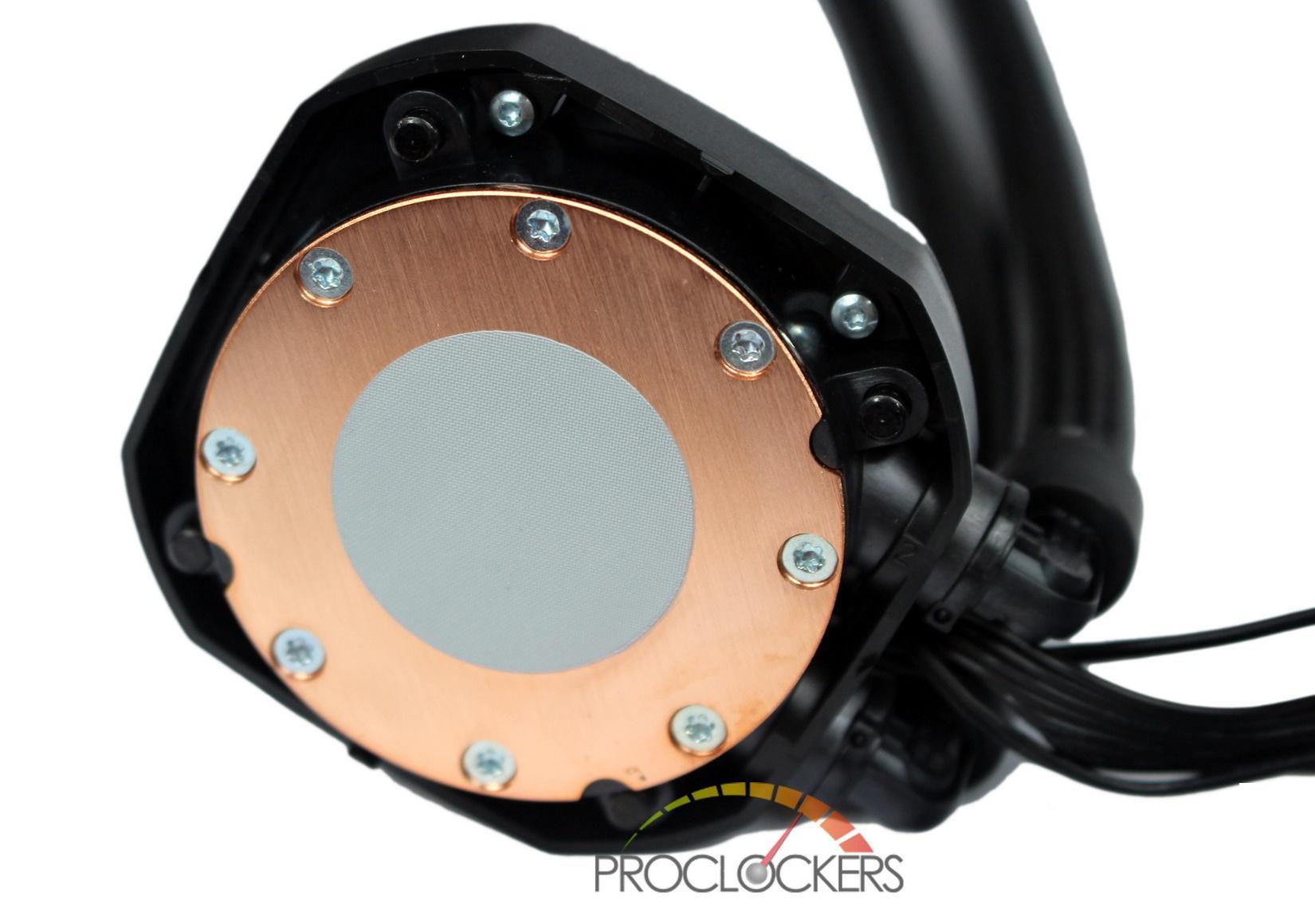 Despite the squarish appearance of the pump assembly, the actual cold plate is circular with pre-applied thermal paste.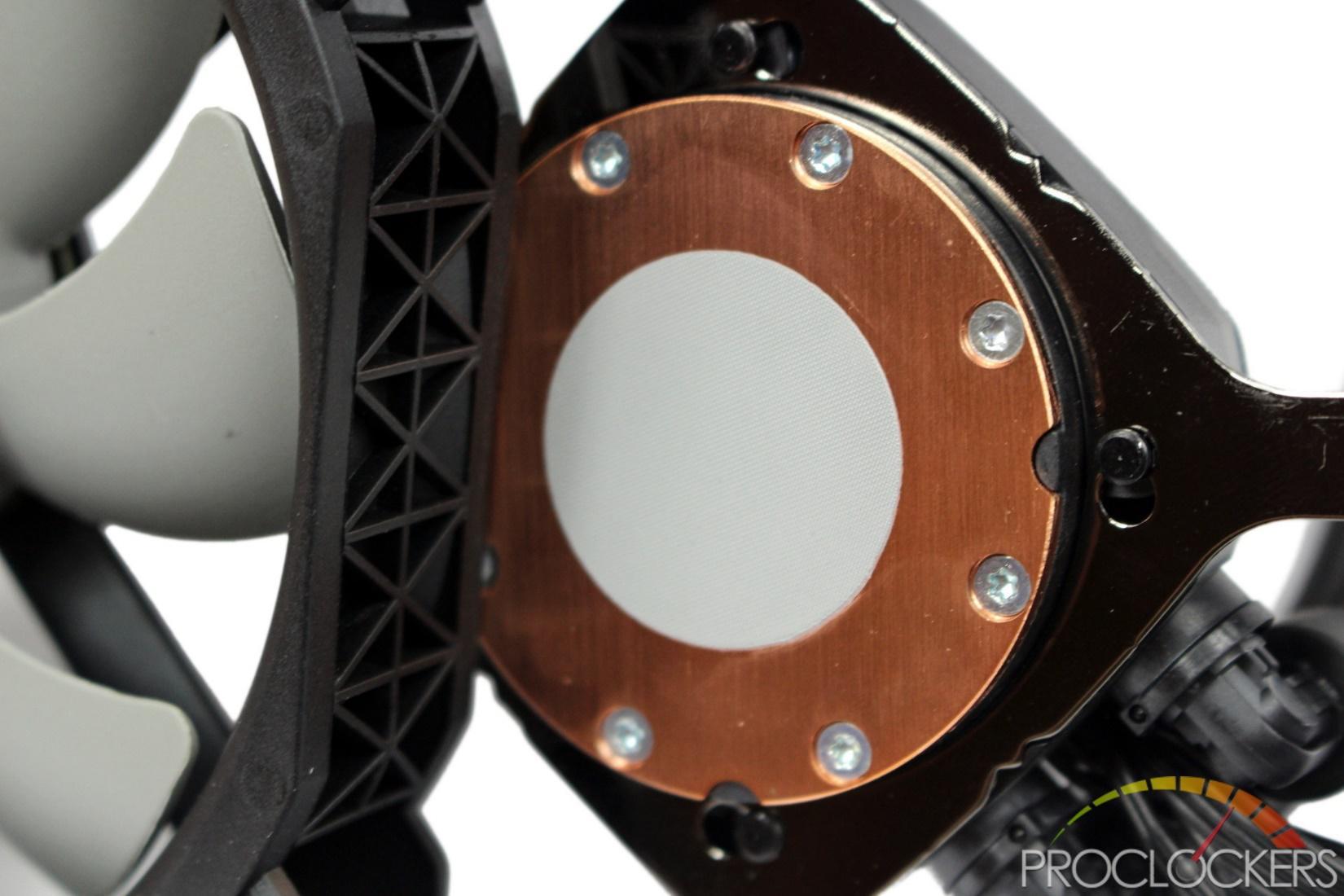 The copper surface is a milled or machined finish that is not that well-polished as you can see. This isn't terrible as long as it's flat as the thermal paste will fill in the gaps.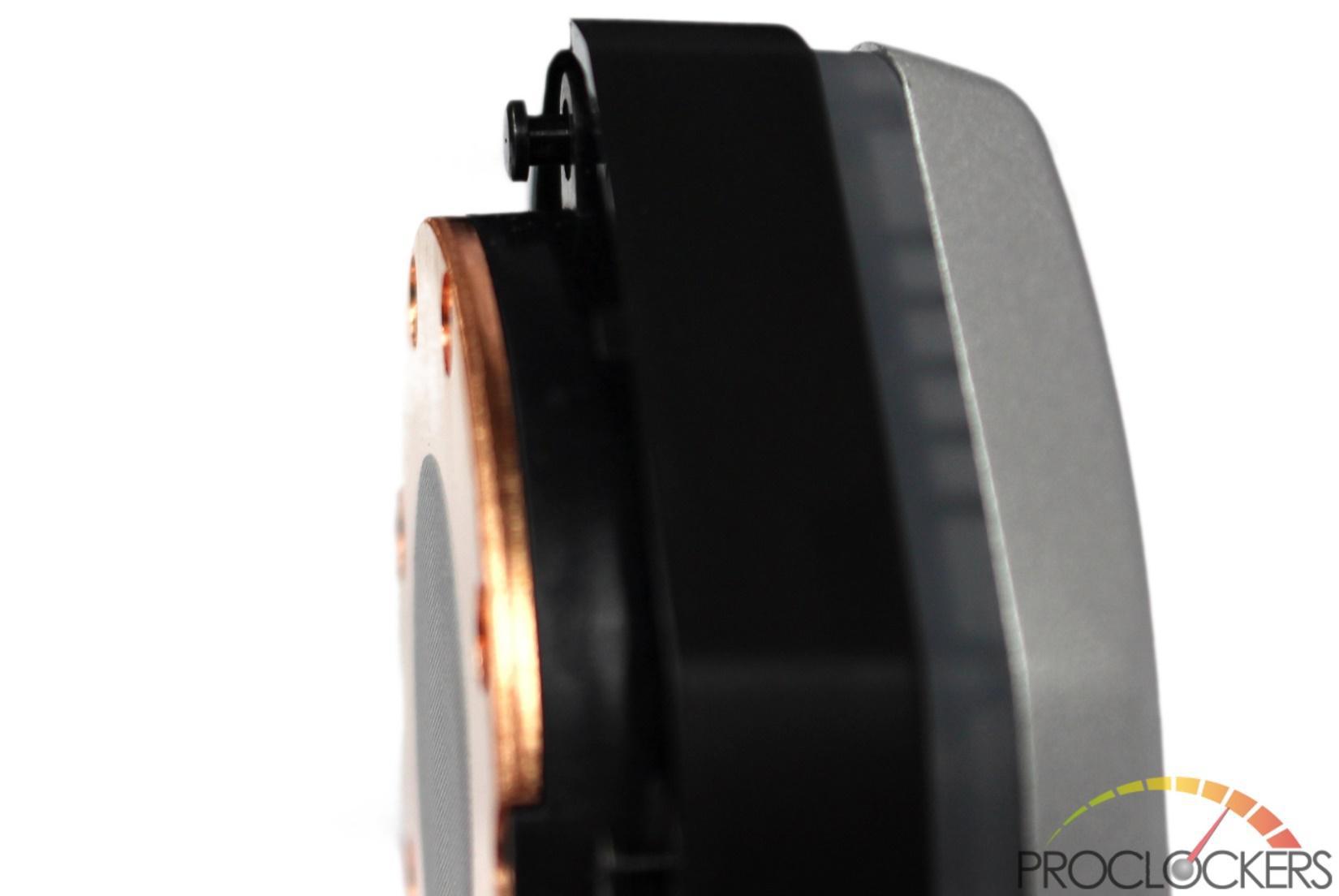 You can also see the 4 locking pins the hold the mounting bracket in place, simply twisting the bracket slightly you can pop it off to install the AMD bracket.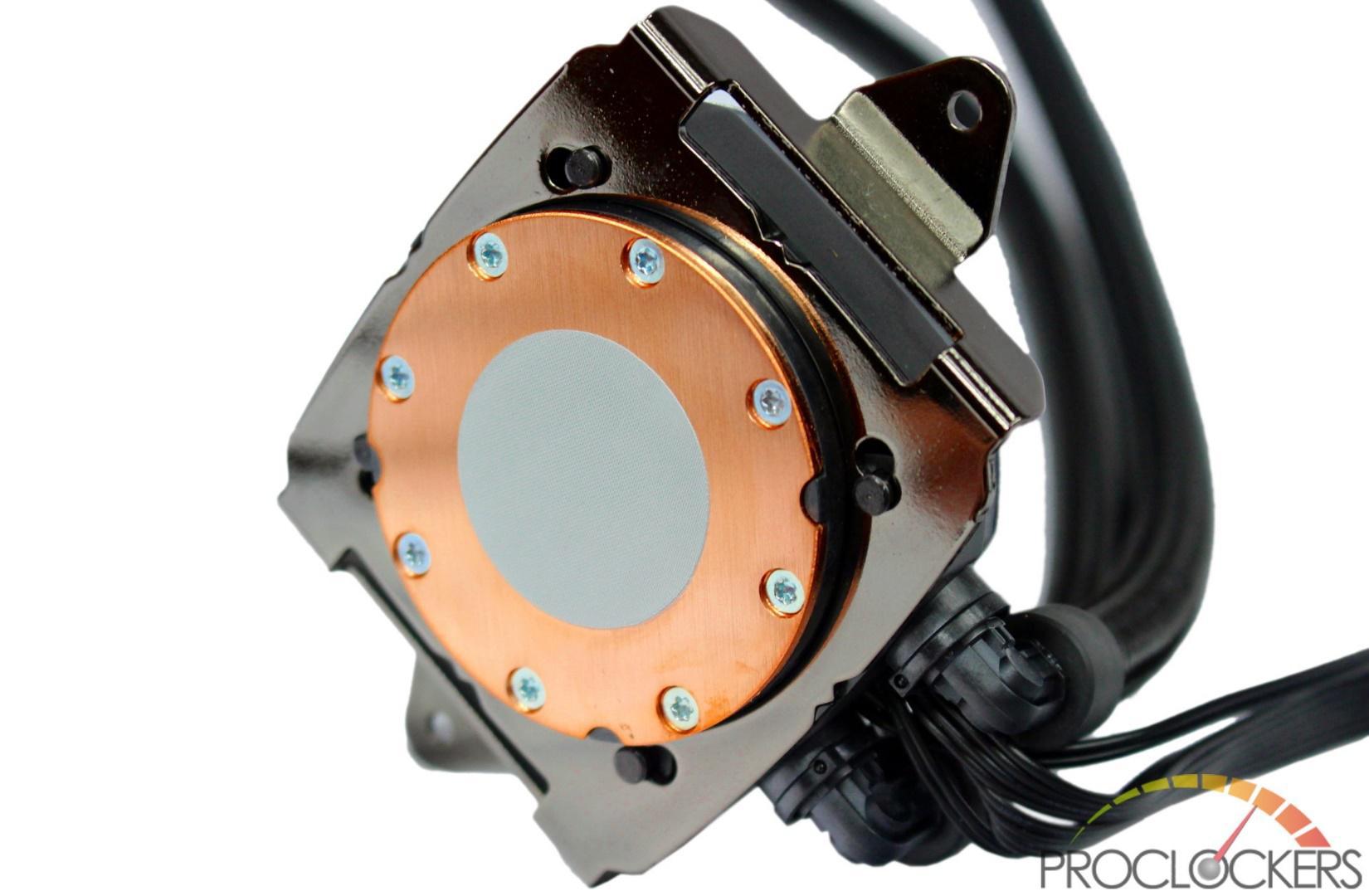 We'll see how resistant this is to accidental release after we get it mounted on our test platform.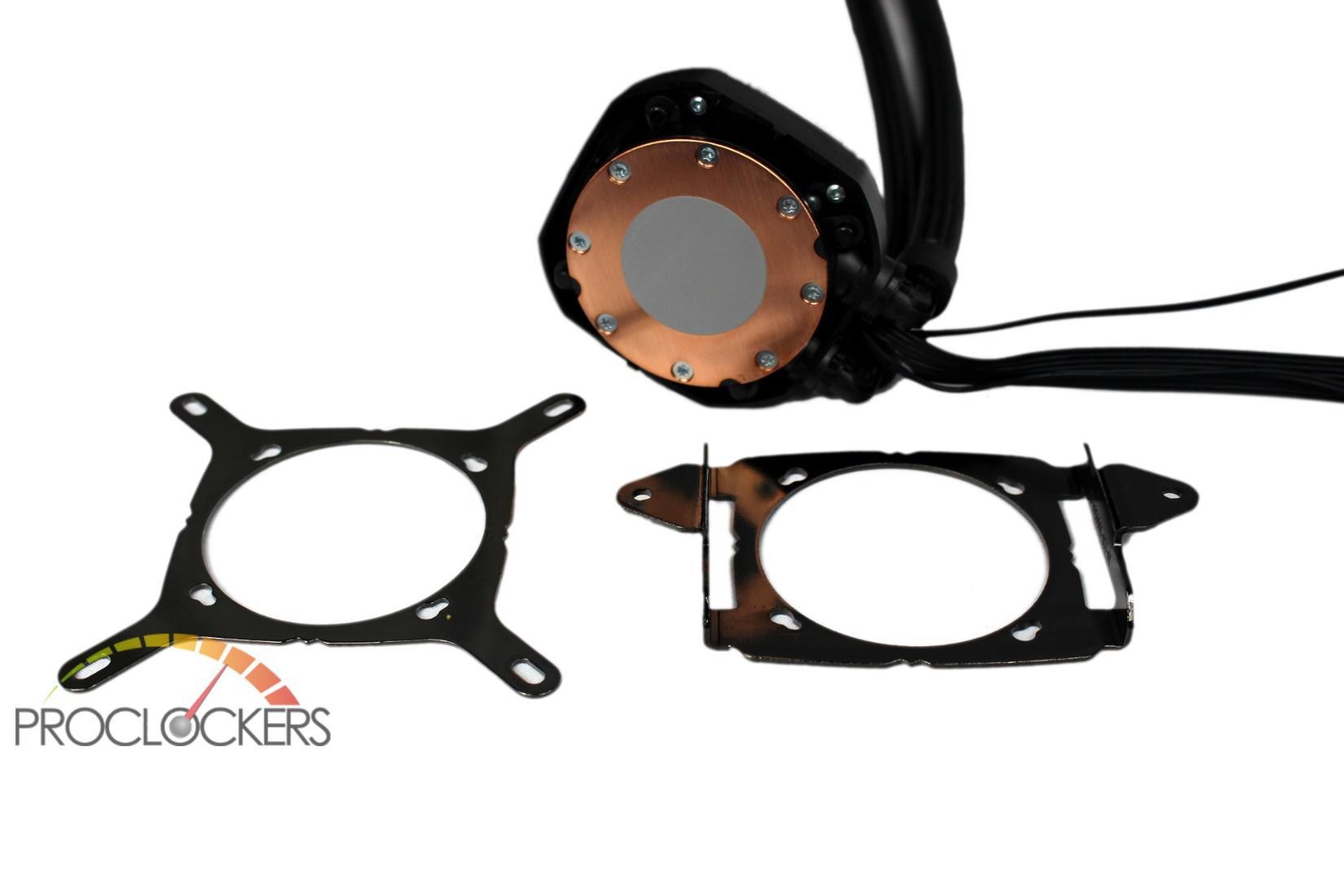 The kit comes with two twist-on brackets, one for Intel, and one for AMD. Depending on Corsair's upcoming TR4 socket mounting, they may well make another bracket for that monster socket.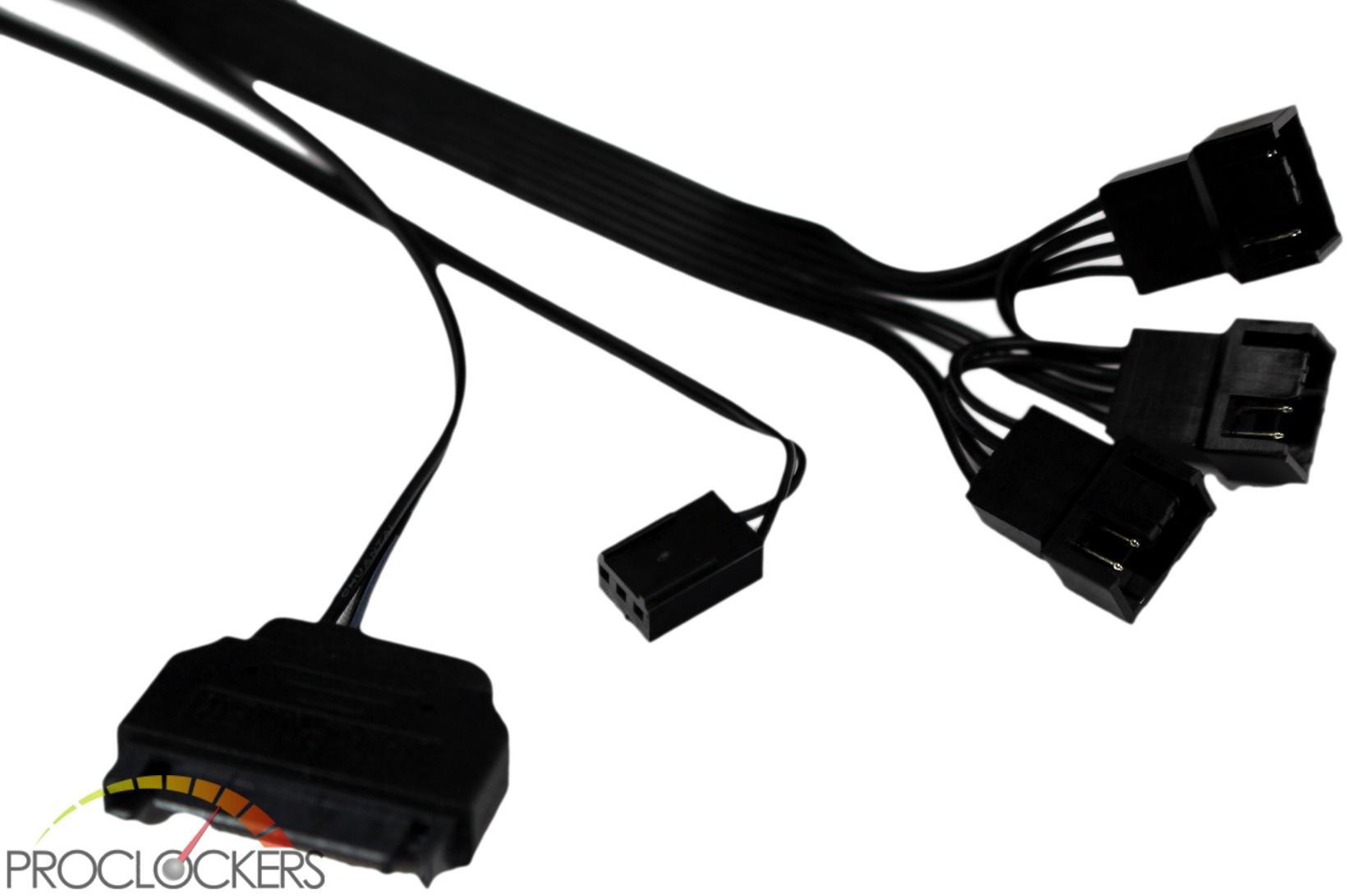 A SATA power input cable, a 3-pin fan cable to feed an RPM signal back to your motherboard's CPU fan header to make it happy, and a large cable that breaks out to connect to the three 4-pin fans included in the kit.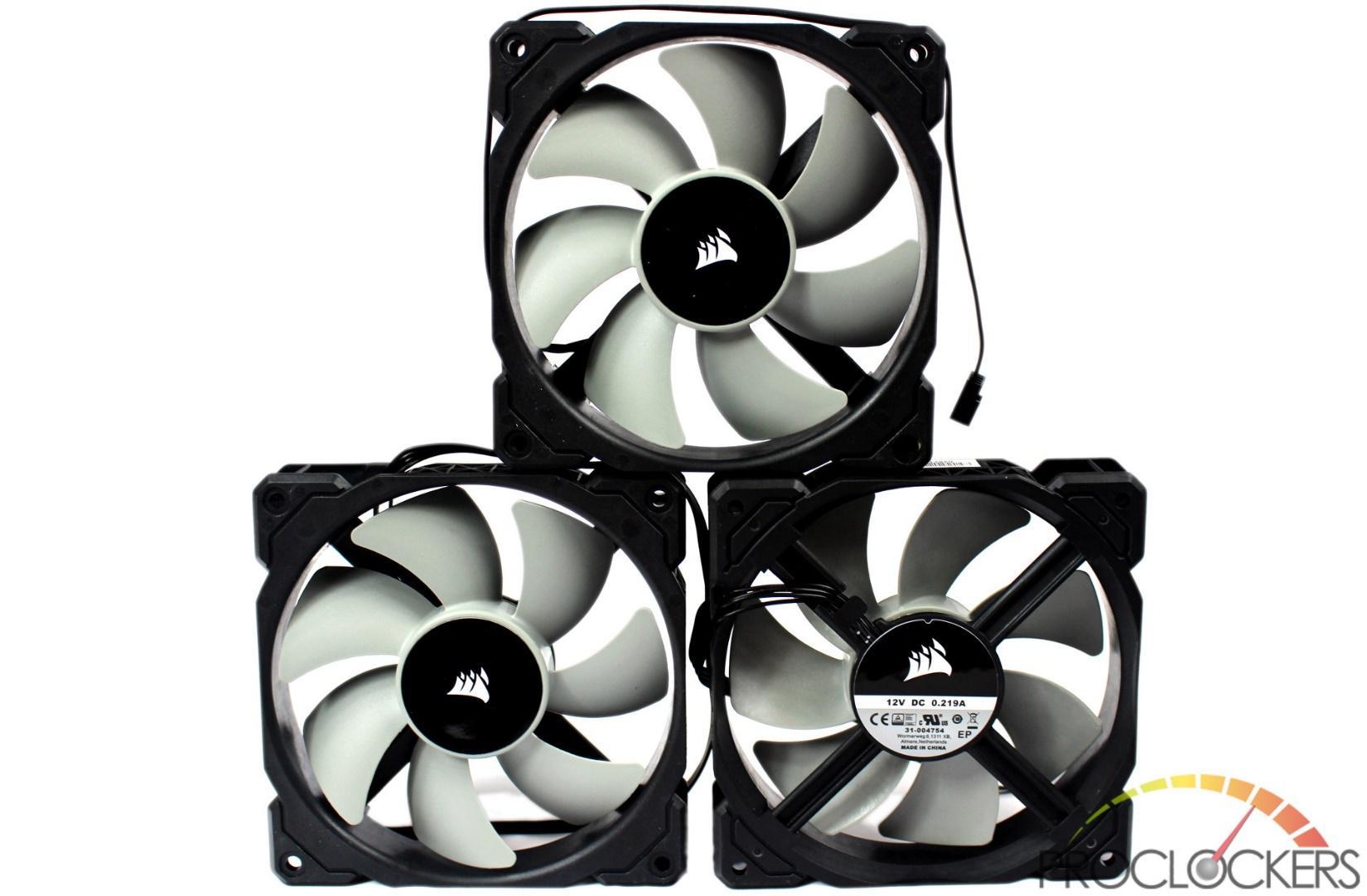 The ML 120 Fans share the same rugged, heavily-reinforced look of the rest of the ML120 series fans but are a bit but have the original grey colored rotor, different from the black or translucent versions on the PRO and PRO LED or PRO RGB versions.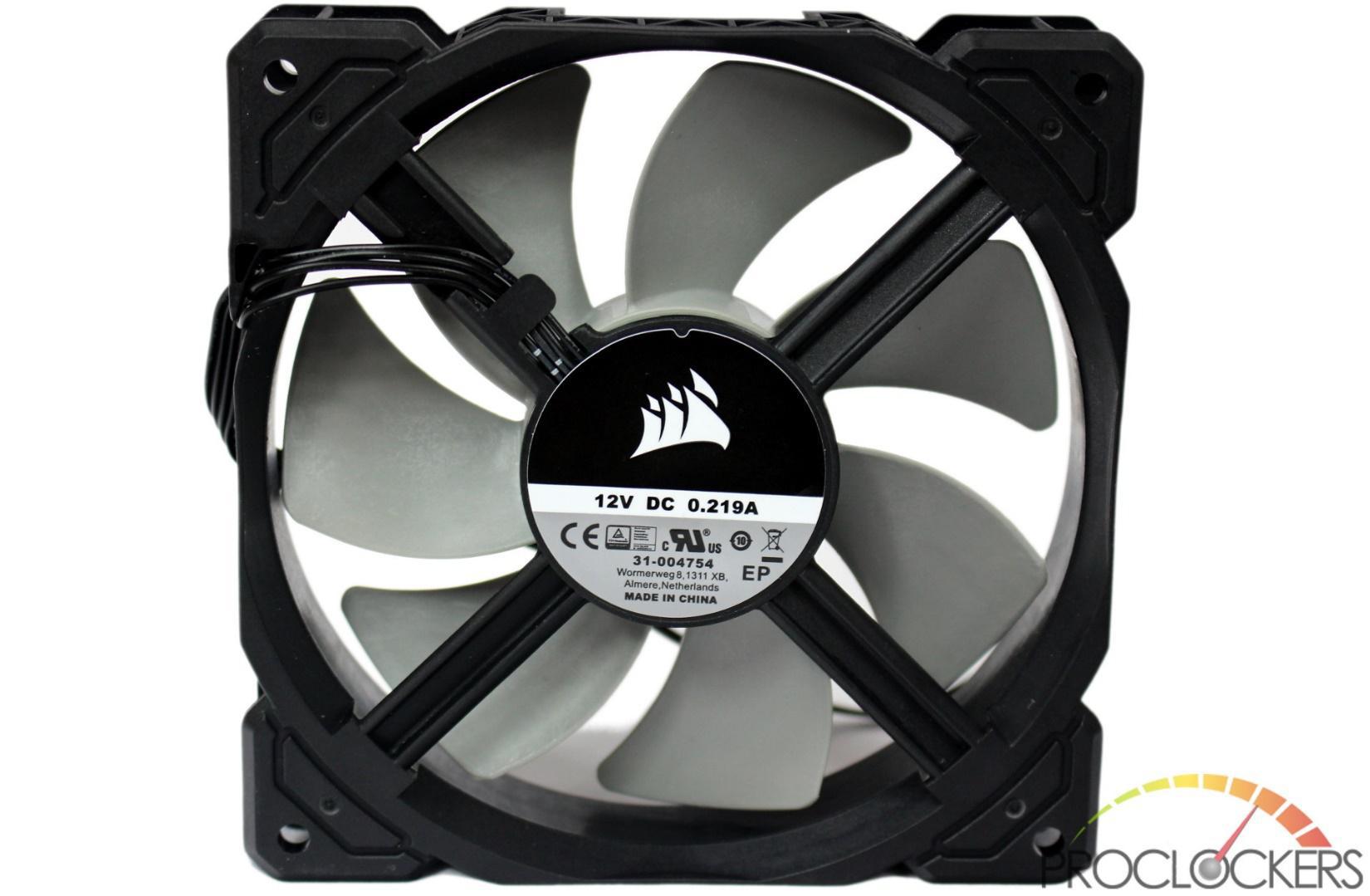 These are not the retail version of the Corsair ML 120 fans you can buy directly from Corsairs web store. They are close to the ML120 (non-pro version) but have been tweaked to this application. The slightly Lower 0.219A power draw accounts for the reduced 1600 RPM top speed over the 2400RPM of the retail versions.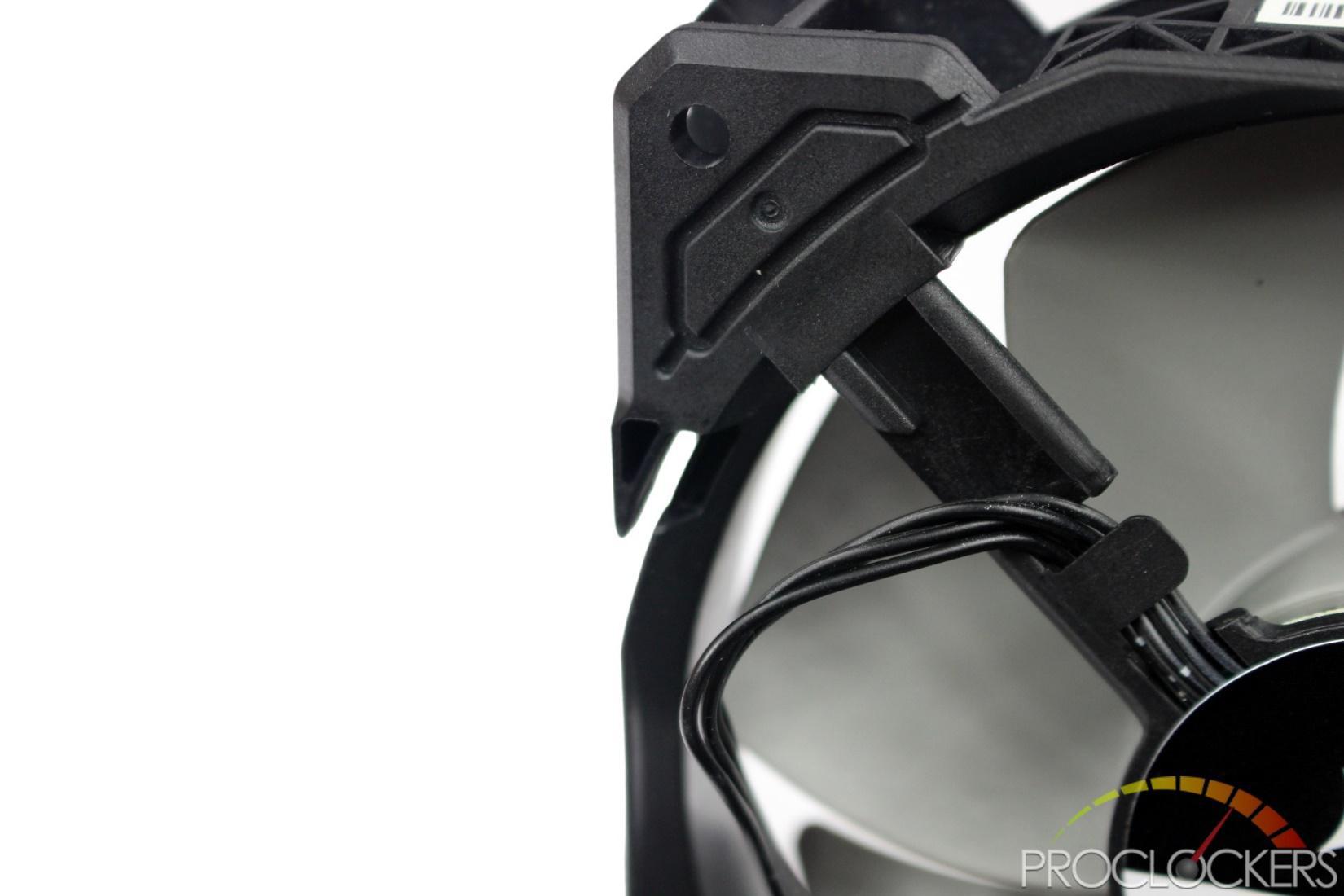 The corners are hard plastic rather than the vibration absorbing decoupled rubber corners of the ML PRO series, but they should do quite fine for this application.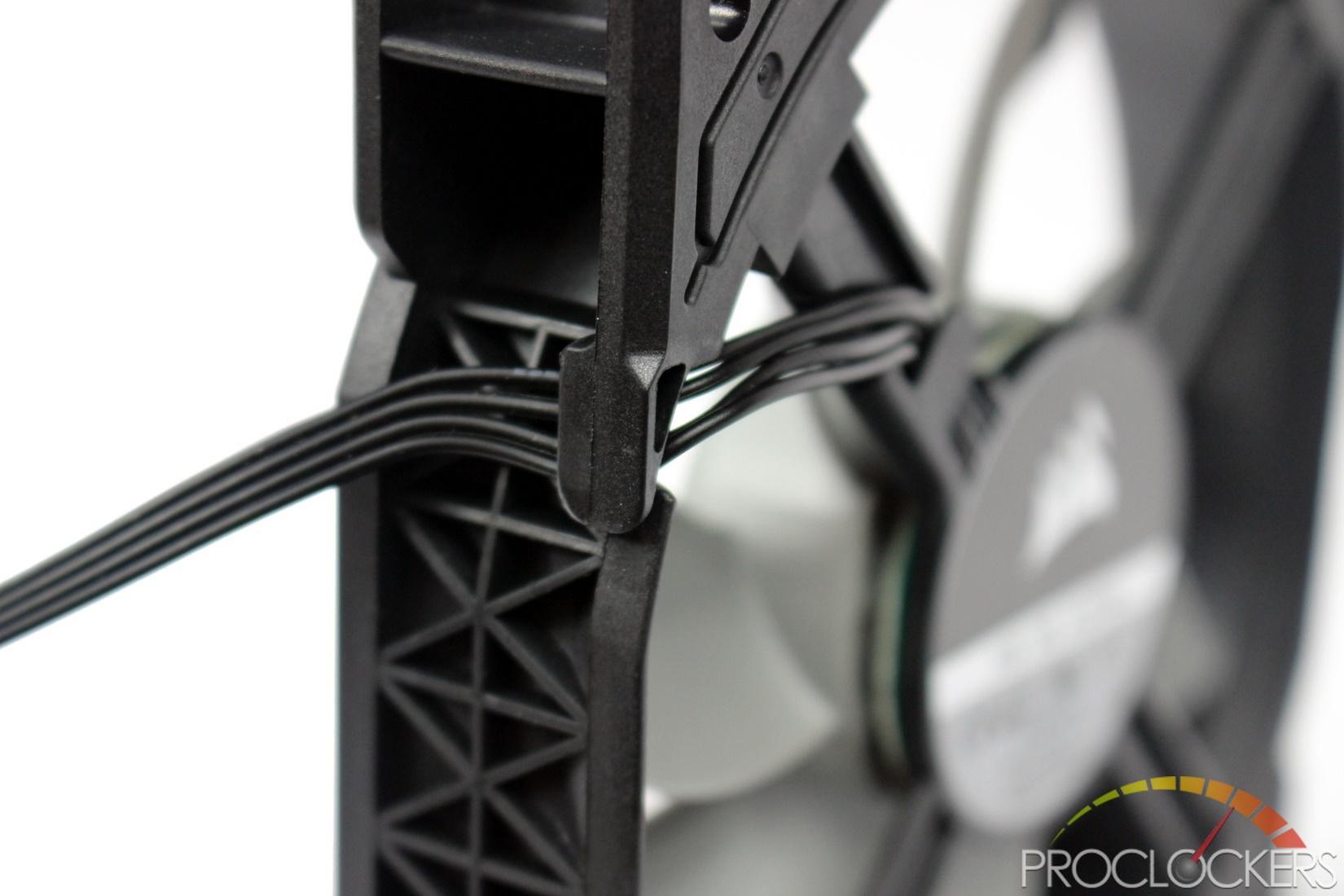 The cable passes through a hook on one edge so you can route the cable either out the edge or out the back depending on how you need for push or pull mounting on the radiator.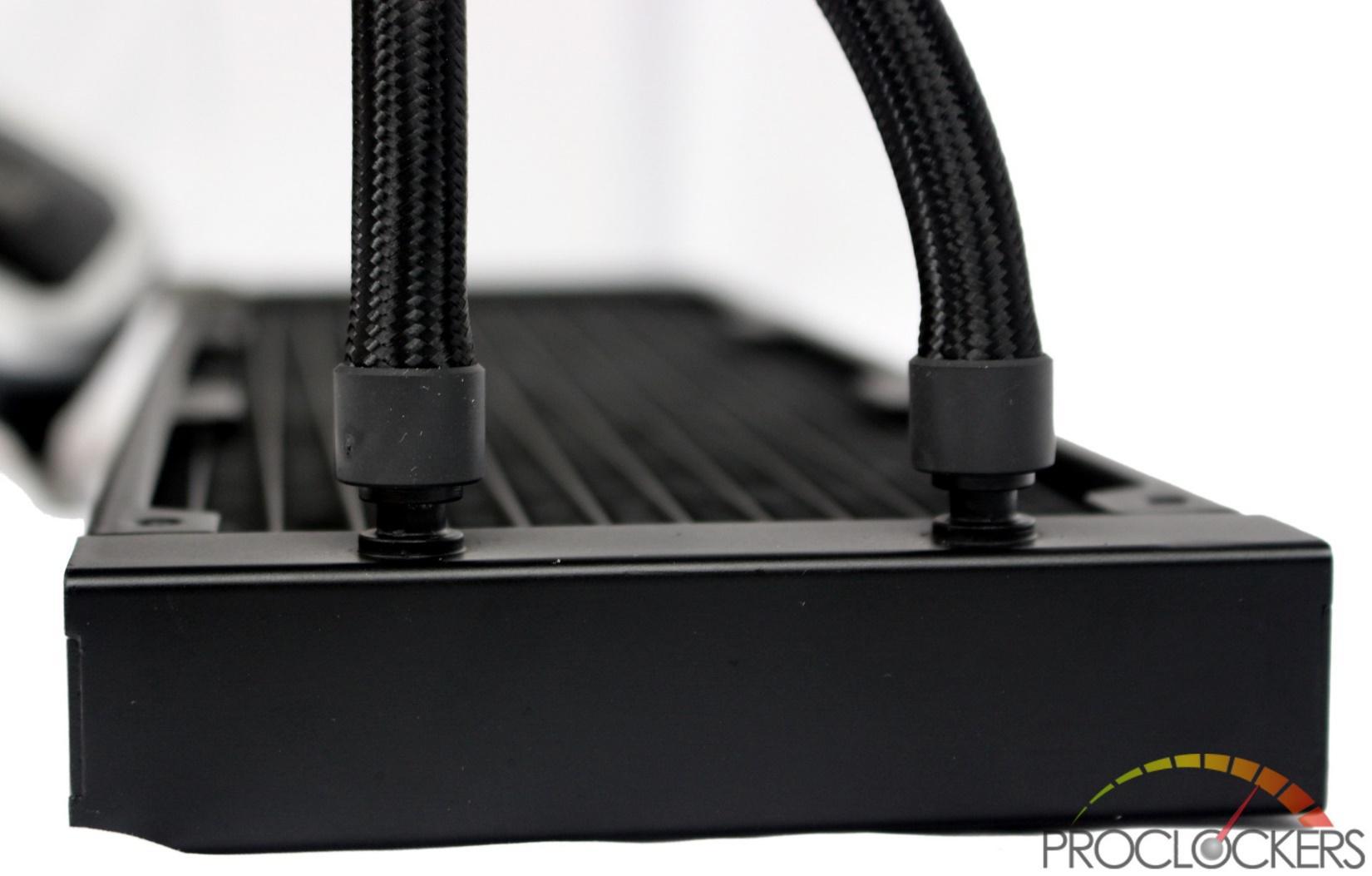 The hoses are permanently crimped into place on both ends and covered in a nice nylon braid to protect them, never mind the nice aesthetics.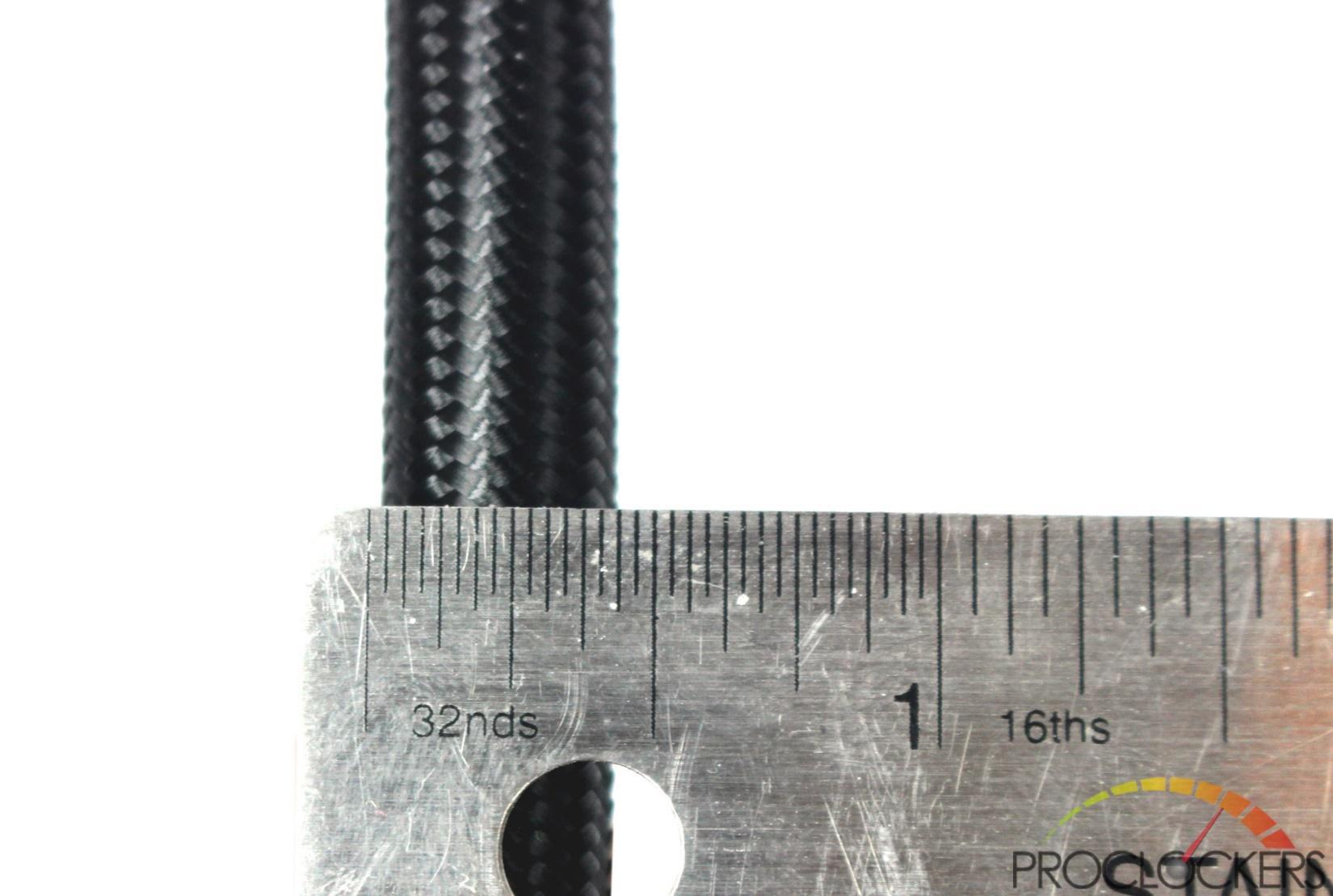 The tubes come in around 7/16th of an inch in diameter or in the 11 to the 12-millimeter range.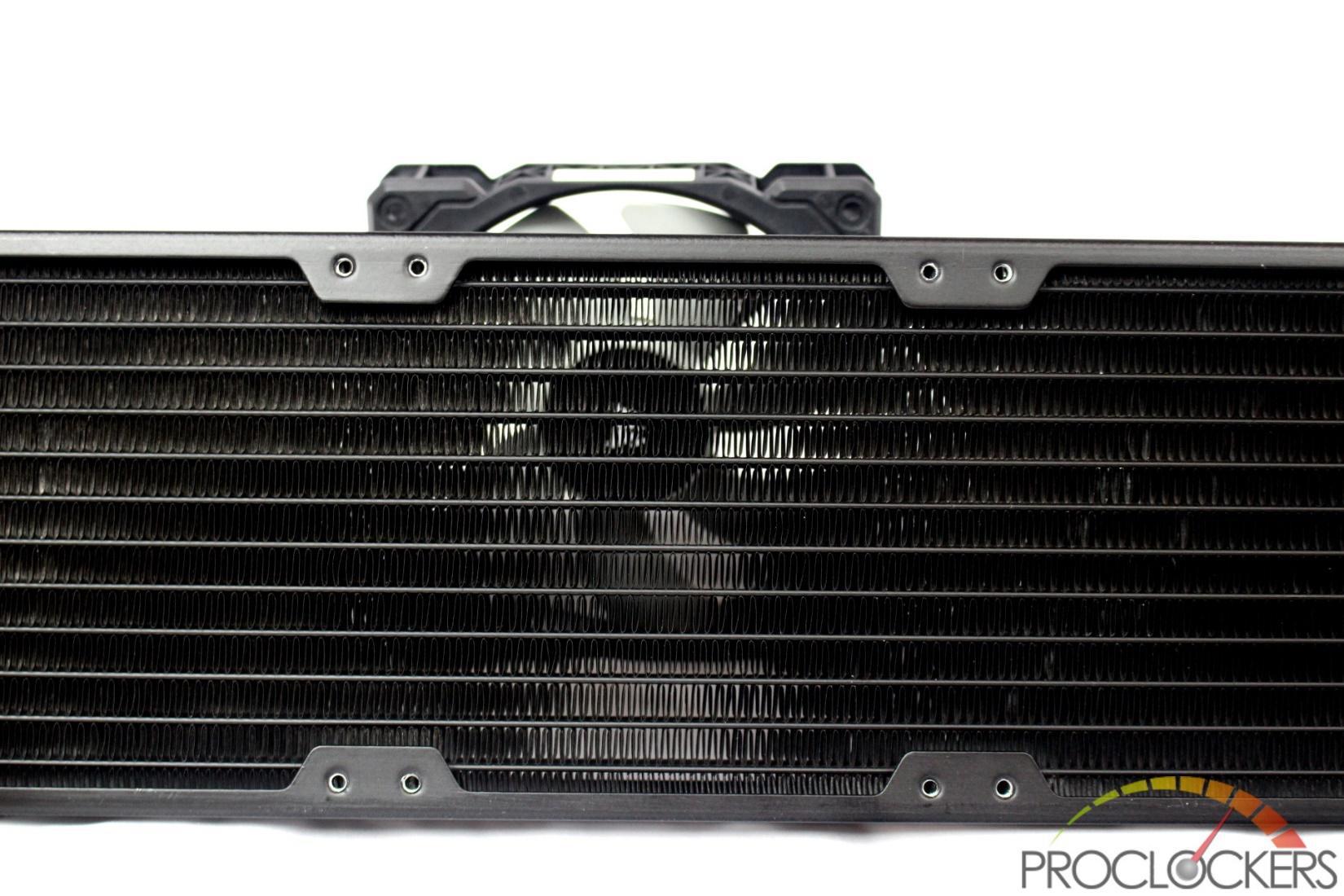 Th radiator is a standard 2-pass 'U-flow' system and fan mounts are tapped #6-32 thread for the included hardware.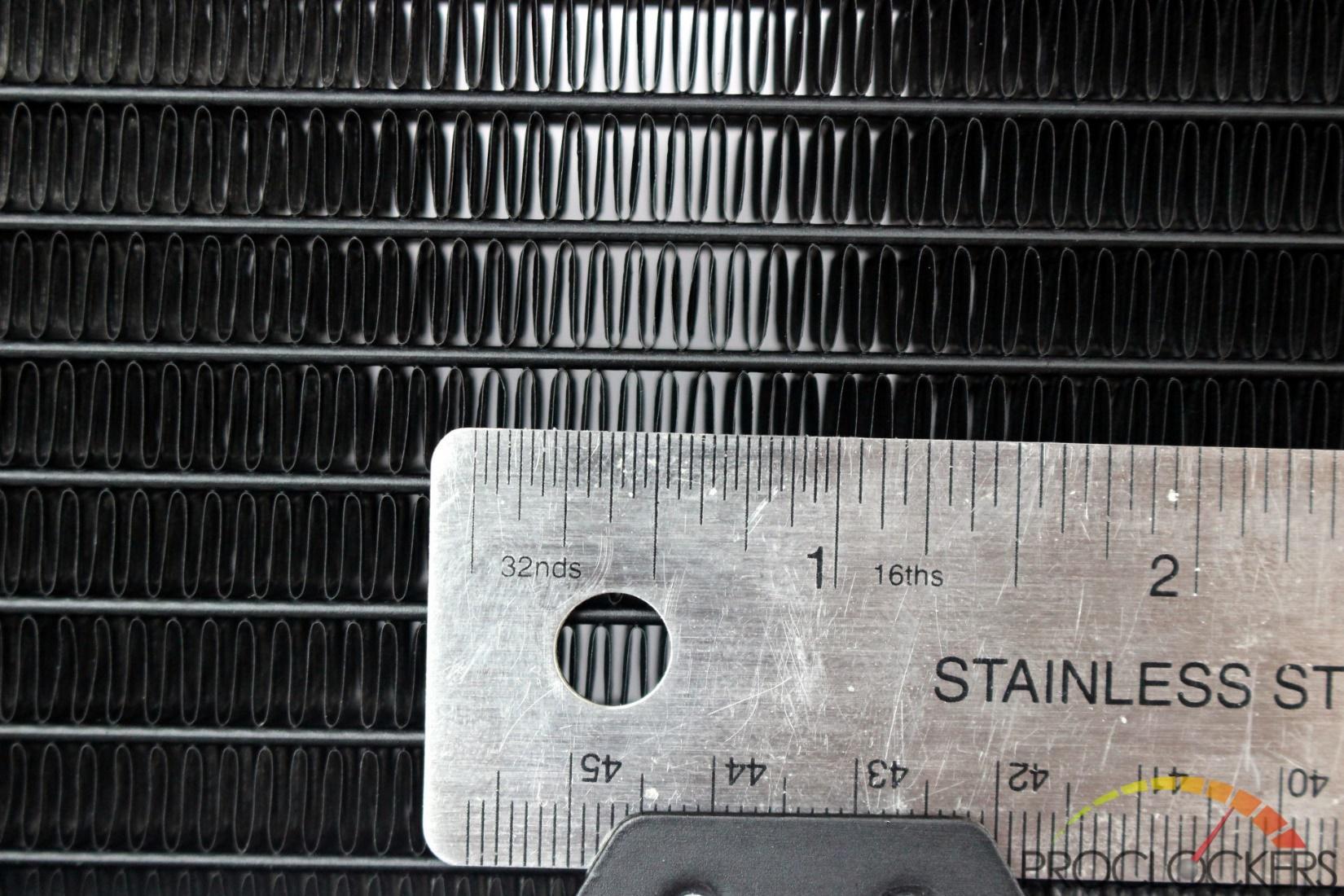 The radiator has around 20 FPI (fins per inch) which is reasonable dense and should be able to handle a fair amount of heat, but also should work well at a wide range of fan speeds.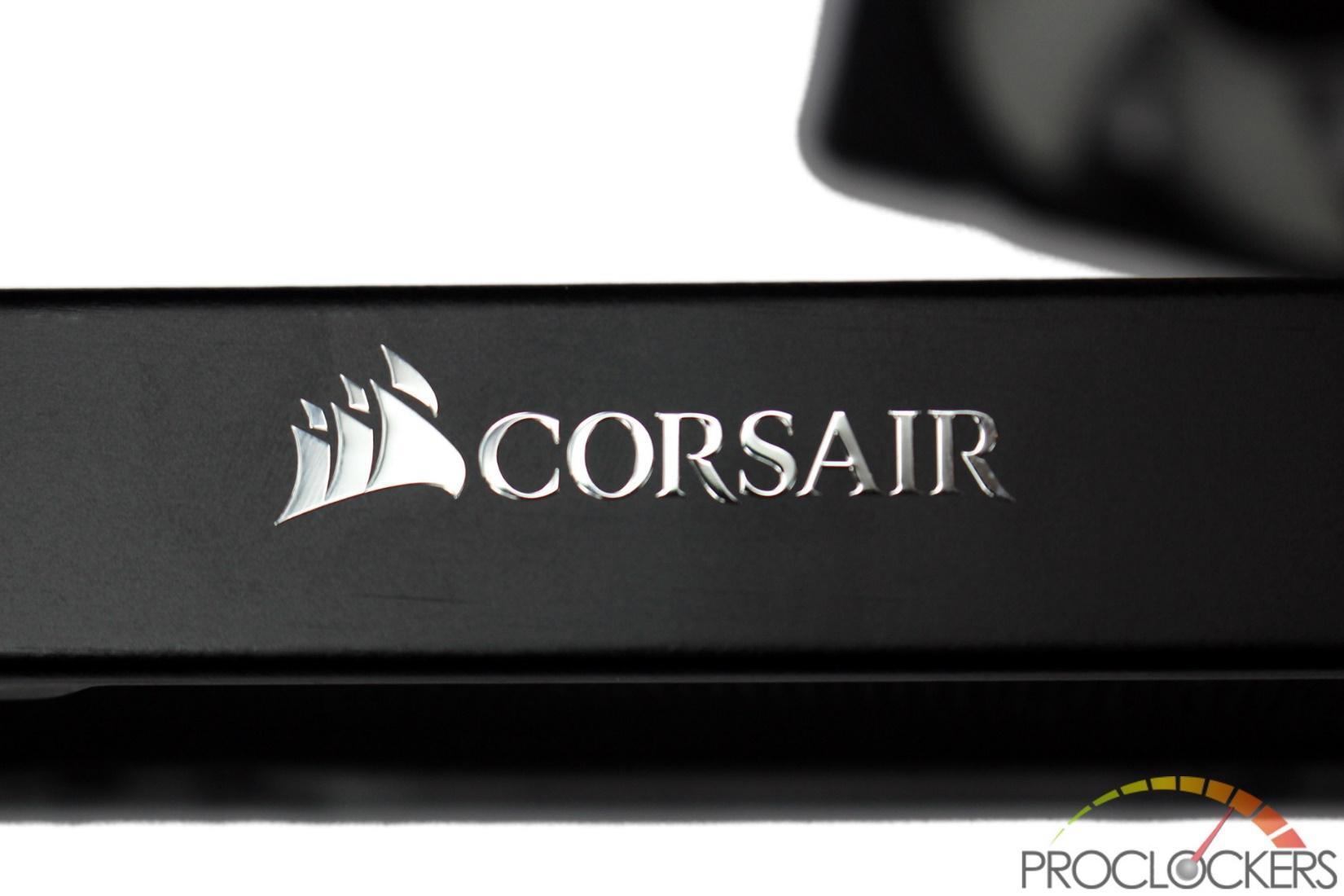 And lastly, the Corsair logo is on both sides of the radiator in a beautiful raised and chromed finish, pictures really don't do it justice.
Installation

Installation is pretty straightforward like nearly all of Corsair's other liquid coolers. We'll be using Intel's newest consumer CPU, the i7-8700K, a 95-watt CPU that can break the 200 Watt mark when heavily overclocked and demands good cooling.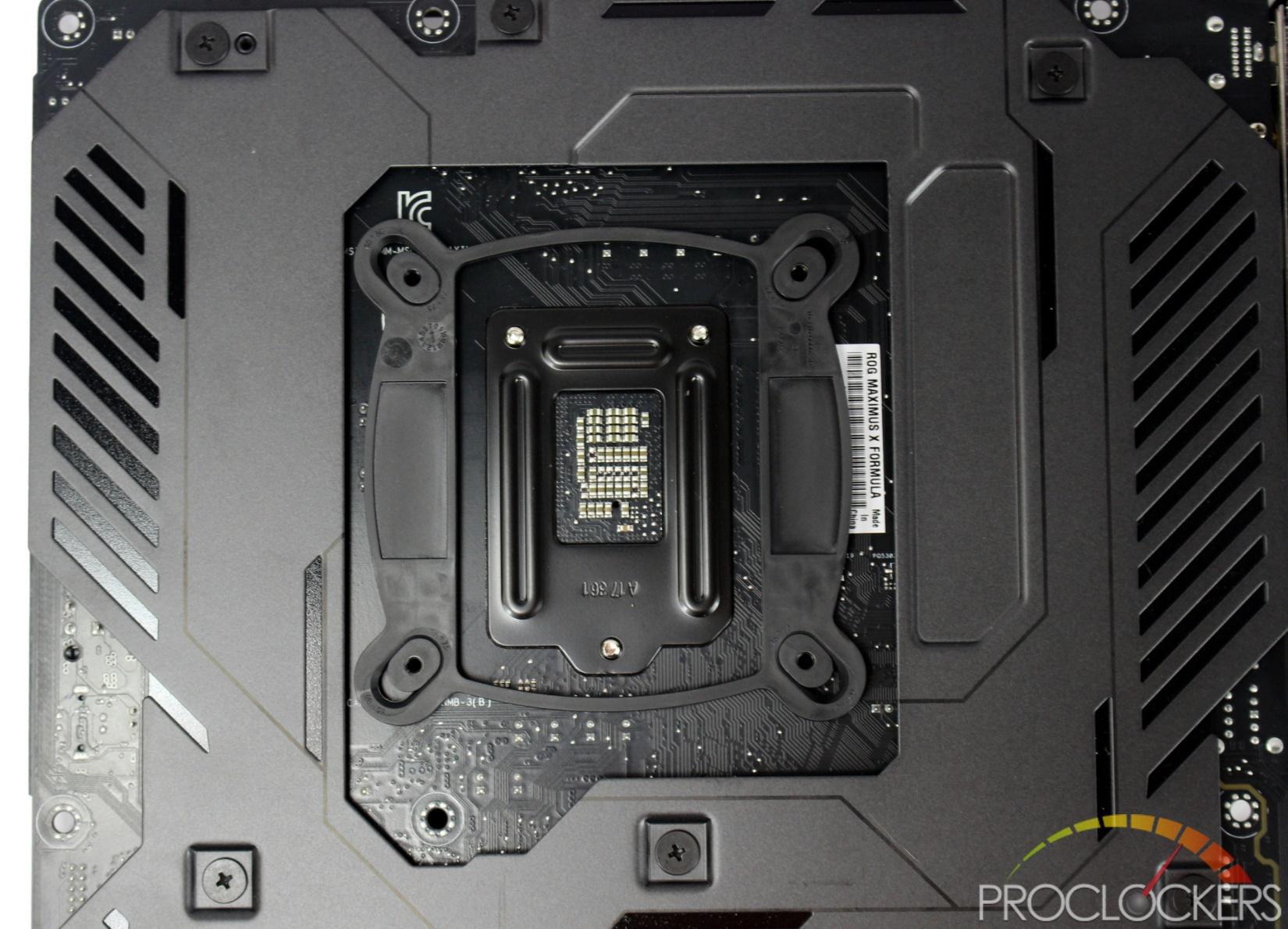 We start out taking the universal backplate and installing it around Intel's socket backplate with the threaded part sticking through the mounting holes in the motherboard.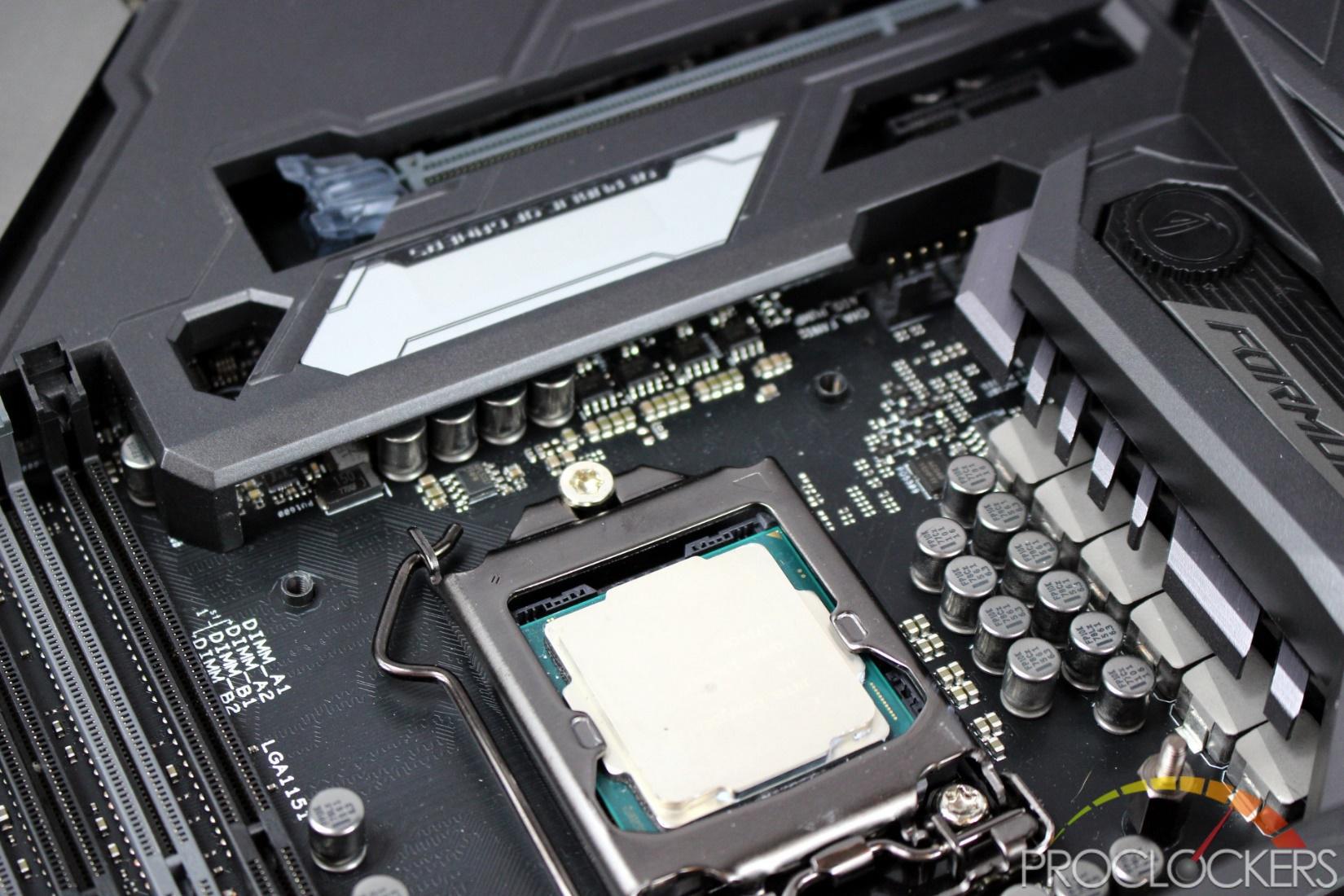 With the backplate sticking through, install the universal mounting studs.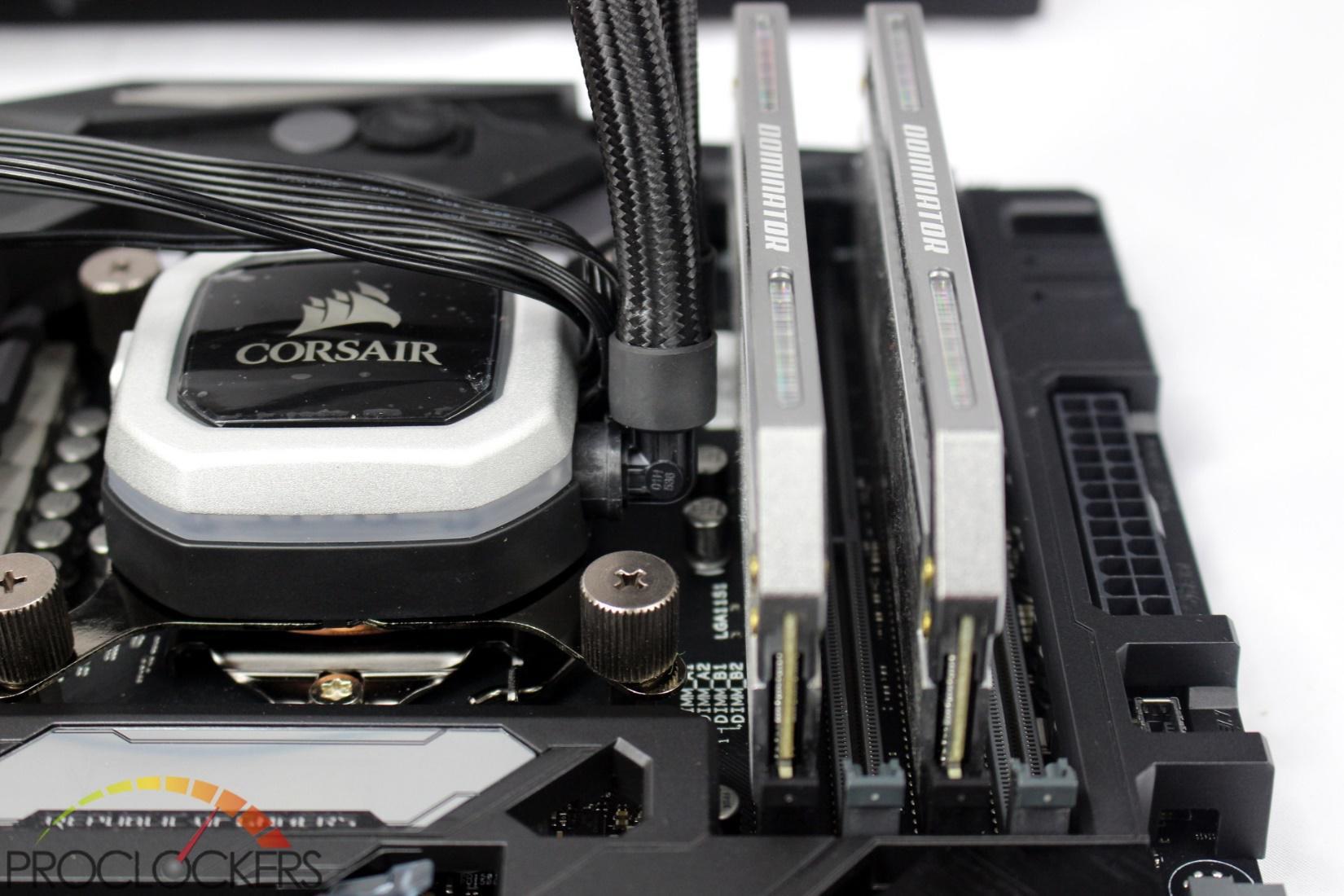 We did make sure the tubing wasn't going to interfere with the ram, but Corsair keeps it inside the dedicated space for CPU coolers so this shouldn't be an issue on any boards even if you need to turn the pump another direction to make the hoses run better for your configuration.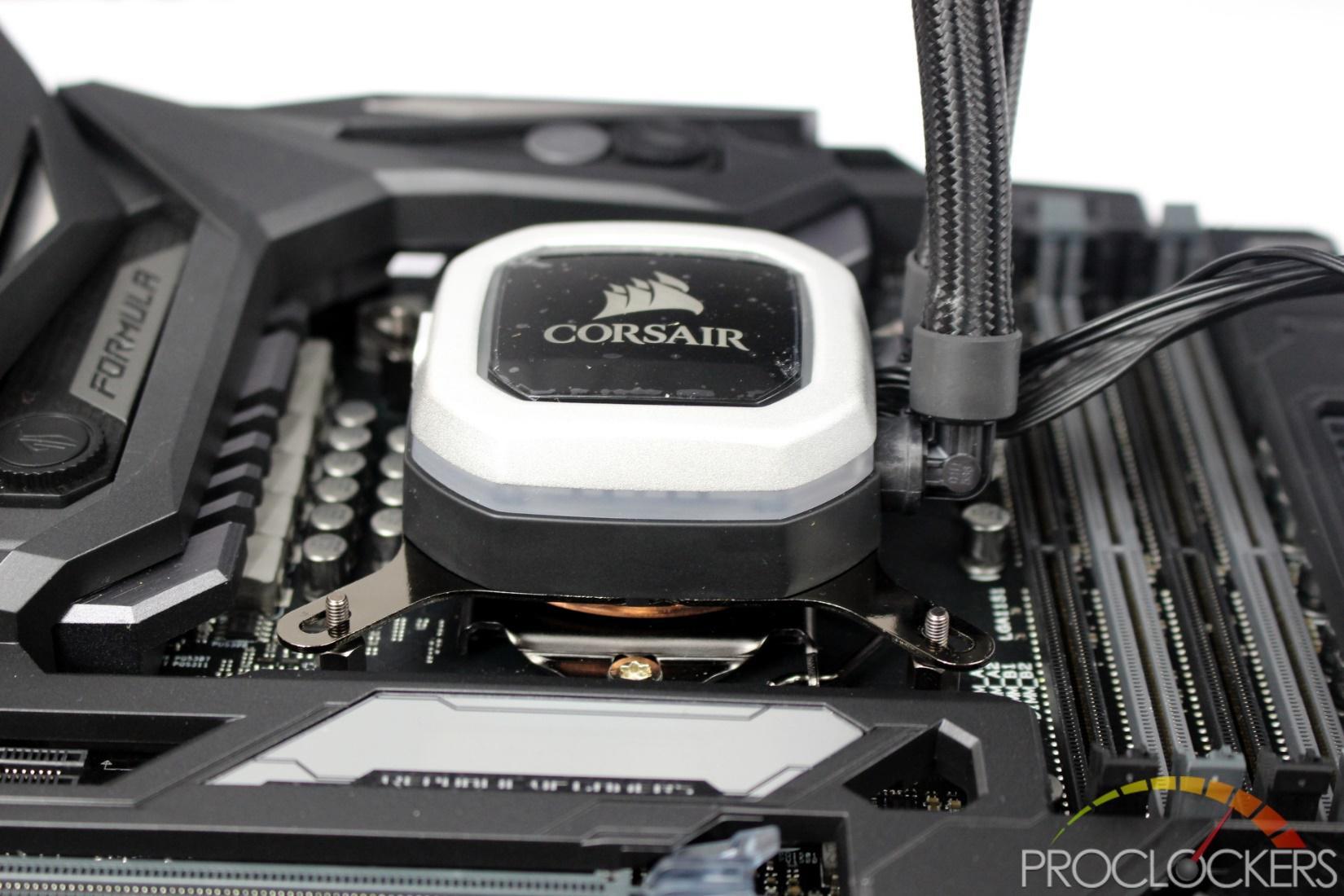 After removing the plastic protection piece, install the water block over the studs. The hoses are long enough to cover most scenarios, but it's a good idea to make sure you can reach your desired radiator mounting location in a dry run early on.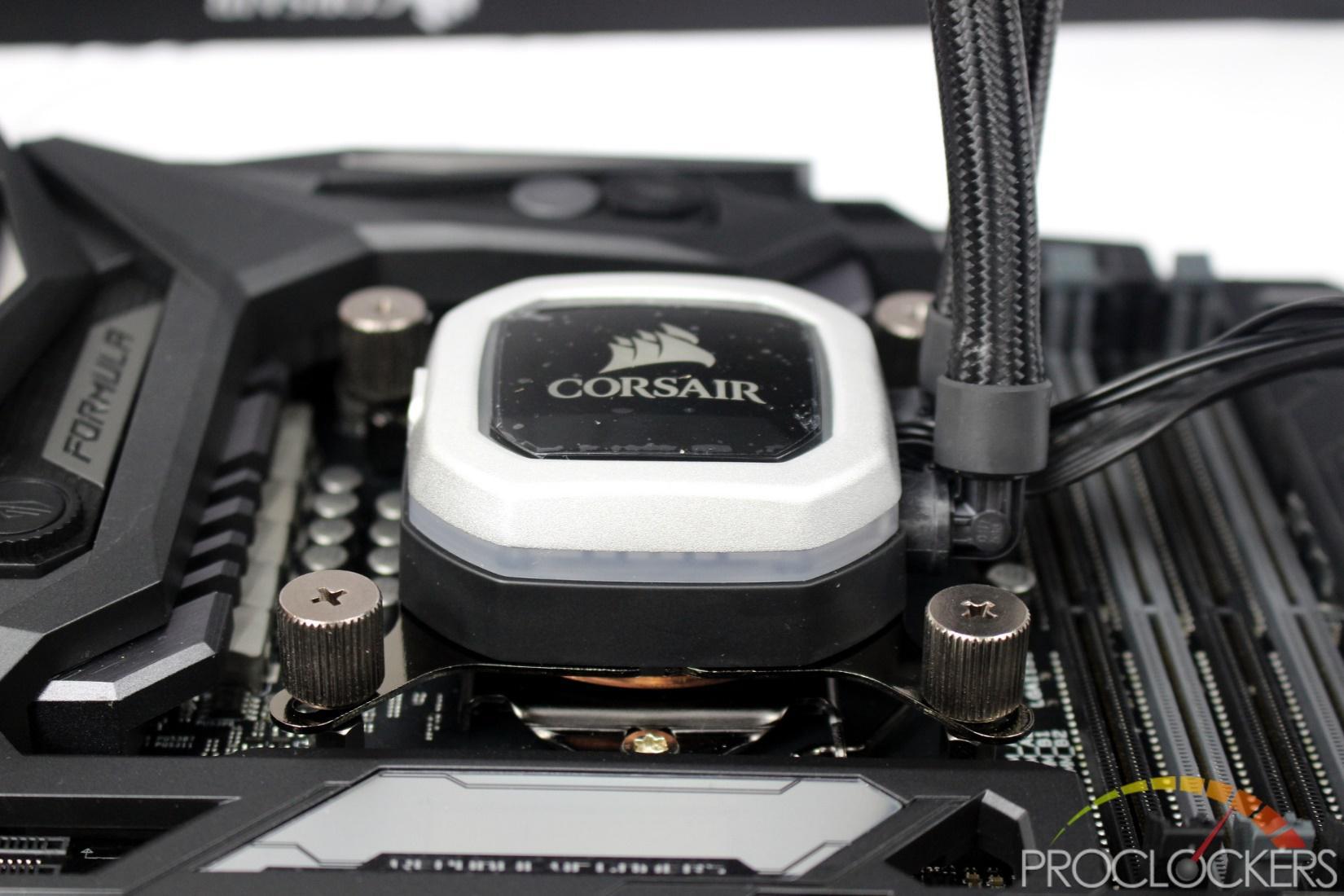 Last for this part is placing and tightening down the thumb screws in an alternating fashion for even pressure. The mounts are precise so once all 4 are bottomed out, you know everything is good to go.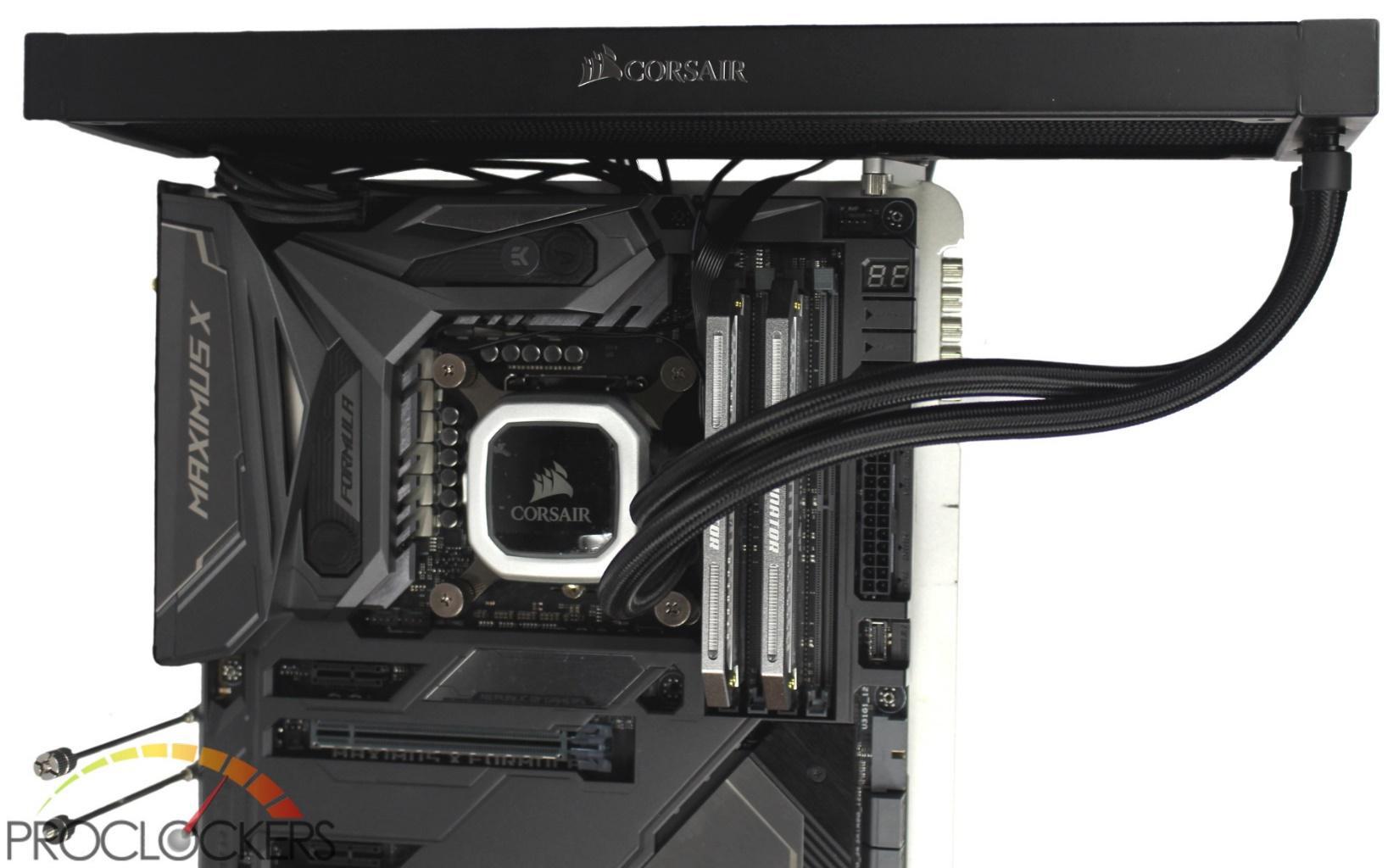 We are using an open-air test bench here, but are installing the radiator in a similar orientation to how it would go in most tower style cases.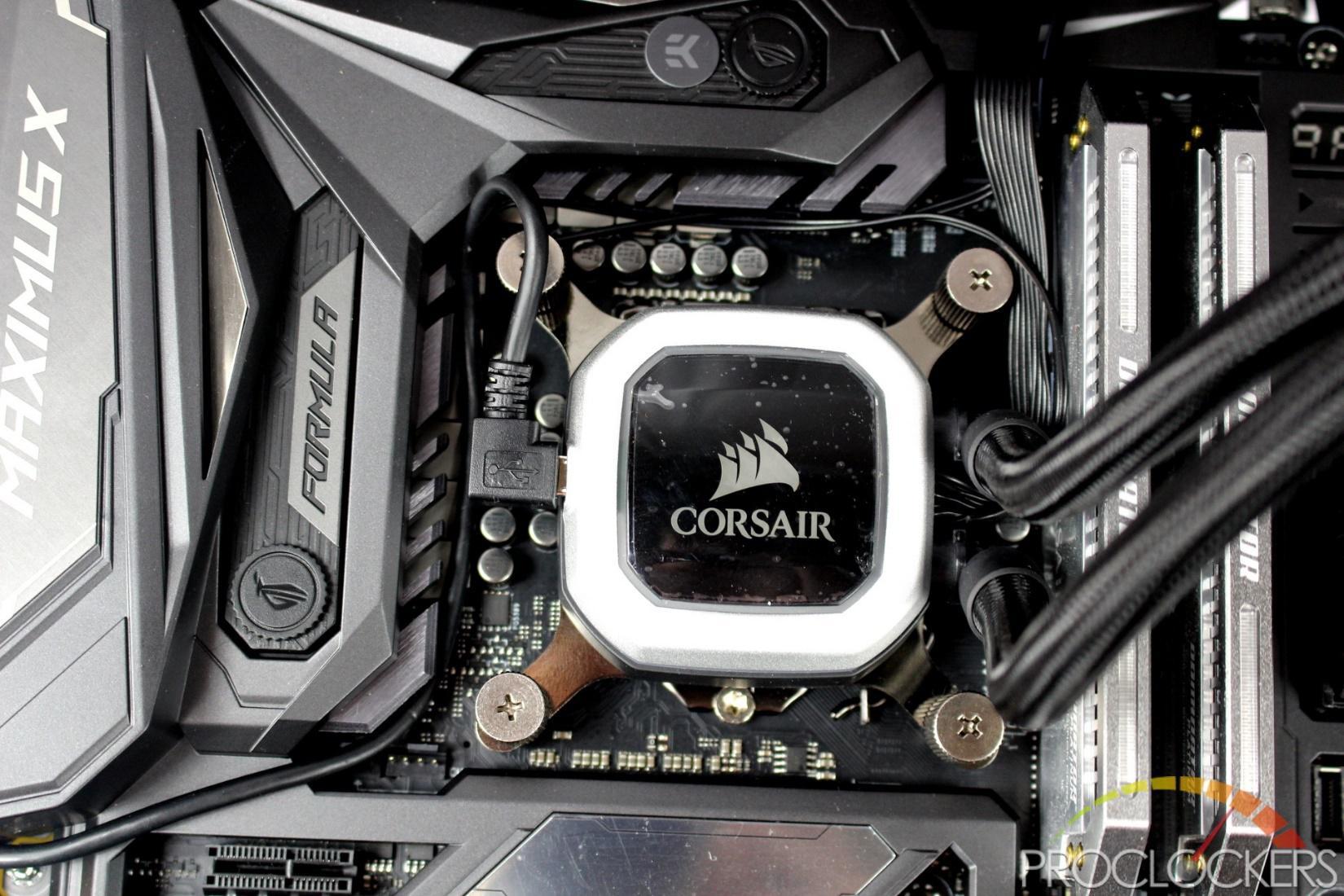 While here we connected the USB cable to the side of the pump and routed it down to a motherboard header.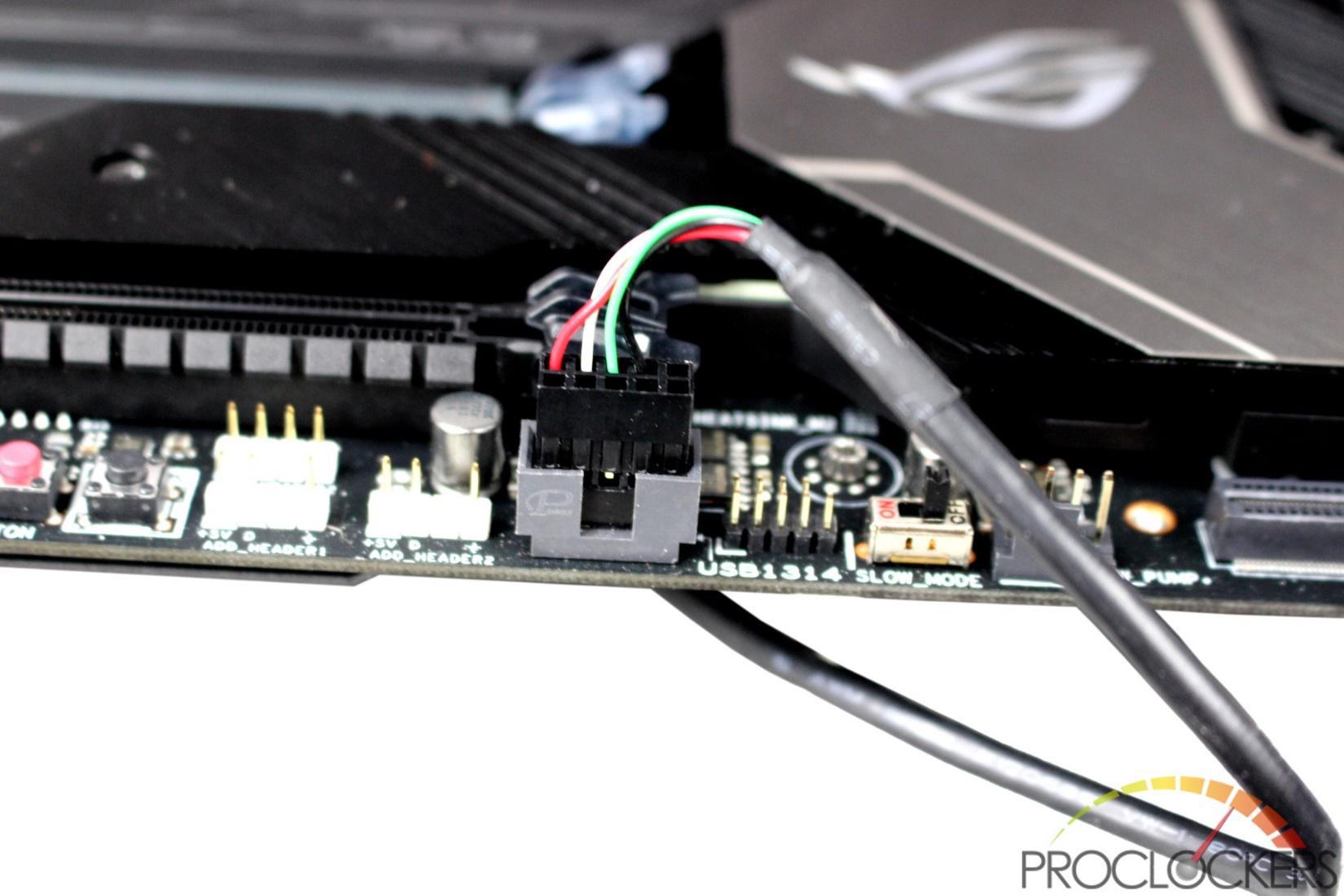 The H150i PRO connects to any available USB 2.0 motherboard header.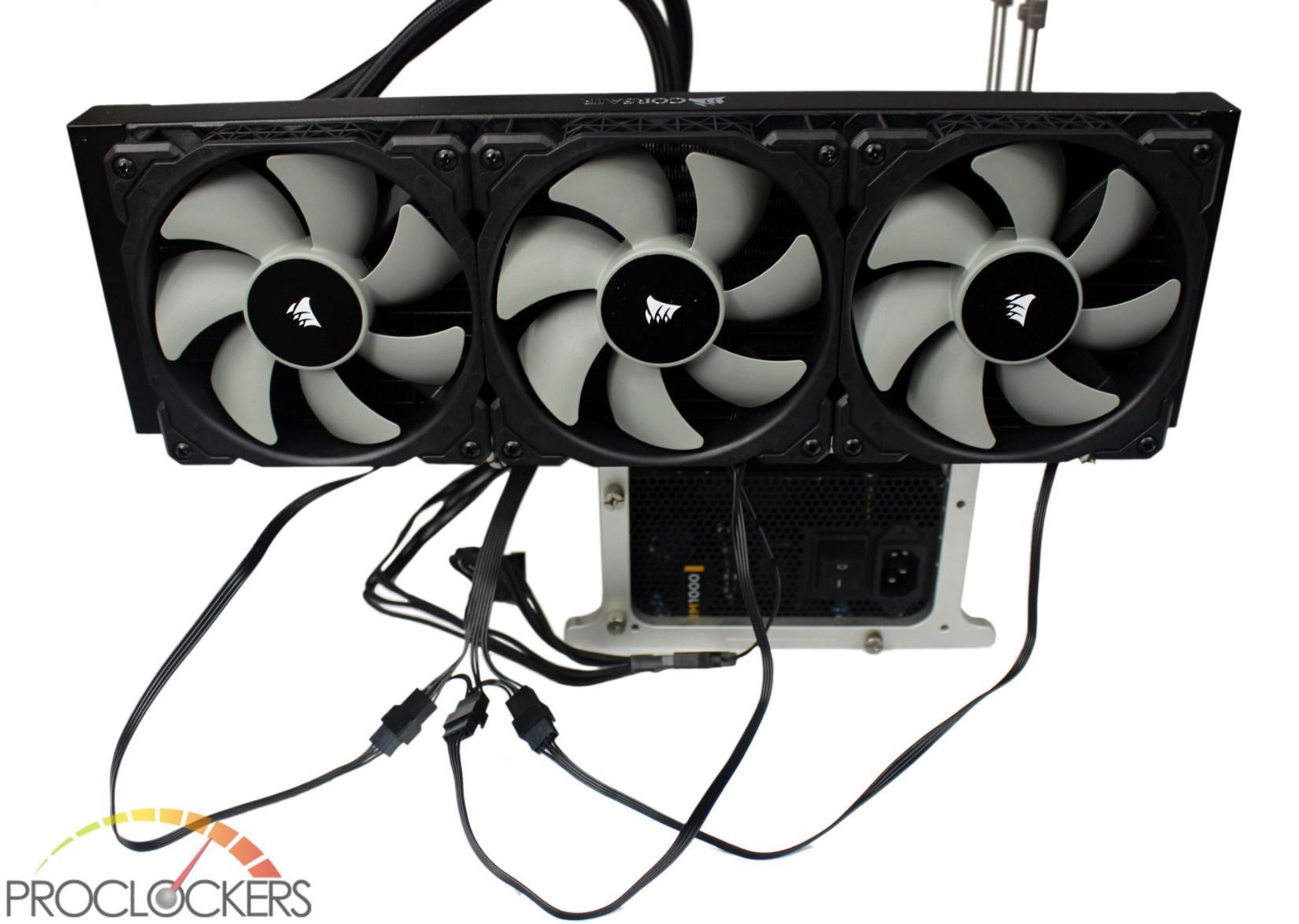 Our last step was to mount the fans, but you may choose to do this in one step while mounting the radiator. Connecting all three fans to the cable coming from the pump was a breeze, as was connecting the power to an available SATA style power plug.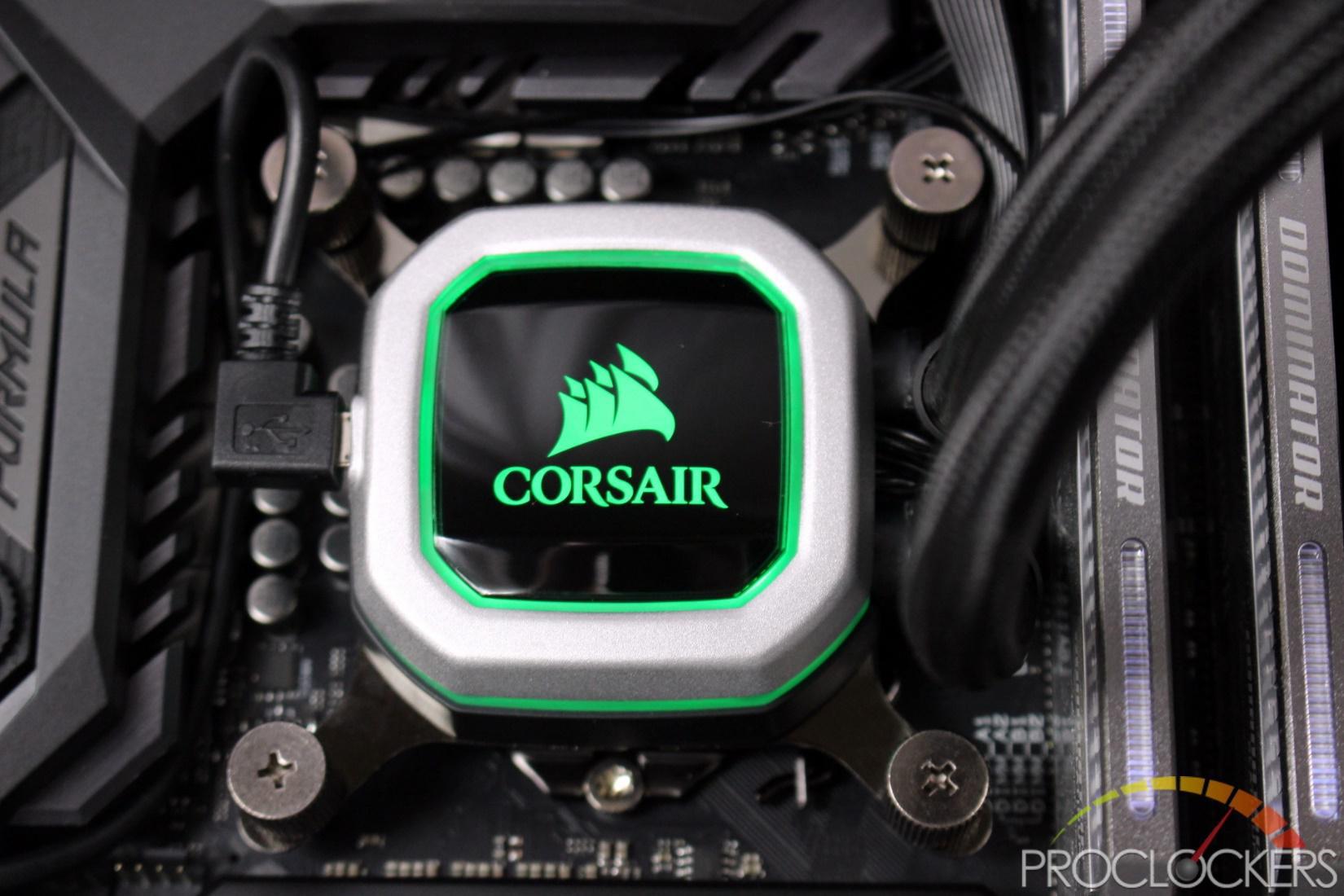 And that's pretty well it, installation complete. If you choose to skip the USB cable, the pump will slowly cycle through colors and operate pump and fan speeds in a balanced manner depending on thermal load from the system.
Software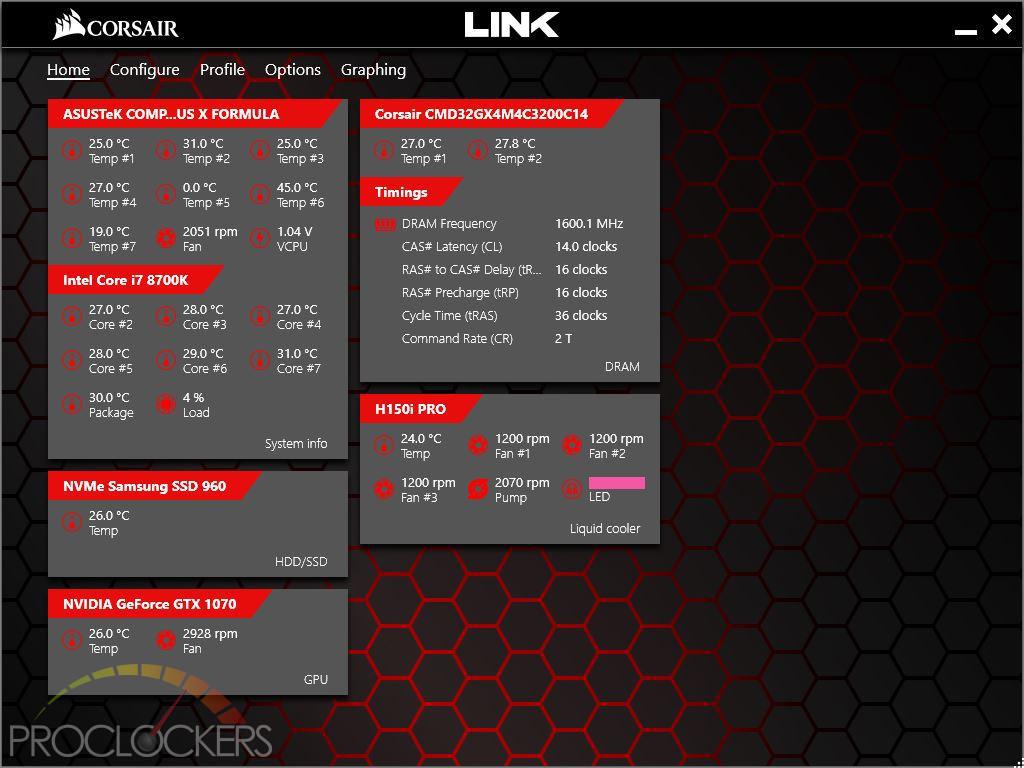 Corsair Link is a quick and easy download from Corsair's website and starting it up the first time lands you on the Home page where all relevant system information is shown about your system. Amusingly, Corsair even decided to show our ram timings and clock speed of our Dominator memory modules.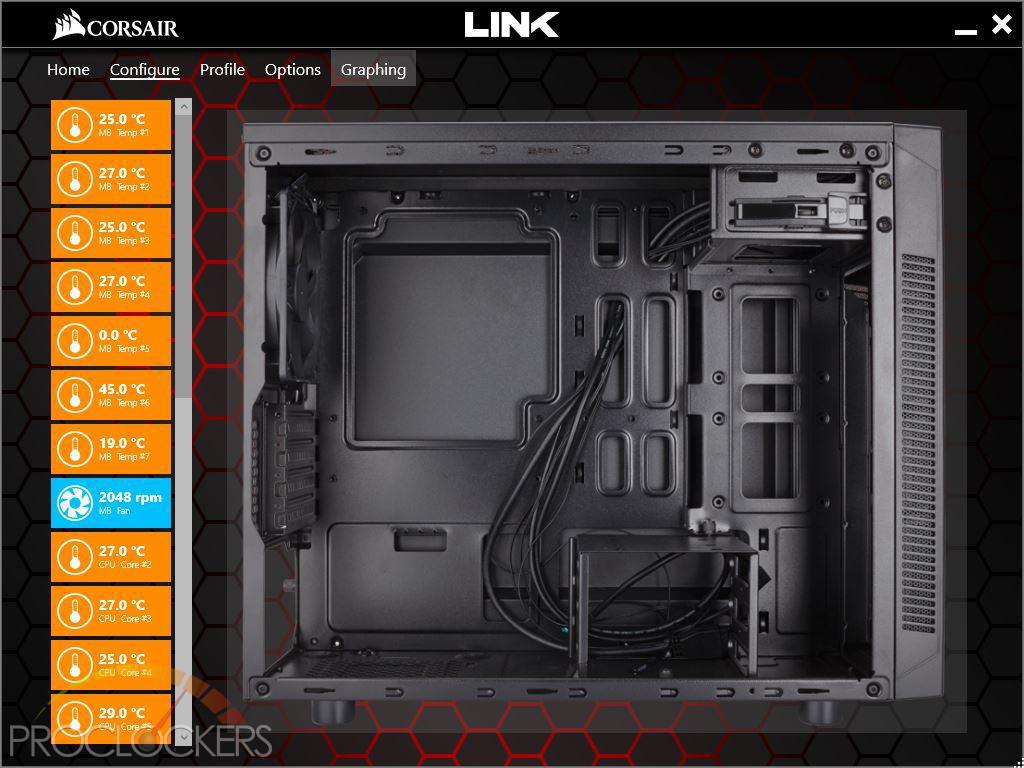 The configure tab brings up a generic case picture where you can drag the live 'tiles' of each speed/temp/etc into its approximate physical location in your own system.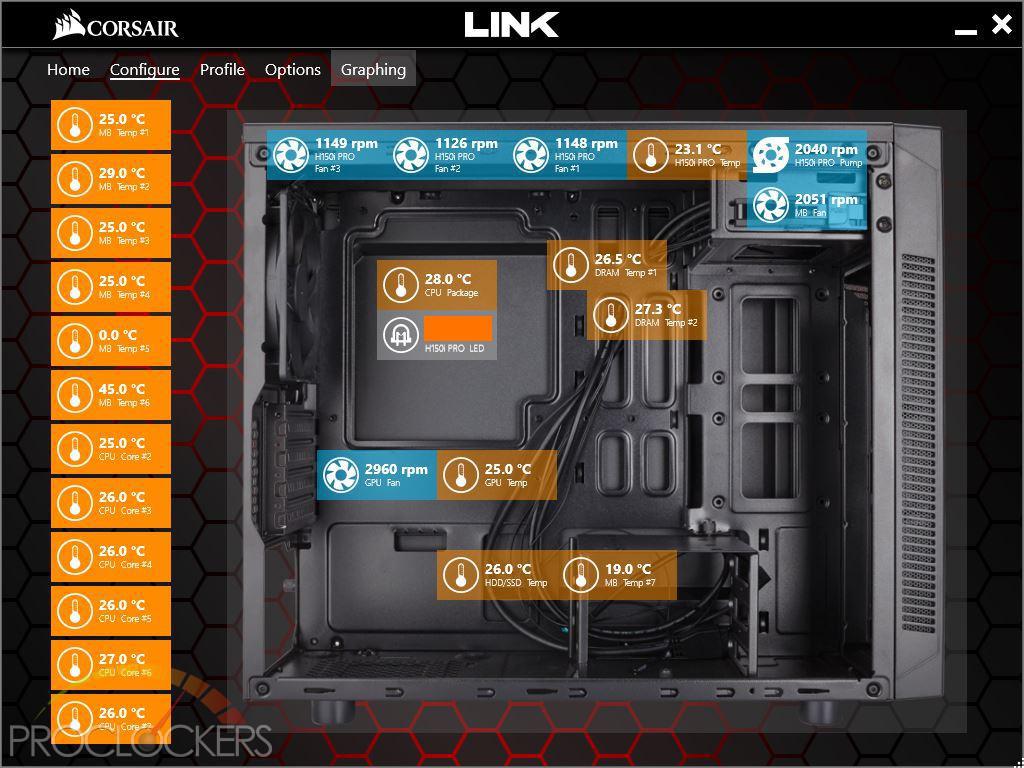 We moved our own relevant tiles into location.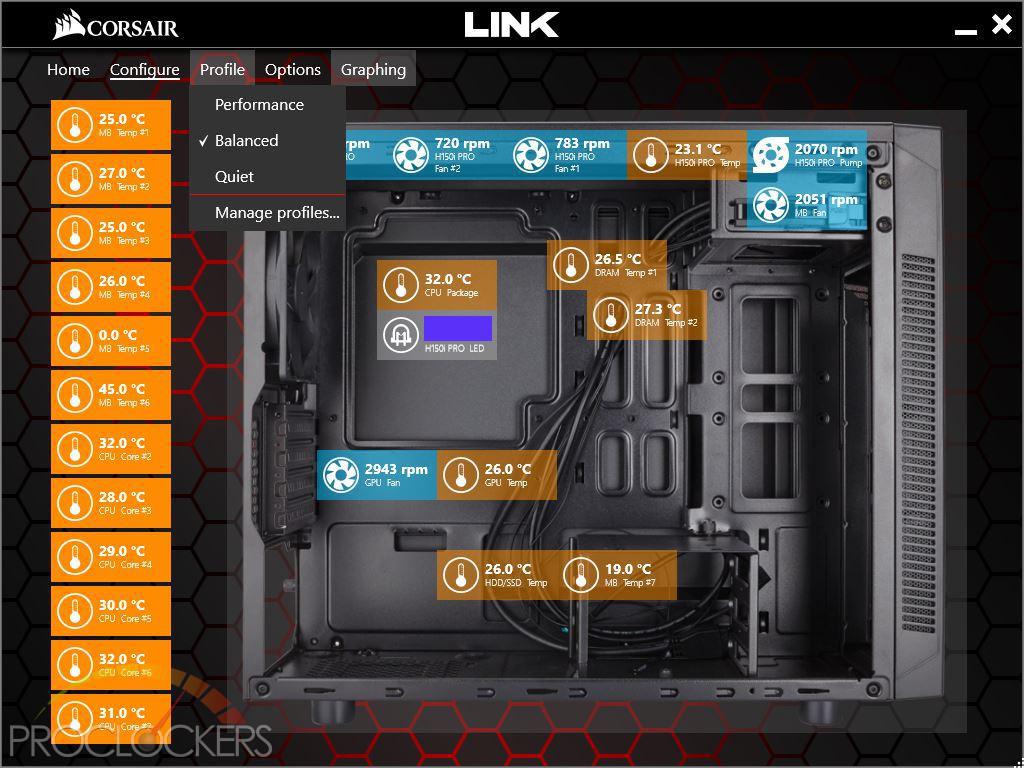 You can quickly flip between profiles shown above and watch what the system does in real time.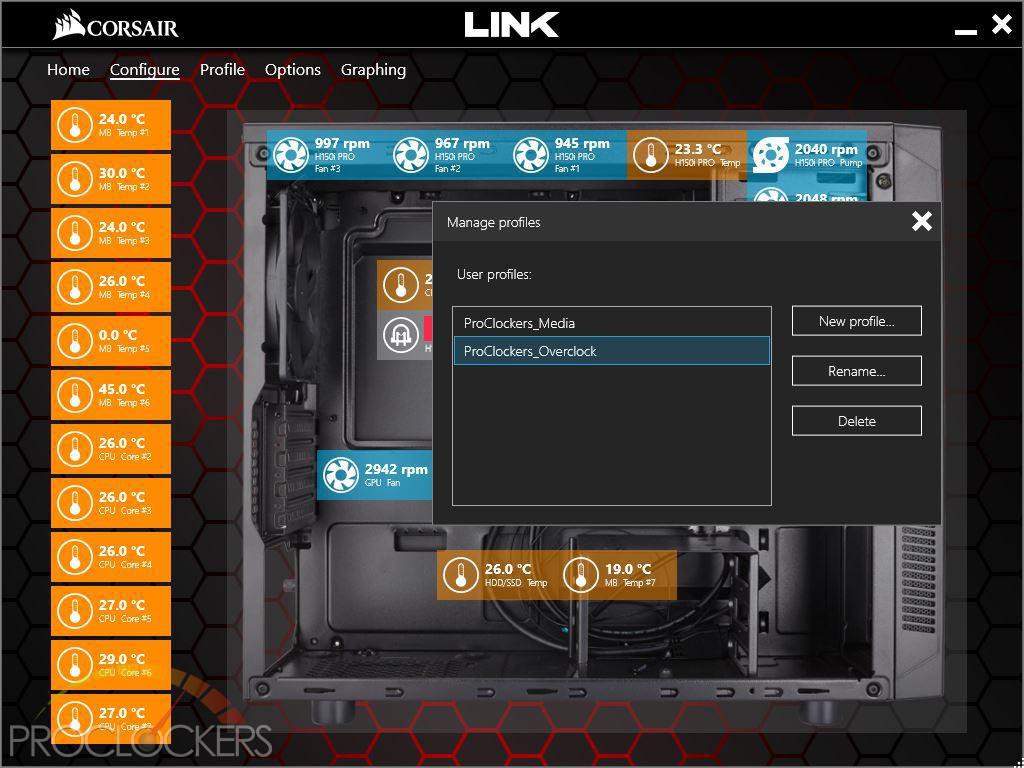 If you want to make your own profiles, that's quite easy as well. We made a quiet profile for 'media' usage, as well as a high-performance one for overclocking.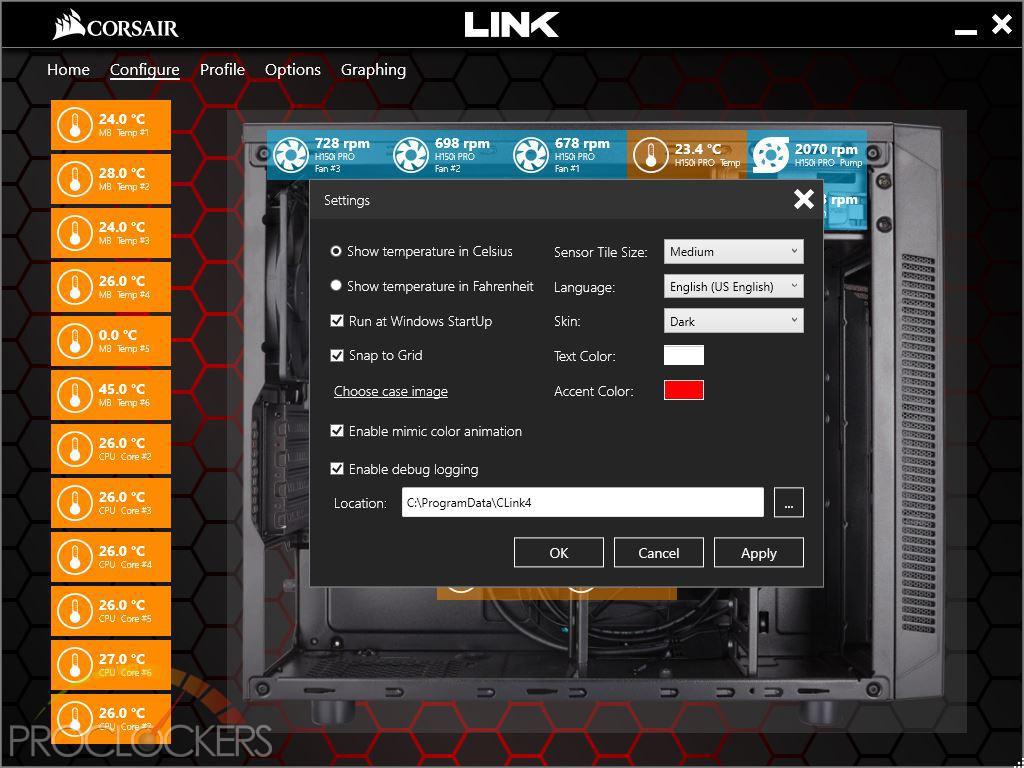 Some generic settings are available under the options menu.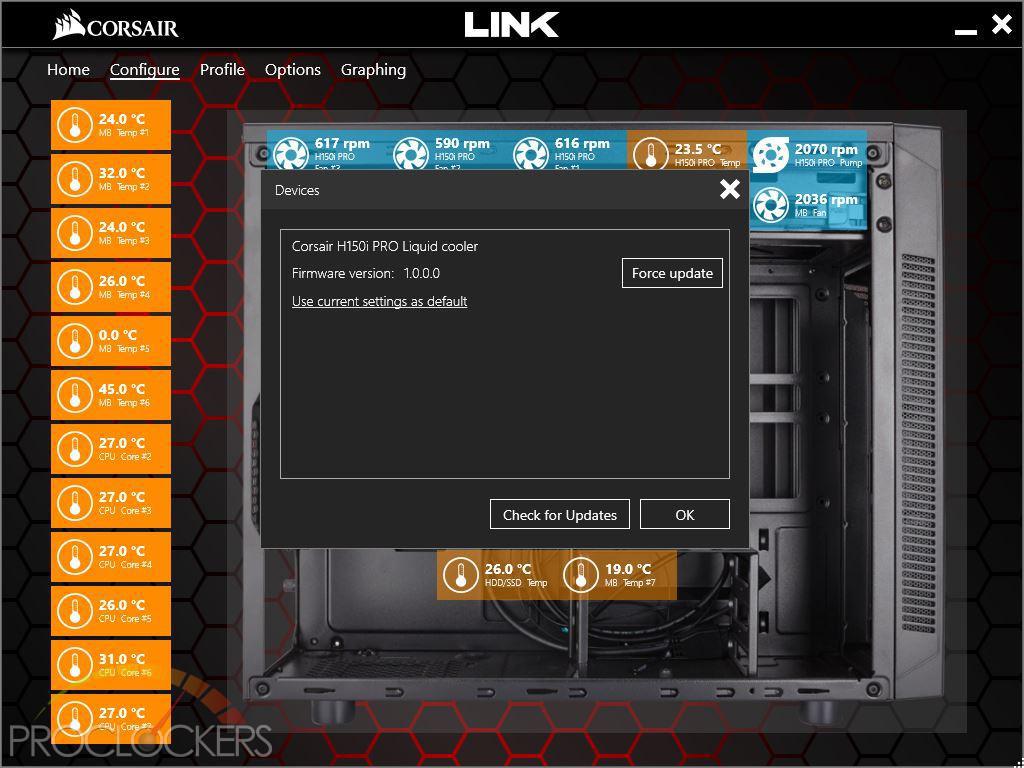 Like most Link-enabled devices, sometimes firmware updates are available, and they are quite painless to install from here. We didn't have any updates available at this time though.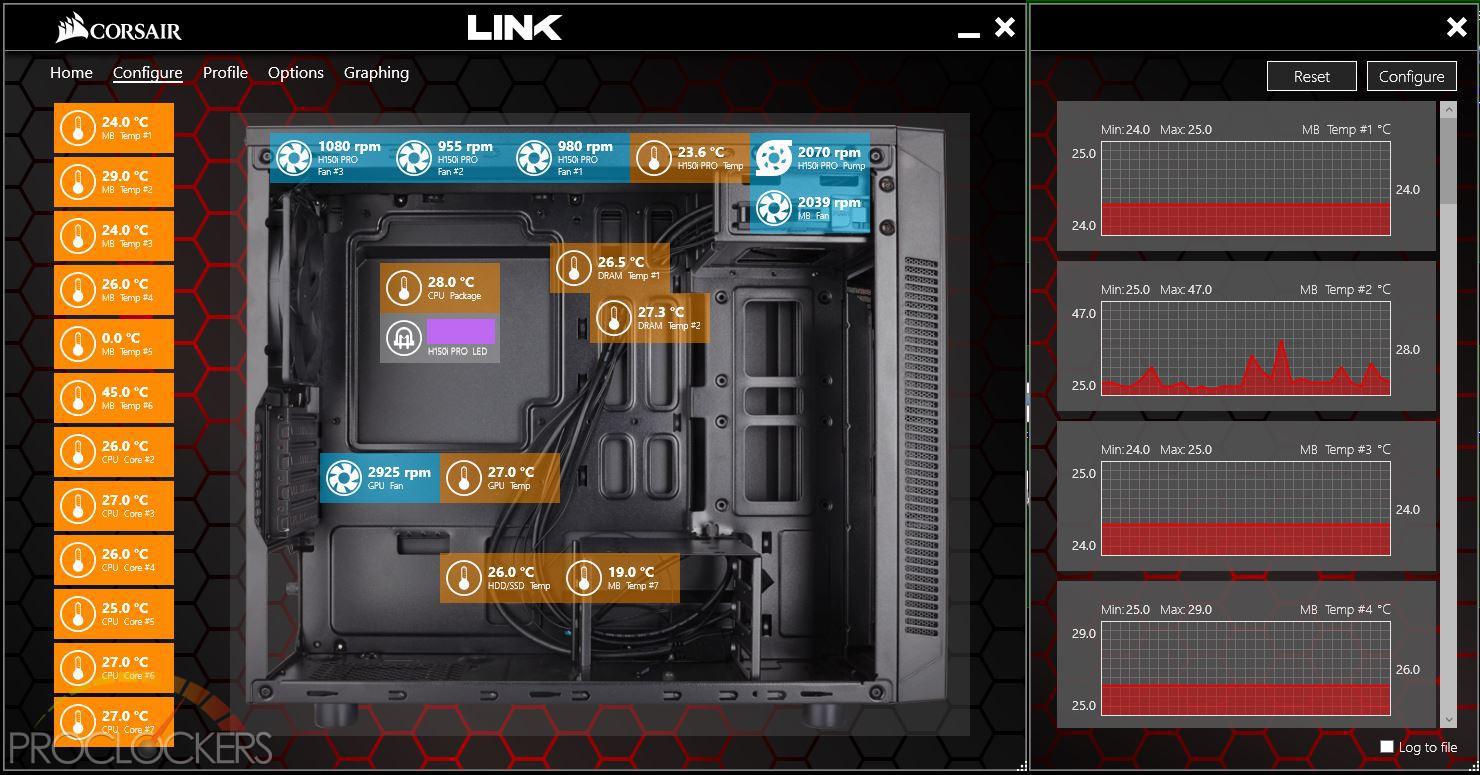 You can also bring up graphing to watch all of the data over a period of time.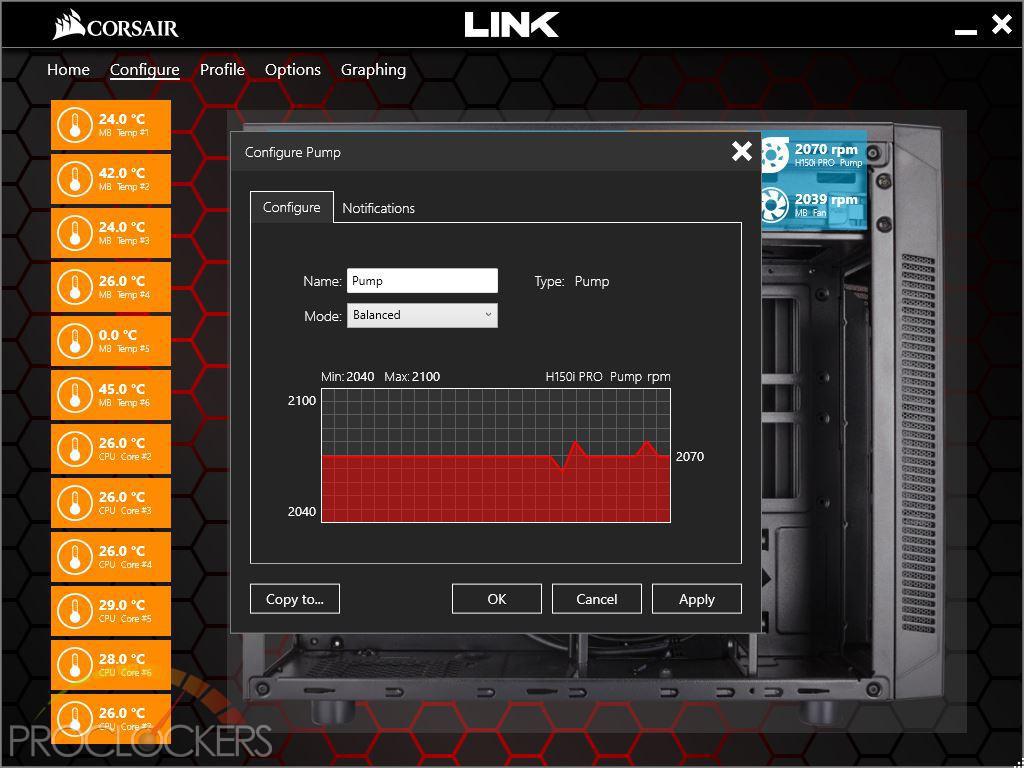 Each component such as fans, pump, and lighting can be configured by clicking on it.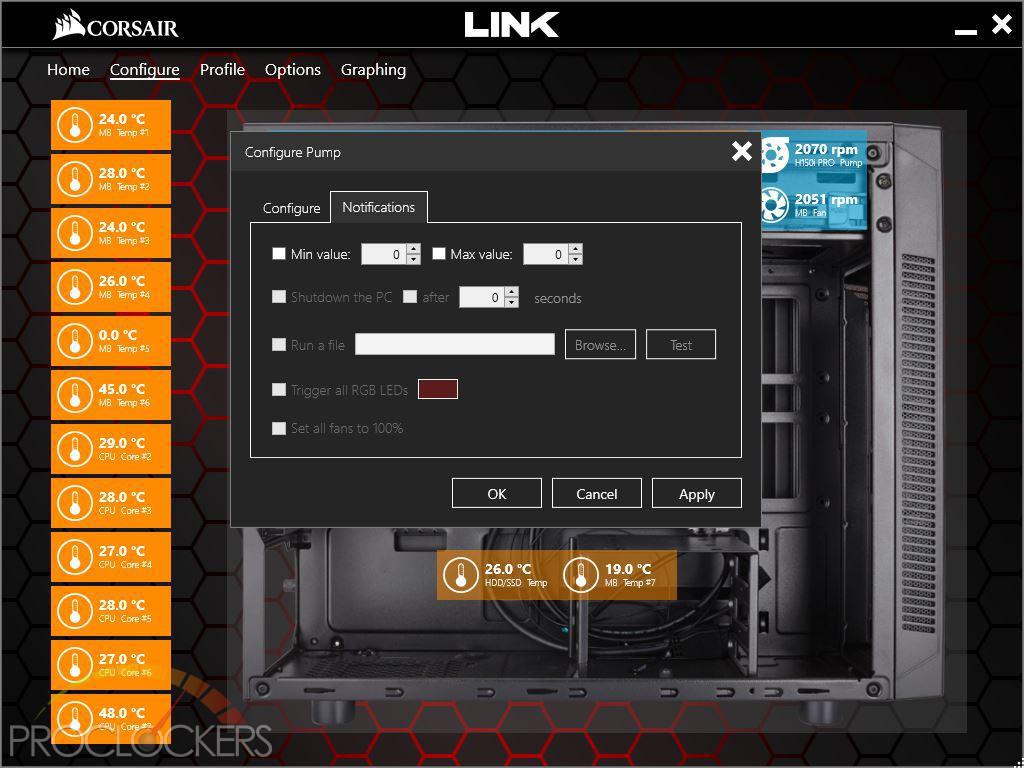 You can also set notifications for some components for exceeding thresholds and notify you by running a program, flashing the LED's, cranking all the fans to 100% or even just turning the PC off to protect it if you are away.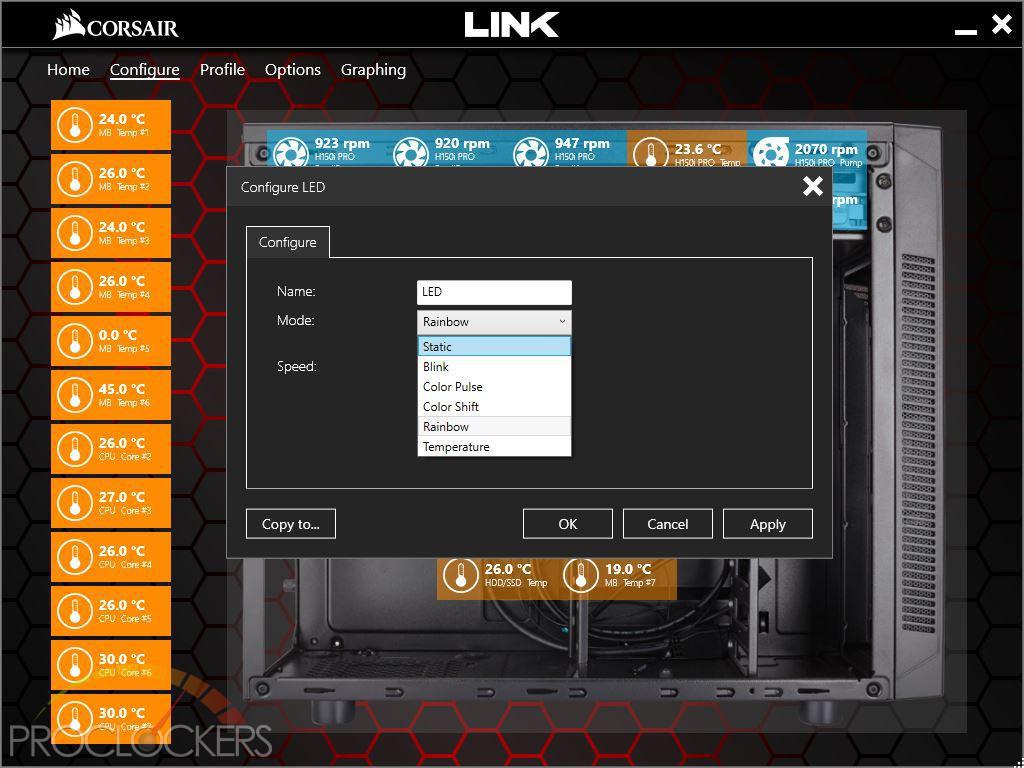 The RGB lighting of the pump can be adjusted to several static and dynamic effects in your choice of colors.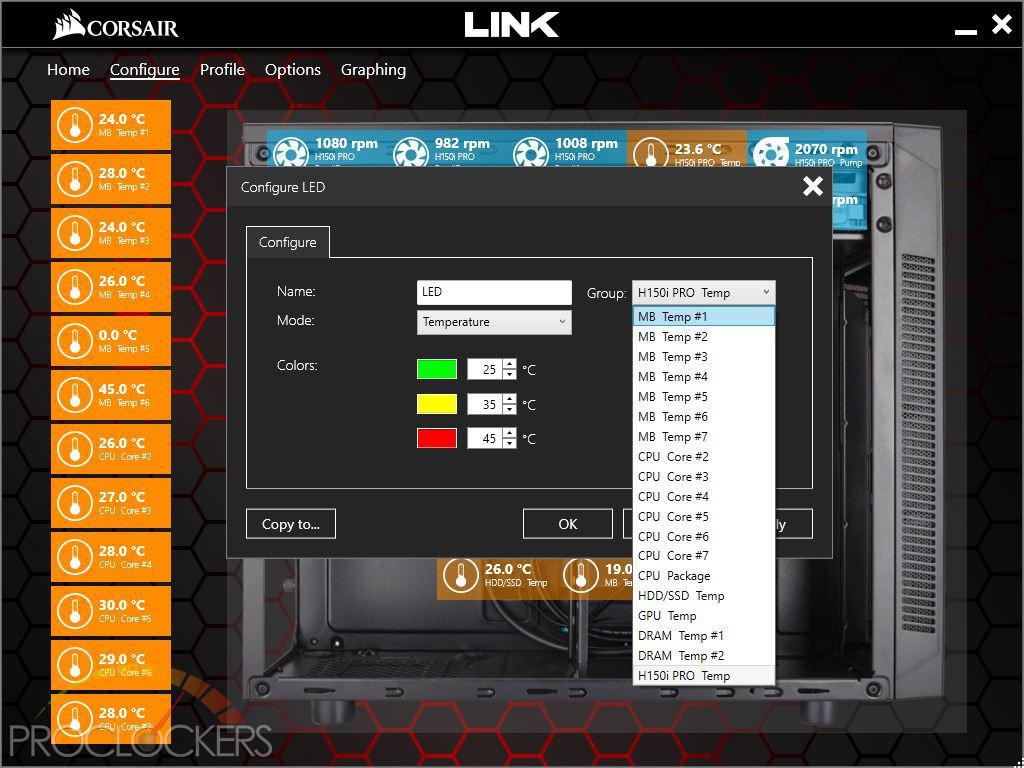 One fun dynamic effect is changing color based on temperature. It doesn't have to be the CPU temp either….
Performance Testing
We'll do our testing in the out of the box style 'balanced' mode for pump and fan speeds, this is how the unit would operate without loading the Corsair Link software. Our ambient temperature is 68F/20C for testing.
System Config
CPU: Intel Core i7-8700k
Motherboard: ASUS ROG Maximus X Formula
RAM: 32GB Corsair Dominator Platinum 3200Mhz
GPU: Galax GTX 1070 HOF
SSD: Samsung 960 PRO 2TB
OS: Windows 10 Professional X64
Cooling: Corsair H150i PRO
It starts out pretty apparent that a stock i7-8700K really isn't much of a load for the H150i Pro with the CPU sitting about 4C above ambient and hitting about 43C under full sustained load, so we'll skip to overclocking.
With our 8700K humming along at just over 5.1Ghz we see it idle at 30C and hit just under 90C at max load.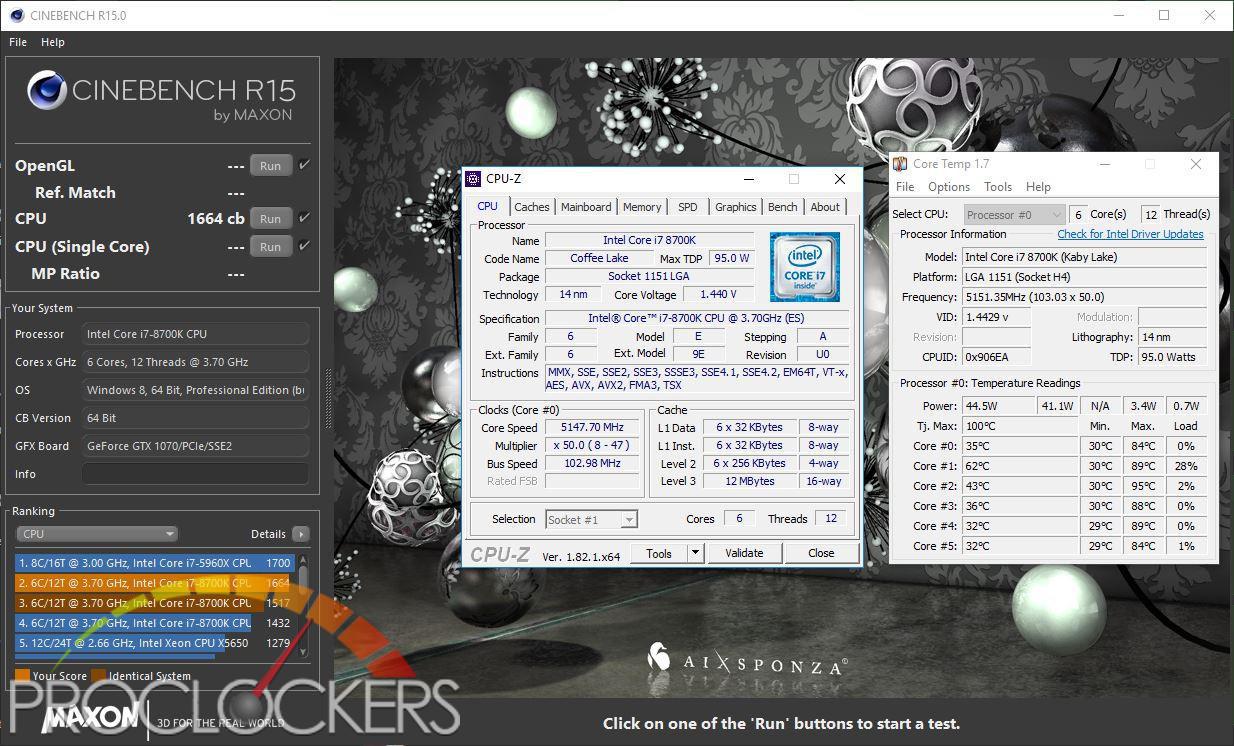 We actually watched with FLIR's ONE PRO camera during a short run to get a visual of what was going on and the thermal load of our overclocked CPU really only heats up around half of the radiator.
With such a strong performance on our 95W system, we decided to crank it up by slapping the H150i PRO on our X299 platform with a 140W i7-7820X.
System Config #2
CPU: Intel Core i7-7820X
Motherboard: ASRock X299 Taichi XE
RAM: 64GB GeIL Evo Spear 3200Mhz
GPU: Galax GTX 1070 HOF
SSD: Samsung 960 PRO 2TB
OS: Windows 10 Professional X64
Cooling: Corsair H150i PRO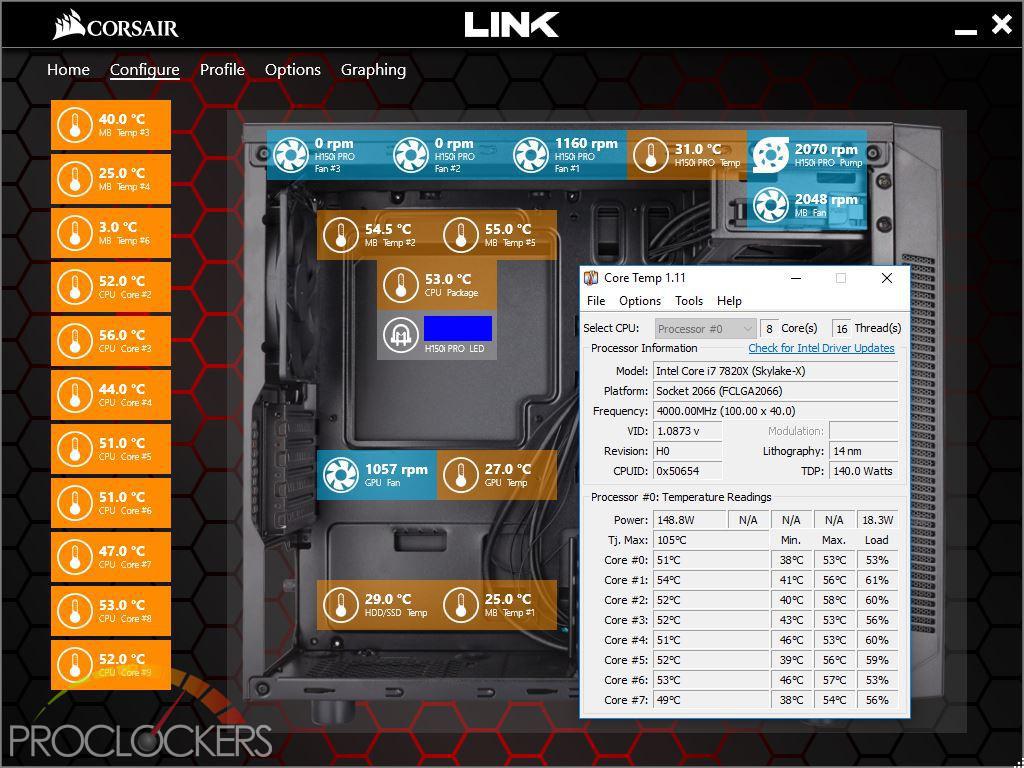 The higher-powered CPU puts a small dent in the H150i PRO, with the idle temps sitting around 40C and loaded temps about 54C, but the coolant inside only warms up to around 31C. This indicates we have plenty of radiator capacity left but are starting to tax the heat pickup of the block itself. One thing to note here is we had 2 of the fans connected to the motherboard directly and set to 100% speed.
To really put a load on, we'll nudge the CPU up to 4.7Ghz across all eight cores.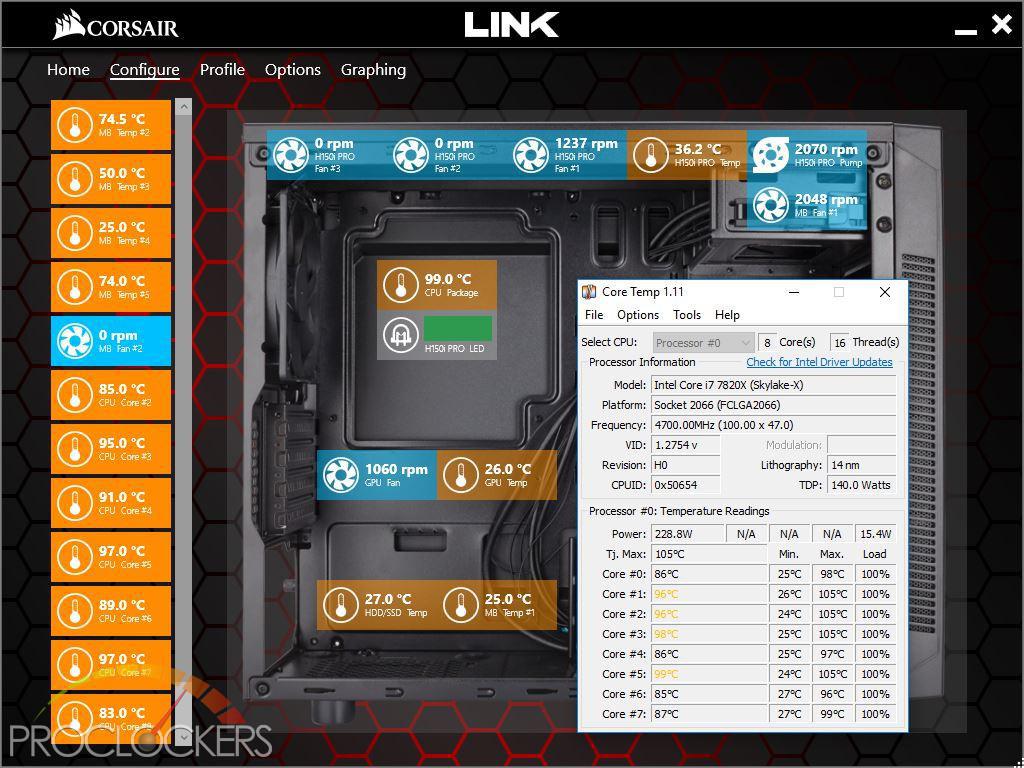 We pretty quickly hit the thermal throttle limits of the CPU around the 100C mark, and heat the coolant up to over 36C. this is still all at default settings, so we'll bump everything up to maximum speed.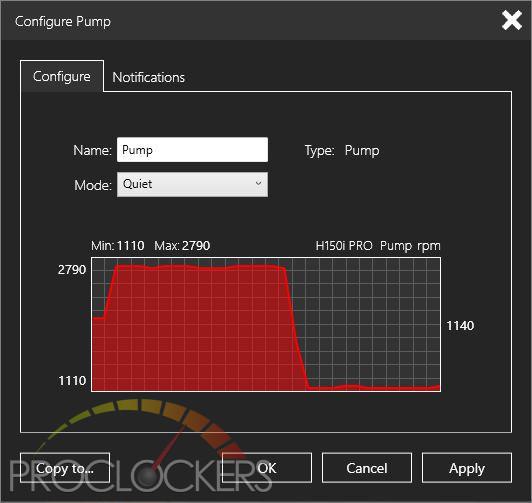 The pump has three modes out of the box, Quiet at 1100 RPM, balanced at 2000 RPM, and performance at 2800RPM, we'll run at 2800RPM for a repeat.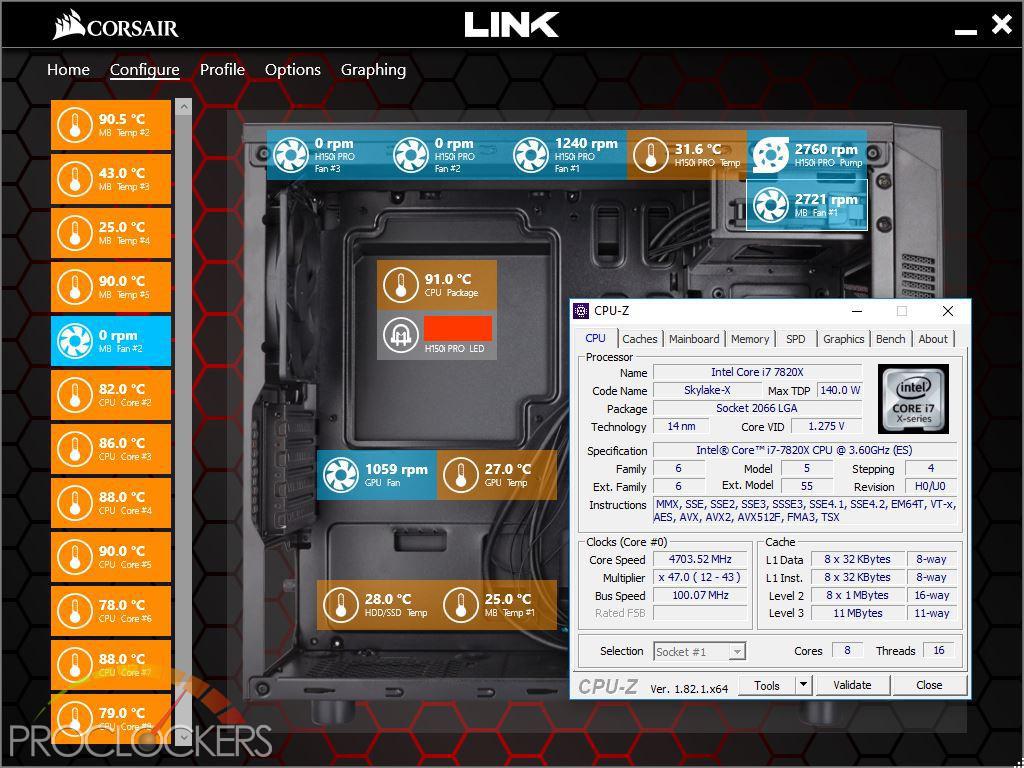 We immediately see a roughly 10C drop in CPU core temps and a 5C drop in coolant temps by cranking the pump speed to max. We can also finally hear the pump, it's not loud, but the tone is audible through the noise on the open air bench, in a closed case, we're not sure you would hear it still.
Final Thoughts & Conclusion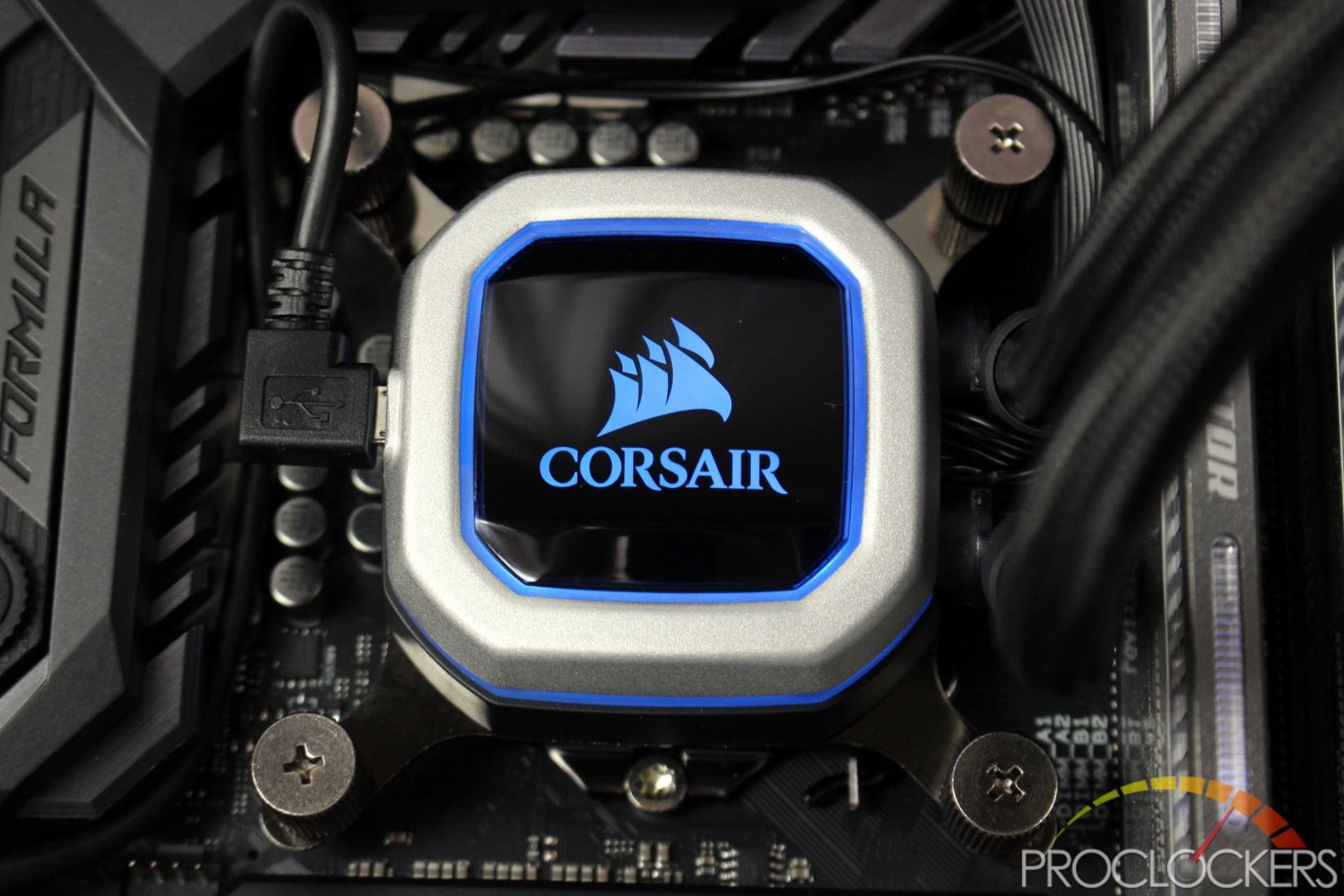 Corsair has given the popular Hydro series coolers a much welcome facelift and brought along a larger size offering with its first 360mm radiator. Raw performance from something like the H115i is largely unchanged, but the updates focus on noise, or more specifically, avoiding it and Corsair nail's the bullseye here. The RGB lighting addition, while not something new in this day and age, is nice and done well. We do wish there was a bit more granular control of it, at the very least a brightness setting. Corsair caught a lot of flak in Link's earlier days for a slow and buggy interface, but that has pretty well been resolved and all of the recent Link enabled gear we've had on the bench, including the H150i seamlessly tied in and worked well.
Raw performance doesn't break any records here, but the H150I PRO does well, and more importantly to most, does it quietly. Cranking the pump up to maximum speed did show a notable improvement across the board in temps, but it didn't seem to want to go up on its own at default settings so perhaps this could be made more aggressive down the road. Overall though, the H150i did great, it looks great, can't be heard under normal circumstances and by un-scientific touch the pump and see how it feels, seems to run much more smoothly than previous generations. If you have room for a 360mm radiator in your case, then look no further for your next liquid cooler. Great job Corsair!