Intel Core i7-8700K CPU Review
Introduction
Today, Intel has launched their 8th generation Core Processors, formerly known as Coffee Lake. With this launch comes something every hardware enthusiast has been waiting for, the launch of Intel's first consumer 6-core processor, the Core I7-8700k. While socket LGA 1151 is retained for this generation, Intel has tweaked so much to deliver the ultimate mainstream desktop experience. 8th gen CPU's can only function on new 300 series motherboards. Intel's mainstream offerings have topped out at 4 cores for many generations now, but 8th generation CPU's give that a 50% increase to 6 cores on Core i5 and i7 offerings. Eighth generation Core i3 CPU's see doubling of the core count to quad-core, and all three segments offer fully unlocked SKU's for maximizing performance. Technologies such as Hyper-Threading and Turbo-Boost remain, but several new features make their appearance in this segment as well.
Are 6 cores worth the upgrade if you have to update your motherboard as well? That's one of many questions we intend to help answer, so let's dive in and check it out!
ProClockers would like to thank Intel for sending the i7-8700K over to check out!
8th Generation Processor segment comparison.
Intel's take on the i7-8700K
The Intel® Core™ i7-8700K processor is the latest addition to Intel's line of unlocked desktop processors, bringing six cores and twelve threads of performance to the gaming and performance enthusiast. An Intel® Z370 chipset-based motherboard unlocks the best features of the Intel Core i7-8700K processor such as enabling full overclocking control and support for Intel® Optane™ memory to provide a more responsive system experience. To take advantage of the new unlocked desktop processors, a motherboard based on the new Intel Z370 chipset is required.
Intel's take on the 8th Generation Core CPU's
The 8th Generation Intel® Core™ processors redefine mainstream desktop PC performance with up to six cores for more processing power—that's two more cores than the previous generation Intel® Core™ processor family—Intel® Turbo Boost Technology 2.0 to increase the maximum turbo frequency up to 4.7 GHz, and up to 12 MB of cache memory.1 Intel® Hyper-Threading Technology (Intel® HT Technology)1 delivers up to 12-way multitasking support in the latest generation of Intel® Core™ processors. For the enthusiast, the unlocked 8th Generation Intel® Core™ i7-8700K processor provides you the opportunity to tweak the platform performance to its fullest potential and enjoy great gaming and VR experiences.
The new 8th Generation Intel® Core™ processor family delivers:
An impressive portfolio of standard and unlocked systems for a broad range of usages and performance levels
New system acceleration when paired with Intel® Optane™ memory to deliver amazing system responsiveness1
Intel® Turbo Boost Technology 2.0 to give you that extra burst of performance when you need it
Intel® Hyper-Threading Technology (Intel® HT Technology), which allows each processor core to work on two tasks at the same time, improving multitasking, speeding up workflows, and accomplishing more in less time
DDR4 RAM memory technology support, which allows systems to have up to 64 GB of memory and up to 2666 MT/s memory transfer speeds
The ability to set an overclocked ratio per core with unlocked processors,1 when paired with select chipset SKUs, to provide you more control and more granularity for overclocking2 your platform
Die Shot of Intel's 8th generation Core processors.
Eighth generation CPU's will not work on older chipsets such as Z270 and Z170, and conversely, 6th and 7Th generation CPU's will not work on 300 series boards, despite using the exact same socket. While the i7-8700K has a 95W TDP, just 4 watts more than the i7-7700K's 91W TDP, peak power draw is significantly higher and the jump to 6 cores can be significantly higher still. Increased power delivery capabilities are one major reason for lack of backward compatibility. The next major reason is improved memory routing for out of the box support of up to DDR4-2666Mhz over last generations DDR4-2400. While XMP speeds can easily surpass the 4000 MHz mark, those speeds are technically a factory supplied overclock, with no guarantee of support or compatibility. Intel has also updated the memory subsystem to expand the memory multipliers to support up to 8400 MT/s and added a real-time memory latency control, a feature previously only found on HEDT platforms.
Features & Specifications
Experience Amazing
8th Generation Intel® Core™ processor-based desktop platforms are loaded with new and enhanced features to deliver amazing experiences that five-year-old systems can't handle.
Incredible VR
Great VR experiences involve the entire platform, not just any one component. The ideal combination of processor, graphics, I/O connectivity, display, and audio are required. A high-performance processor is key to achieving a balanced platform to make your VR experiences great. Attach your premium head-mounted display (HMD) to an Intel® Core™ i7 or i5 processor-based PC, and prepare to be amazed.
Great Gaming
Outstanding gaming experiences extend beyond your personal smooth gameplay to your entire gaming community. The 8th Generation Intel® Core™ processor family makes it easy to share those experiences by live-streaming or recording, editing, and posting your epic highlights. To perform at your best, get a great gaming PC powered by an 8th Generation Intel® Core™ i7 processor that lets you live—and share—the ultimate gaming experience.
Ultra-high Definition Entertainment
To play premium movie streams in stunning 4K UHD, get an advanced platform that supports the latest media technologies enabling today's great entertainment. Desktop computers based on the 8th Generation Intel® Core™ processors integrate advanced media technologies that bring premium, high-quality content to your desktop, including:
HEVC 10-bit encode/decode, VP9 10-bit decode:
Delivering smooth streaming of premium 4K UHD entertainment to your PC from leading online providers
Providing full-size, screen-immersive viewing experiences with 4K video and 360-degree viewing
Enabling incredible 4K video creation and sharing with ease
High Dynamic Range (HDR) and Rec. 2020 (Wide Color Gamut) for life-like luminesces to provide enhanced image and video viewing experiences
Intel® Quick Sync Video technology to accelerate most video capabilities, allowing users to create and share in real-time and multitask without interruption
Ultimate Protection Built Into the Silicon
8th Generation Intel® Core™ processors integrate hardware-level technologies that strengthen the protection of your enabled security1 software. Hardware-based security helps you experience online and offline activities with peace of mind, enabled by features that include:
Intel® Software Guard Extensions (Intel® SGX)1 to help applications protect your system and your data
Intel® BIOS Guard and Intel® Boot Guard to help protect your system during startup
Scalable Portfolio of Processors
The 8th Generation Intel® Core™ processor family is a great investment in your desktop experiences—whether for gaming, entertainment, or general-purpose computing wherever your life takes you. From the jaw-dropping performance of the 8th Generation Intel® Core™ i7-8700K processor with six cores to the practical capabilities of the 8th Generation Intel® Core™ i3-8100 processor, our latest generation of desktop processors fits a wide range of budgets and needs. Whether you're a performance-hungry professional, an exceptional enthusiast, or a first-time buyer, there is an 8th Generation Intel® Core™ processor that will enable the experiences you seek. If form factor is your priority, the 8th Generation Intel® Core™ processor family offers a range of processors designed for desktop PCs from high- performance gaming towers, to slick, and stylish all-in-ones, to compact living room minis.
Prepare to be Amazed with the 8th Generation Intel® Core™ Desktop Processor Family
The 8th Generation Intel® Core™ processors are raising the bar of desktop computing with innovations to drive exciting experiences, capabilities, and form factors. Experience all the amazing things you and a new 8th Generation Intel® Core™ processor-powered PC can do.
Intel® Core™ i7-8700K Processor Key Features
Intel® Turbo Boost Technology 2.0: Dynamically increases the processor frequency up to 4.7GHz when applications demand more performance. Speed when you need it, energy efficiency when you don't.
Intel® Hyper-Threading Technology: Allows each processor core to work on two tasks at the same time for up to 12 total independent tasks (threads) providing parallel processing capability for better multi-tasking with threaded applications.
Intel® Smart Cache: 12MB of shared cached allows faster access to your data by enabling dynamic and efficient allocation of the cache to match the needs of each core significantly reducing latency to frequently used data and improving performance.
CPU Overclocking Enabled (with Intel® Z370 chipset): Fully unlocked core multiplier, power, per core overclocking, base clock and memory ratios enable ultimate flexibility for overclocking.
Graphics Overclocking Enabled (with Intel® Z370 chipset): Unlocked graphics multiplier allows for overclocking to boost the graphics clock speed.
Integrated Memory Controller: Supports 2 channels of DDR4-2666 memory with 2 DIMMs per channel. Support for memory based on the Intel® Extreme Memory Profile (Intel® XMP) specification.2
PCI Express* 3.0 Interface: Supports up to 8 GT/s for fast access to peripheral devices and networking with up to 16 lanes configurable as 1×16, 2×8, or 1×8 and 2×4 depending on the motherboard design.
Chipset/Motherboard Compatibility: Compatible with all Intel® 300 Series chipsets with the latest BIOS and drivers.
Intel® UHD Graphics 630: Integrated 3D performance with support for Microsoft DirectX* 12 and Ultra HD 4K resolution display for immersive mainstream gaming. For Microsoft DirectX* 12 testing, the performance-tuned Intel graphics driver is expected to be available for download on Intel Download Center by the 8th generation Intel® Core™ processor family product introduction. The Intel® UHD Graphics 630 dynamic graphics frequency ranges up to 1200MHz.
Vibrant Media: Enhanced, built-in visual features deliver a seamless visual PC experience for rich Ultra HD 4K entertainment and HD gaming.
Intel® Quick Sync Video Technology: Media processing for incredibly fast conversion of video files for portable media players or online sharing including support for HEVC 10-bit (H.265) encode/decode to playback premium 4K Ultra HD content from selected service providers.
Intel® Power Optimizer and Processor C-States: Intel® Power Optimizer increases periods of silicon sleep state across the platform ingredients, including the processor, chipset, and third-party system components, to reduce power. Processor C-states (C8-C10) provide low idle power.
Intel® Virtualization Technology: Allows one hardware platform to function as multiple "virtual" platforms. Offers improved manageability by limiting downtime and maintaining productivity by isolating computing activities into separate partitions.
VMCS Shadowing: VMCS shadowing allows a Virtual Machine Manager (VMM) running in a guest (nested virtualization) to access a shadow VMCS memory area using the normal VMRead/VMwrite instructions. This technology reduces overhead for a more natural and responsive user experience. It also allows users to take control of their personal and professional data and apps while being protected by game-changing security.
Intel® Advanced Encryption Standard: New Instructions (Intel® AES-NI)A set of instructions that can be used to accelerate a variety of encryption apps, including whole disk encryption, file storage encryption, conditional access of 4K UHD content, Internet security, and VoIP. Consumers benefit from protected internet and email content, plus fast, responsive disk encryption.
Intel® Transactional Synchronization Extensions (Intel®TSX): A set of instructions focused on enterprise-level multithreaded performance scaling, making parallel operations more efficient via improved control of software threads and locks. This offers performance benefits for enterprise-level big data analytics/business intelligence and visualization apps, which involve multi-user collaboration.
Intel® Advanced Vector Extensions 2 (Intel® AVX2): A set of 256-bit instructions to deliver enhanced performance on floating point- and integer-intensive apps. Includes instructions for FMA (Fused Multiply-Add) which can deliver better performance on media and floating point computations, including face recognition, professional imaging, high-performance computing, consumer video and imaging, compression, and encryption.
Intel® Software Guard Extensions (Intel® SGX): A collection of instructions, APIs, libraries, and tools to help protect select code and data from disclosure or modification through the use of enclaves, which are protected areas of execution in memory.
Intel® BIOS Guard: An augmentation of existing chipset-based BIOS flash protection capabilities targeted to address the increasing malware threat to BIOS flash storage. It helps protect the BIOS flash from modification without platform manufacturer authorization, helps defend the platform against low-level DOS (denial of service) attacks, and restores BIOS to a known good state after an attack.
Hardware-based boot integrity protection that helps prevent unauthorized software and malware takeover of boot blocks critical to a system's function, thus providing an added level of platform security based on hardware. Configurable boot types include:
Measured Boot – measures the initial boot block into the platform storage device such as a trusted platform module (TPM) or Intel® Platform Trust Technology.
Verified Boot – cryptographically verifies the platform initial boot block using the boot policy key.
Intel® OS Guard: A hardware-based security feature that protects the OS (operating system) kernel. OS Guard helps prevent the use of malicious data or attack code located in areas of memory marked as user mode pages from taking over or compromising the OS kernel. OS Guard is not application-specific and protects the kernel from any application.
Intel® Identity Protection Technology: Protect your one-time-password (OTP) credentials and public key infrastructure (PKI) certificates and add a layer of encrypted, second-factor authentication for online transactions.
Intel® Secure Key: Security hardware-based random number generator that can be used for generating high-quality keys for cryptographic (encryption and decryption) protocols. Provides quality entropy that is highly sought after in the cryptography world of added security.
Product Specifications
Essentials
· Product Collection – 8th Generation Intel® Core™ i7 Processors
· Code Name – Products formerly Coffee Lake
· Vertical Segment – Desktop
· Processor Number – i7-8700K
· Status – Launched
· Launch Date – Q4'17
· Lithography – 14 nm
Performance
· # of Cores – 6
· # of Threads – 12
· Processor Base Frequency – 3.70 GHz
· Max Turbo Frequency – 4.70 GHz
· Cache – 12 MB
· Bus Speed – 8 GT/s DMI3
· TDP – 95 W
Supplemental Information
· Embedded Options Available – No
· Conflict Free – Yes
Memory Specifications
· Max Memory Size (dependent on memory type) – 64 GB
· Memory Types – DDR4-2666
· Max # of Memory Channels – 2
· ECC Memory Supported – No
Graphics Specifications
· Processor Graphics – Intel® UHD Graphics 630
· Graphics Base Frequency – 350 MHz
· Graphics Max Dynamic Frequency – 1.20 GHz
· Graphics Video Max Memory – 64 GB
· Execution Units – 24
· 4K Support – Yes, at 60Hz
· Max Resolution (HDMI 1.4) – 4096×2304@24Hz
· Max Resolution (DP) – 4096×2304@60Hz
· Max Resolution (eDP – Integrated Flat Panel) – 4096×2304@60Hz
· DirectX* Support – 12
· OpenGL* Support – 4.5
· Intel® Quick Sync Video – Yes
· Intel® InTru™ 3D Technology – Yes
· Intel® Clear Video HD Technology – Yes
· Intel® Clear Video Technology – Yes
· # of Displays Supported – 3
· Device ID – 0x3E92
Expansion Options
· Scalability – 1S Only
· PCI Express Revision – 3.0
· PCI Express Configurations – Up to 1×16 or 2×8 or 1×8+2×4
· Max # of PCI Express Lanes – 16
Package Specifications
· Max CPU Configuration – 1
· Thermal Solution Specification – PCG 2015C (130W)
· TJUNCTION – 100°C
· Package Size – 37.5mm x 37.5mm
· Low Halogen Options Available – See MDDS
Advanced Technologies
· Intel® Optane™ Memory Supported – Yes
· Intel® Turbo Boost Technology – 2.0
· Intel® vPro™ Technology – Yes
· Intel® Hyper-Threading Technology – Yes
· Intel® Virtualization Technology (VT-x) – Yes
· Intel® Virtualization Technology for Directed I/O (VT-d) – Yes
· Intel® VT-x with Extended Page Tables (EPT) – Yes
· Intel® TSX-NI – Yes
· Intel® 64 – Yes
· Instruction Set – 64-bit
· Instruction Set Extensions – SSE4.1/4.2, AVX2
· Idle States – Yes
· Enhanced Intel SpeedStep® Technology – Yes
· Thermal Monitoring Technologies – Yes
· Intel® Identity Protection Technology – Yes
· Intel® Stable Image Platform Program (SIPP) – Yes
Security & Reliability
· Intel® AES New Instructions – Yes
· Secure Key – Yes
· Intel® Software Guard Extensions (Intel® SGX) – Yes
· Intel® Memory Protection Extensions (Intel® MPX) – Yes
· Intel® OS Guard – Yes
· Intel® Trusted Execution Technology – Yes
· Execute Disable Bit – Yes
· Intel® Boot Guard – Yes
Unboxing & A Closer Look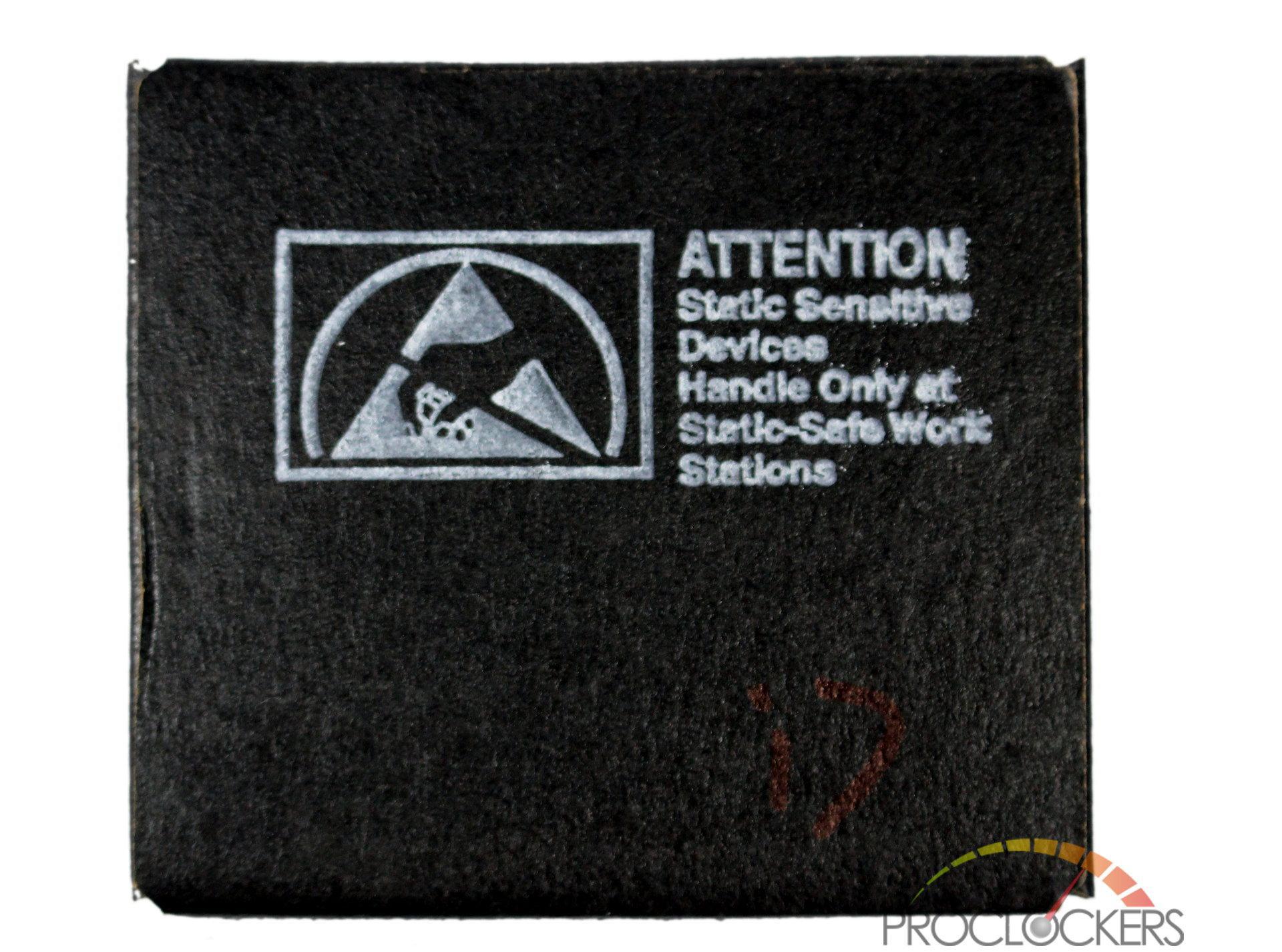 As with all pre-release samples, out Intel Core i7-8700K comes in a non-descript black box. The only markings are a static sensitive device warning.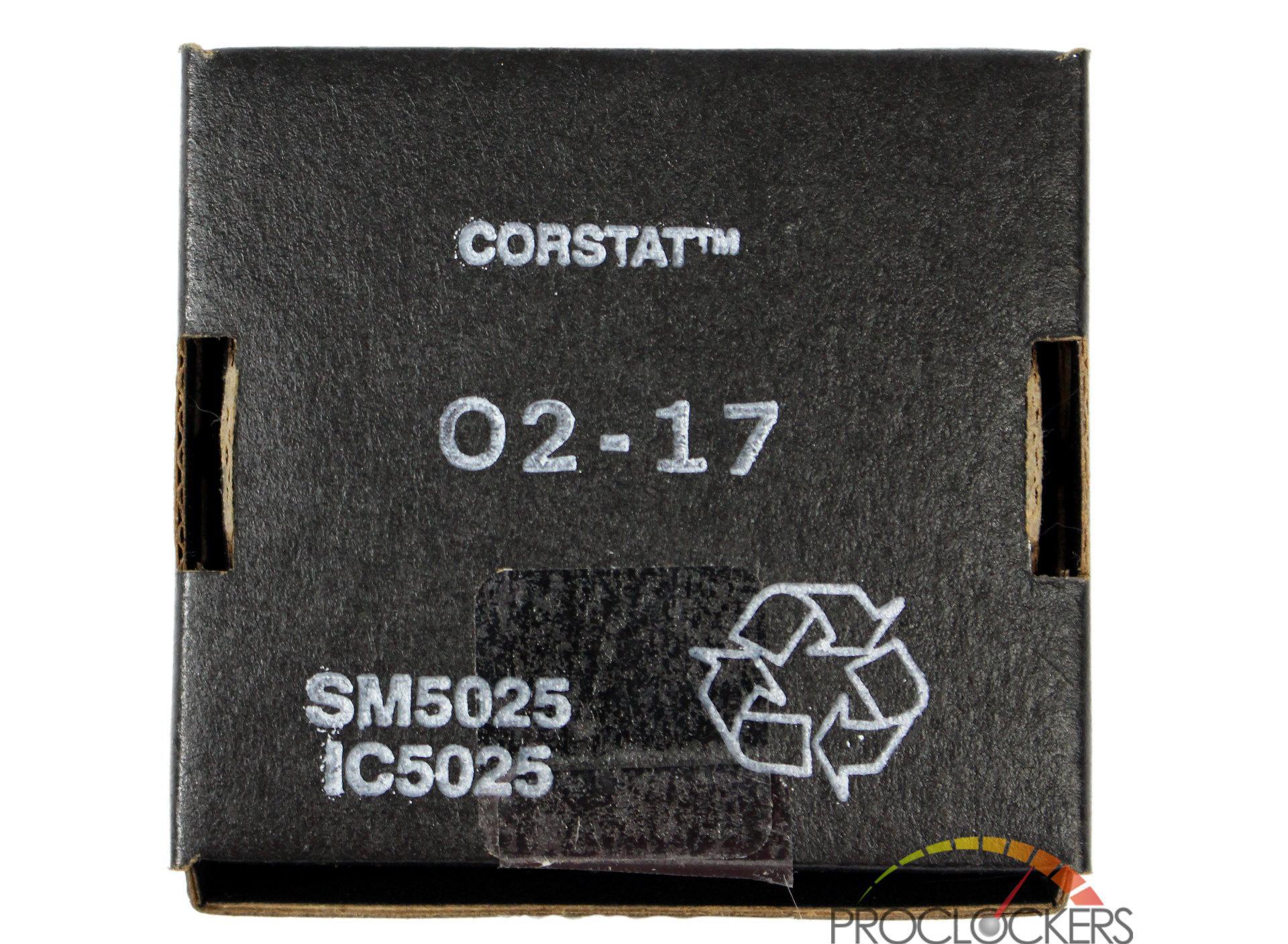 The rear of the box is not much different.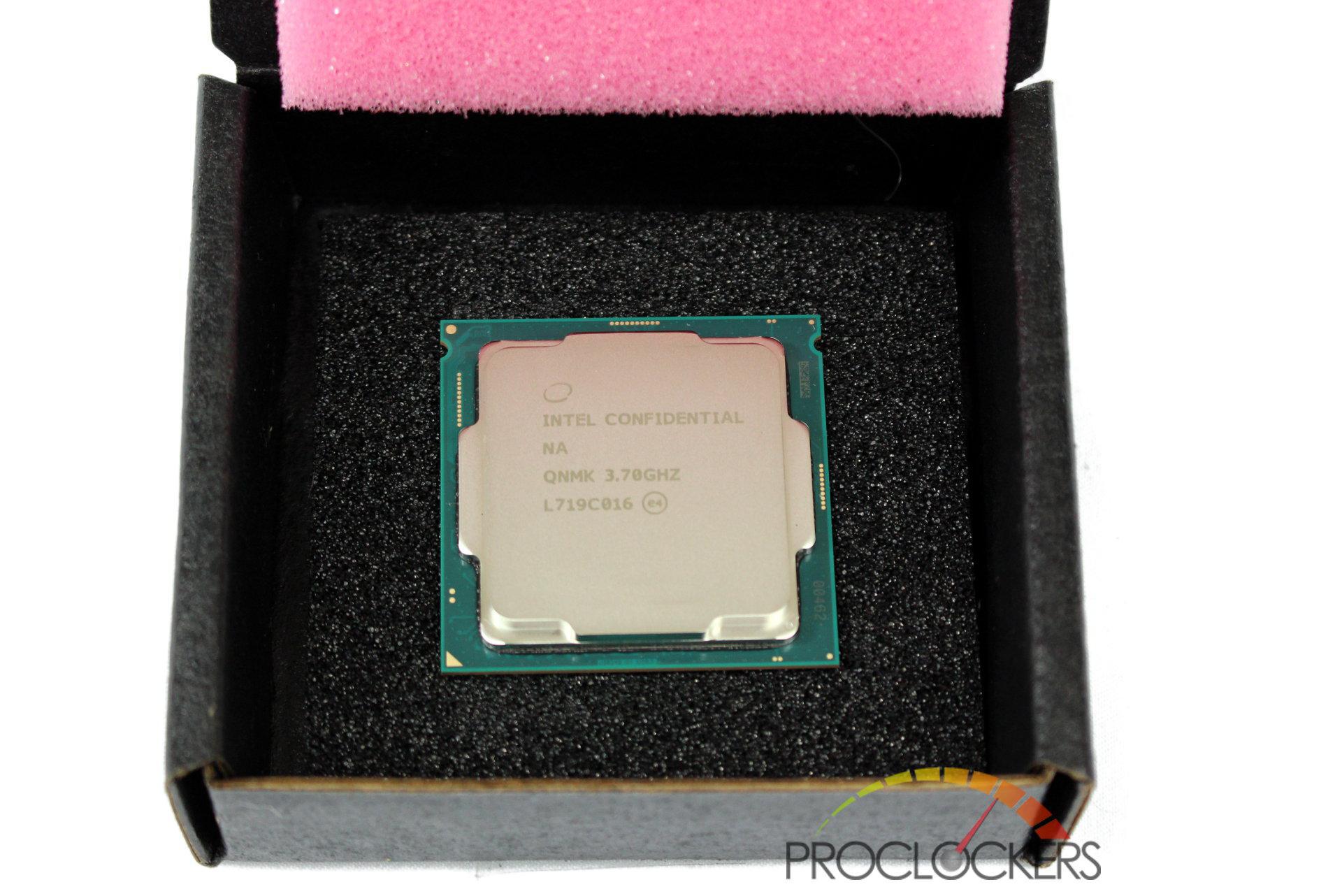 Opening it up, we are greeted with our CPU nestled between to ESD safe sheets of foam.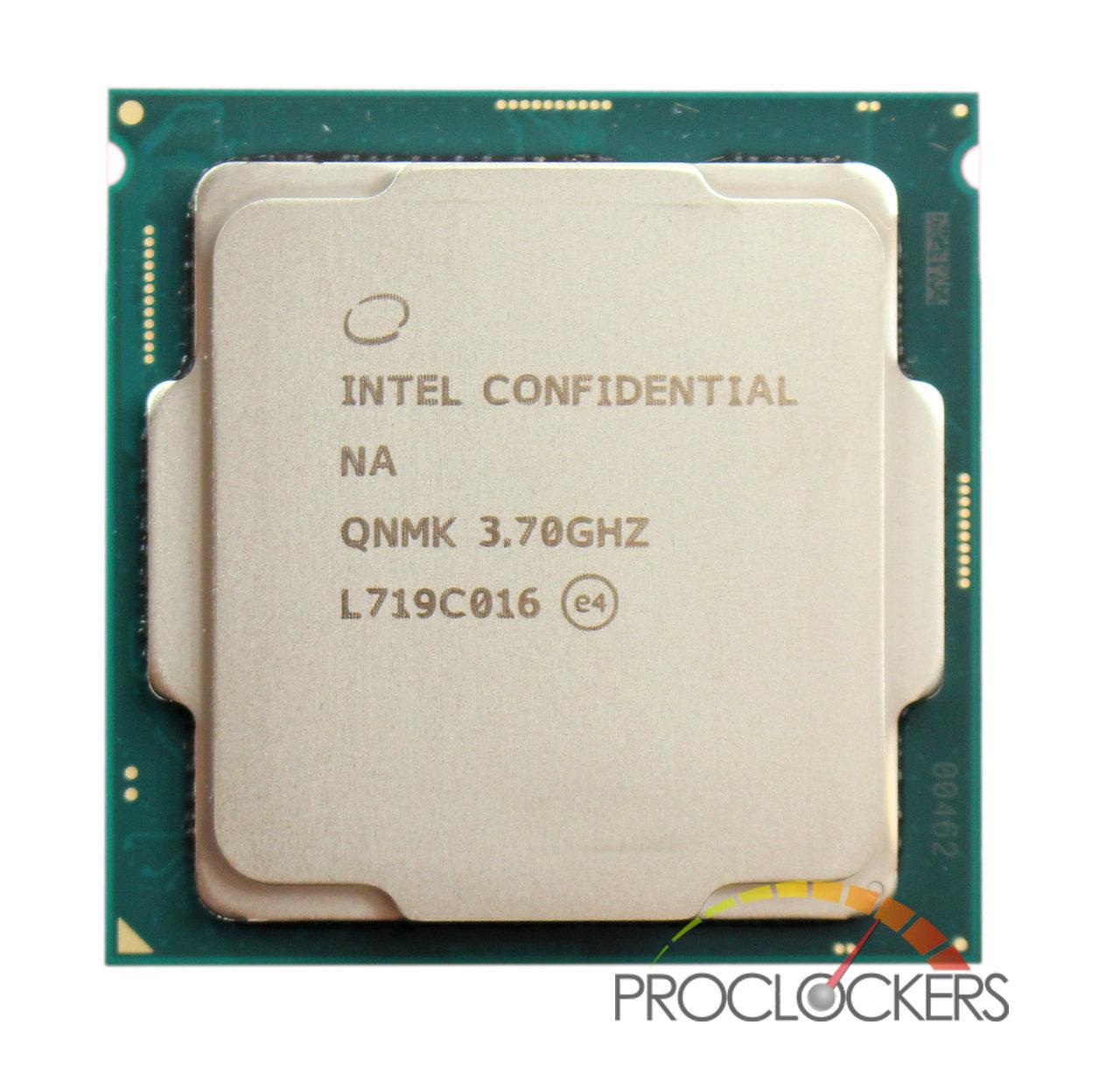 Our CPU bares only the engineering sample markings but does have the retail clock speed laser engraved.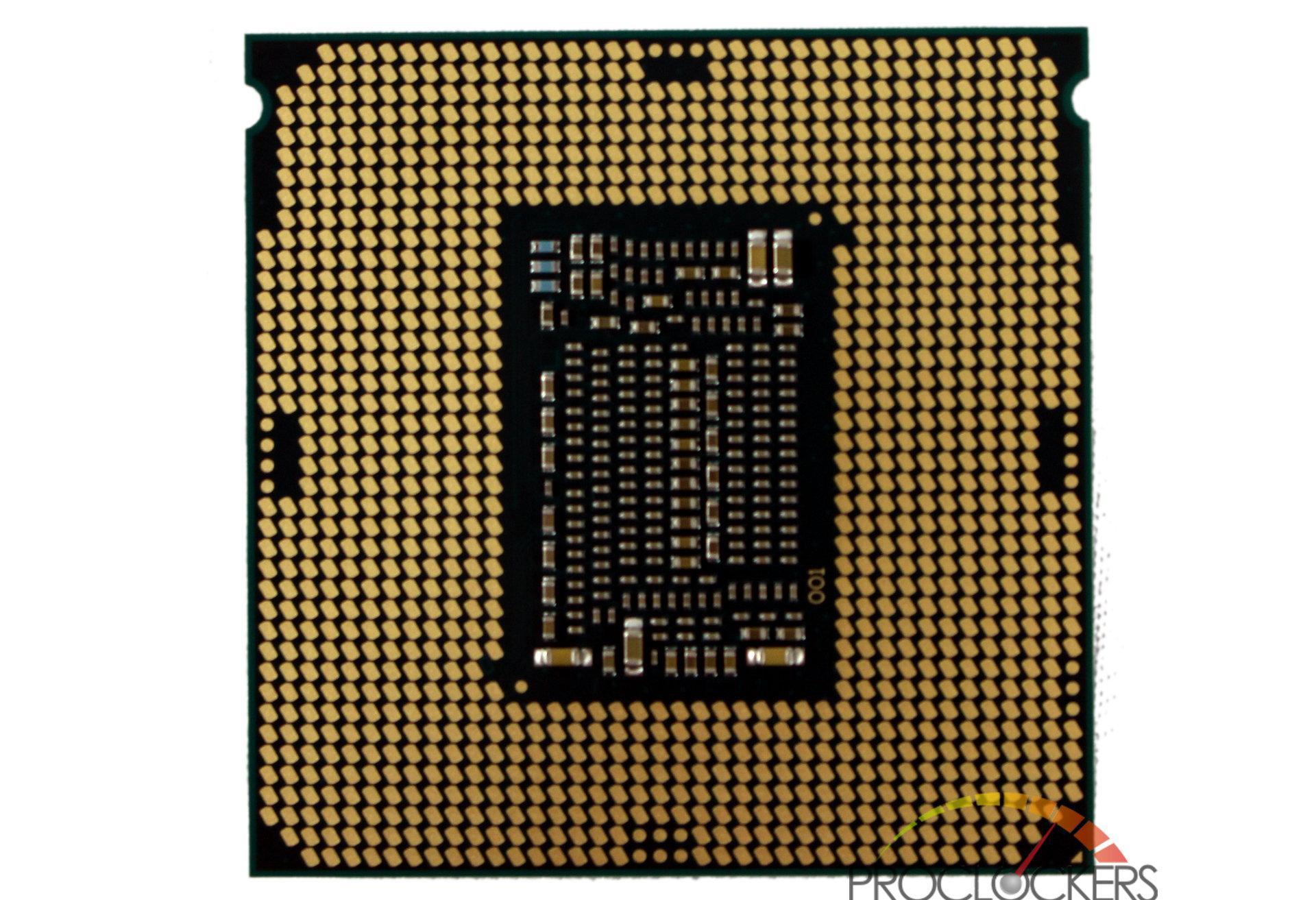 The rear of the LGA 1151 chip isn't much changed from previous generations.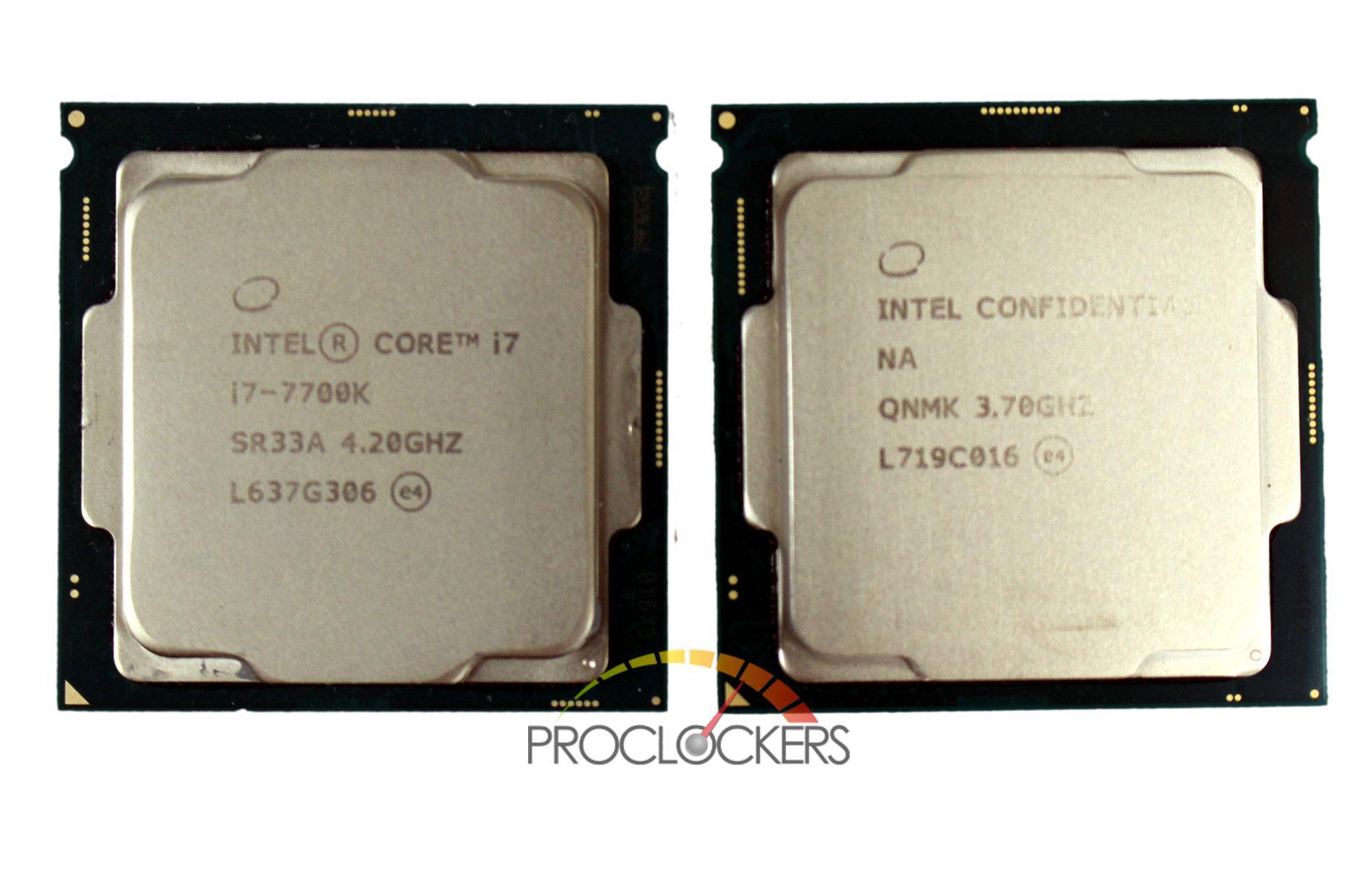 We, of course, have to compare directly with the 7th generation counterpart, the i7-7700K pictured on the left. There is no serious difference as expected, they do use the same socket after all.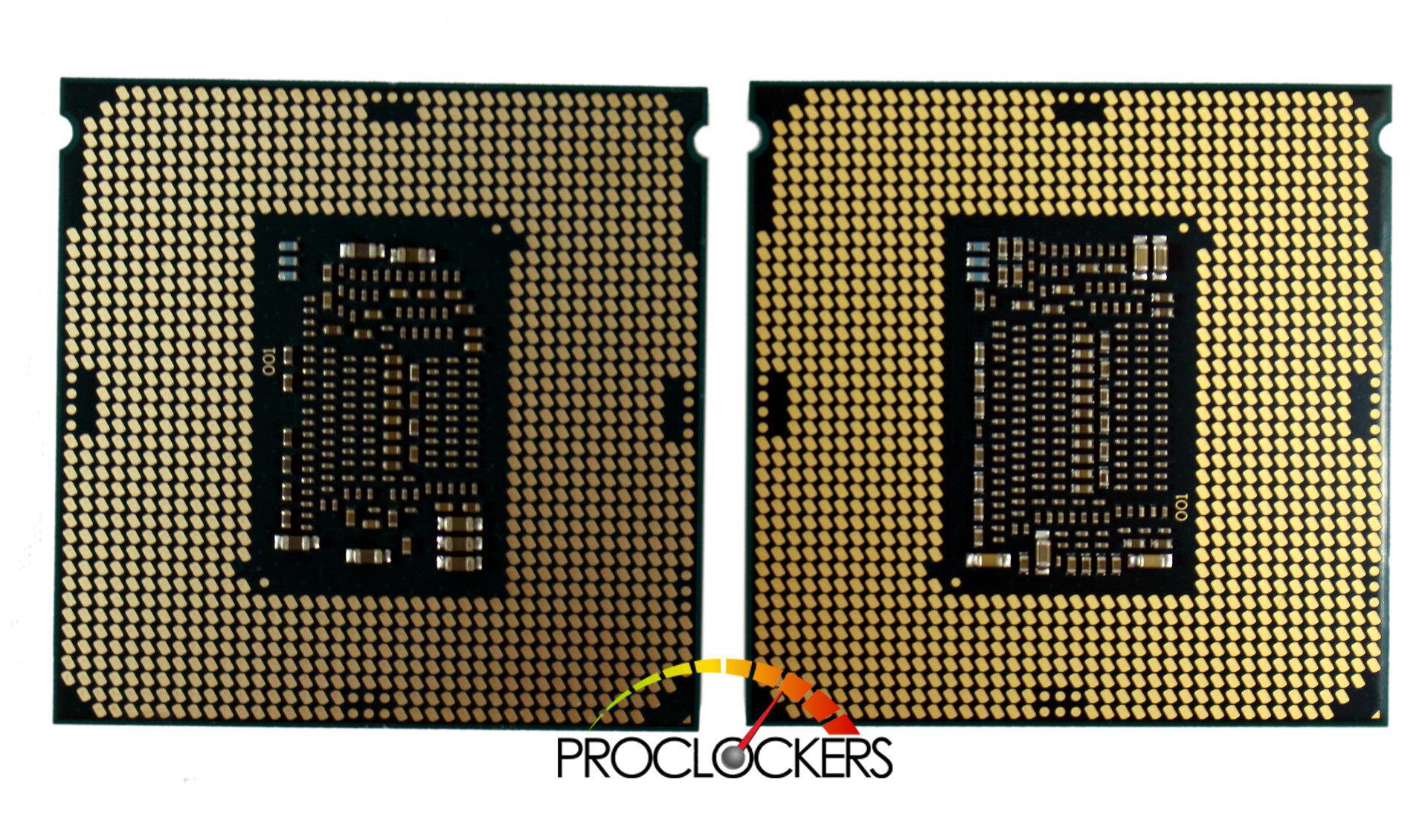 Same show on the rear, there is no changes outside of some minor SMD component differences. The 6-core part on the left does appear to have a bit higher component count than the 7700K on the left.
System Configuration & Performance Testing
CPU: Intel Core i7-8700K
Ram: 32GB GeIL EVO Spear, 2x16GB 3200Mhz C14
GPU: Galax HOF GTX 1070
Mobo: Gigabyte Aorus Ultra Gaming
SSD: Sandisk Ultra Plus 256GB
Cooling: Custom 240mm loop, EK Supremacy Evo CPU block, EKWB PE 240mm radiator, Monsoon MMRS res and EKWB D5 Pump. Cooled by two Corsair ML120 Pro fans.
Performance Testing
General Performance Testing
All performance testing was done with the i7-8700K and GTX 1070 at default clock speed. CPU was left with Speed Step and Turbo Boost enabled. Games where ran at a resolution of 1920 x 1080 and higher settings enabled as noted.
PCMark 8
"Use the PCMark 8 Storage benchmark to test the performance of SSDs, HDDs and hybrid drives with traces recorded from Adobe Creative Suite, Microsoft Office and a selection of popular games. You can test the system drive or any other recognized storage device, including local external drives. Unlike synthetic storage tests, the PCMark 8 Storage benchmark highlights real-world performance differences between storage devices."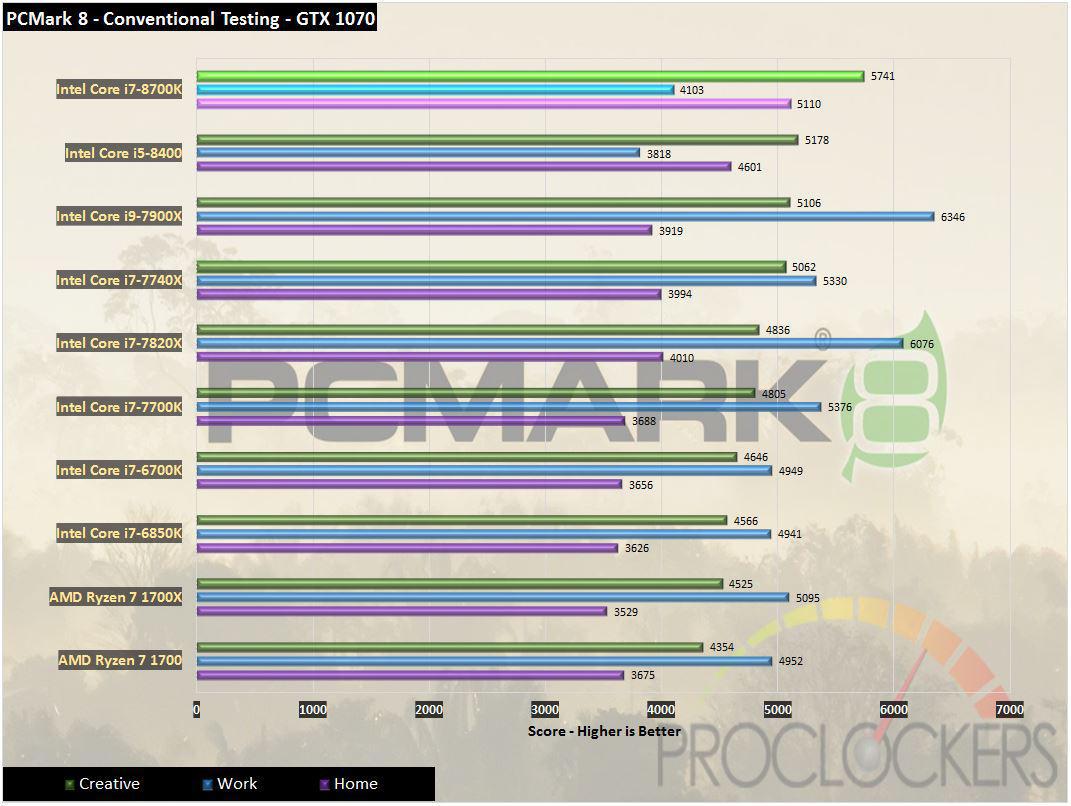 PCMark 8 shows the Intel Core i7-8700K to have great all-around performance, turning in the best Creative and Home category scores we've seen yet. Work scores seem to be a bit lower than previous generations, even with more cores.
PCMark 10
PCMark 10 is the complete benchmark for the modern office. It is the ideal test for organizations that are evaluating PCs for a workforce with a range of performance needs. The tests in this benchmark cover a wide range of activities from everyday productivity tasks to demanding work with digital media content.
PCMark 10 uses a modular approach to build relevant benchmark tests around common end-user scenarios. A Test Group is a collection of workloads that share a common theme or purpose. There are four test groups in PCMark 10, we use three of them.
Essentials: covers the common, everyday ways that people use a PC. The workloads include Web Browsing, Video Conferencing, and App Start-up time.
Productivity: measures system performance with everyday office applications. This test group includes the Spreadsheets and Writing workloads.
Digital Content Creation: This test group's workload reflects the demands of working with digital content and media. The tests include Photo Editing, Video Editing, and Rendering and Visualization.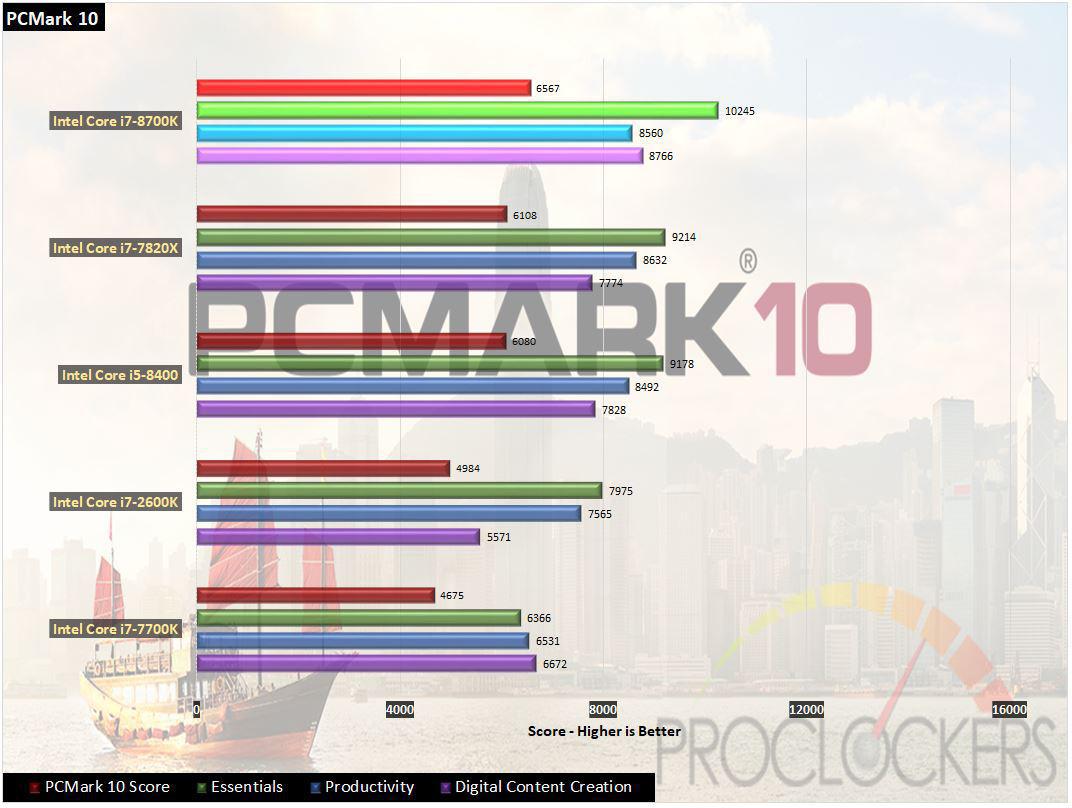 Our i7-8700K holds down first place by a decent margin in everything but Productivity where our 32-threaded i7-7820X wins by only a small amount.
WebXPRT 2015
WebXPRT 2013 uses scenarios created to mirror the tasks you do every day to compare the performance of almost any Web-enabled device. It contains four HTML5- and JavaScript-based workloads: Photo Effects, Face Detect, Stocks Dashboard, and Offline Notes. WebXPRT is run with the latest stable release version of Google Chrome browser, in this case, Version 61.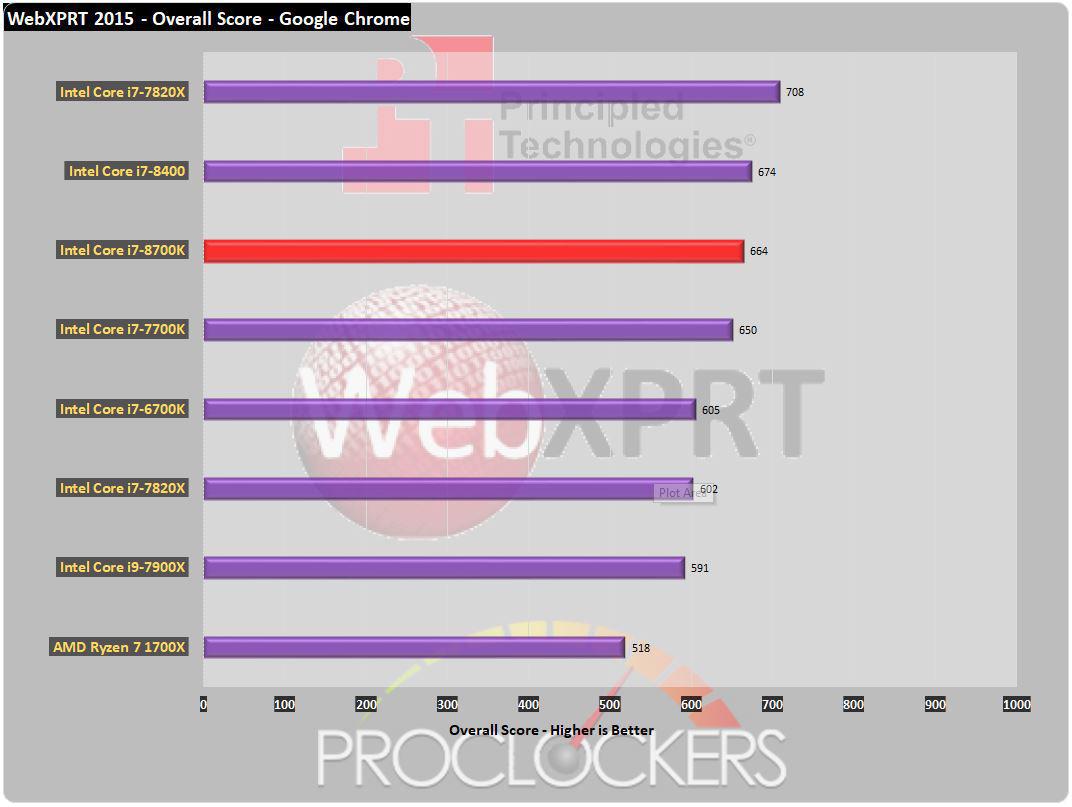 Intel's Coffee Lake-S CPU's show exceptional performance in browser-based testing. WebXPRT gives a score with a +/- rating, our 8700K gave a score of 664 +/- 10 but slightly lost out to the i5-8400 with a 674 +/- 10. While within a margin of error of each other, both 8th generation chips show very strong performance.
CPU Performance Testing
Super PI Modded 1.5
"In August 1995, the calculation of pi up to 4,294,960,000 decimal digits was succeeded by using a supercomputer at the University of Tokyo. The program was written by D.Takahashi in collaboration with Dr.Y.Kanada at the computer center. This record should be the current world record. (Details are shown in the windows help.) This record-breaking program was ported to personal computer environments such as Windows NT and Windows 95. In order to calculate 33.55 million digits, it takes within 3 days with a Pentium 90 MHz, 40 MB main memory and 340 MB available storage."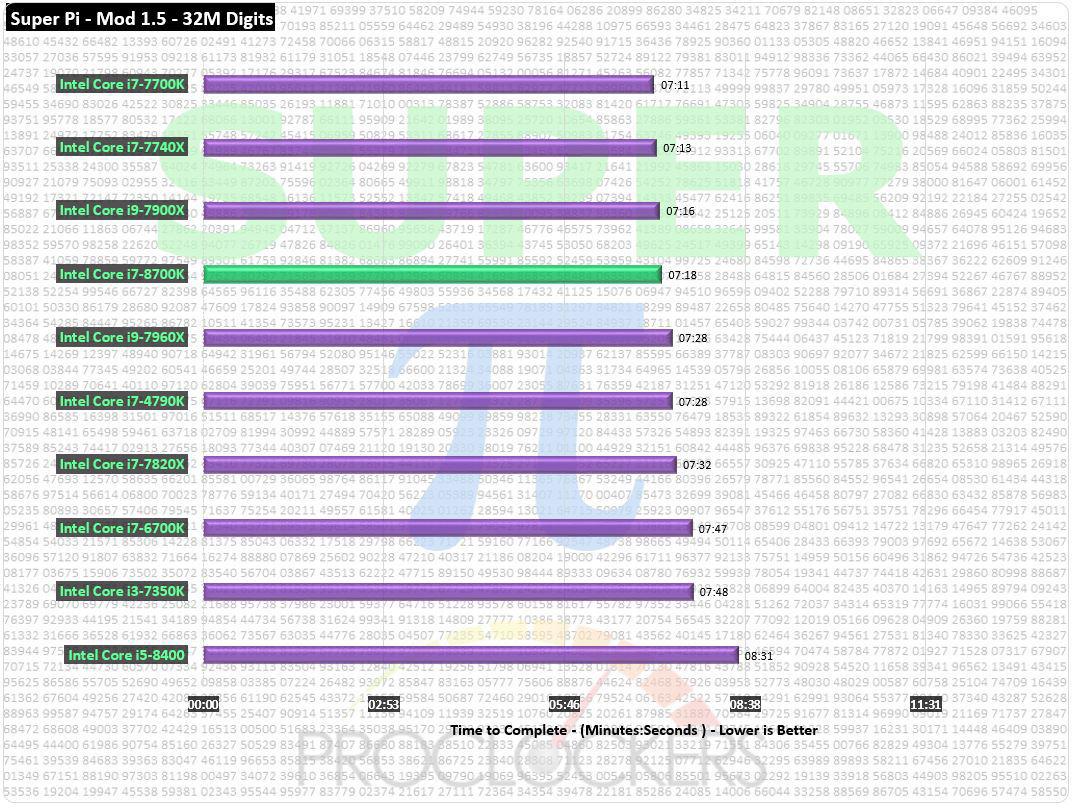 Our i7-8700k comes in near the top of the pack. Small system differences can make a difference in score times by more than the 7 seconds the 8700K lost to the 7700K in this test. As this is a single threaded benchmark, the slight differences in clock speed can make the difference.
SiSoft Sandra – Cryptographic Bandwidth
"SiSoftware Sandra provides a robust package of diagnostic tools for testing your system and teasing out its problems–or potential headaches."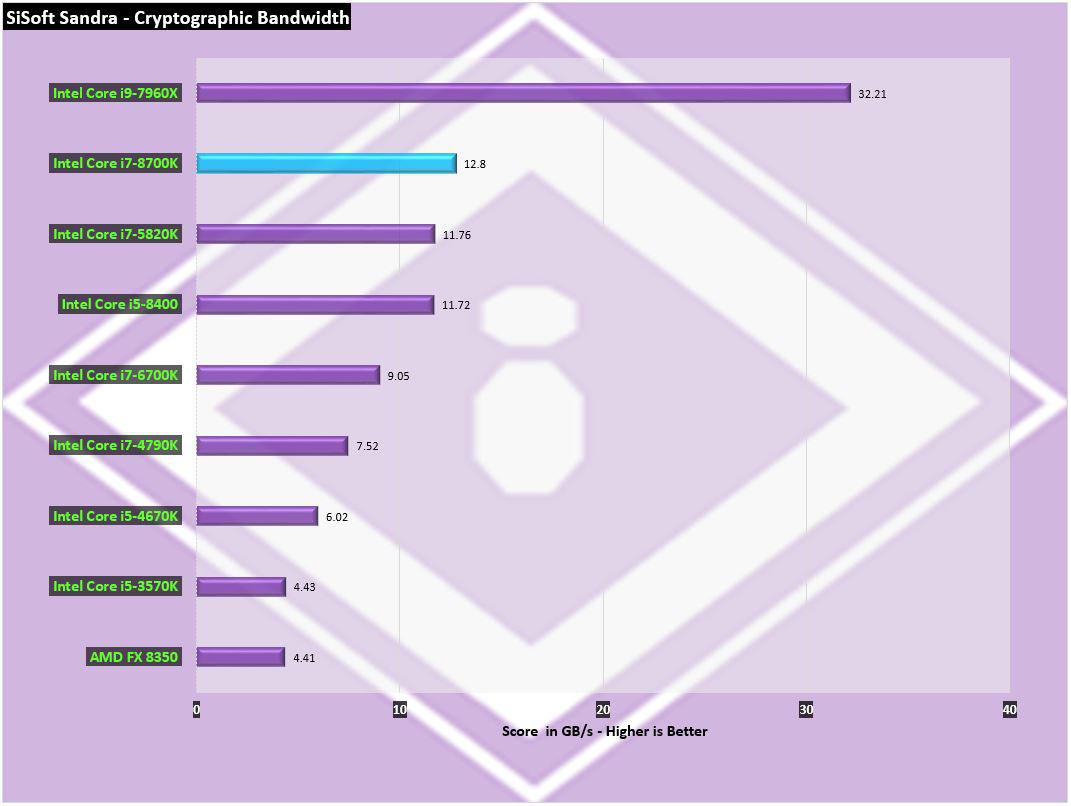 Very strong performance again from the new Coffee Lake-S i7-8700K CPU places it 2nd behind only our monster i9 CPU.
CINEBENCH R15
"CINEBENCH is a real-world cross platform test suite that evaluates your computer's performance capabilities. CINEBENCH is based on MAXON's award-winning animation software CINEMA 4D, which is used extensively by studios and production houses worldwide for 3D content creation. MAXON software has been used in blockbuster movies such as Iron Man 3, Oblivion, Life of Pi or Prometheus and much more.
CINEBENCH is the perfect tool to compare CPU and graphics performance across various systems and platforms (Windows and OS X). And best of all: It's completely free."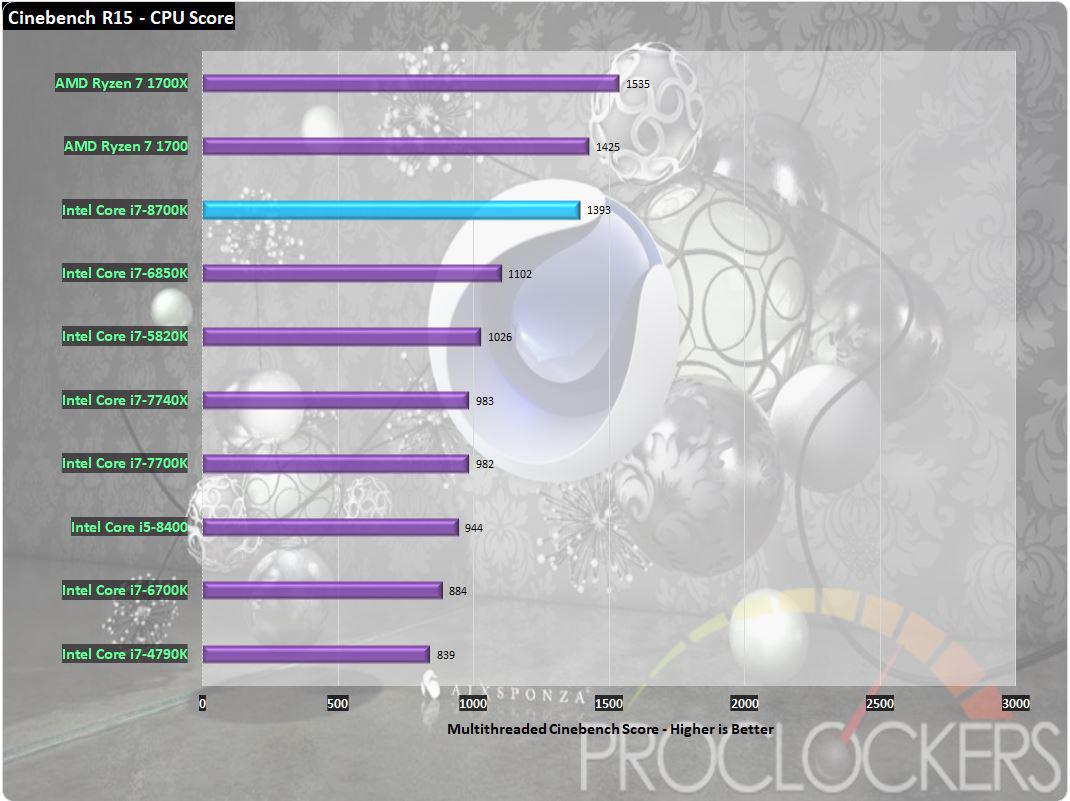 Just look at that performance! The 8700K blows last generations HEDT 6 core chips right out of the water, never mind the quad-core offerings, and even goes toe to toe with AMD's 8-core Ryzen 7 1700 CPU.
7-Zip
The benchmark shows a rating in MIPS (million instructions per second). The rating value is calculated from the measured speed, and it is normalized with results of Intel Core 2 CPU with multi-threading option switched off. So if you have modern CPU from Intel or AMD, rating values in single-thread mode must be close to real CPU frequency. There are two tests, compression with LZMA method and decompression with LZMA method. Once the total passes reaches 100, the score is taken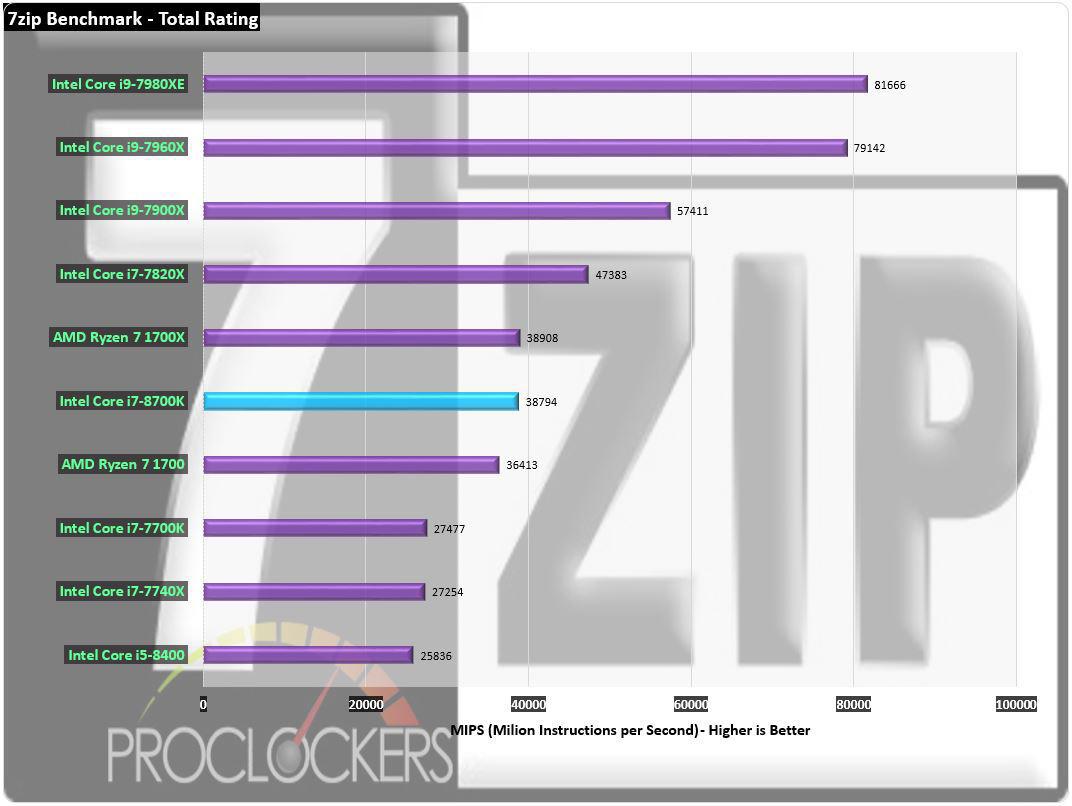 We repeatedly see strong performance from out Coffee Lake-S offerings, and 7-zip file compression testing shows it again. It's fun to see the 6 core 8700K about tie the 8 core offering from AMD.
Black Hole 4.2
Let the beast run and benchmark your system in three different tests (Multithreaded, Single-threaded & 4-Threaded) that will test your CPU to the very limit, and score you among hundreds of other systems that have tested.
Multithreaded will test your CPU's efficiency of running more than one thread without major system lag. The higher you score on this one, the more threads your CPU can handle with a comfortable speed. High multithreaded scores generally mean you can render things faster.
4-Threaded tests your CPU's performance in games since most games currently run on 4 threads.
Single-threaded evaluates how fast the CPU can handle a single, dedicated thread for processing.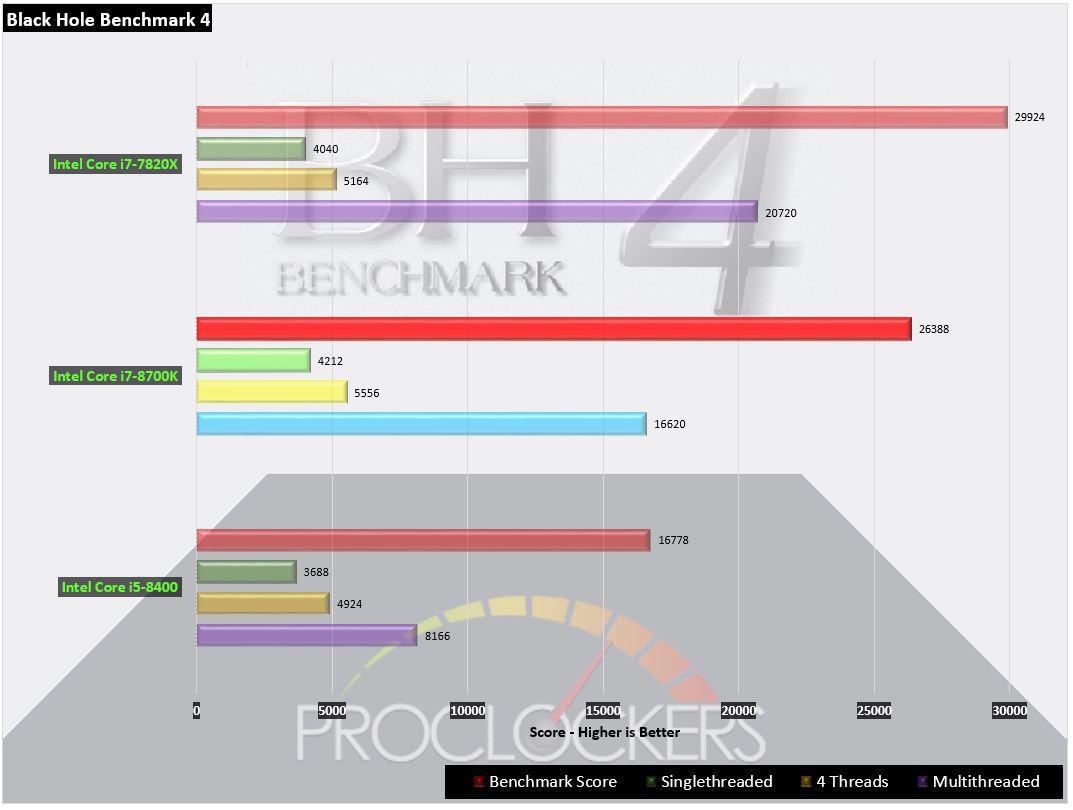 The total benchmark score is the sum of all three individual scores. Strong single-threaded performance is shown on the 8700K, but also multi-threaded scores with 12 active threads.
Memory Performance Testing
AIDA64 Engineer Edition
"FinalWire Ltd. today announced the immediate availability of AIDA64 Extreme Edition 1.50 software, a streamlined diagnostic and benchmarking tool for home users; and the immediate availability of AIDA64 Business Edition 1.50 software, an essential network management solution for small and medium scale enterprises. The new AIDA64 update implements AVX-optimized benchmarks for the upcoming Intel Sandy Bridge processors, adds a brand new video encoding benchmark, and supports the latest AMD and NVIDIA graphics processors."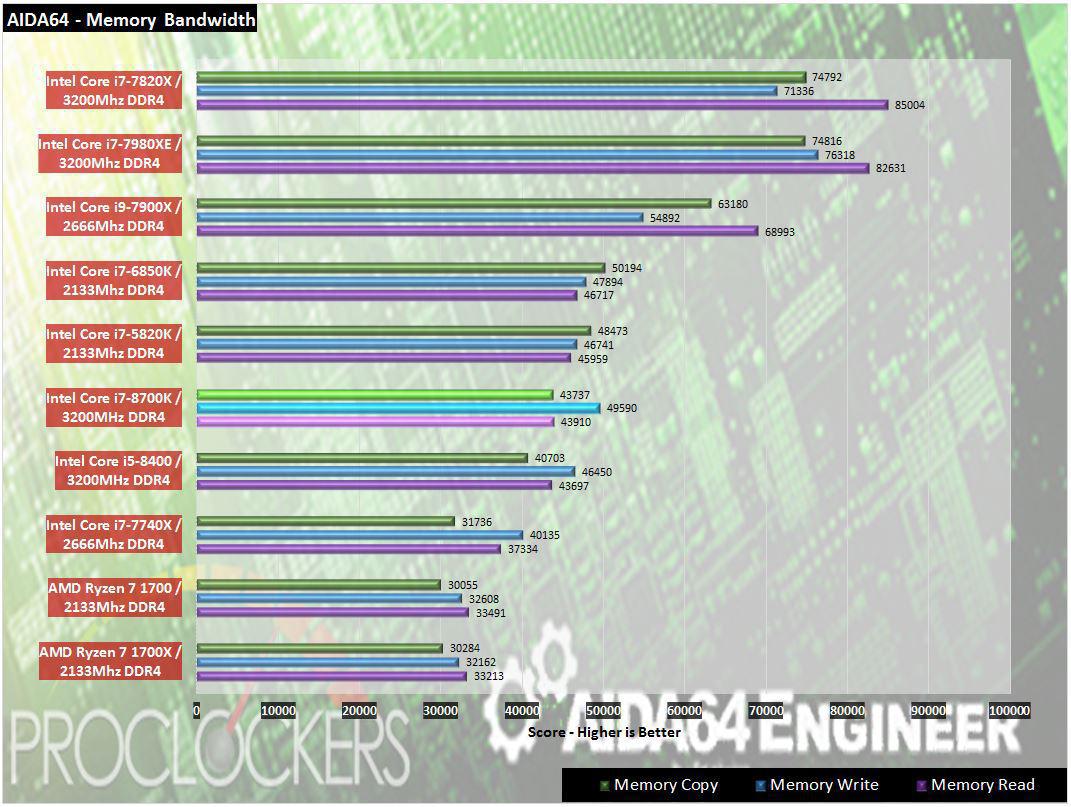 AIDA64 shows both Coffee Lake CPU's in our lineup leading the pack of dual-channel CPU's. The i7-8700K takes first with nearly 50GB/s writes and around 44GB/s on copy and read tests.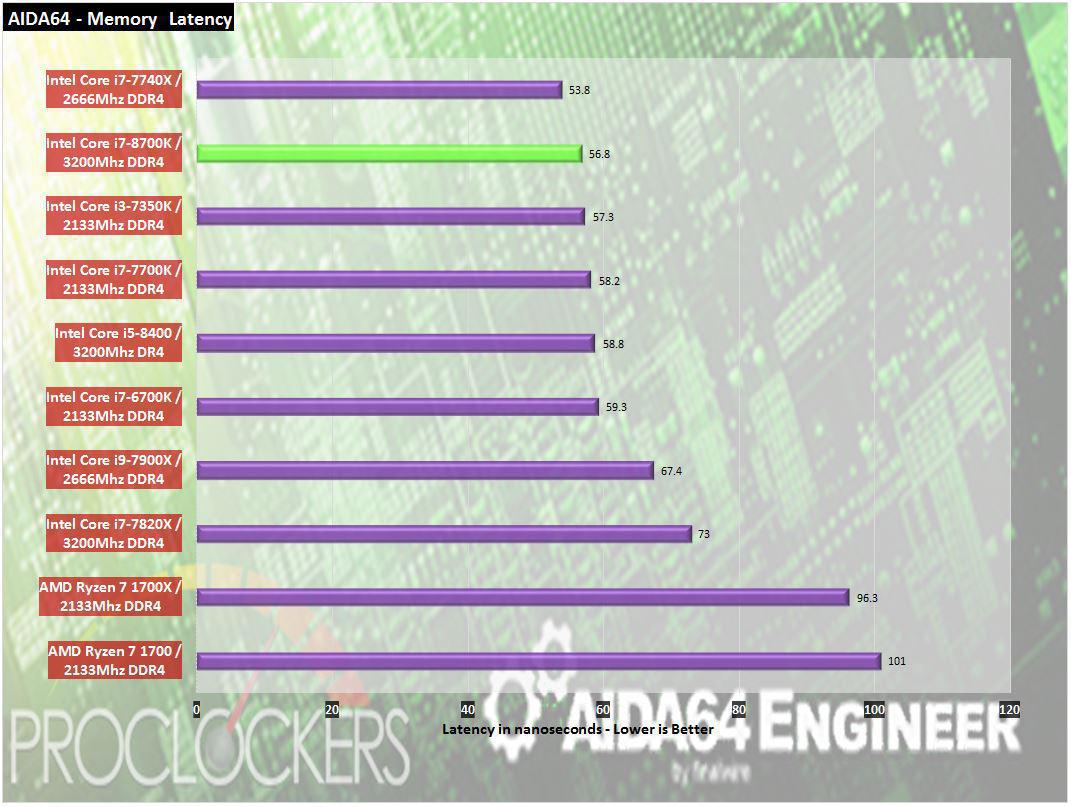 On the Latency side of things, the 8700K still fights its way to the top of the charts with a snappy 56.8 nanoseconds.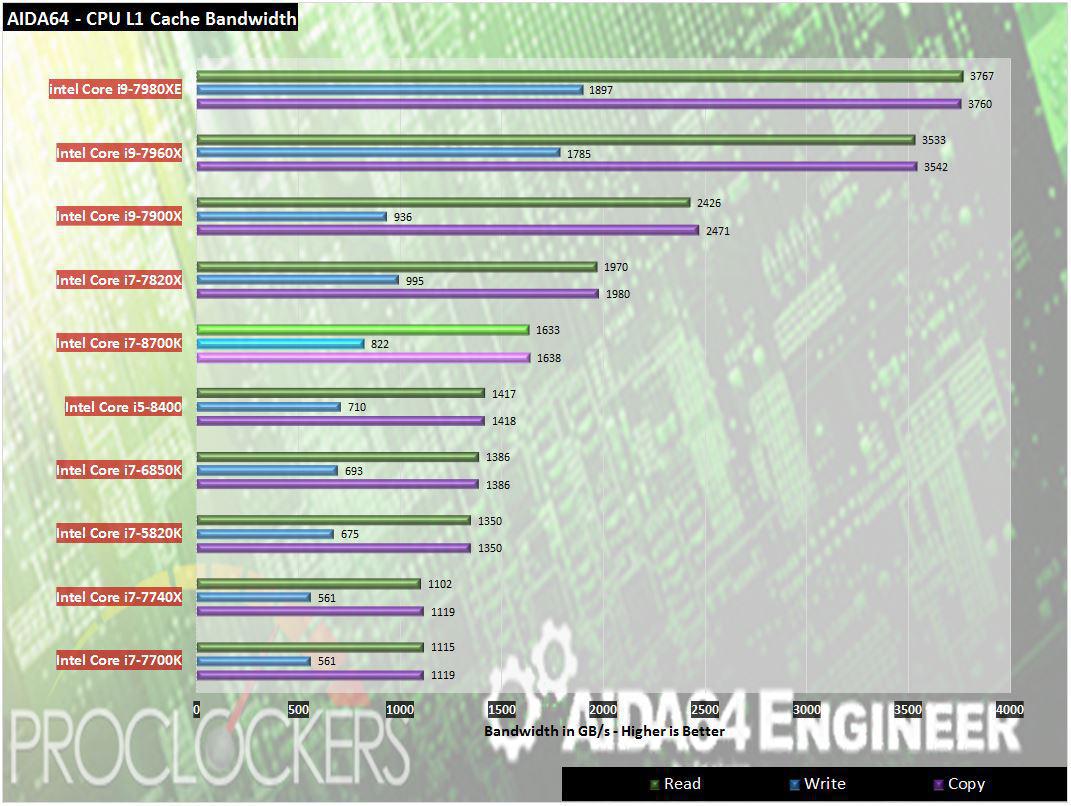 Looking internal to the CPU itself, we see Level One Cache Bandwidth speeds more in line with many HEDT CPU's than mainstream.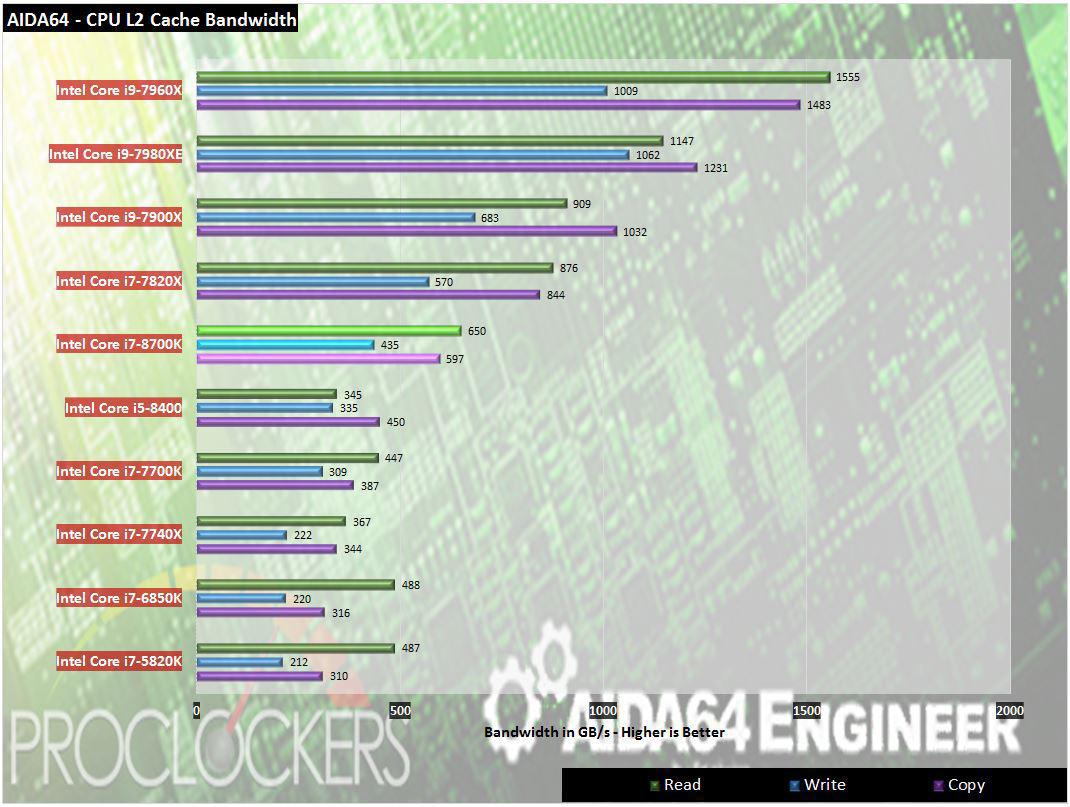 Level 2 cache shows a similar trend.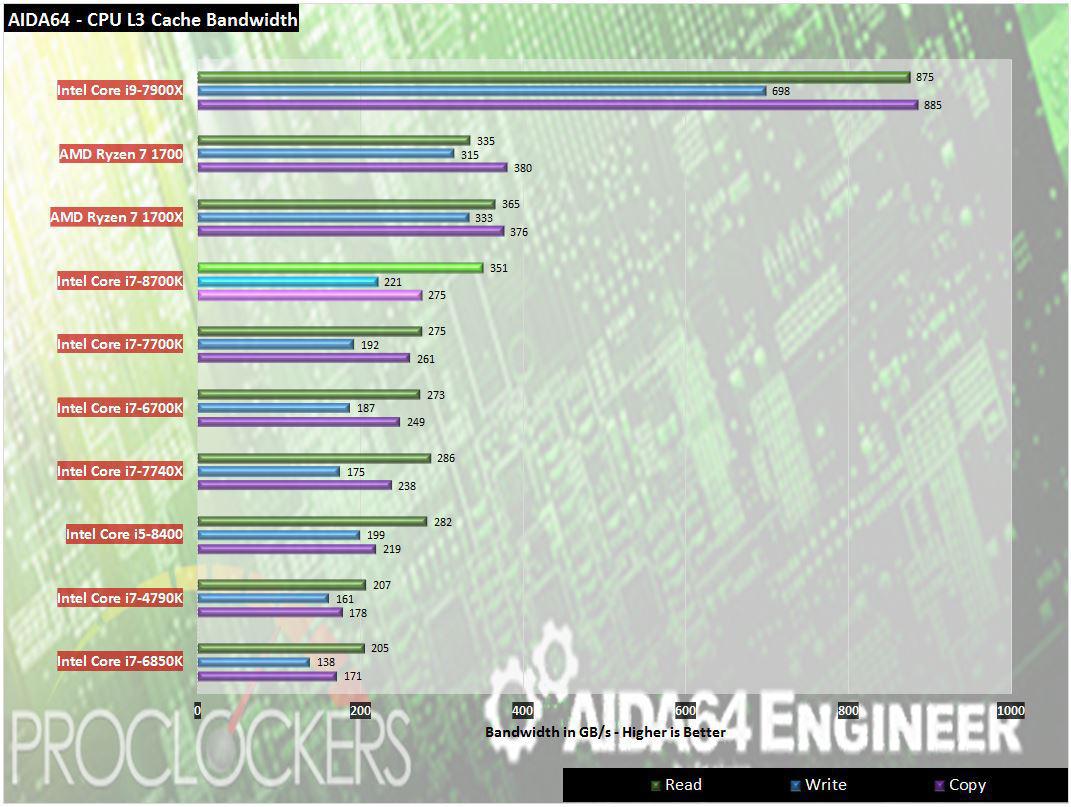 And finally, level 3 bandwidth is again quite a bit improved over the last few generations.
Passmark Performance Test – Memory Mark – Threaded
"Fast, easy to use, PC speed testing and benchmarking. PassMark PerformanceTest ™ allows you to objectively benchmark a PC using a variety of different speed tests and compare the results to other computers."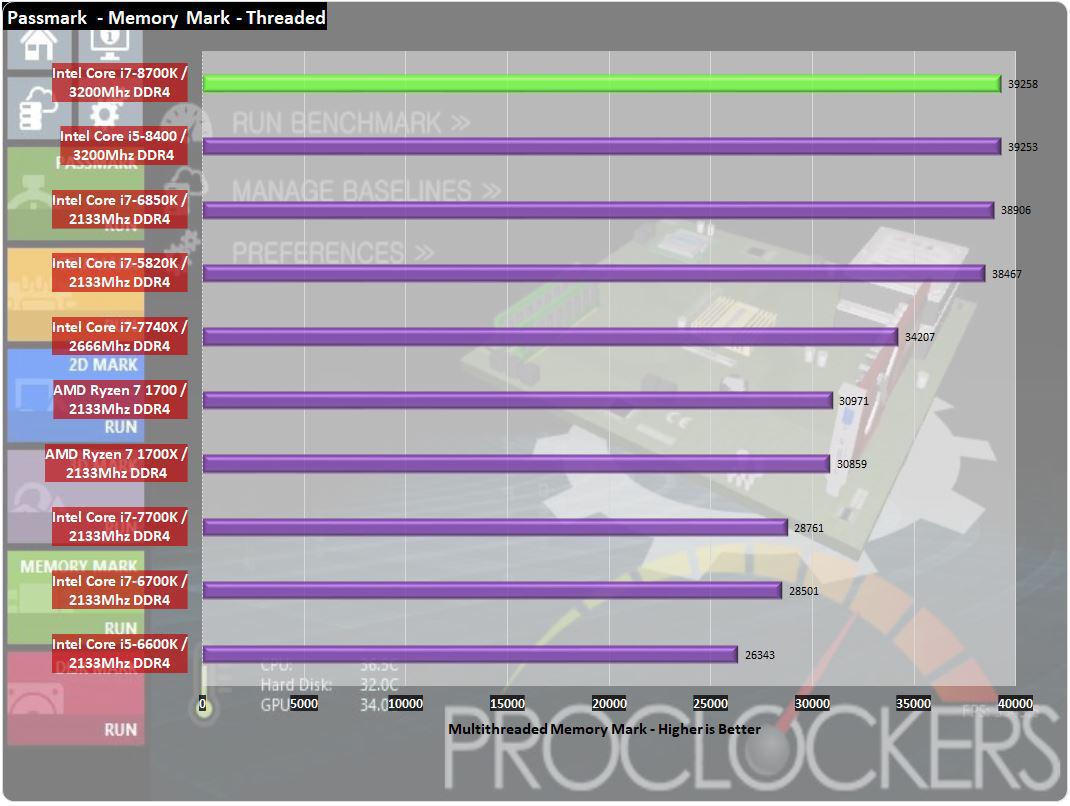 Passmark Memory Mark shows the best score yet, outpacing even quad-channel equipped HEDT CPU's from the last generation, and significantly faster than other dual-channel CPU's.
SiSoft Sandra – Memory Bandwidth.
"SiSoftware Sandra provides a robust package of diagnostic tools for testing your system and teasing out its problems–or potential headaches."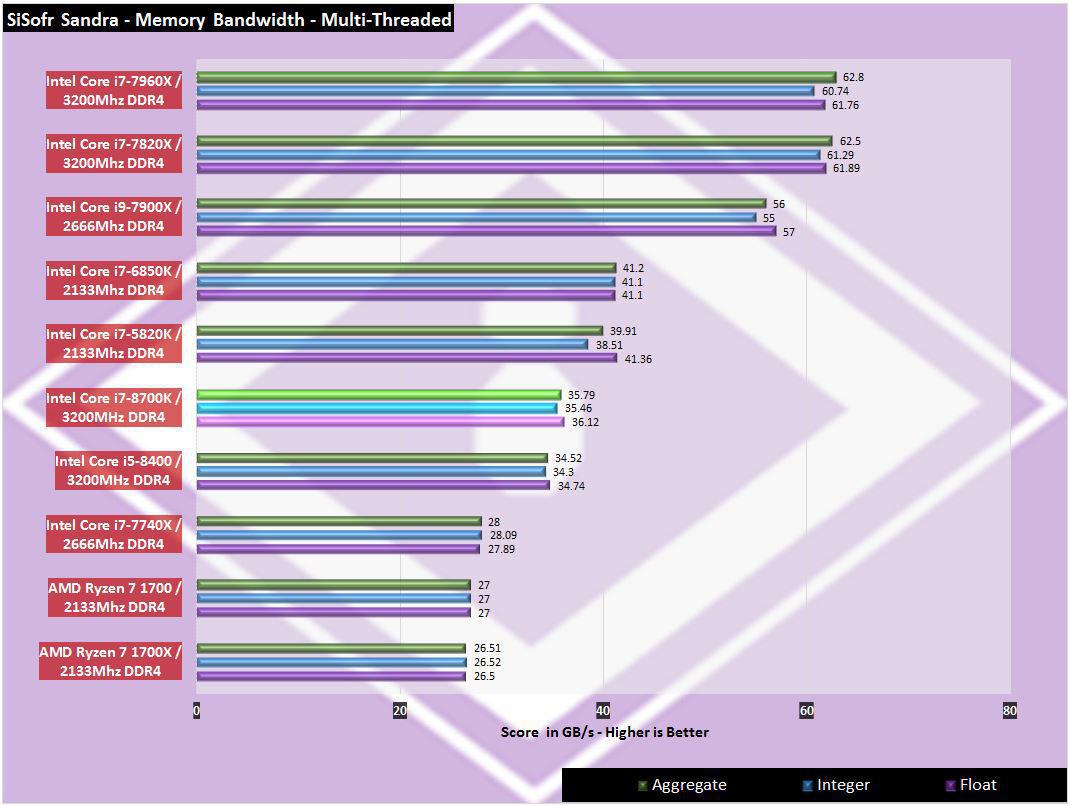 We're starting to notice a pattern here. The 8700K leads the pack on Dual Channel memory performance by double-digit percentages and is chopping at the heels of a few of our quad-channel enabled CPU's.
Cooler Master MS121 Entry Code: MS121 RGB Good
Game Testing
3DMark – Fire Strike
"Fire Strike is a showcase DirectX 11 benchmark designed for today's high-performance gaming PCs. It is our most ambitious and technical benchmark ever, featuring real-time graphics rendered with detail and complexity far beyond what is found in other benchmarks and games today"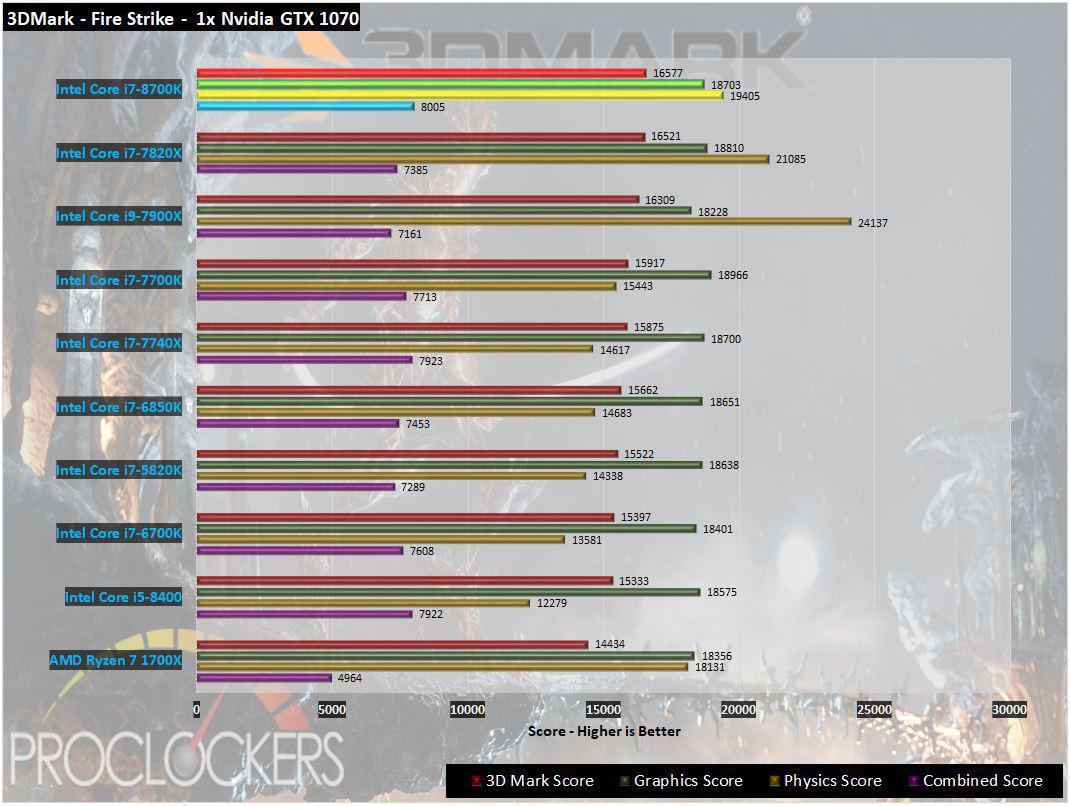 The 8700K opens up our game testing benchmark section with our best Firestrike score yet, best-combined score, and one of the best graphics scores. It loses out on CPU physics only to its 8 and 10-core HEDT counterparts.
3DMark – Time Spy
"3Dmark Time Spy is a new DirectX 12 benchmark test for Windows 10 gaming PCs. Time Spay is one of the first DirectX 12 apps to be built "the right way" from the ground up to fully realize the performance gains that the new API offers. With DirectX 12 engine, which supports new API features like asynchronous compute, explicit multi-adapter, and multi-threading, Time Spy is the ideal test for benchmarking the latest graphics cards."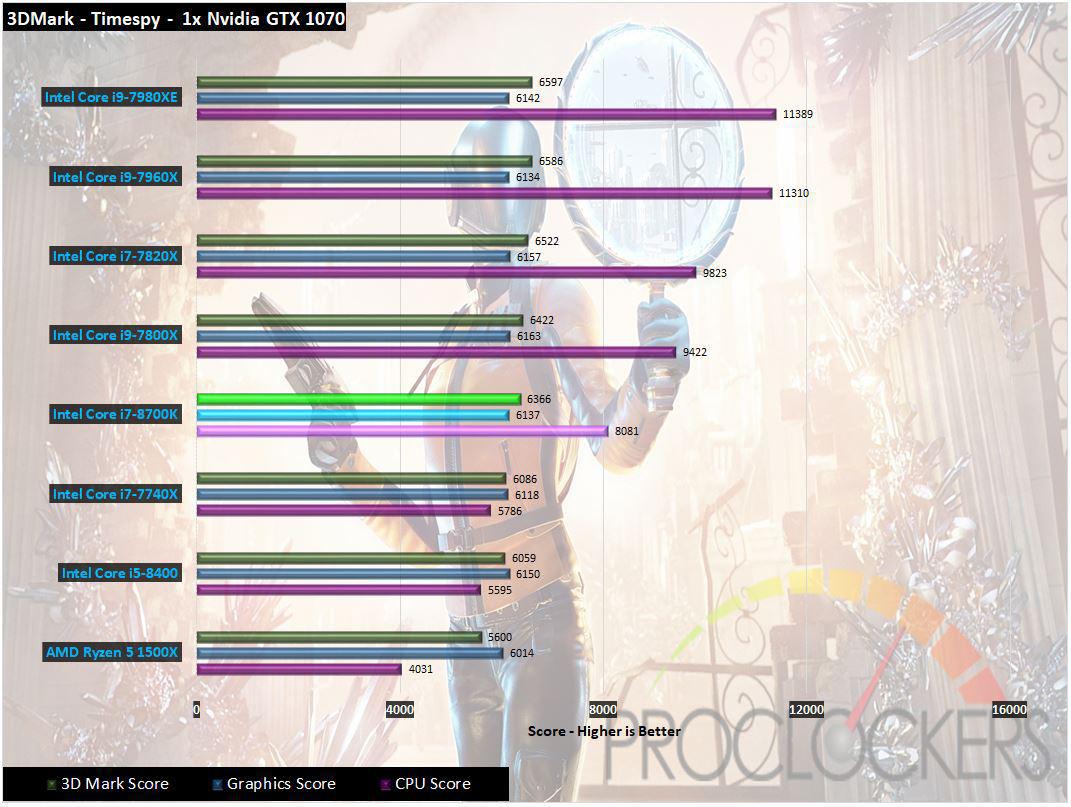 We see strong performance in 3DMark Timespy as well, with scores closer to HEDT parts than mainstream desktop.
Unigine Superposition
Extreme performance and stability test for PC hardware: video card, power supply, cooling system. Check your rig in stock and overclocking modes with a real-life load! Also includes interactive experience in a beautiful, detailed environment.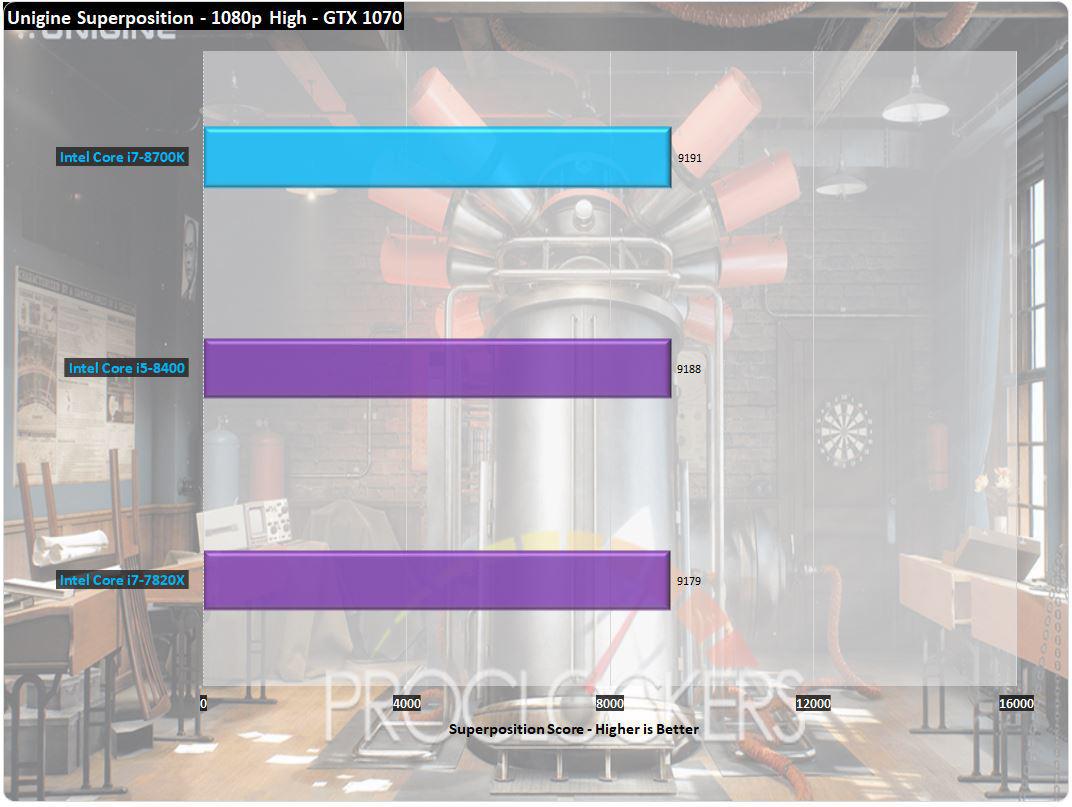 As this benchmark is strictly GPU oriented, we are more checking for bottlenecks or other issues rather than CPU performance. Keeping the GPU load fairly low, we put the most stress on the CPU we can feeding frames at a very high rate. The 8700K does admirably and doesn't miss a beat.
Grand Theft Auto: V
"When a young street hustler, a retired bank robber, and a terrifying psychopath find themselves entangled with some of the most frightening and deranged elements of the criminal underworld, the U.S. government and the entertainment industry, they must pull off a series of dangerous heists to survive in a ruthless city in which they can trust nobody, least of all each other."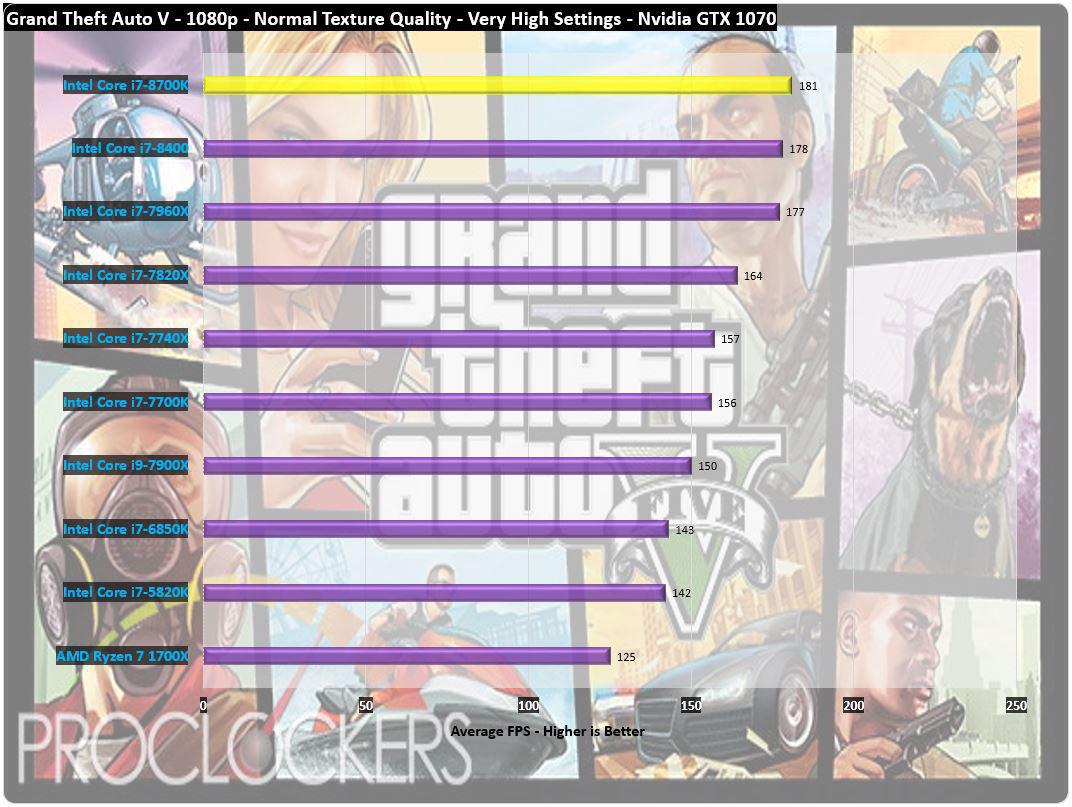 Rockstar's Grand Theft Auto: V has long been known to show noticeable gains from stronger CPU's, and the 8700K leads the scoreboard here in top performance, and even in dollar per performance really. Even the monster HEDT class 16 core i7-7960X just can't quite keep pace.
Metro: Last Light
"It Is the Year 2034. Beneath the ruins of post-apocalyptic Moscow, in the tunnels of the Metro, the remnants of mankind are besieged by deadly threats from outside – and within. Mutants stalk the catacombs beneath the desolate surface, and hunt amidst the poisoned skies above."
Developed by 4A Games and published by Deepsilver, Metro: Last Light uses the 4A game engine. At its highest settings, the 4A game engine is capable of bringing all but the most extreme gaming systems to their knees.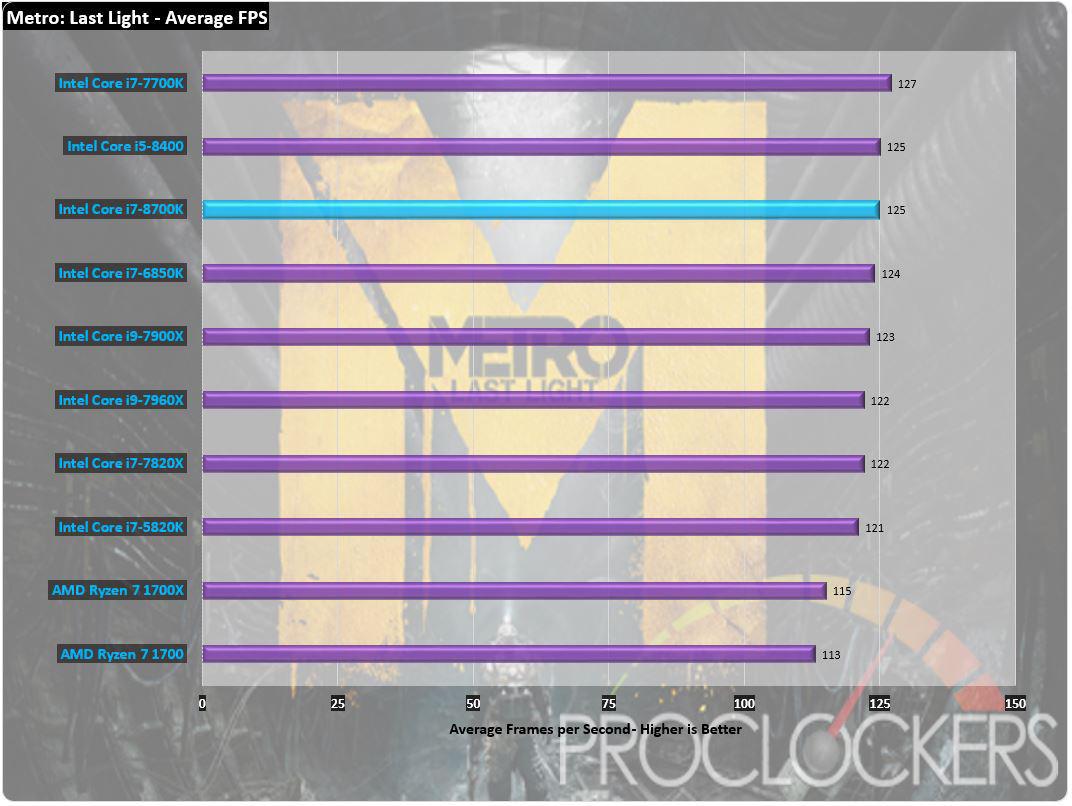 Intel Claims the 8700K is the fastest gaming processor ever, and it shows. Even on a game that is not CPU bound, it's near the top of the pack.
Tomb Raider
Tomb Raider explores the intense and gritty origin story of Lara Croft and her ascent from a young woman to a hardened survivor. Armed only with raw instincts and the ability to push beyond the limits of human endurance, Lara must fight to unravel the dark history of a forgotten island to escape its relentless hold.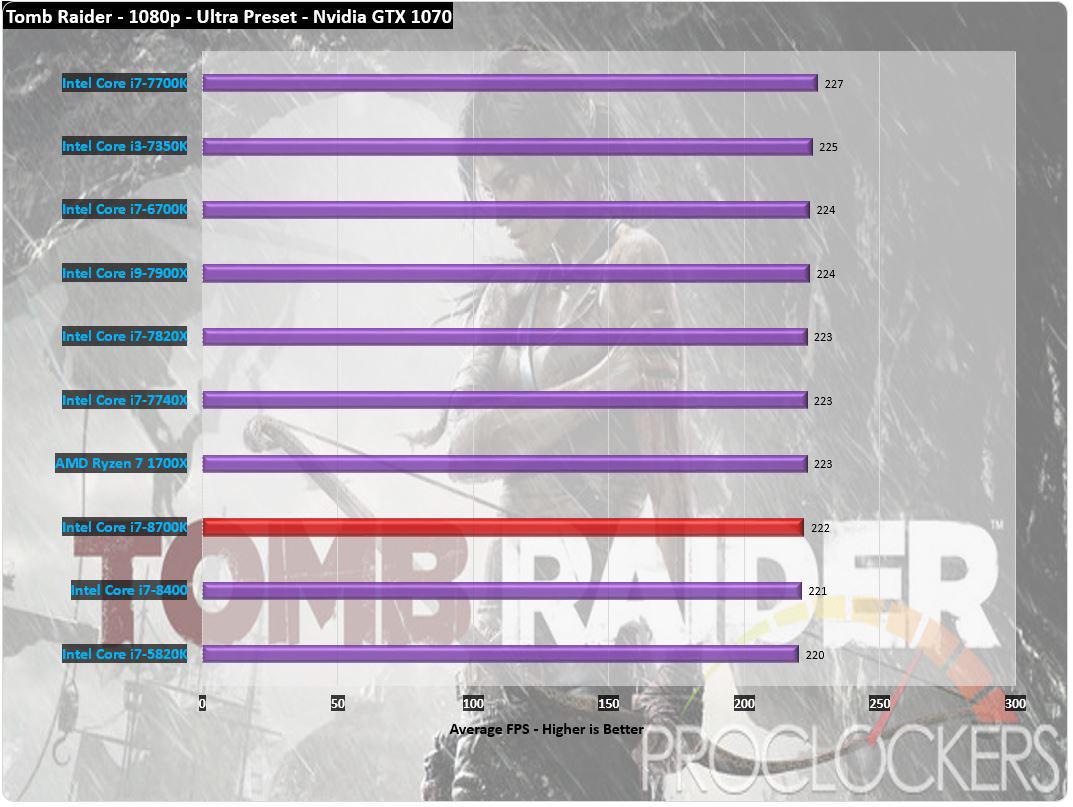 Tomb Raider, released in 2013 really doesn't tax modern CPU's as heavily, so we only have a 7 FPS spread in our chart now. At least we don't see any bottlenecks and we do get solid performance.

iGPU Testing
With the release of Coffee Lake-S, Intel updates it's long-running HD series graphics solution to Ultra HD on the UHD 630 Graphics Technology. The changes from the last generation are minimal and really only extend to the name.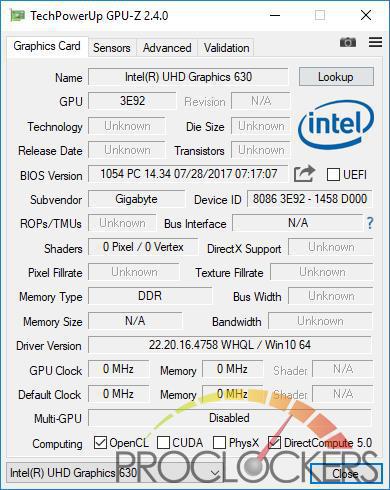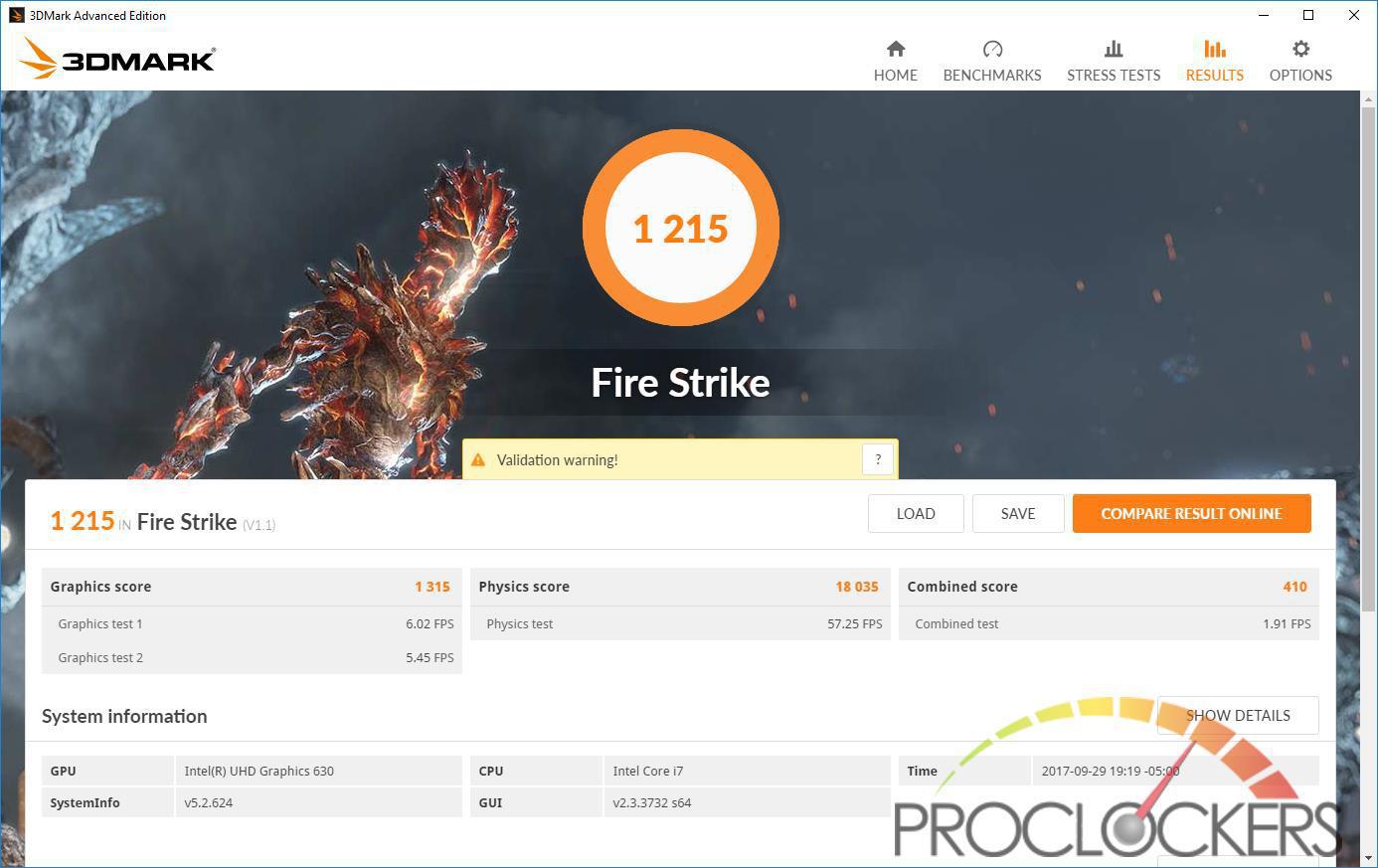 As you can maybe see, you still won't be playing demanding 3D games with the integrated GPU. Lighter weight games, like several popular E-sports games, should play fine on lower settings though.

Tasks like video editing, streaming video and video chat, as well as photo editing can be performed with the integrated GPU just fine with great results.
Power Consumption & Overclocking
Power Consumption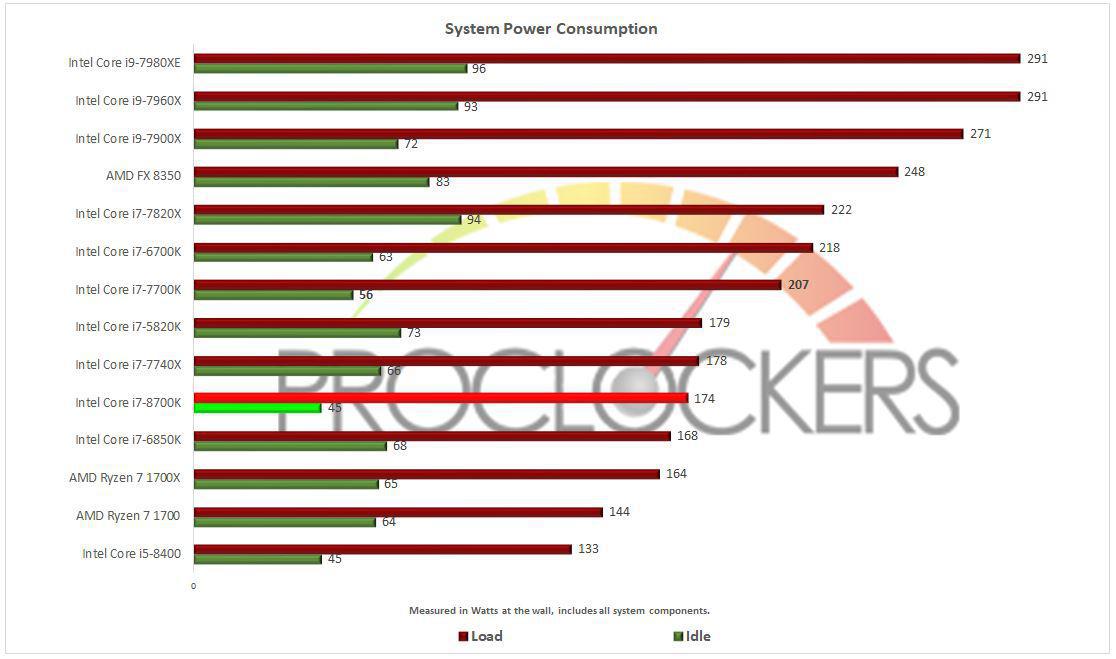 Power consumption on the i7-8700K quite surprised us with a very modest 45W from the wall at idle and is quite a bit lower than previous systems. On the load side, we see more typical power usage of 174W from the wall, landing right around our other six-core systems.
Overclocking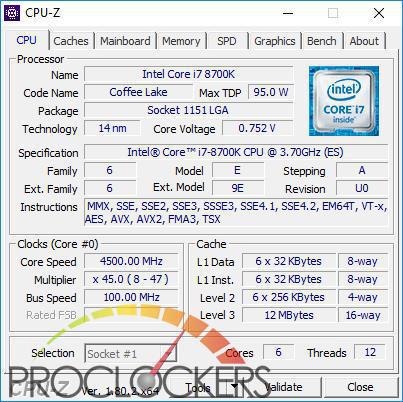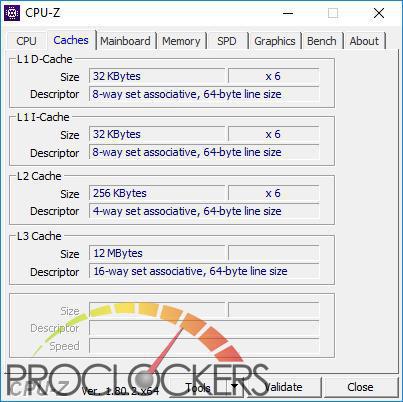 We start out from our base 3.7 GHz that often boosts well into the mid 4 GHz range and try to push the CPU as far as we can.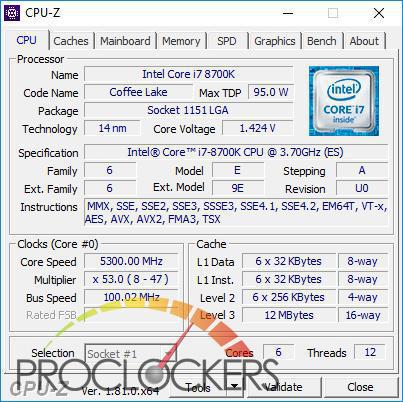 After some trial and error, we were able to reach a top clock speed of 5.3Ghz at 1.43V. This is pretty impressive in and of itself with 6 cores, but we found actual performance was much lower than expected, likely from internal throttling similar to what we experienced recently with our HEDT Sky Lake-X testing.
It appears the very dense silicon means our days of just cranking the voltage and hoping something doesn't melt are well behind us, and peak performance is achieved with a more finessed balance of clocks and voltages.
We next set out to find our best performance, tested with Cinebench R15 while overclocked.
P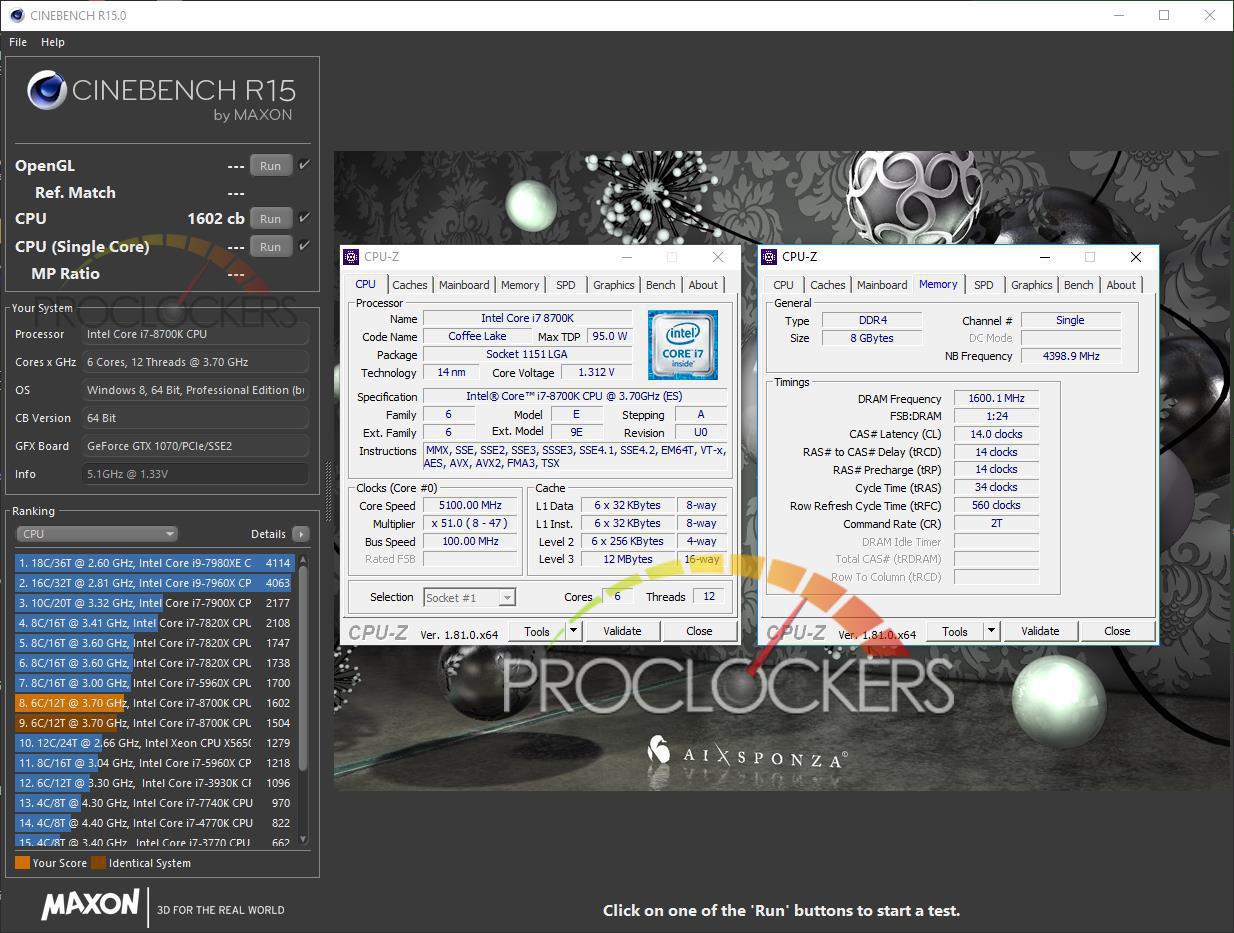 In the end, we were able to achieve our best Cinebench score of 1602 at a clock speed of 5.1GHz at 1.31V with ram at our XMP speed of 3200MHz. This is more than a 200 point increase over out stock 1393cb score, a 15% increase in score. It's actually pretty interesting to see this core so close to the scores of a few 8-core CPUs like the i7-5960X and the i7-7820X also listed in the chart.
Power consumption during out 5.1 GHz test runs hit 230 watts from the wall, about 50W higher than stock, but certainly not that bad at all.
Temperatures during our stock runs hovered in the upper 60C's to low 70's and overclocking raised this to a warm but still safe mid to upper 80C's. While Intel is using a thermal paste again this generation, we found the temperatures to be a bit more manageable this go around, coming in around 10C lower across the board from stock to overclocked.
Final Thoughts & Conclusion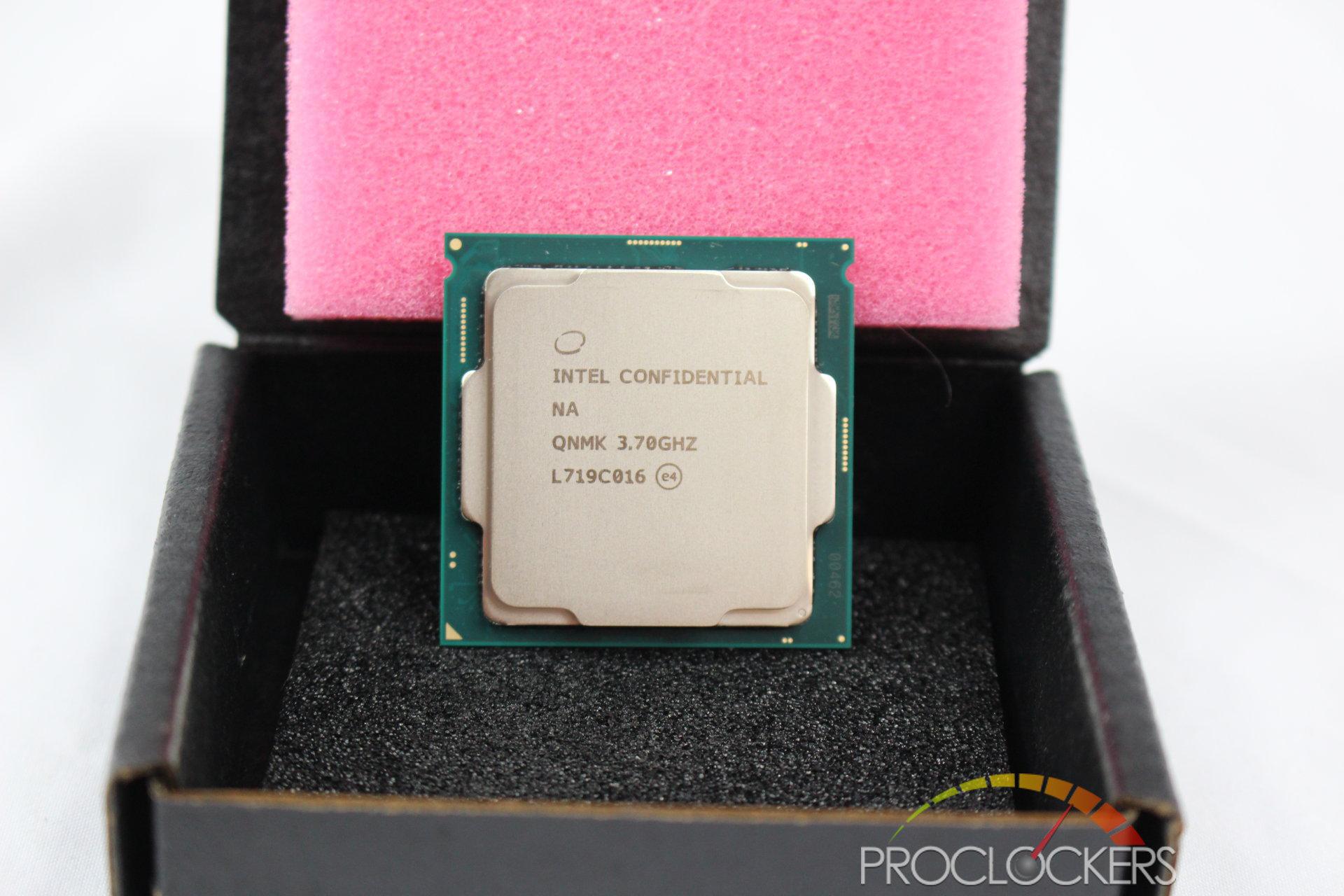 It's hard to know where to start here. Besides the exciting times of finally seeing more than 4 cores on the mainstream desktop platform, all 6 cores come out swinging. Intel's i7-8700K consistently placed at or very near the top of all of our benchmark runs. Memory performance was especially strong, often outpacing its High-End Desktop class counterparts equipped with quad-channel memory. Intel also stated this would be its fasted gaming CPU ever, and every single gaming test that relied on strong CPU performance showed significant performance gains, again, often 1st place in our testing.
Overclocking potential is there, while the CPU will turbo to 4.7Ghz on a single thread on its own, it did spend most of its time already in the mid 4Ghz range. We managed to hit a fully stable 5.1Ghz across all cores, but keep in mind each and every piece of silicon is different as is each system configuration. Thermals were quite manageable out of the box, with temps around 10C lower on average than out previous generation 7700K. Those readers who were planning on needing to do some warranty-voiding surgery might be able to hold off on that with a high-end air cooler or liquid cooling system. Power consumption was right in line with Intel's other 6 core offerings under load, but quite a bit more economical at Idle, coming in with less than 50 watts from the wall.
Some users may be a little miffed by the lack of backward compatibility with motherboards, but the changes Intel made were purposeful and seemed to work quite well. We tested several z370 motherboards, and the VRM's never even got warm, even while overclocked. The improved memory layouts also made for some greatly increased performance across the board. You won't be able to use 8th generation CPU's in your existing 100 and 200 series boards, but you wouldn't want to anyway.
Overall, If you are looking at building a new gaming machine, that is also capable of multi-tasking heavily, this should be your go-to choice right out of the gate. 50% more cores and significant performance gains for only a very small increase in price makes this a tough choice to beat. Great job Intel!

<![CDATA[ */ var zbjs = {"ajaxurl":"https:\/\/gaminggorilla.com\/wp-admin\/admin-ajax.php","md5":"d8e8b24d2fa18d2999e0fddcdd418586","tags":[],"categories":["Hardware"]}; /* ]]>