Corsair Virtuoso RGB Wireless Gaming Headset Review
Introduction
There is no shortage of wireless headsets on the market and even Corsair has several models available. What there is, is a shortage of wireless bandwidth to provide the bandwidth (read: quality) that wired headsets enjoy.
While several wireless models can also work wired as well, they don't ramp up the quality to match the wired bandwidth. The next caveat is that if you generally don't have the bandwidth for quality audio, there is little sense in putting quality audio components in the headset. Corsair's Virtuoso Wireless headset has some secrets under the hood. While in wireless mode, you get a respectable 16bit/48kHz and up to 20 hours of freedom from cords over Corsair's Hyper-fast Slipstream Wireless. If you aren't planning on running around the house, you can connect the included USB cable and unlock the real enthusiast-grade magic inside.
With the increased bandwidth that USB provides, the Virtuoso will ramp up to near to true enthusiast-grade 24bit/96kHz audio. Throw in a removable broadcast-grade omnidirectional microphone and you have the makings of the best wireless gaming headset on the market. Let's see how it does!
ProClockers would like to thank Corsair for sending over the Virtuoso Gaming Headset for us to check out!
Corsair's take on the Virtuoso RGB Wireless Gaming Headset:
HIGH-FIDELITY AUDIO, ALL-DAY COMFORT
The VIRTUOSO RGB Wireless headset offers high-fidelity audio, all-day comfort, and hyper-fast connectivity with SLIPSTREAM WIRELESS technology. Don't settle for anything less.
Durable
Premium Lightweight Construction: Built with machined aluminum, ensuring both maximum comfort and long-term durability.
Comfort
Premium Memory Foam Earpads and Lightweight Headband: Conforming to the shape of your head, the VIRTUOSO RGB Wireless' pillow-soft earpads and headband deliver long-lasting comfort, enabling you to play for hours on end.
Sound
Uncompromising Sound Quality: A matched pair of precisely tuned 50mm high-density neodymium speaker drivers deliver immersive 7.1 surround sound.
Customize
Precise Control: Finely tune all of your headset's settings, from the audio equalizer and sidetone control to dynamic RGB lighting on each ear cup.
Microphone
Broadcast-Grade Detachable Microphone: An omnidirectional, high-bandwidth microphone provides exceptional dynamic range and vocal clarity.
SMART SLEEP AND WAKE
An internal accelerometer automatically shuts your headset off when you put it down and powers back up when you put it back on.
7.1 SURROUND SOUND
Enable immersive 7.1 surround sound to put you right in the middle of the action.
RGB LIGHTING
The dynamic RGB lighting on each ear cup allows for virtually unlimited color options and customization to match any style.
BATTERY
Game in wireless mode for up to 20 hours at a time thanks to a custom, high-capacity lithium-ion battery, and keep listening while charging in USB mode.
Features & Specifications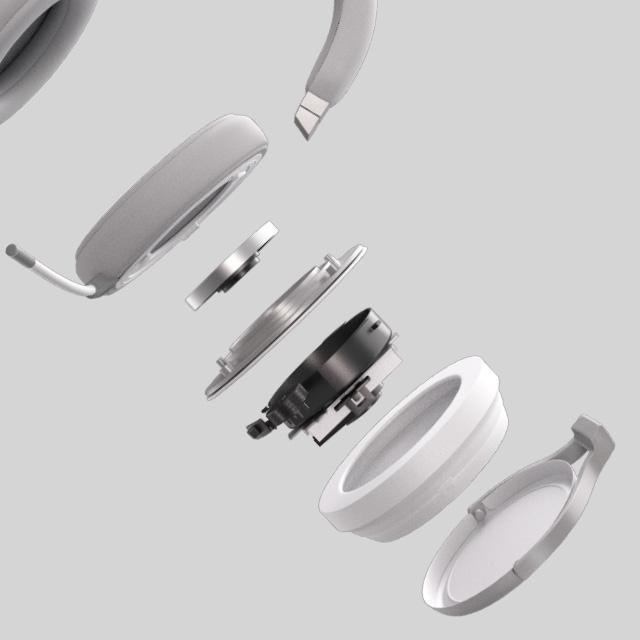 UNCOMPROMISING SOUND QUALITY
From the lightest footstep to the deepest bass tone, you'll hear more of everything with the VIRTUOSO RGB Wireless. A matched pair of precisely tuned 50mm high-density neodymium drivers boast a frequency range of 20Hz-40,000Hz – double what you'd get from most gaming headsets.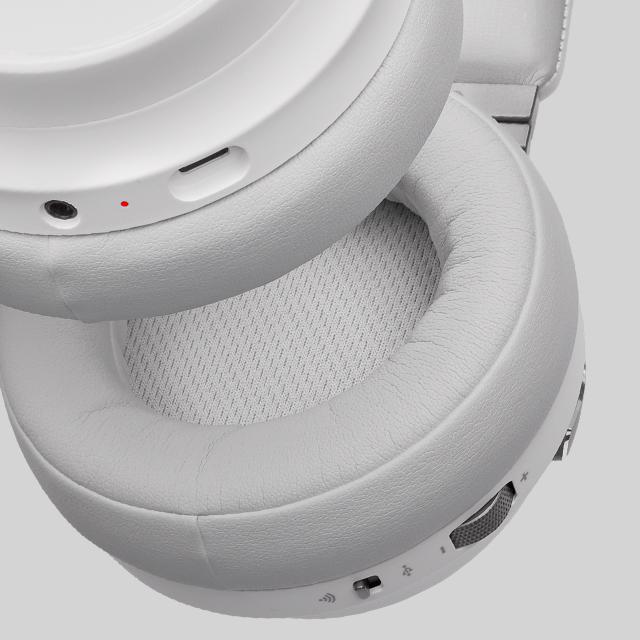 COMFORT IS KING
Premium memory foam earpads that conform to the shape of your head, along with a lightweight headband, deliver pillow-soft, long-lasting comfort, enabling you to play for hours on end.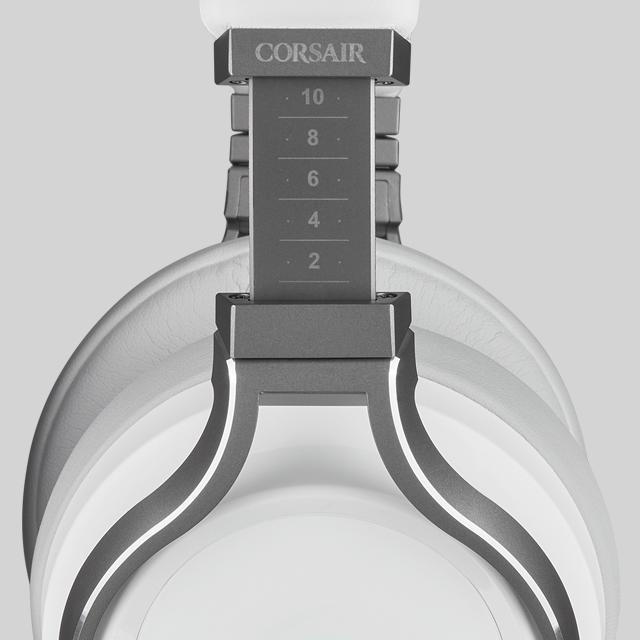 PREMIUM LIGHTWEIGHT CONSTRUCTION
Machined aluminum construction means VIRTUOSO RGB Wireless offers the perfect blend of lightweight design, strong durability and maximum comfort.
AUDIO
DRIVERS
The uncompromising sound quality of the VIRTUOSO RGB Wireless is powered by a pair of precisely tuned 50mm high-density neodymium speaker drivers. Unlike most gaming headsets, each driver pair is meticulously hand-selected and matched to within +/-1db of tolerance to ensure exceptional audio performance and consistency.
Hear more of all your audio with an impressive 20Hz-40,000Hz frequency range – double that of typical gaming headsets. Everything from the loudest shot to the subtlest musical note is reproduced with amazing clarity, definition, and impact.
24BIT AUDIO
Experience true high-fidelity 24bit/96kHz audio in USB wired connection mode*, providing an incomparable listening experience able to reproduce compatible recordings in greater detail and depth.
*Audio resolution while connected via wireless or 3.5mm is 16bit/48kHz.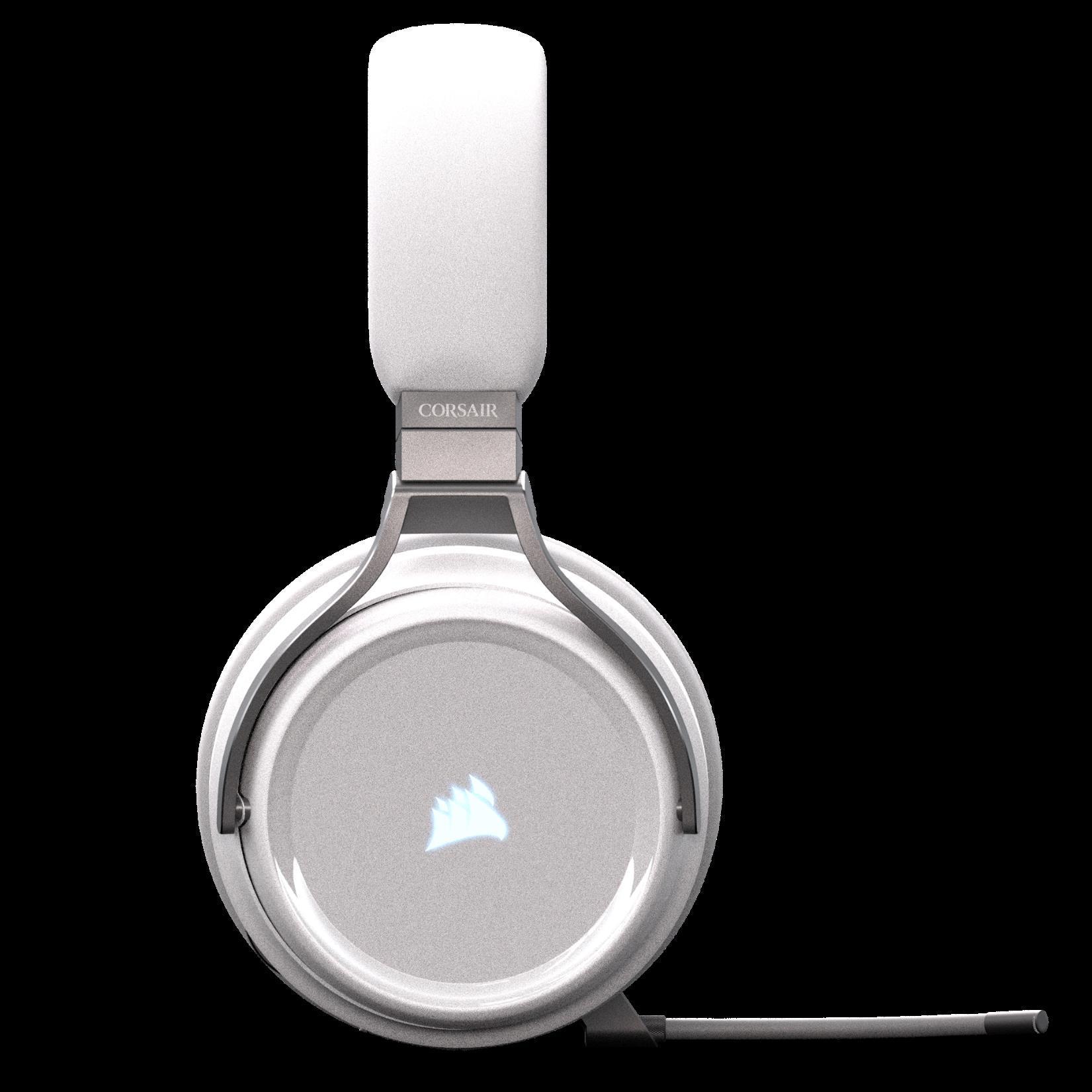 Broadcast-Grade Detachable Microphone
It's simply one of the best microphones ever put on a headset. The high-bandwidth omnidirectional microphone of the VIRTUOSO RGB Wireless provides wide dynamic range and superb vocal clarity rivaling that of standalone microphones, fully detachable with an RGB LED ring to indicate live or mute status.
The microphone's high bandwidth, in combination with the hyper-fast connection of SLIPSTREAM CORSAIR WIRELESS TECHNOLOGY, dramatically increases frequency response to almost double that of a typical wireless gaming headset. That means your voice sounds clearer, more accurate, and more natural when communicating with your friends and teammates.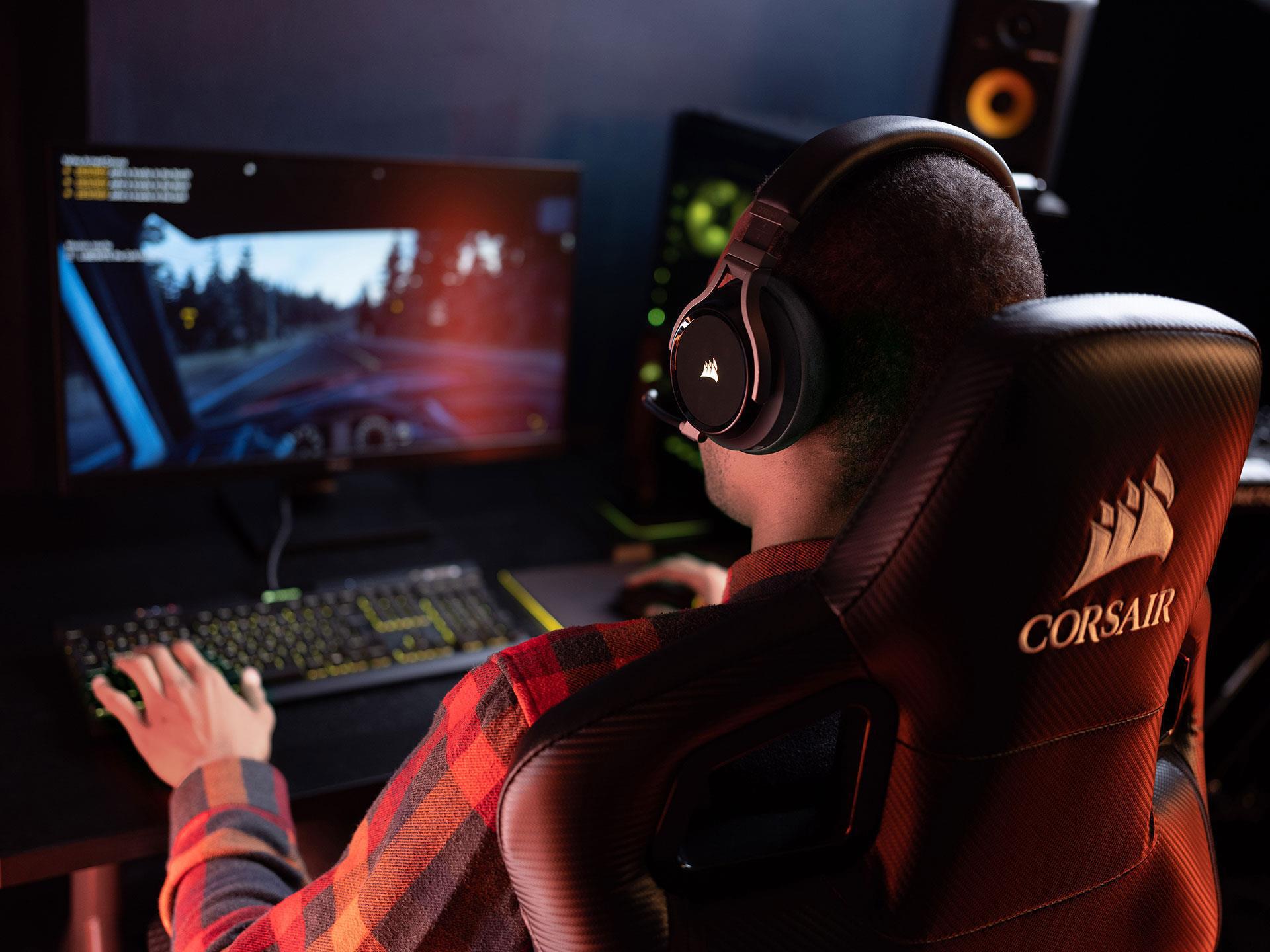 DISCORD CERTIFIED
Communicate in confidence with the millions of users in the Discord community, knowing that your microphone and audio drivers have been tested and evaluated for crystal-clear communication and outstanding sound.
THREE WAYS TO CONNECT
The VIRTUOSO RGB Wireless can connect to virtually anything, however, you choose to play.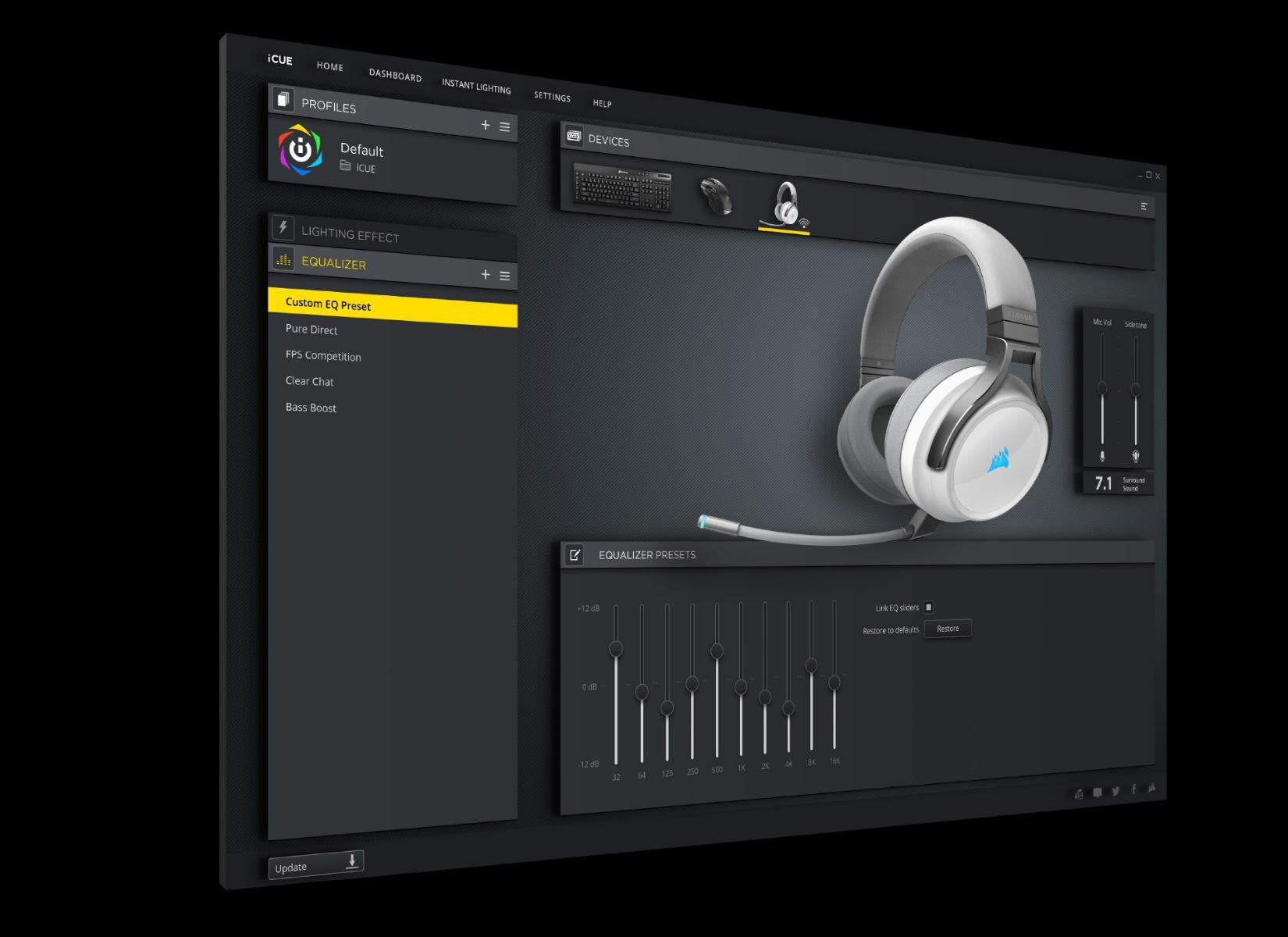 PLAY YOUR WAY
CORSAIR iCUE software enables pre-tuned audio profiles, custom equalizer settings, immersive 7.1 surround sound, and sidetone control.
Customize your RGB lighting with virtually unlimited color options and dynamic effects to match any style, synchronized with the RGB lighting on compatible CORSAIR peripherals, coolers, fans, and more.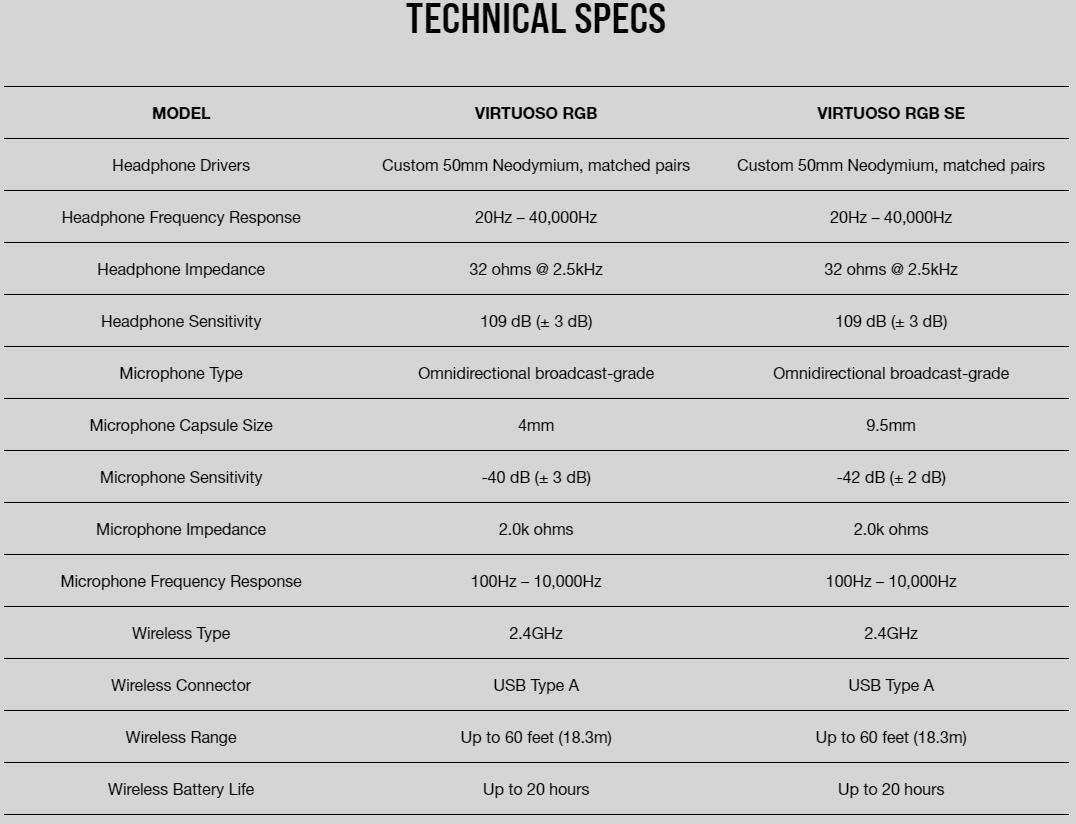 Packaging & Unboxing

Corsair's Virtuoso RGB Wireless comes in a small black box with a picture of the headset on the front.

The back also has a picture of the headset at a different angle but lists some features in a few languages.

The bottom of the box lists out some basic specifications as well as the box contents.

The security seal is pretty unique on the Virtuoso box. It's a clear sticker like usual, but it has a perforated peel strip that's kind of fun to open.

The inside front has the Corsair Ship logo embossed on it.

The rear of the box is the signature Corsair Yellow.

Once you remove the cover, the Virtuoso headset is laying right on top.

Under it is a black box with a lifting tab for easy access.

Inside is a single foam block with cutouts for all of the accessories.
A Closer Look

Corsair's Virtuoso headsets come in white and black (carbon) as well as a dark SE version. As you can see, we have the white version on hand today.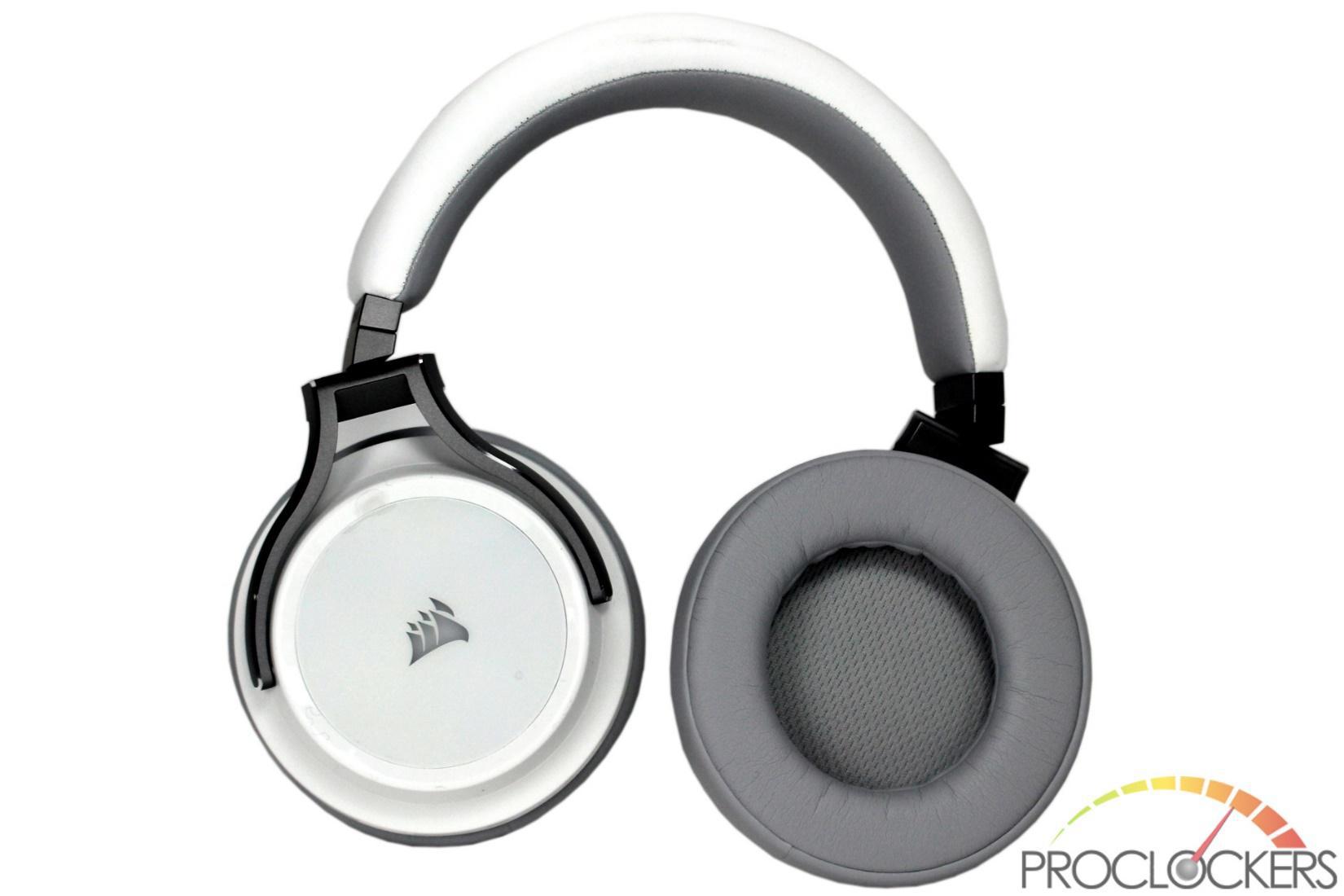 The ear cups are covered with a soft material similar to leather over memory foam for comfort. The back of each ear cup features the Corsair logo in the center.

The Virtuoso has a volume knob and mode switch on the right ear cup. Placing the switch in the "USB" mode also powers it off if not connected to a cable.

Both ear cups pivot about 180 degrees for comfort as well as storage.

Both sides also slide in and out to get the perfect fit.

The left ear cup has a USB-C port for audio as well as charging, and a 3.5mm 4-pole plug for analog use.

A small LED between the USB and analog ports indicates battery charging status. Red for charging, green for fully charged. Also on the same ear cup is the port for the removable microphone. The socket is keyed, but the plug is a USB Mini Type-A, however, it is a proprietary connection and not compatible with USB devices.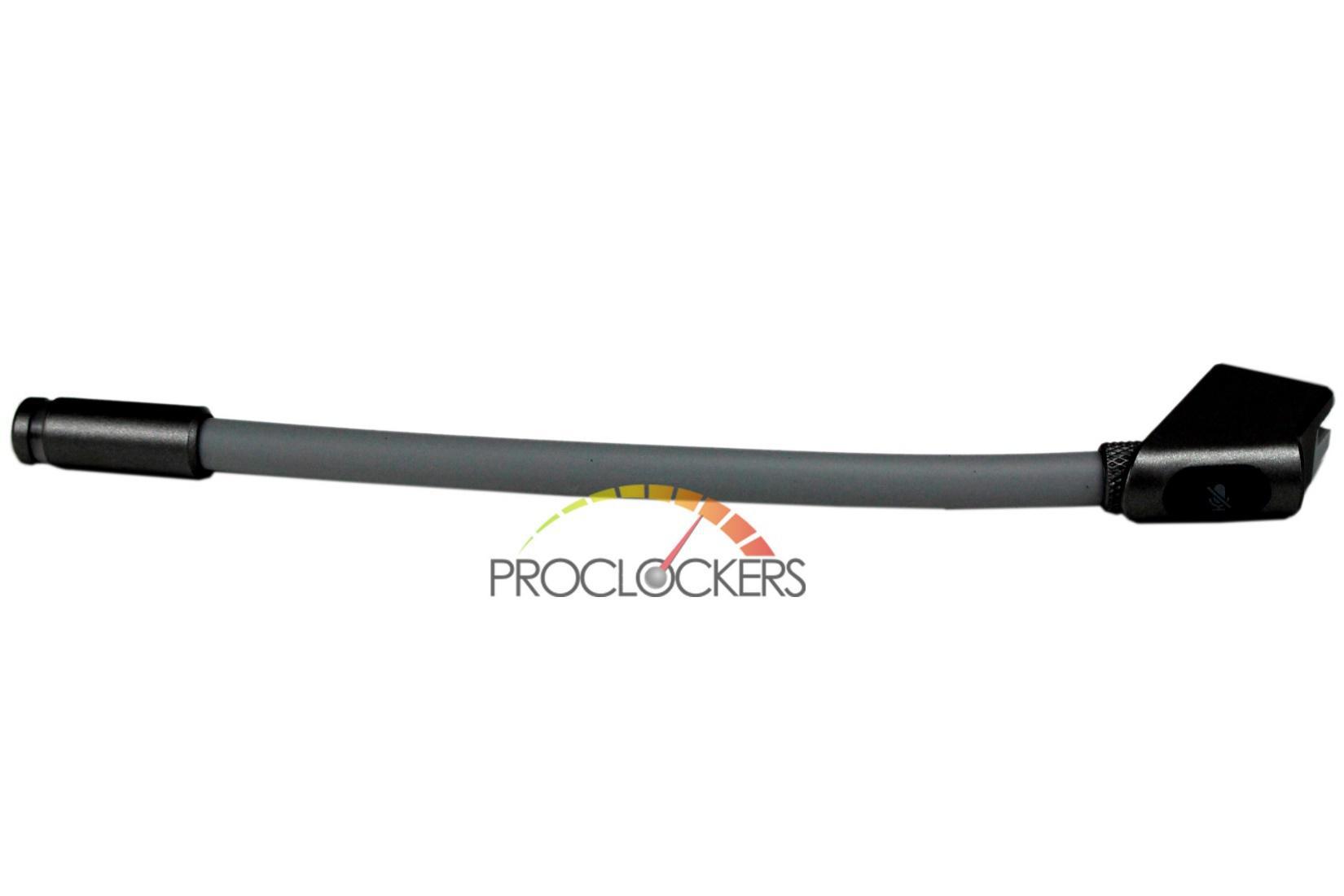 The removable microphone has a button on the headset end for muting the mic.


The end of the mic is fully RGB, but once connected only glows red or green to indicate mic status. Red for muted, and green (or off if configured as such) for mic active.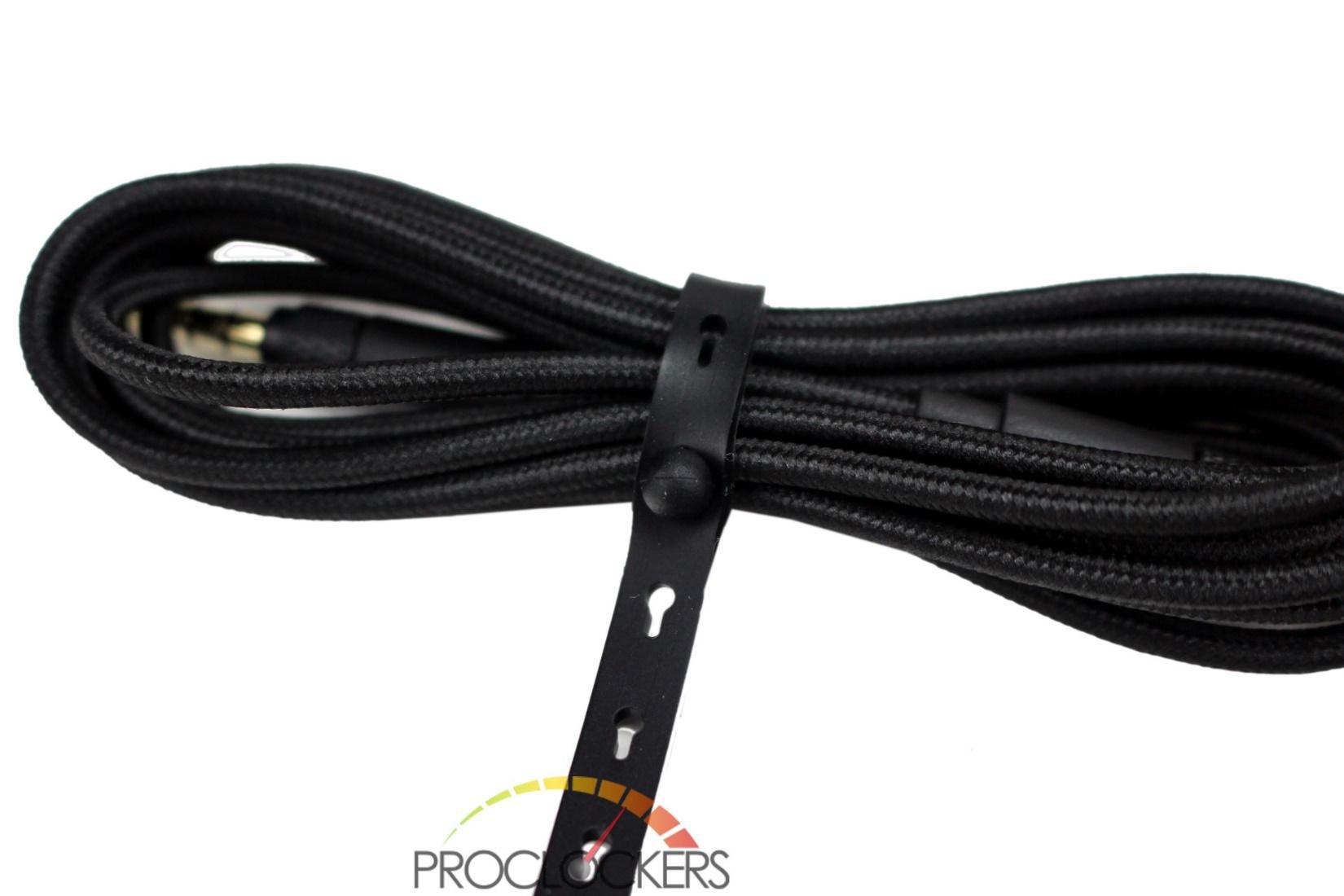 The included analog audio cable is a 4-pole cable that passes both mic and headset audio to your favorite device.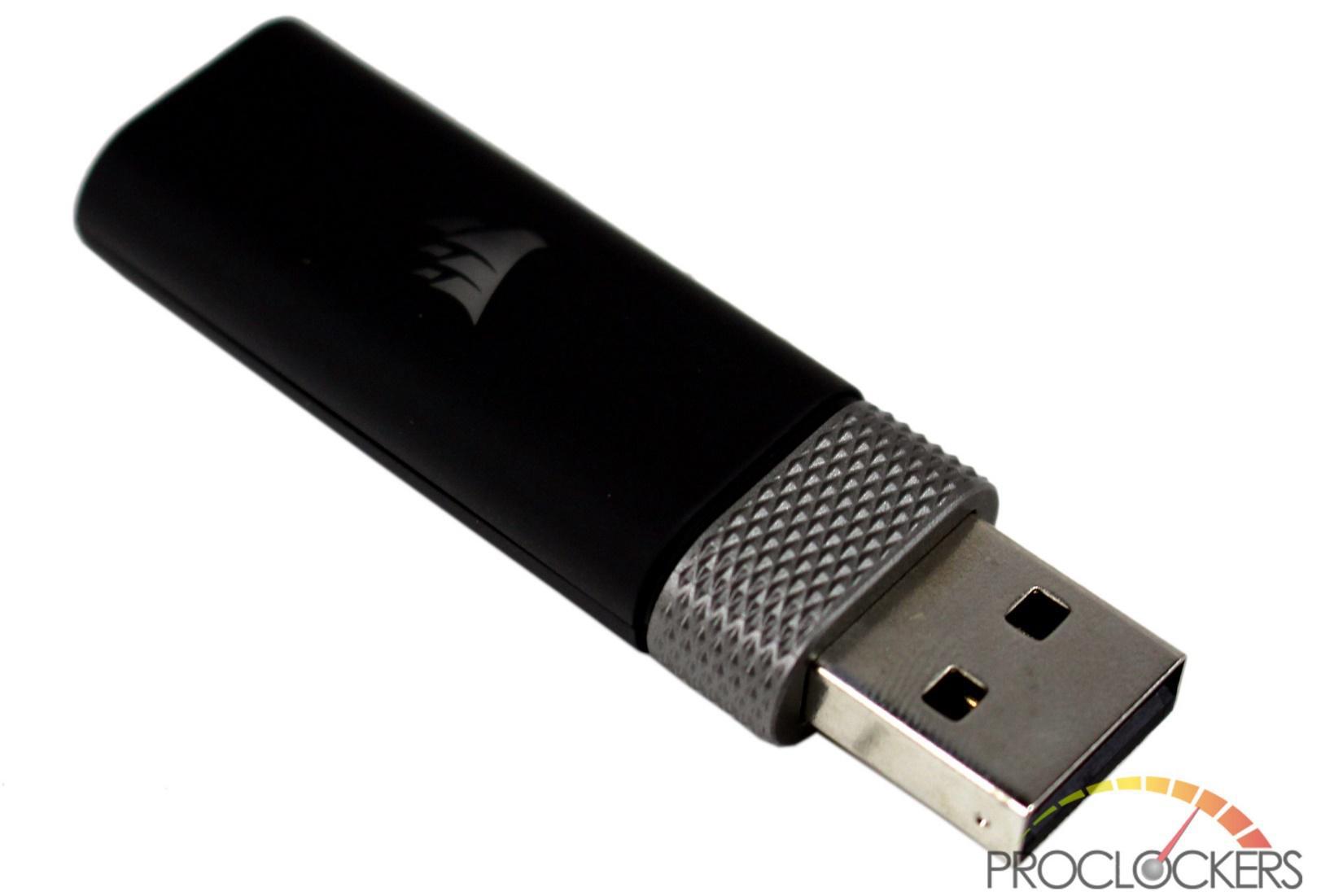 The wireless receiver features a diamond checker pattern on the end and a glowing Corsair logo in the center that indicates wireless connectivity status with the headset.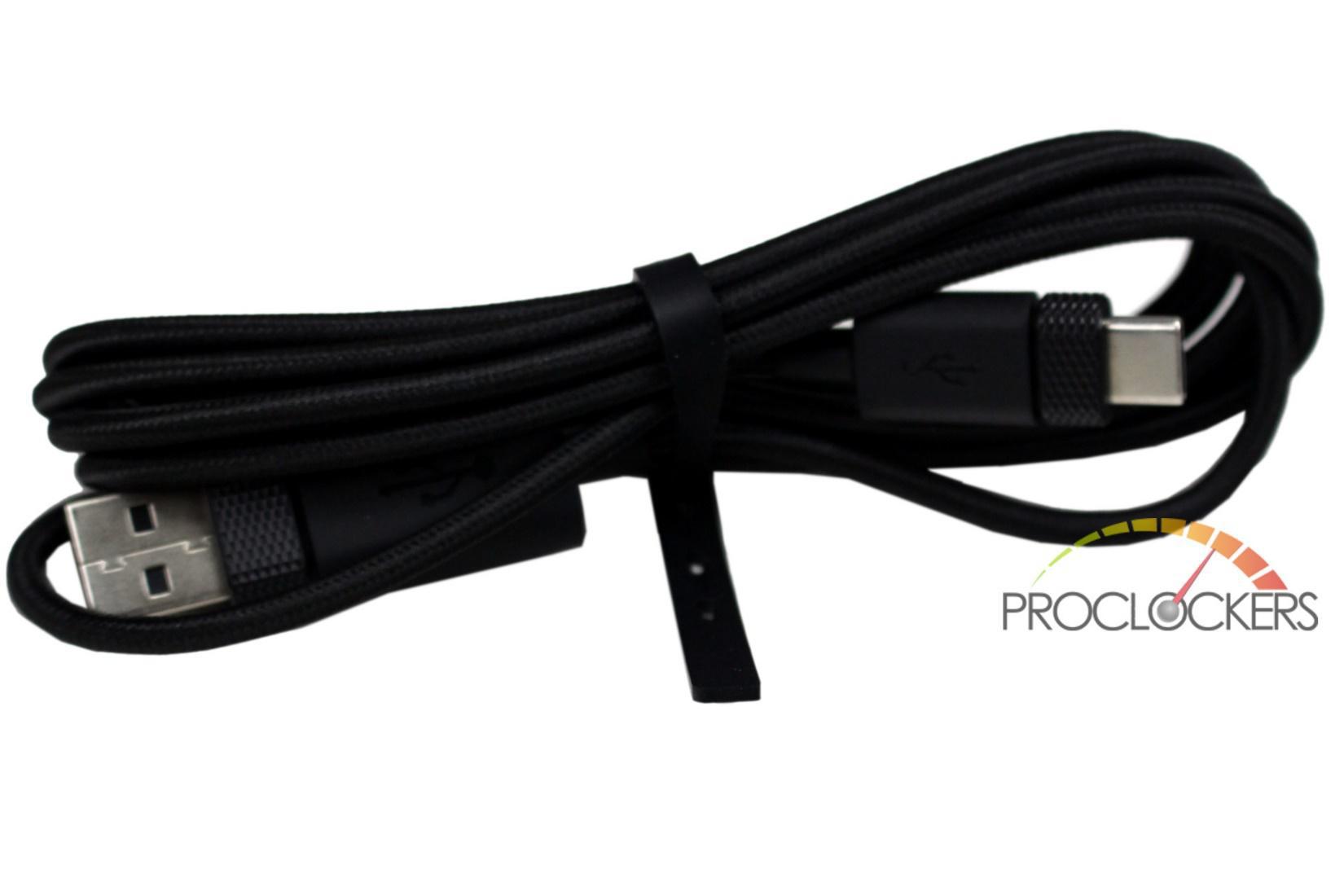 The USB-Type C cord included for charging and audio use is also sleeved and matches the styling of the headset.

A quick glamor shot of the headset in action. The audio is so good, even a dummy can appreciate it.
Software
Corsair's iCUE
Command your entire setup through a single interface, personalizing your system's performance and visuals to your exacting preferences.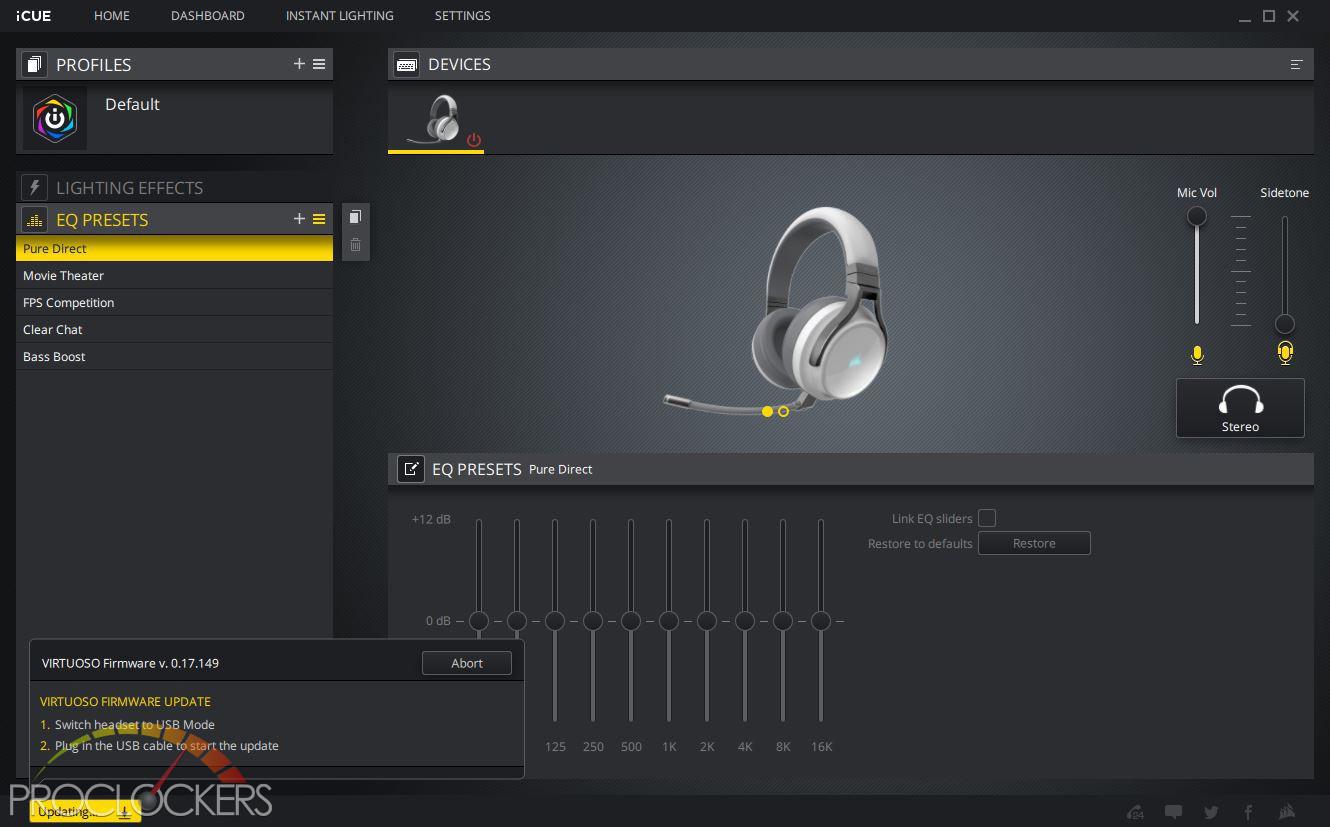 When we first connect the Virtuoso headset, it requires a firmware update. This requires you to have the USB cable connected.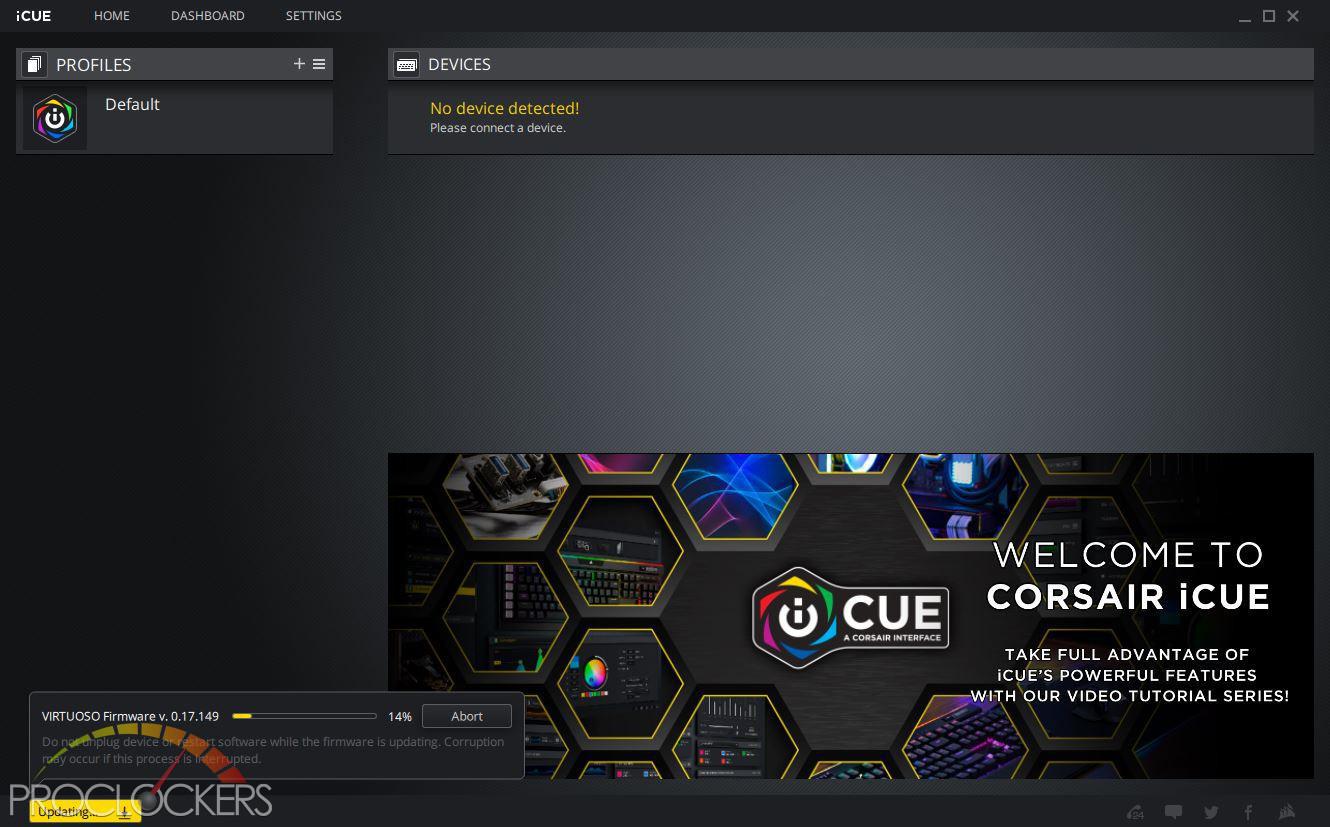 The update itself only takes a minute or so, and the headset reboots afterward.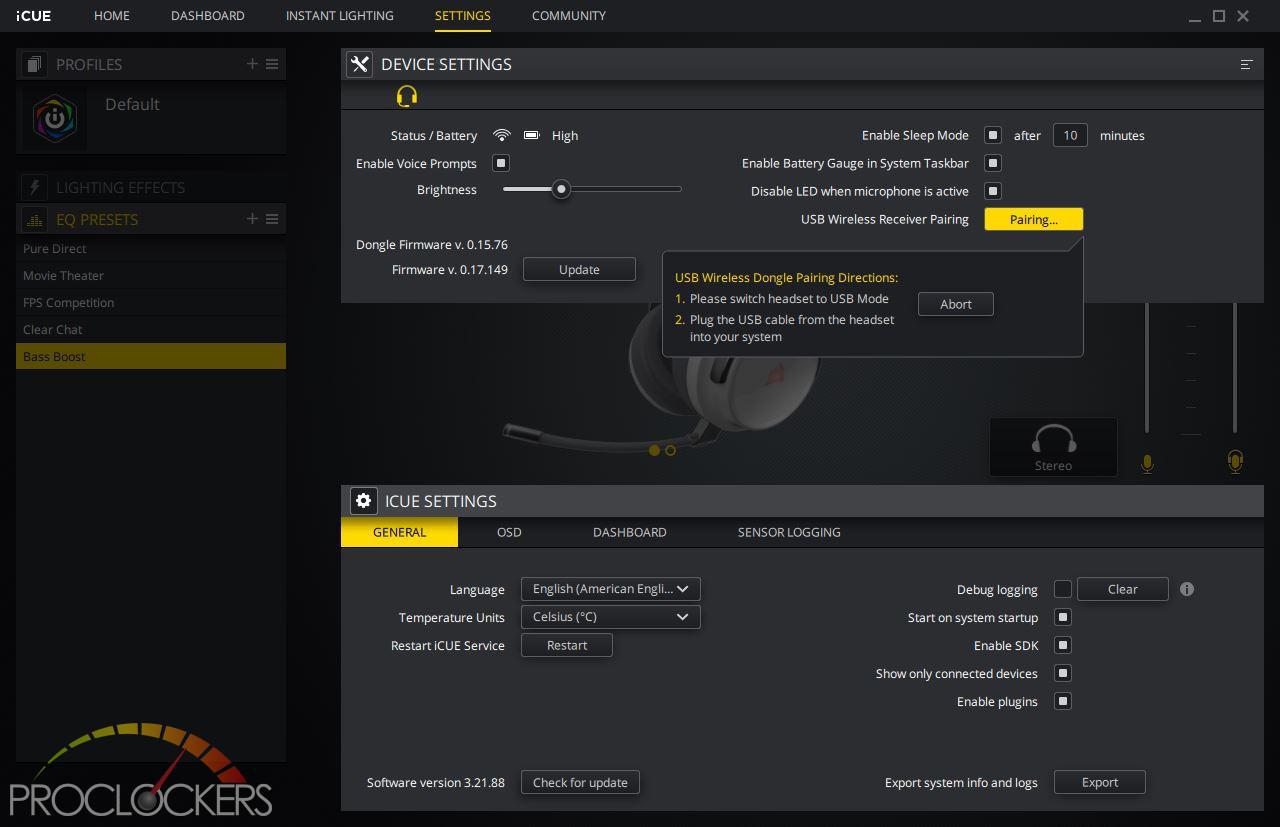 After the update, our Virtuoso headset would not work over wireless. We went into the settings menu and found a button to pair the headset with the receiver, which again requires the USB cable.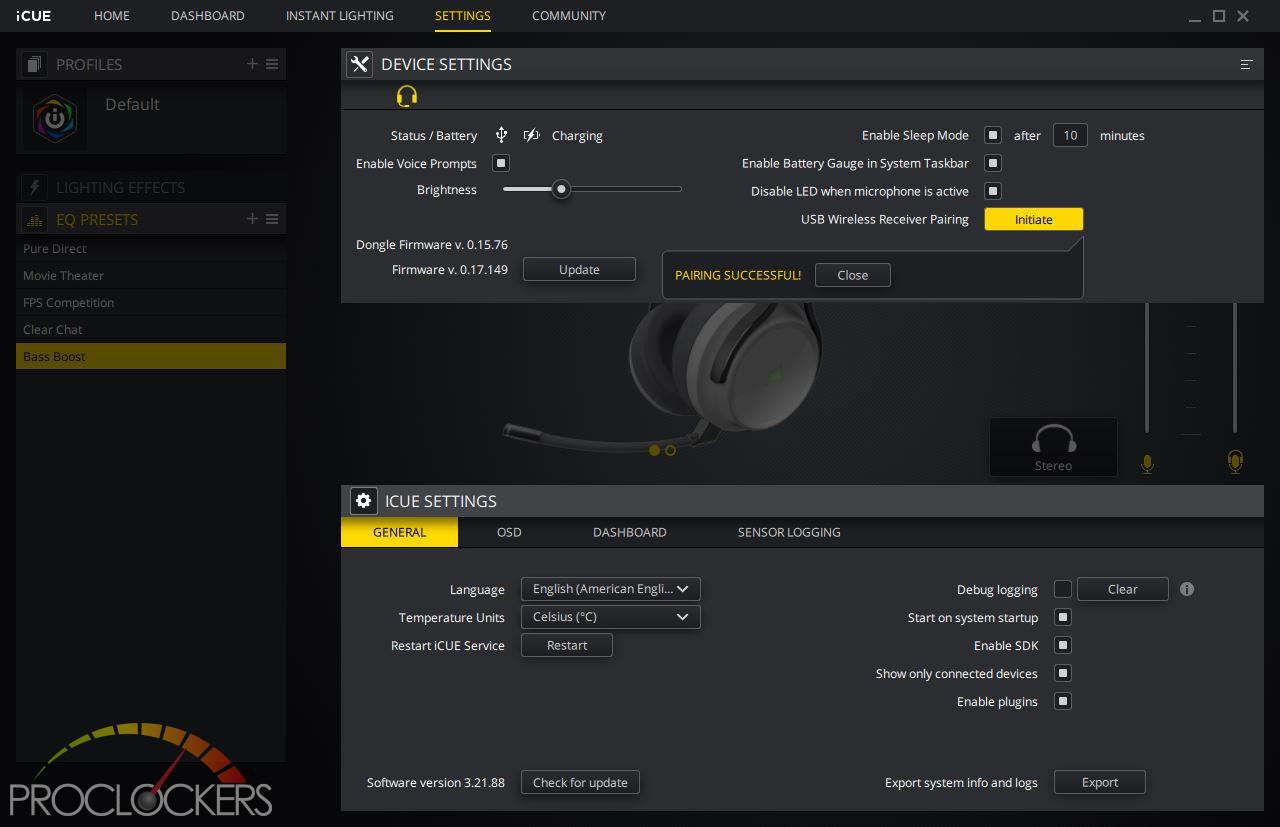 Pairing is almost instant when the USB cable is plugged in, and from here we had full wireless capability again.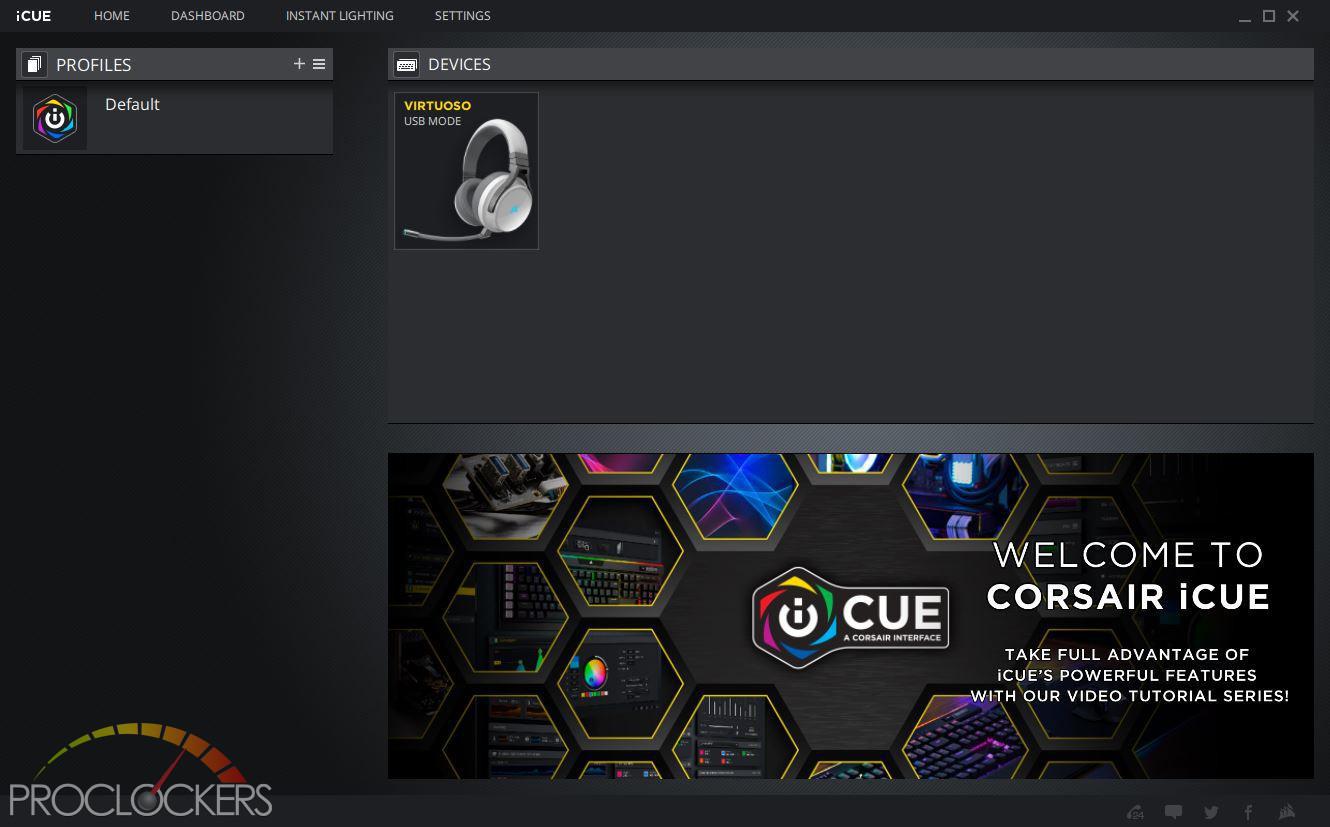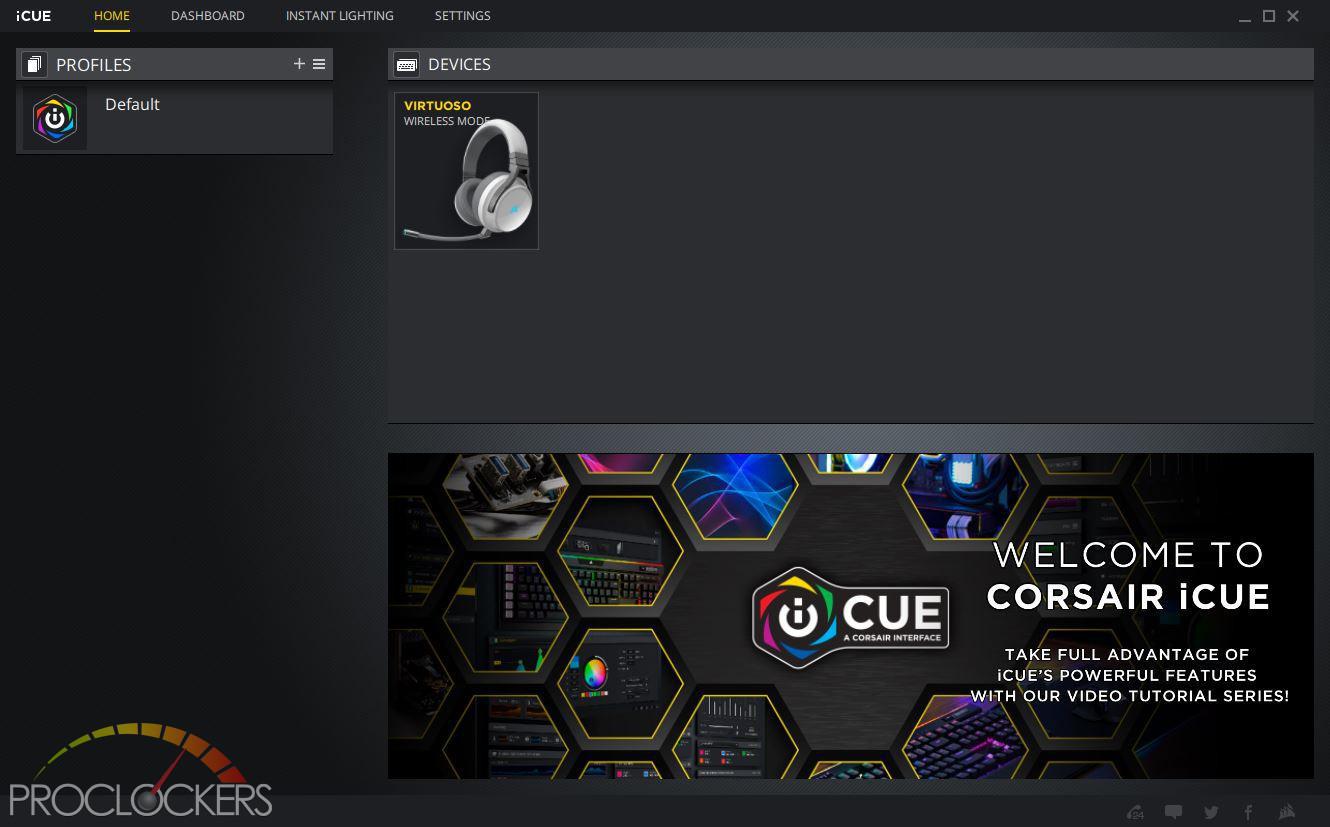 The home page of iCUE shows what mode the headset is in.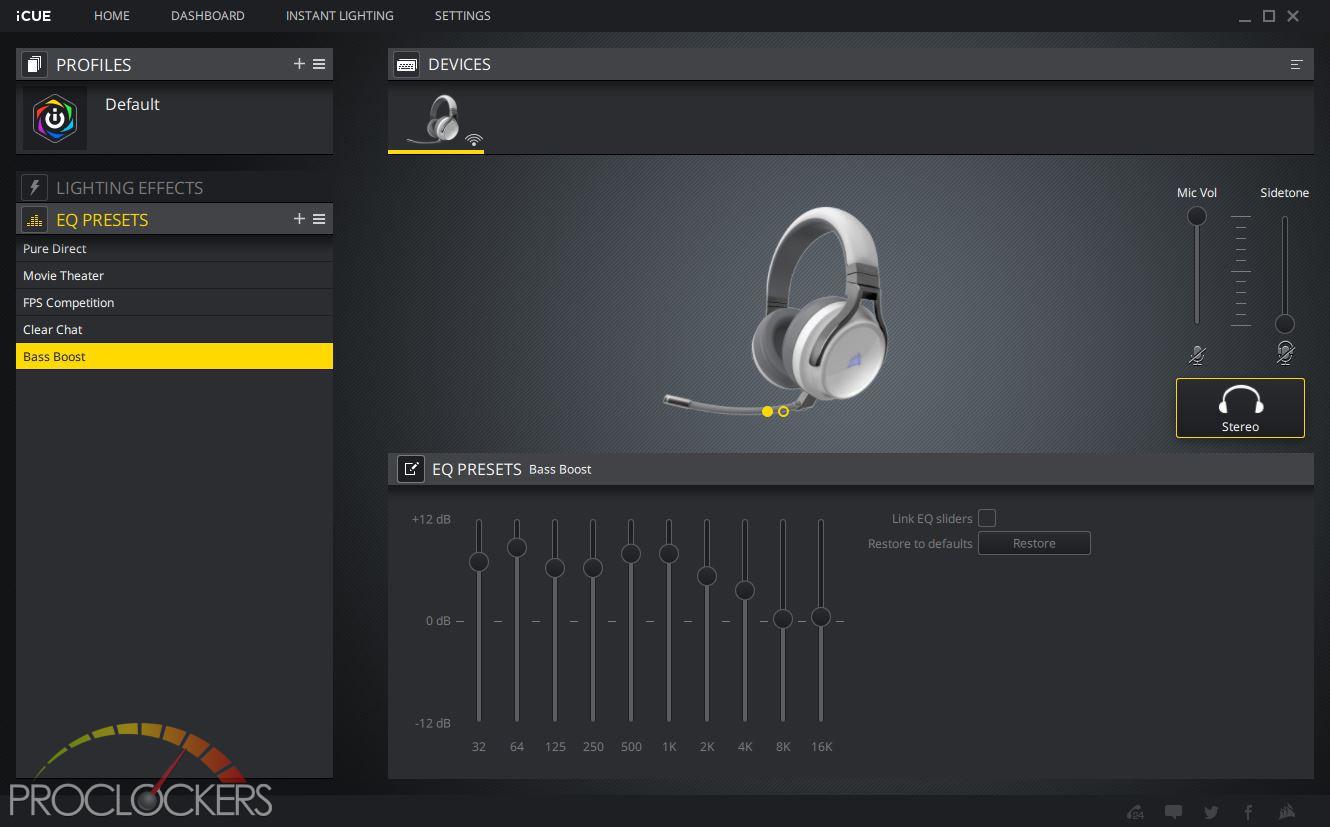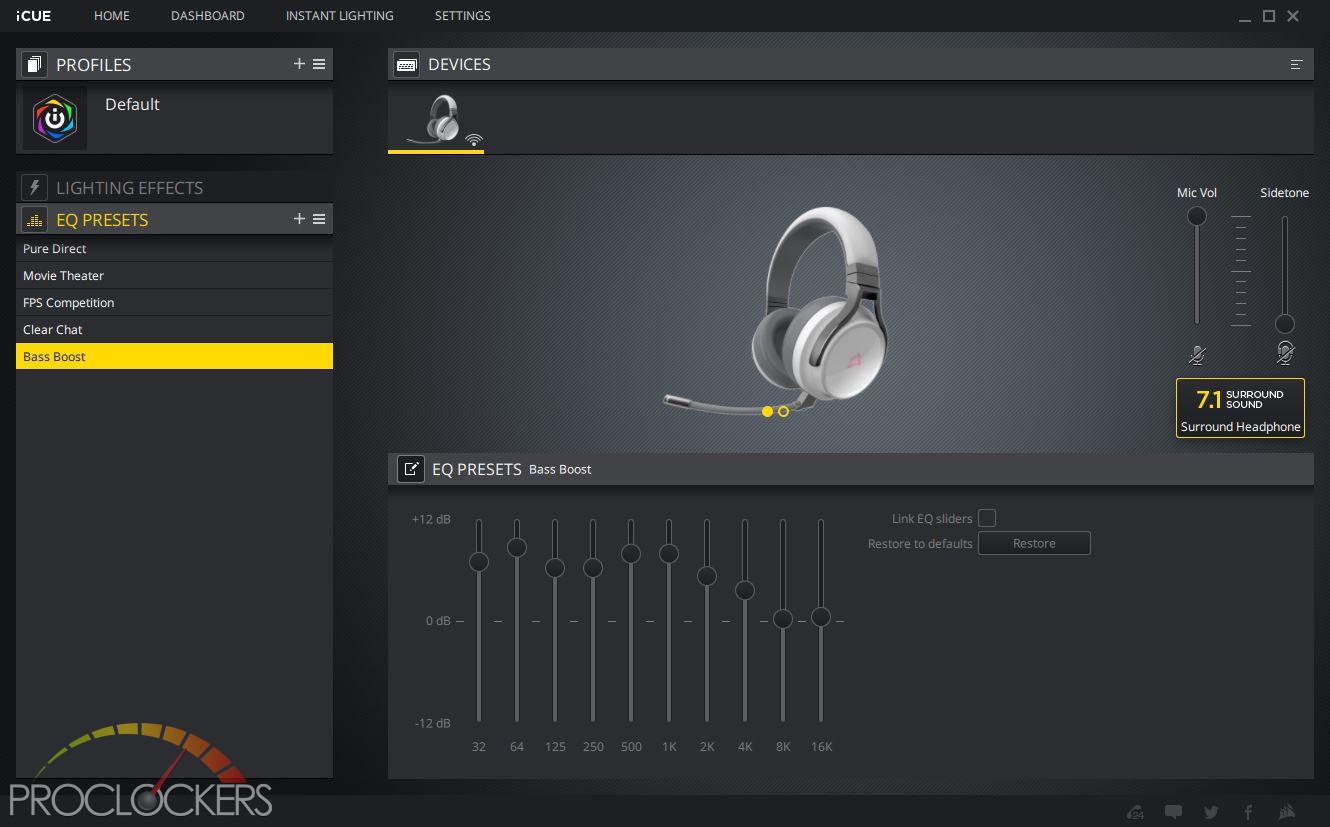 Once you click on the headset, you can adjust everything to your liking. The large button on the right allows you to flip back and forth between Stereo mode and virtual 7.1 surround mode. You can also pick an EQ preset or create your own. Lighting also can be adjusted from here for the two Corsair logos on the ear cups, but not the mic.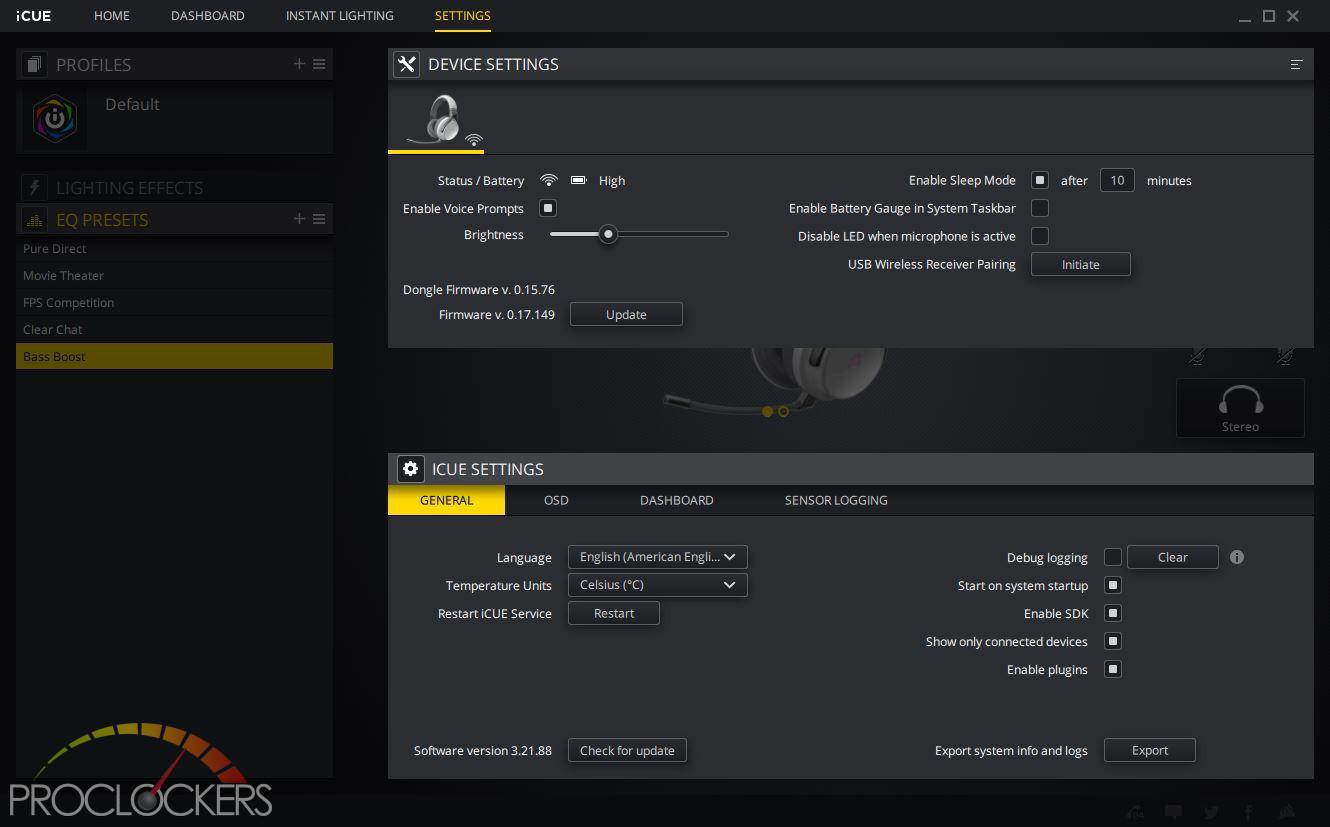 Back in the settings menu, you can tweak a few things such as turning off the mic light when it's active, instead of going green. You can also adjust the LED brightness and even see the battery level of the headset.
Testing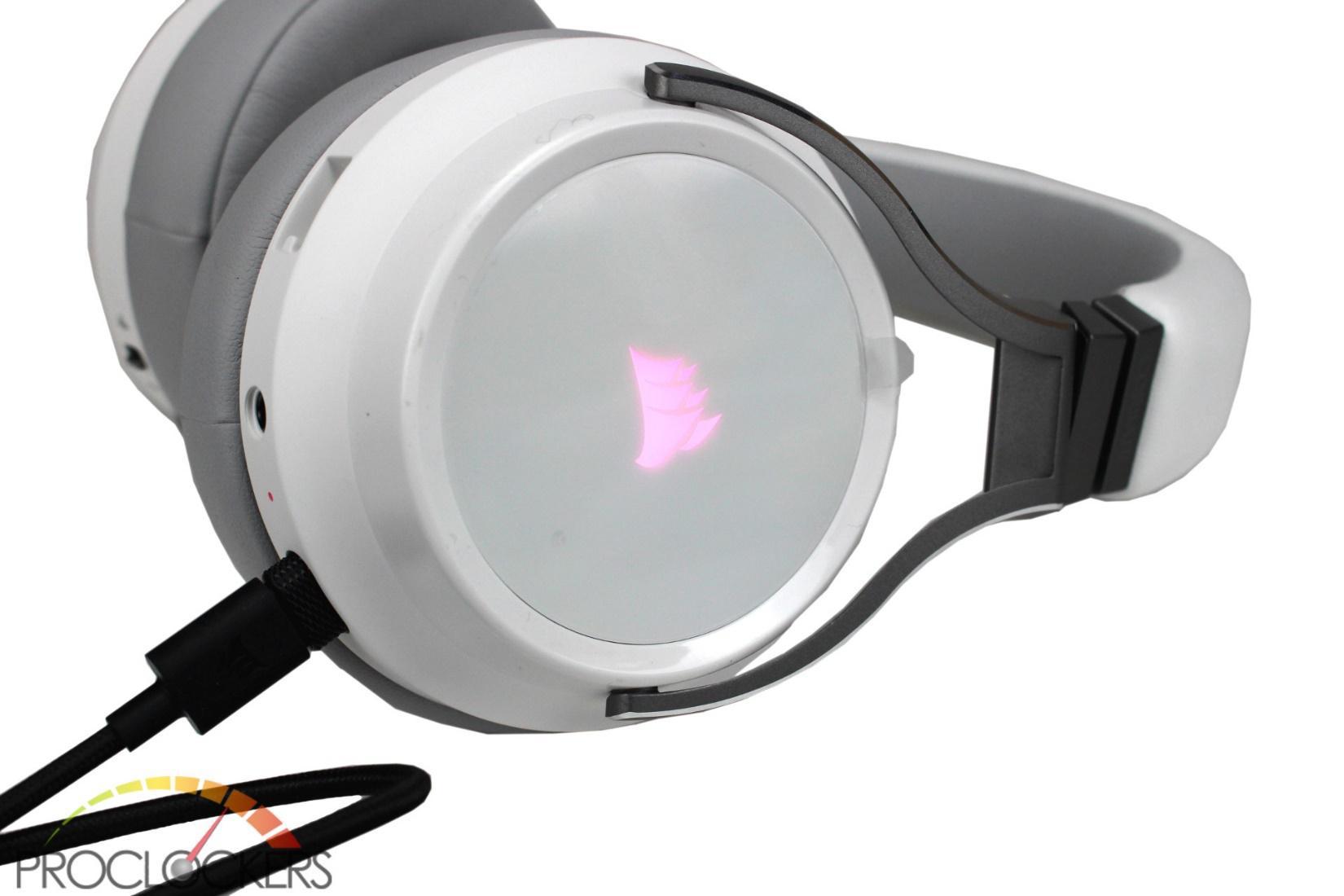 Using the Virtuoso headset was great! Okay, okay, we'll dig a little deeper than that.
From a comfort standpoint, the headset was quite comfortable. The pressure from the earcups keeps them in place pretty easily, even when moving around a lot, but is bordering on the too-tight side for me personally. Raising the top headband up a few extra notches solved this for me, but I like the top headband to sit on my head usually. The earcups themselves are very comfortable due to the memory foam construction and don't really cause any pressure spots that get uncomfortable over time. The ear cups do a decent job of blocking outside noise from distracting you, so you may want to use the mic monitor feature if you need to hear your surroundings a little more clearly.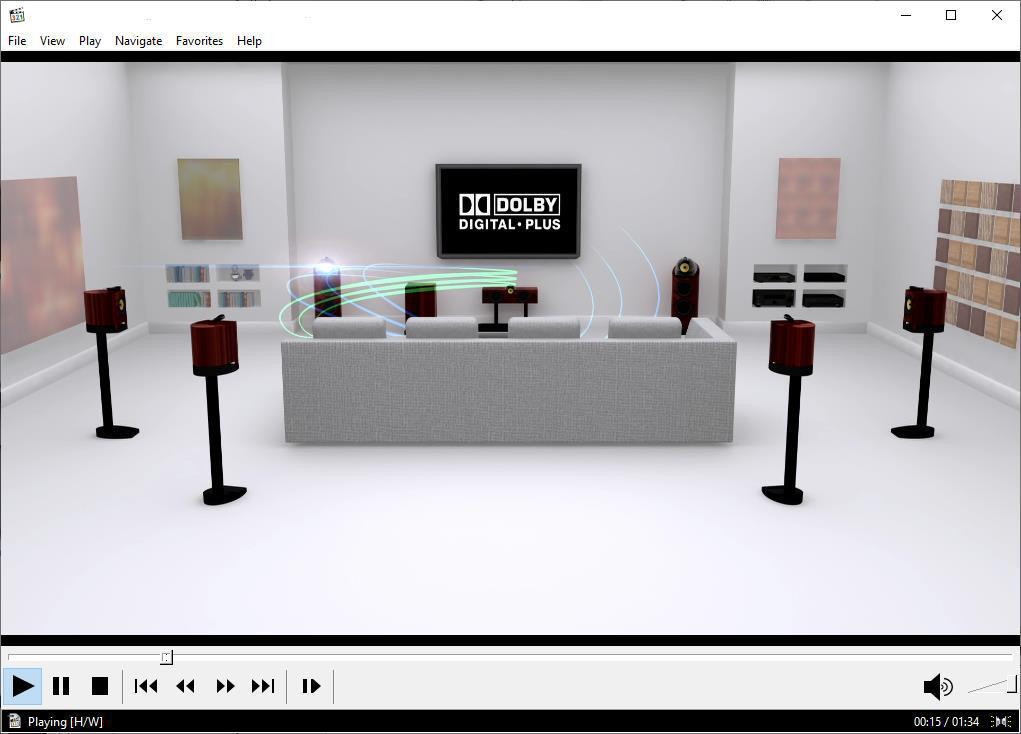 From an audio quality standpoint, the headset is tough to beat. Playing games, watching movies, and listening to music are all great, and the headset is crisp and clear with well-defined bass. Connecting to USB lets the headset ramp up to maximum quality, and it's certainly perceivable with a quality audio source. On the game and movie front, the virtual surround effect leaves a little to be desired. Switching on surround mode does increase the size of the sound stage a decent amount, but we really couldn't discern much separation between front and back sources. Obviously, this is a virtual effect and it will never be as well defined as having dedicated drivers for surround channels, but we have seen this virtual effect a little more clearly defined with other headsets.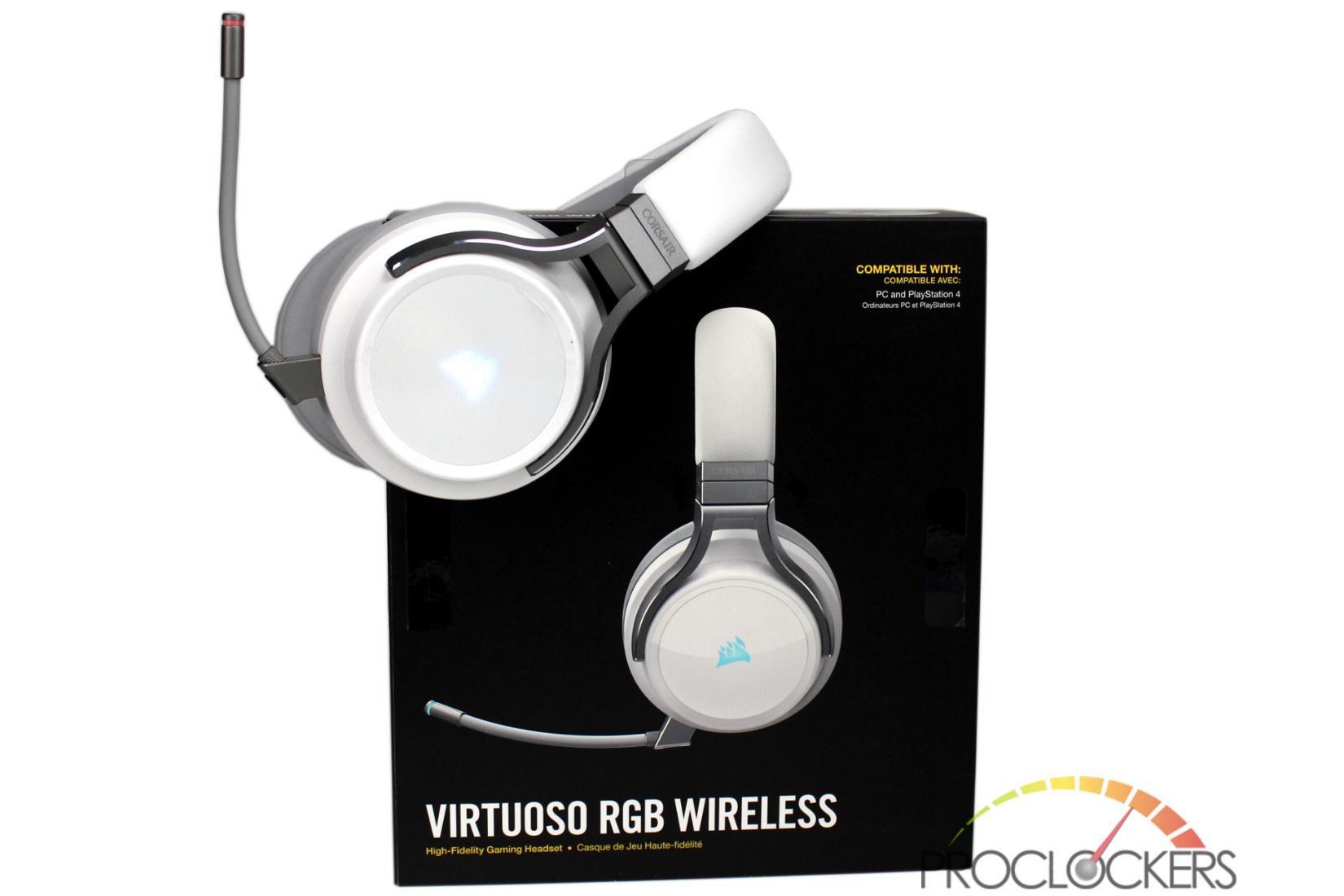 While we are on the nitpick train here, we have to point out that the Virtuoso doesn't get quite as loud as we would like. It's probably loud enough for most, but in our opinion, a few of our favorite songs just don't get quite loud enough to really make our ears bleed.
Final Thoughts & Conclusion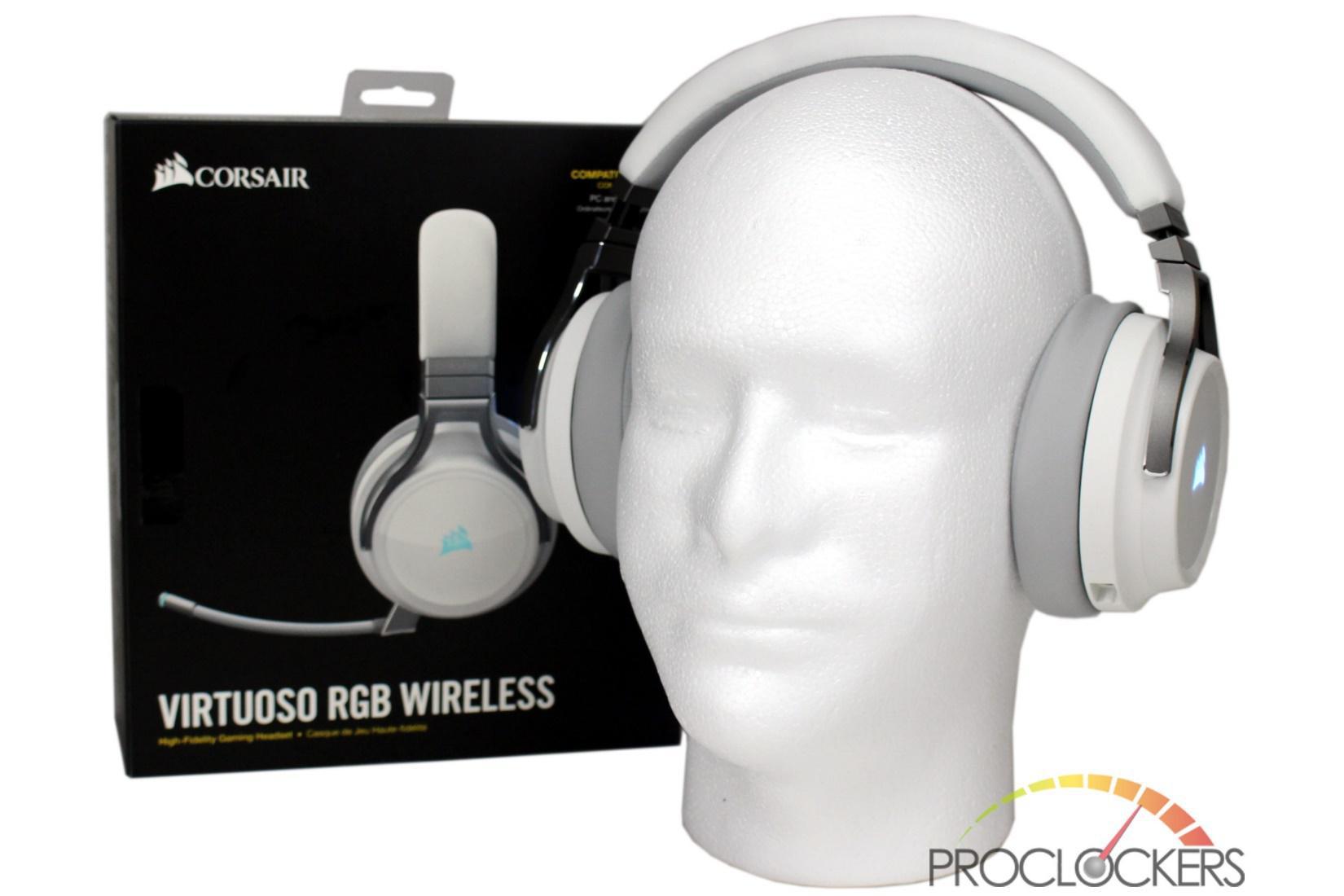 Corsair's Virtuoso RGB Wireless gaming headset is by far their best one yet. We can't quite call it perfect (yet) but it's pretty darn close. The few nitpicks we do have can likely we fixed with a software and/or firmware update down the road. The hardware is there no doubt. Having personally been using the original Corsair VOID wireless headset as my 'daily driver' for the last 4 or so years, I can tell you that the quality has dramatically increased here on both build quality and audio quality. I personally prefer the fold up to mute microphone system, but being able to completely remove it will appeal to those of us who are less prone to losing things. One more little nitpick before we call it a wrap on a killer headset: the microphone lighting. When you first power the mic on, it's RGB runs in sync with the ear cups in a full rainbow. Once the headset connects, you only get red or green. It would be nice to be able to customize it in iCUE since it's pretty obvious it's fully RGB capable. Other than that, Great job Corsair!

<![CDATA[ */ var zbjs = {"ajaxurl":"https:\/\/gaminggorilla.com\/wp-admin\/admin-ajax.php","md5":"d8e8b24d2fa18d2999e0fddcdd418586","tags":[],"categories":["Hardware"]}; /* ]]>