Corsair SF750 80 PLUS Platinum SFX 750W Power Supply Review
Introduction
While many enthusiasts still love massive builds for the jaw-dropping list of hardware that you can stuff inside, a large number of builders have been embracing small form factor builds. Not long ago going small meant performance as much as it did size. Things have changed in the last few generations and you can now build incredibly powerful builds such as workstations and high-end gaming builds in the smallest of enclosures. Small power supplies capable of powering monster rigs have been a little slower to come along, but Corsair has just such a unit right here! Introducing the SF Series SF750, a 750-Watt 80 PLUS Platinum certified power supply stuffed into a tiny 0.78 Liter SFX footprint.
ProClockers would like to thank Corsair for sending the SF750 power supply over to check out!
Corsair's take on the SF750 SFX power supply:
MAXIMUM POWER, MINIMUM SIZE
The CORSAIR SF750 80 PLUS Platinum SFX Power Supply is an extraordinarily power-dense PSU, ready to power the most cutting-edge small form factor PCs with 750 continuous watts.
Features & Specifications

AN UNPRECEDENTED 750 WATT SFX PSU
The most powerful SFX power supply in the market, perfect for the most power-dense small-form-factor PCs.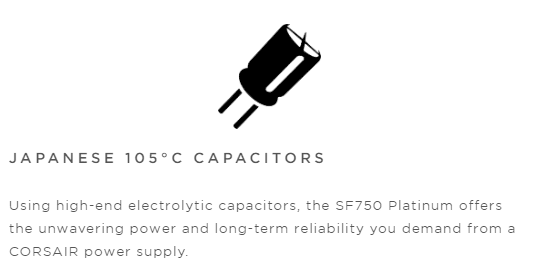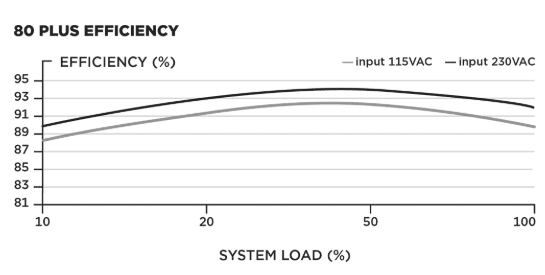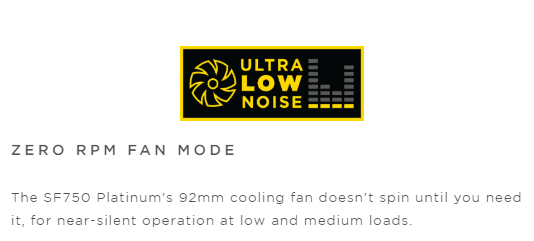 92MM PWM LOW NOISE COOLING FAN
Utilizing PWM instead of the standard DC voltage control, the SF750 Platinum keeps noise low and delivers precise fan speed. The SF750 Platinum also utilizes a copper alloy heatsink, ensuring optimal thermal performance.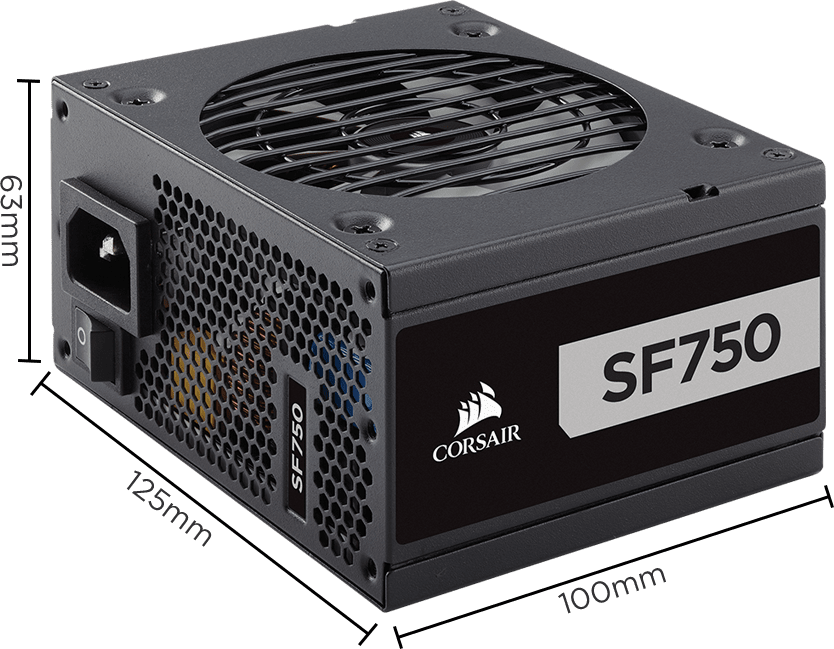 FULLY MODULAR CABLES
SF Platinum Series power supplies come equipped with premium, individually sleeved cables featuring a flexible paracord sleeve, ready to fit right into your new high-end PC. The individually sleeved cables also make routing and cable management a breeze, with a lower profile and improved flexibility.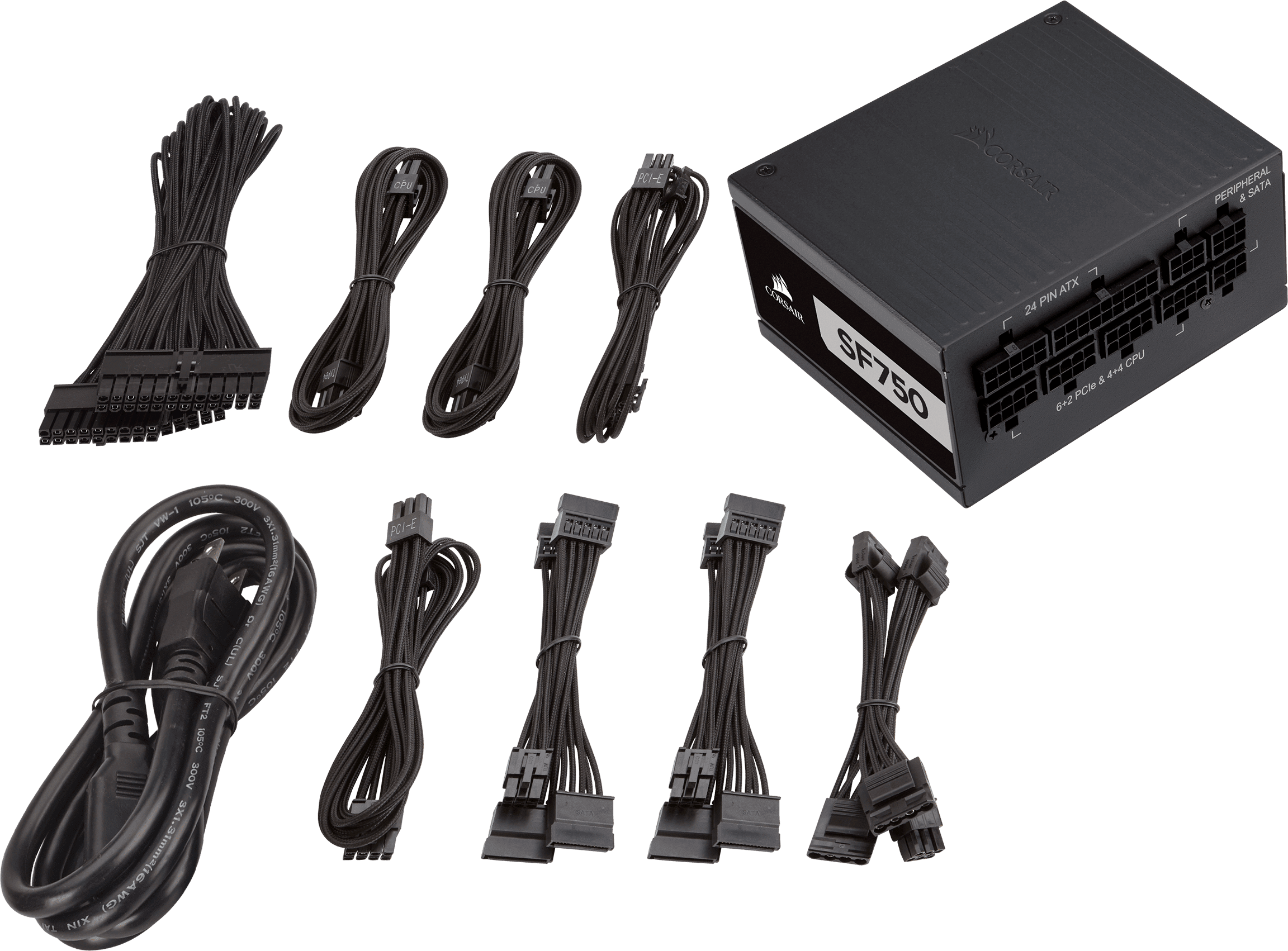 SFX-TO-ATX BRACKET INCLUDED
SF Platinum Series power supplies include an SFX-to-ATX power supply adapter bracket enabling installation into any ATX compatible case.

CORSAIR offers a seven-year warranty on all SF Platinum Series power supplies, your guarantee of reliable operation that will last across several system builds. If you need help, CORSAIR customer service and tech support are always on hand.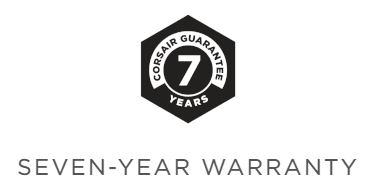 Safety and protection
• Over-voltage protection (OVP)
Over-voltage protection for the 12V, 5V, and 3.3V DC outputs is required to comply with the SFX specification. OVP shuts down the PSU in the event that the DC outputs exceed a set level, determined by the PSU manufacturer. The minimum voltage levels required for compliance are 13.4V for the +12V rail(s), 5.74V for the +5V rail and 3.76V for the 3.3V rail.
• Over-current protection (OCP)
The SF Series features OCP on the 3.3V, 5V, and 12V rails. OCP ensures that the output of the DC voltage rails remains within safe operating limits.
• Over-temperature protection (OTP)
OTP ensures that the PSU will shut down when the internal temperature reaches a set point. This is usually as a result of internal current overloading or fan failure.
• Short-circuit protection (SCP)
A short-circuit is defined as any output impedance of less than 0.1 ohms. Amongst other things, SCP ensures that the PSU shuts down should the 3.3V, 5V and 12V rails short to any other rail, or to ground. It also ensures that no damage should occur to the unit or your PC's components in the event of a short.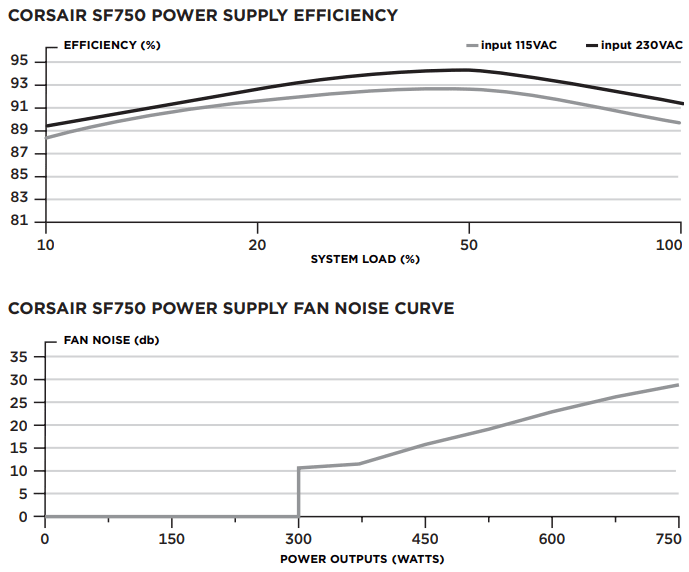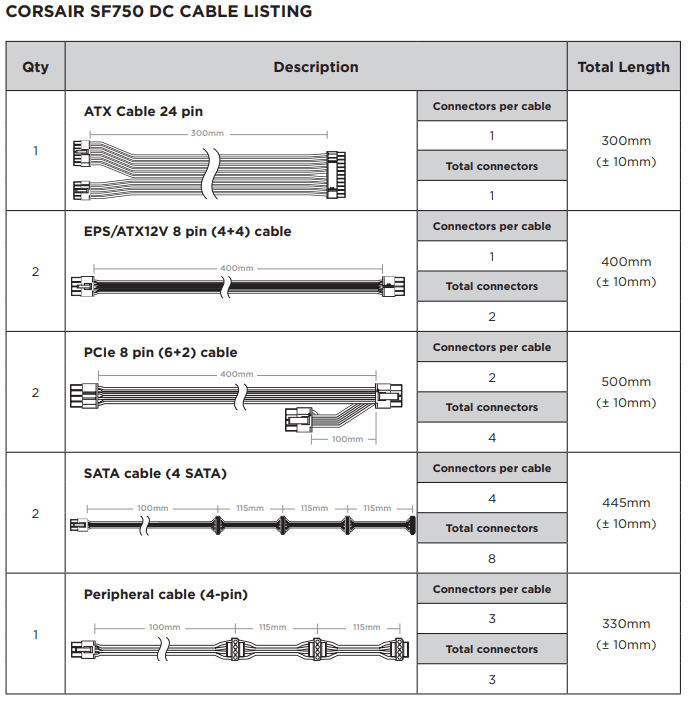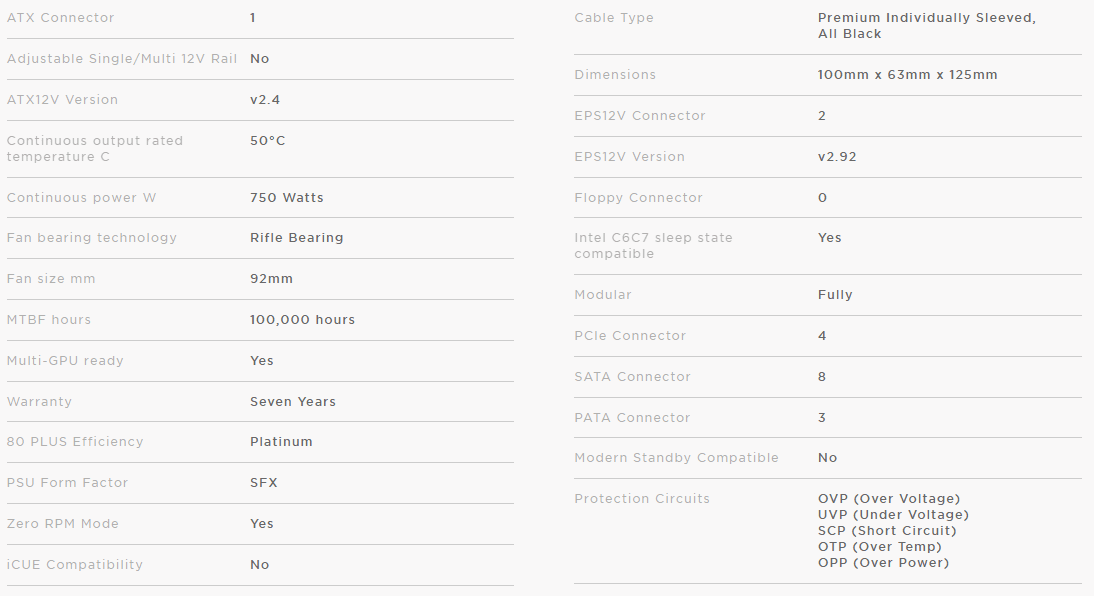 Packaging & Unboxing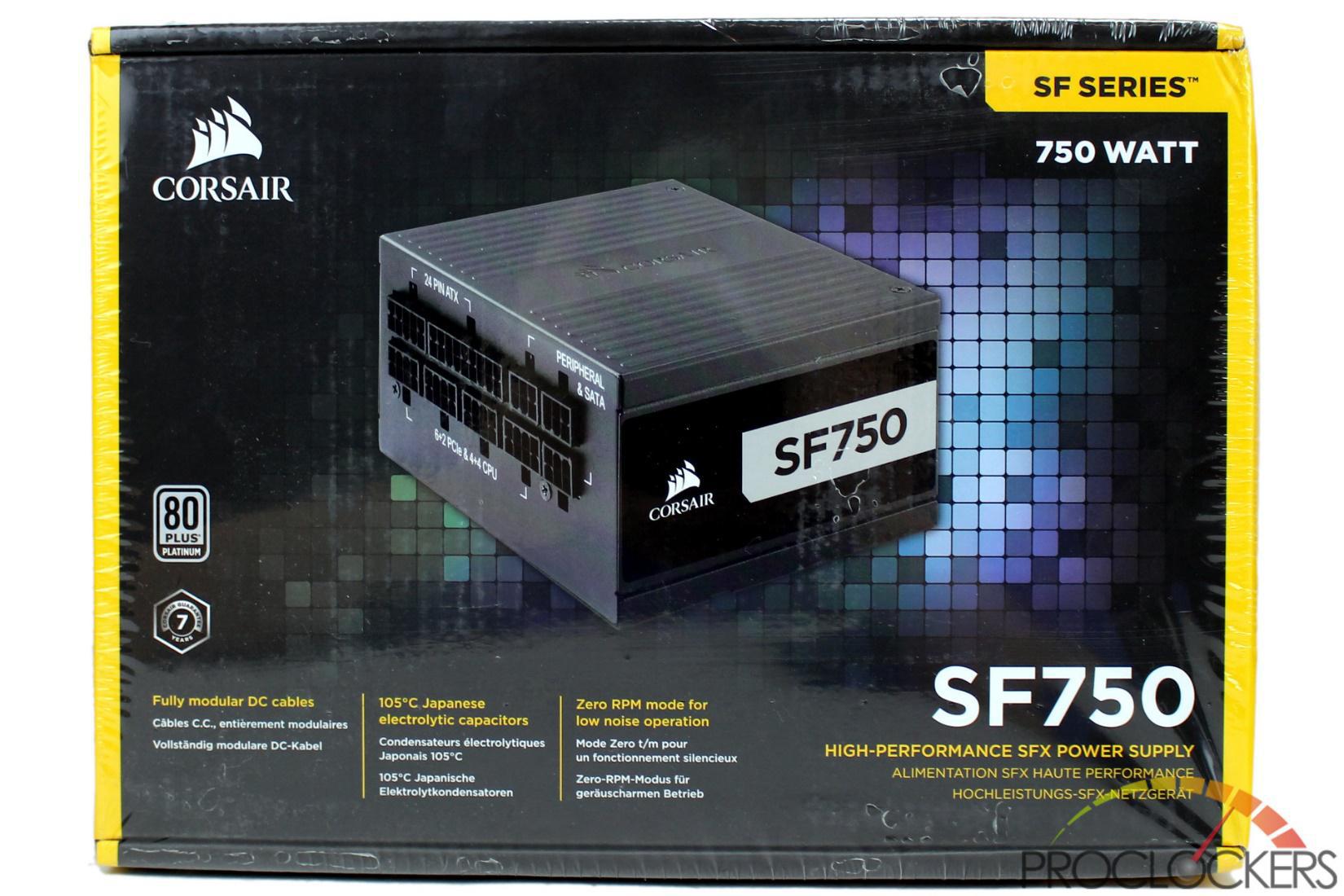 Corsair SF750 power supply comes in a box only slightly larger than a typical ATX power supply. A picture of the unit takes up most of the front.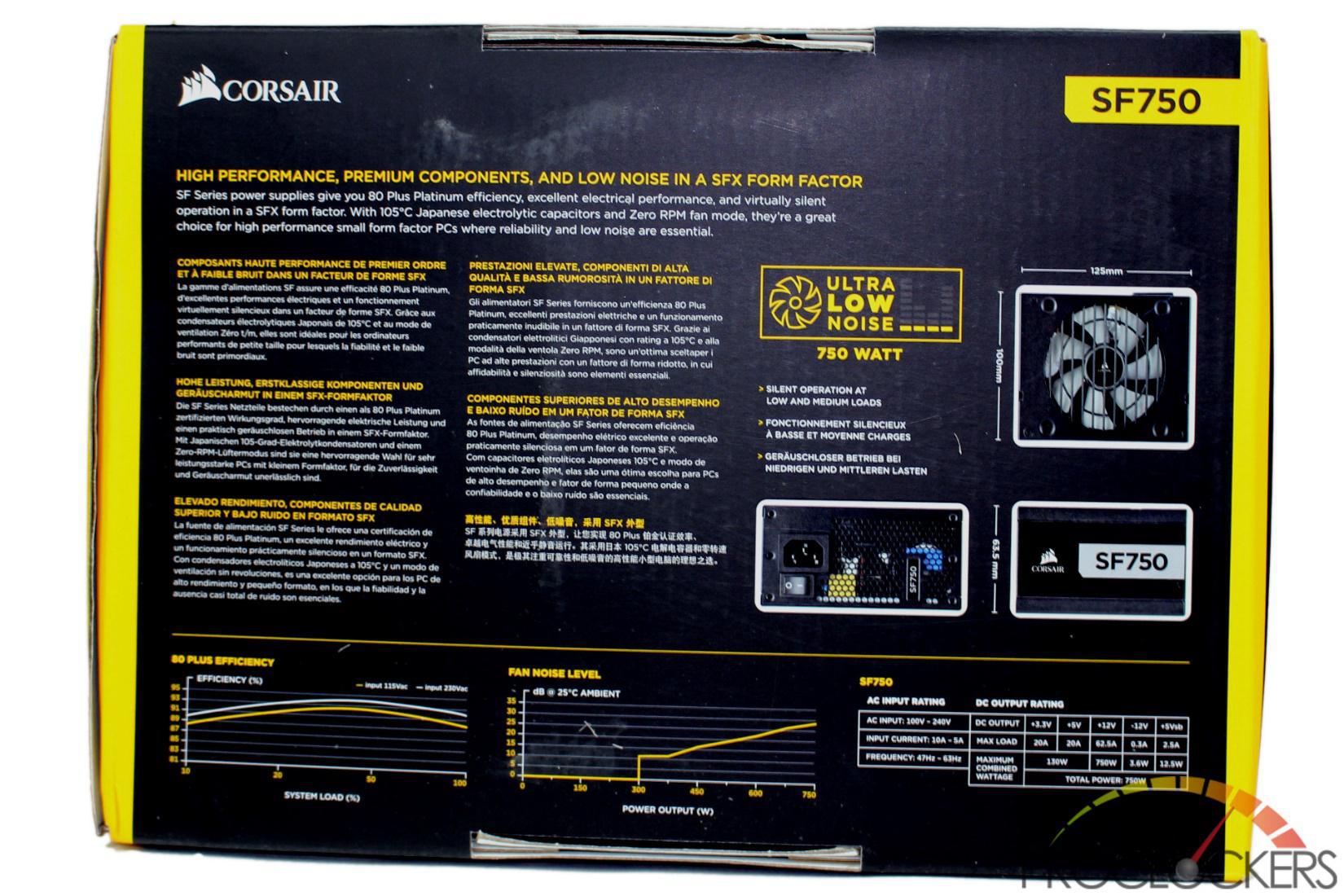 The rear gives info on features and specs, as well as including a short blurb about the unit itself in several languages.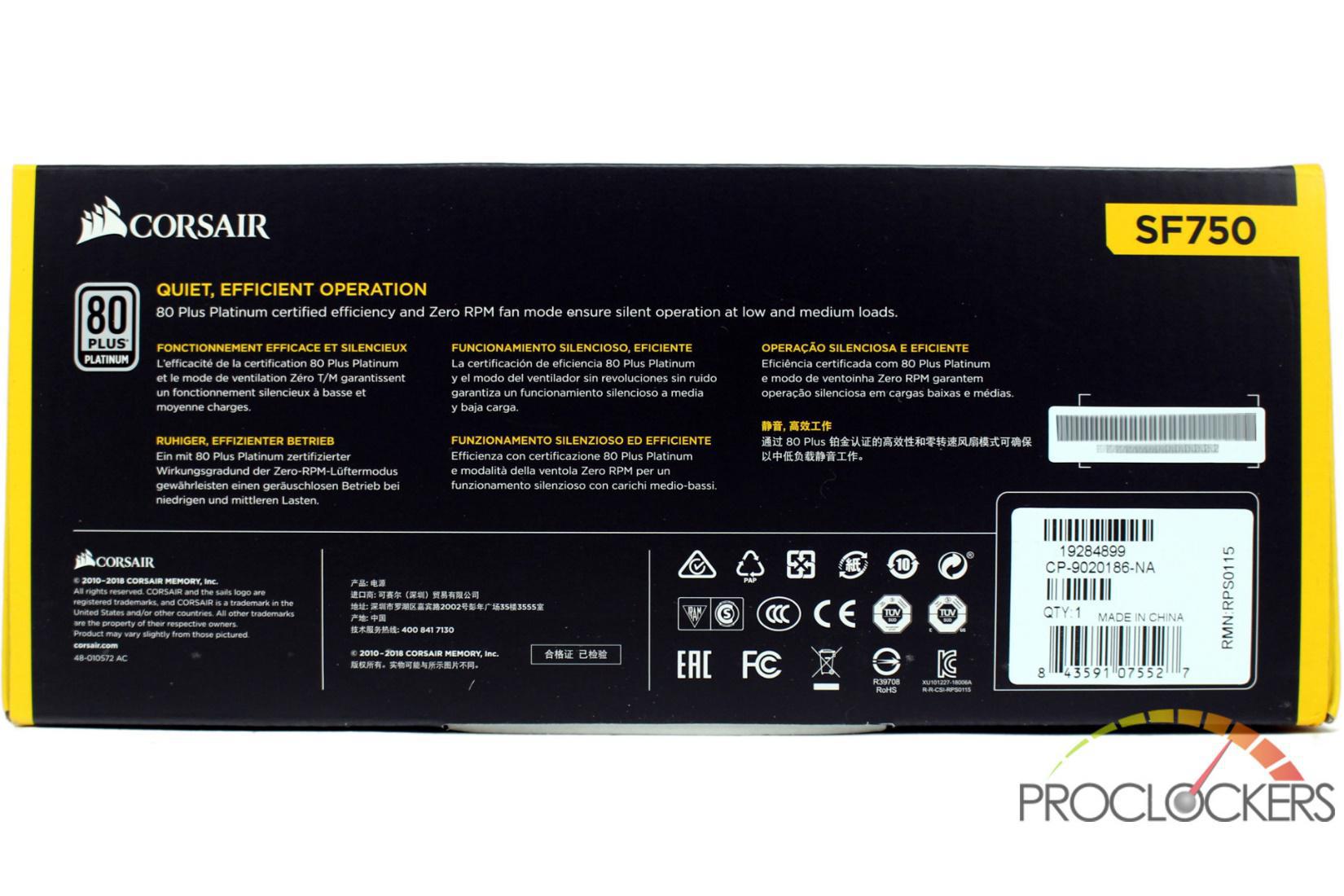 The bottom of the box covers the surprising 80 PLUS Platinum efficiency rating.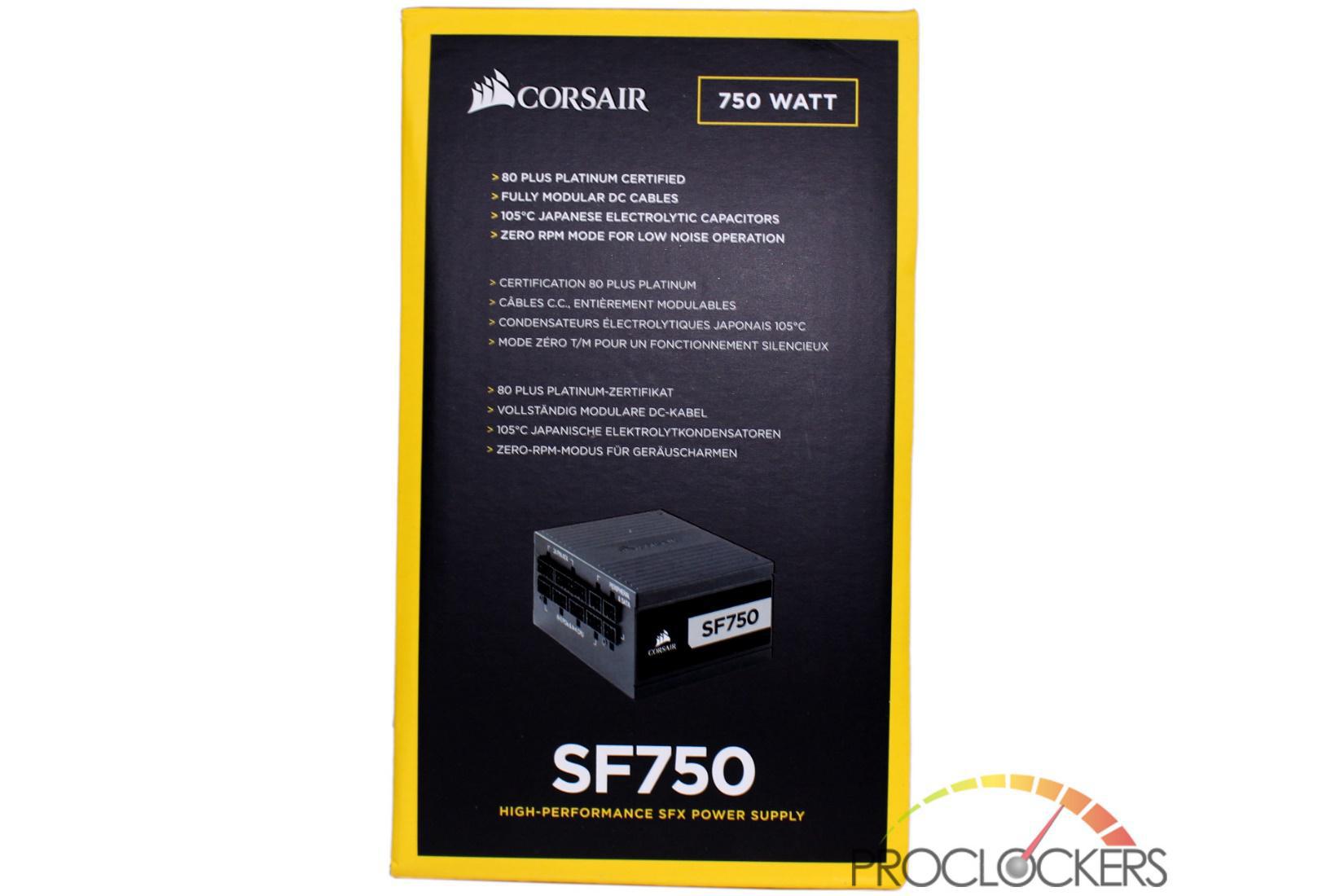 The short ends of the box highlight a few features.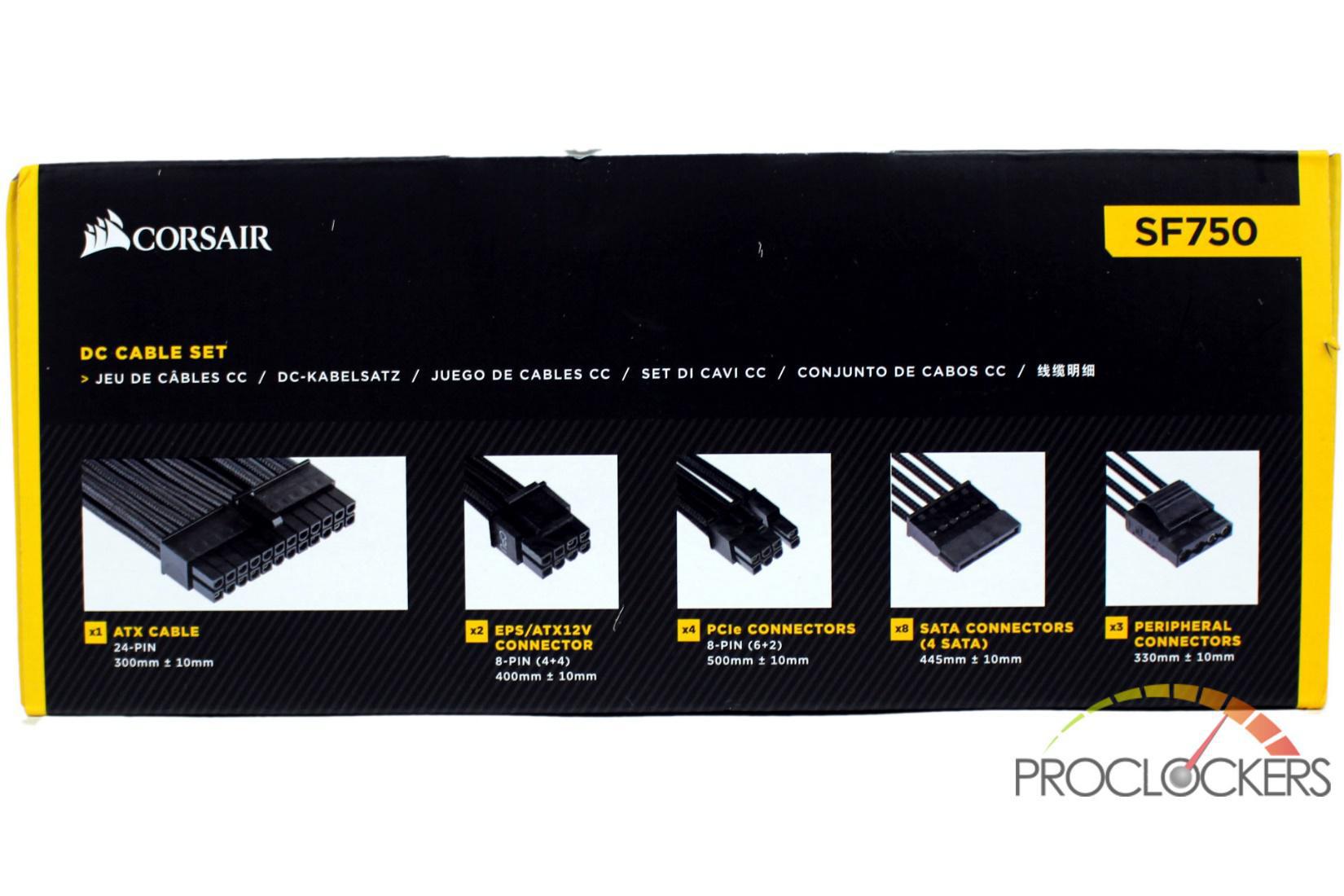 The bottom shows the cables, connectors, and distances between them available with this unit.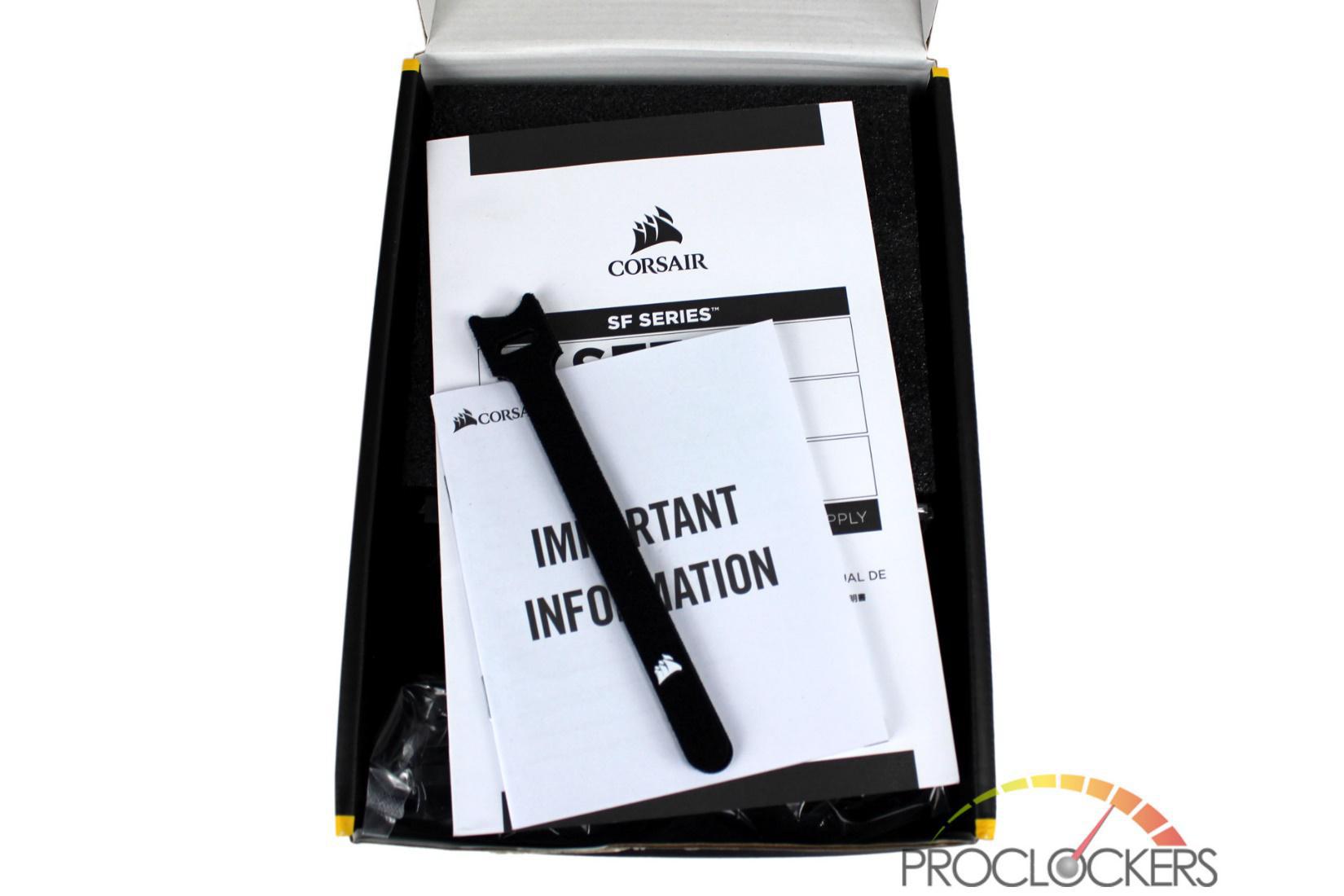 Inside we find some paperwork laying on top, as well as some reusable Velcro cable management wraps.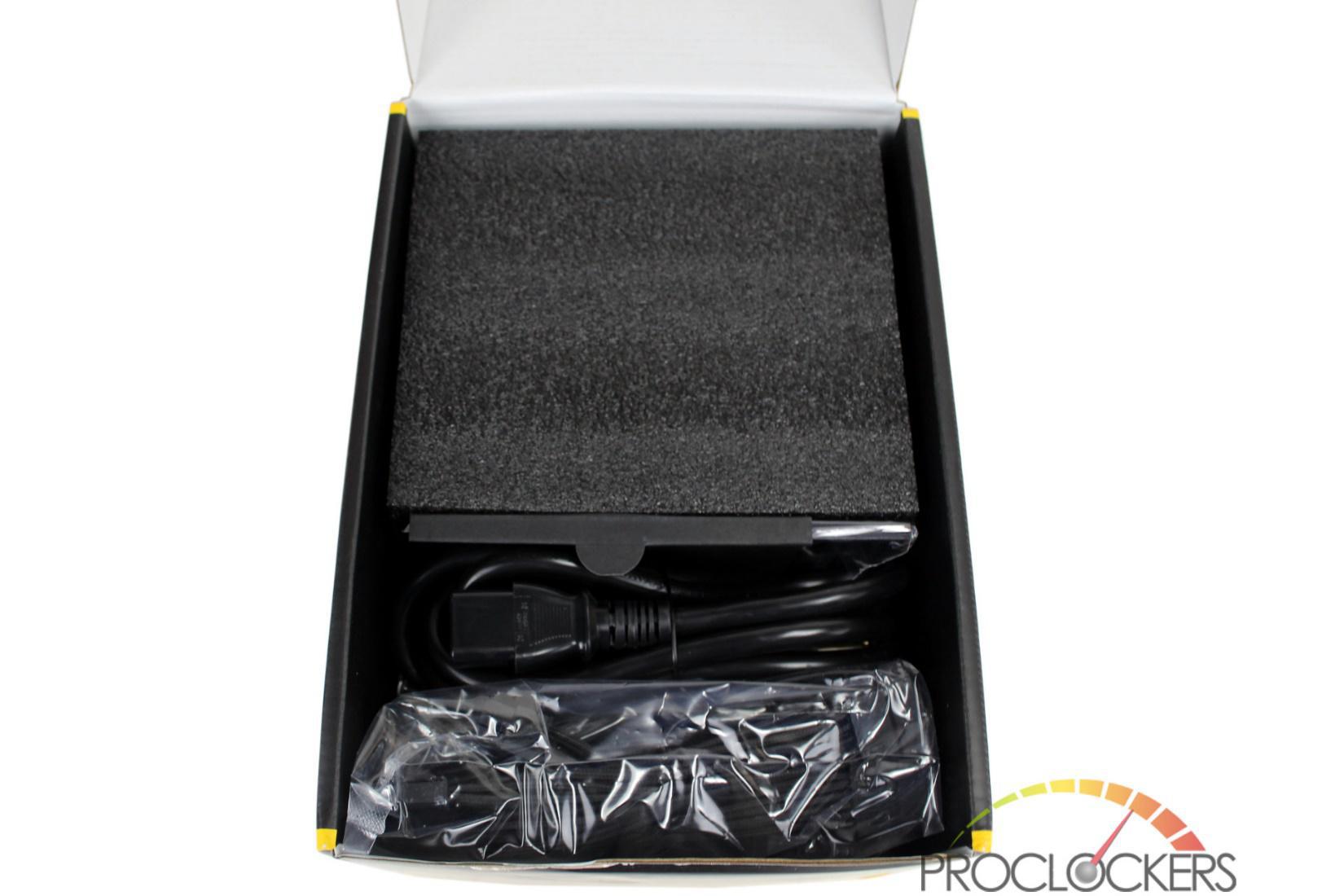 Under these is a block of foam protecting the power supply, the regionally appropriate mains power cord, and the DC cables in a bag.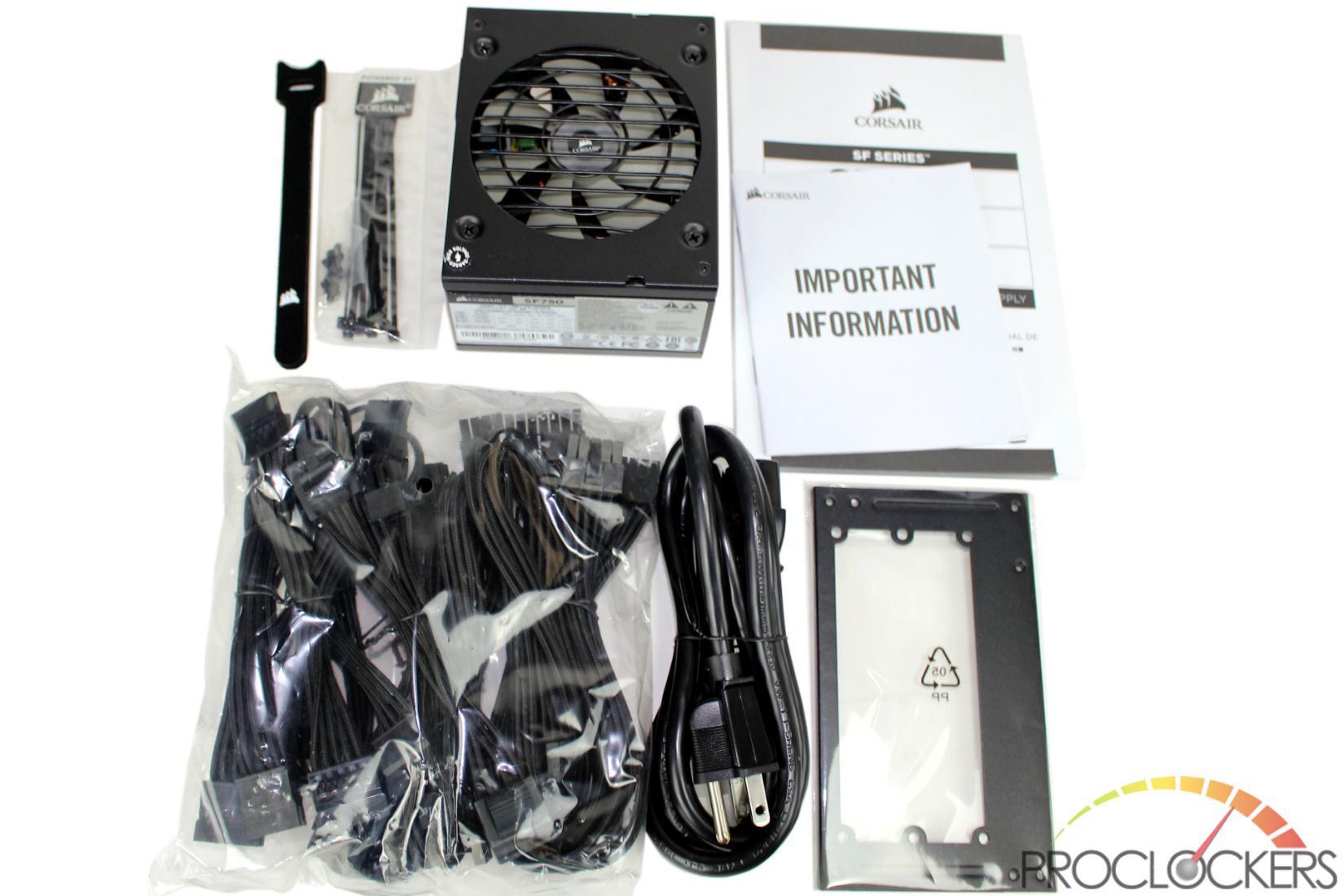 Rounding out the inclusions is an ATX to SFX adapter plate, and some zip ties and mounting screws.
A Closer Look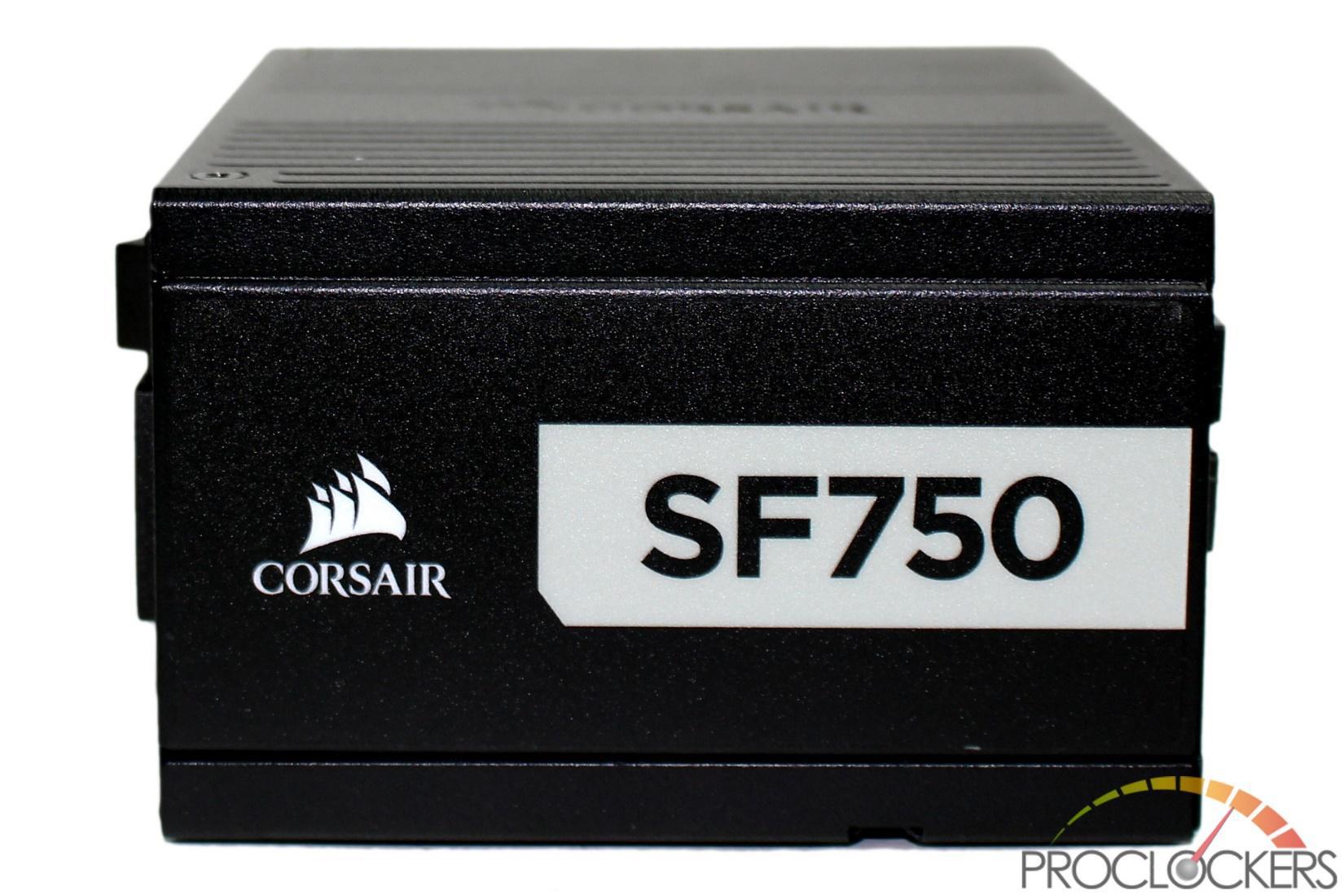 Corsair's SF750 is a very tiny power supply for its 750W rating. In typical Corsair fashion, the corsair logo and model grace the side of the unit.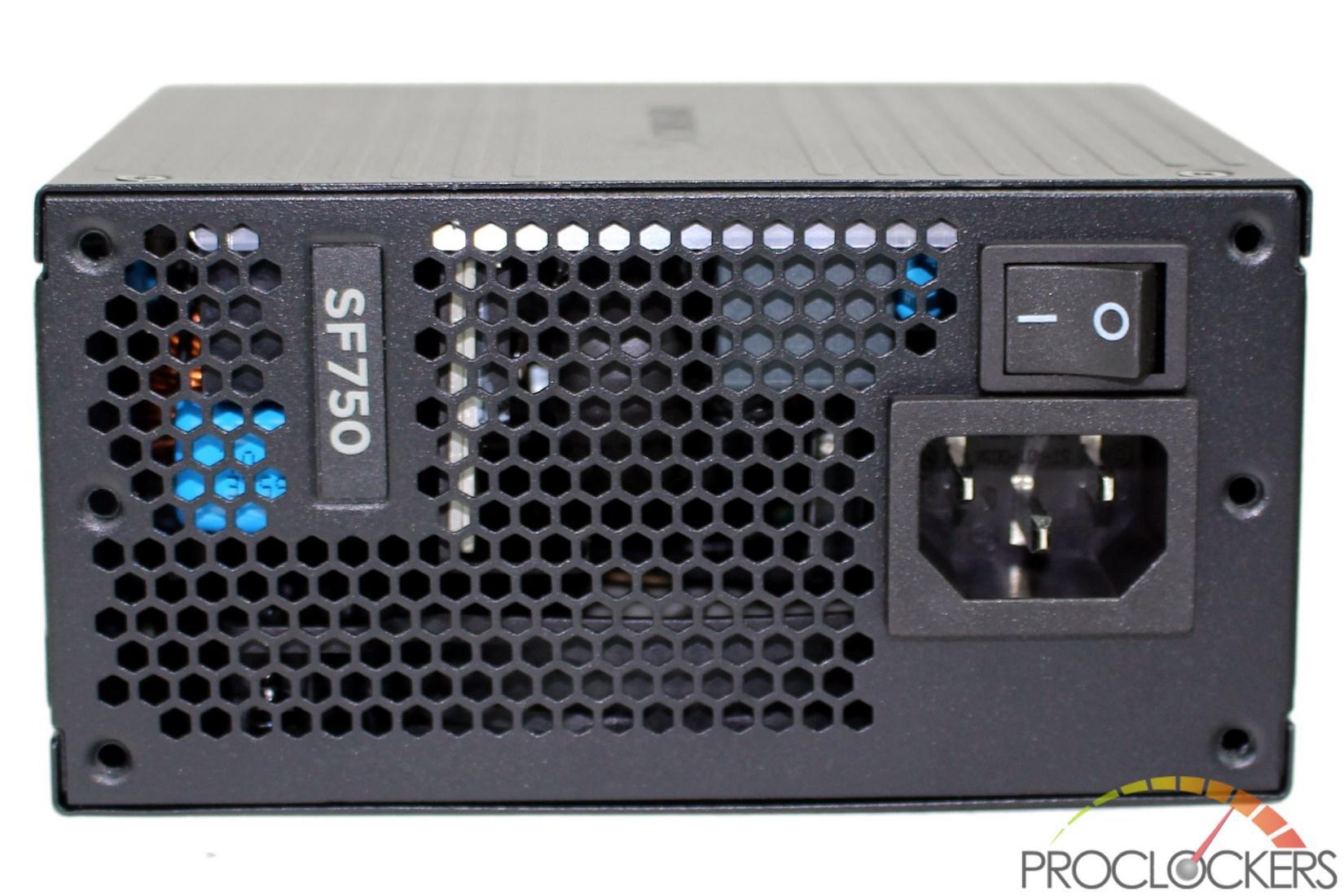 The back has the typical IEC 13 power inlet, main power switch and exhaust grill stamped into the casing. It also has the standard SFX mounting hole pattern.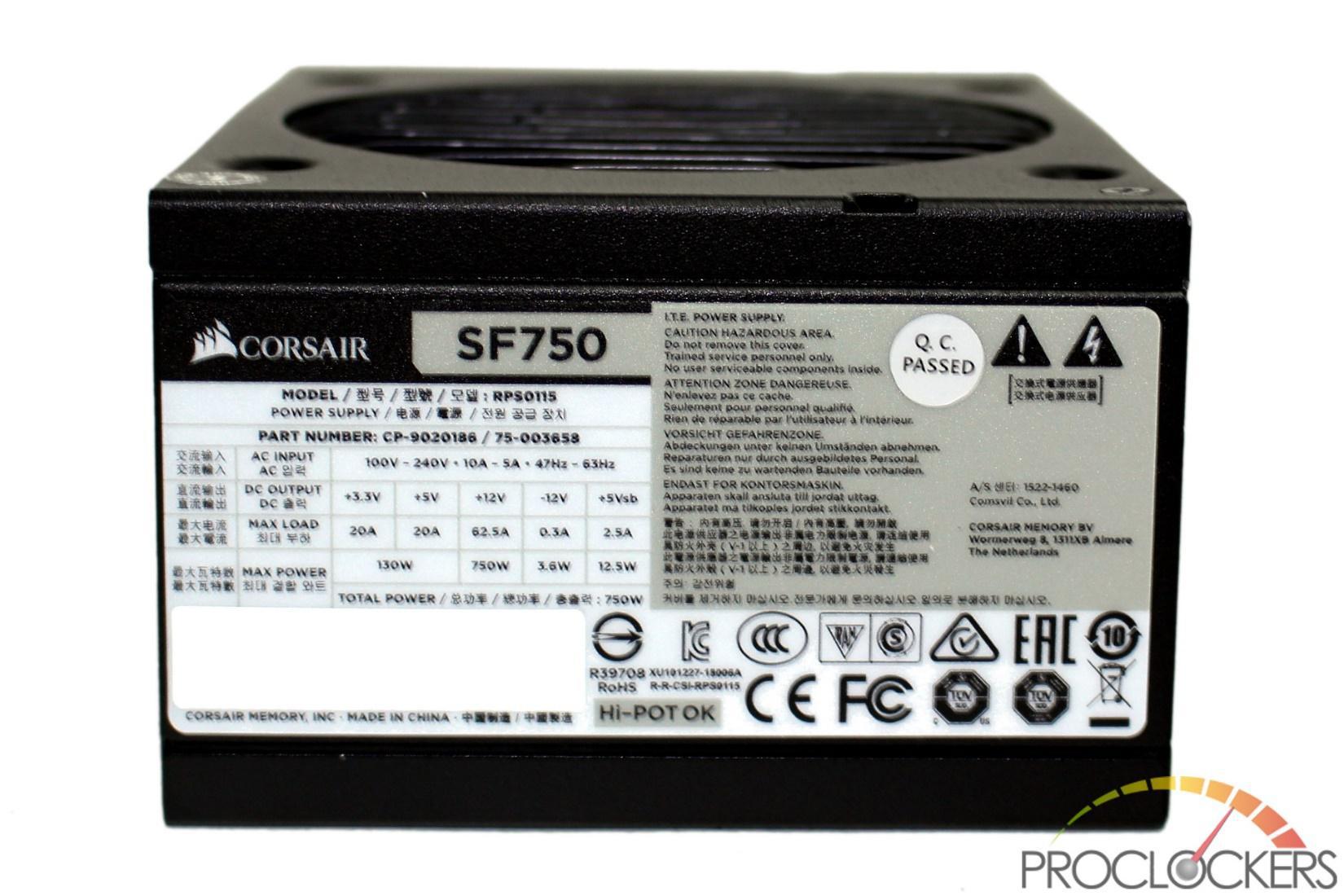 The other side panel has the electrical specifications label. The SF750 unit is so small, the label takes up the entire side of the power supply.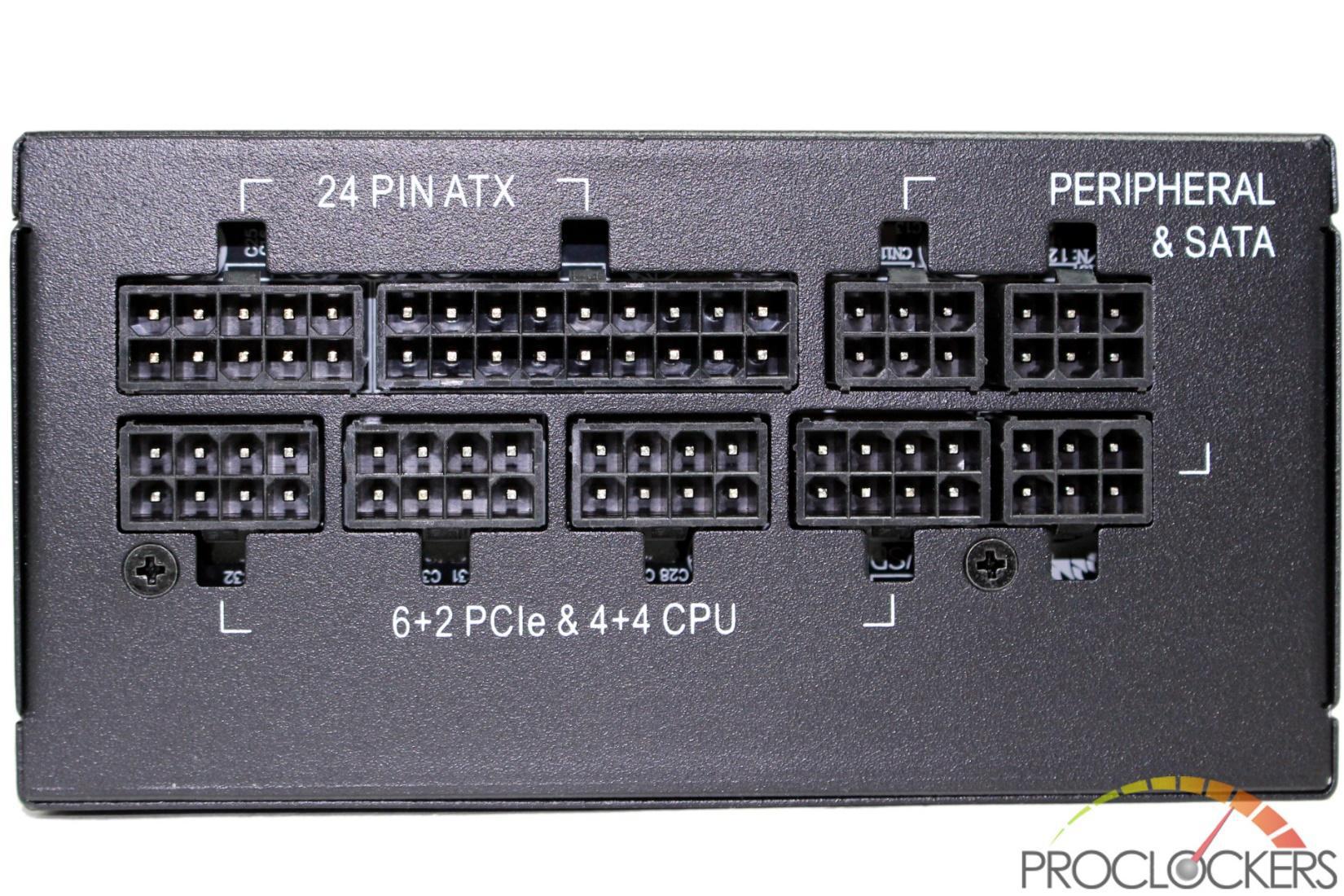 The business end of the unit has connections for the main 24-pin cable, four 12V plugs for EPS or PCIe power, and three plugs for peripheral power cables.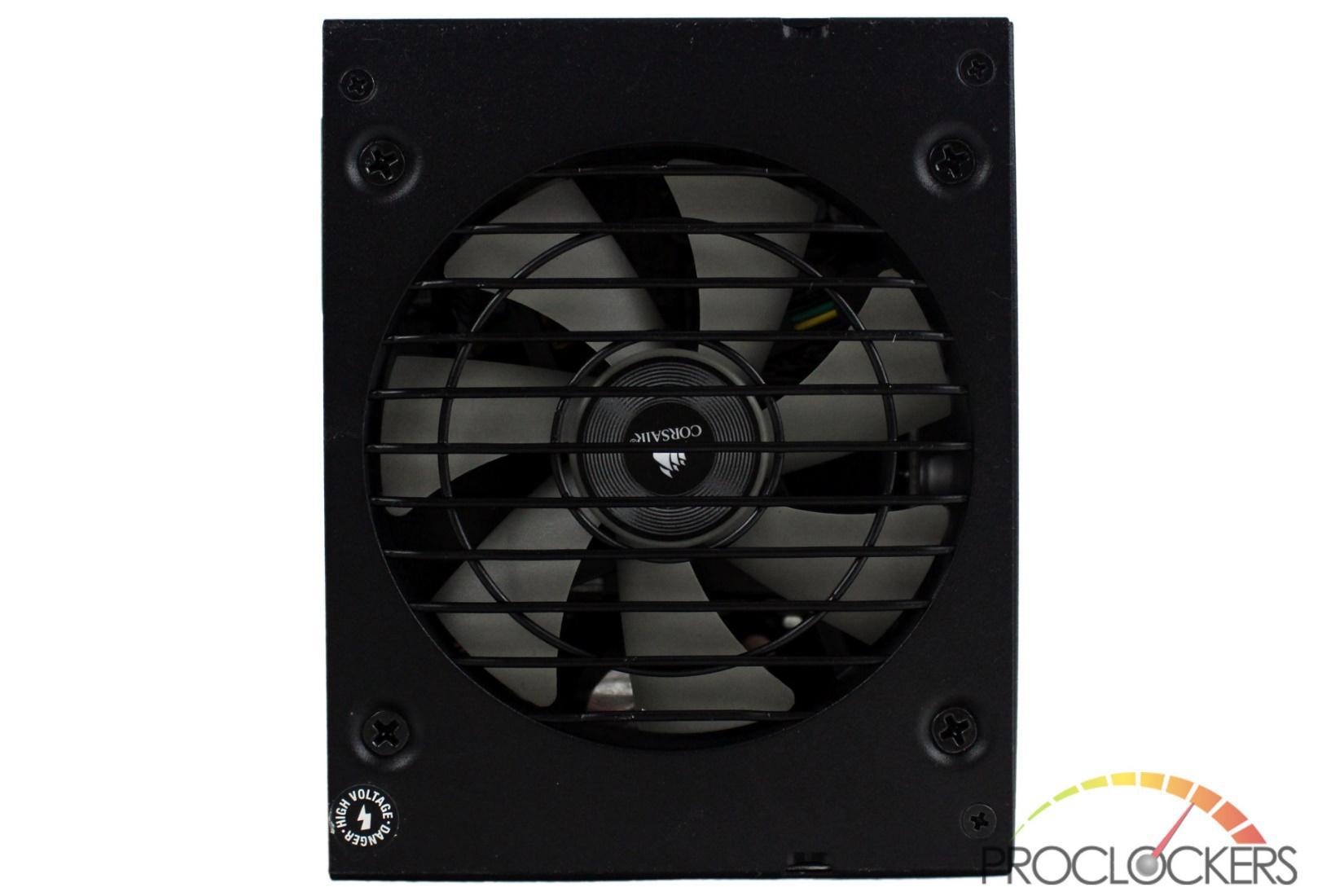 A tiny 92mm fan takes up close to half of the unit and provides cooling once the unit is under enough load to need it.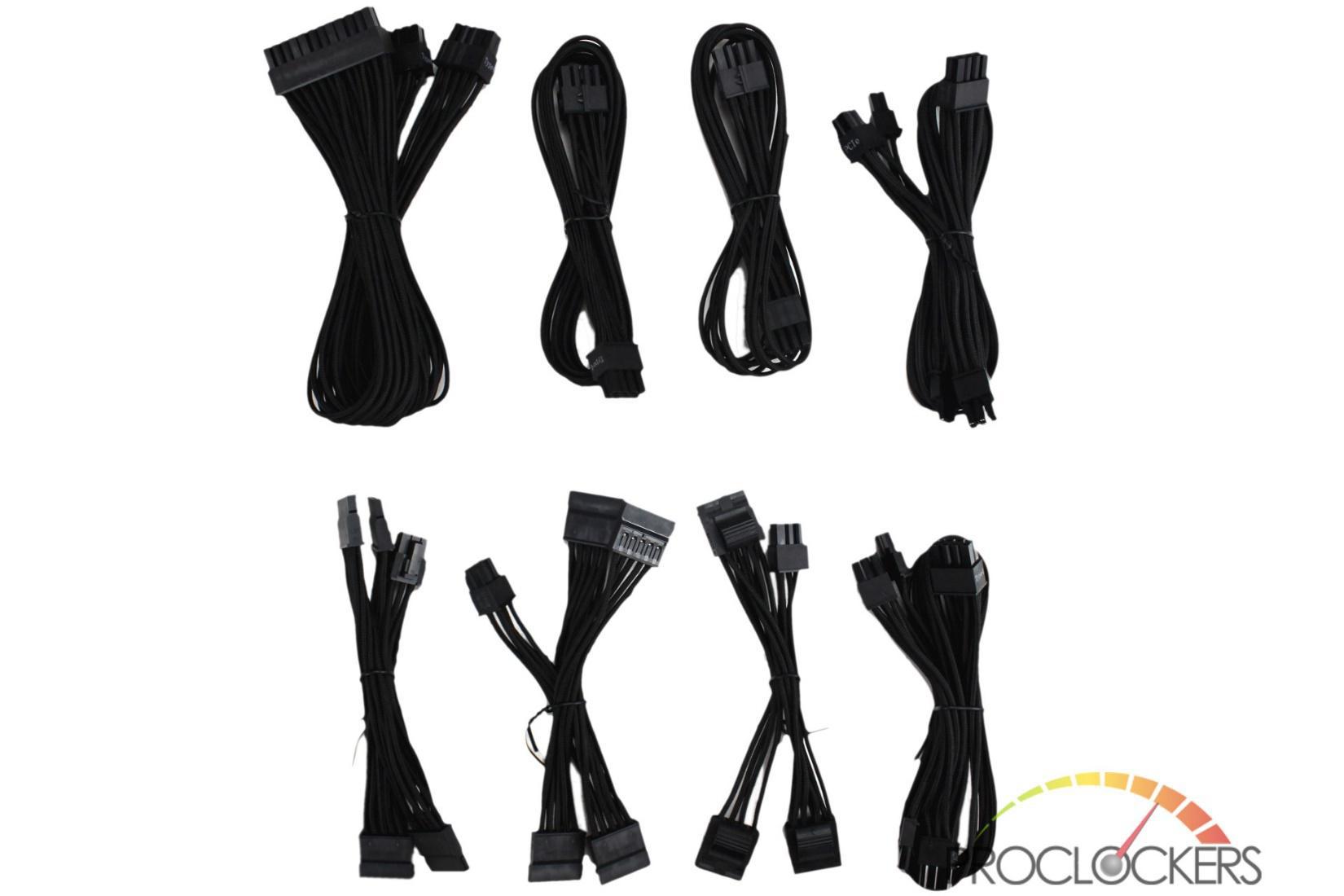 A total of eight cables are included. The normal 24-pin for the motherboard, a very welcome pair of 4+4-pins for CPU power, a pair of twin 6+2-pins for VGA power, two SATA cables and a single PATA cable.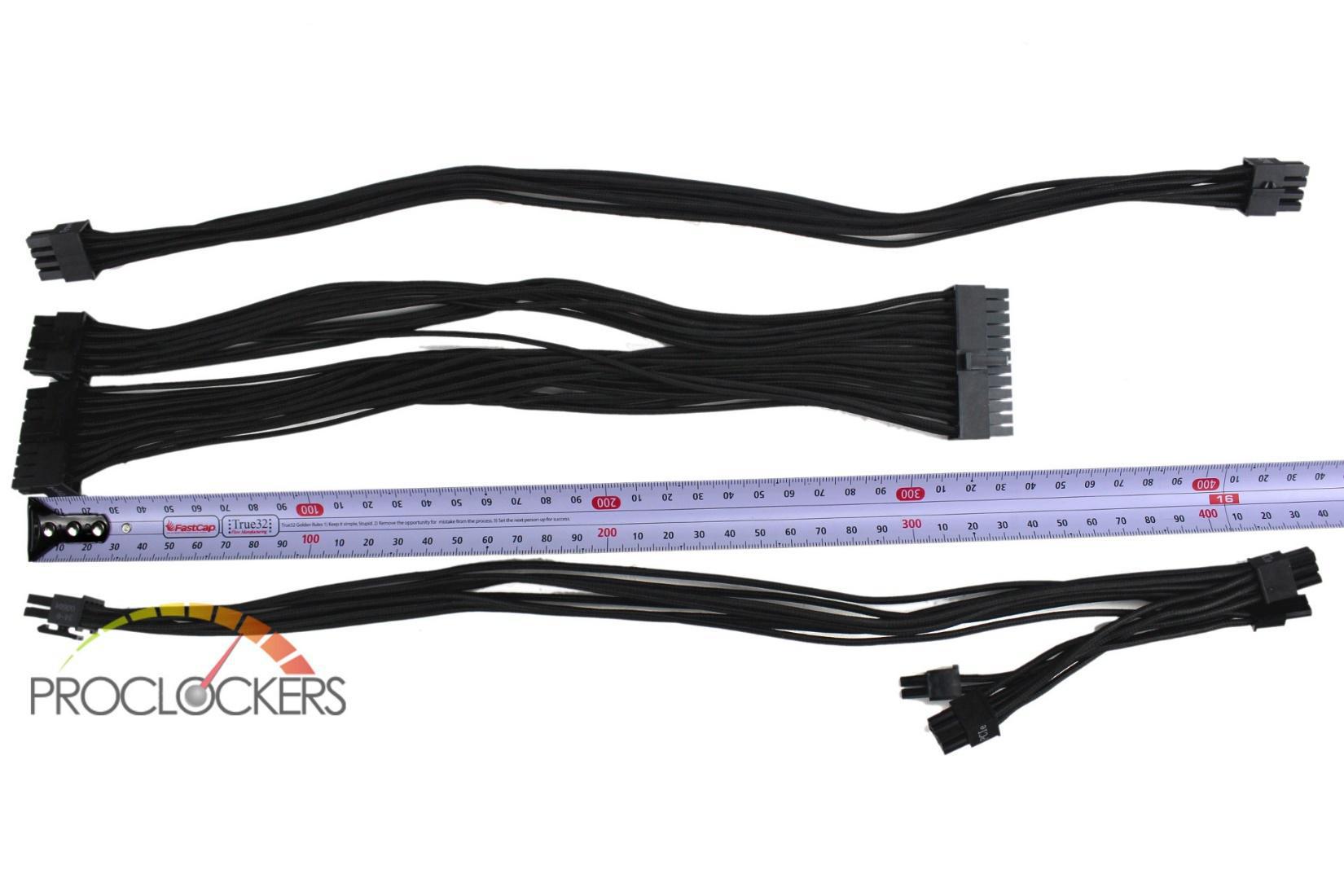 Cables are understandably a bit shorter than the typical ATX lengths, but should still be long enough for most builds without a ton of slack.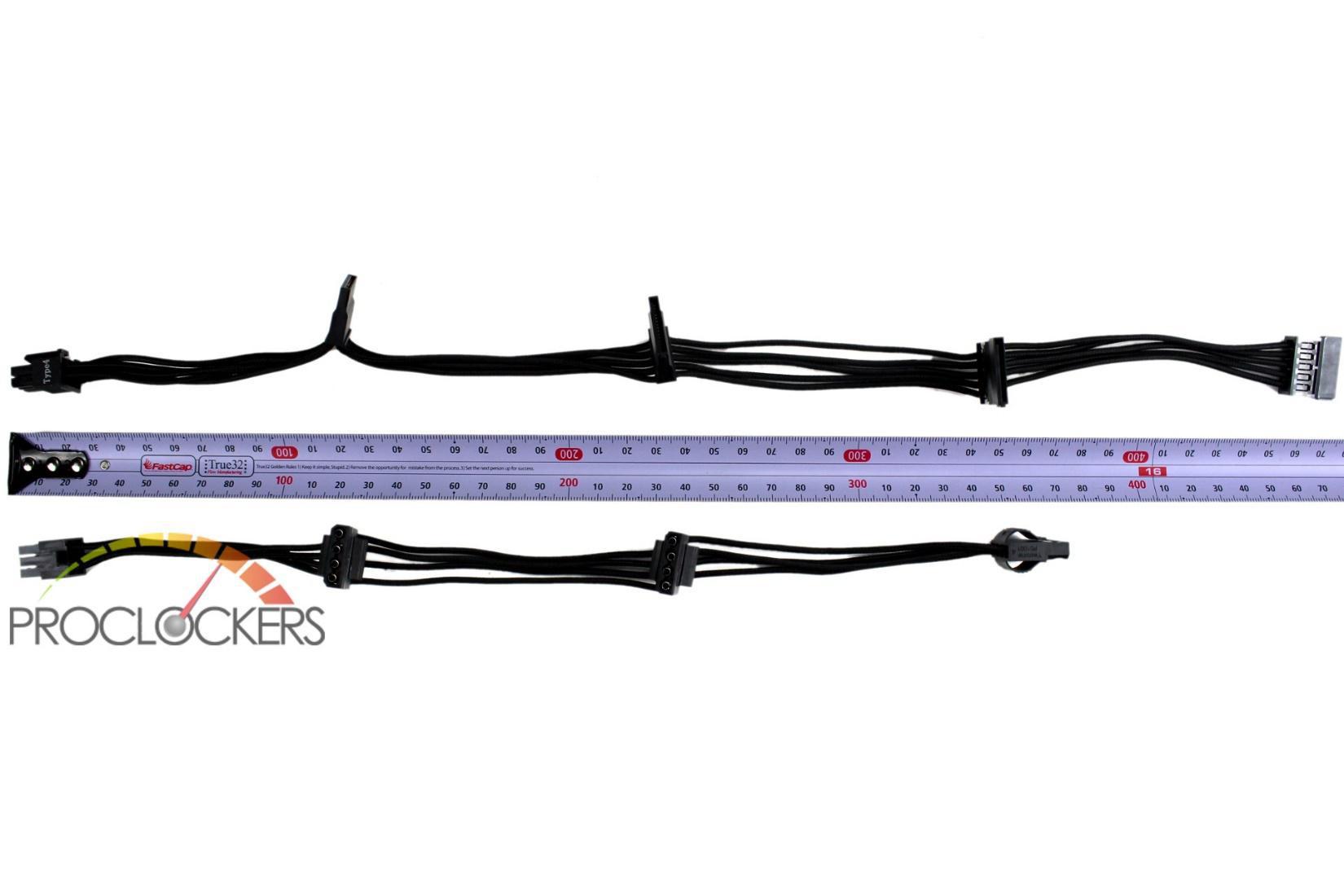 Peripheral power cables have quite a few connectors, with the first being around 100mm from the PSU.
Testing & Performance
CPU: Intel Core i9-9900KS
Motherboard: ASUS ROG Strix Z390-E
RAM: 32GB HyperX FURY RGB 3200 MHz.
GPU: Nvidia RTX 2080Ti Founders Edition
SSD: Samsung 960 PRO 2TB
OS: Windows 10 Professional X64
We'll start out saying we aren't equipped to do extremely detailed electrical analysis required to pick apart a modern power supply. It takes laboratory-grade dedicated equipment so we'll have to make do with some less precise testing.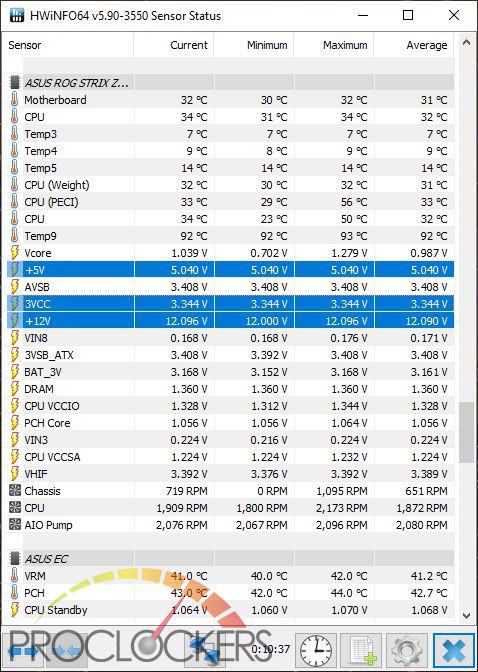 While we normally use a good Fluke Digital Multi-meter, we've found the onboard monitoring solutions in modern motherboards to be quite accurate and able to be easily logged with utilities like HWiNFO.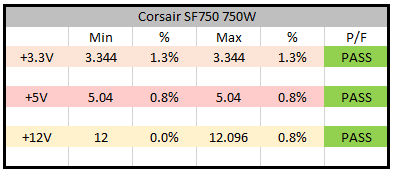 The 12V and 5V rails have a really tight <1% regulation, while the 3.3V rail holds very steady at a respectable 1.3%.
Next, we'll look at ripple on the rails with our Owon VDS-1022/I Digital USB Oscilloscope.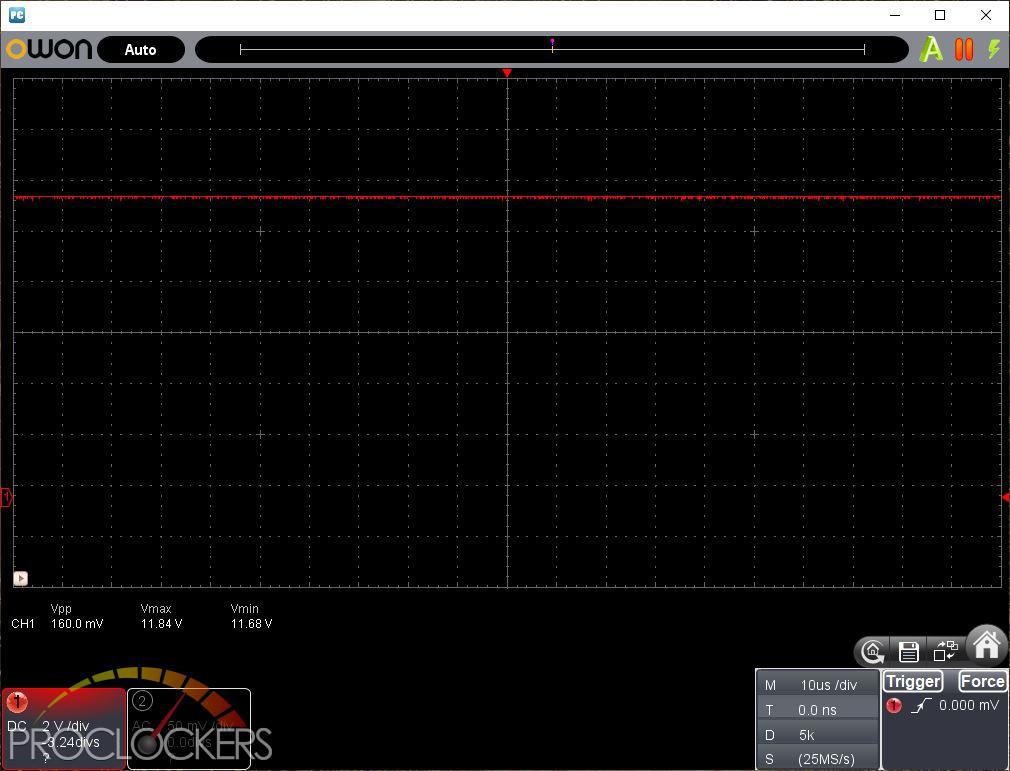 The +12V rail under a stress test load registers a peak of 160mV peak to peak ripple, Pretty good overall which is great considering this is the primary rail.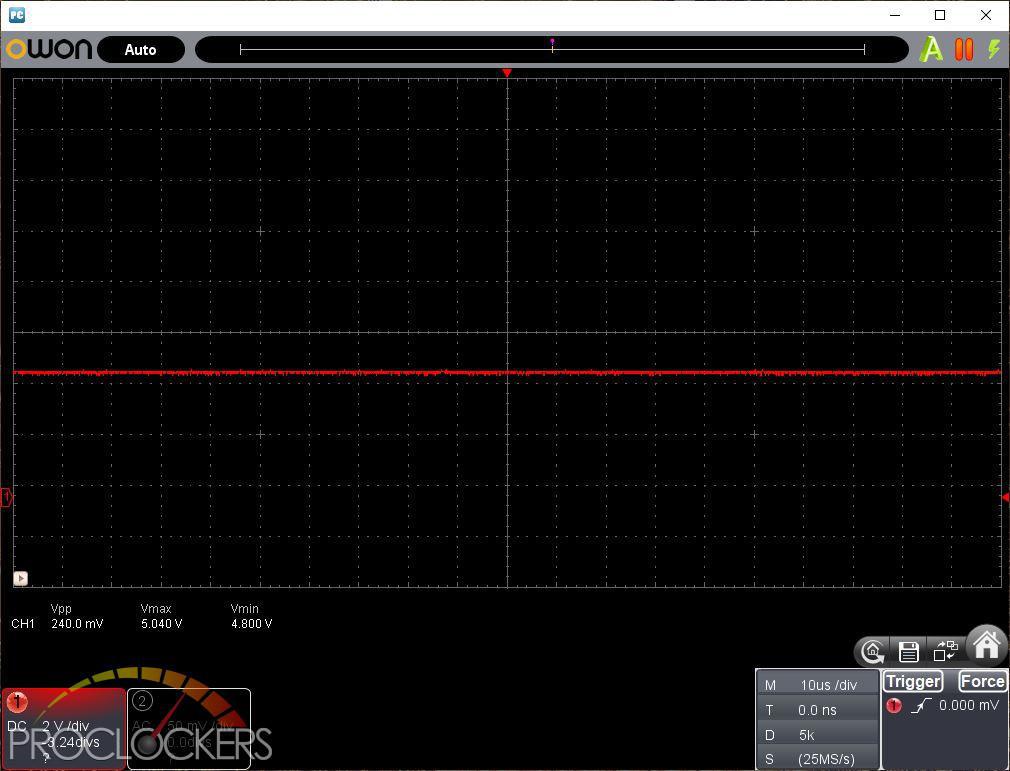 The 5-volt rail comes in around 240mV of ripple, not bad, but not setting any records.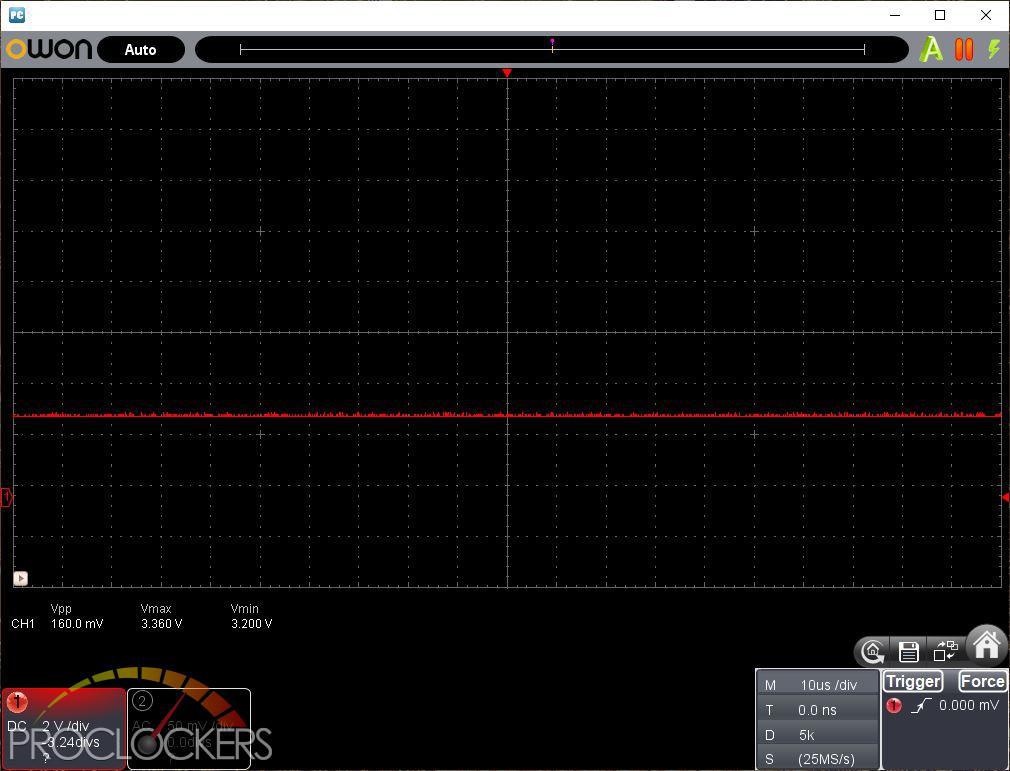 The 3.3V rail does a decent job with 160mV of ripple, again solid, but not mind-blowing.

Final Thoughts & Conclusion

Corsair delivers an impressive little package with the SF750. There aren't a ton of higher wattage Small Form-Factor power supplies on the market, and most of the ones in this wattage range are a large SFX-L form-factor. The fact that packed 750 watts of 80+ Platinum power into an SFX unit a scant 10cm long is very impressive. Throw in the fact that it runs cool, quiet and stable makes it perfectly capable of handling about any system you want from large desktops with a pair of GPUs' to a workstation build with more CPU cores than you can count. It's hard to get excited about power supplies, as long as you have a quality unit you are pretty good, but getting so much from so little should excite any SFF builder out there.

Great job Corsair!

<![CDATA[ */ var zbjs = {"ajaxurl":"https:\/\/gaminggorilla.com\/wp-admin\/admin-ajax.php","md5":"d8e8b24d2fa18d2999e0fddcdd418586","tags":[],"categories":["Hardware"]}; /* ]]>