EVGA GeForce RTX 2070 SUPER BLACK GAMING Review
Introduction
For the past couple of graphics generations, EVGA's 'Black' cards have been an affordable way for gamers to get a great value without compromises to cooling or performance. They are also arguably one of the better-looking cards as the sleek black cooler blends in with any aesthetic and those few among us still riding the anti-RGB train can rejoice at the lack of 'unicorn puke'. The two-slot iCX2-powered cooling solution keeps you cool during the most intense battle sessions without the need to get distractingly loud. The Nvidia reference design also allows an easy upgrade path to liquid cooling with EVGA's Hybrid cooling kit or even to a full custom loop with EVGA's HYDRO COPPER water block. If your gaming machine needs a SUPER stealthy upgrade, this just might be the card for you!
ProClockers would like to thank EVGA for sending over the GeForce RTX 2070 SUPER BLACK GAMING to check out!
EVGA's take on the GeForce RTX 2070 SUPER BLACK GAMING:
EVGA GeForce RTX 20-series and 20-Series SUPER Black Edition models prove that great value doesn't have to sacrifice great cooling. EVGA Black Edition cards feature reference clock speeds, iCX2 Cooling, and Black Trim to complete the look.
The EVGA GeForce RTX 2070 SUPER™ brings performance from a class above. With Dual fan cards in 2 and 2.75 slot varieties, a single fan blower model and our top of the line FTW3 triple-fan card, EVGA has you covered with every possible size and performance level of GeForce RTX 2070 SUPER
The EVGA GeForce RTX 20-Series Graphics Cards are powered by the all-new NVIDIA Turing architecture to give you incredible new levels of gaming realism, speed, power efficiency, and immersion. With the EVGA GeForce RTX 20-Series gaming cards, you get the best gaming experience with next-generation graphics performance, ice cold cooling, and advanced overclocking features with the all-new EVGA Precision X1 software.
The new NVIDIA GeForce RTX GPUs have reinvented graphics and set a new bar for performance. Powered by the new NVIDIA Turing GPU architecture and the revolutionary NVIDIA RTX platform, the new graphics cards bring together real-time ray tracing, artificial intelligence, and programmable shading. This is not only a whole new way to experience games – this is the ultimate PC gaming experience.
Features & Specifications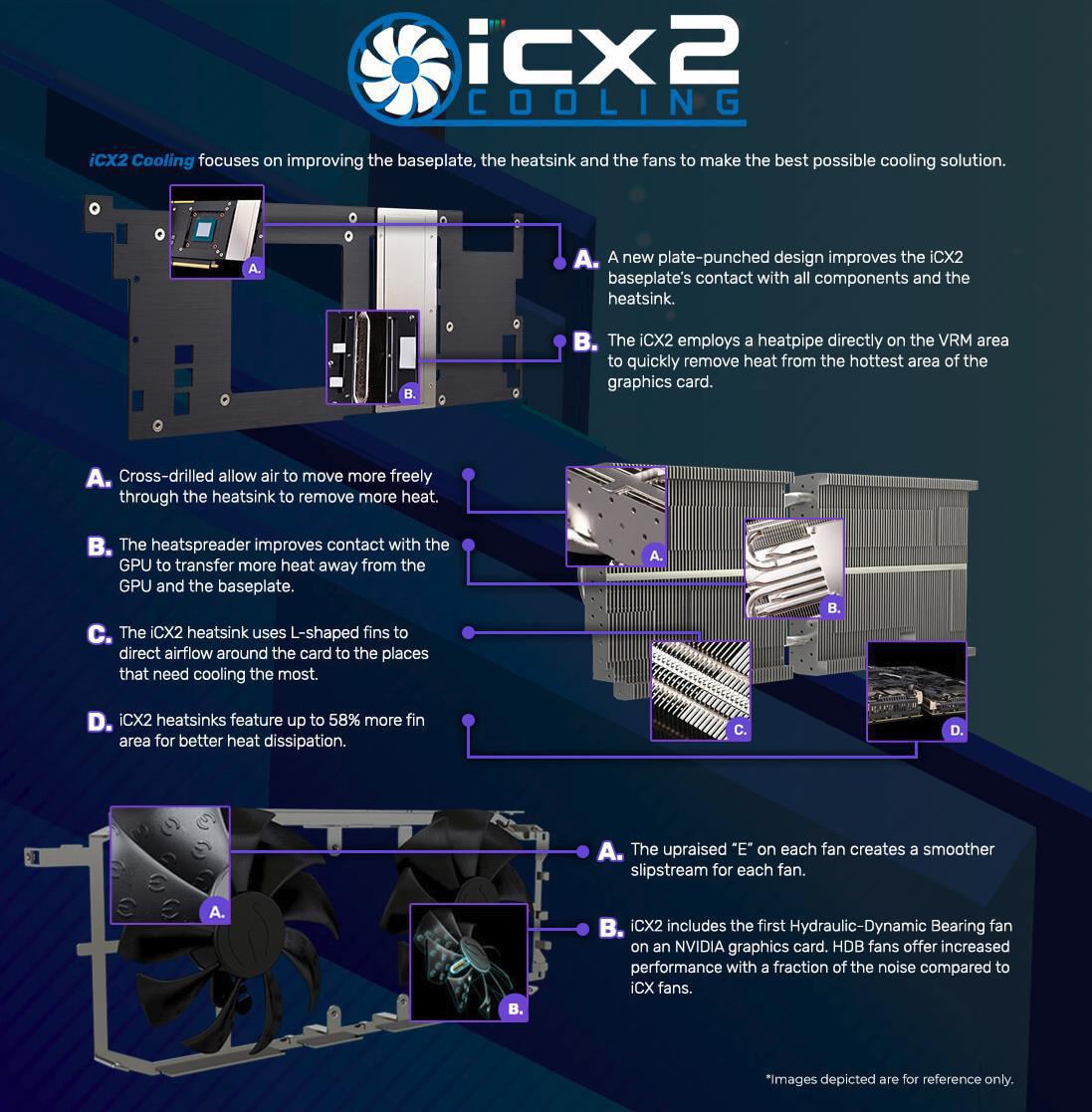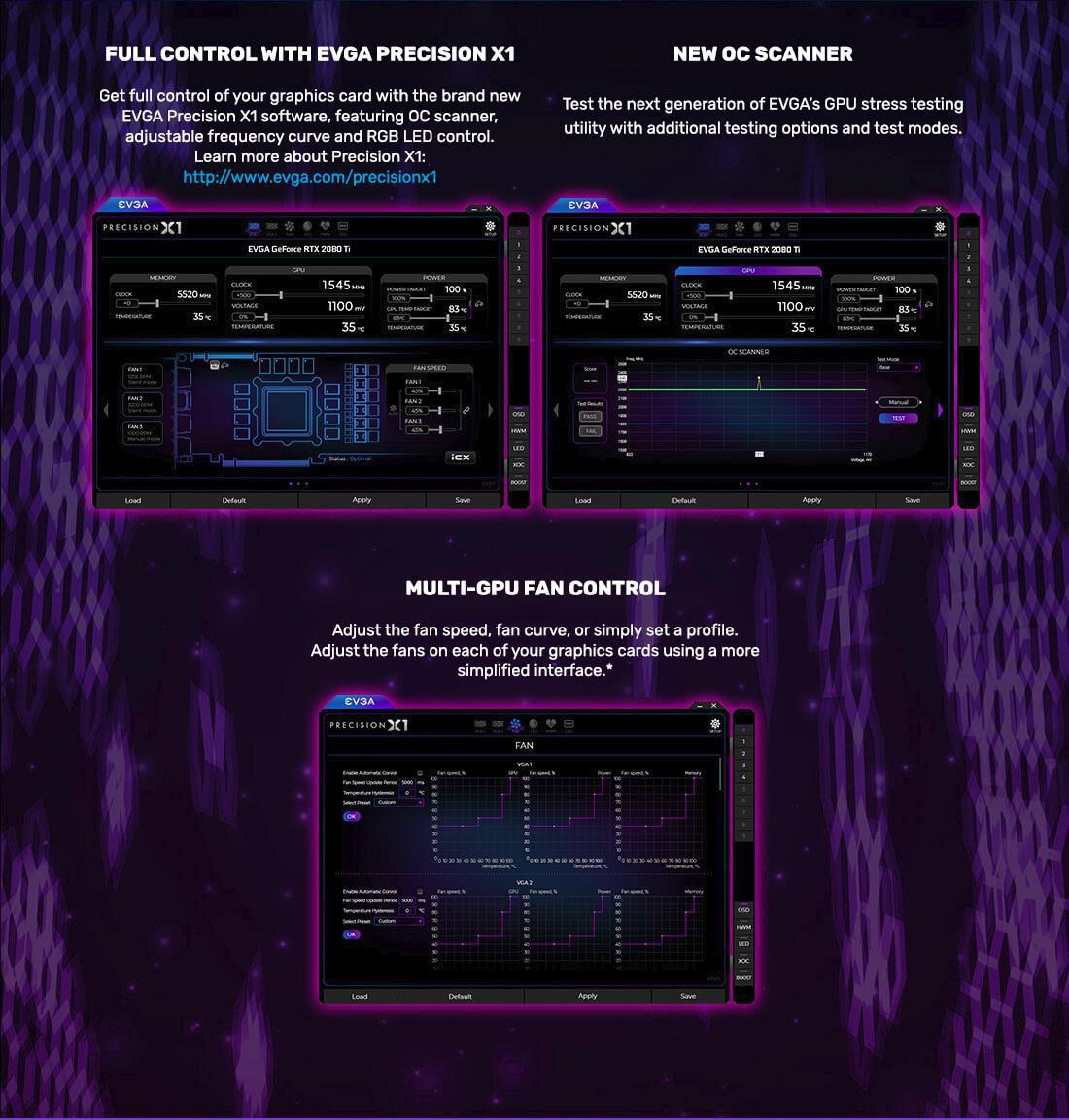 KEY FEATURES
Real-Time Ray Tracing
Built for EVGA Precision X1
Game Ready Drivers
NVIDIA® Ansel
NVIDIA® G-SYNC™ Compatible
NVIDIA® GeForce Experience
NVIDIA® GPU Boost™
NVIDIA® Highlights
Microsoft® DirectX® 12 API, Vulkan API, OpenGL 4/5
DisplayPort 1.4, HDMI 2.0b
HDCP 2.2
Designed for USB Type-C™ and VirtualLink
SPECIFICATIONS
Boost Clock: 1770 MHz
Memory Clock: 14000 MHz Effective
CUDA Cores: 2560
Bus Type: PCIe 3.0
Memory Detail: 8192MB GDDR6
Memory Bit Width: 256 Bit
Memory Bandwidth: 448 GB/s
LED Logo: N/A
UPC: 843368062934
EAN: 4250812434173
DIMENSIONS
Height: 4.38 in – 111.15 mm
Length: 10.62 in – 269.83 mm
Width: Dual Slot
RESOLUTION & REFRESH
Max Monitors Supported: 4
Max Digital: 7680×4320
REQUIREMENTS
650 Watt or greater power supply.
PCI Express, PCI Express 2.0 or PCI Express 3.0 compliant motherboard with one graphics slot.
An available 6-pin PCIe power connector and an available 8 pin PCIe power connector
Windows 10 64bit, Windows 7 64bit
Packaging & Unboxing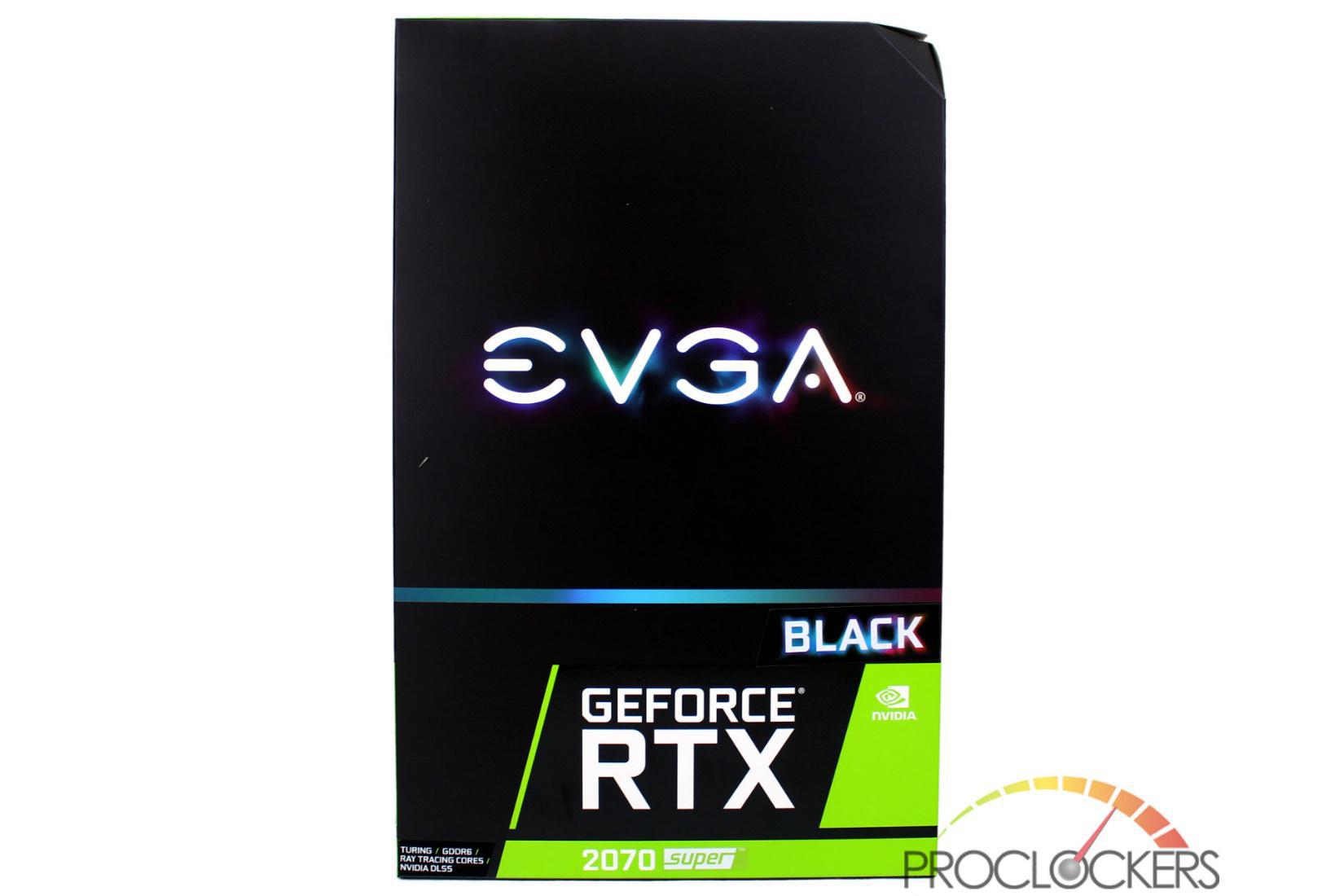 EVGA's RTX cards have come in a rather unusual box since their original launch last year. The box is vertically oriented but still features the signature Nvidia layout in the corner.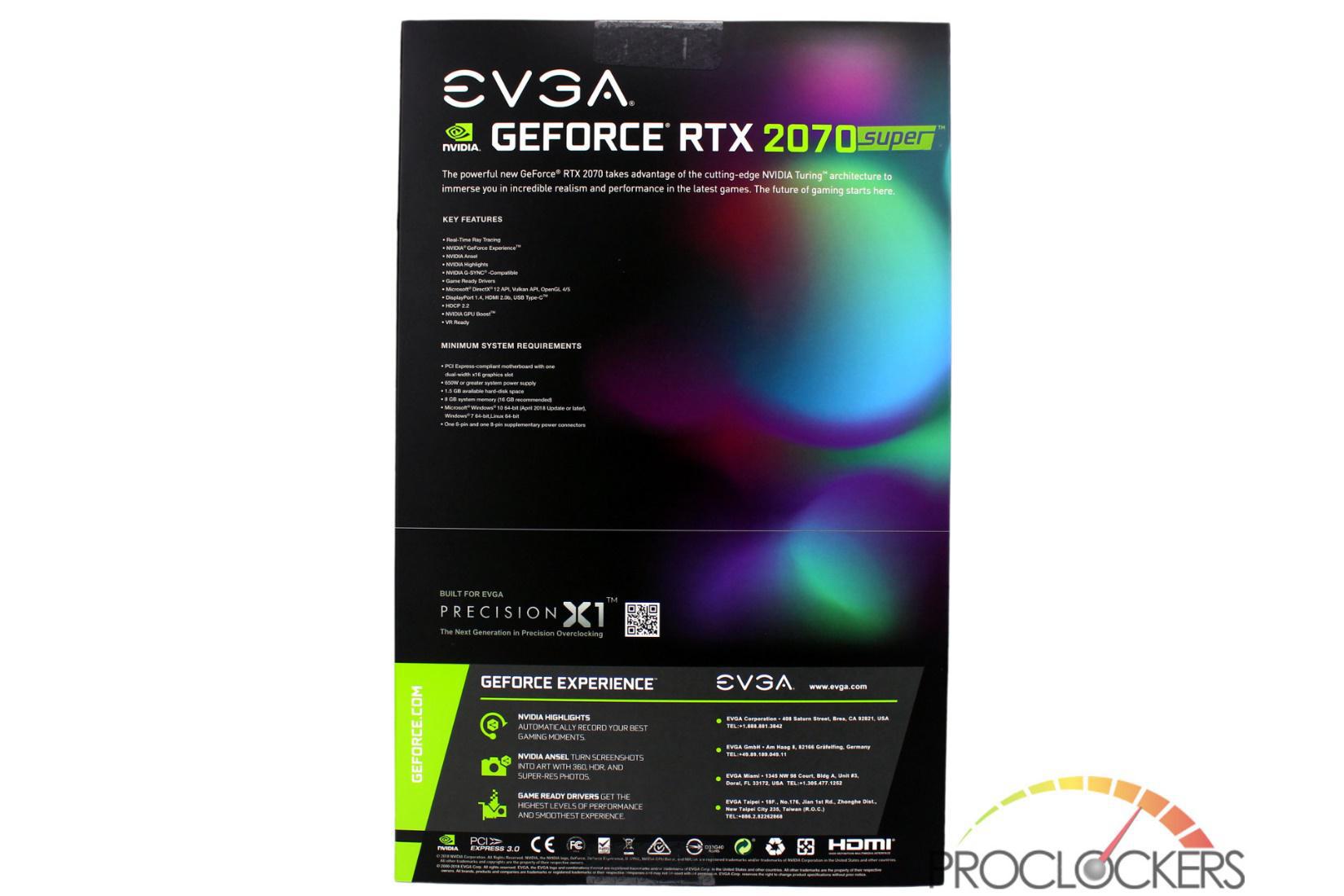 The rear of the box covers some key features and system requirements, but not much else.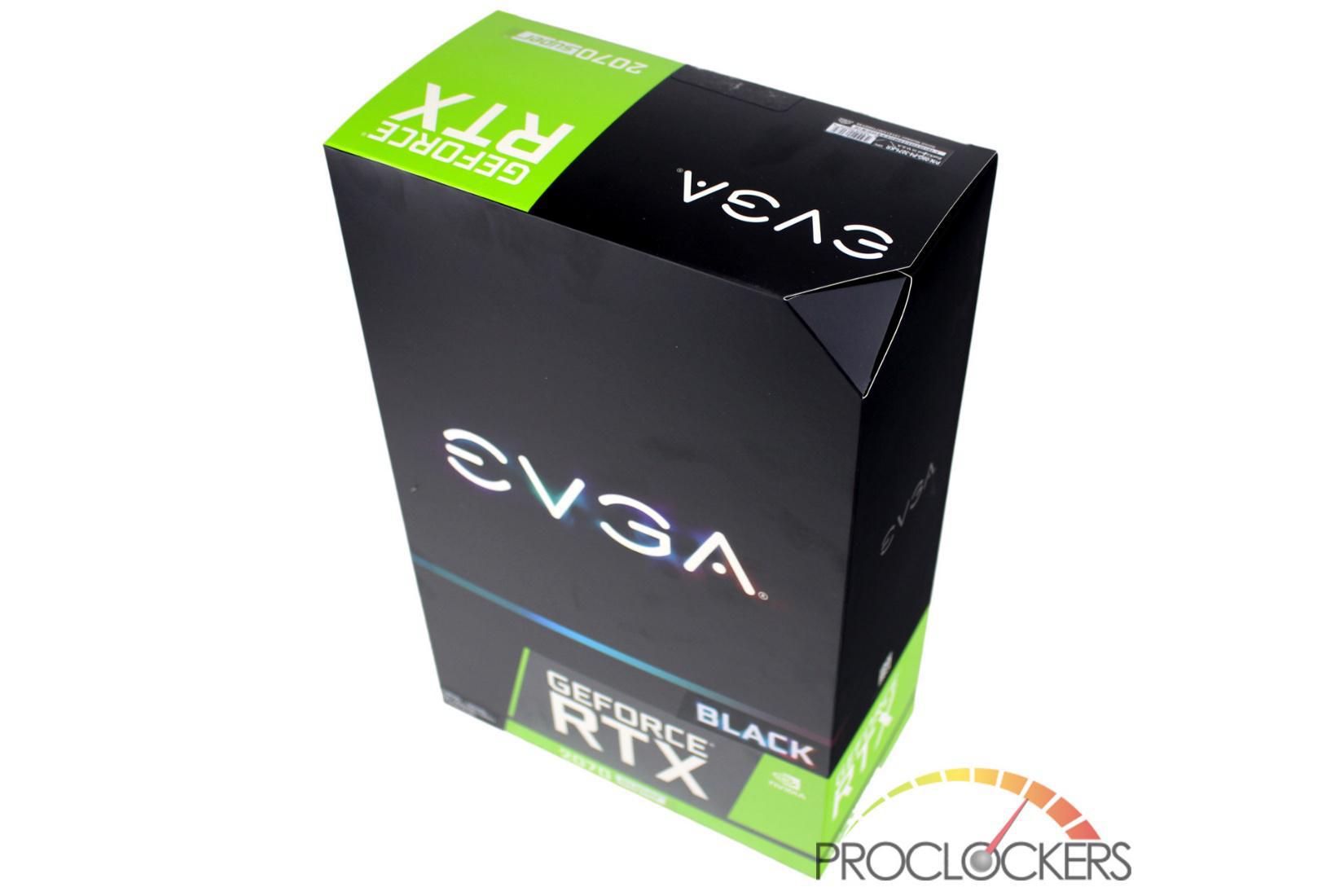 One top corner of the box is built to look like it has been cut off at an angle.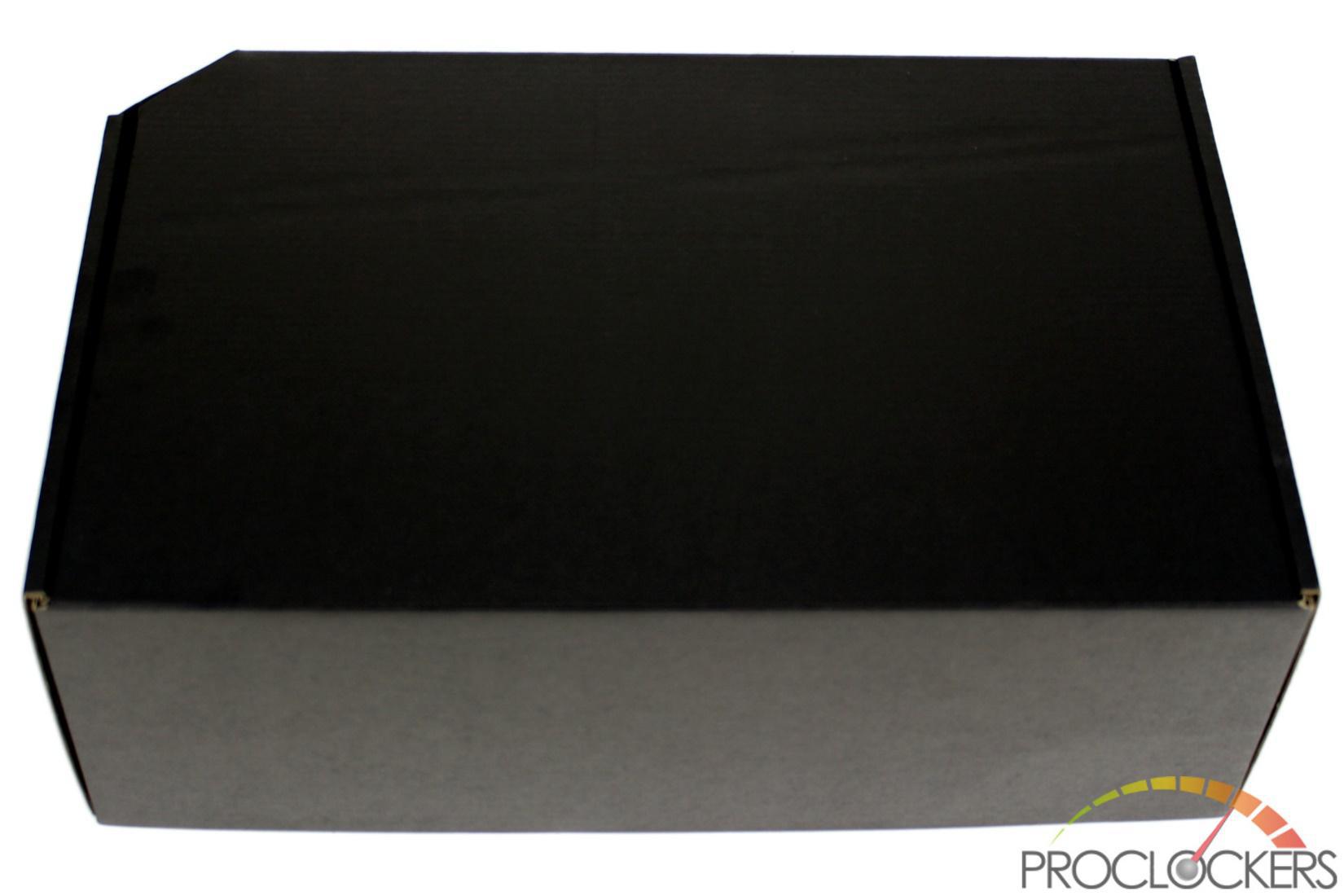 Inside the colorful sleeve is a plain black box with the same notched corner.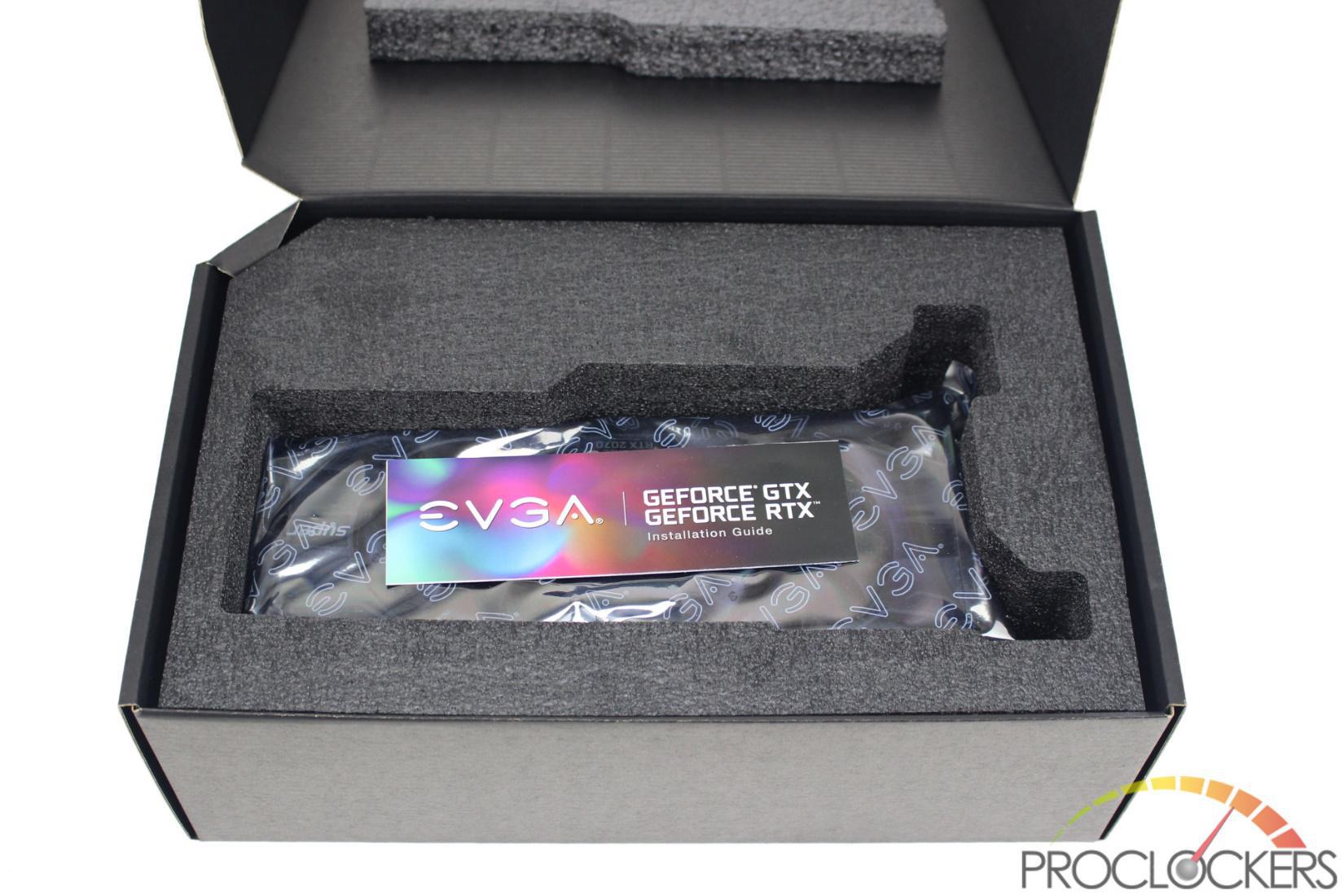 Opening up the cover we find the GPU encased in a solid block of foam. You could probably drop kick this package down a flight of stairs without much risk to the card inside.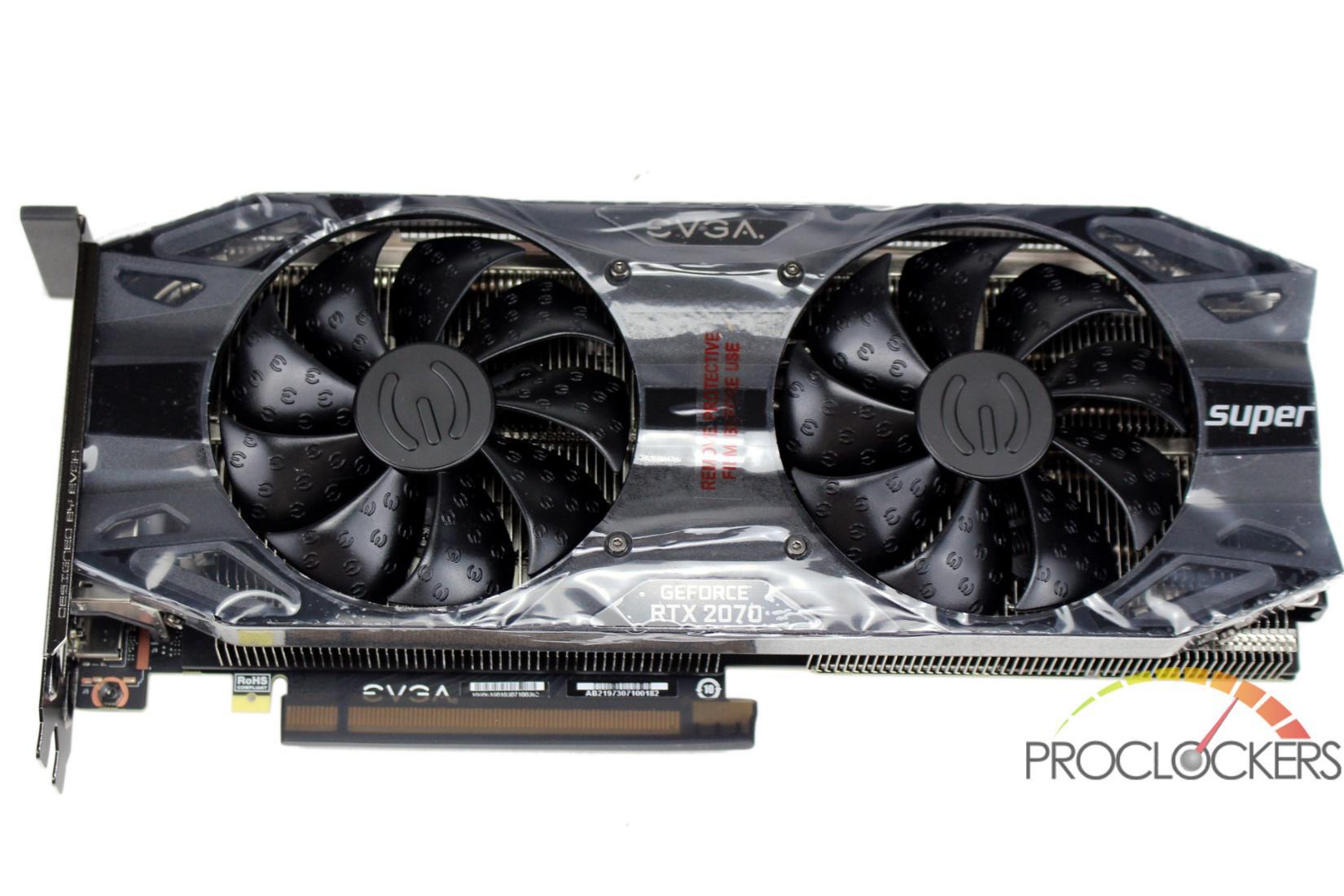 Inside the ESD safe bag, the RTX 2070 Super Black is completely covered in a scratch protective film.
A Closer Look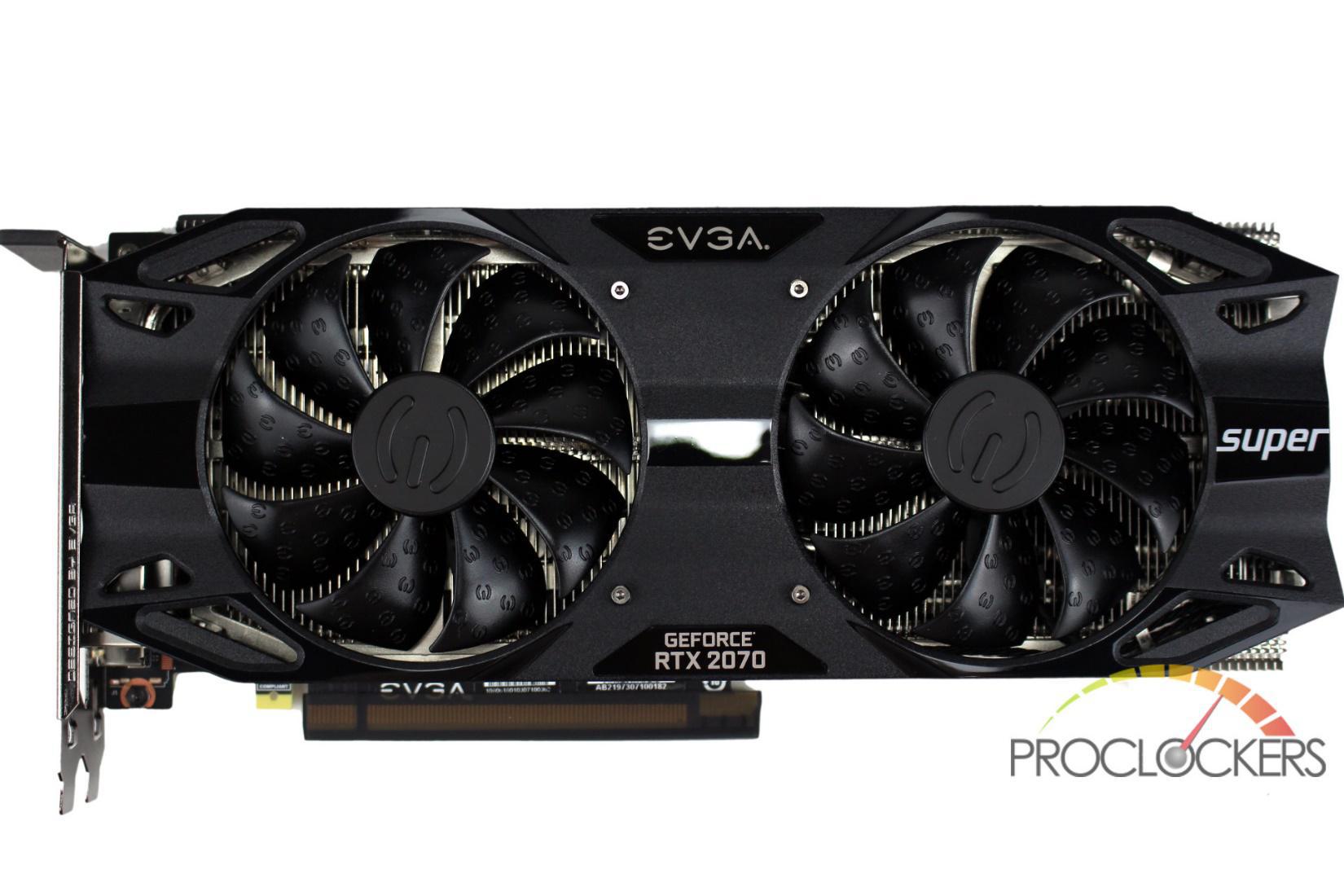 EVGA's RTX 2070 Super Black uses two iCX2 HDB fans en a completely black shroud.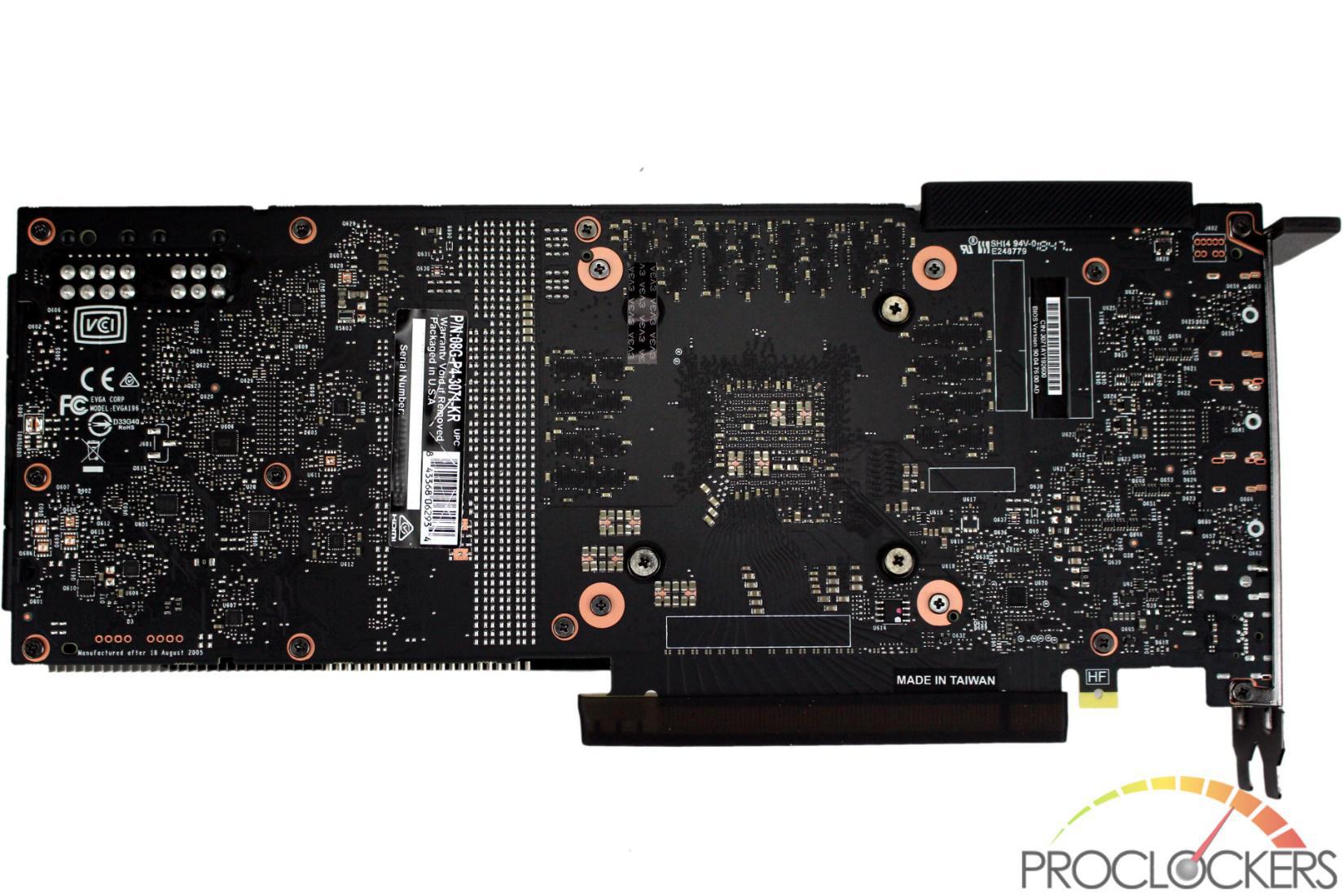 This lower-cost model does not include a backplate.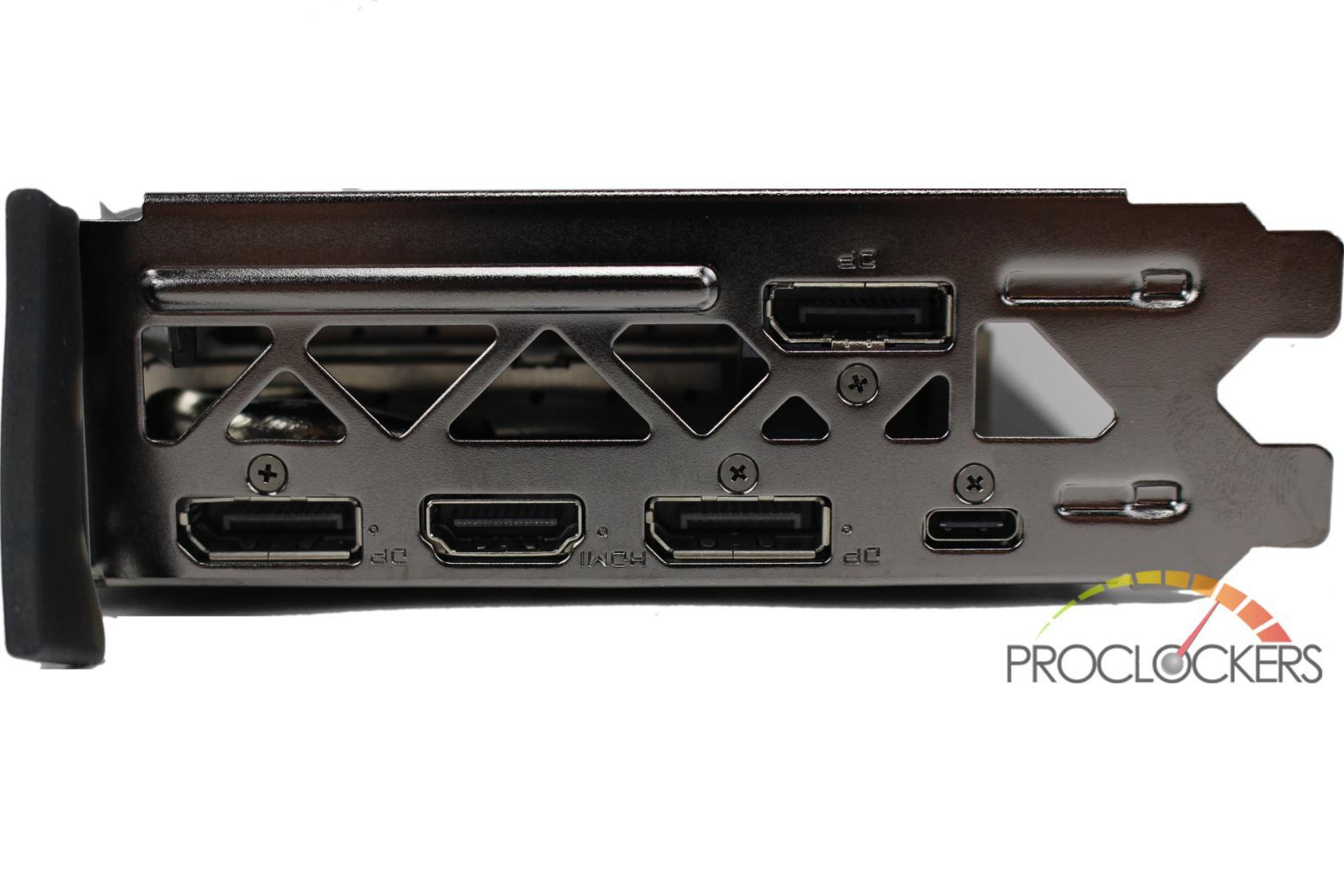 I/O ports consist of a trio of DisplayPort 1.4m a single HDMI 2.0b and a USB Type-C that is VirualPort enabled.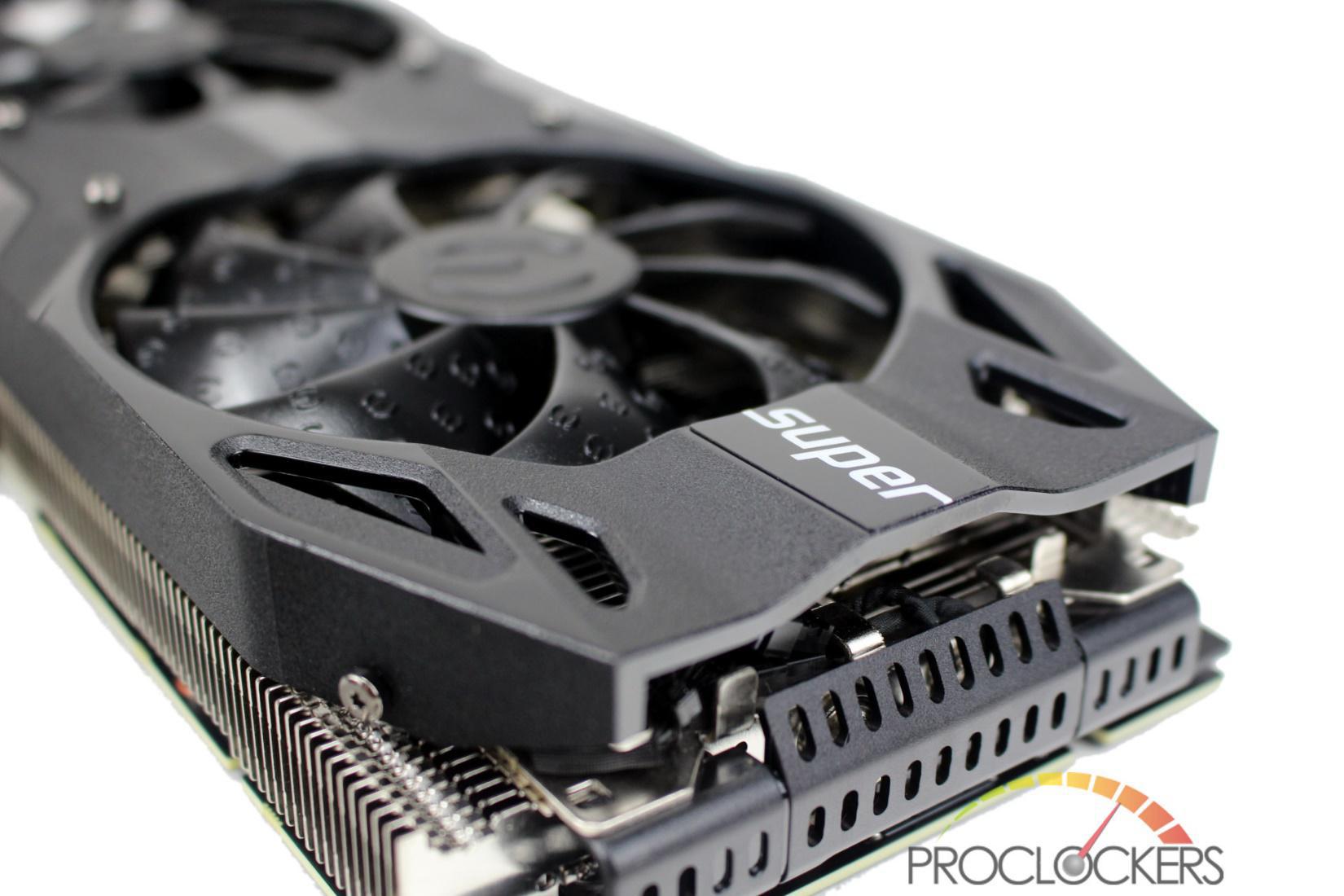 The fans have the EVGA 'E' logo on them to supposedly makes less of a slipstream. There doesn't appear to be any publicly available info to substantiate that, but it doesn't appear to make them any louder or other negative effects.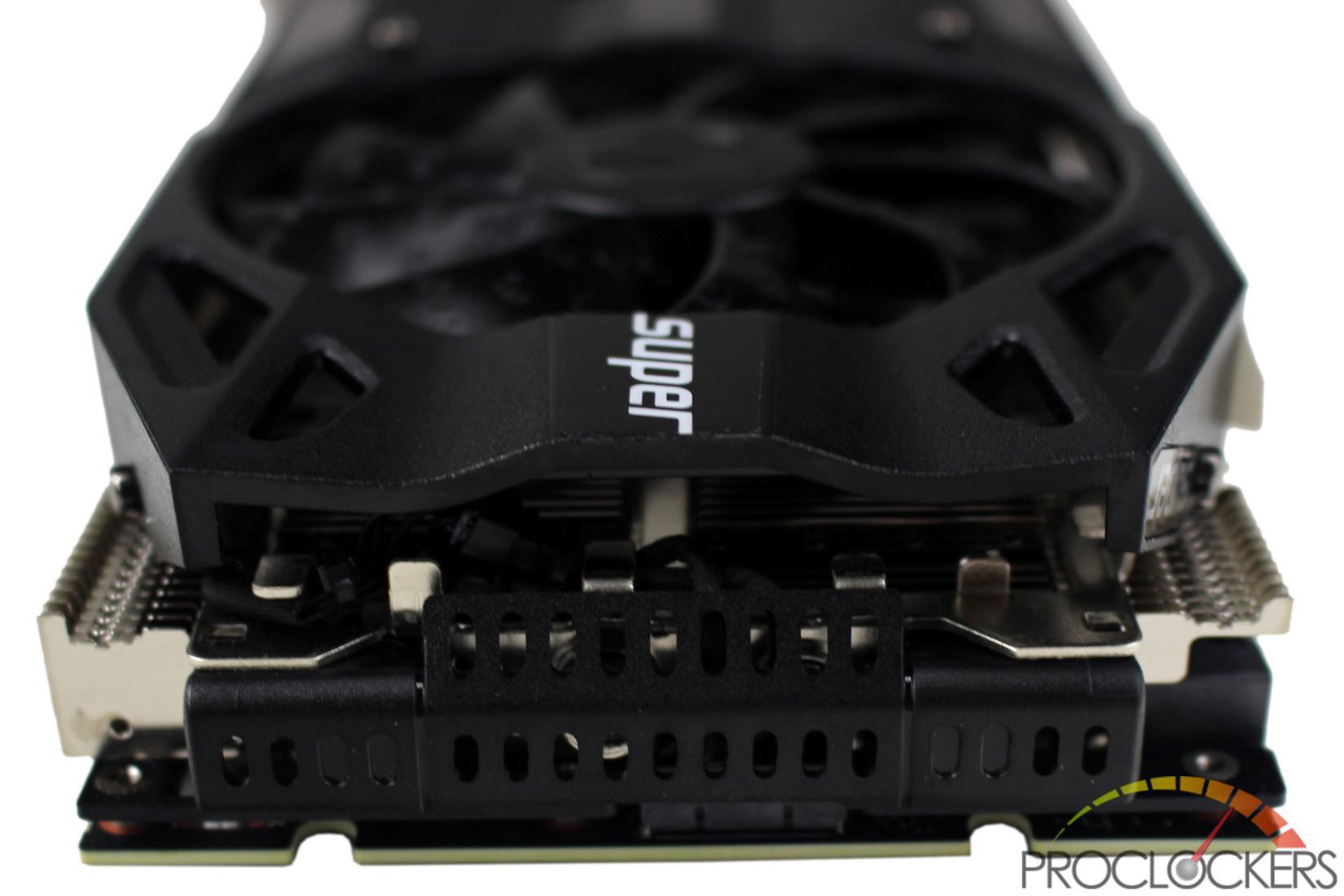 You can easily see the iCX2 heatsink assembly under the cooling shroud.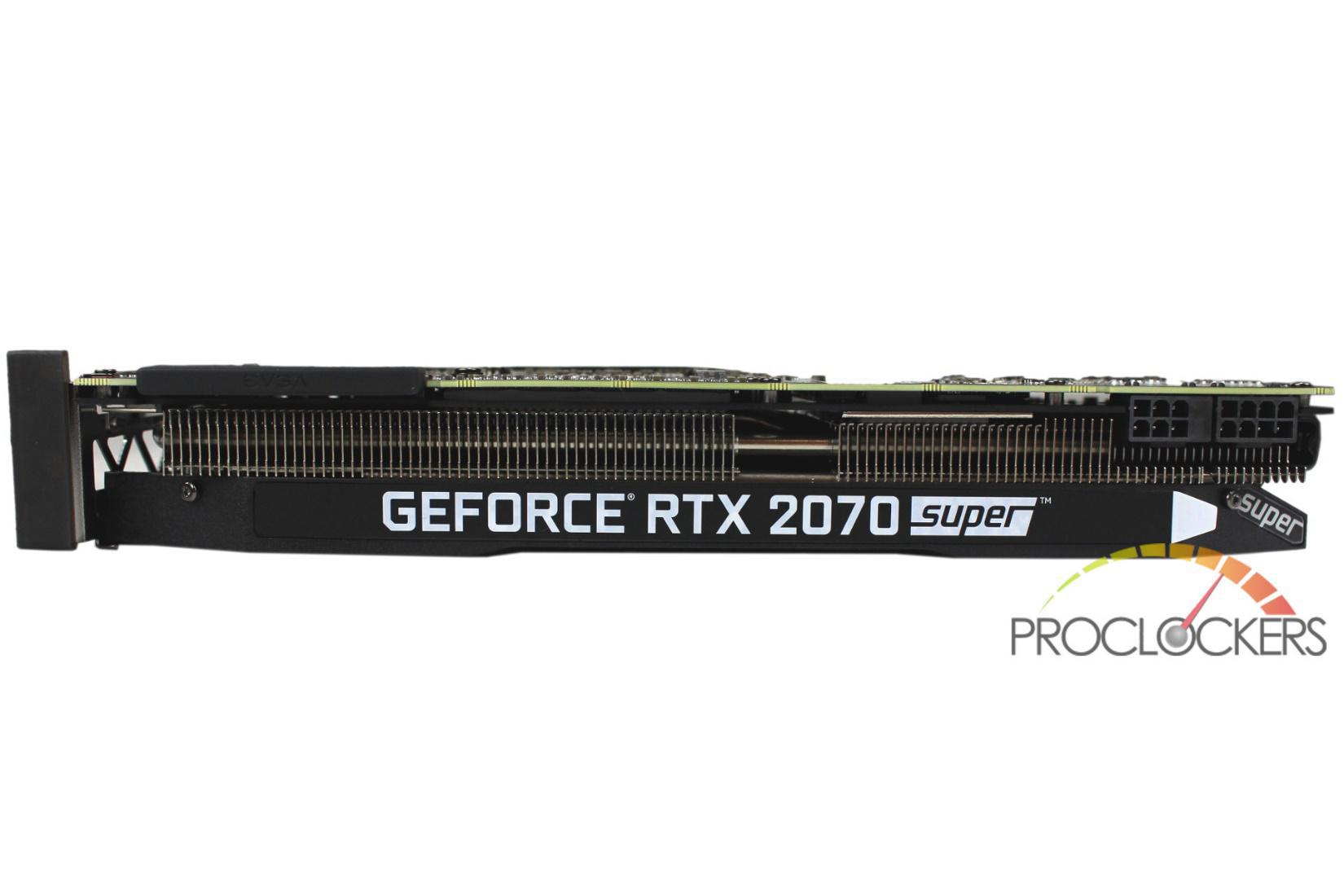 The edge of the card has the GeForce RTX 2070 Super logo along the edge. There is a 6-pin and 8-pin connector for power.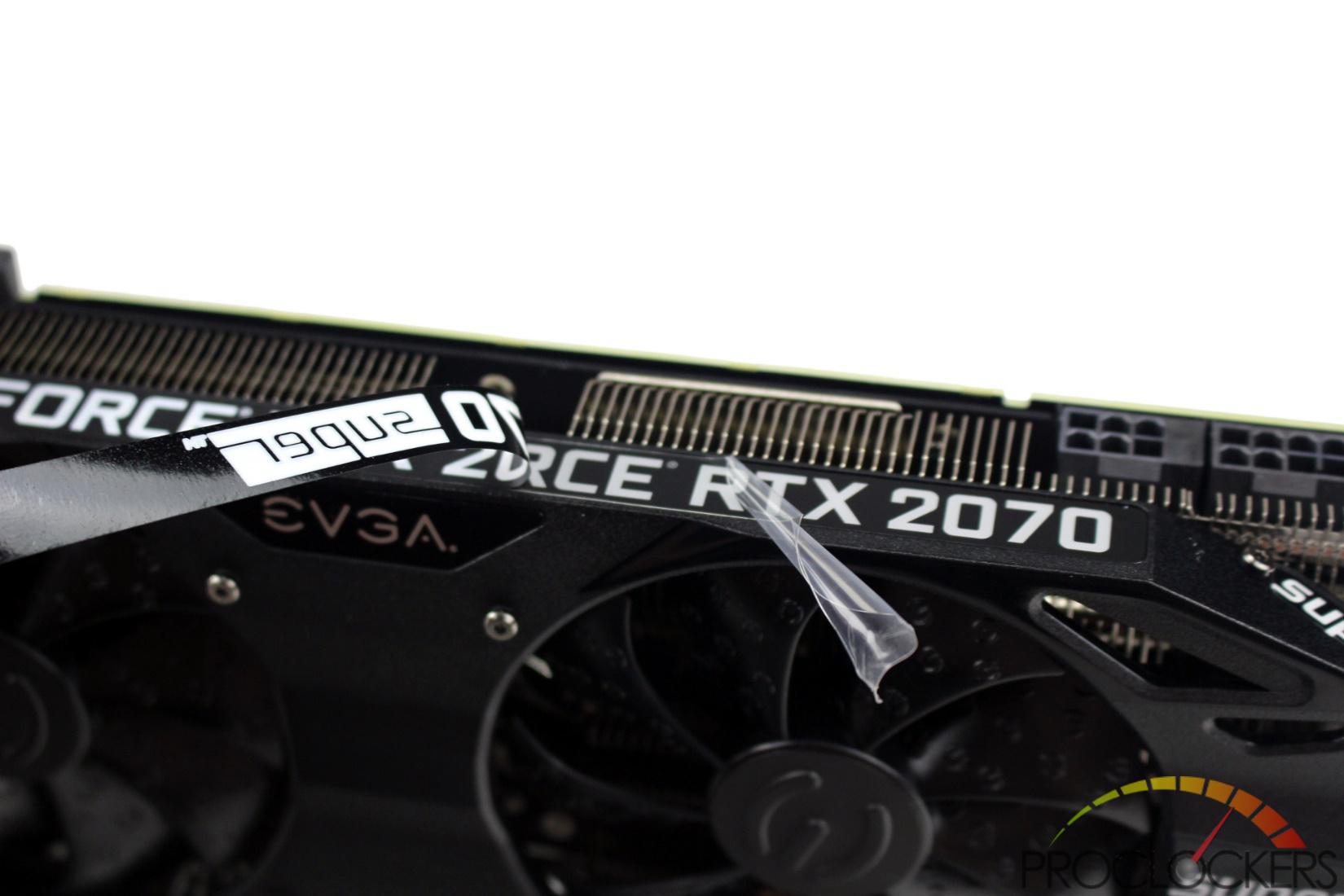 One mildly amusing detail is that EVGA re-used extra shrouds from the RTX 2070 of last year, which is perfectly fine, but the just stuck a new sticker right over the old one. Well, more like over the scratch protective film of the old one, which lets it peel off really easily.
*Note from the editor* EVGA reached out to us and informed us this was an early temporary marking that was intended to be removed by the end user, and in fact no longer even comes on this model. You can read more about it here.
System Configuration & Software
CPU: Intel Core i7-8700K
GPU: EVGA GeForce RTX 2070 SUPER BLACK GAMING
Mobo: ASUS ROG Maximus XI Apex
Ram: 32GB GeIL EVO Spear 3200MHz C16
SSD: Toshiba OCZ RC400 480GB
Chassis: Streacom Open BenchTable
OS: Microsoft Windows 10 Professional
EVGA Precision X1
With a brand-new layout, completely new codebase, new features and more, the new EVGA Precision X1 software is faster, easier and better than ever. When paired with an NVIDIA Turing graphics card, the new EVGA Precision X1 will unleash its full potential with a built-in overclock scanner, adjustable frequency curve and RGB LED control.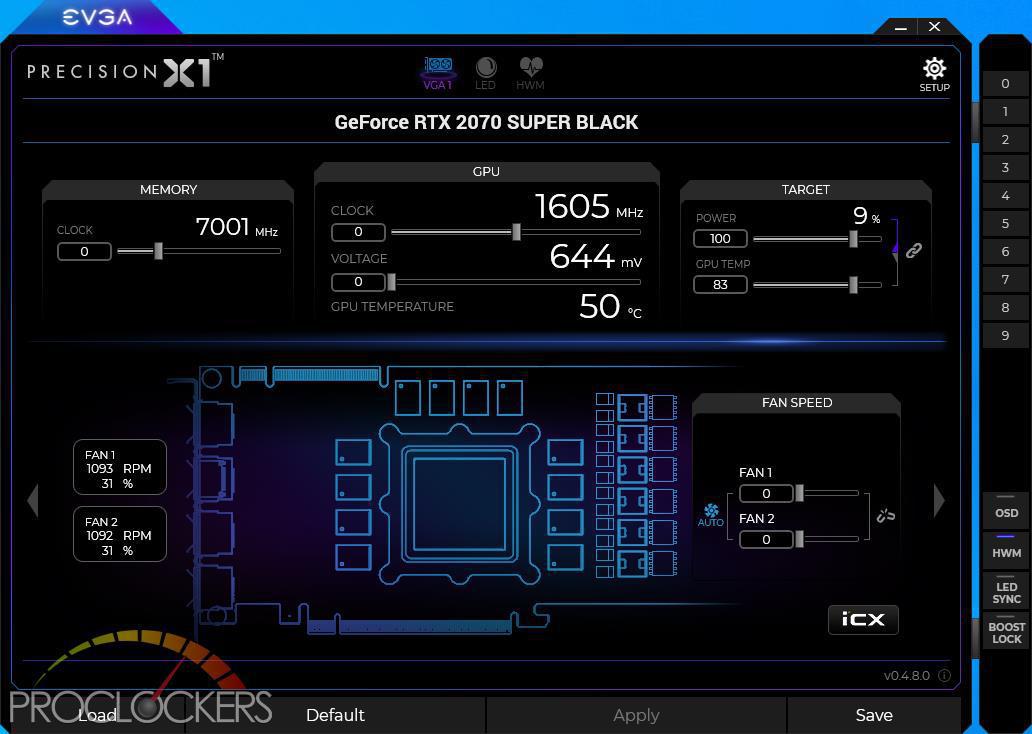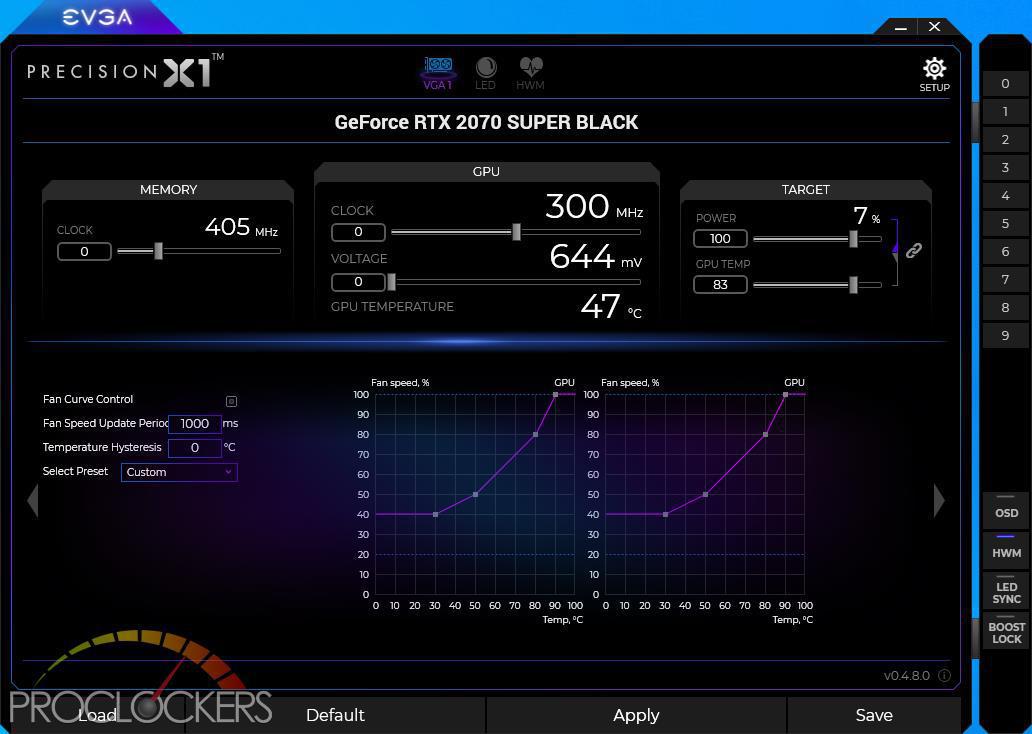 Custom fan curves can be incredibly handy for overclocks as well as those that really value silence.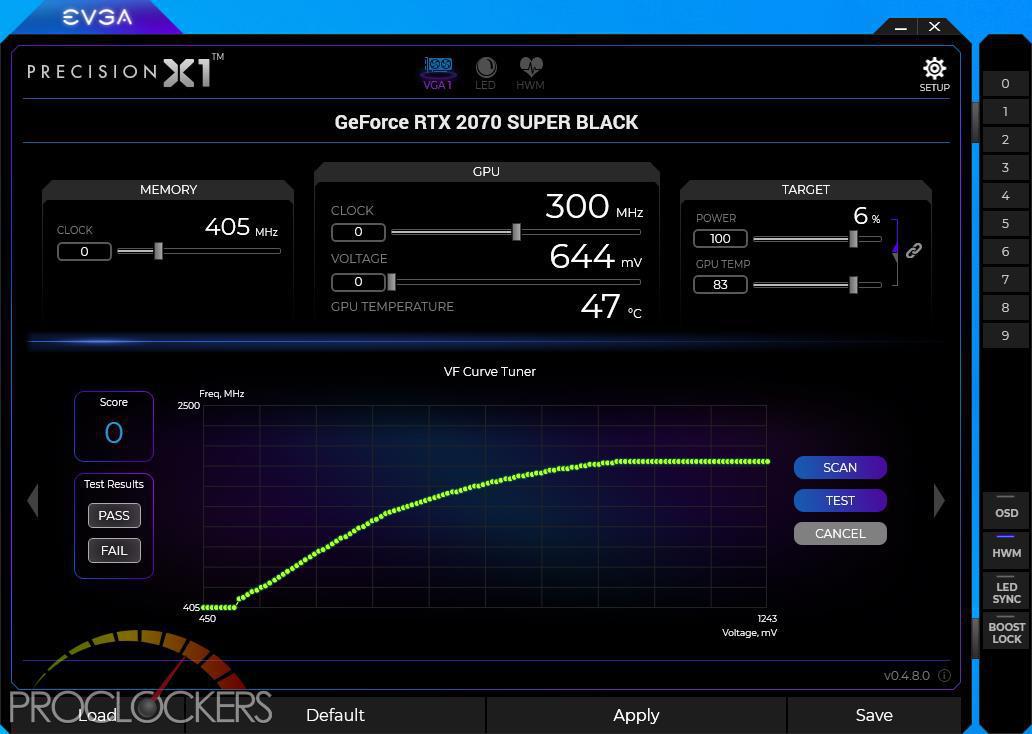 You can normally get small gains from the built-in auto overclocking tools.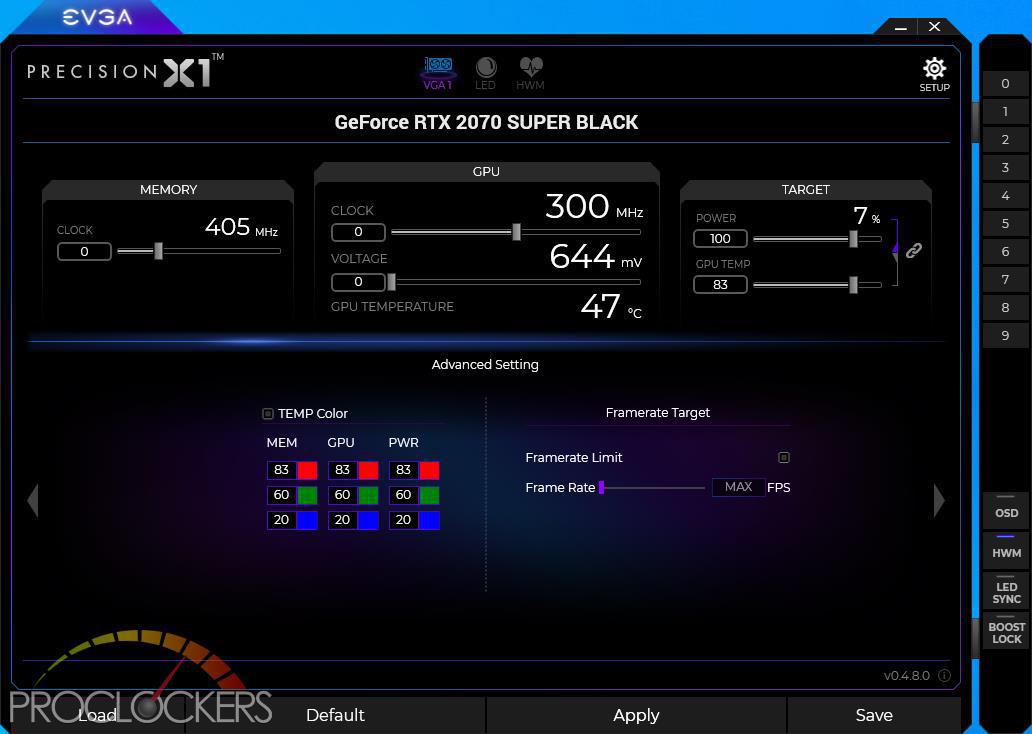 A Framerate Target and limit help keep older or lower demand games running at a low enough frame rate not to just be tear-city.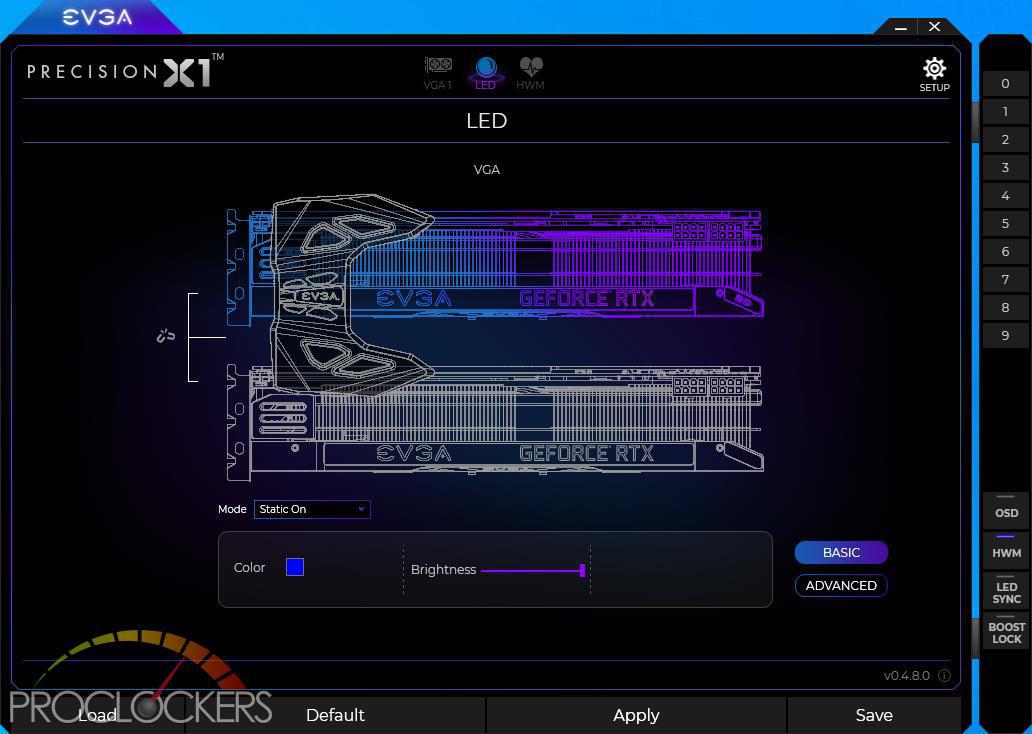 While it doesn't exactly apply to this specific model of the card due to its lack of onboard lighting, you can control EVGA's NV-Link SLI Bridge.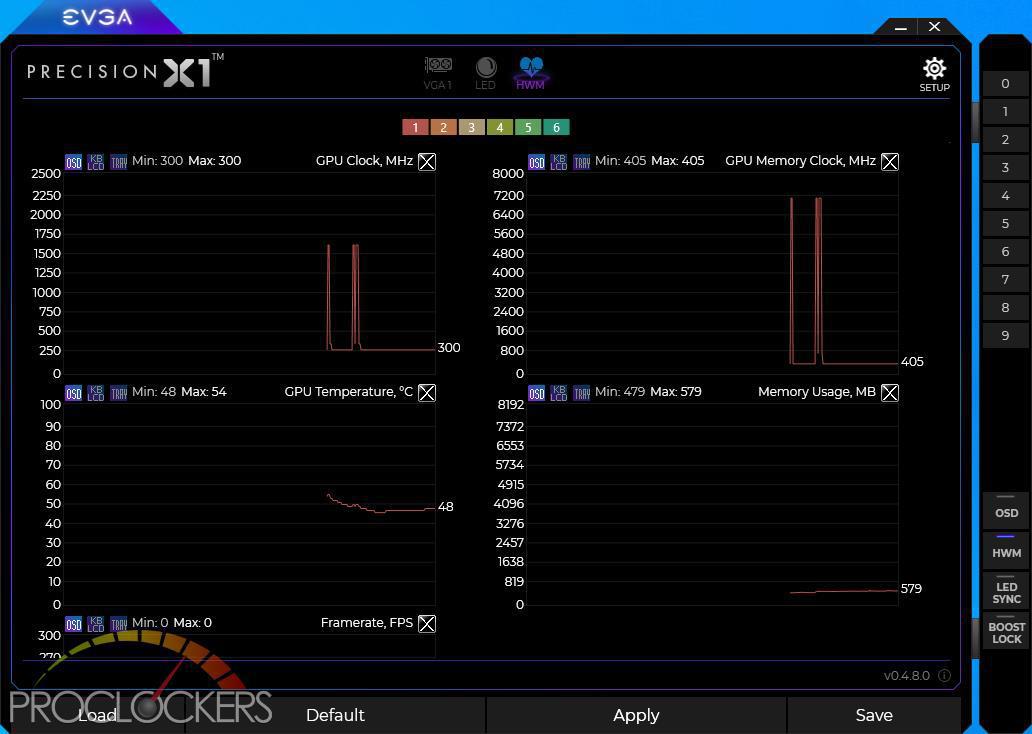 The Hardware Monitor tab lets you keep an eye on every aspect of your EVGA GPU with trends.
Synthetic Testing
Testing was performed at stock settings with the exception of system memory had its XMP profile applied.
Futuremark 3DMark
3DMark includes everything you need to benchmark your PC and mobile devices in one app. Whether you're gaming on a smartphone, tablet, notebook, or a desktop gaming PC, 3DMark includes a benchmark designed specifically for your hardware.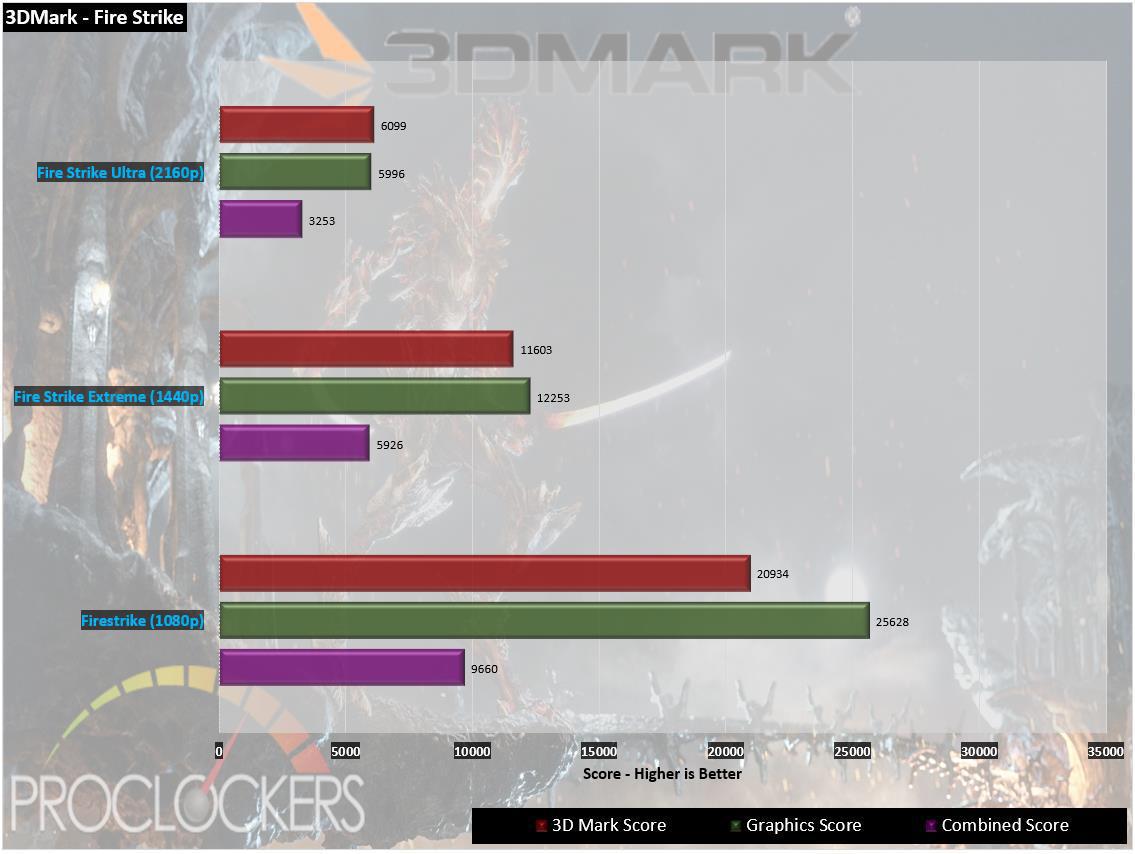 At the extremely demanding Ultra level test, the 2070 Super Black manages 33.38 FPS in the first test and 21.39fps in the second test.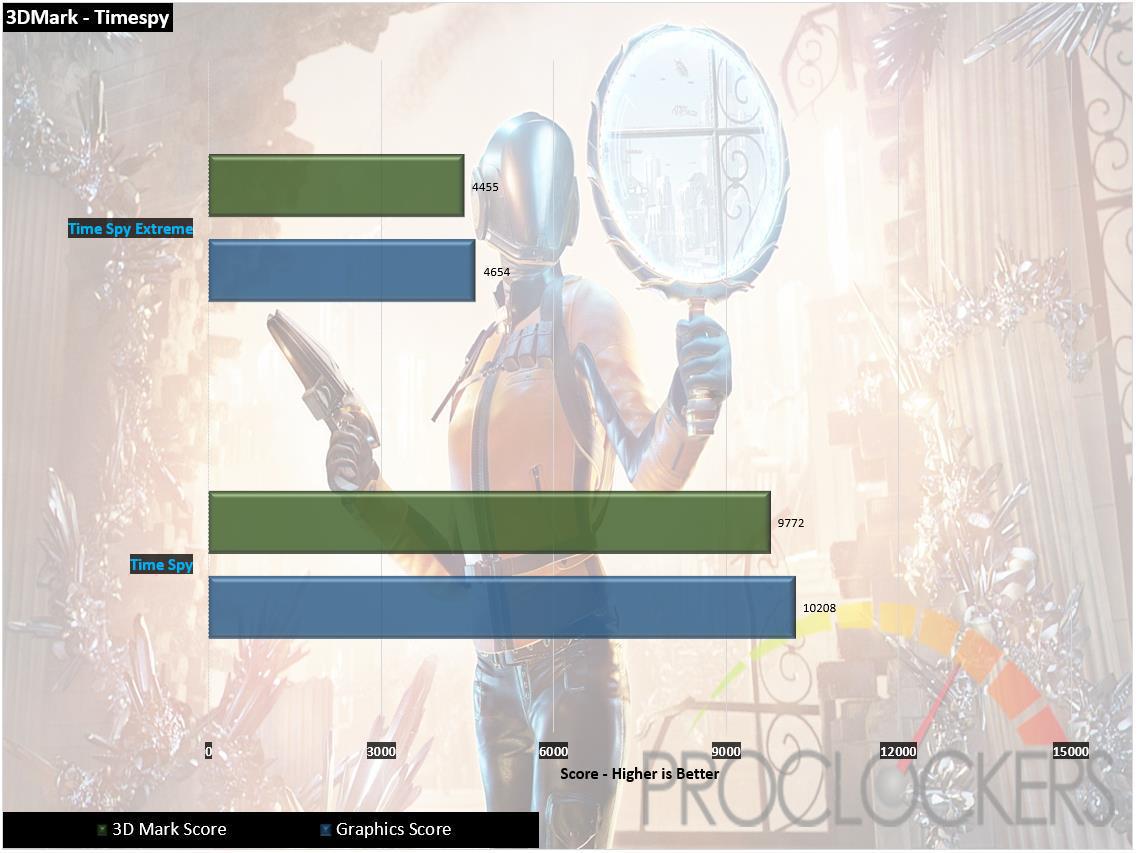 Time Spy Extreme comes in around 28 FPS.
Futuremark VRMark
The performance requirements for VR games are much higher than for typical PC games. So if you're thinking about buying an HTC Vive or an Oculus Rift, wouldn't you like to know that your PC is ready for VR?
VRMark includes three VR benchmark tests that run on your monitor, no headset required, or on a connected HMD. At the end of each test, you'll see whether your PC is VR ready, and if not, how far it falls short.
Orange Room Test – The Orange Room benchmark shows the impressive level of detail that can be achieved on a PC that meets the recommended hardware requirements for the HTC Vive and Oculus Rift. If your PC passes this test, it's ready for the two most popular VR systems available today.
Cyan Room Test – Cyan Room is a DirectX 12 benchmark. It features a large, complex scene and many eye-catching effects. Cyan Room shows how using an API with less overhead can help developers deliver impressive VR experiences even on modest PC systems.
Blue Room Test – The Blue Room is a much more demanding test. It's ideal for benchmarking the latest graphics cards. With its massive 5K rendering resolution and spectacular volumetric lighting effects, the Blue Room sets the bar for future hardware generations.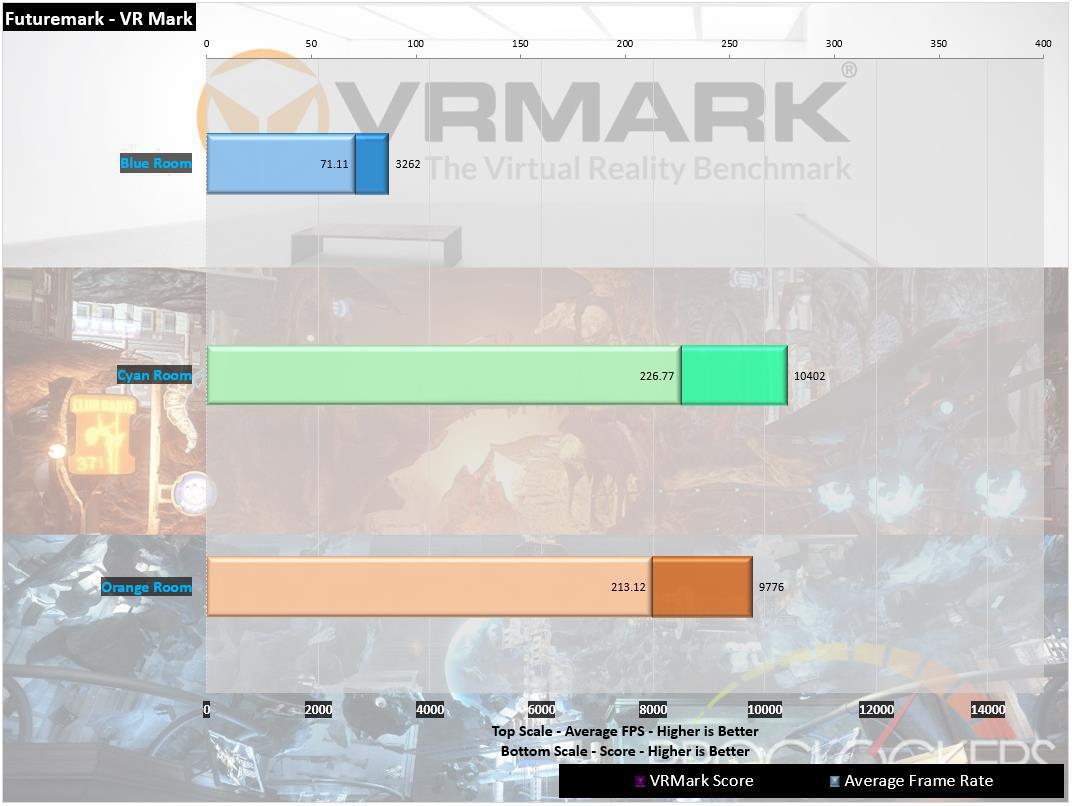 It's fun to see that the EVGA RTX 2070 Super Black actually does even better at the more demanding Cyan test than the lighter Orange test.
Unigine Heaven
Heaven Benchmark is a GPU-intensive benchmark that hammers graphics cards to the limits. This powerful tool can be effectively used to determine the stability of a GPU under extremely stressful conditions, as well as check the cooling system's potential for maximum heat output.
The benchmark immerses a user into a magical steampunk world of shiny brass, wood, and gears. Nested on flying islands, a tiny village with its cozy, sun-heated cobblestone streets, and a majestic dragon on the central square gives a true sense of adventure. An interactive experience with fly-by and walk-through modes allows for exploring all corners of this world powered by the cutting-edge UNIGINE Engine that leverages the most advanced capabilities of graphics APIs and turns this bench into a visual masterpiece.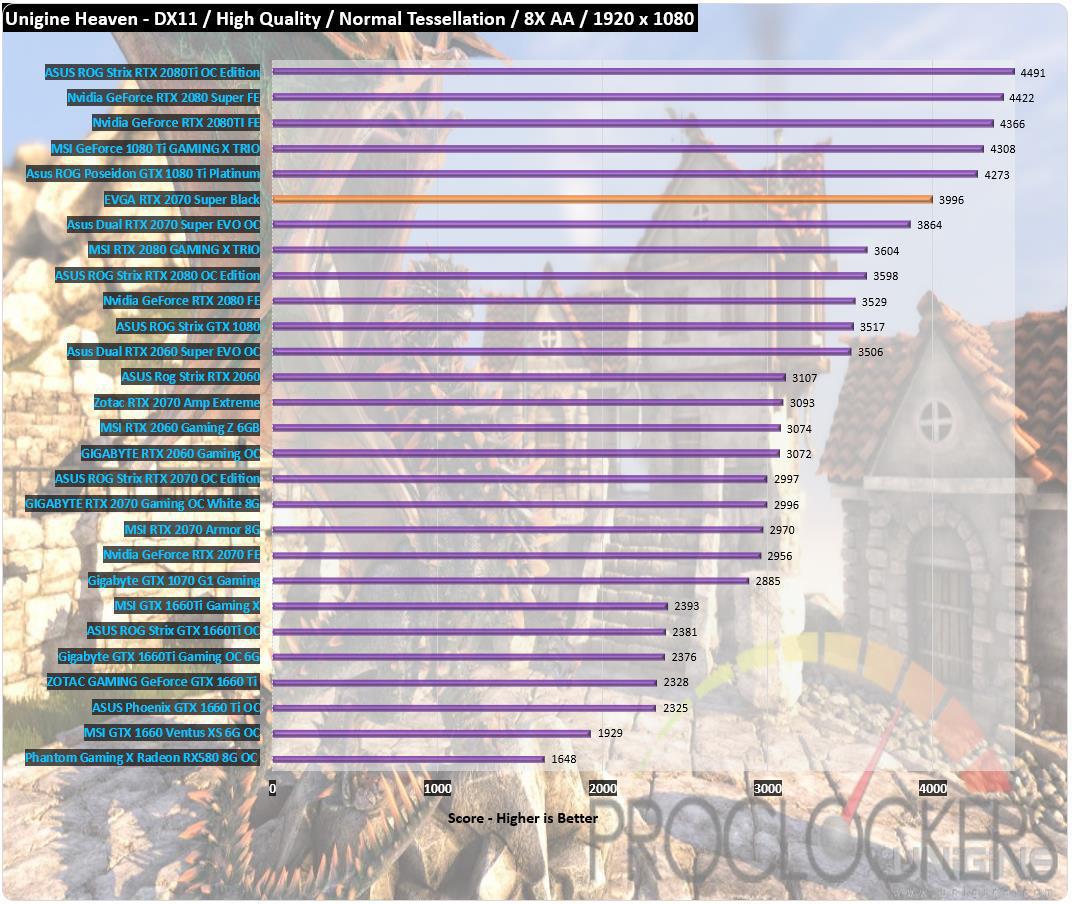 At a moderate 1080P load, the RTX 2070 Super black just knocks it out of the park.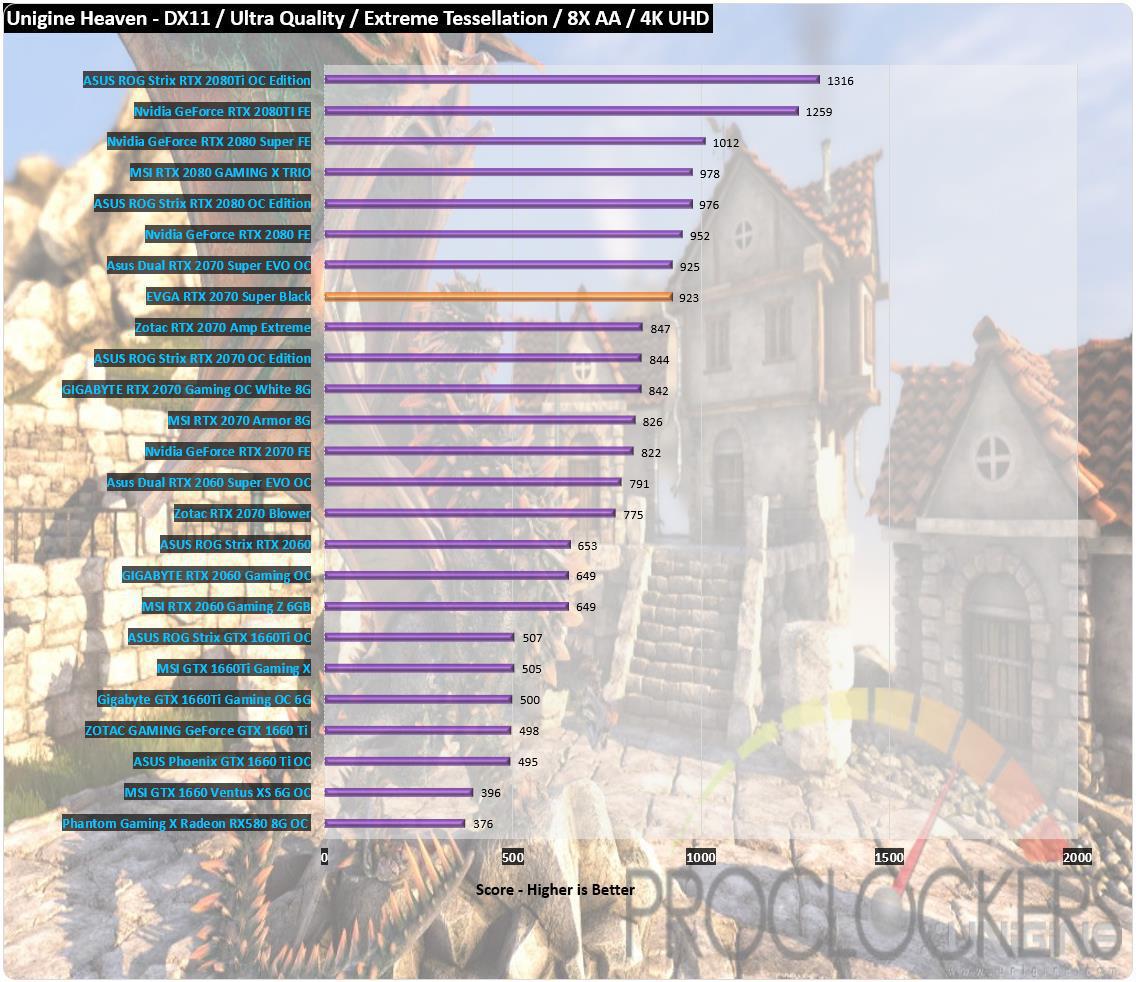 At maximum 4K load, the Black falls back in line with other 2070 Super cards which is a hair behind the 2080s but far ahead of last years 2070's.
Unigine Superposition
Extreme performance and stability test for PC hardware: video card, power supply, cooling system. Check your rig in stock and overclocking modes with a real-life load! Also includes interactive experience in a beautiful, detailed environment.
A lone professor performs dangerous experiments in an abandoned classroom, day in and day out. Obsessed with inventions and discoveries beyond the wildest dreams, he strives to prove his ideas.
Once you come to this place in the early morning, you would not meet him there. The eerie thing is a loud bang from the laboratory heard a few moments ago. What was that? You have the only chance to cast some light upon this incident by going deeply into the matter of quantum theory: thorough visual inspection of professor's records and instruments will help to lift the veil on the mystery.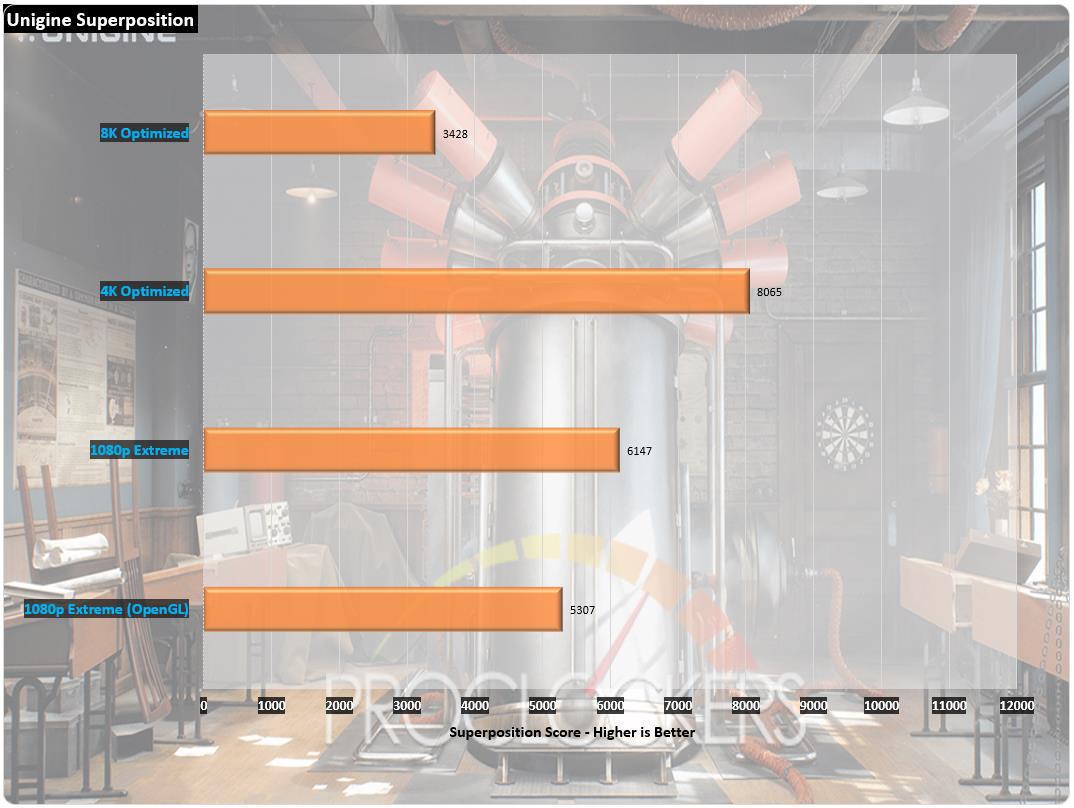 The Super Black manages an average of just a hair over 60fps in the 4K optimized test.
Game Testing
Ashes of the Singularity
Planet by planet, a war is raging across the galaxy. The technological singularity has given humanity the power to expand further than they ever have before. Now, they compete with each other and their sentient artificial intelligence adversaries for control of newfound worlds.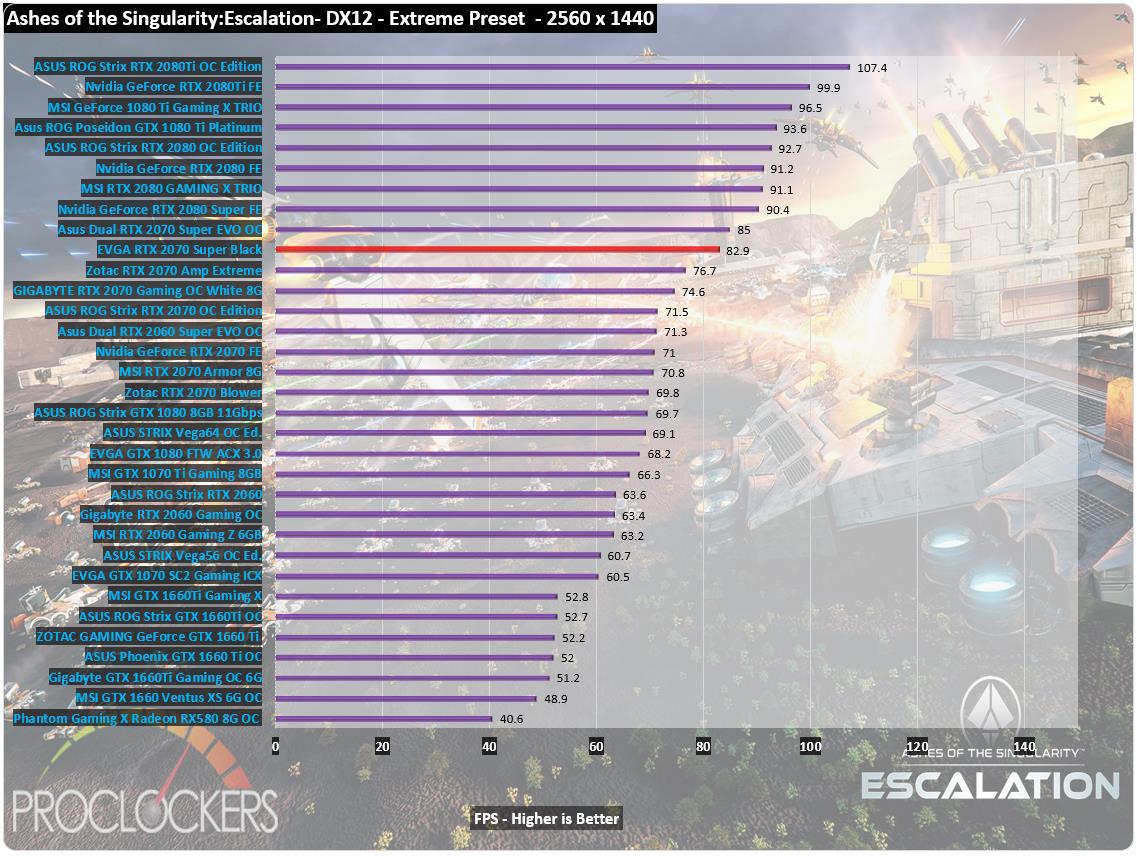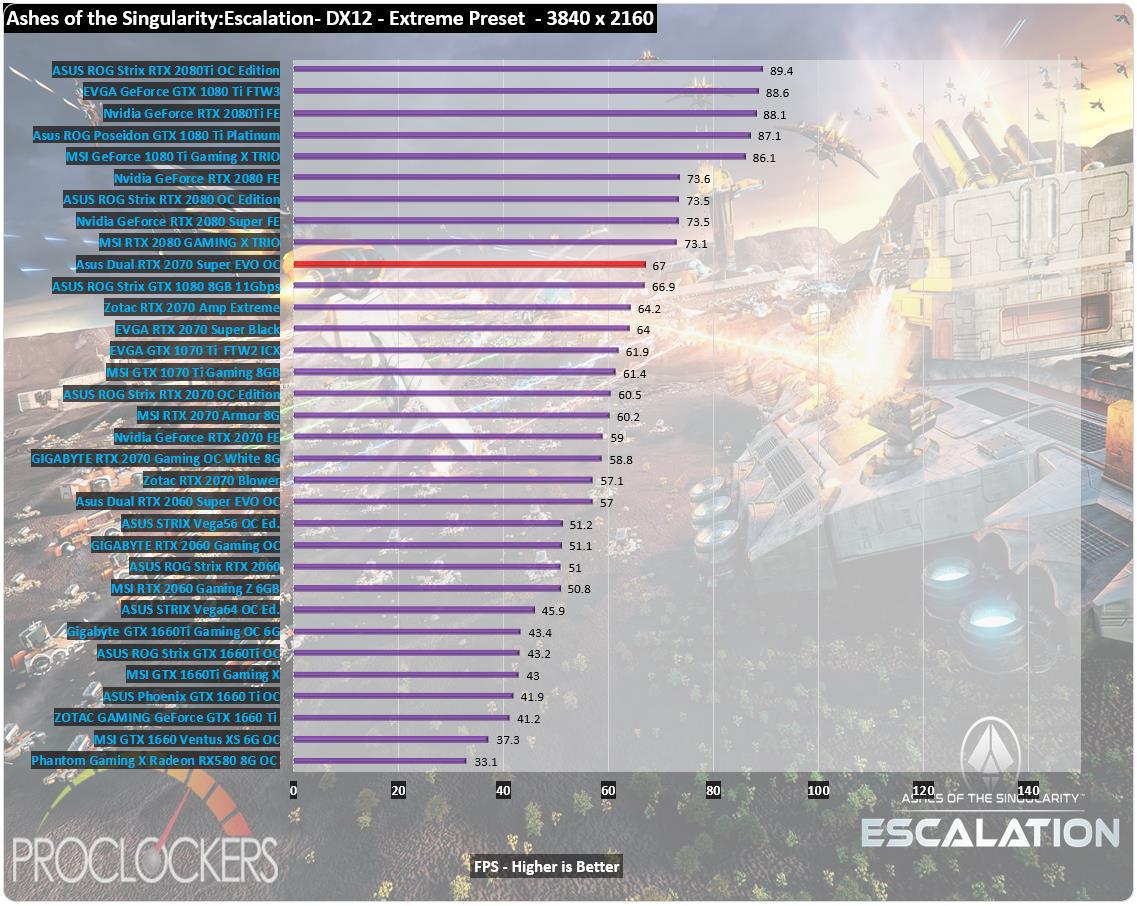 The Super Black card comes in just a hair under an RTX 2080 while holding a decent lead over last years 2070 (non-super).
Far Cry 5
Anything can happen. Everything will.
Welcome to Hope County, Montana, land of the free and the brave, but also home to a fanatical doomsday cult—known as The Project at Eden's Gate—that is threatening the community's freedom. Stand up to the cult's leaders, Joseph Seed, and the Heralds, as you spark the fires of resistance that will liberate the besieged community.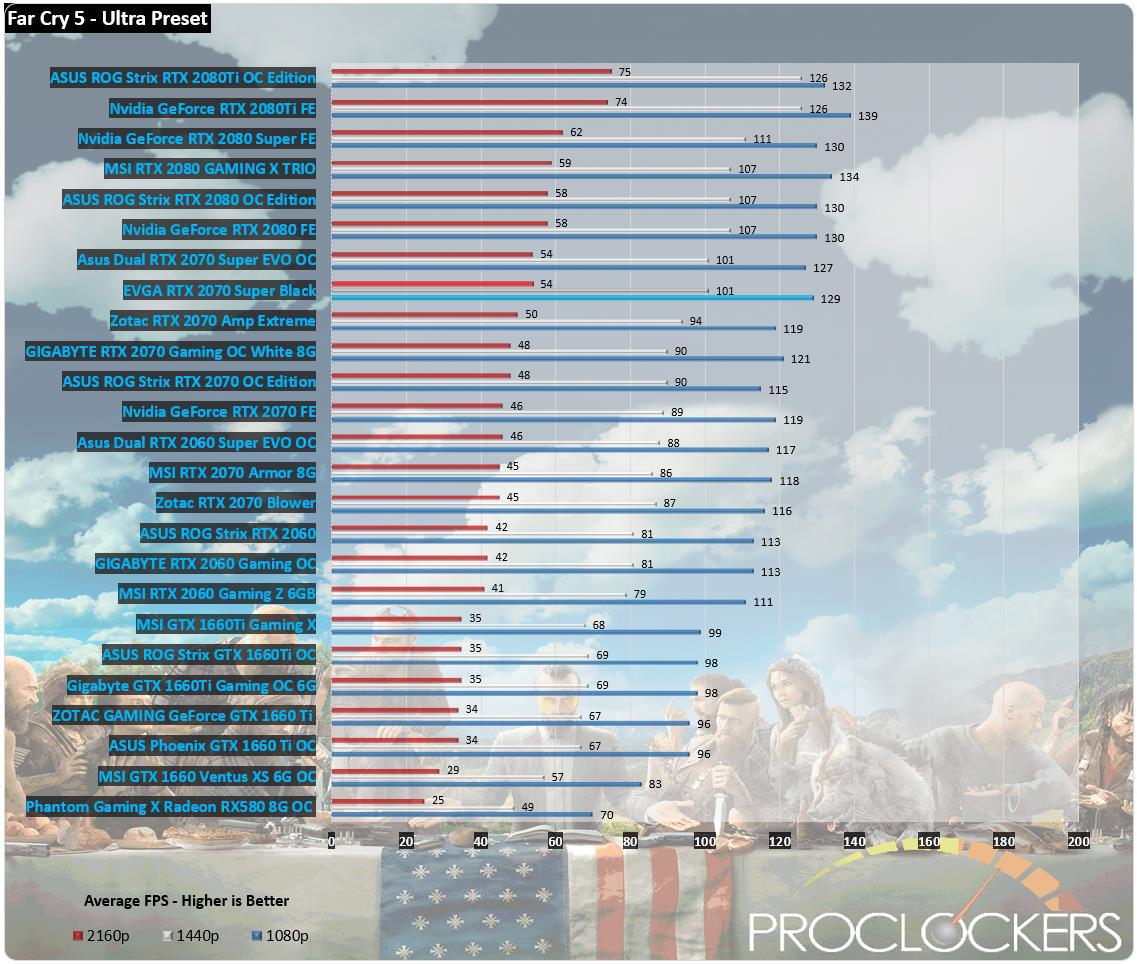 Even maxed out at 4K the Super Black swings an average of 54 FPS.
Middle-Earth: Shadow of War
In the epic sequel to the award-winning Middle-earth: Shadow of Mordor, go behind enemy lines to forge an army, conquer Fortresses and dominate Mordor from within. Experience how the award-winning Nemesis System creates unique personal stories with every enemy and follower, and confront the full power of the Dark Lord Sauron and his Ringwraiths in this epic new story of Middle-earth.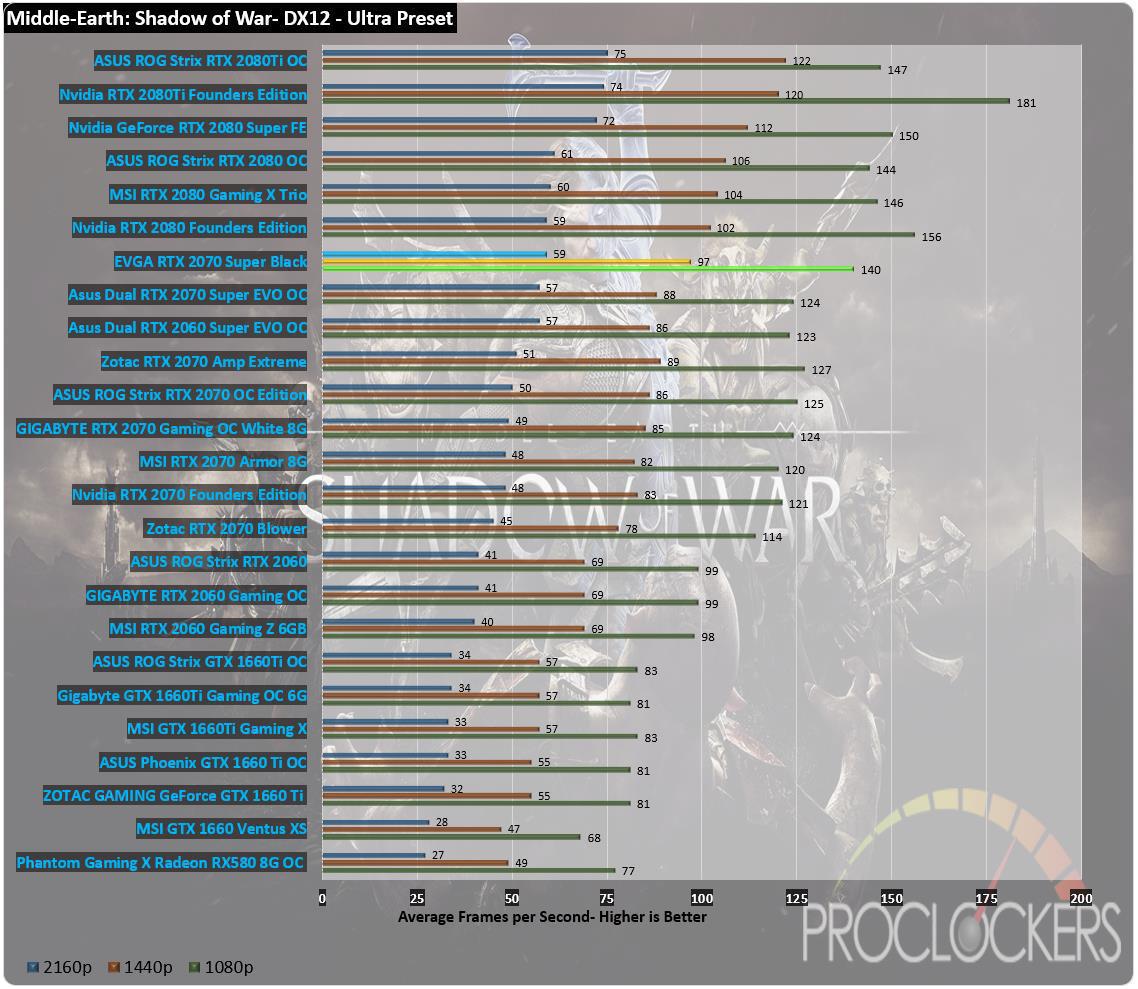 Shadow of War just barely misses averaging 60 FPS at 4K with maximum settings.
Shadow of the Tomb Raider
Experience Lara Croft's defining moment as she becomes the Tomb Raider. In Shadow of the Tomb Raider, Lara must master a deadly jungle, overcome terrifying tombs, and persevere through her darkest hour. As she races to save the world from a Maya apocalypse, Lara will ultimately be forged into the Tomb Raider she is destined to be.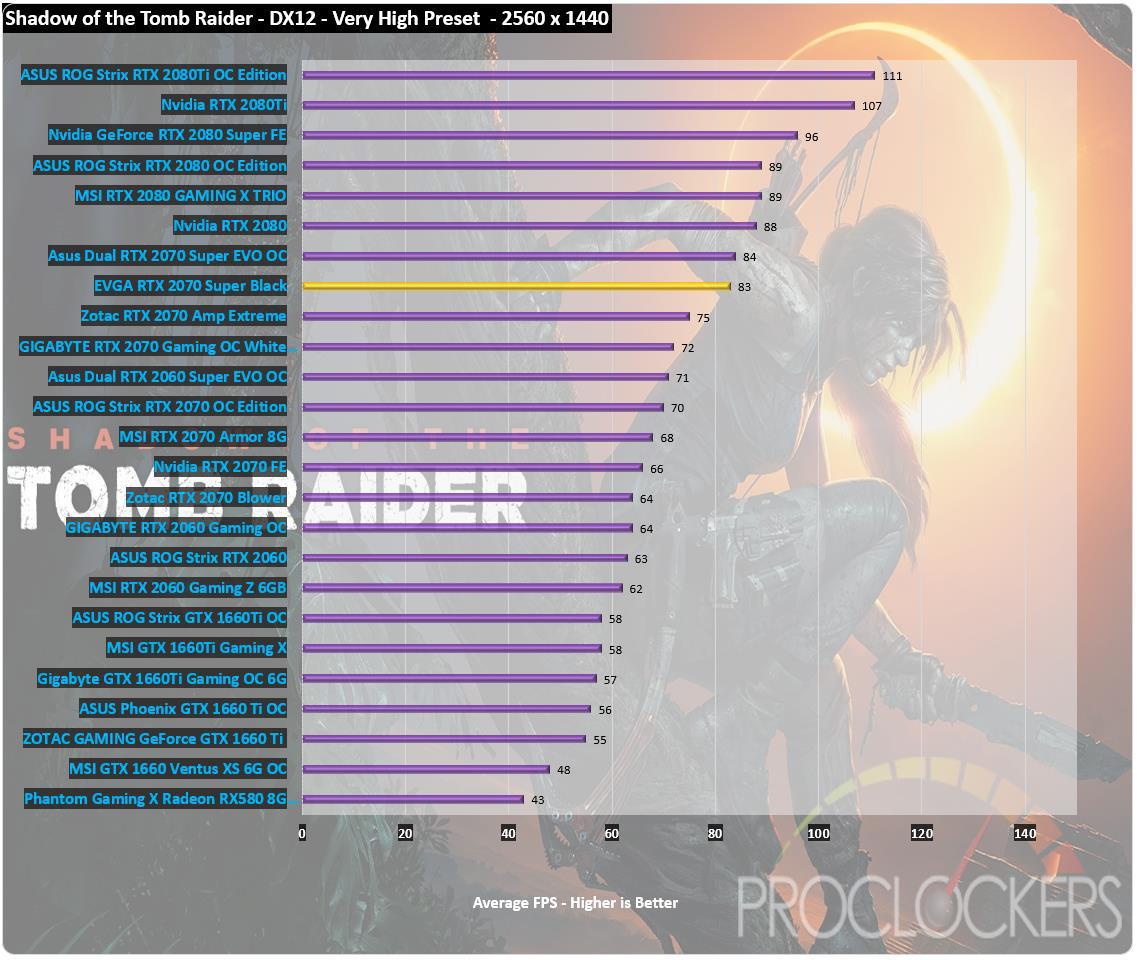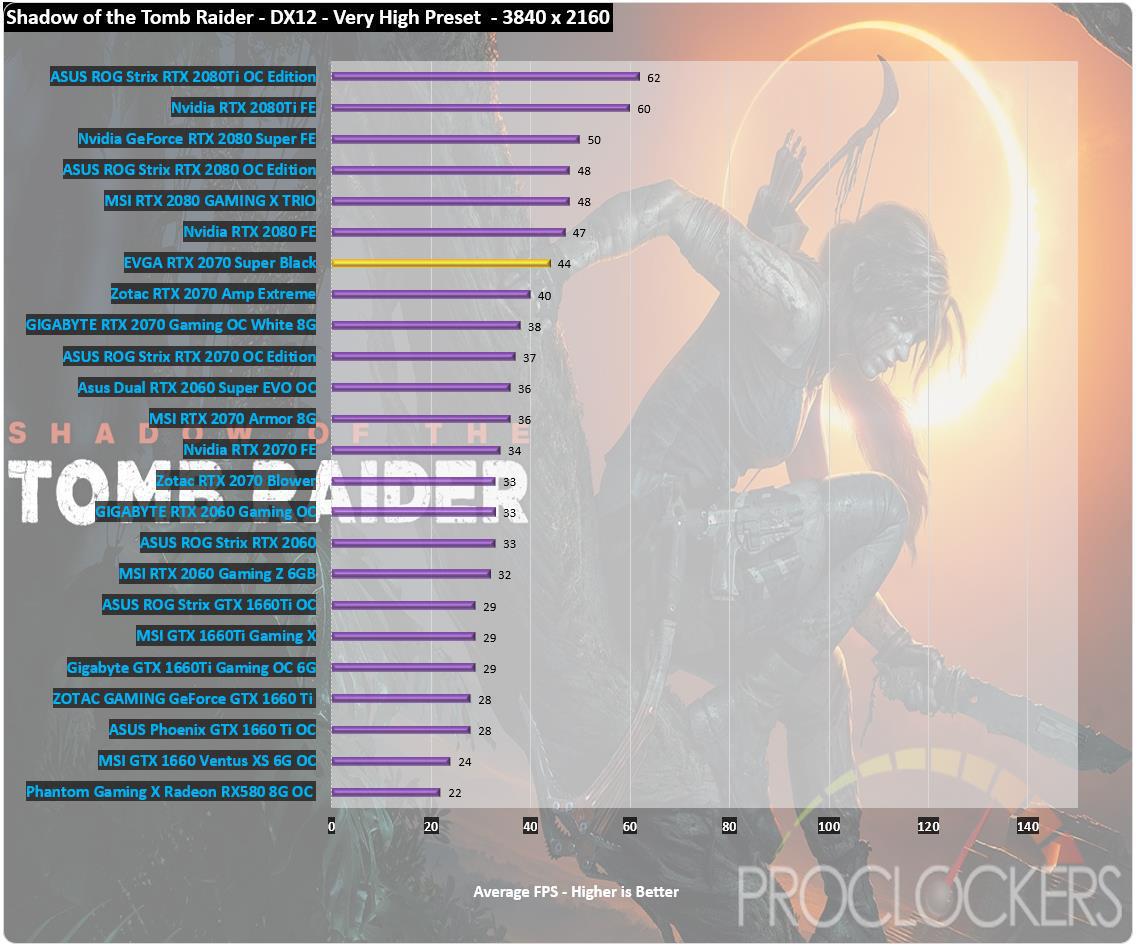 EVGA's 2070 Black lands just a hair slower than last year's RTX 2080 with a significantly smaller hit to your wallet.
Sid Meier's Civilization VI
Originally created by legendary game designer Sid Meier, Civilization is a turn-based strategy game in which you attempt to build an empire to stand the test of time. Become Ruler of the World by establishing and leading a civilization from the Stone Age to the Information Age. Wage war, conduct diplomacy, advance your culture, and go head-to-head with history's greatest leaders as you attempt to build the greatest civilization the world has ever known.
Civilization VI offers new ways to engage with your world: cities now physically expand across the map, active research in technology and culture unlocks new potential, and competing leaders will pursue their own agendas based on their historical traits as you race for one of five ways to achieve victory in the game.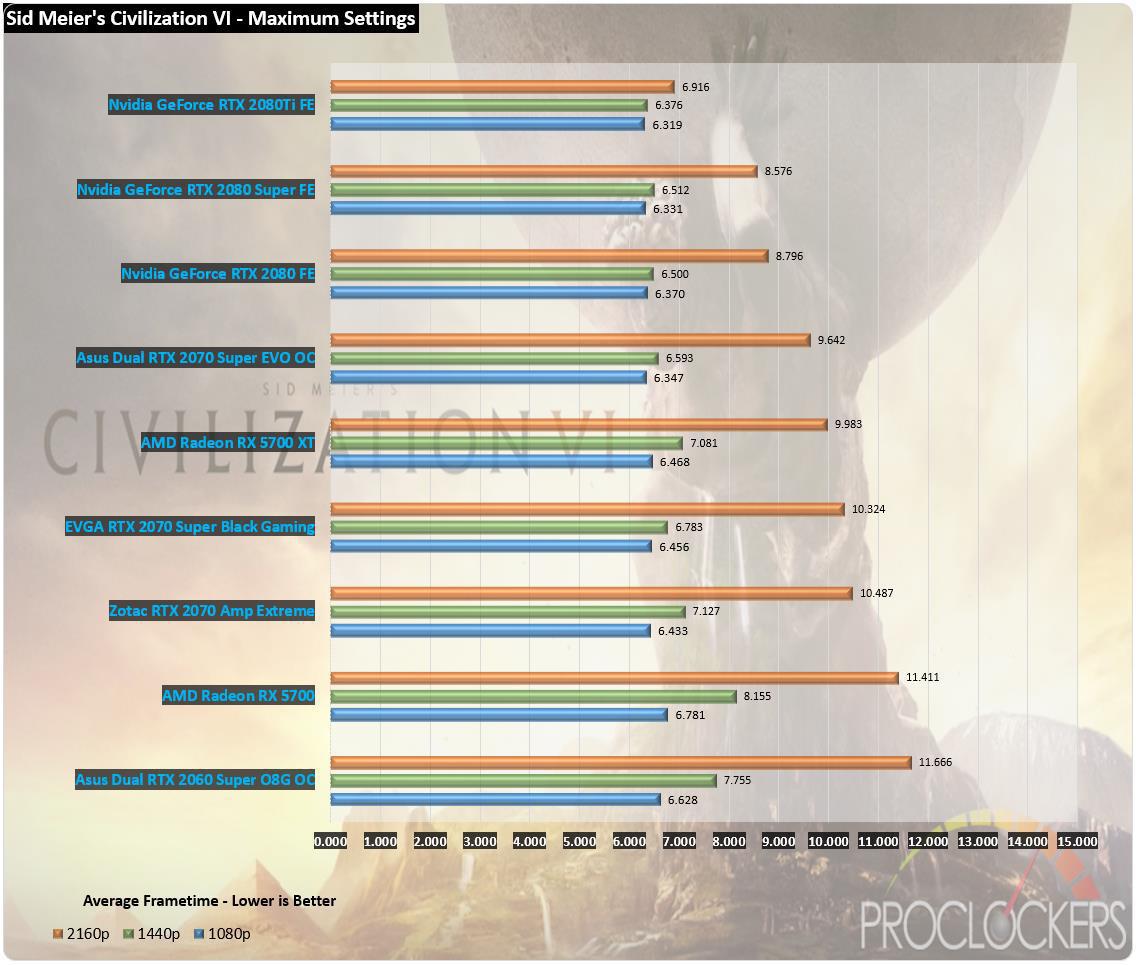 There isn't much of a gap at 1080P, but when cranked up to 4K we see a pretty good gap against last year's RTX 2070.
Metro Exodus
Metro Exodus is an epic, story-driven first-person shooter from 4A Games that blends deadly combat and stealth with exploration and survival horror in one of the most immersive game worlds ever created.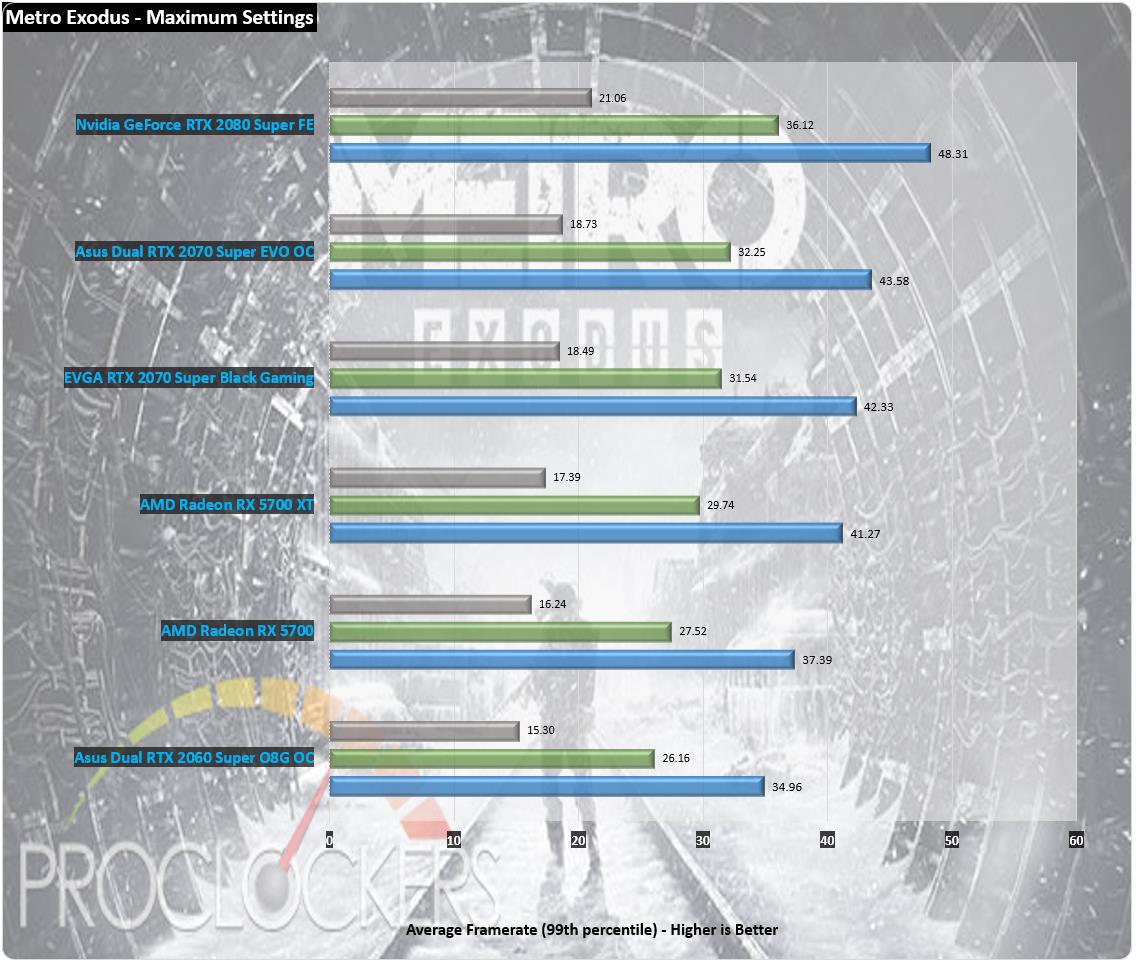 The latest Installment in the Metro world proves to be very demanding at maximum settings, but the Super Black still fights its way up to just a hair under the RTX 2080.
Tom Clancy's Ghost Recon: Wildlands
Tom Clancy's Ghost Recon® Wildlands is the very first military shooter in a massive open world that you can play entirely solo or in four-player co-op.
TAKE DOWN THE CARTEL
A few years from now, Bolivia has become the largest cocaine producer in the world. The Santa Blanca cartel has turned the country into a narco-state. As a Ghost, you must stop the cartel by any means necessary.
BECOME A GHOST
Create and fully customize your Ghost, weapons, and gear. Enjoy a total freedom of playstyle. Lead your team and take down the cartel, either solo or with up to three friends.
EXPLORE BOLIVIA
Journey through Ubisoft's largest action-adventure open world. Discover the stunning diverse landscapes of the Wildlands both on and off-road, in the air, on land and at sea with over 60 different vehicles.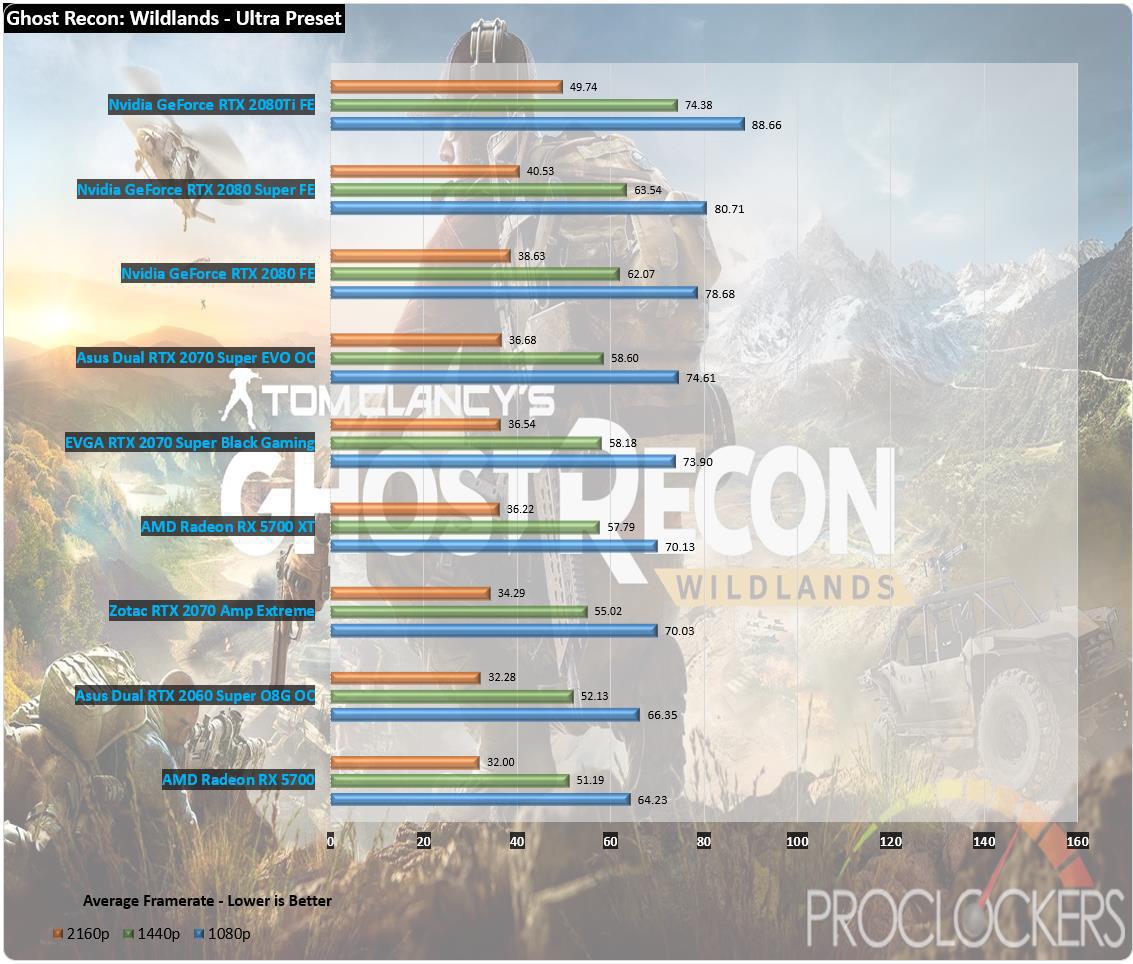 2.1 FPS is all that separates the 2070 Super Black from last year's RTX 2080 at 4K maximum settings.
Overclocking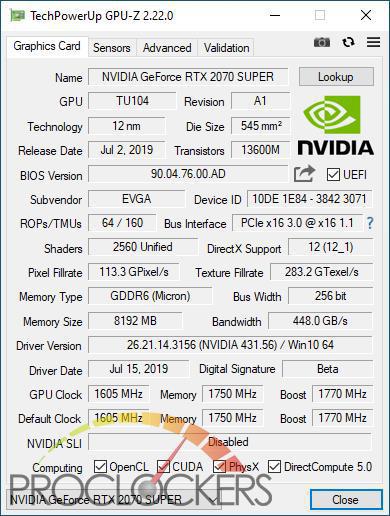 We can see that the New RTX 2070 Super packs 2560 CUDA cores over its predecessors 2304 cores.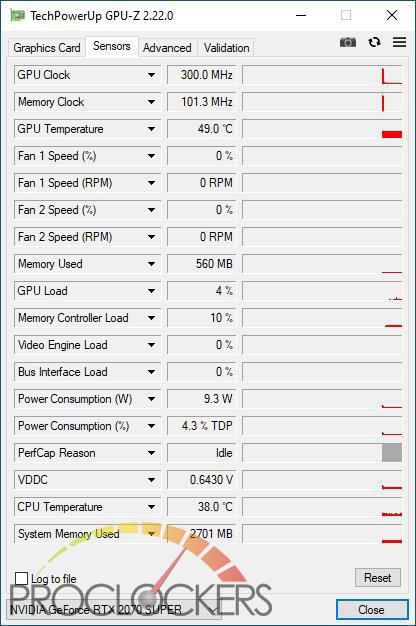 Since EVGA turns off the fans when not under load, the card hovers around the upper 40C mark just sitting at the Windows desktop.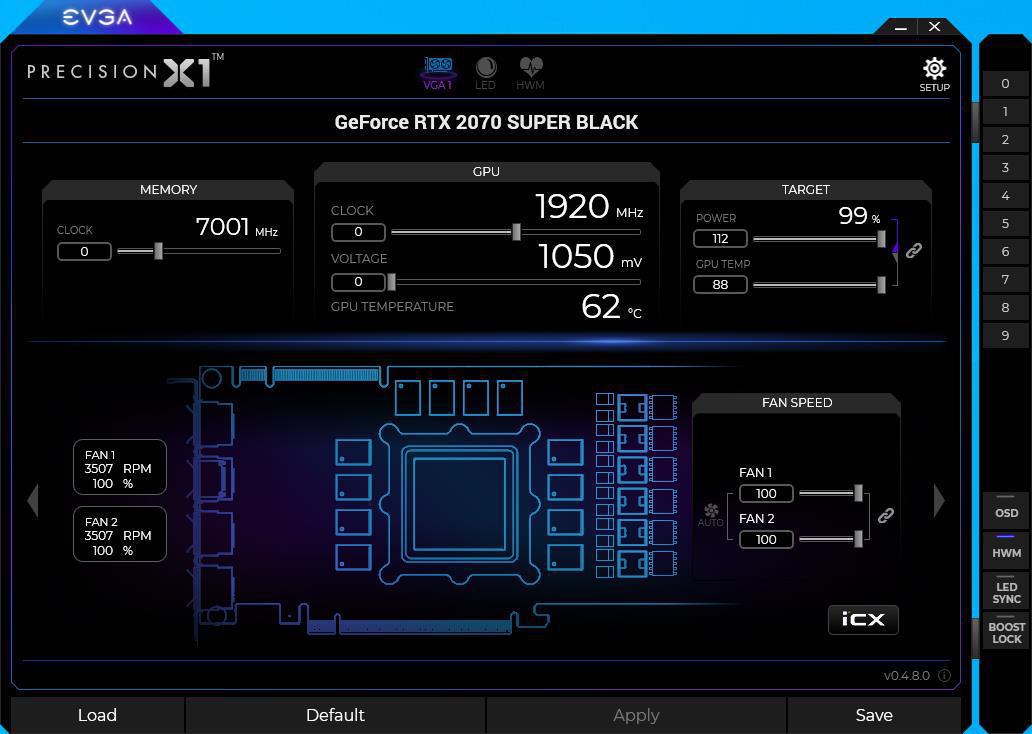 Turing based cards are usually power limited, so we'll start out maxing out the power limit in EVGA's Precision X1. EVGA allows an additional 12%.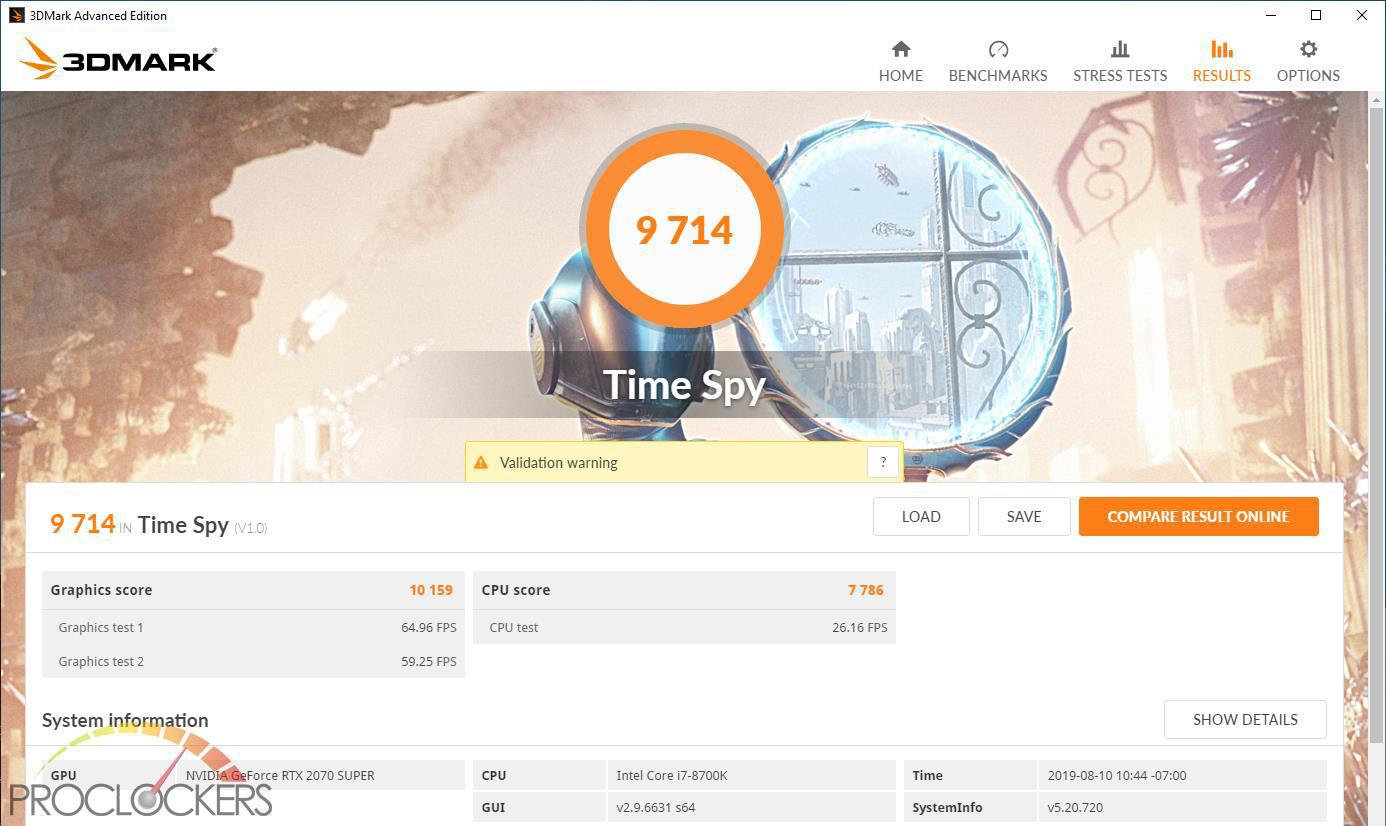 This really doesn't seem to make much of a difference as we end up with roughly the same score.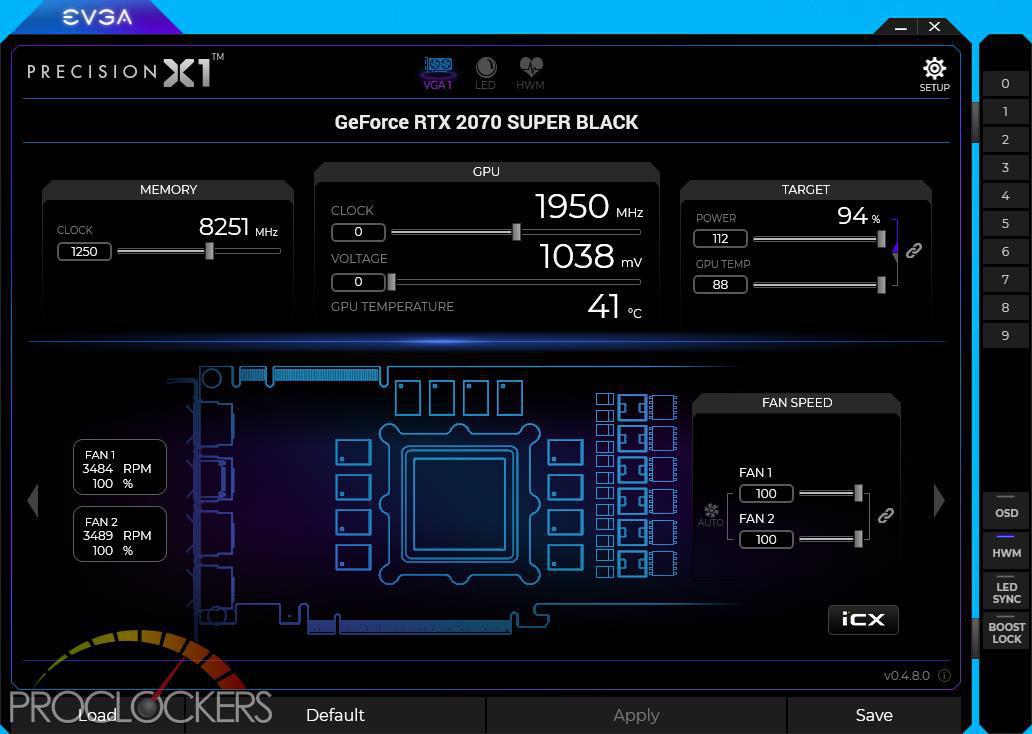 Next, we'll push the memory as far as we can. We make it clear up to 16,500 MHz effective on VRAM, a pretty impressive jump over the stock 14,000 MHz.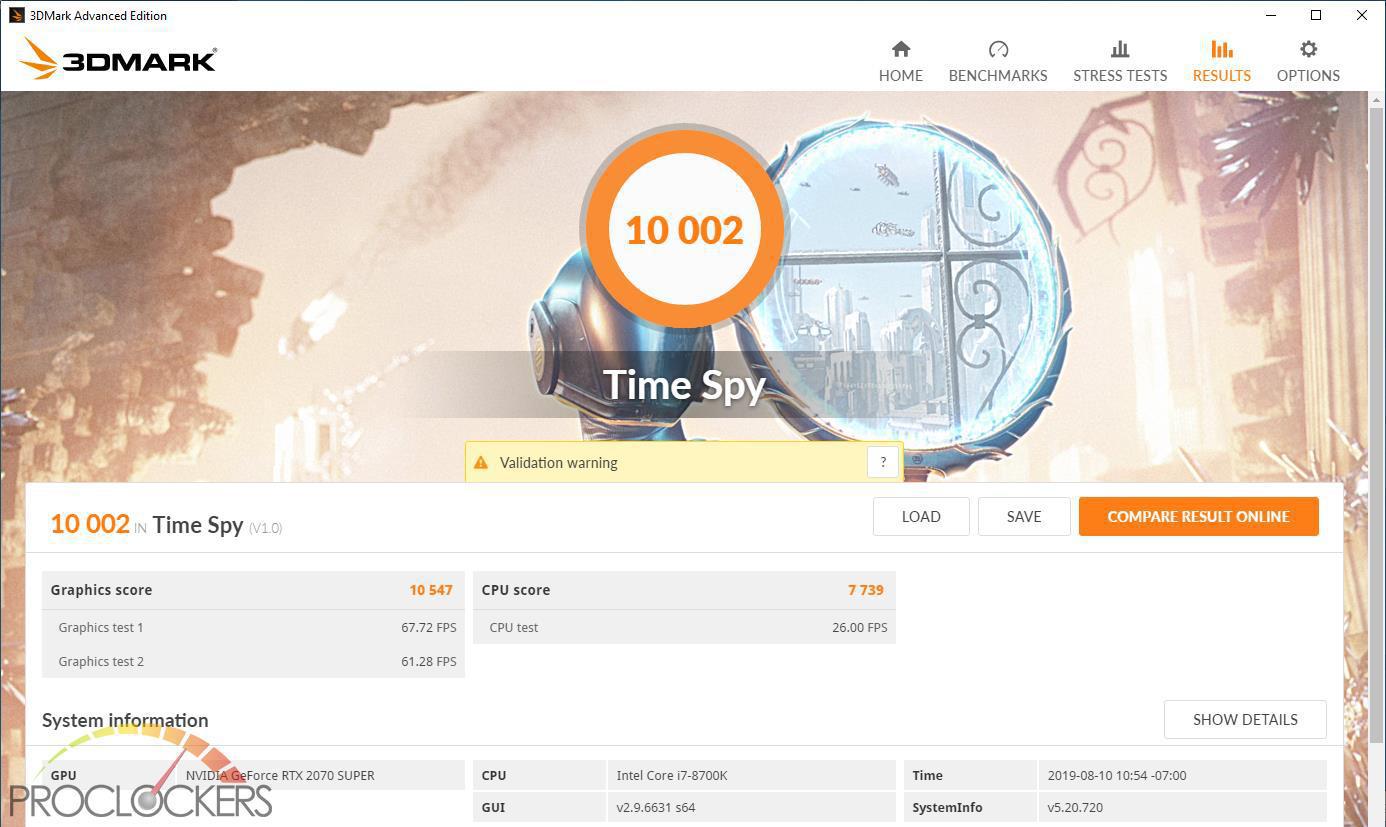 This alone gets us around 300 more points total in Time Spy.
Pushing the core up, we are able to get +80MHz, any more and it would crash in benchmarks.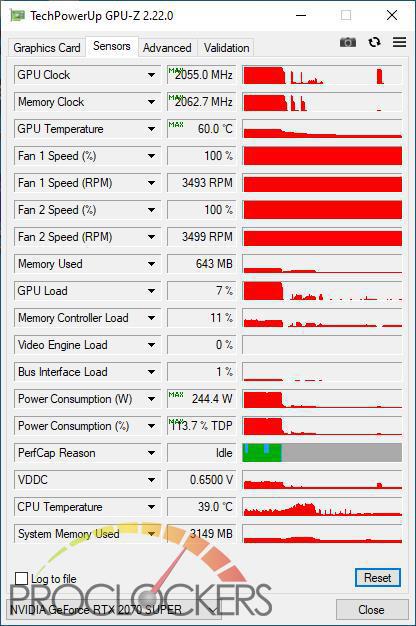 This doesn't actually get us 80MHz more, only about 50MHz on average actually.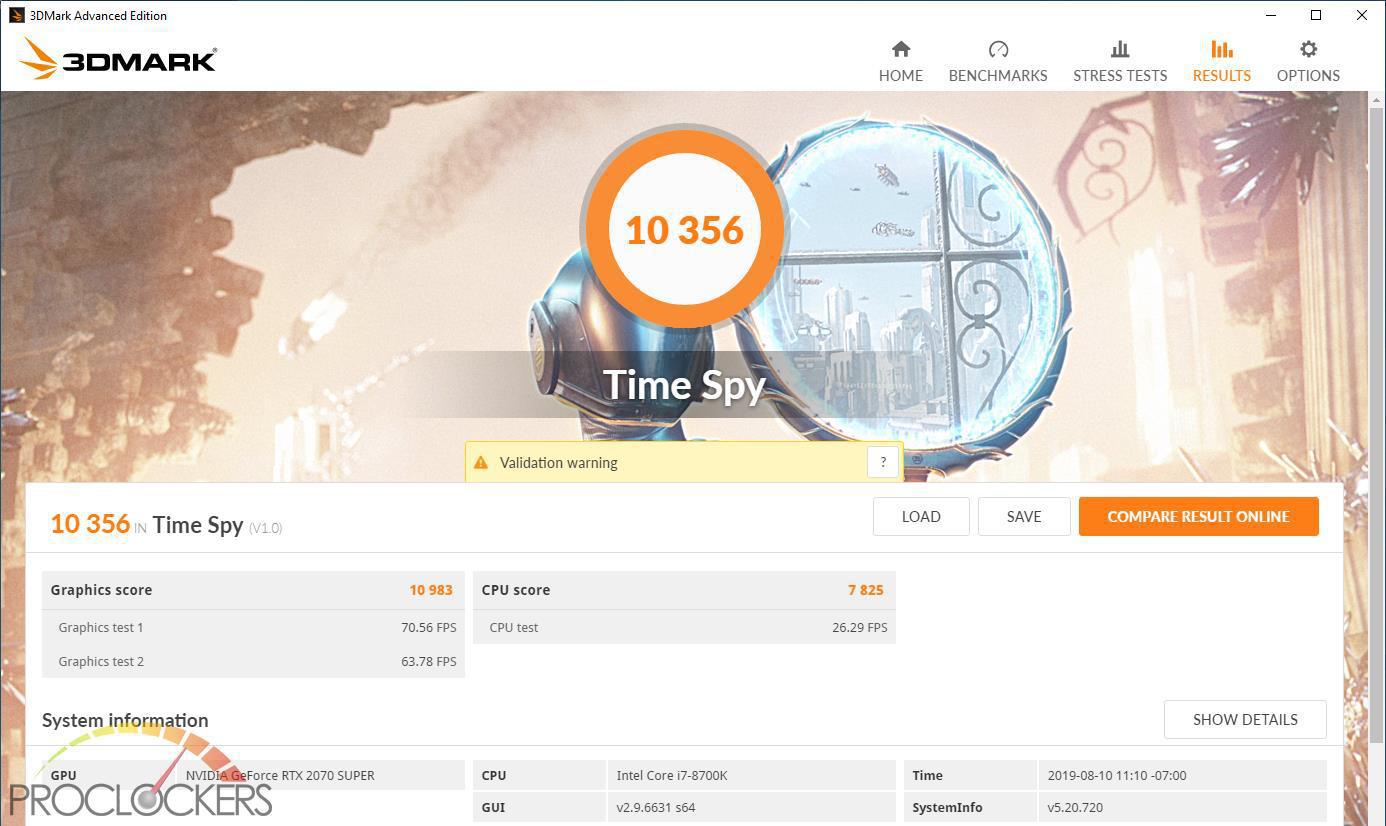 Either way, we pick up an additional 350 points, beating our stock score by about 6%
Final Thoughts & Conclusion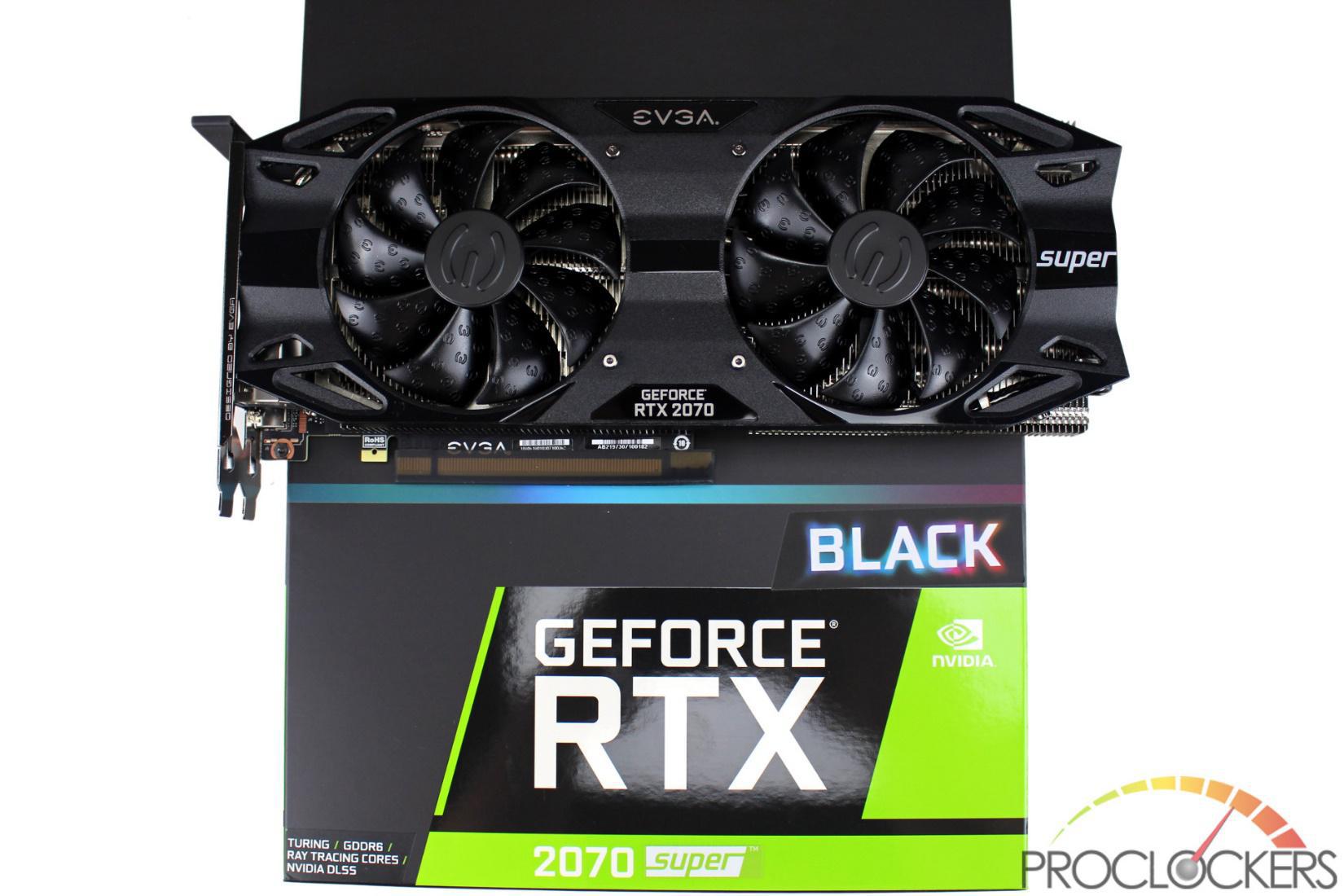 EVGA proves that indeed you can have value and performance. The RTX 2070 Super Black provides outstanding performance very close to last year's $699 RTX 2080 for a more affordable 5 bills. If you don't mind doing a little overclocking, you can tie or even beat the 2080. The updated memory on the RTX 2070 Super Black is already pretty quick, but being able to get well north of the 16GHz mark is pretty impressive. We like the overall aesthetics of the Black edition cards and anyon wanting to build a very understated build free of the proverbial 'unicorn puke' will really enjoy this. Also, keep in mind that you can skip the added cost of a fancy cooler if you plan to later upgrade to a liquid cooled solution such as EVGA's Hybrid cooling kit or even to a full custom loop with the beautiful Hydro Copper Waterblock. Either way you go, there is no wrong answer here!

Great job EVGA!

<![CDATA[ */ var zbjs = {"ajaxurl":"https:\/\/gaminggorilla.com\/wp-admin\/admin-ajax.php","md5":"d8e8b24d2fa18d2999e0fddcdd418586","tags":[],"categories":["Hardware"]}; /* ]]>