GIGABYTE M.2 2280 PCIe SSD 256GB Review
Introduction
Gigabyte is one of the most well-known brands in the PC world and with that comes a certain level of brand loyalty. While Gigabyte does complete PC's in the small form factor world, their laptops are the bread and butter of the read to run PC line up. For those that like to build, for the longest time you were limited to motherboards, and eventually video cards. More recently we're seen Gigabyte expand internal component offerings to power supplies, and memory, and even SATA SSD's. Today we'll be looking at their first jump into the NVMe market in the M.2 form factor.
ProClockers would like to thank Kingston for sending us the UV500 SSD to check out!
Gigabyte's take on the M.2 PCIe SSD 256GB:
Performance. Stability
Form Factor: M.2 2280
Interface: PCI-Express 3.0 x2, NVMe 1.3
Total Capacity: 256GB*
Warranty: Limited 3-years
Sequential Read Speed: up to 1200 MB/s**
Sequential Write Speed: up to 800 MB/s**
HMB (Host Memory Buffer) supported
TRIM & S.M.A.R.T supported

Features & Specifications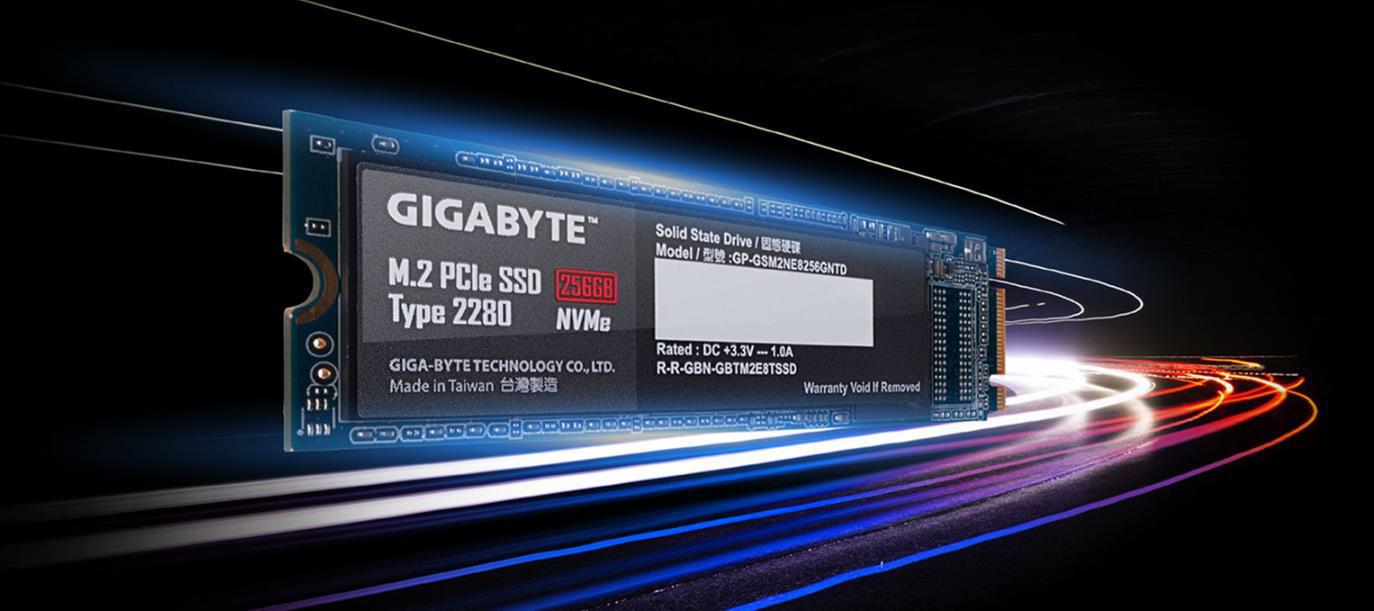 Host Memory Buffer (HMB)
The Host Memory Buffer (HMB) feature utilizes the DMA (Direct Memory Access) of PCI Express to allow SSDs to use some of the DRAM on PC system, instead of requiring the SSD to bring its own DRAM.
* HMB feature is only supported by Windows 10.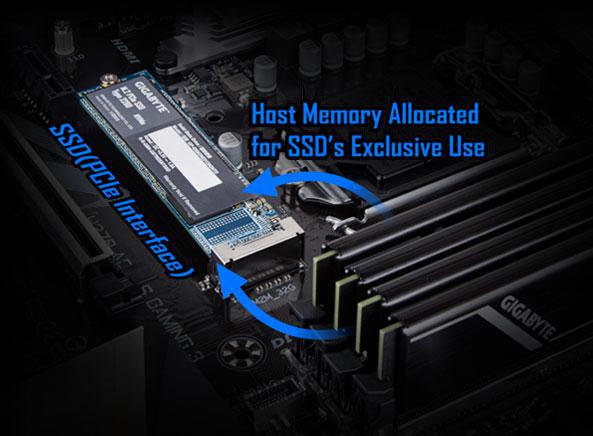 Breaking the barriers of SATA limitations (256GB)
Outstanding performance
GIGABYTE M.2 PCIe SSD provides performance for your daily computing tasks, boast of best controller & NAND flash that provide.

Sequential read speeds up to 1200 MB/s.
Sequential write speeds up to 800 MB/s.

GIGABYTE M.2 PCIe SSD gives you faster data transferring experience compared to 2.5″ SATA solid state drive.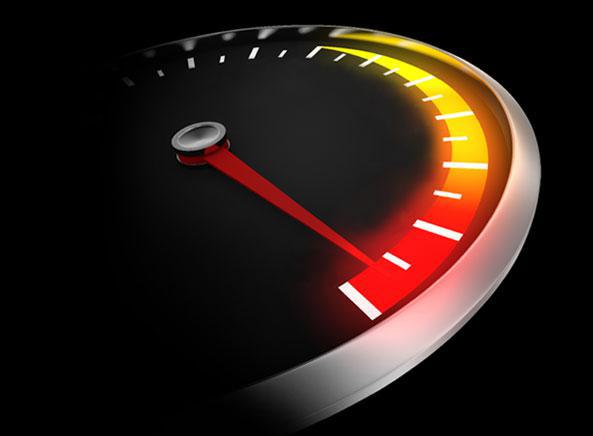 Solid State Drive VS. Traditional Hard Drive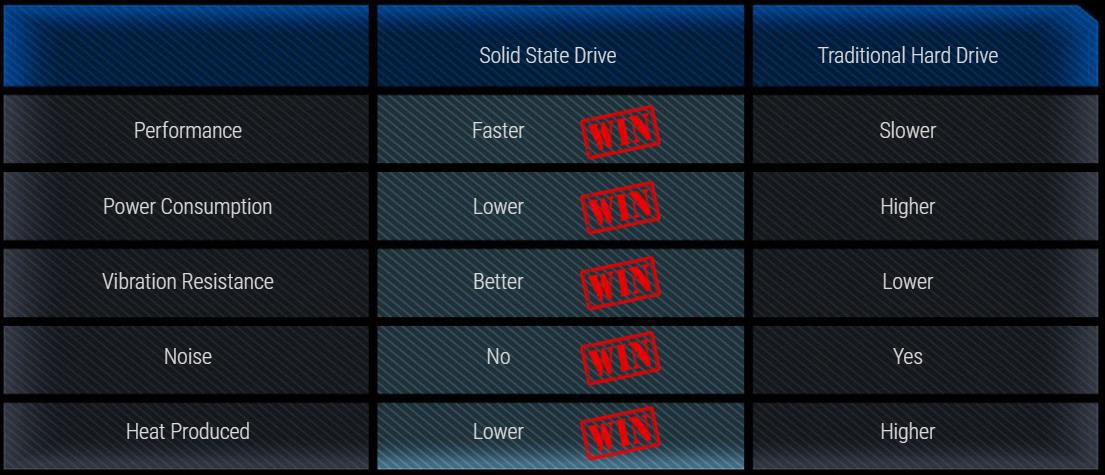 Reliability You Can Trust – 3 Years Limited Warranty
GIGABYTE SSDs possess both high data transferring speed and enhanced endurance, providing durable MTBF* of 1.5 million hours and 3 years or 200 TBW** limited warranty***.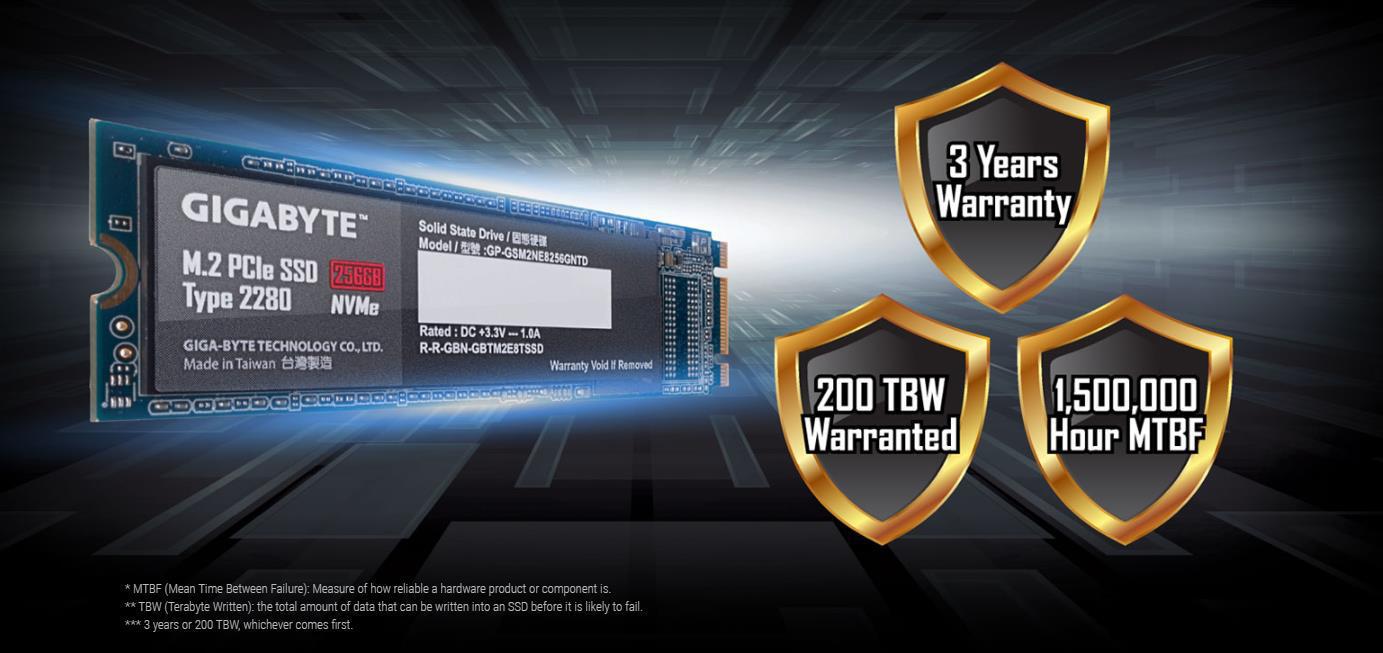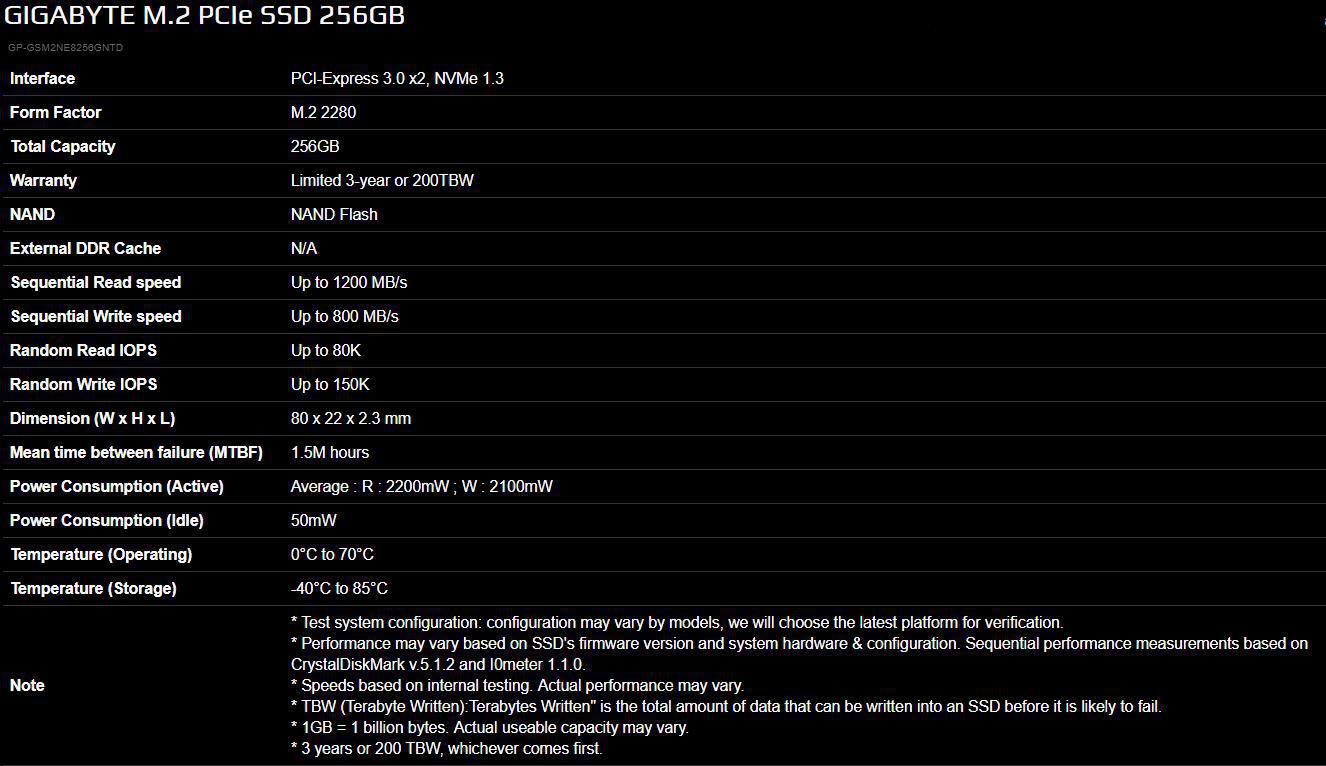 Unboxing & A Closer Look

Gigabyte's new M.2 SSD comes in a black box with a slate blue pattern that almost seems as if you are at warp speed. The capacity is denoted in red in the lower left corner.
The rear of the box has some basic specs in several languages with the UPC label taking up a decent part of the box.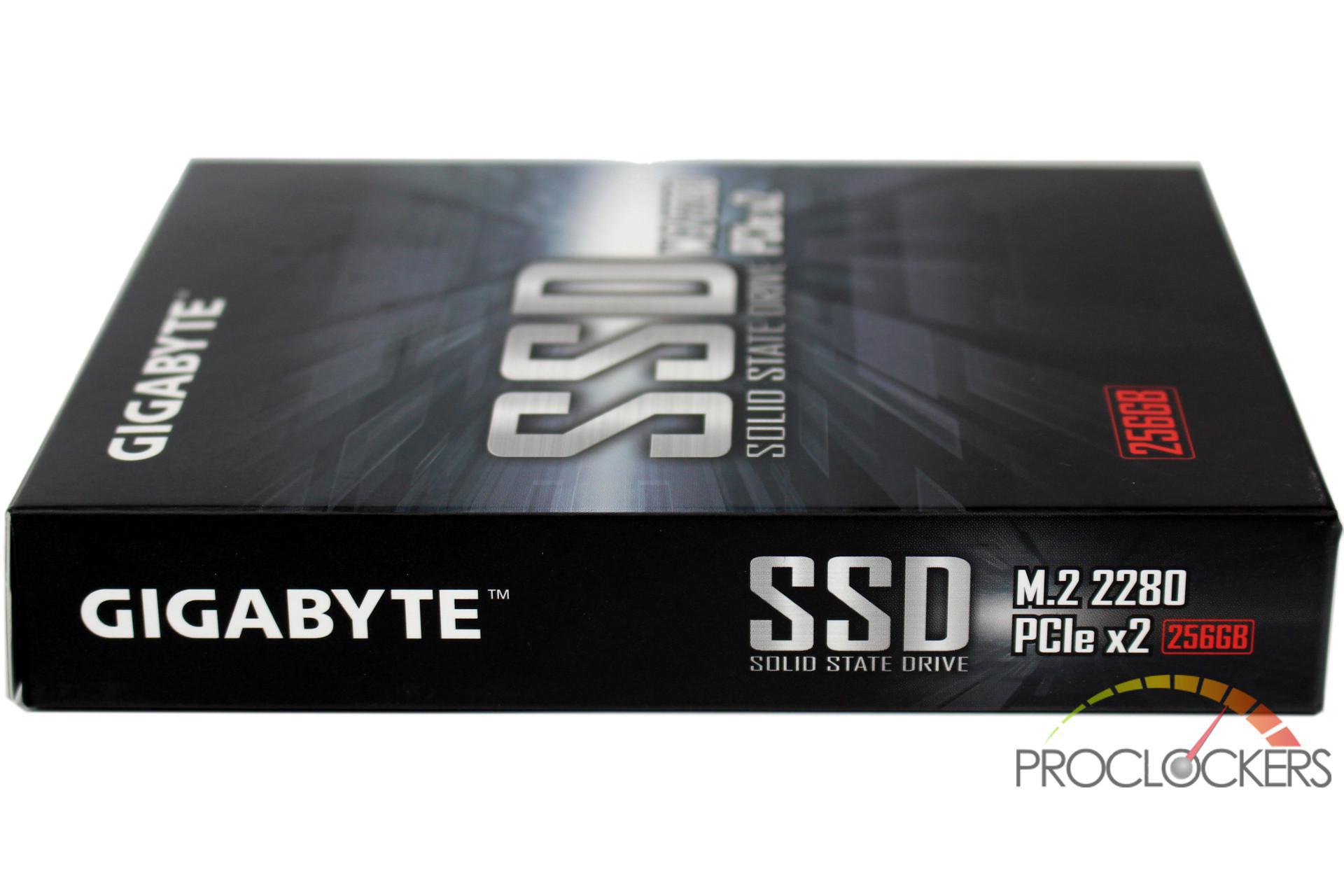 The sides of the box have just the model and capacity along with the Gigabyte logo.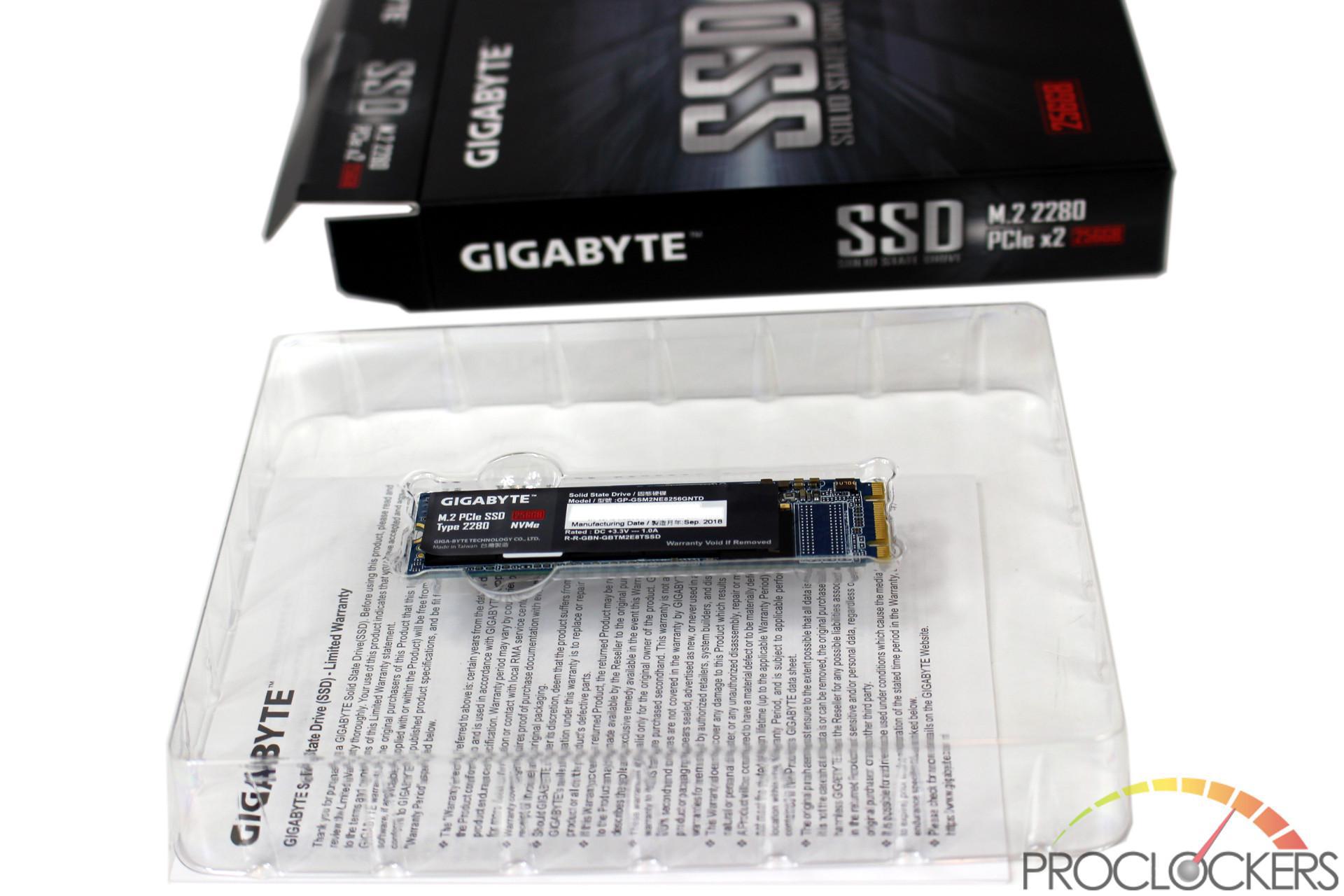 Inside, the drive is centered in a clear plastic tray.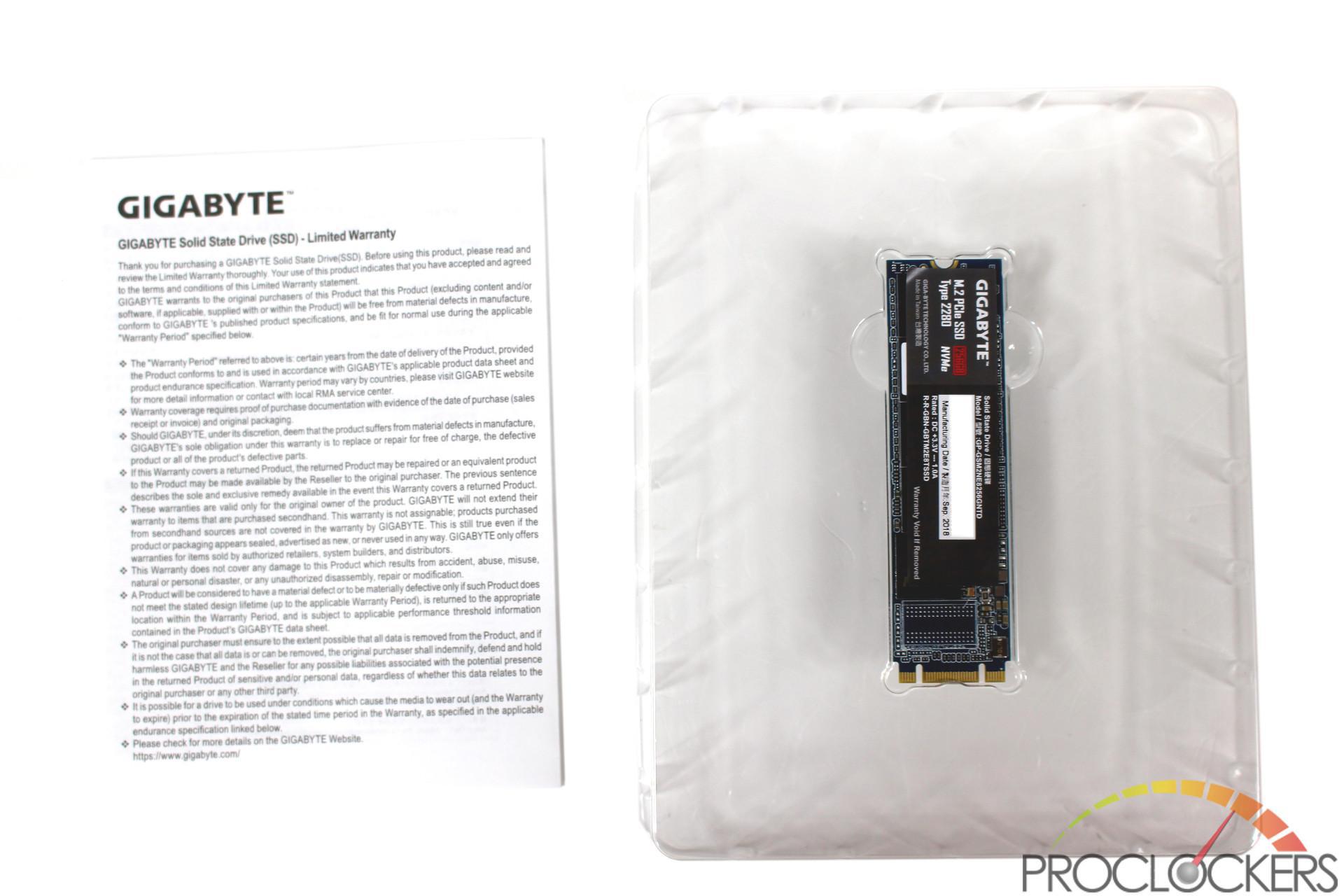 A warranty manual is under the tray.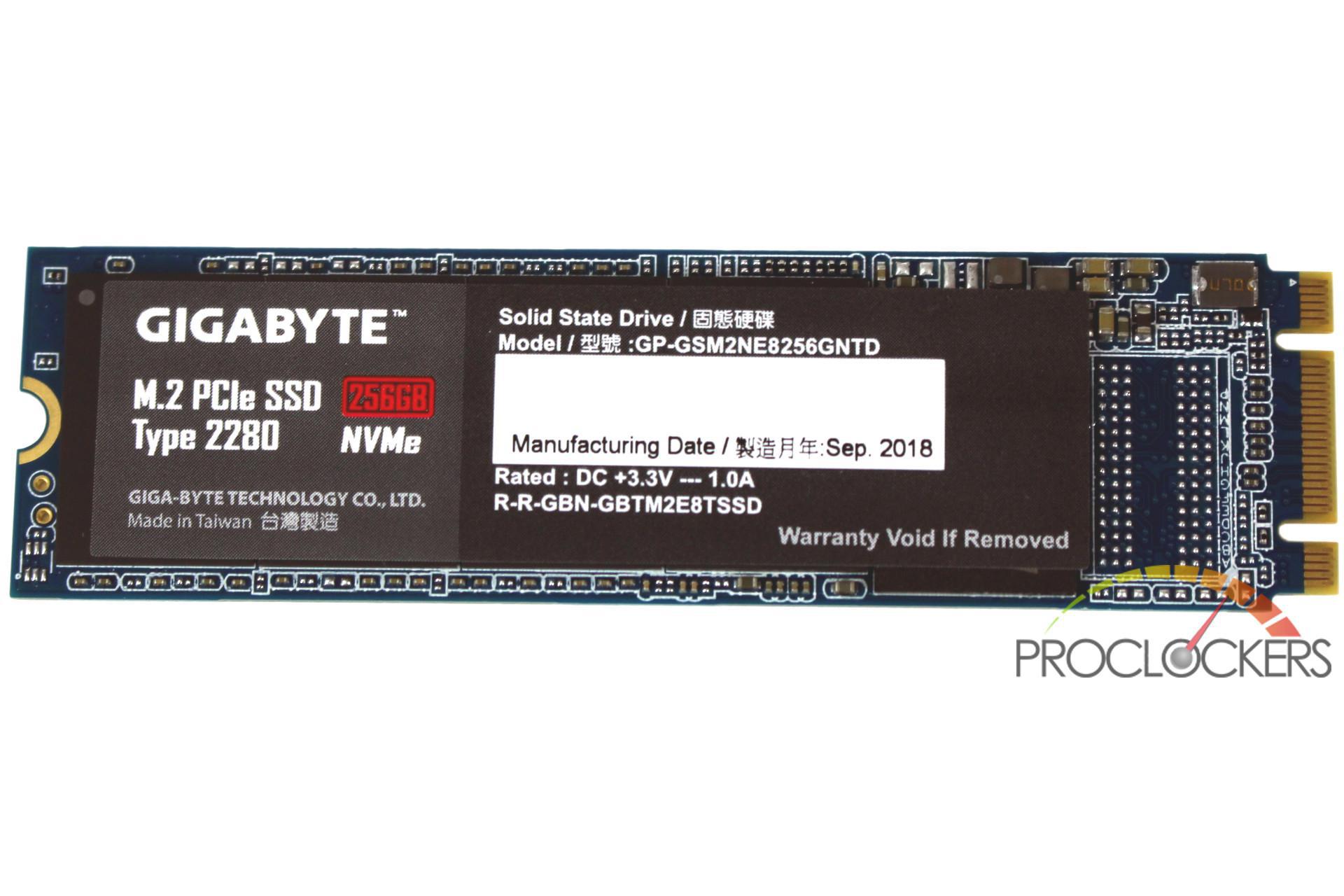 The drive itself is your standard M.2 2280 (22mm wide x 80mm long) B+M key drive meaning it should work in nearly any system that supports PCIe drives. Everything you need to know is on the label, but we have the serial blanked out here.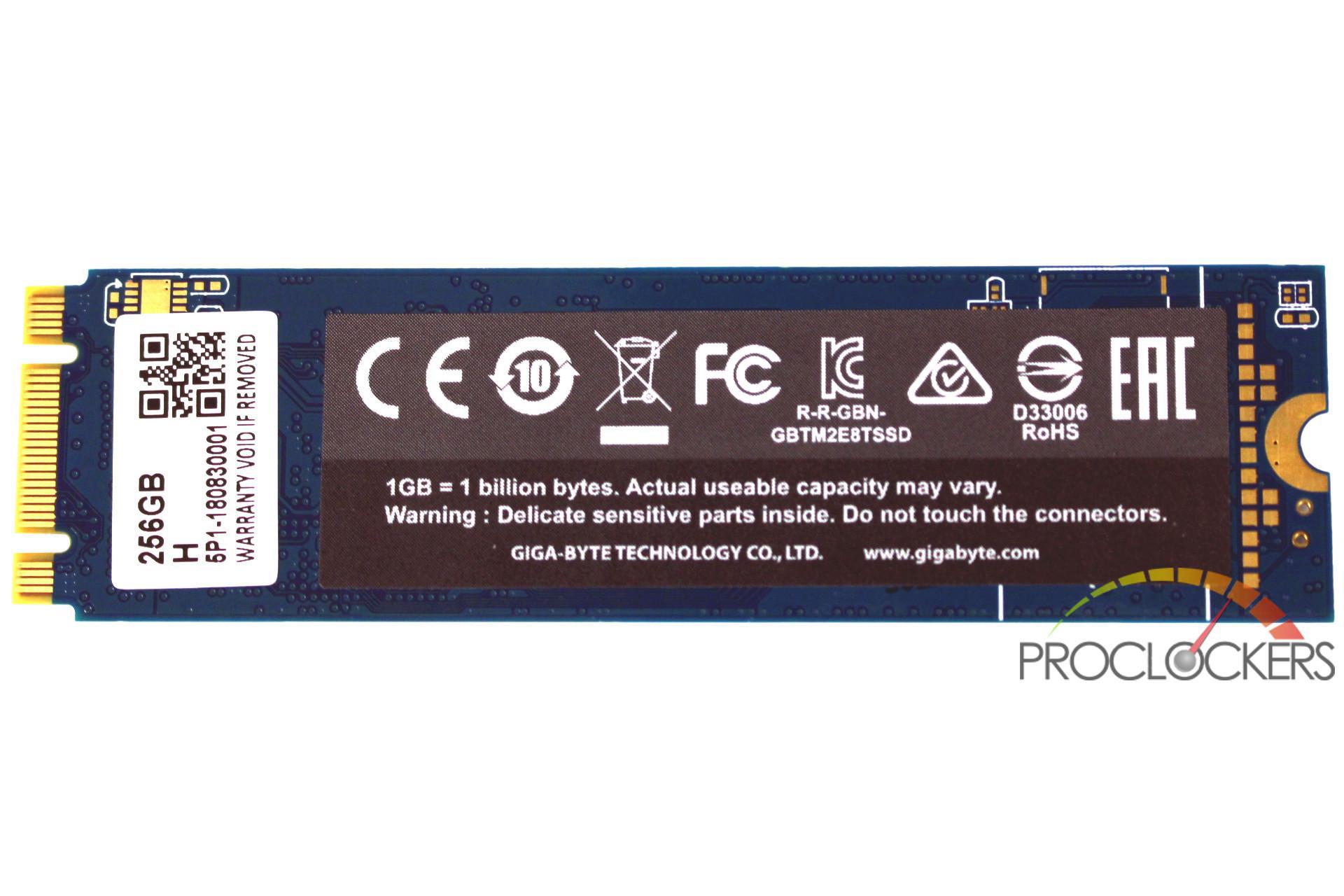 The rear of the drive has a few labels, but no major components.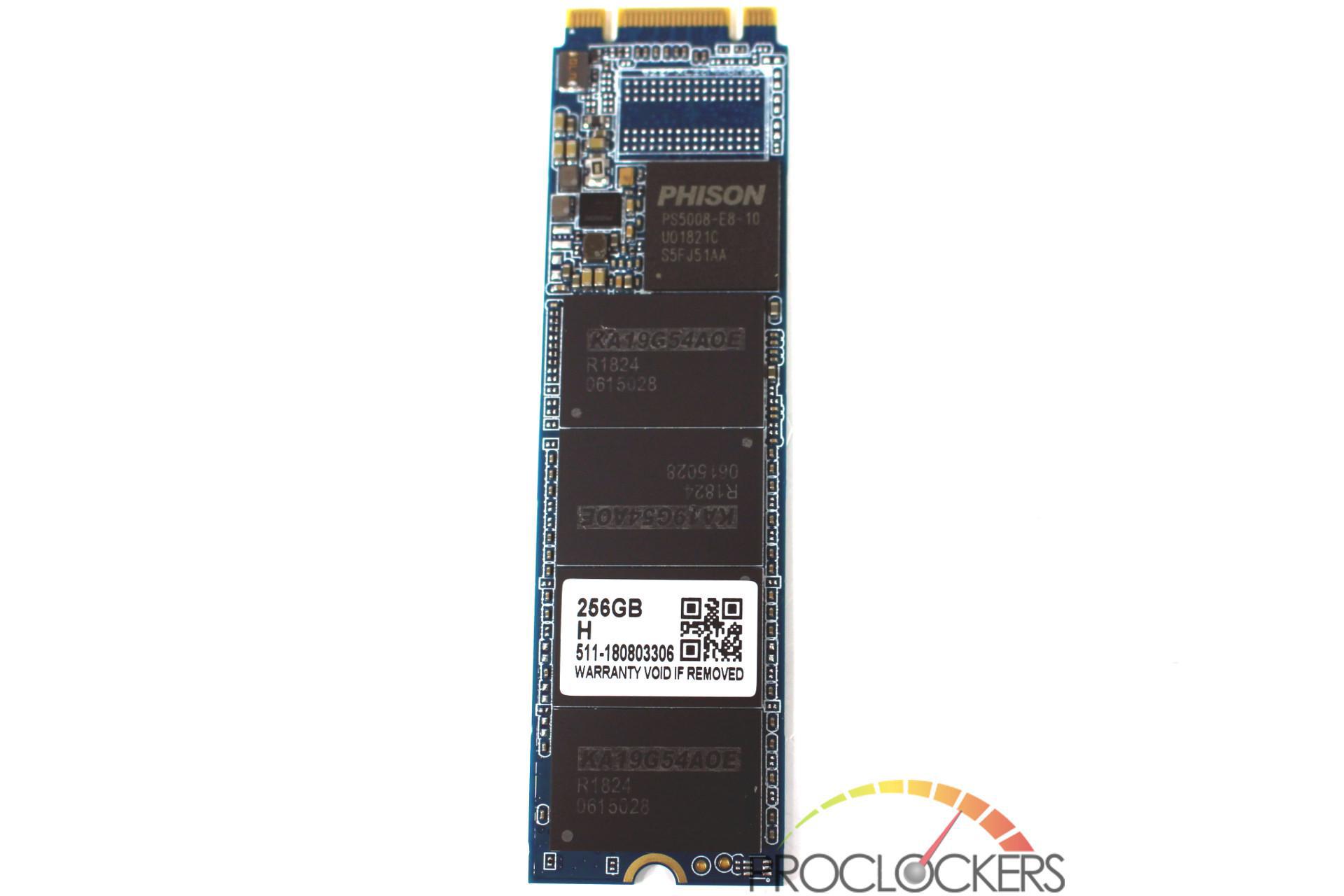 With the main label removed, we find yet another label under in on one NAND flash module. There are 3 other identical modules plus the Phison PS5008-E8 controller. To save money, there is no DRAM cache. To get around this potential impact to performance, Gigabyte has enabled the use of system memory as a cache, known as a Host Memory Buffer.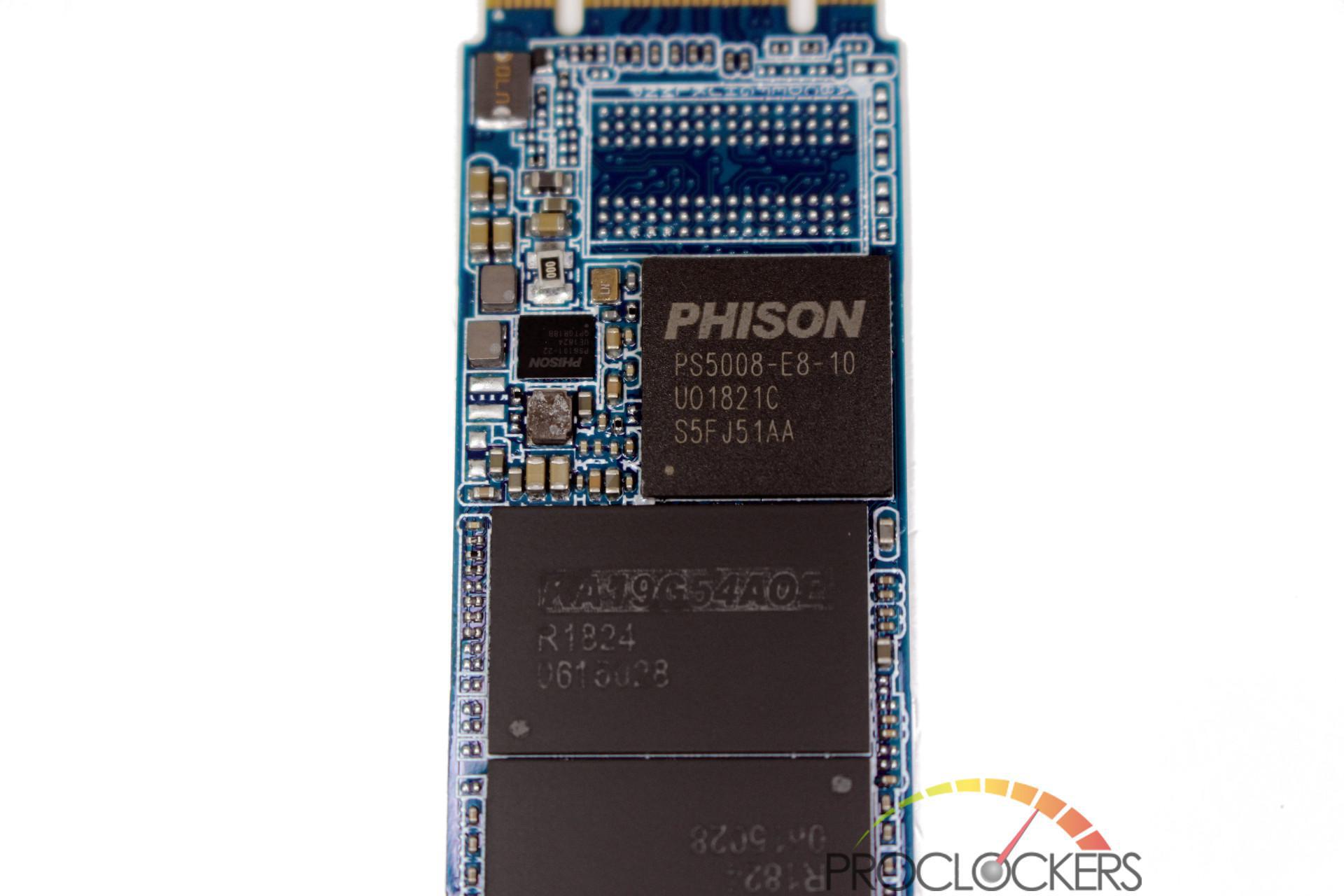 Phison's PS5008-E8 controller is quite popular on the cost-effective SSD scene and is a PCIe x2 device that supports quad channel NAND storage.
System Configuration & Testing
CPU: Intel Core i7-8700K
Motherboard: ASUS ROG Maximus X Apex
RAM: 16GB G.Skill TridentZ RGB 3200Mhz
GPU: Nvidia RTX 2080 FE
Drive: Gigabyte M.2 SSD 256GB
OS: Windows 10 Professional X64
CrystalDiskInfo
A HDD/SSD utility software which supports a part of USB, Intel RAID and NVMe.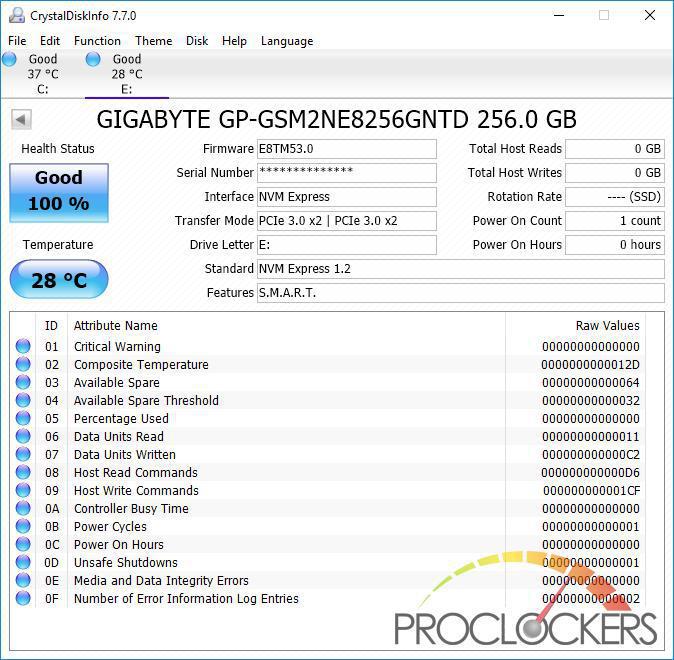 CrystalDiskInfo shows the Drive running on a PCIx 3.0 x2 bus with NVMe Express 1.2.
ATTO Disk Benchmark
"As the industry's leading provider of high-performance storage & network connectivity products, ATTO has created a widely-accepted Disk Benchmark freeware utility to help measure storage system performance. As one of the top tools utilized in the industry, Disk Benchmark identifies performance in hard drives, solid state drives, RAID arrays as well as connections to storage. Top drive manufacturers, like Hitachi, build and test every drive using the ATTO Disk Benchmark"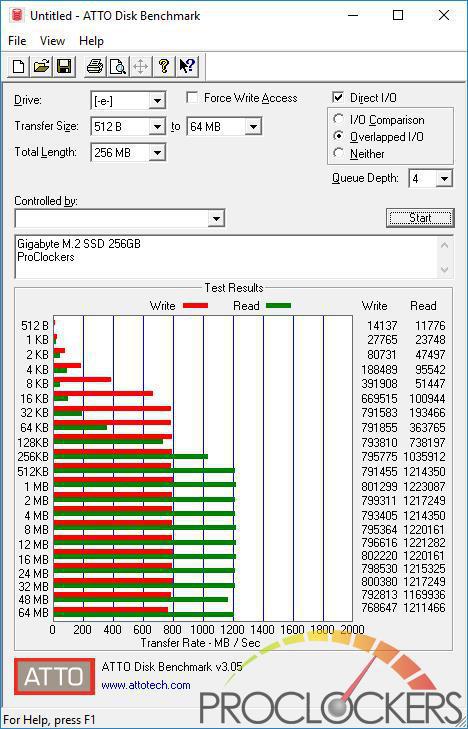 Atto gives us a bullseye on the rated 1200MB/s reads and 800MB/s writes, off to a good start!
CrystalDiskMark 6.0
"CrystalDiskMark is designed to quickly test the performance of your hard drives. Currently, the program allows measuring sequential and random read/write speeds."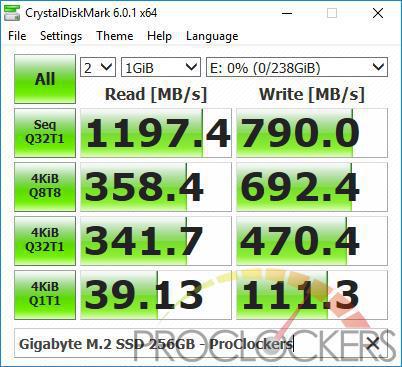 CrystalDiskMark gives us the rated sequential speeds as expected, but manages some pretty nice 4K scores as well, even more so on the write side. This is likely thanks to the Host Memory Buffer more so that the drive.
Anvil's Storage Utilities
Anvil's Storage Utilities is a powerful tool that was designed in order to provide you with a simple means of assessing the read and write performance of your Solid State Drive or Hard Disk Drive.
The benchmark tool helps you monitor and check the response time of your unit as well as view the system information collected using Windows Management Instrumentation (WMI).
Anvil's Storage Utilities has been designed to be the most comprehensive benchmark tool for Solid State Drives on the market. That does not mean that you can't use it for conventional platter-based drives as well, but you do get the most out of the program when you test the speed and performance of SSDs with it. The program has gone through a series of beta and release candidate builds already and is currently available as Release Candidate 3. It is usually linked from this forum thread, which currently is not the case for the RC build which you can download here directly. You can't use previous builds as they are set to expire automatically.
You can run a benchmark right away by selecting a drive from the menu at the top right or check out the settings first to make sure everything is configured correctly here. Here you can simulate a compression level of the test file, e.g. database, application or uncompressed, and whether you'd like to use the same test file on consecutive runs or generate a new one every time. As far as benchmarks go, you can run a standard SSD benchmark that is testing read, write, or both performances of the drive, or run threaded IO benchmarks only.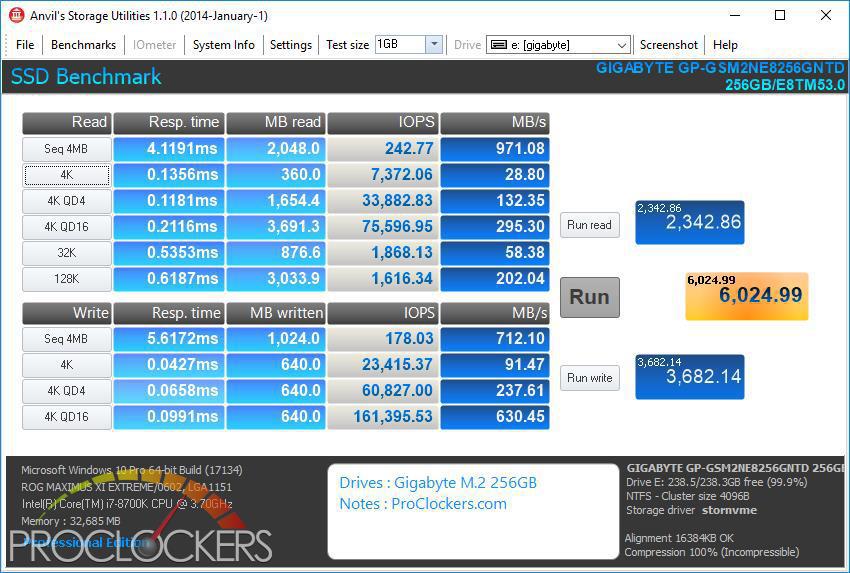 Anvil shows a little low on the sequential speeds but pretty close to the 80K read and 150K write IOPS specified.
AS SSD
The AS SSD benchmark determines the performance of Solid State Drives (SSD). The tool contains six synthetic and three copy tests.
The synthetic tests determine the sequential and random read and write performance of the SSD. These tests are carried out without using the operating system cache. In Seq-test the program measures how long it takes to read a 1 GB file to write respectively. 4K test the read and write performance is determined at random 4K blocks. The 4K-64 corresponds to the test Third 4K procedure except that the read and write operations are distributed to 64 threads. This test should SSDs pose with Native Command Queuing (NCQ), differences between the IDE operation mode where NCQ is not supported, and the AHCI mode. The additional compression test can measure the power of the SSD in response to the compressibility of the data. This is especially for the controllers that use to increase the performance and life of the cell compression, important.
In the first three synthetic tests and the compression test, the size of the test file 1 GB. Finally, the access time of the SSD is calculated, wherein the access to read over the entire capacity of the SSD (Full Stroke) is determined. The write access test, however, is done with a 1 GB big test file.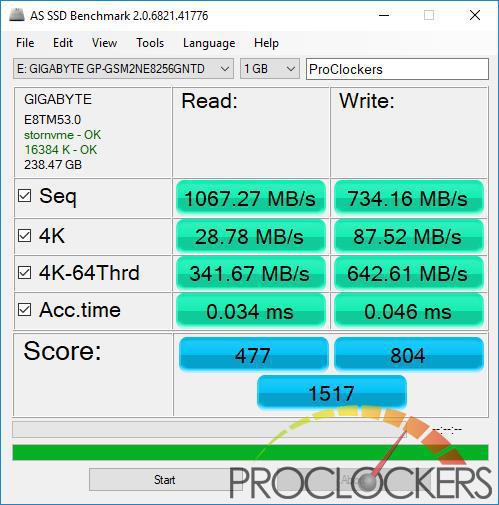 AS SSD uses a little different testing method but shows really close to rated speeds.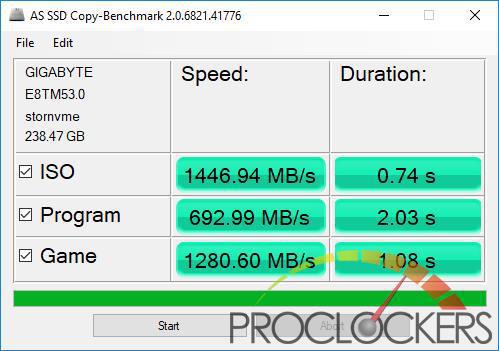 The copy benchmarks actually come in quite a bit faster than we expected.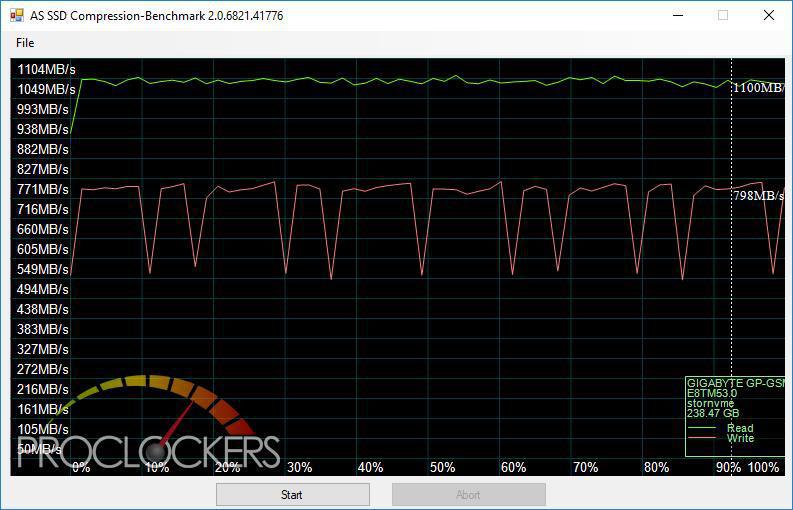 On the compression segment, we see sustained read performance reasonably close to rated read speeds. Write performance is close as well, but we see what we would take as cache cycling if we didn't know better. It appears our Host Memory Buffer mapping table could stand to be a just a bit bigger although most users probably won't be slamming the drive with sustained writes very often.
Final Thoughts & Conclusion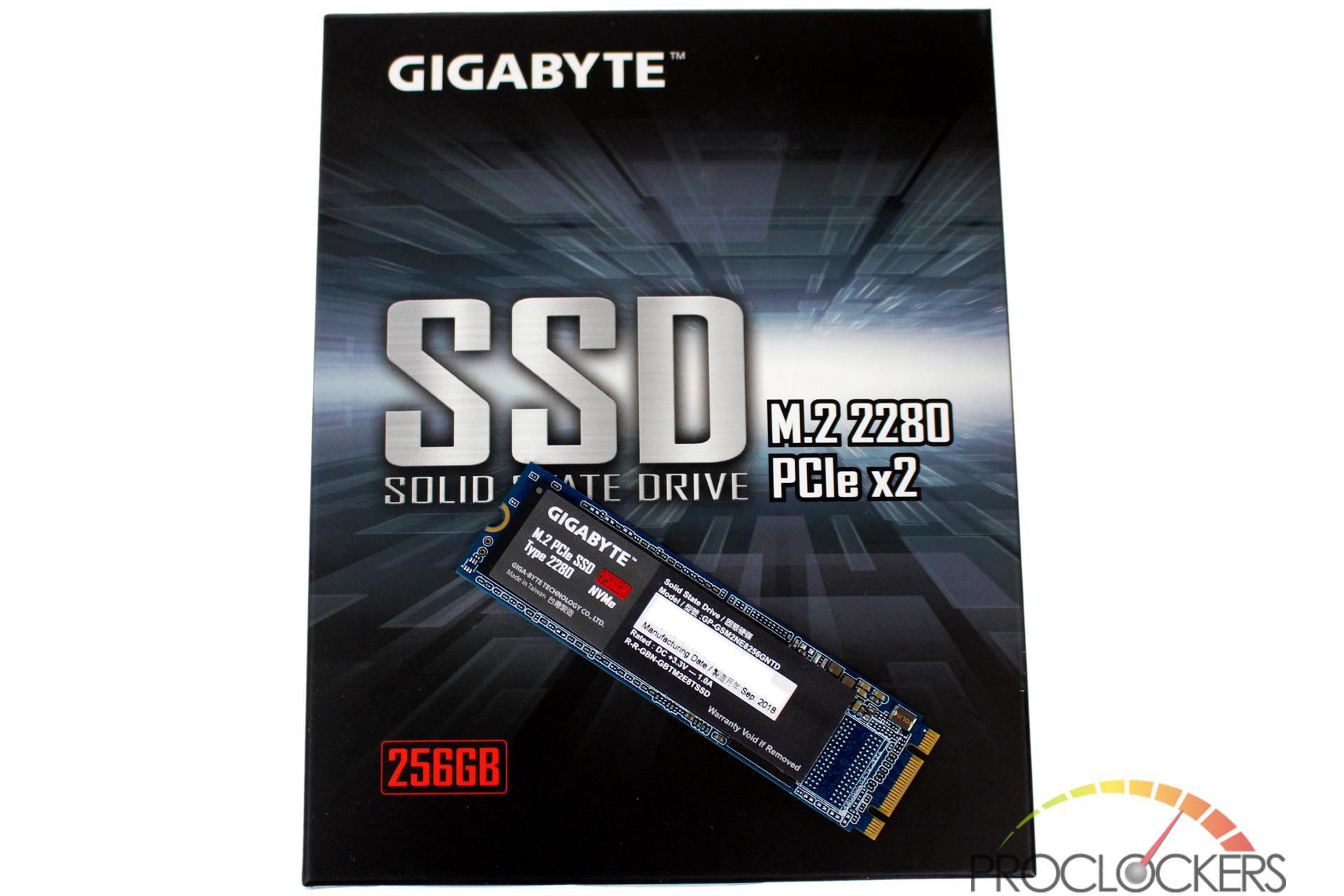 Gigabyte's first jump into the NVMe SSD world appears to be a cost-effective but still highly capable option for those who love to keep their brand list to a minimum. With a street price of $70 for the 256GB version tested here, it's pretty hard to even look at SATA SSD's. For about $10 more than Gigabytes own 256GB UD Pro SATA drive, you get more than double the performance. The M.2 form-factor certainly has its benefits too, no cables, no mounting locations, no limitations. All you need is an open M.2 slot in your desktop, laptop, or small form factor PC and you are golden. With capacities ranging from 128GB to 512GB, Gigabyte has you covered from top to bottom.

<![CDATA[ */ var zbjs = {"ajaxurl":"https:\/\/gaminggorilla.com\/wp-admin\/admin-ajax.php","md5":"d8e8b24d2fa18d2999e0fddcdd418586","tags":[],"categories":["Hardware"]}; /* ]]>