Gigabyte X570 AORUS Pro WIFI Motherboard Review
Introduction
With AMD releasing their 3rd generation of Ryzen processors and the new X570 chipset, each manufacturer will release their new lineup of boards. Gigabyte has done this by continuing its AORUS lineup we saw with Intel's Z390 chipset, which includes boards at all price points like the AORUS Elite, AORUS Pro, AORUS Pro WIFI, AORUS Ultra, AORUS Master, and the AORUS Xtreme.
For users looking for an AORUS motherboard, your choice will depend on what high-end features you are looking for. Someone not looking for additional armor, three M.2 slots, or more advanced network connectivity may look at the X570 AORUS Pro WIFI which provides a little bit of everything. The AORUS Pro WIFI features a 12+2 phase digital VRM solution, dual NVMe PCIe 4.0/3.0 x4 M.2 slots, Intel WIFI 6 802.11ax, Intel Gigabit LAN, Integrated rear I/O Shield, and ALC1220-VB Audio IC. Being that the AORUS Pro WIFI sits in the middle of the AORUS lineup of motherboards, it remains quite affordable at an MSRP of $269.
ProClockers would like to thank Gigabyte for sending us the X570 AORUS Pro WIFI to review.
Gigabyte Take on X570 AORUS Pro WIFI
Features:
Supports AMD 3rd Gen Ryzen™/ 2nd Gen Ryzen™/ 2nd Gen Ryzen™ with Radeon™ Vega Graphics/ Ryzen™ with Radeon™ Vega Graphics Processors
Dual Channel ECC/ Non-ECC Unbuffered DDR4, 4 DIMMs
12+2 Phases IR Digital VRM Solution with PowIRstage
Advanced Thermal Design with Fins-Array Heatsink and Direct Touch Heatpipe
Dual Ultra-Fast NVMe PCIe 4.0/3.0 x4 M.2 with Dual Thermal Guards
Intel® WiFi 6 802.11ax 2T2R & BT 5
ALC1220-VB Enhance 114dB(Rear)/ 110dB(Front) SNR in Microphone with WIMA Audio Capacitors
Intel® Gigabit LAN with cFosSpeed Internet Accelerator Networking
RGB FUSION 2.0 with Multi-Zone Addressable LED Light Show Design, Supports Addressable LED & RGB LED Strips
Smart Fan 5 features Multiple Temperature Sensors, Hybrid Fan Headers with FAN STOP
Front & Rear USB 3.2 Gen2 Type-C™ Header & HDMI 2.0 support
Integrated I/O Shield Armor
Q-Flash Plus update BIOS Without Installing CPU, Memory and Graphics card
Features & Specifications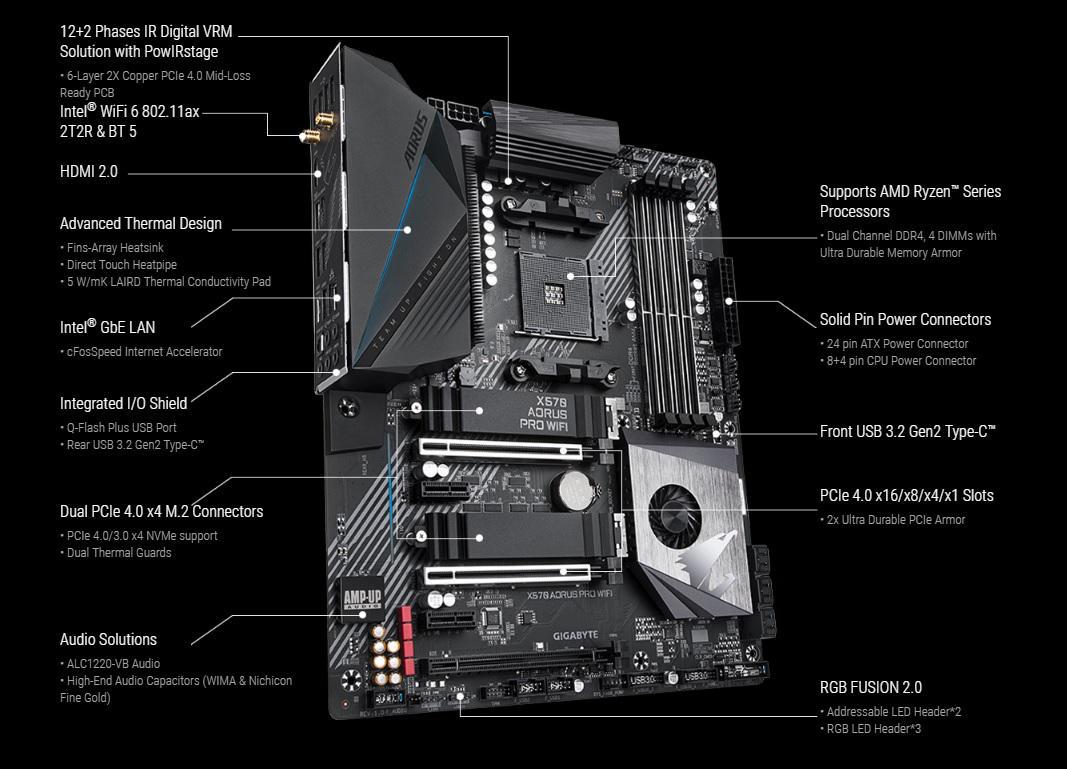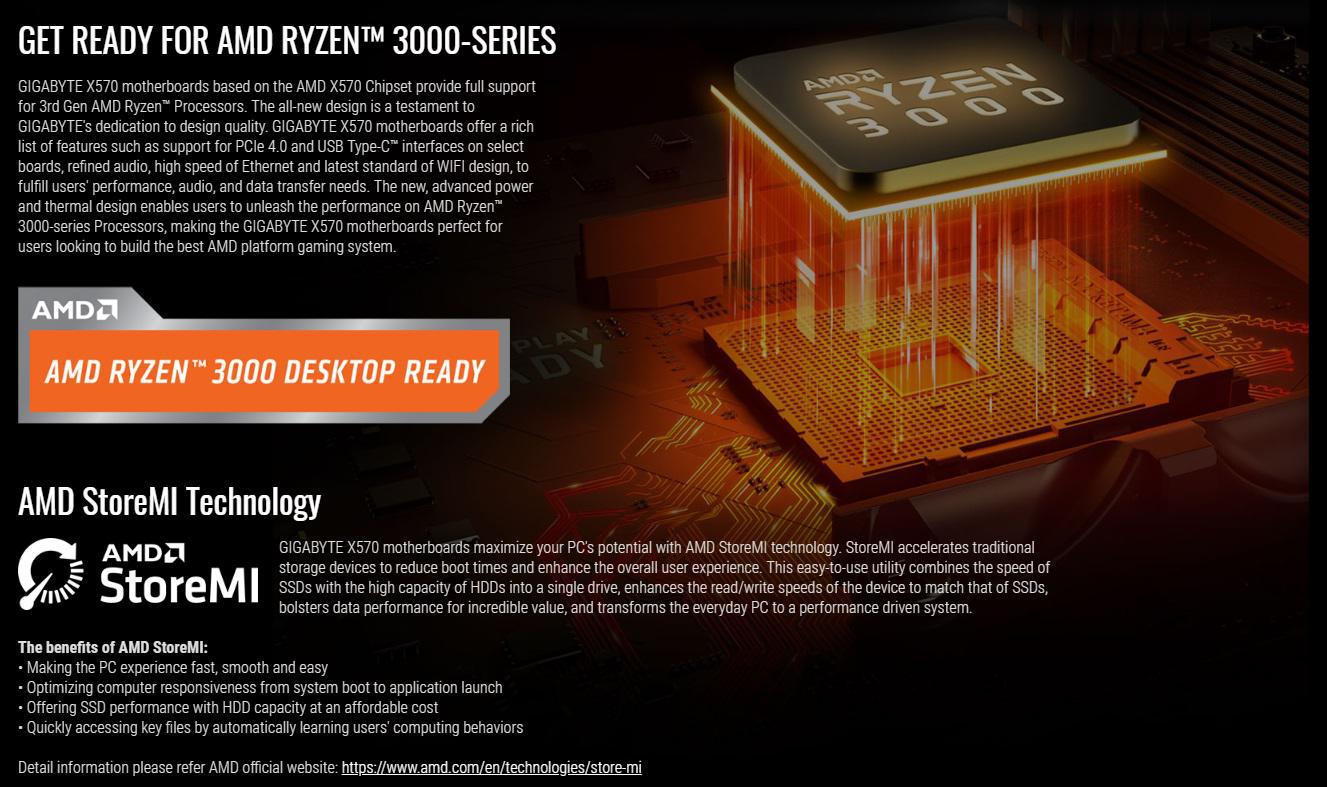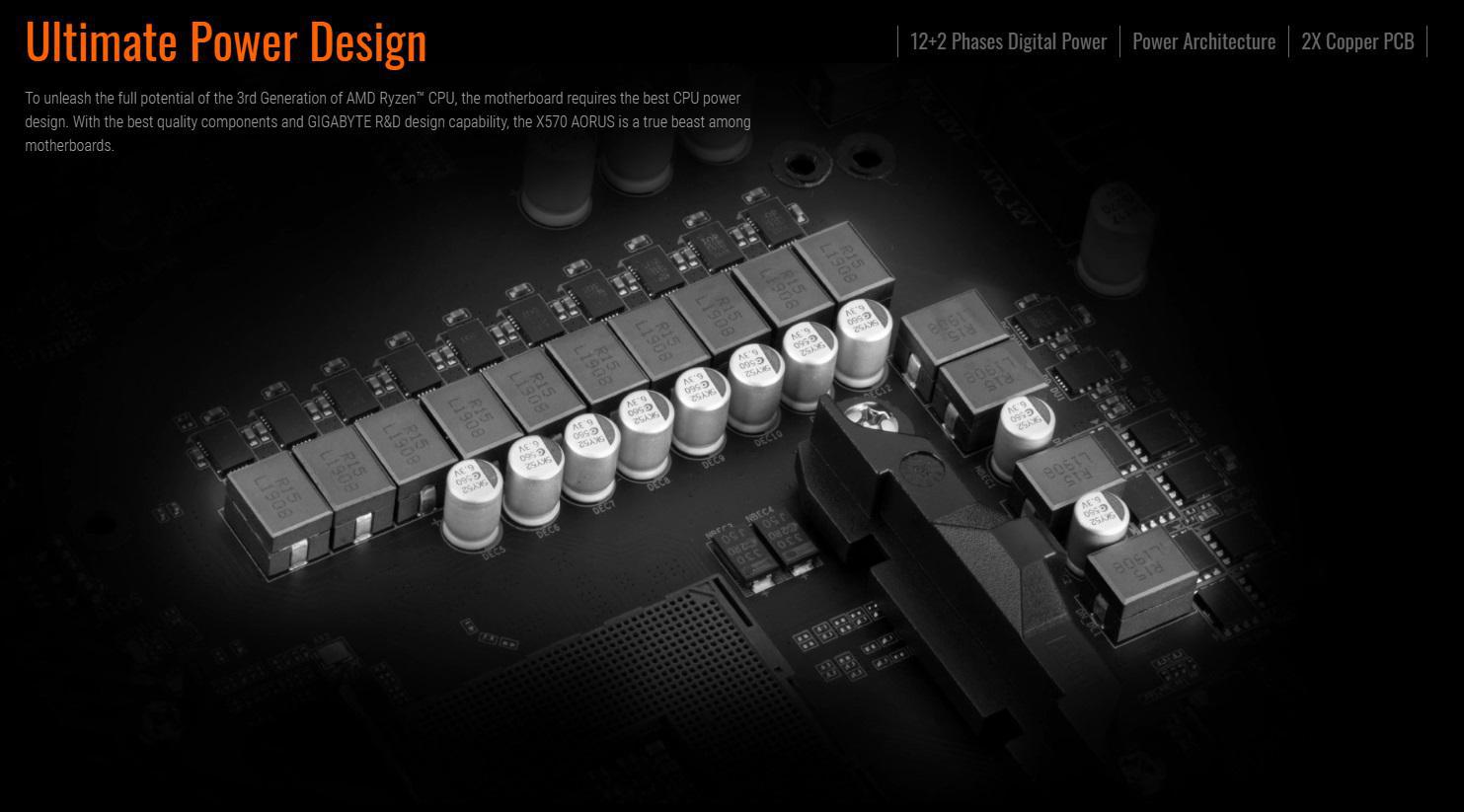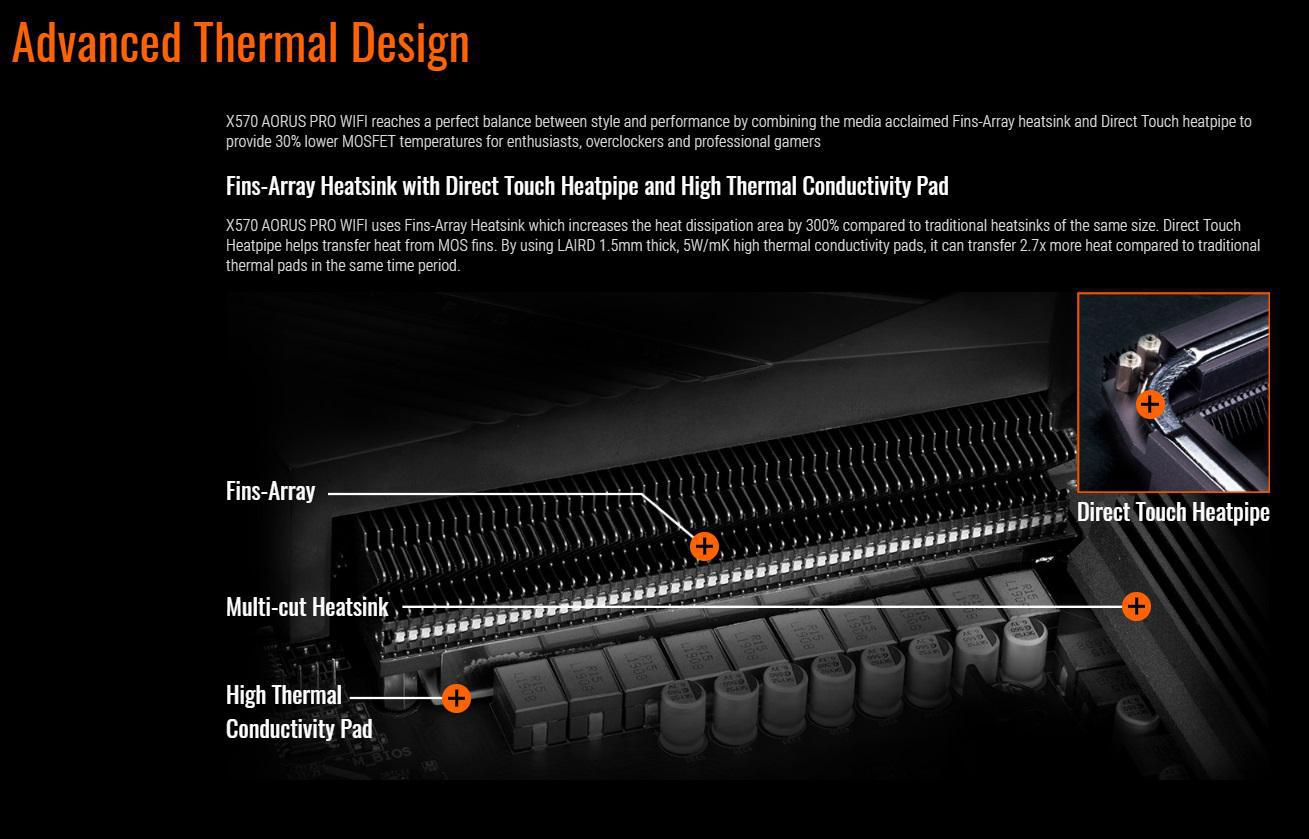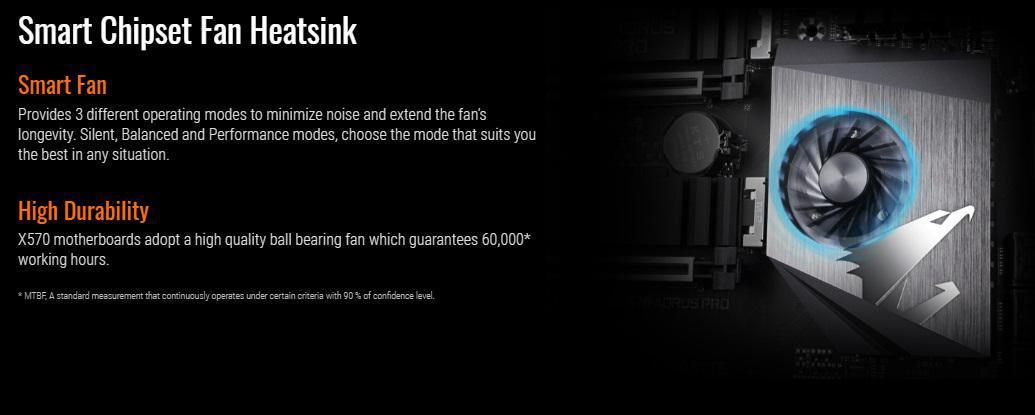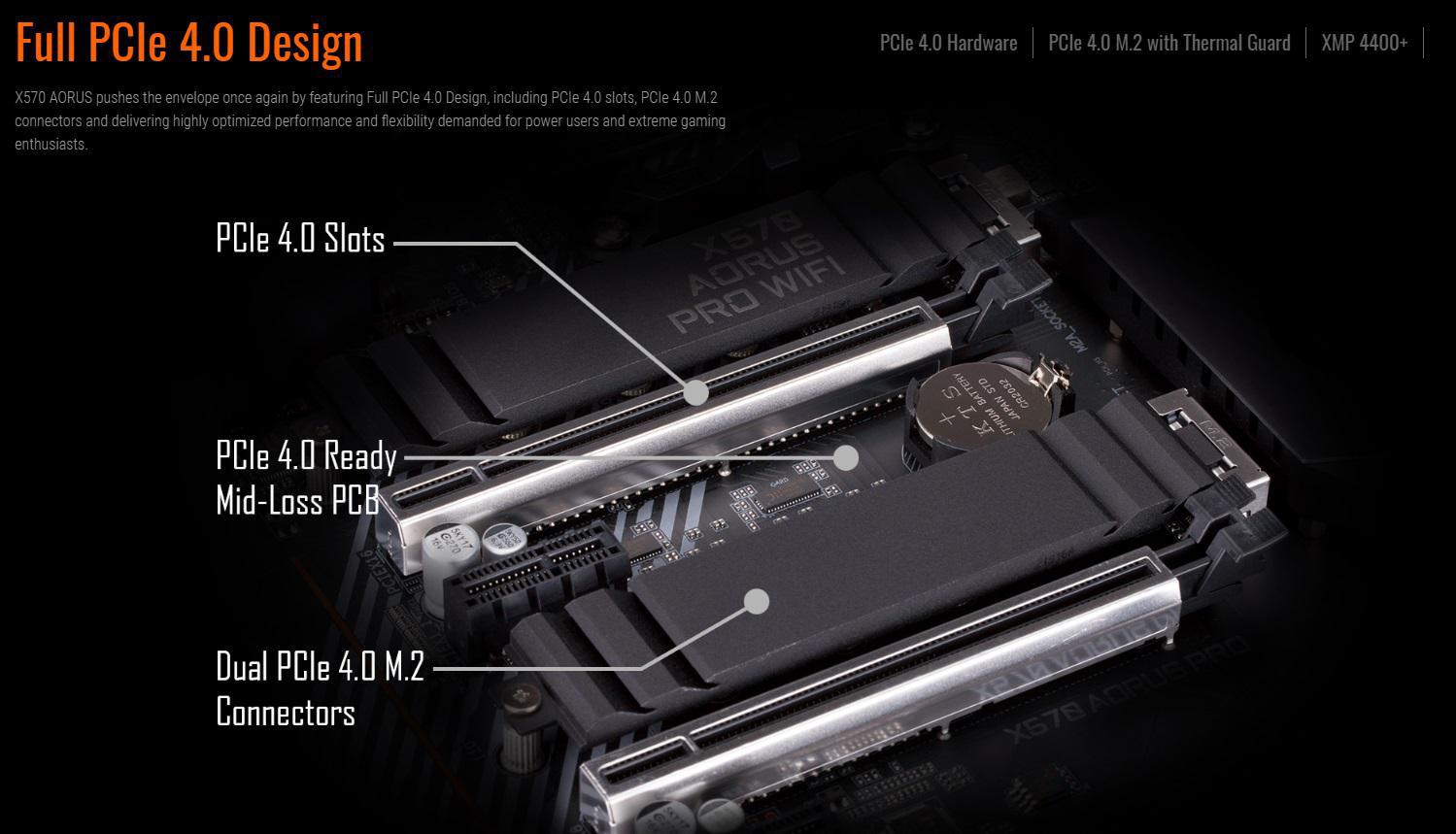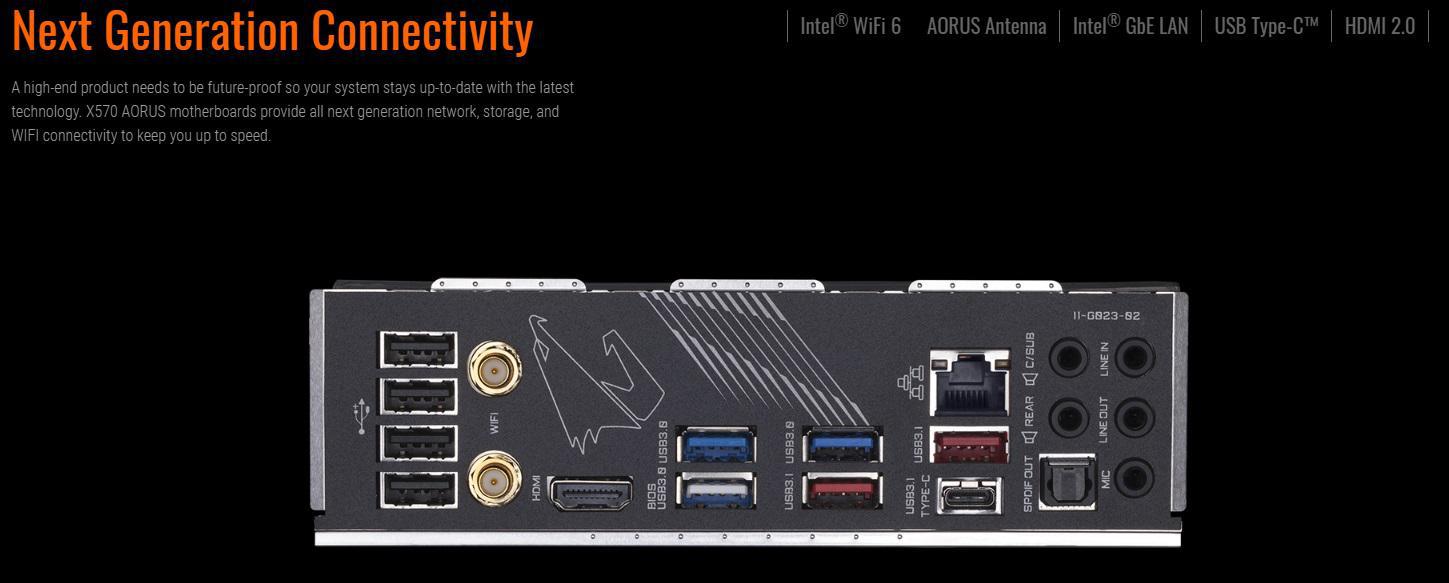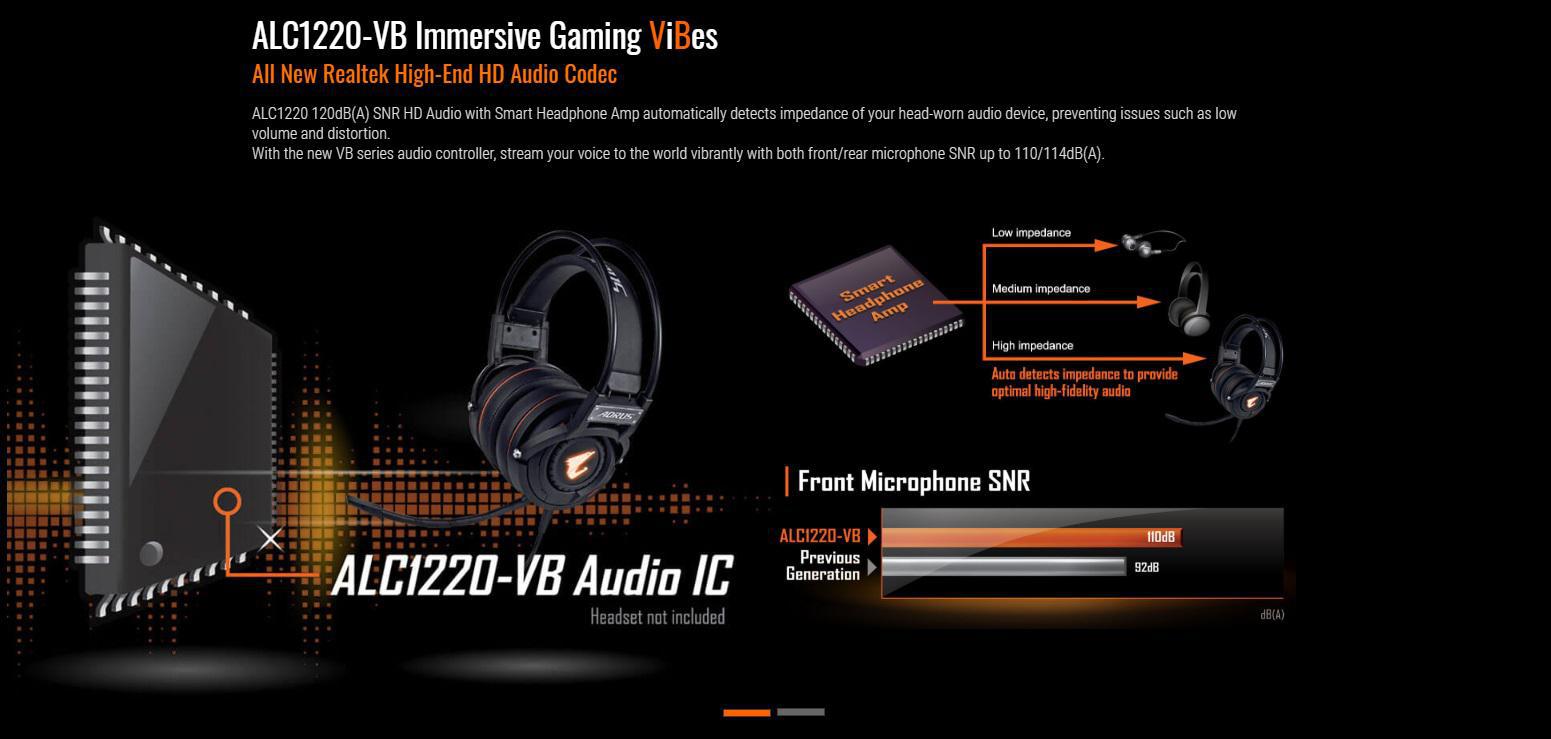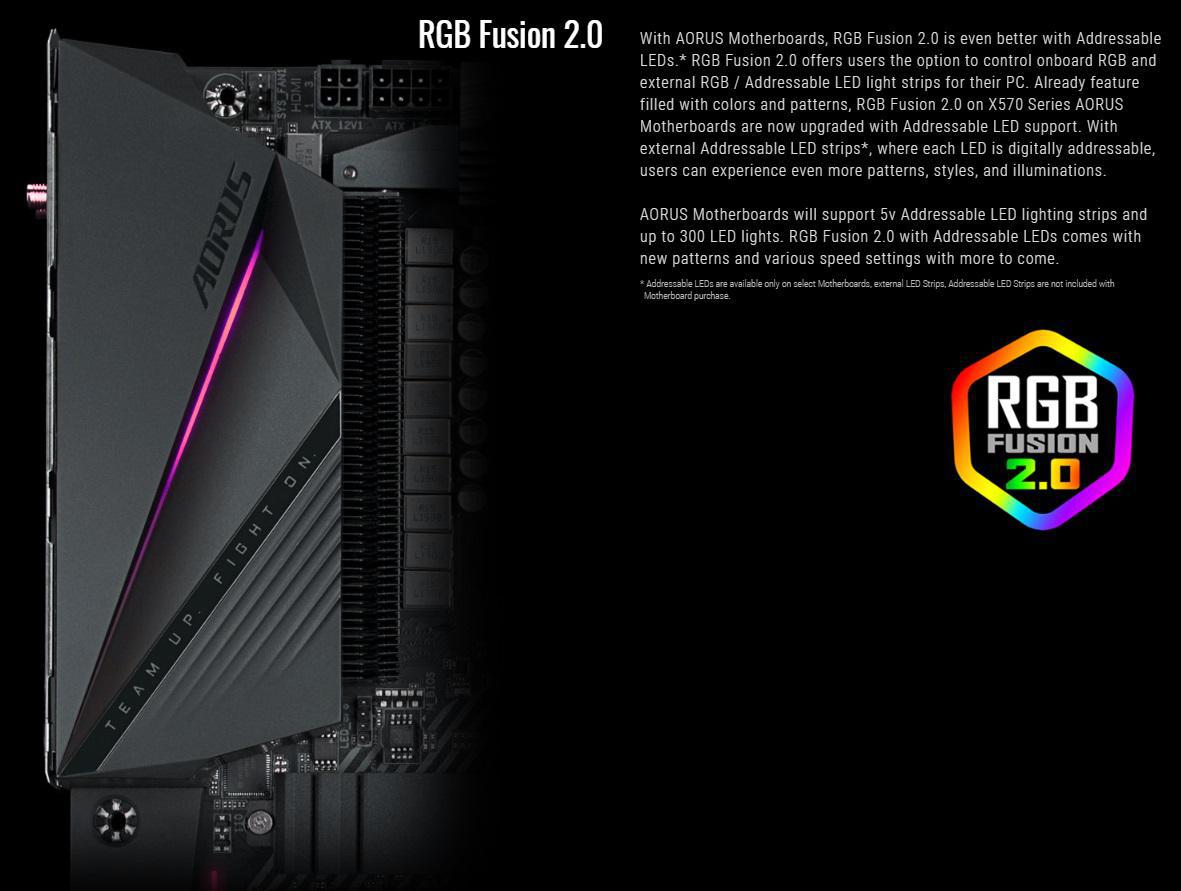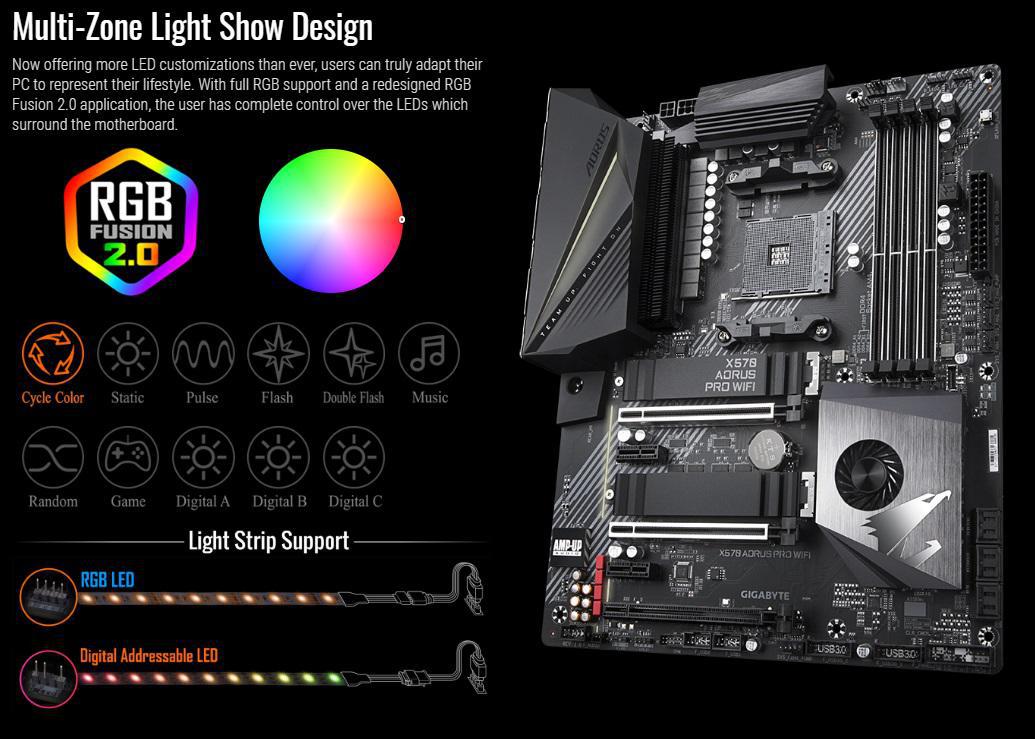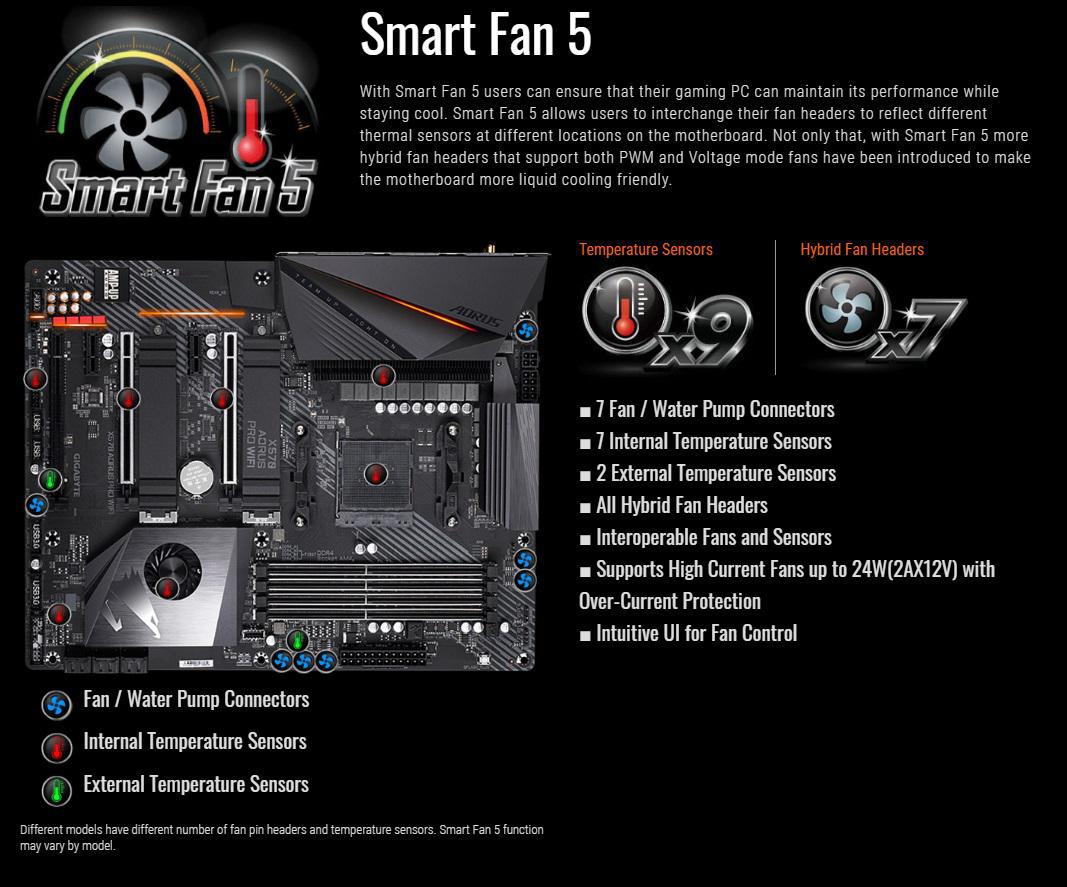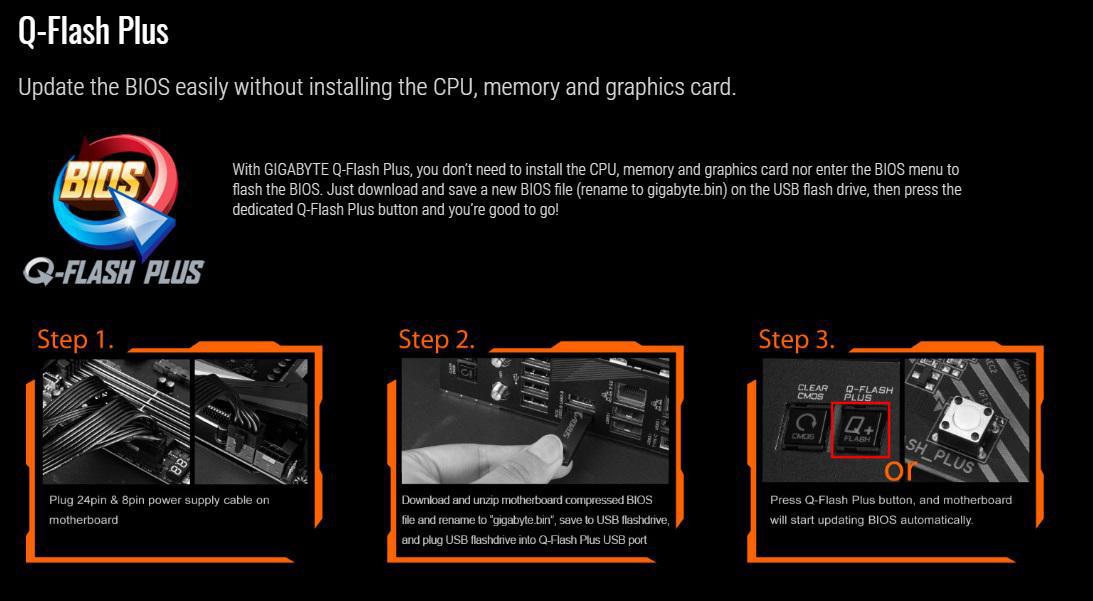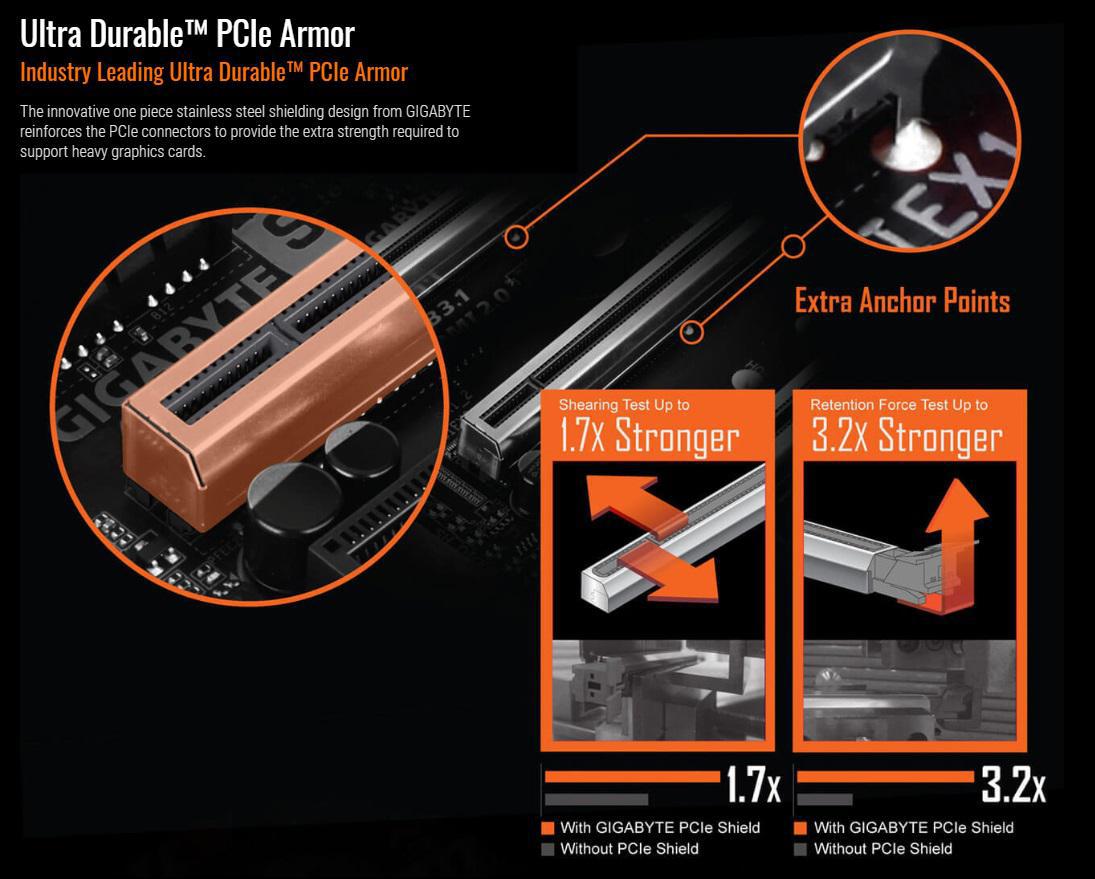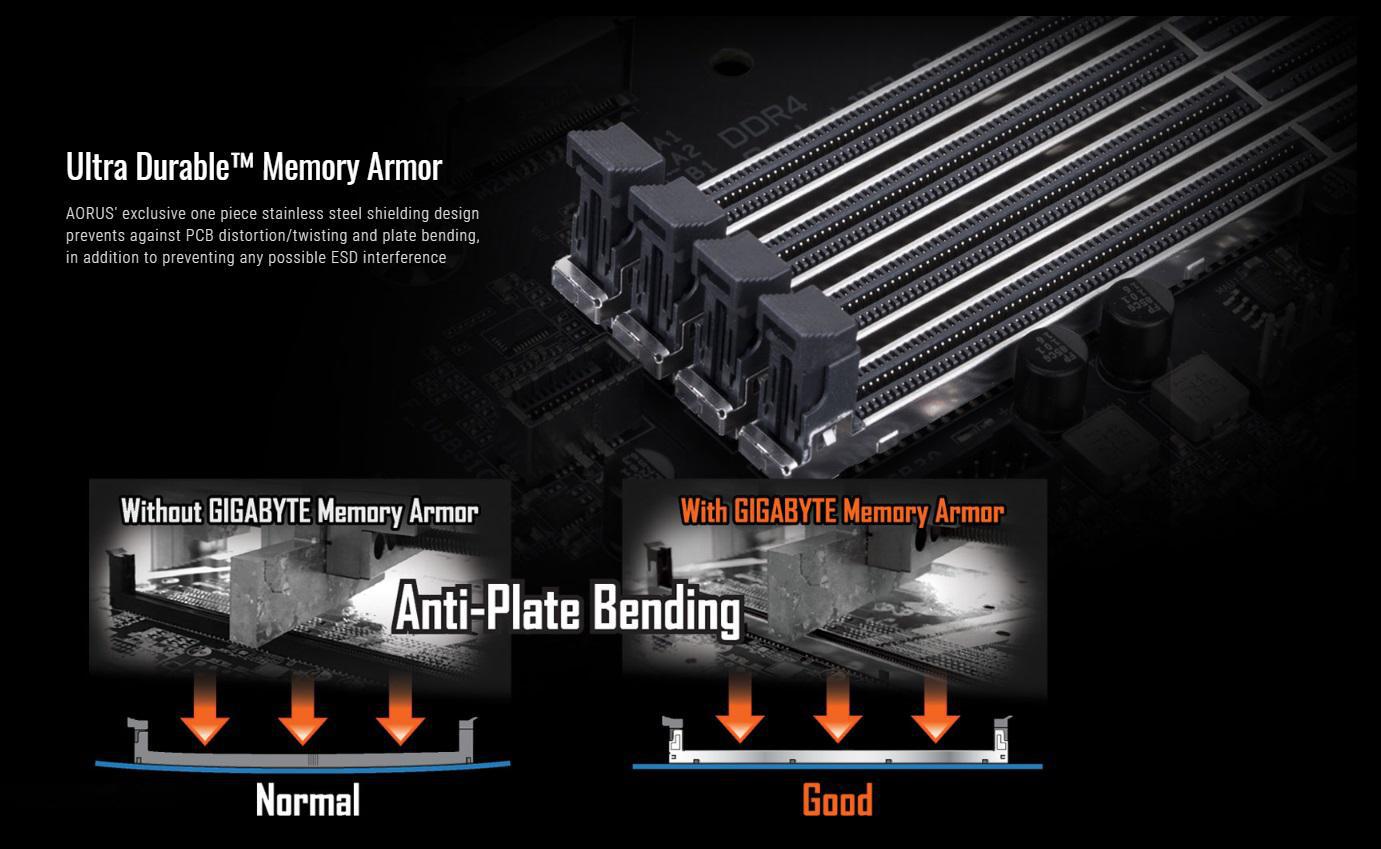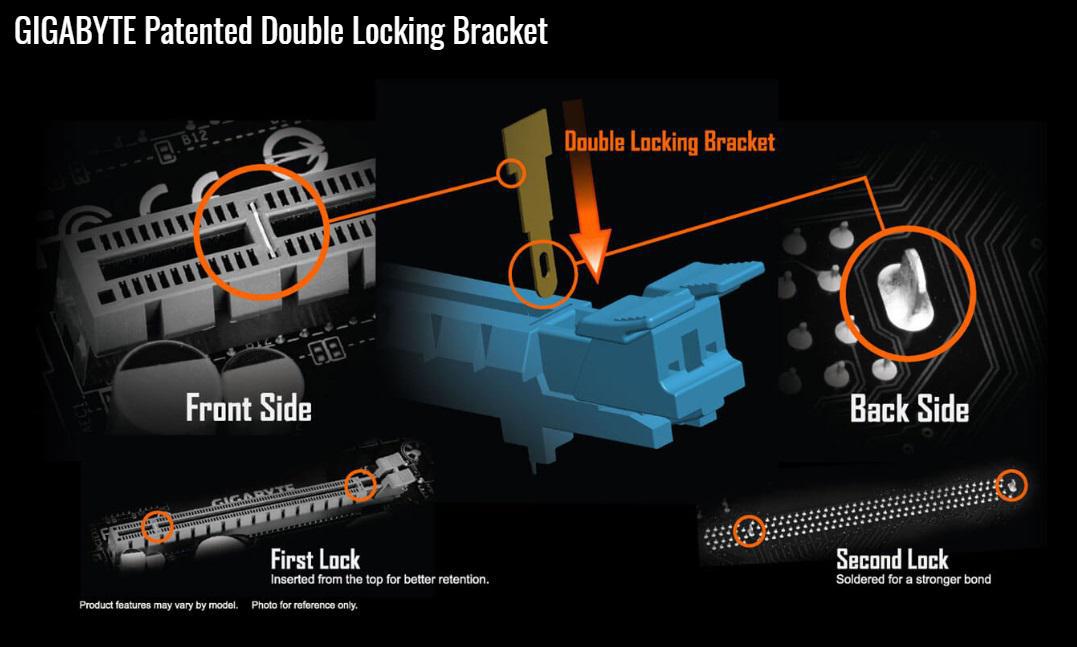 Packaging & Unboxing
The X570 AORUS Pro WIFI is packaged in a black box with orange and silver accents. On the front of the box, we have a large AORUS logo taking up most of the box and in the lower left are some listed features. These features include:
AMD Ryzen 3000 Desktop Ready
12 + 2 Digital Power Phases
WIFI 6 Ready
PCIe 4.0 Ready
RGB Fusion 2.0 compatible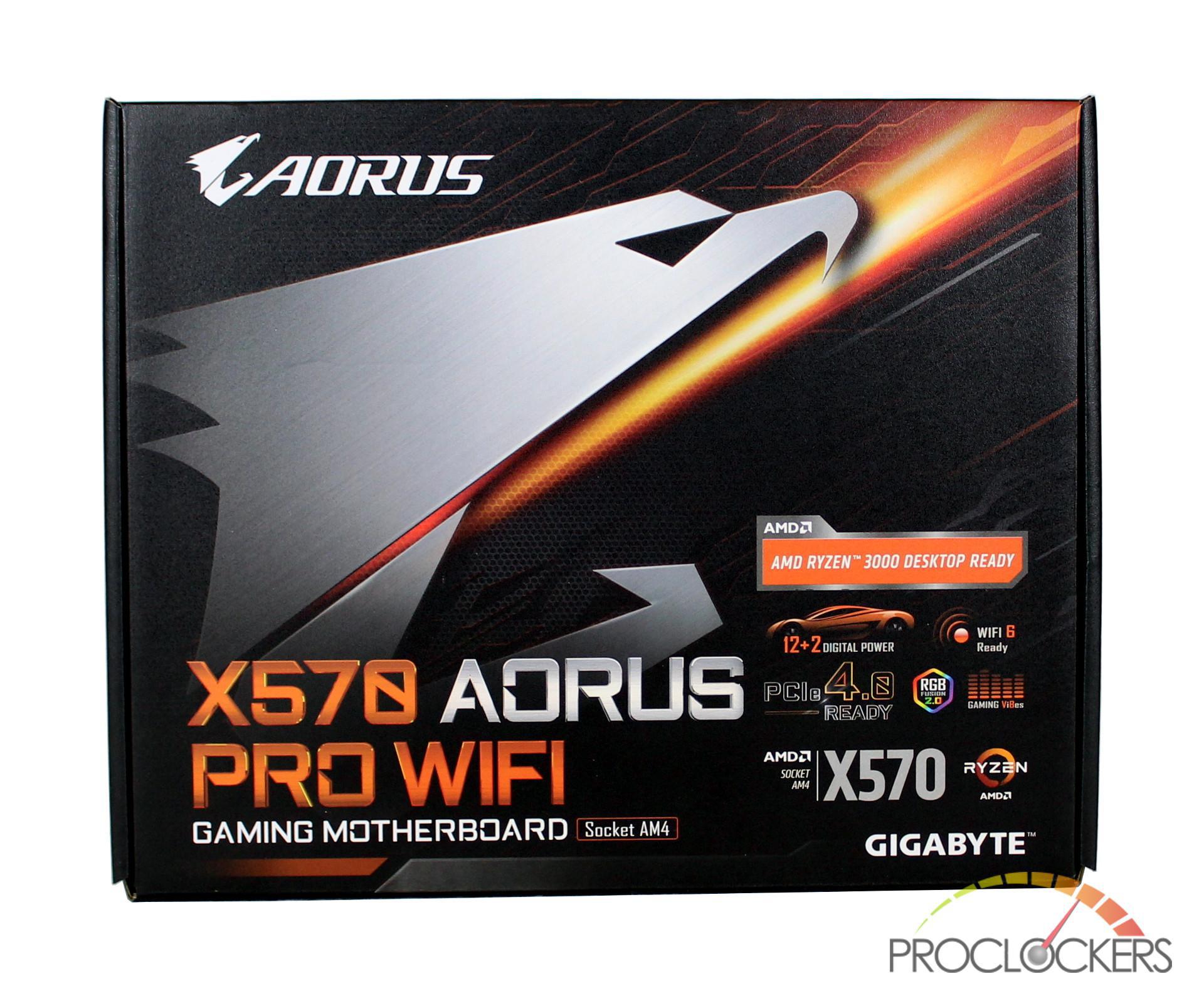 Moving to the back of the box, more details are provided about the features included with the X570 AORUS and we get our first look of the board itself. In the lower left-hand corner is a wireframe of the board's I/O panel as well as a specifications table for the AORUS Pro WIFI.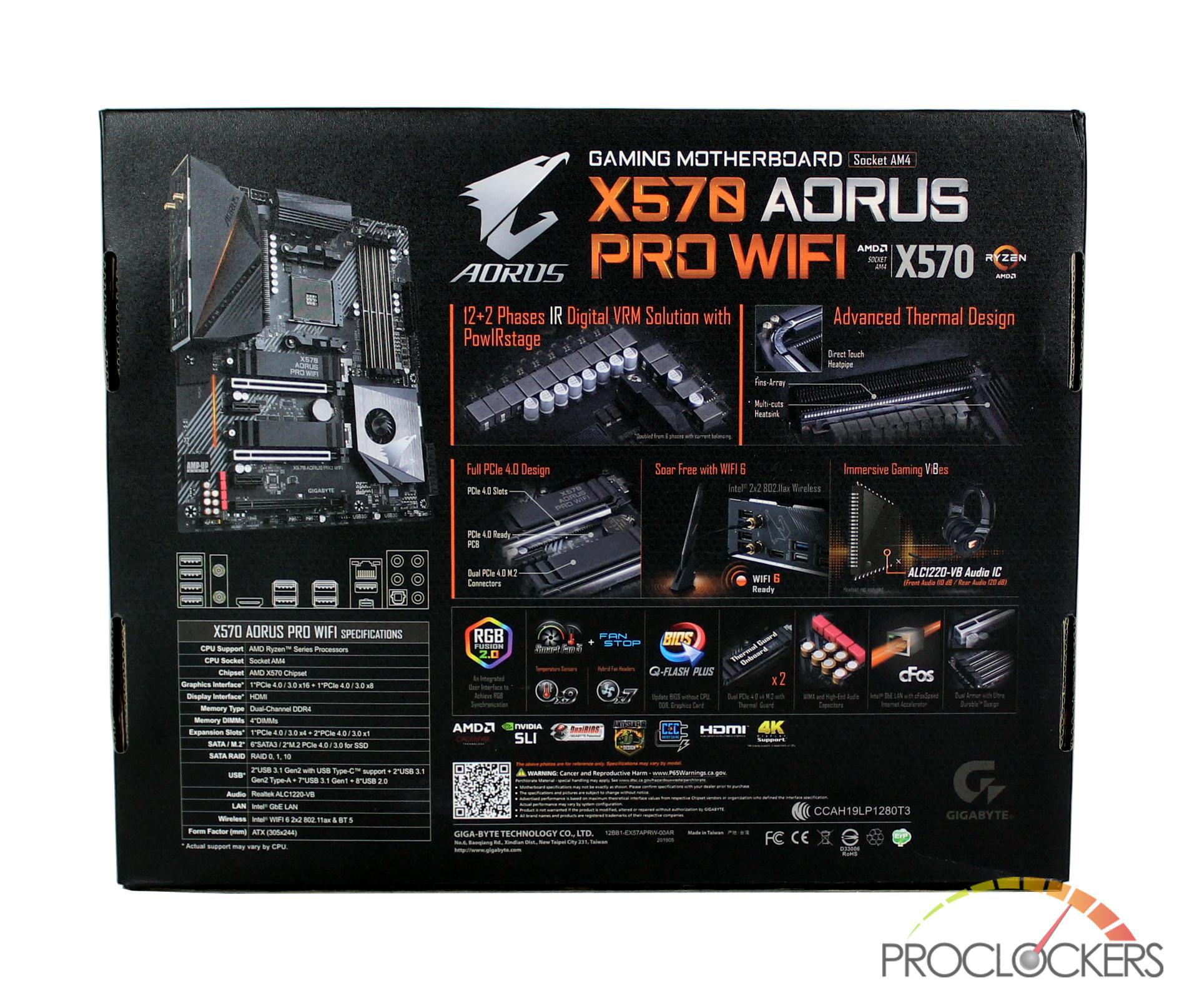 On the side, it lets you know that the motherboard is an AM4 socket and is compatible with DDR4 memory and includes a dual BIOS design.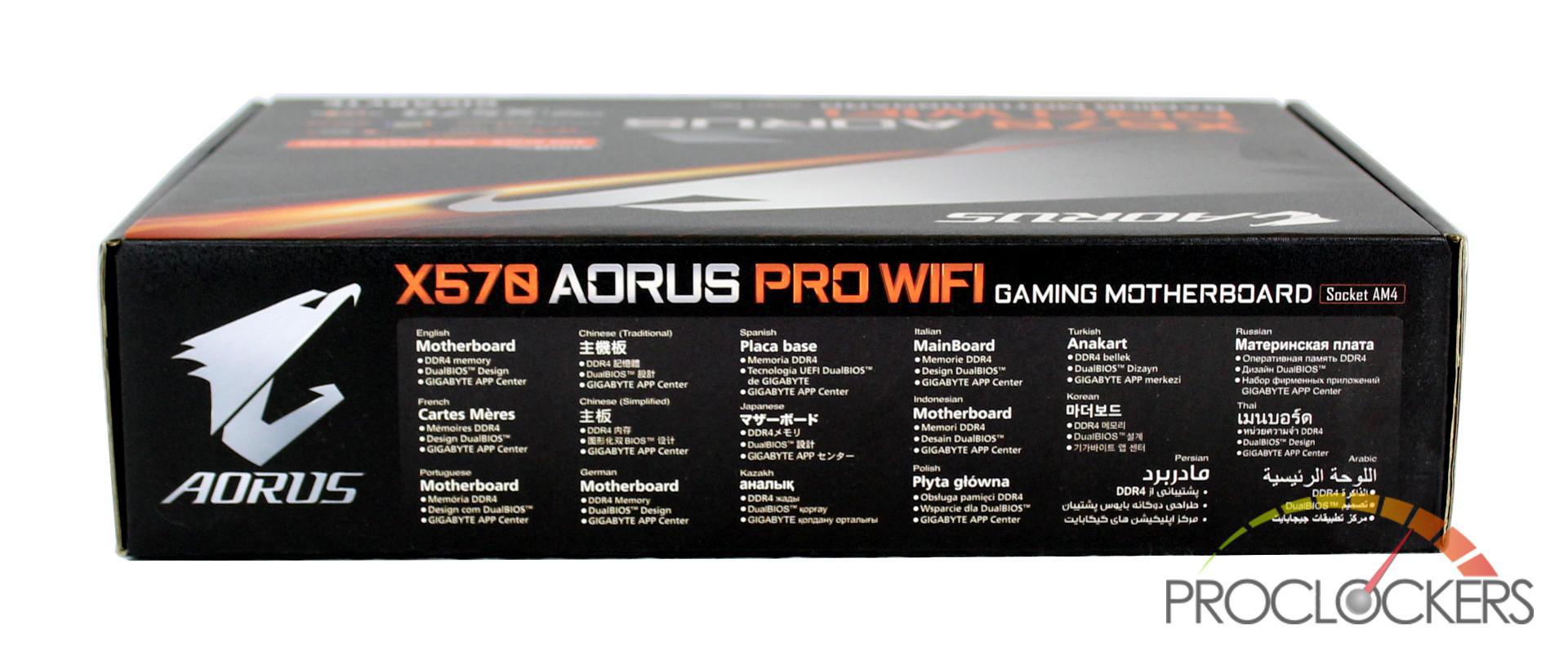 Opening the box, we find the X570 AORUS neatly wrapped in an anti-static bag and stored in a cardboard tray.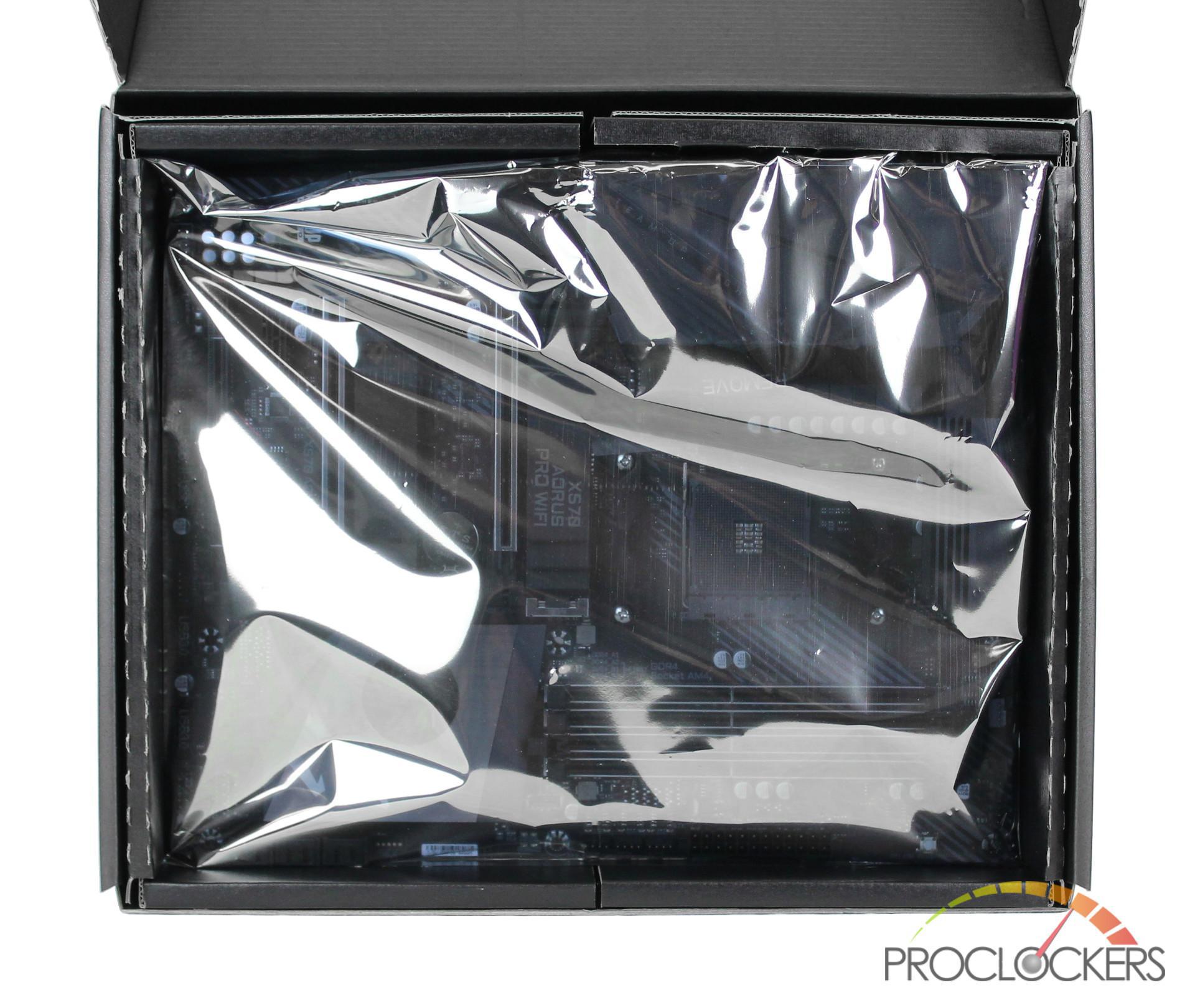 Removing the cardboard tray reveals all the included accessories for the X570 AORUS Pro WIFI. These accessories include:
User's Manual
Installation Guide
Driver/Software Disk
AORUS WIFI Antenna
SATA Cables
M.2 Screws
RGB Extension Cable
Gigabyte G-Connector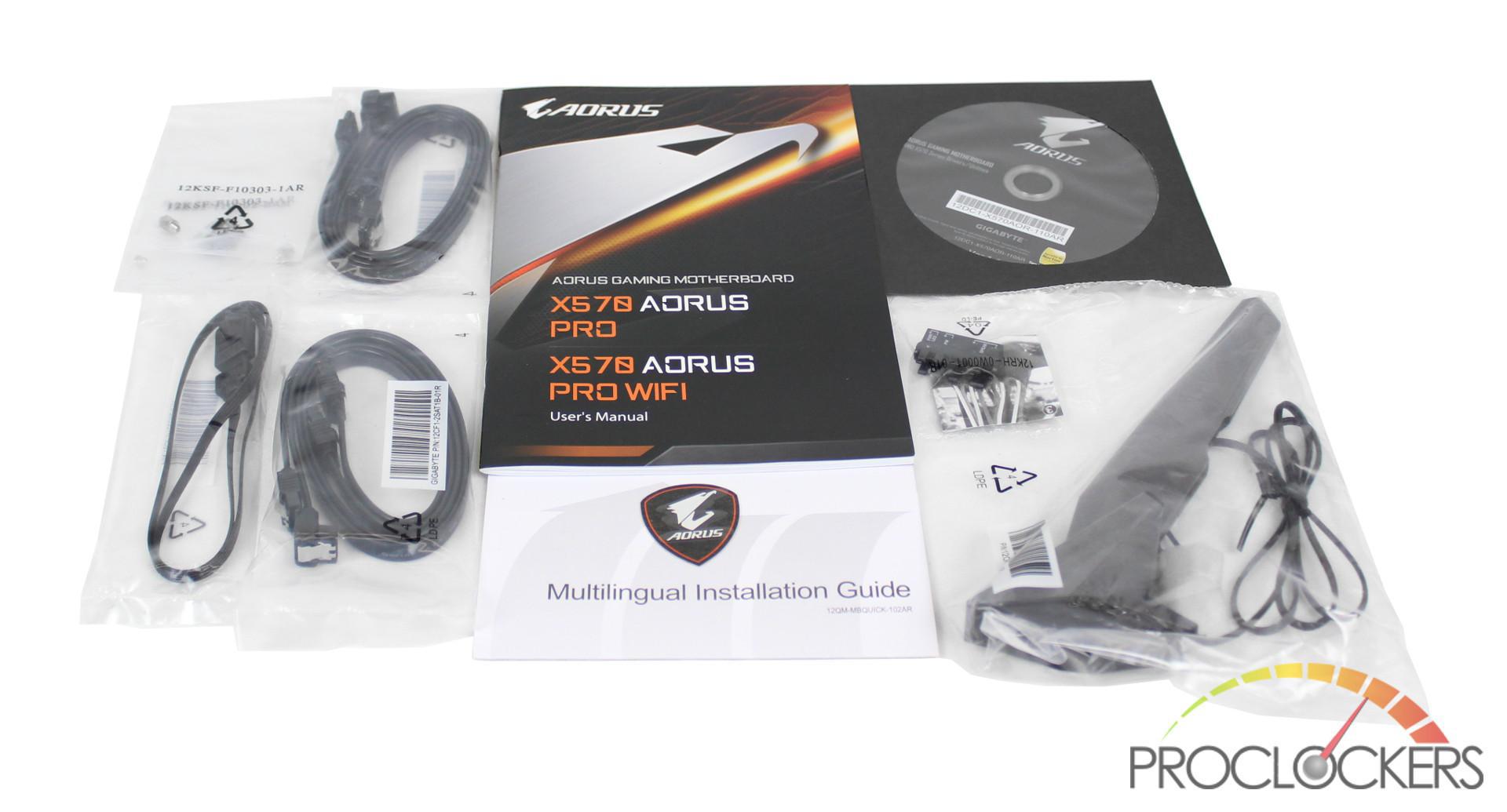 A Closer Look
Taking the motherboard out of the anti-static bag, we can see the X570 AORUS Pro WIFI features the same aesthetics as its Z390 counterpart being mostly black with several silver accents. At first glance, we love that they kept all the RGB and fan connections to the top/side of the board. This makes it much easier to maintain a clean look when running fan cables when you don't have a fan hub.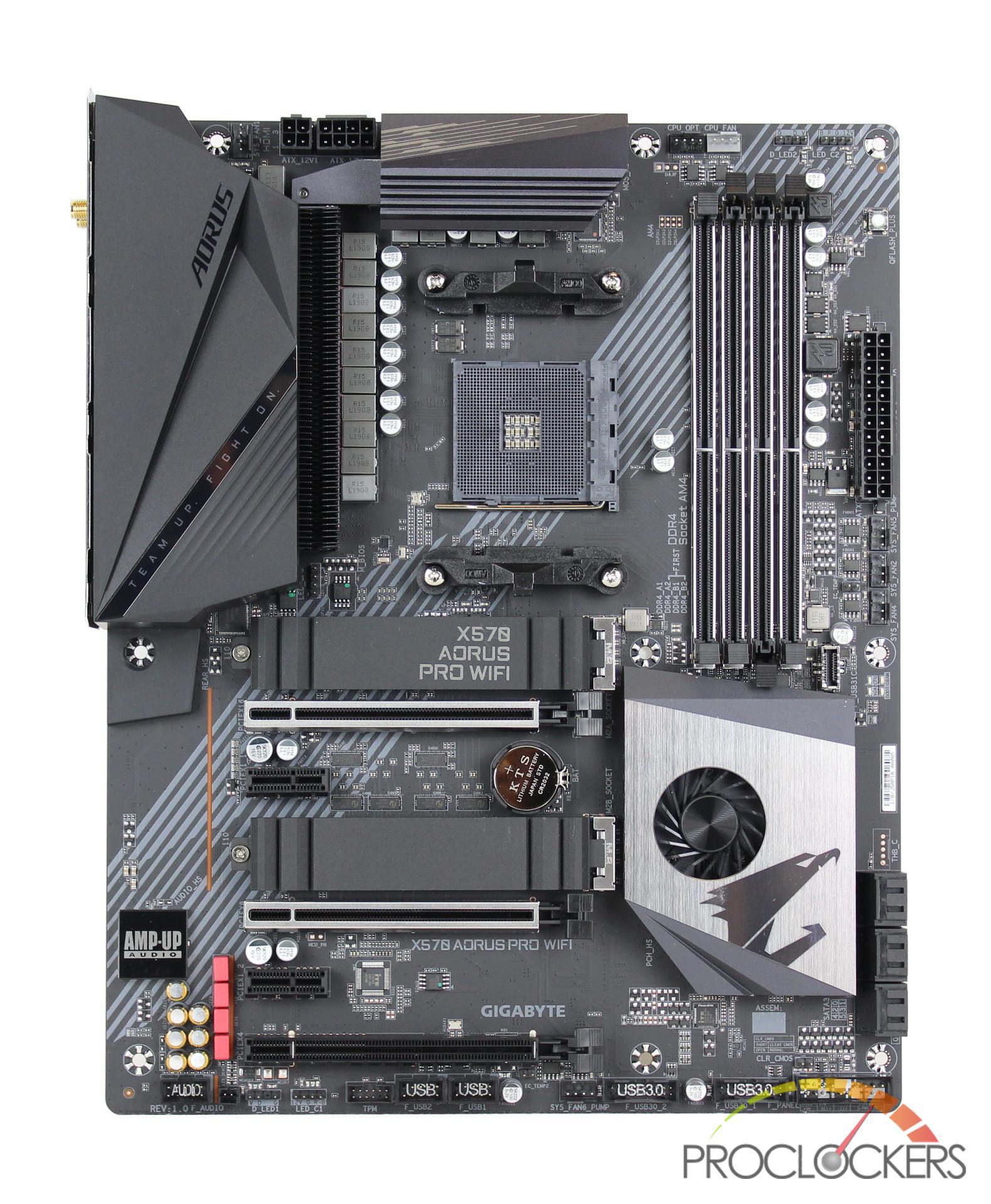 In the right corner, is the board's I/O shroud with the AORUS name embossed on it with the slogan "Team Up. Fight On." written on the lower portion. You will notice that the X570 AORUS Pro WIFI has both an 8-Pin and 4-Pin connections for EPS power, which should come in handy when pushing our 3900x to its limits.
Looking toward the AM4 socket itself is a black/silver VRM heatsink as well as two pre-installed cooler brackets, which are used for the AMD Wraith cooler included with your Ryzen chip.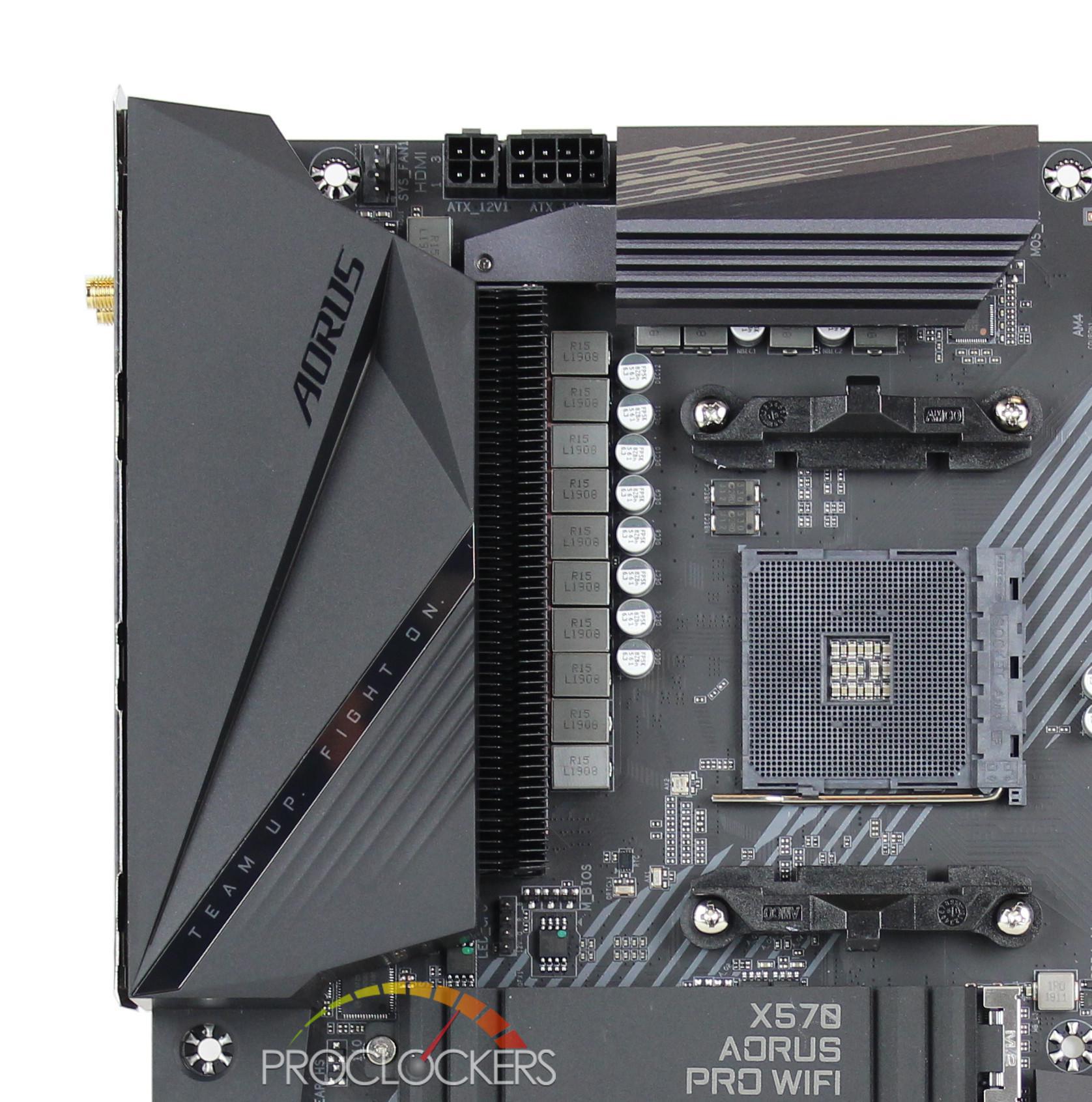 At the bottom left of the board, we find the X570 AOURS Pro WIFI's ALC1220-VB audio IC with its high-end WIMA and audio capacitors.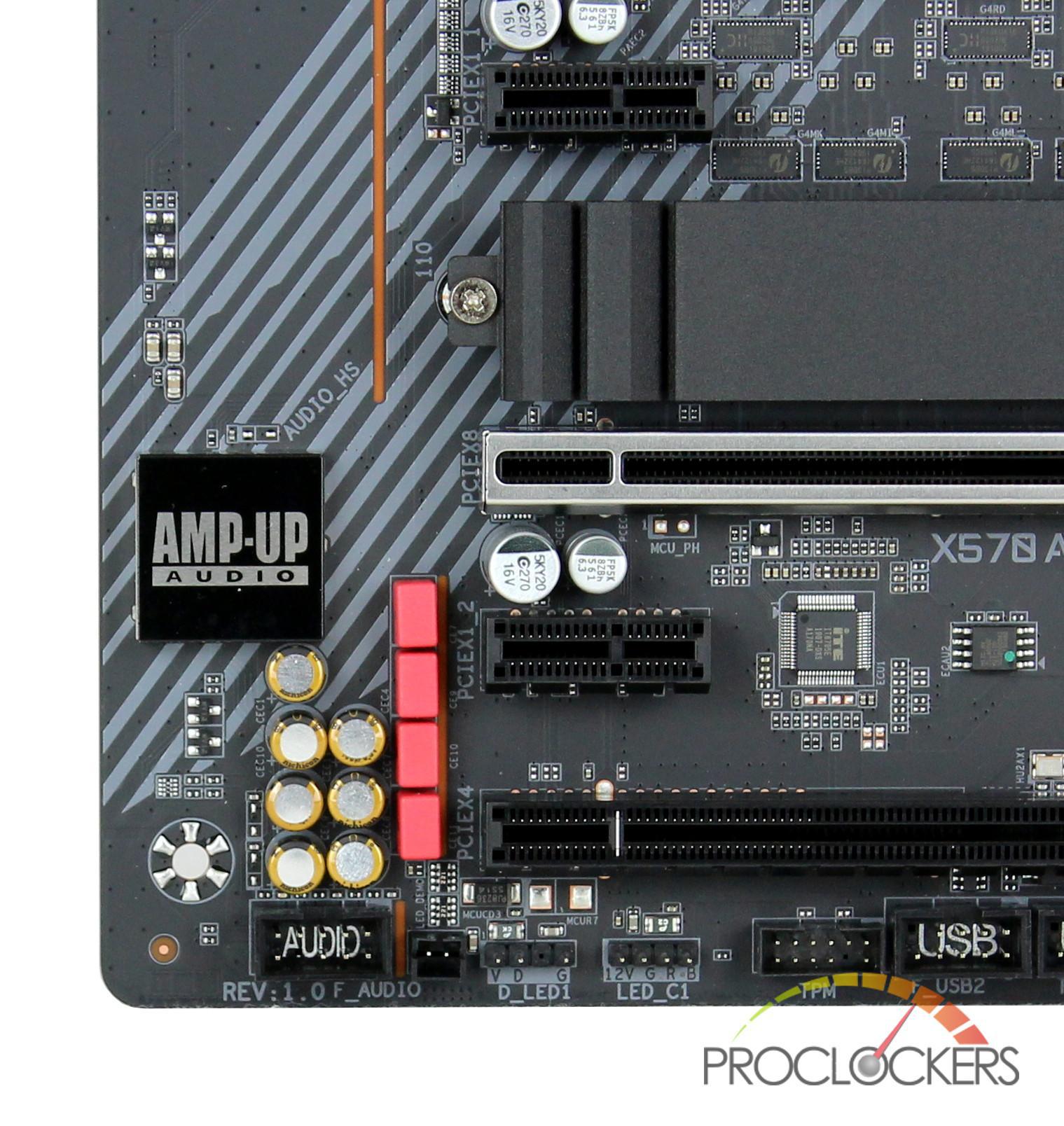 The board's X570 chipset is covered with a brushed aluminum AORUS branded shroud which includes a little fan to help keep it cool.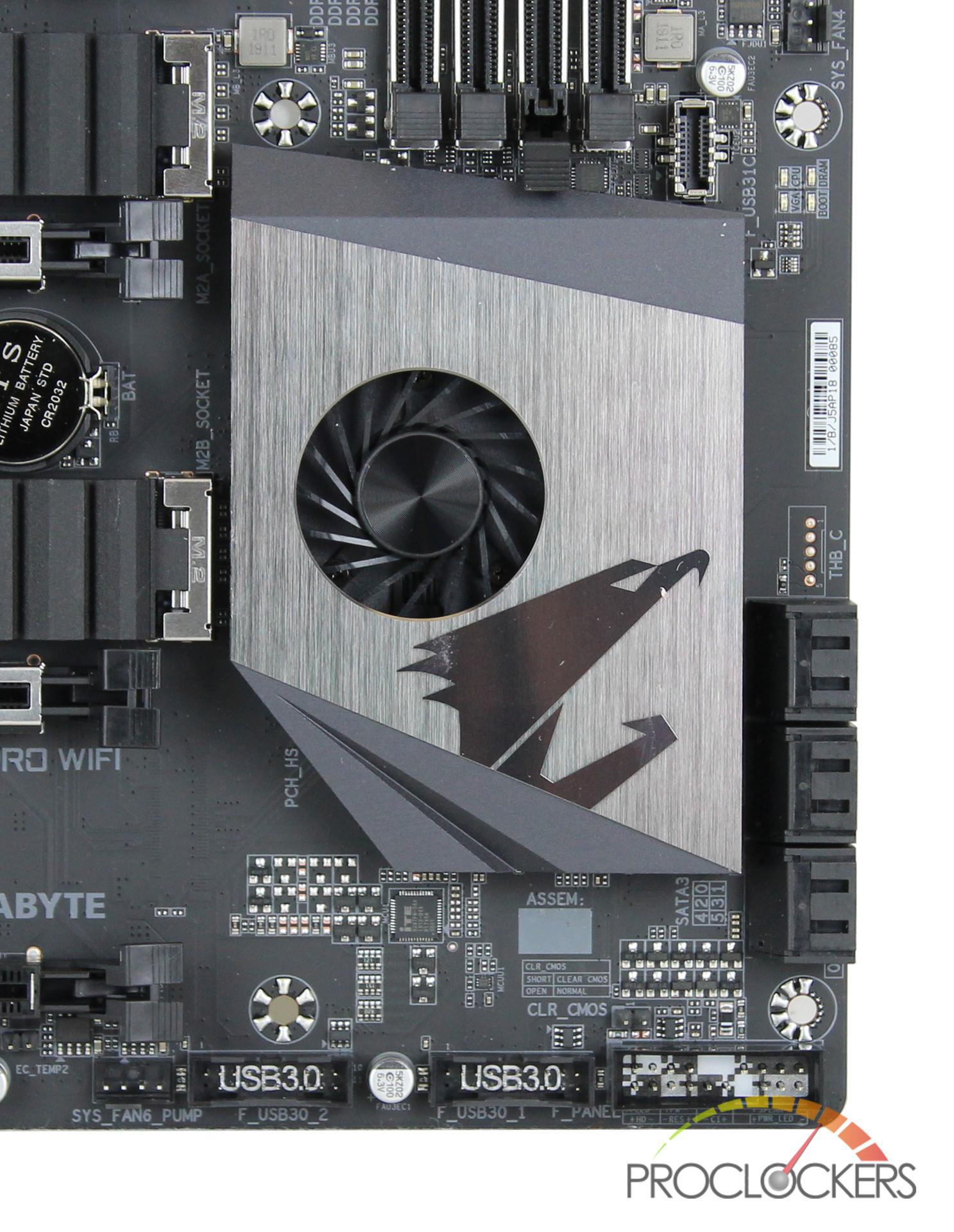 The X570 AORUS contains two PCIe 4.0 M.2 slots which are covered with thermal guard heatsink. It's also nice to see motherboard manufacturers going the extra mile by adding things like M.2 heatsinks. Not only do they improve thermals but they also look much better than some bare M.2 PCB's.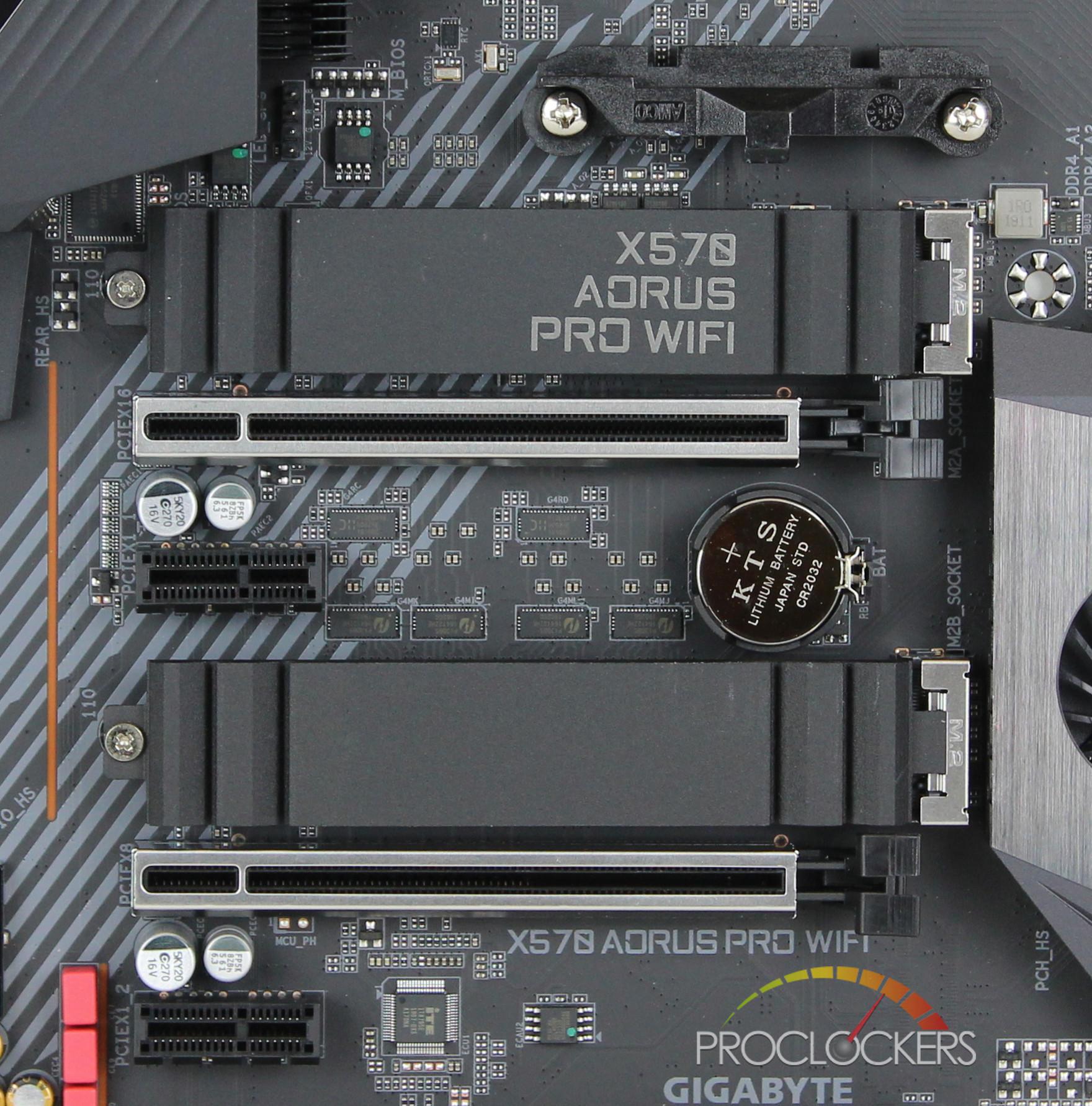 Looking at the back I/O, it's really nice to see there is no need for an I/O plate as it is built-in. Often I have installed a motherboard into a case and forgotten to install the I/O plate first. The X570 AORUS Pro WIFI contains lots of connectivity which includes (left to right):
4 x USB 2.0 ports
2 x WIFI Antenna connectors
1 x HDMI port
3 x USB 3.2 Gen 1 ports (with the lower one used to flash the BIOS)
2 x USB 3.2 Gen 2 ports (red)
1 x USB Type-C port with USB 3.2 Gen 2 support
1 x RJ-45 Gigabit LAN port
1 x Optical S/PDIF out connector
5 x 3.5mm audio jacks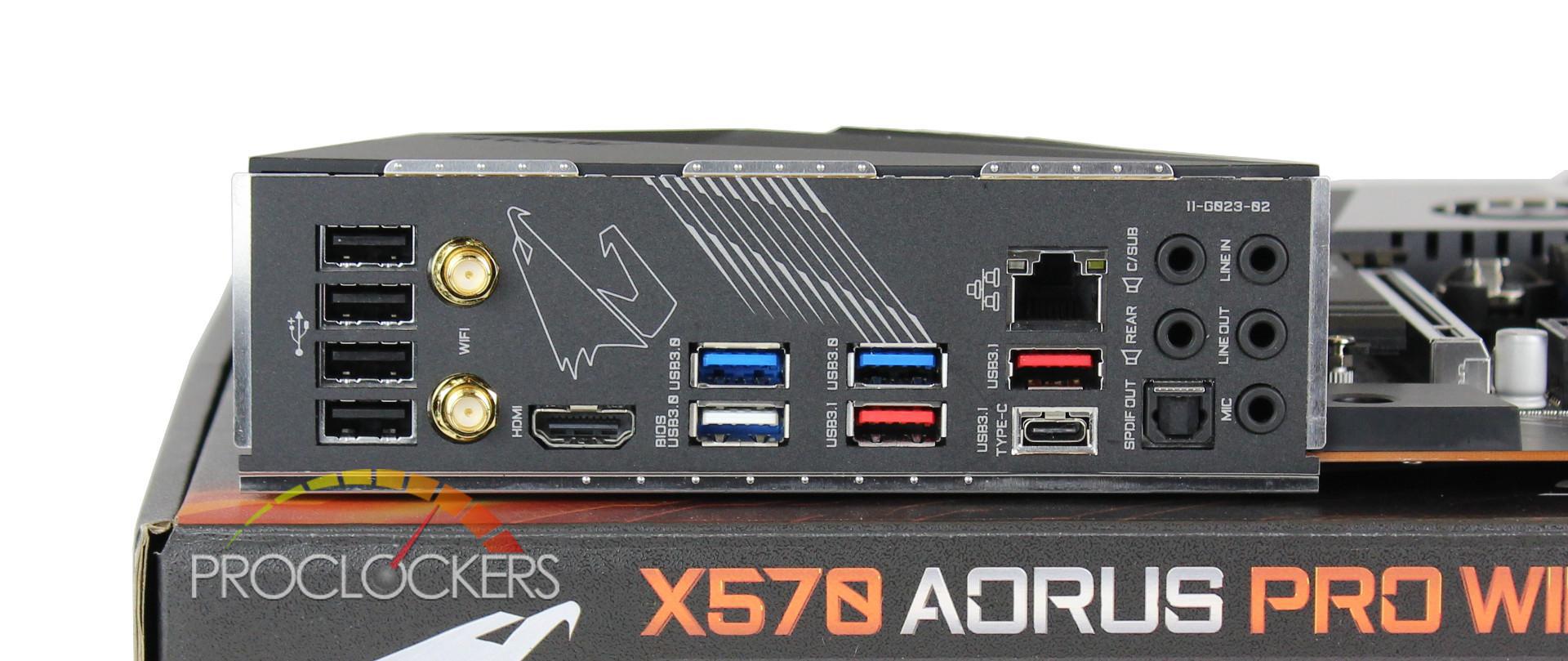 The X570 AORUS Pro WIFI also includes stainless steel armor for both the memory slots and PCIe 4.0 slots. This not only looks great but also makes the slots much stronger when installing/removing hardware by preventing the motherboard from twisting/bending.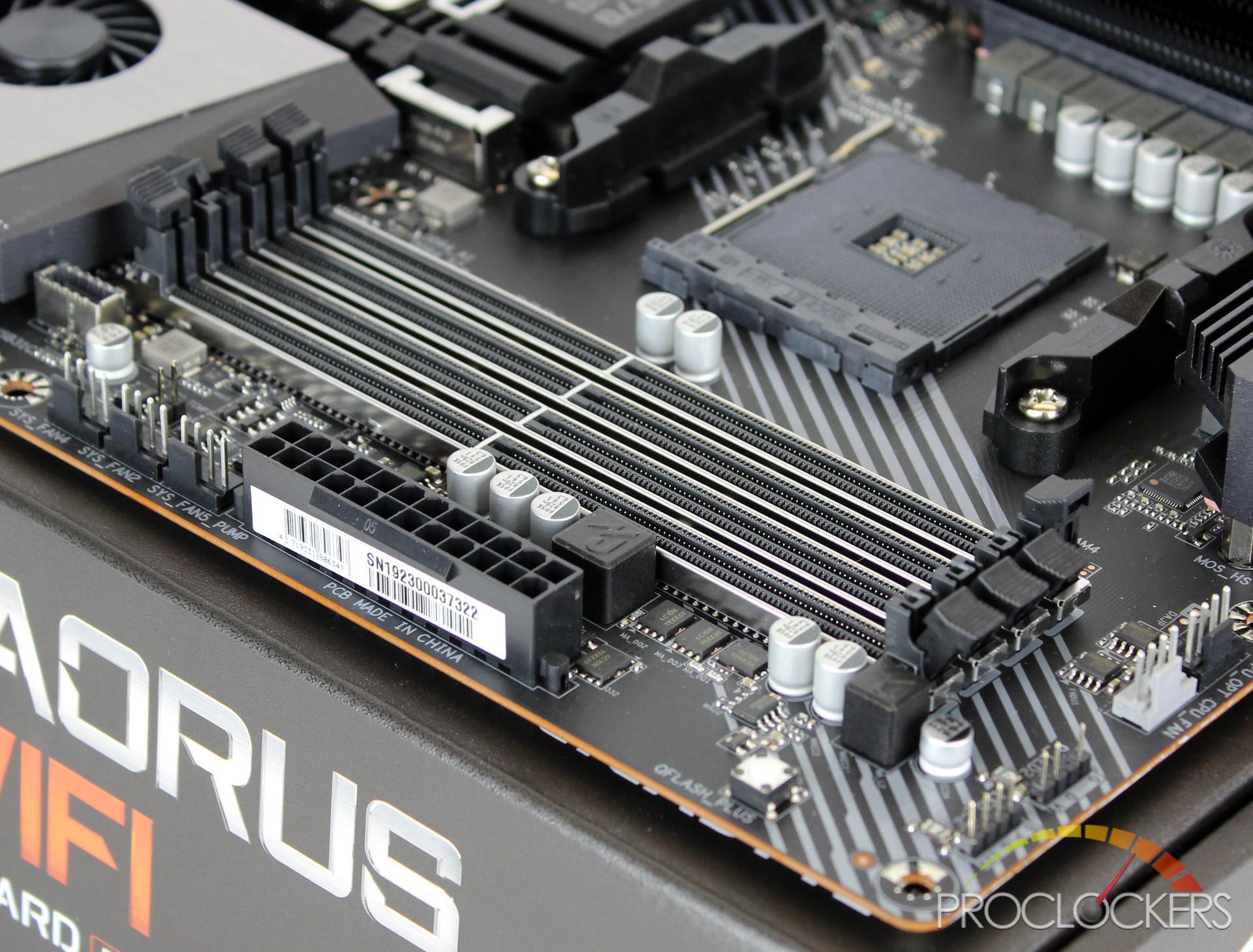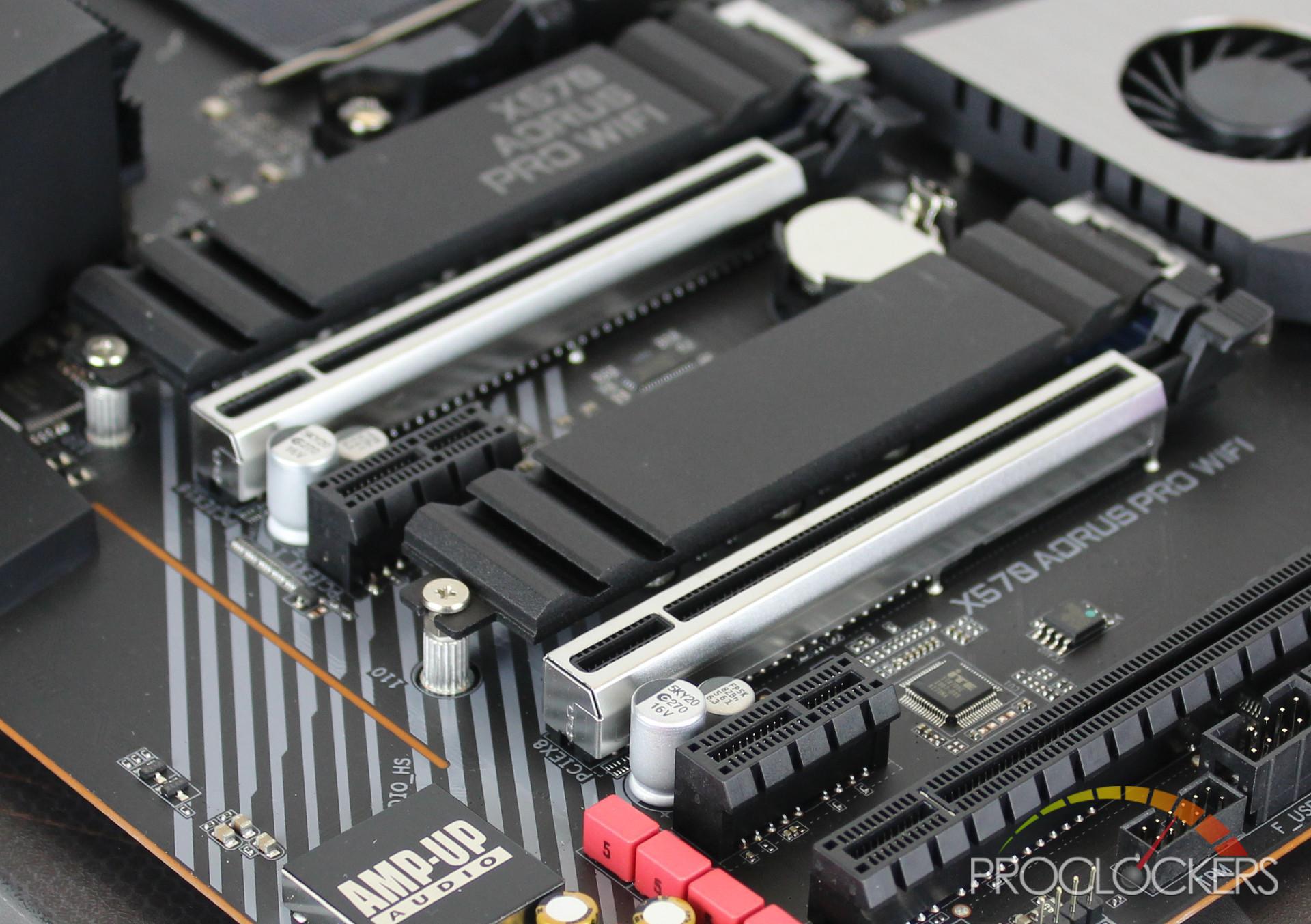 On the lower right side of the AORUS Pro WIFI are the 6 x SATA 6Gb/s ports which have support for RAID 0/1/10.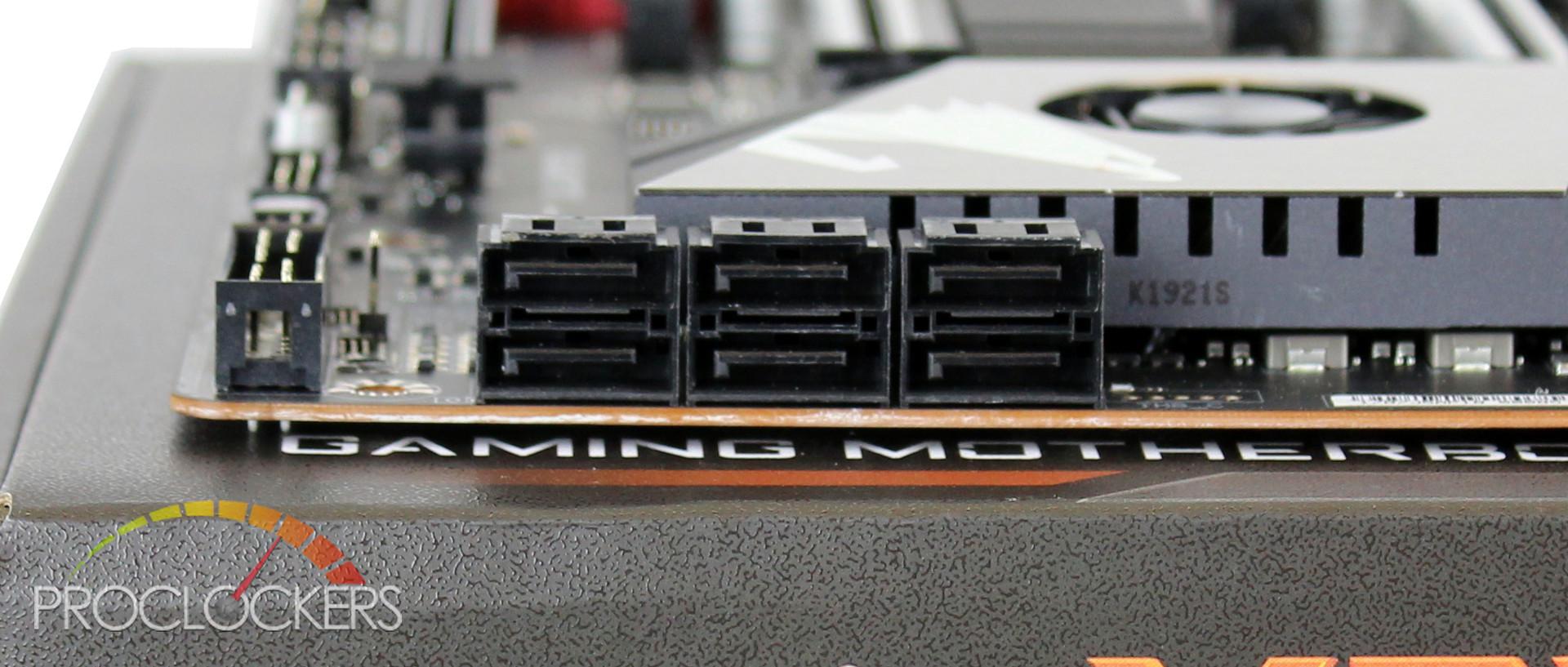 Flipping over to the back of the X570 AORUS Pro Wifi, we have a bare PCB with a pre-installed processor backplate.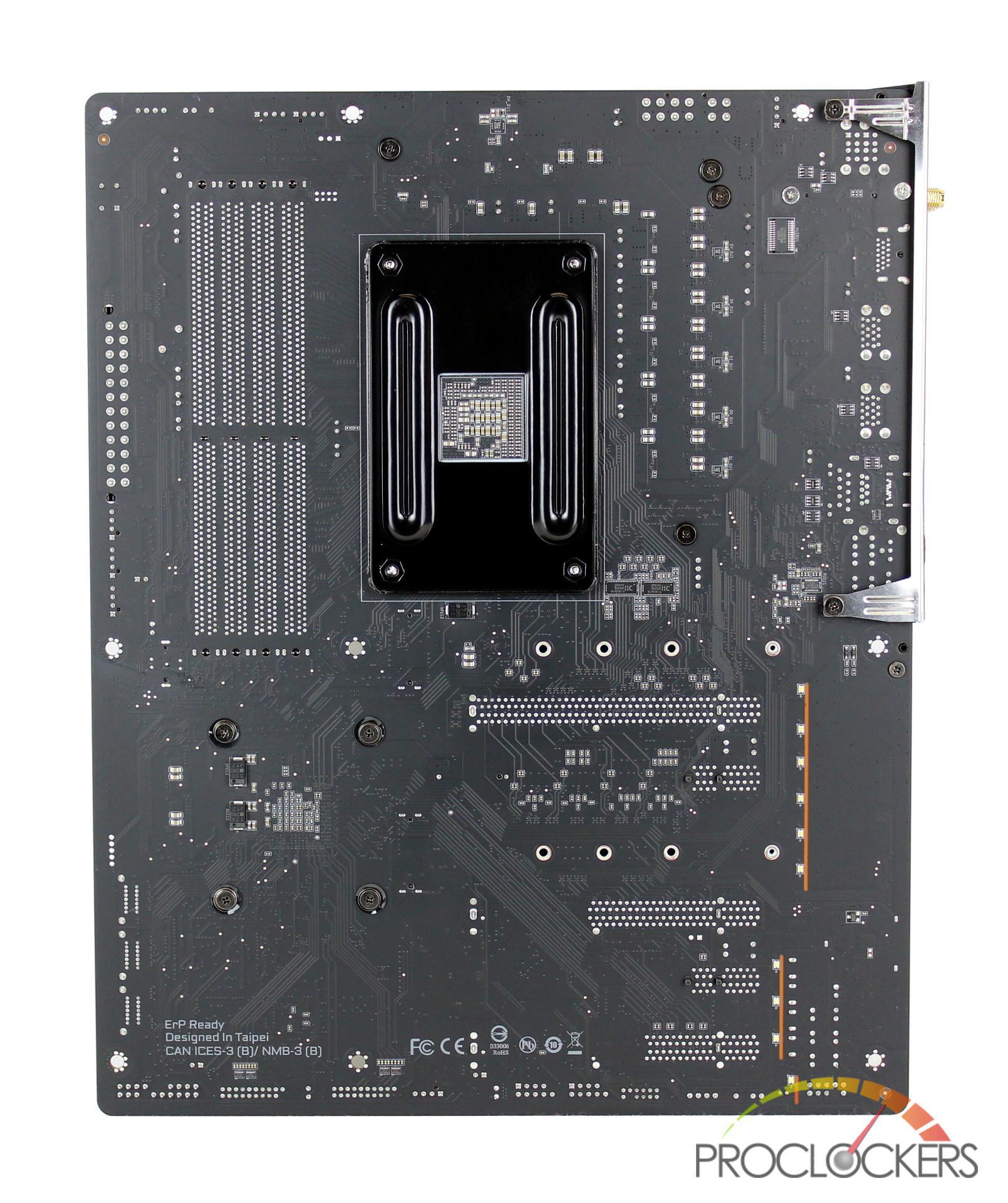 Like the Z390 version of the board, there are also RGB LEDs attached to the board that adds subtle illumination around the audio area of the motherboard.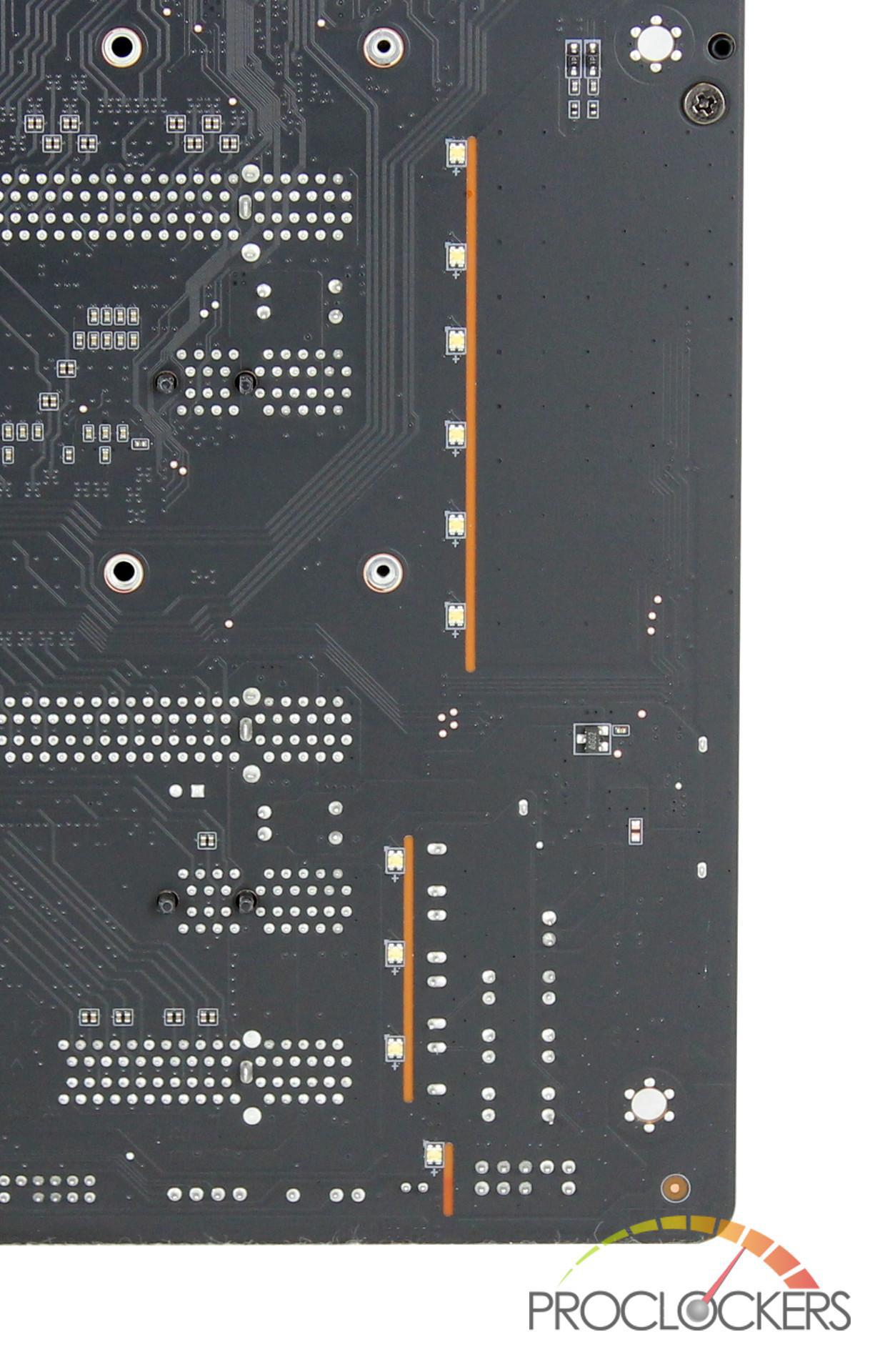 Another nice inclusion with the X570 AORUS Pro WIFI Is the custom AORUS WIFI antenna. It features an adjustable "wing" to help you get the best signal and a magnetic bottom so you can easily secure it to the top of your case.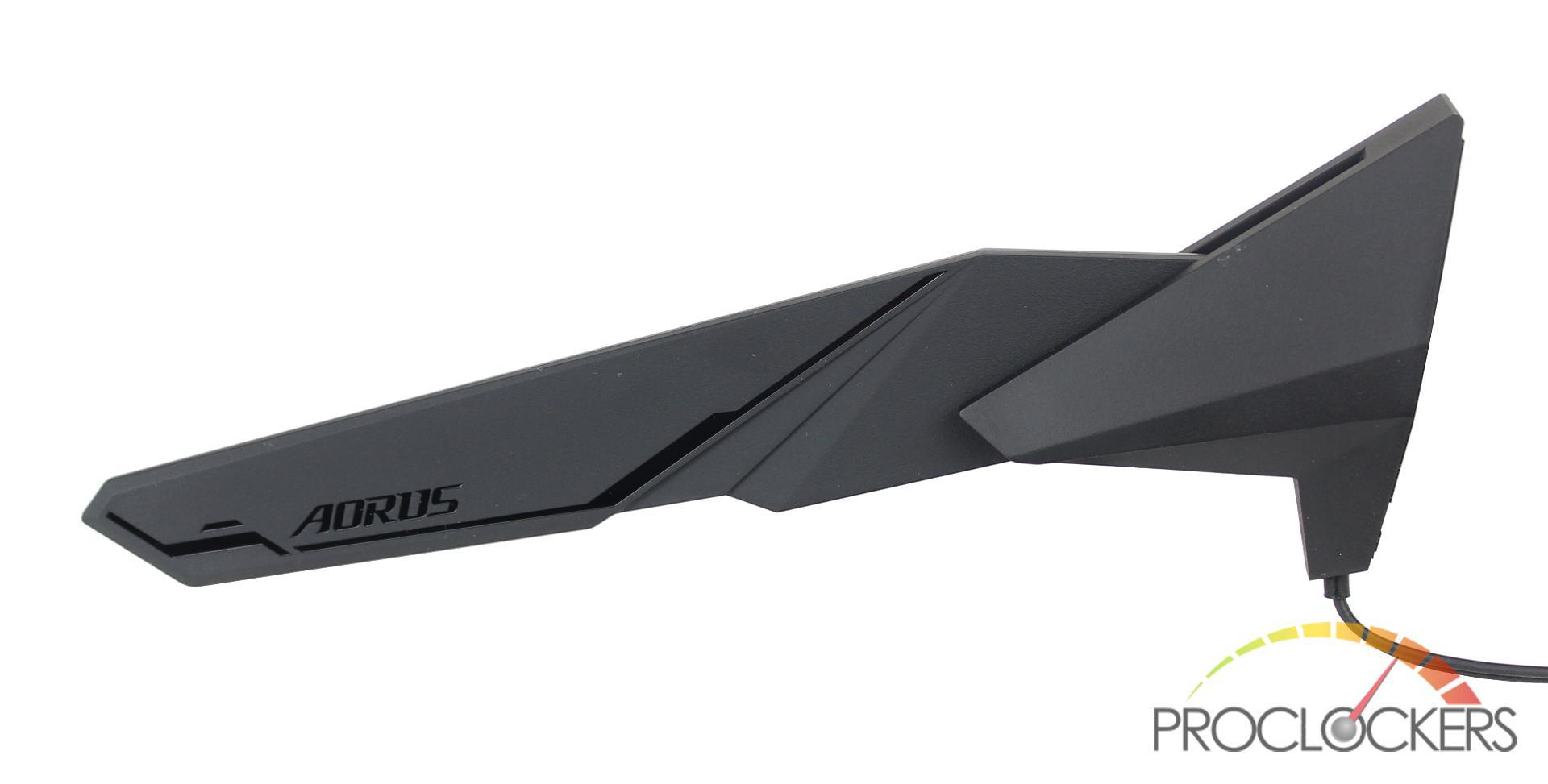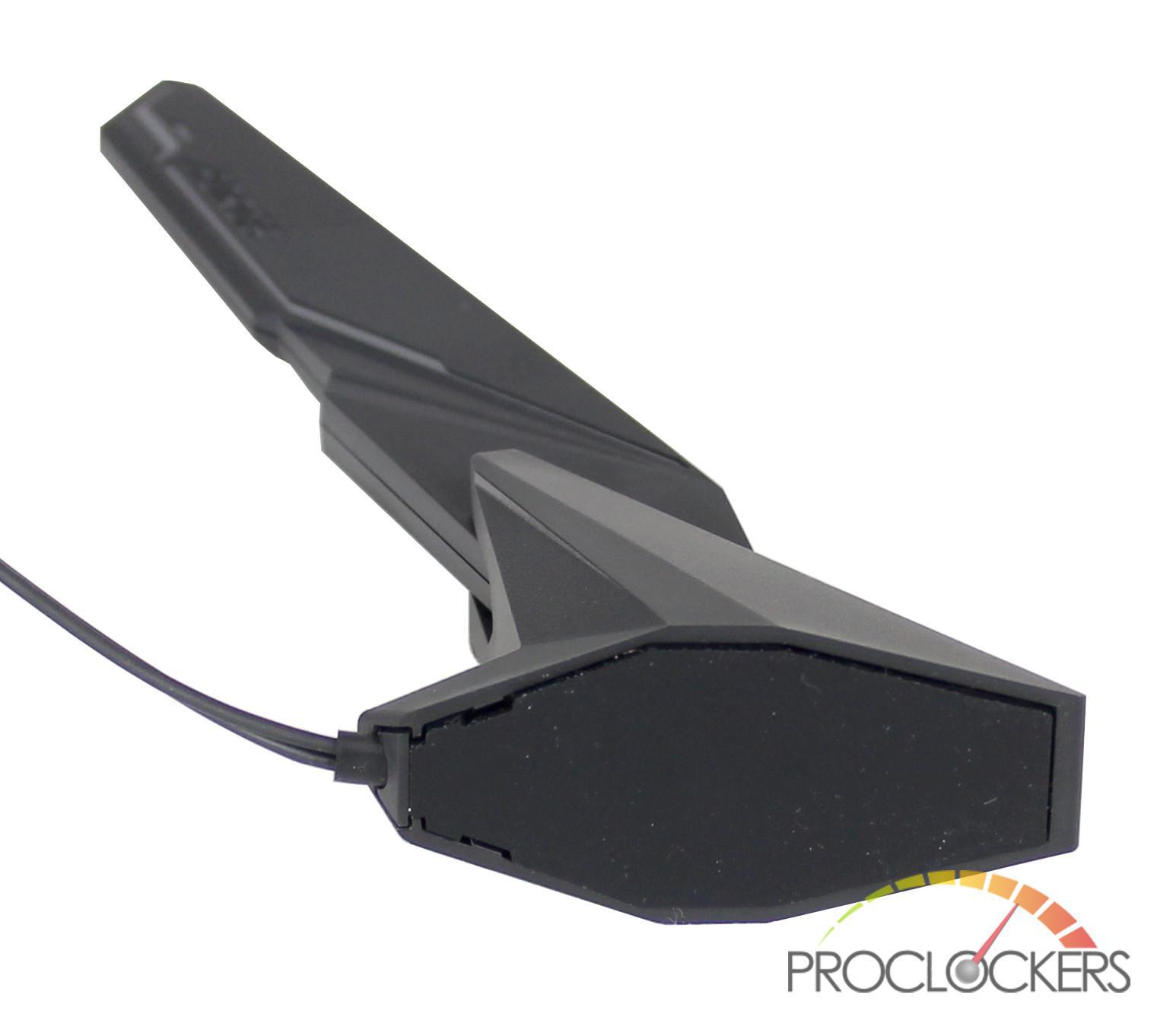 Once we finished installing/booting the X570 AORUS Pro WIFI we got to see its RGB in action. By default, RGB profile defaulted to AORUS orange which was visible on the I/O shroud as well as near the audio components. Since we also plugged the wraith prism cooler into the motherboard, the center fan also got the AORUS orange treatment.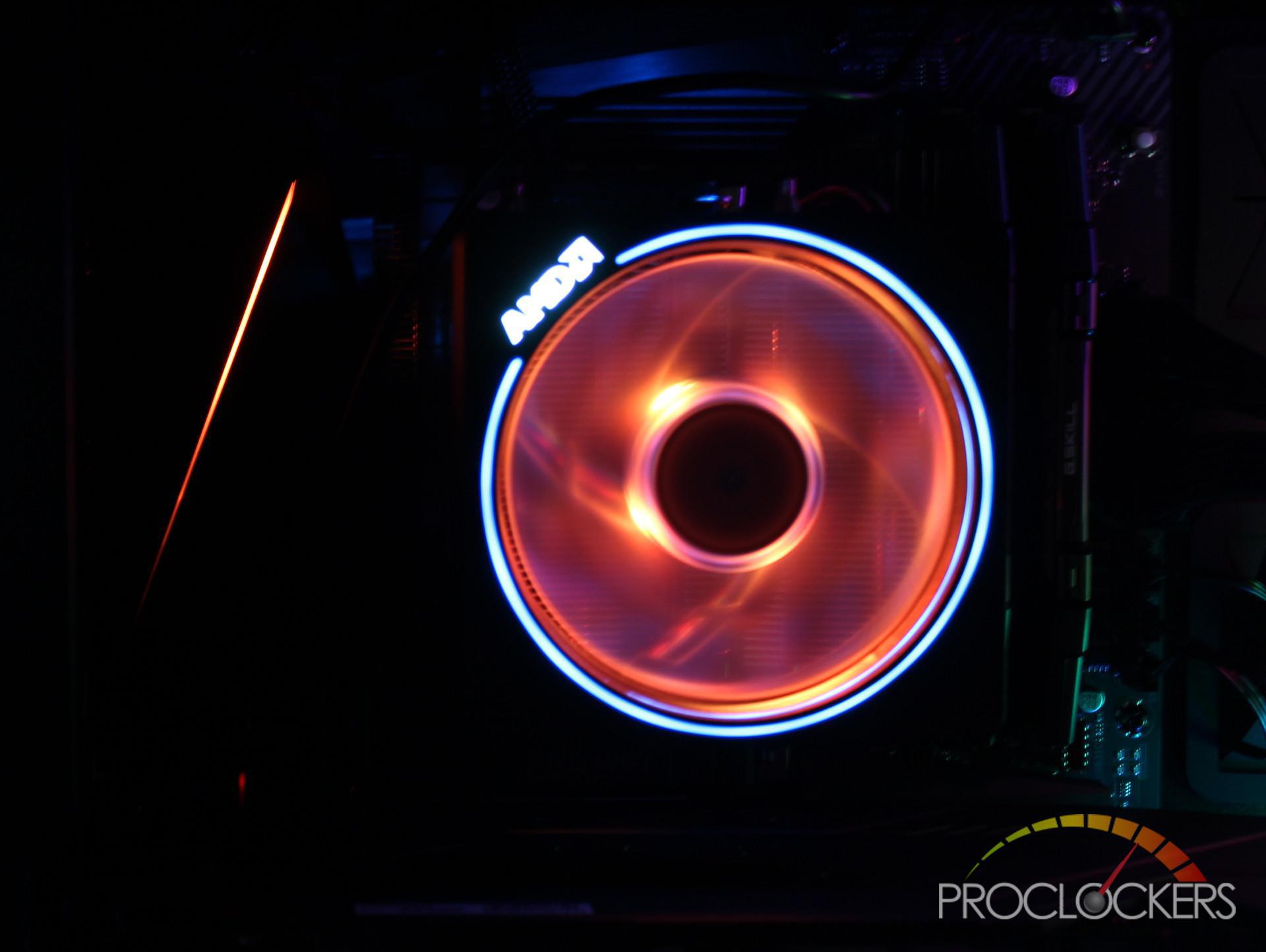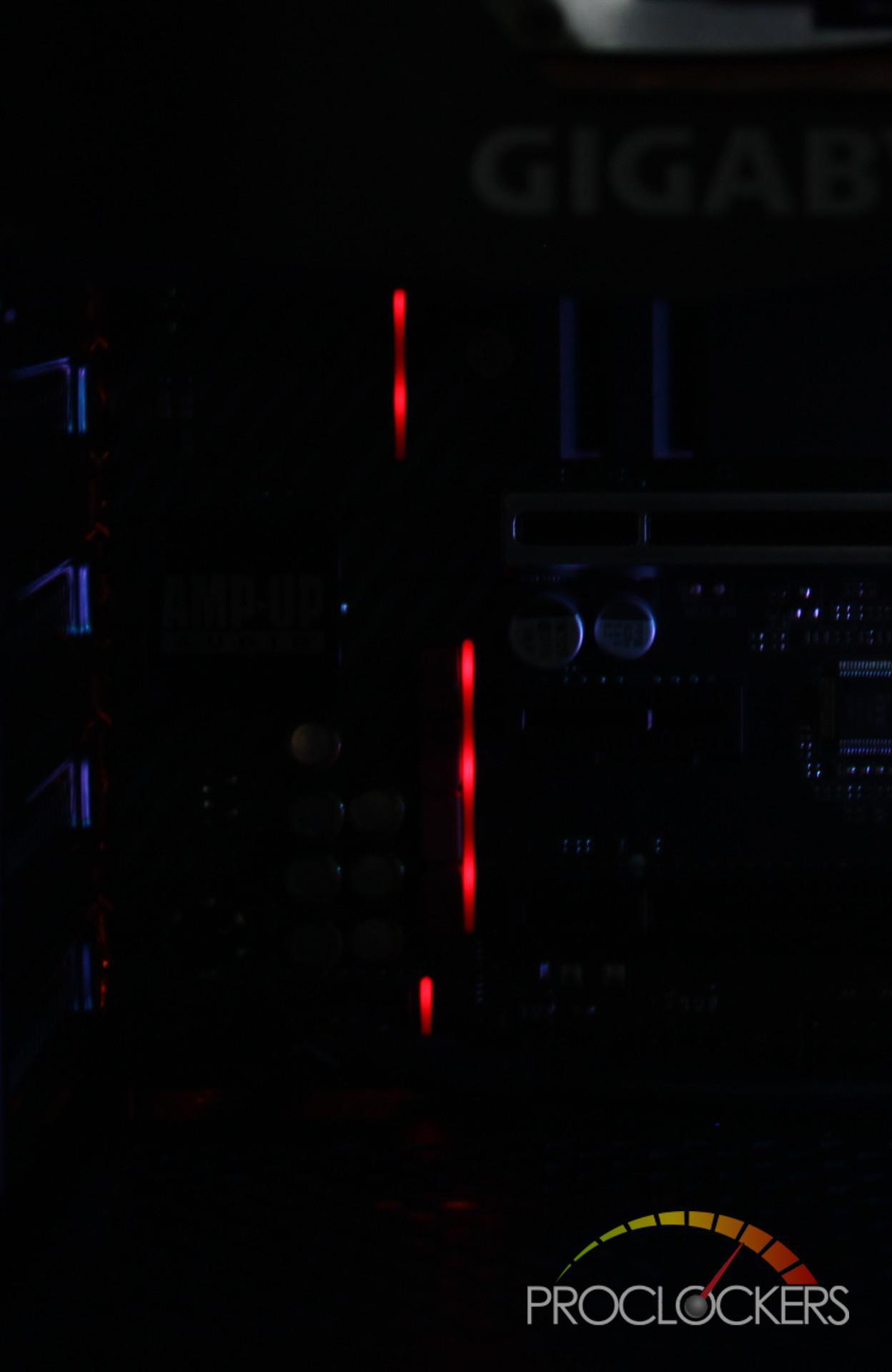 System Configuration & BIOS
Upon booting into the BIOS, we are greeted with a similar black/orange UI interface as the Z390 AORUS Pro we previously reviewed. It starts you in "Easy Mode", which at a glance gives you information about your PC such as your motherboard, BIOS version, CPU, RAM, SATA/PCIe/M.2 devices, boot sequence, and system fans. Looking to the bottom right, there are some buttons that perform actions or bring you to other sections of the BIOS which can also be used via the denoted function key. These actions/sections include:
Help (F1)
Advanced Mode (F2)
Smart Fan (F6)
Load Optimized Defaults (F7)
Q-Flash (F8)
Save & Exit (F10)
Favorites (F11)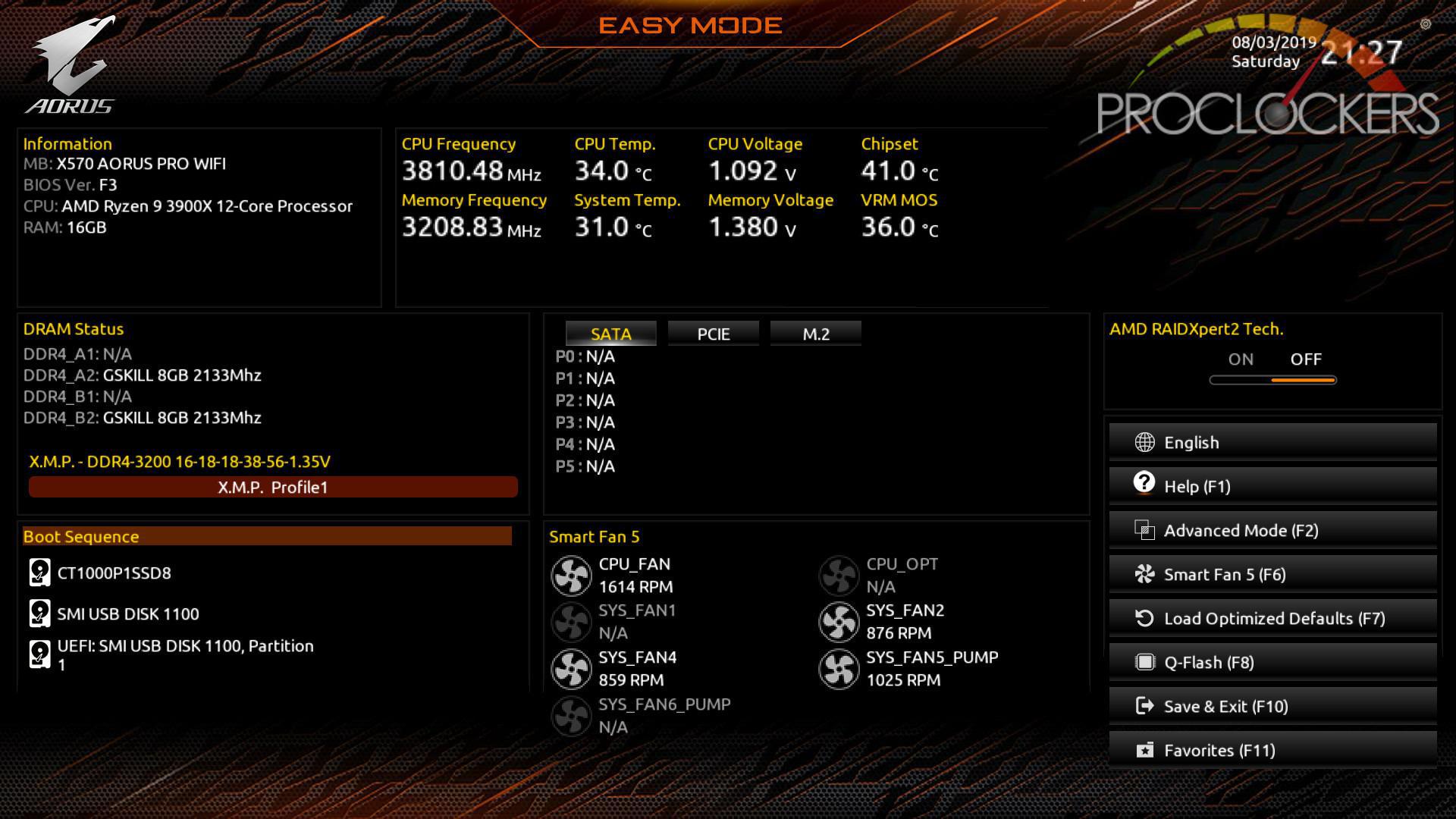 Now that we have had a look at "Easy Mode", let's take a dive into "Advanced Mode" by pressing F2. Within "Advanced Mode" you have access to pretty much any setting imaginable for your motherboard, CPU, RAM, etc. It starts you off in the "Tweaker" tab, which enables you to change settings such as CPU Clock Ratio, CPU vCore, and other various voltages.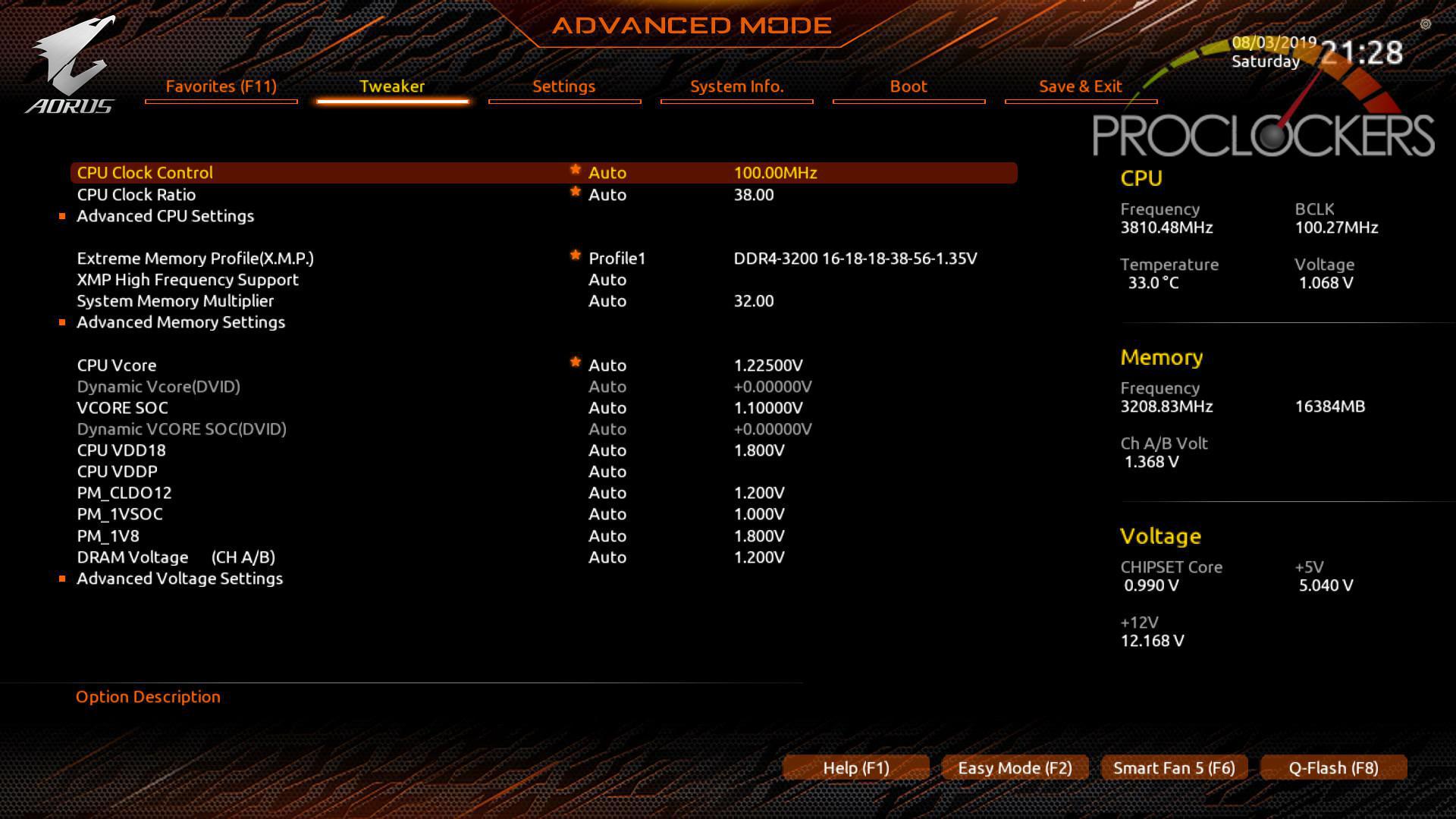 Going into the "Advanced CPU Settings" you can further tweak your CPU with settings like Core Performance Boost, SVM Mode, and SMT Mode.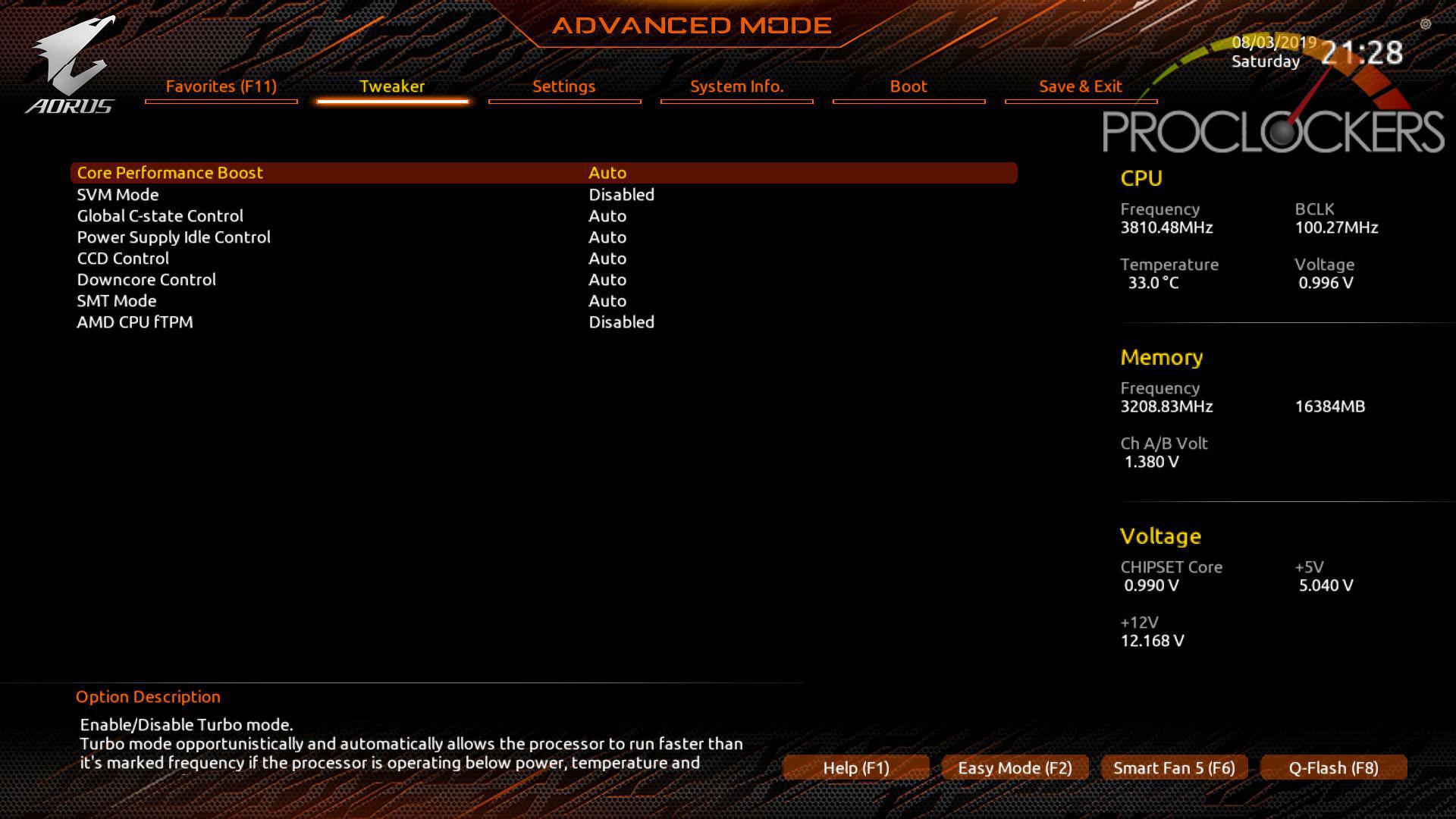 In the "Advance Memory Settings", you can view XMP profiles and change your Memory timings.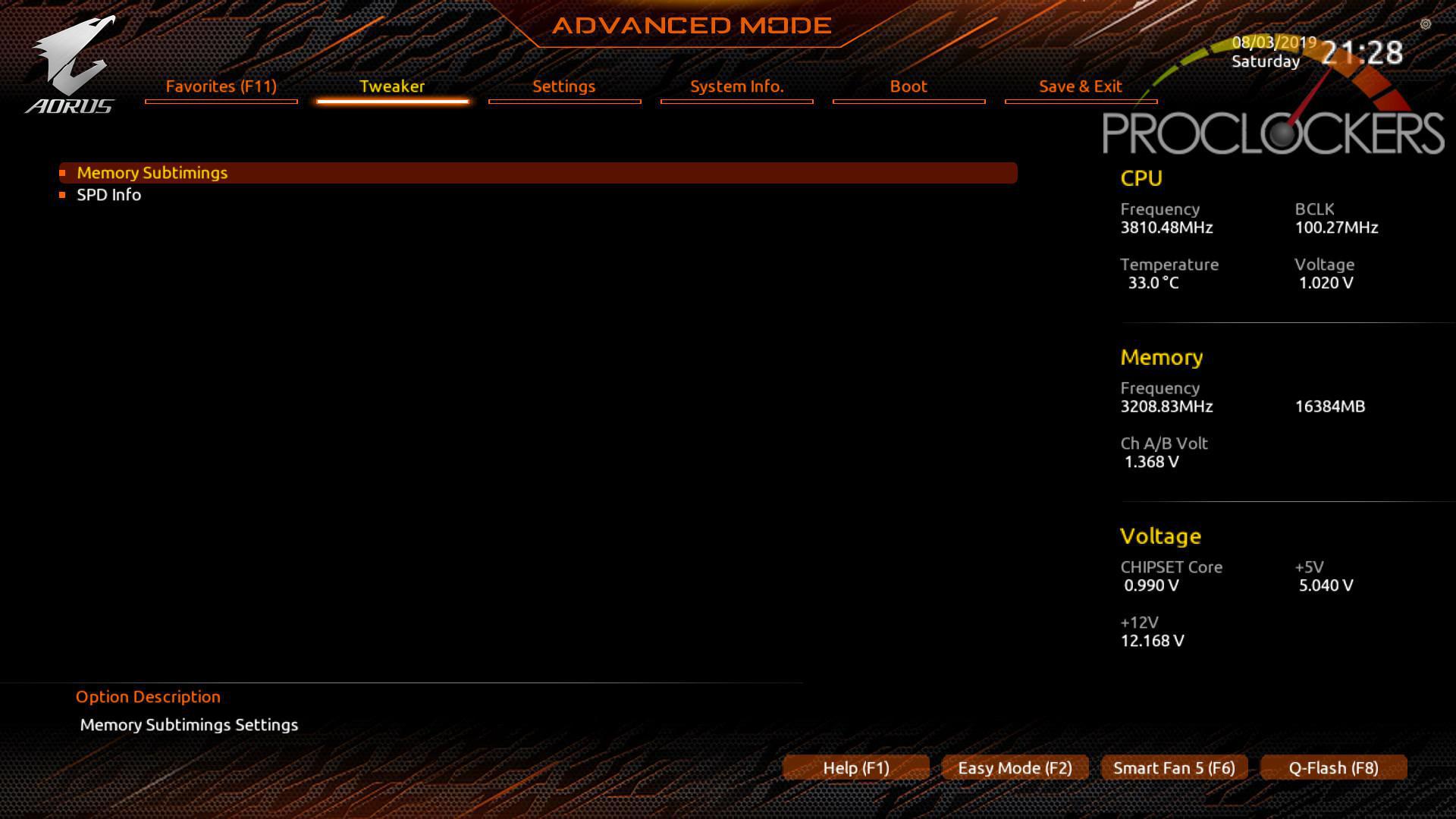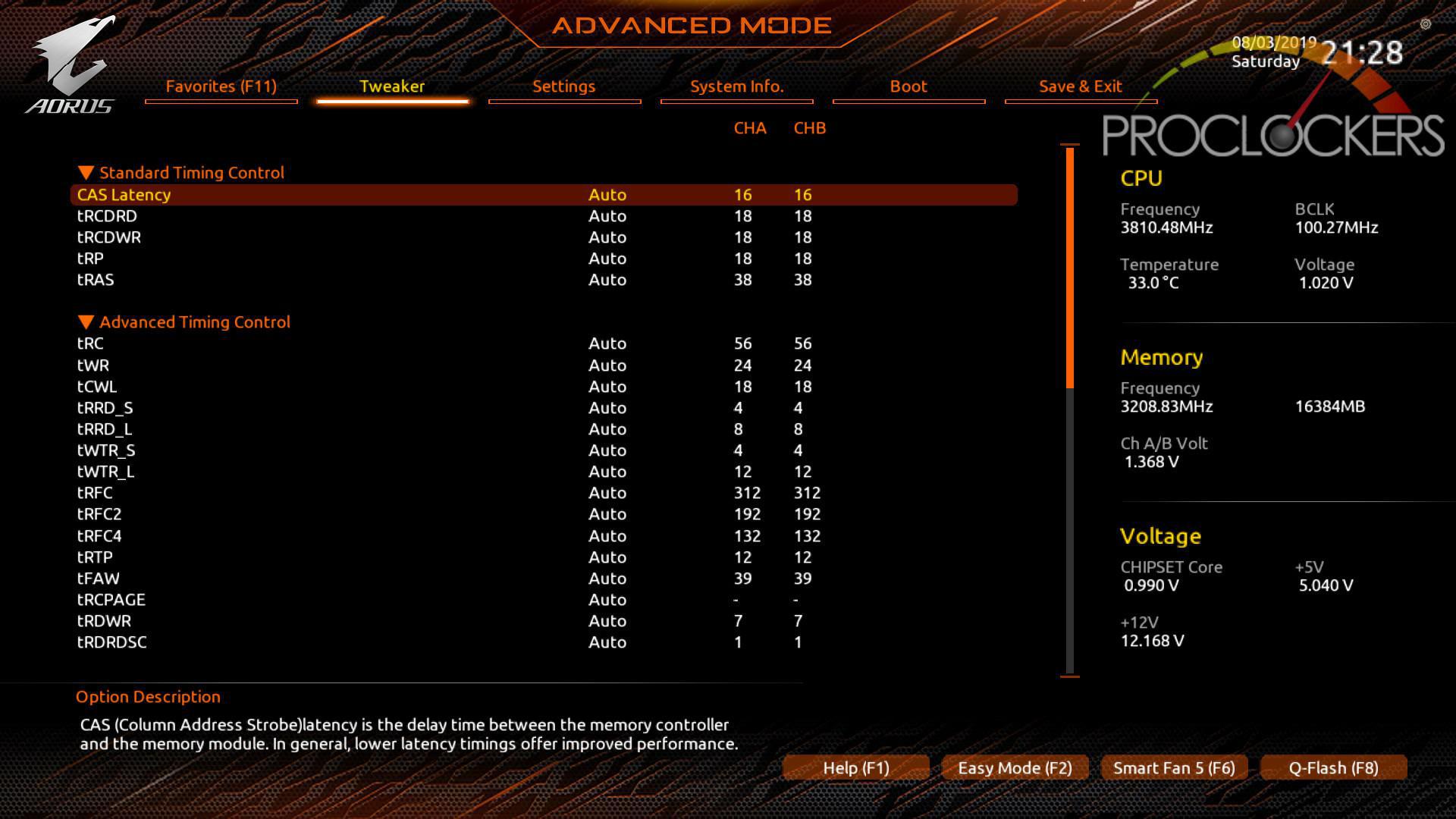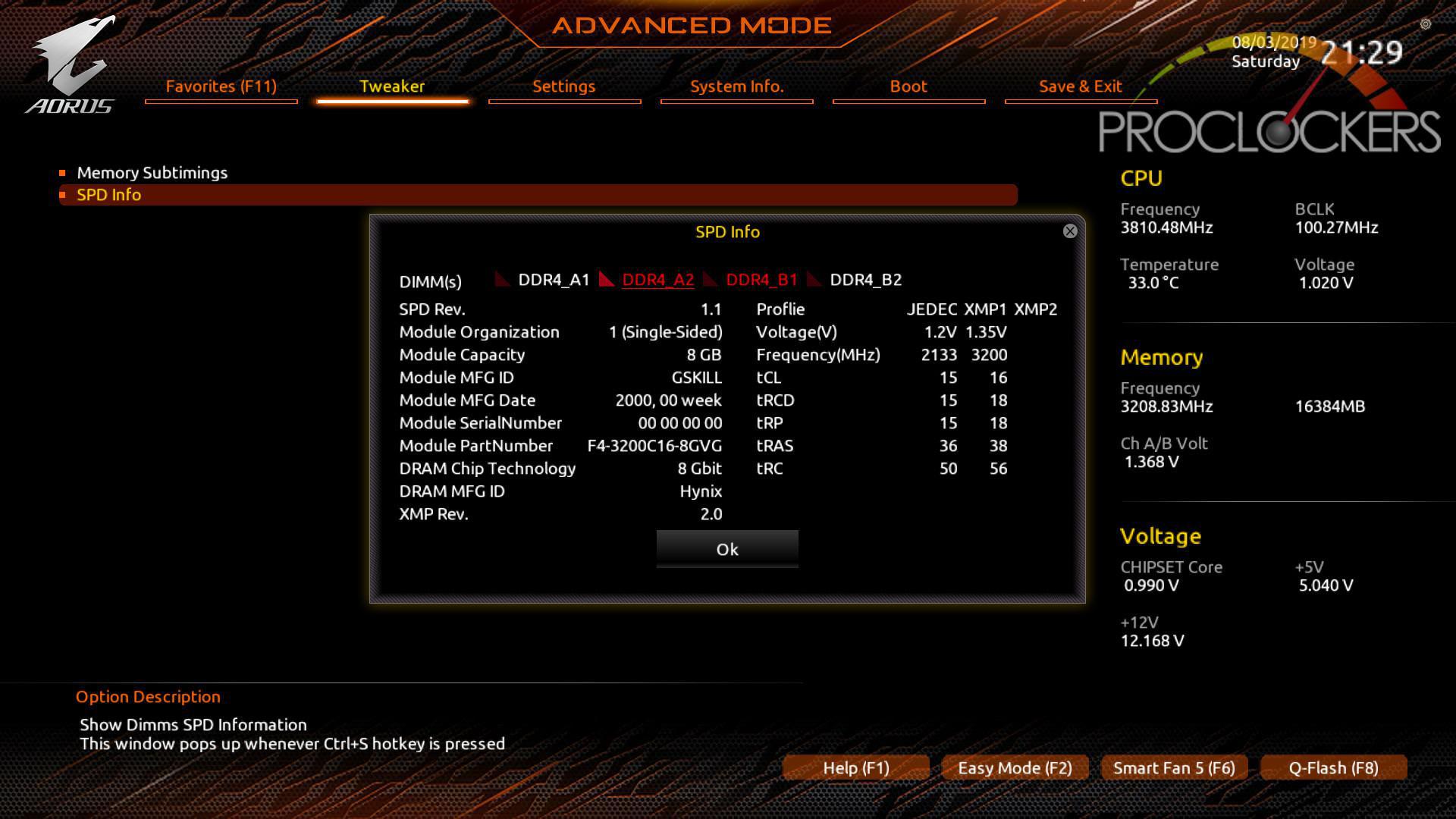 Under the last section "Advanced Voltage Settings", you can adjust various DRAM and CPU voltages such as DDRVPP Voltage and CPU Vcore Loadline Calibration.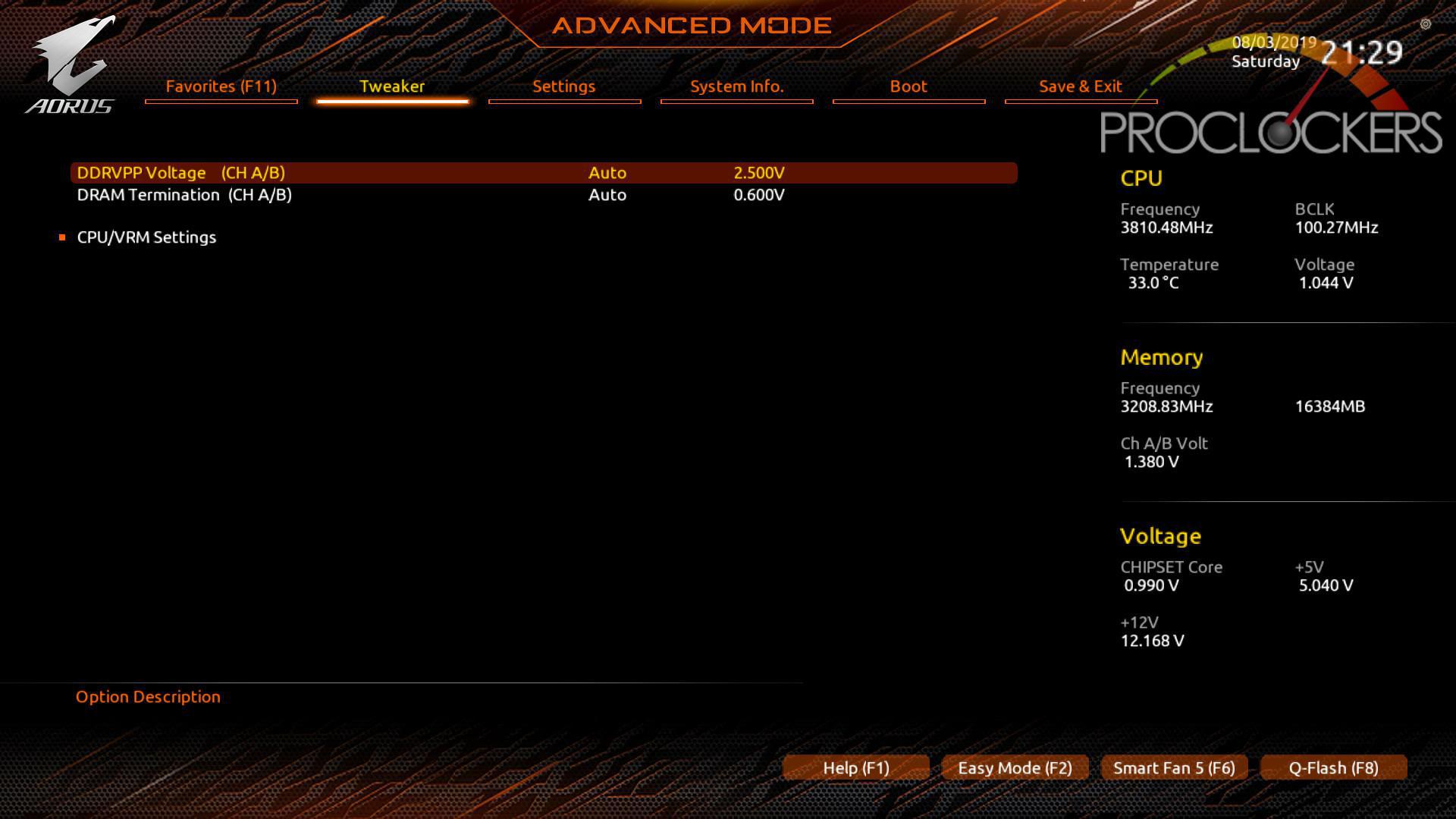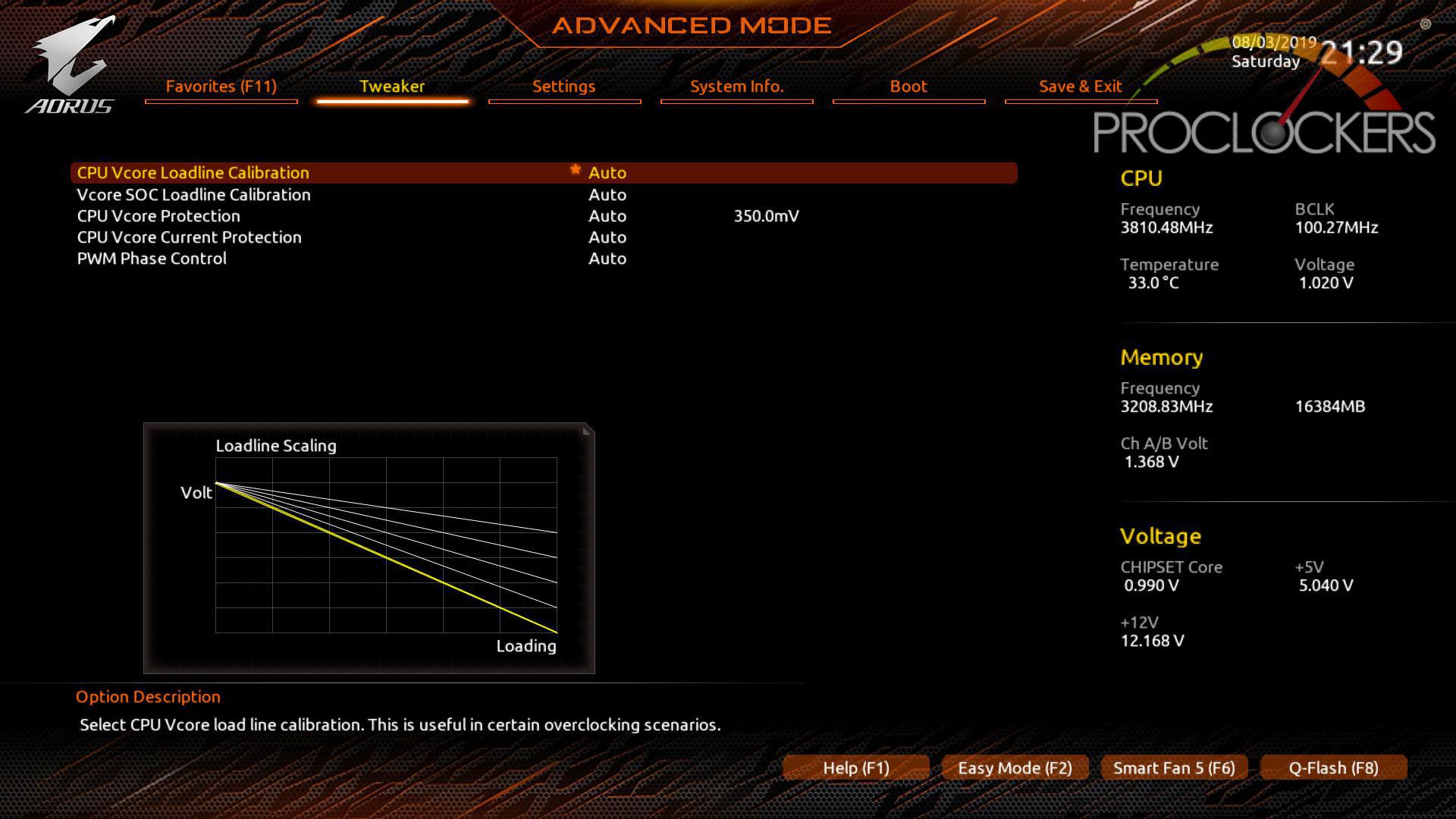 Moving to the next tab "Settings", you can view/change settings which are organized in 7 sections that include:
Platform Power
IO Ports
Miscellaneous
AMD CBS
AMD Overclocking
PC Health
Smart Fan 5
Under "Platform Power" you can configure Soft-Off by PWR BTTN, Resume by alarm and Wake on LAN to name a few.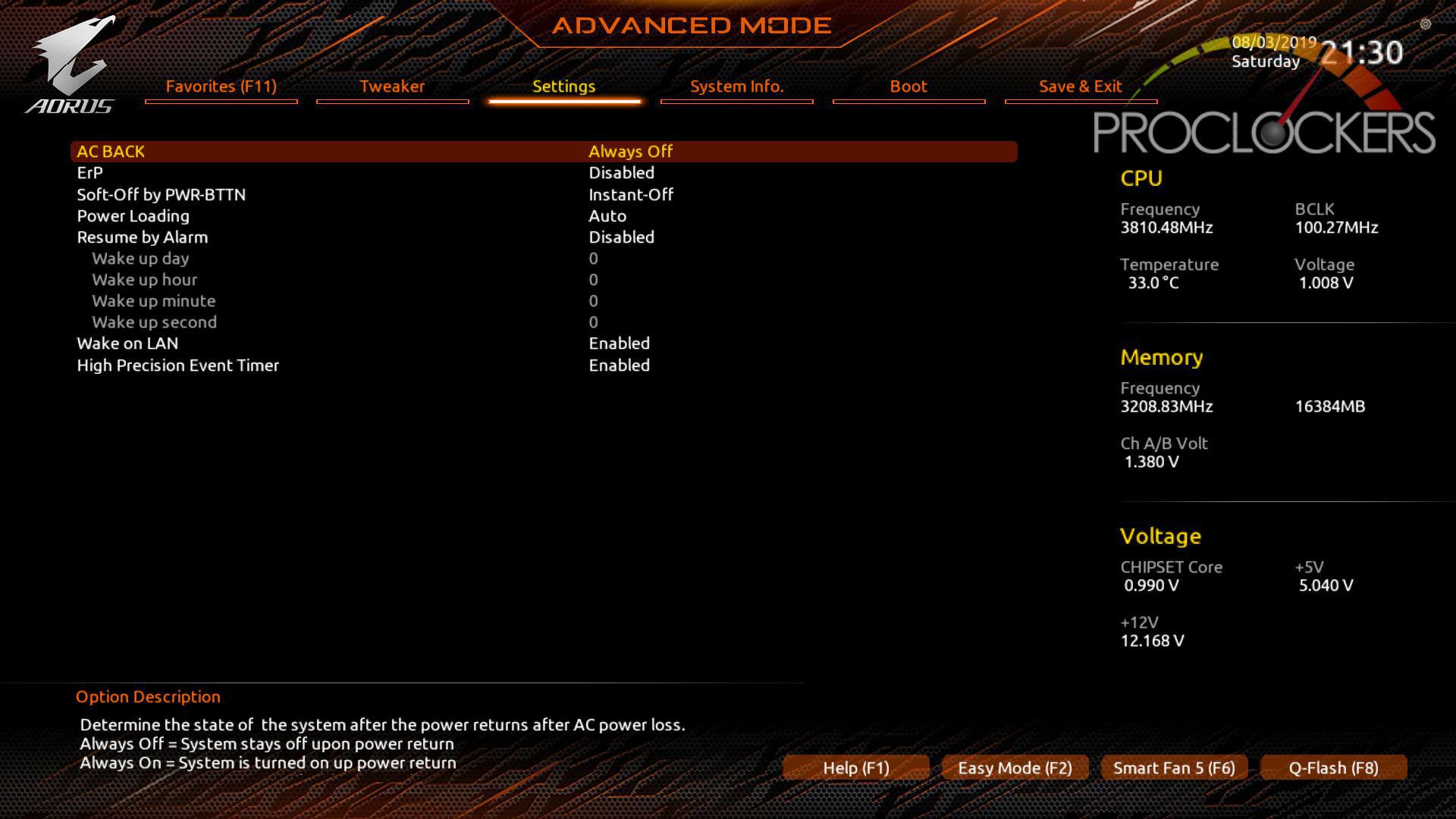 In the "IO Ports" section you can adjust various I/O Port related settings that include Initial Display output, HD Audio Controller and Onboard Lan Controller. You can also configure USB, SATA, and Network using the 4 menu items on the bottom.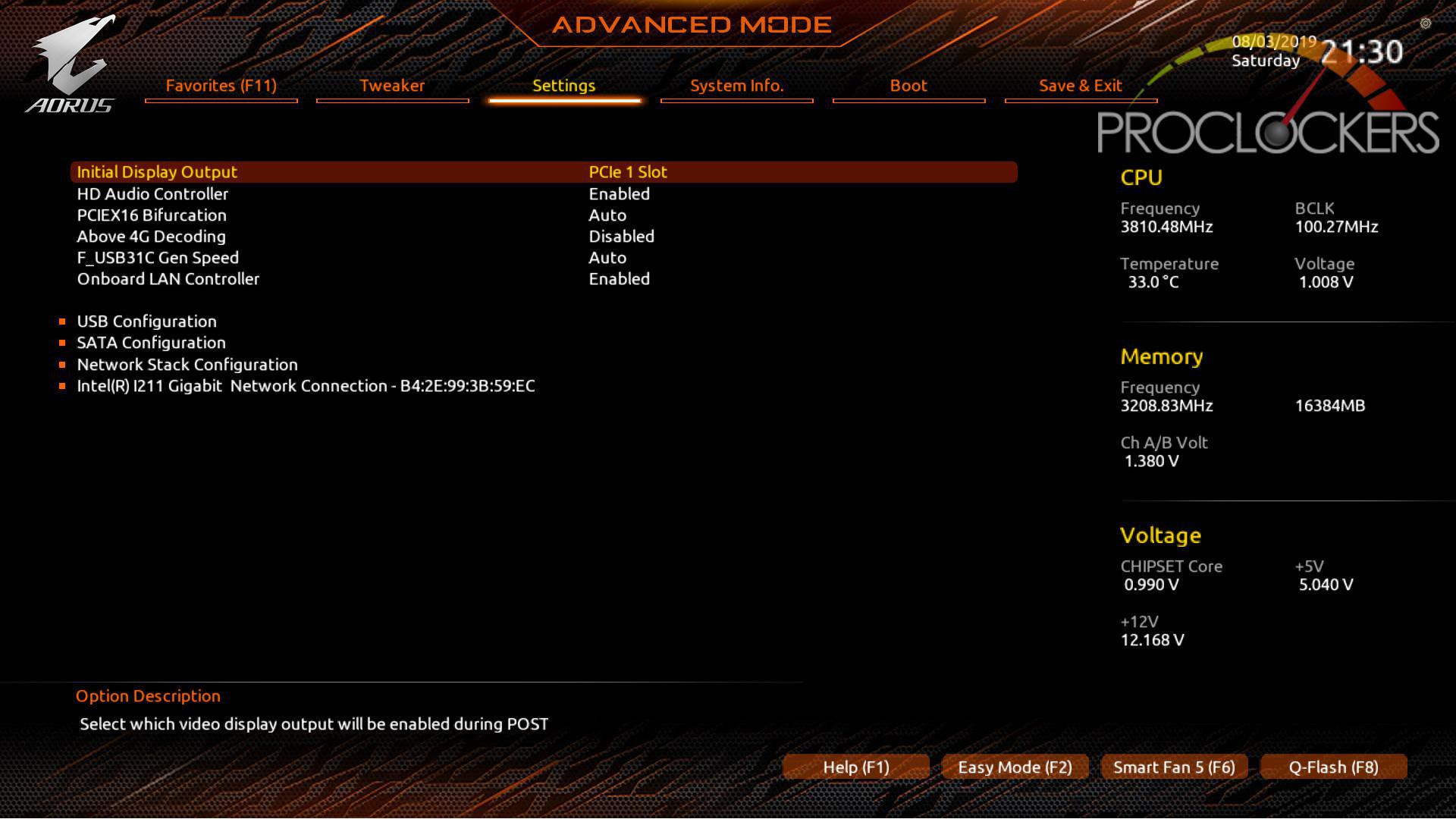 Under "USB Configuration", you can enable/disable settings like Legacy USB support and USB mass Storage Driver support. You can also adjust any storage devices that are connected like our USB flash drive.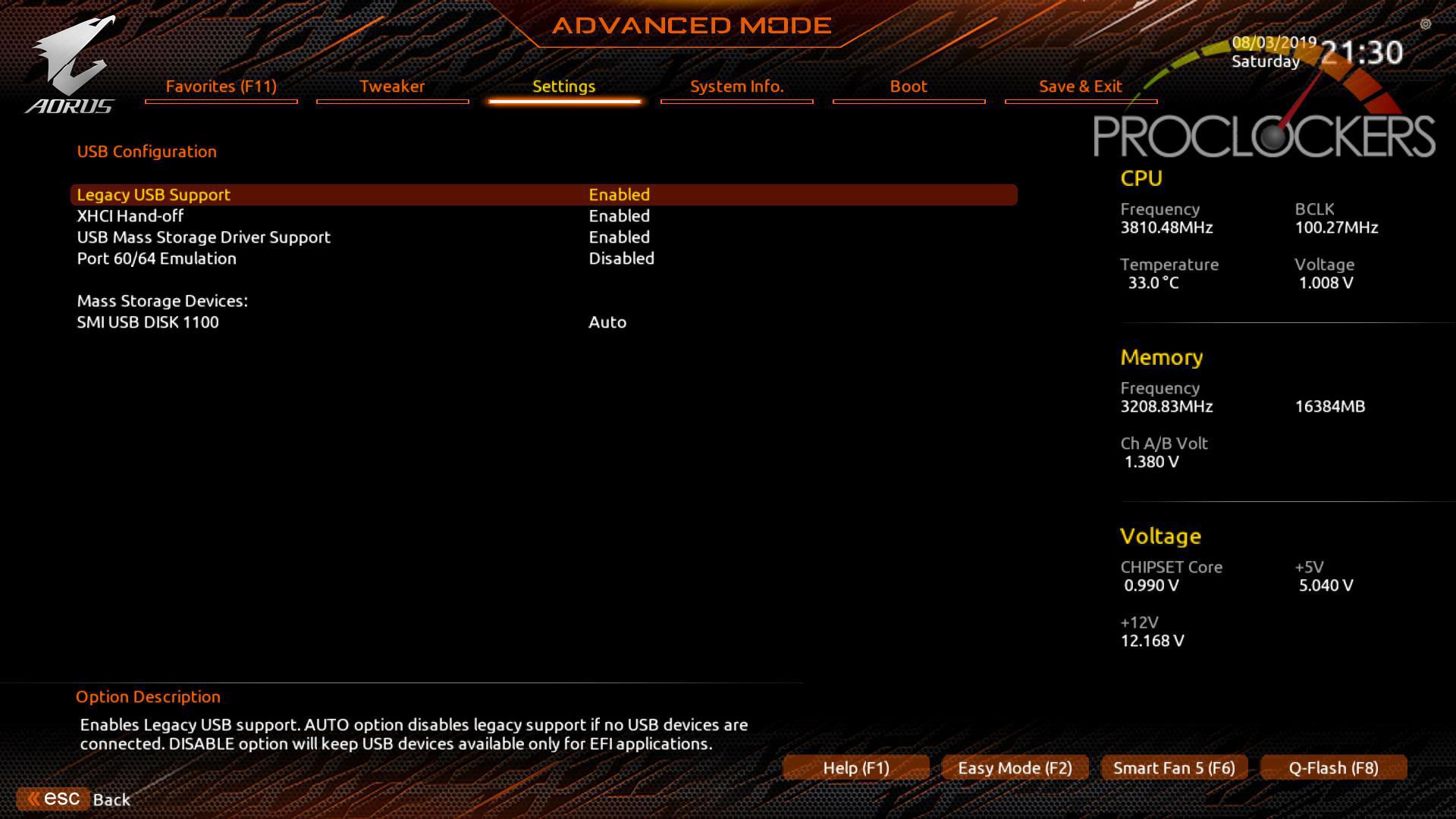 In "SATA Configuration" you can configure the SATA/Raid mode and view any devices connected to one of the 6 SATA ports of the x570 AORUS Pro Wifi.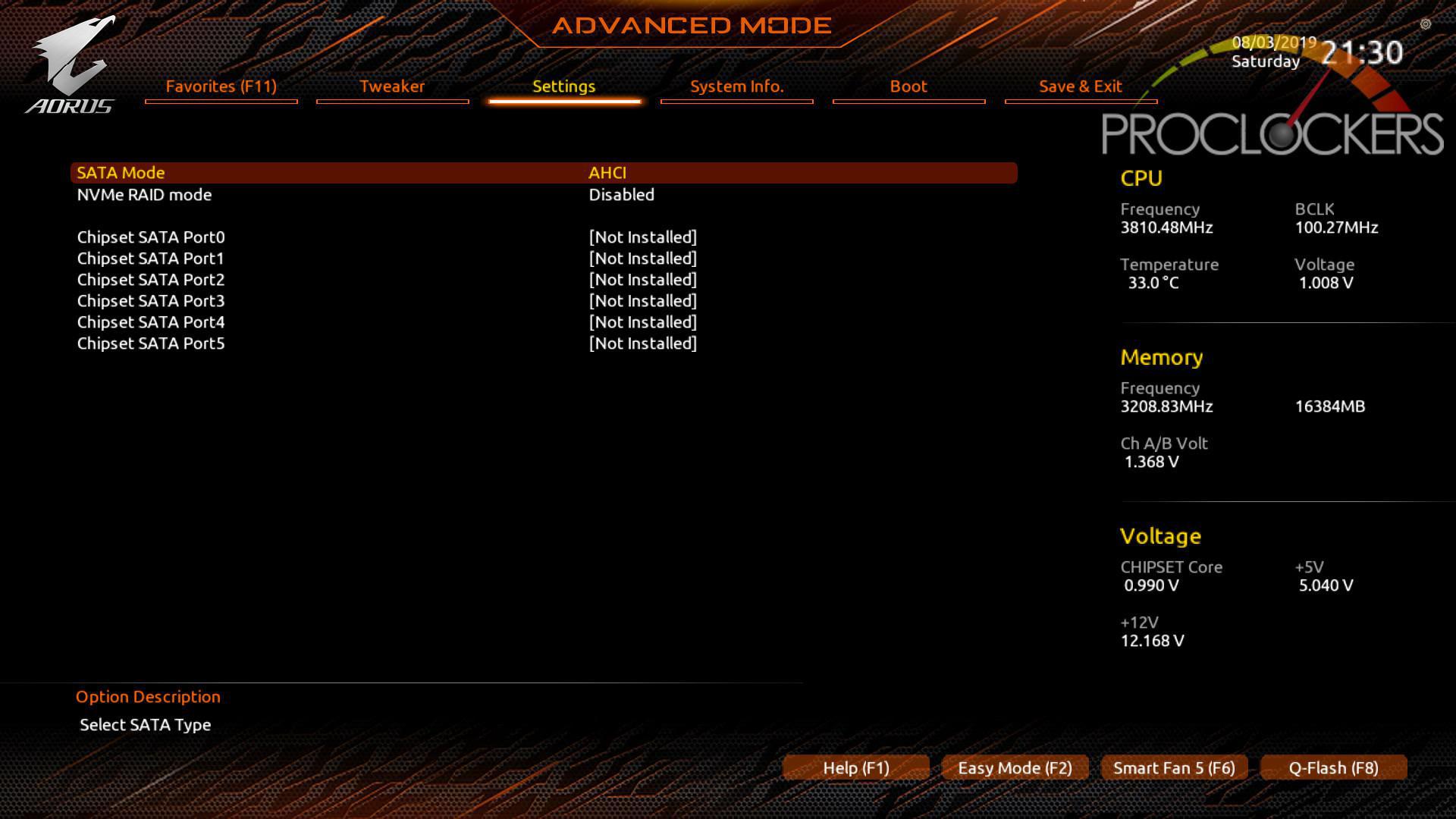 For the last two Network menus, you can view/configure your NIC.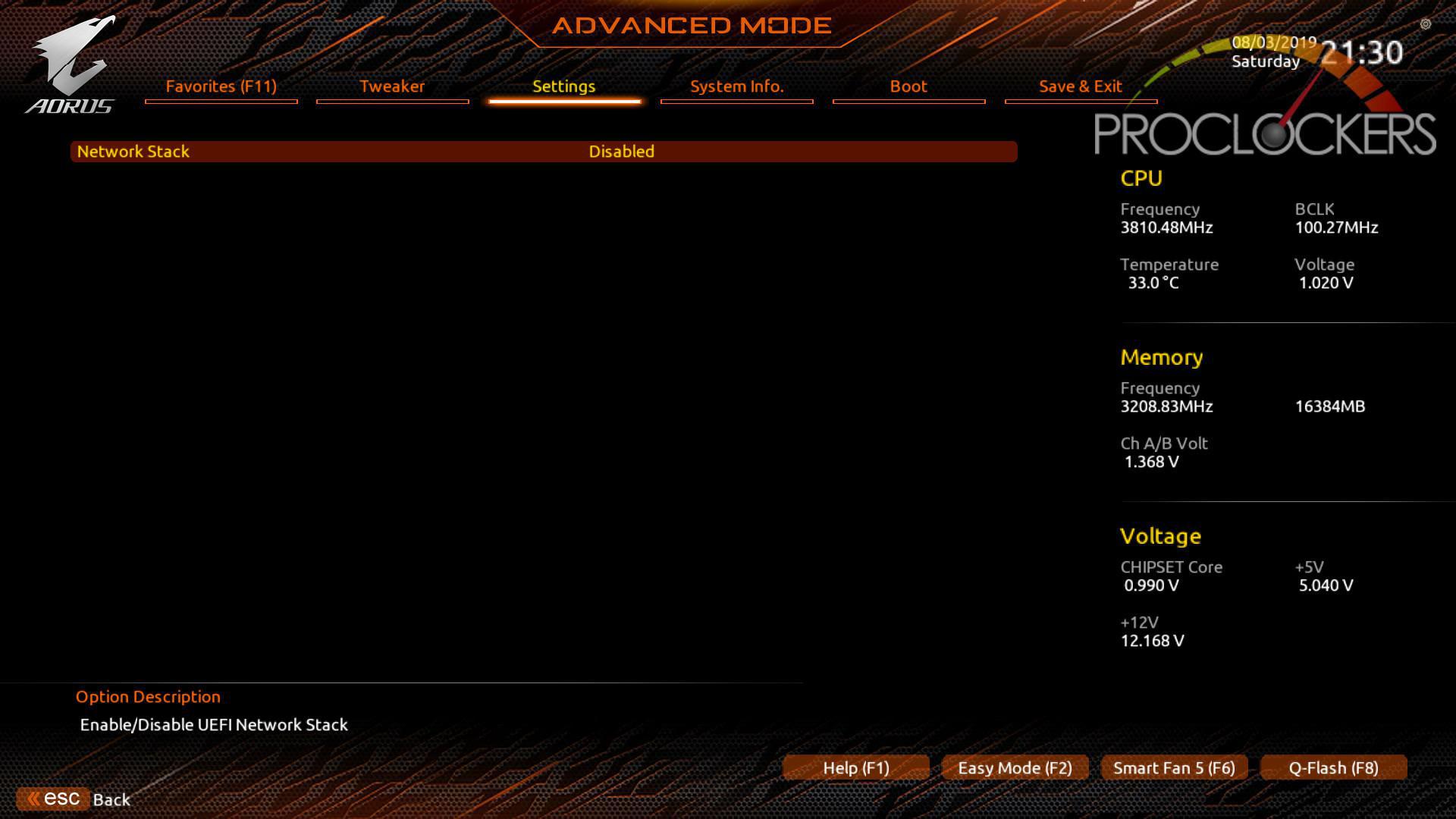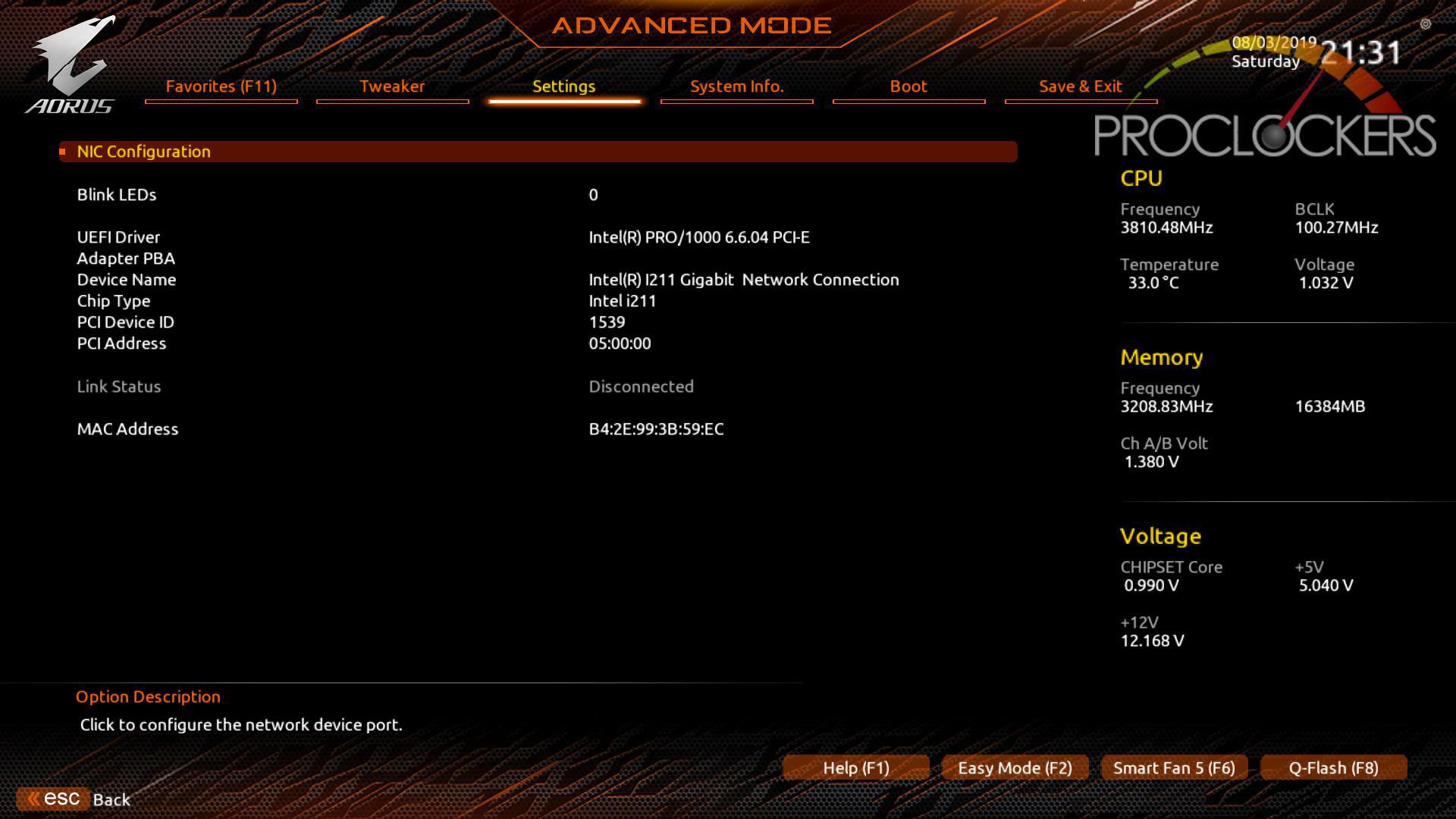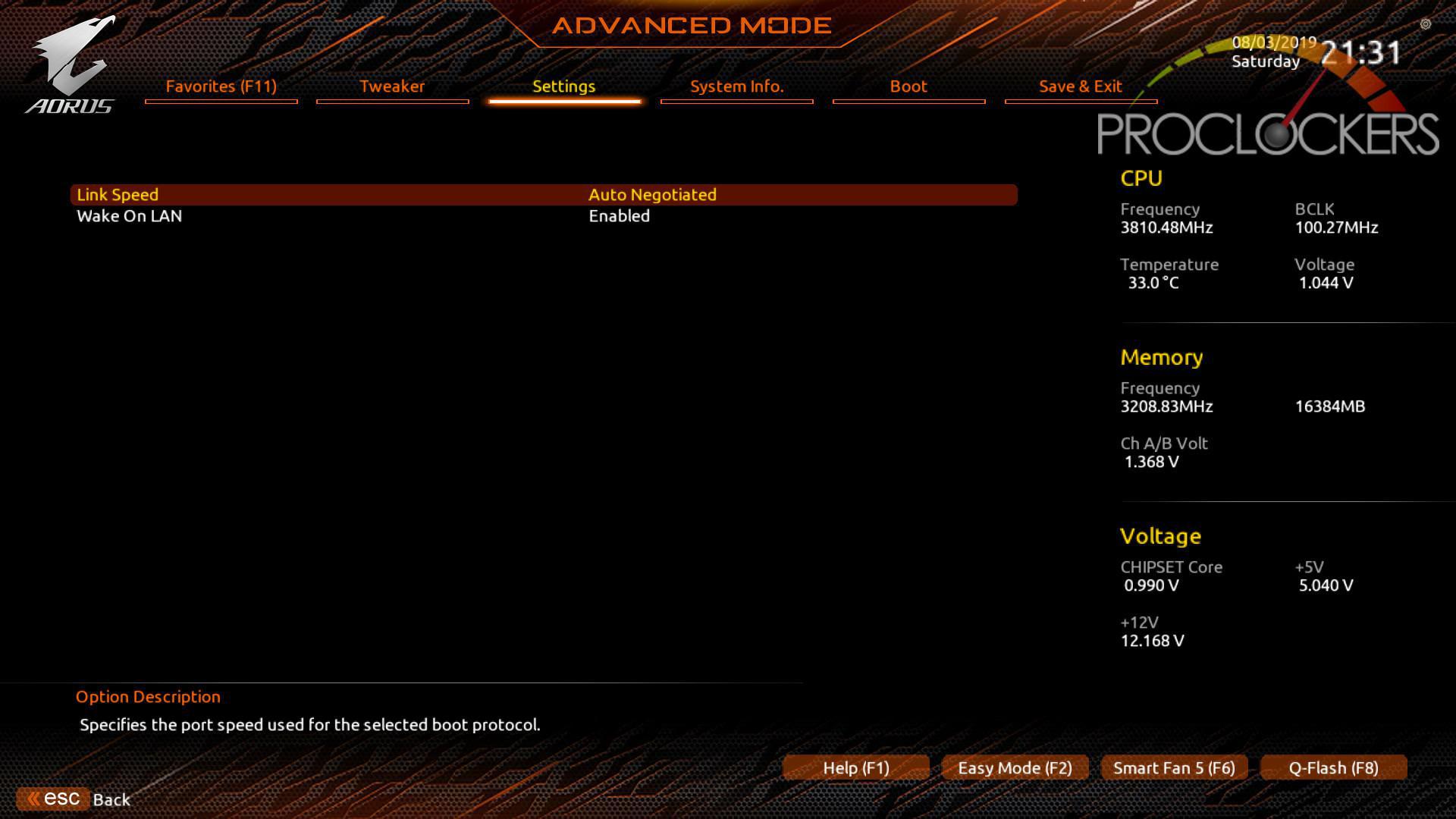 Moving to the "Miscellaneous" menu you can turn on/off the LEDs in various power states and configure things like PCIe Slot configuration and 3DMark01 Enhancement.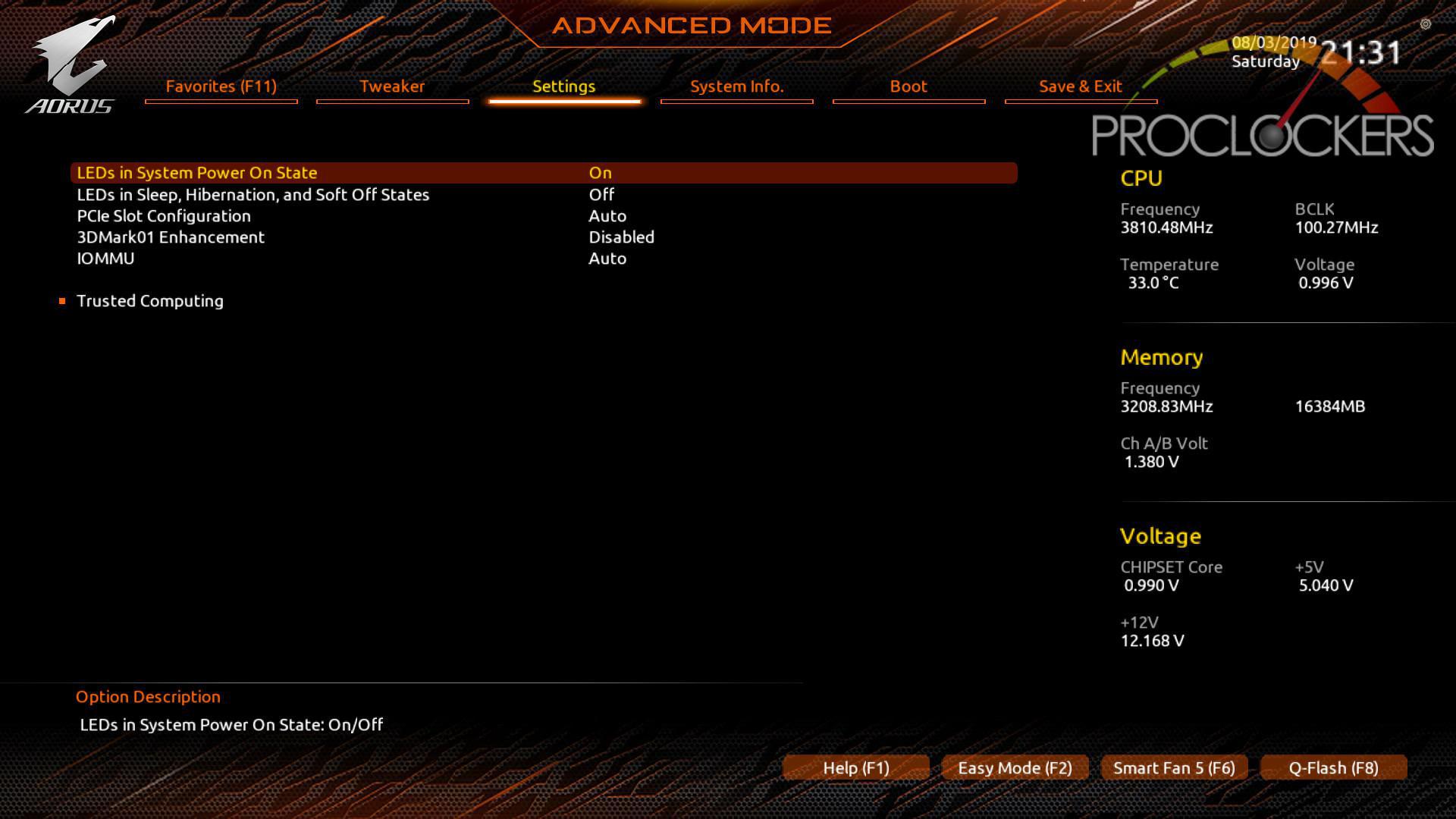 Under the last menu, "Trusting Computing", you can enable/disable Security Device Support (TPM) and Disable Block Sid.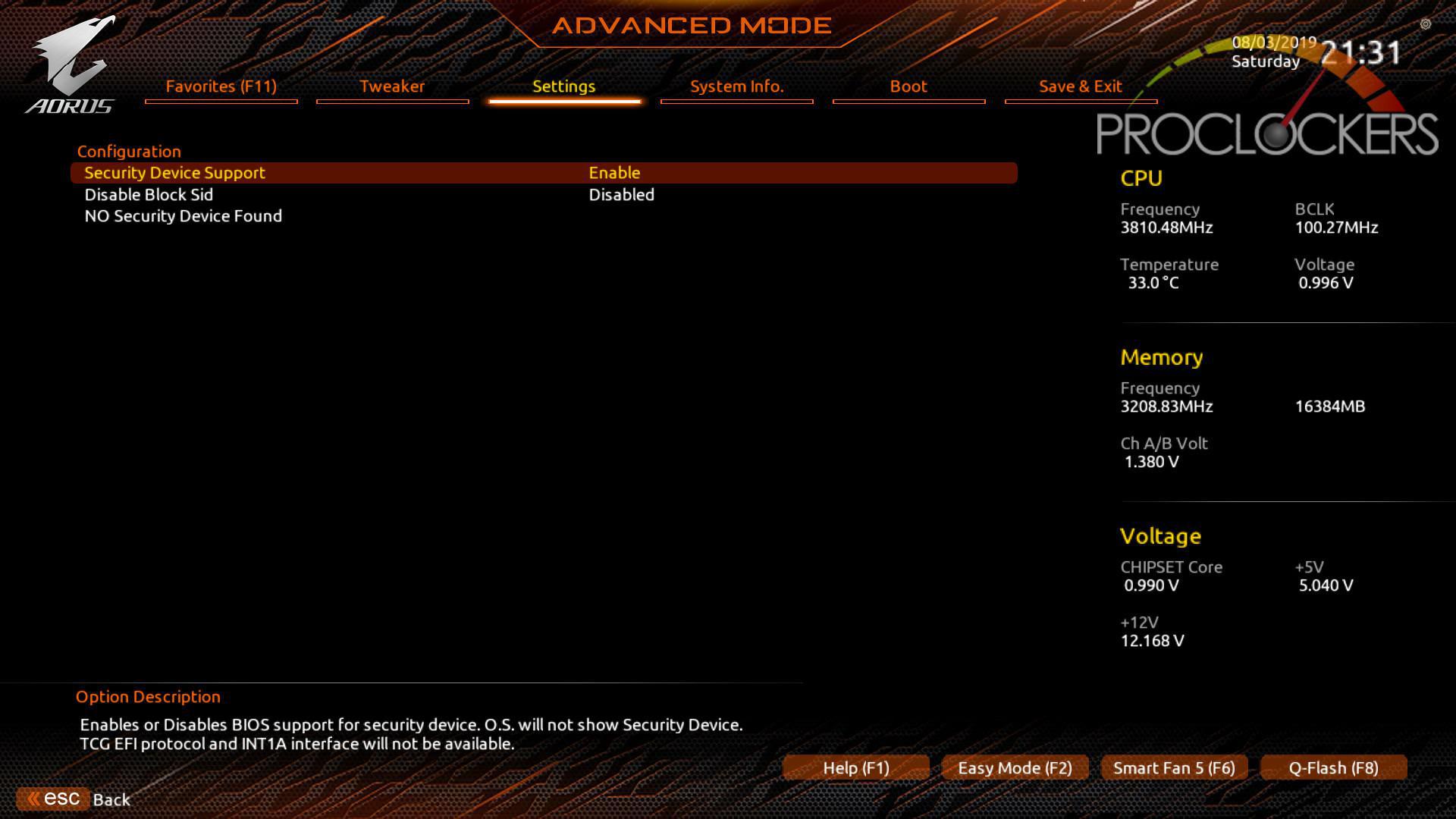 Moving to "AMD CBS", there are advanced overclocking settings that allow you to adjust power states, DRAM controller options, and XFR settings.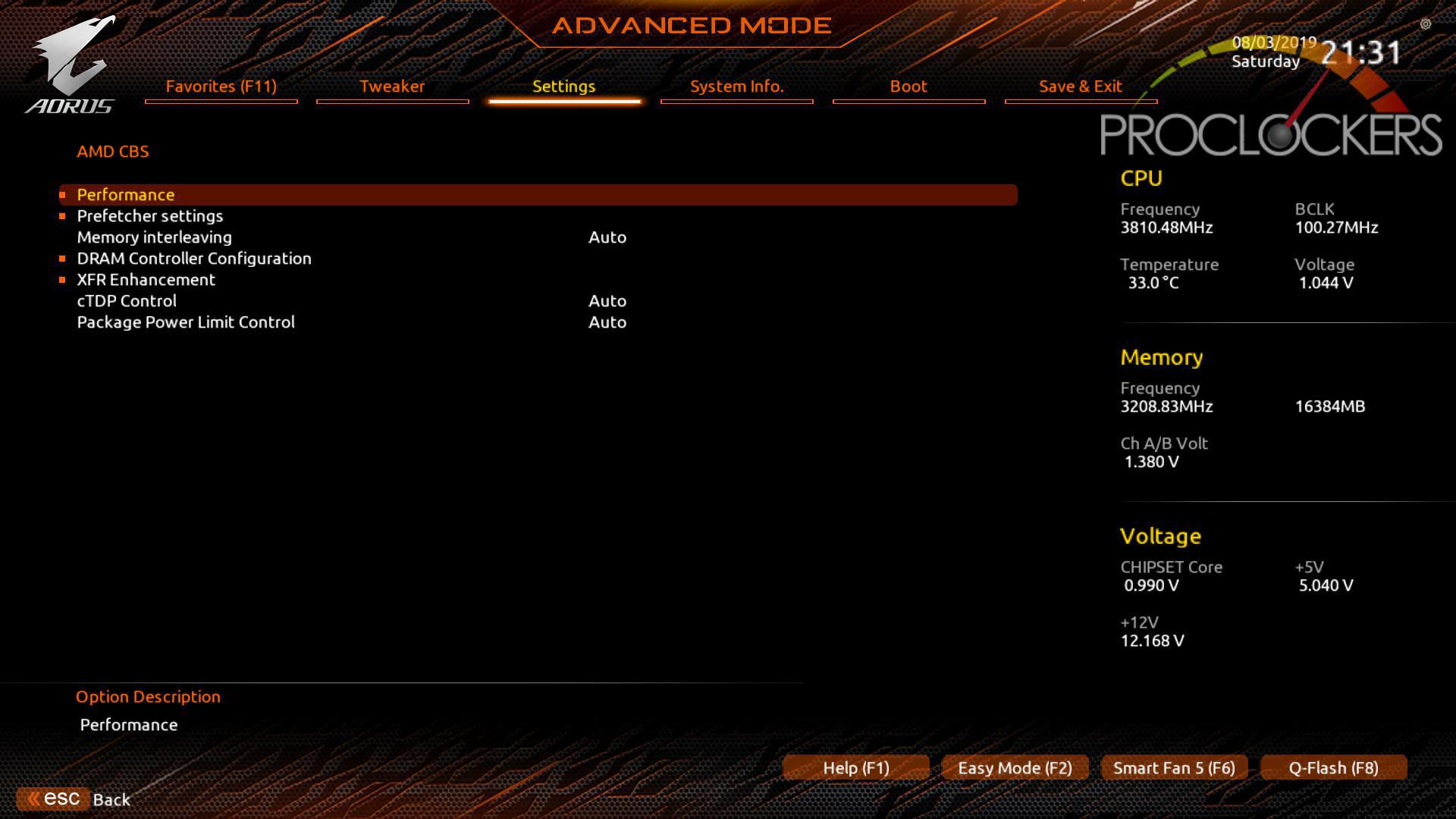 Going under "Performance" you can customize your Custom Core Pstates which should only be done if you know what you are doing. Gigabyte has even included a warning message that adjusting these settings are not covered by your warranty when you enable this setting.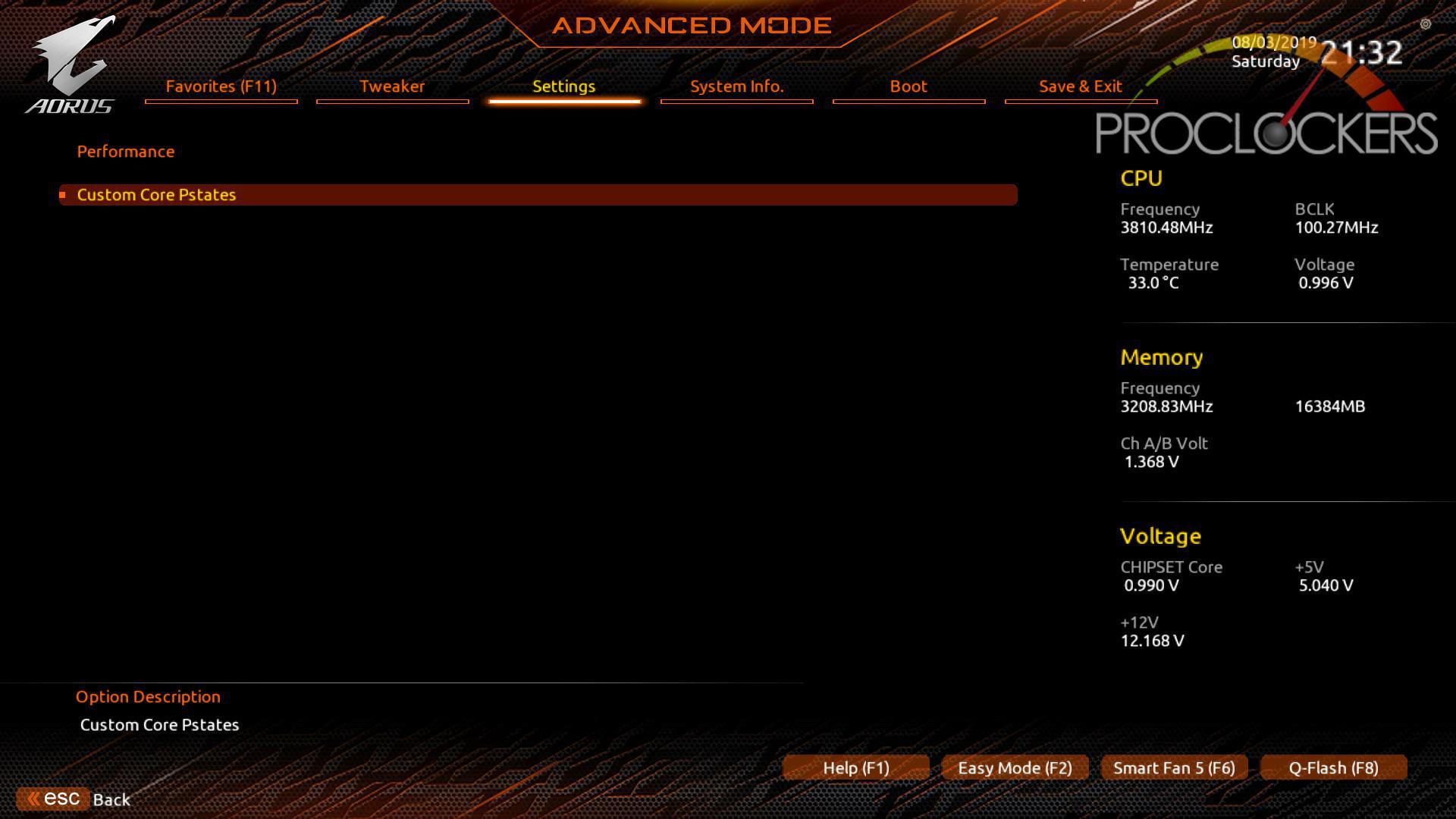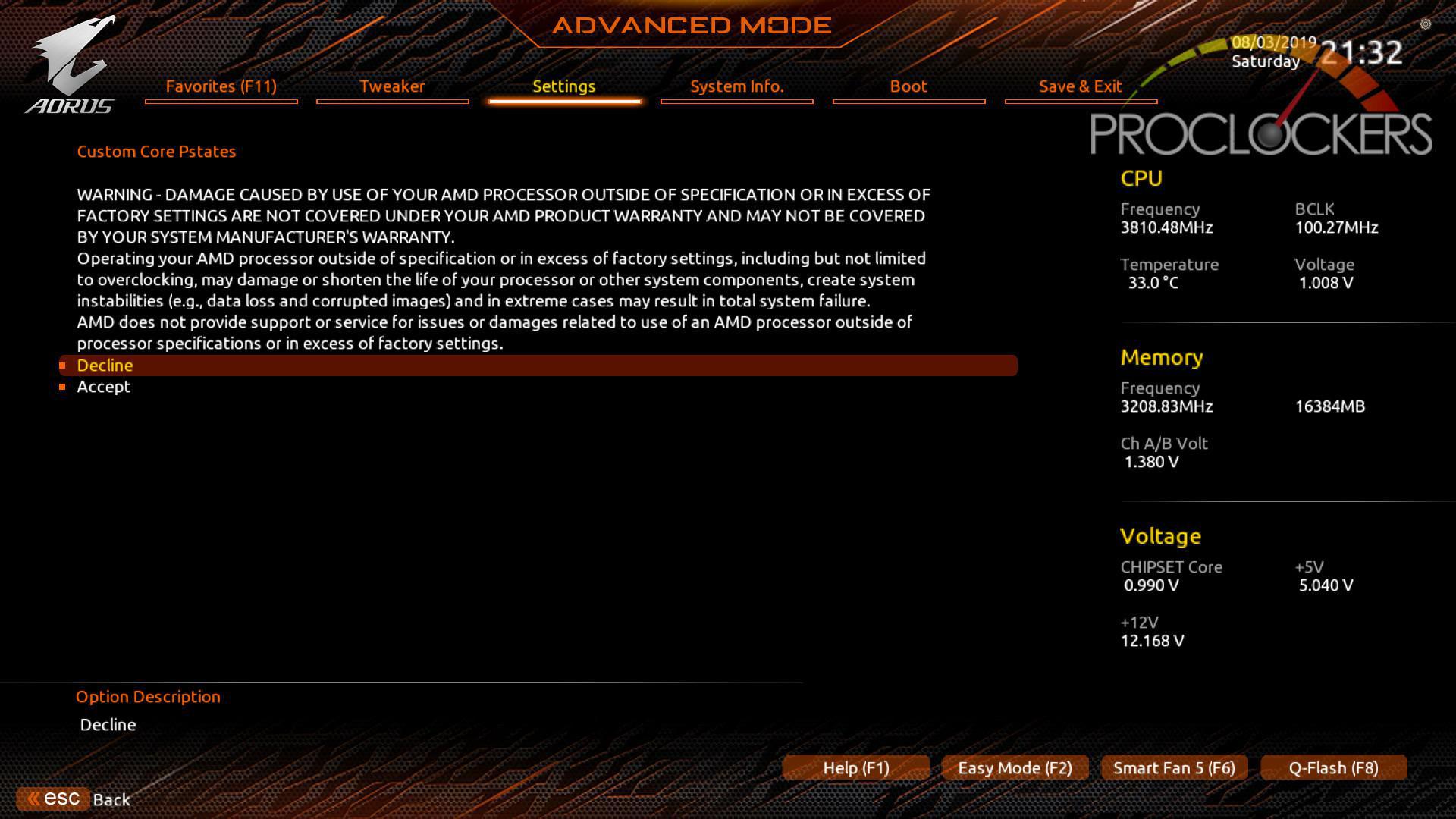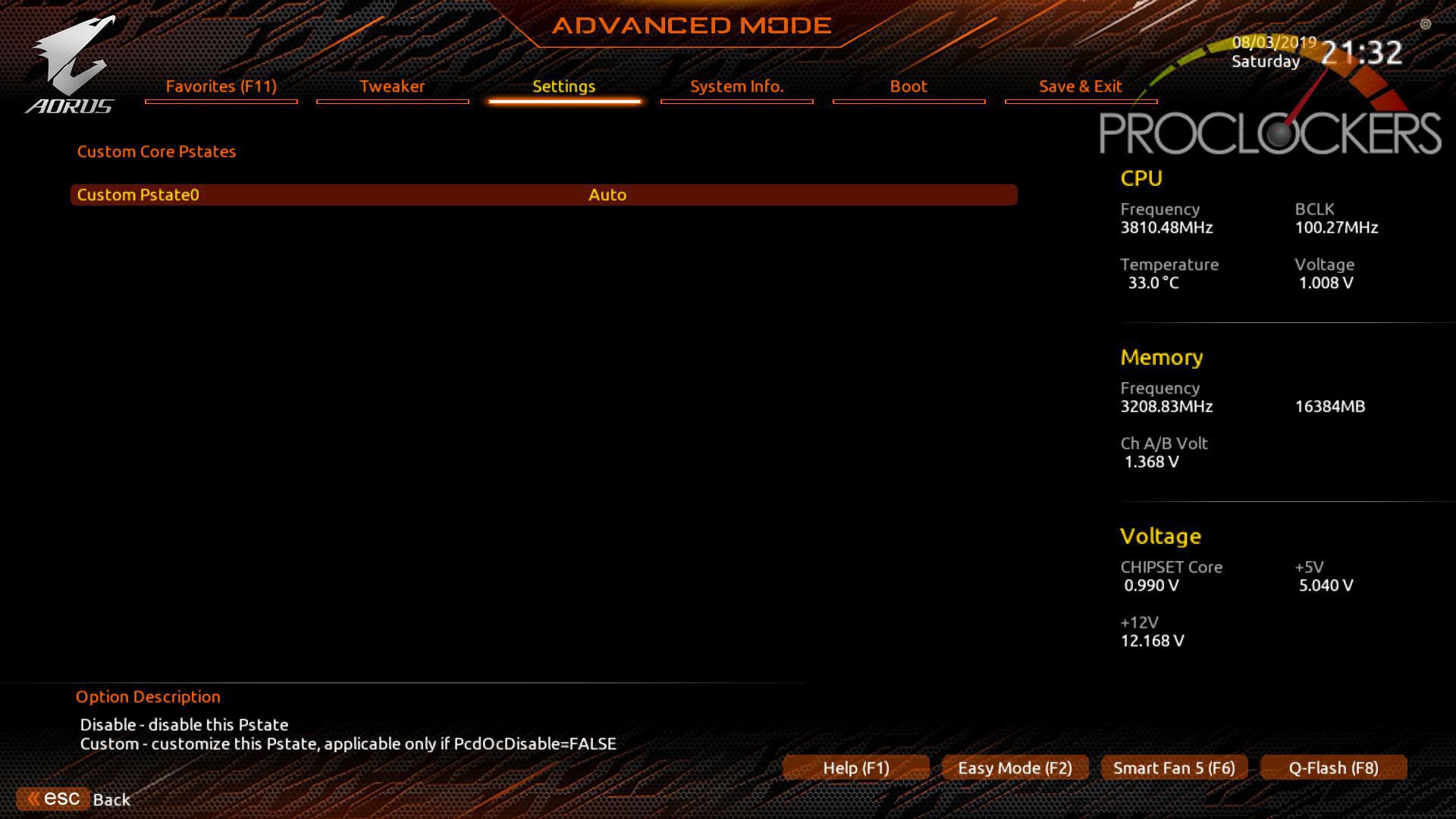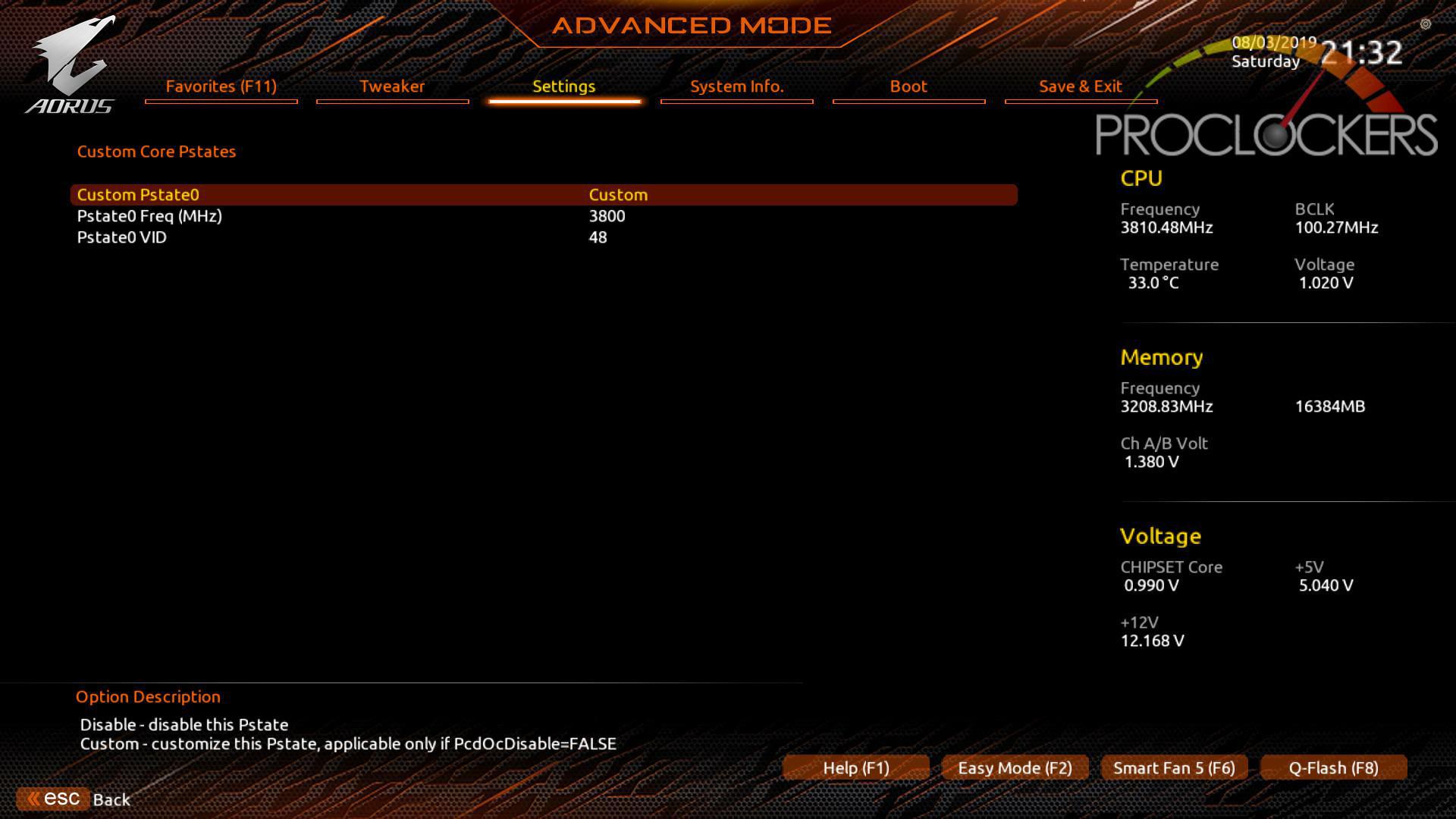 In "Prefetcher Settings" you can enable/disable your L1/L2 stream hardware prefetcher.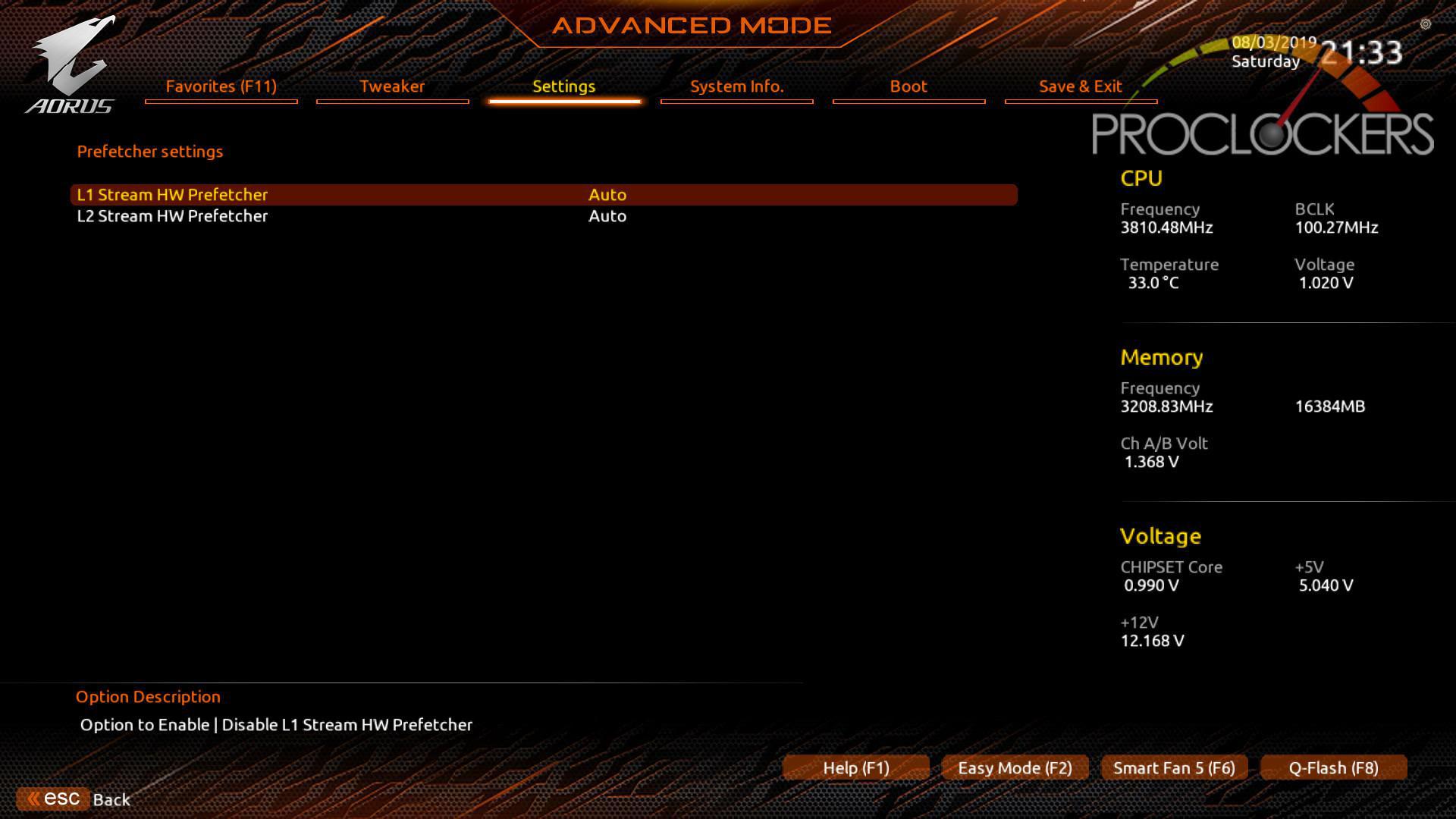 Moving to "DRAM Power Options" you can adjust your "Power Down Enable" setting.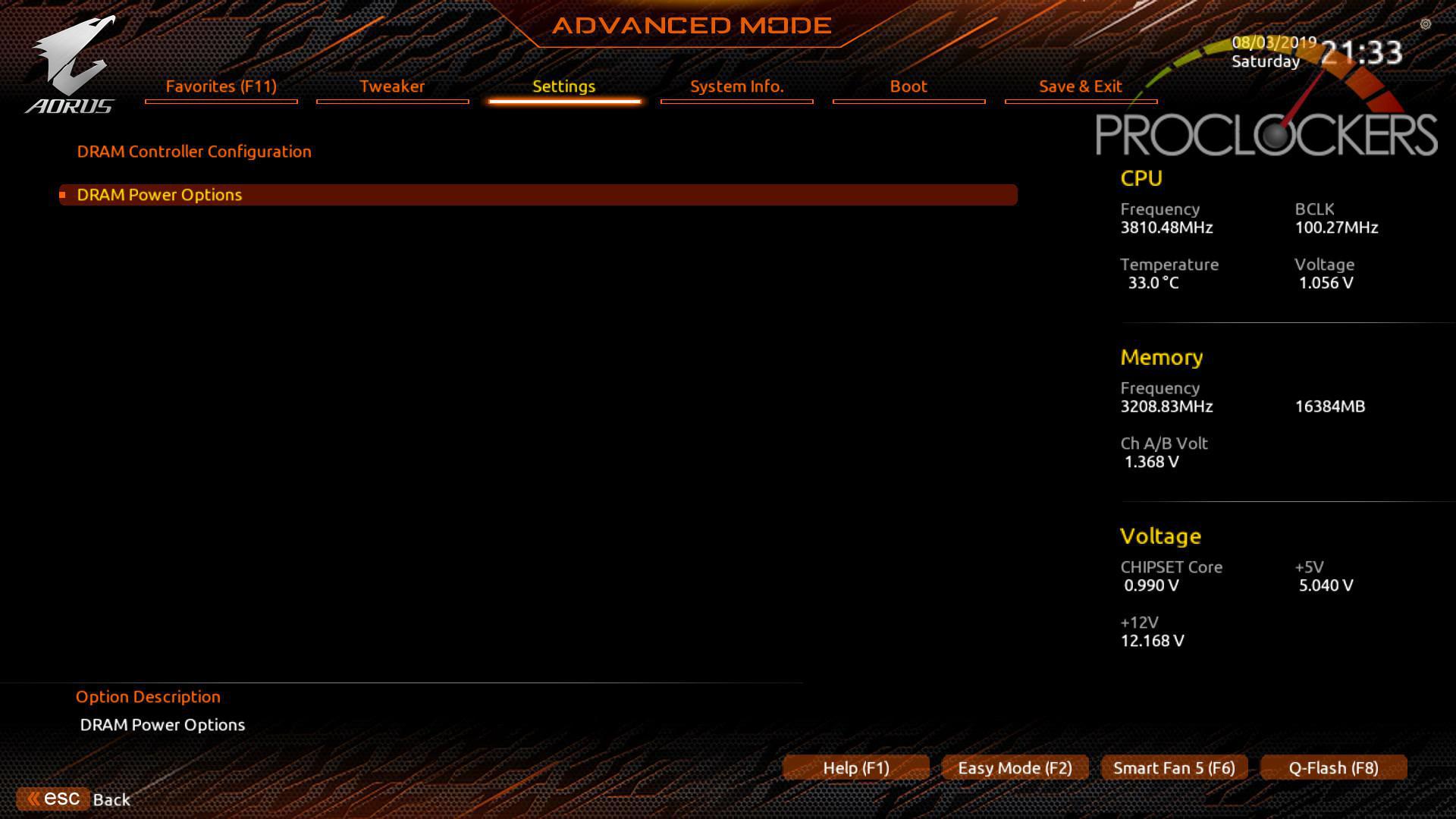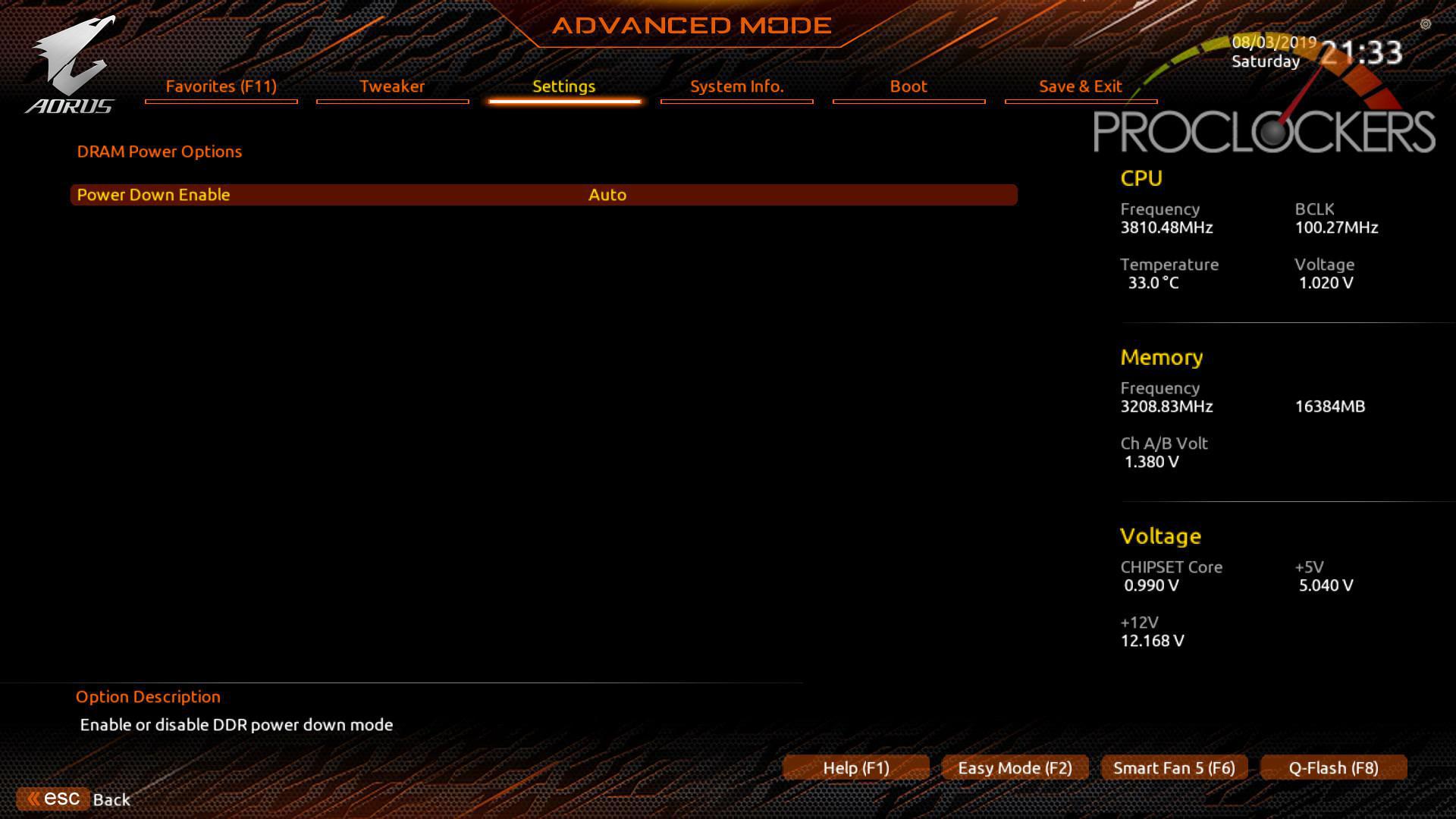 Under the last menu item in "AMD CBS", "XFR Enhancement" you can adjust Ryzen's XFR boost settings. Again, we get another warning that any damage done by adjusting these settings are not covered by warranty. So only make adjustments here, if you are extremely knowledgeable in adjusting such settings.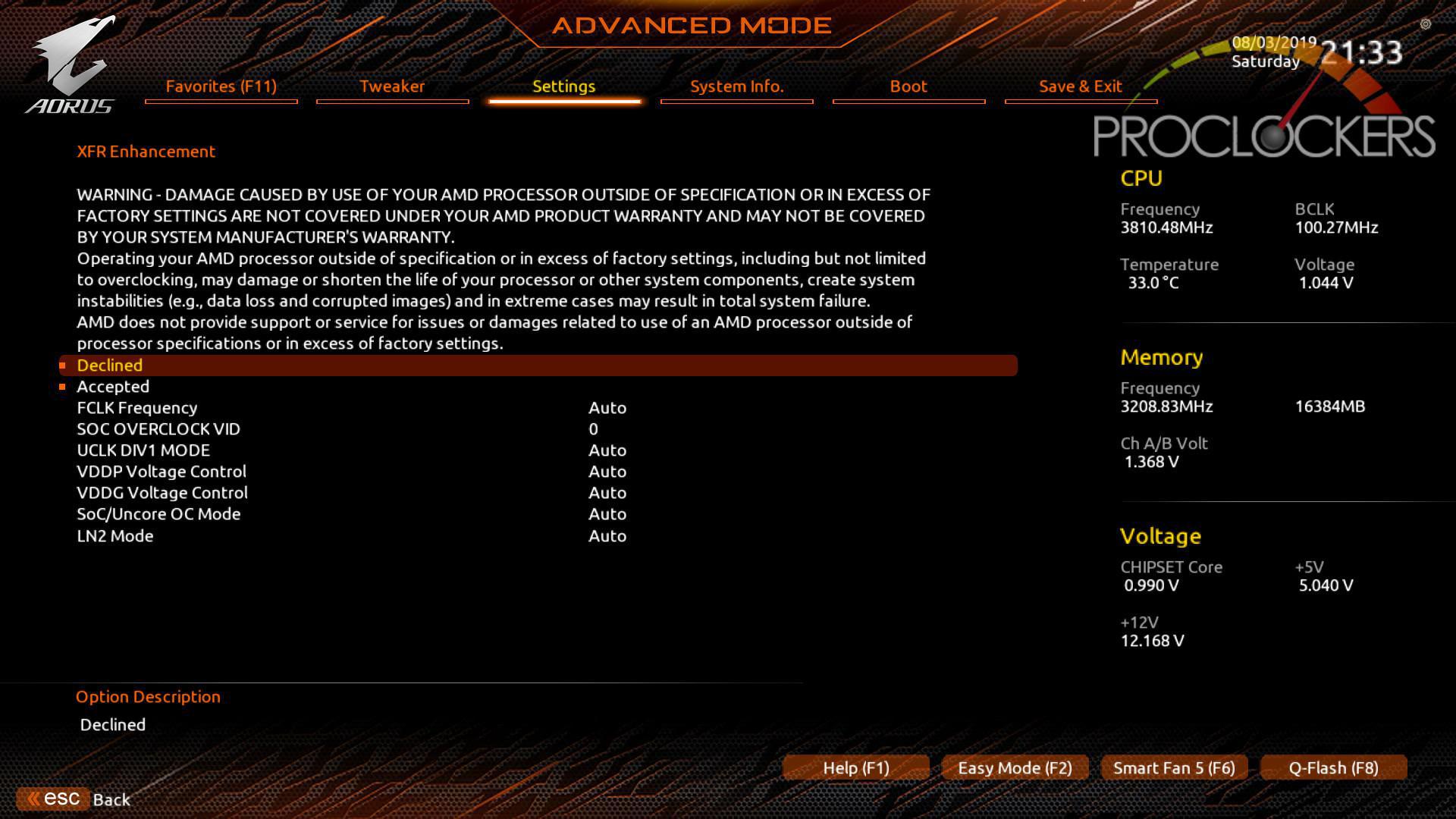 Going to the "AMD Overclocking" section, we get our third warning that any damage caused by overclocking is not covered under warranty. Once you accept, you get a list of menu items giving you access to adjust various setting such as CPU, DRAM, Precision Boost, and voltages.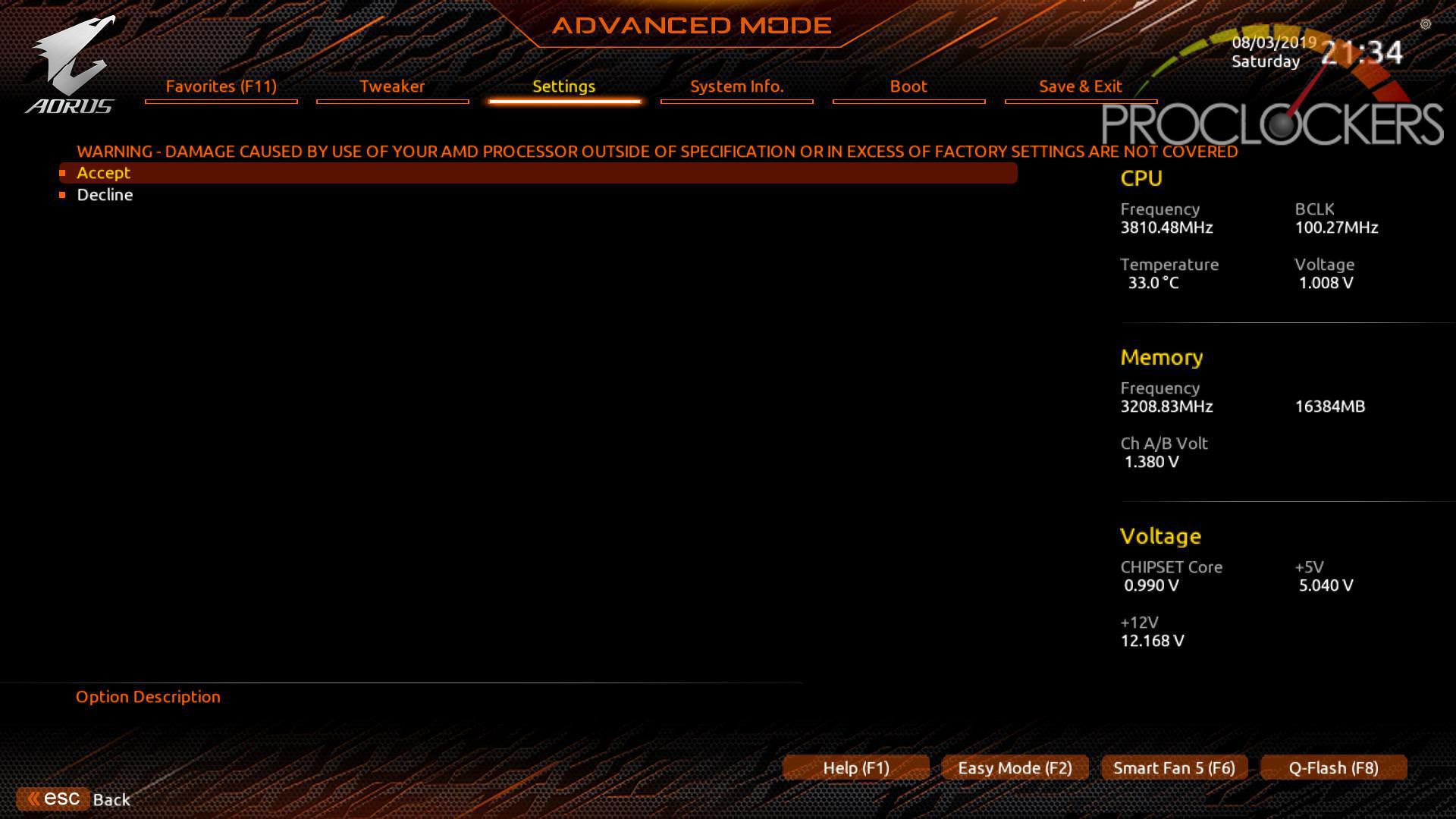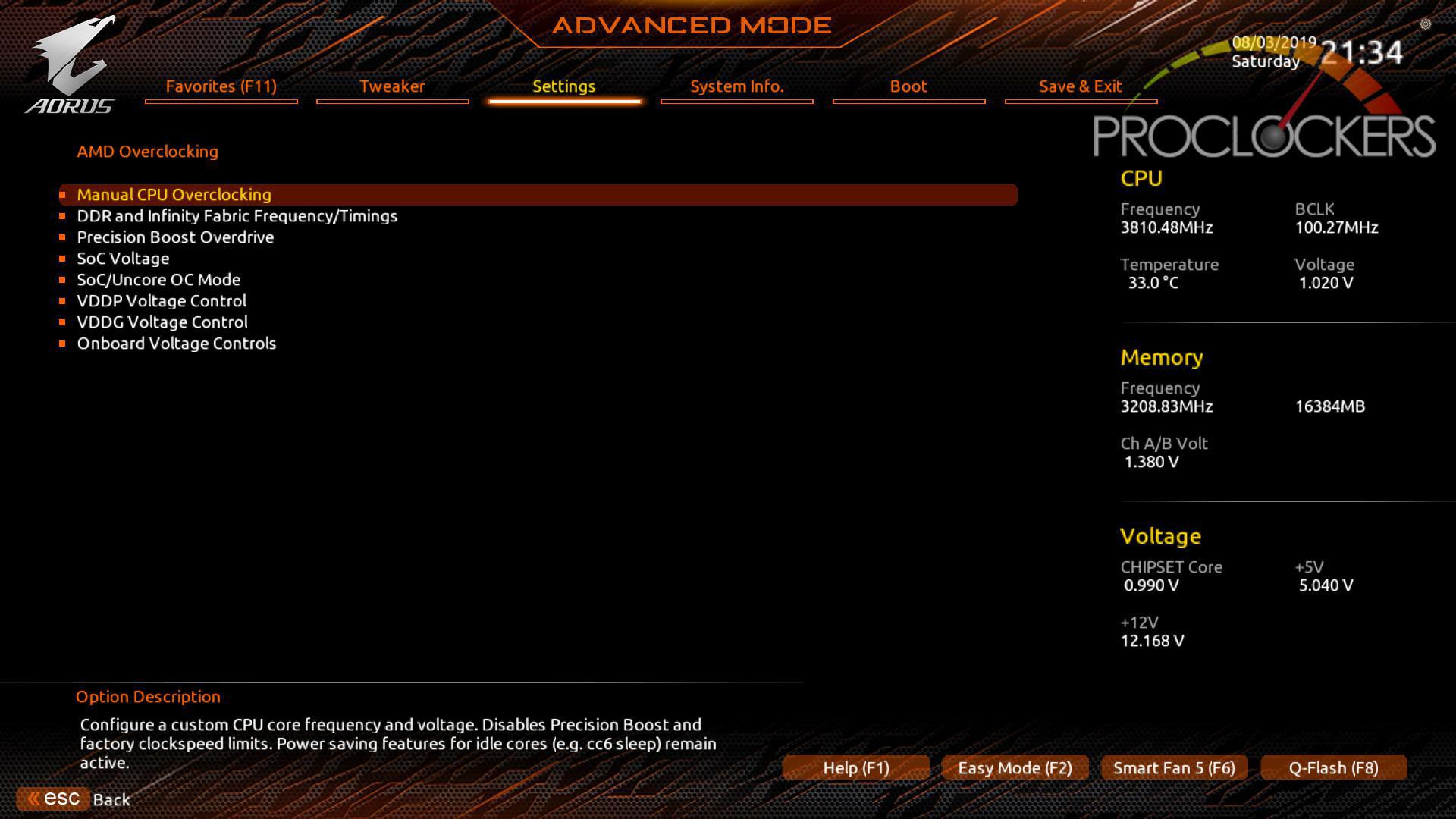 Under "Manual CPU Overclocking", you can adjust your CPU frequency, CPU Voltage, and also some CPU Core Count Control.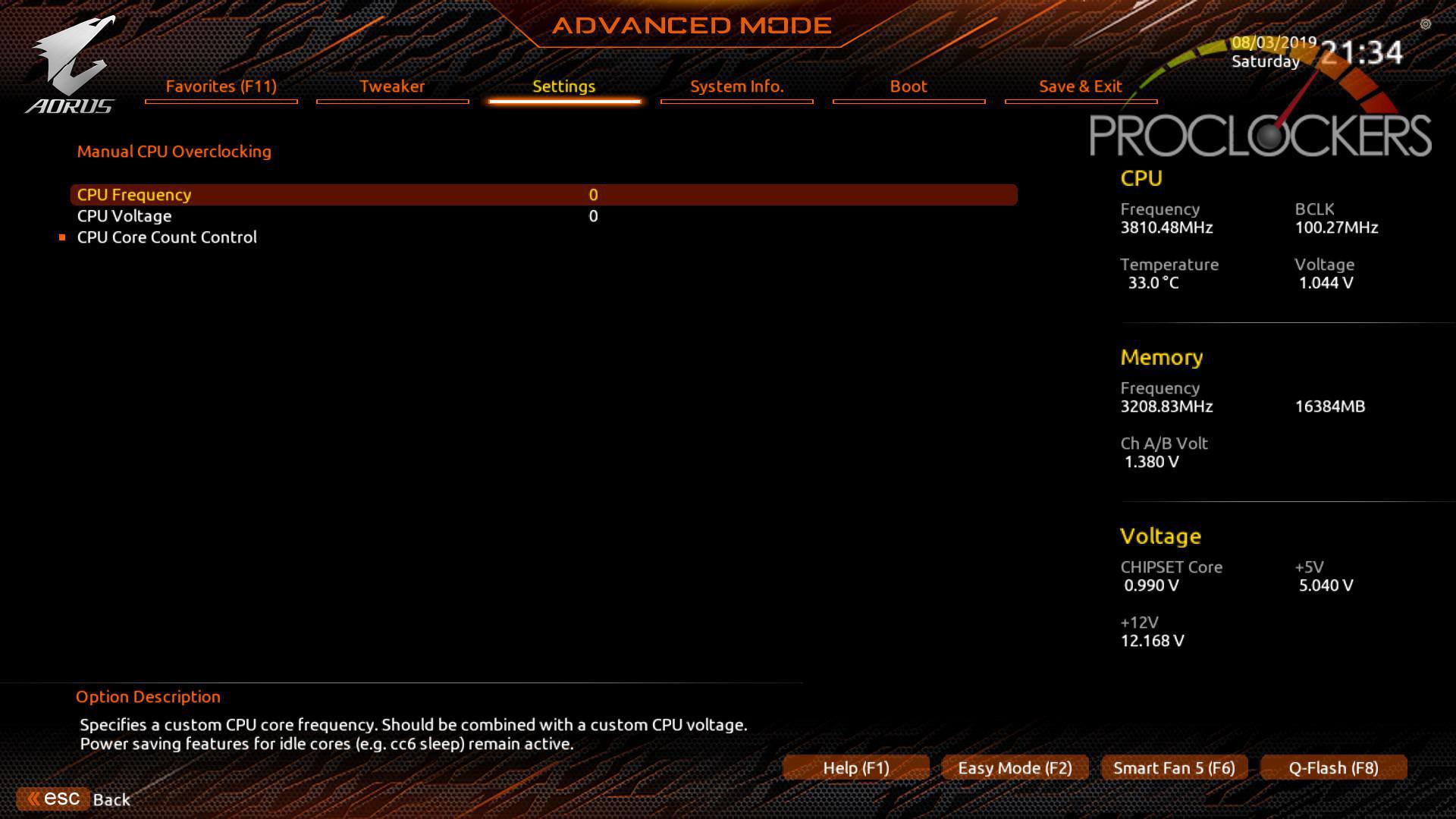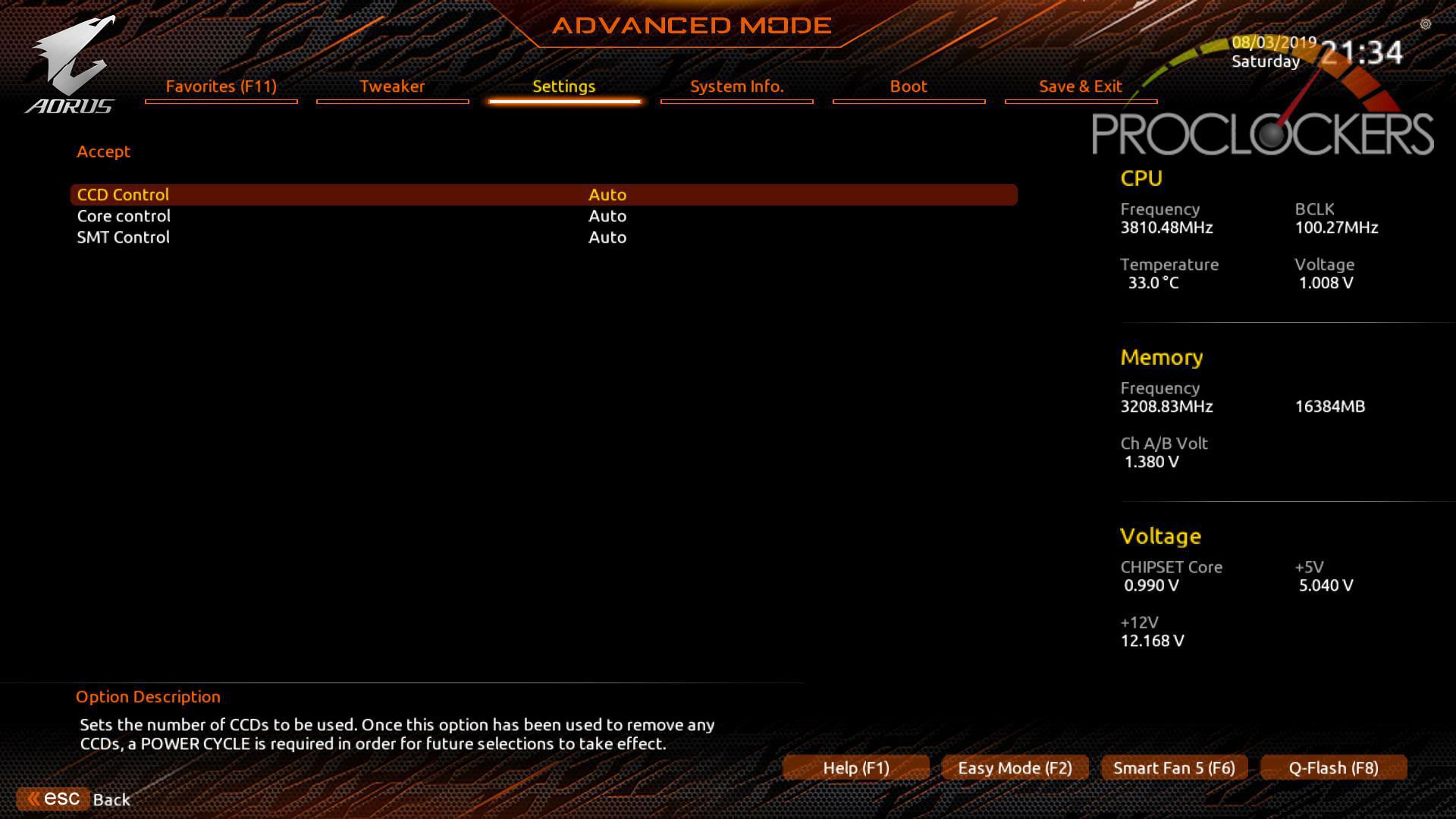 Under "DDR and Infinity Fabric Frequency and Timings" you can adjust various options for both your DRAM and Infinity Fabric.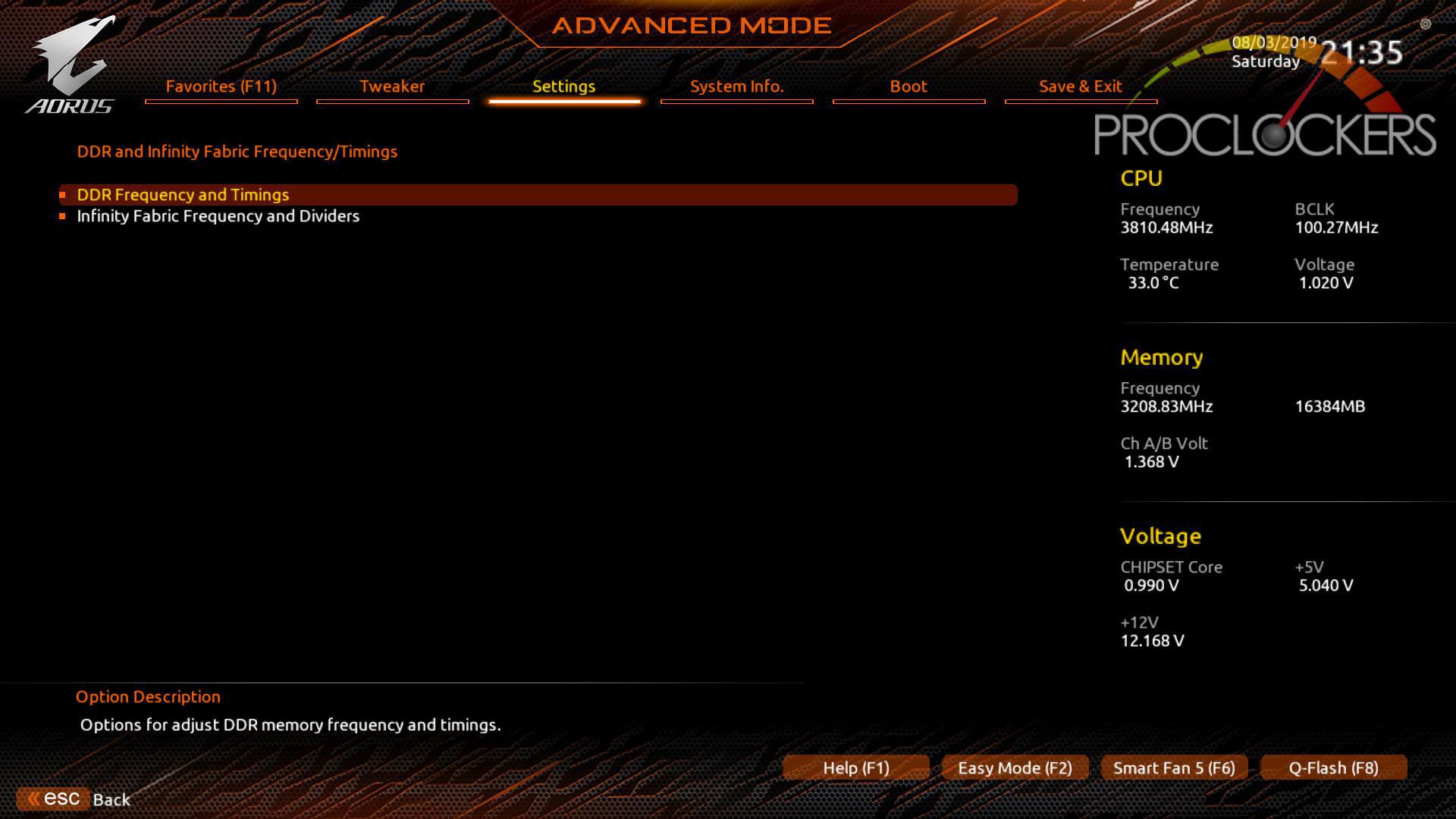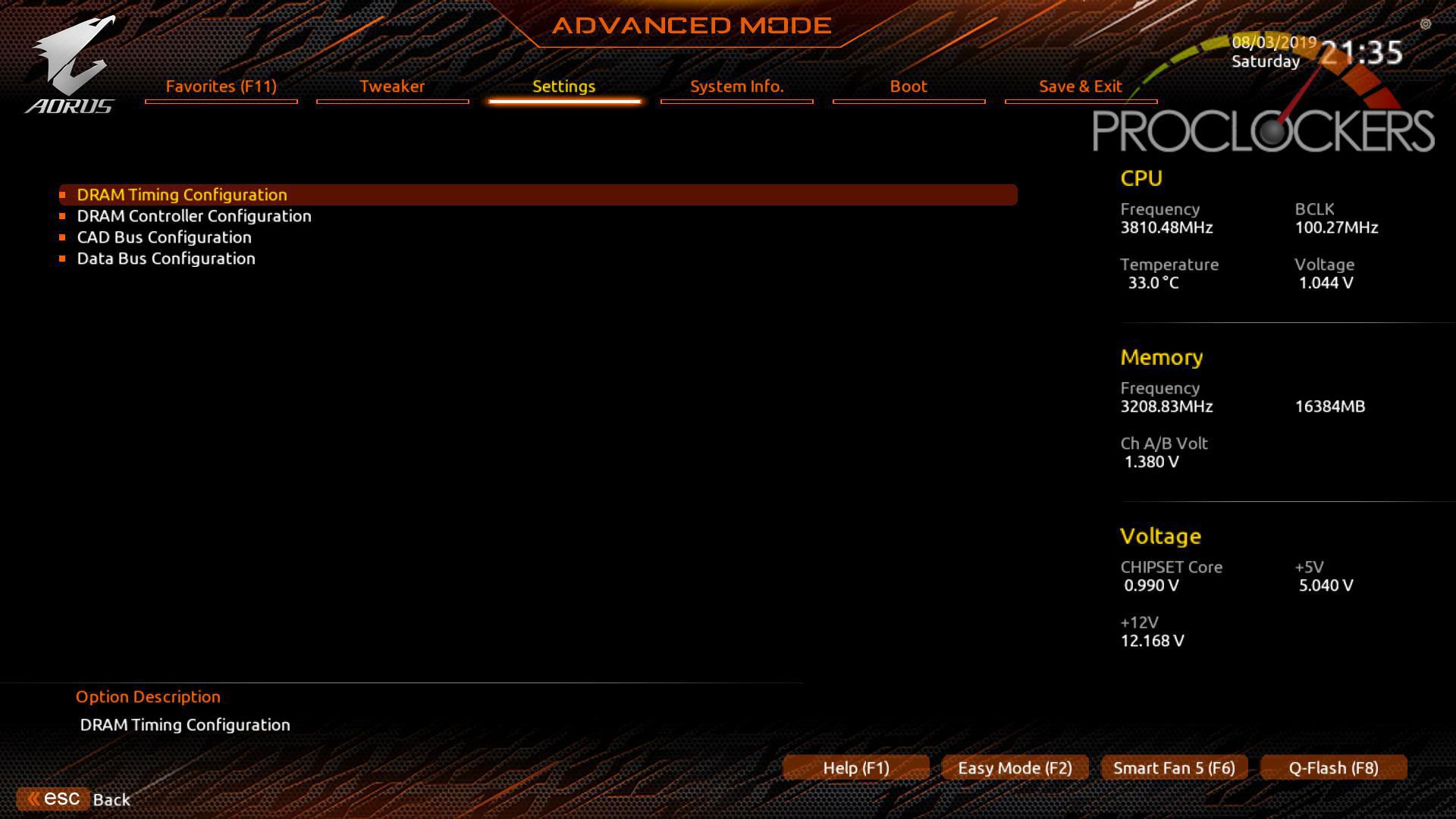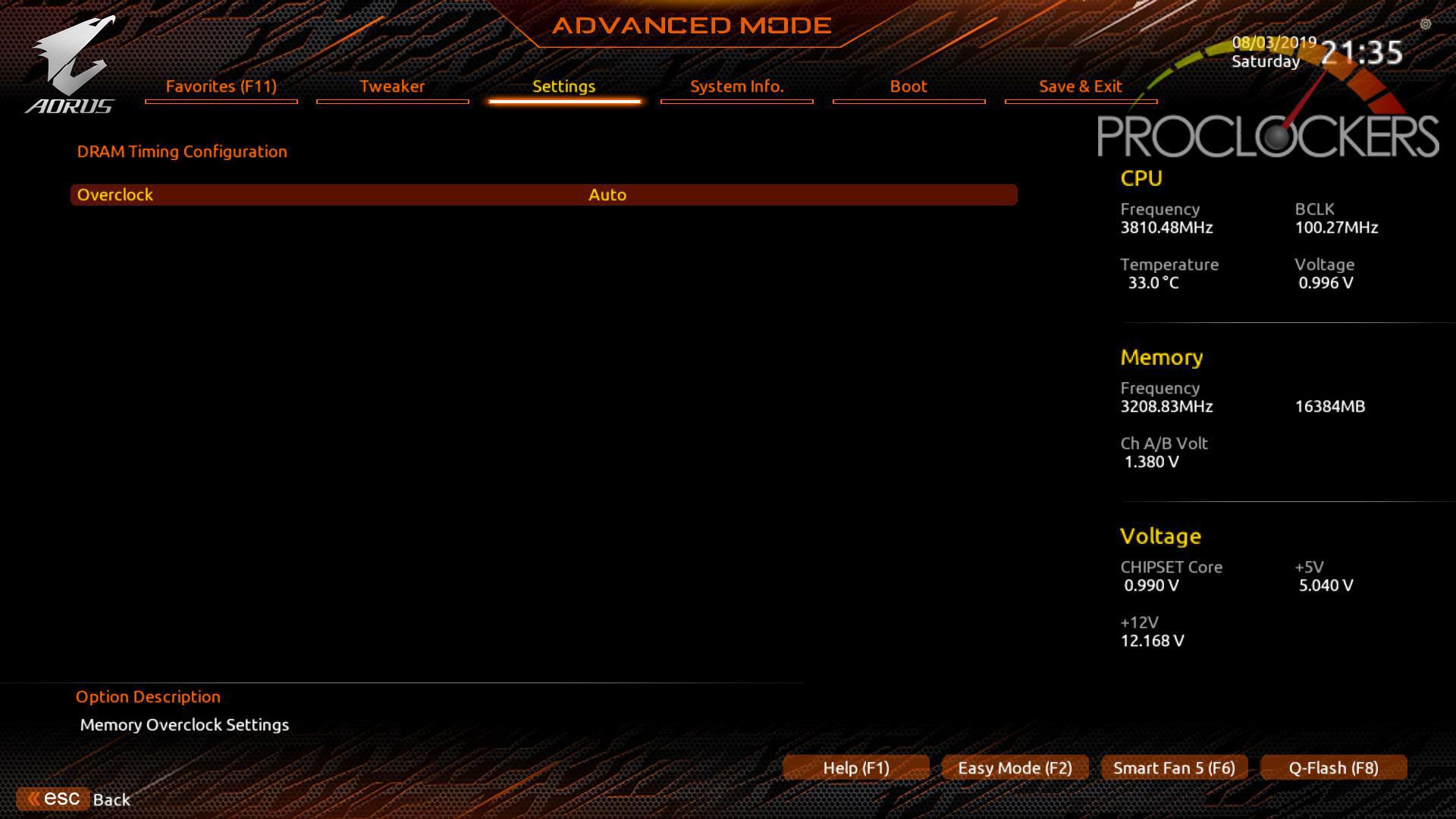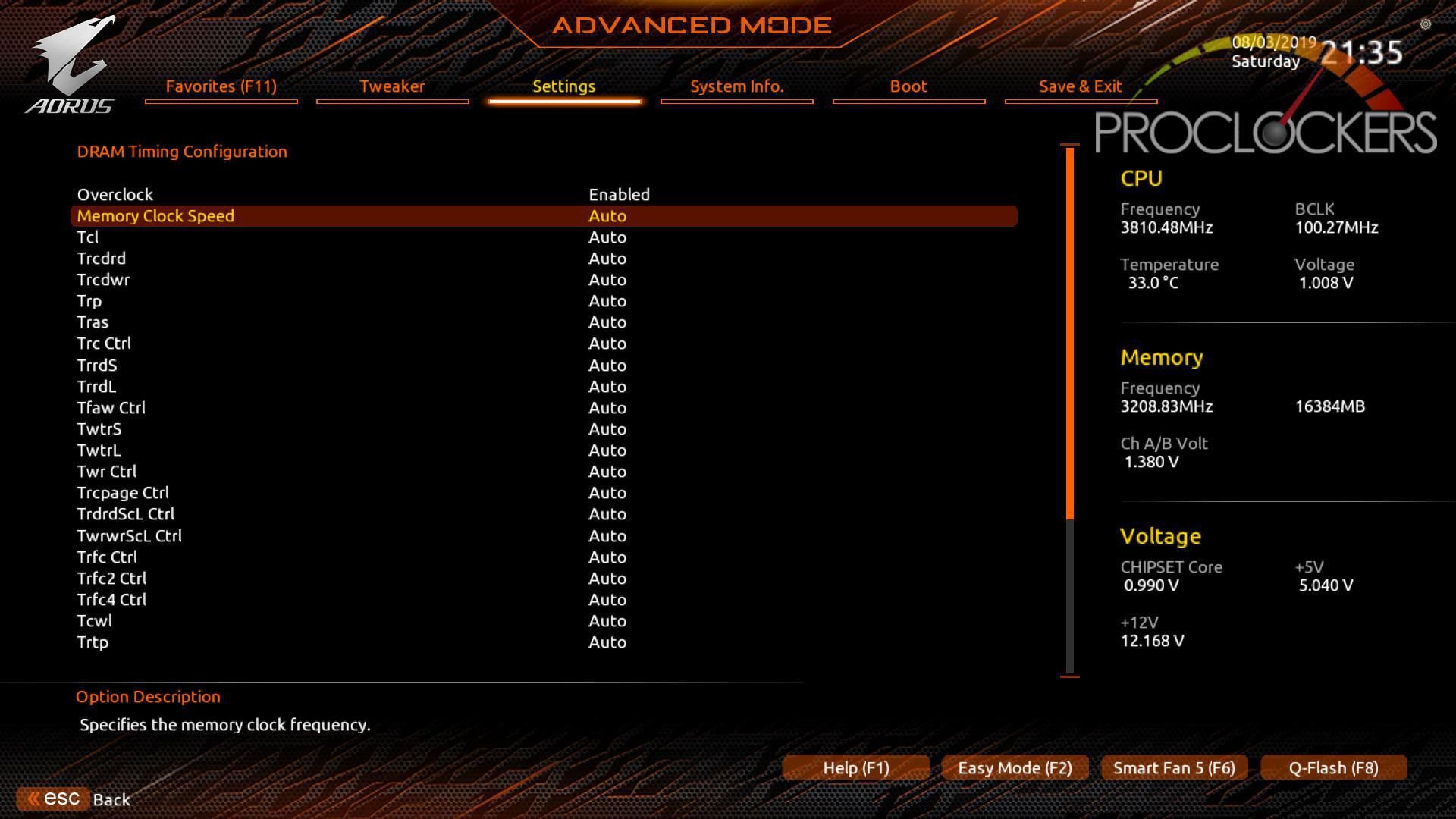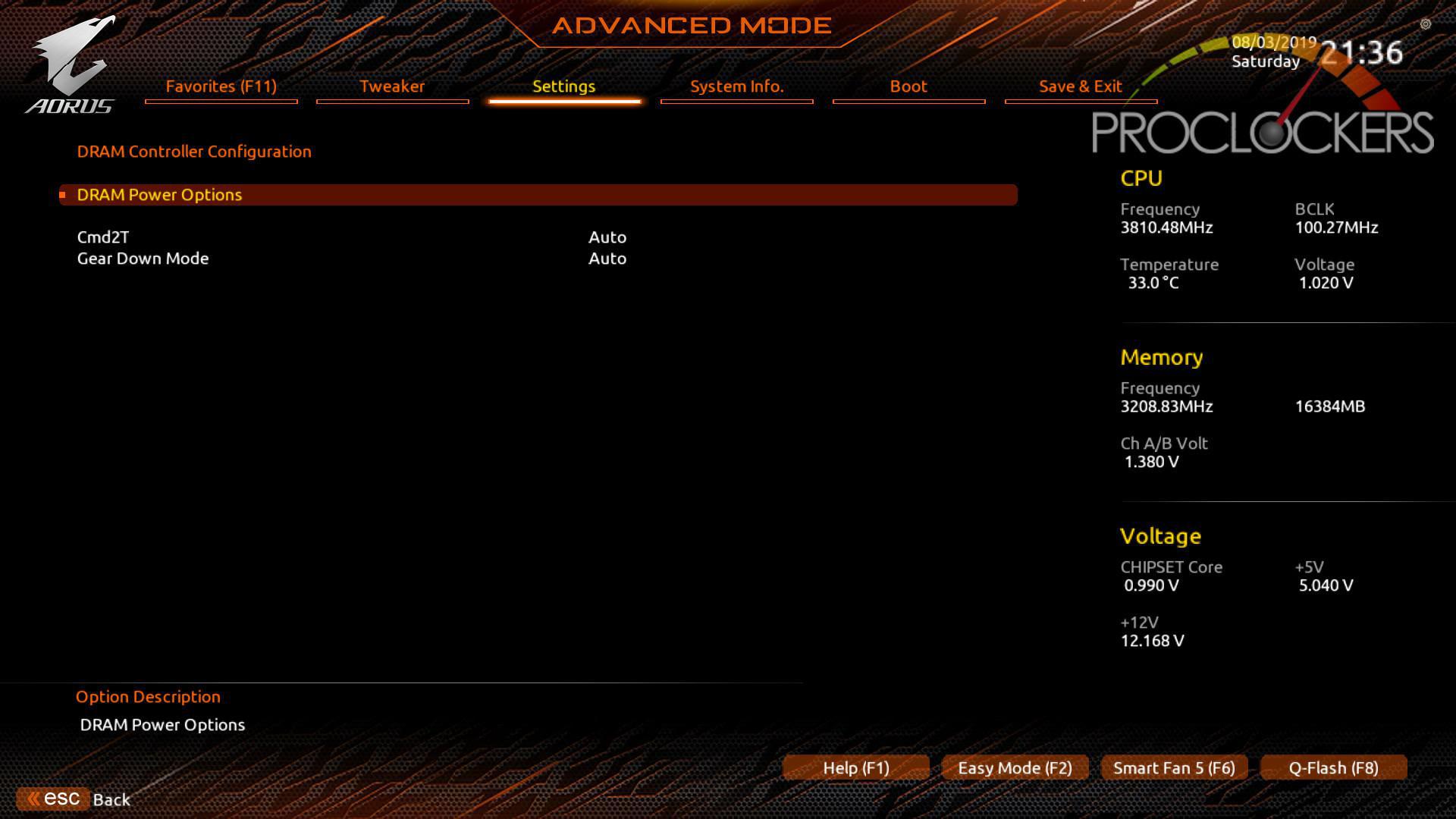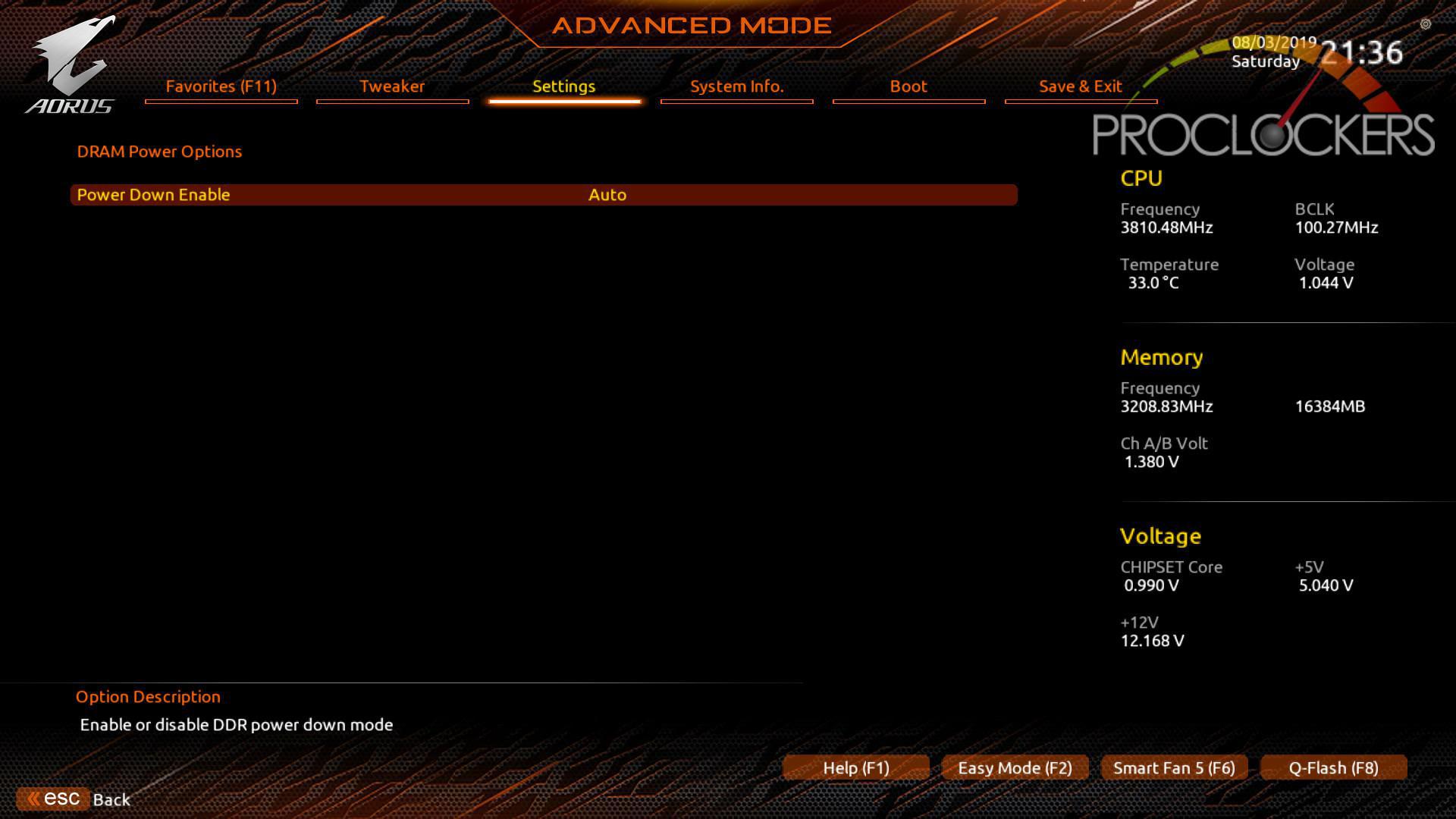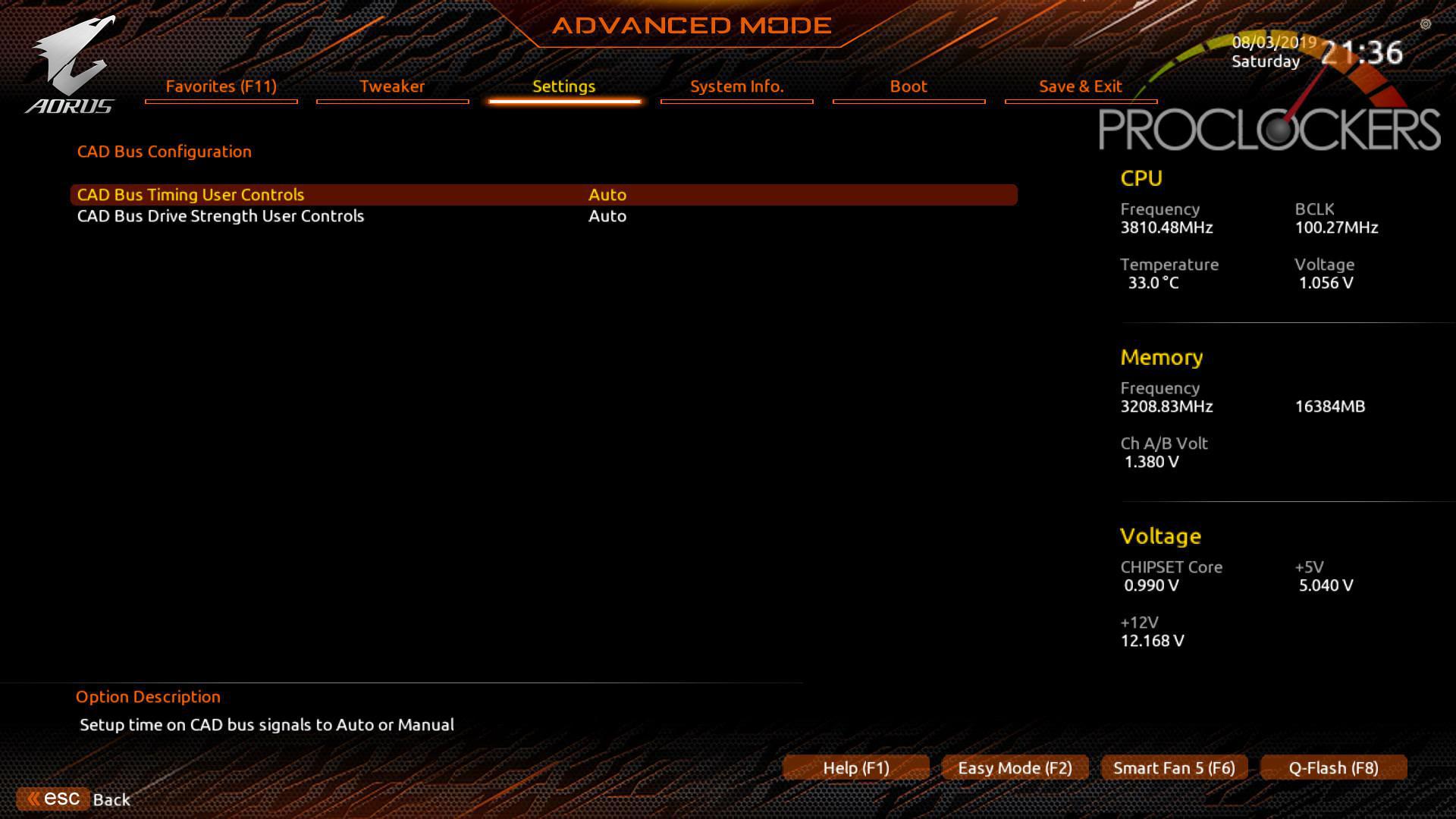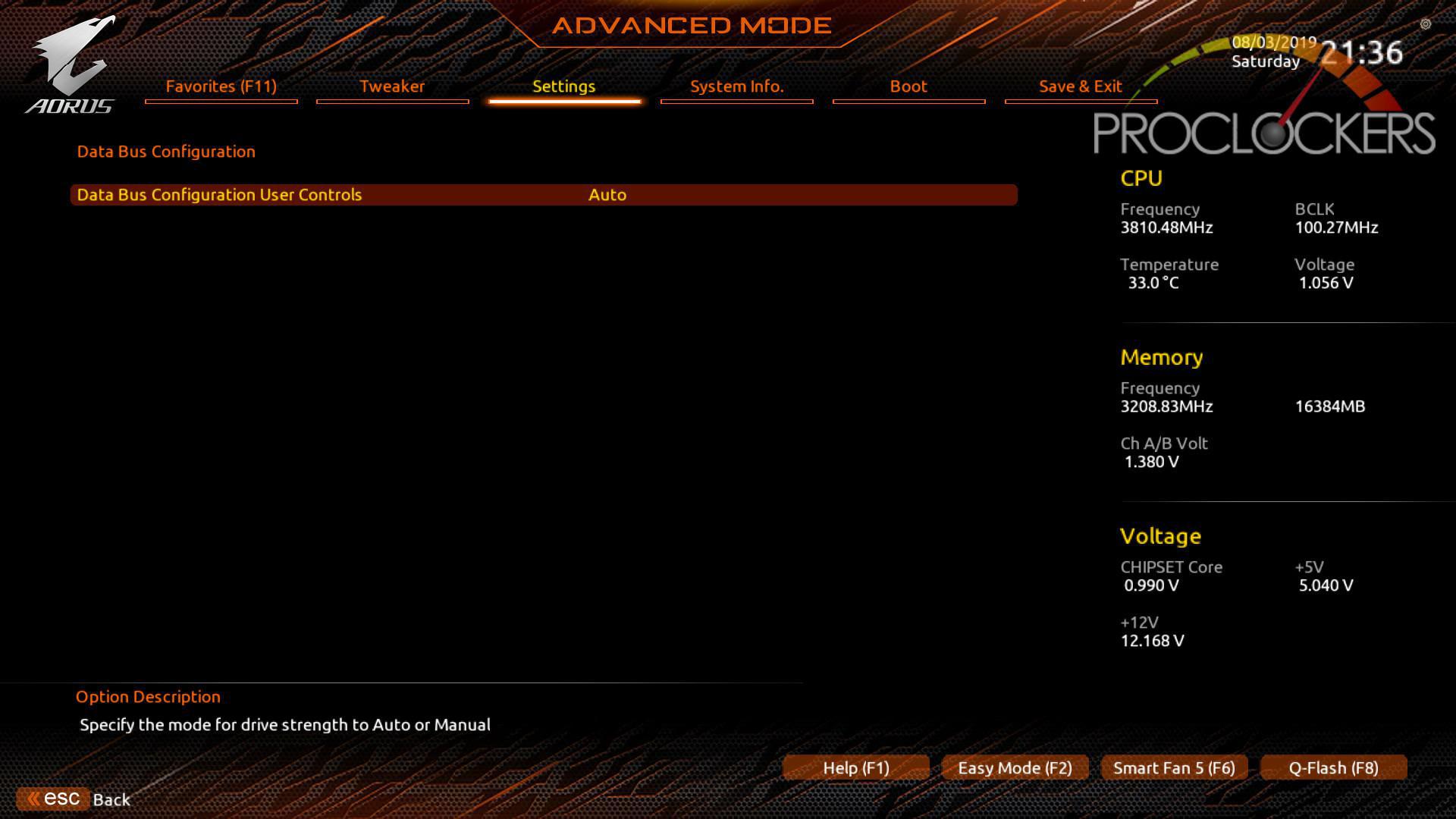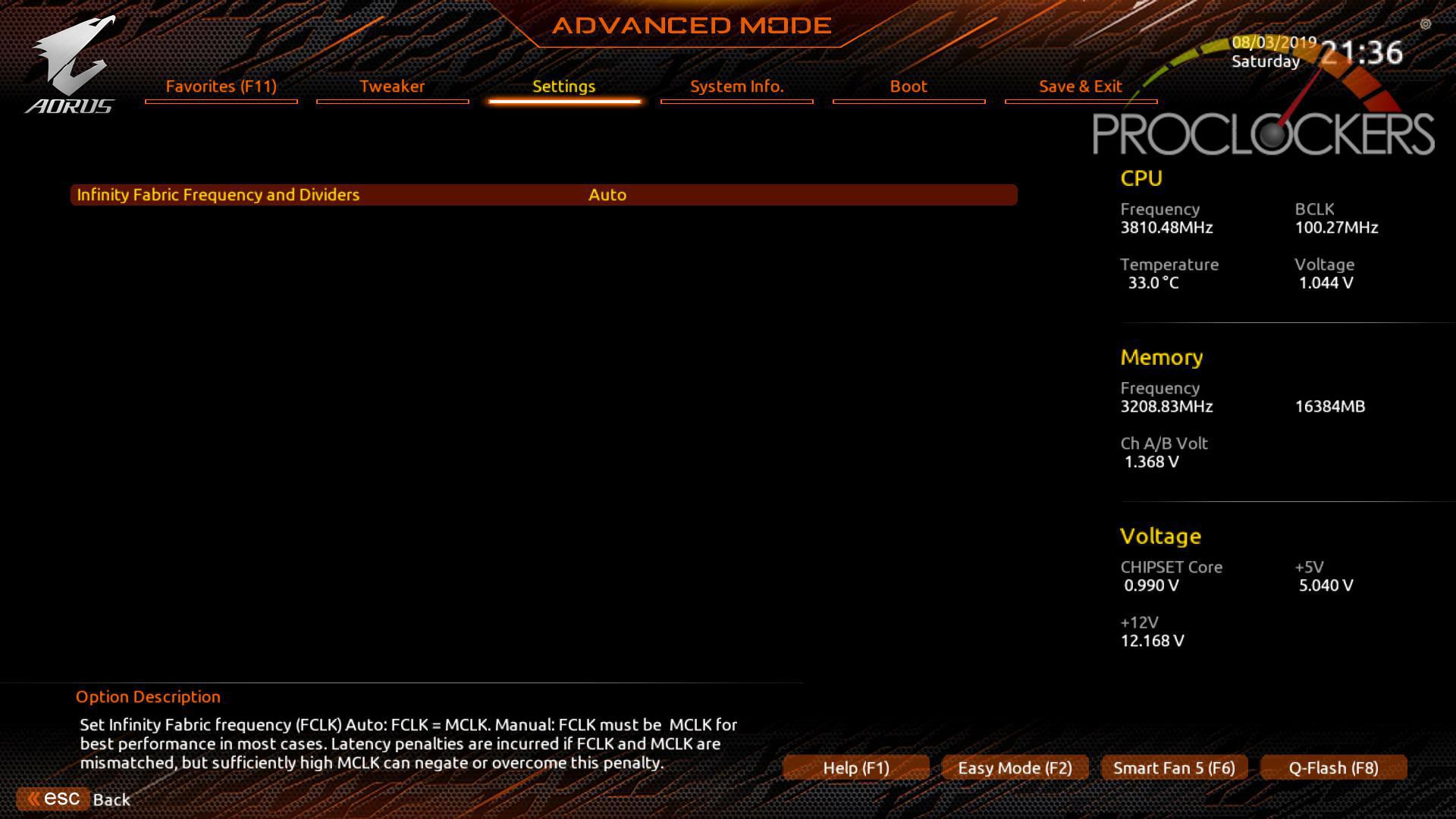 In the "Precision Boost Overdrive" menu, you can enable/disable precision boost overdrive or customize a few more options by selecting "Advanced".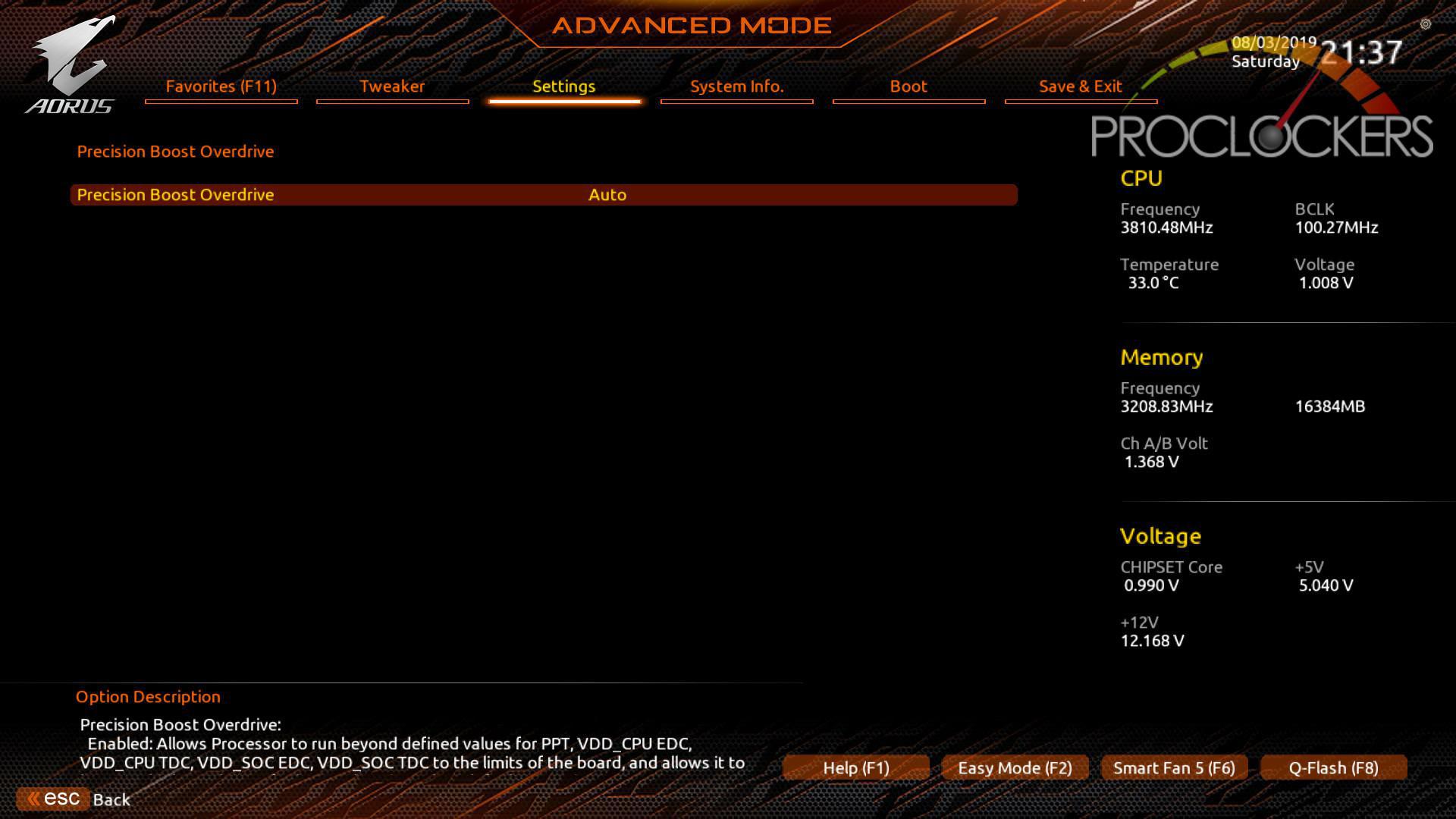 With the last 5 menu items, you can adjust various voltages such as SoC, VDDP, VDDG, and other Onboard voltages.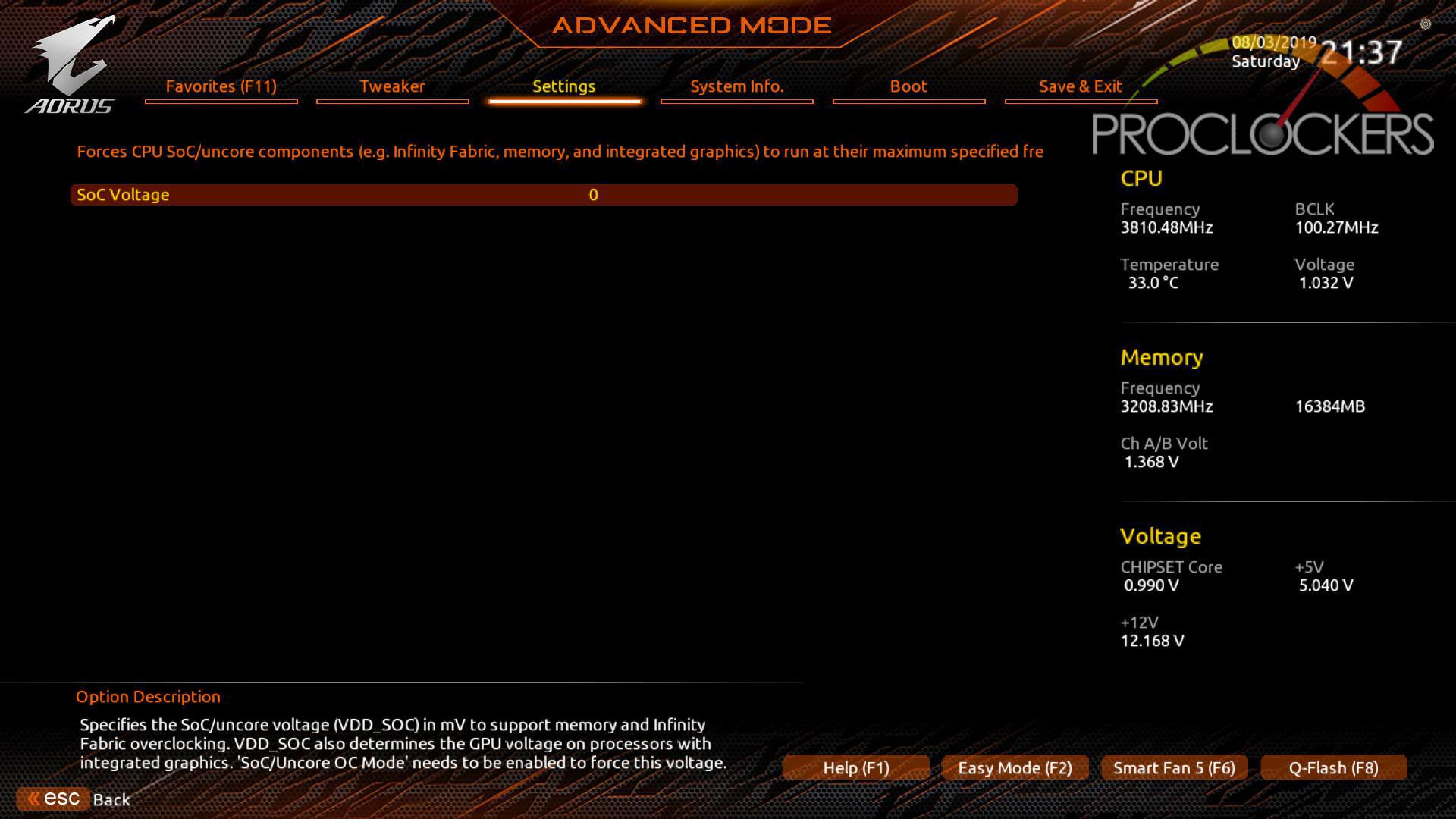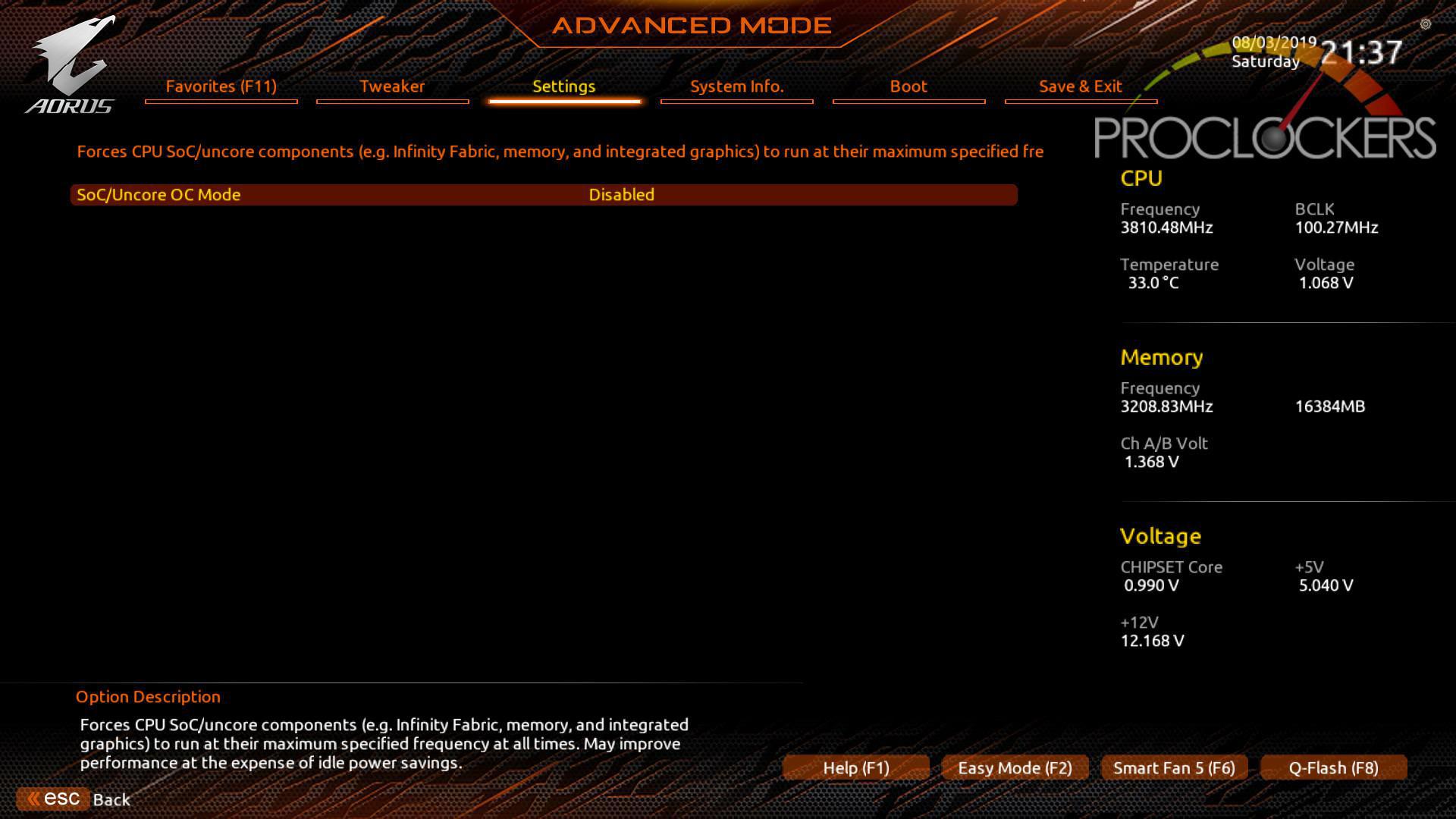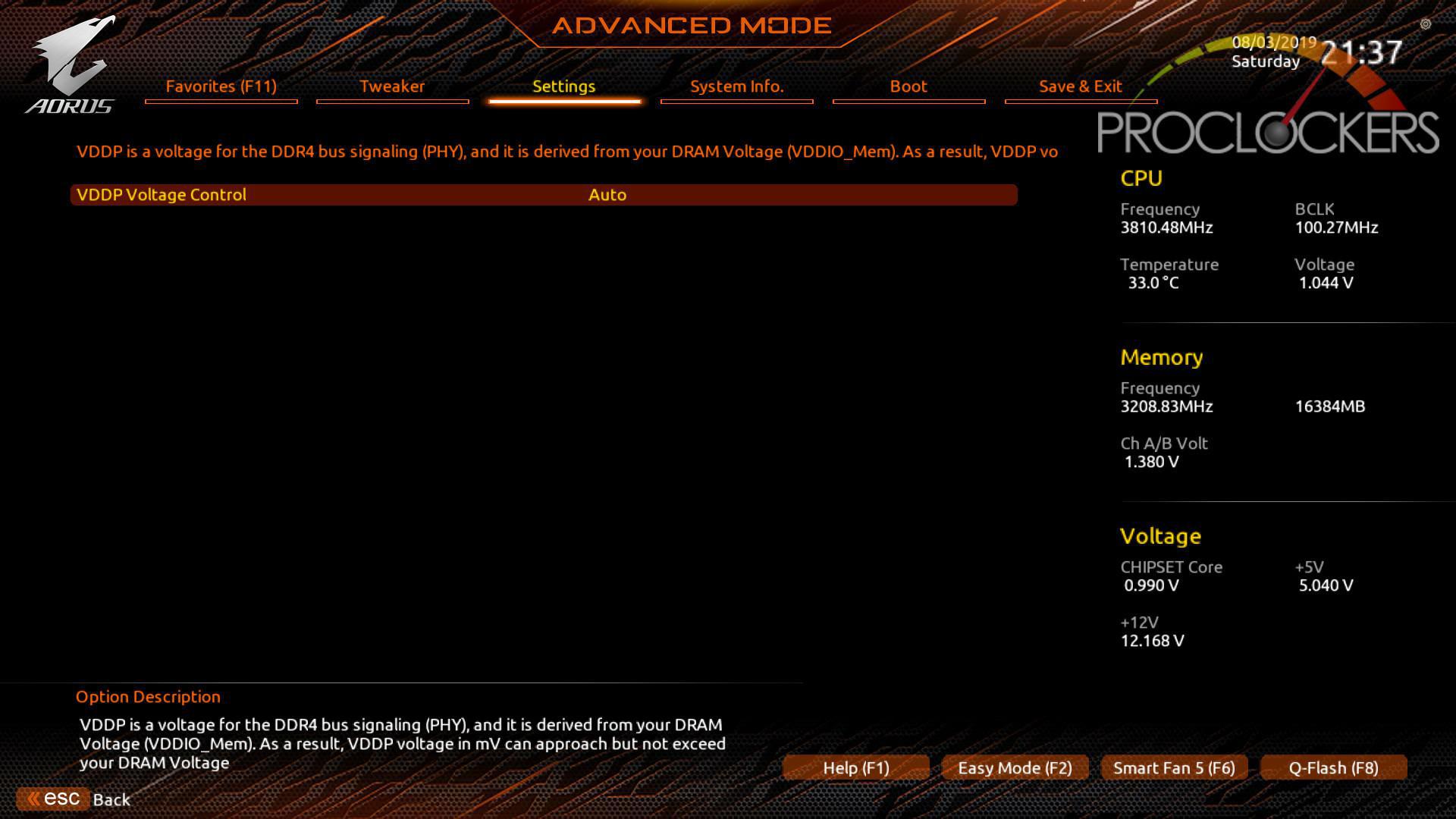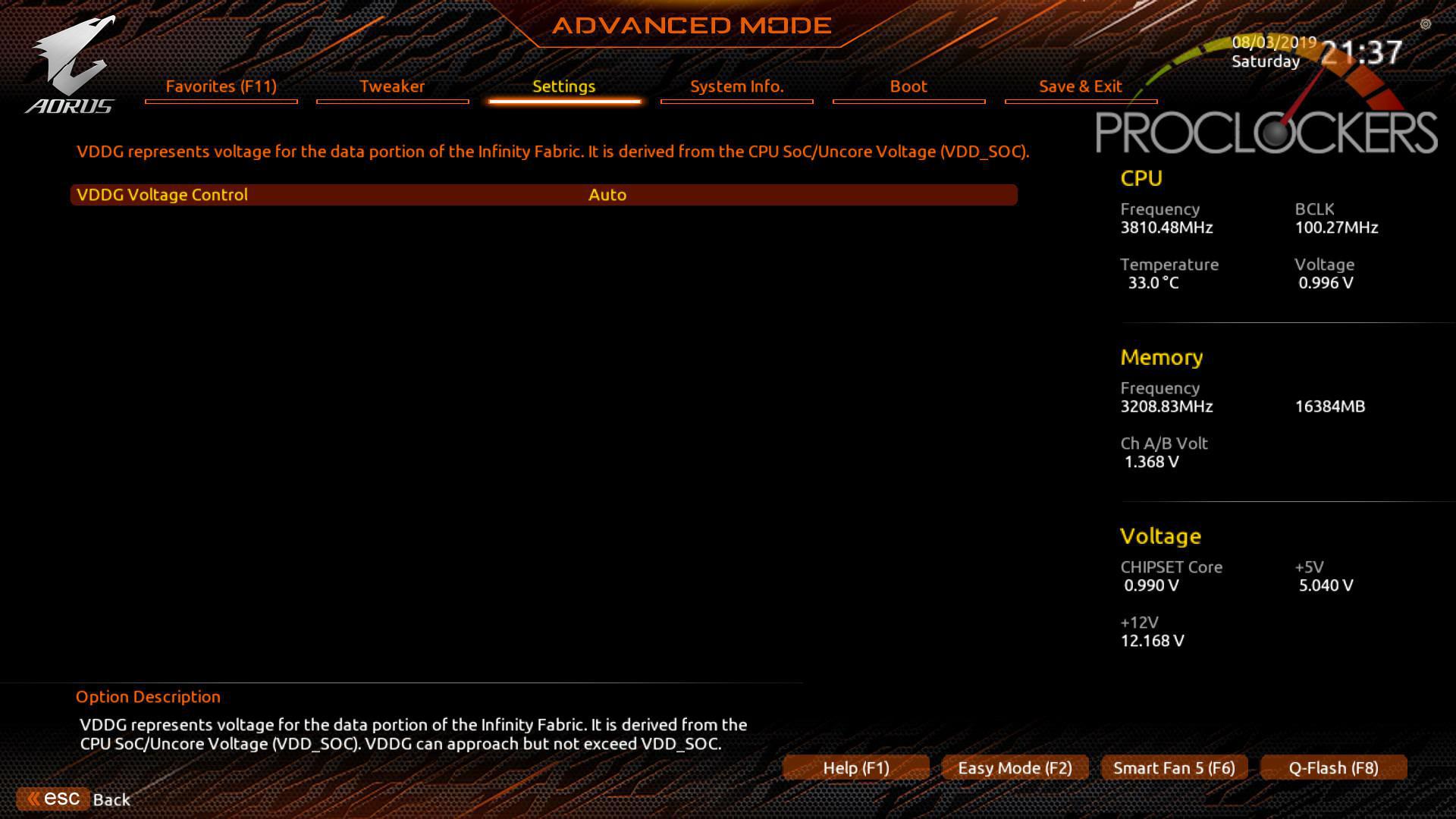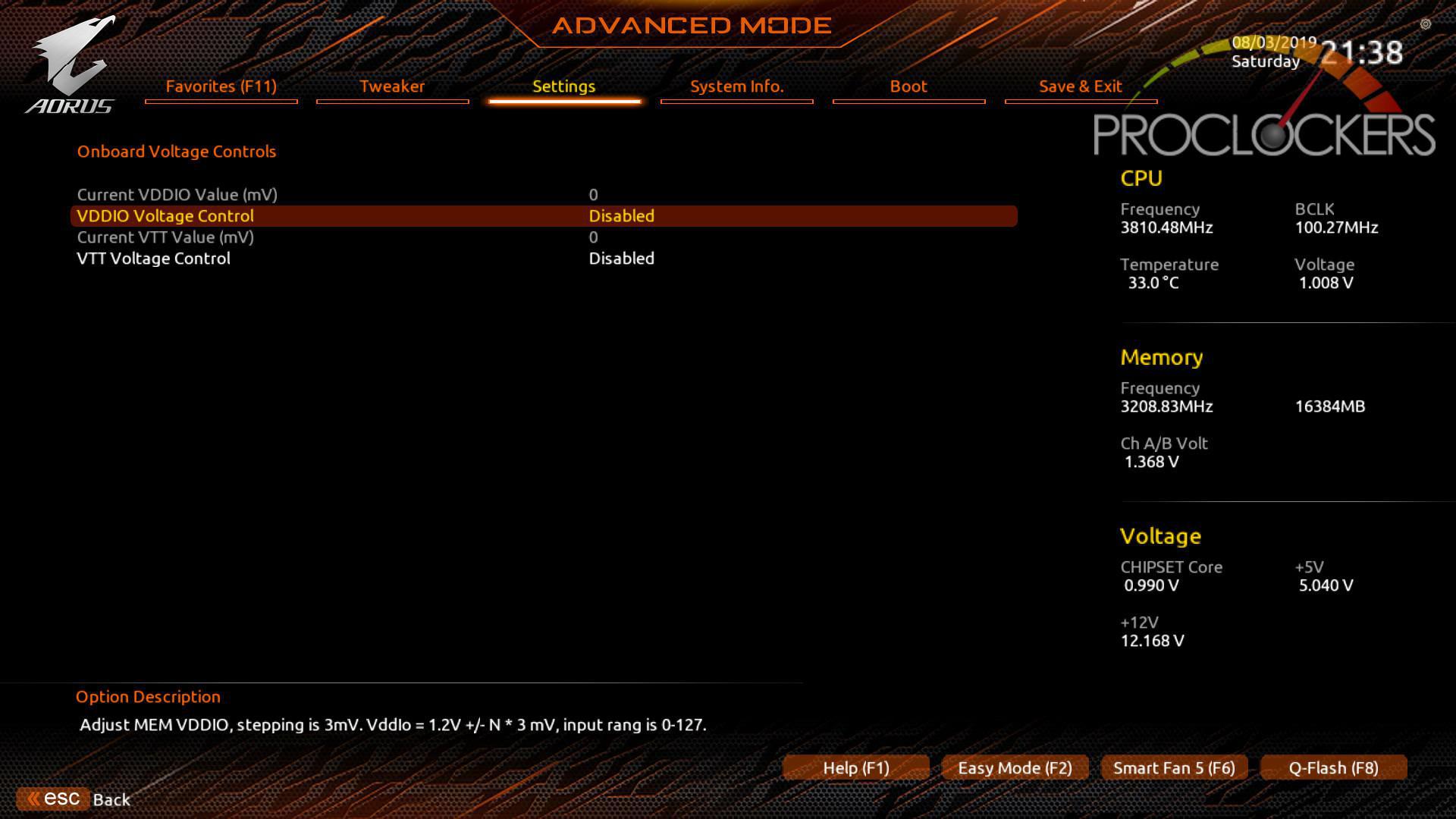 In the "PC Health" section you get a look at various voltages in the system.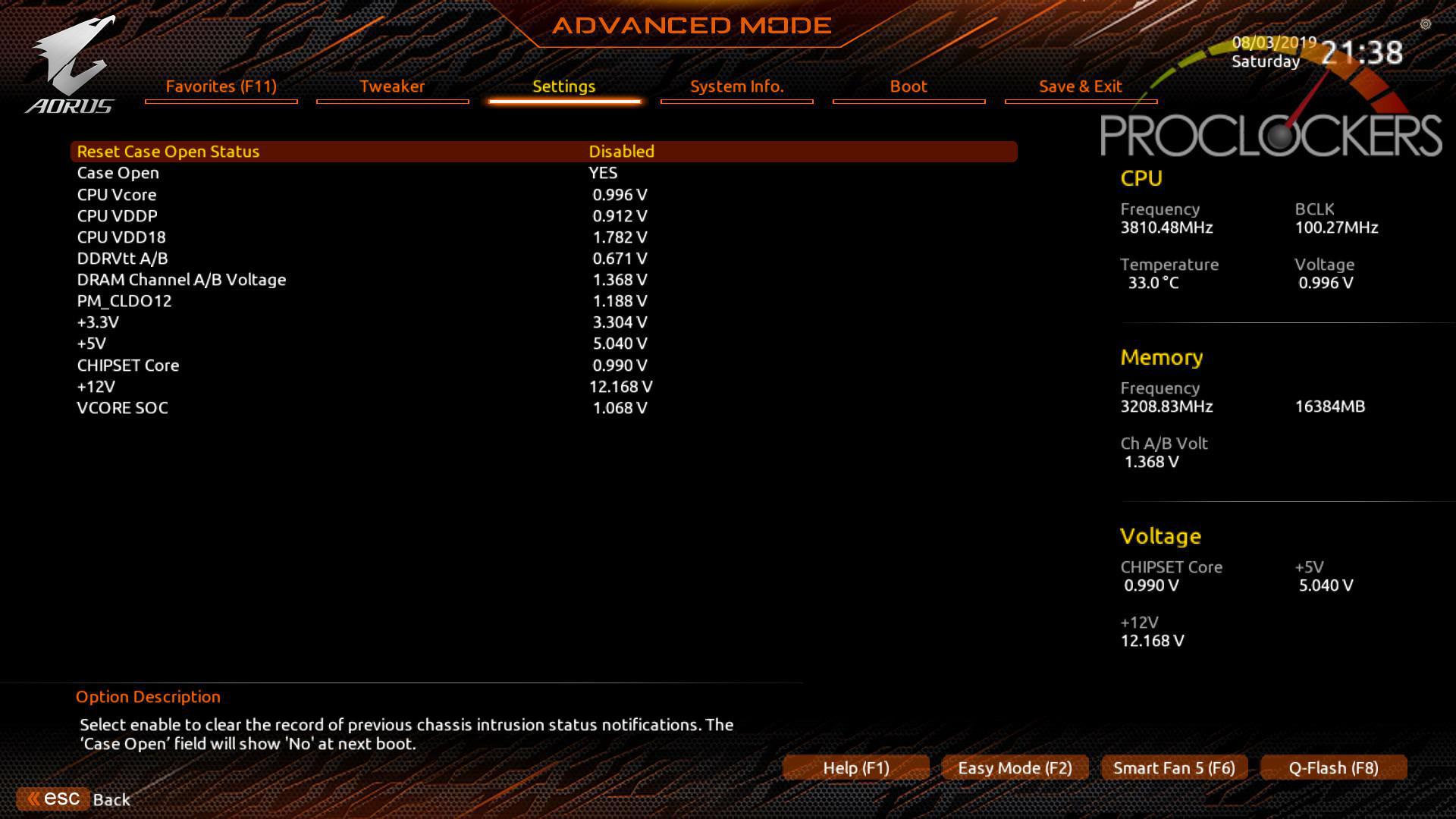 Under the "Smart Fan 5" menu item, you can adjust various fan curves and setup temperature/CPU fan warnings.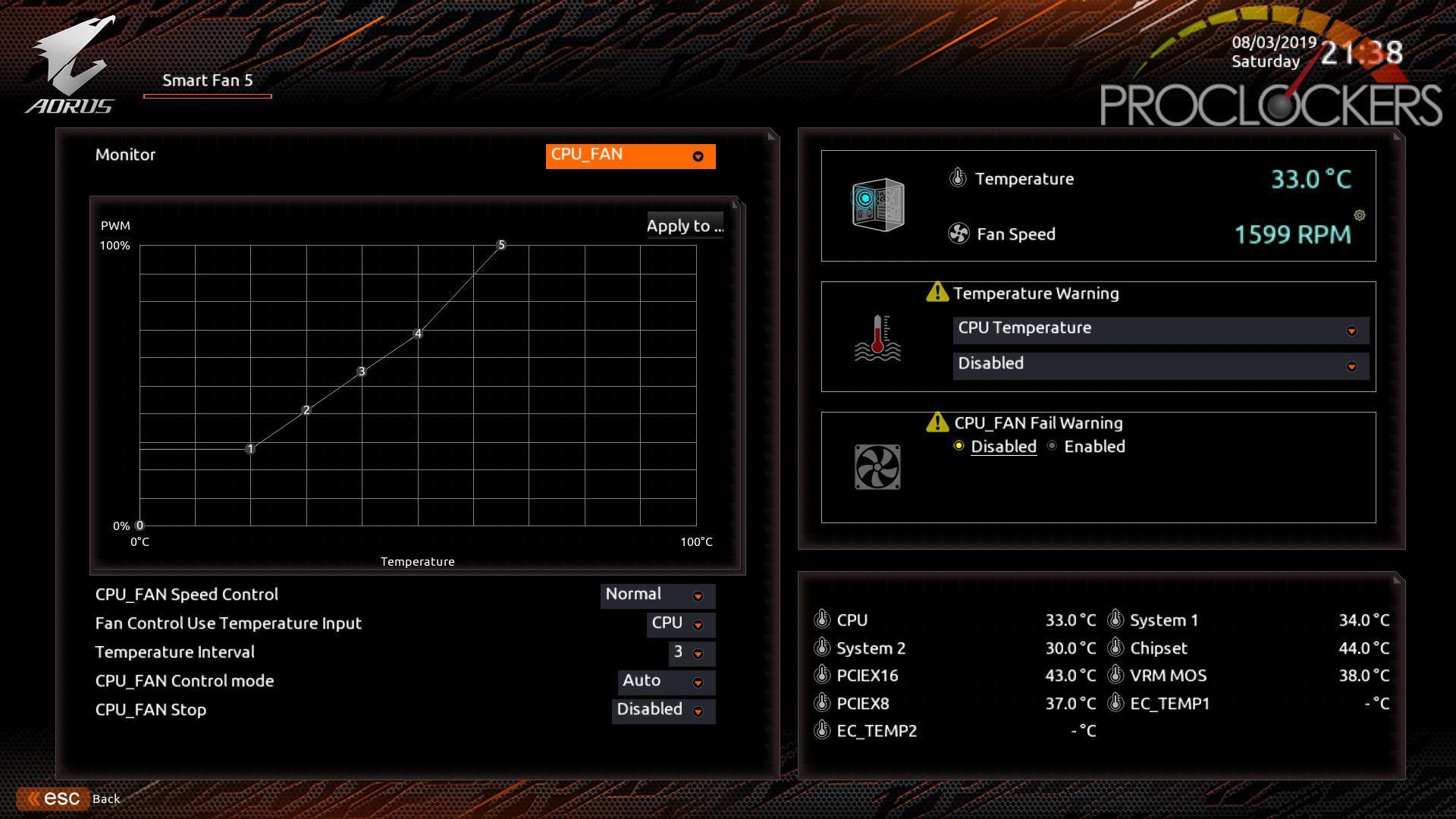 Moving to the "System Info" tab, it displays information about the x570 AORUS Pro Wifi as well as your system language, processor information and your current set system time. Using the two menu items below, you can also see what devices are plugged in and use Q-Flash to update/save your BIOS.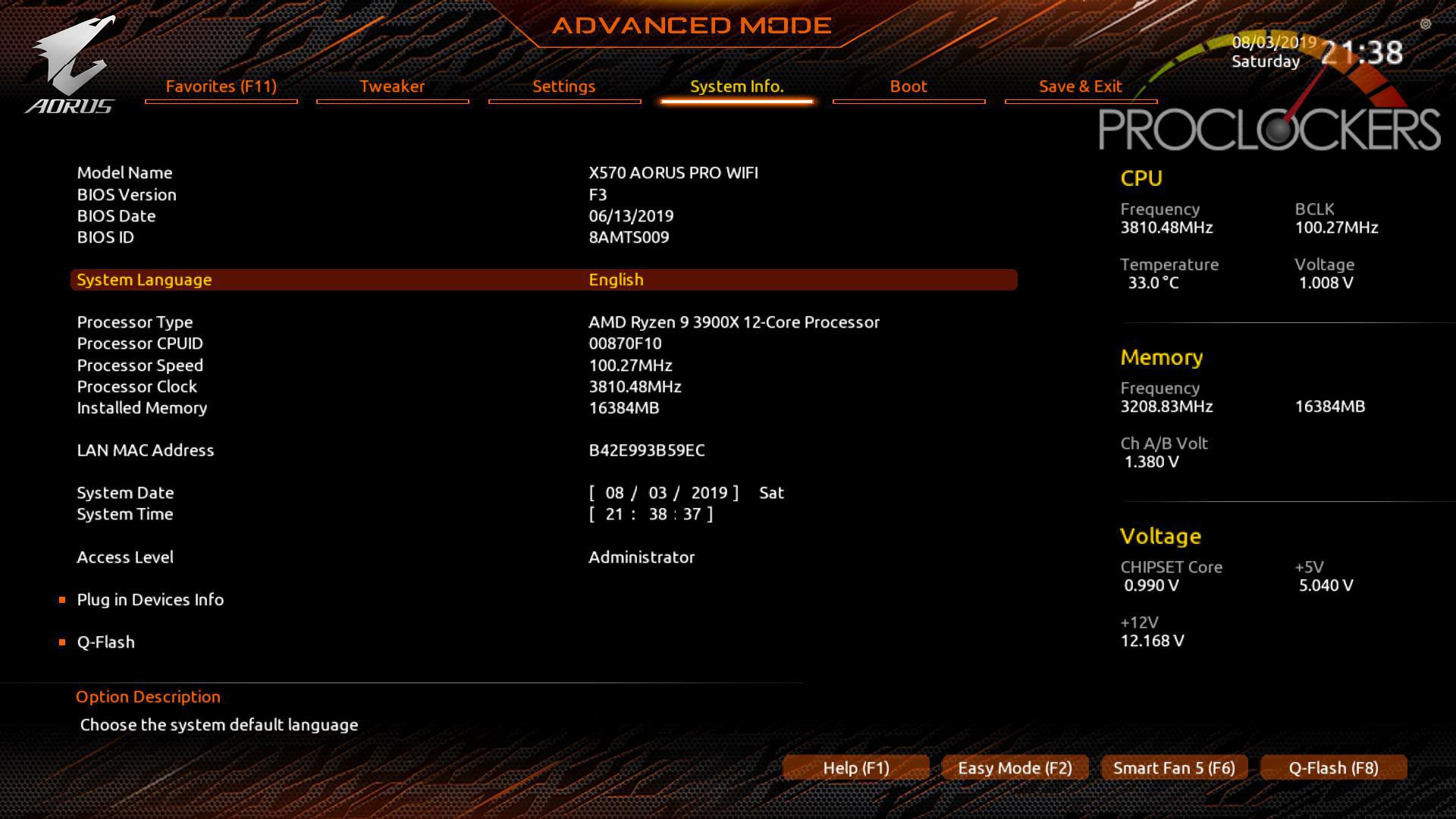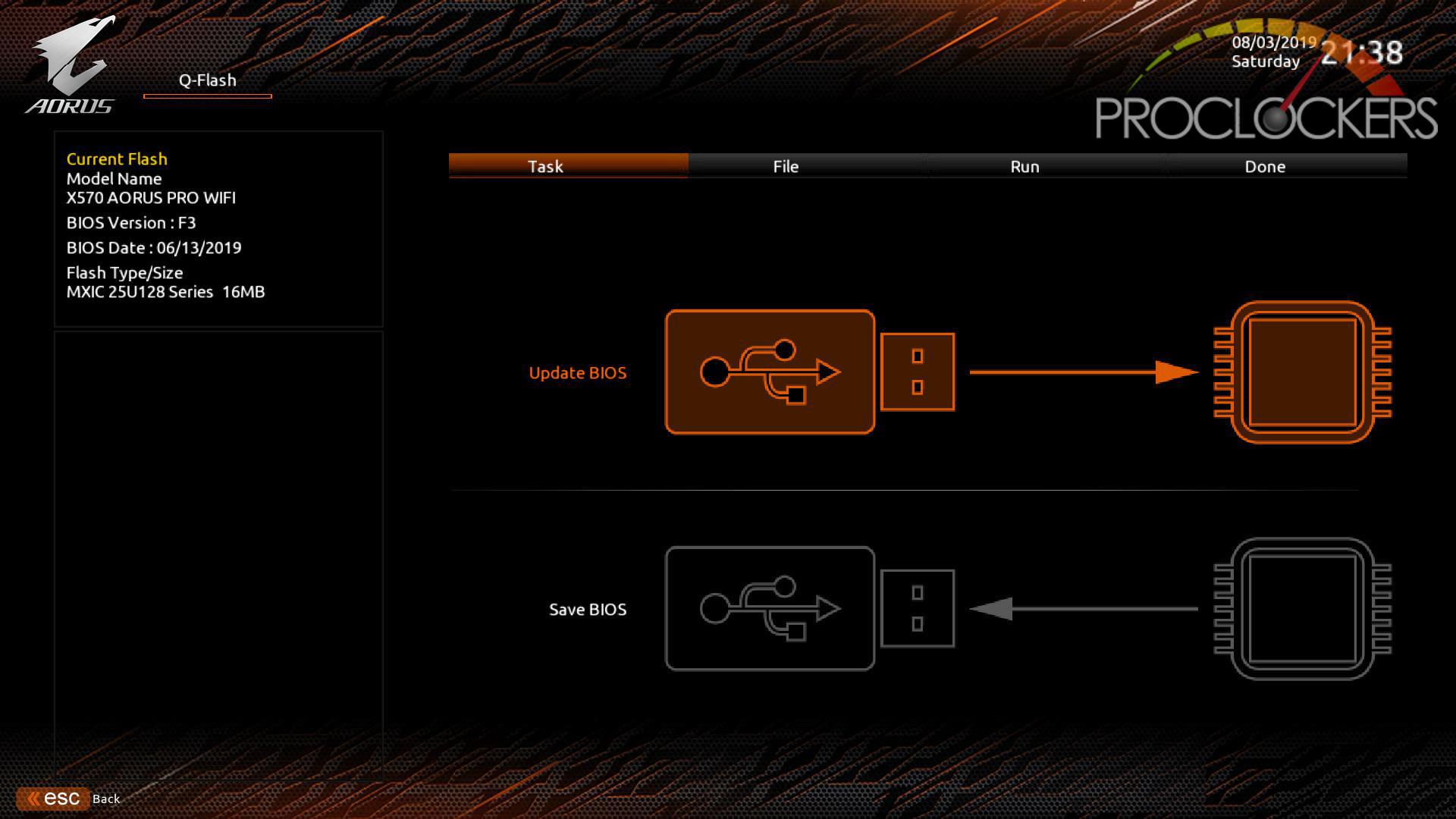 Going to the "Boot" tab, you can adjust your boot priority as well as adjust various boot settings such as Fast Boot and LAN PXE Boot.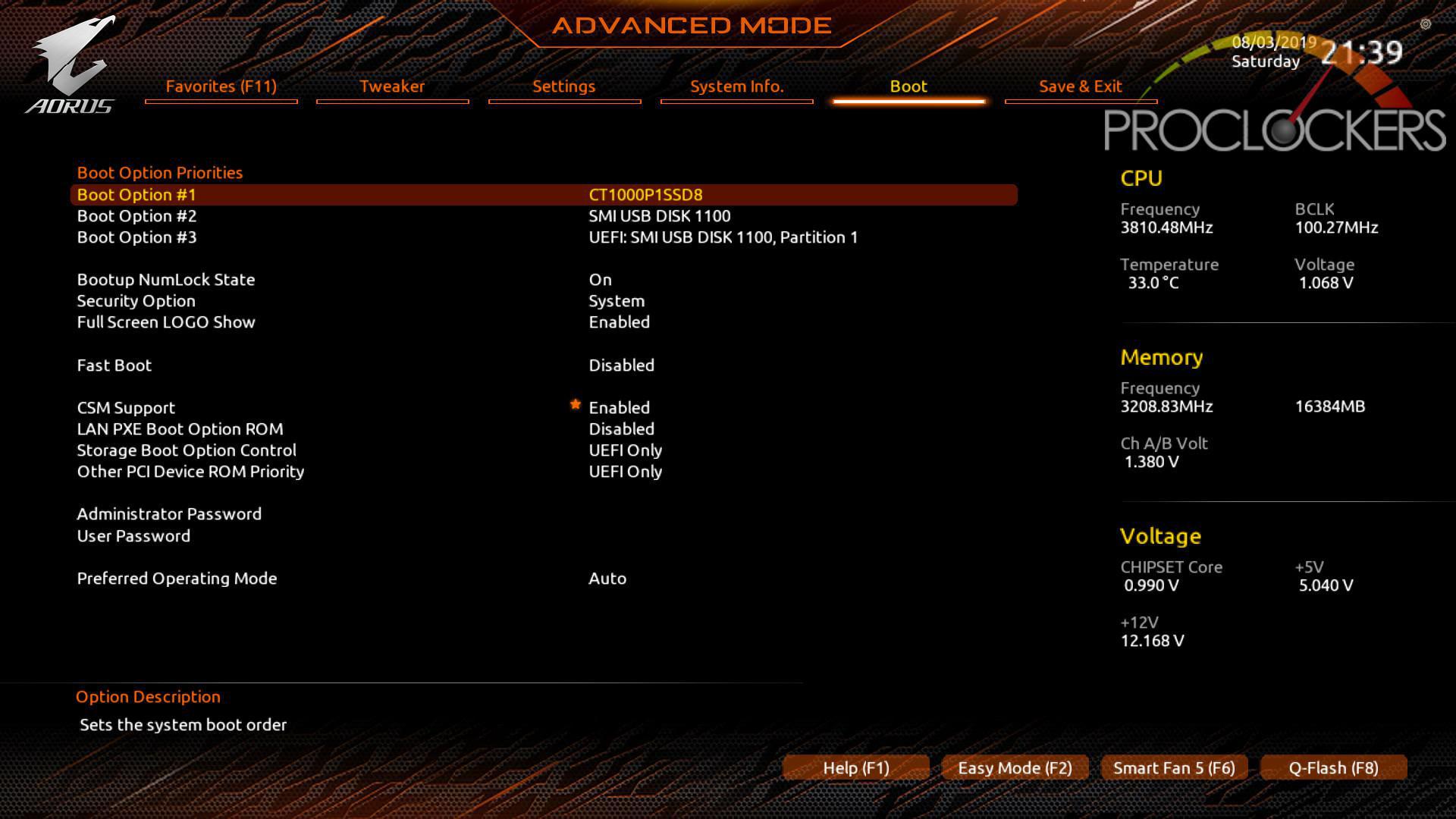 On the last tab, "Save & Exit", you have the choice to save/discard any change, boot a specific drive, or save/load other profiles.
You may have noticed that a few options throughout the BIOS had orange stars beside them. These stars can be added to any option using the "Insert" key when selected and what that will do is add them to your favorites list. The Favorites list can be accessed by clicking the "Favorites" tab or by pressing F11. When you go to the Favorites list, it will include any starred options, giving you a convenient spot to adjust settings you may use all the time.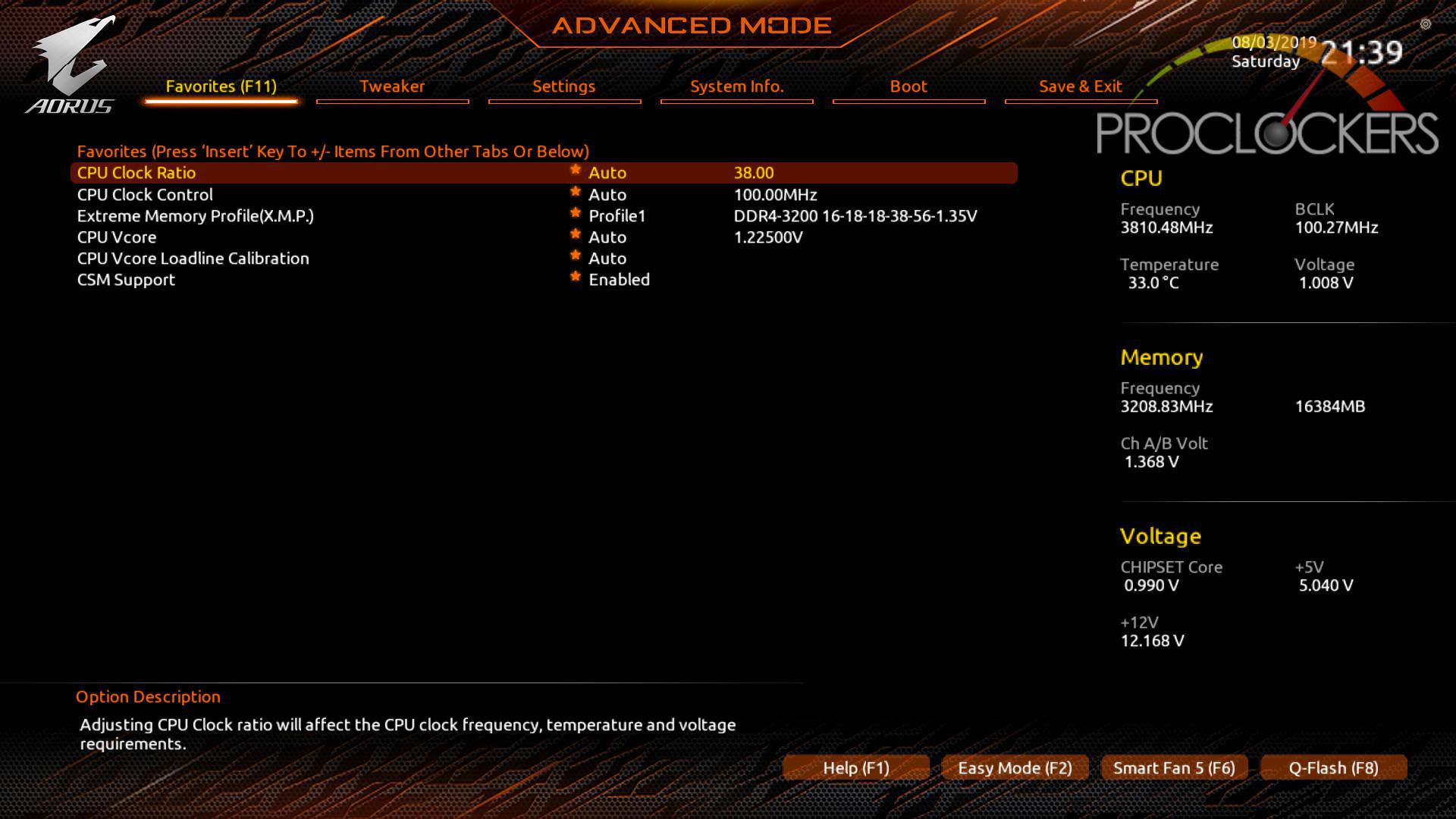 Software
The x570 AOURS Pro WIFI makes use of the Gigabyte's APP Center ecosystem, which allows you to access all the installed system application in one place. We went ahead and installed all the ones available for the AOURS Pro WIFI, which totaled 13 different applications.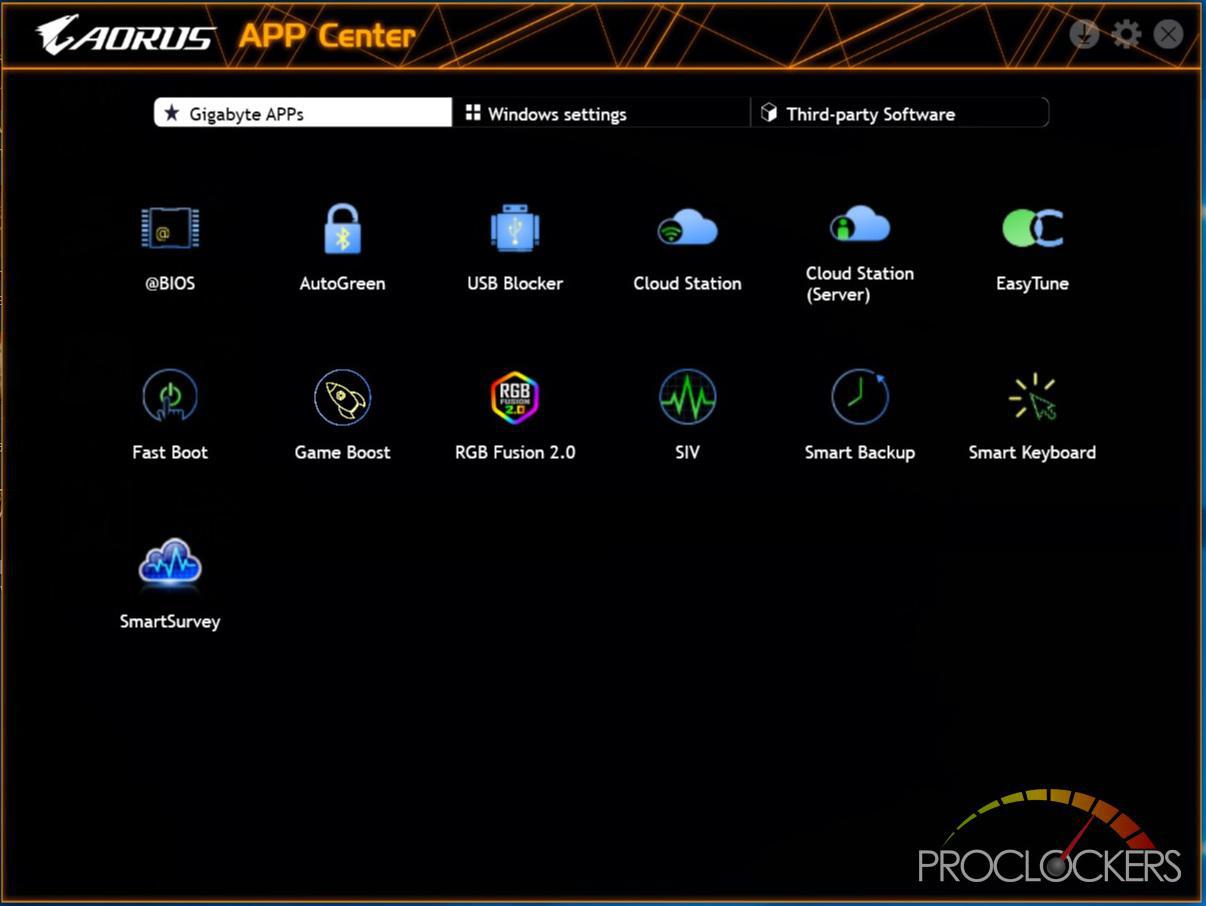 The APP Center also provides you with shortcuts to a variety of windows settings.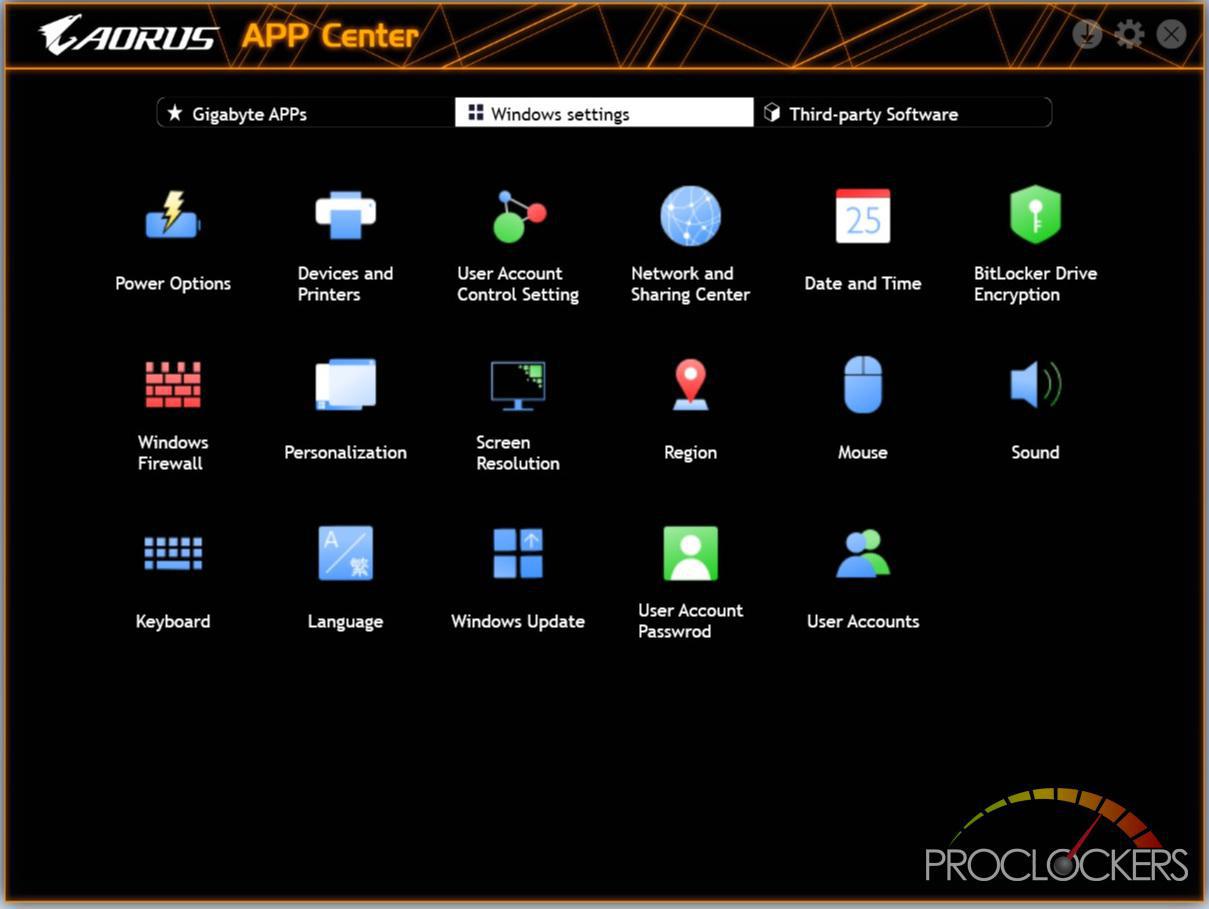 It also has quick launch links to your installed third-party applications such as our "Google Chrome".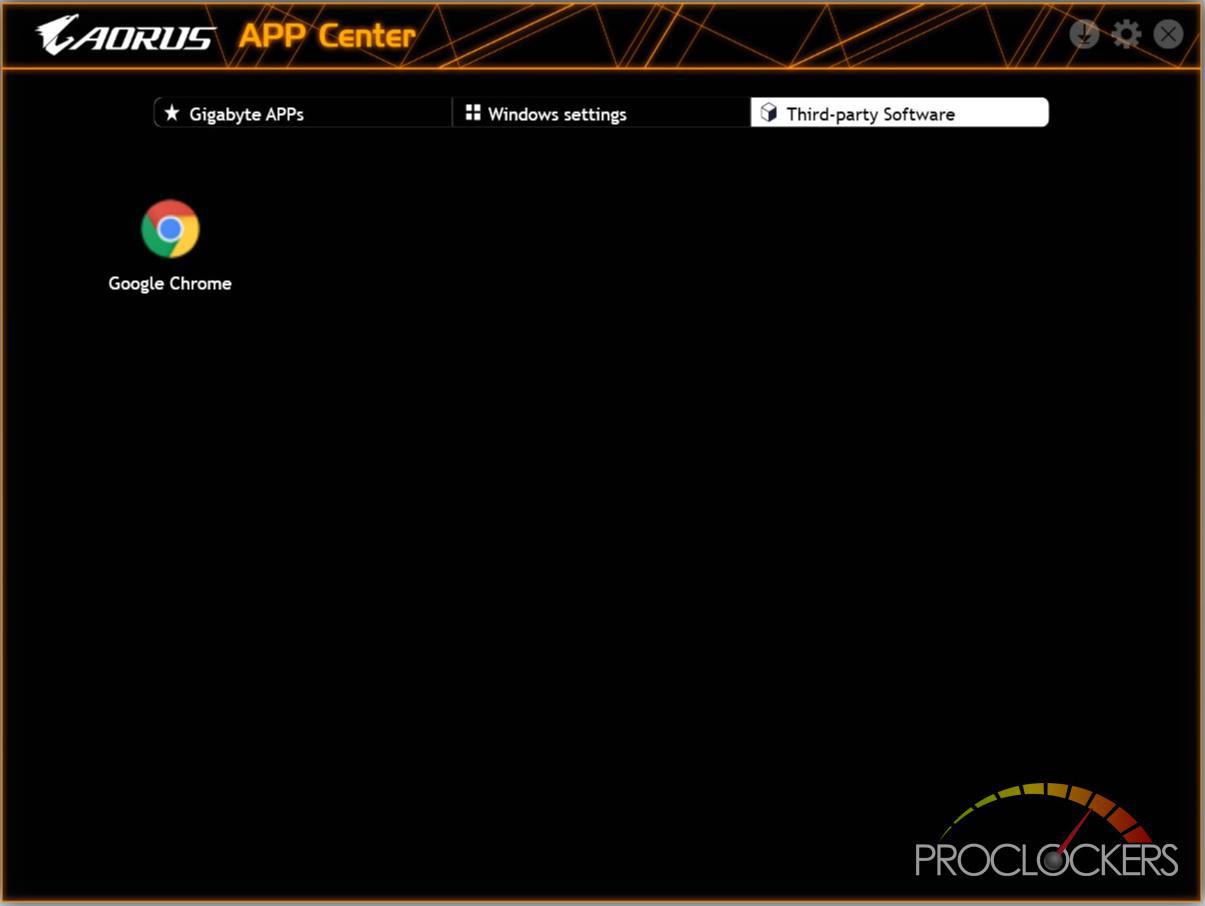 @BIOS
Using the @BIOS application you can view and update the motherboard BIOS within windows.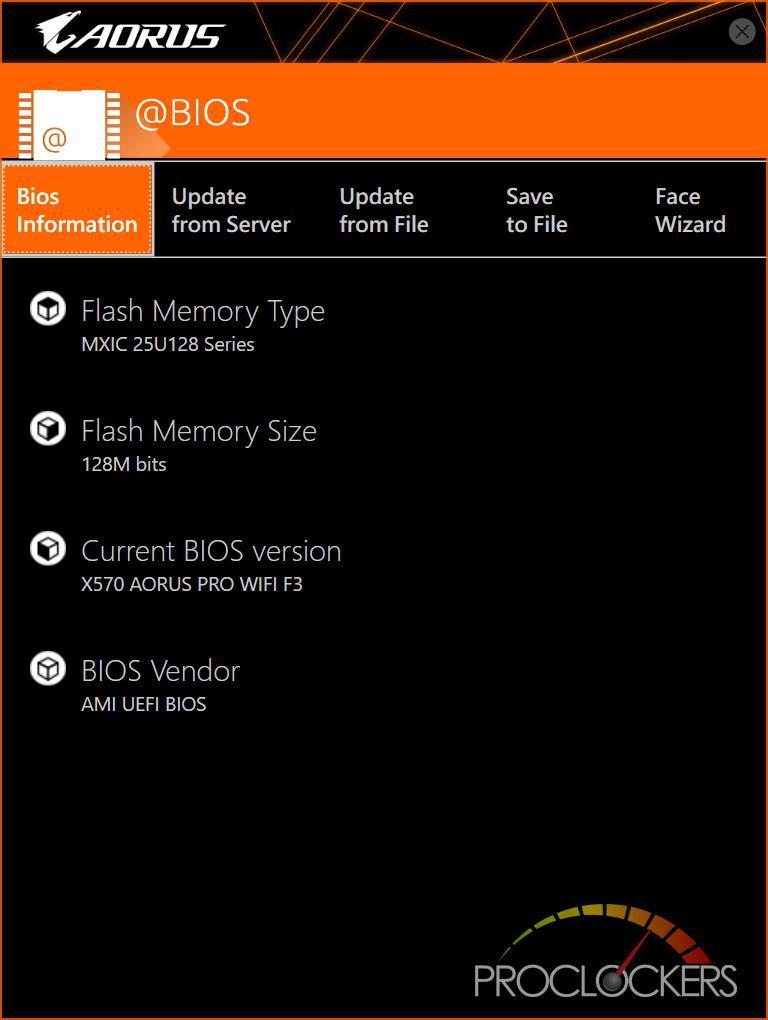 AutoGreen
AutoGreen is an easy-to-use tool that provides users with simple options to enable system power savings via a Bluetooth-enabled smartphone/tablet device. When the device is out of the range of the computer's Bluetooth receiver, the system will enter the specified power-saving mode. Before using this app, you need to turn on Bluetooth on both your computer and smartphone/tablet device.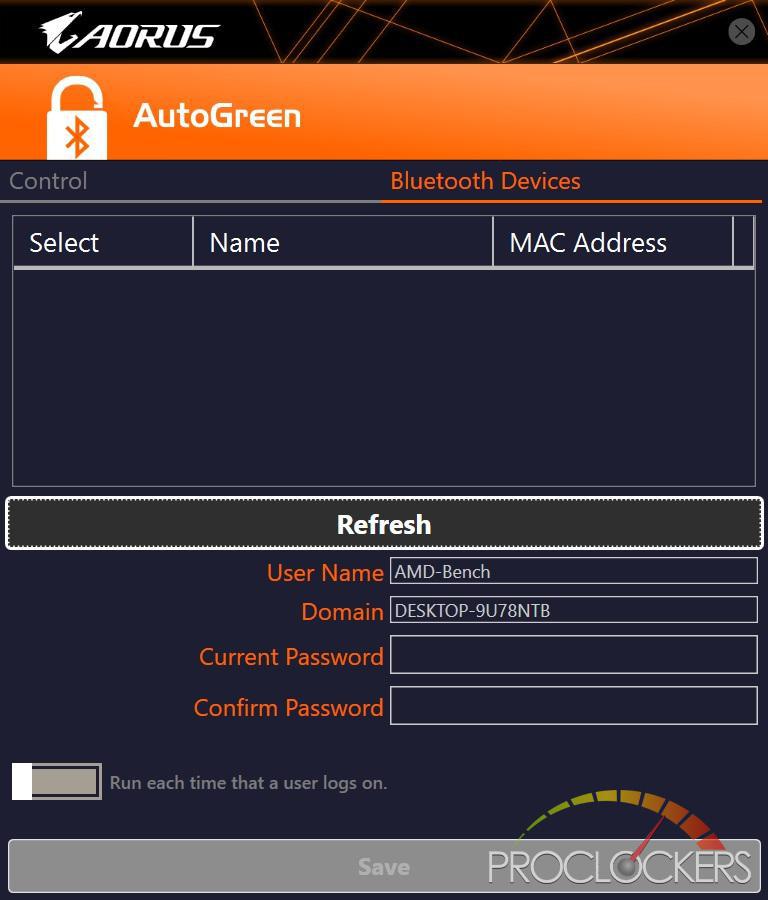 USB Blocker
Allows you to block certain types of USB devices which will be ignored by the operating system.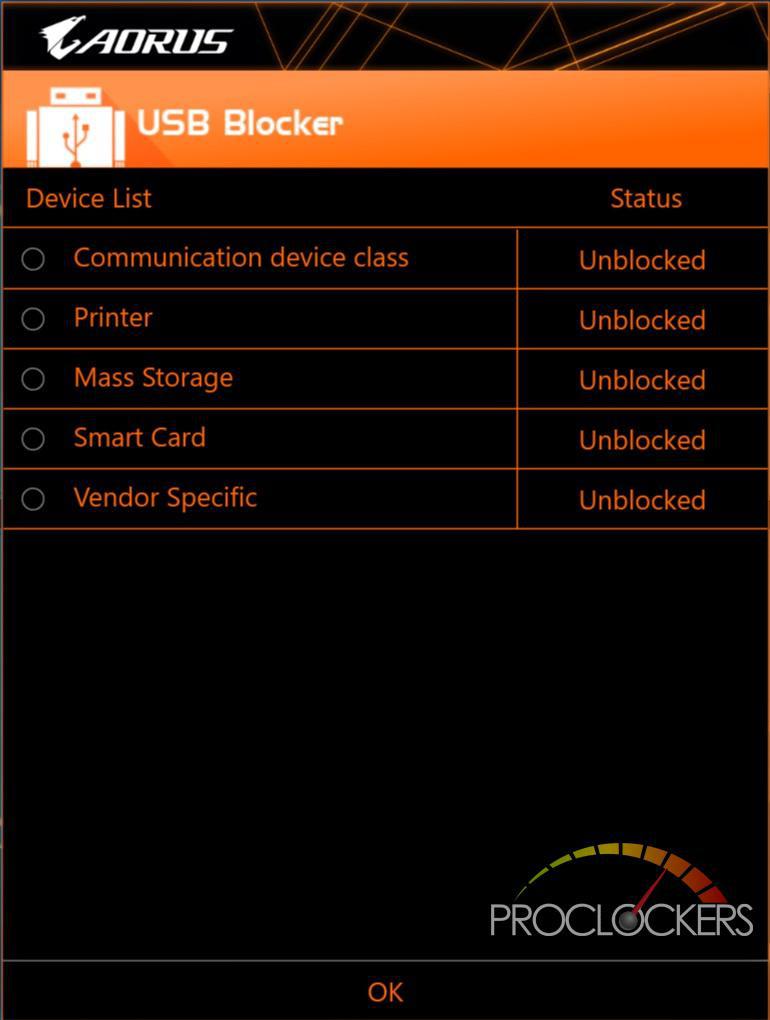 Cloud Station
Cloud Station Server is composed of HomeCloud, Gigabyte Remote, Remote OC, and HotSpot, which allow your smartphone, tablet device, and remote computer to communicate, share resources, and control the host computer via a wireless connection. Cloud Station allows your computer to share files with another computer that has Cloud Station (Server) installed.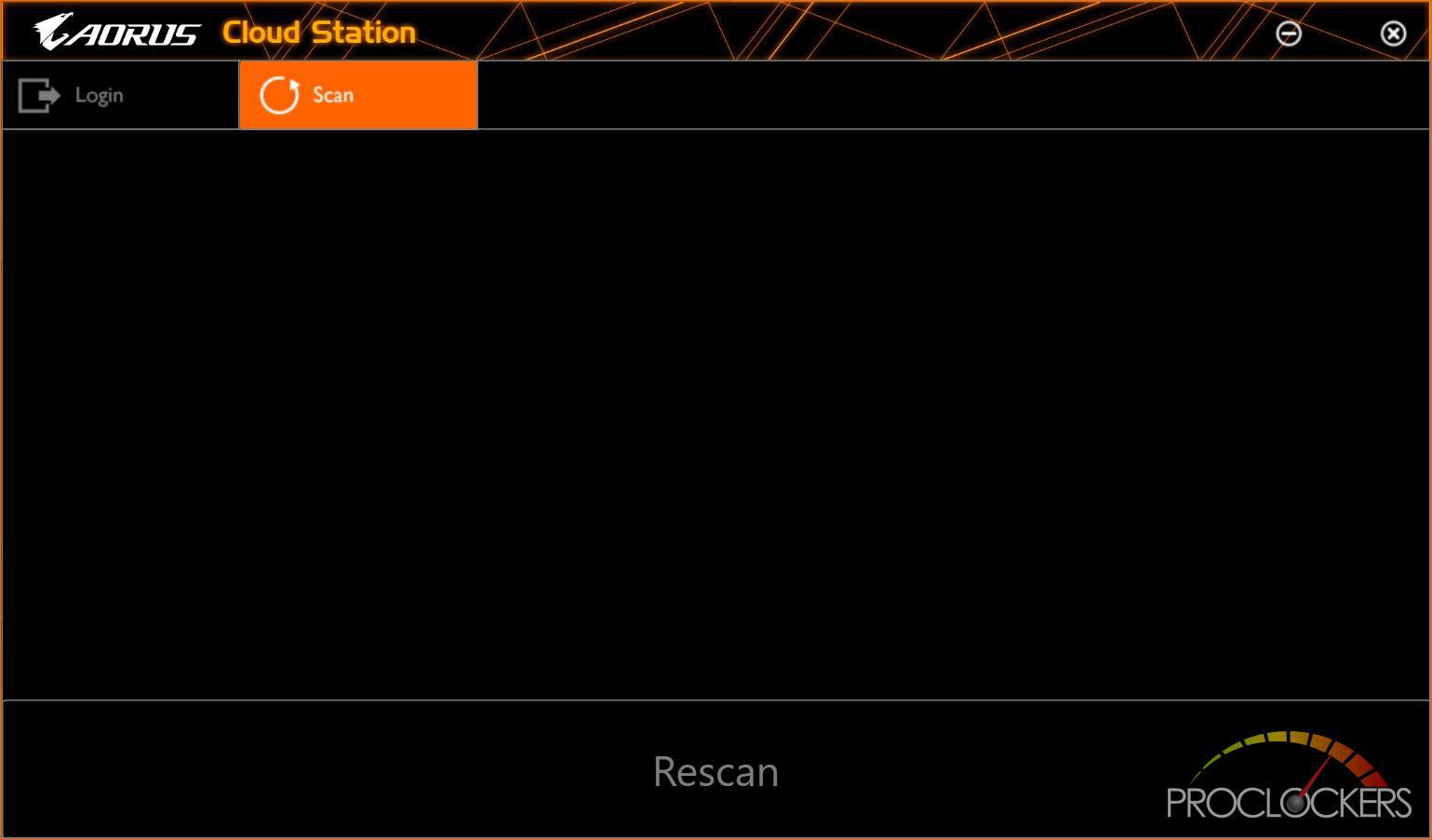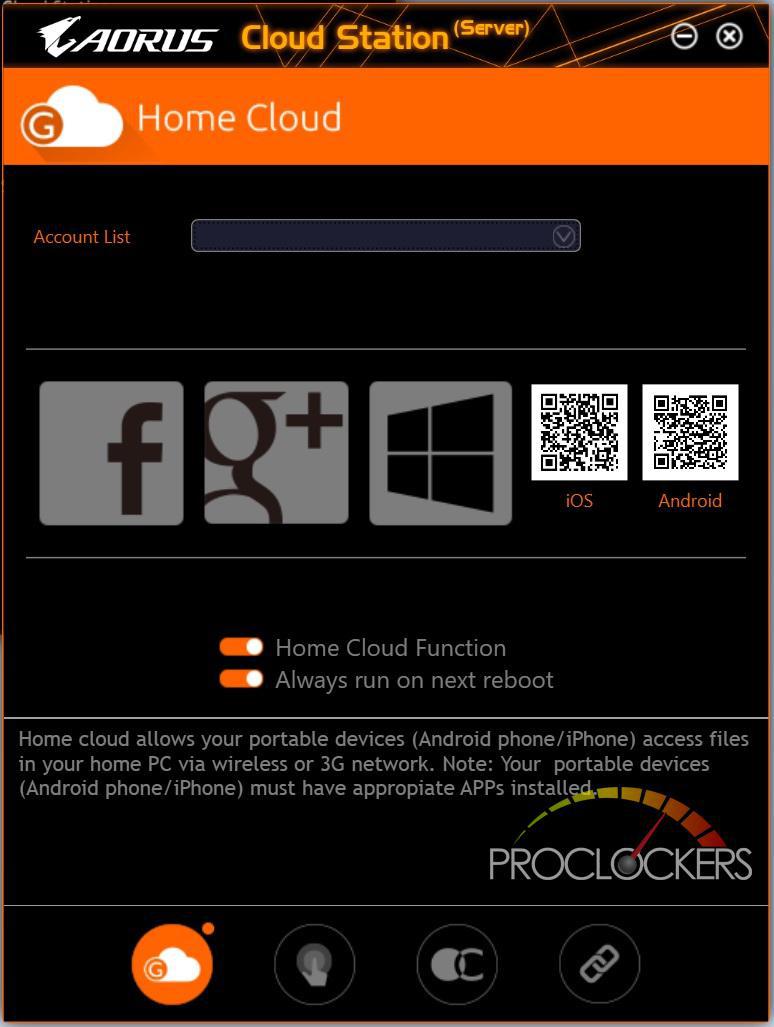 EasyTune
EasyTune allows you to overclock your system within Windows and not require to go into the BIOS each time when changing your settings. This application would be good to help you find what overclock you can achieve. I recommend once you have found your optimal setting you then apply those settings to your BIOS.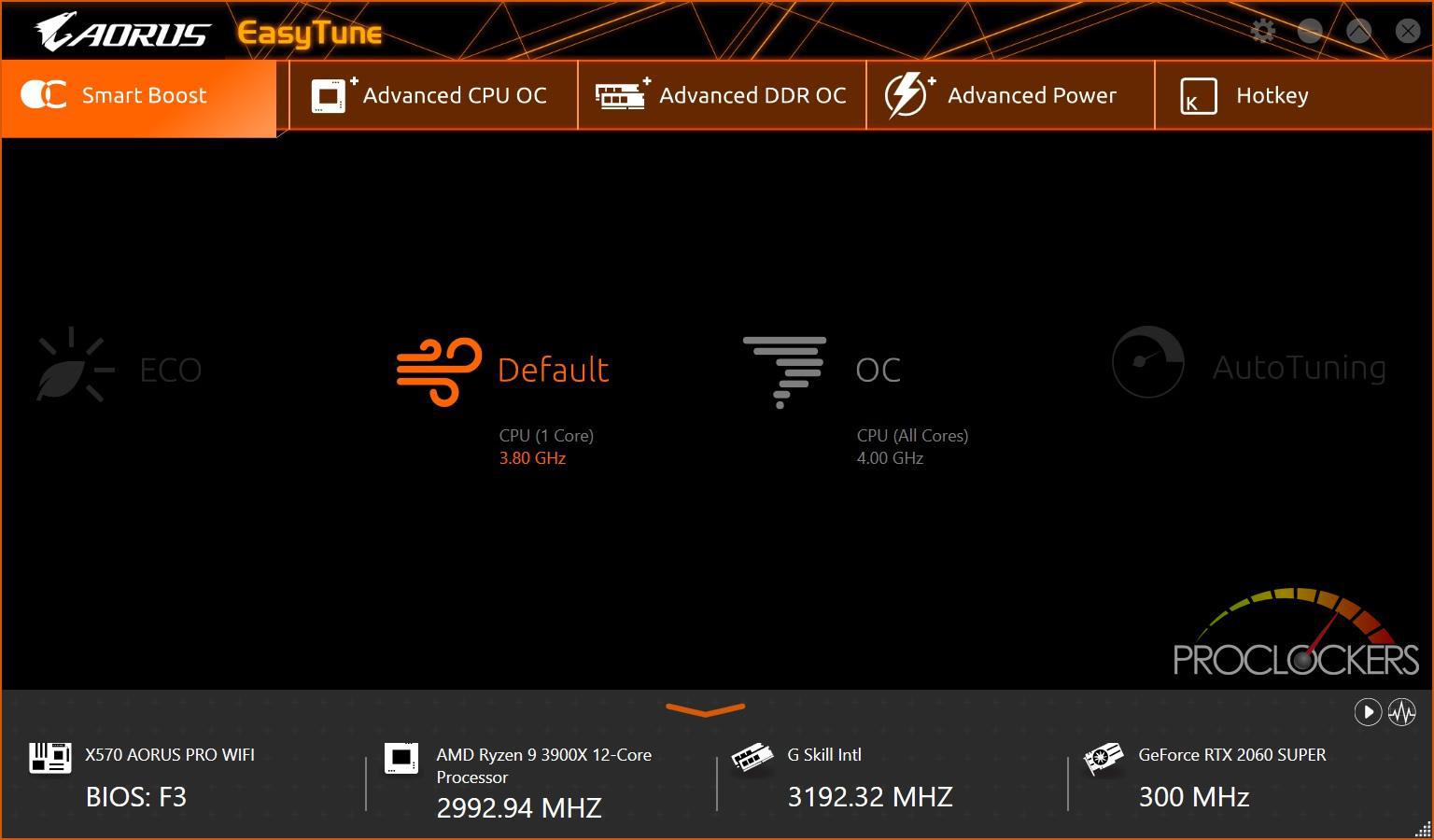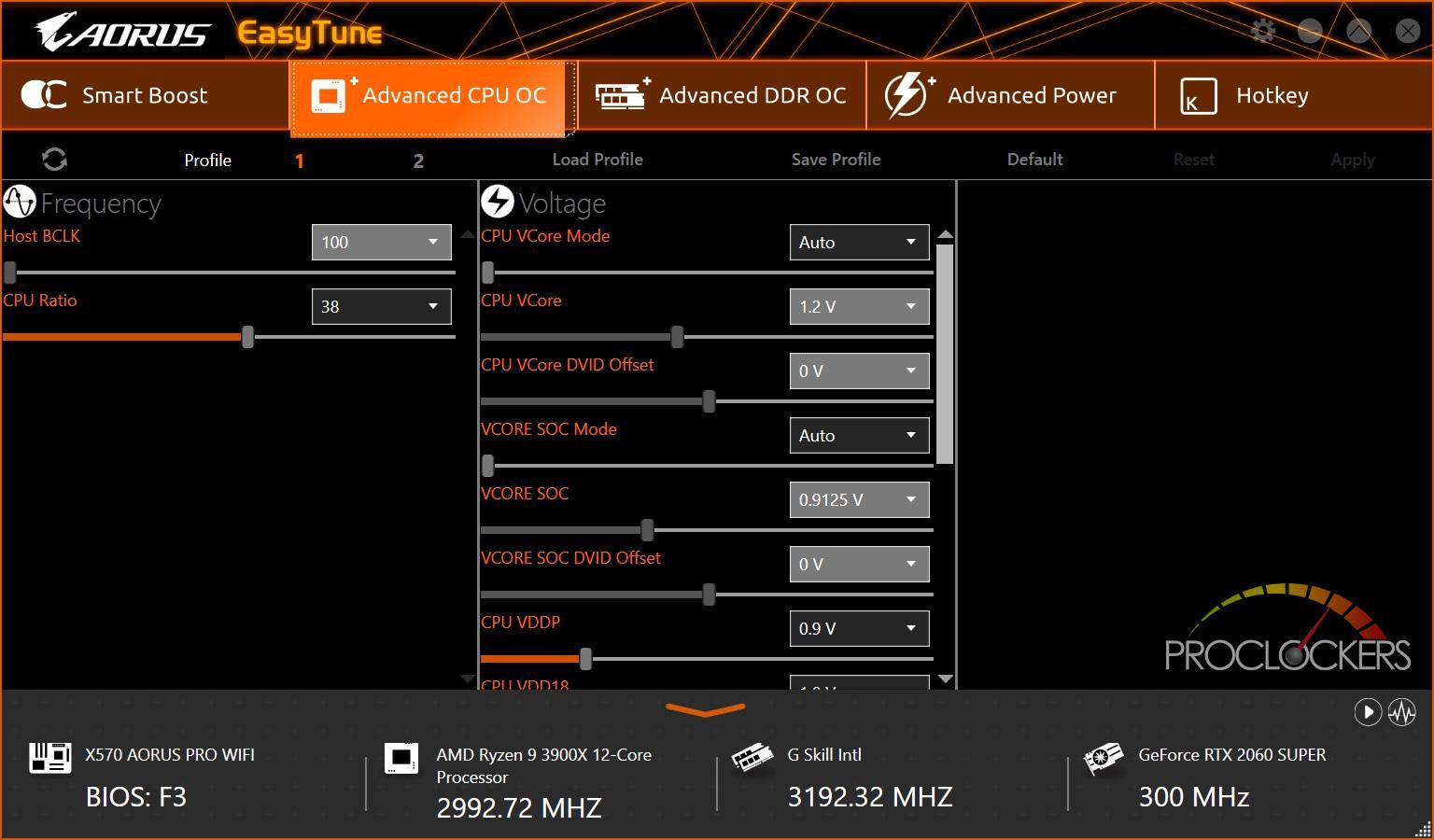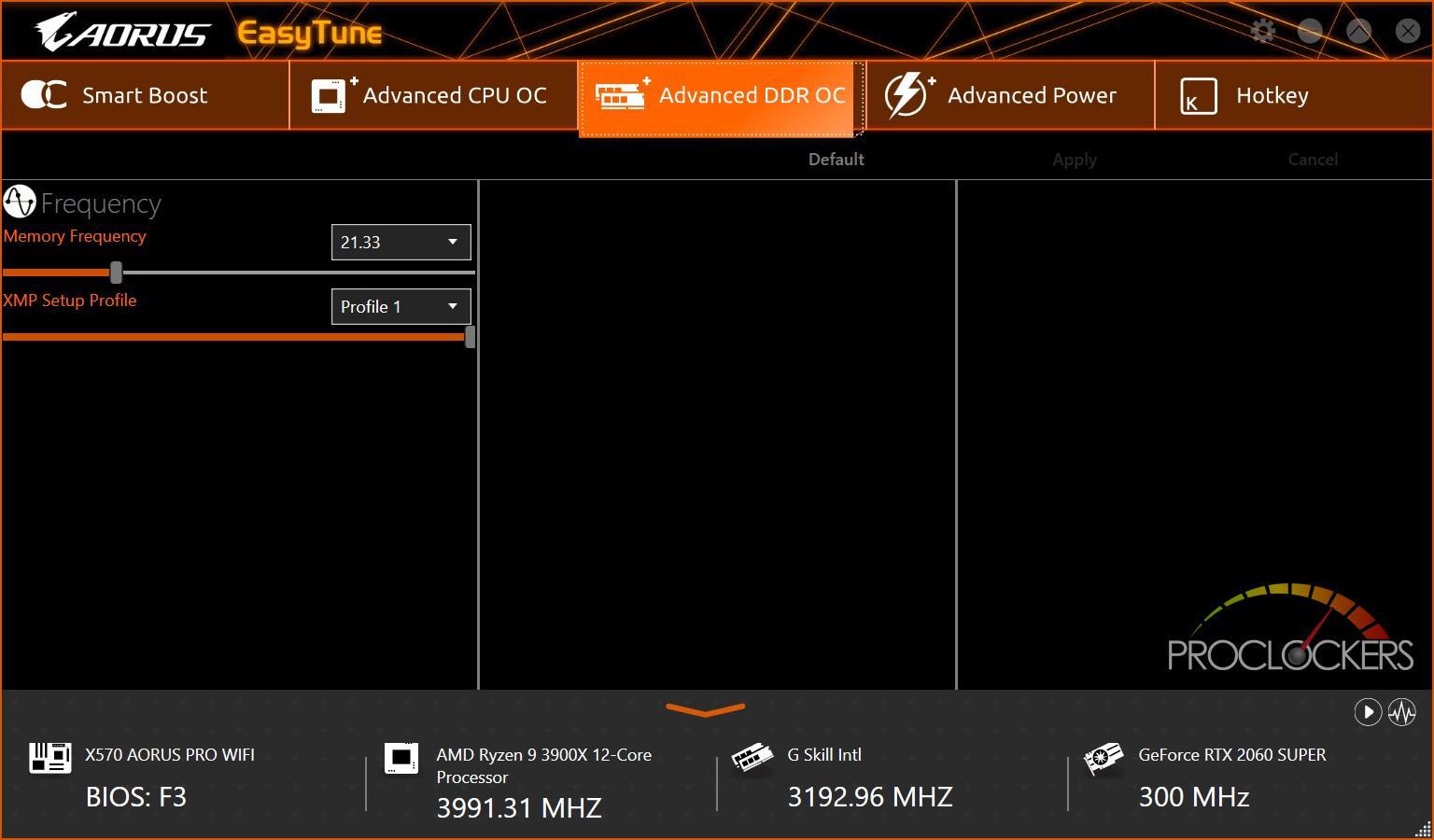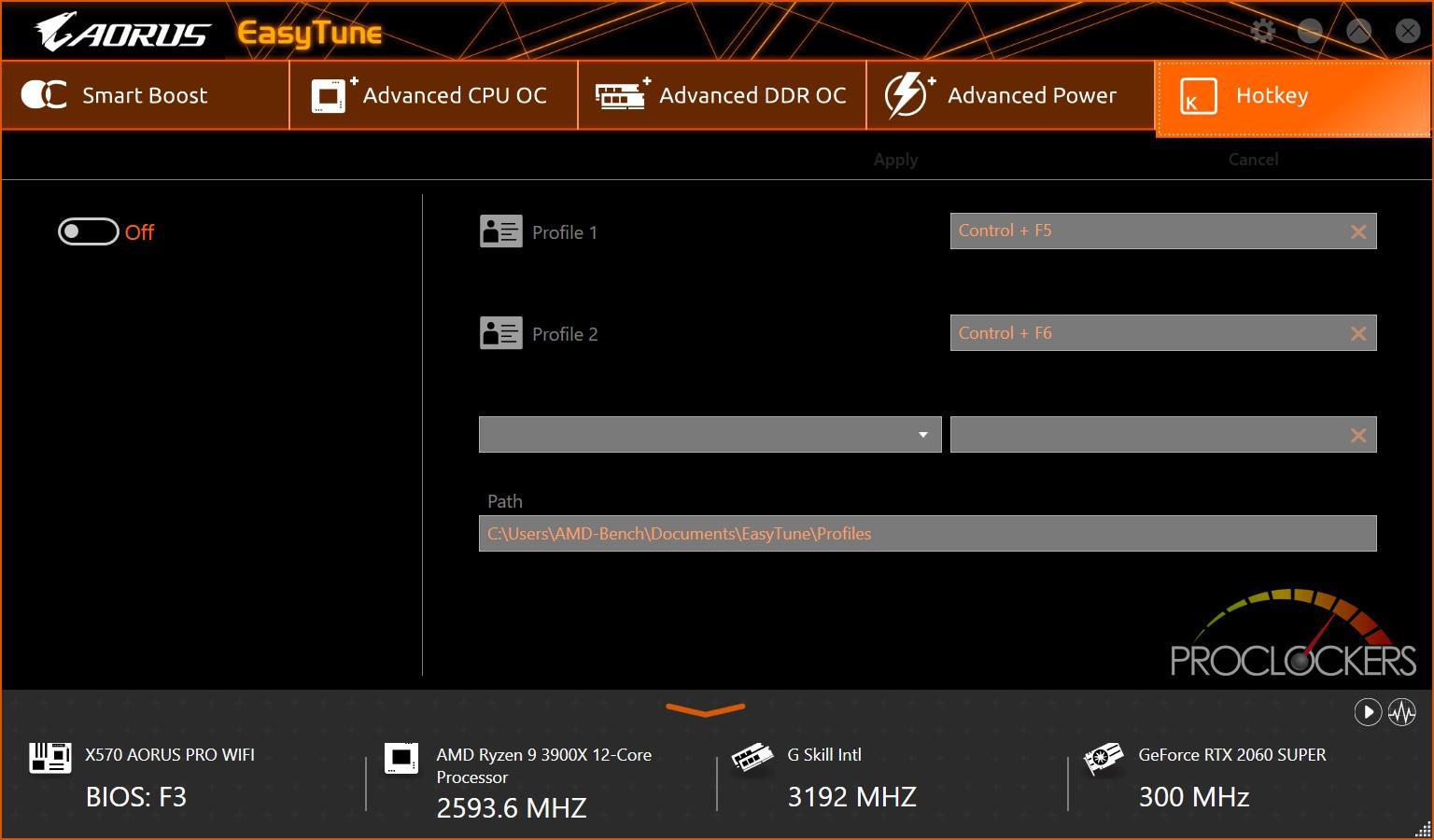 Fast Boot
Allows you to enable or change your Fast boot settings within windows.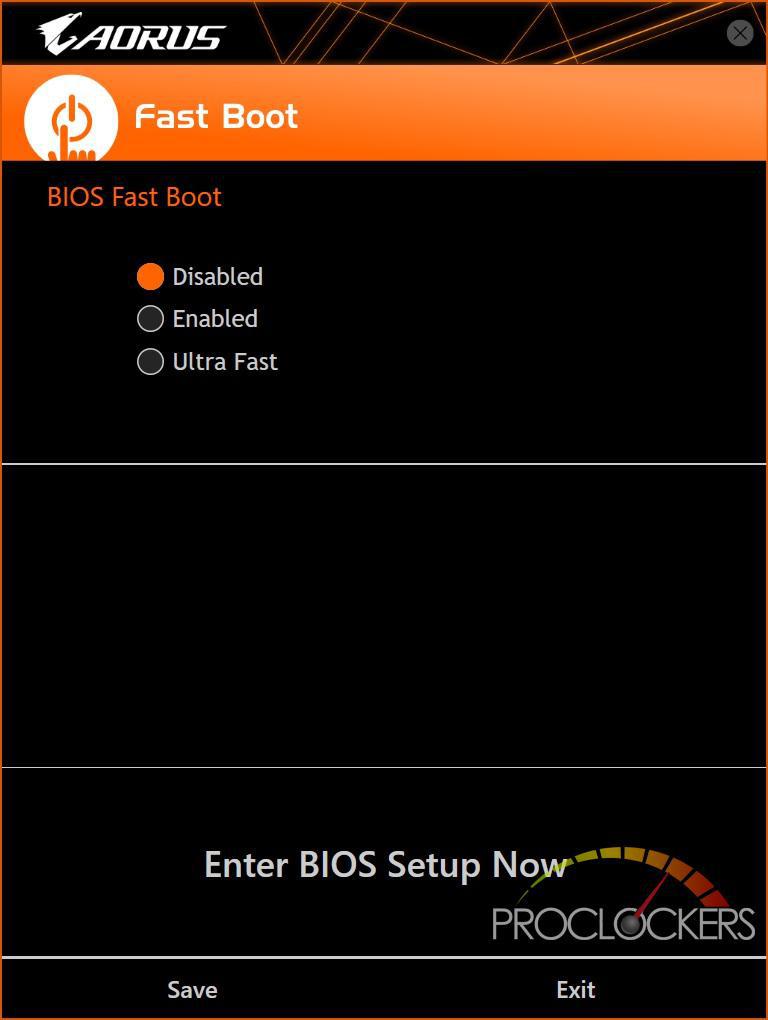 Game Boost
Game Boost will close unneeded application to prevent them from interfering with your game/system. Once you have applied Game Boost you get the option to revert which then will relaunch the closed applications.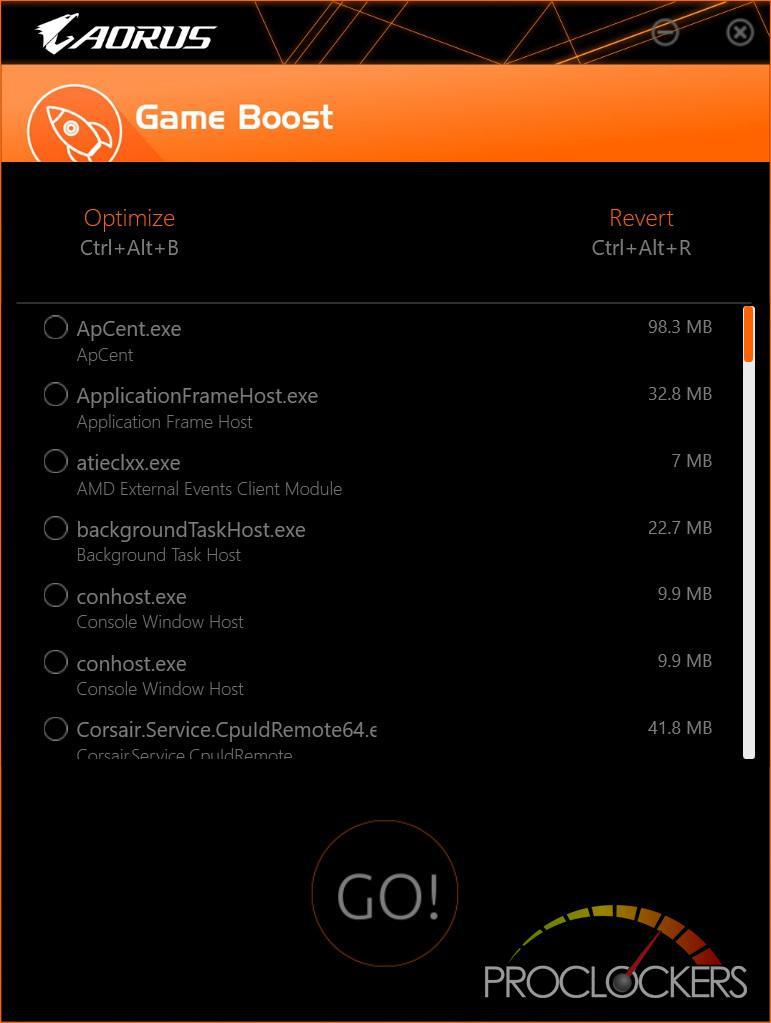 RGB Fusion
RGB Fusion allows you to enable or change the display mode for the ambient motherboard LEDs.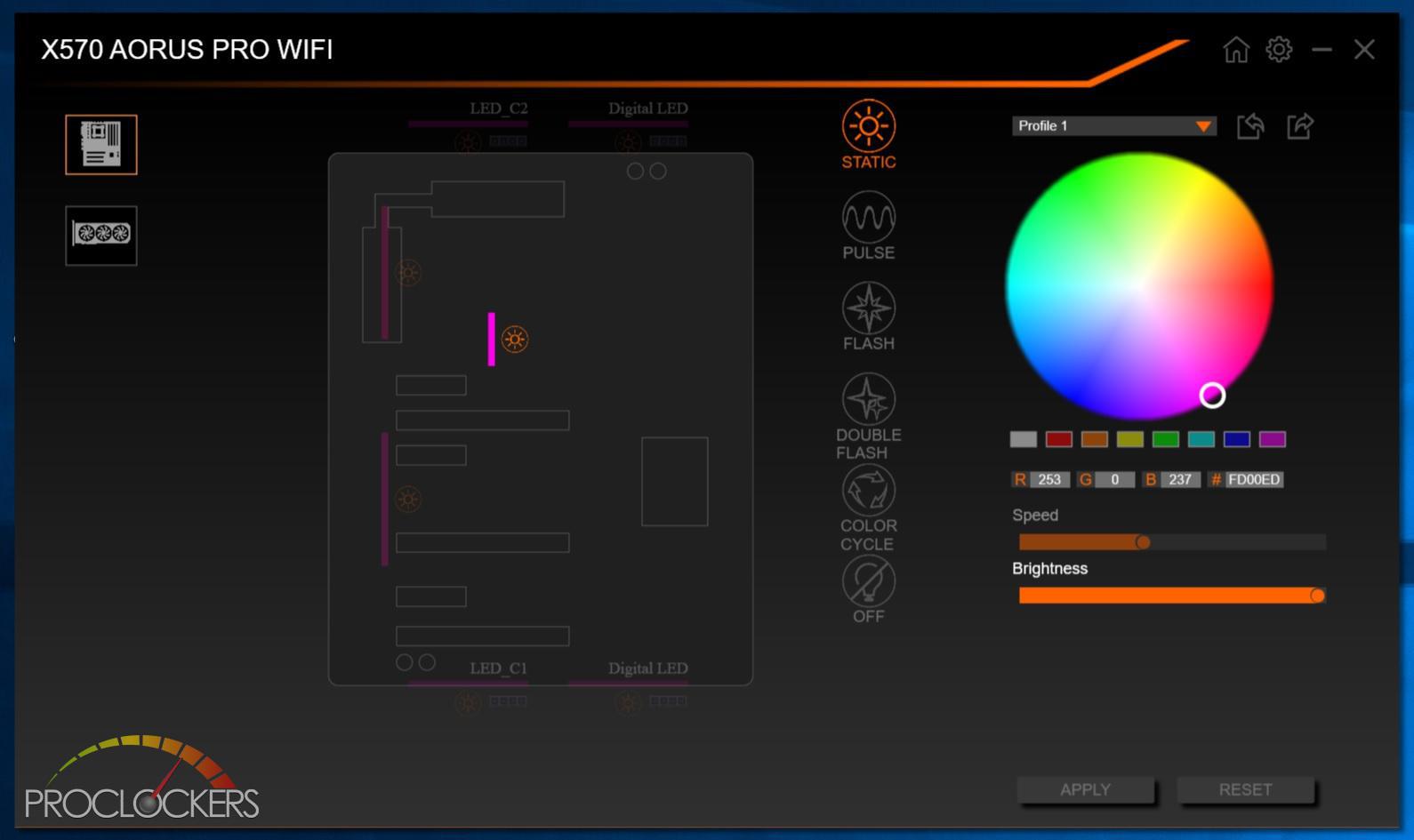 System Information Viewer
This application displays your system's configuration and allows you to adjust various fan settings. On the system information tab, it displays your CPU/Memory configuration as well as your motherboard model and BIOS version.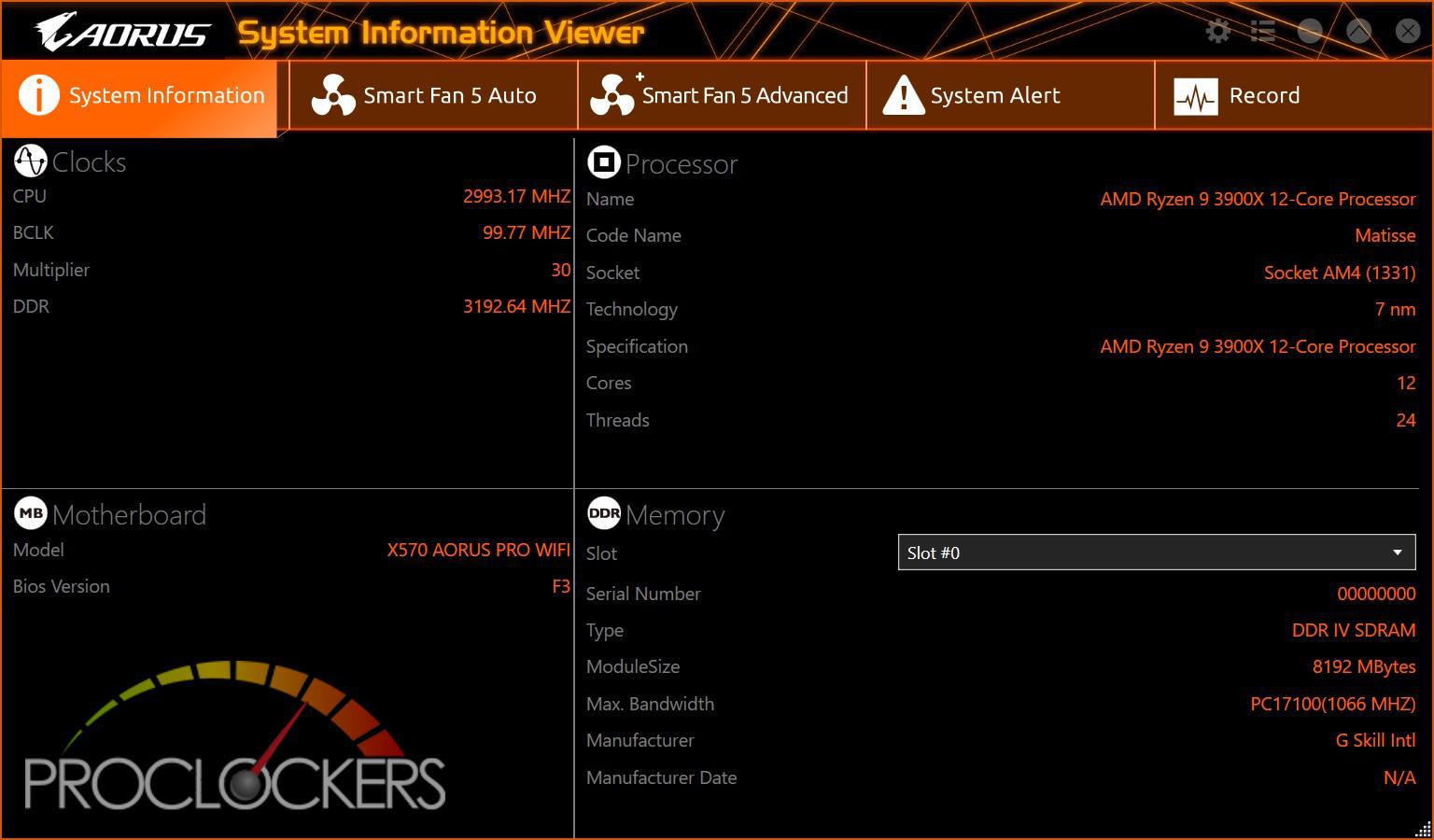 The "Smart Fan 5 Auto" tab allows you to quickly configure your fans based on the profiles: Quiet, Standard, Performance, and Full Speed.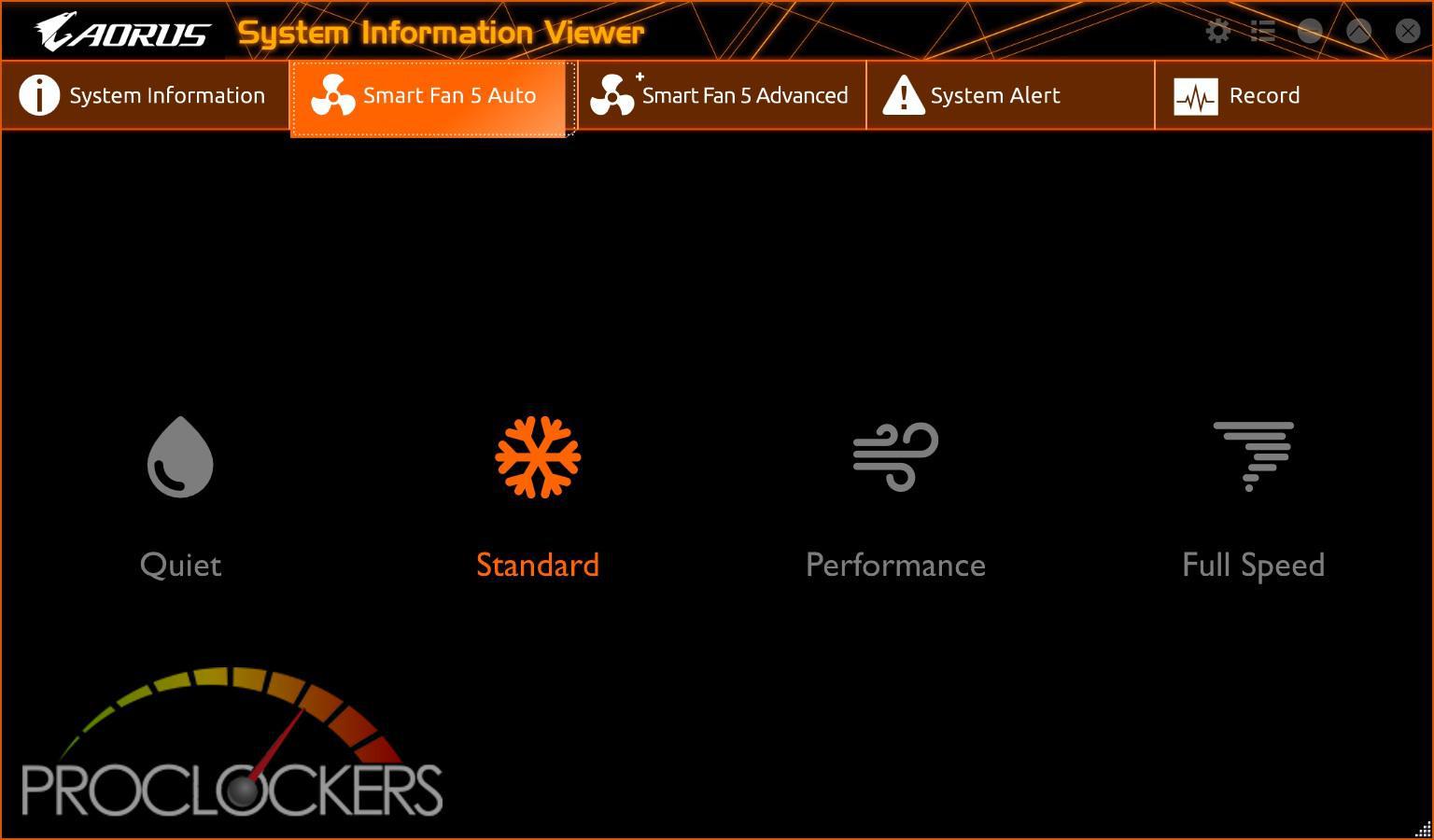 The "Smart Fan 5 Advanced" tab gives you the ability to apply your own fan profile.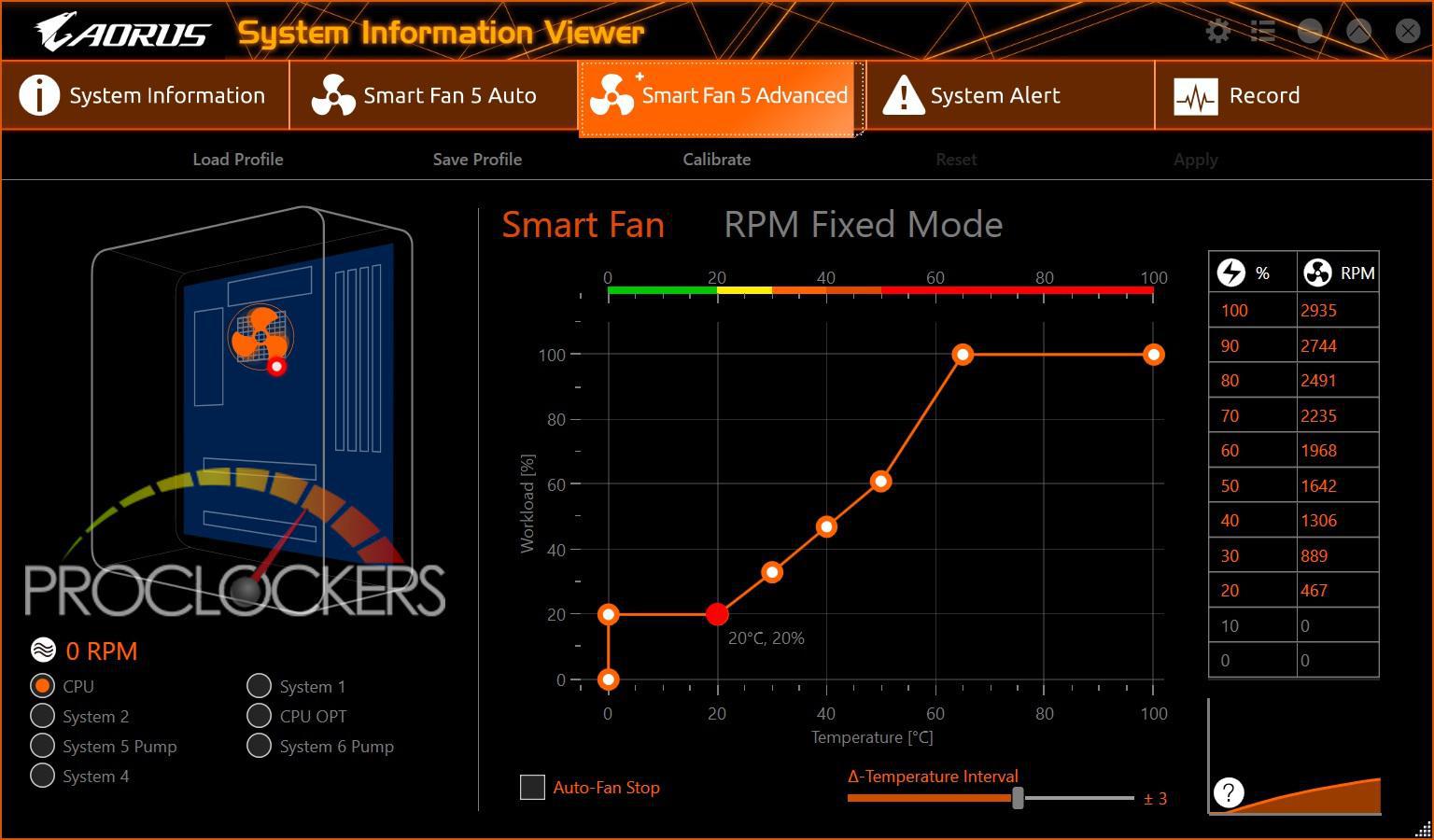 Using the "System Alert", you can set up alerts for various voltage, temperature and fan thresholds.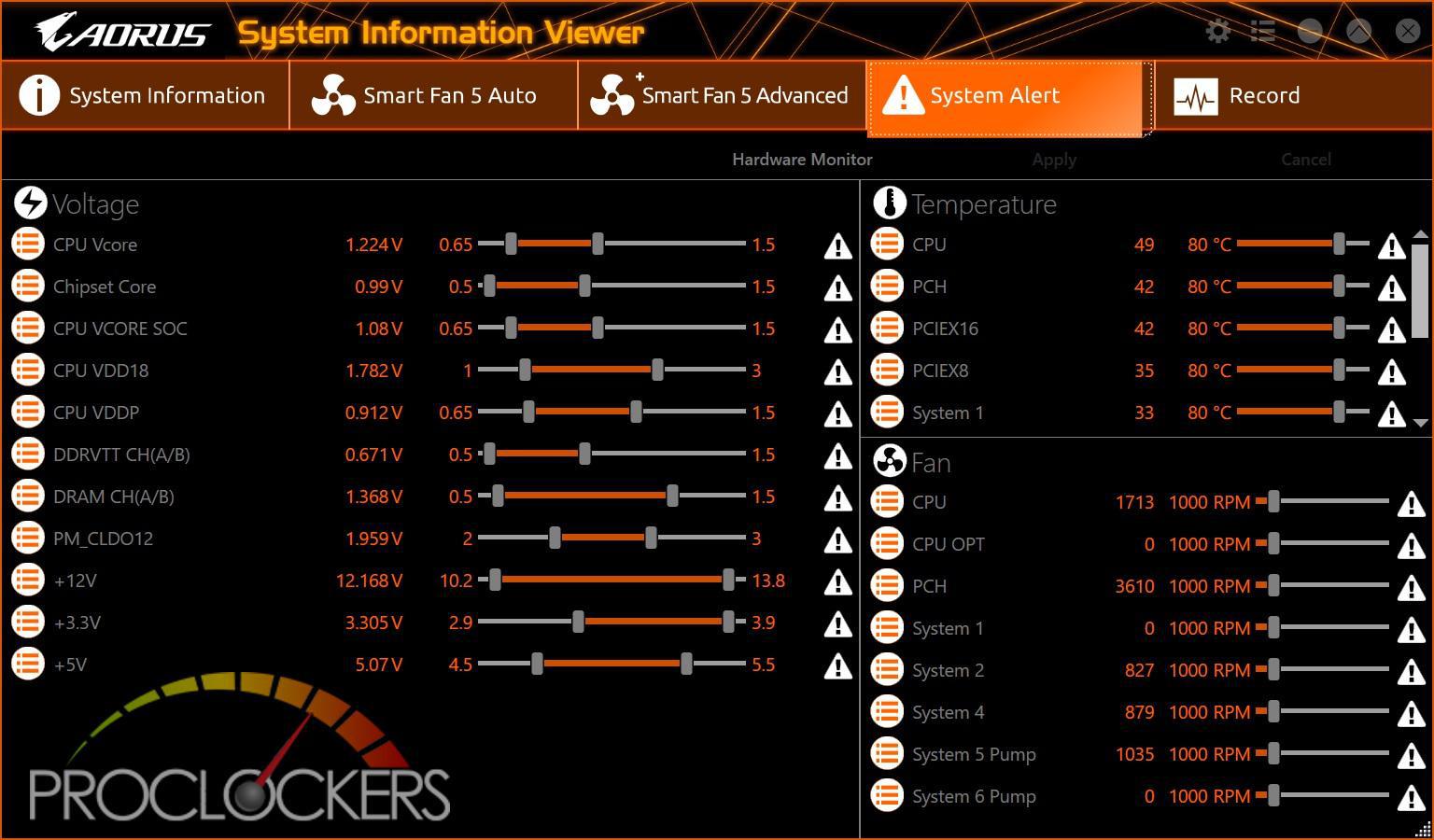 If you are monitoring certain aspects of your system you can use the "Record" tab to monitor and graph various system attributes.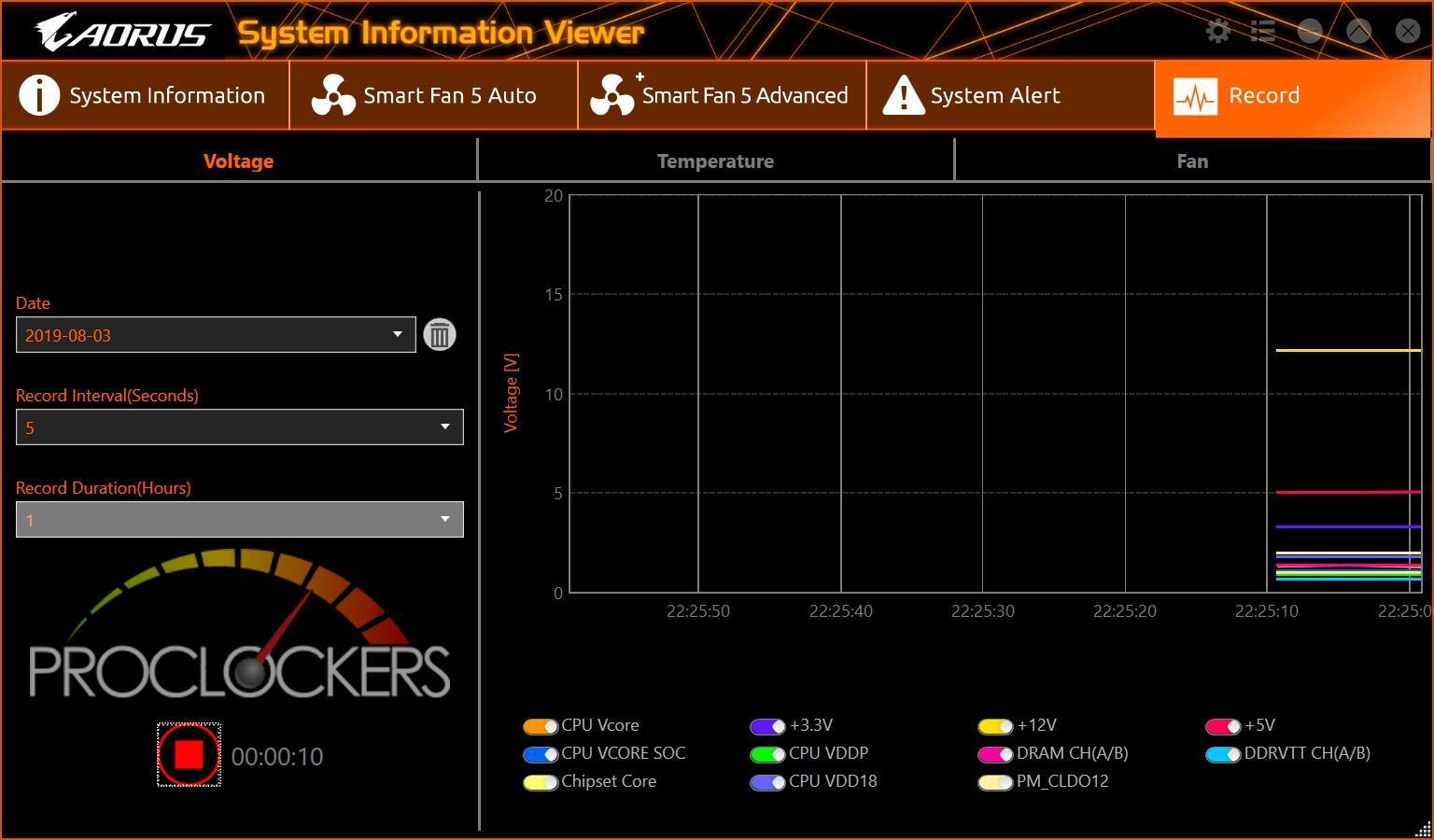 Smart Backup
Smart Backup allows you to back up a partition as an image file every hour. You can use these images to restore your system or files when needed.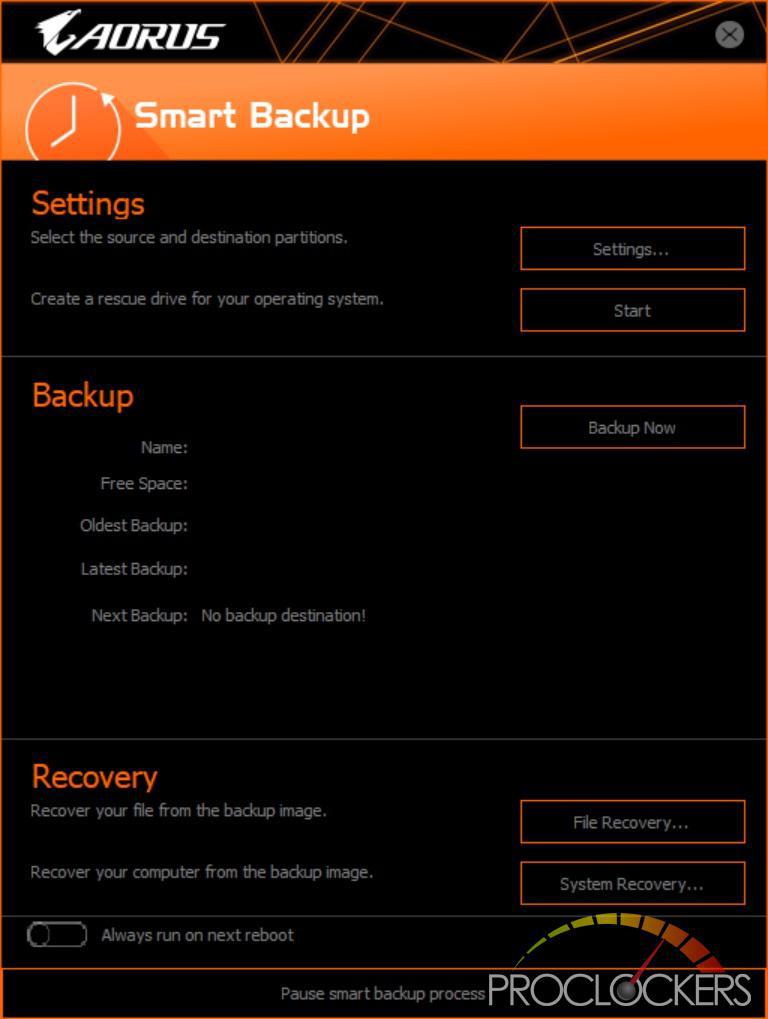 Smart Keyboard
Designed to easily create keyboard macros.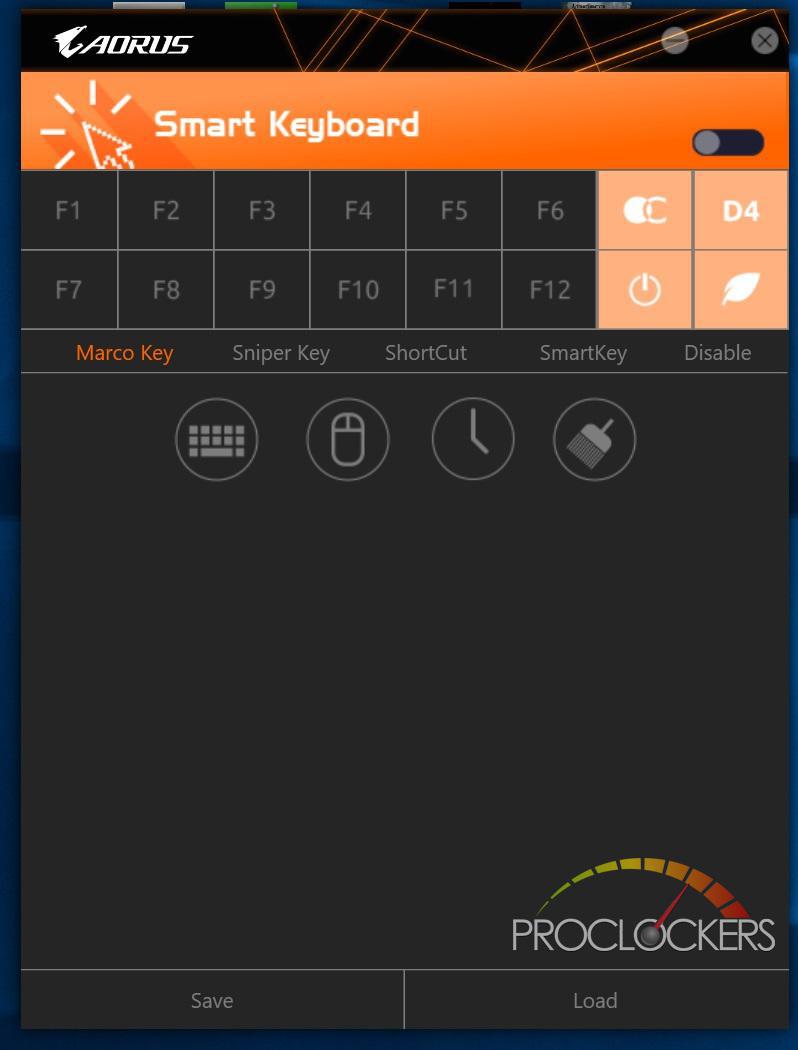 Smart Survey
An application to send non-personal system information to Gigabyte. Also, give you an option to delete any data sent from Gigabyte's servers.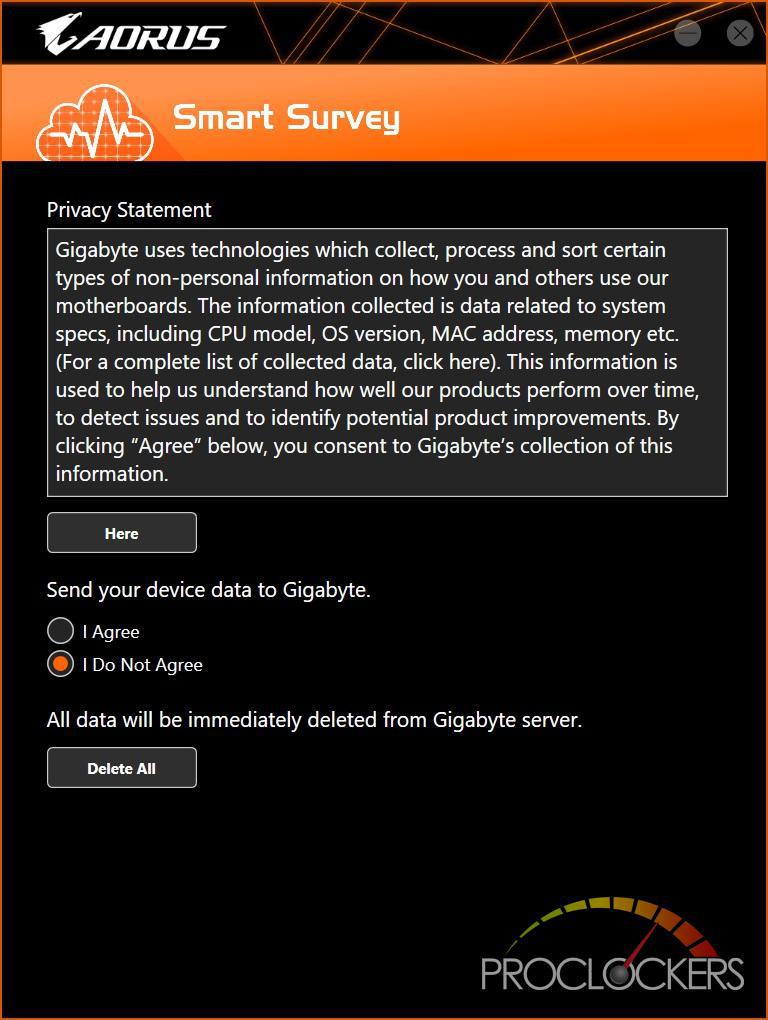 Testing & Performance
To test the X570 AORUS Pro WIFI we will be running it through various benchmarks that will test every aspect of the board. These tests will include CPU, Memory and gaming benchmarks which will give us a gauge of its overall performance.
The system we will install is a Corsair 220T and will include the following components:
AMD 3900X
Wraith Prism Cooler
2 x 8 GB 3200MHz G.Skill Ripjaws V DDR4
Gigabyte RTX 2060 Super Windforce OC GPU
Crucial P1 1000GB M.2 NVMe SSD
Corsair HX750i PSU
General Performance Testing
PCMark 10
PCMark 10 is the complete benchmark for the modern office. It is the ideal test for organizations that are evaluating PCs for a workforce with a range of performance needs. The tests in this benchmark cover a wide range of activities from everyday productivity tasks to demanding work with digital media content.
PCMark 10 uses a modular approach to build relevant benchmark tests around common end-user scenarios. A Test Group is a collection of workloads that share a common theme or purpose. There are four test groups in PCMark 10, we use three of them.
Essentials: covers the common, everyday ways that people use a PC. The workloads include Web Browsing, Video Conferencing, and App Start-up time.
Productivity: measures system performance with everyday office applications. This test group includes Spreadsheets and Writing workloads.
Digital Content Creation: This test group's workload reflects the demands of working with digital content and media. The tests include Photo Editing, Video Editing, and Rendering and Visualization.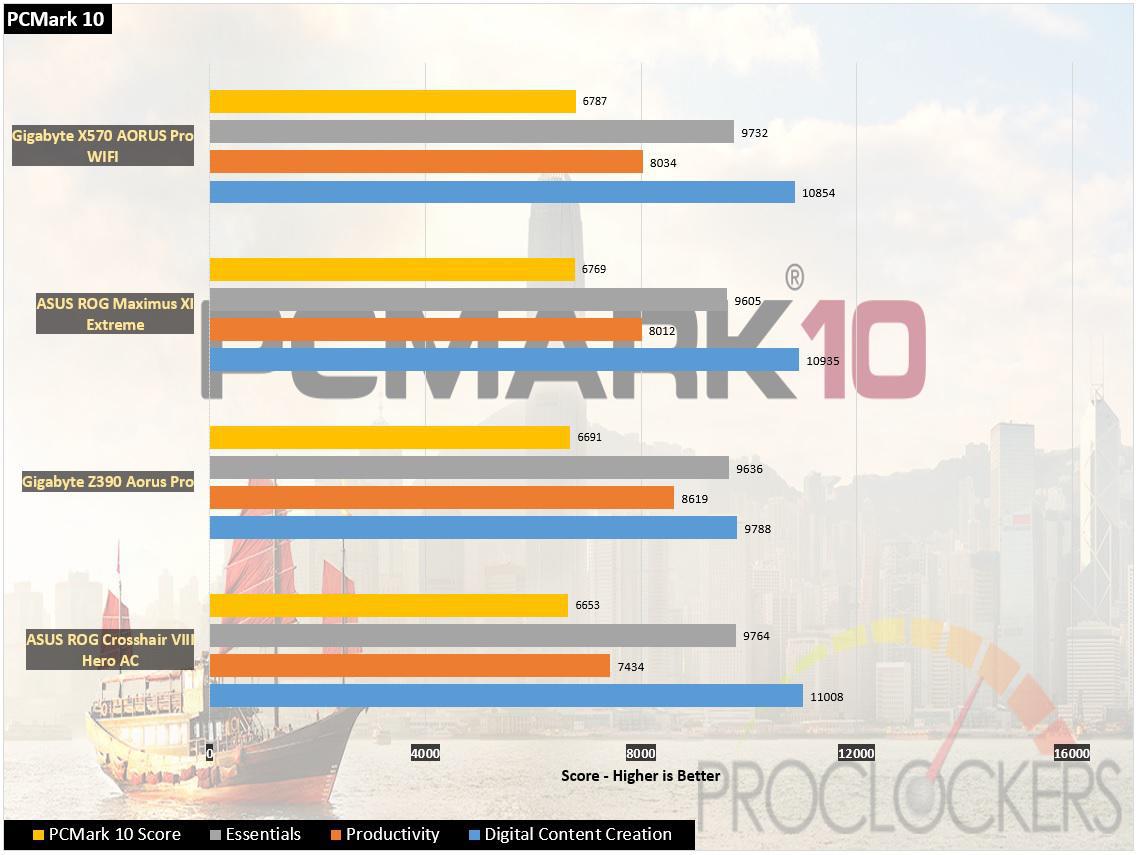 The X570 AORUS Pro WIFI takes top spot being the other benched X570 ASUS ROG Crosshair VIII Hero AC by 134 points.
WebXPRT 2015
WebXPRT 2013 uses scenarios created to mirror the tasks you do every day to compare the performance of almost any Web-enabled device. It contains four HTML5- and JavaScript-based workloads: Photo Effects, Face Detect, Stocks Dashboard, and Offline Notes. WebXPRT is run with the latest stable release version of Google Chrome browser, in this case, Version 70.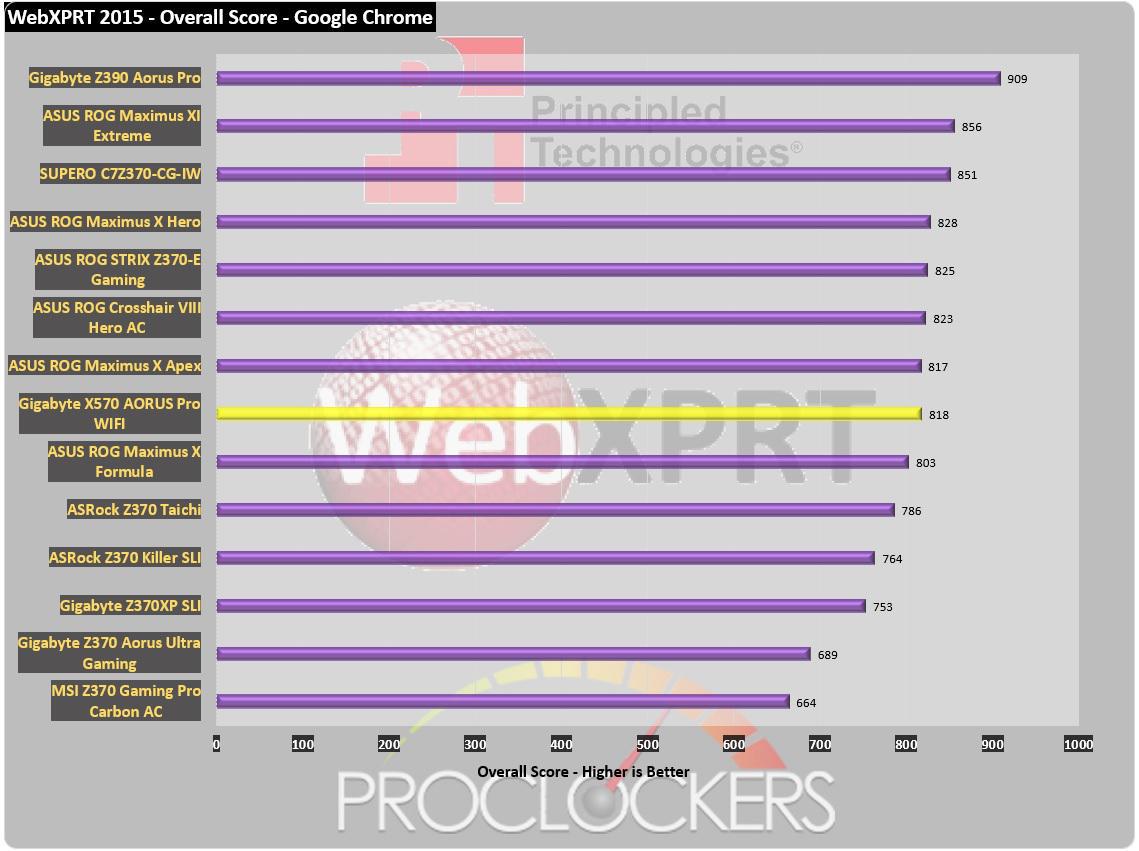 The AORUS Pro WIFI ends up in the middle of the pack with a score of 818 +/- 14, which is only 5 points behind the X570 ASUS ROG Crosshair VIII Hero AC.
CPU Performance Tests
Super PI
"On August 1995, the calculation of pi up to 4,294,960,000 decimal digits was succeeded by using a supercomputer at the University of Tokyo. The program was written by D.Takahashi in collaboration with Dr.Y.Kanada at the computer center. This record should be the current world record. (Details are shown in the windows help.) This record-breaking program was ported to personal computer environments such as Windows NT and Windows 95. In order to calculate 33.55 million digits, it takes within 3 days with a Pentium 90 MHz, 40 MB main memory and 340 MB available storage."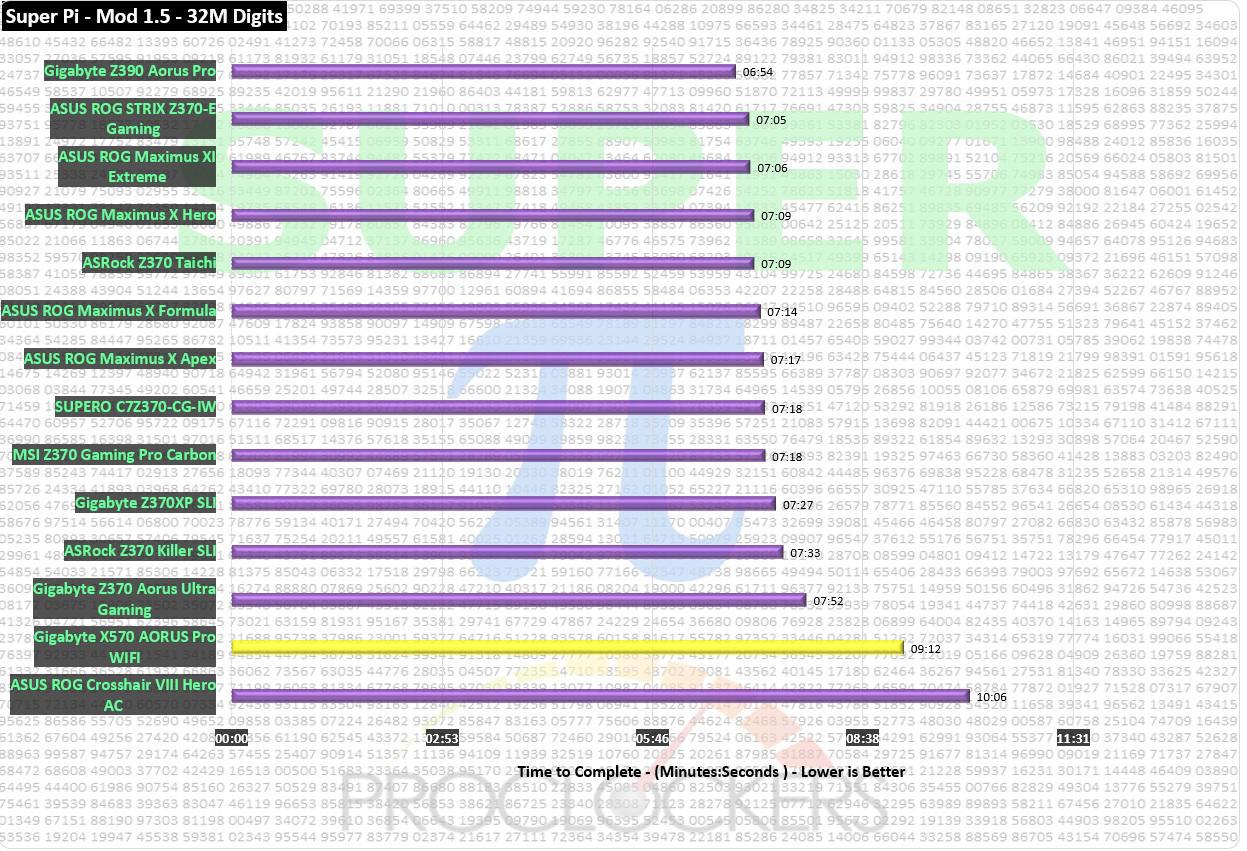 Seems that SuperPI doesn't play well with AMD Ryzen chips being over 2 minutes behind the Z390 platform. The X570 AORUS Pro WIFI put up a score of 9 minutes and 12 seconds, which did beat our other X570 board by 54 seconds.
Cinebench R15
"CINEBENCH is a real-world cross-platform test suite that evaluates your computer's performance capabilities. CINEBENCH is based on MAXON's award-winning animation software CINEMA 4D, which is used extensively by studios and production houses worldwide for 3D content creation. MAXON software has been used in blockbuster movies such as Iron Man 3, Oblivion, Life of Pi or Prometheus and much more.
CINEBENCH is the perfect tool to compare CPU and graphics performance across various systems and platforms (Windows and OS X). And best of all: It's completely free."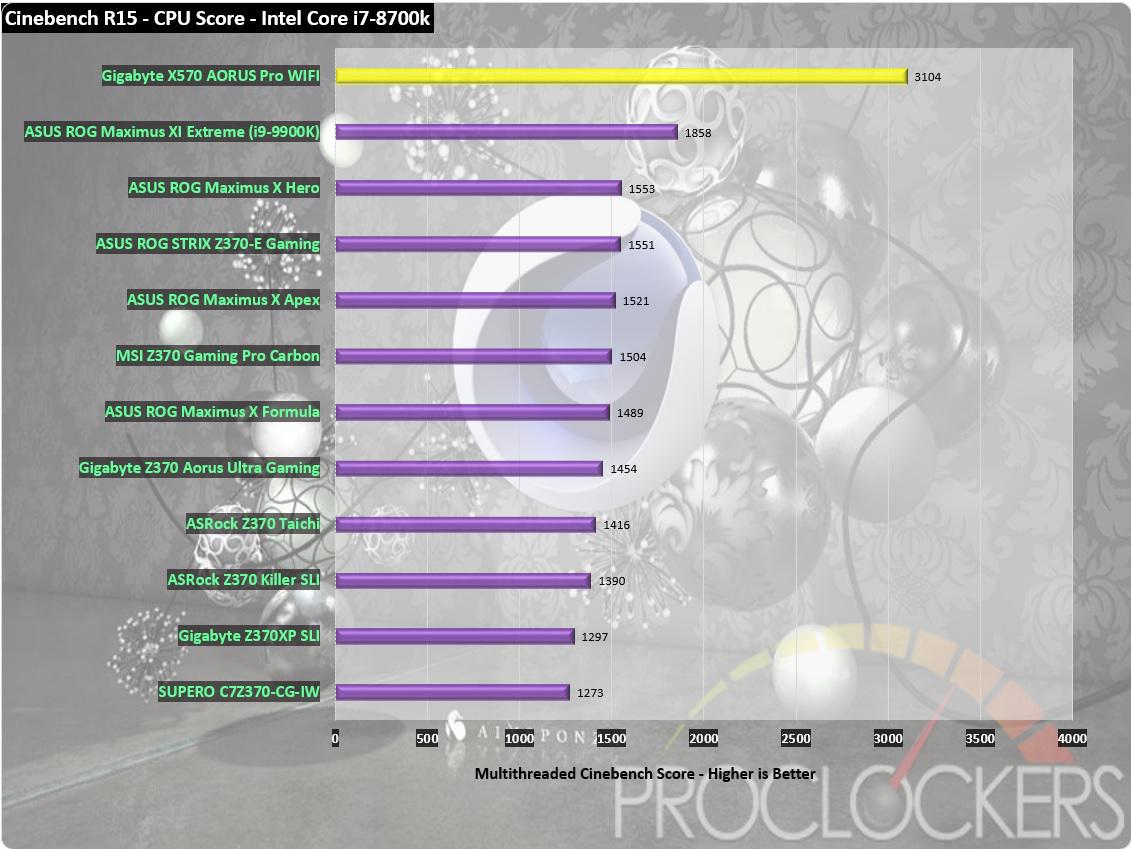 We see the 3900x really shines in Cinebench R15 scoring over 1000 points ahead of the 9900K.
7 Zip
The benchmark shows a rating in MIPS (million instructions per second). The rating value is calculated from the measured speed, and it is normalized with results of Intel Core 2 CPU with multi-threading option switched off. So, if you have modern CPU from Intel or AMD, rating values in single-thread mode must be close to real CPU frequency. There are two tests, compression with LZMA method and decompression with LZMA method. Once the total passes reach 100, the score is taken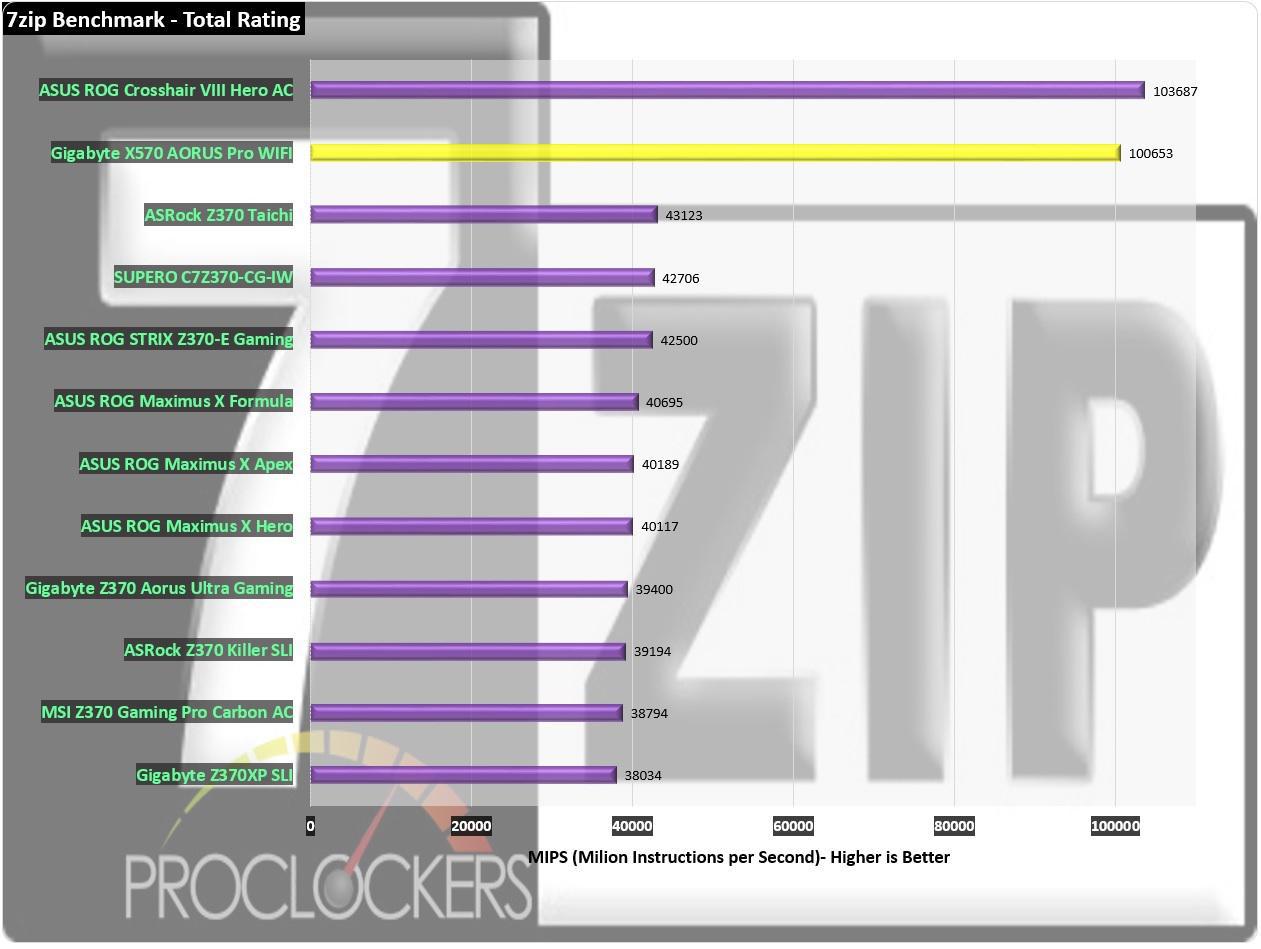 7Zip is another thing AMD's Ryzen excels at, beating the 9900K by about 35,000 points with the X570 AORUS Pro WIFI posting a score of 100653.
Memory Performance Testing
AIDA64 Engineer Edition
"FinalWire Ltd. today announced the immediate availability of AIDA64 Extreme Edition 1.50 software, a streamlined diagnostic and benchmarking tool for home users; and the immediate availability of AIDA64 Business Edition 1.50 software, an essential network management solution for small and medium scale enterprises. The new AIDA64 update implements AVX-optimized benchmarks for the upcoming Intel Sandy Bridge processors, adds a brand-new video encoding benchmark, and supports the latest AMD and NVIDIA graphics processors."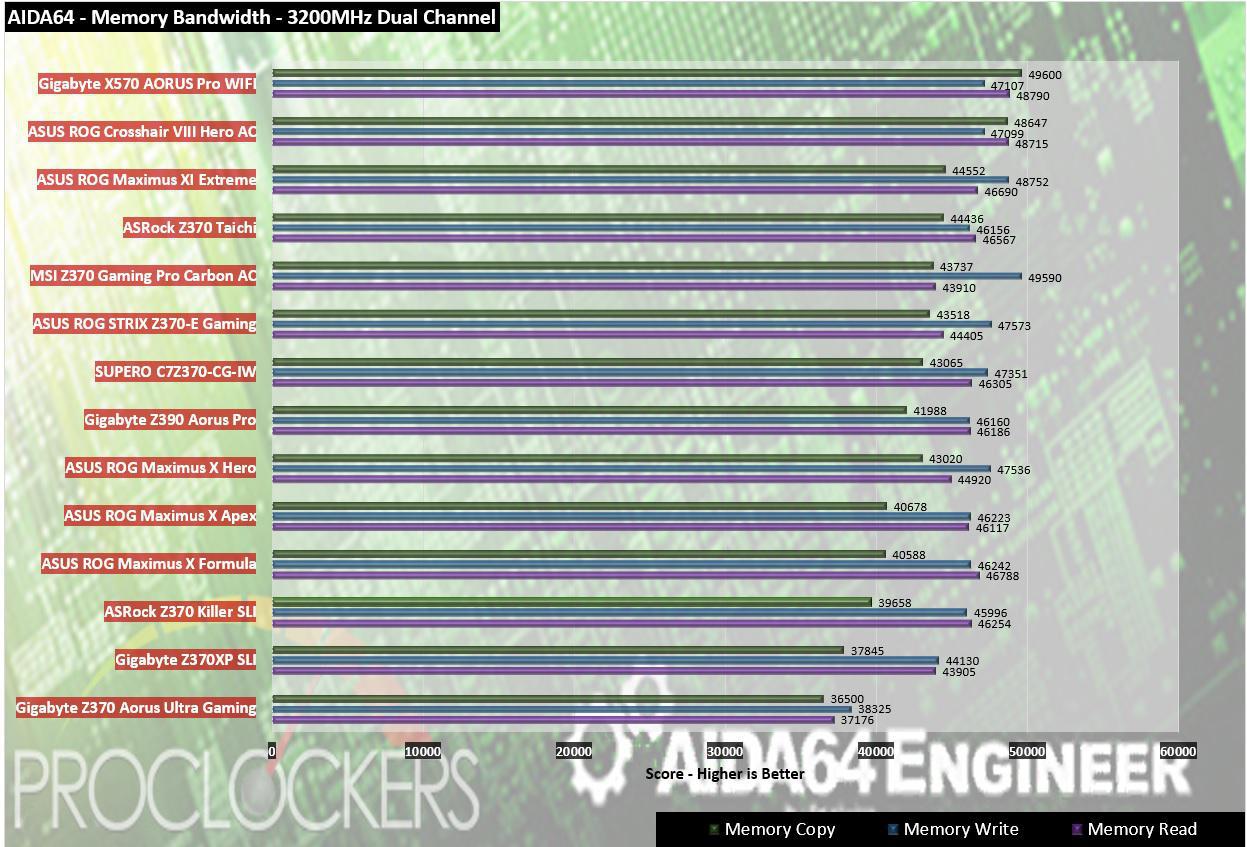 The X570 AORUS Pro WIFI posts some impressive scores and takes top spot in the AIDA64 Memory Bandwidth benchmark.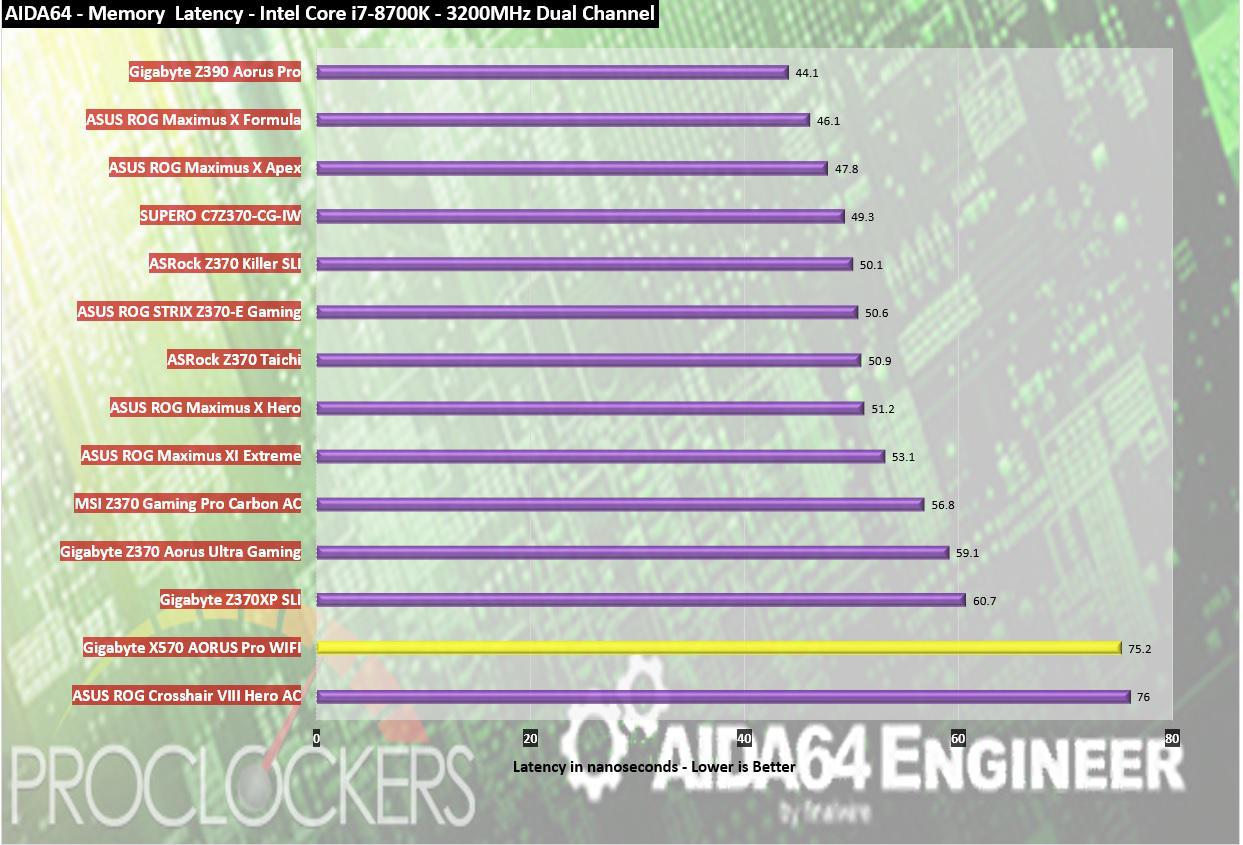 Memory latency is one of Ryzen's weak spots due to its chiplets, we find the AORUS Pro WIFI well behind its Z390 counterpart at 75.2ns.
Passmark Performance Test – Memory Mark – Threaded
"Fast, easy to use, PC speed testing and benchmarking. PassMark PerformanceTest ™ allows you to objectively benchmark a PC using a variety of different speed tests and compare the results to other computers."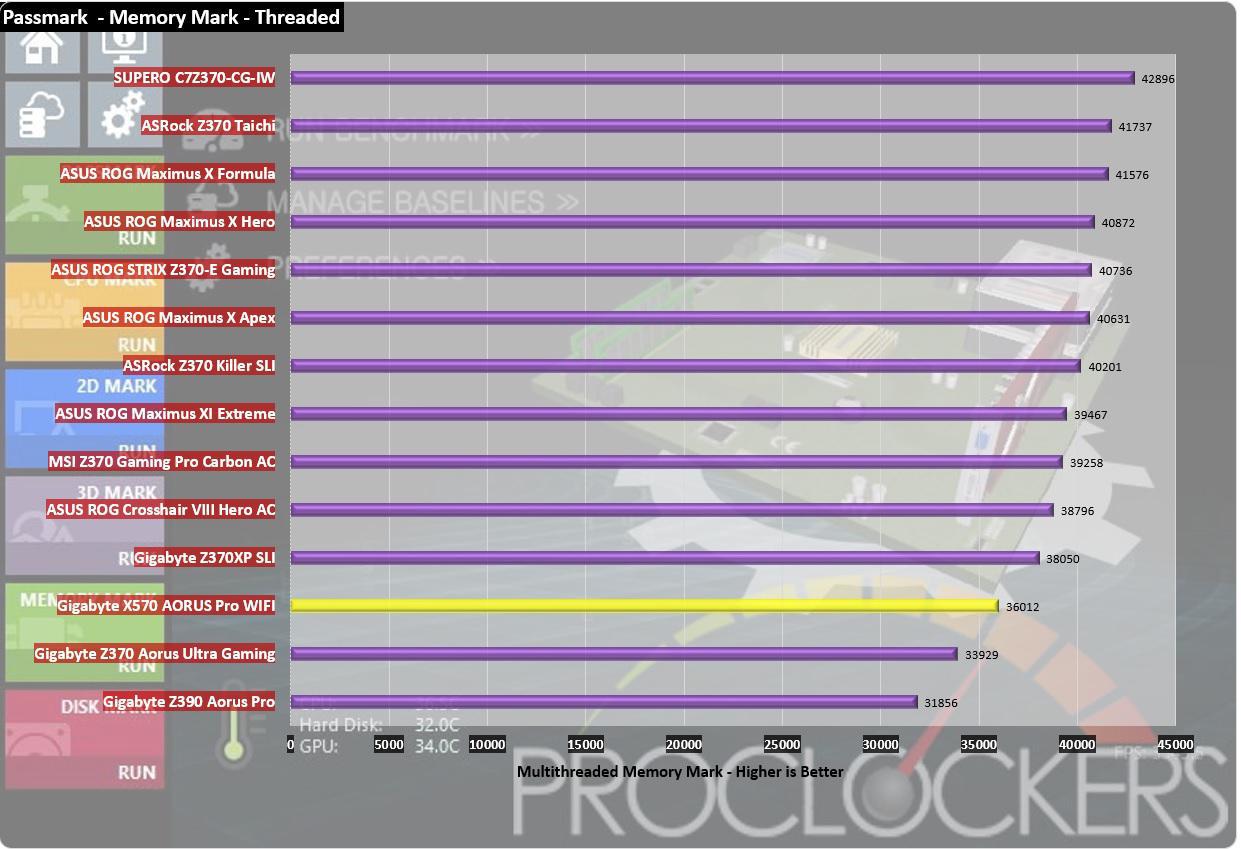 Like other Gigabyte boards, we find the X570 AORUS Pro WIFI struggle in the Passmark memory benchmark.
SiSoft Sandra – Memory Bandwidth
"SiSoftware Sandra provides a robust package of diagnostic tools for testing your system and teasing out its problems–or potential headaches."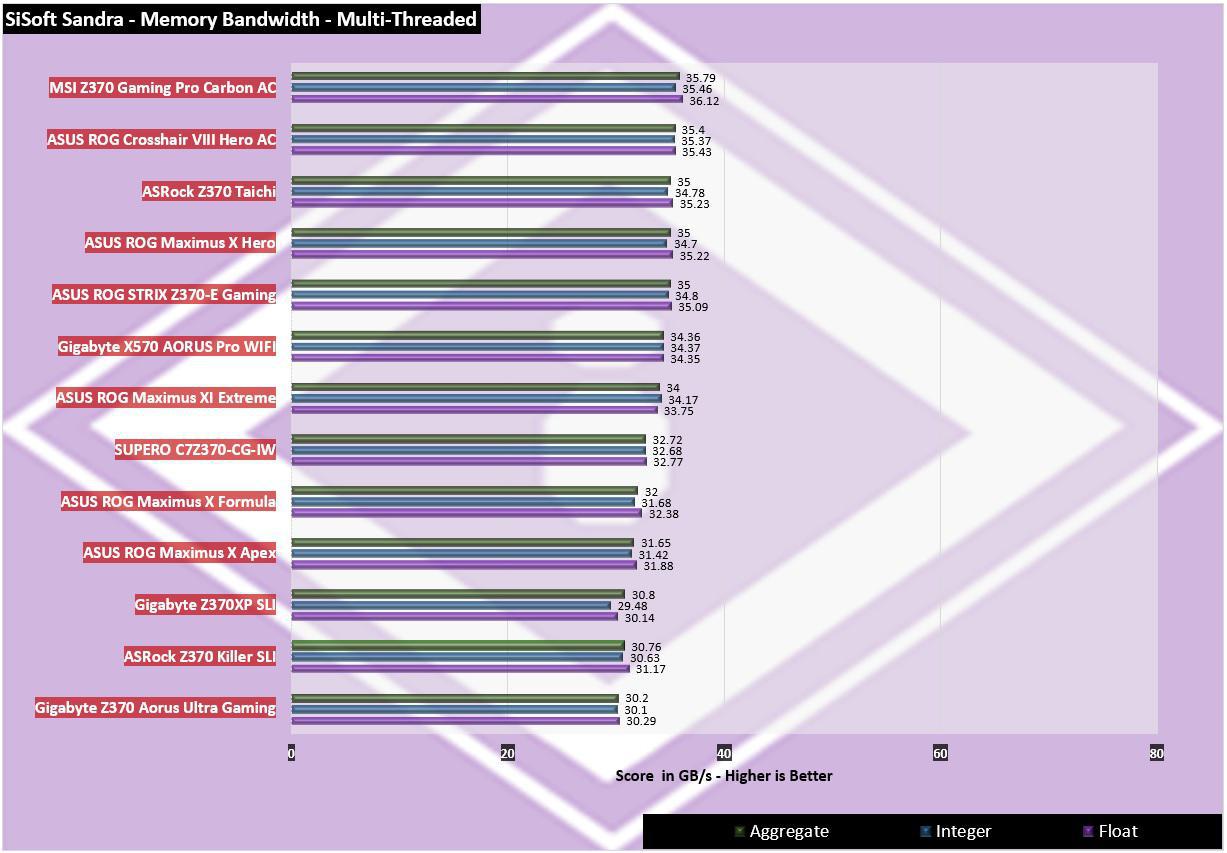 In SiSoft Memory bandwidth, the AORUS Pro WIFI sits in the middle of the pack with scores of only 34.36/34.37/34.35.
Storage Performance Testing
ATTO Disk Benchmark
"As the industry's leading provider of high-performance storage & network connectivity products, ATTO has created a widely-accepted Disk Benchmark freeware utility to help measure storage system performance. As one of the top tools utilized in the industry, Disk Benchmark identifies performance in hard drives, solid-state drives, RAID arrays as well as connections to storage. Top drive manufacturers, like Hitachi, build and test every drive using the ATTO Disk Benchmark"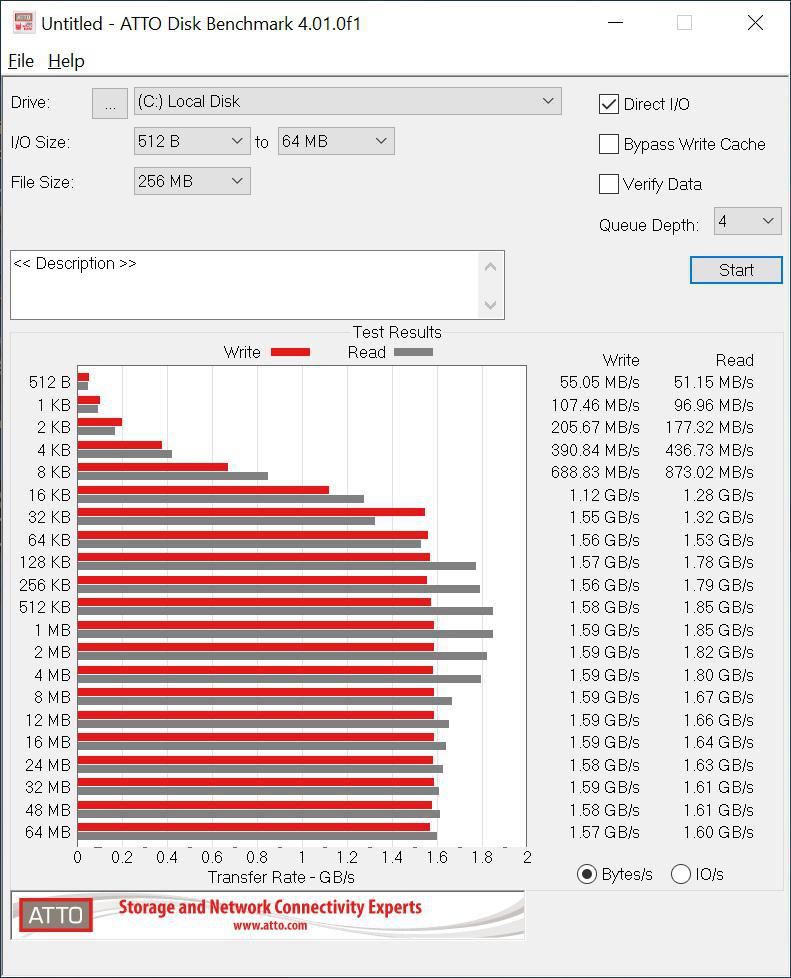 No surprises here as it benches relatively close to Crucial P1's rated speed of 2000 MB/s read and 1700MB/s write.
CrystalDiskMark
"CrystalDiskMark is designed to quickly test the performance of your hard drives. Currently, the program allows measuring sequential and random read/write speeds."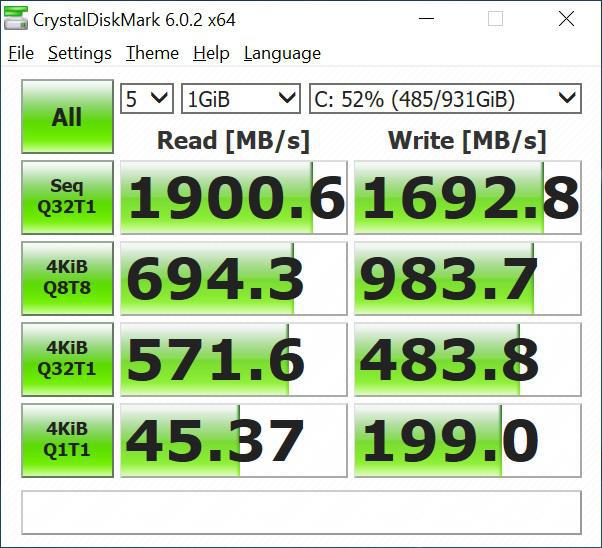 Again in CrystalDiskMark, it's benching fairly close to the rated speed of the Crucial P1 1000GB.
AS SSD
The AS SSD benchmark determines the performance of Solid State Drives (SSD). The tool contains six synthetic and three copy tests.
The synthetic tests determine the sequential and random read and write performance of the SSD. These tests are performed without using the operating system cache. In the Seq test, the program measures how long it takes to read and write a 1 GB file. In the 4K test, read and write performance is determined for randomly selected 4K blocks. The 4K-64 Third test is equivalent to the 4K procedure, except that the read and write operations are distributed to 64 threads. This test should show differences between the IDE operating mode where NCQ is not supported and the AHCI mode for SSDs with Native Command Queuing (NCQ). The additional compression test can measure the performance of the SSD as a function of the compressibility of the data. This is especially important for the controllers that are used to increase the performance and life of the cell compression.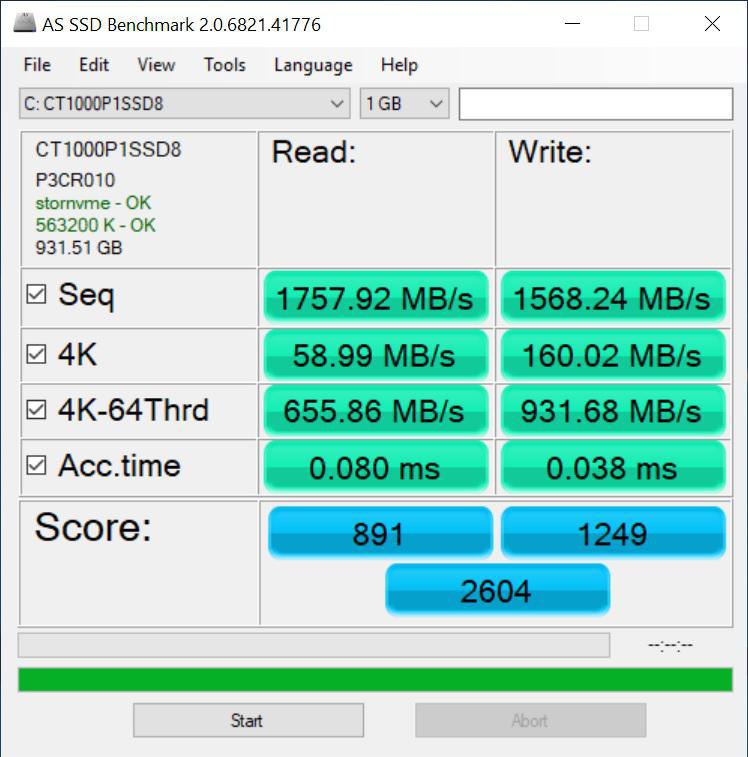 AS SSD is known to score lower than most other benchmarks, and the X570 AORUS Pro WIFI benchmarks pretty much right where I would expect it to be.
Game Testing
3DMark – Fire Strike
"Fire Strike is a showcase DirectX 11 benchmark designed for today's high-performance gaming PCs. It is our most ambitious and technical benchmark ever, featuring real-time graphics rendered with detail and complexity far beyond what is found in other benchmarks and games today"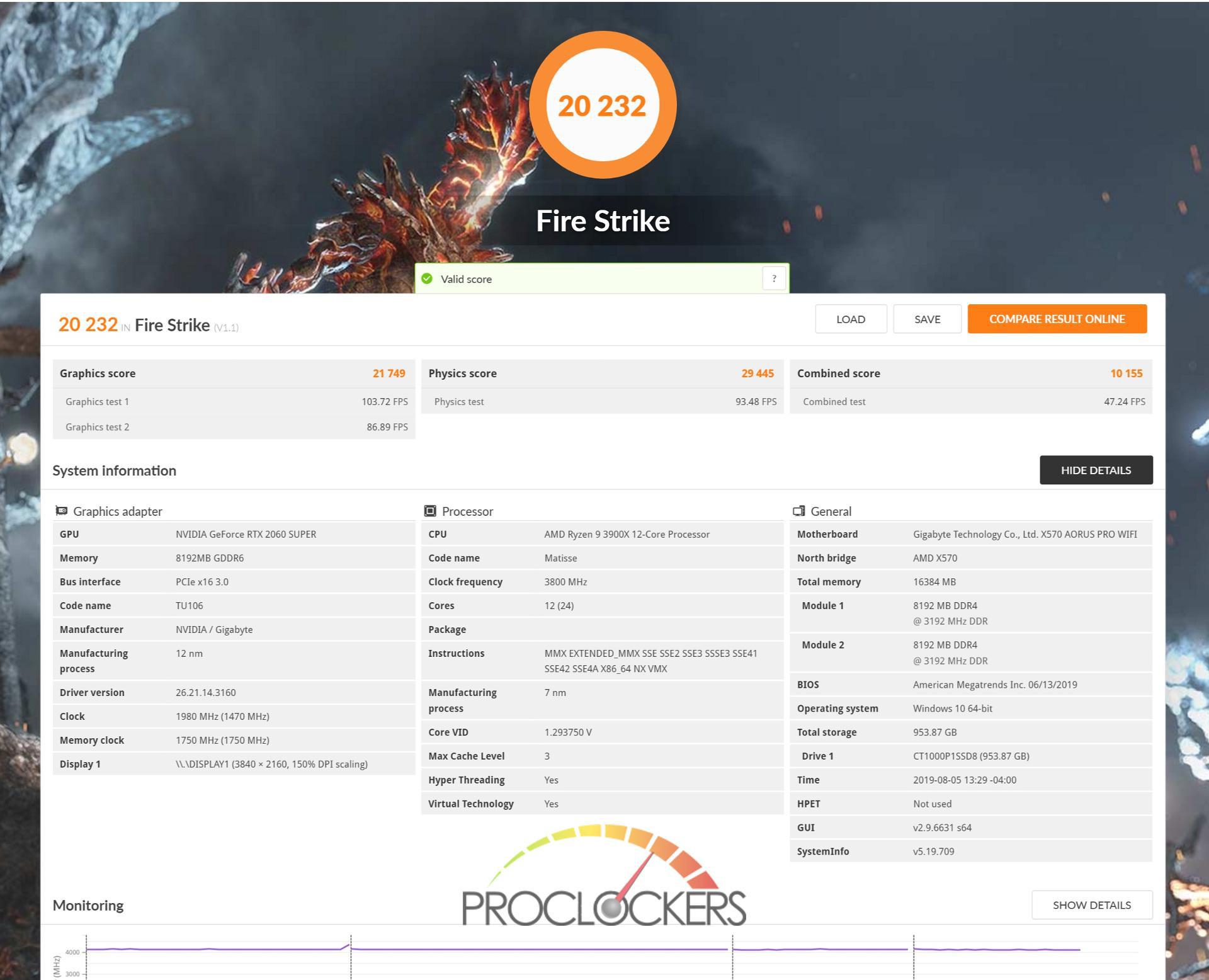 Our setup posts a score of 20232 and a graphics score of 21749, which is right where a stock RTX 2060 Super should be.
3DMark – Time Spy
"3Dmark Time Spy is a new DirectX 12 benchmark test for Windows 10 gaming PCs. Time Spay is one of the first DirectX 12 apps to be built "the right way" from the ground up to fully realize the performance gains that the new API offers. With DirectX 12 engine, which supports new API features like asynchronous compute, explicit multi-adapter, and multi-threading, Time Spy is the ideal test for benchmarking the latest graphics cards."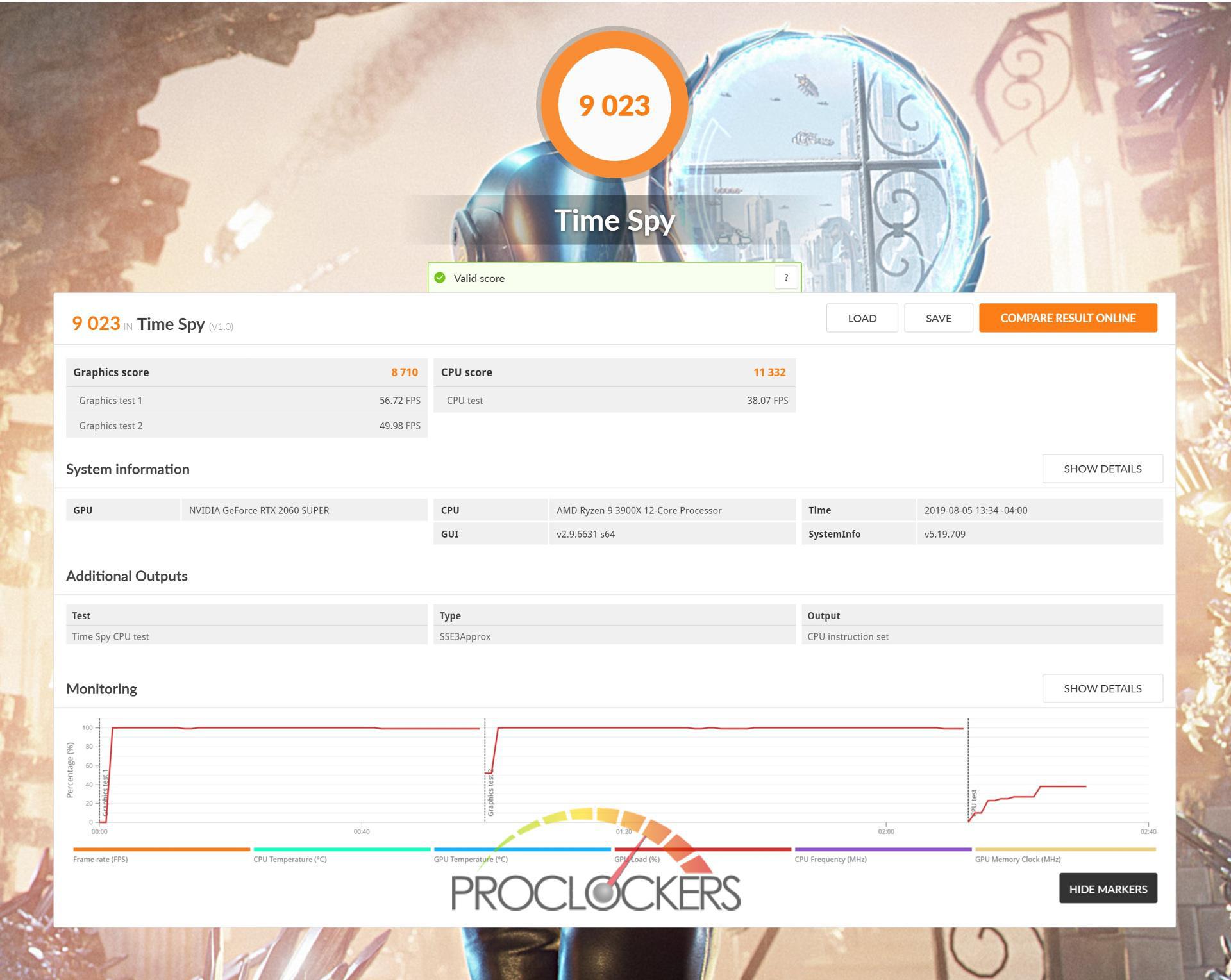 Timespy scores an impressive 9023, which pretty much matches our RTX 2060 Super runs on the Z390 platform.
Ashes of the Singularity
Planet by planet, a war is raging across the galaxy. The technological singularity has given humanity the power to expand further than they ever have before. Now, they compete with each other and their sentient artificial intelligence adversaries for control of newfound worlds.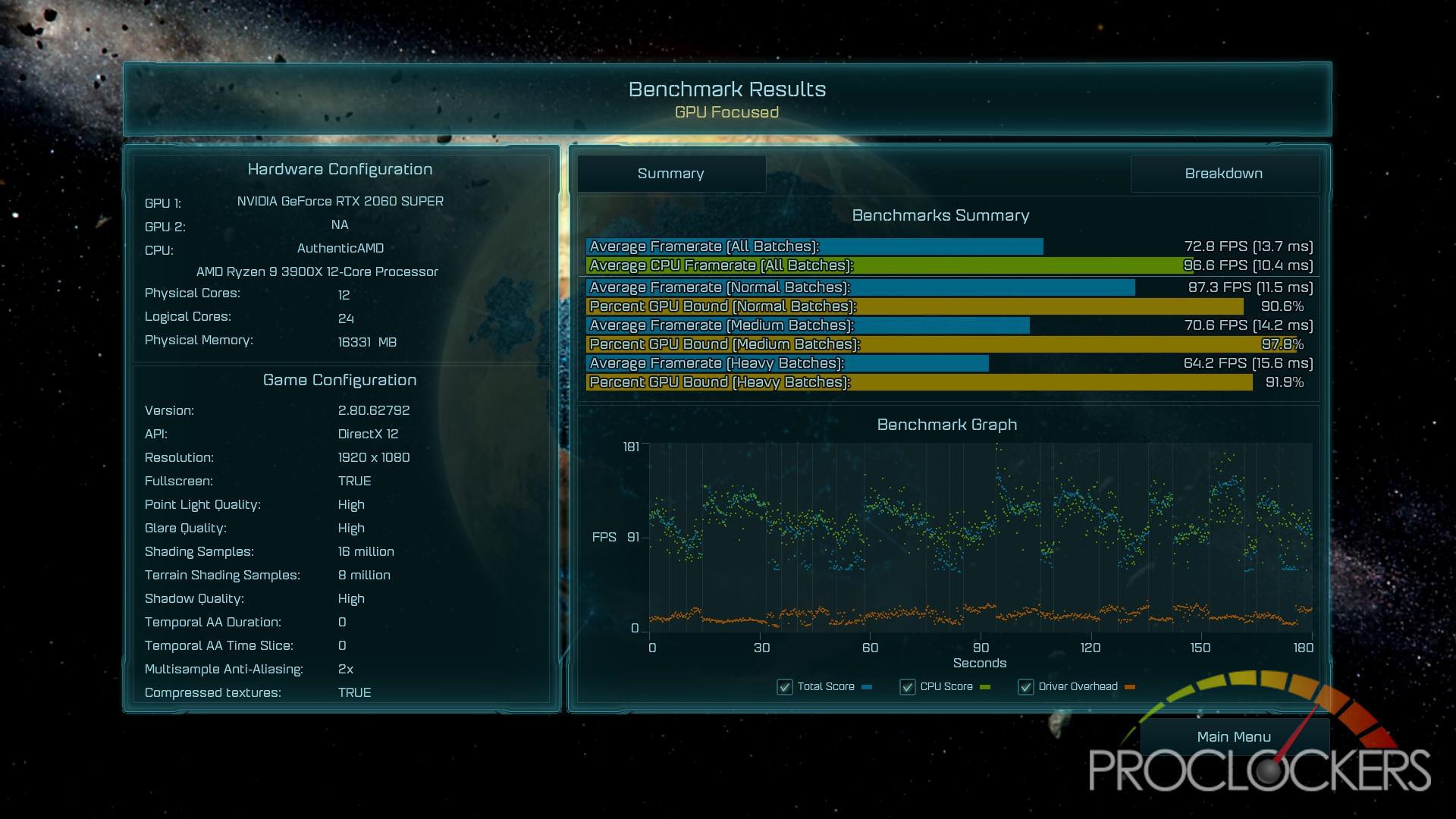 Running Ashes of the Singularity at 1080p with the "Extreme" preset we are just under 5 FPS below our Z390 9900K run with the same card.
Far Cry 5
Anything can happen. Everything will.
Welcome to Hope County, Montana, land of the free and the brave, but also home to a fanatical doomsday cult—known as The Project at Eden's Gate—that is threatening the community's freedom. Stand up to the cult's leaders, Joseph Seed, and the Heralds, as you spark the fires of resistance that will liberate the besieged community.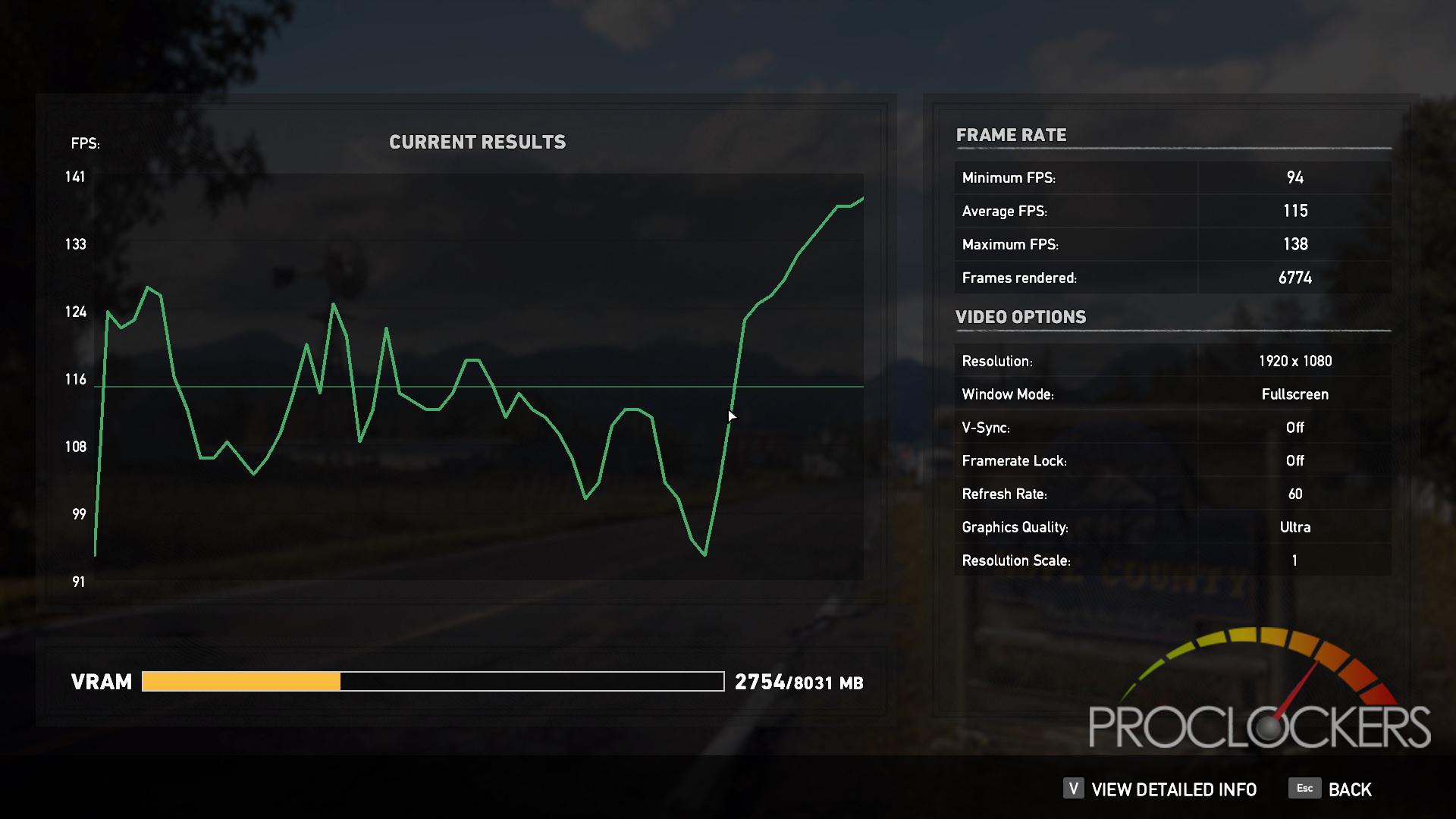 Like in Ashes of the Singularity we also see Far Cry's frame drop a little averaging 115 FPS as opposed to 124 on our 9900K.
Shadow of the Tomb Raider
Experience Lara Croft's defining moment as she becomes the Tomb Raider. In Shadow of the Tomb Raider, Lara must master a deadly jungle, overcome terrifying tombs, and persevere through her darkest hour. As she races to save the world from a Maya apocalypse, Lara will ultimately be forged into the Tomb Raider she is destined to be.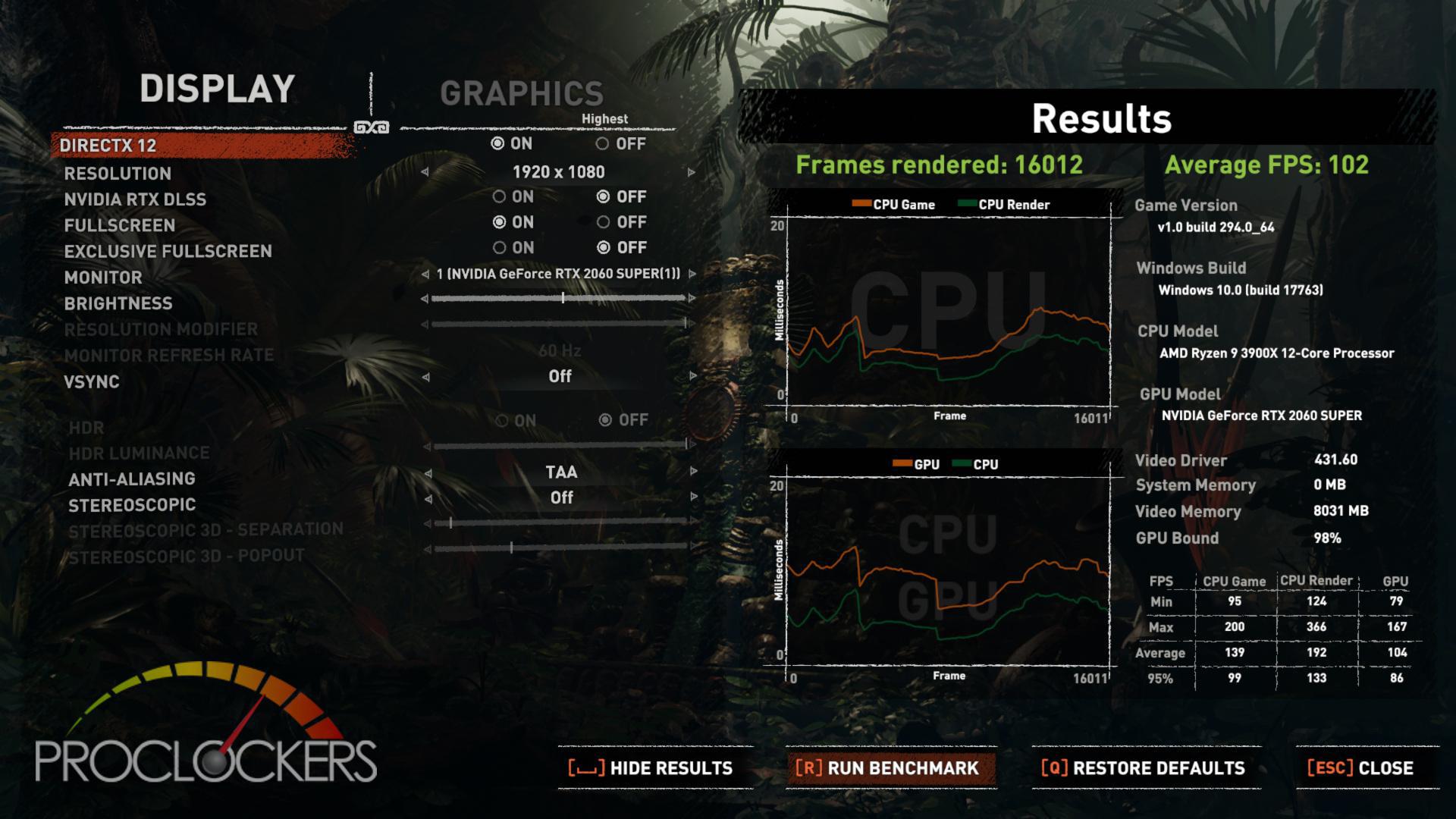 In Shadow of Tomb Raider, as expected we see the X570/3900X just behind the Z390/9900K with an average FPS of 139 vs 148.
Overclocking
Now that we have completed all our stock testing, let's see how the X570 AORUS Pro WIFI handles pushing our 3900X to its limits. Below is our stock settings for both the 3900X and G.Skill memory: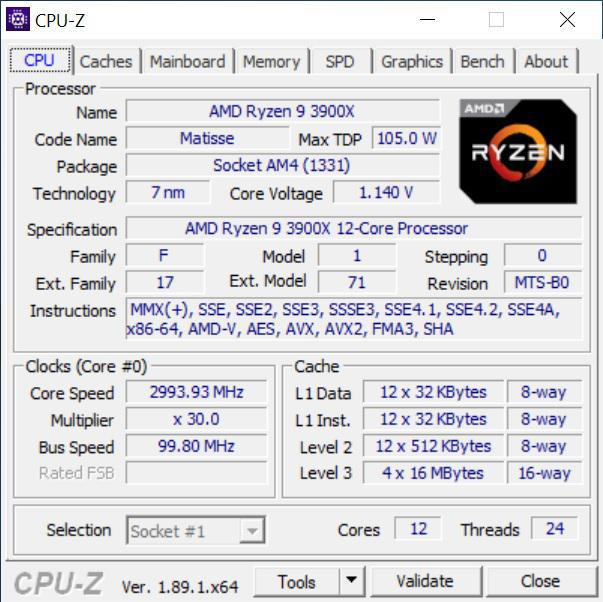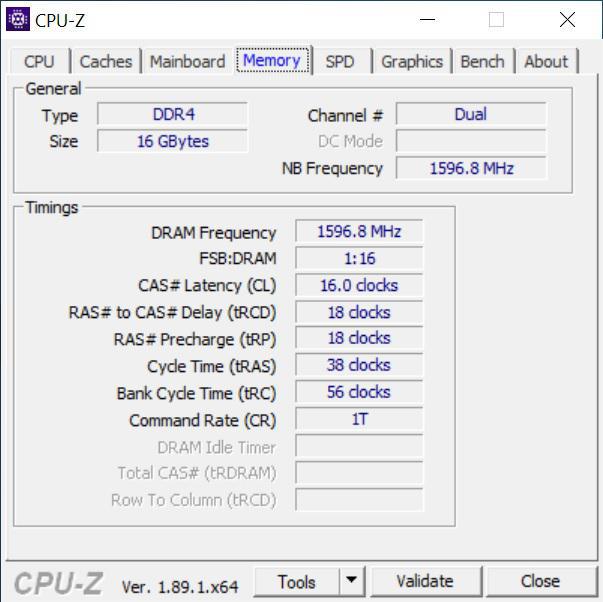 This will be my first time overclocking a Ryzen 3rd generation chip, but after some research the consensus was that most chips should hit 4.2 GHz on all cores and better-than-average chips could get 4.3 GHz. After a few hours of testing various speeds and voltages, the max my 3900x could go was 4.275 GHz with a vCore of 1.425v. Now that I got my CPU dialed in, I went ahead and overclocked my memory to 3600MHz with no chance needed on the stock voltage. I was happy to see the AORUS Pro WIFI and my memory kit were able to hit these speeds, as in my research, I found that 3600MHz is the sweet spot for 3rd generation Ryzen.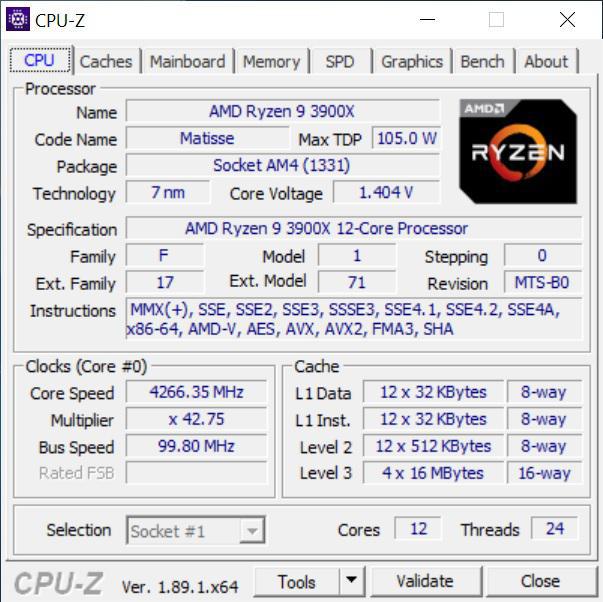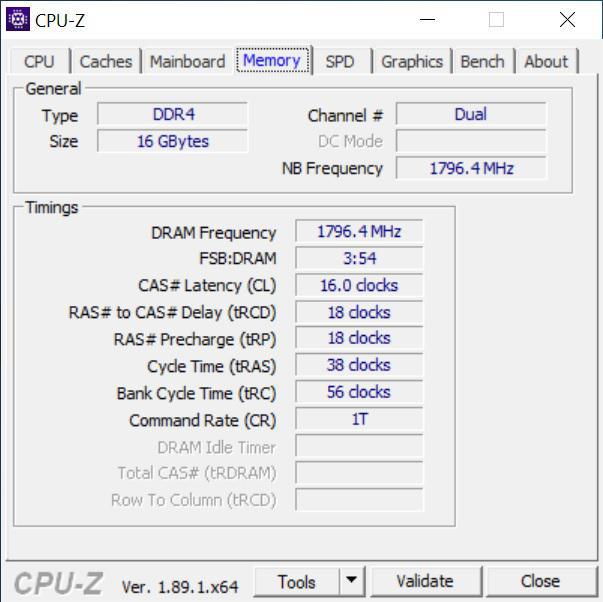 Now that we have a stable overclock on our CPU and memory, let's see how much additional performance we were able to get out of our system.
In AIDA64 we see an increase between 8-11% in write/read/copy performance with a slightly better latency of 69.9ns.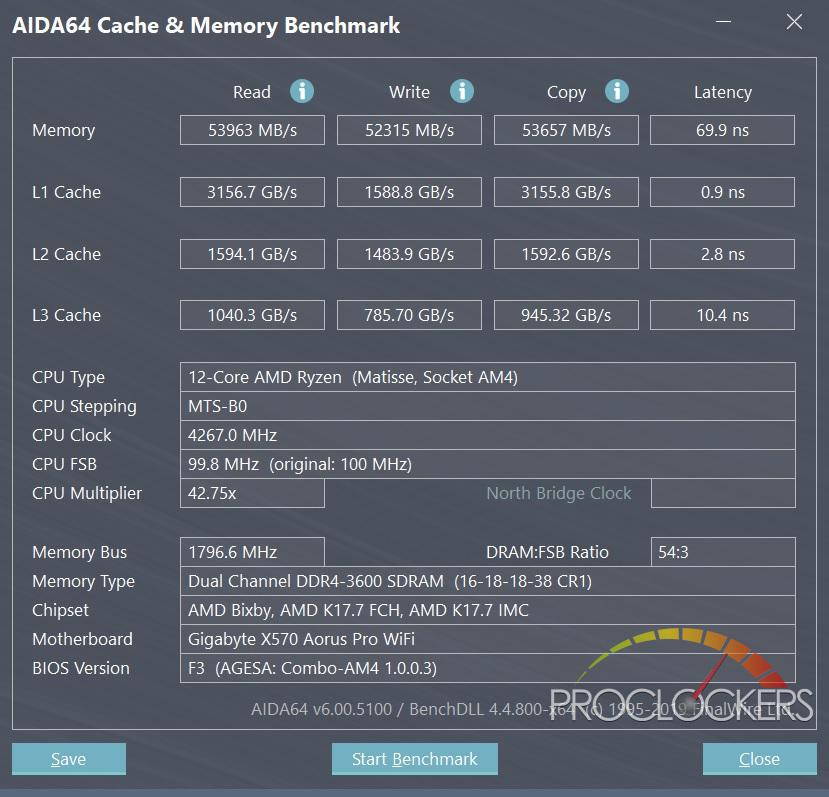 In Cinebench, we score an impressive 3317 which is 213 points above our stock score.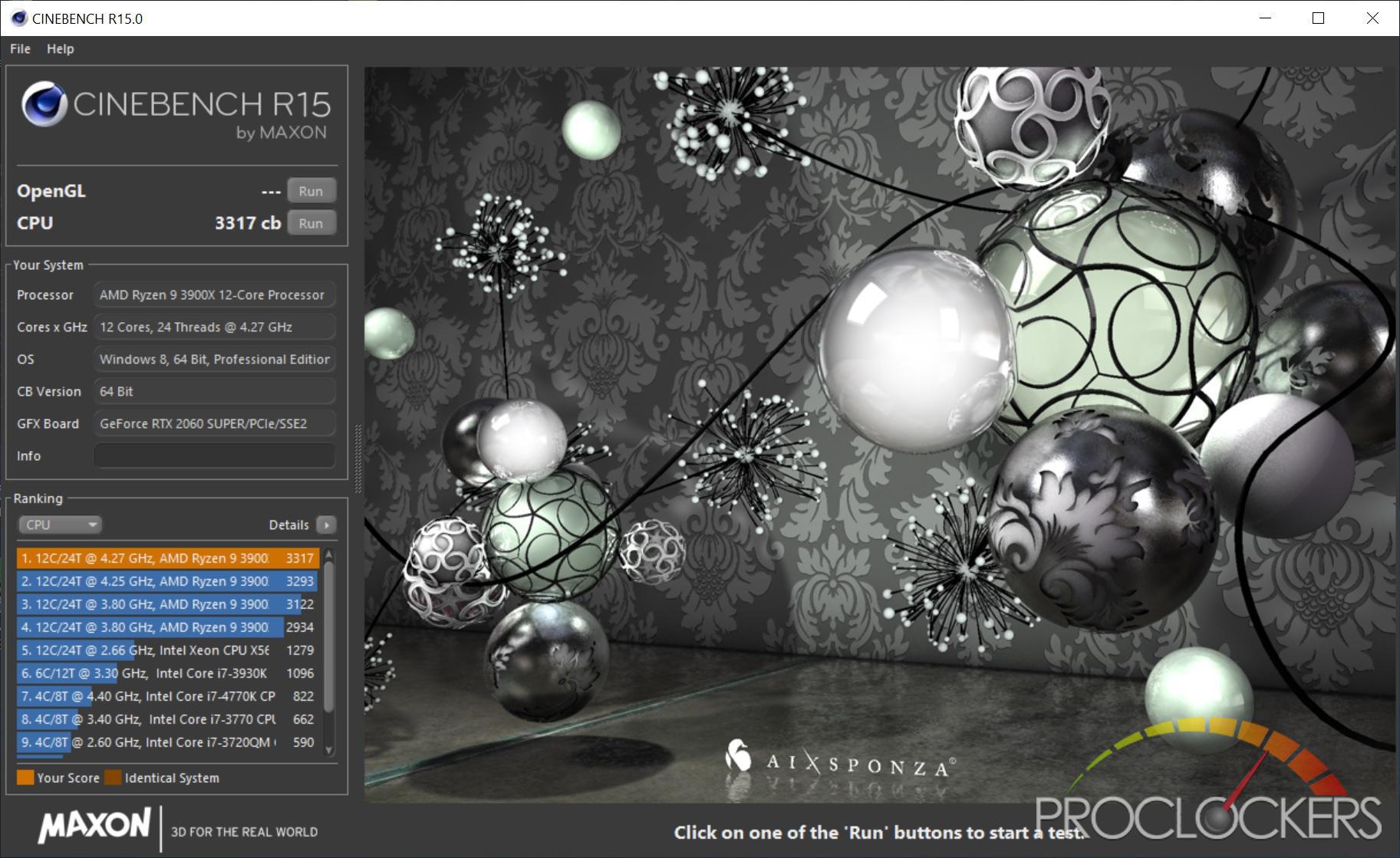 In Time Spy, we improved our CPU score by an impressive 1008-points and our combined score by 76-points.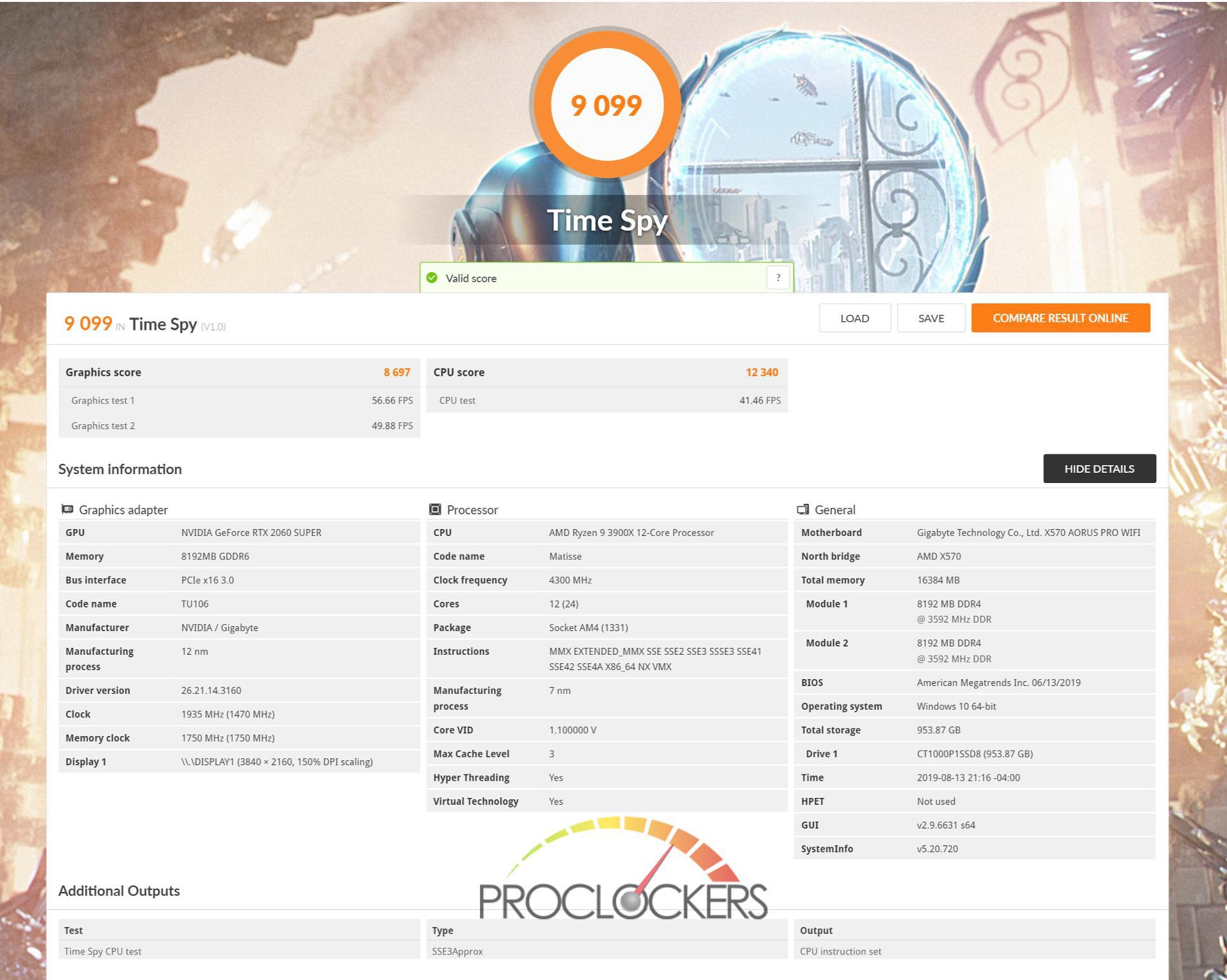 In Super PI we were able to beat our previous score by 14.5 seconds.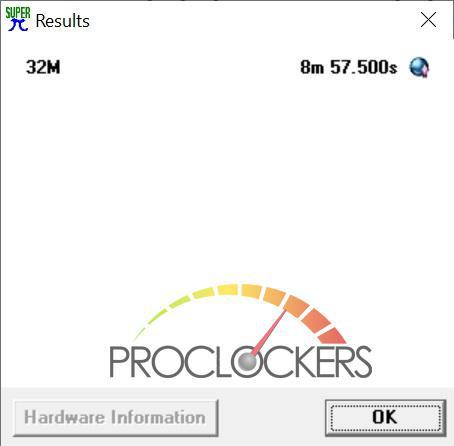 Final Thoughts & Conclusion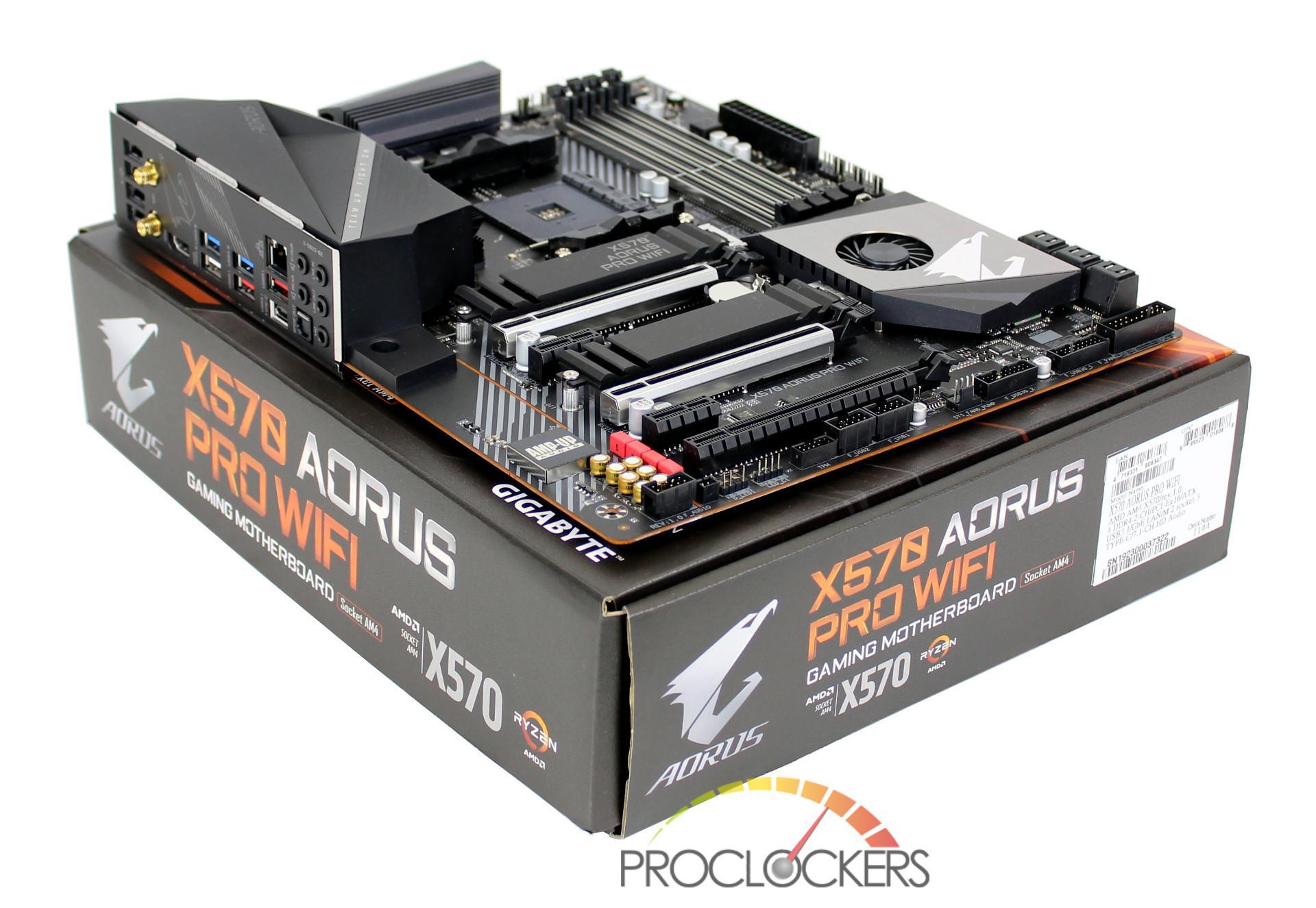 Just like Gigabyte's Z390 AORUS Pro motherboard, I was thoroughly impressed with the X570 AORUS Pro WIFI. I really love the extras that Gigabyte has included with this board such as the M.2 Thermal Guards, stainless steel reinforced PCIe/memory slots, custom AORUS antenna, and built-in back I/O plate. The X570 AORUS Pro WIFI also looks great and the black/silver aesthetic should have no problem fitting in with many build themes.
Performance-wise, the AORUS Pro WIFI excelled in many of our benchmarks, even taking top spot in a few. In gaming, we found it had no issues pushing your RTX 2060 Super to within 5-10 FPS from our 9900K benchmarks from the same card. This is exactly what I would expect from a 3900X when benched against an equivalent 9900K system. Once the benchmarks were completed, we starting overclocking our 3900X and the AORUS Pro WIFI enabled us to get the most out of our processor and memory. I was able to archive a 4.275 GHz all-core overclock on 3900X and pushed my 3200MHz memory kit to 3600Mhz with ease. Once the overclocks were in place, we saw an increase of 7% performance on CPU in Cinebench R15 and on average 10% more read/write/copy performance in the memory bandwidth benchmark.
Overall, the X570 AORUS Pro WIFI is an extremely solid board that handled the 3900X like a champ. It performed great in our stock benchmarks and even allowed us to get the most out of our 3900X with a 4.275 GHz all-core overclock. So anyone looking to take a dip into AMD Ryzen 3rd generation processor should give the X570 AORUS Pro WIFI a look.
If you enjoyed this Gigabyte Motherboard review, check out some of our other Aorus Motherboard reviews:
What did you think of this review? Leave a comment below.
<![CDATA[ */ var zbjs = {"ajaxurl":"https:\/\/gaminggorilla.com\/wp-admin\/admin-ajax.php","md5":"d8e8b24d2fa18d2999e0fddcdd418586","tags":[],"categories":["Hardware"]}; /* ]]>