Gigabyte RX 5700XT Gaming OC Review
This is our complete Gigabyte RX 5700 XT Gaming OC GPU review.
In the market for a new 1080/1440P graphics card that has great performance but doesn't break the bank?
Well, Gigabyte has got you covered with its new AMD Radeon RX 5700XT Gaming OC. Powered by AMD's new NAVI chipset, the RX 5700XT Gaming OC sports a Boost Clock up to 1905MHz, 8GB of GDDR6 memory, and is kept cool with Gigabyte's WINDFORCE 3X cooling system.
Other stand-out features of the Gaming OC include a full metal backplate, RGB backlit "GIGABYTE" branding, and is compatible with RGB Fusion 2.0, allowing for synchronization with other AORUS devices, all at an MSRP of $400.
We would like to thank Gigabyte for sending us the RX 5700XT Gaming OC to review.
Gigabyte RX 5700 XT Gaming OC GPU Review
Without further ado, here's our complete 5700 XT GPU review from Gigabyte, where we cover the features, specifications, packaging, benchmarks, and more:
Features:
WINDFORCE 3X cooler system
Alternate spinning fans
Metal protection backplate
Core Clocks:
Memory 8GB GDDR6 with 256bit memory interface
Boost Clock: up to 1905 MHz
Game Clock: 1795 MHz
Base Clock: 1650 MHz
Features and Specifications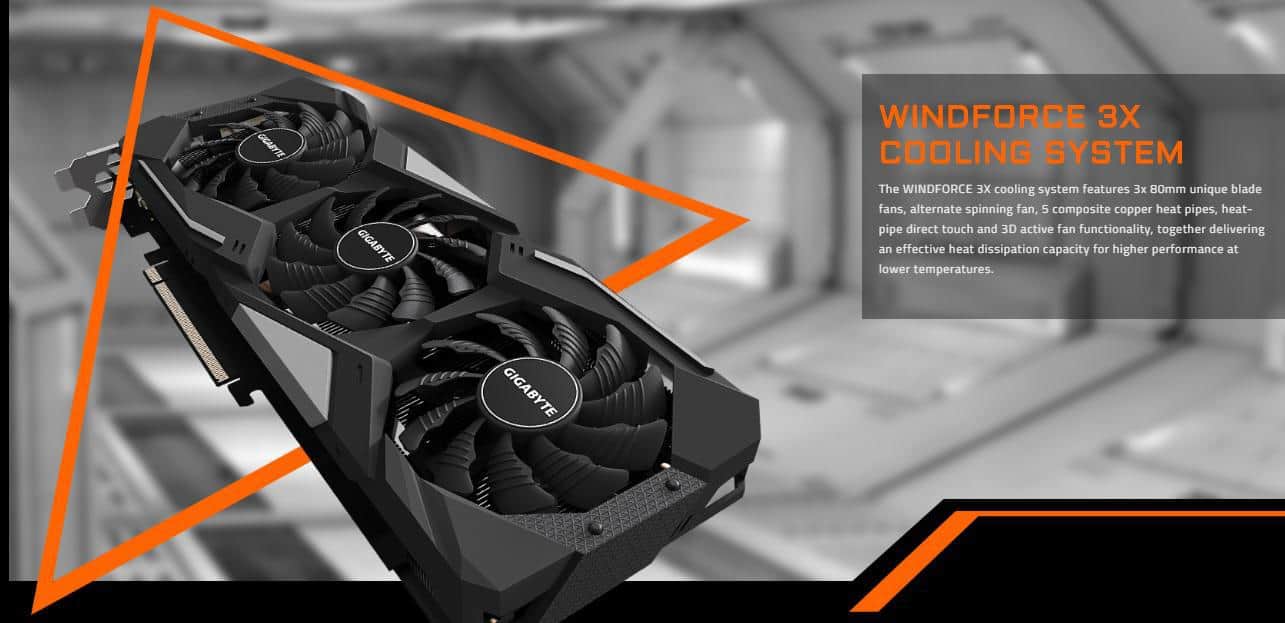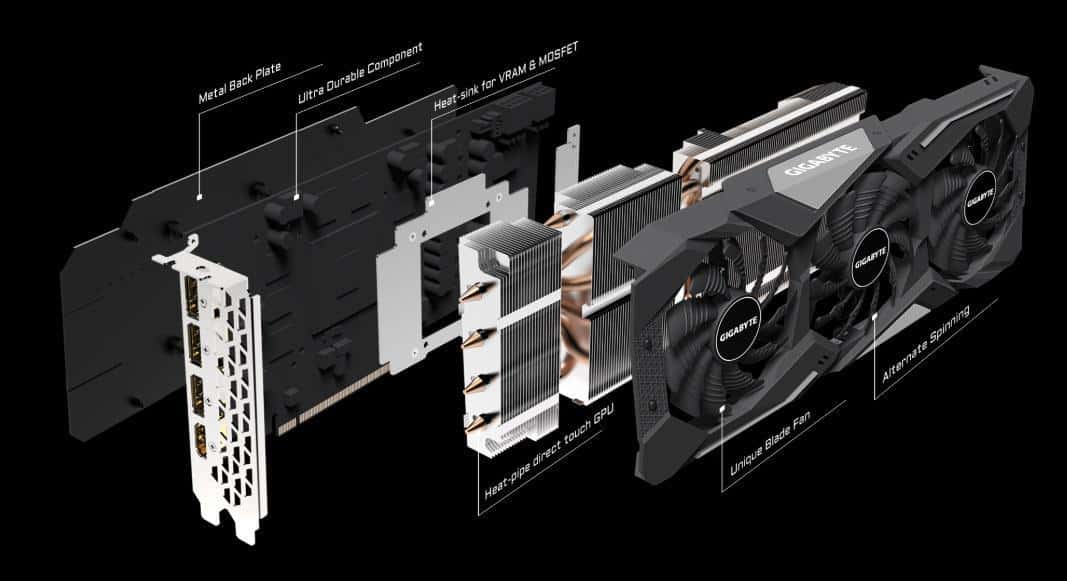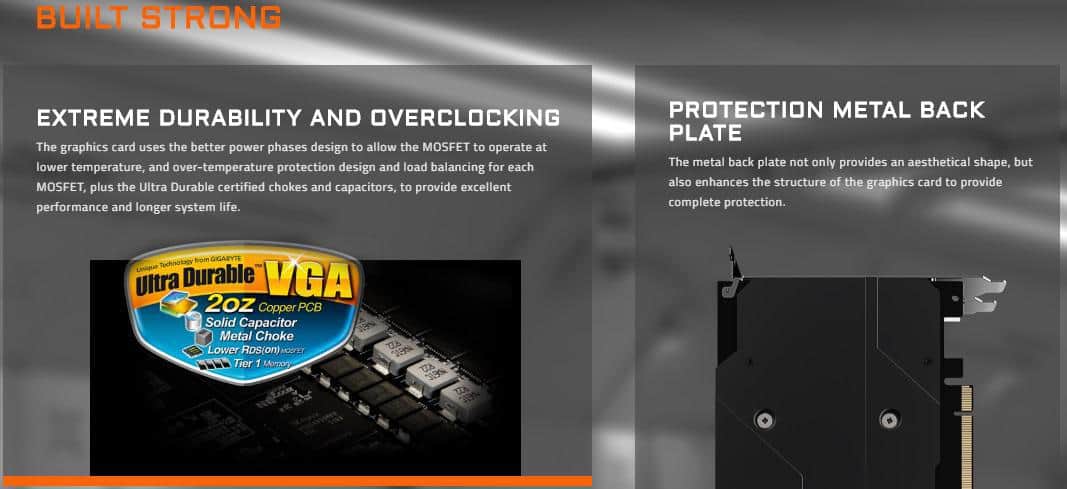 Packaging & Unboxing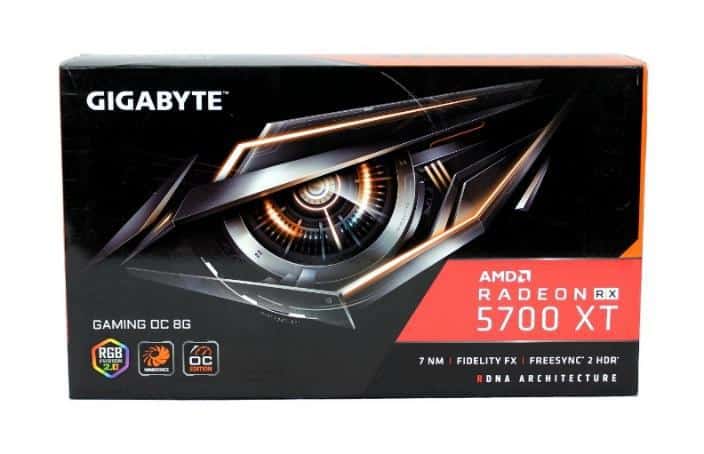 The Gigabyte RX 5700XT arrives in a black box that is accented with orange and red.
We see a large AORUS eye in the center with various feature badges on the lower-left corner on the front of the box. Looking to the right bottom corner, we see that the RX 5700XT is built upon 7 NM and features Fidelity FX, FreeSync 2 HDR, and RDNA architecture.
Flipping to the back of the box, it highlights many of the key features of the RX 5700XT Gaming OC, such as:
WINDFORCE 3X cooling system
RGB Fusion 2.0
Protection Metal Backplate
In addition to these features, it also outlines the system requirements, which includes:
PCIe compliant motherboard with one x16 PCIe slot
600W or greater power supply
8GB of system memory (16GB recommended)
64-bit Windows 7, Windows 10, or Linux
Direct X and Vulkan support
One 6-pin and one 8-pin power connectors
Following the outer box's removal, we find a black box with "Gigabyte" embossed on the top.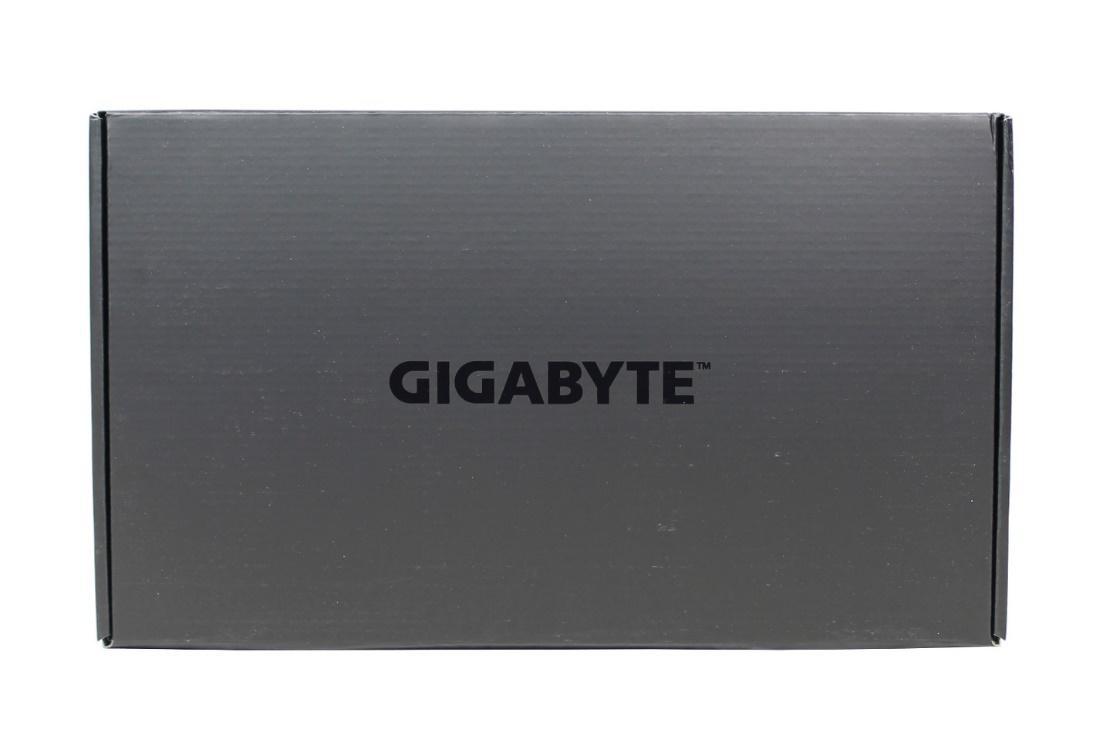 Inside, we find a similarly designed thin black box that contains the instruction booklet. Once the smaller box is removed, it reveals the RX 5700XT Gaming OC, which is stored in an anti-static bag and secured in black protective foam.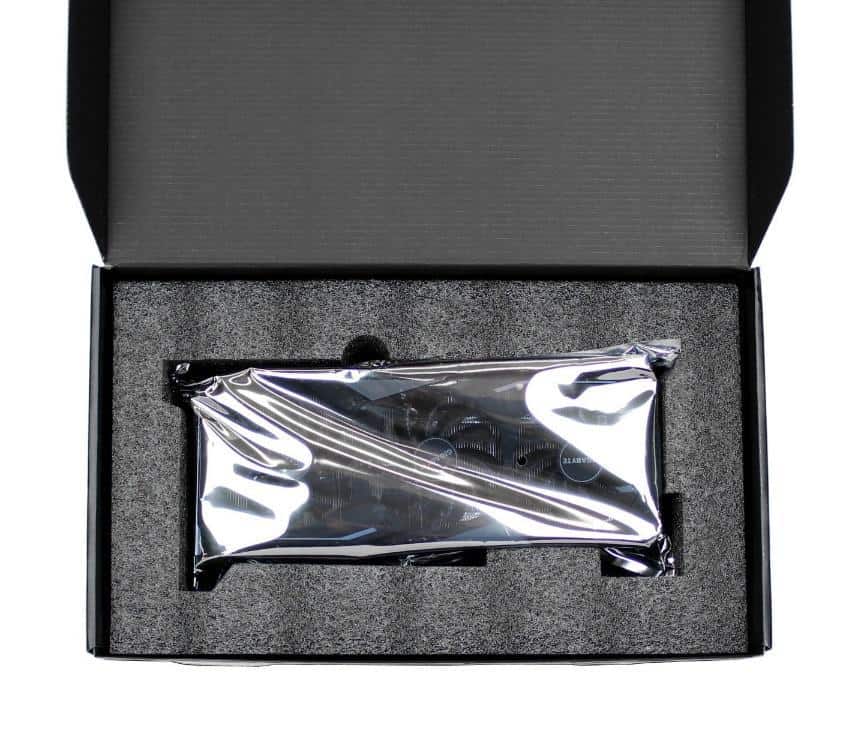 Once all the package contents have been emptied, we are left with the RX 5700XT Gaming OC and a quick start guide.

A Closer Look
If you're familiar with the Gigabyte Gaming OC line of cards, you will notice that the RX 5700XT pretty much looks identical with its mostly black body and silver accents.
Just like other Gaming OC cards, the RX 5700XT is outfitted with a Gigabyte WINDFORCE X3 cooler, which has been proven to provide excellent cooling performance, as seen in our previous reviews.
The WINDFORCE X3 employs 3 cooling fans, which have an 11 blade-design with grooves to provide better airflow.
Looking on the side of the RX 5700XT, we find the RGB backlit "GIGABYTE" branding as well as the 8-pin and 6-pin connectors to power the card. Moving to the back of the Gaming OC, we find the black metal backplate, which completes the aesthetic but also adds structure to the card.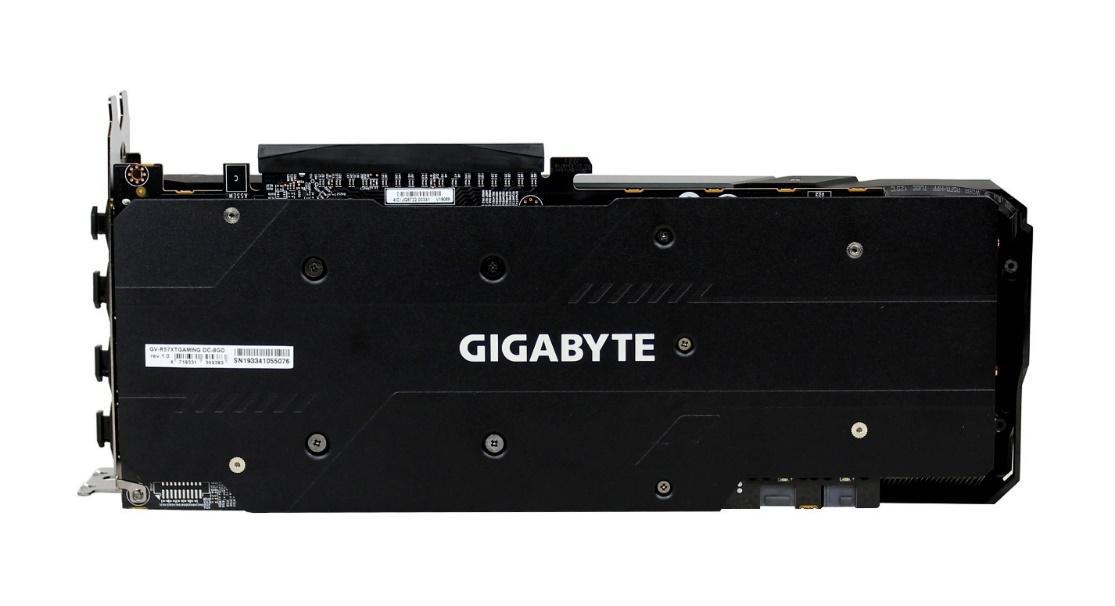 The RX 5700XT Gaming OC includes 4 display outputs, with 3 being DisplayPort 1.4 and a single HDMI 2.0.
It's nice to see that all outputs are on the bottom of the card, making it a single slot water-cooled card if a block is made for it.

System Configuration & Software
The hardware used to benchmark the Gigabyte RX 5700XT Gaming OC is:
⦁ Gigabyte Z390 AORUS Pro Motherboard
⦁ Intel 9900K Processor @ Stock
⦁ 2 x 8GB Thermaltake TOUGHRAM RGB @ 3200MHz
⦁ Crucial P1000 M.2 NVMe
⦁ Corsair H115i Platinum
⦁ Corsair HX750 PSU
⦁ Open Benchtable
⦁ Microsoft Windows 10
The motherboard's BIOS has been reset to default settings except for enabling XMP of our ram.
AORUS Engine
To adjust or monitor your RX 5700XT Gaming OC clocks, Gigabyte has included the AORUS Engine overclocking software. Using AORUS Engine, you're able to manually adjust the memory clock, fan speed, and power target. For some reason, you're unable to adjust voltages / GPU clock and are unable to monitor the Gaming OC's temperature. Hopefully, this is addressed and fixed in a software update at some point.

RGBFusion 2.0
To control the RGB LEDs on the RX 5700XT Gaming OC or any other compatible hardware, you can do so with Gigabyte's RGB Fusion 2.0. From here can apply a variety of pre-configured effects, which include:
⦁ Static – A single lit color
⦁ Pulse – A single color fading in and out
⦁ Flash – Flashes a single color
⦁ Double Flash – Double flashes a single color
⦁ Color Cycle – Cycles through all the colors of the rainbow
⦁ Intelligent – Color based on temperature sensors
⦁ Off – Turns off the RGB LEDs

Synthetic Testing
Futuremark 3DMark
3DMark includes everything you need to benchmark your PC and mobile devices in one app. Whether you're gaming on a smartphone, tablet, notebook, or desktop gaming PC, 3DMark includes a benchmark specifically designed for your hardware.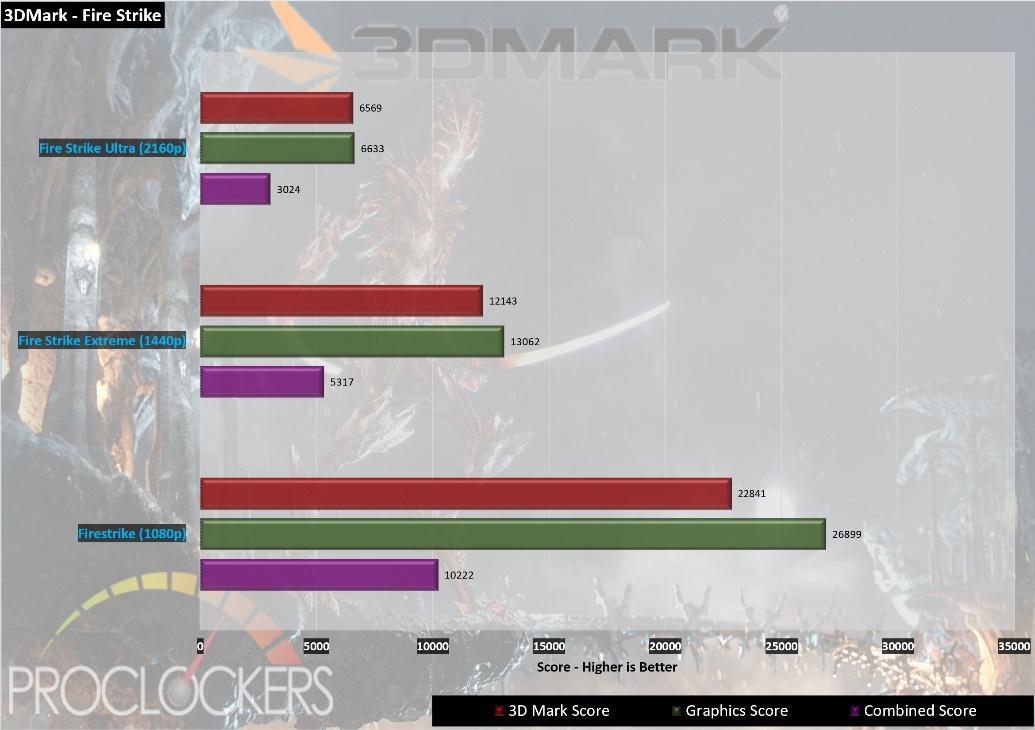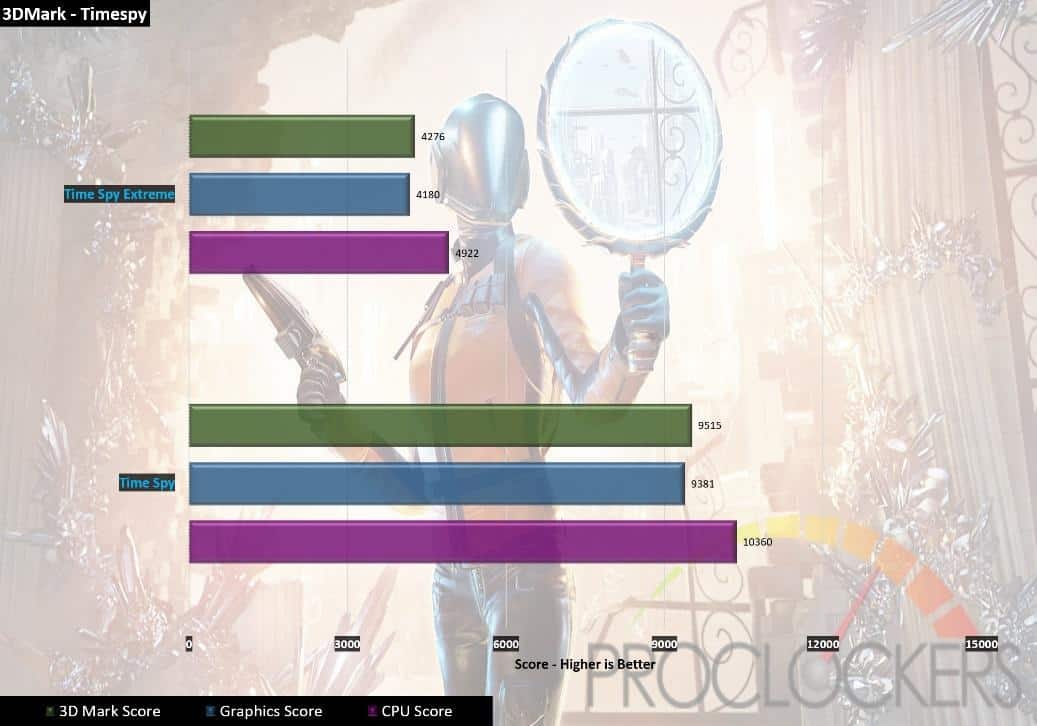 The RX 5700XT Gaming OC does great in both Firestrike and Timespy, performing better than the previous 5700XT's we have benchmarked.
Futuremark VRMark
The performance requirements for VR games are much higher than for typical PC games. So if you're thinking about buying an HTC Vive or an Oculus Rift, wouldn't you like to know that your PC is ready for VR?
VRMark includes three VR benchmark tests that run on your monitor, no headset required, or on a connected HMD.
At the end of each test, you'll see whether your PC is VR-ready, and if not, how far it falls short.
Orange Room Test – The Orange Room benchmark shows the impressive level of detail that can be achieved on a PC that meets the recommended hardware requirements for the HTC Vive and Oculus Rift. If your PC passes this test, it's ready for the two most popular VR systems available today.
Cyan Room Test – Cyan Room is a DirectX 12 benchmark. It features a large, complex scene and many eye-catching effects. Cyan Room shows how using an API with less overhead can help developers deliver impressive VR experiences even on modest PC systems.
Blue Room Test – The Blue Room is a much more demanding test. It's ideal for benchmarking the latest graphics cards. With its massive 5K rendering resolution and spectacular volumetric lighting effects, the Blue Room sets the bar for future hardware generations.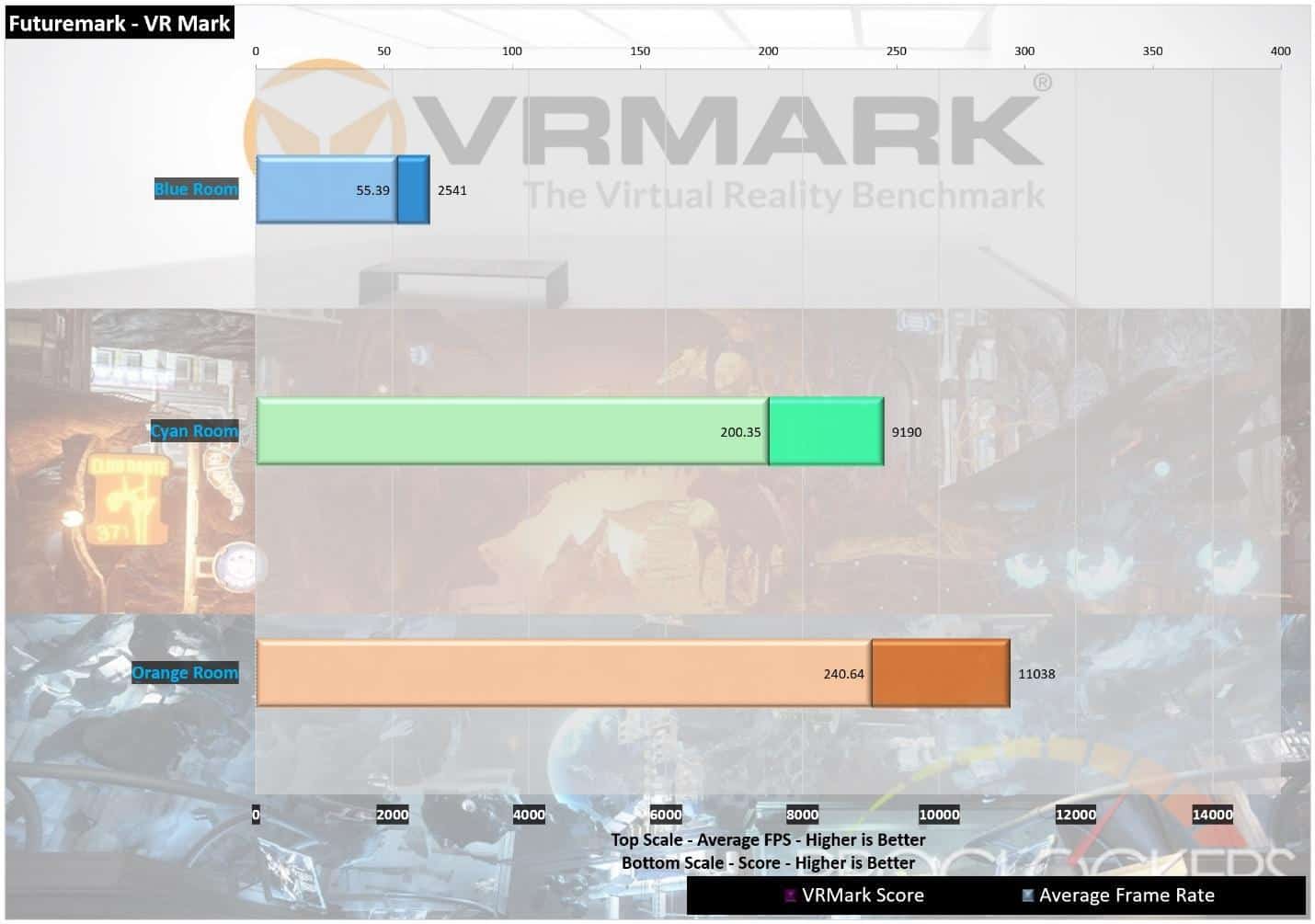 The Gigabyte RX 5700XT Gaming OC does exceptionally well in the Orange / Cyan Room benchmark and almost hits an average of 60 FPS in the Blue Room with an FPS of 55.39.
Unigine Heaven
Heaven Benchmark is a GPU-intensive benchmark that hammers graphics cards to the limits. This powerful tool can be effectively used to determine the stability of a GPU under extremely stressful conditions, as well as check the cooling system's potential for maximum heat output.
The benchmark immerses a user into a magical steampunk world of shiny brass, wood, and gears.
Nested on flying islands, a tiny village with its cozy, sun-heated cobblestone streets and a majestic dragon on the central square gives a true sense of adventure.
An interactive experience with fly-by and walk-through modes allows for exploring all corners of this world powered by the cutting-edge UNIGINE Engine that leverages the most advanced capabilities of graphics APIs and turns this bench into a visual masterpiece.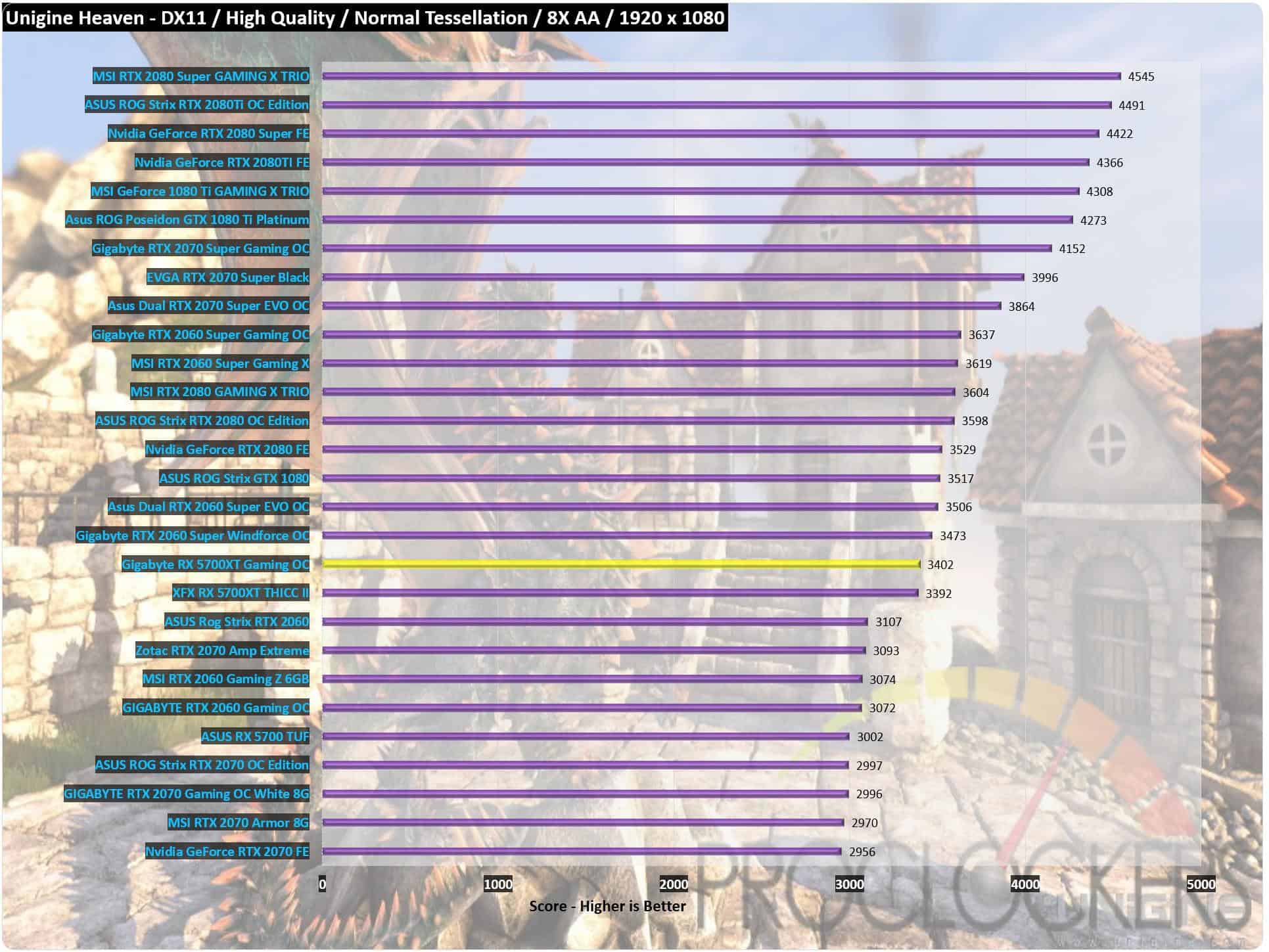 The Gaming OC does great in the 1080p Heaven benchmark, just edging out the other 5700XT.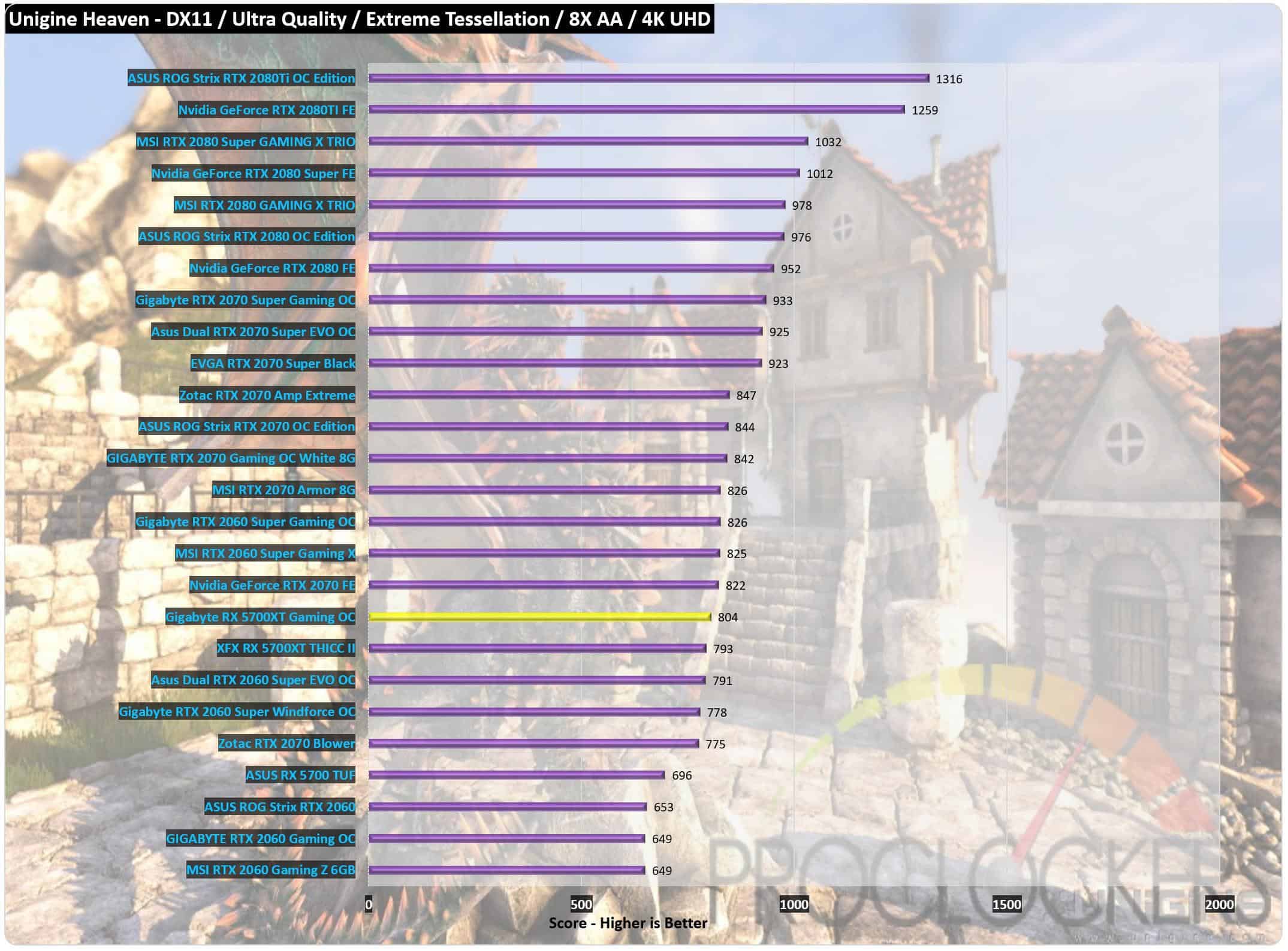 At 4K, we see a similar result as 1080P, with the Gaming OC scoring just above the other RX 5700XT we benched.
Unigine Superposition
Extreme performance and stability test for PC hardware: video card, power supply, cooling system. Check your rig in stock and overclocking modes with a real-life load! It also includes an interactive experience in a beautiful, detailed environment.
A lone professor performs dangerous experiments in an abandoned classroom, day in and day out. Obsessed with inventions and discoveries beyond the wildest dreams, he strives to prove his ideas.
Once you come to this place in the early morning, you would not meet him there. The eerie thing is a loud bang from the laboratory heard a few moments ago. What was that? You have the only chance to cast some light upon this incident by going deeply into the matter of quantum theory: a thorough visual inspection of the professor's records and instruments will help to lift the veil on the mystery.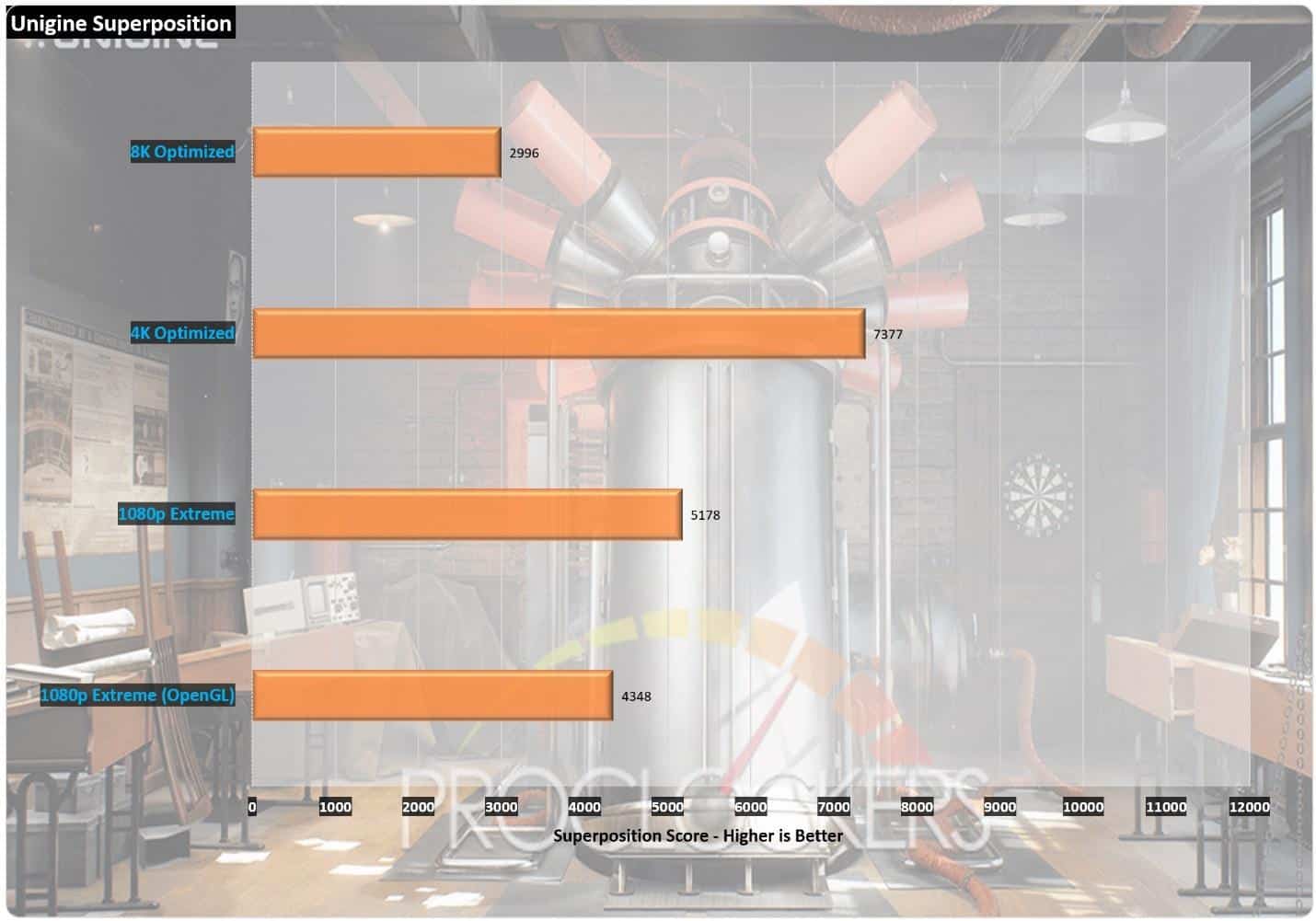 In the Superposition benchmark, the RX 5700XT does a respectable score averaging 38 FPS in the extremely demanding 1080p benchmark. In the optimized 4K, we see a nice boost in FPS with an average of 55.18. Moving to 8K, which is well beyond the RX 5700XT's capabilities, it still manages to pull out an average of 22.41 FPS.
Game Testing
Ashes of the Singularity
Planet by planet, a war is raging across the galaxy. The technological singularity has given humanity the power to expand further than they ever have before. Now, they compete with each other and their sentient artificial intelligence adversaries for control of newfound worlds.
In Ashes of the Singularity, we see over 60 FPS across the board, including 4K, which is great for a mid-range card.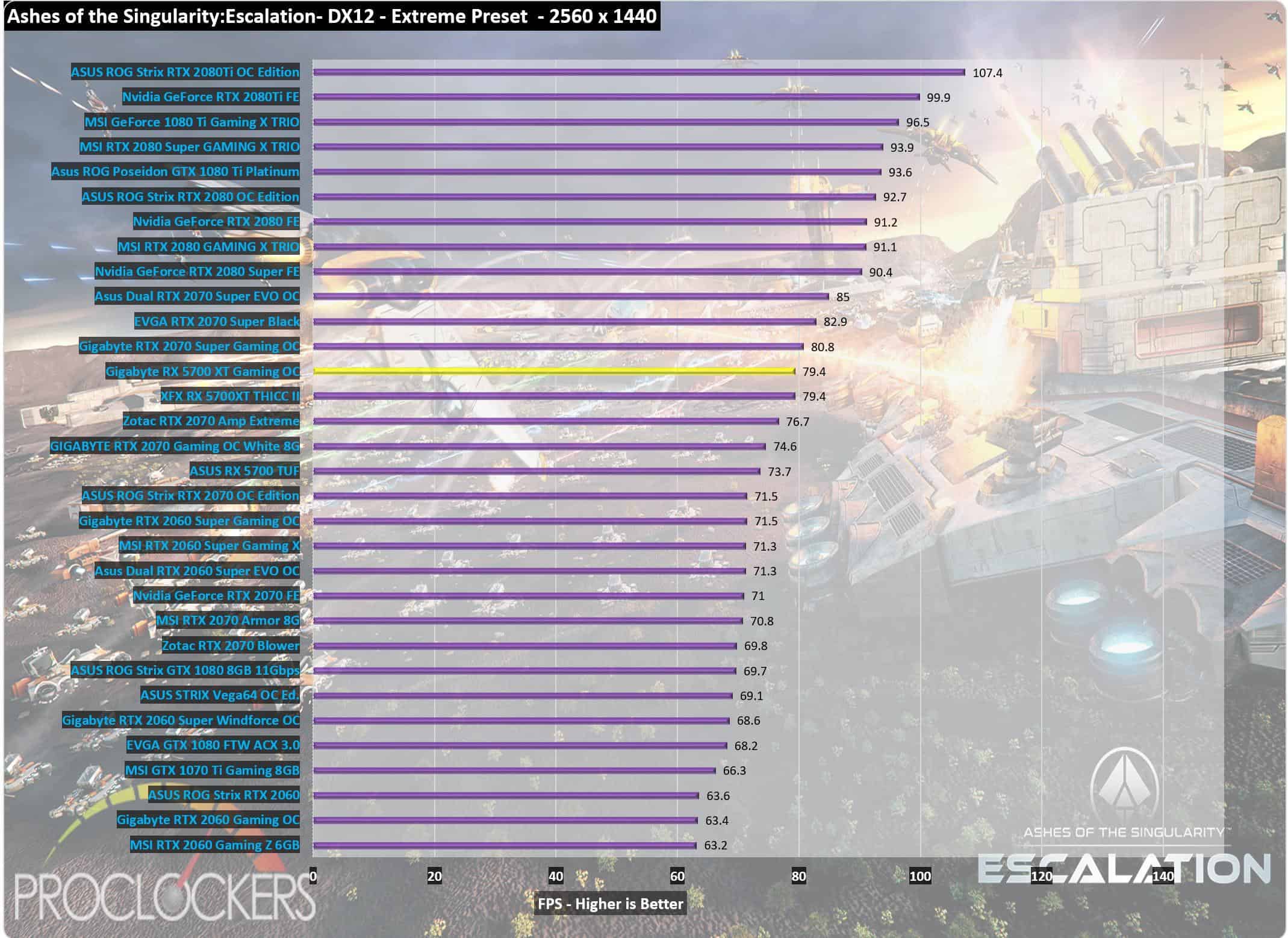 In 1440p, the RX 5700XT Gaming OC matches the other benched RX 5700XT with an average FPS of 79.4.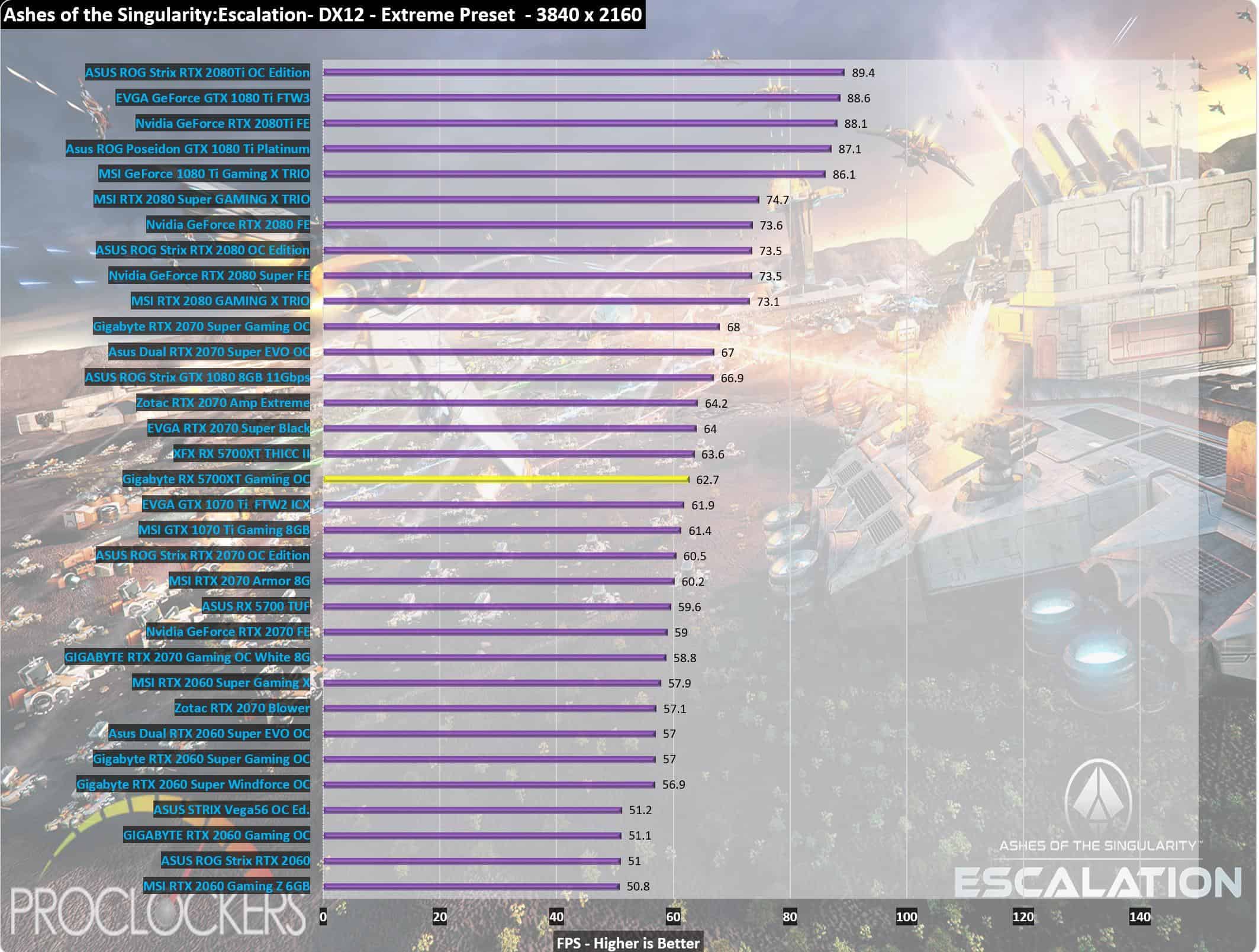 In 4K, we see an impressive average frame rate of 62.7.
Far Cry 5
Anything can happen. Everything will.
Welcome to Hope County, Montana, land of the free and the brave, but also home to a fanatical doomsday cult—known as The Project at Eden's Gate—that is threatening the community's freedom.
Stand up to the cult's leaders, Joseph Seed and the Heralds, as you spark the fires of resistance that will liberate the besieged community.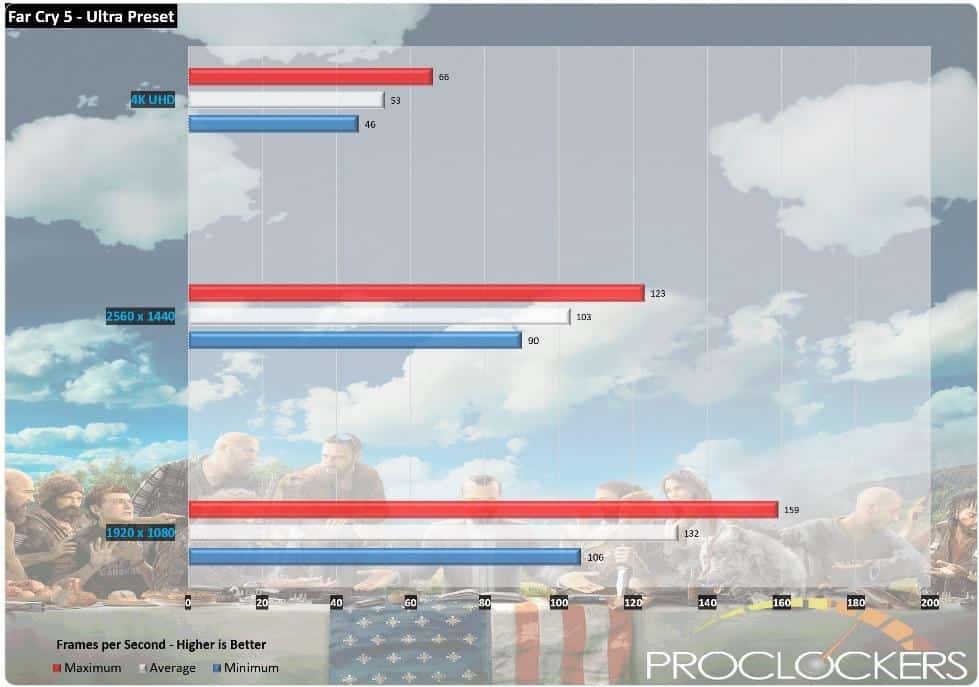 The Gigabyte RX 5700XT Gaming OC excels in both 1080p/1440p, with it averaging 132/103 FPS. At 4K, we are just shy of 60 FPS, but it still manages a playable 53 FPS on average.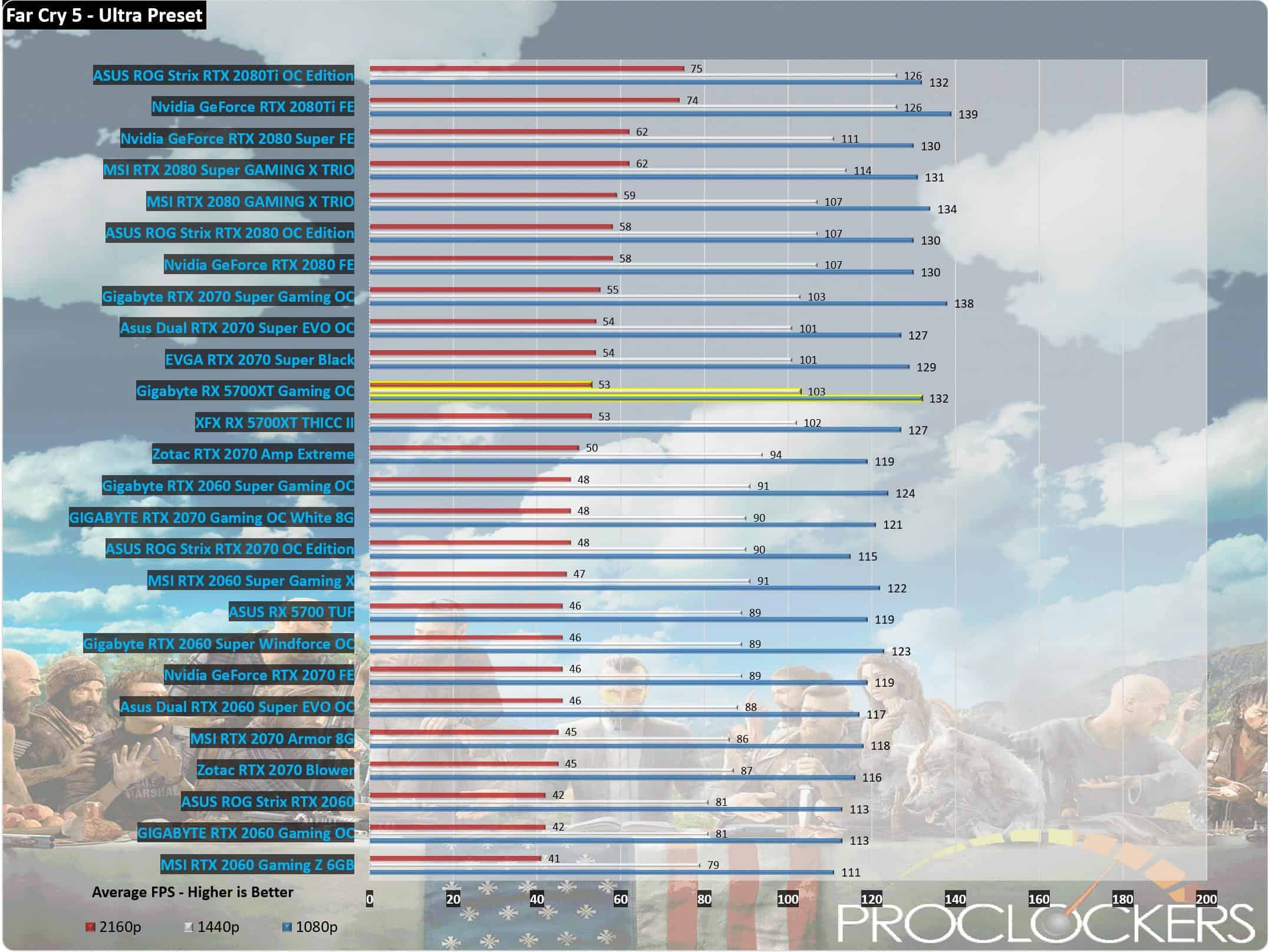 In Farcry 5, we find the Gigabyte RX 5700XT Gaming OC benchmarks just above the other RX 5700XT on the graph.
Middle-Earth: Shadow of War
In the epic sequel to the award-winning Middle-earth: Shadow of Mordor, go behind enemy lines to forge an army, conquer Fortresses and dominate Mordor from within.
Experience how the award-winning Nemesis System creates unique personal stories with every enemy and follower and confront the full power of the Dark Lord Sauron and his Ringwraiths in this epic new story of Middle-earth.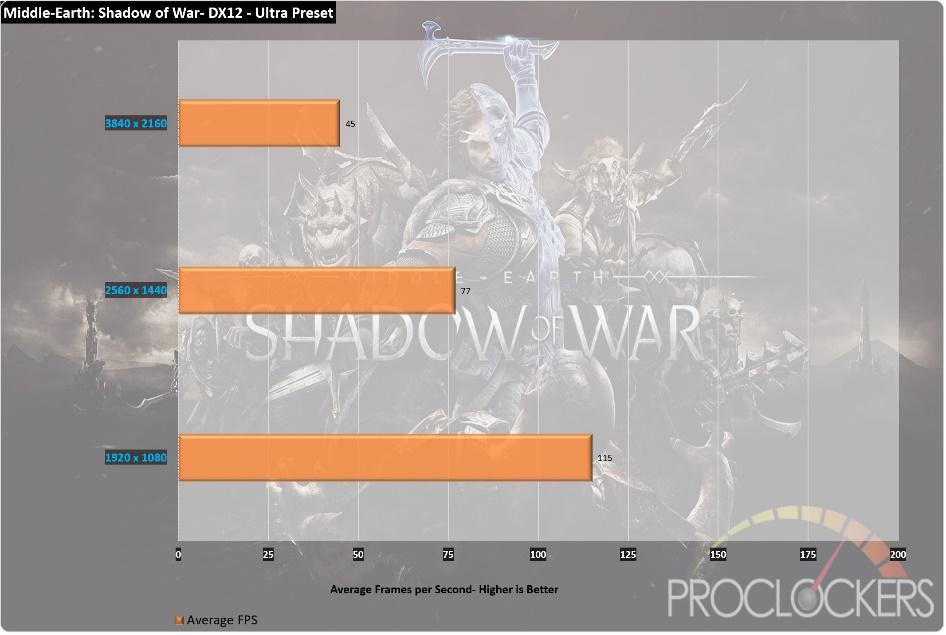 The Gigabyte RX 5700XT does an excellent job at 1080/1440P with an average FPS of 77/115 and struggles at 4K averaging 45 FPS.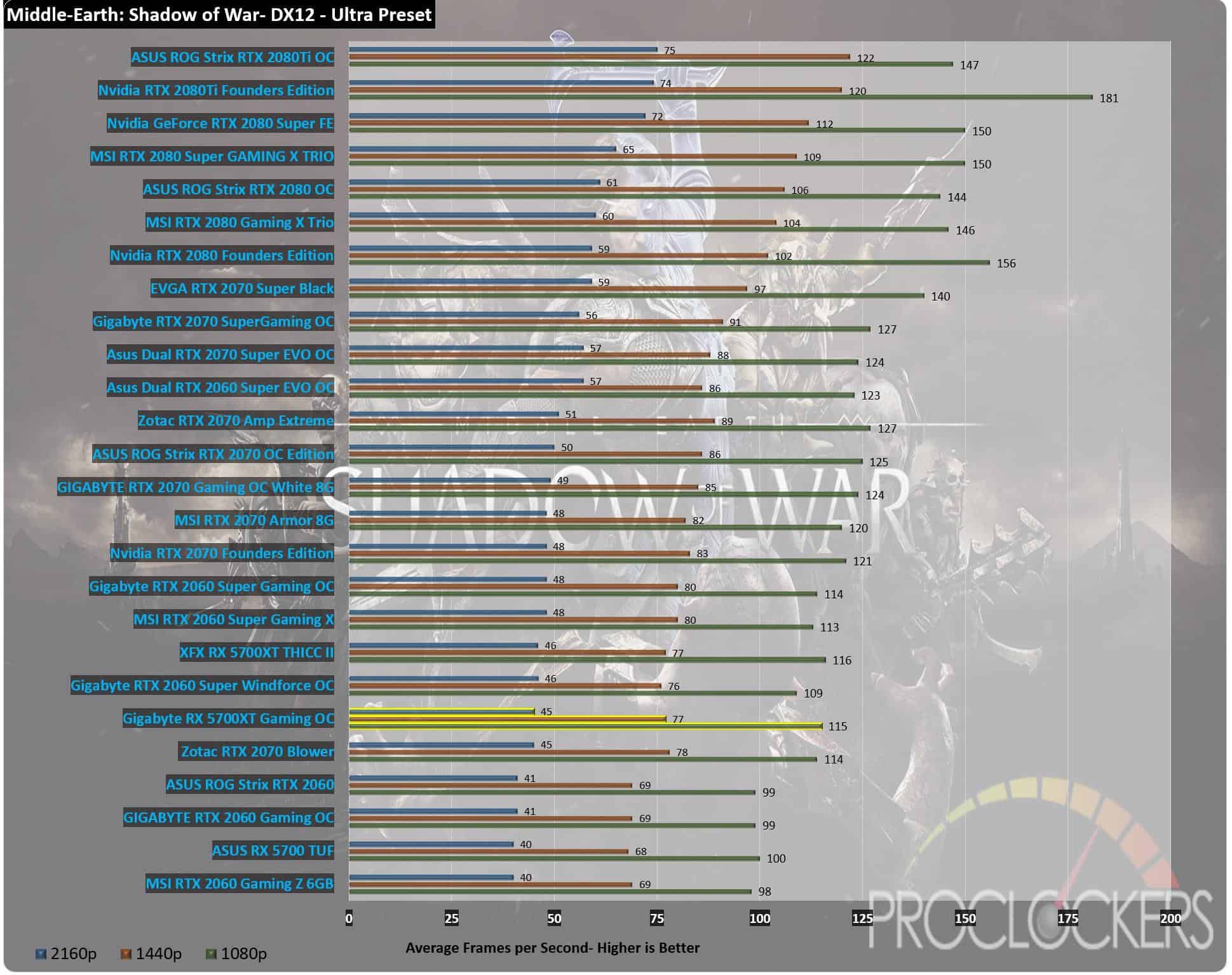 In Middle Earth: Shadow of War, the Gaming OC pretty much matches the other RX 5700XT and sits with the RTX 2060 Supers.
Shadow of the Tomb Raider
Experience Lara Croft's defining moment as she becomes the Tomb Raider.
In Shadow of the Tomb Raider, Lara must master a deadly jungle, overcome terrifying tombs, and persevere through her darkest hour. As she races to save the world from a Maya apocalypse, Lara will ultimately be forged into the Tomb Raider she is destined to be.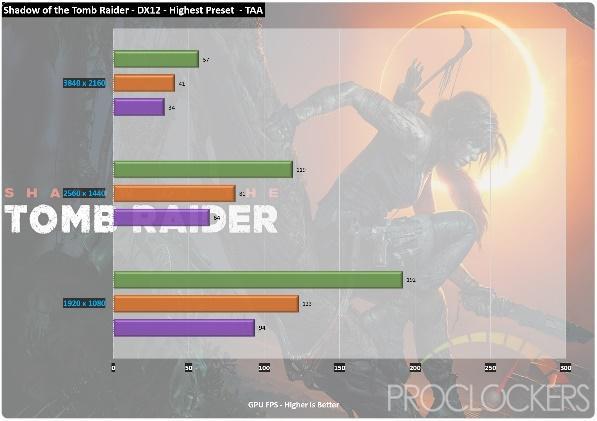 Once again, the Gaming OC does a great job at both 1080/1440p, averaging 123 and 81 FPS, respectfully.
At 4k, the RX 5700XT drops below our 60 FPS goal benchmarking with an average of 45 FPS.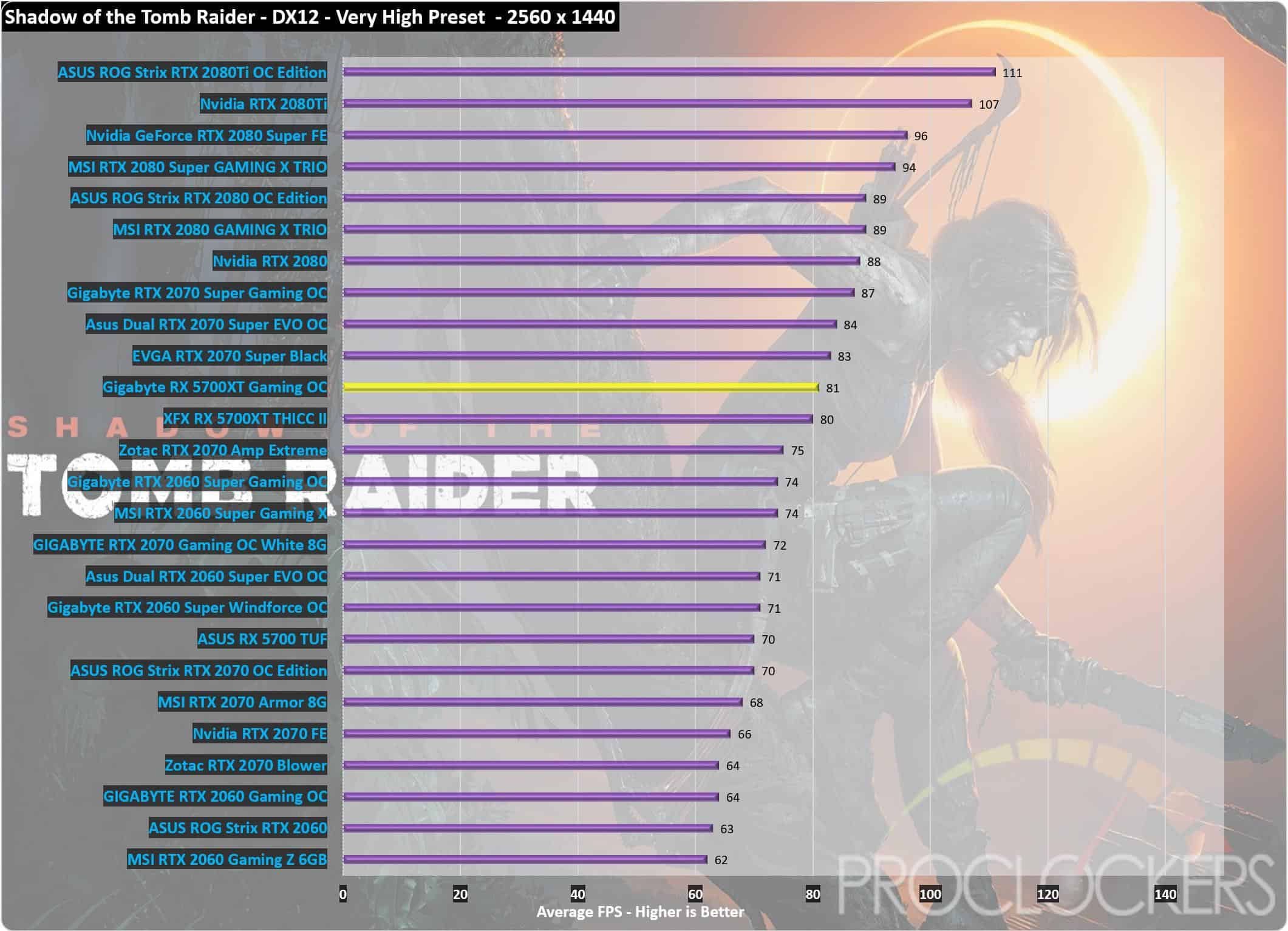 At 1440p, the RX 5700XT Gaming OC just edges out our other RX 5700XT by 1 FPS.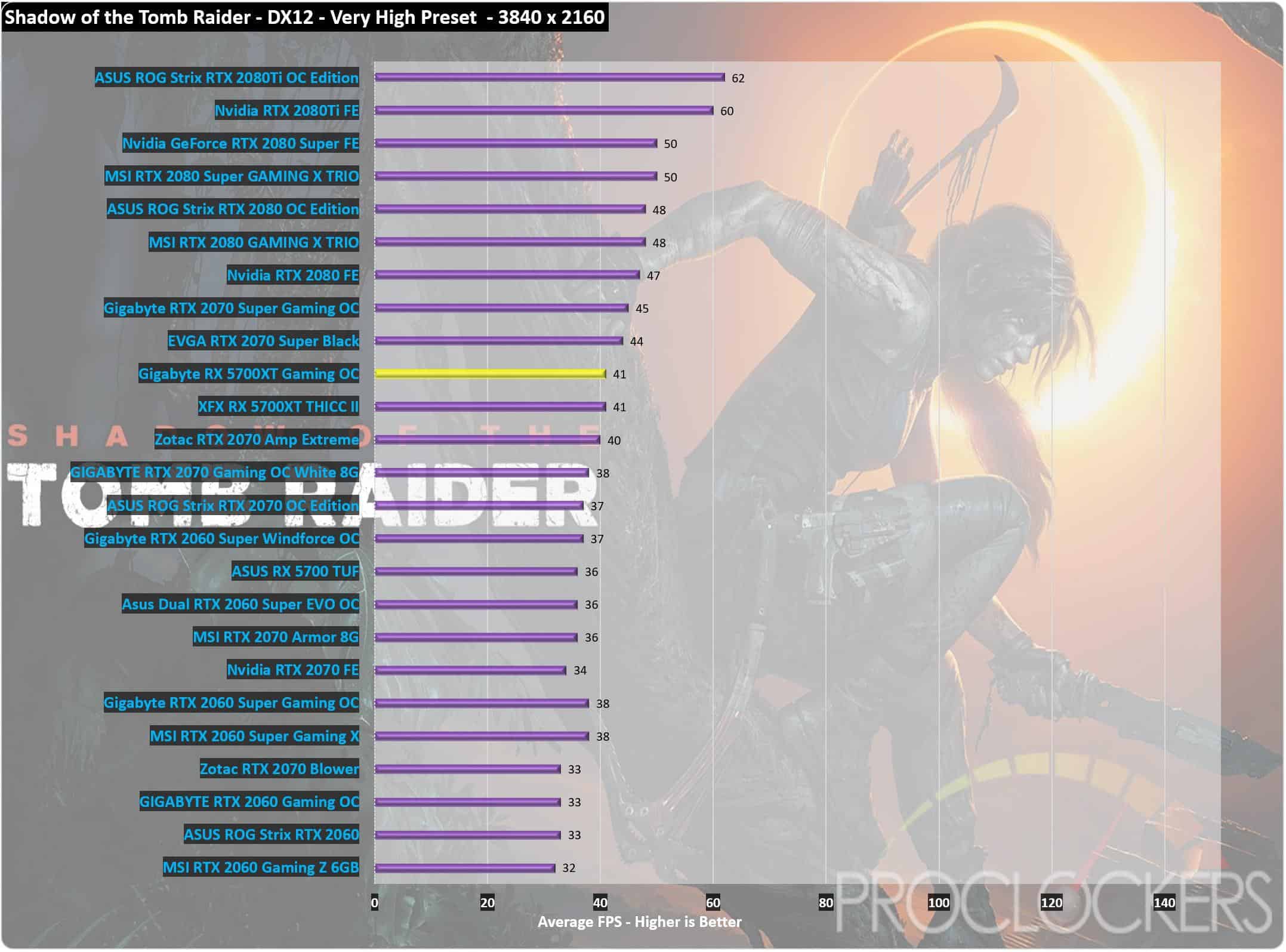 At 4K, we match our other RX 5700XT we have benched with an average of 41 FPS.
Tom Clancy's The Division
We live in a complex world. The more advanced it gets, the more vulnerable it becomes.
We've created a house of cards: remove just one, and everything falls apart.
Black Friday – a devastating pandemic sweeps through New York City, and one by one, basic services fail.
In only days, without food or water, society collapses into chaos. The Division, an autonomous unit of tactical agents, is activated. Leading seemingly ordinary lives among us, these agents are trained to operate independently to save society.
When society falls, we rise.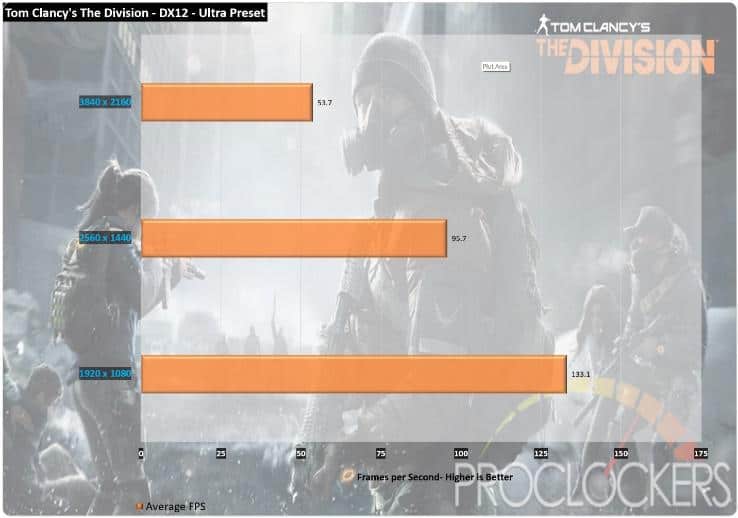 As seen in other gaming benchmarks, the Gaming OC continues to excel at 1080/1440p in The Division with 133.1/95.7 FPS and also does well at 4K with an average of 53.7 FPS.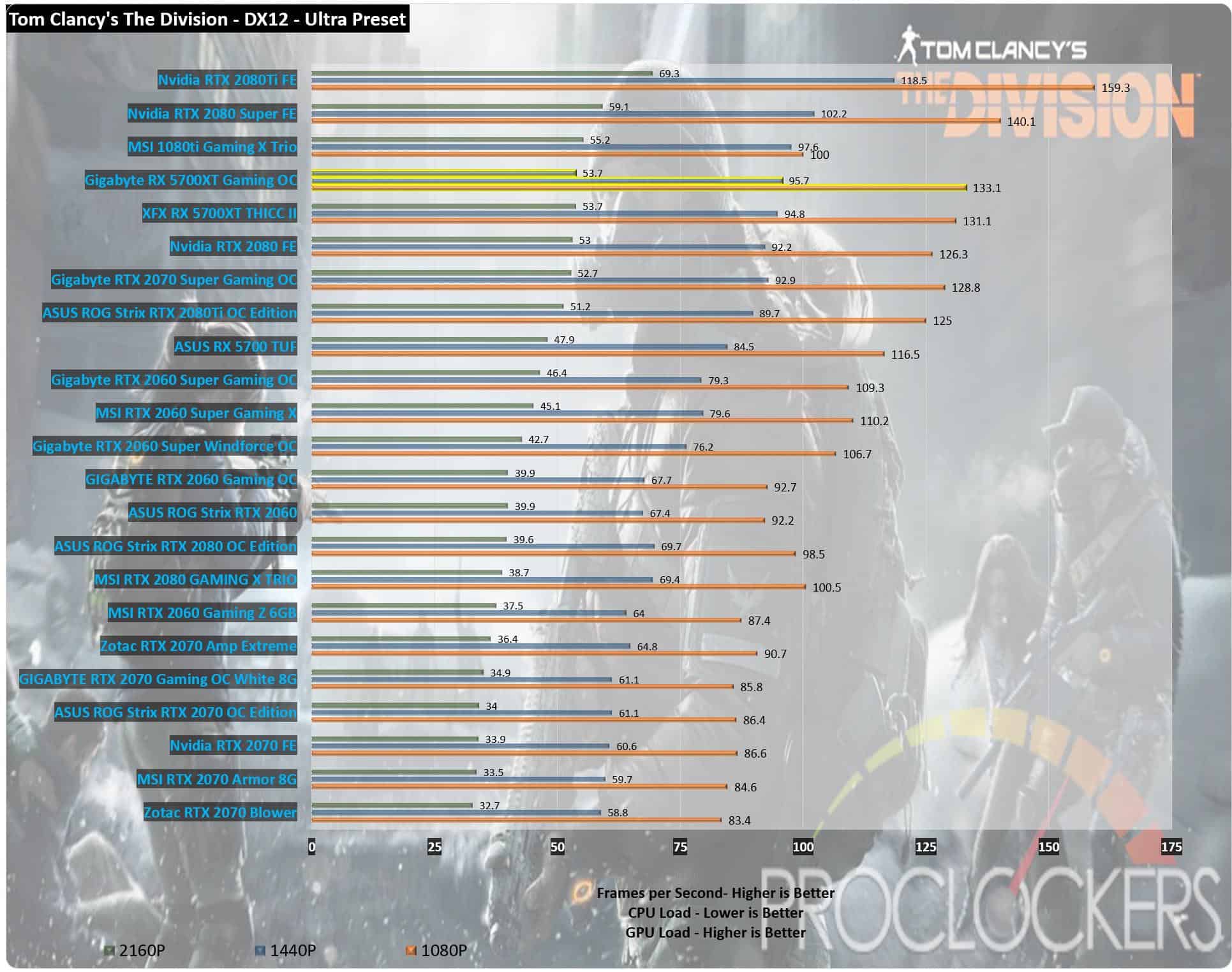 Since the Division benchmark is heavily tied to the processor, on our 9900K test bench, we see the Gaming OC even beat out an RTX 2080TI, which was benched on a different platform.
Tom Clancy's Ghost Recon: Wildlands
Tom Clancy's Ghost Recon® Wildlands is the very first military shooter in a massive open world that you can play entirely solo or in a four-player co-op.
TAKE DOWN THE CARTEL
A few years from now, Bolivia has become the largest cocaine producer in the world. The Santa Blanca cartel has turned the country into a narco-state. As a Ghost, you must stop the cartel by any means necessary.
BECOME A GHOST
Create and fully customize your Ghost, weapons, and gear. Enjoy total freedom of playstyle. Lead your team and take down the cartel, either solo or with up to three friends.
EXPLORE BOLIVIA
Journey through Ubisoft's largest action-adventure open world. Discover the Wildlands' stunning diverse landscapes both on and off-road, in the air, on land, and at sea with over 60 different vehicles.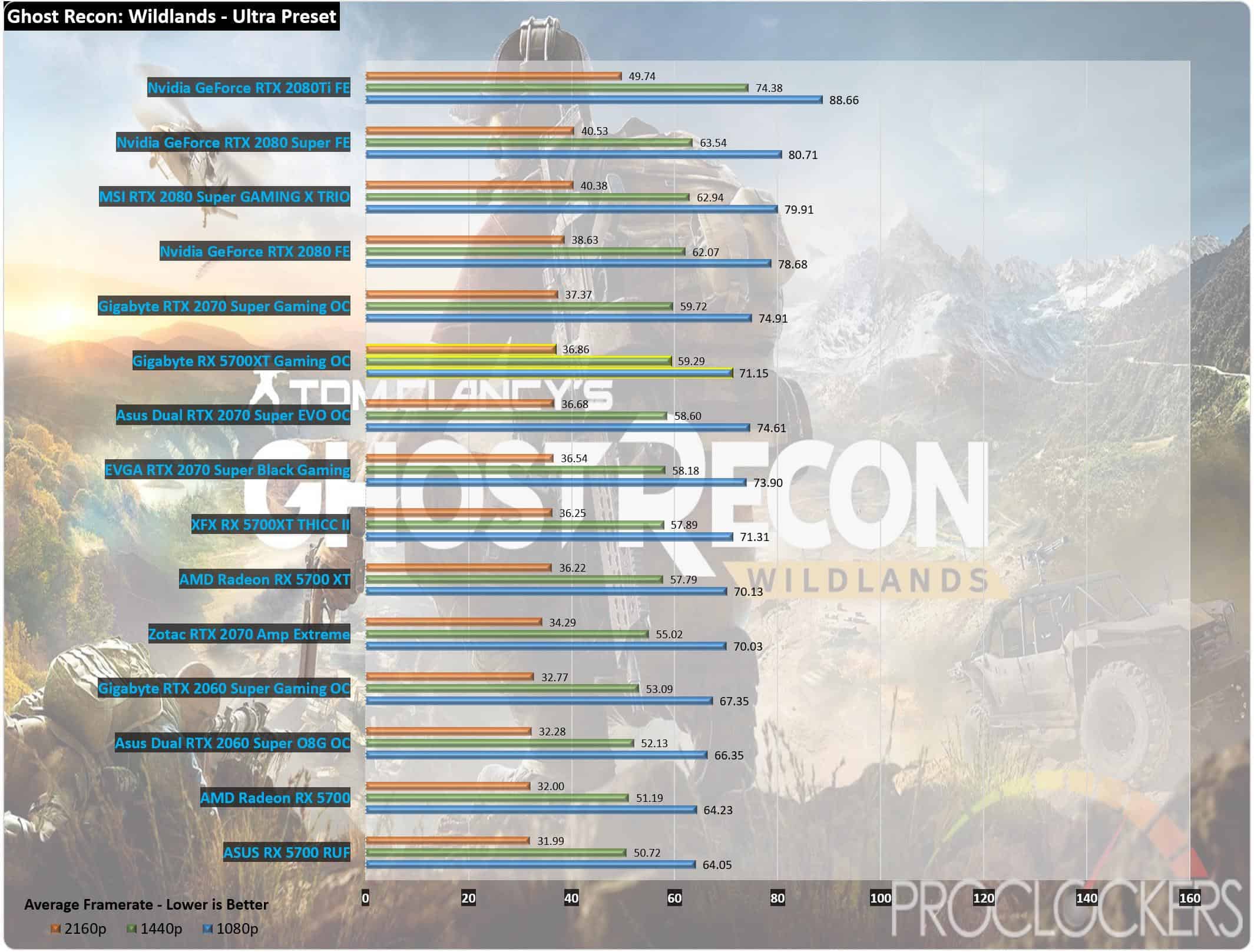 In our most demanding benchmark mark, Ghost Recon: Wildlands, the Gaming OC sets among the RTX 2070 Supers with average framerates of 71.15/59.29/36.86 in 1080p/1440p/4K.
Overclocking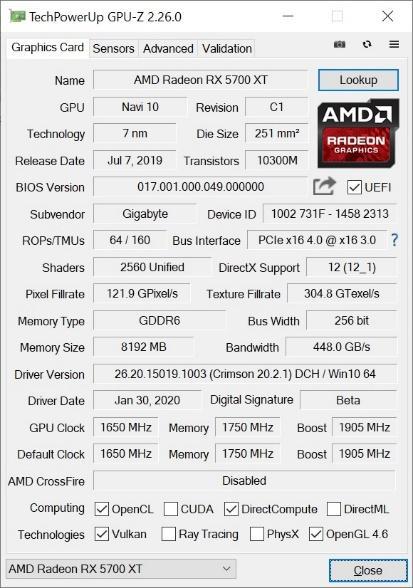 Now that the benchmarks are complete let's see how the Gigabyte RX 5700XT Gaming OC overclocks. Opening up GPU-Z, we see that Gaming OC has a base clock of 1650MHz with a Boost of 1905MHz and a memory clock of 1750 MHZ.
Since the bundled Aorus Engine software didn't allow us to overclock the GPU Clock and adjust voltages, we chose to use AMD's overclocking utilities included with Adrenalin.
After spending a few hours trying to obtain the best overclock, we ended with a max boost clock of 2130MHz / voltage of 1186, a memory frequency of 1850MHz, and a 25% increased power limit.
These settings did not come easy as we saw some weird issues when setting the fans to 100% and applying a power limit. When using these two settings, we saw huge dips in the card's memory clock, causing drops in FPS.
We resolved this issue by leaving the fans on auto and just adjusting a power limit.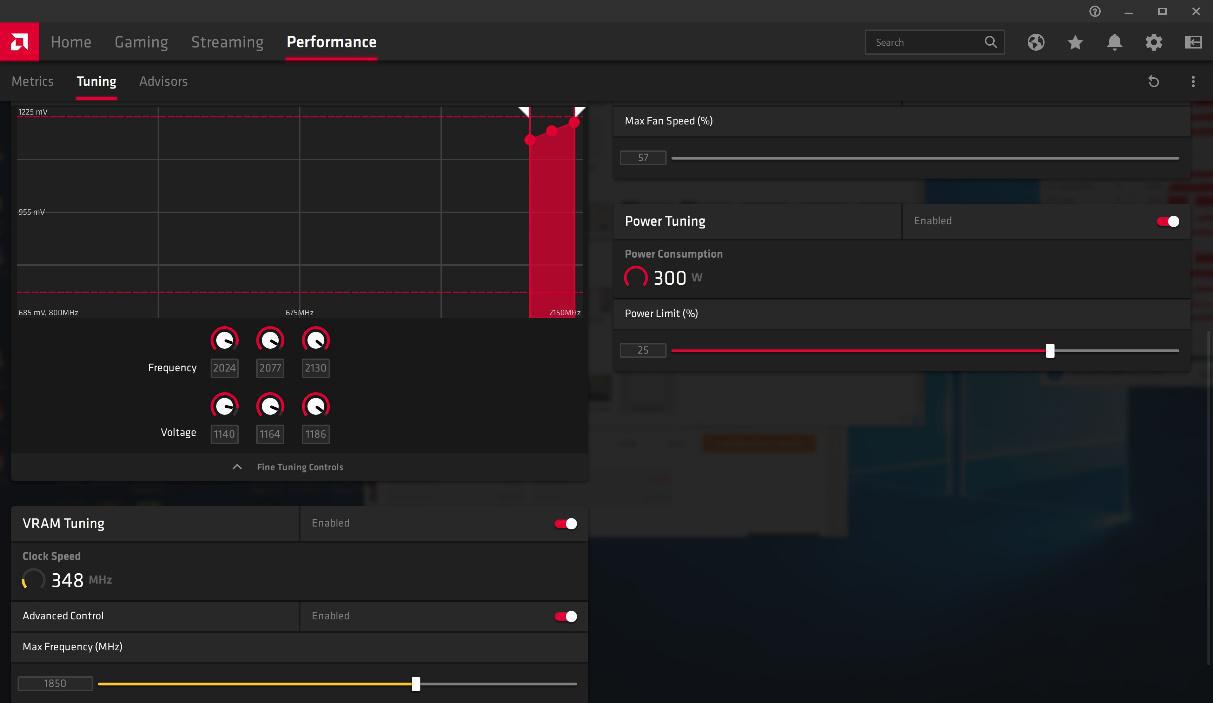 Using GPU-Z, we see that our max GPU Clock went from 1950MHz to 2063MHz, and our memory increased 200MHZ from 3500MHz to 3700MHz.
Since our fans were on auto, this resulted in higher temperatures with a GPU temperature of 66C with a hotspot temperature of 105C, and the memory hitting 76C. These are a little higher than we would like them to be but is still within the RX 5700XT's specifications.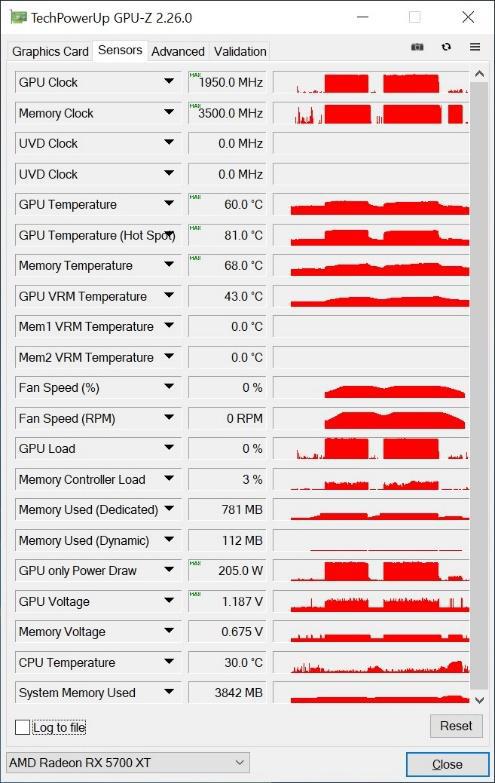 With our new overclock applied, we ran Timespy once for time and broke the 10K mark with a final score of 10,042.
This is an increase of 5% performance over the RX R5700XT's stock configuration.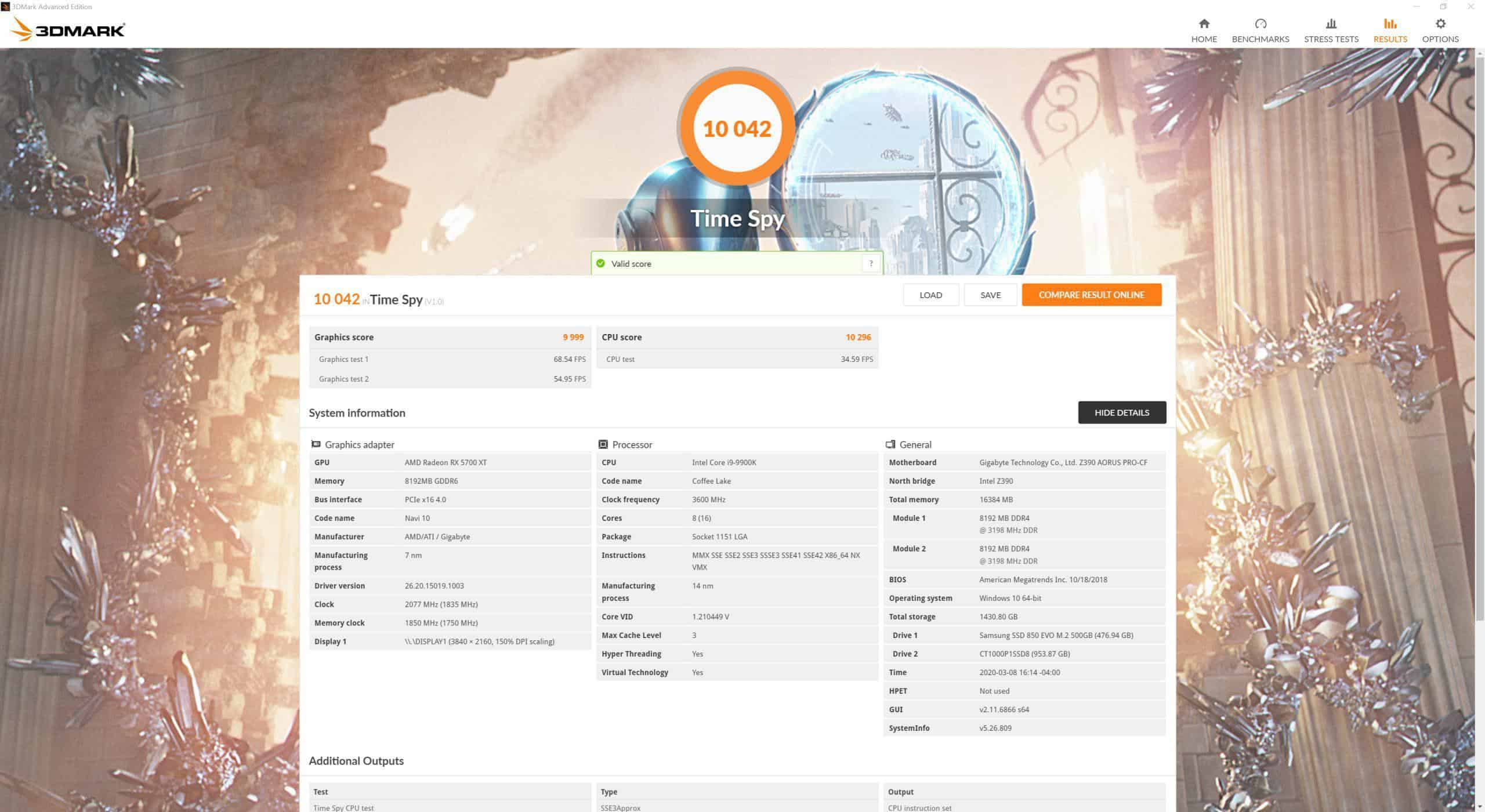 Power Consumption
To measure the Gigabyte RX 5700XT Gaming OC power consumption, we use a combination of Kill-A-Watt and GPU-Z.
Kill-A-Watt measures the total power draw of our test bench, and GPU-Z records the power usage of the RX 5700XT. Letting the system idle for a while, we found that our system pulled a total of 56W.
While running our final Timespy run on the Gigabyte RX 5700XT Gaming OC, Kill-A-Watt reported a peak power draw of 425W. Looking at the GPU-Z logs and seen on the sensor display below, we can see the Gaming OC tops out at 273 W.

Final Thoughts & Conclusion
Gigabyte has impressed us again with the Gaming OC graphics cards, and we can add the RX 5700XT to that list.

The RX 5700XT performed incredibly well at stock clocks, easily besting out other benched RX 5700XT's. On top of great stock performance, we were able to achieve an additional 5% performance using AMD's Adrenalin.

When overclocking the Gigabyte RX 5700XT, the bundled Aorus Engine software didn't allow us to adjust the GPU's clock speed and voltage.

We resolved this issue by using AMD's built-in overclocking software but did find it a little harder to dial in the Gigabyte's Aorus Engine. We ran into one issue when overclocking the RX 5700XT, as we were unable to apply a custom fan curve while adjusting the power limit of the card.

If both settings were changed, we saw huge dips in the memory clock/performance. So, we chose to only adjust the power limit, which solved the problem, but at the cost of a higher GPU temperature, which topped out at 66C (hotspot temperature of 105C) and memory temperature of 76C.

These are a little higher than we would like but are still within the RX 5700XT's specifications.

The Gaming OC remained classy in the looks department with its sleek black/silver finish and minimal RGB. I really like the Gaming OC's neutral color pallet as I find it easy to match most build themes.

For people who like a little RGB in your build, the backlit "GIGABYTE" on the Gaming OC also adds a nice pop of color.

So, if you find yourself searching for a 1080/1440p GPU that performs great out of the box and would look great in any build, check out the RX RX5700 Gaming OC from Gigabyte.

Great job, Gigabyte!

<![CDATA[ */ var zbjs = {"ajaxurl":"https:\/\/gaminggorilla.com\/wp-admin\/admin-ajax.php","md5":"d8e8b24d2fa18d2999e0fddcdd418586","tags":[],"categories":["Hardware"]}; /* ]]>