Gigabyte Z97X-SLI Motherboard Review
Introduction
With the release of the Z97 and X99 chipsets, Gigabyte has decided to cosmetically overhaul the Ultra Durable series. Today we will be taking a look at one of the lesser priced models, Z97X-SLI. Based around the ATX, it may be smaller than its ATX counterparts, but certainly does not lack their features.
Gigabyte has revised their UEFI DualBIOS this generation, which has exclusive Gigabyte OC features. There is also an application center that allows quite a bit of control over the BIOS, overclocking, gaming control, and other various features from inside the Windows environment. If that was not enough, Gigabyte has also added a new feature called Cloud Station, which allows that control from a smart phone as well.
Gigabyte has not been remiss on the hardware side either. The Z97X-SLI supports 4th Generation Intel Core processors. There is up to 2-way AMD CrossFire and Nvidia SLI support. A precise digital CPU power design helps squeeze out those Mhz from your CPU. A SATA Express offer support for 10 Gb/s data transfers. On the networking side, Intel I218V Gigabit LAN does the duties. Realtek ALC1150 115dB SNR HD Audio with Built-in rear audio amplifier supplies your audio needs.
Gigabyte's take on the GA-Z97X-SLI
GIGABYTE 9 Series Motherboards
GIGABYTE 9 Series motherboards support the latest 4th & 5th Generation Intel® Core™ processors, bringing together a unique blend of features and technologies that offer the absolute ultimate platform for your next PC build.
Extreme Multi-GPU Support
Flexible graphics capabilities supported for either CrossFire™ or SLI™ action, delivering the ultimate in graphics performance for gaming enthusiasts who demand the highest frame rates without compromising on resolution.
M.2 Onboard Connector
GIGABYTE 9 series motherboards come equipped with an onboard M.2 slot, providing users PCI-Express connectivity for SSD devices. Delivering up to 10 Gb/s data transfer speeds, M.2 offers users considerably faster storage performance than current mSATA and even SATA Revision 3 (6Gb/s) storage devices.
SATA Express Connector
SATA Express interface provides multiple PCI Express lanes and 2 SATA 3.0 6 Gb/s ports, exposed through the same connector, allowing use of both PCI Express and SATA storage devices. Exposed PCI Express lanes are providing a pure PCI Express connection to the storage device, without any additional layers of abstraction.
Intel® Gigabit LAN
Intel® Gigabit LAN networking, a popular choice with gamers that features several performance-enhancing features such as advanced interrupt handling to help reduce CPU overhead and Jumbo Frame support for extra large data packets.
cFosSpeed
GIGABYTE motherboards feature cFos Speed, a network traffic management application which helps to improve network latency, maintaining low ping times to deliver better responsiveness in a crowded LAN environment. cFos Speed works in a similar way to an OS driver, monitoring network traffic packets at the application layer, allowing optimization and improved network performance for specific applications.
Realtek ALC1150 115dB SNR HD Audio
The ALC1150 is a high-performance multi-channel High Definition Audio Codec that delivers an exceptional audio listening experience with up to 115dB SNR, ensuring users get the best possible audio quality from their PC.
The ALC1150 provides ten DAC channels that simultaneously support 7.1-channel sound playback, plus 2 channels of independent stereo sound output (multiple streaming) through the front panel stereo outputs. Two stereo ADCs are integrated and can support a microphone array with Acoustic Echo Cancellation (AEC), Beam Forming (BF), and Noise Suppression (NS) technologies. The ALC1150 incorporates Realtek proprietary converter technology to achieve Front differential output 115dB Signal-to-Noise ratio (SNR) playback (DAC) quality and 104dB SNR recording (ADC) quality.
Built-in Rear Audio Amplifier
Specially designed for gamers, GIGABYTE 9 series Ultra Durable™ motherboards utilize a high-capacity amplifier which is able to drive 600Ω loads, giving gamers a fuller range of dynamic sound with crisper details and less distortion when using high quality professional headphones.
APP Center
GIGABYTE APP Center gives you easy access to wealth of GIGABYTE apps that help you get the most from your GIGABYTE motherboard. Using a simple, unified user interface, GIGABYTE APP Center allows you to launch all GIGABYTE apps installed on your system.
EasyTune™
Smart Quick Boost provides users with different levels of CPU frequencies to choose to achieve desired system performance.
Advanced CPU OC allows users to set CPU base clock, frequency, and voltages, and integrated graphics frequency.
Advanced DDR OC allows users to set the memory clock.
3D Power allows users to change power phase, voltage, and frequency settings.
Cloud Station™
GIGABYTE Cloud Station™ is composed of several GIGABYTE unique apps that allow your smart phones/tablet devices to communicate, share resources, and control desktop PCs via wireless connection.
HomeCloud
HomeCloud allows users to share the files between your smart phone/tablet device and computer or back up the files from the device to the computer.
HotSpot
HotSpot turns your computer into a virtual wireless access point and allows you to share your connection with your other wireless devices.
GIGABYTE Remote
GIGABYTE Remote allows users to remotely control the mouse / keyboard / Windows Media Player on your computer from your smart phone/tablet device.
Remote OC
Remote OC allows users to remotely control their desktop PC with a powerful suite of software functions that Include overclocking and system tweaking, system monitoring plus the ability to also remotely power down/reset the PC when needed.
That is certainly a long list of features, which we will explore later. Let us take a look at the product specifications and packaging next.
The Gigabyte Z97X-SLI comes in a bright black and tellow box with the Gigaybyte "Ultra Durable" logo on the front.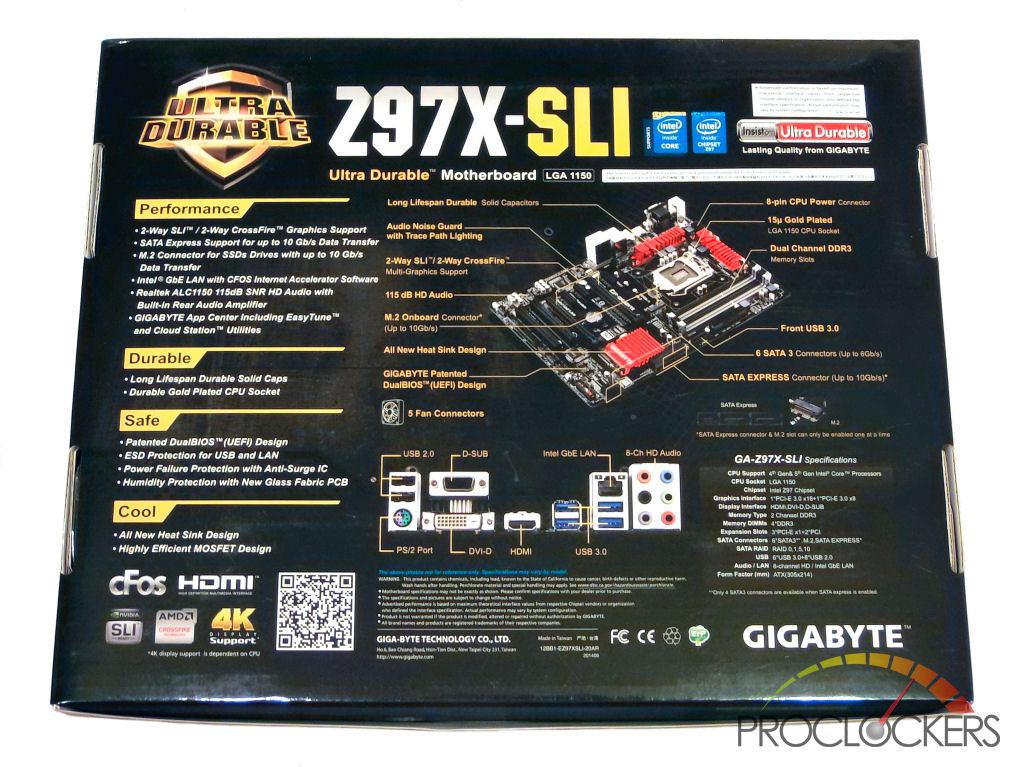 The rear of the box features several detailed pictures showcasing the motherboard's features. Some of the motherboard's basic specifications are included as well.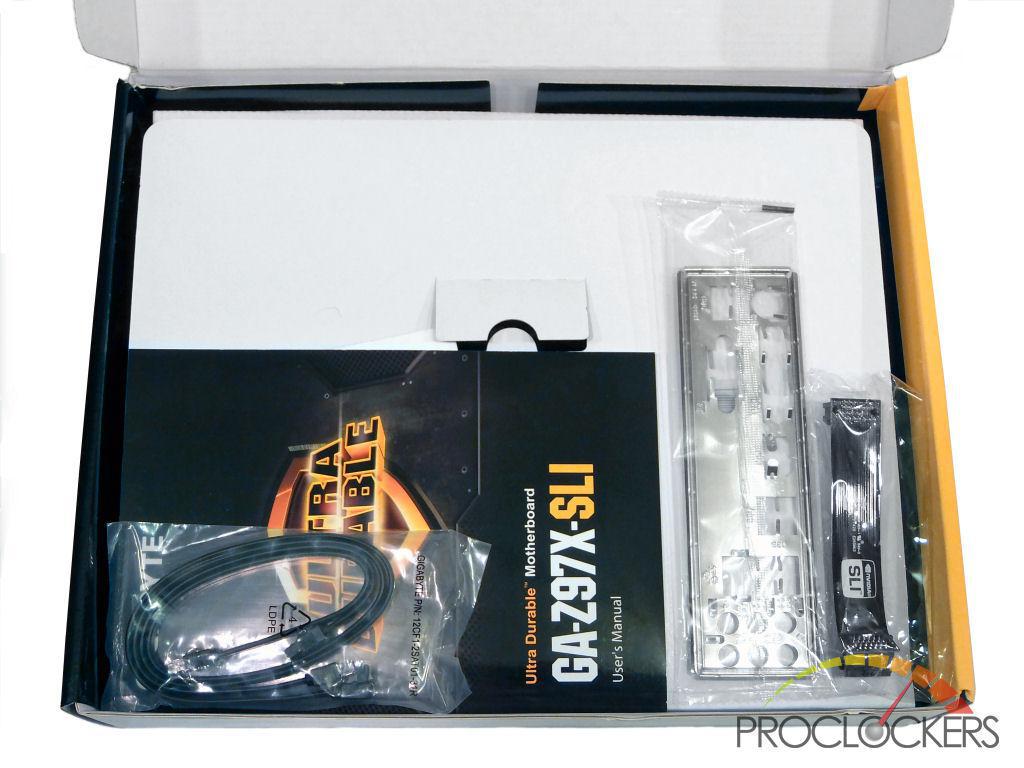 Once the box is opened, the included accessories are revealed. The dividers keep everything well organized.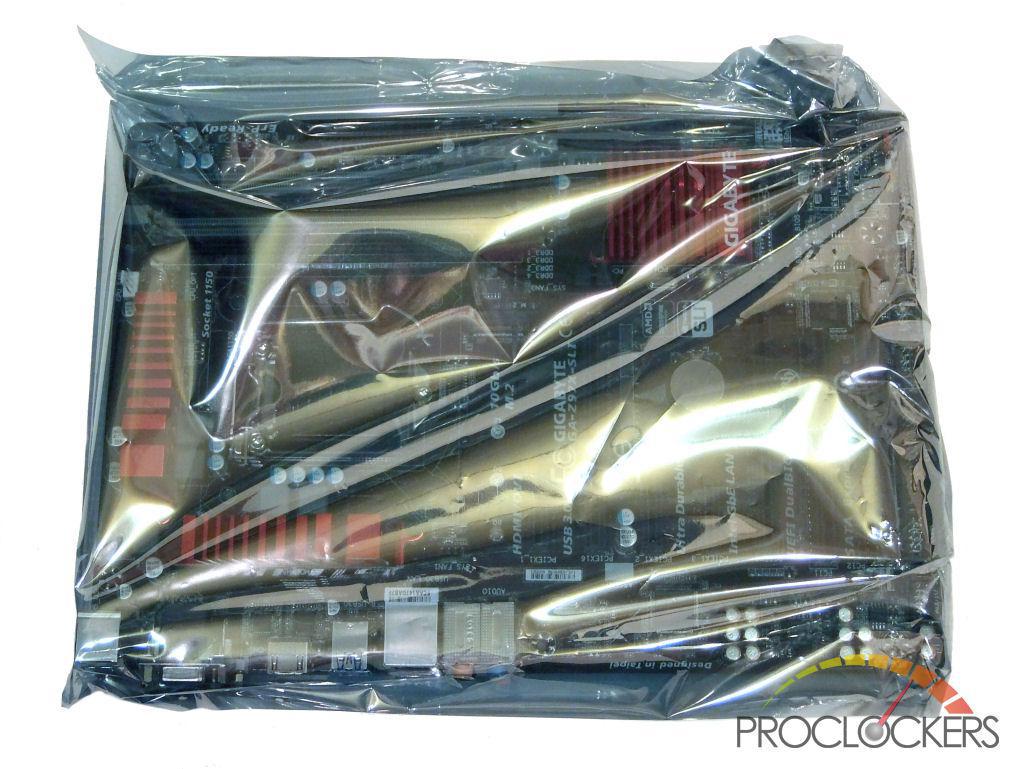 With the tray removed, we get a much better of the Z97X-SLI nestled in its cardboard tray.
Specifications

Up next a Closer Look
A Closer Look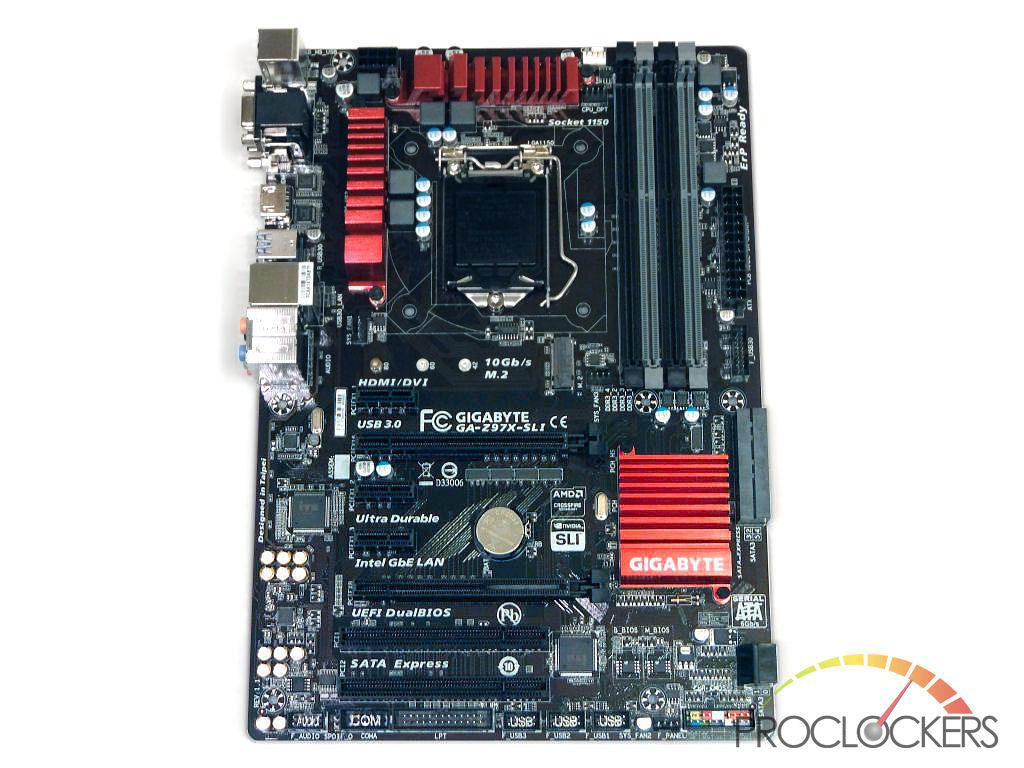 The Z97X-SLI in all its glory. The most noticeably feature is quite obviously the red color scheme. Gigabyte has chosen the red color scheme for some of its current Ultra Durable motherboards, while others are either gold or black.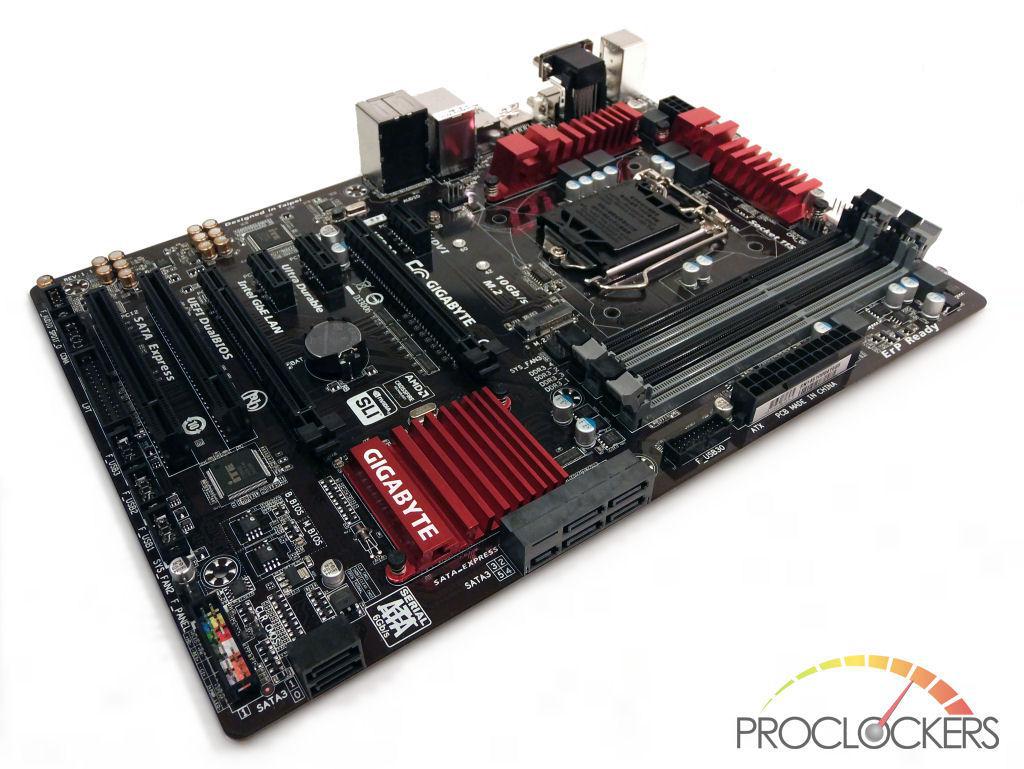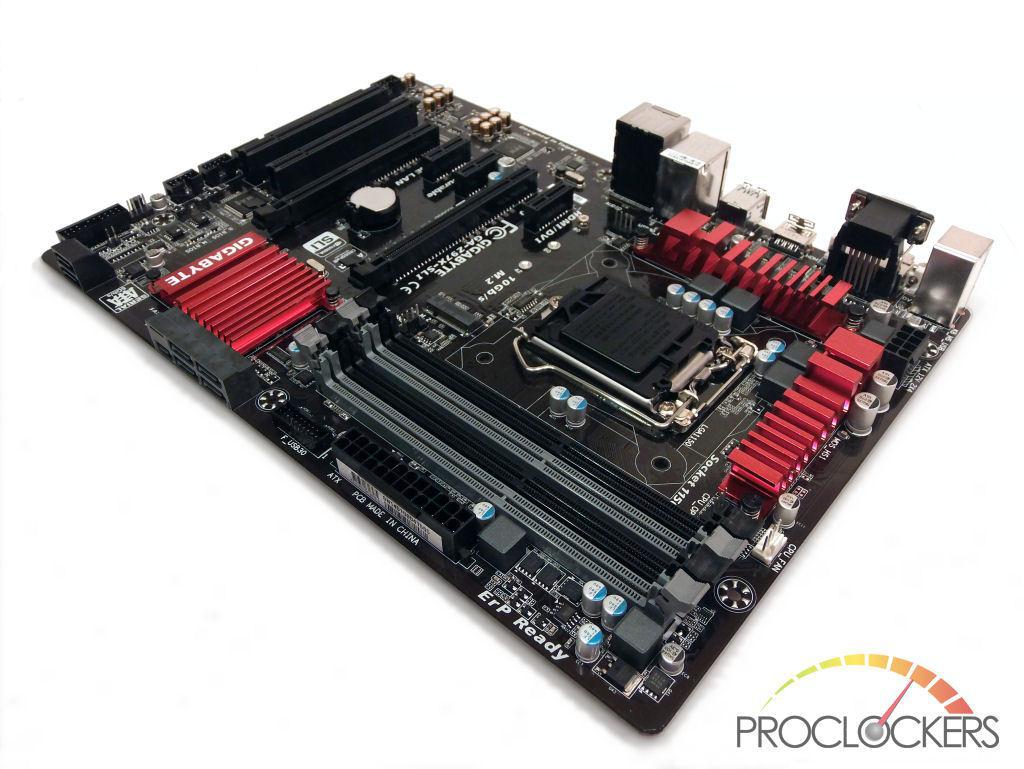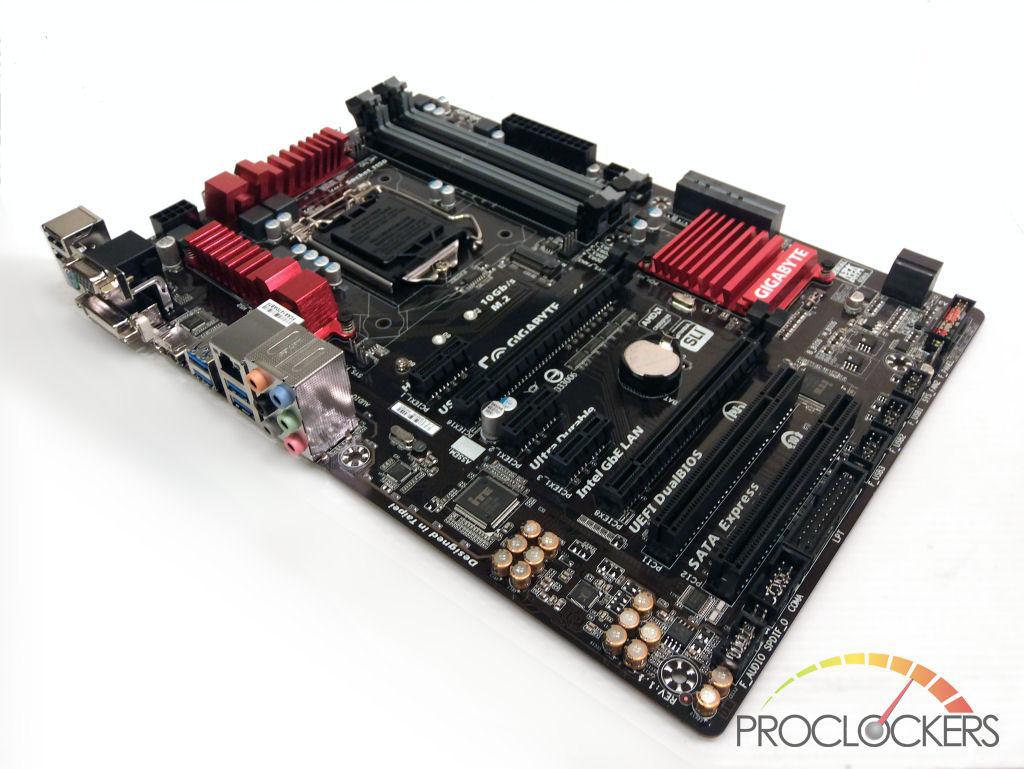 A quick walk around the motherboard. There is certainly no shortage of connectors on the Z97X-SLI. We will get to those in detail later.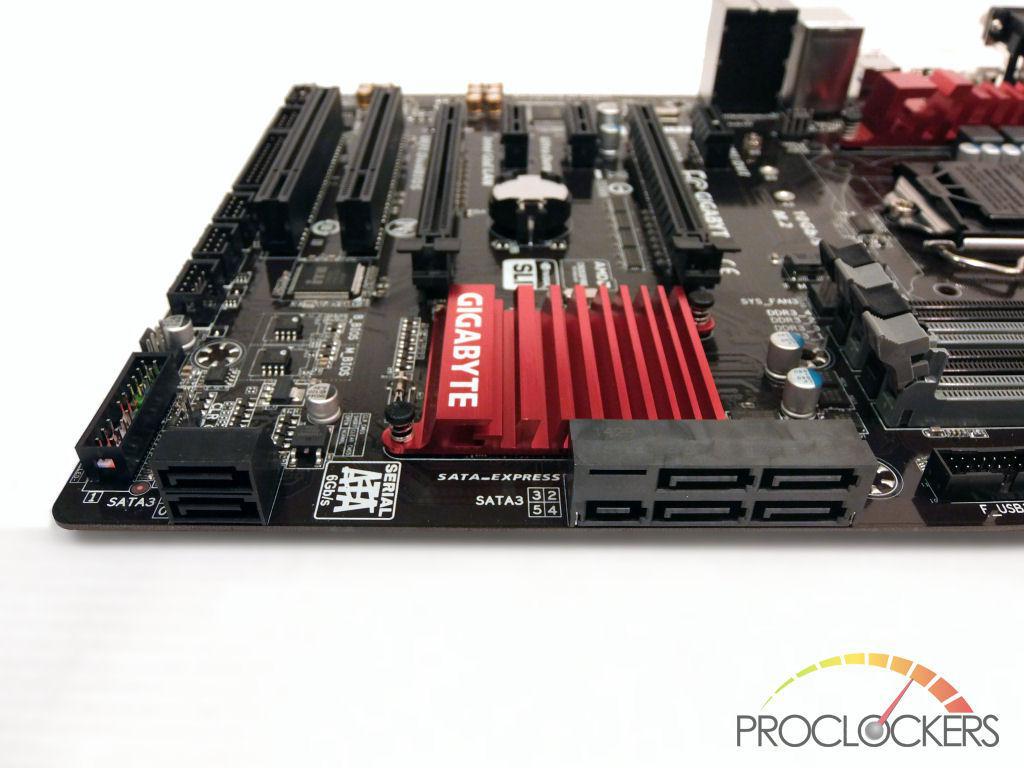 One of the new features of the Z97/X99 chipsets is SATA Express, which is the connector on the right. SATA Express offers much greater bandwidth then SATA 3.0, by utilizing PCIe lanes. There are a total of 6 SATA 3.0 connectors.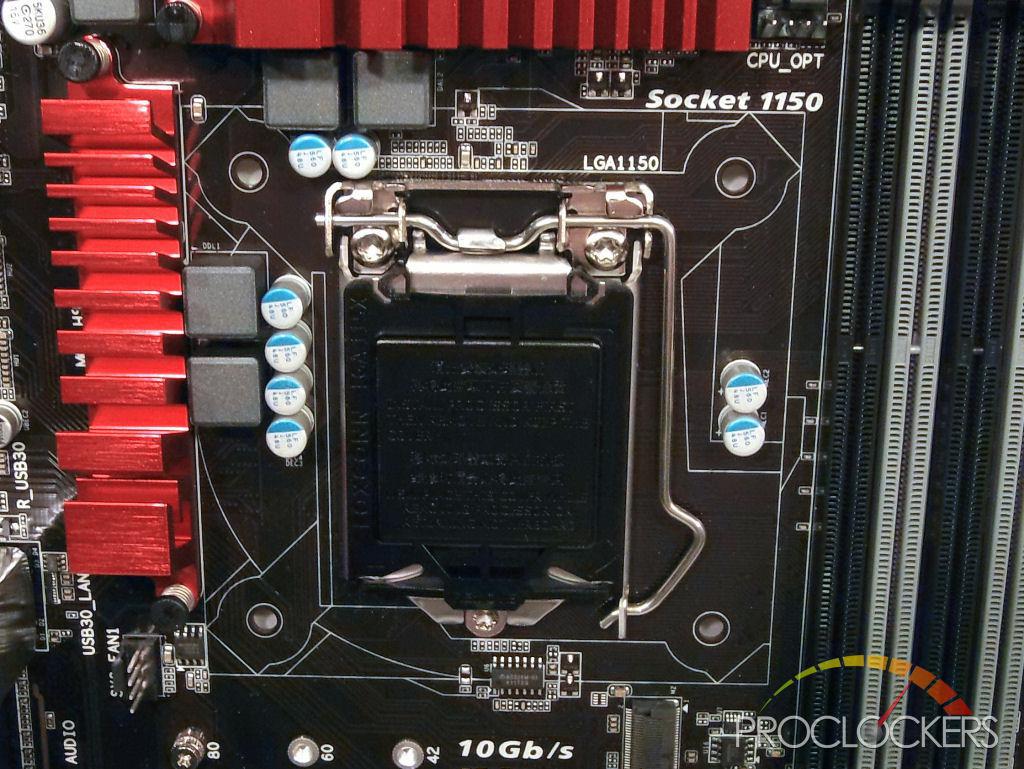 The heart of any z97 motherboard, the Intel 1150 socket.
Moving down to the lower front of the Z97X-SLI, we are greeted with USB 2.0, USB 3.0, and front panel connectors. The system fan 2 header is located here as well. Above the first PCI-E 16X slots is the M.2 connector. The lower rear of contains a front panel audio header, a SPDIF header, and a Comm header.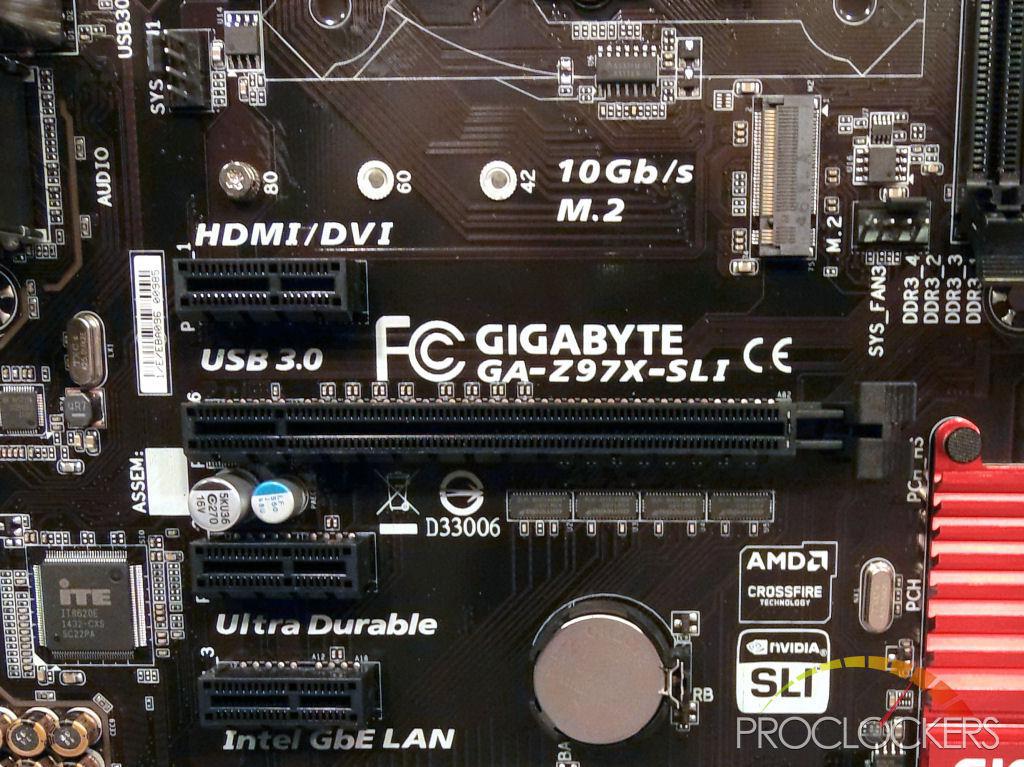 A closer look at the M.2 connector. The connector supports 42MM, 60mm, and 80MM devices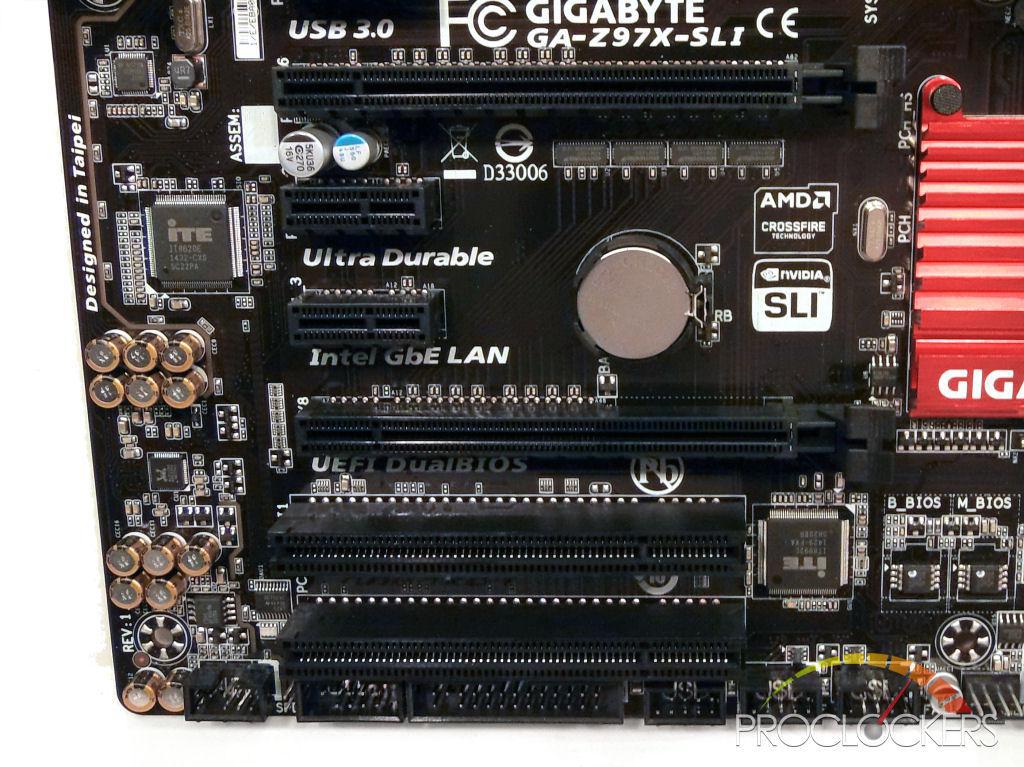 The Z97X-SLI features the Amp-Up audio system. There is also a red lit tracer in the motherboard here. The lighting has 4 different modes that are easily changeable.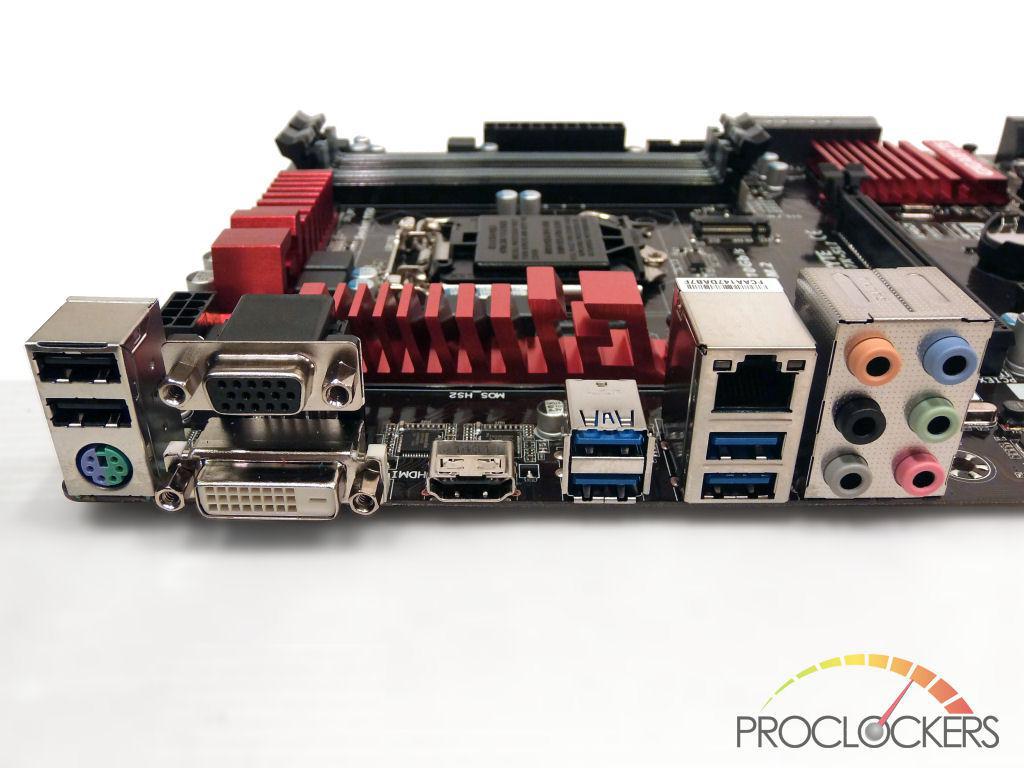 The rear I/O has quite a few ports. There a two USB 2.0 and fpur USB 3.0 ports. A PS/2 keyboard/mouse port allows for legacy input device connectivity. A RJ-45 port is driven by the Intel I218V chip. Six audio jacks provide option for audio connections. A full selection of video connections is also located here.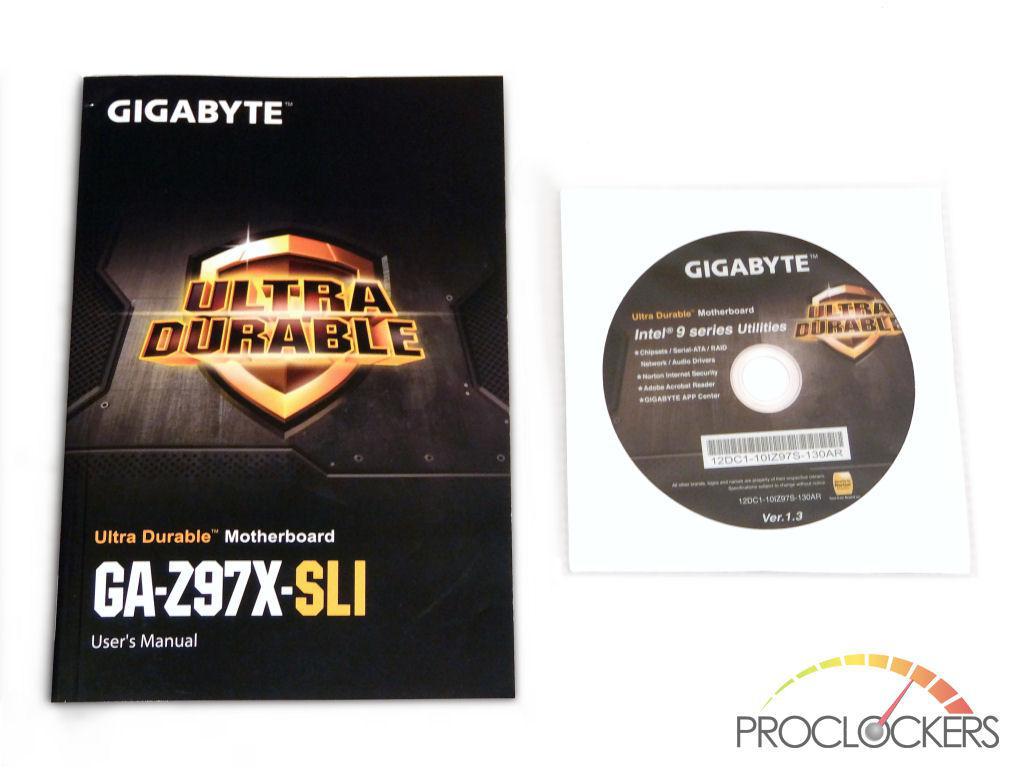 There is a User Manual that includes in depth explanation of all the Z97X-SOC features. A Multilingual Installation Guide provides easy directions for installation.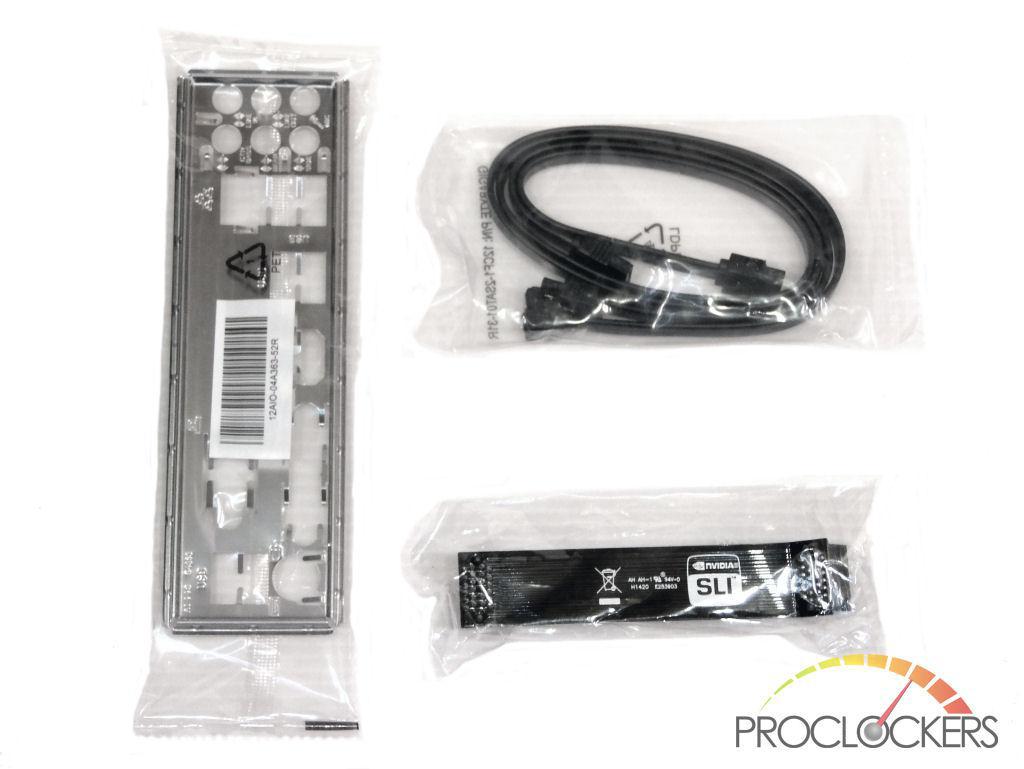 Gigabyte has also one SLI and 2 SATA cables.
Testing is up next
Microsoft Windows 7 Home Premium SP1
Gigabyte APP Center
General System Benchmarks:
CPU Benchmarks:
Fritz Chess
Cinibench R15
7-Zip
Memory Benchmarks:
AIDA64 Engineer
Passmark Performance Test 8.0
SiSoft Sandra
Storage Benchmarks:
ATTO Disk Benchmark
CrystalDiskMark 3.0
AS SSD
Passmark Performance Test 8.0
Game Benchmarks:
3Dmark
Bioshock: Infinite
Metro: Last Light
Thief
Tomb Raider
BIOS
Gigabyte has refined the Z97X-SLI BIOS over the previous generation. The sheer number of screens and settings are far too numerous to display here, so we will just take a look at the basics.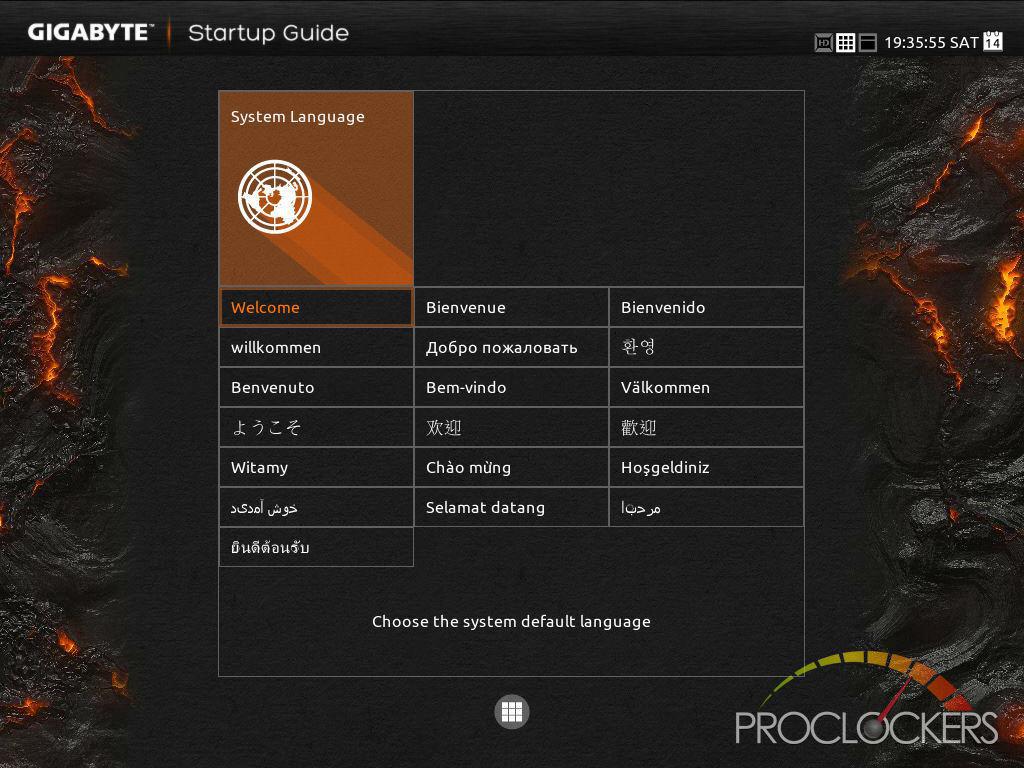 Upon entering the BIOS the first time you a menu to set the default language.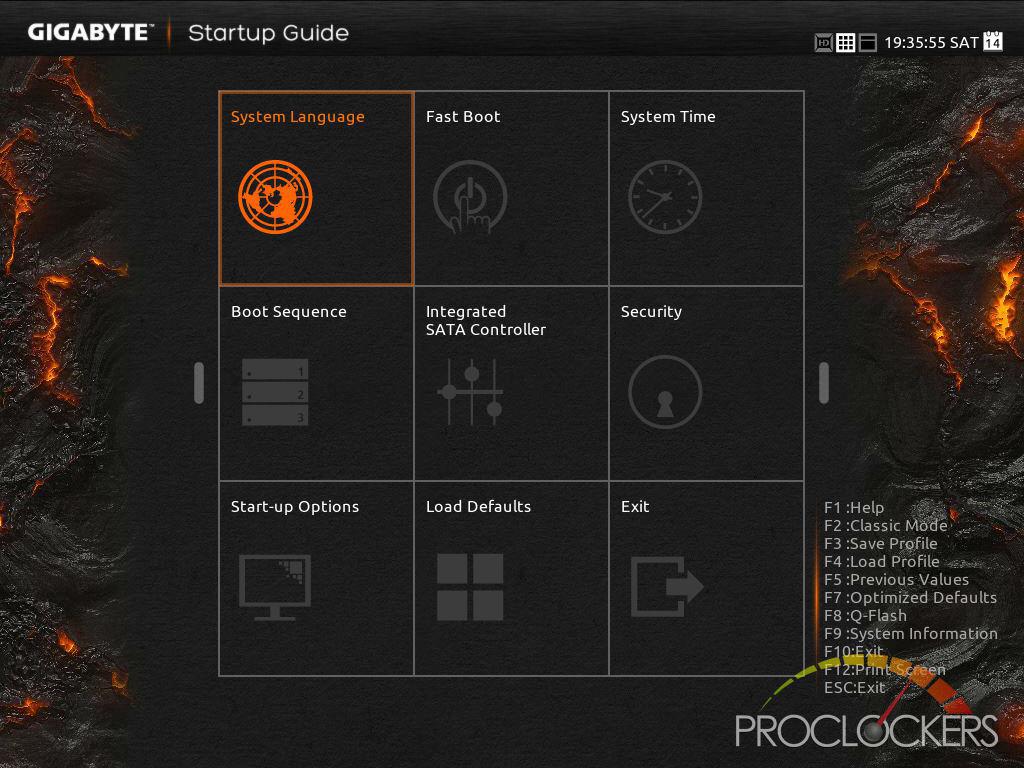 Once the language has been selected, the BIOS will default to this screen. Here some of the basic settings can be changed. There is also an option to load either the classic style BIOS screens or the UEFI BIOS screens. We will take a look at Classic Mode first.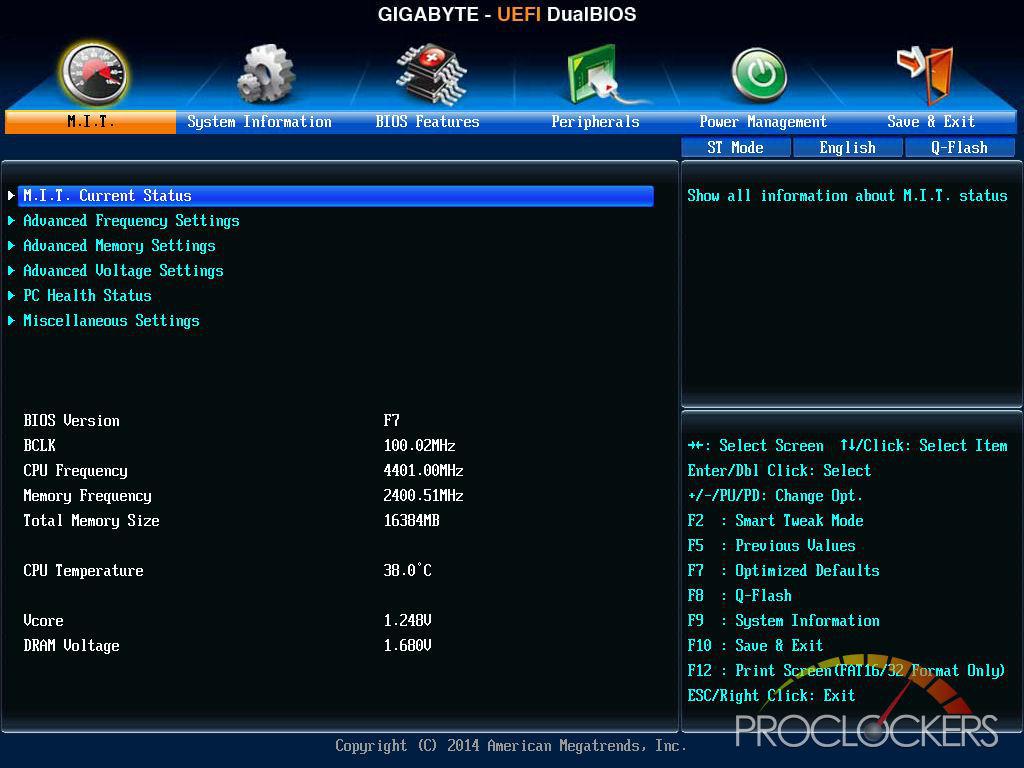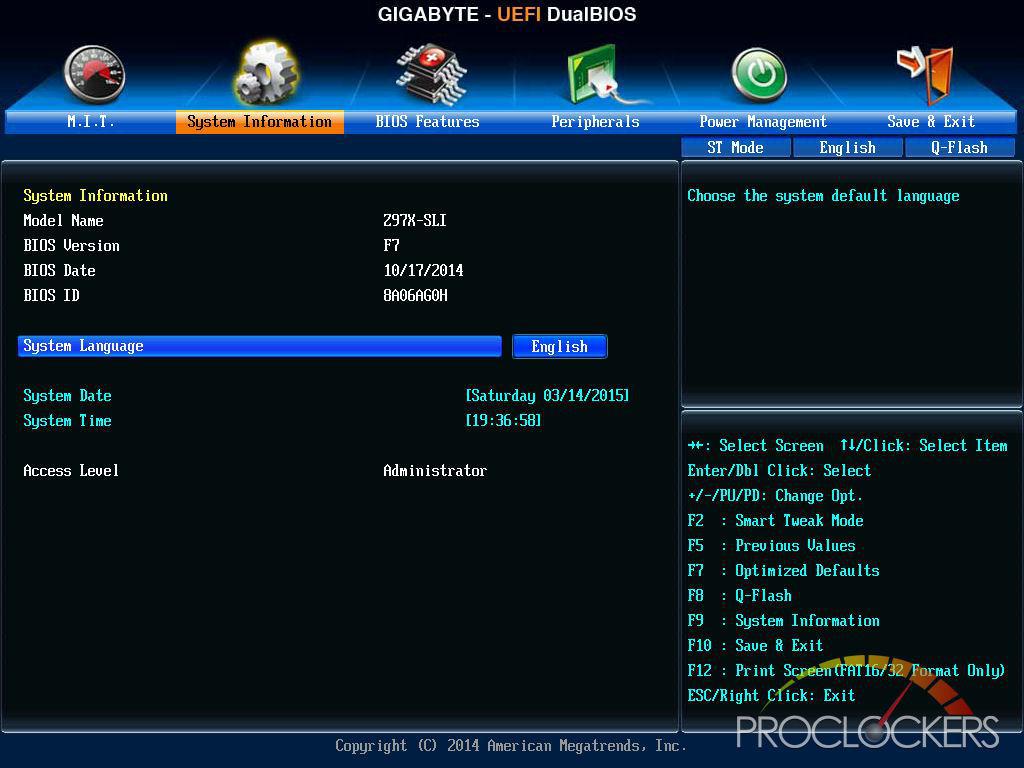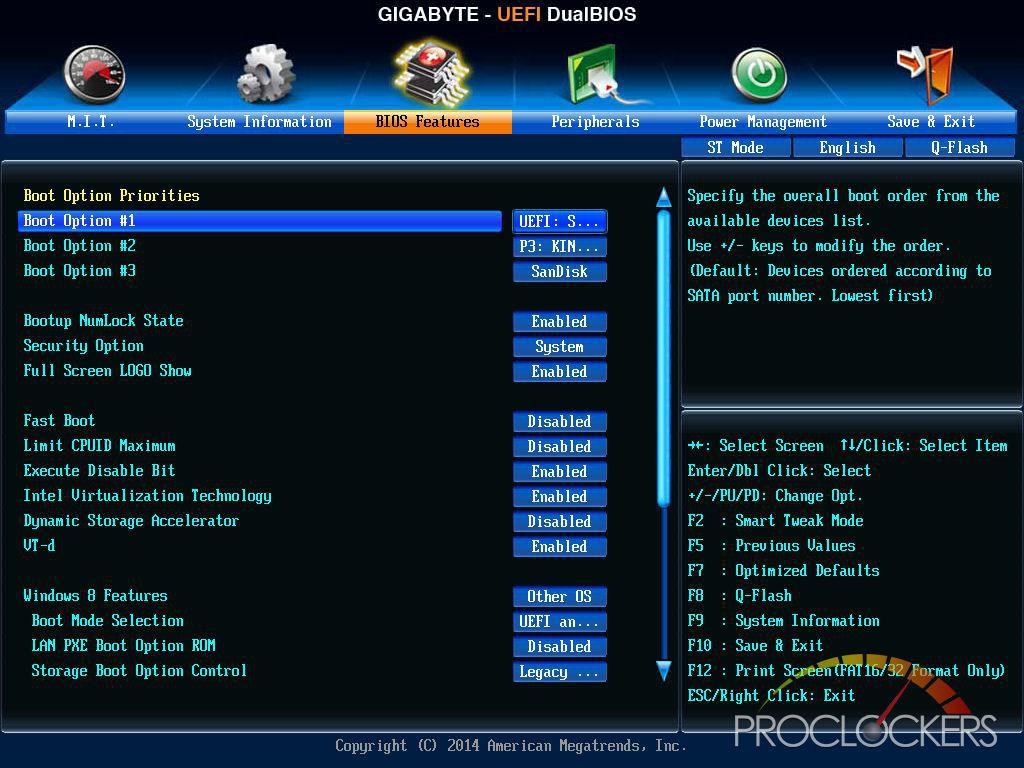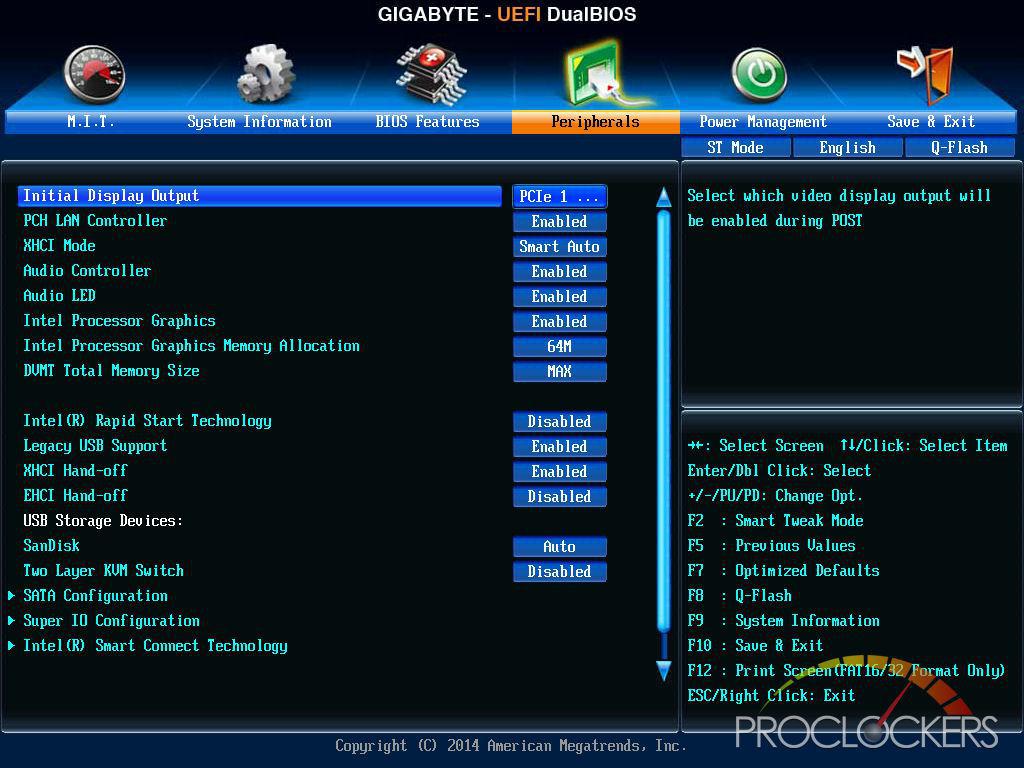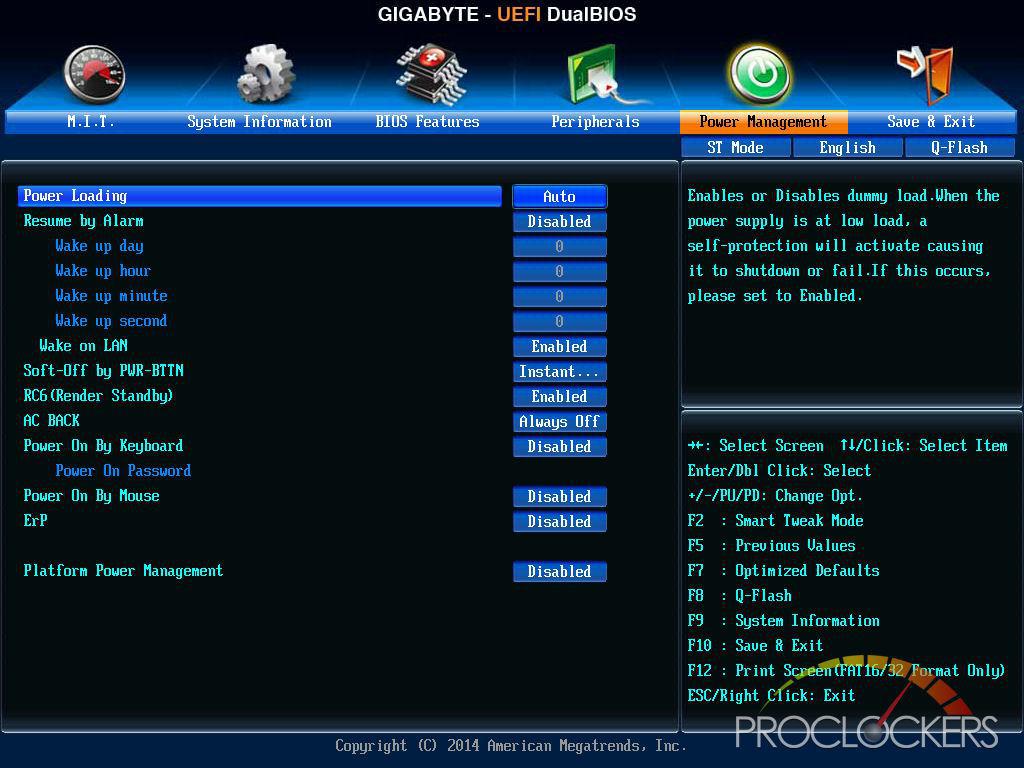 All the basic, as well as some more advanced settings are here. It operates very much like the arrow key operated BIOS of not to long ago. The Peripherals and Power Management tabs are only available in Classic Mode. Next we will take a look at the UEFI style.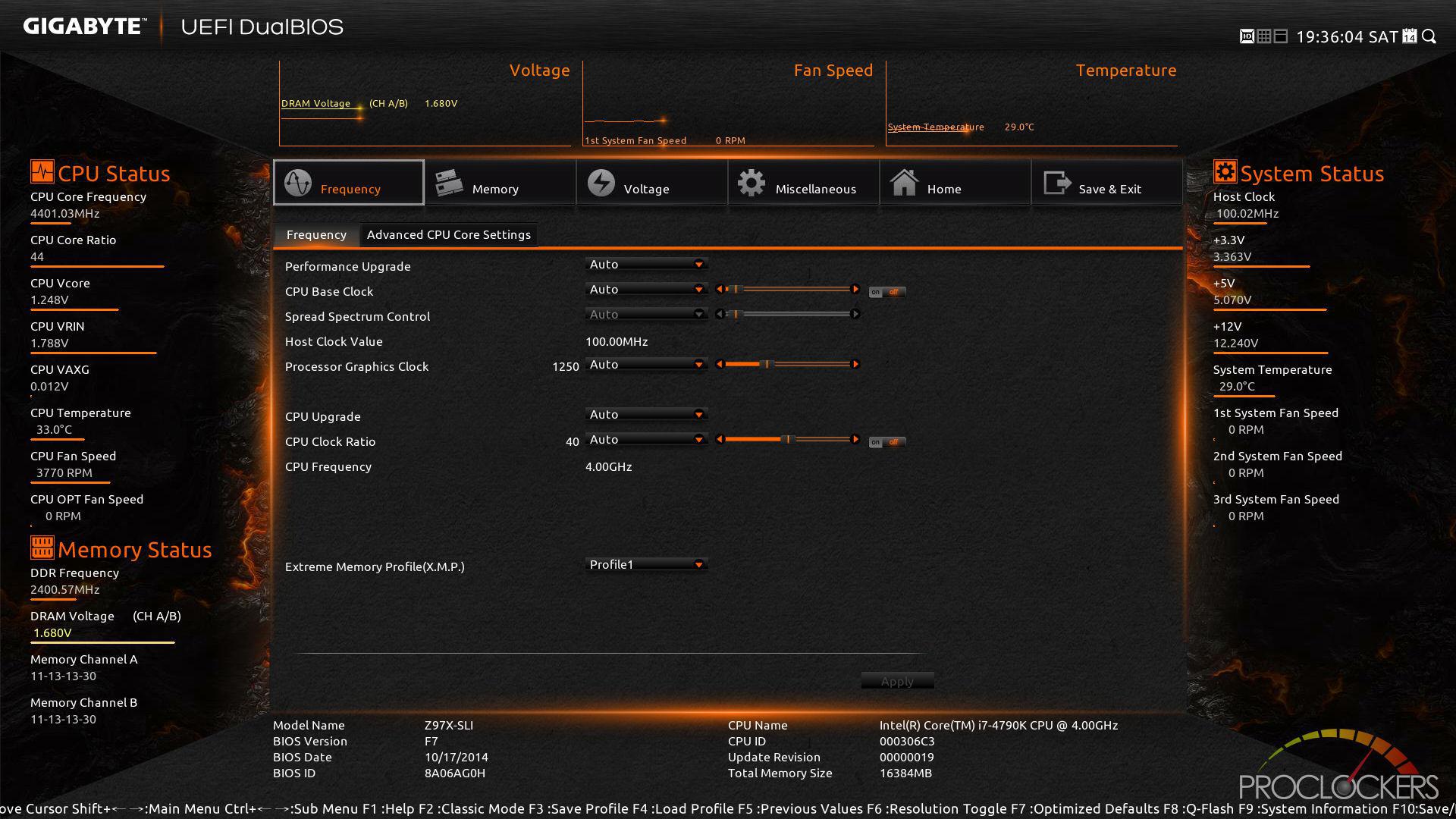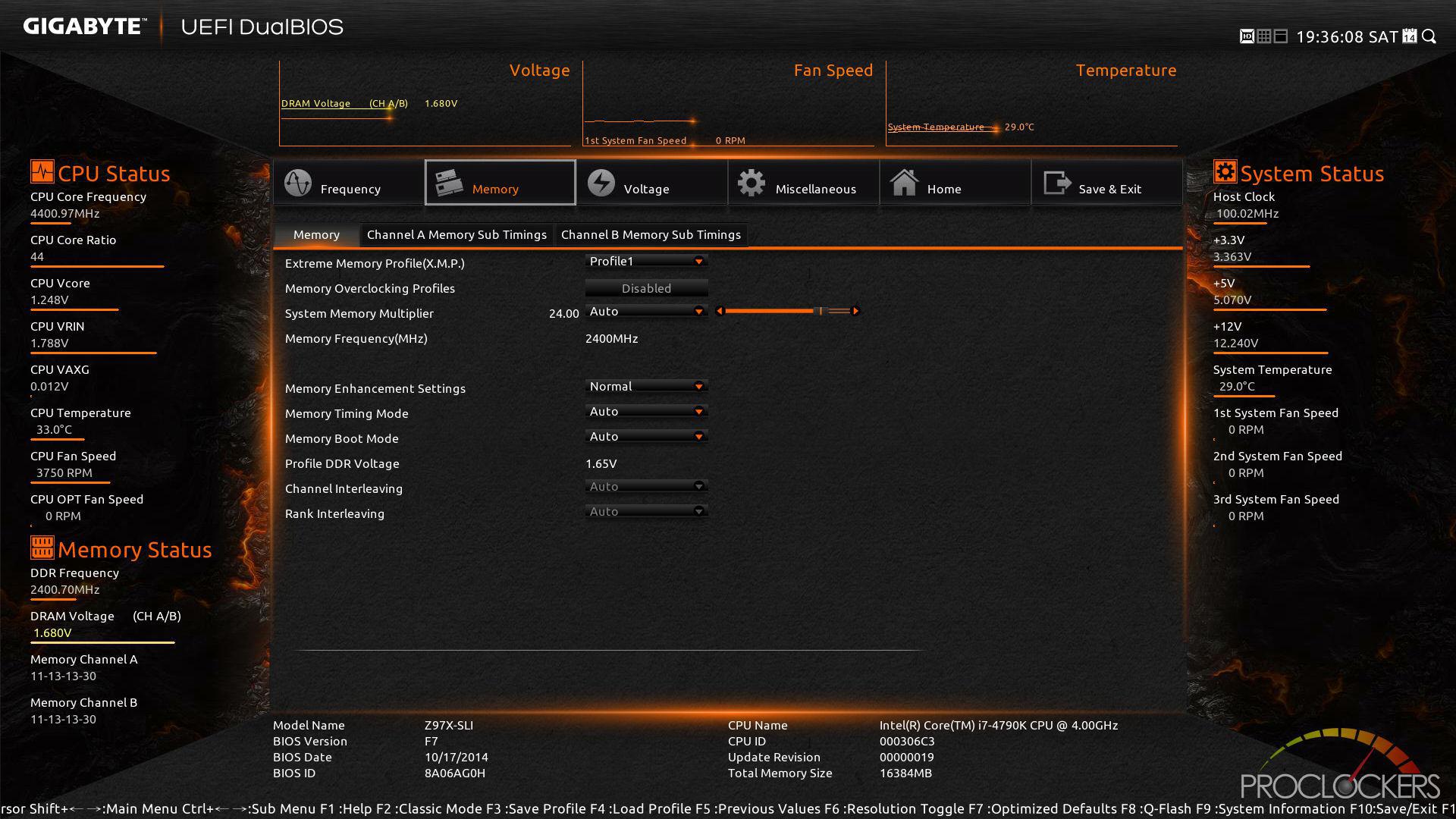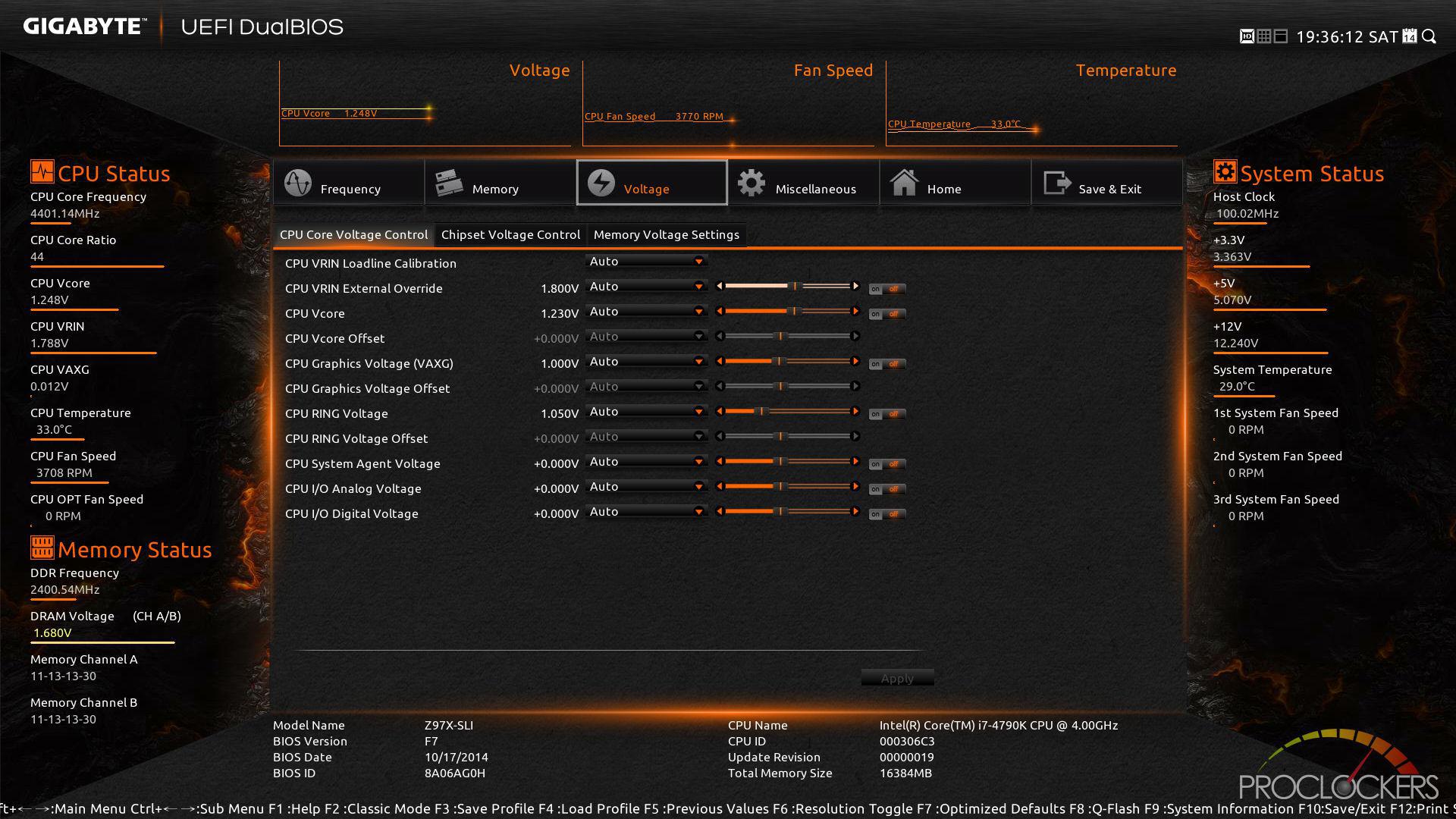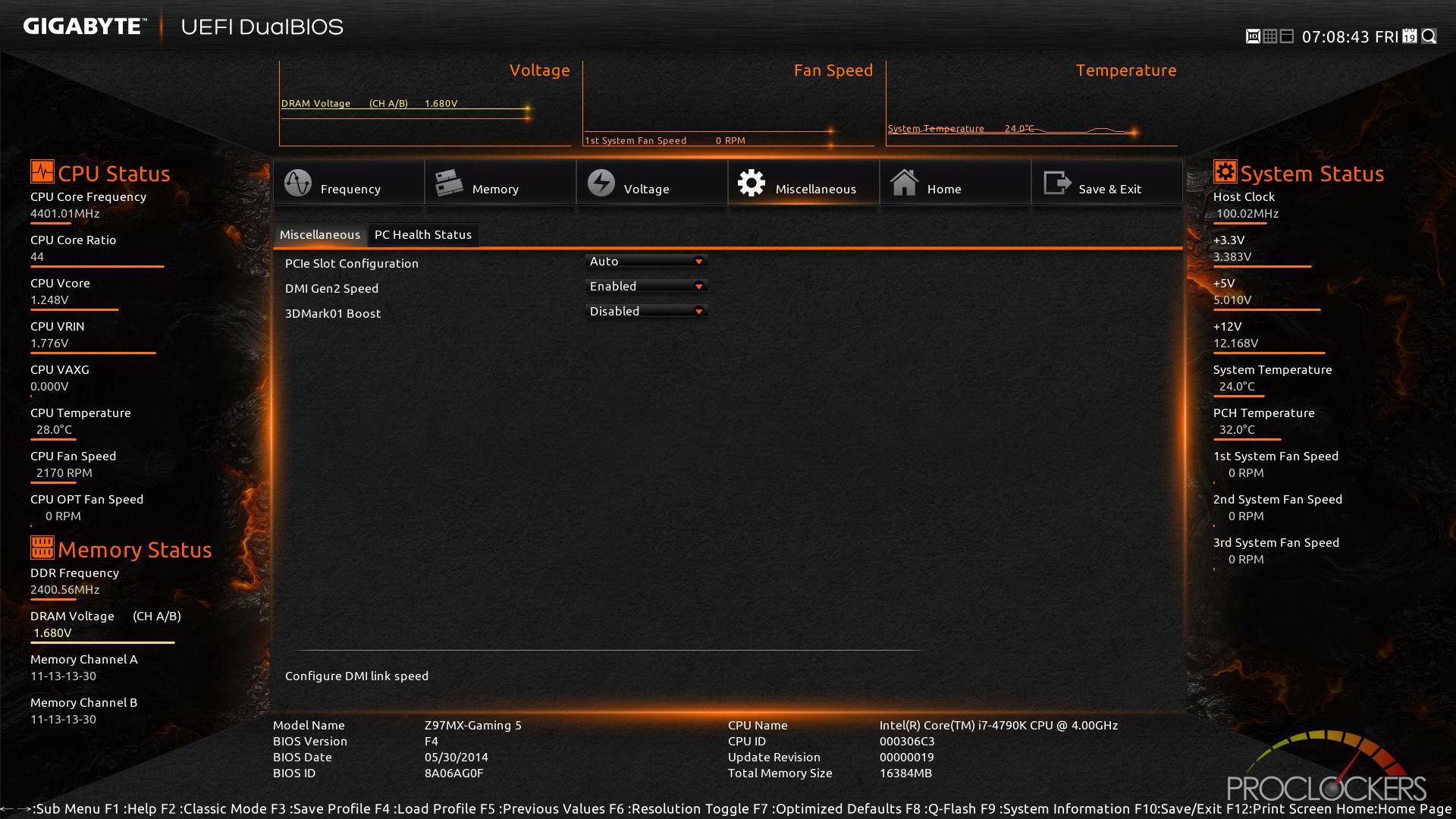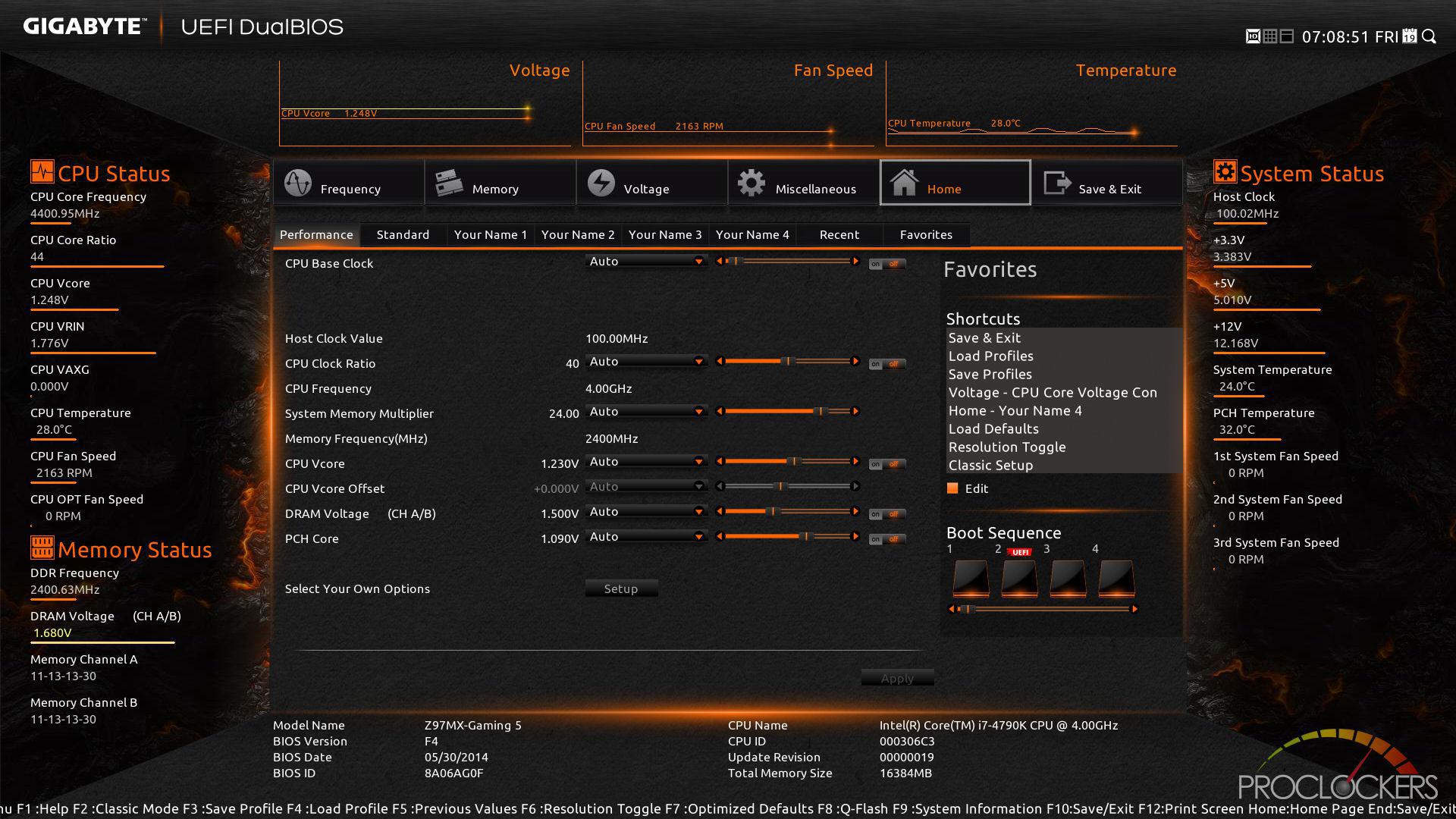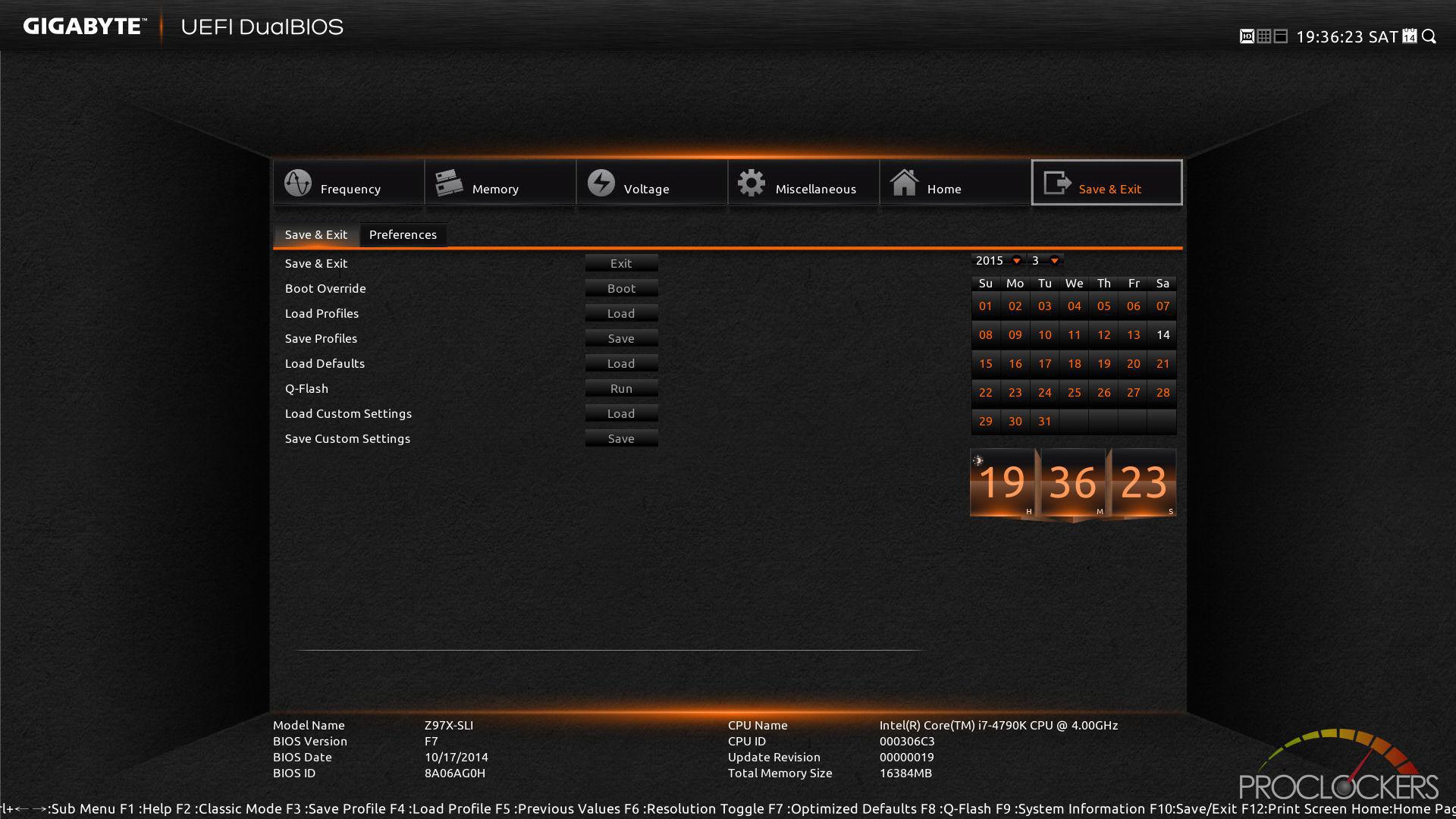 UEFI BIOS is where all the overclocking action really happens. Every imaginable setting for clock speed or voltage is available, for both the CPU and the memory. Multiple profiles can be saved and named. Recent settings can be recalled. There is even a search feature included, to assist in finding any setting needed.
I found the BIOS to be flexible and easy to use. I did not have any difficulty finding the settings that I wanted to change and everything seemed to be logically laid out. The included search feature is a great additional and very helpful.
Software
Gigabyte has unified their included utility software under what is called APP Center. APP Center is a one stop source area for almost every setting and feature the Z97X-SOC has to offer.

The APP Center is controlled by a menu that is nested in the lower right hand corner of the desktop.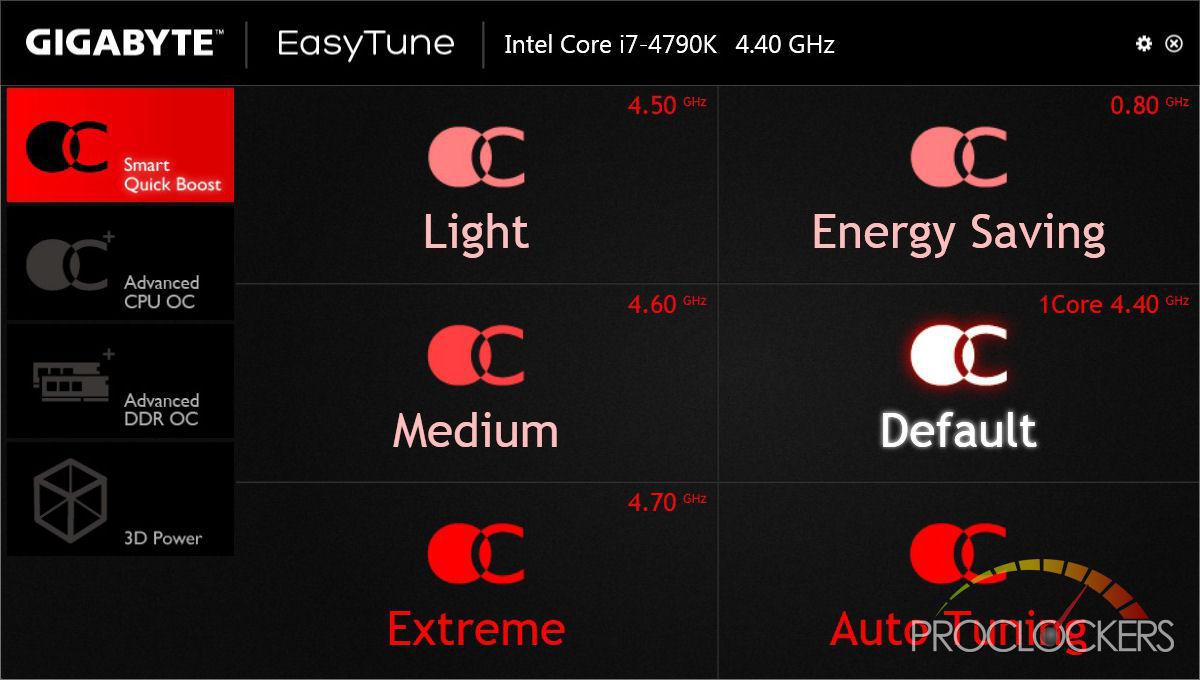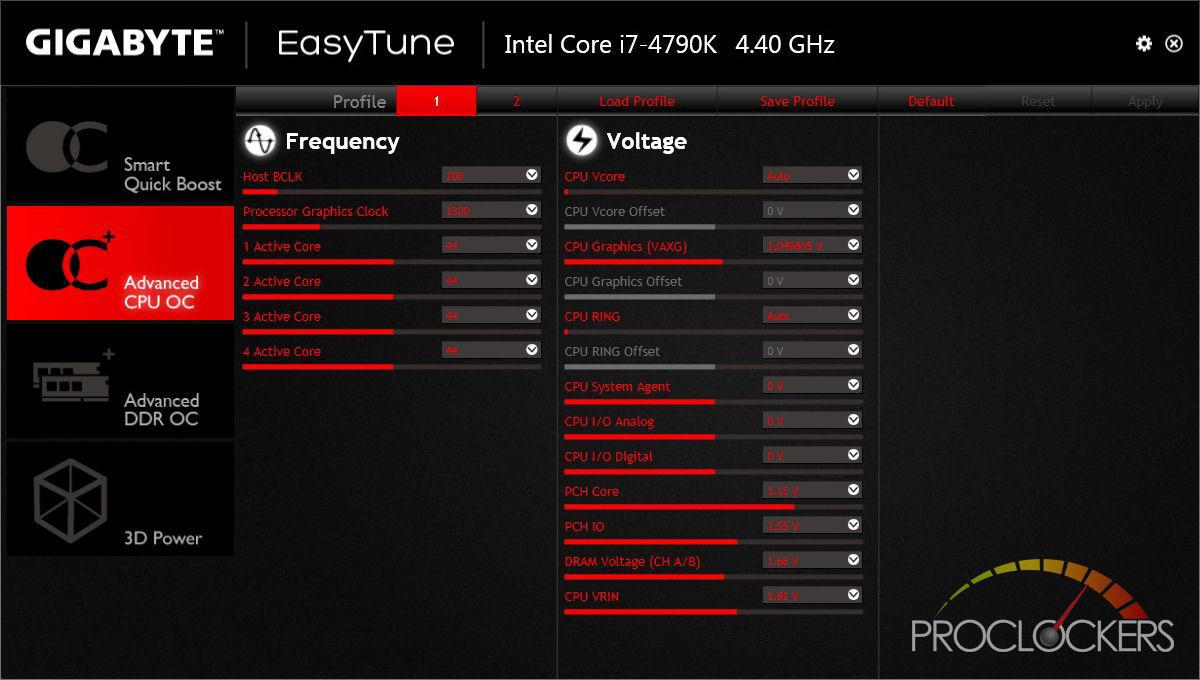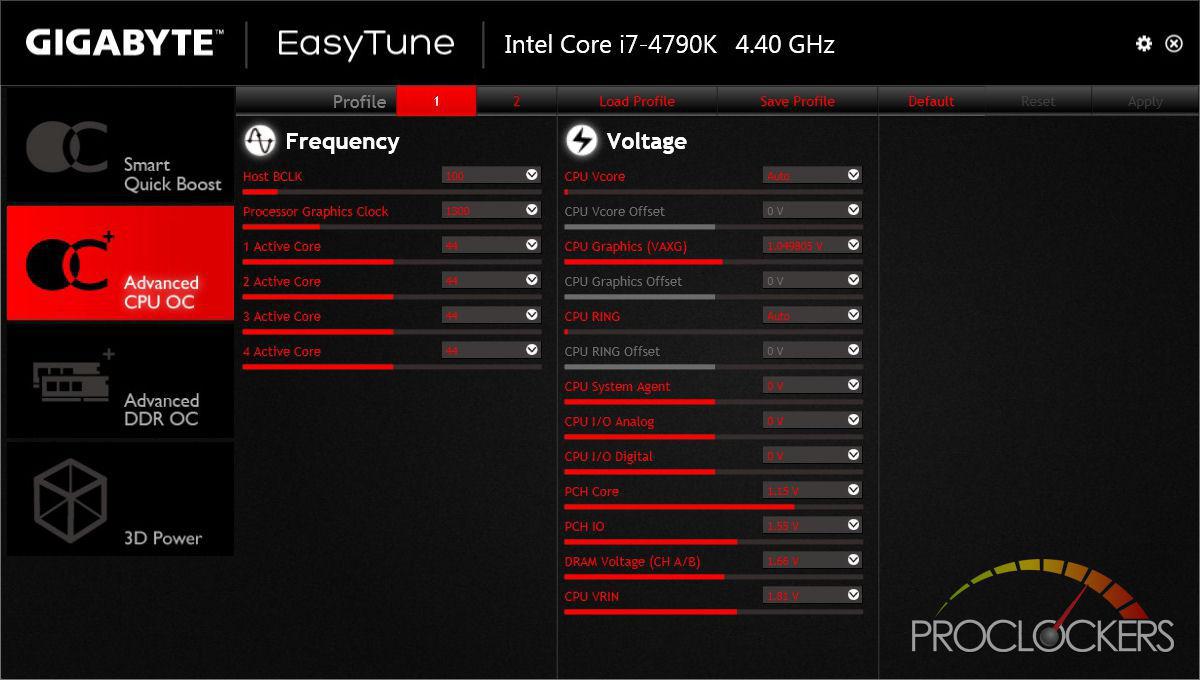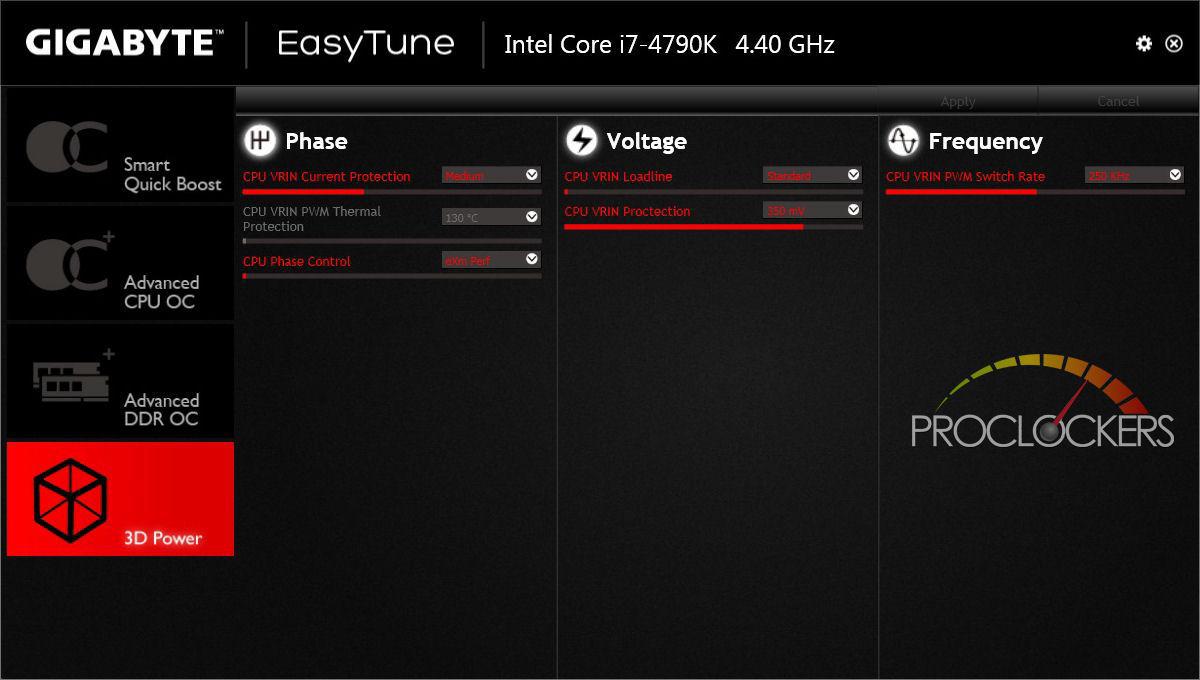 The EasyTune application gives you full control over all the major aspects overclocking. There are 2 profiles that can be loaded, edited, and saved. I found this application to be partially useful when I overclocked the CPU.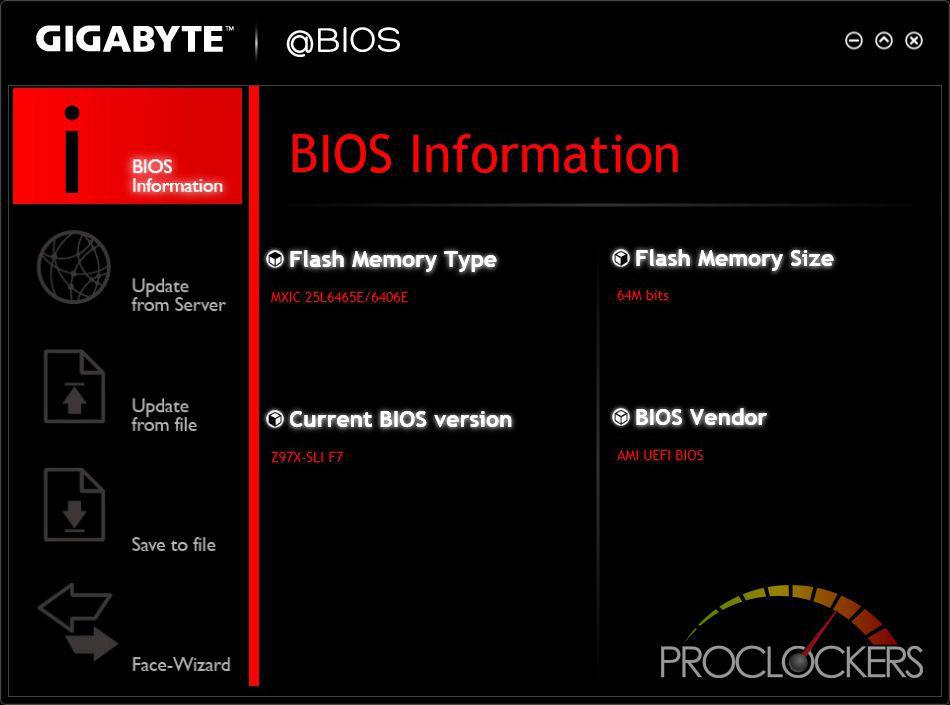 The BIOS Information application allows viewing of the current BIOS, as well as updating the BIOS from inside Windows.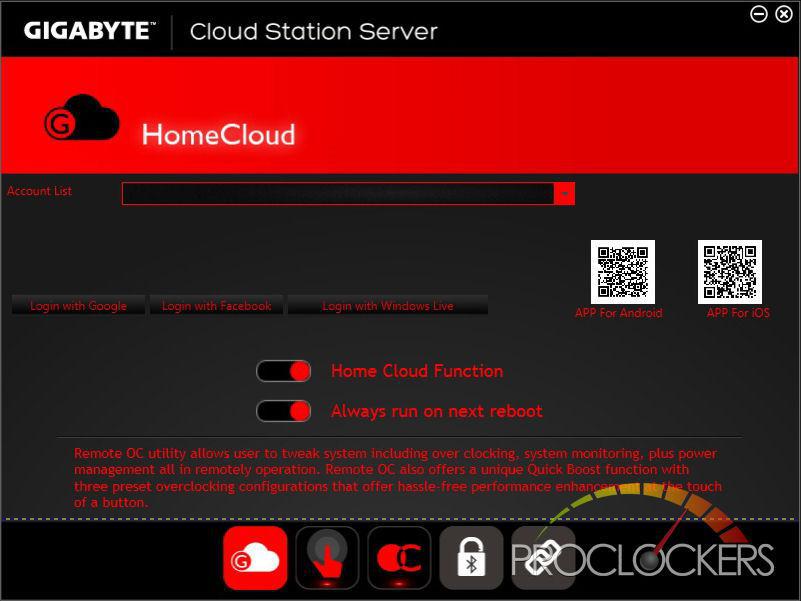 Home Cloud is an application allows overclocking, tweaking, system monitoring, and power management from a Google Android or Apple iOS device.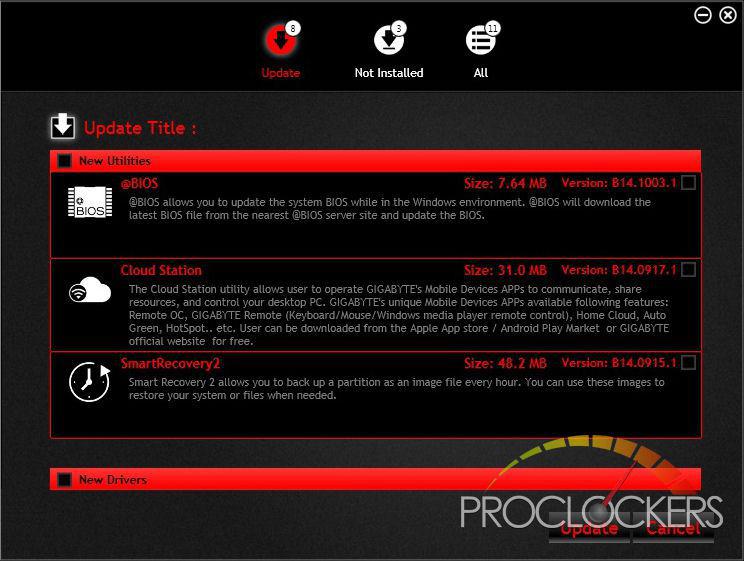 An Update application keeps track of all the APP Center software and motherboard drivers. If either have an available update it is listed and downloadable from inside the application.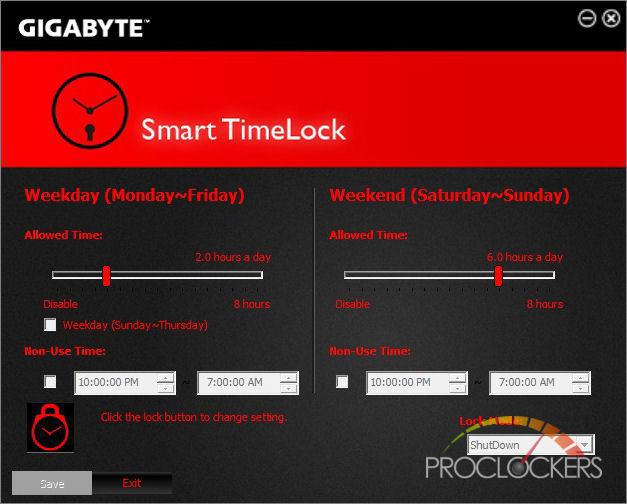 Smart TimeLock allows you to effectively manage computer or Internet usage time with simple rules and options.
Smart Recovery 2 allows you to back up a partition as an image file every hour. You can use these images to restore your system or files when needed.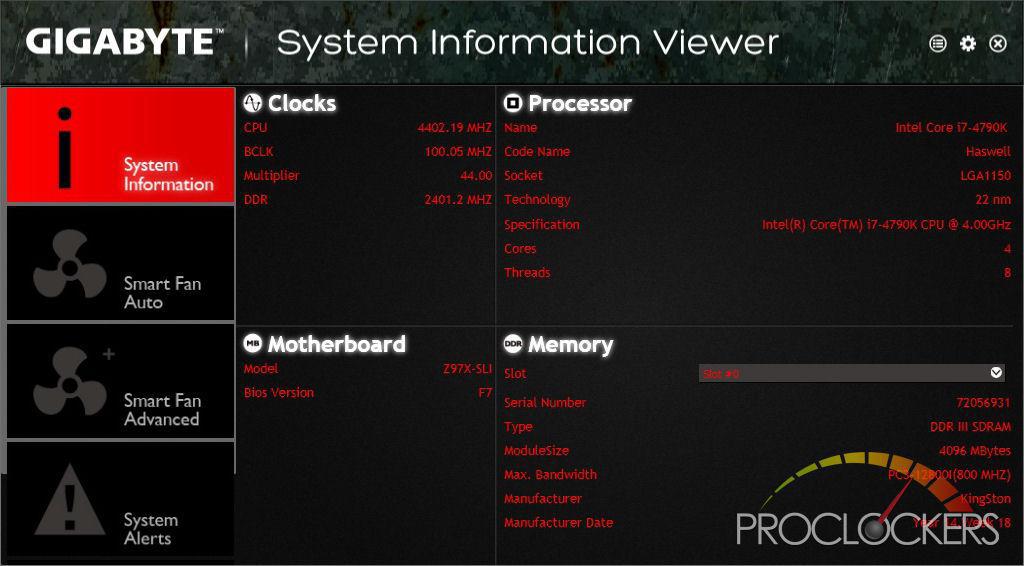 System Information Viewer allows you to monitor and adjust the fan speed in the operating system. You can also display the hardware monitor information on the desktop to view the system status at any time.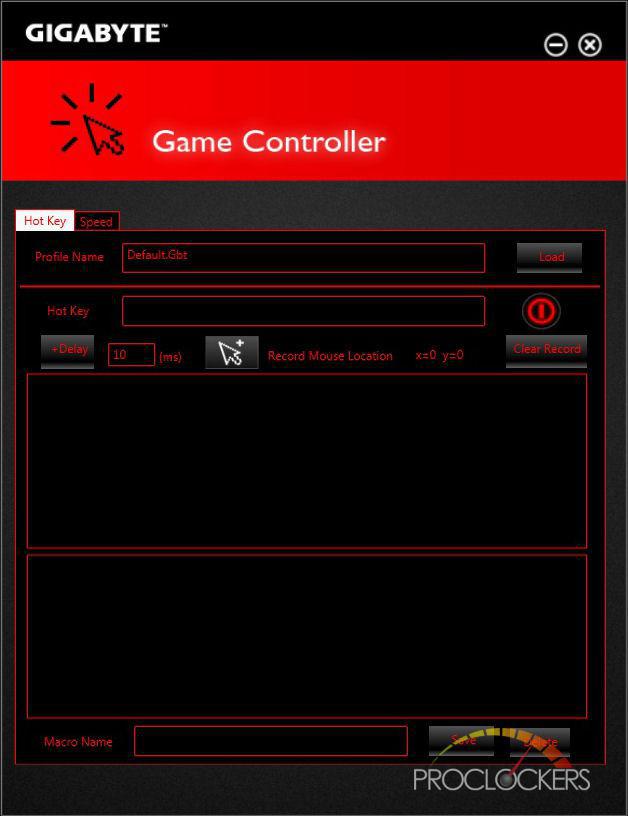 Game Controller allows creating custom keyboard profiles for use in game.
USB Blocker provides you with an easy-to-use interface that allows you to block certain USB device types on your PC. Devices classes that are blocked will be ignored by the operating system.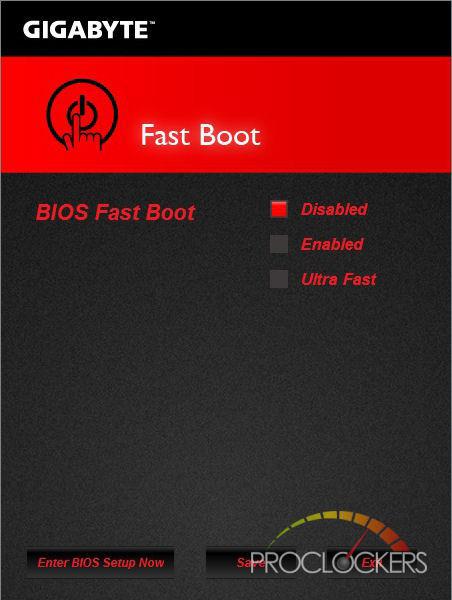 Fast Boot can enable or change the Fast Boot or Next Boot After AC Power Loss settings right in the operating system.
Now onto Performance Testing.
Performance Testing
General Performance Testing
All performance testing was done with the i7 4790K clocked to 4.0 Ghz. The PowerColor Radeon R9 285 TurboDuo was clocked with +20 MHz on the core and +25MHz on the memory. This was done to match the clocks of the Sapphire Dual-X R9 285 OC we've previously used for motherboard testing and to ensure consistency in the scoring. The Kingston HyperX Beast memory was set to XMP Profile 1. Games where ran at a resolution of 1920 x 1080 and higher settings enabled.
PCMark 8
"Use the PCMark 8 Storage benchmark to test the performance of SSDs, HDDs and hybrid drives with traces recorded from Adobe Creative Suite, Microsoft Office and a selection of popular games. You can test the system drive or any other recognized storage device, including local external drives. Unlike synthetic storage tests, the PCMark 8 Storage benchmark highlights real-world performance differences between storage devices."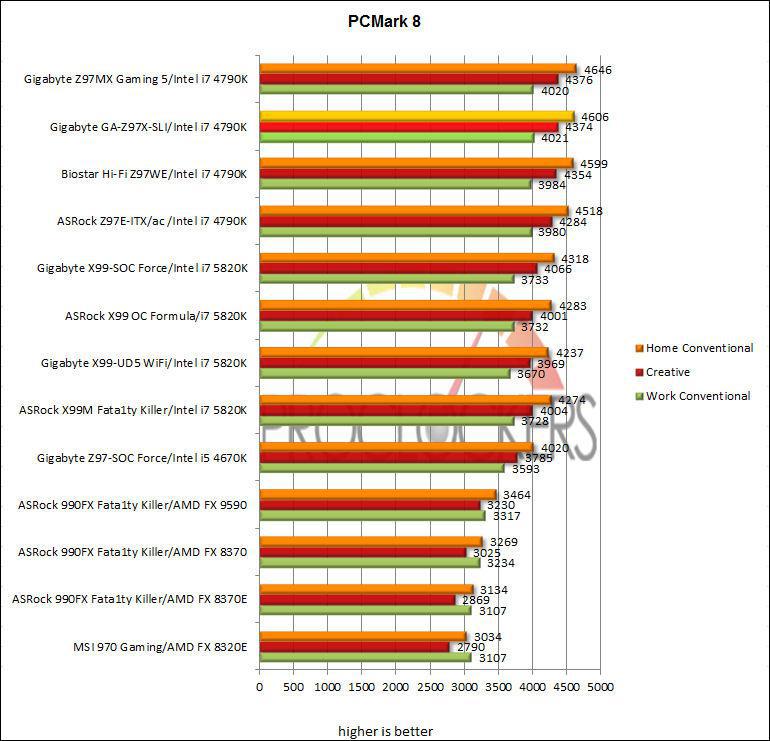 The PCMark 8 Storage scores are about average for your typical Z97 motherboard with an i7. This is not surprising though. Small differences in speed in some areas are averaged out in the final score. What this really shows us is the Z97X-SLI is a capable motherboard.
Super PI Modded 1.5
"In August 1995, the calculation of pi up to 4,294,960,000 decimal digits was succeeded by using a supercomputer at the University of Tokyo. The program was written by D.Takahashi in collaboration with Dr.Y.Kanada at the computer center. This record should be the current world record. (Details are shown in the windows help.) This record-breaking program was ported to personal computer environment such as Windows NT and Windows 95. In order to calculate 33.55 million digits, it takes within 3 days with a Pentium 90 MHz, 40 MB main memory and 340 MB available storage."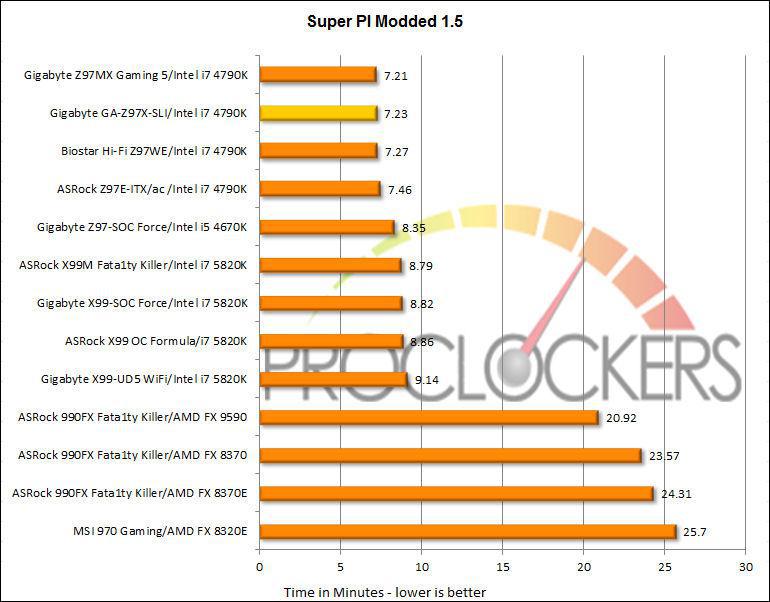 This is fantastic time. The Z97X-SLI scores the second fastest time of all the motherboards we have tested to date.
CPU Performance Testing
Fritz Chess
Fritz Chess is a benchmark in which a fictitious game of chess is played. As each move has to be calculated by the computer, it is an excellent test of CPU muscle.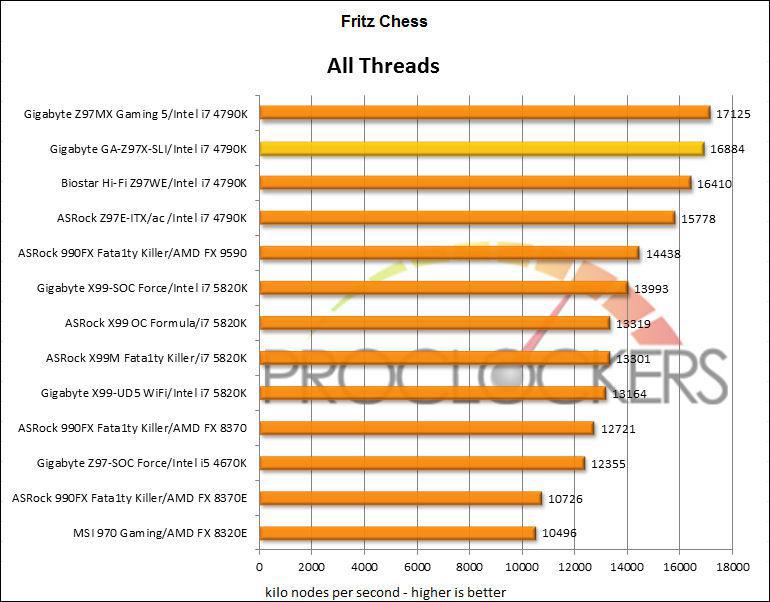 This also is another fantastic score. The Z97X-SLI is able to properly leverage the i7 4790K full muscle.
CINEBENCH R15
"CINEBENCH is a real-world cross platform test suite that evaluates your computer's performance capabilities. CINEBENCH is based on MAXON's award-winning animation software CINEMA 4D, which is used extensively by studios and production houses worldwide for 3D content creation. MAXON software has been used in blockbuster movies such as Iron Man 3, Oblivion, Life of Pi or Prometheus and many more.
CINEBENCH is the perfect tool to compare CPU and graphics performance across various systems and platforms (Windows and OS X). And best of all: It's completely free."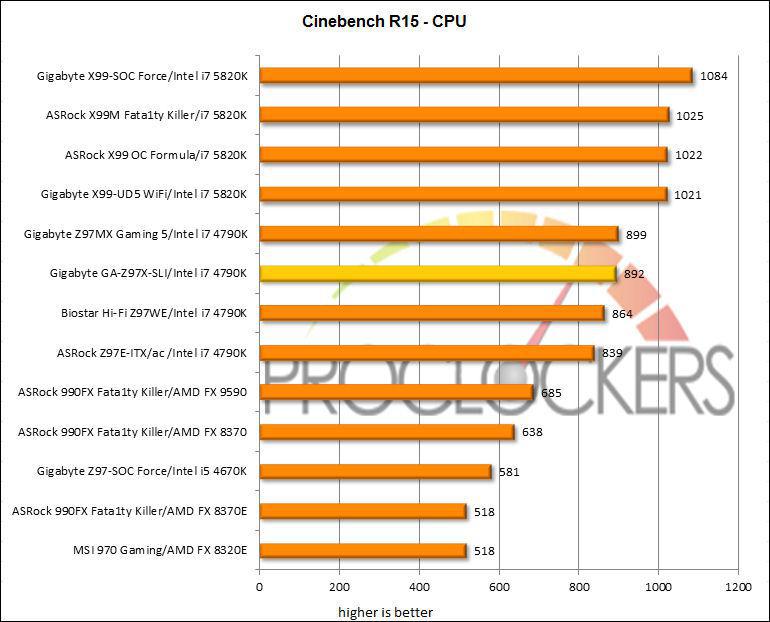 The Z97X-SLI has no issues outscoring the the AMD base systems, though it is a bit behind the i7 5820K.
7-Zip
The benchmark shows a rating in MIPS (million instructions per second). The rating value is calculated from the measured speed, and it is normalized with results of Intel Core 2 CPU with multi-threading option switched off. So if you have modern CPU from Intel or AMD, rating values in single-thread mode must be close to real CPU frequency. There are two tests, compression with LZMA method and decompression with LZMA method. Once the total passes reaches 100, the score is taken.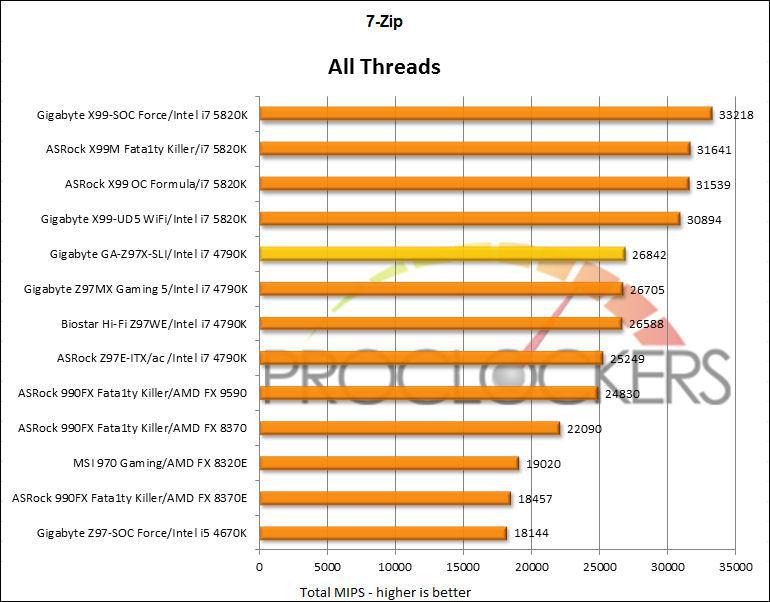 The combination of the i7 4790K and the Z97X-SLI motherboard make for a very powerful combination.
Memory Performance Testing
AIDA64 Engineer Edition
"FinalWire Ltd. today announced the immediate availability of AIDA64 Extreme Edition 1.50 software, a streamlined diagnostic and benchmarking tool for home users; and the immediate availability of AIDA64 Business Edition 1.50 software, an essential network management solution for small and medium scale enterprises. The new AIDA64 update implements AVX-optimized benchmarks for the upcoming Intel Sandy Bridge processors, adds a brand new video encoding benchmark, and supports the latest AMD and Nvidia graphics processors."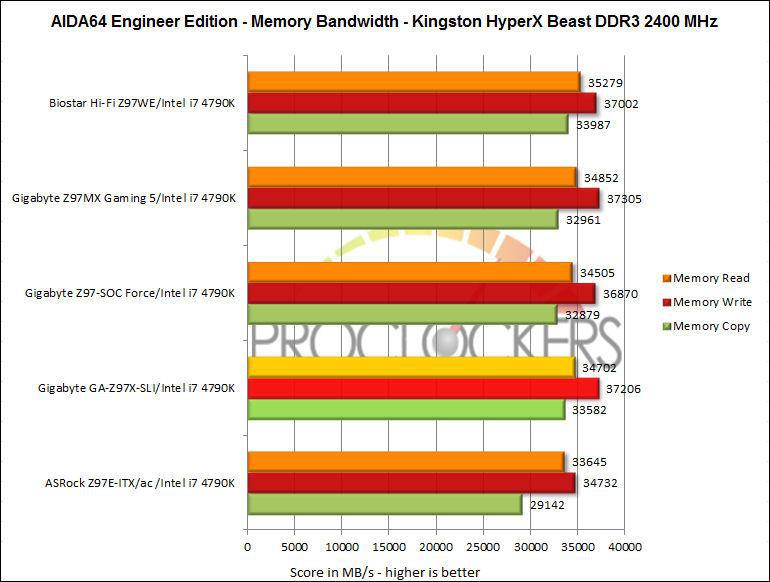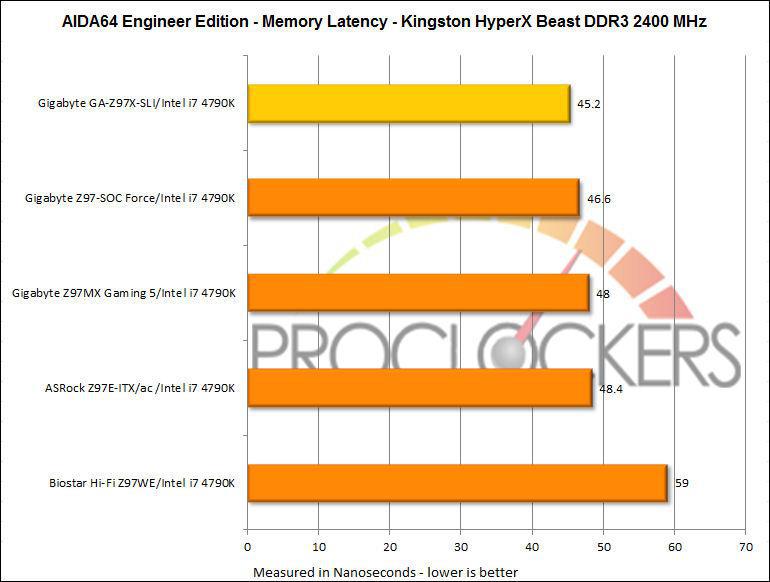 Passmark Performance Test – Memory Mark – Threaded
"Fast, easy to use, PC speed testing and benchmarking. PassMark PerformanceTest ™ allows you to objectively benchmark a PC using a variety of different speed tests and compare the results to other computers."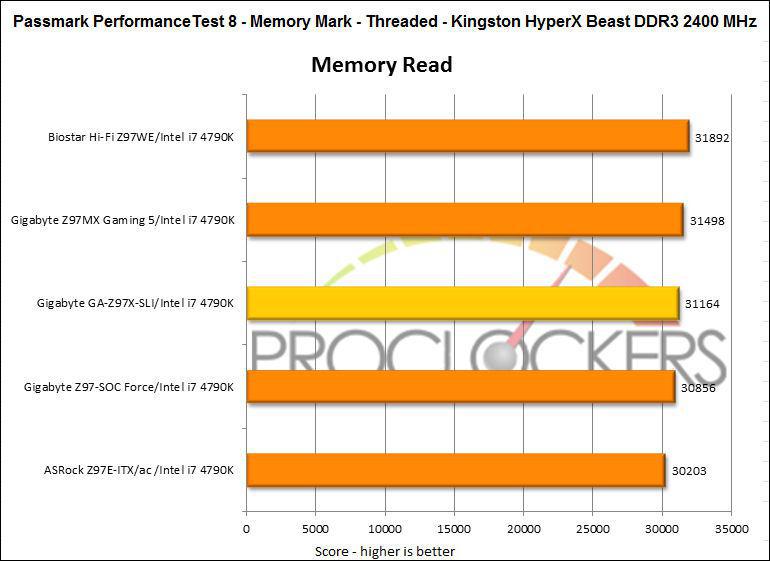 SiSoft Sandra
"SiSoftware Sandra provides a robust package of diagnostic tools for testing your system and teasing out its problems–or potential headaches."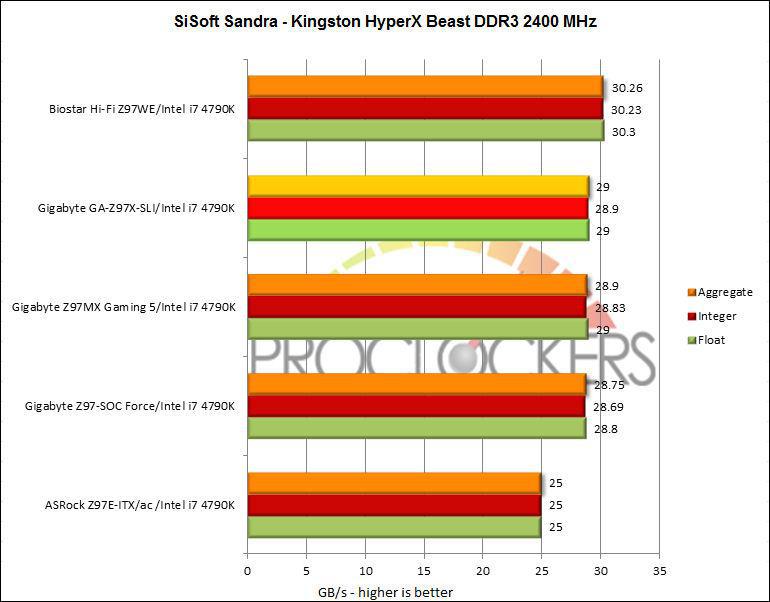 Storage Testing
ATTO Disk Benchmark
"As the industry's leading provider of high-performance storage & network connectivity products, ATTO has created a widely-accepted Disk Benchmark freeware utility to help measure storage system performance. As one of the top tools utilized in the industry, Disk Benchmark identifies performance in hard drives, solid state drives, RAID arrays as well as connections to storage. Top drive manufacturers, like Hitachi, build and test every drive using the ATTO Disk Benchmark"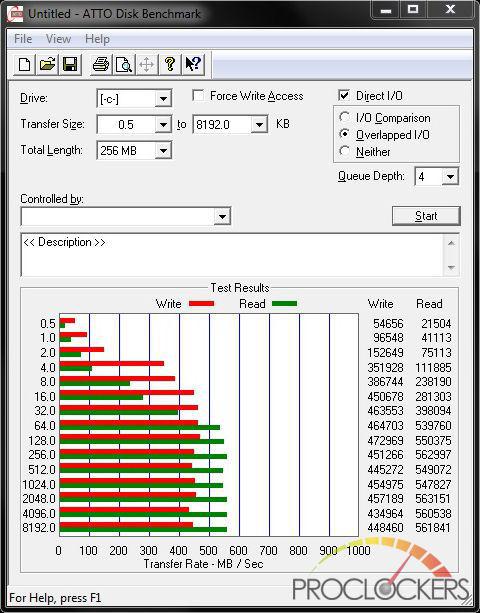 SATA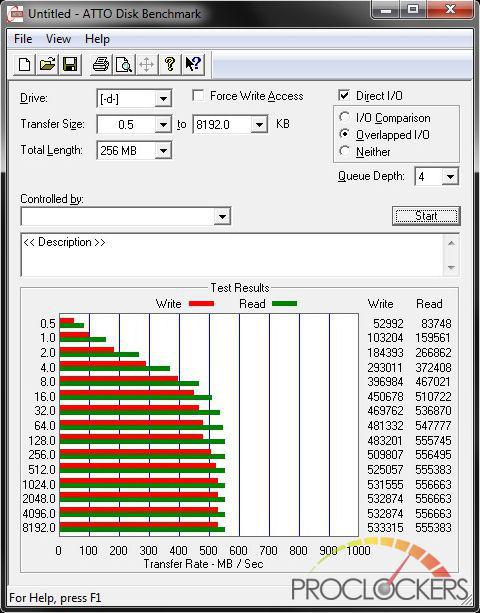 M.2
This is almost a dead match for most of the other Z97 motherboard we have tested.
CrystalDiskMark 3.0
"CrystalDiskMark is designed to quickly test the performance of your hard drives. Currently, the program allows to measure sequential and random read/write speeds."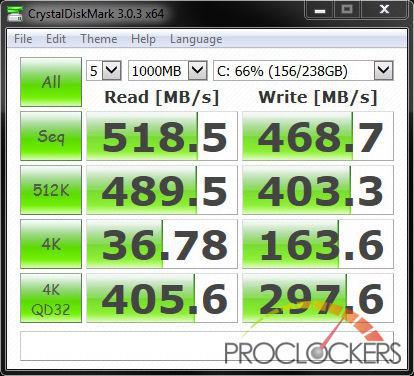 SATA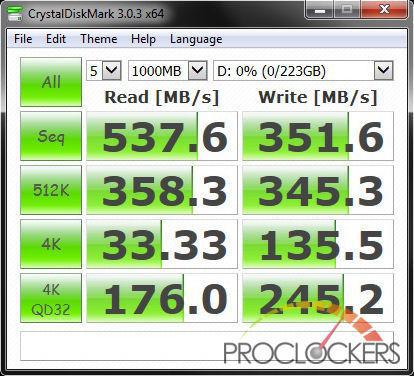 M.2
There does not seem to be any issues with SATA performance here.
AS SSD
"Test the sequential or random read/write performance without using the cache. AS SSD Benchmark reads/writes a 1 GByte file as well as randomly chosen 4K blocks. Additionally, it performs the tests using 1 or 64 threads and it determines the SSD's access time.
Two extra benchmark tests examine the drive's behavior when (1) copying a few big files, a lot of small files and a mixture of file sizes by using cached copy functions of your OS as well as (2) reading/writing data depending on the data's compressibility."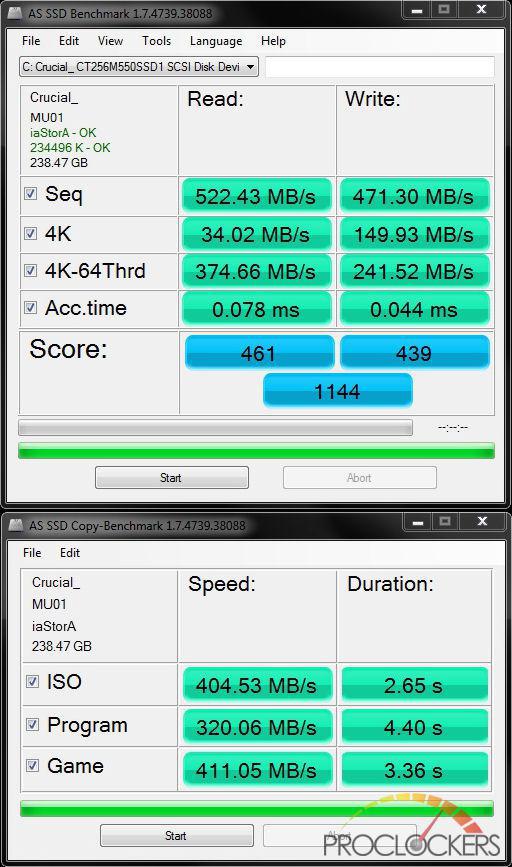 SATA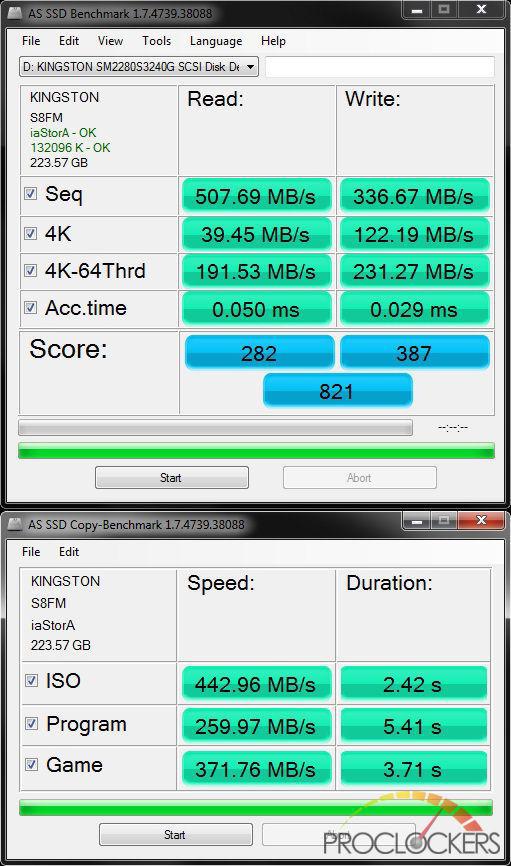 M.2
The Z97X-SLI scores here are among the best that I've seen from Haswell while using this drive.
Passmark Performance Test – Storage Mark
"Fast, easy to use, PC speed testing and benchmarking. PassMark PerformanceTest ™ allows you to objectively benchmark a PC using a variety of different speed tests and compare the results to other computers."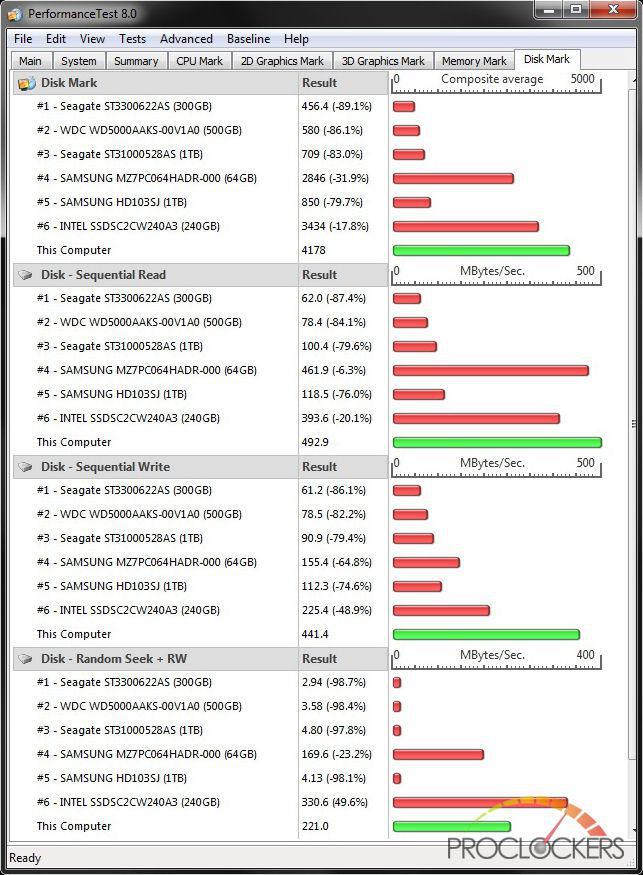 The test results from Passmark are almost exactly what was expected. Access times were very low and nothing looks out of place.
To the next page, gaming performance.
Performance Testing continued
Game Testing
3DMark – Firestrike
"The new 3DMark includes everything you need to benchmark your hardware. With three all new tests you can bench everything from smartphones and tablets, to notebooks and home PCs, to the latest high-end, multi-GPU gaming desktops. And it's not just for Windows. With 3DMark you can compare your scores with Android and iOS devices too. It's the most powerful and flexible 3DMark we've ever created.
Fire Strike is a showcase DirectX 11 benchmark designed for today's high-performance gaming PCs. It is our most ambitious and technical benchmark ever, featuring real-time graphics rendered with detail and complexity far beyond what is found in other benchmarks and games today"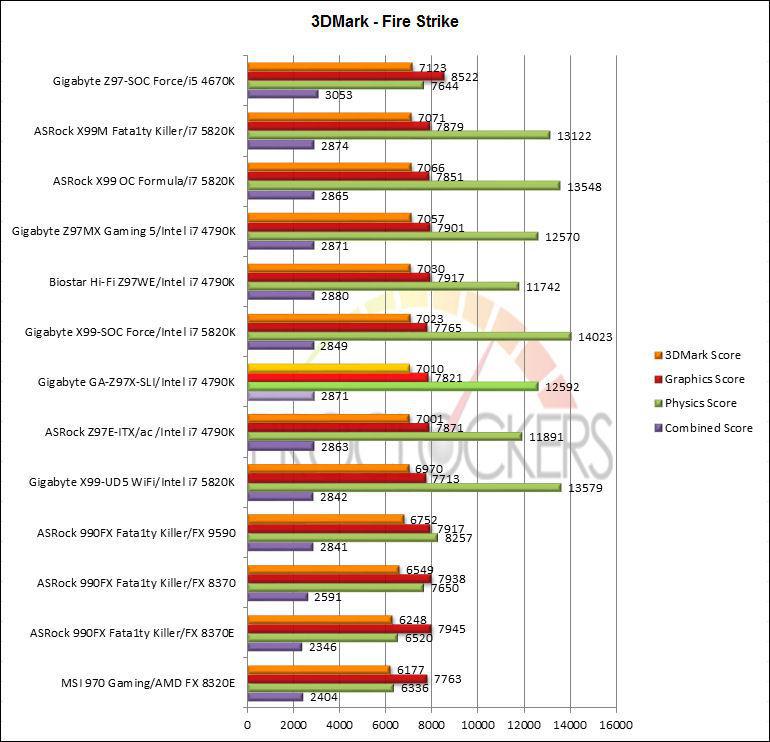 This score is quite good for this combination
Bioshock: Infinite
"Indebted to the wrong people, with his life on the line, veteran of the U.S. Cavalry and now hired gun, Booker DeWitt has only one opportunity to wipe his slate clean. He must rescue Elizabeth, a mysterious girl imprisoned since childhood and locked up in the flying city of Columbia."
Bioshock: Infinite, developed by Irrational Games and published by 2K Games, is the third iteration of the Bioshock franchise. It uses the extremely popular Unreal 3 game engine and is one of the best looking games of 2013.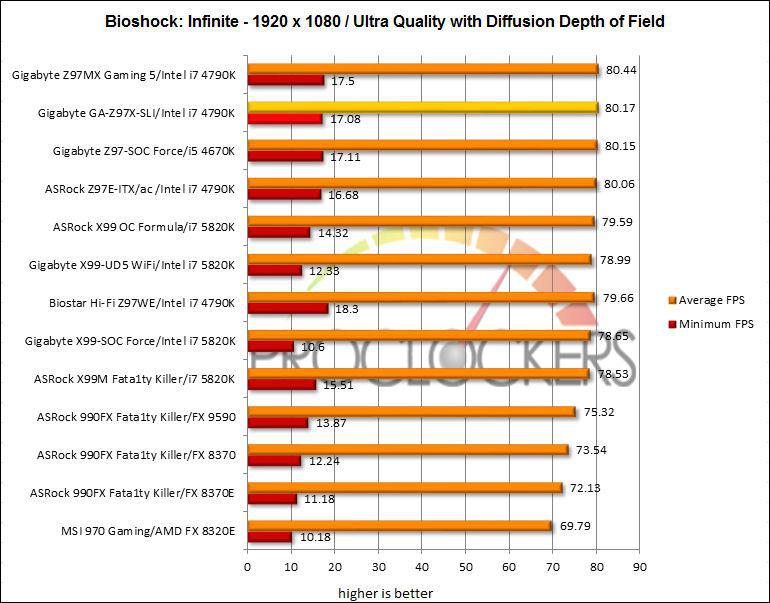 Metro: Last Light
"It Is the Year 2034. Beneath the ruins of post-apocalyptic Moscow, in the tunnels of the Metro, the remnants of mankind are besieged by deadly threats from outside – and within. Mutants stalk the catacombs beneath the desolate surface, and hunt a midst the poisoned skies above."
Developed by 4A games and published by Deepsilver, Metro: Last Light uses the 4A game engine. At it's highest settings, the 4A game engine is capable of bringing all but the most extreme gaming systems to their knees.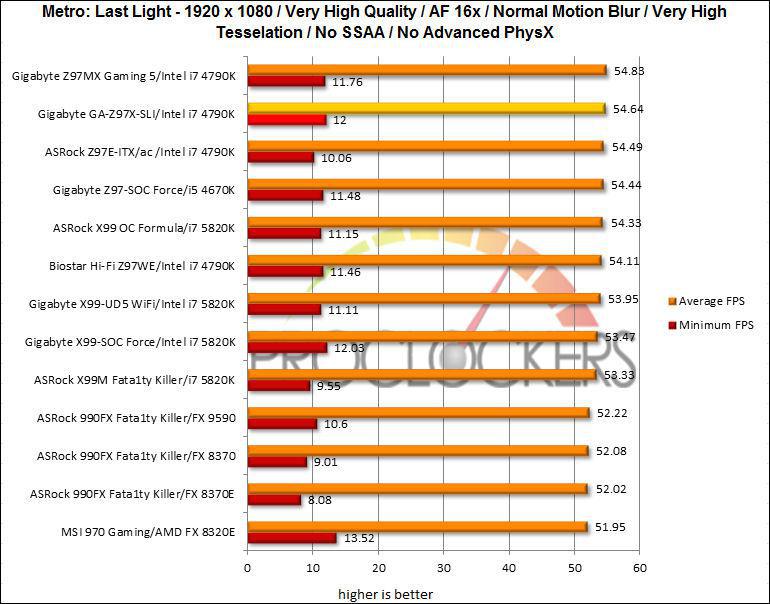 Thief
"Garrett, the Master Thief, steps out of the shadows into the City. In this treacherous place, where the Baron's Watch spreads a rising tide of fear and oppression, his skills are the only things he can trust. Even the most cautious citizens and their best-guarded possessions are not safe from his reach."
Thief was developed by Eidos-Montréal and published by SQUARE ENIX, Eidos Interactive. The newest game in our benchmark suite, Thief is also one of the most demanding and has the highest recommended system requirements. Those heavy requirements allow it to use the Unreal 3 game engine to great effect. It also features AMD's Mantle API, as well as Microsoft's common DirectX 11 API.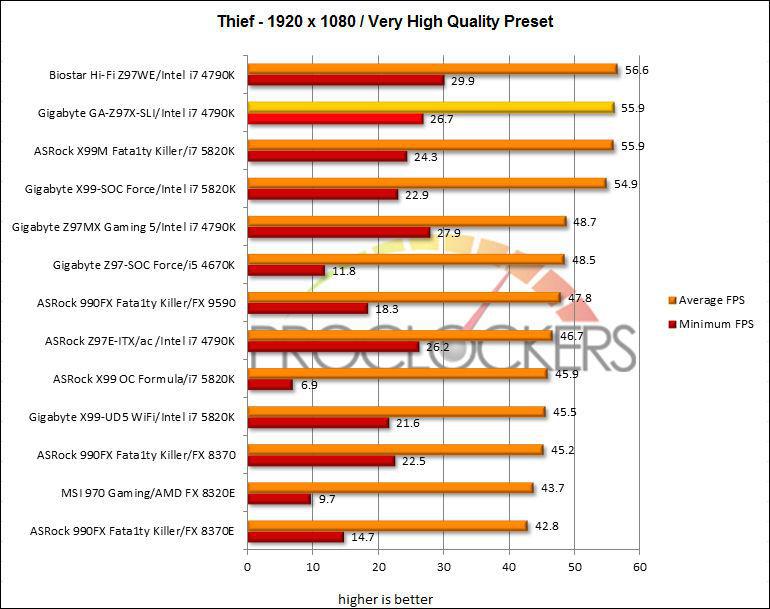 This score is a bit of an oddity. We changed display drivers since the last motherboard review. It could be that the new Catalyst drivers simply work a bit different with Thief than the previous drivers.
Tomb Raider
"Tomb Raider explores the intense and gritty origin story of Lara Croft and her ascent from a young woman to a hardened survivor. Armed only with raw instincts and the ability to push beyond the limits of human endurance, Lara must fight to unravel the dark history of a forgotten island to escape its relentless hold."
Tomb Raider was developed by Crystal Dynamics and published by SQUARE ENIX, Eidos Interactive. It features a modified version of the Crystal game engine and was the first game to integrate AMD's TressFX 2.0, which adds hair, fur and grass physics.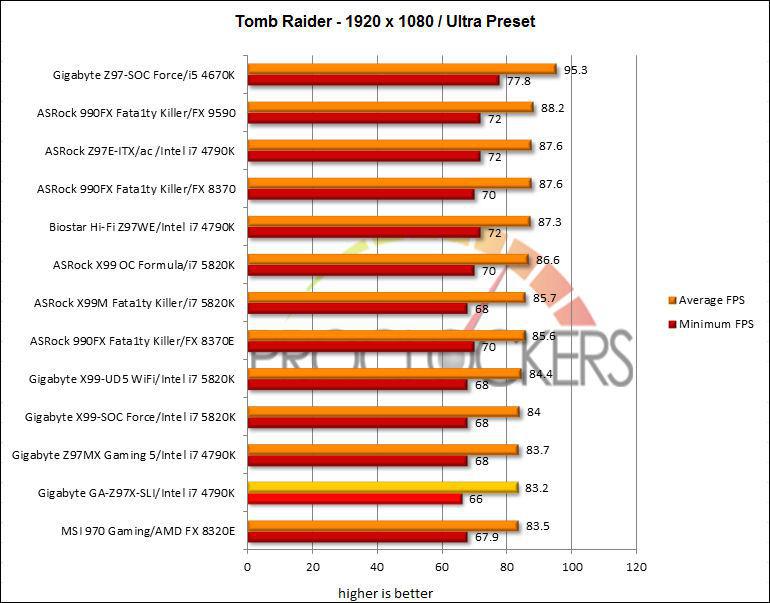 Again, the Tomb Raider Frame rates seem a bit low.
Overall, these games score show just how capable the Z97X-SLI is when matched with the i7 4790K's power. With the exception of the two oddities, that are more than likely do to the driver change, I found no issue with any of the game testing. Z97X-SLI would make a great foundation for a gaming build.
Overclocking
The Gigabyte Z97X-SLI is designed for gaming, but gamers like overclocking as well. I started out configuring the i7 4790K at its default settings.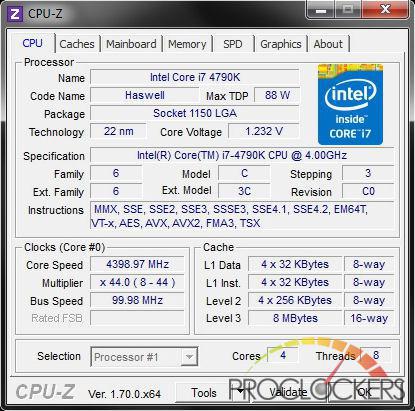 Once the default setting were in, it was now time to see how high I could push the CPU with our water cooling system and have it still be 100% stable. All cores and hyperthreaded were still enabled. The memory settings were entered manually, but at the XMP Profile 1 defaults. All setting were done from inside the BIOS.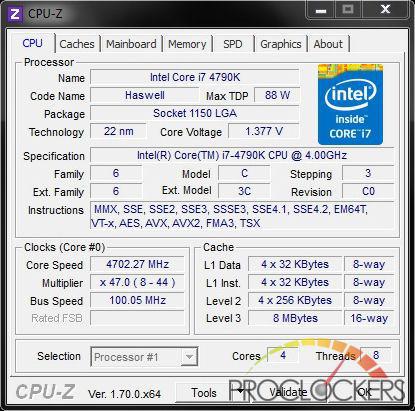 4.7 GHz is a good clock for a motherboard that is not designed specifically for overclocking. This was also done with a rather modest, for the clock speed, voltage of 1.377. Now it was time to see what is the highest validated speed the i7 4790K could achieve. This time the EasyTune software was used to fine tune the clock from inside Windows.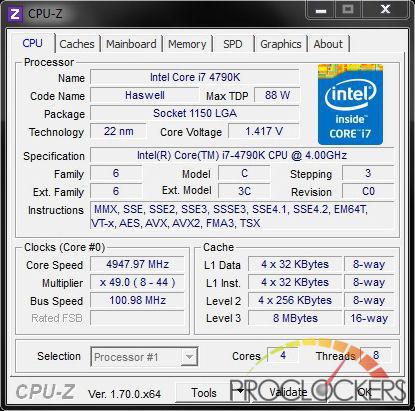 This is an outstanding clock. This time it reached just shy of 5 GHz!!! The system was relatively stable and had no issues validating the clock.
Let us conclude this review on the next page.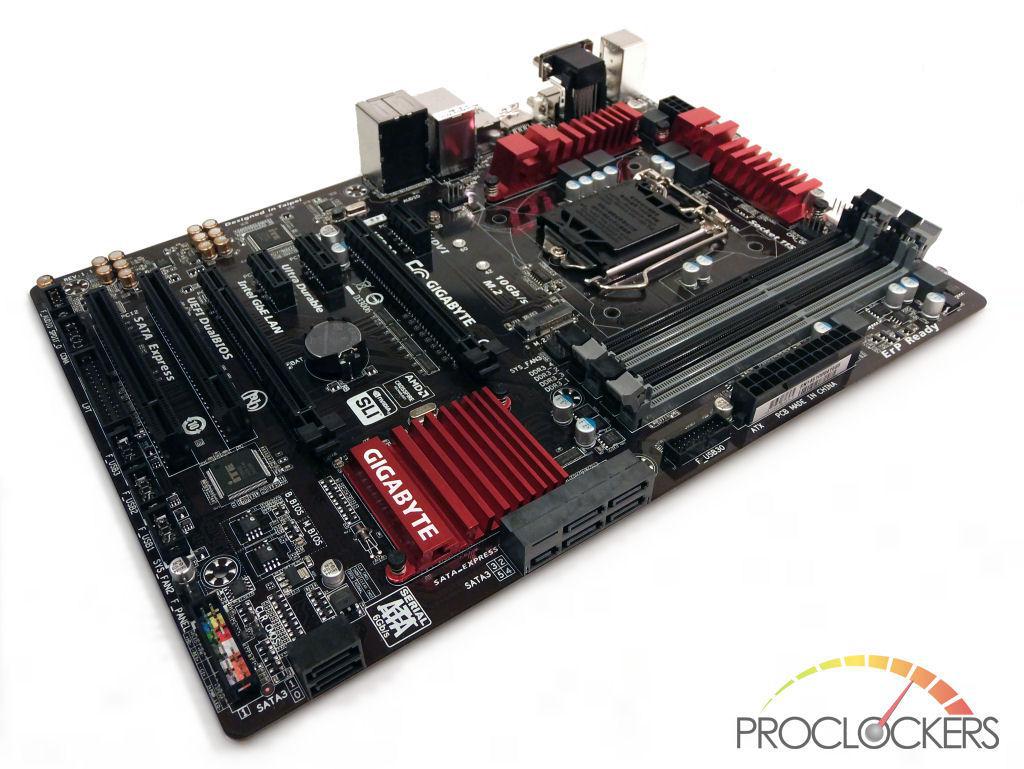 Final Thoughts and Conclusion
The Gigabyte Z97X-SLI continues the Ultra Durable legacy, but in a rather economical package. All the basics are there, like M.2 and SATA Express connectivity. The included software features a great design and is completely relevant to how the board might be used. The multi-GPU support is must have hardware on any gaming motherboard.
There is no doubting the overclocking ability of the Z97X-SLI either. A stable 4.7 GHz clock on the i7 4790K proves that. Throughout the testing the Z97X-SLI showed average to above average scores time for the most part. I tried to find fault with the board, but there just wasn't any to be found. The layout is logically thought out. Not a single header, port, switch, or jack seems to be improperly placed.
The Gigabyte Z97X-SLI is commonly found as low as $129.99. This a fair price for a motherboard of the caliber.

Likes
Great Overclocking Features and Ability
Well Thought Out Software Package
Logical Layout
Very Reasonable Price
Dislikes

<![CDATA[ */ var zbjs = {"ajaxurl":"https:\/\/gaminggorilla.com\/wp-admin\/admin-ajax.php","md5":"d8e8b24d2fa18d2999e0fddcdd418586","tags":[],"categories":["Hardware"]}; /* ]]>