Hardware Labs Black Ice Nemesis 240GTS Performance PC's Gloss Purple Edition Radiator Review
Introduction
Hardware Labs Performance Systems, Inc, is a pioneer in the computer watercooling industry. HWLabs was the first company to develop and manufacture the first radiators specifically designed for PC watercooling and is still the de facto benchmark in the business.
Their core philosophy remains to be the relentless pursuit of performance in the heat exchange industry, pushing the limits of design and engineering to provide our fellow enthusiasts and the industry with class-leading products and services.
Today we are taking a look at one of Hardware Labs newest products, Hardware Labs Black Ice Nemesis 240GTS radiator. The Black Ice Nemesis GTS is a continuation of the original GTS line. This Hardware Labs Black Ice Nemesis 240GTS is a bit different than the way it left the factory, it has been custom-painted by Performance PC's in Gloss Purple.
Hardware Labs' take on the Black Ice Nemesis 240GTS
The Black Ice® Nemesis® 240GTS® is designed for the professional casemod professional who takes a no compromise approach to performance, design, and build quality. Using the new Nemesis® platform makes it possible to take advantage of extreme triple-fan performance at ultra-stealth noise levels.
Performance PC's take on the Custom Painted Gloss Purple Edition
When that plain ole dreary black rad won't cut it, let us slap some paint on it!
Performance-PC's is proud to now offer the new Hardware Labs Black Ice Nemesis primered radiator line custom-painted in an assortment of colors in-house. For individual product model specs please see the individual radiator on the website for details.
Color choices:
Sunburst Yellow
Deep Blue ("Cool Blue")
Gloss Orange
Grabber Green ("Nvidia Green")
Gloss Purple
Please keep in mind we only spray the frame of the rad; not the fins and tubes which can hinder performance. If you don't see a color you're looking for available, we can pick up practically any color requested for additional cost. Please email Customer Service for details.
*Note: please keep in mind that this is rattle-can paint, and paint can scuff with little effort so please be careful when installing your rad; we are not responsible for damage to the finish once it's been shipped to you! May be slight delay in shipment due to required cure-time for paint; please understand this when ordering.
Let's take a closer look on the next page.
Packaging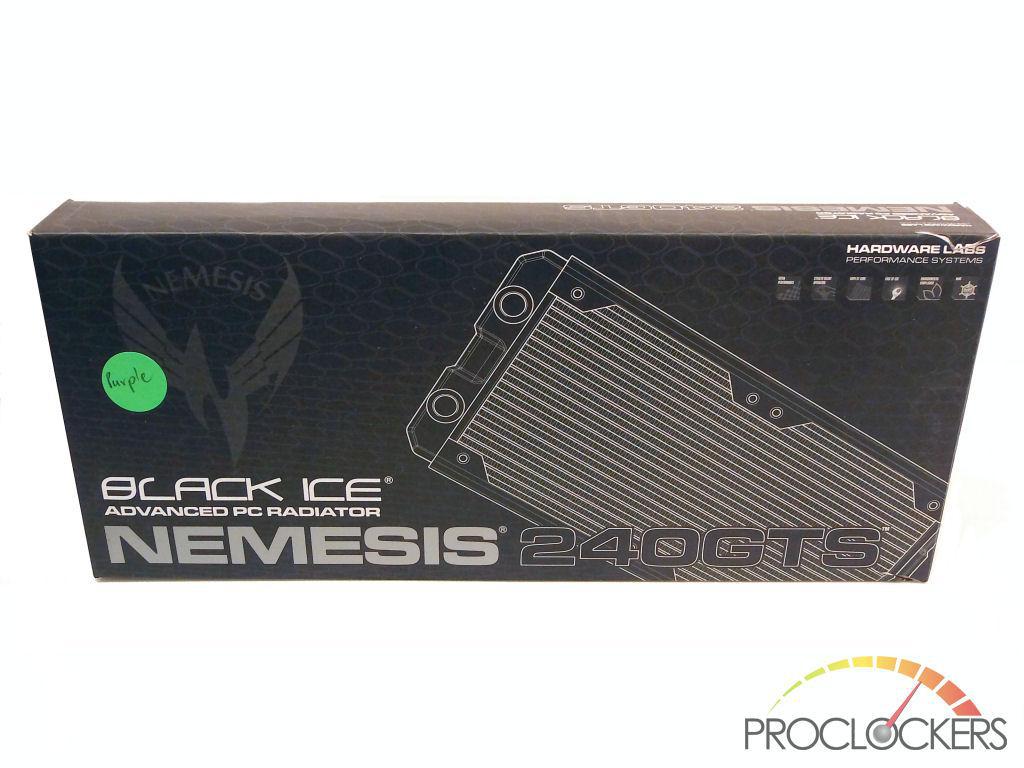 The Hardware Labs Black Ice Nemesis 240GTS comes in an understated black box with grey graphics. The only clue that there is something special in this particular box is the green stick on the left side.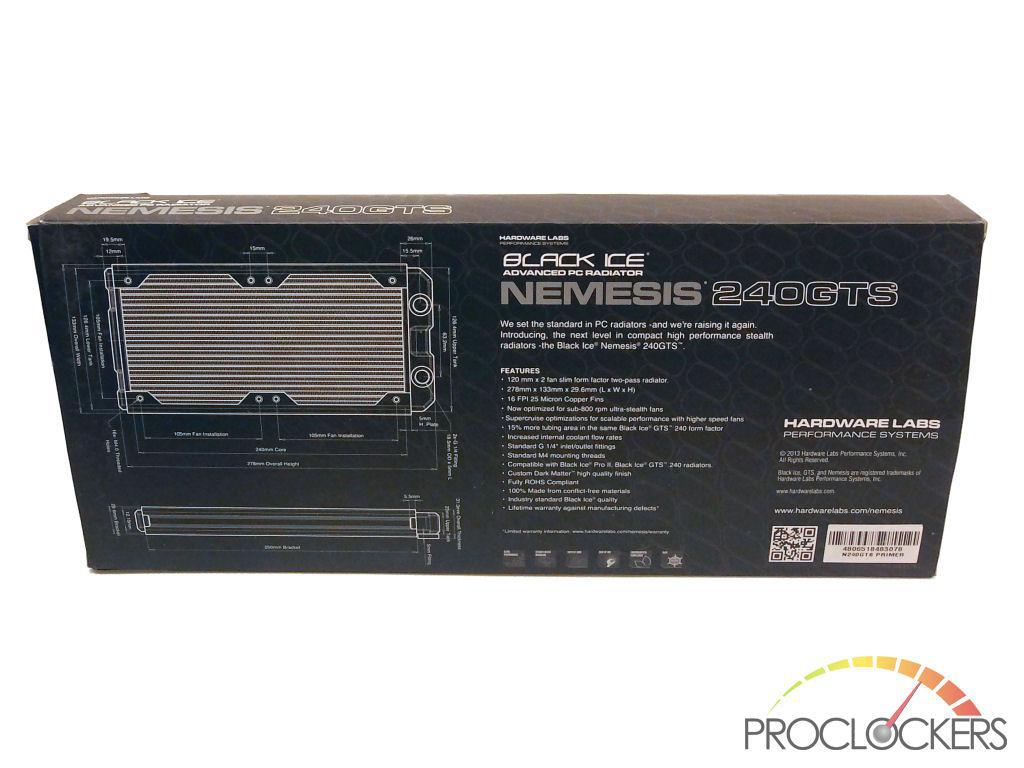 On the back is some highlights of the new radiator's features. Full dimensions are given as well.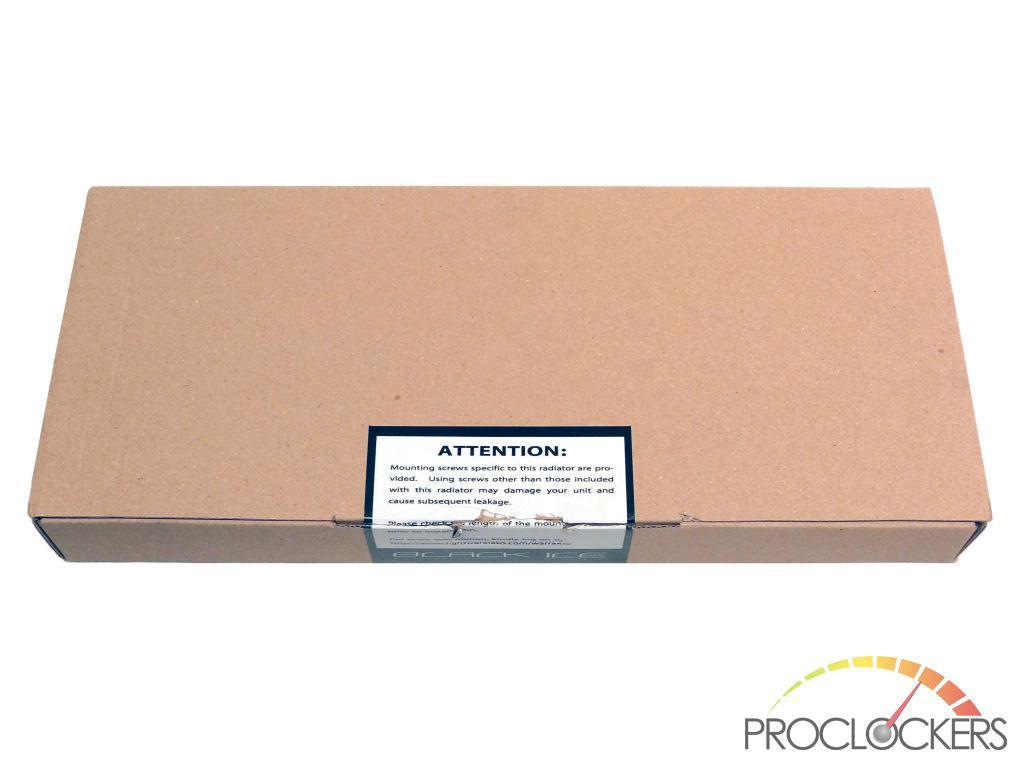 Once inside the box, we are greeted with another box.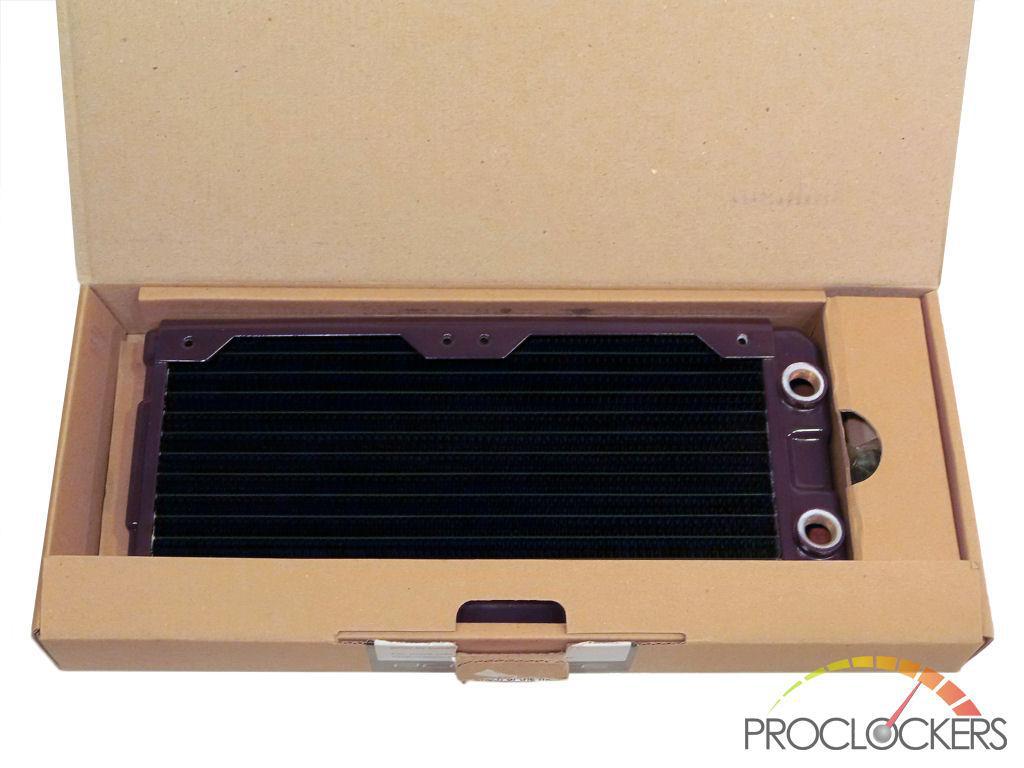 There is the purple we have been waiting for. The Black Ice Nemesis 240GTS is packed with multiple layers of protective cardboard.
Features
120 mm x 3 fan Xtreme form factor two-pass radiator
278mm x 133mm x 29.6mm (L x W x H)
16 FPI 25 Micron Copper Fins
Now optimized for sub-800 rpm ultra-stealth fans
Supercruise optimizations for scalable performance with higher speed fans
15% more tubing area in the same Black Ice® GTS™ 240 form factor
Increased internal coolant flow rates
Standard G 1/4″ inlet/outlet fittings
Standard M4 mounting threads
Compatible with Black Ice® Xtreme III, Black Ice® GTS™ 240 radiators
Custom Dark Matter™ high quality finish
Fully ROHS Compliant
100% Made from conflict-free materials
Industry standard Black Ice® quality
Lifetime warranty against manufacturing defects*
A Closer Look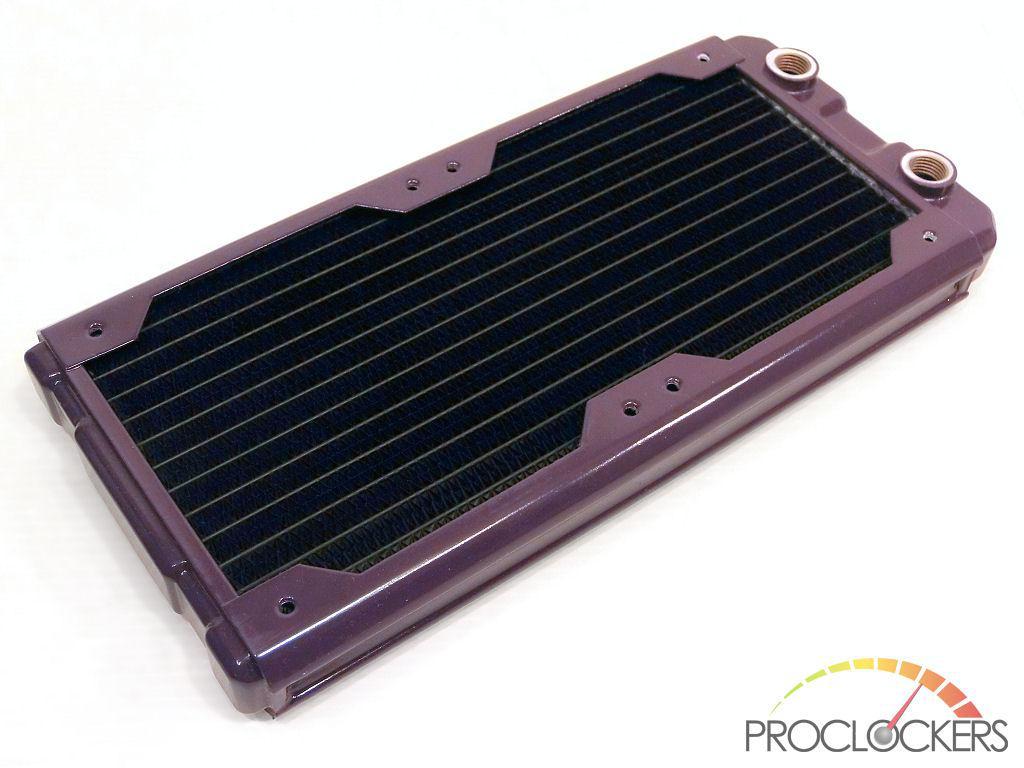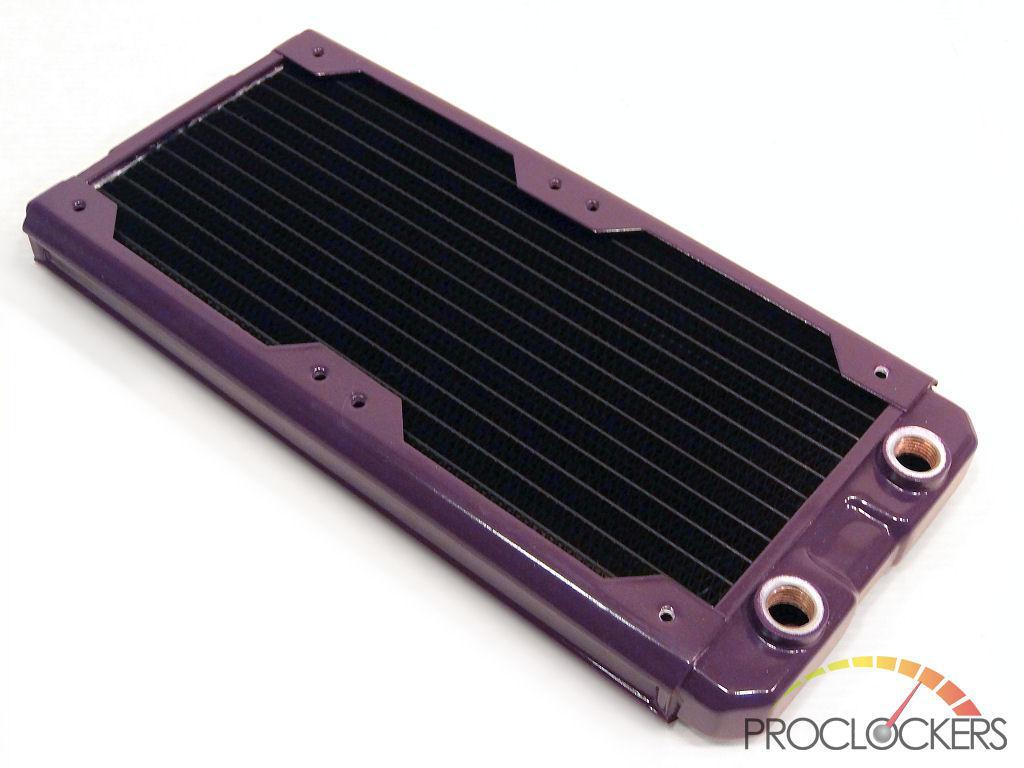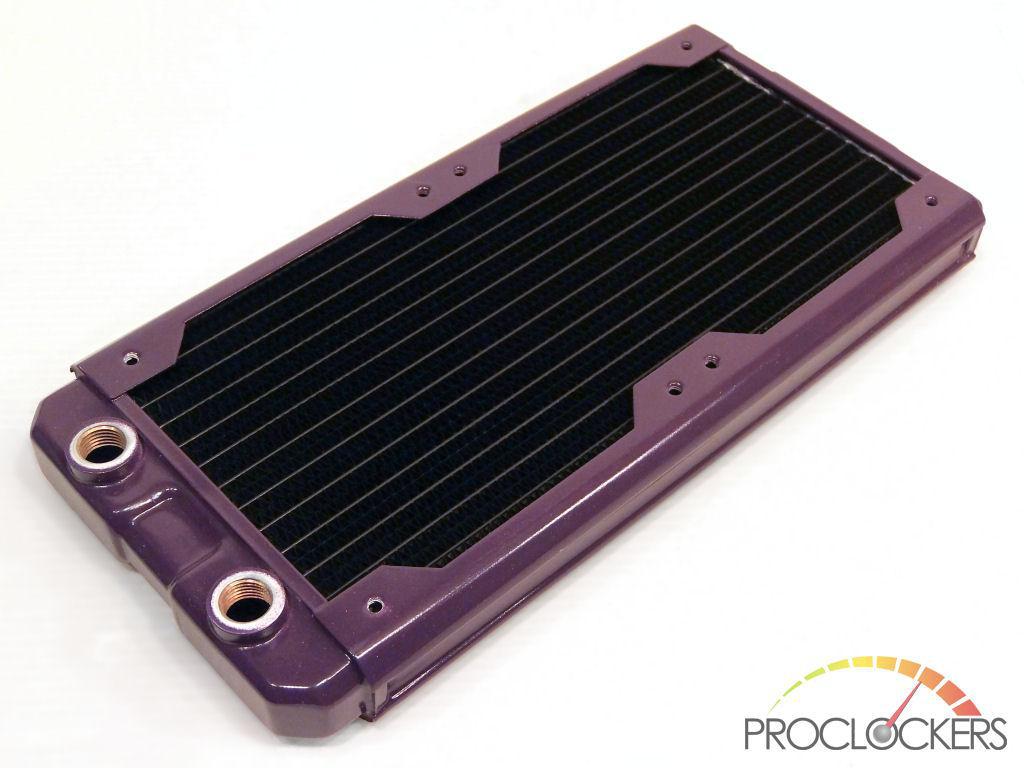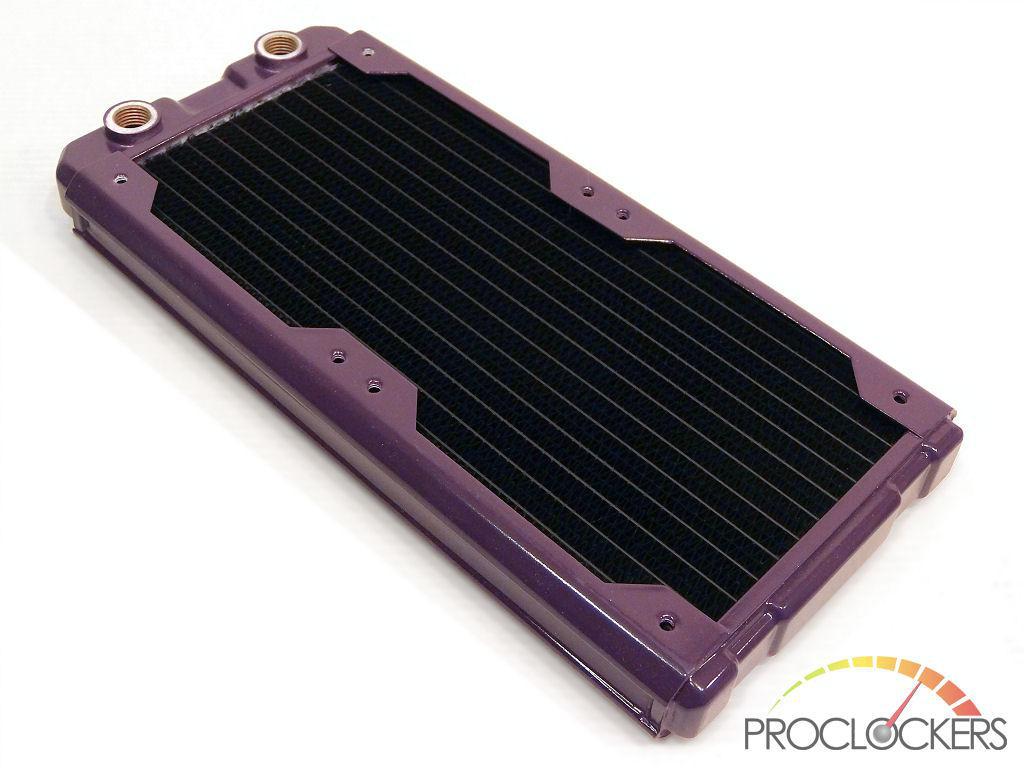 Performance-PC's currently offers the new Hardware Labs Black Ice Nemesis radiator line in custom-painted in five colors. We chose the Gloss Purple. Sunburst Yellow, Deep Blue ("Cool Blue"), Gloss Orange, and Grabber Green ("Nvidia Green") are also available.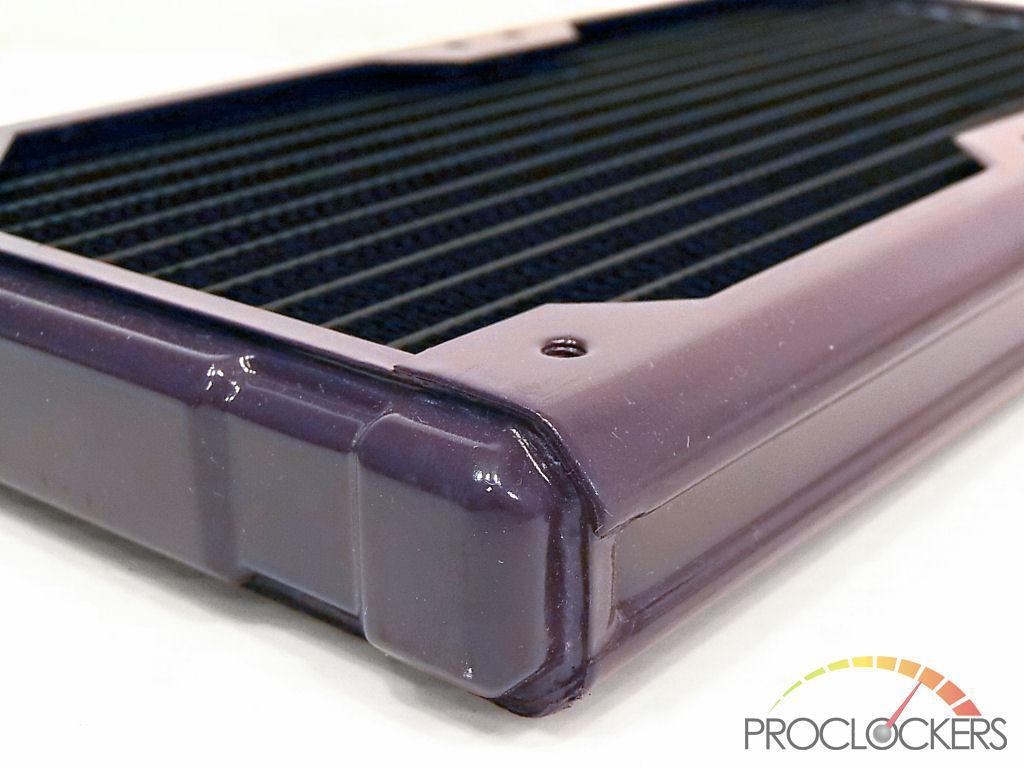 The are no names or logos anywhere on the radiator. The end tanks are made of brass.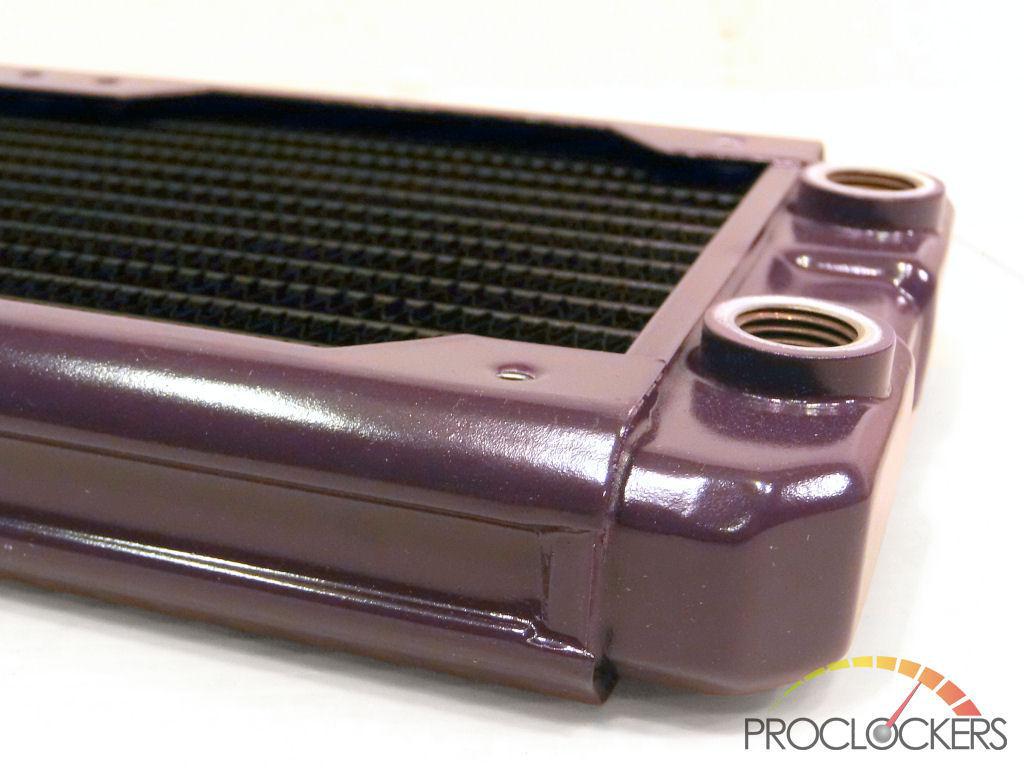 Our camera exaggerates every minor defect in the finish. The color has a rather nice gloss to it and actually looks far better than the camera shows.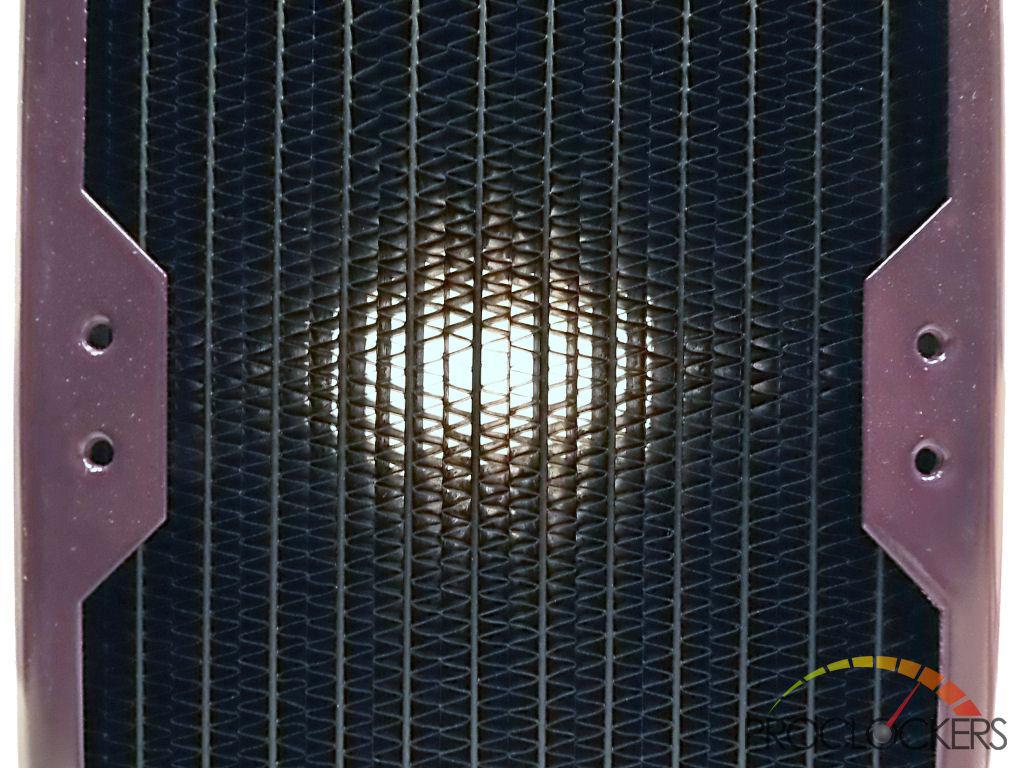 The fin density is 16 FPI, which is not extremely high. None tubes line up with the screw holes, so special care is not needed to ensure a screw is ran too deep or punctures a tube.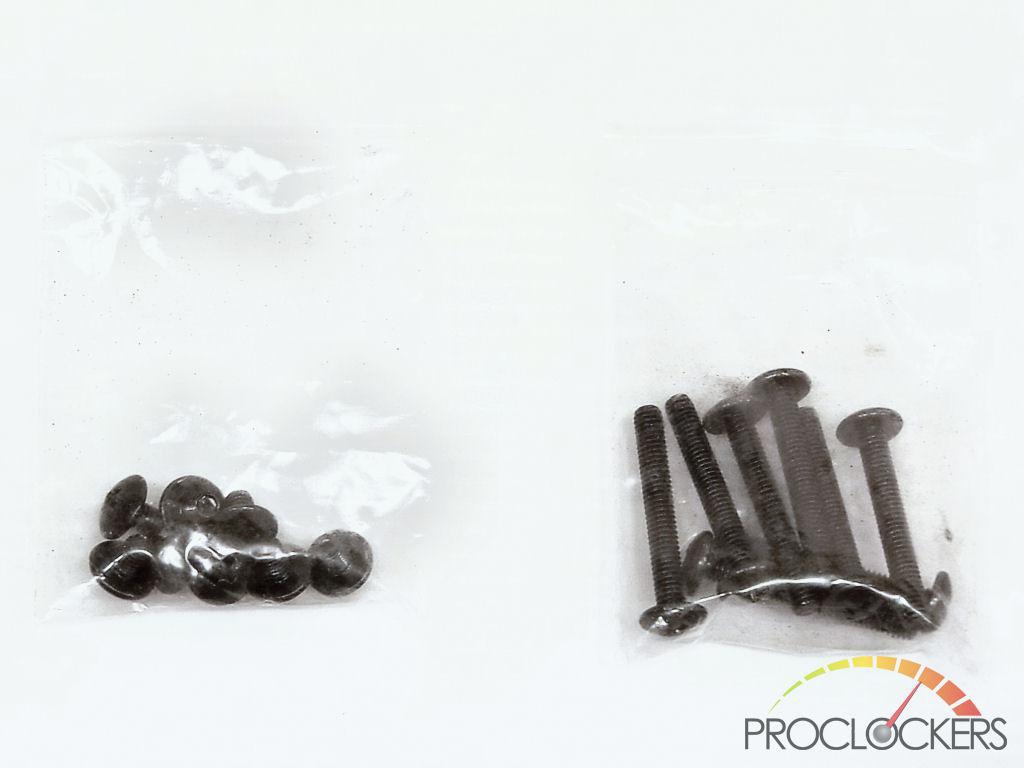 8 M4 x 30mm and 8 M4 x 6mm screws are included .This is enough for 1 set of standard 25mm thick fans to be mounted in push or pull only.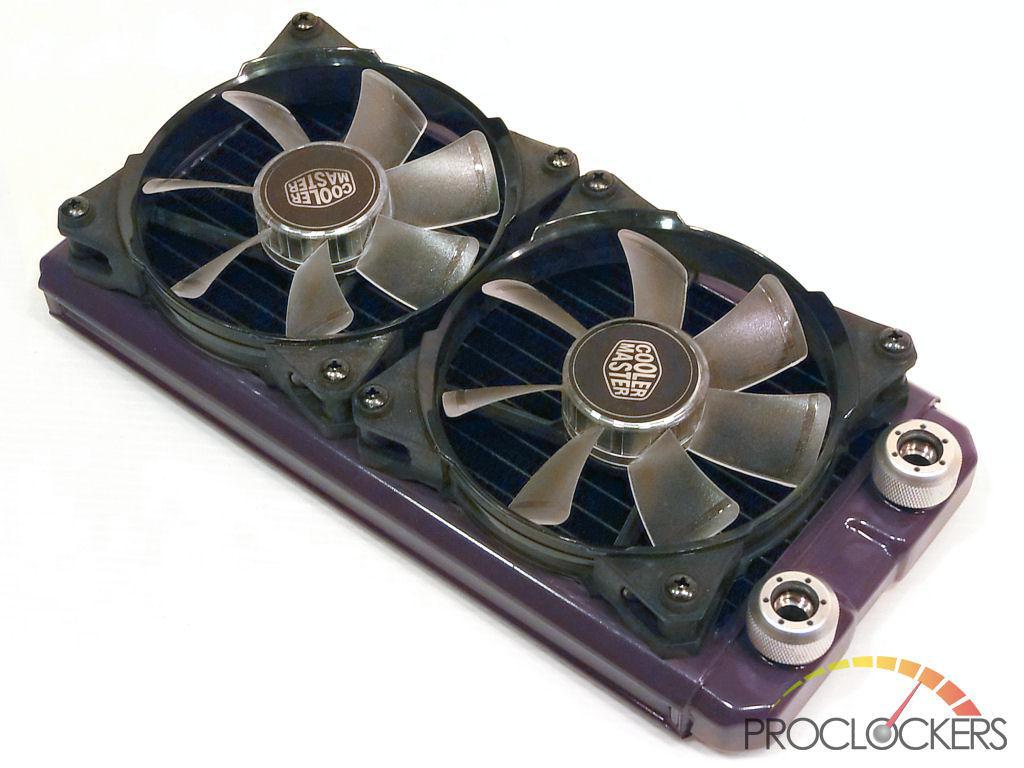 We outfitted the Nemesis 240GTS with a pair of Cooler Master JetFlo fans and Primochill Rigid Revolver fittings, creating a look that is quite stunning.
On to Testing
System Configuration and Performance Testing
Testing Setup
Testing Hardware
Gigabyte GA-Z97-SOC Force Motherboard
Intel Core i7 4790K Processor
Kingston HyperX Beast 16GB 2400MHz Memory
Crucial M550 256GB Solid State Drive
Spotswood Small Tech Bench
XFX PRO850W XXX Edition 850w Silver Power Supply
Cooling Components
Koolance CPU-380i CPU Block
Laing DDC Pump
Bitspower Water Tank Z-Multi-400 Reservoir
Cooler Master JetFlo Fans
Testing Environment
We try to set up the testing to be as close to a real world scenario as we can, while still eliminating any variables that would skew the results. Everything that is needed to operate a normal computer is installed (monitor, peripherals, motherboard w/CPU and GPU, radiator, power supply, etc.) and utilized as needed. Our Intel i7 4790K is overclocked to 4.5 GHz with a Vcore of 1.3 volts. The most extreme setting for line load calibration is used to ensure consistent voltage to the CPU.
Flow Rate
The total system flow rate is tested using a Koolance INS-FM18D Flow Meter. The entire water cooling loop is assembled, filled, and bleed of any air. Only distilled water is used for consistency. Every component is connected by 7/16″ x 5/8″ tubing and matching compression fittings. The pump is directly powered from the power supply with a constant 12 volts.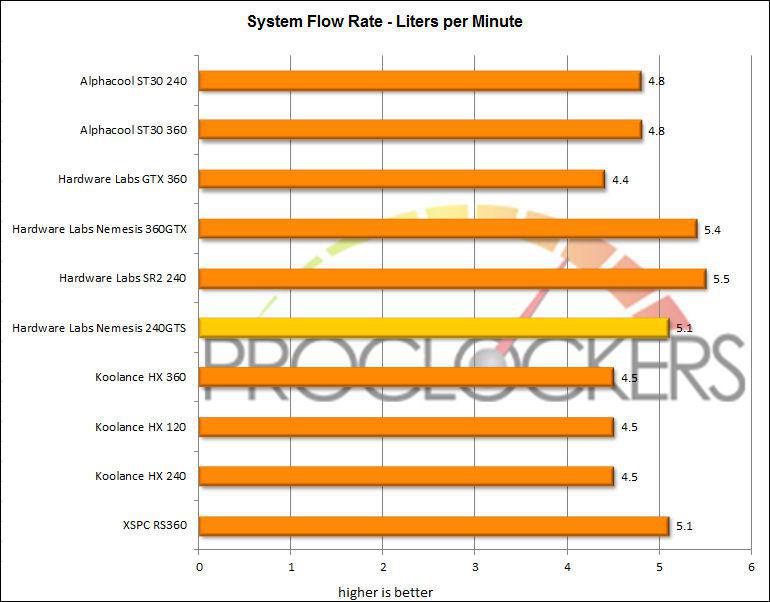 The 240GTS makes some gains over the previous GTS 240. While flow rate does not have a dramatic effect of cooling, it does decrease the stress on the pump.
Thermal Testing
CPU load is provided by running an application on Prime 95 with small FFT. This creates the most heat and the least varying load. Water temperatures are measure directly from the reservoir. 20 minute cycles between measurements allow for full water temperature stabilization. The Cooler Master JetFlo fans are sealed to each radiator to reduce air leakage and are ran in "push" configuration only.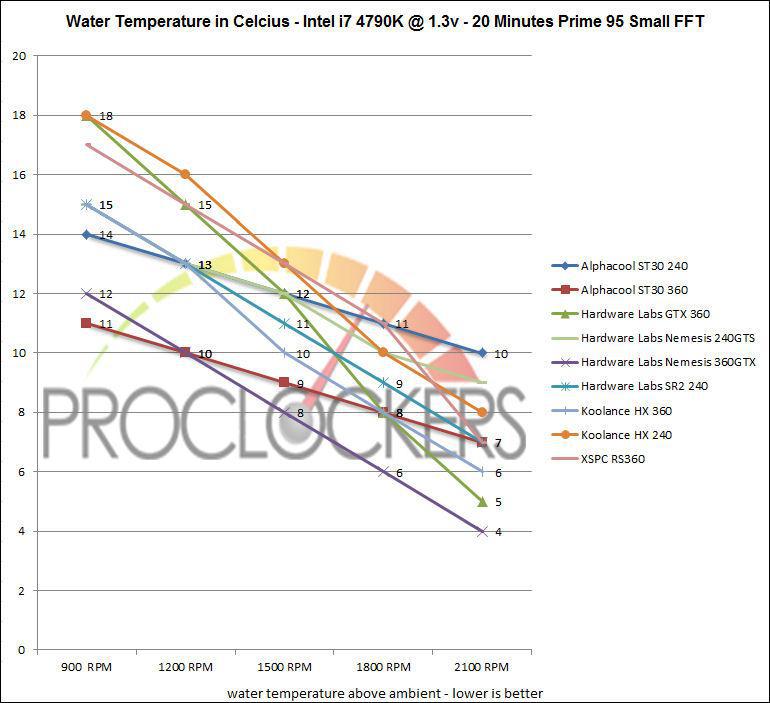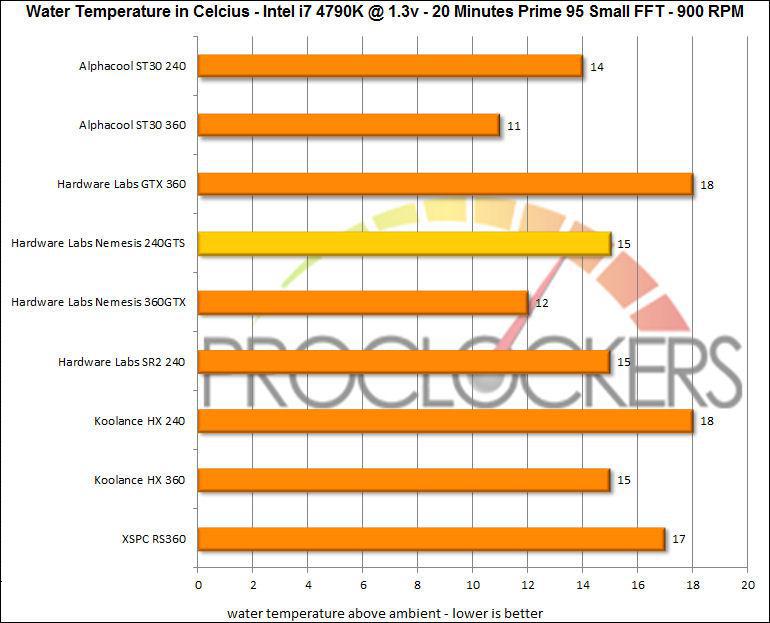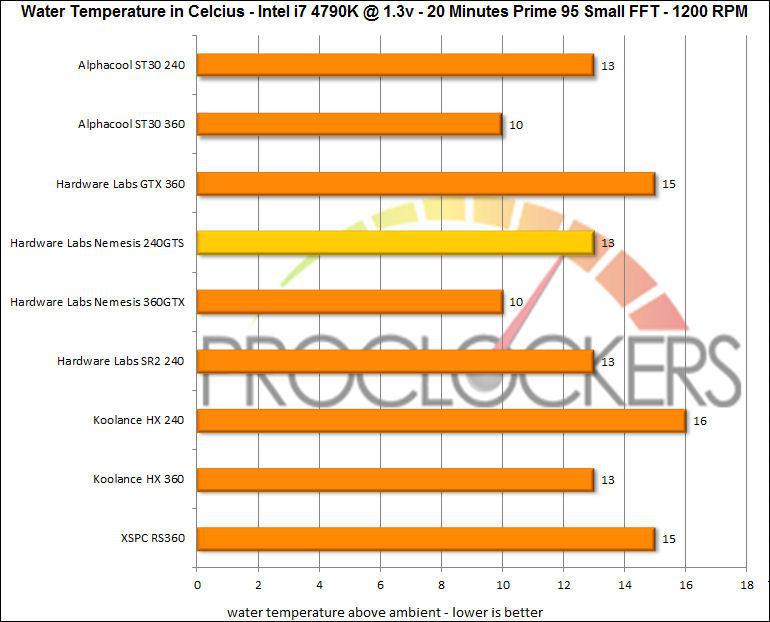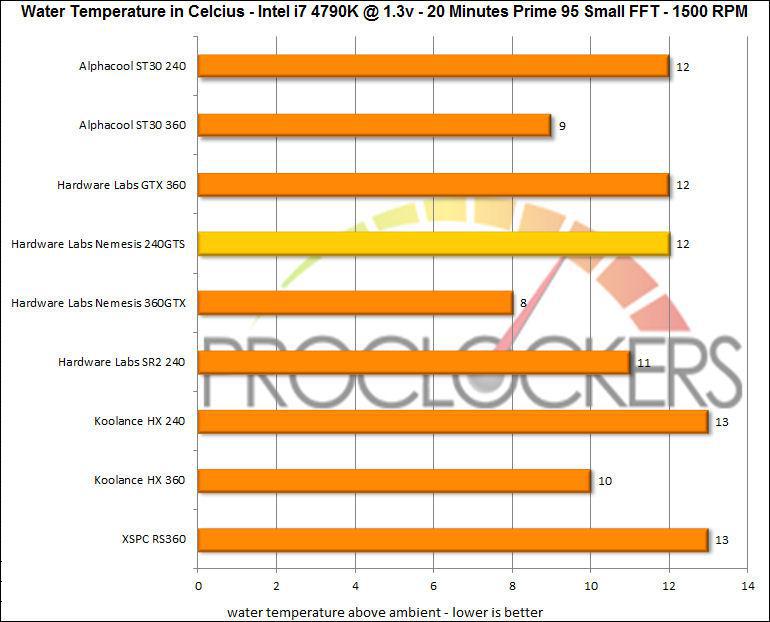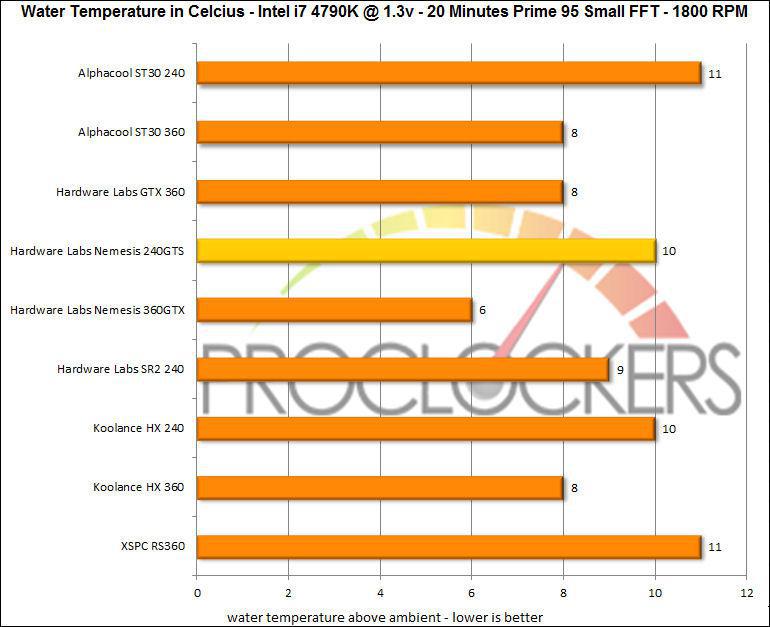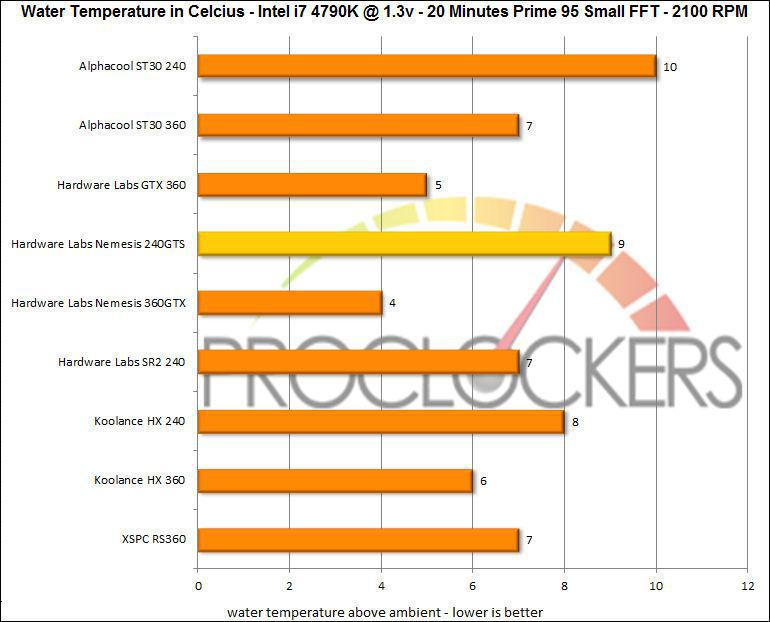 Thicker radiators have a tendency to perform great at high speeds, but less so at low speeds. We see this in the testing with the Hardware Labs Black Ice Nemesis 240GTS as well. The core design allows for good low speed performance without sacrificing much in the way of high speed performance.
Compared to the Alphacool ST30, the Black Ice Nemesis 240GTS performed slightly lower at fans low speeds, while outperforming it at higher fan speeds. It generally outperformed the Koolance XH 240 except at the highest of fan speeds.
The Conclusion and Final Thoughts are next

Final Thoughts and Conclusion
The Performance-PC's Gloss Purple Hardware Labs Black Ice Nemesis 240GTS is a beautiful radiator. All the solder joints looked flawless. The tanks and end plates are nice and thick. There is no doubt that when looking at the 240GTS that it is finely crafted.
Hardware Labs seems to have found a nice balance of high fan speed performance, without effecting low fan speed performance dramatically. Overall performance was very similar to one of my personal favorite radiators, the Alphacool Nexxus ST30. If you need strong performance in a thin radiator, it is one of the best in the class.
The paint quality is good for a "rattle can" finish and is a nice shade of purple. Sunburst Yellow, Deep Blue ("Cool Blue"), Gloss Orange, and Grabber Green ("Nvidia Green") are also available. This is a great solution for system builders who would like in a color beside black, but do not have the resources to paint it themselves.
Currently the Performance-PC's custom-painted Hardware Labs Black Ice Nemesis 240GTS is available from Performance-PCS.com $69.99, this is $21over the $48.95 base price for a standard Nemesis 240GTS. Whether you chose the Performance-PC's custom-painted version or the original, they are both worth the price for admission.
Thank you to Hardware Labs and Performance-PCS.com for providing the Black Ice 240GTS for testing.
Likes
Excellent Build Quality
Top Shelf Aesthetics
Great Wide Speed Fan Performance
Lifetime Warranty
Dislikes