HyperX FURY DDR4 RGB 3200MHz 32GB Memory Kit Review
Introduction
HyperX's FURY product lines have been a hit with gamers for years now for drop-in performance and subtly aggressive aesthetics. When the RGB craze hit the PC world hard a couple of years ago, HyperX began updating its lineup with colorful updates to favorites. We checked out the RGB update to the SSD line with the HyperX Fury RGB SSD recently, and today we'll be taking a look at the RGB update to the popular FURY DDR4 line. Does a splash of color take away from the performance you expect from FURY? Let's find out!
ProClockers would like to thank HyperX for sending the Fury DDR4 RGB memory over to check out!
HyperX's take on the Fury DDR4 RGB:
HyperX® FURY DDR4 RGB delivers a boost of performance and style with speeds of up to 3466MHz, aggressive styling, and RGB lighting that runs the length of the module for smooth, stunning lighting effects. FURY DDR4 RGB is XMP-ready and available in 2400MHz–3466MHz speeds, CL15–16 latencies, single module capacities of 8GB and 16GB, and kit capacities of 16GB–64GB to give you a performance boost for your gaming, video editing, and rendering. It features Plug N Play automatic overclocking at 2400MHz and 2666MHz speeds and is compatible with both the latest Intel and AMD CPUs. 100% tested at speed and backed by a lifetime warranty, FURY DDR4 RGB's your worry-free, cost-effective upgrade of choice.
Stunning RGB lighting with aggressive style1
Patent-pending HyperX Infrared Sync Technology
Intel XMP-ready profiles optimized for Intel's latest chipsets
Plug N Play functionality at 2400MHz and 2666MHz
Features & Specifications
HyperX HX432C16FB3AK4/32 is a kit of four 1G x 64-bit (8GB) DDR4-3200 CL16 SDRAM (Synchronous DRAM) 1Rx8, memory module, based on eight 1G x 8-bit FBGA components per module. Each module kit supports Intel® Extreme Memory Profiles (Intel® XMP) 2.0. Total kit capacity is 32GB. Each module has been tested to run at DDR4-3200 at a low latency timing of 16-18-18 at 1.35V. The SPDs are programmed to JEDEC standard latency DDR4-2400 timing of 17-17-17 at 1.2V. Each 288-pin DIMM uses gold contact fingers.

Customizable RGB lighting with aggressive styling
Give your battle station a stylish upgrade thanks to FURY DDR4 RGB's updated heat spreader and customizable smooth, stunning RGB effects. Use the powerful HyperX NGENUITY software or motherboard manufacturer's software to create your own look.

HyperX Infrared Sync Technology
RGB effects stay synced thanks to HyperX's patent-pending infrared sync technology.

Intel XMP-Ready
Our engineers have predefined Intel Extreme Memory Profiles designed to maximize our memory modules' performance, reaching speeds up to 3466MHz.

Plug N Play – Automatic overclocking up to 2666MHz
A simple and easy Plug N Play upgrade, HyperX FURY DDR4 will auto-overclock itself to the highest listed speed allowed by the system BIOS.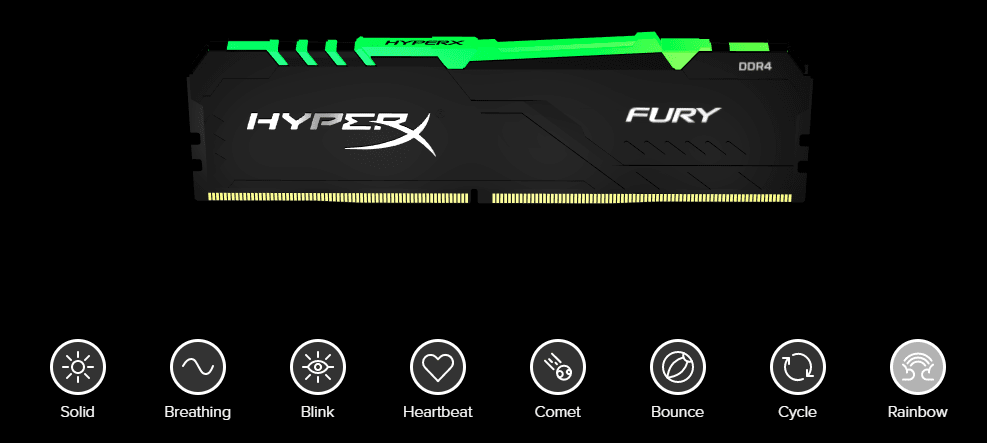 Specifications:
FEATURES
Power Supply: VDD = 1.2V Typical
VDDQ = 1.2V Typical
VPP = 2.5V Typical
VDDSPD = 2.2V to 3.6V
On-Die termination (ODT)
16 internal banks; 4 groups of 4 banks each
Bi-Directional Differential Data Strobe
8-bit pre-fetch
Burst Length (BL) switch on-the-fly BL8 or BC4(Burst Chop)
Height 1.624" (41.24mm), w/heatsink
FACTORY TIMING PARAMETERS
Default (JEDEC): DDR4-2400 CL17-17-17 @1.2V
XMP Profile #1: DDR4-3200 CL16-18-18 @1.35V
XMP Profile #2: DDR4-3000 CL15-17-17 @1.35V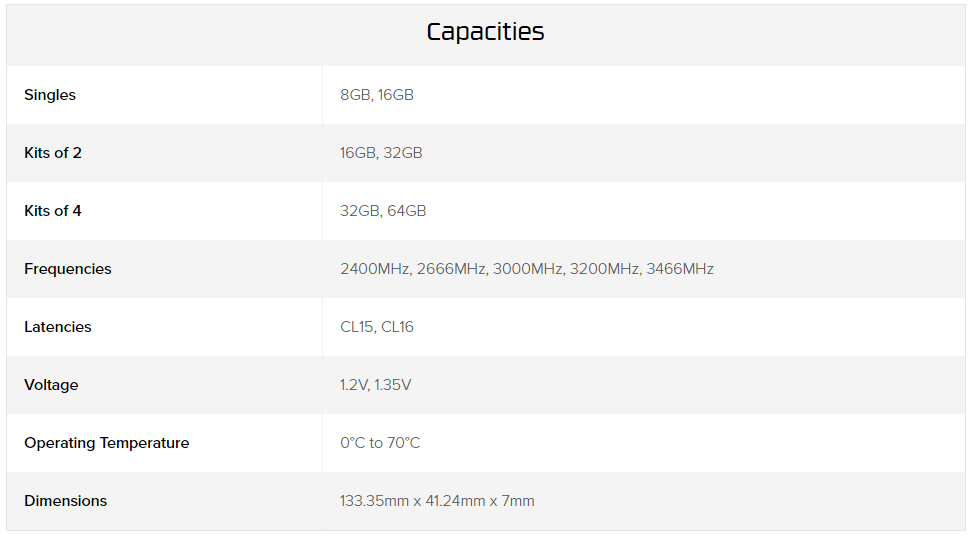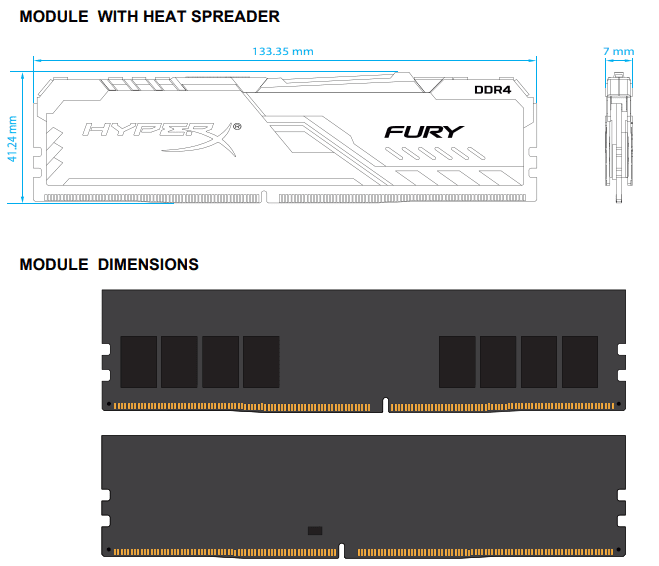 Packaging & A Closer Look

Like most of HyerpX's memory kits, the FURY RGB comes in a clear clamshell-style case with a sticker around the middle that shows the specs. Our Kit is a 32GB Kit consisting of 4x 8GB modules, two in each of two clamshells.

You can see through all of the packagings, so you know exactly what you are getting. Opening the memory kit is as simple as unwrapping the red sticker from around the packaging.

Inside, we have four matching sticks.

Just like the non-RGB versions, the FURY RGB is wrapped in a low-profile black heat spreader with a milled finish on the HyoperX and FURY logos.

The only notable difference is the milky diffuser on the top edge of each module.

The HyperX logo also serves to provide a good grip when installing and removing modules from your system.

The heat spreader also has quite a bit of subtle detail all around that gives a somewhat aggressive look.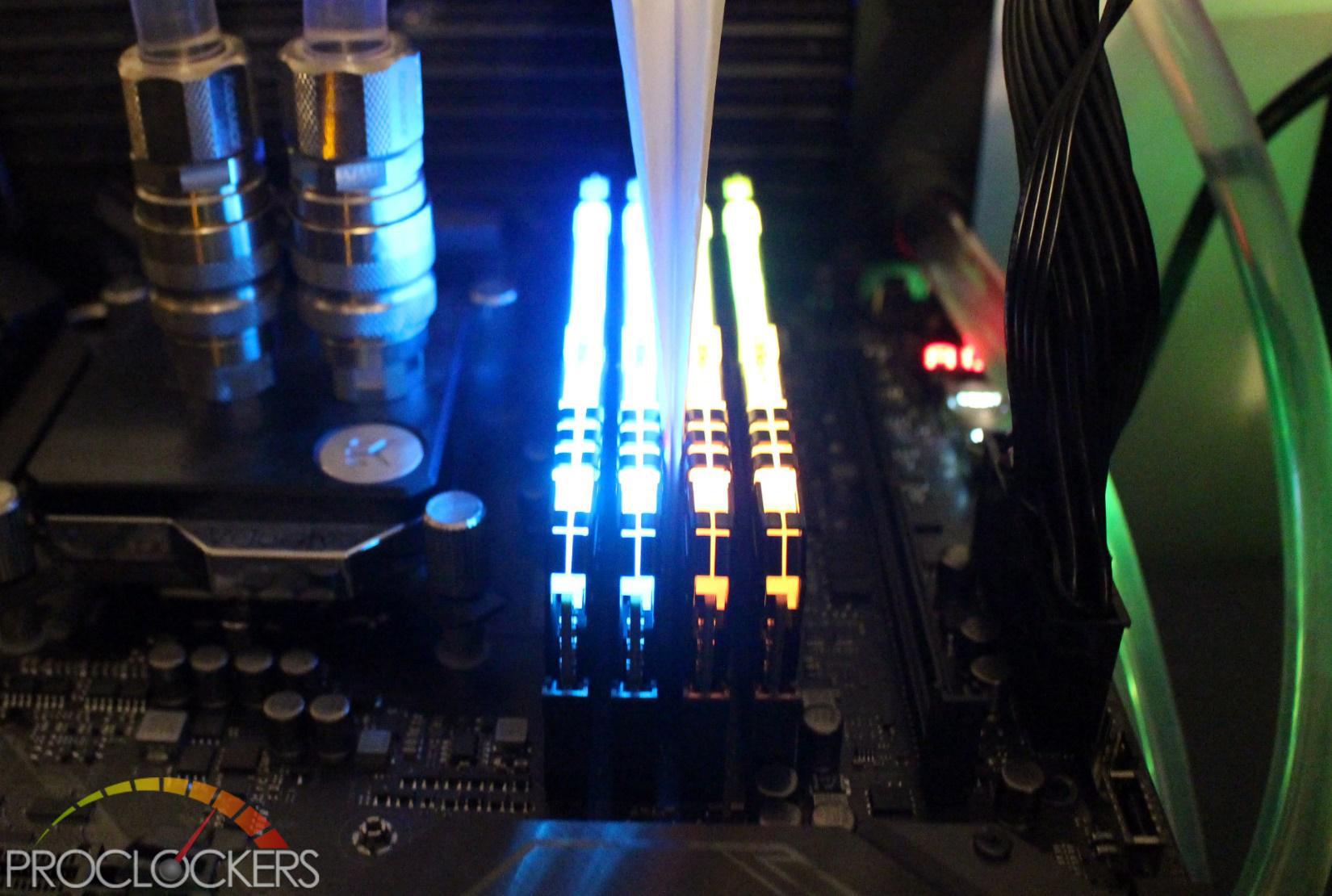 One hidden feature is optical synchronization light timing between modules. This keeps your lighting effects in perfect sync without the need for resource-intensive software running in the background. You can see how this works by slipping a piece of paper between the modules with the software not running and watching how fast the lighting drifts out of sync, a common problem for almost every other kit on the market. The very second you pull the paper out, the lights instantly snap back into perfect sync.
Software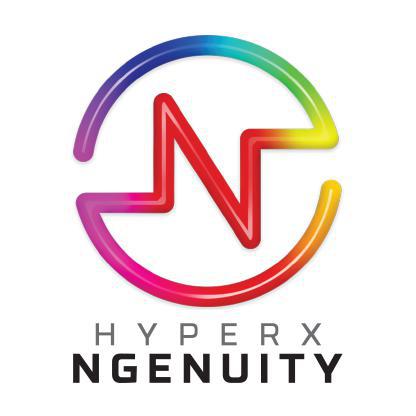 HyperX NGENUITY is a powerful and intuitive software that will allow you to personalize your compatible HyperX products. Set button bindings, program and store macros, and customize lighting; HyperX NGENUITY gives you as much control as you want. The software also comes with a library of presets, so you can quickly choose one to install and jump straight into the action.

NGENUITY software can only be downloaded from the Microsoft Store currently. While this won't be a problem for most, it will make it difficult for some users, so we wish HyperX would offer the software in a traditional download as well.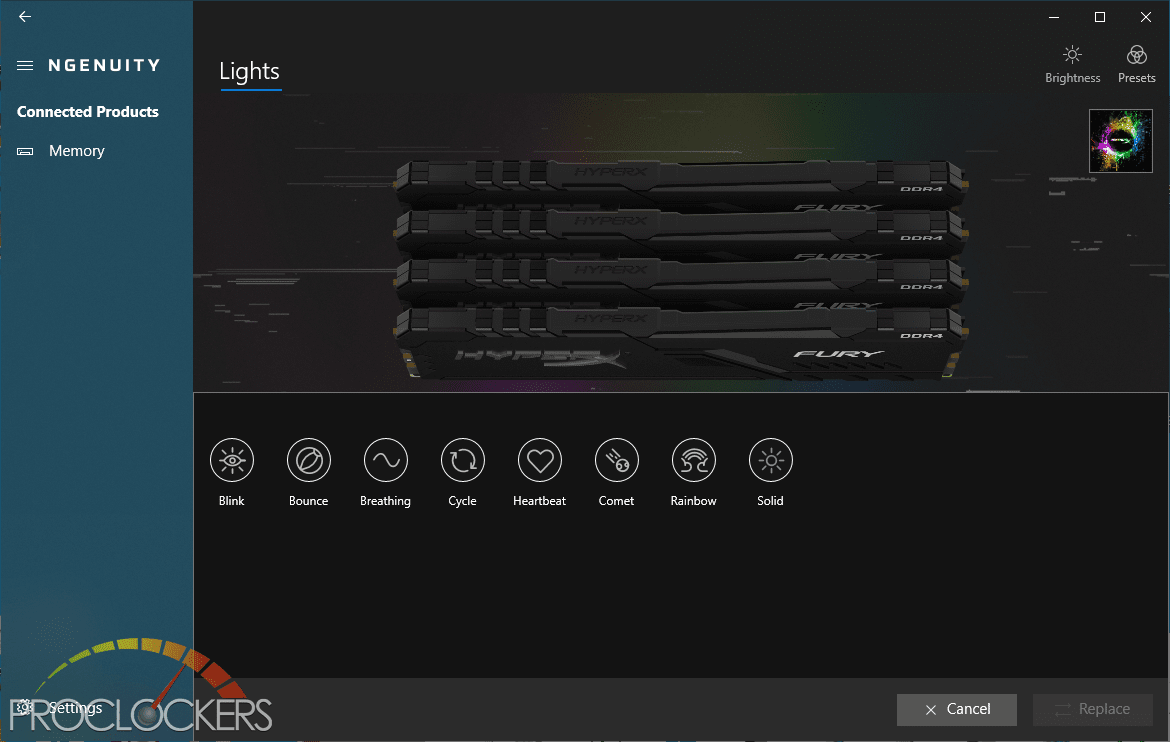 Once you get NGENUITY installed and up and running, you'll have several lighting modes to choose from.

Each effect can have its brightness and speed changed according to your preference.

You can save several profiles for easy changes between different modes.

You can also set lighting profiles for each game as long as you have Gamelink enabled in settings.
System Configuration & Testing
Testing Hardware 1:
ASUS ROG Maximus XI Extreme
Intel Core i9-9900KS
Samsung 960 Pro 2TB
HyperX FURY RGB 32GB 3200MHz
Testing Software:
Microsoft Windows 10 Professional
CPU-Z
AIDA64 Extreme Edition
Passmark Performance Test
SiSoft Sandra
AIDA64 Engineer Edition
"AIDA64 Engineer has a hardware detection engine unrivaled in its class. It provides detailed information about installed software and offers diagnostic functions and support for overclocking. As it is monitoring sensors in real-time, it can gather accurate voltage, temperature, and fan speed readings, while its diagnostic functions help detect and prevent hardware issues. It also offers a couple of benchmarks for measuring the performance of individual hardware components or the whole system. It is compatible with all 32-bit and 64-bit Windows editions, including Windows 10 and Windows Server 2016."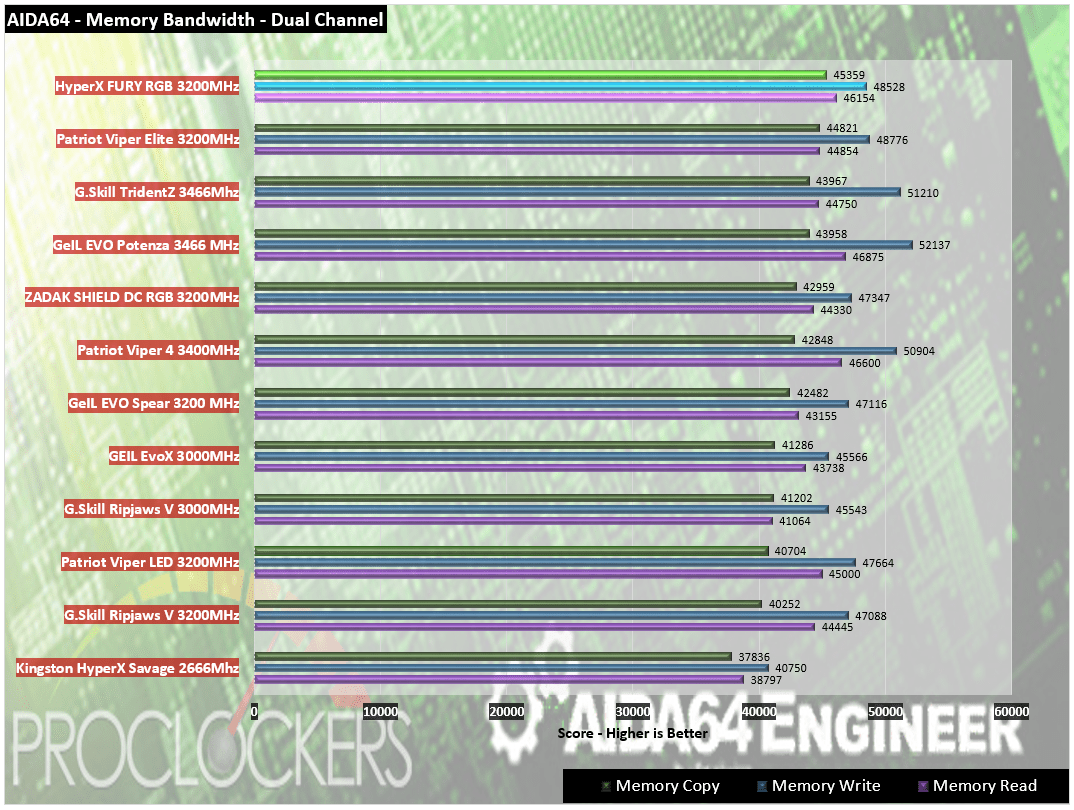 Since bandwidth is mostly a function of raw speed, you would expect a most 3200 MHz kits to score roughly the same, but HyperX's FURY RGB jumps to the top of the charts with combined copy speeds, easily clearing the 45K mark.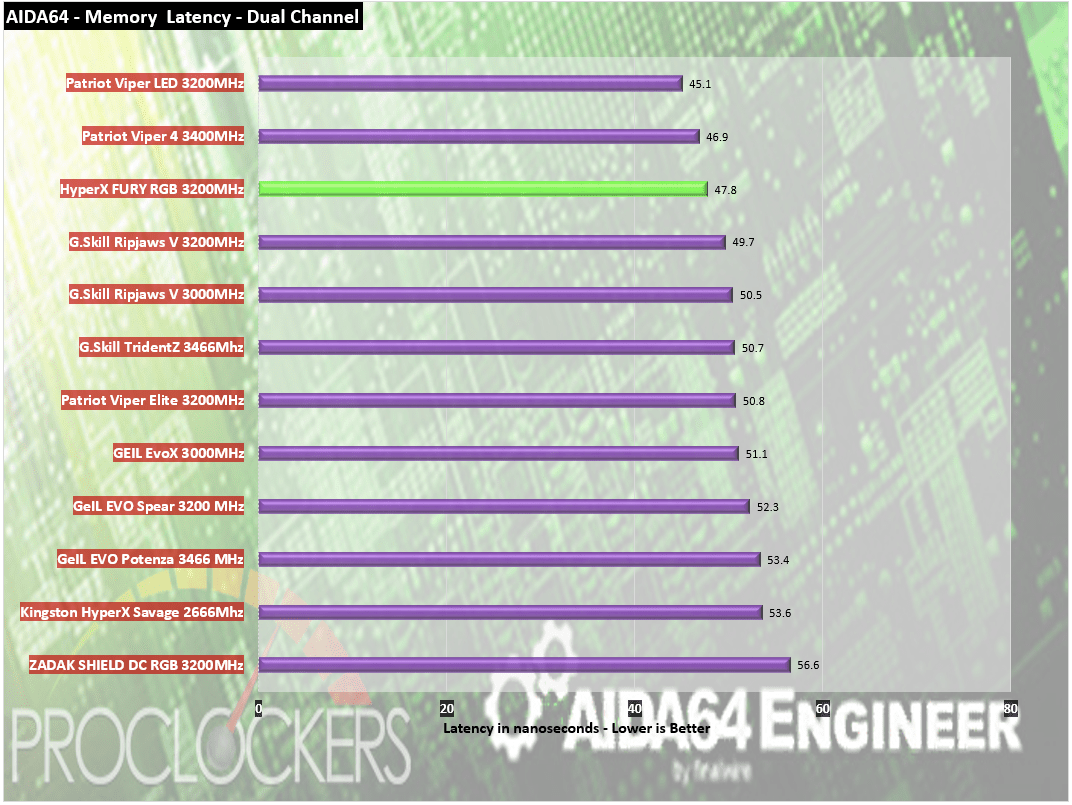 Latency comes in a bit faster than we expected at 47.8ns.
Passmark Performance Test – Memory Mark – Threaded
"Fast, easy to use, PC speed testing and benchmarking. PassMark PerformanceTest ™ allows you to objectively benchmark a PC using a variety of different speed tests and compare the results to other computers."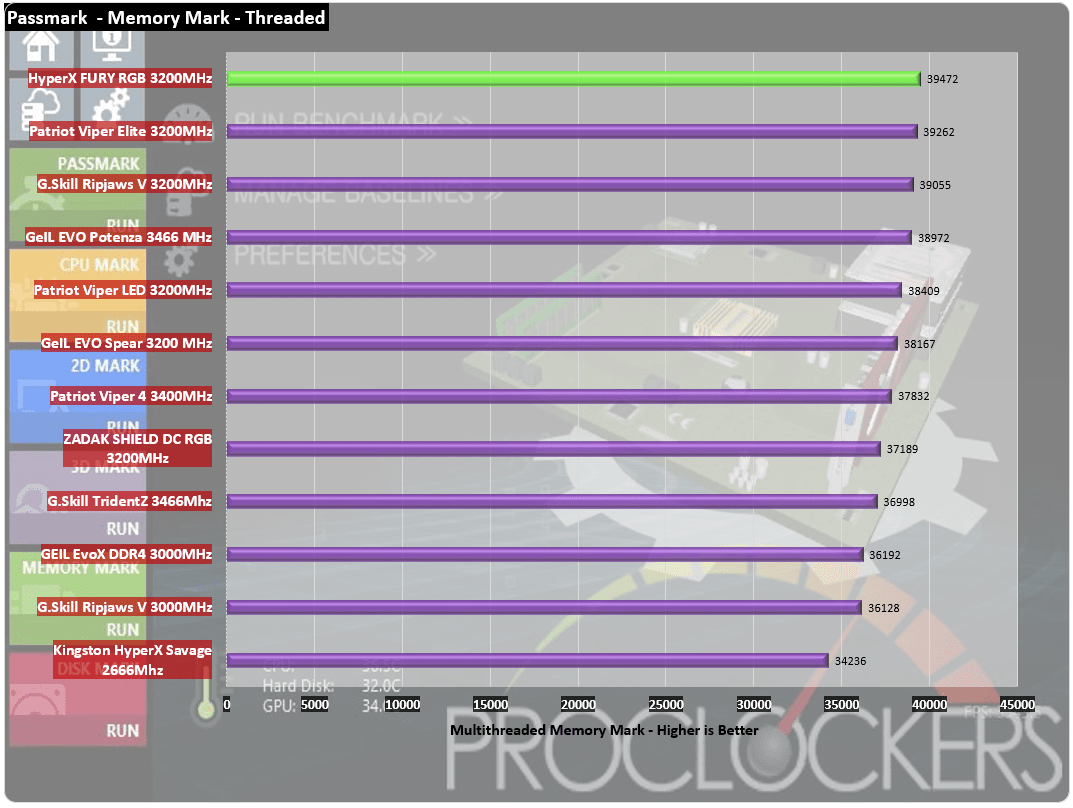 Passmark reacts quite well to the FURY RGB and gives us a great score of just shy of 40K.
SiSoft Sandra
"SiSoftware Sandra provides a robust package of diagnostic tools for testing your system and teasing out its problems–or potential headaches."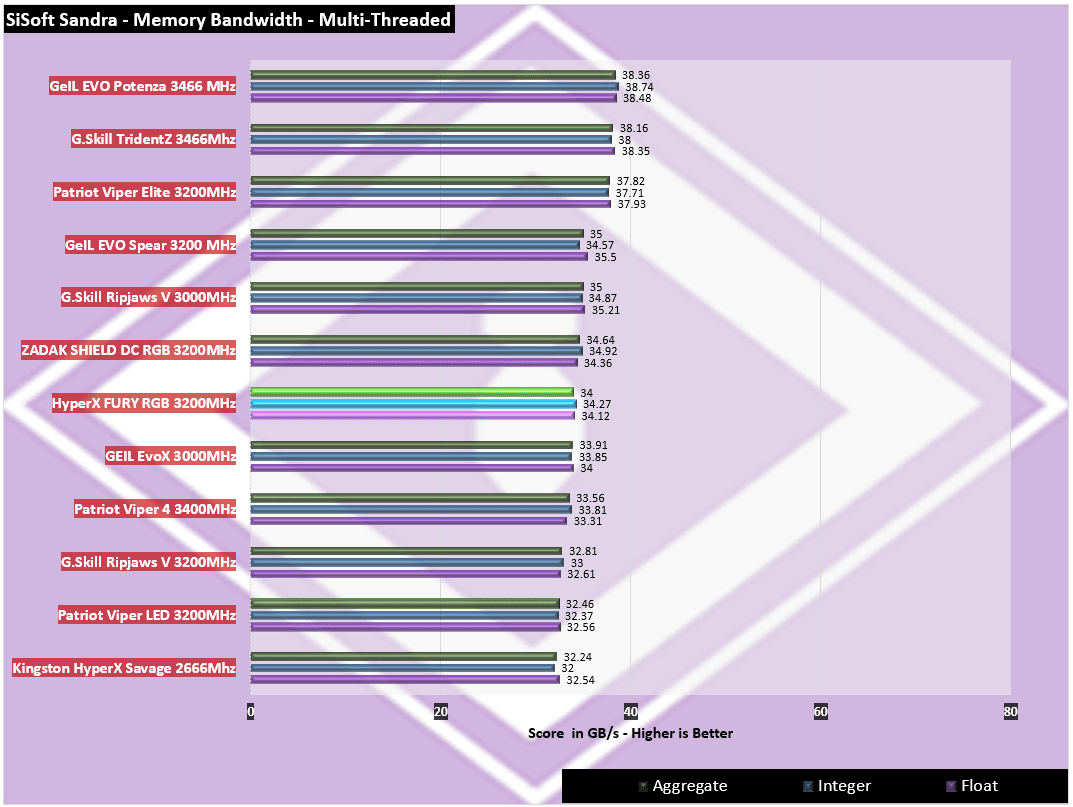 SiSoft comes in with a bandwidth of right around 34GB/s, not the best we've seen from a 3200MHz kit, but certainly a strong score.
Final Thoughts & Conclusion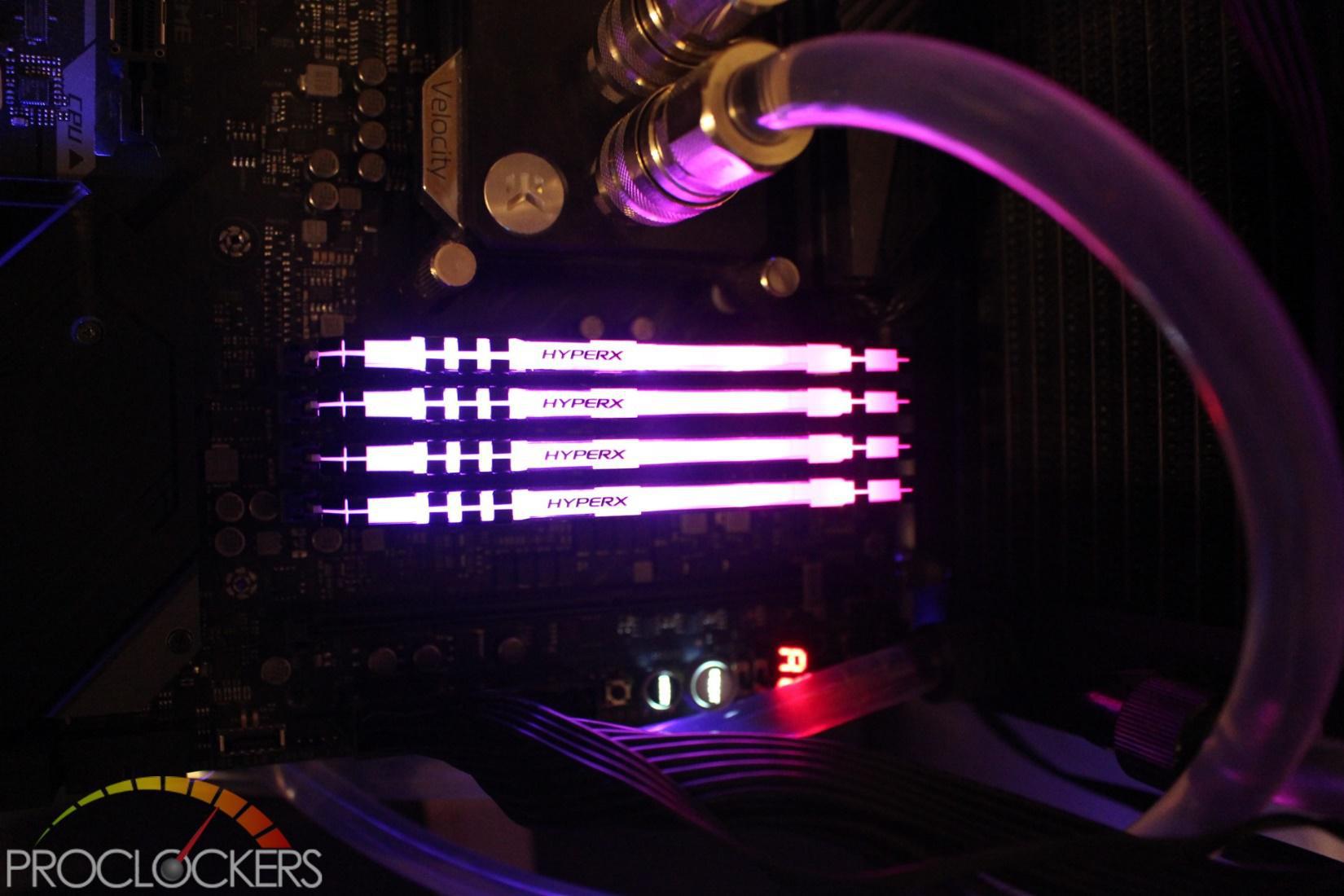 HyperX's FURY memory has always been a strong performer for a modest budget, but adding RGB seems to almost help it rather than hurt it. We saw great scores for a 3200 MHz kit, but kits with 4 modules always seem to fall behind kits with two modules due to additional loading on the memory controller than multiple DIMMs per channel gives. The FURY RGB kit makes up for this and gives some of the best scores we've seen from a 3200MHz kit.

Great job HyperX!

<![CDATA[ */ var zbjs = {"ajaxurl":"https:\/\/gaminggorilla.com\/wp-admin\/admin-ajax.php","md5":"d8e8b24d2fa18d2999e0fddcdd418586","tags":[],"categories":["Hardware"]}; /* ]]>