Cooler Master MS110 Gaming Peripheral Combo Review
Introduction
Peripherals are easily one of the most subjective subjects in the PC world. Everyone has their own preferences, and they usually stick to them pretty closely. What isn't contested however is the need for quality and reliability, as well as cost so you can spend your hard-earned cash on the latest Internals. For this reason, the Keyboard uses Cooler Masters 'mem-chanical' switches which provide many of the benefits like a 50M+ stroke lifetime with the cost-effectiveness of a conventional membrane keyboard. Throw in a matching mouse with a Pixart 5050 sensor and a snappy 1000Hz polling and you have everything you need at a cost anyone can handle. Let's see how it does!
Pro Clockers would like to thank Cooler Master for sending the MS110 combo over for us to test out!
Cooler Master's take on the MS110 gaming combo:
THE MINIMALISTIC DUO
The MS110 is a fully-featured combo set engineered for gaming success. The keyboard has the signature Cooler Master features, with exclusive linear Mem-chanical switches for greater responsiveness than normal membrane keys. The gaming mouse is a beast in the lanes or battle royale map, with an ambidextrous shape optimized for right-handers, gaming-grade optical sensor, adjustable DPI up to 3200, and new innovative coating for more durability. The MS110 is pure function and finesse that's there for you when you need it the most.
Clean, Floating Key Design – Sleek stylings for classic good looks and convenient maintenance
Mem-chanical Switches – Exclusive linear switches that provide more responsiveness than membrane switches
On-board Control – RGB lighting, windows lock and multimedia controls via function key makes customization simple without the need for bloated software
Gaming Grade Optical Sensor – Adjust your DPI on-the-fly with five programmed levels (400, 800, 1600, 3200)
Ergonomic Shape – Right-handed optimization with new coating for increased comfort and durability
RGB Lighting – 6-zone RGB illumination on the keyboard with 3-zone RGB on the mouse to illuminate your victories
Features & Specifications
EXCLUSIVE HYBRID LINEAR MEM-MECHANICAL SWITCHES
Outfitted with our exclusive hybrid switches and engineered in-house to boost your performance in-game, the MS110 features specially designed linear switches, similar to those found in professional-level mechanical keyboards. The result is a membrane keyboard that's fine-tuned to help you win all your battles.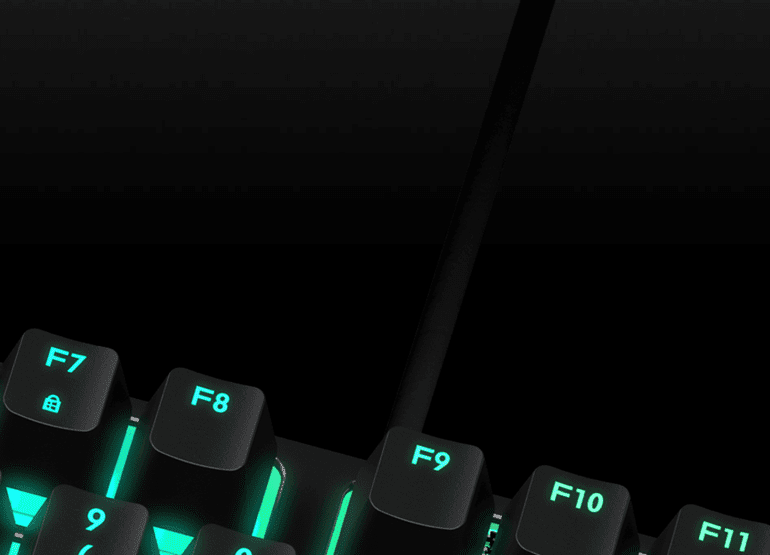 ON-BOARD CONTROL AND 26-KEY ANTI-GHOSTING
No need to worry about whether your keyboard can keep up – the MS110 gives you its all. 26-key anti-ghosting, windows lock to keep you in-game, and multimedia control via function results in functionality and convenience all rolled into one.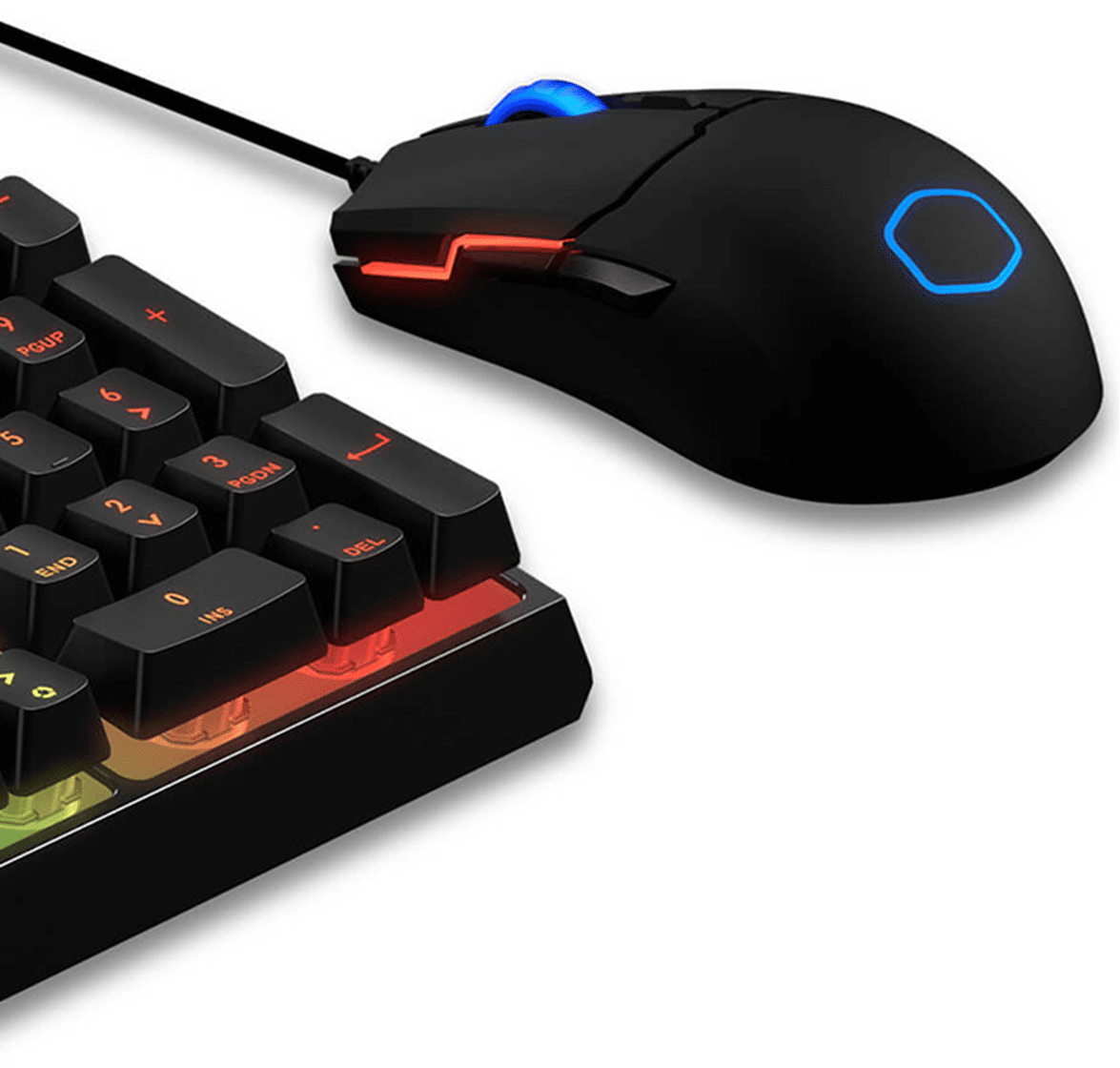 A RUGGED MOUSE TO ELEVATE YOUR GAME
The MS110 gaming mouse is engineered to give you maximum performance without the premium hit on your wallet. A pro-gaming grade optical sensor, adjustable DPI up to 3200 to cater to your game and playstyle, while an ambidextrous shape optimized for right-handers ensures you'll have the stamina to last all battle. And if that weren't enough, we've reinforced this bad boy with an innovative new coating to buff its stats in durability, comfort, and overall ruggedness.

CLASSIC GOOD LOOKS
Just because it's not over-the-top flashy doesn't mean it has to look ugly. The MS110 sports a keyboard with a sleek, floating key design for timeless good looks, and 6-zone RGB lighting and 3-zone RGB for the keyboard and mouse, respectively, for a custom victory light show of your own.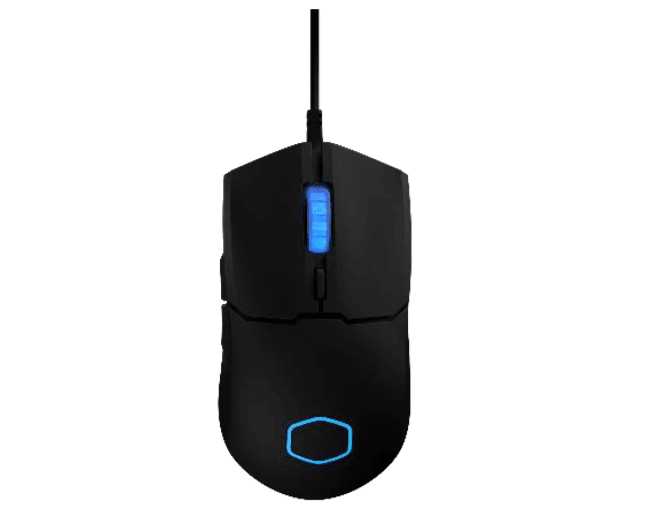 ERGONOMIC MOUSE DESIGN
Optimized for the right hand, with new painting material provide ultra-comfort and durable.
3-ZONE RGB ILLUMINATIONS
The wheel and logo area displays the current DPI with different colors. You can set 2 sides of RGB ring in a bunch of light effects completely without software.
SPECIFICATIONS: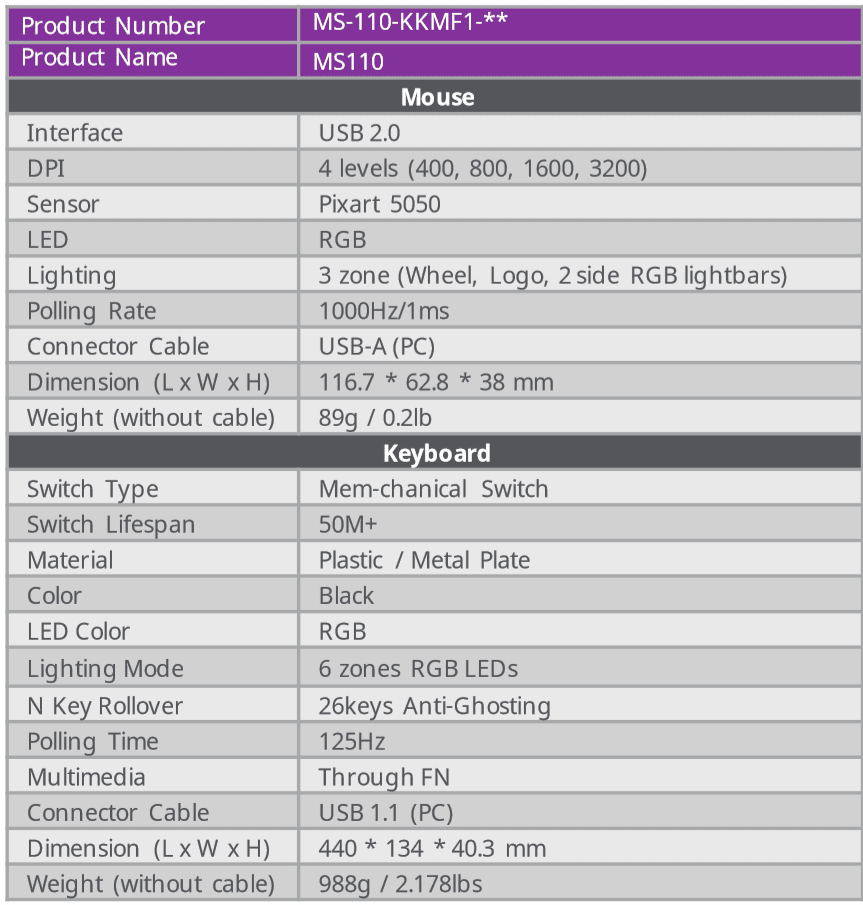 Packaging & Unboxing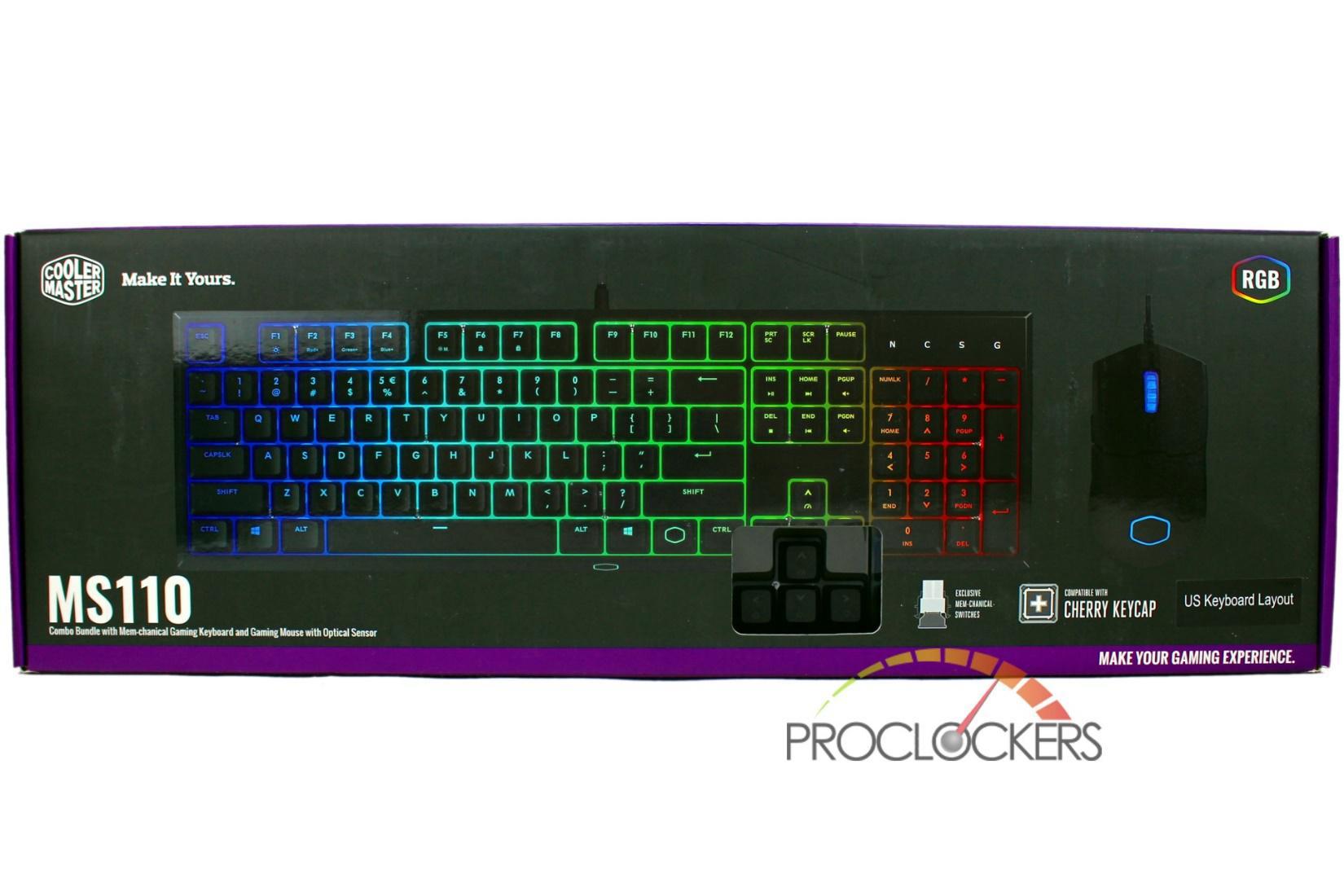 Cooler Master's MS110 Gaming combo comes in a rather small box, with a full-color picture of the peripherals inside. A small cutout in the front lets you feel some of the keys.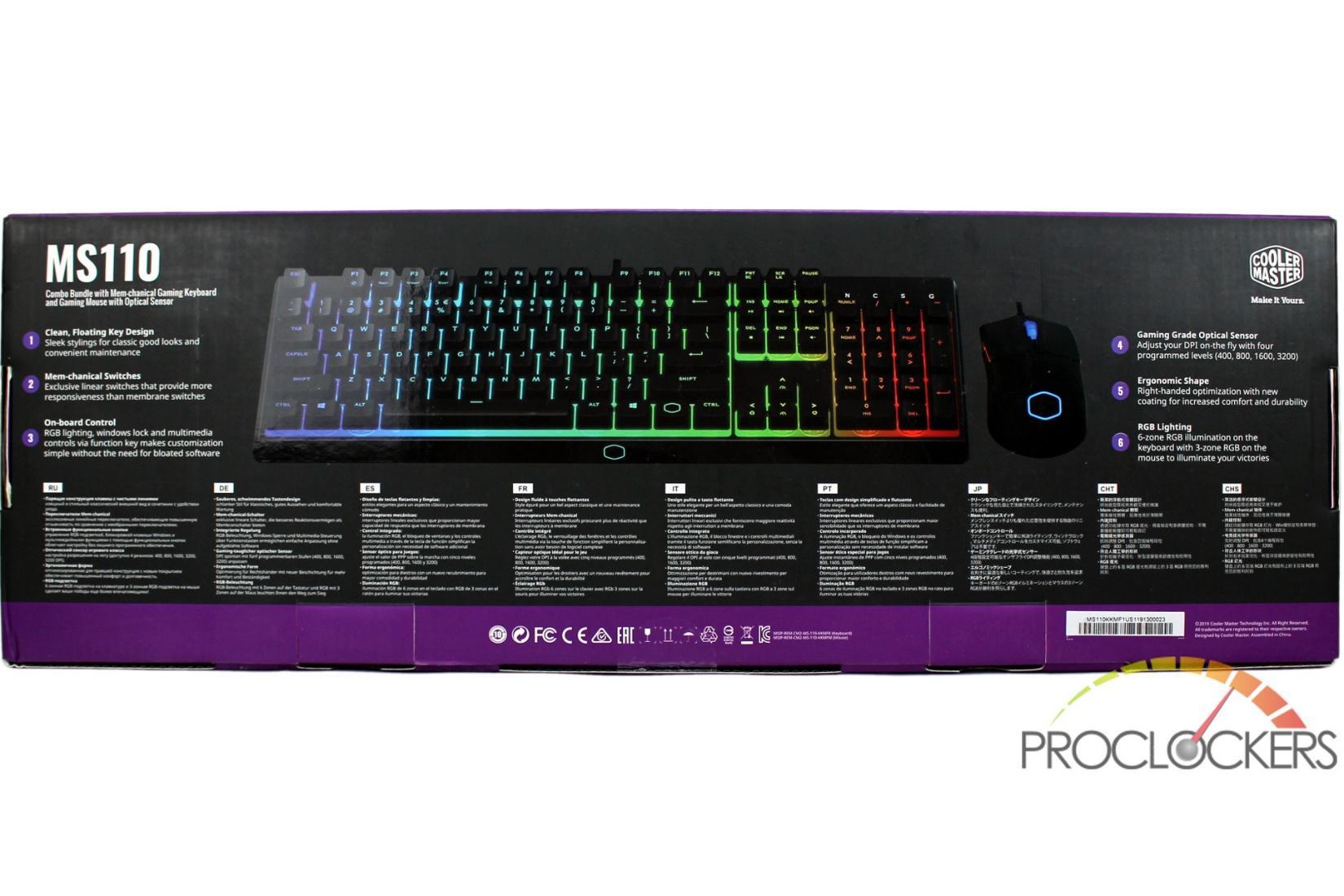 The rear of the box is just as colorful with several features highlighted. Some specs are in a multitude of languages along the bottom.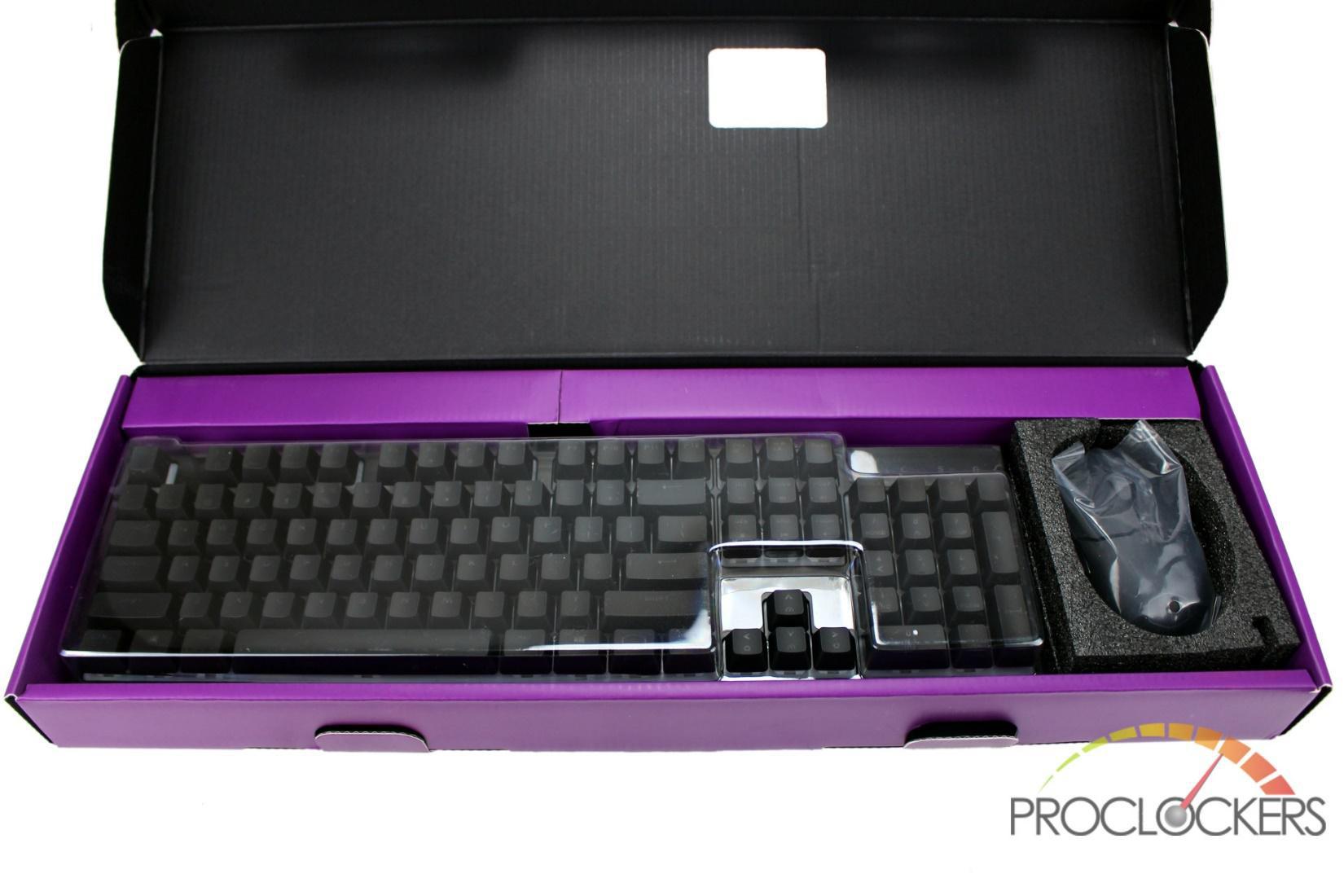 Inside, the Mouse is cradled in a block of foam while the keyboard hides under a clear shell.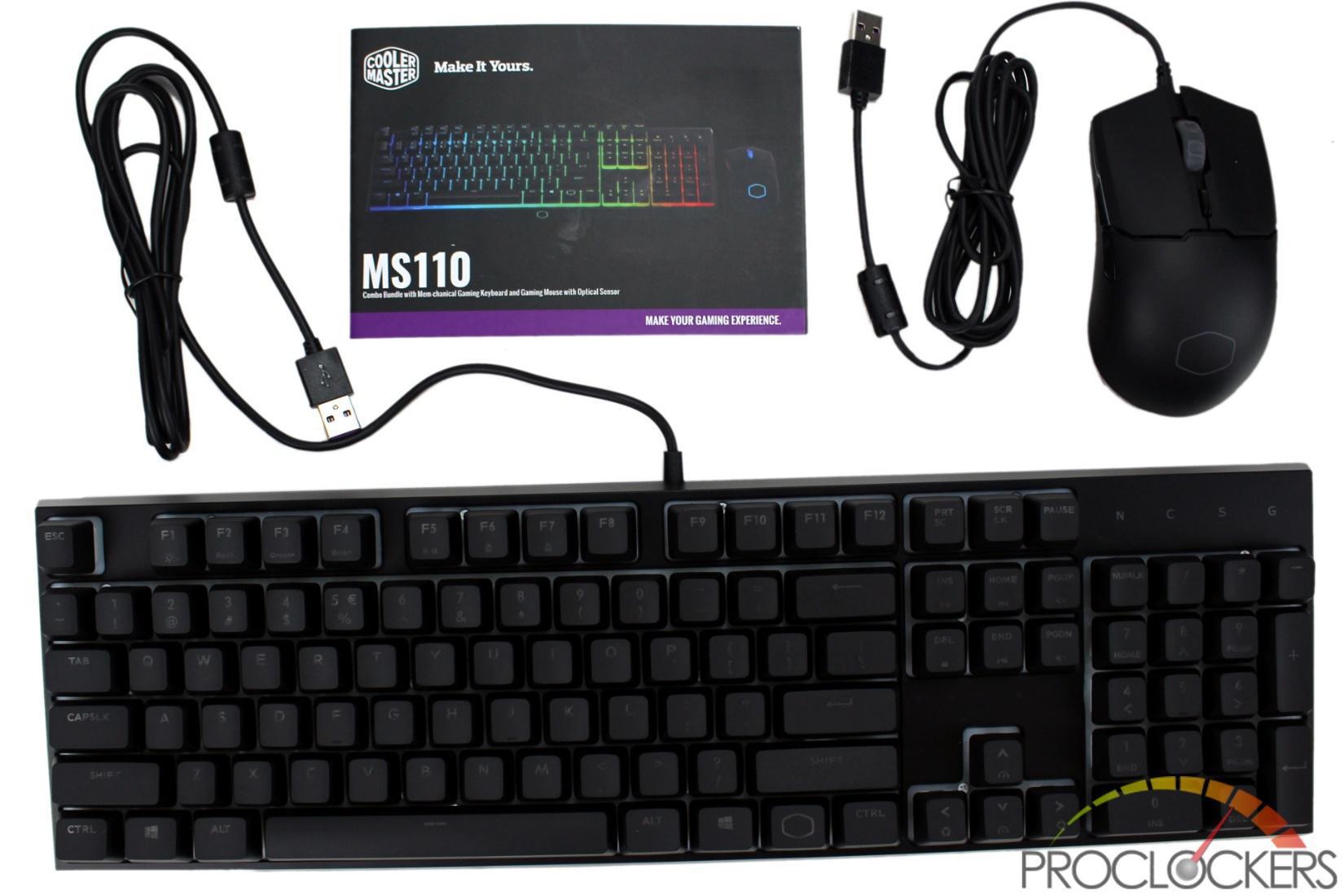 Once you extract the set, you also find a manual under the keyboard.
A Closer Look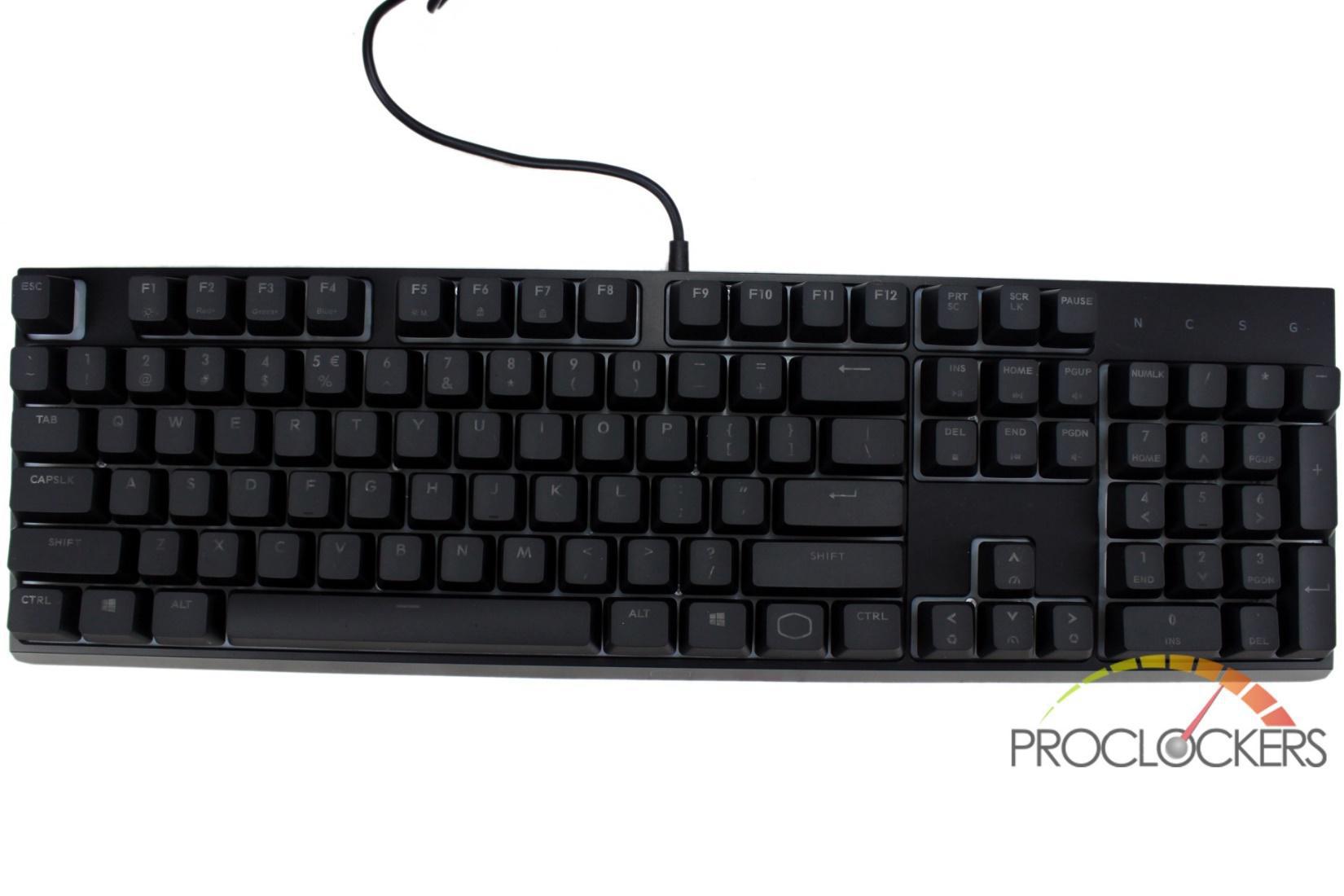 Cooler Master's MS110 keyboard is a US standard 104-key QWERTY layout. Several other layouts are available for other regions of the world.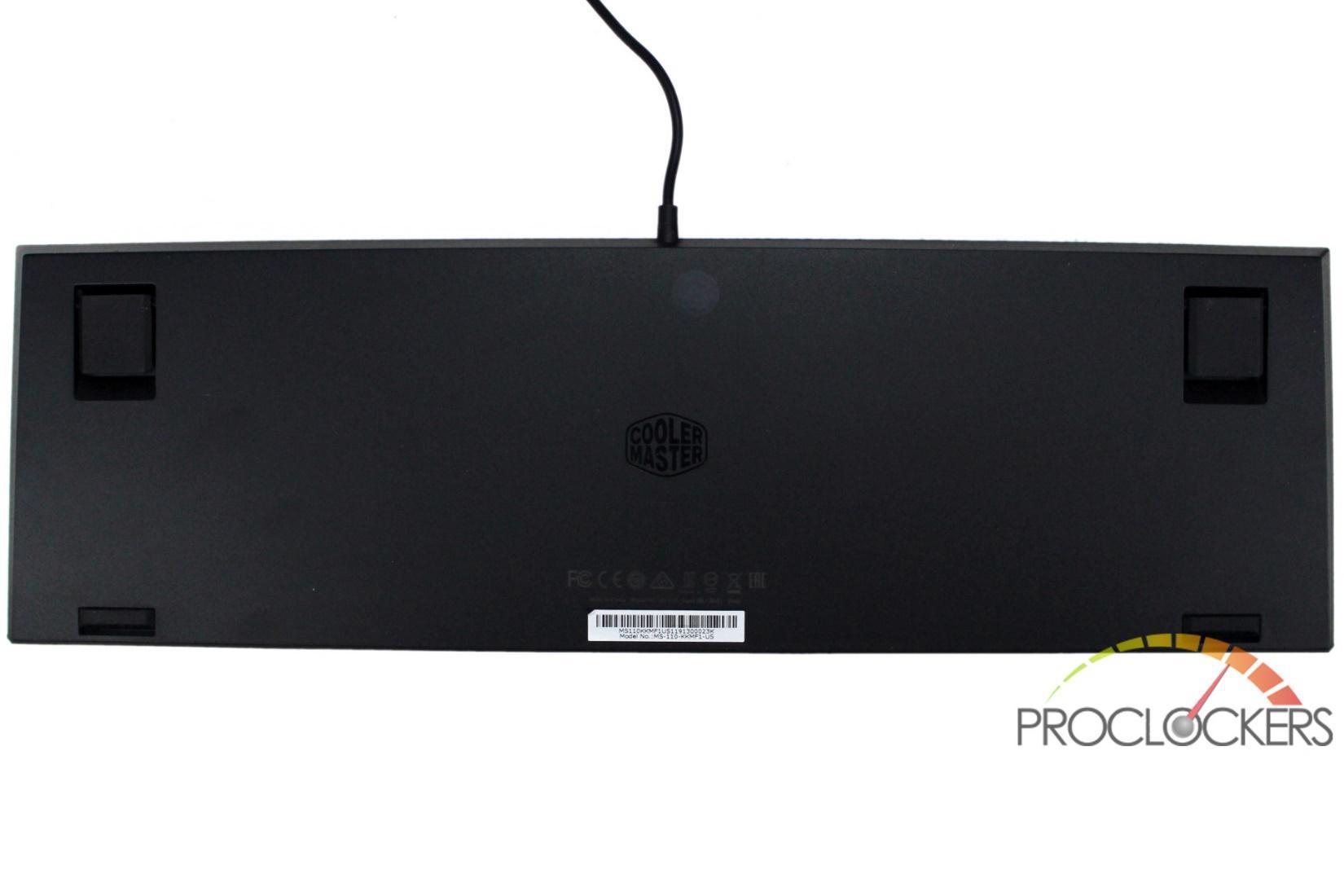 There isn't much to see on the rear, just the Cooler Master logo in the center and four feet.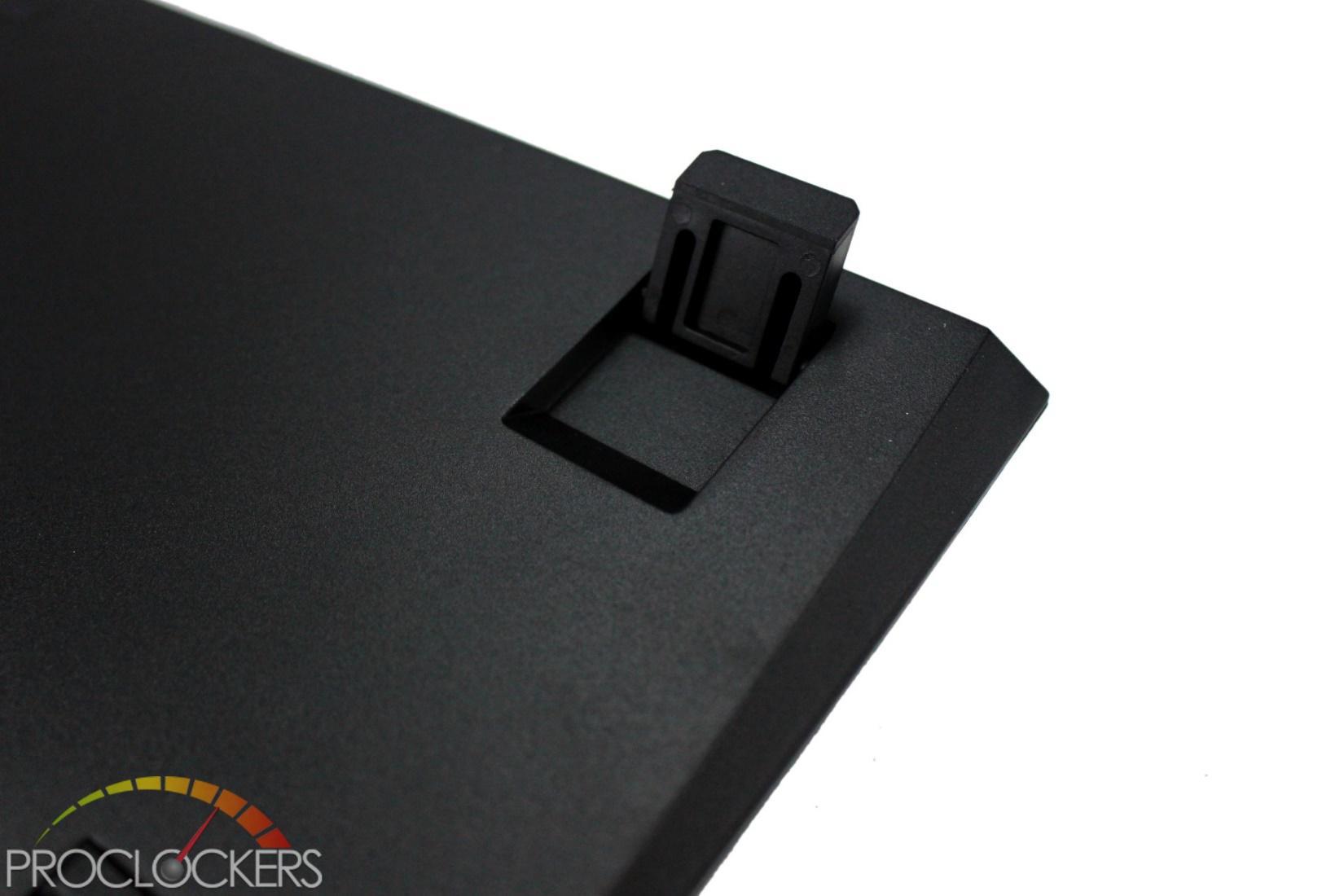 The two feet at the rear flip out to provide an ergonomic tilt to the keyboard.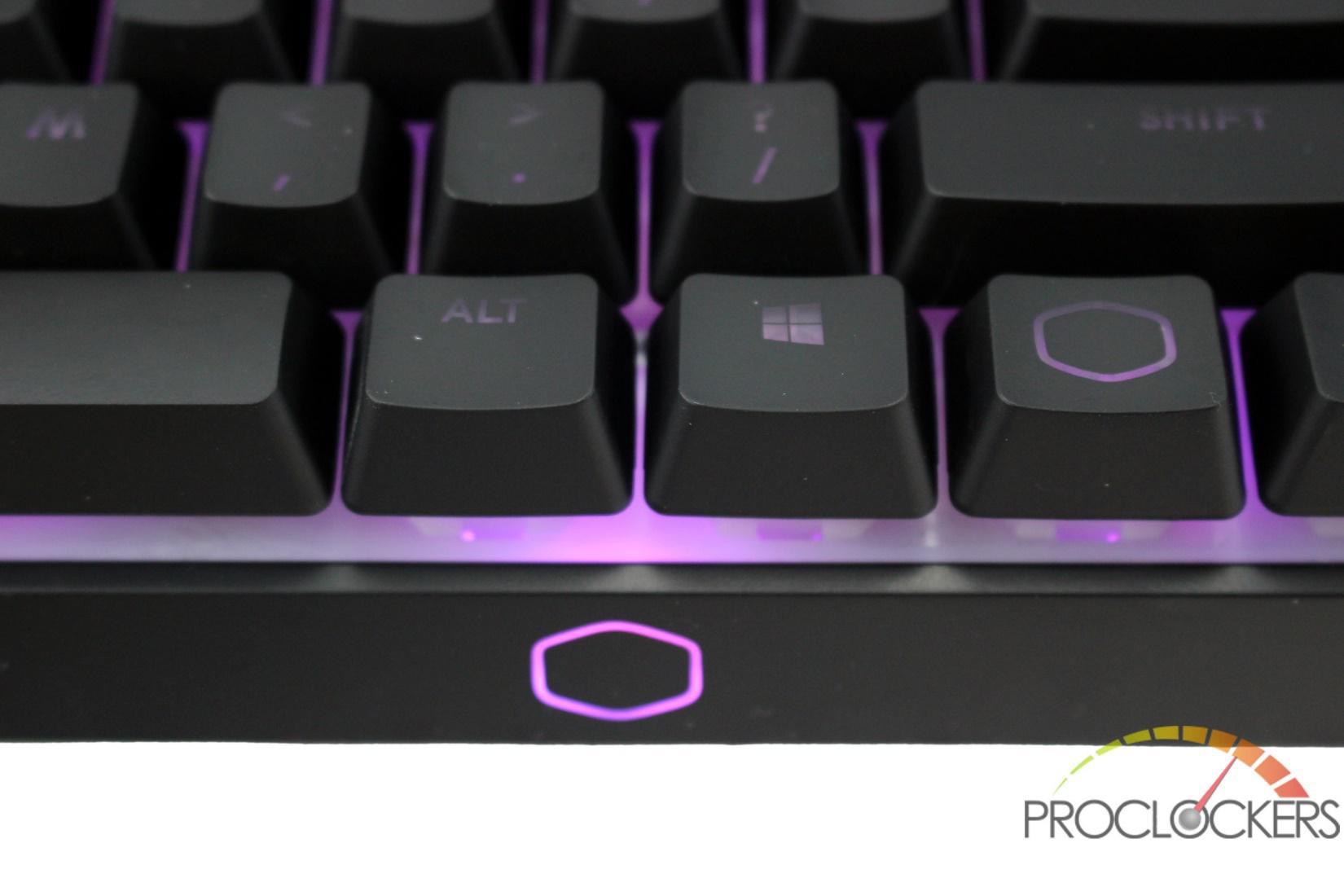 When powered up the first time, The keyboard is statically set to solid purple color.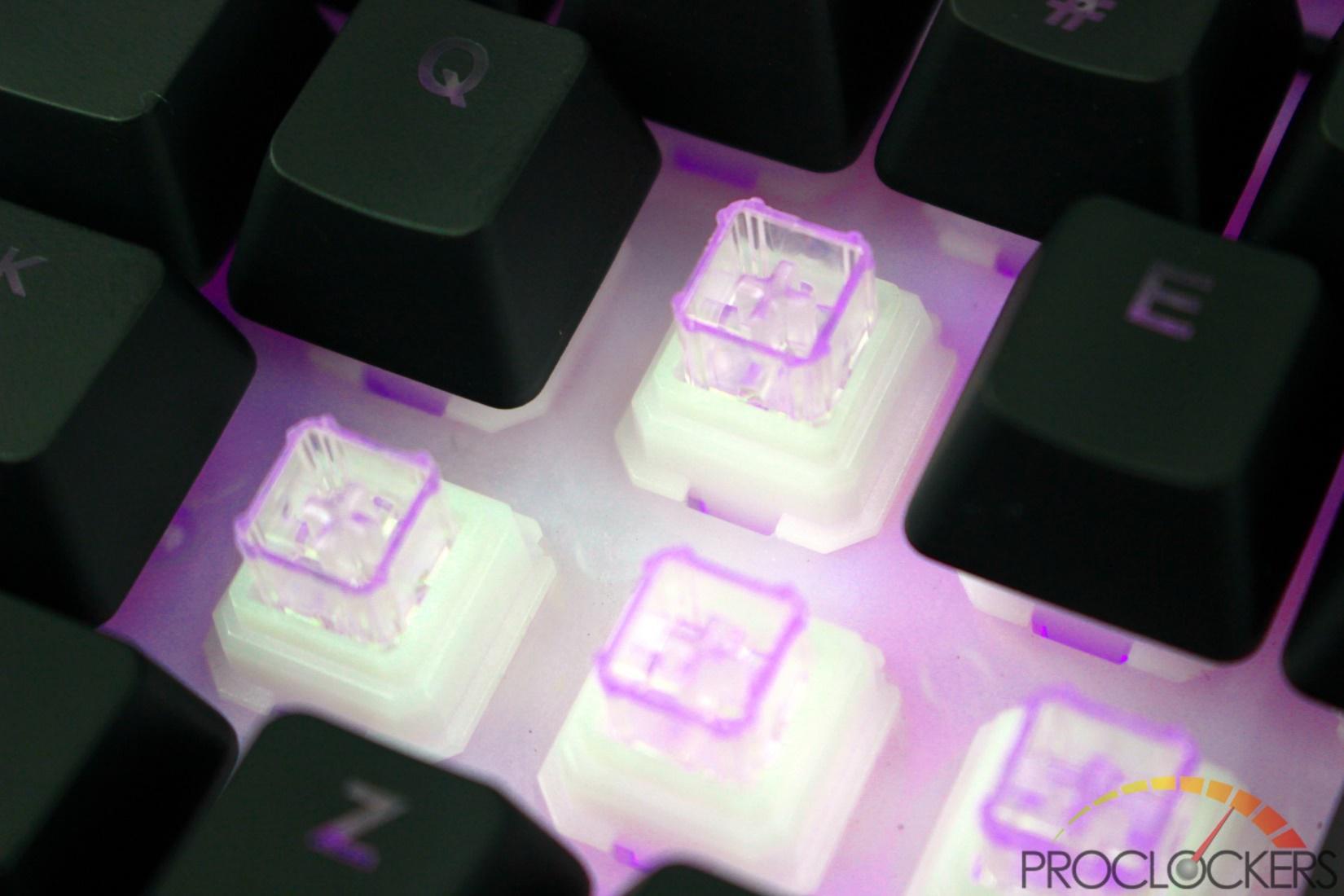 The "mem-chanical" switches are a cost-effective way to marry the linear stroke feel that a mechanical switch gives, with the cost-effective price of a membrane keyboard.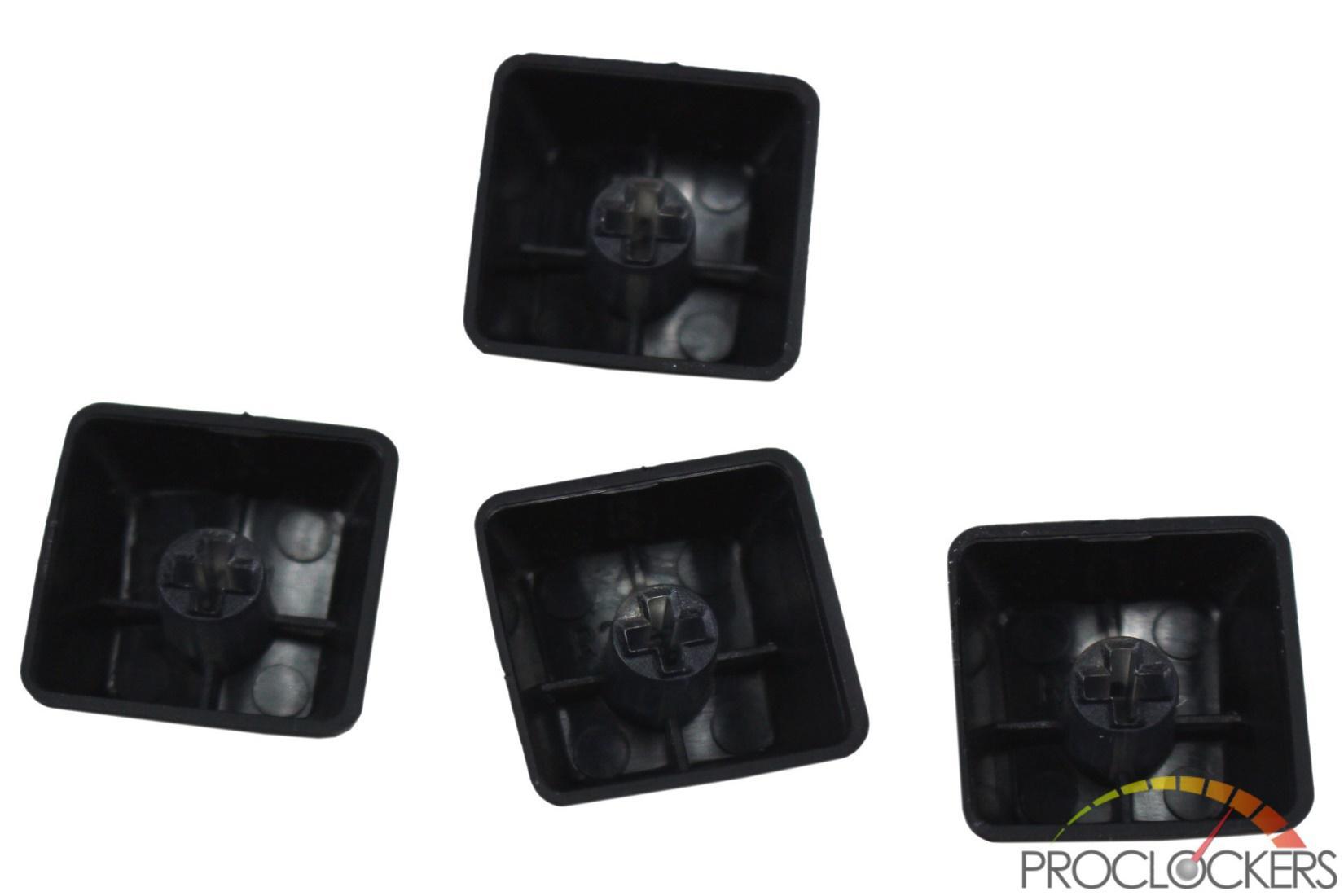 The keys all use a Cherry compatible keycap if you wish to swap them out.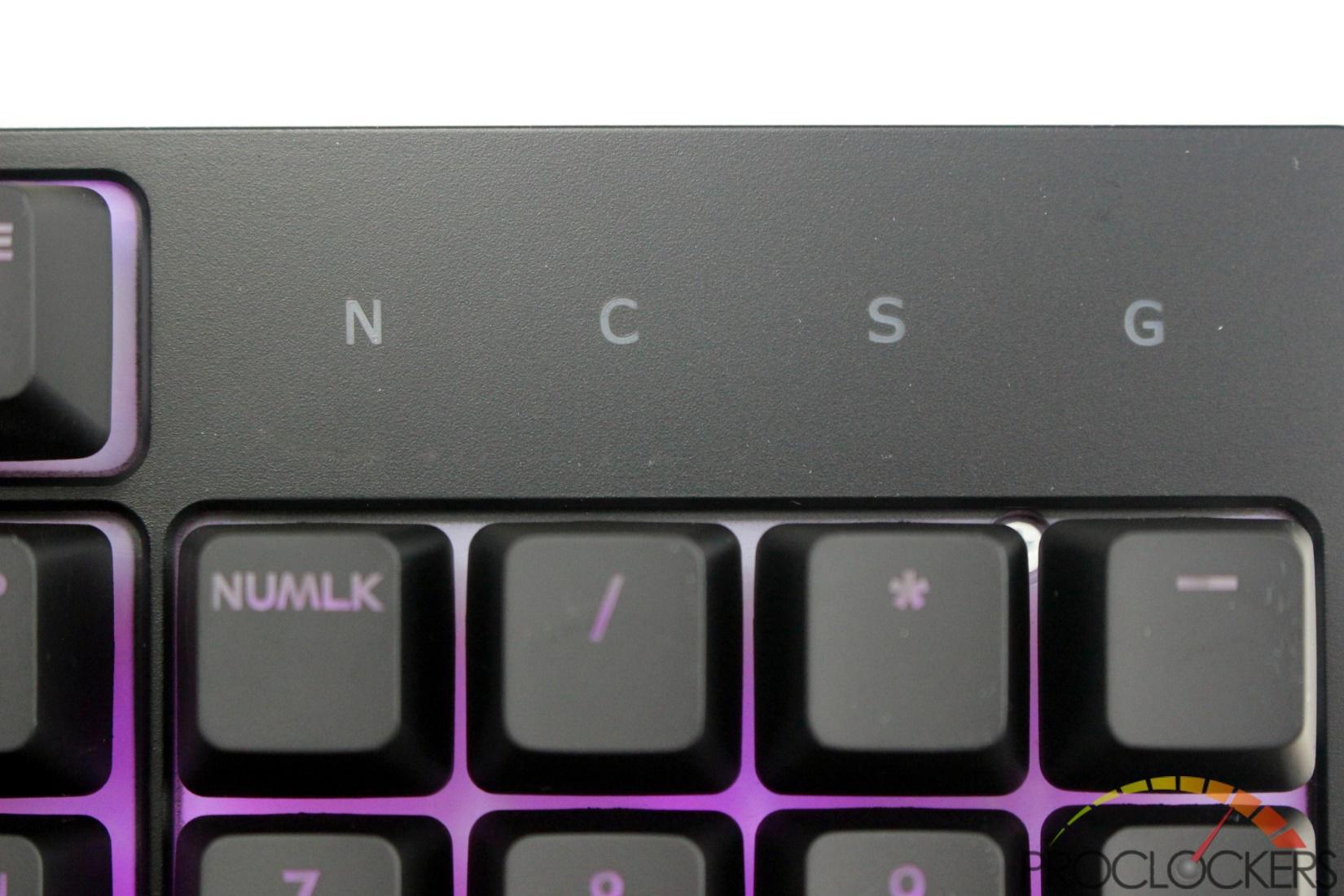 The top corner has your traditional Number/Caps/Scroll Lock indicators, as well as a gaming mode indicator. When in Gaming Mode, the Windows key is disabled.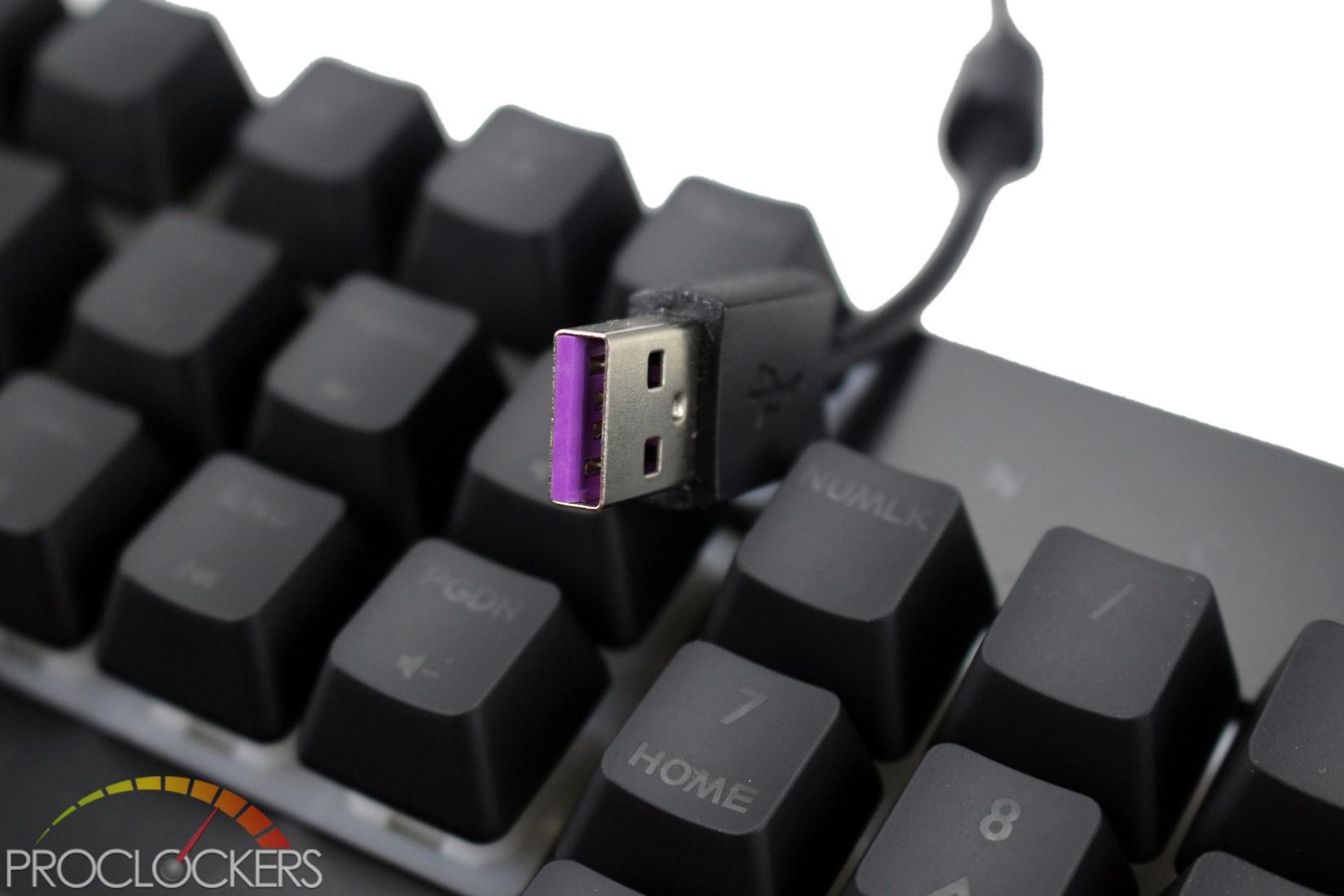 One fun detail, the USB plugs are done in the signature Cooler Master purple color.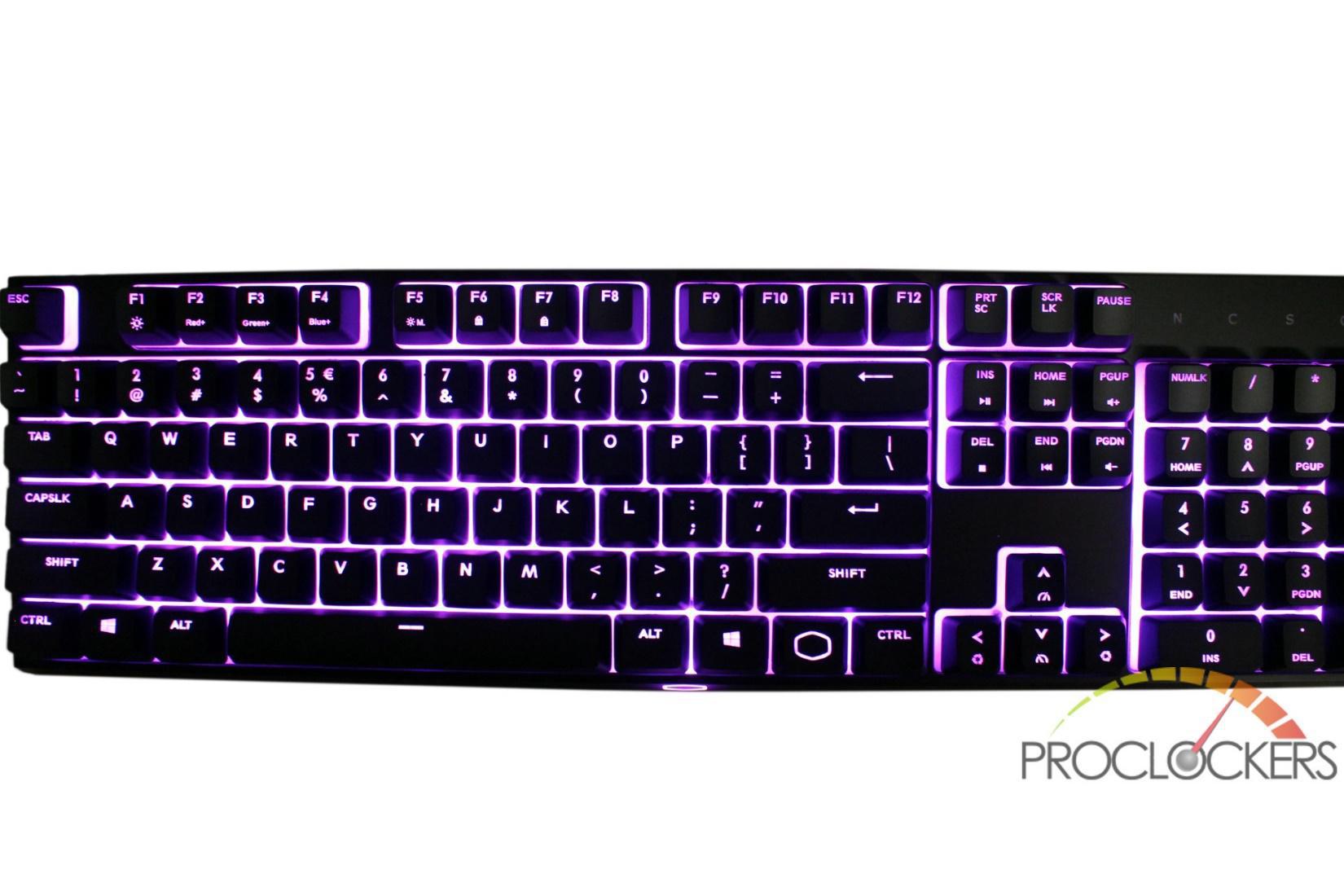 No software is required to control the lighting on the keyboard. A combination of the 'Cooler Master' key on the bottom row with other keys lets you control and customize the keyboard to your liking.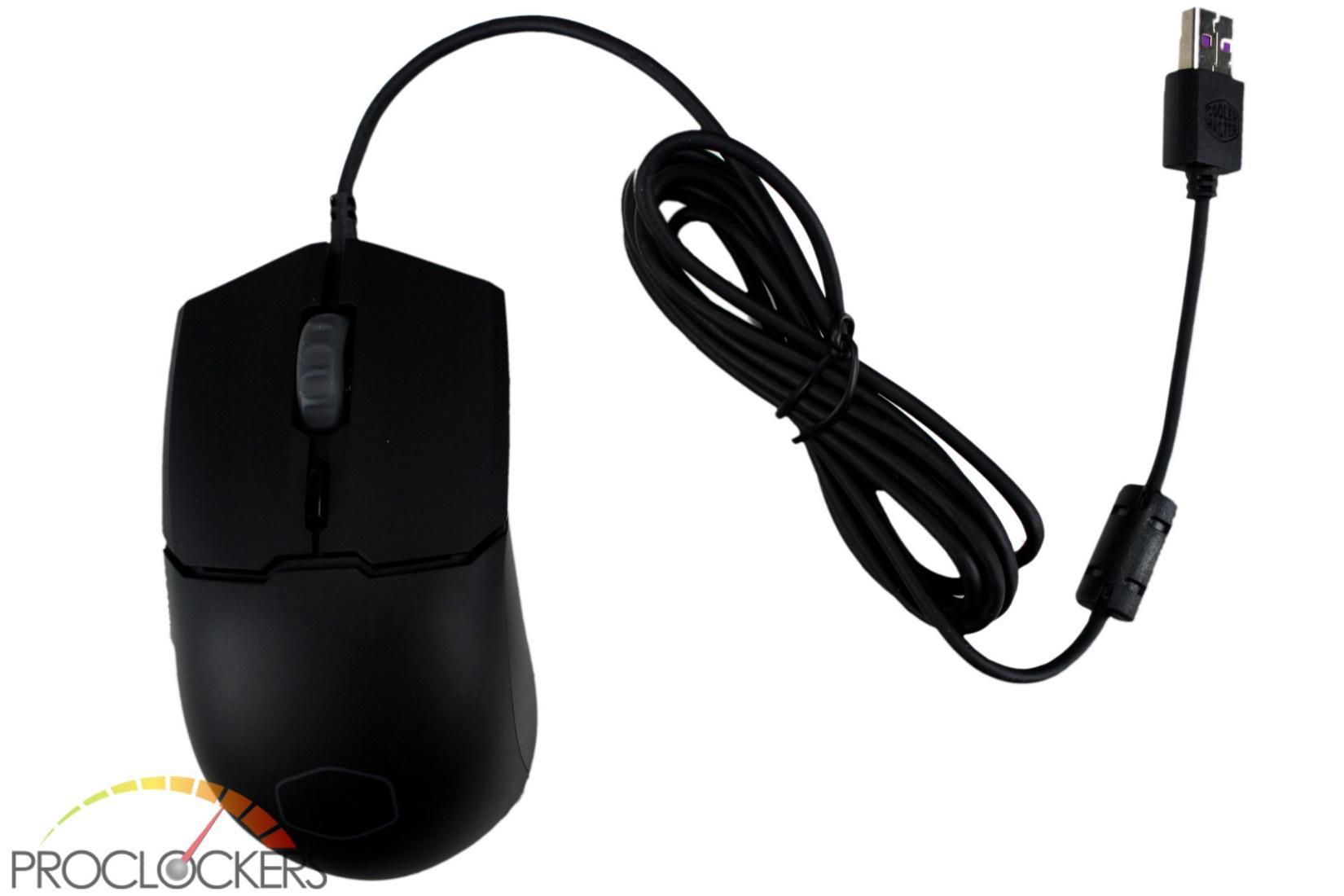 The included CM110 mouse features an ambidextrous design that is optimized for right-handers. All this really means is that the extra buttons are on the left side for right-handed thumb use, and no switches are on the right side.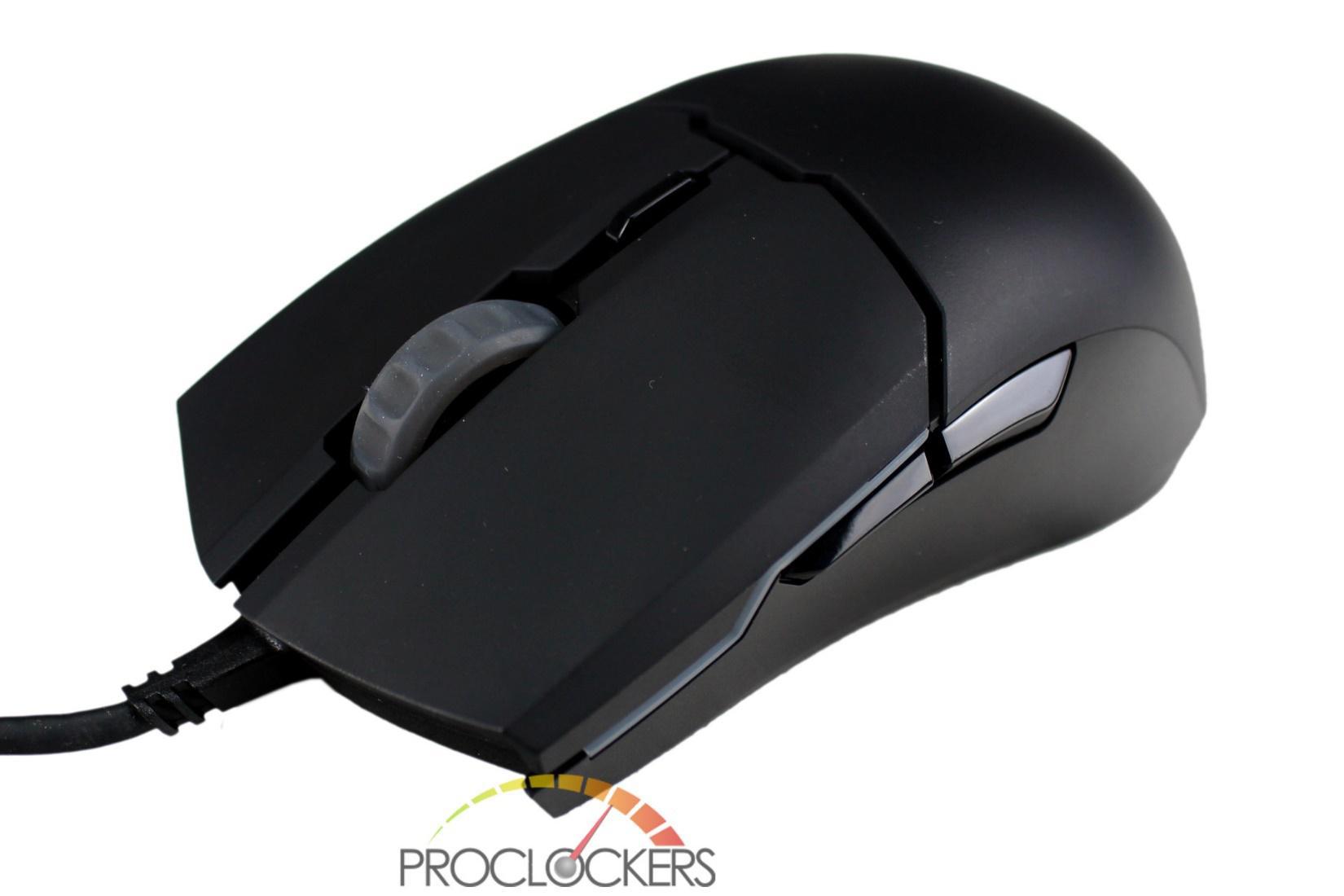 Buttons 4 and 5 are on the left side in traditional spots, while an extra button is right behind the mouse wheel to adjust DPI on the fly between several pre-programmed levels including 400,800,1600 and 3200 DPI.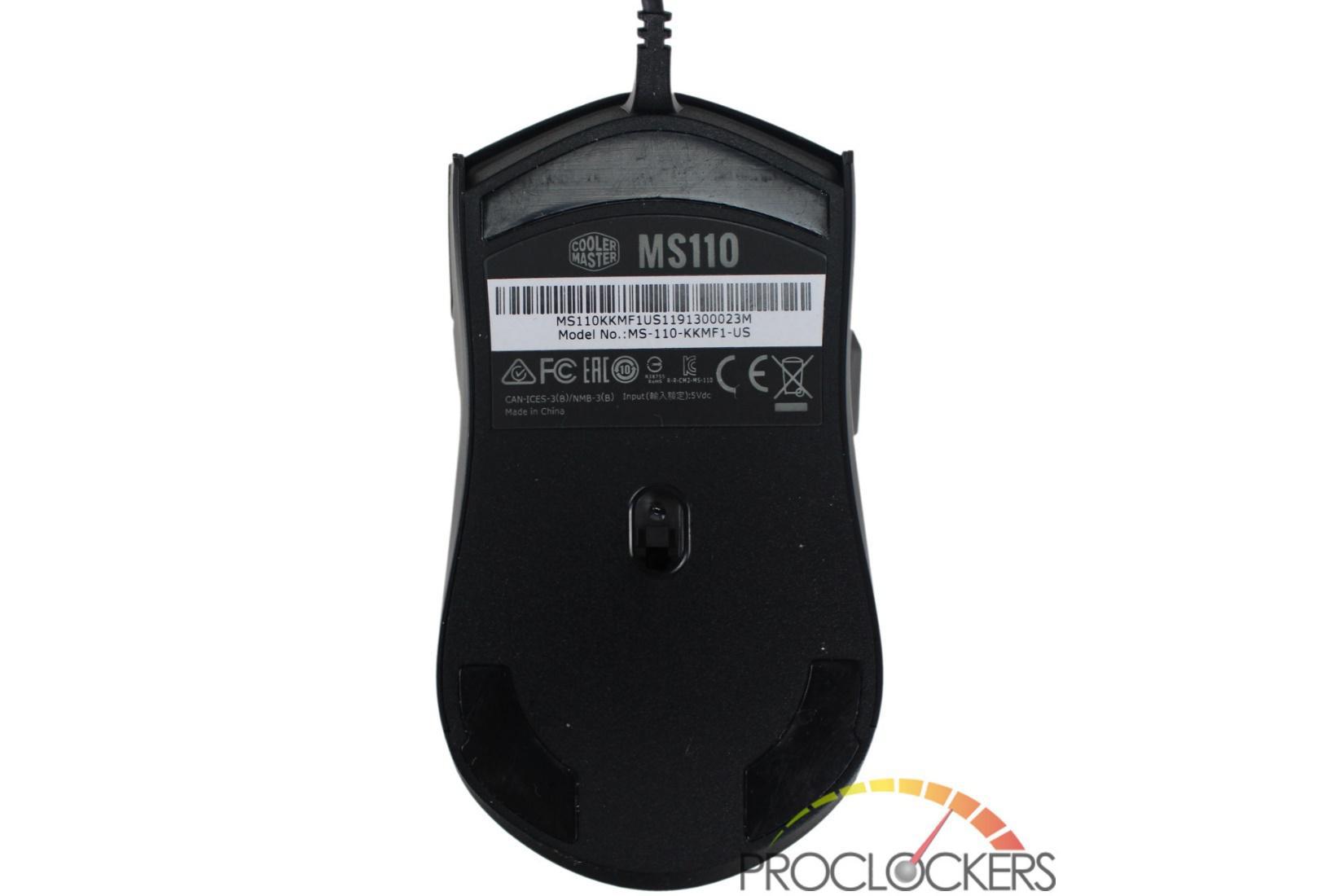 The bottom has three skates, one very large one at the front and two on the rear.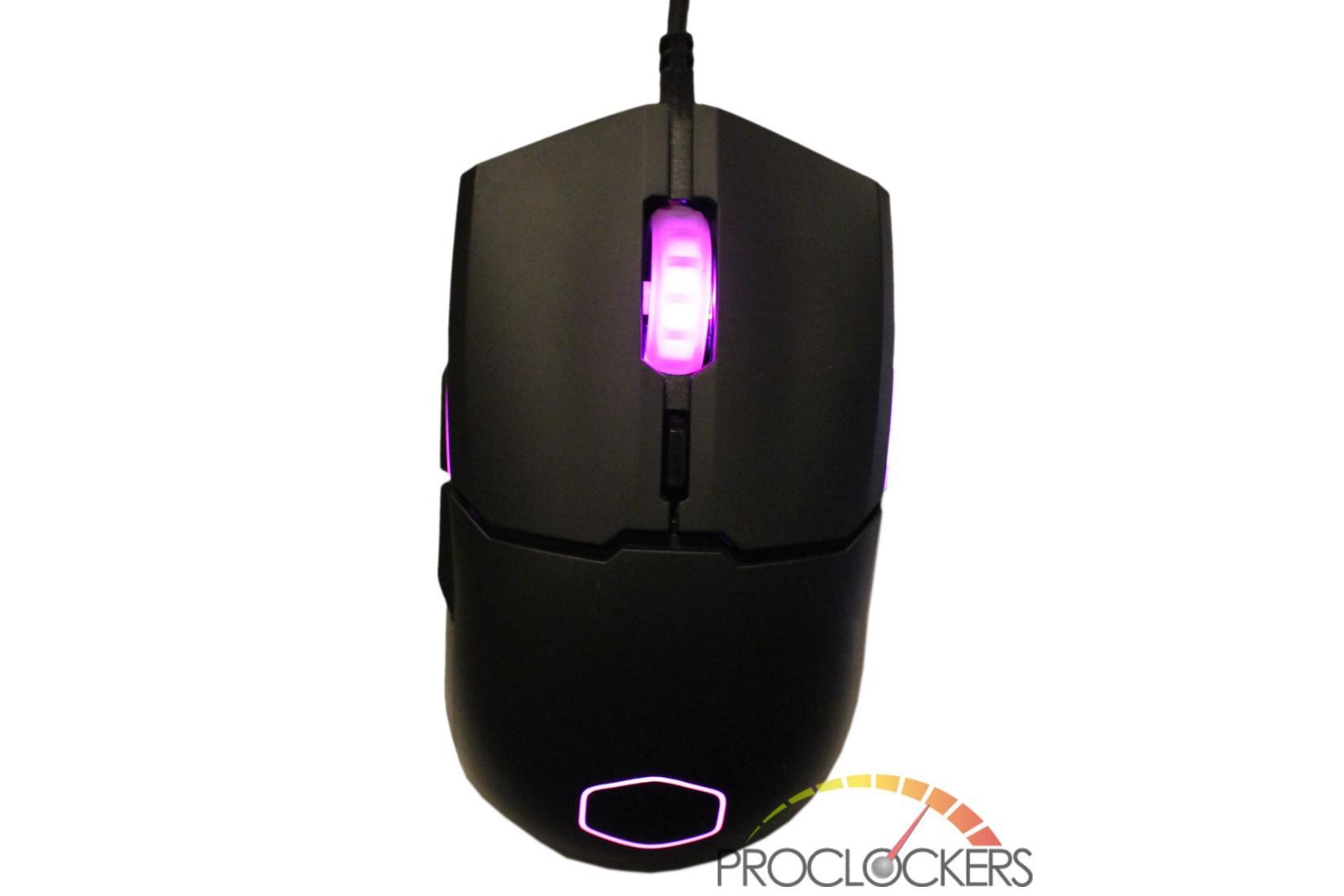 When powered on, the mouse features the same purple glow the keyboard starts with. The wheel and rear logo indicate the DPI setting.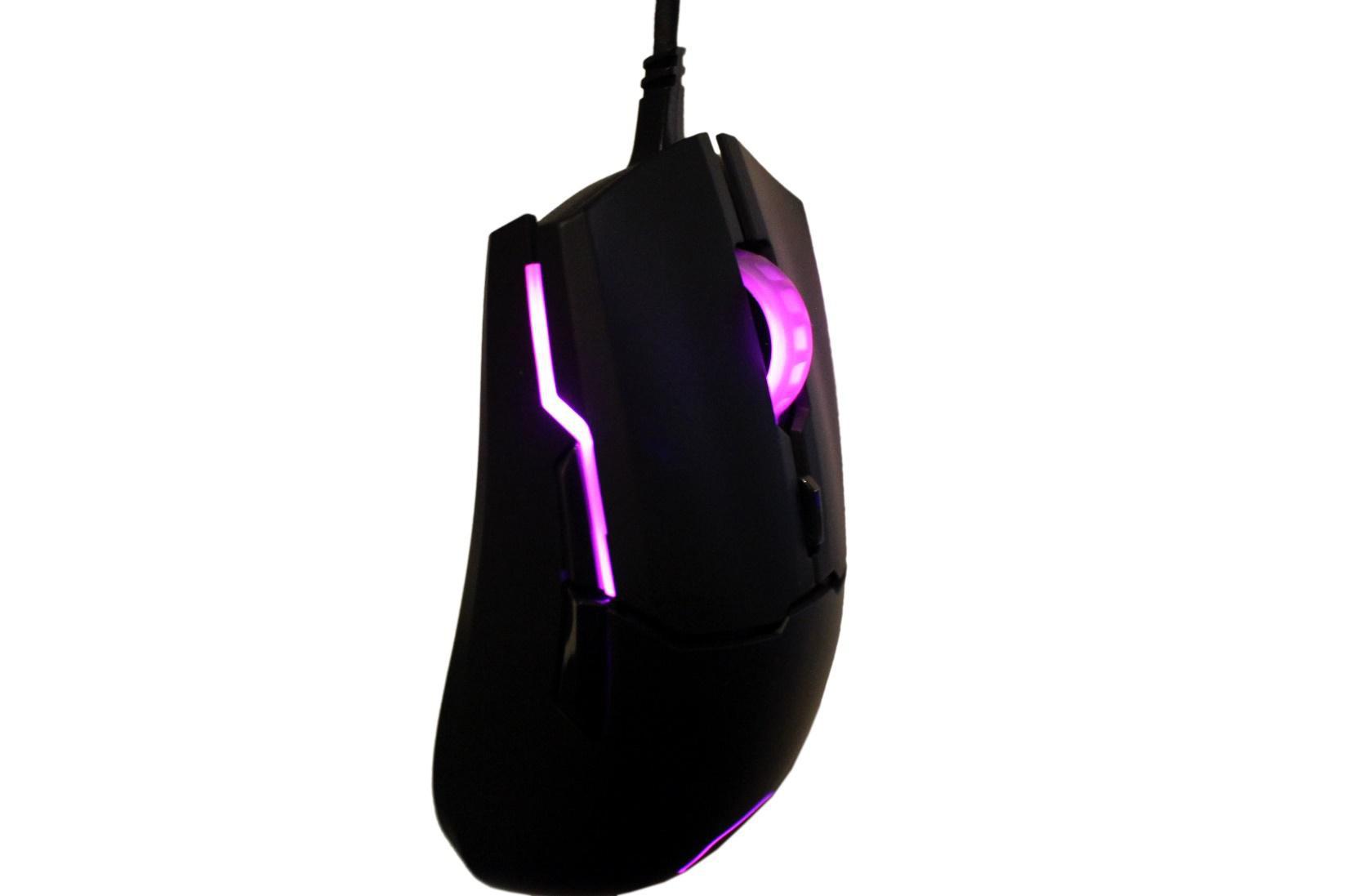 The sidelights can be customized without software.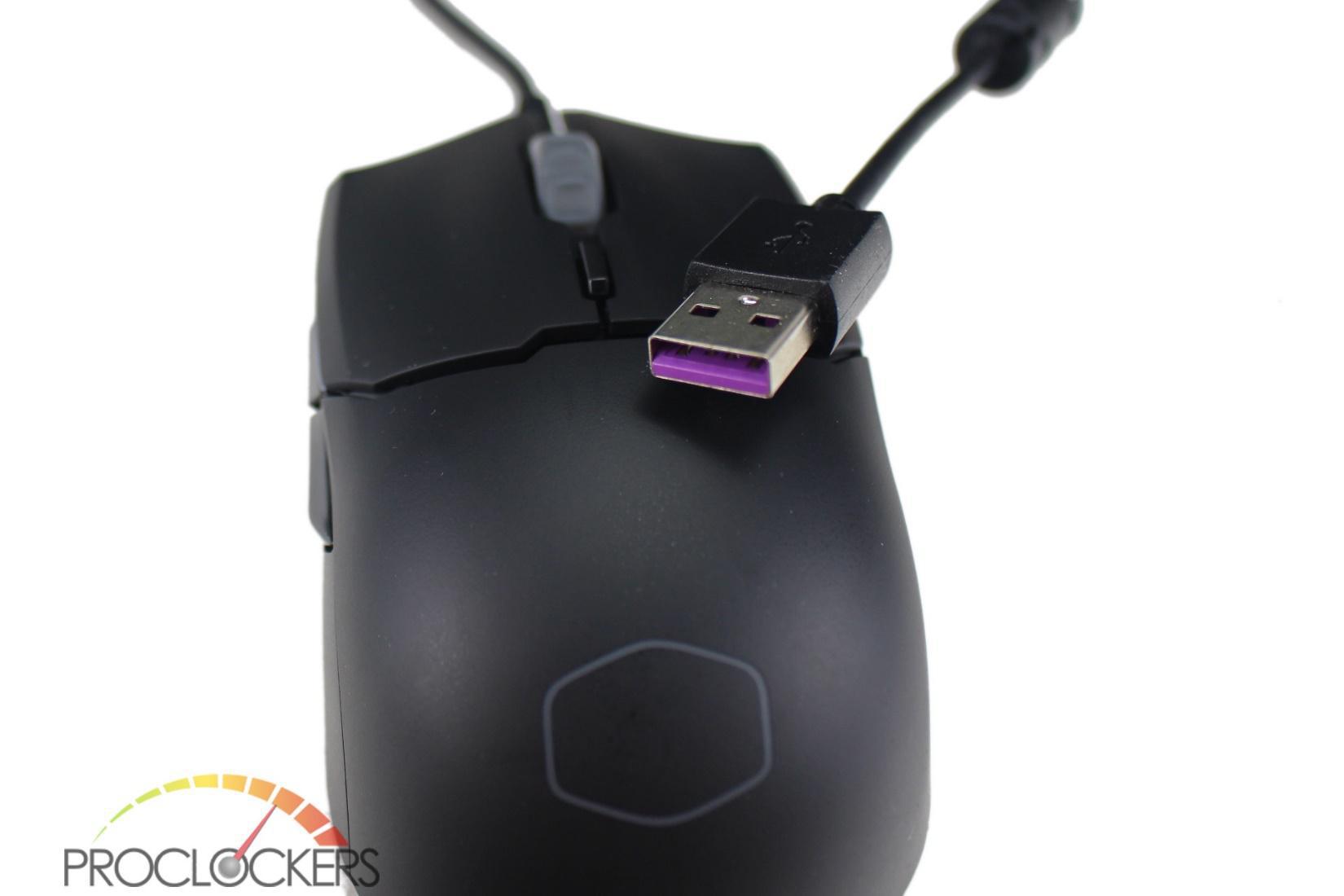 The mouse also features the Cooler Master purple-colored plug.
Testing

Testing is obviously quite subjective, how a peripheral 'feels' to a user is going to be different for each person. I tend to be really picky about keyboards and strongly prefer a Cherry MX Brown style mechanical switch, but I have to say that the mem-chanical switches were pleasantly surprising.
These have a little bit higher overall resistance than Cherry MX Browns but have a nice linear feel. The bottom-out is a little softer than a typical mechanical switch thanks to the membrane dome underneath but ends up very similar to my personal daily driver as it has the noise-reducing O-rings installed. For me, it was a rather surpassingly easy transition from my daily driver to this and I was able to game and type accurately almost instantly, something I'm not used to being able to do with the overwhelming majority of cheaper keyboards.
Mouse Polling Rate Test
Mouse Rate Checker 1.1b
"This little program measures and displays the sample rate of a mouse, i.e. how often the mouse sends information to your computer. It just measures the time between two "WM_MOUSEMOVE" messages and calculates the frequency.
There are programs to increase the sample rate of PS/2 mice to make the cursor movement smoother. To check your mouse's sample rate, just move the mouse quickly over the Mouse Rate Checker window until the average rate stays constant. It's possible that the rate is a bit inaccurate, especially at high rates (>=100 Hz). Try to uncheck the "show current rate" checkbox, which should lower CPU usage and close all other applications. If it's still inaccurate, blame Windows, not my program. 😉 Mouse Rate Checker 1.1b is Freeware."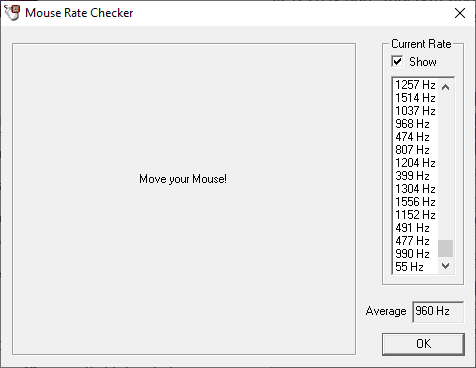 The Mouse does indeed have a 1000 Hz polling, meaning you have almost zero lag, even in the fastest paced games.
Final Thoughts & Conclusion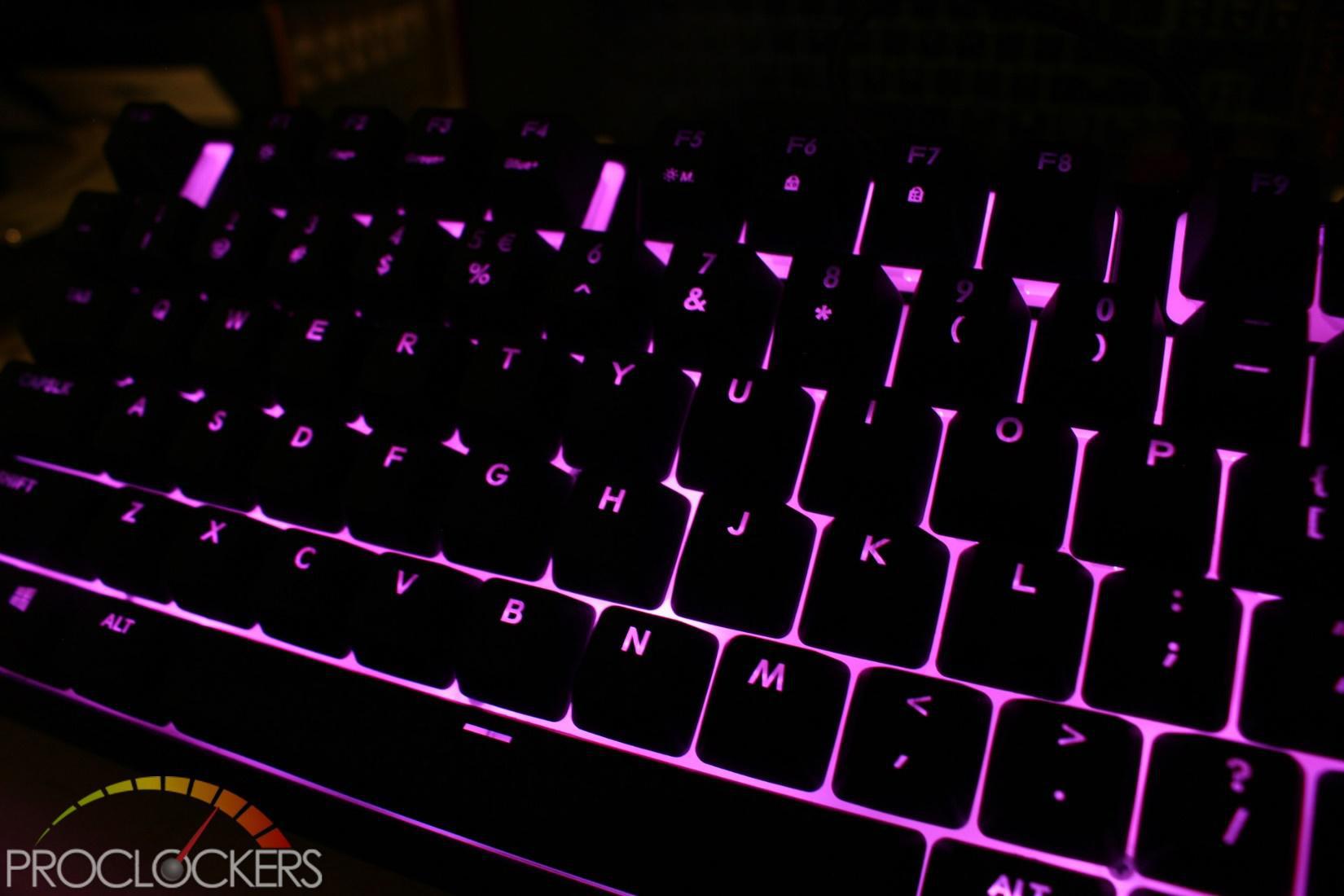 Cooler Master's MS110 provides incredible value to budget-conscious gamers looking for great performance, a little customization and lot less cash outflow. The mem-chanical switches provide a great feel with even better durability at a price point that is usually reserved for throw-away level devices. The mouse is also a really solid choice for right-handed gamers. If you are left-handed, you can still use it but the 4th and 5th buttons will be mostly useless. We really like that no software is required to adjust lighting. In the RGB world we now live in, it's easy to end up with a dozen different RGB control programs and some of you reading this have run into the fun of your lighting going rogue thanks to RGB programs fighting over control of anything they can touch. Given the $50 (or less over the holidays) street price, it's a no-brainer for us to recommend!
Great Job Cooler Master!