ID-COOLING ZOOMFLOW 240 AIO CPU Cooler Review
Introduction
During the past few years, AIO's are becoming the popular choice when cooling your PC. This market has been getting more and more competitive and companies are looking for ways to get an edge. ID-COOLING hopes to have a winning combination with its new AIO, the ZOOMFLOW 240. The ZOOMFLOW 240 brings a high-density finned 240mm radiator, pure cooper micro finned base, and a new bigger and upgraded motor. On the RGB side of things included are 2 x 120mm ZF-12025-RGB fans, an illuminated pump cover and an RF RGB controller with remote. Even with all these features the ZOOMFLOW 240 is still competitively priced at an MSRP of 109.99 USD.
About ID-COOLING
Founded in 2013, ID-COOLING teamed up with a few veterans of the PC industry with over 10 years experience in cooling solutions. ID-COOLING specializes in CPU AIR/AIO coolers but they also developed other products such as Fans, PSU's and computer chassis. With its own independent RD team, they are able to develop innovated cooling solutions in heatpipe, vapor chamber and cold plate technology which has allowed them to bring high performing coolers to market.
Features & Specifications
Notable Features:
Addressable RGB LEDs
Enhanced pump design
Premium sleeved tubing
Technical Specifications:
Compatibility
Intel LGA2066/2011/1366/1151/1150/1155/1156
AMD TR4/AM4/FM2+/FM2/FM1/AM3+/AM3/AM2+/AM2
TDP
250W
Radiator Dimension
274×120×27mm
Radiator Material
Aluminum
Tube Material
Premium Sleeved Tubing
Tube Length
400mm
Waterblock Dimension
72×72×52.8mm
Cold Plate Material
Copper
Pump Current
0.26A
Pump Speed
2100±10%RPM
Pump Bearing
Ceramic Bearing
Pump Life Expectancy
50,000 Hrs
Pump Noise Level
25dB(A)
Fan Dimension
120×120×25mm
Included Fans
2pcs
Fan Speed
900~2000±10%RPM
Max. Air Flow
55.2CFM
Max. Static Pressure
2.13mmH2O
Noise
16.3~33.5dB(A)
Rated Voltage
12VDC
Operating Voltage
10.8~13.2VDC
Started Voltage
7VDC
Rated Current
0.25A
Power Input
3W
Bearing Type
Hydraulic Bearing
Packaging & Unboxing
The ZOOMFLOW 240 comes in a black box with the front showing the cooler with its rainbow RGB effect on the fans and pump cover, and to the bottom left are some of its notable features.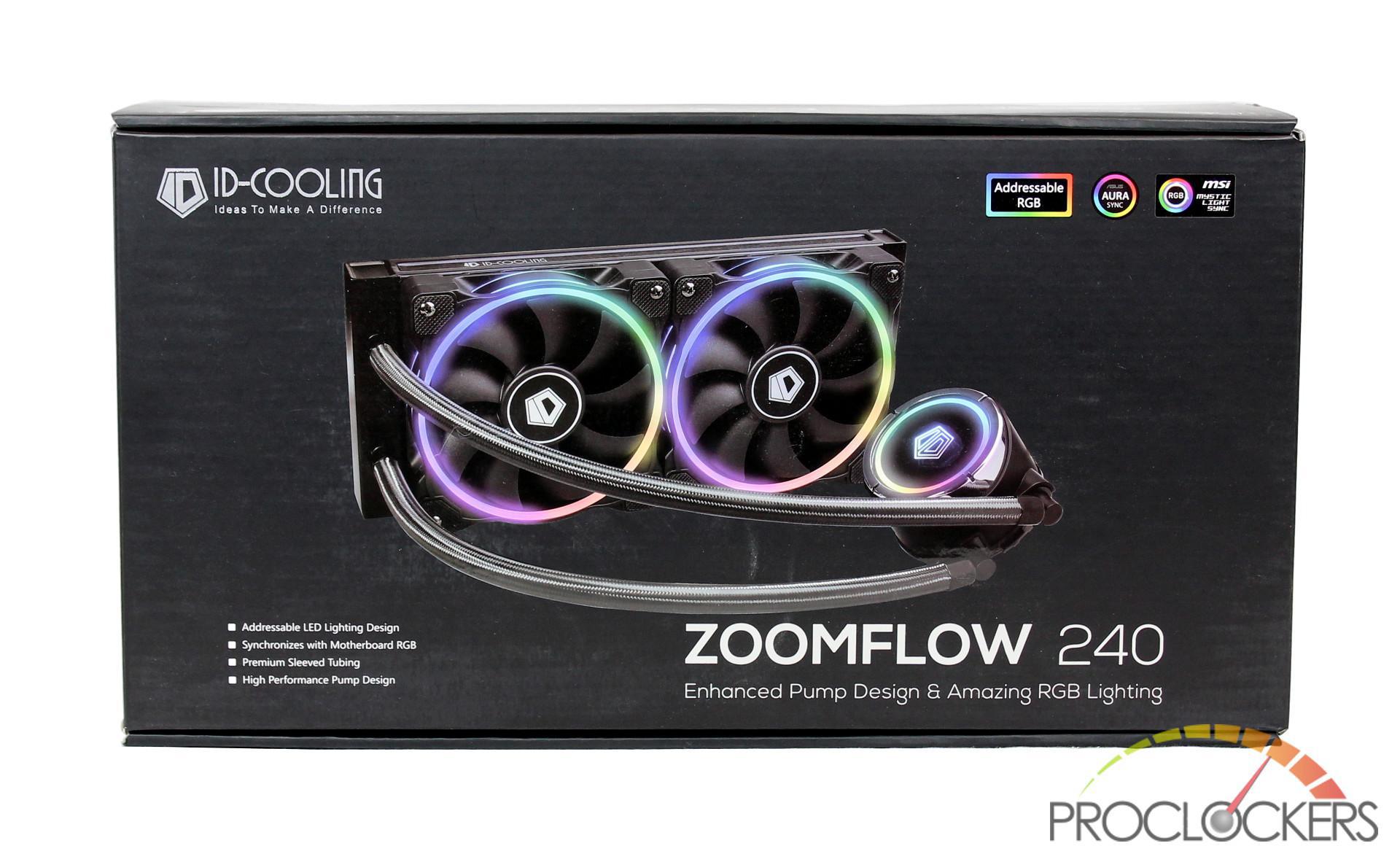 On the side of the box, it describes its features in a little more detail and is provided in 4 different languages.
On the other side of the box, you're presented with wire diagrams of the ZOOMFLOW 240 at a variety of angles. Also included in the wireframes are measurements for both the radiator and cooler/pump.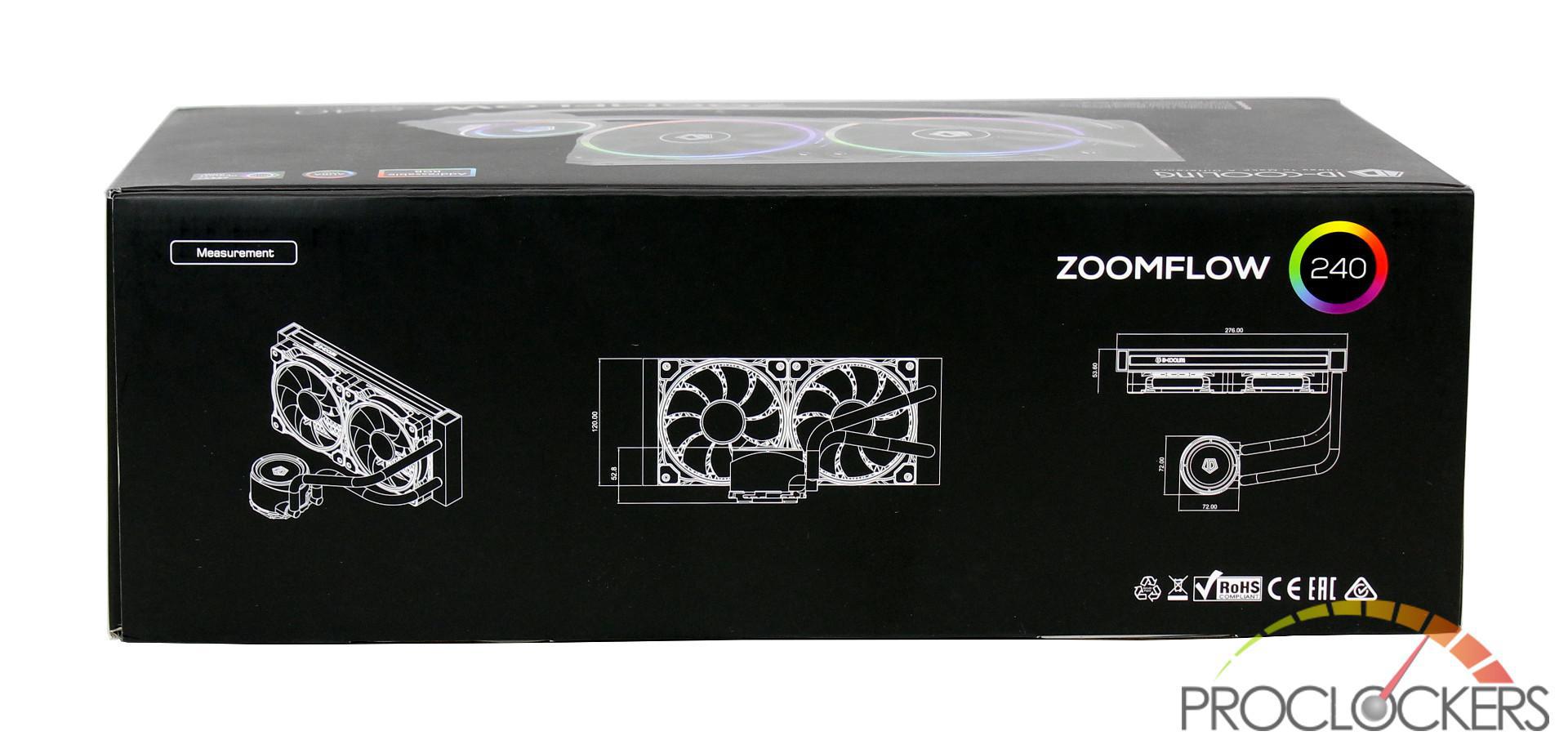 The bottom of the box gives a detailed list of specifications as well as the socket compatibility of the cooler.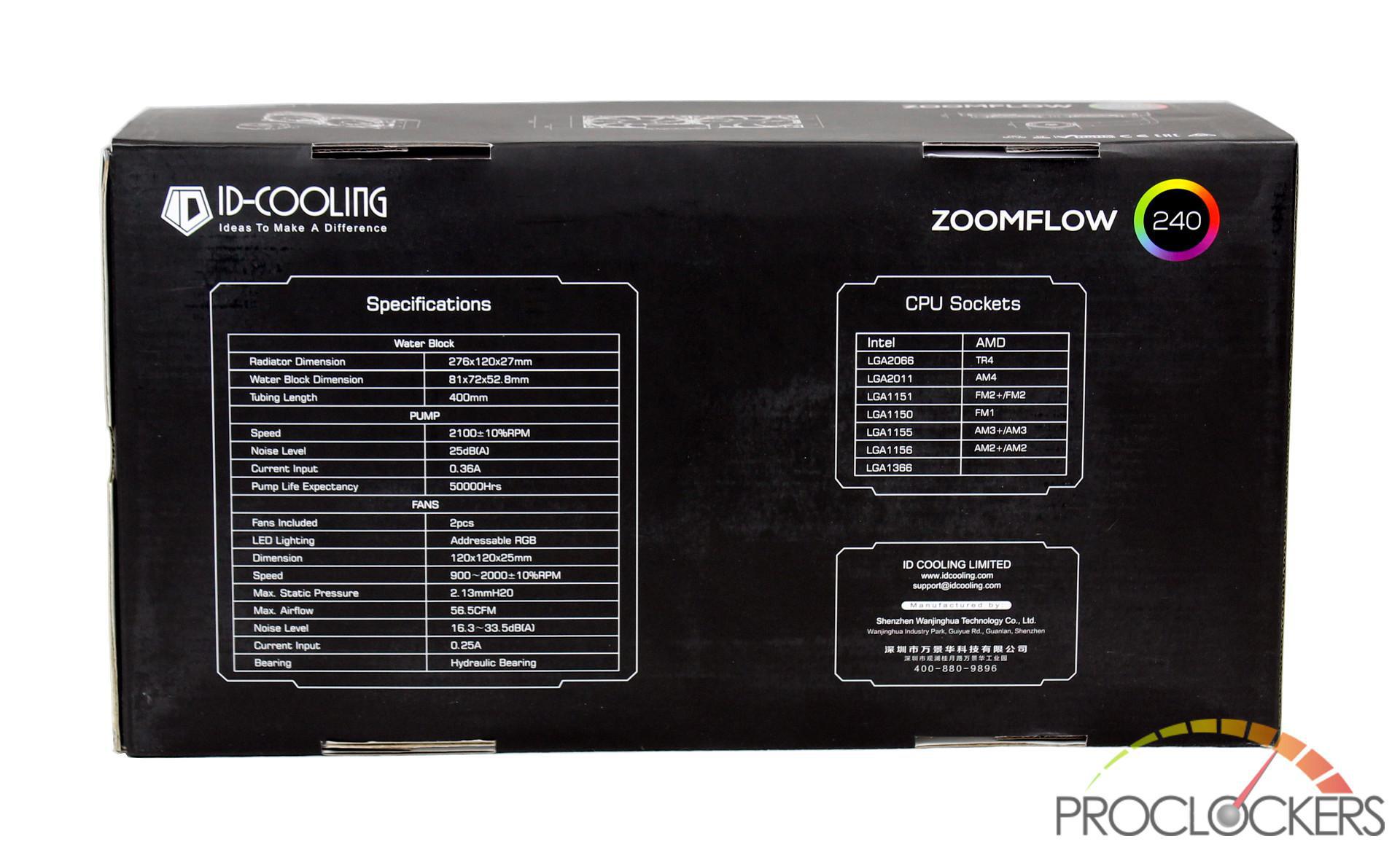 Opening the package, the ZOOMFLOW 240 is encased in molded cardboard and its components are wrapped in plastic.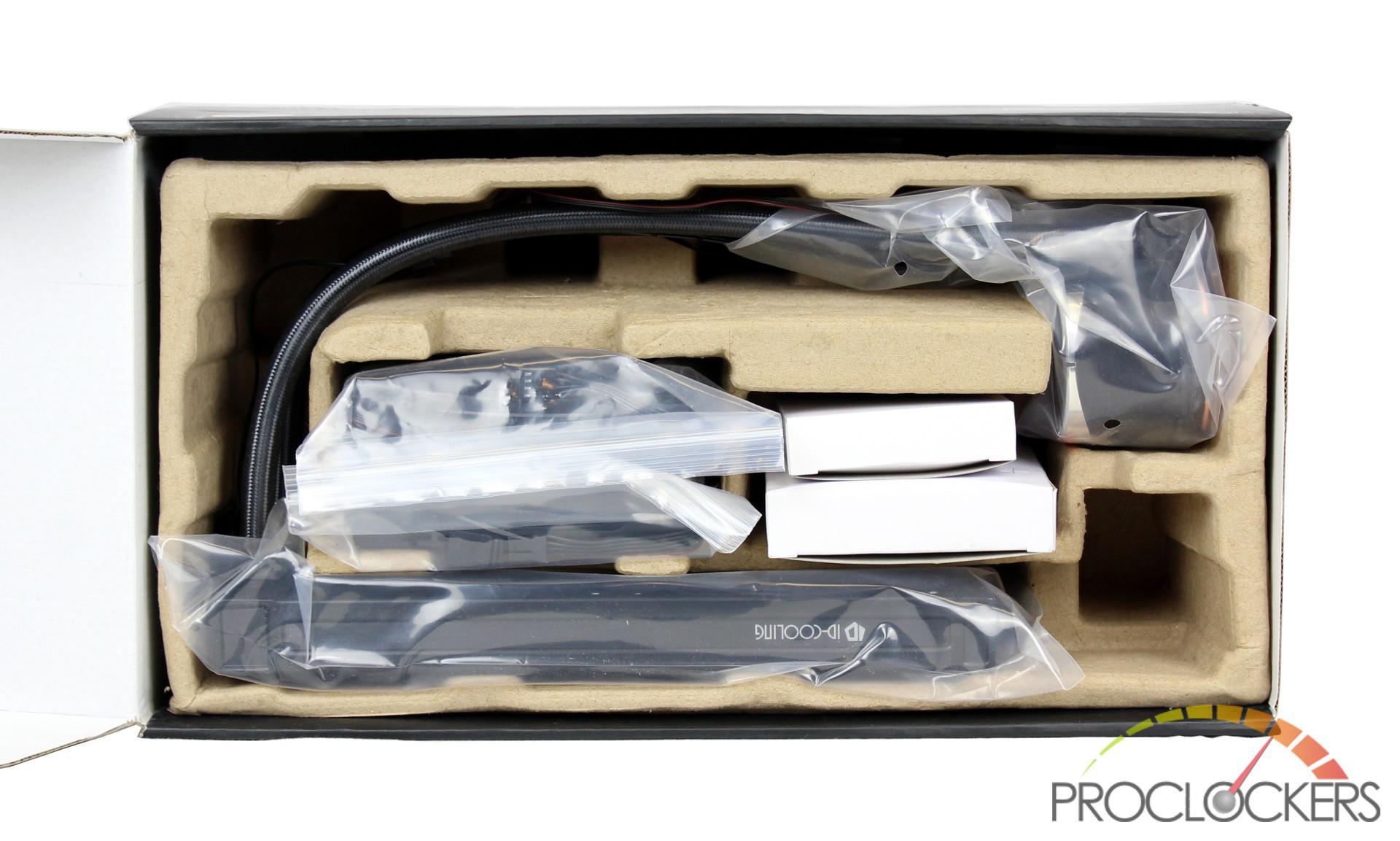 In addition to the ZOOMFLOW 240, other accessories included are:
2 x 120mm ZF-12025-RGB fans with adhesive padding
Intel/AMD CPU mounting hardware
PWM fan splitter cable
RGB splitter cable
RF RGB Controller with receiver
Thermal paste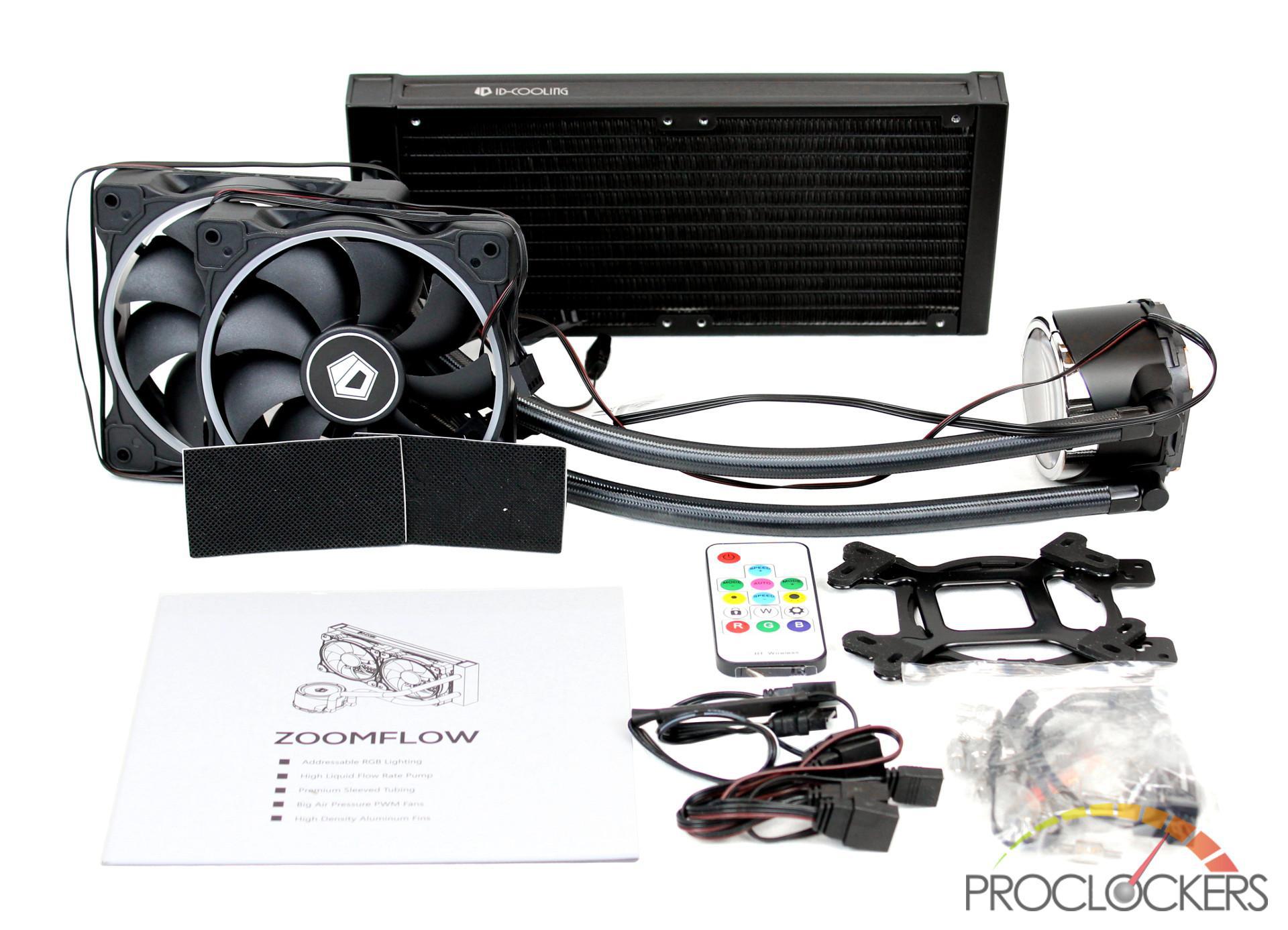 A Closer Look
Once we removed the ZOOMFLOW 240 from the box, the first thing that got are attention was its tube length. In various other AIO's we have always found the tube length to be just a little too short and in the ZoomFlow, the 400mm tubes are definitely welcomed. Looking at the radiator, it's painted matte black with white ID-COOLING branding on its sides.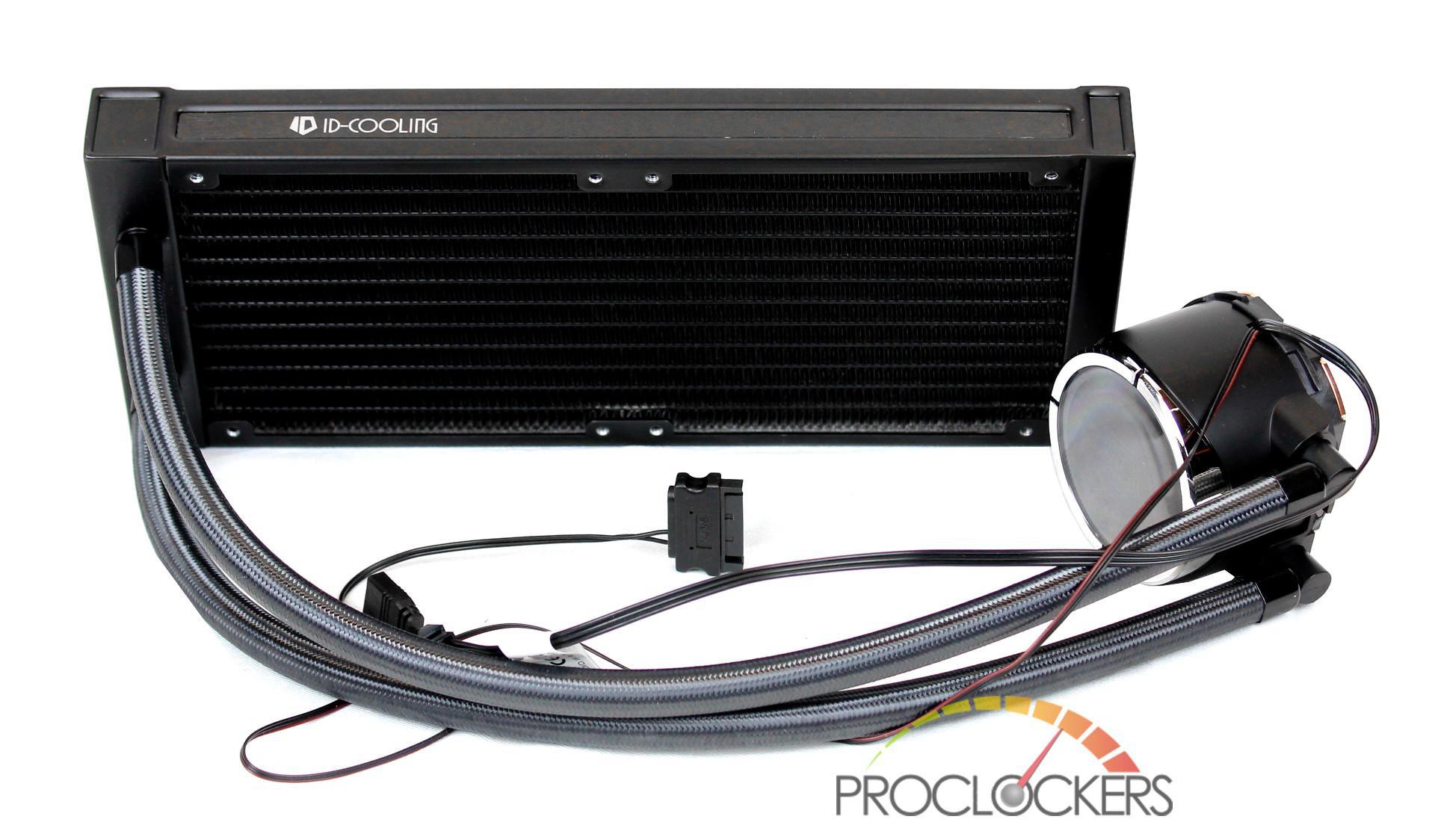 The fin density is also quite impressive with approximately 20 fins per inch.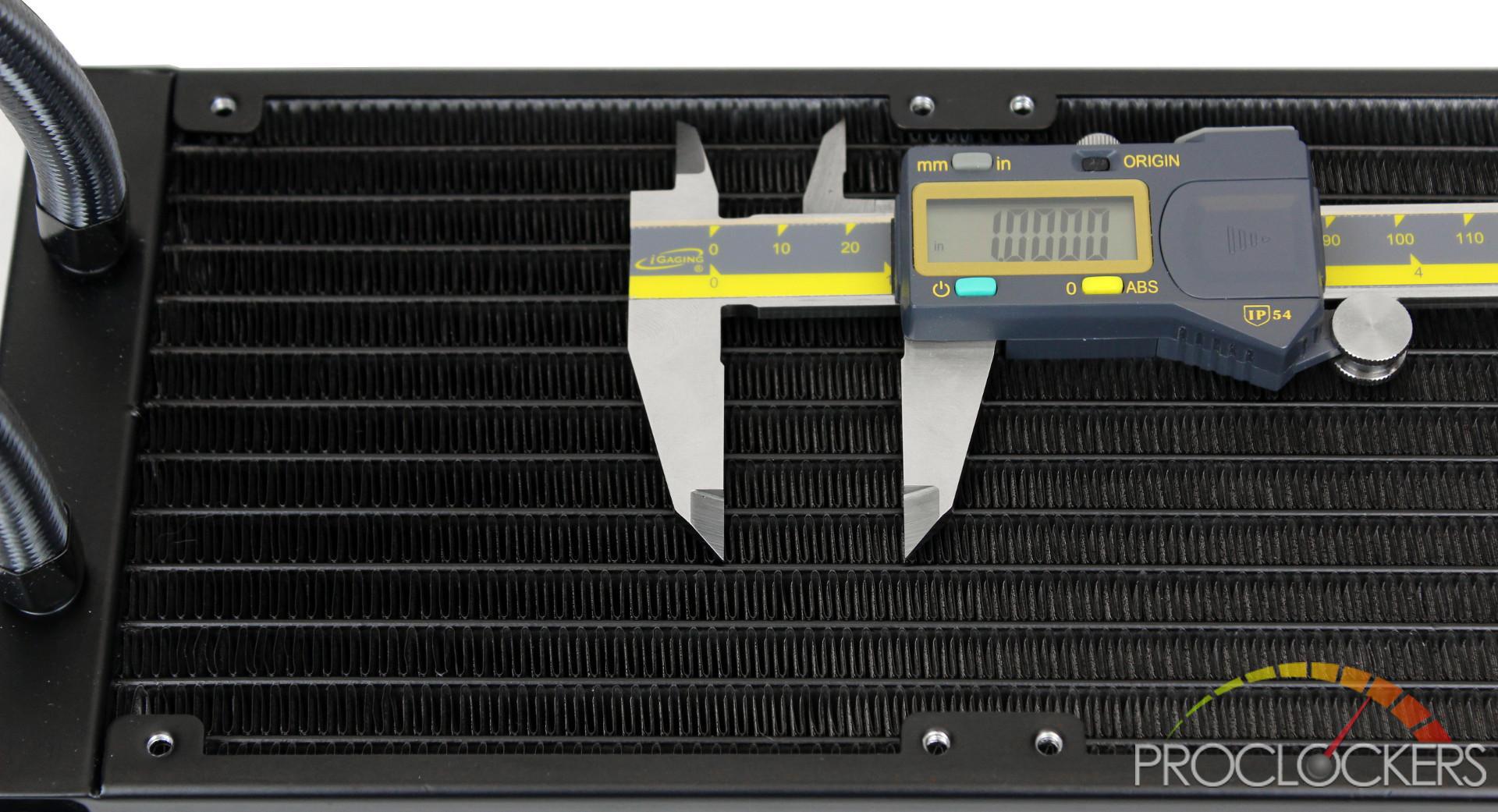 The pump top is also black with the top having silver trim on the outside and an ID-COOLING logo in the center.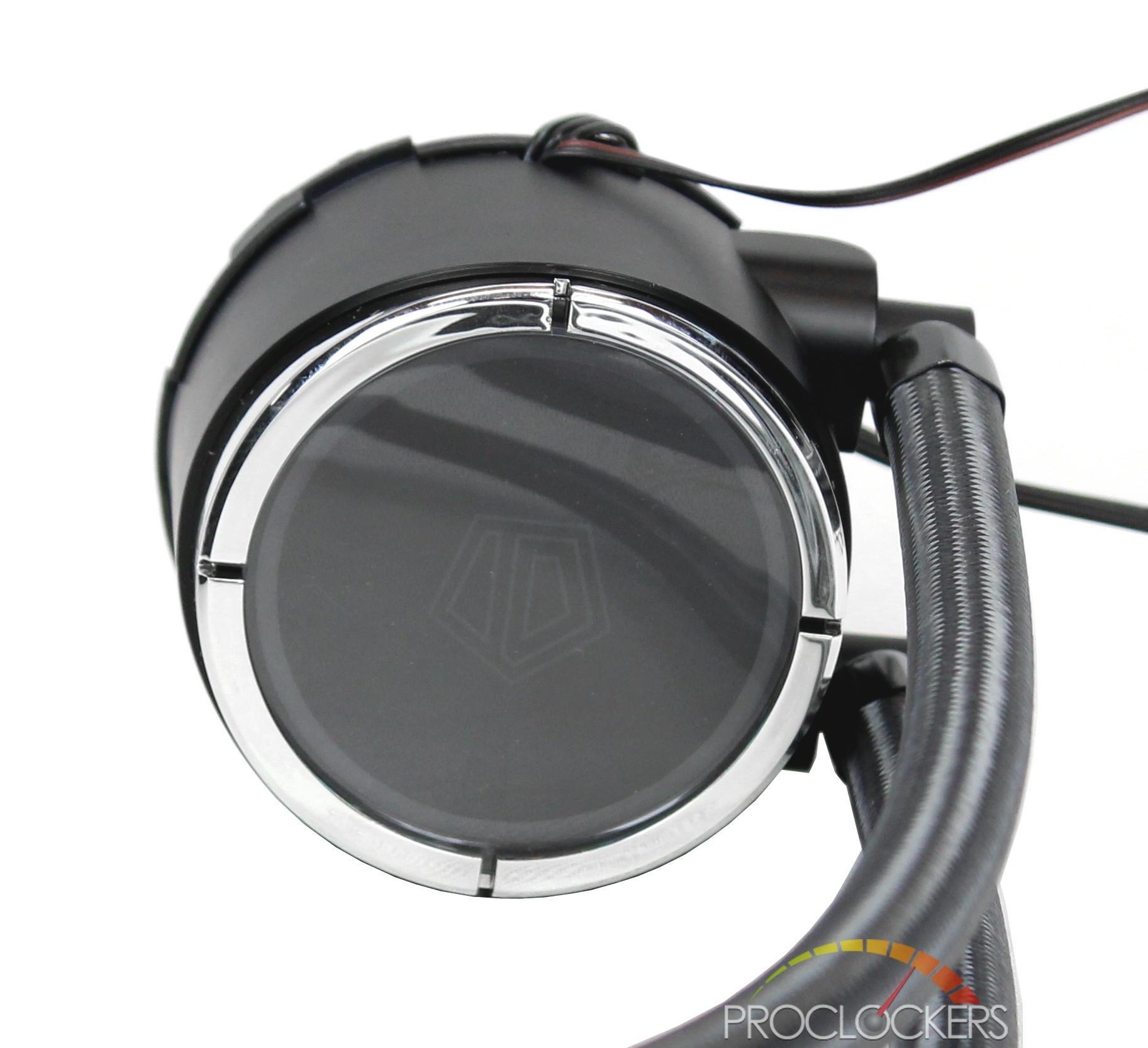 The bottom of the cooler is a large pure copper plate and has plastic film that is to be removed when installed.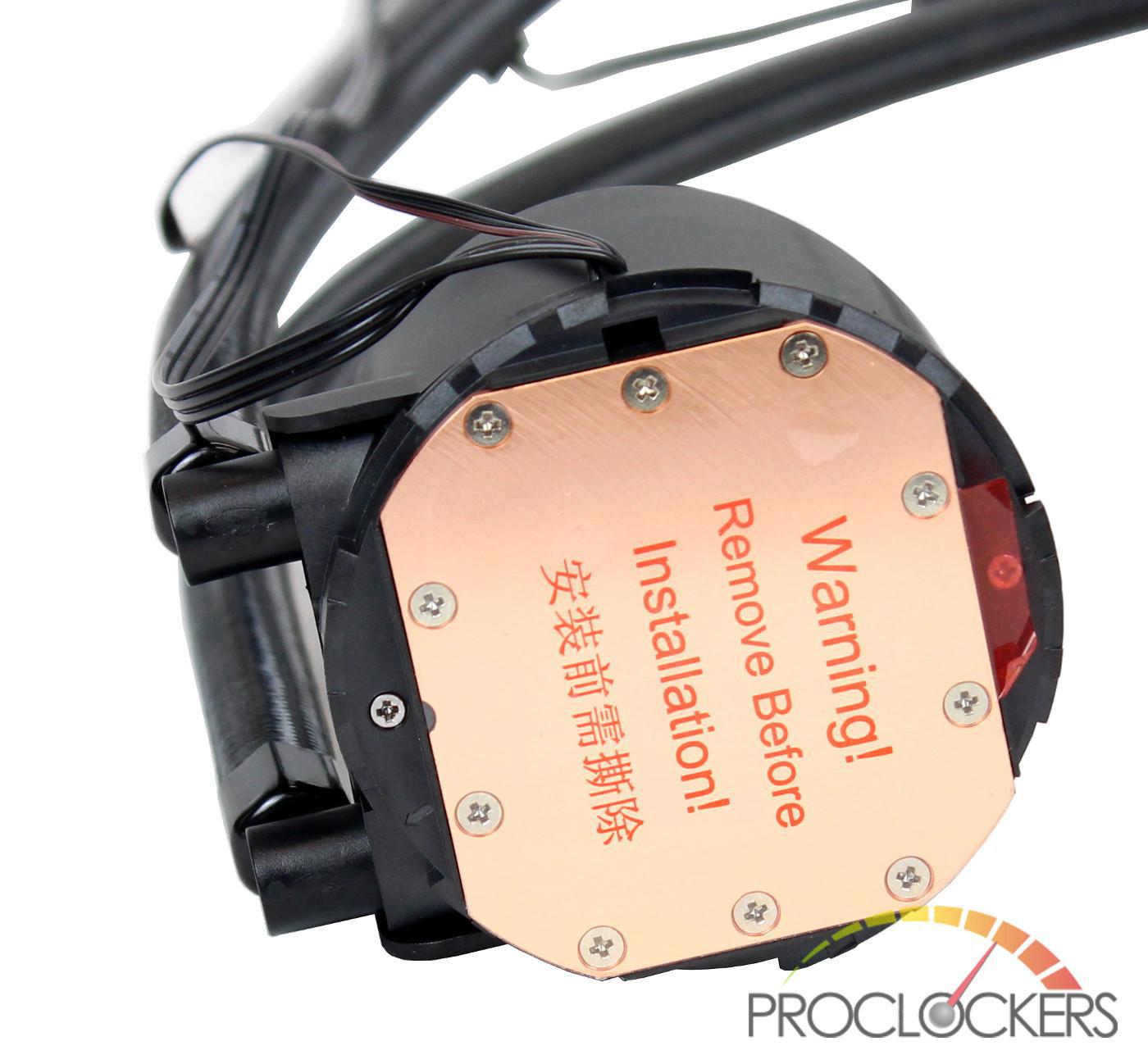 The tubes are sleeved with braid sleeving which brings a nice premium feel and looks great as well.
The ZF-12025-RGB fans feel very well built and have a bit of heft to them. They are branded with the ID-COOLING logo in the center and an RGB ring on each side around the blades. Also included are some adhesive pads to help eliminate fan vibrations when installed.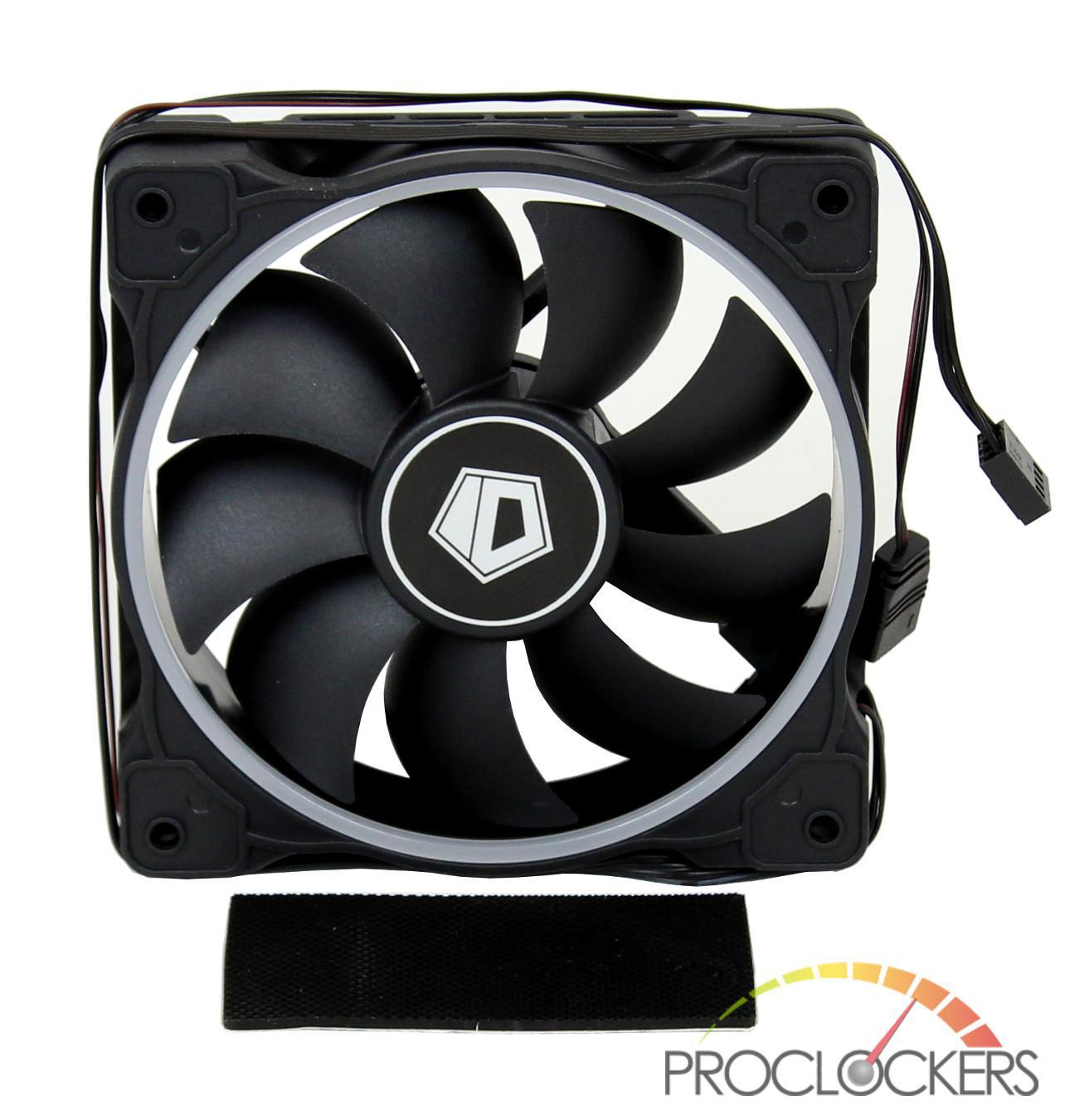 System Configuration & Installation
The test system we are using is:
InWin 915
ASRock Z370 Tachi Motherboard
Intel 8700K Processor Overclocked to 4.6GHz
4 x 4GB Team Group T-Force Delta RGB Ram
EVGA 1070 FTW GPU
EVGA 750W P2 PSU
The installation of the ZOOMFLOW 240 was a breeze with its detailed instructions and the 400mm tube didn't feel stressed at all. With this added length you should be able to mount the cooler in anywhere your case allows a 240 mm radiator. We chose to install the cooler at the top of our case to provide the best ventilation and airflow.
We installed the RGB and the fans to our existing RGB controller so it would match perfectly with the rest of the build. If you don't already have an RGB controller, you can use the one provided. Once powered up, the what really catchs your eye is the illuminated ID-COOLING logo on the pump cover with the LEDs on the outside edge.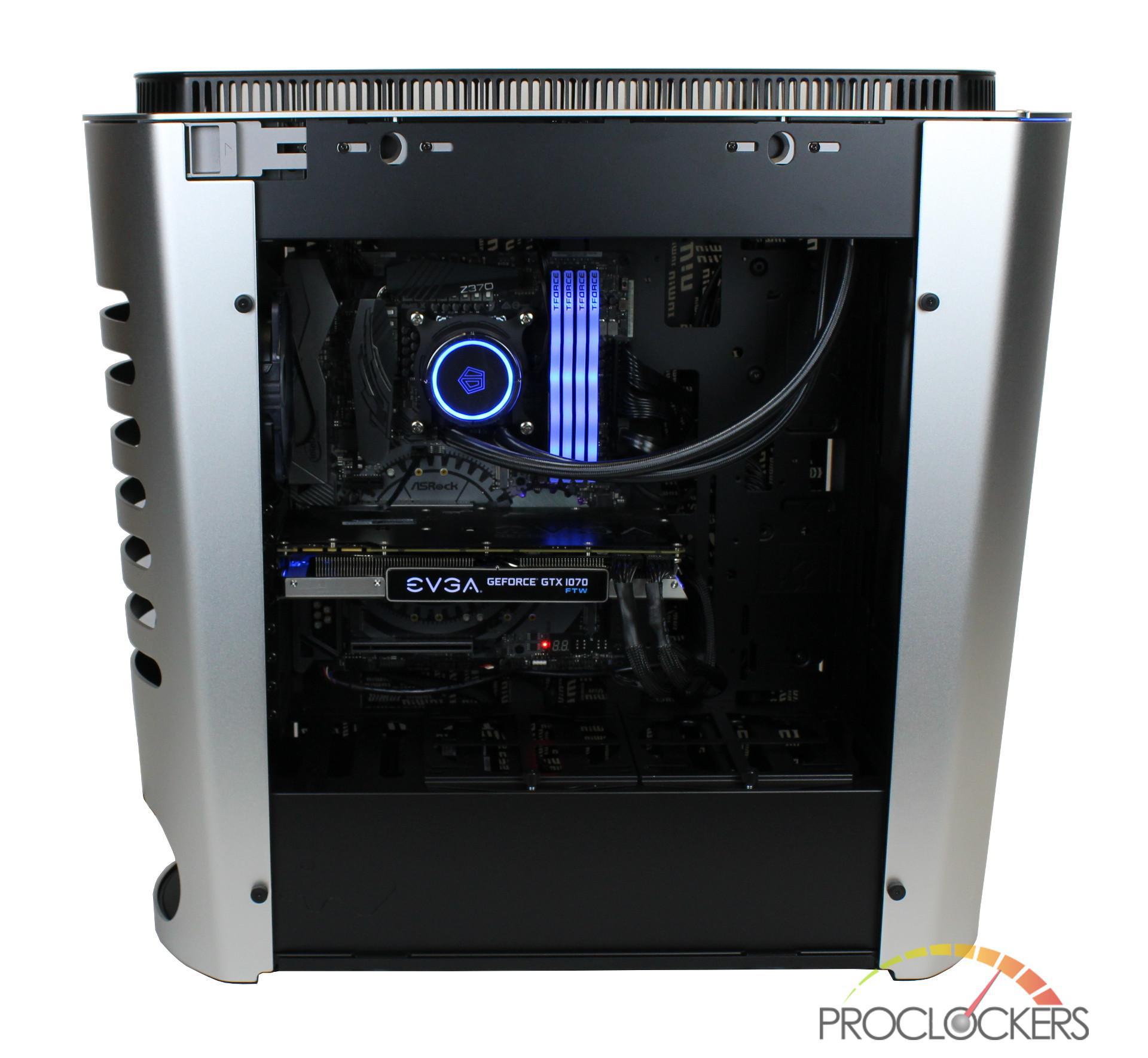 Looking to the top of the case, the included fans look great with the illuminated rings that included 14 addressable LEDs. The fans also are, fairly quiet when operated in the 1500RPM range which we feels is a nice balance of noise level and performance.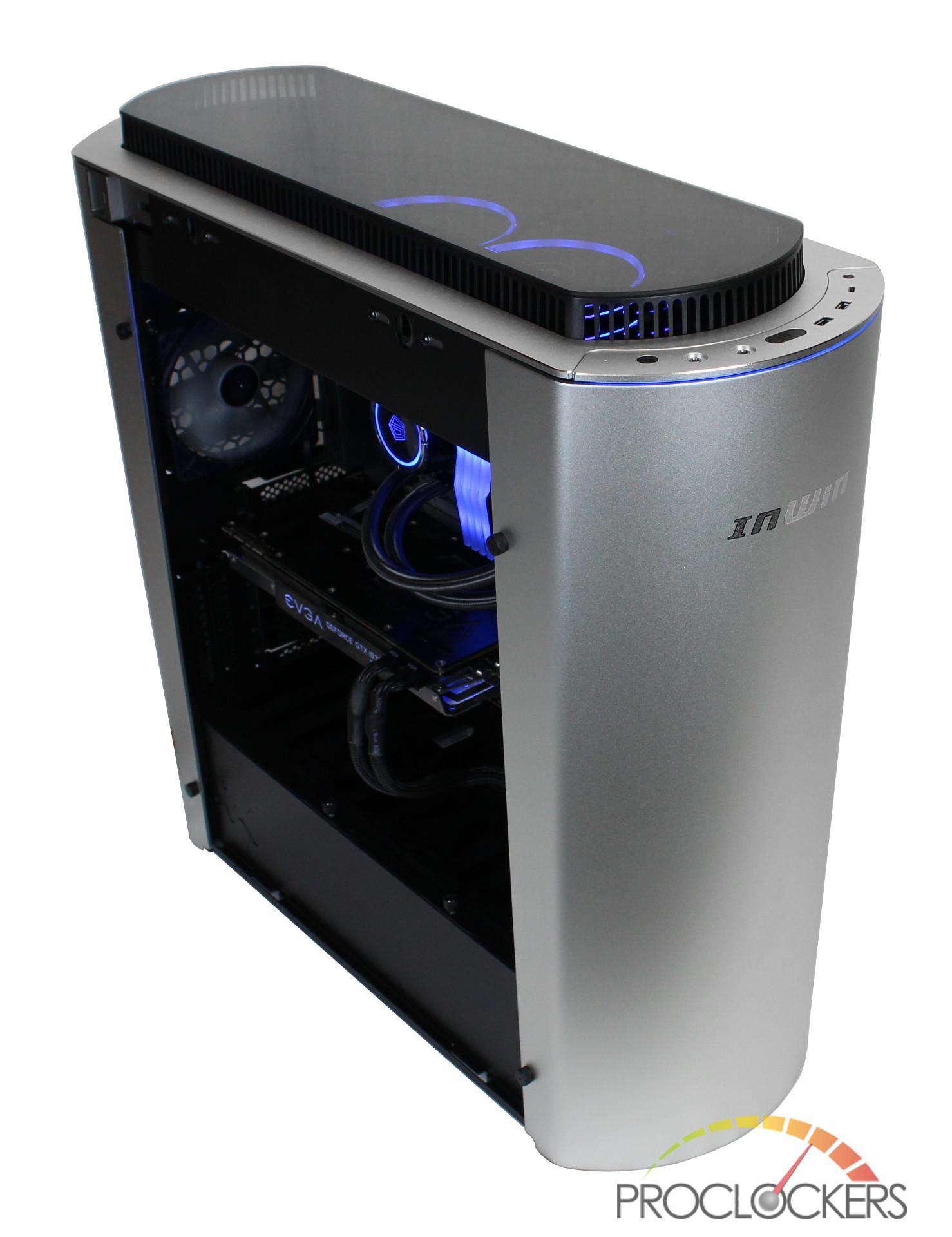 Performance Testing
To test the ZOOMFLOW 240, we will be running 2 separate tests: one meant to torture the CPU and the other to provide more real-world temperature expectations. The first test will be done with a well-known program called Prime95 which will put extreme stress on the CPU and in turn generate massive amounts of heat. The second test will be using Cinebench R15 to simulate a more realistic workload that the majority of users will see.
To start our testing, we will let the system idle for 5 minutes to record the lowest idle temperature and then run Prime95 on "blend" mode for 20 minutes. At the end of the 20 minutes we record the Maximum and Average "Core Package" temperatures. After Prime95 testing is complete we let the computer idle until it hit its previous idle temperature. To generate a more realistic workload we run Cinebench 5 consecutive times and record both the Max and Average temperature of the core package.
The first set of tests were done on a stock i7 8700K which clocked each core at 4.3 GHz at the default voltage. This resulted in an idle temperature of 29c a while running Prime95 max temperature of 74c with an average temperature of 61c. Moving over to Cinebench after the 5 runs were ended with a max temperature of 63c with the average being 55c. These temperatures are quite good for a 240mm radiator and we should be able to push this 8700K quite a bit further.
Prime95 @ Stock (4.3GHz)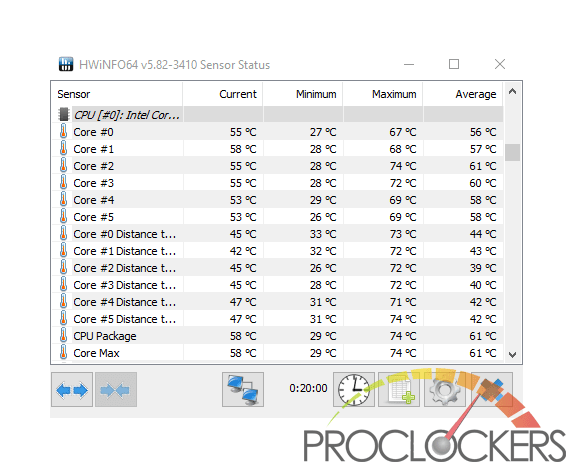 Cinebench @ Stock (4.3GHz)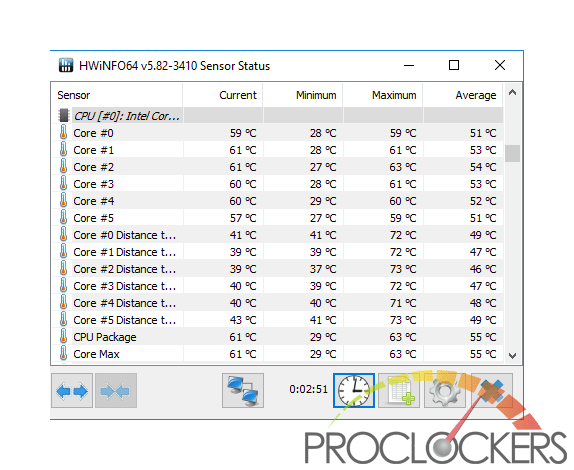 For the next test we bumped our 8700K to 4.6GHz on all cores which was stable with a voltage of 1.3v. The idle temperature saw a 2c increase and after running our 20 minutes of Prime95 we had a new max temperature of 80c and an average of 63c. Doing our Cinebench runs we ended up with max temperature of 70c with an average of 62c. These temperatures are still well within the 8700K thermal limits so let's see how far we can overclock this 8700K.
Prime95 @ 4.6GHz with 1.3v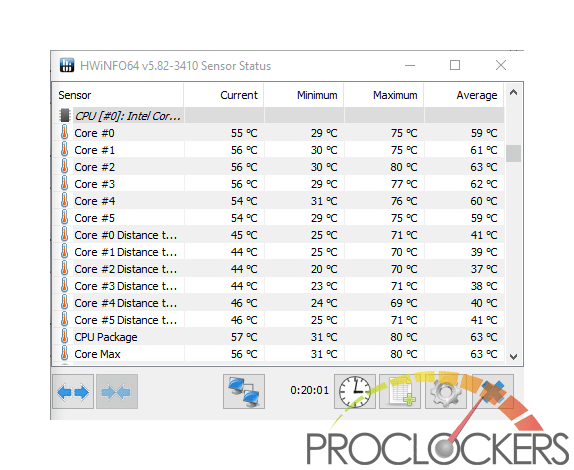 Cinebench @ 4.6GHz with 1.3v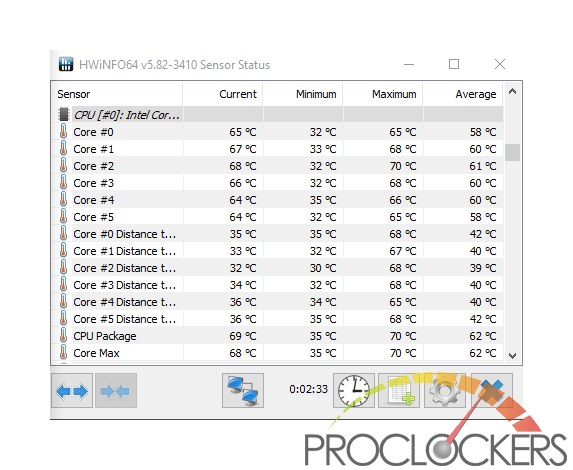 Moving into our last set of tests we managed to overclock the 8700K to 4.8GHz on all cores with a voltage of 1.355. We did attempt for a 4.9/5.0GHz clock as we think the ZOOMFLOW 240 can handle it but we couldn't get it stable even with 1.45v. We again saw a slight increase in the idle temperature which is now 32c and after running our torture test we ended with a maximum temperature of 88c and an average of 67c. Our Cinebench results ended up with a maximum temperature of 77c and an average of 71c.
Prime95 @ 4.8GHz with 1.355v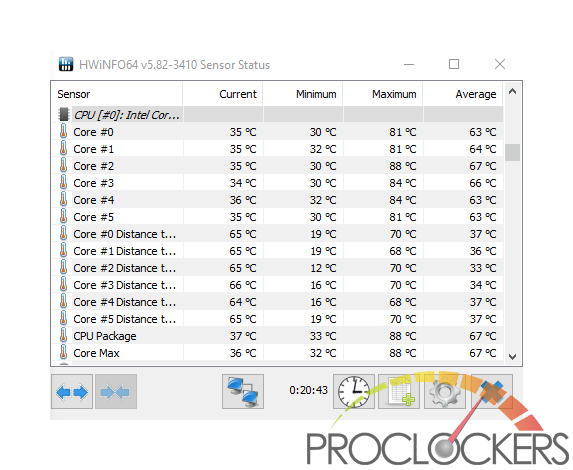 Cinebench @ 4.8GHz with 1.355v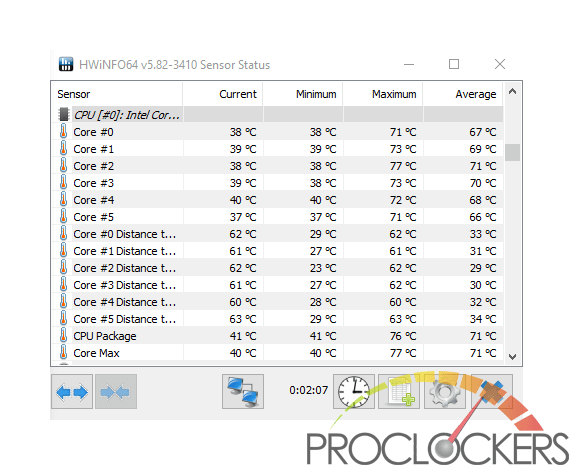 Overall the ZOOMFLOW 240 did an amazing job at keeping our 8700K cool and even with the tortuous Prime95 we didn't even break 90c well running at 4.8GHz. This is quite impressive with having only a 240mm radiator and makes us wonder what kind of temps you could get with a delidded 8700K that could reach 5.0GHz+.
Below are some graphs of the above results: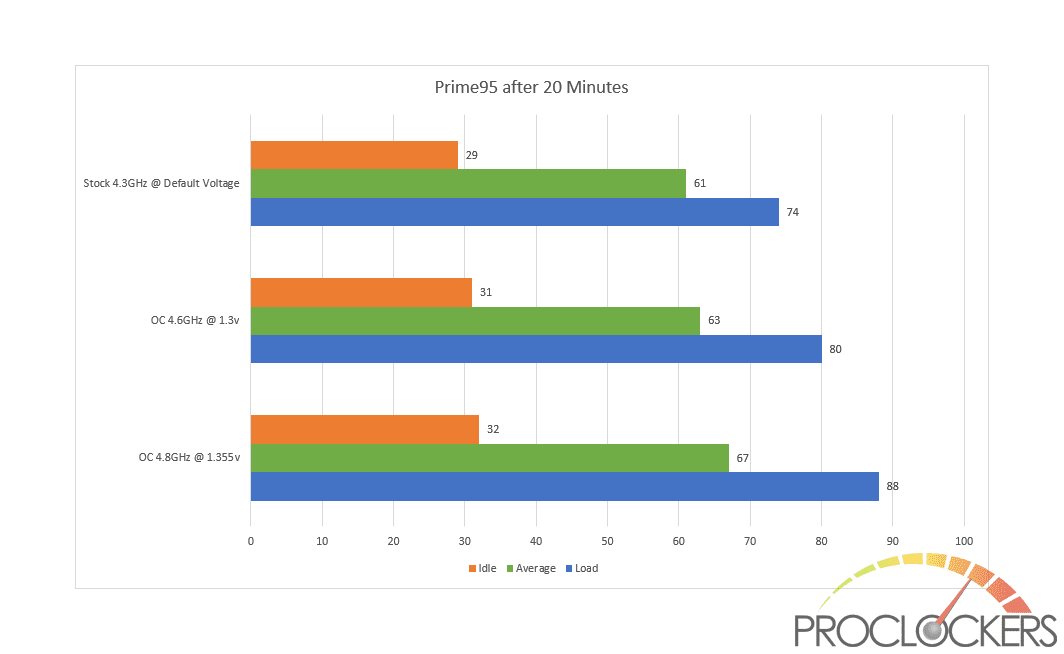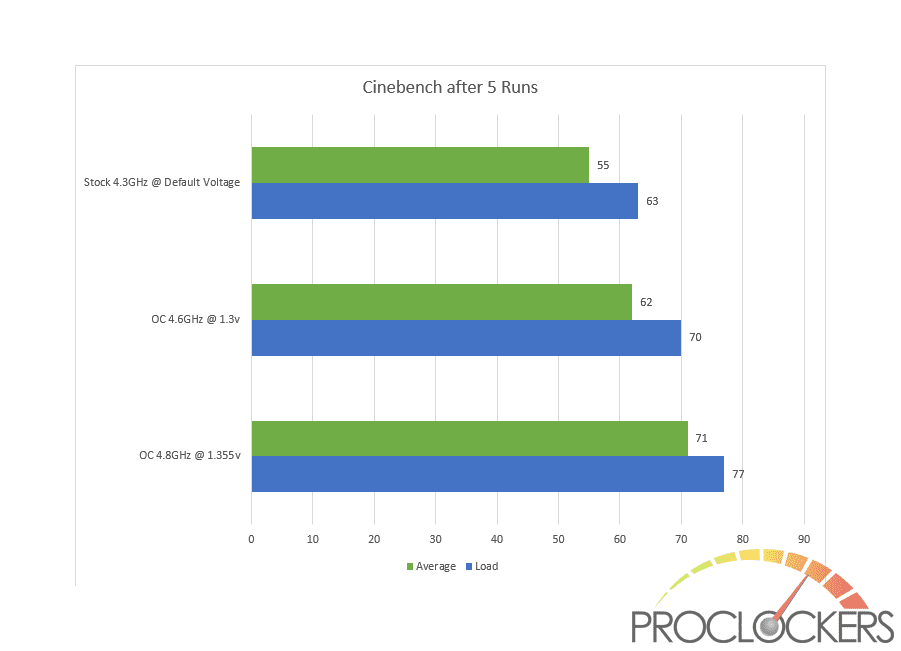 Final Thoughts & Conclusion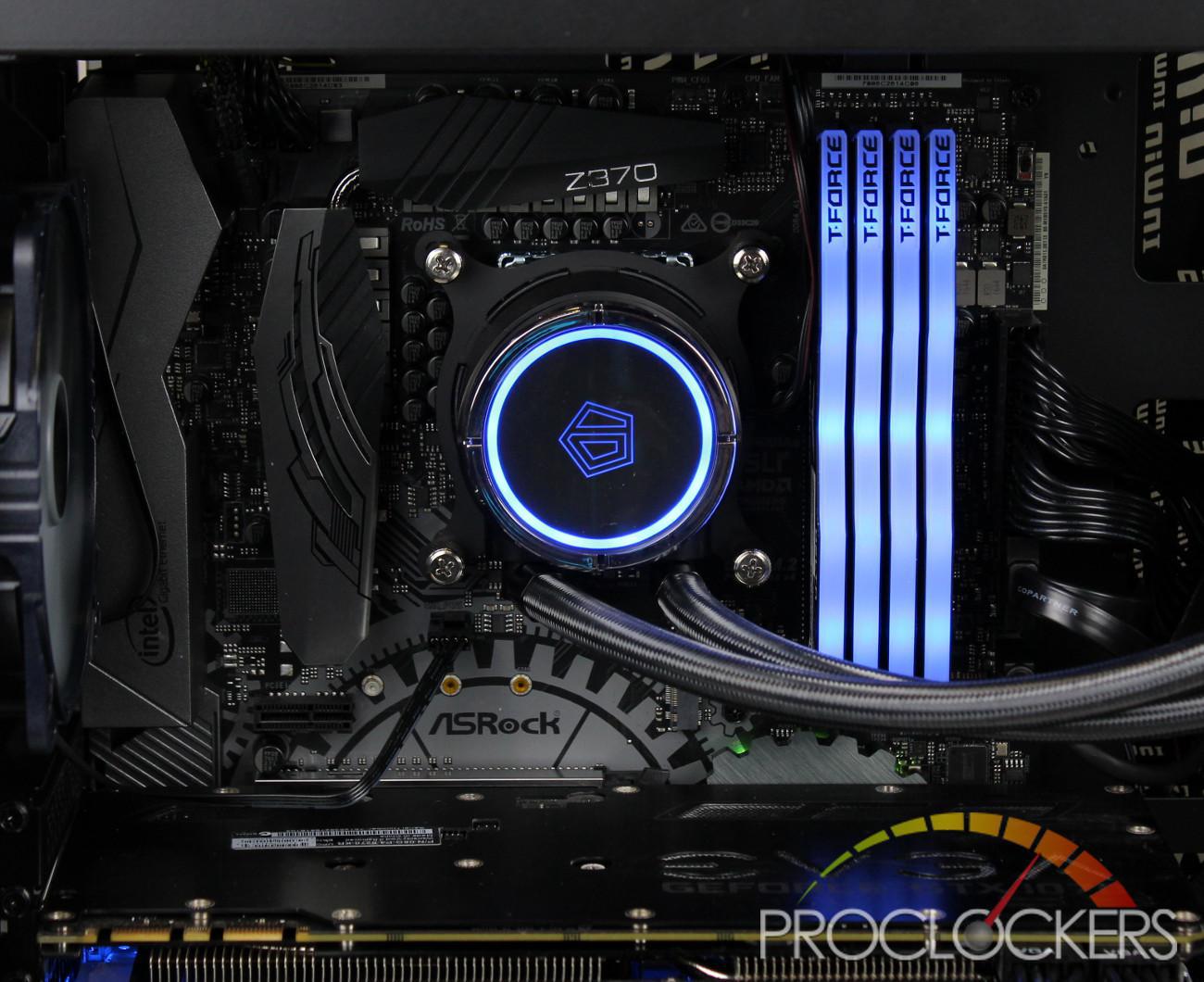 ID-COOLING even though being relatively new to the scene has defintely has brought its 'A' game with the ZOOMFLOW 240. Not only does it look great with its attractive RGB elements and premium sleeved tubing, it also performs exceptionally well. Even after running my 8700K at 4.8GHz it still didn't break 90c during the Prime95 torture test and only hit 77c in Cinebench, which is quite impressive for only a 240mm cooler. During our tests the pump was pretty much inaudible and the fans were fairly quiet even at 1500RPM. ID-COOLING has really impressed me with their AIO and I would highly recommend anyone looking for an AIO to check out the ZOOMFLOW 240.

<![CDATA[ */ var zbjs = {"ajaxurl":"https:\/\/gaminggorilla.com\/wp-admin\/admin-ajax.php","md5":"d8e8b24d2fa18d2999e0fddcdd418586","tags":[],"categories":["Hardware"]}; /* ]]>