"You're gonna need a bigger cooler."
It's here, the biggest event of Intel's Q2 Release, the i9-10900k. Intel 10th Generation CPU, Codenamed "Comet Lake," coming to a brand-new chipset, the z490. It's a 5.3GHz 10-core, 20-thread processor geared towards hardcore high fps gamers/streamers and content creators with no-compromise multitasking power. It has a whopping 20MB Smart Cache, which is even more than their X-series line, and has support for DDR4-2933MHz!
Built for serious gamers, the 10th Gen Intel® Core desktop processors bring the right balance of frequency, cores, and threads, plus support for the latest technologies and advanced tuning flexibility to help put users in control of the real-world gaming experiences that matter most to them.
Intel Z490 Chipset
The 10TH Gen Core supports up to 10 total USB 3.2 ports (up to 6 USB 3.2 Gen 2×1 and up to 10 USB 3.2 Gen 1×1) and 14 USB 2.0 ports, so connectivity will never be a problem. Intel also offers Wi-FI 6(GIG+), which offers up to 3x faster Wi-Fi on Intel-based Wi-Fi 6 routers, providing more responsive gaming, uninterrupted video conferencing, and improved protection from wireless hacking.
Some of the key features:
Intel Thermal Velocity Boost plays an essential role for gamers and creators, automatically boosting single-core and multi-core workloads to a mind-blowing 5.3GHz!
Intel Turbo Boost Max Technology 3.0 helps boost lightly threaded applications, so no matter what, you're getting as much performance as possible for your apps.
Intel Quick Sync Video: the integrated Intel 630 GPU optimizes gameplay while streaming and recording, providing top performance for the latest video codecs.
Intel Graphics Command Center: Optimizes your Intel® graphics experience.
DDR4-2933 (Non-XMP) support: for better performance between CPU and memory controller
Per-Core Hyperthreading Control for Overclocking: experienced over-clockers will be able to decide which threads to turn on or off per core, giving them the ability to fine-tune or troubleshoot.
Intel® Ethernet Connection I225: a 2.5GB Intel Ethernet Connector delivers 2x the network speeds over 1GB Ethernet.
Intel® Wi-Fi 6 AX201: integrated into 10th Gen processors, Wi-Fi 6 offers nearly 3X faster downloads and reliable connections while giving the best in class wireless experience to game and create anywhere in the home or office.
Intel® Performance Maximizer: takes overclocking to new levels with a group tuning feature which puts cores into groups ranging from 5.3GHz to the i9s base speed of 3.7GHz
Intel Extreme Tuning Utility: pushes performance in a new and innovative way by offering a one-clock overclocking feature within the Tuning utility.
Intel Speed Optimizer: takes advantage of the power delivery and thermal headroom, allowing unlocked processors to reach the single-core turbo boost frequency (ex. Core 1 is at 5.3GHz). Other cores like 2-4 to reach that GHz as well).
Intel Smart Cache: offering up to 20MB of shared low-level cache allows faster access to your data by enabling efficient allocation of the data to match performance needs.
Thunderbolt 3 Support: the fastest USB-C ports available, offering lightning-fast data transfers using thunderbolt SSDs
Intel Optane Memory H10 with SSD support: boosting app launching and accessing project files faster.
Intel I9-10900k Technical Specifications
Hardcore Specs
Listed below are the key specs for the Intel i9-10900k alongside Intel's i9-9900k specs, so we can get a more in-depth idea on changes in the 10th Gen.
Performance
Offering 10 cores and 20 threads, it effectively provides 2 more cores and 4 more threads than the 9900k, putting the i9-10900k right on par with Intel's x299 series CPUs. With a base frequency of 3.70GHz headroom for overclocking, it is very "roomy," and at 5.3GHz Thermal Velocity Boost frequency, it offers a .3GHz boost over the Intel i9-9900k, and is .2GHz higher when Intel's Turbo Boost Max 3.0 comes into play. Also, with 4MB more Smart Cache at 20MB verses the 9900k at 16MB frequently, data performance will see a significant boost.
If you were thinking of an upgrade, prep your coolers! At a 125W base output, that budget cooler may need to have another fan added to it. Boosting up to 5.3GHz, it will no doubt double or even triple that output.
| | | |
| --- | --- | --- |
| Performance | | |
| # of Cores | 8 | 10 |
| # of Threads | 16 | 20 |
| Processor Base Frequency | 3.60 GHz | 3.70 GHz |
| Max Turbo Frequency | 5.00 GHz | 5.30 GHz |
| Cache | 16 MB Intel® Smart Cache | 20 MB Intel® Smart Cache |
| Bus Speed | 8 GT/s | 8 GT/s |
| TDP | 95 W | 125 W |
| Intel® Thermal Velocity Boost Frequency | | 5.30 GHz |
| Intel® Turbo Boost Max Technology 3.0 Frequency ‡ | | 5.20 GHz |
| Configurable TDP-down Frequency | | 3.30 GHz |
| Configurable TDP-down | | 95 W |
(Source: Intel.com)
Memory Specs
Intel has upped their game with the 10th Gen series offering a max of 128GB of DDR4 RAM at 2933MHz! This introduces the possibility for RAM overclockers to take world records to new extremes. Through LN2 cooling, we could see overclock records in the high 6000MHz or even low 7000Mhz!! Offering about 4GB/s more memory bandwidth than the 9900k, everyday users will see slight gain responsiveness for frequently used apps across the 2 Channels at 45.8GB/s vs. 41.6GB/s.
Processor Graphics
Intel didn't change much in the integrated GPU of the 10th Gen for i9. It remains the same Intel UHD 630, holding 350MHz base clock, with a dynamic clock of 1.2GHz, shared memory of 64GBs with 4k support at 60Hz. One thing that did change, however, was the max resolution of HDMI 1.4. with the 10th Gen support 4096×2160 @ 30Hz vs. 9th Gens 4096×2304 @24Hz. Intel stuck to the same specs with DirectX and Intel's Graphics Suite, though most of these CPU users will most likely have a dedicated GPU already warmed up. Some motherboard manufacturers like ASUS have even opted not to have an output display on some of their flagship motherboards I/O, which helps with performance in LN2 and water-cooled benchmarks and opens the door to the possibility of a non-IGPU version of the 10900k.
Expansion
10th Gen provides a max of 16 PCIe lanes from the CPU, letting you having configurations up to 1×16, 2×8, and 1×8+2×4. M.2 SSDs share bandwidth with the z490 Chipset(PCH), letting you have up to 1×16 +4(PCH). Some users may find this problematic for multiple M.2 and multi GPU or PCIe cards, as you will have to pick between onboard M.2 storage or, PCIe storage, or you may need to have an M.2 SSD in x2 rather than x4, which limits performance.
Socket Specs
Intel introduces a new socket, the LGA12000. It uses a modified design of LGA 1151, with 49 more pins on it, improving power delivery and offering support for future features. Pin 1 has shifted socket keying to the left, making it incompatible with 115x and under platforms.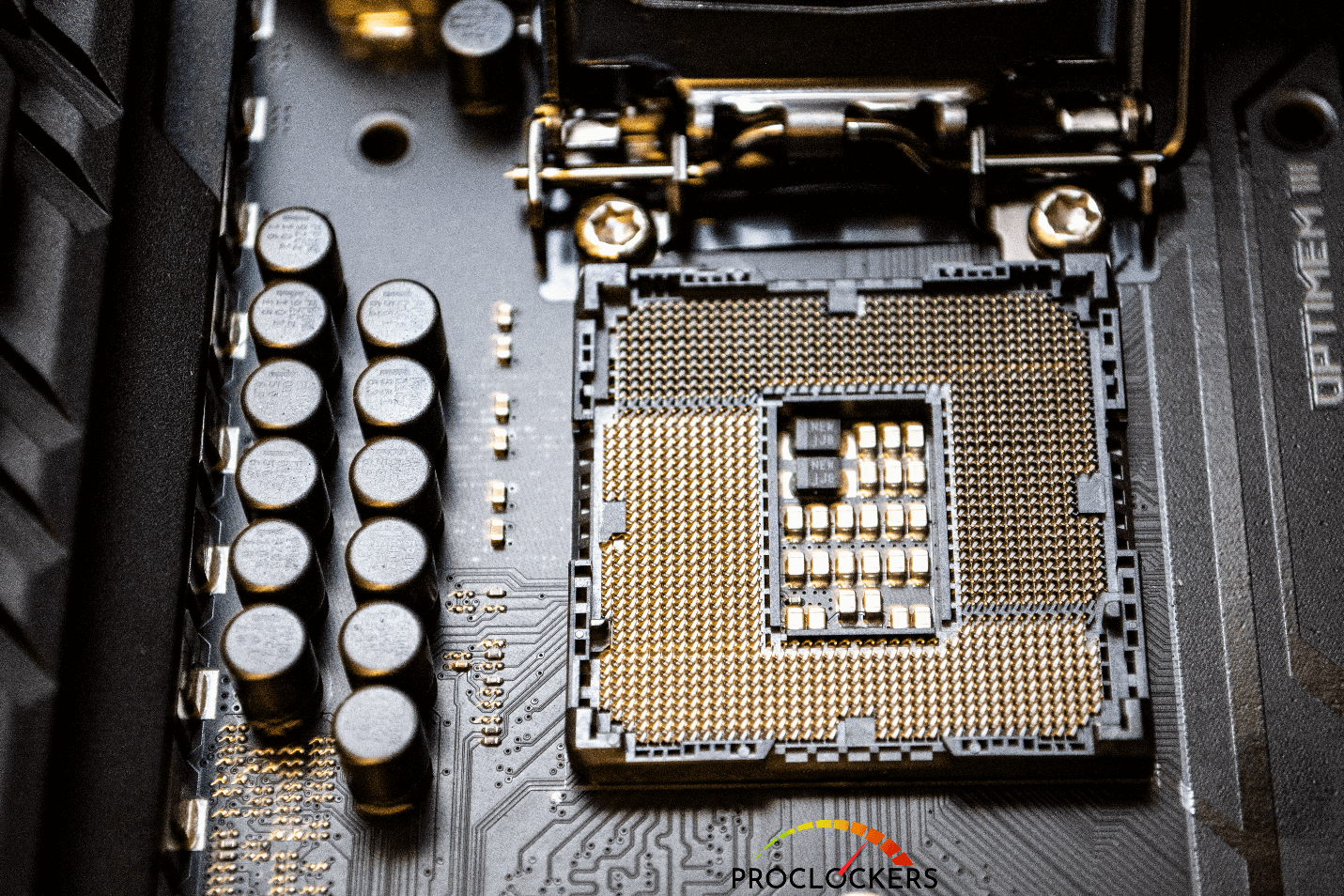 Advanced Technologies and Reliability
Intel has always been at the forefront for keeping their CPU performance constant. With the introduction of Turbo Boost Max 3.0, Intel has been able to push the i9-10900k to 5.2GHz, providing much-needed power during streaming, heavy benchmarking, or intense number crunching. Intel doesn't stop there though! Their Thermal Velocity Boost core jumps up to 5.3GHz on up to all 10 cores! Although, this is for extreme overclockers, the Thermal Velocity Boost will usually affect only the first 1-3 Cores for stability reasons.
Intel I9-10900k Performance Testing
The Real Reason You're Here: The TEST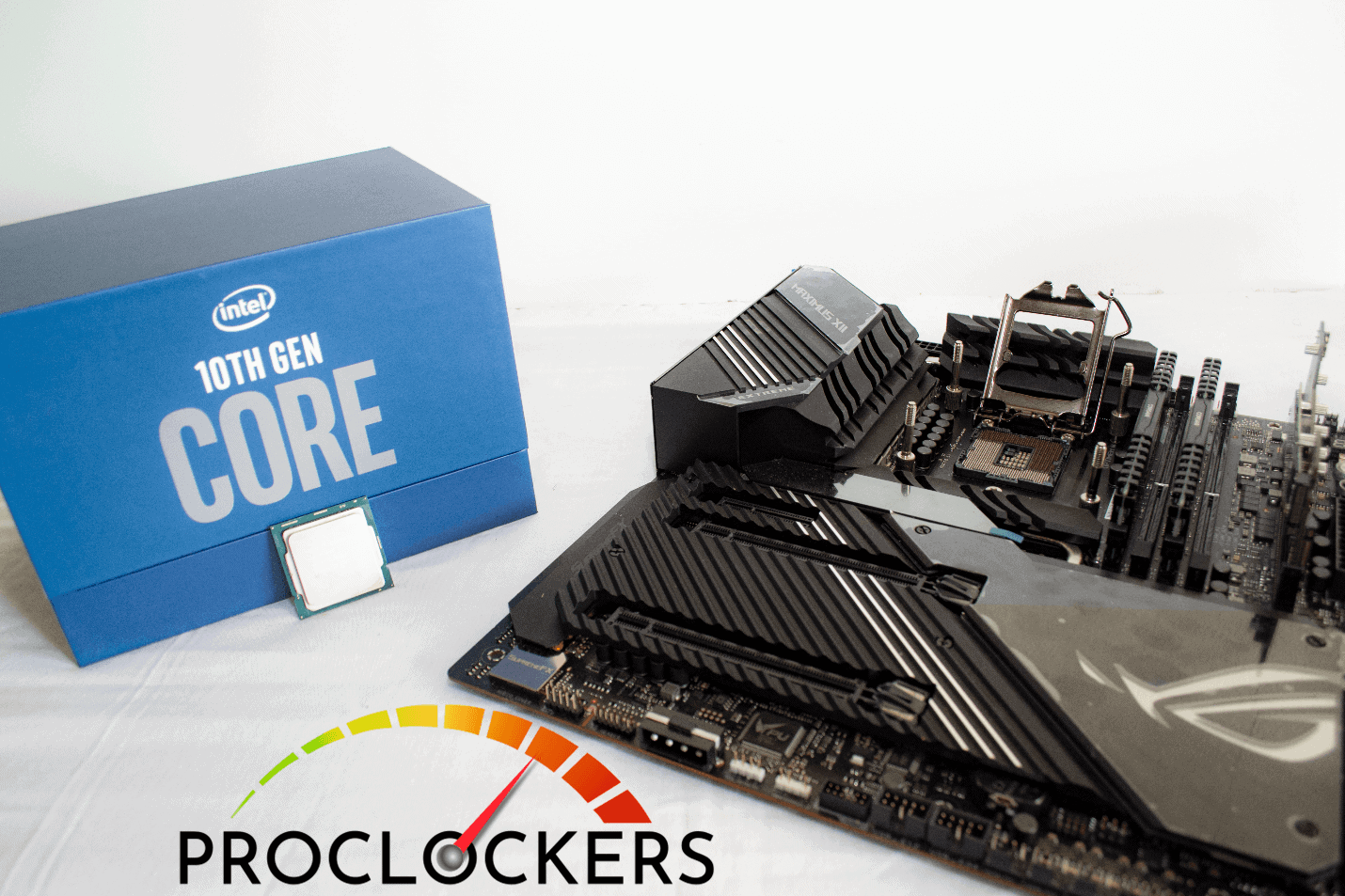 For testing, Intel provided ASUS Maximus XII Extreme with the latest BIOS and their Intel i9-10900k and i5-10600k. This review and testing will be done solely on the performance of the i9-10900k. For the graphics card, we'll use the King Nvidia 2080ti Aorus Xtreme 11G (Asus Maximus XII Extreme does not come with video outputs on the I/O). We'll also be using Corsairs Vengence LPX @3000 Mhz, EVGA 1300 watt PSU (overkill, I know, or is it?), WD_Black 1TB M.2, and Windows 10.0.18363. For cooling this extreme CPU, we went with EKs supremacy Block and 360mm Rad w/EK-Furious Vardar EVOs-120MM fans. So, let's get straight into testing!
The first run we did was a Cinabench r20 run. We Ran both multi-core and single-core benchmarks.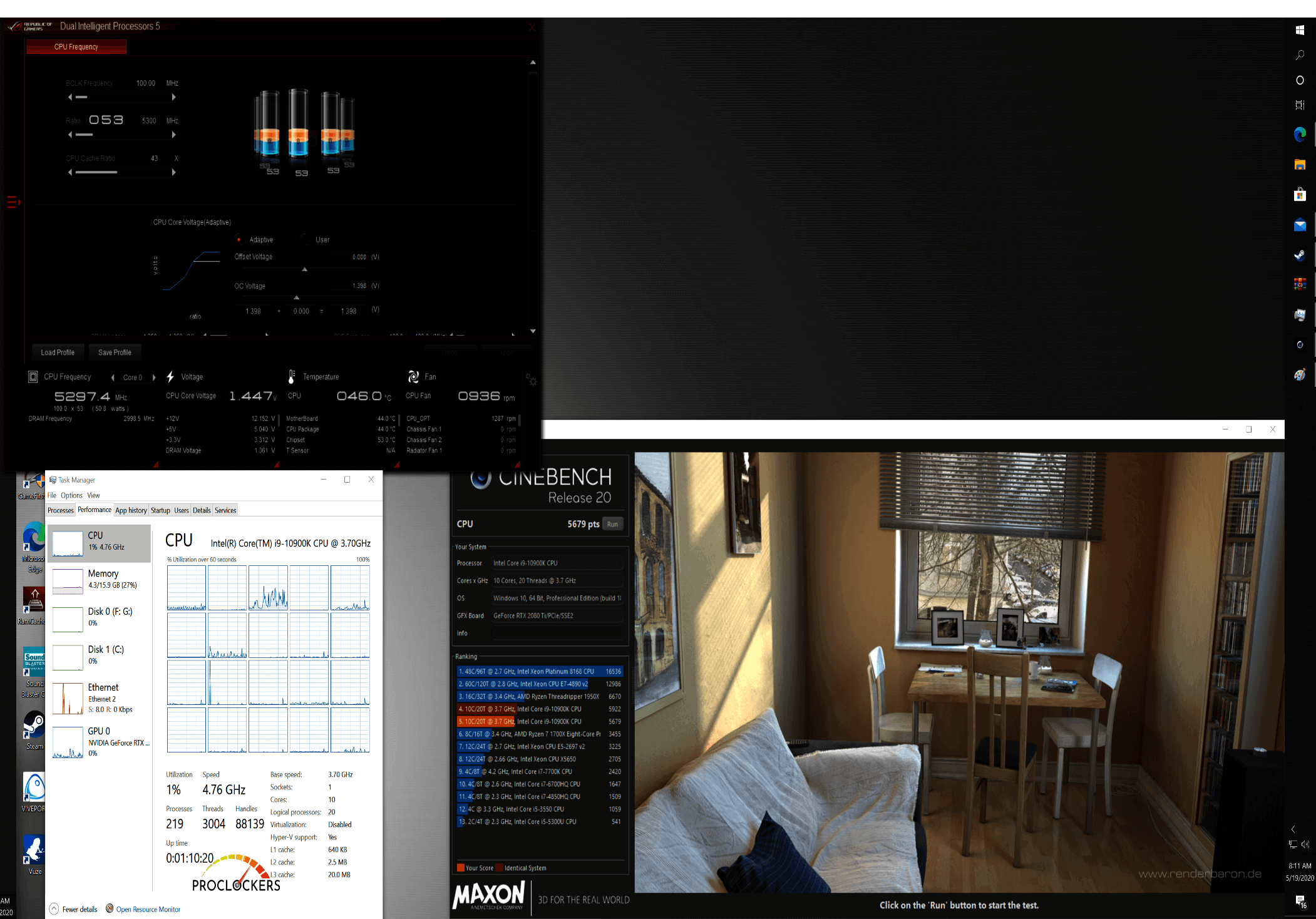 My first test proved to be a bit inconsistent, showing a 5,679. Core 0 seemed promising as it hit 5.29GHz.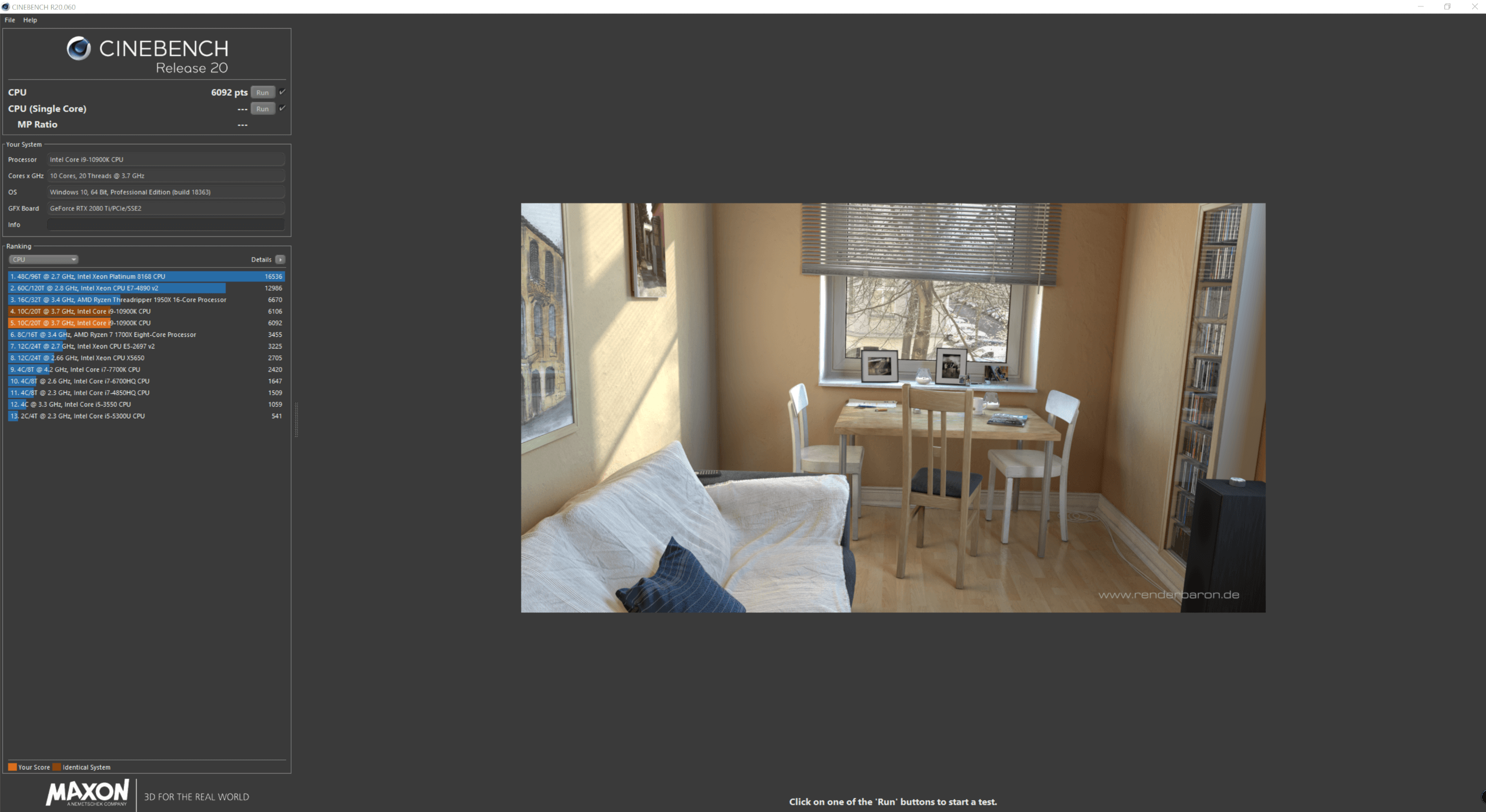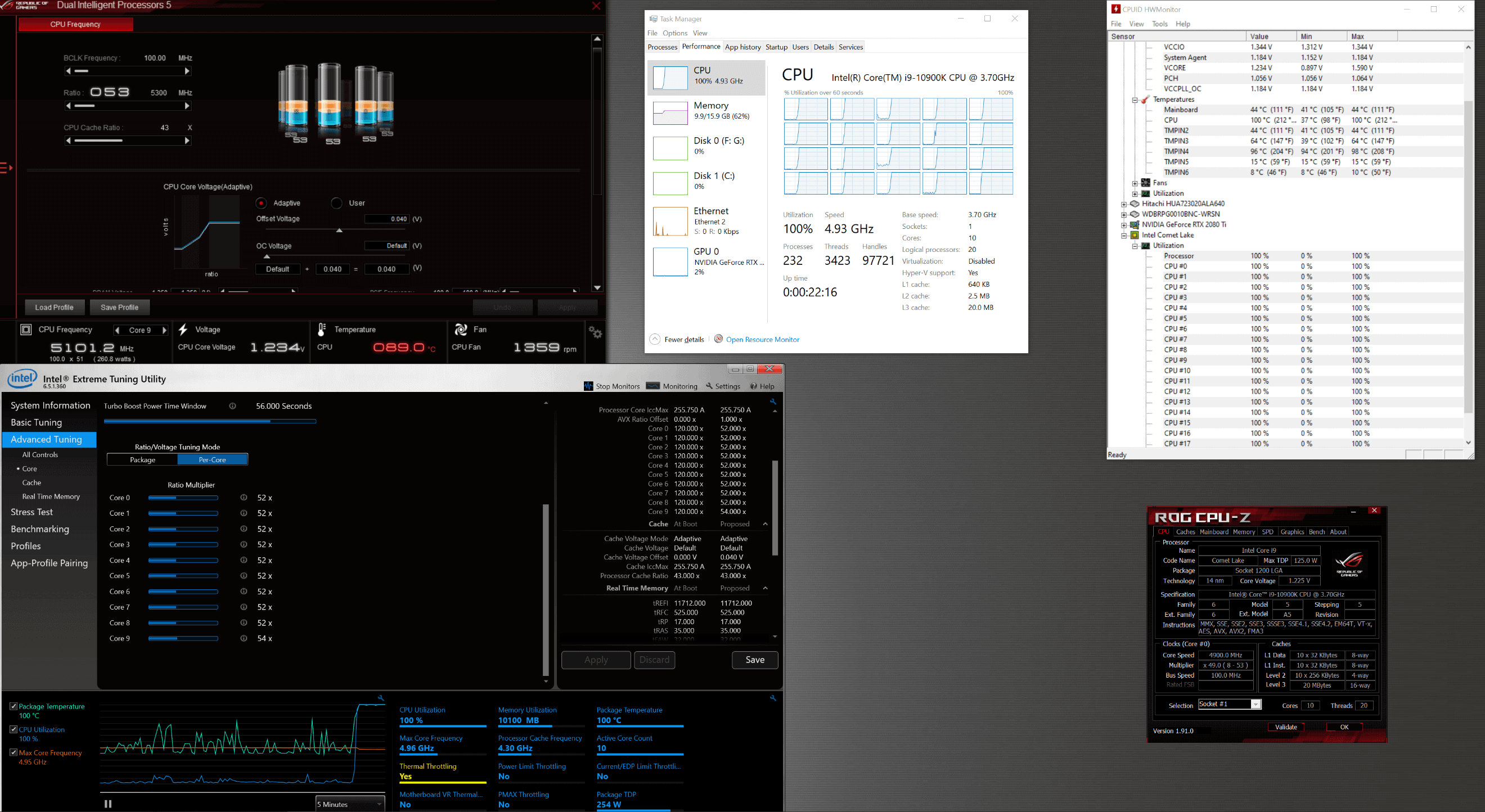 I ran the test under the multicore benchmark about 5 more times before coming to a final score.
Running a multicore bench scored 6092, which puts us way ahead of AMD's Threadripper 2920X and just about on par with Intel's X series i9-9920X. It beats the 9900k by a long shot thanks to the 10th Gen Turbo Boost 3.0. We notice Intel can compete with AMD's Ryzen 9 3950x, which scored 25% better than the 10th i9-10900k. AMD has been known to outclass Intel in multi-core scores thanks to its higher core counts. But Intel does still have a say! Running a single-core bench landed a score of 529, placing it in first place for single-core benchmarks across the board. Intel's design allows for an extreme boost to 5.3GHz under the right conditions. The i9-10900k completely decimated all other processors on the market right now in a single-core task. I wonder how that affects heat, however.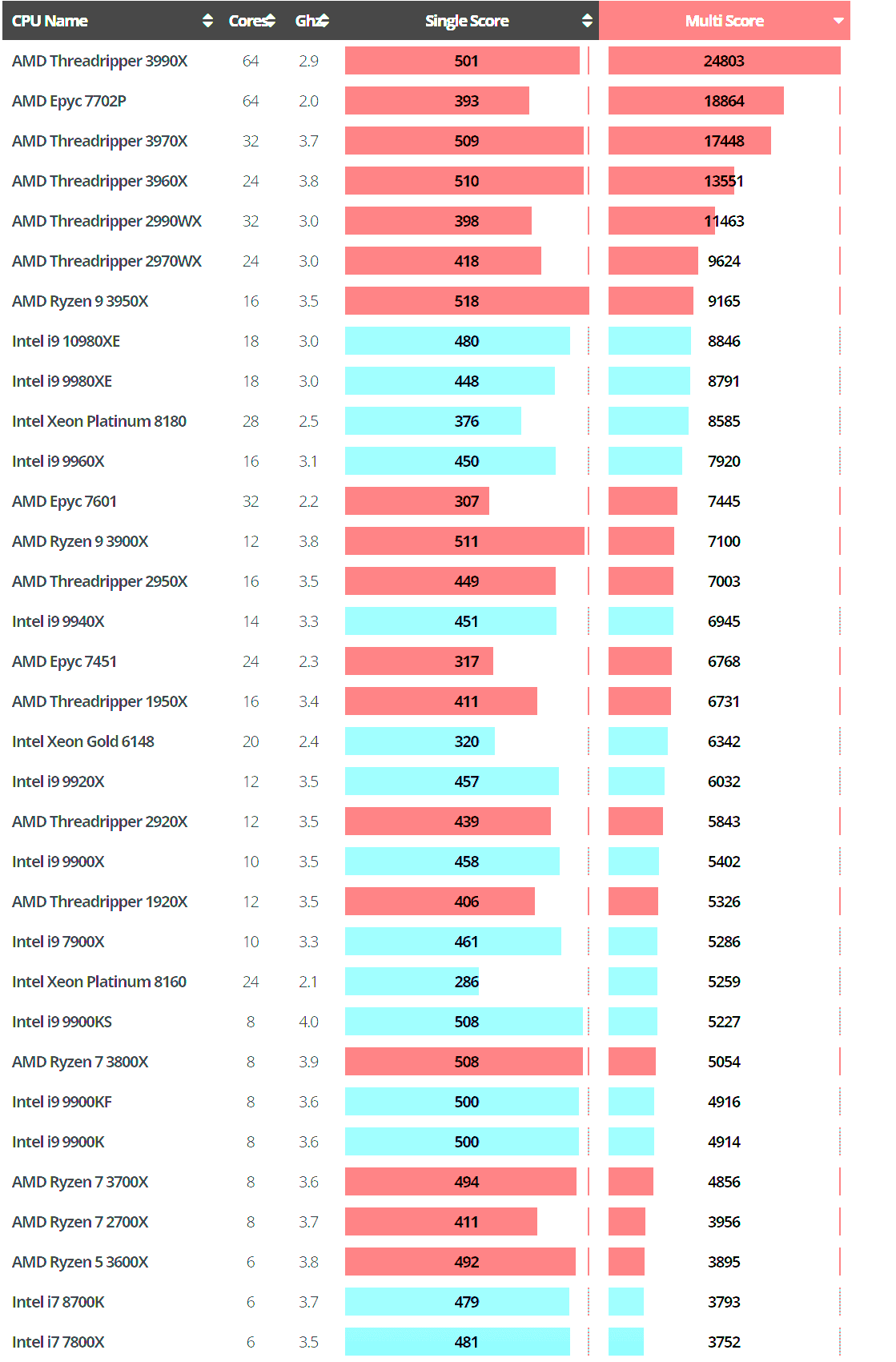 (Source: vaild.x86.fr)
Look at these temps! 100C was reported from XTU! Also, an 89C temp read was reported from Asus DIP, with a confusing 4.93GHz. But wait a minute, the i9-10900k is supposed to hit 5.2 with turbo boost and 5.3 with Thermal Velocity. So, what gives?
Well, the i9-10900k does hit that 5.3Ghz, but only on the first core. If you are lucky, you might get 2-3 actually to stay at 5.3GHz, but as seen in the ASUS DIP, the total watts taken are over 260watts! Keep in mind, ladies and gentlemen, I have this hooked up to a custom liquid loop, and I couldn't keep the temps lower than 90C when attempting to run Cinabench at 5.3Ghz. Your typical air cooler need not apply here. I recommend an AIO or custom loop for this CPU as the amount of heat generated from this CPU would make even flagship CPU coolers shake.
ROG CPU-Z Benchmark
CPU-Z is a standard in collecting data on your entire system, with active tables showing exact core speed and the multiplier it's running at. Through CPU-Z we can run single thread and multi-thread and compare reference CPU speeds to our own.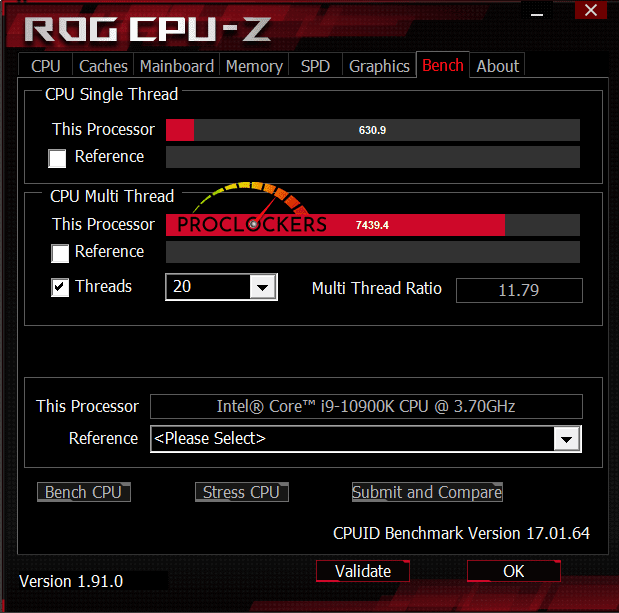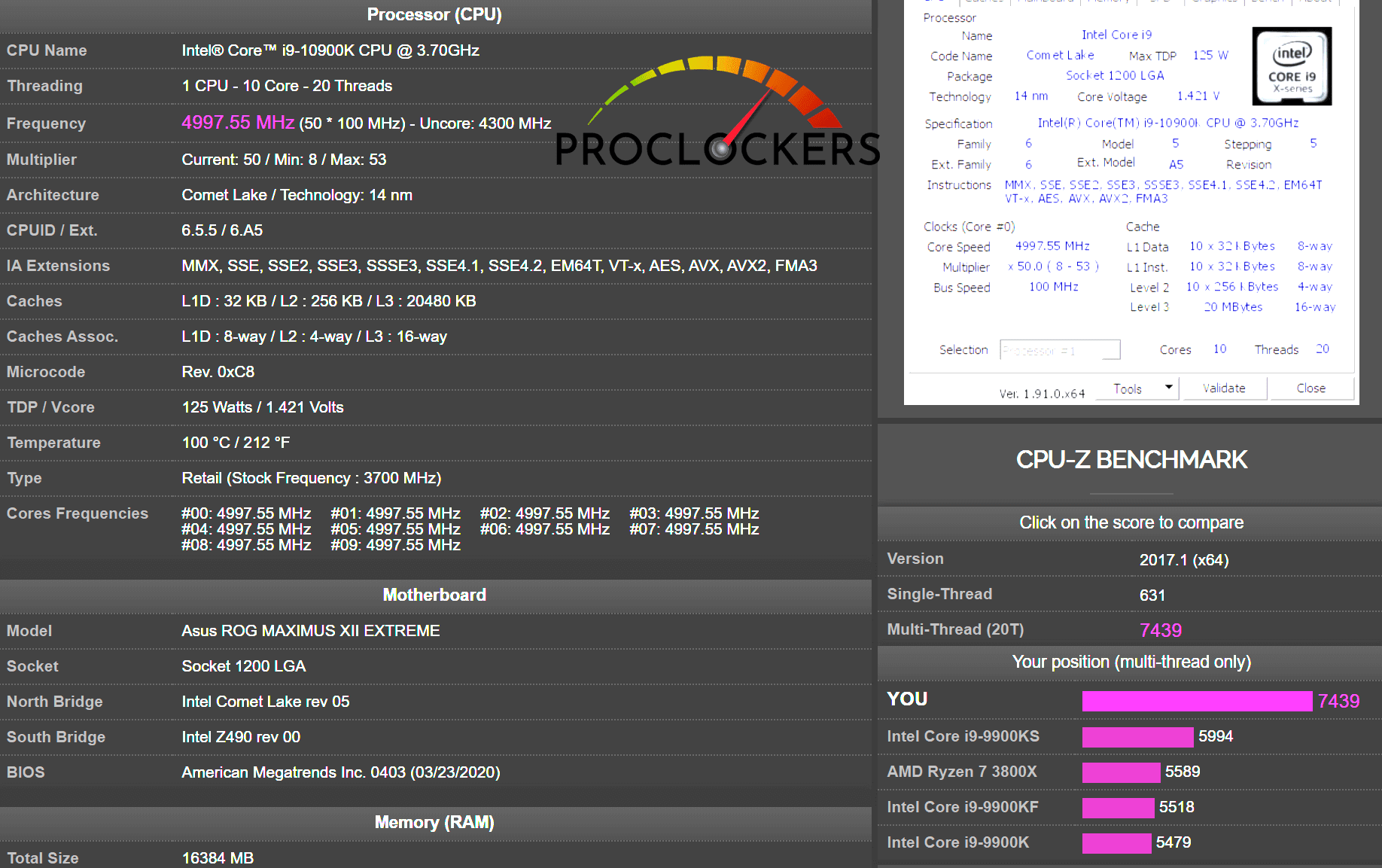 With an impressive score in multi-thread at 7,439, we easily outrank the 9900k and Ryzen 7 3800x. And in single-core testing, we fortify the 10th Gen as the best single-core CPU with a score of 630.9. This is the highest on CPU-Z benchmark results.
FutureMark: Suite
FutureMark is the company behind 3DMark, PCMark, and VRMark and is an industry leader in benchmarks. They offer a wealth of tools to test with, as well as system configurations and an easy-to-use interface that automatically uploads to FutureMarks website for easy comparisons around the world.
We'll start with 3DMark, which evaluates CPU and GPU performance in a gaming environment. We'll start with TimeSpy, the leading benchmark from 3DMark.
While using Time Spy's Default settings, I was able to get a score of 13,680, which put me right in the sweet spot for high-end gaming platforms. Next was a more intense Benchmark, TimeSpy Extreme, which tests 4k capabilities.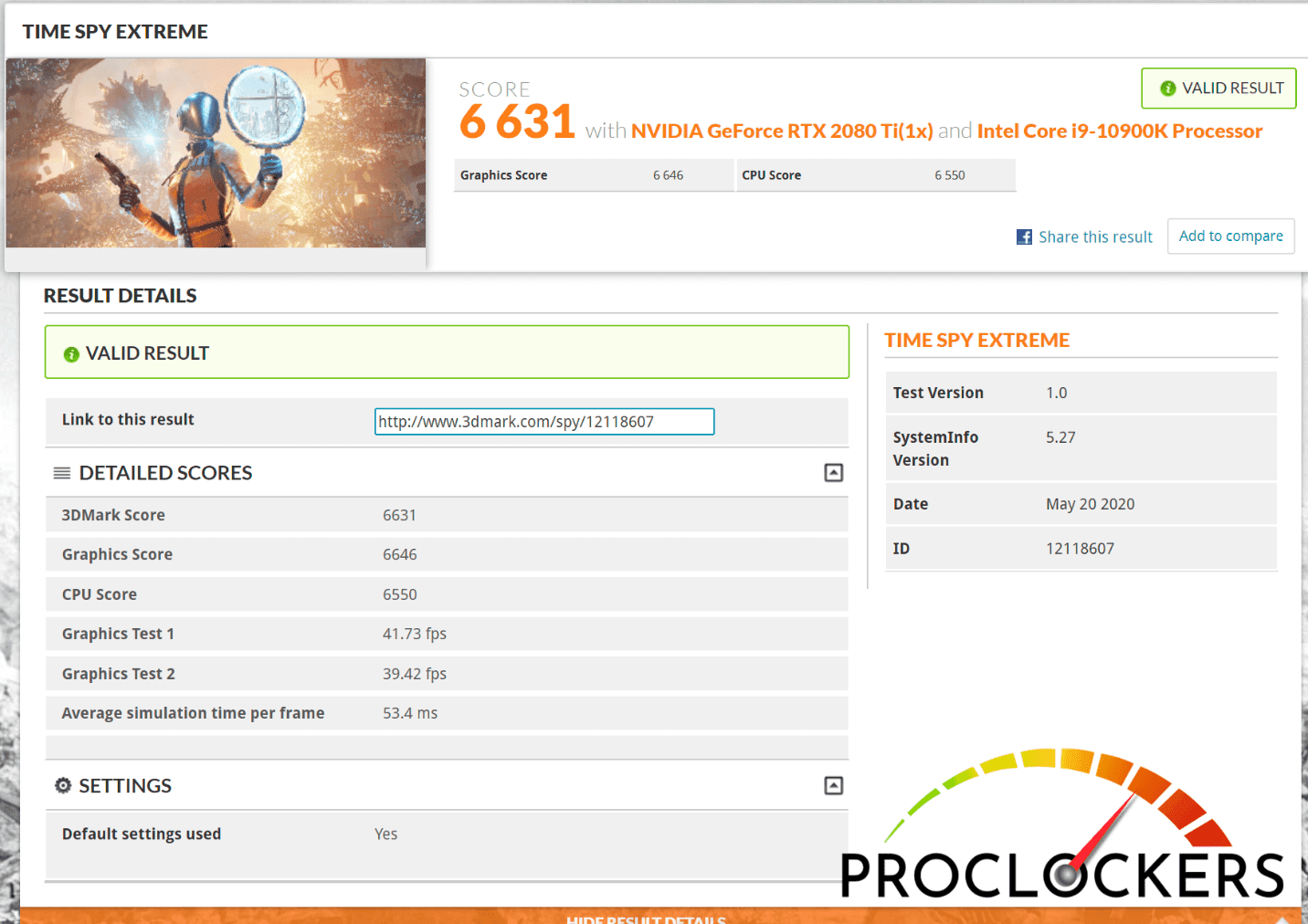 3DMark Extreme scored 6,631 and kept us in the sweet spot with CPU remaining at 5.1GHz and never going over 78C.
Sticking with 3DMark, we started up FireStrike, a benchmark that measures physics.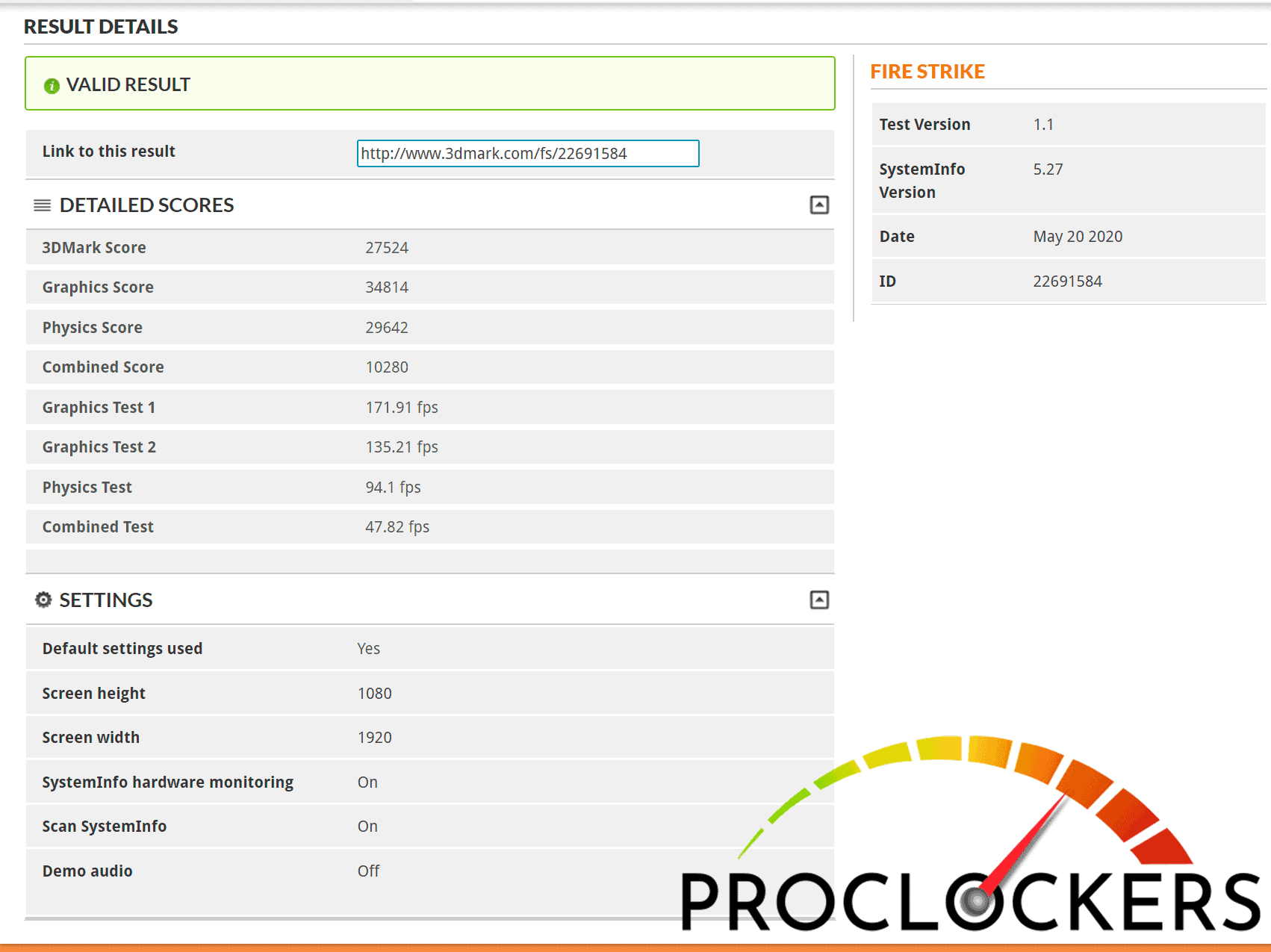 A 3DMark score of 27,524 was achieved, and an additional score of 10,280 was achieved when I ran the test at 1080p. Notice the high frames of 171 per second here. This makes this CPU an ideal processer for those pushing their monitors to extremes.
Speaking of extreme, FireStrike Extreme tests 4k abilities as well as physics and gave us score of 16,303.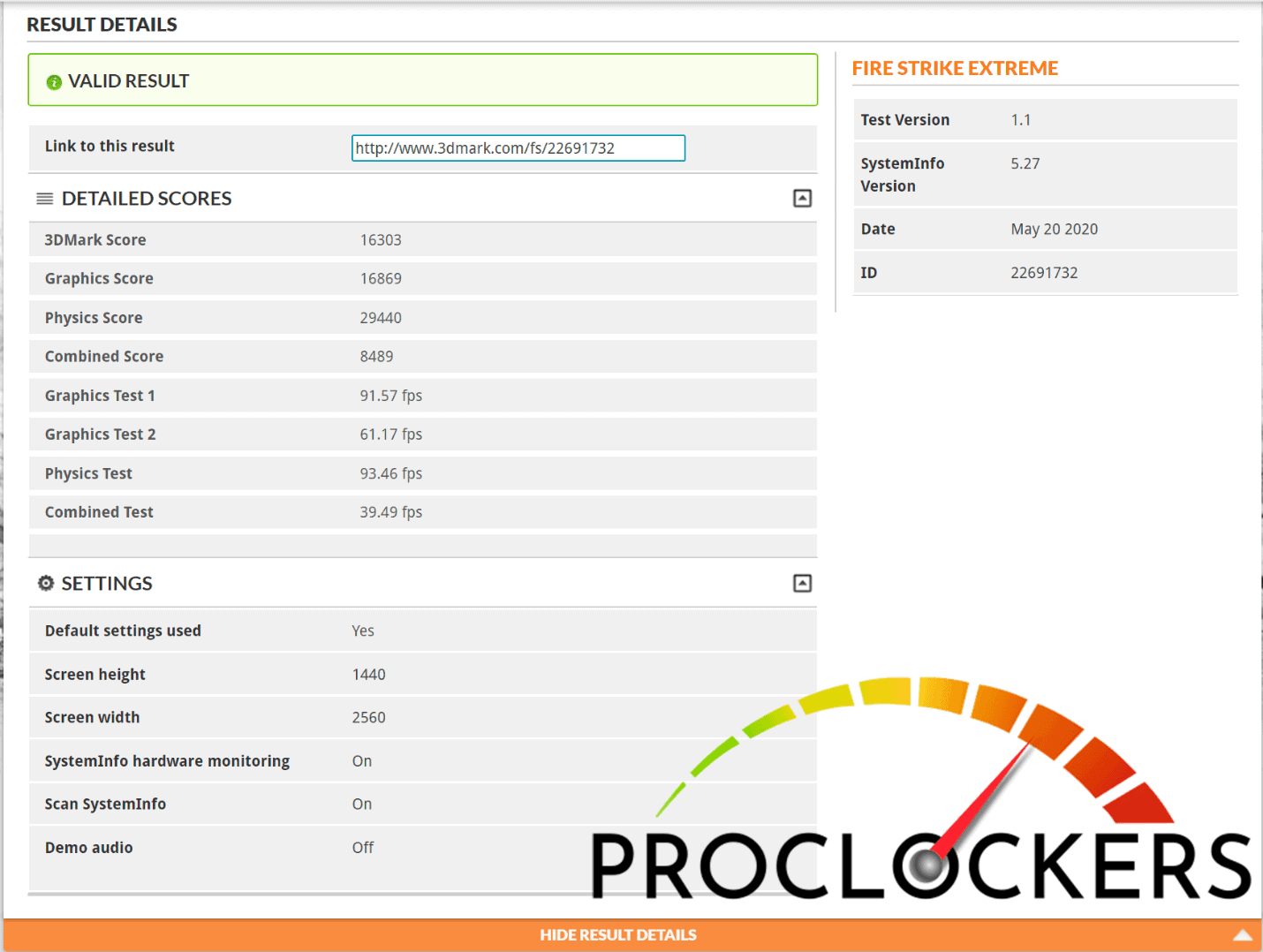 For a more in-depth bench on our i9-10900k, we loaded up PCMark, which uses everyday tasks such as video conferencing, web browsing, and excel.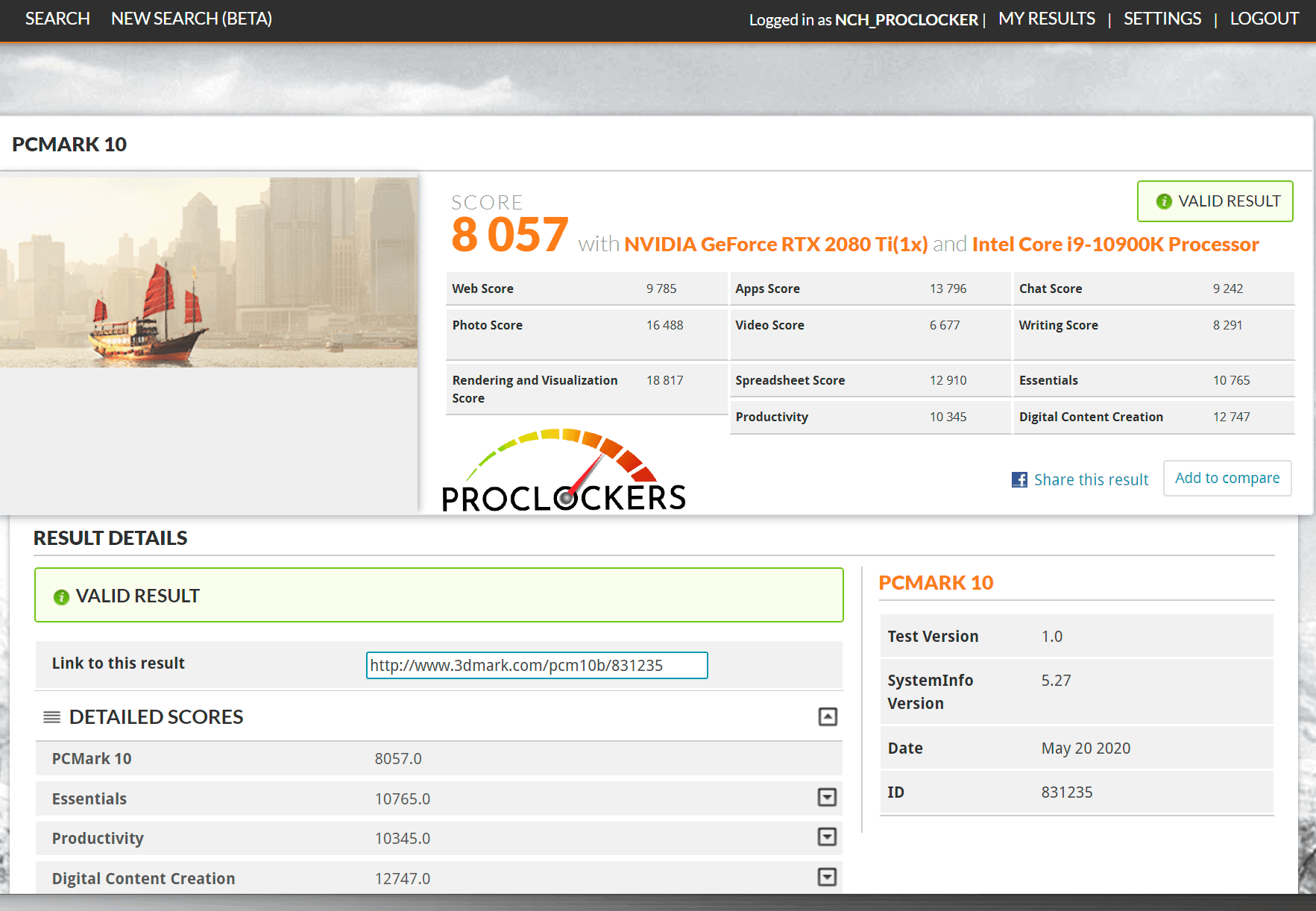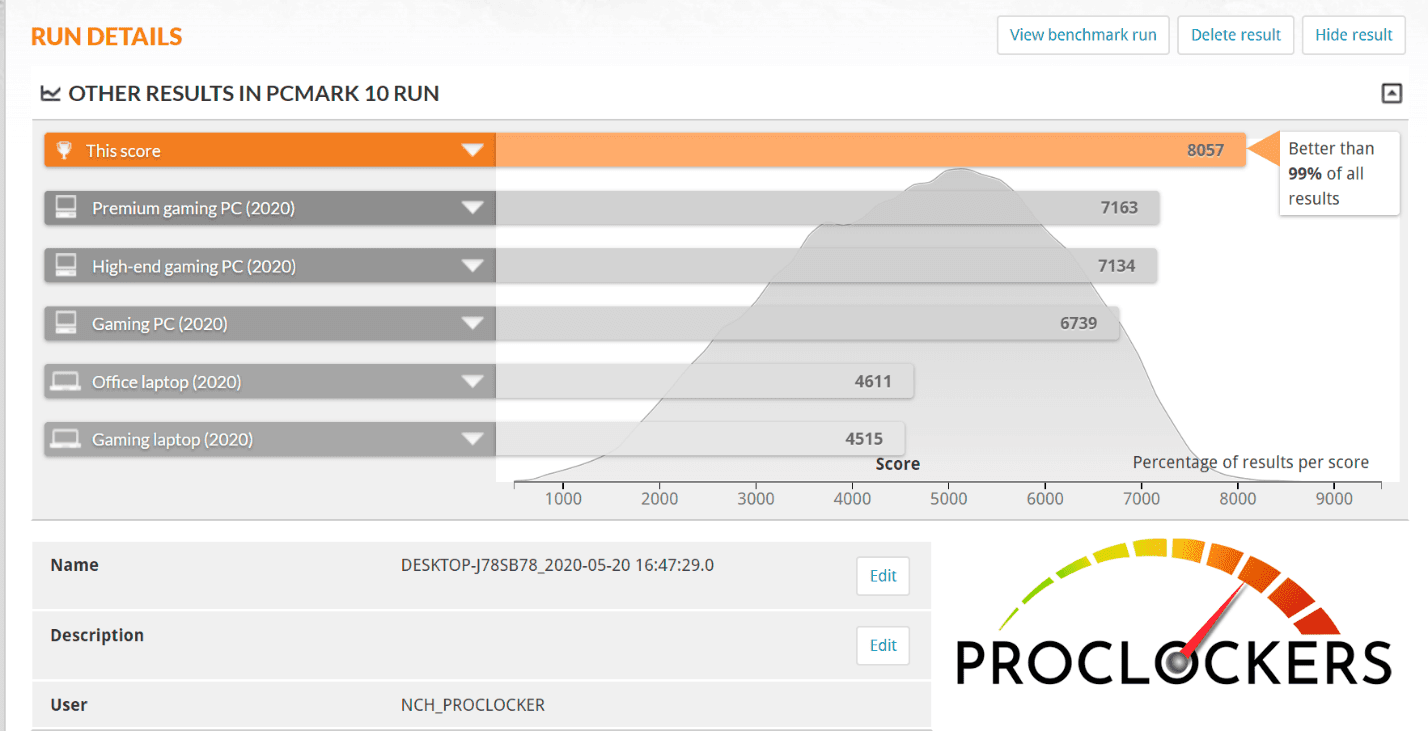 PCMark is an amazing benchmark, taking about 30 minutes to complete the overall testing, the score came to 8,057. The I9-10900k scored high in each category and achieved a PCMark score of above 99% of all other test results.
The final test for Futuremark was VRMark. Offering different tiers of VR benches, we went with the most stressful form of testing on the system which is the Blue Room test. This bench uses future VR technology to test GPUs and CPUs.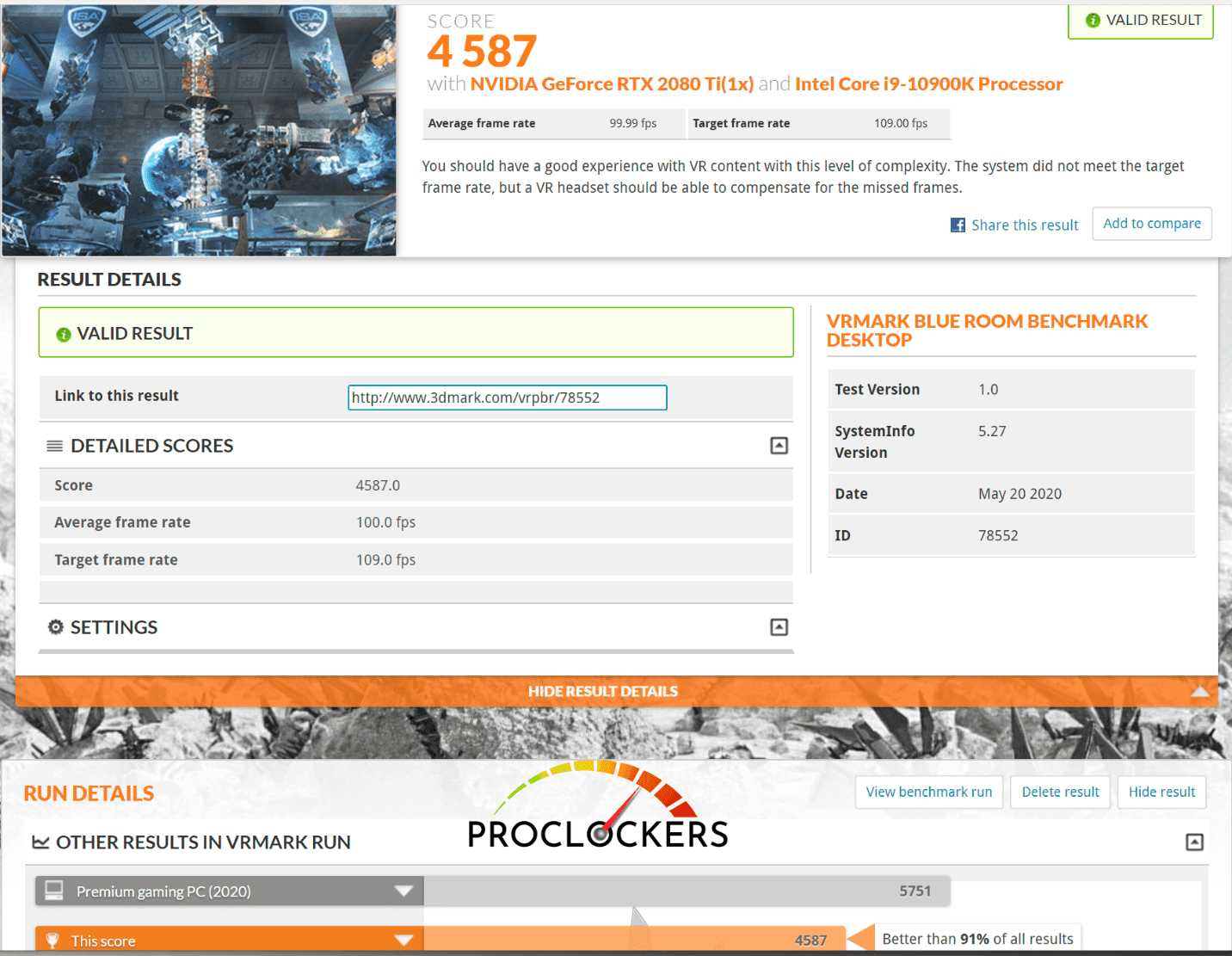 A score of 4,587 is right in the sweet spot for those that wish to enjoy VR, 100fps, and most VR games requiring 90Fps. With this score, we have just what it takes to keep going in VR. Although, it's worth mentioning, the 2080ti shows some limits. The king of GPUs isn't even considered the premium for VR. No doubt, when prices in the GPU industry drop, 2080ti will be the new 2060s.
Moving on, we'll get into gaming performance, which is something that Intel has hyped up due to improved core clocks and boost performance. Next, we'll dig into the most popular and top-played games of the year.
Intel I9-10900k Gaming Performance
Civilization VI
Civilization VI is a very AI-driven game, with huge maps and endless strategic possibilities. During late game matches, the screen could be filled up with towns, ships, and anything imaginable in Civ. Adding more resources only increases the power needs from your CPU. We tested the i9-10900k with the latest Civ 6 DLC "Gathering Storm," which added weather elements to the game that use precious PC power. Nonetheless, the i9-10900k handled the Civ 6 benchmark without a peep.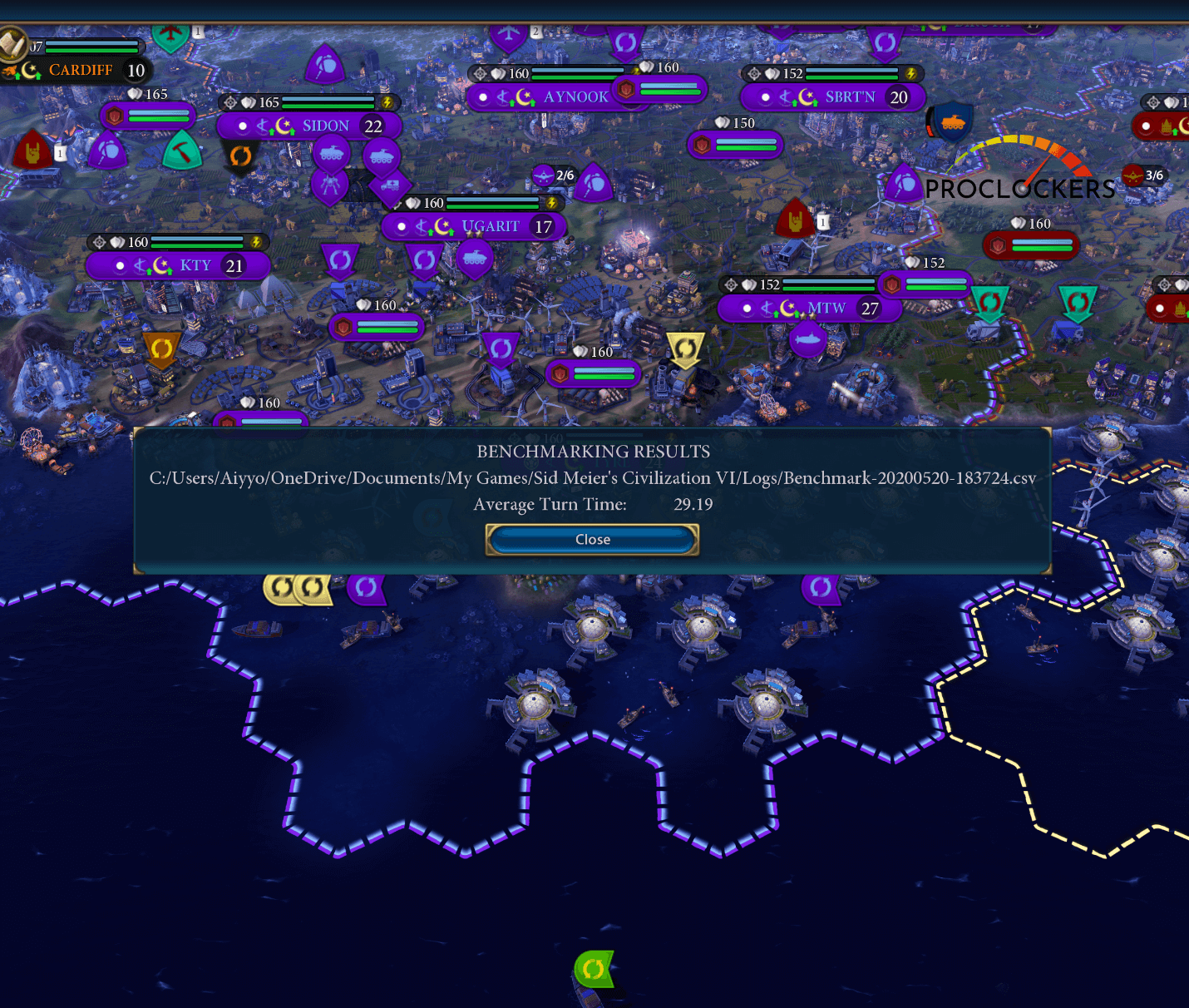 Average turn-times came in at 29.19 seconds per turn at 2160p(4k). Not too bad when you consider the graphics on the screen. Graphics tests using the 10900k proved quite promising as well, scoring an average of 13ms per frame.
COD: Warzone
This is another graphically intense game, and even my 2080ti struggled to reach 82fps locked. This likely resulted from all the textures, and the CPU probably took a beating in the process too!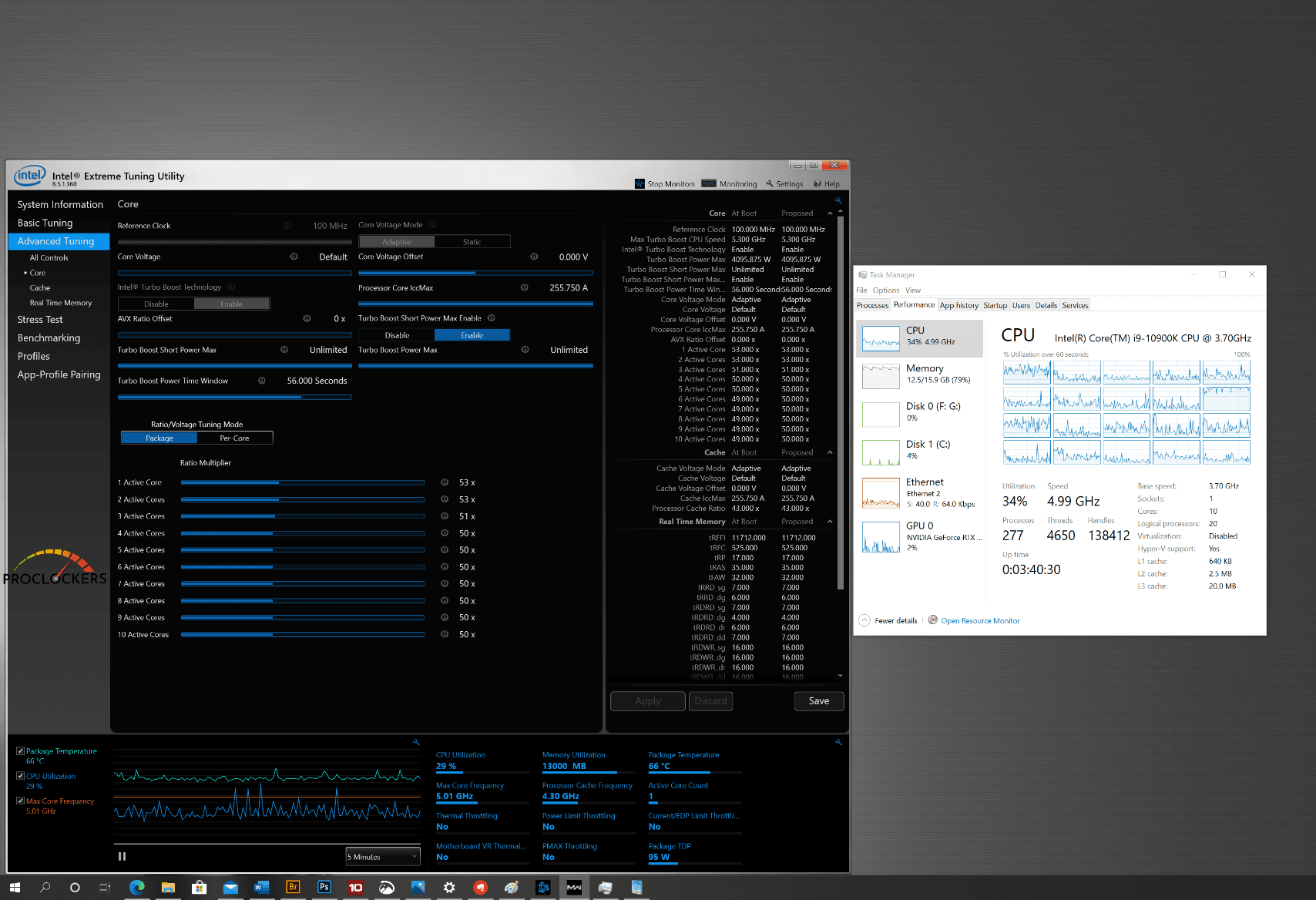 Seen here at 2160p and RTX on, the new map in COD: MP held at around 50-70fps. This screenshot was taken when someone had just blown me back using a rocket launcher. Its CPU frequencies held steady at 5.01GHZ while temps stayed at a toasty 68C. I can't say too much about the GPU; in this instance, I'd say the RTX2080ti is getting bottlenecked, and by the look of it, it's pushing temps that it shouldn't be! This is normal, though. The textures and warzone graphics mixed with the fact that you're running at 4k with RTX on is undoubtedly a factor in temps. A high-grade water block will fix those temps and produce even better performance.
DOOM: Eternal
This is a fast-paced death metal, glory killing game that is known for hitting high frames, and thanks to its Ultra-Nightmare Stat display, we get to see all 20 threads tear through this game.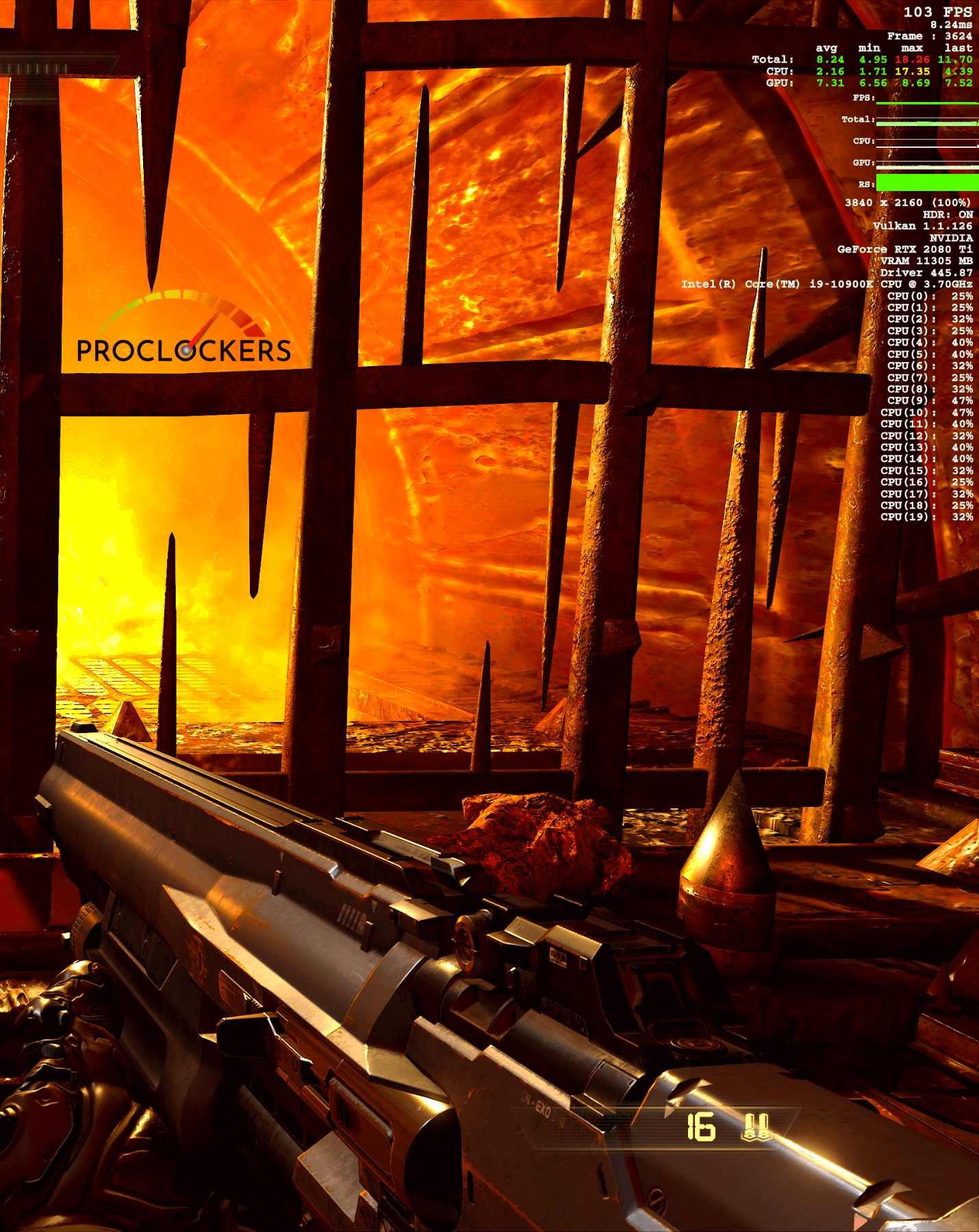 At 4k HDR Ultra settings, I was able to see an average 103-144fps depending on the action in front of me. Just look at those beautiful threads work! Clocks here stayed around 4.9Ghz, but why ask for more when you're well above the top tier systems?
Rocket League
This is a fan-favorite of mine. Rocket league is surprisingly flexible and allows you to play it on the IGPU of even 10-year-old CPUs. The i9-10900k easily kept up with my 144hz monitor using the 2080ti, staying at 144fps throughout the match, with clocks staying above 5Ghz.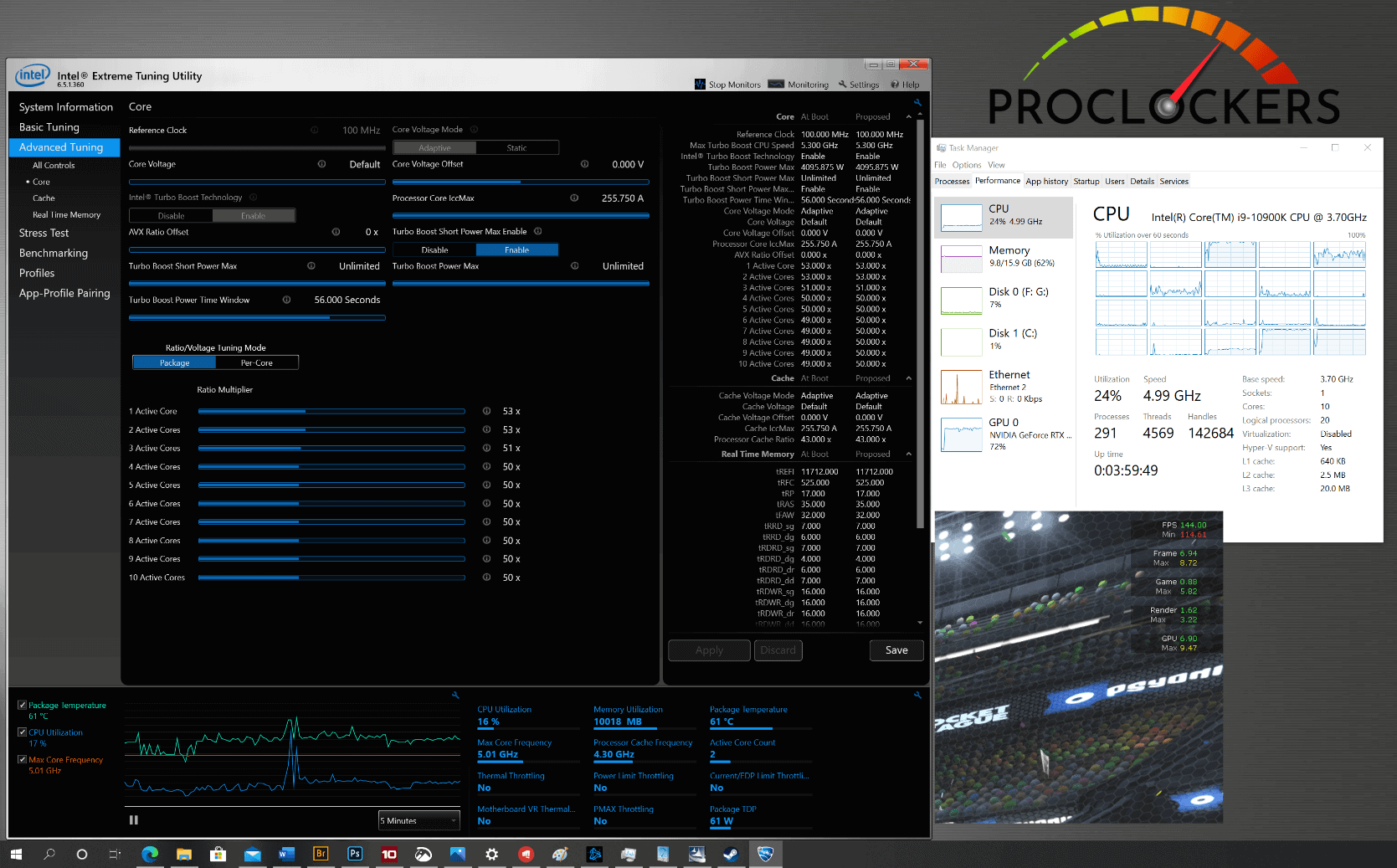 Below, we combine the results from other games that are known to be demanding and compare different CPUs to average frame rates from FHD to 4k.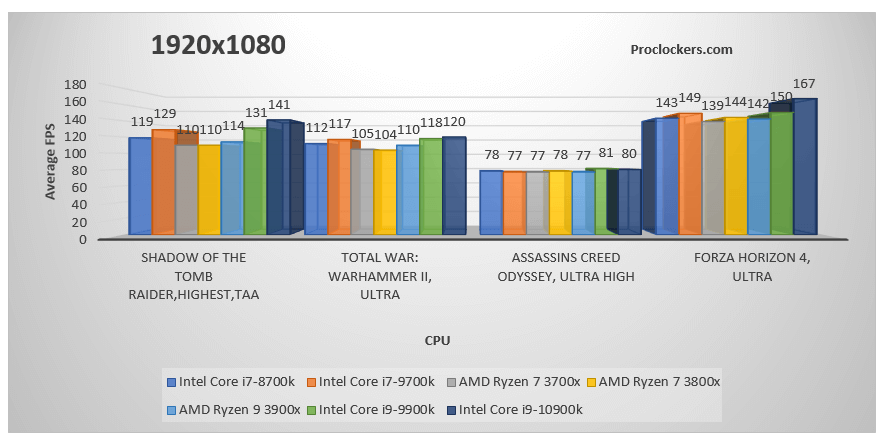 This first graph shows 1080p gaming on high settings throughout. The results show Intel remaining #1 in gaming performance, with the i9-9900k barely inching out in Assassin's Creed Odyssey. However, it isn't close enough to merit a win.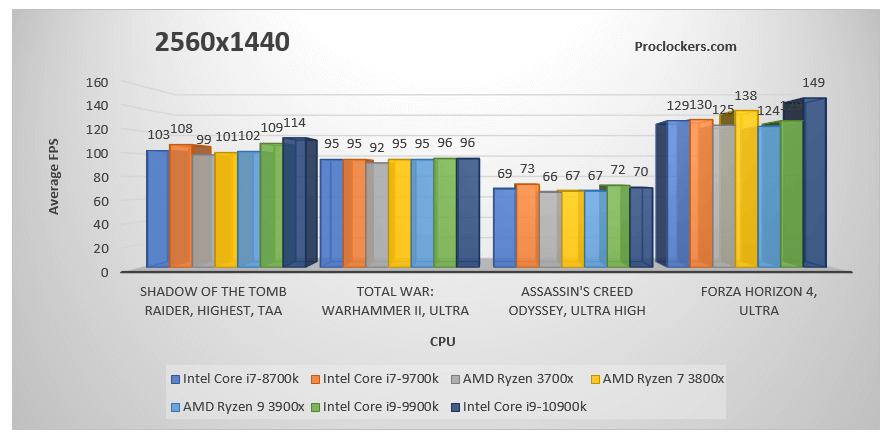 The system gets pushed a bit further in 1440p gaming. Here, the i9-10900k pushed ahead of the 9900k in Shadow of the Tomb Raider and Forza Horizon 4, while keeping neck and neck in Total War and Assassin's Creed.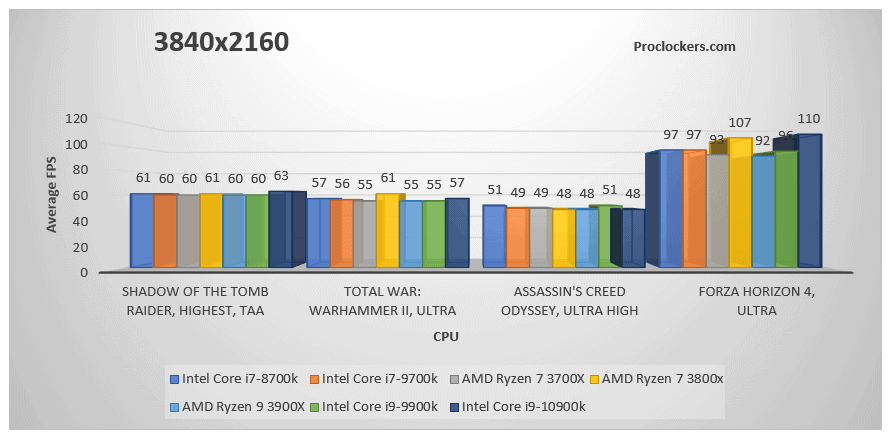 Where limits get pushed to the max, 4k games require the system to be on par from Mobo to GPU. The 2080ti pushed hard in all these tests, with the 10900k as its backbone, Tomb Raider and Forza showed promising FPS. Playable without interference, on Total War we dipped below 60fps to a still playable 57fps. Although, no doubt when the screen becomes full, the fps will plummet. As for Assassin's Creed, 48fps is still playable, though more objects on the screen will create a slow-motion effect as a result of dropped frames. Tuning settings down will ensure higher FPS and better performance all around.
Intel I9-10900k Concluding Thoughts
Thoughts on the Future of Intel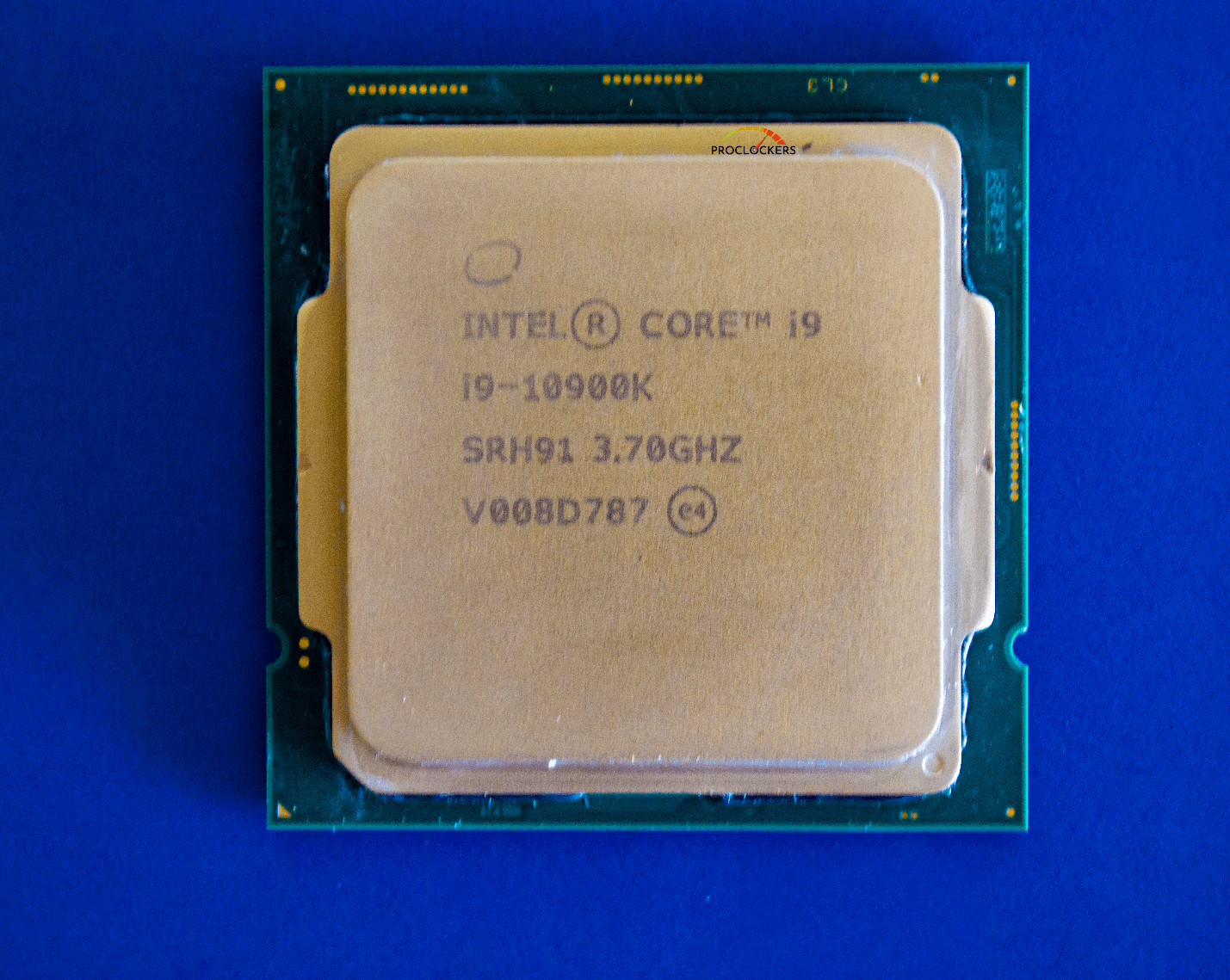 The Intel i9-10900k is a fantastic CPU in gaming and single-core applications. No processor comes close. New core clocks up to 5.3GHz show Intel constantly strives to improve performance in all their CPUs. That being said, this CPU is a heater. Reaching up to 260watts in my test and reading higher along the streams. It even gave me a run for my money, as I barely kept up to 5.3GHz. So, who is the i9-10900k for? Extreme overclockers, gamers, enthusiasts, and creators who want to stay up to date with the latest tech ware. If you are new to the PC world though, it may be a good idea to check out some of the cheaper offer, because this one comes in at a value of $499.00. Fans of Intel know that price is purely for wow factor. I'd imagine the i9-10900k to come in around $600 on initial launch. Intel's 9900k is still a great CPU, while AMD is headstrong in multi-threaded apps.

Intel may try to get as much power out of its processors as possible using the 14nm lithography. With AMD already on 7nm, it's hard to justify Intel's plans to stay above the ever-rising competition. LGA1200 socket offers a platform that effectively ends LGA1151 life. LGA1151 coolers will be compatible with LGA1200, but surely manufacturers will push new "LGA1200 compatible" hardware. Buying a new motherboard, solely for the purpose of pushing more clocks may steer even the most dedicated power users away, but the i9-10900K may be the best gaming PC around right now. We'll have to wait until the Core i7-10700K arrives to see whether it's worth the hype i9s are known for.

<![CDATA[ */ var zbjs = {"ajaxurl":"https:\/\/gaminggorilla.com\/wp-admin\/admin-ajax.php","md5":"d8e8b24d2fa18d2999e0fddcdd418586","tags":[],"categories":["Hardware"]}; /* ]]>