Kingston 64GB DataTraveler 50 USB 3.1 Gen1 Drive Review
Introduction
USB flash drives are about as common as a computer accessory can be. Most computer users have at least one, may have more than one. They have proven to be one of the must have devices for transferring files back and forth between USB enabled systems. As the capacity and speed have increased, they have almost completely replaced other medium, such as CD replaced the floppy.
Kingston has been actively expanding their offerings of USB Flash Drives since UBS 3.1 became a standard. Today we will be a taking a look at one of these new flash drives, the DataTraveler 50. It features an extremely small silver aluminum body colored accents that vary by capacity. Capacities range from 8GB up to 128 GB, with the 8GB and 16GB drives rated at 30MB/s read and 5MB/s write. The 32GB, 64GB, and 128GB rated at a much higher 110MB/s read and 15MB/s write.
Kingston's Take on the DataTraveler 50
DataTraveler® 50 is a lightweight USB Flash drive that's available in capacities from 8GB to 128GB. The drive's compact, capless design features a metal casing and colorful accents that range by capacity. Fast USB 3.1 Gen 1 (USB 3.0) performance ensures quick and easy data transfer. Backward compatible with existing USB 2.0 ports, the drive is also customizable. DT 50 is backed by a five-year warranty, free technical support and legendary Kingston® reliability.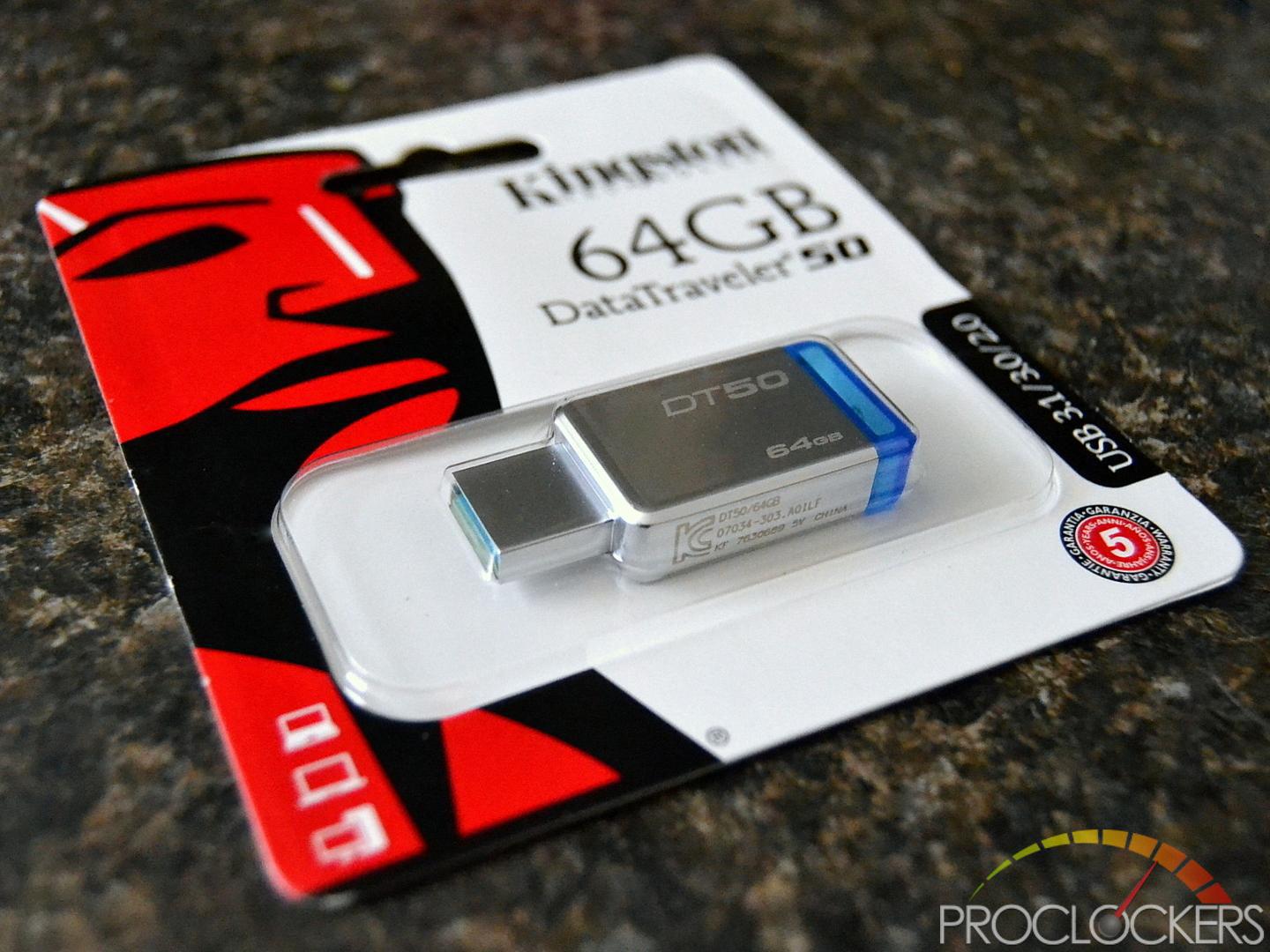 Features and Specifications
Features
Compact, lightweight, capless design
Metal casing with colorful accent by capacity
Fast USB 3.1 Gen 1 (USB 3.0) performance
Customizable with your logo and/or digital files
Specifications
Capacities
8GB, 16GB, 32GB, 64GB, 128GB
Speed
USB 3.1 Gen 1
8GB – 16GB – 30MB/s read, 5MB/s write
32GB – 128GB – 110MB/s read, 15MB/s write
Dimensions
Operating Temperature
Storage Temperature
Warranty/support
5-year warranty with free technical support
Compatible with
Windows® 10, Windows 8.1, Windows 8, Windows 7 (SP1), Mac OS v.10.9, Linux v.2.6.x+, Chrome OS™
Packaging
The Packaging of the Kingston 64GB DataTraveler 50 is the typical tamperproof blister packaging that have created more bad words that can ever be counted.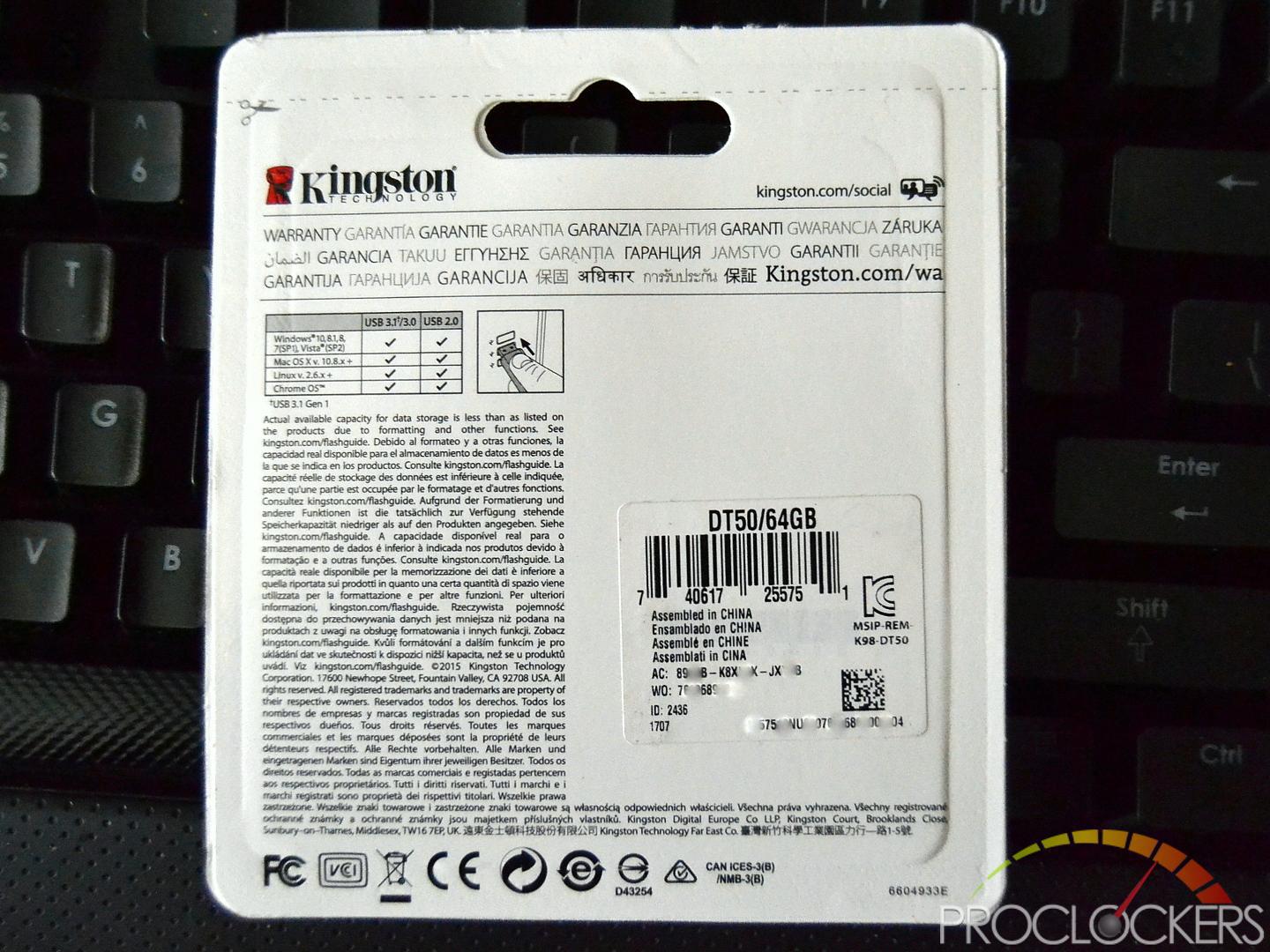 This packaging is one that is really amazing as you merely use some scissors to cut along a marked slice down the top to cut like opening your luncheon meats and cheeses.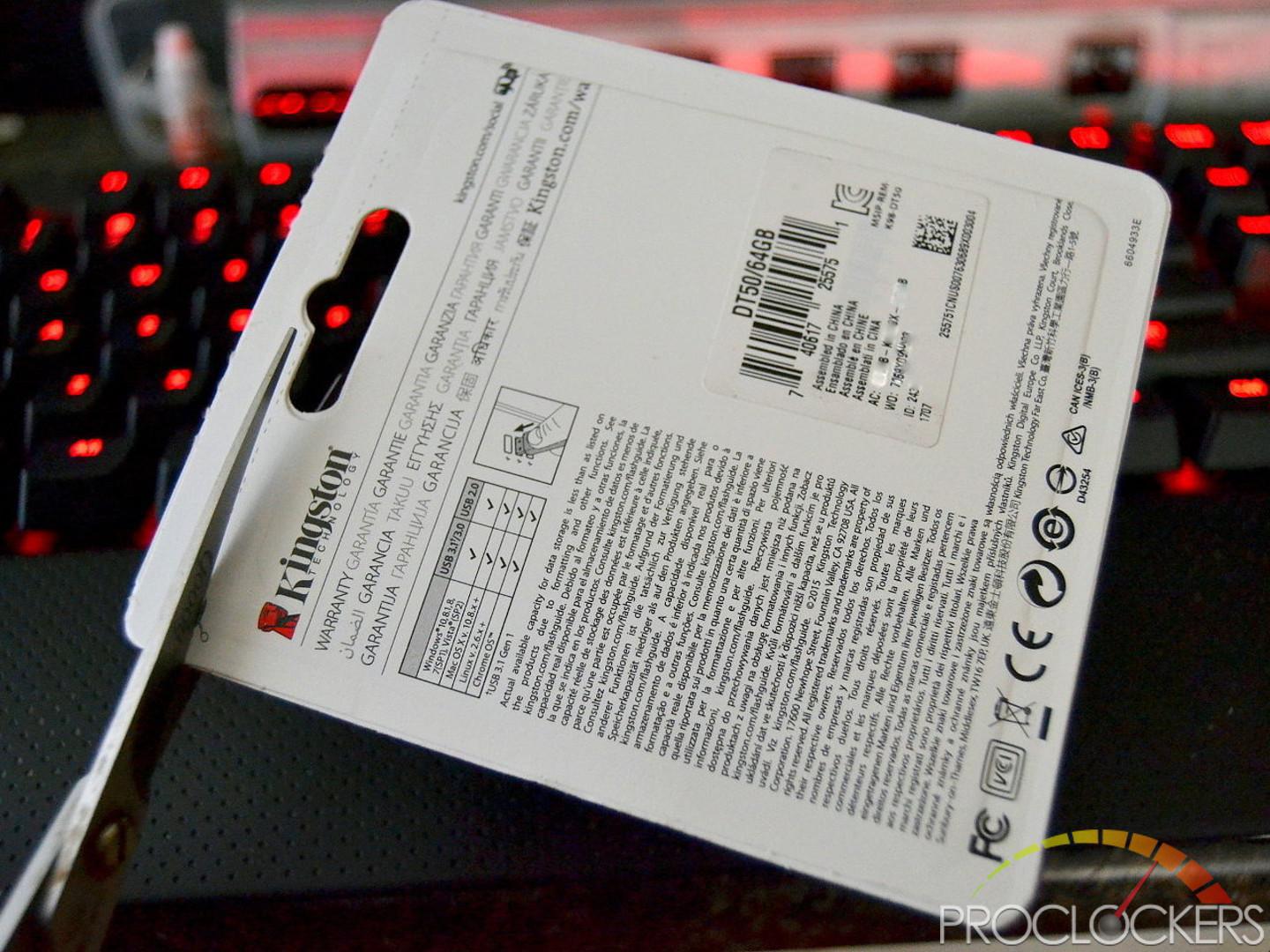 After the Cutting 90 % across the top of the packages top it is simple to slip your fingers down through the flaps inside to gain access to your prize.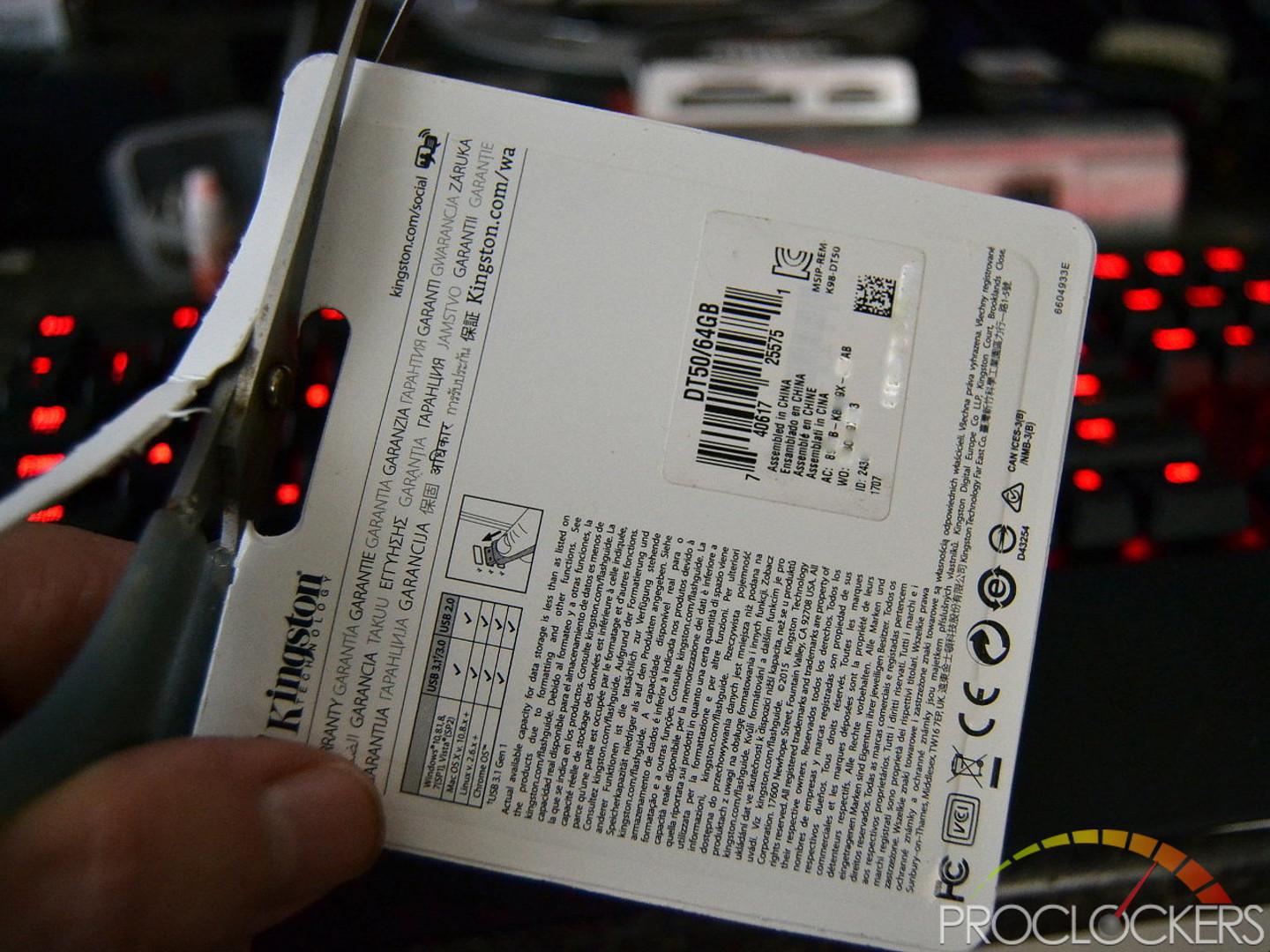 To return to business this Kingston Data Traveler 50 is well packaged and tough. Since I experienced no cuts or scrapes from opening the Kingston Flash drive, the packaging is highly rated.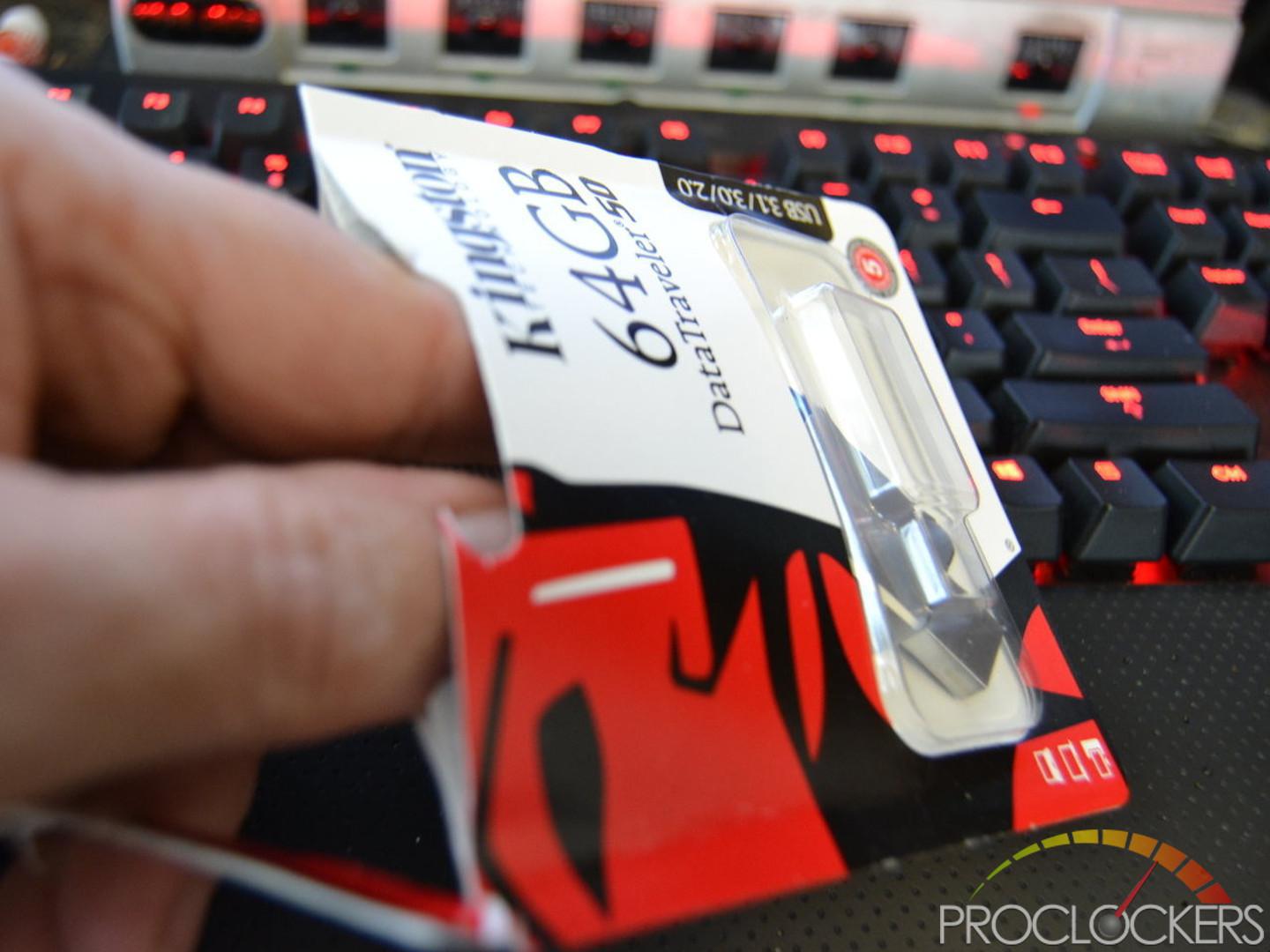 Testing
Beginning the speed and connectivity testing for the Kingston 64GB DataTraveler 50 (DT50) we will be using two 2 different computer platforms as to perform using the newest USB 3.1 Test. Each computer is set up the same to facilitate the proper and reliable testing of the DT-50 with USB 3.0 plug speeds compared to the USB 3.1 plug speeds. Using two different systems also let you know of any other anomaly that would not normally be picked up by the use of just one board.
The first test for the Kingston 64GB DataTraveler was using Windows 10 w/ i7 5930k LGA2011-V3 build with 32 GB of G.Skill RIPJAW 4's DDR4 2400 memory.
Hub Test
First I was interested. Was my nice Hub just as fast as my computer socket? Let's find out.
I used this ORICO Fast 3.0/2.0 USB Hub that plugs straight to the board via USB 3.0 plug and an electrical plug for charging for the system board inside it. This was the first test point to find out if there were any speed loss by using a Hub. The Hub's Speed results went wonderfully and was able to top out the speeds of the Kingston 64GB and have 99.9% Throughput speed using the Hub.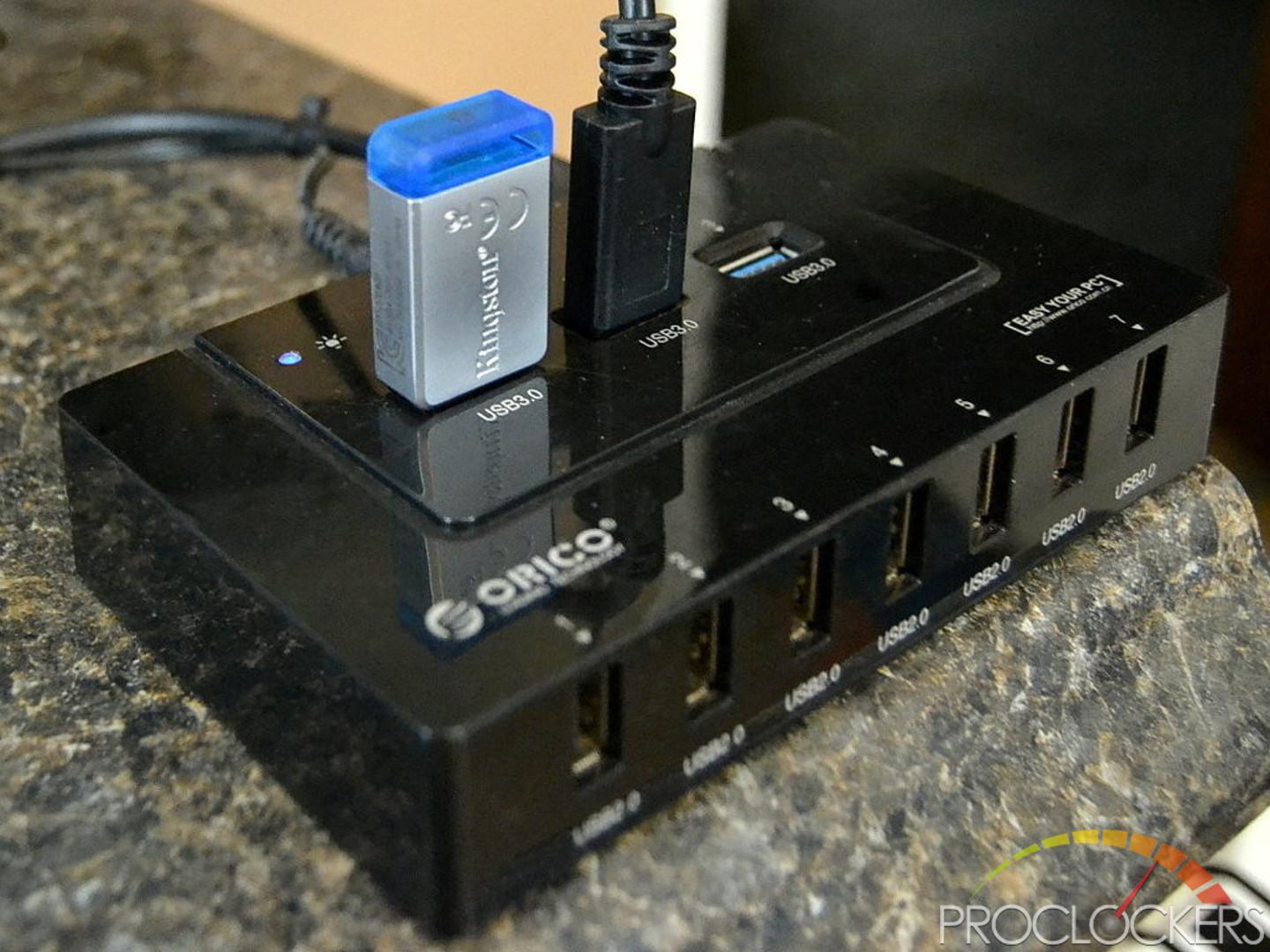 The Speed Tests for the Kingston 64 GB DataTraveler 50 or (DT-50) were CrystalDiskMark5.2.1 Benchmarking software speed testing on both machines to keep consistency between speed measurement on different platforms. Also, both machines are running Windows 10/64 bit.
The second speed testing was to plug the DT-50 straight into the back I/O Port. This is the shortest route and bound to get the best scores because it is actually soldered to the back of the I/O section of the motherboard.
To test USB 3.1 Connection computer was with the Z170X with a 6400 Skylake processor with a standard USB 3.1 plugs. It will be interesting to see if the speeds we will be testing on the second computer will be faster with the USB 3.1 on the back I/O of the Skylake setup.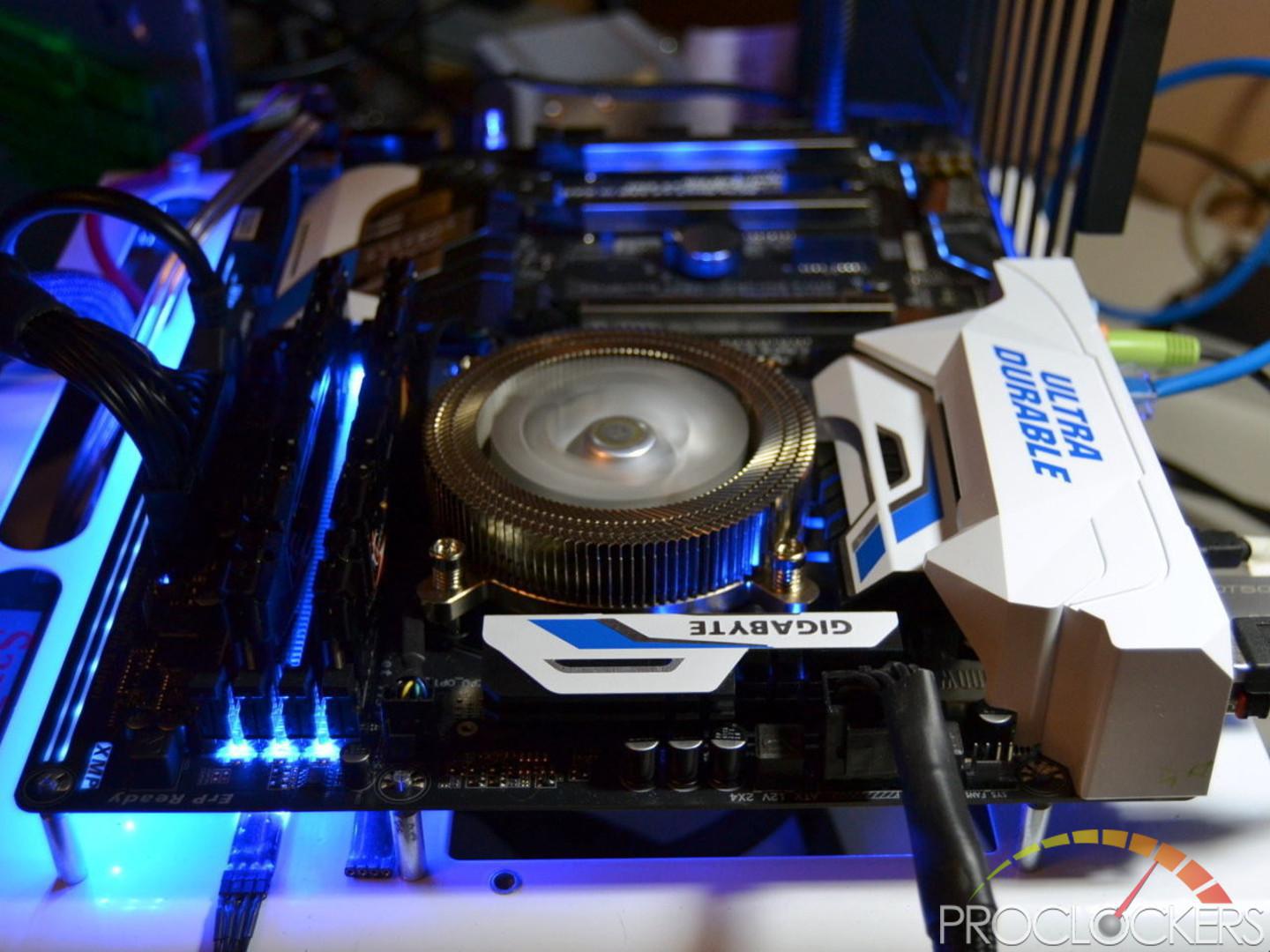 The First Score on the left-hand side of the speeds is using the ORICO Easy your PC USB 3.0 hub test.
This test was to see if my hub was just as fast as plugging it straight into an I/O USB connection.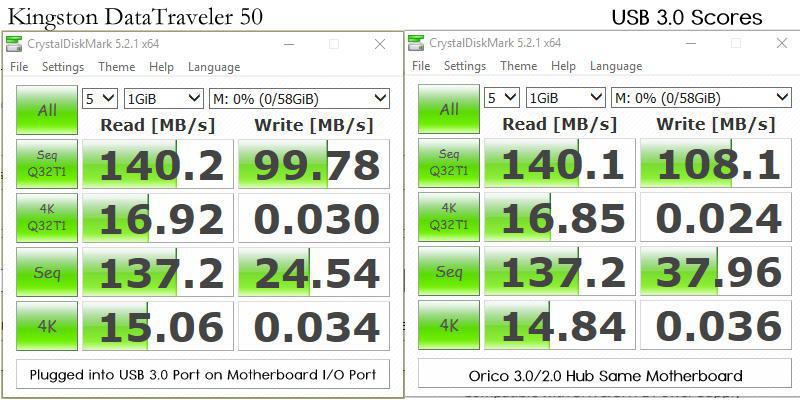 The Scores on the right of side of the Chart is CrystalDiskMark5 Score cards are from being plugged straight into the back USB 3.0 rear I/O port. So far all of the plugs tested have been USB3.0.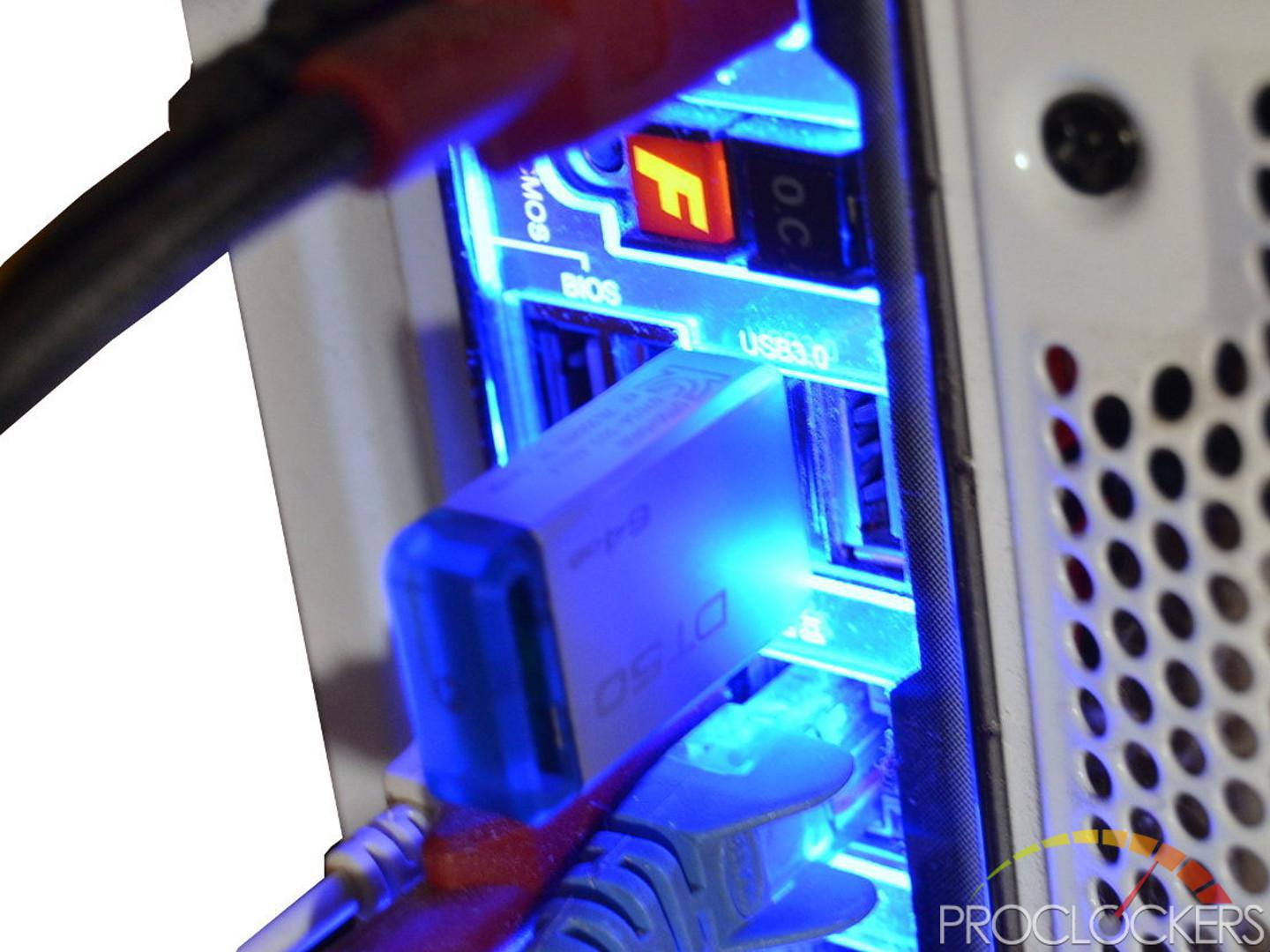 Remember that the DT-50's speed readings, so far, have only been by using USB 3.0 plugs so far.
As an added bonus to the tech test we found that a properly designed and plugged in (hub) can give you plenty of extra connectivity and throughput speeds where 99% data speed as being plugged straight into the I/O Plug itself. The ORICO
Fascinating thing to find is that the Speed of the Kingston 64 DataTraveler 50 in the USB 3.0 Speed test revealed that this flash drive was just as at home in all connections but best in 3.0 and 3.1 USB connections.
USB 3.1 Tests
Now for the USB 3.1 speed test for the Kingston 64GB DataTraveler 50 (DT50) to find out if there would be a visible increase in speed. Kingston never says that this USB 3.1 device is superfast, it's just going to work at that same 3.0 style speed but use the plug and they were right.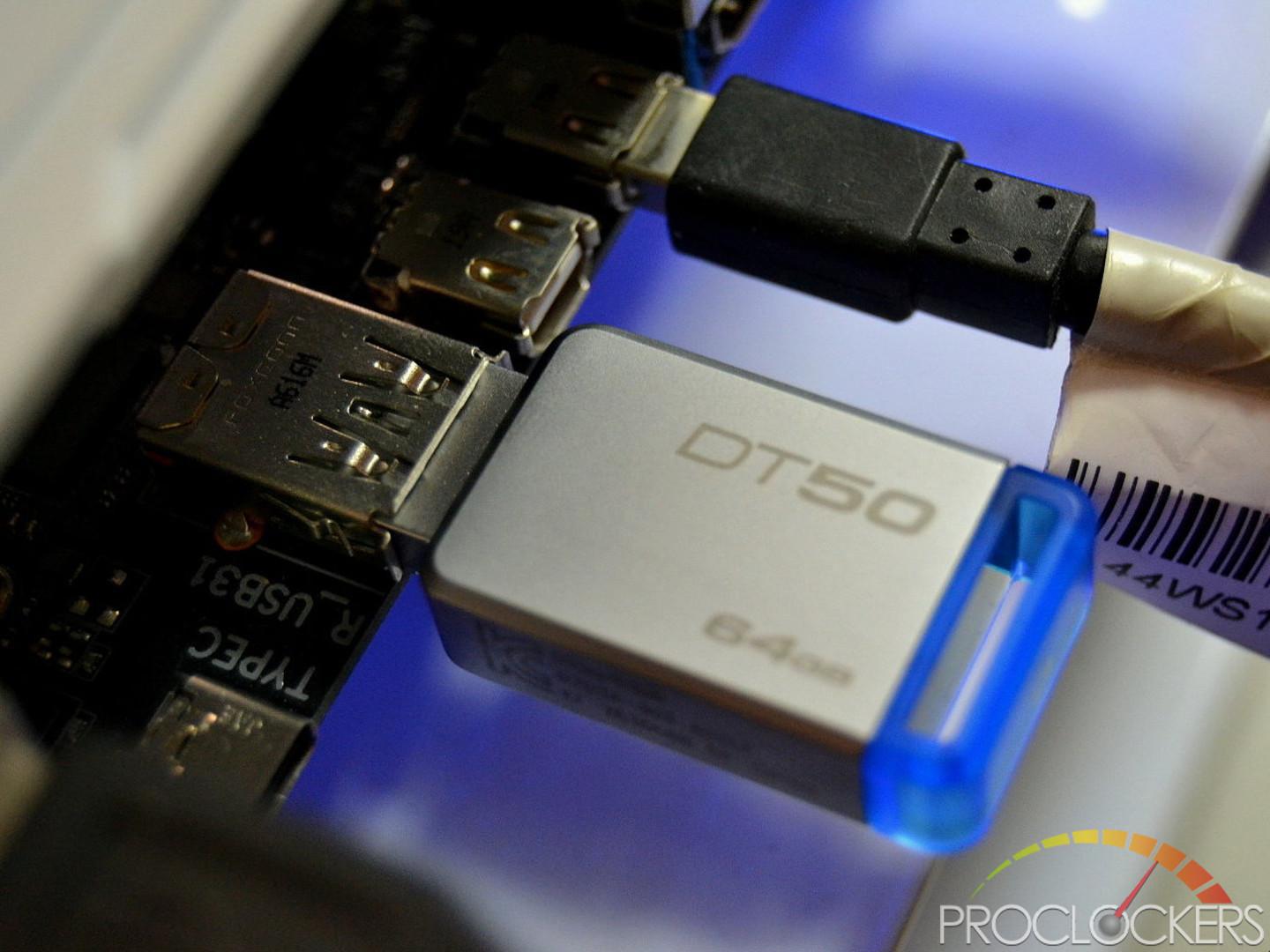 As we test the USB 3.1 speeds with a Z170 Gigabyte GA-Z170X-UD3-Ultra motherboard with Standard USB 3.1 plug the plug was seen by the Windows 10 very quickly. The processor used in this test bench is the i5-6400 Skylake LGA1151 Ssocket with 8GB of DDR4-2400 memory, so an average build.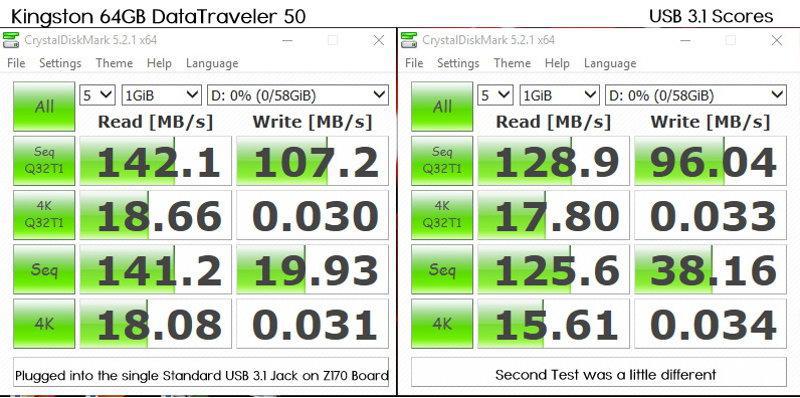 Charts of the Dual Test done with the same USB 3.1 Plug on the back I/O of the Z170 boards showed that there was no major increase in power by using the USB 3.1 drive but they do add that in their marking announcement. The biggest thing I noticed about using the USB 3.1 port was the file directory almost instantly showed on screen with the Skylake USB 3.1 connection but the speeds were not significantly different faster overall when using the higher speed plug.
FILL'r UP Transfer Test.
This test is a real-time transfer example of actual Music and Video files from an SSD in the X99 test system through to the Kingston 64GB DataTraveler 50 via the USB 3.0.
Size of the Data File: 52.5GB
Time to transfer of 52.5 GB: One Hour, thirteen mins and five seconds. Writing times fluctuated from 8.20 to 21MB/s and the fluctuation in speeds seemed to make the time go by even slower, but at least you don't have to keep up with the cap, Right. Ha.
Watching the 4K content was not a problem with the Kingston DT-50 64GB DataTraveler 50 and the lack of an LED light flashing while its reading and writing away. That part is kind of nice.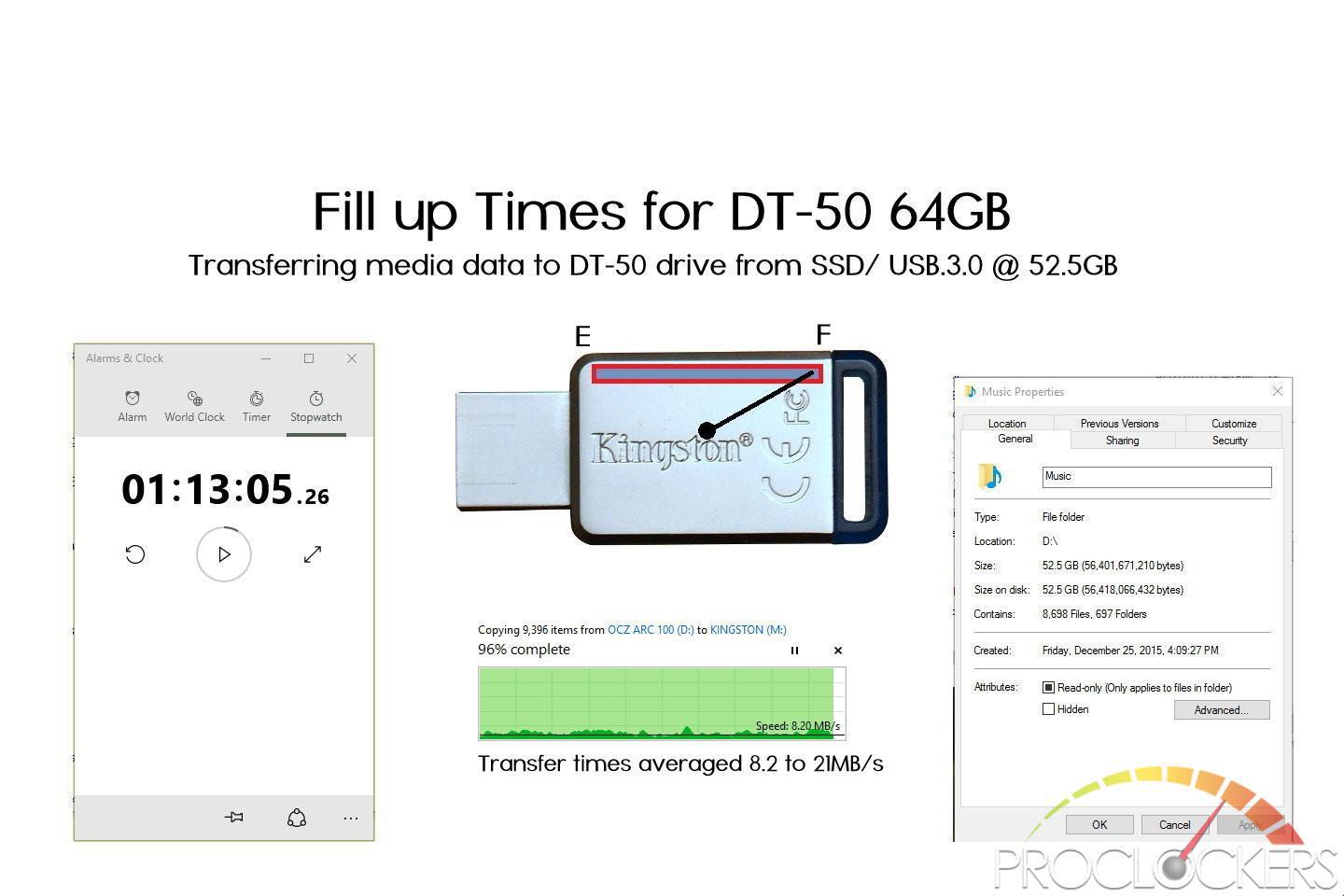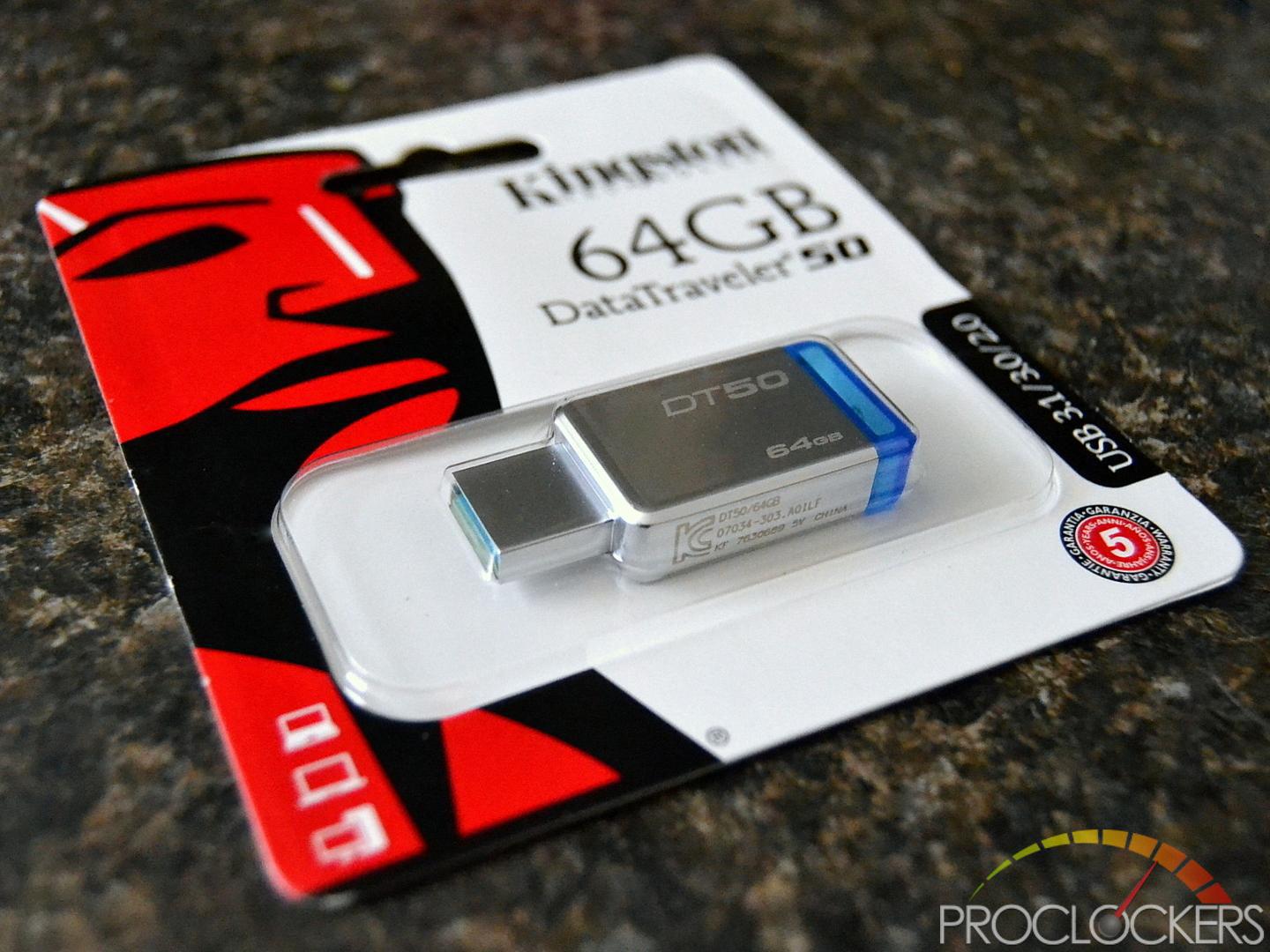 Final Thoughts and Conclusion
I guess my favorite part about the Kingston 64GB DataTraveler 50 is a rock solid rugged stable feeling. It doesn't feel like you're going break it if you drop it. It feels comfortable and the USB 3.1 certified device can even be used with a Lanyard or a keychain Fob. I like to know that no matter the day I am having the device I carry can handle the day along with me. The Kingston 64GB DataTraveler 50 will get through the day without being effected by harsh duties. Because of its girth, you will be aware of it in your pocket about the same as a pair of small dice would feel in your pocket is about the size of it. The lack of a cap over the plug may bother some though.
During the tests, I did notice that the metallic shell around the body started to warm up equally all over the drive except for the back plastic insert in the rear of the drive. It's just a gentle warmth to the touch like if it were a living body temperature. Again, let me express that this warm temperature never alarmed the Reviewer at any time during our tests, but I felt it was worth mentioning in the overall description of the Kingston 64 DataTraveler 50. Faster drives have higher than normal temperature ranges but this one seem quite normal.
The deep cover quiet nature of this device is very tactical as well as being non-distracting. There are no flashing red and green lights blinking and with the Kingston 64GB DataTraveler 50 has no LEDs or bells and whistles to broadcast that you're downloading or accessing data, so if you are watching that 4K Movie off of the thumb drive, there is no distractions. It is fast enough to read the data at 149MB/s, so the Kingston 64 GB DataTraveler 50 will do the job discreetly.

PROS
Rugged Heavy Duty Feel
Performs Over the Specifications
Custom logo's for Corporate Data/and Design
The Plug Has a Good Tight Fit and a Good Solid Feel
Cons
The Lack of a Cap May Bother Some
<![CDATA[ */ var zbjs = {"ajaxurl":"https:\/\/gaminggorilla.com\/wp-admin\/admin-ajax.php","md5":"d8e8b24d2fa18d2999e0fddcdd418586","tags":[],"categories":["Hardware"]}; /* ]]>