This article contains our complete Kingston A400 SSD review.
Kingston A400 SSD is a drive fit for those on a tight budget, but is it the best choice in 2022?
It's 2022, and by now, everyone should have an SSD, no matter what they use it for. The prices for SSDs are so low it doesn't make sense not to buy one. We are talking about a faster PC boot speed, sleep speed, programs opening noticeably faster, and improving your overall productivity.
When it comes to reasonable SSDs, we look at Kingston, which has plenty of solid-state drives with different capacities and targeting various markets. Let's check out the Kingston A400 240GB SSD and see what you can expect from it and if it still is relevant as a purchase in 2022.
At the time of launch – in Q1 2017, the price was around $50 for a 240GB Kingston A400 SSD, but it has now gone as low as around $35 at various retailers. Even with this low price, can it face newer and better SSDs that go for less than $60?
Kingston A400 SSD Review
Within this article, we will be covering a full review of the A400 SSD, including the following:
Advantages
Disadvantages
Technical Specifications
Benchmark Tests
Should You Buy it?
Alternatives
Let's get into the review…
Kingston A400 250GB SSD – Pros & Cons
Here's our summary of the various advantages and disadvantages of the A400 SDD, to help you decide whether it has what you're looking for:
+ Pros
Affordable
Low power consumption
3-year warranty
Solid performance
– Cons
No software tool
Not enough performance compared to drives that are slightly more expensive
Kingston A400 SSD Technical Specifications
The Kingston A400 is a standard 2.5-inch SATA solid-state drive. It comes without a SATA cable, with no screws. By the looks of it, Kingston has indeed cut all corners to lower the price tag. Although the Kingston A400 comes in 120GB, 240GB, and 480GB capacities, we chose to talk about the 240GB model.
While the three capacities have the same 500MBps sequential reads, the write speeds differ 320MBps, 350MBps, and 450MBps respectively.
Form Factor: 2.5″
Capacity: 250GB
Interface: SATA Rev. 3.0 (6 Gbp/s)
NAND: 3D
Controller: Phison PS3111-S11
Flash Memory: Toshiba 15nm TLC
Data Transfer (ATTO): up to 500MB/s Read and 350MB/s Write (240GB)
Warranty & Endurance: 3 years, 1 million hours MTBF, 80TB (TBW)
For a consumer drive, the three-year warranty and 80TB written is more than enough to last you until a further and much-needed upgrade.
And talking about upgrades, does the Kingston A400 SSD upgrade speed and performance compared to other SSDs? Let's look at the benchmark results from our tests below.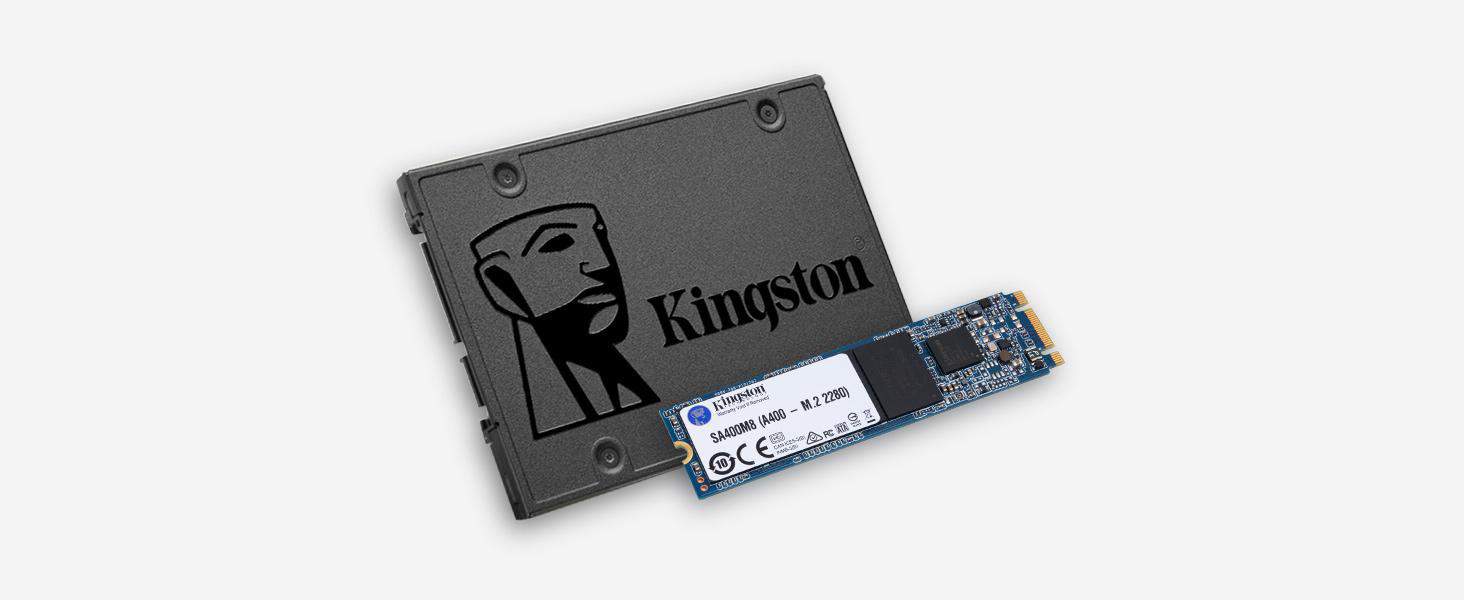 Kingston A400 250GB SSD Benchmark Tests
We've done separate benchmark tests for the Kingston A400 SSD using Crystal Disk Mark and User Benchmarks. Here are the results:
CrystalDiskMark
Sequential Read Speed: 0 MB/s
Sequential Write Speed: 3 MB/s
Sequential Read Speed (Q32T1): 3 MB/s
Sequential Write Speed (Q32T1): 1 MB/s
4K Random Read Speed: 82 MB/s
4K Random Write Speed: 43 MB/s
4K Random Read Speed (Q32T1): 2 MB/s
4K Random Write Speed (Q32T1): 5 MB/s
Comparing Kingston A400's claimed 500MB/s read and 320MB/s write speeds for the 240 GB model with the results from CrystalDiskMark, we see that there's a huge gap in write performance. Sequential performance is good, but not that good either. 4K is where Kingston A400 rises against its opponents.
User benchmark – Average Results
Sequential Read Speed: 423 MB/s
Sequential Write Speed: 310 MB/s
4K Random Read Speed: 27 MB/s
4K Random Write Speed: 55.6 MB/s
Results from the User benchmark show better numbers, except for the 4K random write speed. So far, Kingston A400 nearly delivers what it promises, as peak results surpass Kingston's claimed performance, reaching a Sequential Read Speed of 511 MB/s and 449 MB/s.
The Verdict
Although Kingston A400 250GB SSD delivers what it claims and sometimes goes even further, can we say it was a great offer in 2020? If you still have an HDD and want to improve an aging laptop or PC, sure. But if you have a more recent PC or laptop, you'd surely want something with more oomph, and Kingston A400 250GB lacks that. After all, it's a three-year-old SSD, and as time passed, we've seen newer SSDs from both Kingston and its competitors.

With that in mind, if you're looking for cheap SSDs in 2022, you'll see that most lists will include drives that were released on the market in 2019 or, in best-case scenarios, in 2020-21.

Other 2017 SSD offers can beat the Kingston A400 as well. At nearly 60% more performance, the Crucial MX 500 250GB SSD launched in Q4 2017 was only $20 more than the A400. MX 500 is now around $50, compared to the current $35 price tag for the A400.

As for newer SSDs, we have the much better Samsung 860 EVO 250 GB, which was launched in Q1 2018 at around $90, but now sells for nearly $60 from various retailers. The Samsung 860 EVO offers its reliable Samsung 64 layer TLC V-NAND and around 64% more speed and 60% more performance compared to the Kingston A400 250GB SSD. All of that for $25 more than the Kingston A400 250GB SSD.

You can read our in-depth Samsung 860 EVO 250 GB review here.

Of course, for those on a tight budget, the Kingston A400 250GB SSD is still a bargain at only $35, and if 60% less performance is better than spending $25 more, then it definitely is worth your money.

However, for a boost in speed and performance, we recommend a Samsung SSD like the 860 EVO, which also comes with a 5-year warranty and a much bigger TBW (150 TBW for the 250GB model).

<![CDATA[ */ var zbjs = {"ajaxurl":"https:\/\/gaminggorilla.com\/wp-admin\/admin-ajax.php","md5":"d8e8b24d2fa18d2999e0fddcdd418586","tags":["featured"],"categories":["Hardware"]}; /* ]]>