Logitech G710+ Mechanical Keyboard Review
Introduction
It seems that mechanical keyboards are all over the place these days. They're becoming more mainstream and less expensive at the same time. Mechanical keyboards have also evolved right along with other gaming keyboards. They've got backlighting, a choice of multiple styles of Cherry MX switches and tons of added features. One such board is the G710+ from Logitech. They were kind enough to send one over for me to test out so let's get to it!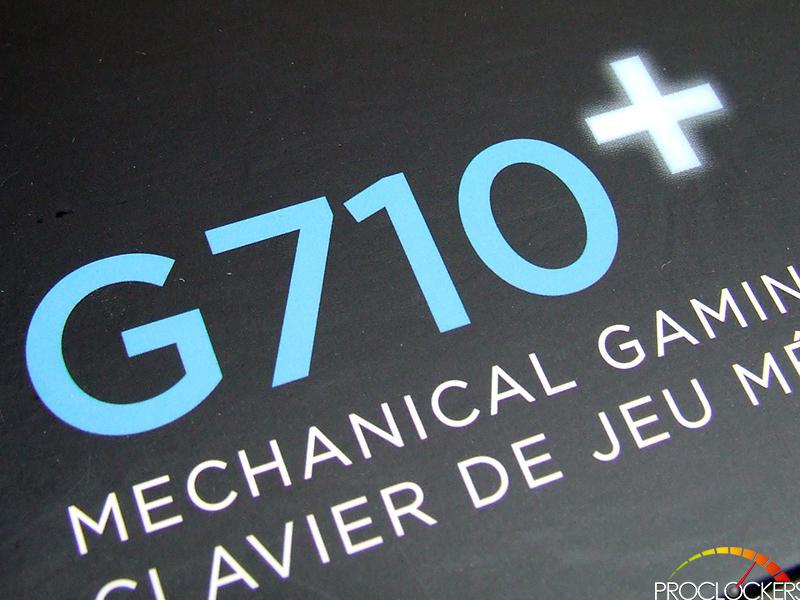 About Logitech
"Focused on innovation and quality, Logitech designs personal peripherals to help people enjoy a better experience with the digital world. We started in 1981 with mice, which (new at the time) provided a more intuitive way of interacting with a personal computer. We became the worldwide leader in computer mice, and have reinvented the mouse in dozens of ways to match the evolving needs of PC and laptop users.
Since those early days, we have expanded our expertise in product design beyond the computer mouse, with a broad portfolio of interface devices that are the "last inch" between you and your computer or your console game, digital music or home-entertainment system.
With products sold in almost every country in the world, Logitech's leadership in innovation now encompasses a wide variety of personal peripherals (both cordless and corded), with special emphasis on products for PC navigation, gaming, Internet communications, digital music and home-entertainment control.
For each of our product categories, we study how our customers use their digital devices, and then our designers and engineers set their sights on how we can create a better experience with those devices – richer, more comfortable, more fun, more productive, more convenient, more delightful." – Logitech
Let's take a look at the features and specifications for the G710+ now.
Features and Specifications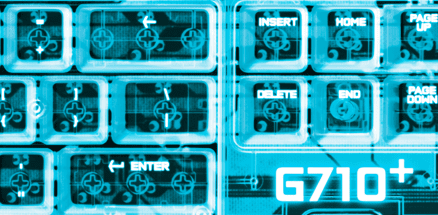 TACTILE, HIGH-SPEED MECHANICAL KEYS
Go the distance: The mechanical keys on G710+ deliver gaming-grade responsiveness and tactile feedback superior to rubber-domed keys. With an actuation force and distance of 45 g and 4 mm, respectively, the keys are optimized for rapid command entry. Plus, the keys have been tested for durability to a 50 million cycle life.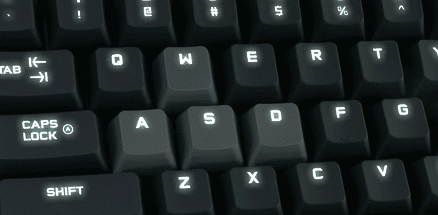 WHISPER-QUIET KEYS
Focus on the game: Quiet, non-clicking key switches and a built-in dampening ring underneath each keycap significantly reduce the distracting noise coming from your keypresses— without sacrificing responsiveness.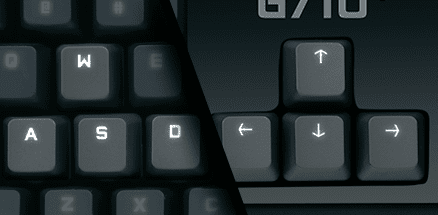 ADJUSTABLE DUAL-ZONE BACKLIGHTING
Knowledge, illuminated: Easily locate keys—even in low light. The entire keyboard is backlit in white LED light and adjustable to one of four brightness levels, plus "Off". For better visibility of the WASD and arrow keys, their brightness can be adjusted independently from the rest of the keyboard.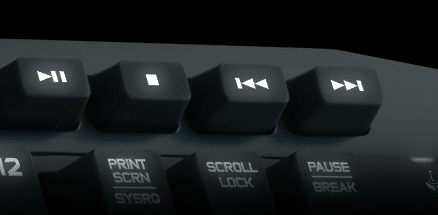 INSTANT MEDIA ACCESS
More at your command: Convenient one-touch controls give you instant access to volume control and media playback without needing to press a function key.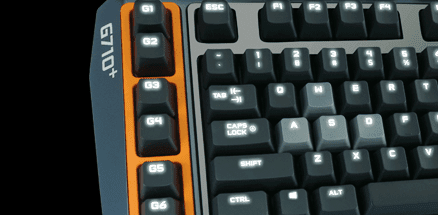 SIX PROGRAMMABLE G-KEYS
At your command: With three macros per G-key, you can configure up to 18 individual functions per game.* Harness the power of G-keys to configure single key presses, complex macros or intricate LUA scripts on the fly and quickly simplify actions to stay immersed in your game and never lose a step. You can even create macros on the fly.
*G-key programming requires Logitech Gaming Software, available at gaming.logitech.com/support.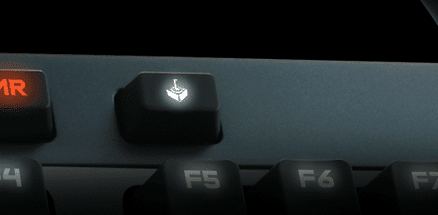 GAME MODE SWITCH
No false moves: You're about to record a record high number of perfect headshots when an accidental keystroke sends you on an unplanned and unwanted trip to your desktop. Don't let this kind of mistake ruin your streak—easily disable the Windows key with one button so your game won't be interrupted.
26-KEY ROLLOVER
Keys made for gaming: Multi-key input on the G710+ means complex moves can be executed exactly right every time. With 26-key rollover, press almost any number of keys plus modifier keys (Control, Alt, Shift) in any order and get exactly what you intended.
110 ANTI-GHOSTING KEYS
Technology on contact: All 110 keys of the G710+ are calibrated to prevent anti-ghosting. During the heat of battle, you need to simultaneously run, strafe, select a weapon and open a door. Press and hold multiple keys simultaneously without fear of missing or unexpected keypresses.
USB PASS-THROUGH
Sound within reach: Easily connect your mouse, headset or other USB device via the G710+ Hi-Speed USB pass-through instead of searching for your computer's USB port.
REMOVABLE PALM REST
Optional wrist support: You've got extra support when you need it. Or simply detach the palm rest when it's in the way.
DURABLE TILT LEGS
Stand up under pressure: G710+ has superior durability in all aspects—and its tilt legs are no exception. The durable tilt legs provide stability and comfort even in your most intense gaming sessions.
Part Number:920-003887
Warranty Information:3-year Limited hardware warranty
System Requirements: Windows® 8, Windows® 7, or Windows Vista®; Two USB ports; 70 MB of available hard disk space; Internet connection for optional software download*
Package Contents:Keyboard, Palm rest, User documentation
*G-key programming requires Logitech® Gaming Software, available at gaming.logitech.com/support.
Now that we've taken a look at the details for the G710+ let's take a look at the board itself!
Packaging and Unboxing
The front of the G710+'s box is black with an image of the keyboard that's half real and half x-ray looking, same as the packaging from the Logitech G19s I reviewed recently.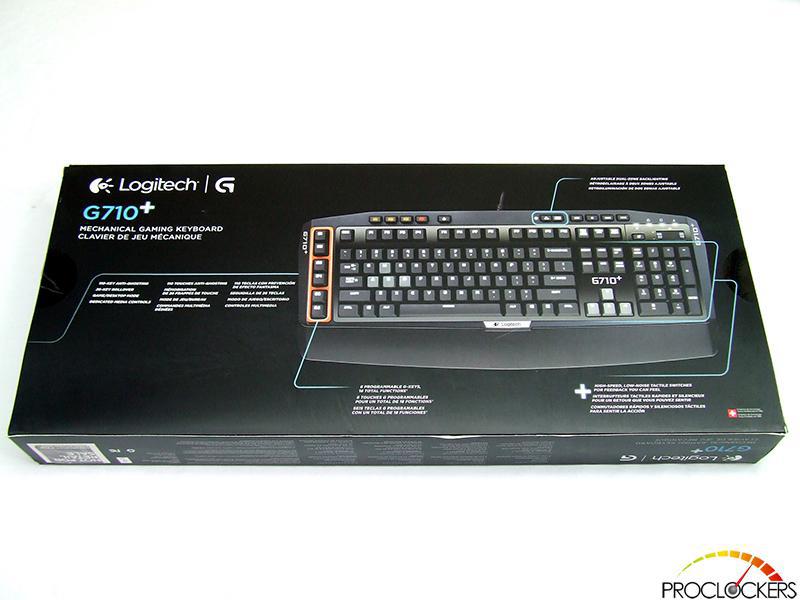 The back of the box has a full image of the board and lists off several key features.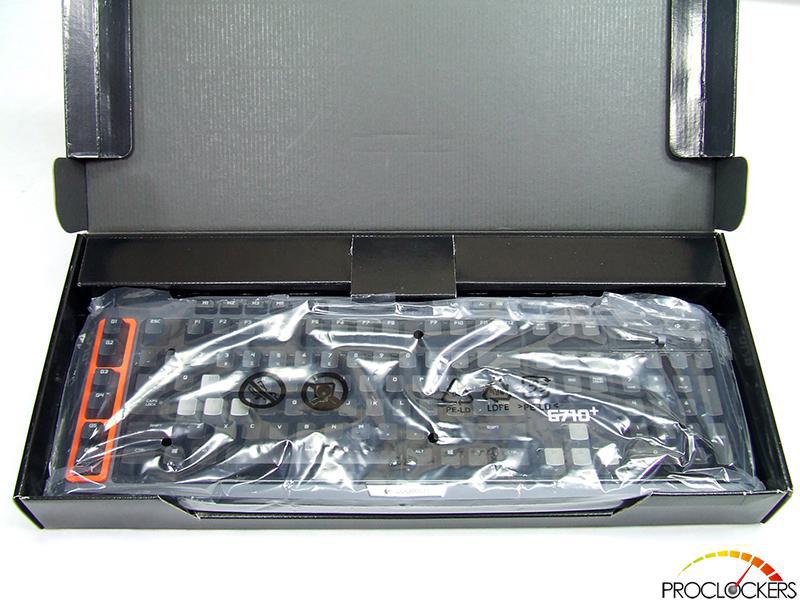 Opening up the box you'll find the keyboard nestled in with cardboard spacers and wrapped in a plastic protective bag.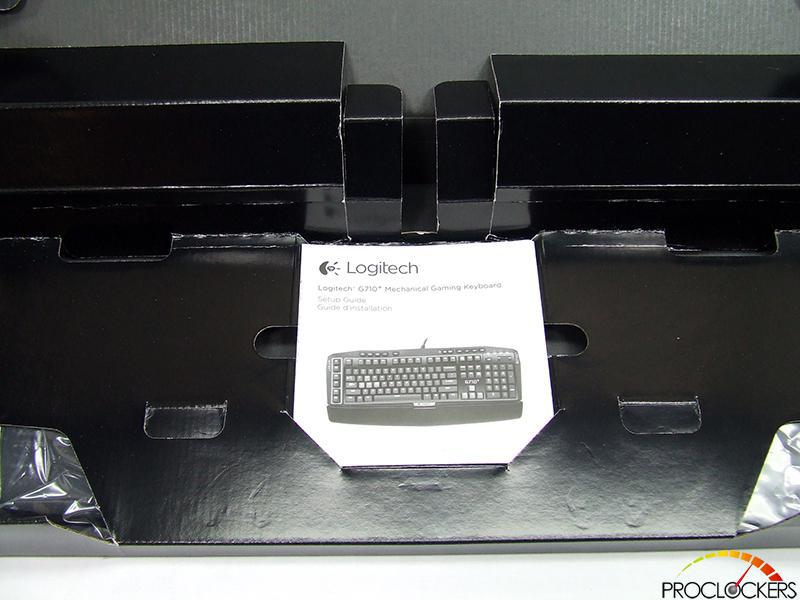 Under the board you'll find the user's manual.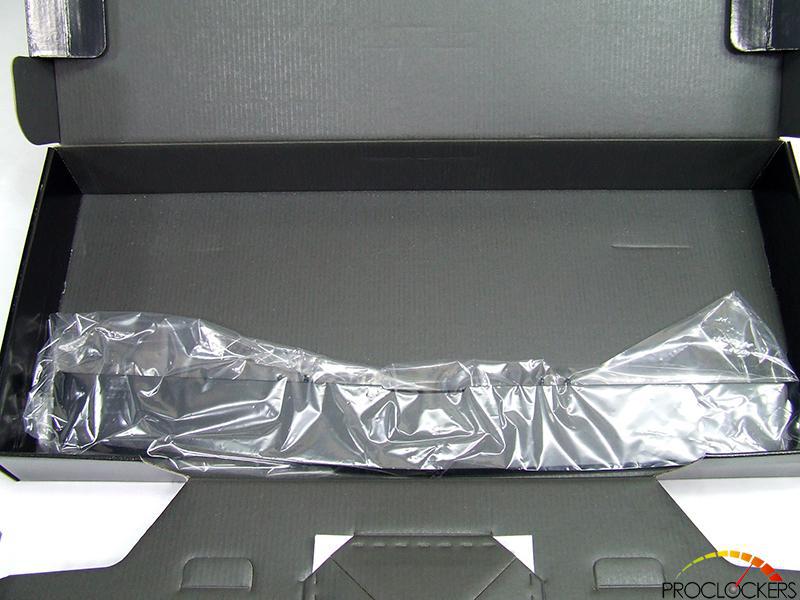 And if you fold out this flap you'll find the optional wrist rest ticked in underneath, also wrapped in protective plastic.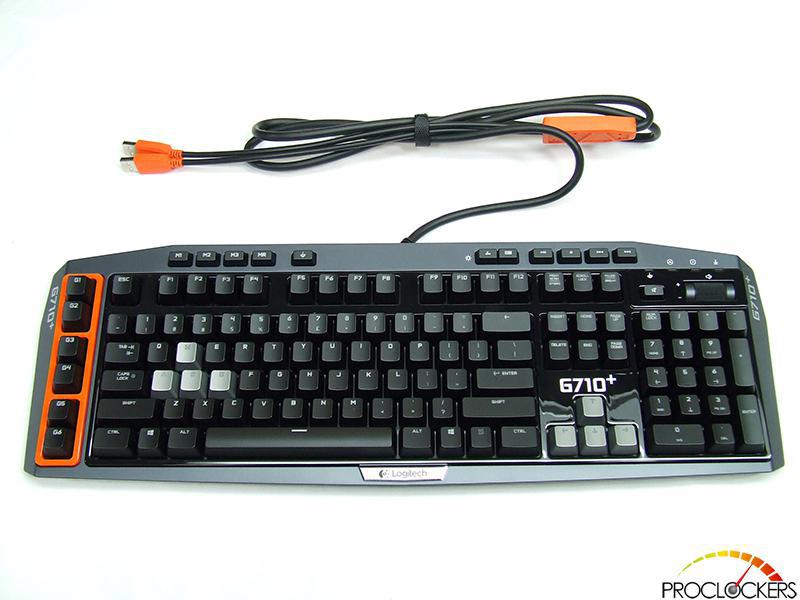 And here we have the board shed of its packaging.
Let's move along and take a closer look at the G710+ now.
A Closer Look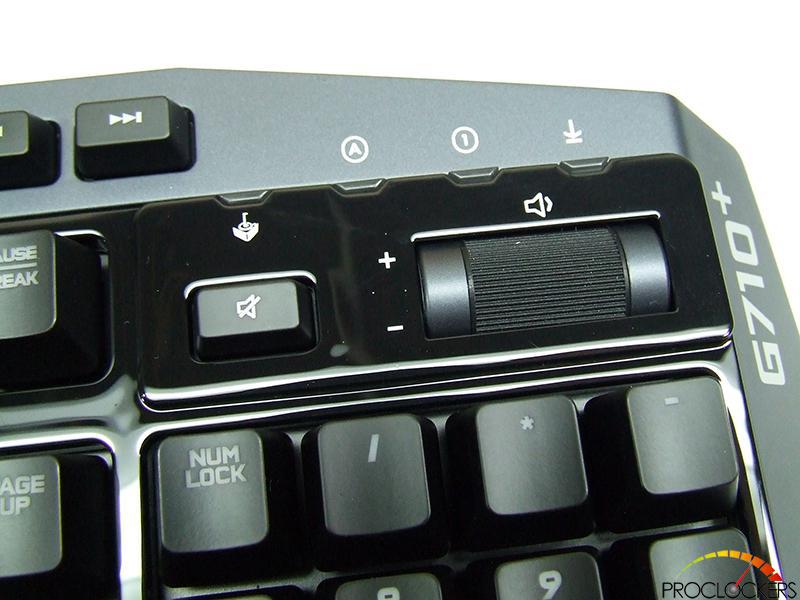 On the top right corner of the board you'll find your indicator LED's for the various functions as well as a volume roller and a mute switch. These are nice and handy to have right on the keyboard.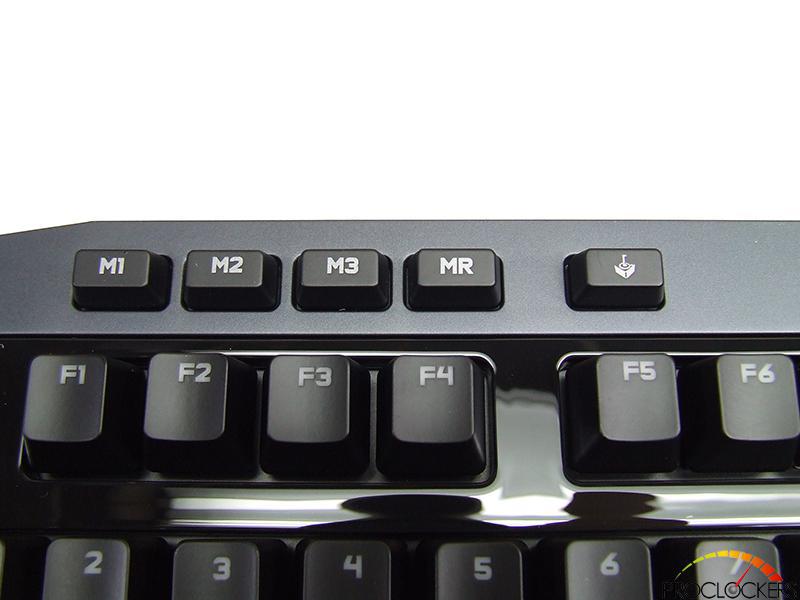 On the top left you have your "M" setting keys. These work in conjunction with the G keys on the left to provide up to 18 different user-defined macros. To the right you have the Game Mode switch. This switch disables the Windows key on the keyboard – preventing you from getting kicked out of a game should you accidentally hit it.
Here on the far left we have the six "G" keys. You can record a macro to any of these keys and under any of the "M" key settings. This gives you 18 total macros you can store. M1 nets you 6, M2 gives another 6 and then M3 gives the final 6.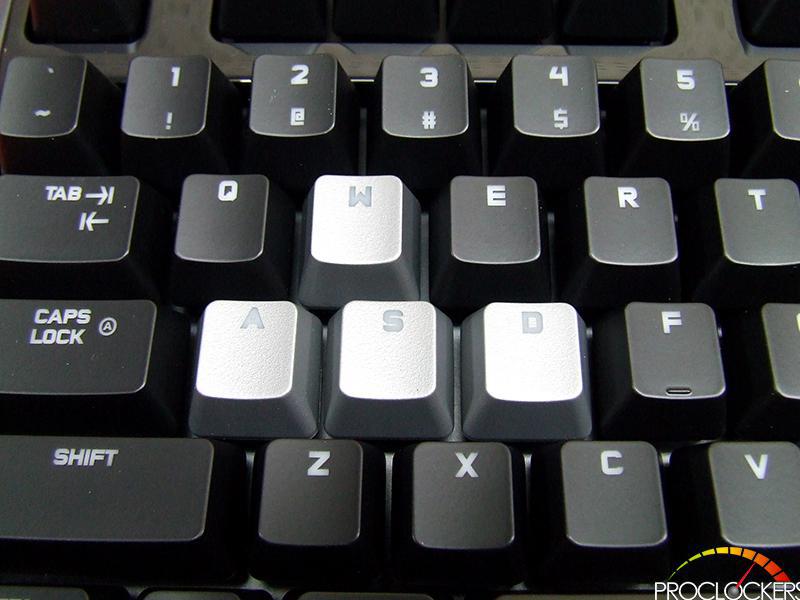 The WSAD keys and the arrow keys have silver keycaps rather than the black that come with the rest of the keys.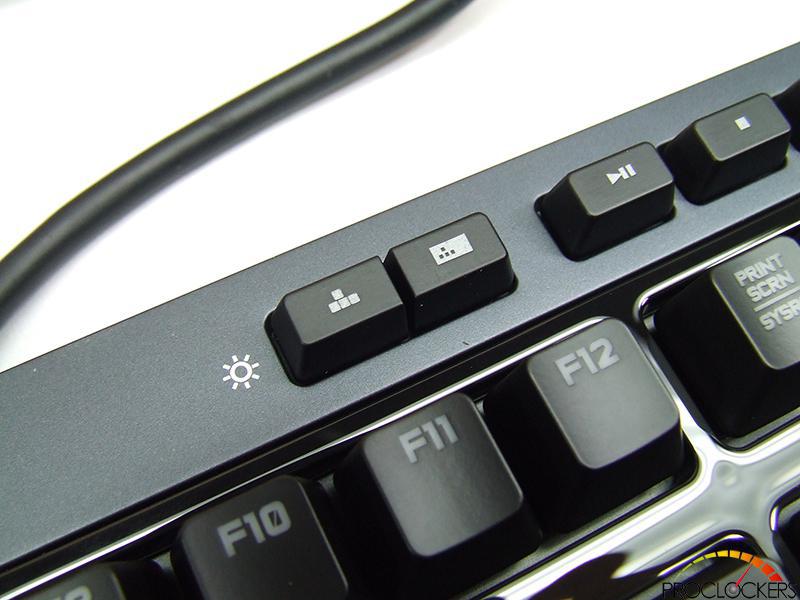 These two buttons control the lighting for the keys in two sections. The left one controls the lighting for the WSAD and arrow keys while the right button controls the lighting for all of the rest of the keys. Each one will set the backlight to four brightness levels or completely off, allowing you to set the board's lighting how you like it.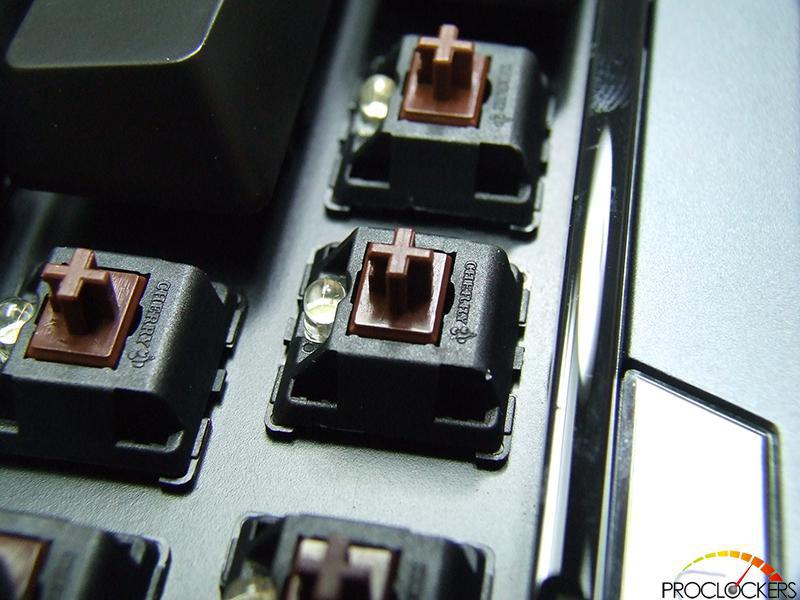 Here we can see the Cherry MX Brown mechanical switches used in the G710+. We can also see the small 3mm LED's in each switch.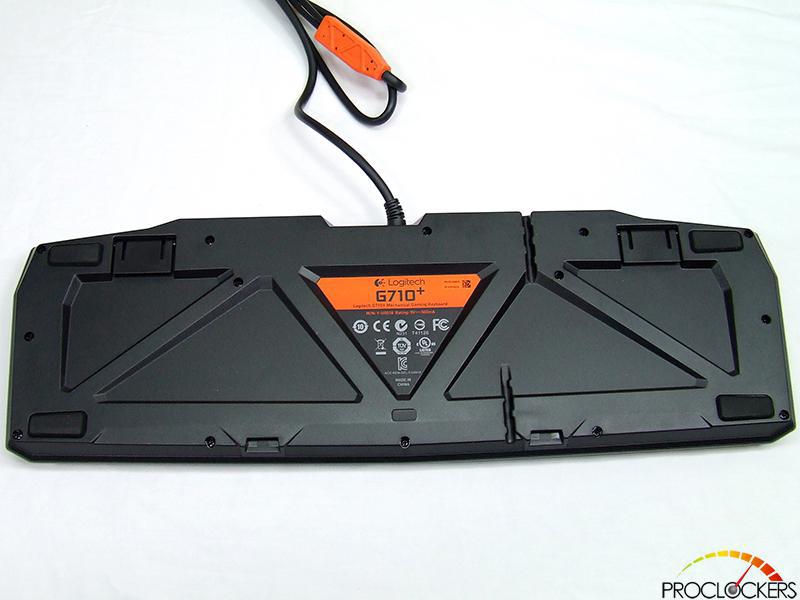 The back of the G710+ is typical of that of any modern keyboard. Cable channels, rubber feet and flip-down rear legs as all standard.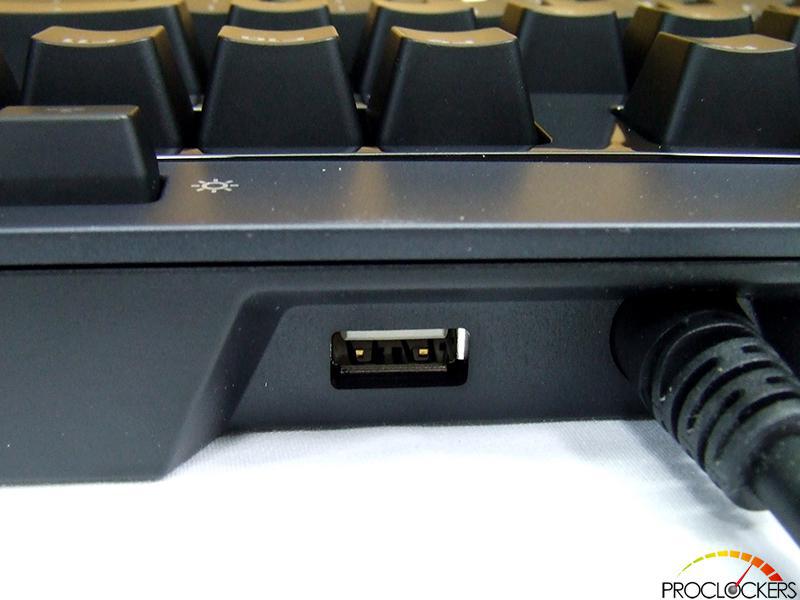 Right next to where the USB cable enters the keyboard you'll find a USB 2.0 port. This port connects through the main USB cable to your PC, effectively transferring one real USB port from your motherboard to your keyboard for easy access.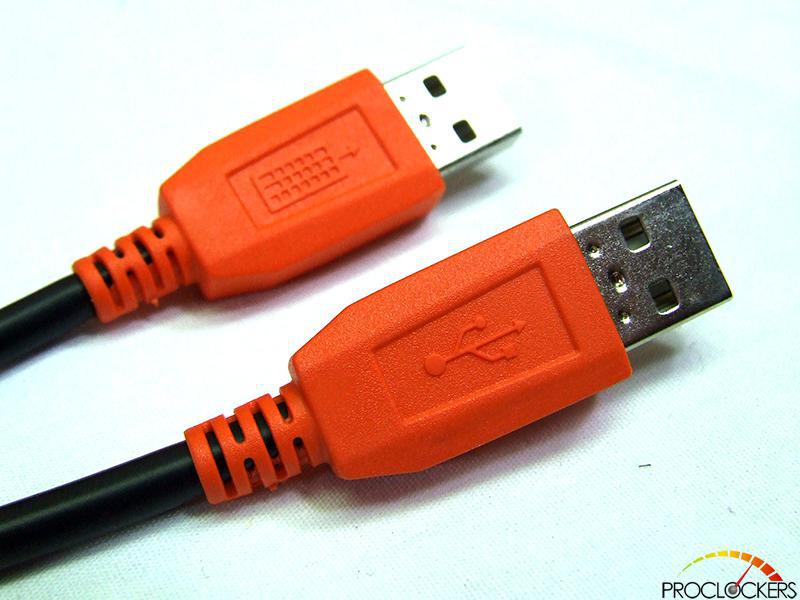 The USB cable terminates in two ends and each is labelled for convenience. The one with the USB symbol is for the pass-through port and the one with the keyboard symbol is for – you guessed it – the keyboard.
Now that we've gone over the G710+ with a fine-toothed comb let's install the software and check it out!
Testing
The first thing you need to do after plugging in your keyboard is to download the Logitech Gaming Software. Upon installation the software will automatically detect the keyboard and install the proper drivers and everything for it. Once it's finished you'll see the screen above. As you can see from the bottom right corner this is the home screen.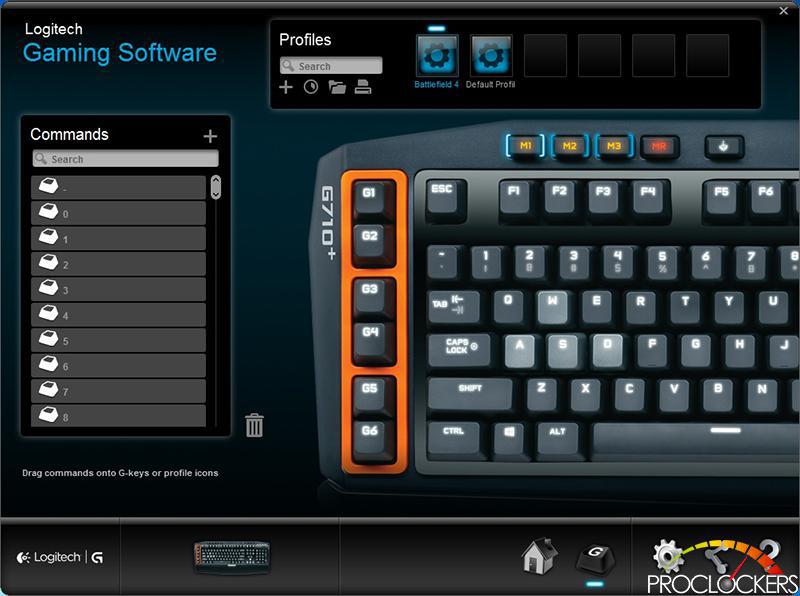 Clicking on the key with the G on it next to the home button will bring you to the profile selector/macro screen. Here you can set up to 6 different profiles and set commands for each "M" button setting and each "G" button setting inside of that for a total of 18 different settings.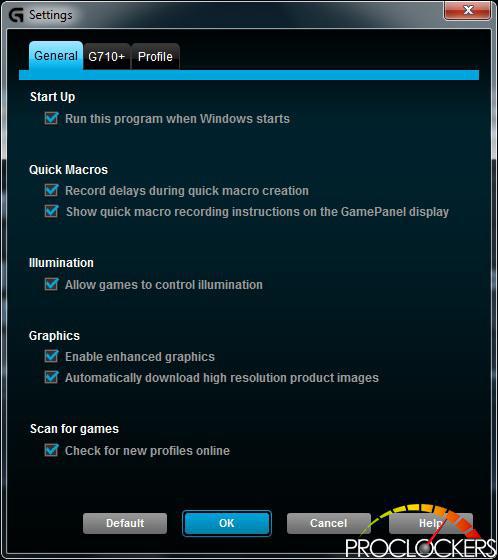 Clocking on the gear icon brings you to the settings page. The General tab is the same regardless of which product you have installed. In fact this image looks the same as the General tab image from my G19s review.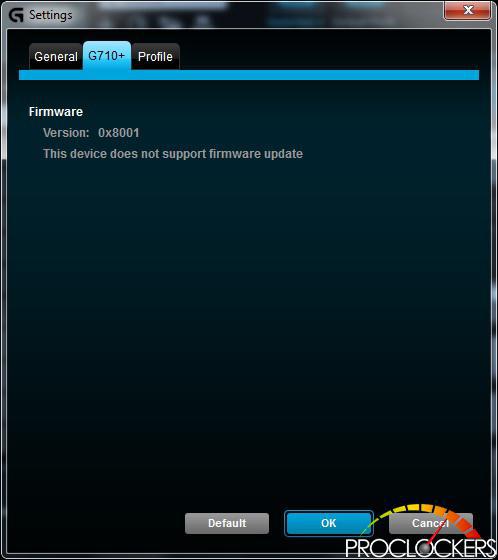 The next tab(s) are product specific. This one happens to say G710+ because that's what's connected. This tab will list firmware options and device-specific options, if there is any.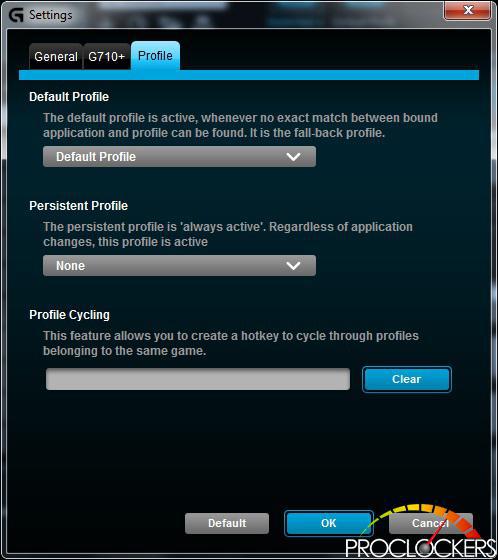 The profile tab is also the same regardless of what device is connected. This allows you to set a default profile and a persistent profile as well as options for profile cycling.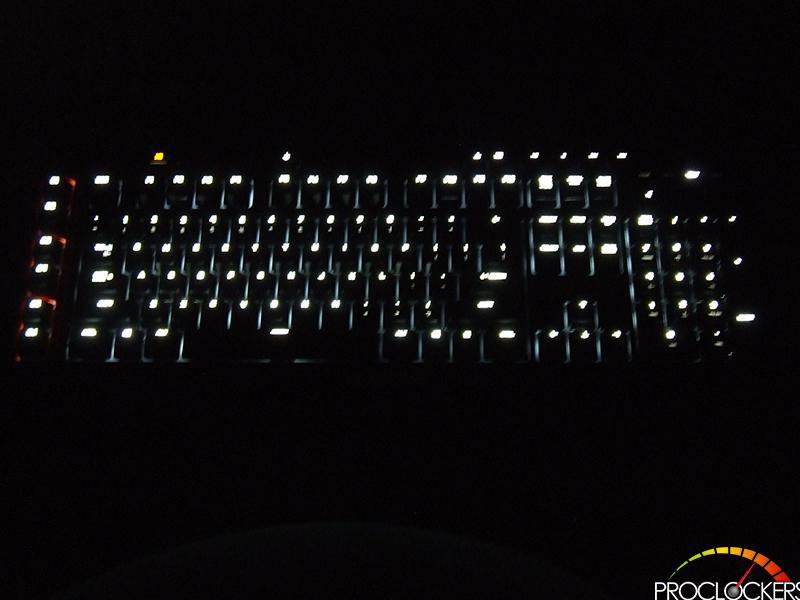 Here we can see the full keyboard lit at its maximum brightness. The LED's are white which is a welcome change from blue.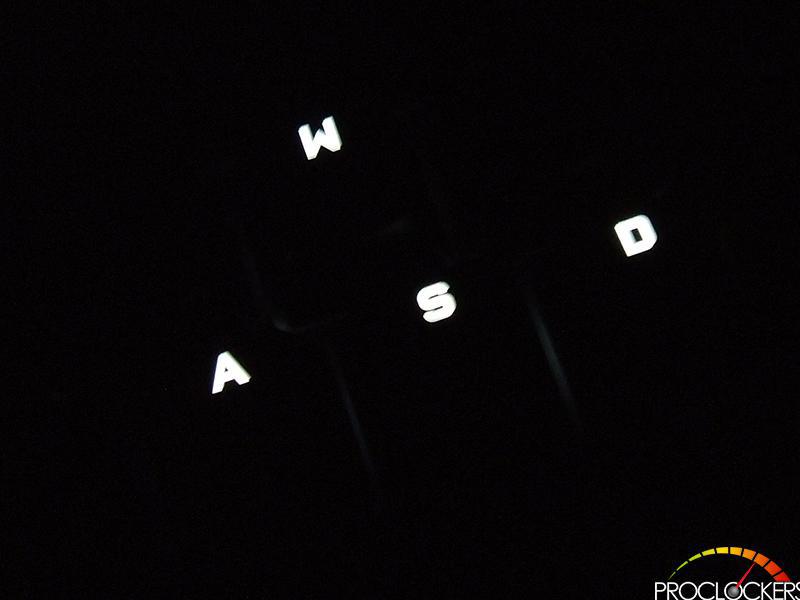 Here we have a close-up of just the WSAD keys lit up with the rest of the board blacked out. This is a neat option for those who want some backlighting but don't want the entire board lit up.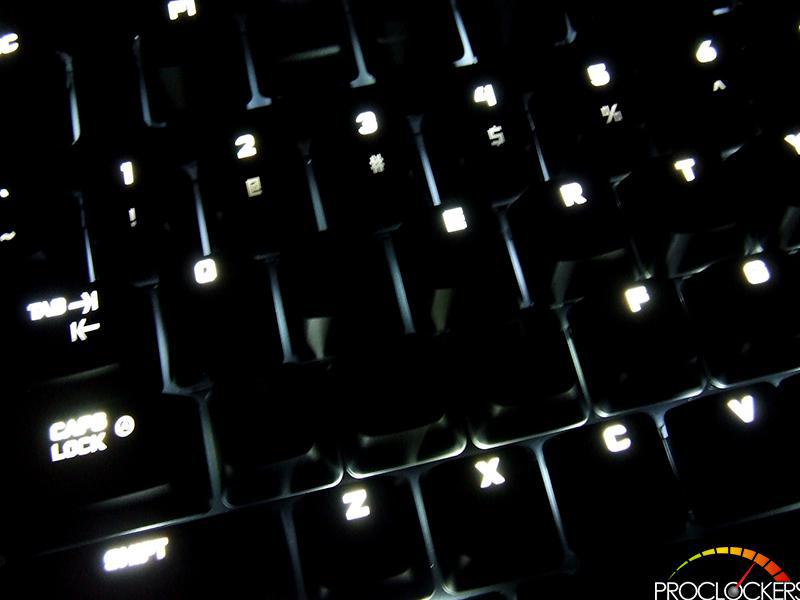 Here we have the opposite – the WSAD keys are blacked out with the rest of the board at full brightness. Pretty neat.
Let's wrap up this review with some final thoughts.
Final Thoughts and Conclusion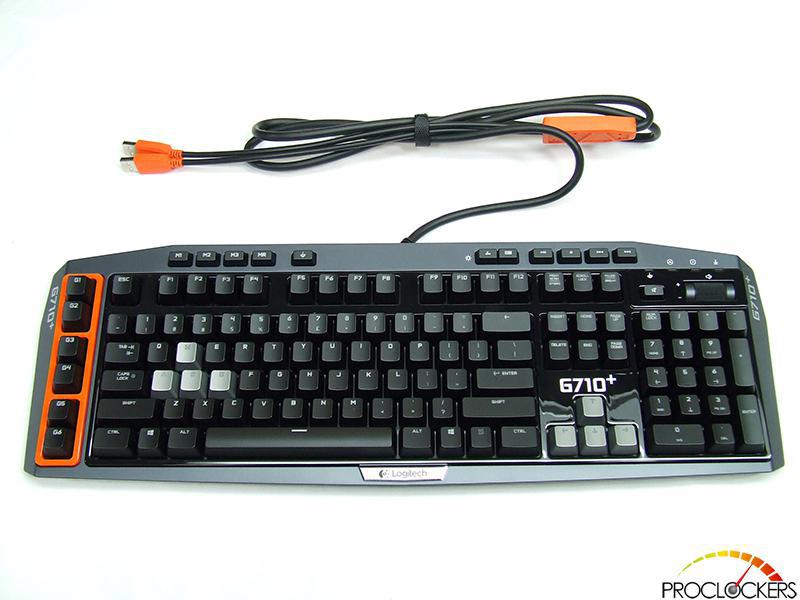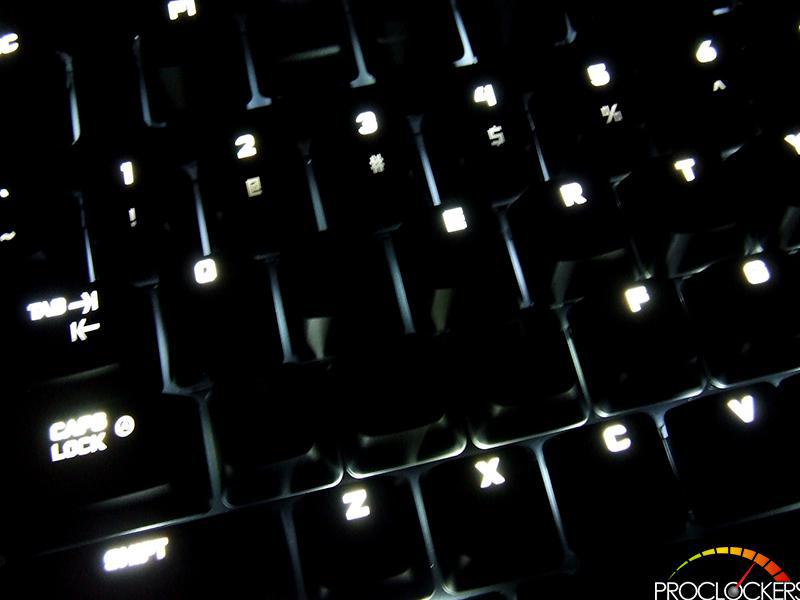 In my opinion Logitech has a winner with the G710+. It's a great mechanical keyboard with just the right amount of features and it's not too overwhelming. The Cherry MX Brown mechanical switches aren't my favorite but they've got a decent feel to them. This of course will vary depending on your preferences. I didn't see any other available switch colors listed as options so it would seem that this is a one size fits all type of deal.
The 6 programmable G keys along with the three M profiles should be enough to satisfy almost every one. Eighteen total available macros should be more than enough in my opinion, but then again your preference may vary depending on how you use your board. The Logitech Gaming Software is well-designed, easy to use and very easy to navigate. There aren't any device-specific settings in the LGS for the G710+ though but it allows you to create and save multiple profiles.
The Logitech G710+ retails for $149.99 but can be found over at Amazon for just $110 with free shipping at the time of this writing. I have no hesitations about giving the G710+ an Editor's Choice award. Personally I would have gone with a notch lower but that's just my personal preference on the use of brown switches. You readers may disagree with me so I can't dock them a star based on that especially when the board and software are a killer combination.