Silicon Power Ace A55 1TB 7mm SATA 2.5" SSD Review
Introduction
One of the best things you can do to an older laptop or small desktop is to upgrade the storage. Beyond the extra space, moving from an old mechanical drive to a modern SSD can significantly speed your system up and improve your experience. You can also see a notable increase in battery life, plus you gain some peace of mind with mobile devices as the daily bump and grind doesn't risk head crashes that can instantly ruin a mechanical drive. Today we'll be taking a look at Silicon Power's Ace A55 series 2.5" SSD's which offer an extremely compatible 7mm height on a 2.5" drive with a SATA III interface which will work with almost any computer still alive. With Capacities from 64GB to a whopping 2TB, there is an option for everyone!
ProClockers would like to thank Silicon Power for sending us the Ace A55 SSD drive over to check out!
Silicon Power's take on the Ace A55 SSD:
Affordable Upgrade for Everyone
A high-quality product for the budget-minded among us, the Ace A55 is positioned as one of the most cost-effective SSD models. With its advanced SATA III 6Gb/s interface and an affordable price, you can now easily upgrade your old computer without spending a fortune.
Adopts TLC 3D NAND flash and "SLC Cache technology" to improve overall performance
15 x faster than a standard 5400 HDD with SATA III 6Gb/s interface
7 mm slim design suitable for ultrabooks and ultra-slim laptops
Supports TRIM command and Garbage Collection technology
NCQ and RAID ready
ECC technology to guarantee reliable data transmission
S.M.A.R.T. monitoring system
Low power consumption, shock, and vibration-proof, noiseless and low latency
Free download of SP ToolBox to easily obtain disk information such as self-monitoring analysis report, the extent of consumption and SSD diagnostics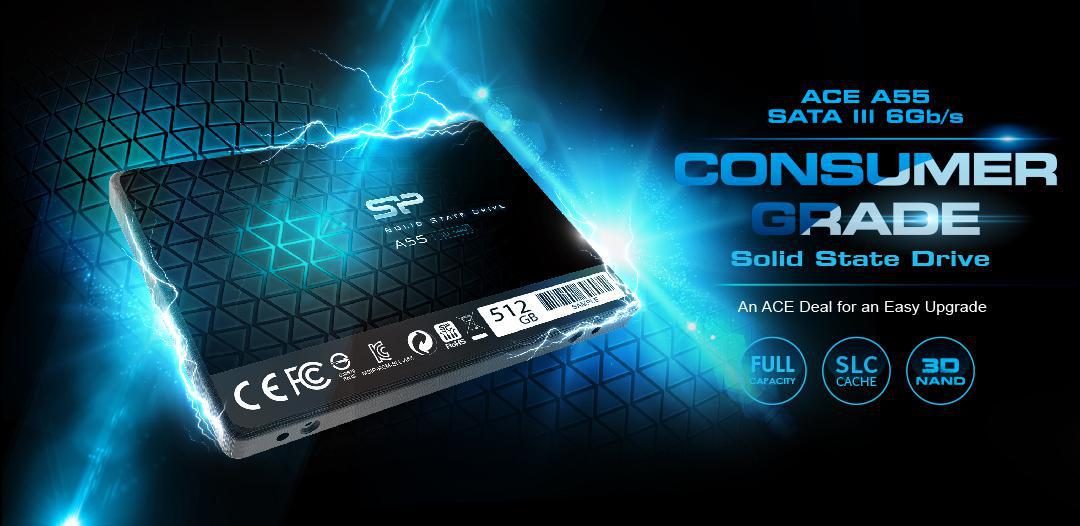 Features & Specifications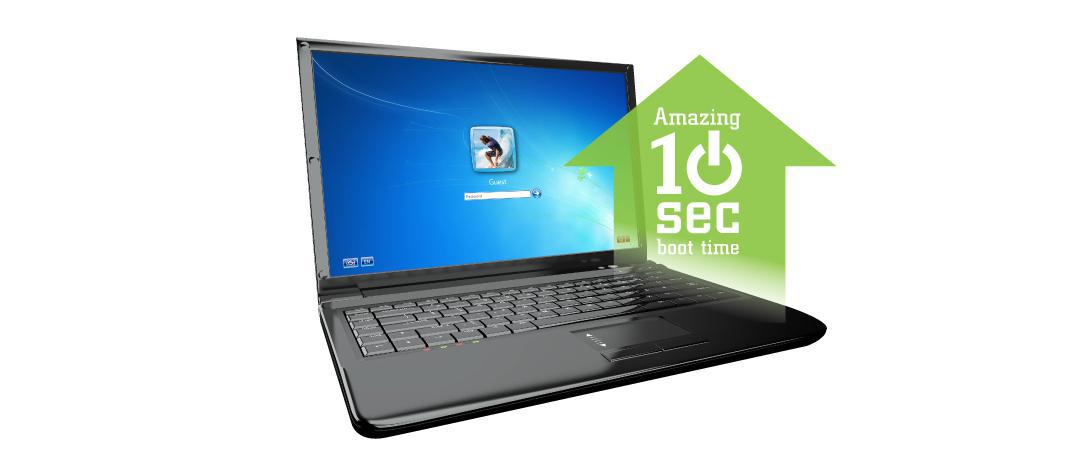 Time is Money! Don't Waste It
Still wasting precious time while booting your computer or loading applications? Then it's time to get rid of your old hard drive and switch to an SSD. Powered by SATA III 6GB/s interface, the Ace A55 is able to boot your computer or launch applications within seconds.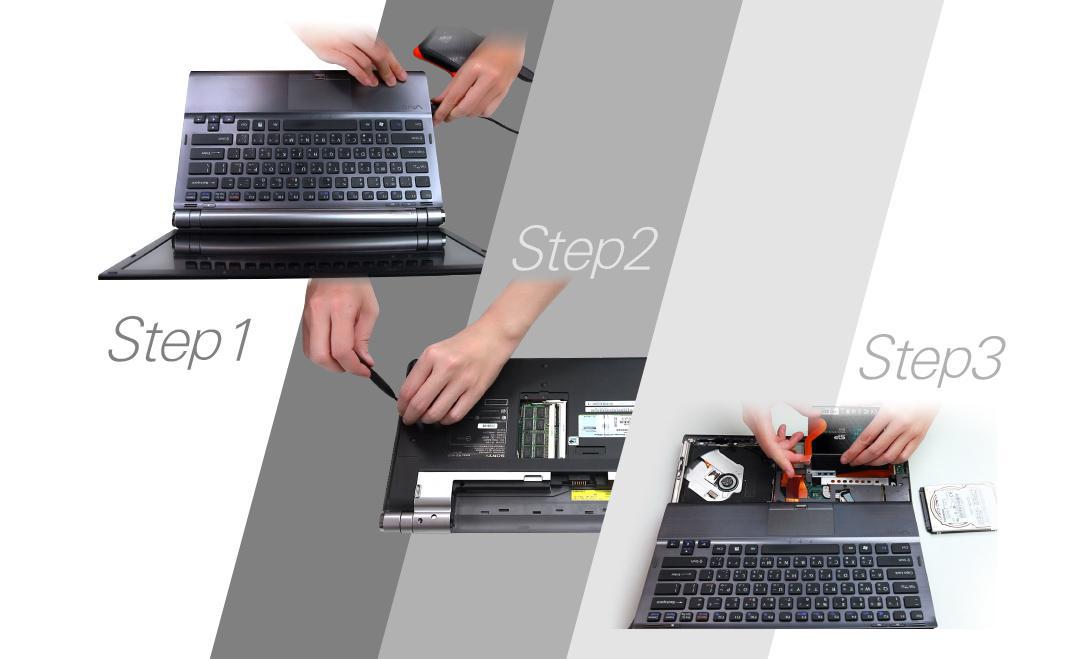 An Upgrade as Easy as 1-2-3
Upgrading your computer is a piece of cake – you don't need to be a techie to do it. Just follow these three easy steps:
Step 1. Backup your data to another storage device
Step 2. Remove the old HDD from your computer
Step 3. Insert the A55 in your computer.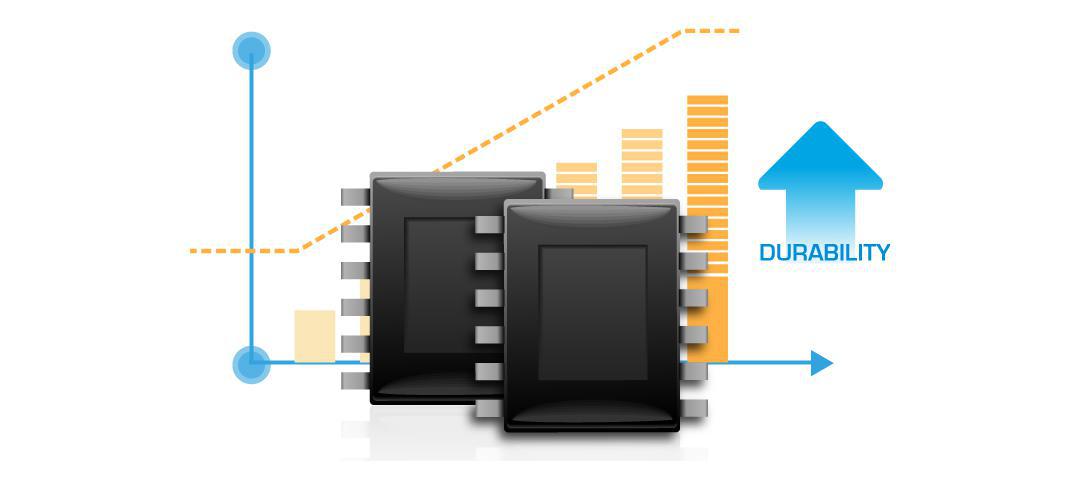 Bad Block Management for Higher Reliability
Even new disks can contain one or more bad blocks which may cause irreparable damage to your system. But have no fear! To prevent flash memory corruption, the Ace A55 is built with bad block management technology. Bad blocks are continually monitored and replaced to keep your system in good condition and to improve the reliability and endurance of the SSD. Because we do care about your data.The Ace A55 applies "SLC Cache technology" with a new caching architecture that combines both SLC and TLC flash blocks. This technology enables all data to be written in the SLC section before being sequentially copied to the TLC block, and as a consequence allows for higher peak writing performance.

Durability and Performance
Equipped with an original controller and 3D NAND flash, the Ace A55 can not only guarantee stability and durability. It also delivers an outstanding performance which enables 10-second quick boot-ups, shorter application load times and faster data transmission speed. Whether you are web surfing, enjoying a good movie, or have to handle paperwork, the Ace A55 will bring you a smooth, lag-free experience.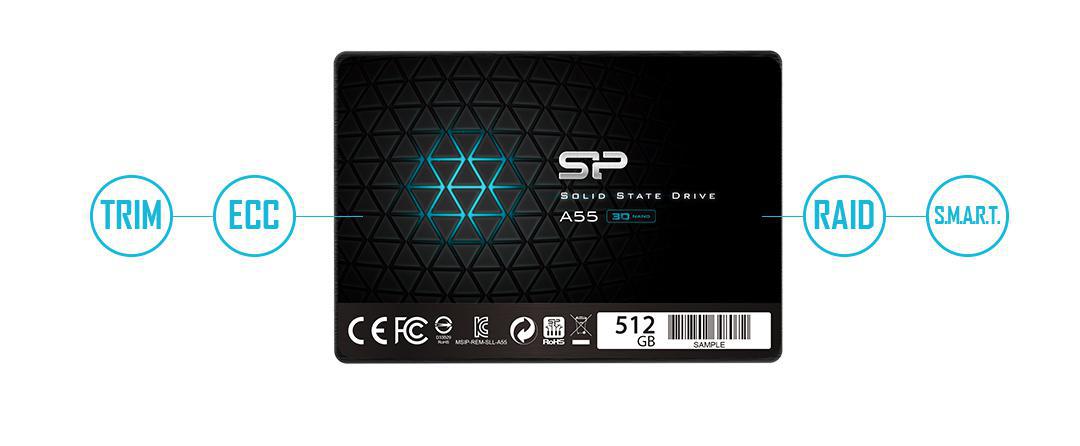 Light and S.M.A.R.T.
The Ace A55 is one of the lightest and thinnest SSDs of its kind yet it is shock- and vibration-proof, because it contains no moving parts. Equipped with a S.M.A.R.T. monitoring system and ECC (error correction code) technology, it also promises higher data transmission safety.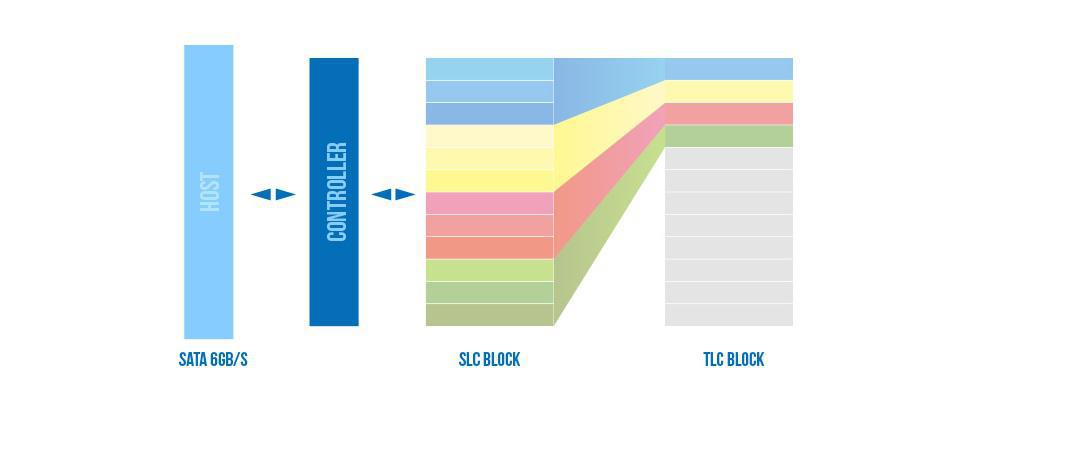 Internal Auto-Copy Technology
The Ace A55's auto-copy technology allows automatic copy operations from the SLC cache to the TLC blocks inside the NAND without using the controller or DDR. This supports higher efficiency by reducing the controller's and DRAM's workload.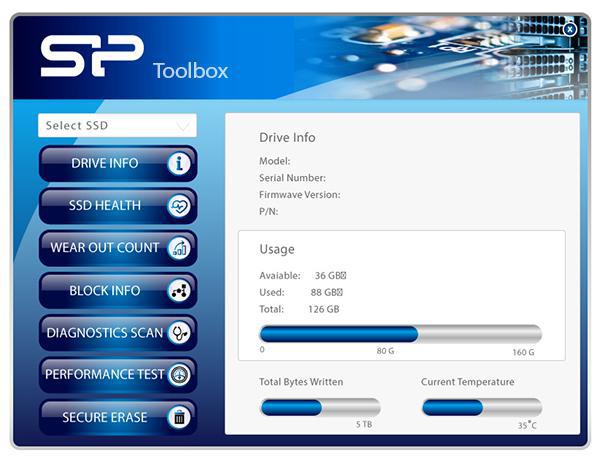 Free-Download of SSD Health Monitor – SP Toolbox
Easily monitor your new SSD's health with our free-download software – SP Toolbox. Run performance tests on the Ace A55, get an overall function evaluation or check detailed information about your device, including used space, device temperature, total bytes written, and many more.
Specifications: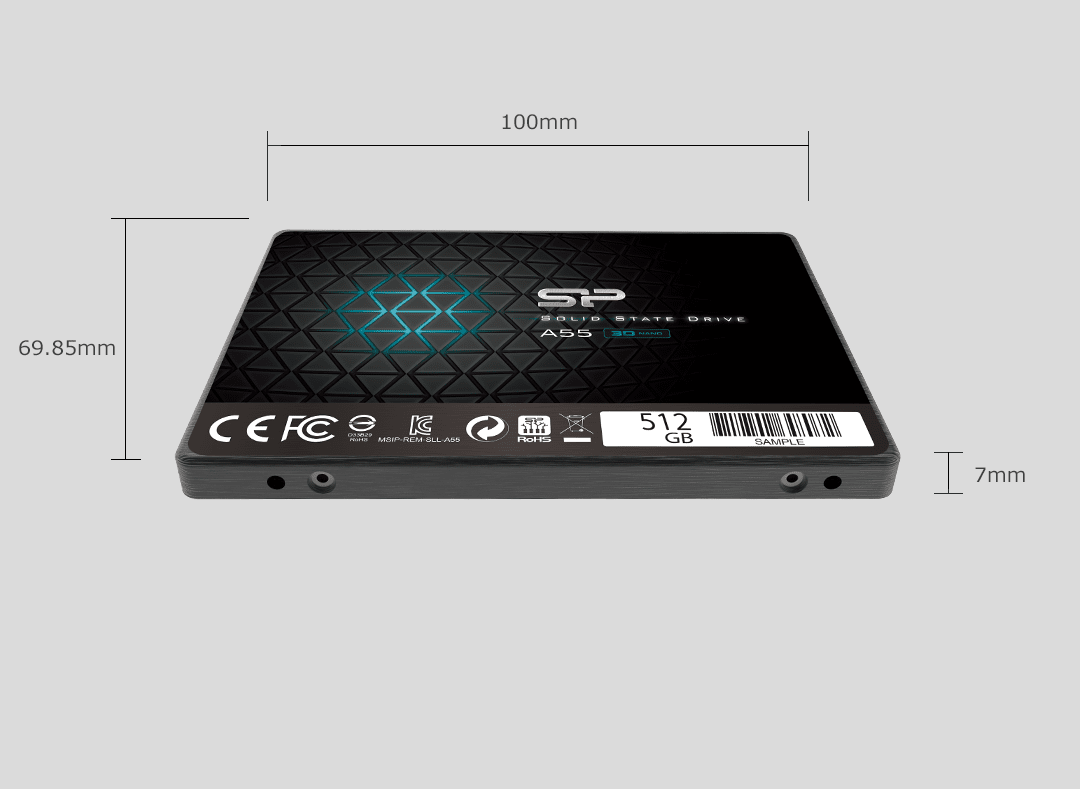 Capacity

64GB, 128GB, 256GB, 512GB, 1TB, 2TB

Dimensions
Weight
Controller
Interface
Performance

Read(max.)ATTO:
CDM:
Performance Write(max.)ATTO:
CDM:

MTBF
Operation Voltage
Vibration Resistance Test
Shock Resistance Test
Warranty
Packaging & A Closer Look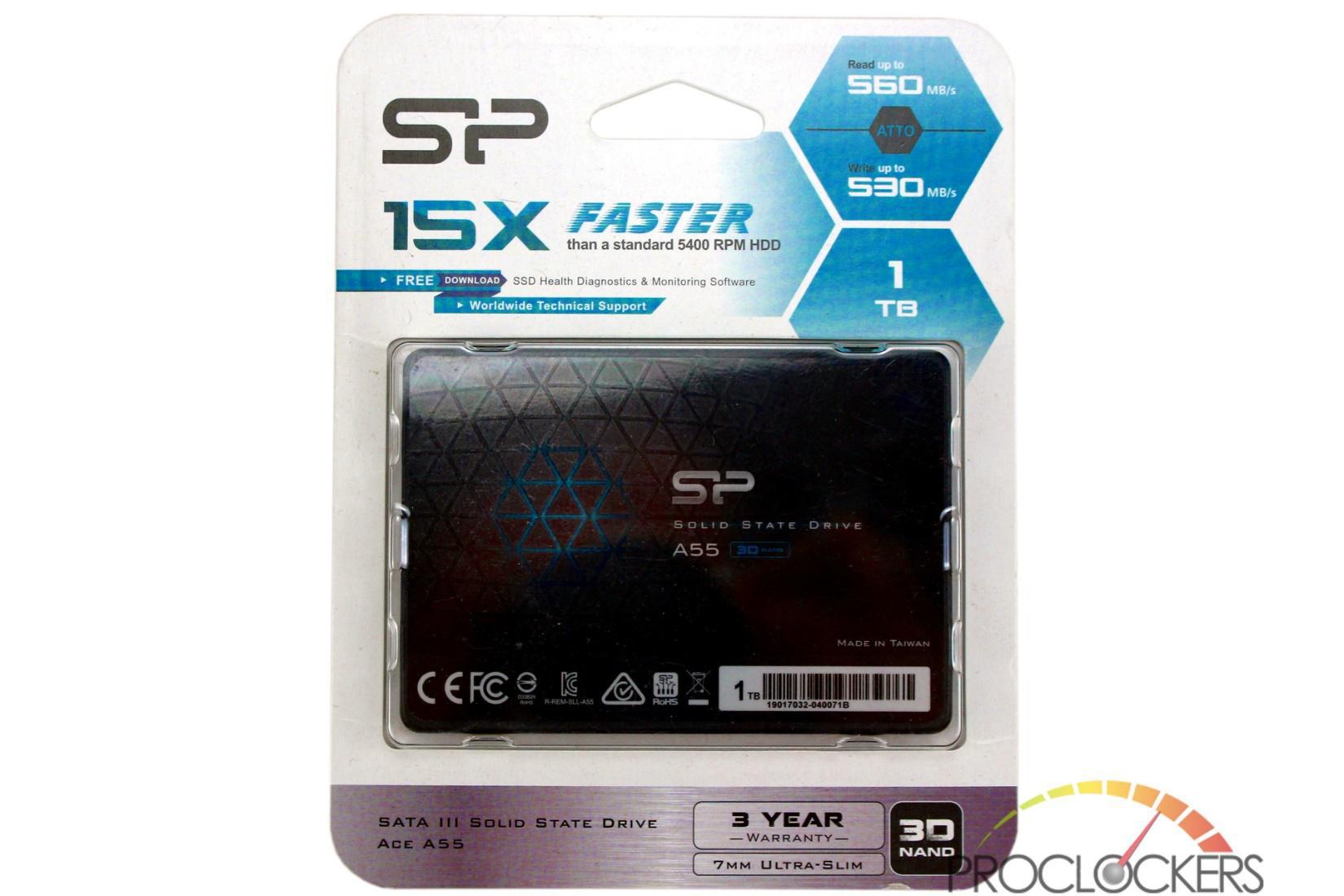 Silicon Power's Ace A55 drive comes in a card style blister pack only a bit larger than the drive itself.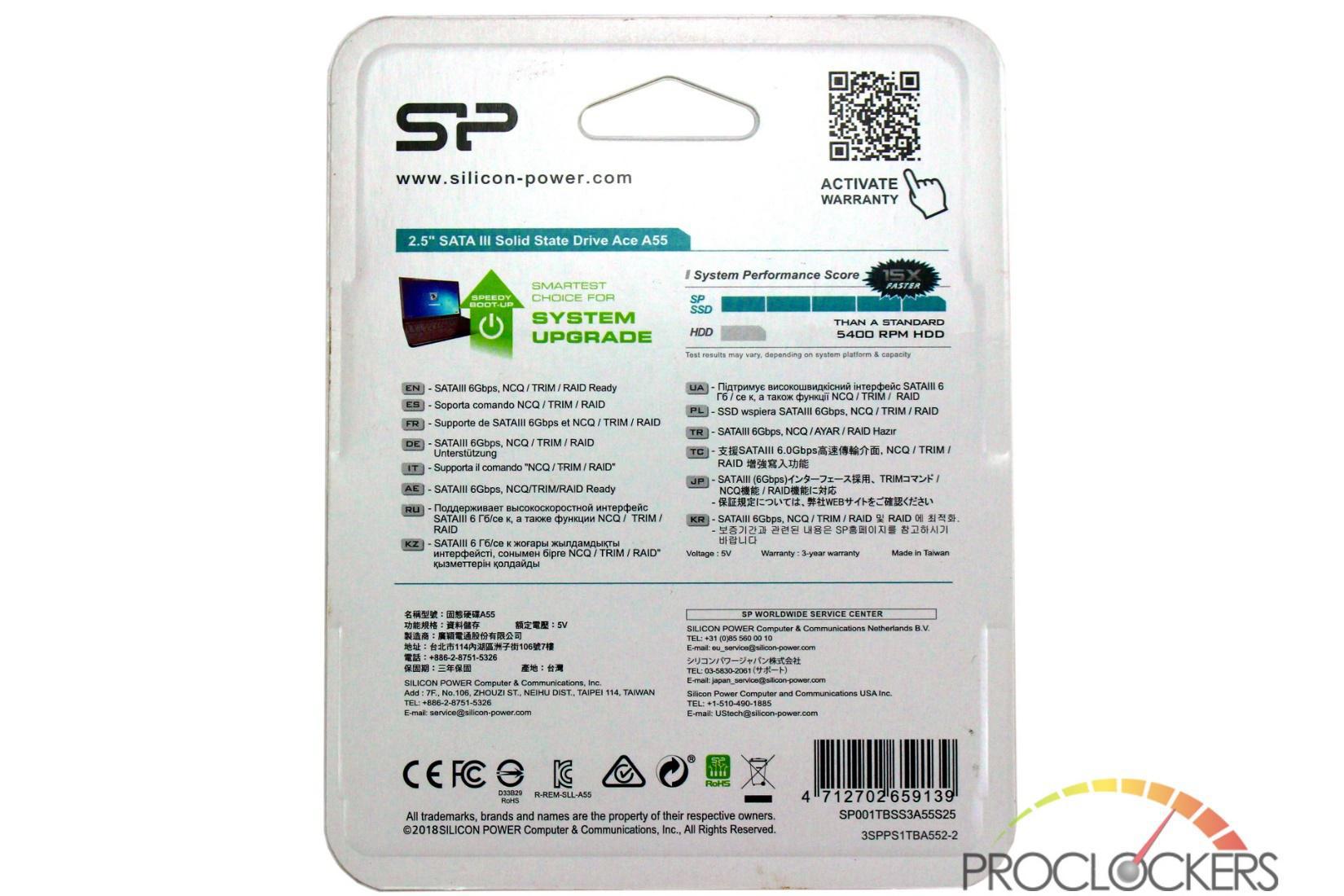 The back has some information in a few languages.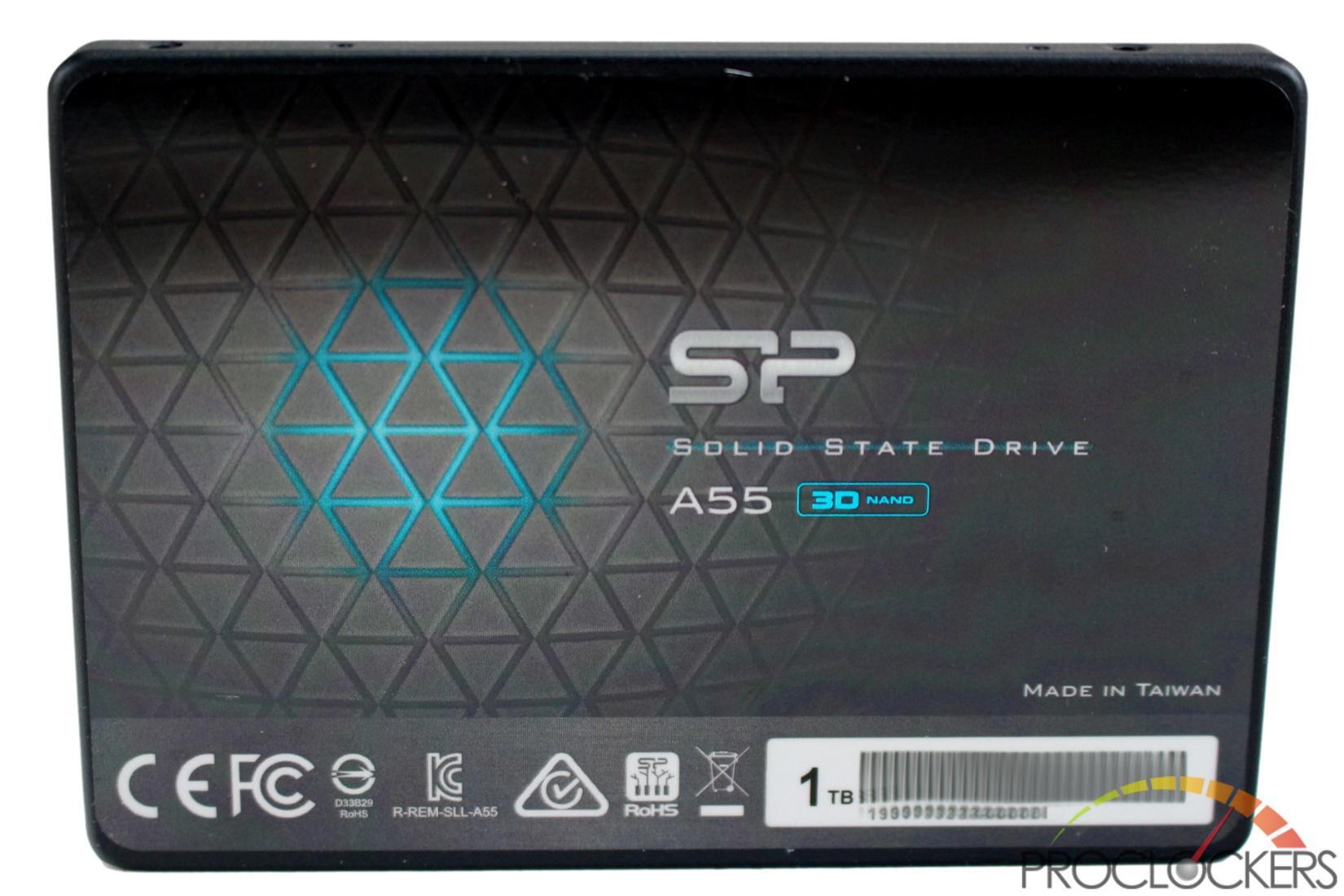 The Ace A55 is a very slim 7mm drive with a black metal shell. The capacity and serial number on right on the front of the drive.
There is nothing on the back to see.
The Ace A55 uses a standard 7+15p SATA connection.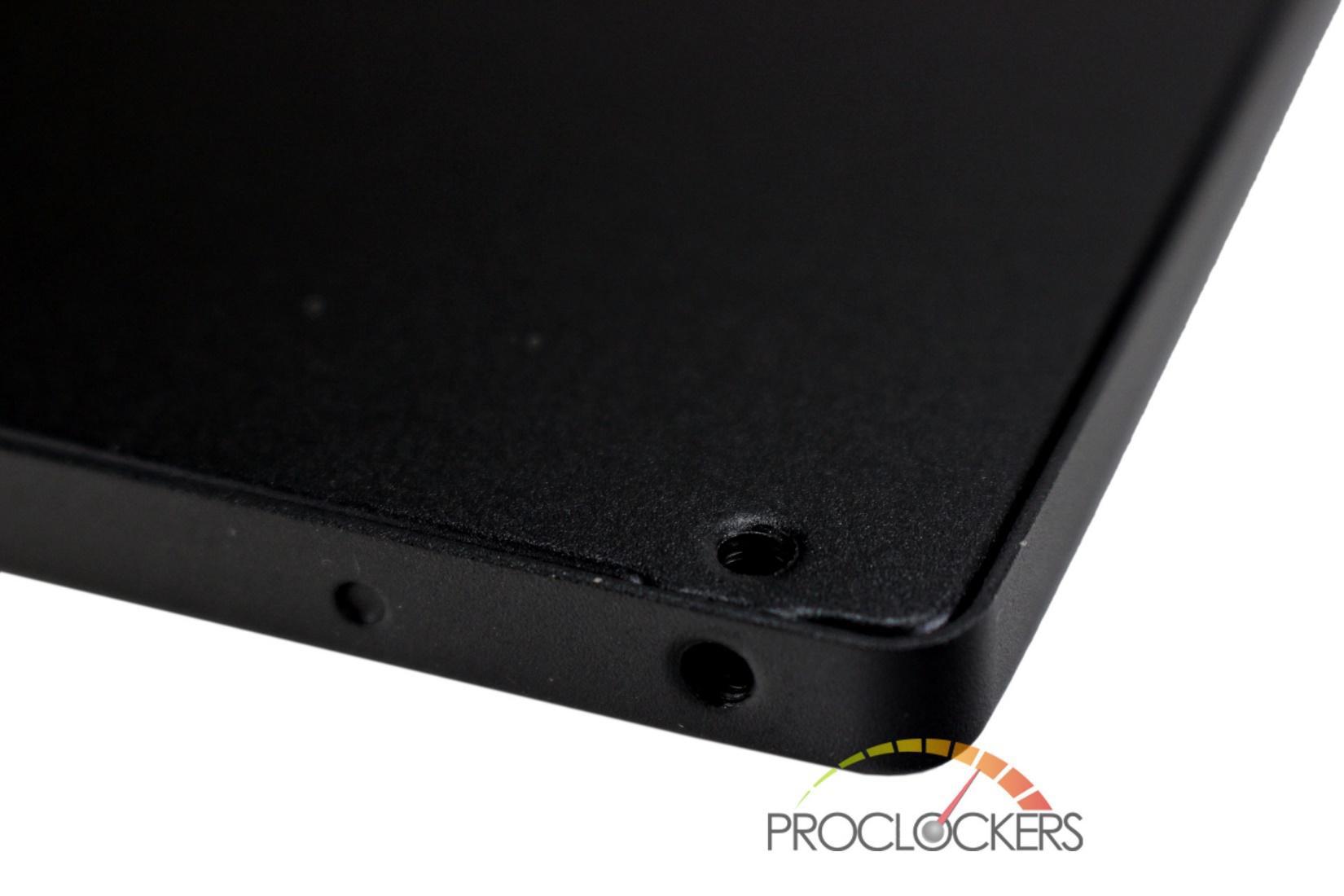 Unlike the Ace A56 we checked out recently, the A55 uses a metal case and has standard M3 screw holes in the proper positions tapped directly into the case.
System Configuration & Software
CPU: Intel Core i7-8700K
Motherboard: ASUS ROG Maximus X Apex
RAM: 32GB HyperX Predator RGB 3200Mhz
GPU: Nvidia RTX 2080 FE
Drive: SP Ace A55 1TB
OS: Windows 10 Professional X64 (1903)
Silicon Power SP Toolbox
SP Toolbox was developed for using with SP SSDs and Industrial Flash products and provides multiple ways for users to obtain disk information, and to change settings easily. Additionally, it is an advanced and user-friendly software that makes it easier than ever to maintain a healthy and efficient device. The useful features include: View Drive Information, View S.M.A.R.T. Status, Wear Out Count, Block Information, Diagnostic Scan, Performance Test and Secure Erase.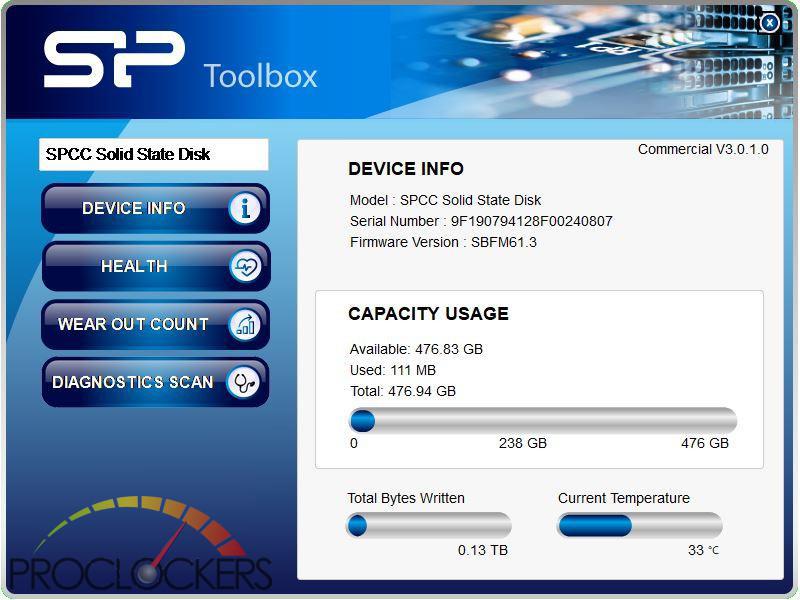 Toolbox has a few less things for this drive than some of its NVMe drives, but you still get the basics. The first button gives you this page where you can see all the important information at a glance.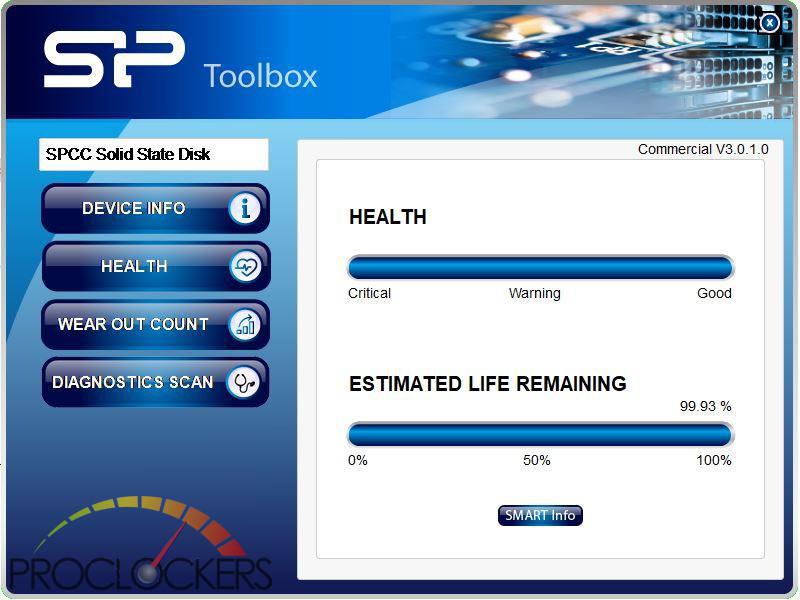 You shouldn't need to spend much time on the health tab early on.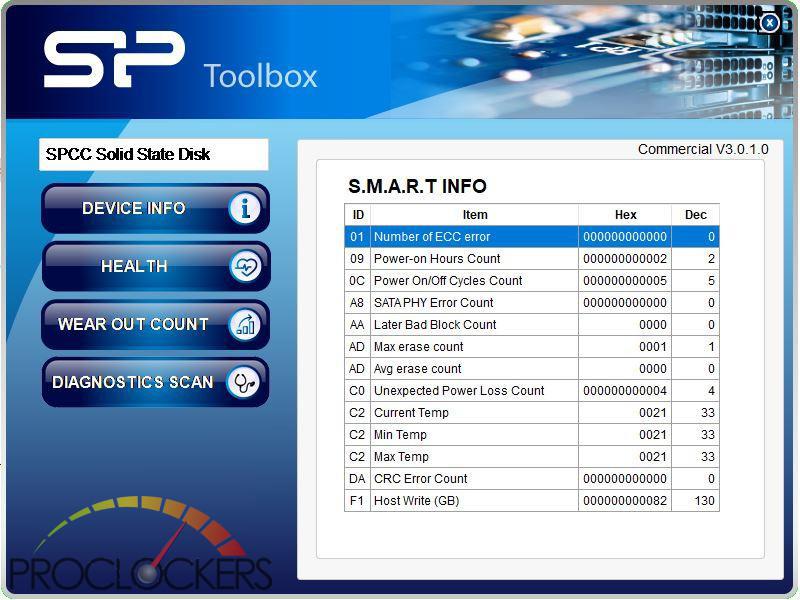 If you click the S.M.A.R.T. button, you get to see all of the raw data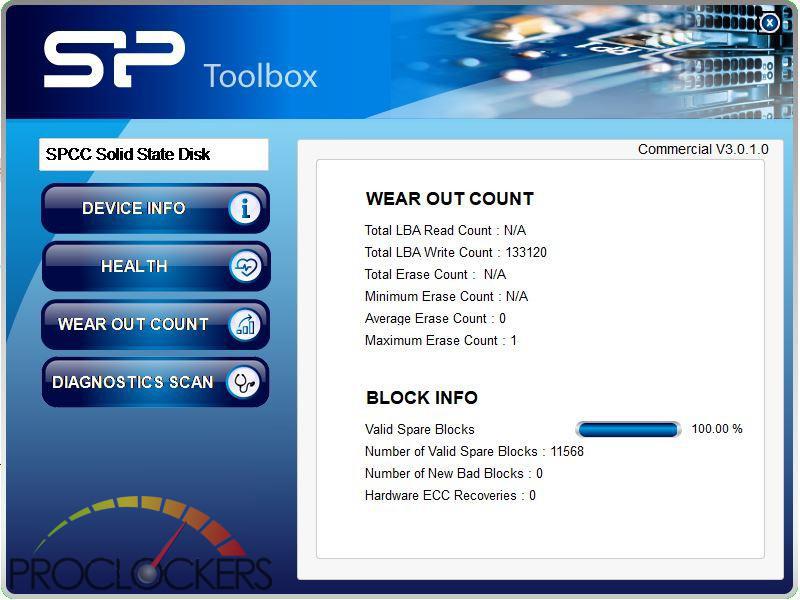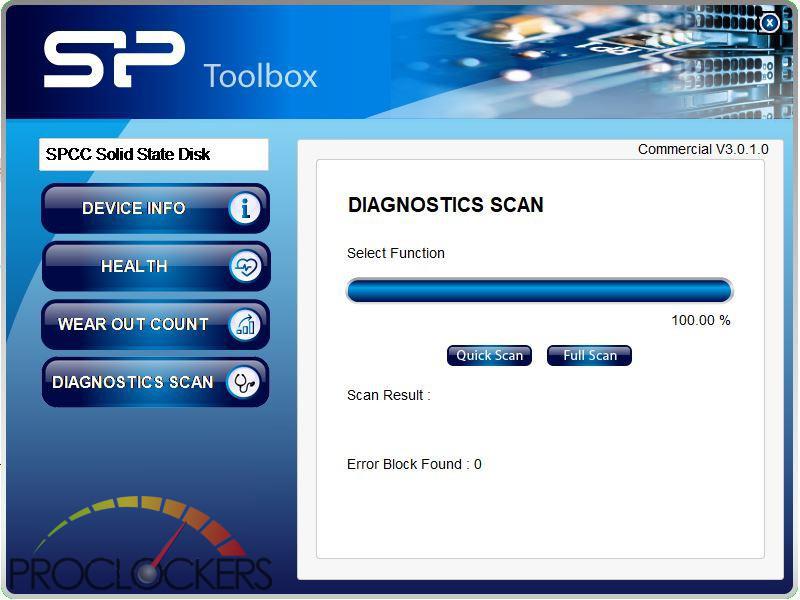 Testing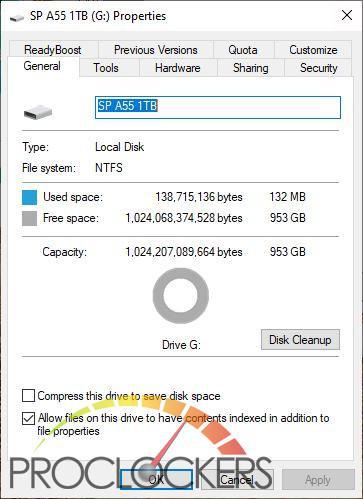 Initialized as GPT and formatted as NTFS in windows, we get a useable space of 953GB.
CrystalDiskInfo
An HDD/SSD utility software which supports a part of USB, Intel RAID, and NVMe.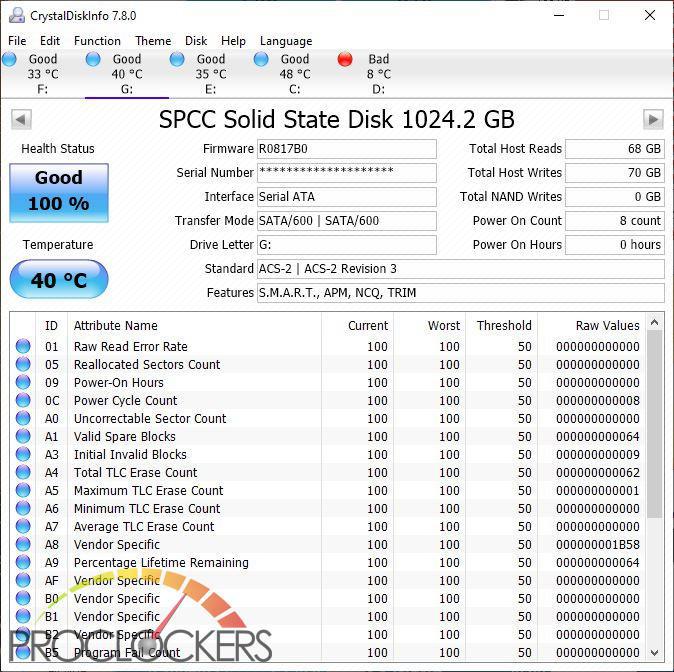 CrystalDiskInfo shows we are connected to the host machine at SATA-III 6.0Gbps as expected.
ATTO Disk Benchmark
"As the industry's leading provider of high-performance storage & network connectivity products, ATTO has created a widely-accepted Disk Benchmark freeware utility to help measure storage system performance. As one of the top tools utilized in the industry, Disk Benchmark identifies performance in hard drives, solid-state drives, RAID arrays as well as connections to storage. Top drive manufacturers, like Hitachi, build and test every drive using the ATTO Disk Benchmark"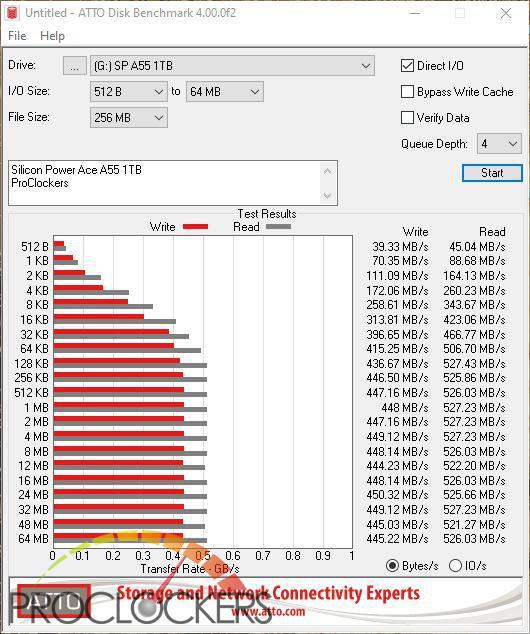 ATTO shows just a bit slower than the advertised specs, but not really enough to matter in real-world use.
CrystalDiskMark 6.0
"CrystalDiskMark is designed to quickly test the performance of your hard drives. Currently, the program allows measuring sequential and random read/write speeds."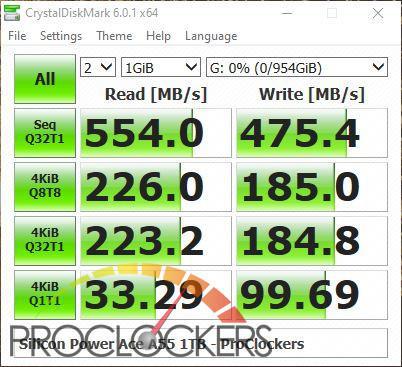 CrystalDiskMark shows the A55 pulling ahead in read speeds by about 25MB/s and write speeds by more than 10%.
Anvil's Storage Utilities
Anvil's Storage Utilities is a powerful tool that was designed in order to provide you with a simple means of assessing the read and write performance of your Solid State Drive or Hard Disk Drive.
The benchmark tool helps you monitor and check the response time of your unit as well as view the system information collected using Windows Management Instrumentation (WMI).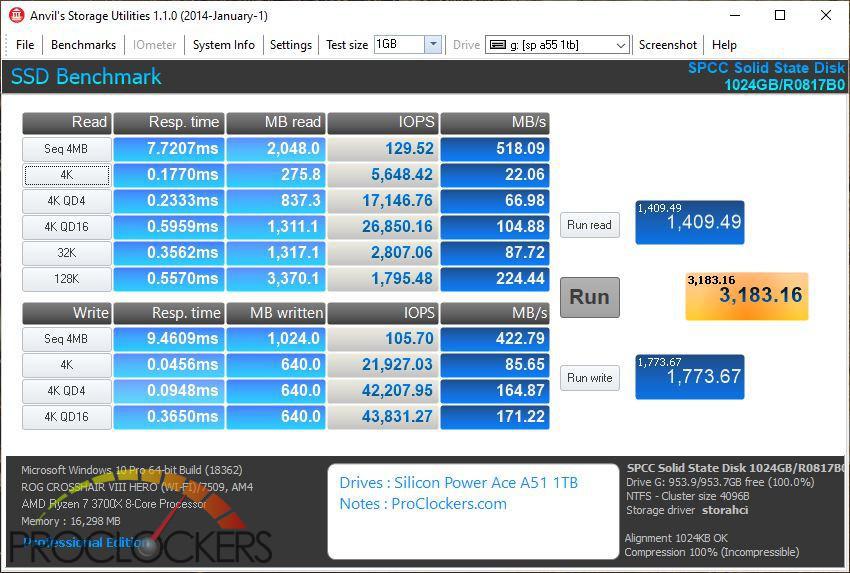 The overall score is great for a SATA SSD, not quite the highest we've seen, but on the upper end.
AS SSD
The AS SSD benchmark determines the performance of Solid State Drives (SSD). The tool contains six synthetic and three copy tests.
The synthetic tests determine the sequential and random read and write performance of the SSD. These tests are carried out without using the operating system cache. In Seq-test the program measures how long it takes to read a 1 GB file to write respectively. 4K test the read and write performance is determined at random 4K blocks. The 4K-64 corresponds to the test Third 4K procedure except that the read and write operations are distributed to 64 threads. This test should SSDs pose with Native Command Queuing (NCQ), differences between the IDE operation mode where NCQ is not supported, and the AHCI mode. The additional compression test can measure the power of the SSD in response to the compressibility of the data. This is especially for the controllers that use to increase the performance and life of the cell compression, important.
In the first three synthetic tests and the compression test, the size of the test file 1 GB. Finally, the access time of the SSD is calculated, wherein the access to read over the entire capacity of the SSD (Full Stroke) is determined. The write access test, however, is done with a 1 GB big test file.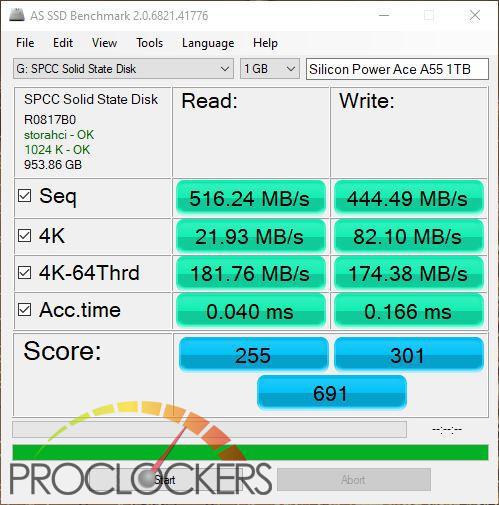 AS SSD always shows a bit lower than most of our other tests but shows close to rated speeds here with a decent 691 points as a total score.
Final Thoughts & Conclusion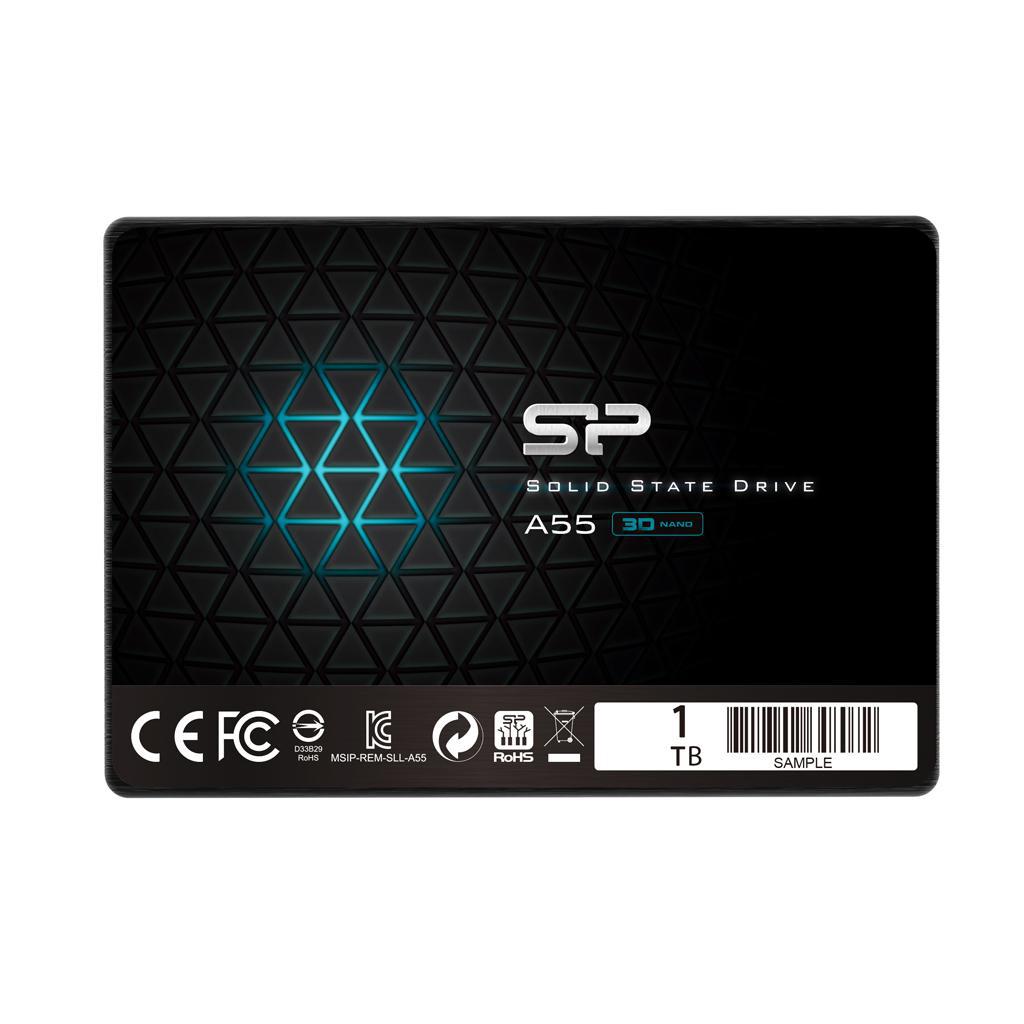 Silicon Power's A55 drive provides up to 2TB of high-speed space for even the thinnest laptops. The 7mm drive height should be compatible with any device that can accept 2.5" drives. The Ace A55 held pretty close to the specifications through our testing, even beating its own ratings in a few tests. While the drive does have a metal shell, we never did see it get much above ambient while testing which is good news for those interested in the maximum battery life of mobile devices. Silicon Power's 3-year warranty provides peace of mind, but our personal experience says you likely won't need it.
Great job Silicon Power!