MSI B450 TOMAHAWK Motherboard Review
Introduction
Today AMD releases the long-awaited midrange chipset in its 400 series lineup, B450. MSI has several motherboards ready to go for this more affordable platform, and we'll be taking a look at the latest offering from its mid-range but still well-equipped Arsenal Gaming segment, the B450 Tomahawk. Packed with features gamers need to stay strong under fire, the B450 Tomahawk comes with six fully controlled fan headers, Extended heatsinks, MSI Audio Boost, low latency gaming LAN and limitless tuning to eek out every last FPS possible from any hardware you have for the ultimate gaming experience.
ProClockers would like to thank MSI for sending the B450 TOMAHAWK over to check out!
AMD Chipset Comparison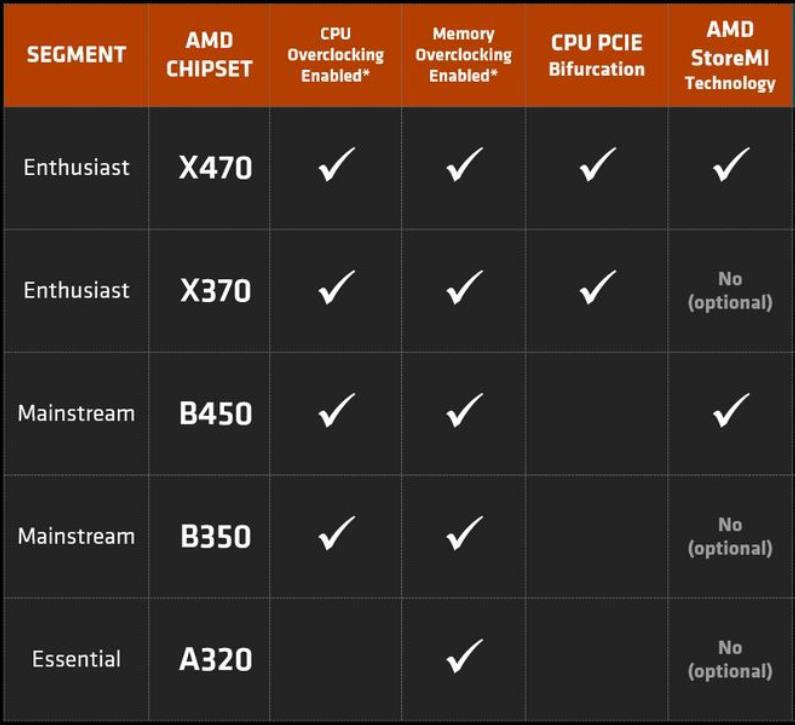 As you can see above, the B450 Chipset supports everything X470 does with one exception, CPU PCIe lane bifurcation. In English, that means the 16 PCIe lanes to your graphics card from the CPU can only be to a single x16 slot. X470 boards allow this to be split into two PCIe x8 for SLI and Crossfire support.
MSI's B450 motherboards for AMD Ryzen Processors.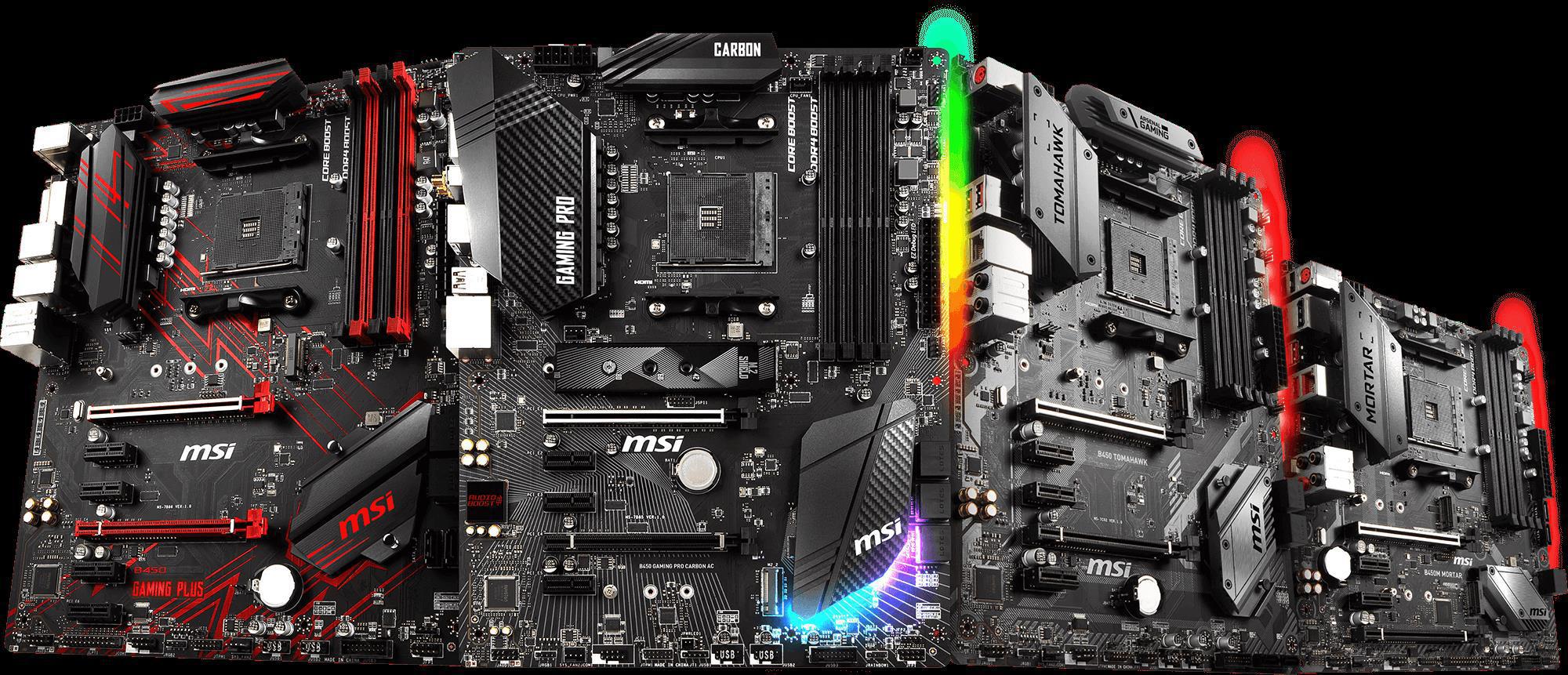 PERFECT TRACE IN EVERY PLACE – FOR NON-STOP GAMING & PRODUCTIVITY – THE BEST CHOICE IN B450 MOTHERBOARDS
Maximize Performance and Realize Your Potential
Carefully planned, built-up with new features, and perfectly executed for gamers and professionals alike, MSI B450 motherboards for AMD Ryzen™ processors are here to continue a legacy of greatness. Unleash demanding 8-core Ryzen CPUs with MSI Core Boost circuit optimizations and extended heatsinks. Update the BIOS easily with BIOS Flashback+ and stay on top of the game. Adapt your storage options with AMD's new SSD technology 'StoreMI' for accelerated data caching. Ensure consistent memory performance with DDR4 Boost backed by extensive and industry-leading DRAM validation from MSI.
MSI's Take on the B450 TOMAHAWK:
Military inspired, the B450 TOMAHAWK is built strong and tough to conquer any battlefield.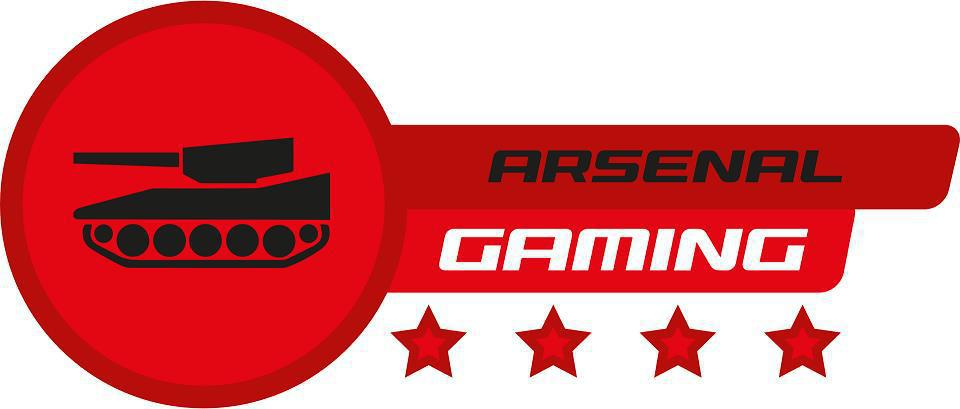 Supports AMD Ryzen™ 1st and 2nd Generation/ Ryzen™ with Radeon™ Vega Graphics Processors for Socket AM4
Supports DDR4 Memory, up to 3466+(OC) MHz
Extended Heatsink Design: MSI extended PWM and enhanced circuit design ensures even high-end processors to run at full speed.
Lightning Fast Game experience: 1x TURBO M.2, AMD Turbo USB 3.1 GEN2, Store MI technology
Core Boost: With the premium layout and fully digital power design to support more cores and provide better performance.
DDR4 Boost: Advanced technology to deliver pure data signals for the best gaming performance and stability.
MULTI-GPU: With STEEL ARMOR PCI-E slots. Supports 2-Way AMD Crossfire™
Audio Boost: Reward your ears with the studio-grade sound quality for the most immersive audio experience.
Mystic Light and Mystic Light Sync: 16.8 million colors / 10 effects in one click. Synchronize RGB strips and other RGB solutions for customization.
BIOS FLASHBACK+: Simply use a USB key to flash any BIOS within seconds, without installing a CPU, memory or graphics card.
In-Game Weapons: Game Boost, GAMING Hotkey, X-Boost
EZ Debug LED: Easiest way to troubleshoot
Click BIOS 5: Award-winning BIOS with the high-resolution scalable font, favorites, and search function
GAMING CERTIFIED: 24-hour on- and offline game and motherboard testing by eSports players
https://www.youtube.com/watch?v=zK4sWSnNn2Y
Features & Specifications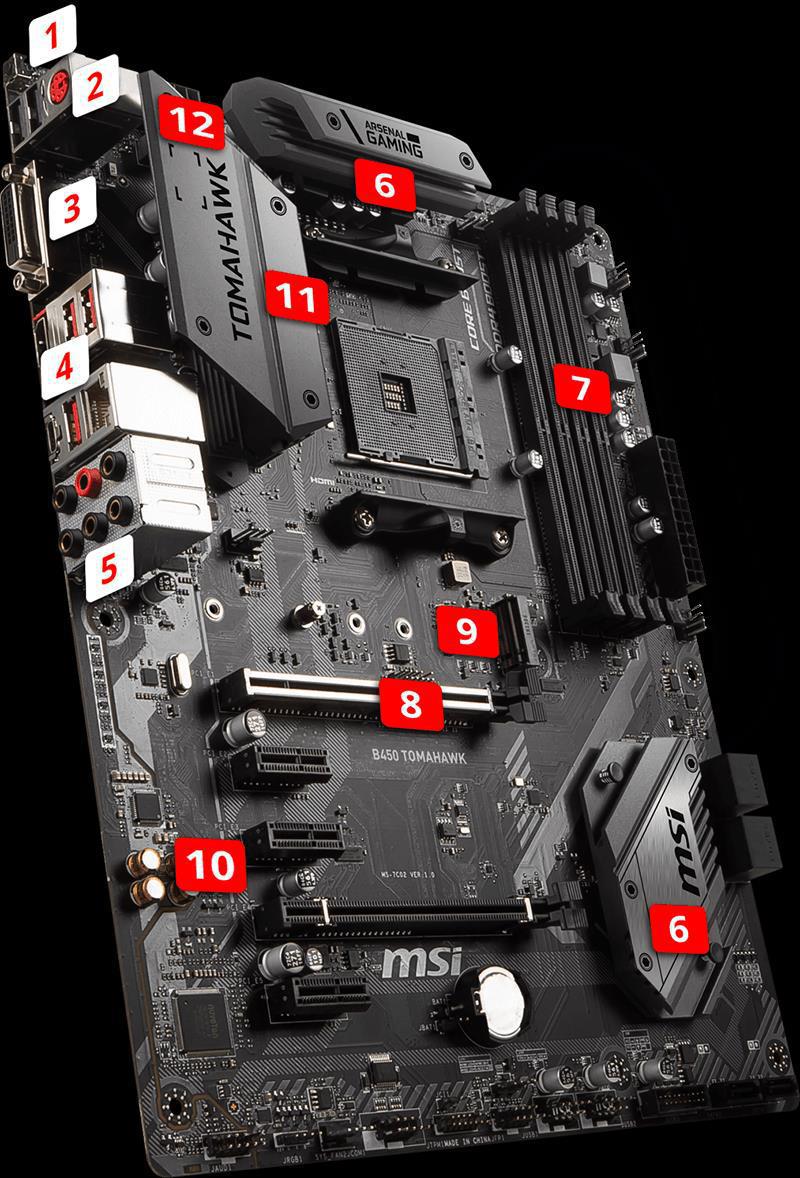 1 BIOS FLAHSBACK+
2 PS/2 Combo Port
3 DVI-D Port
4 USB 3.1 Gen2 (Type A+C)
5 HD Audio Connectors
6 Heavy plated gaming heatsinks – Military styles designed for maximum cooling
7 DDR4 Boost – Optimized traces and isolated memory circuitry
8 PCI-E Steel Armor – Protecting VGA cards against bending and EMI
9 Turbo M.2 – Delivering speeds up to 32 Gb/s using Gen3 x4
10 Audio Boost – Optimized gaming audio using best components
11 Extended Heatsink Design – Leading heatsink design, extended for maximum cooling and performance
12 Arsenal Sticker Area – Free for customization with personal style
FIRE YOUR IMAGINATION
Create your own unique stickers! MSI Arsenal GAMING motherboards are now available for personalization. With various design offered by MSI or design from your own inspiration, you are able to easily customize heatsink cover by using stickers in your favorite styles.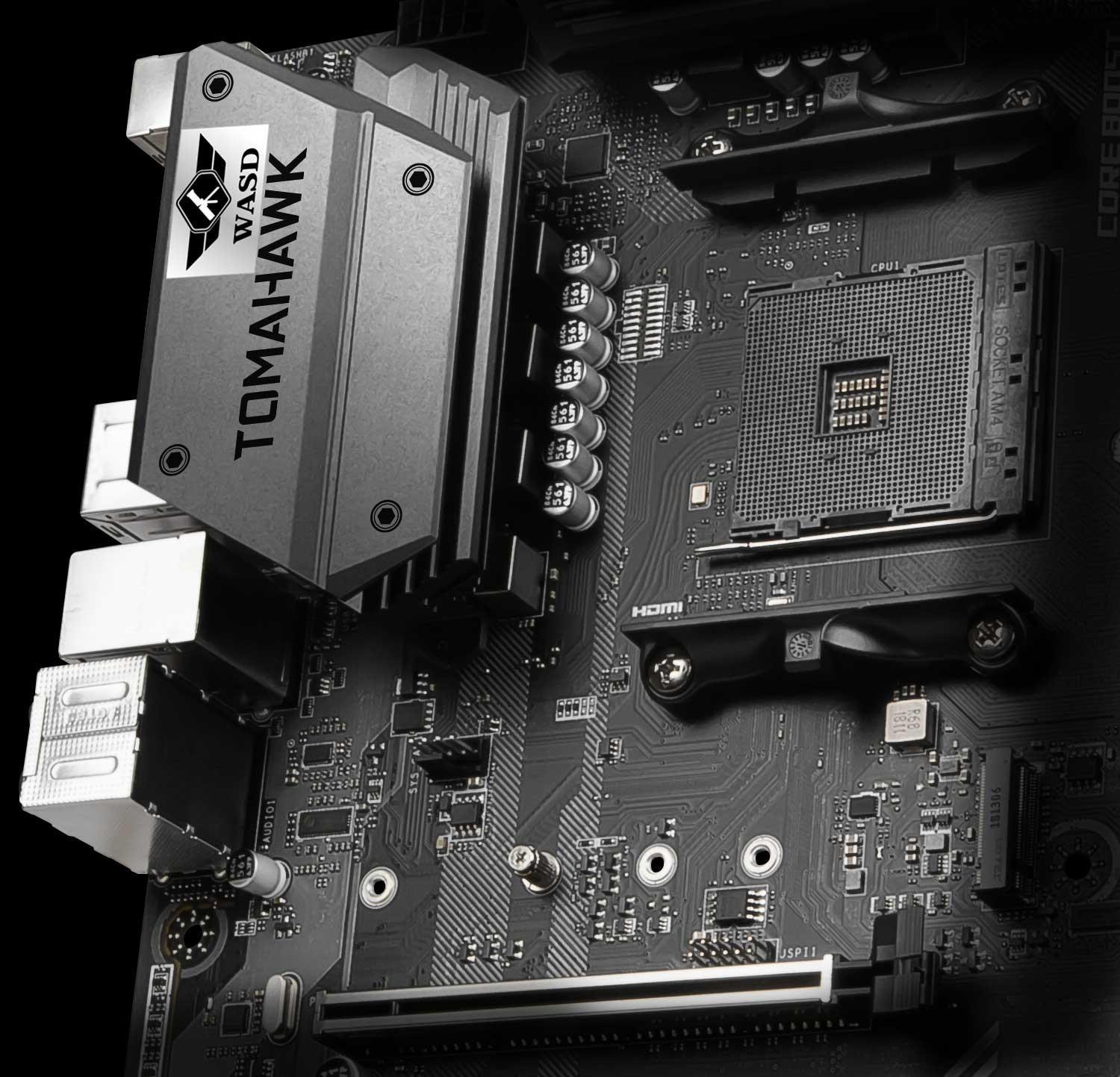 MYSTIC LIGHT – PERSONALIZE YOUR GAMING RIG
Customize and set up your own color scheme with MSI Mystic Light utility. Select the available colors from the palette to match your system style. Bored of the same colors? Simply change the complete look of your system in 1 second!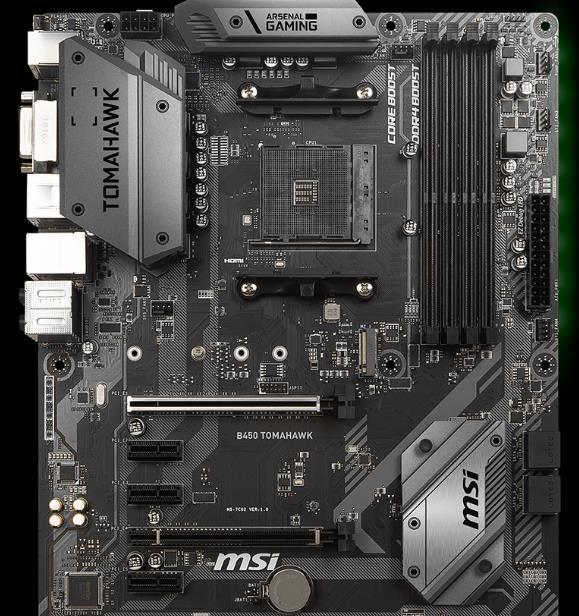 COOLING – STAY COOL WHILE GAMING
Cooling your PC is essential for reliable performance. We've made sure to include enough fan headers with full control to allow you to cool your system any way you want.
GAMING FEATURES – YOUR IN-GAME ADVANTAGE
Outsmart and outperform your opponent's in-game using an array of unique MSI GAMING tools. Clever hardware & software tools, created to keep you one step ahead of the competition and boost your skills.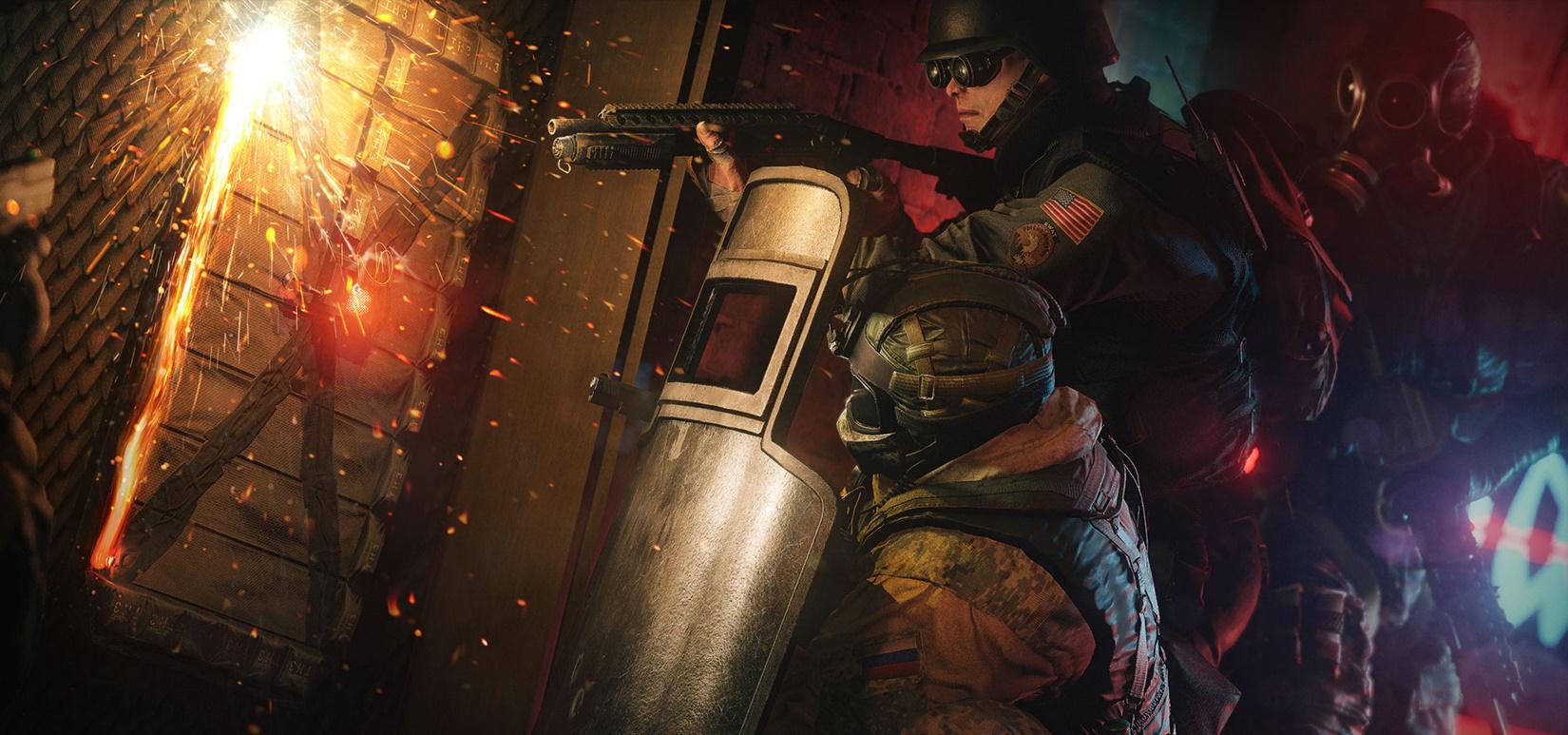 STORAGE – BE THE FIRST ON THE BATTLEFIELD
This MSI GAMING motherboard supports all the latest storage standards. This allows you to connect any ultra-fast storage device, giving you in-game benefits. Start games faster, load levels faster and have a real advantage over your enemies.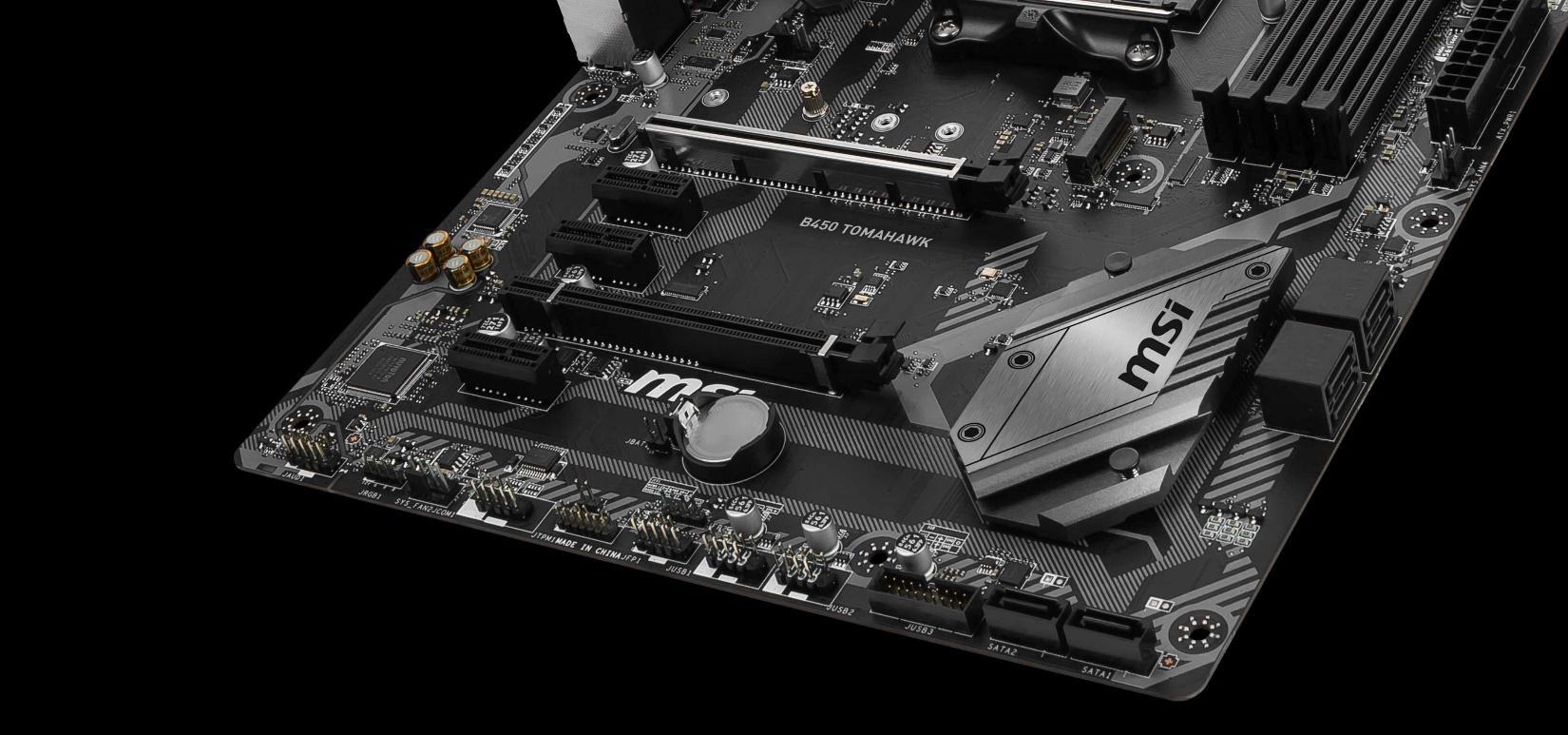 VR – IMMERSE YOURSELF INTO VIRTUAL WORLDS
Integrating the very best of cutting-edge technologies on MSI hardware provides a smooth VR ride. Through joint efforts with major VR brands, combined with unique MSI features geared to VR, MSI brings gamers and VR professionals a vivid and realistic experience in which content truly comes alive.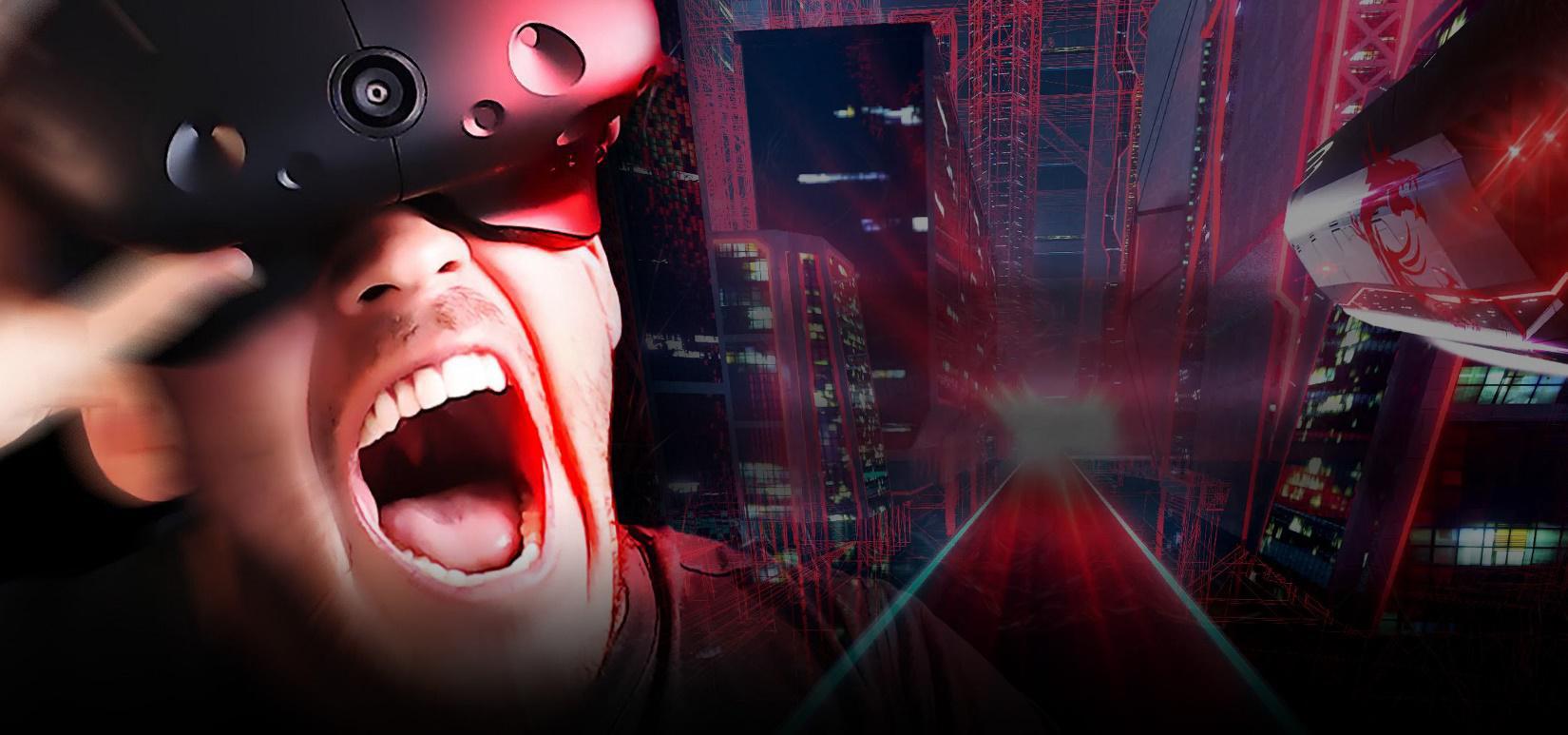 AUDIO – SOUND THAT PULLS YOU INTO THE GAME
Get the most immersive sound experience when gaming. MSI Audio Boost delivers the highest sound quality through the use of premium quality audio components. This lets you enjoy breathtaking, game-changing sound to create the most exciting gameplay.

GAMING LAN – DOMINATE THE GAME WITH THE LOWEST LATENCY
Get ready to crush your enemies on the battlefield with MSI GAMING LAN. Featuring the highest quality components tuned to deliver the best online gaming experience without lag.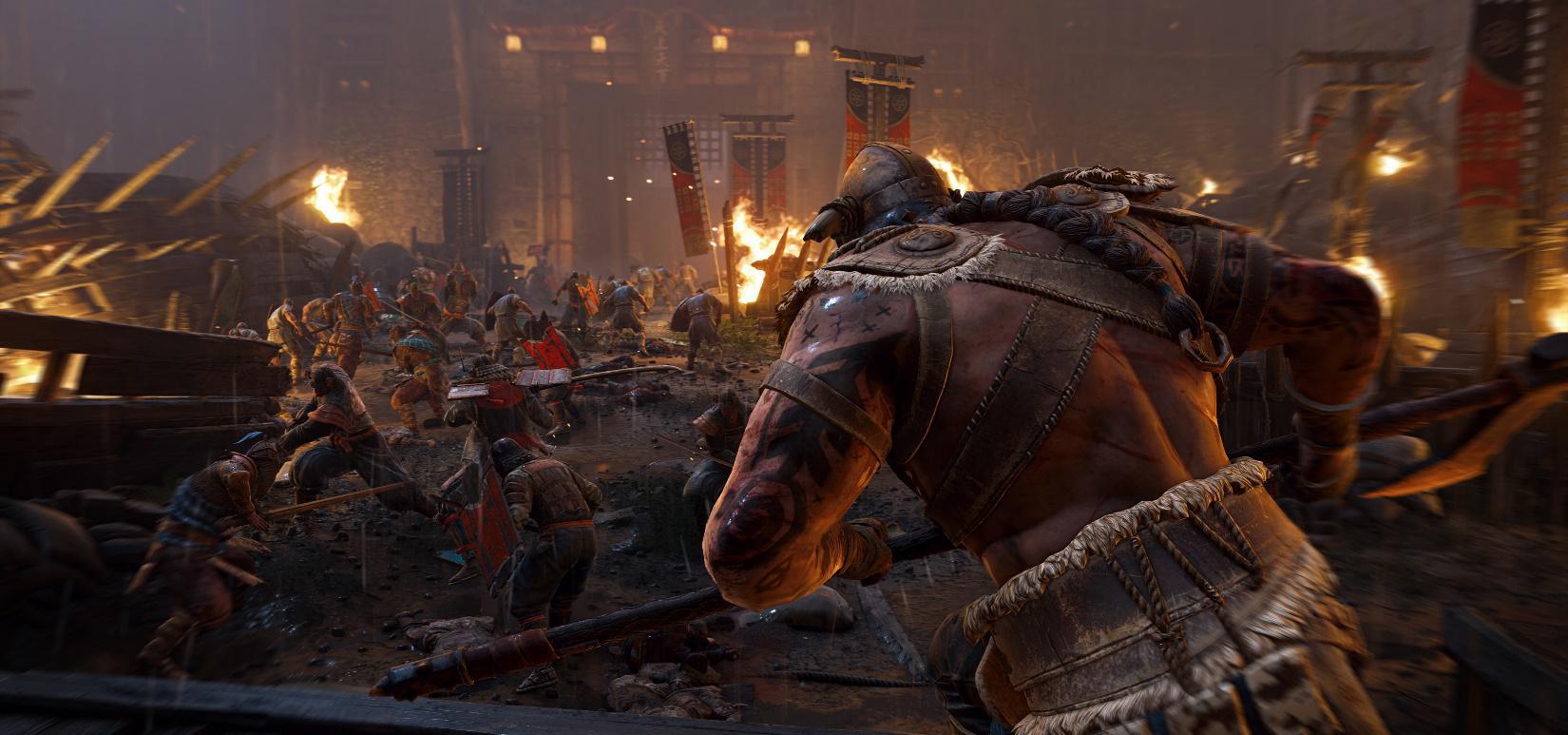 MEMORY – UNMATCHED MEMORY PERFORMANCE
MSI motherboards are crammed with features to fuel your gaming rig's memory with more speed, higher overclockability, and increased stability.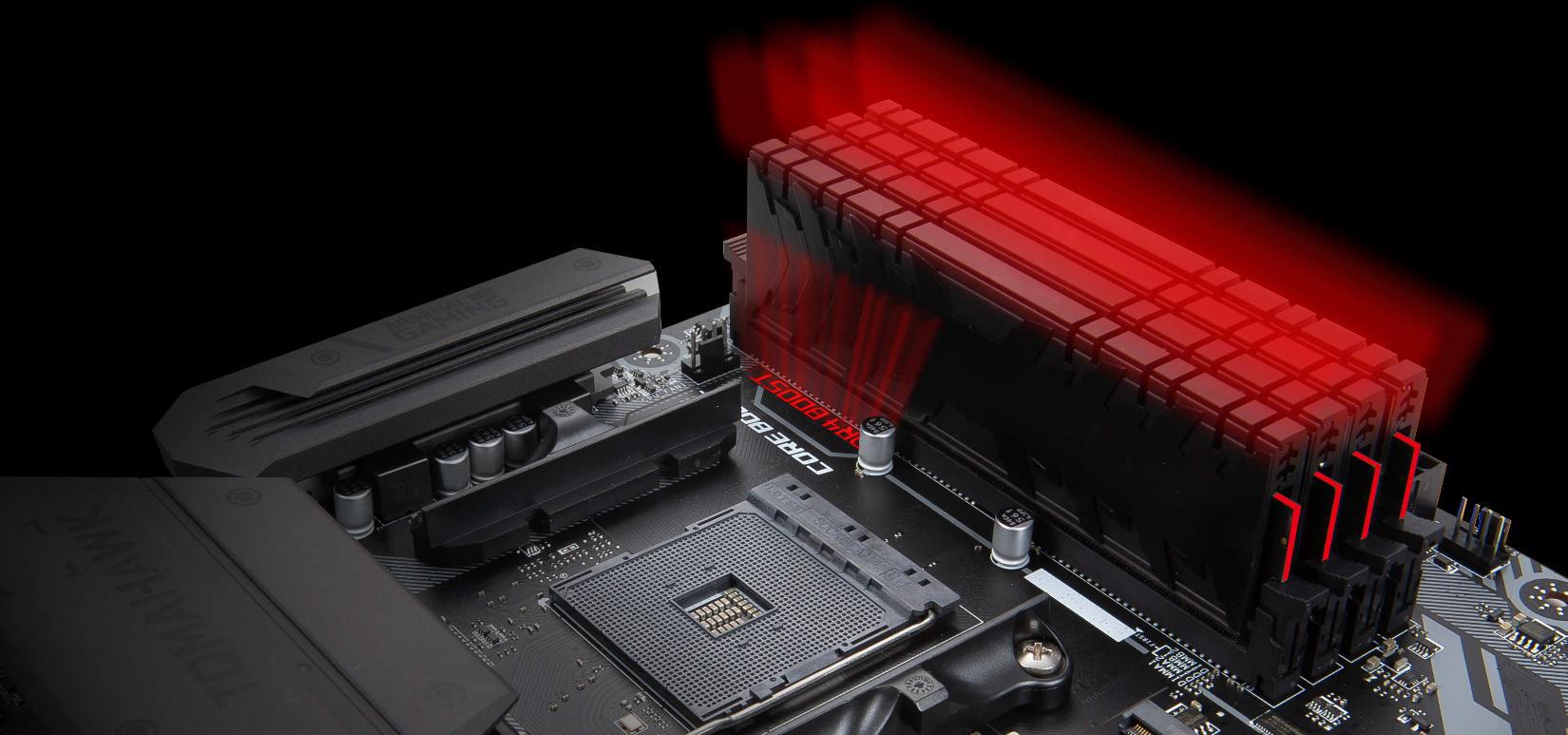 TUNING – DESIGNED FOR LIMITLESS TUNING
Founded on experience and with a long history of creating the best performing motherboards packed with smart features, you can count on this motherboard to deliver the best performance under the most extreme conditions. Countless system tuning and troubleshooting tools are at your disposal to push your system to new heights and satisfy even the most demanding tweaker.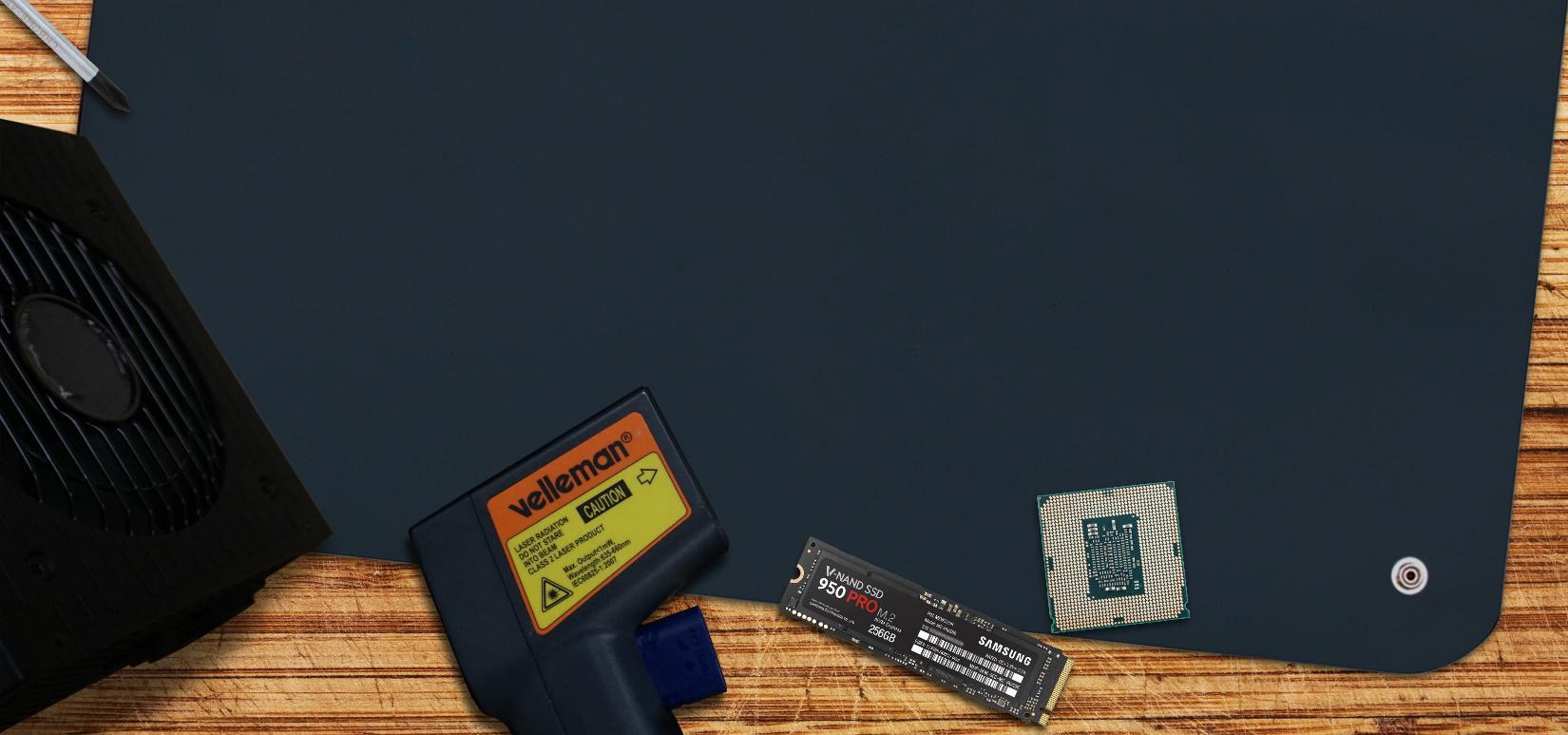 USB – MAXIMIZE YOUR USB DEVICE PERFORMANCE
Transfer your favorite games, music, and movies over USB faster than ever. MSI offers a wide variety of options to connect and boost your USB 3.1 devices, delivering lightning-fast transfer speeds up to 10Gb/s!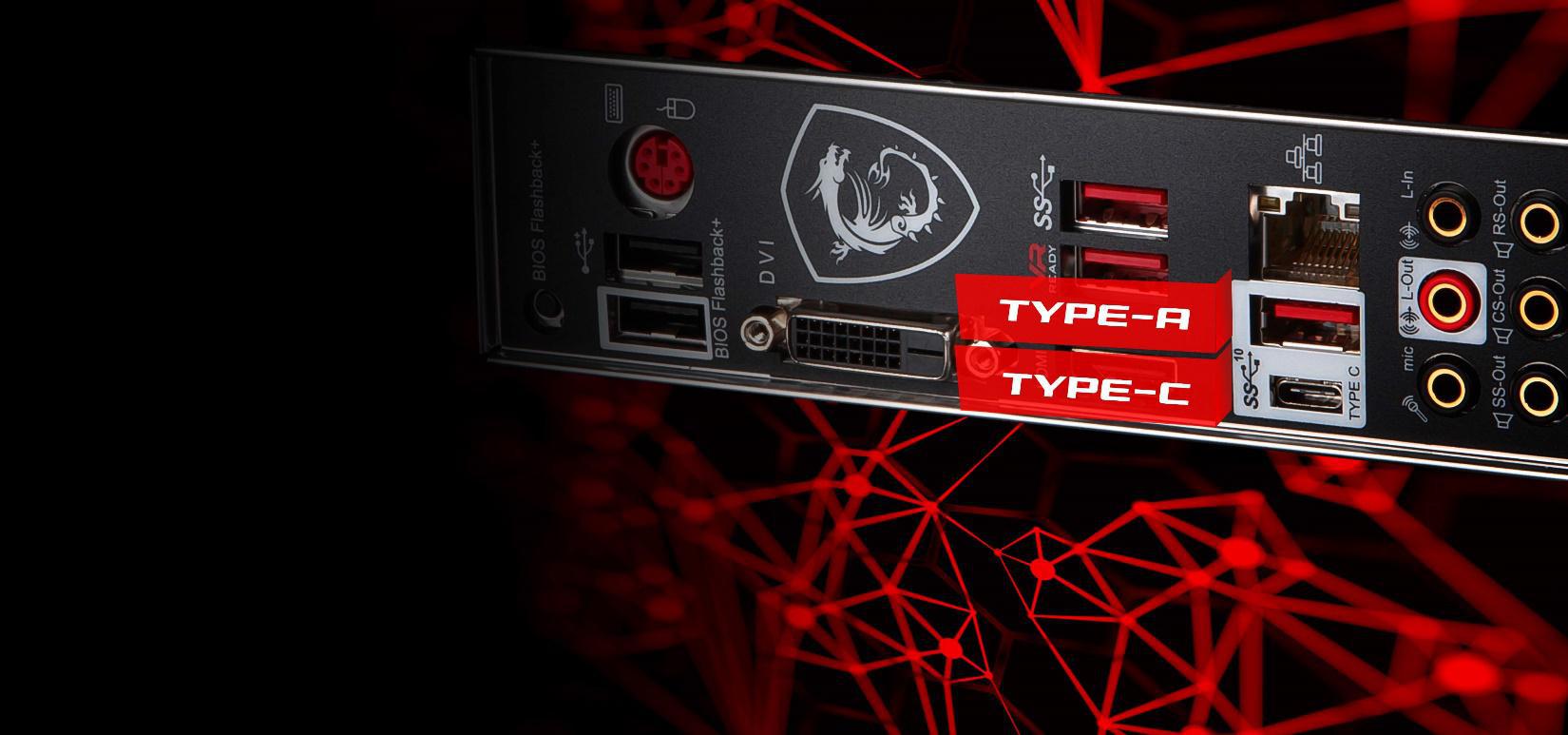 SOFTWARE – APPS TO GREATLY IMPROVE EFFICIENCY
With years of experience in creating performance enhancing tools that are easy to use, only the highest quality applications are at your disposal. Use these tools to get the most out of your motherboard and achieve victory when gaming.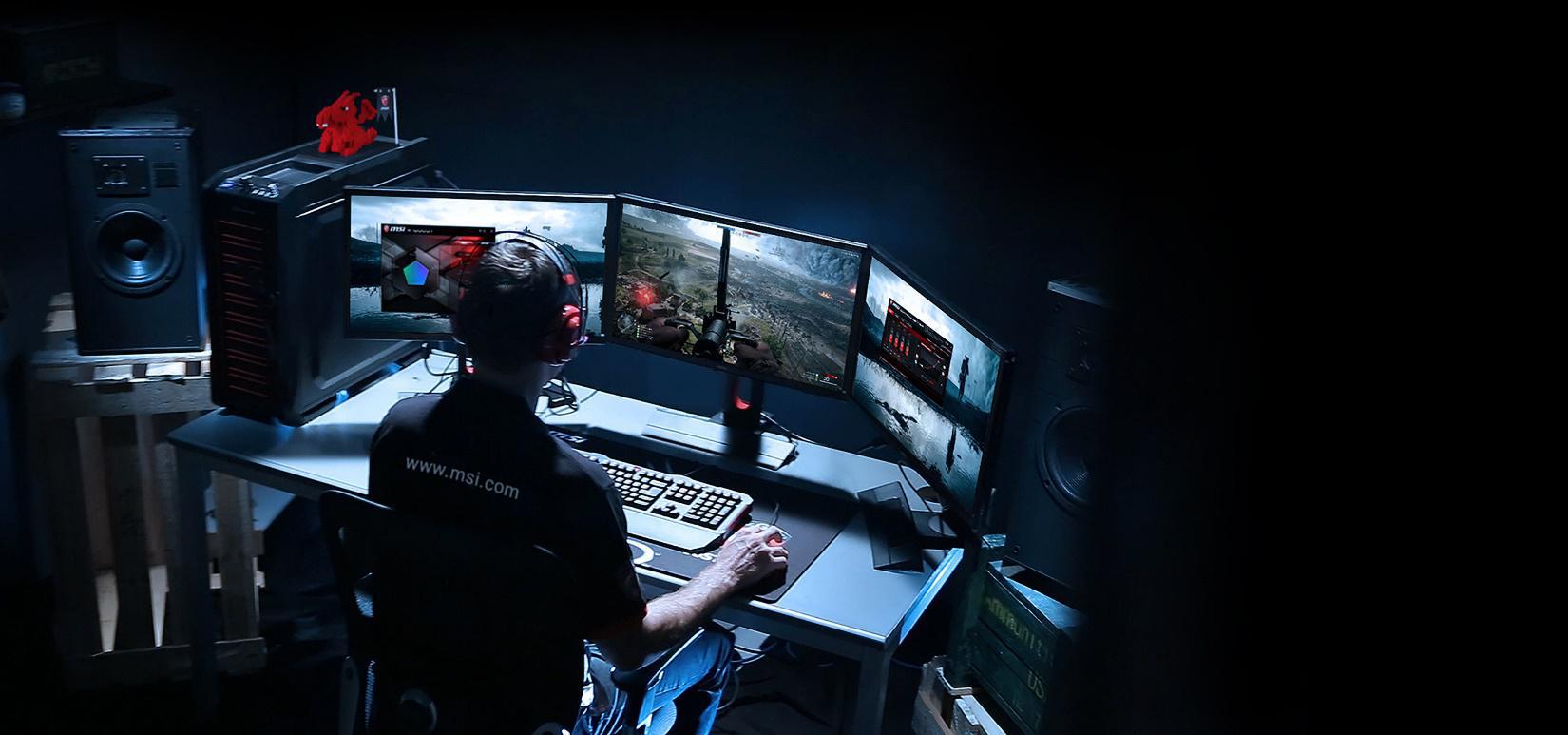 QUALITY & PROTECTION – BUILT ON EVERLASTING QUALITY
Using only the finest quality components and integrating the latest technological innovations delivers the best possible gaming and professional experience. Rigorous quality testing under the most extreme conditions ensures a super reliable, high-performance motherboard.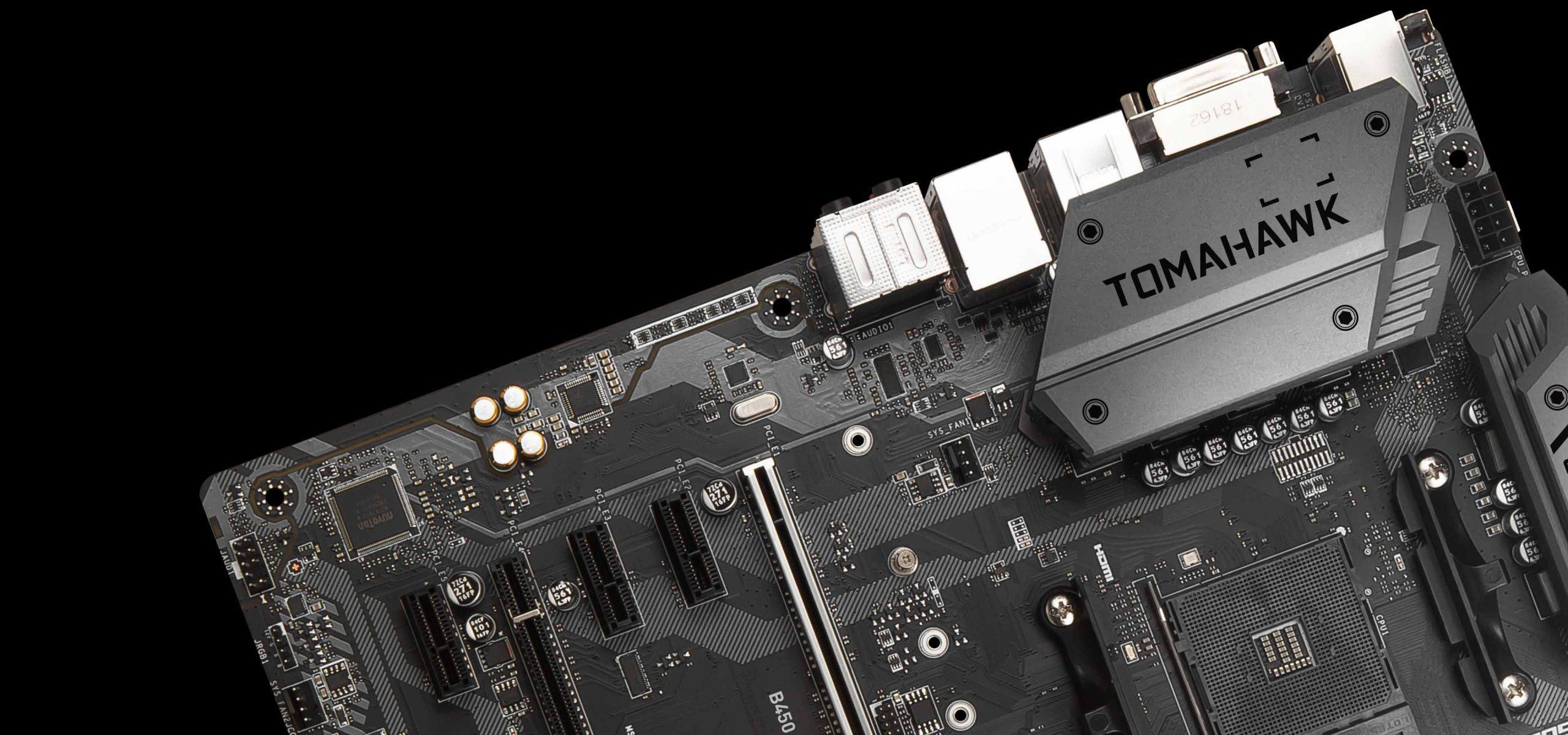 BIOS – A GAMERS' BIOS
We made sure our BIOS contains all the latest options and is easy to use for everyone. The extensive features let you fine-tune your system to deliver reliable maximum performance when gaming.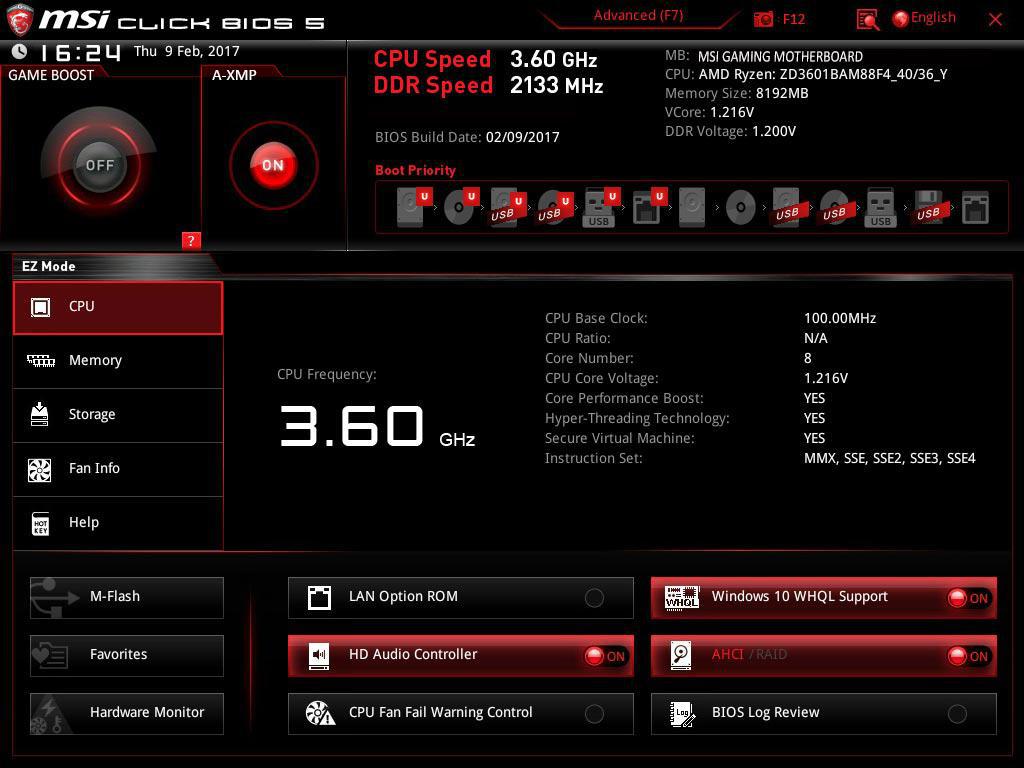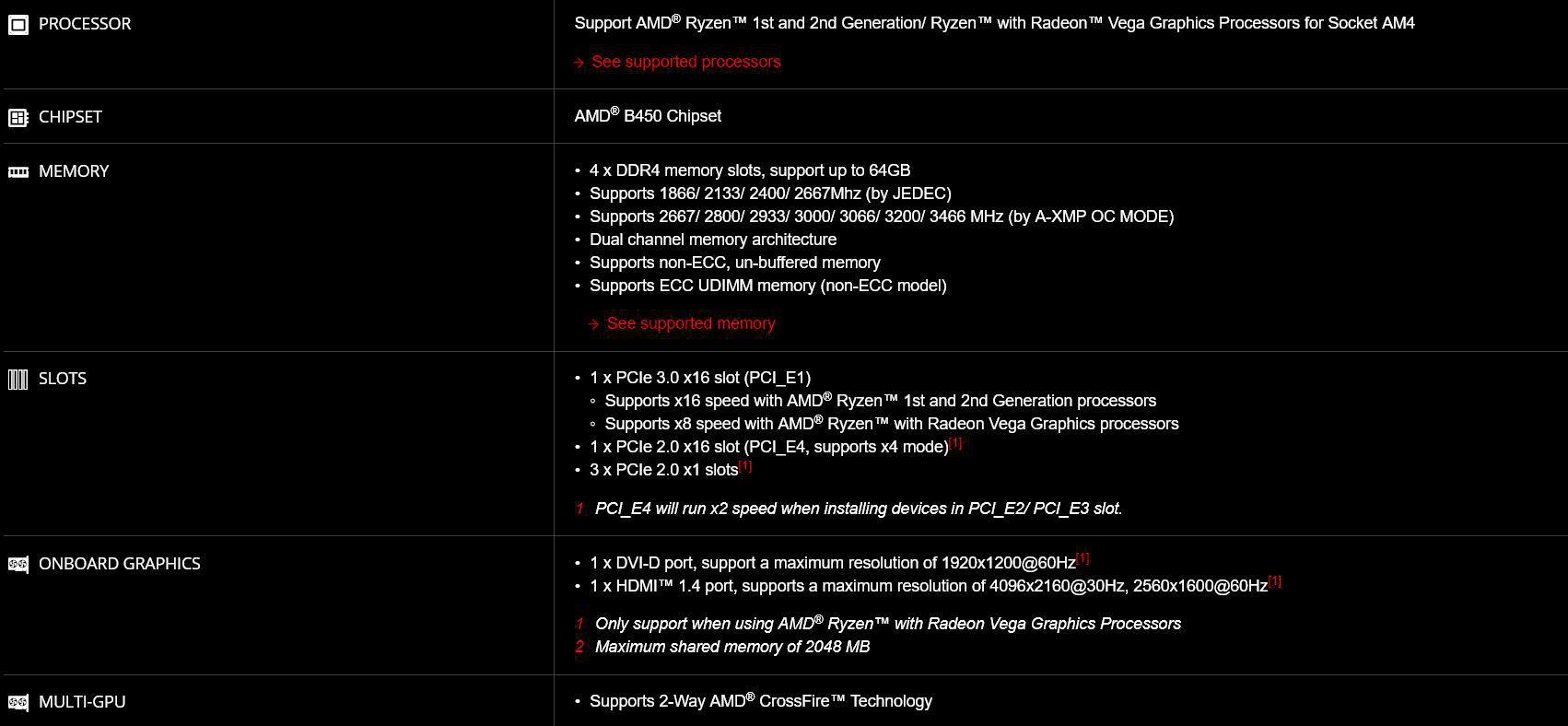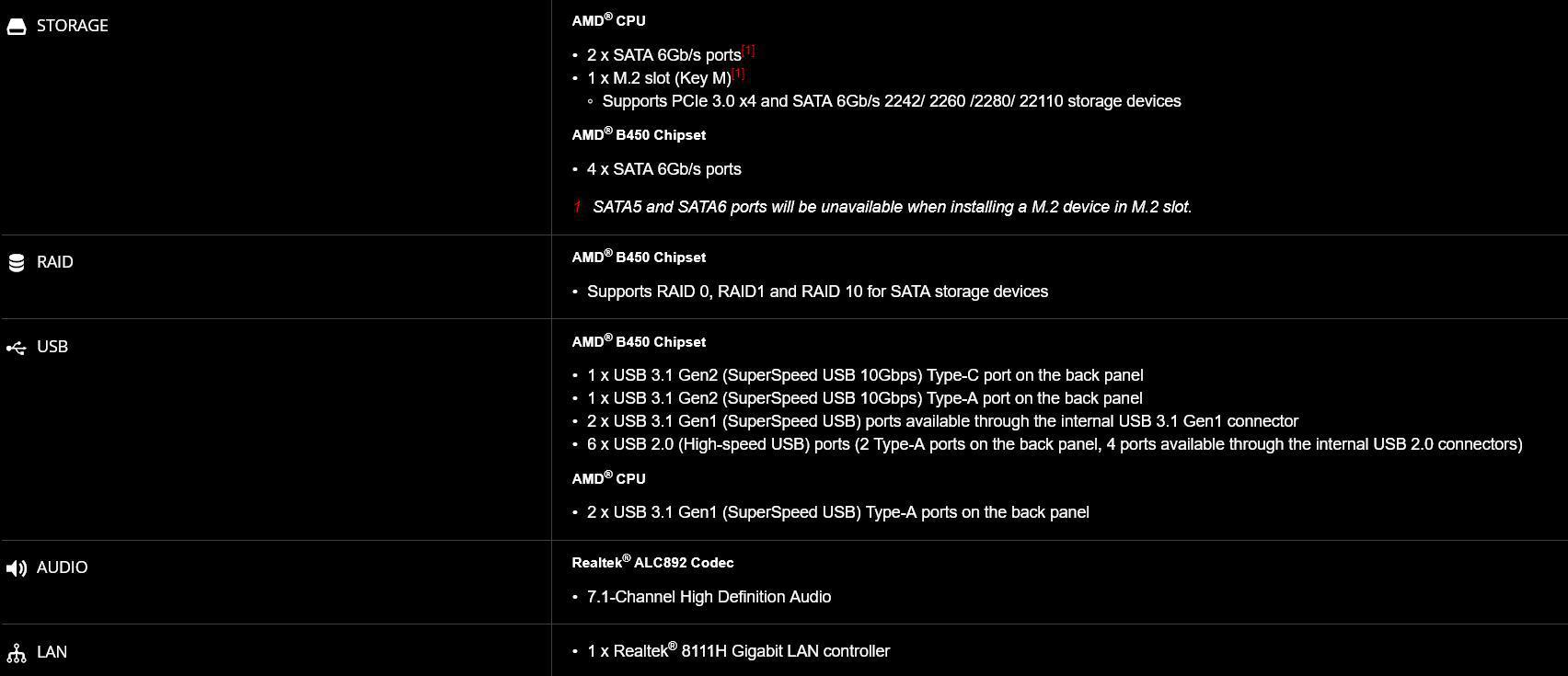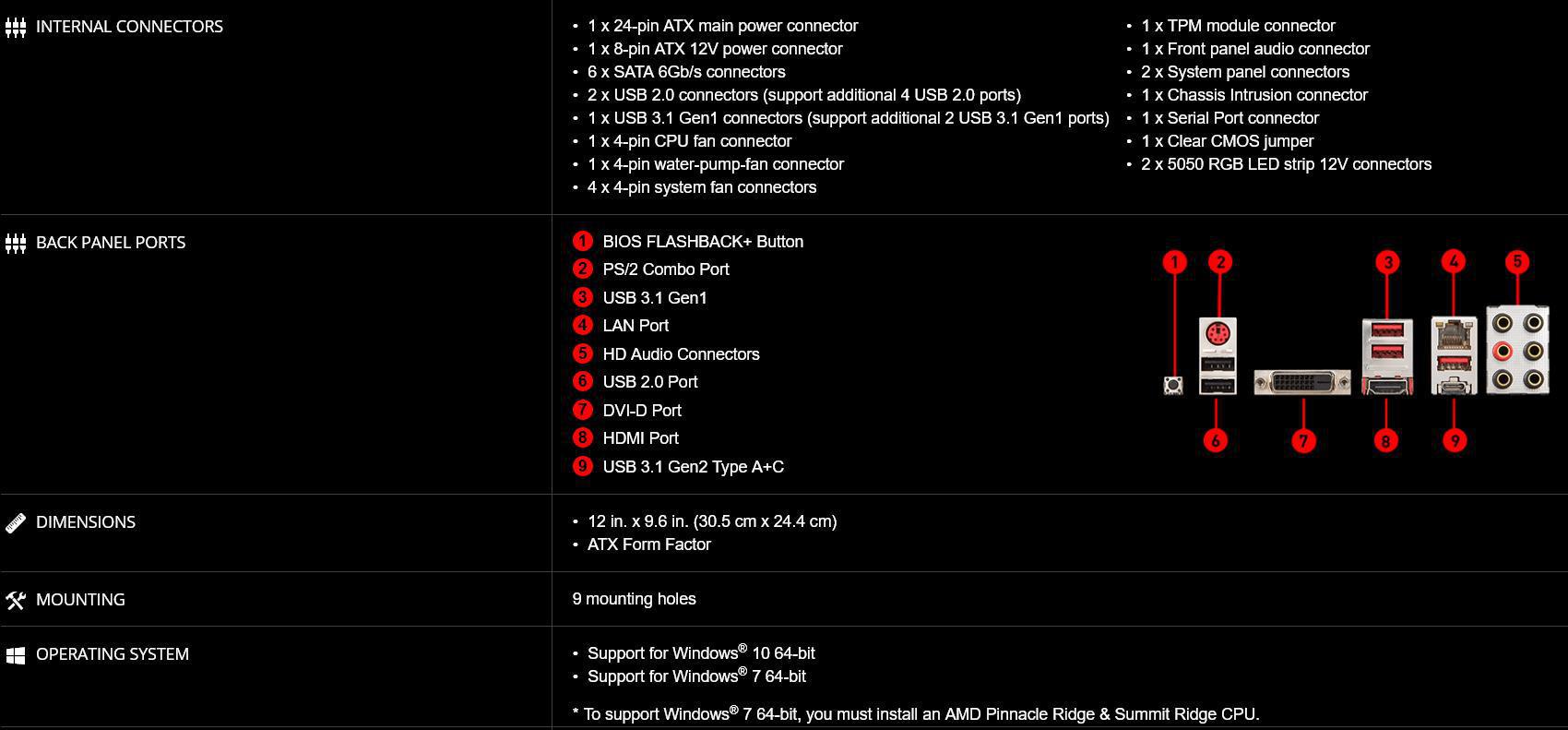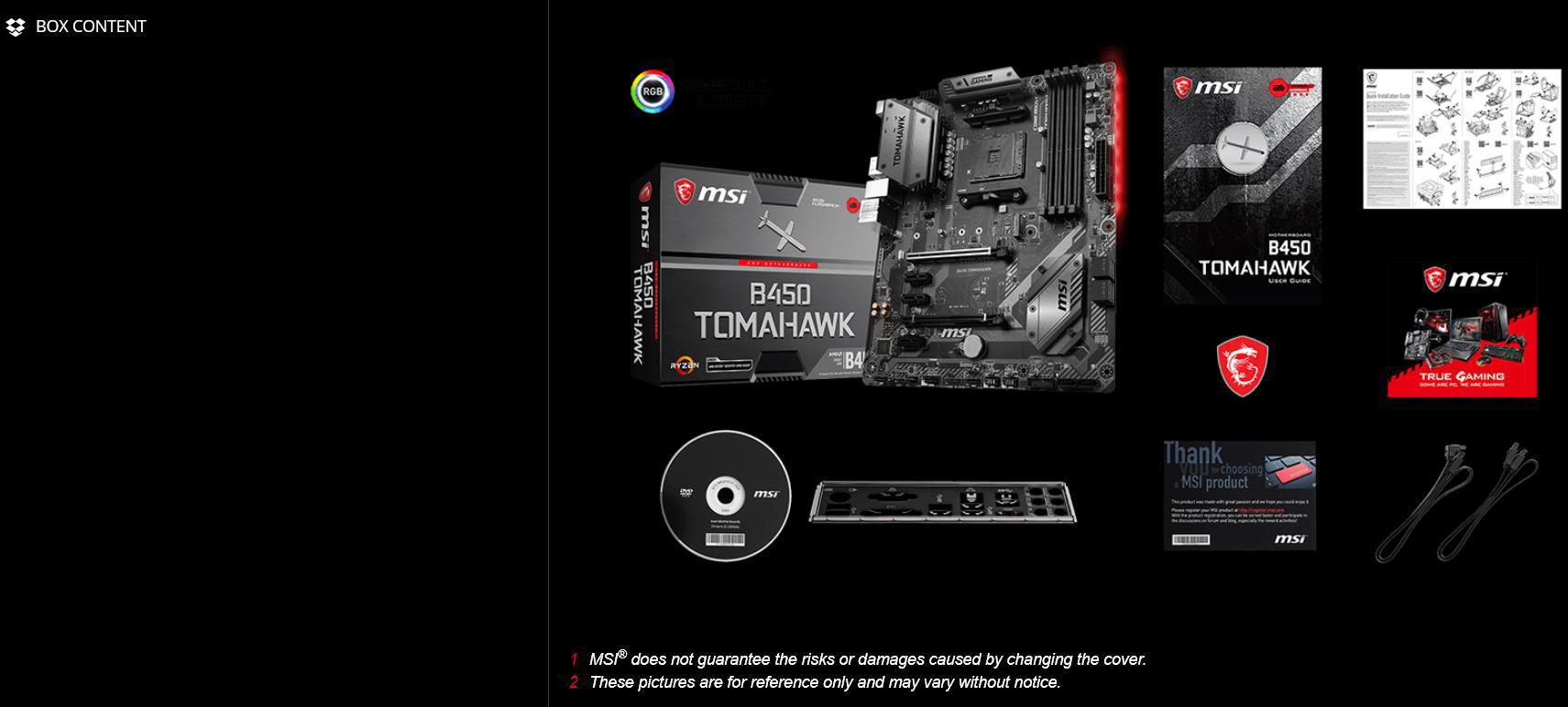 Packaging & Unboxing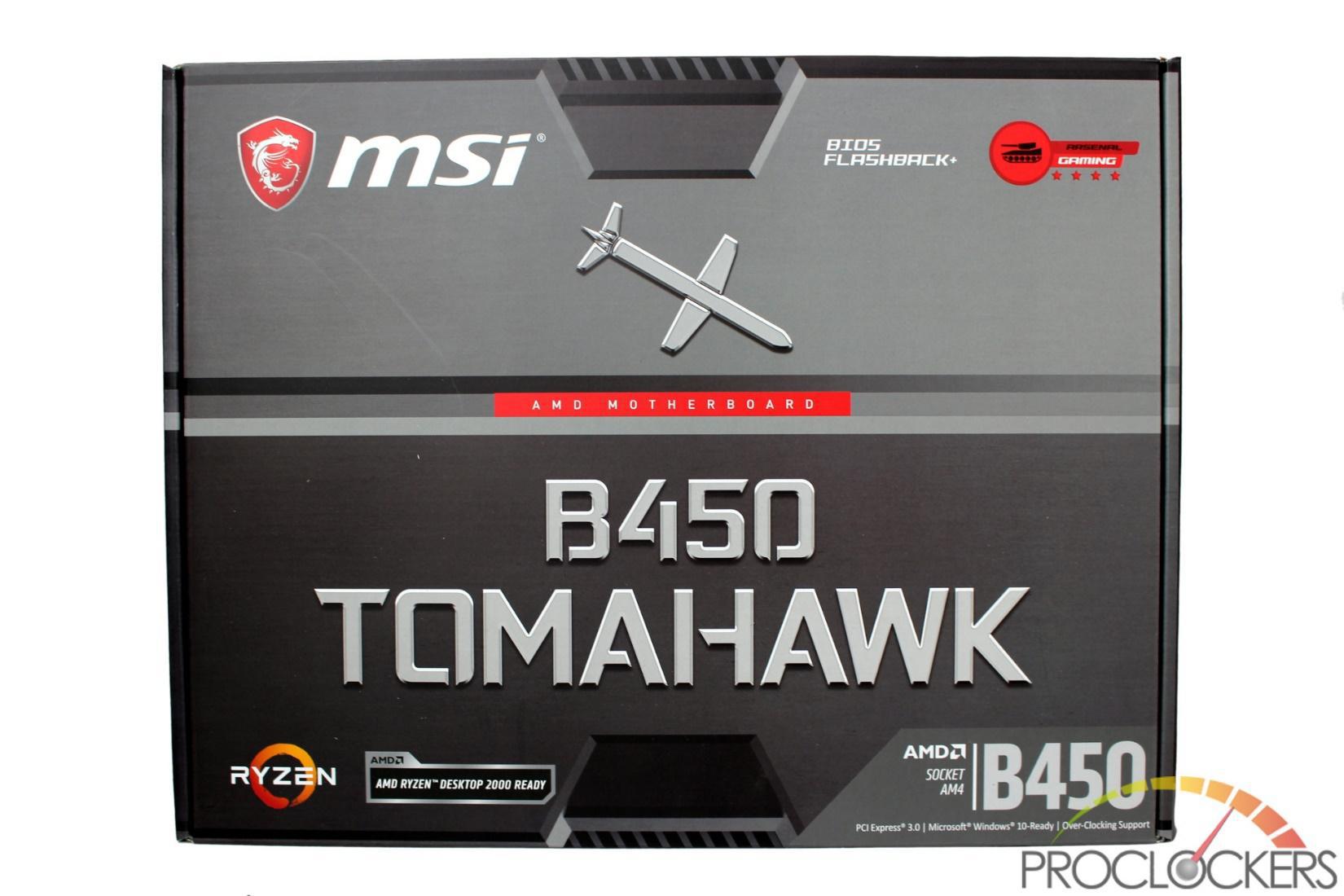 MSI's B450 Tomahawk comes in a metallic colored box with the signature cruise missile emblem front and center. Several logos from AMD and MSI adorn the top and bottom edges with the model predominate on the front.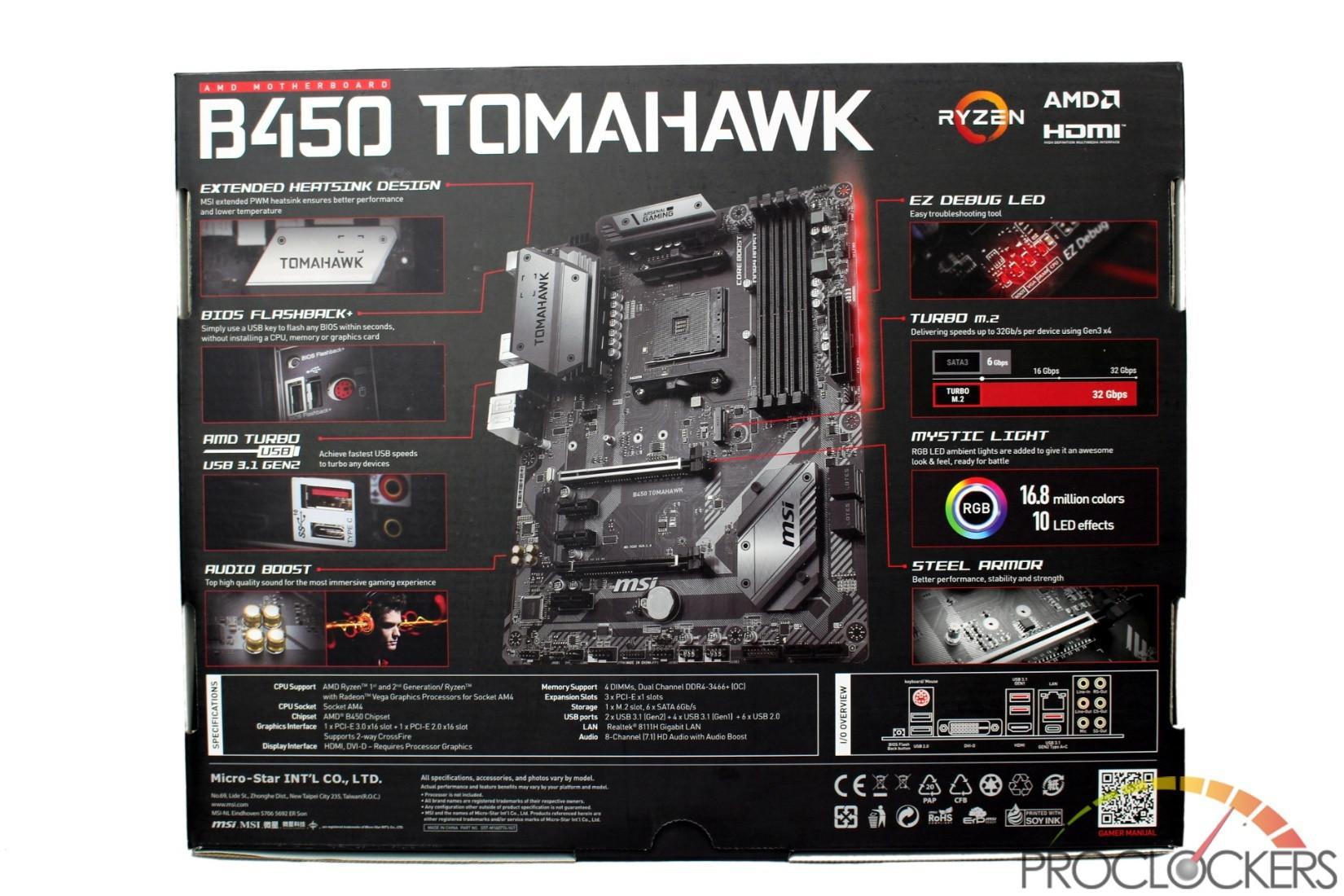 The rear of the box is completely covered with a full-color picture of the board in the center and many of the features highlighted. Some basic specs run along the bottom.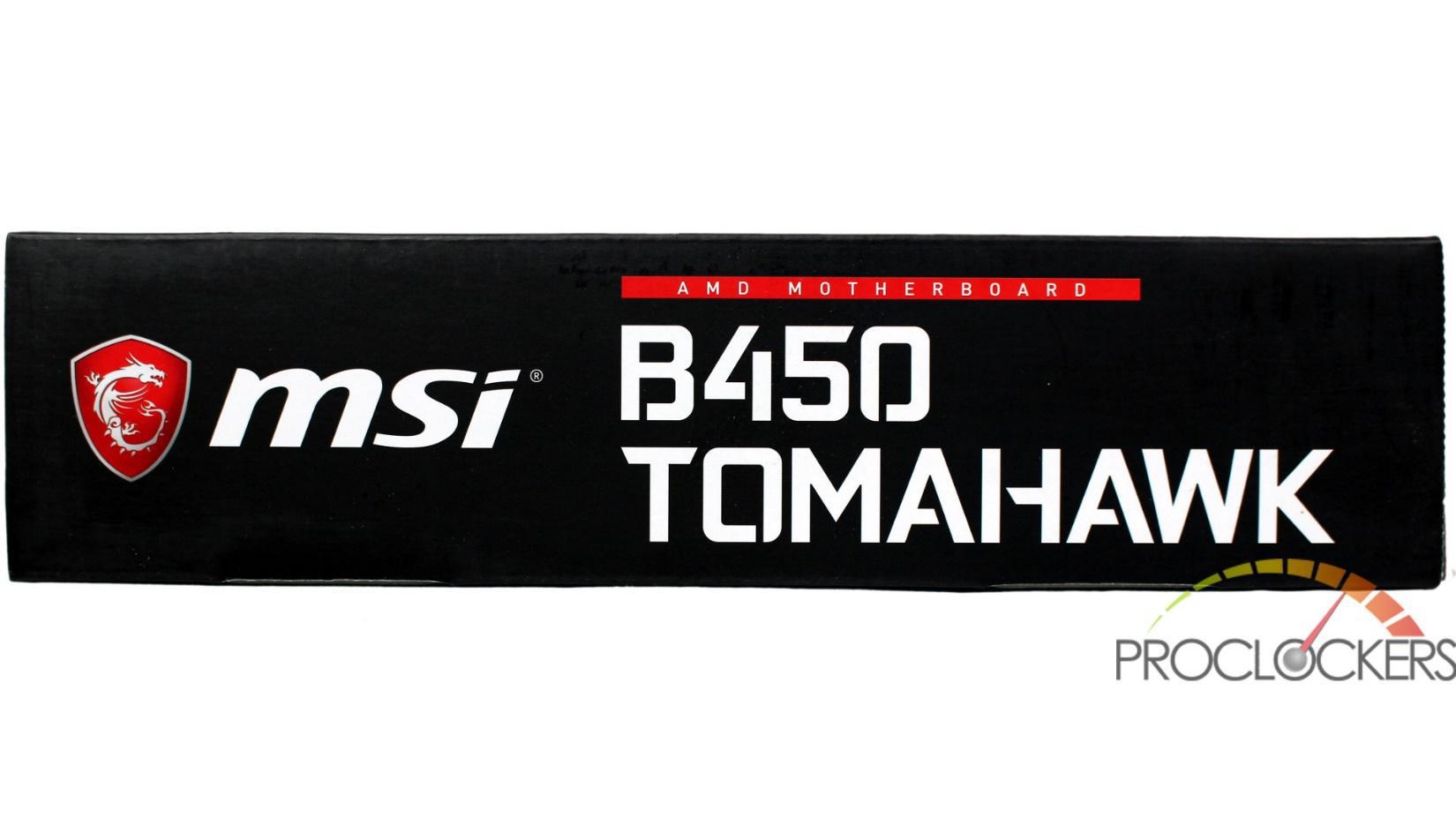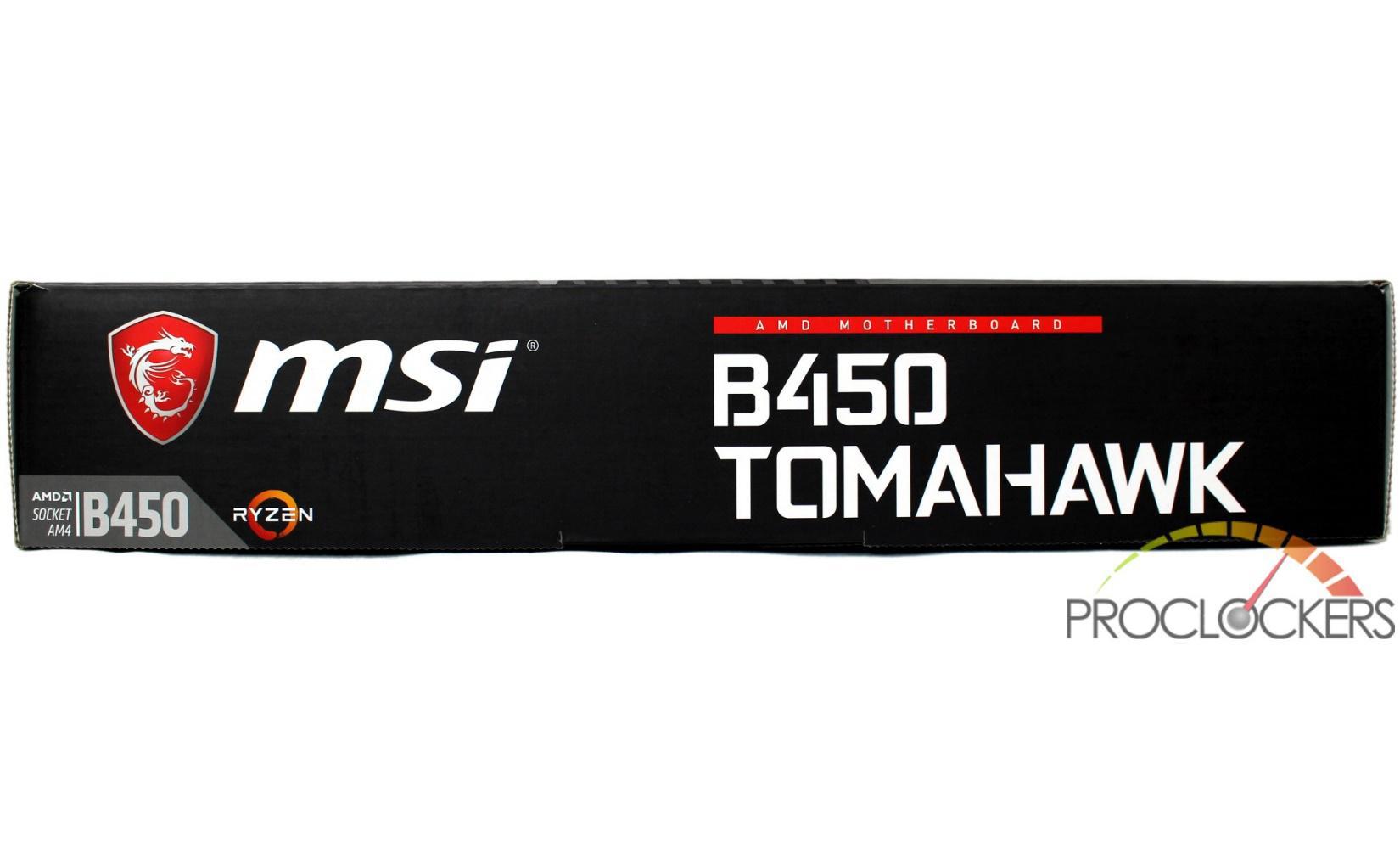 The edges of the box have just the MSI logos and the model.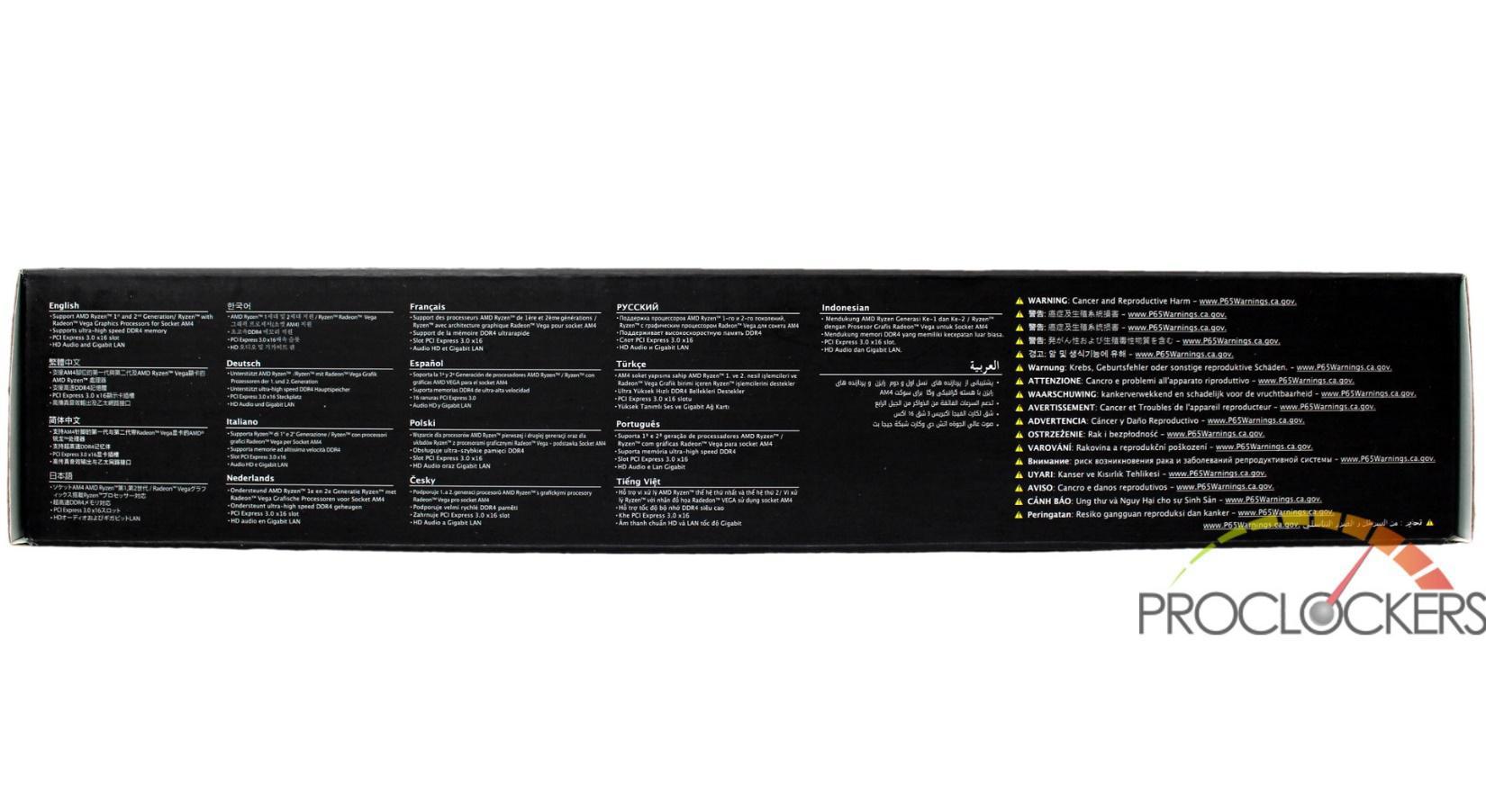 The bottom edge has some basic specs in a multitude of languages.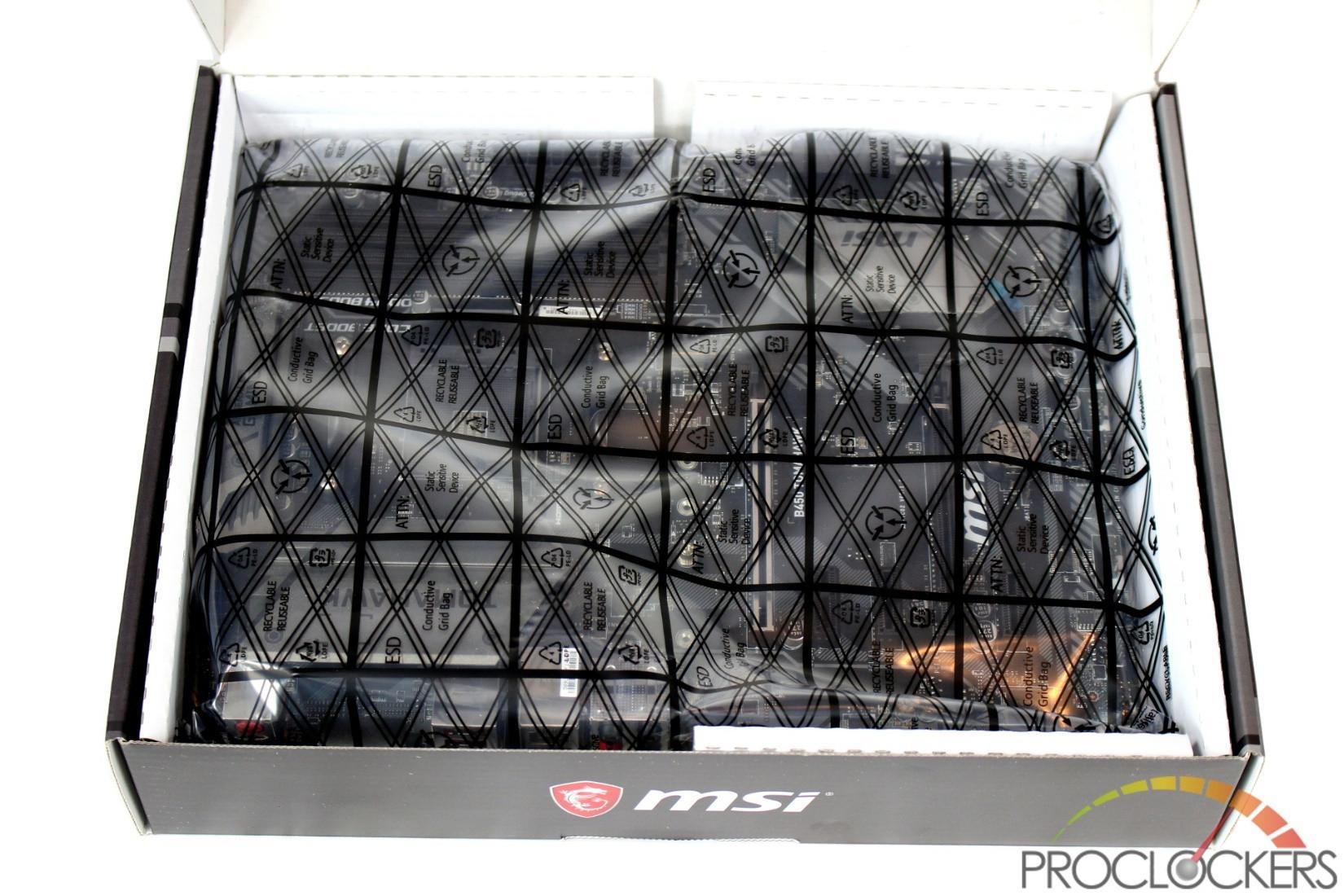 The first thing you see opening the box is the motherboard visible through it's protective ESD safe bag.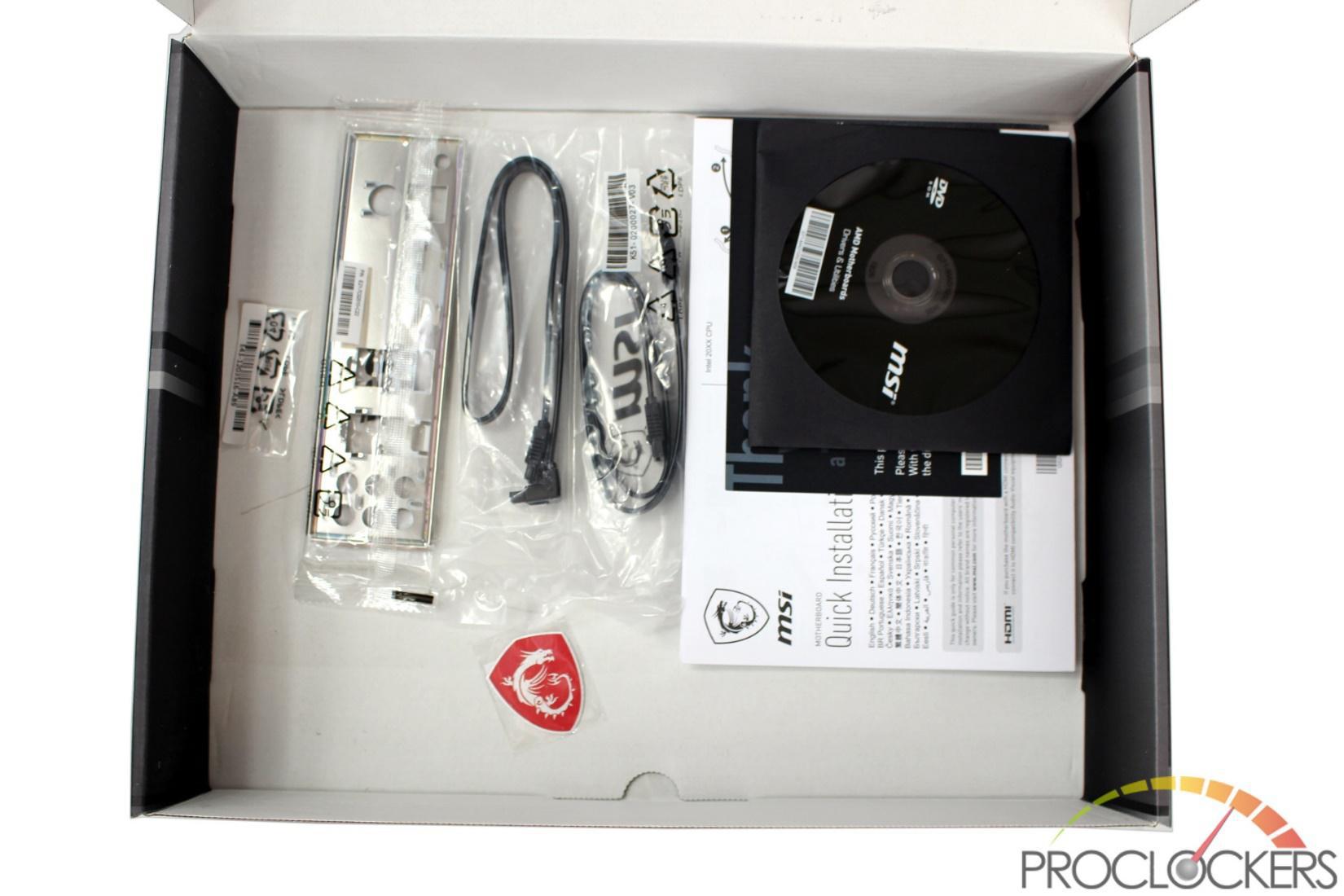 Under the motherboard is all of the included goodies.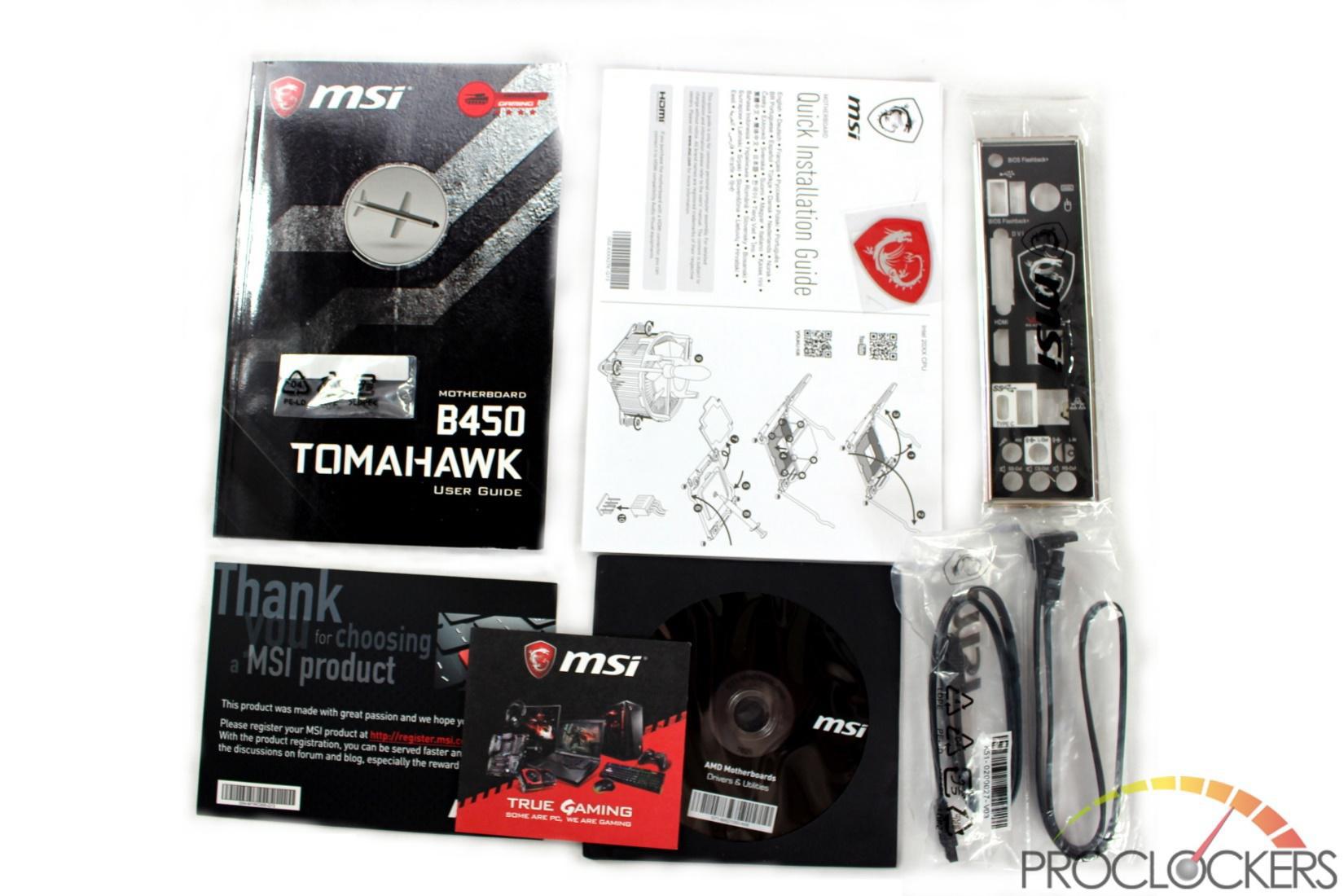 You get a manual, driver disk, quick installation guide, rear I/O shield, some SATA cables, M.2 mounting hardware, and a thank you card from MSI.
A Closer Look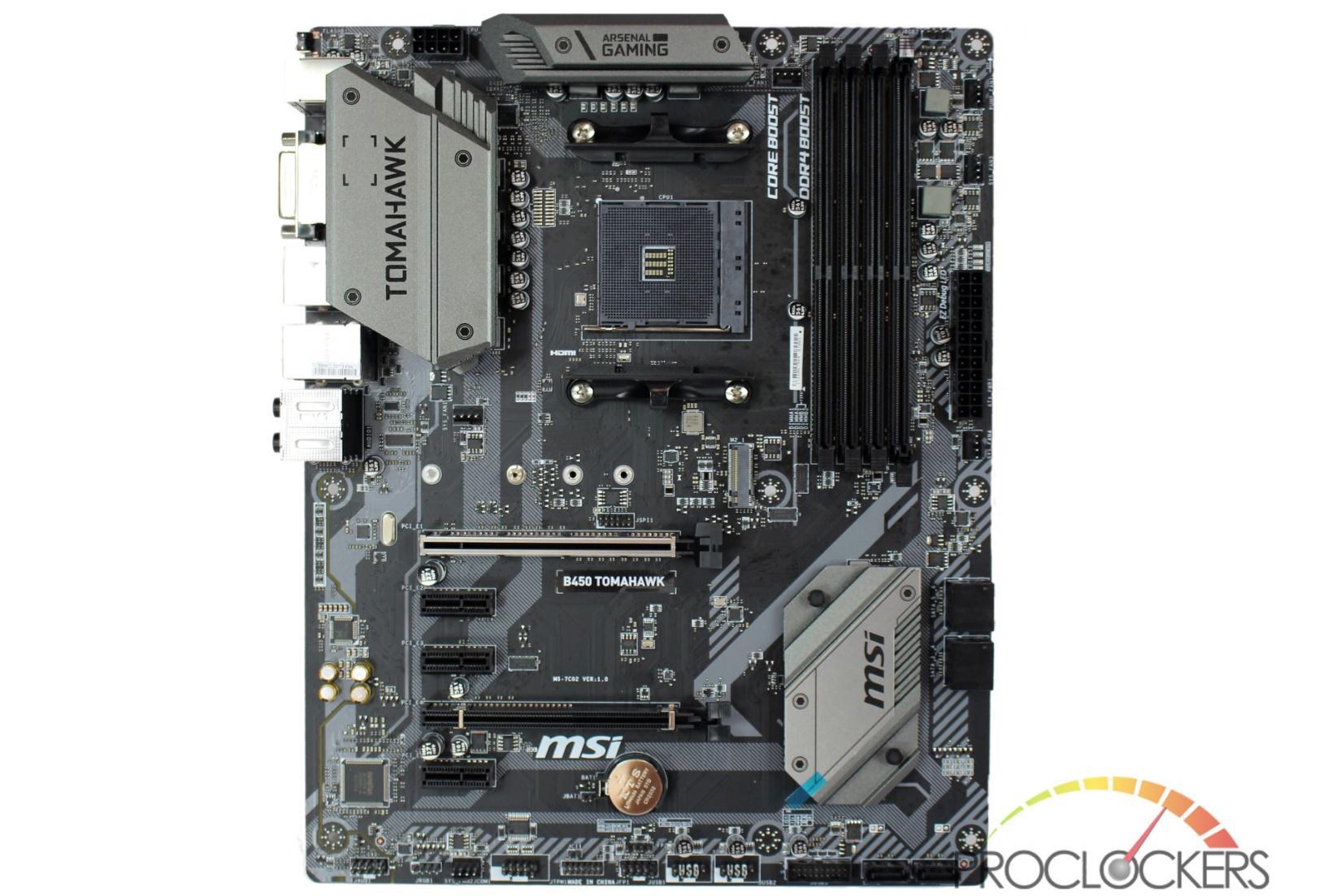 MSI's B450 Tomahawk comes dressed in a neutral color scheme of mostly black and gunmetal grey. There is a grey silkscreened pattern covering most of the ATX footprint with three large metallic colored heatsinks, two for the VRM's and one over the chipset.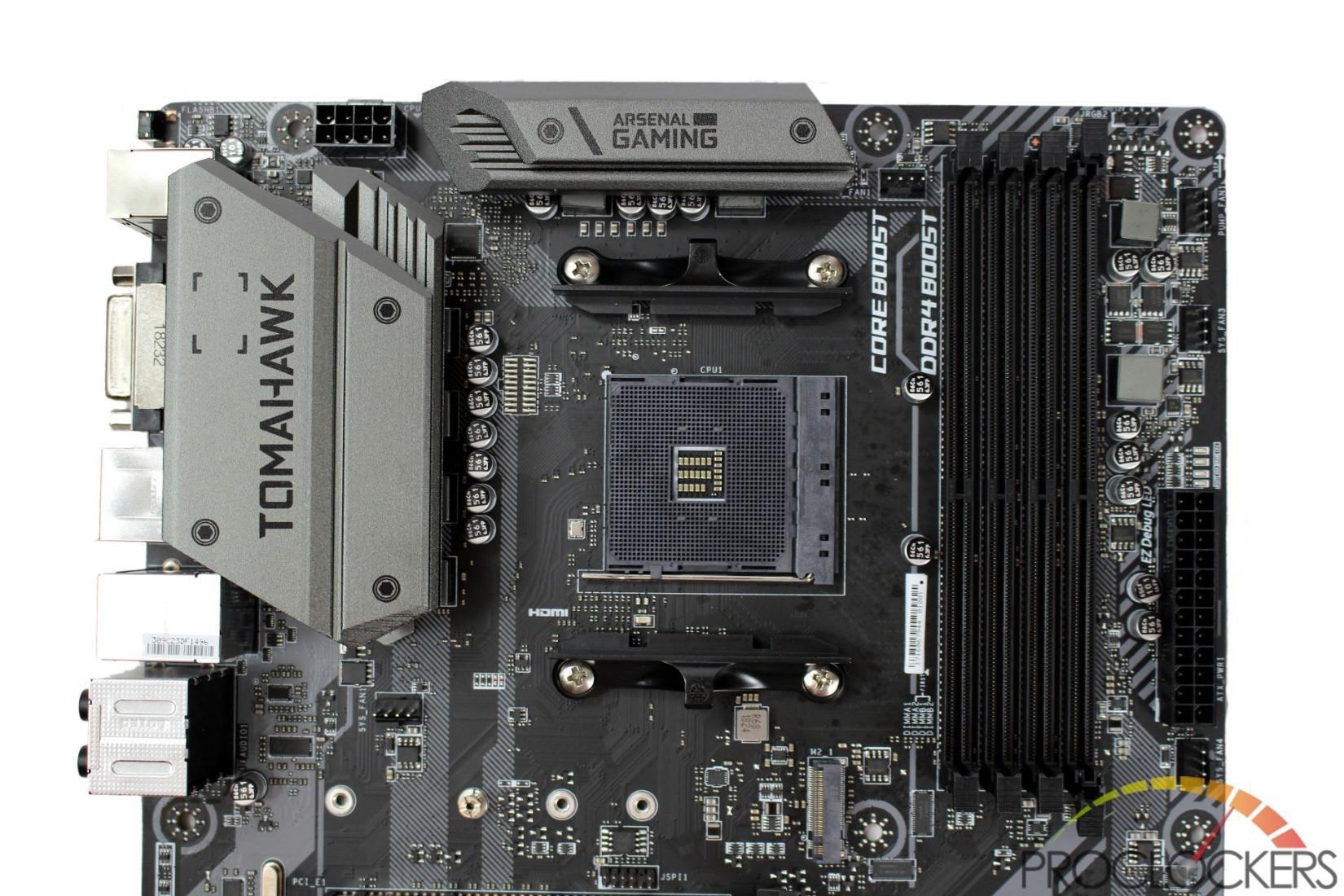 The top half of the board is centered around AMD's AM4 socket with four DDR4 DIMM slots to the right. The larger 'Extended Heatsinks' cover a 4+2 VRM stages. Five of the fan headers are on the top half of the board along with the sole M.2 port that supports up to 110mm drives.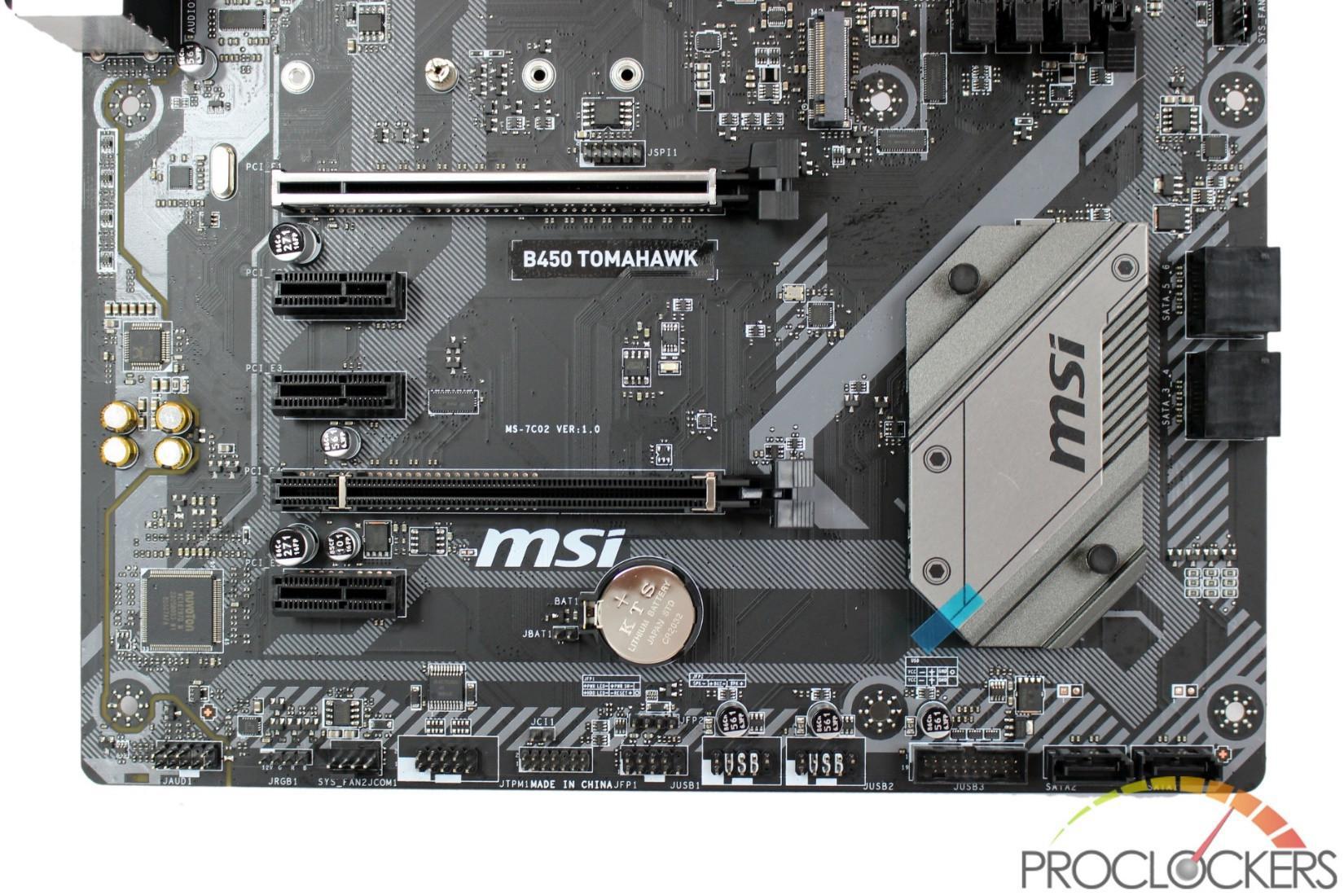 The lower half of the board has five PCIe slots, a reinforced X16 for your GPU, three X1 slots, and another X16 physical that is up to X4 electrical from the Chipset. It shares bandwidth with the PCIe x1 slots and may drop down to X2 link width. The lower edge of the board has the front panel audio header, the sixth fan header, a serial UART, TPM and front panel I/O connections, twin USB 2.0 headers, a USB 3.0 header, and two SATA ports.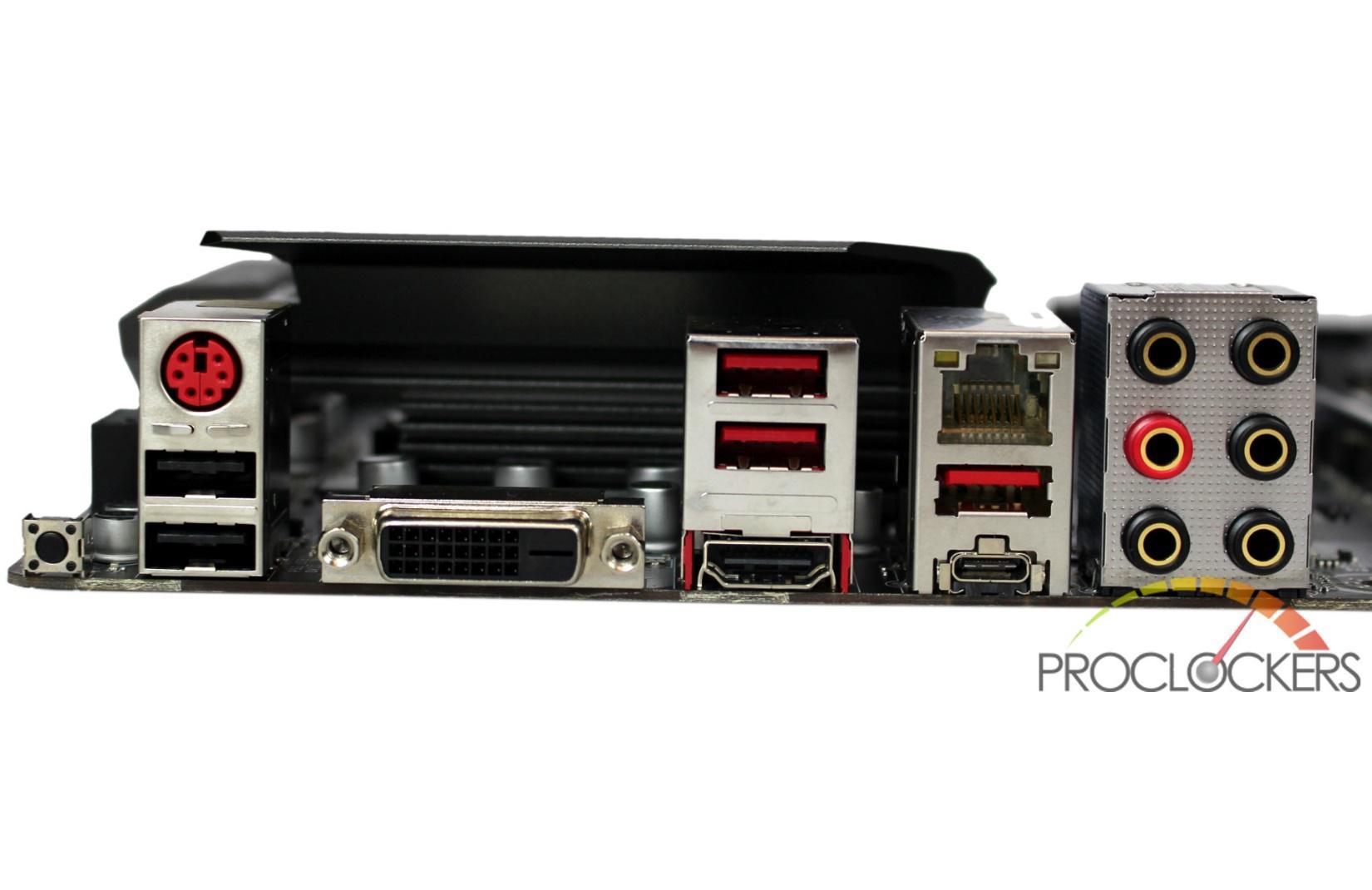 Rear I/O is comprised of a PS/2 port, two USB 2.0 ports, BIOS Flashback+ button, two USB 3.1 gen 1 ports, two USB 3.1 gen 2 ports, gigabit ethernet, and analog audio connections. If you are using a Ryzen processor with VEGA graphics capabilities, the Dual Link DVI-D port and HDMI port become active.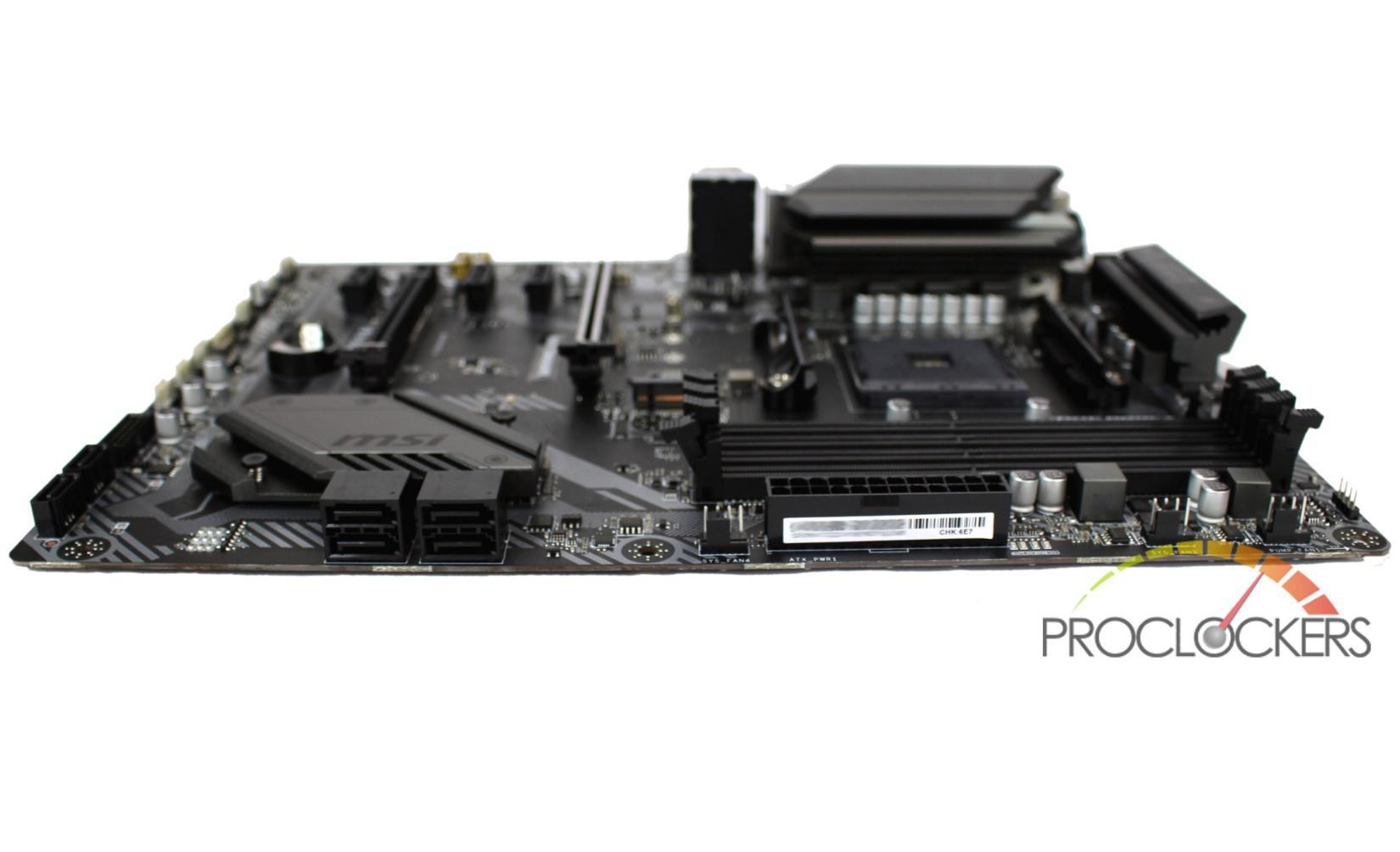 Going up the front of the board, you have four more SATA ports, three fan headers, main 24-pin power and 4 LED's to help you quickly isolate problems.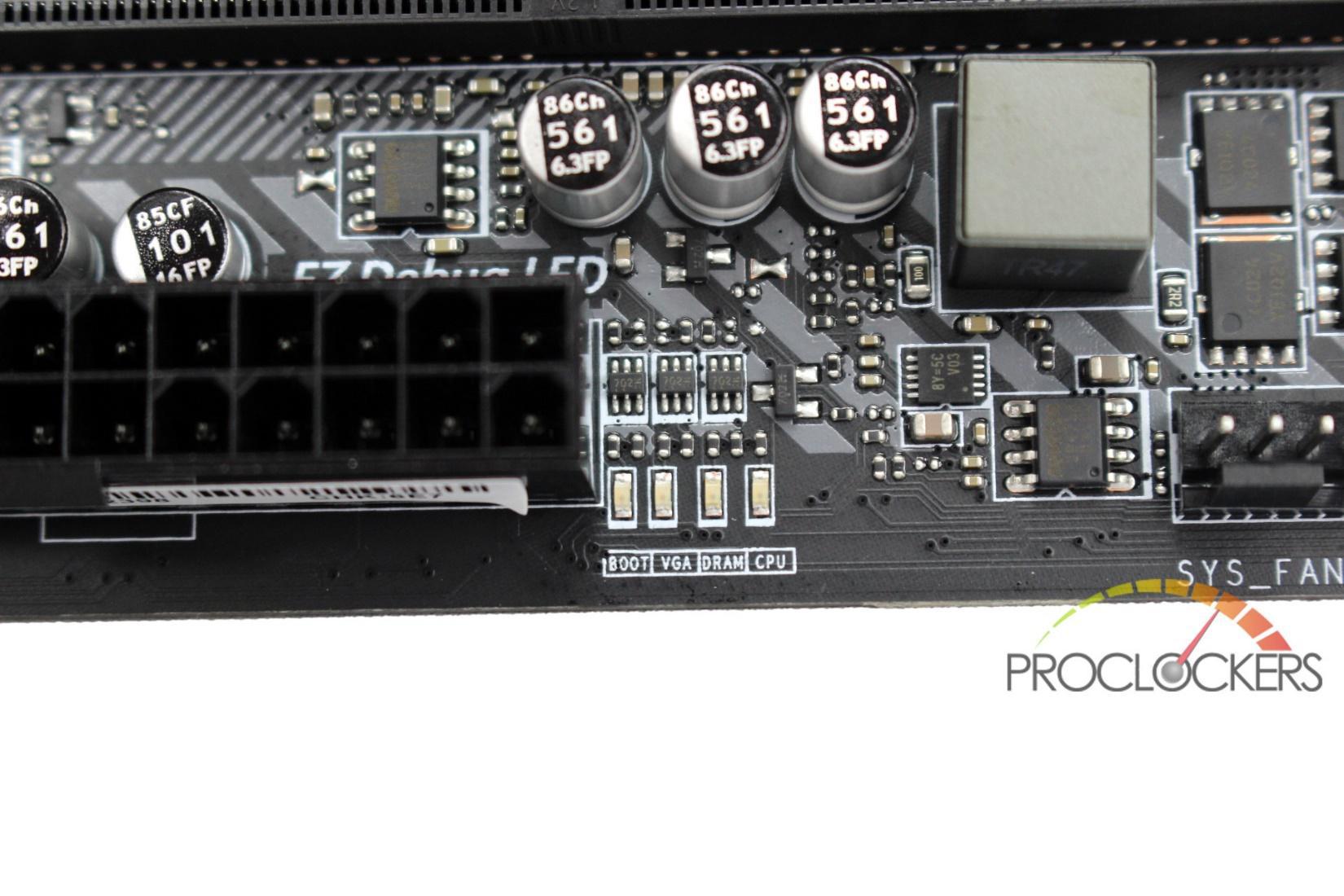 The LED's indicate different subsystems and any that remain lit during POST will show you quickly where an issue is. We left the 8-pin CPU power disconnected and tried to boot and were greeted with an angry red 'CPU' light staying on.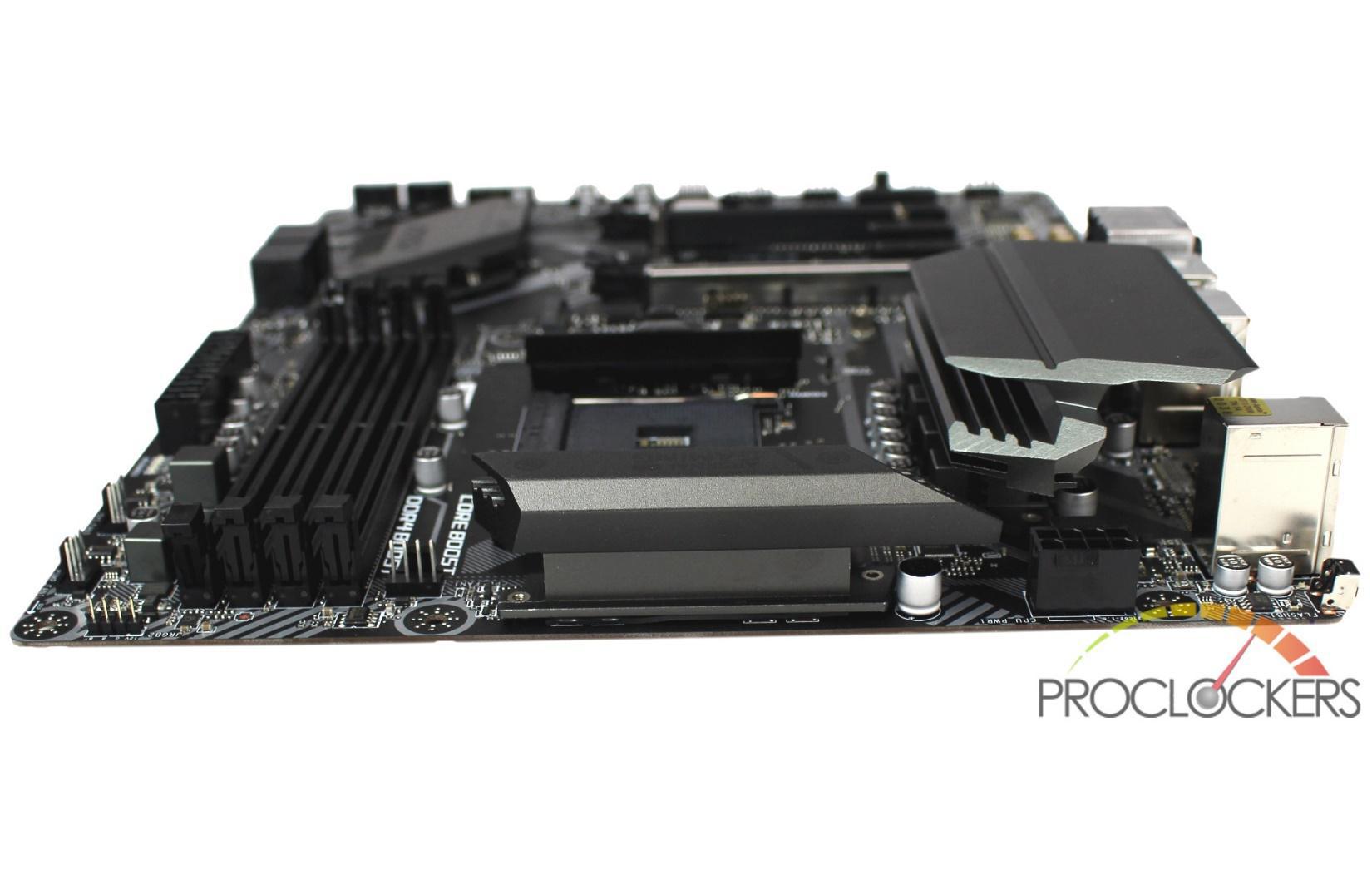 The top edge of the board has 2 fan headers and the 8-pin EPS power connection feeding the CPU.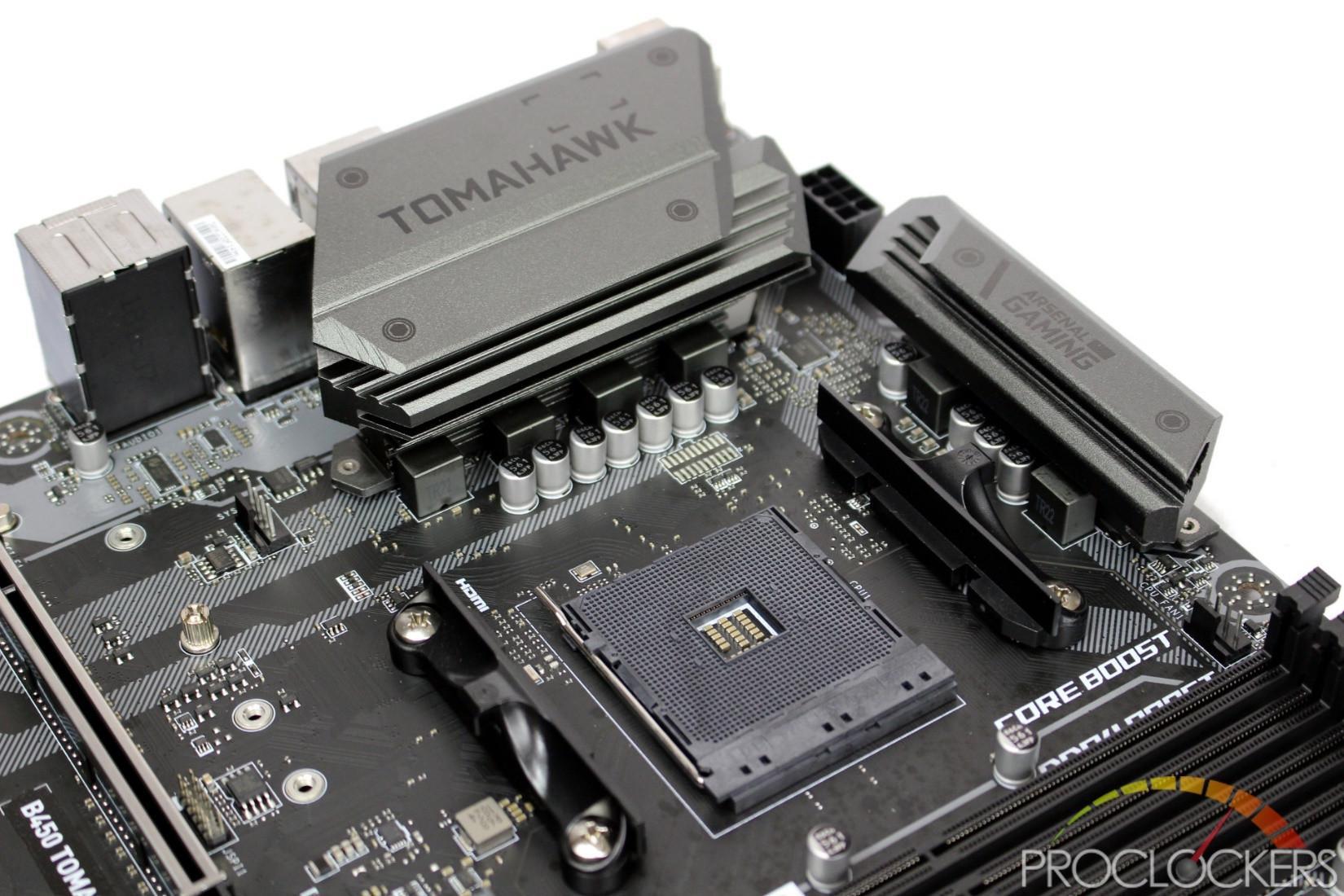 One final picture of the beautiful heatsinks surrounding the CPU.
System Configuration & BIOS
CPU: AMD Ryzen 7 2700X
Motherboard: MSI B450 TOMAHAWK
RAM: 16GB Corsair Dominator Platinum 3200Mhz
GPU: Galax GTX 1070 HOF
SSDs: Samsung 960 PRO 2TB
OS: Windows 10 Professional X64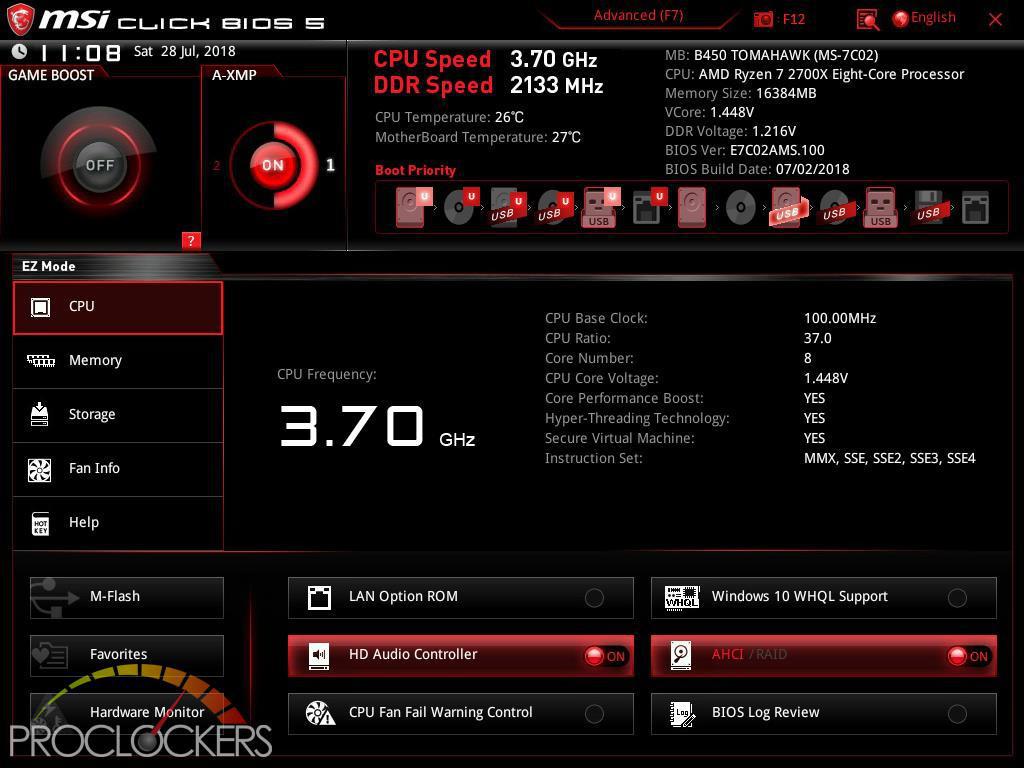 MSI's B450 TOMAHAWKAC starts you out in the EZ Mode side of the UEFI BIOS. From here you have a few basic options under each category on the left, as well as some quick settings along the bottom. The top edge has the Game Boost button, and the A-XMP button to kick your ram into high gear.MSI adds an AMD optimized XMP profile at 2933MHz which is XMP 1. our Corsair kit only has one XMP profile at 3200MHz which is profile 2 here.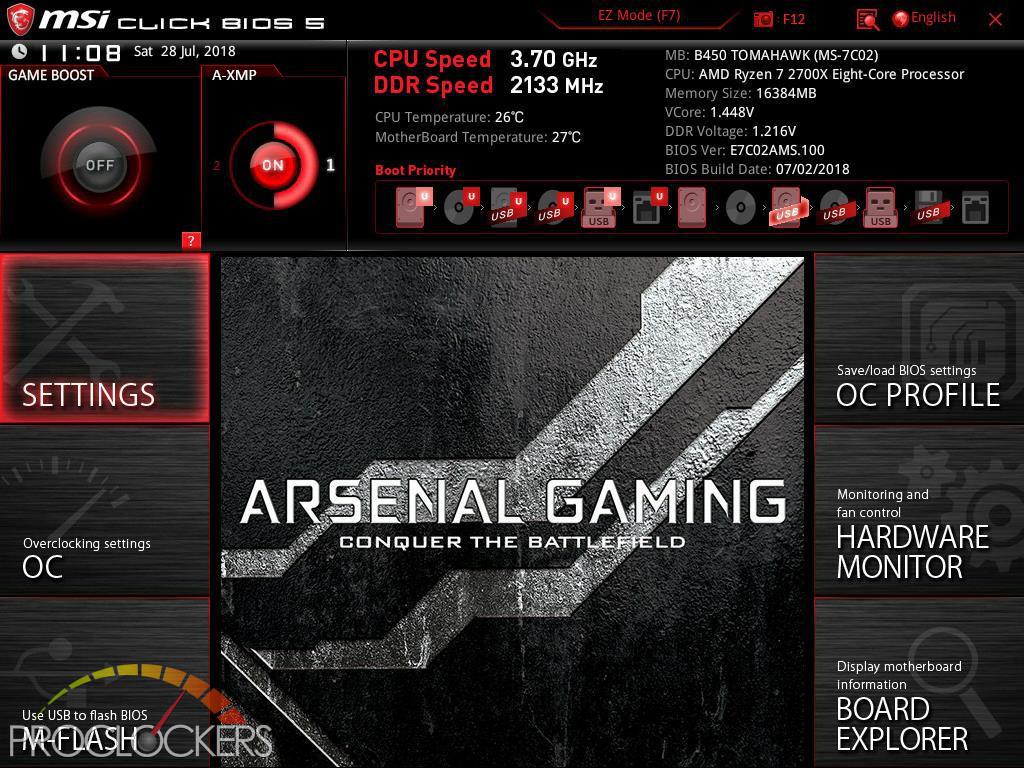 Hitting F7 brings you over to the advanced mode. You are again greeted with an organized layout broken down into a few main areas.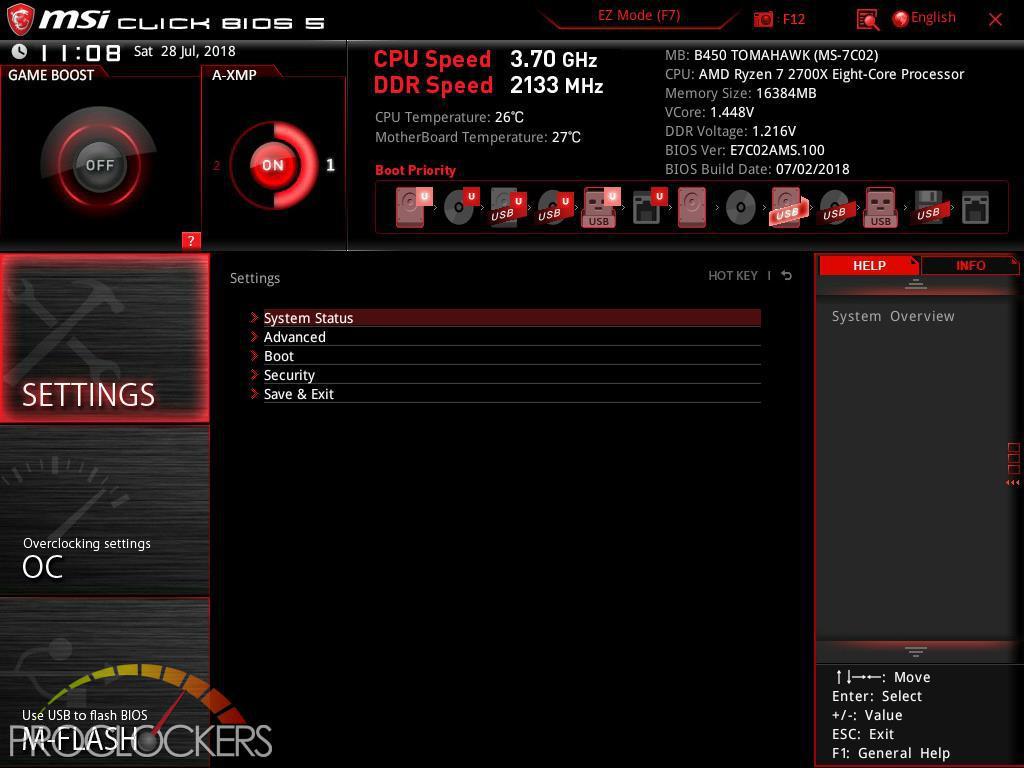 The Settings button gives you this menu where you must choose another sub-menu to dig into settings or to save and exit. F10 still functions as save and Exit though if needed. The M-Flash tool on the lower left corner is about our first stop, as usually we always apply the latest BIOS before testing.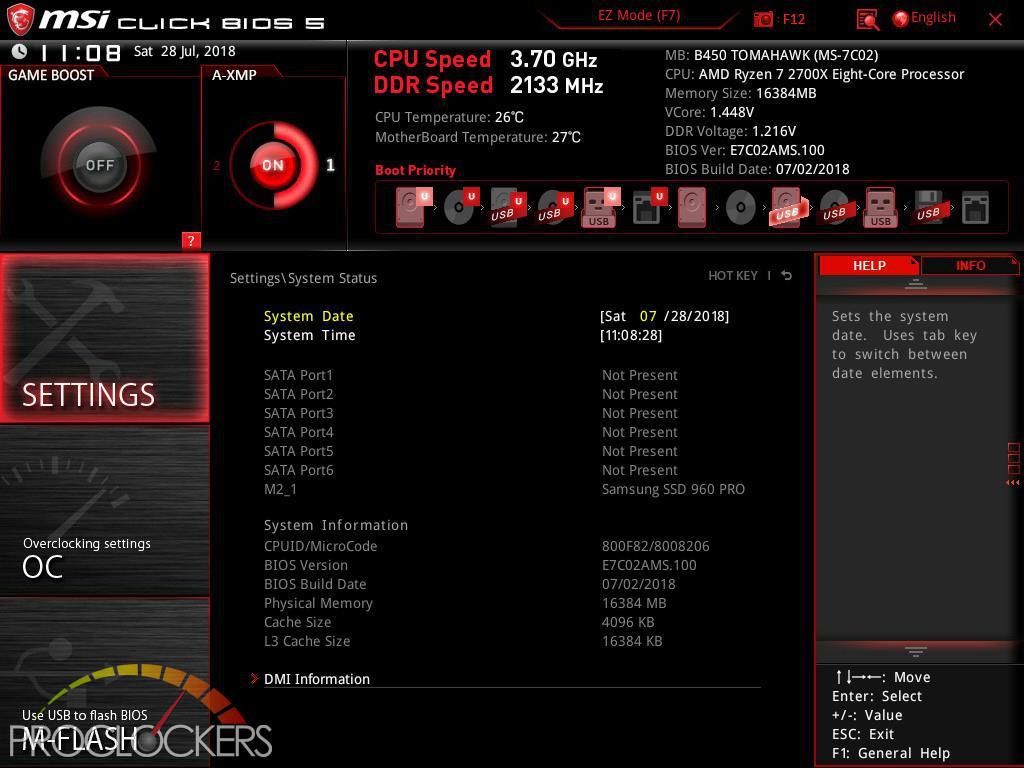 System status and security are pretty self-explanatory, the advanced area has most of the good stuff like integrated peripheral control and power management.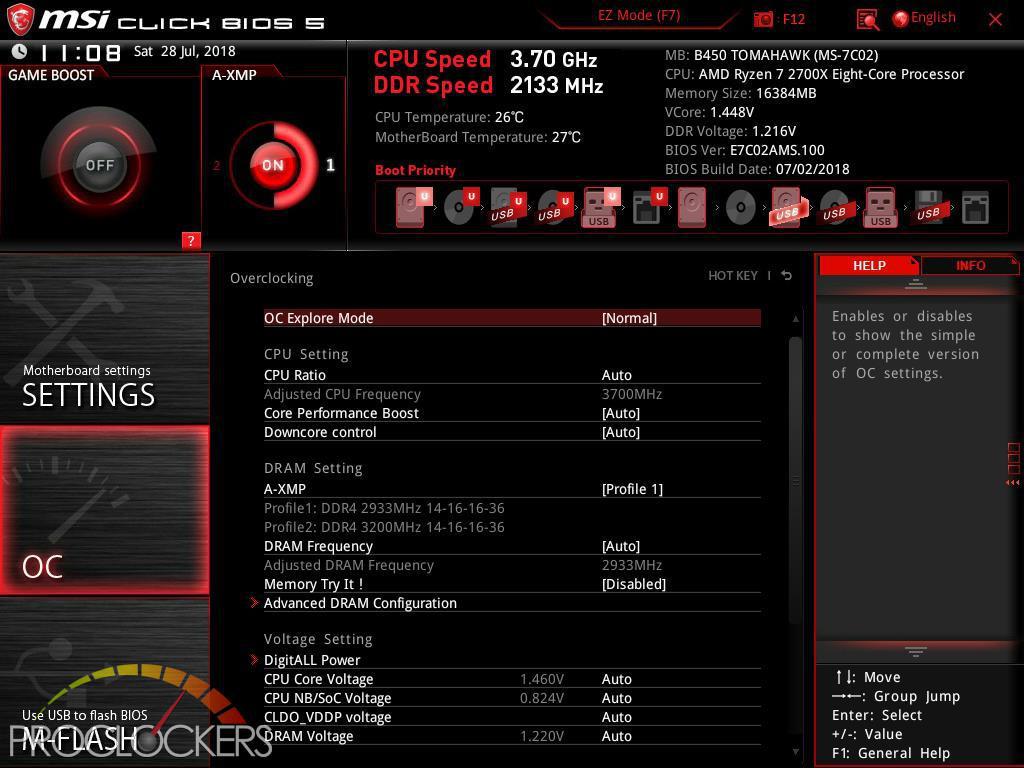 The OC Menu is where things get fun. We'll be tinkering around in here quite a bit later in the review. For the time being, the quick description of the two XMP profiles tells us we need to set profile #2 here.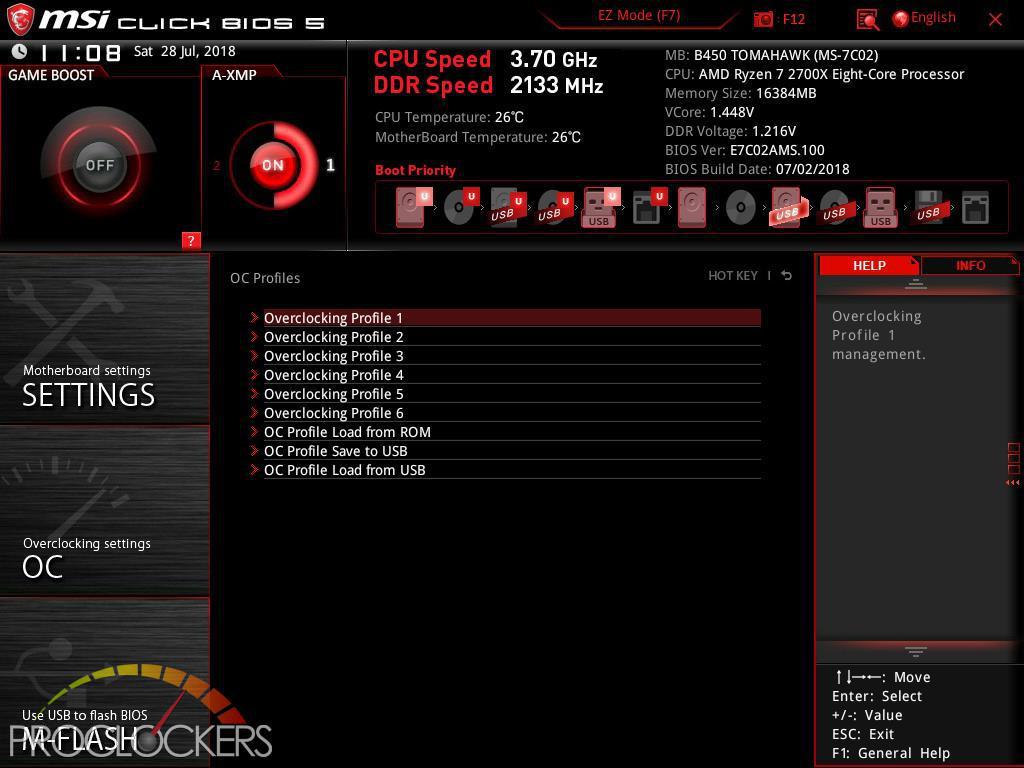 The OC profile section in the top right corner is handy and lets you save up to 6 profiles to the BIOS, as well as save and restore them from a USB stick.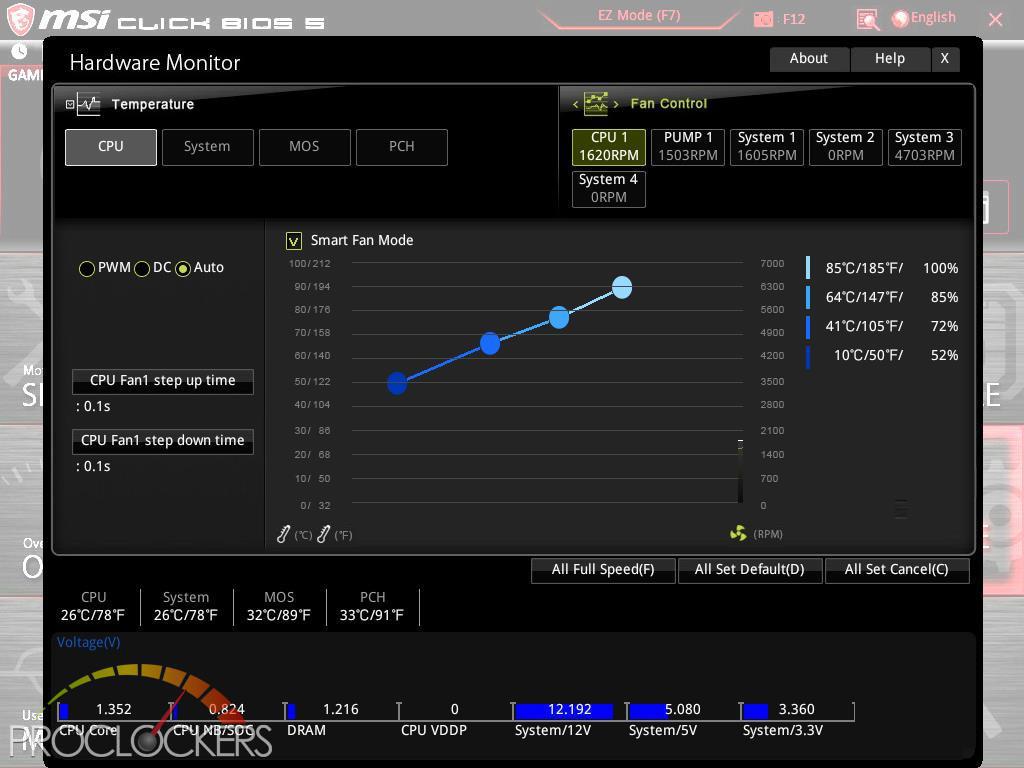 The Hardware Monitor shows you everything you need to see about your system, as well as gives you control of the fans.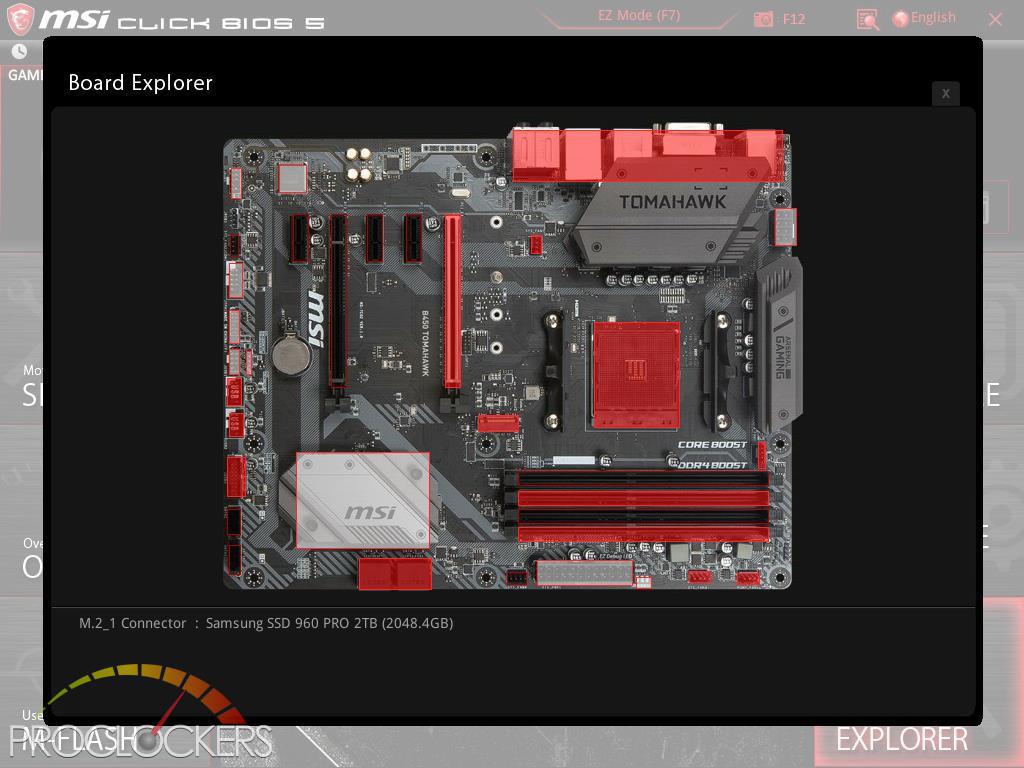 The board explorer shows you everything installed or connected to your board, as well as some quick info about each one just by hovering over it when highlighted red, in this case, our Samsung 960 Pro drive installed in the M.2 slot.
Software

One of the most annoying parts of a new build can be tracking down all the drivers and software you need. MSI makes this incredibly easy on their boards with the MSI App Manager. Simply load this up, and let it download and install everything else.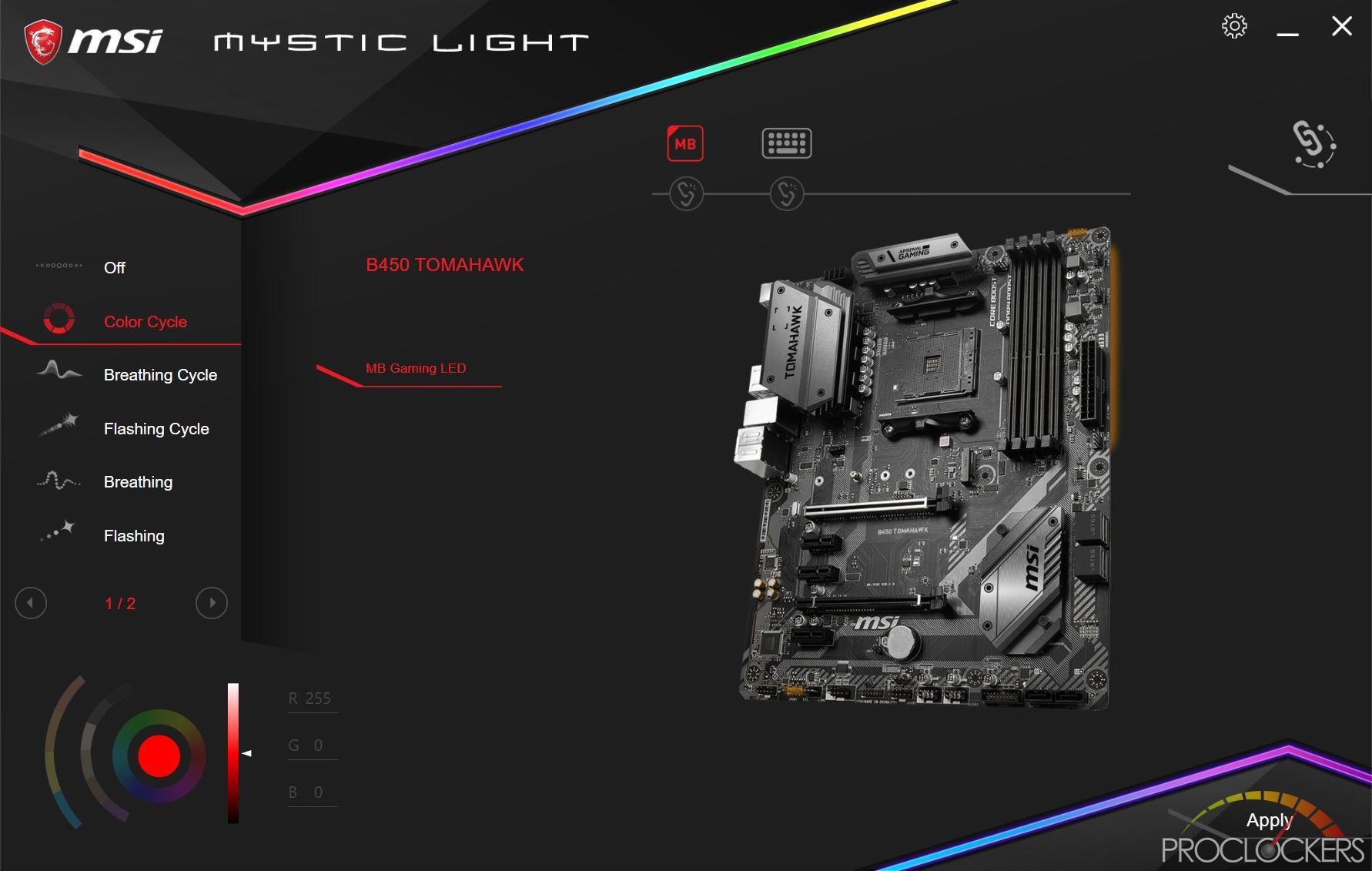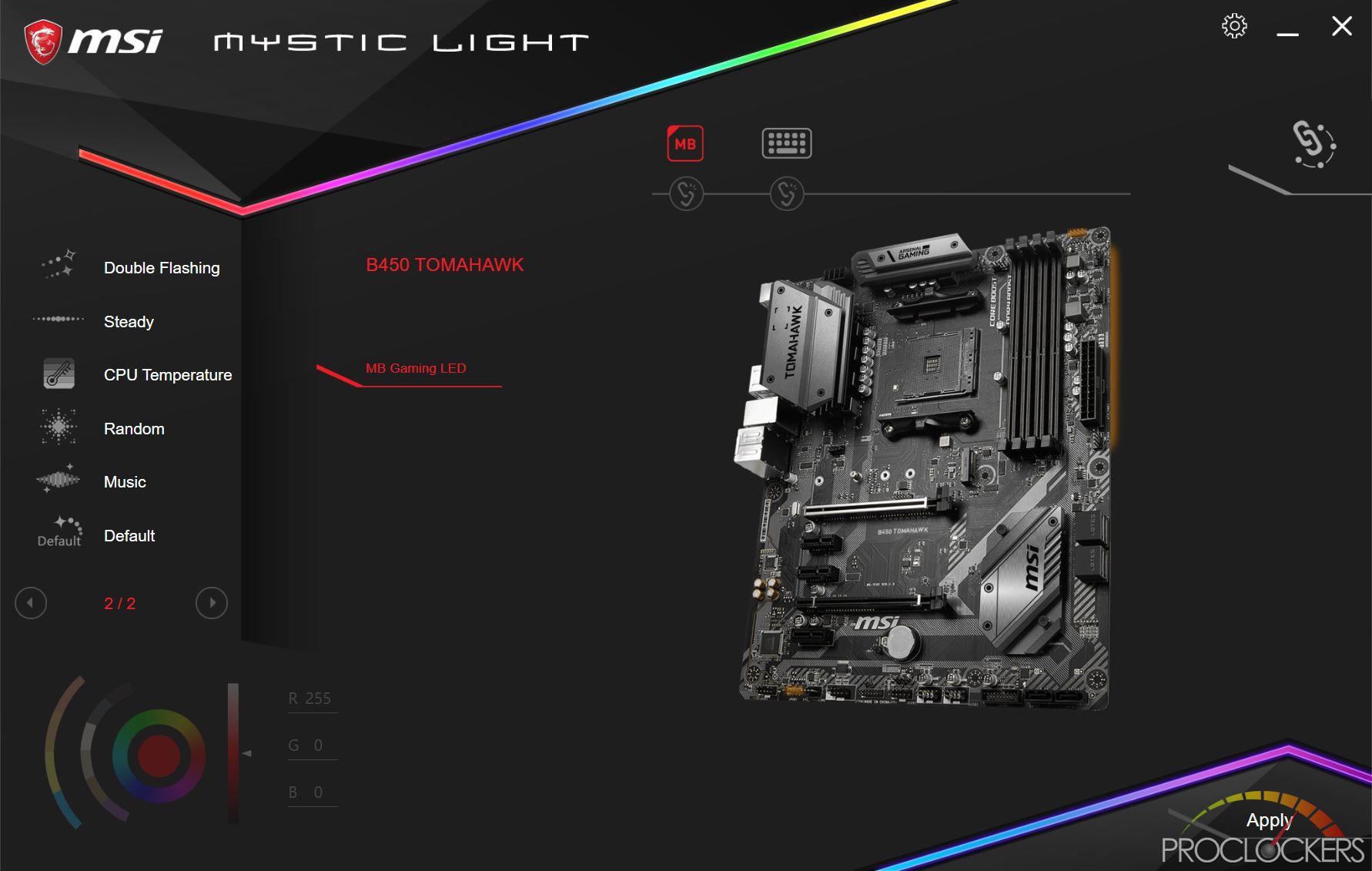 Mystic Light lets you control the onboard RGB lighting as well as that connected to headers. You can also control most connected devices such as peripherals. Mystic Light picked up and let us control our G.Skill keyboard here with no issue.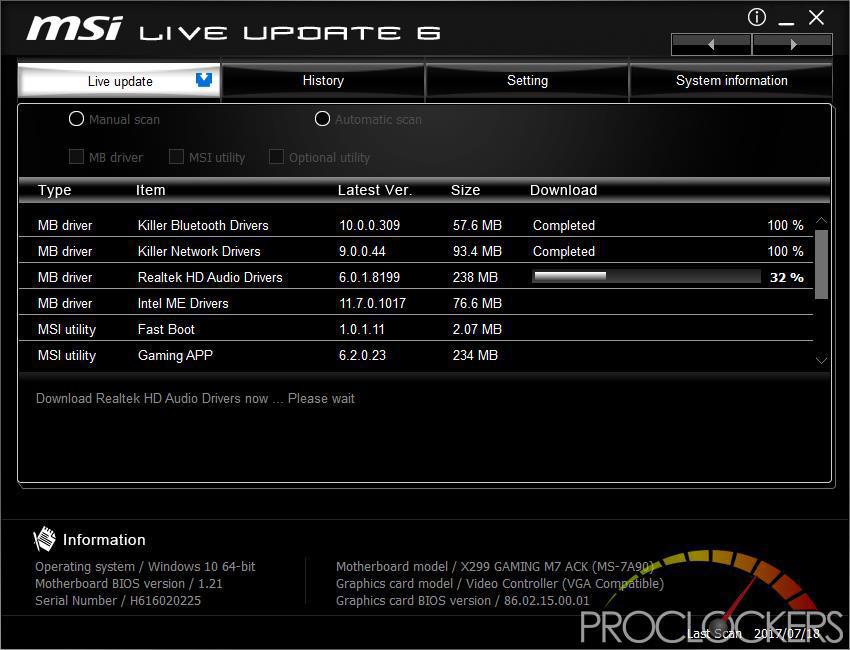 Once you let App Manager install Live Update 6, you can turn around and use it to install all the missing drivers, as well as update the ones Windows managed to find on its own. Simply click the 'Total Install' button and get everything all in one clean sweep.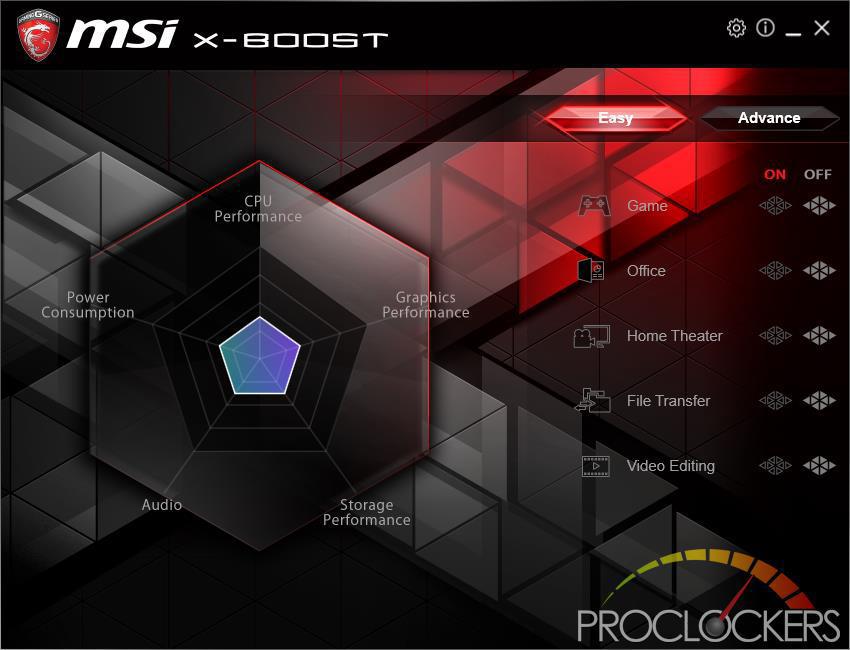 Another great piece of software is MSI's X-Boost. This software package allows you to select different performance profiles for your machine depending on what you are doing.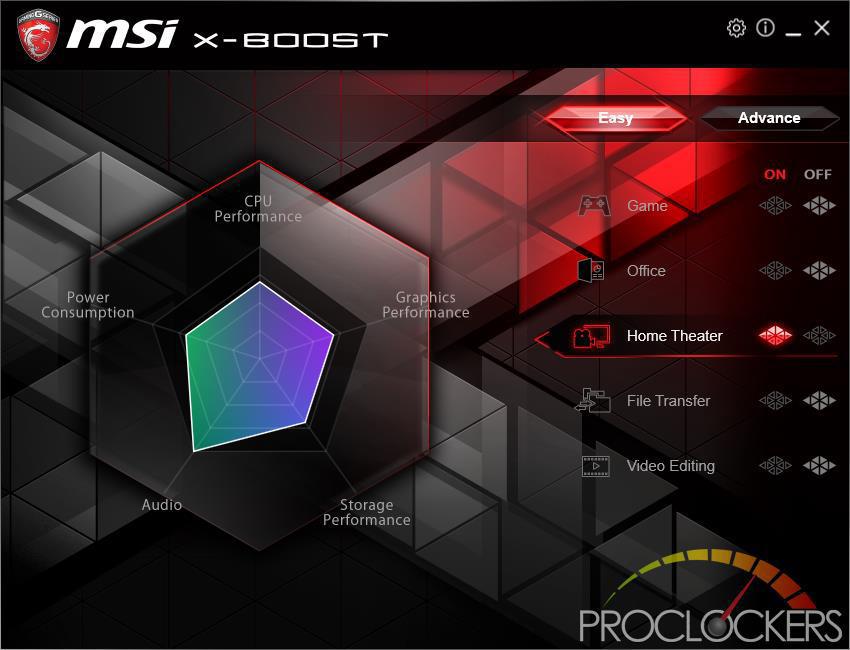 Home Theater, for example, maxes out your Audio performance and gives slight boosts to CPU, GPU, and storage performance. By proxy, this also increases power consumption a bit which is also indicated.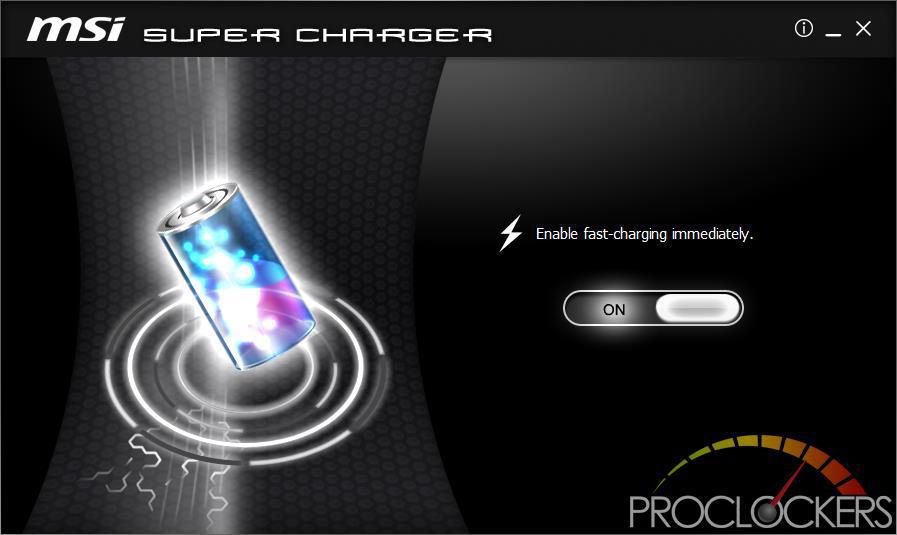 If you frequently use your computer as a power source for charging your phone or tablet, MSI's Super Charger app will kick a few specific USB ports on your machine into high gear for fast charging your devices.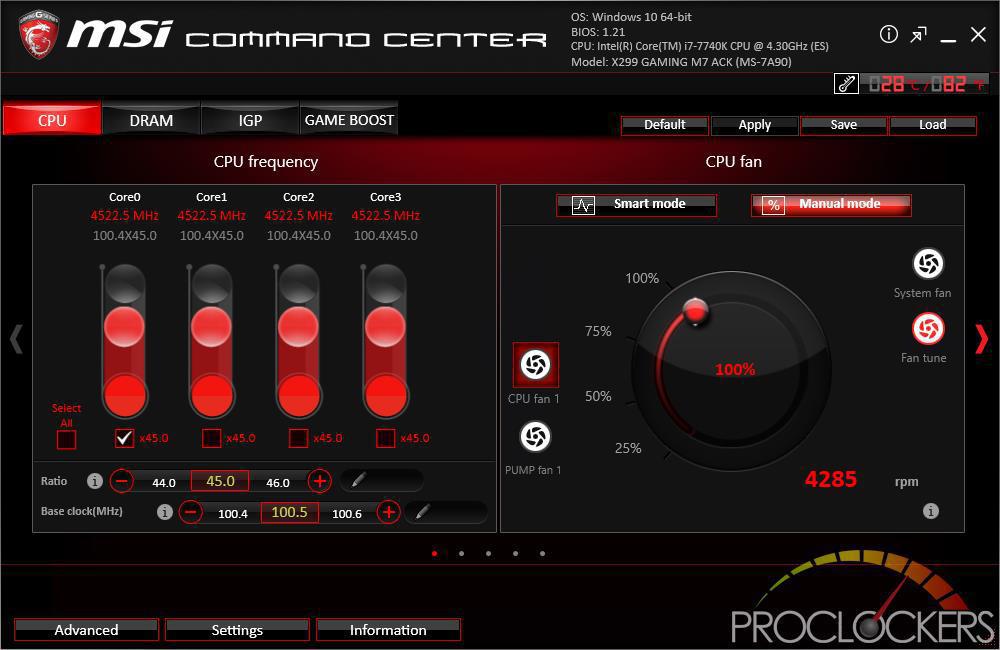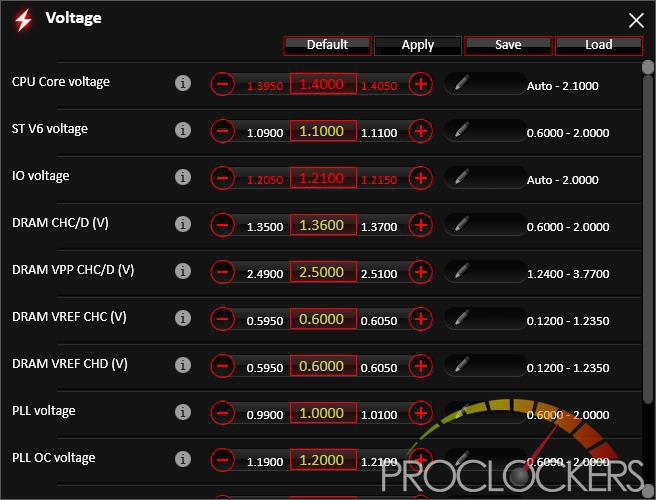 Nearly every important voltage can be tweaked from the Command Center as well, here was during an overclocking run so a few voltages are elevated above normal.
The last important piece of software we'll cover is the Command Center. This brings most of the important overclocking features from the BIOS right into Windows with you from clock speeds to voltages to fan control.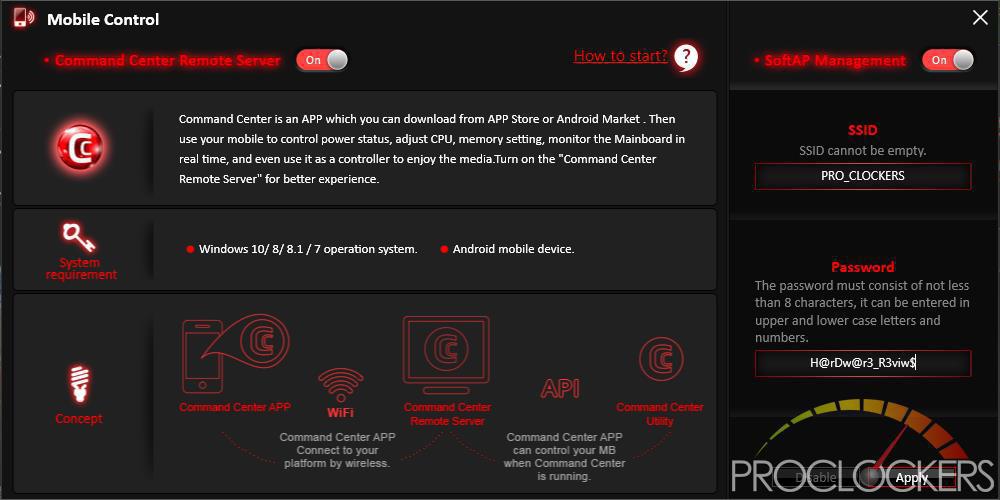 If you are part of the Android crowd, you can run the mobile version of the Command Center from your Android device and adjust your computer's clocks on the fly, even while in game.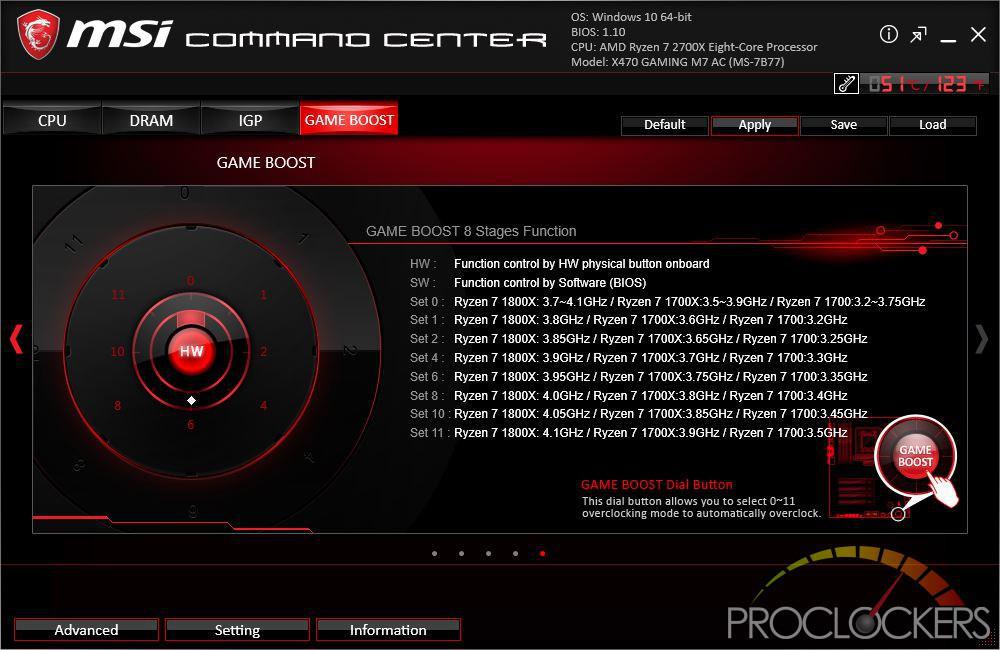 Also in the command center is software access to MSI's Game Boost feature where you can quite literally crank it to '11'. The dial on the board is quite handy until you put the door back on your case, so software access to this feature is nice. As with all automatic overclocking features on any brand or board, top overclocks will be highly dependent on the 'silicon lottery' and how decent a piece of silicon your particular CPU is. Just because there is a very high preset doesn't mean every single CPU can do it. Interestingly, it hasn't been updated to show set points for the 2nd generation CPUs yet.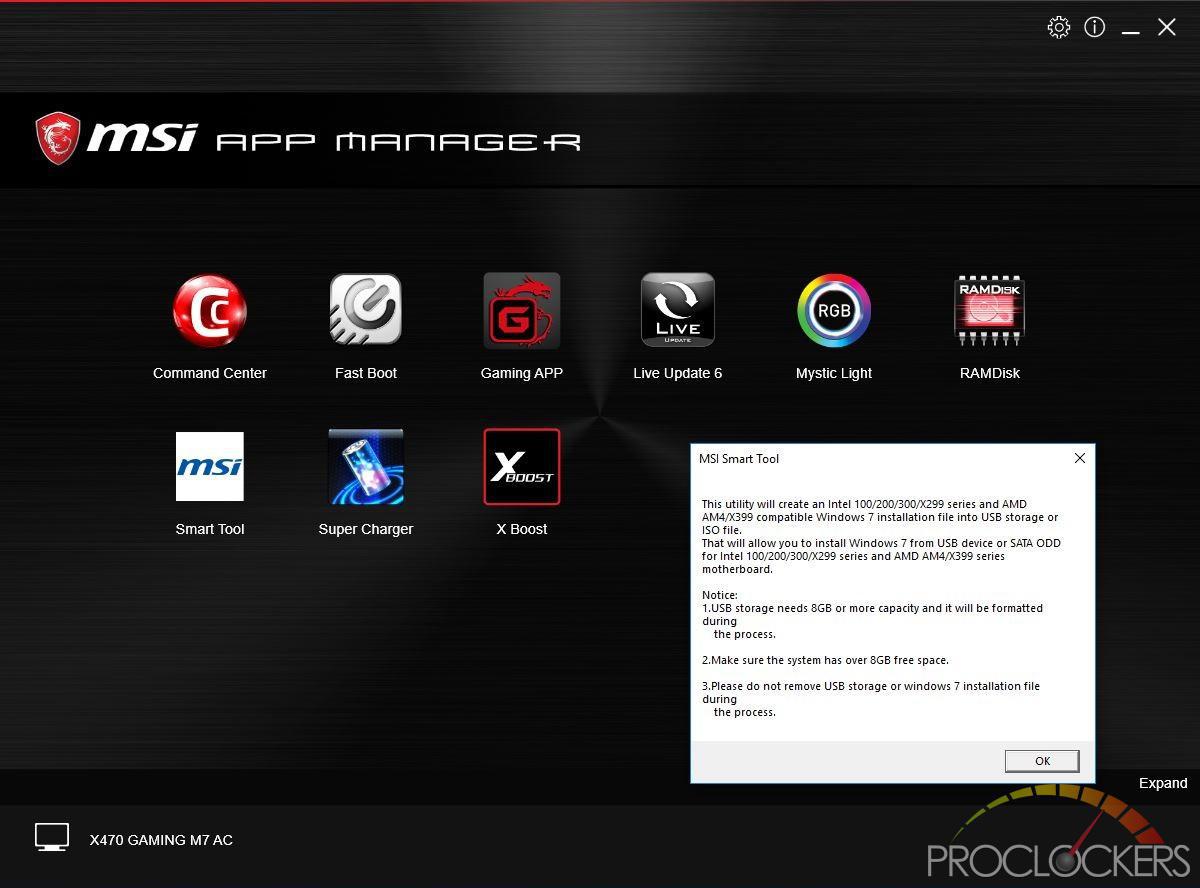 The Last one on the list is MSI's smart tool. This will allow you to create Windows 7 installation media that will work with modern platforms Microsoft doesn't want you using it on.
Performance Testing
All benchmarks are run using stock settings on the CPU, which leaves XFR2 enabled for some automatic boosting. We set our ram to its XMP rated speeds of 3200MHz @ 16-18-18-38. Games where ran at a resolution of 1920 x 1080 and higher presets used as indicated.
General Performance Testing
Futuremark PCMark 10
Principled Technologies WebXPRT 2015
Passmark Performance Test 9.0
CPU Performance
Super Pi – Mod 1.5
Cinebench R15
7-zip
Memory Performance
AIDA64
Passmark – Memory Mark
SiSoft Sandra
Storage Performance
CrystalDiskMark 6.0.0
ATTO Disk Benchmark
AS SSD Benchmark
Synthetic Gaming Performance
Futuremark 3DMark Firestrike
Futuremark 3DMark Timespy
Real Gaming Performance
Grand Theft Auto V
Far Cry 5
Metro: Last Light
Deus Ex: Mankind Divided
PCMark 10
PCMark 10 is the complete benchmark for the modern office. It is the ideal test for organizations that are evaluating PCs for a workforce with a range of performance needs. The tests in this benchmark cover a wide range of activities from everyday productivity tasks to demanding work with digital media content.
PCMark 10 uses a modular approach to build relevant benchmark tests around common end-user scenarios. A Test Group is a collection of workloads that share a common theme or purpose. There are four test groups in PCMark 10, we use three of them. Essentials: covers the common, everyday ways that people use a PC. The workloads include Web Browsing, Video Conferencing, and App Start-up time. Productivity: measures system performance with everyday office applications. This test group includes the Spreadsheets and Writing workloads. Digital Content Creation: This test group's workload reflects the demands of working with digital content and media. The tests include Photo Editing, Video Editing, and Rendering and Visualization.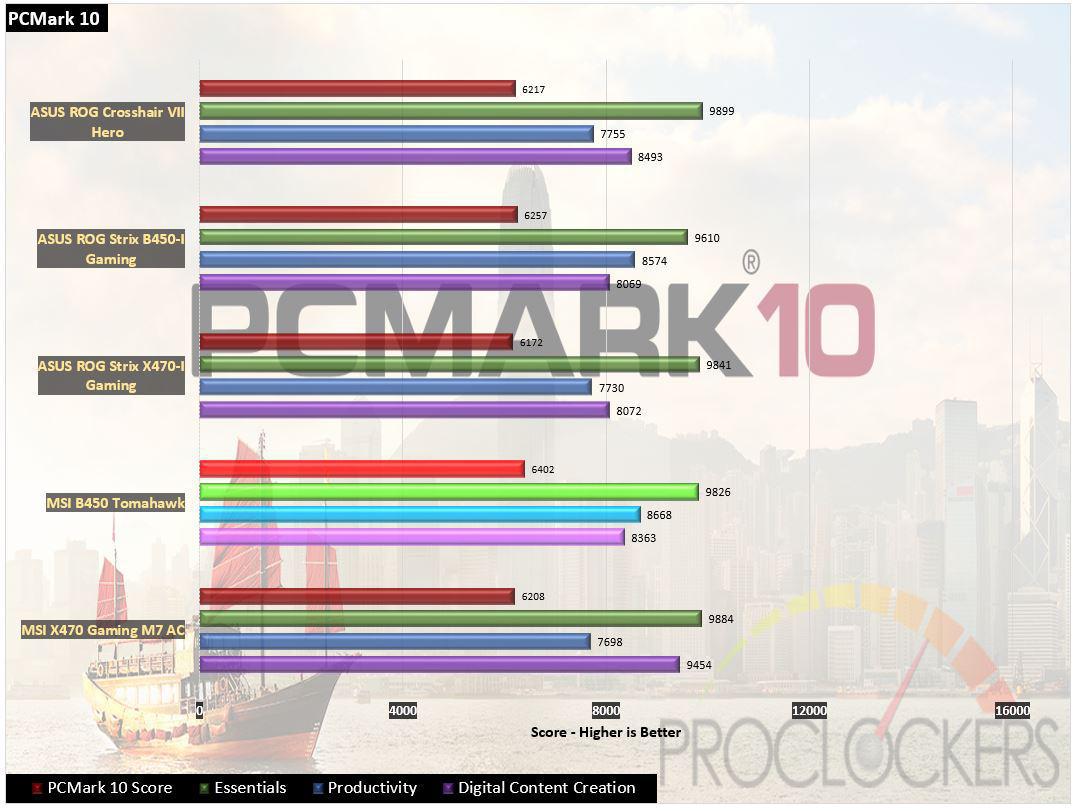 Given this is a more affordable mainstream level board, you expect it to get trounced by the higher end X470 offerings but that isn't quite the case here.
WebXPRT 2015
WebXPRT 2013 uses scenarios created to mirror the tasks you do every day to compare the performance of almost any Web-enabled device. It contains four HTML5- and JavaScript-based workloads: Photo Effects, Face Detect, Stocks Dashboard, and Offline Notes. WebXPRT is run with the latest stable release version of Google Chrome browser, in this case, Version 61.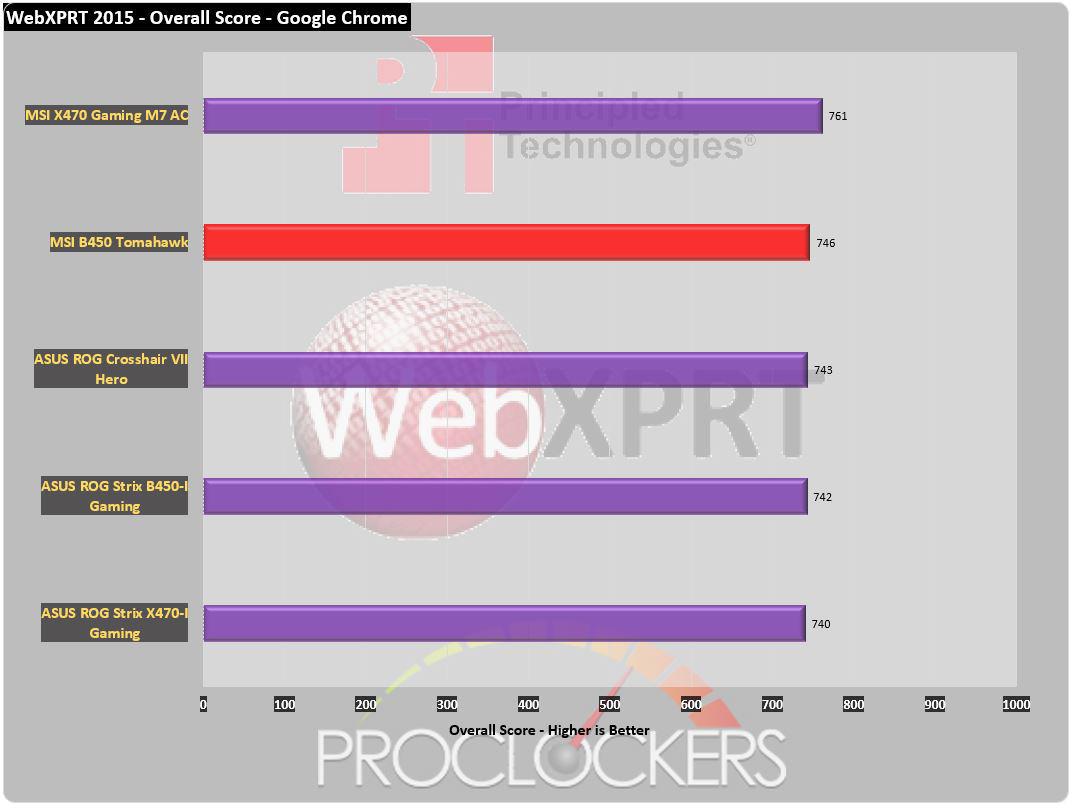 In the browser-based WebXPRT 2015, the B450 Tomahawk does really well, only loosing out to the X470 Gaming M7.
PassMark PerformanceTest 9
Fast, easy to use, PC speed testing and benchmarking. PassMark PerformanceTest allows you to objectively benchmark a PC using a variety of different speed tests and compare the results to other computers.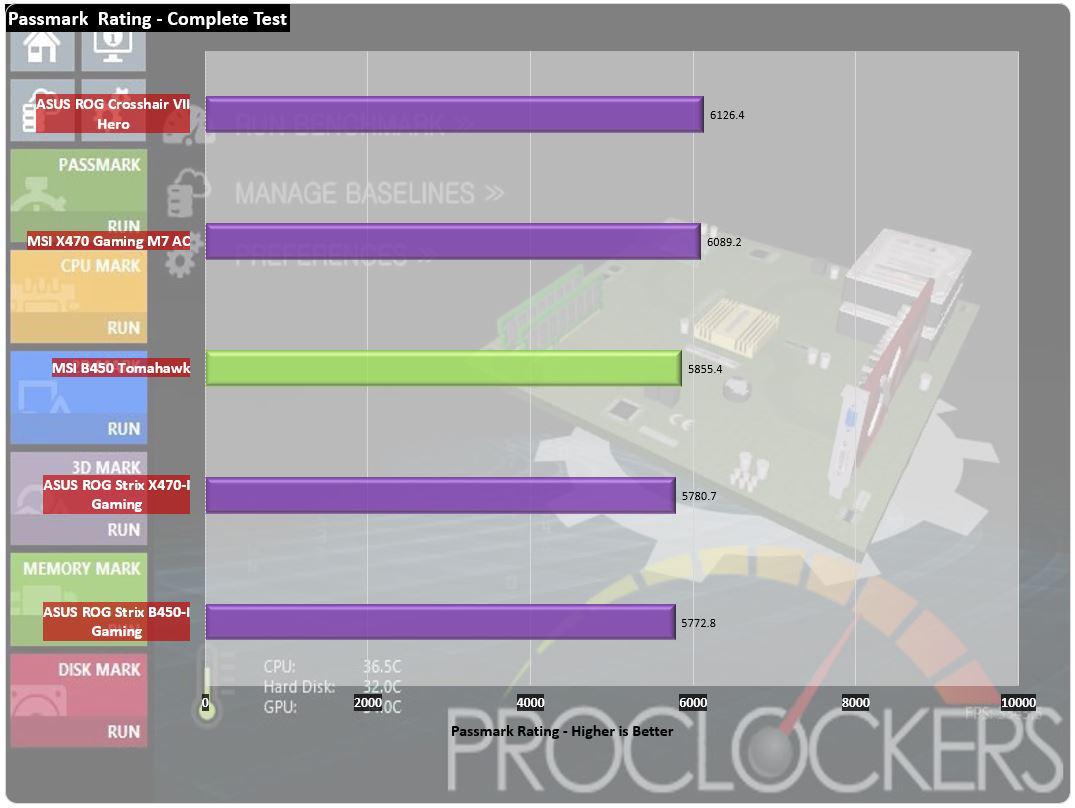 It's always interesting to see complete system scores land where you don't expect them. B450 doesn't seem to hold the Tomahawk back in the least.
CPU Performance Testing
Super PI Modded 1.5
"In August 1995, the calculation of pi up to 4,294,960,000 decimal digits was succeeded by using a supercomputer at the University of Tokyo. The program was written by D.Takahashi in collaboration with Dr.Y.Kanada at the computer center. This record should be the current world record. (Details are shown in the windows help.) This record-breaking program was ported to personal computer environments such as Windows NT and Windows 95. In order to calculate 33.55 million digits, it takes 3 days with a Pentium 90 MHz, 40 MB main memory and 340 MB available storage."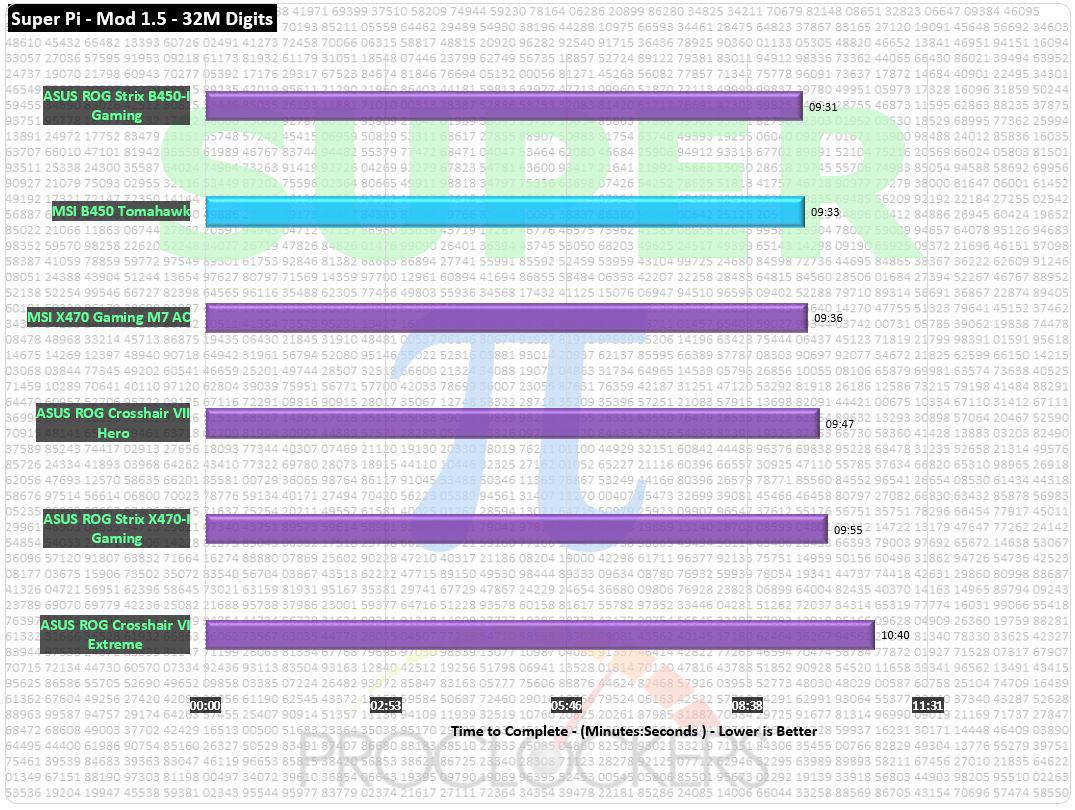 Even hitting only a single core, Super Pi slides into the finish line at 9 minutes and a shade under 33 seconds, one of our best Ryzen times to date.
CINEBENCH R15
"CINEBENCH is a real-world cross platform test suite that evaluates your computer's performance capabilities. CINEBENCH is based on MAXON's award-winning animation software CINEMA 4D, which is used extensively by studios and production houses worldwide for 3D content creation. MAXON software has been used in blockbuster movies such as Iron Man 3, Oblivion, Life of Pi or Prometheus and much more. CINEBENCH is the perfect tool to compare CPU and graphics performance across various systems and platforms (Windows and OS X). And best of all: It's completely free."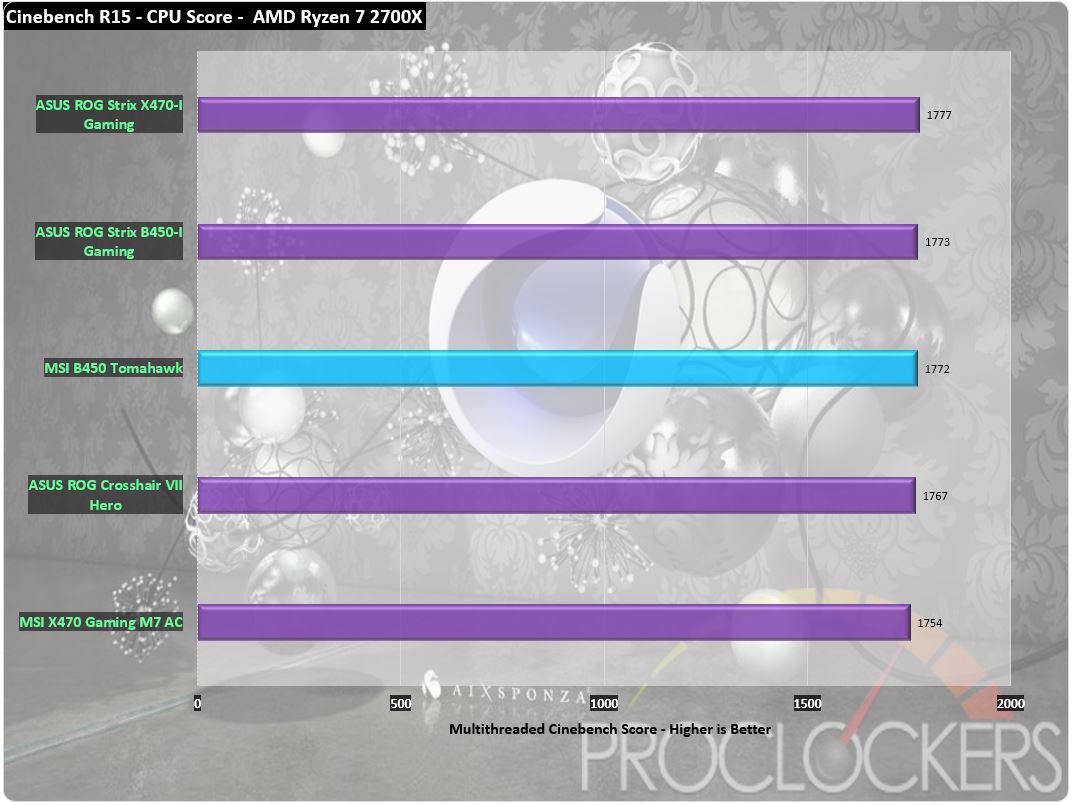 Even with all cores in play, the B450 Tomahawk misses first place by a mere 5 points.
7-Zip
The benchmark shows a rating of MIPS (million instructions per second). The rating value is calculated from the measured speed, and it is normalized with results of Intel Core 2 CPU with multi-threading option switched off. So if you have modern CPU from Intel or AMD, rating values in single-thread mode must be close to real CPU frequency. There are two tests, compression with LZMA method and decompression with LZMA method. Once the total passes reach 100, the score is taken.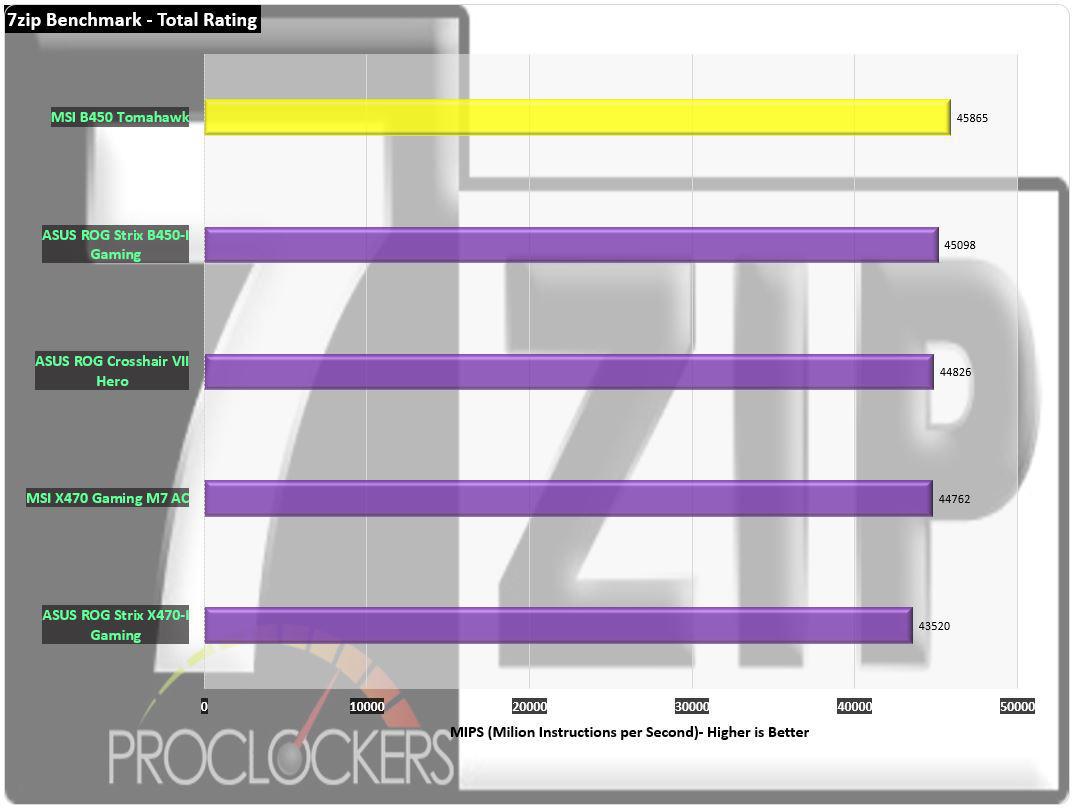 On 7zip it makes it to gold with a score of nearly 46k points.
Memory Performance Testing
AIDA64 Engineer Edition
"FinalWire Ltd. today announced the immediate availability of AIDA64 Extreme Edition 1.50 software, a streamlined diagnostic and benchmarking tool for home users; and the immediate availability of AIDA64 Business Edition 1.50 software, an essential network management solution for small and medium scale enterprises. The new AIDA64 update implements AVX-optimized benchmarks for the upcoming Intel Sandy Bridge processors, adds a brand-new video encoding benchmark, and supports the latest AMD and NVIDIA graphics processors."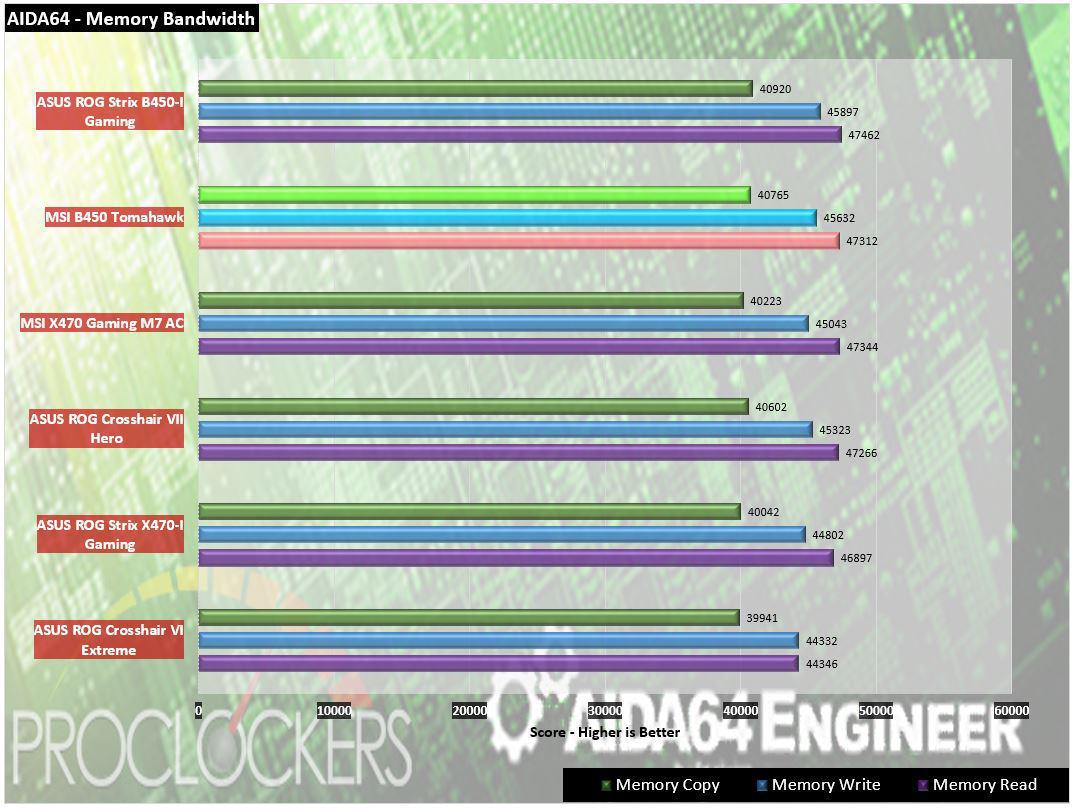 Memory bandwidth is solid, coming in at 47.3GB/s reads, 45.6GB/s writes and copy functions hitting almost 41GB/s.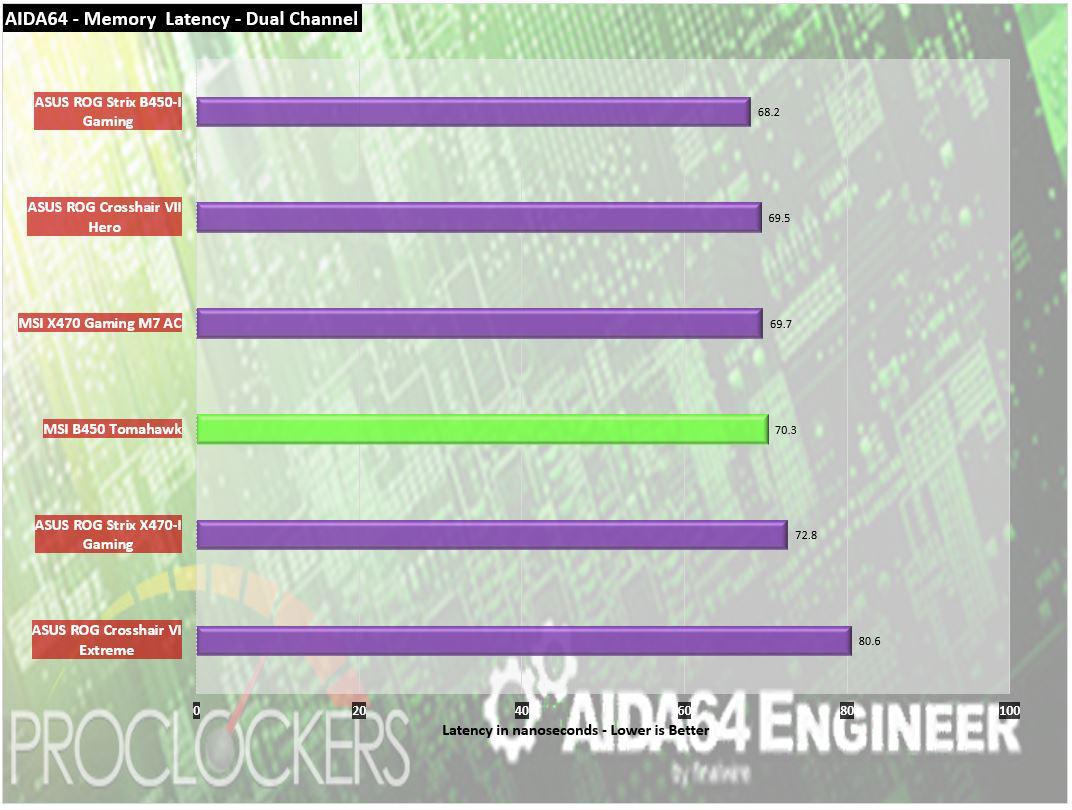 Memory latency is a solid but not class leading 70.3 nanoseconds.
Passmark Performance Test – Memory Mark – Threaded
"Fast, easy to use, PC speed testing and benchmarking. PassMark Performance Test ™ allows you to objectively benchmark a PC using a variety of different speed tests and compare the results to other computers."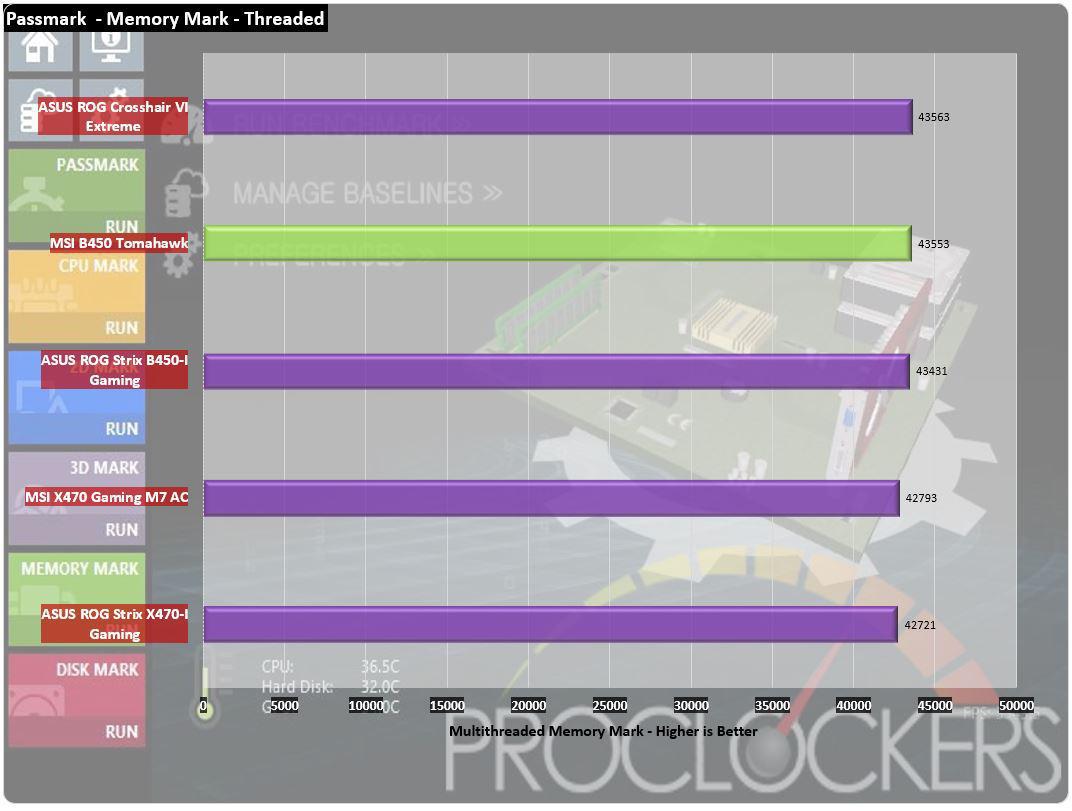 In Passmark, the Tomahawk is 10 points behind the leader on Memory Mark.
SiSoft Sandra
"SiSoftware Sandra provides a robust package of diagnostic tools for testing your system and teasing out its problems–or potential headaches."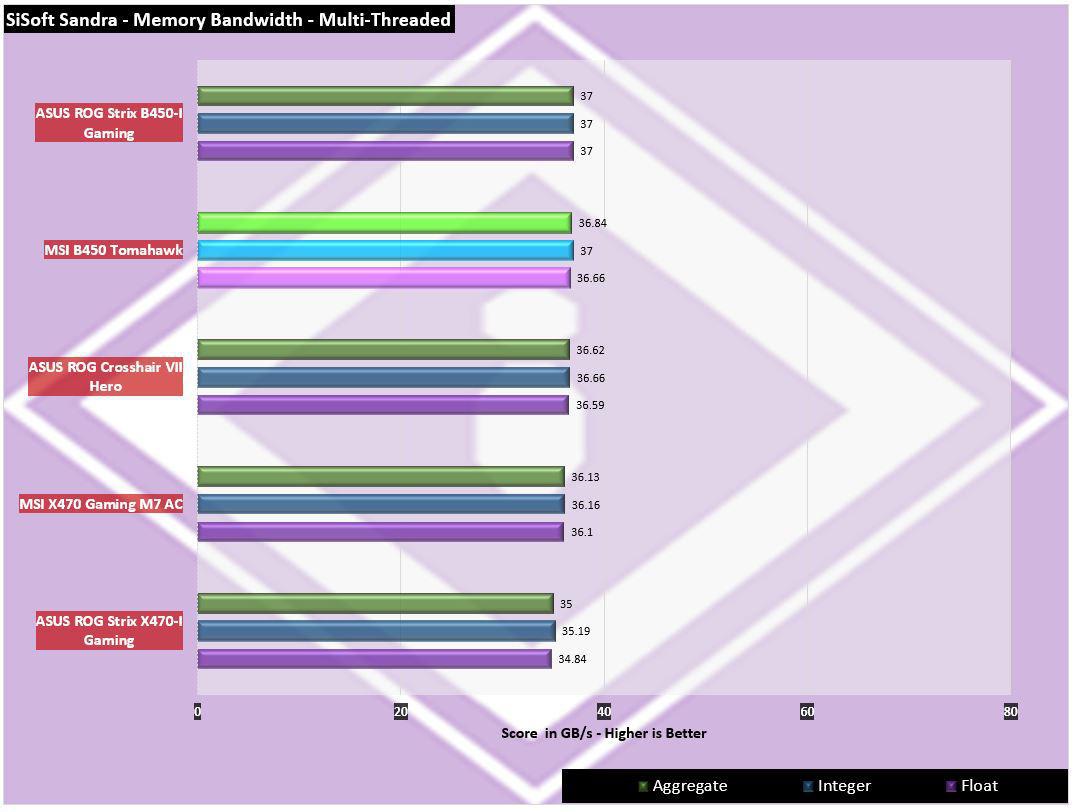 Sisoft Sandra places the Tomahawk second, but still edging out all of the X470 platforms.
Storage Testing
ATTO Disk Benchmark
"As the industry's leading provider of high-performance storage & network connectivity products, ATTO has created a widely-accepted Disk Benchmark freeware utility to help measure storage system performance. As one of the top tools utilized in the industry, Disk Benchmark identifies performance in hard drives, solid state drives, RAID arrays as well as connections to storage. Top drive manufacturers, like Hitachi, build and test every drive using the ATTO Disk Benchmark"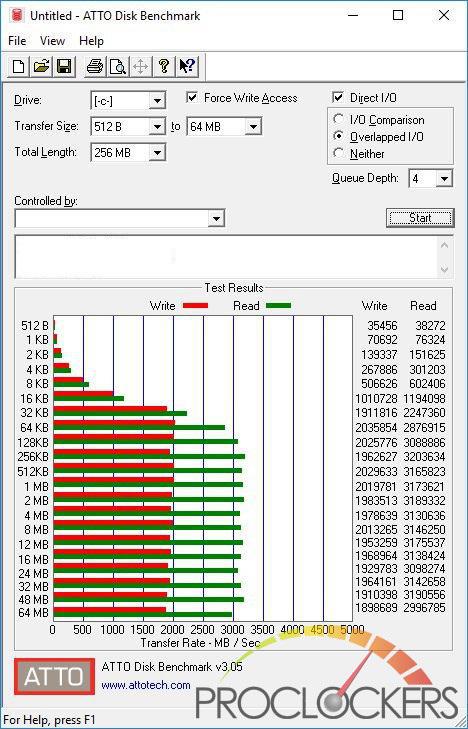 Bandwidth to the M.2 slot is not impacted much as we hit only a few hundred MB/s short of the peak performance of our drive.
CrystalDiskMark 6.0
"CrystalDiskMark is designed to quickly test the performance of your hard drives. Currently, the program allows measuring sequential and random read/write speeds."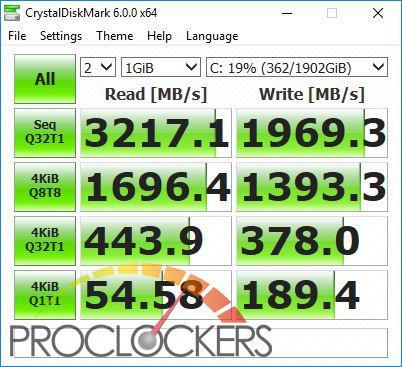 CryatalDiskMark shows about the same numbers as ATTO with sequential reads hitting 3.2GB/s and writes hovering right around the 2GB/s level.
AS SSD
The AS SSD benchmark determines the performance of Solid State Drives (SSD). The tool contains six synthetic and three copy tests. The synthetic tests determine the sequential and random read and write performance of the SSD. These tests are performed without using the operating system cache. In the sequential test, the program measures how long it takes to read and write a 1 GB file. In the 4K test, read and write performance is determined for randomly selected 4K blocks. The 4K-64 Third test is equivalent to the 4K procedure, except that the read and write operations are distributed to 64 threads. This test should show differences between the IDE operating mode where NCQ is not supported and the AHCI mode for SSDs with Native Command Queuing (NCQ). The additional compression test can measure the performance of the SSD as a function of the compressibility of the data. This is especially important for the controllers that are used to increase the performance and life of the cell compression.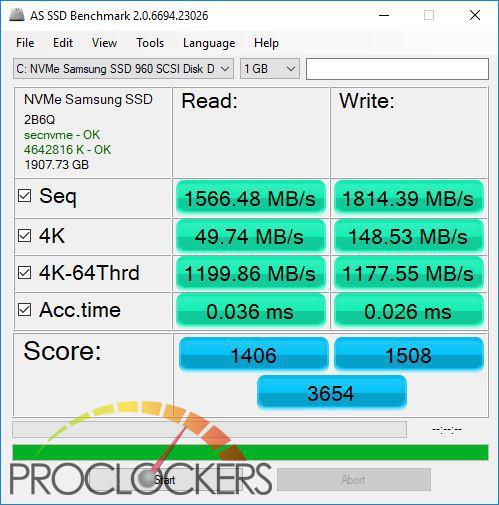 AS SSD shows a hair lower on reads than normal, but it has a different testing methodology than the other programs.
Synthetic Game Testing
3DMark – Fire Strike
"Fire Strike is a showcase DirectX 11 benchmark designed for today's high-performance gaming PCs. It is our most ambitious and technical benchmark ever, featuring real-time graphics rendered with detail and complexity far beyond what is found in other benchmarks and games today"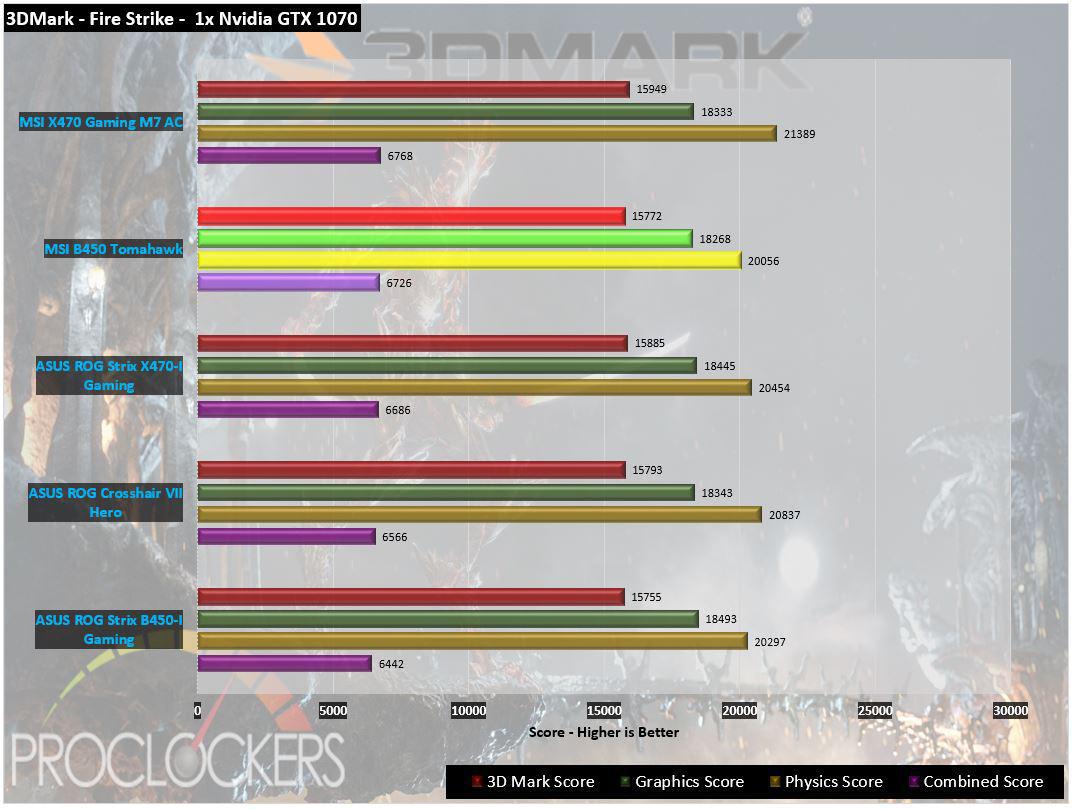 For a gaming oriented board, the Tomahawk doesn't disappoint.
3DMark – Time Spy
"3Dmark Time Spy is a new DirectX 12 benchmark test for Windows 10 gaming PCs. Time Spay is one of the first DirectX 12 apps to be built "the right way" from the ground up to fully realize the performance gains that the new API offers. With DirectX 12 engine, which supports new API features like asynchronous compute, explicit multi-adapter, and multi-threading, Time Spy is the ideal test for benchmarking the latest graphics cards."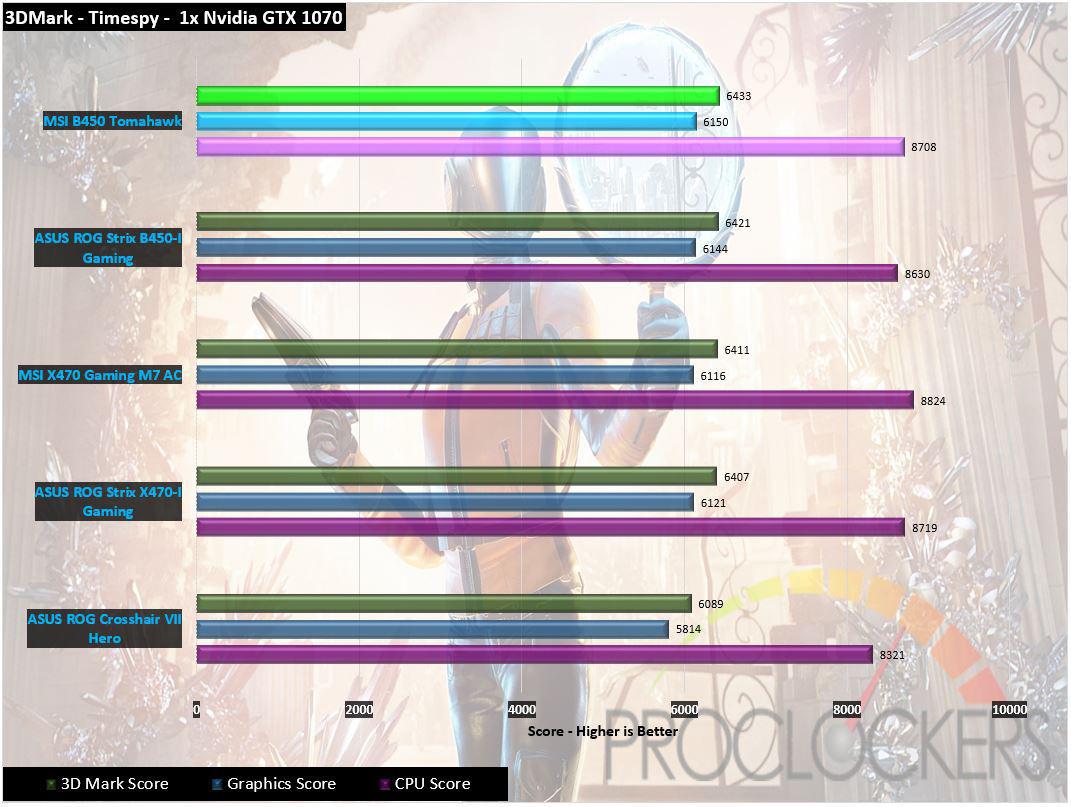 Timespy actually claims first place here on the Tomahawk. Budget what?
Real Gaming Performance
Grand Theft Auto V
"When a young street hustler, a retired bank robber, and a terrifying psychopath find themselves entangled with some of the most frightening and deranged elements of the criminal underworld, the U.S. government and the entertainment industry, they must pull off a series of dangerous heists to survive in a ruthless city in which they can trust nobody, least of all each other."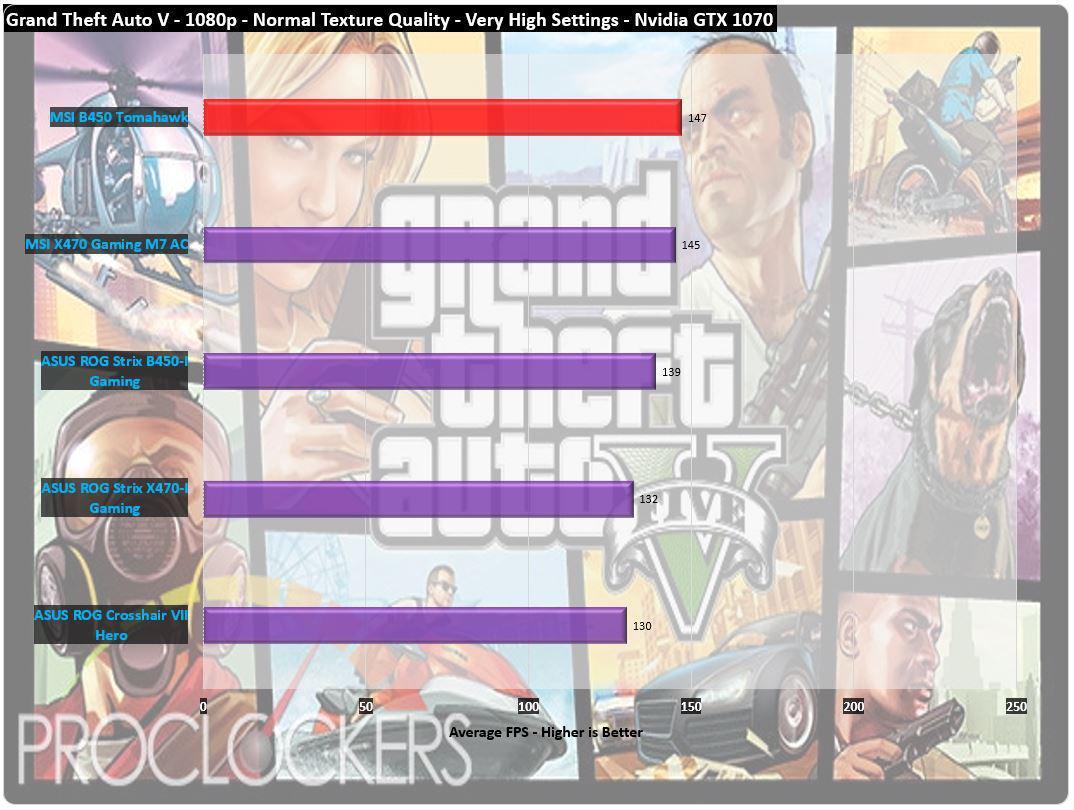 Synthetics tests paint a good picture, but real-world testing of games has to do good too and we are off to a great start with Grand Theft Auto V.
Far Cry 5
Anything can happen. Everything will.
Welcome to Hope County, Montana, land of the free and the brave, but also home to a fanatical doomsday cult—known as The Project at Eden's Gate—that is threatening the community's freedom. Stand up to the cult's leaders, Joseph Seed and the Heralds, as you spark the fires of resistance that will liberate the besieged community.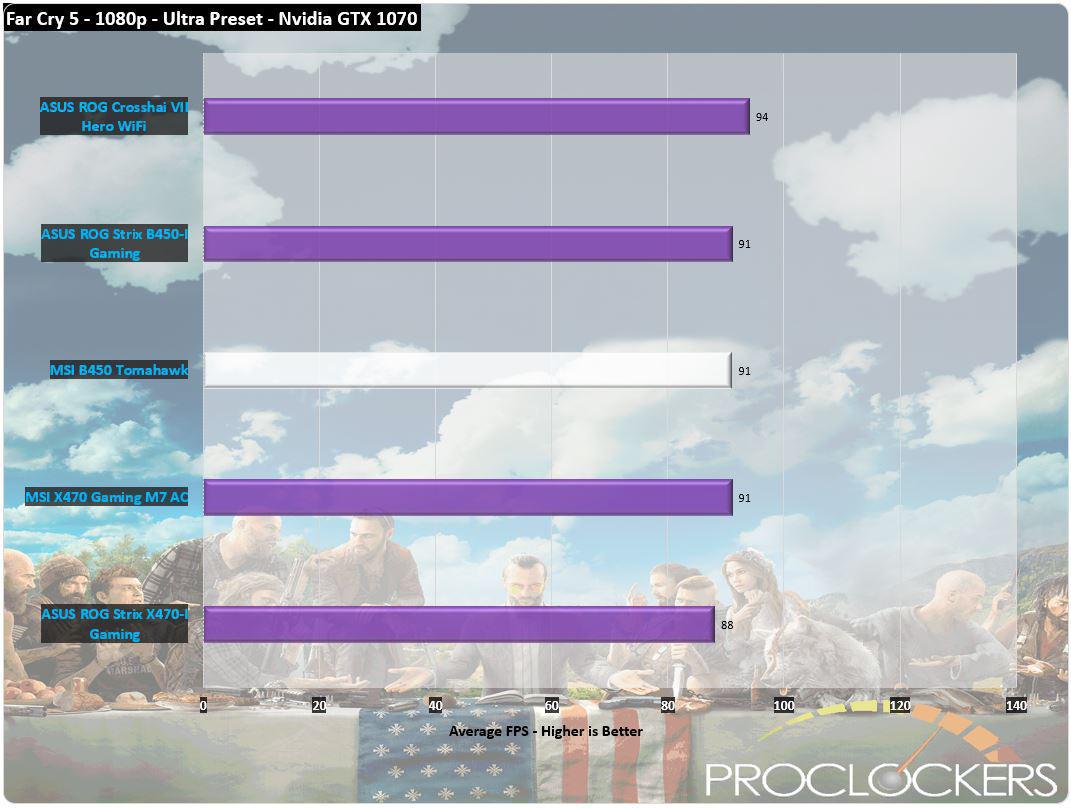 Far Cry 5 also shows solid performance with a solid 91 FPS.
Metro: Last Light
"It Is the Year 2034. Beneath the ruins of post-apocalyptic Moscow, in the tunnels of the Metro, the remnants of mankind are besieged by deadly threats from outside – and within. Mutants stalk the catacombs beneath the desolate surface, and hunt amidst the poisoned skies above."
Developed by 4A Games and published by Deepsilver, Metro: Last Light uses the 4A game engine. At its highest settings, the 4A game engine is capable of bringing all but the most extreme gaming systems to their knees.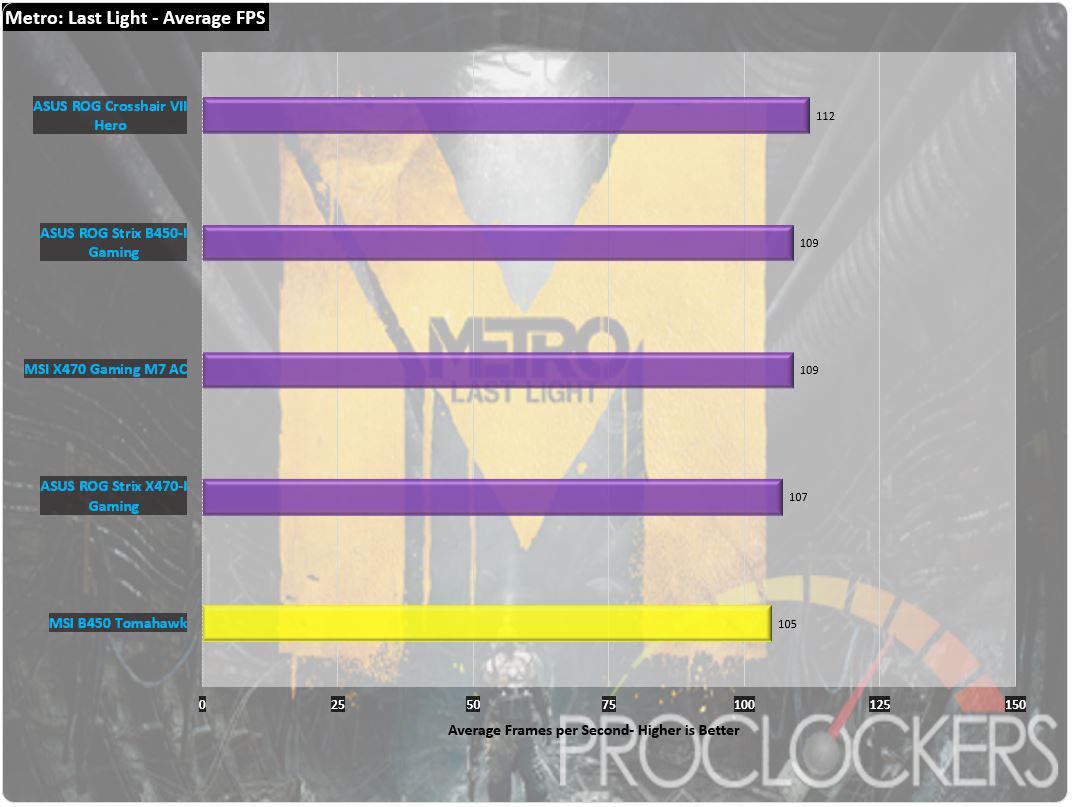 On Metro: Last Light, the Tomahawk does decent, but doesn't quite lead the pack.
Dues Ex: Mankind Divided
The year is 2029, and mechanically augmented humans have now been deemed outcasts, living a life of complete and total segregation from the rest of society. Now an experienced covert operative, Adam Jensen is forced to operate in a world that has grown to despise his kind. Armed with a new arsenal of state-of-the-art weapons and augmentations, he must choose the right approach, along with who to trust, in order to unravel a vast worldwide conspiracy.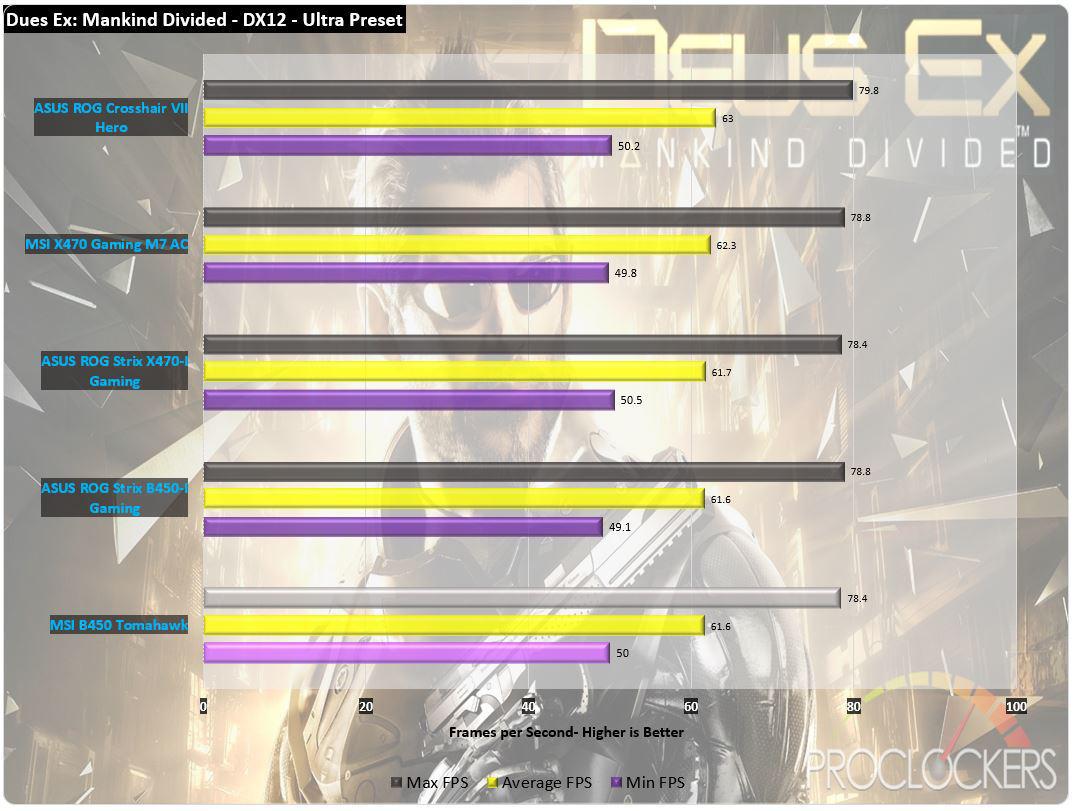 Deus Ex: Mankind Divided is almost too close to call.
Overclocking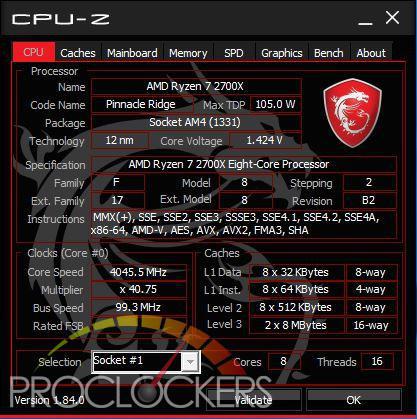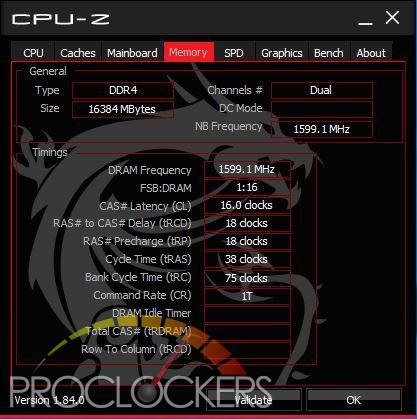 Our previous attempts at overclocking the Ryzen 7 2700X didn't yield much of an improvement overall thanks to AMD's more aggressive XFR2, but we'll try again.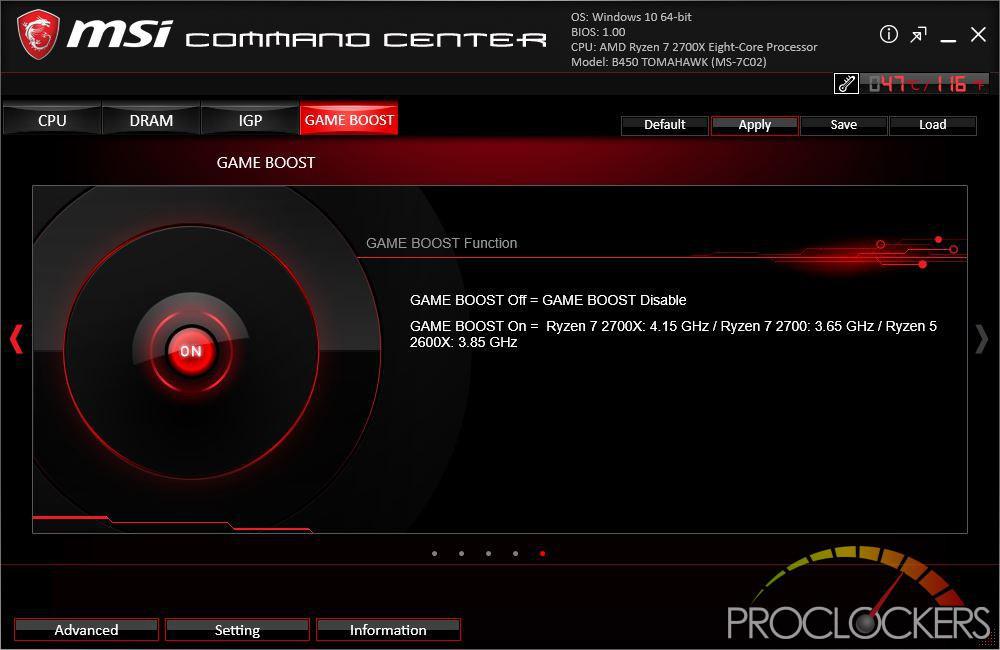 Starting with Game Boost from the Command Center app, we see one option, 'On' gives us 4.15GHz on our 2700X.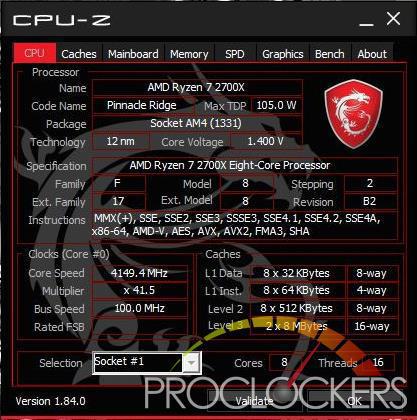 A reboot later, we do indeed get 4.15GHz across all eight cores!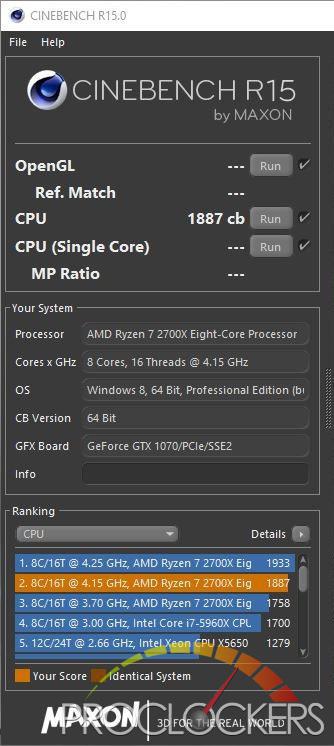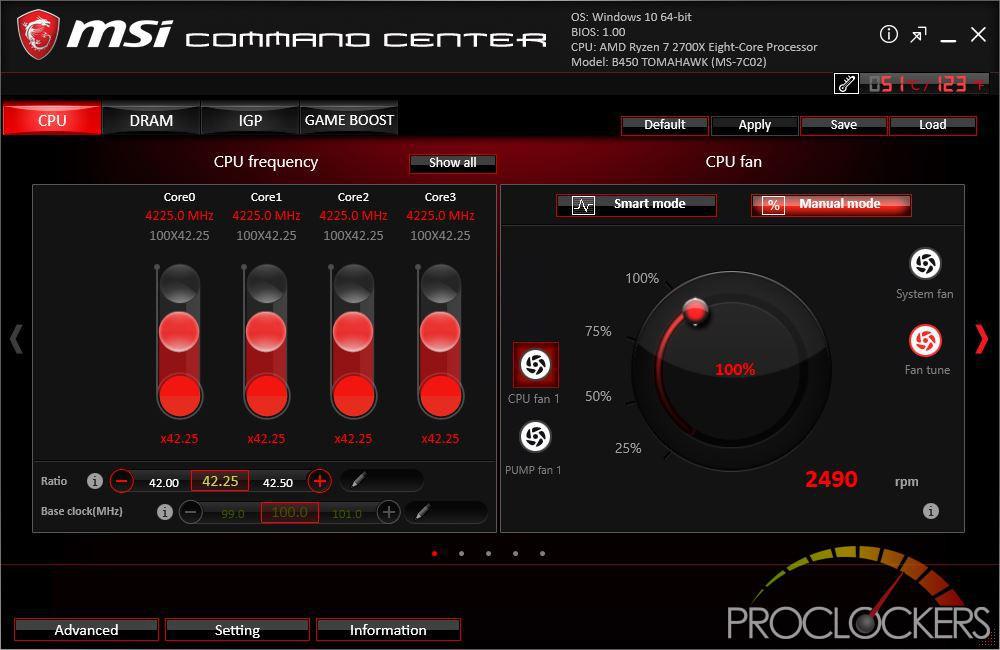 Pushing on, we were able to get 4.225GHz stable on all cores.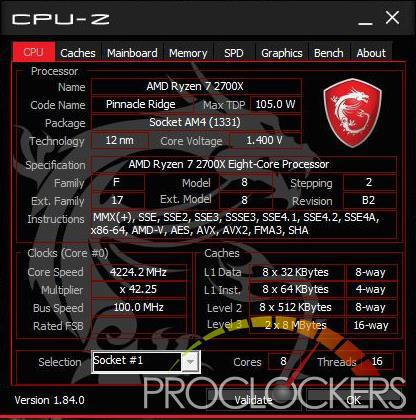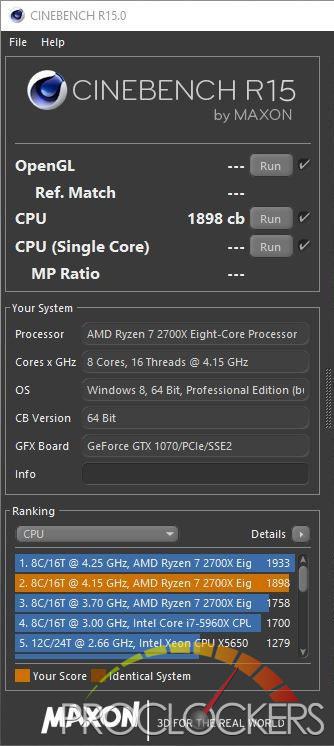 We had to up the voltage a bit to keep it stable so temps ended up limiting us, but we did increase to just under 1900 points.
Final Thoughts & Conclusion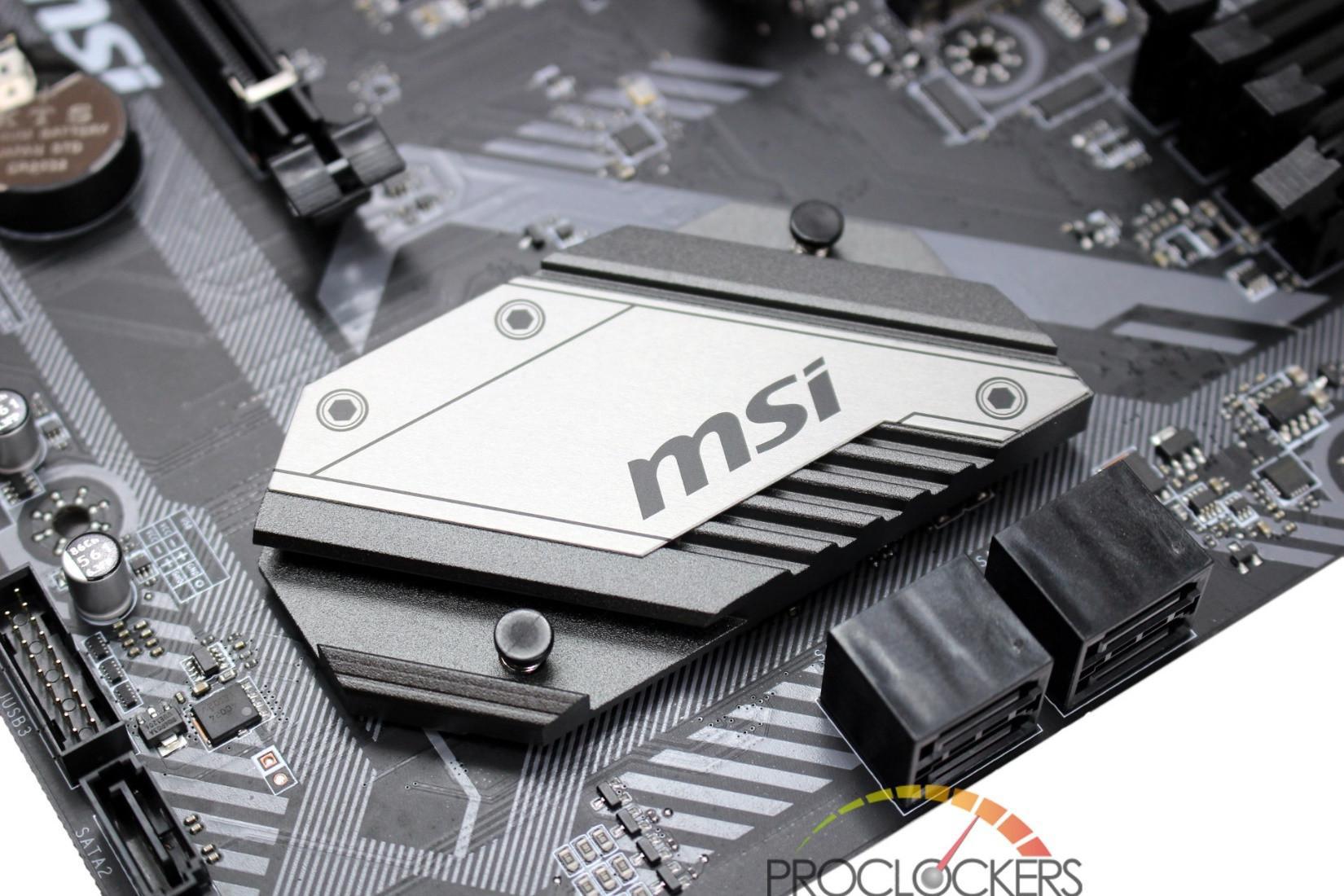 The Tomahawk series has once again proven to be a menacing addition to the arsenal gaming lineup. Strong performance across the board from zero compromises is apparent. In reality, unless you are a huge Nvidia SLI fan that needs PCIe slots in x8/x8 configuration, there isn't much reason to go with a more expensive X470 variant of the platform. You really don't lose anything else, and you keep overclocking support of all AMD Ryzen unlocked processors, memory overclocking and AMD StoreMI technology.
With the majority of gamers only using one GPU, and B450 doing everything else X470 can do just as well (or in some cases even better), we're not sure if AMD did well here by making a more affordable platform for the masses or did bad by making X470 almost pointless for the majority. Unless you are dedicated to multi-GPU systems, just grab the B450 Tomahawk for your next build and spend your hard-earned cash on a GPU upgrade, the board does everything else for you.
Good Job MSI!