ASUS ROG Crosshair VII HERO WIFI AM4 X470 Motherboard Review
Introduction
With the recent launch of the 2nd generation AMD Ryzen CPU's, it's to be expected motherboards would get a revamp as well. Besides the new chipset, the beloved Crosshair Hero has undergone some significant tweaking, some aesthetic and functional, and some less obvious but very important. A pre-mounted I/O shield will be welcome and readily apparent, but an updated and highly optimized 10+2 phase VRM provides a cooler run and more powerful delivery system where it matters. With great updates where the rubber meets the road on usability and performance, coupled with AMD's latest Ryzen processors, is there a reason to look any further than the Crosshair VII Hero? We'll find out!
ProClockers would like to thank ASUS for sending the Crosshair VII Hero over to check out!
ASUS's Take on the ROG Crosshair VII Hero (Wi-Fi):
THE HERO EVERYONE WANTS
Revel in ROG's enthusiast roots with ROG Crosshair VII Hero — the X470 gaming motherboard that conceals potent power, smarter cooling, and faster memory support under a stealthy new skin. Loaded with renowned ROG features, with one-click overclocking and cooling to attention-grabbing Aura Sync illumination, it's the perfect foundation for your AMD Ryzen™ rig.
Powered by AMD® Ryzen™ 2 AM4 and 7th generation Athlon™ processors to maximize connectivity and speed with dual NVMe M.2, front panel USB 3.1 Gen2 and gigabit LAN
5-Way Optimization featuring Auto-Tuning and FanXpert 4 provides automatic overclocking profiles for maximum OC performance with external clock generator
Aura Sync RGB lighting with two addressable headers features a nearly endless spectrum of colors with the ability to synchronize effects across an ever-expanding ecosystem of Aura Sync enabled products
Pre-mounted I/O shield ensures streamlined installation and represents ROG's attention to detail and quality
Industry-leading 8-channel HD audio with the ROG exclusive SupremeFX S1220 driven by Japanese capacitors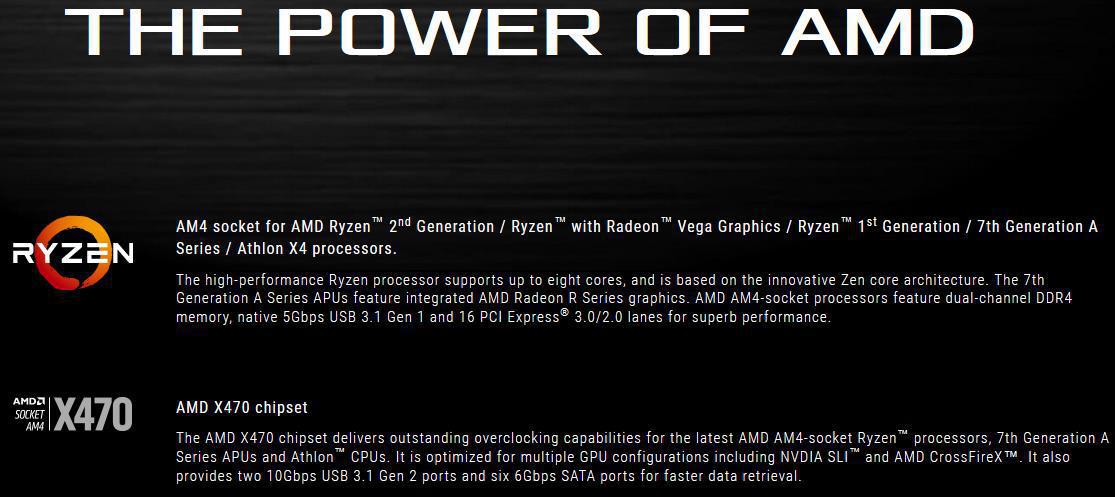 Features & Specifications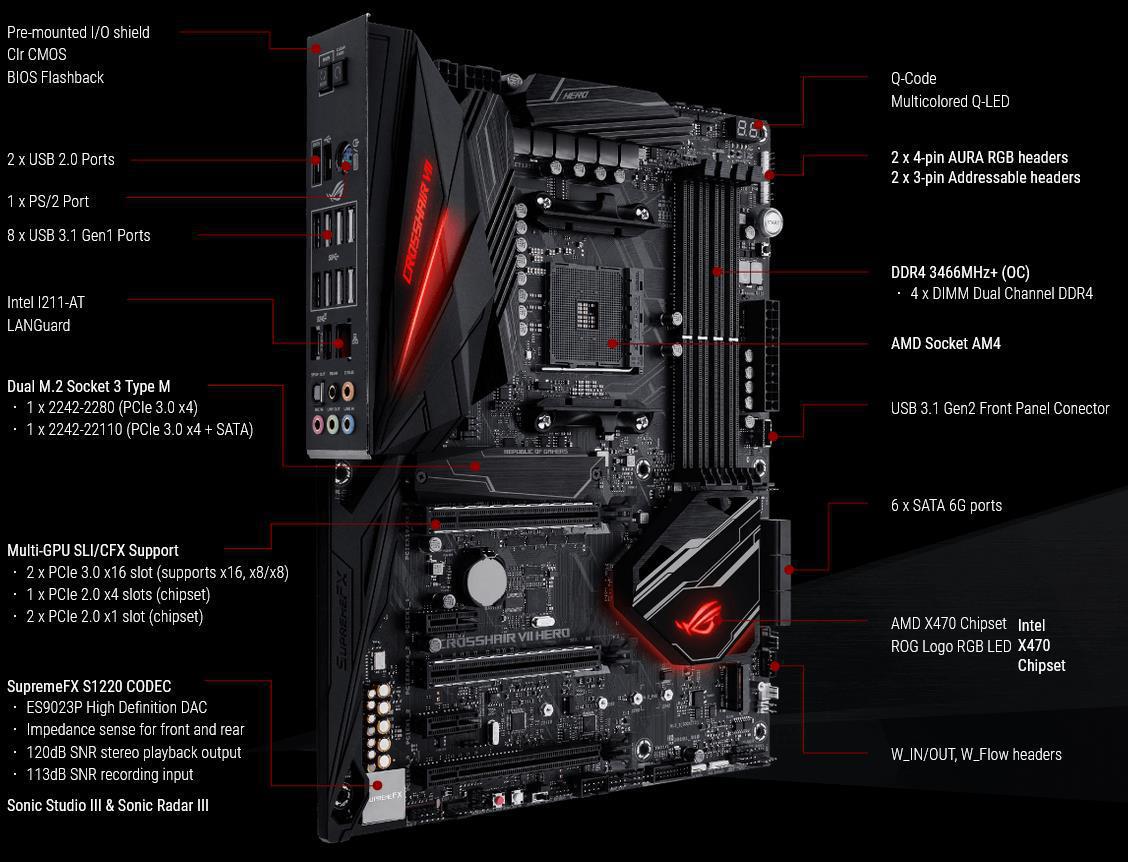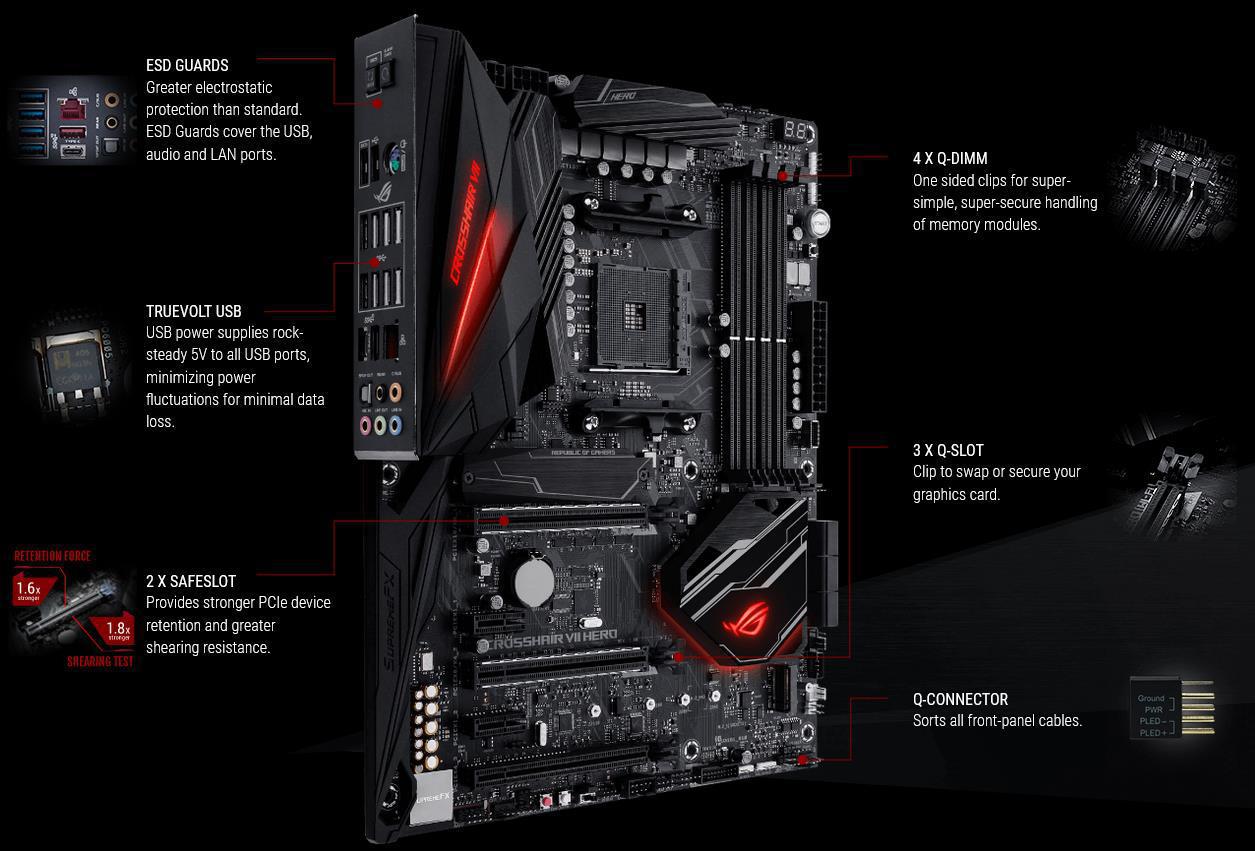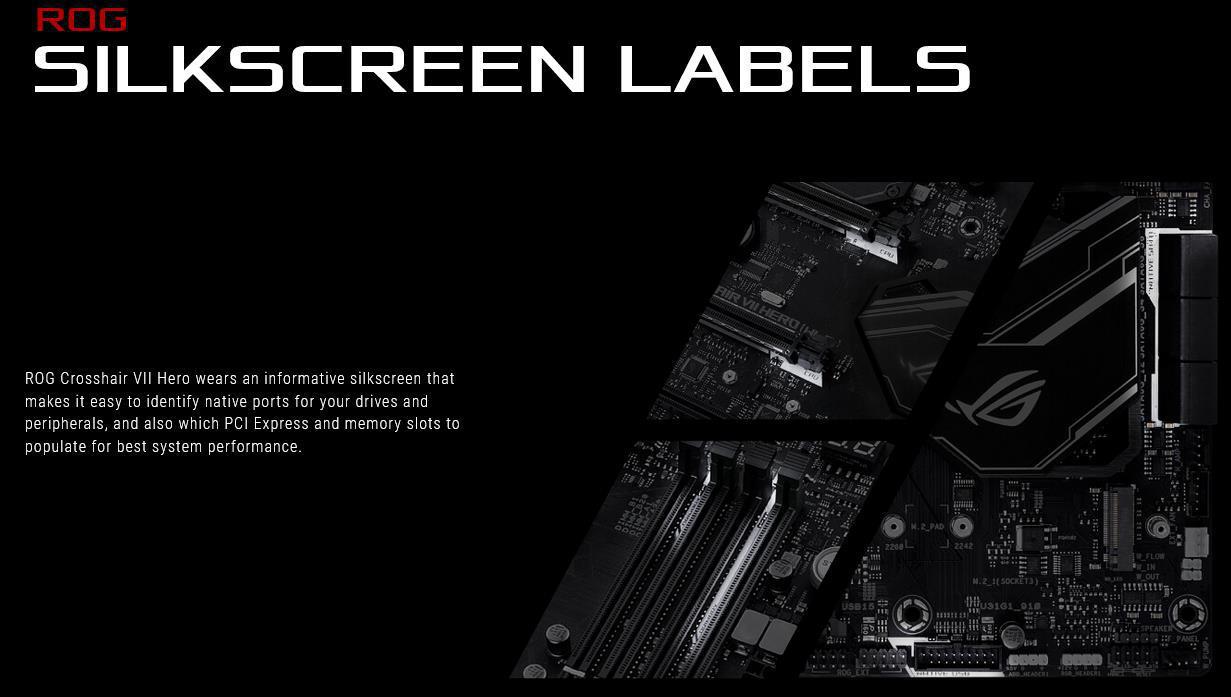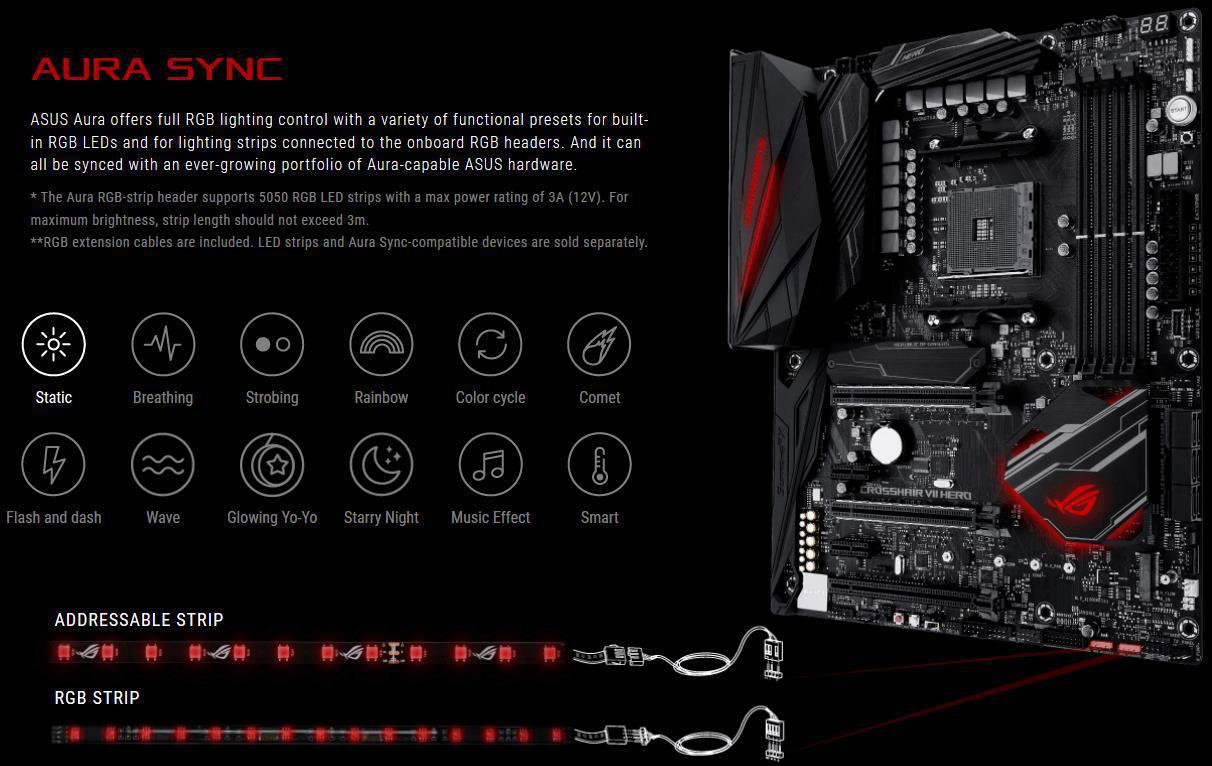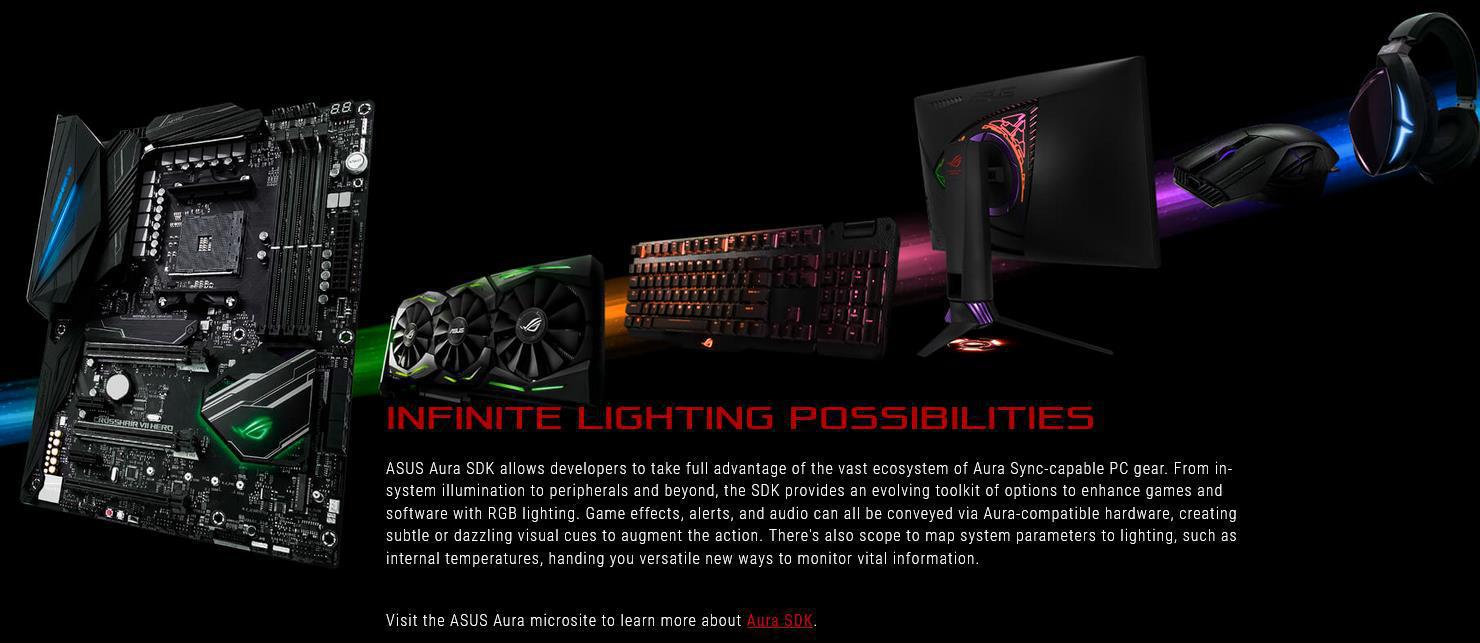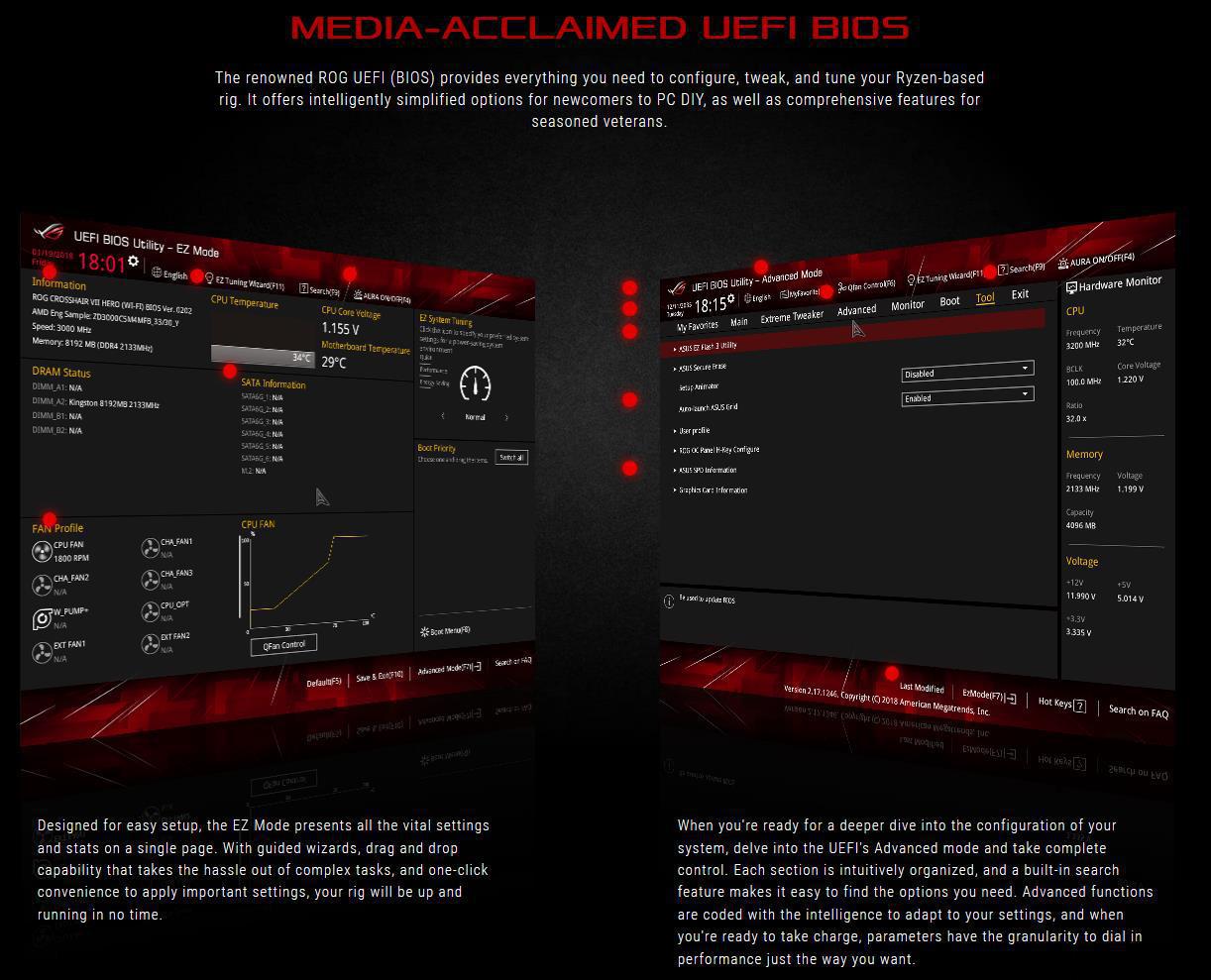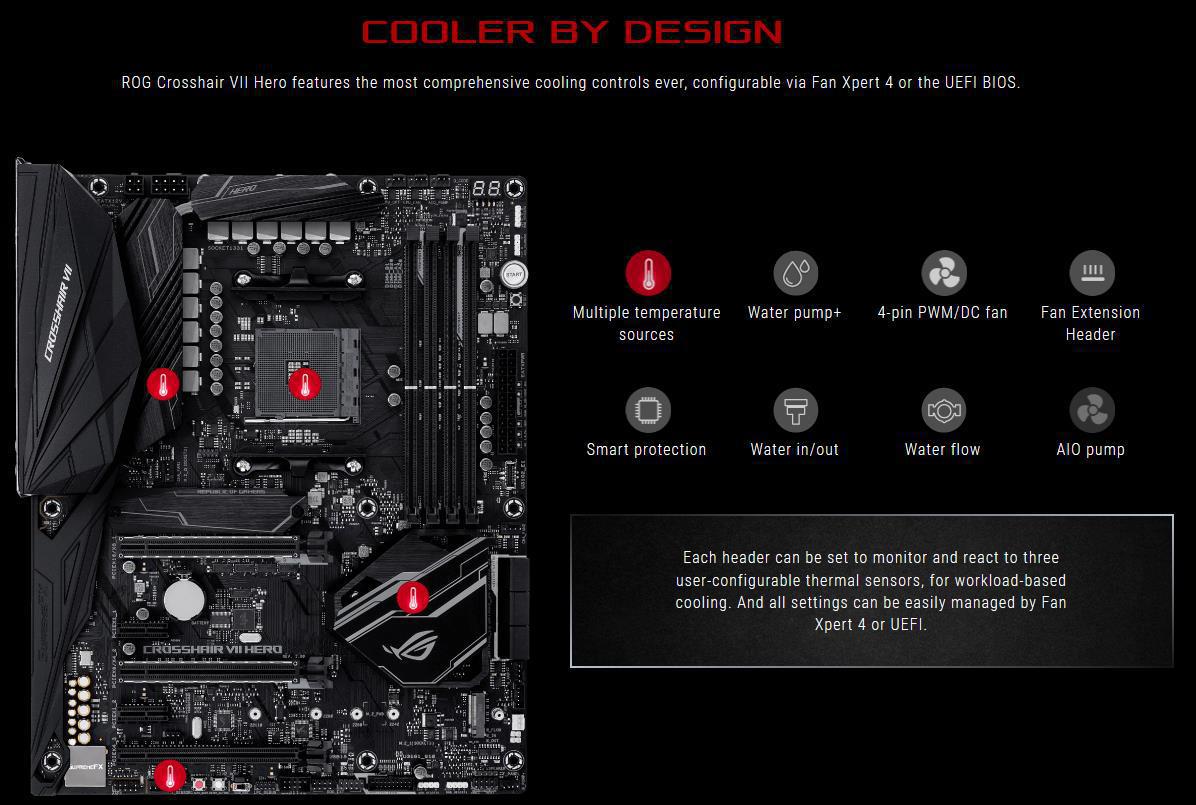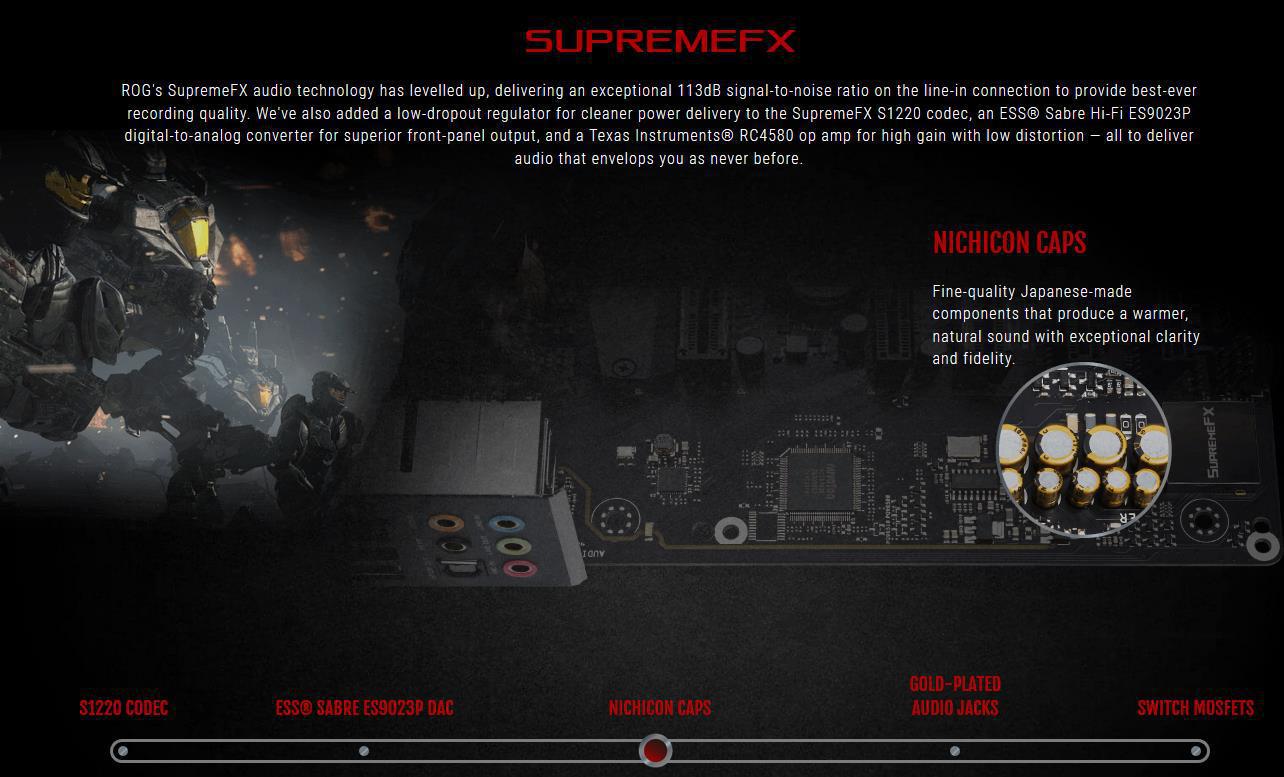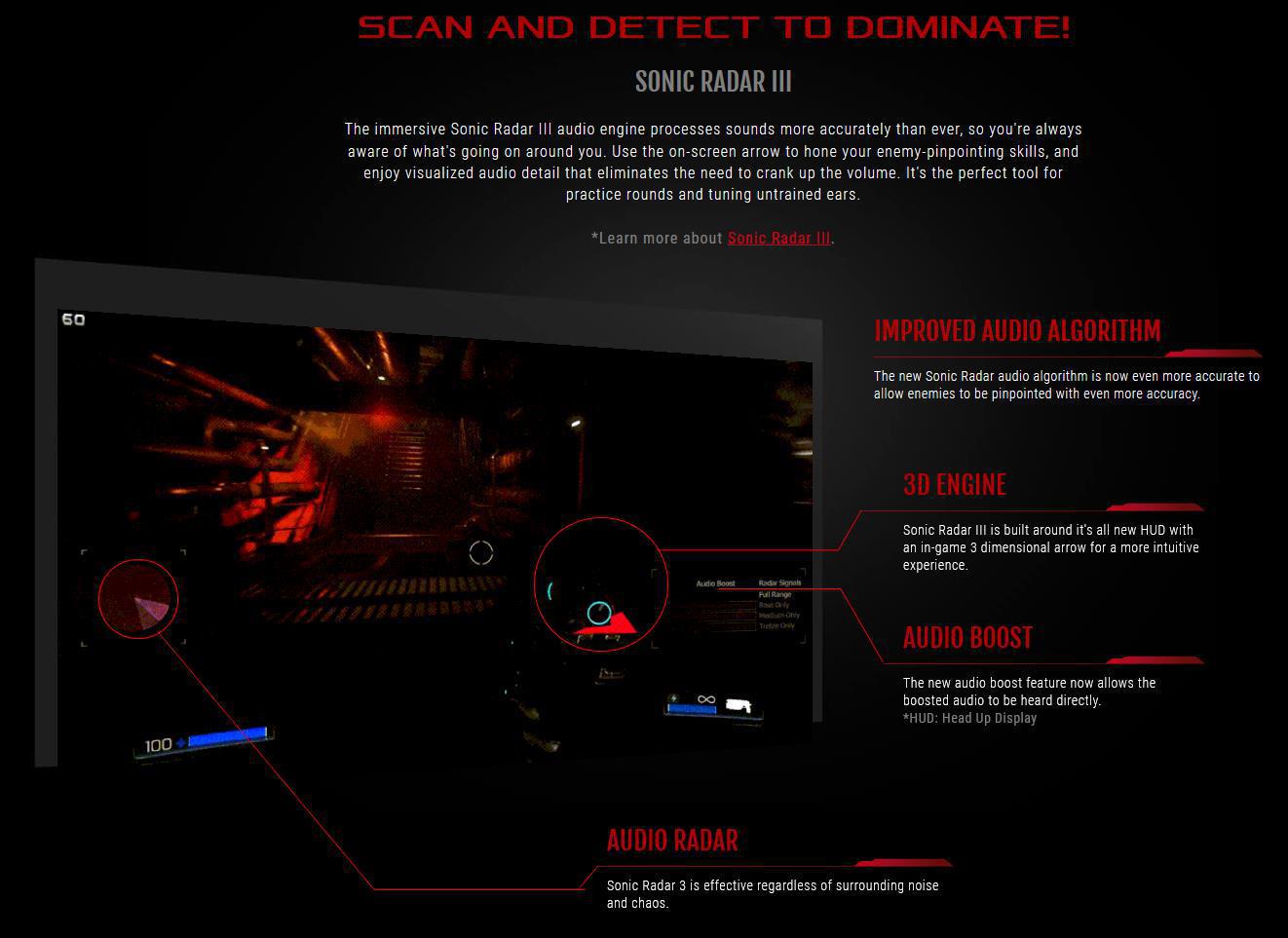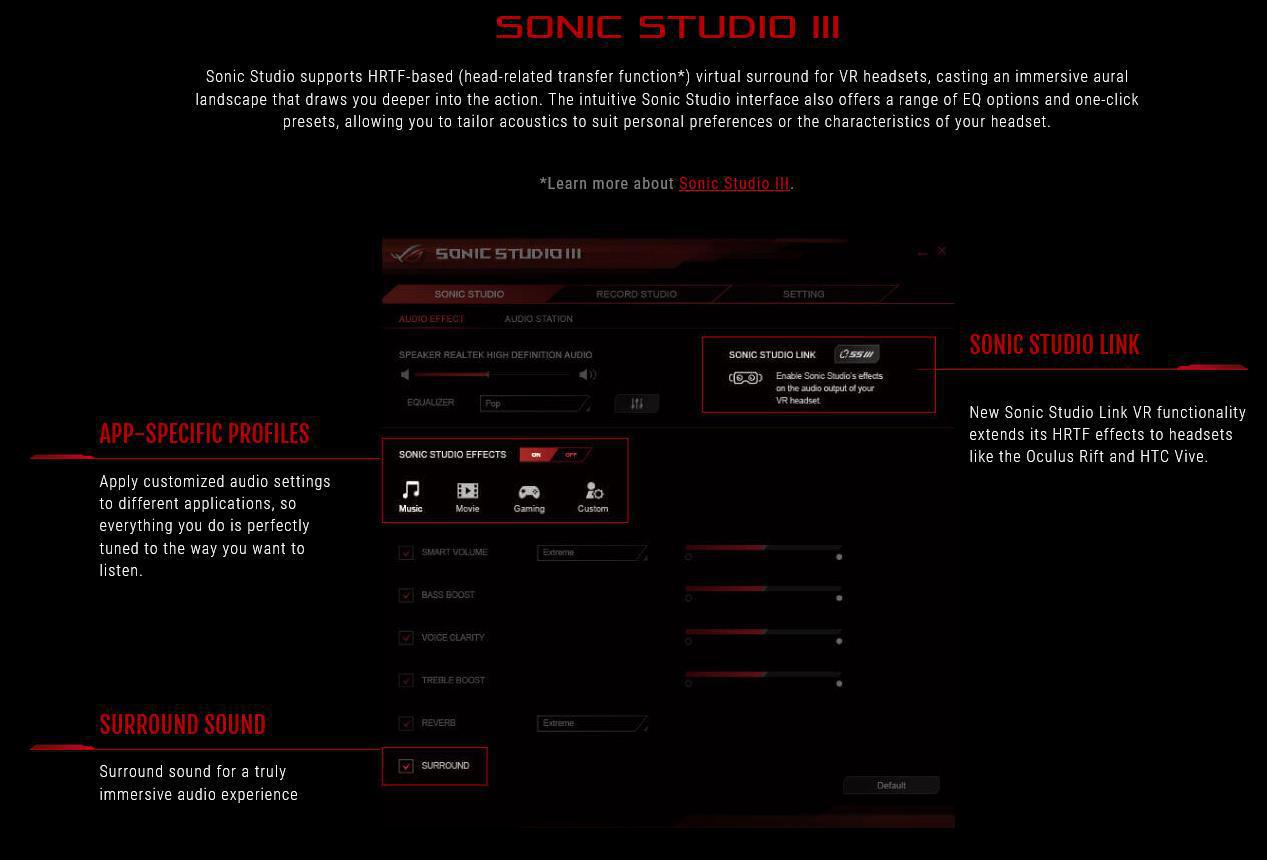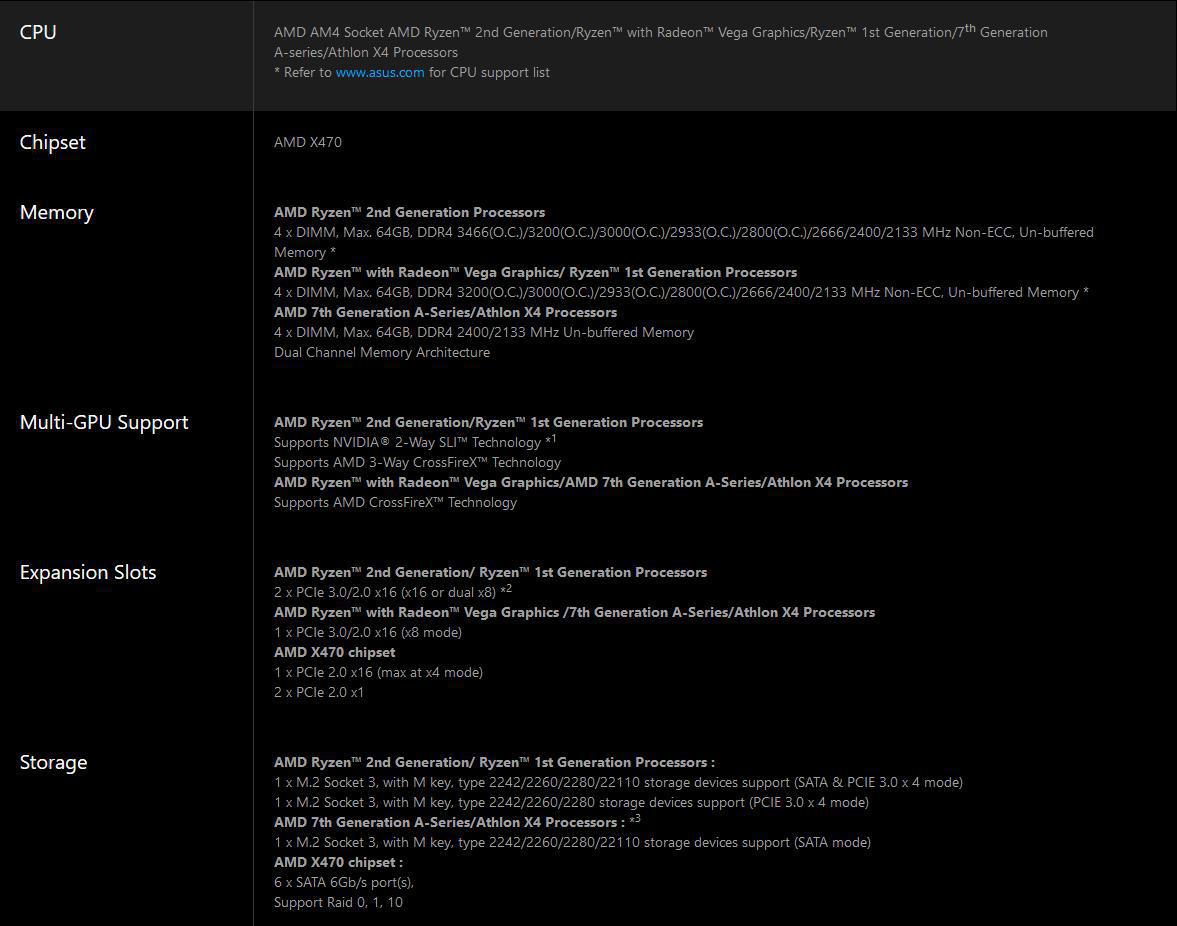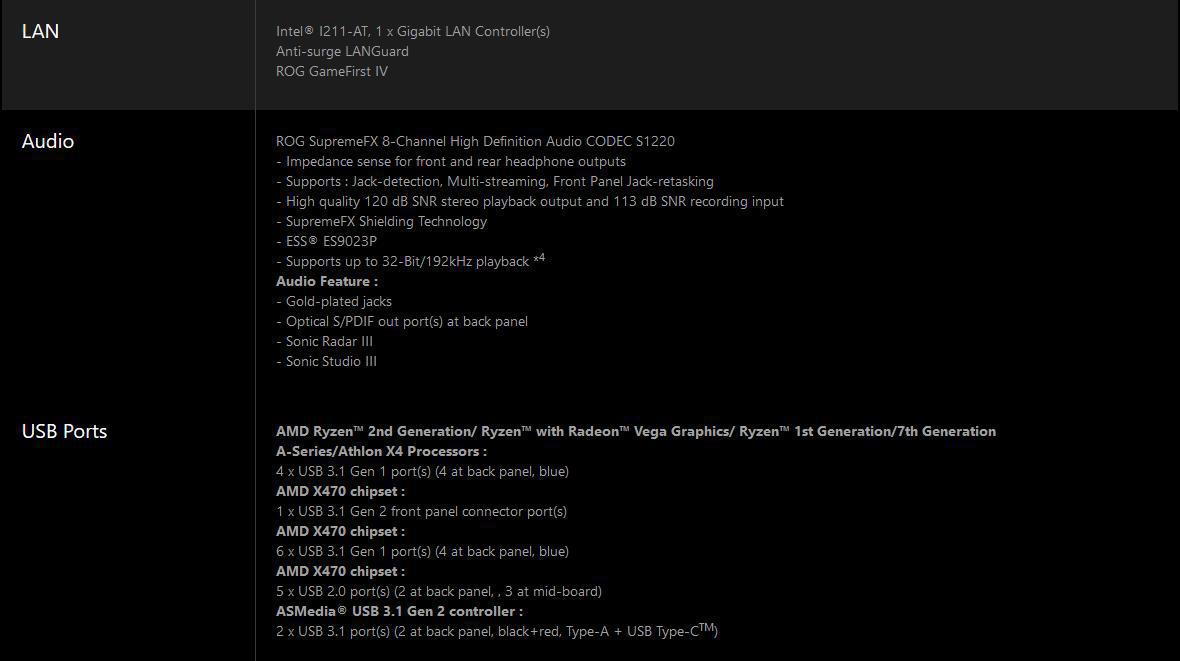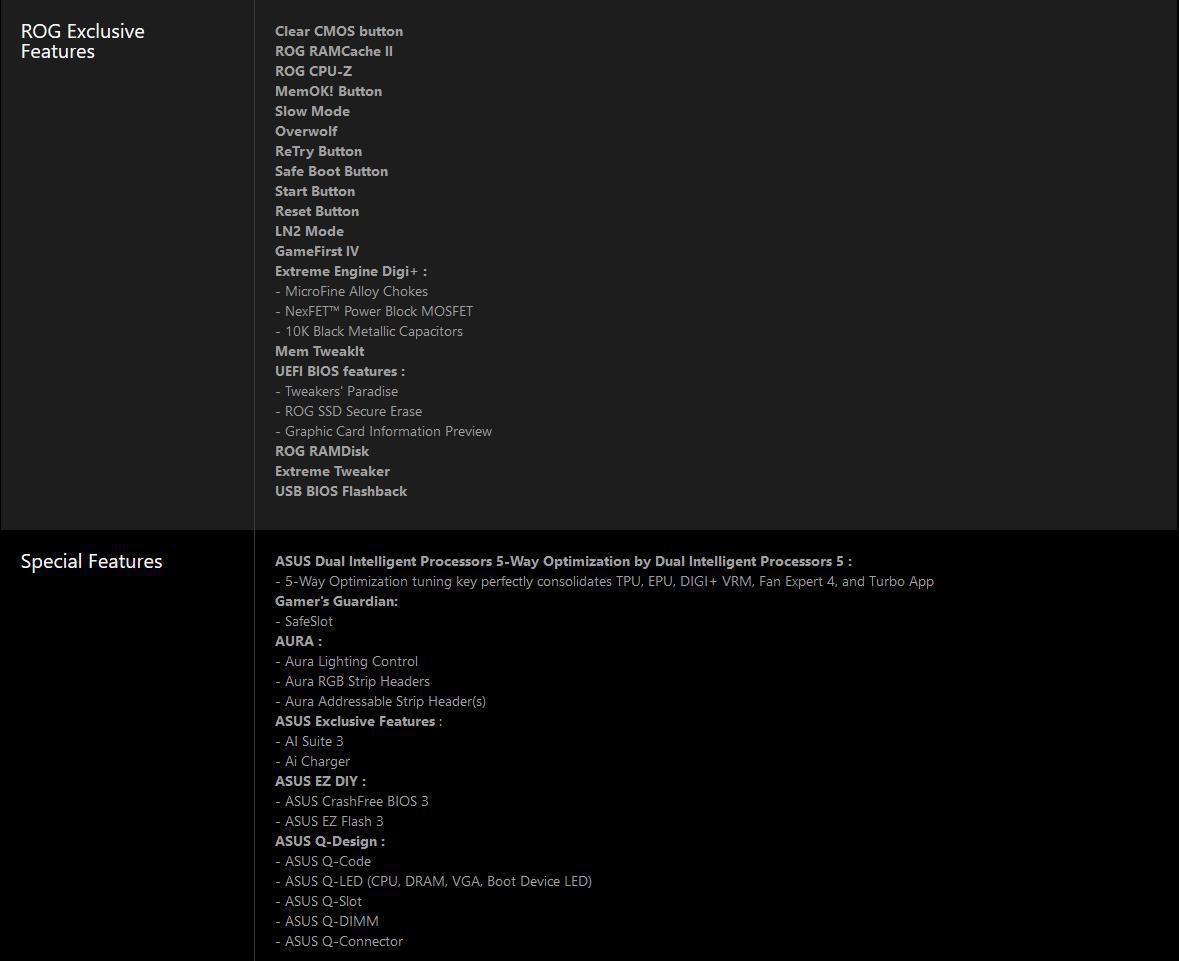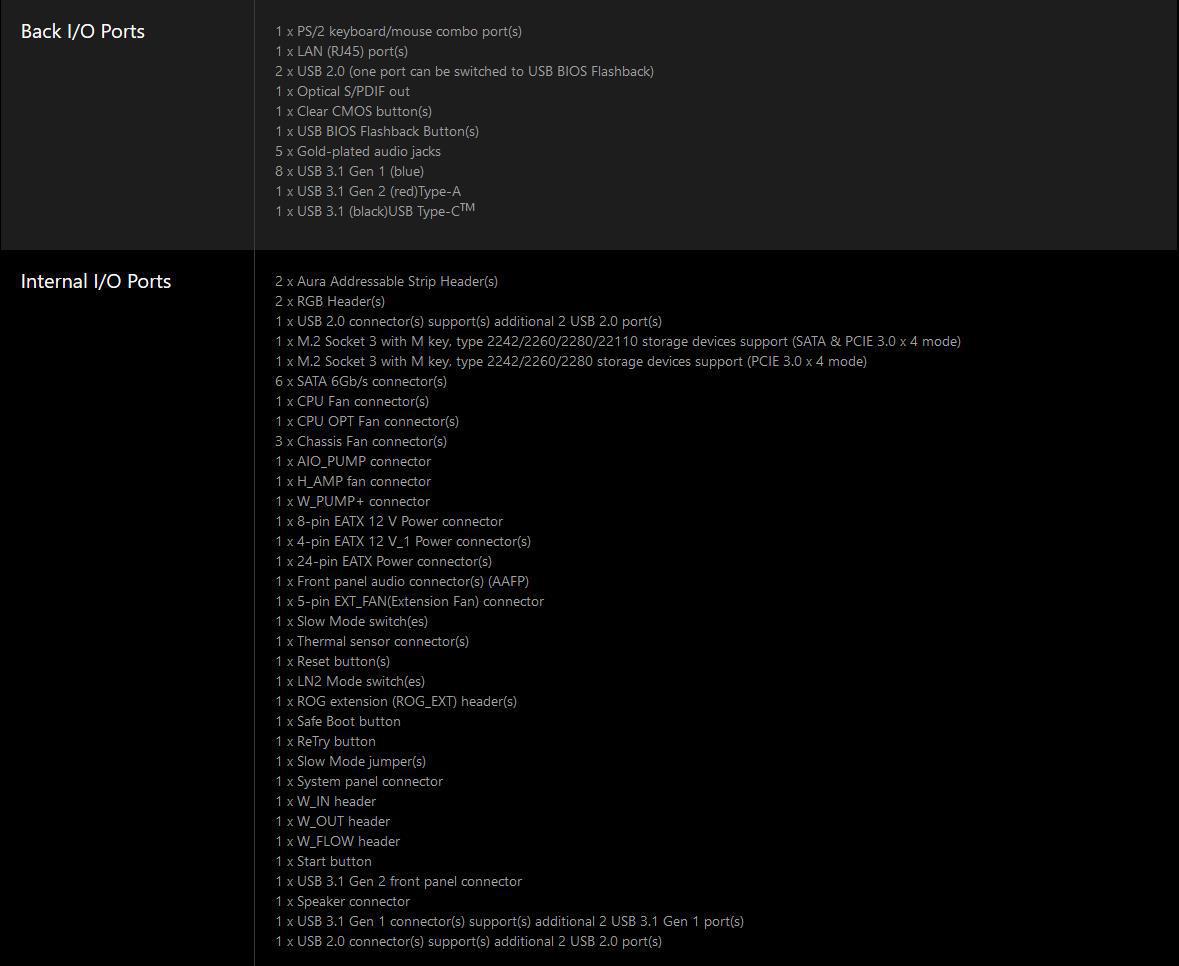 Packaging & Unboxing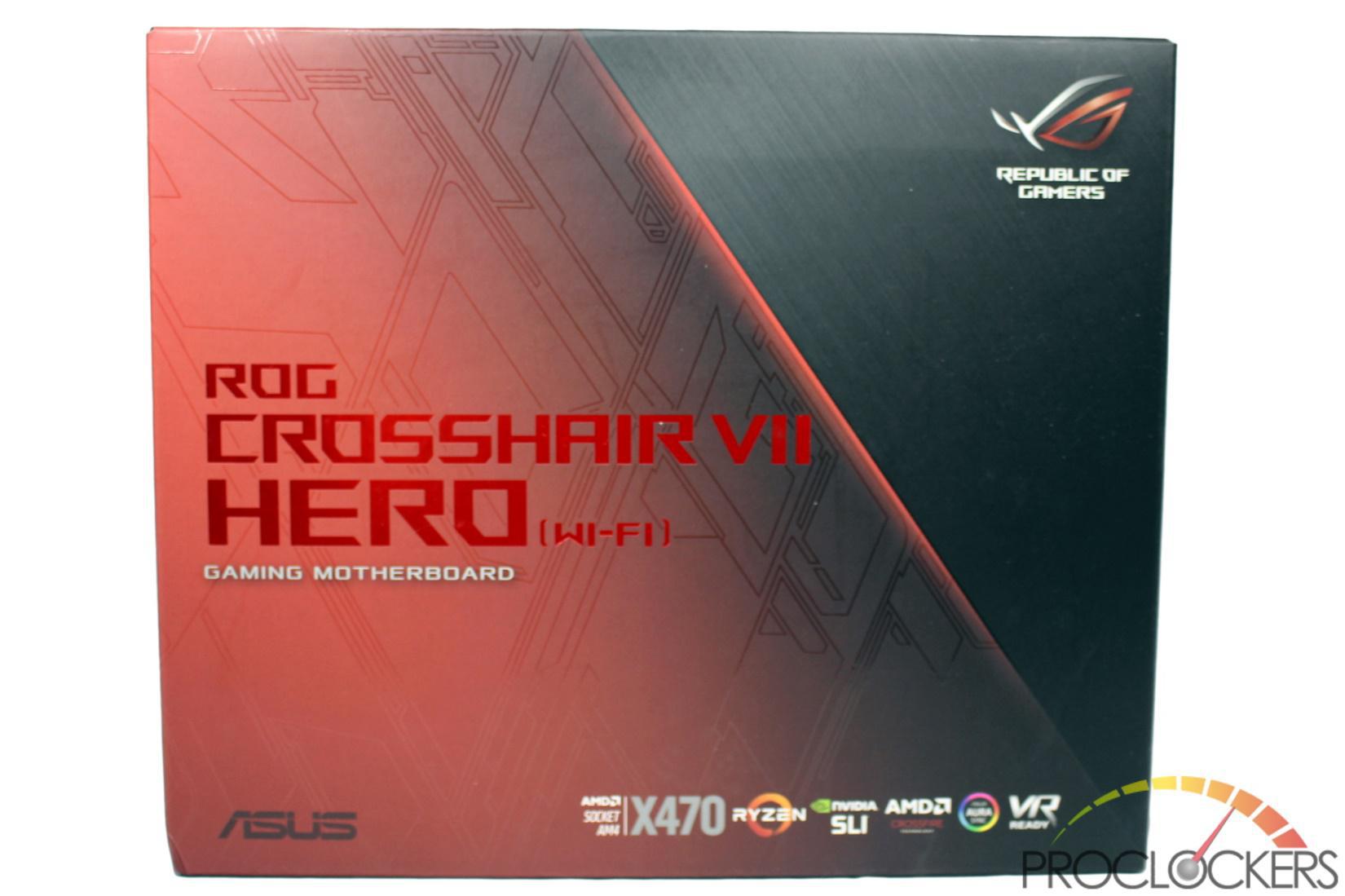 The front of the packaging will look quite familiar if you've had your hands or eyes on any recent ROG product. The model covers a fair part of the front of the box. The Crosshair VII Hero comes in two flavors, one with Wifi and one without. You can probably see from the front here which version we have on hand.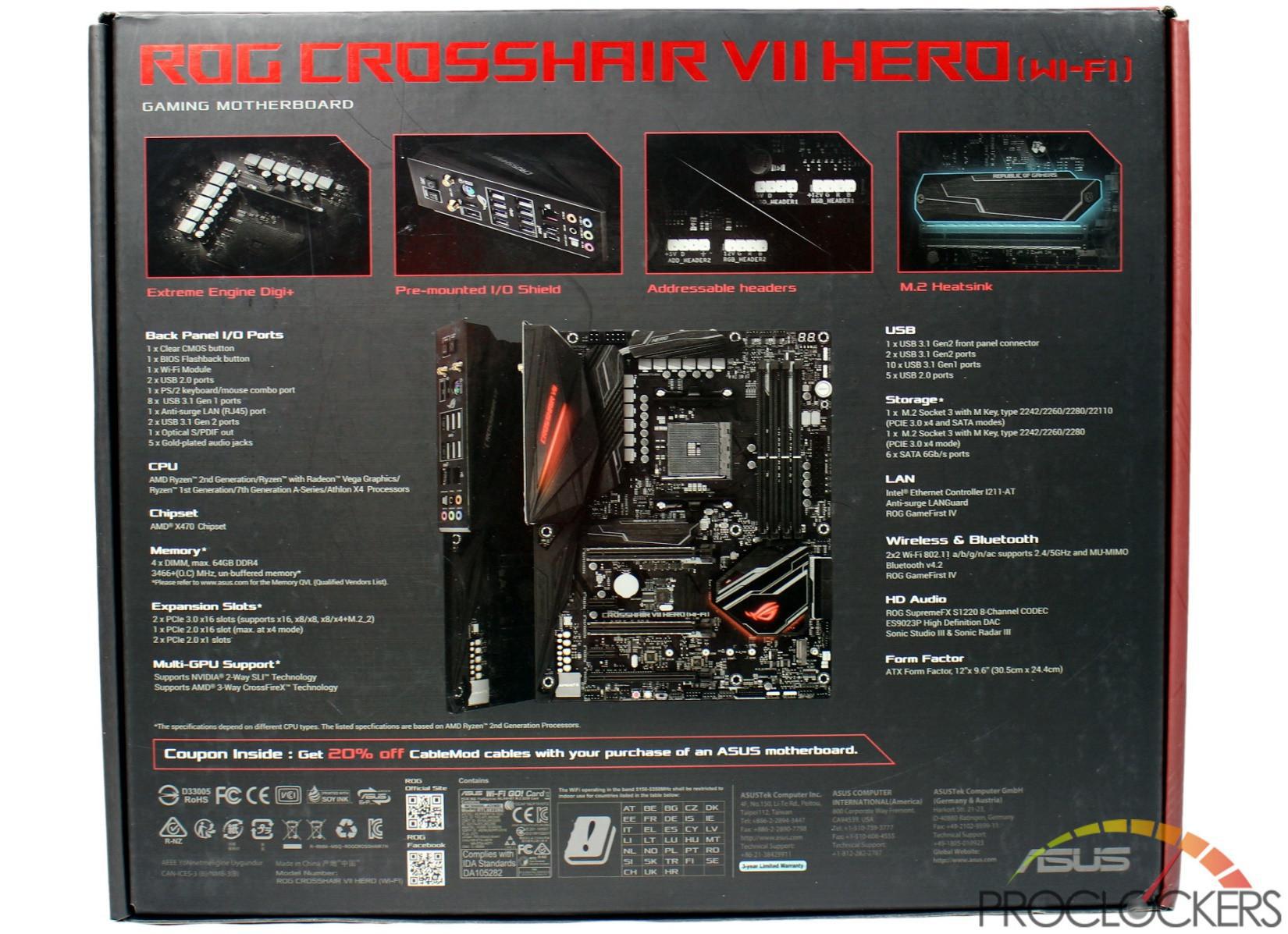 The rear of the box shows a full-color picture of the board in the center with specs surrounding it and some notable features across the top.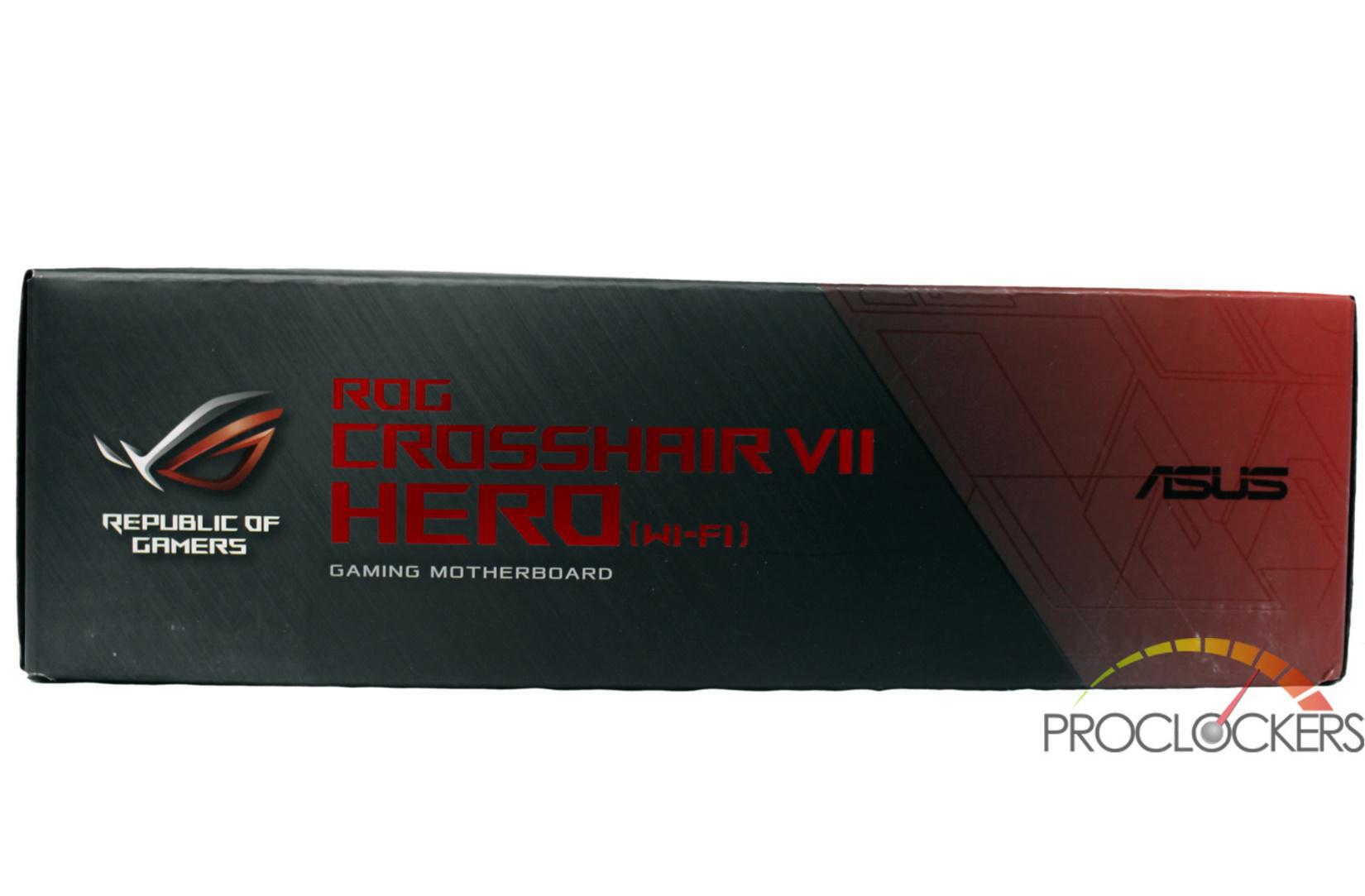 The top and sides of the box have the ASUS and ROG logos, as well as the model.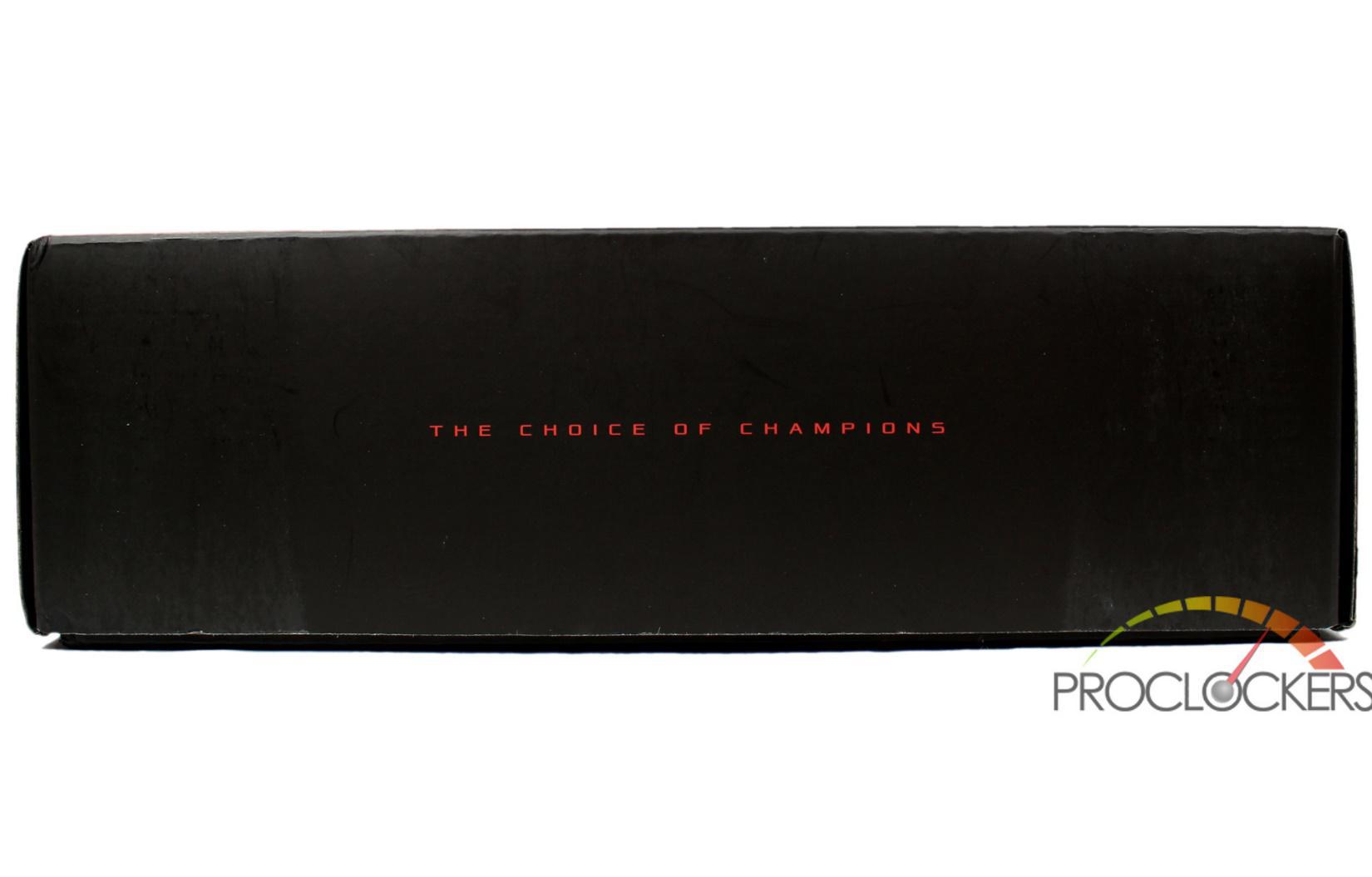 The bottom of the box has one of ROG's slogans in red lettering on a black background.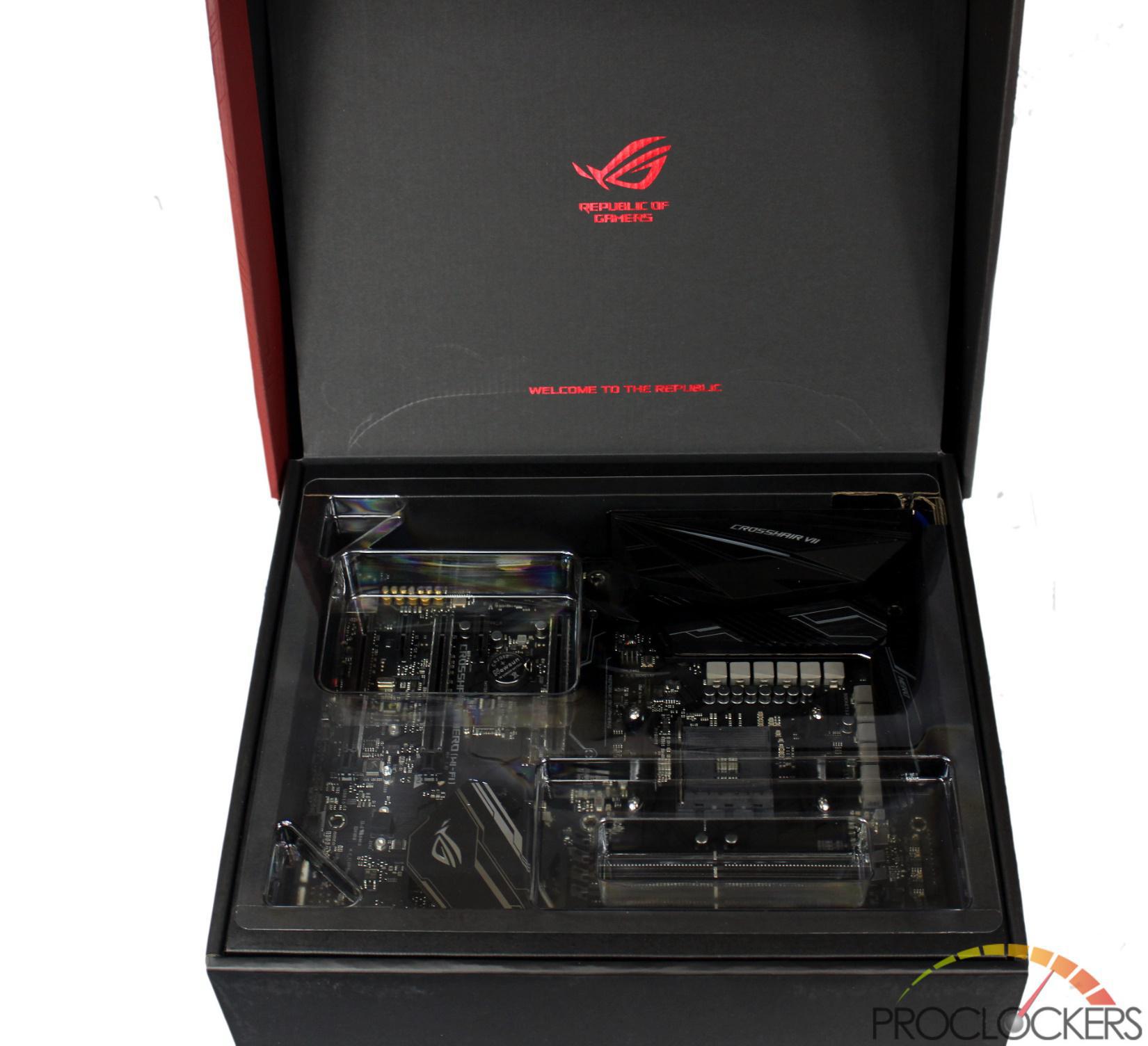 Opening the lid, we are greeted with the typical packaging for higher end boards which is the board laying in a tray covered with a clear lid to hold it in place.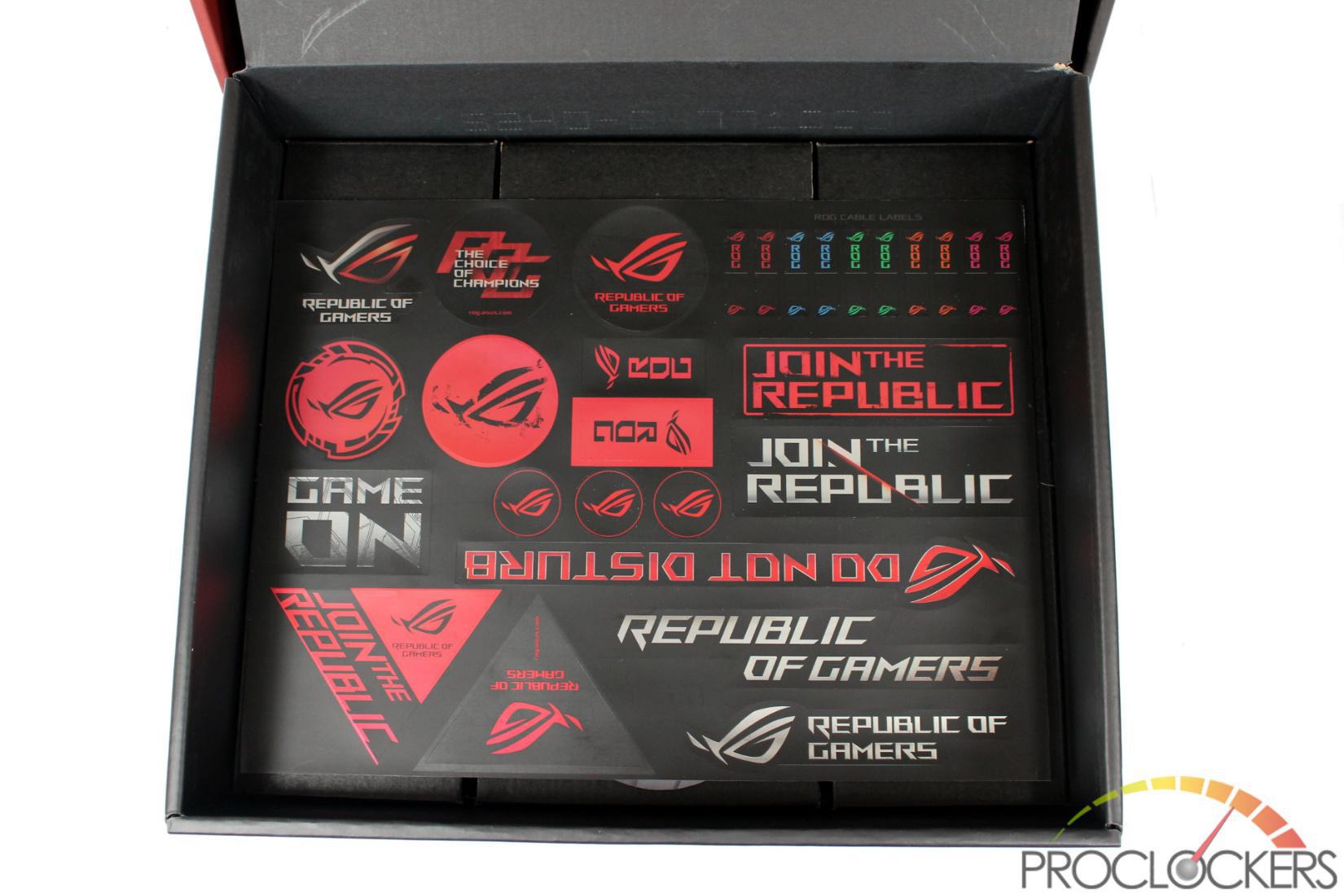 Under this top tray is the infamous sheet of ROG stickers and cable labels.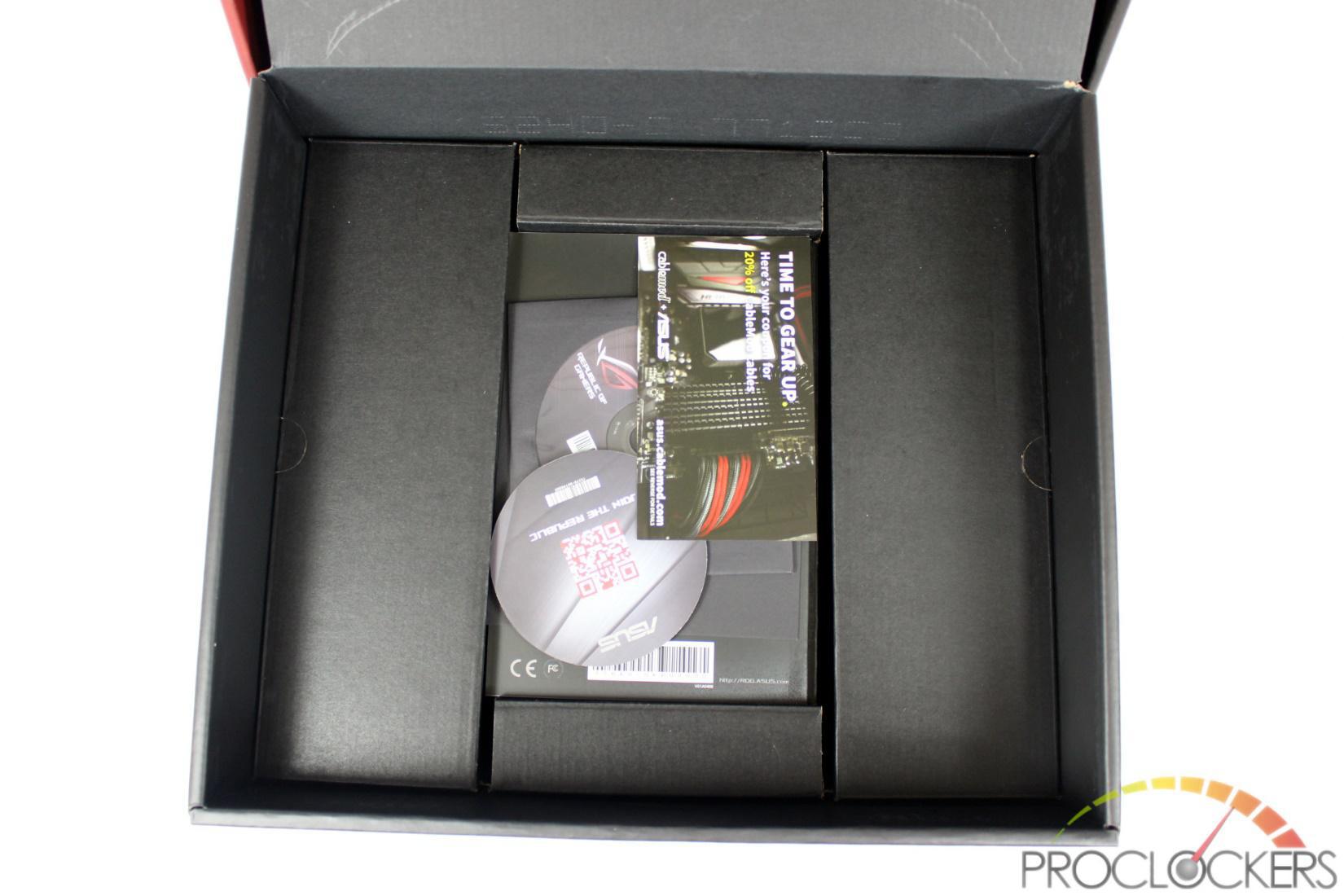 The bottom tray holds everything else. the paperwork, driver disk, and ROG coaster are in the middle.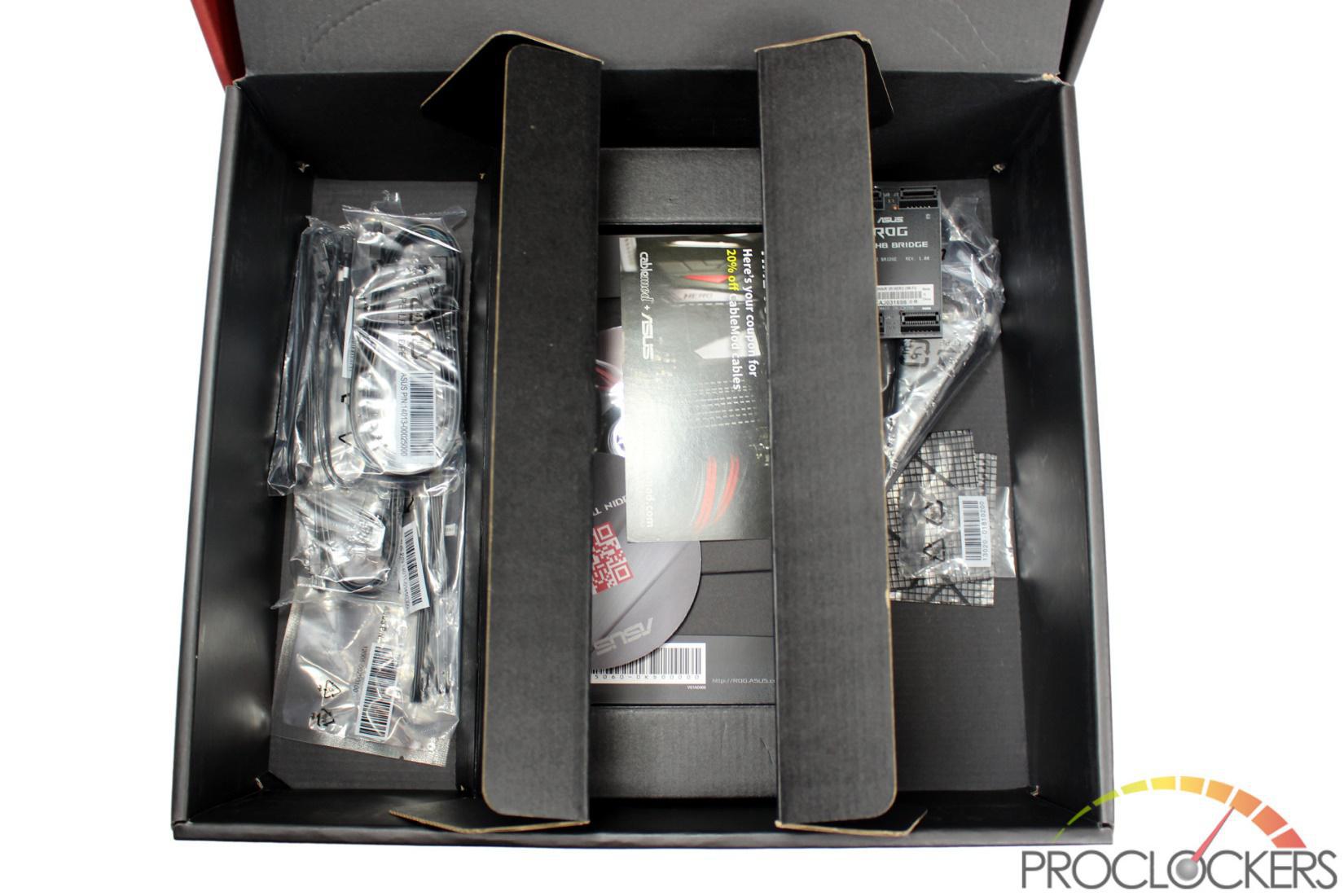 The side flaps open up to reveal all the rest of the goodies.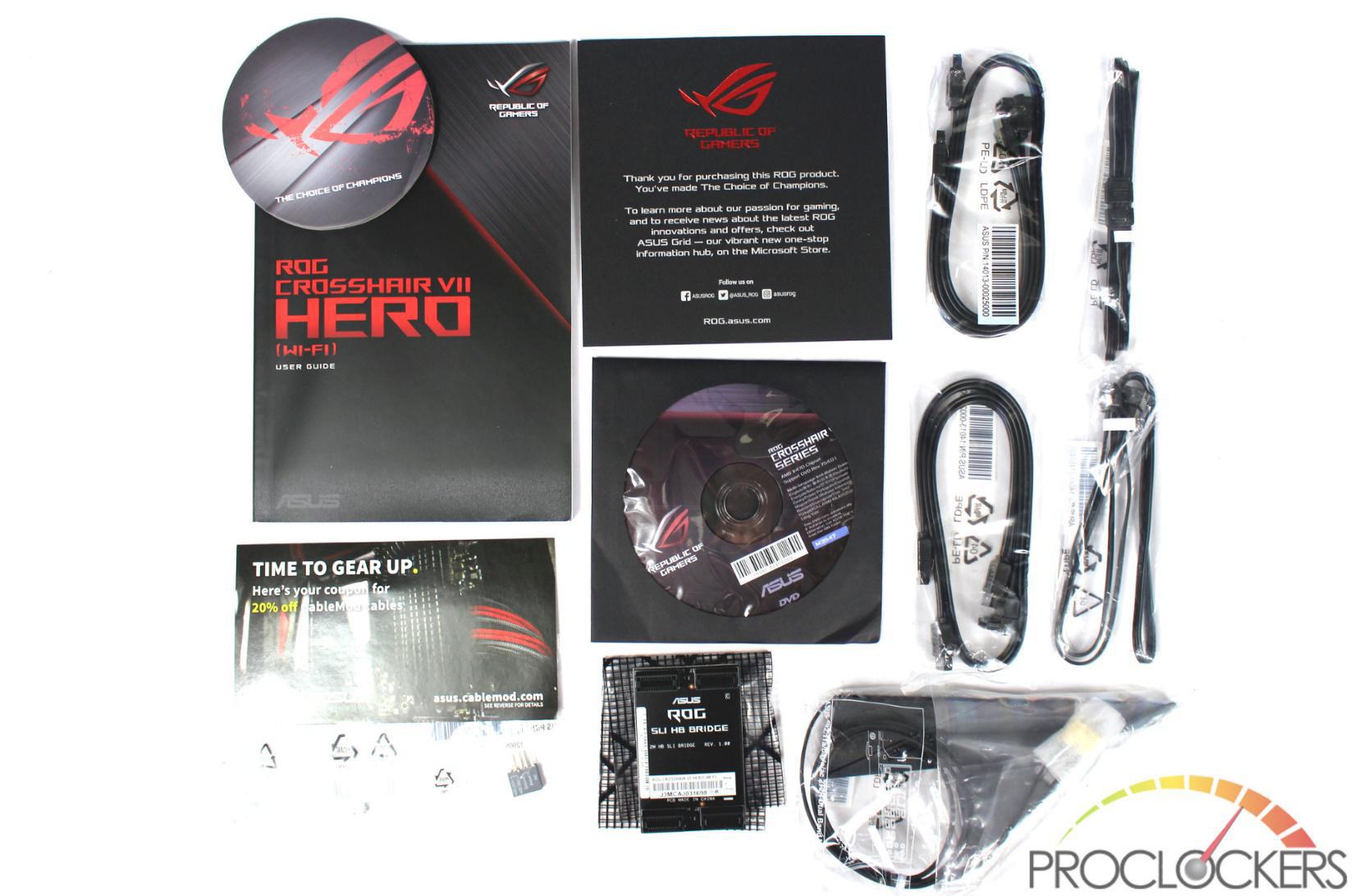 Goodies include the manual, driver disk, Cable Mod coupon, SLI bridge, Wifi antenna, Q-connector, SATA cables, and a pair of RGB extensions cables, one normal and one digital. Some M.2 mounting hardware round out the list.
A Closer Look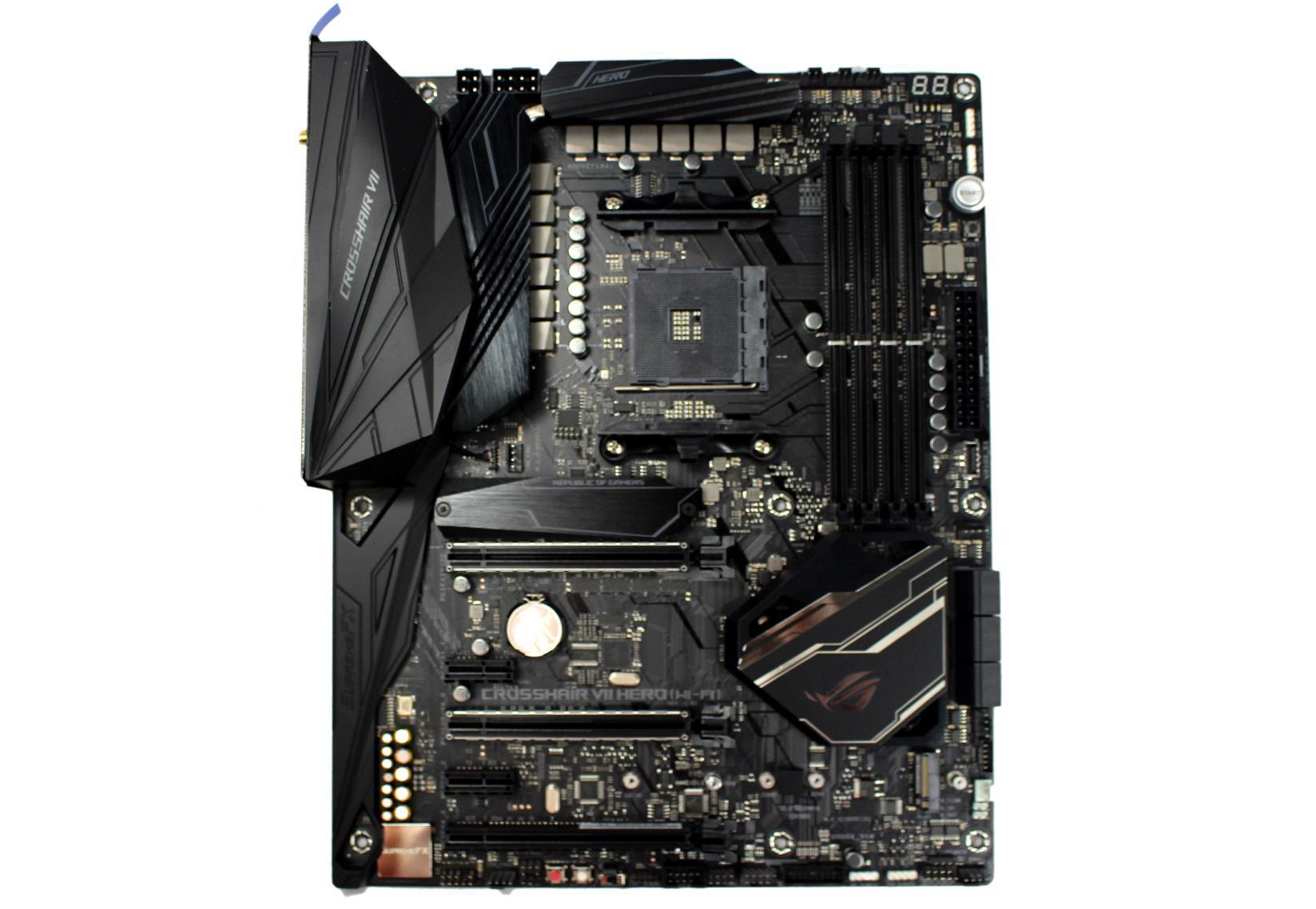 ASUS's Crosshair VII Hero hasn't changed much visually from the Crosshair VI hero. The VRM heatsink is a bit different and dressed in a brushed black finish. While the overall layout is largely the same, the power and reset buttons have moved up to the top right corner and there are some new RGB headers.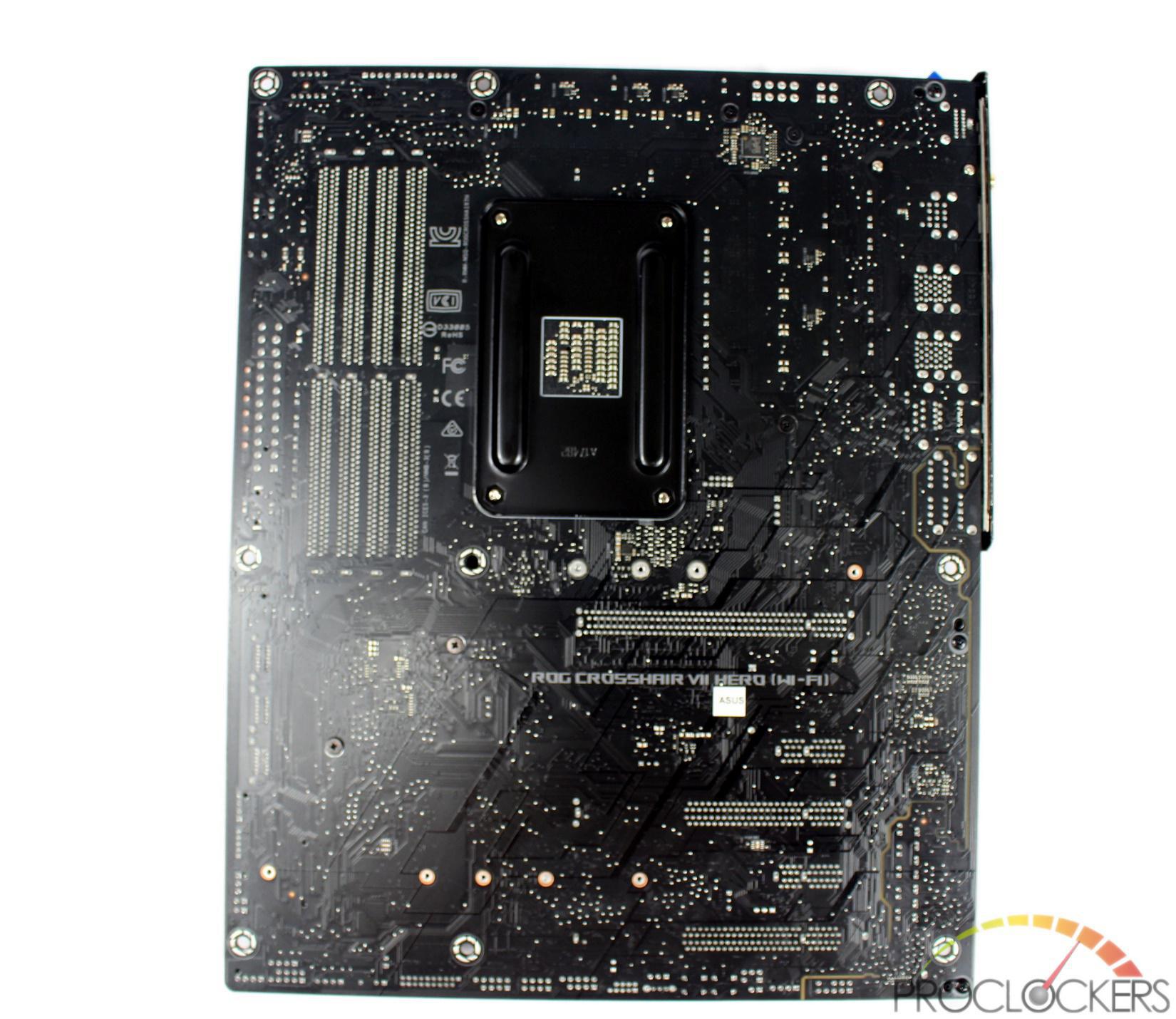 The back of the board is matte black with little to see of interest.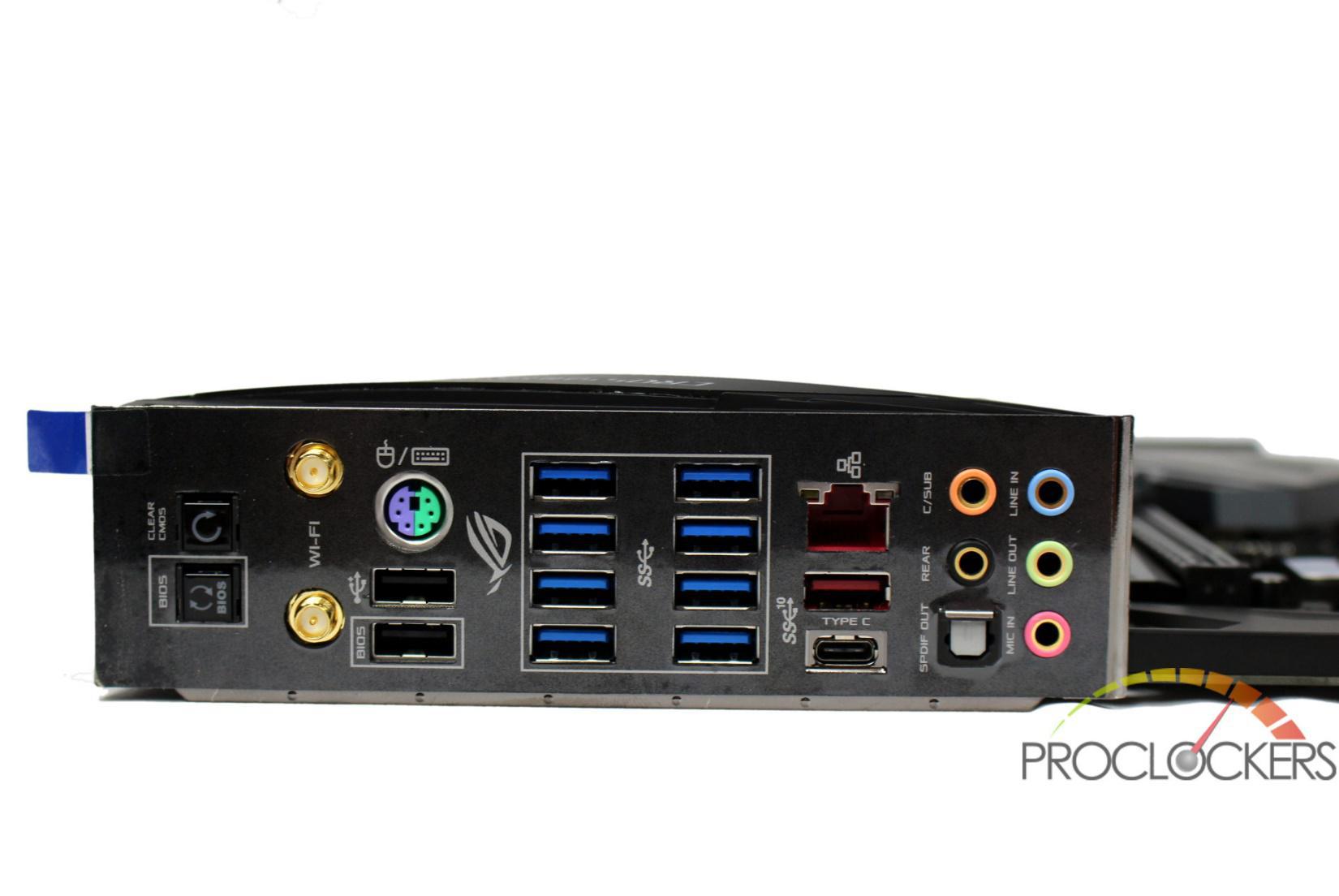 Rear I/O is comprised of a plethora of USB ports and a few other things sprinkled in. USB consists of a staggering 12 ports, 8x USB 3.1 gen 1, 2x USB 3.1 gen 2, and two USB 2.0. You get the ROG usual clear CMOS and USB BIOS Flashback buttons, as well as a combo PS/2 port, Wi-Fi antenna connections if you have the Wi-Fi model, Intel Gigabit Ethernet, an optical audio output, as well as gold, plated audio jacks.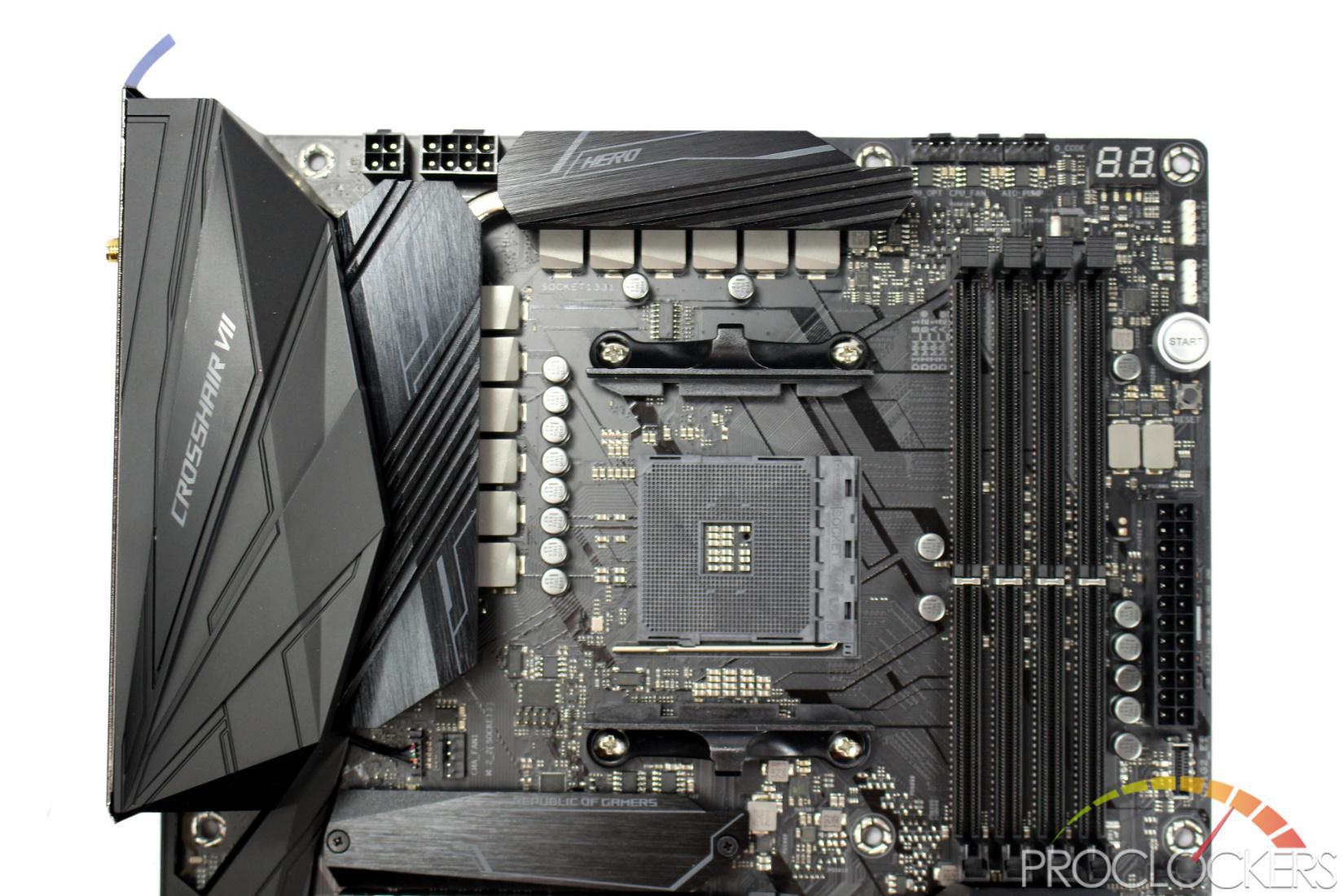 Starting with the top half of the board, you have the typical ATX layout. CPU socket near the center, 4 DIMM slots to the right, VRM stages (under that gorgeous brushed black heatsink) top and left, and an M.2 slot with cooler to the south. On many of the 1st generation, Ryzen X370 boards ASUS used a special hole pattern on the board that would accept AM3 as well as the newer AM4 coolers, but that is gone now. AM4 compatible only.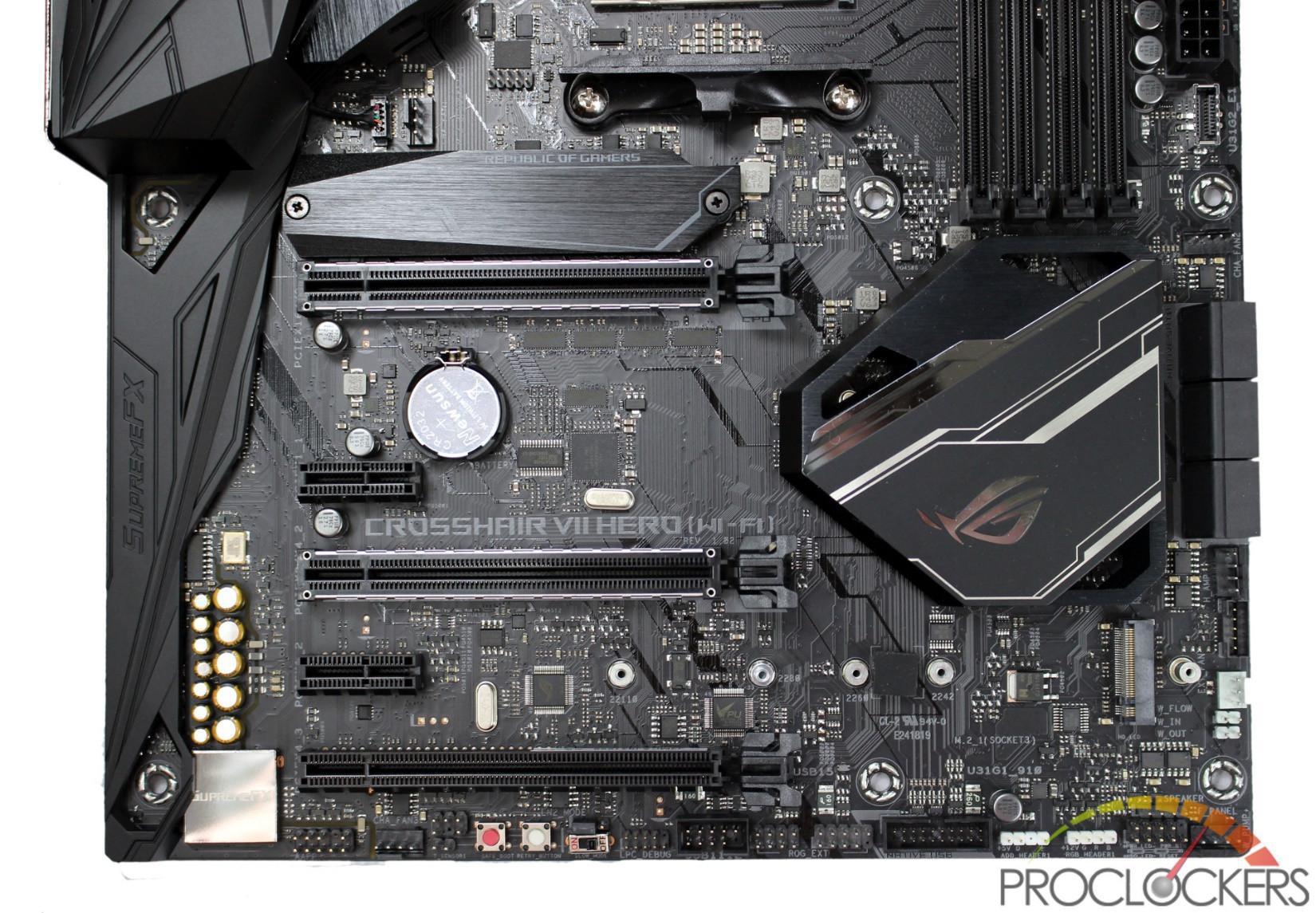 The bottom of the board has a pair of Safe Slot reinforced PCIe x16 slots, two PCIe x1 with notches in the rear that can handle larger cards, and a single PCIe x16 (x8 electrical). Another M.2 slot sits under the chipset heatsink and supports PCIe/SATA drives up to 110mm in length.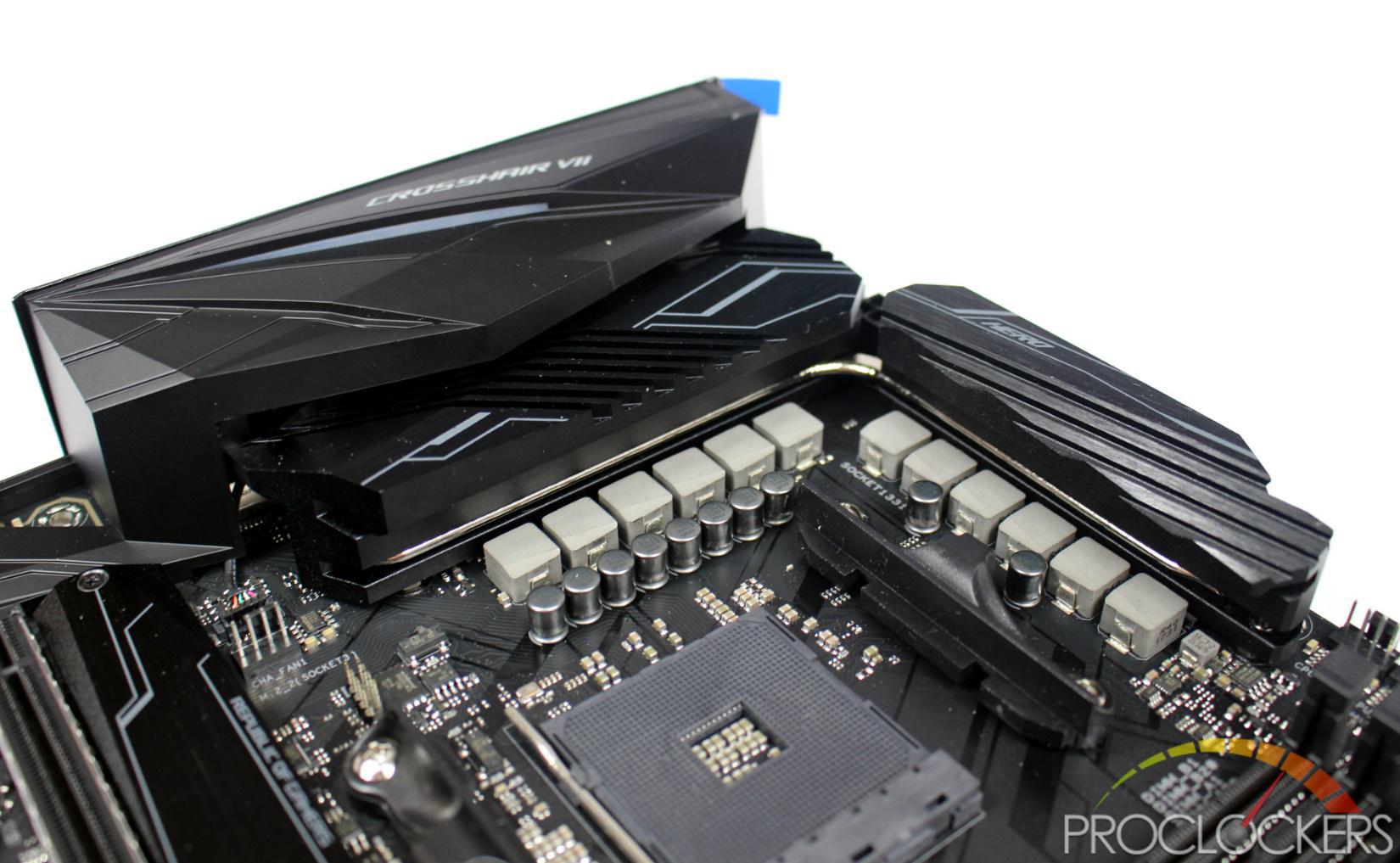 The VRM stage is still 12 phase but updated to a more optimized 10+2 layout over the older 8+4.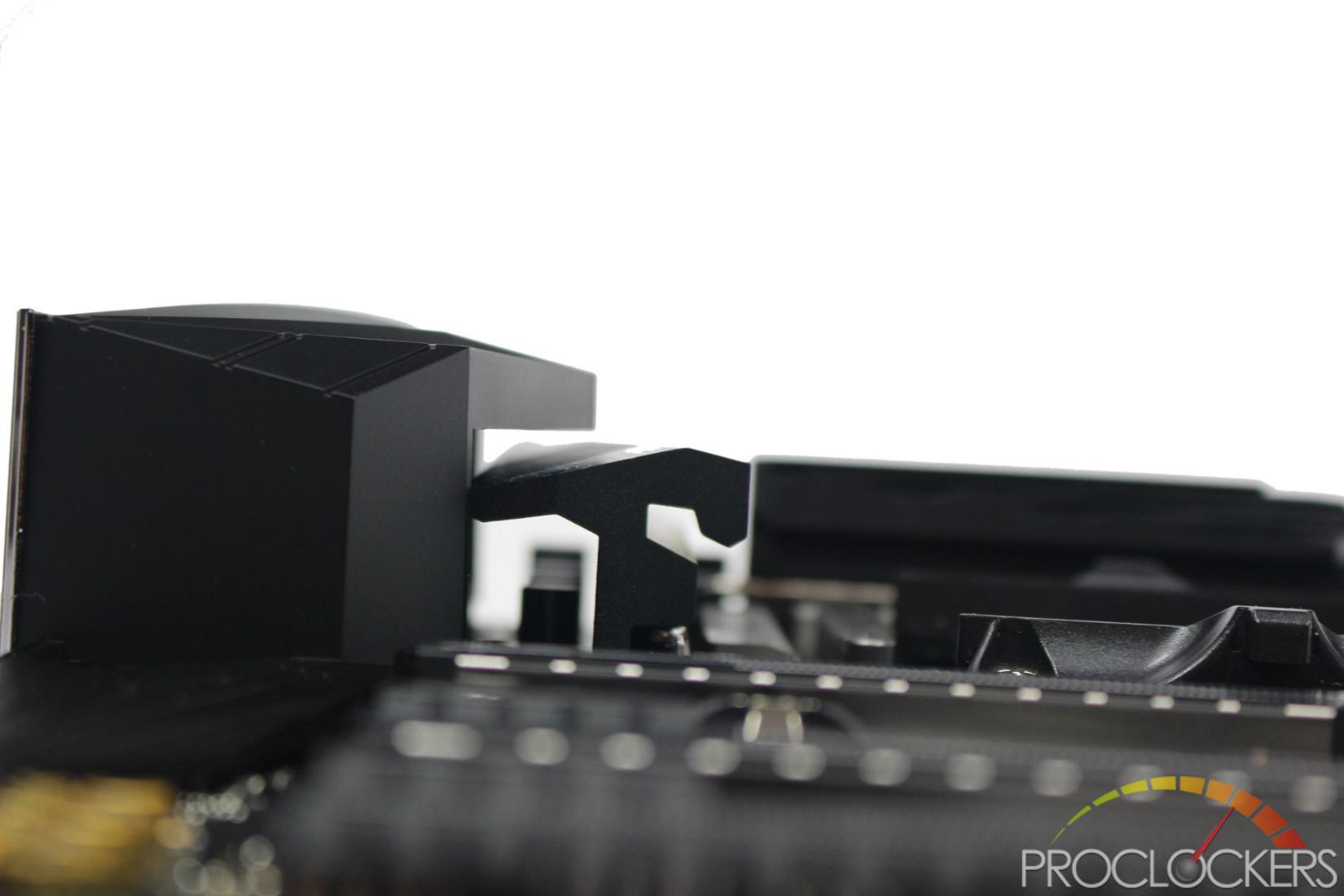 The heatsink is roughly T-shaped to give it a bit more surface area over some of the other designs that are just a decorative slab.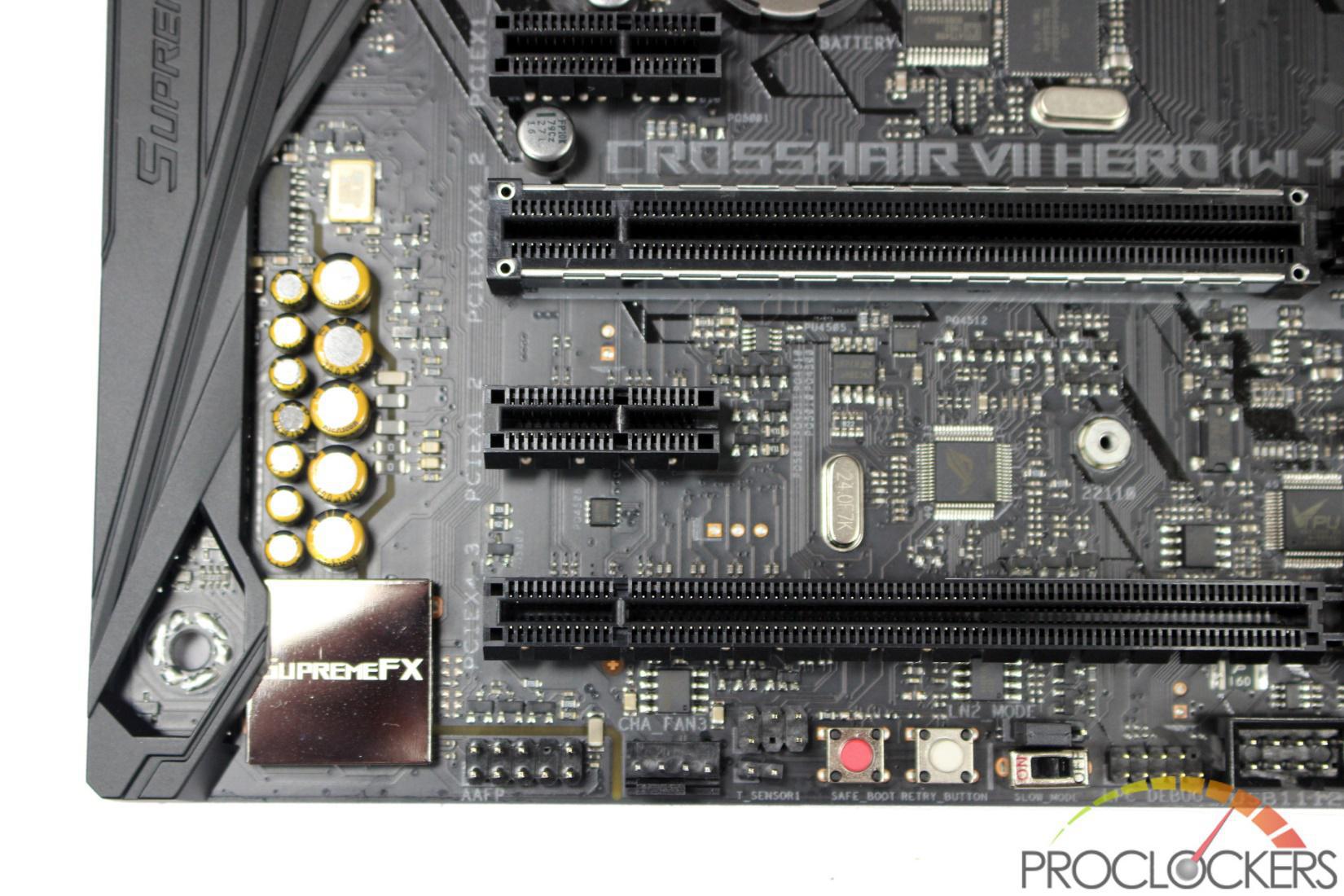 As with most ROG boards, connectivity is elaborate. On the bottom rear corner, you have the front panel audio header, a 4-pin fan header, Thermal sensor connection, Safe Boot and Retry buttons, LN2 jumper and slow mode switch, an LPC Debug header, USB 2.0 header, ROG extension connection and a USB 3.0 header.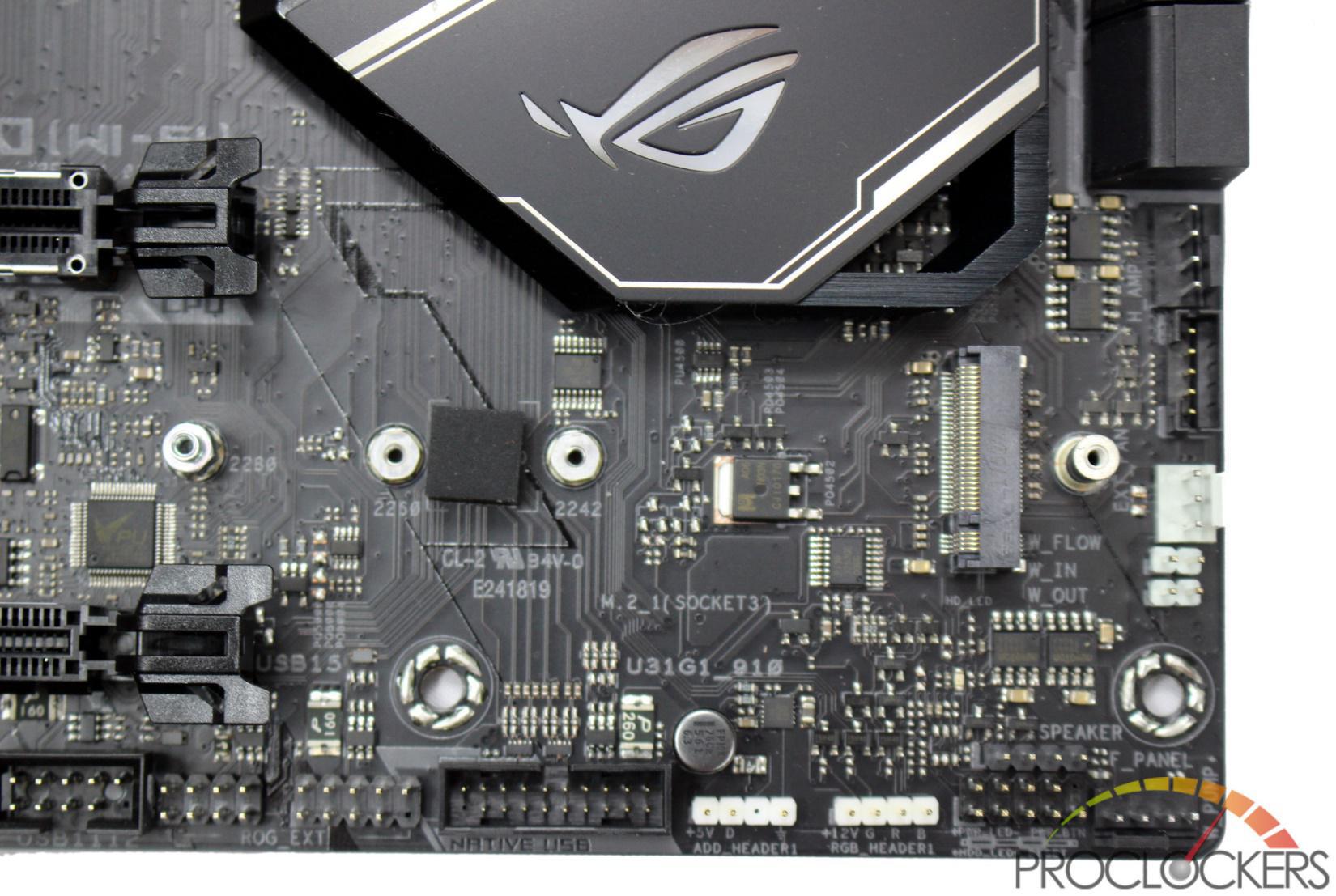 On the front corner, you get an analog and digital RGB header, front panel connections, another 4-pin header rated to handle water pumps or ultra-high powered fans, flow meter and water in/out temp connections and the VROC key header.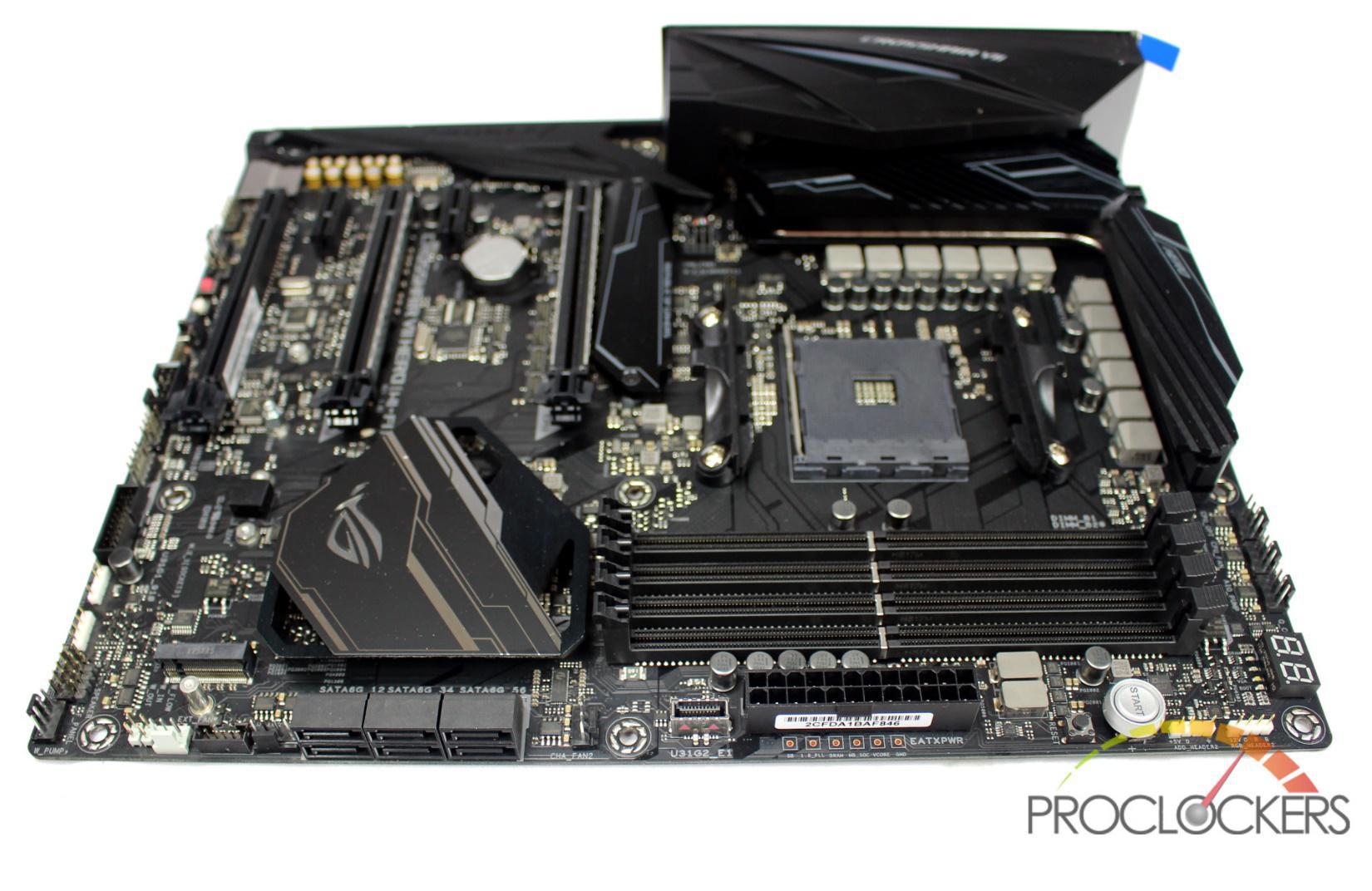 Going up the front we have six SATA ports flanked by two more fan headers, a USB 3.1 header, and main 24-pin power.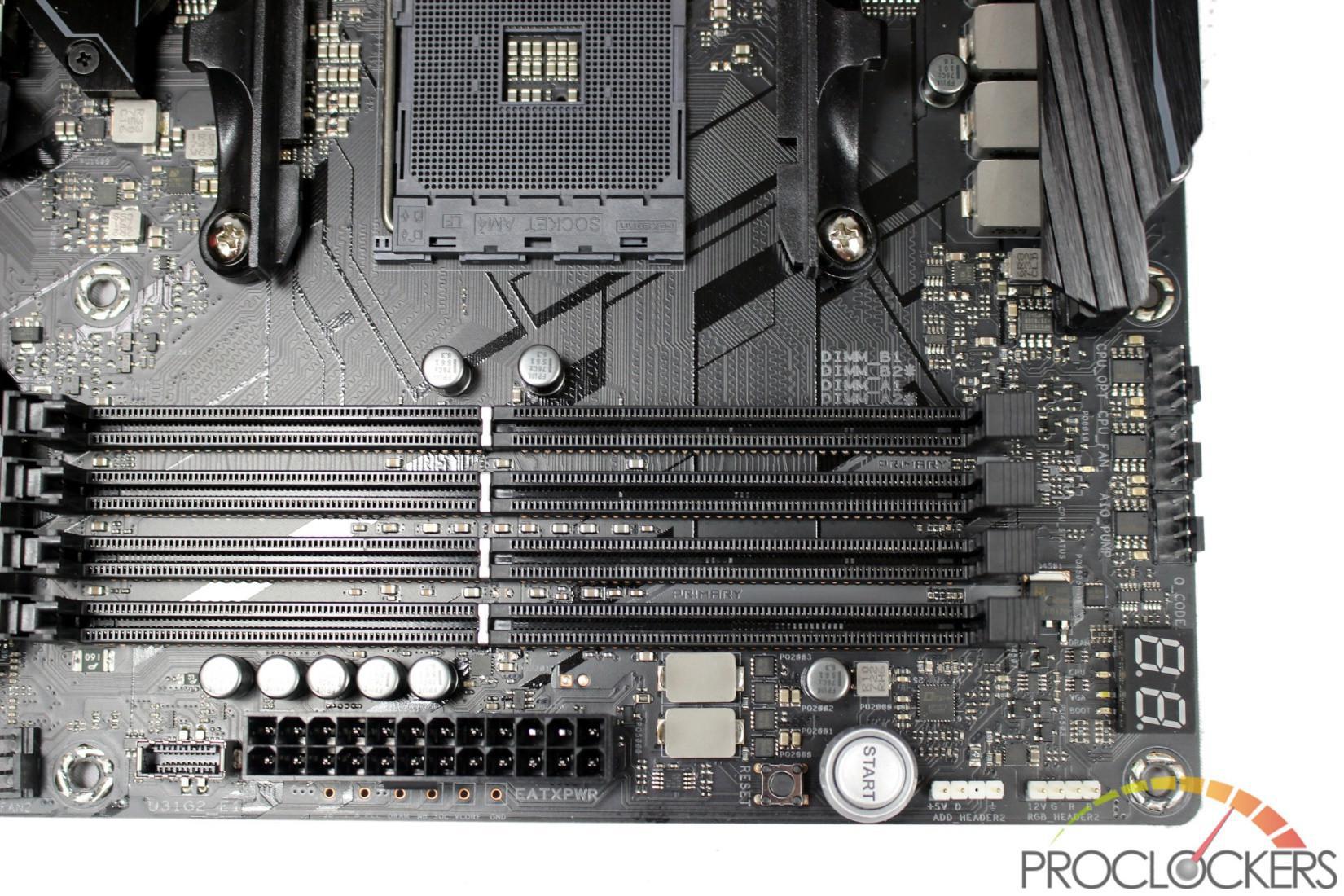 The front top corner now has the Start (power) and reset buttons, as well as another pair of analog and digital RGB headers.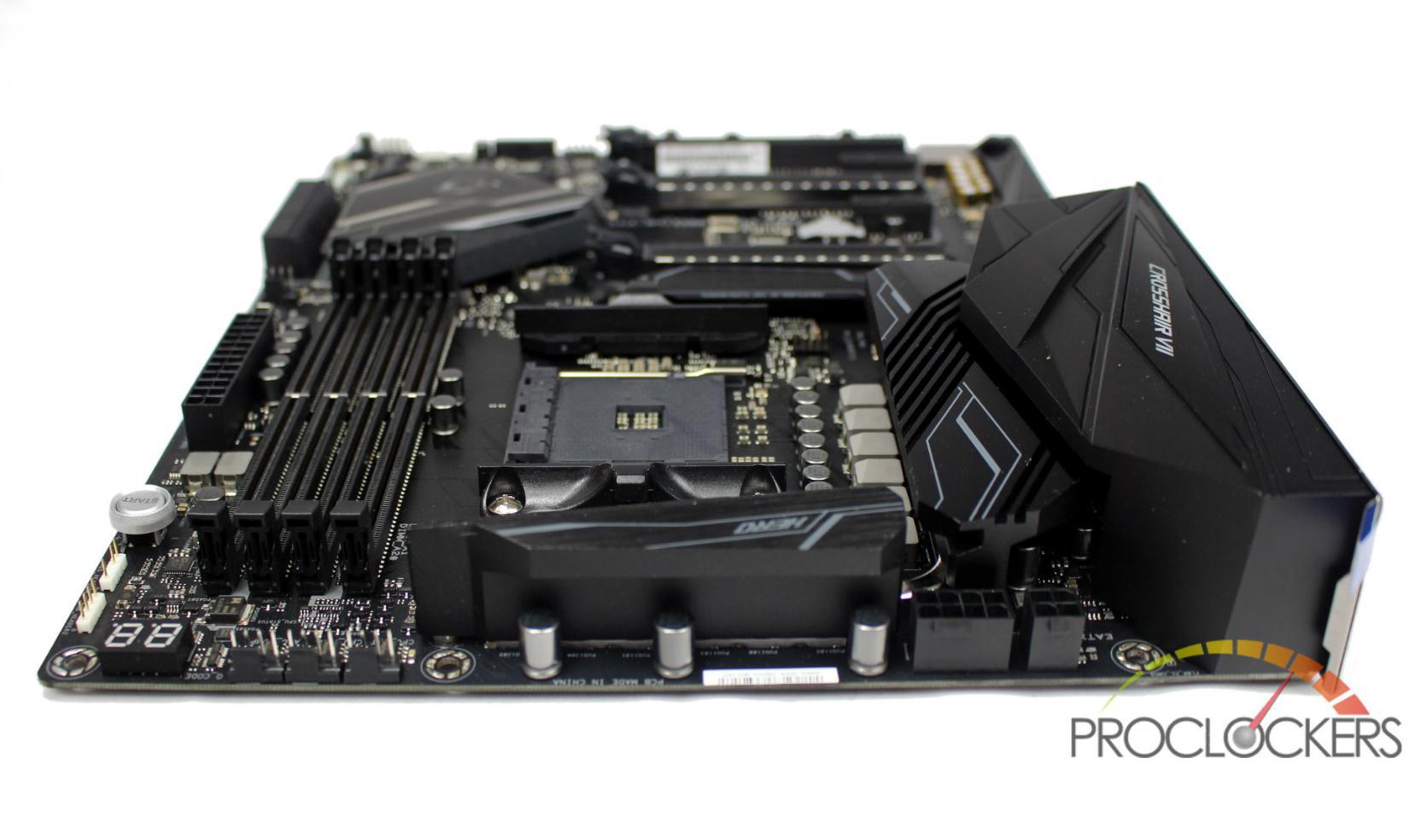 The top edge has the 2-digit diagnostic display, three fan headers, and the CPU's 8 and 4-pin power connections.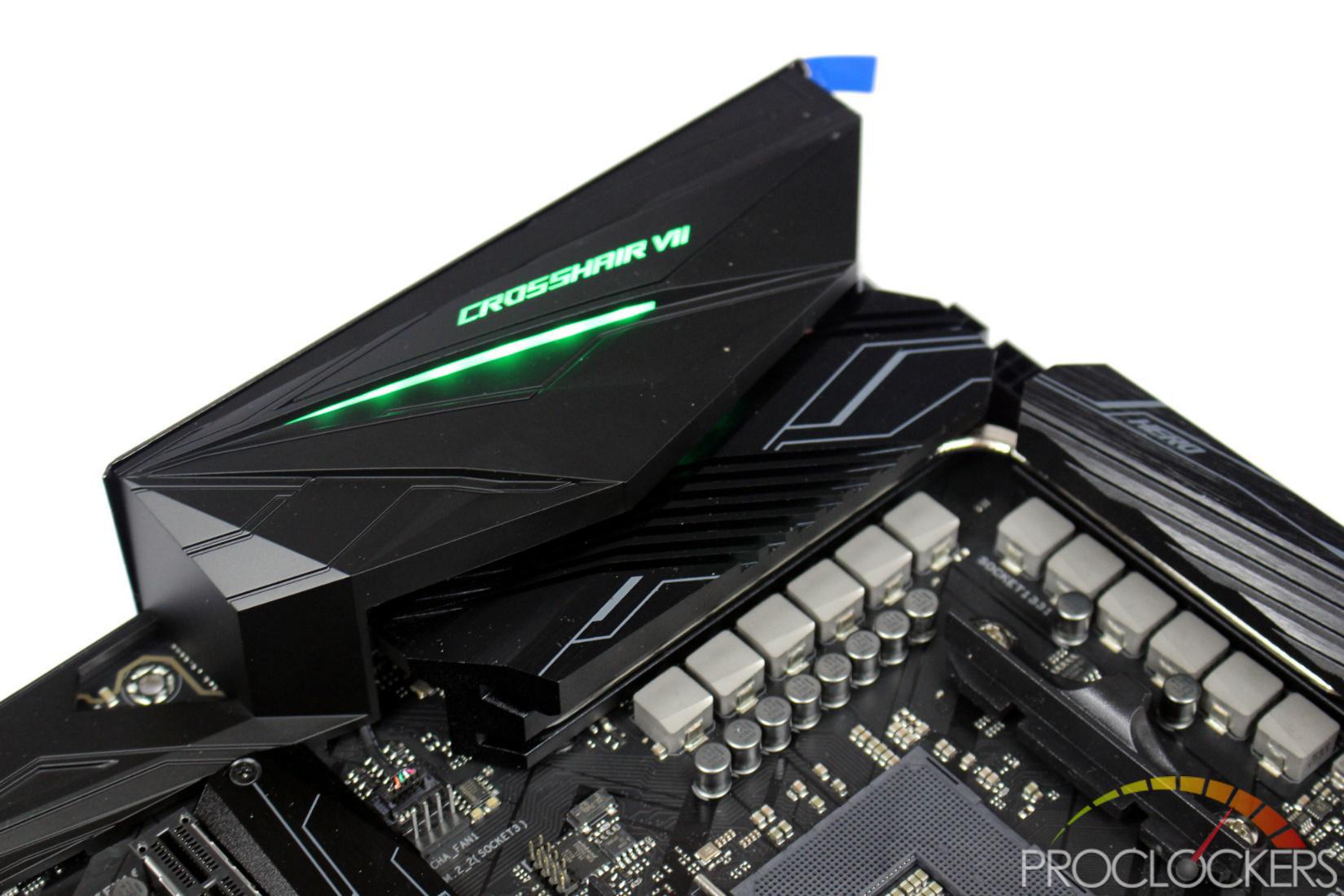 Similar to the previous generation, the rear I/O cover has the Model and an accent stripe light up in RGB glory.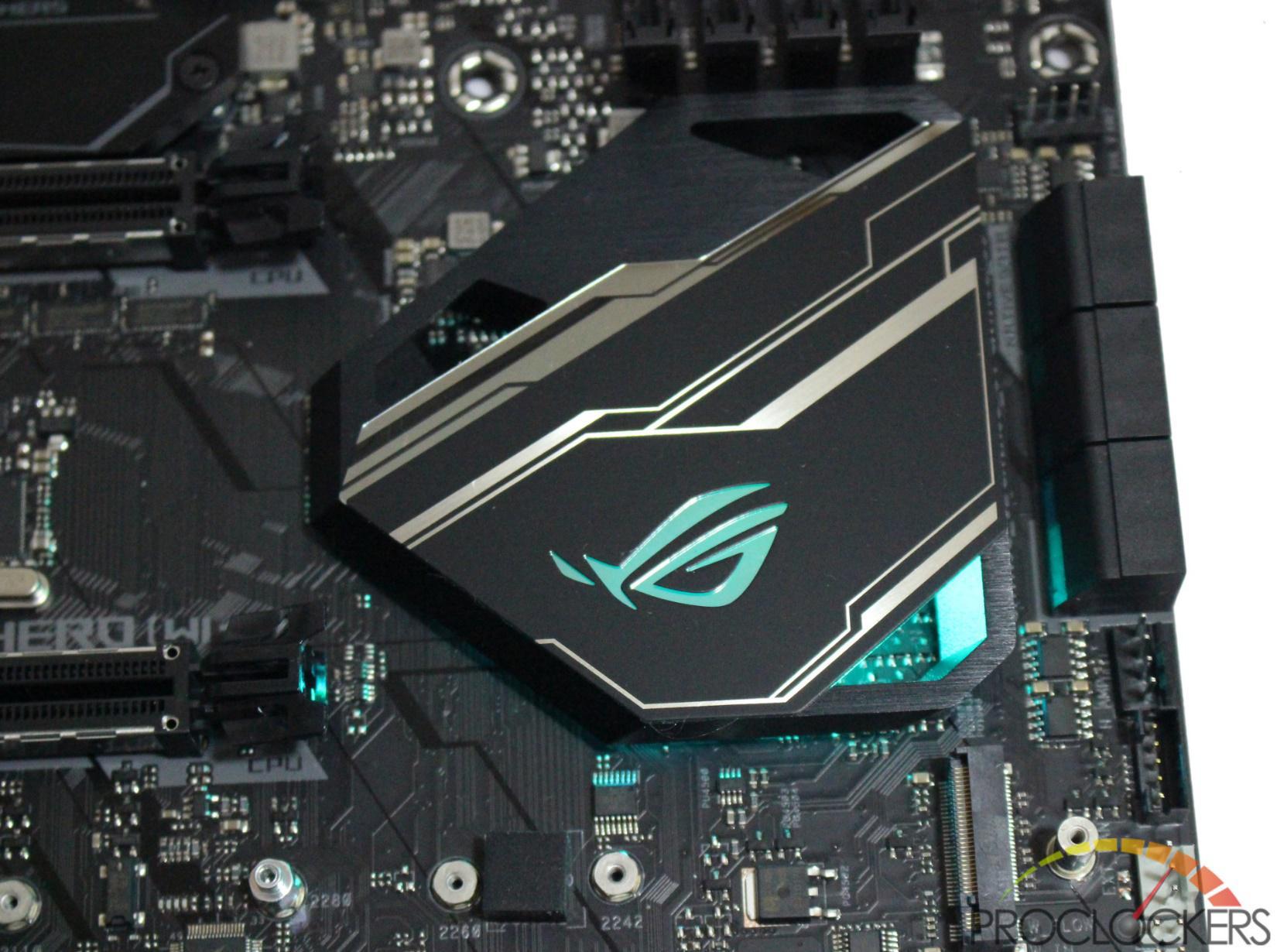 The chipset heatsink also lights up a ROG eye as well as a small area around it.
System Configuration & BIOS
CPU: AMD Ryzen 7 2700X
Motherboard: ASUS ROG Crosshair VII Hero (Wi-Fi)
RAM: 16GB G.Skill TridentZ RGB 3200Mhz
GPU: Galax GTX 1070 HOF
SSDs: Samsung 960 PRO 2TB
OS: Windows 10 Professional X64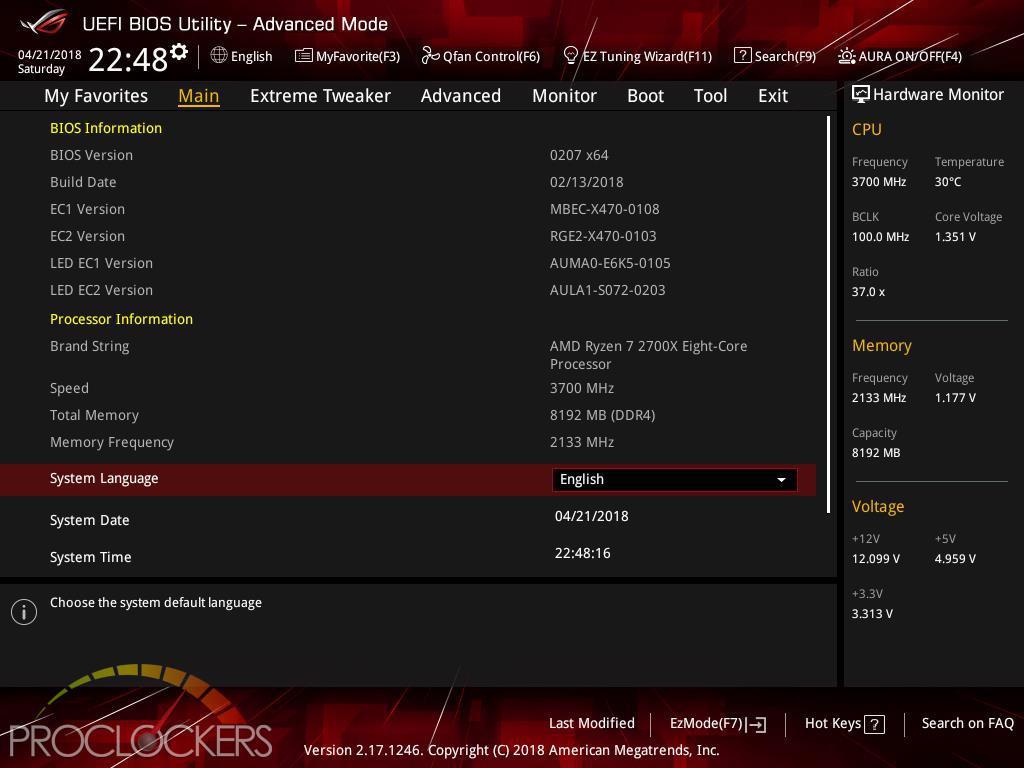 The main page of the BIOS includes basic information about the system as configured.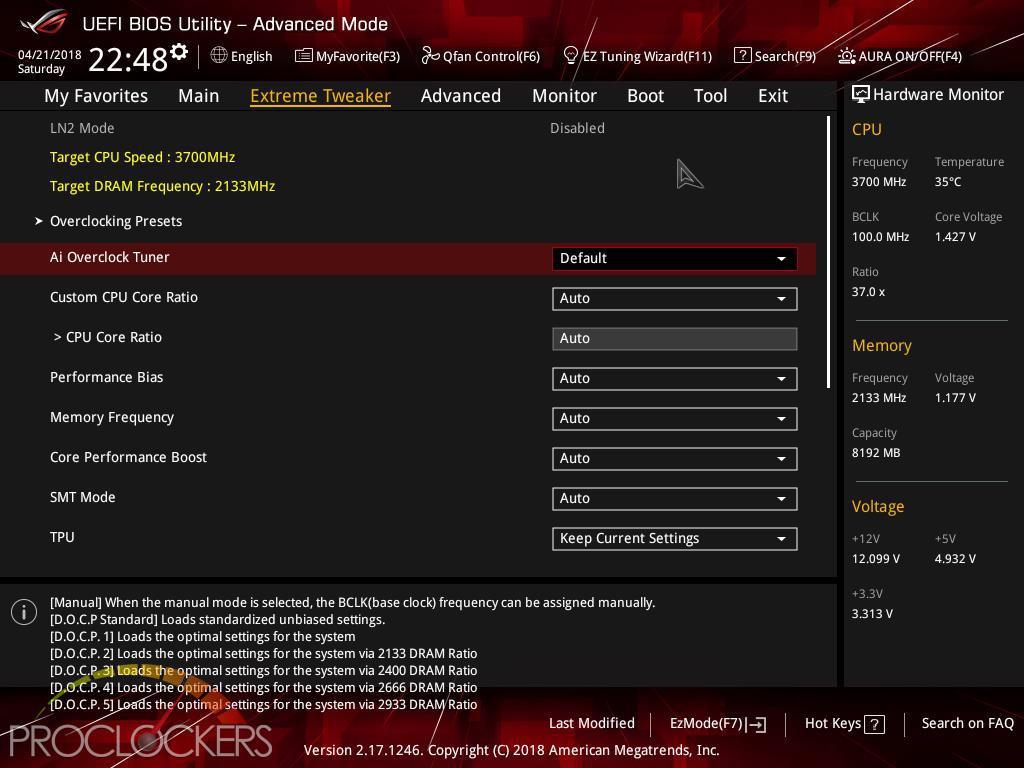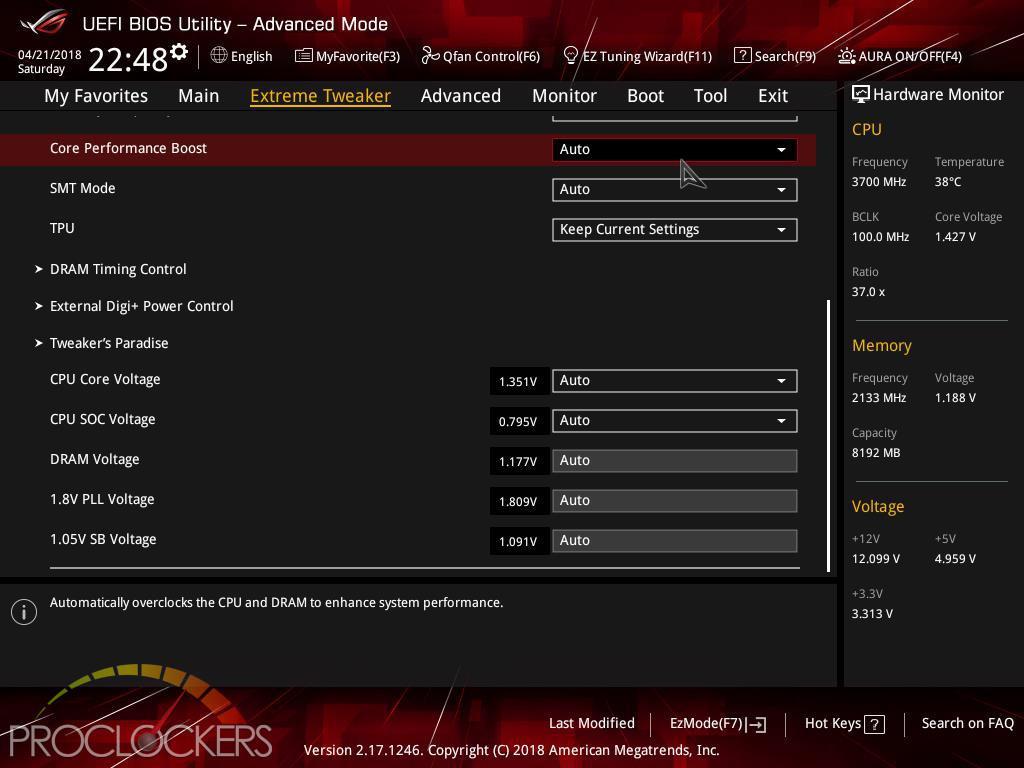 Overclockers will enjoy the Ai Tweaker Tab and it's Overclock related settings.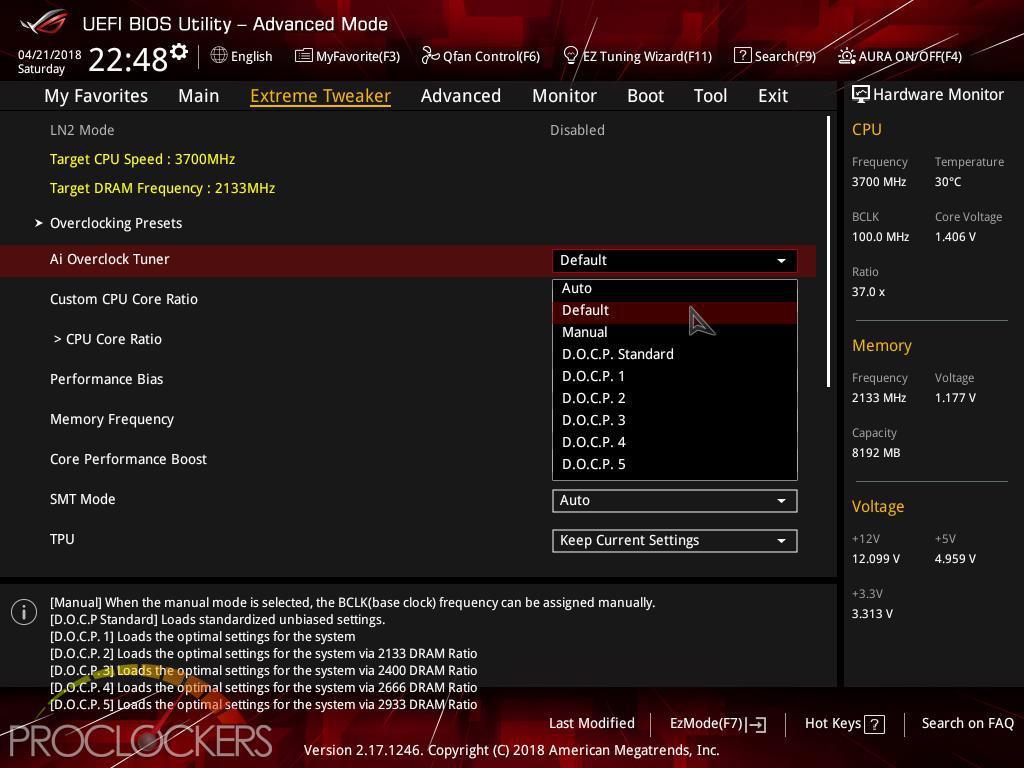 To quickly kick your ram up to its XMP rated speeds, jump into the Ai Overclock Tuner drop down and enable D.O.C.P (Direct Over Clock Profile). In our case, this takes us to 3200 MHz effective at 16-18-18-38 timings.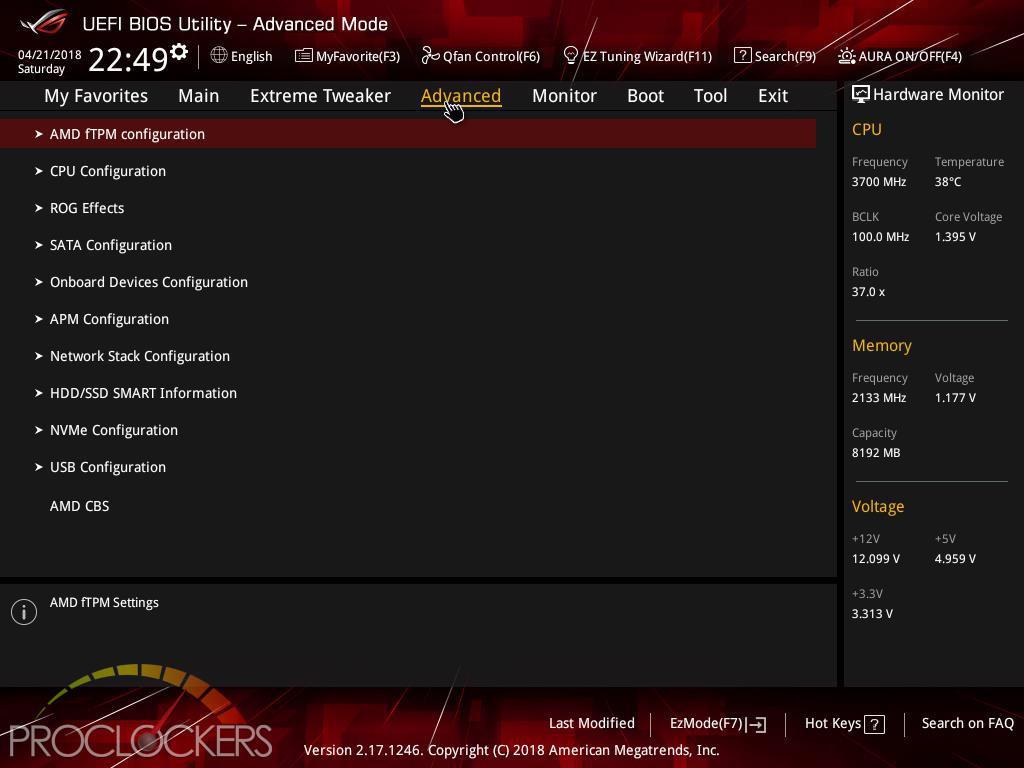 The advanced Tab lets you deep dive into system settings, from CPU and Drive configuration to Network and drive onboard device settings.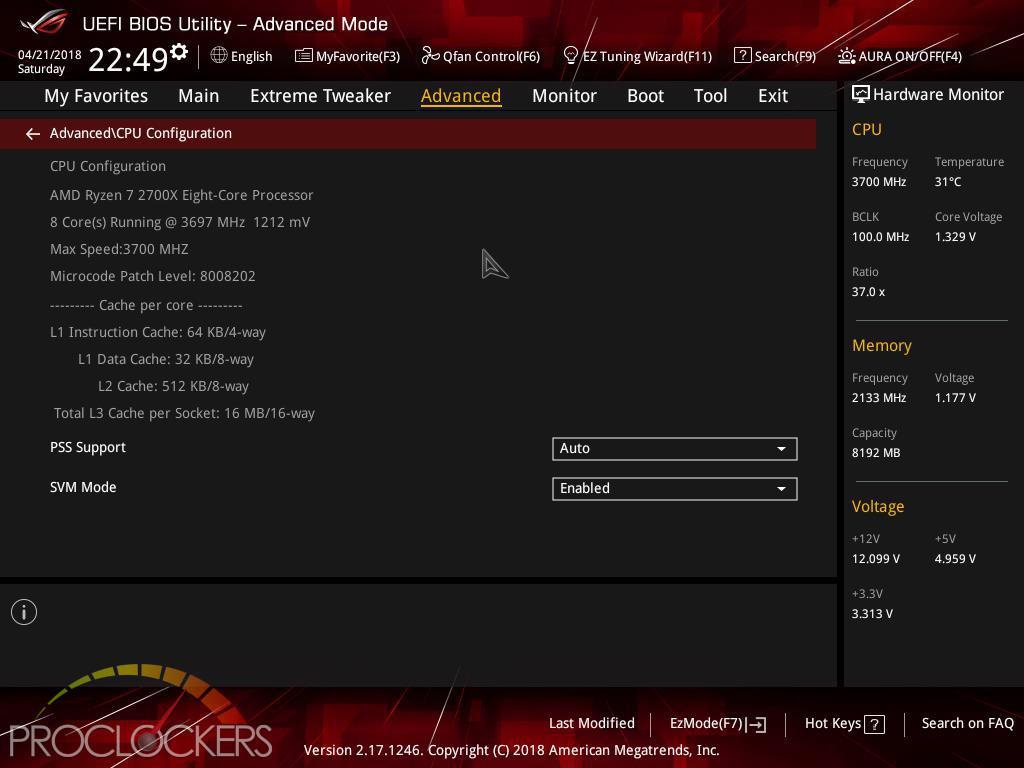 Each sub-menu has a few to dozens of more settings to tweak as needed.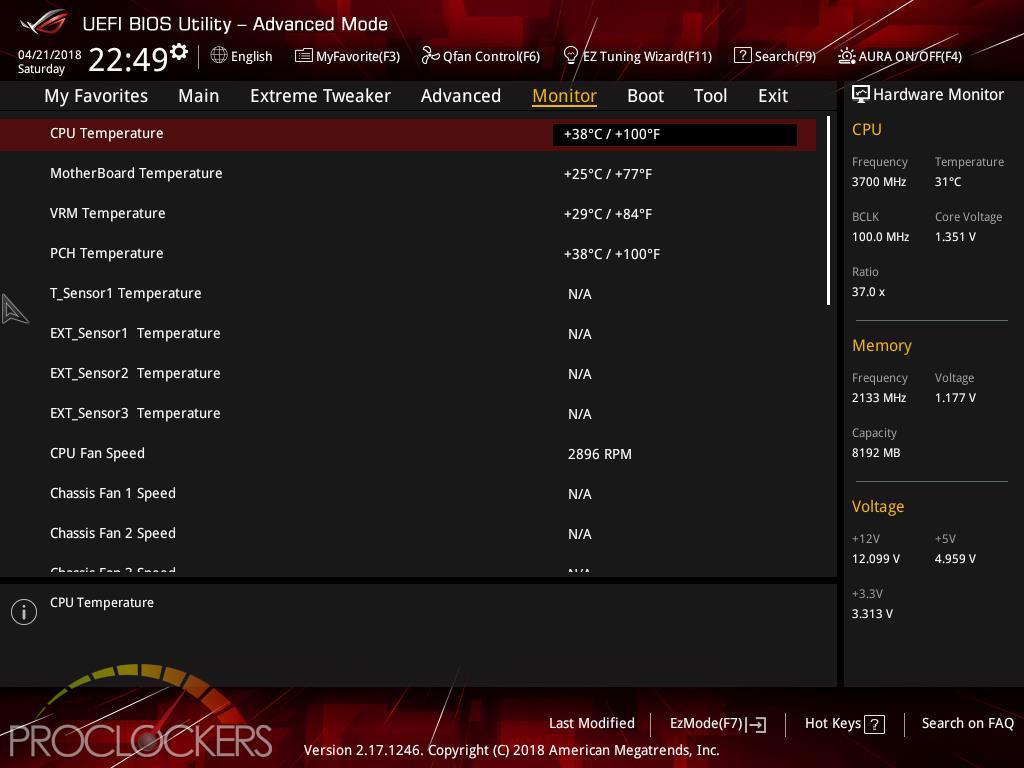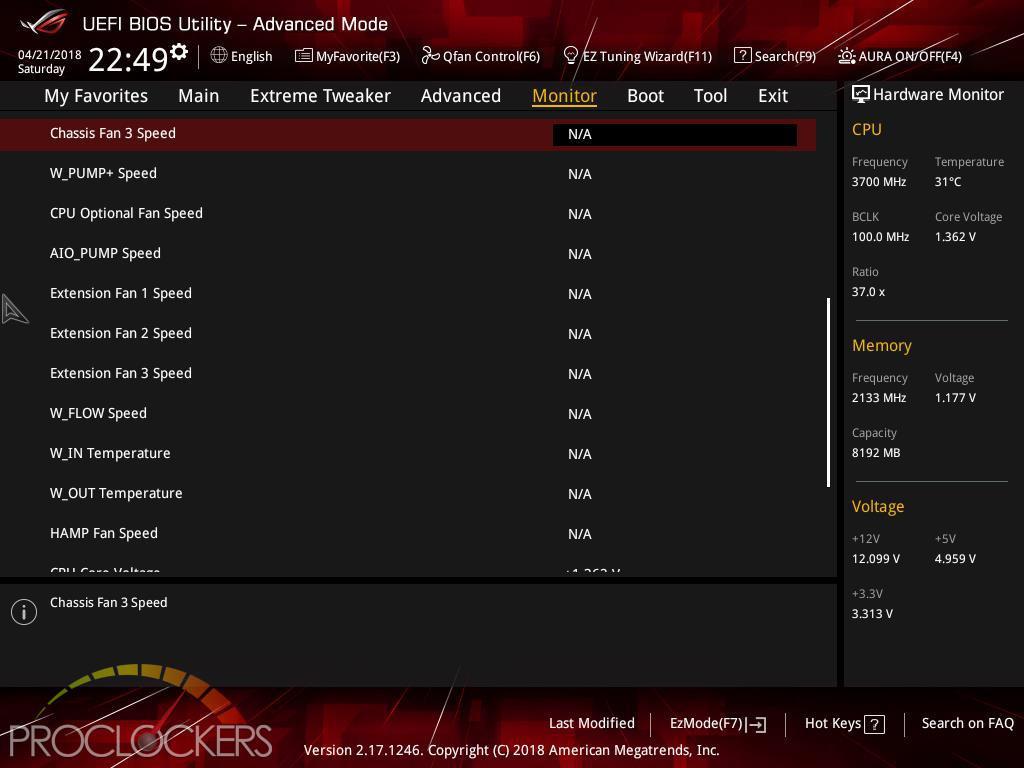 The monitor tab shows all relevant system voltages, temperatures, and RPM feedback from connected fans and pumps.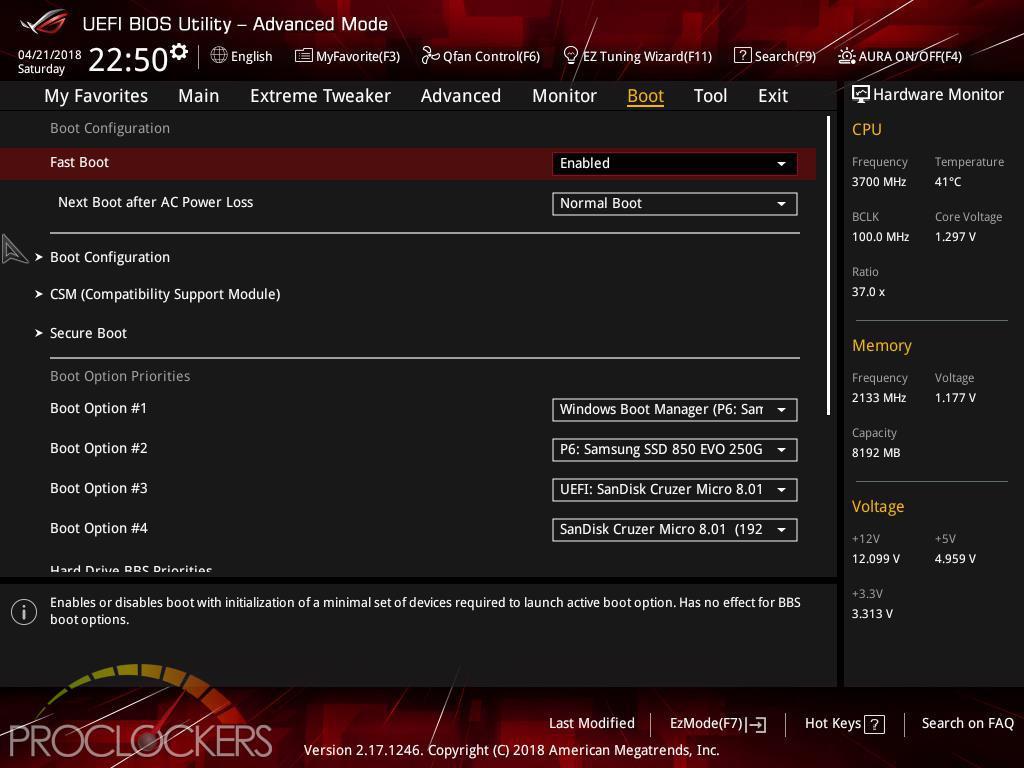 The Boot menu lets you adjust boot order, prioritize what drives to boot from and even adjust CSM settings.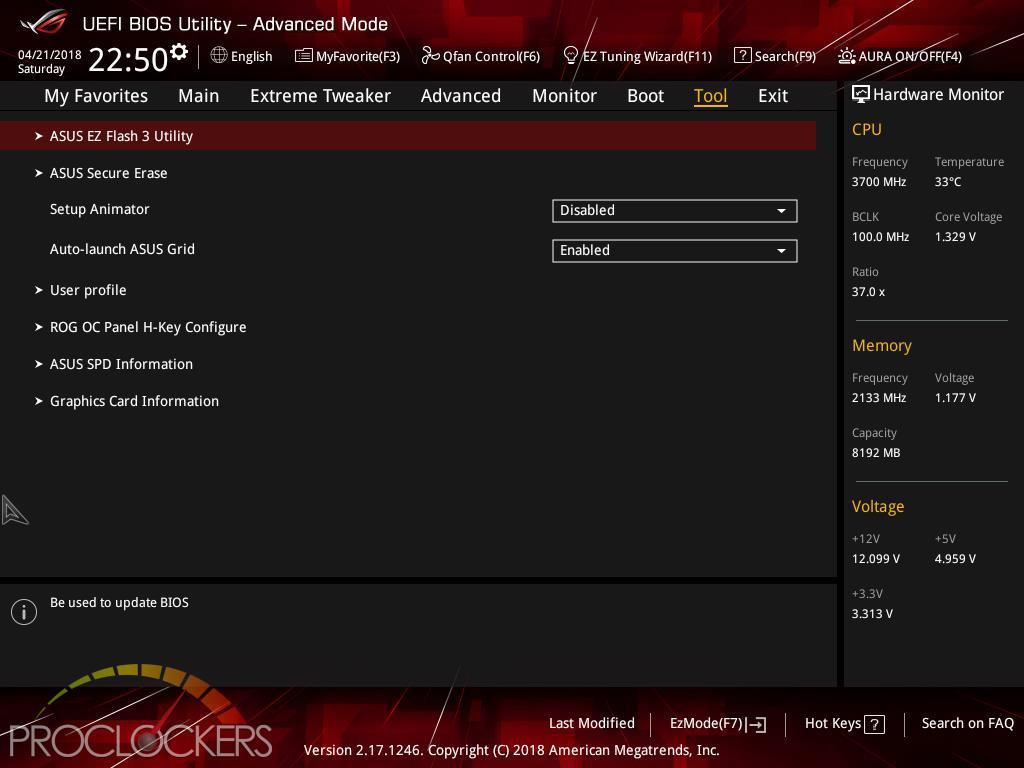 The Tools tab has some handy features. ASUS's EZ Flash 3 Utility should be your first stop for a new system to apply the latest BIOS updates for best system stability and performance. This was also our first step.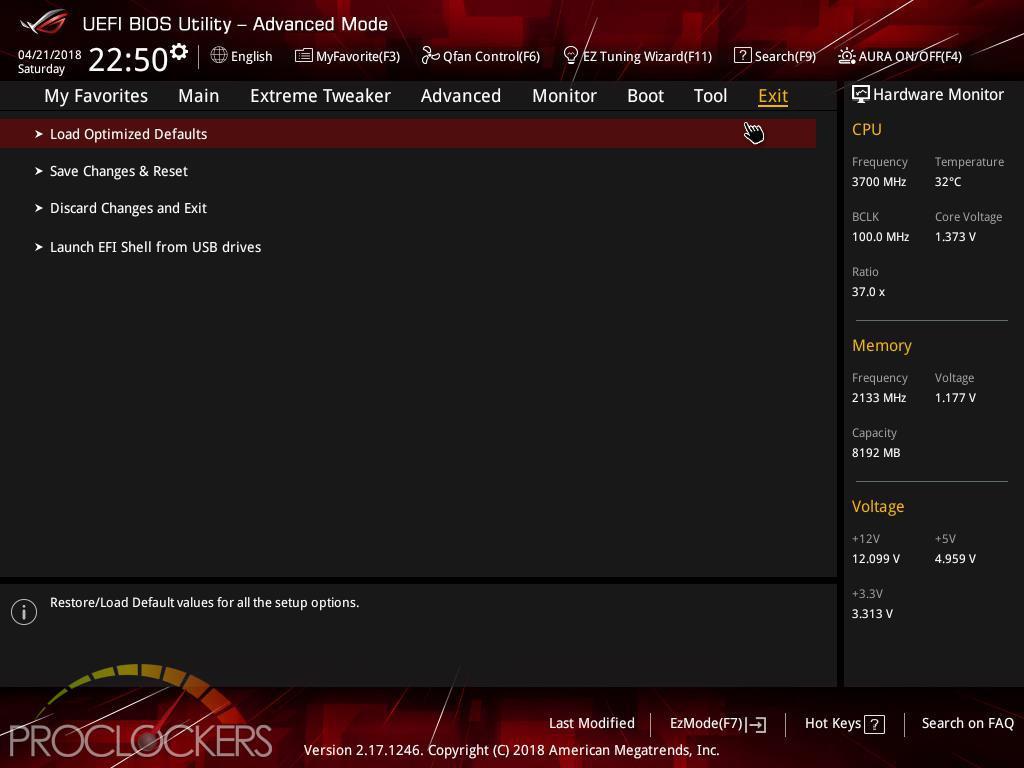 Beyond the normal save or discard and exit, the exit menu also has a handy option to load defaults without having to manually clear the CMOS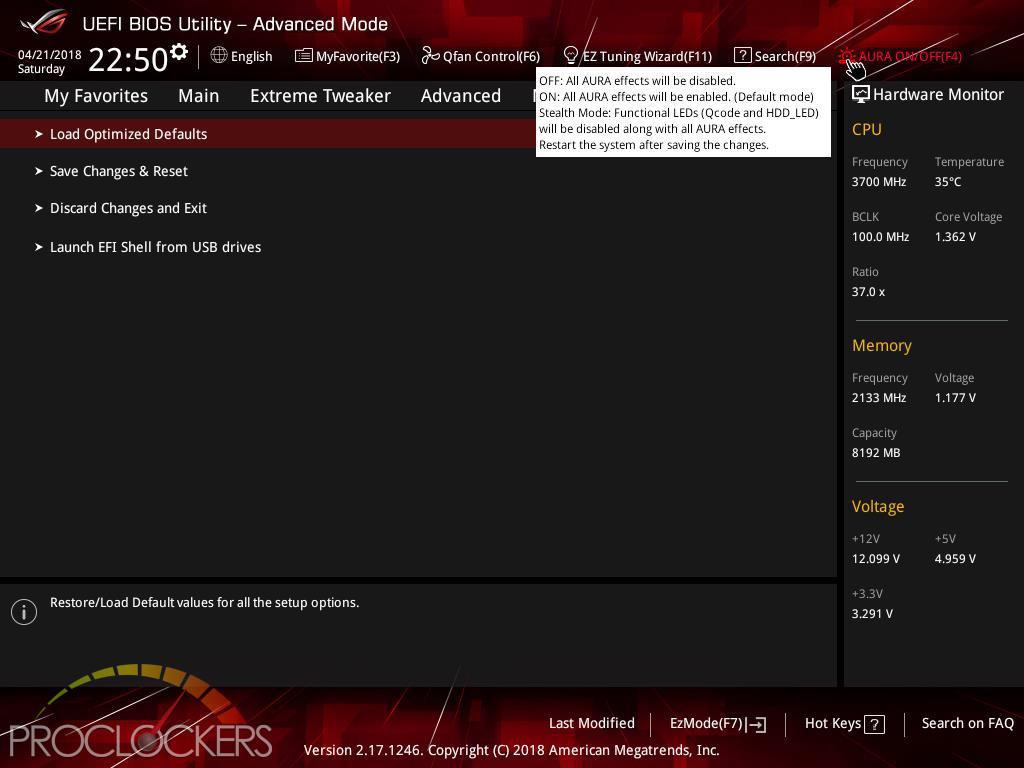 The last thing we'll point out in here is hitting F4 or clicking the button on the top right corner will shut off or reenable all the system lighting in one shot.
Software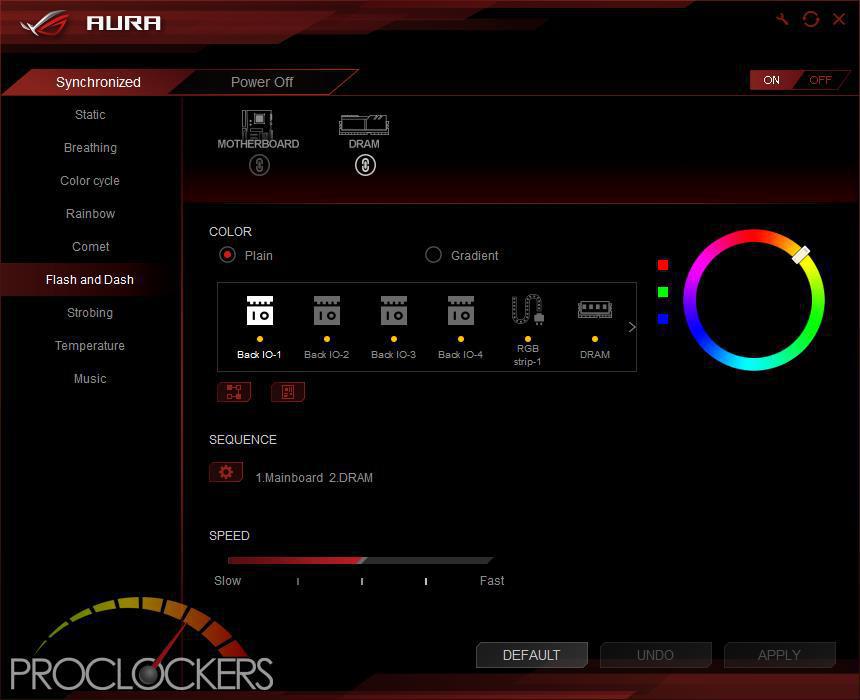 The Rear I/O Area lighting, Chipset and PCIe lights as well as all RGB headers, are controlled by ASUS's AURA software on the Crosshair. There are quite a few effects to choose from, both static and dynamic, but our favorite was the Flash and Dance, as well as the Temperature mode.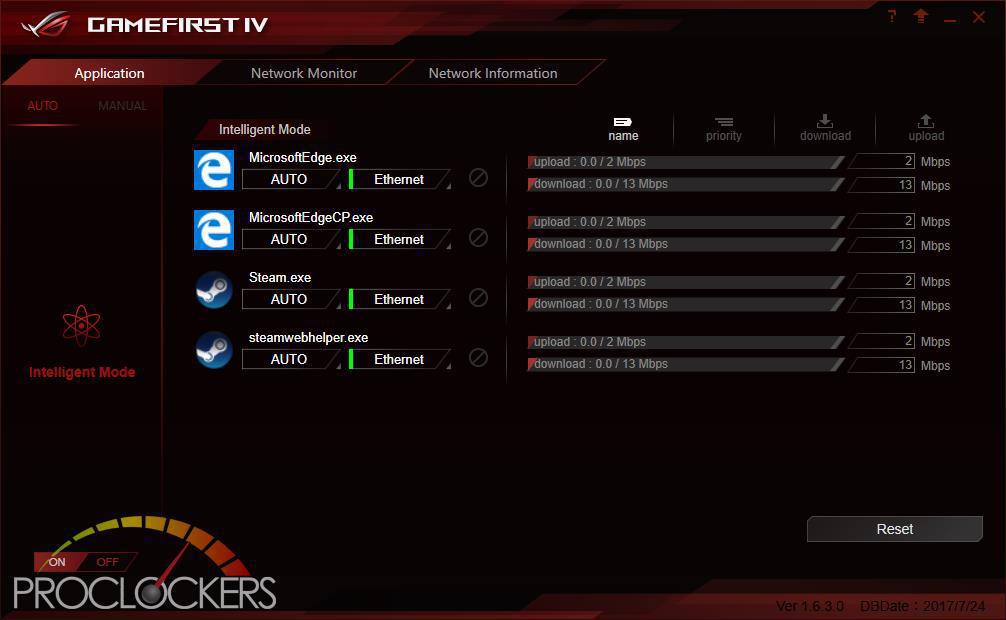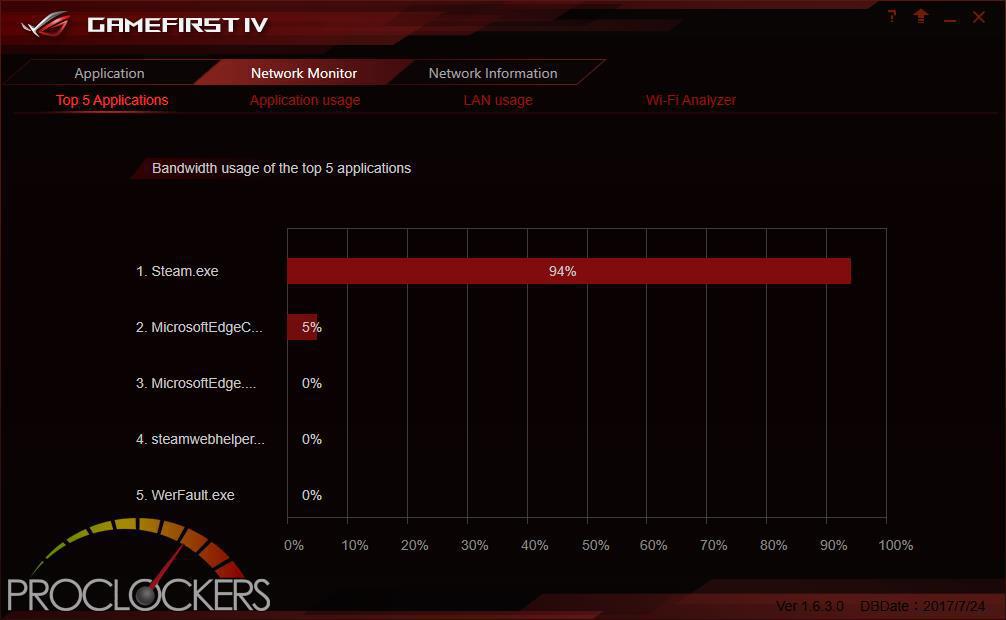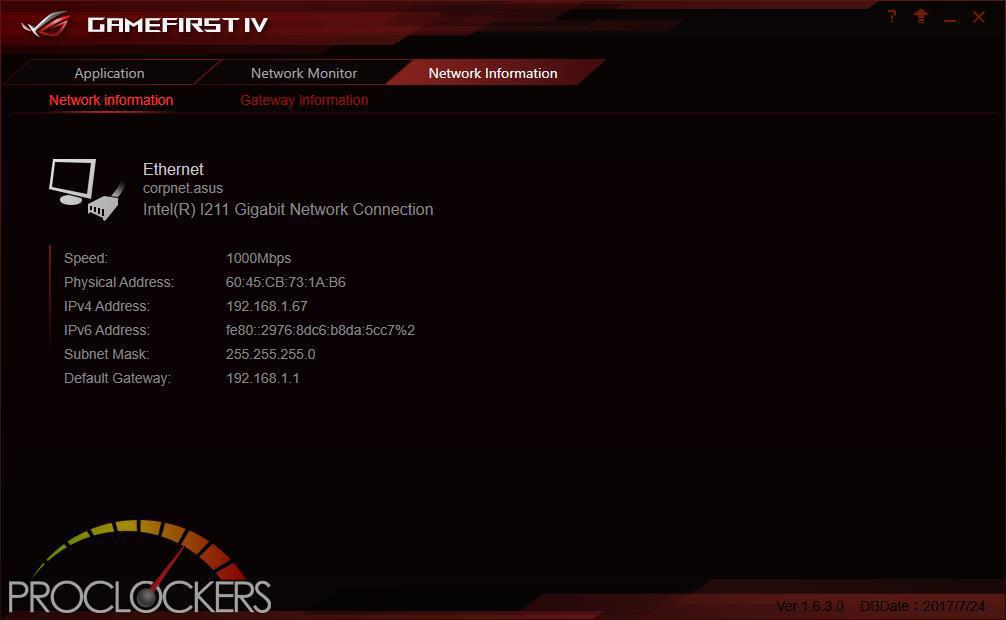 The GameFirst IV Application allows you to Monitor and control all traffic over the Intel Gigabit Lan connection, as well as see statistics and vital information. By Default, the application runs in intelligent mode and will prioritize Traffic based on its purpose, but you can switch to Manual mode and take over full control. You can see here while browsing the web and installing games on Steam for benchmarking where most of the bandwidth is being used.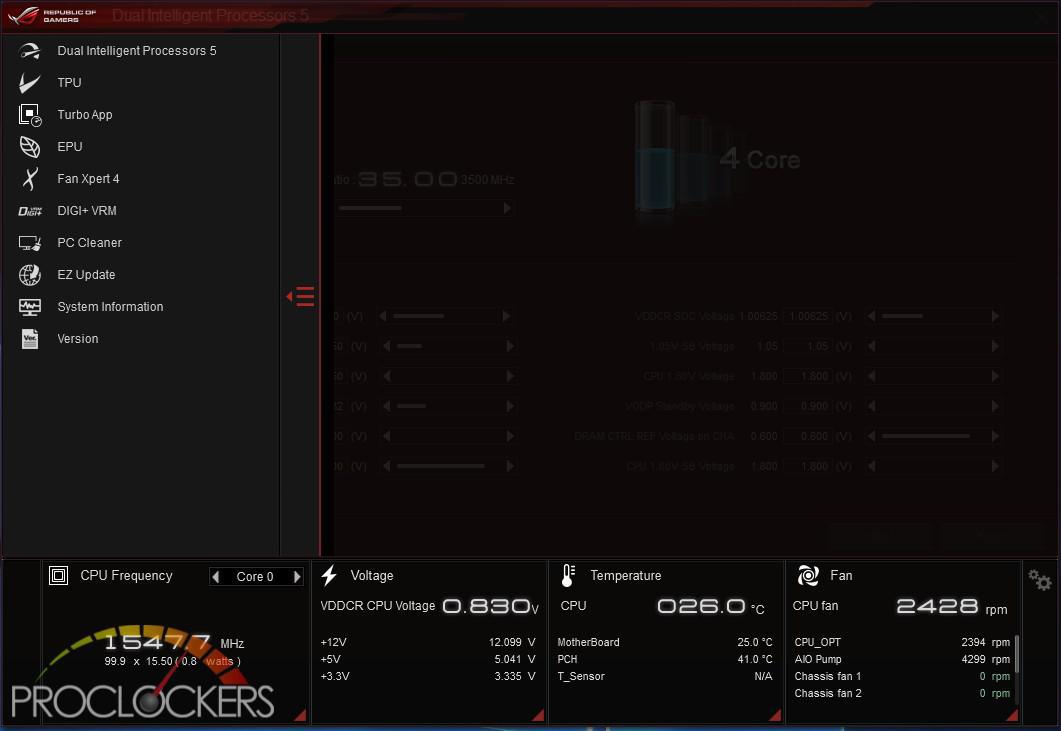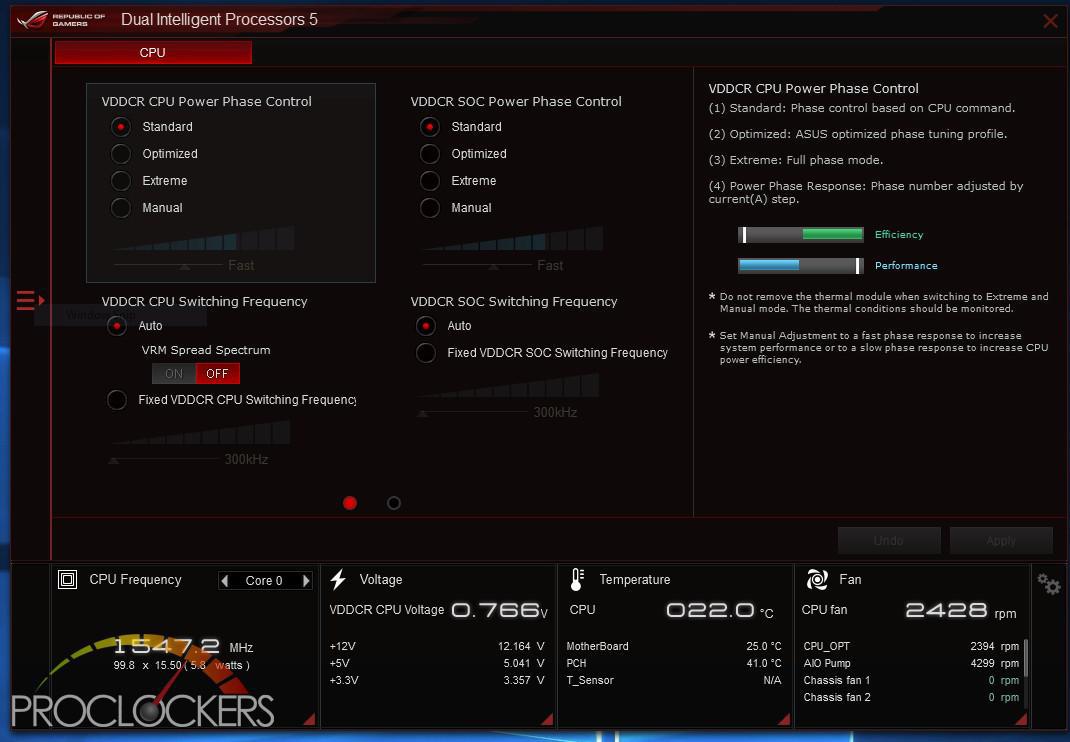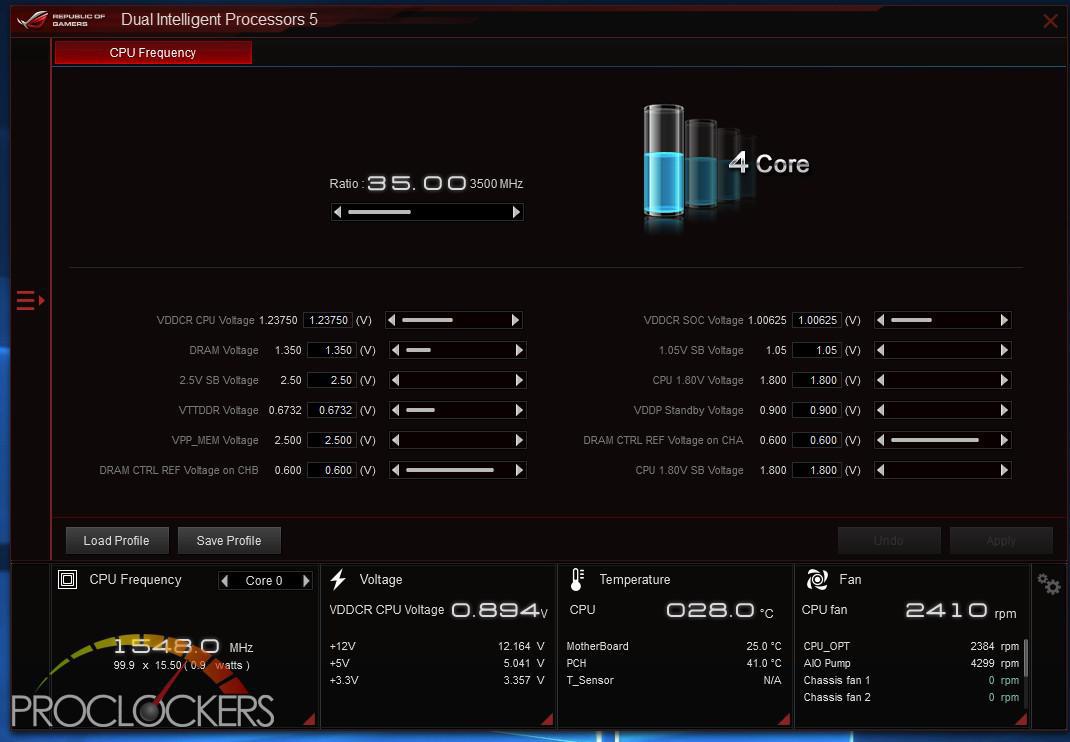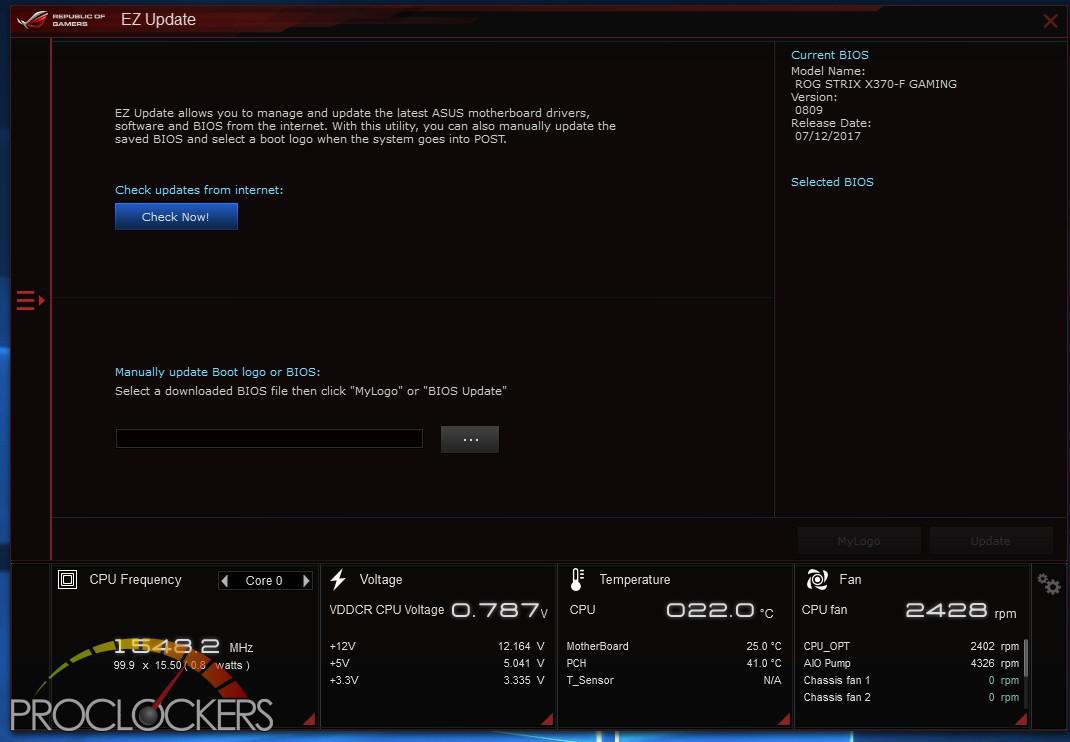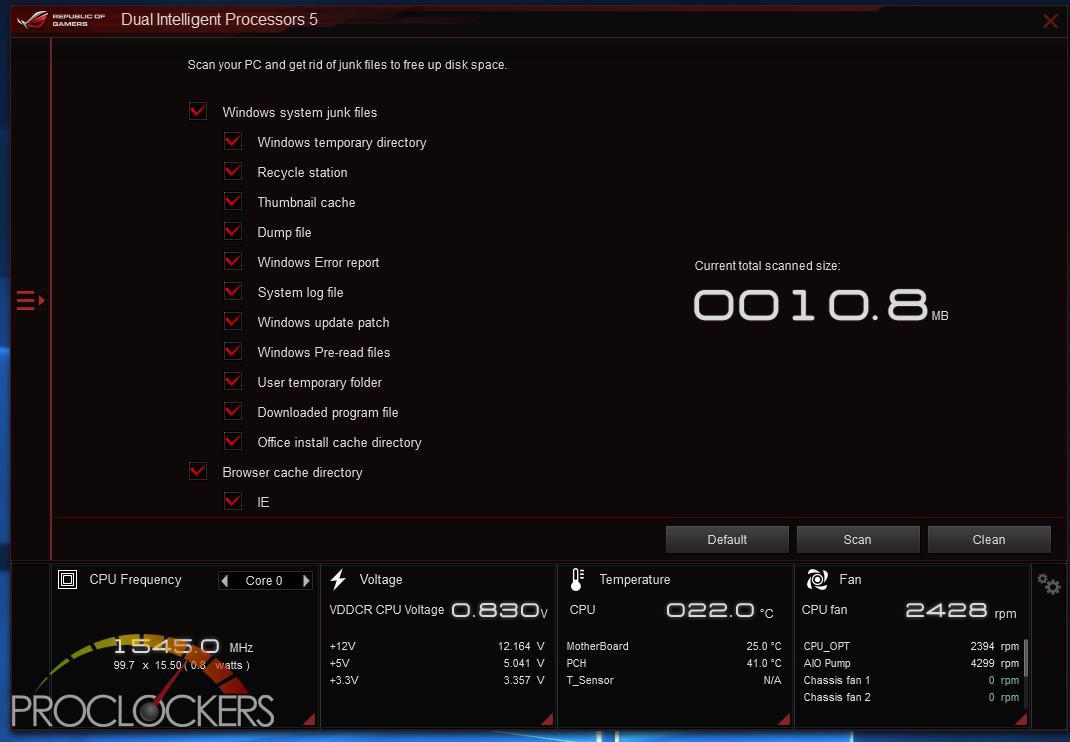 ASUS's Dual Intelligent Processors 5 application is a powerhouse and one you don't want to miss. Anything related to optimizing performance can be found here, from switching profiles to Auto overclocking to manual overclocking and change voltages and fan settings are here. You can even clean out temp and other unneeded files in a few clicks all from one application.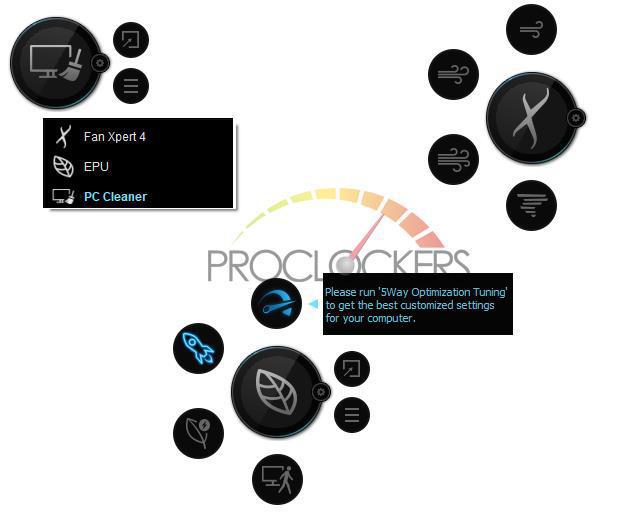 This application also runs similar to a desktop widget, gives you quick access to cooling, performance profiles and PC Cleaner without opening the full application.
ASUS's RAMCACHE II carves off a user selectable portion of system memory to speed up Disk transfers. Even if you have the fastest NVMe drive out there, using your ram as a cache can speed it up significantly.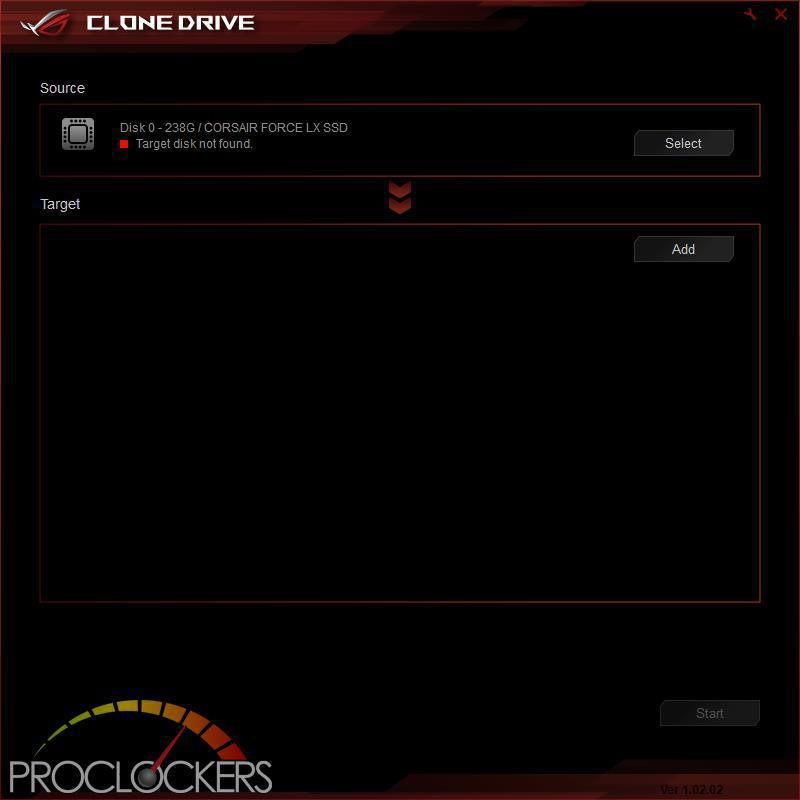 Clone Drive does exactly what the name implies. If you need to migrate to a new larger or faster SSD down the road, simply cone it over and away you go. It does work for data drives as well, not just your OS drive.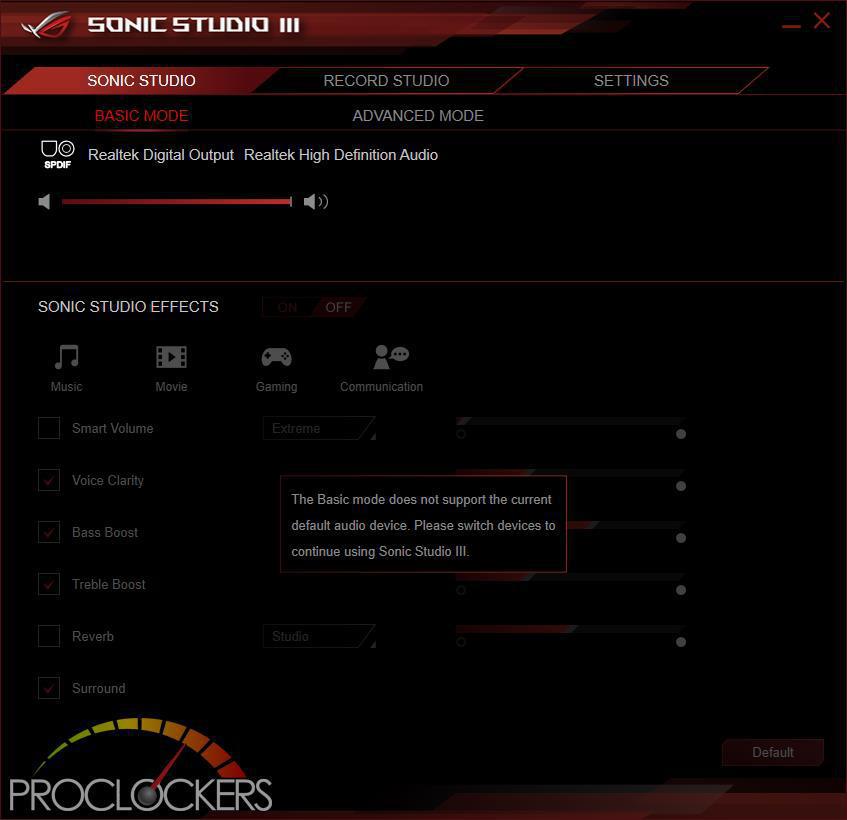 Sonic Studio lets you really flex the SupremeFX's audio muscles for the best and clearest sounds in all conditions, from movies to music to intense gaming sessions.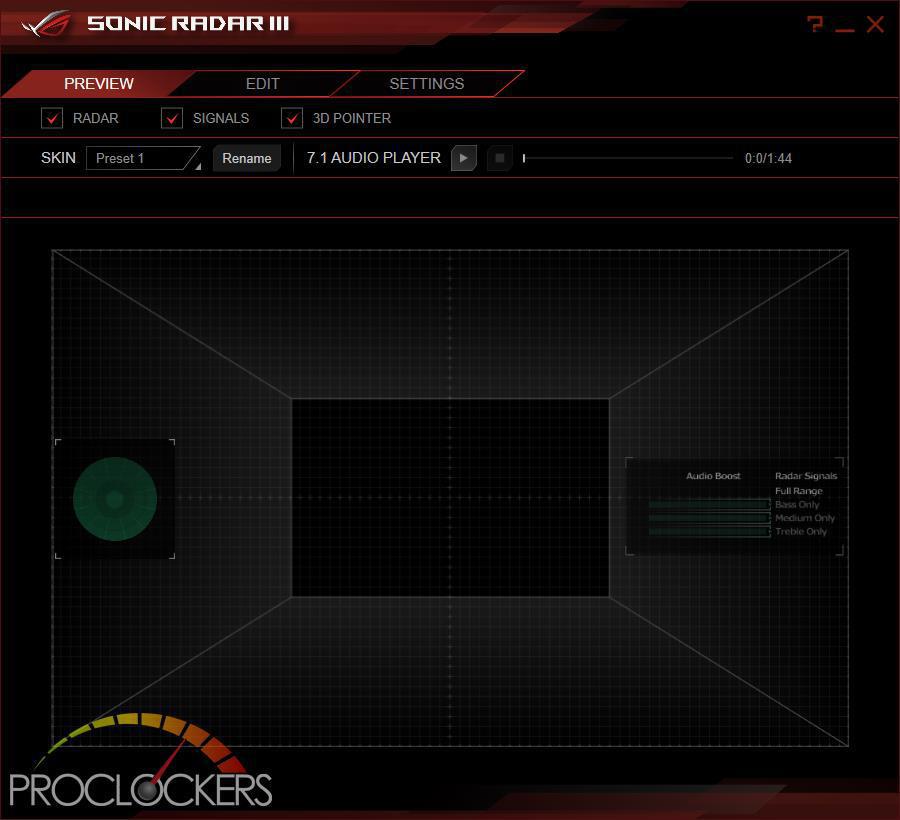 Speaking of audio and Gaming, Sonic Radar III will grab audio cues from your favorite games and use them to provide the accurate directional position of threats on an onscreen radar type overlay. It might not distinguish between friend or foe, but neither one of them will be sneaking up on you anymore.
Performance Testing
All benchmarks are run using stock settings on the CPU, which leaves XFR2 enabled for some automatic boosting. We set our ram to its XMP rated speeds of 3200MHz @ 16-18-18-38. Games where ran at a resolution of 1920 x 1080 and higher presets used as indicated.
General Performance Testing
Futuremark PCMark 10
Principled Technologies WebXPRT 2015
Passmark Performance Test 9.0
CPU Performance
Super Pi – Mod 1.5
Cinebench R15
7-zip
Memory Performance
AIDA64
Passmark – Memory Mark
SiSoft Sandra
Storage Performance
CrystalDiskMark 6.0.0
ATTO Disk Benchmark
AS SSD Benchmark
Synthetic Gaming Performance
Futuremark 3DMark Firestrike
Futuremark 3DMark Timespy
Real Gaming Performance
Grand Theft Auto V
Far Cry 5
Metro: Last Light
Rise of the Tomb Raider
Deus Ex: Mankind Divided
PCMark 10
PCMark 10 is the complete benchmark for the modern office. It is the ideal test for organizations that are evaluating PCs for a workforce with a range of performance needs. The tests in this benchmark cover a wide range of activities from everyday productivity tasks to demanding work with digital media content.
PCMark 10 uses a modular approach to build relevant benchmark tests around common end-user scenarios. A Test Group is a collection of workloads that share a common theme or purpose. There are four test groups in PCMark 10, we use three of them. Essentials: covers the common, everyday ways that people use a PC. The workloads include Web Browsing, Video Conferencing, and App Start-up time. Productivity: measures system performance with everyday office applications. This test group includes the Spreadsheets and Writing workloads. Digital Content Creation: This test group's workload reflects the demands of working with digital content and media. The tests include Photo Editing, Video Editing, and Rendering and Visualization.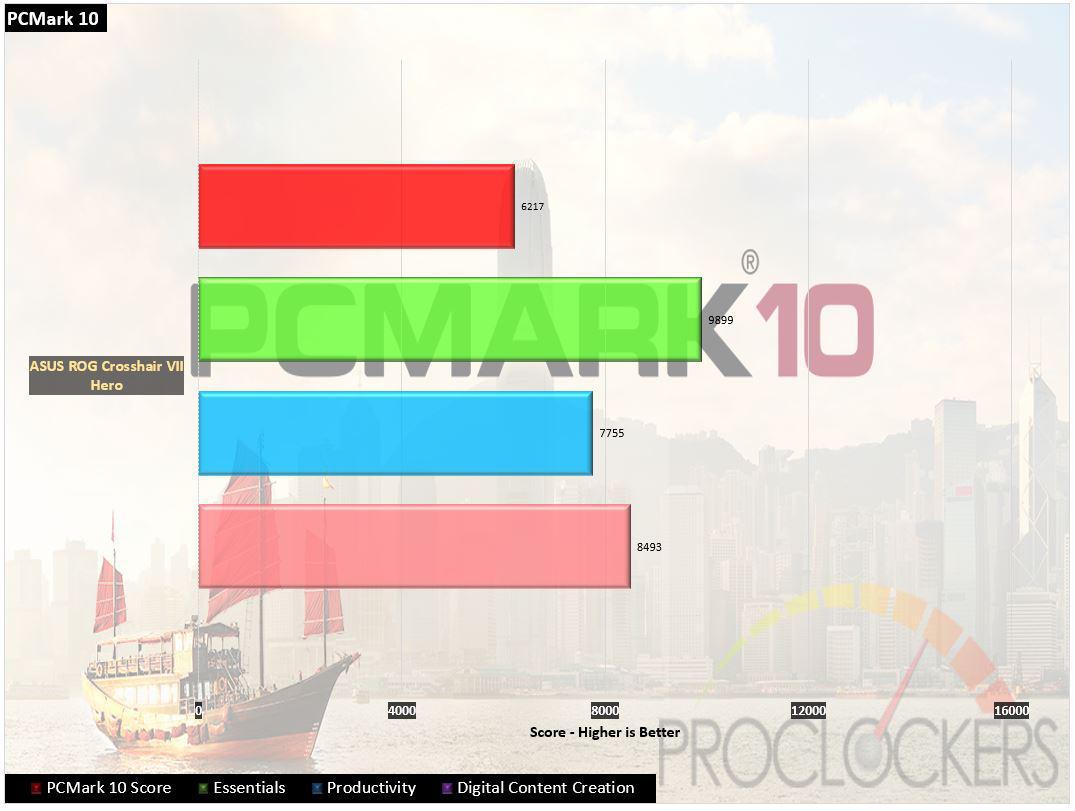 Full system performance testing with PCMark 10 provides a well rounded and solid score on the ASUS ROG Crosshair VII Hero.
WebXPRT 2015
WebXPRT 2013 uses scenarios created to mirror the tasks you do every day to compare the performance of almost any Web-enabled device. It contains four HTML5- and JavaScript-based workloads: Photo Effects, Face Detect, Stocks Dashboard, and Offline Notes. WebXPRT is run with the latest stable release version of Google Chrome browser, in this case, Version 61.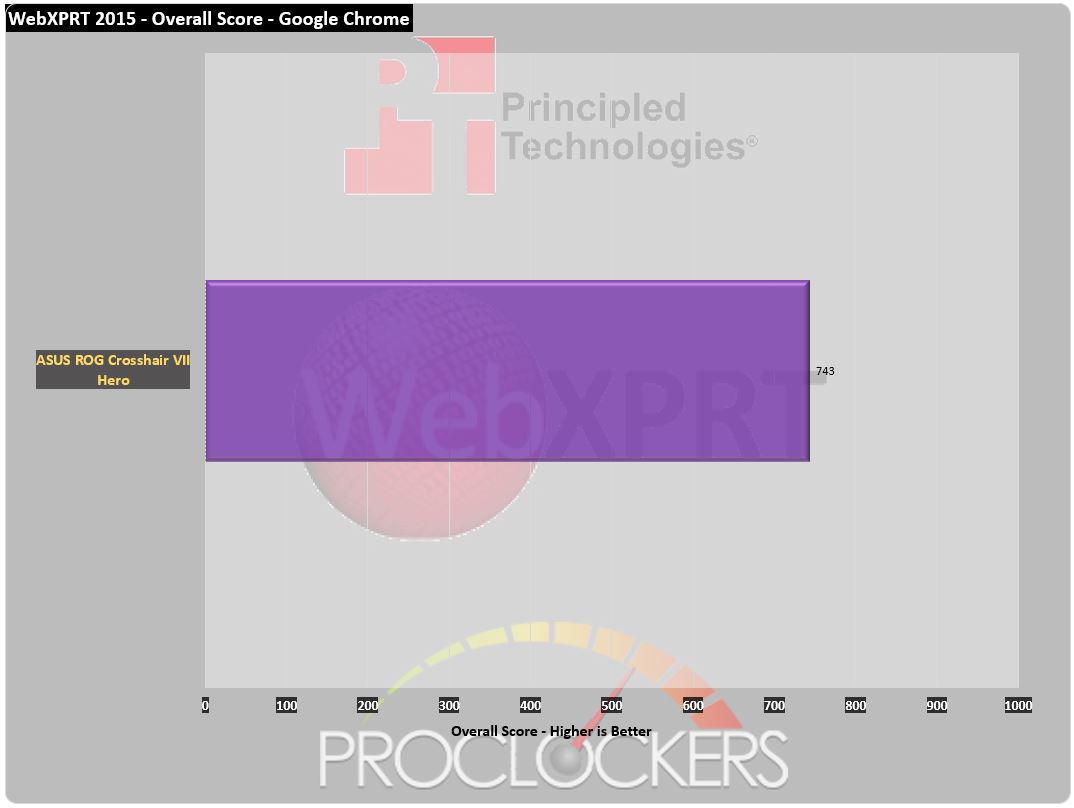 WebXPRT gives us a score of 743 +/-18 which is pretty solid.
PassMark PerformanceTest 9
Fast, easy to use, PC speed testing and benchmarking. PassMark PerformanceTest allows you to objectively benchmark a PC using a variety of different speed tests and compare the results to other computers.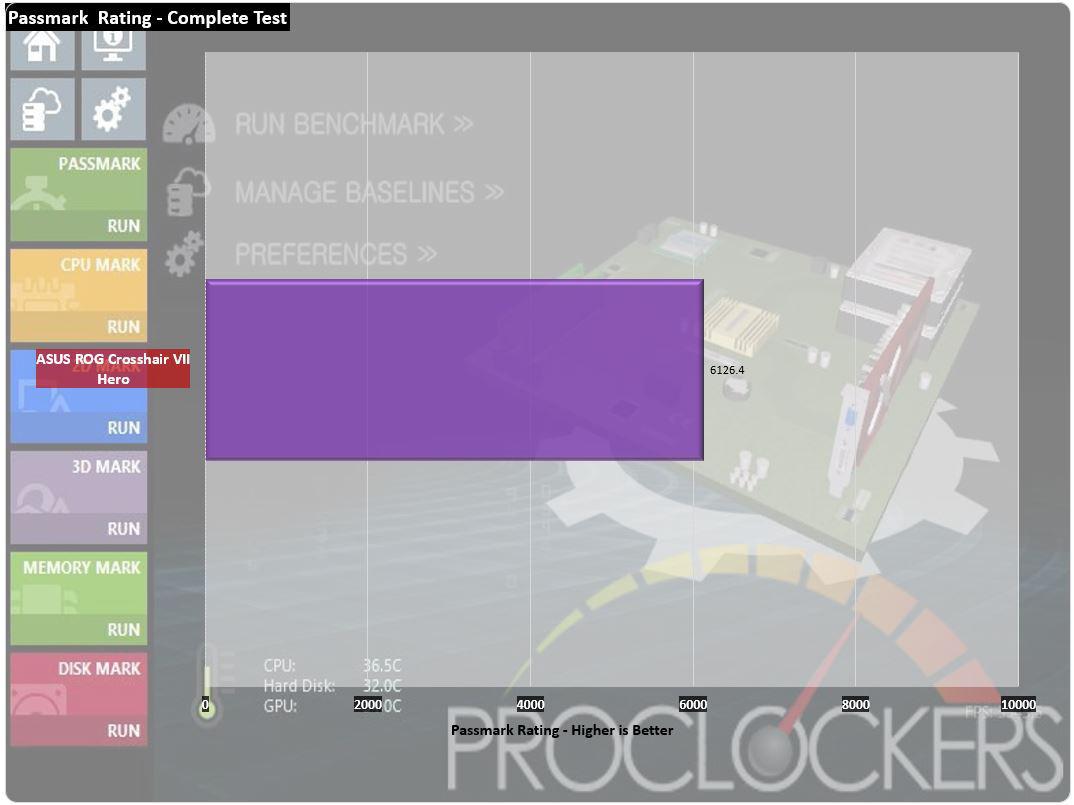 A Passmark rating of 6126.4 puts the Crosshair VII Hero in the 99th percentile.
CPU Performance Testing
Super PI Modded 1.5
"In August 1995, the calculation of pi up to 4,294,960,000 decimal digits was succeeded by using a supercomputer at the University of Tokyo. The program was written by D.Takahashi in collaboration with Dr.Y.Kanada at the computer center. This record should be the current world record. (Details are shown in the windows help.) This record-breaking program was ported to personal computer environments such as Windows NT and Windows 95. In order to calculate 33.55 million digits, it takes 3 days with a Pentium 90 MHz, 40 MB main memory and 340 MB available storage."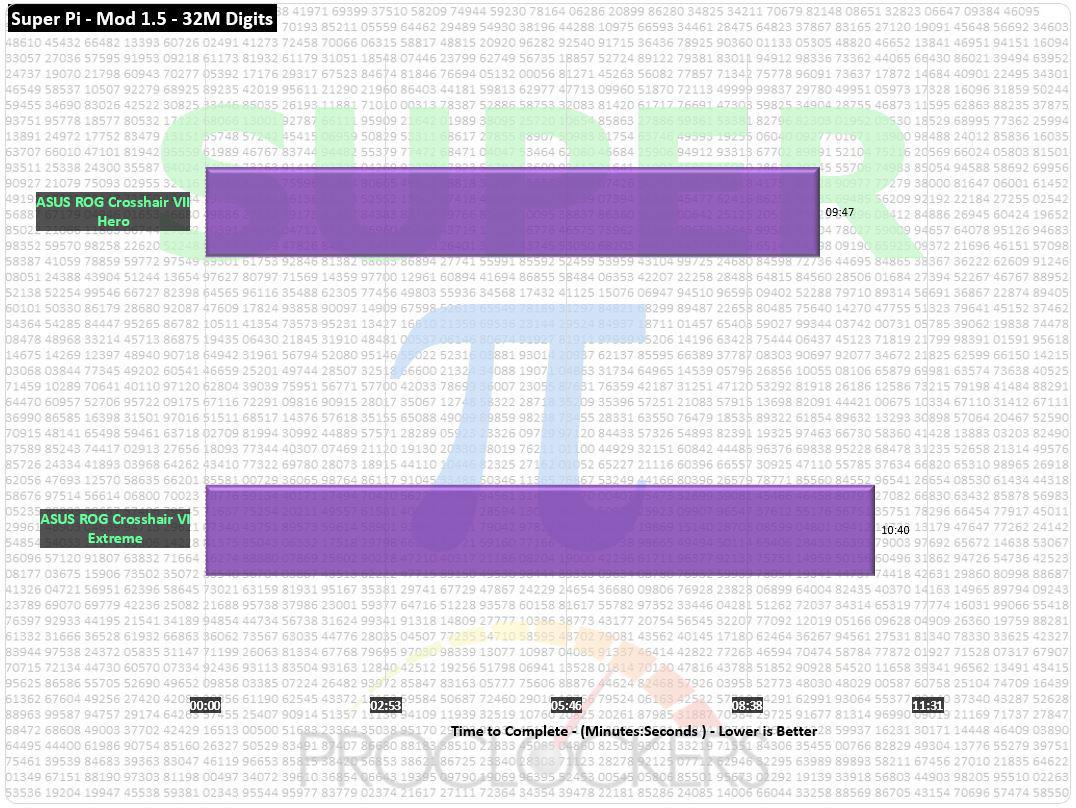 Single threaded performance is quite good, giving us a Super Pi 32M time of 9 minutes and 47 seconds, nearly a minute faster than the previous generation.
CINEBENCH R15
"CINEBENCH is a real-world cross platform test suite that evaluates your computer's performance capabilities. CINEBENCH is based on MAXON's award-winning animation software CINEMA 4D, which is used extensively by studios and production houses worldwide for 3D content creation. MAXON software has been used in blockbuster movies such as Iron Man 3, Oblivion, Life of Pi or Prometheus and much more.CINEBENCH is the perfect tool to compare CPU and graphics performance across various systems and platforms (Windows and OS X). And best of all: It's completely free."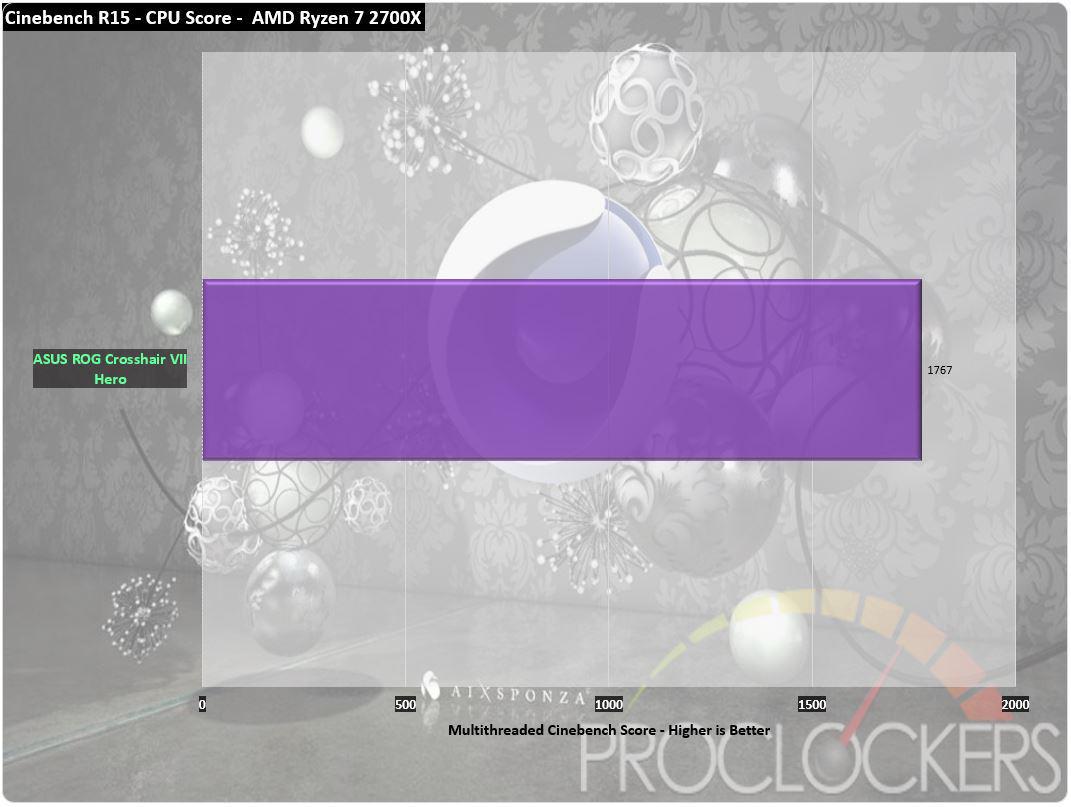 The Cinebench score is creeping up on 1800 points which is quite impressive.
7-Zip
The benchmark shows a rating of MIPS (million instructions per second). The rating value is calculated from the measured speed, and it is normalized with results of Intel Core 2 CPU with multi-threading option switched off. So if you have modern CPU from Intel or AMD, rating values in single-thread mode must be close to real CPU frequency. There are two tests, compression with LZMA method and decompression with LZMA method. Once the total passes reach 100, the score is taken.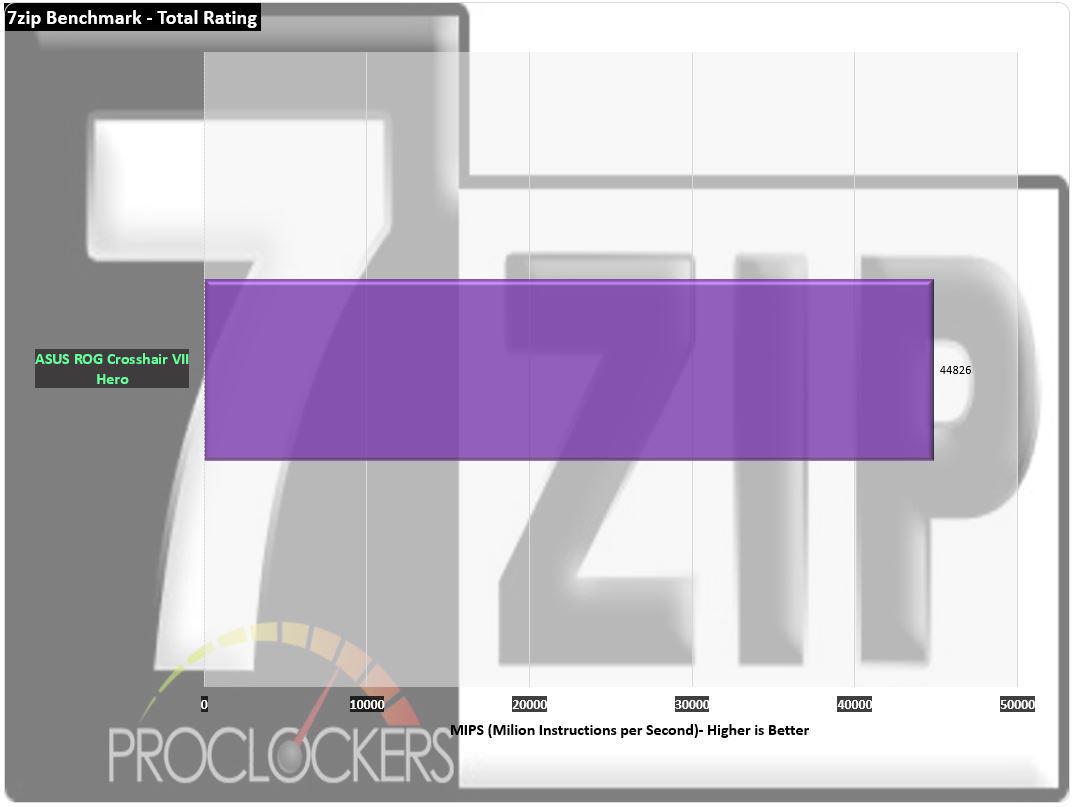 Compression and decompression performance in 7-zip is strong hitting almost 45k MIPS on the Crosshair VII Hero.
Memory Performance Testing
AIDA64 Engineer Edition
"FinalWire Ltd. today announced the immediate availability of AIDA64 Extreme Edition 1.50 software, a streamlined diagnostic and benchmarking tool for home users; and the immediate availability of AIDA64 Business Edition 1.50 software, an essential network management solution for small and medium scale enterprises. The new AIDA64 update implements AVX-optimized benchmarks for the upcoming Intel Sandy Bridge processors, adds a brand-new video encoding benchmark, and supports the latest AMD and NVIDIA graphics processors."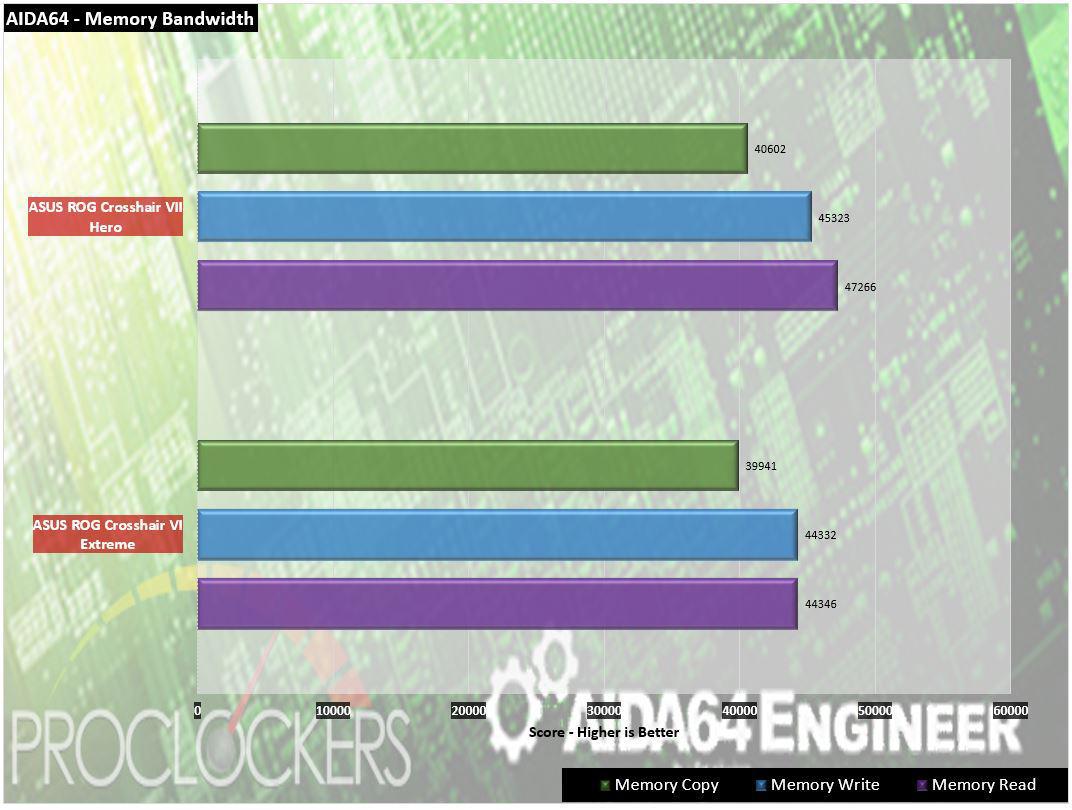 One of the claims to fame from 2nd generation is improved memory performance and the Crosshair VII Hero makes that available.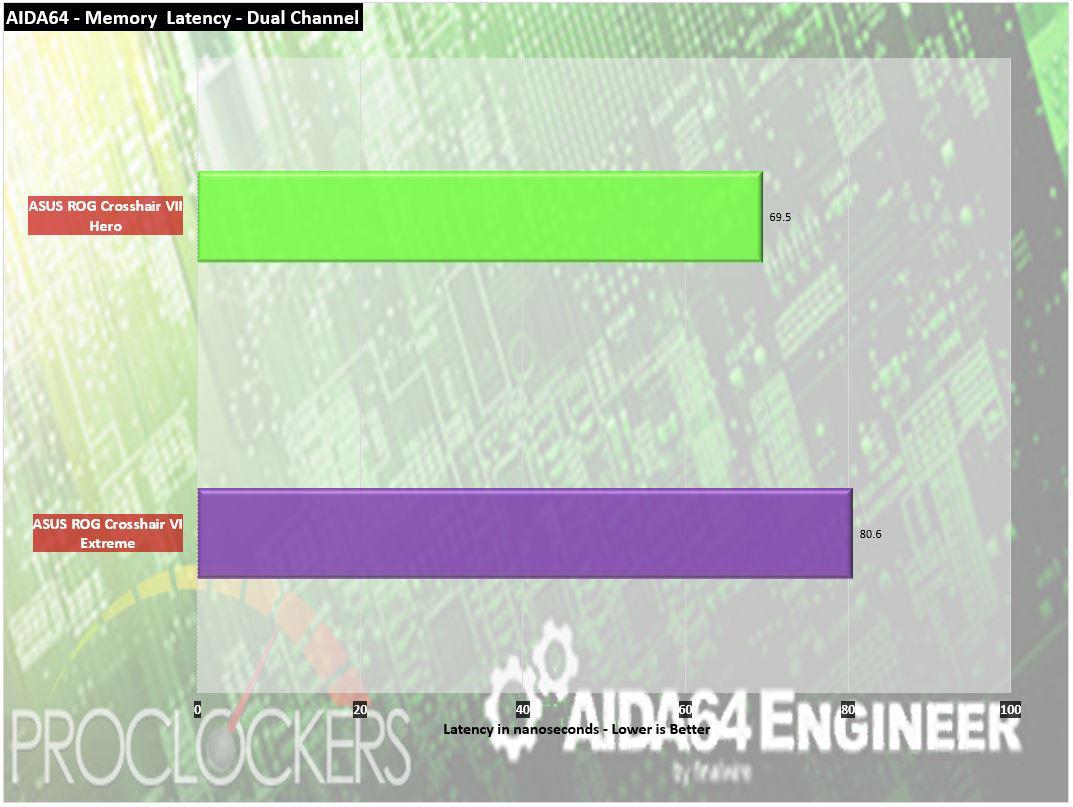 We can see latency is much improved as well.
Passmark Performance Test – Memory Mark – Threaded
"Fast, easy to use, PC speed testing and benchmarking. PassMark Performance Test ™ allows you to objectively benchmark a PC using a variety of different speed tests and compare the results to other computers."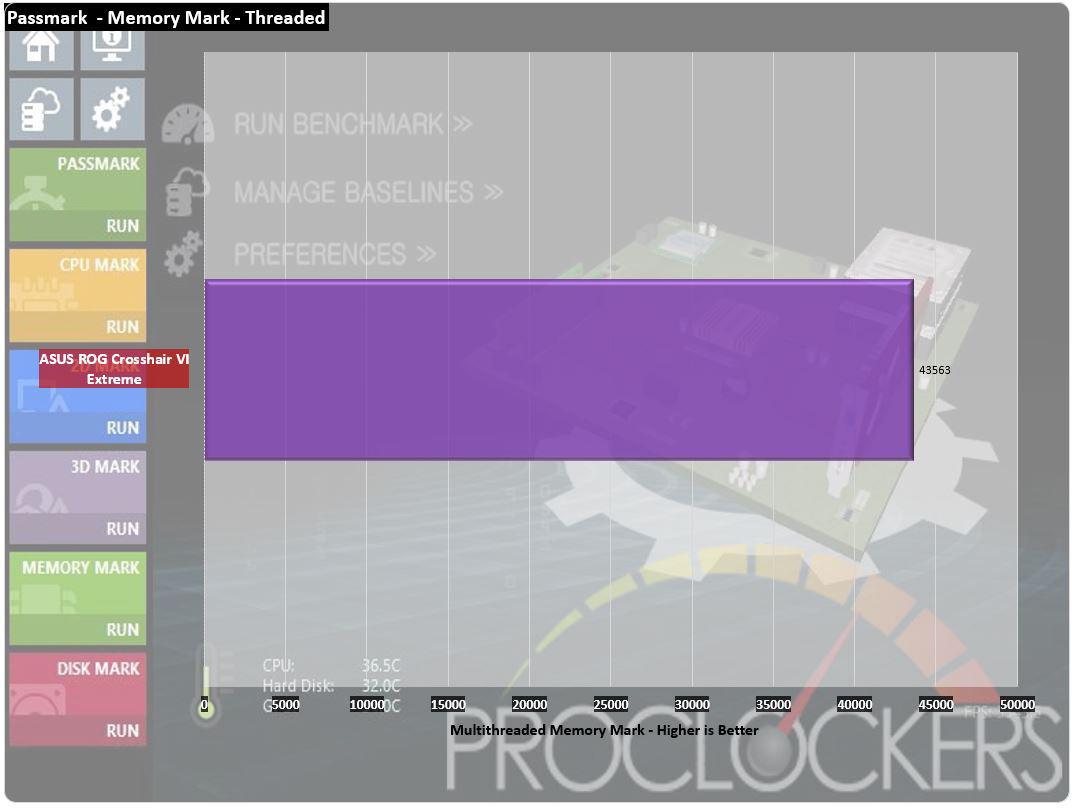 Passmark MemoryMark comes in at over 43.5K points.
SiSoft Sandra
"SiSoftware Sandra provides a robust package of diagnostic tools for testing your system and teasing out its problems–or potential headaches."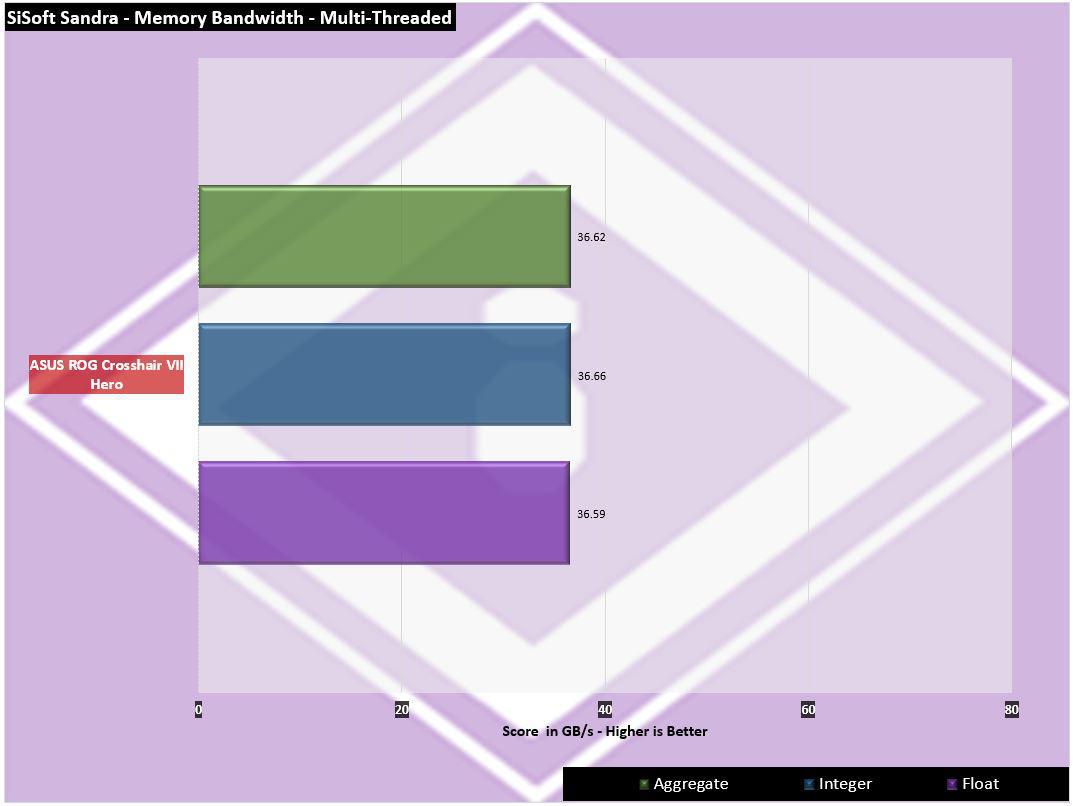 We also see stronger memory performance out of the Crosshair VII Hero over the previous generation that scored about 33GB/s.
Storage Testing
ATTO Disk Benchmark
"As the industry's leading provider of high-performance storage & network connectivity products, ATTO has created a widely-accepted Disk Benchmark freeware utility to help measure storage system performance. As one of the top tools utilized in the industry, Disk Benchmark identifies performance in hard drives, solid state drives, RAID arrays as well as connections to storage. Top drive manufacturers, like Hitachi, build and test every drive using the ATTO Disk Benchmark"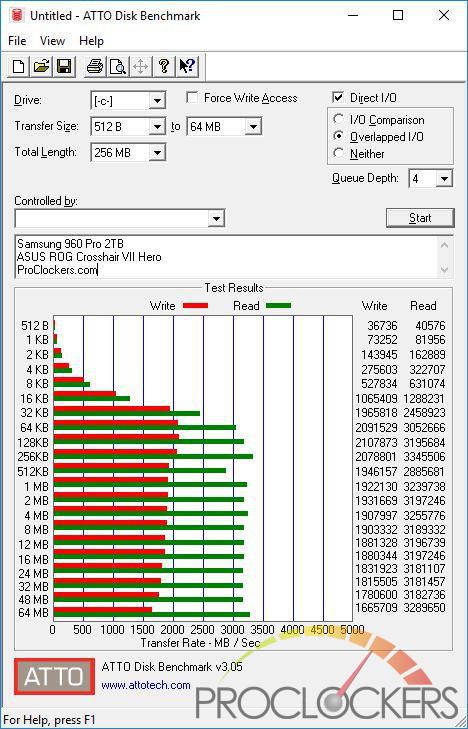 Storage performance is certainly not lacking this go around, and the Crosshair VII Hero keeps the bytes moving.
CrystalDiskMark 6.0
"CrystalDiskMark is designed to quickly test the performance of your hard drives. Currently, the program allows measuring sequential and random read/write speeds."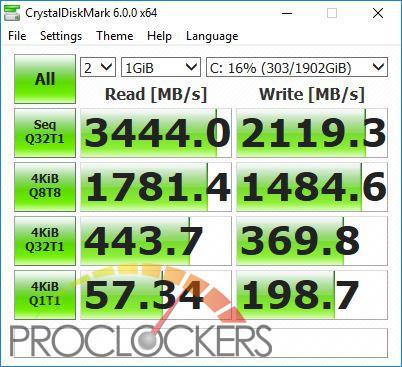 CrystalDiskMark shows quite clearly our Samsung 960 Pro is in no way hindered and easily lands at its rated speeds.
AS SSD
The AS SSD benchmark determines the performance of Solid State Drives (SSD). The tool contains six synthetic and three copy tests. The synthetic tests determine the sequential and random read and write performance of the SSD. These tests are performed without using the operating system cache. In the sequential test, the program measures how long it takes to read and write a 1 GB file. In the 4K test, read and write performance is determined for randomly selected 4K blocks. The 4K-64 Third test is equivalent to the 4K procedure, except that the read and write operations are distributed to 64 threads. This test should show differences between the IDE operating mode where NCQ is not supported and the AHCI mode for SSDs with Native Command Queuing (NCQ). The additional compression test can measure the performance of the SSD as a function of the compressibility of the data. This is especially important for the controllers that are used to increase the performance and life of the cell compression.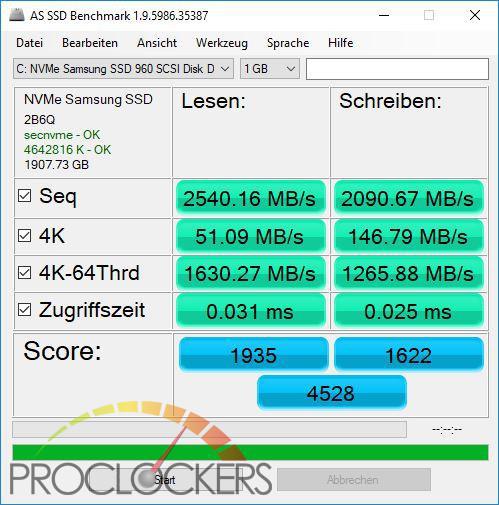 This is one of the highest scores for this particular drive we've ever seen out of AS SSD.
Synthetic Game Testing
3DMark – Fire Strike
"Fire Strike is a showcase DirectX 11 benchmark designed for today's high-performance gaming PCs. It is our most ambitious and technical benchmark ever, featuring real-time graphics rendered with detail and complexity far beyond what is found in other benchmarks and games today"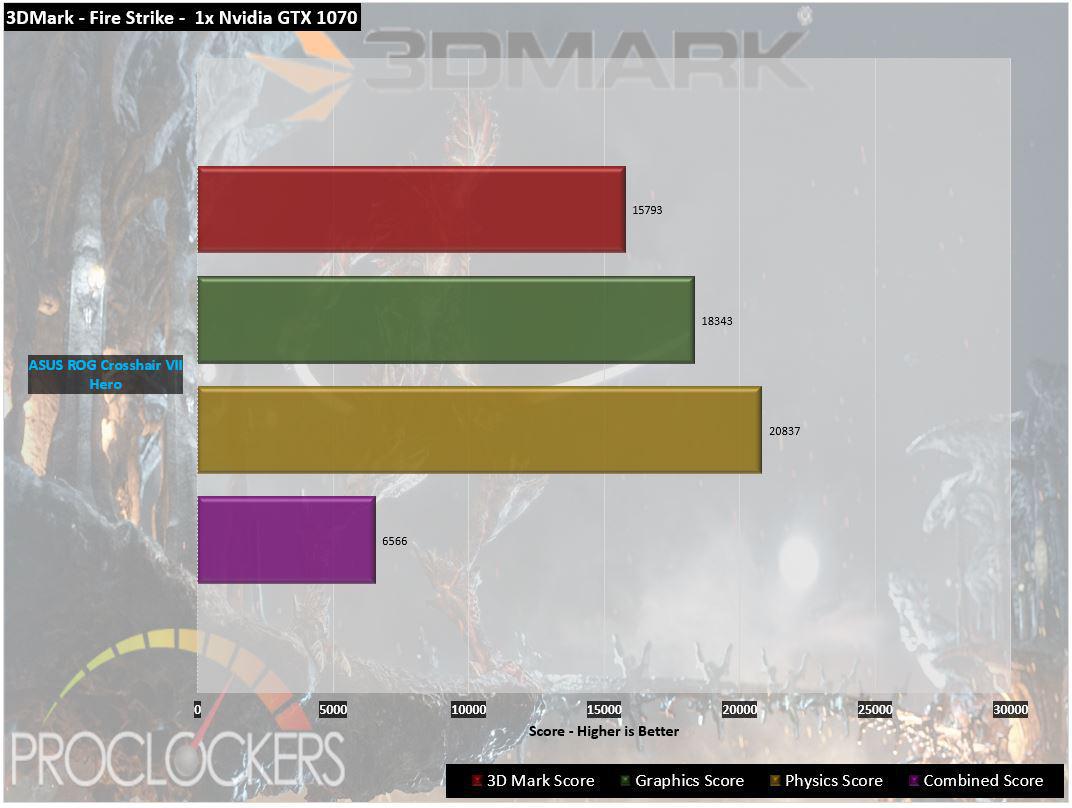 Being our first X470 board and first run of the Ryzen 7 2700X, we don't have many direct results to compare to, but the Crosshair VII Hero does a great job in Firestrike.
3DMark – Time Spy
"3Dmark Time Spy is a new DirectX 12 benchmark test for Windows 10 gaming PCs. Time Spay is one of the first DirectX 12 apps to be built "the right way" from the ground up to fully realize the performance gains that the new API offers. With DirectX 12 engine, which supports new API features like asynchronous compute, explicit multi-adapter, and multi-threading, Time Spy is the ideal test for benchmarking the latest graphics cards."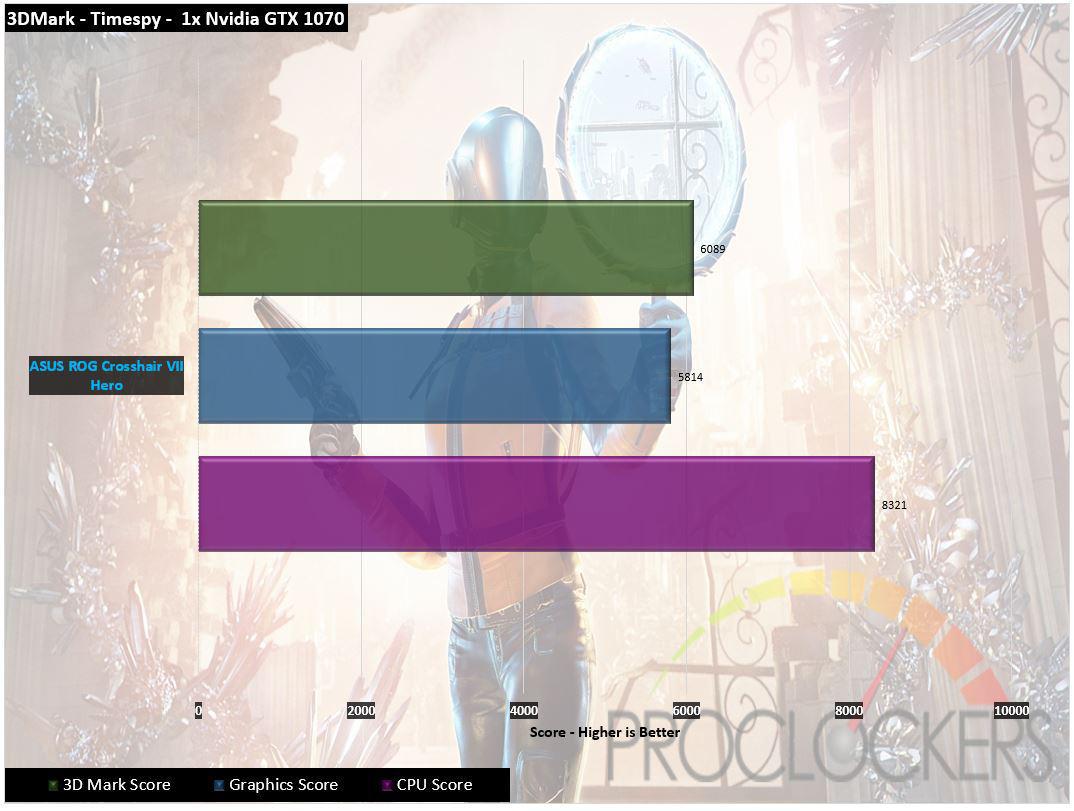 Timespy performance is great on the Crosshair VII Hero!
Real Gaming Performance
Grand Theft Auto V
"When a young street hustler, a retired bank robber, and a terrifying psychopath find themselves entangled with some of the most frightening and deranged elements of the criminal underworld, the U.S. government and the entertainment industry, they must pull off a series of dangerous heists to survive in a ruthless city in which they can trust nobody, least of all each other."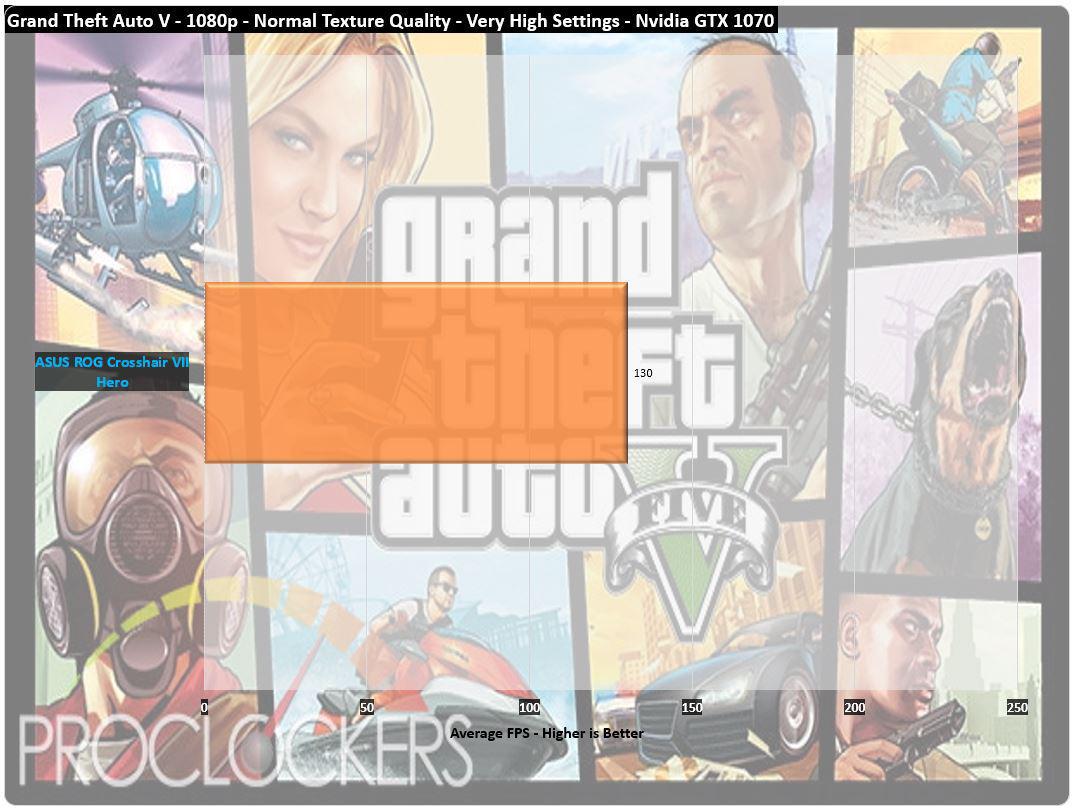 Even pushing 5 years old, Rockstar's Grand Theft Auto V can still bring a high-end system to its knees with the eye candy cranked. This is one game that is notorious for beating up your entire system, not just your GPU. We test running a reasonably demanding workload and the Hero still manages 130 FPS.
Far Cry 5
Anything can happen. Everything will.
Welcome to Hope County, Montana, land of the free and the brave, but also home to a fanatical doomsday cult—known as The Project at Eden's Gate—that is threatening the community's freedom. Stand up to the cult's leaders, Joseph Seed and the Heralds, as you spark the fires of resistance that will liberate the besieged community.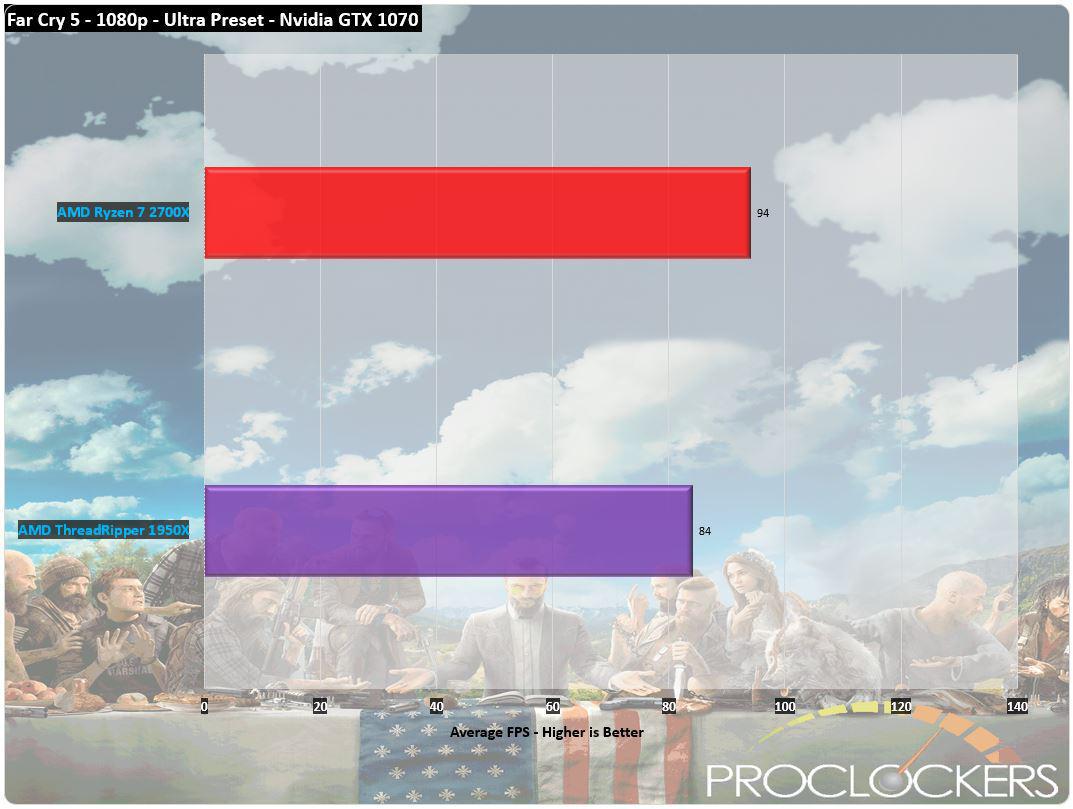 The newest game in our suite, Far Cry demands well-rounded system performance. The Crosshair pulls in an average of 94 FPS at the Ultra preset on 1080p resolution.
Metro: Last Light
"It Is the Year 2034. Beneath the ruins of post-apocalyptic Moscow, in the tunnels of the Metro, the remnants of mankind are besieged by deadly threats from outside – and within. Mutants stalk the catacombs beneath the desolate surface, and hunt amidst the poisoned skies above."
Developed by 4A Games and published by Deepsilver, Metro: Last Light uses the 4A game engine. At its highest settings, the 4A game engine is capable of bringing all but the most extreme gaming systems to their knees.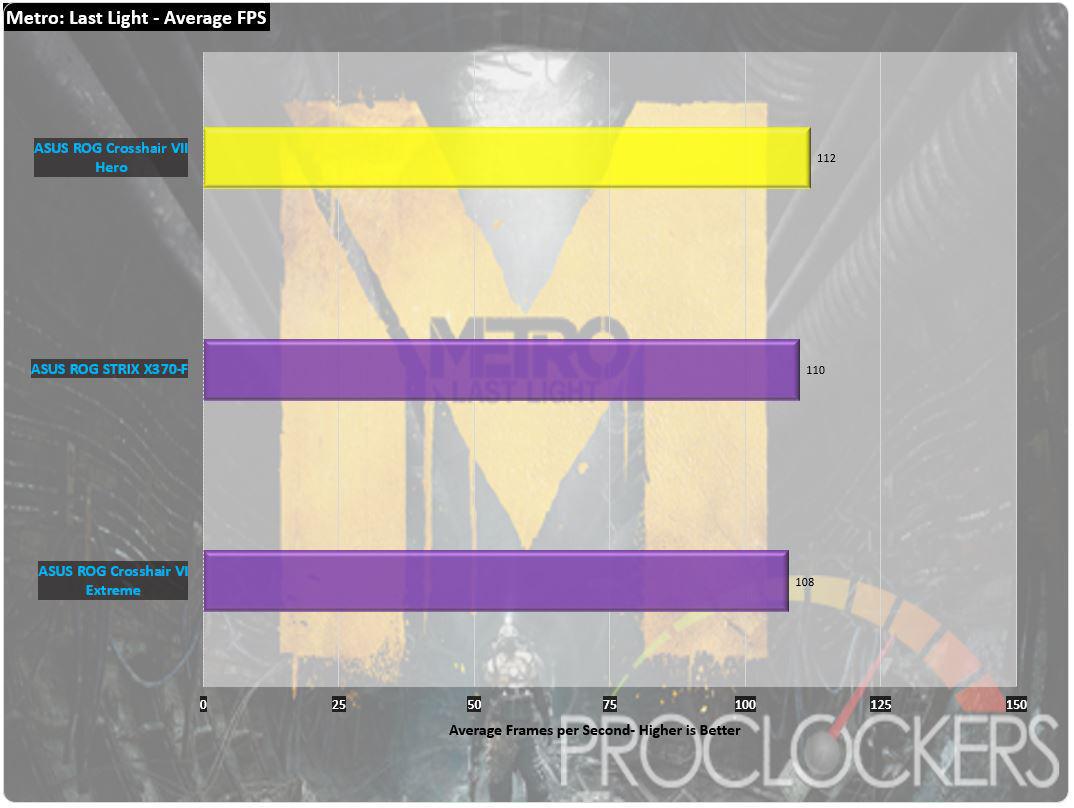 The new generation platform holds a small lead over its X370 relatives at 112 FPS average.
Rise of the Tomb Raider
Featuring epic, high-octane action moments set in the most beautifully hostile environments on earth, Rise of the Tomb Raider delivers a cinematic survival action adventure where you will join Lara Croft on her first tomb raiding expedition. Explore Awe-Inspiring Deadly Tombs – Huge ancient spaces littered with deadly traps, solve dramatic environmental puzzles, and decipher ancient texts to reveal crypts as you take on a world filled with secrets to discover. Woman vs. Wild – Conquer a world fiercely protecting its secrets, endure perilous conditions and unstable landscapes, face dangerous wildlife that acts as guardians to ancient tombs, and explore huge interactive environments. Guerrilla Combat – Use the environment to your advantage, scale trees and dive underwater to avoid or take down enemies, configure Lara's gear, weapons, and ammo to suit your play style, craft explosives on the fly to sow chaos, and wield Lara's signature combat bows and climbing ax.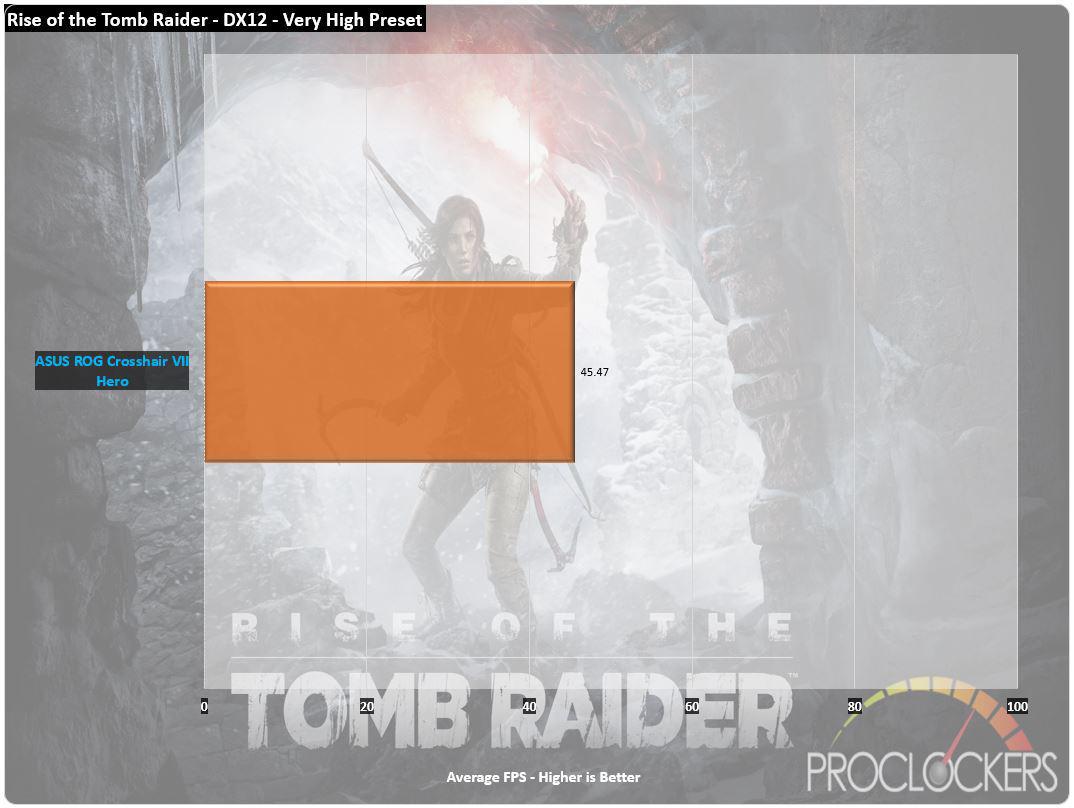 With everything maxed out, the Crosshair VII Hero does about 45.5 FPS average across all 3 tests.
Dues Ex: Mankind Divided
The year is 2029, and mechanically augmented humans have now been deemed outcasts, living a life of complete and total segregation from the rest of society. Now an experienced covert operative, Adam Jensen is forced to operate in a world that has grown to despise his kind. Armed with a new arsenal of state-of-the-art weapons and augmentations, he must choose the right approach, along with who to trust, in order to unravel a vast worldwide conspiracy.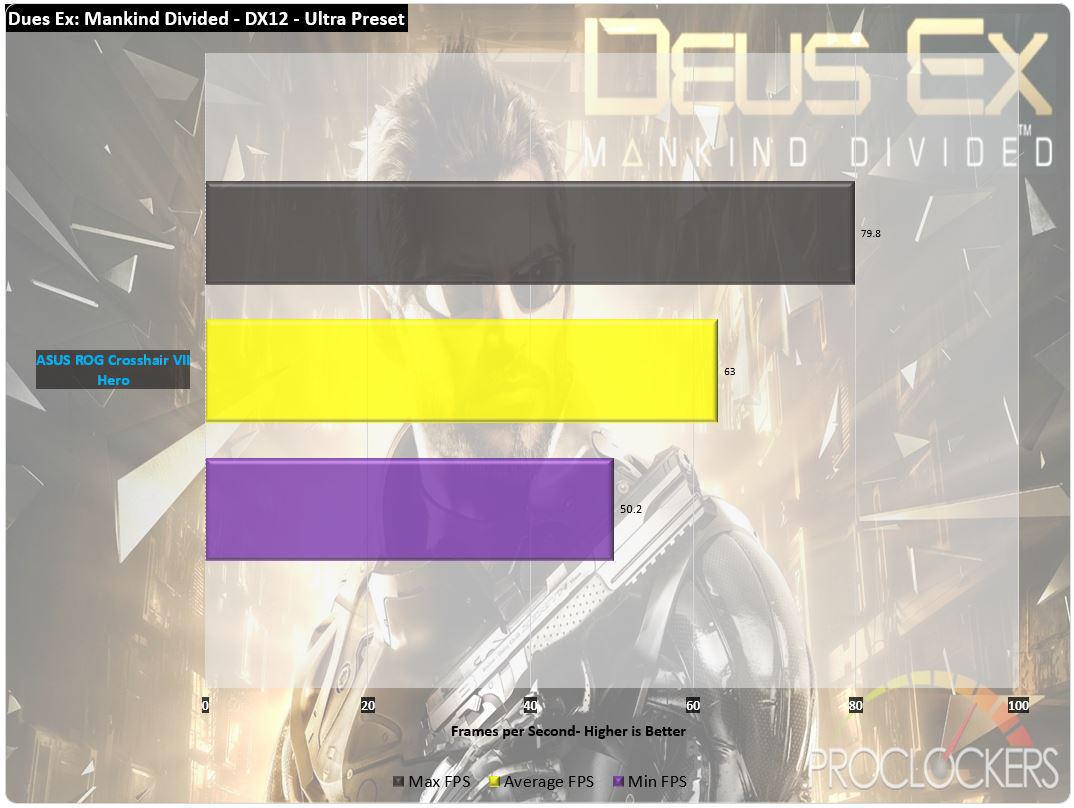 Utilizing a GTX 1070 GPU, the crosshair manages an average frame rate of 63 FPS, more than playable at the highest quality settings.
Overclocking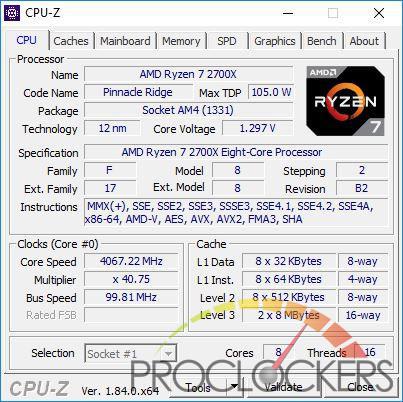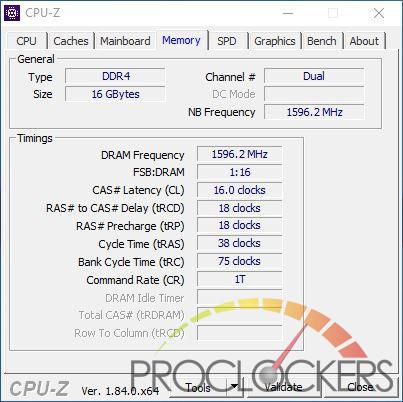 With XFR2, the 2700X is already allowed to boost much higher than previous generation chips when on an x470 board and system conditions permit. We see speeds hitting upwards of 4.1 GHz on several cores at a time during testing, but we'll see what we can manage pushing it. We'll start with our ram at its factory overclocked speed of 3200MHz.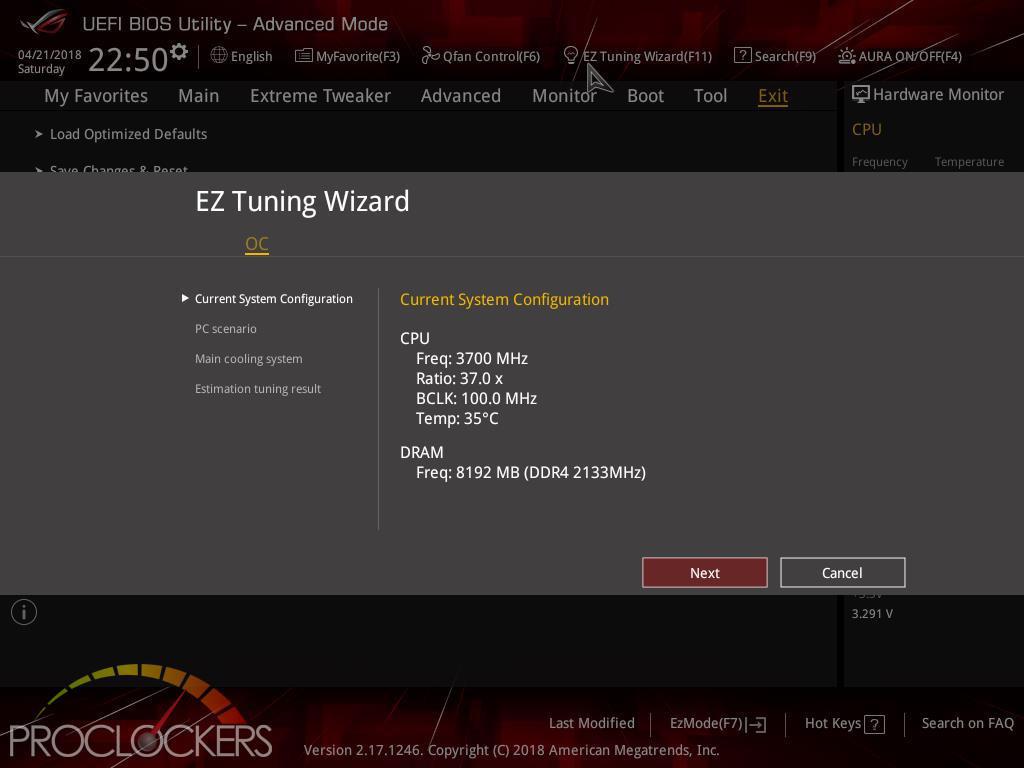 Using ASUS's EZ Tuning Wizard, we'll start by seeing what ASUS can squeeze out of the system on its own.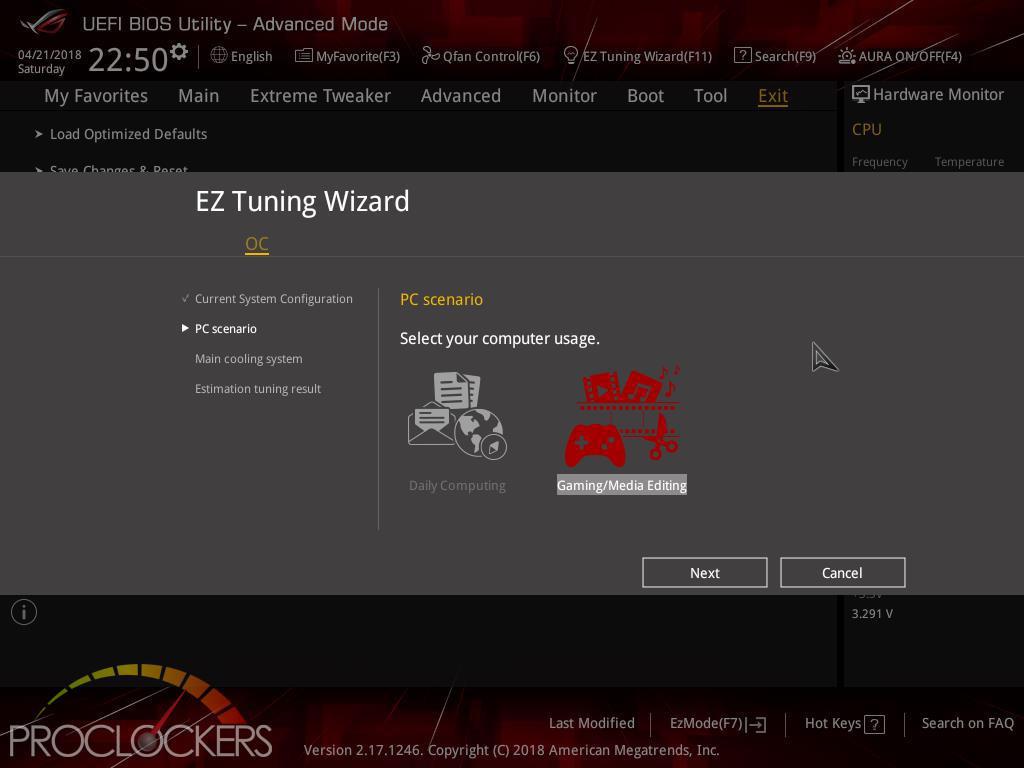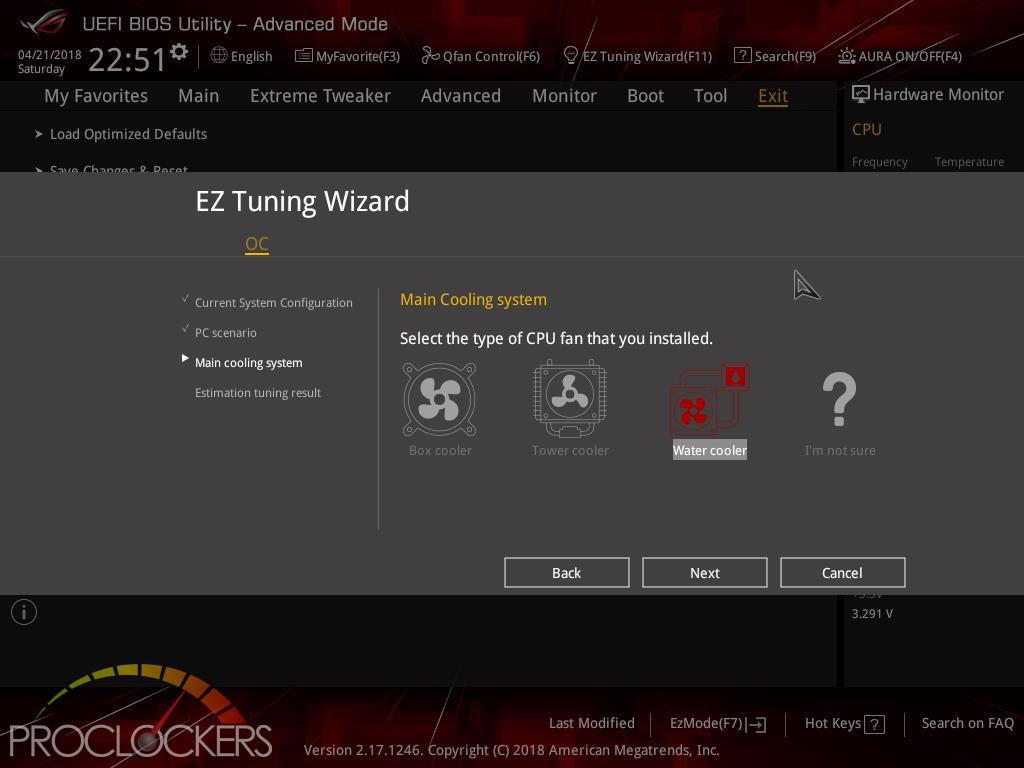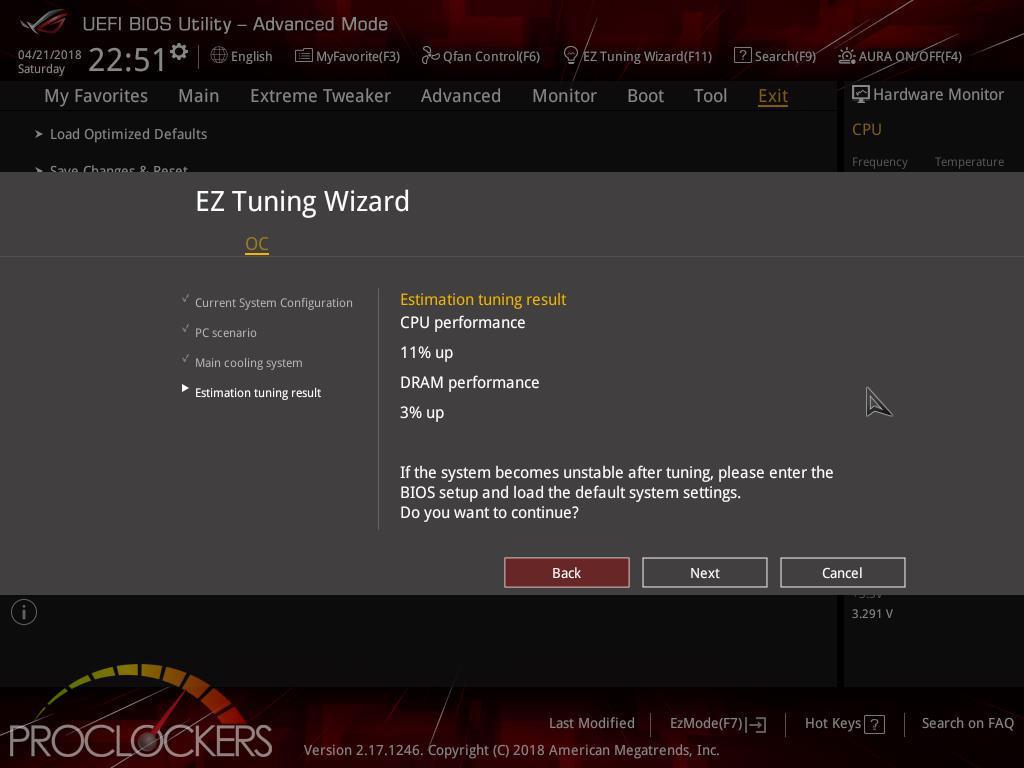 A few clicks later answering some basic questions about your system configuration, the Crosshair VII Hero estimates an 11 percent increase in CPU performance and 3% memory performance.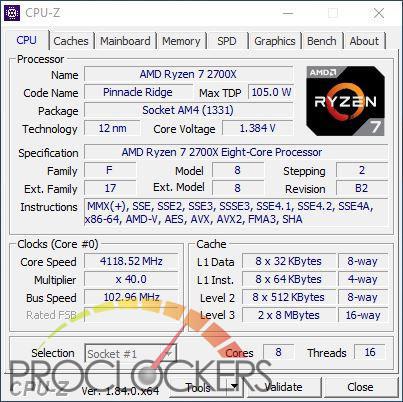 This lands our CPU at 4.12 GHz across all 8 cores, not too bad.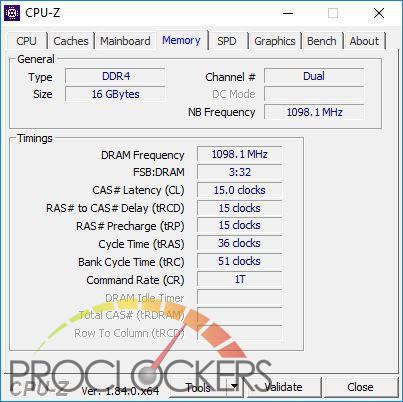 Memory speeds interestingly are reduced from 3200MHz to about 2200 MHz, but the timings are tightened a bit from XMP speeds.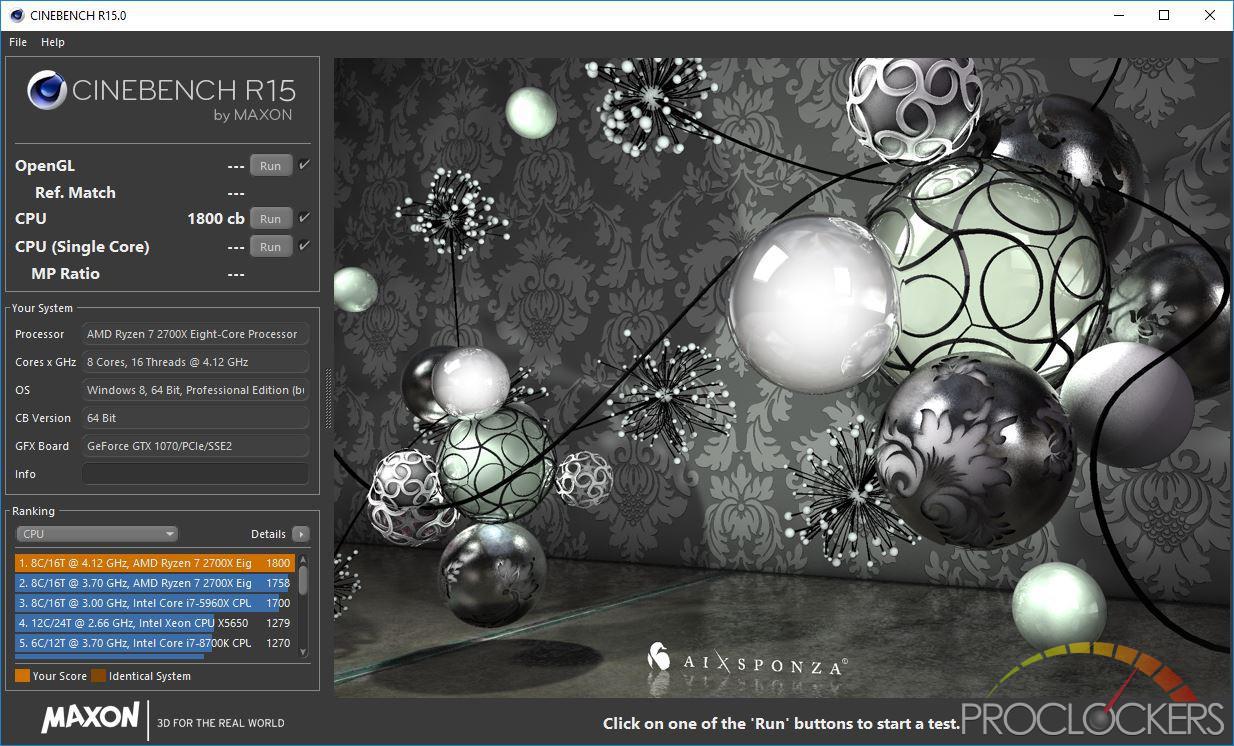 Running Cine bench again, we get a modest bump in score up to an even 1800 points. Not an amazing leap, but free performance is free performance, right?
We couldn't get our memory to cooperate at anything above 3200 MHz, so we'll just leave it at XMP speeds for the rest of the tests.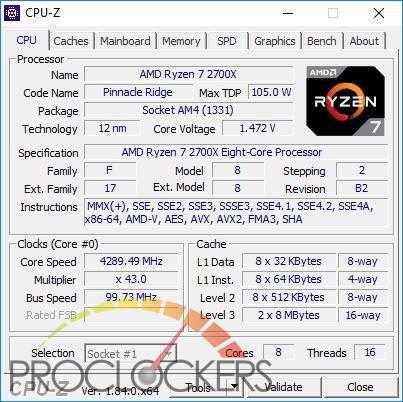 Pushing manually, we got our CPU up to 4.3GHz which is pretty nice.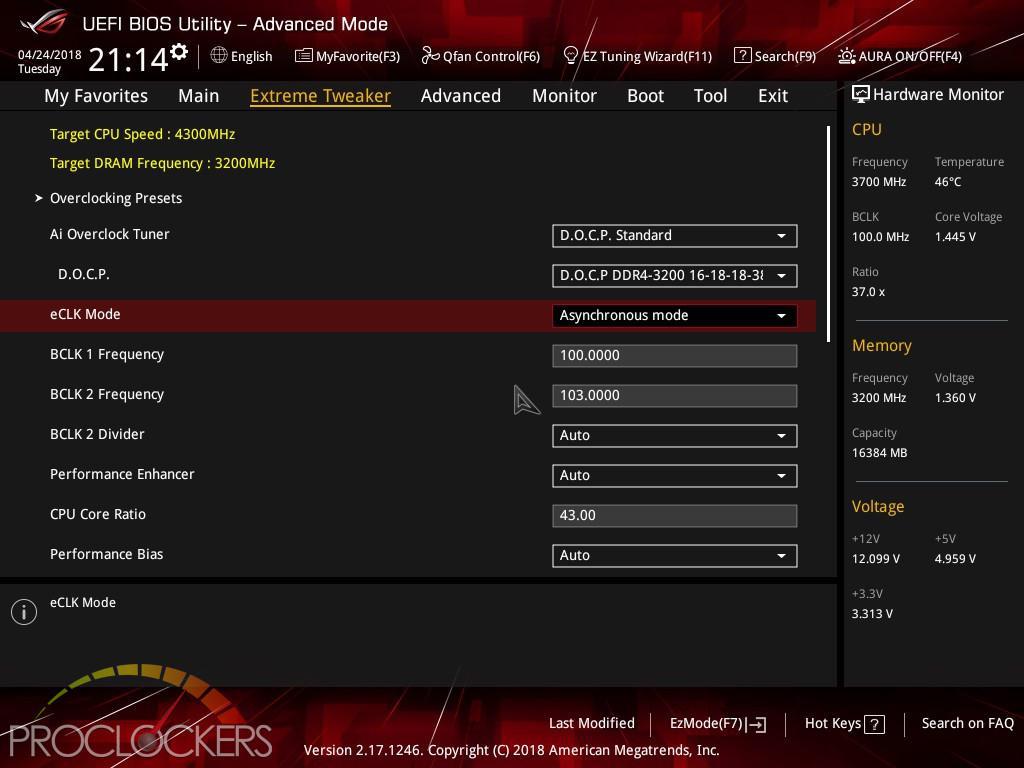 One interesting feature in the Crosshair's BIOS is eCLK mode. When set to the default synchronous mode, all system base clocks are locked together at whatever you set, 100 MHz by default. But when you switch to Asynchronous mode, you can split the CPU core base clock (BCLK 2 here) off from the rest of the clocks such as PCIe (BCLK 1 here).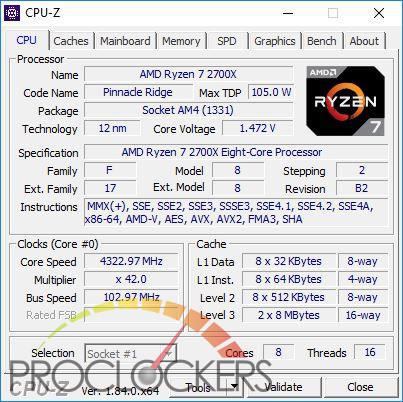 Doing this, we were able to add another 3% to the core base clock and push our CPU to about 4.325 GHz. This will take extensive testing, but asynchronous base clocks open up quite a few possibilities for very fine tuning of your own system.
Final Thoughts & Conclusion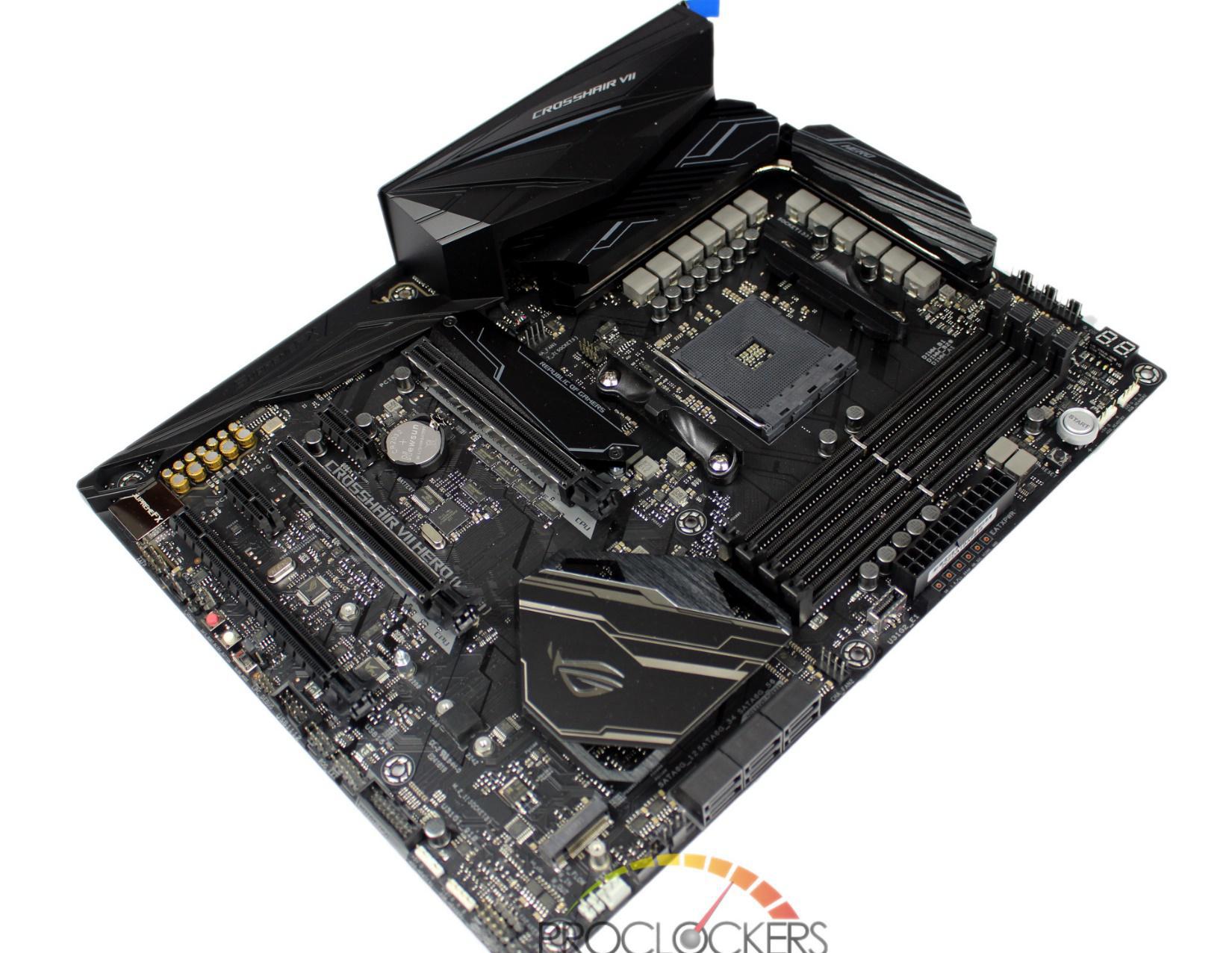 ASUS's Crosshair Hero series is always a popular choice for gamers and for good reason. It covers all of the bases, throws in a little extra, and sticks to a reasonable budget. We saw excellent performance across the board in our gamut of testing and really couldn't find any flaws. The VRM layout used this go around seems to do great, overclocking was stable and easy and the VRM heatsink never got beyond a bit over room temperature so extreme overclocking should go smoothly as well. The Asynchronous base clocks are interesting and open what seems like an order of magnitude more possible overclock profiles, so if you like to tinker, you won't run short of things to do.
As usual, Asus provides a strong software suite to complement the hardware and all of your favorites are back again. Aesthetics are still very neutral oriented but have shifted back closer to black than the previous gunmetal grey. Onboard Lighting is tasteful, but there is an absurd number of RGB headers for this market point. If you want a coordinated system, there won't be an issue plugging it into a synching it up. We did like the relocation of the onboard power/reset buttons back up to the top edge where you can usually get to them. Most typical case layouts can make getting to that lower edge difficult once the GPU is installed. We really can't find anything to subtract points on, the Crosshair VII Hero coupled with a 2nd generation Ryzen CPU will make for a force to be reckoned with for all of your digital enemies and still leave enough left over to share a stream with all your loyal fans.
Great Job ASUS!
<![CDATA[ */ var zbjs = {"ajaxurl":"https:\/\/gaminggorilla.com\/wp-admin\/admin-ajax.php","md5":"d8e8b24d2fa18d2999e0fddcdd418586","tags":[],"categories":["Hardware"]}; /* ]]>