Ninja's Last Fortnite Settings – Keybinds, Mouse and Graphics
If you want to game like one of the most popular game streamers in the world, you'll probably need a few tips from the pros. But pro tips aside, first thing's first – you're going to need to properly set up your keyboard and mouse to operate the best gaming laptop for Fortnite or any other game as smoothly as possible. In this article we're going to focus on Ninja's keybinds and mouse settings for Fortnite.
Last Updated: February 2022
Richard Tyler "Ninja" Blevins is using very specific settings and keybinds to crush his opponents in Fortnite. Maybe these tips will help you to do the same! But before we head into the details, let's take a look at Ninja's gear.
Ninja's Keyboard and Mouse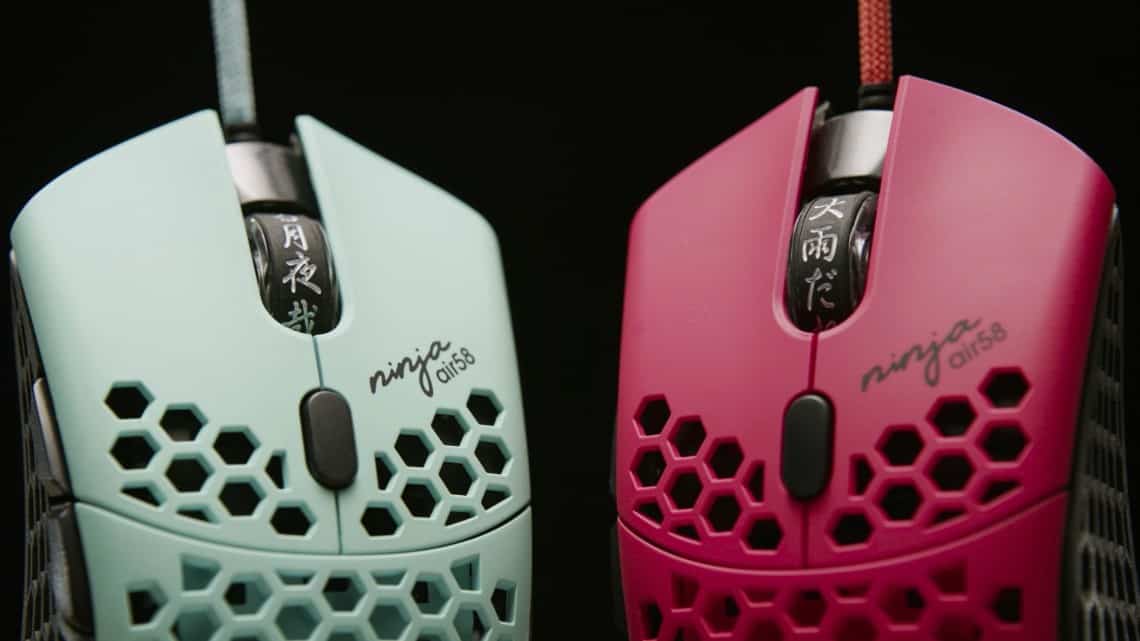 Ninja is using his exclusive gaming mouse called FinalMouse Air58, which are currently sold out. They weigh only 58g and are designed to feel very light in your hand. Previously, he used G502.
Fortunately for gamers, the keyboard is more accessible. Ninja is using The Ducky One 2 Mini, a keyboard with 61 keys and one that's perfect for portable gaming.

Ninja Keyboard and Mouse Settings
| | |
| --- | --- |
| Game Settings | Input |
| Mouse Sensitivity X | 8% |
| Mouse Sensitivity Y | 7% |
| Mouse Targeting Sensitivity | 27% |
| Mouse Scope Sensitivity | 30% |
| Mouse DPI | 800 |
| Polling rate | 500 Hz |
Ninja Fortnite Keybinds
| | |
| --- | --- |
| Action | Input |
| Use | E |
| Jump | Space Bar |
| Reload/Rotate | R |
| Sprint | Default |
| Crouch | C |
| Repair/Upgrade | G |
| Harvesting Tool | 1 |
| Weapon Slot 1 | 2 |
| Weapon Slot 2 | 3 |
| Weapon Slot 3 | 4 |
| Weapon Slot 4 | Z |
| Weapon Slot 5 | X |
| Building Slot 1 (Wall) | Mouse Button 4 |
| Building Slot 2 (Floor) | Q |
| Building Slot 3 (Stairs) | Mouse Button 5 |
| Building Slot 4 (Roof) | Left Shift |
| Trap | 5 |
| Edit on Release | Off |
| Building Edit | F |
| Building Reset | Right Click |
| Inventory | Tab |
| Map | M |
| Emote Key | B |
| Auto Run | Mouse Wheel Button |
| Push to Talk | Left Ctrl |
Ninja's Graphics and Video Settings
| | |
| --- | --- |
| Video Settings | Input |
| Window Mode | Fullscreen |
| Resolution | 1920×1080 16:9 |
| Frame rate limit | 240 FPS |
| Brightness | 120% |
| User Interface Contrast | 1x |
| Color Blind Mode | Off |
| Color Blind Strength | 0 |
| 3D Resolution | 100% |
| View Distance | Medium |
| Shadows | Off |
| Anti-Aliasing | Off |
| Textures | Low |
| Effects | Low |
| Post Processing | Low |
| Vsync | Off |
| Motion Blur | Off |
| Show FPS | On |
| Multithreaded Rendering | On |
| HUD Scale | 100% |
Aside from the Ducky One 2 Mini and the Finalmouse Air58, Ninja is using high-end headsets – Beyerdynamic DT 990 PRO Studio Headphones. If this headset is a little out of your price range, there are other great alternatives such as Sennheiser or Logitech gaming headsets, which will do the trick.

As for his monitor, Ninja uses Alienware AW2518, which has 240Hz native refresh rate, and is perfect for no input lag and smooth gameplay. If you're up for a fun fact, Ninja was actually sponsored to use this monitor, but ended up liking it so much that he continued to use it even after the sponsorship stream. If you're in the market for a monitor, you could look for cheaper options that offer high refresh rates, but keep in mind, if your PC can run at 144+ FPS, it will need over 144hz.

Now that you've familiarized yourself with some of the tips and tricks from the best of the best, you're ready to get back into slaying your opponents in Fortnite with your freshly configured set up! And if you're curious, don't forget to check out the rarest skins in fortnite!

<![CDATA[ */ var zbjs = {"ajaxurl":"https:\/\/gaminggorilla.com\/wp-admin\/admin-ajax.php","md5":"d8e8b24d2fa18d2999e0fddcdd418586","tags":[],"categories":["Guides"]}; /* ]]>