Best Settings for Asus VG278Q

How to Adjust your Asus VG278Q Monitor Settings?
The Asus VG278Q is considered one of the most popular gaming monitors on the market, perfect for competitive FPS gaming, and it's not even expensive. With a sleek design and allowing you to tilt, change the height, swivel or pivot the monitor, the Asus VG278Q is everything you'd ever want from a gaming monitor.
Of course, the 144Hz refresh rate is your top priority when choosing a gaming monitor, and the Asus VG278Q can deliver it if you use a Display Port. But here's what plenty of critics have noticed about this monitor. Although the monitor uses a Twisted-Nematic (TN) panel to deliver good grey-scale and viewing angle performance, the colours are not exactly accurate.
Straight out of the box, this monitor offers washed-out colours and poor gamma performance, but this doesn't mean they cannot be tweaked.
Using the OSD (On-Screen Display) menu and installing the ICC profile (depending on what GPU you have) should solve this issue. Here is how to find the best settings for Asus VG278Q to improve your monitor's performance.
Best Settings for Asus VG278Q
The ASUS VG248Q already has some pre-formatted presets in the Splendid section of the On-Screen Display menu.
Asus has various modes, such as Scenery Mode, Standard Mode (144 Hz), Standard Mode (60 Hz), Theater Mode, Game Mode, Night View Mode and sRGB Mode.
Obviously, for gaming, you're going to choose Standard Mode (144 Hz).
Look for the directional dial on the back-right side of the monitor, push on it, and change the settings to look like this:
Splendid Mode: Standard
Contrast: 75
Brightness: 65 (or a bit brighter if you like brighter images)
Color Temp: Red: 95, Green: 94, Blue: 88 (User Mode)
Smart View: Disable
ASCR: Off
Or you can try these settings:
Splendid Mode: Standard
Brightness: 24 (or higher)
Contrast: 74
Sharpness and Saturation: tweaked to your liking
Color Temp: Red: 100, Green: 90, Blue: 89 (User Mode)
Smart View: Disable
Skin Tone: Natural
Trace Free: Lower than 60
ASCR: Off
After applying these settings, head over to your GPU manufacturer (AMD and NVidia) and get the ICC colour profile for your monitor. These colour profiles will change the GPU's gamma and LUT to provide the best colours.
How To Set up the ICC profile?
Here's a quick guide on how to set up the ICC profile:
1. After downloading the ICC profile based on your GPU from one of the two links above, install the profile. You can find it by pressing the Windows key and writing Color Management and opening it.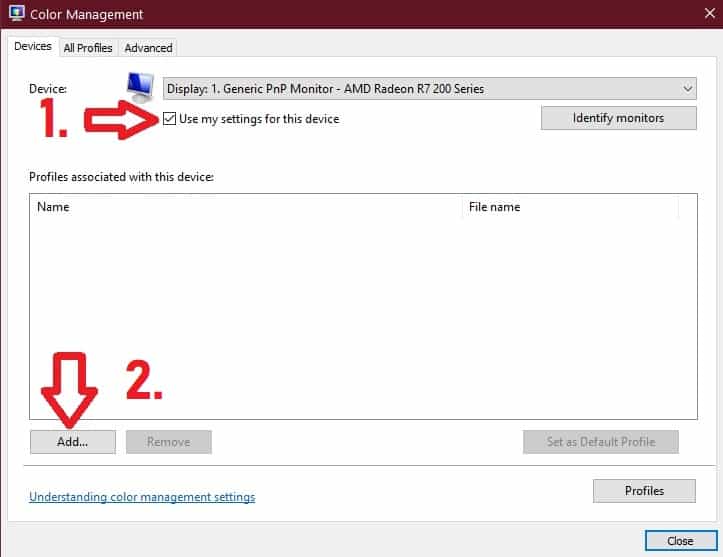 2. Check the box Use my settings for this device then click on the add button.
3. Head over to the Advanced tab and click on the option at the left bottom Change System Defaults…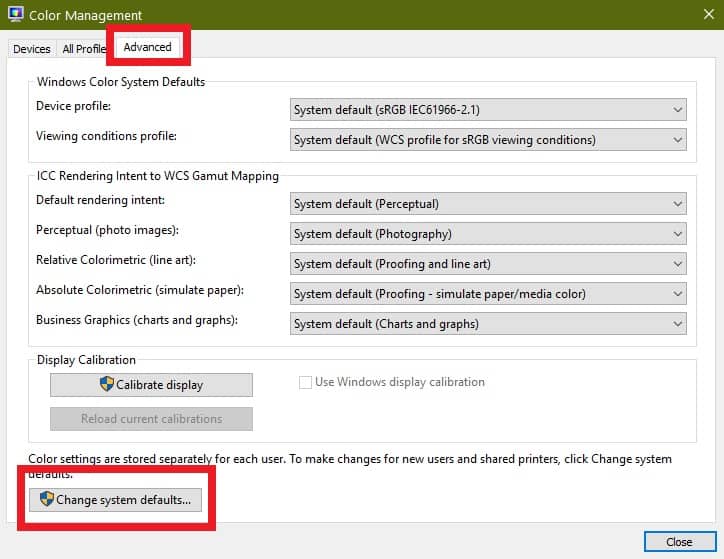 4. A window will then appear, and you must again go to the Advanced tab and check the box next to the option Use Windows display calibration.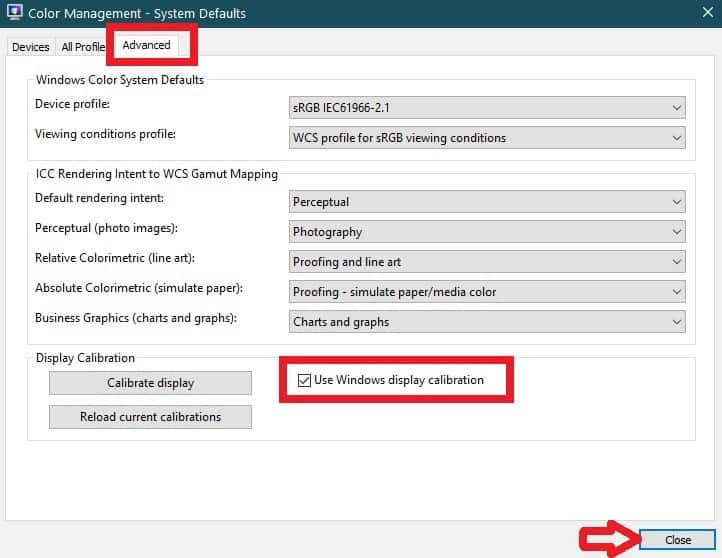 5. Click on close, and that's it.

These settings should be able to fix your monitor's colours issue. However, if you're looking for some fine tweaks, this website is filled with test images that can help you better calibrate your monitor. Activate the ICC profiles and start adjusting the settings until you find the best results. Just follow the directions to adjust your monitor settings, and you should be able to find the sweet spot.

Lastly, check out the full review on this item if you are interested.

<![CDATA[ */ var zbjs = {"ajaxurl":"https:\/\/gaminggorilla.com\/wp-admin\/admin-ajax.php","md5":"d8e8b24d2fa18d2999e0fddcdd418586","tags":[],"categories":["Guides"]}; /* ]]>