Noctua is a popular brand and when it comes to having a silent PC, there's nothing better than a cooler from Noctua. Take the Noctua NH-U12S CPU cooler that does a great job at keeping the temps low while being incredibly silent. It's time to take out that stock cooler and go for Noctua if you want your PC not to sound like it's taking off. But is it worth paying the extra cash?
We'll tell you right away, and we'll start by looking at the items in the box, the temperatures and noise levels, and what it can offer for its price tag. By the end of this review, you will surely know whether this cooler is still a good purchase.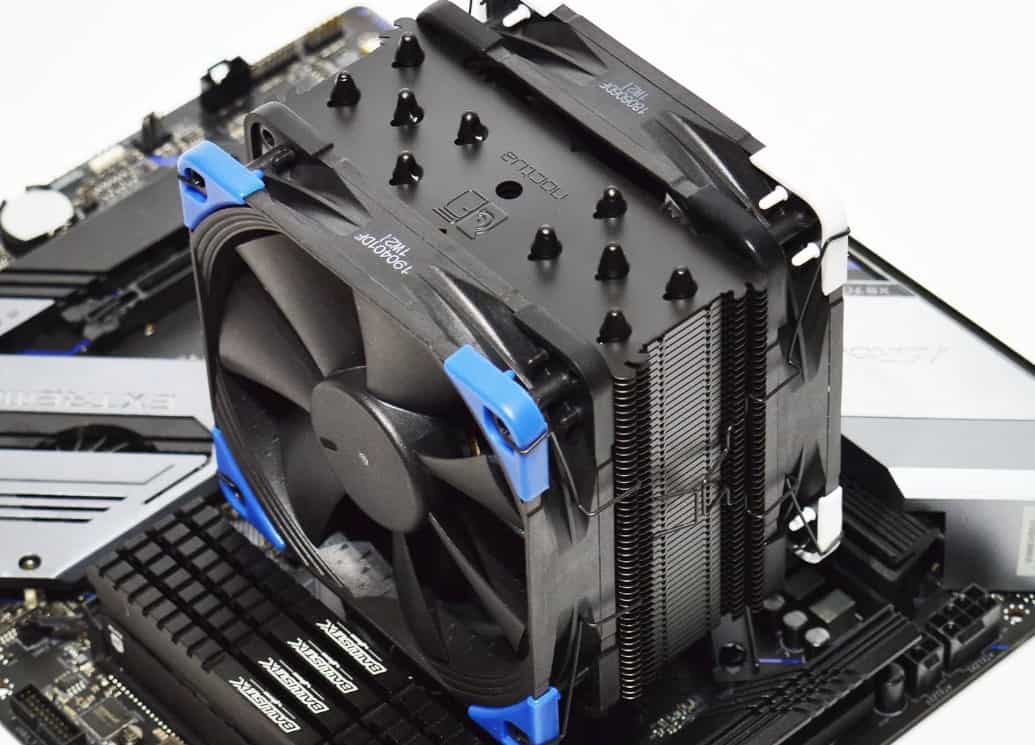 Noctua NH-U12S – Specs
Socket compatibility: Intel LGA2066, LGA2011-0 & LGA2011-3 (Square ILM), LGA1200, LGA1156, LGA1155, LGA1151, LGA1150 & AMD AM2, AM2+, AM3, AM3+, FM1, FM2, FM2+ (backplate required), AM4 (included since 2019, older coolers require NM-AM4-UxS)
Height (without fan): 158 mm
Width (without fan): 125 mm
Depth (without fan): 45 mm
Height (with fan): 158 mm
Width (with fan): 125 mm
Depth (with fan): 71 mm
Weight (with fan): 755 g
Material: Copper (base and heat-pipes), aluminium (cooling fins), soldered joints & nickel plating
Scope of delivery: NF-F12 PWM premium fan, Low-Noise Adaptor (L.N.A.), NT-H1 high-grade thermal compound, SecuFirm2™ Mounting Kit, Anti-vibration pads and fan-clips for second NF-F12, Noctua Metal Case-Badge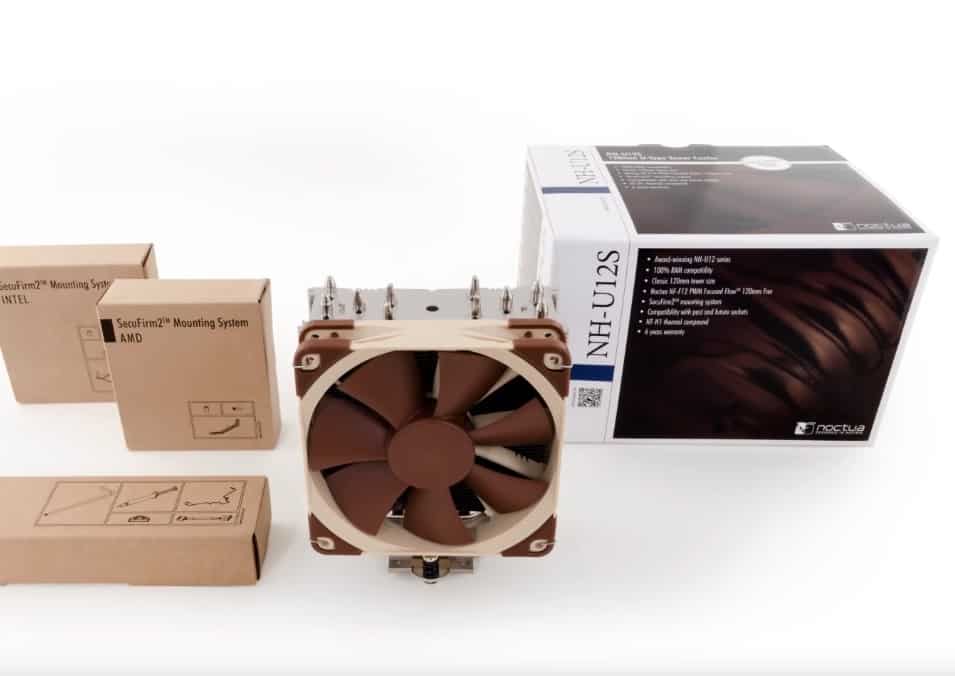 FAN Specification
Bearing: SSO2
rotational speed (+/- 10%): 1500 RPM
rotational speed with L.N.A. (+/- 10%): 1200 RPM
rotational speed (PWM, +/-20%): 300 RPM
airflow: 93,4 m³/h
airflow with L.N.A.: 74,3 m³/h
acoustical noise: 22,4 dB(A)
acoustical noise with L.N.A.: 18,6 dB(A)
Voltage range: 12 V
MTTF: > 150.000 h

Noctua NH-U12S – The Box
The Noctua NH-U12S comes in either white and brown or all-black color, although the black version is a bit more expensive than the original white and brown model.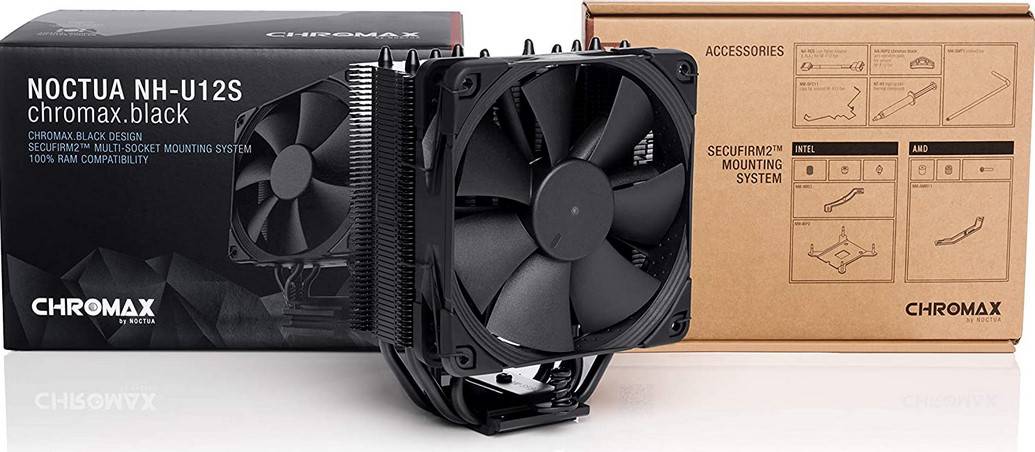 The cooler from Noctua comes in a box with plenty of protective cardboard to keep the cooler, the fan and the accessories protected. There are mounting brackets for various sockets and manuals to walk you through the process of placing a cooler on your CPU.
Noctua packages all its coolers safely in boxes that indicate the contents. Here's what you're getting in the Noctua NH-U12S box:
Cooler + fan
Backplate
Thermal Grease
User's Manual
AMD/Intel SecuFirm mounting kits
Extended Philps screwdriver
Screws, studs etc and all you need to install it
The cool unit consists of the heatsink assembly, the fan, brackets and a backplate that supports various AMD and Intel processors. The cooler comes with thermal paste and also a special screwdriver that will help you install the unit.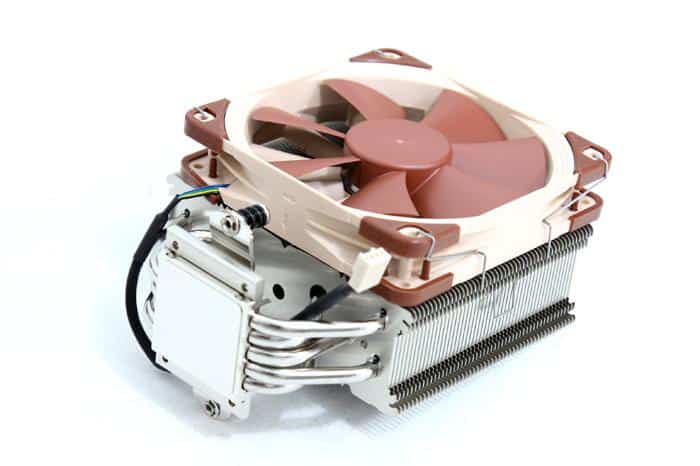 The cooler's base plate uses five copper based heatpipes that are arranged in a C pattern. The fins help disperse the heat away from the CPU and the 120 mm fan cools them quickly to keep the CPU at a proper temperature.
Without the fan, the U12S cooler is 158(H) x 125(W) x 45(D)mm and weighs 755g with the fan. Your motherboard can use the fan in PWM mode.
As for installing, it's easy to do it without blocking anything on the motherboard.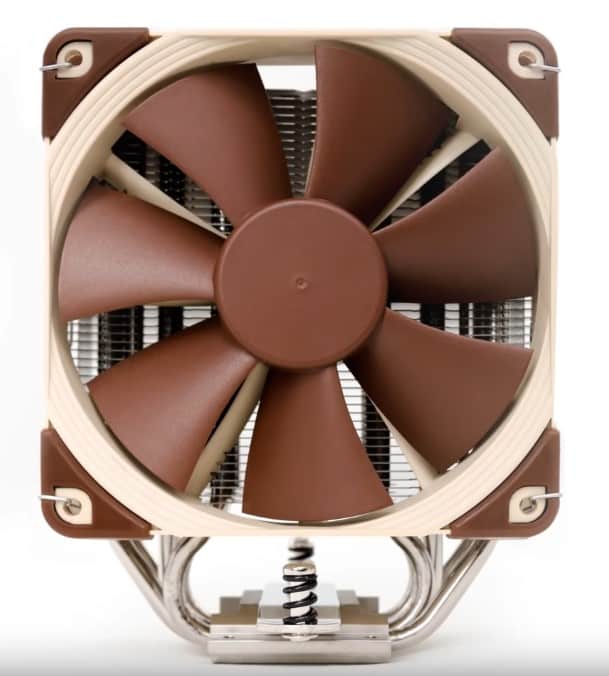 Noctua NH-U12S – Temps and Noise Levels
The most important thing you want to know about the Noctua NH-U12S is how much less noise it makes while under load and if it effectively cools the CPU.
We looked at temperatures with the CPU at default settings, then with the CPU at 4600 MHz with 1.2 Volts applied to the CPU. Going with a hot CPU – Core i7 3770K (a very hot CPU by default), and overclocking it, we got the following results.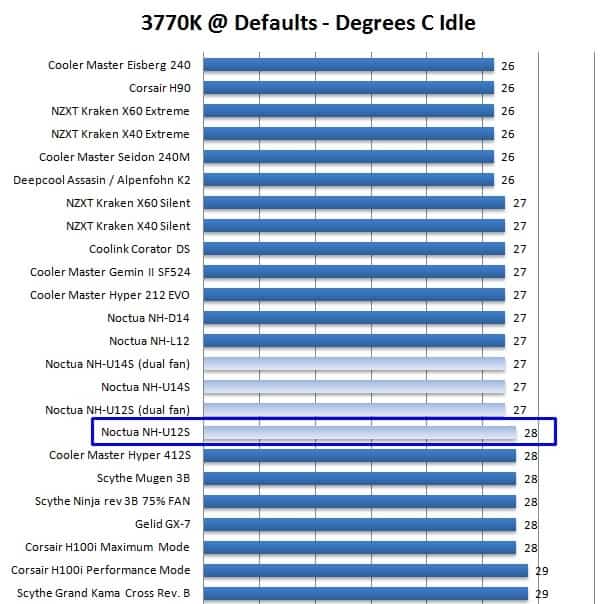 At idle, the NH-U12S kept the CPU at 28 degrees Celsius.
At 100% load temps in the non-overclocked mode, we saw the NH-U12S keeping the CPU at 53 degrees Celsius, which is a great performance considering that this is not a liquid cooling solution.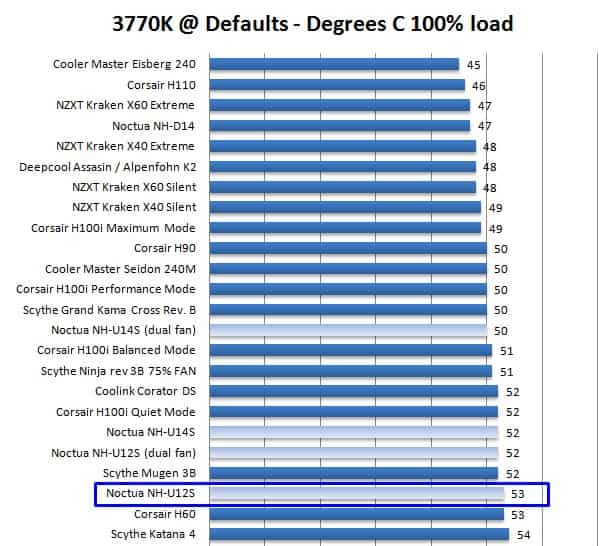 Overclocking the CPU (at 4600 MHz 1.2 Volts) and keeping it at idle yields nearly the same results – 33 degrees Celsius, and under 100% load, the NH-U12S keeps the CPU at 73 degrees Celsius. Under heavy loads, the cooler manages to keep the CPU at a decent temperature that won't break it.
The temperature results look promising, but what about the noise levels?
The NH-U12S fan is PWM controlled at motherboard level at normal settings.
At less than a meter away from the PC, the noise at idle is at 36 dBA, which is the equivalent, which is somewhere between the noises in a bedroom at night (30dBA) and a living room (40dBA).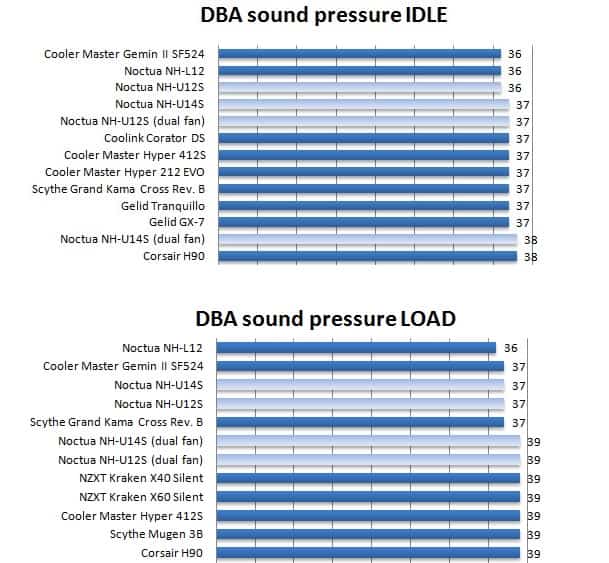 Under load, when the fan should be working harder, the NH-U12S is able to maintain nearly the same dBA, reaching 37dBA. Anything under 40dBA is silent, so this CPU cooler is sneaky! Even if you install two fans, they're silent.
Final Thoughts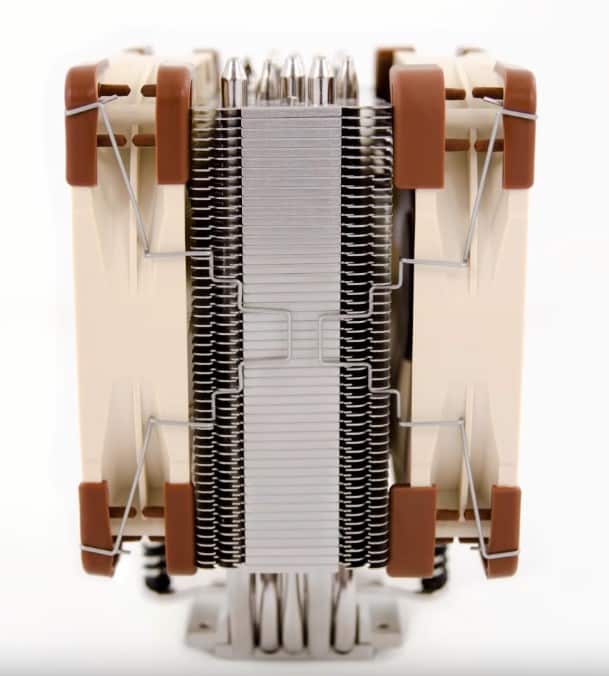 The Noctua NH-U12S does a great job at keeping a hot CPU under load and overclocked cool and does the job silently. While the chromatics may not be great, you can throw a bit more cash and get the black version.
But in terms of performance, the NH-U12S performed great given its price of $60. As long as you don't try to overclock a CPU that already runs hot by default, this cooler should do the job. A good alternative to the NH-U12S would be its bigger sibling, the NH-U14S which as you can see in the temperature tests (pictured earlier), it does handle high temperatures under load.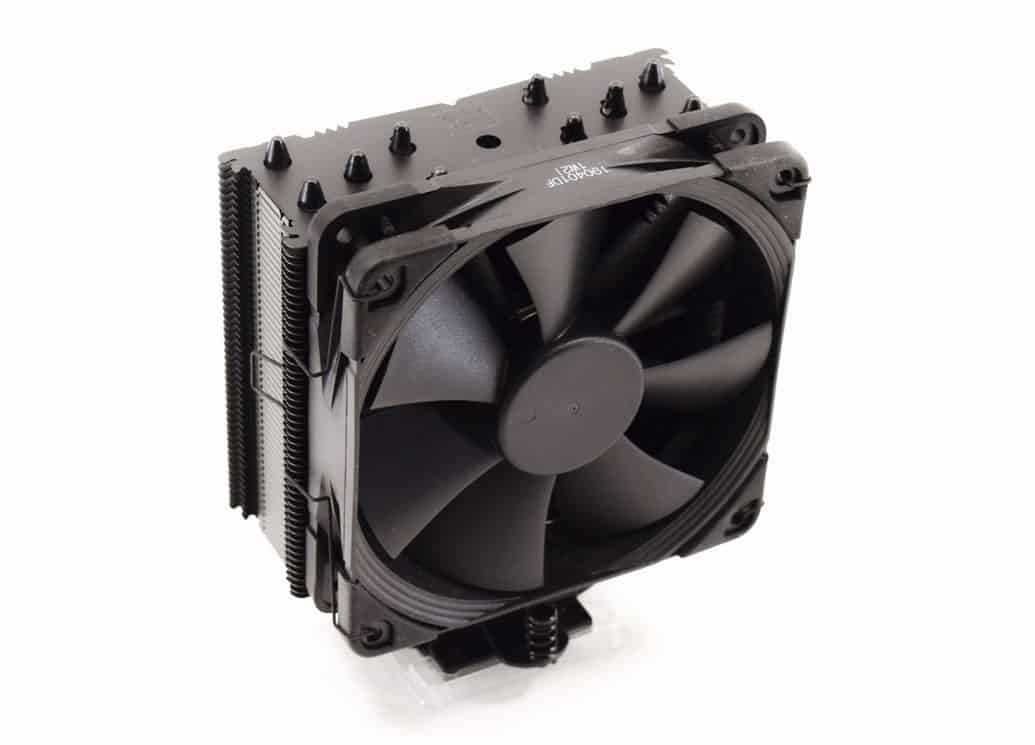 As for noise levels, the NH-U12S is simply amazing, being as silent as liquid cooling. Even adding two fans on it will not raise the noise levels. Ever since the NH-U12S was released in 2013, there have been only praises when it comes to this cooler's capabilities.

Personally, I have used this cooler for over five years and it hasn't failed me so far. With 6 years warranty, a cooler like the NH-U12S is what you need to keep your CPU cool and your PC silent.

<![CDATA[ */ var zbjs = {"ajaxurl":"https:\/\/gaminggorilla.com\/wp-admin\/admin-ajax.php","md5":"d8e8b24d2fa18d2999e0fddcdd418586","tags":[],"categories":["Hardware"]}; /* ]]>