iClever BK10 Wireless Keyboard Review
Introducing the iClever BK10 Wireless Keyboard
The iClever BK10 wireless keyboard is a streamlined piece of hardware that would be great for a dedicated work-from-home keyboard and casual web browsing sessions. This keyboard has several features that our team loved and thinks are handy for users of all varieties.
What's in the Box:
Bluetooth keyboard
Key sheet protector
USB charging cable
User manual
The packaging is a sturdy cardboard box with cardboard inserts to hold the keyboard snug in place. This construction is utilitarian and, in our opinion, just the right amount of packaging to keep the keyboard safe and not go overboard with packing materials. The keyboard comes with a thin, jelly-feeling key protector sheet.
The jelly keyboard protector is clear, making the keys easily visible. It fits across the entire keyboard, including the number keys. It provides protection from crumbs and spills and is a nice addition to this purchase. It lays on top of the keys, and our tester found that the keyboard protector definitely changed the experience of using the keyboard. If you're not used to a keyboard protector, it can make it a little more difficult to type until you become acclimated to having it on the keyboard. There's also nothing that holds it in place, so sometimes it can shift around while typing. Overall if you're interested in a key protector for kids learning to type or for accident-prone users, this is a great additional feature.
The keyboard comes partially powered, maybe fully powered for some. We ran the battery down on our testing device and then plugged in the keyboard with the USB charging cable that came in the box. Full charge time is minimal (took 30 minutes for our tester), and the 90 hours of uninterrupted use that iClever claims in its marketing material is true in our tests as well.
Enabling Bluetooth on the iClever BK10 Wireless Keyboard
The Bluetooth connection is fairly easy to pair as long as you read the instructions. The keyboard has keys that enable connection between 1-3 devices and the ability to toggle between these devices using three Bluetooth keys on the upper right side of the keyboard, just about the number pad. This feature is handy for work-from-home settings where a change of scenery can be all but mandatory to keep things fresh and productive. The pairing isn't complicated, but it's a little trickier than an economy plug-and-play Bluetooth keyboard. The instructions are clear and helpful. We tested the Bluetooth setting by using this keyboard directly next to the router, outside, and in a variety of places. The keyboard can keep up and has a strong Bluetooth signal.
The keys are low profile, and iClever notes scissor-switch, ultra-thin keys on its marketing material. The keys are similar in height and depth of Apple Magic keyboards. Interestingly (and usefully), the keyboard's windows and alt keys also have the Mac commands (alt and cmd, respectively) printed on the keys. This is a nice function for anyone who wants to use the 1-3 Bluetooth connections on a variety of operating systems. The keys all click smoothly, and all tests performed to try to dislodge keys in the way a typical user would after years of wear did not pull any keys off the board. It's also worth noting that our tester received the chrome silver keyboard with black keys and white letterings. The markings are all very clear and don't show any signs of peeling or flaking off after hundreds of hours of use.

This keyboard includes a number pad, which is handy in a lot of applications. The keys are all clearly labeled and adequately spaced for easy typing. The keyboard overall is large, but it feels very ergonomic and well-appointed. There is no random unused space on the keyboard, and all keys make logical sense where they're placed.

"Razor-thin" is almost a perfect description for this keyboard as it comes in at half the size of Apple Magic keyboards in some places. There is a roll built into the top of the iClever keyboard to give it a more ergonomic placement. It has five small rubber stops on the bottom of the keyboard; two at the top of the keyboard under the roll and three at the bottom. There are no feet or legs that kick out to raise or adjust the height.

Final Thoughts on the iClever BK10 Wireless Keyboard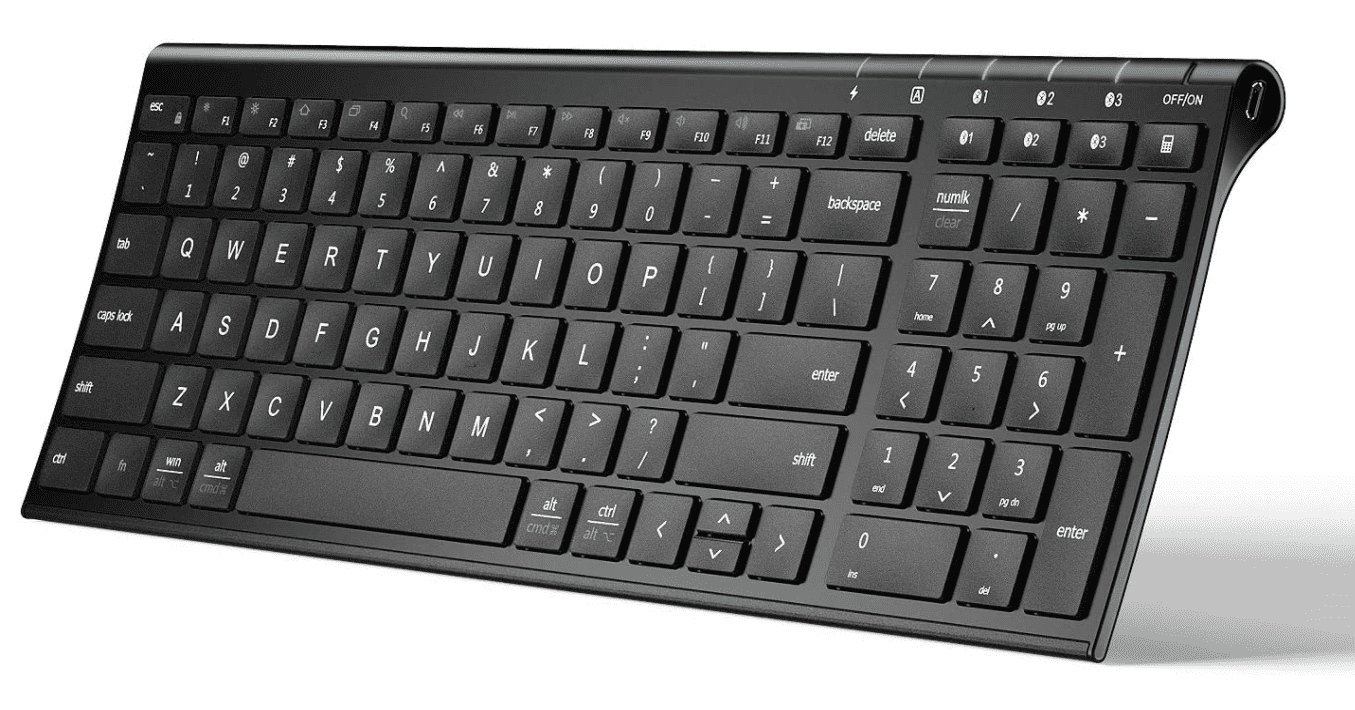 Overall this is a gorgeous piece of hardware and is a great addition to any work from home set up for children and adults of all ages. It's slim, it's portable, and it's got a number pad, which makes it a win for us. The construction is rock solid, and this feels like a piece we will have and love for a long time.
<![CDATA[ */ var zbjs = {"ajaxurl":"https:\/\/gaminggorilla.com\/wp-admin\/admin-ajax.php","md5":"d8e8b24d2fa18d2999e0fddcdd418586","tags":[],"categories":["Hardware"]}; /* ]]>