NZXT FN V2 120mm Fan Review
Introduction
Chassis fans in enthusiast level builds are more than just hardware that provides the essential cooling and ventilation for your system, these are also added to complete the appeal of the build. Gone are the days of plain black chassis fans, enter in the LED lighted and color theme inspired chassis fans today. NXZT is known for its modern-looking and sleek case designs. NZXT carries a black and white brand color which they gladly adopt with their chassis fans as well. Today we will be looking at one of their new additions, the NZXT FN V2 120mm fan.
NZXT's Take on the FN V2
The all new FN V2 series fan is designed from the ground up to offer better acoustics and even better performance than our standard FN case fan.
Features
Anti-Vibration pads line all eight corners of the the FN V2 for optimal vibration dampening.
Sleeved fan cabling allows you to have a sleek, seamless fan installation.
The redesigned fan blades have been made thicker to give more reliable operation and longevity.
Both the 120mm and 140mm have been tuned to peak at just 21 dBA at full speed.
Specifications
Model Number: RF-FN122-RB
Dimensions: 120 x 120 x 27mm
Fan Air Flow: 45 CFM
Fan Air Pressure: 0.9 mm – H2O
Fan Bearing: Rifle Bearing
Fan Connector: 3-Pin
Fan Input Power:1.92W
Fan Current: 0.16A
Included Accessories:
3 to 4-Pin Molex Adapter x 1
Screw x 4
Fan Life: 40,000 hours /4 Years
Fan Noise Level: 21 dBA
Fan Speed: 1200 ± 15% RPM
Fan Voltage: 12V DC
Product Weight: 138.4 g
UPC: 815671011916
EAN: 5060301691166
Warranty: 2 Years
Let's take a closer look on the next page.
Packaging and Closer Look
The NZXT FN V2 120mm fan comes in a black and green box with a clear plastic window for you to take a glimpse of the fan inside.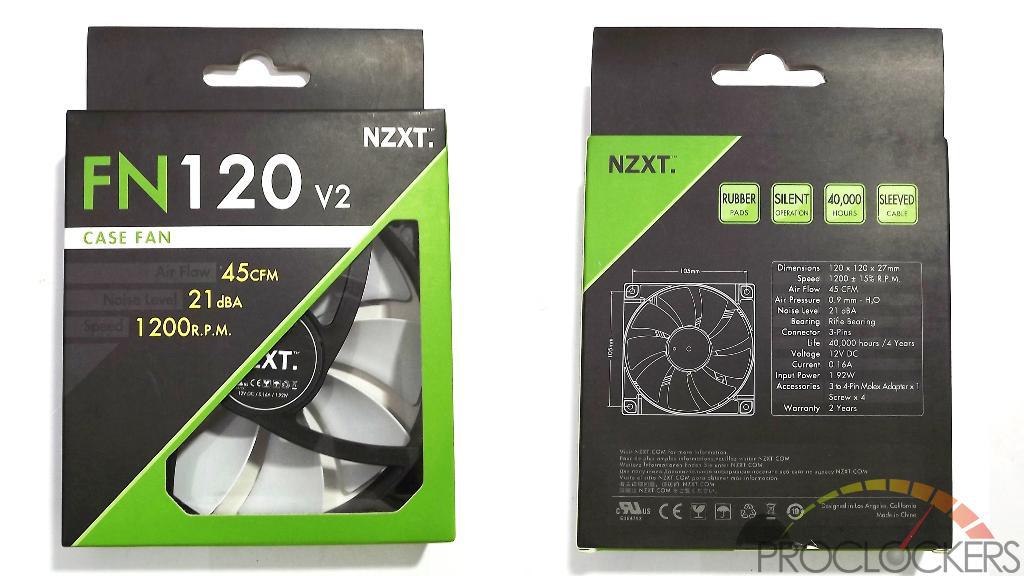 Included in with the fan is a 4-pin MOLEX to 3-pin fan header adapter, four fan screws and a manual.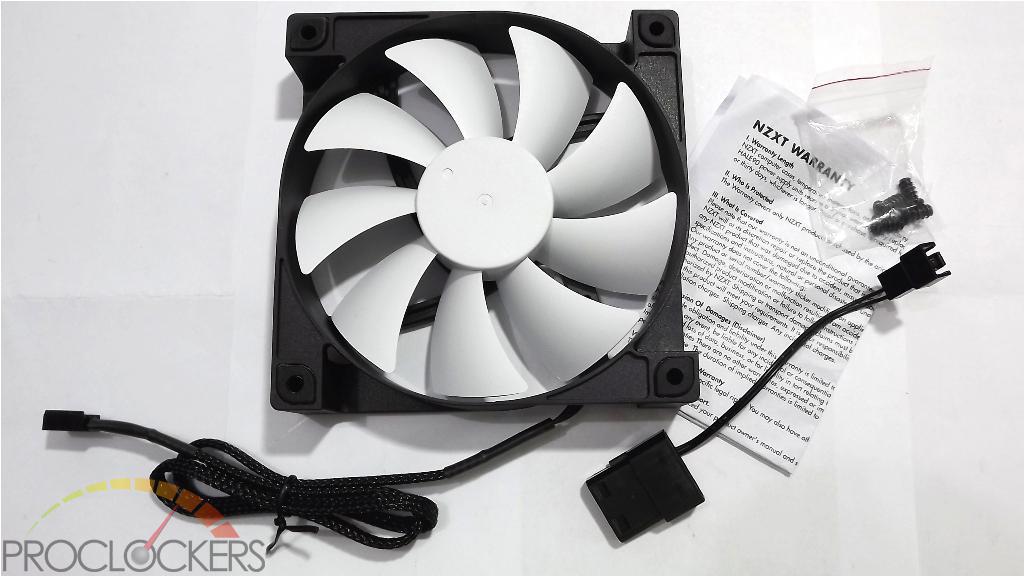 Here's a closer look at the NZXT FN V2 120mm with its black frame and white fan blades.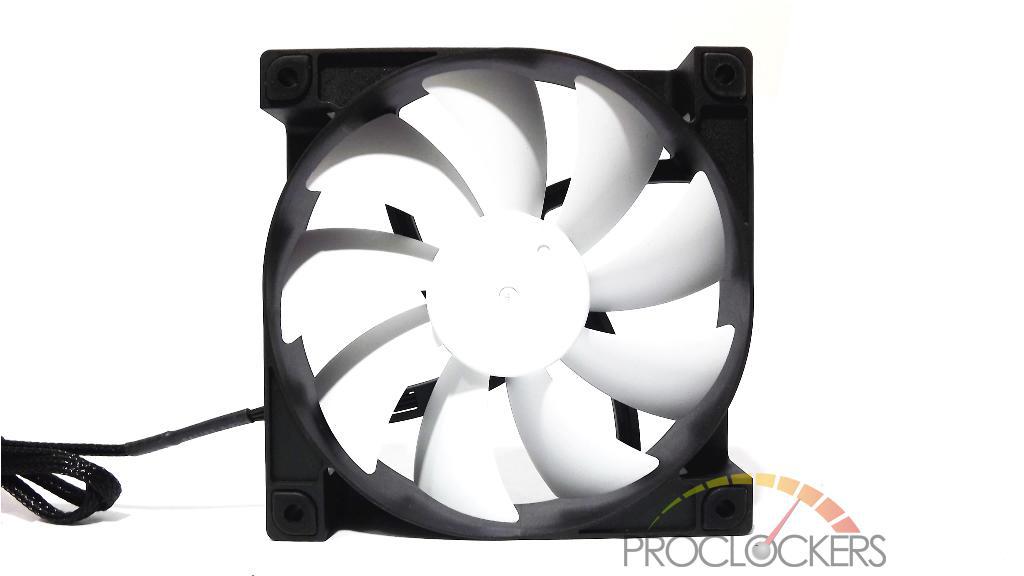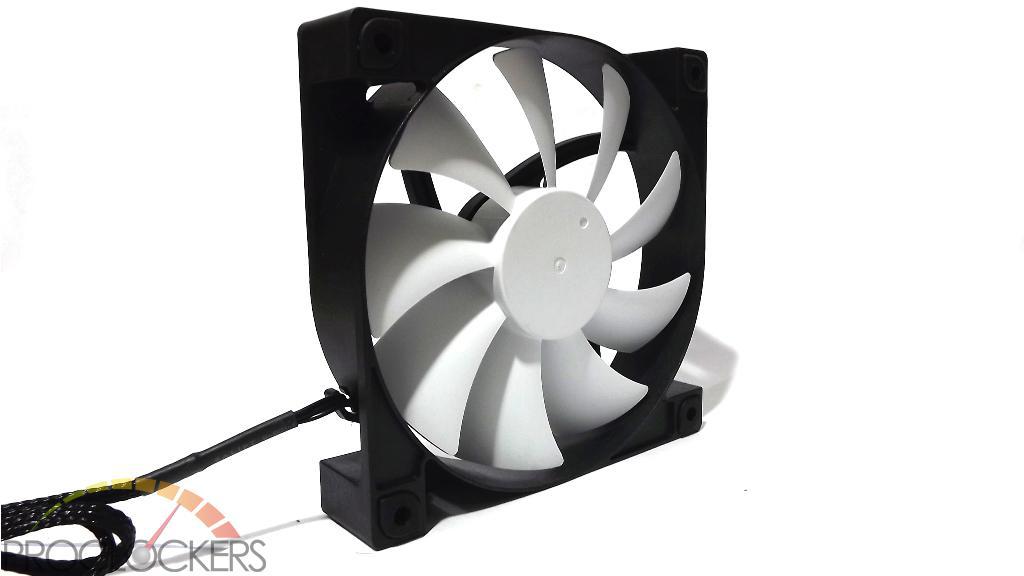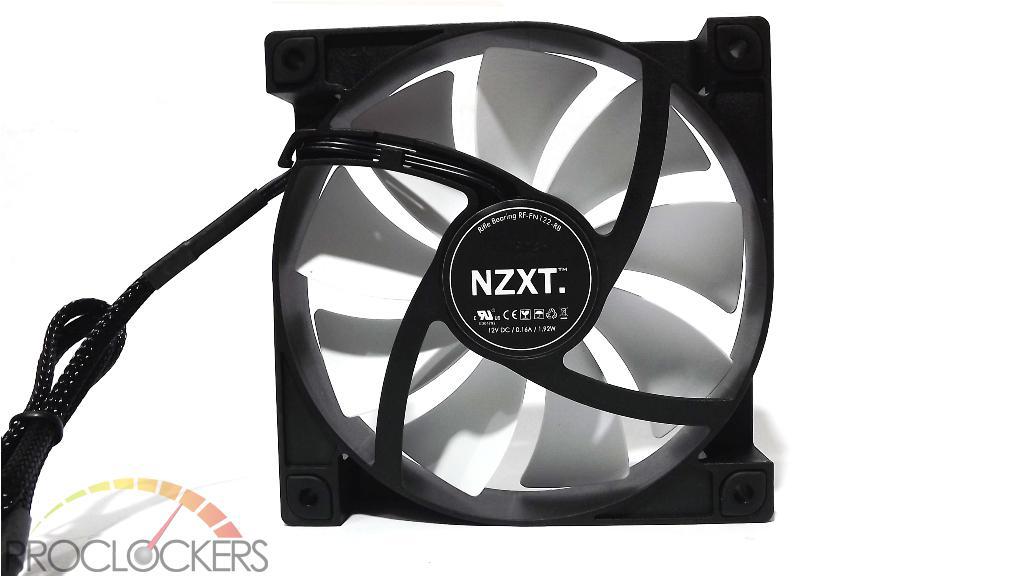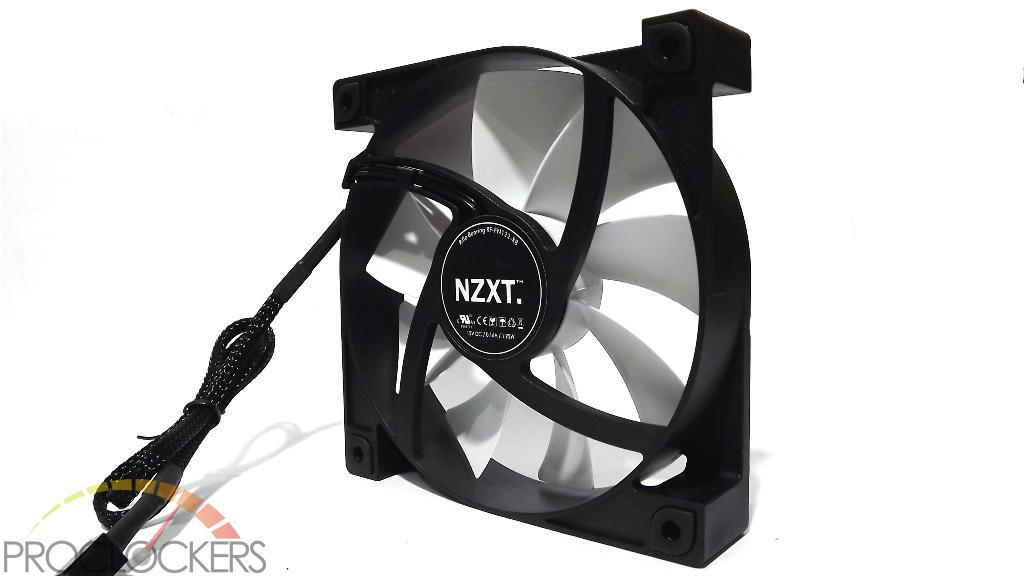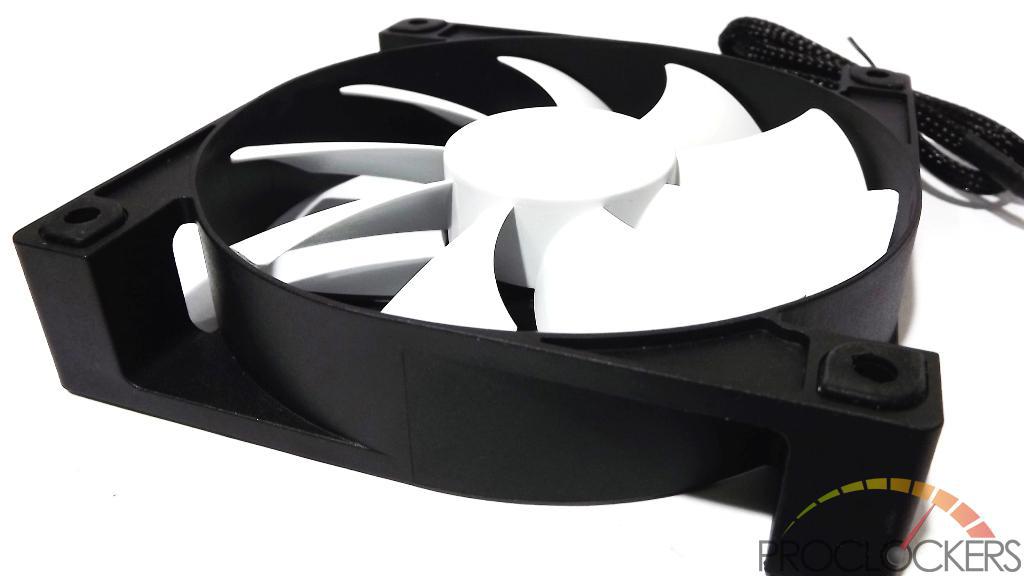 The FN V2 has anti-vibration rubber on each screw hole of the fan.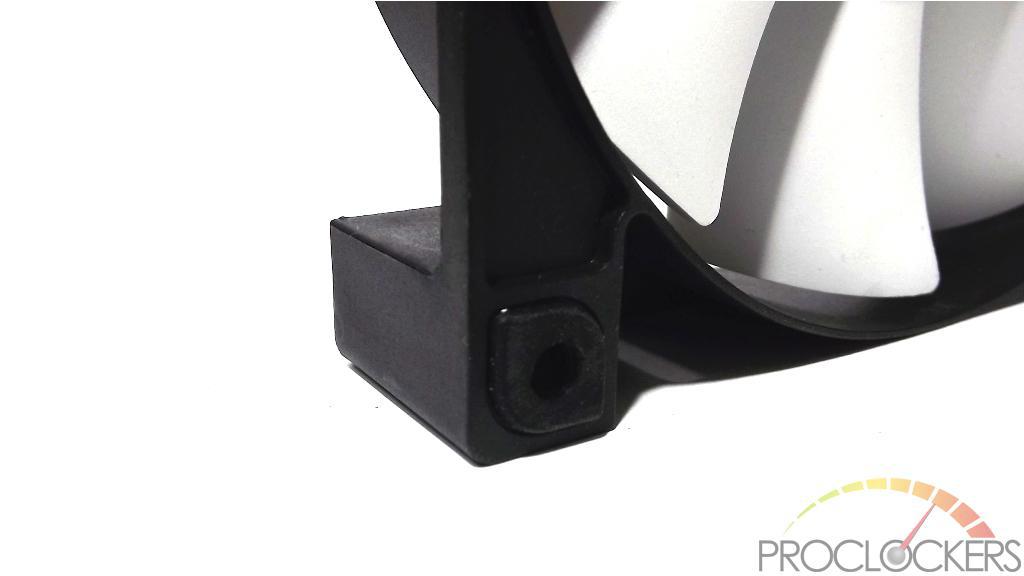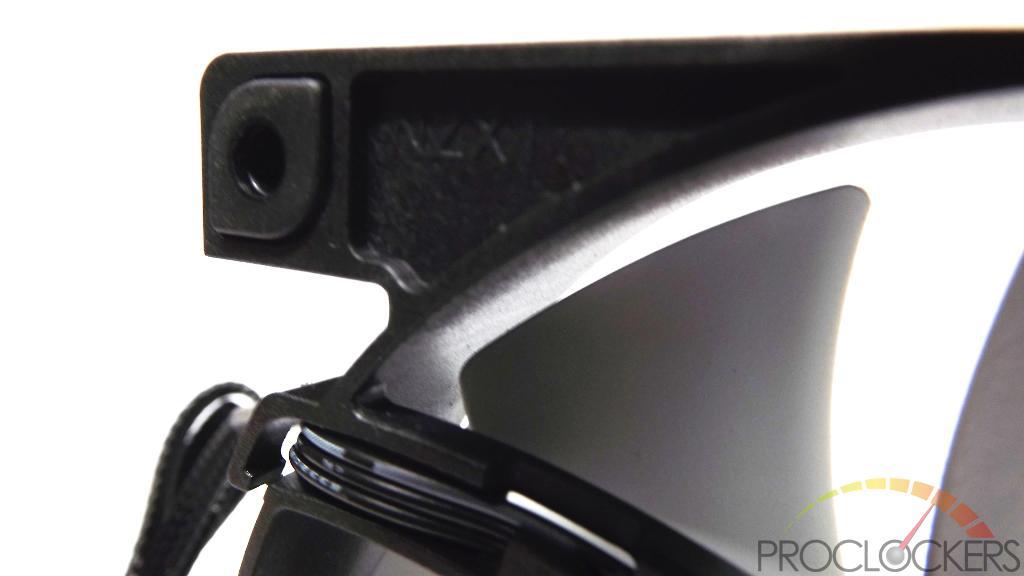 The cable is also sleeved. The fan only has a 3-pin fan header.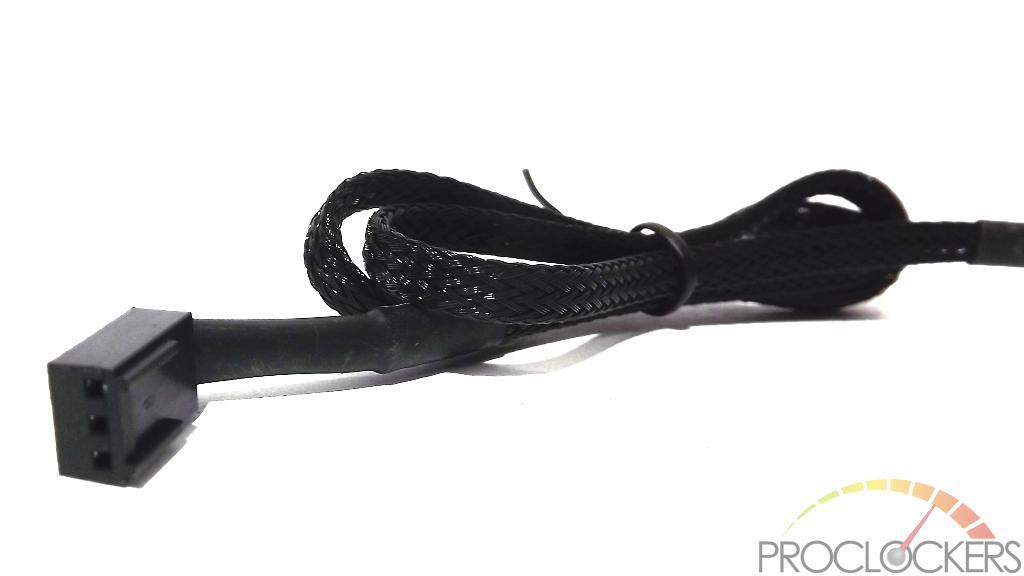 Move on to the next page for the testing and performance.
Testing and Performance
NZXT gave us three of their FN V2 120mm fans to use as radiator cooling to be compared with the previous fans I've reviewed so far.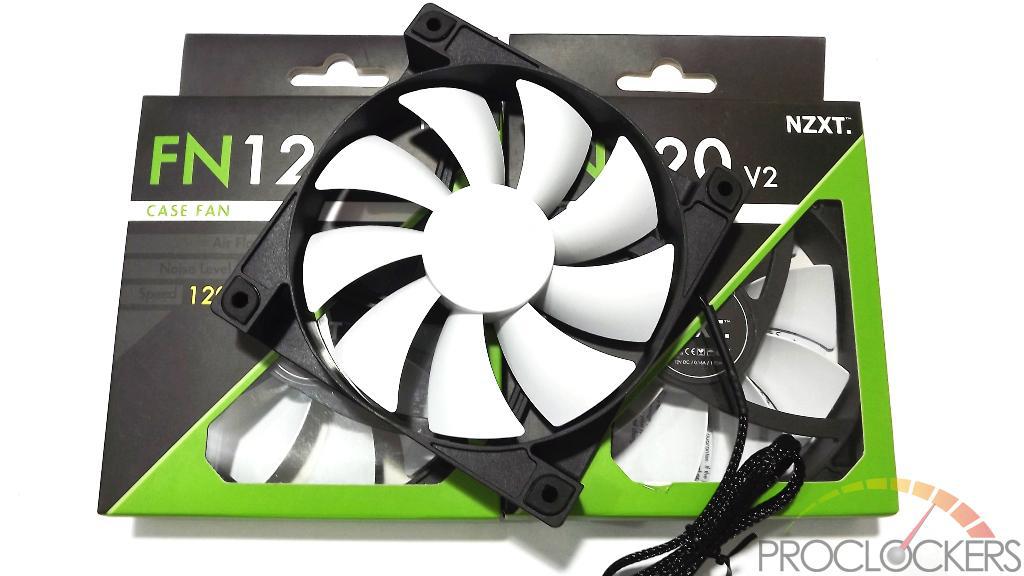 Testing Setup:
In testing the performance of the fan, I will run Prime95 for an hour while being monitored by MSI Afterburner. I will run the test in both stock clocks and at an overclocked configuration of 4.5Ghz. The fans will be running at maximum RPM at load during the test. Room temperature is set around 28C.
Processor: Intel i5-4670K (Stock and OCed to 4.5Ghz)
Motherboard: MSI Z97 Gaming 5
Memory: Kingston HyperX Beast 2400Mhz 16GB Kit
Boot Drive: Kingston 120GB M.2 SSD
Graphics Card: Gigabyte GTX 770 OC
Power Supply: EVGA SuperNOVA P2 1200watt with Primochill Maxcord Single Braid Cable Set
Fan Controller: Lamptron FC5V3
Cooling:
Waterblock: EKWB EK-Supremacy EVO RED Edition (Nickel Plexi)
Pump Specs: 500 LPH
Radiator: EKWB EK-CoolStream XT 360
Fan: NZXT FN V2 120mm
Coolant: Distilled Water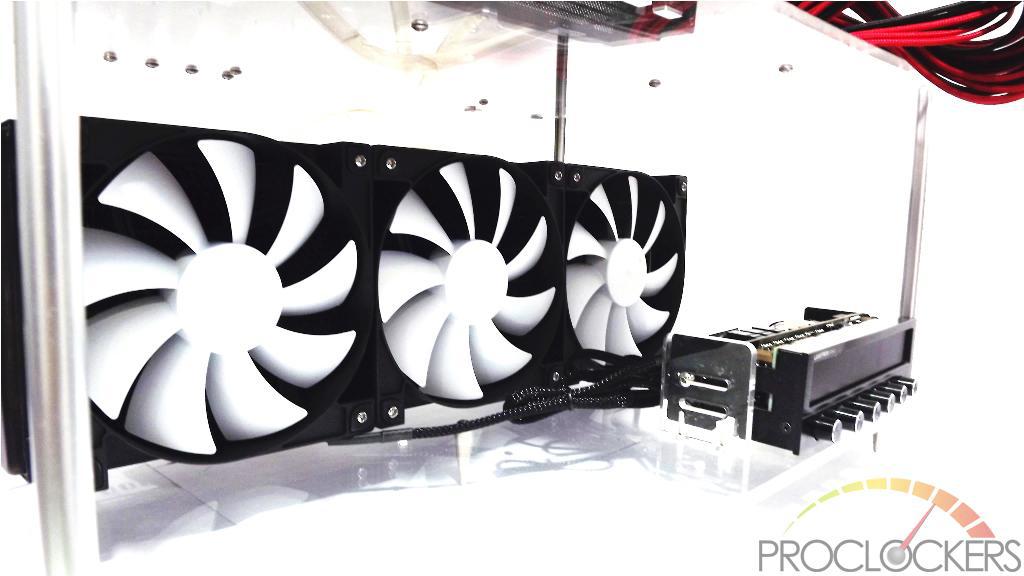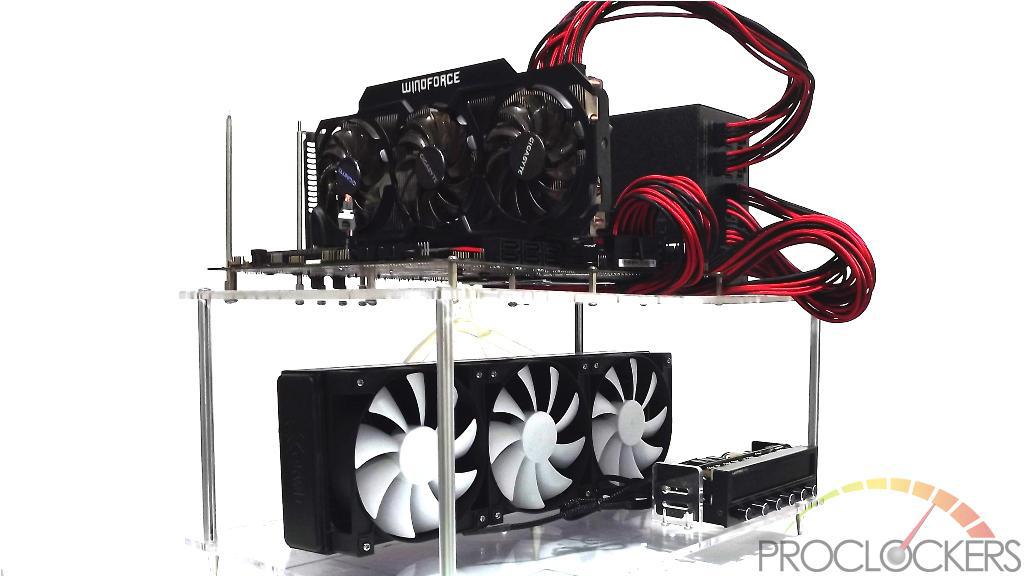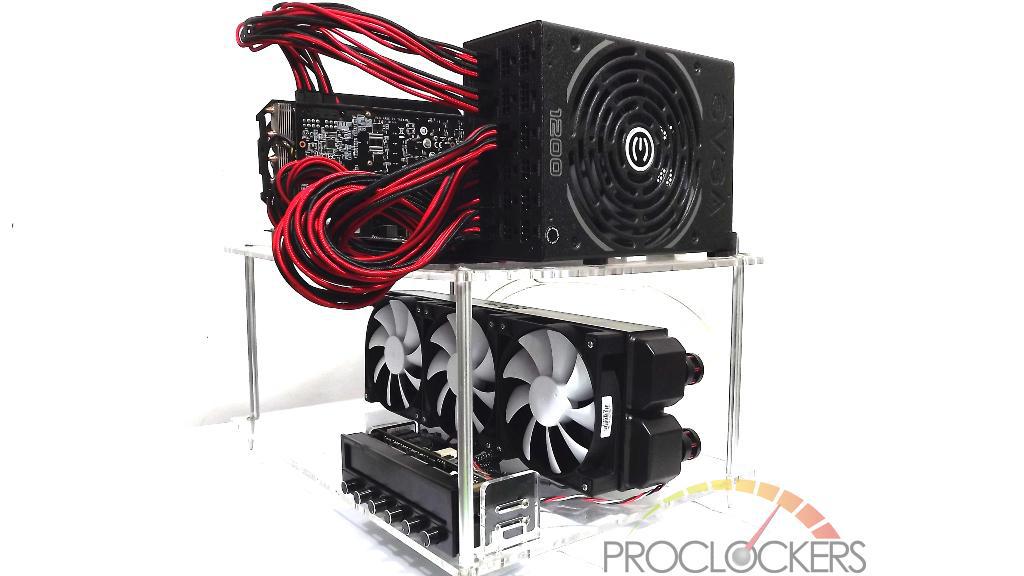 Stress Testing Result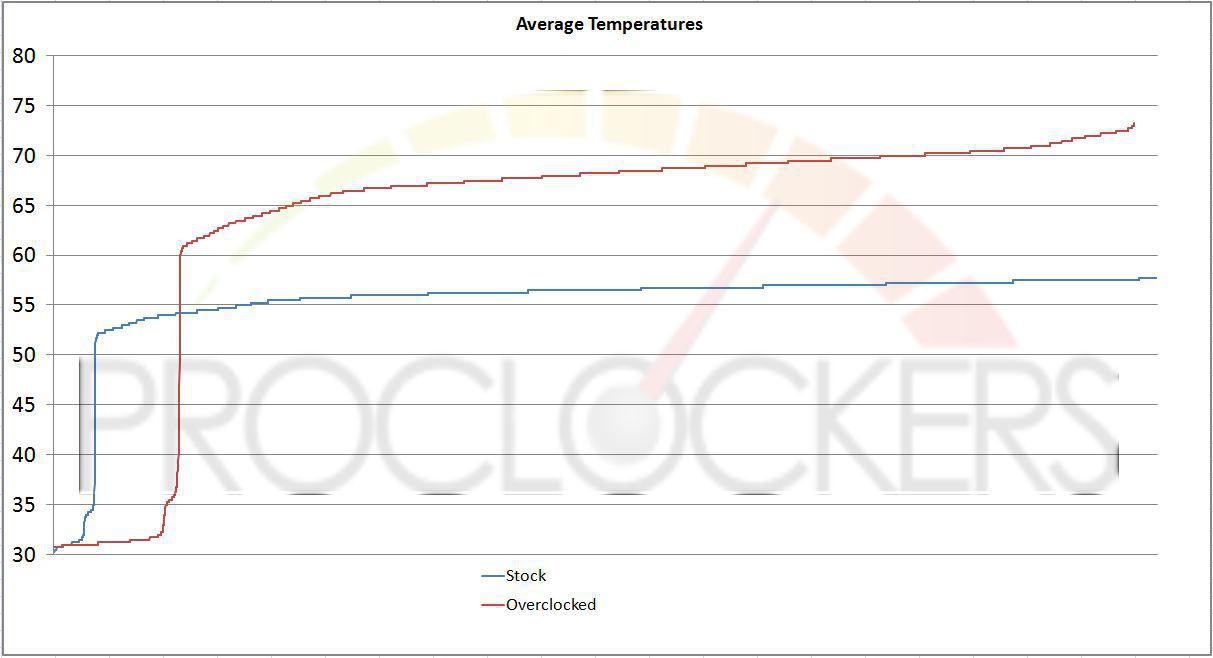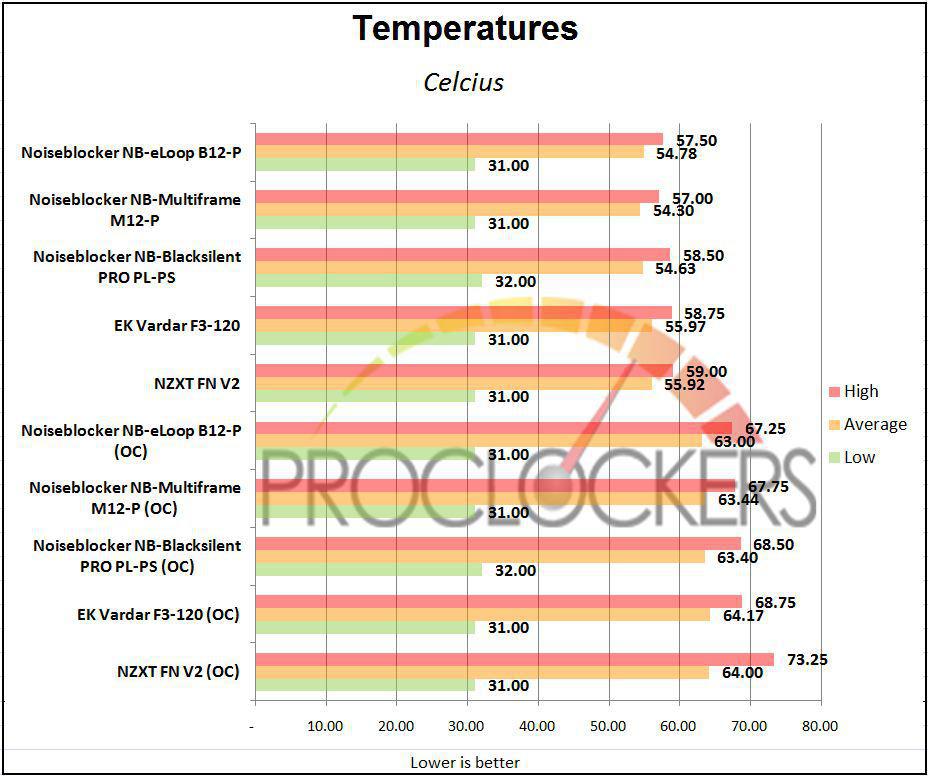 Of all the fans I've reviewed so far, the NZXT FN V2 has the hottest temperatures for radiator use also considering that it only offers a maximum RPM speed of 1200 + 10%. The FN V2 isn't suited for radiator use but as a case fan, it will surely do particularly in pairing NZXT's cases.
Acoustics and Fan Speeds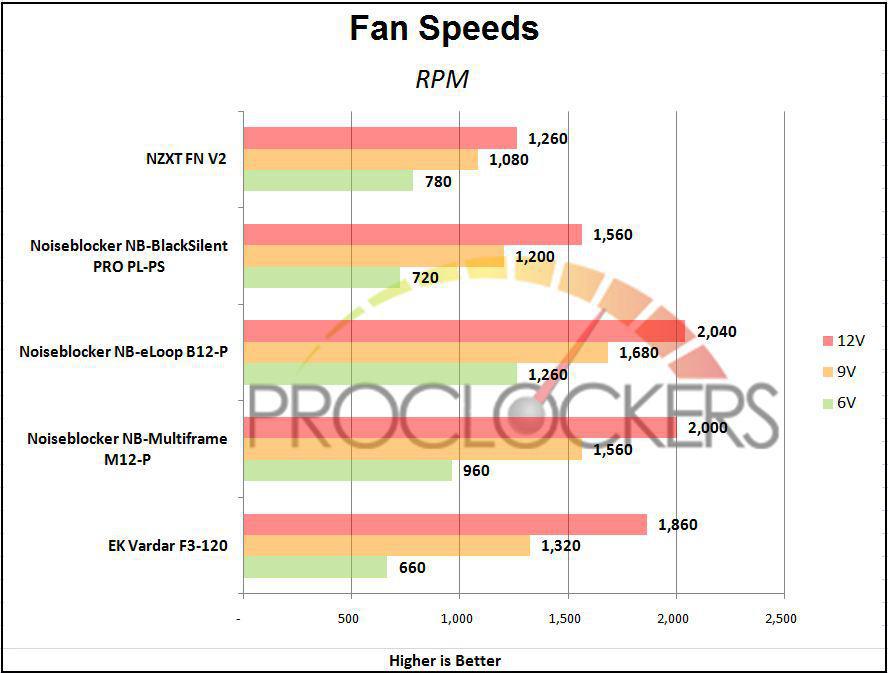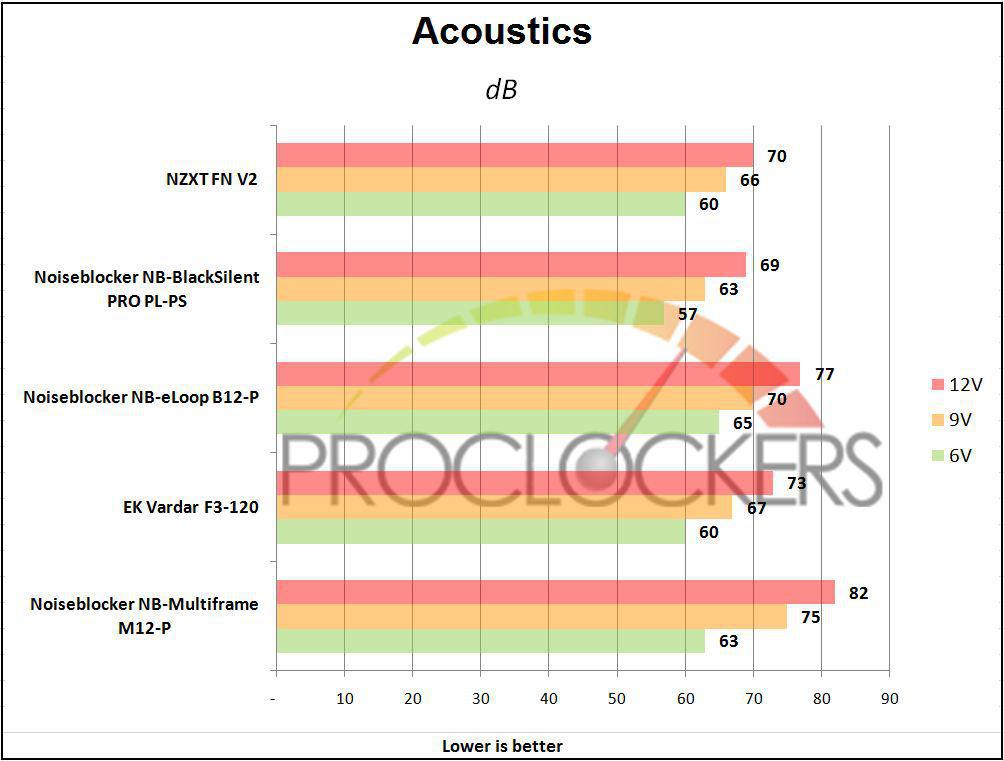 The low RPMs naturally equate to lower noise levels which is just perfect for chassis fans.
Now let's move on to the conclusion on the last page.
Final Thoughts and Conclusion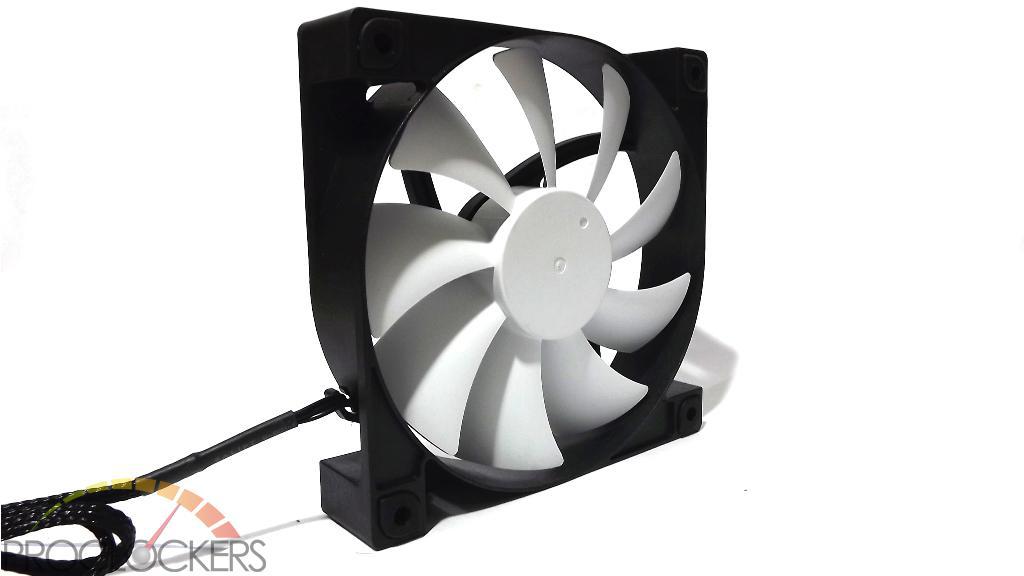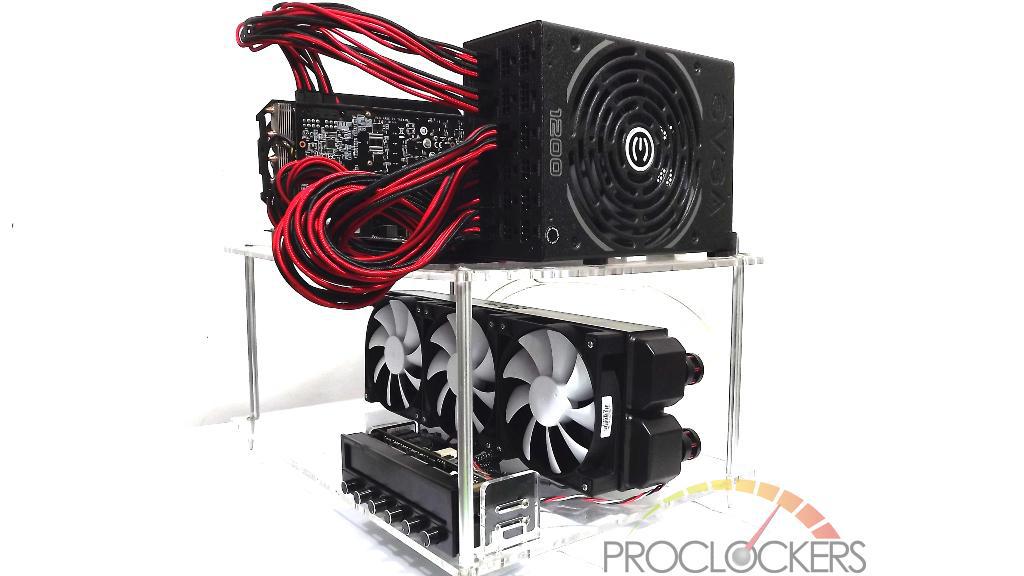 First off, I would like to thank NZXT for sending me these FN V2 120mm fans to review. NZXT users would certainly love the FN V2 fans which does look different and more appealing compared to its predecessor the FN 120RB which is now discontinued. The FN V2 will certainly fit the black and white variants of most NZXT cases such as the H440, Phantoms and S340. Even the black cases would suit this fan perfectly.
For radiator use, it might not be the best solution but definitely for chassis use, the FN V2 is ideal. Low RPMs, low noise level and low vibration created as well. The addition of the anti-vibration rubber on each screw hole is a good improvement. You can find the NZXT FN V2 120mm fans for $7.99 at the NZXT store.