Transcend StoreJet 25H3 1TB Portable Hard Drive Review
Introduction
With the ever-growing mountain of data we have to bring with us to work, class, or to share with friends, a need for a portable, yet rugged hard drive is more real today than ever before. Personally, between sharing photos with photography clients, design files with my business partners, or simply backing up my laptop when traveling, I have a serious need for a portable hard drive that will withstand the abuse it will inevitably be subjected to inside of my backpack. In this review, I am going to take a look at a new portable hard drive from Transcend that claims to fill all of my needs.
Features and Specifications
The StoreJet 25H3 portable hard drive is the latest addition to Transcend's USB 3.0 portfolio. It is a powerful storage device that combines superior performance of USB 3.0, a whopping 1TB of storage space that can store about 200 DVD movies, and a three-stage shock protection system. With transfer speeds up to 90MB/s, the StoreJet 25H3P is an ideal option for speed lovers. Even transferring an entire DVD movie takes less than a minute to complete! Thanks to its full backwards compatibility, the StoreJet 25H3P allows users to access their files from nearly any computer.
Housed in a robust shockproof case, the newly released StoreJet 25H3 drive offers extra capacity for more downloads and files and provide the highest level of protection against accidental drops. This drive features a brilliant blue anti-slip rubber enclosure that surrounds a reinforced hard casing that evenly distributes the force of an impact and an internal hard drive suspension damper as a last line of defense. The StoreJet 25H3 1TB has passed U.S. military drop-test tests, making it one of the most robust portable hard drives in the market today.
The StoreJet 25H3 1TB ships bundled with Transcend's advanced new Transcend Elite data management software, which allows modern users to keep their rich digital content organized, protected and up-to-date.
Features
Military-grade shock resistance*
Fully Compliant with the Hi-Speed USB 2.0 specification
Advanced 3-stage shock protection system
Durable anti-shock rubber outer case
Advanced internal hard drive suspension system
Quick Reconnect Button – after safely removing the hard drive from the system, press to reconnect the drive without having to unplug and replug the USB connector again
One Touch Auto-Backup button
256-bit AES file & folder encryption**
Exclusive Transcend Elite data management software
*Based on U.S. military drop-test standards MIL-STD-810G 516.6. Transcend is not responsible for recovering any data lost due to any improper usage.
**Transcend Elite software is required to use this feature.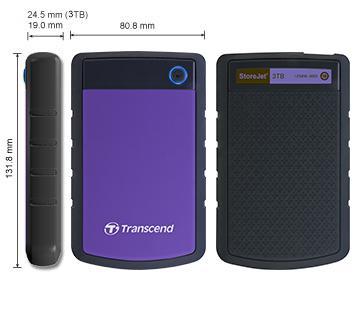 Specifications
Size: 131.8mm×80.8mm×19.0mm (5.27″ x 3.23″ x 0.76″)
Opperating Voltage: USB DC 5V
Opperating Temperature: 5°C (41°F) ~ 55°C (131°F)
Storage Media: 2.5″ SATA HDD
Weight: 216g (7.61 oz)
Certifications: CE, FCC, BSMI
Connection Interface: USB 2.0/3.0
Power Saving Mode: 10 mins
One-Touch Backup: Yes
Warranty: Three-year Warranty
System Requirements:

Desktop or notebook computer with a working USB 2.0 or USB 3.0 port

Supported Operating Systems (OS):

Microsoft Windows XP
Microsoft Windows Vista
Microsoft Windows 7
Microsoft Windows 8
Microsoft Windows 8.1
Mac OS 10.7 or later
Linux Kernel 2.6.31 or later
Unboxing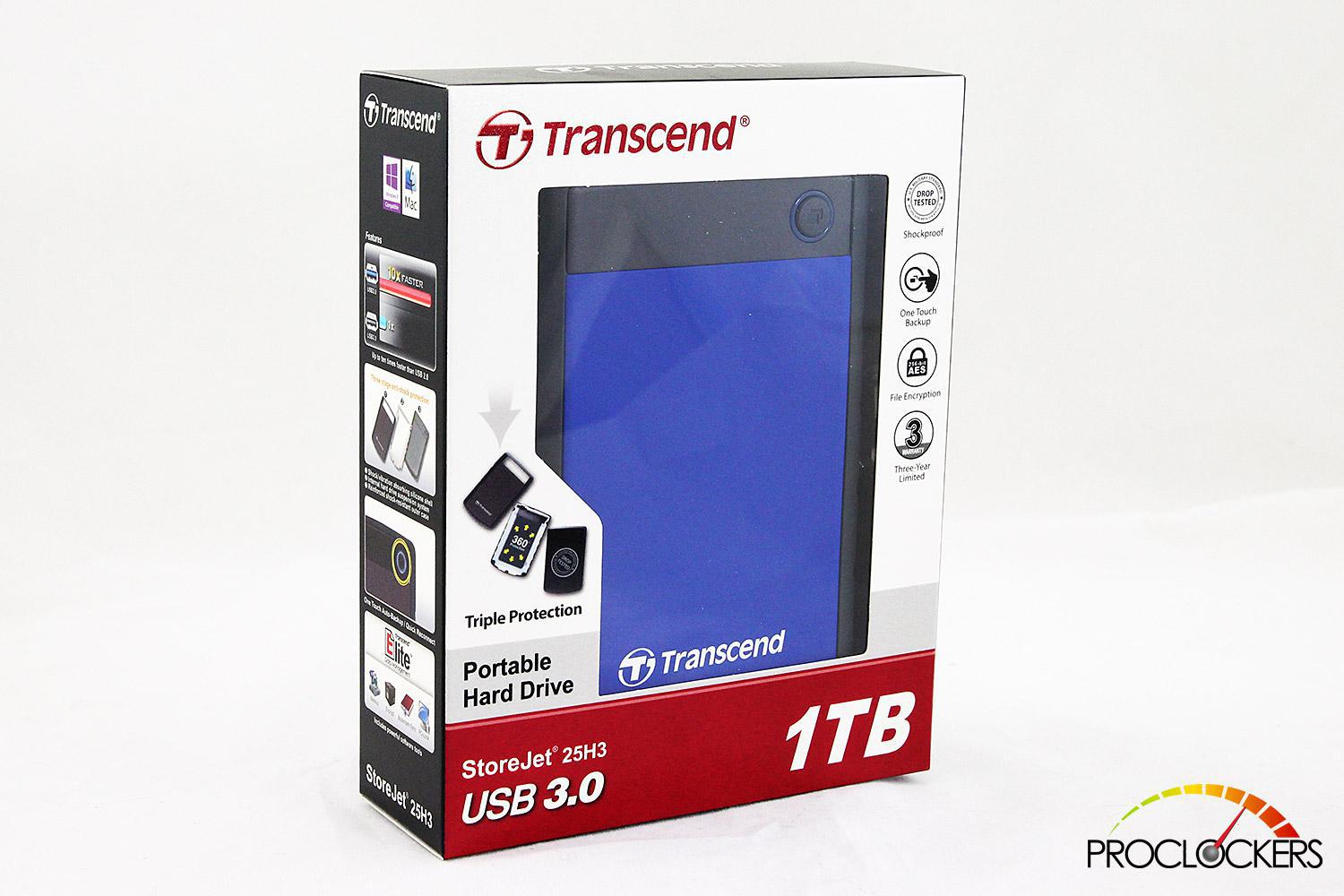 The Transcend StoreJet 25H3 1TB ships in a small box with a clear plastic window. I am not one to be impressed by packaging, but I will say that whatever this box is coated in, is slicker than teflon. It slipped out of my fingers several times when handling it.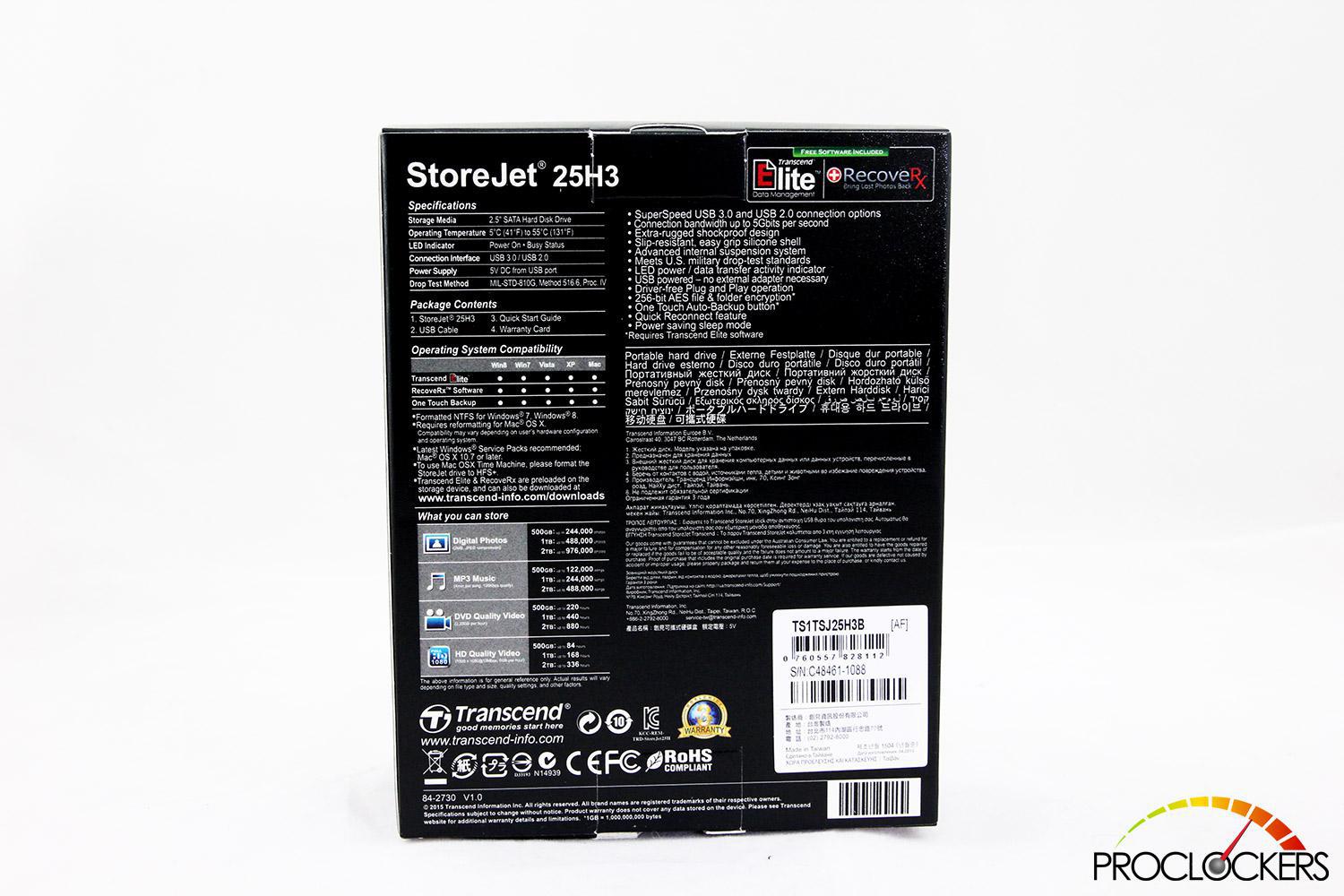 The back of the box features all of the pertinent info about the drive, as well as listing out the system requirements.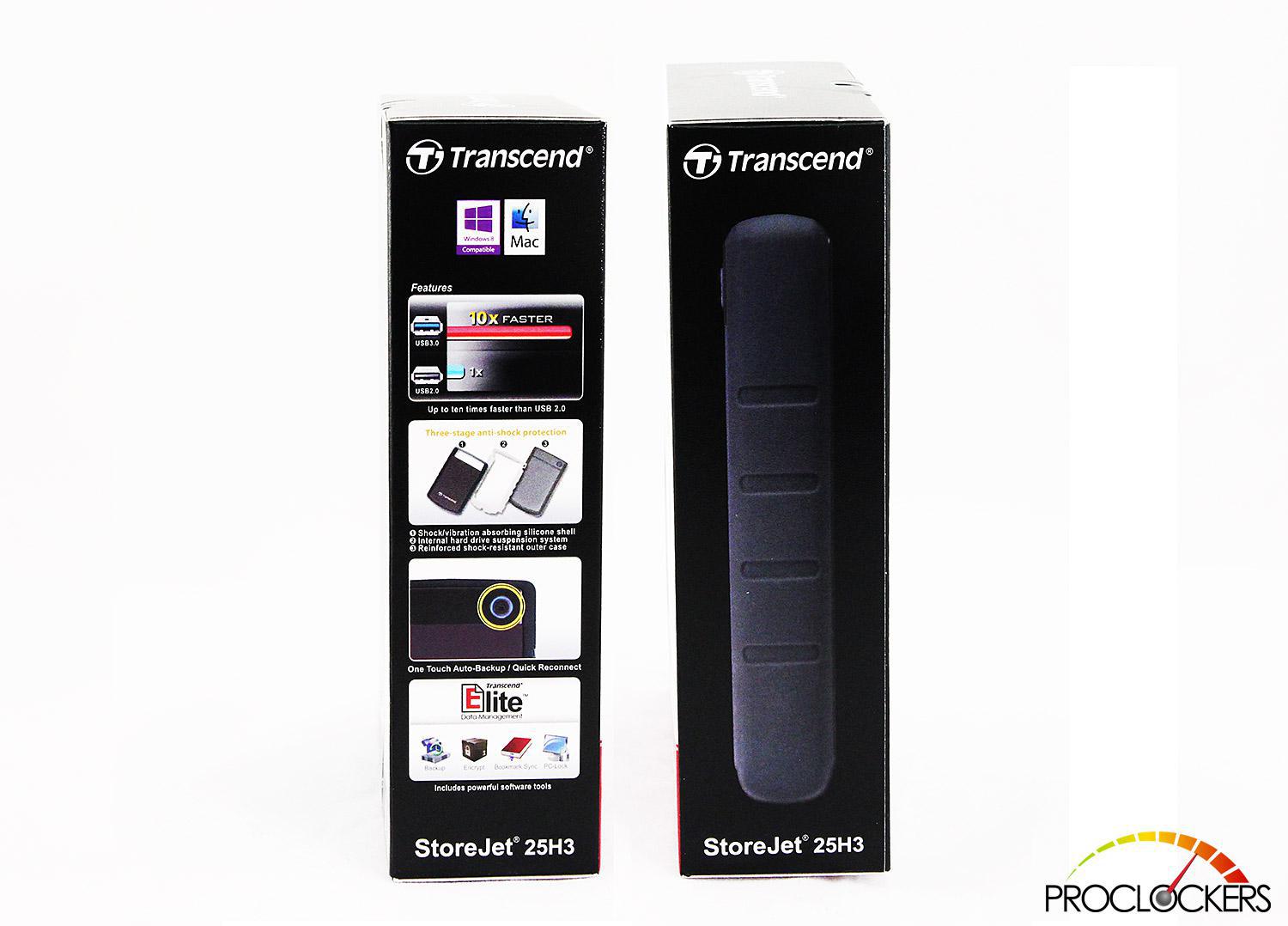 The sides of the box contain more info about the drive.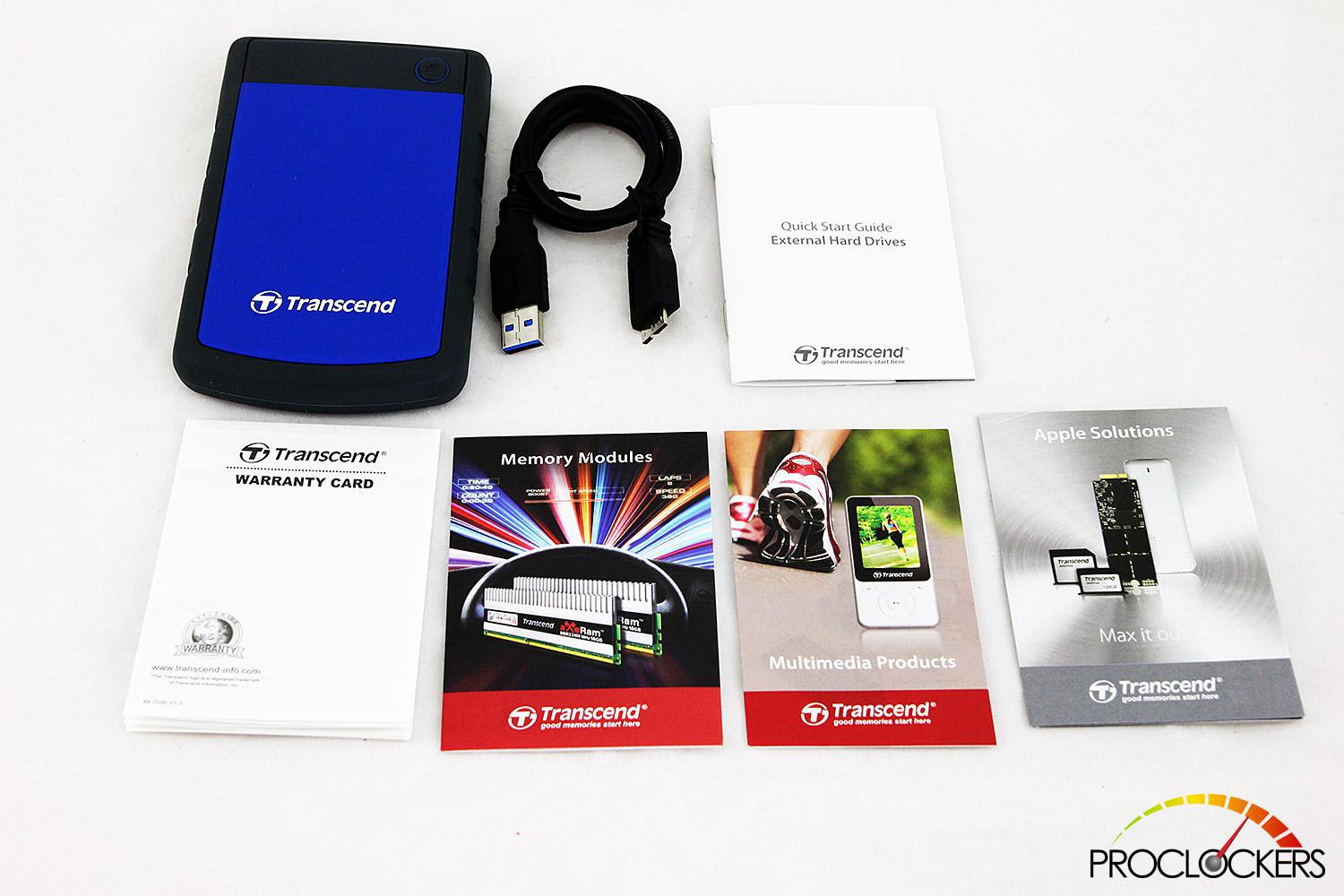 With the contents unboxes we can see the StoreJet 25H3 1TB portable HDD along with a USB 3.0 cable, some documentation, and marketing materials. With the drive unboxed, let's jump in for a more detailed look.
A Closer Look
Of all of the portable hard drives I have owned over the years, the StoreJet 25H3 definitely feels like the most rugged. In the image above you can see the vibrant blue silicone casing that protects the drive from impacts. This grey and blue jacket also makes the drive very slip-resistant.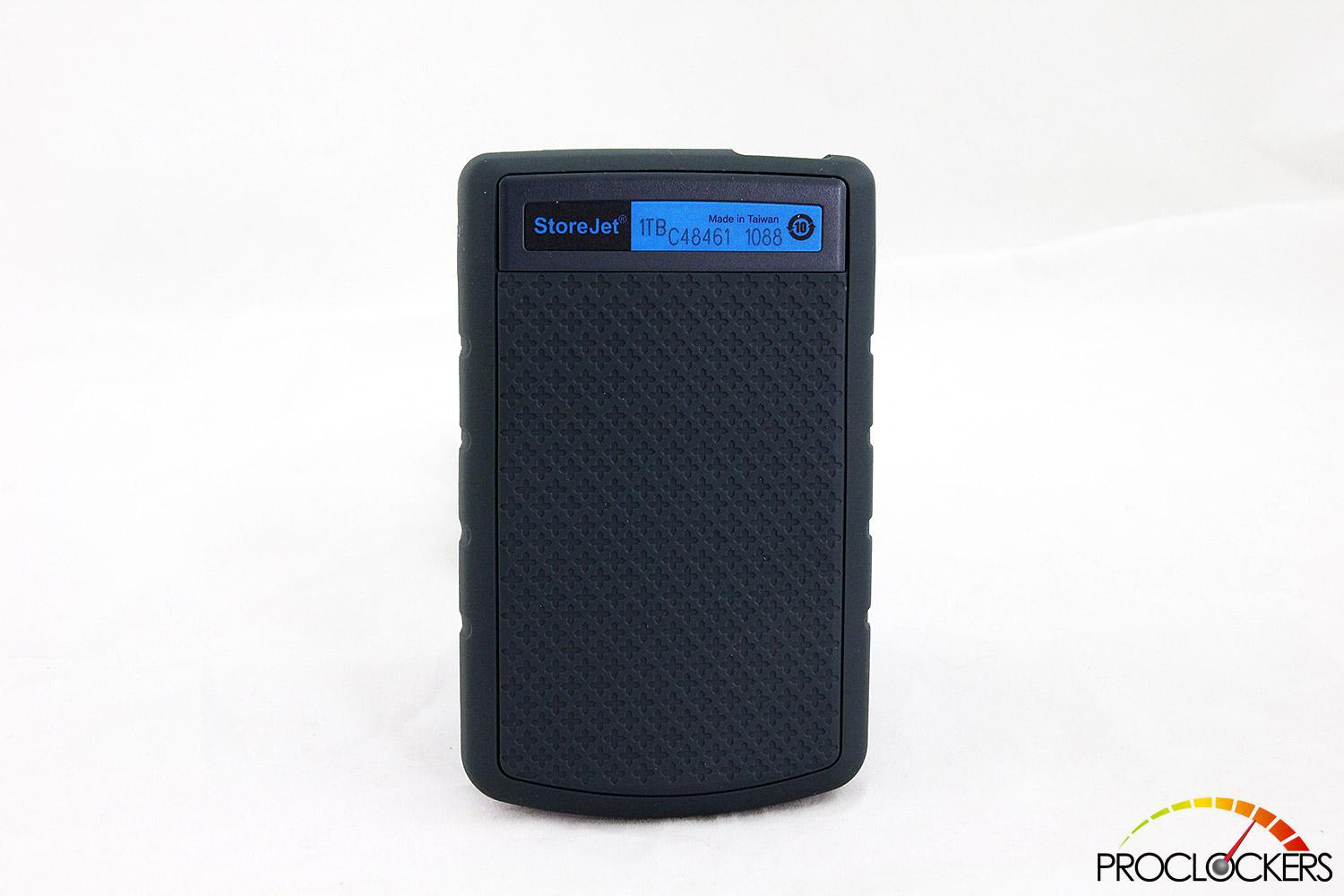 A look at the back reveals a textured surface that aids in the drives anti-slip feature. The device's model and serial number can also be found on the back as well.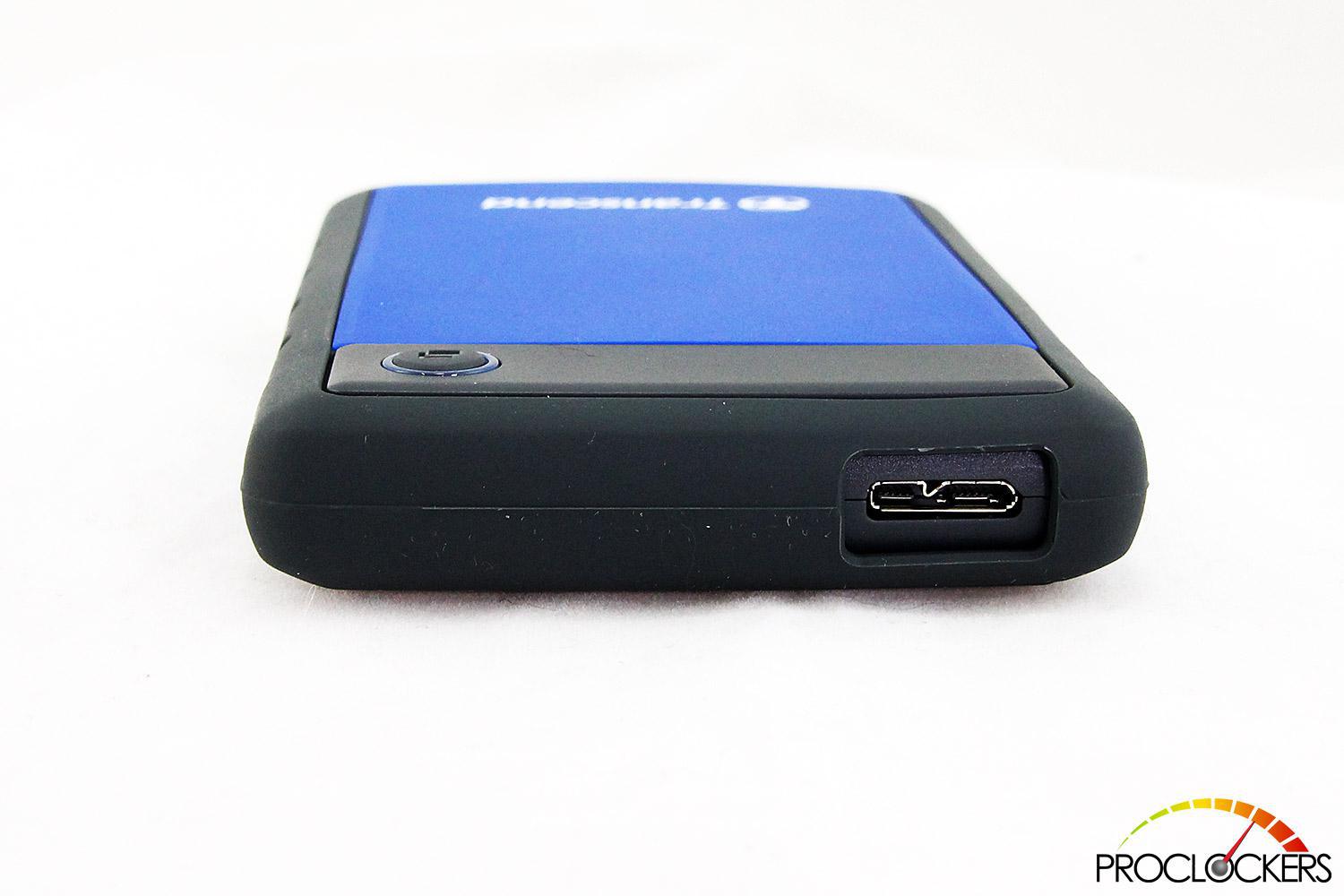 A shot from the drives top shows off the microUSB 3.0 connector. If you look closely you will also see the profile of the event button located on the drives face.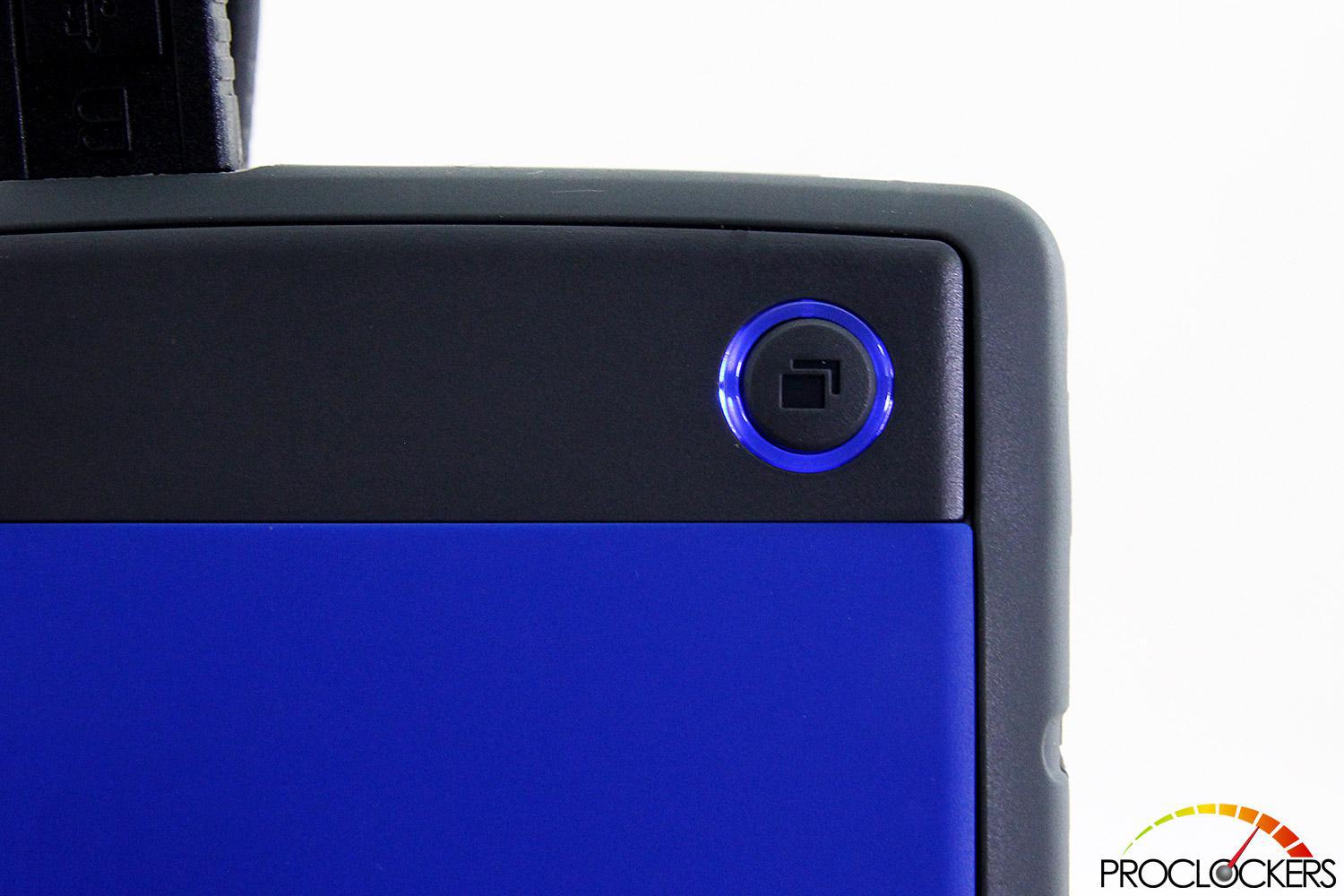 Finally a shot of the drives event button. Note that when in use, it illuminates. Before we move on to testing, let's take a moment to check out the software that ships with the drive.
The Software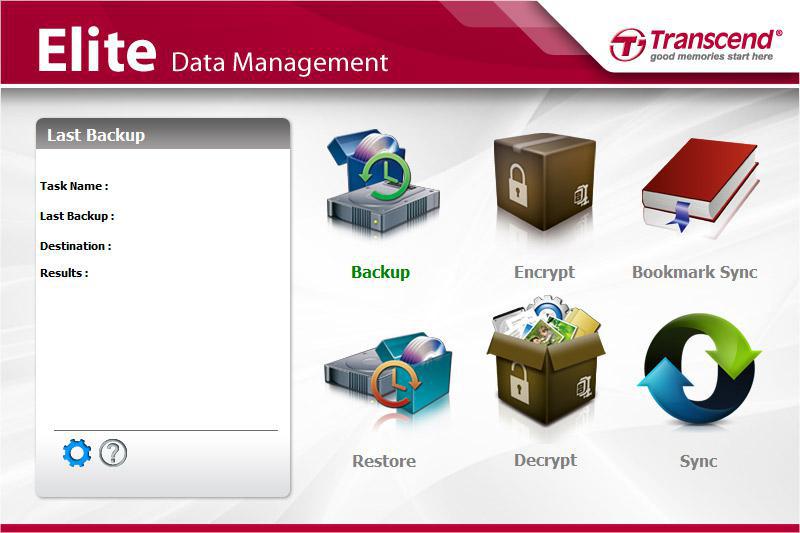 Transcend ships the StoreJet 25H3 with its "Elite Data Management Suite," which is a software suite that enables the user to setup the drive for automated backups from the PC it is connected to, as well as enabling the drive owner to encrypt and decrypt the data stored on the drive. Additionally the software can be configured to sync the user's bookmarks, restore data from backups, and even sync data stored on the drive to another machine.
Instead of going over every option that is included with the drive, the two videos below have been provided by Transcend to help users fully understand the capabilities of the Elite Data Management suite.
I'm using the drive as a storage medium to transport design files from my home PC to my business during meetings, so I use its encryption feature quite regularly. I have used its backup features as well, and used it to backup the files from an ailing laptop that I needed to install a new SSD into, and I can attest to this making things much easier than manually copying file by file over the network to my file server.
Testing
To thoroughly test the StoreJet 25H3 1TB from Transcend, I will be running a series of benchmarks using three of the leading storage benchmarking programs. Due to the drives short USB 3.0 cable, I will be testing using one of the front USB 3.0 ports on my testing PC. While front USB 3.0 ports do tend to show slightly lower results, I feel this is a more accurate, real world test since that is where most users will plug their portable hard drives into. In general, I feel that real-world testing is much more informative than benchmarks that are ran to show raw, "as fast as possible" metrics.
Testing Hardware
All SD benchmarks were ran on my main testing system in the lab which features the following hardware.
Motherboard: Gigabyte G1 Sniper 5
Processor: Intel i7 4790k at stock clock speeds
RAM: 16GB Corsair Dominator Platinum at stock clock speeds
GPU: MSI Geforce GTX 970
OS SSD: SanDisk Extreme II 480GB
PSU: BeQuiet DarkPower Pro 1000W
Case: Corsair Obsidian 800D
USB 3.0 Port Used: Top Left on Front I/O Panel on Chassis
Performance Test
The first test will be series of 50MB and 1GB writes to the drive using Crystal Disk Mark which will measure sequential and random read / write speeds. Crystal Disk Mark takes eight measurements: the read and write speeds in megabytes per second (MBps) for sequential, 512KB, random 4KB and 4KB parallel disk operations.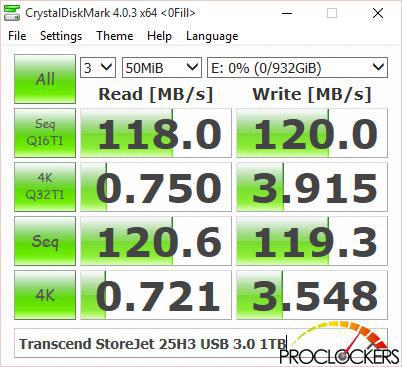 The first test was run using three 50MB samples. The drive proved to perform as expected for modern USB 3.0 speeds, and actually exceeded Transcend's claim of 90MB/s performance. Sequential read / write performance was around the 120MB/s range which is excellent for a small 2.5" spinner.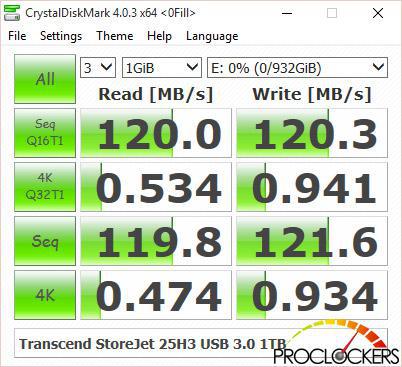 The second CDM test was ran using three 1GB samples. Again it performed in the 120MB/s range, which is quite impressive given that a traditional hard drive is housed inside. At this point, I am extremely impressed!
The second set of tests will be series of 512MB and 1GB writes to the drive using ATTO Disk Benchmark. This program is one of the leading storage benchmarking utilities in the industry, and is even used to quality test by some of the top manufacturers in the industry. ATTO Disk Benchmark will measure the StoreJet 25H3's performance with various transfer sizes and test lengths for reads and writes.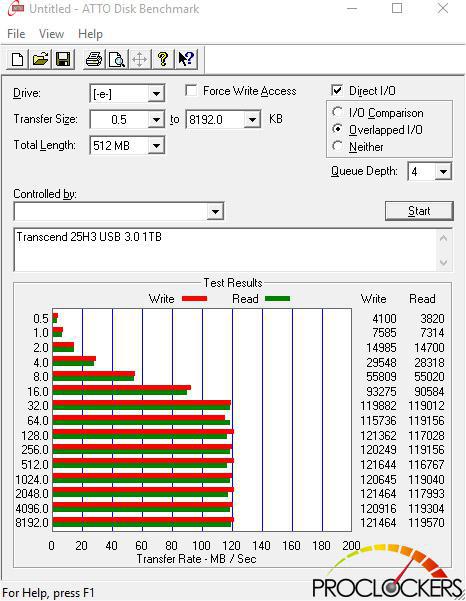 The first test was ran with writes 512MB long. While the drive was a little slow on the smaller transfer sizes, the average quickly picked up to the 120MB/s range once it surpassed 16KB.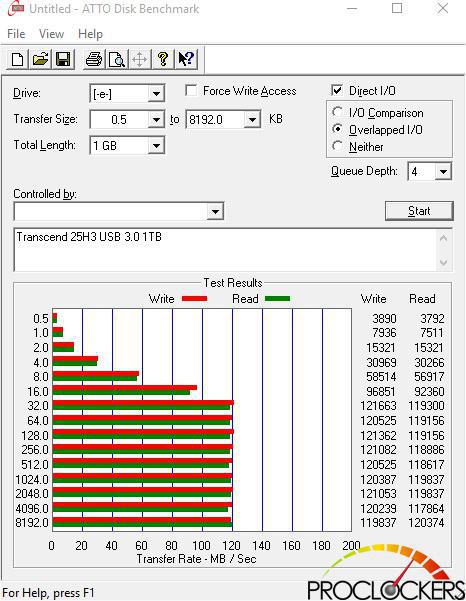 The second set of test with ATTO proved that this drive is a solid 120MB/s device. Again, anything smaller than 16KB proved to be a little slow, but things picked up around the 32KB transfer size.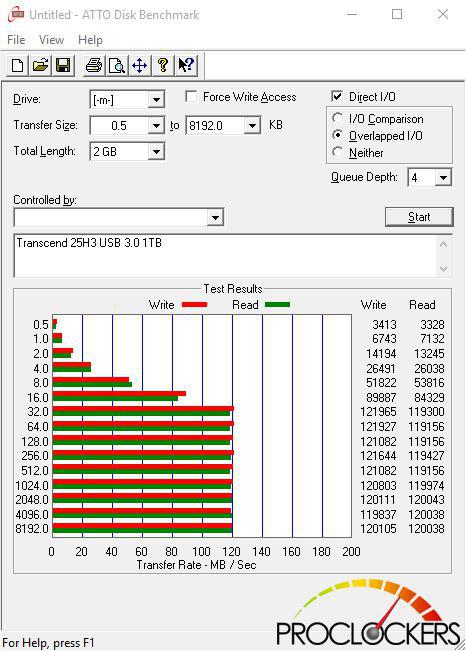 Just for kicks, I conducted a third benchmark run with ATTO, this time setting it to a total transfer length of 2GB. Again, the drive maxed out at about 120MB/s. Note that the drive letter changed from E to M because I ran this third test a few days later, and another drive had captured the E letter assignment.
The final test was ran using Anvil Storage Utilities, an older, but still relevant performance measurement tool for traditional hard drives and solid state drives (SSD). This tool can monitor and test read and write speeds on hard drives while also providing information from the Windows Management Instrumentation (WMI) that provides basic information about the disk and its parameters. This includes partitions and volumes. Performance metrics are collected by random read and writes, I/O operations and integrity tests.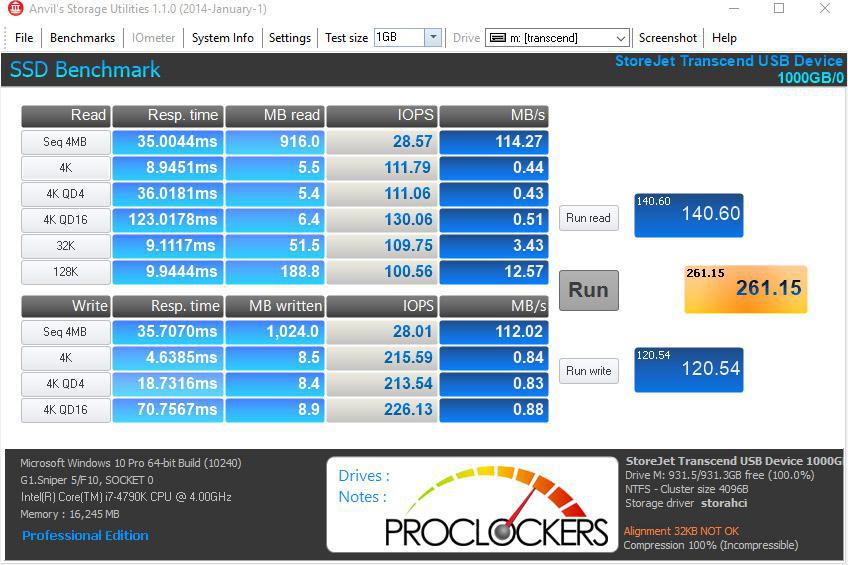 Performance numbers were a little lower on Anvil Storage Utilities, with the top read speed coming in at 114MB/s. Write speeds were around 112MB/s, giving the drive a total score of 261.15. While this score is useless, I plan on using it as a metric to compare future portable HDD-based storage drives.
All in all, 120MB/s seems to be the overwhelming average for the StoreJet 25H3 1TB, and that is nothing to sneeze at. I am thoroughly impressed with the drive, and feel that it is more than capable of handling the average daily users file transfer needs.
Final Thoughts and Conclusion
The StoreJet 25H3 1TB portable hard drive is a very well constructed storage device. As someone who generally abuses the portable tech he uses on a daily basis, I truly appreciate the ruggedness built into this device. The silicone jacket not only adds protection, but builds in a layer of anti-slip protection as well. I am a little disappointed in the USB 3.0 cable length though, but I understand that my needs for a longer cable are not that of an average user who will plug this into their laptop or Macbook. Longer USB 3.0 cables are easy to obtain.
The performance of this drive is what I expected from a USB 3.0 interface 2.5" hard drive. Transcend claims performance in the 90MB/s range, and my testing proved that to be an understatement. With sequential read and write numbers around 120MB/s, the drive performs well enough for any user's needs. I have transferred dozens of 2-5GB files to it on a daily basis, and have not noticed a dip in performance at all.
With an average retail price of about $70, the StoreJet 25H3 1TB is an exceptional value and would make a great stocking stuffer this holiday season. I have a few 1TB portable drives, and I paid well over $70 for each of them, with a few costing about $150 a few years back. If you are interested in purchasing one of these drives, check it out on Amazon.com for $70.

Pros
Lightweight
Rugged
Performs Well
Vivid Blue Silicon Case
Cons
<![CDATA[ */ var zbjs = {"ajaxurl":"https:\/\/gaminggorilla.com\/wp-admin\/admin-ajax.php","md5":"d8e8b24d2fa18d2999e0fddcdd418586","tags":[],"categories":["Hardware"]}; /* ]]>