OWC Aura Pro X2 NVMe SSD Review
Should you upgrade your Mac with the OWC Aura Pro X2 NVMe SSD?
The Aura Pro X2 SSD Pro upgrade kits from OWC was intended to upgrade a MacBook, a Mac mini or a Mac Pro, in only fifteen minutes. Compatible with MacBook Pro (2013 – 2015), MacBook Air (2013-2017), Mac Mini (2014), and Mac Pro (2013) – running on macOS 10.13 and newer macOS versions, the OWC Aura Pro X2 SSD is an upgrade that promises to make these devices faster, while bringing a boost in storage space.
Will swapping the old built-in and aged SSD on your Mac with the Aura Pro X2 SSD be a noticeable improvement?
Should you rather choose an M.2+adapter instead of the Aura Pro X2 SSD? Let us check out the specs and how it performs in our tests.
OWC Aura Pro X2 NVMe SSD TECHNICAL SPECIFICATIONS
OWC's official details and technical specifications for the Aura Pro X2 SSD Pro show that the SSD can reach up to 3200 MB/s read & 2400 MB/s write speed. Here are the full specs:
Capacity: 240GB, 480GB, 1TB, 2TB
Performance: up to 3200 MB/s read & 2400 MB/s write speed
Controller: Silicon Motion SM2262EN
Flash: 3D TLC NAND
TRIM Support: OS dependent
S.M.A.R.T.: Standard
Interface: NVMe 1.3 (PCIe 3.1 x4)
Form Factor: 28-pin SSD Module
Over Provisioning: 7% over provisioning
System Requirements: macOS 10.13 or later4
Acoustics: Designed to operate silently
Dimensions: Width: 0.9 in / Height: 0.1 in / Length: 3.5 in
Weight: 240GB & 480GB – 8 g, 1TB & 2TB – 9 g
OWC Aura Pro X2 NVMe SSD Pros and Cons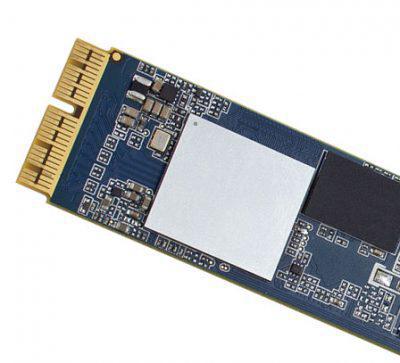 + Pros: easy and fast to install, comes with high-end specs, fast read speed, 5 years of OWC limited warranty
– Cons: only supports Mac OS, older systems do not see a significant boost in speed, not as cheap as M.2 NVMe SSDs
OWC Aura Pro X2 SSD is great at optimizing the performance of the flash drive, but when it comes to old Macs, you only get the boost in storage space and not a big boost in speed since the aged system is limited.
Nonetheless, even without a significant increase in performance, you will notice an improvement in power efficiency thanks to the new SSD controller and flash memory. This also means the the OWC Aura Pro X2 SSD will run cooler than the original Mac drive. Rather than buying a newer Mac with larger storage space, upgrading it with an SSD is a no-brainer if you are looking to extend the old Mac's life.
And let's not forget that Apple does not offer too much storage space in this form factor, so choosing an SSD only for extra storage is always a welcome upgrade.
However, on newer Macs, users will notice the improvement in speed offered by the OWC Aura Pro x2 SSD. There is also an increase in power efficiency and performance.
OWC Aura Pro X2 NVMe SSD – Price/performance Ratio
The downside of the Aura Pro x2 SSD would be the price/performance ratio. Compared to other storage solutions, the price per GB is twice than what you'd pay for the cheapest TLC-based high-end drives.
Looking at the performance per price, we see M.2 NVMe SSDs are much better priced than the Aura Pro X2. Adding an adapter to M.2 NVMe SSDs such as the Samsung 970 PRO or the Phison E12-based Silicon Power P34A80 would still be cheaper than getting an Aura Pro x2 SSD. The only solution for OWC would be to bundle the Envoy Pro USB enclosure with the SSD for the same price so that it can keep up with the competition.
Should You get the OWC Aura Pro X2 SSD for your Mac?
Compared to the previous version, the OWC Aura Pro X2 SSD is faster and offers better overall results in terms of performance and cooling and even storage space (if you go for the 2 TB version).

When comparing the Mac original SSDs with the OWC Aura Pro x2 SSD, the latter's speed doubles, the power consumption is lower and it runs much cooler.

One of the highlights of the OWC Aura Pro X2 SSD is that it is easy to install, so you will not waste more than fifteen minutes to perform the upgrade on your own. If you own a Mac from 2015 or older, the OWC Aura Pro X2 SSD is a significant upgrade that extends the life of aged Macs, offering them not just a higher capacity, but also better performance and lower power consumption.

In the end, if you are looking to upgrade your Mac, you will have to choose between a cheaper M.2 + adapter combo, or the more expensive Aura Pro X2.

<![CDATA[ */ var zbjs = {"ajaxurl":"https:\/\/gaminggorilla.com\/wp-admin\/admin-ajax.php","md5":"d8e8b24d2fa18d2999e0fddcdd418586","tags":[],"categories":["Hardware"]}; /* ]]>